Wondering what to pack for our trips to Iceland in the summer months?
In this article you'll find an intro to the weather in Iceland and a handy list of suggestions for things to bring. Checking the weather forecast is not enough to understand how best to dress in Iceland in the summer because the weather conditions are so unique.
Generally speaking, summer is peak season and is the warmest time of the year to visit Iceland. That means there are more tourists at the major attractions and the weather is warmer than in winter, but it does not mean it will be warm. A summer in Iceland can be like winter in many other places, and the usual unpredictability is still to be expected.
A regular summer day can start with sunshine then change to rain, back to sunshine, and end up in snow, even in the summer. And wind is ever present.
This makes for dramatic photographs and incredible experiences but also frustration and discomfort if you are not adequately prepared.
As Icelanders always say: There is no such thing as bad weather, just bad clothing.
The weather in Iceland in July and August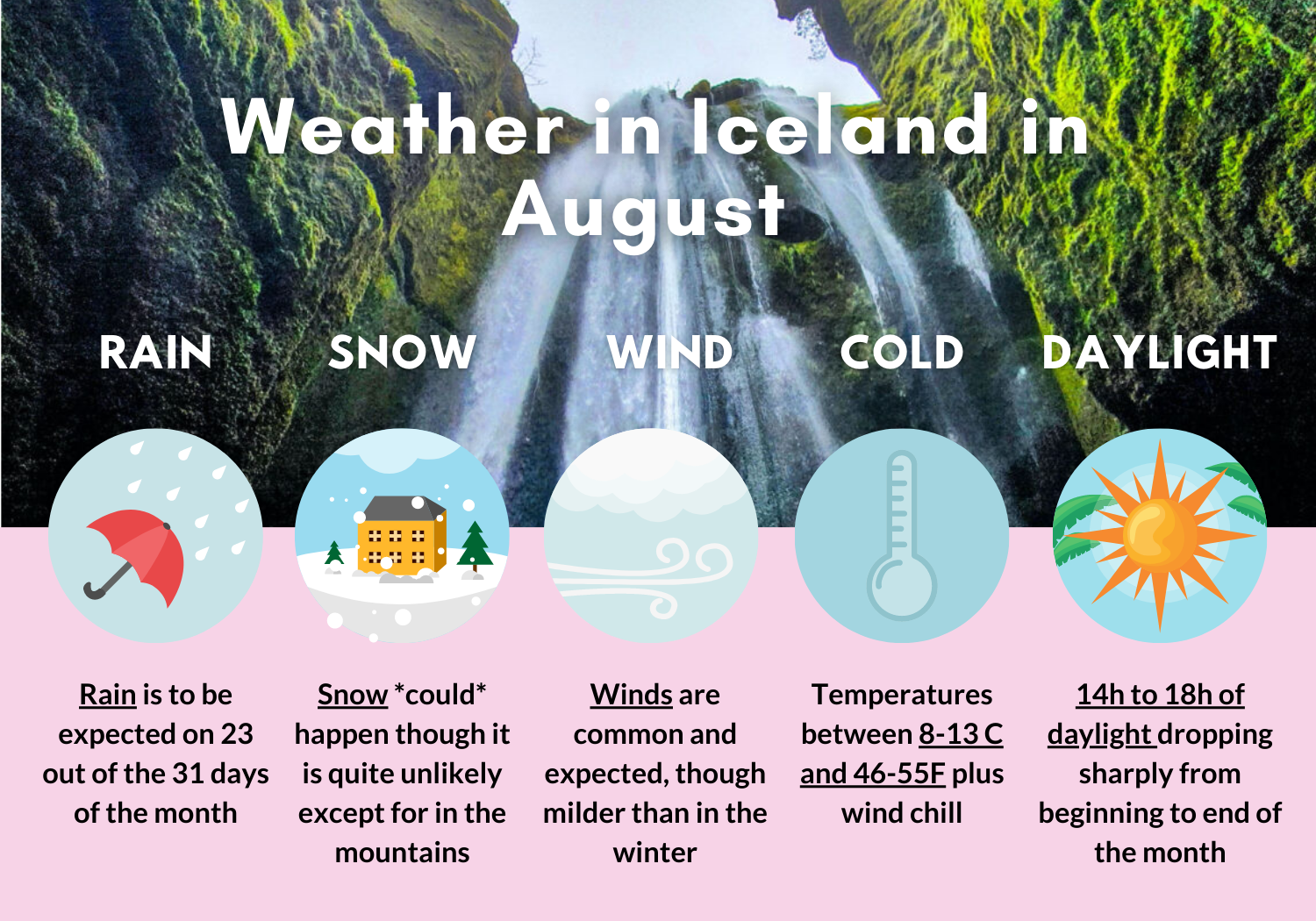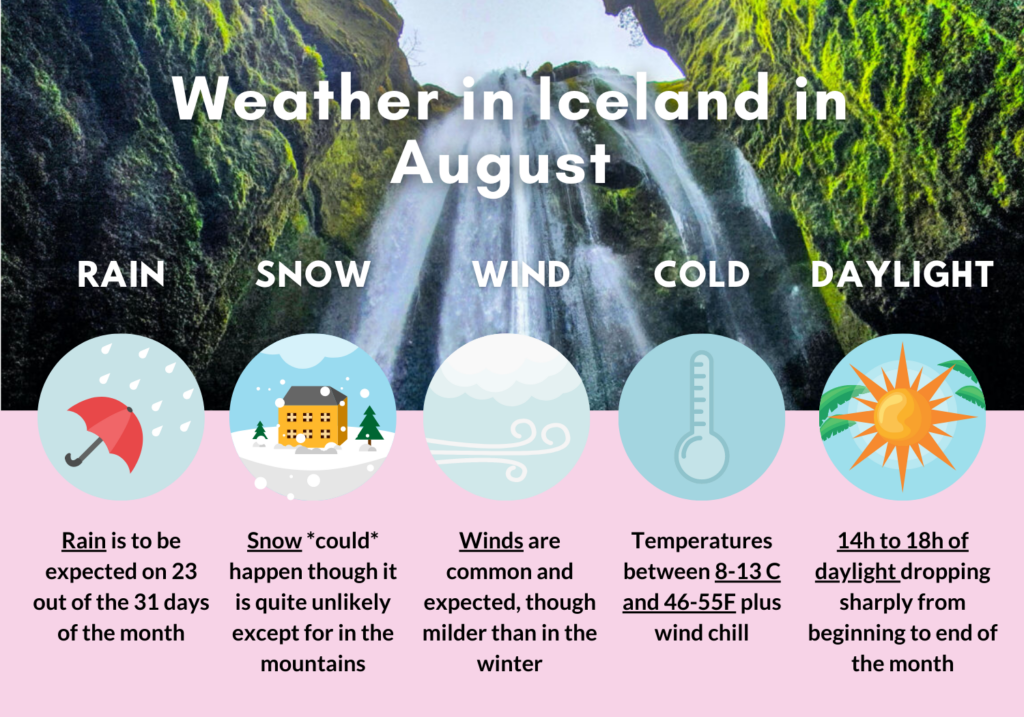 August is a great month to visit Iceland because the conditions are some of the best thanks to milder temperatures, tamer winds and less rain. The days are still very long so there is plenty of time to explore.
Iceland sees between 14 and 18 hours of daylight in August, with the sunrise and sunset times changing sharply throughout the month, which is why our trips happen at the beginning of the month.
The long hours of daylight mean there is no chance of seeing the Northern Lights, but they also mean you can be out exploring till almost midnight.
Temperatures in August will hover between 8 and 13 degrees Celsius, or 45 to 55 degrees Fahrenheit, so warm clothes are necessary, especially because the cold wind makes it feel much colder than it actually is. Summer does not really feel like summer in Iceland.
Rain is also pretty common on 23 out of the 31 days of the months, so waterproof clothing is a must.
All of the above means that you need to pack for all weather, all terrain and all temperatures.
Water-proof jackets, shoes and layers are a must. If, like me, you are prone to getting cold, you should pack extra warm clothes and body warmers (more on that later).
Check out our Iceland trip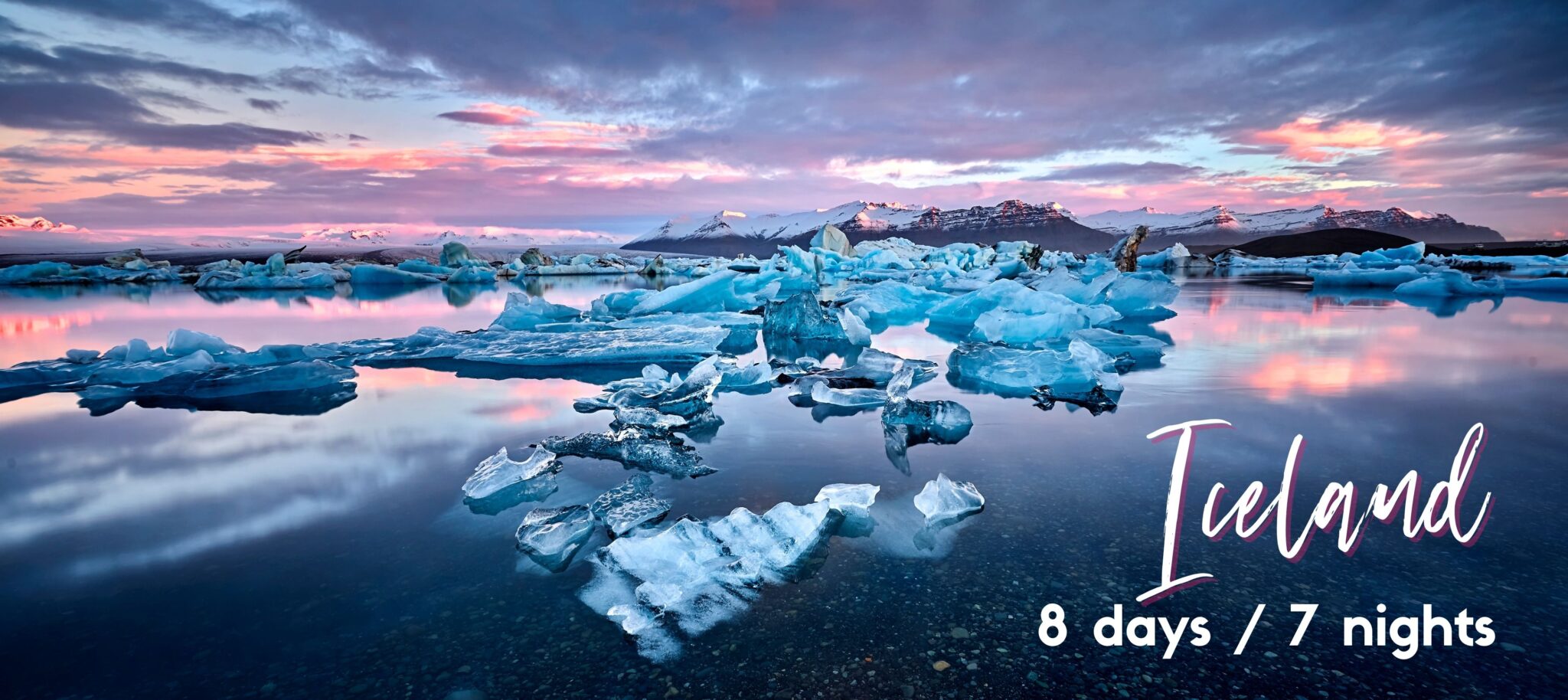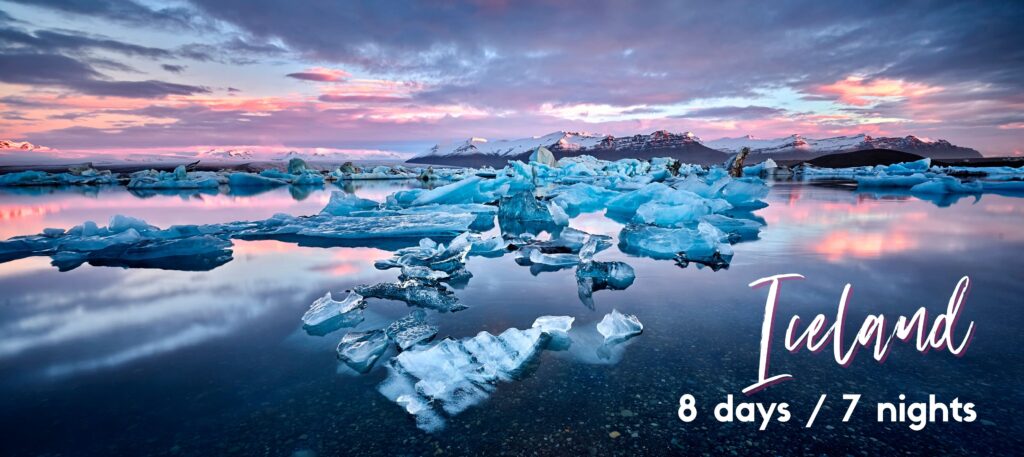 What to wear in Iceland in summer
Below is a list with suggestions for what to wear in Iceland in summer. Further down, you will also find a list of other things to bring specifically on our tour or on any trip to Iceland.
The most important factor when deciding what to wear in Iceland is the concept of layering. This applies to traveling to any cold-weather country, but is particularly important in Iceland where the weather is unpredictable even in summer.
At the minimum, you need a base layer and an outer layer top or waterproof jacket. More layers, for example a vest or a short sleeved t-shirt, are not a bad idea either and can be useful if you usually get cold.
Even in posh restaurants (like during our welcome dinner), casual is king in Iceland and everyone dresses for the weather. A nicer outfit may be good for welcome and farewell dinners but otherwise, athleisure and sportswear work best.
The other critical consideration after layering is that your outer layers should be waterproof, and, ideally, wind proof. The wind can make temperatures feel like they are 10 degrees lower than what's shown on the mercury and wind-proof clothing will keep you extra warm.
Base layer
You want to wear a light base layer that is closest to your skin. For this, I highly recommend considering merino wool clothes that repel odors, keep you warm and avoid you getting sweaty from the constant change in temperatures (cold outside, warm inside the van).
Merino wool clothing is expensive, but it will last you a lifetime. It requires less washing (good for you and for the environment), it is very light (less packing), regulates heat so you sweat less, is natural (rather than made with chemicals) and if it keeps sheep warm in the coldest of weathers, it can also keep you warm!
Clothing made from merino wool is usually sold based on the thickness, I find that 175gr is good for winter weather and lighter for the summer.
I particularly like the Kiwi brand Icebreaker, which is made of sustainable merino wool. I have worn their products in Iceland and other cold / all-weather / windy destinations like the Faroe Islands. Luckily, they are widely available on Amazon so you should have no issues finding them. They are also often available at outdoor stores.
Below are some of the products I have worn in Iceland:
Top layer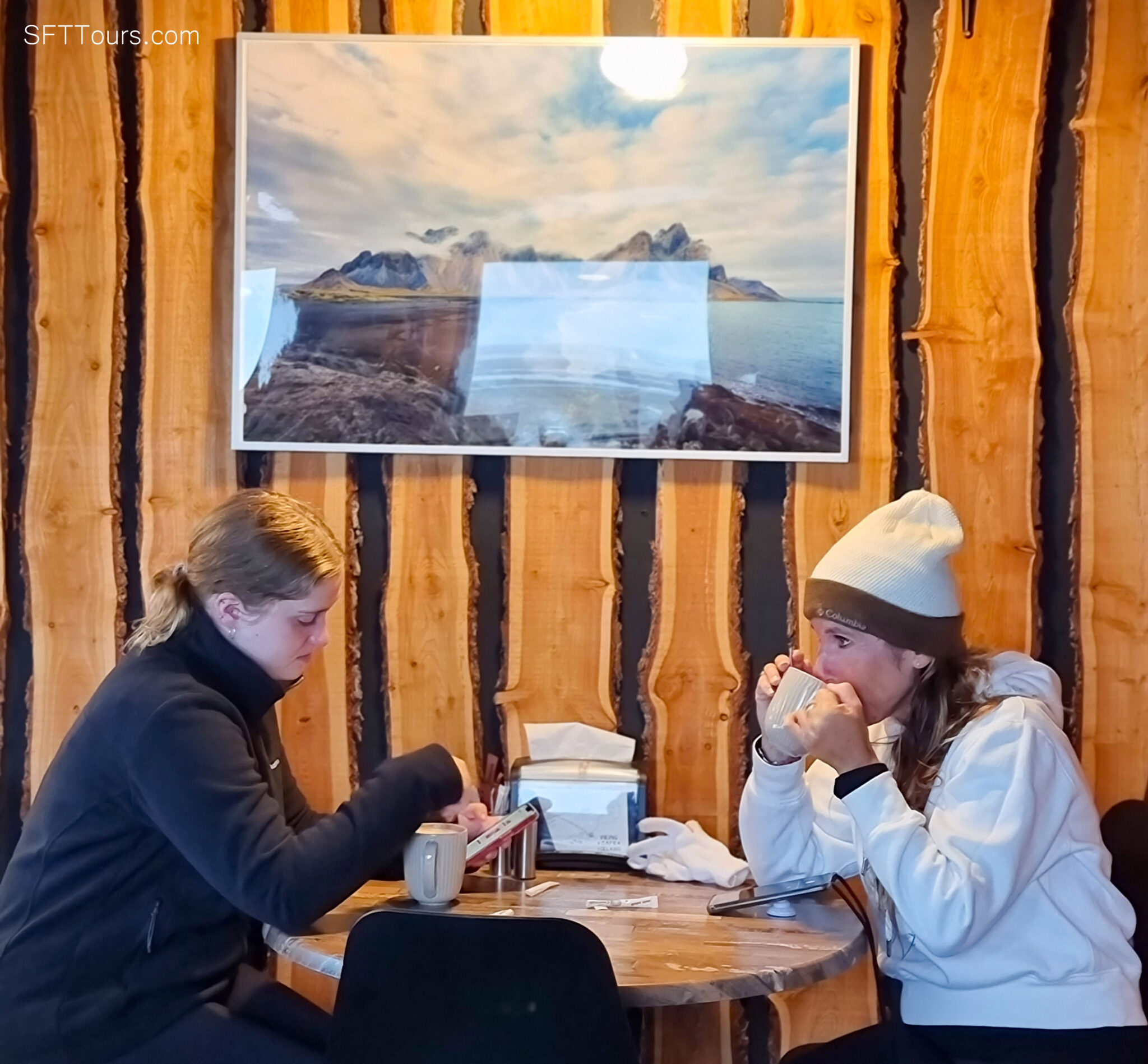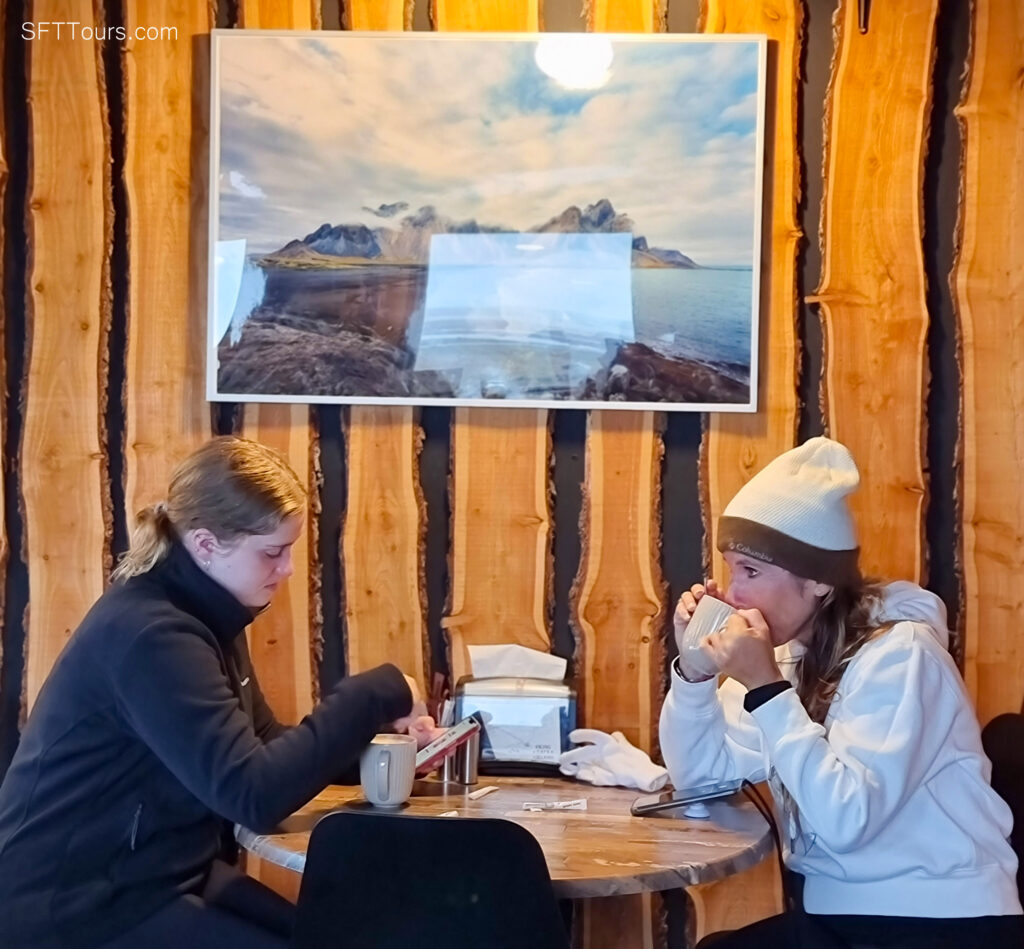 After the base thermal layer, you need a proper sweater or fleece jacket. Icelandic people wear thick knitted wool sweaters called lopapeysa in the winter that you can purchase as a souvenir anywhere in Iceland (or on Amazon).
They are the typical Nordic-looking sweaters that you often see in Christmas movies, only with nicer patterns.
I recommend this layer be high up on the neck to keep it warm, even if you will still wear a scarf on top, nobody likes to get a sore throat. Icebreaker also has great options here, but any warm wool sweater will do.
If you wear this, you may not need a jacket / coat over it, depending on how cold you get, though these sweaters repel water but are not waterproof so they won't help if it rains heavily.
If you are not a fan of wool, fleece jackets are also a great alternative, soft and thinner while still quite warm.
I particularly like the fact that they have pockets so I can keep small items like lip balm or tissues. Here are some of our favorites.
Outer waterproof layer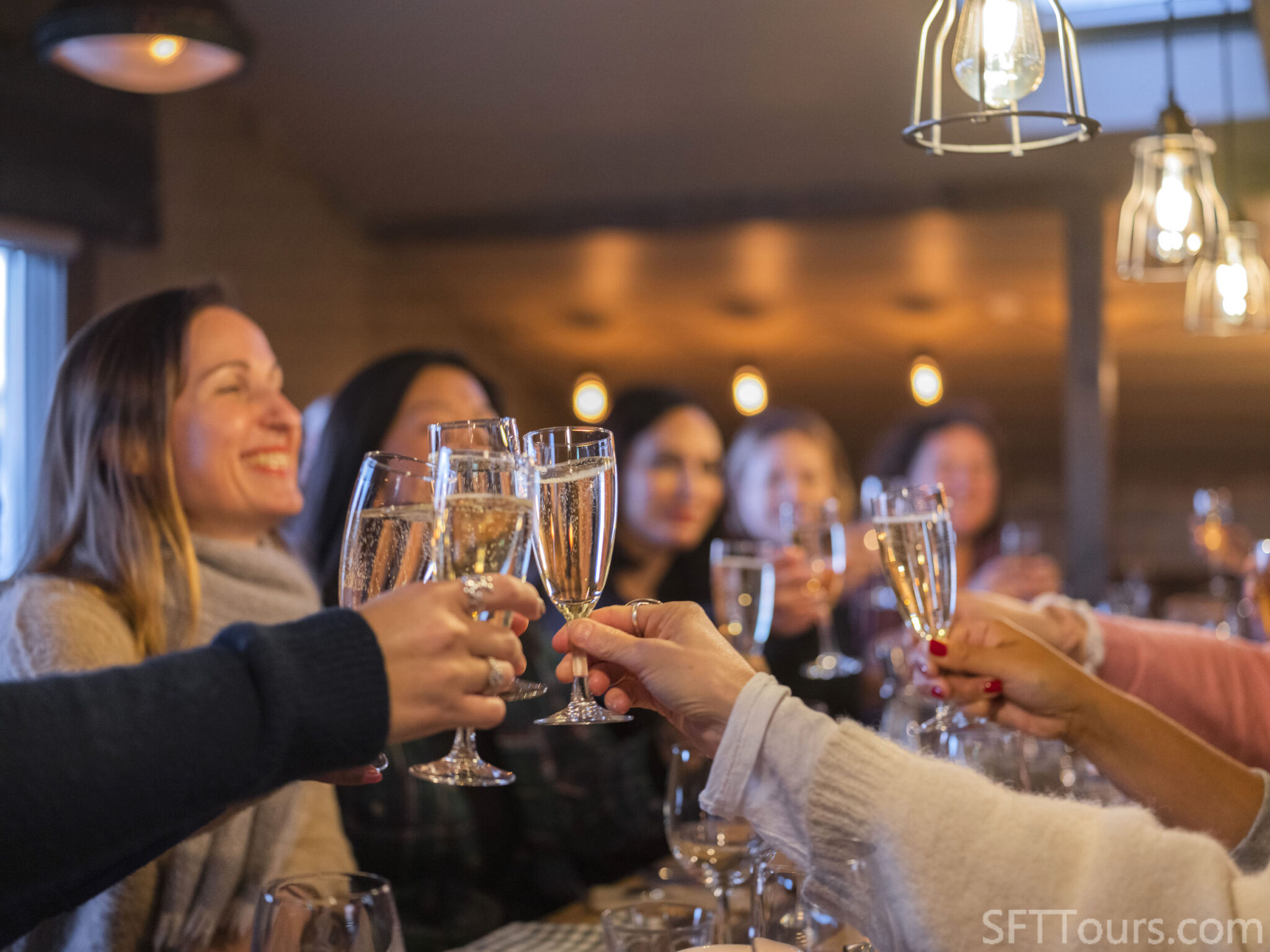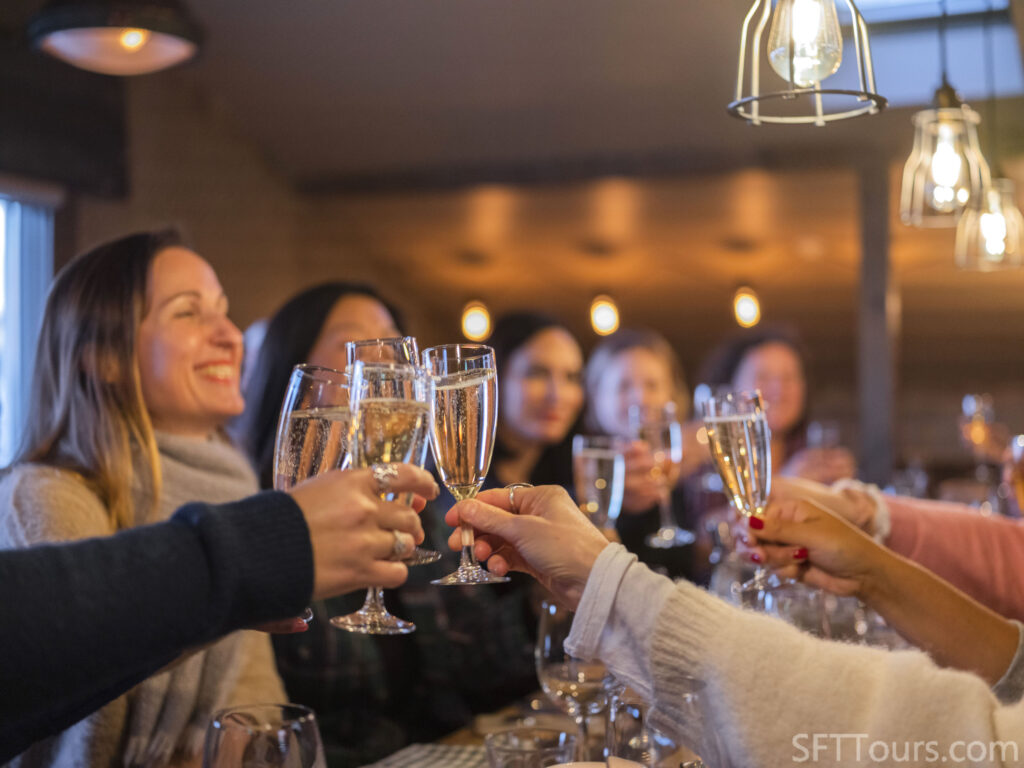 The most important consideration when choosing an outer layer for Iceland is for it to be waterproof and windproof.
Rain will occur, that is almost a certainty, and umbrellas don't work when the wind is blowing in the epic ways it does in Iceland, so a waterproof jacket is a must. Water resistant clothing is not enough if you are walking in the rain for an hour or longer, so make sure your jacket is waterproof.
Everyone has their favorite jackets, but I find that the proper adventure and outdoor brands with Gore-Tex do this best because they are conceived with the needs of a trip to Iceland in mind, even if you don't plan to go on an active trip.
I also recommend for the jacket to be rather long, ideally reaching just above your knees, so that your legs don't get wet, and for it to have a hoodie so your head stays warm. If you plan to wear waterproof trousers, then the length of the jacket is irrelevant.
Alternatively, if you don't want to buy a new full waterproof jacket and prefer to wear a thick sweater paired with a light outer layer, you can also get a poncho and throw it over your regular sweater / fleece.
Additional layers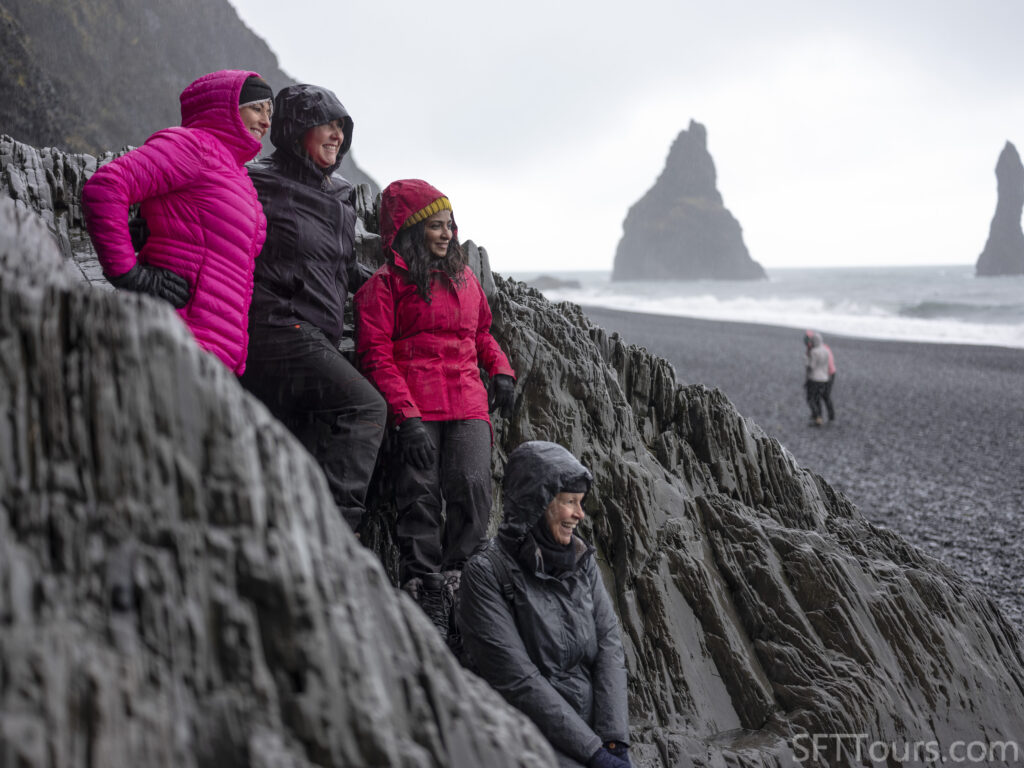 If you want to pack even fewer and warmer clothes, you can add some tank tops and t-shirts to your suitcase which would sit under the base layer and then you can pack only one base layer for the days you will be there.
I also like to pack a vest, especially those made of fleece, down or wool. These add a layer between the sweater and the jacket while not restricting movement of the arms.
Lastly, you can also bring a light down jacket that packs really light in case you are feeling cold and want to add a layer.
Trousers
Besides the top layers and jackets, you should also consider bringing waterproof, or at least water resistant or water repellent, hiking trousers to Iceland. Though these may not be necessary if your jacket is long and your boots tall, there is no harm in bringing them.
Besides the waterproof pants, I also recommend packing a lighter pair of trousers or jeans that you can wear to dinner at the hotel and which are less bulky or warm. Inside buildings, it is pretty warm in Iceland. This may also be the trousers you wear on the plane on your way to Iceland if you want to pack light.
If you are exploring in Reykjavik after or before the trip, you may find regular pants enough as you will be in and out of museums, restaurants, etc. and thus not outside for long periods of time.
Clothing accessories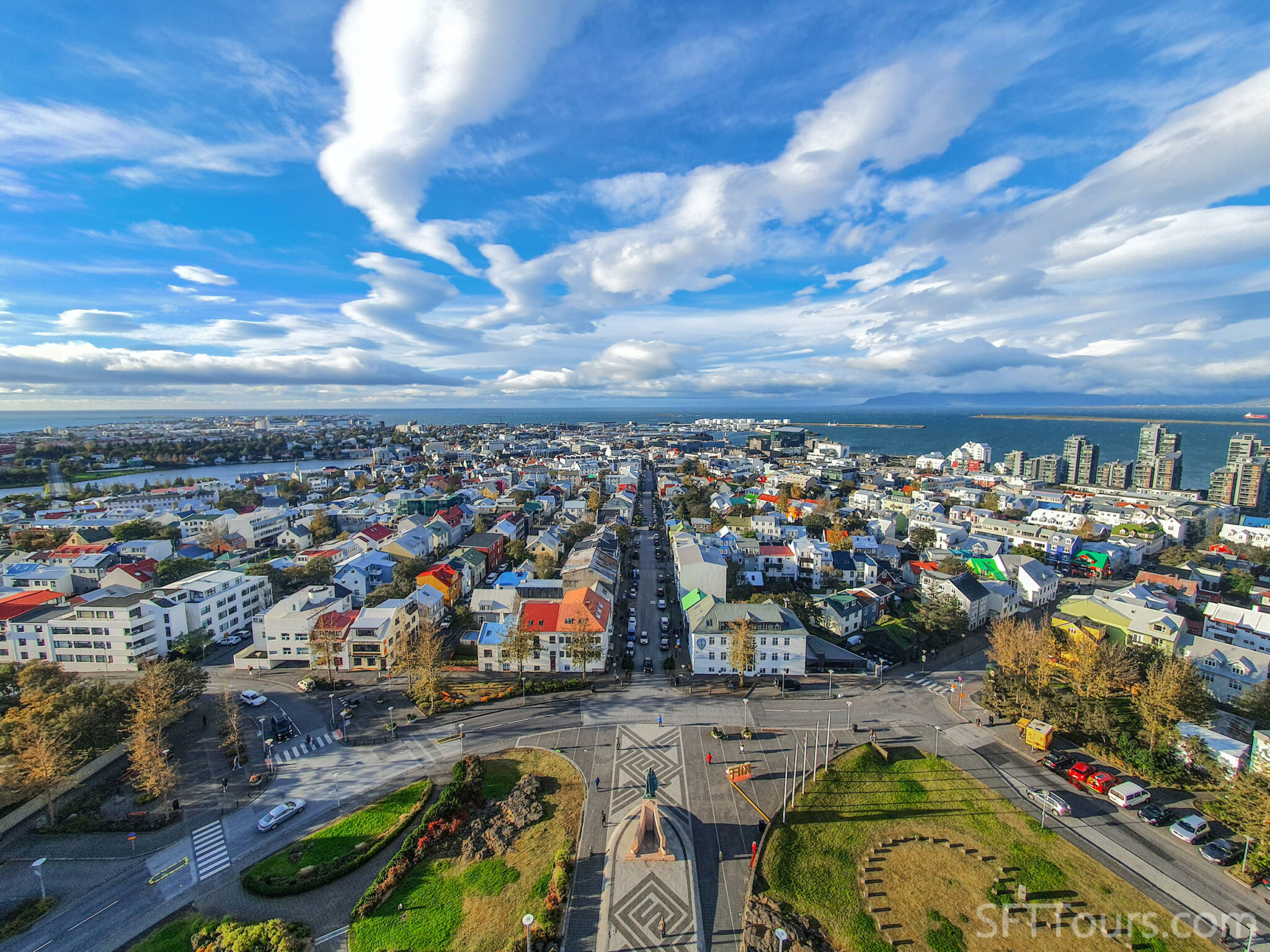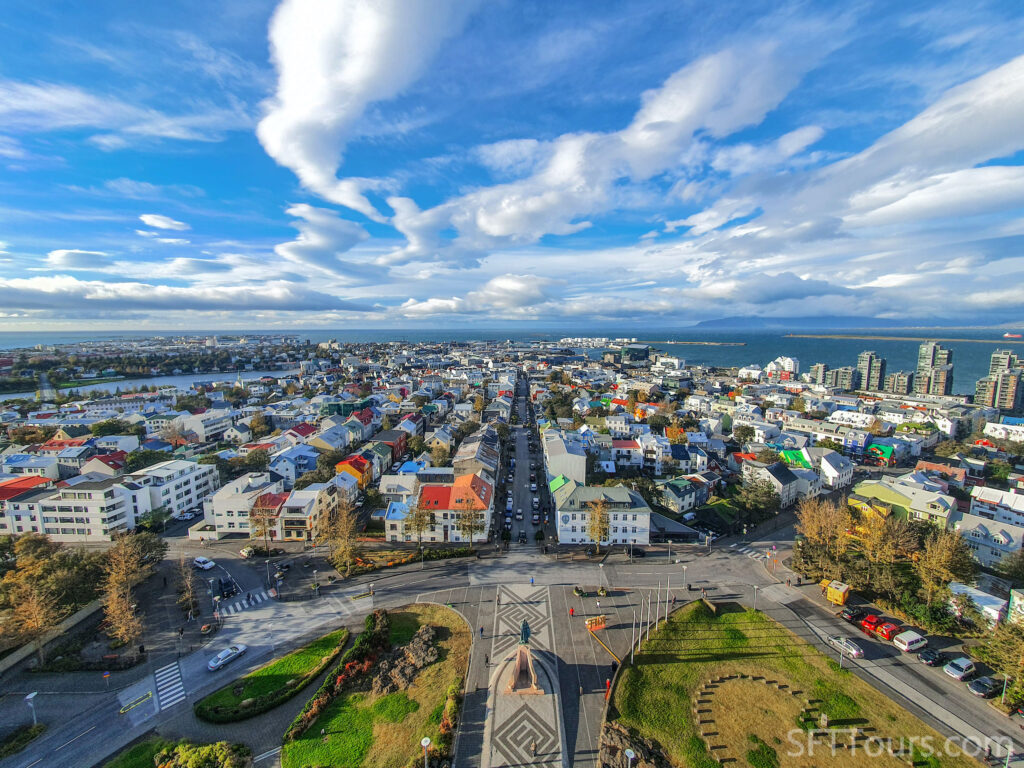 The clothing accessories you wear are arguably as important as the layers. I recommend you pack a few additional items to stay warm:
Gloves: You may or may not need them, depending on how cold it is and cold you get but why not pack a pair of light gloves just in case?
Scarf: Not a bad idea to keep warm, especially since it is easy to take it off if you don't need it. Even if you are wearing high neck layers, a scarf can add that extra warmth and protect your face from the wind and chill. I like to pack an extra light and soft scarf instead of a wool one which may sometimes feel itchy.
Hat: Very important to keep your head warm, especially if it starts snowing. If your jacket already has a hoodie, a hat may not be necessary but I find that it provides extra warmth if the hoodie is loose. I of course like Icebreakers' merino wool beanie hats, but are also partial to the nice knit beanies, especially the fleece or fur-lined ones. Like the gloves, this may or may not be necessary, depending on how cold you get.
Wool / thermal socks: They will make sure your feet stay warm all the time. I like to pack thick and tall ones that also keep our feet from blistering.
Underwear and sports bras: Since you will be enjoying a relatively active trip, you may want to consider packing sports bras instead of regular wired bras.
Waterproof bag: If like me, you also prefer to put all your belongings in your pockets when you stop at each of the road trip stops, you may not need a waterproof bag. But if you have expensive camera equipment or want to bring more things with you, I recommend packing a waterproof bag, a waterproof bag cover to put over yours or a waterproof bag pouch that you can wear around your waist or even inside your jacket.
Below are some recommendations.
Footwear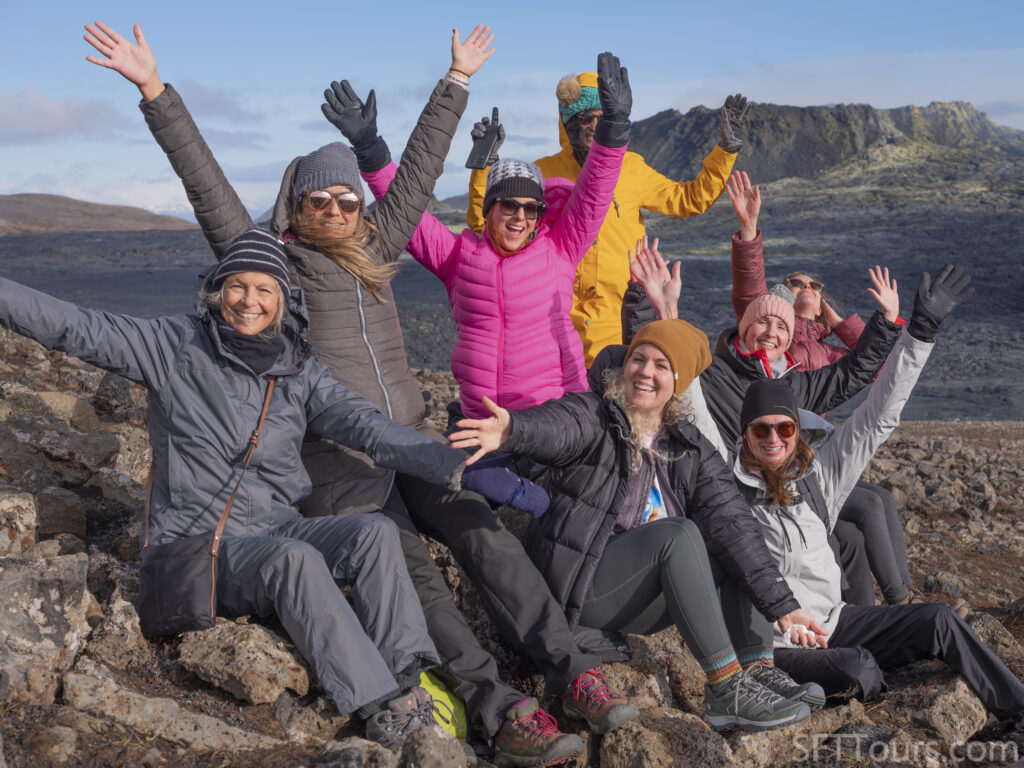 Keeping your feet warm and dry is essential so I recommend you think well about your footwear. In particular, I recommend wearing a waterproof pair of boots, they make some really cute ones!
On most of the stops and sightseeing opportunities, you will be walking on paved and well maintained paths, this means you need only worry about keeping dry and warm unless you plan to go hiking.
Below are some suggestions for footwear, pick the one you'll feel most comfortable in depending on your budget and likelihood of getting cold feet.
If you are buying a new pair of boots, I recommend you break them in and wear them out before the trip so they don't cause blisters. Better yet, consider borrowing a pair from a friend if you don't think you'll be using them again.
Besides hardcore all weather boots, I also recommend you pack a lighter pair of shoes for dinner and to wear at the hotel. You don't want to bring your muddy boots to dinner and you will probably feel more comfortable wearing something lighter and with more mobility.
As mentioned before, Icelanders are very casual so even a pair of sneakers will do, you don't have to wear heels or fancy shoes.
Bathing suit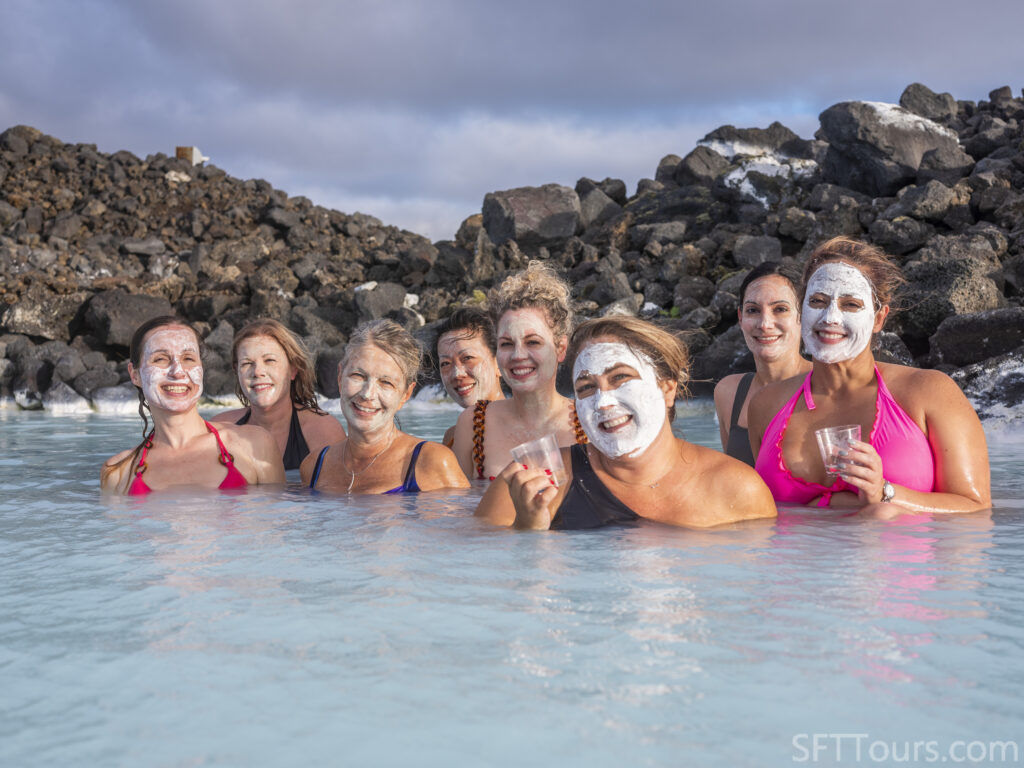 Chances are you will be going to the Blue Lagoon during your time in Iceland, like we do, and in addition, you'll also want to check out the many other thermal spas and heated outdoor pools at hotels.
We stay at ION Adventure Hotel, which has an outdoor heated pool that is simply divine, and at Foss Glacier Lagoon which has outdoor thermal tubs with views over the incredible landscapes around, so don't forget your bathing suit!
If you are booking the premium package at the Blue Lagoon (like we are), you will be given sleepers and bathrobes. Otherwise, bring your own towel.
Other items you should pack for Iceland
Besides packing the right clothes, there are a few others items you should include in your Iceland packing list, below we list a few handy ones:
Moisturiser: Like with your body, your face will need to stay hydrated in the crazy weather. Extreme changes in temperatures, wind, sun, cold, rain and even snow can make your skin really sensitive and in need of proper moisturising.

I recommend you pack the heavy duty stuff and complement it with a sheet mask, the best self care routine for the evenings, right after soaking in the thermal pools of our hotels. I like Korean sheet mask brand Mediheal.
Universal plug adaptor: The best way to ensure you will be able to use any plugs is by packing a universal adaptor. I like the ones which come with USB ports so that I can charge phones, cameras and everything else with just one adaptor. I love this one because it has USB ports for all the electronics I now carry.
Power bank: Because the days will be long and you will spend many hours in the car, making several stops along the way, a power bank will ensure you can continue taking photos. I use the incredible Anker 30,000 AMP which is the real deal and can even charge your laptop, but you don't need something this big, a power bank that can recharge your phone twice is enough.
Sunglasses: I highly recommend you bring a pair of sunglasses even though the sun is rare in Iceland and in winter, it may barely come out. This is because when reflected on the snow, you can get blinded.

I like and wear Oakley sunglasses as they are polarised and protect your eyes from any damaging sun rays and from the dust because they usually come quite close to the face. Make sure to pack a cloth to wipe and clean your glasses from dust, a constant battle on safari.
Waterproof mobile phone case: This one is a commonly purchased one by our guests to Iceland who take it to the Blue Lagoon for pictures. But be sure to put it inside the pouch before you go in and make sure it does not steam, this is what happened to me so it was useless…
Water bottle: Single use plastic bottles are terrible for the environment so I recommend you bring your own reusable bottle as part of our efforts towards zero-waste and responsible travel. Tap water in Iceland is not only safe to drink but also amazingly tasty and fresh, the best you will ever drink. Replenish it on any tap.
Sunscreen: Always important to have some in case the sun is shinning to put on your face. I like and use Japanese Biore SPF 50++++ because you can wear it under makeup and it is non-sticky and silky smooth.
Body lotion: A must since it gets cold and windy and the heating can make your skin really dry. The hotels you will stay at provide their own but it might be best to bring your favorite brand.

My sister gifted me a Body Shop Christmas Advent calendar that came with many of their products to try and this 96h hydration body butter is amazing. It comes in a flat recycled plastic tub with aluminium lid that's super easy for travel and anti-spill (I can testify to that since I've traveled a few countries with it).
Biodegradable tissue and wet wipes: It's a good idea to have a small packet of biodegradable wet towels handy to wash after using the public toilets. These ones are specifically designed for outdoorsy people.
Lip balm: The sun, dryness and crazy winds of Iceland make it particularly tough for the skin and lips so you should bring a lip balm to stay moisturized. I find these are essential to not end up with completely ruined lips or even blisters. I like Neutrogena for their Nordic formula that tends to heal battered lips overnight and comes with SPF.
Sleep mask: Although hotels have proper blinds, you will be sharing the room with another traveler who may be a late owl nad you will be battling long daylight hours with very early sunrises at 4-6am. Bring a sleep mask like this one to block the light.
Pajamas: As mentioned, you will most likely be sharing a room so don't forget to pack your pajamas! Here's a comfy choice from Amazon.
Ear plugs: If you are a light sleeper, a pair of ear plugs can help you sleep better though Iceland is a very quiet destination. Check out these from Amazon.
First aid kit and medication: Available medications, brands and products in Iceland may not be the same back home so it's always best to bring everything you are used to and of course, all prescription medication or vitamins you take.

I also recommend packing a basic first aid kit with items such as painkillers, plasters and antiseptic ointment, motion sickness tablets, antihistamines, electrolyte powder in case of diarreah plus any other tummy ache related tablets or medicines your doctor may suggest (antacid, diarreah tablets, etc.). See our First Aid Kit list here.
Large ziplock bags: These reusable ziplock bags can be useful to put dirty shoes in or wet swimming suits after the Blue Lagoon.
A foldable toiletry bag: I always travel with a foldable toiletry bag which I can hang anywhere. You will be moving around a lot on any trip to Iceland because of the fact that most people visit on a road trip, so you save on packing and unpacking. They also help you keep everything easy to find and tidy. This one is very cute.
What not to bring to Iceland in summer
Because of how crazy variable the weather is in Iceland, there are a few things that you should leave at home:
Heels: They are really pointless, the risk of slipping on the ice, getting your feet wet in the rain or breaking a leg while walking on the snow outweigh any upsides from wearing heels, I would leave them at home.
Umbrellas: It is so windy that umbrellas are pointless. Wear a waterproof jacket and pair of trousers instead.
Hair driers: All hotels have them because you can't really go out with your hair wet, so you don't have to bring one.
More Reading Before Your Iceland Trip: