Wondering what to pack for our trips to Tanzania?
In this article you will find an intro to the weather in Tanzania and a handy list of suggestions for things to bring.
Generally speaking, both November and May are transition and shoulder season months. That means there are fewer tourists and prices are much lower than during the peak season. With the season comes a change in weather, from the dry months to the rainy season. November and May are transition months which usually see quick, short and passing storms which are a sight to behold against the African savannah.
This makes for dramatic photographs (imagine the thunder and clouds against the dry trees) and for opportunities to see wildlife welcoming the rain after the dry months (in November).
Tanzania banned plastic bags in 2019. That means that it is forbidden to bring any plastic bags in, including those you may use to go through airports and put your toiletries in, so leave them at home and don't pack any.
The weather in Tanzania in November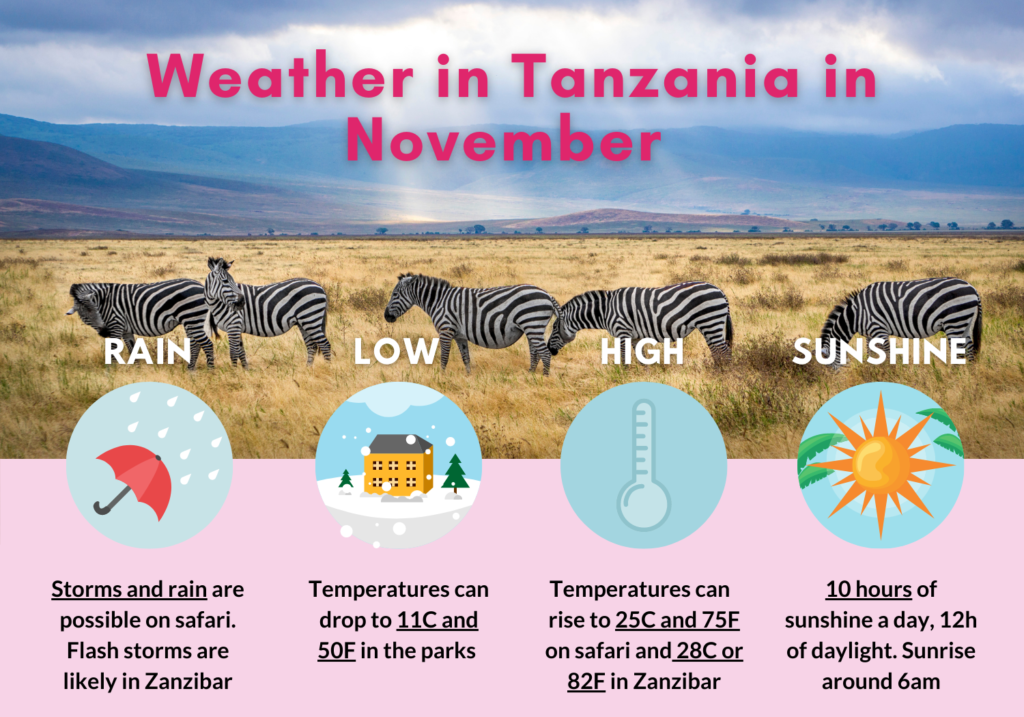 November is the beginning of the low season and a great month to take advantage of more affordable prices because of the higher chance of rain.
In the Ngorongoro Crater and Serengeti National Park areas, temperatures are slowly increasing to 25C or 77F during the day but remain chilly at night (dropping to 11C or 55F), and there is a relatively low chance of rain.
After months of dry weather, the wildlife is looking forward to the "short rains", or tropical storms, and will enjoy them as much as we will; there is nothing as incredible as the cloud formations against the endless savannah.
Zanzibar is quieter and has entered the low season. That means fewer tourist crowds and emptier beaches. Rains are to be expected, but will be short passing storms that make for dramatic photos; if you've never seen a tropical storm, you will be amazed!
Temperatures in tropical Zanzibar stay warm between 24C and 28C (75F to 82F). Despite the occasional rains, the hours of sunlight remain high at around 10h a day and the days are long (12h) with sunrise happening around 6am.
The weather in Tanzania in May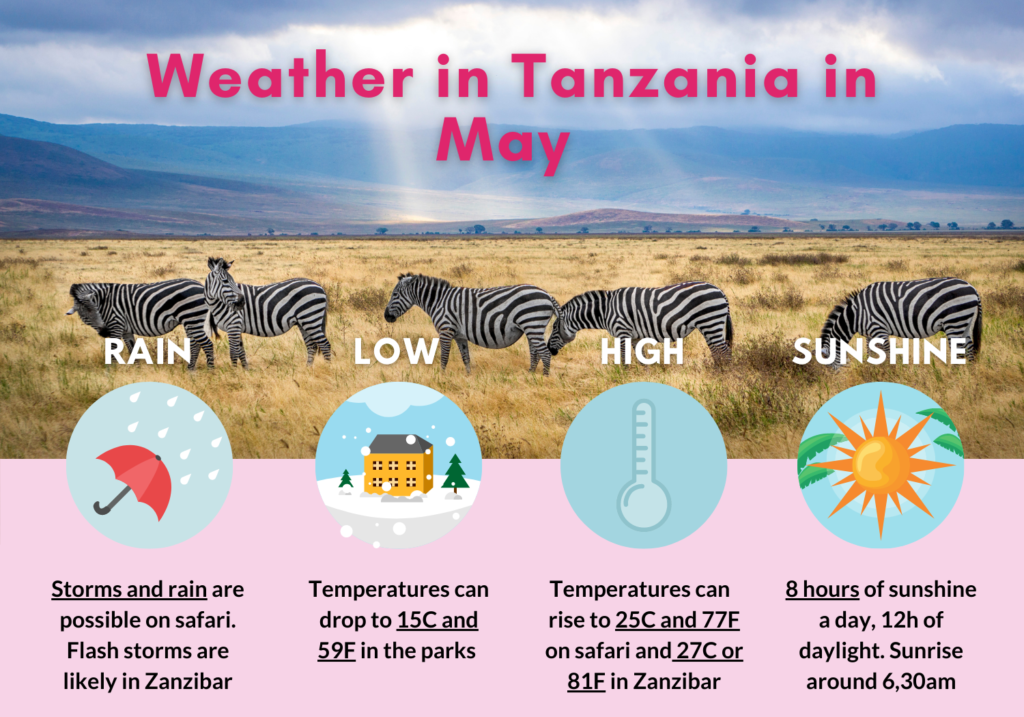 The weather in May is similar to that of November as it is the last shoulder month before the beginning of the peak summer season.
In the Ngorongoro Crater and Serengeti National Park areas, temperatures remain chilly at night but are a bit warmer than in November (dropping to 15C or 59F) and rise to 25C or 77F during the day. Rains are likely but typically quick and passing.
After months of wet weather, everything is green and lush and vegetation is high. The calves that were born during the January and February season are now older but still incredibly cute, and prolific wildlife fills the parks.
Zanzibar is still quiet, with fewer tourists, no crowds and emptier beaches. Rains are to be expected, but it never rains for the whole day, and if you've never seen a tropical storm, you will be amazed!
Temperatures stay warm but are more bearable than in the peak summer months hovering around 24C and 27C (75F to 81F). Despite the occasional rains, the hours of sunlight remain high at around 7h a day and the days are long (12h) with sunrise happening around 6.30am.
A typical day on safari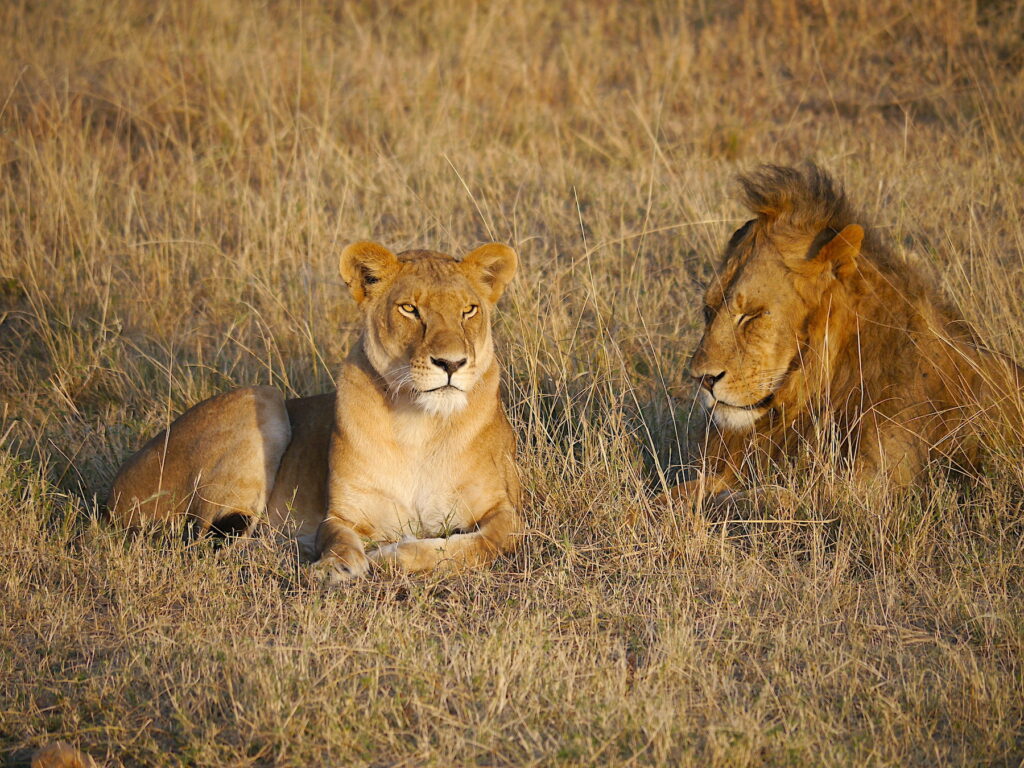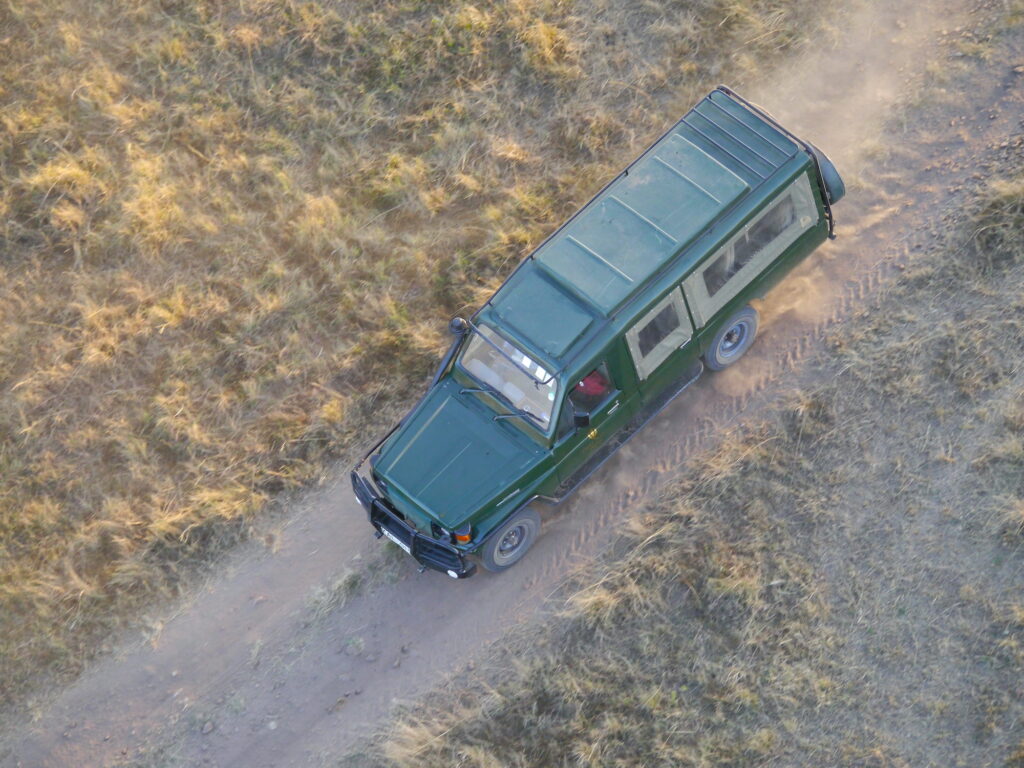 Both in the Serengeti and Ngorongoro we will wake up early, at around sunrise, with a freshly brewed cup of local coffee / tea and then head out for a game drive. Breakfast is enjoyed either back at the lodge, or as a picnic en route in the savannah.
Lunch time is usually spent back at the lodge, reading, relaxing, enjoying a nap, chilling by the pool or chatting with fellow travelers. Wildlife is hard to spot in the heat of the day and that is why we take a break from game drives as they do.
In the late afternoon, we will head back out on our 4WD to enjoy the sunset in the bush, perhaps with a sundowner (Luxe trip), before returning back to the lodge for a shower and pre-dinner drink by the camp fire.
While on game drives, we will share an open-top 4WD car. That means the sun rays come through from the top and from the sides. In case of rain, the car top comes down, the windows are closed, and we can still watch wildlife through the glass.
Because of the change in temperatures during the day, you should pack in layers, and we recommend wearing long sleeves to protect yourself from insects (aka mosquitoes) and from the sun, which shines horizontally in the early and late hours of the day and will come through the 4WD sides.
When at the lodge, casual is the name of the game and you should dress comfortably. In Zanzibar, light flowing dresses and beach wear is most appropriate, as we will be spending most of the time by the pool or beach. In Stone Town, it is recommended to cover shoulders and knees as a sign of respect for the locals who are largely Muslim and traditionally more conservative than in the mainland.
Packing tips for Tanzania
Before we delve into our Tanzania packing list in detail and look at all the items we recommend bringing, we want to provide some general Tanzania packing tips to bear in mind.
Pack light and soft. We can't stress this enough. The aircraft we will use from the Serengeti to Zanzibar is a small propeller plane and

there is a weight limitation.



Both guests and luggage need to be weighted to stabilise the plane and carry enough fuel. You are allowed no more than 15kg as luggage (including hand and check in luggage) and ideally, in a soft duffel bag that can be easily fit inside a plane, as opposed to a hard case that is hard to stack.

Overpacking puts the pilot in a difficult situation and on a full flight, and may mean your luggage gets brought in on a later flight. Paying for extra weight is possible but dependent on how full the flight is. Lodges offer laundry service for a nominal fee or complimentary at luxury lodges and you can get your clothes washed, dried and folded overnight, use this service and bring

only

what you need.

Note: The staff do not wash underwear but can provide detergent for you to do so yourself. We recommend using a wheeled duffel bag so you can more easily carry it around and check the weight of the bag empty, some of these can be really heavy and eat into your allowance. Below some options.
Layer up. The best way to pack for the days on safari is by wearing a few layers of comfortable clothing including short sleeve tshirts, and long sleeve shirts with a collar and a light fleece jacket; even better if it is windproof. Since early morning game drives will be chilly, you can dress warmer as we depart from the lodge and remove layers as the day progresses and the temperatures rise, only to put them back on when the sun sets.

Collars are key to keep your neck from sunburn. It's normal for the mercury to increase / decrease by 10C in just a couple of hours so you might get into the car wearing long sleeves, jacket and scarf only to return in a tshirt. Most visitors to Tanzania get caught by surprise by the change in temperatures during the day.
There is no *real* dress code on safari. You can pretty much wear anything on safari so there is no need to purchase new clothing. However, a suitable and comfortable outfit is made of three layers: a tank top or short sleeves tshirt, a long sleeve shirt that you can roll up or a thin hoodie tshirt and a zip-up jacket.

This is what we always wear in the bush and is a practical combo to stay warm and protected. We then throw on a light scarf for the early mornings and evenings, which can also be useful to cover the side of our faces in case the sun is shinning right on our cheeks while on game drives, and we have the perfect outfit. Comfort should trump style and fancy clothes should be left at home.
Cover up. We recommend wearing long sleeves and long trousers to protect from both the sun and the insects, in particular mosquitoes and tse tse flies whose bites can be extremely painful and go through layers of clothing and even shoes and socks. This is particularly important because we will be in areas where malaria is endemic. Fabrics that protect from the sun (offer SPF protection) are useful since the sun rays are extra strong on the Equator. This way you don't have to put on any sunscreen.
Blend in. We prefer neutral colors which hide the dust and mud and blend in with the surroundings. Avoid the color black, because it attracts mosquitoes, and avoid bright colors, which do not exist in nature and which may grab the attention of wildlife. The more you can camouflage, the better.
Go natural. Quick dry material, especially that which repels water, is best for clothing in case of rain showers or if you want to do your own laundry. This is useful though not essential. We find that natural fibers such as cotton, denim or linen, are good but will end up quite creased or take long to dry.
Be sustainable and environmentally conscious. We will be staying in non-permanent lodges in the middle of conservation areas and national parks, and these are fragile eco-systems that need our protection. They are not connected to the electricity grid or to urban centers where waste disposal is handled, so please help out by being extra conscious and avoiding single use plastic, favor chemical-free products and toiletries and be mindful of wasting water when you brush your teeth or take a shower.
Close up. Dust gets everywhere while on safari, and we mean it. You'll be in an open top vehicle for several hours a day and the dust of the bush will get into your bag, your camera lenses, your sunglasses, etc. We recommend packing dusting fabrics for items that may need cleaning (glasses, lenses) and bringing a bag that can be zipped closed and keeping it that way on safari.
Pack valuables and important items in your hand luggage. This is extremely important, especially for those with connecting flights as is the case for most travelers to Tanzania. Make sure that anything of value or that is fragile such as money, all cameras and valuable electronic equipment and batteries (which most airlines require you to pack in your hand luggage anyway), are with you. It is also wise to include a change of clothes, or at least an extra tshirt, underwear, and basic toiletries in your hand luggage in case your bag gets delayed in transit.
What to wear on safari in Tanzania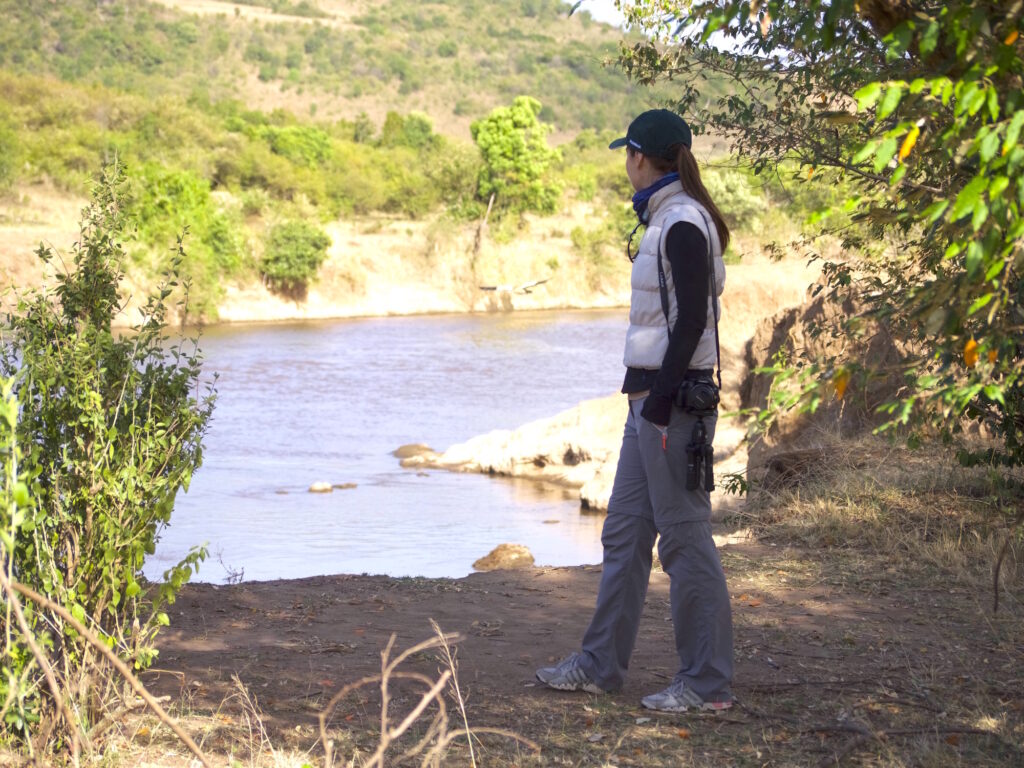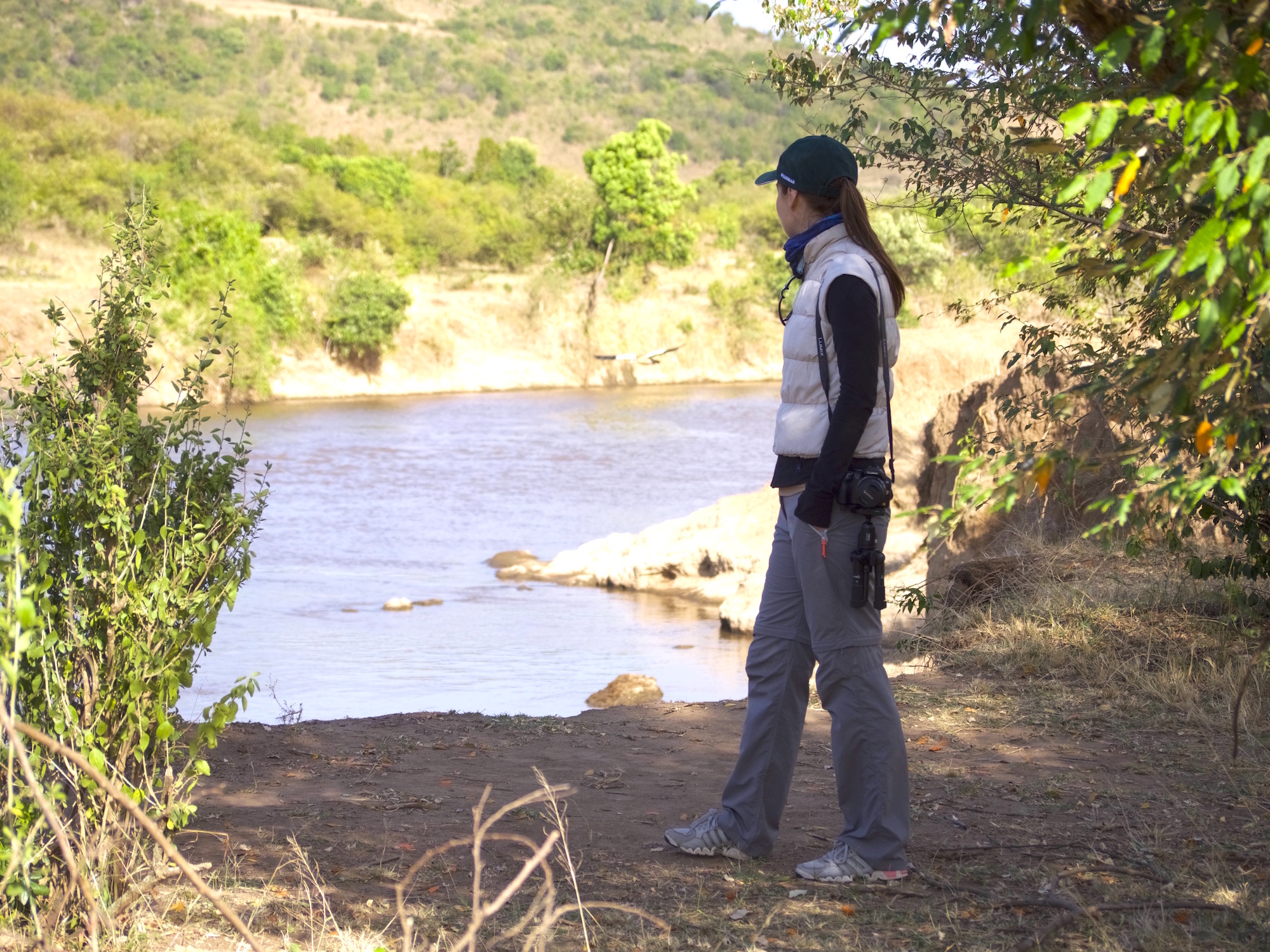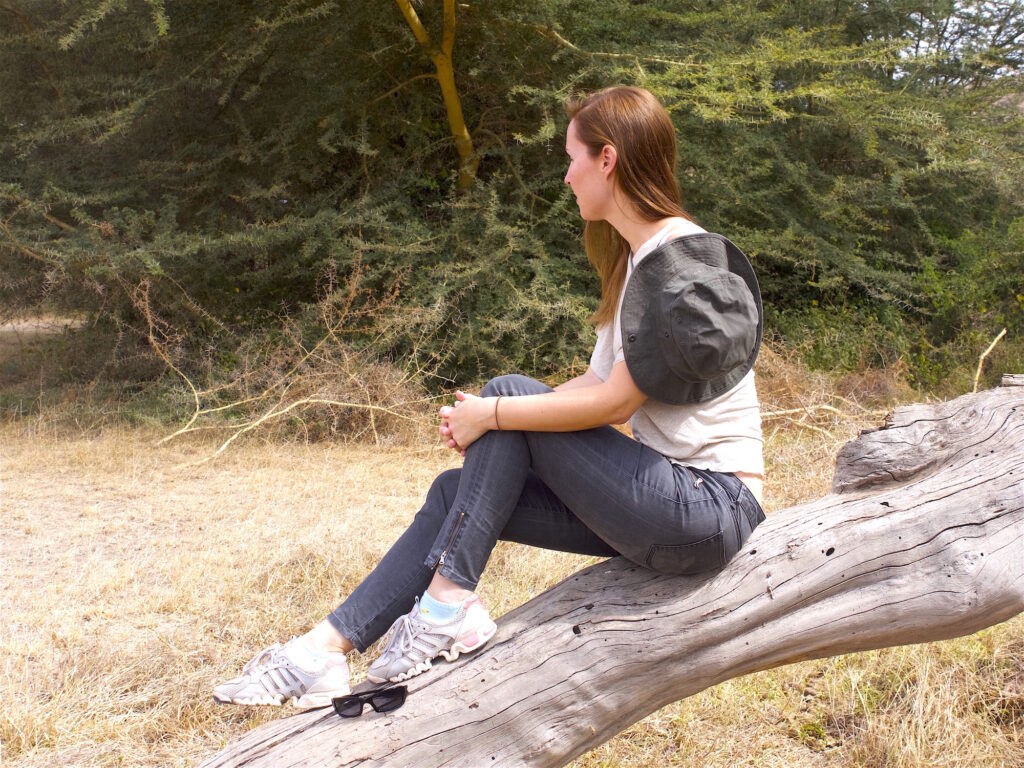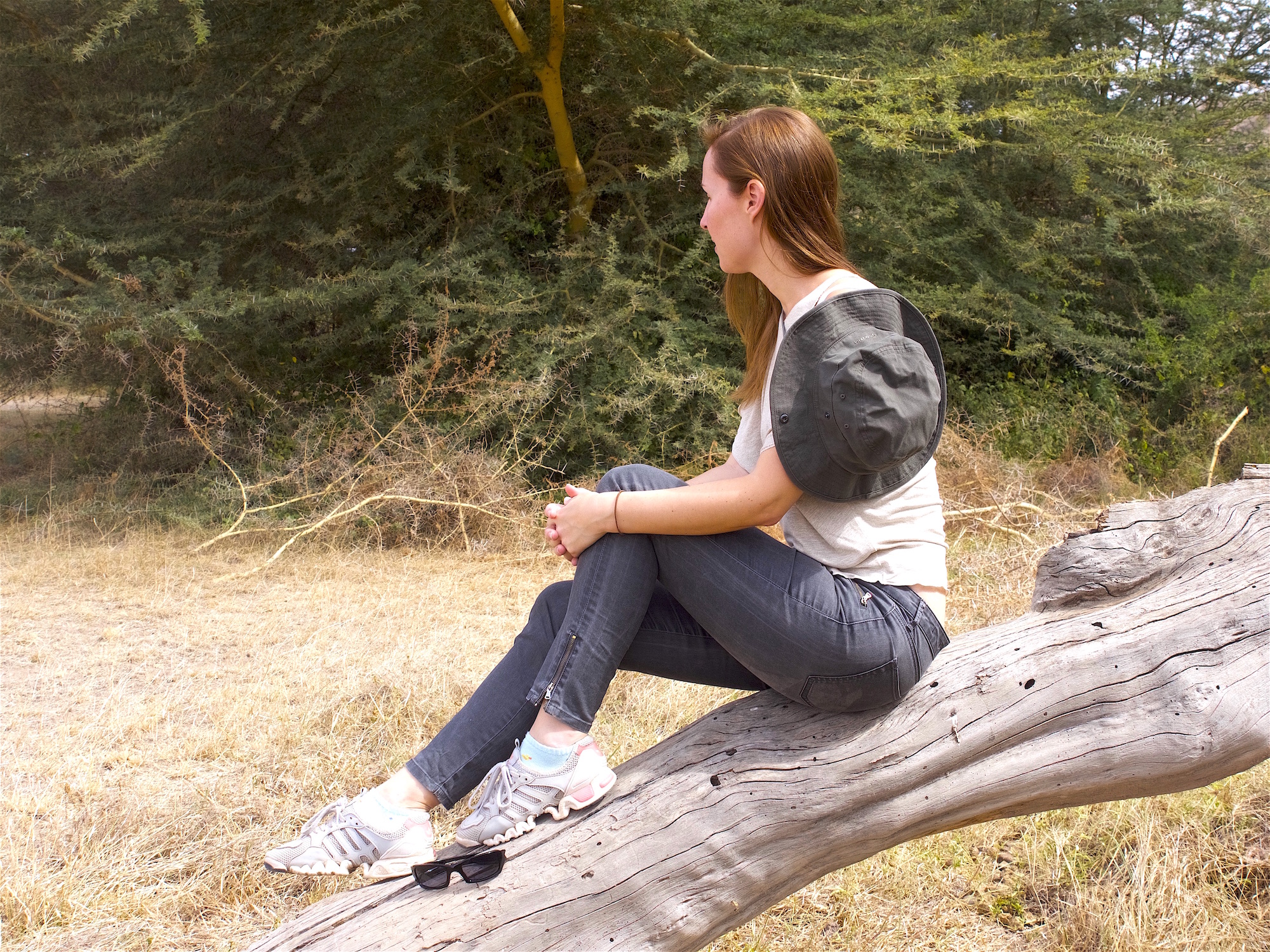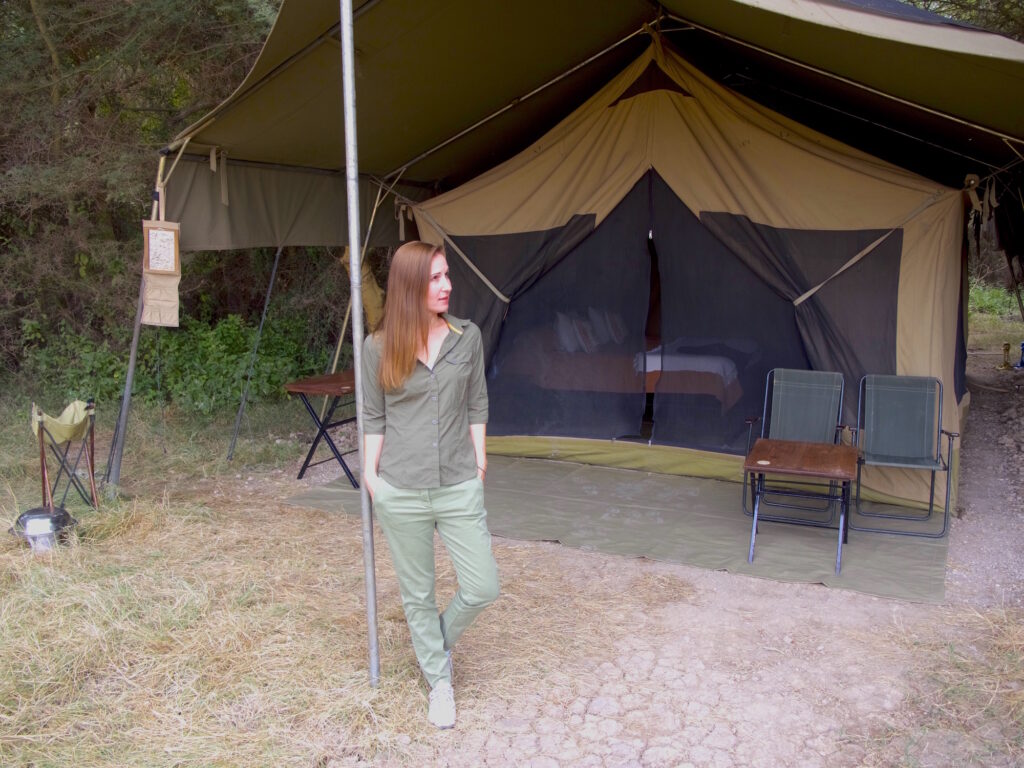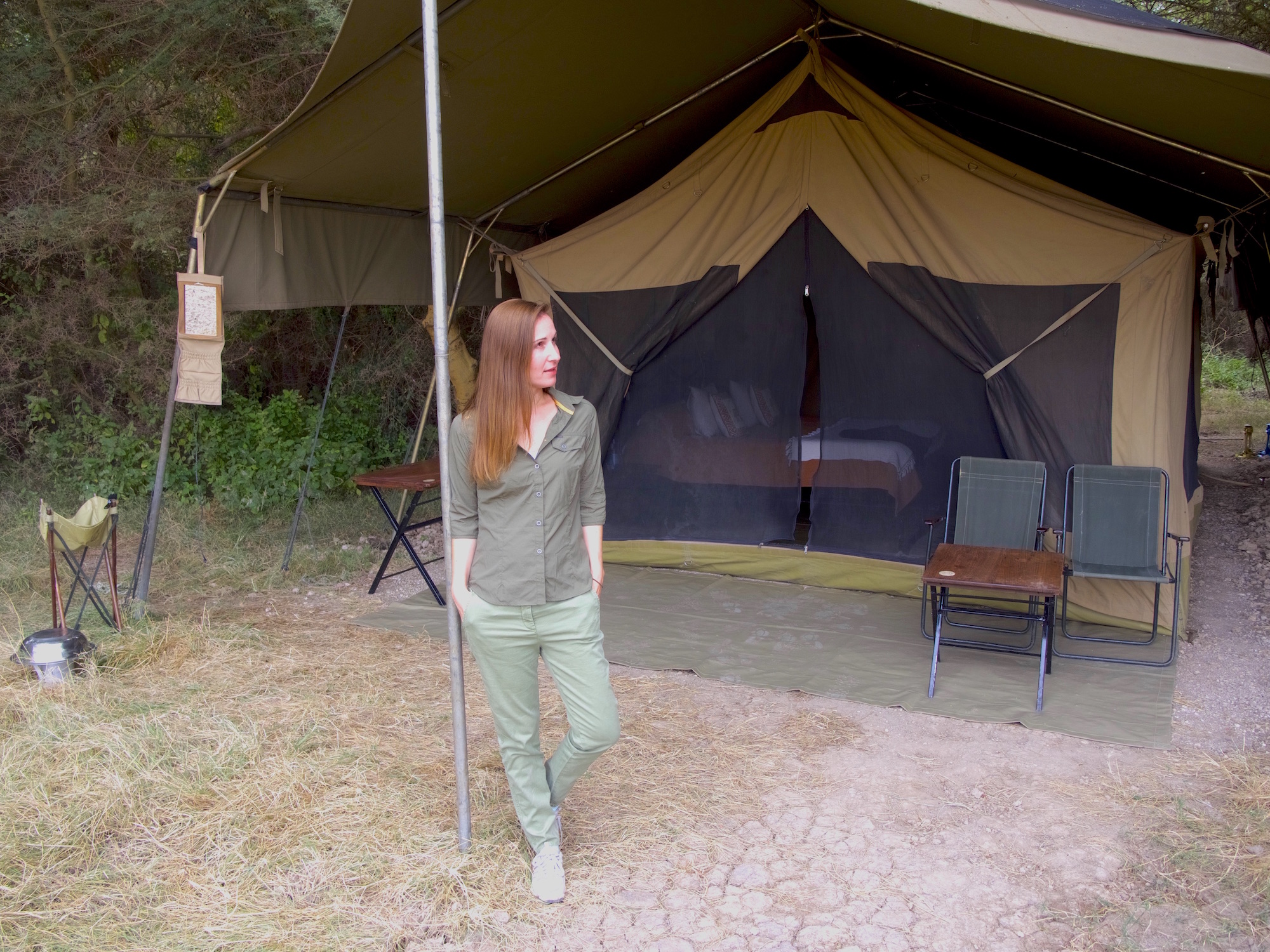 Above you have a few photos of the outfits I wore in my last safari. I did not buy clothing specifically for the trip but I do have a few items that I only use on safari because I have been to several.
Your tops on safari
As mentioned, we recommend layering up with 3 pieces of clothing: a base layer made of a tank top or tshirt, a long sleeve shirt or tshirt, and an outer layer light jacket. Remember that most of your day will be spent either in a 4WD open top car or the lodge.
We recommend having 2 or maximum 3 items of clothing for each safari layer and getting them washed at the lodge, plus an additional evening outfit you can wear around the lodge. This should ensure you always have clean clothes to wear and minimize packing.
2-3 x base layer tshirts or tank top
Your base layer is the one closest to your skin and should be comfortable and soft. Bring more of these and fewer of the top layers so you always have fresh base layers even if your top layers get dirty.
Any tshirt or tank top will do, but we particularly love those from Uniqlo. Sports tops are also a good idea. If you are worried about perspiration, it's good to bring short sleeves.
2-3 x top layer shirts or long sleeve tshirts
This is the most important layer because it is the one you will be wearing most of the day and it is the one which will protect you from the sun and insects. If you splurge on any piece of clothing for this trip, I would suggest you do so on this top layer.
I prefer to wear collared shirts for this layer because they protect my neck from the sun and I can roll the sleeves up if it becomes too hot. Outdoor brands have specifically designed non-crease, quick dry, cooling shirts that are light and just what you need.
If you don't like to wear shirts, long sleeve hoodie tshirts are also a good idea. Bonus points for the ones which cover all the way to the back of your hand and maximize your protection from the sun; I wear these in Singapore when I go out running or cycling.
If you prefer not to buy clothing you won't wear back at home, any long sleeve blouse or tshirt will do, but avoid those in black or white, which will attract mosquitoes or end up pretty dirty.
2 x outer layer fleece jackets
You should bring a light jacket or fleece jacket to wear in the early morning and late evenings. As mentioned, temperatures really do drop quite a bit at night in the Serengeti and Ngorongoro area because of the high altitude above sea level.
I like the loose fitting, fluffy and furry, zip up fleece jackets that also keep my lower back warm when sitting down in the fold up safari chairs.
Zip-up jackets are easier to open when the weather gets hot and many of them come with interior pockets that come in handy to carry lip balm, sunglasses, sun screen and to keep my camera lens cover when taking photographs.
I like the feeling of a soft fleece jacket instead of a proper structured jacket and it is also a much easier item to pack which can easily fit in your day pack or in your luggage, plus it can be the same jacket you wear in the plane, we all know how cold it gets in some cabins!
Pro tip: Pick a jacket that has a collar so that your neck is protected form the sun. Even in the early hours when the sun is coming up, you can get sun burnt without noticing.
Trousers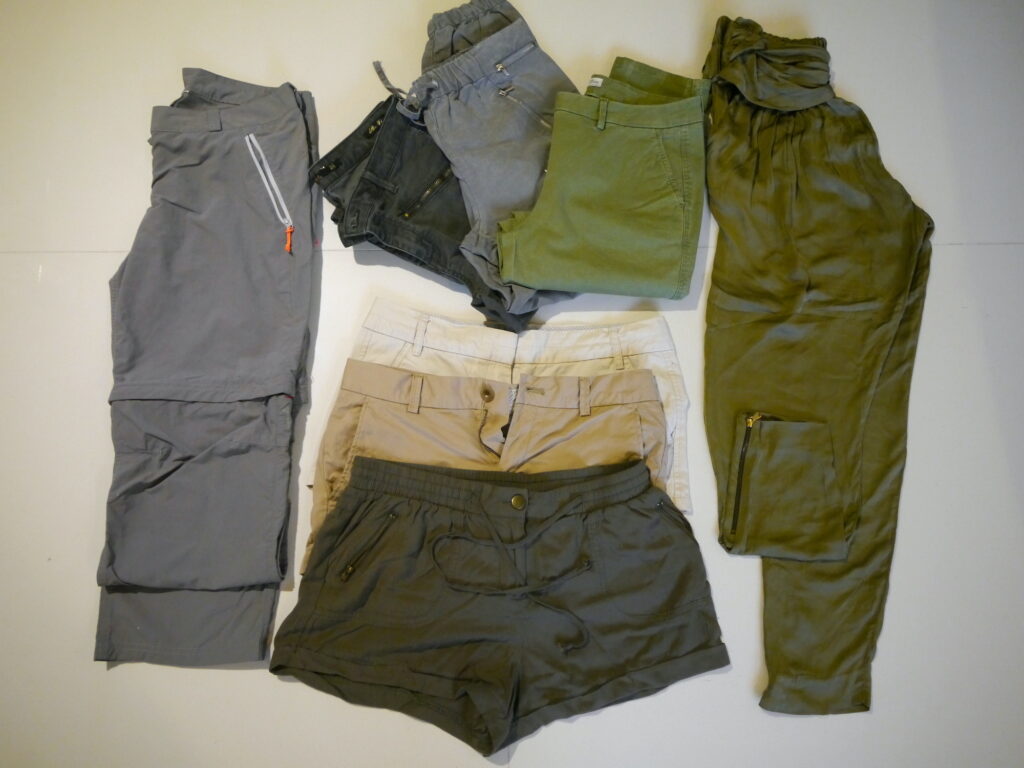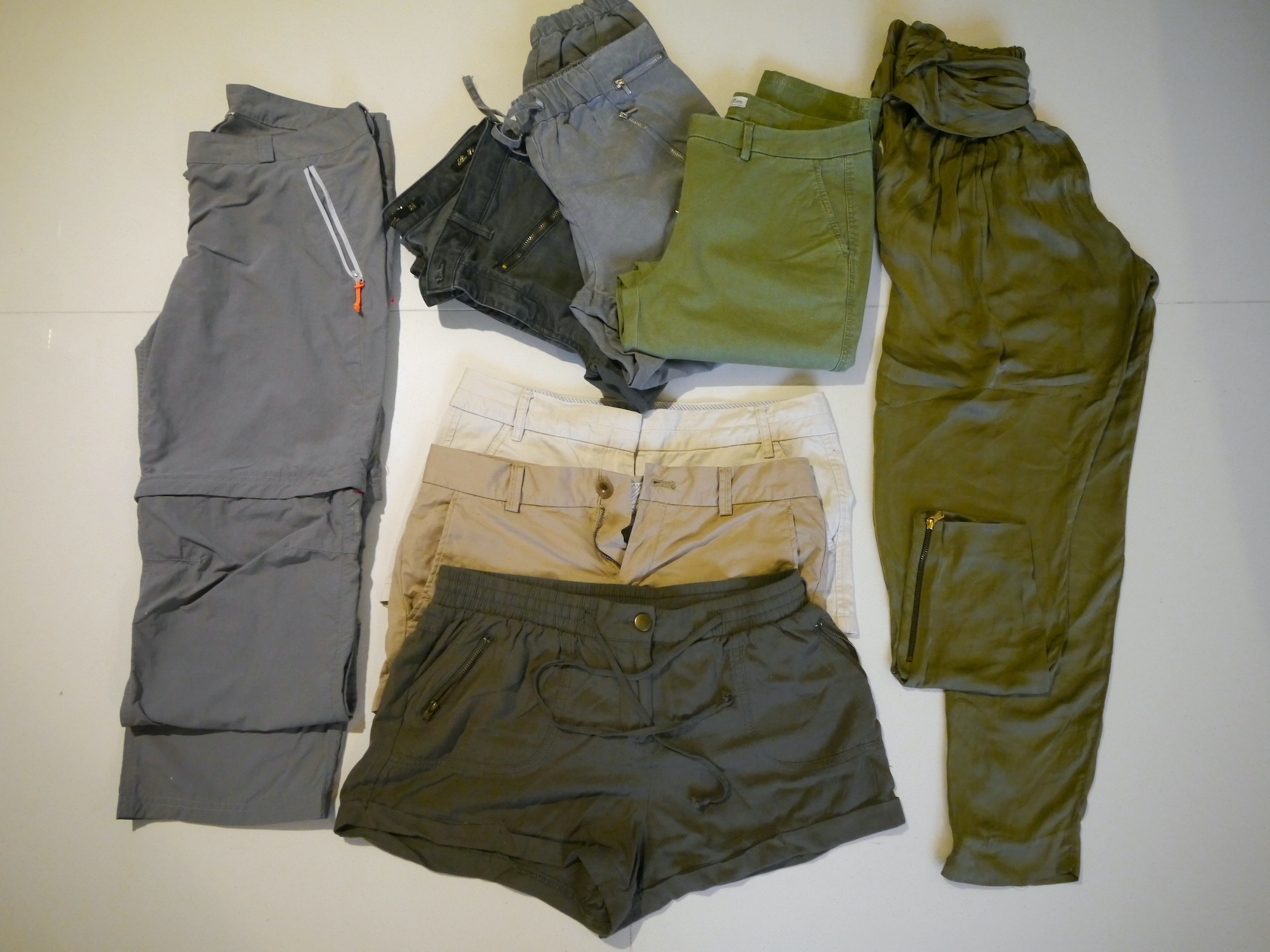 Besides your top layers and jackets, we recommend wearing long trousers on safari. Any kind of comfortable pair will work, but the zip up trousers that can be converted from long to short are a good idea because they will be useful to keep you warm in the morning and cool during the day.
In the above photo you see a lay-out of the trousers I packed on my last safari trip where we spent 10 days on a private mobile tented safari. I brought one of the typical hiking pants that adjust to shorts (on the left), three pairs of casual cargo / khaki trousers, one pair of silk trousers for the lodge, and 3 pairs of shorts that I wore around the lodge and in Zanzibar. I was there during the peak summer months when temperatures were hotter during the day but at night, they still dropped to chilly.
As mentioned, you will be sitting in a 4WD car for a minimum of 4 to 6 hours every day, so it is important that you wear comfy pants. If you are comfortable in jeans, they can be a good idea, but the tough fabric can make sitting in a car for an extended period of time quite uncomfortable and they will take longer to dry after washing.
If you already have hiking pants at home, bring them over as they are always useful. Alternatively, yoga leggings, cargo pants or any exercise pants are fine, but remember to avoid black and bear in mind that, the thinner the material, the more likely it will be for mosquitoes and tse tse flies to bite through it, and trust me, they will!
Below are a few recommendations for trousers to pack on a safari.
Other clothes to pack
If you are a buddying photographer, you will be carrying your own camera and lenses and several other accessories that you need to have handy in case the opportunity for the right shot presents itself. If that's you, a pocketed utility vest like the ones used for fishing and hunting can be useful.
We also recommend packing a comfortable outfit for the evenings. After a warm shower, it'll be nice to slip into clean crisp clothes. These will need to be washed less so two pairs of each bottom and top should suffice if you make use of the lodge's laundry service.
We don't usually recommend wearing shorts on safari for the reasons explained above, but while at the lodge, you may want to relax in a pair of shorts during the day or a skirt like I did in the picture above.
Alternatively, a loose pair of trousers, a pair of capris pants or a long skirt can be equally comfortable, or even a maxi dress that you can also wear in Zanzibar.
Footwear
We strongly recommend wearing closed-toe, rubber sole shoes such as sneakers with socks so you don't get bitten by insects (tse tse flies love biting your feet even through sneakers and socks) or end up covered in mud / dust and can easily walk to and from the car and around the lodge.
Contrary to what you may think, there is no need to wear heavy hiking boots or alike because there is no walking involved in the safaris we will be doing in the Serengeti and at Ngorongoro Crater. The safari outfits you see in movies are more for the historical big game hunters who did indeed cross through the jungles and savannah of foot, but we won't be doing any of that.
Any closed toe comfortable rubber sole shoes that follow the principles of protection and layering will be best. If you have heavy duty hiking boots and want to bring them, we advise that you reconsider; they will be unnecessary, will they take up a lot of space and will eat up a lot of your weight allowance.
You may bring sandals or flip flops for the pool area at the lodges and a pair of casual shoes for when you are at the lodge if you wish to change into clean shoes after rain or mud (though the same shoes you wear on safari are perfectly fine at the lodge).
Below are a few recommendations for trail shoes and boots if you are looking to purchase something. We love Timberland and Columbia as they are great outdoor brands and their products just last forever. I have a pair of 12 year old Timberland hiking boots I always bring on safari and the brand has been making the same model for at least 2 decades.
Like with clothing, you'll be better off avoiding black colored shoes, mosquitoes and tse tse flies love bitting your feet and it is not pretty to end up with 20 bites.
What to wear in Zanzibar
Zanzibar is all about beachwear at the resort and conservative, flowy and loose clothing in Stone Town.
On our first day on the island, we will go on an architecture tour of Stone Town. That is, we will walk around the maze-like narrow streets of the town center. We recommend you wear long trousers or a long skirt and cover your shoulders for this part.
While locals are used to visitors wearing shorts, we find it is more respectful to wear long bottoms and a tshirt, instead of a tank top. There is no need to cover your head or dress any more conservatively than this.
While at the beach resort, you are free to wear your bikini or swim suit, shorts, skirts, dresses, cover up tunics and other beachwear as you would elsewhere. Resort pools are private areas but beaches in Tanzania are public, despite the stretch in front of each resort being primarily used by resort guests.
Resorts provide towels so you don't have to pack that, but a sarong is always a good idea and can come in pretty handy in various situations, from going down to the pool or beach from your room to getting up from your lounger to order food or drinks. We always have one handy whenever we are traveling to the beach.
In terms of footwear, a pair of flip flops or sandals will come in handy, both at the resort as well as when touring Stone Town. We like Havaianas slim flip flops.
If you plan to book any additional water sports such as windsurfing or snorkelling, you may want to pack a rash vest or rashguard swim suit which will not only protect you from the sun but also keep you safe from scratches from corals or surf boards. I always have a couple of them from O'Neill and Roxy handy.
Don't forget to bring a tote bag that you can use to go down to the resort pool or beach and a straw hat to protect from the sun. You can of course also use your safari hat.
If you plan to book any water sports, you may want to consider bringing a waterproof dry bag. They can hold your sunscreen, your room key and even your phone if you are, for example, going kayaking.
Other items you should pack for Tanzania
Besides packing the right clothes, there are a few others items you should include in your luggage, below we list a few handy ones:
Repellent, repellent, repellent: By now you probably realized that mosquitoes and insects are a fact of life in the bush and in Zanzibar. While we strongly recommend you take Malaria tablets as a precaution (and you should get the proper medical advice on this) and get the necessary vaccinations (Yellow Fever, Typhoid Fever, etc.), the best way to protect yourself from nasty bites is by spraying repellent. Everyone has their favorites, from the natural repellents that use citronella and other ingredient to the DEET-based repellents.

When I worked across East Africa for 5 years and was not able to take Malaria tablets on a daily basis, I always wore long sleeves, long trousers and high socks, then generously sprayed repellent with a high DEET concentration (minimum 40%). I find that natural repellents just don't work in the bush and DEET is essential. However, everyone is different and what works for someone may not work for someone else.

If you decide to use DEET-based repellent, beware that it is a toxic chemical and you should apply it in an airy place and wash your hands thoroughly to avoid having an upset stomach. If you buy repellents with a high concentration of DEET (eg. over 50%) beware that their chemicals may melt plastic, including the bag which you may store them in or your sneakers.

We prefer to spray repellent on our clothes instead of on our skin. In the lodges, mosquito nets will be placed over the beds at night. Below are some of the repellents we have used in the past. I have relied on the brands Repel and OFF at home in Singapore and in the bush and tropical jungles for years and they just work.
Scarf: As mentioned, I like to have an infinity scarf handy. It is useful for chilly mornings, to protect from the sun rays in the heat of the day, and to cover your head in case we enter a mosque in Zanzibar. Scarves are also useful if we drive through a dusty patch while the car's top is open, so you can cover your face. We like infinity scarves so they don't fly away with the wind.
Hat: On safari, a floppy sun hat is a very useful item to pack and better than a wide brimmed straw hat that is not only harder to pack (especially in a soft bag) but also unpractical in the confined spaces of a car. We recommend you bring one which comes with adjustable chin cords that keeps it from flying away when we are driving, has foldable flaps and is wide brimmed for extra sun protection. Alternatively, a cap will also help you protect from the sun, but since the sun rays come sideways, you will need to layer on the sunscreen or use a scarf. A Panama hat is a good middle ground option too (but make sure it has a chin strap).
High socks: You guessed it, socks are important to protect from insects. We like the relatively thick ones, especially if you are wearing boots, so you avoid blisters and add a layer against tse tse flies.
Binoculars: If you are an avid wildlife lover, you may want to pack a pair of compact binoculars. Safari guides always have their own pair you can borrow but if you don't want to share, you can consider bringing your own.
Sports bras: We will be spending several hours in a 4WD driving across bumpy, unpaved and possibly potholed park roads. Many women find that sports bras help and are better than wire bras.
Universal plug adaptor: Tanzania uses British three prong plugs. We like the ones which come with USB ports so that we can charge phones, cameras and everything else with just one adaptor. We use the one in the image below from Samsonite.
Power bank: Because the days will be long and we will spend lots of hours in the car, a power bank will ensure you can continue taking photos. We use the incredible Aukey 30,000 AMP which is the real deal and can even charge your laptop, but you don't need something this big, a power bank that can recharge your phone twice is enough. The 4WD cars will also have USB. Make sure your camera or batteries can be recharged with a USB adaptor and you'll be able to do so in the car.
Waterproof mobile phone case: This may come in handy to take photographs while we are sightseeing if it starts to rain, but mostly if you go into the sea in Zanzibar or decide to take a day tour, for example, to snorkel.
Body lotion: The weather can be quite dry and dusty so a good body lotion is always a good idea. Plus it's more environmentally friendly to bring your own in a small reusable bottle than to use the disposable toiletries given at lodges.
First aid kit: You should bring your own medication as we will not be near a pharmacy for most of the trip. If you take prescription drugs, it is a good idea to carry a doctor's letter in English that indicates you need to take the drugs in case you are stopped at immigration. Don't bring more than you'll need for the trip. Other items to add to your First Aid Kit are painkillers, plasters and antiseptic ointment, motion sickness tablets, antihistamines, electrolyte powder in case of diarreah plus any other tummy ache related tablets or medicines your doctor may suggest (antacid, diarreah tablets, etc.). See our First Aid Kit list here.
Your favorite book: There will be lots of time on your flights to Tanzania as well as at the lodge between morning and evening game drives for reading. Have a look at our list of the best books for women, our Tanzania travel tips which has a section on books, or peruse one of the African inspired books like Out of Africa. While we love paper books, a Kindle might be a better option in keeping with space and weight limitations.
Sunglasses: It is imperative to bring sunglasses especially for Zanzibar, but also for the safari since the sun shines low on the horizon and dust can get into your eyes. We like Oakley sunglasses as they are polarised and protect your eyes from any damaging sun rays and from the dust because they usually come quite close to the face. Make sure to pack a cloth to wipe and clean your glasses from dust, a constant battle on safari.
Tissue and wet wipes: It's a good idea to have a small packet of wet towels handy to wash face and hands from sweat and dust, after all, we will be in an open top car for a few hours everyday.
Ear plugs: If you are a light sleeper, a pair of ear plugs can help you sleep better and block out the sounds of the bush. We will be sleeping in lodges with thin canvas walls and surrounded by wildlife. Many animals are nocturnal and it is not unusual to hear their call at night.
Hair ties and / or bandana and / or hair band: I have very thin long hair so a wide hair band helps me keep the hair in check in the wind and dust of an open top vehicle and it can even be an alternative to a hat if you are ok with wearing sunscreen.
Environmentally friendly toiletries: We will be spending a large amount of time in the bush, and we have hand picked lodges that are environmentally friendly low-impact structures. This means they process their own waste, so the more we can help them minimize chemicals in the water, the better.

We highly recommend you bring toiletries that are low in chemicals. It is a good idea to pack chemical-free solid shampoo, conditioner, deodorants and shower bars instead of liquids to minimize space and environmental impact. We particularly like the brands Ethique. Consider other sustainable products such as toothpaste bits or reusable cotton buds to minimize the wastage you leave behind.
Pyjamas: Remember that we will be sharing rooms, so don't forget your pyjamas!
Water bottle: Single use plastic bottles are terrible for the environment so we recommend you bring your own reusable bottle. You will be able to refill it at the lodge.
Sunscreen: We like using Japanese Biore SPF 50++++ for the face while on safari because you can wear it under makeup and it is non sticky and silky smooth. In Zanzibar, you should bring proper high SPF protection, the sun is very strong near the Equator, and make sure it is reef safe so that it does not damage the fragile eco-system of the island. We like Australian brand Sun bum for its lovely smell, its soft texture and it's reef-safe ingredients.
Lip balm: The wind while in the car, the dust and the sun, make it particularly tough for the skin and lips so you should bring a lip balm to stay moisturised. We find these are essential to not end up with completely ruined lips or even blisters. We like Neutrogena for their Nordic formula that tends to heal battered lips overnight and comes with SPF.
Large ziplock bags: These can be useful to put dirty shoes in or wet swimming suits. Remember plastic bags are not allowed into Tanzania and only reusable ziplock bags are.
Vaccination certificates: If you are coming from an endemic Yellow Fever area or transition through one for more than 12h, you should make sure you have taken your Yellow Fever shot. This includes coming in from Ethiopia or Kenya or transiting through either for more than 12h.
A foldable toiletry bag: I always travel with a foldable toiletry bag which I can hang anywhere. On safari, these bags make sense because there may not be a lot of space around the sink, we will be moving around a lot, so you save on packing and unpacking, and will share with another guest. They also help you keep everything easy to find and tidy.
Camera equipment for Tanzania
Most of us will go to Tanzania and want to take memorable photos of our safari experience. While you can take perfectly good photos with a point and shoot camera or even your phone, most of the wildlife encounters will involve wildlife being a few meters away and the only way to get a clear picture is by using a zoom lens.
We do not recommend purchasing specialised equipment to take photos on the trip unless you have the time to learn how to use it in advance as a complicated camera you can't properly use is worse than a point and shoot. If you've ever considered purchasing a good camera, then a safari is the perfect excuse to do so, BUT (and this is a big but!), do practice extensively at home before the trip with moving objects, animals, etc.
Some wildlife photography tips before we look into specific items to pack:
Don't underestimate your phone camera. At times, animals could be really near the vehicle and by the time you change your telephoto lens and get the right one for a close up, the animal has passed. Phone cameras can be a great supplement for selfies and close up shots when wildlife approaches the vehicle, which does happen. Plus phone cameras are good to take photos around the lodge or group shots with other travelers or even short videos for social media.
Become intimate friends with your camera. We've said it, but I will say it again, familiarise with your camera. This includes what settings to use and what zoom lens is best, when *that* scene unfolds in front of your eyes you won't have time to fiddle around with the settings, you'll get one chance, so be ready.
Back up your photos: If you are an avid photographer then we strongly recommend that you back up your images daily to your laptop. While there may be internet access in the lodge this will be provided by the mobile network and backing up hundreds of photos to the cloud won't be possible. Memory cards can often be faulty with the constant shaking and the dust so if images are really important to you we recommend you make a backup. Alternatively, bring several smaller memory cards so you file away the one you used each day and keep it safe until you get home. Should one go faulty, you would only lose a day or two of images as opposed to them all.
Below are a few of the cameras we have used / use and some of the accessories we recommend which are arguably, more important than the camera itself.
Mirrorless Panasonic Lumix G95: This is one of the cameras I have and use on safari. What I love about this model is that it is lighter than a full frame DSLR camera which can easily weigh double, and it works with Lumix lenses which are also much more affordable and compact. I have a wide angle 7mm-14mm, a 25mm-150mm and a 100mm-300mm that is perfect for safari; long enough to capture wildlife from up close but compact and more importantly, light enough that I can fit it in a small camera bag and comfortably carry it around. Plus Lumix is resistant, and easy to use. It connects to my phone via bluetooth so I can see photos and operate the camera remotely.
Canon EOS Rebel T7: Canon DSLR cameras are widely known to be the top of the range but they are usually heavier than mirrorless cameras, both in terms of the camera body and the lenses. However, they produce incredible photography and because they are DSLR and not mirrorless, the quality of the image is better and they can photograph the night sky without noise. The below bundle is perfect for safari photography.
Lenses: A telephoto lens of at least 300mm is a must if you want to get close up images of wildlife. We would also recommend a second lens that is 25mm to 70mm for images that provide context and focus on the scene, and a wide angle lens for landscapes or in my case, for lodge and hotel interiors (or you can use your phone).
Extra batteries. No matter which camera you choose to bring, having extra batteries is essential. Even if you don't take photos all the time, you may have your camera turned on a lot and you don't want to run out of battery.
Stabilising bean bags: When a specific animal or scene is spotted, your driver will stop the vehicle and let you all enjoy it. That means that most shots will be taken with the car engine stopped. However, with a long zoom lens, you will need all the stability you can get and since you can't use a tripod, a small bean bag you can rest on the car's rooftop and put your camera on is extremely useful. If you can't find a bean bag where you live, a simple solution is to bring a small zip bag you can then fill with beans or rice in Tanzania. Check this one.
Monopod: I just mentioned bean bags are useful and tripod are not. There won't be enough space inside the vehicle to stabilise a tripod and using one would also severely restrict movement and not let you turn around fast enough when animals move (and they do). A good alternative to a tripod is a monopod which allows you to rest the camera on a stable leg and take photos without using a bean bag and having to stabilise the camera over a roof. I like Manfroto's pods and tripods, they are excellent and a brand reference.
Extra memory cards: The most frustrating experience on safari is to go take that special photo only to realise your memory card is full. Make sure to pack enough memory cards. Trust us, you will take more photos than you think and taking 500 a day is almost guaranteed. You don't want to run out of space when that leopard decides to come down from the tree! We like SanDisk 64GB cards for photos. Consider larger cards if you also want to take video.
Memory card reader: Unless your laptop has a memory card slot (and even if it does) a memory card reader is quick way to back up or see photos you've taken on your laptop during the downtime between game drives. We like the dual slot USB readers that allow us to plug in both SD and micro SD cards. Check this compact USB stick one out.
A cloth to clean your lens: As mentioned, it's dusty on safari so you'll be wiping your camera all the time and we recommend that, when you are back at the lodge, you clean it properly with liquid and tissues.
Things you should NOT pack for Tanzania
There are several items that may occupy a lot of space in your luggage and which you will find no use for in Tanzania.
Hair dryer: Most of the lodges we will be staying at do not have powerful enough electricity to power a hair dryer, so we strongly advise you leave it home. Showers are usually taken during the day as early morning game drives are the norm so your hair will have enough time to dry with natural heat.
Speakers to play music: Peace and quietness are appreciated when on safari and playing loud music will disturb wildlife and bother other guests, especially since we will be staying in canvas tents.
Laptops: Unless you need to do some work, or you plan to back up your images every day into a hard disk (which is not a bad idea), we strongly recommend you leave your laptop at home. They could be damaged by the bumpy roads or the dust and will distract you from making the most of this incredible experience.
Tripods: Unless you plan to photograph the starry night or the Milky Way (which by the way can be incredible) or take sunset shots around the lodge, tripods are not useful on safari as mentioned before, because they cannot be easily manoeuvred inside a safari vehicle. A good tripod will also be heavy and occupy a lot of luggage space and weight so it's best to leave it home.
Make up: This is obviously a personal choice but we do feel that you can probably leave the foundation and other thick make up behind and embrace a natural look. Lodges are casual affairs and the mosquito repellent + sunscreen combo makes it quite unpleasant to layer on top of your make up. You can also choose to bring mascara, a lipstick and some concealer and leave all the rest at home.
More Reading Before Your Tanzania Trip