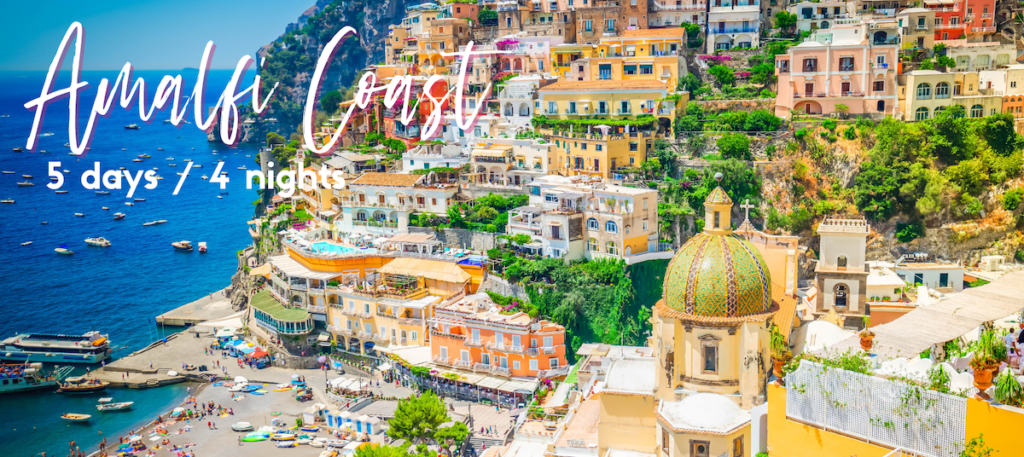 Amalfi Coast
Amalfi – Positano – Ravello – Wineries – Lemon Farms – Boat Tours – Hidden Coves – Seaside Walks
Show stopping trip through the colorful UNESCO-listed cliffside villages and famous grottos of the Amalfi Coast. We'll head out on beautiful seaside walks, dine in cliff top restaurants, enjoy garden wine tastings, lemon farm tours (and limoncello), morning yoga sessions, and a private boat tour of the coast and grottos with a chance to swim. We'll discover hidden beaches, hike the most famous trail in Italy, and join Italian cooking classes with a mozzarella and pasta feast.
Highlights: Sea view rooms with private balconies, picture-perfect gardens at Villa Cimbrone, lemon farm, tiled walkways of Praiano, lunch at the famous Da Adolfo beach, Ravello, Positano and Amalfi walking tours, mozzarella demo class, hike on Path of the Gods, al-fresco pasta class, farewell gourmet dinner with view.
No single supplements* | 14 spots | Yoga | Chic accommodation | Photographer onboard**
*Prices per person, we pair you with another solo traveler **For the Sep 5th, 2022 departure only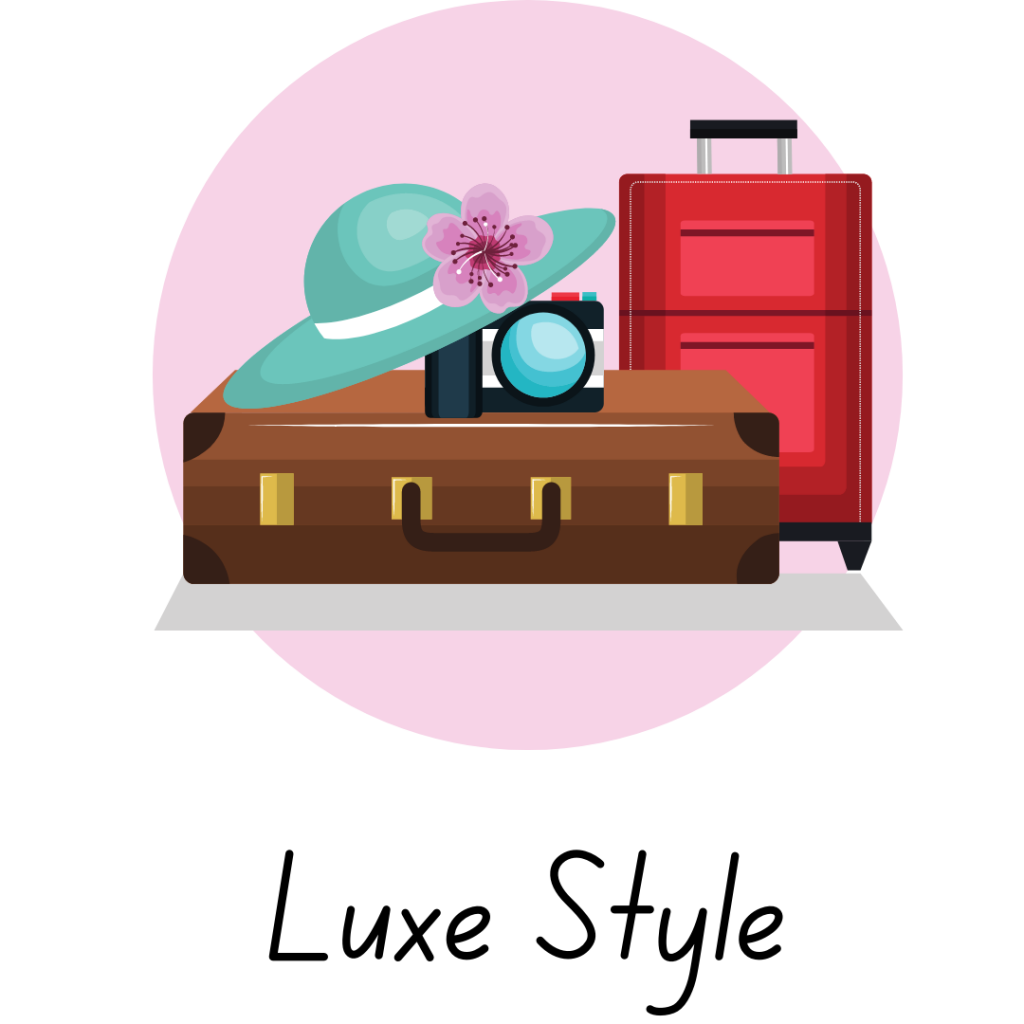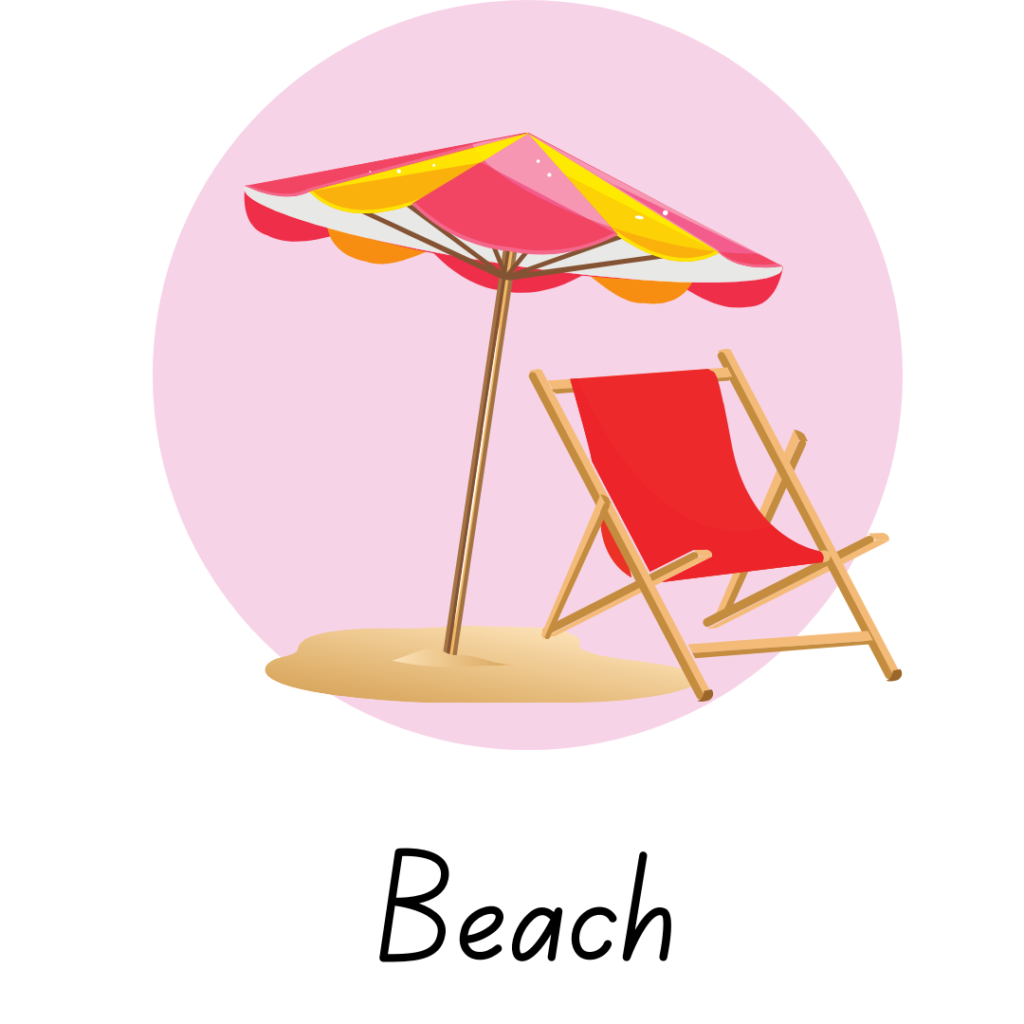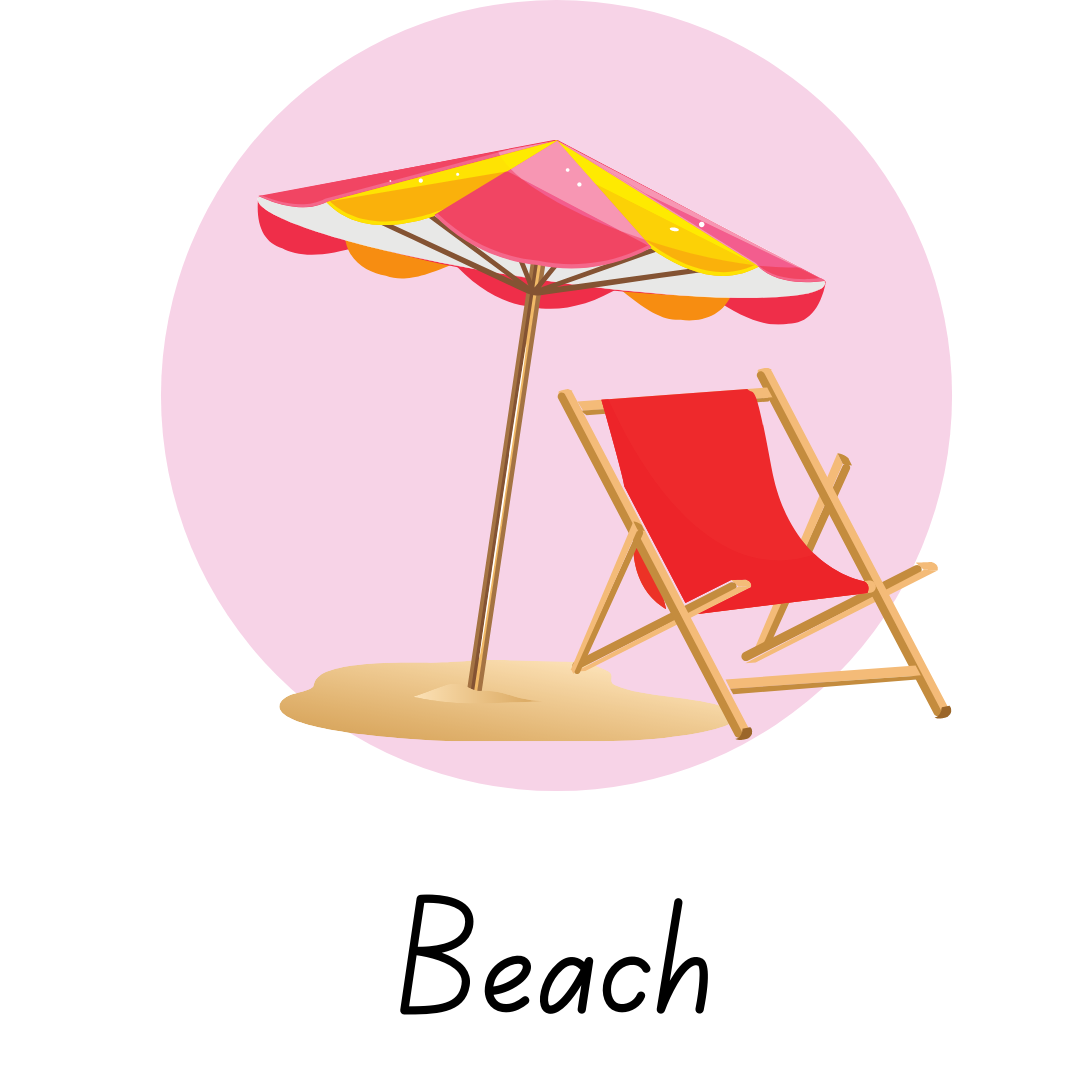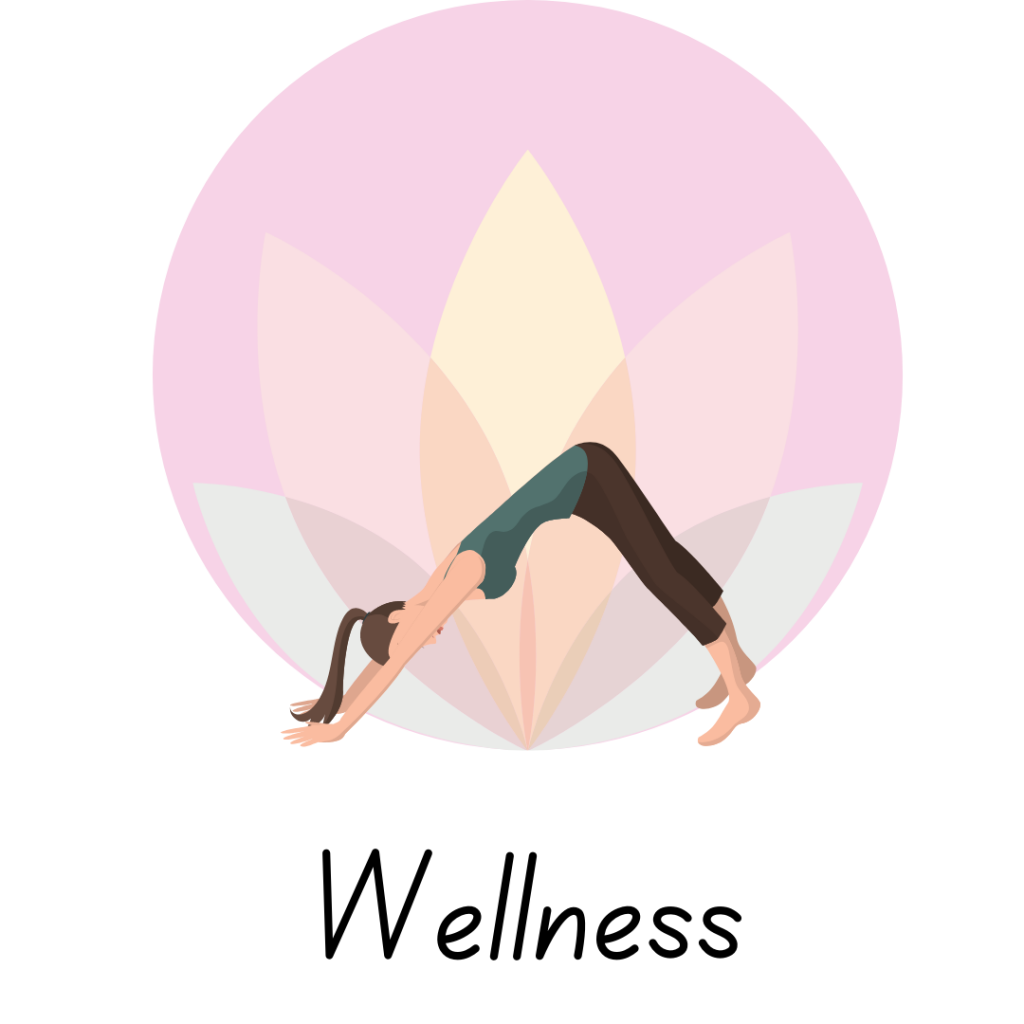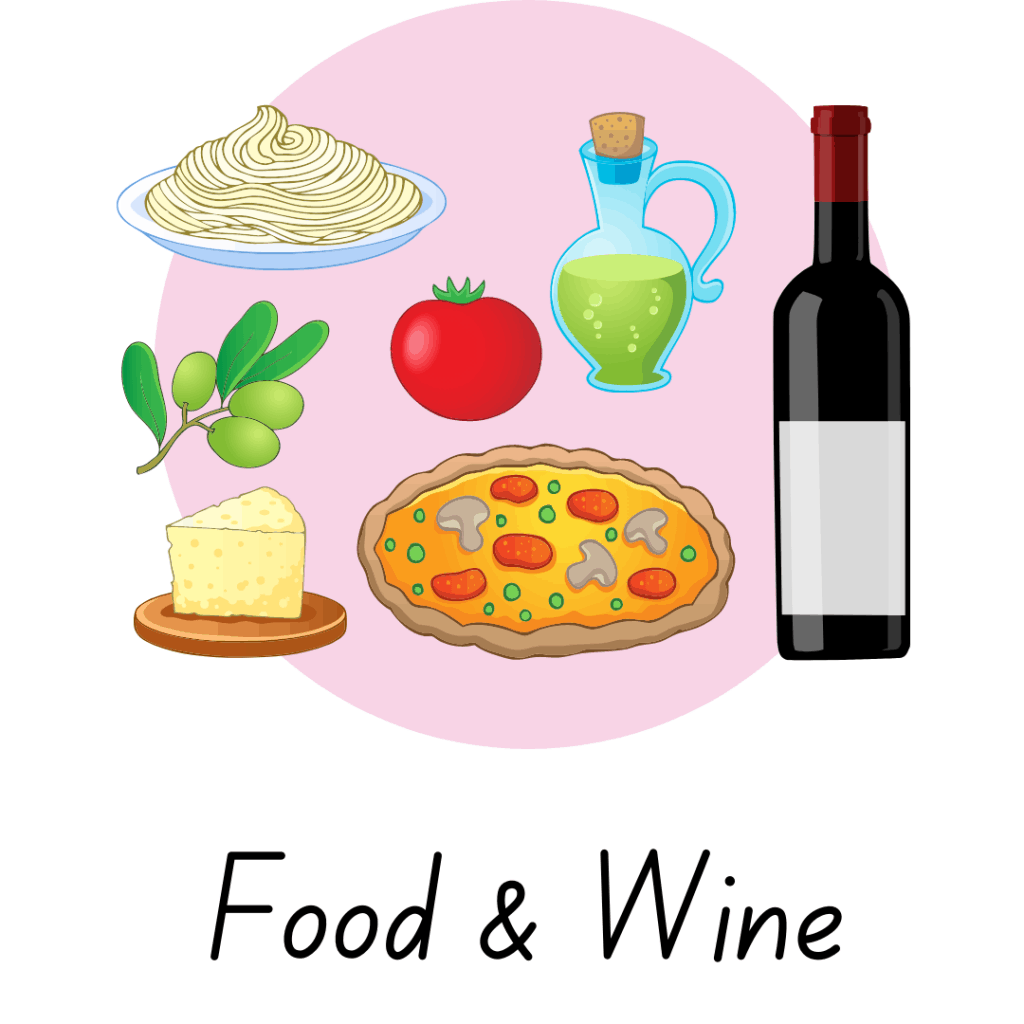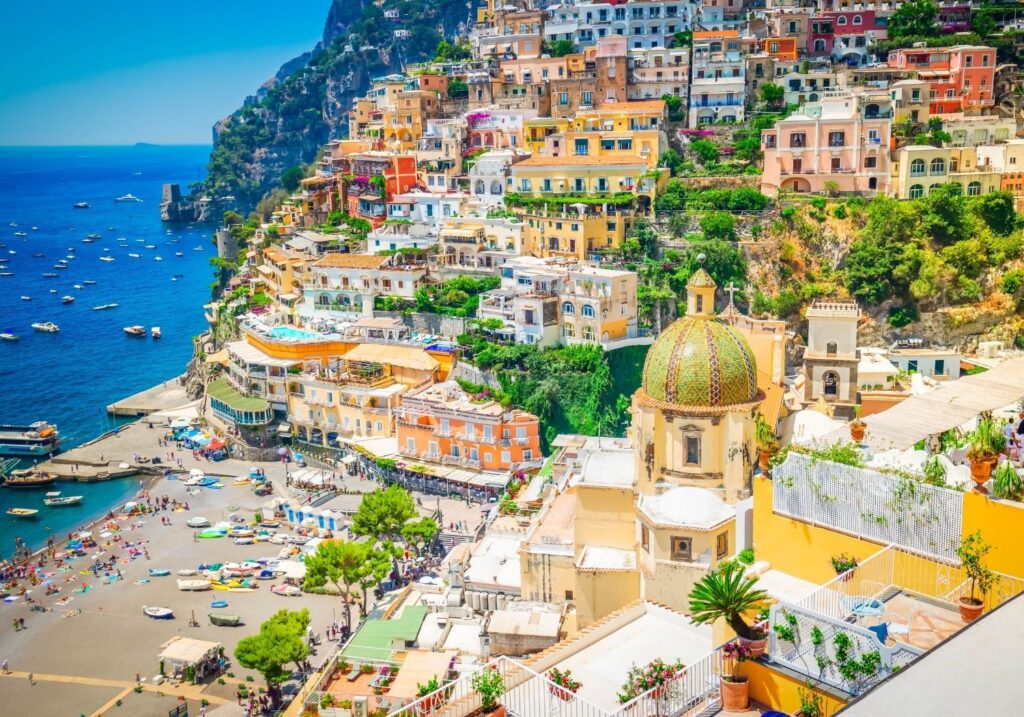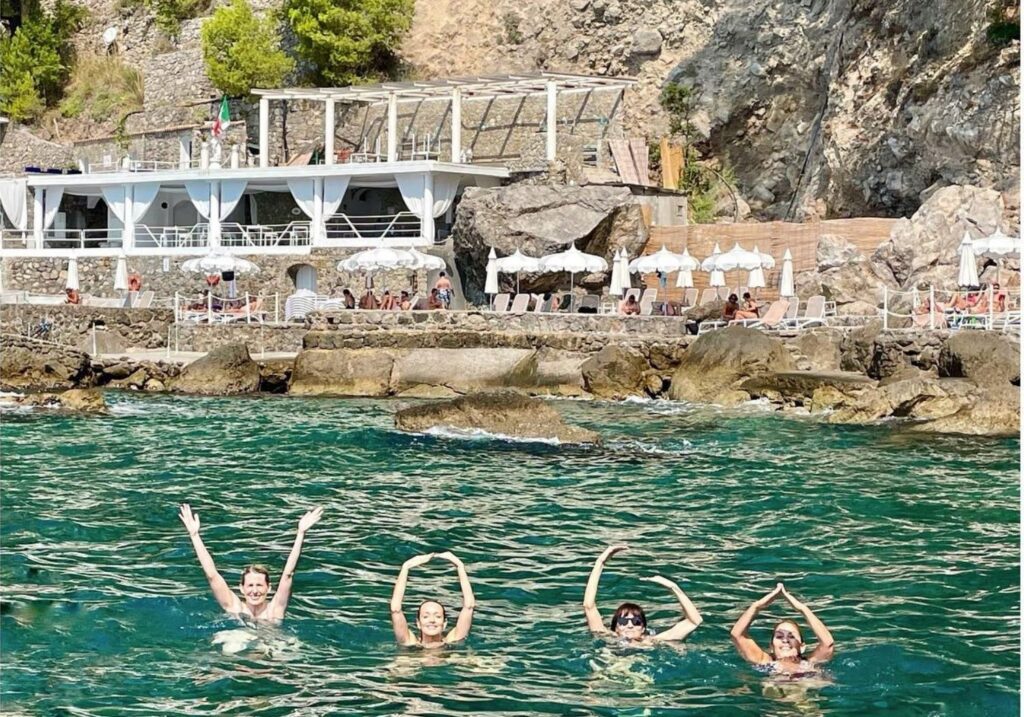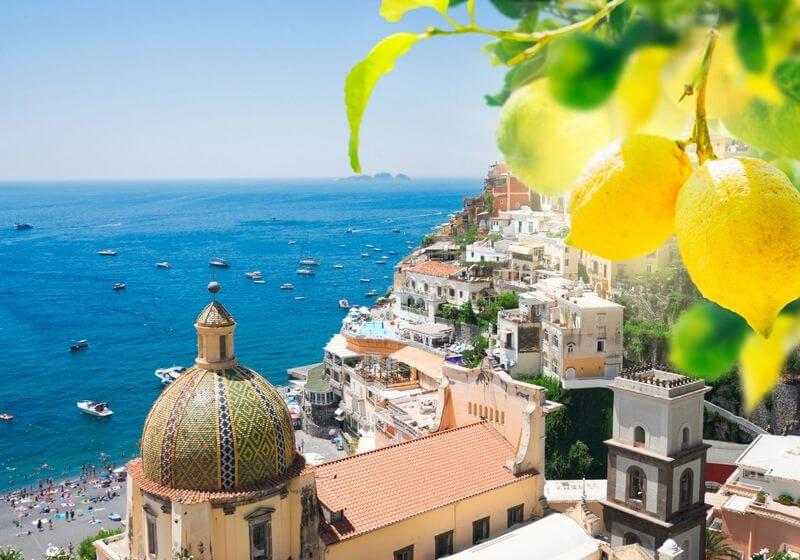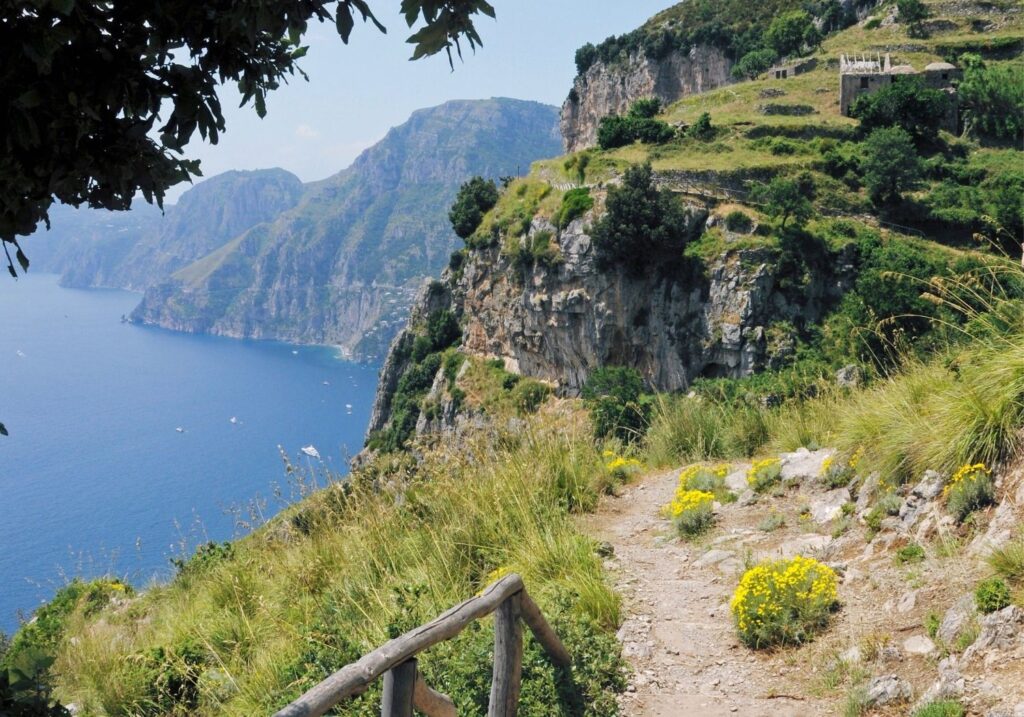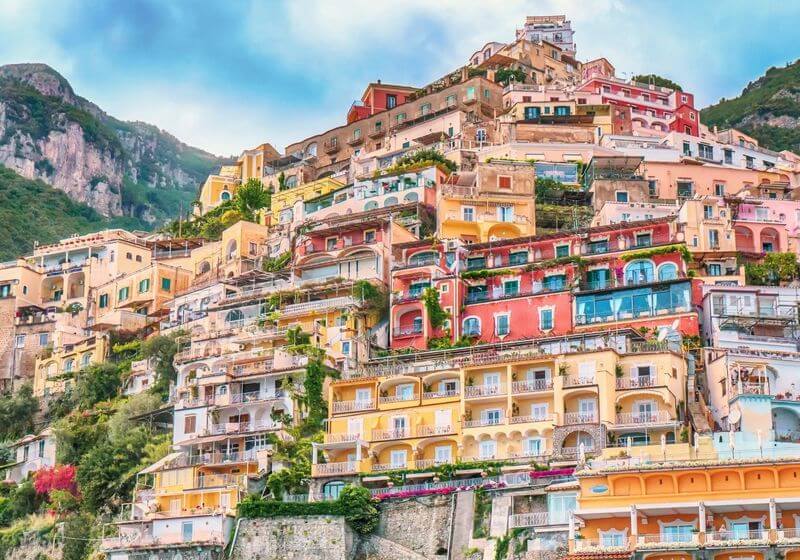 Trip Overview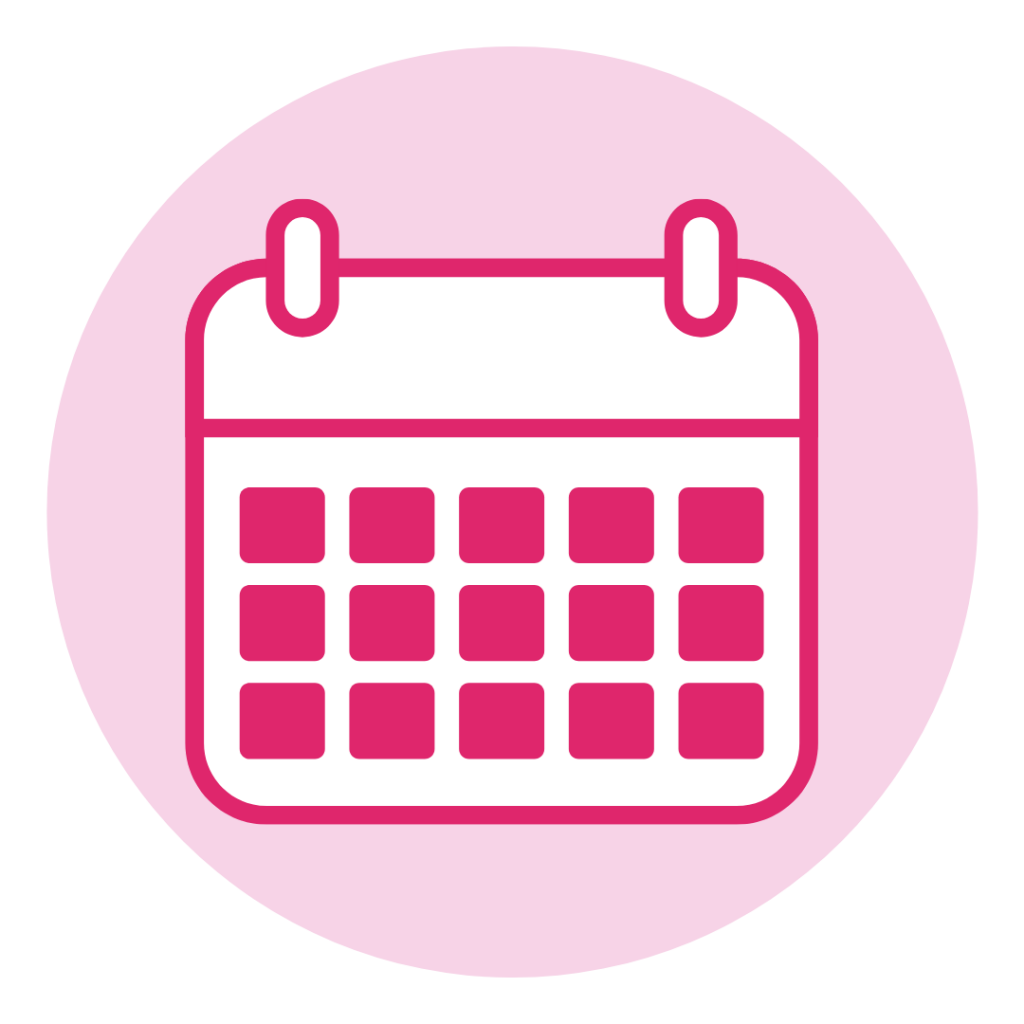 2023 DATES:
4 – 8 Jun 2023
2 – 6 Sep 2023 – Photographer onboard
12 – 16 Sep 2023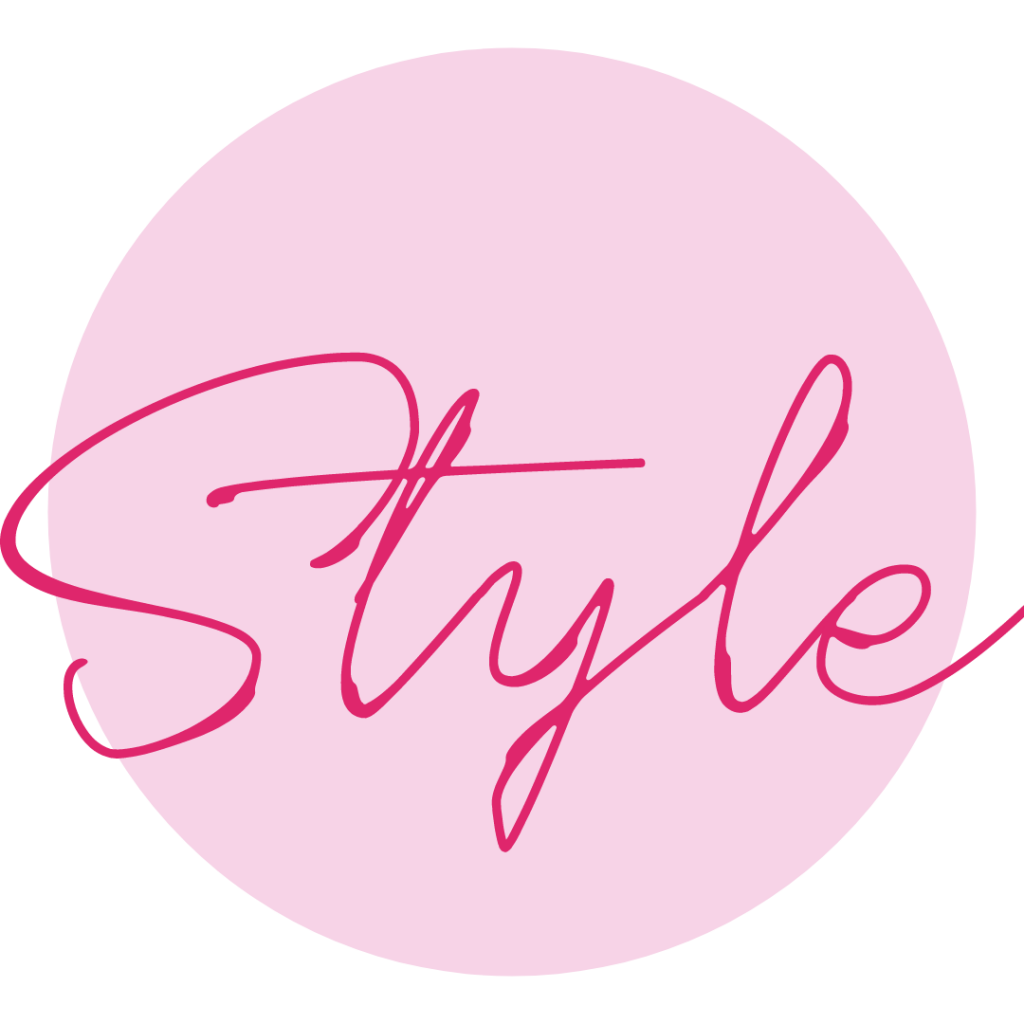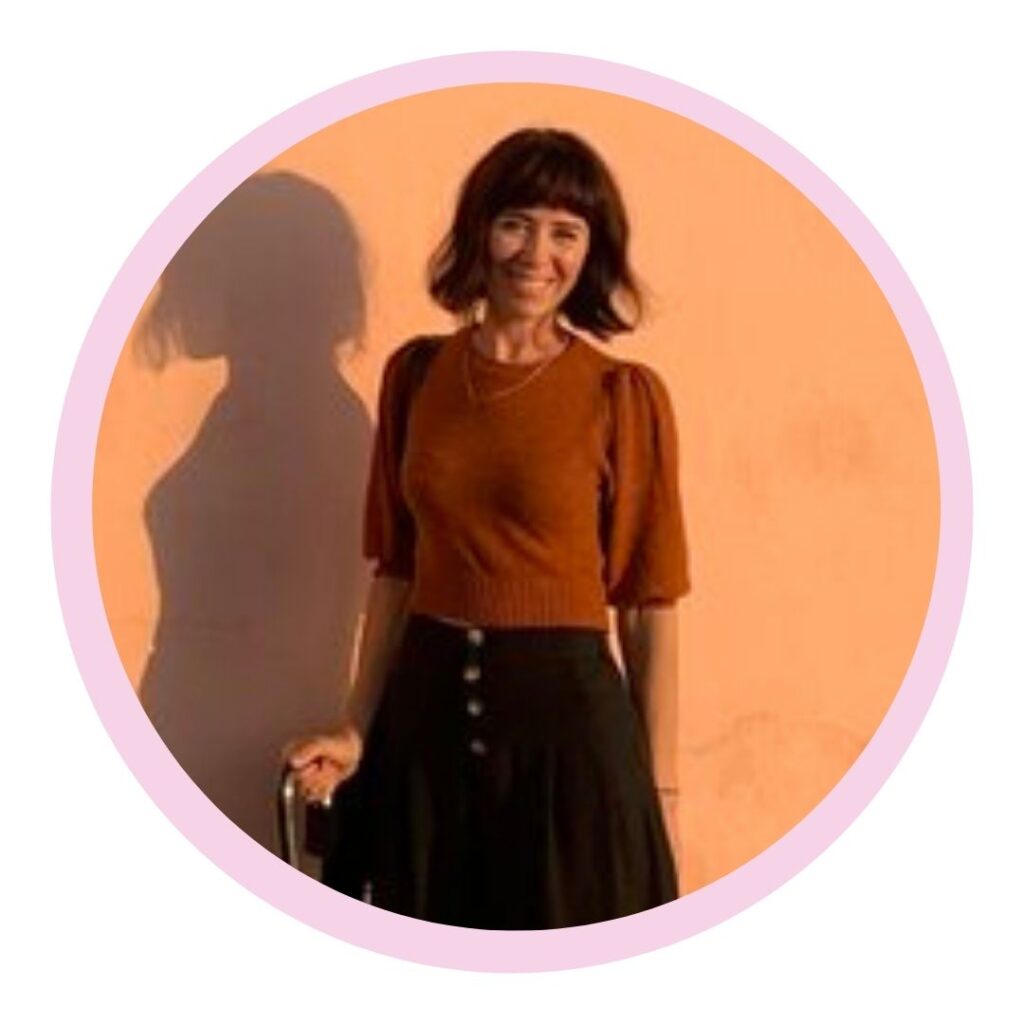 Erin Lewis
Europe's best culture, food and wine: The dates for our Amalfi Coast, Barcelona & Costa Brava, Tuscany and Venice trips all align with each, so why not combine more than one itinerary with the best Europe has to offer?
Detailed Itinerary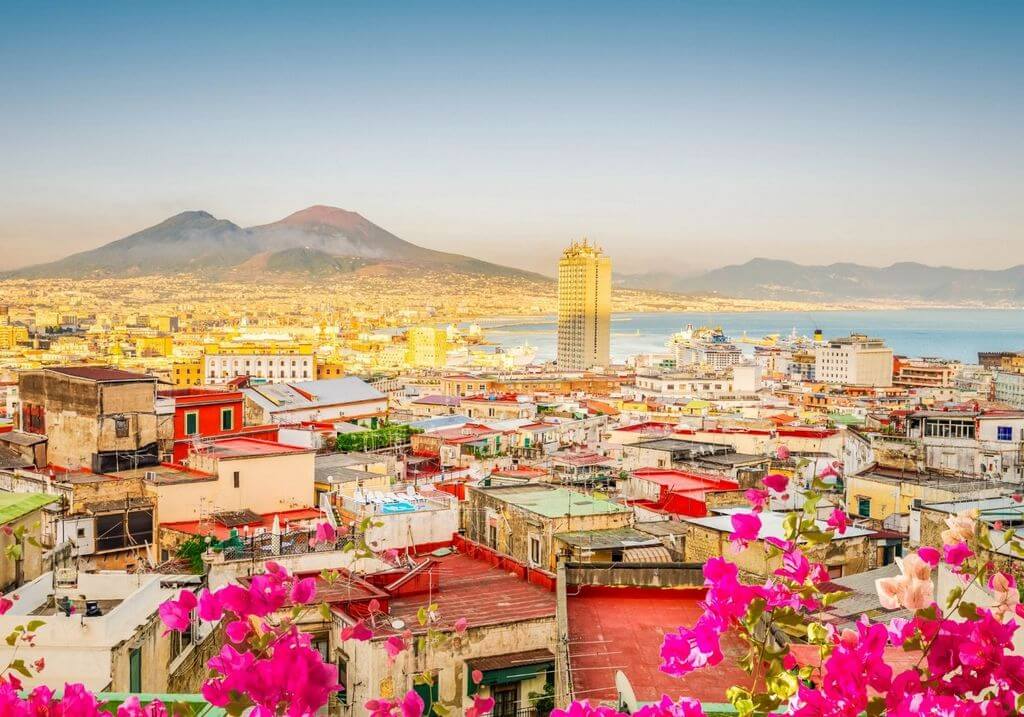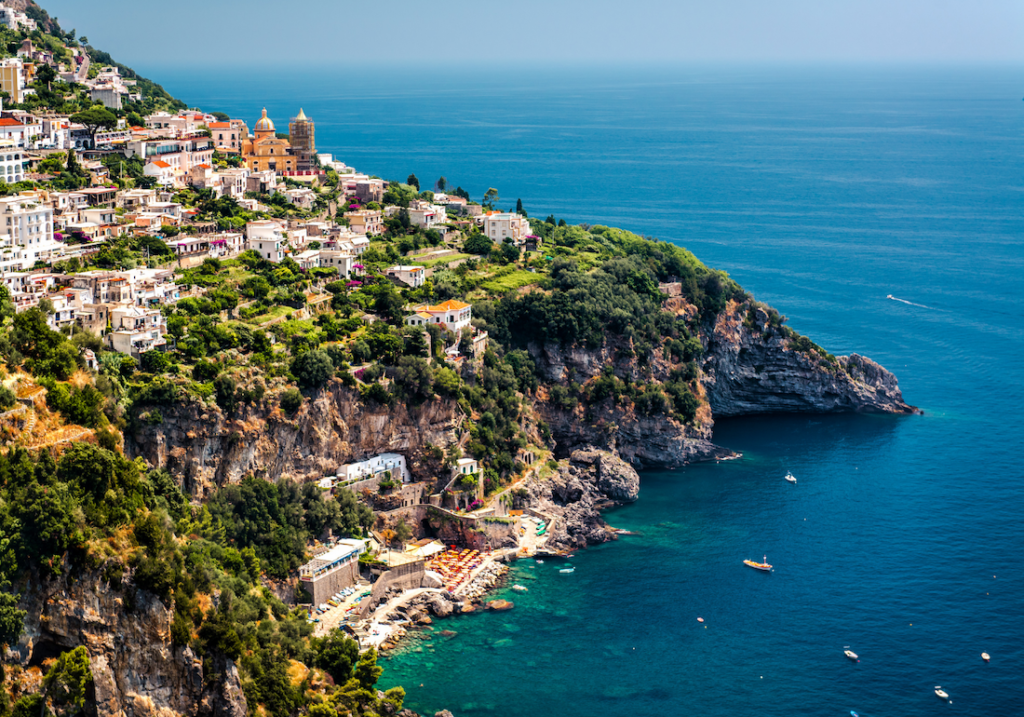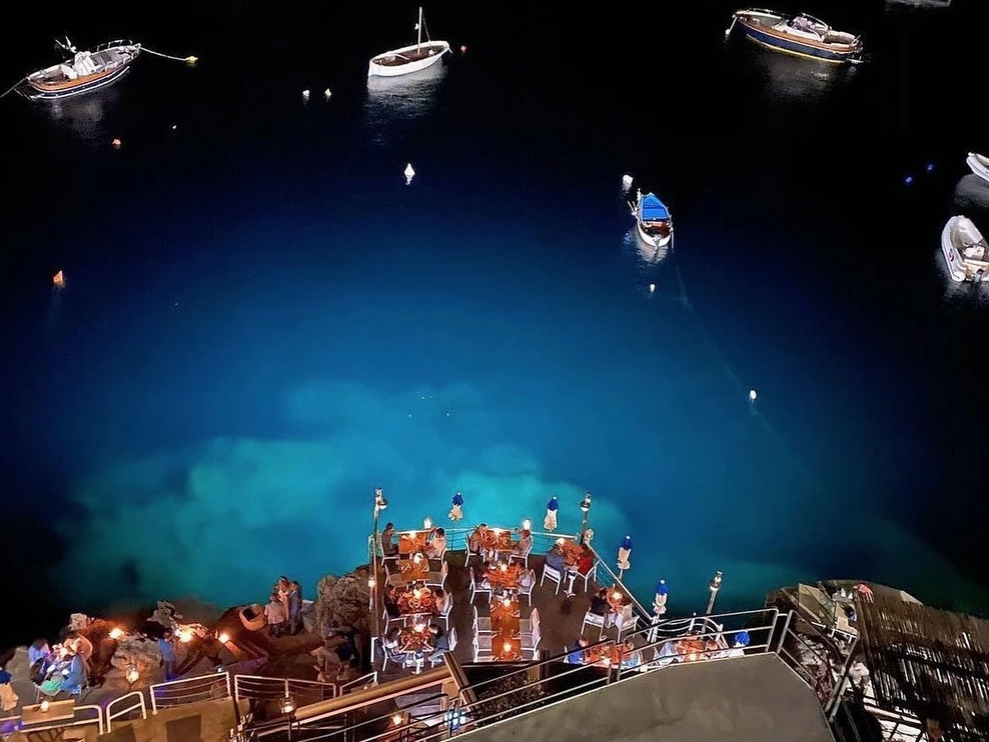 Day 1 : Arrive in Naples
Arrive in Naples and meet the group for a transfer to Praiano. Naples is world famous as the birthplace of the original pizza pie, and is known for having the best pizza, pasta, and coffee in Italy, so if you choose to arrive early, there are plenty of ways to satisfy your appetite!
We have organized a group transfer that will pick up from Naples Train station for a scenic journey to Praiano, which will be our home for 5 days on the Amalfi Coast (only unpack once!)
Praiano is a hidden gem on the Amalfi coast; an ancient fishing village perfectly positioned in the middle of the region, making it easy to reach the more popular tourist-destinations of Positano and Amalfi, but without the bustling crowds.
It's a relaxed, low-key summer retreat, surrounded by some of the coast's most amazing coves. Amalfi dukes used to vacation here, and it has since become a very fashionable resort town.
While there's no town center, you'll be able to stroll through the whitewashed houses, cafes and shops, all the while taking in views of the sea and the cliffside panorama.
We'll check into Hotel Margherita and enjoy a welcome reception where you can get to know each other; the hotel boasts a wonderful terrace with a panoramic view and swimming pool surrounded by the intense colours of the hills and the sea.
Once we're settled in, we'll head out on a beautiful seaside walk to an amazing grotto restaurant on the cliff for dinner. We will dine right by the water as the sun sets, what a great start to our trip!
Inclusions: Group transfer from Naples Train Station to Praiano. Welcome reception at Hotel Margherita. Cliffside dinner.
Hotel Margherita, Praiano
Our home on the Amalfi Coast, Hotel Margherita is a cozy luxury hotel overlooking the coast with views from the terrace which stretch from Capri to Positano and Amalfi. There's a swimming pool and restaurant, and tables all look directly over the hills and the sea.
We're in the very center of Praiano, which gives us great access to the town itself, as well as the surrounding Amalfi Coast region, with many of the sights within walking distance.
We have specially reserved seaview rooms, complete with colourful majolicas and traditional furniture. All rooms have air conditioning, and soundproofed balconies with gorgeous views of the famous coast and the sea.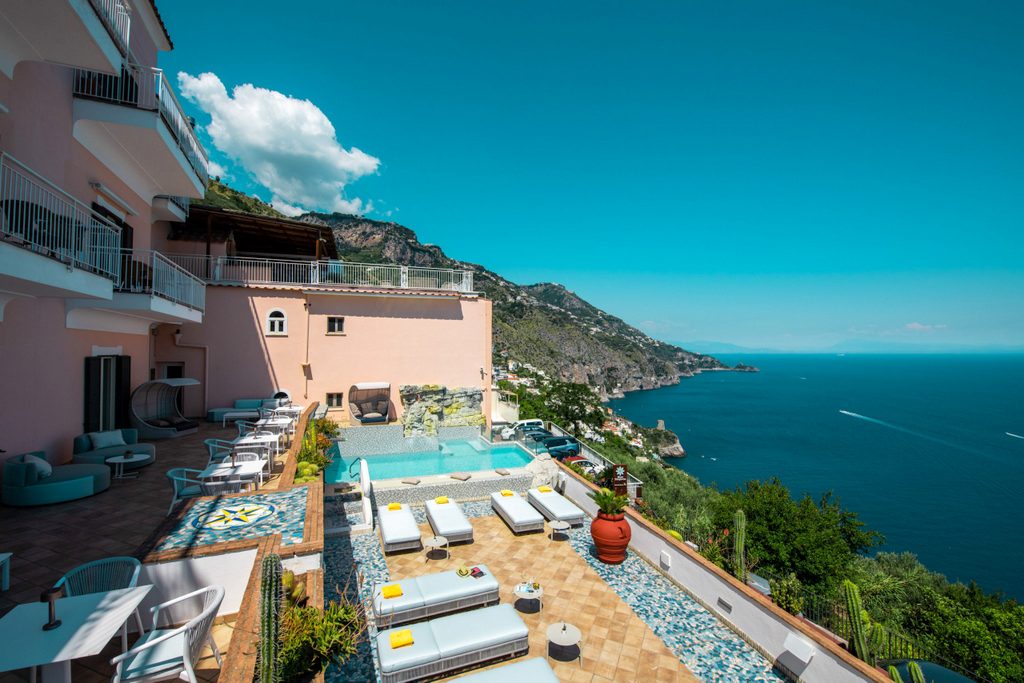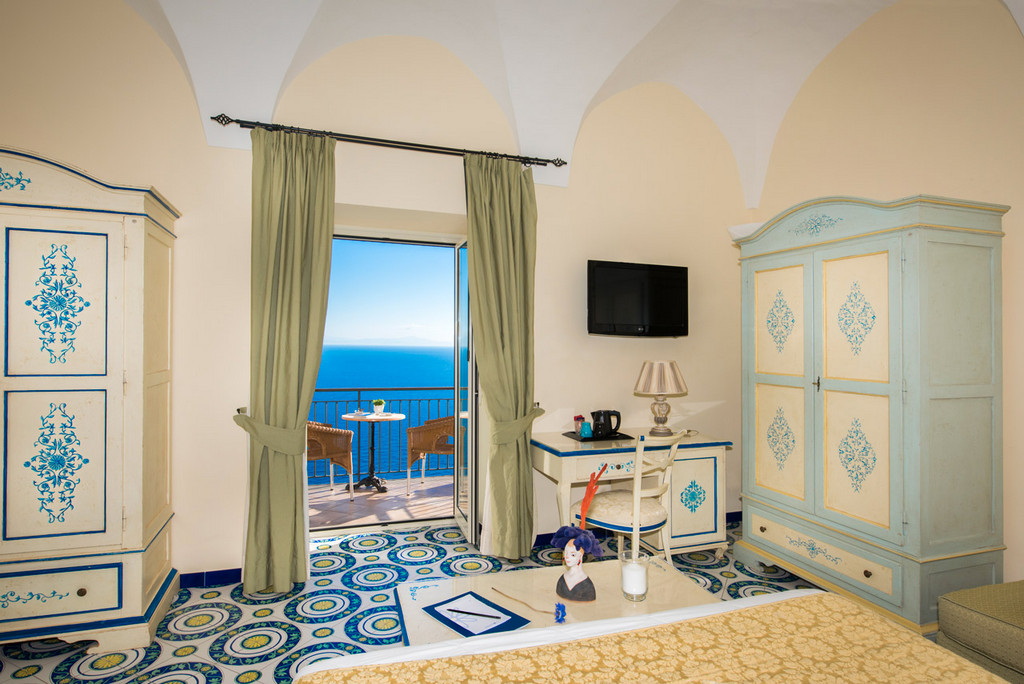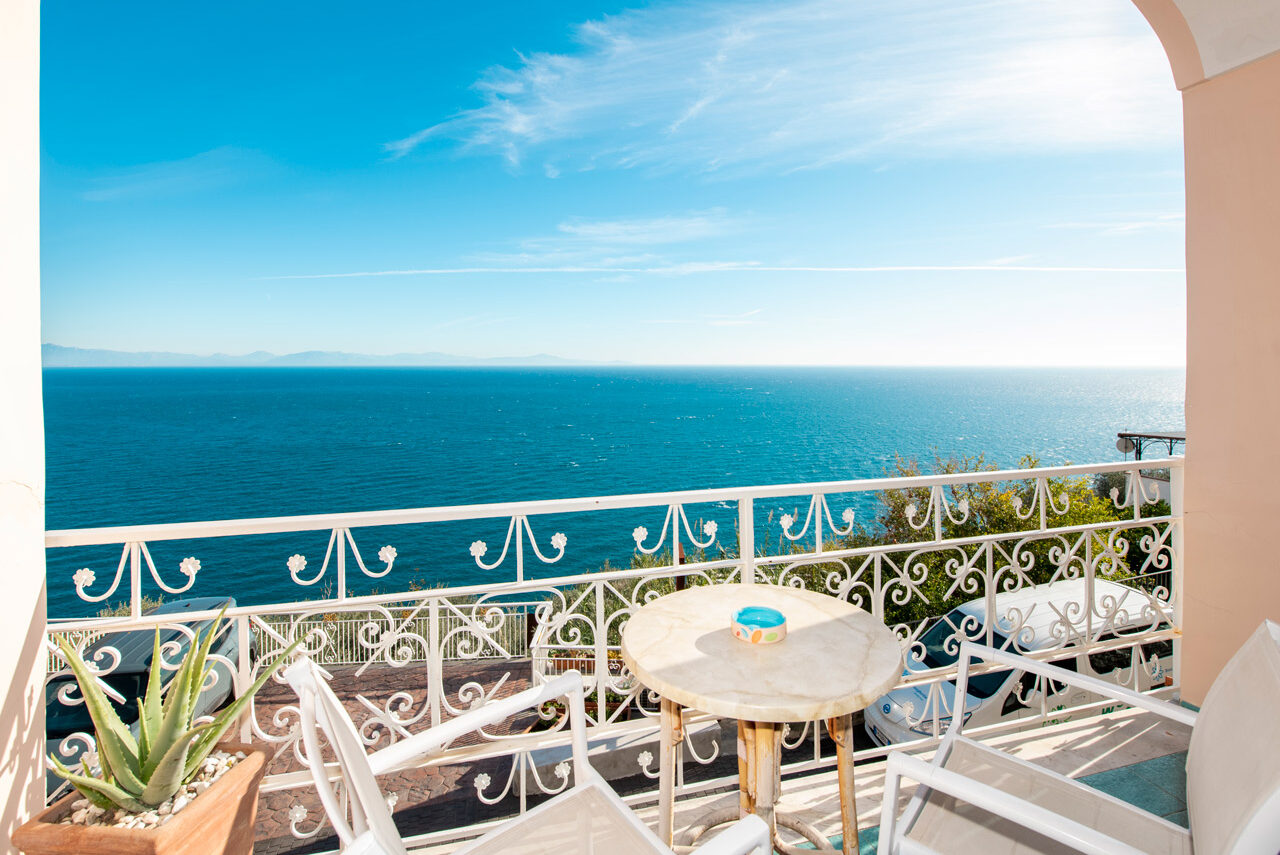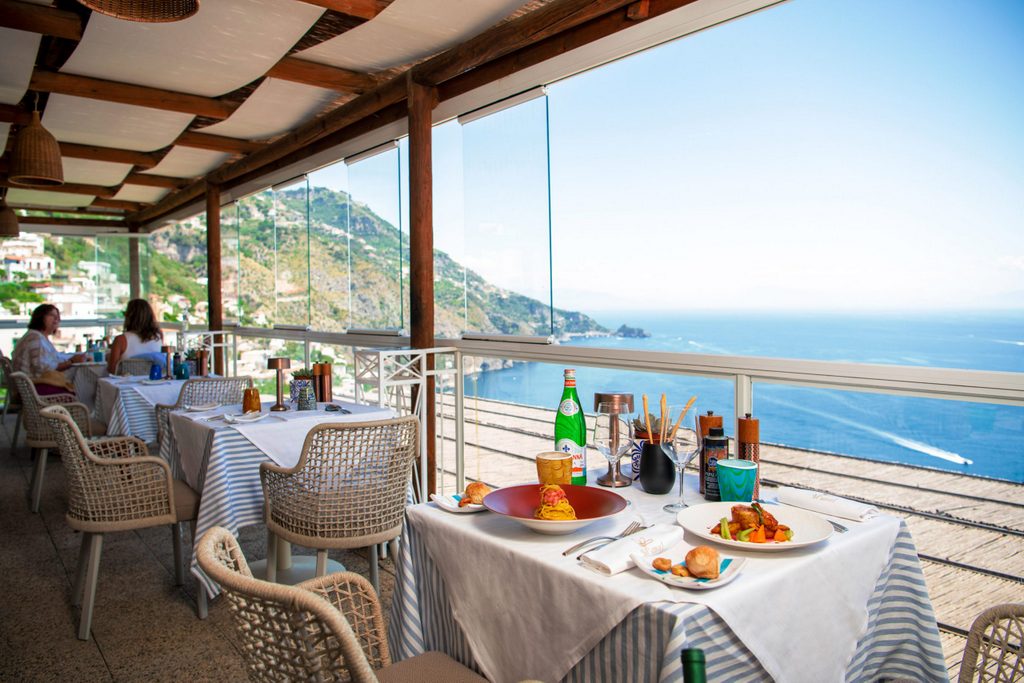 ---
Day 2 : Ravello, Amalfi, Winery Visit & Lemon Farm
We'll start the day with breakfast at the hotel, overlooking the water, before catching our morning transport to the town of Ravello for a visit to Villa Cimbrone.
Ravello is a town with thousands of years of history. It is recognized as a UNESCO World Heritage Site, with medieval streets, villas, and stone pathways dating back to the 5th century.
Unlike other towns in the region, Ravello isn't set on the sea. Known as the "Balcony of the Amalfi Coast", this is a beautiful cliff-top town which sits 1,200 feet above the Mediterranean.
This means it has sweeping vistas across the coastline from the mountaintop, and the views have been a source of inspiration for famous actors, authors, composers, and artists over the years – known for curing writers block (get your postcards ready)!
The Terrace of Infinity at Villa Cimbrone is considered to offer the best views in Amalfi and the villa's gardens are some of the most beautiful you will ever see.
We will continue with a wine tasting and light lunch pairing. The local wines are extremely unique as they are grown on pergolas and are unlike anything else you may have ever seen.
The vines cling onto the rugged terrain and are stacked up on the cliffside thriving among the sun and sea of the coast. The wine ages in barrels kept cool inside the rock of the Amalfi Coast.
After lunch we will head towards Amalfi, another beautiful coastal town that gives its name to the region and is also UNESCO-listed.
We will go on a walking tour of the town and visit the beautiful 11th century Cathedral of Sant'Andrea, wander the narrow streets and colorful houses and soak the entire atmosphere.
Our time in the village of Amalfi will continue with a visit to a farm that grows one of the most traditional fruits in the region: lemons.
Lemons in the Amalfi Coast are different than the variety you may find back home. They are large, have a thick and wrinkled skin and a juicy and rather sweet flesh that is perfect to make limoncello or jam.
Beyond their gastronomic value, they have been an inspiration for many Italian designers such as Dolce & Gabbana who have dresses, espadrilles, bags and even a fragrance after the bright yellow fruit.
The lemon farm visit will include a tour where we will learn more about how these fruits grow on vertical farms and what makes them different from lemons elsewhere.
The tour will end with an aperitivo with lemon flavored foods and a limoncello demonstration and tasting, a fabulous first day in the Amalfi Coast!
After the lemon farm tour, we will return to the hotel for some free time and balcony or poolside relaxation before dinner at the hotel with sprawling views over the coast below.
Inclusions: Breakfast at the hotel, visit to Villa Cimbrone, winery visit, lunch and wine pairing, walking tour of Amalfi, lemon farm visit and limoncello tasting.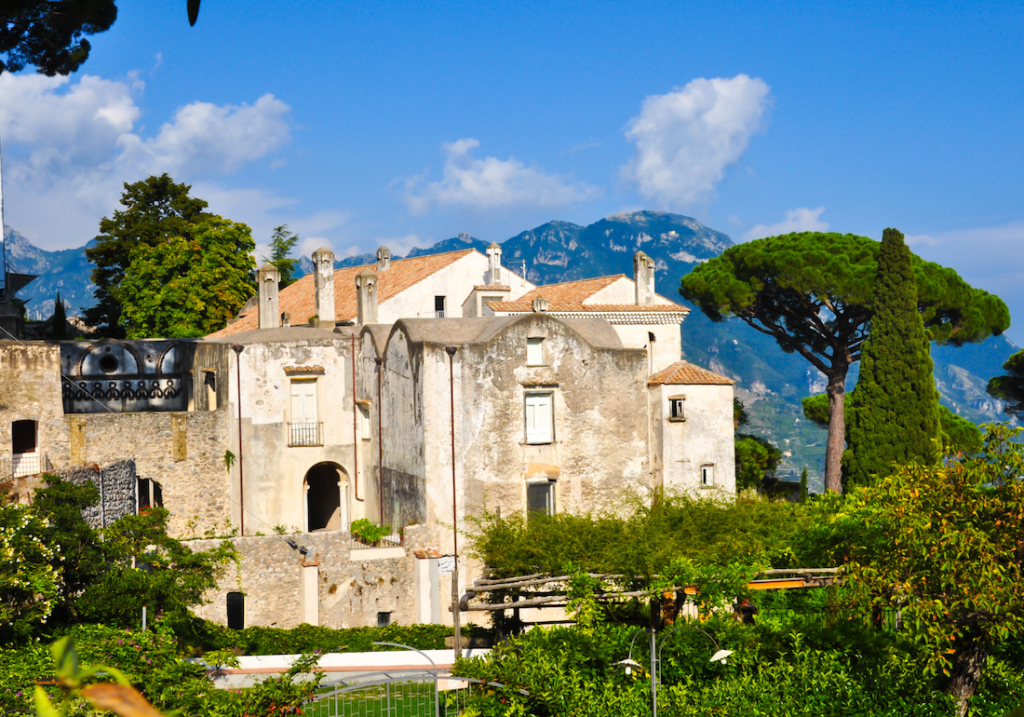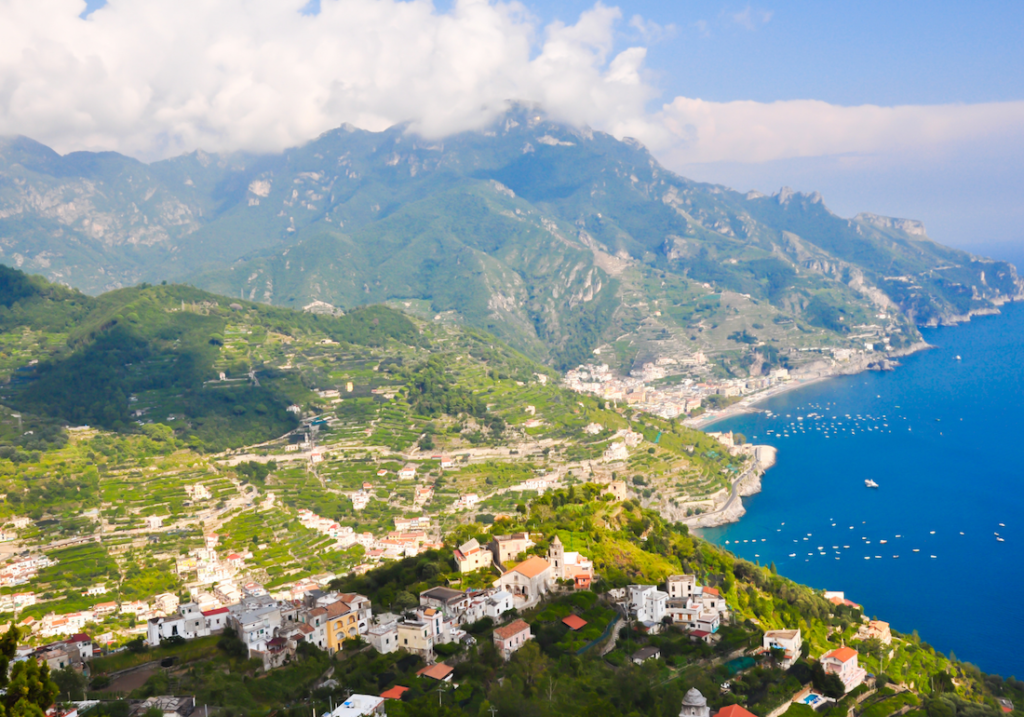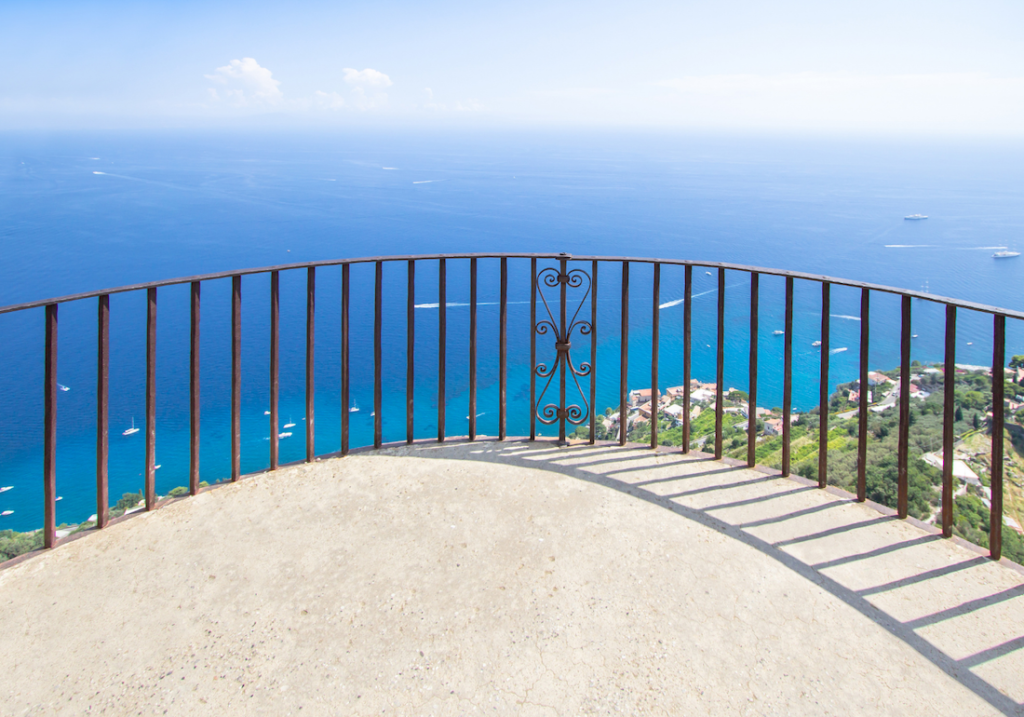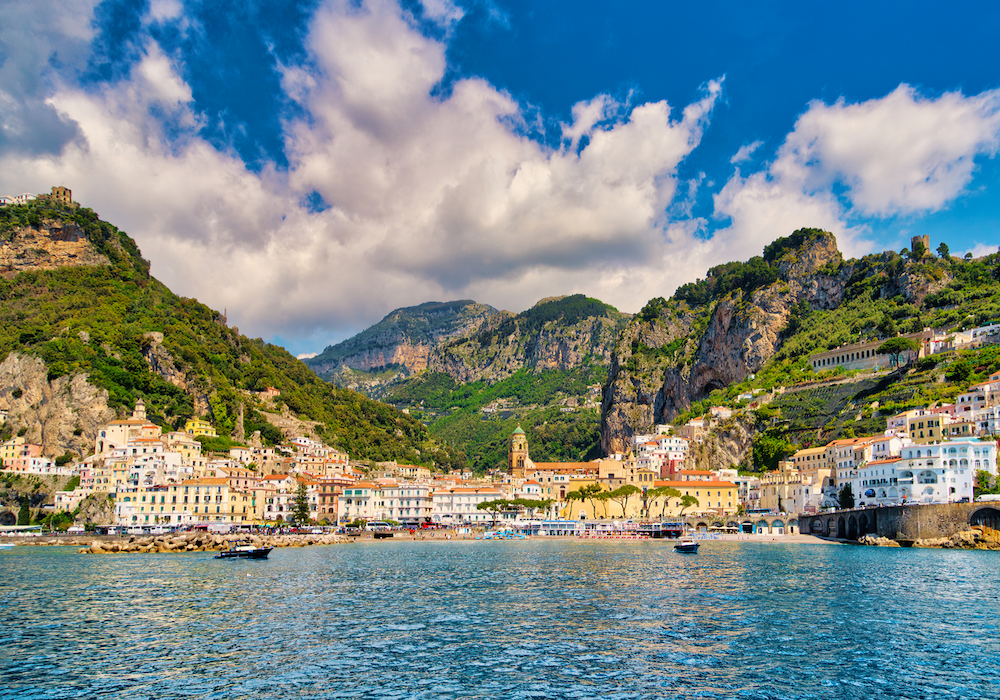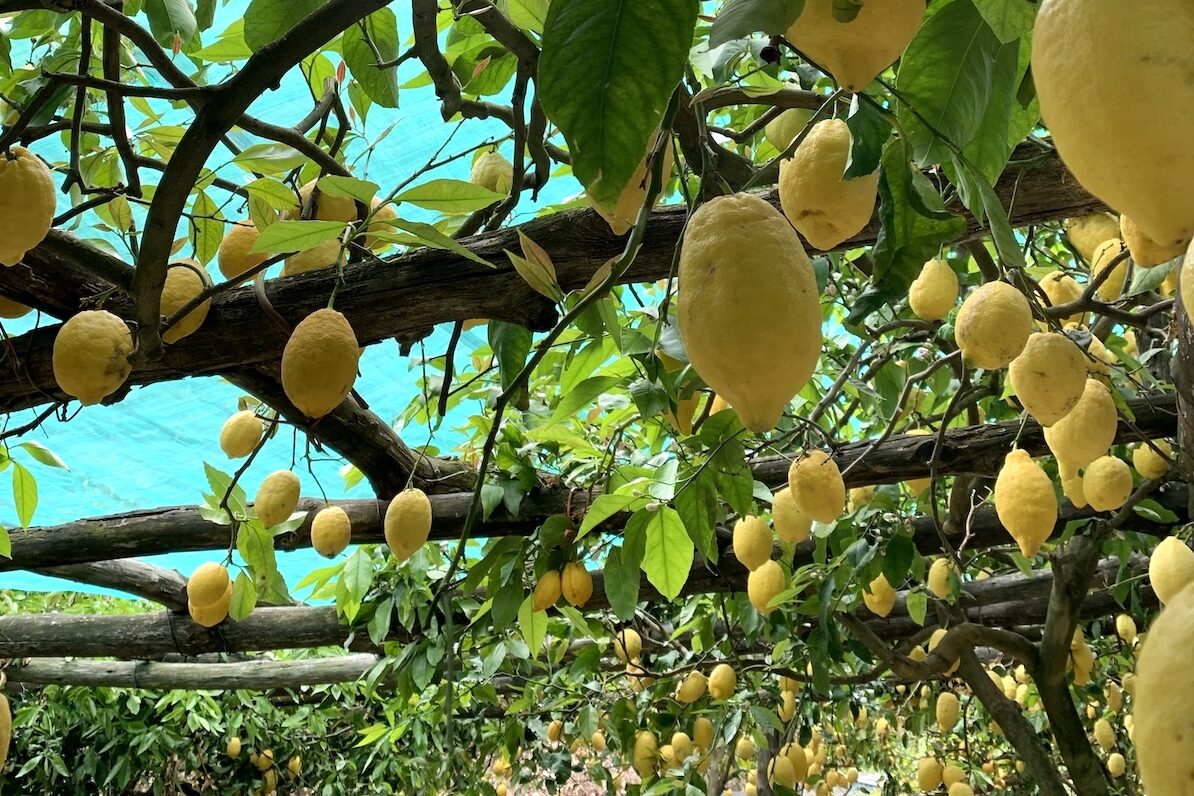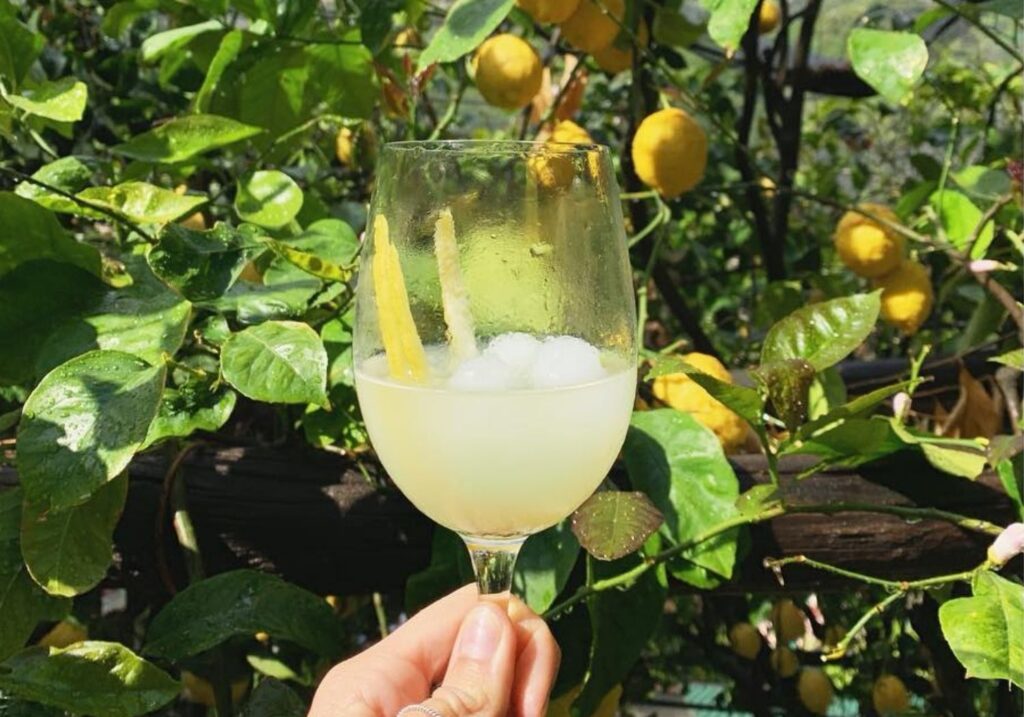 ---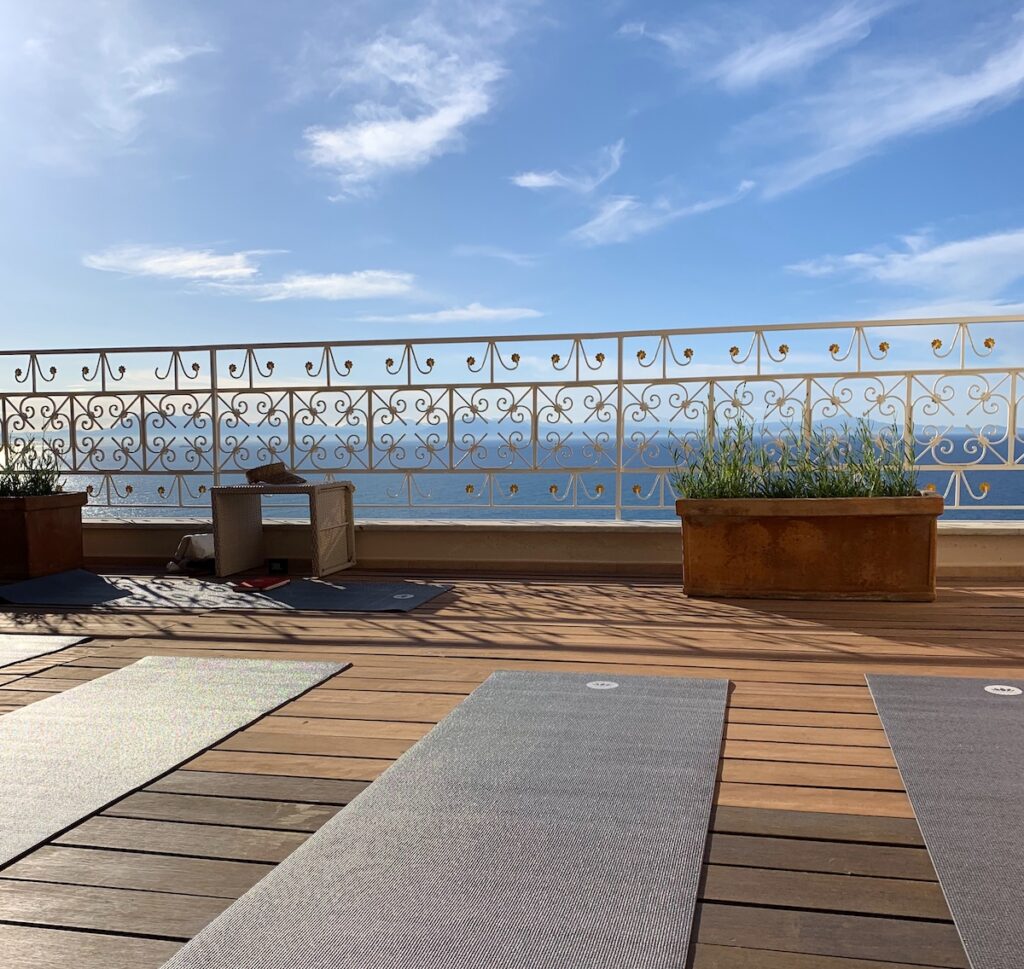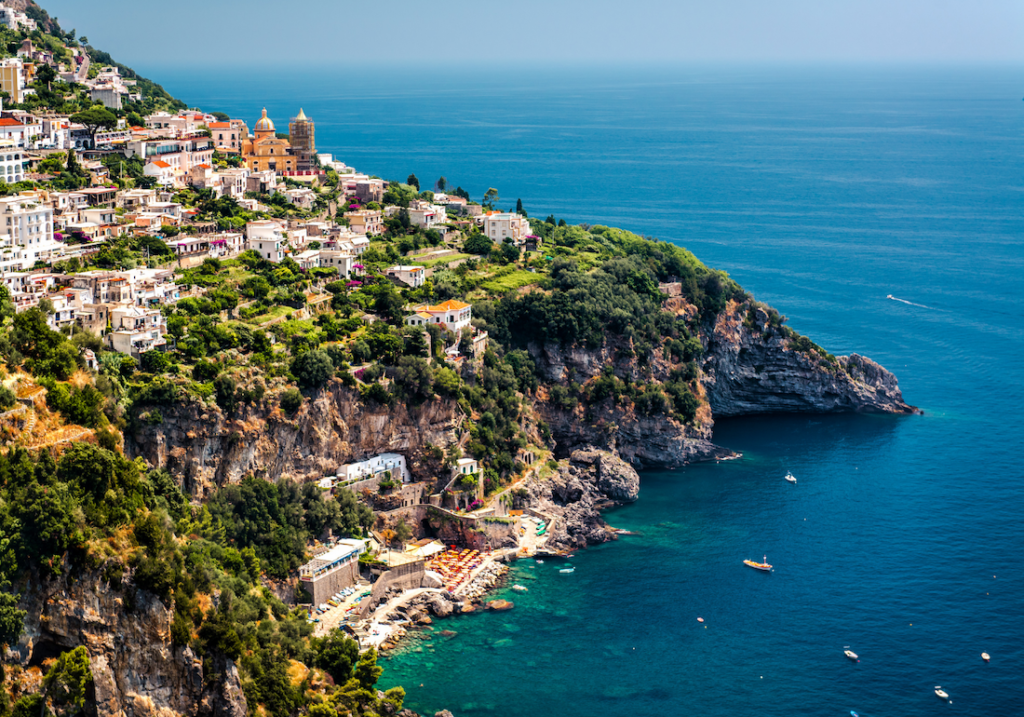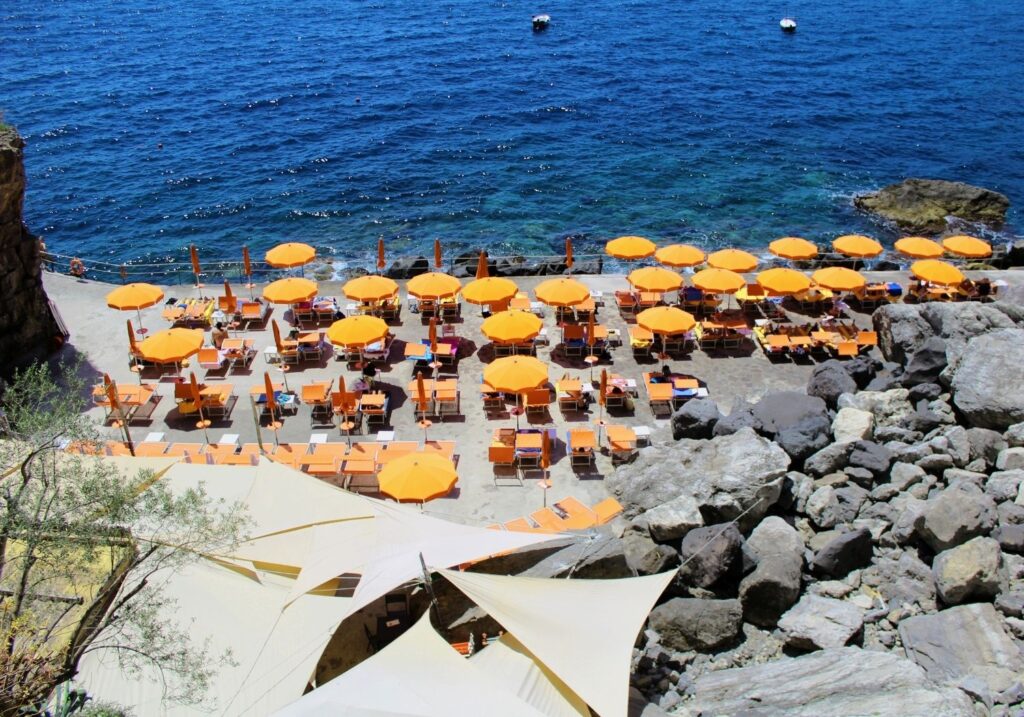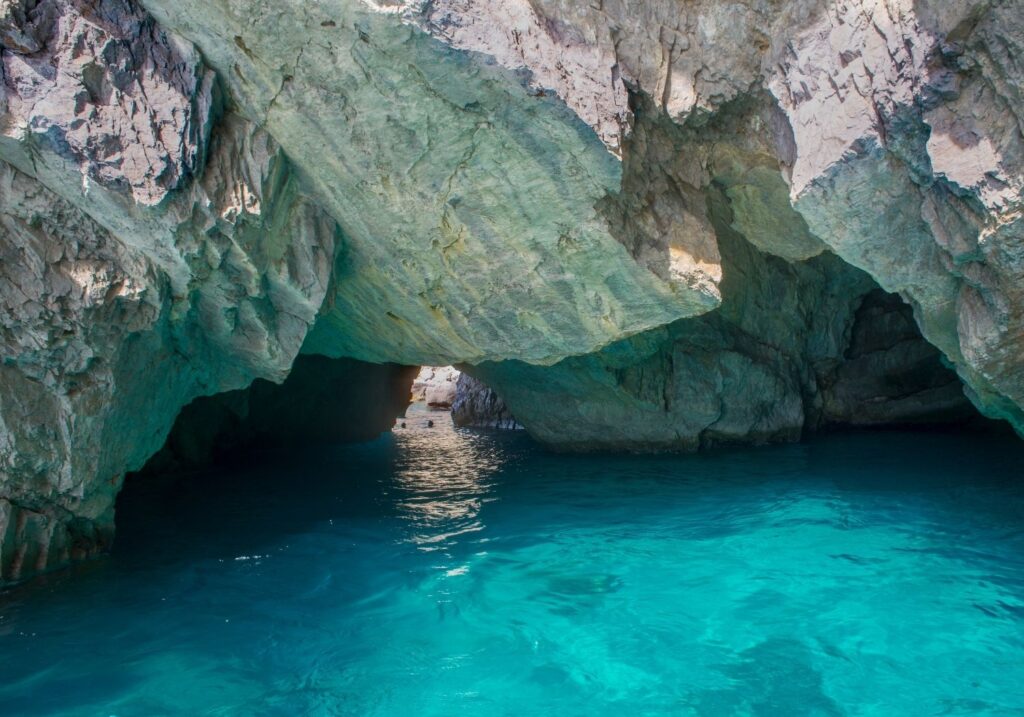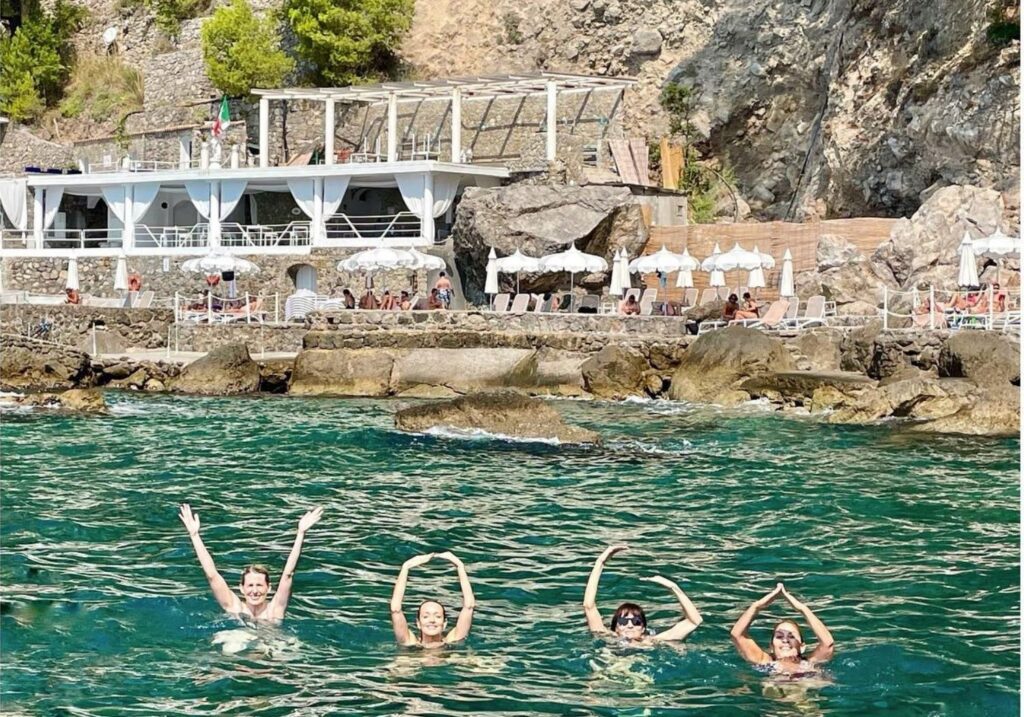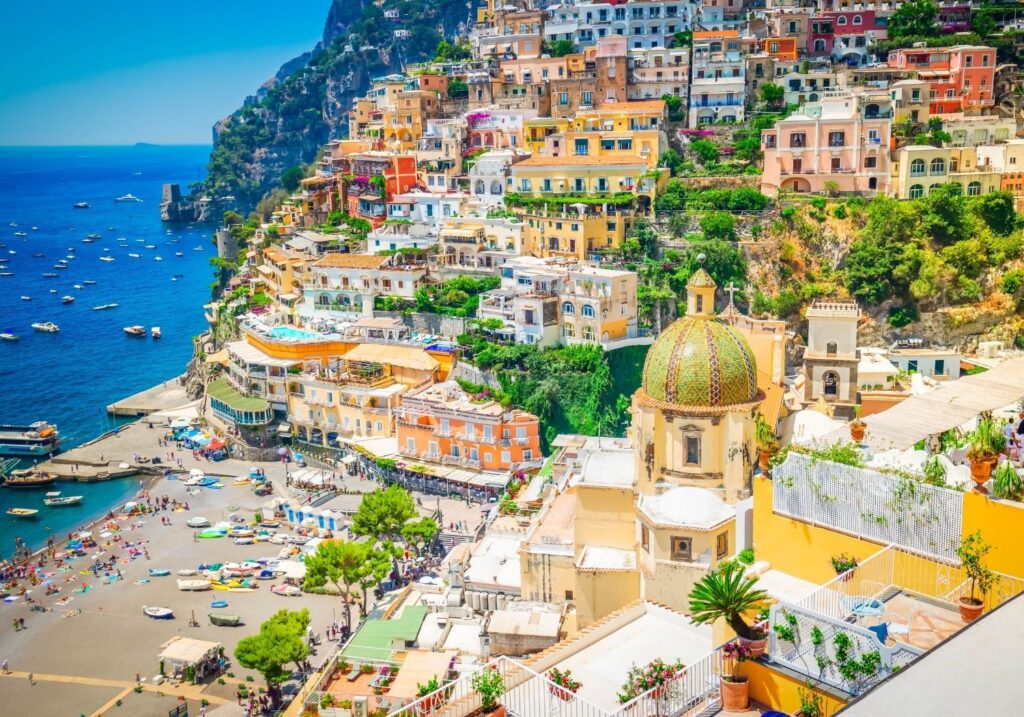 Day 3 : Praiano, Positano, Boat Tour, Mozzarella Class
Today is a causal sea exploration day paired with one of the most famous villages on the Amalfi Coast.
We will start the day with a morning yoga class in the covered terrace of the hotel with views of the coast and the morning sea breeze doing all the talking.
After breakfast, we will walk down the tiled alleyways and streets of Praiano and enjoy the views as we get down to the a hidden beach to catch our private boat tour of the coast and the many grottos and caves that have made the area famous.
We will stop for a swim for those who want to enjoy the Mediterranean Sea and see the area from a different perspective, from the water looking up instead of from the top looking down.
We will admire the many villages, the fabulous houses perched on the cliffside edge and take lots of photos on our way to Da Adolfo Beach Restaurant, an institution only accessible by boat, for a casual lunch with our toes dipped in the sand.
Da Adolfo opened in 1966 and continues to serve fresh food right by the sea. Feast on fresh fish or seafood or enjoy a light pasta dish as you watch the waves crashing onto the beach.
After lunch, we will return to the boat for a transfer to Amalfi's most popular village: Positano. You will have free time to discover the village, wander the streets, walk up and down the picturesque staircases, take lots of photos or buy souvenirs – the time will be yours.
Translated to "Place to stop", Positano has become the destination for the rich and famous and its signature pastel colored facades are a treat to the senses.
The black sand beaches and bright umbrellas invite you to lay down and take it all in, and you can do just that if you so wish.
For those looking for a dose of culture, look out for the postcard perfect Santa Maria Assunta church and its yellow and green dome made of majolica tiles. Inside is a 13th century Byzantine icon of a black Madonna. You can't miss it.
Positano is a place to be loved, and through the decades it has inspired writers, novelists, film makers and musicians such as Mick Jagger, and been featured in movies like Under the Tuscan Sun.
It may be tough to leave Positano but we will have to return to the hotel before dinner for some relaxation and a mozzarella demo class at the hotel's rooftop.
Mozzarella is one of Italy's most famous foods and is eaten on its own (in salads, with tomato or simply drizzled in olive oil) or as a topping to many dishes. You can't enjoy Italian cuisine without a generous dose of the famous cheese.
Our dinner will start with a demonstration by an experienced mozzarella maker who will show us how the cheese balls are prepared.
Unlike other cheese found in France or the northern parts of Italy, mozzarella is easier to make and requires no aging, so you can prepare it and almost eat it straightaway, you do need some really high quality ingredients, most notably, Italian buffalo's milk.
The famous cheese is made using the pasta filata method which will be demonstrated by our host.
We will enjoy our creation with vegetables and other gourmet companions as the sun sets down below the horizon.
Inclusions: Breakfast at the hotel, morning yoga class, boat tour of the coast, mozzarella demo class and rooftop dinner.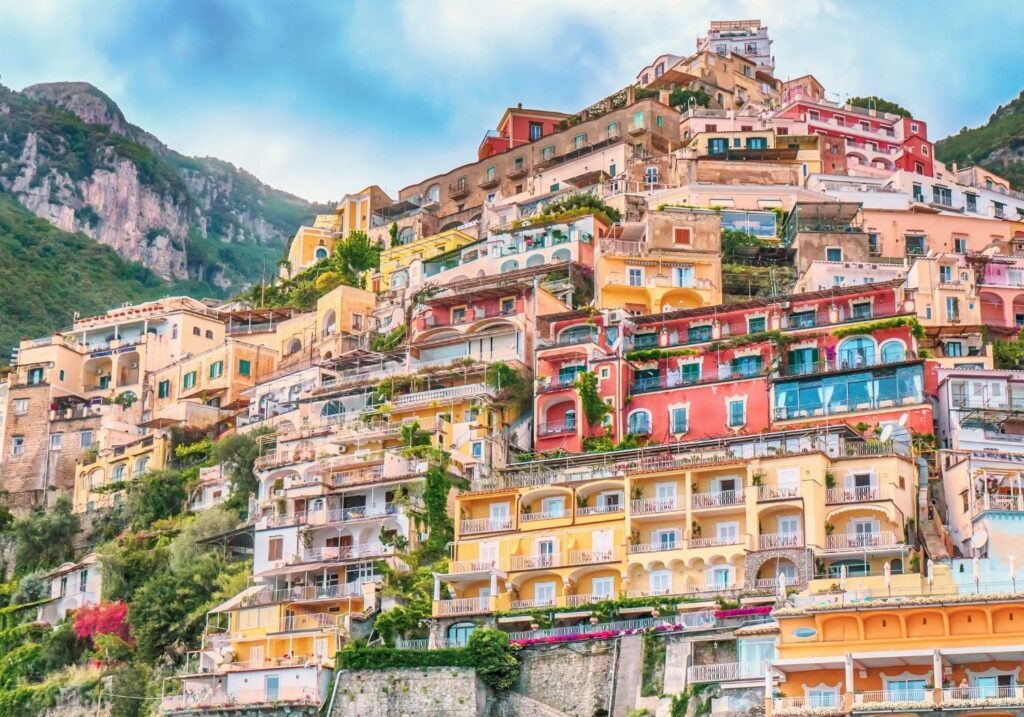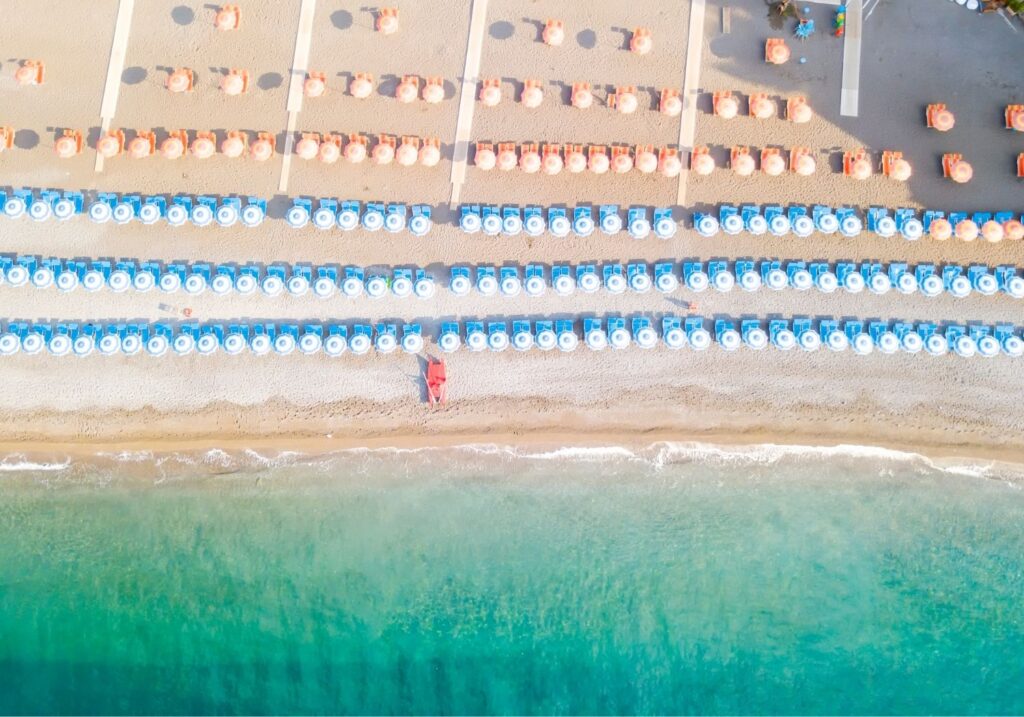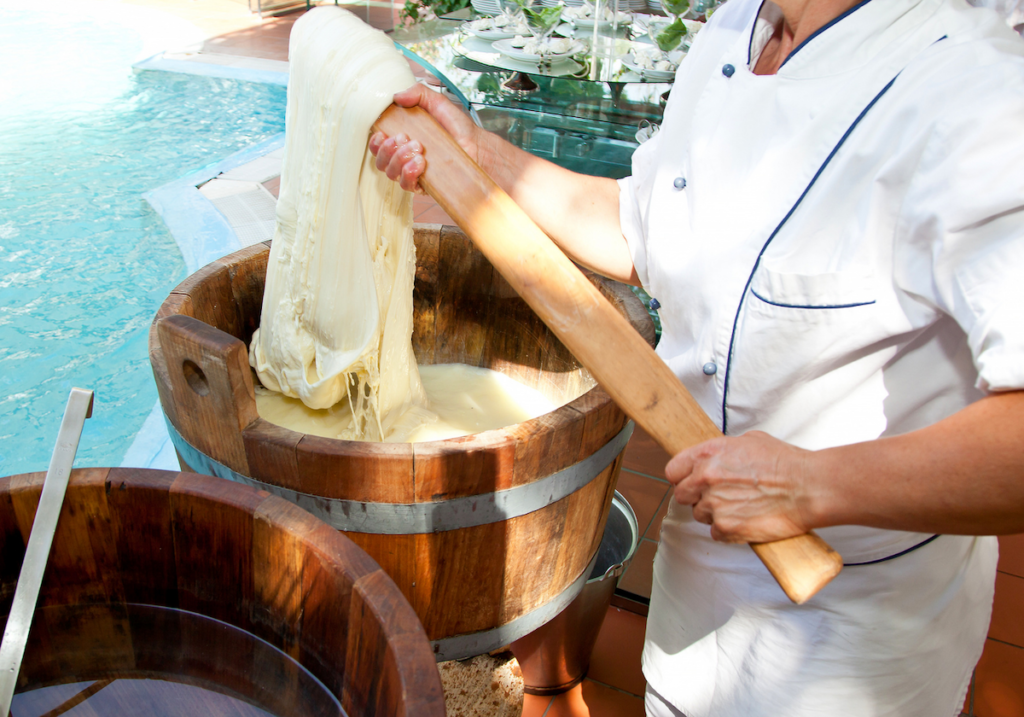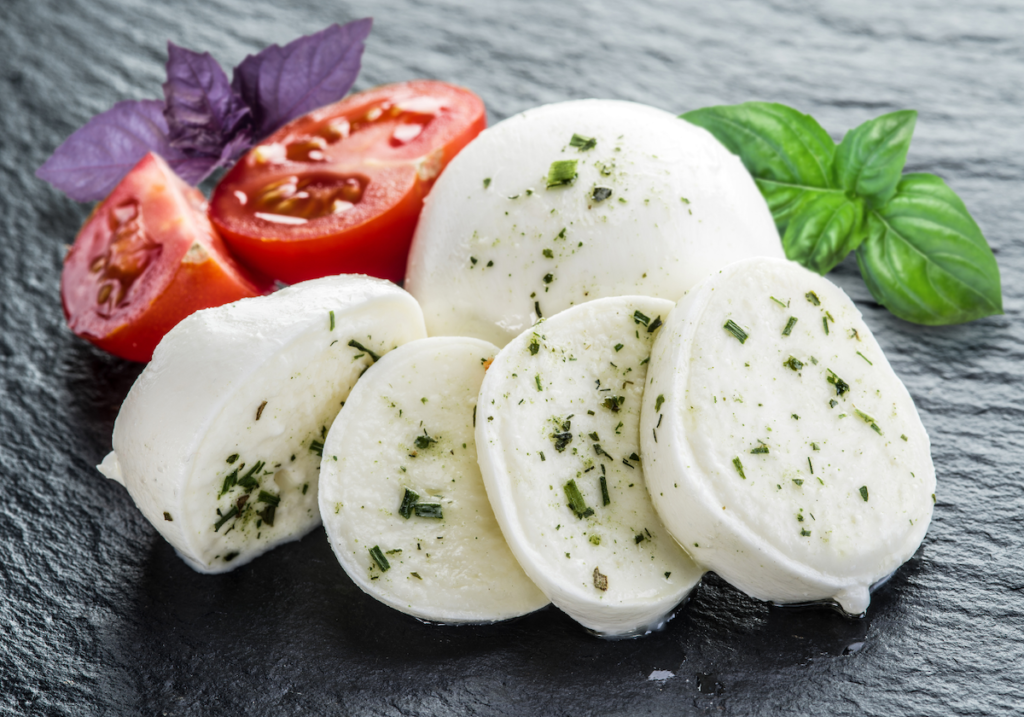 ---
Day 4 & 5 : Hiking The Path of the Gods, Foraging Lunch & Farewell Sunset Dinner
The Path of the Gods, known in Italian as the Sentiero degli Dei, is a 3 to 5 hour hike along the Amalfi coast. This is possibly Italy's most famous hike and gets its name for its glorious views.
We will start just above Positano and will be exploring the area on foot as we follow the path and up and down and stop at various view points to enjoy the scenic bays and the coast below us.
The panorama and the photo opportunities will be countless and we will make sure to take it all in at the pace of a leisurely stroll.
At the end of the hike, we will meet our expert forager for an interesting foraging expedition of the area. Our guide will show us all the seasonal edible flowers and plants that we encounter on our way and we will help him collect enough to prepare our lunch.
The leisurely walk will end at his farm where we will use the ingredients to put together a well deserved lunch including freshly made pasta prepared al fresco.
Get ready to marvel at Earth's bounty as we assemble flower petals, plants and seed into delicious salads and yummy pasta under the warm late summer sun. The views from the farm will be amazing too and pair perfectly with our food.
After a nourishing lunch, we will head back to the hotel for some rest and relaxation on our balconies or by the pool as we enjoy the last views over the Amalfi Coast.
In the evening, we will get dressed up for our fabulous gourmet Farewell Sunset Dinner.
To end the trip on a high note, we have reserved a very special restaurant with views over the sunset and over Positano's beautiful pastel houses.
On Day 5, we will wake up and have breakfast with a view before being picked up for a group transfer back to Naples Train Station for onward travel.
If you are joining our Venice, Tuscany or Barcelona tours you may take the train or a taxi to Naples International Airport.
Inclusions: Breakfast at the hotel, guided foraging walk and farm lunch, farewell sunset dinner.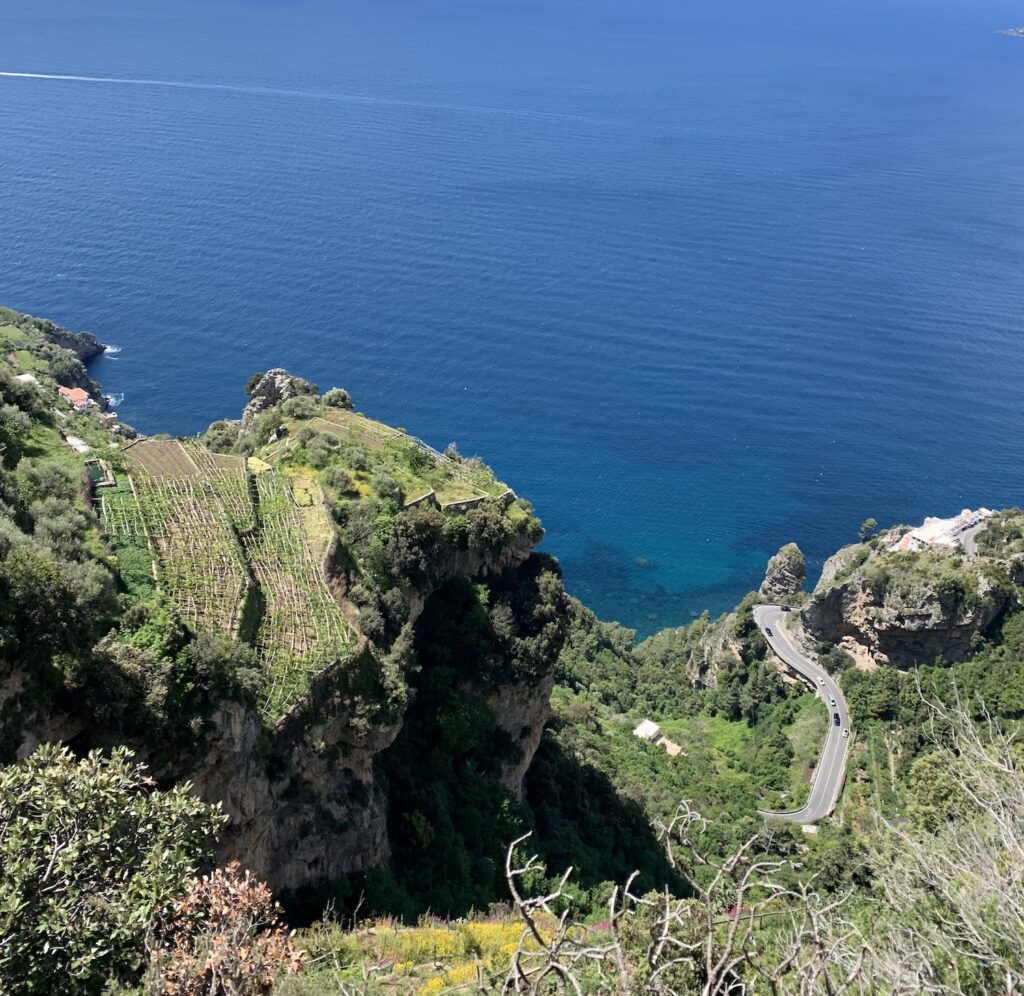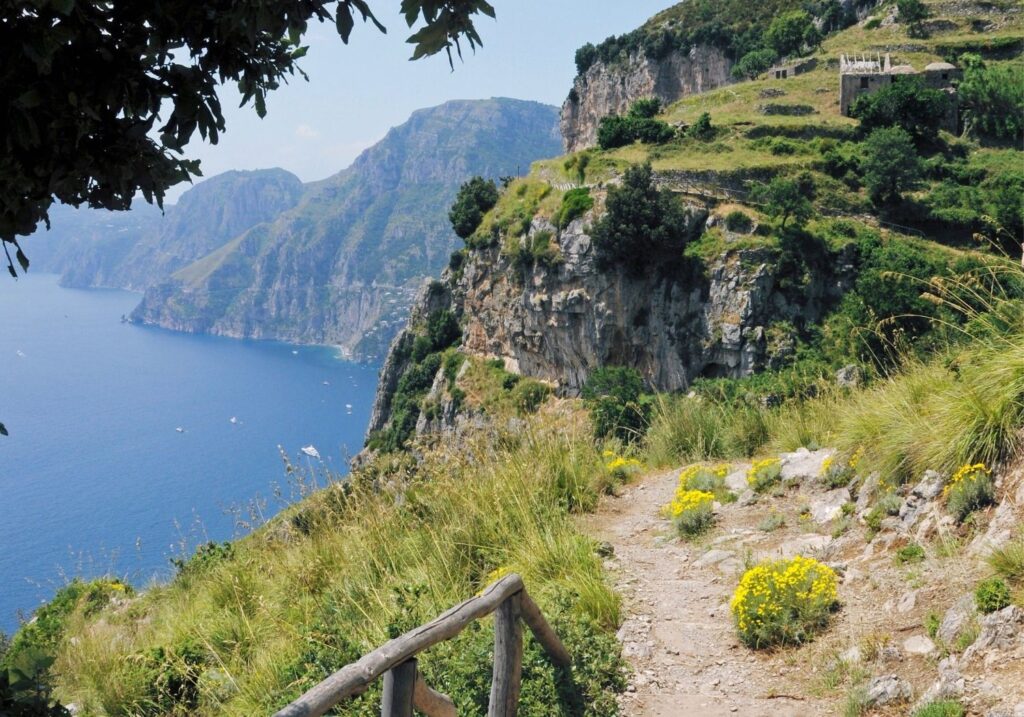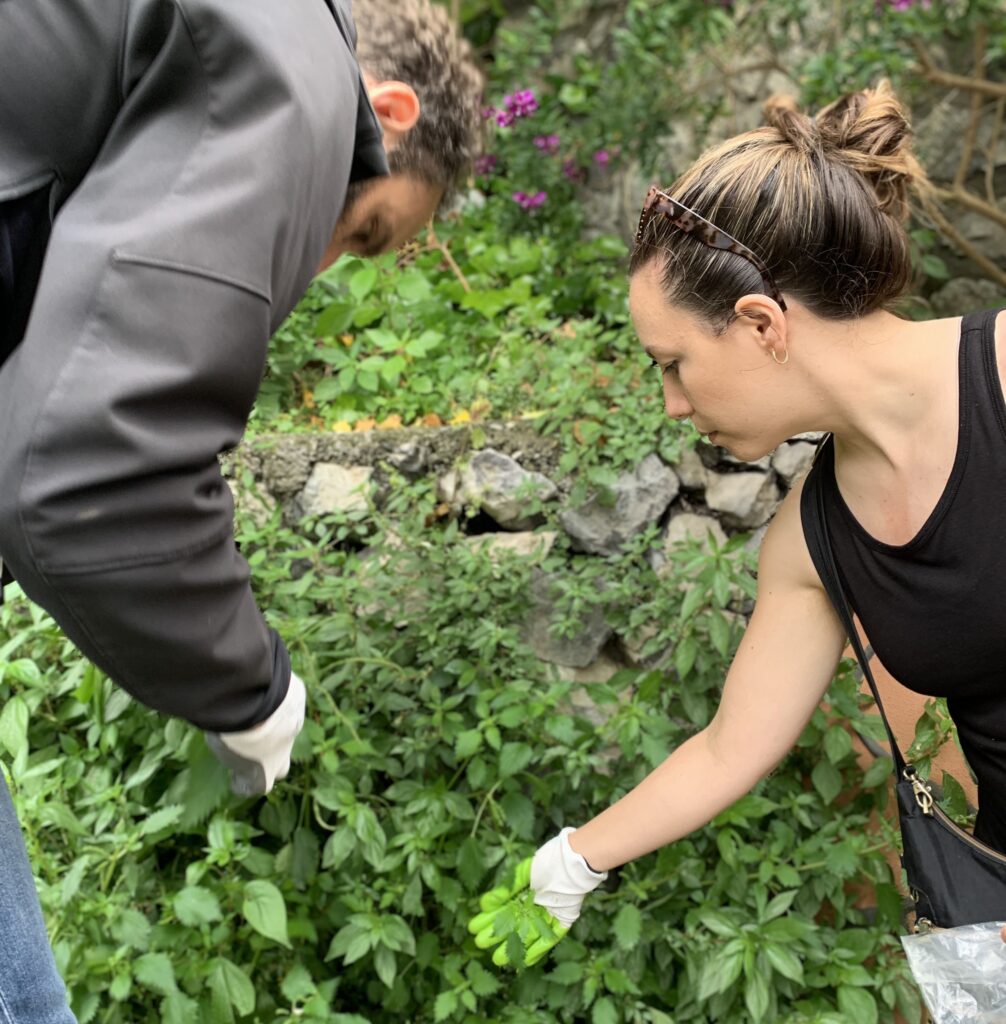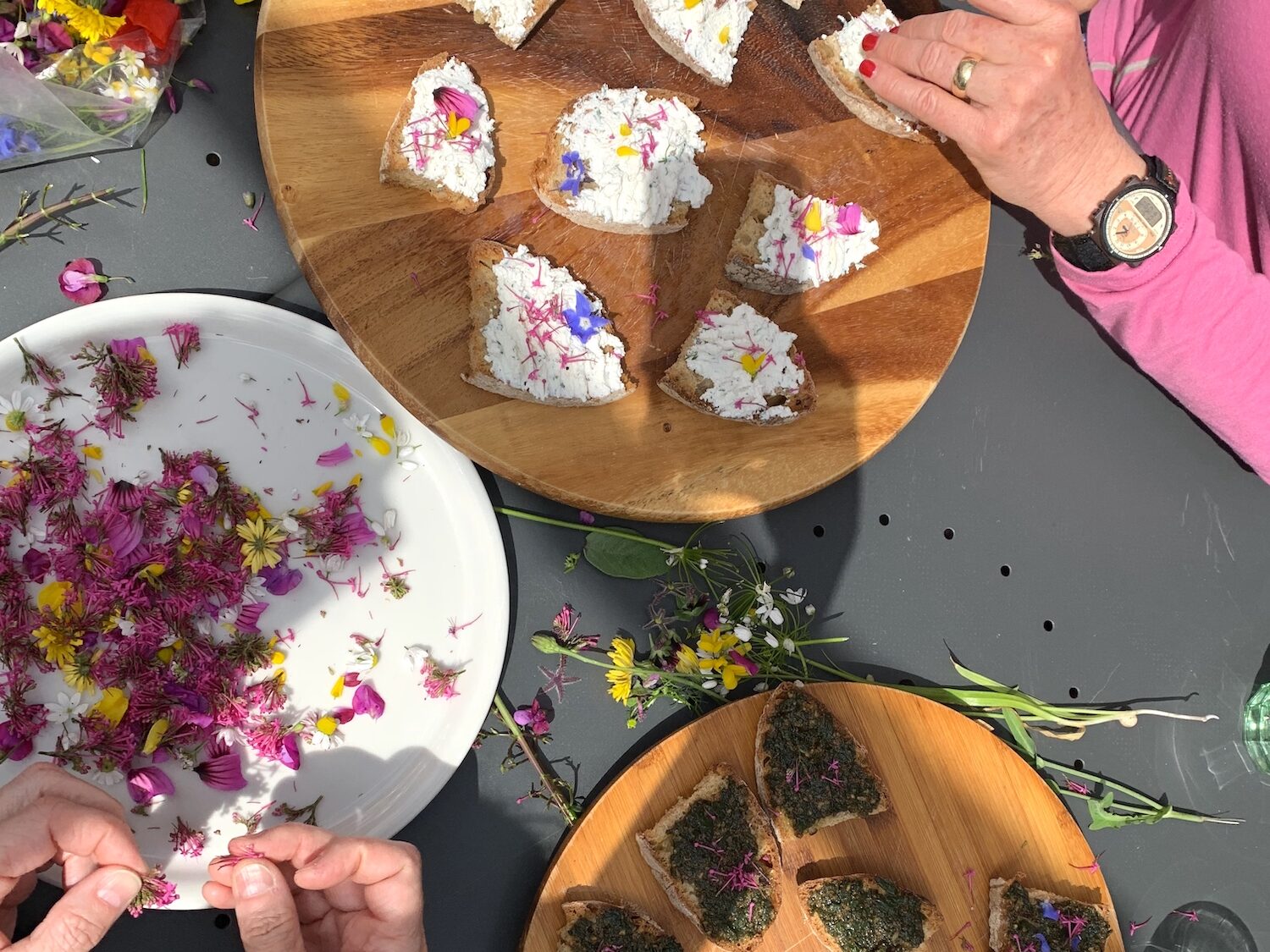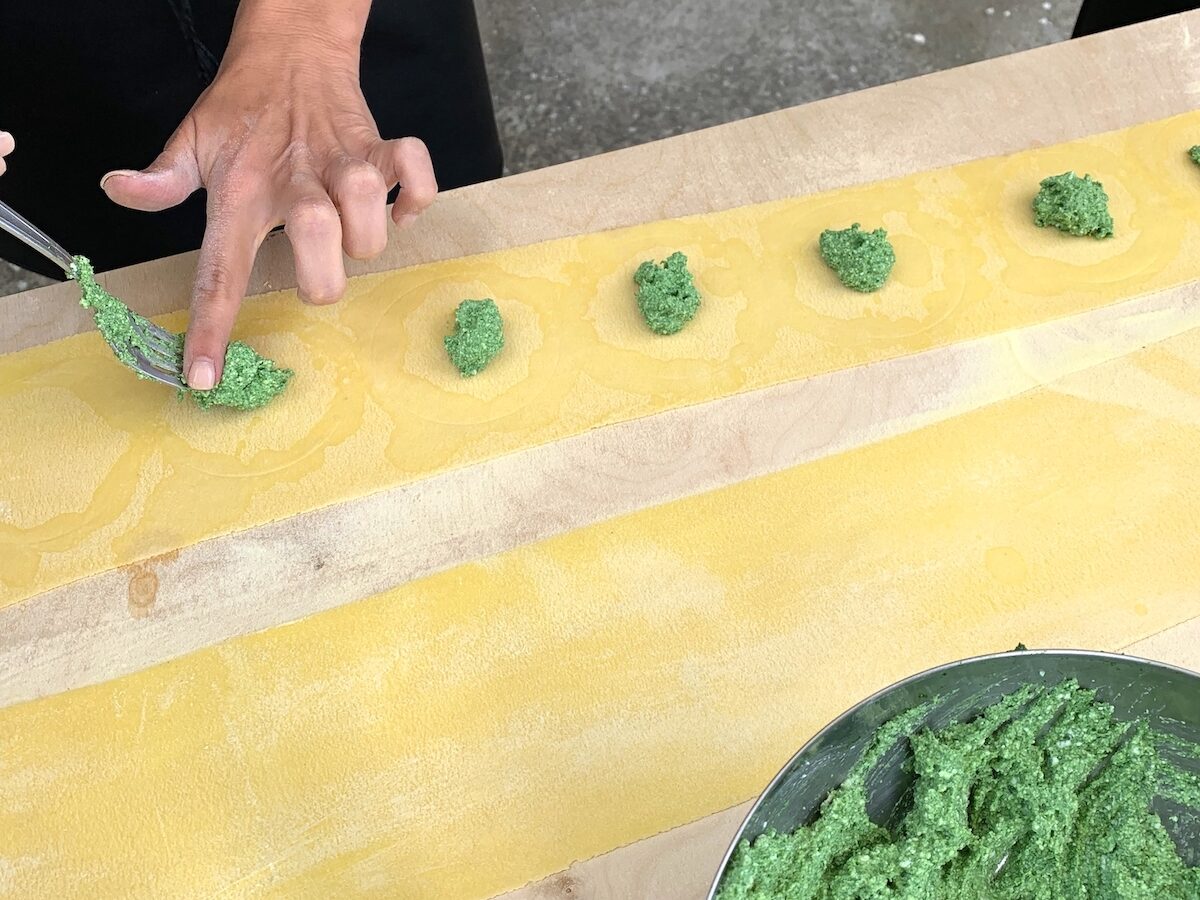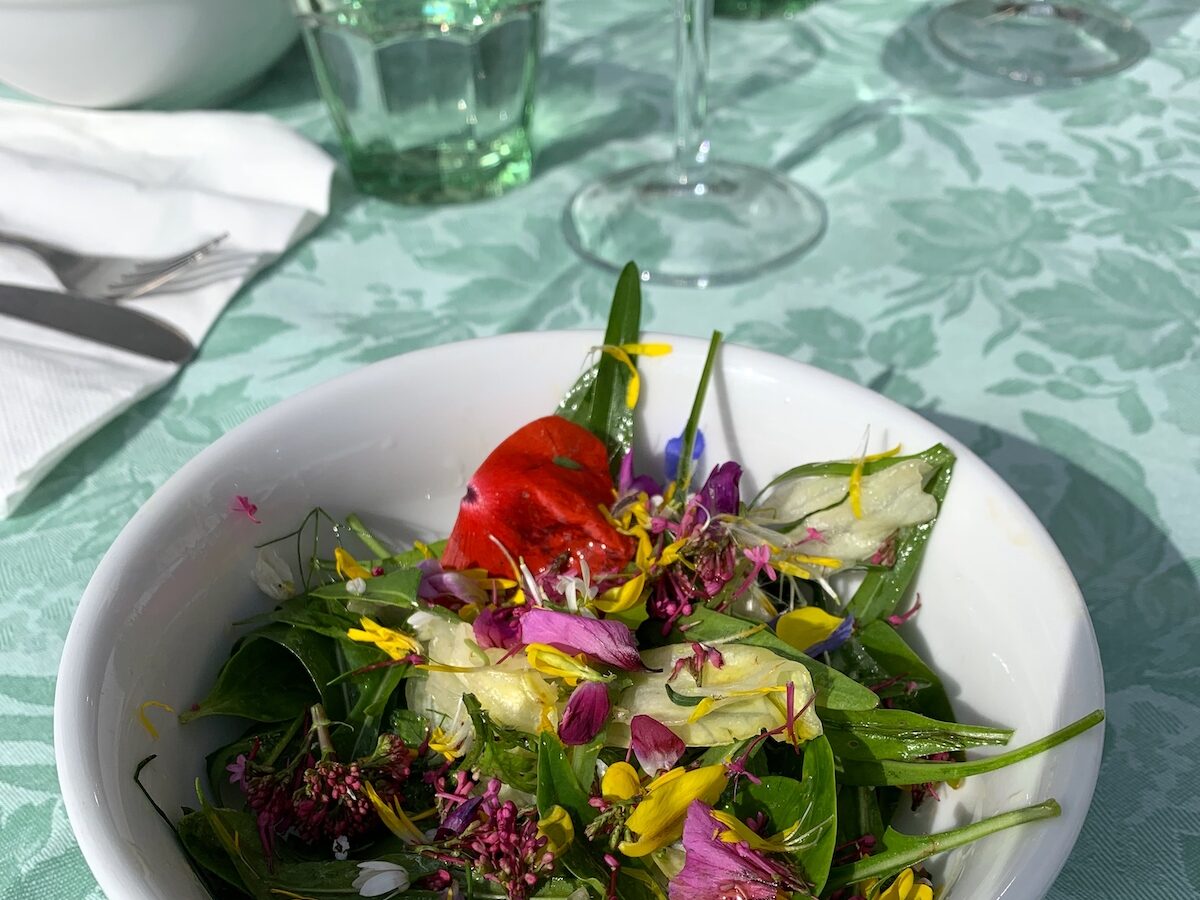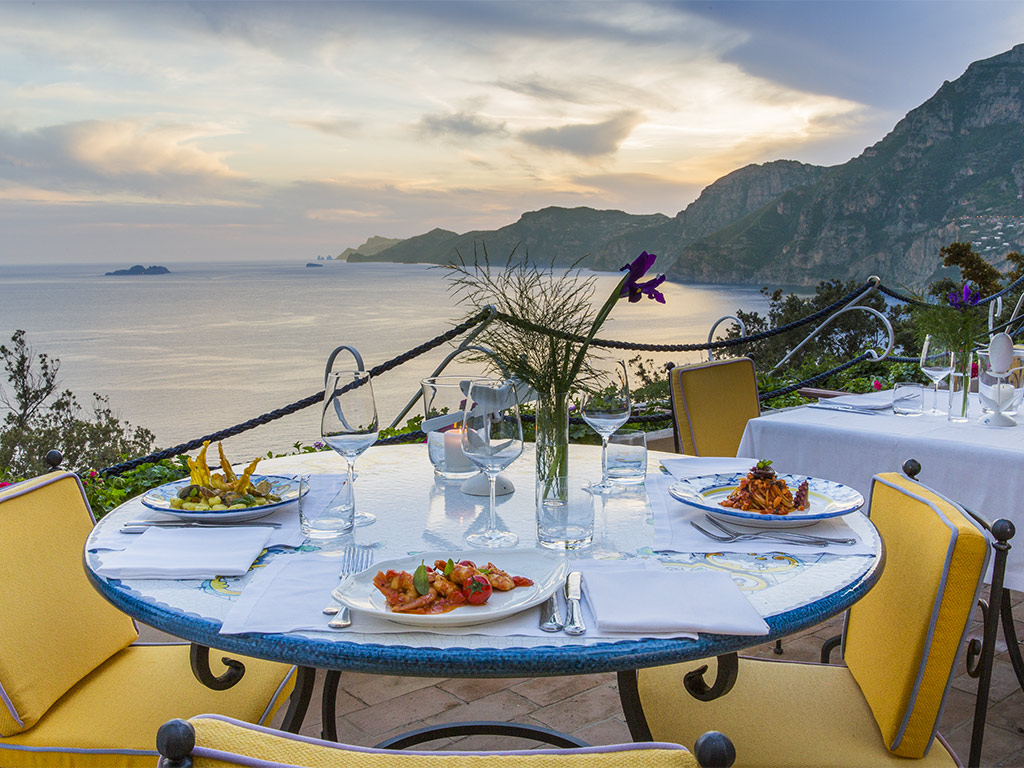 ---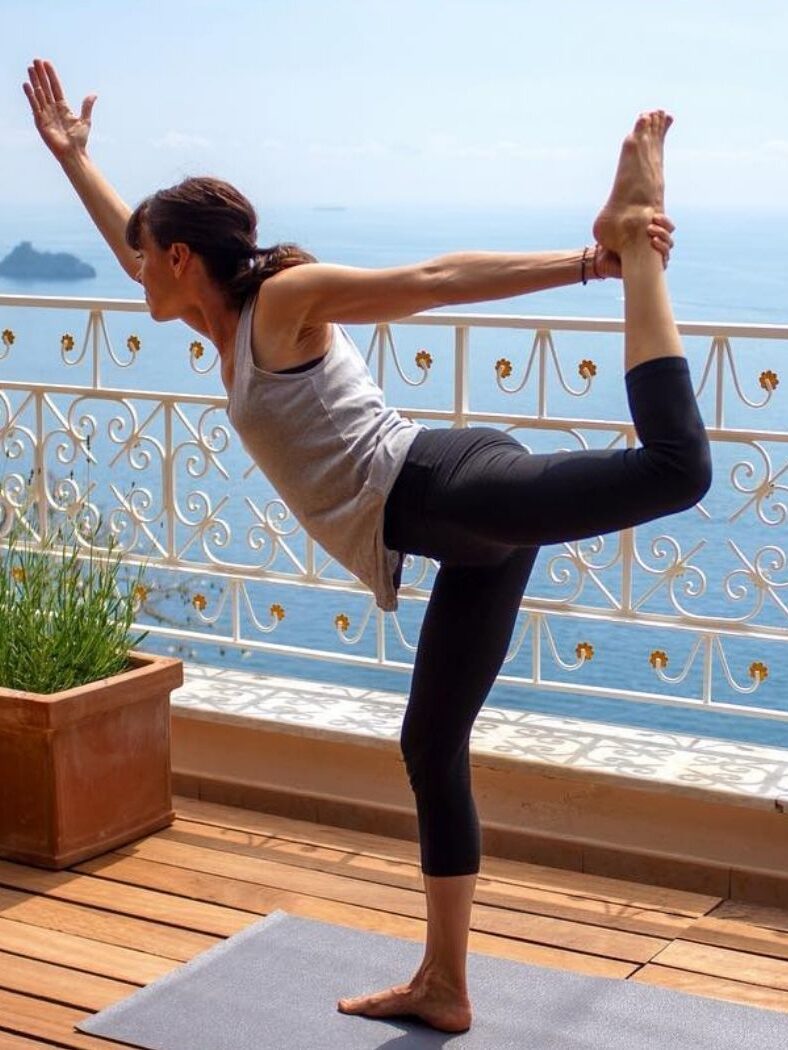 About Your Host
Based in Italy, Erin founded EAT.PRAY.MOVE 10 years ago and still leads nearly almost all of her own retreats.
She made her first trip to Italy in her early 20's, and like many, fell in love with the country. It immediately felt like home, and she made a permanent move in 2015, setting up a base near Florence.
During our trip, Erin will not only share her love for the country and the Amalfi Coast but also an insight into Italian local culture.
Our September 5th, 2022 departure will be accompanied by our Co-founder Mar Pages and our photographer. More about the Solo Female Travelers team here.
---
Inclusions
✔️ One group pick up and drop off from Naples train station
✔️ 4 Nights in double or shared twin accommodation at Hotel Margherita in a balcony, sea facing room
✔️ All activities and experiences as mentioned in the itinerary
✔️ Breakfast, lunch and dinner daily except for lunch on Day 3
✔️ Professional images for trips with photographer onboard
✔️ Transportation to and between all activities in a small minibus or van
✔️ English speaking host
Exclusions
✘ Lunch on Day 3
✘ Transportation to and from the hotel outside of the designated group transfers
✘ Visa, if required
✘ Travel & Medical Insurance (Required)
✘ COVID Vaccinations Pre Arrival (Required)
✘ Alcoholic drinks at meals unless specified (eg. Welcome and Farewell dinners, wine tasting lunch)
✘ Souvenirs
✘ Tips for Drivers and Guides (At your discretion)
✘ Departure COVID Testing if required, we can help organize
Payment Info
Only 14 Spots Available
From $2,995 USD
Credit card payments carry a 3% surcharge. Wire transfer details are available via email: community@solofemaletravelers.club.
Payment Plan:
Deposit: 30% non refundable deposit to reserve your spot
Balance payment due 90 days before departure
Above rates are based on per person sharing. Upgrades are available for single rooms at an additional cost.
*The initial deposit is refundable if the minimum number of guests is not reached. By joining our trips you agree to our T&C.
---
Book your spot
This trip will only host 14 guests so don't wait; book now or reach out to us with any questions.
June 4 – 8, 2023
---
September 2 – 6, 2023 (photographer onboard)
---
September 12 – 16, 2023
Note: Please do not book any flights until the trip is confirmed.
Interested in joining us in Amalfi but have some questions? Let's chat!
Contact us at community@solofemaletravelers.club or Pick a convenient time and date below to talk to us, we'd love to meet you!
---
Frequently Asked Questions
This is a trip of a lifetime and we know there are many things you'd like to know more about.
What are the COVID measures in Italy and how will you ensure everyone is safe?

We care deeply about the wellbeing of our guests and our trip follows all local regulations. We require our guests to be fully vaccinated to join the tour so that we ensure the safety of everyone on the trip.

While travelers from the US can only enter on designated flights, we expect these restrictions to be lifted before the trip.
What if I cannot travel because of COVID restrictions?

Balances are not refundable if you change your mind. In case of travel restrictions imposed by the Government of Italy that force the cancellation of the trip we will be moved it to a later date. We require all guests to purchase travel insurance that covers unforeseen circumstances which would prevent them from traveling, and this is how you would recover your costs from needing to cancel. Please read our Terms and conditions here.
Do I need a visa for Italy?

Most travelers do not need a visa for Italy. In cases where a Schengen visa is required it will be issued by the Italy embassy in your country of origin.
What is included in the trip?

All inclusions and exclusions are detailed in the section above. This trip is all inclusive except for lunch on day 3. Depending on your arrival and departure times, there may be other meals that you should consider (eg. if you arrive in the morning of Day 1 or depart in the evening of Day 5). Alcoholic beverages are not included except for the drinks during the Welcome and Farewell meals.
How fit do I need to be for this trip?

This trip requires a medium level of fitness to go on the coastal hike and walk through the ups and downs of the various villages. if you have mobility restrictions please reach out to us to discuss before booking so we can be sure to accommodate your needs.
Can I have a room to myself?

All costs above are considered on a sharing basis with two guests per room in twin bedding; we will pair you with another solo female traveler on the trip. If you wish to have your own room, you can choose a single room at the time of booking.
I want to bring my partner to the trip

This is a female-only small group trip specifically designed for women traveling on their own. If you wish to travel with a female friend, partner, family member, etc. they are absolutely welcome, however we are not able to book male travelers on this trip.
I want to bring my daughter

How wonderful! If your daughter is above the age of 16, we will be glad to have her with us.
Will the guides be female?

Yes, this trip will be co-hosted by Erin Lewis and Mar Pages plus our female photographer in one of the departures, our driver may be male.
How does this trip help local communities in Italy?

We believe that travel can be a force for good and wherever possible, we work with local travel companies in the country who can help us make a difference and ensure that the tourism dollars benefit local communities.

For this trip, will partner with female local guides and support female owned businesses wherever possible.
What should I pack for this adventure?

Once your trip is confirmed, we will send you a detailed packing list with everything you need to take.

We expect the weather to be balmy and warm though not too hot, and also for rain to be rare. A light sweater will be useful in the evenings by the sea and during the days, loose fitting cotton clothing and other natural fibers help. Don't forget your swimming suit!
What happens if I get sick?

The prospect of getting sick while alone in a foreign country is daunting, and this is why we require all our guests have comprehensive travel and medical insurance that includes international evacuation. Should you fall sick, we will escort you to the nearest medical facility so you can get the help you need.
What travel and medical insurance should I get?

While the cost of medical healthcare in Italy may be more affordable than in other countries such as the US, travel and medical insurance is mandatory to come on our trips and we recommend you get the most comprehensive coverage that includes international evacuation. We recommend checking with an aggregator such as Travel Insurance Master to compare quotes and coverages.
Can I make various instalments for this trip?

Please reach out to us to us to discuss payment in instalments.
Can I pay by credit card?

Yes, payments will be made via credit card when you book a spot.