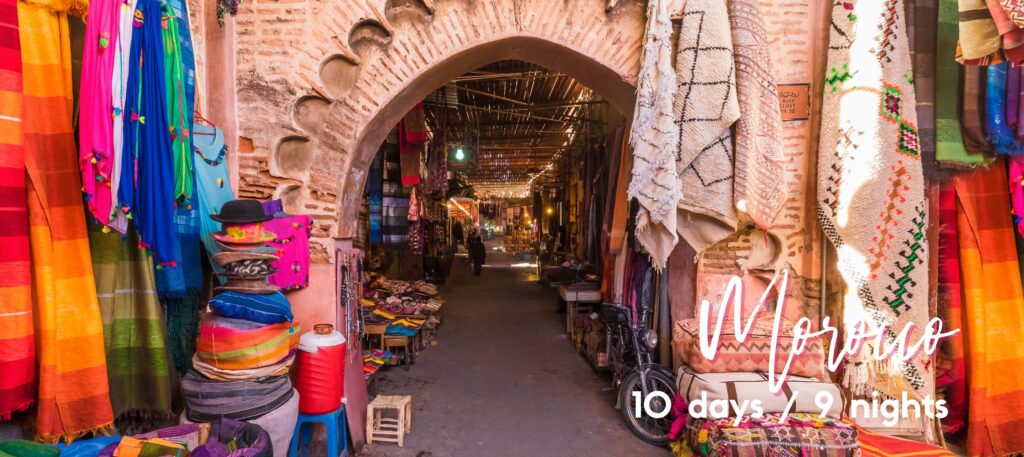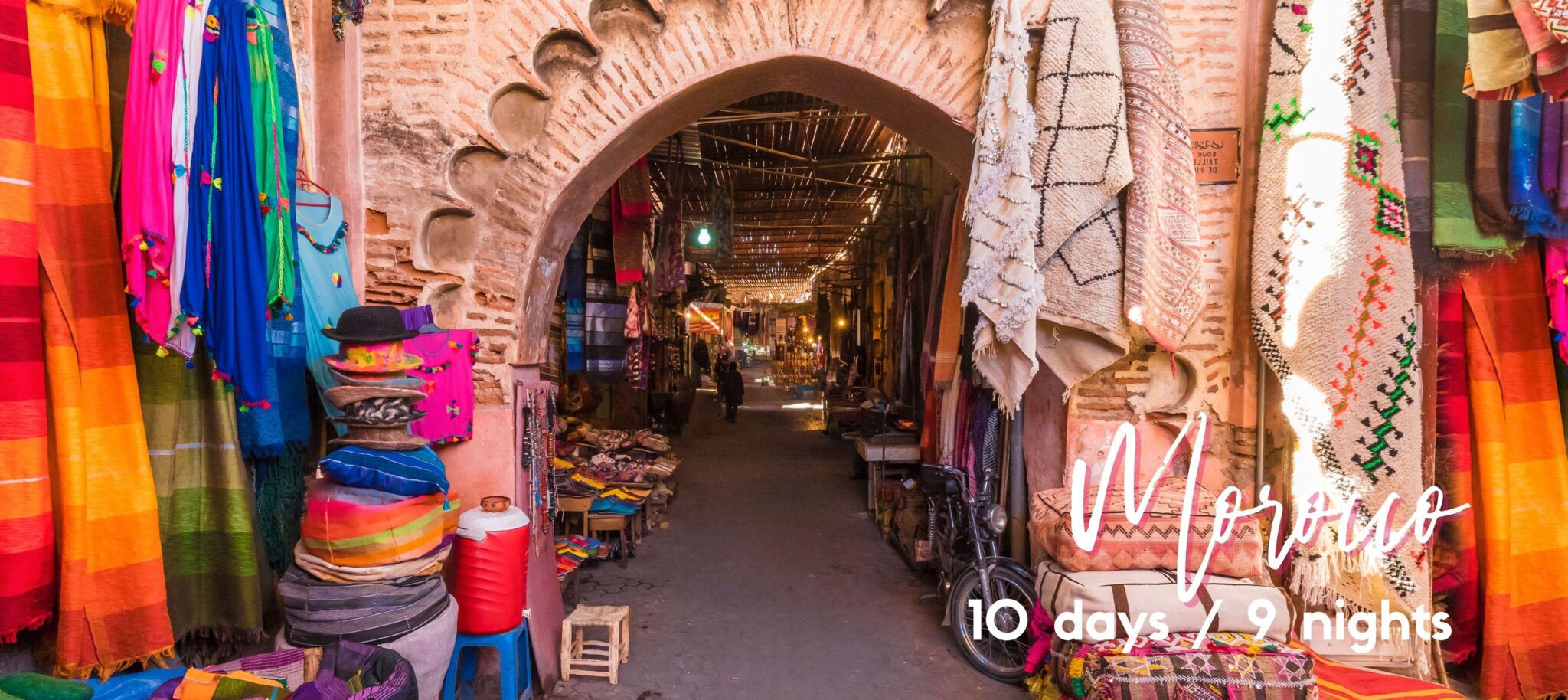 Morocco's Sights, Sounds and Colors
Casablanca – Rabat – Chefchaouen – Volubilis – Fes – Sahara Desert – Todgah Gorge – Dades Valley – Air Ben Haddou – Marrakech
Understand Morocco through the eyes of our local female host, guides and local activists as we navigate the contrast between modernity and tradition; from sleek Casablanca to the traditional Blue Pearl, from the alpine ski resorts to the endless Sahara, from the labyrinthine souks and ancient medinas to the luxury hotels and stylish riads.
Highlights: Grand Hassan II Mosque | The blue city of Chefchaouen | Roman ruins of Volubilis | Artisan demonstrations | Fez tanneries | Guided walking tours of Rabat, Fez and Marrakech medinas | Winery visit and wine tasting | Meals with local families, at traditional riads and at fancy restaurants | Meet womens rights activists, female business owners and leaders | Support female led businesses | Farewell henna party | A night at the Sahara Desert | Camel ride | Photographer onboard (Oct 22 departure)
No single supplements* | 14 spots | Female Empowerment | Premium accommodation
*Prices per person, we pair you with another traveler, or you can upgrade to have your own room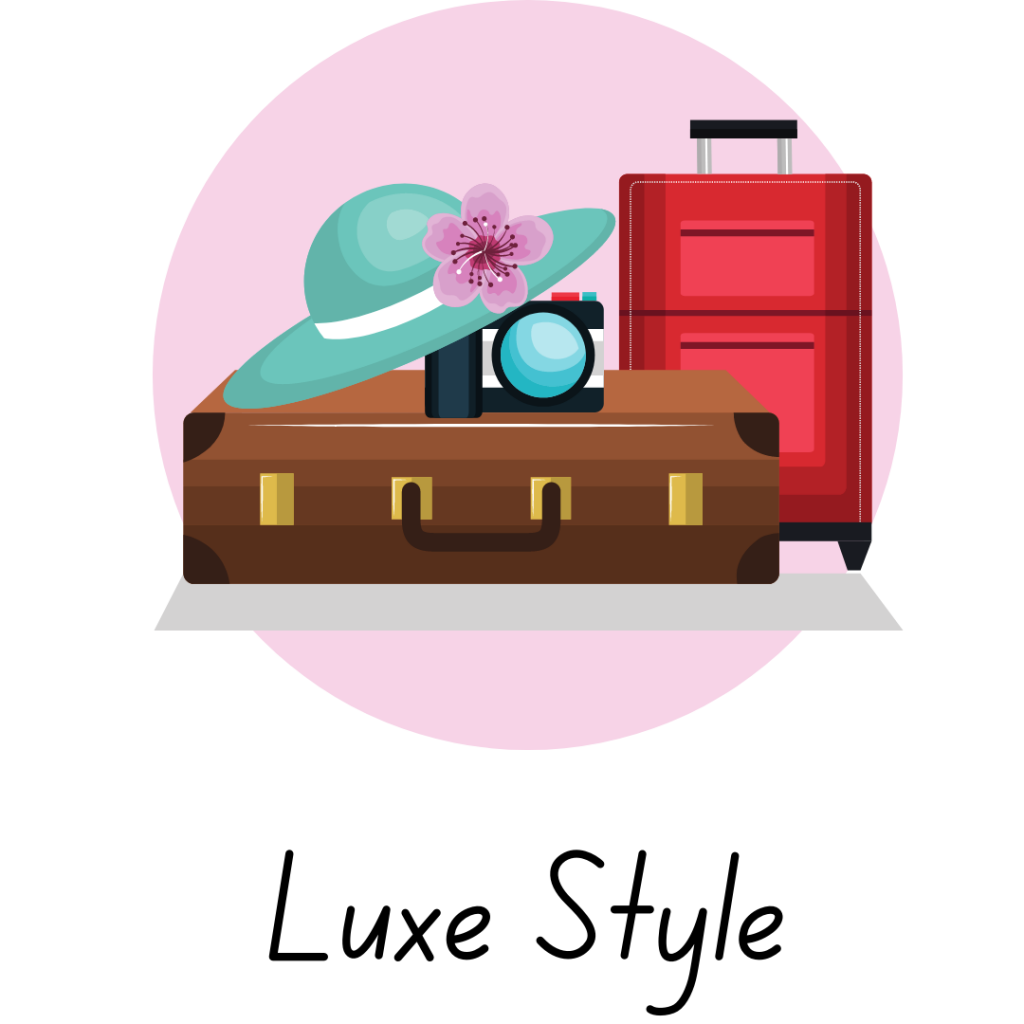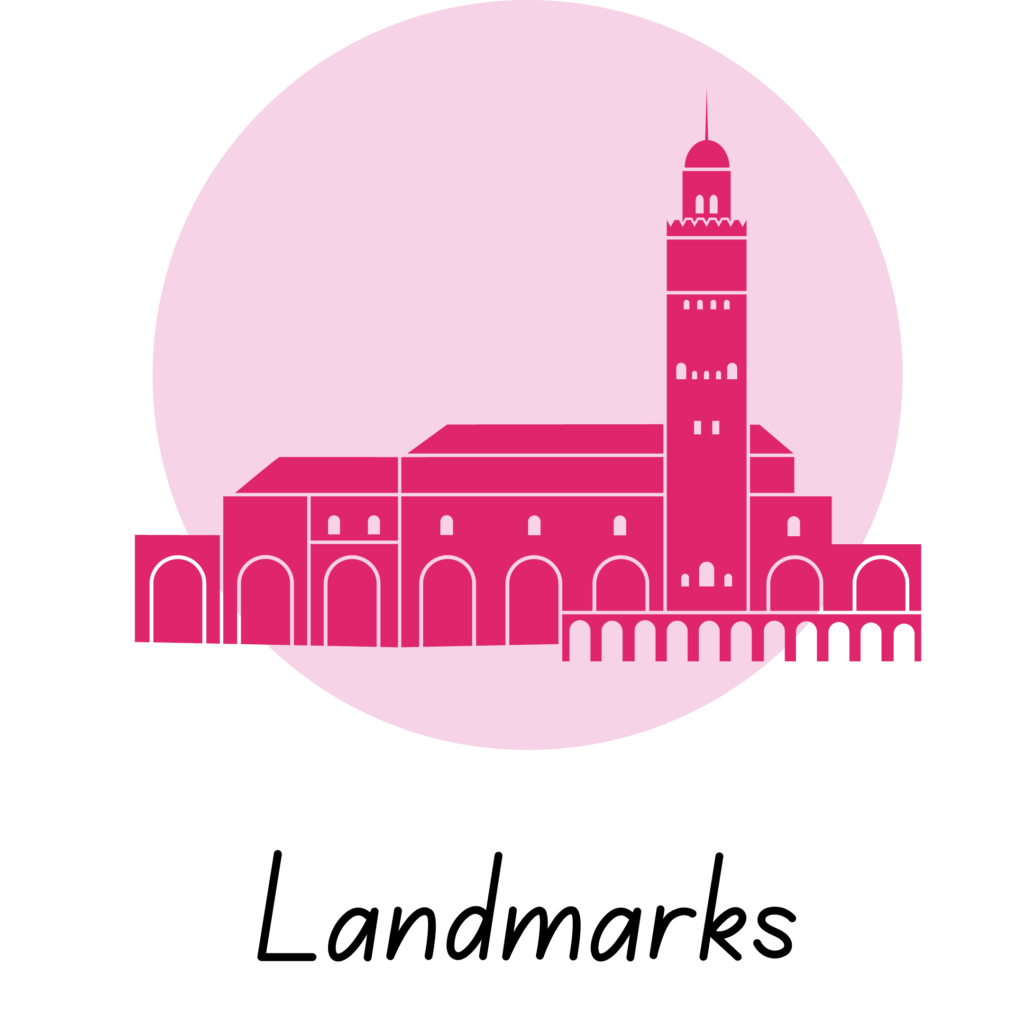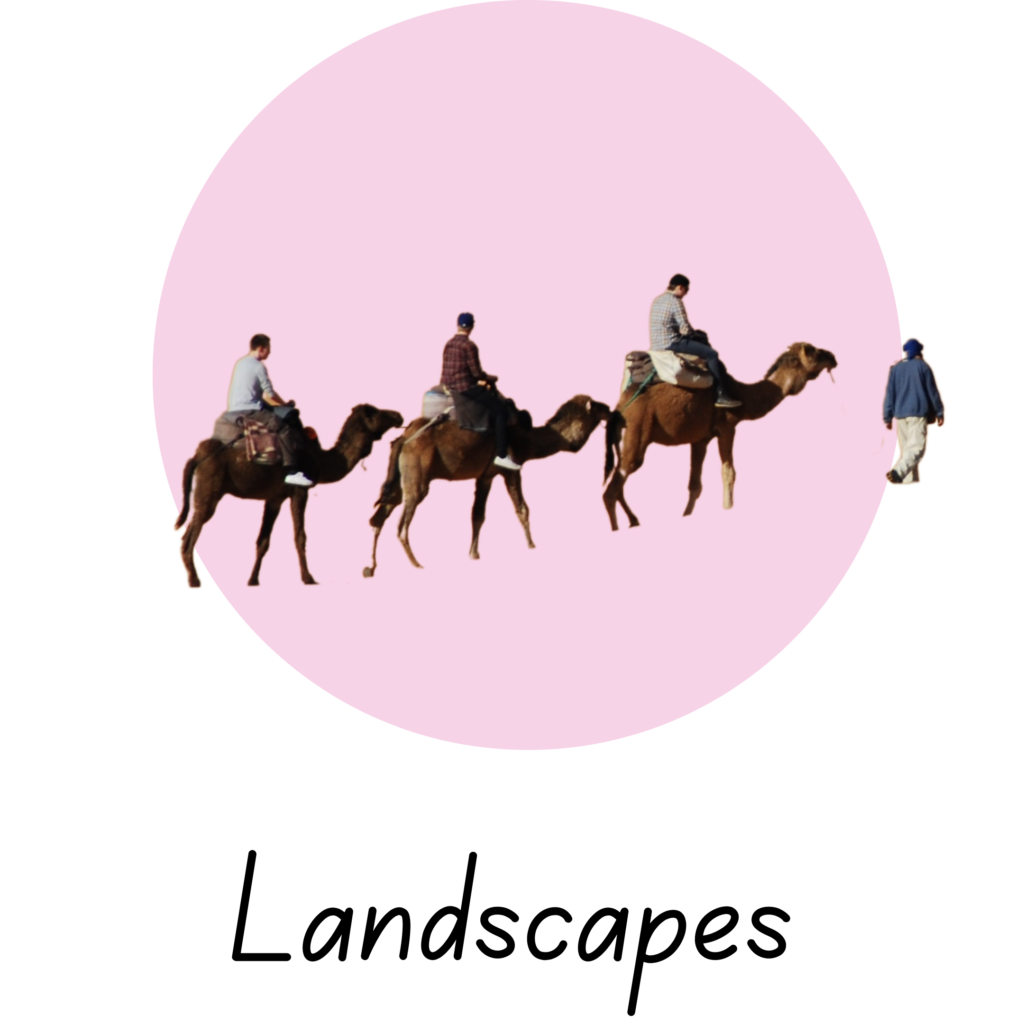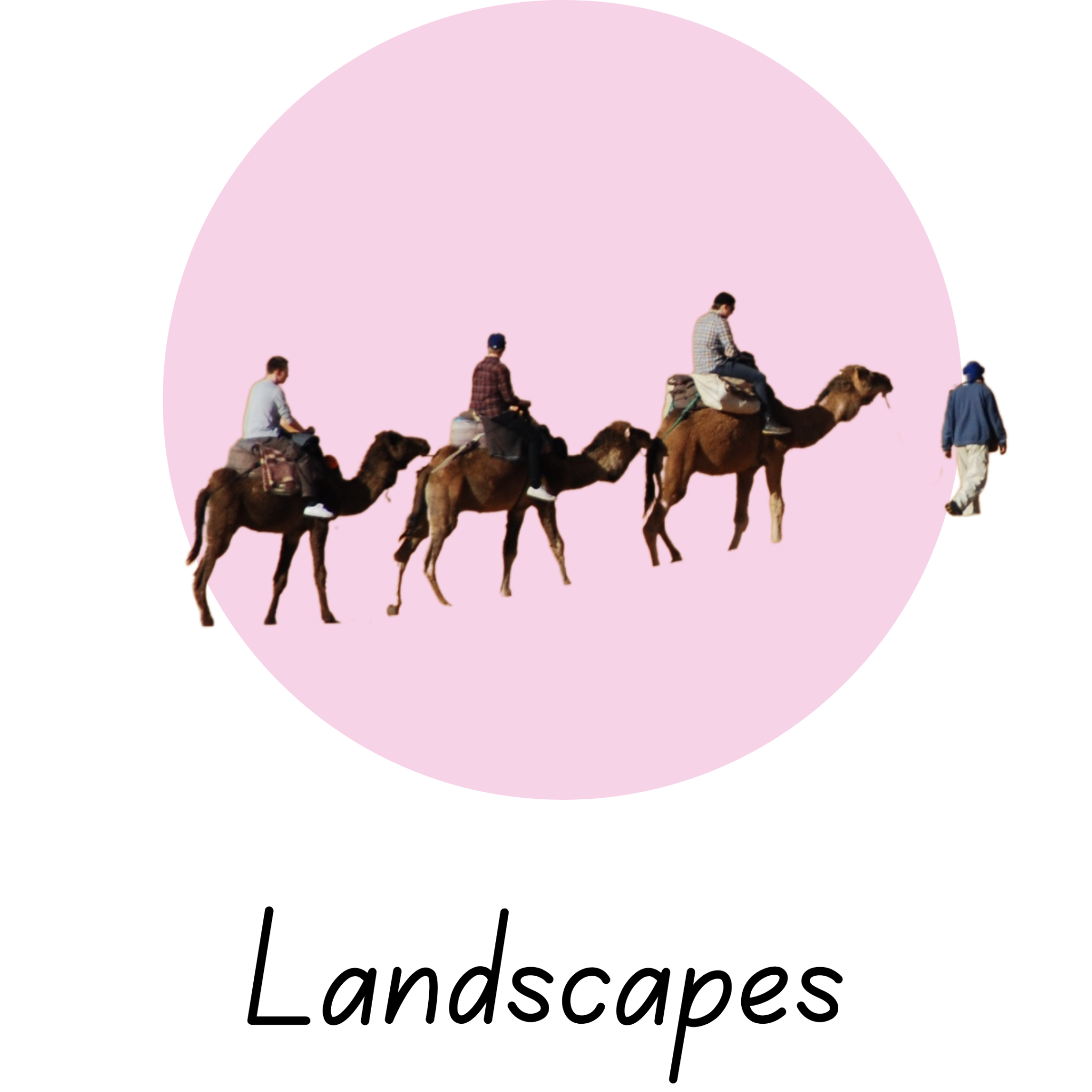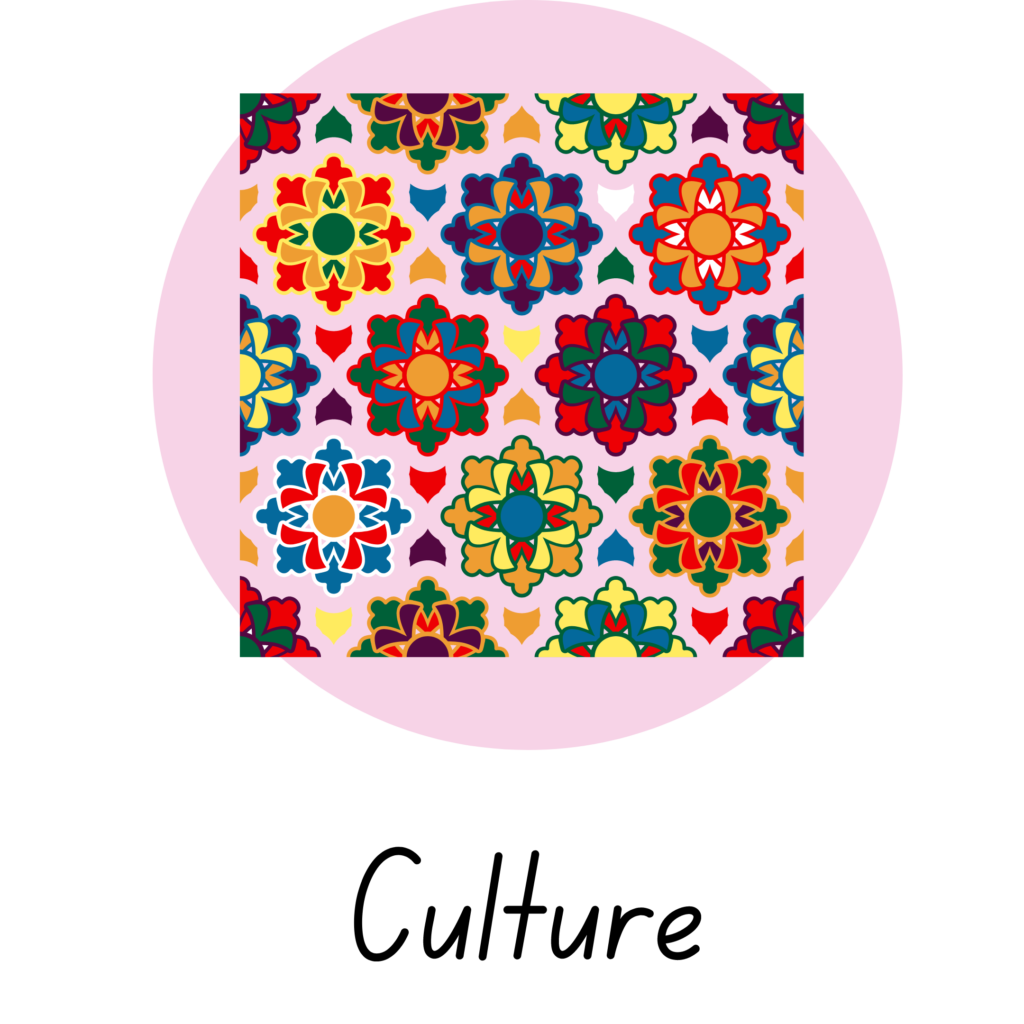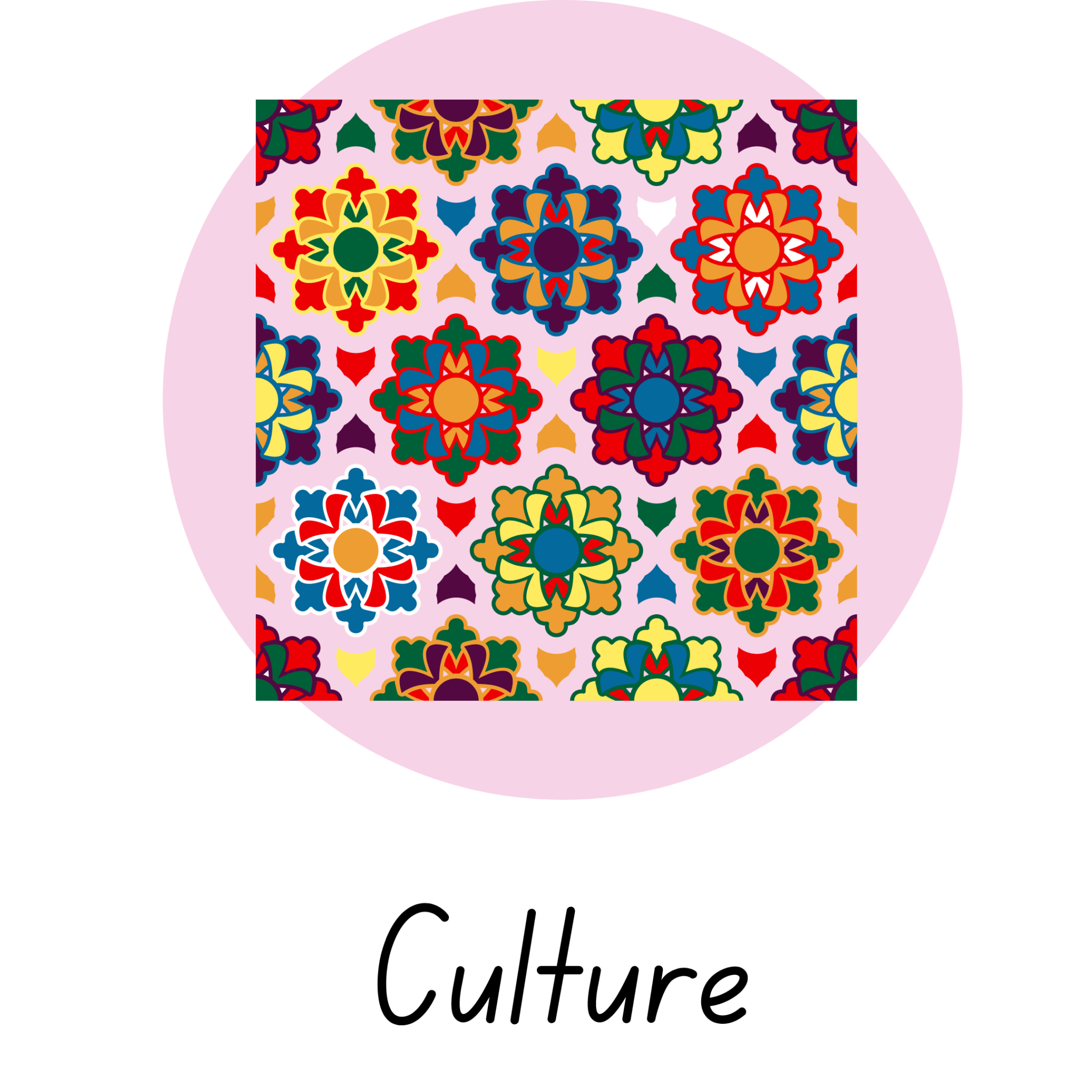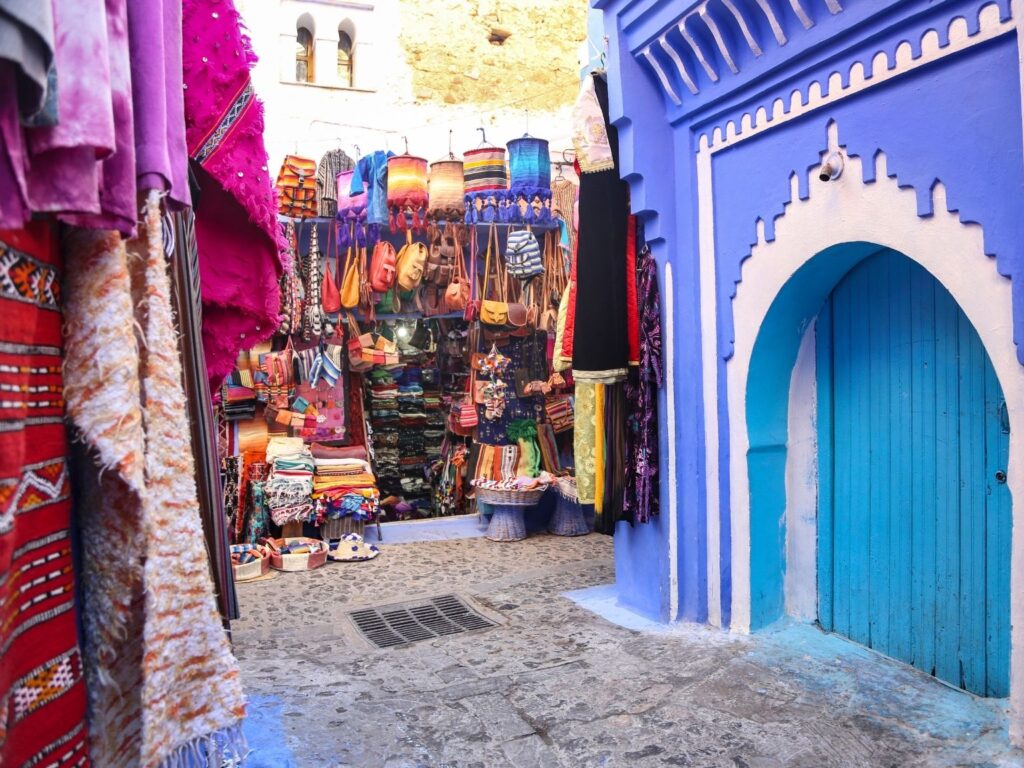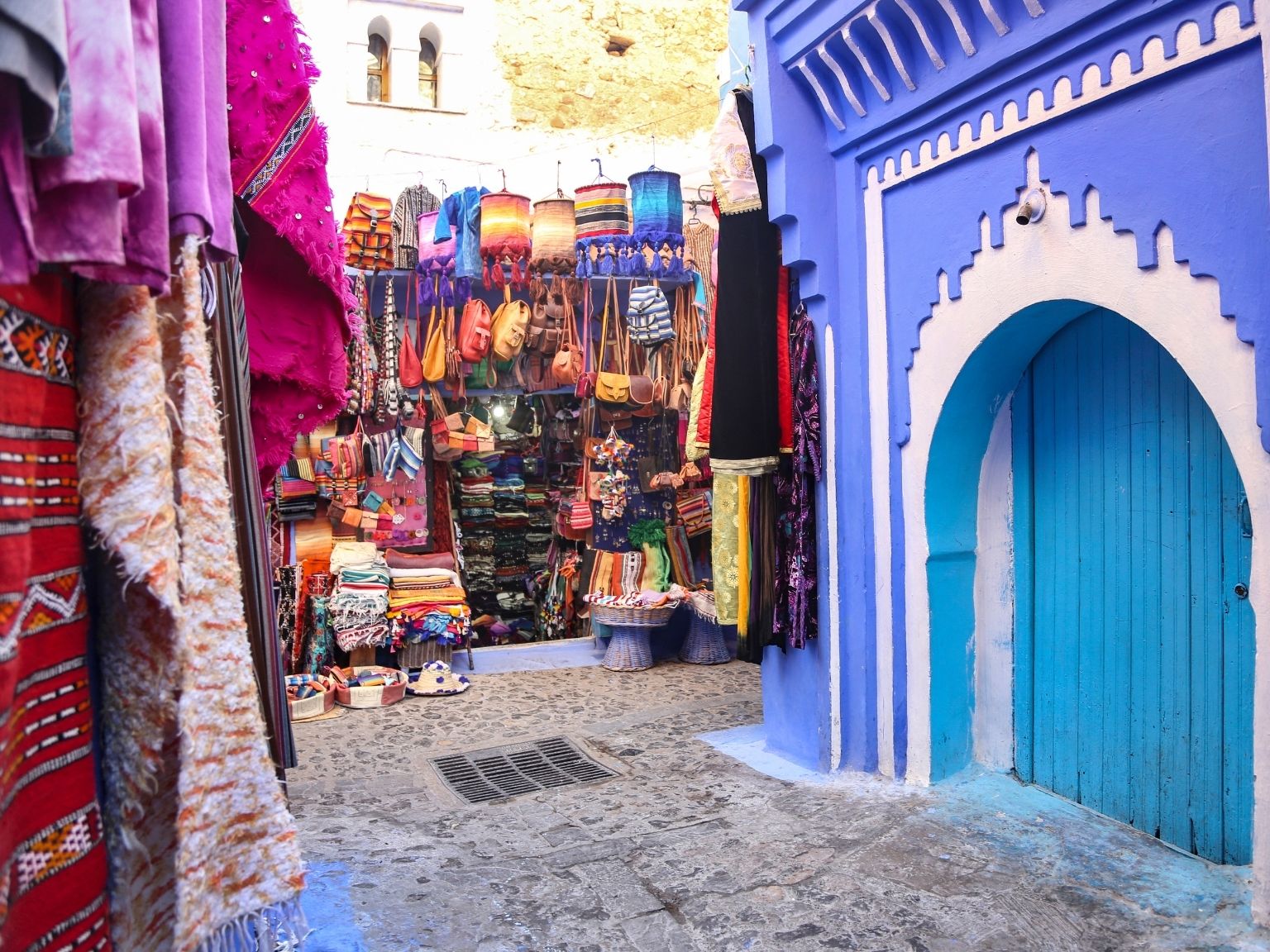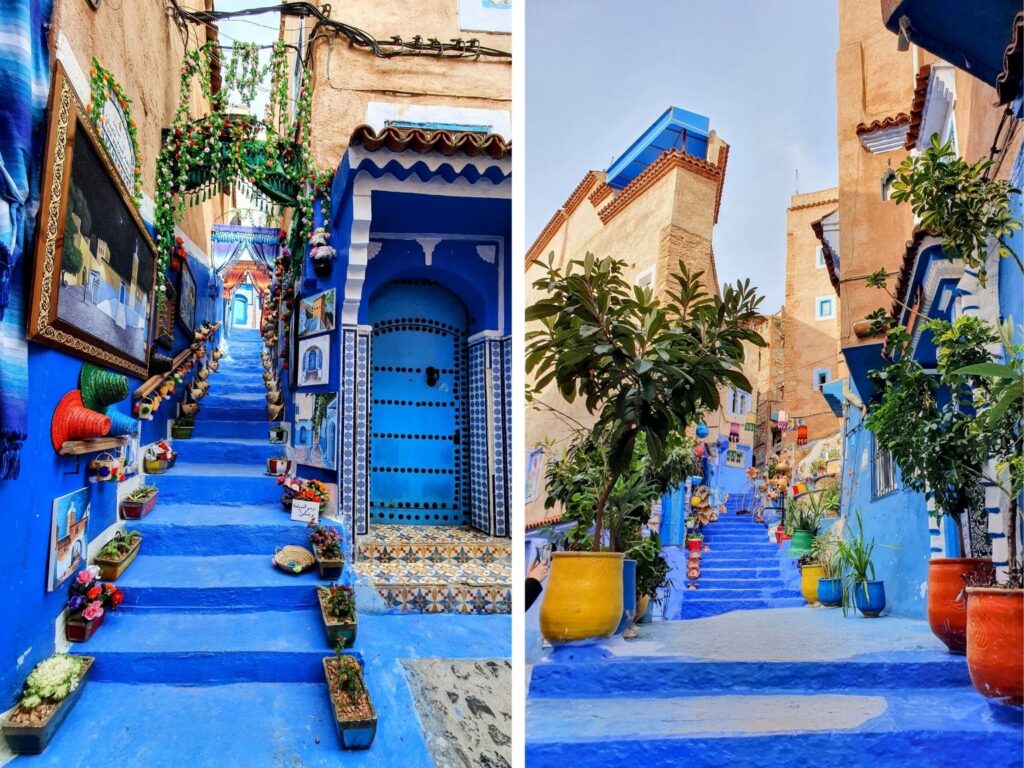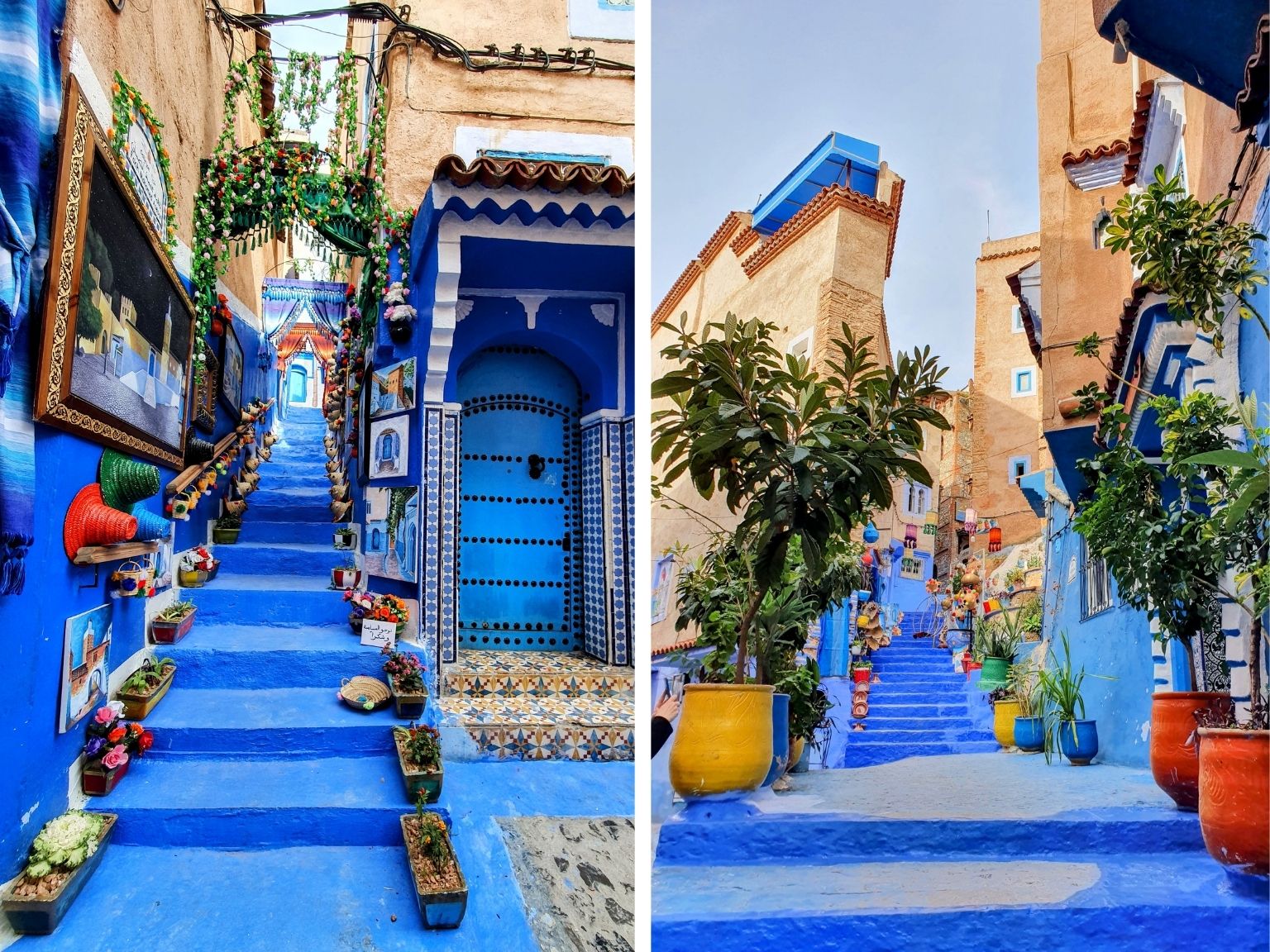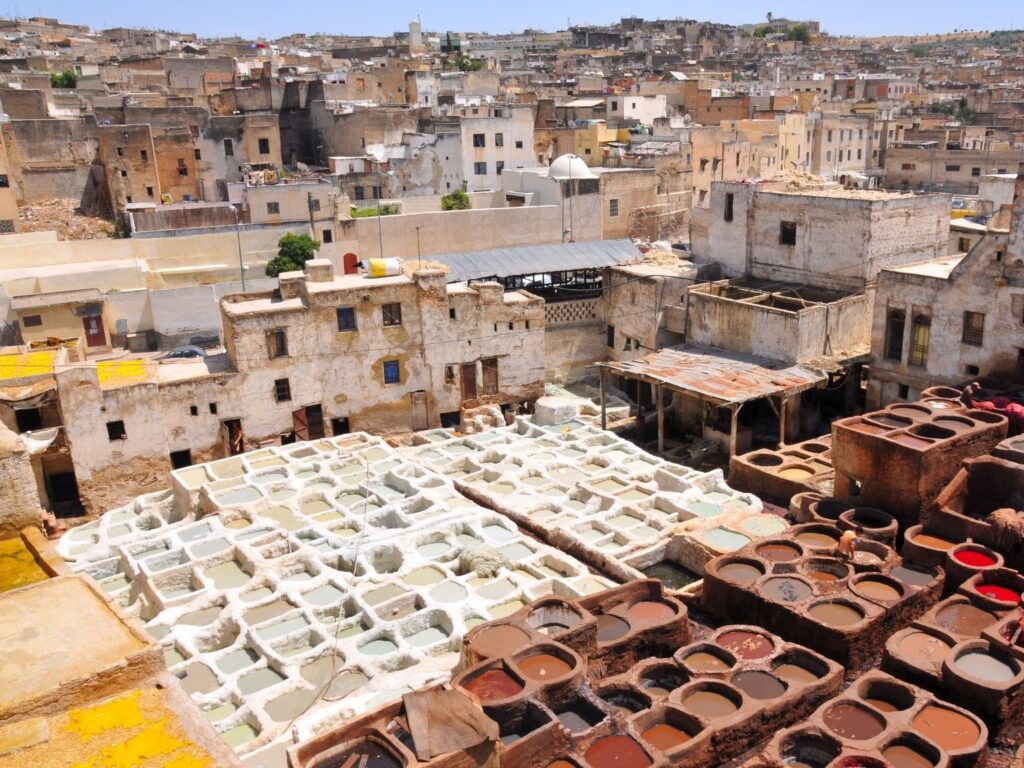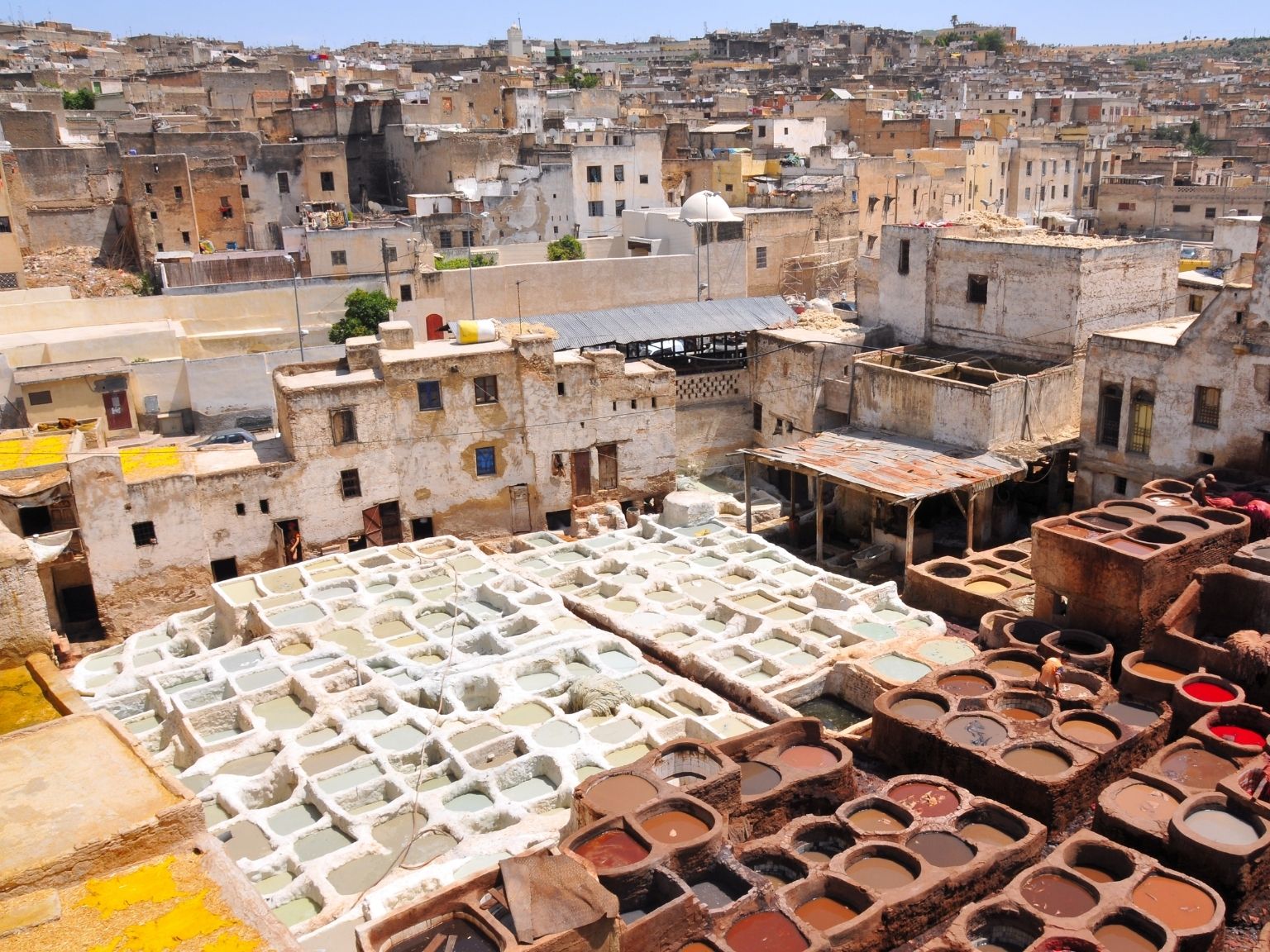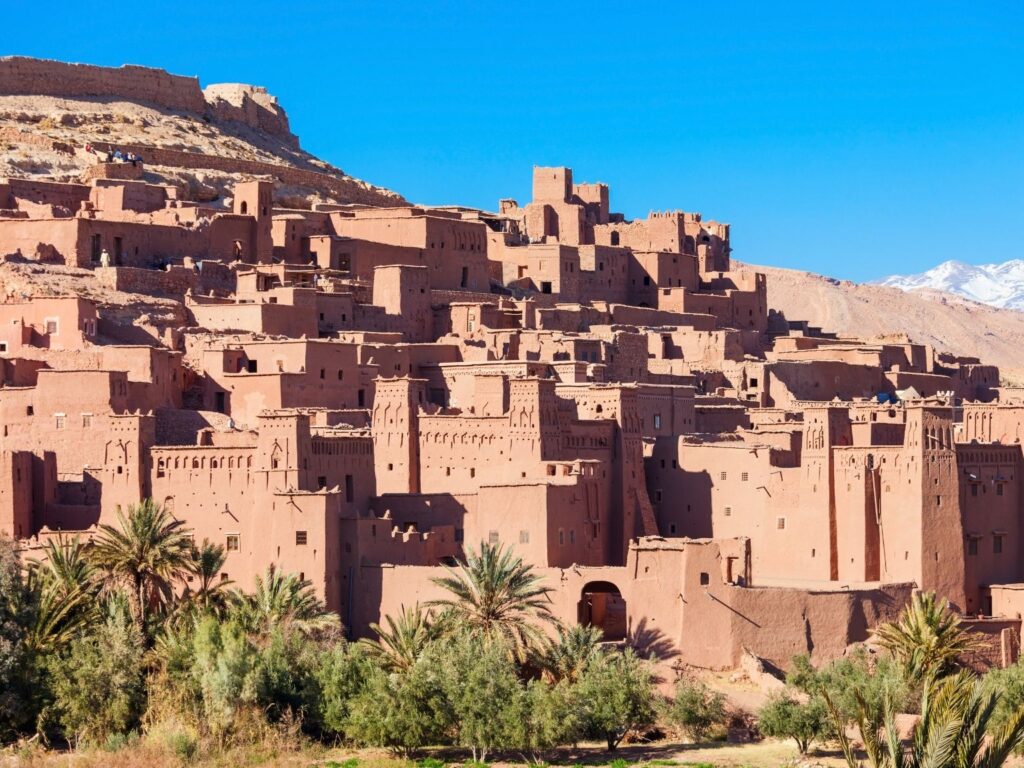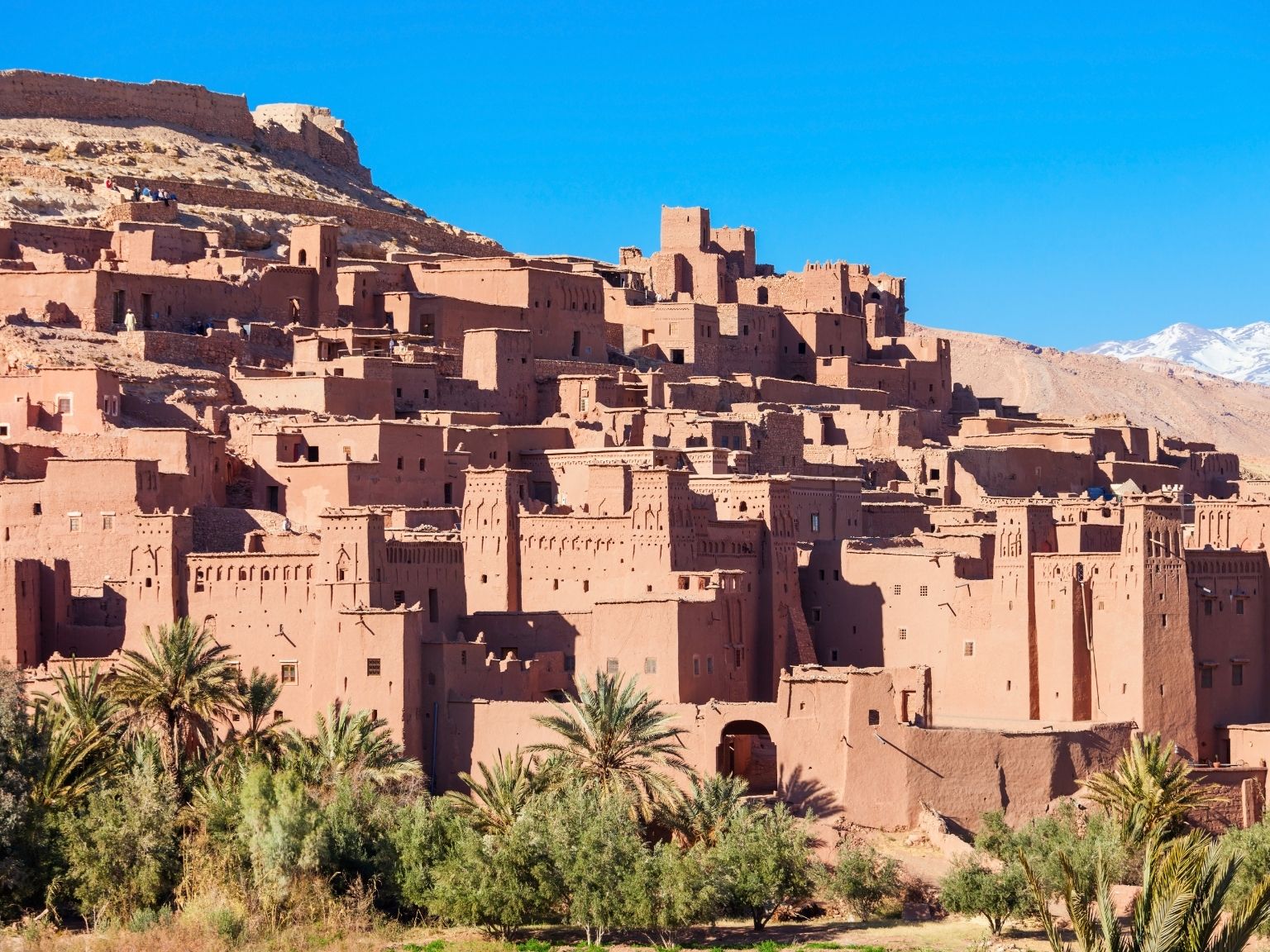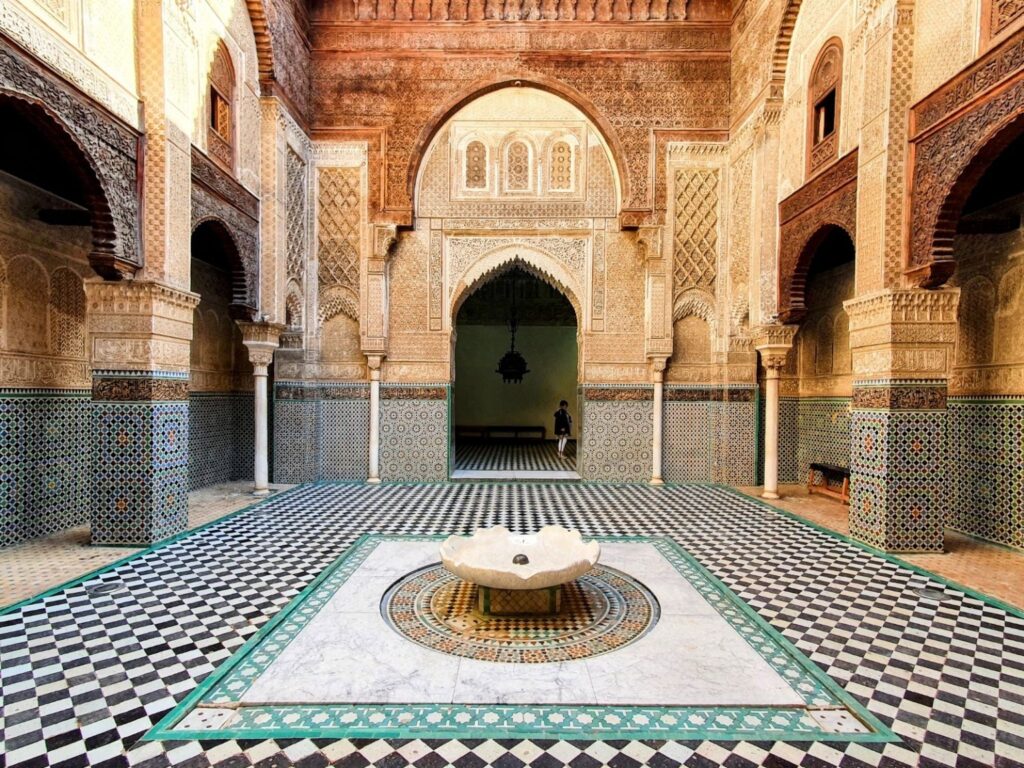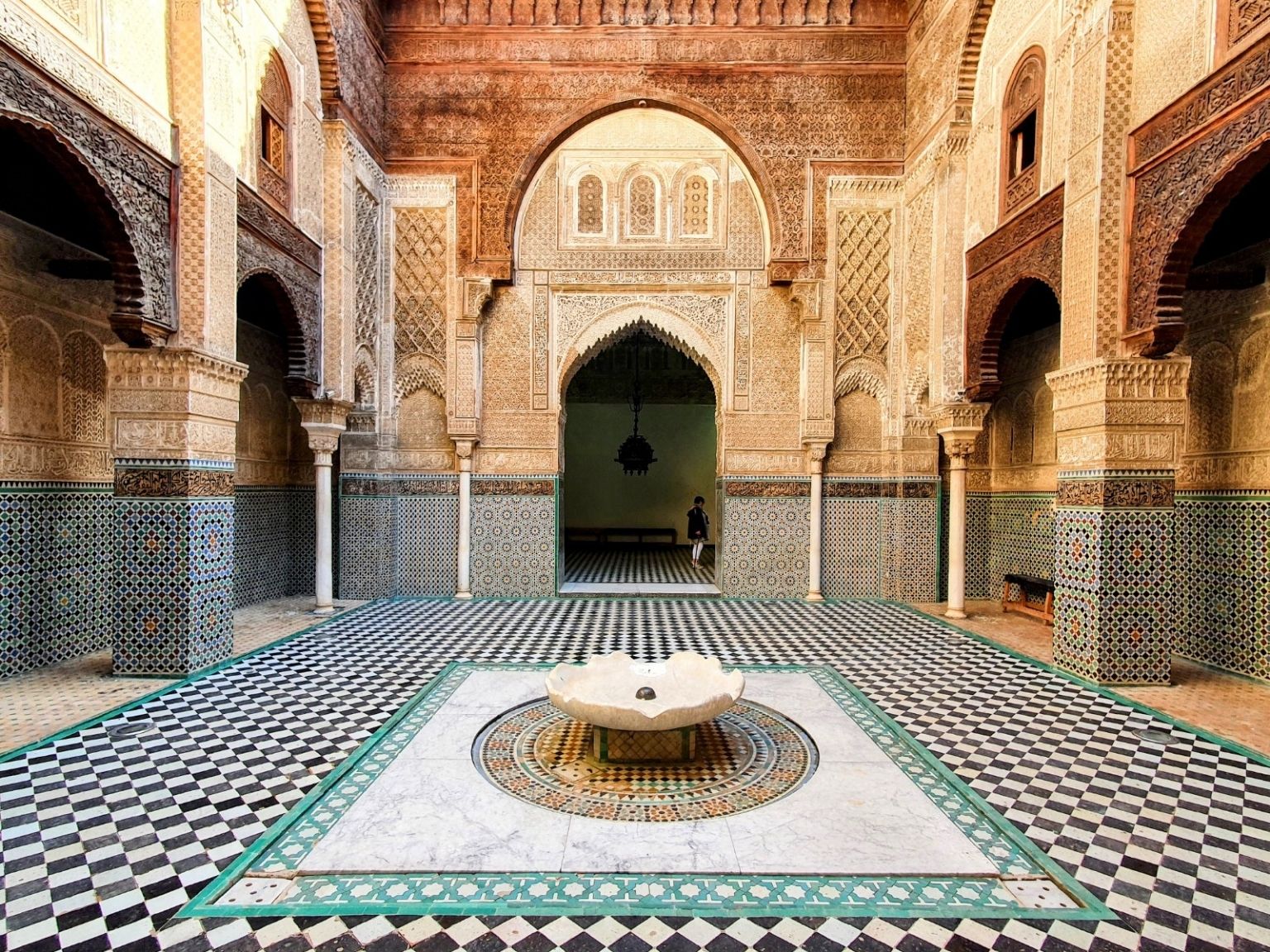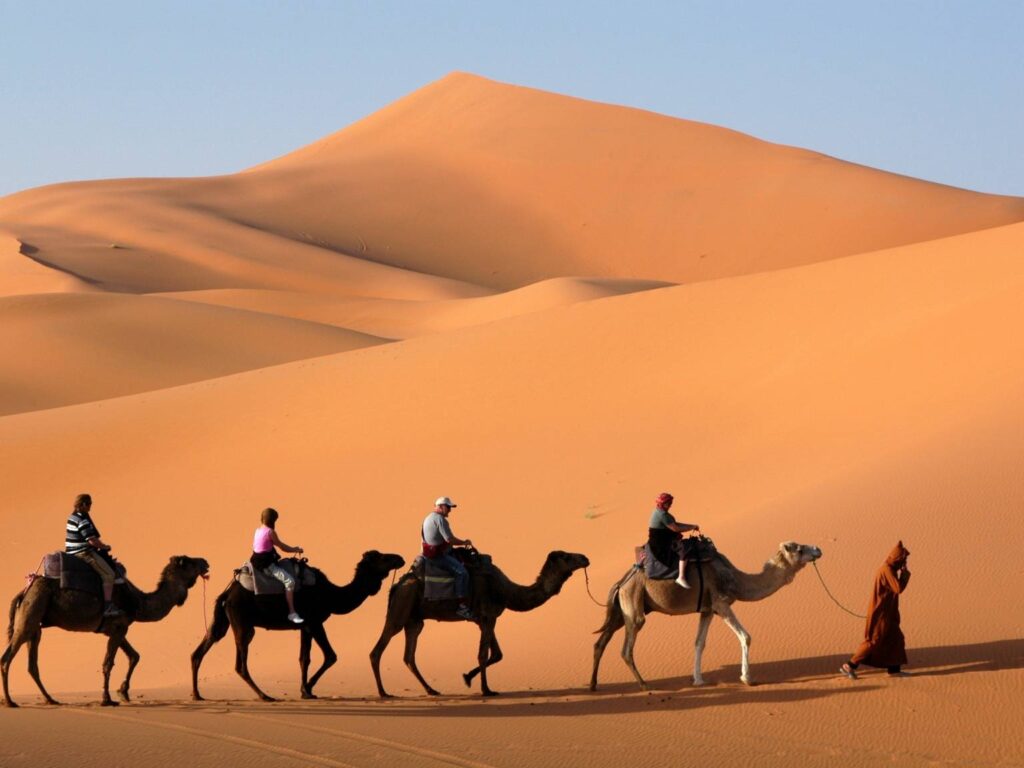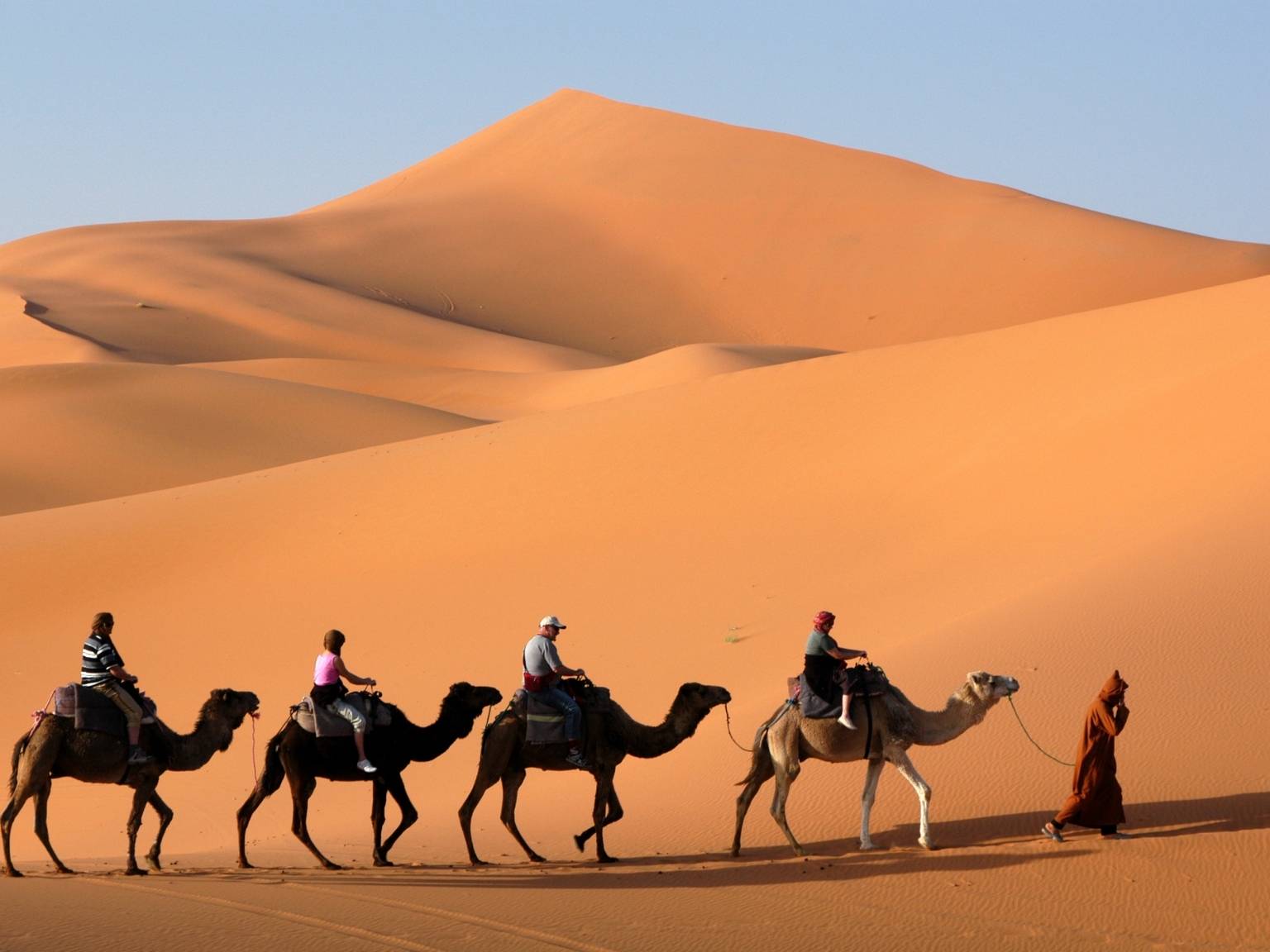 Trip Overview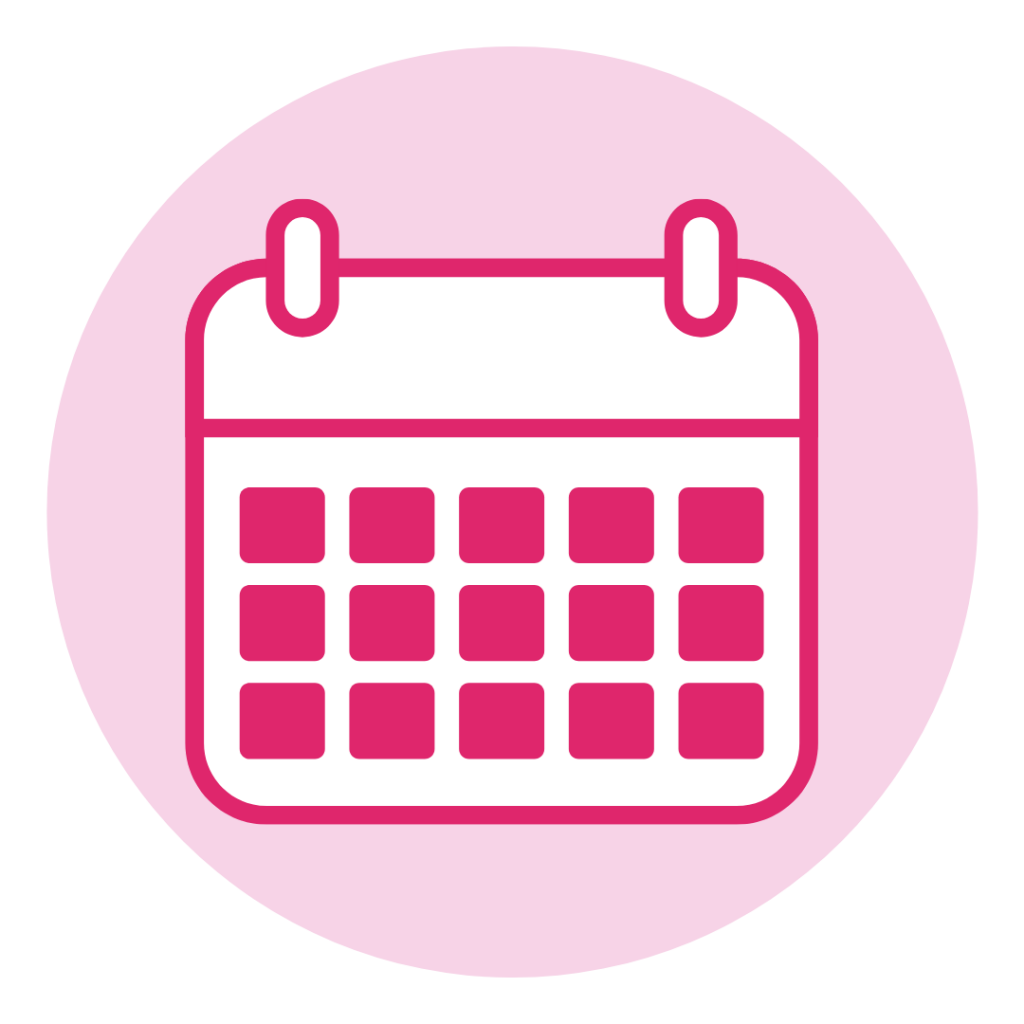 12 to 21 May, 2023 –SOLD OUT
4 to 13 October, 2023 –CONFIRMED
27 April to 5 May, 2024 (Photographer onboard)
2 to 11 November, 2024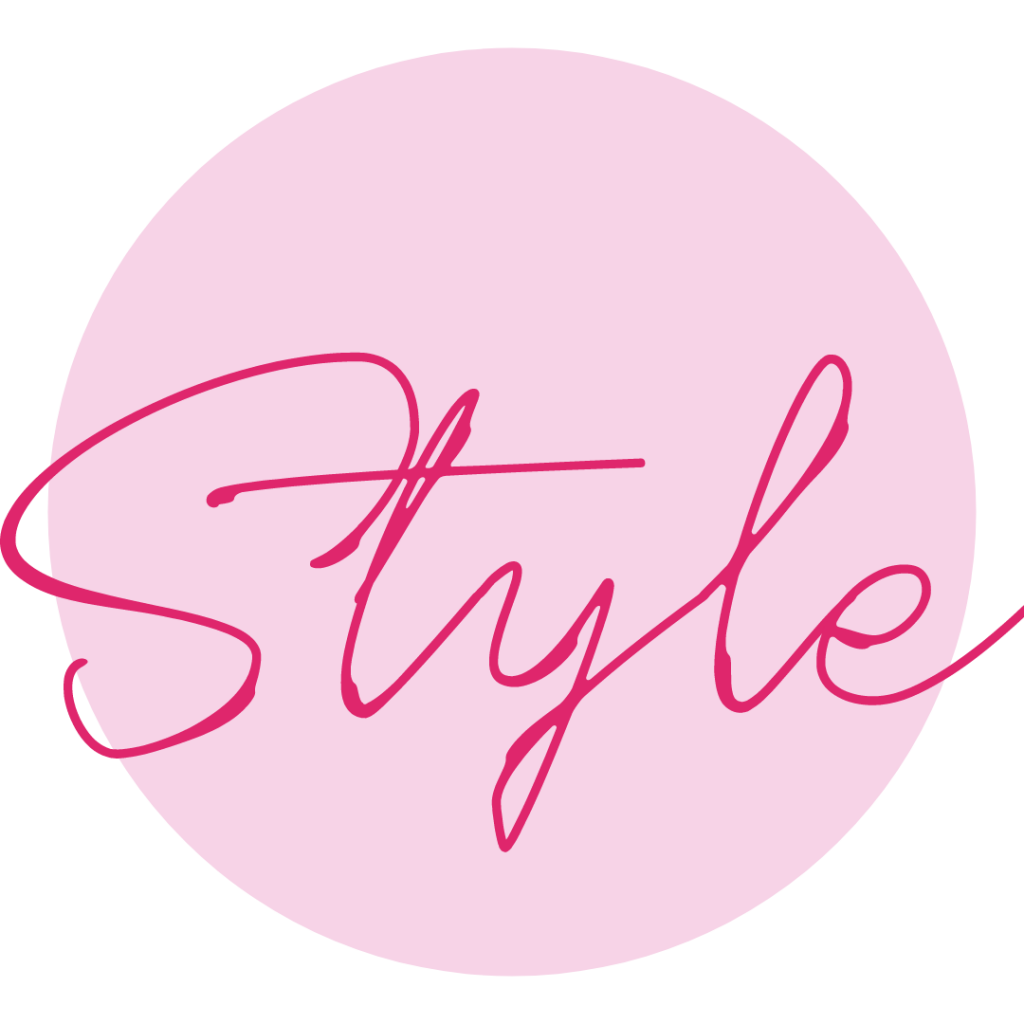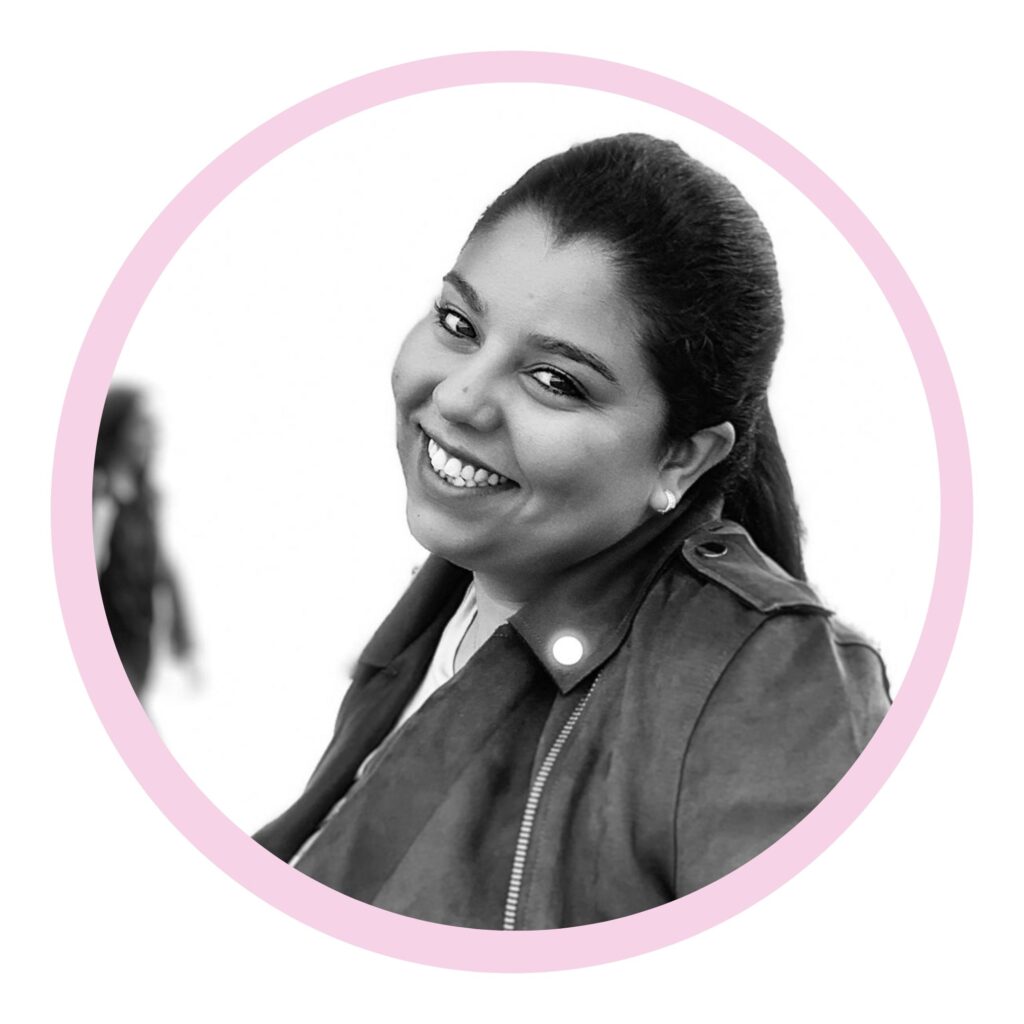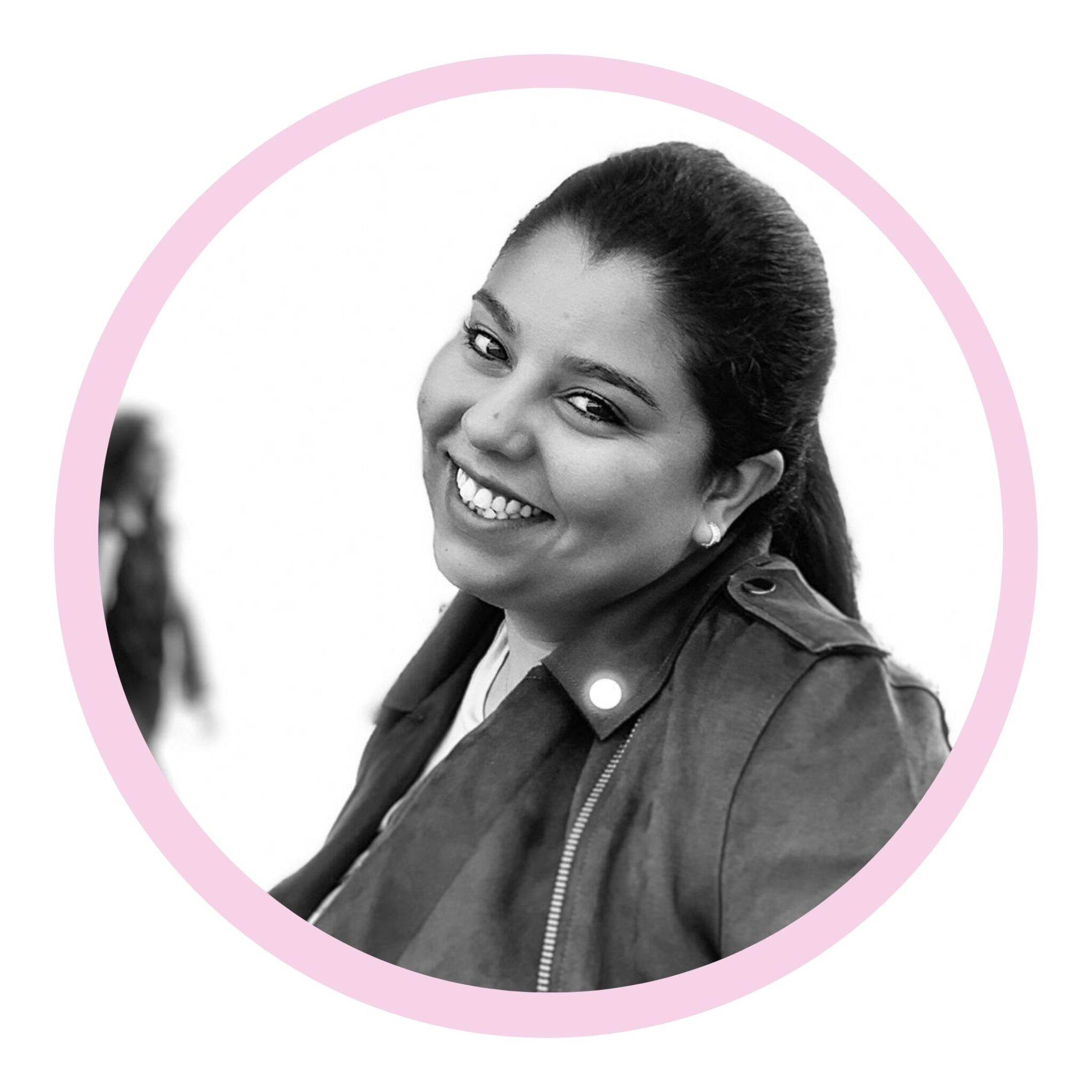 Mariam, our local host
Payment Plan
4,495 EUR pp sharing
Max. 14 guests
---
Trip Map – Morocco Region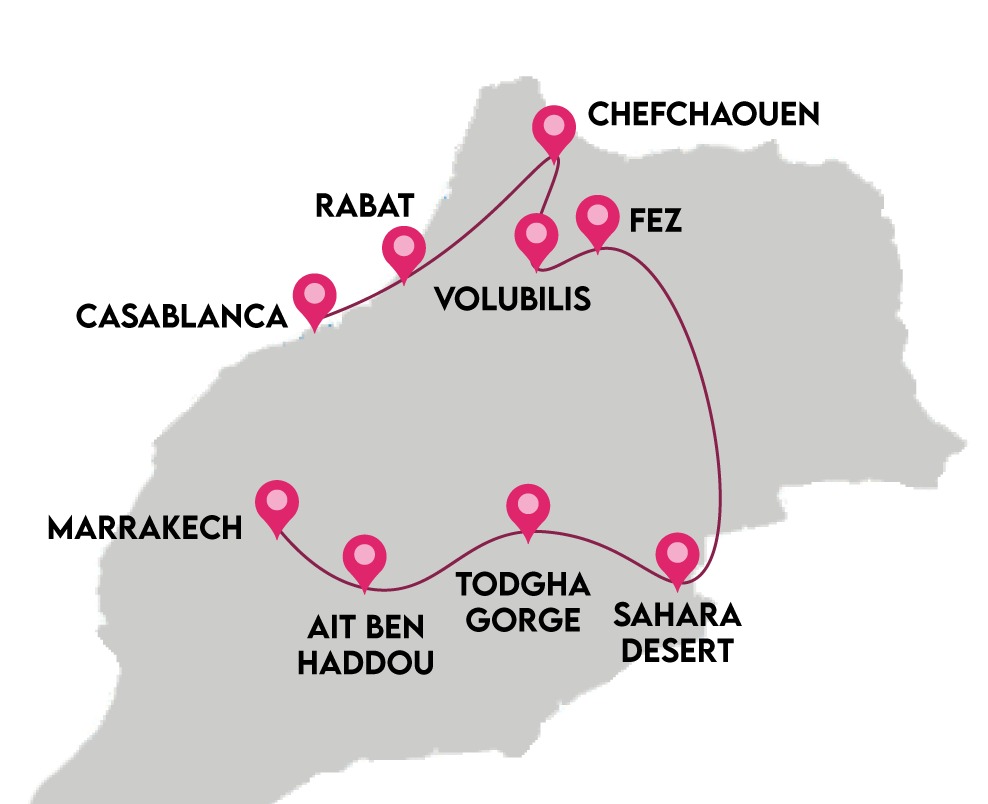 Our trip will visit several UNESCO-listed small cities and towns throughout Morocco, and cross the Atlas Mountains to spend overnight on the edge of the Sahara Desert. We start in Casablanca, and end in Marrakech.
Day 1: Arrival in Casablanca and welcome dinner
Day 2: Rabat and Chefchaouen
Day 3: Chefchaouen
Day 4: Volubilis and winery tour
Day 5: Fes and optional time for shopping
Day 6: Ifrane, Cedar Forest, Midelt, Ziz Valley & Sahara Desert
Day 7: Erfoud, Todgha Gorge & Dades Valley
Day 8: Roses Valley, Women's Cooperative, Ait Ben Haddou, Tichka Pass
Day 9: Marrakech, food tour and henna party
Day 10: Departure day / Optional Excursion – Essaouira
Day 11: Departure day for those having included Essaouira
Please note: This is a physically demanding trip so we would strongly recommend you arrive a day earlier to settle in, recover from jetlag, and rest. Morocco is a huge country and to visit the most stunning sites, we will need to cover large distances on our private bus. That means that there will be several days where we will be driving for 4-8 hours with stops, and wake up at the crack of dawn.
The medinas and various sites we will visit are ancient and have uneven surfaces laid down centuries ago. Riads and other buildings in the medinas have staircases. In Marrakech, Chefchaouen and Fes, we will walk about 10,000 steps on our walking tours. In the desert and Atlas Mountains , temperatures vary a lot between day and night and the harsh dry conditions can be tough on those used to tropical weather so moisturiser and hydration are essential.
---
Take a peek into our last trip to Morocco
---
Detailed Itinerary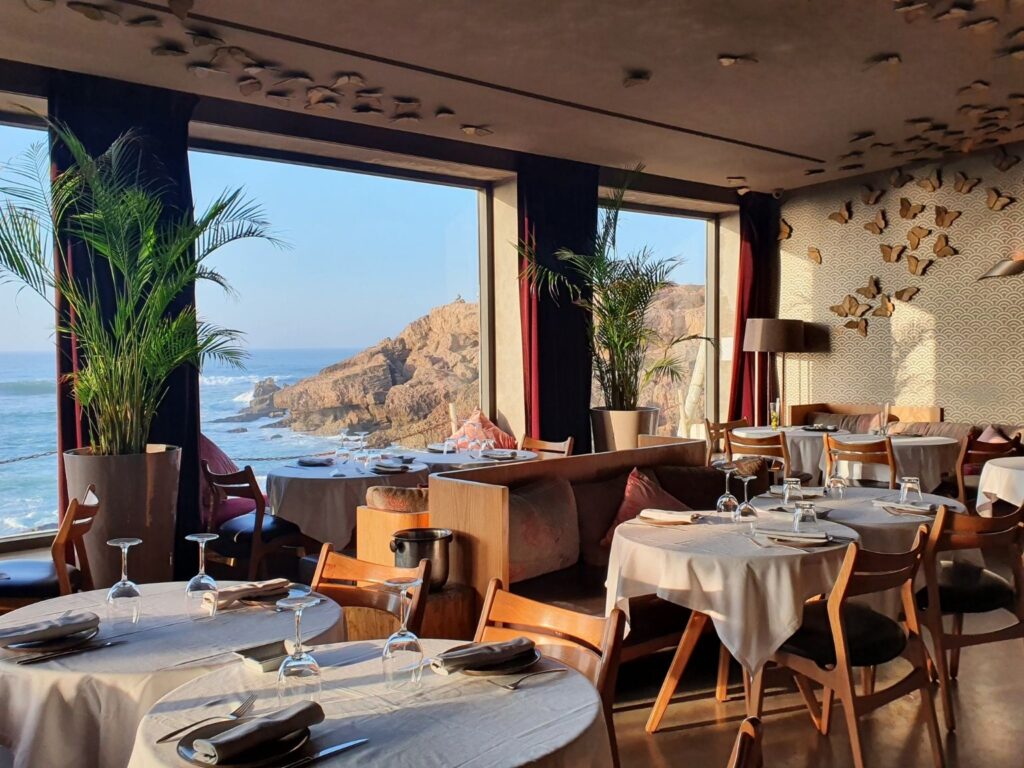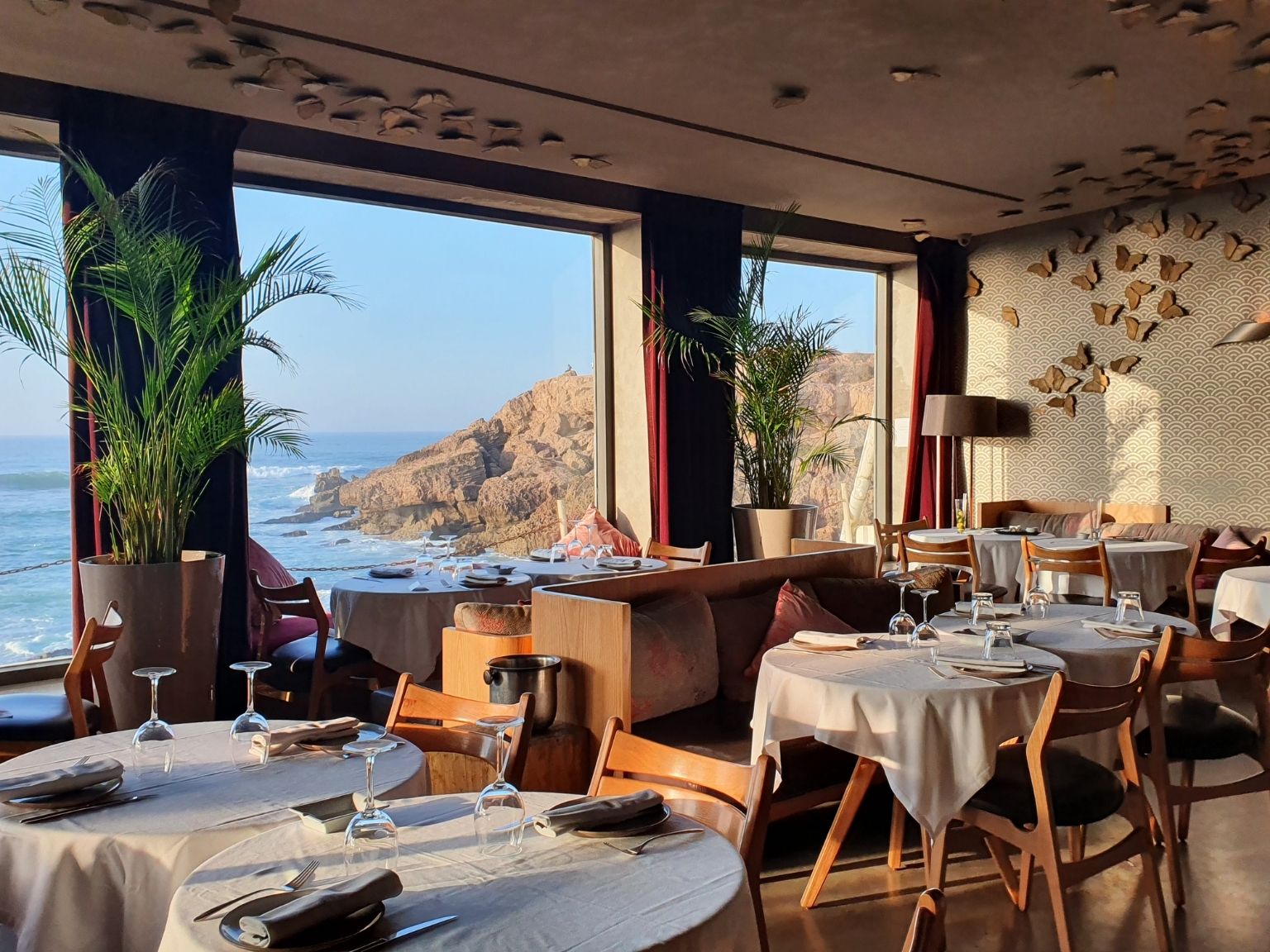 Day 1 : Arrive in Casablanca
On arrival, you'll make your way to the hotel on your own time.
We will meet around 6pm with the rest of the guests for a welcome drink and briefing at the hotel's terrace and then transfer to dinner at fashionable Lily's, right by the sea, at Casablanca's Corniche.
Inclusions: Welcome pre-dinner drink and dinner with wine. Transports to and from dinner.
Overnight at Barcelo Anfa Hotel 5*
We like the hotel Barceló Anfa because of its stylish and modern design which goes very much with the lifestyle and forward looking city of Casablanca and its Art Deco influences.
Rooms are bright and colorful with open spaces and clean lines where gold metal blends with velvet. Common areas are sunny and spacious and the outdoor swimming pool is a great place to relax after a long flight.
Tip: If you land early in the morning, you can enjoy the hotel's spa.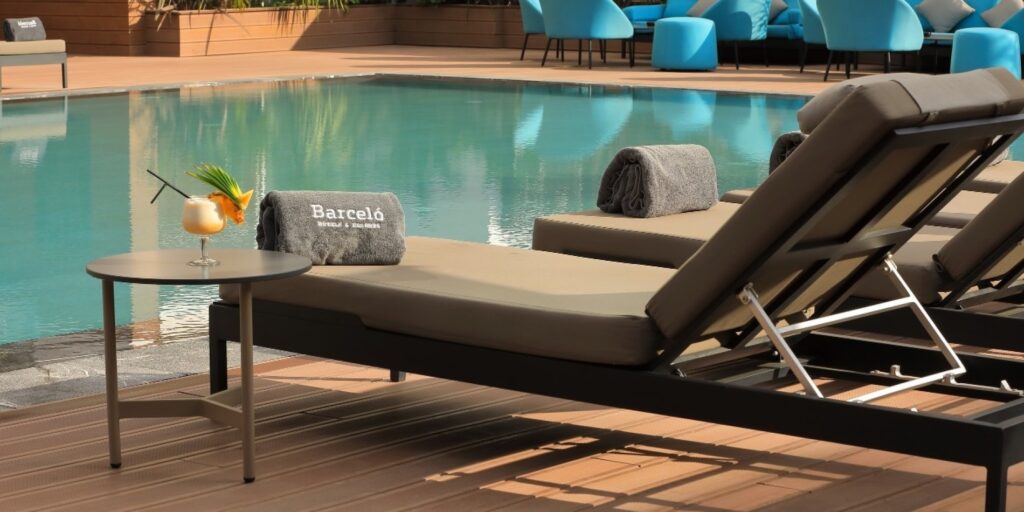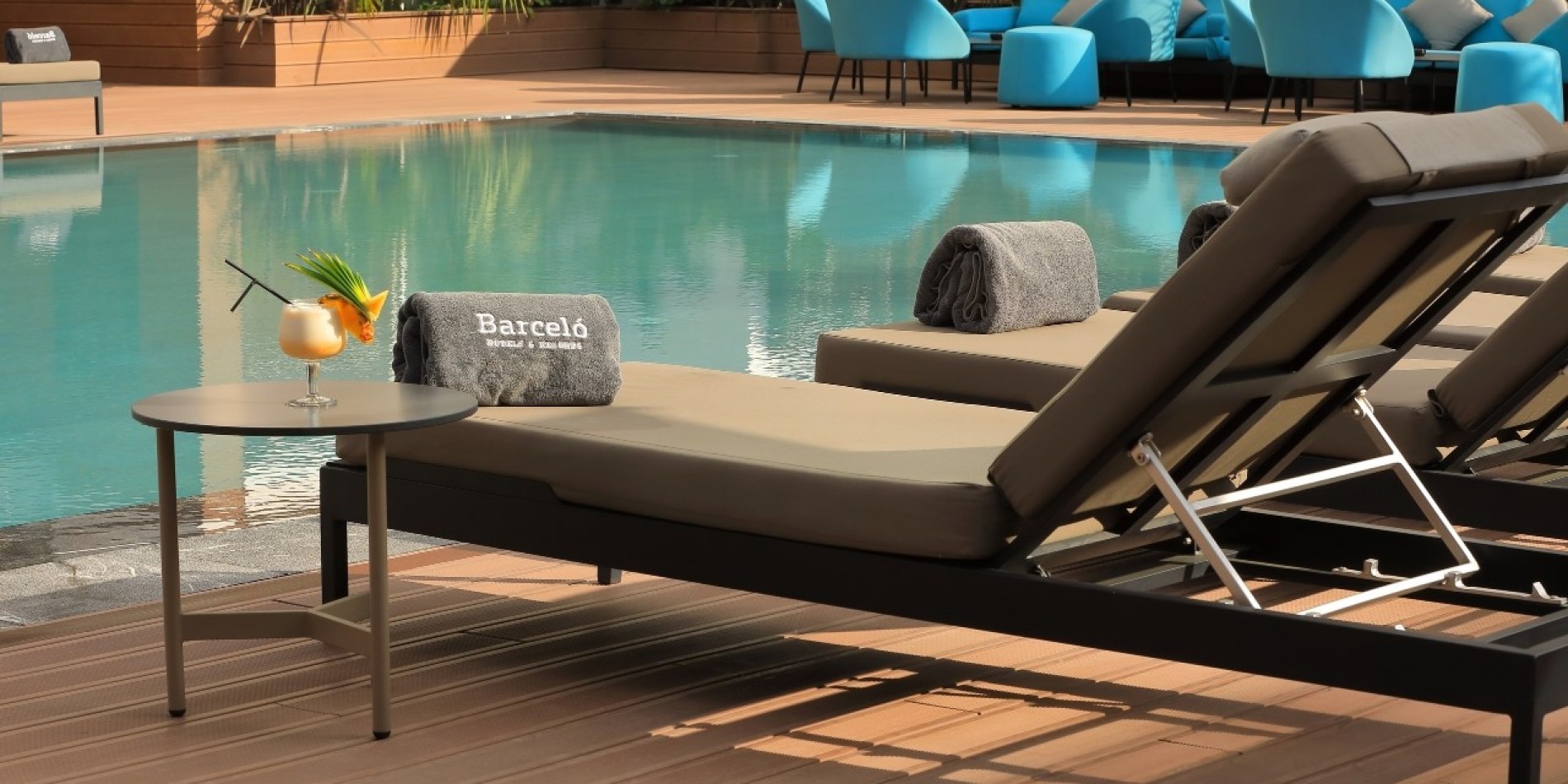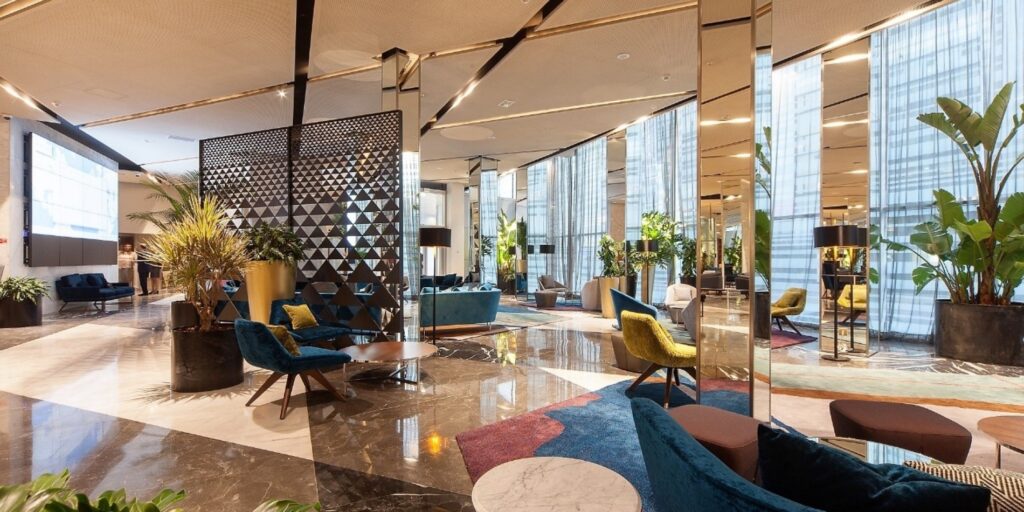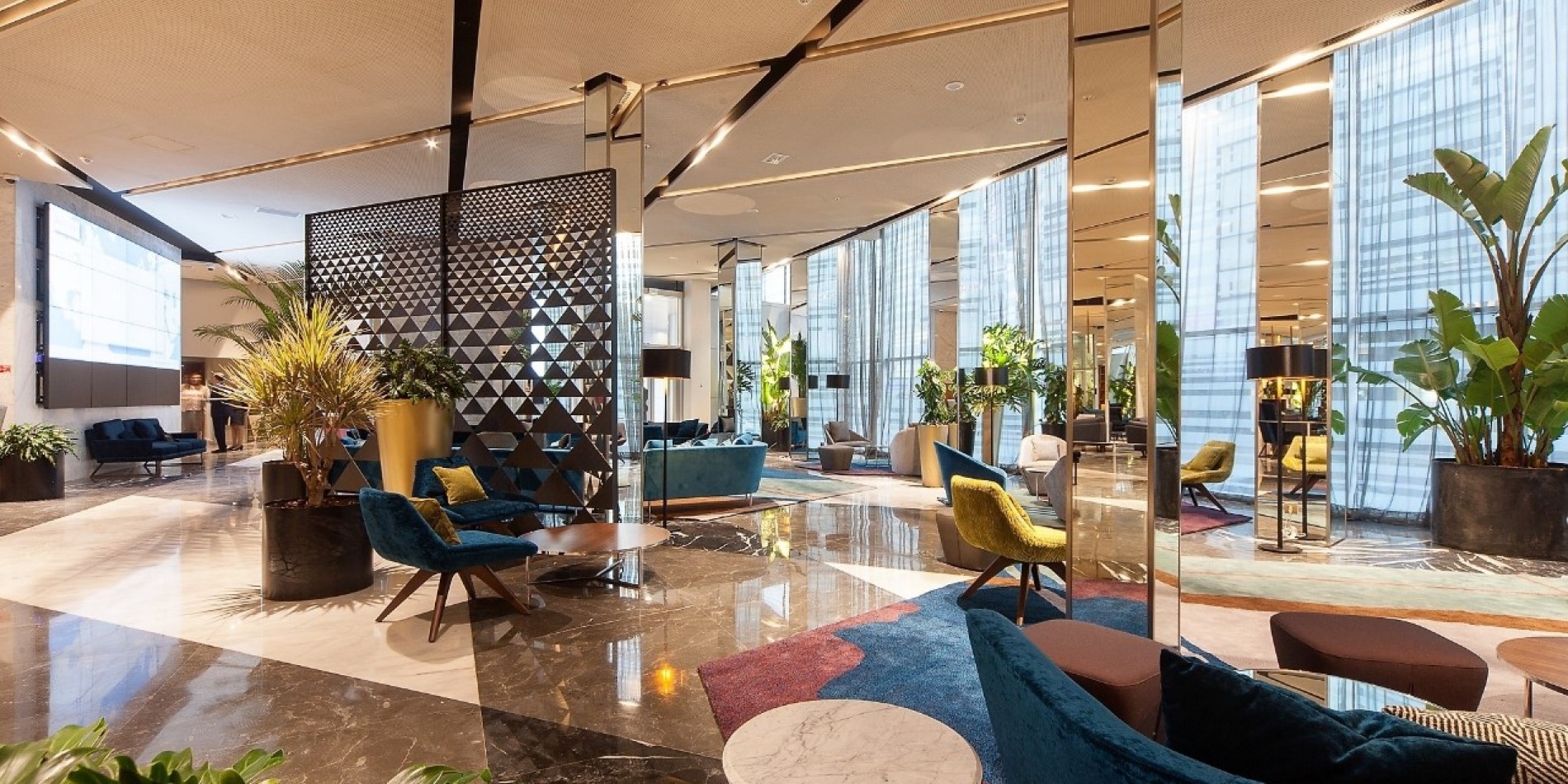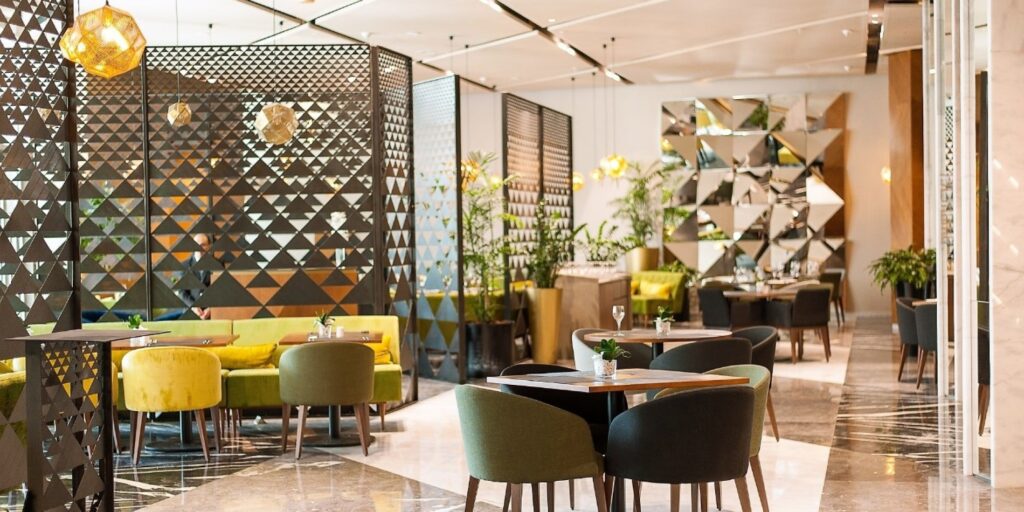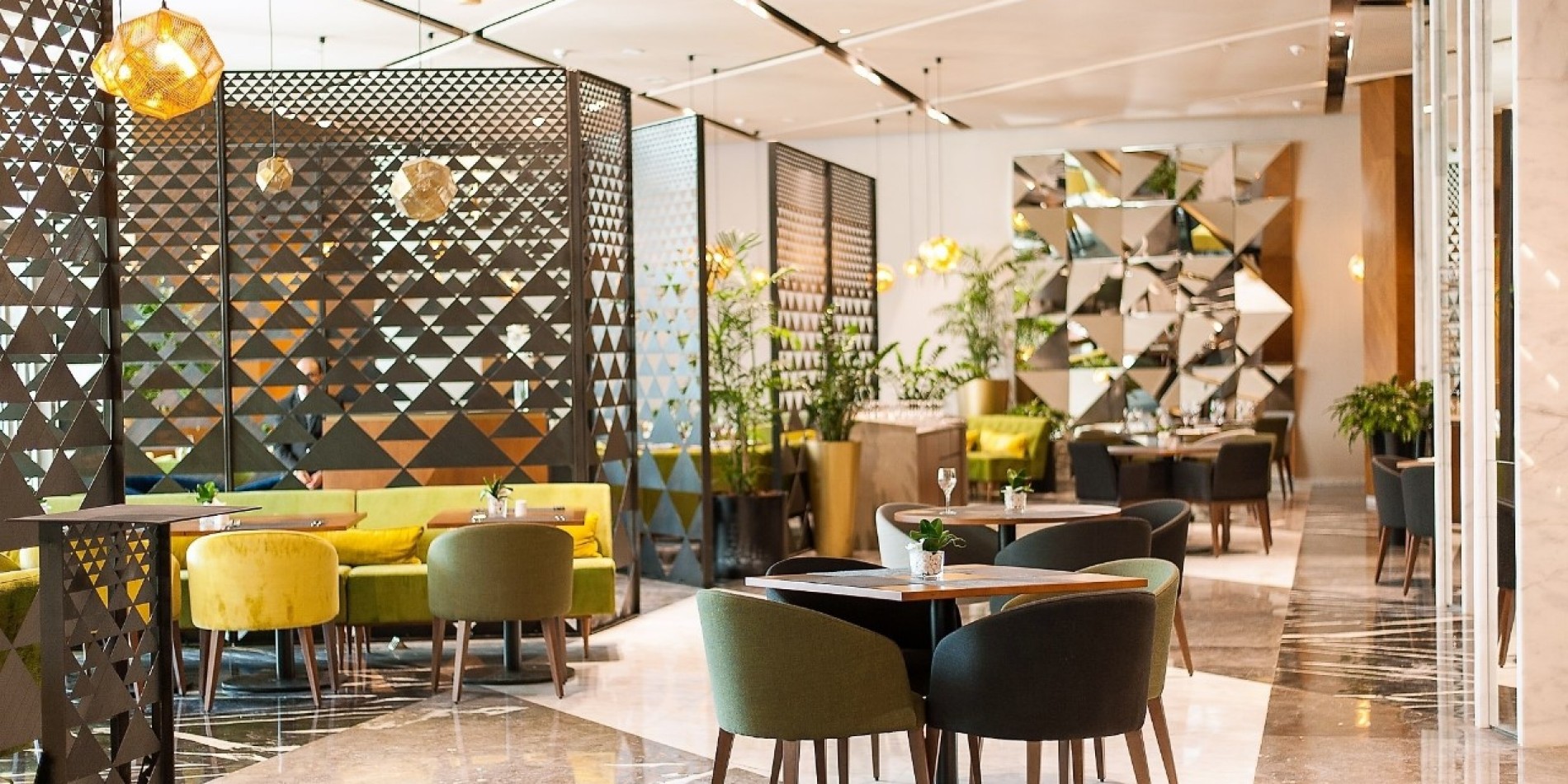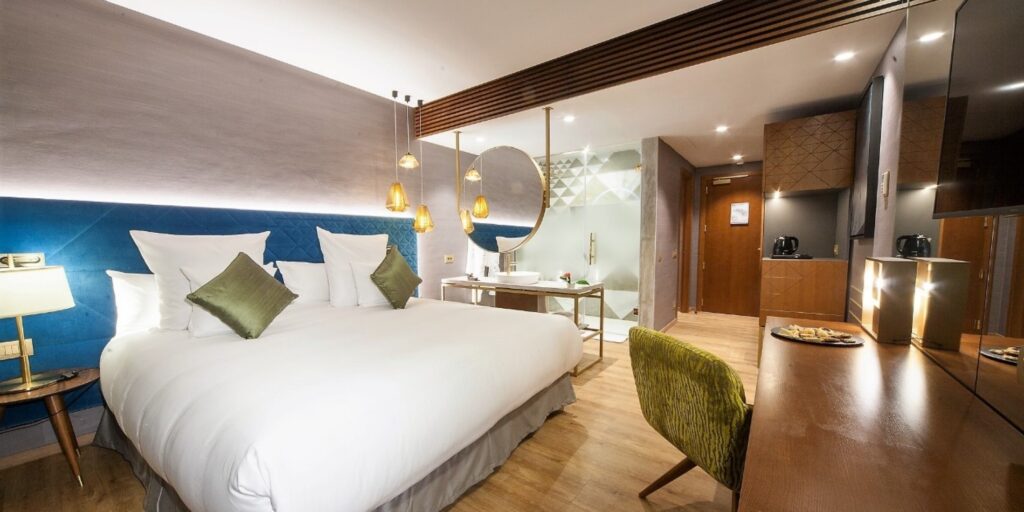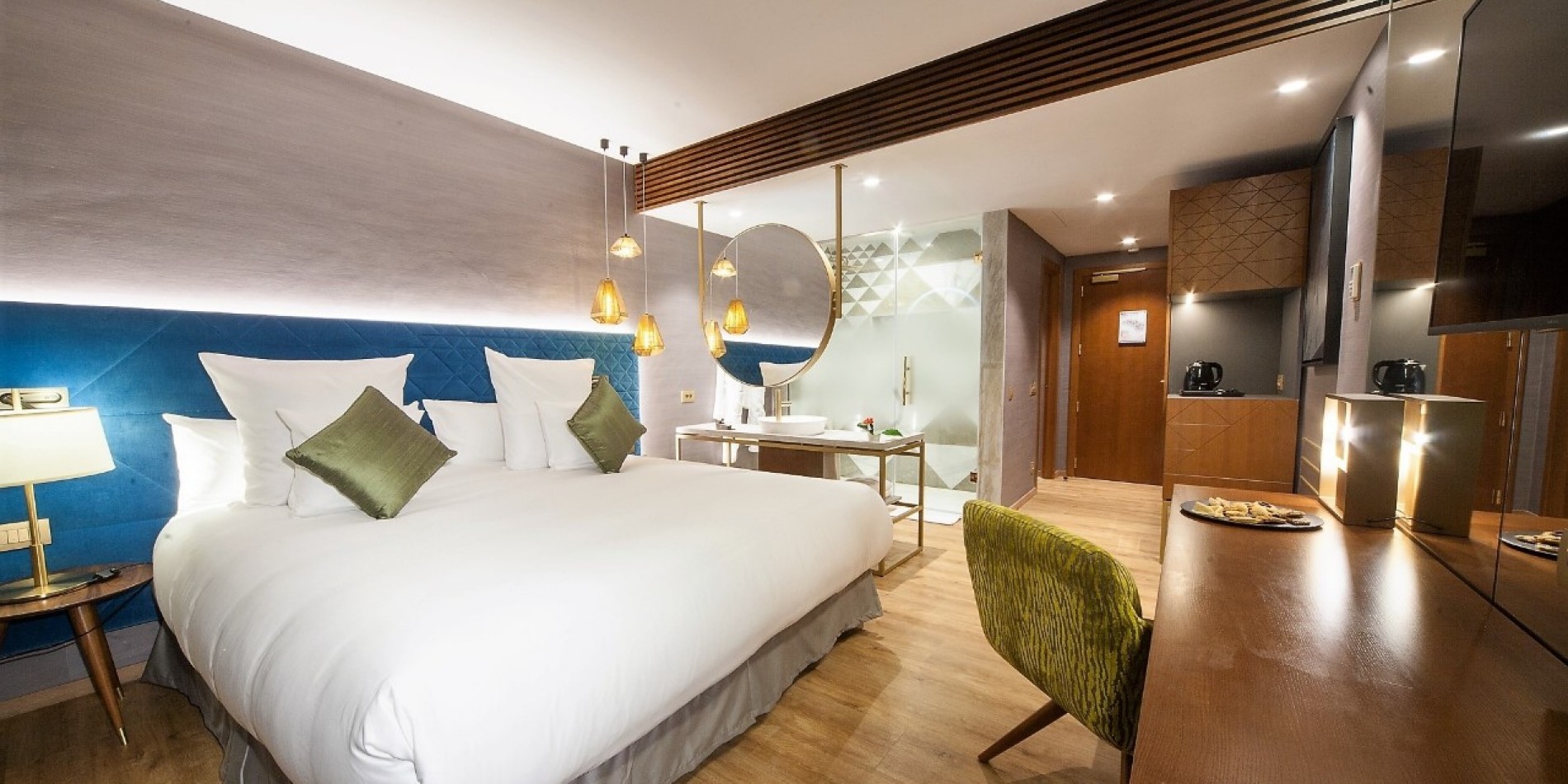 ---
Day 2 : Rabat and Chefchaouen
Driving time: 6 hours.
Today we will explore Morocco's most modern cities of Casablanca and Rabat, which contrast with the rest of the more traditional destinations we will visit on this trip.
We will wake up early for breakfast and depart the hotel around 830am towards Casablanca's Hassan II Mosque for a guided visit inside with an expert female guide.
Hassan II Mosque is the third largest in the world and when full, it can host 25,000 worshipers inside and 75,000 outside.
While the mosque is new, it was built to showcase all of Morocco's architecture styles. Marvel at the intricate mosaics, the massive chandelier, the marble floors and the underground hammams.
After the mosque, we will leave the commercial capital of Morocco and drive to Rabat, the political capital where the royal family lives.
Rabat is the colonial garden city and you will see lots of parks and greenery as we traverse its beautiful and ample avenues that were designed after France's grand cities.
Our time in Rabat will start at the UNESCO-listed 12th century fortified castle Oudaya Kasbah where Tom Cruise's Mission Impossible 5 – Rogue Nation was filmed.
We will walk the narrow alleyways and head down towards the sea for a panoramic view of the coast with a side of sweet Moroccan tea and a sweet almond pastry.
If open, we will visit the Andalusian Garden and then continue to lunch before leaving the capital of Morocco behind and heading into the mountains.
On our way, you will be surprised by the green pastures, forests and plains that cover this part of the country.
We will arrive in Chefchaouen before sunset and will be dropped off just outside the medina's gates for a short walk to our beautiful riad hotel, Dar Cherifa.
After a long day of driving, we will be welcomed with a sweet glass of Moroccan tea at the rooftop of Dar Cherifa, high above Chefchaouen rooftops.
Settle into your unique, cozy and colorful rooms, each individually designed, and get ready for dinner with views of Chefchaouen's main buzzing square at Riad Hicham restaurant nearby.
Inclusions: Breakfast at the hotel, lunch in Rabat, transportation, guided visit of Casablanca Mosque with a female guide, walking tour of Rabat and tour of unfinished mosque, dinner in Chefchaouen.
Overnight at Riad Cherifa 4*
Riad Cherifa is located right at the heart of the Chefchaouen medina yet mere meters away from the nearest gate so we will just have a few steps to get there from our transport.
This home away from home will be our base in the blue city. Female owned and led, the 12-room riad is a traditional Moroccan home which we will have almost all to ourselves.
We will enjoy breakfast by the pool in the inner courtyard, sleep in the plush beds of our rooms, each of which is unique designed, and sip sweet tea in the shaded rooftop terrace.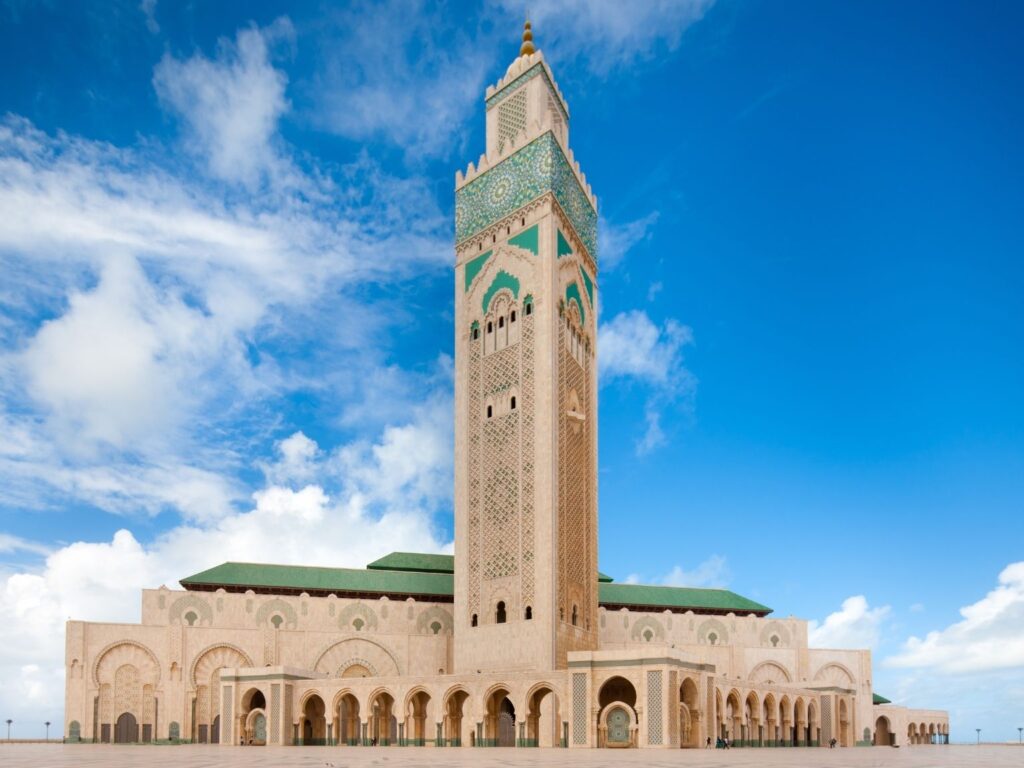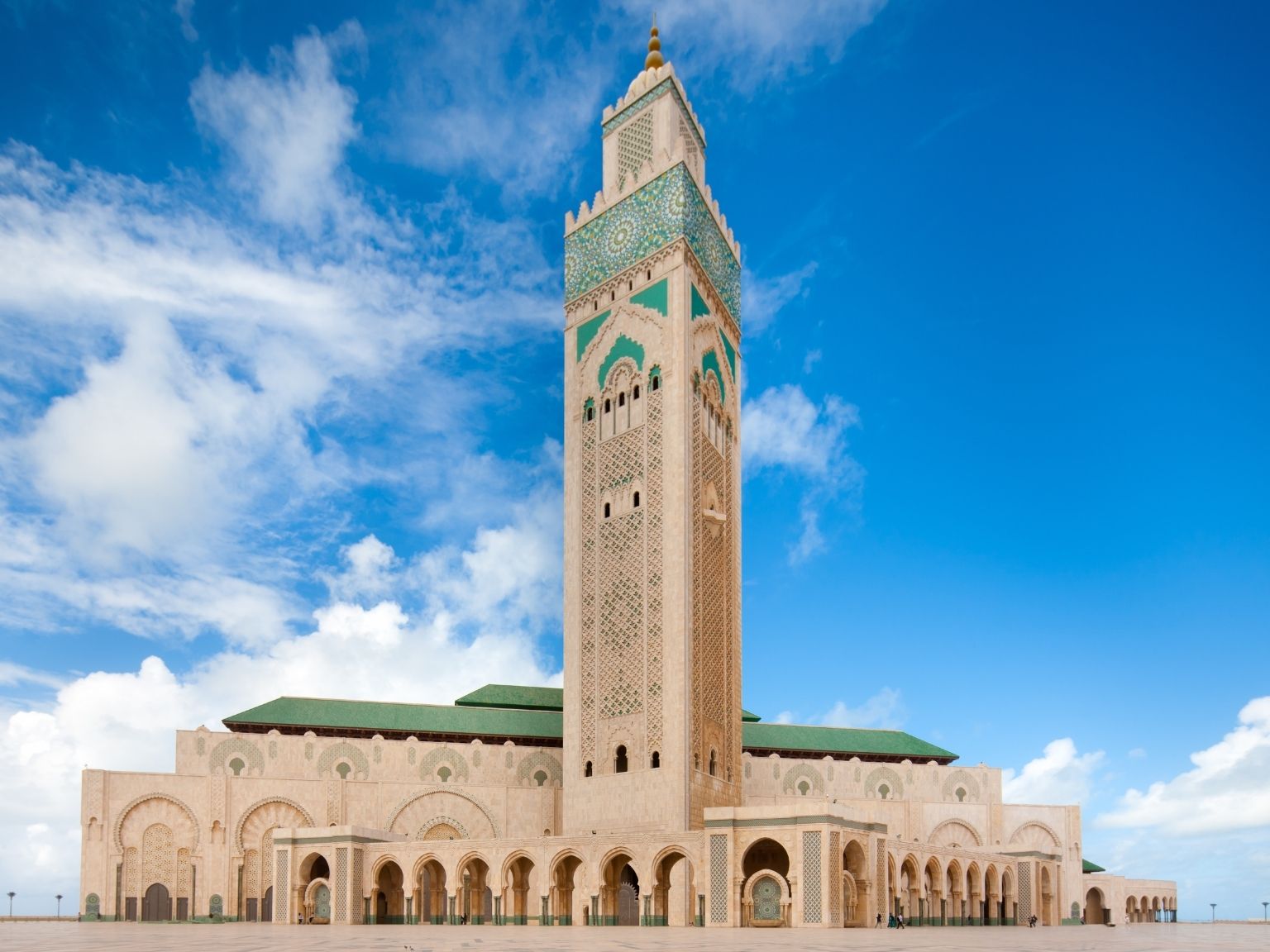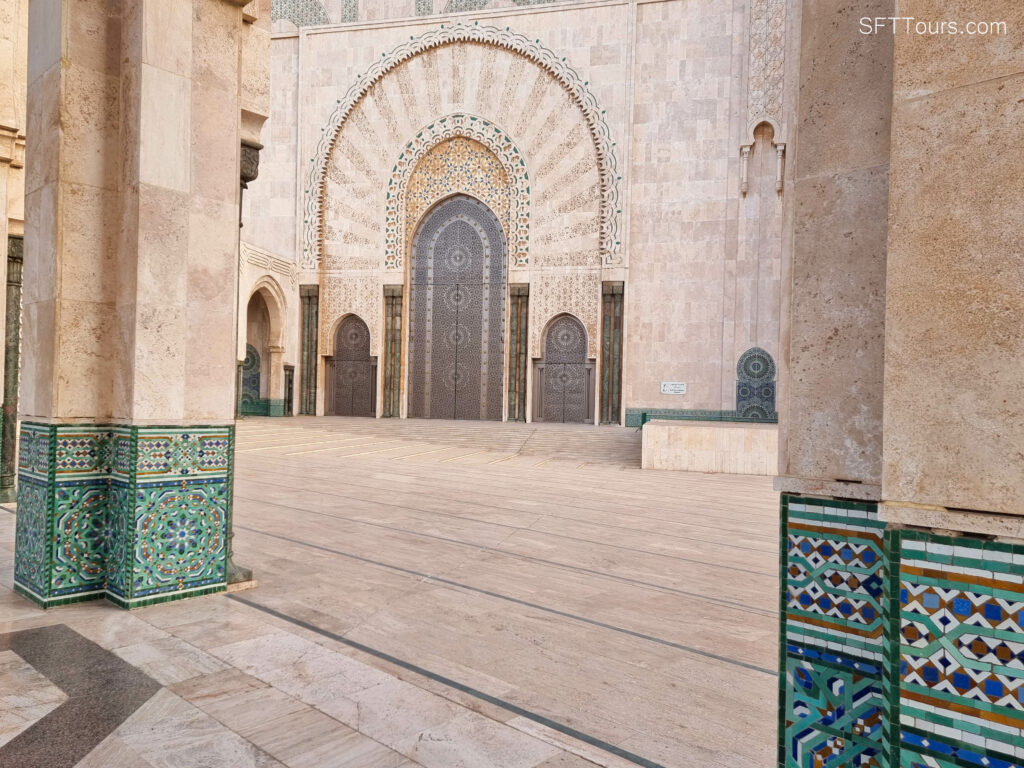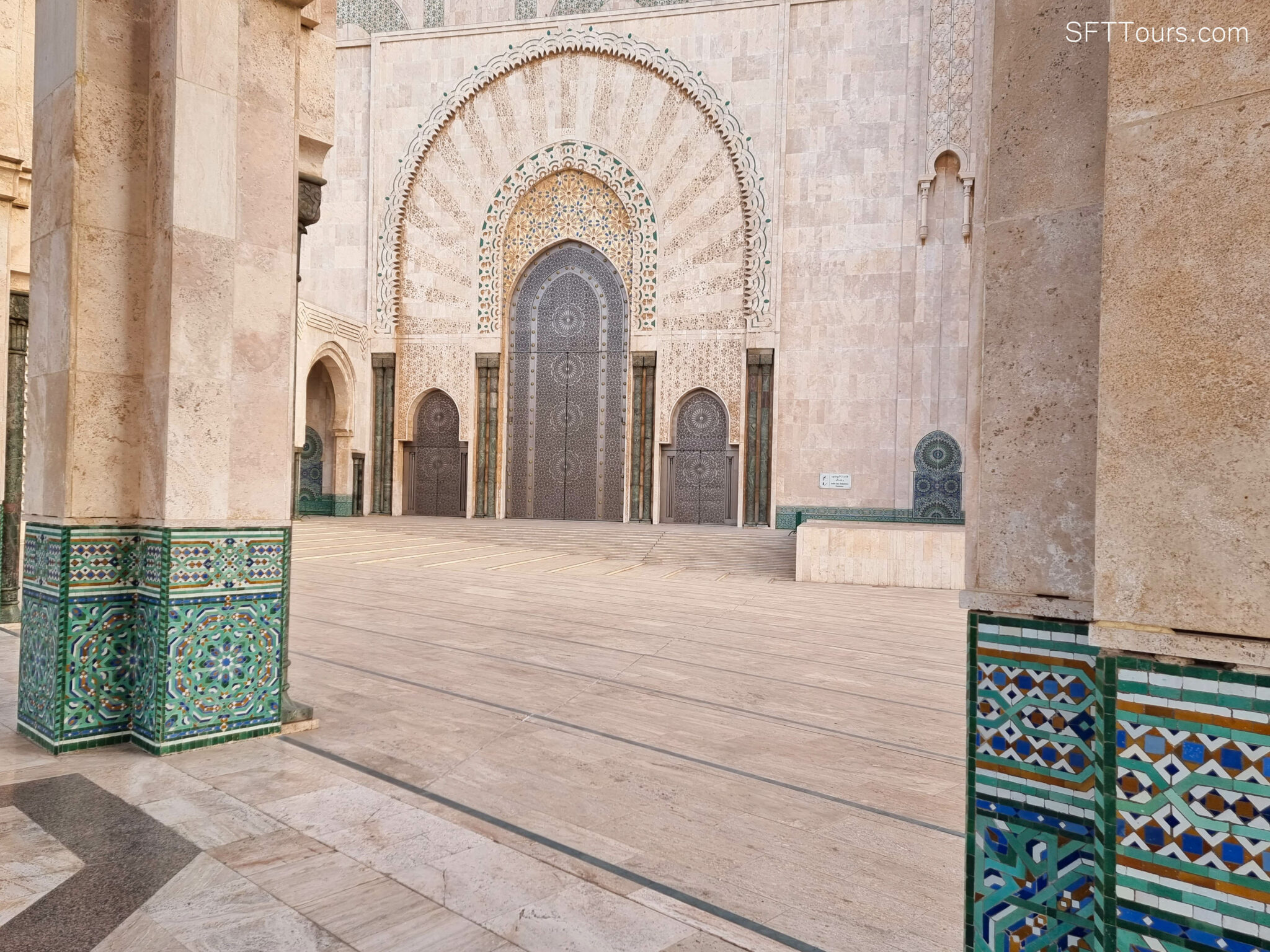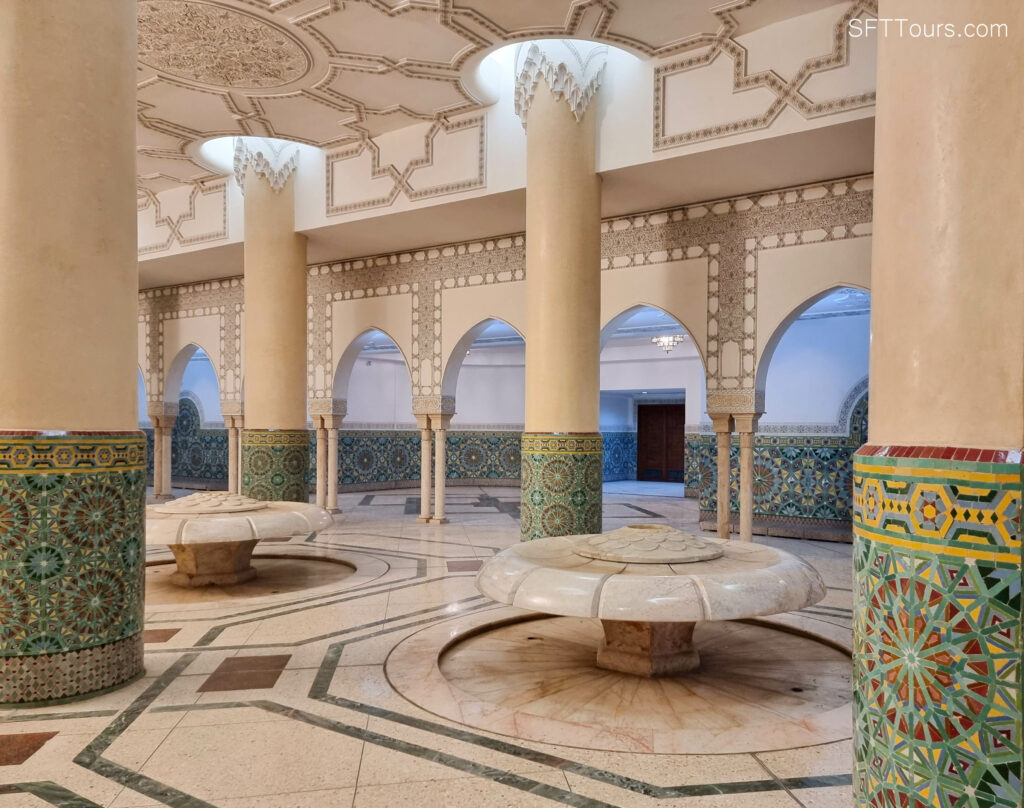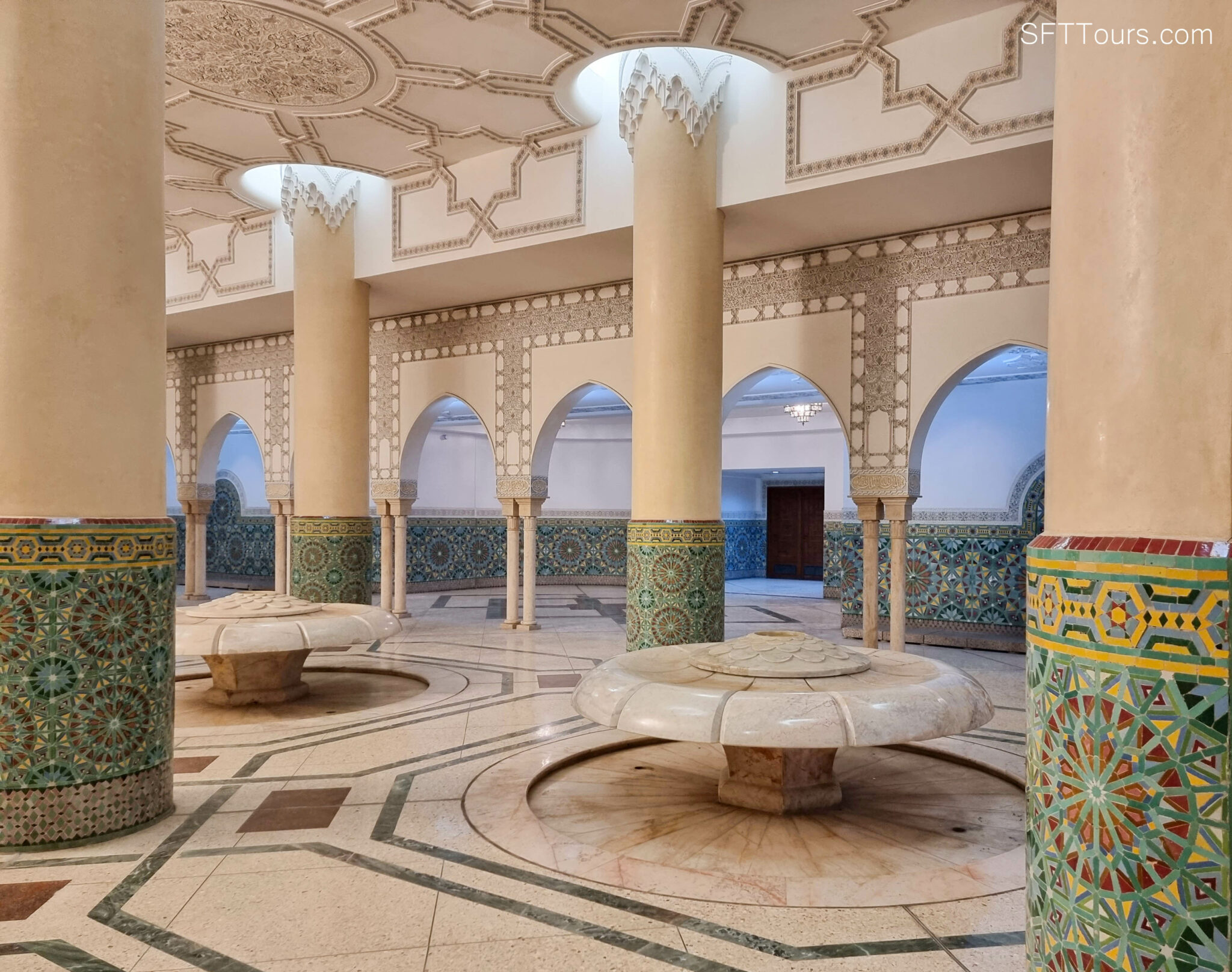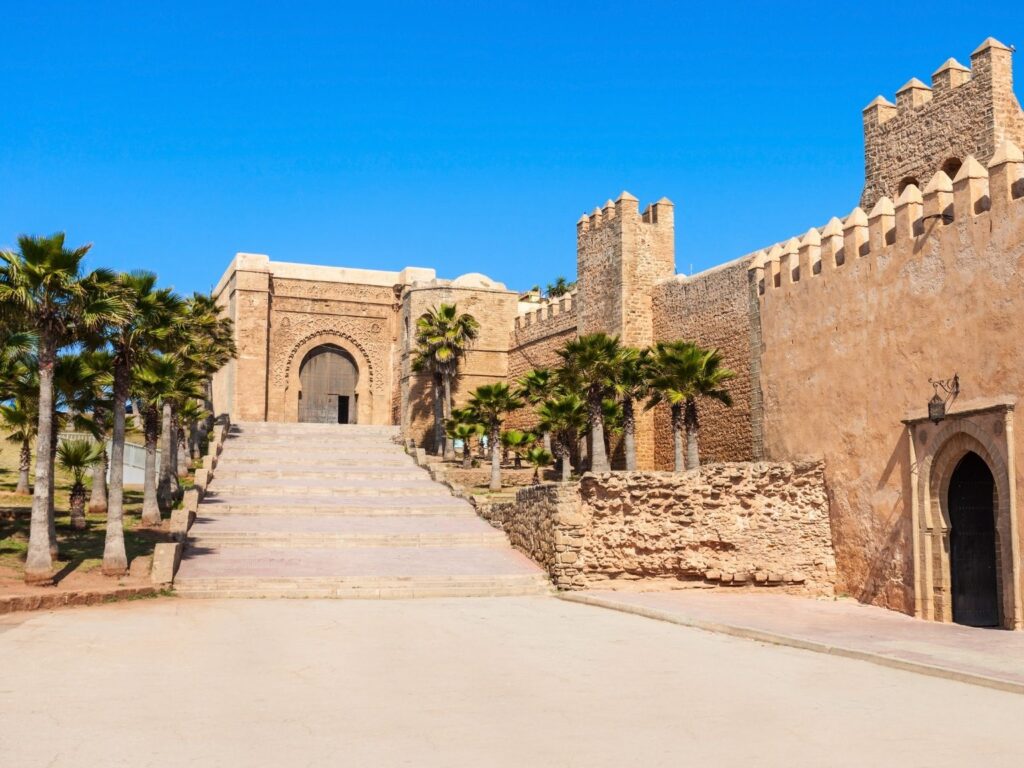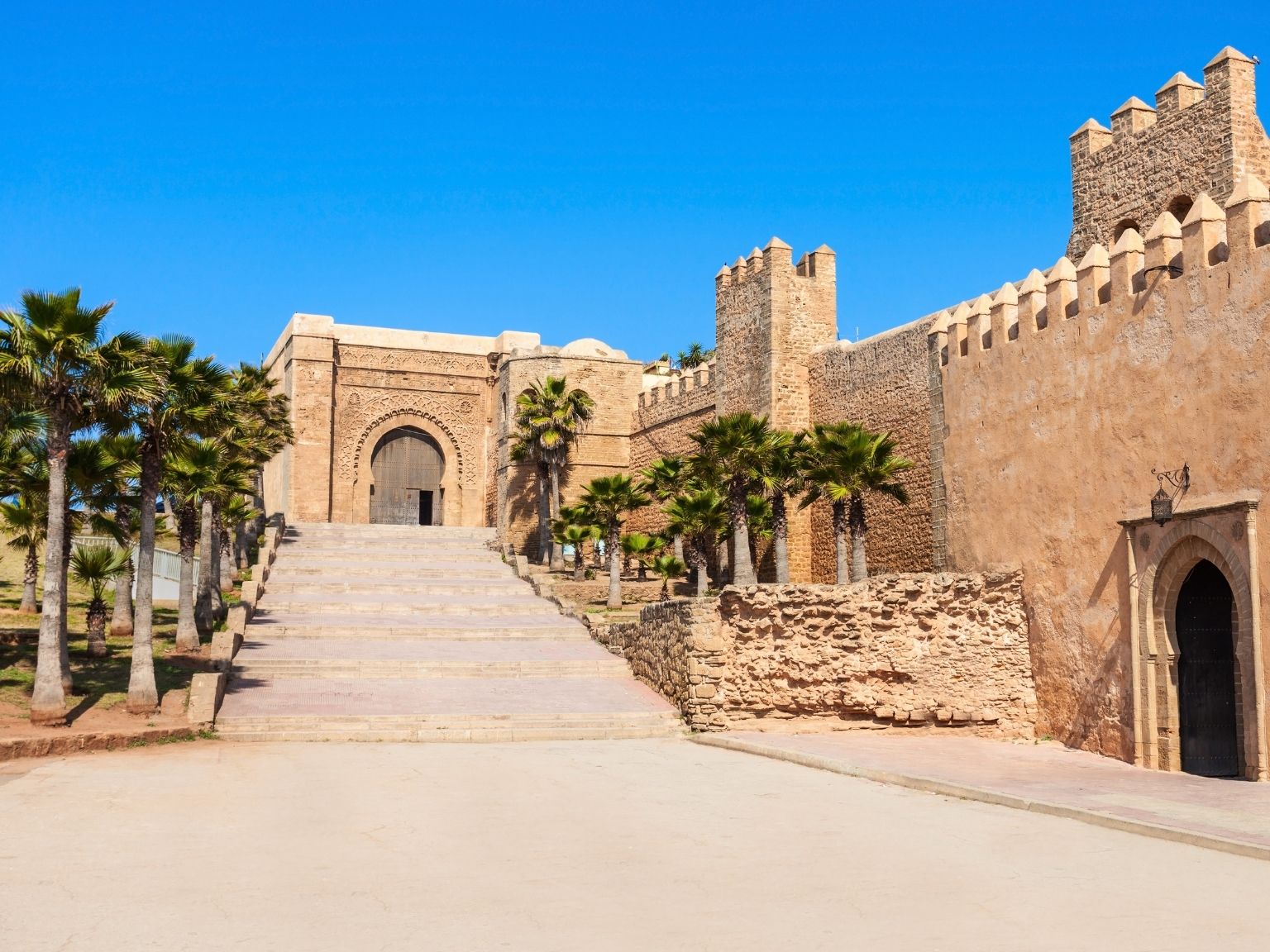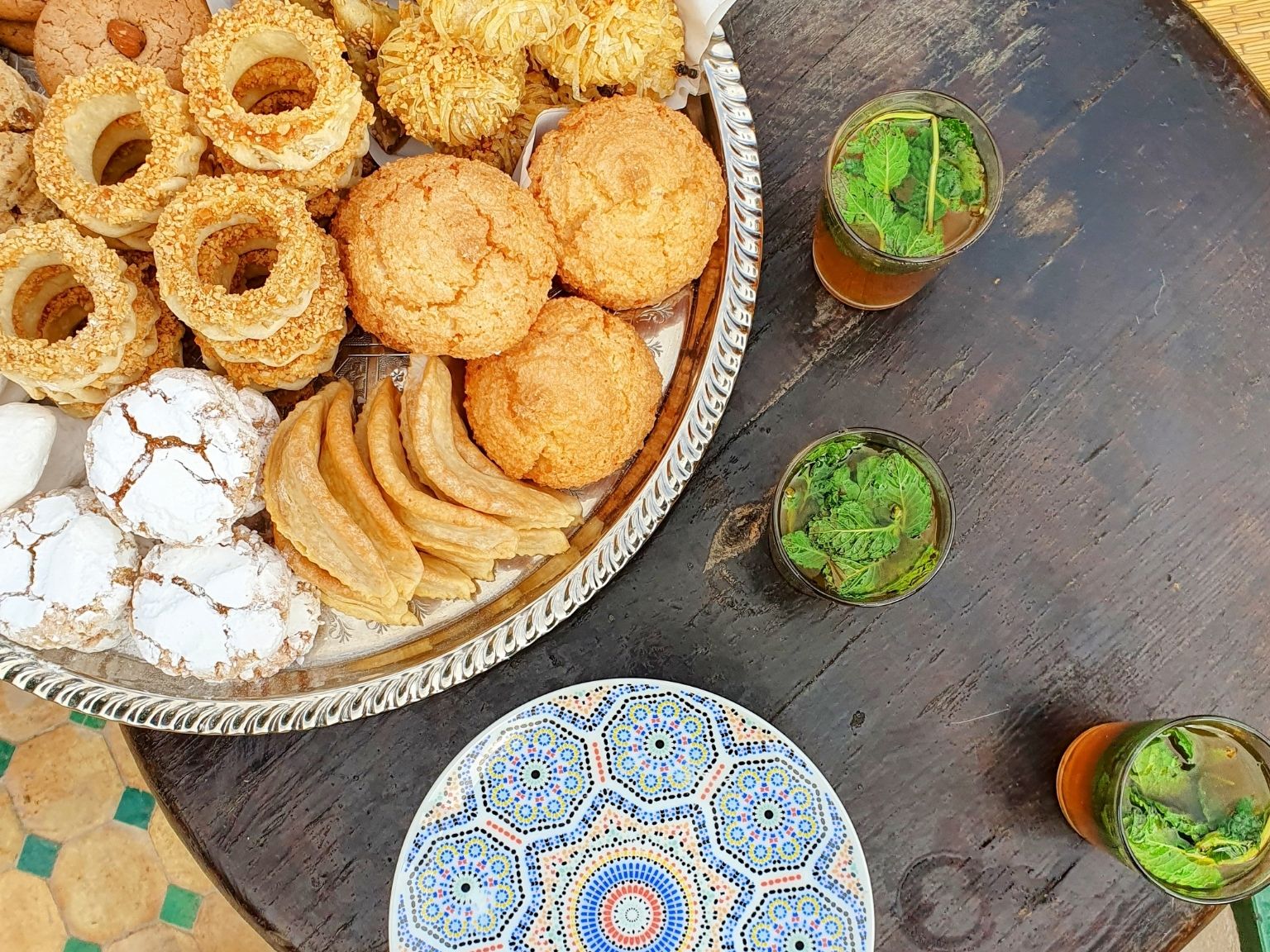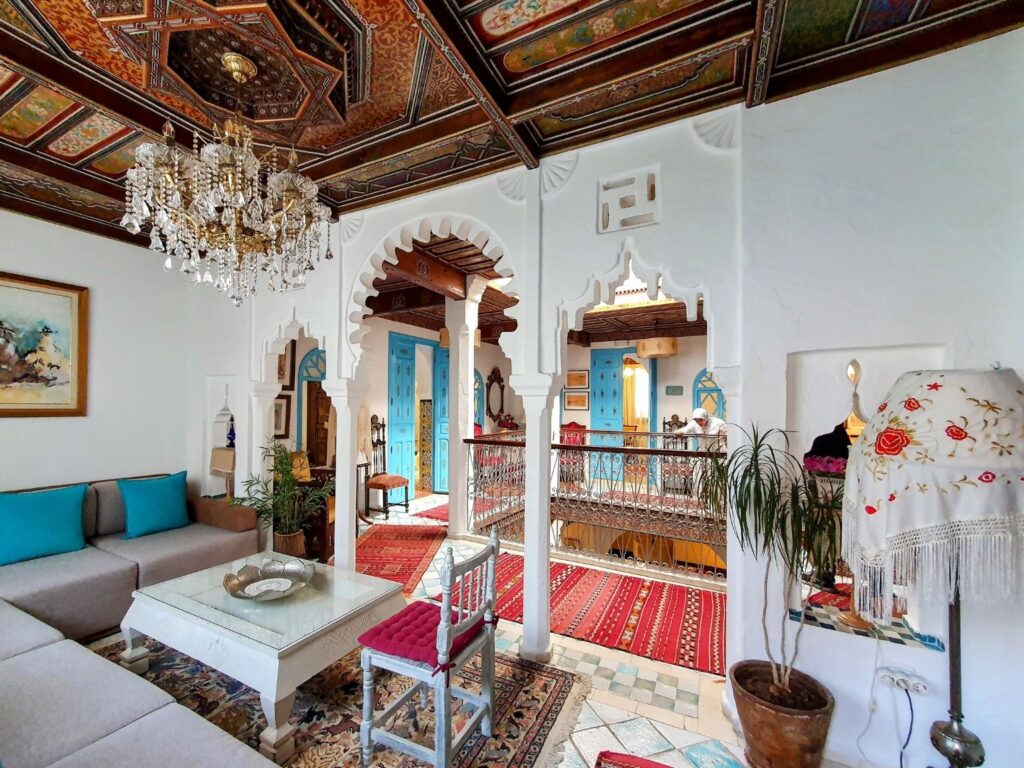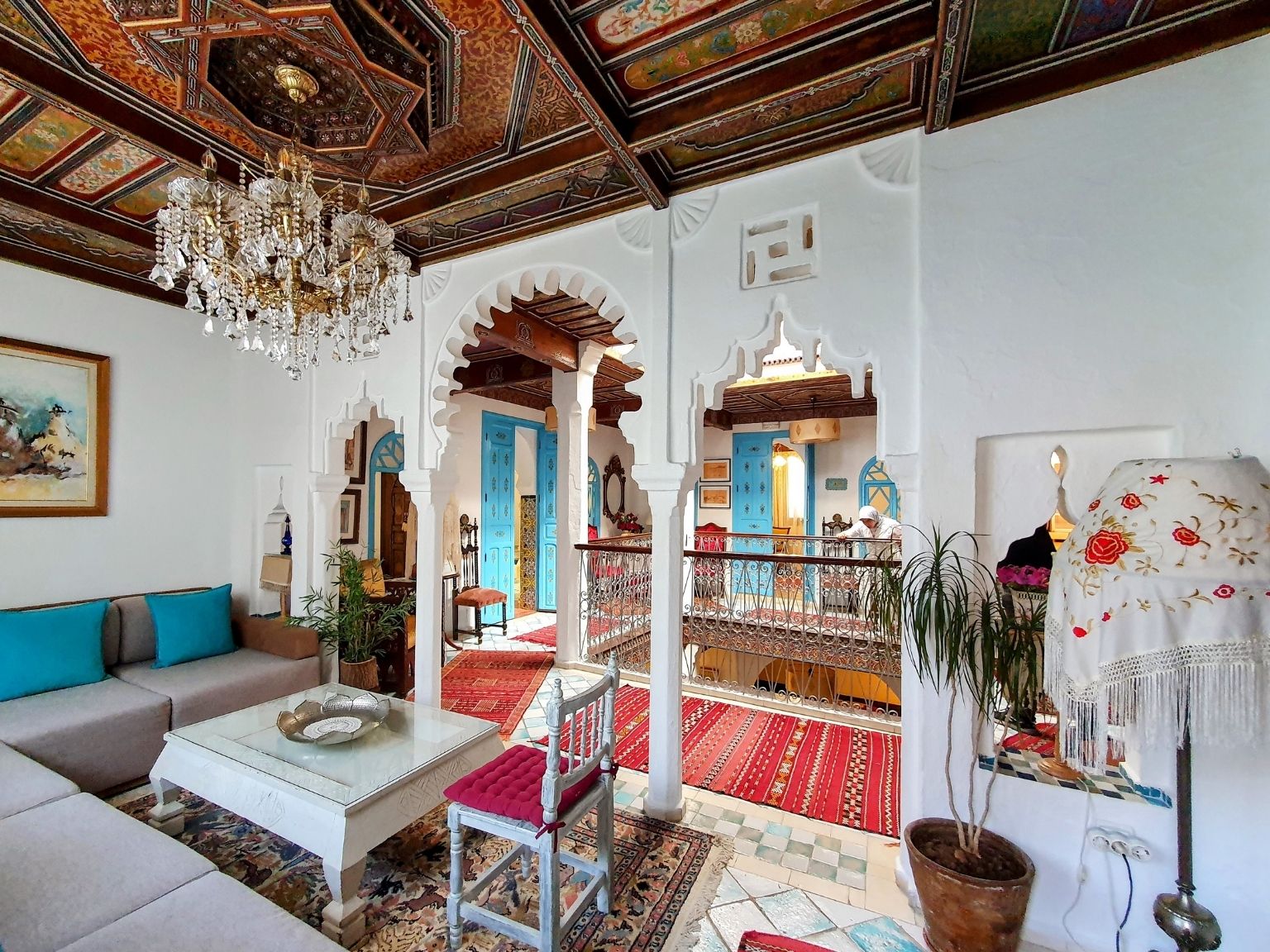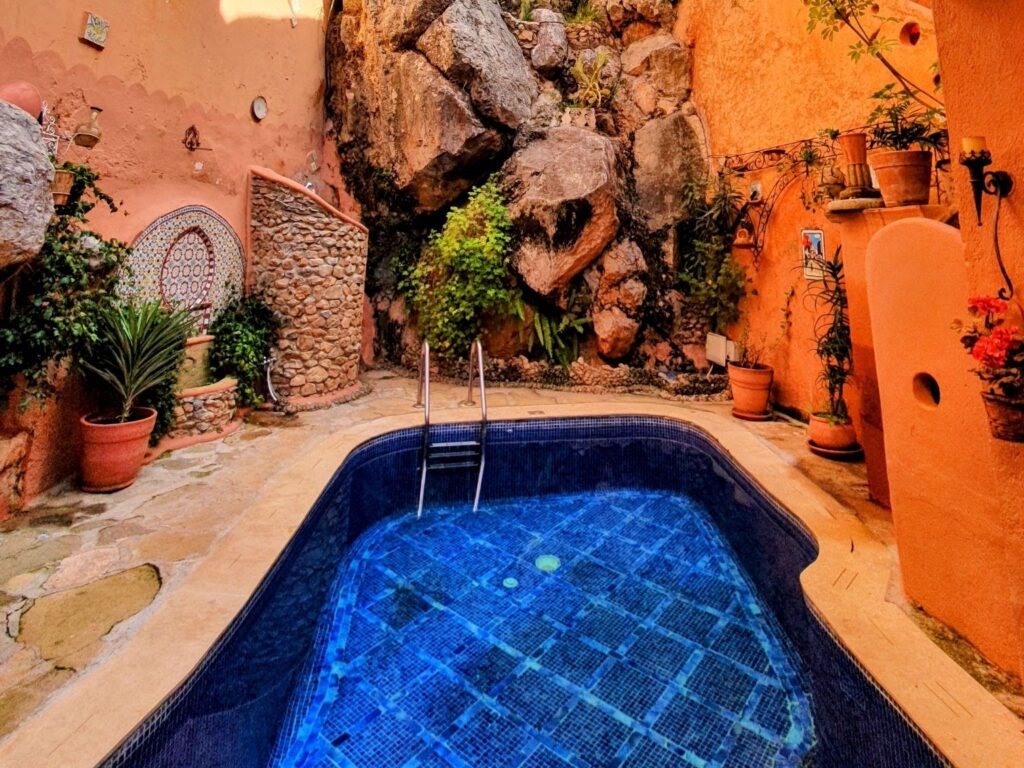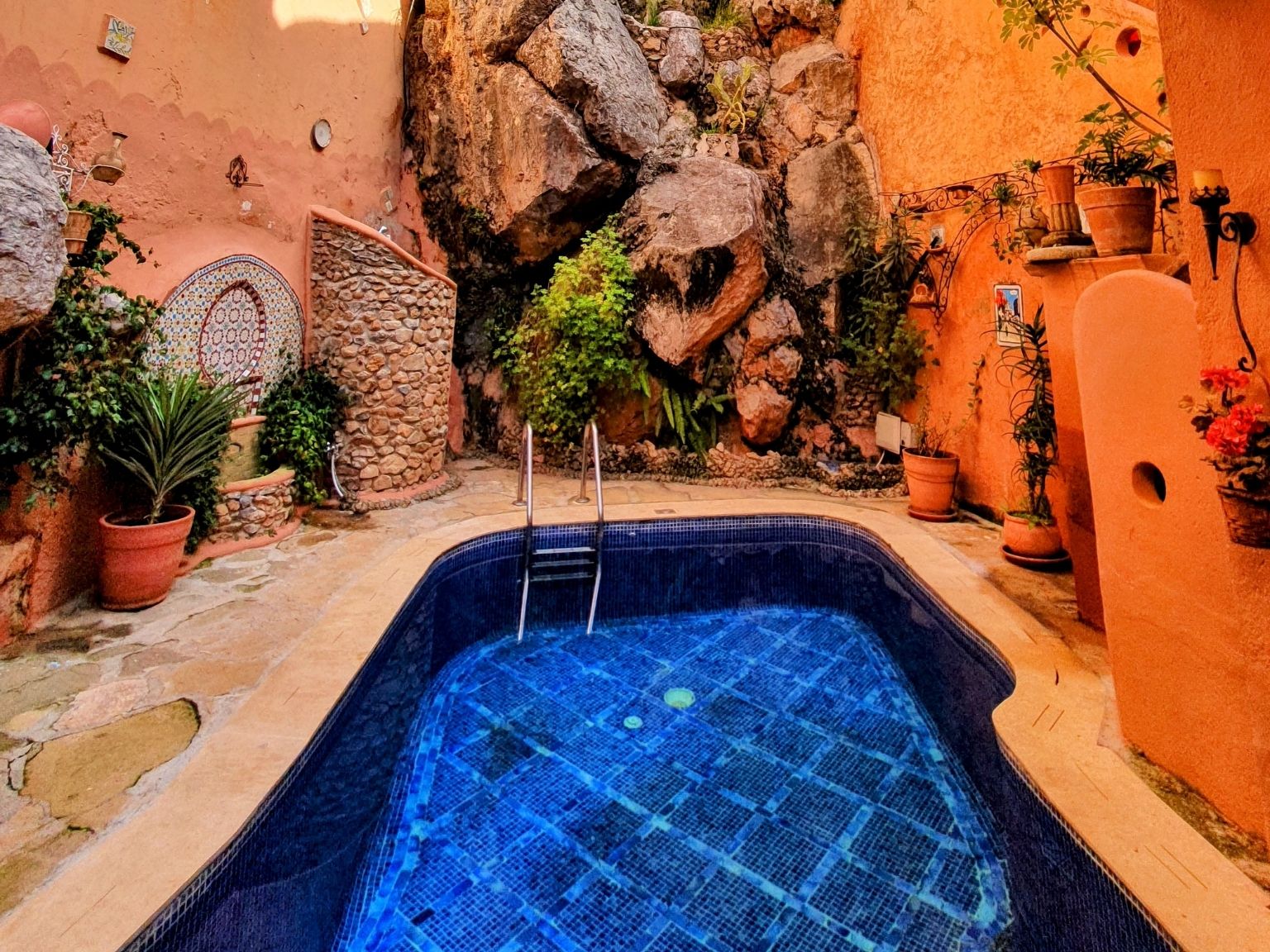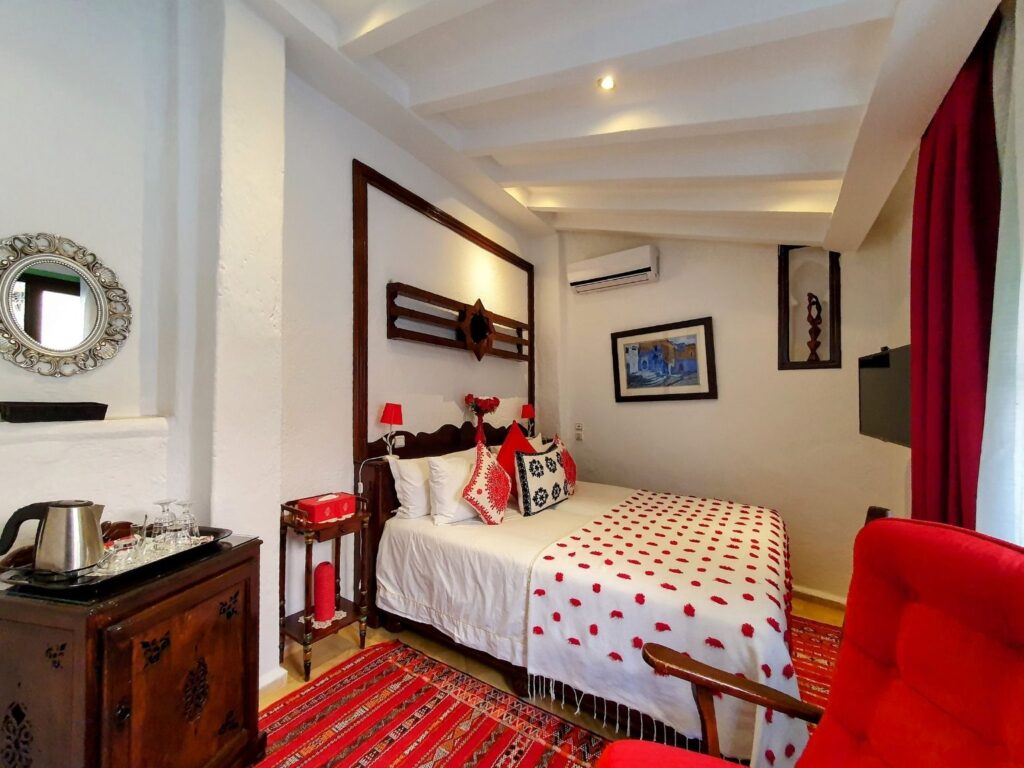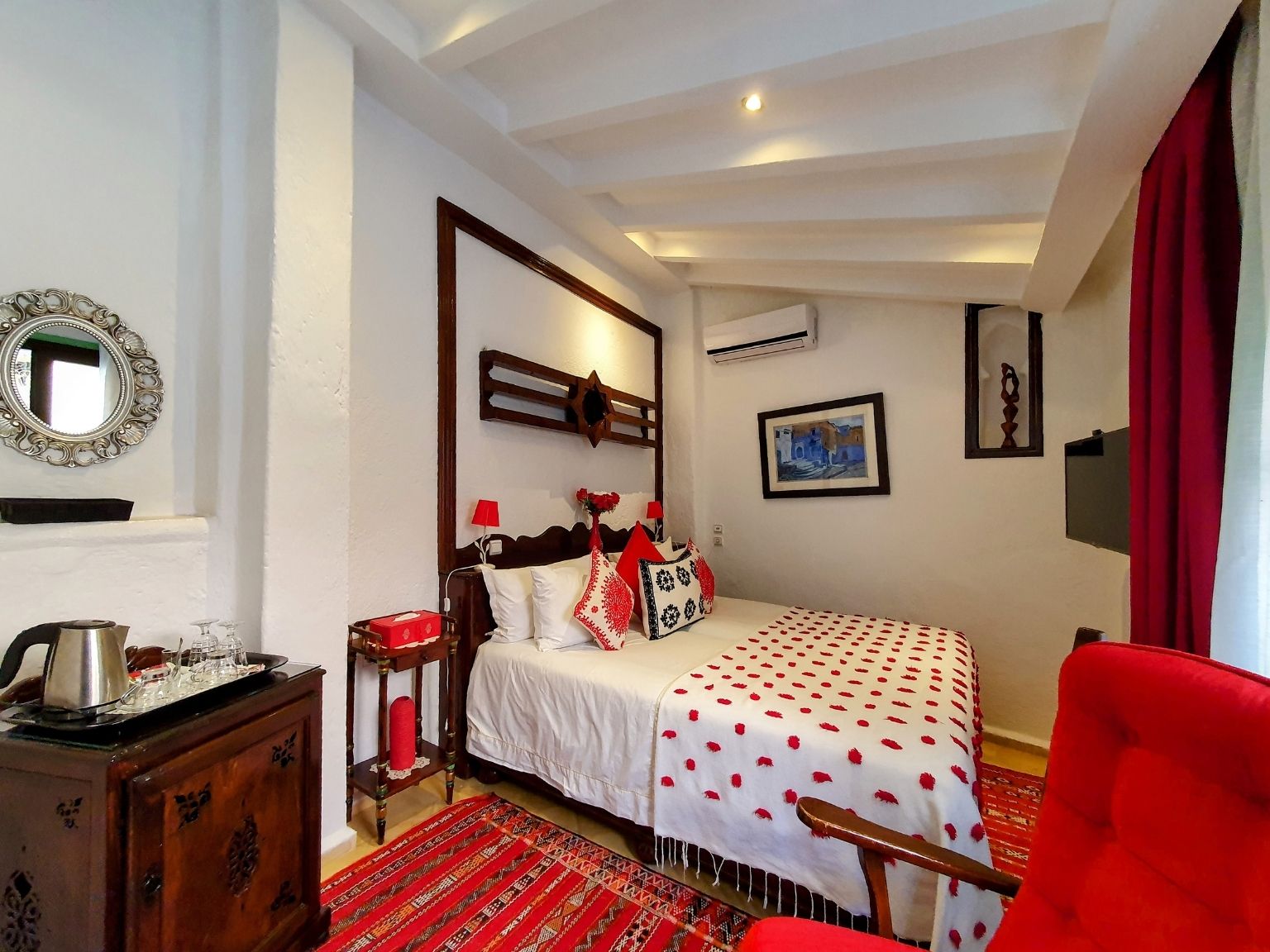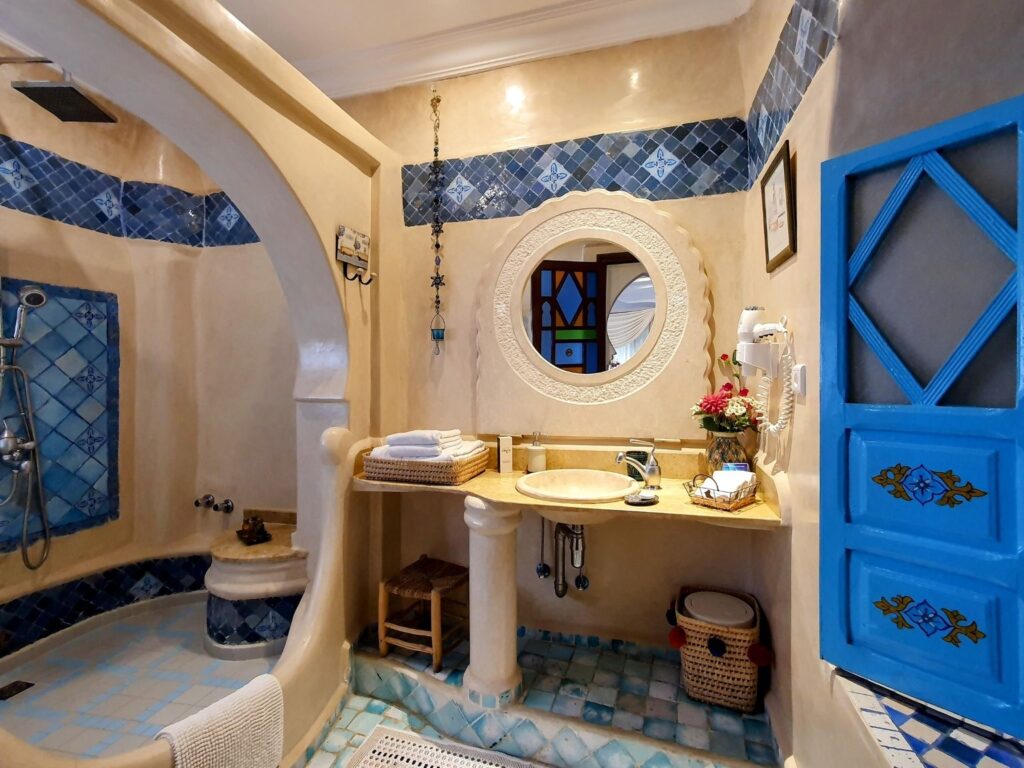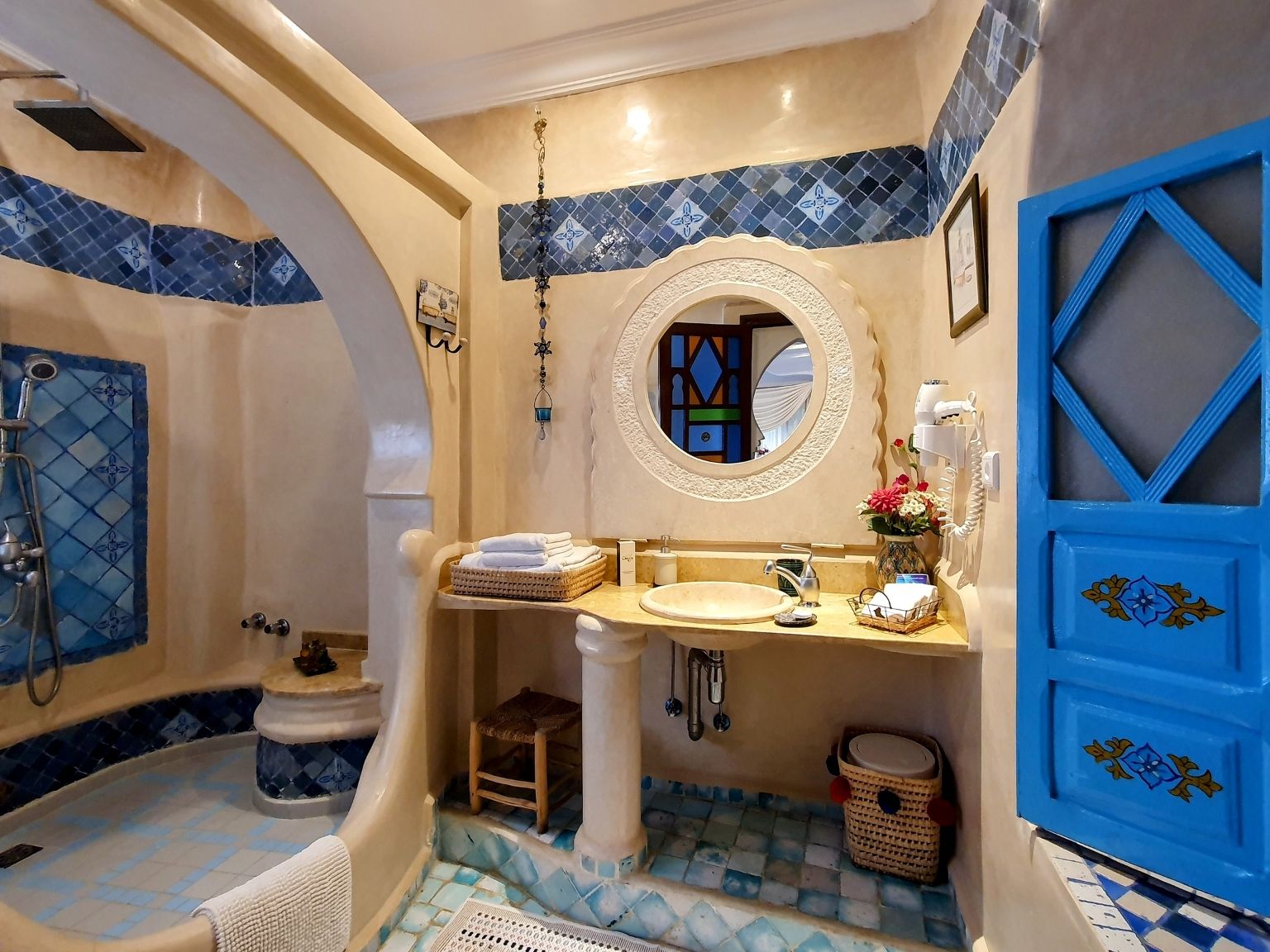 ---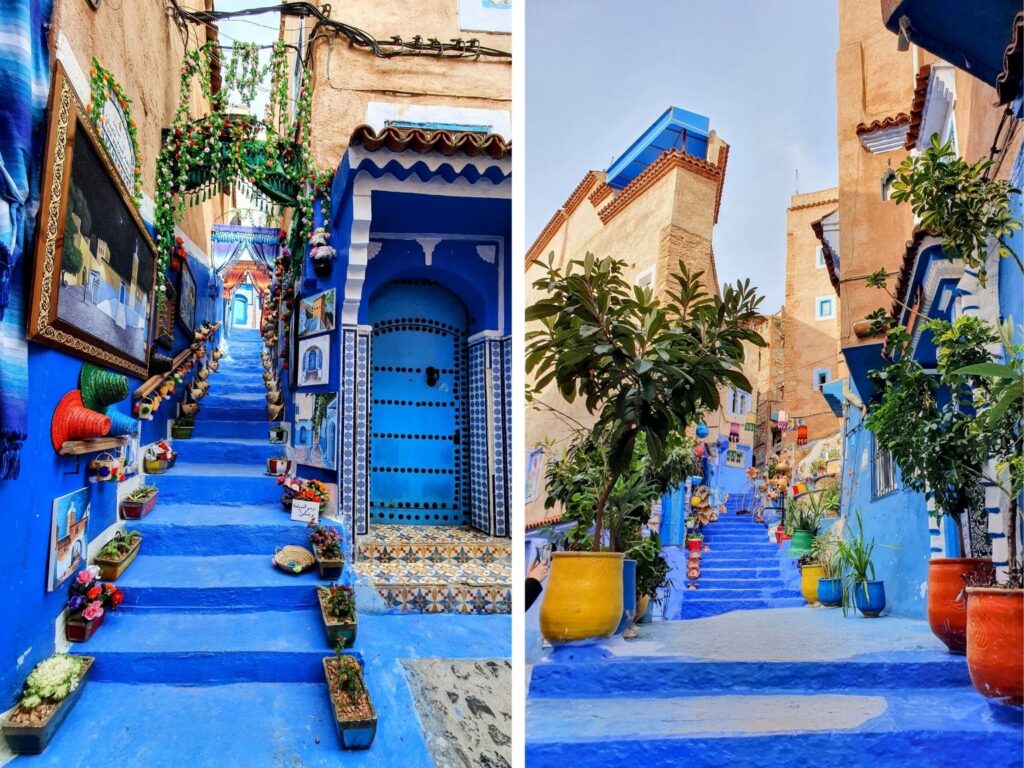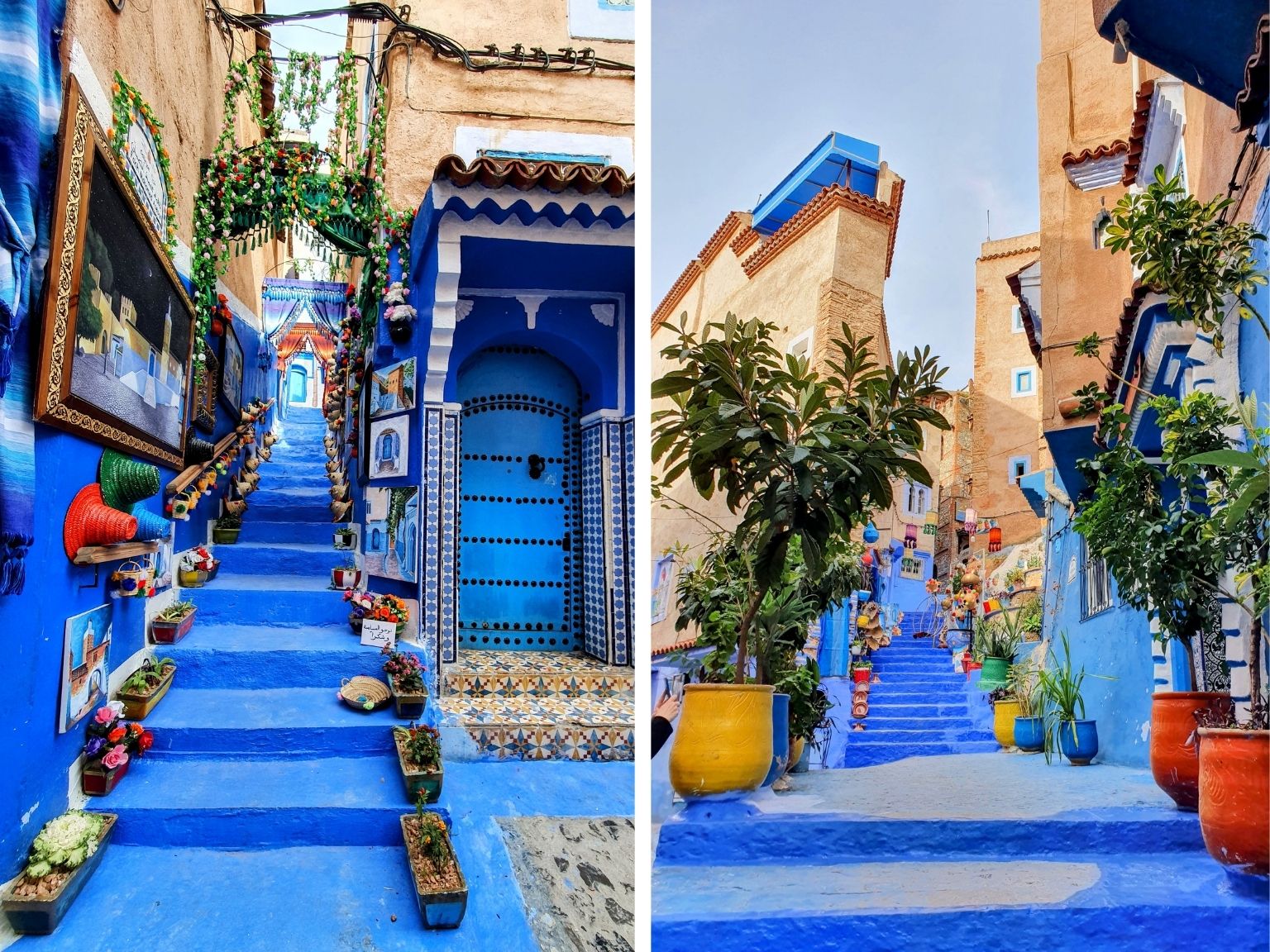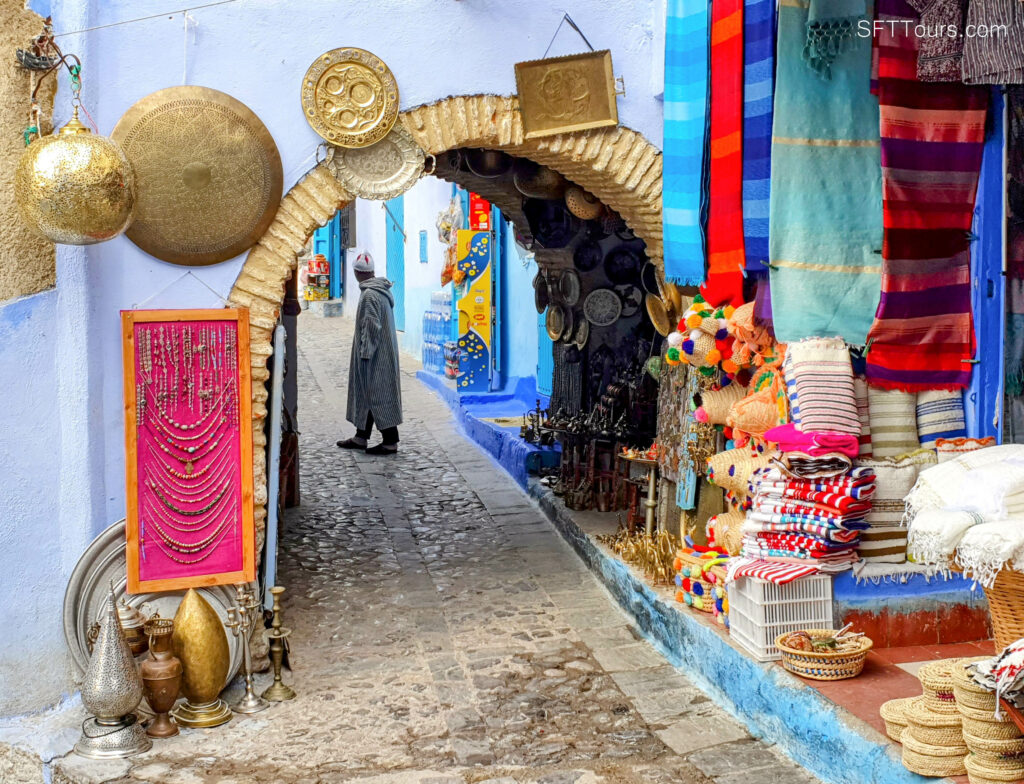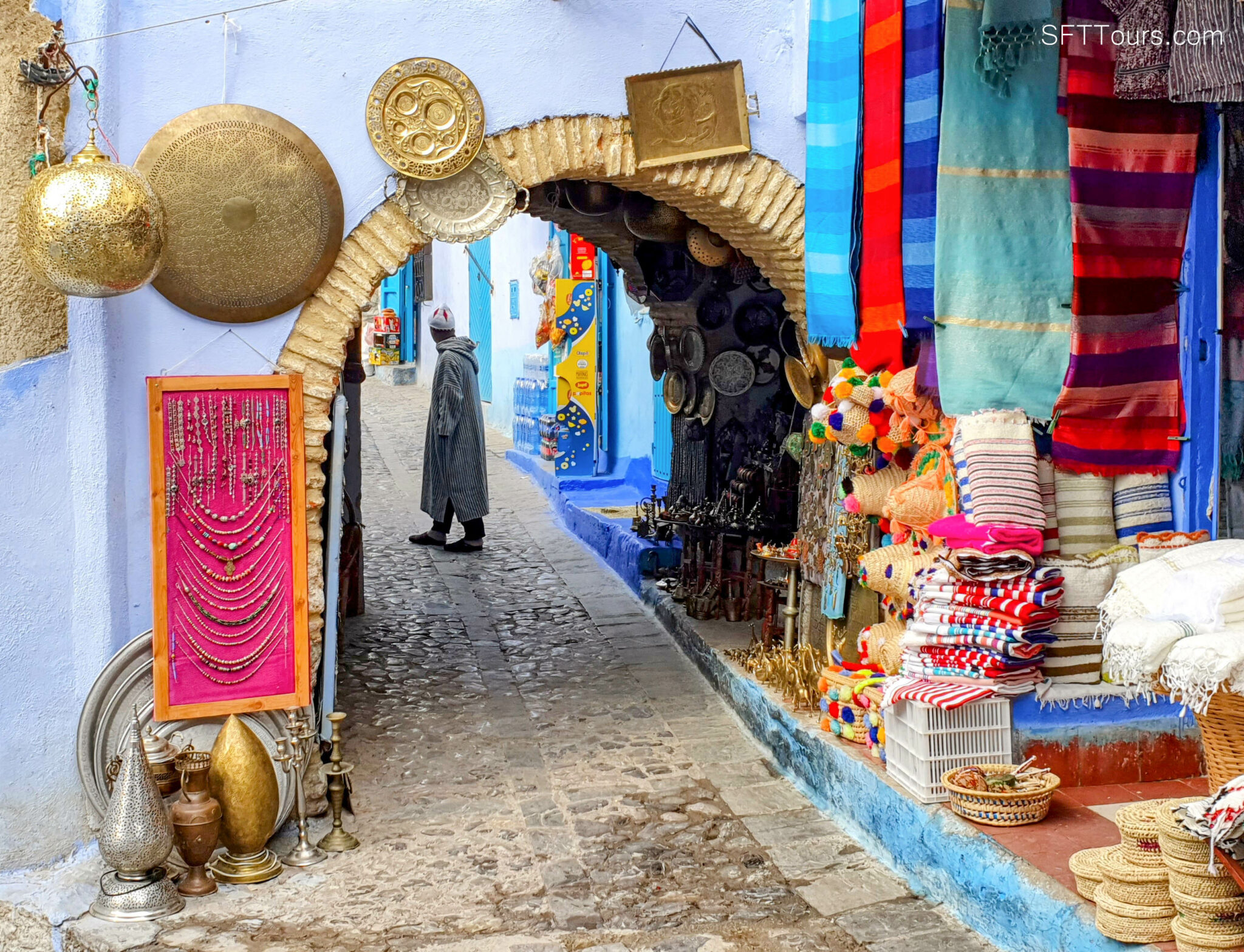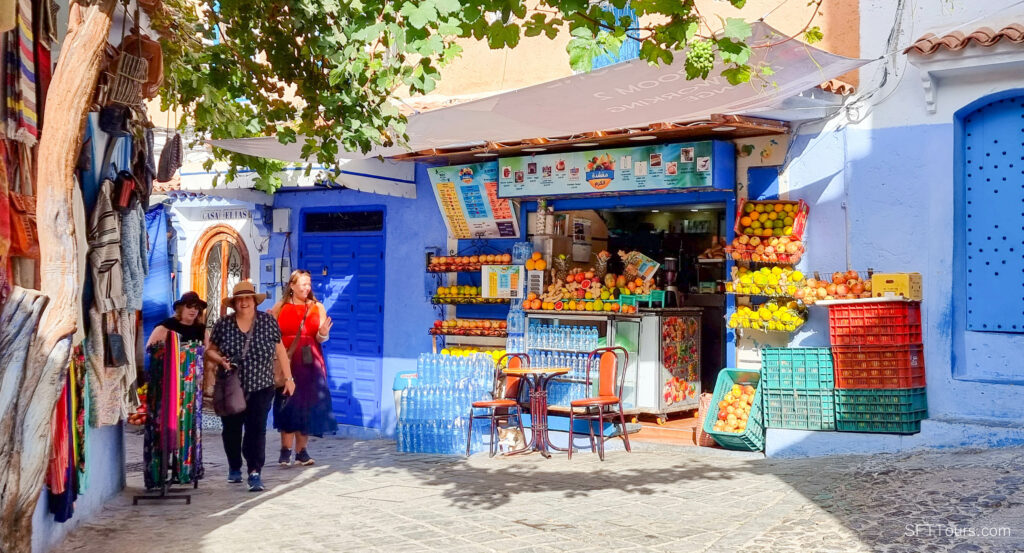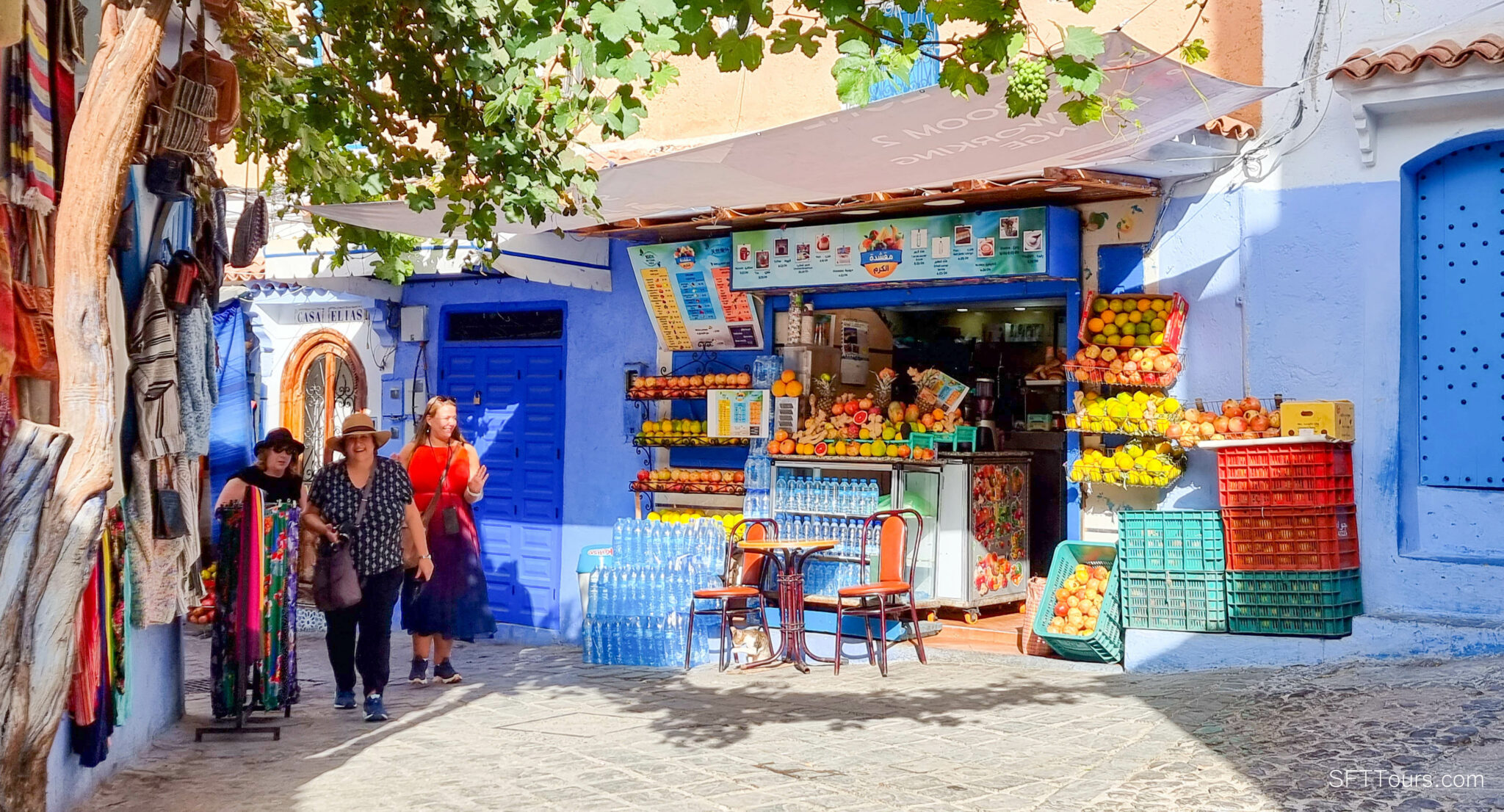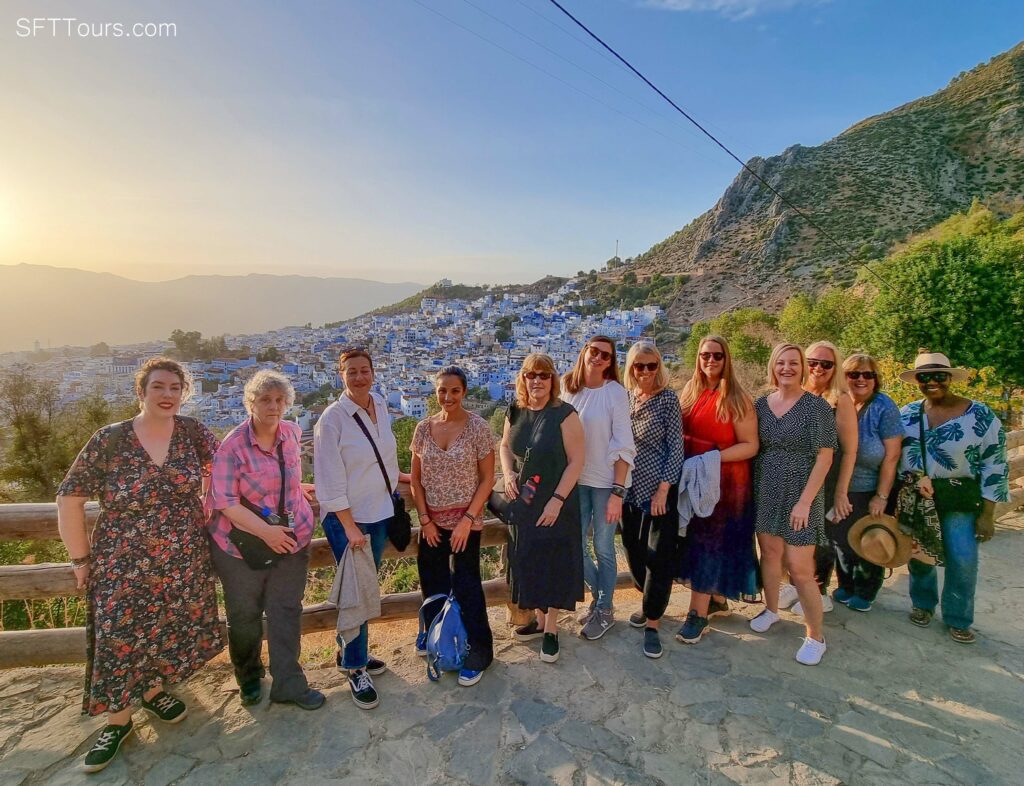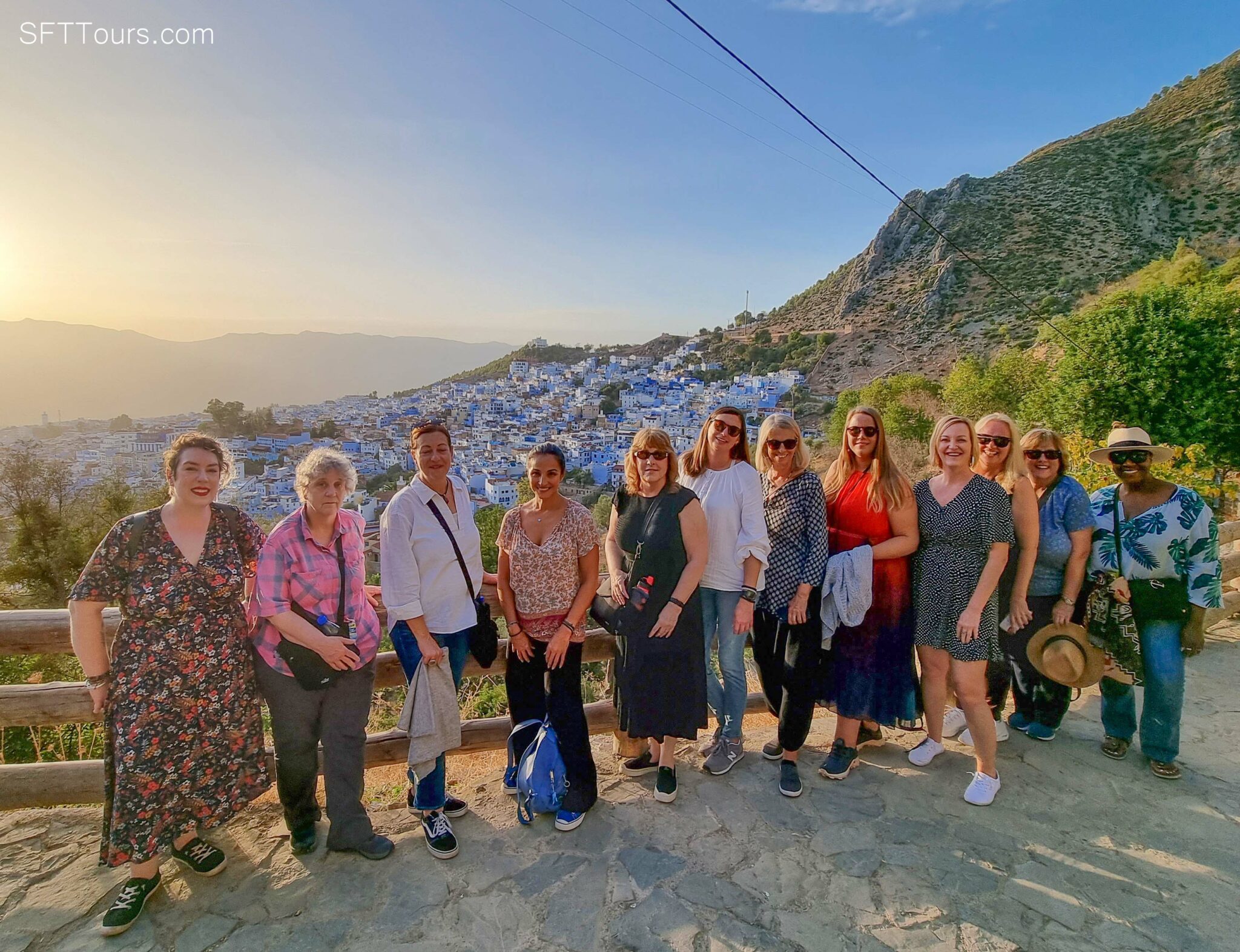 Day 3 : Chefchaouen
Driving time: 0 hours.
We will start the day off with a nice breakfast at the riad's indoor courtyard, by the pool and then gather for a walking tour of Chefchaouen with Rashida, our guide.
Chefchaouen is Morocco's Blue City and is located at the heart of the Rif Mountains about 500m above sea level.
Better known for its blue facades and streets, which symbolise the sky and the Heaven, the city has recently become Insta-famous and you will find many quaint colorful alleys ready for you to pose in front of.
Fun fact: Alcohol is not for sale in Chefchaouen but we can buy and bring our own to enjoy with dinner.
Among the local sellers and souvenir shops you will still find the homes of locals who go about their daily lives like they used to, stores selling textiles and handicrafts, paintings and goat's cheese, a delicacy of the region.
Echoing between the blue alleyways, you will hear the melodic chanting of Koran's verses and watch local men and women dressed in traditional jalabiyas doing their groceries or going to work.
During our tour, we will wander the quaint maze-like city and finish before lunch time at the Place Outa el Hammam square where you can find the 15th century fortress which is today is a museum.
The afternoon will be yours to explore, do some shopping or people watch at the main square.
At about 4pm, we will meet with Fatima Habte, businesswoman and activist who runs the eco-tourism business Gite Talassemtane nearby and is passionate about women's rights in Morocco.
Fatima will share her experience setting up women's coops in northern Morocco through an NGO and now running an ecotourism enterprise.
In the late afternoon, we will meet up again to hike up to the Spanish Mosque and see the sun set behind the hills and on Chefchaouen's blue facades.
We will descend from the mosque and enjoy dinner at the cozy Dar Chaouen before returning to our beautiful riad.
Inclusions: Breakfast at the hotel, walking tour of the medina, sunset hike up to the Spanish Mosque, talk with female rights activist, dinner.
Overnight at Riad Cherifa.
---
Day 4 : Volubilis and winery tour
Driving time: 5 hours.
Enjoy an early breakfast, as we have a long day driving towards Fez ahead of us.
In the morning, we will cross the Rif Mountains. Unlike the rest of our trip after Fez, which will head towards the arid south, this part of Morocco is green, lush and covered with agricultural land including wheat fields, olive groves and even vineyards.
Before lunch, we will arrive at the UNESCO-listed Volubilis, the ruins of an ancient Roman city that developed between the 1st century BC and the 3rd century AD.
At its peak, the city was home to 25,000 people and while most of the ruins have not yet been excavated, you can see beautifully preserved mosaics.
Volubilis thrived thanks to olive groves and olive oil which was exported to the rest of the Roman Empire.
During our guided visit with a local expert, we will walk through the ancient streets and learn more about the stunning homes of wealthy Roman families. The colorful mosaics of Volubilis are some of the best preserved, with its bright colors bringing animals and Gods represented to live.
As Christianity expanded throughout the Roman Empire, it also reached Volubilis, and its inhabitants built a basilica right in front of the Roman temple so both sets of belief systems coexisted peacefully.
With the fall of the Roman Empire, Volubilis continued to thrive under different rule.
After our guided visit, we will get back in the minivan and drive towards Chateau Roslane, the largest winery in the North of Africa and probably the only one led by a woman.
Chateau Roslane was founded in the 1940s after Morocco's independence when Islam prompted the rest of the vineyard owners to replace vines with other crops. The owner decided instead to keep them and some of those original vines are still producing grapes today.
We will start our visit with a leisurely and casual shared lunch of tapas and other light bites at the winery's outdoor terrace restaurant which is part of the 5* Relais & Chateaux hotel of the same name.
Shaded by olive trees and umbrellas and with a view over the vineyards and the hotel's lawns and pool, we will relax and learn more about the wines by the hand of one of their female experts or maybe the General Manage herself.
We will continue our visit with a guided tour of the cellar to learn more about the wine making process and the grape varieties that grow in the area and which are heavily influenced by France.
The cellar tour will end with a wine tasting so you can try the product of the land. If you enjoy the wines, you can buy a bottle to take home with you (we can never resist!).
Following our wine tasting, we will leave the wine country behind and drive through olive groves and vineyards towards Fez, where we will be welcomed for the night.
After a long day on the road, our luxury hotel will feel like heaven. We will shower and get ready for a pre-dinner drink at Jungle bar, the hotel's rooftop terrace and bar and the most fashionable spot in the city, from where we will admire the world's largest medina as the sun sets over Fez.
Inclusions: Breakfast at the hotel, transportation, guided tour of Volubilis, winery visit and wine tasting with lunch, dinner at the hotel.
Overnight at Hotel Sahrai 5*
Classy and stylish Hotel Sahrai is located outside the Fez medina and on a hill with sweeping views of the area.
The 50-room luxury hotel is a blend of modern Arabia and traditional riad. Clean white and beige lines, intricate carved plaster designs, large arches and flowing curtains will send us immediately into a vacation mood.
Breakfast will be served in the Moroccan-Lebanese inspired restaurant and dinner can be enjoyed there or at the Parisian brasserie.
Hotel Sahrai has a fabulous L-shaped outdoor infinity pool and an indoor heated steam pool with large windows. For extra relaxation, book an appointment at the luxury Givenchy Spa or at the hammam which uses Maroc Maroc products.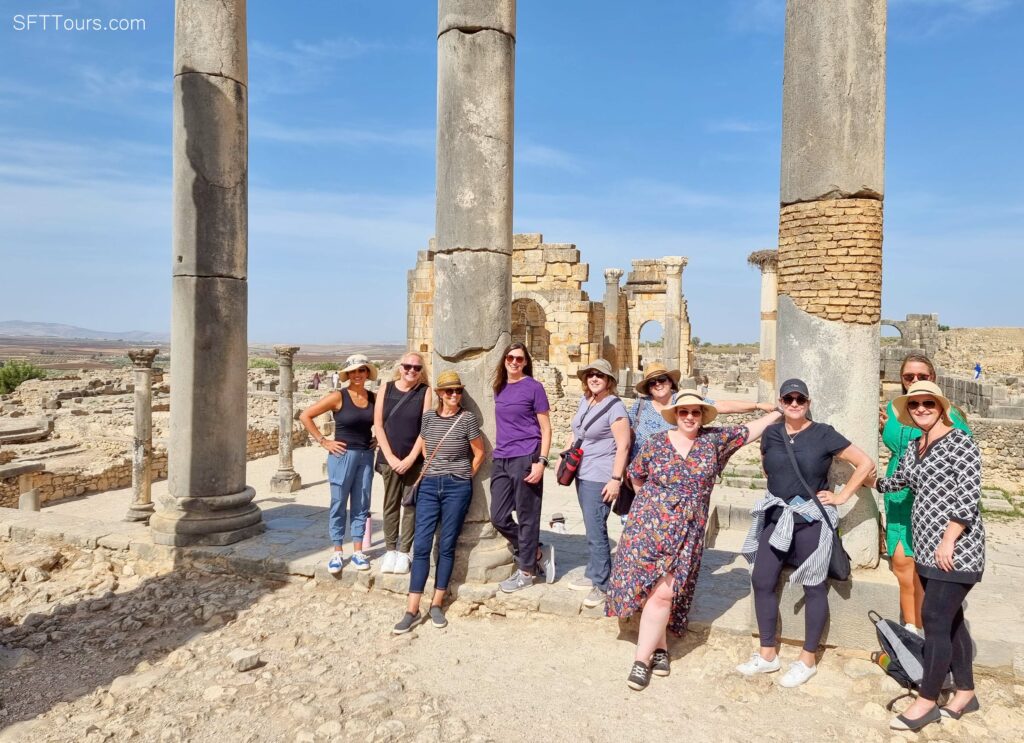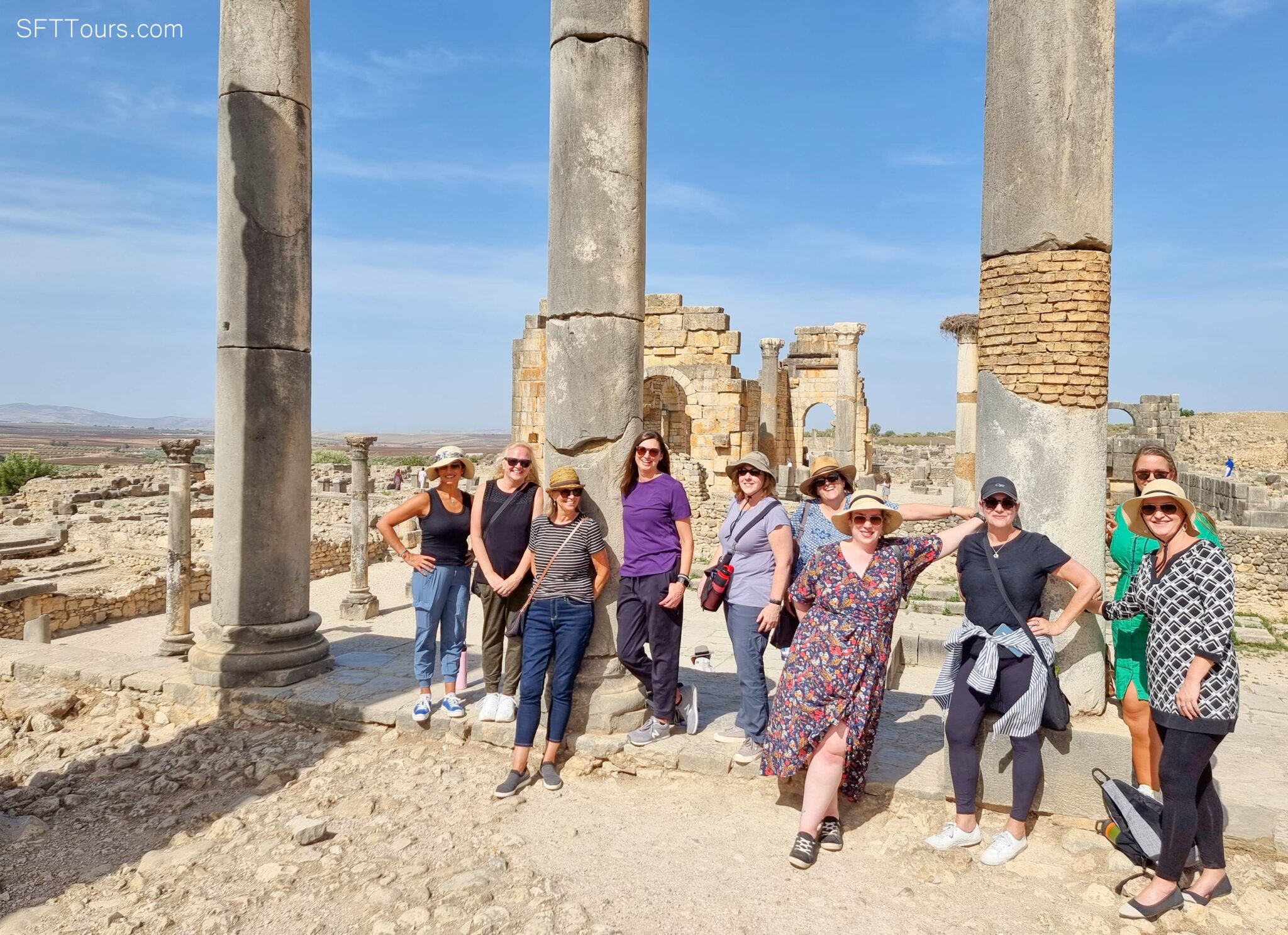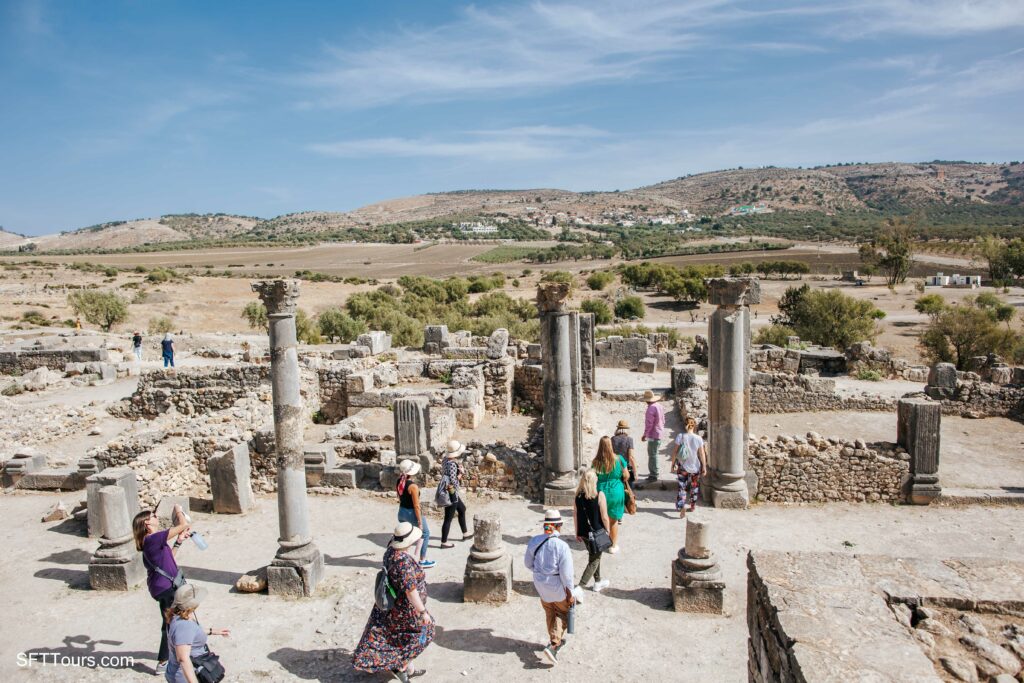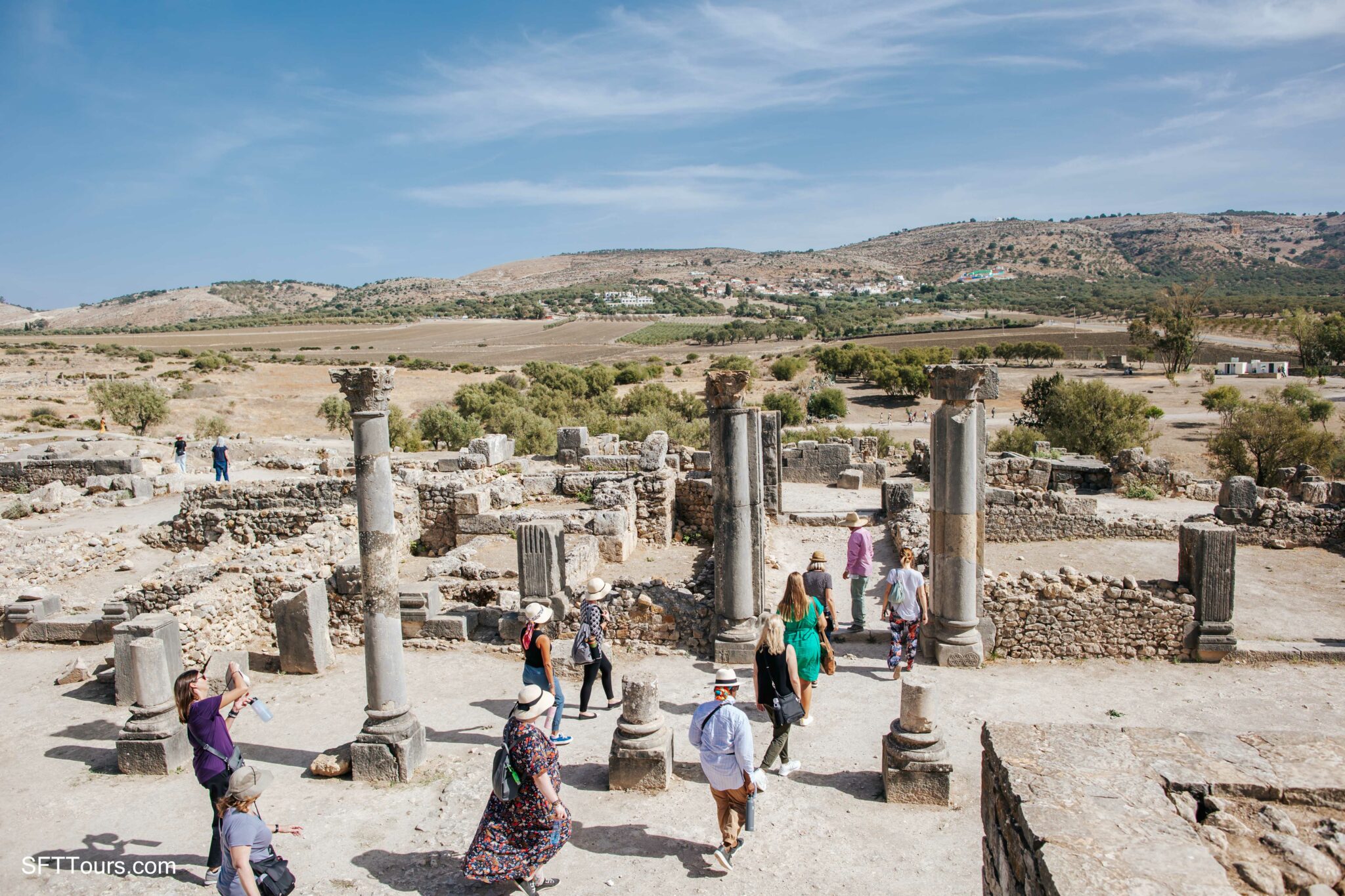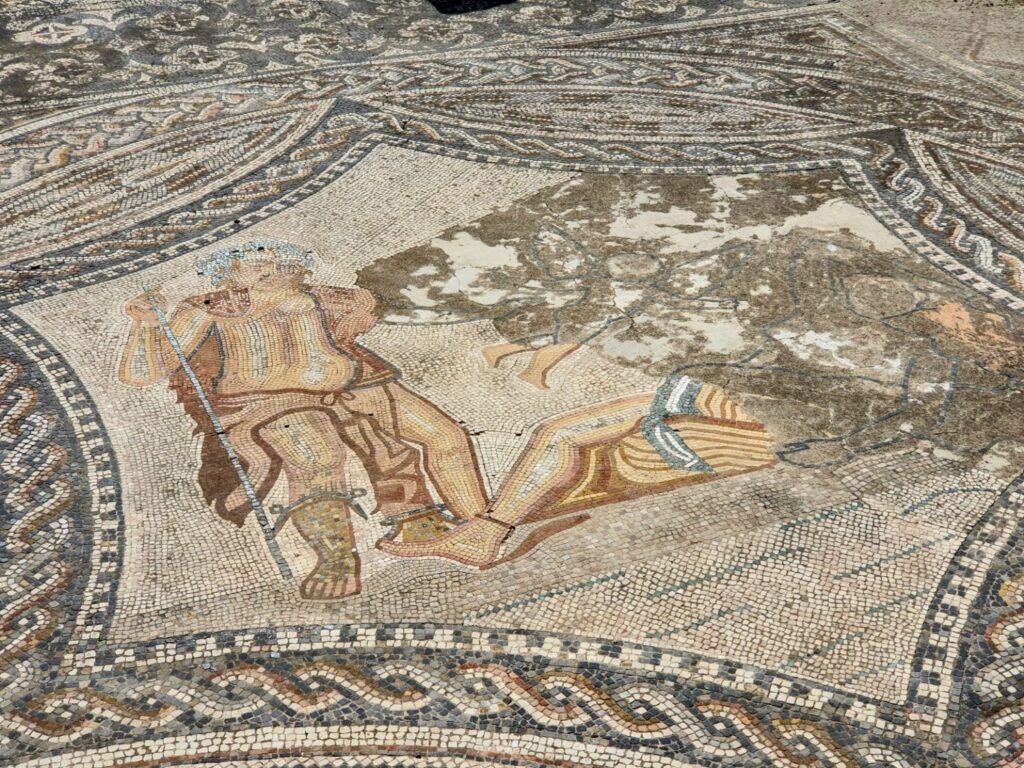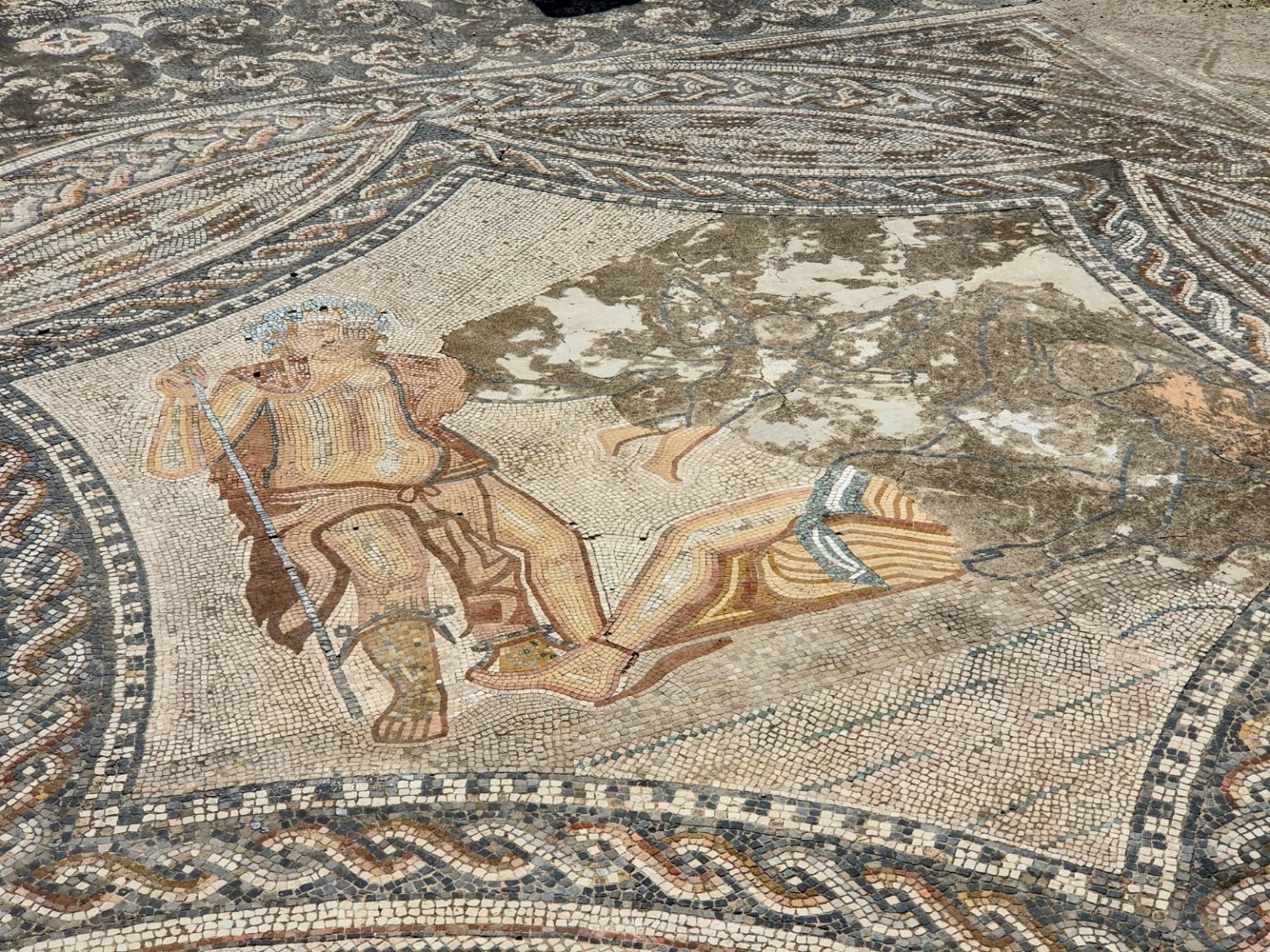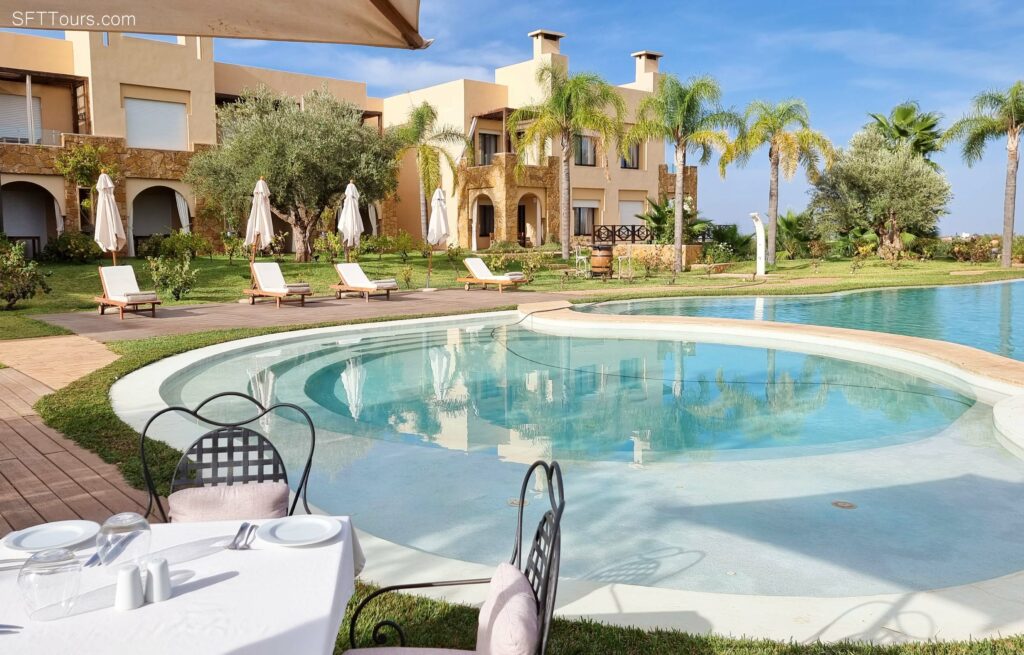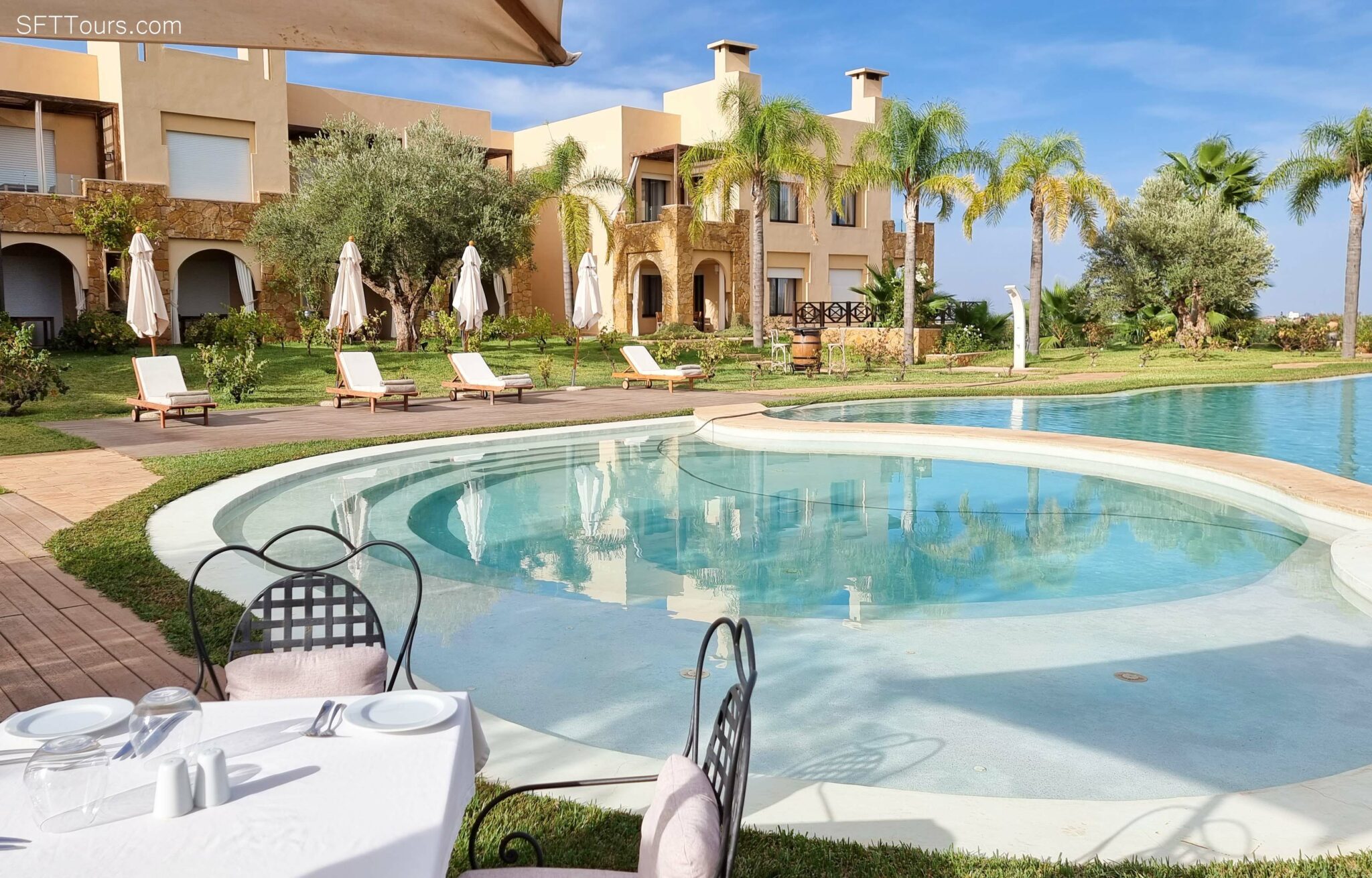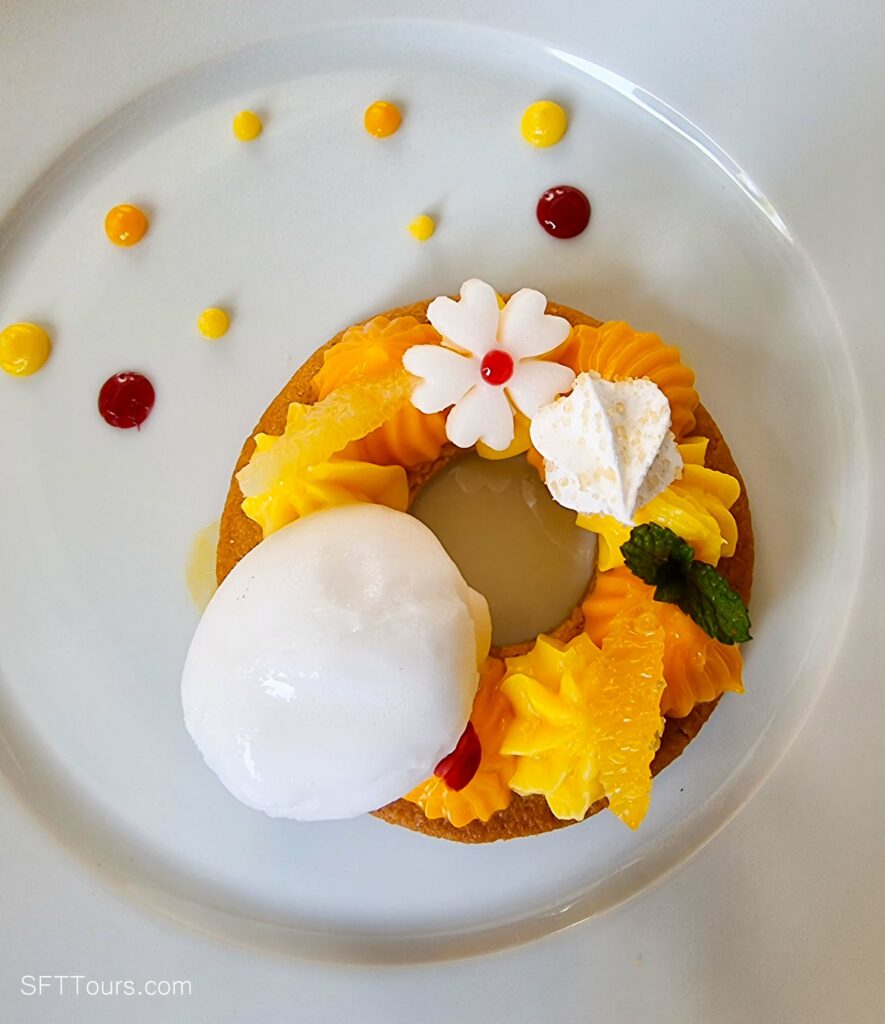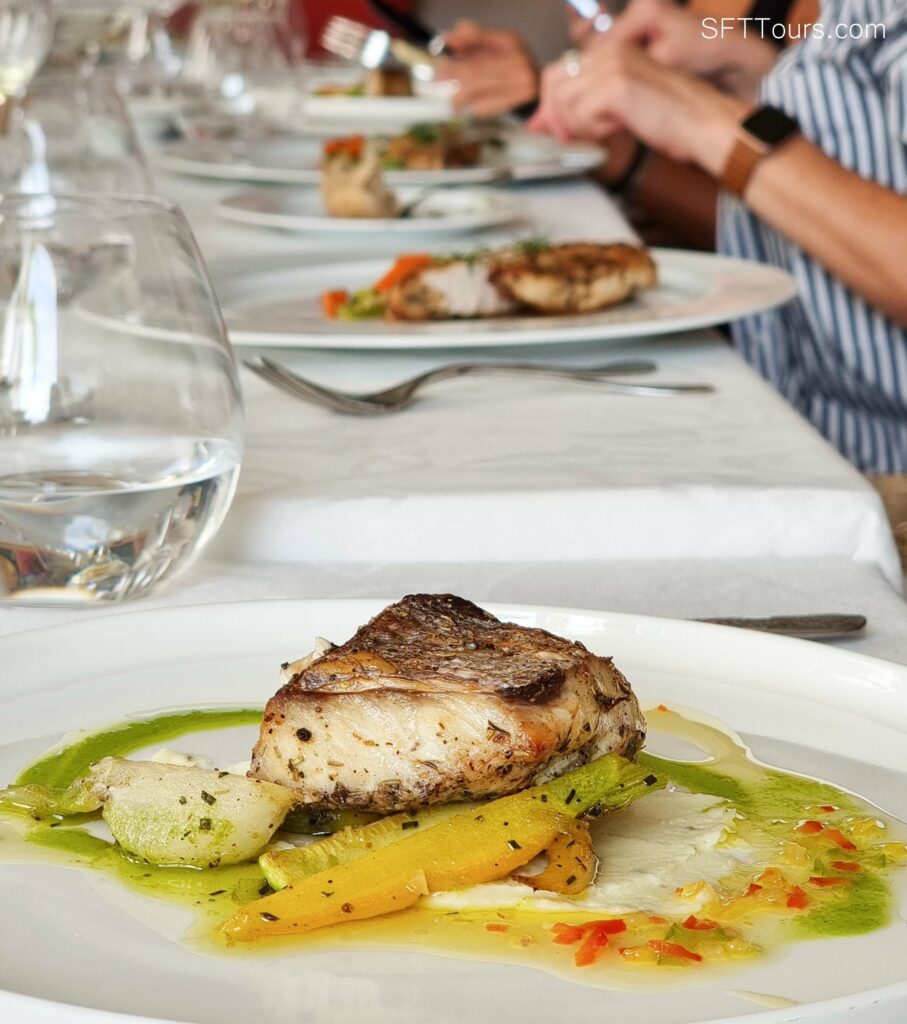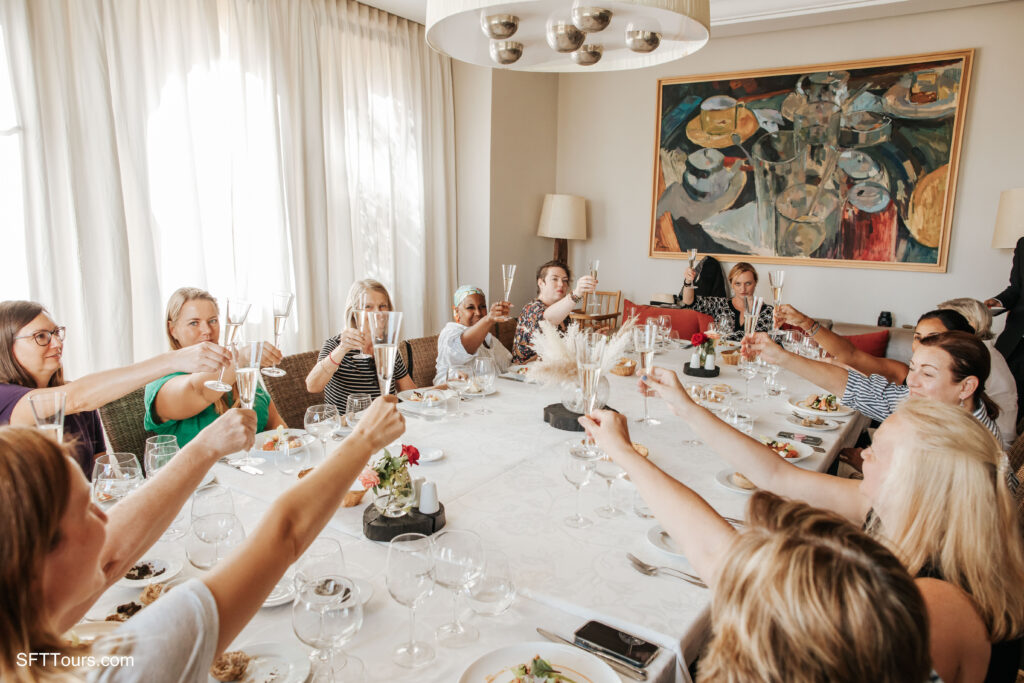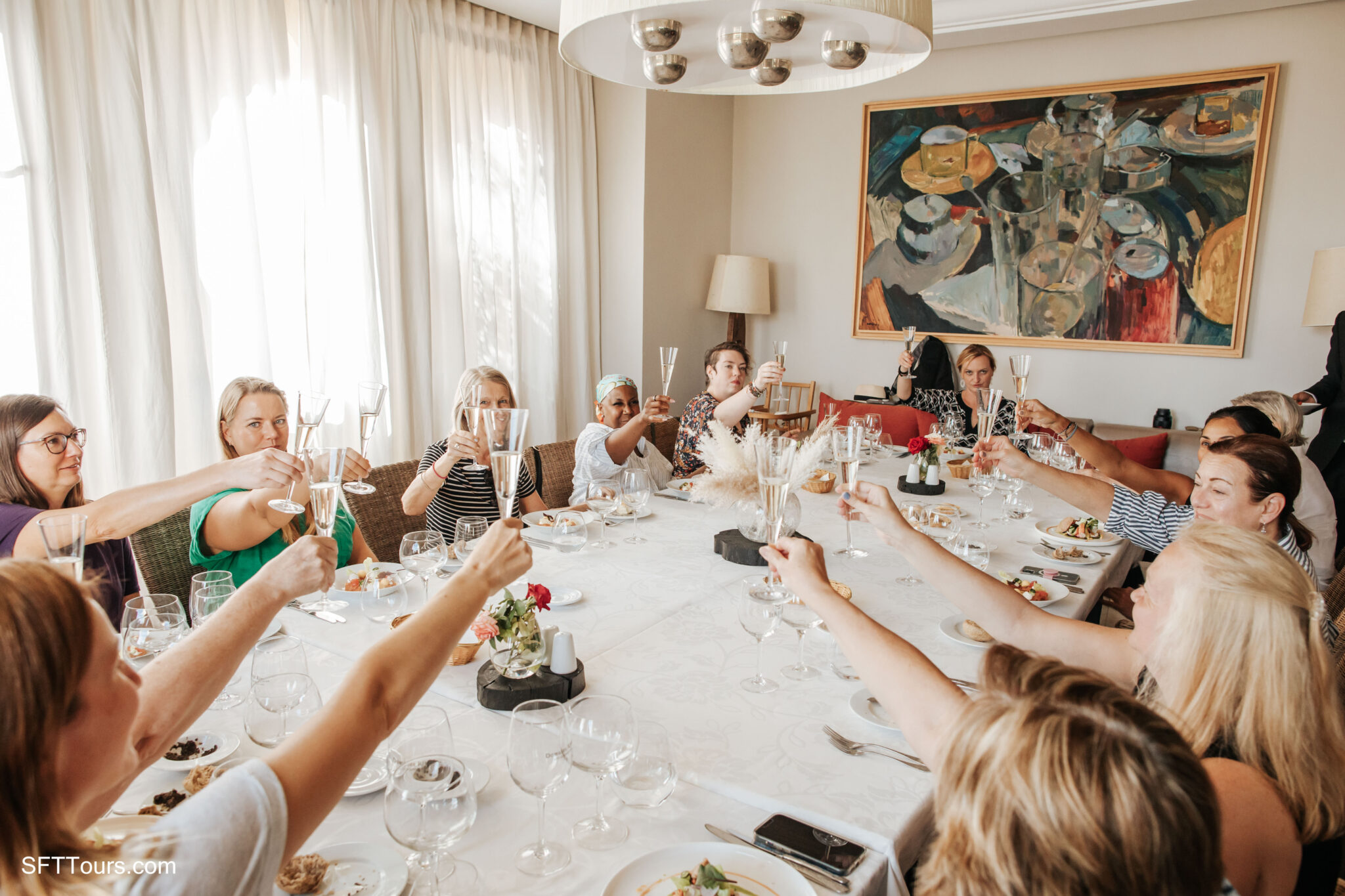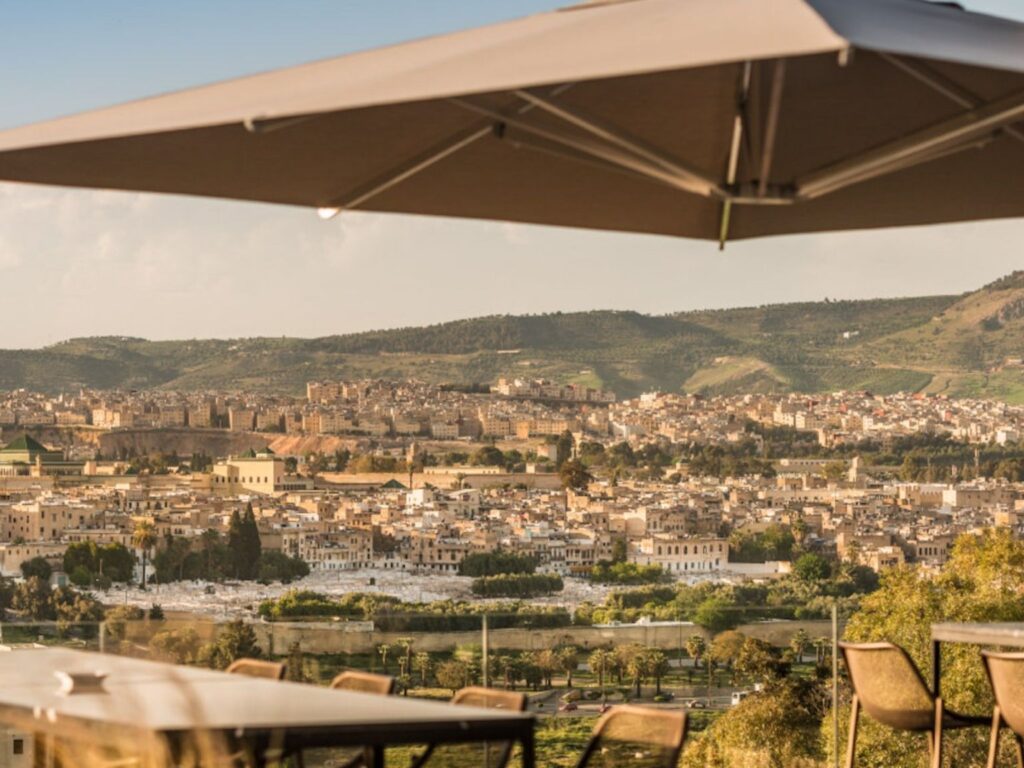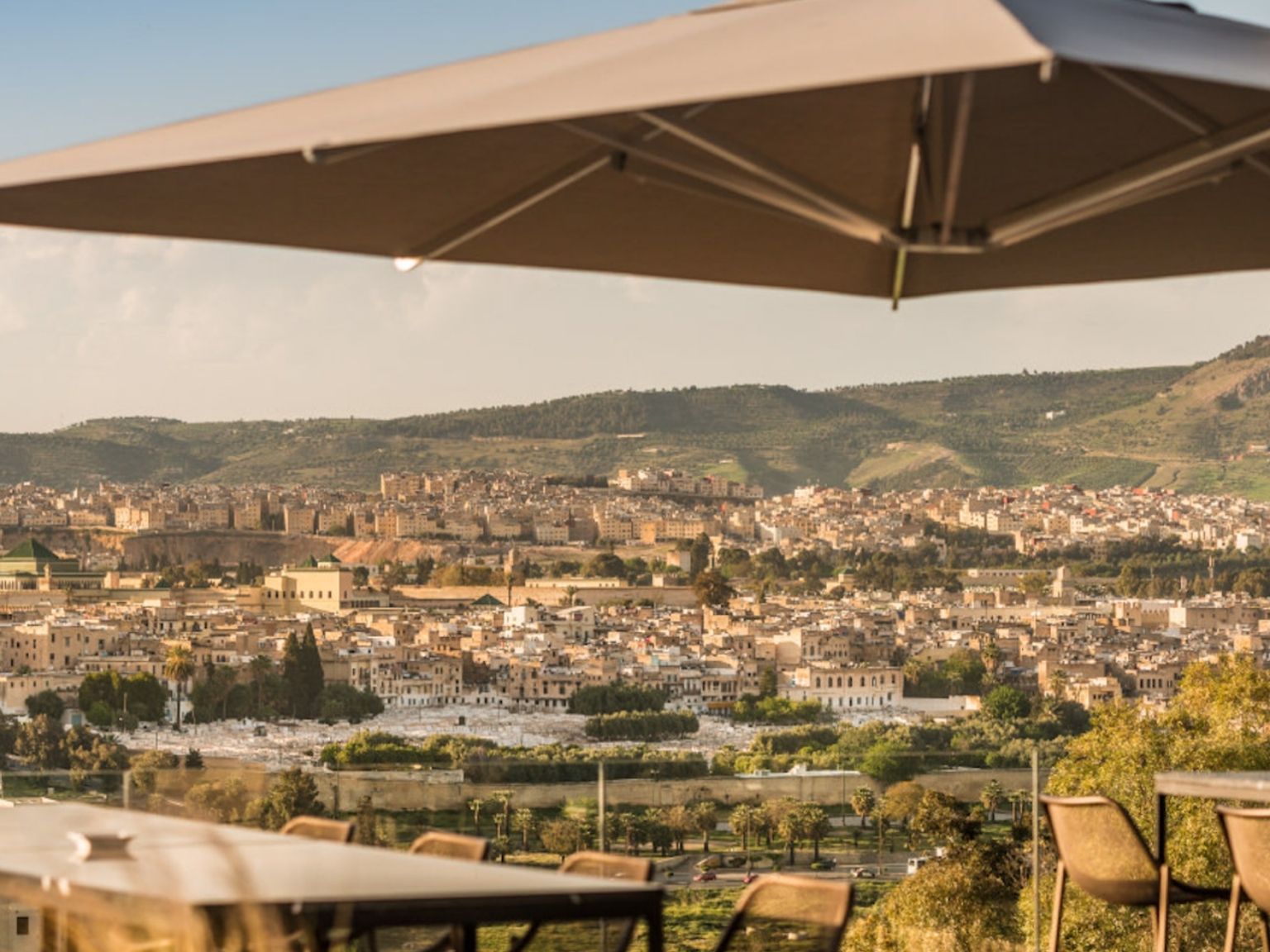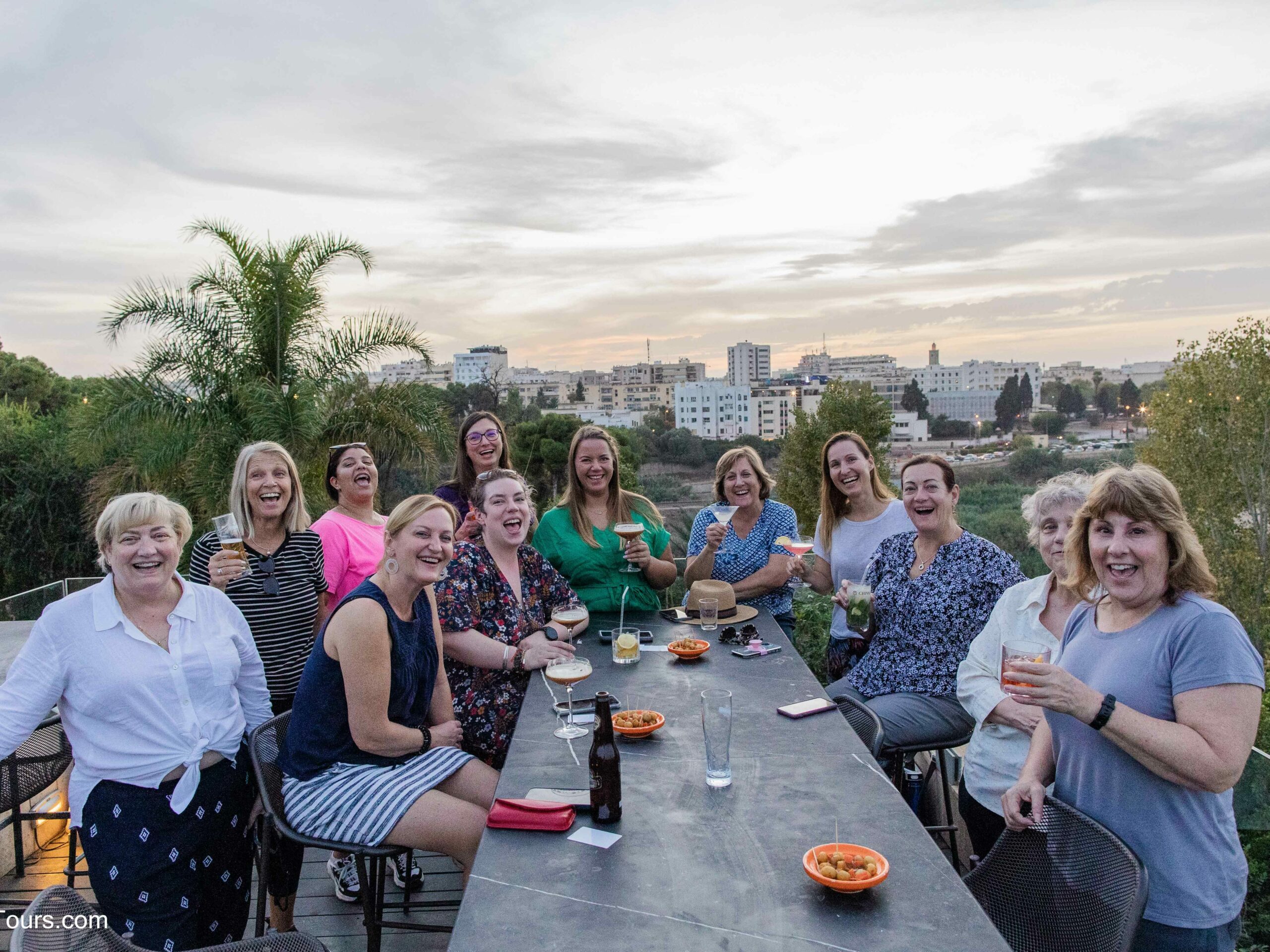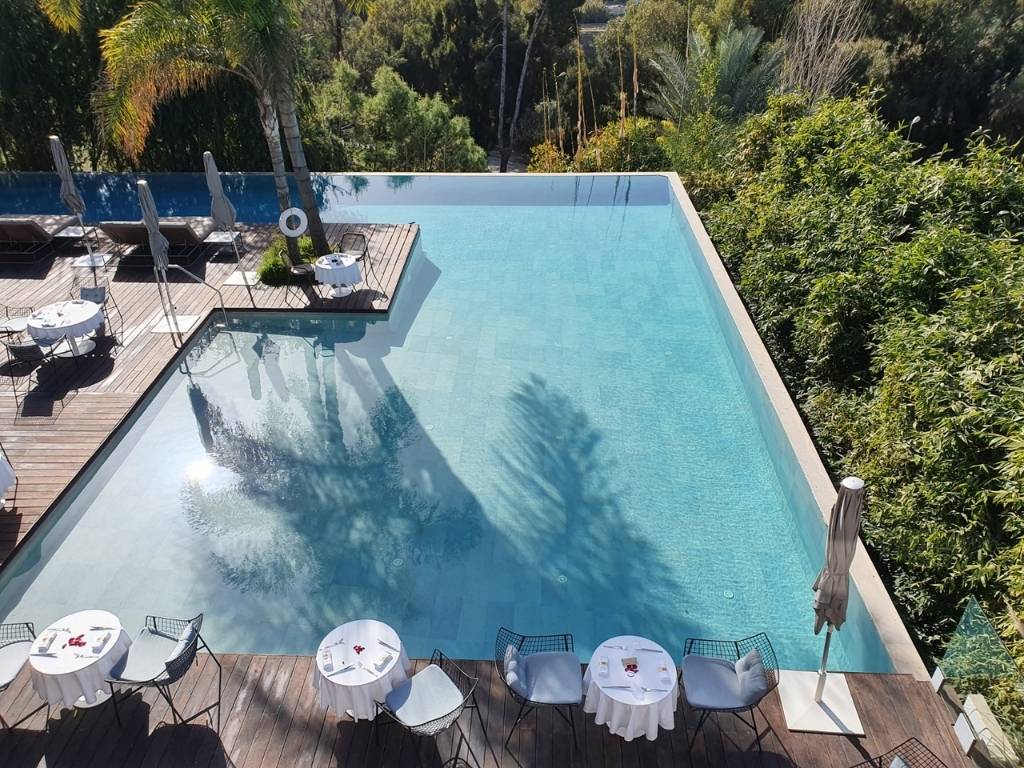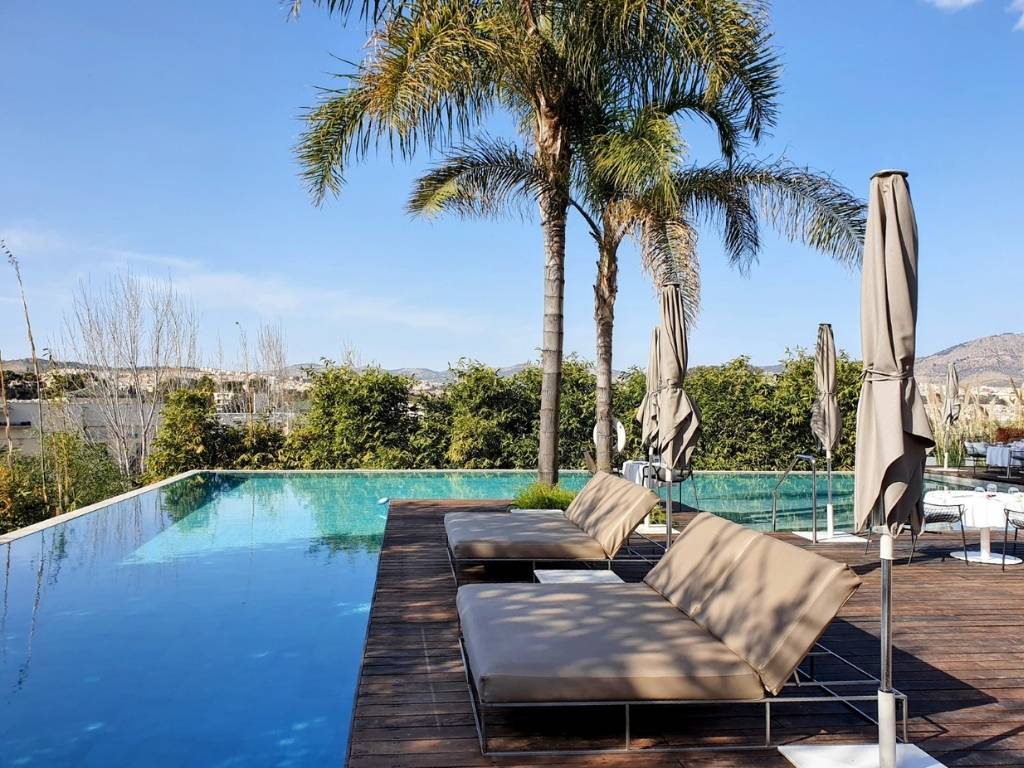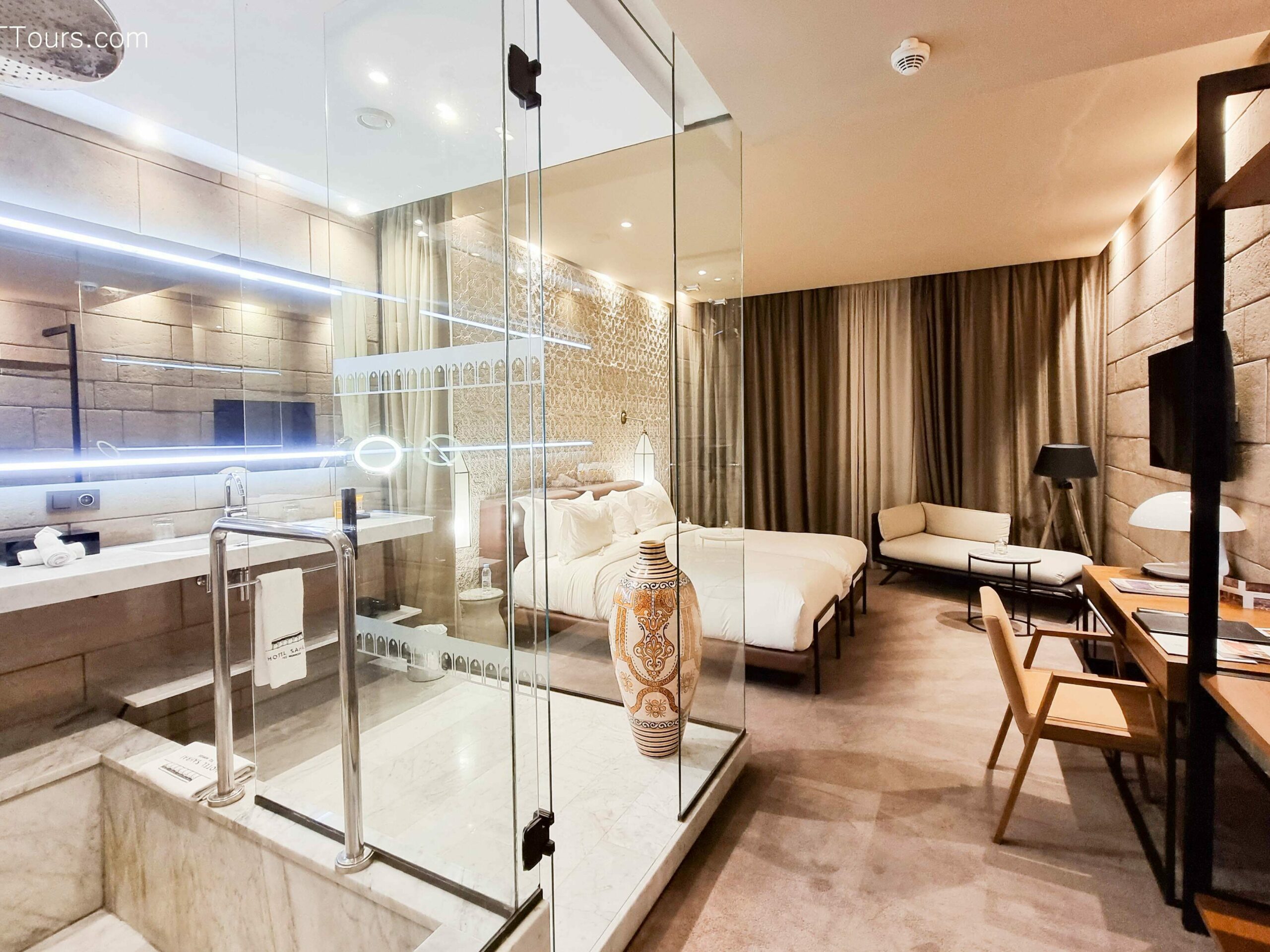 ---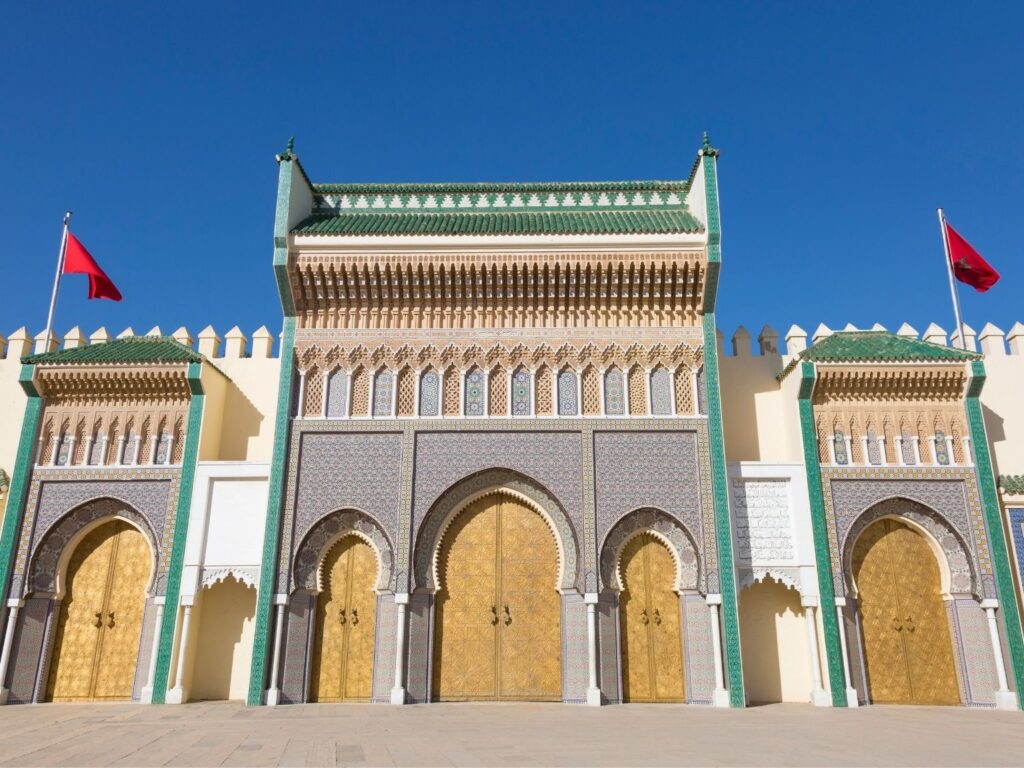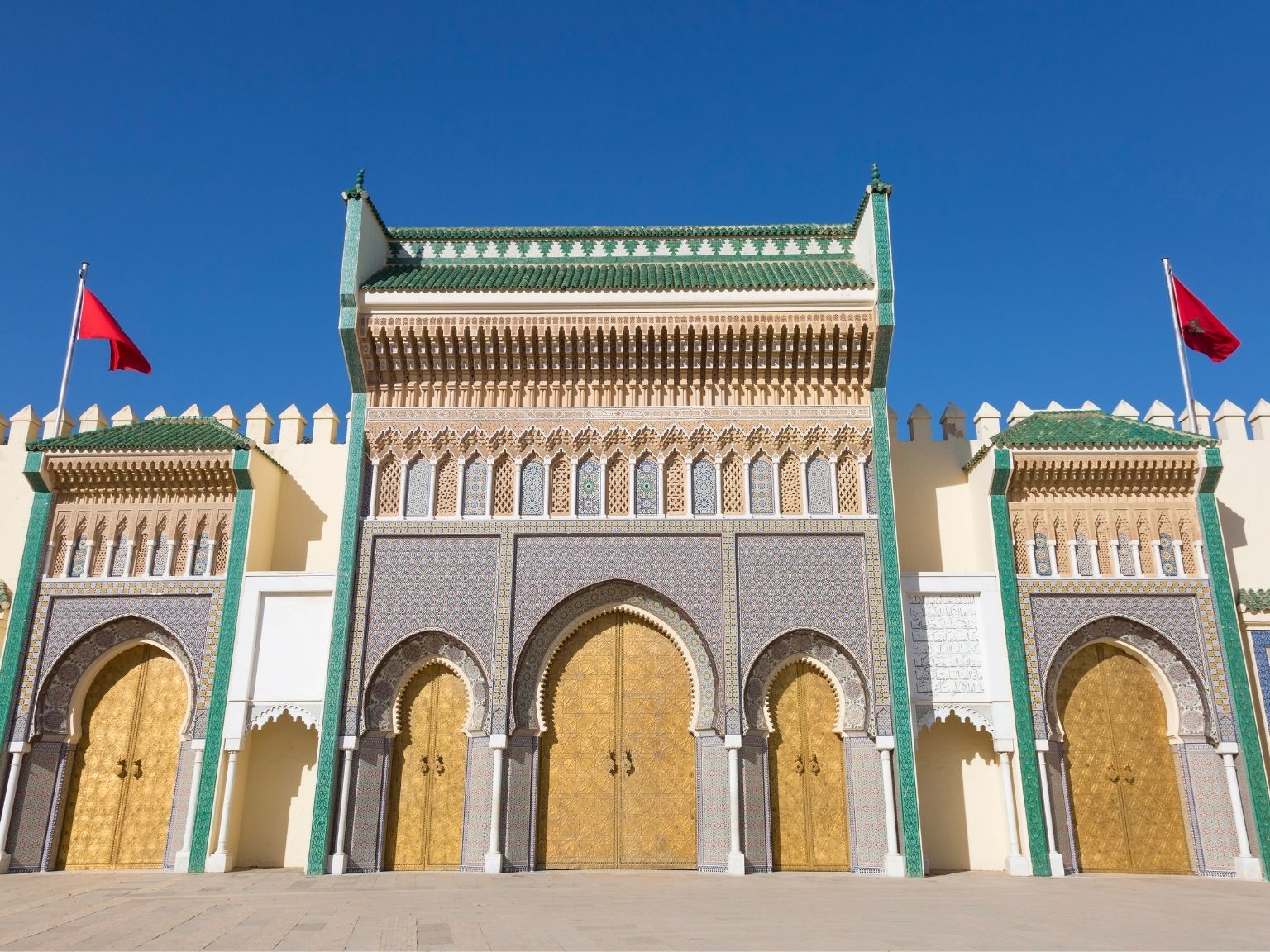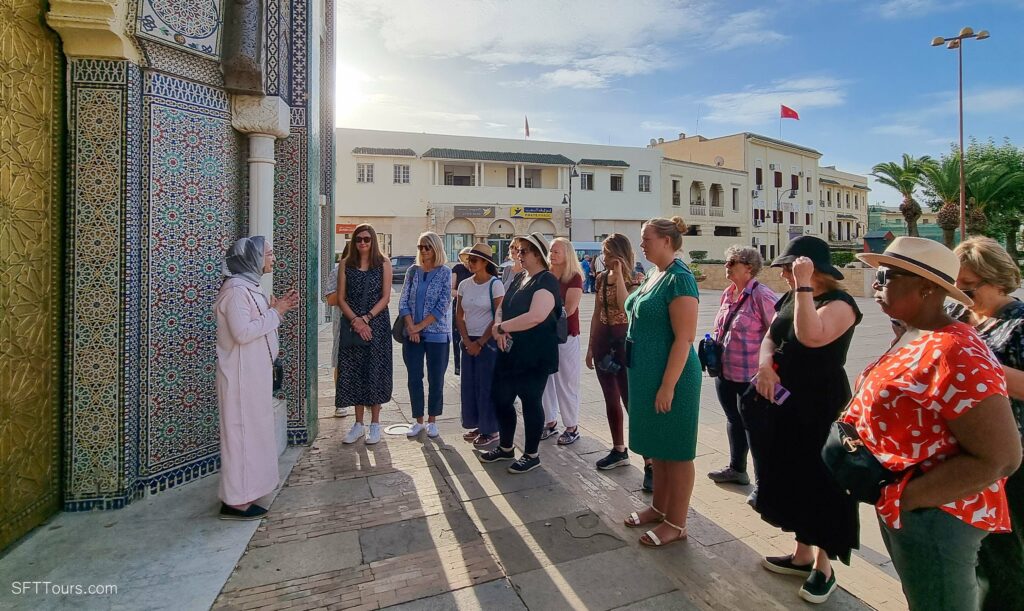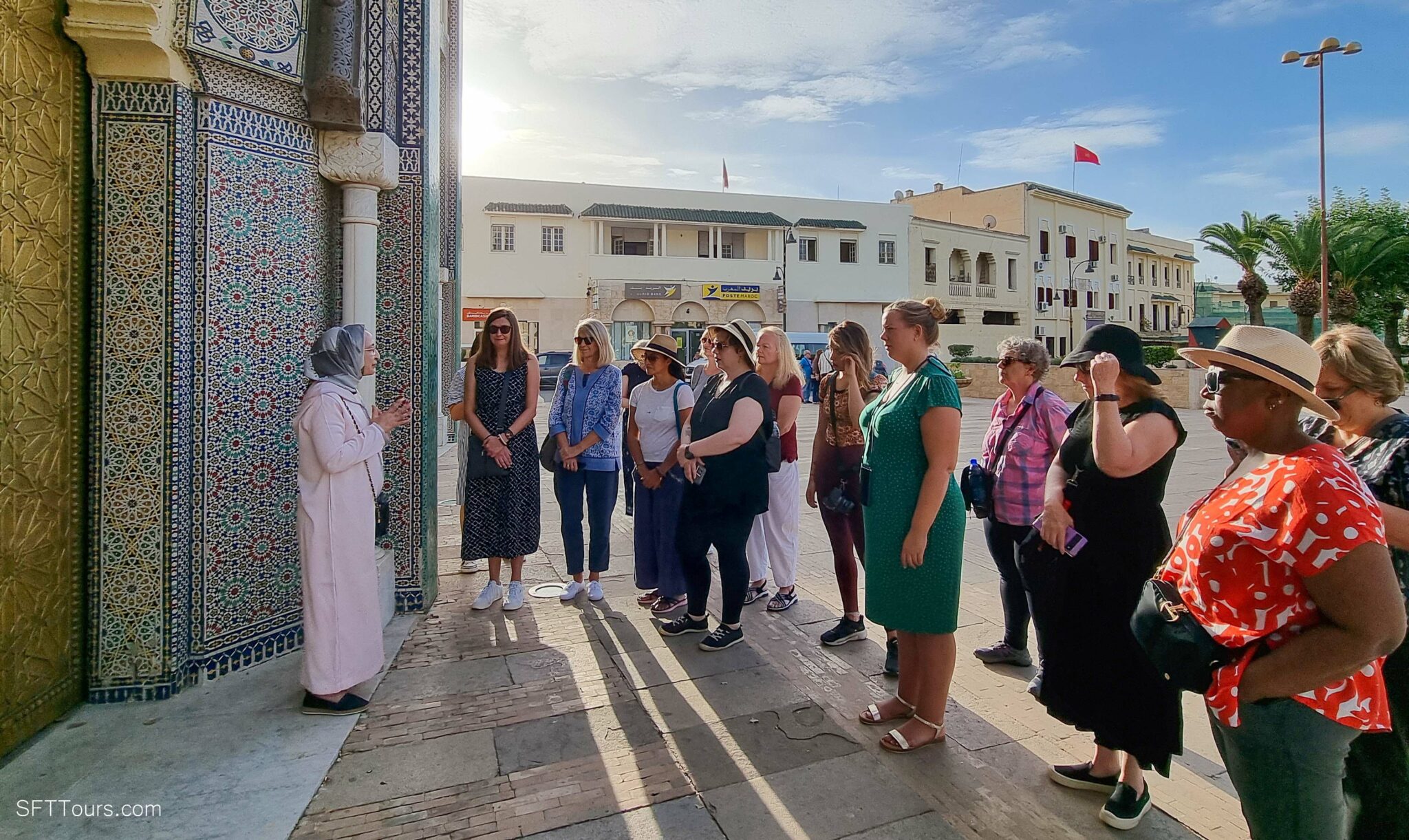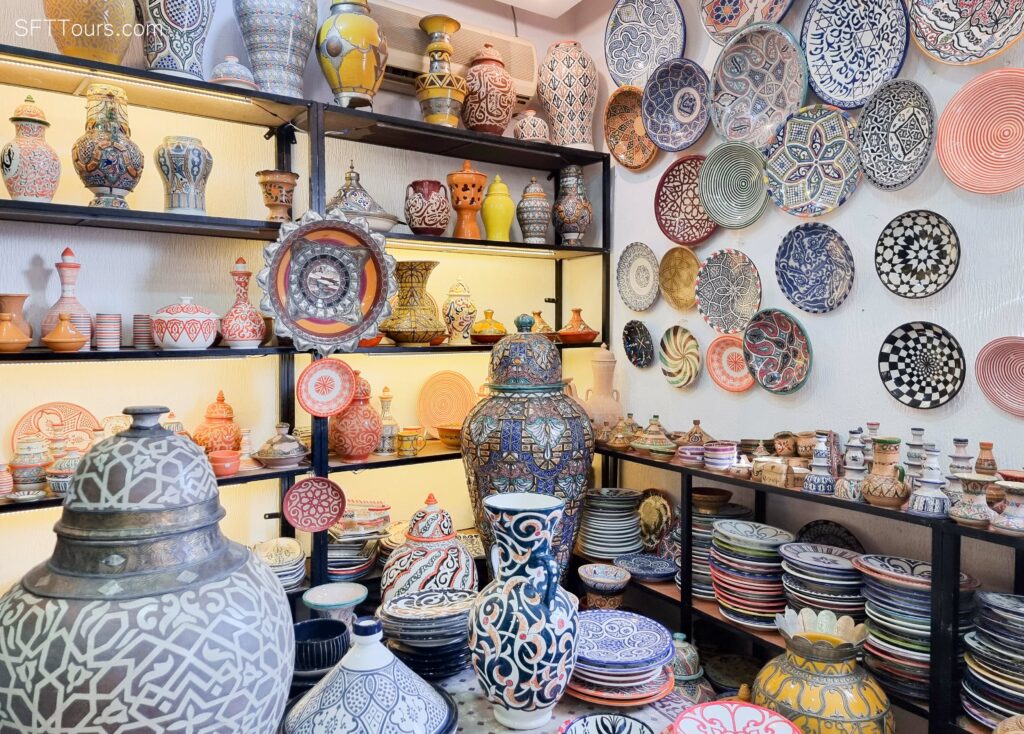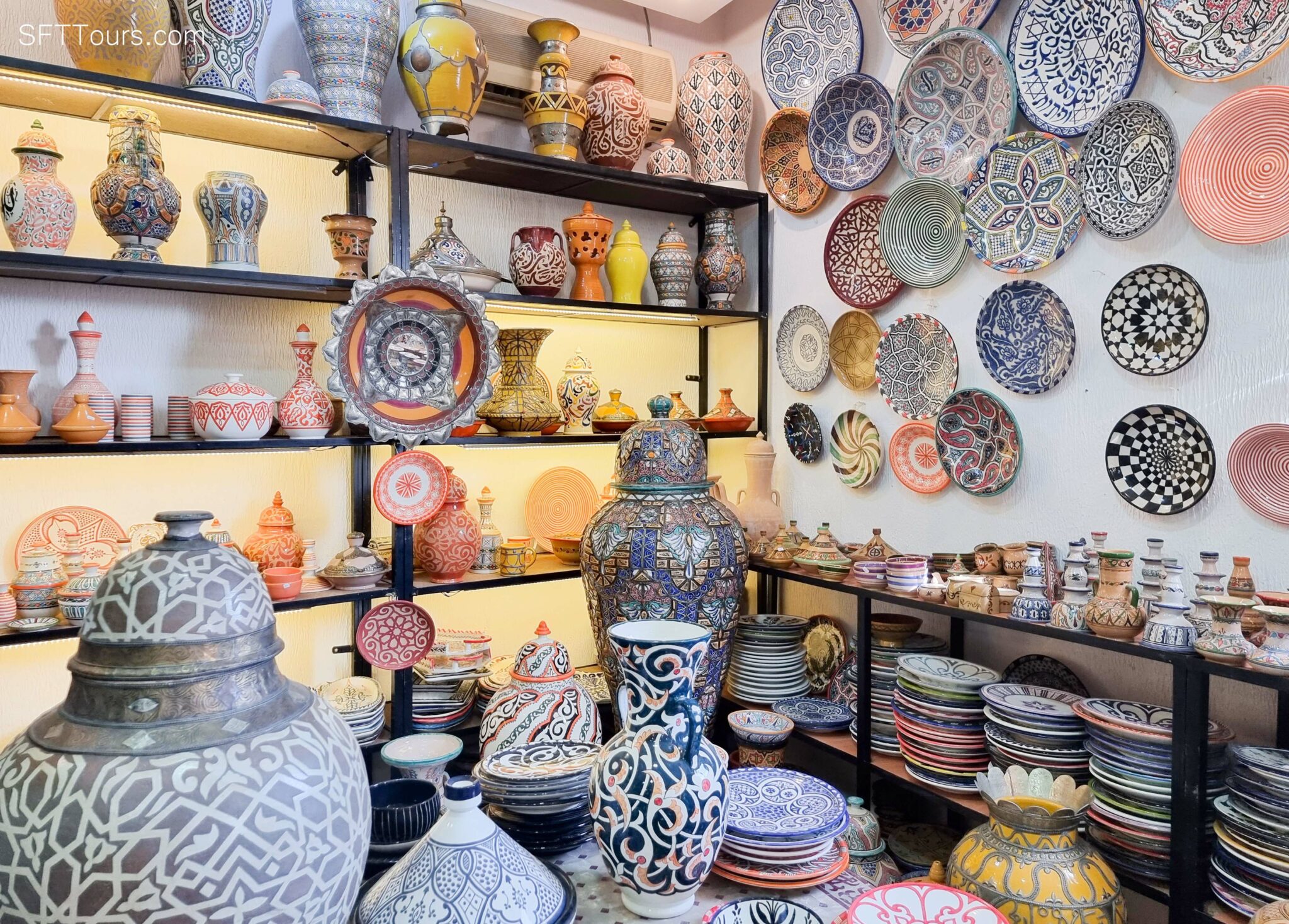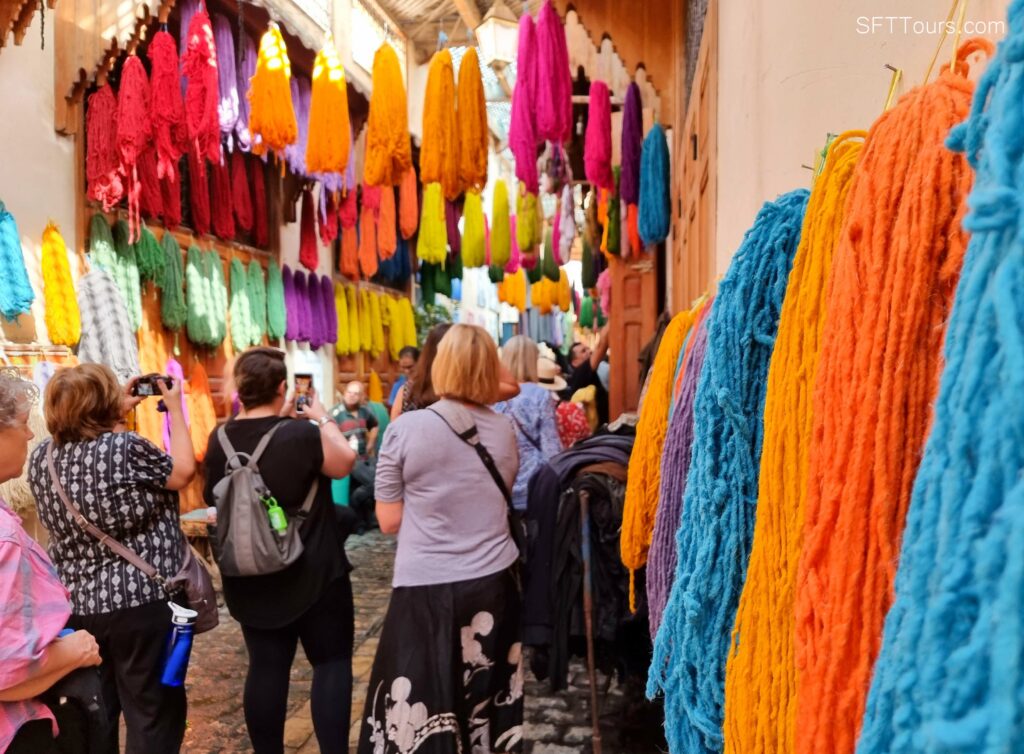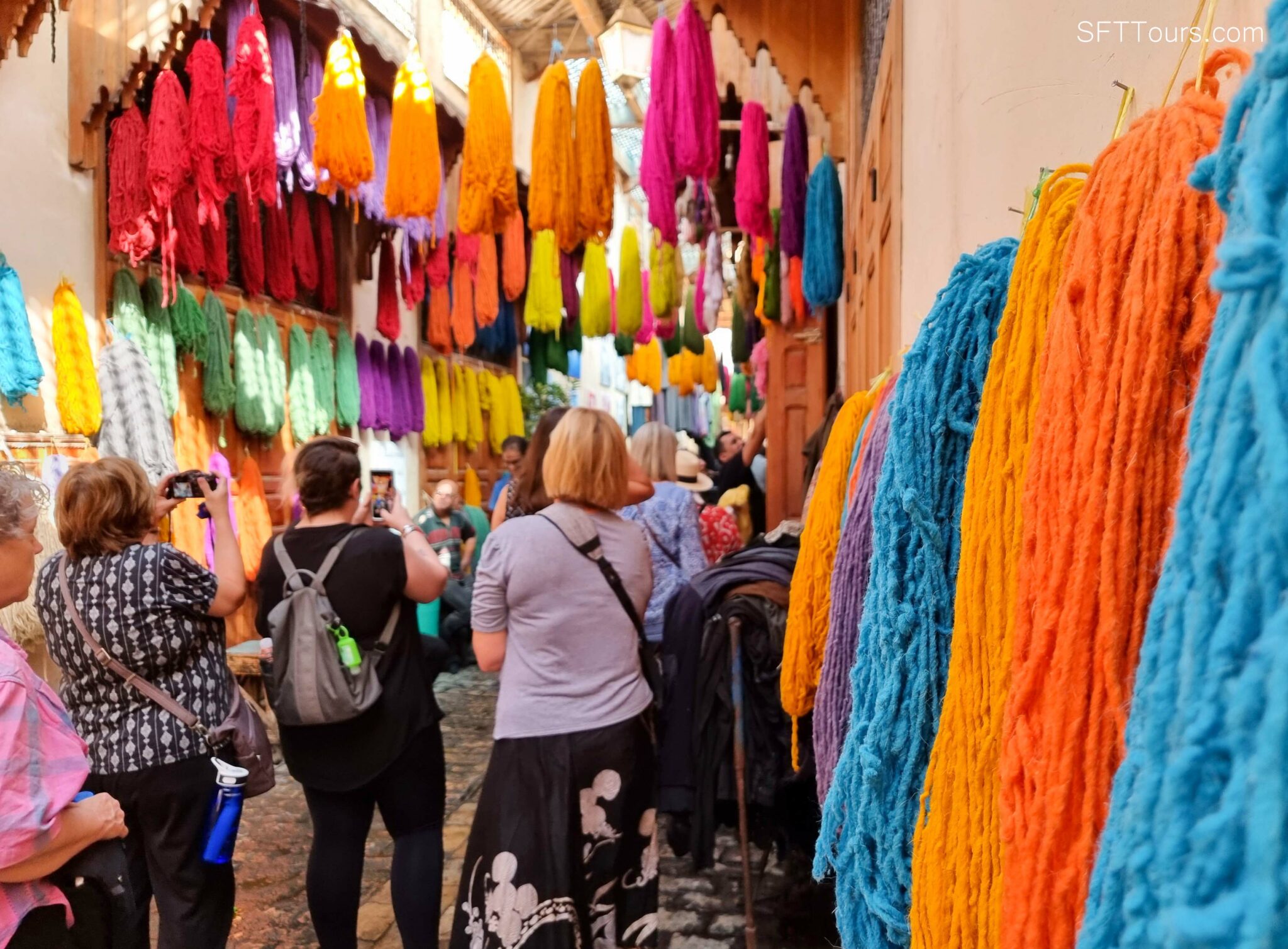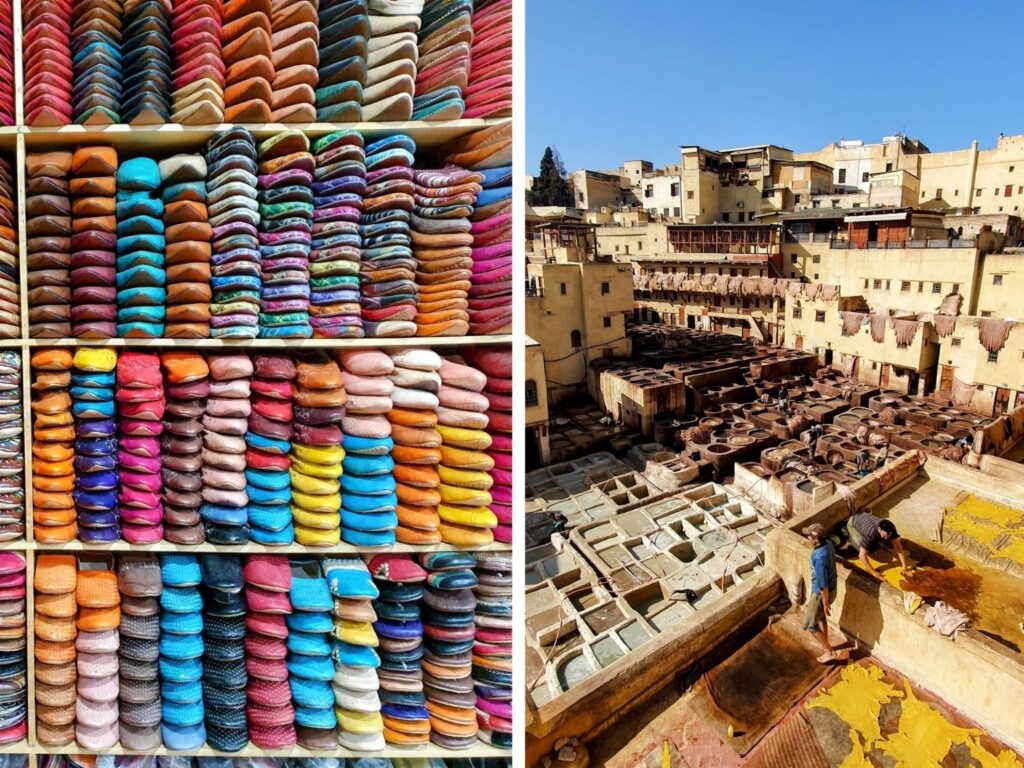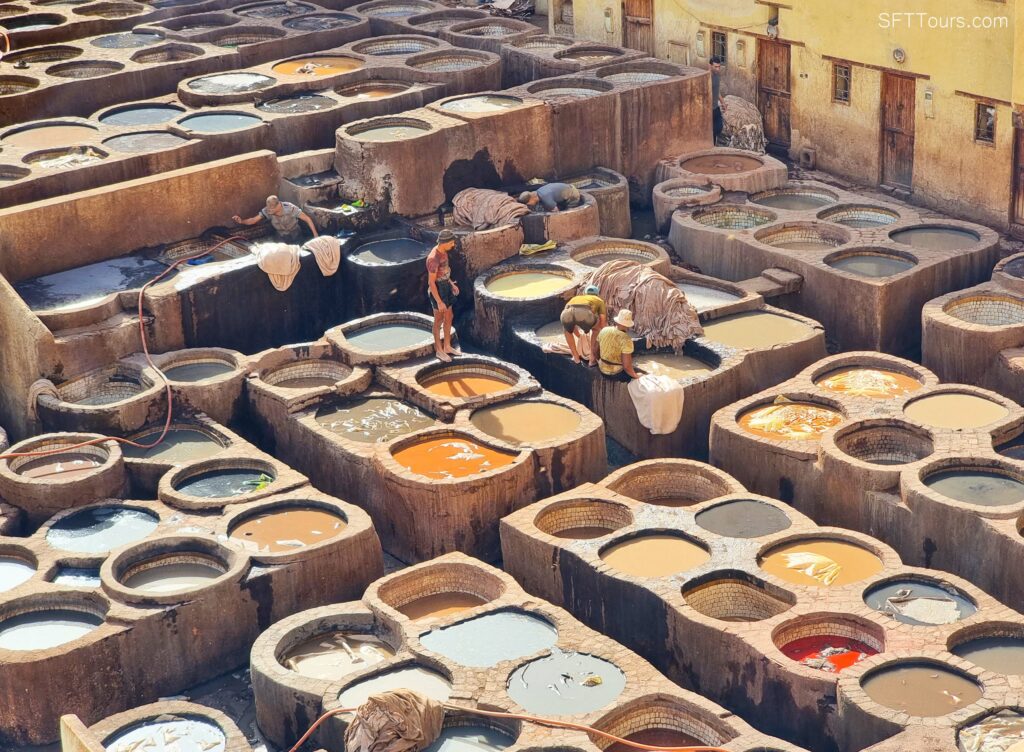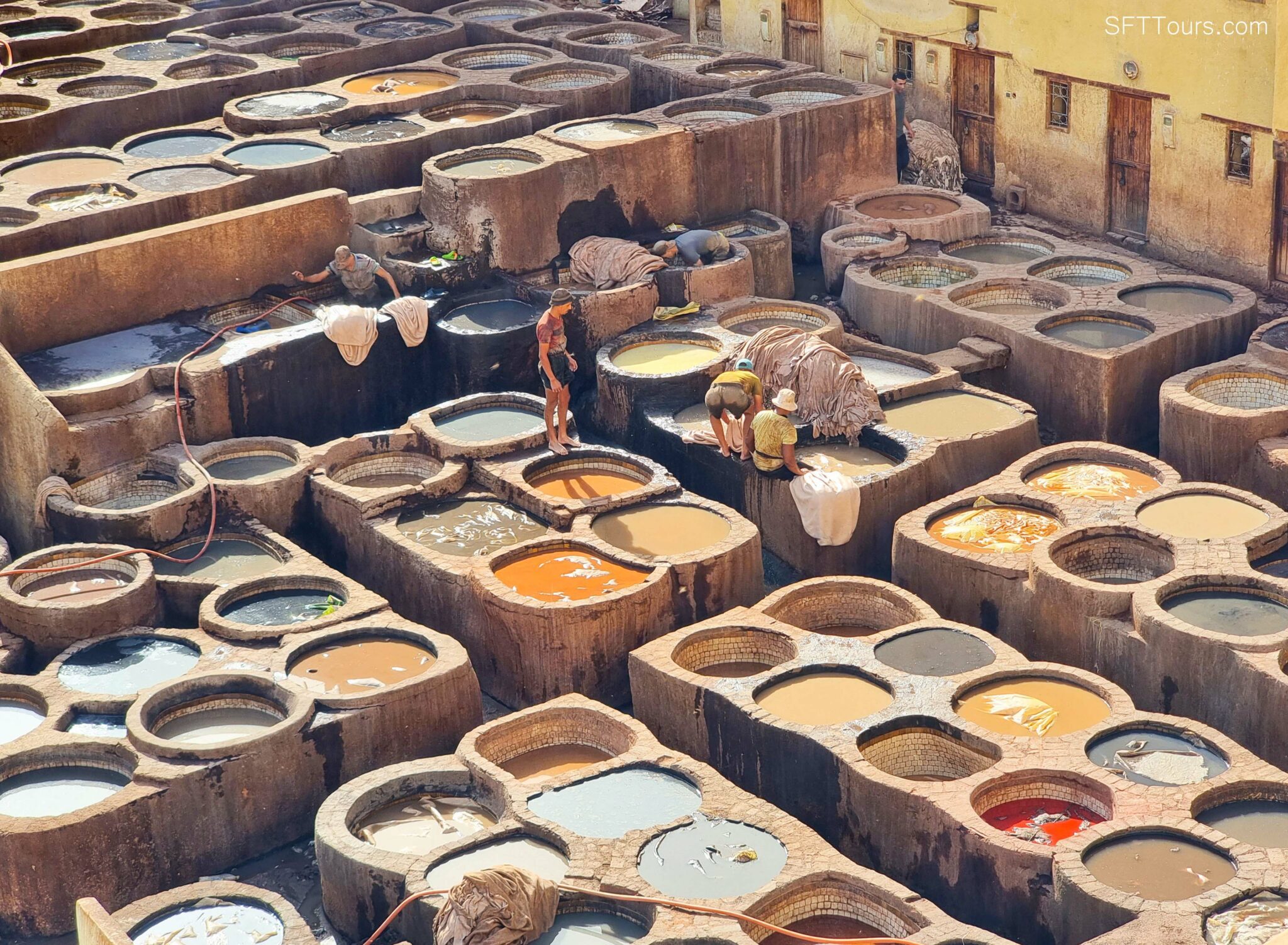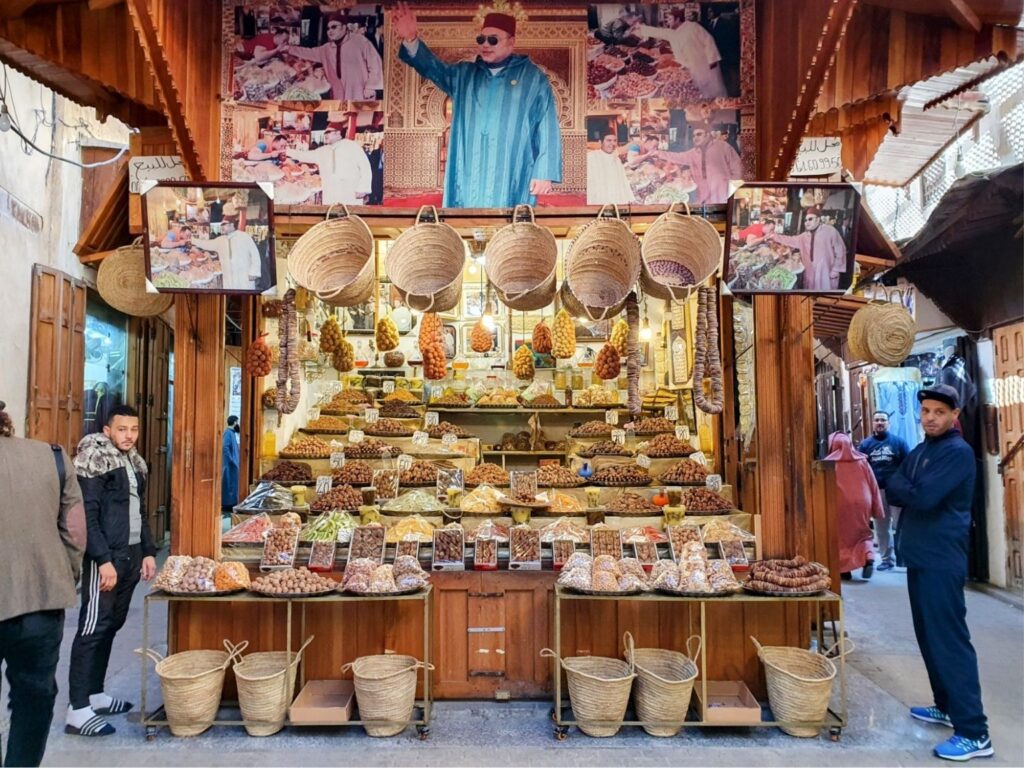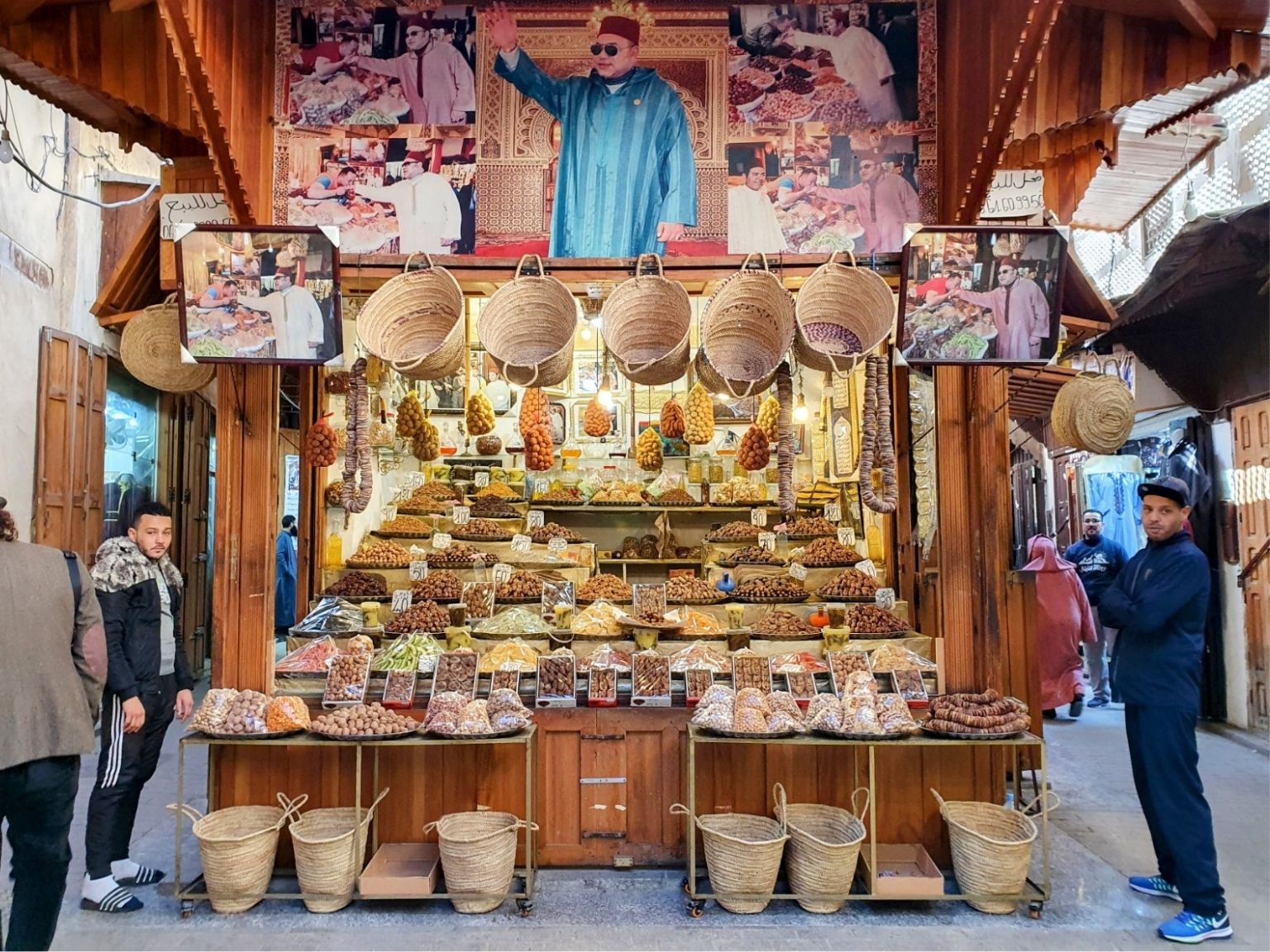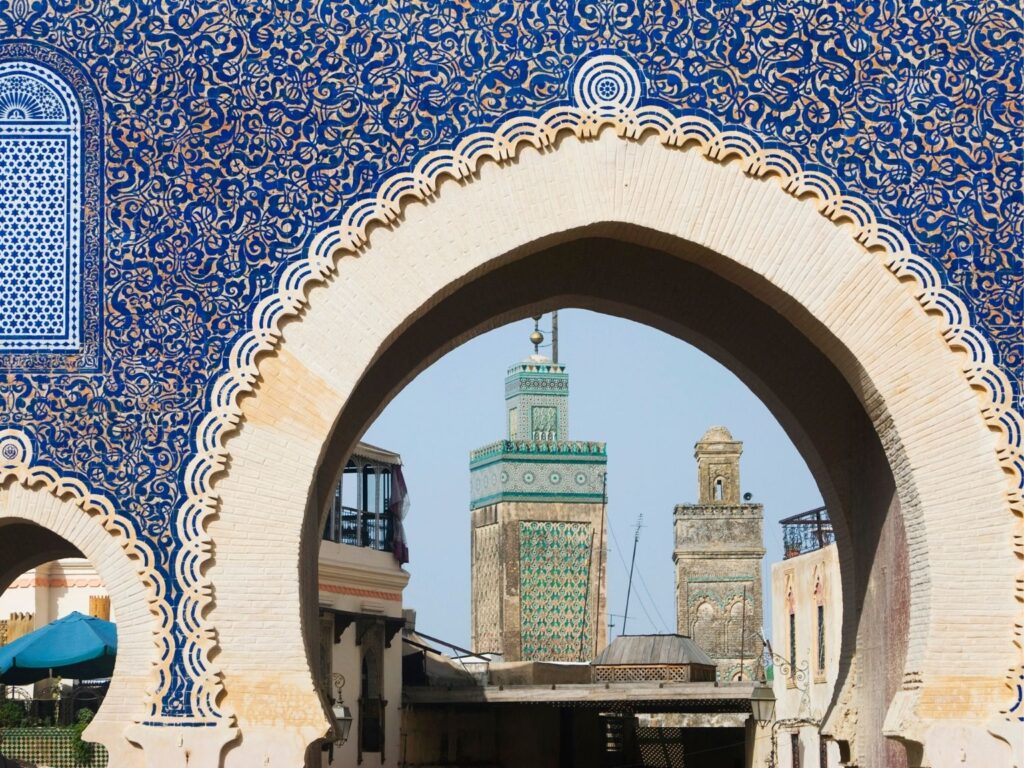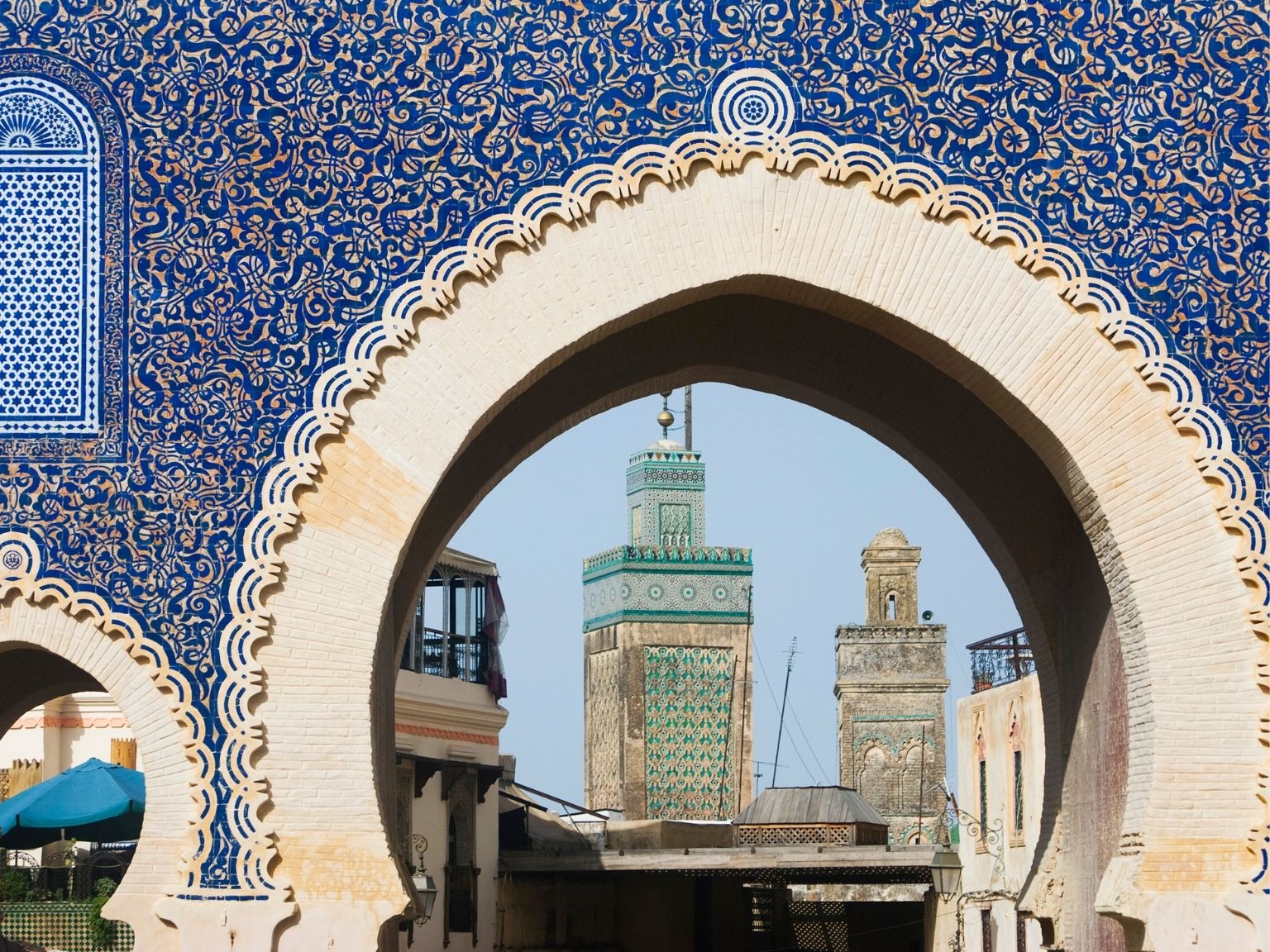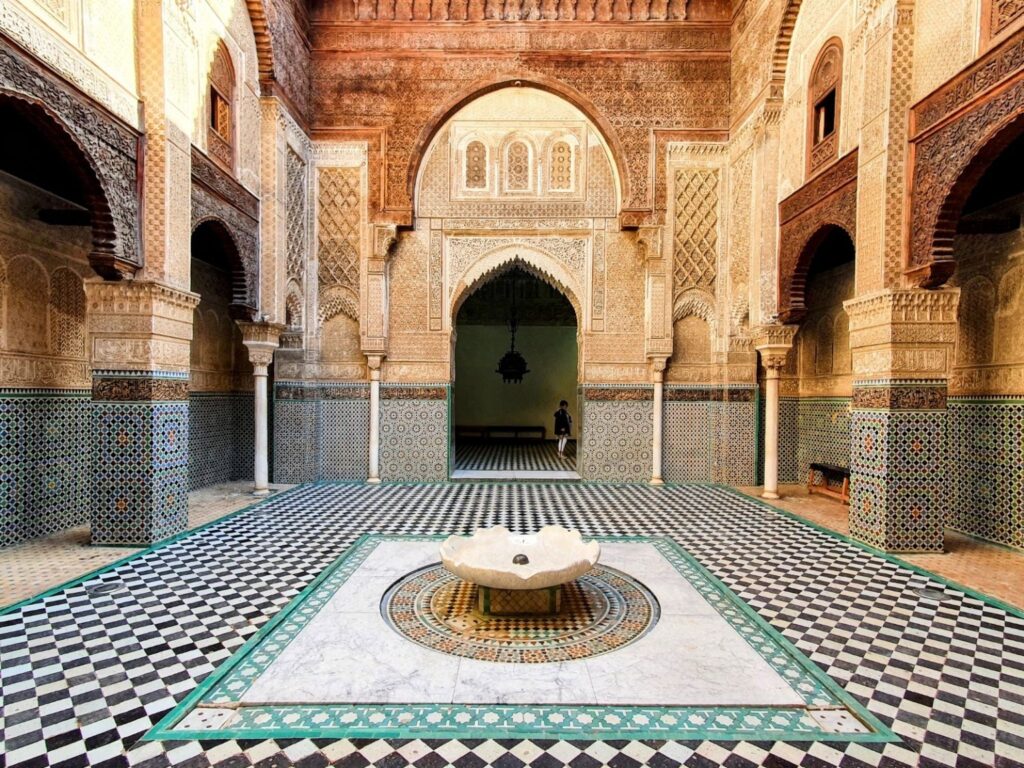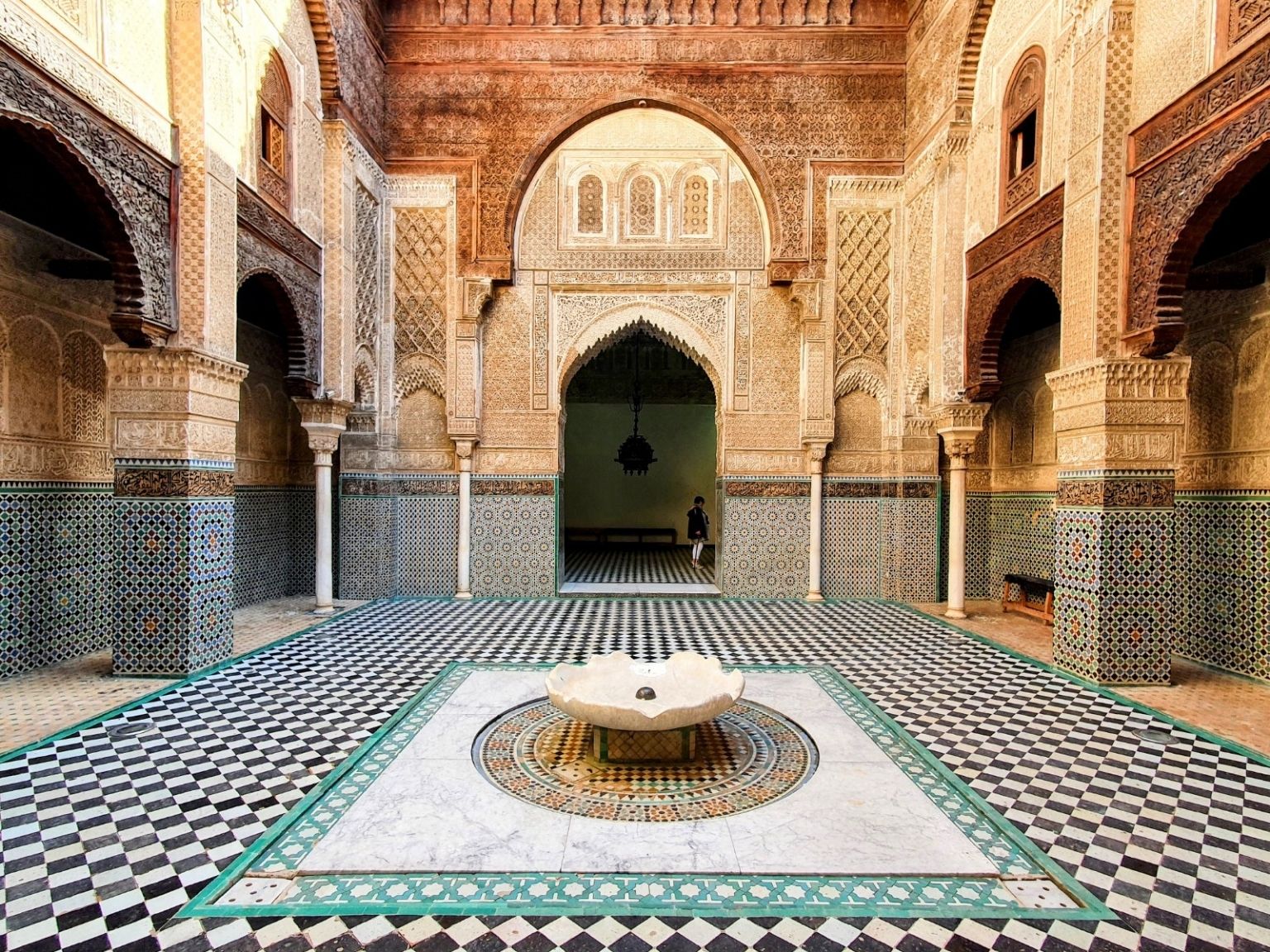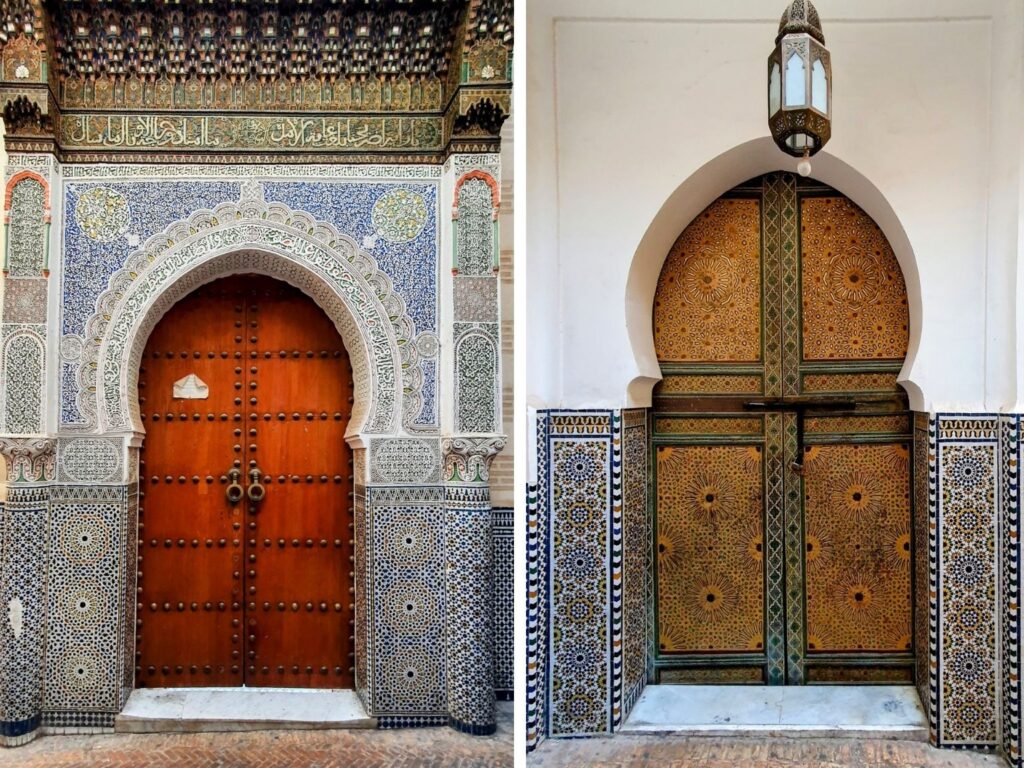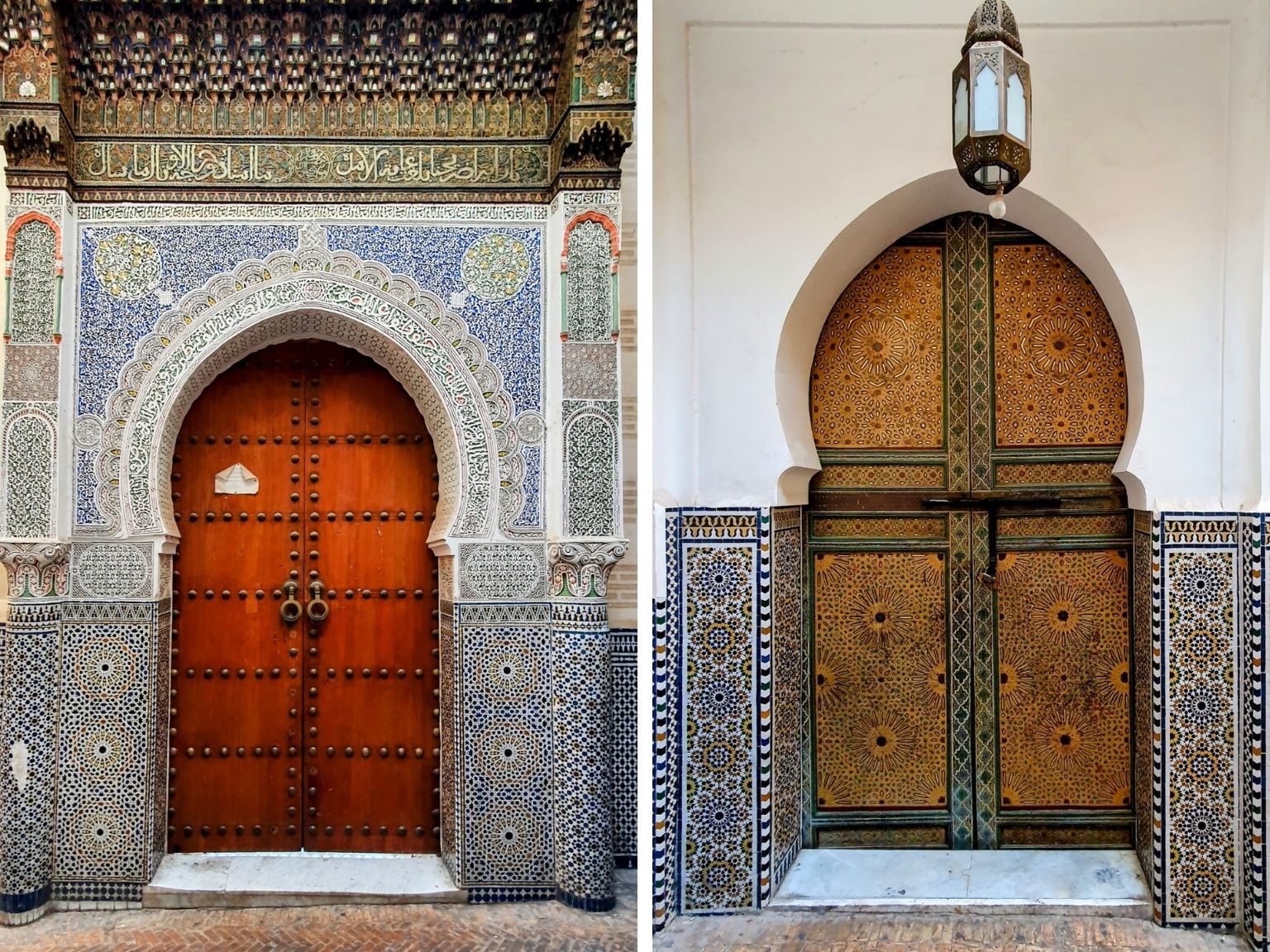 Day 5 : Fes
Driving time: 1 hour.
Located between the Rif Mountains and the Middle Atlas Mountains, Fez is the former capital of Morocco and third largest city in the country.
Famous for its artisans, its food and its labyrinthine medina which counts over 9,000 streets, the gastronomic capital of the country is also the place to do all your shopping for handmade products such as leather, fabric, pottery and brass.
Everything you find for sale in the rest of the country is made here so you can find the best prices and quality right in Fez.
Our day in Fez will start early when we meet our local female guide. She will show us the best of this chaotic and heritage-rich city and help us navigate the maze-like streets like the back of her hand.
Note: The order of the stops during the day may vary.
The first stop of the day will be in front of the main entrance to the 13th century Royal Palace, the residence of the king when in Fez, though not open to the public.
After admiring the palace's entrance, we will walk along the main street of the Jewish Quarter of Fez also called The Mellah, where Muslims and Jews have been living in harmony until the middle of the 20th century when the neighbourhood's and city's Jewish population started to migrate to other countries.
After a quick walk along the Mellah, we will drive to the highest point in Fez located at the south Military Tower, for a panoramic view over the city including old Fez, new Fez and the Mellah.
Our third stop of the day will be at one of the most fascinating artisan workshops in the city, the pottery village, where we will learn how the colorful mosaics, tables, plates, bowls and even tagine pots are made from raw clay.
While all other guilds are still housed inside the medina, the pottery village was moved outside after a fire started in the kilns destroyed part of the city.
Watch the artisans at work as they mould the clay into beautiful bowls with their bare hands, cut the tiles into tiny mosaic pieces to design fountains and tables from memory or paint tiles and items with bright colors.
Tip: You will have a bit of free time to choose some items to take home with you if you wish so.
Our visit will continue inside the oldest and largest medina in the world for a walking tour.
We will first cross the Andalusian Quarter, and walk along the narrow alleys of the vegetable market, under the carved wooden ceilings of the ancient medina.
Look out for mountains of spices, nuts and dried fruits, snacks and sweets, and women stretching incredibly thin filo pastry used as the basis to make the city's most famous dish, pastilla.
We will take photos, chat to the vendors and learn about the ingredients on sale, the seasonal vegetables and fruits and the comings and goings of the traders among the traffic of busy donkeys.
We will see how the weavers dye thin silk threads using natural ingredients and the flowing water from the rive. Our walking tour will continue to the bras area where the cacophony of the hammers will blend into a musical orchestra.
Before lunch, we will walk to the Chouara tanneries, one of the three tanneries in the city, the largest and the oldest, where you can see how leather items are made and have a panoramic view of the process.
Armed with a twig of mint, we will walk up to the top and see how the leather pieces are processed, dyed, and hanged out to dry. We will then move inside to see the finished products; leather bags, jackets, shoes and clothing items. We will have a bit of free time if any of the items for sale tickles your fancy.
Tip: The time for shopping in the morning will be brief, but you will have free time in the afternoon to return with the guide for longer time or even to get an item tailor-made.
From the tanneries we will return to the medina and marvel at the Shrine of the founder of the city Moulay Idriss II.
We will share a local lunch at a traditional and beautiful riad in the middle of the city where we will sample Fez's delicious seasonal salads, typical of the city, followed by a tagine of your choice.
With our bellies full, we will continue the tour with a visit to the 14th century Madrassa Al Attarin which takes its name from the perfume souk it is located next to.
The madrassa is located next to the al-Qarawiyyin University and provided lodging and food to students from out of town who had no financial means.
Inside the main courtyard, we will marvel at the stunning designs, carvings and tilework and will be able to walk upstairs to see the rooms students lived in.
Al-Qarawiyyin University is the most important building in the entire medina and also its most prominent sight.
Dating back to the 8th century, and built by Fatima al-Fihri, the daughter of a Tunisian Imam, the building worked as a school and mosque. Despite being founded by a woman, it only accepted female students from the 1940s.
Al-Qarawiyyin University is considered the oldest university in the world but as a working religious institution, entrance is not allowed. We'll try to take a peek through the main entrance when it opens at prayer times.
Our final visit of the day is to last famous guilds in Fez, the weavers. We will learn not just how scarves, cloths and bed spreads are made but also about the raw material used to make them, agave silk.
This ultra soft silk is colored using natural dyes and we will watch the expert artisans create the bed spreads and fabrics with which beautiful kaftans are made.
You will have some free time to browse the store and see if you find any accessory or garment that is to your liking, we particularly like the beautiful pouches and flowing kaftans.
Our tour of the Fez medina will finish with the weavers and you will have the option to return to our stops earlier in the day at the pottery village or the tanneries for shopping or return to the hotel for a free afternoon and evening to enjoy the hotel's facilities. Dinner is included at the hotel.
A note on shopping: We compensate the staff at every showroom and workshop you will visit during the day and select artisans that are passionate about their craft so you will not be pressured into a purchase. Kickbacks and commissions are a part of life in Morocco and we avoid this by appreciating their time via tips. While there will be a bit of time to shop after each demonstration, we have chosen to dedicate optional time in the afternoon to return and spend more time browsing so that we don't hold up those who are not interested in shopping while allocating adequate time to get custom-made leather items, try on garments, etc. for those who want.
Inclusions: Breakfast at the hotel, walking tour of Fes with all stops, entrance tickets and a local female guide, lunch at a local riad, diner at Hotel Sahrai, all transportation. Optional shopping time in the afternoon.
Overnight at Hotel Sahrai.
---
Day 6 : Ifrane, Cedar Forest, Midelt, Ziz Valley & Sahara Desert
Driving time: 8 hours.
Another early morning as we leave Fez behind for a long day of driving towards the Sahara Desert.
We will cross the mid Atlas Mountains and then reach Ifrane which is 1,665m above sea level and is nicknamed the Switzerland of Morocco because it looks and feels like the central European country.
In the winter, temperatures drop and the city receives a lot of snow attracting avid skiers from across the country to its ski resorts.
If you were wondering how Ifrane came to be, it was thanks to the French who flocked to the high alpine area to escape the summer heat.
We will take a tea break in Ifrane and marvel at its gardens and then continue to the biggest cedar forest in the country in the Berber town of Azrou, where you can mingle with the native Barbary macaque monkeys who inhabit the area.
That's right, there are macaque living here, in fact, they are the only macaque species that lives outside of Asia. If you have been to Gibraltar, they are the same monkey species. As they are quite used to humans so we can get close up and observe their shenanigans.
We will then cross the green pastures of mid Atlas Mountains which are inhabited by nomads, and stop for lunch at Midelt, the apple capital of Morocco, at Hotel Taddart or with a local family.
After lunch, we will drive up to 1,990m above sea level and continue along Tafilalt, the largest oasis in Morocco, located in Ziz Valley, also known as Medjool after the famous premium dates.
We will stop a few times to enjoy panoramic views of the area covered in palm trees for as long as the eye can see.
We will then leave the oasis behind and head into the Sahara Desert which we will reach in time to enjoy the sunset.
You will have the choice between a camel ride or a 4WD ride on the sand dunes to a spot from where we will see the sun set before reaching our luxury desert camp for the night.
Be ready for a starry night to remember. If we are lucky, we may even see the Milky Way!
Note: The order of the stops during the day may vary.
Inclusions: Breakfast at the hotel, transportation, lunch at a local restaurant or with a family, all visits, camel or 4WD sunset ride on the dunes, dinner at the camp.
Overnight at Luxury Desert Camp or Sahara Sky Desert Camp
We will stay at one of two desert camps depending on the season. The shorter winter days mean we need to arrive earlier for sunset so we will stay at the edge of the Sahara Desert. In the spring, the slightly later sunsets allow us stay farther into the desert.
In both cases, our luxury camp for the night will be waiting to welcome us into the 1001 night dreams. Our tents are filled with plush cushions, Berber throws and premium service.
We will fall asleep with the starry night above and enjoy a traditional desert dinner by the sand dunes.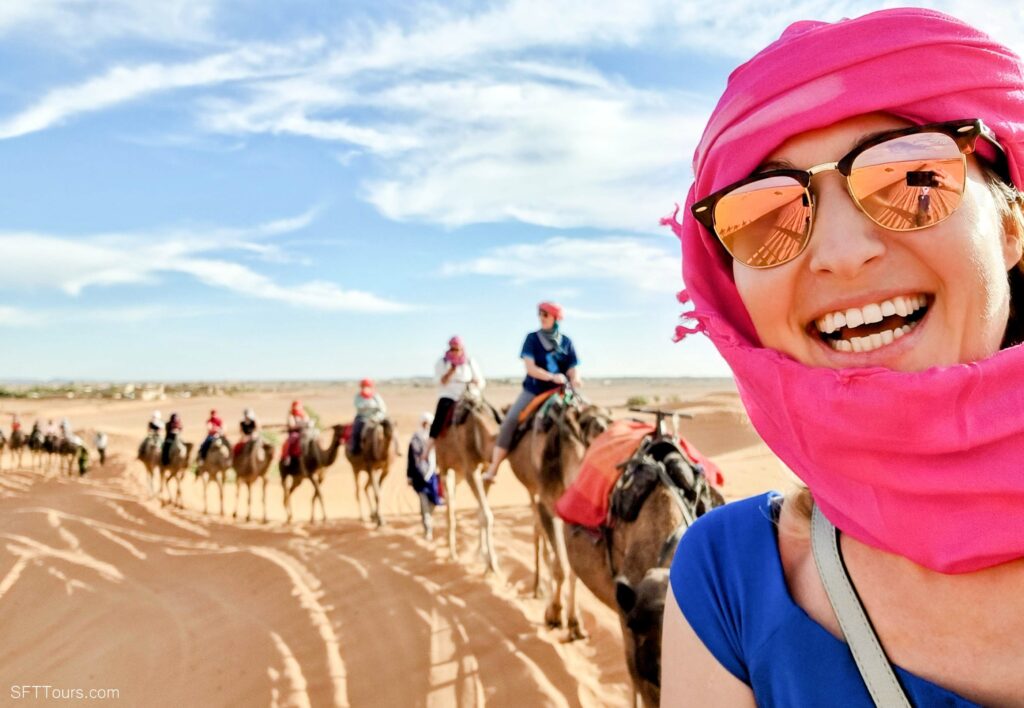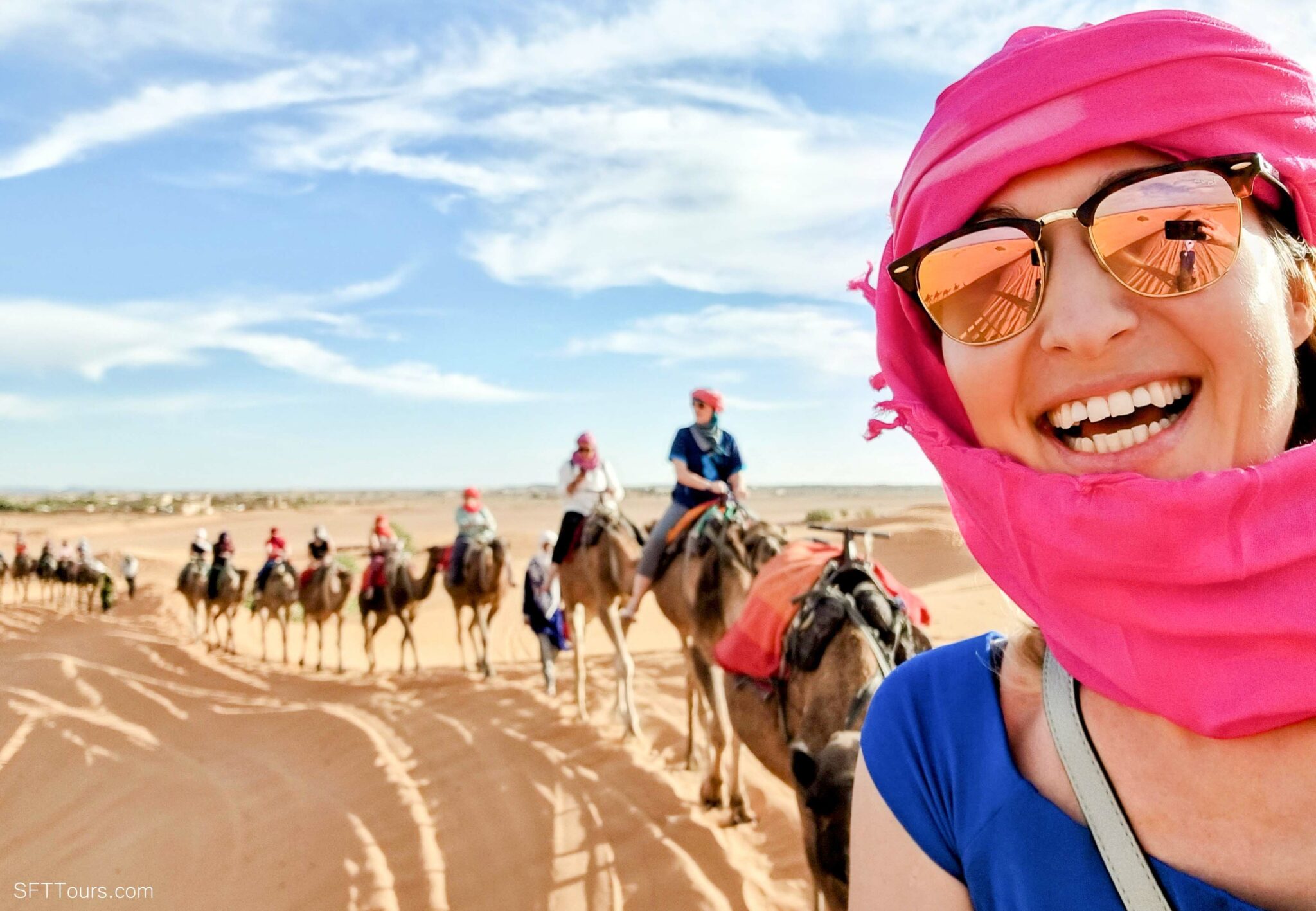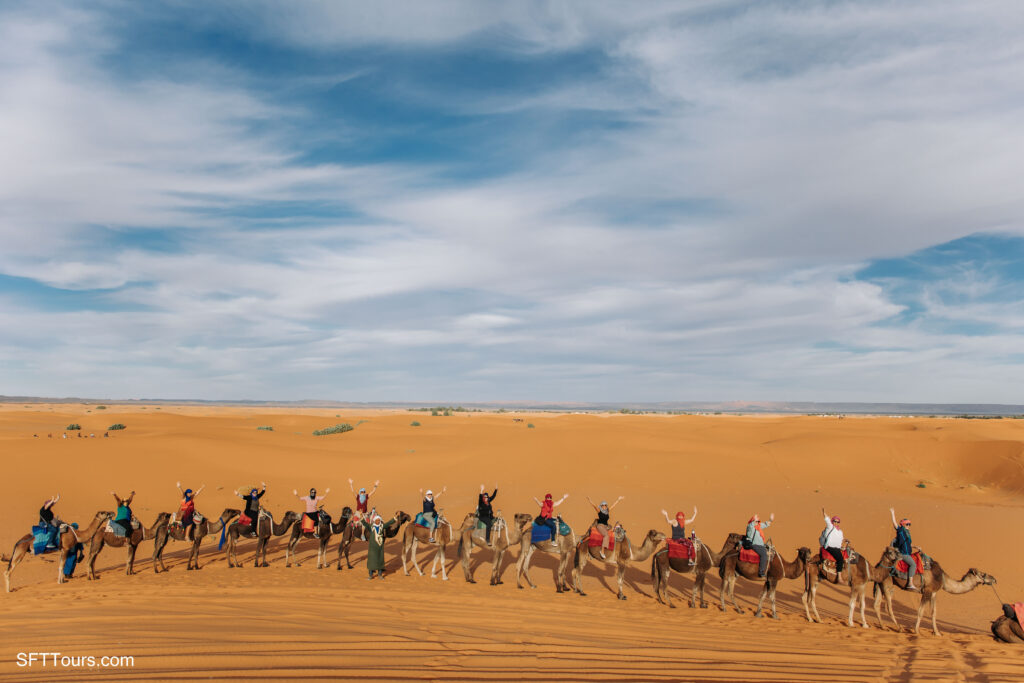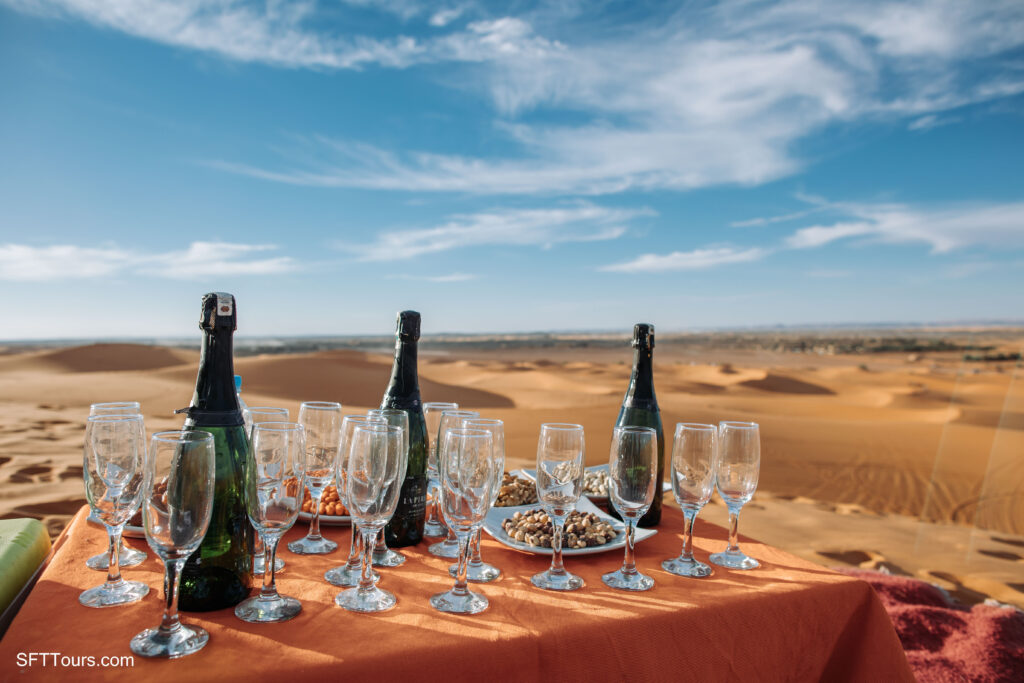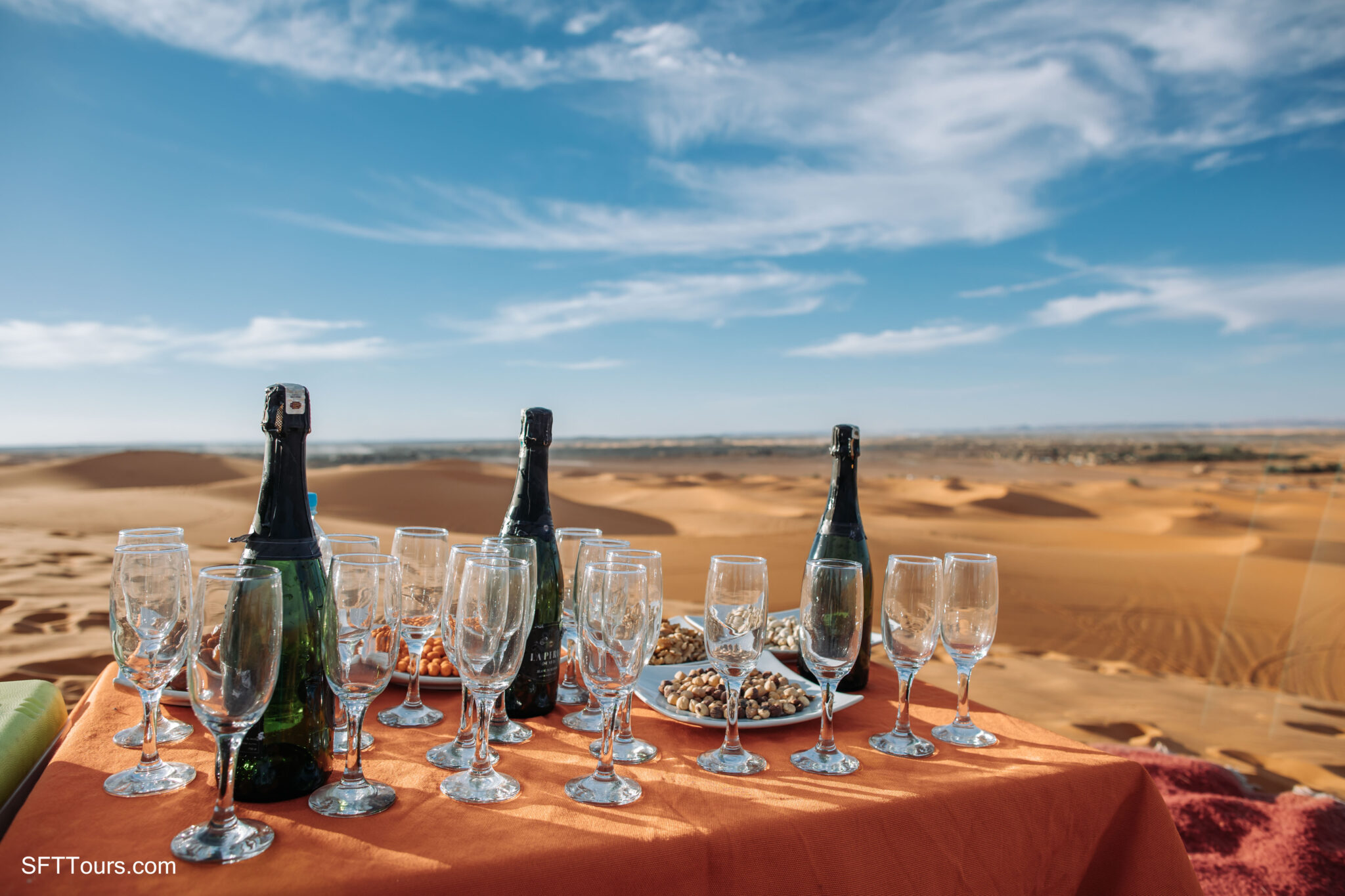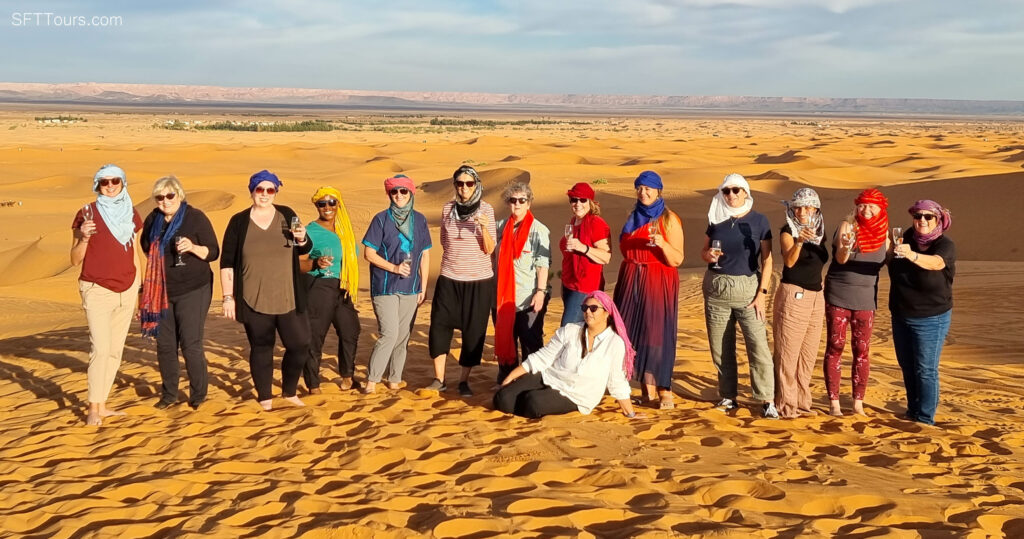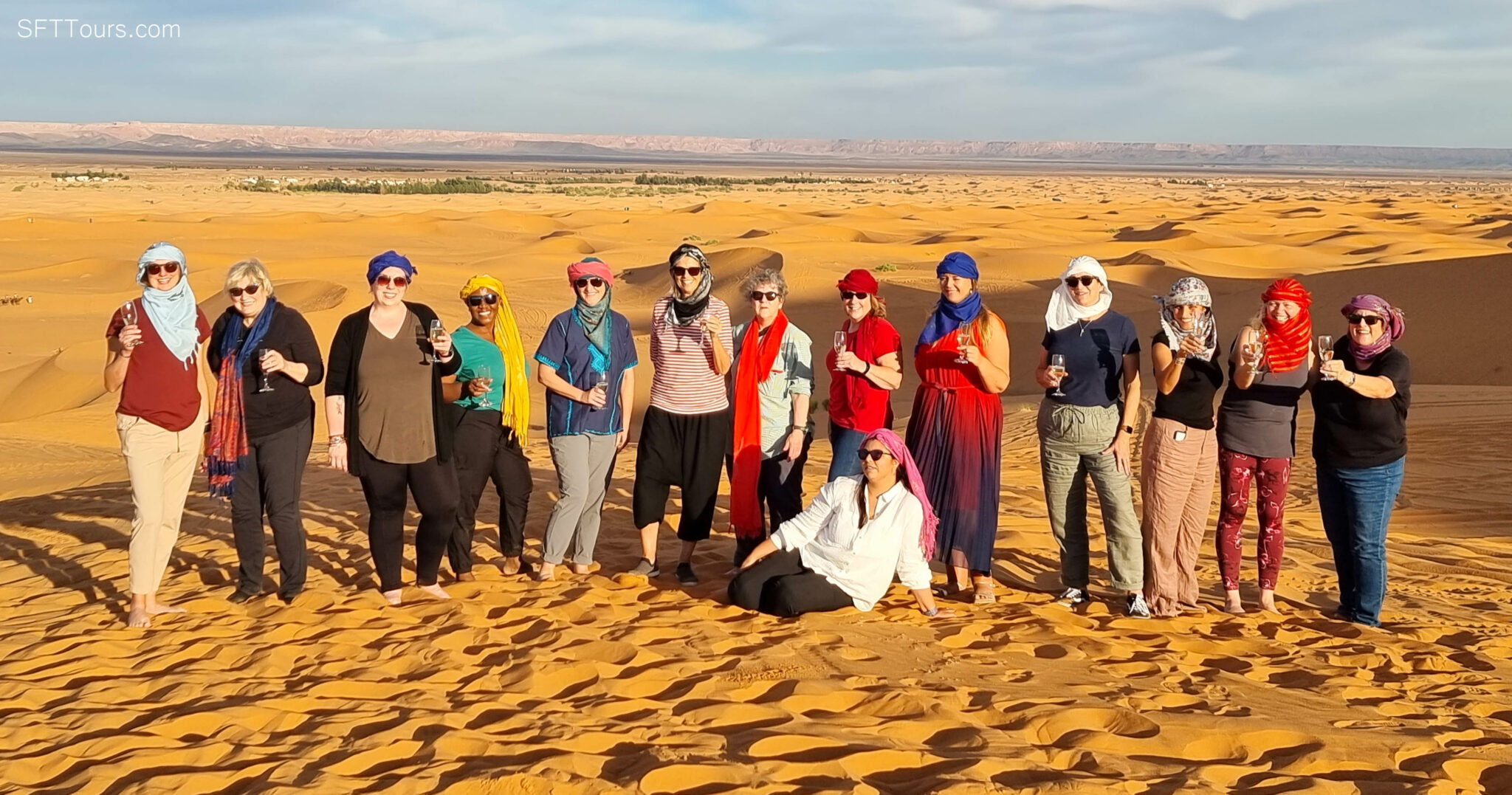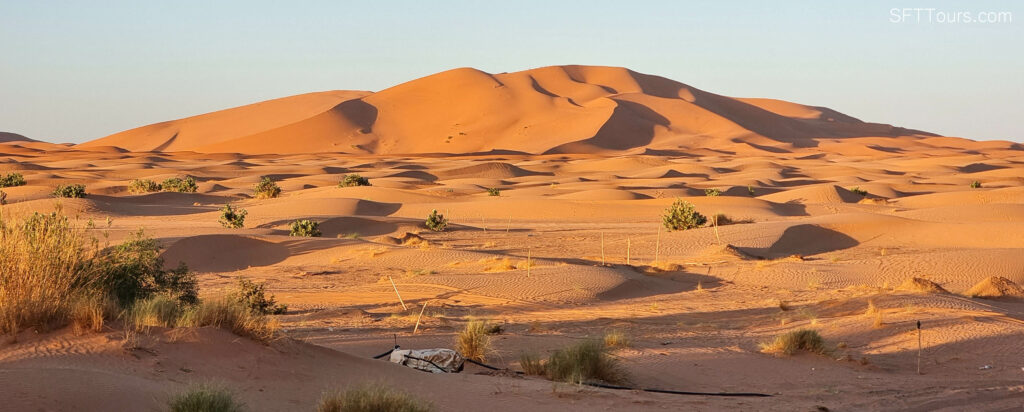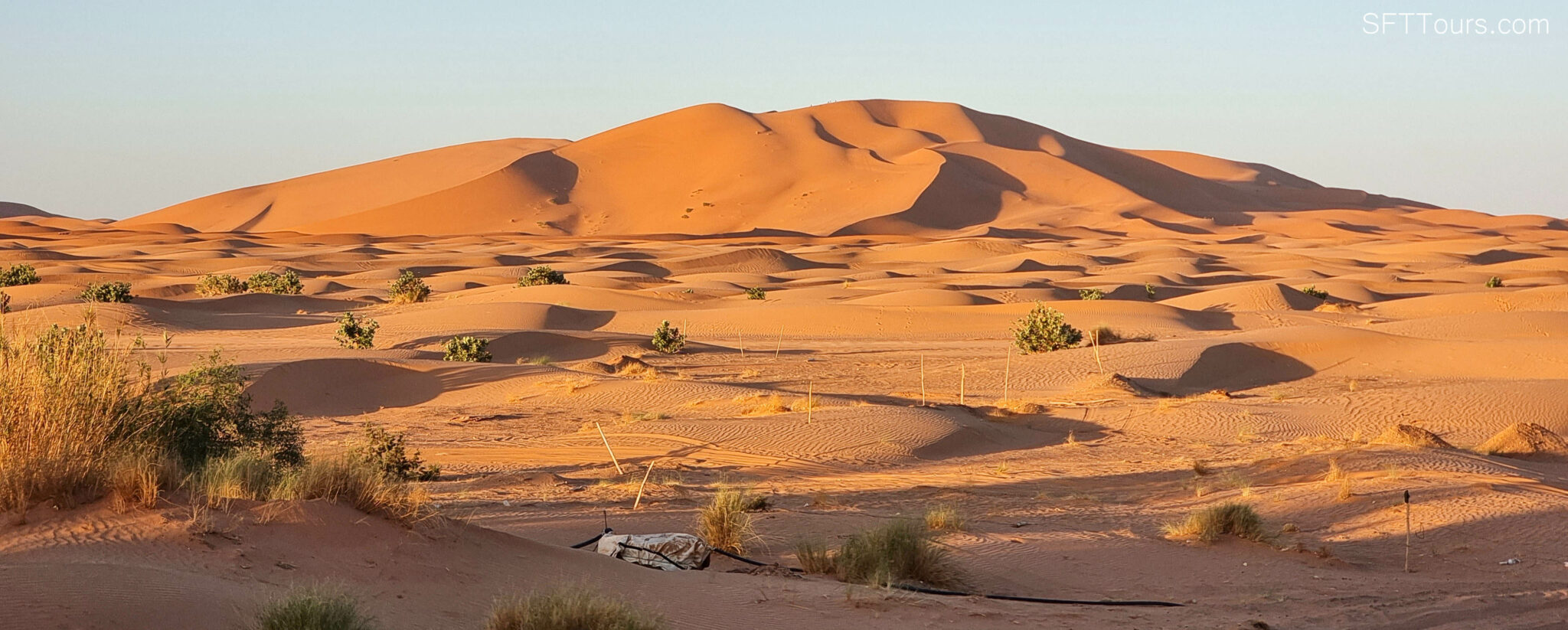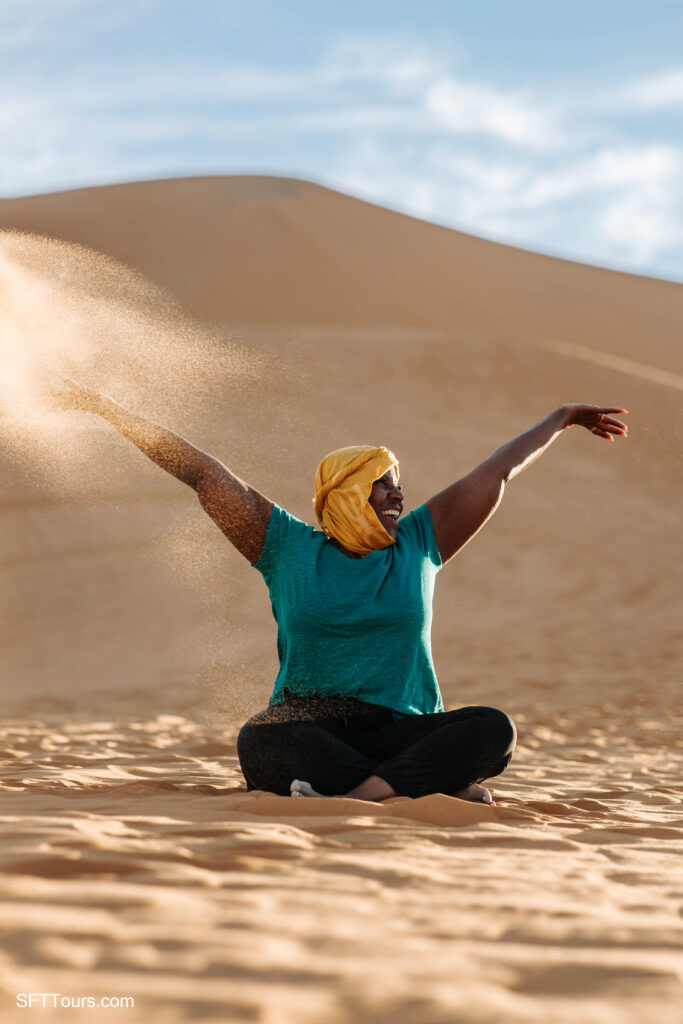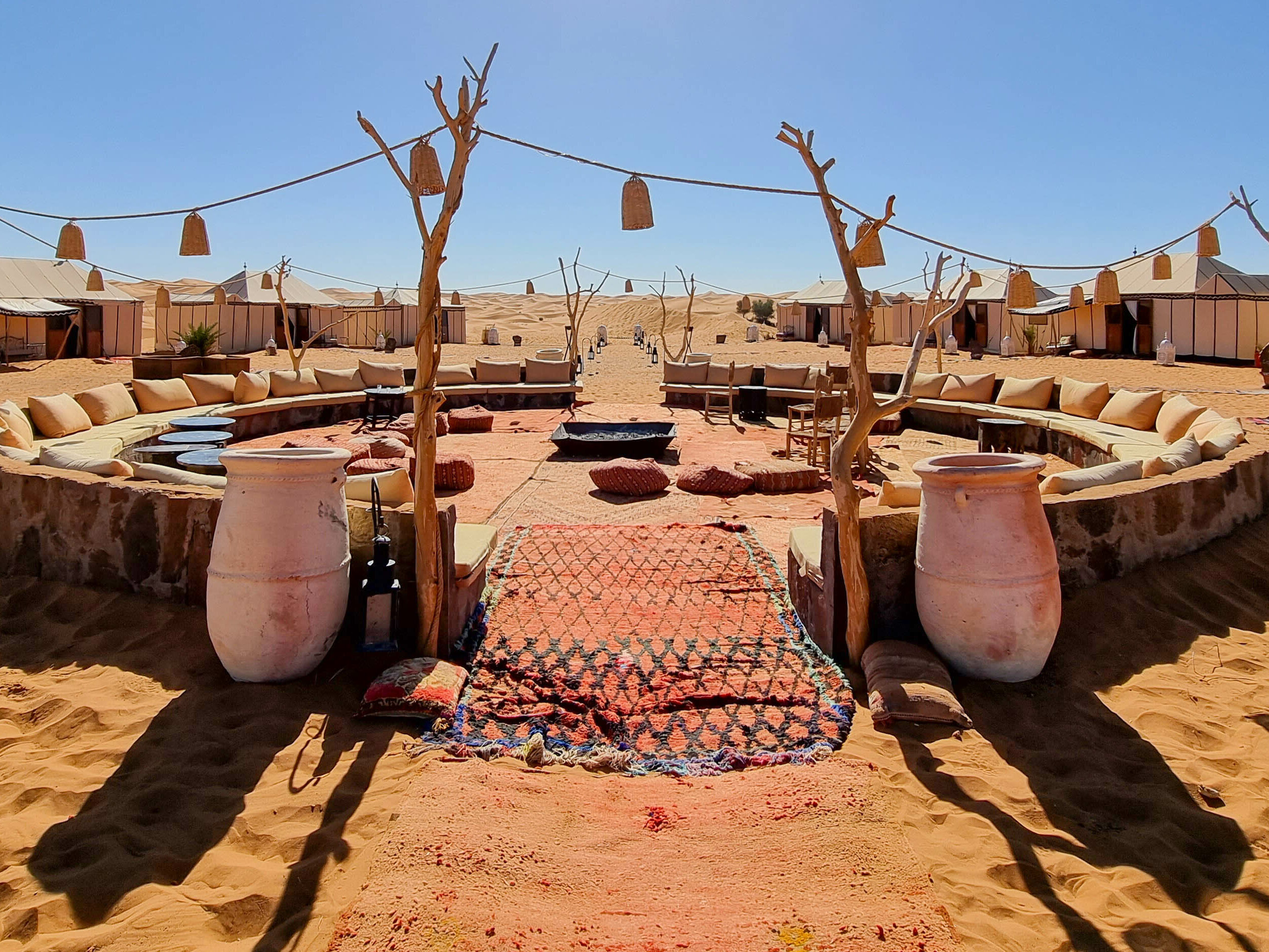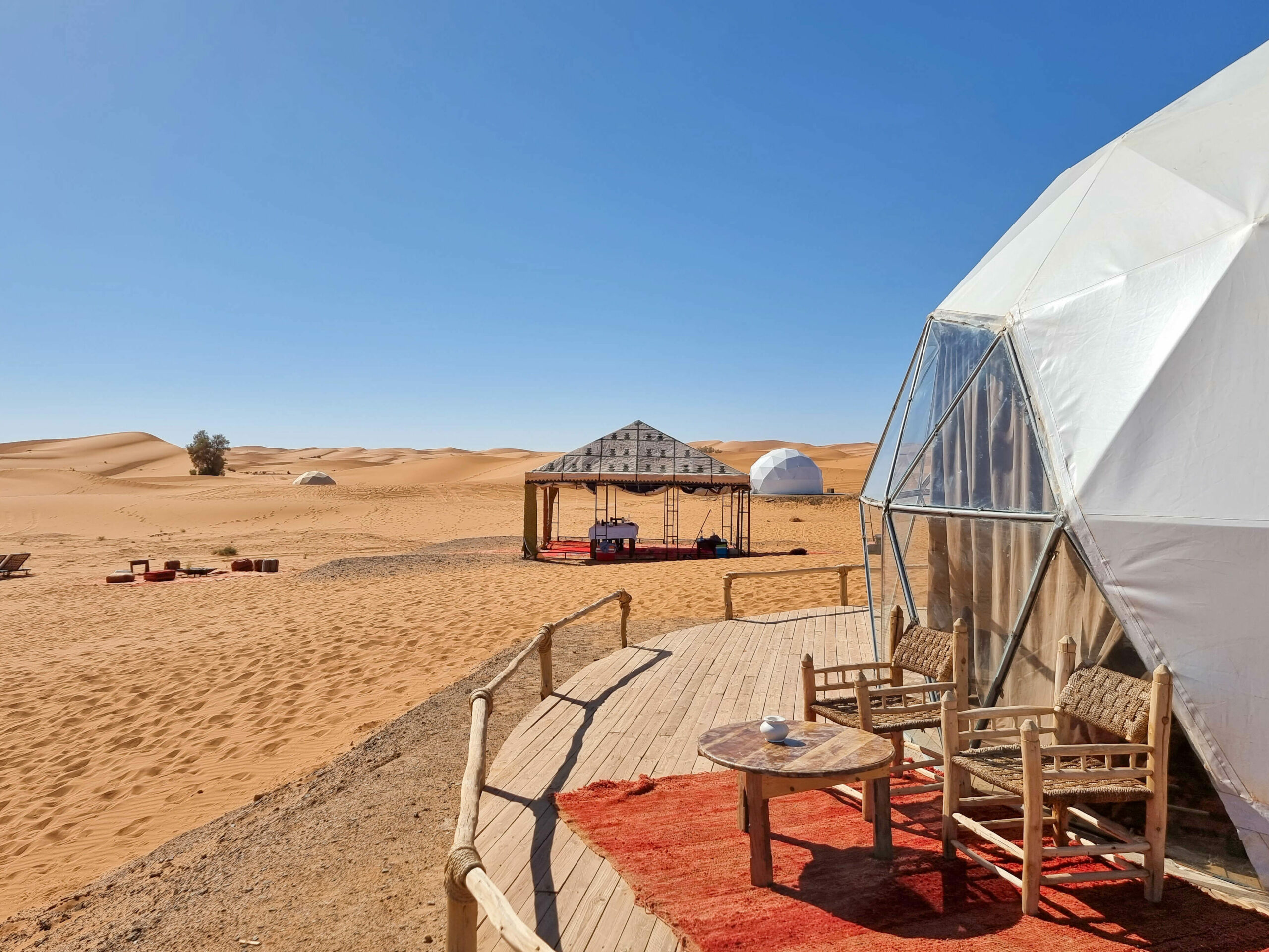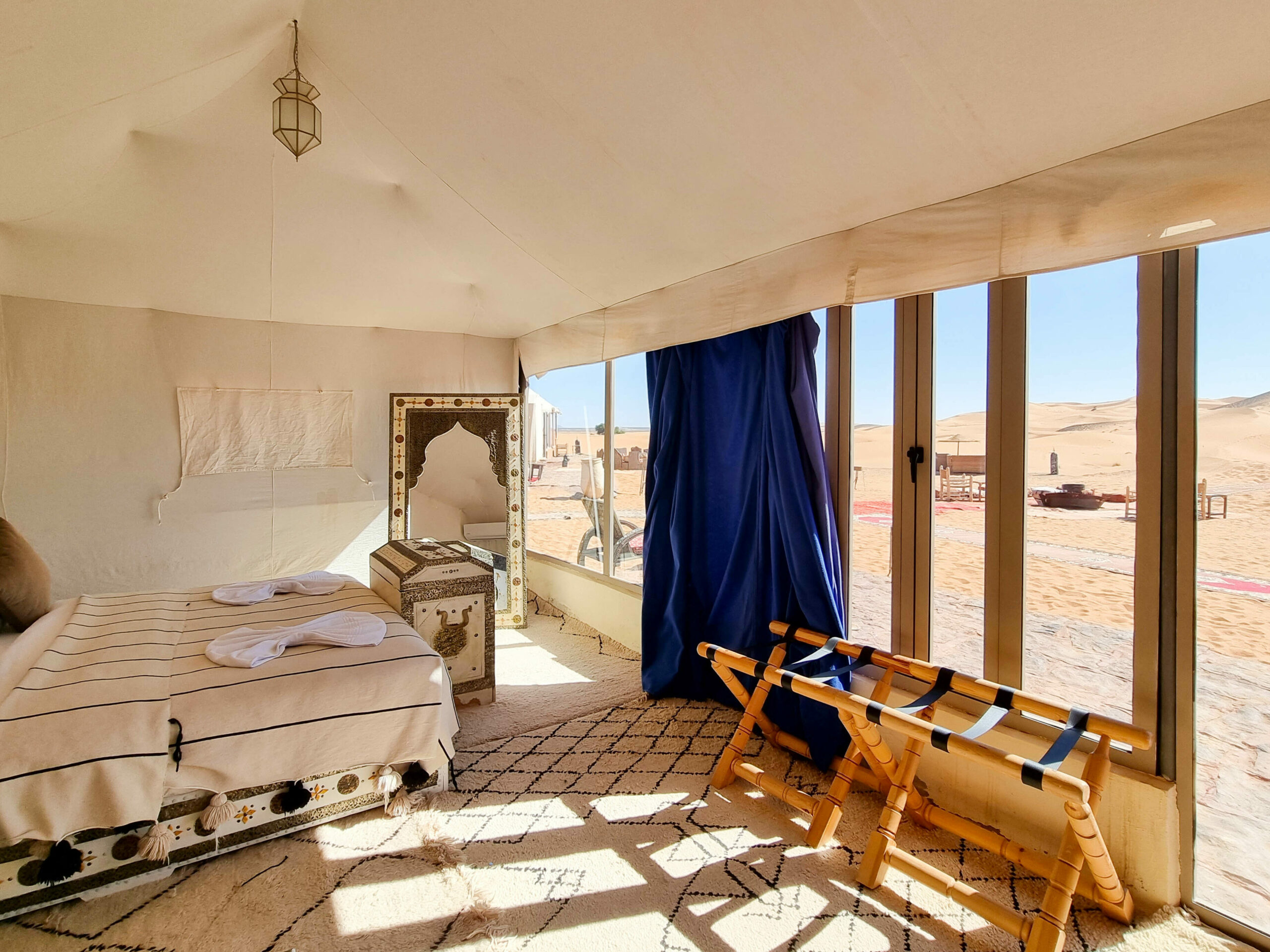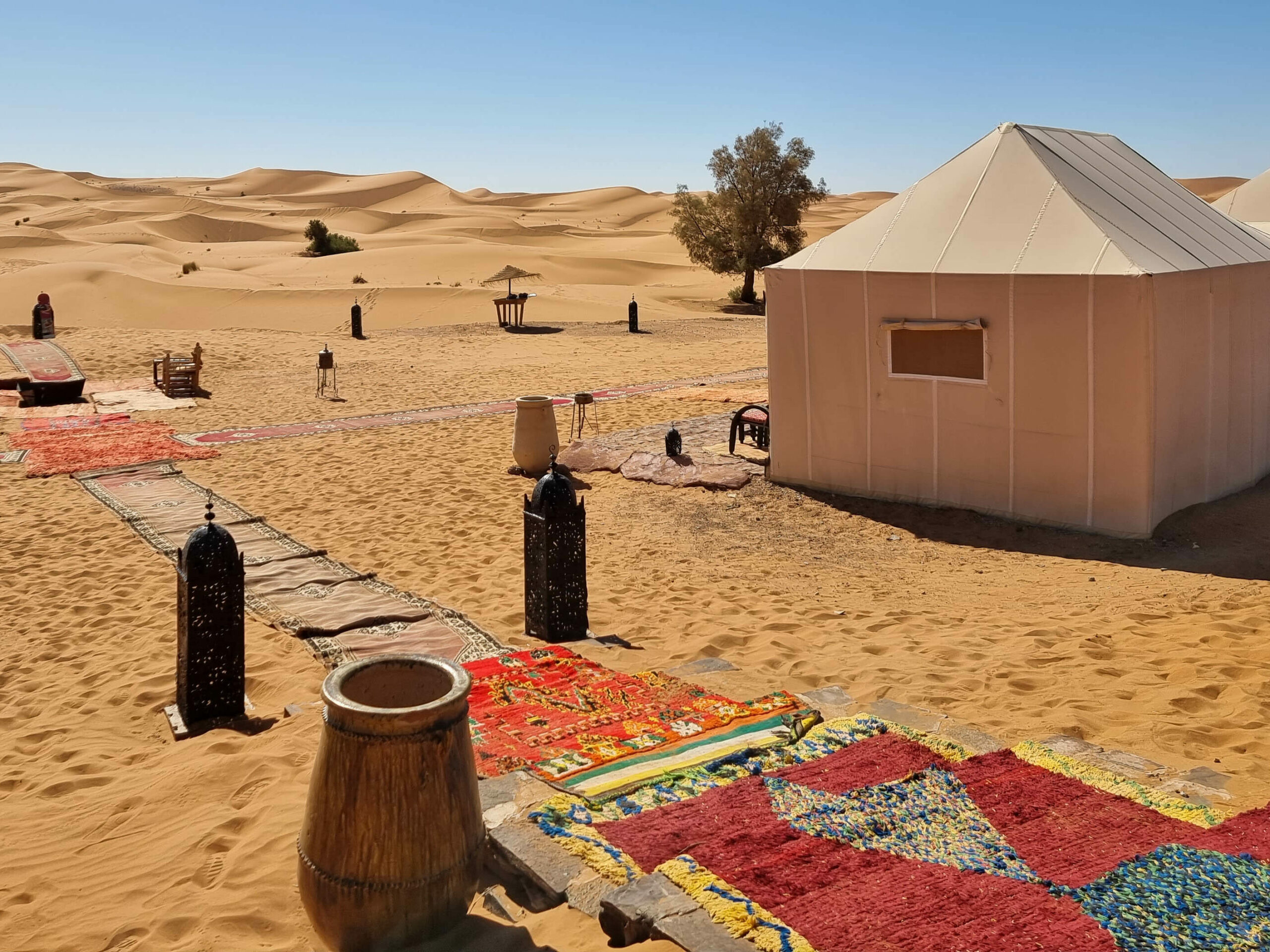 ---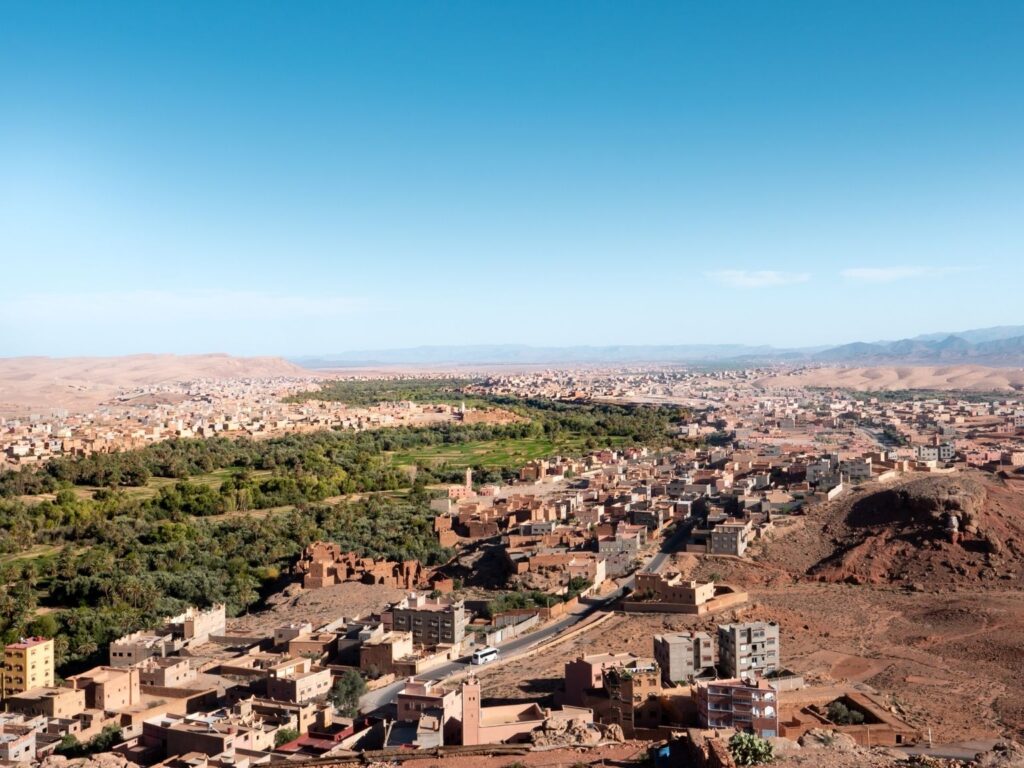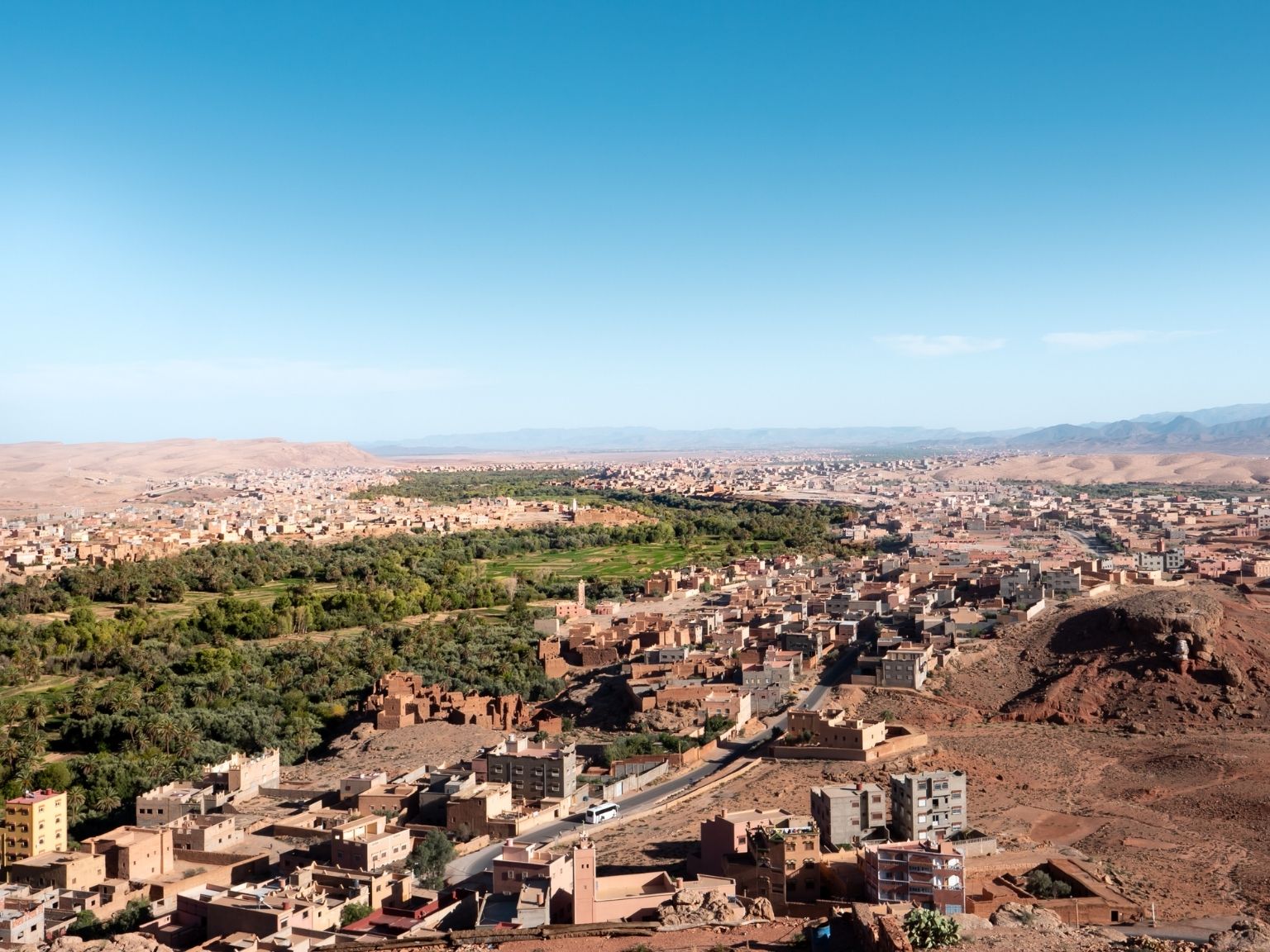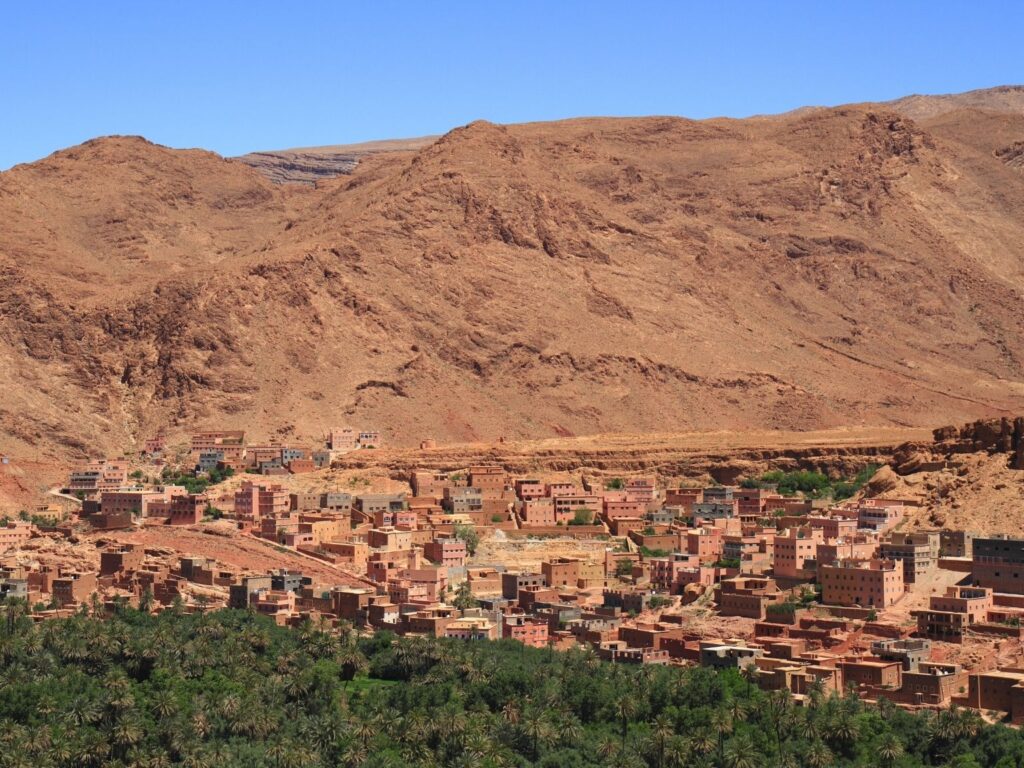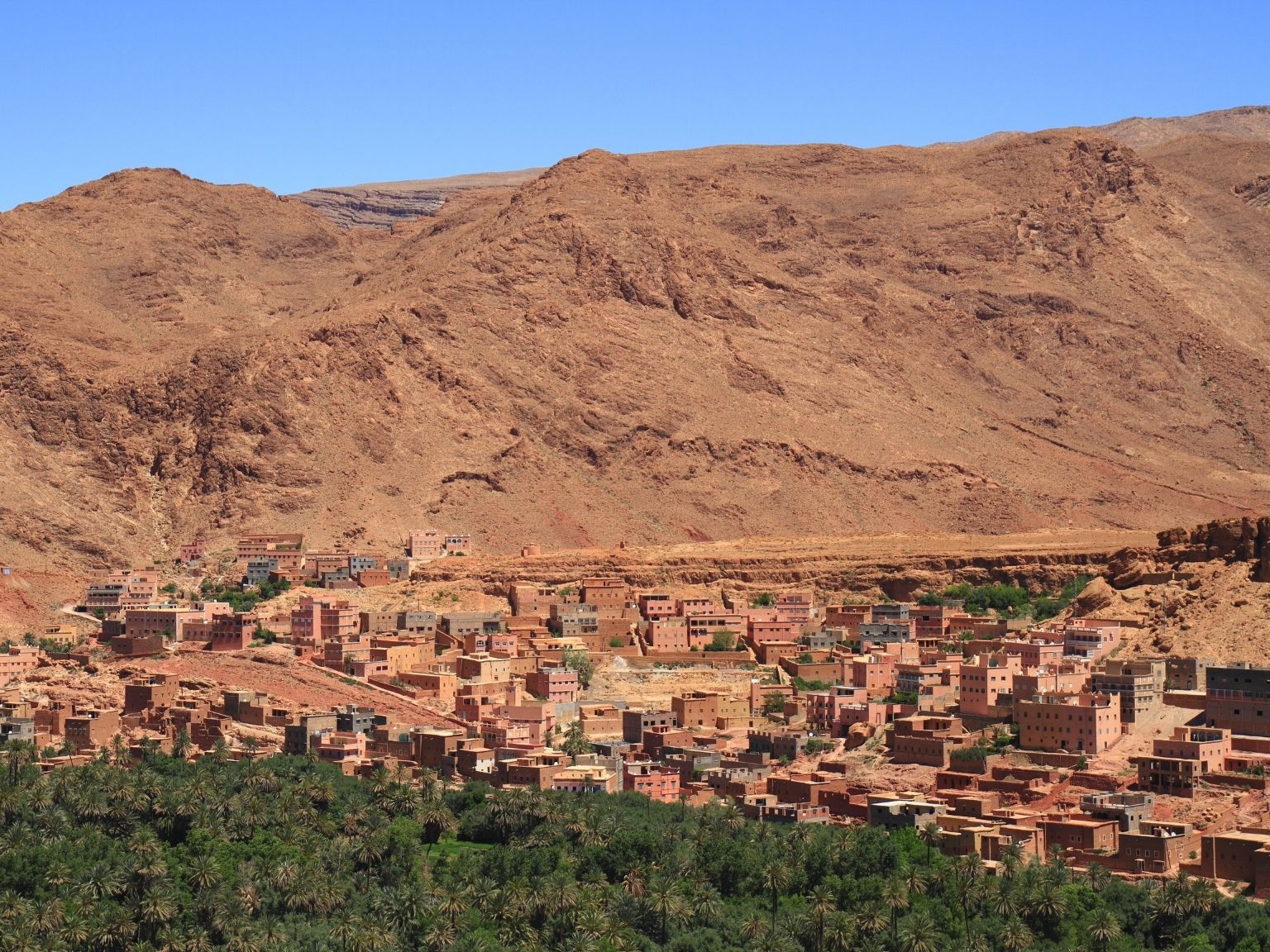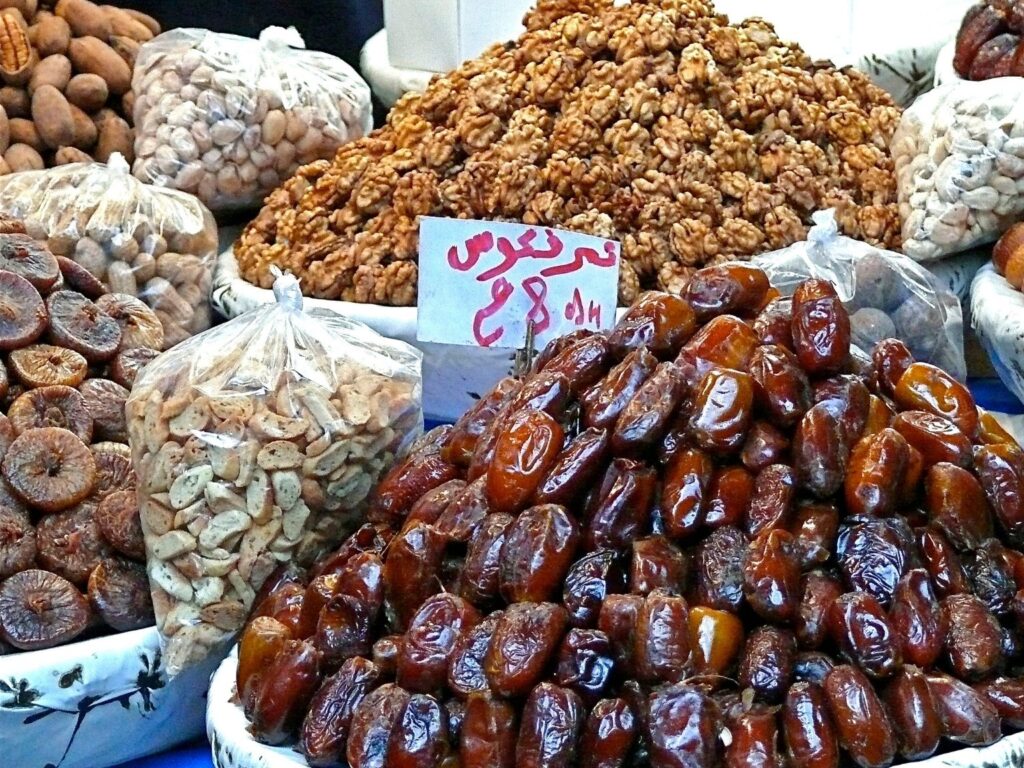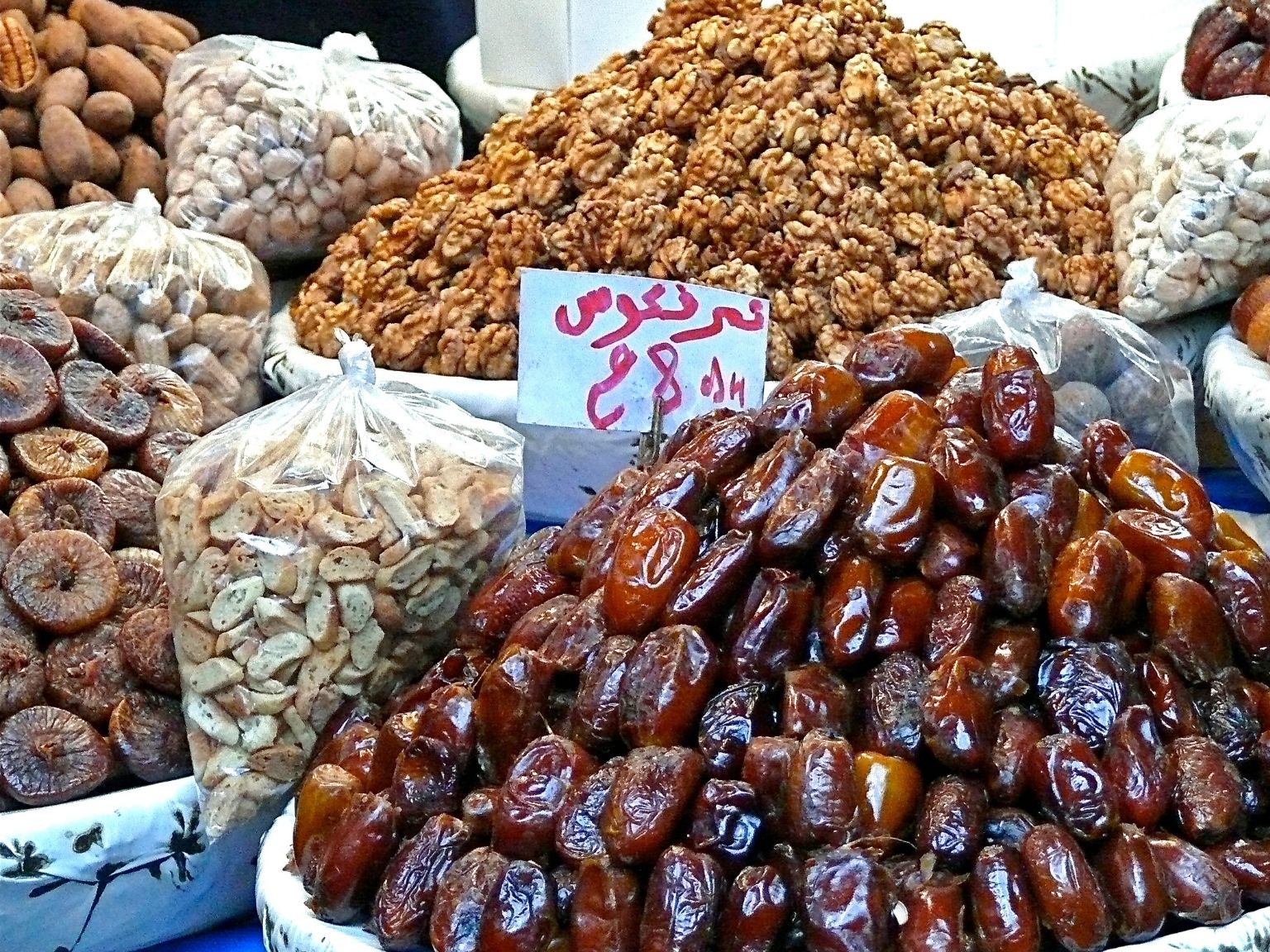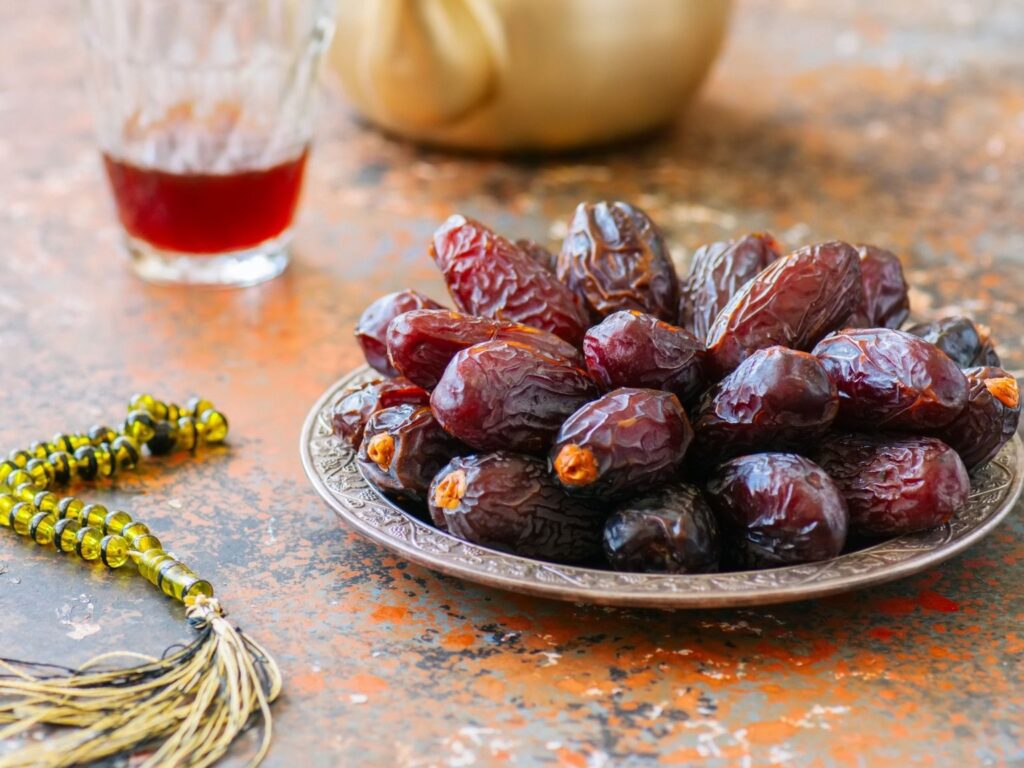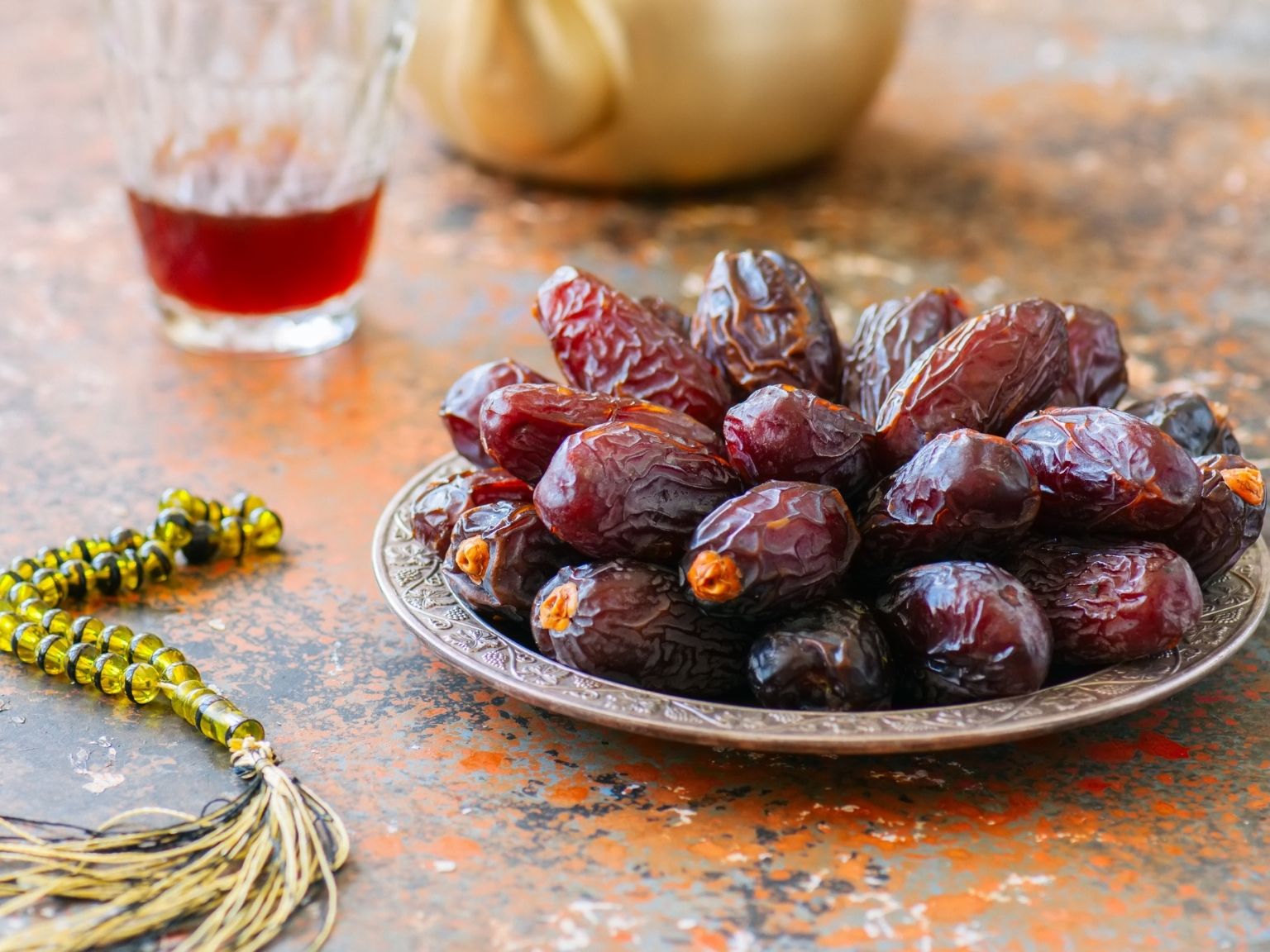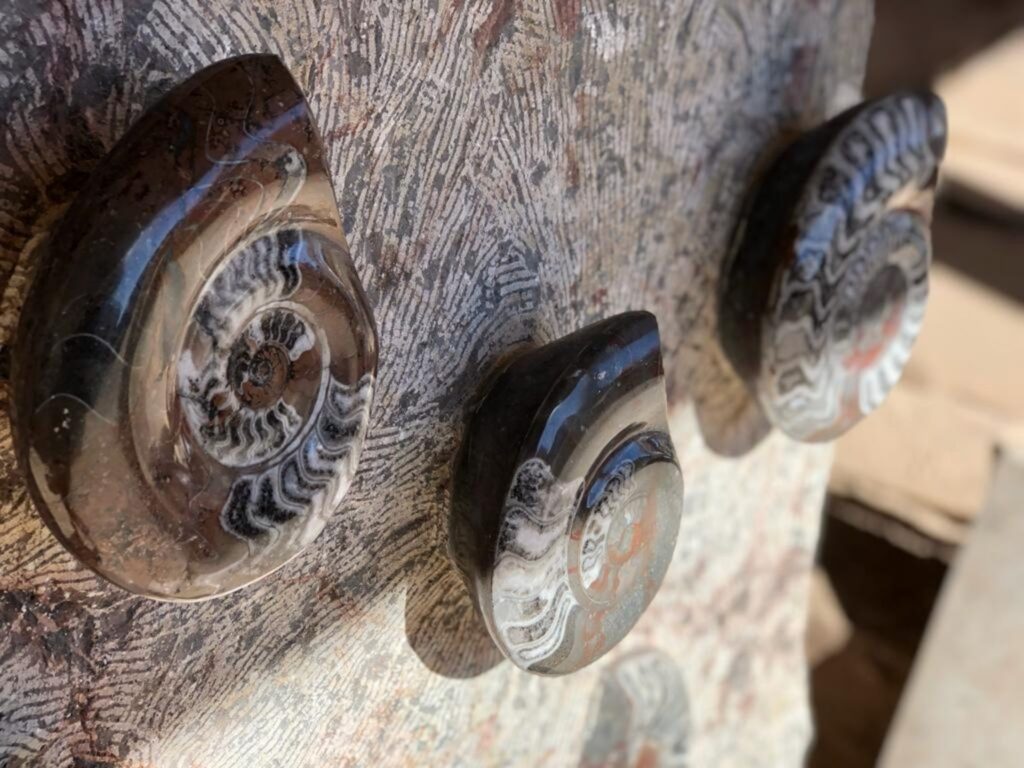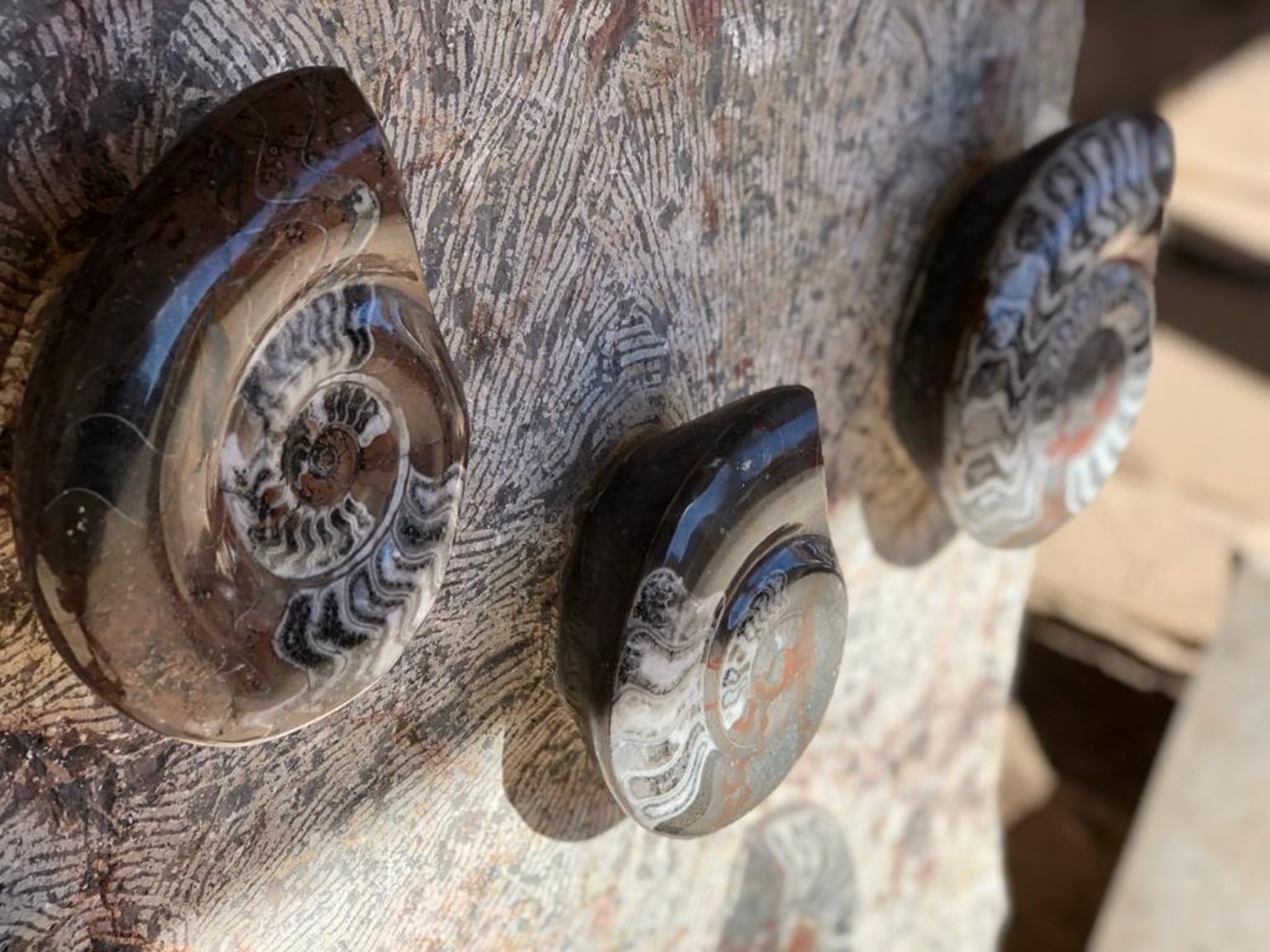 Day 7 : Erfoud, Todgha Gorge & Dades Valley
Driving time: 7 hours.
We will wake up to see the sunrise from the nearby sand dunes (optional) and then enjoy breakfast at the camp before leaving the desert behind on our 4WD.
Back at our minivan, we will drive towards Erfoud, the capital of fossils and dates, which is still part of the oasis.
Our first stop of the day will be at the date market where we will learn more about this sweet fruit and taste some of the different varieties. If you wish, you can buy a packet of Medjool dates, the highest quality kind, which the region is known for.
Fun fact: Medjool dates are darker, sweeter and more caramel like than other kinds of dates and they are considered fresh fruits.
With out sweet tooth satisfied, we will continue to the fossil museum and factory in Erfoud. 380 million years ago, this part of the Sahara was under the ocean and for many reasons, animals and plants were trapped here and turned into fossils.
We will observe the artisans at work extracting the fossils of ammonites, trilobites and other prehistoric animals and converting them into decorative pieces, sculptures, tables, etc. The fossilised marbles have immortalised life from centuries ago into tables and other pieces.
We will continue our journey and stop at El Jorf town to see the oldest irrigation system in Morocco called Khettara. This 300km network of subterranean irrigation canals were brought here from Persia in the 14th century and continued to be used until the 1970s.
Our morning will end at El Khorbat Berber Oasis Museum where we can learn more about life and culture in the south of Morocco.
We will have lunch at the nearby local restaurant owned by Aicha where most of the staff are also female, and where we will enjoy the local specialty, camel tagine, or free range chicken cooked with saffron and olives.
After lunch, we will finally enter Todgha Gorge, a limestone river valley also known as wadi carved by the rivers and where walls can be as high as 400m and as narrow as 10 meters.
The area used to be inhabited by Jewish families but today, most villages lay empty. Todgha Gorge is famous for rock climbing and there are several well maintained paths. We will get out of the minivan and stretch our legs on a short hike to enjoy the stunning canyon.
We will get back on the minivan and drive towards our hotel for the night high atop a 1,600m hill spot over the Dades Valley. Check in and relax at the spa or hammam, by the pool, or have a drink from their rooftop bar at sunset. We will meet up again at dinner for a buffet spread.
Inclusions: Breakfast at the hotel, lunch at a local restaurant, dinner at the hotel. All visits as listed above, hike at the gorge.
Xaluca Dades Hotel 4*
Xaluca Daded Hotel is the best hotel in the area. This 4* mid-sized hotel with expansive 360 degree views over the Berber villages and valley below will be our break for the night.
Red colored and stacked like the desert villages famous in the area, the African inspired colorful rooms are cozy and comfortable.
We will enjoy sunset views from the rooftop lounge and restaurants and share a buffet dinner. If you feel like it, you can take a dip in the pool or outdoor jacuzzi, or book a treatment at the spa.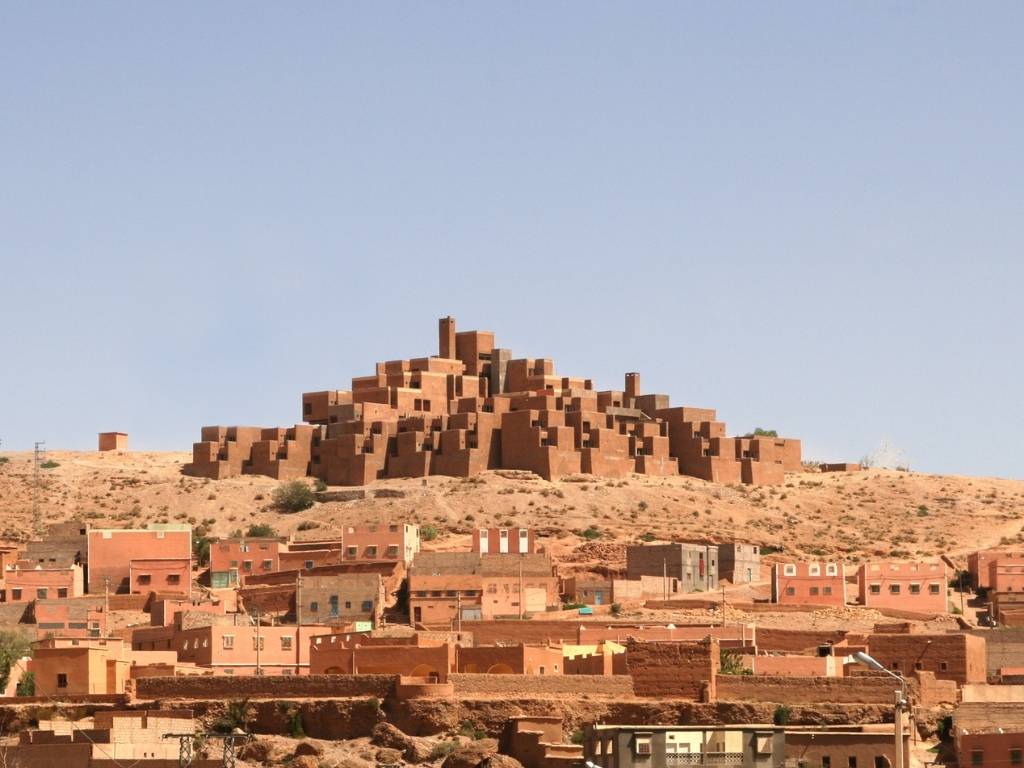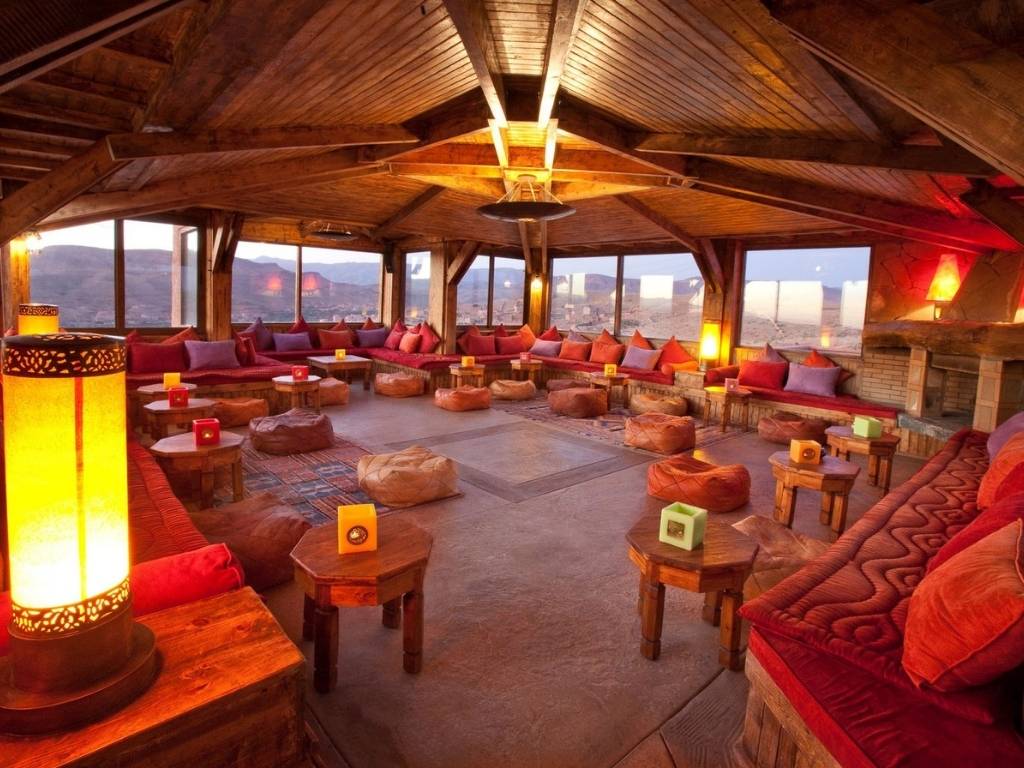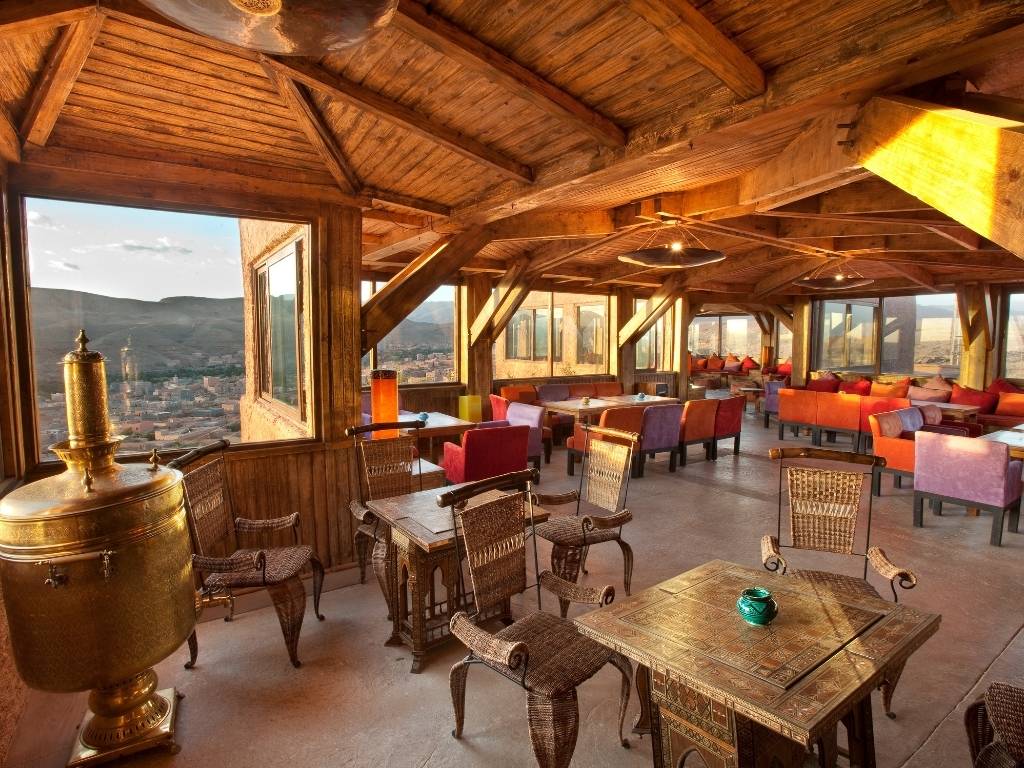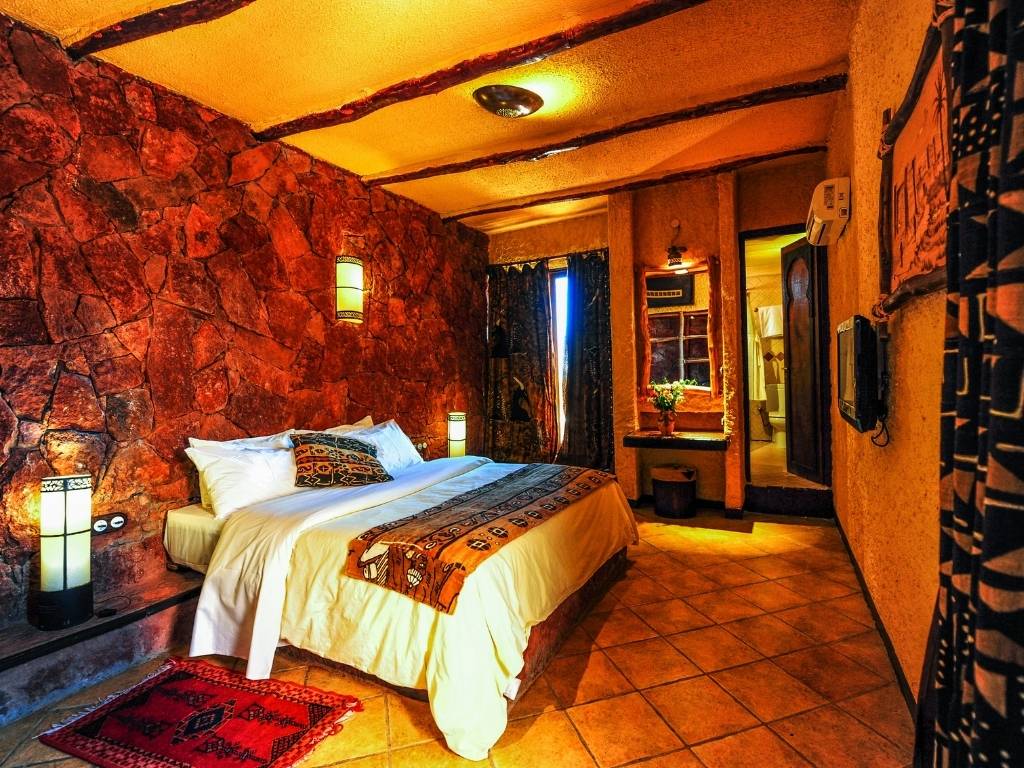 ---
Day 8 : Roses Valley, Women's Cooperative, Ait Ben Haddou, Tichka Pass
Driving time: 7 hours.
We will leave the hotel and head towards Rose Valley to visit a female cooperative that grows and processes roses petals to distil them into rose water, oil and other cosmetic products.
This beautiful local product provides income to the small local communities and you can buy some of it here or in other parts of Morocco.
Fun fact: It takes 4,000 kg of rose petals to make a litre of rose oil, just imagine that!
We will continue our road trip and cross the Skoura Oasis towards Ouarzazate, the Hollywood of Morocco where famous movies such as Game of Thrones, Lawrence of Arabia and The Red Tent were filmed.
Skoura Oasis is another expanse of palm trees and greenery among the rugged nature of the desert.
We will stop for photos at Kasbah Taourite where we can enjoy a panoramic view of the area, and then continue our drive towards Ait Ben Haddou for a walking tour of the clay village.
Ait Ben Haddou is a UNESCO-listed site since 1997 and the most famous attraction in the south of the country.
This Ksar, or group of earthen buildings surrounded by high walls the oldest of which dates back to he 17th century, is like taken out of a movie, hence its Hollywood fame.
In the past, the town was a stopping point on the trading route linking all the way to Sudan.
At Ait Ben Haddou we will visit a female owned and staffed cooperative that sells beautiful Berber carpets and learn how they are made.
We will go on a walking tour of the village and enjoy lunch at a local restaurant.
We will then get back into the car for our 3-4h drive towards Marrakech where we will arrive in time for dinner.
Inclusions: Breakfast at the hotel, lunch at a local restaurant, guided tour of Ait Ben Haddou. All transportation.
After a few days in the desert and a long day of driving, we will enjoy the clean white lines of our modern hotel.
Dinner tonight will be your own choice. Head over to the Jema El Fna Square if you are keen to experience Marrakech's atmosphere, or stay at the hotel for a quieter meal.
Overnight at 5* 2Ciels
2Ciels is a modern, fun and bright hotel with a rooftop pool and bar, a colorful restaurant and clean rooms most of which come with their own balconies.
Its location outside the Medina and near a shopping malls means you can pop in for last minute shopping or a casual dinner and the buzz and chaos of the busy streets are a short ride away.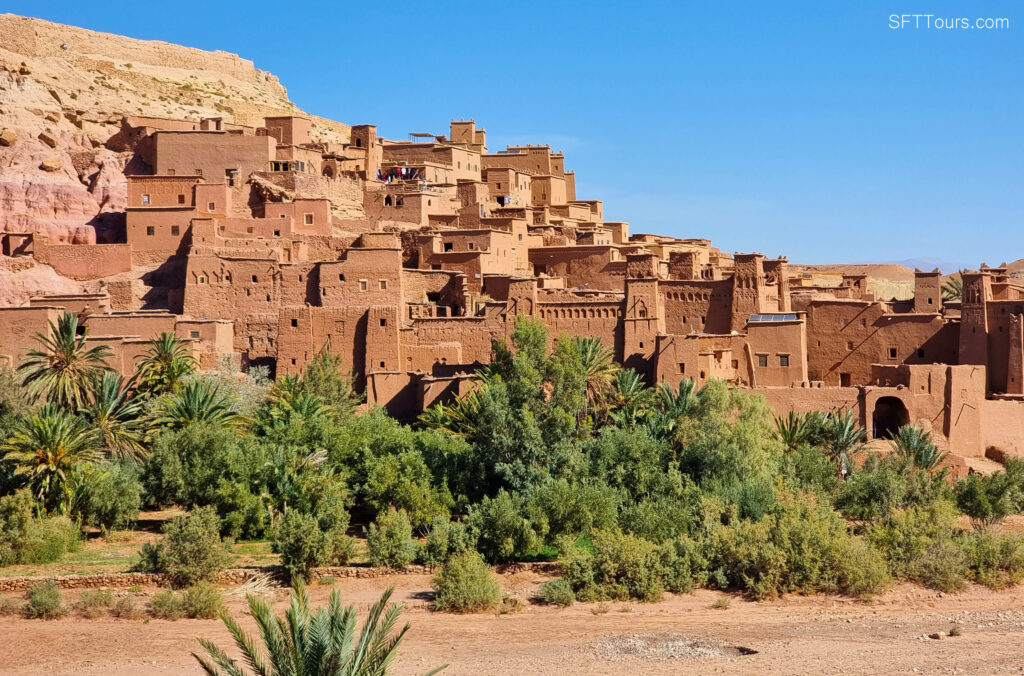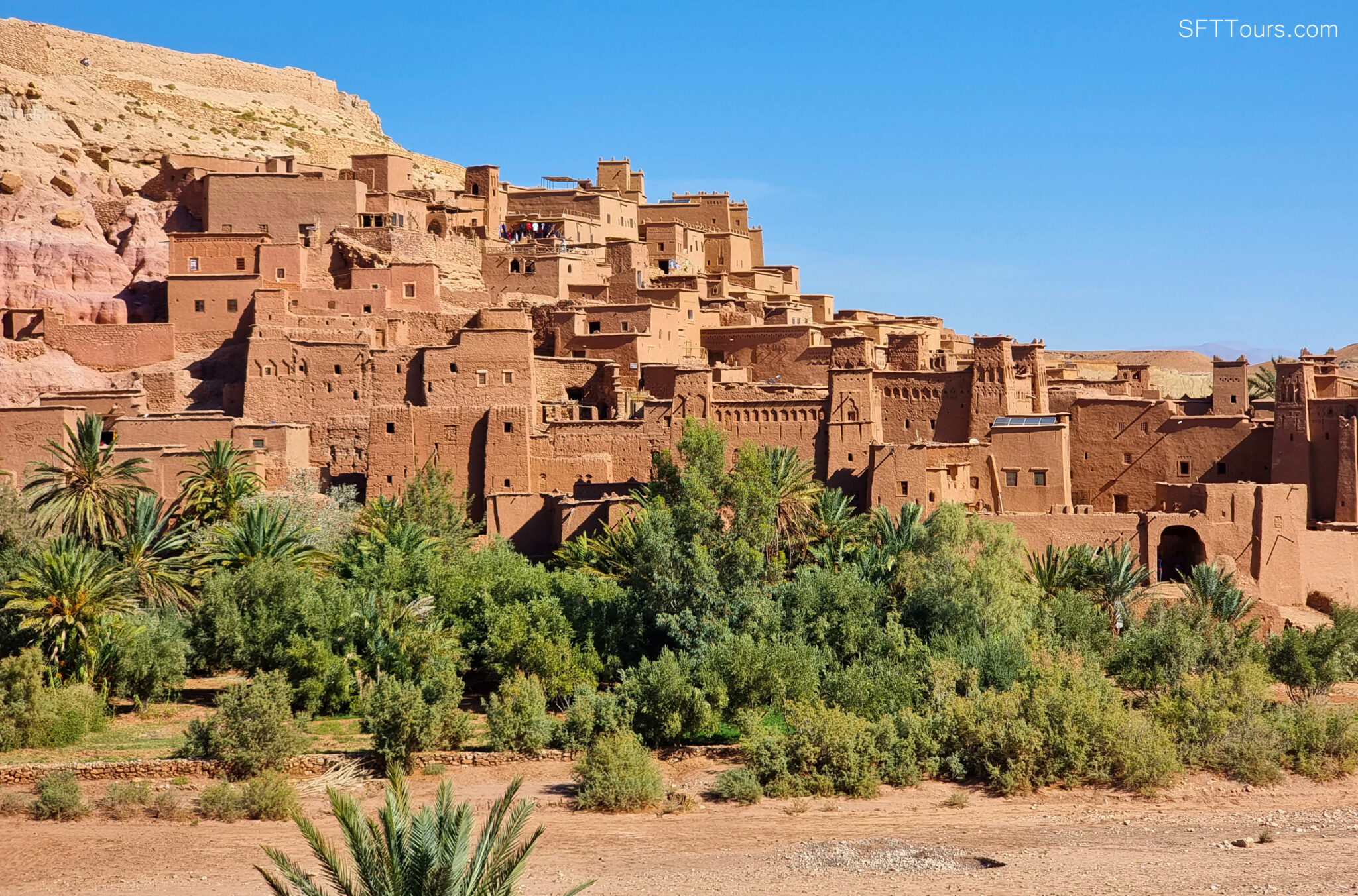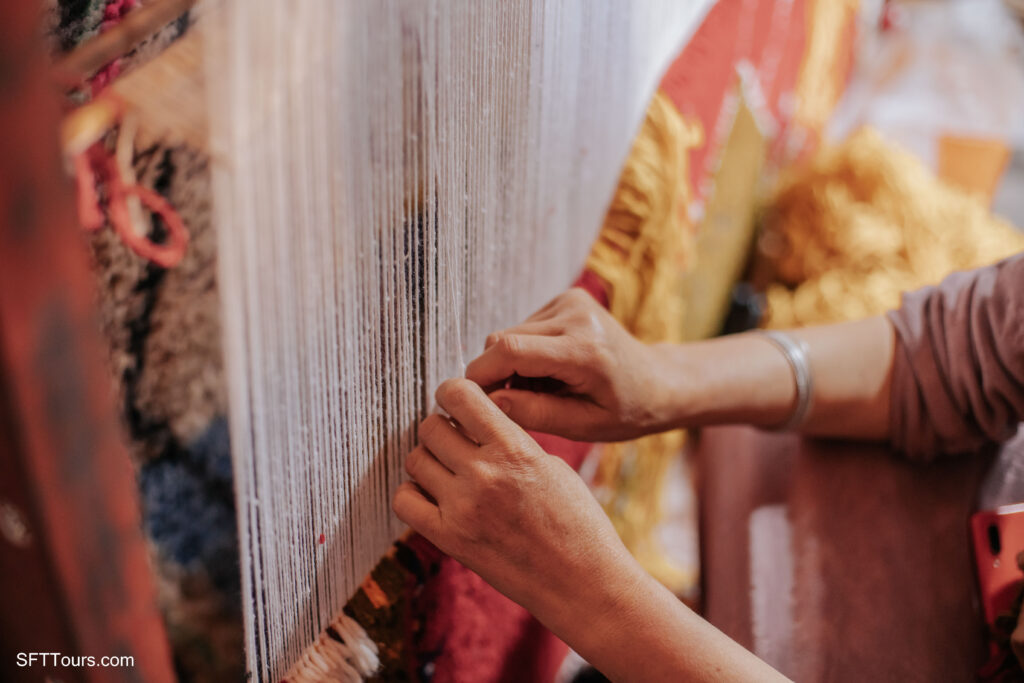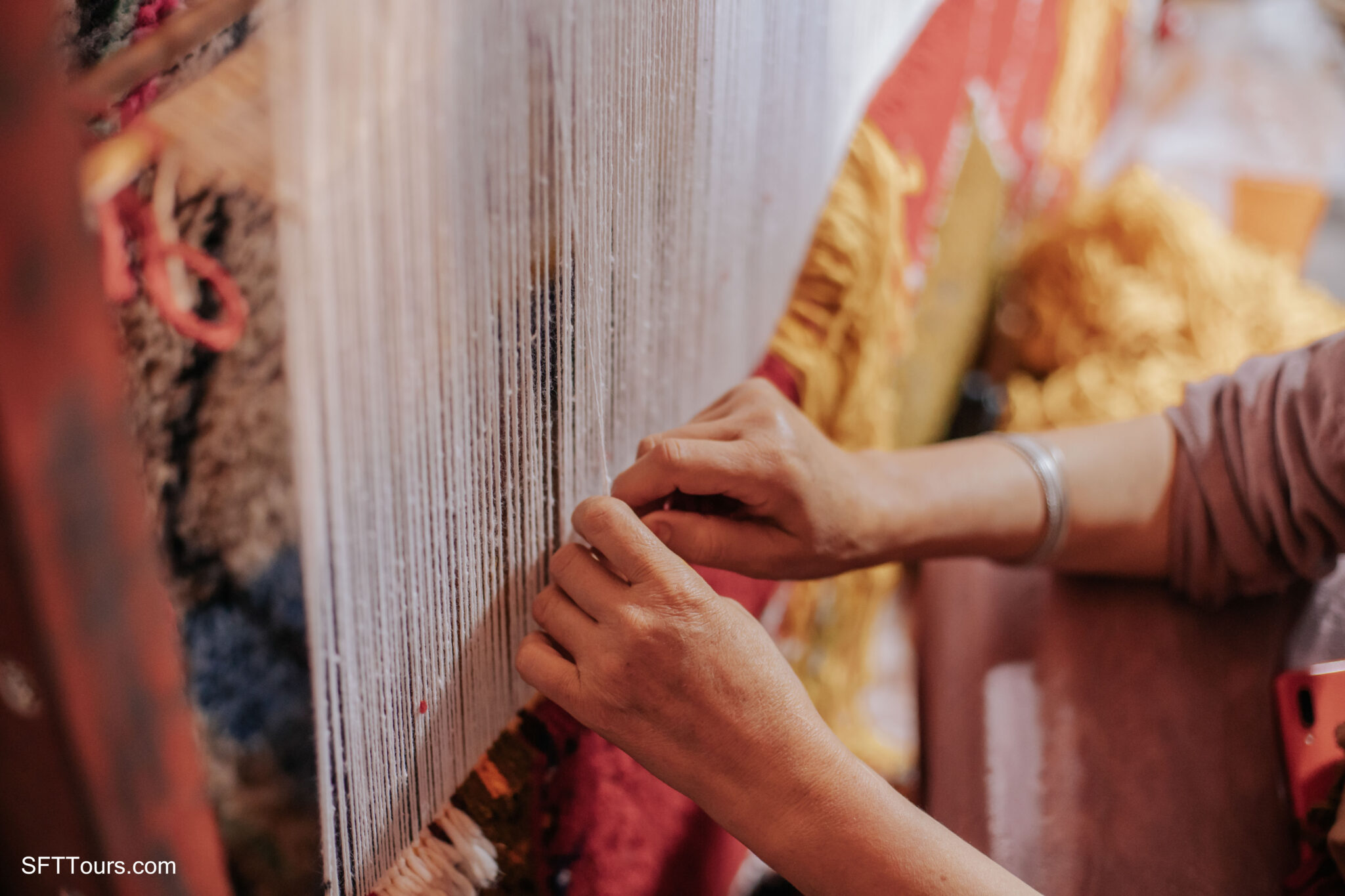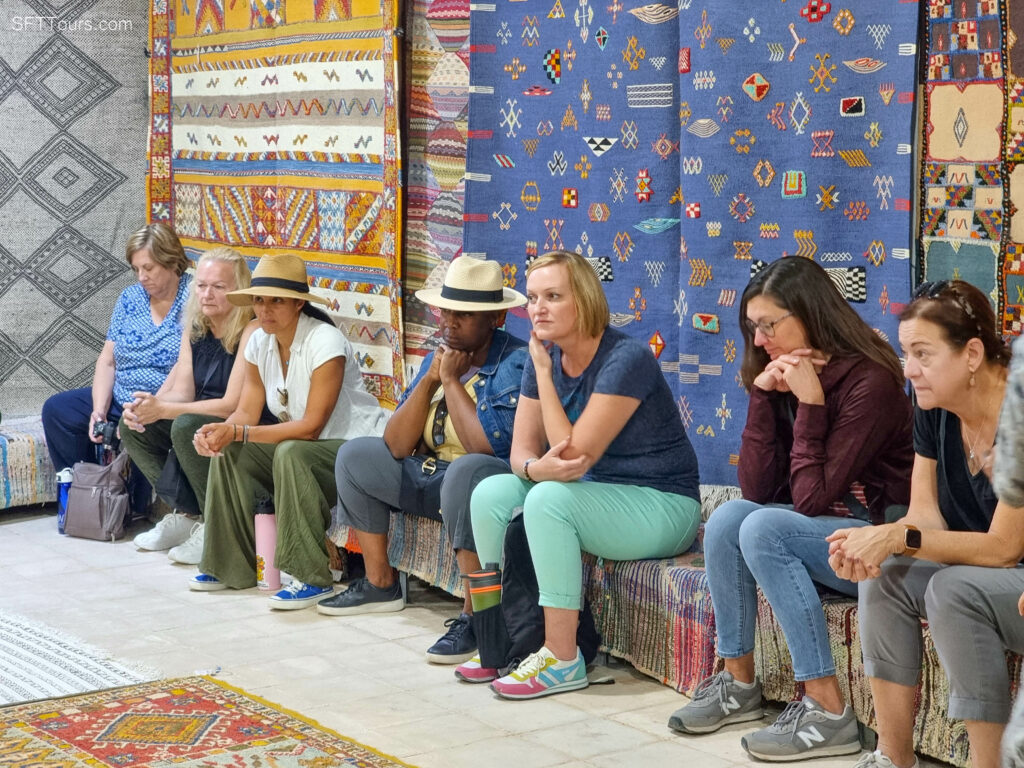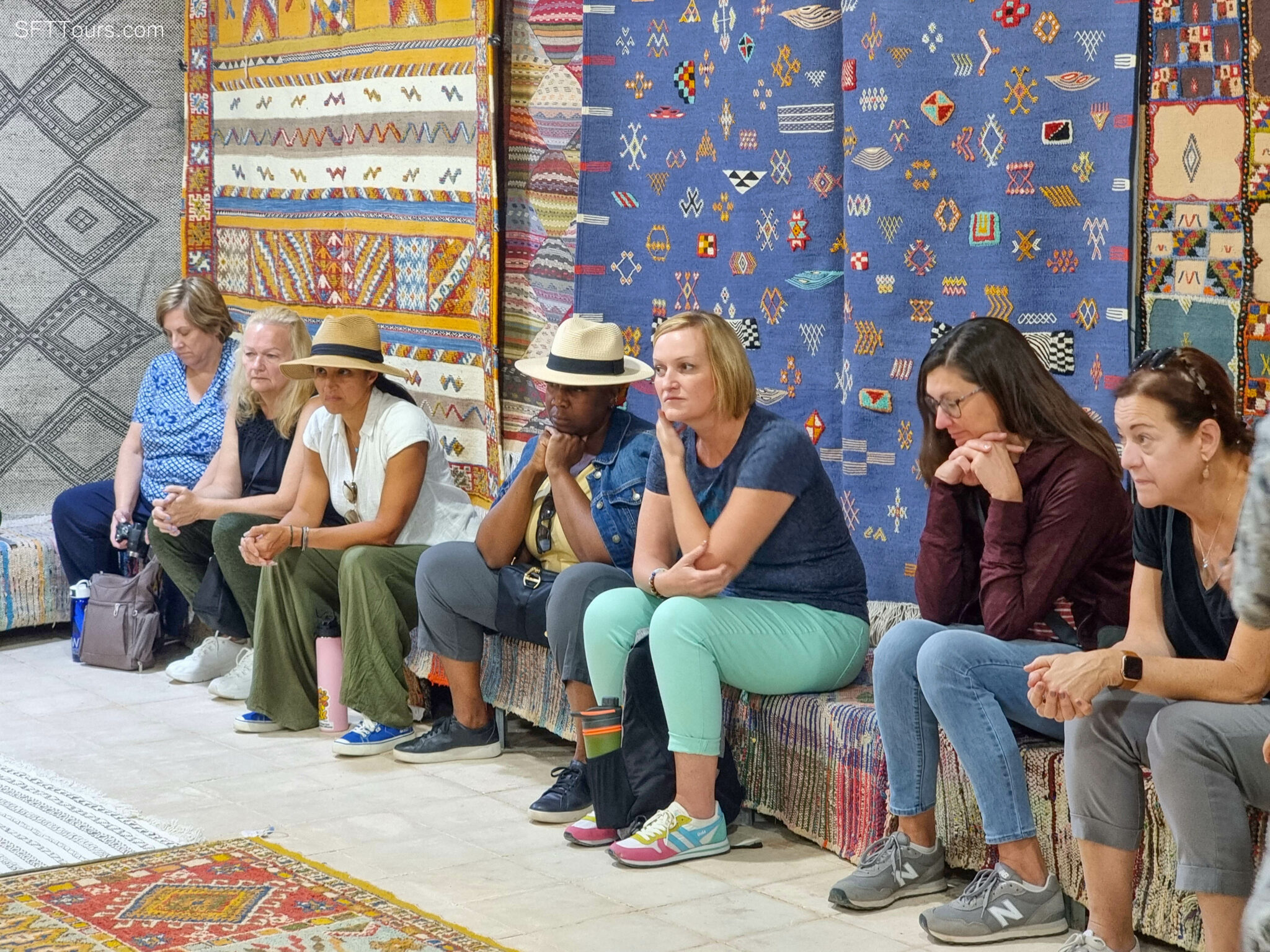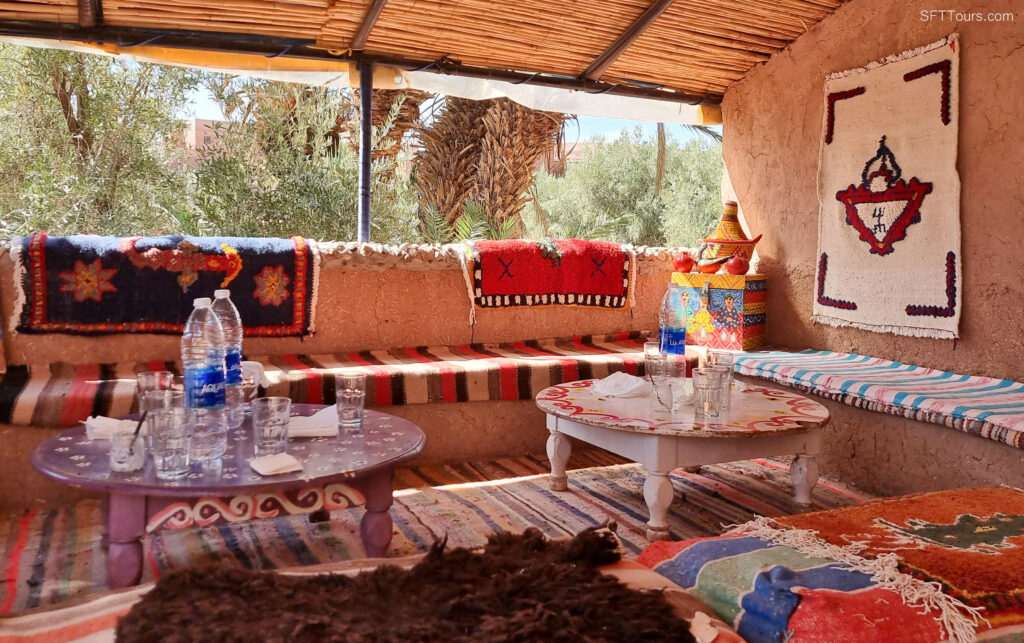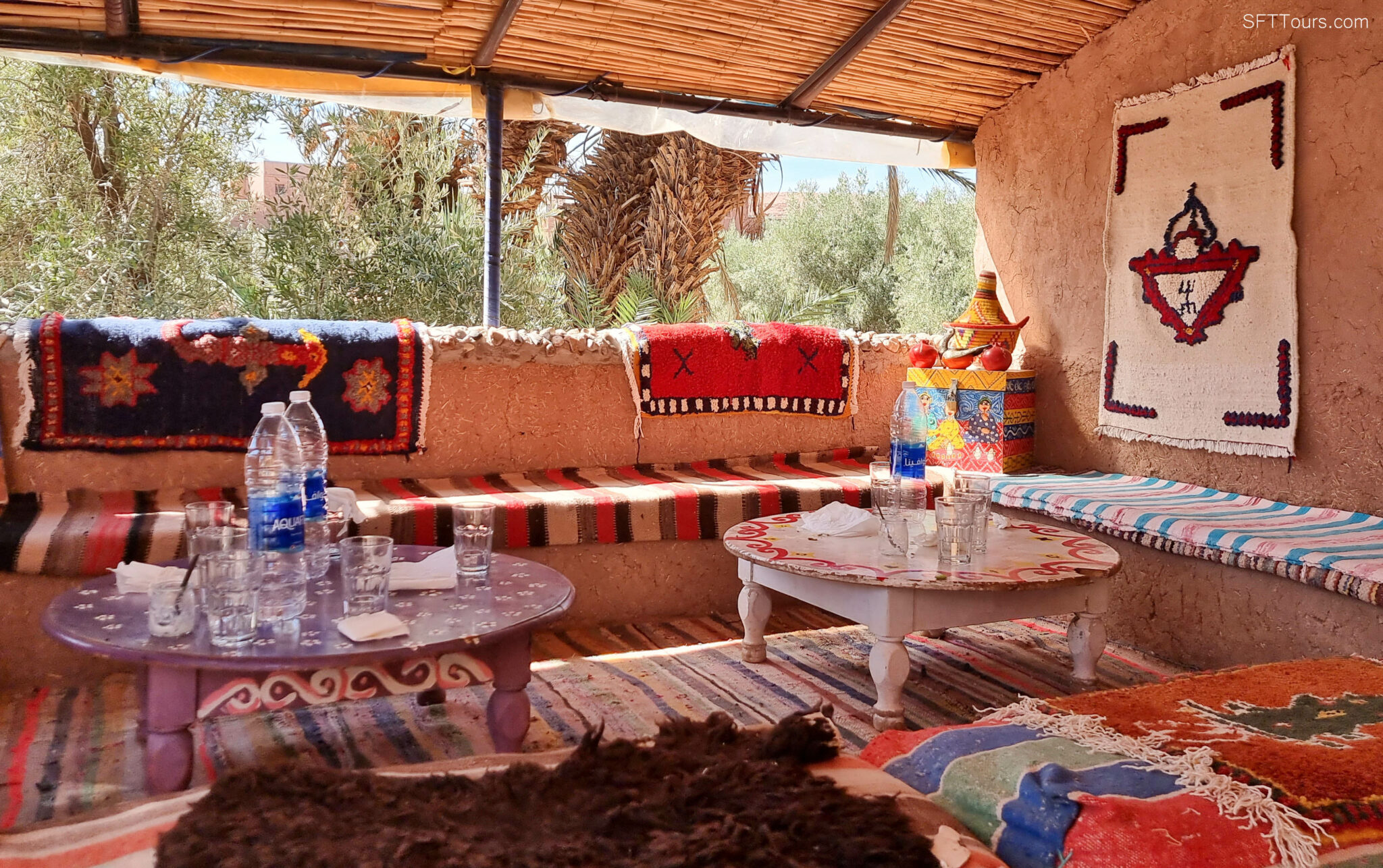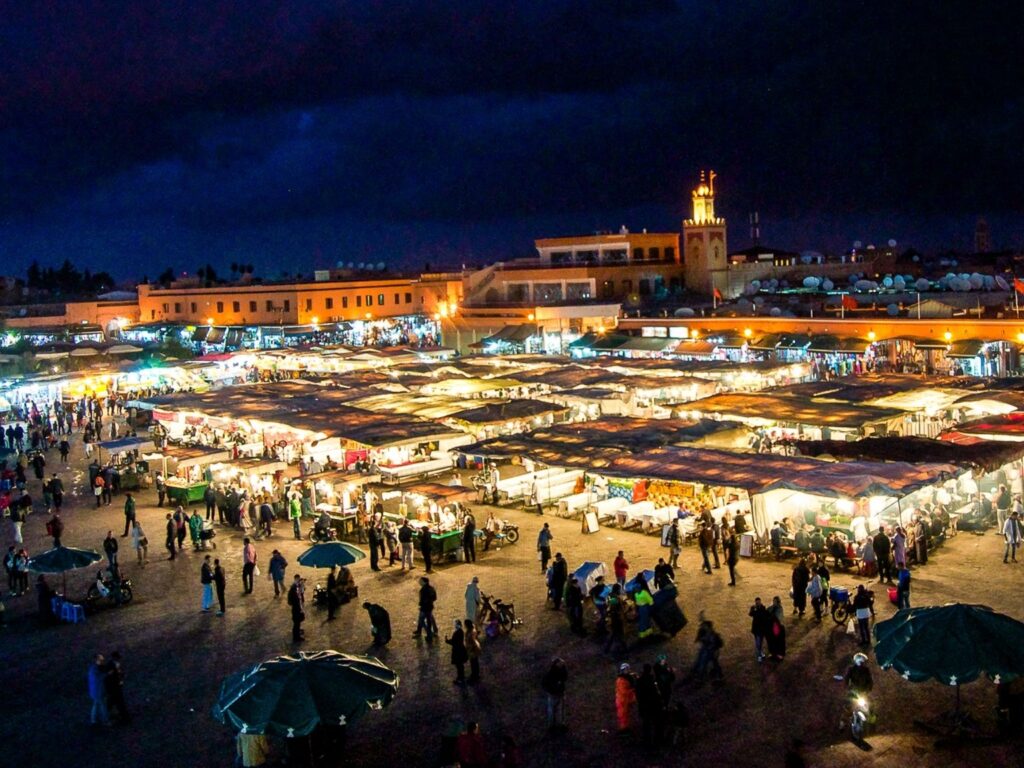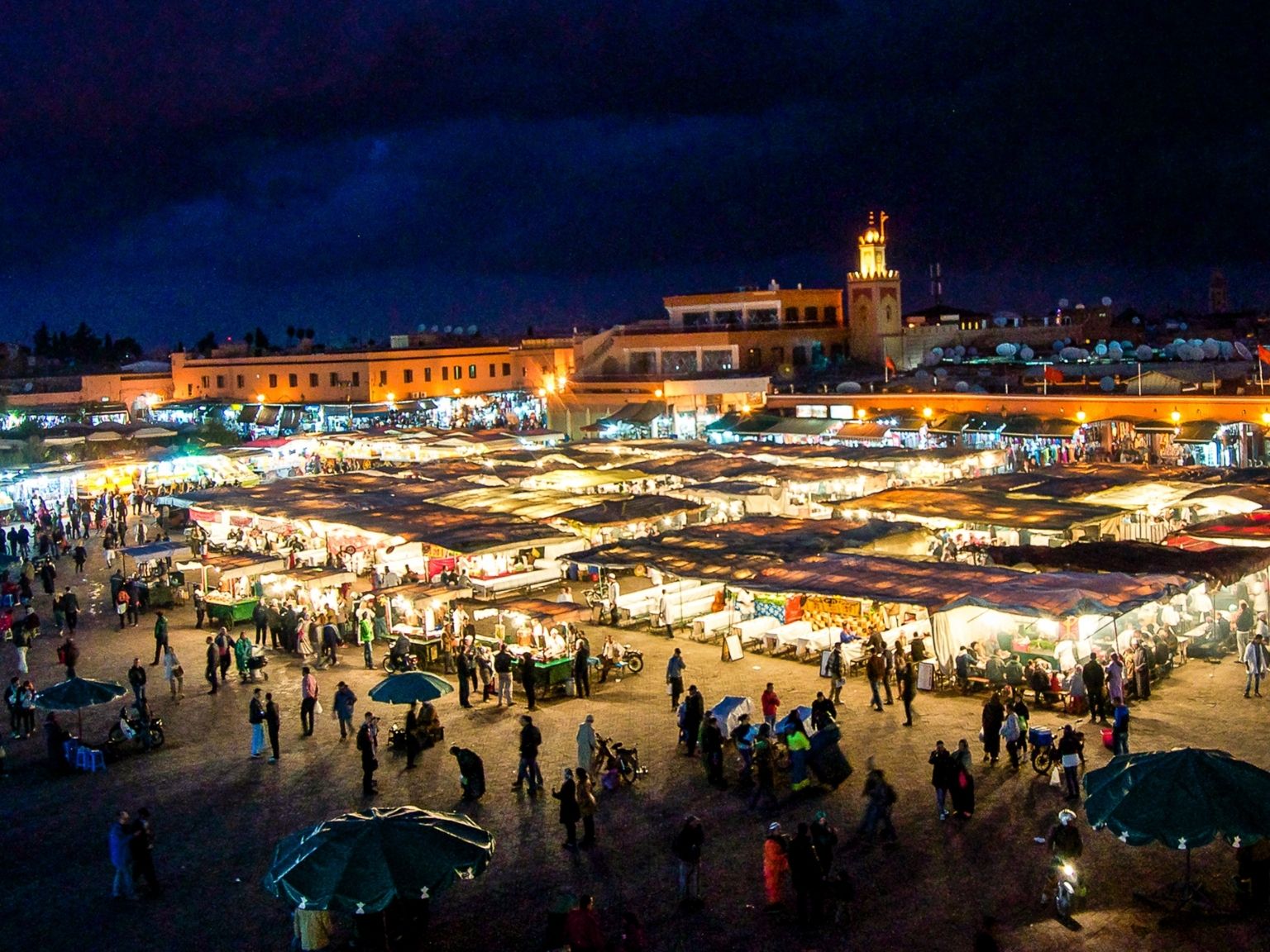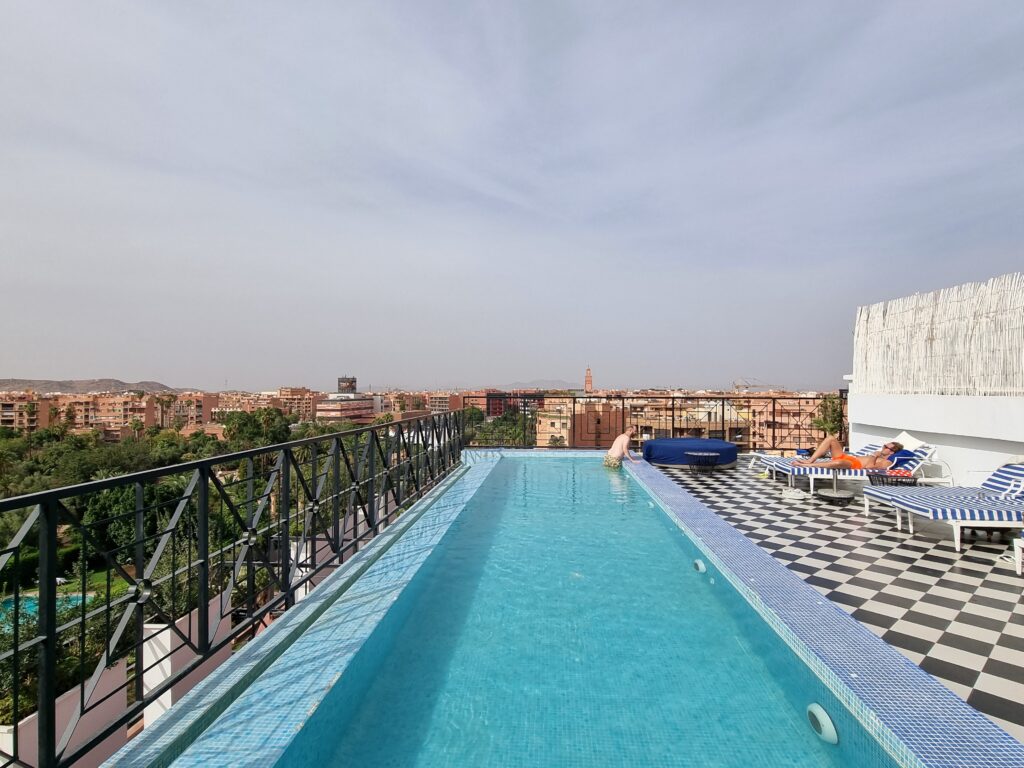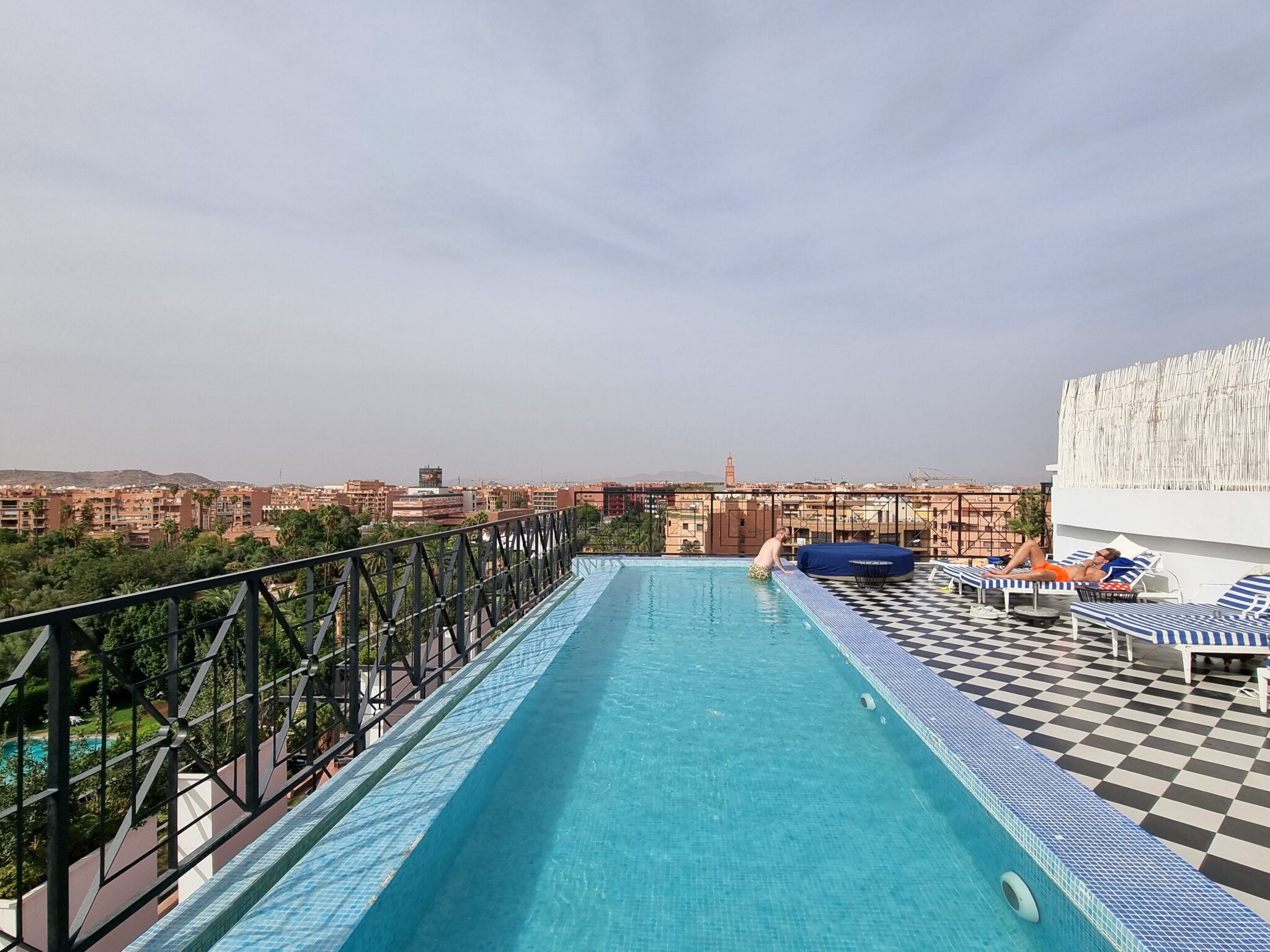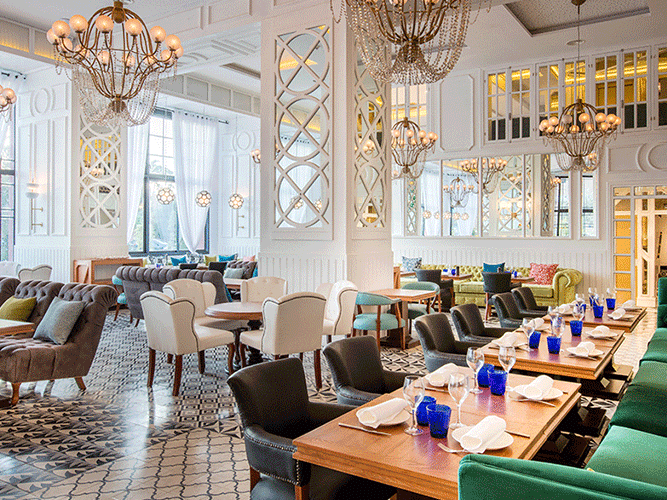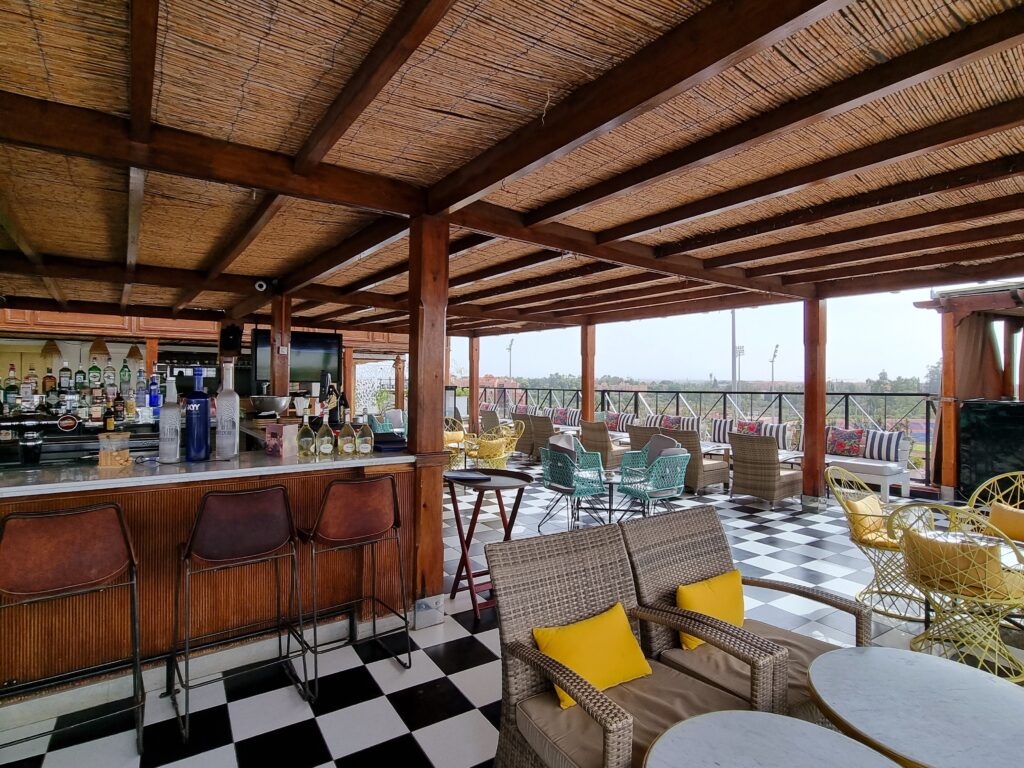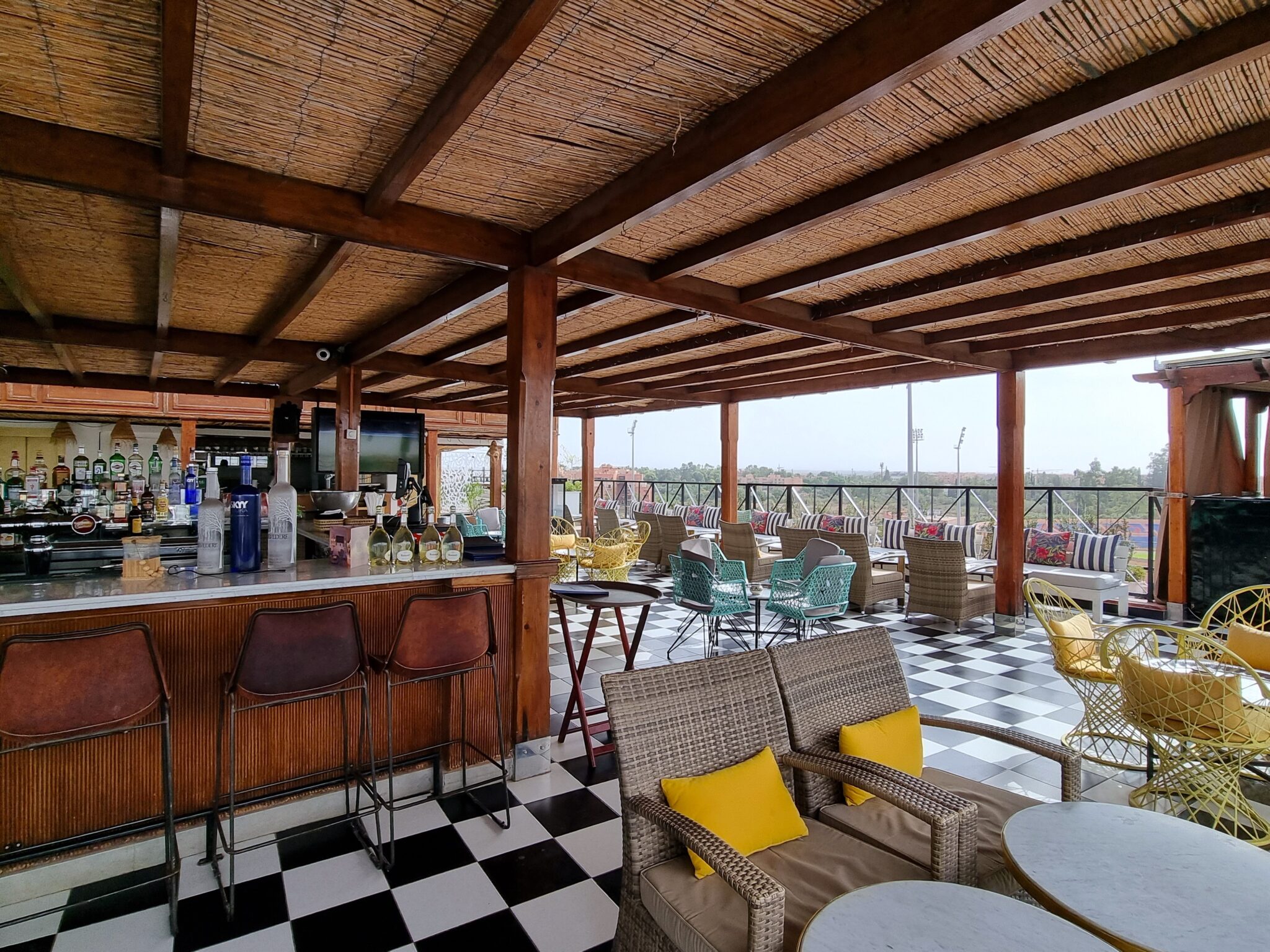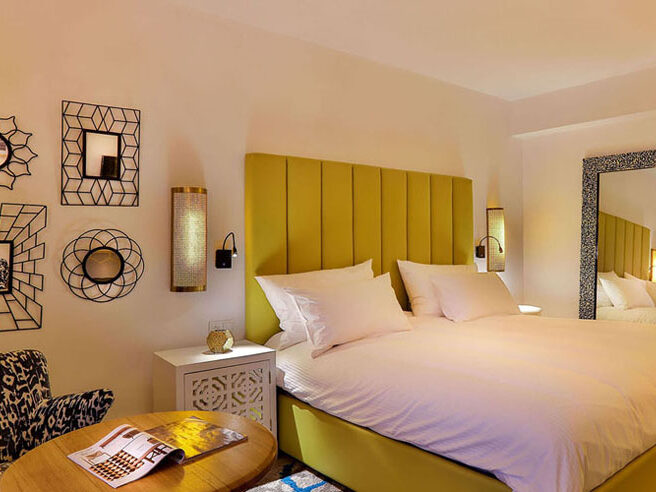 ---
Day 9 – 10 : Marrakech
Driving time: 1 hour.
On day 9, enjoy a leisurely breakfast at the rooftop of our riad and then gather to meet our local guides for a walking culture and food tour of the city and the medina.
The group will be split into two to ensure that we have a personal experience at each the street vendor and we will focus on female owned food vendors as we explore the city's historical sights.
Marrakech is the most famous city in Morocco and the one which receives the highest number of tourists. While the medina is not as old as the one in Fez, it is equally labyrinthine and fascinating.
During our tour, we will visit Bahia Palace, while also exploring the artisans souks and bazaars, before we return to the hotel for a break before our dinner walking food tour.
Bahia Palace is a 19th century maze of rooms and courtyards that showcase the beauty of Islamic art and Morocco's intricate mosaics and woodwork.
Floors are covered with marble and beautiful tiles and the walls and courtyards are decorated with Arabic inscriptions on stucco and geometric patterns.
After the palace, we will wander the maze-like streets of the medina and smell the spices, fruits and vegetables sold at the bazaars.
Practically everything is on sale here and while the Marrakech medina is not as large as the one in Fez and its alleyways are not as narrow, you will be glad you had a local guide to find your way around.
Our visit will continue to Dar el Basha Museum, the former residence of the governor, or Pasha, under the 20th century French colonial rule.
The palace was built to impress guests and it did accomplish that feat with ostentatious interior and exterior decorations.
We will sample several local delights and fill our tummies with the exotic flavor of Marrakech with savory and sweet treats and specific dishes that are original from the city.
The food tour will also take us to the city's most famous spot, the Jamaal El Fna Square, the biggest open square in the country filled with the snake charmers, acrobats, food stalls, henna ladies and more.
After lunch, you will have some free time to enjoy the pool, rooftop terrace or to do some last minute shopping in the medina.
Note: the order of the stops may vary.
We will reconvene around 6pm for a henna party at the hotel's rooftop terrace and a chat with young Moroccan activists as we sip on a glass of bubbly.
We will learn more about Berber culture and challenges and get to reflect some of the customs we have come face to face with during our time in Morocco.
With our hands beautifully decorated with henna designs, we will get into our best gowns and head over to dinner at a fabulous restaurant where we will say goodbye to newly made friends.
On day 10, we will share one last breakfast before departing Morocco. You can leave at any time after breakfast depending on your flight, and make your way to the airport on your own time.
Inclusions: Breakfast at the hotel, walking tfood and culture our of the medina with a local female guide, henna party with glass of bubbly and chat with activists, farewell dinner with wine.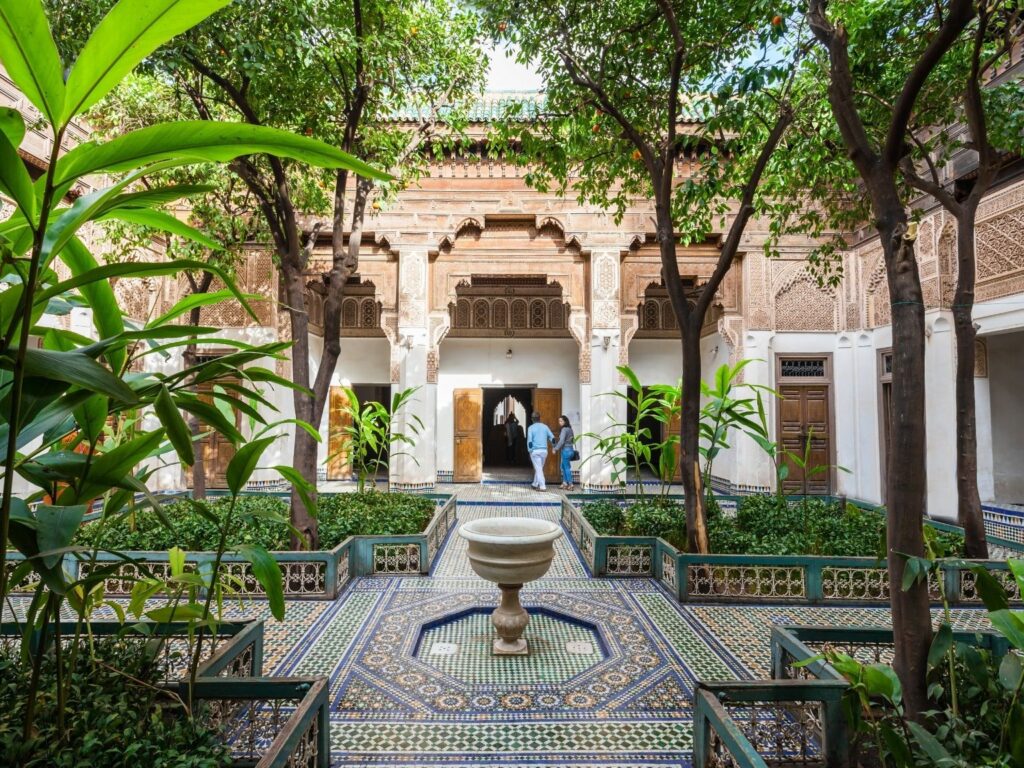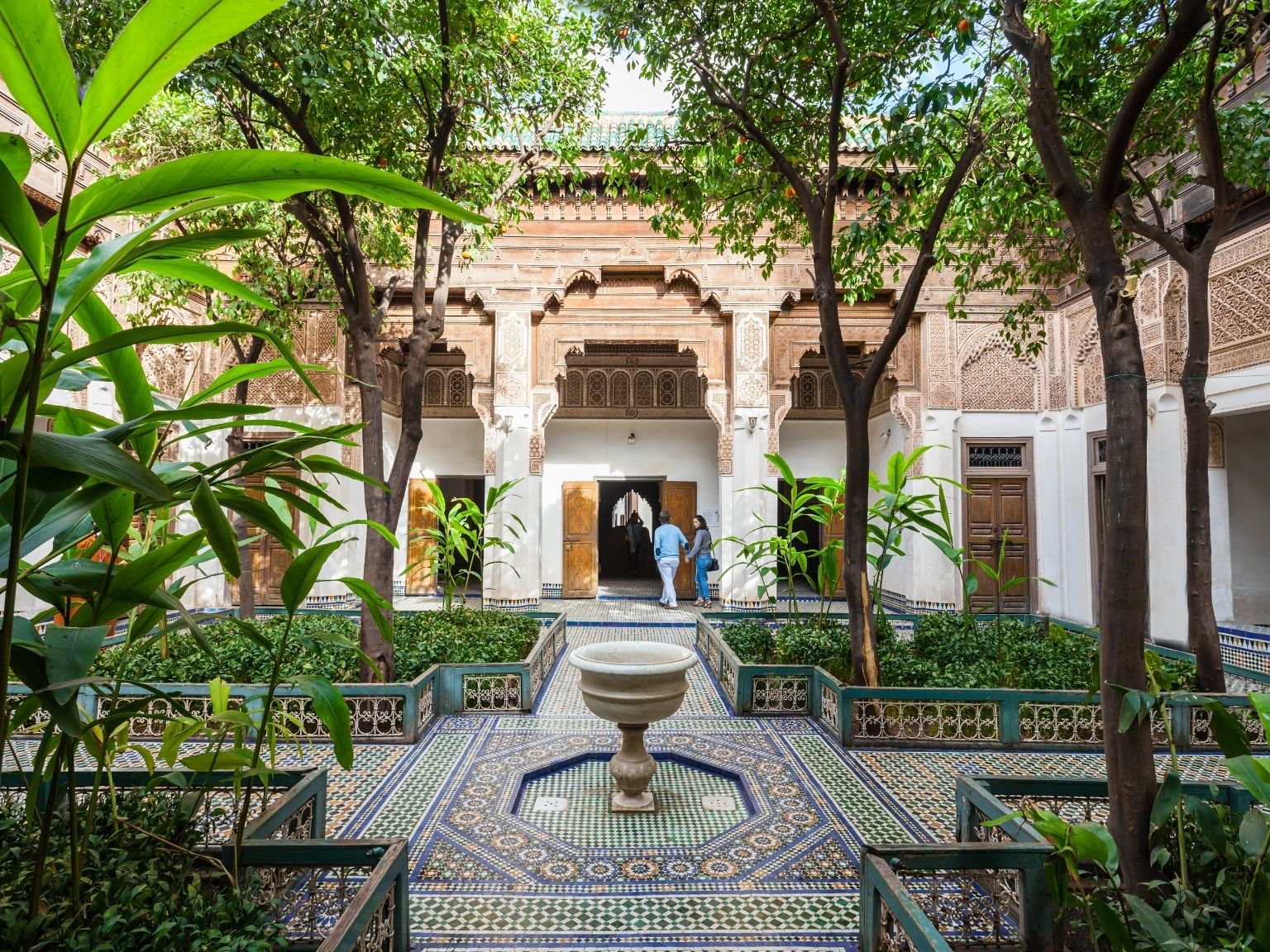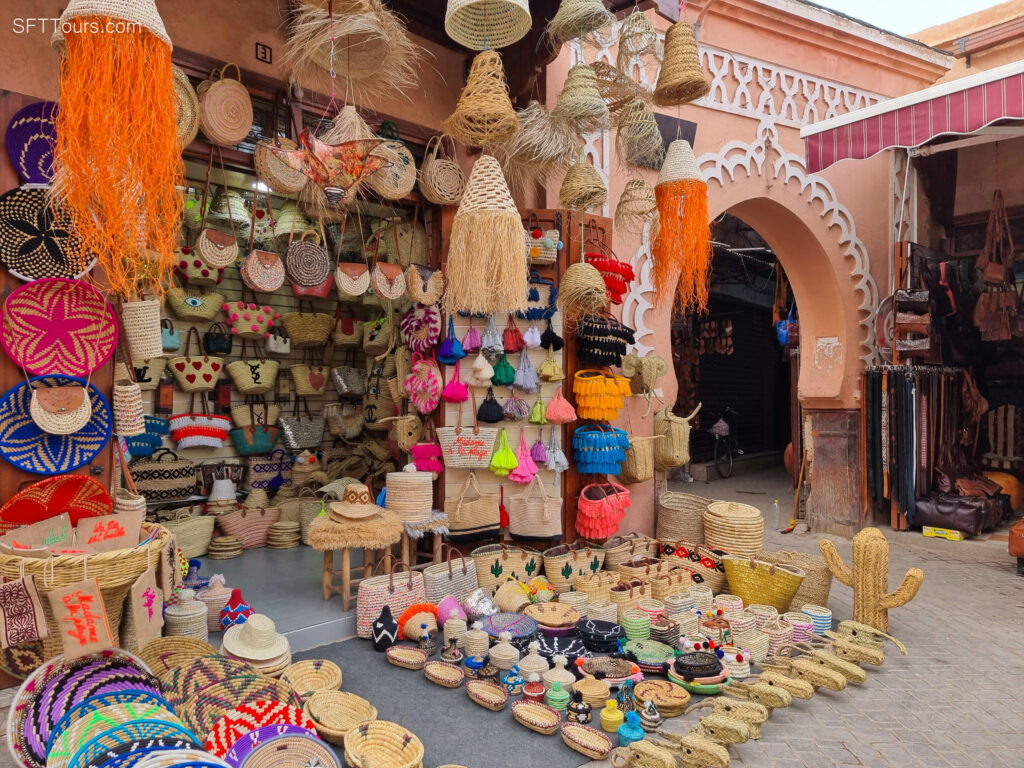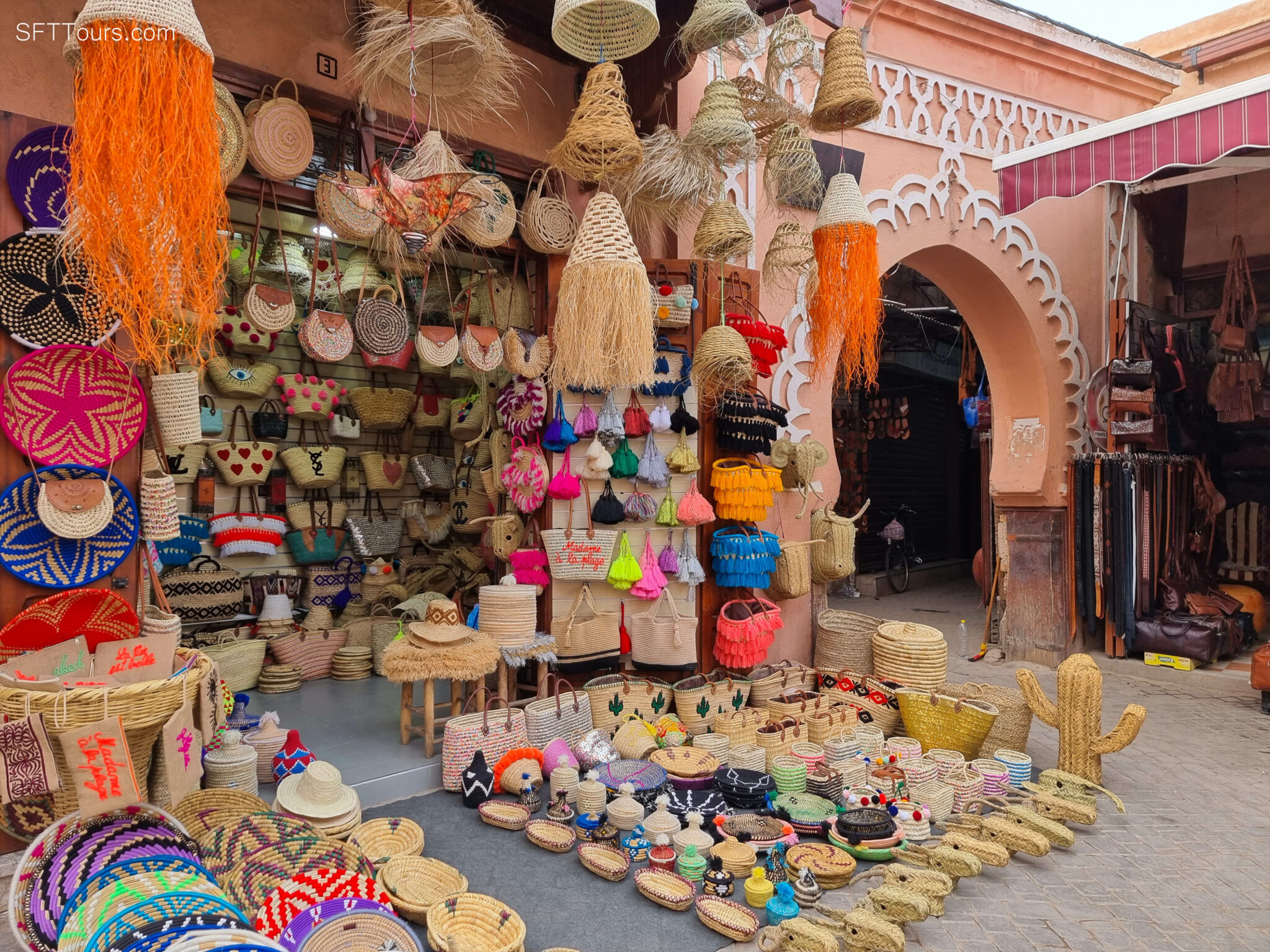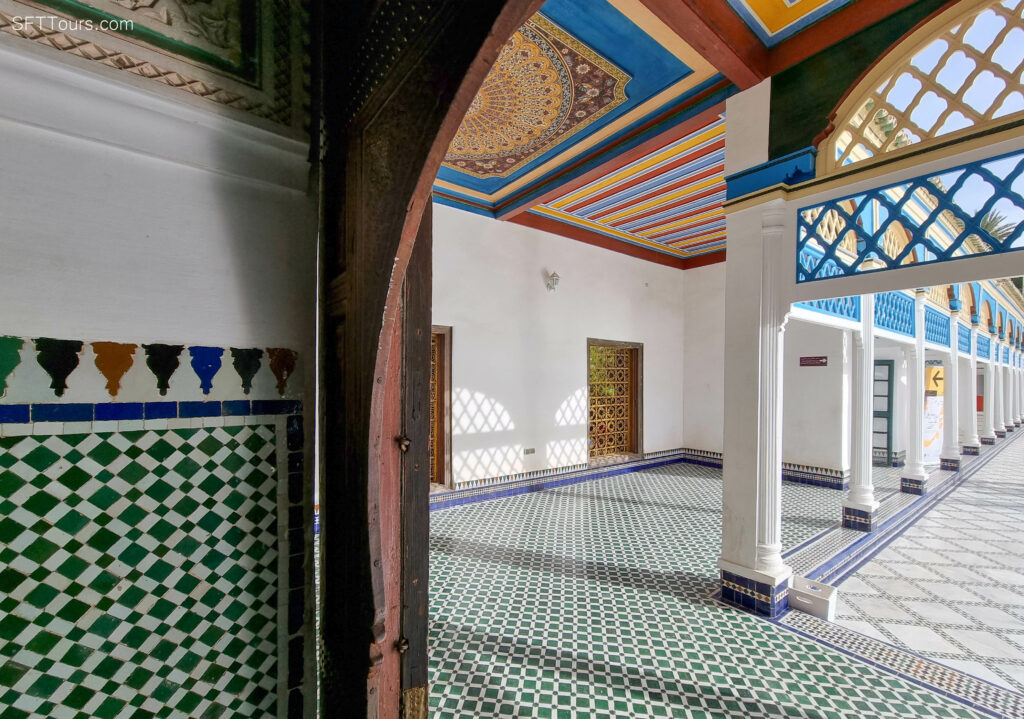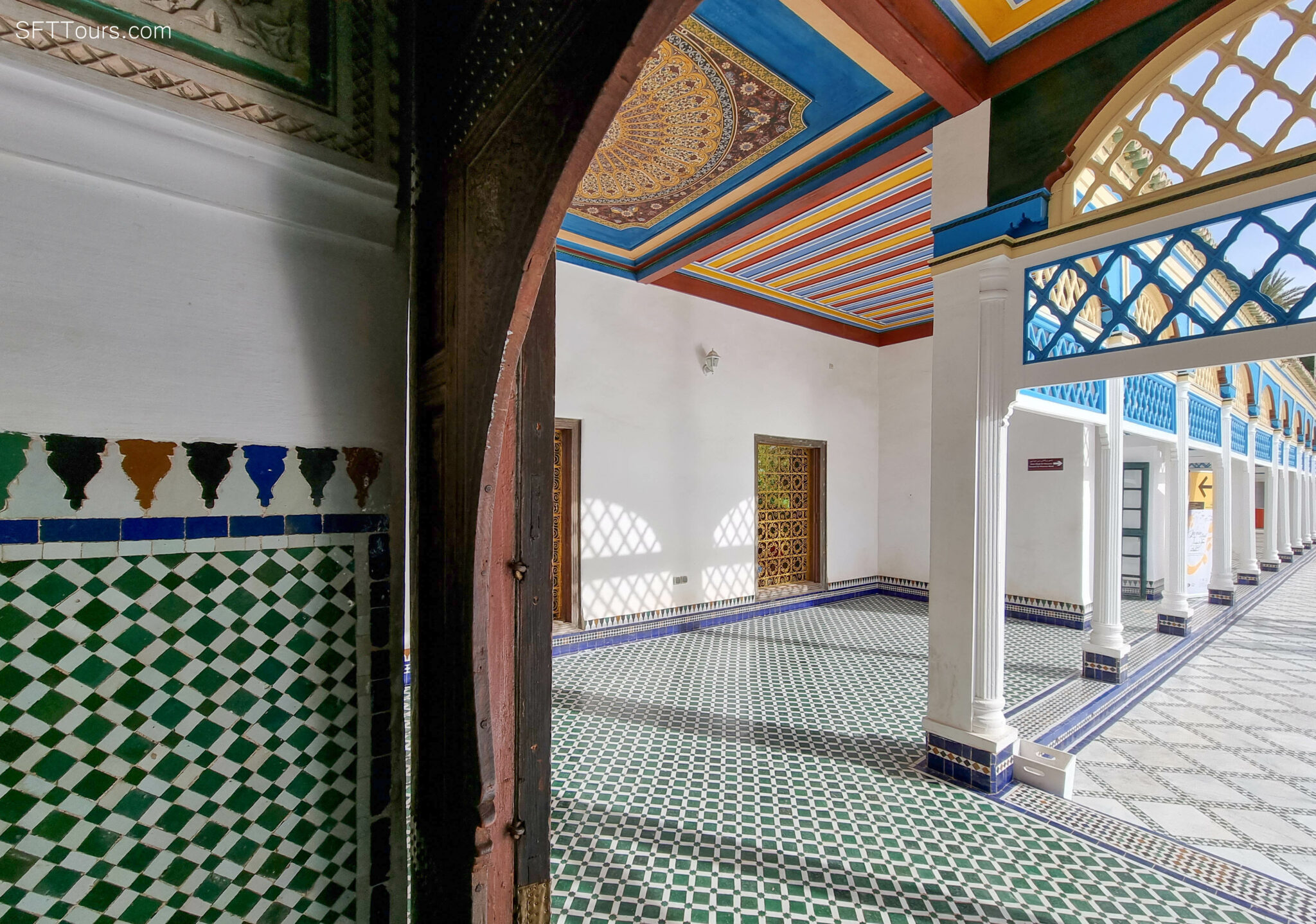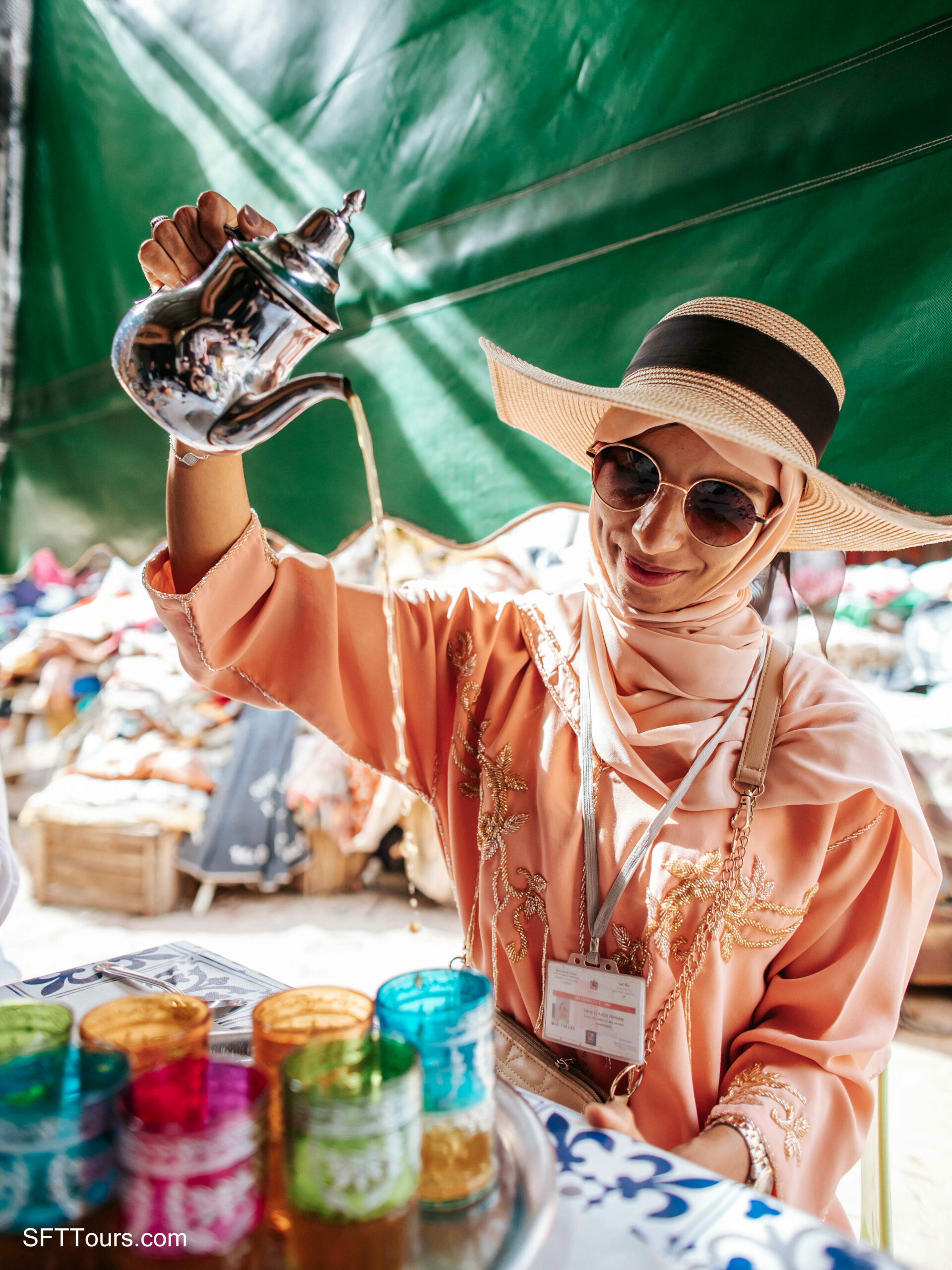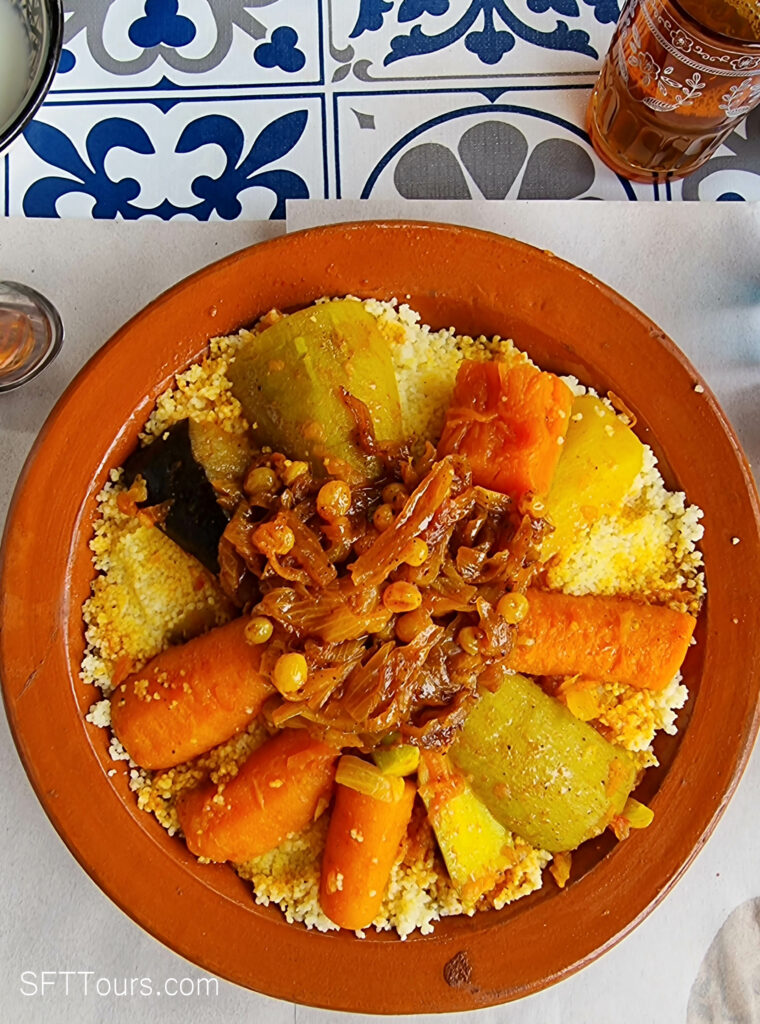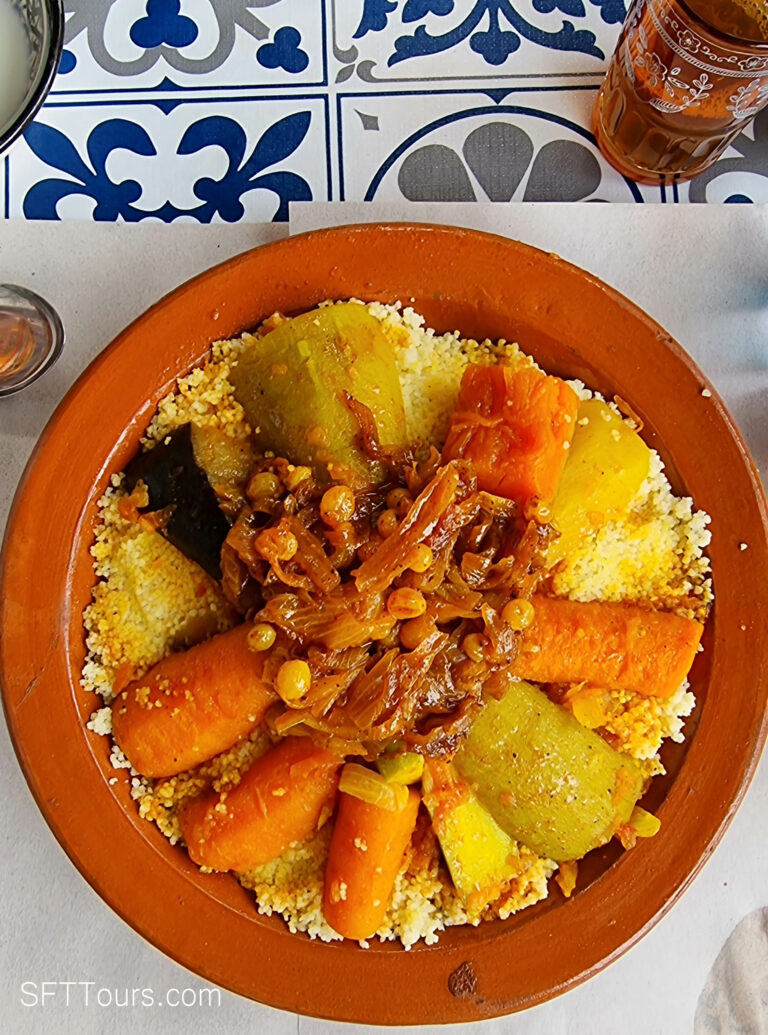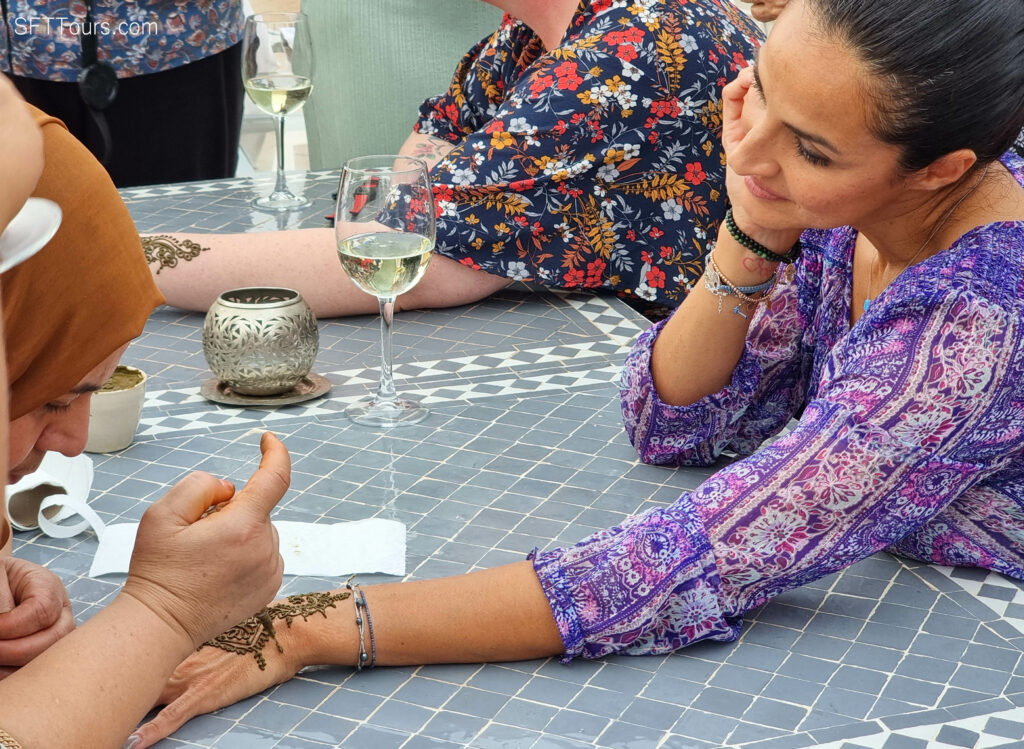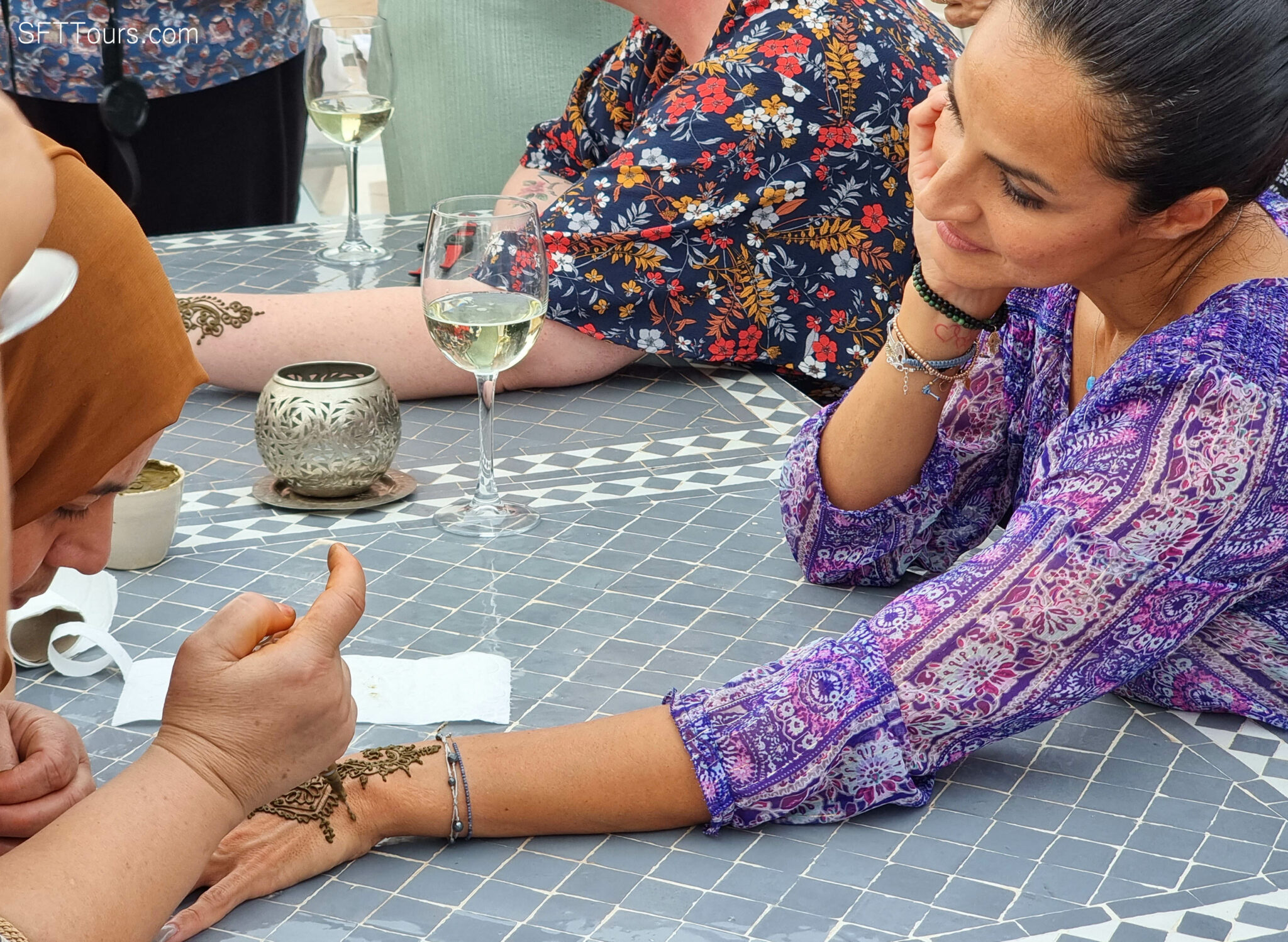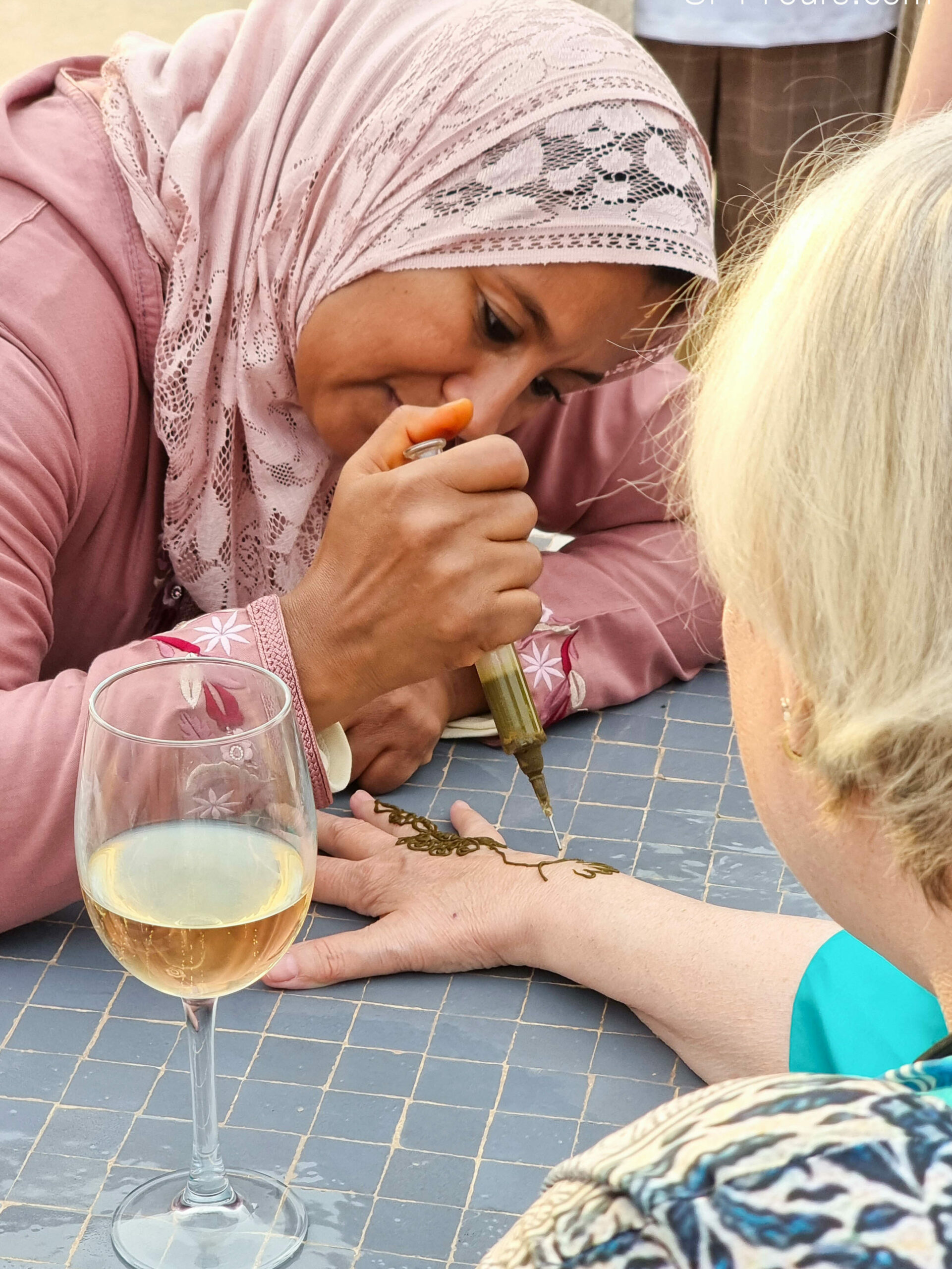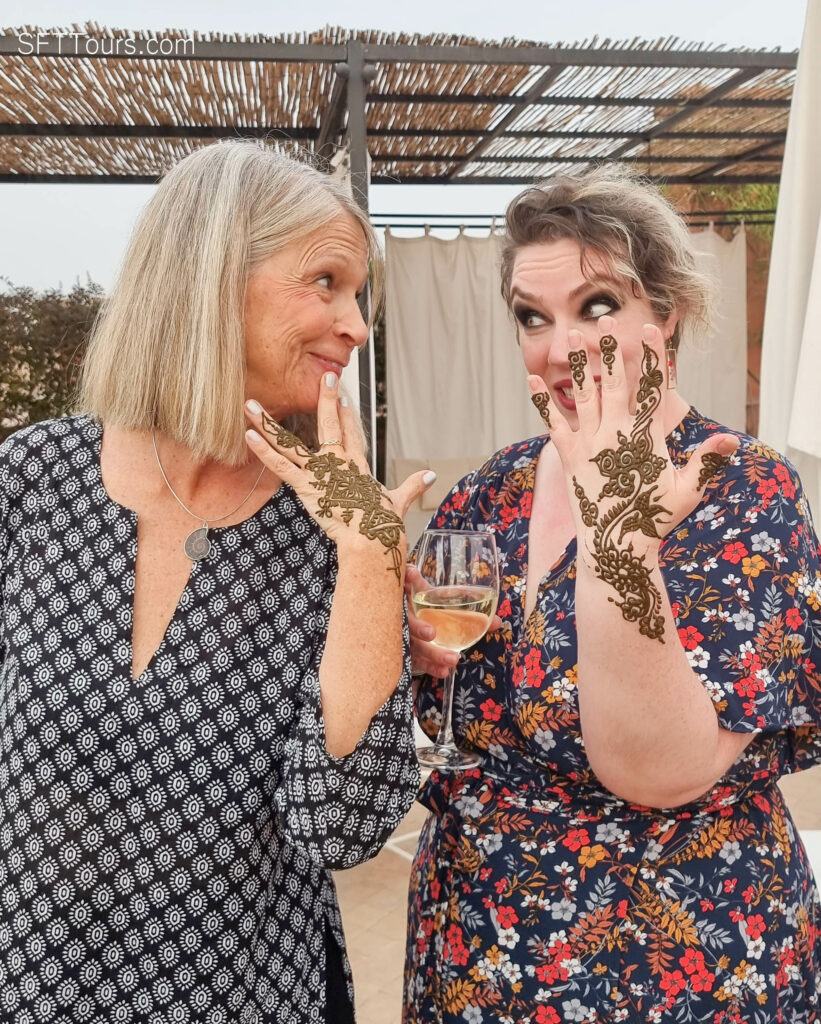 ---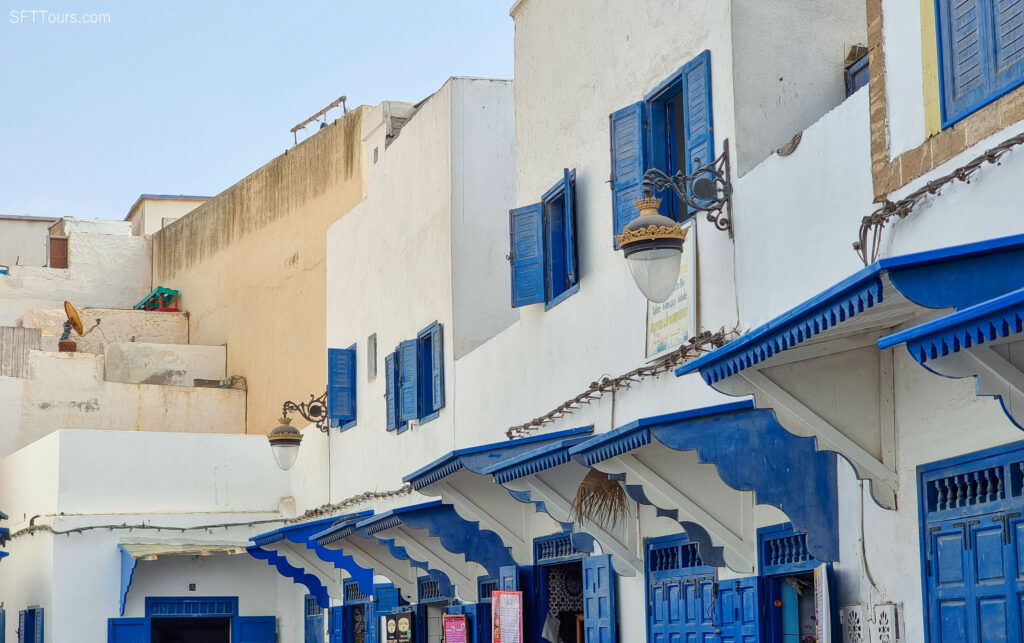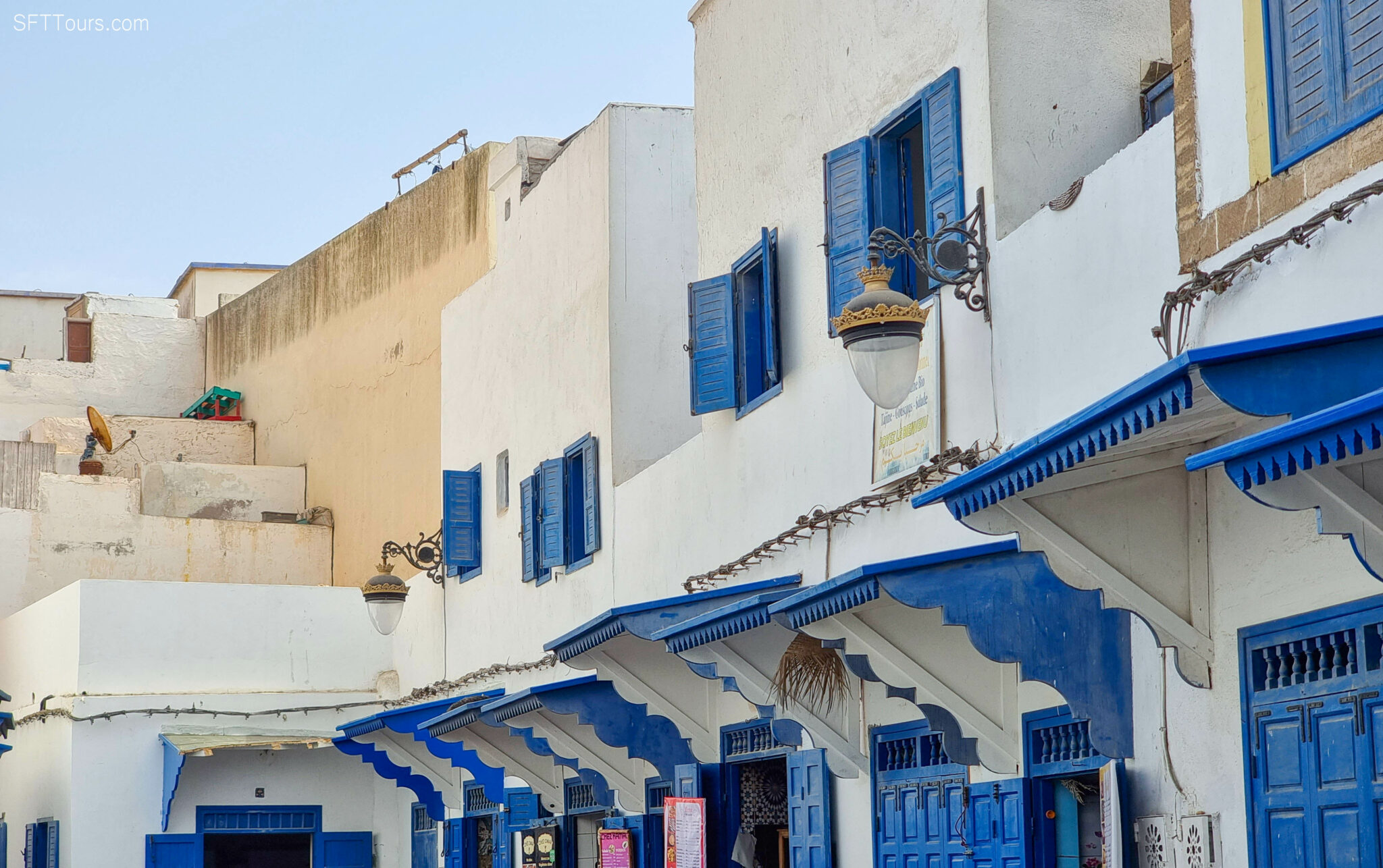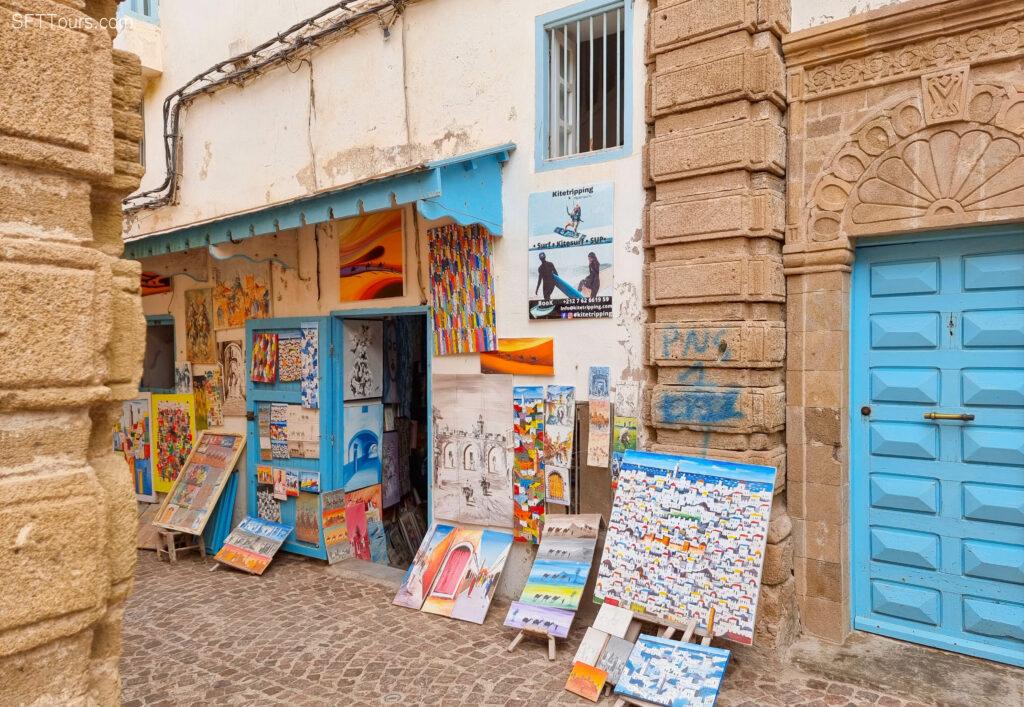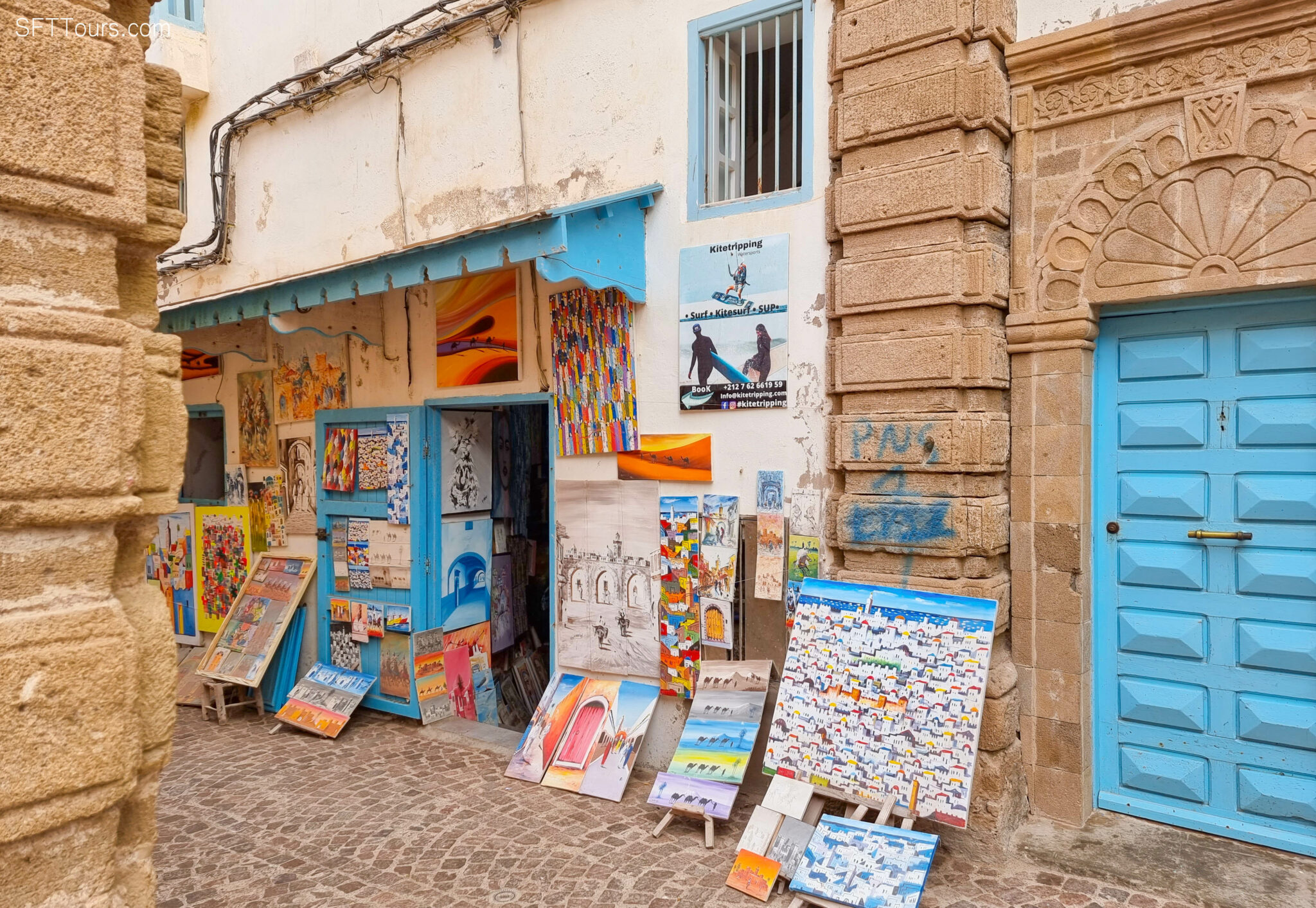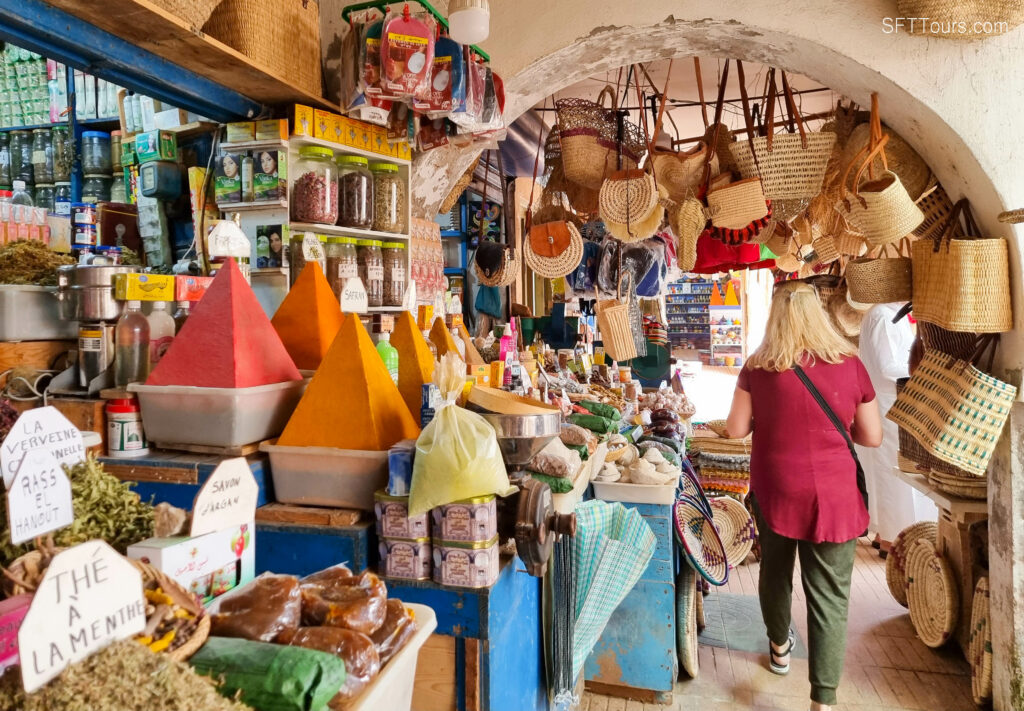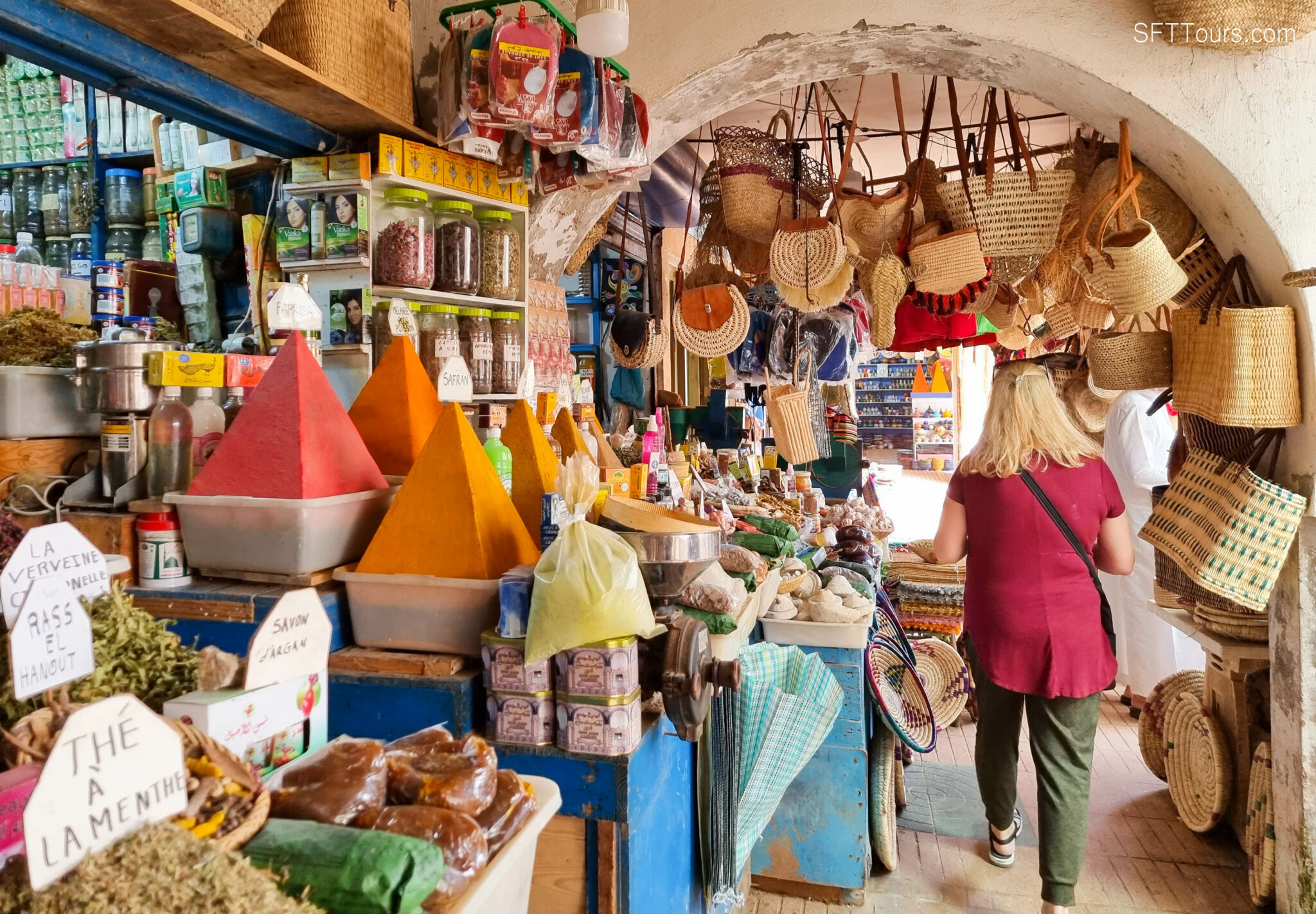 Optional Excursion – Essaouira
Driving time: 6 hours.
We are offering an optional excursion to the UNESCO listed coastal city of Essaouira as a day trip from Marrakech.
If you add this to your trip, your day 10 will start early with a drive towards the coast that will last around 2,5-3h. On the way, we will stop at an argan cooperative to see the now Instagram-famous argan tree goats and learn more about the process to make this priced oil.
These acrobatic goats that seem better suited for the circus, climb the spiky argan trees to eat their leaves and fruits, the argan nuts. Because they can't break down the nuts, these are passed as excrement and then collected by the farmers to produce the priced argan oil. If they are around when we drive, we will stop to observe them at work.
Note: We will not stop at the many staged trees where goats are tied to the branches and forced to stay there for tourist photos.
We will arrive in Essaouira in time for lunch followed by a walking tour with our local female guide, Rachida of the medina, an 18th century fortified town that is a UNESCO listed site.
After the tour, we will have a bit of free time before driving back to Marrakech in time for dinner. You will then depart Morocco after breakfast on day 11.
Note: Price may change if there are fewer than 6 guests on the tour.
Inclusions: 1 extra night a 2Ciels in Marrakech with breakfast, transportation, walking tour of the medina with a local female guide and lunch.
If you wish to add this to the main trip, let us know when booking.
---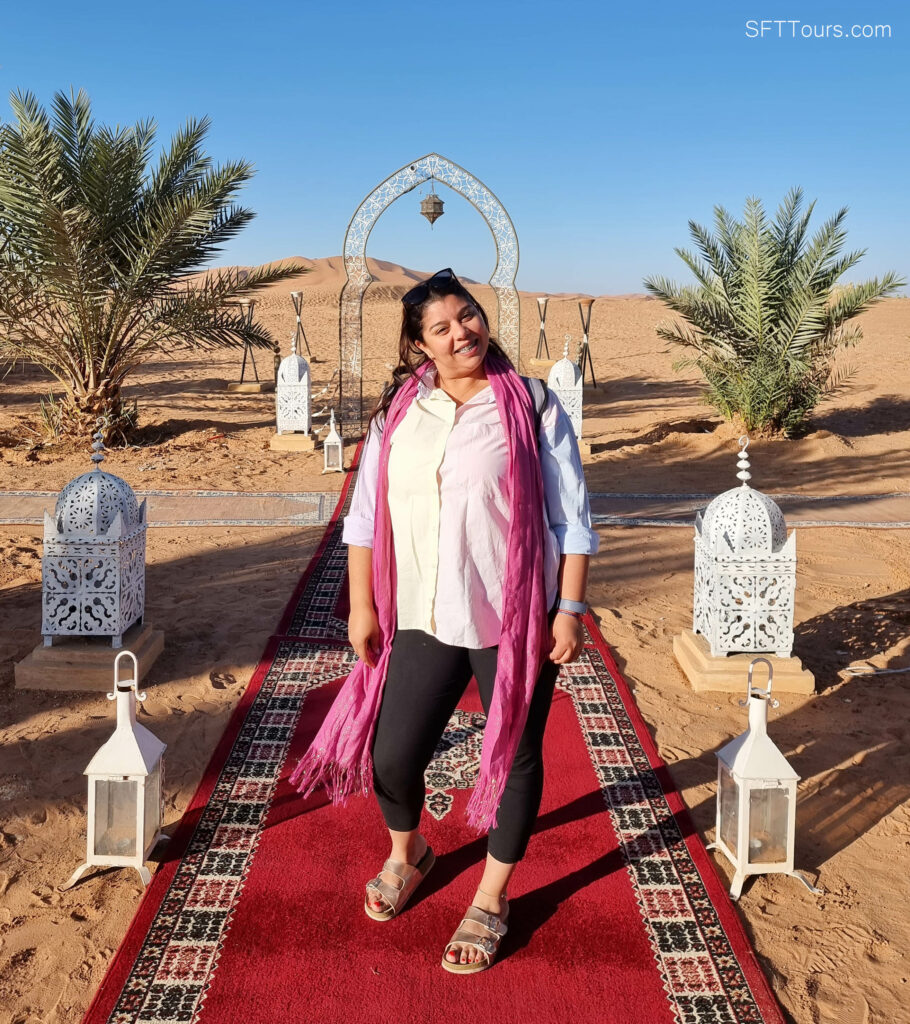 About Your Host
Mariam is a Berber guide hailing from the High Atlas Mountains of Morocco.
She has been guiding guests since 2018 and is proud to be one of only 10 female mountain leaders in Morocco.
Mariam enjoys cooking, meeting new people and learning about new cultures as she introduces her beautiful country and culture to travellers from abroad.
She studied Business Management at the Institute of Training in Administration and Commerce (IFAC) and got her Tour Guide degree from the Ministry of Tourism.
Mariam is currently studying English at Cadi Ayyad University in Marrakech where she plans to receive her masters and doctorate in English literature.
Our May 2023 departure will be Co-hosted by Co-founder Mar Pages.
---
Guest feedback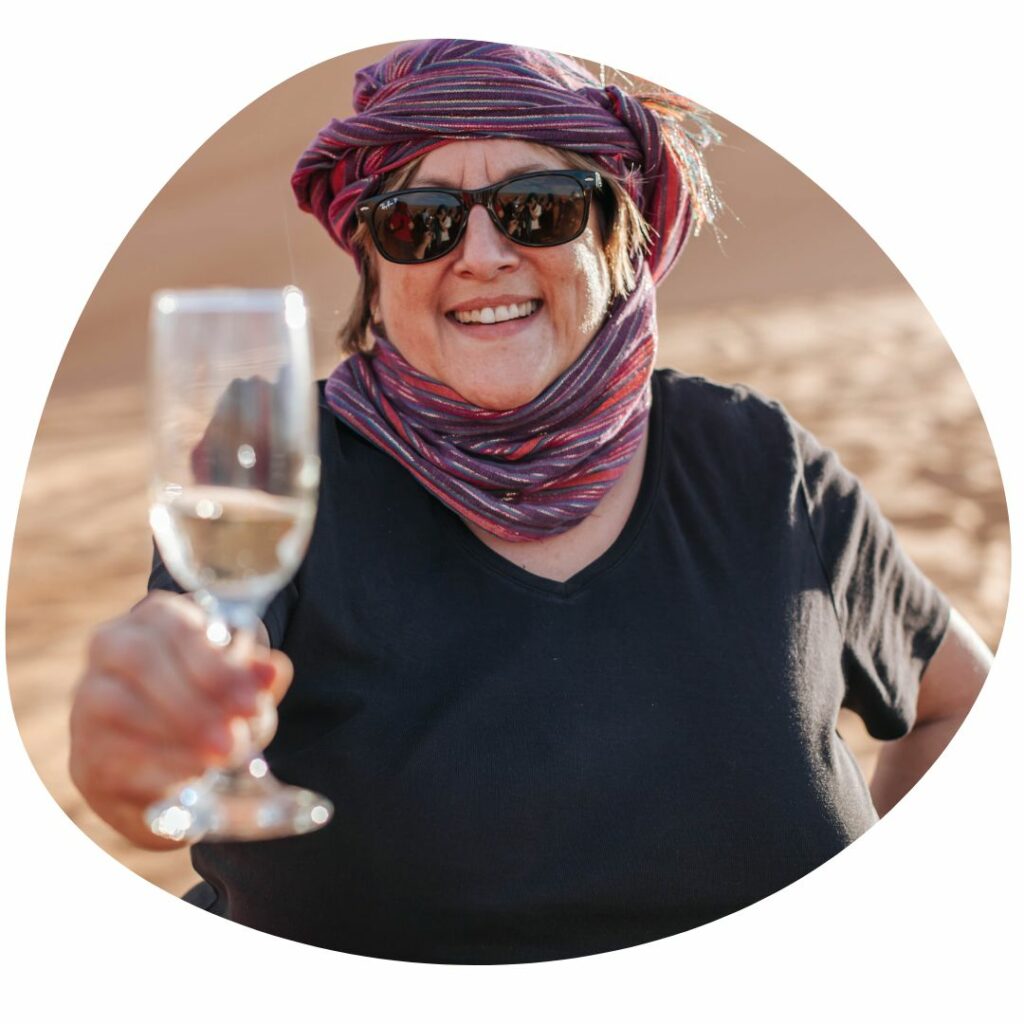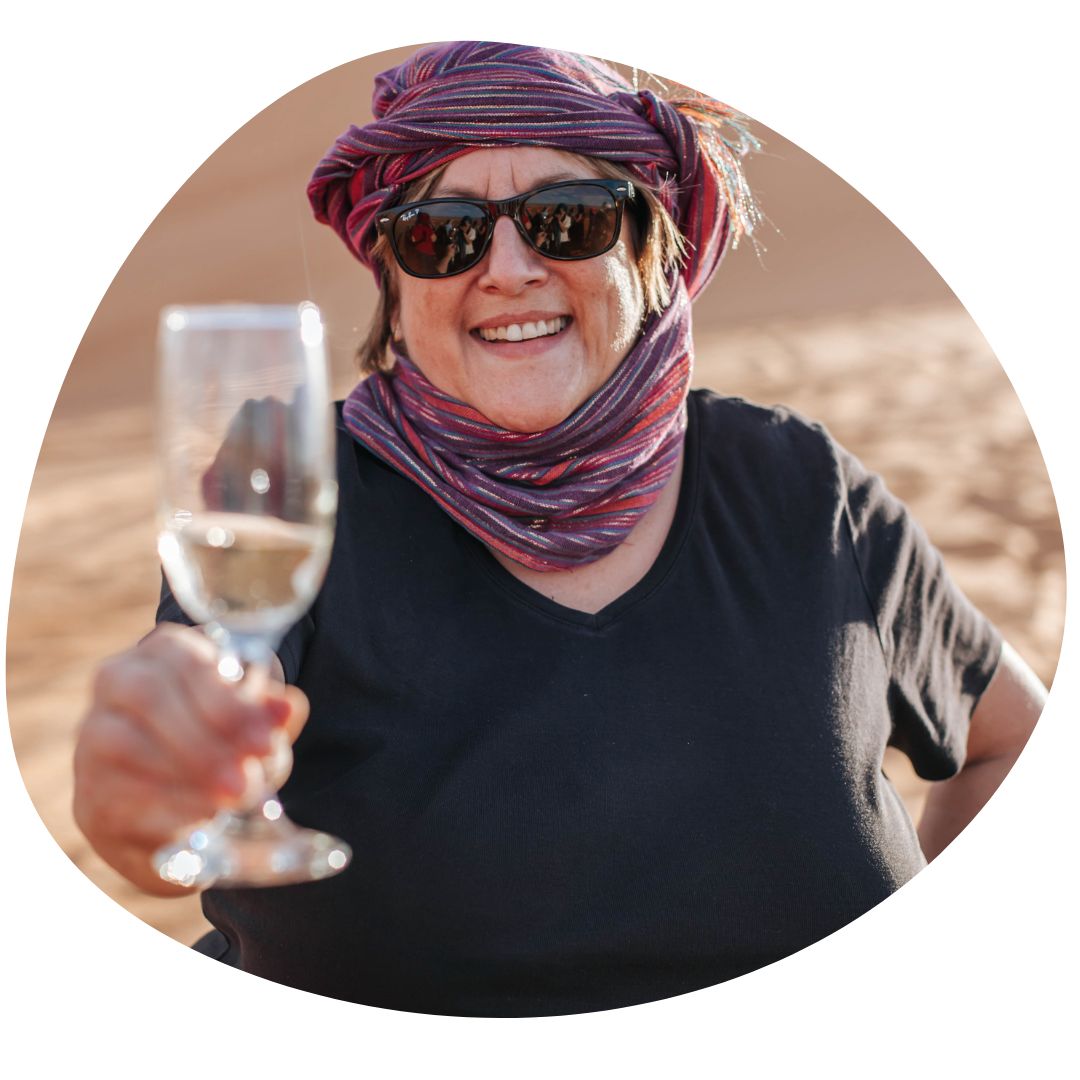 Jane – "Awesome is one of the words I would use to describe our tour of Morroco!
From my first contact with Mar and Meg, to the added bonus day this tour surpassed all my expectations. Our daily itinerary was jampacked, our guide Mariam was amazing and our accomodations were a great mix of traditional riads and hotels, both extremely comfortable. Female empowerment was the theme for this tour and we experienced that with every guide, cooperative and restaurant we had a chance to visit.
The added bonus of talking with activists lead to an increased understanding of how women live in this part of the world. I would highly recommend this trip."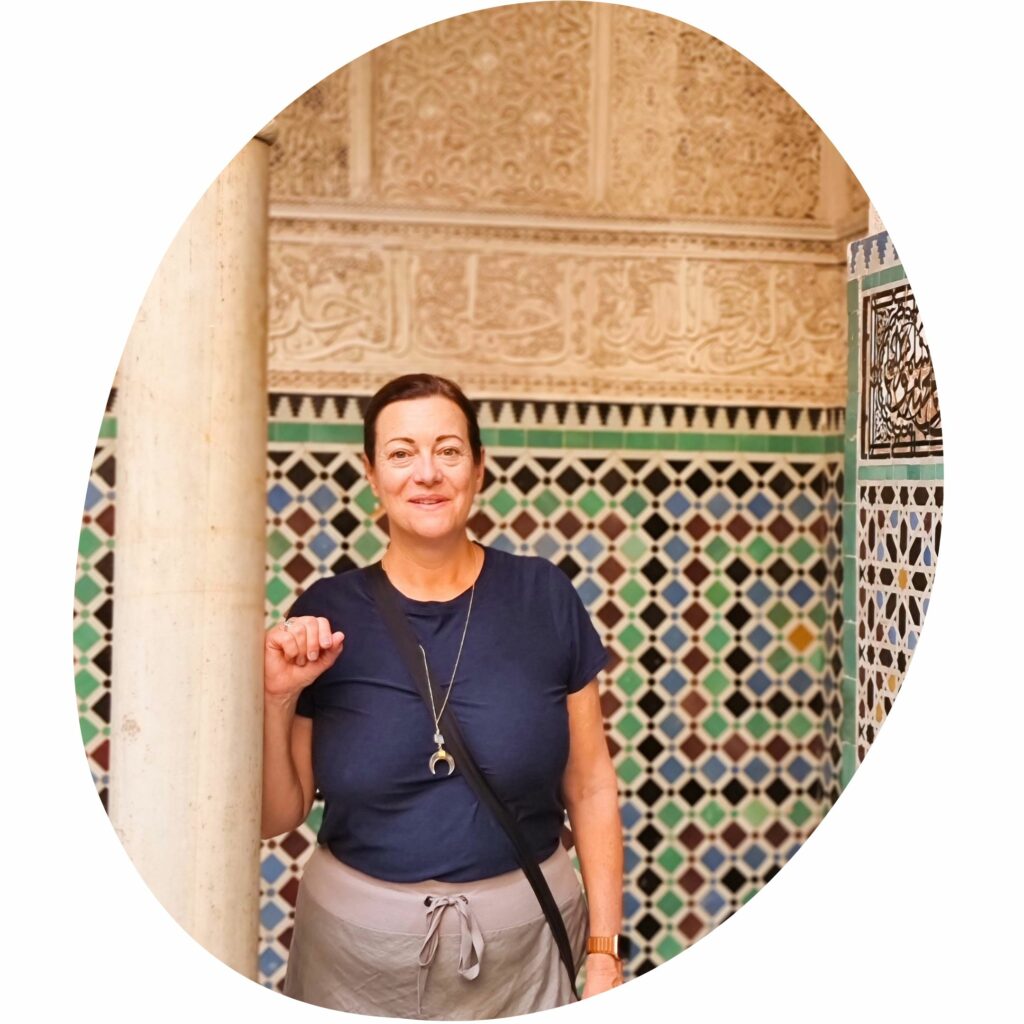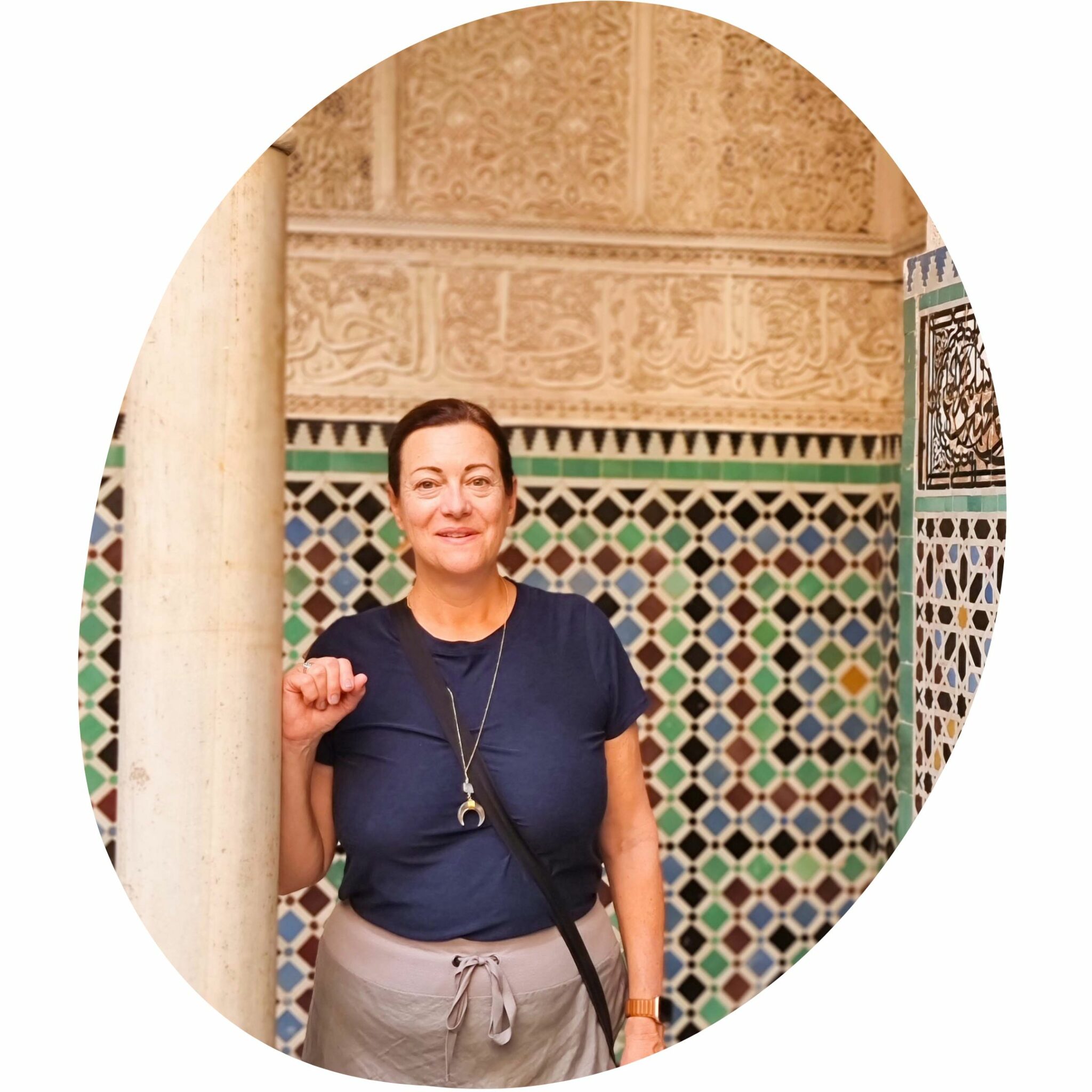 Julie – "I traveled with Solo Female Travelers Club and Jane on the October 2022 Morocco trip. I echo everything Jane said. The trip was fabulous!
The planning and organization were outstanding, and Mar and our Moroccan tour guide Mariam responded to unexpected issues with creative solutions and great humor. The hotels, especially the riads in Chefchaouen and Marrakech, were excellent, as was the food. The pre-planned bathroom breaks at restrooms known to have Western toilets were especially appreciated!
I highly recommend this trip as well!"
---
Inclusions
✔️ 9 Nights in shared twin or single accommodation in 4-5* hotels
✔️ 10 breakfasts, 7 lunches and 8 dinners
✔️ Female Moroccan host for the duration of the trip
✔️ Additional local female guides in Rabat, Fez, Casablanca Mosque, Marrakech and Chefchaouen. Male guide in Volubilis
✔️ Chats with female activists, leaders and role models in Chefchaouen and Marrakech
✔️ Entry tickets to all sites, attractions, parks and museums listed
✔️ Cellar visit and wine tasting at Chateau Roslane
✔️ Transportation for the duration of the trip in private minivan
✔️ Welcome and Farewell dinners with wine
✔️ Tips for staff at hotels, stores, workshops, local guides, etc. excluding the Host guide.
Exclusions
✘ 1 lunch in Chefchaouen and 1 dinner in Marrakech
✘ Transportation from and to the airport in Casablanca or Marrakech
✘ Visa, if required
✘ Travel & Medical Insurance (Required)
✘ Alcoholic drinks at meals except for the Welcome and Farewell dinners and the winery lunch
✘ Souvenirs
✘ Tips for the host (at your discretion, guideline: 10-15 EUR per day)
✘ Departure COVID Testing if required which we can help organize
✘ Optional activities not included in the program that you may book yourself
Payment Info
Only 14 Spots Available
4,495 EUR
Optional Essaouira excursion (min 6 guests)
450 EUR
Payment Plan:
Deposit: 30% non refundable deposit to reserve your spot
Balance payment due 120 days before departure
*The initial deposit is refundable if the minimum number of guests is not reached. By joining our trips you agree to our T&C.
---
The Solo Female Travelers difference – What makes us unique
All our tours follow the same values and philosophy that makes us who we are which you can find here. In Morocco, two things set us apart from others: Our luxury accommodation and the time spent with Moroccan women.
We have hand-picked each hotel to be fabulous and oftentimes, female owned. Most companies stay at middle of the road hotels but we have chosen beautiful and very special options that are just perfect.
We are also very proud of the many women this tour supports and the fact that we are the only company that is genuinely committed to providing a holistic view of women in Morocco an not only those in traditional rural roles. We will have local female guides in Casablanca, Rabat, Chefchaouen, Fez and Marrakech, and spent evenings with two female rights activists to better understand the role of women in society today and the legal framework in Morocco. We will also visit several women-run cooperatives and support female owned restaurants and hotels.
Book your spot
This trip will only host 14 guests so don't wait. Choose your dates and package and click the Book button to reserve your spot. Note: Please do not book flights until the trip is confirmed.
IMPORTANT: The nature of this trip makes vegan diets difficult to accommodate, please reach out to us to discuss your dietary needs before booking.
12 to 21 May, 2023
4th to 13th October, 2023
To book, Select package from the below drop down, and click the Book button
---
27th April to 5 May, 2024
To book, Select package from the below drop down, and click the Book button
1st to 11th November, 2024
To book, Select package from the below drop down, and click the Book button
---
Credit card payments carry a 3% surcharge. Wire transfer details are available via email: community@solofemaletravelers.club.
Note: Please do not book any flights until the trip is confirmed.
Have questions? Pick a convenient time and date below to talk to us, we'd love to meet you!
---
Tour gallery
---
Frequently Asked Questions
This is a trip of a lifetime and we know there are many things you'd like to know more about.
What are the COVID measures in Morocco and how will you ensure everyone is safe?

We care deeply about the wellbeing of our guests and our trip follows all local regulations. We require our guests to be fully vaccinated to join the tour so that we ensure the safety of everyone on the trip.
What if I cannot travel because of COVID restrictions?

Balances are not refundable if you change your mind. In case of travel restrictions imposed by the Government of Morocco that force the cancellation of the trip we will move the trip to a later date.

We require all guests to purchase travel insurance that covers unforeseen circumstances which would prevent them from traveling, and this is how you would recover your costs from needing to cancel. Please read our Terms and conditions here.
Do I need a visa for Morocco?

Most travelers do not need a visa for Morocco. You can check visa requirements here.
What is included in the trip?

All inclusions and exclusions are detailed in the section above. This trip is almost all inclusive with very few exceptions such as 1 lunch and 1 dinner. Alcoholic drinks are only included at the welcome and farewell dinners. Activities mentioned on the itinerary are all included. Airport transfers are not included.
Can vegetarians or vegans be catered for?

We believe in making our trips accessible to all women, however, Morocco is an eminently carnivorous country and, particularly in the days when we will be away from large cities such as Marrakech, Casablanca or Rabat, options for vegetarian or vegan meals will be limited as we will be eating at local and often small restaurants or at people's homes. This means that the only vegetarian options may be Moroccan salads (parsley, tomato, onion), bread and vegetable tagine which can get repetitive.

It is also important to note that we will spend a significant amount of time in the medinas of Fez and Marrakech where fresh meat and fish are openly displayed on stalls across the markets and entire lambs are found hanging from the ceiling.
Will there be "shopping opportunities" on the trip?

The practice of kickbacks ois part of life in Morocco and the sole income for many whose job it is to source customers, especially in the medinas of Marrakech and Fez, and take them to stores in exchange for a commission on their purchases. While these encounters can sometimes be great finds, they can also become tiring and overwhelming.

To make sure you have the opportunity to learn about the artisanal work that is done in the medinas of Morocco for centuries and that you can enjoy your shopping time without any pressure, we will compensate the staff at each workshop, store and showroom we visit fairly for their time regardless of whether you purchase an item or not.

Guides on our trip will not take you to unplanned shopping stops or guide you to a store where they get a commission. If we visit an artisan's workshop or showroom it will be because of craftsmanship of the artisans who work there. Wherever possible, we will favor female cooperatives or businesses.

The only tip not included in the price is that for your host which is entirely at your discretion. As guests often ask us for a guideline, we suggest a tip of around $5-$10 per day if you are happy with the experience provided.
How fit do I need to be for this trip?

This is a relatively active trip due to the level of walking involved in exploring the cities. We will also be spending a few hours in the car as distances between the main cities are long.

You should be mobile and fit enough to walk leisurely for 3-4 hours on most days and take more than 10,000 steps per day when we visit cities on walking tours (eg. Casablanca / Rabat, Chefchaouen, Fez, Marrakech, Volubilis). There will also be a generous amount of stairs, both in the riads we will eat and stay at as well as in some of the towns and medinas.
Can I have a room to myself?

All costs above are considered on a sharing basis with two guests per room in twin bedding; we will pair you with another solo female traveler on the trip. If you wish to have your own room, a single supplement of 1200 EUR applies.
I want to bring my partner to the trip

This is a female-only small group trip specifically designed for women traveling on their own. If you wish to travel with a female friend, partner, family member, etc. they are absolutely welcome, however we are not able to book male travelers on this trip.
I want to bring my daughter

How wonderful! If your daughter is above the age of 16, we will be glad to have her with us.
How do you empower women in Morocco?

Empowering our guests, members and local women at the destinations we visit is our mission and we love facilitating connections and having conversations with a wide range of local women.

On this trip, you will be hosted by Mariam who is one of the few female guides in Morocco. We will also engage the help of local female guides in Fez, Casablanca Mosque and Marrakech. In addition, we will hear more about women's rights through the eyes of activists and female business owners in Chefchaouen, Chateau Roslane and Marrakech.
How does this trip help local communities in Morocco?

We believe that travel can be a force for good and wherever possible, we work with local travel companies in the country who can help us make a difference and ensure that the tourism dollars benefit local communities.

For this trip, we will stay at locally owned hotels everywhere except for while in Casablanca. We will also eat at local restaurants and with local families so we can spread the positive impact of tourism.
What medication do I need to take for a trip to Morocco?

Due to the time we will spend in more remote parts of the country and the fact that prescription drugs are not the same everywhere, we recommend you visit your doctor and get refreshers for vaccines such as tetanus and to make sure that you carry all your medicines and prescribed drugs as well as the official prescriptions from your doctor which you may be asked to show at the border.
What should I pack for this adventure?

Our trips to Morocco happen in Autumn and Spring when temperatures are mild. Because of the range of altitudes, landscapes and climates we will be visit, we recommend packing in layers. Daytime temperatures close to the coast and in the desert areas may reach 30 degrees Celsius but drop to 10 Celsius at night. The sun is very strong in Morocco and the climate will be dry. Pack moisturiser, a hat and a swimming suit to enjoy the hotels' swimming pools as well as a fleece for the evenings outdoor.
What happens if I get sick?

The prospect of getting sick while alone in a foreign country is daunting, and this is why we require all our guests have comprehensive travel and medical insurance that includes international evacuation. Should you fall sick, we will escort you to the nearest medical facility so you can get the help you need and a member of our local partner staff will join you to help with translations.
What travel and medical insurance should I get?

While the cost of medical healthcare in Morocco may be more affordable than in other countries such as the US, travel and medical insurance is mandatory to come on our trips and we recommend you get the most comprehensive coverage that includes international evacuation. We recommend checking with an aggregator such as Travel Insurance Master to compare quotes and coverages.
Can I make various instalments for this trip?

Payment for our trip to Morocco will consist of two instalments, 900 EUR to reserve your spot and the balance payment 4 months before the trip.
Can I pay by credit card?

Yes, payments can be made via credit card via Paypal. The original 900EUR deposit will not attract additional credit card fees. Payment of the remaining balance via credit card will carry a 3.5% additional fee. Alternatively, you can pay via wire transfer at no additional cost from our side (your bank will likely charge a one time transaction fee).