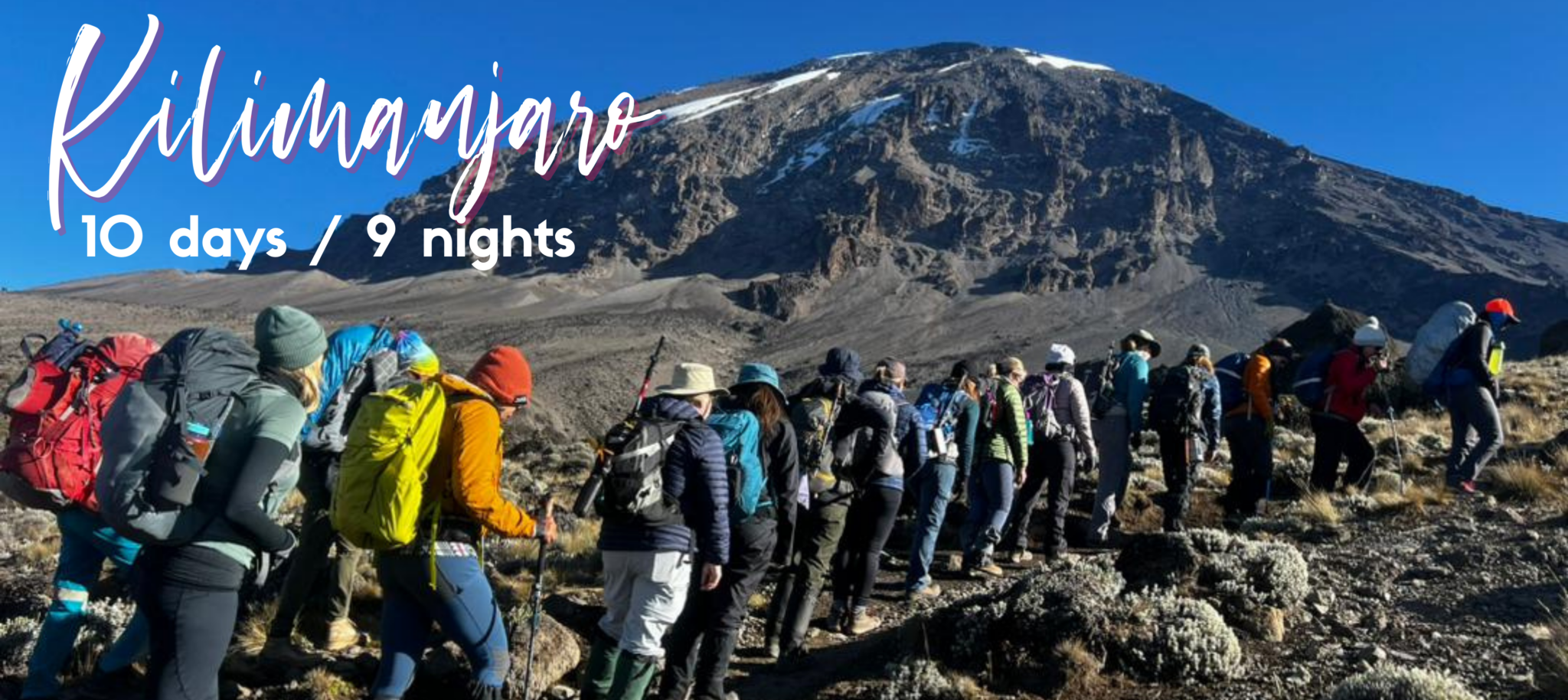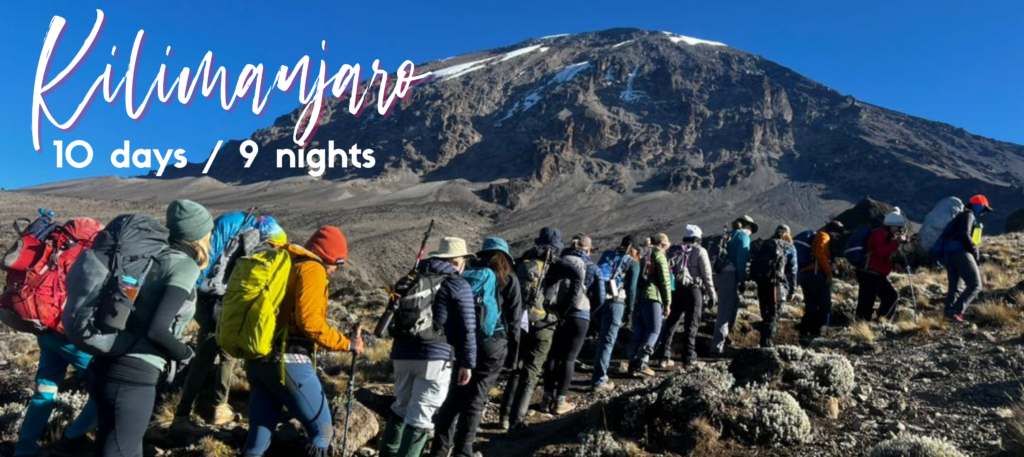 All Female Kilimanjaro Climb
Female guides + most porters | Shira Route | Summit on Intl. Women's Day | Support Tanzanian women in tourism
Join other kick ass women at the roof of Africa as you make your way up Kilimanjaro and summit on International Women's Day. Contribute to training female guides with a donation to the Tanzania Women Guides Foundation, a local NGO set-up by our lead guide and make a difference in providing opportunities to women in tourism.
Highlights: Summit on Intl. Women's Day | All female climber and guide team, majority female porters | Contribute to training Tanzanian female guides | Add on a safari extension to Ngorongoro and Serengeti.
Activity level: High, please see the FAQ section for details on how best to prepare for the fitness level required for this trip.
No single supplements* | Optional Safari extension | Female guides & porters
*Prices per person, we pair you with another solo traveler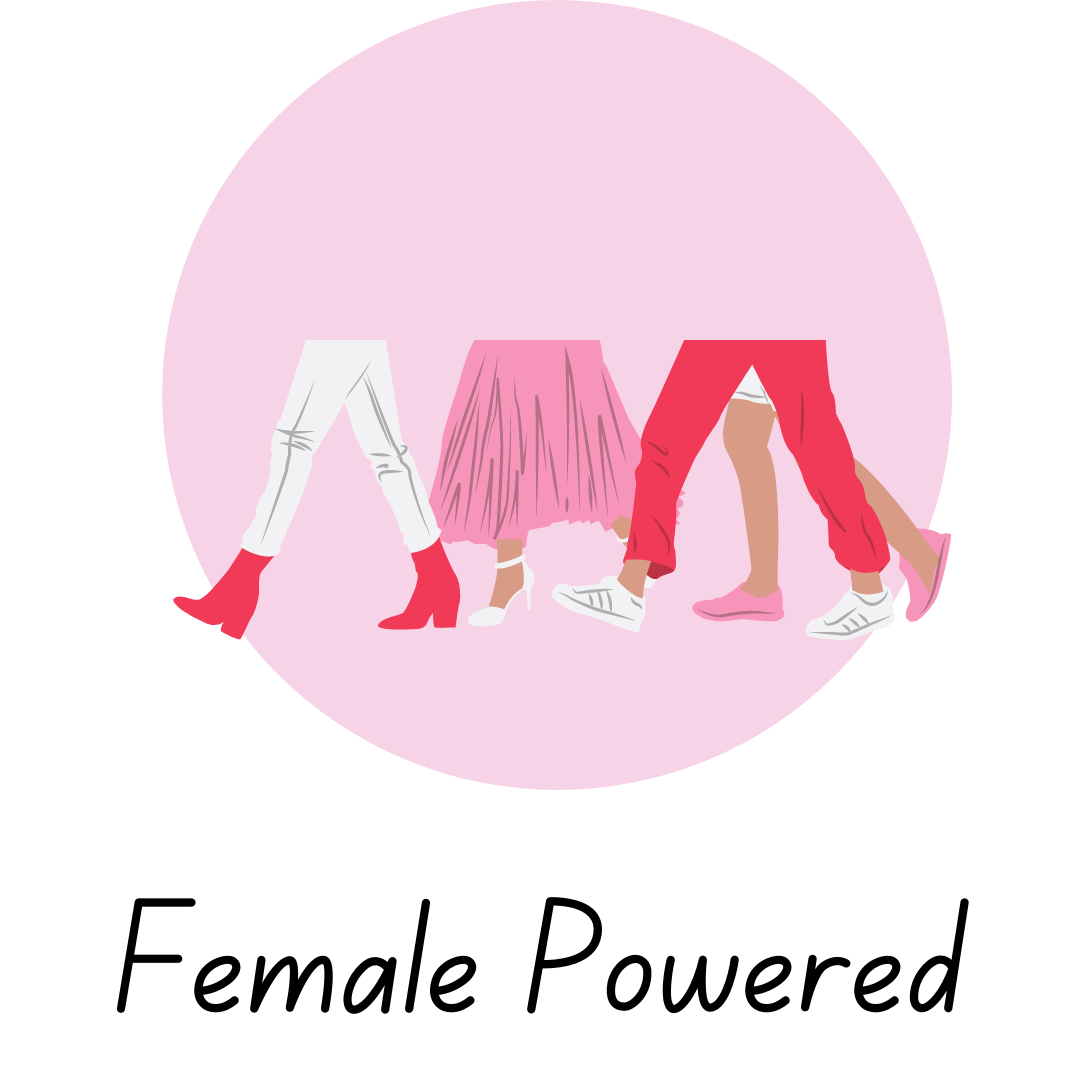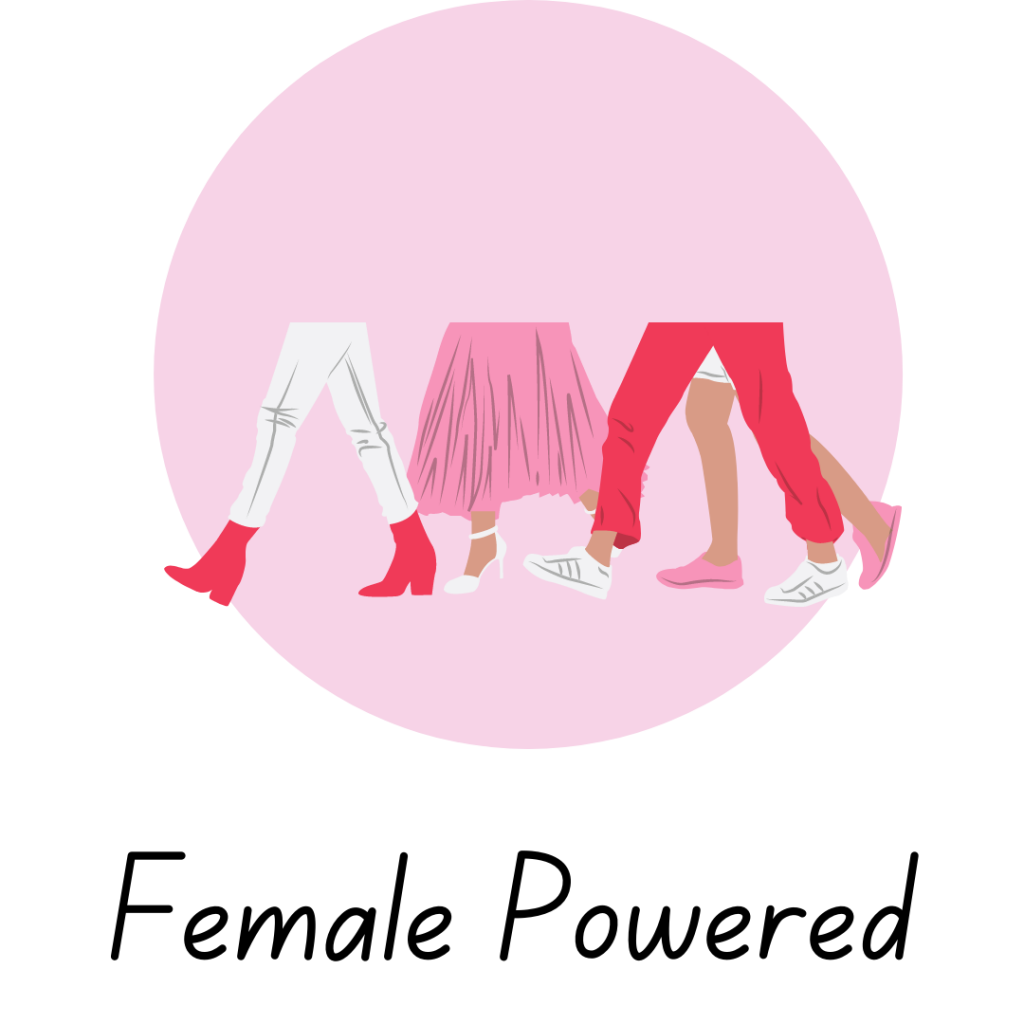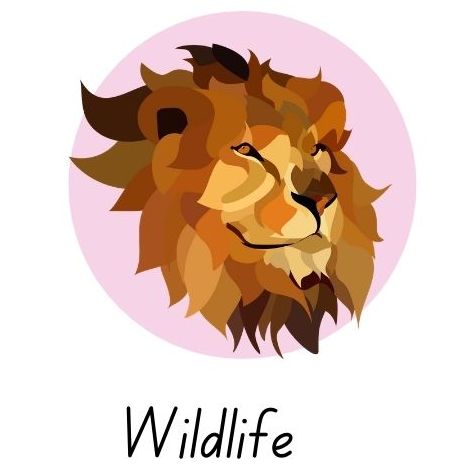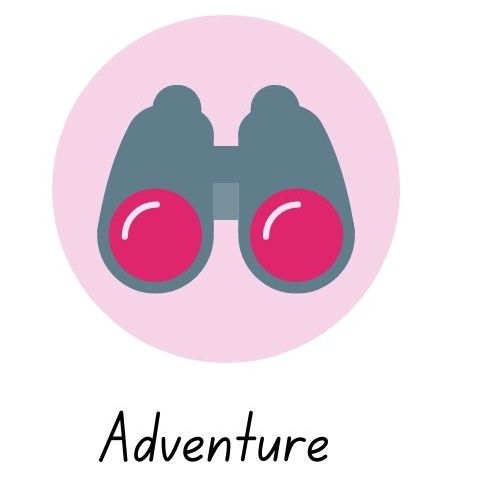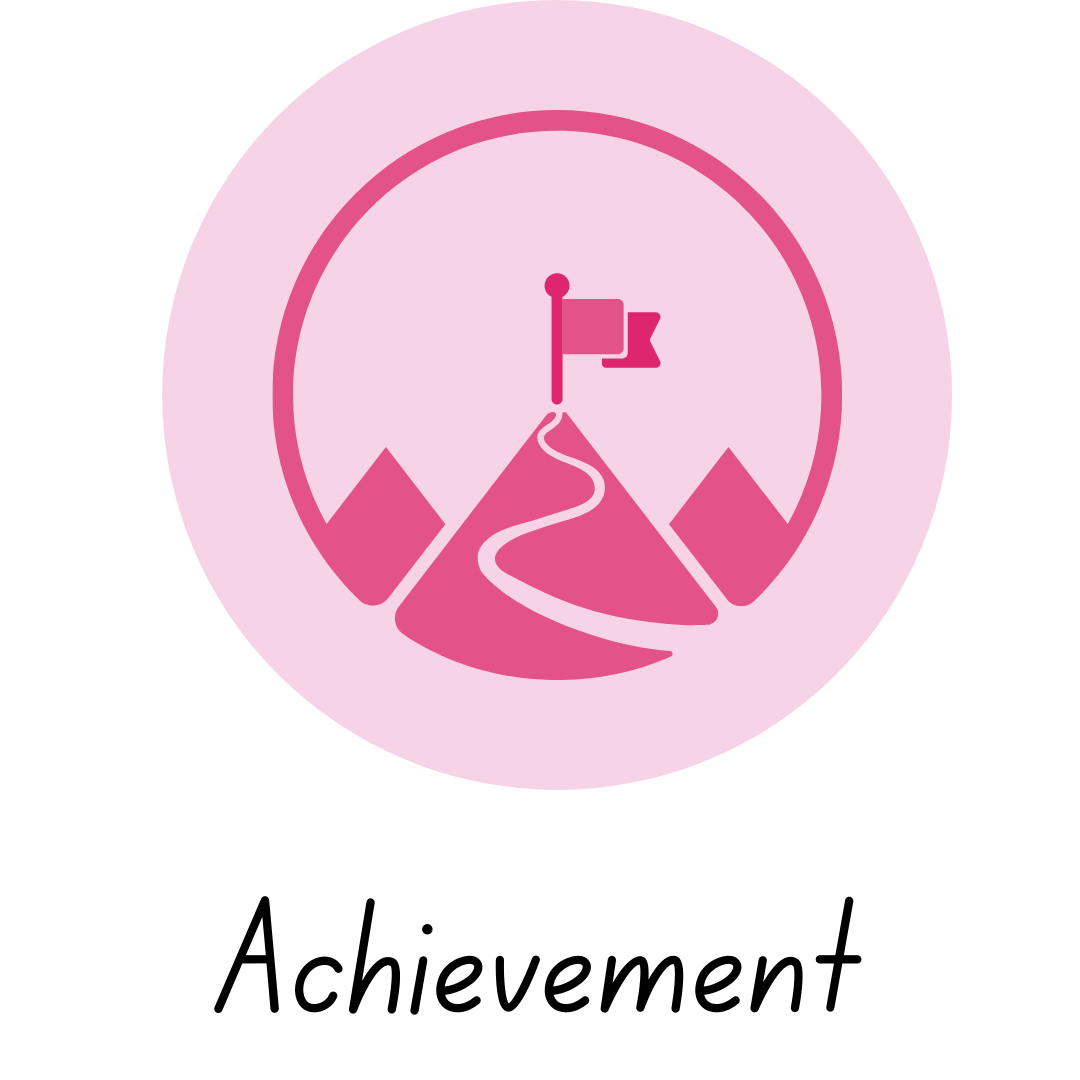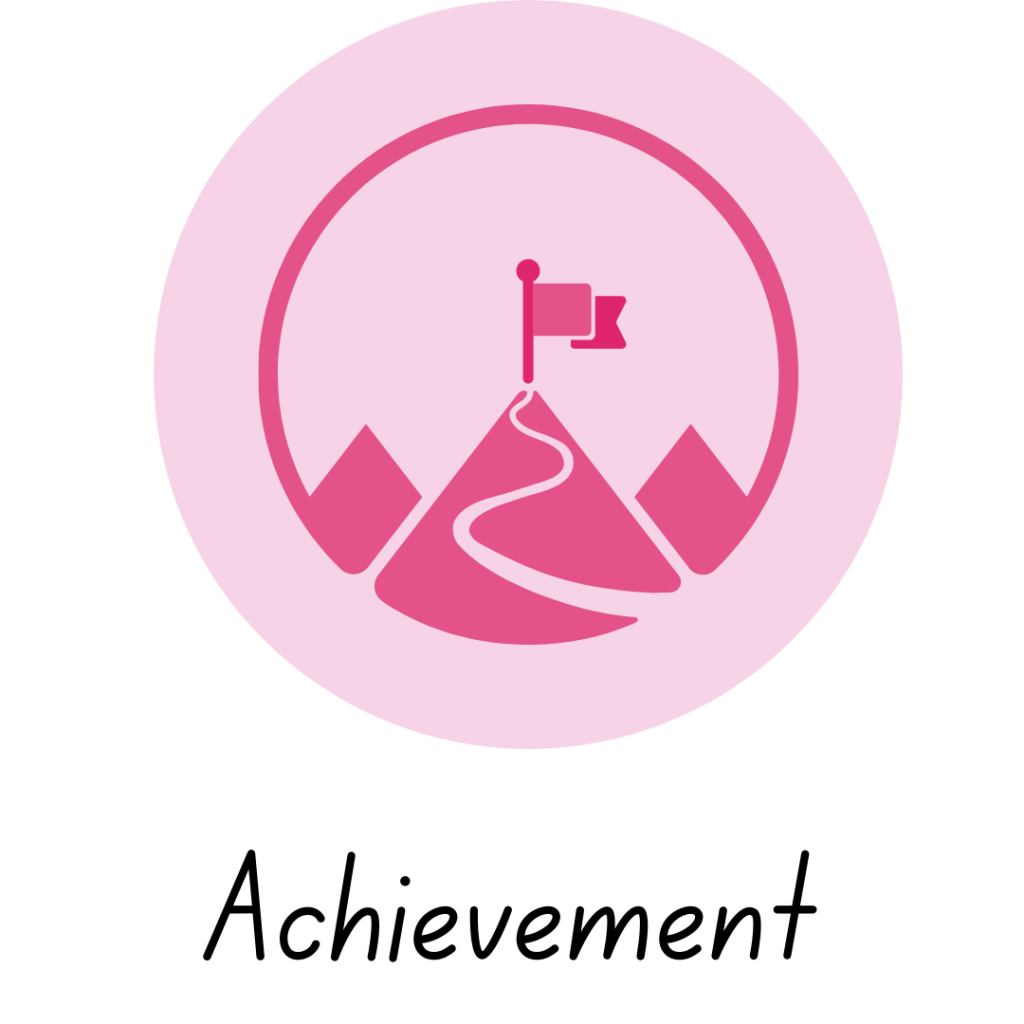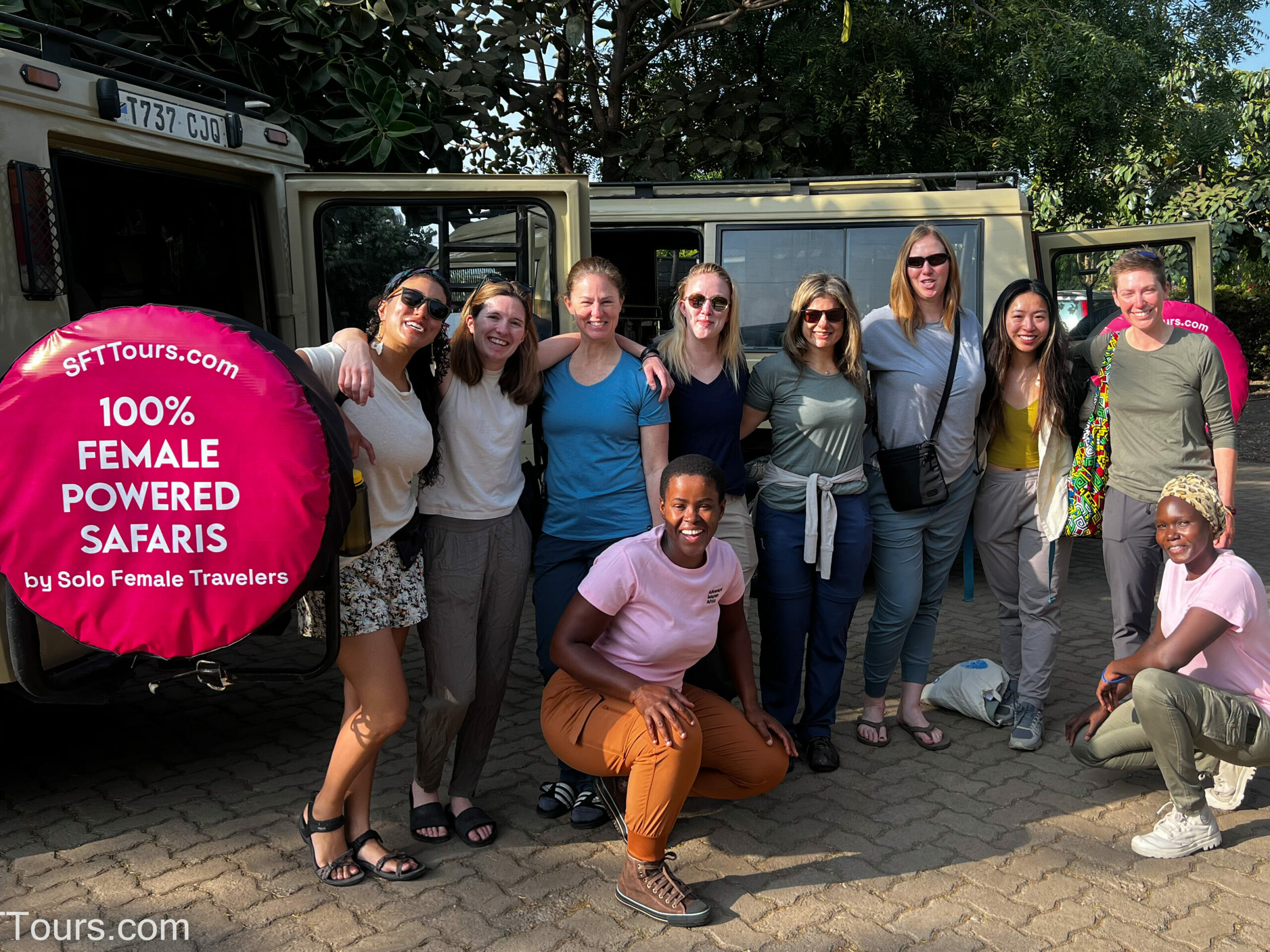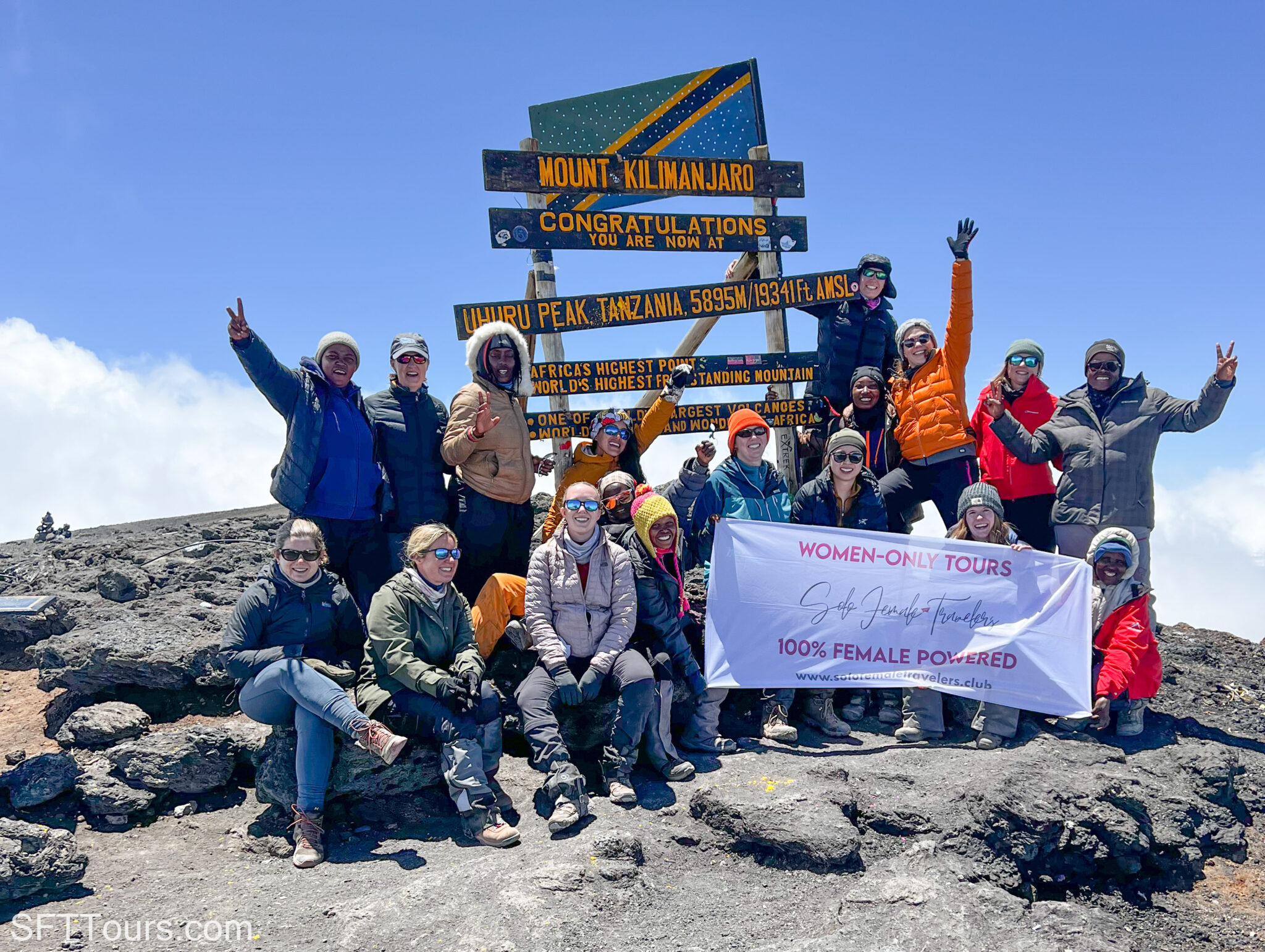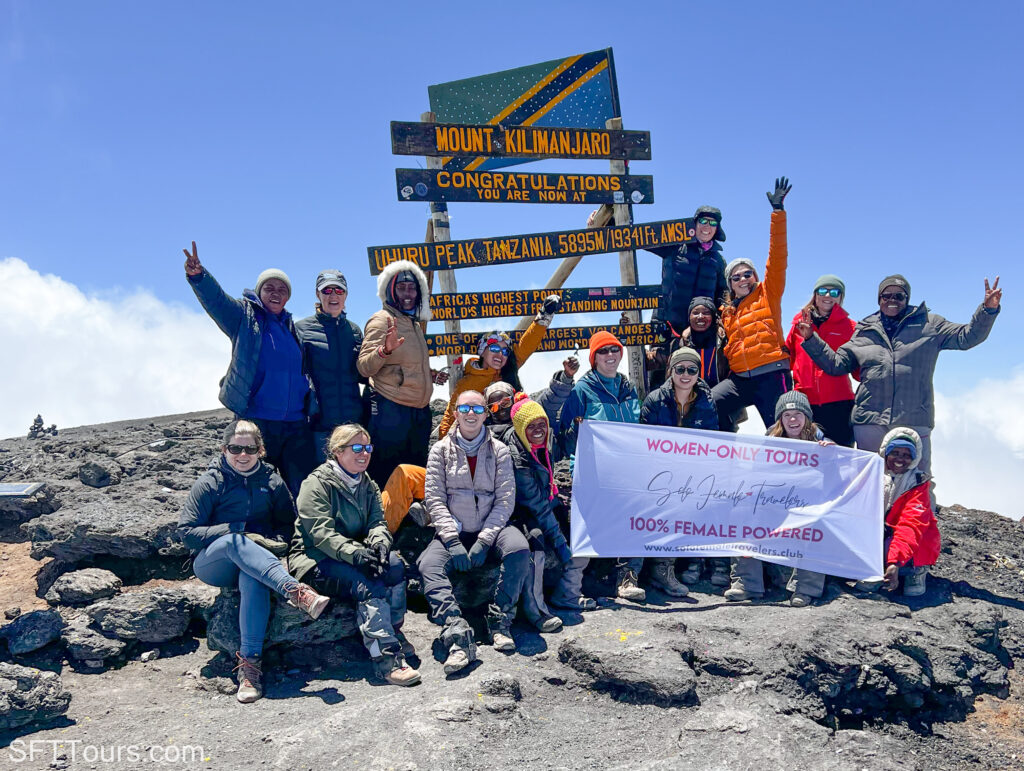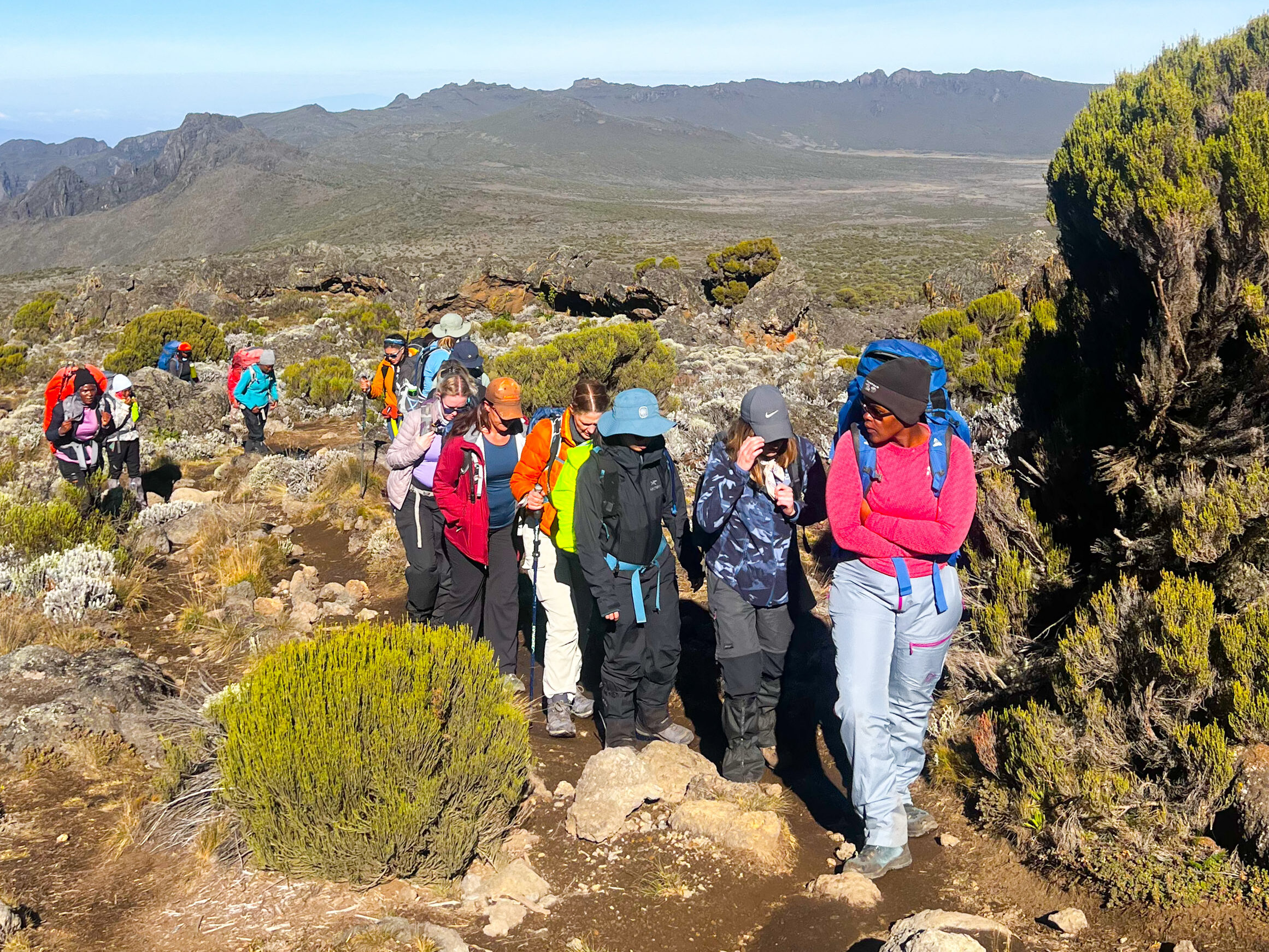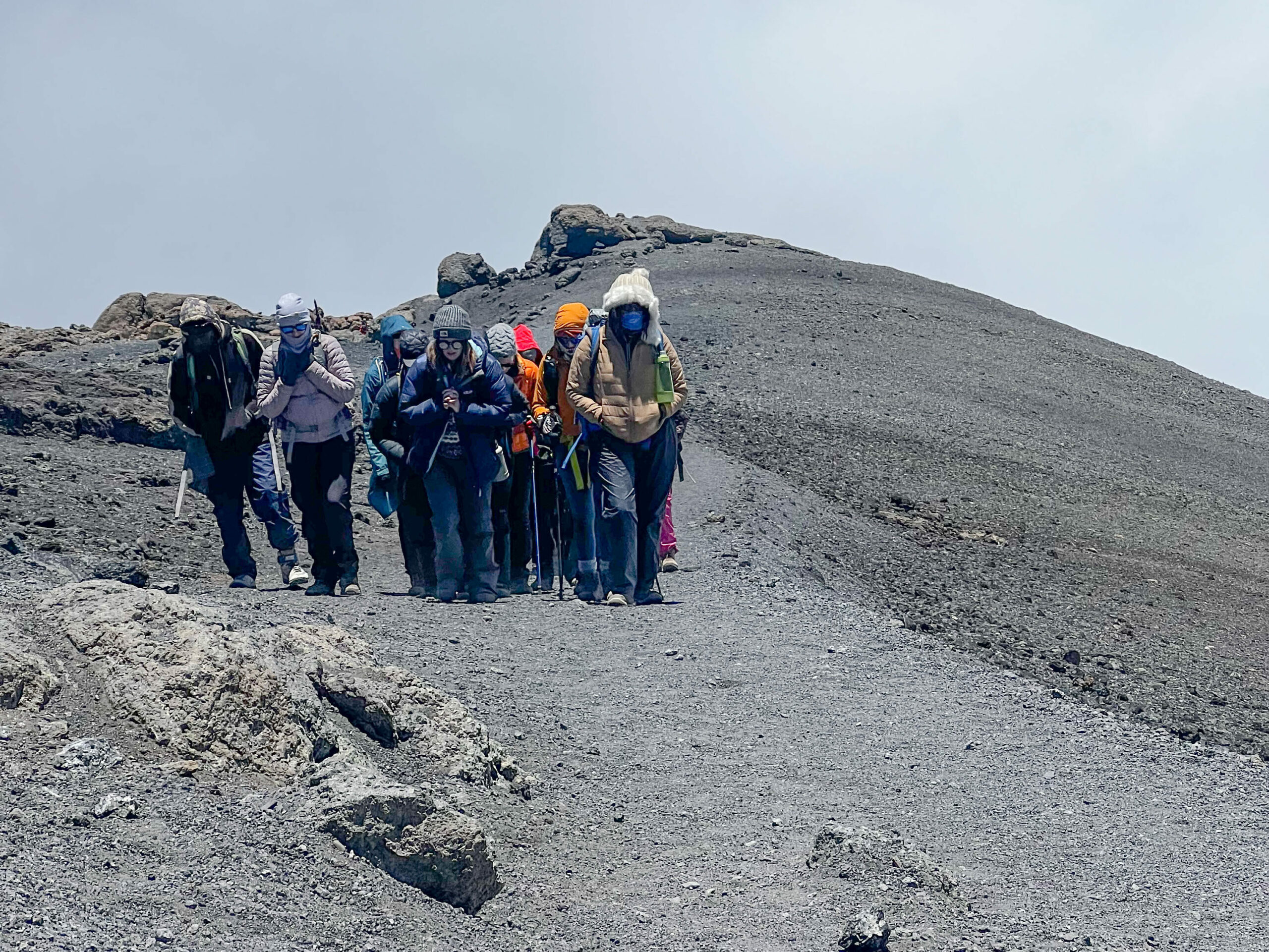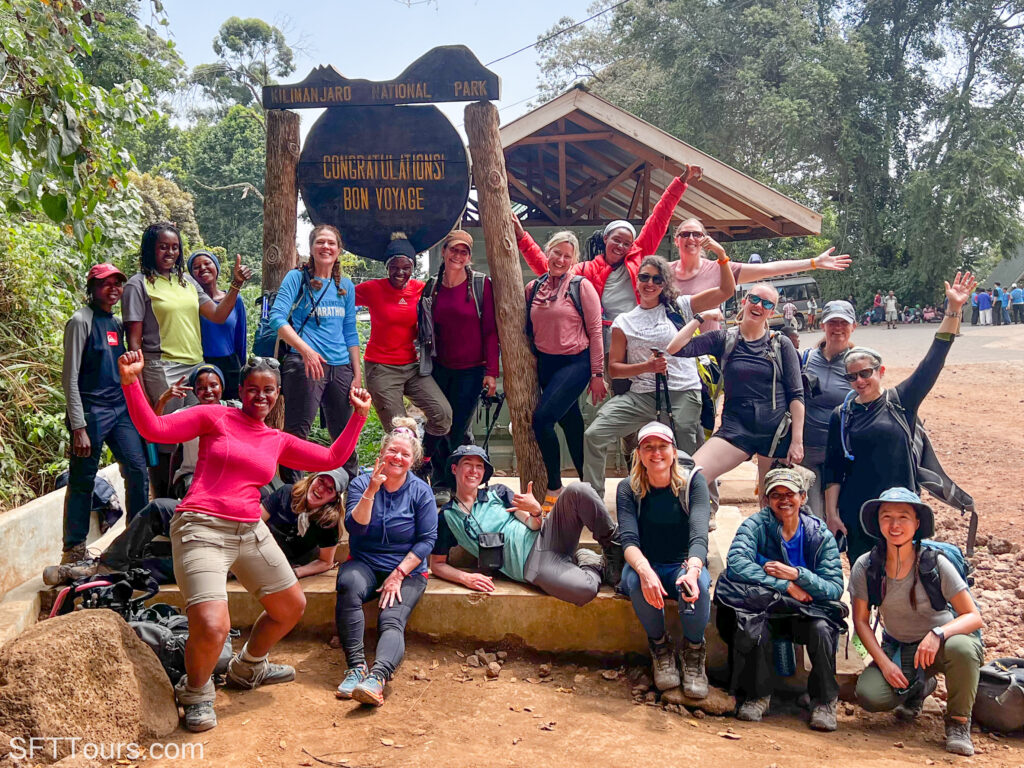 Trip Overview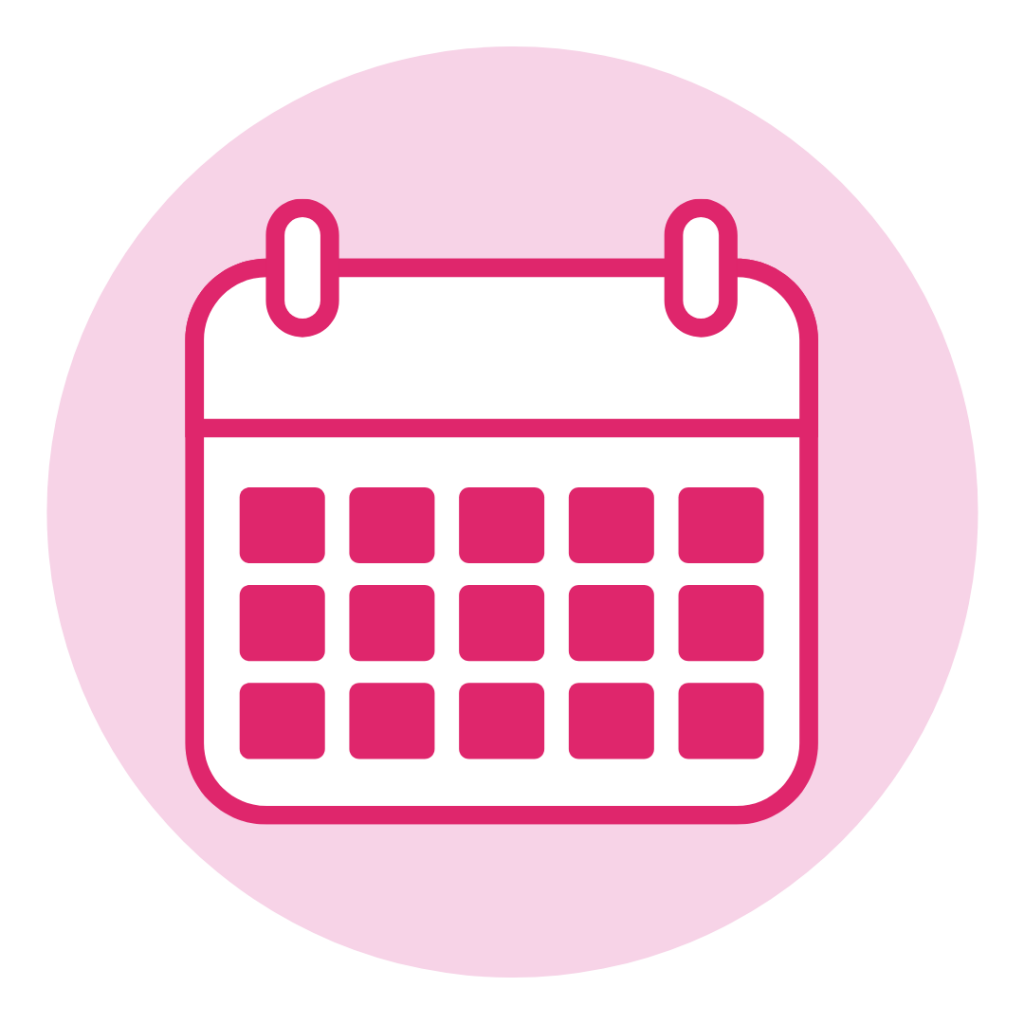 2024 INTL. WOMEN'S DAY: 1 to 10 March (Climb only) – CONFIRMED
1 to 15 March (Climb + optional safari)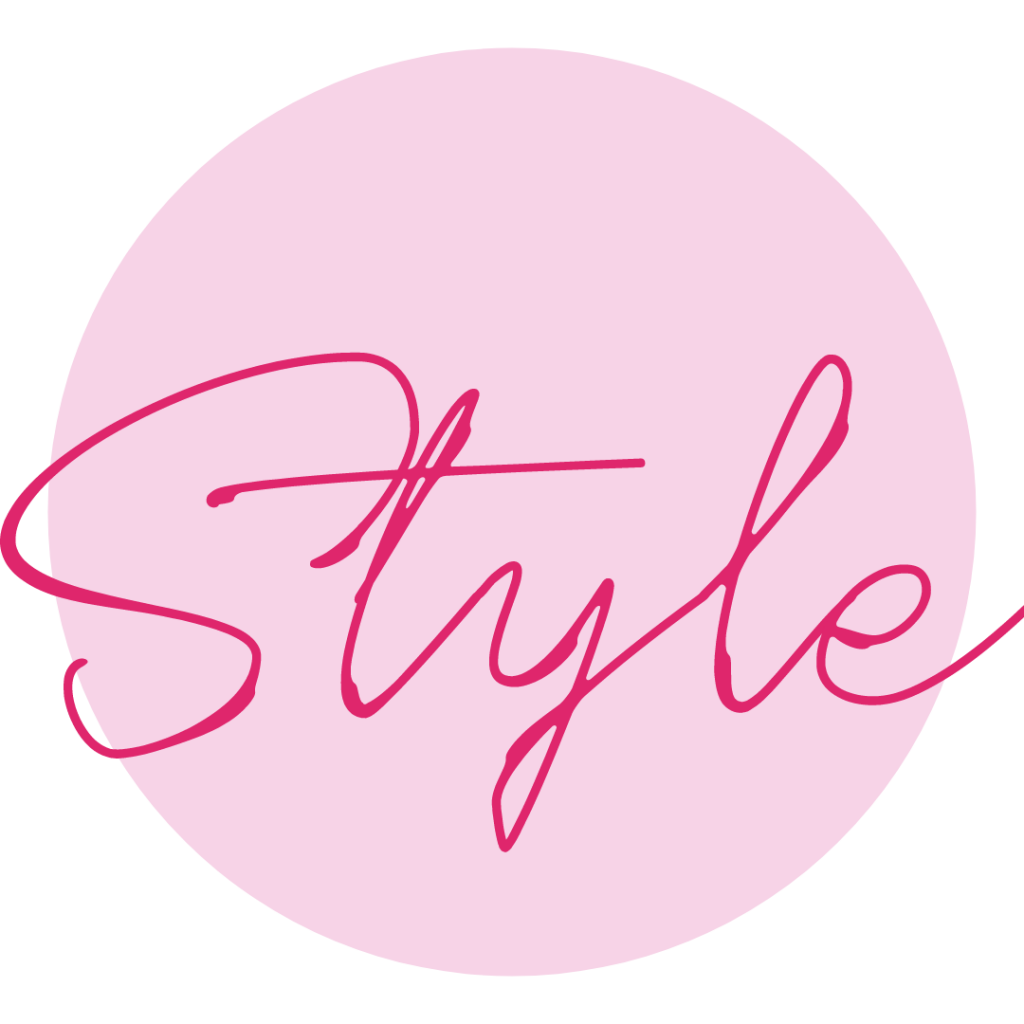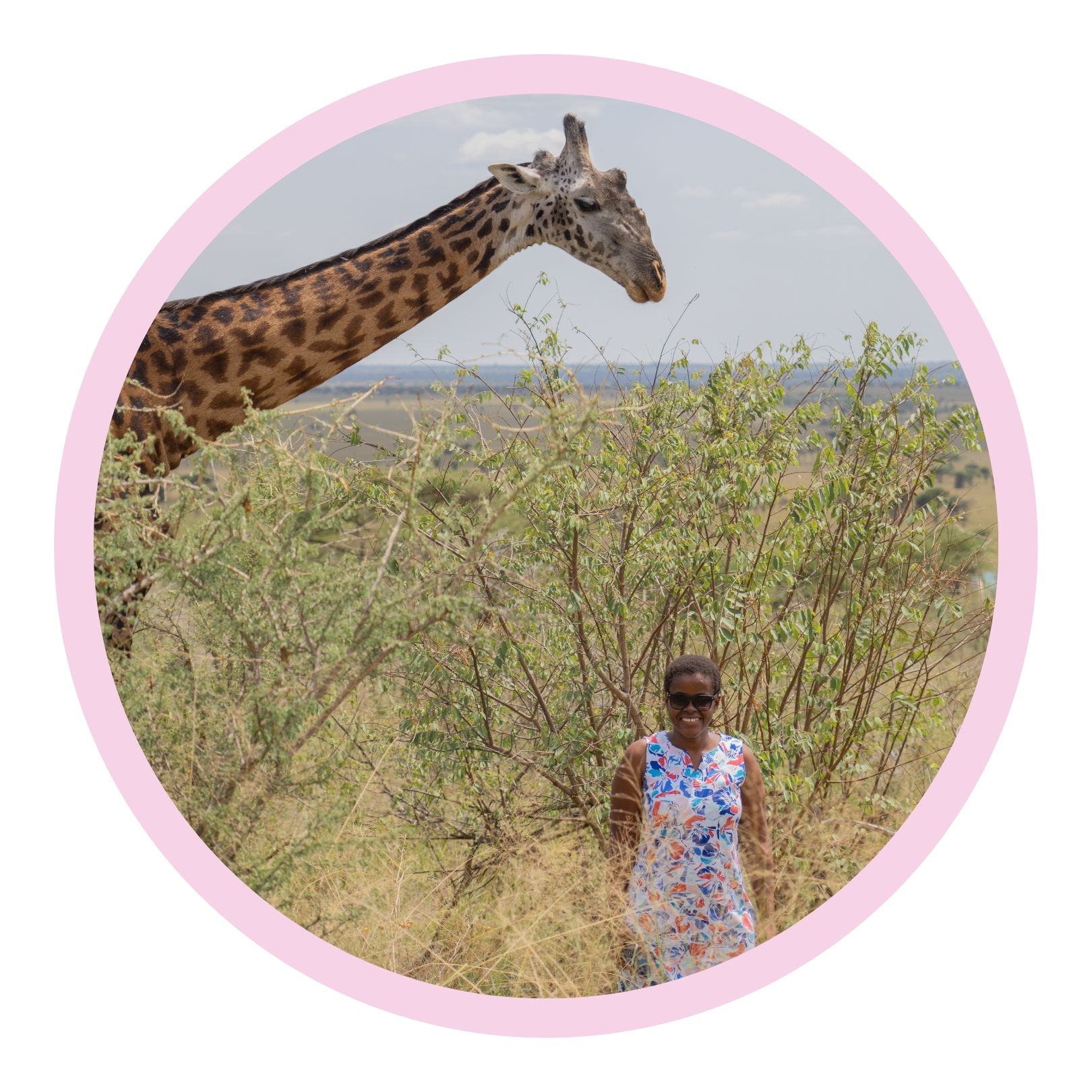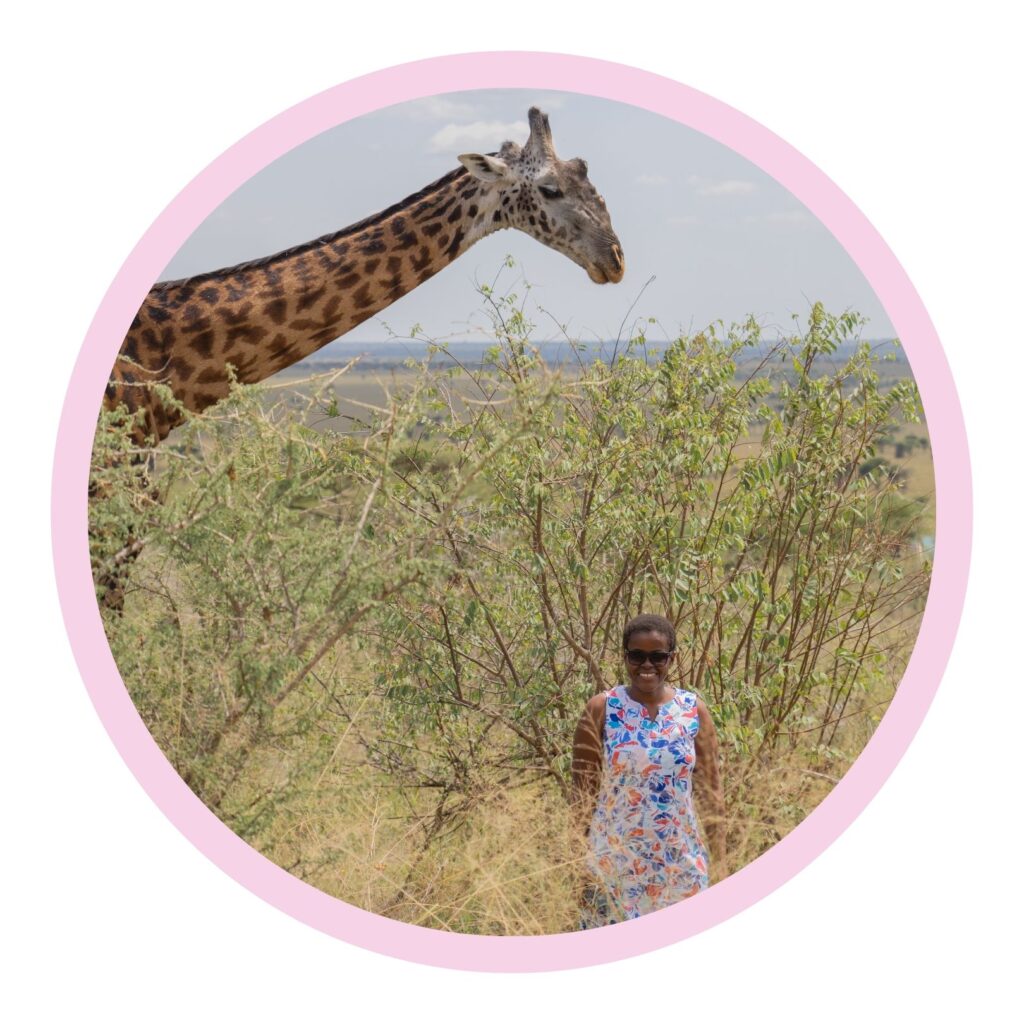 Glory Salema, our local guide
Payment plan
From $4,495 USD pp sharing
Max. 14 guests
---
Route Map
Our trek up to the Roof of Africa will follow the Shira route, also known as Londorossi route. This route starts higher than the rest, so your drive on the first day of the trek will be longer and you will have a shorter walk. Our itinerary will be as follows: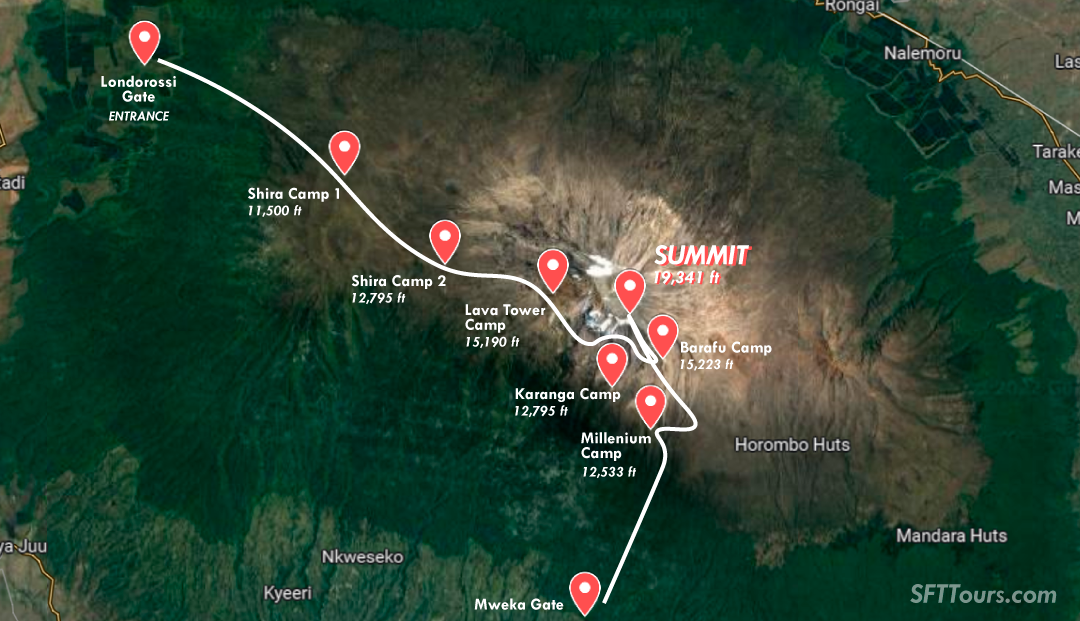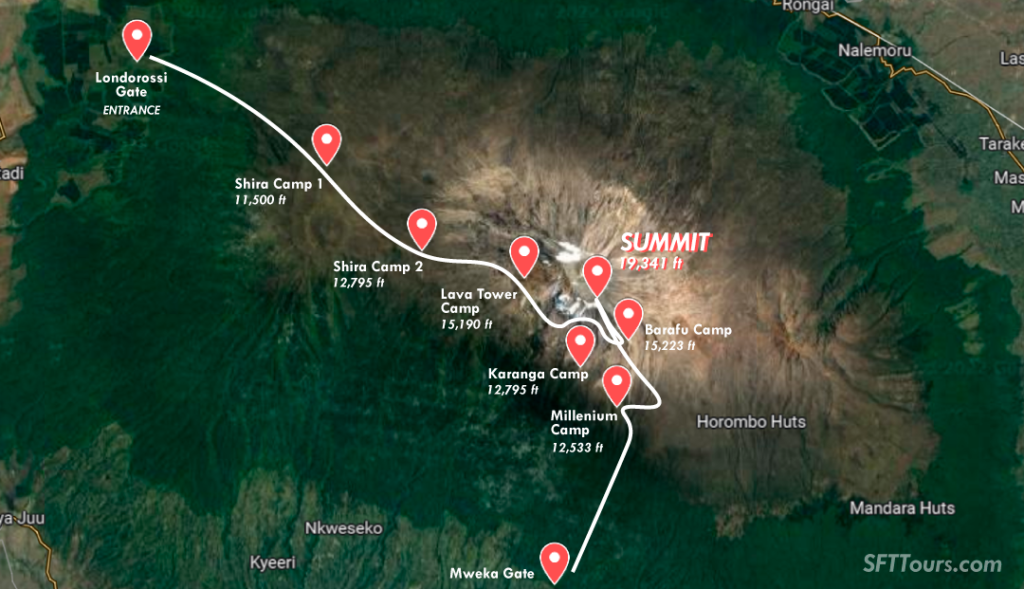 Day 2: Gear check and warm up hike
Day 3: Drive to Kilimanjaro park entrance (Morum Barrier Gate) and start hike to Shira Camp 1
Day 4: Hike from Shira Camp 1 to Shira Camp 2
Day 5: Shira Camp 2 to Lava Tower Camp
Day 6: Lava Tower Camp to Karanga Camp
Day 7: Karanga Camp to Barafu Camp
Day 8: Summit and descend to Millennium Camp
Day 9: Final descend, exit, tipping and certificate ceremony
---
Take a peek into our last trip
Turn the sound ON!
---
Detailed Itinerary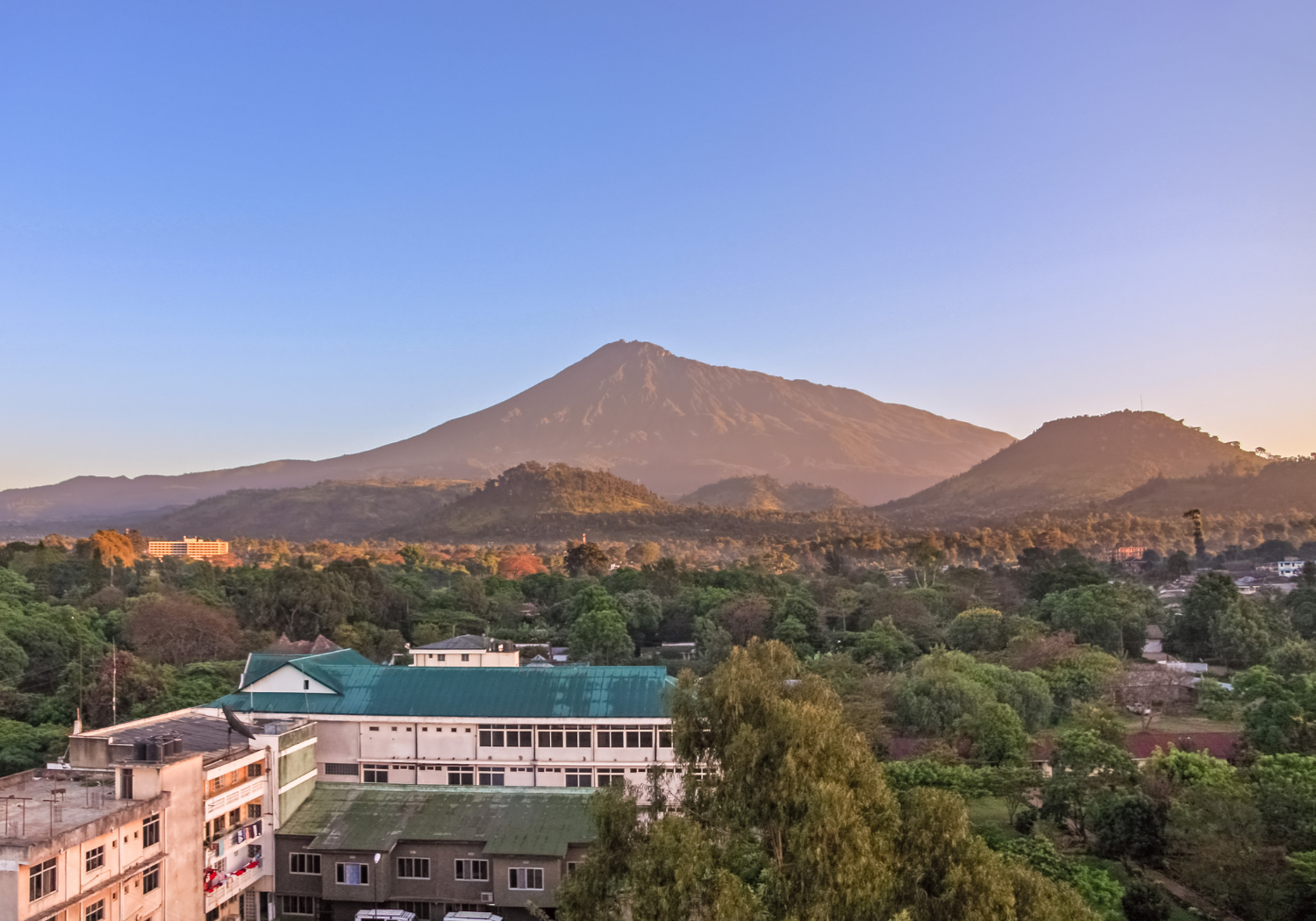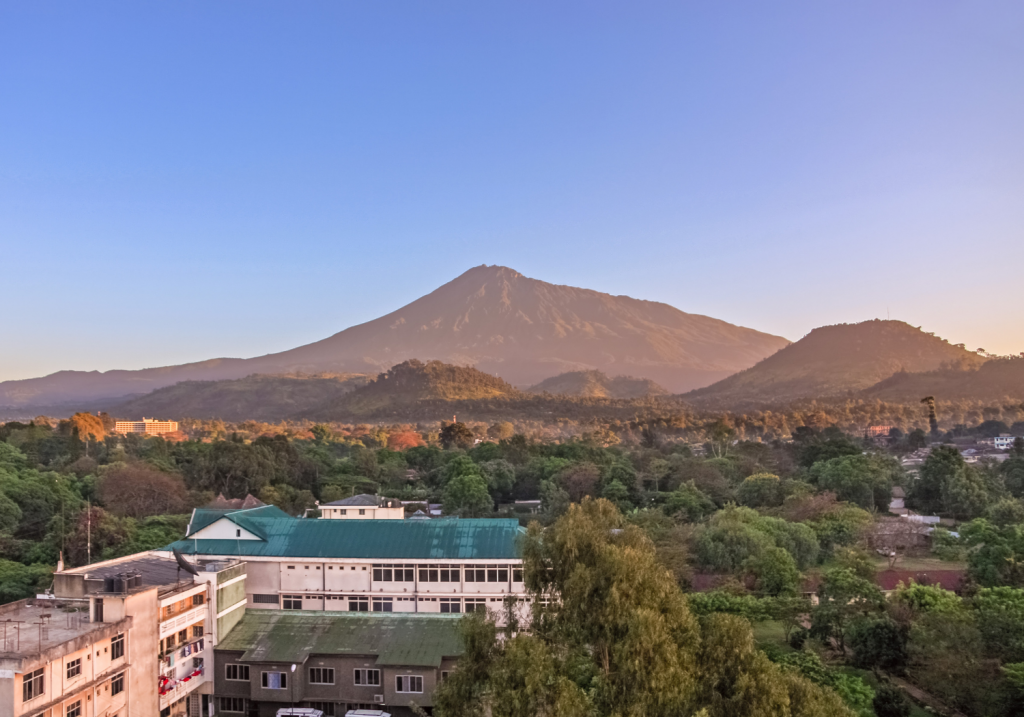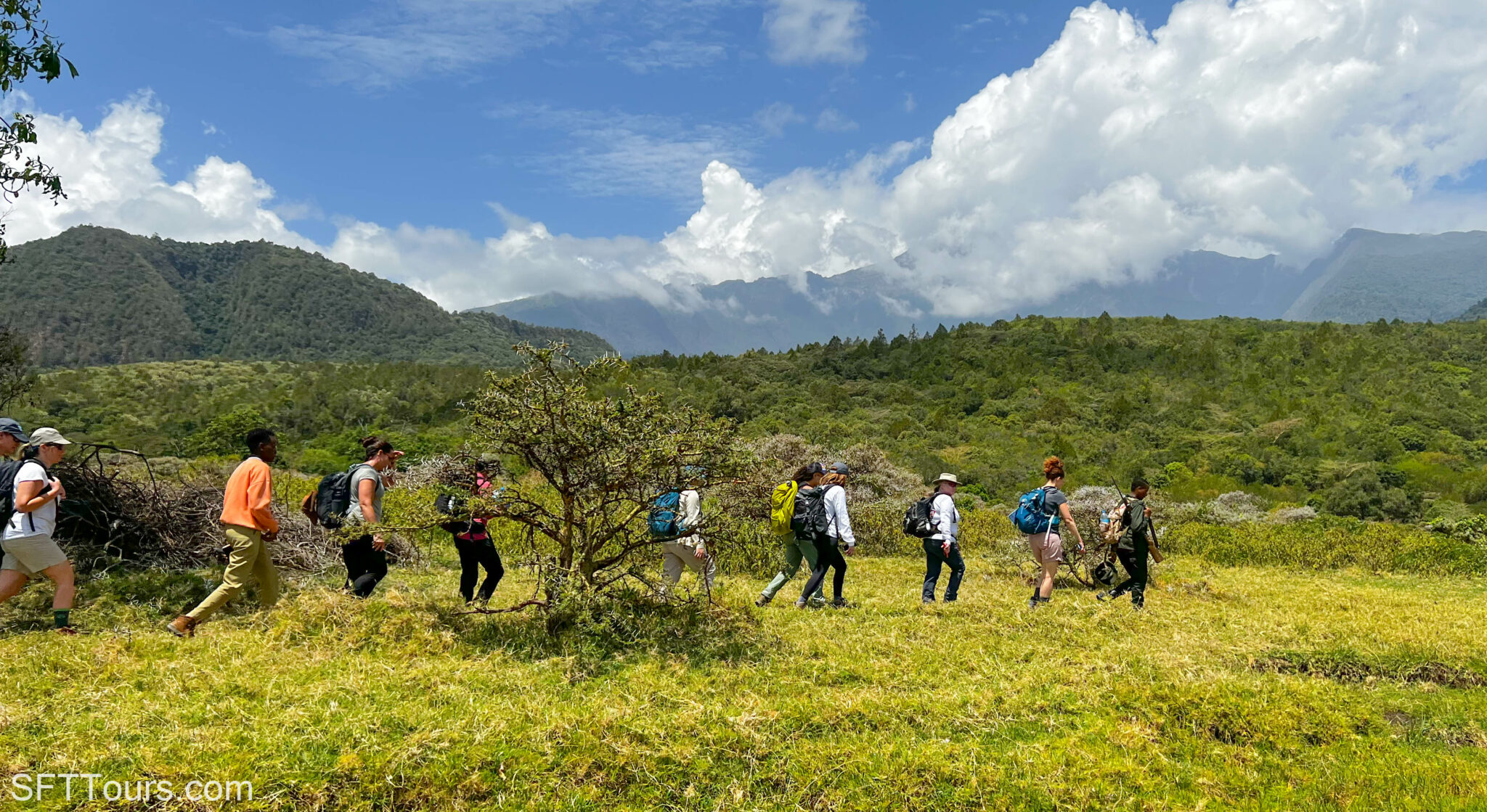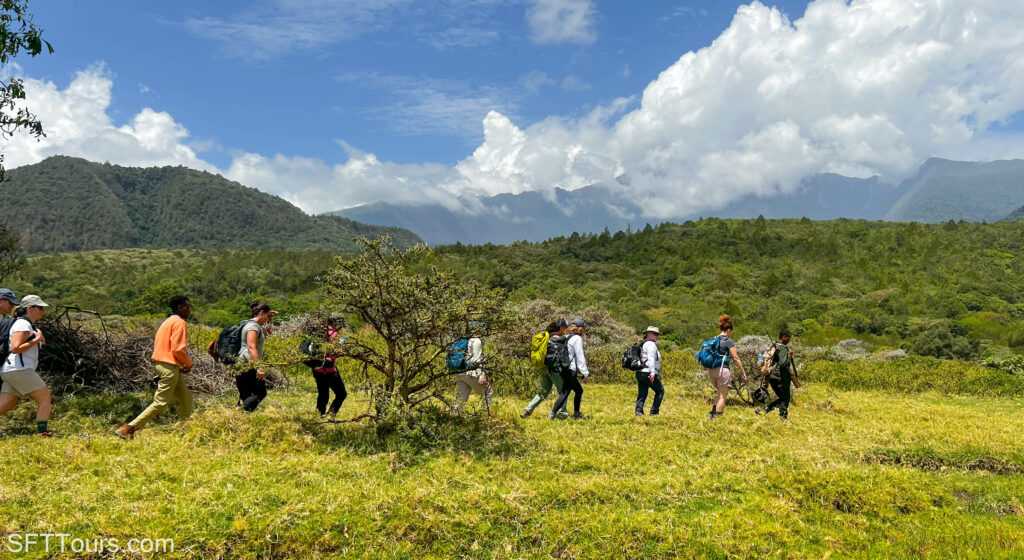 Day 1 & 2 : Arrive in Arusha and pre-climb briefing
Welcome to Tanzania!
Upon arrival at Kilimanjaro International Airport (JRO), you will be warmly welcomed by Glory who will transfer you to your accommodation in Arusha.
Note: Airport transfers only included in the price for KLM flight on the night of February 29th, and Qatar Airways flights on arrival day (1st March).
A delicious welcome dinner will be served upon arrival and you will meet the guide and the rest of the climbers.
On Day 2, you will go on a training hike nearby to start warming up those legs. At 2 pm, you will be met at your hotel by your private female mountain guide, Glory, for a trek briefing and gear checking.
Ask as many questions as you can to make sure you are fully aware of the exciting adventure that is ahead of you! Dinner and overnight at the hotel.
Note: If there is any essential gear you are missing, you will be able to rent it locally.
Overnight at Arusha Planet Hotel
Nestled in the heart of Arusha, female-owned Planet Lodge is made of tastefully decorated chalets with African decor creating a peaceful immersion in the colors and culture of Africa.
Distinctive guest rooms feature oversize panoramic windows to allow the Tanzanian sunshine to greet you each morning and are powered by solar and grid electricity, artisan bedding and spacious mosquito nets.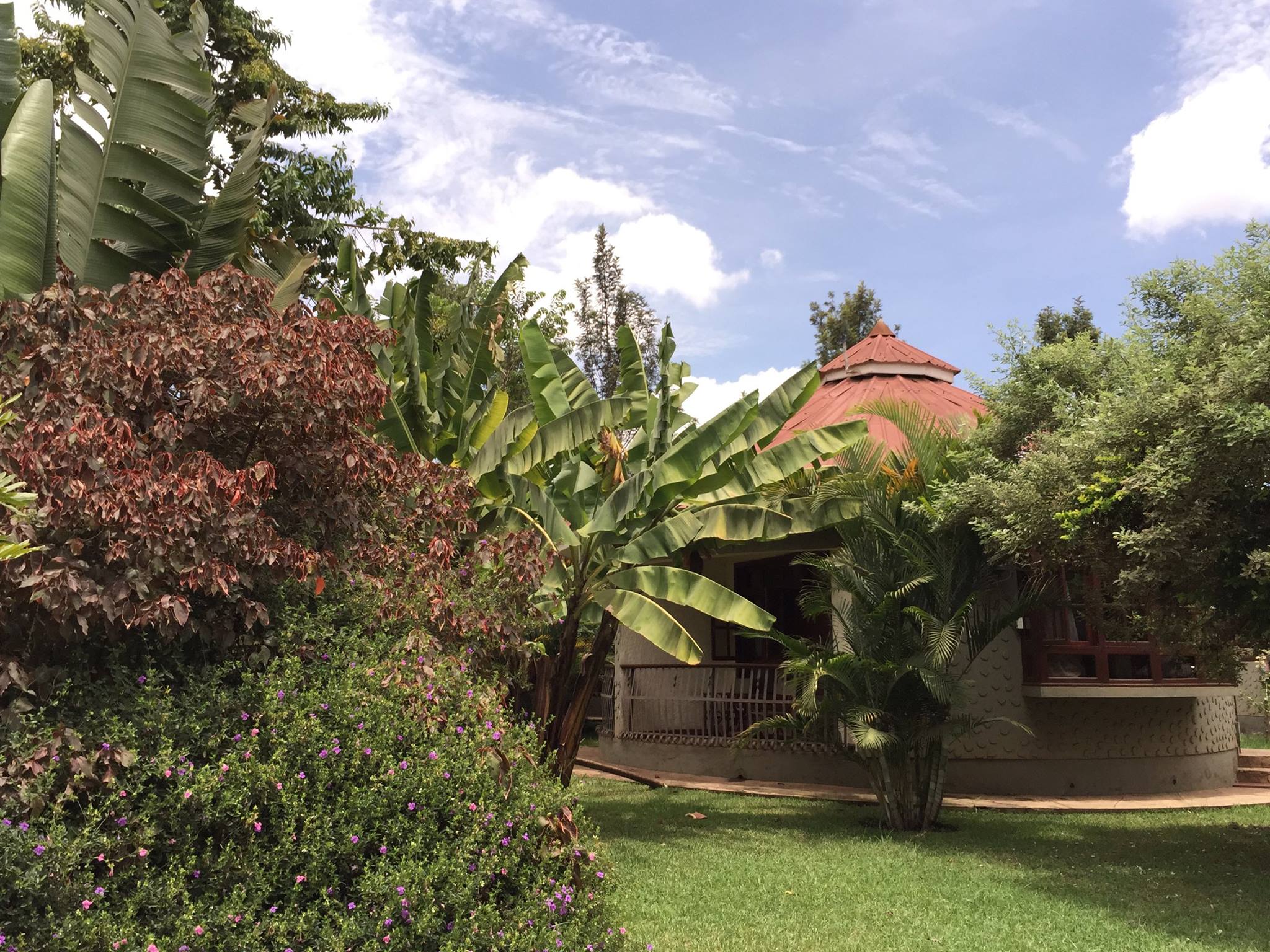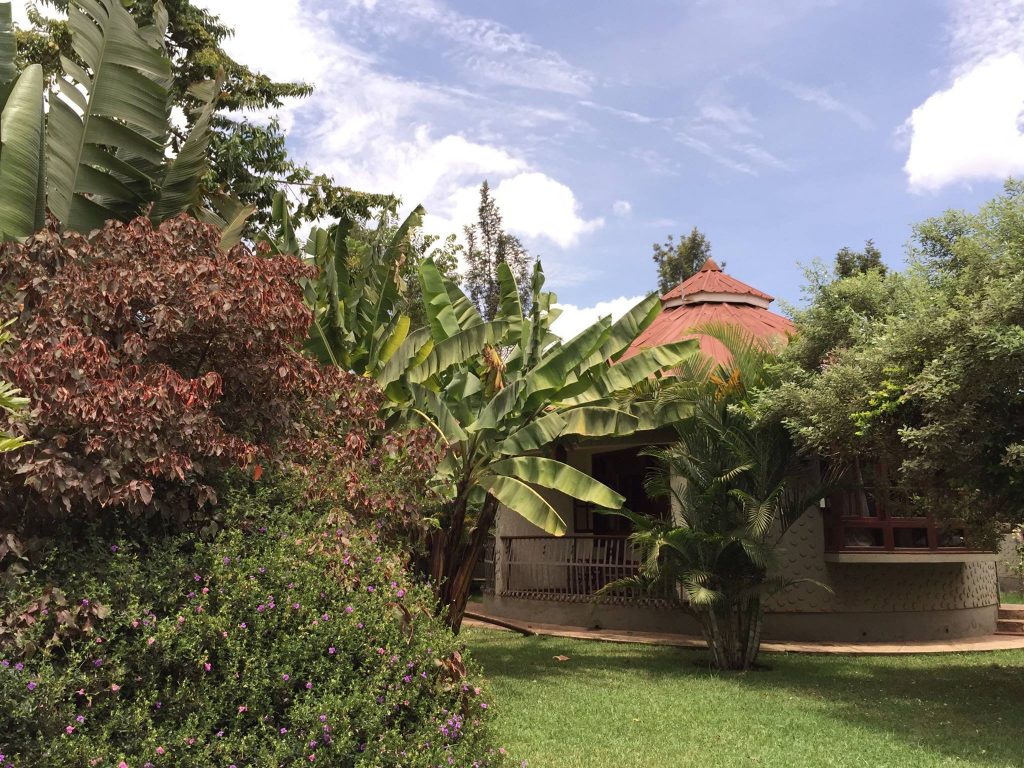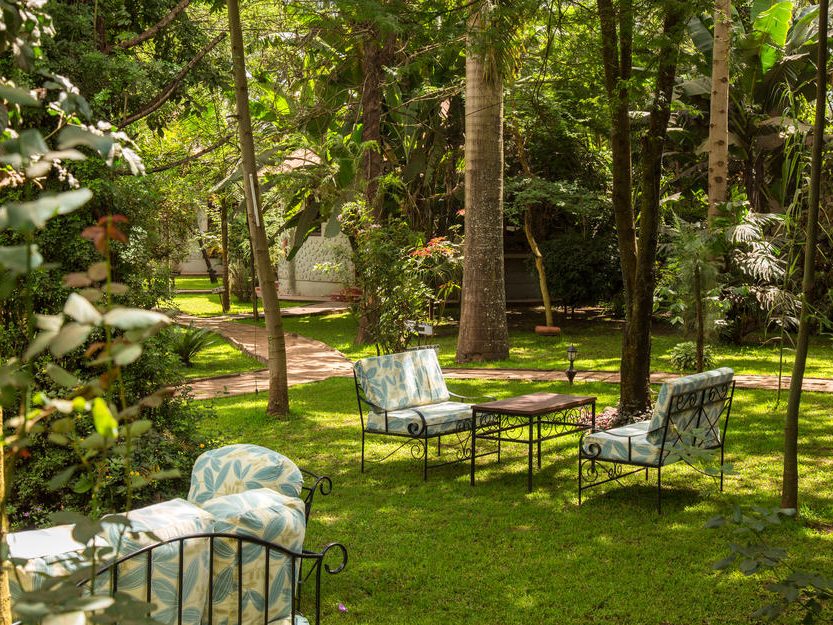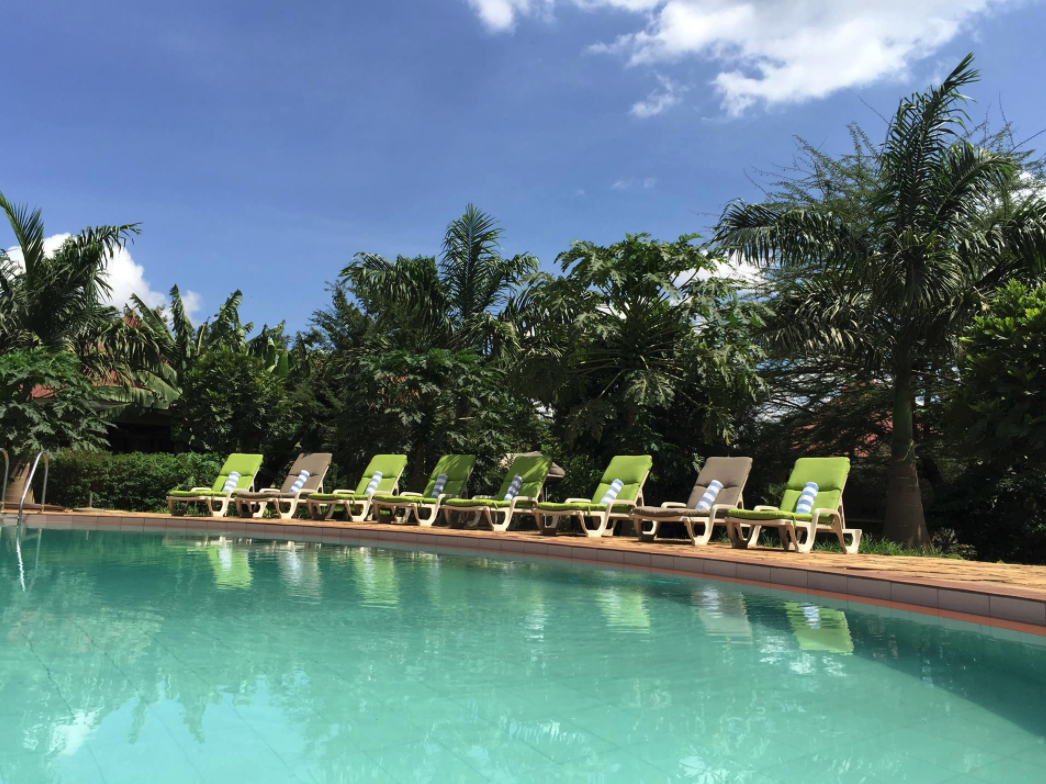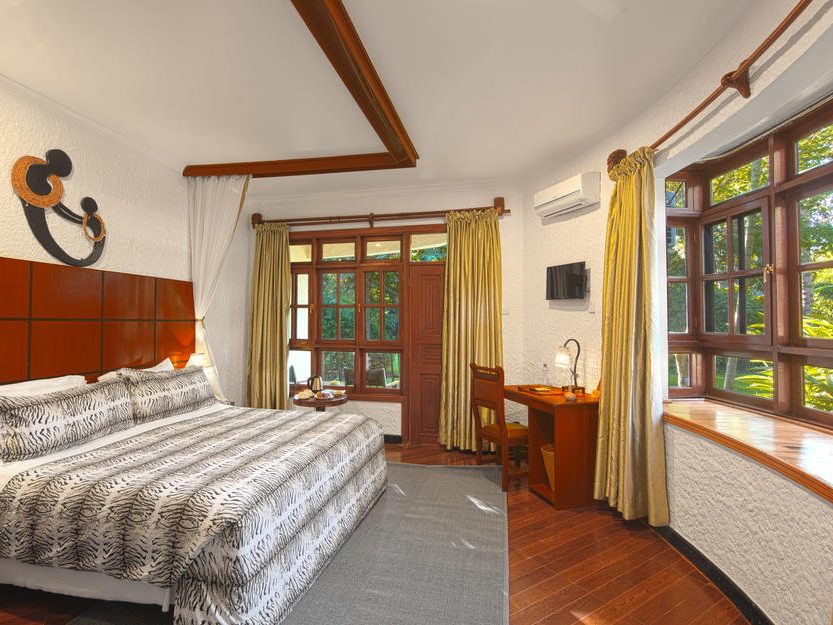 ---
Day 3 : Morum Barrier Gate to Shira Camp 1
Vehicle Transfer Time: 4 hours | Zone: Heather and moorland | Trekking Distance: 6 km | Trekking Time: 1-2 hours | Altitude Change: From 1,400m to 3,610m. Hiking from 3,400 m to 3,610 m
After a delicious breakfast, your private transfer drivers, Kili guides and vehicles will greet you at the hotel.
A four-hour drive away from Moshi lays the entrance to the Londorossi Gate where you will complete park formalities and then meet your crew of porters.
After obtaining your permit, the porter's will weigh the luggage, then we will jump back into our 4×4 vehicles and drive up to Morum Barrier Gate where you will begin the hike.
Standing at 3,400m, Morum Barrier is the highest elevation point in which you can start hiking on Kilimanjaro. Enjoy a nice picnic lunch and start to climb!
The first section of the route takes you through shrubs and the giant heather that are decorated with grassy moorland and volcanic rock formations on the plateau. This path is less well-trodden and therefore we will enjoy a nice leisurely walk to the Shira Camp 1 where you will spend a night.
Overnight at Shira Camp 1
Set on the West side of the Shira Plateau, Shira Camp 1 is one of the camp sites of the second leg of the journey up Mount Kilimanjaro.
Climbers get to see a range of flora and fauna species with the chance of spotting the White Napped Raven. Because this route is a variation of the Lemosho, you will meet with campers from the Lemosho Route.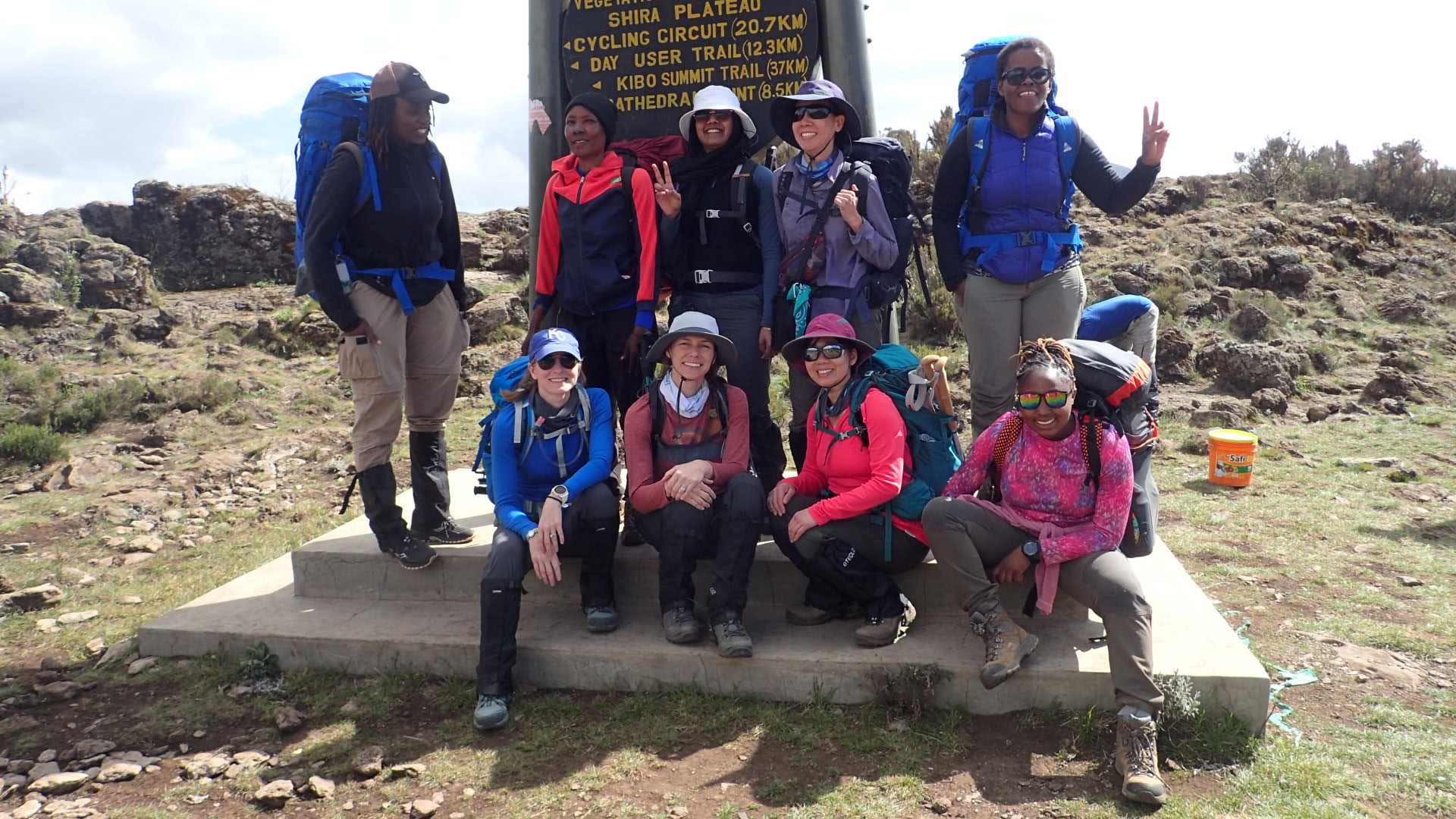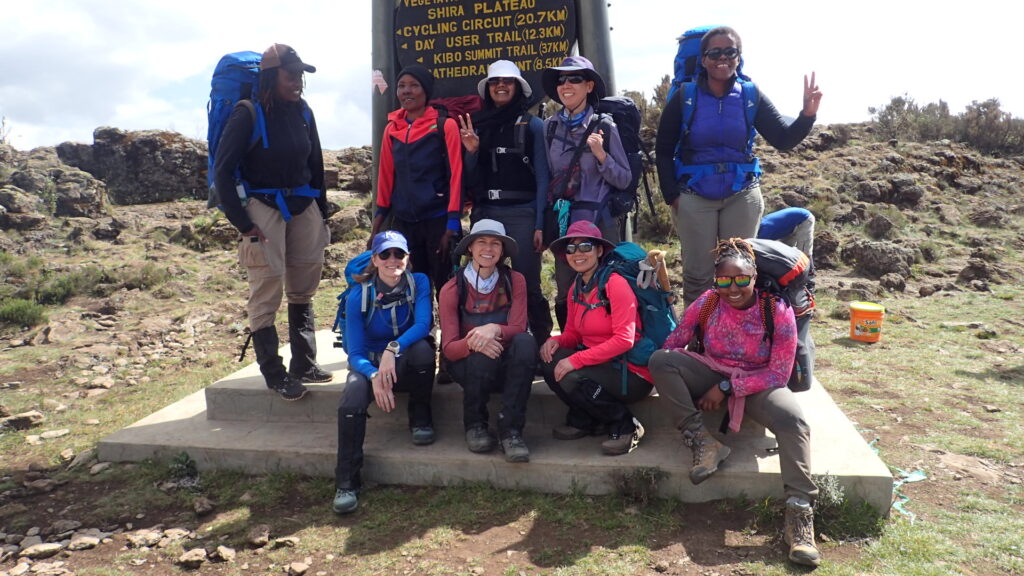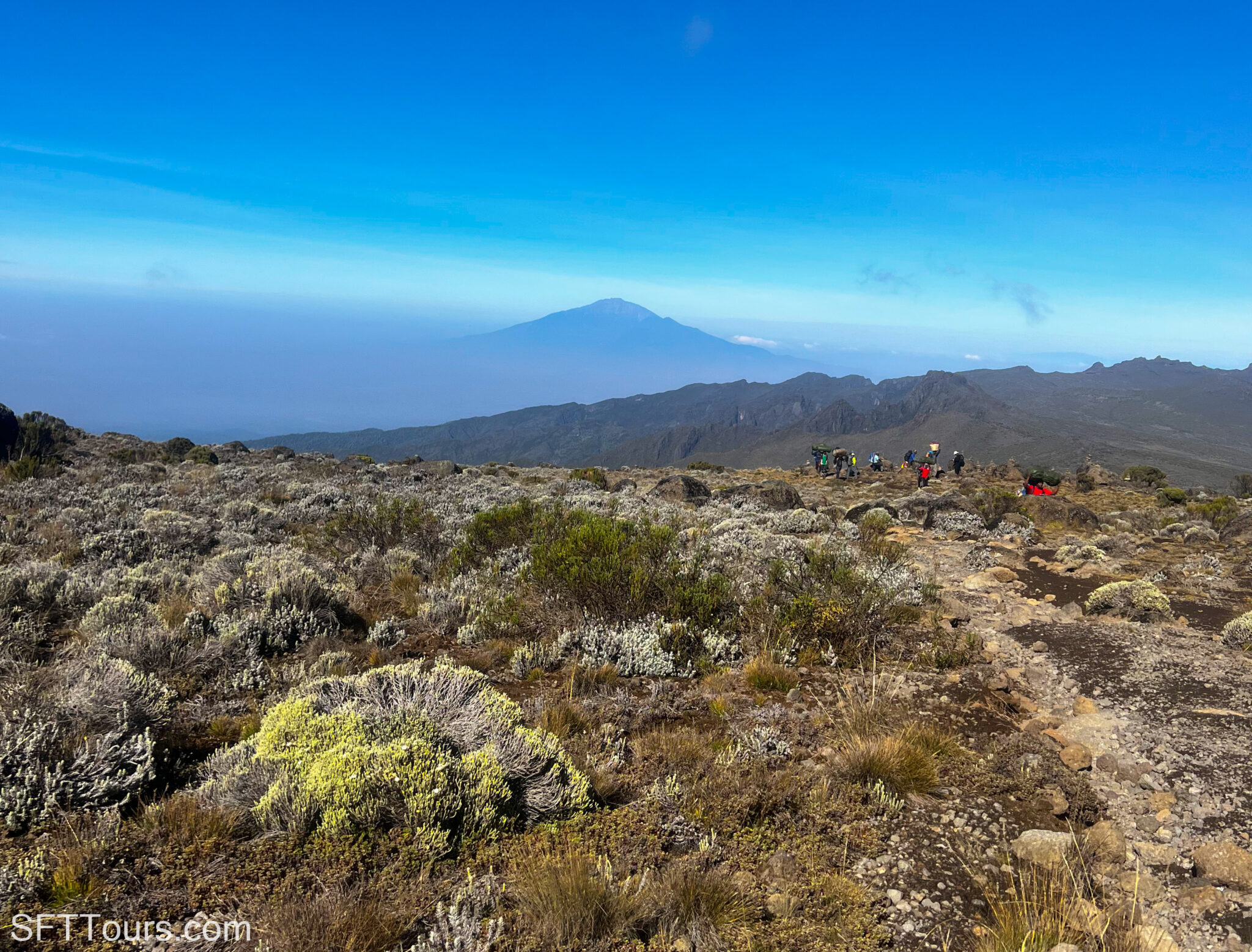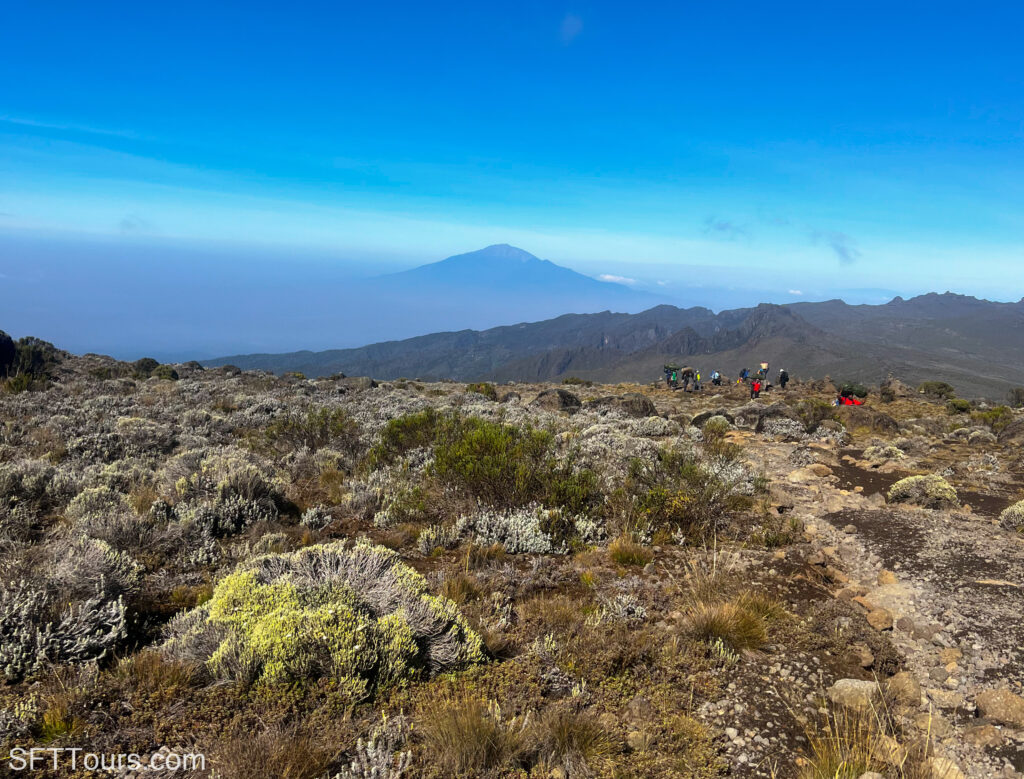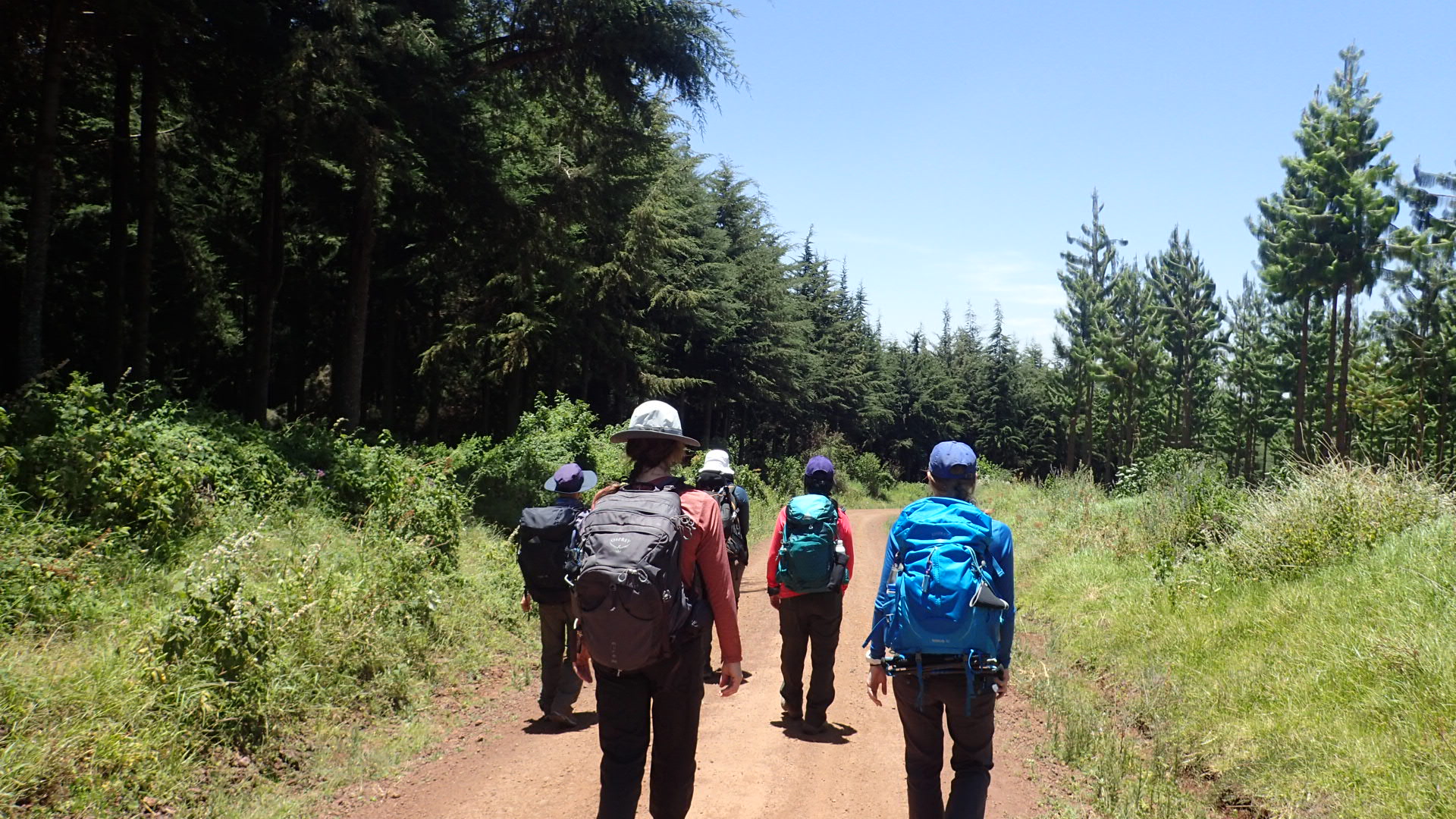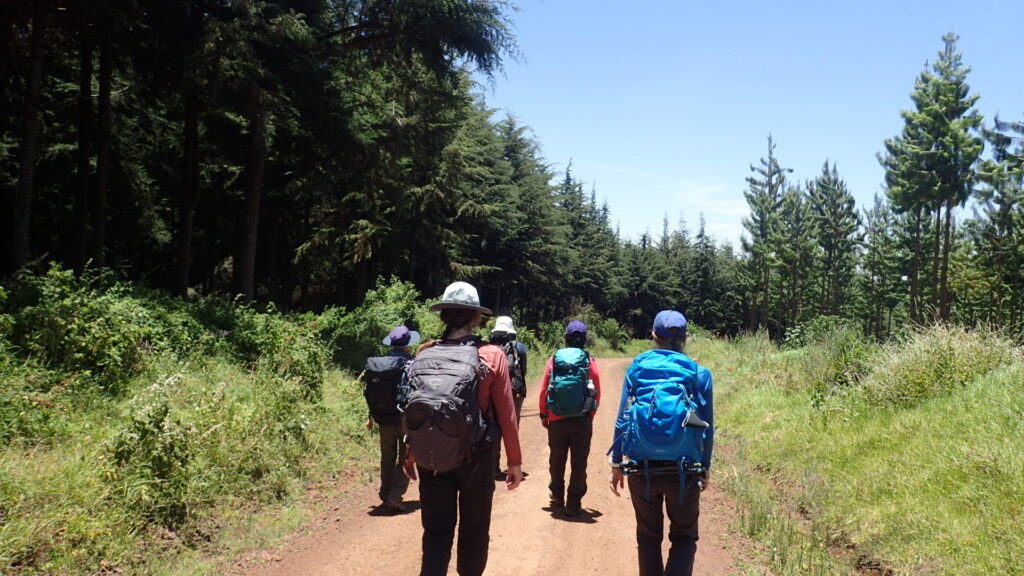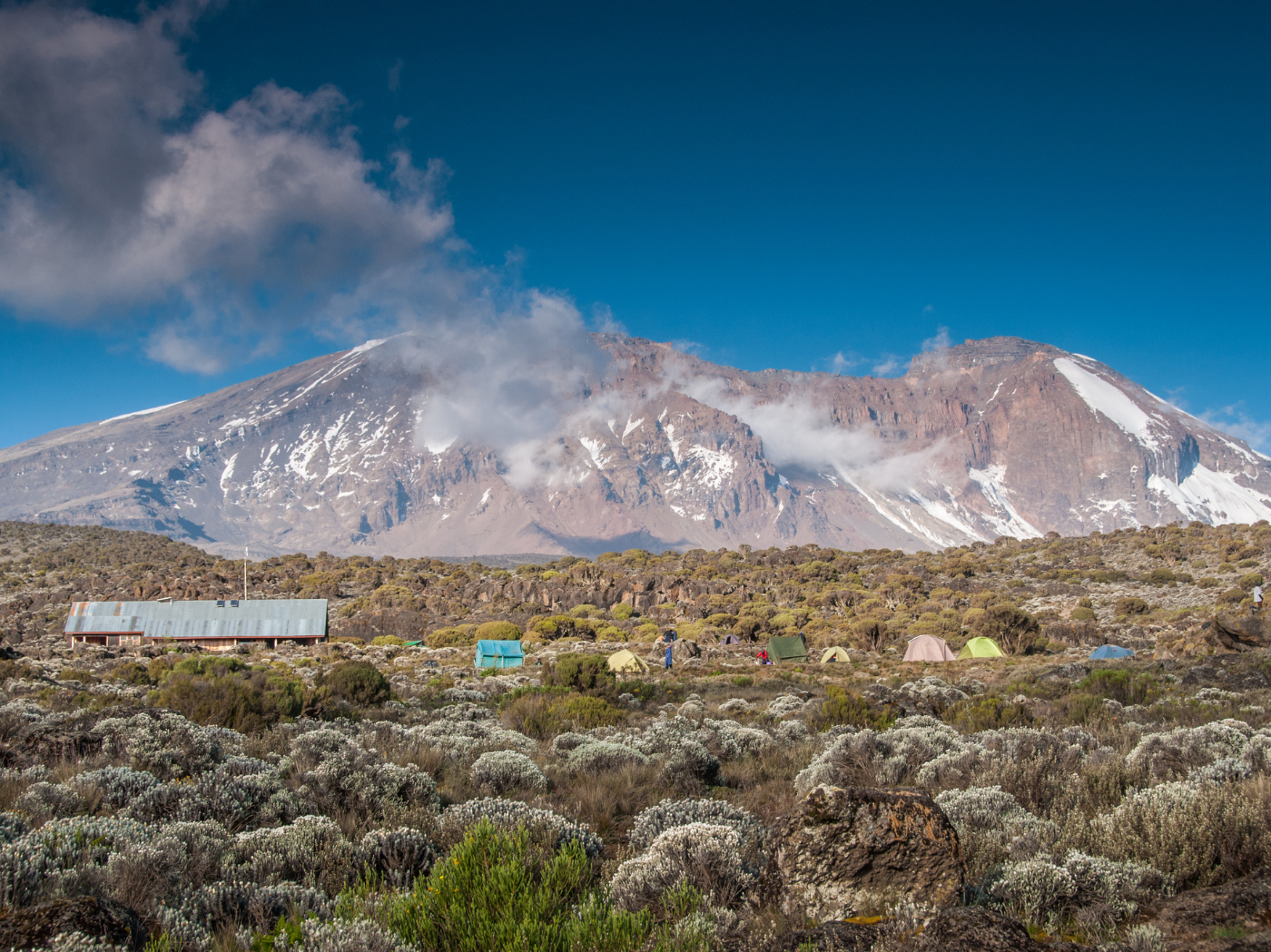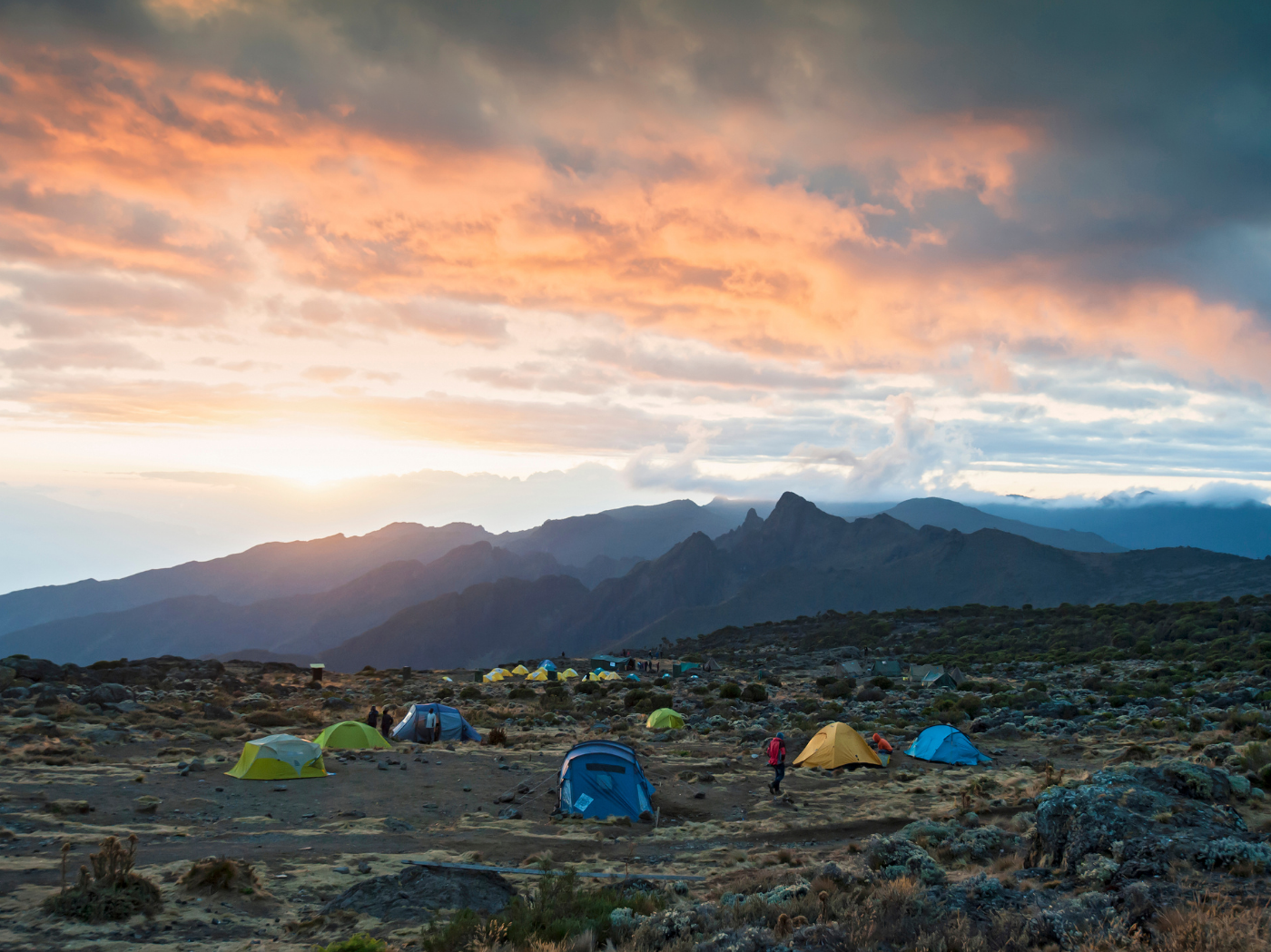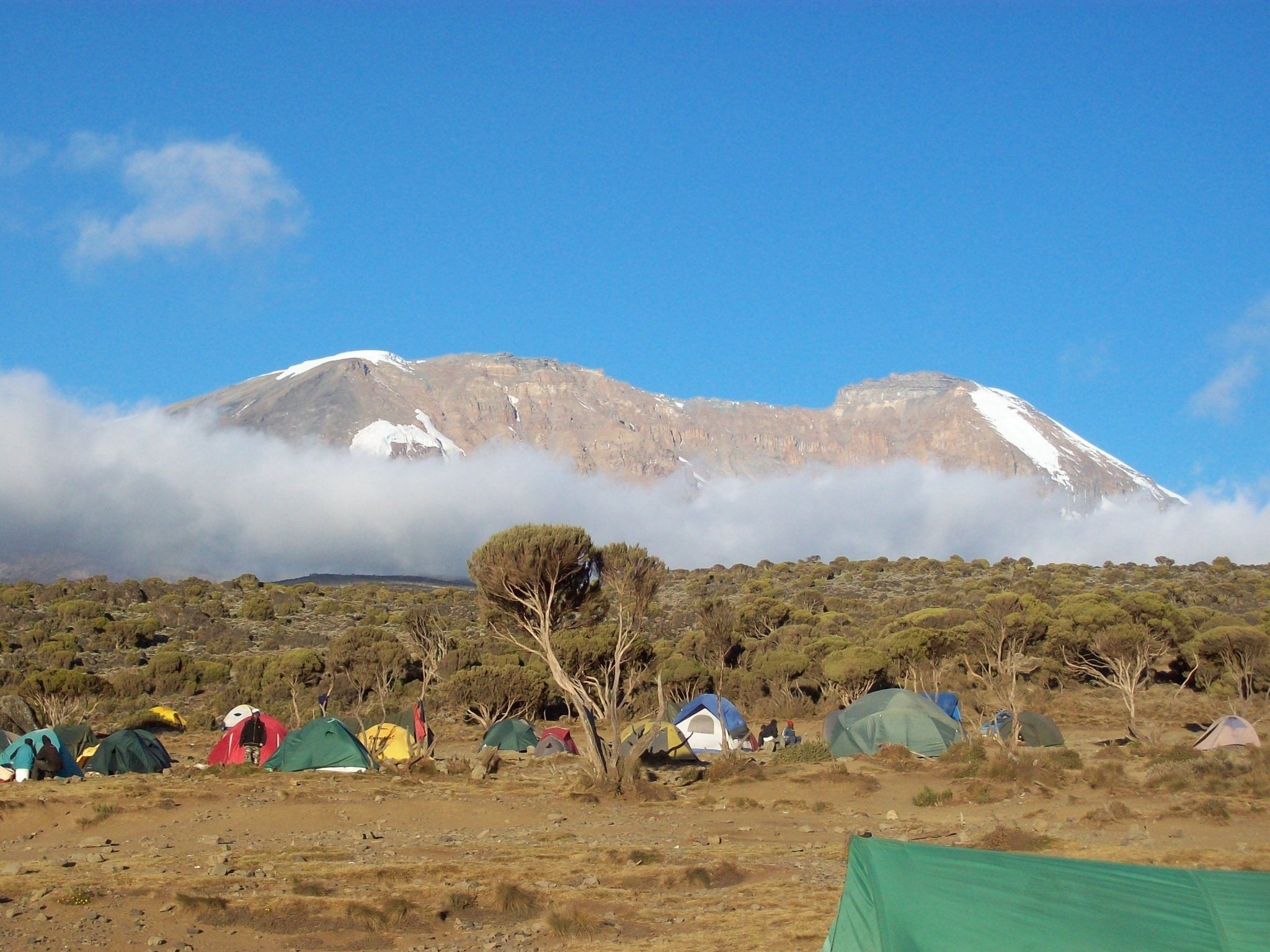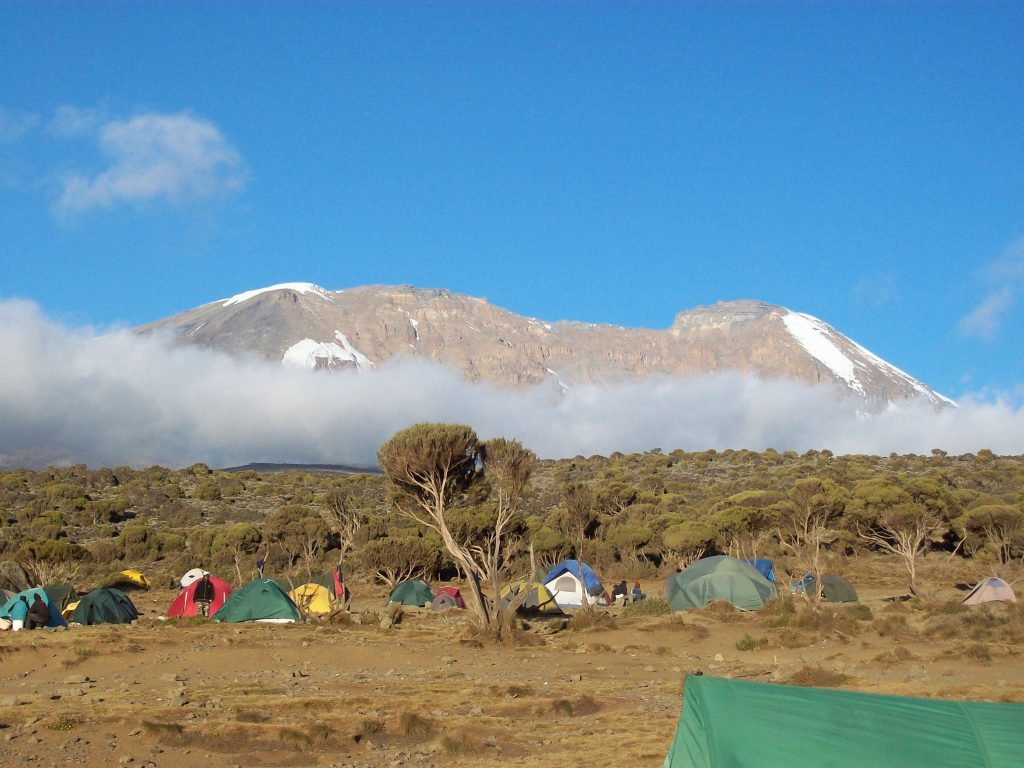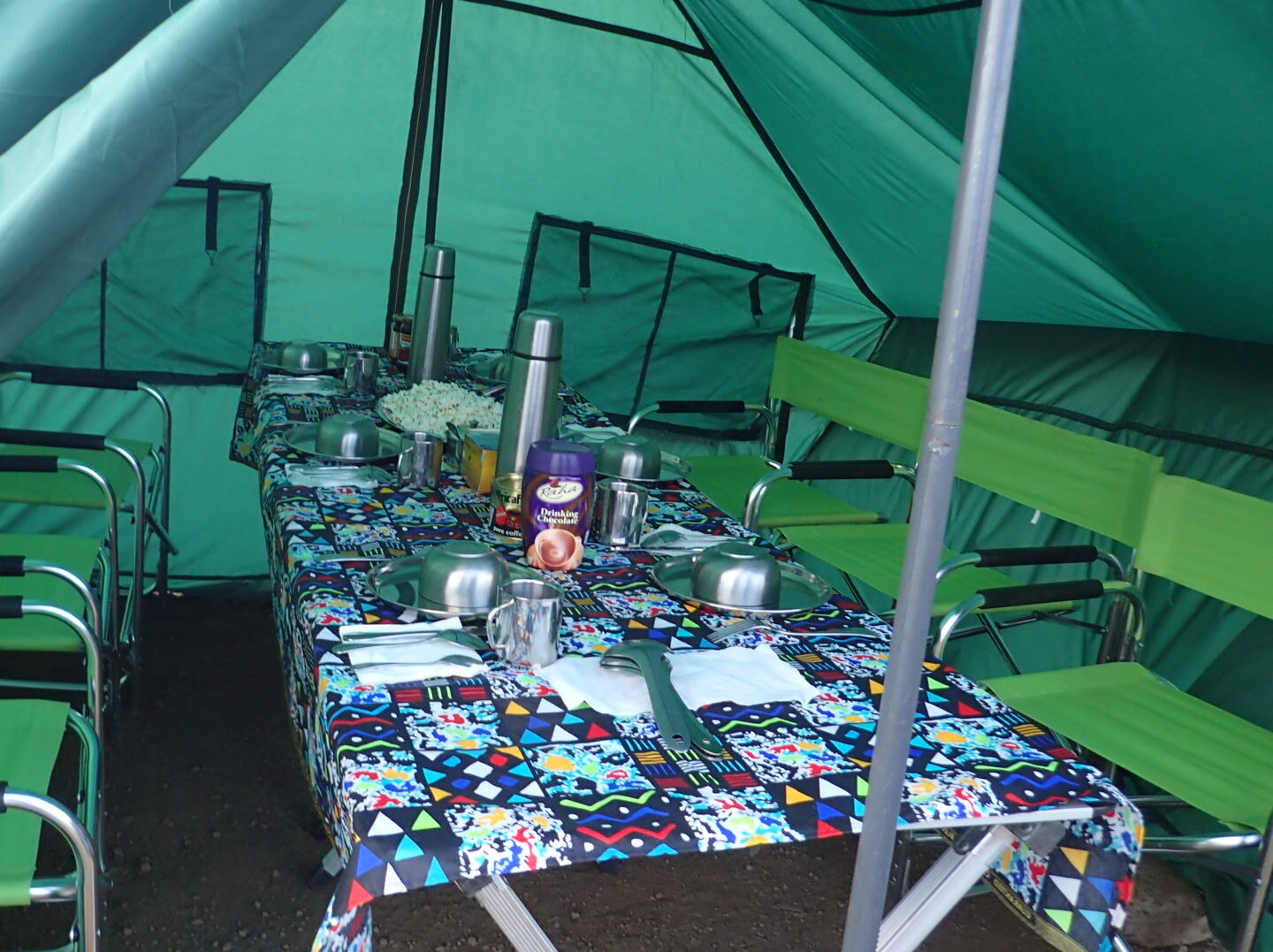 ---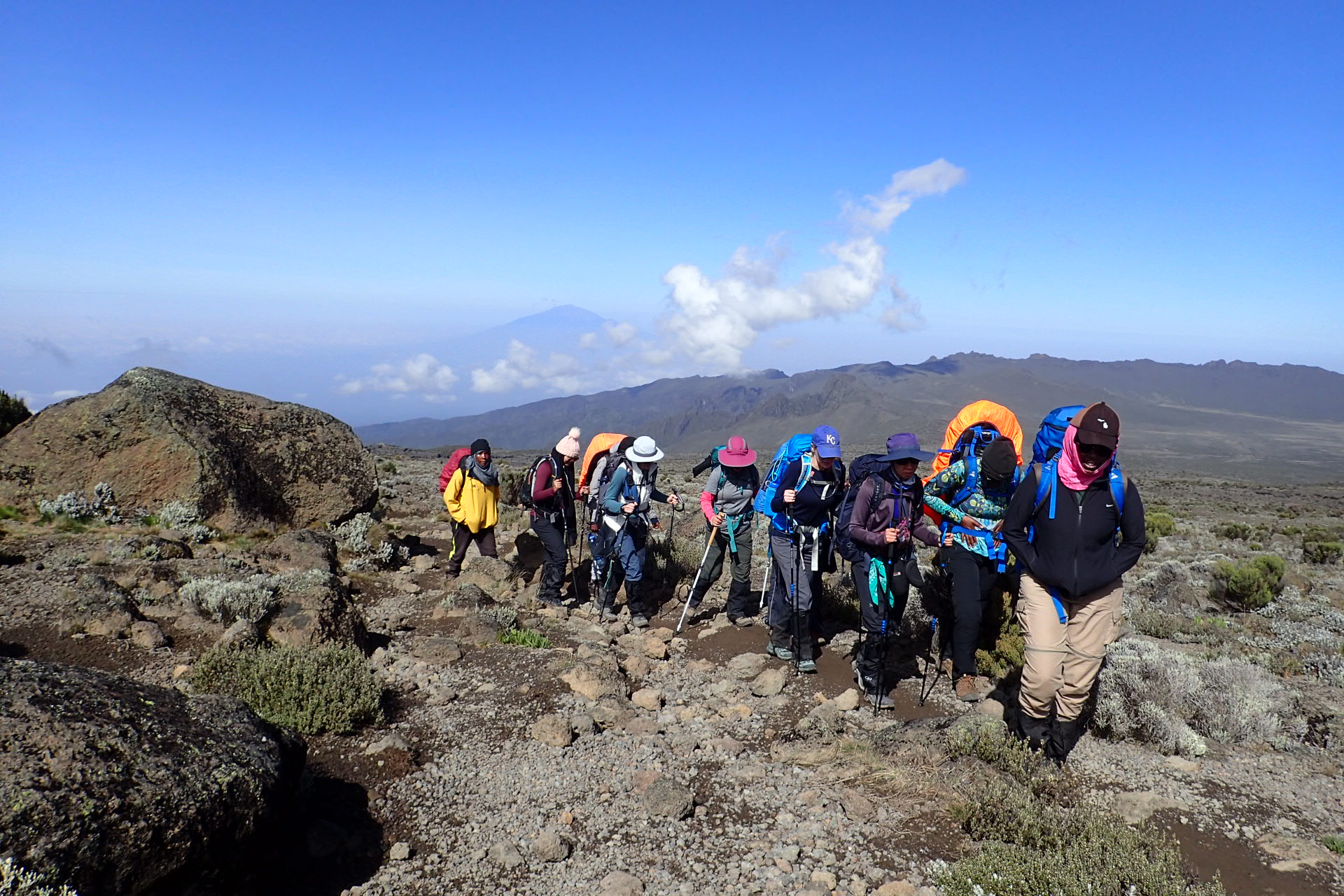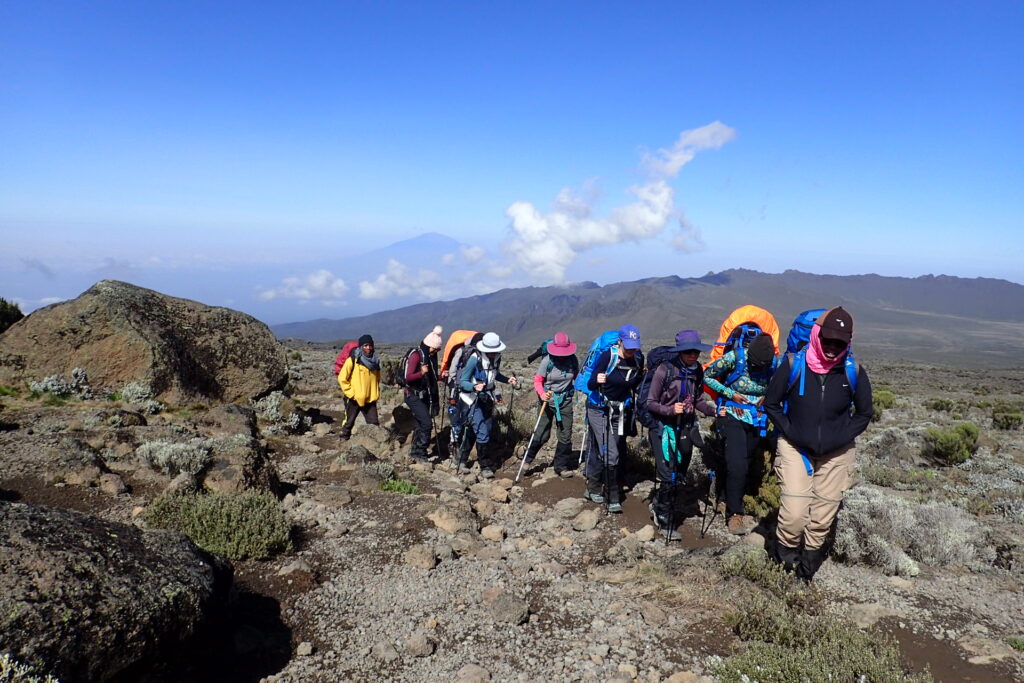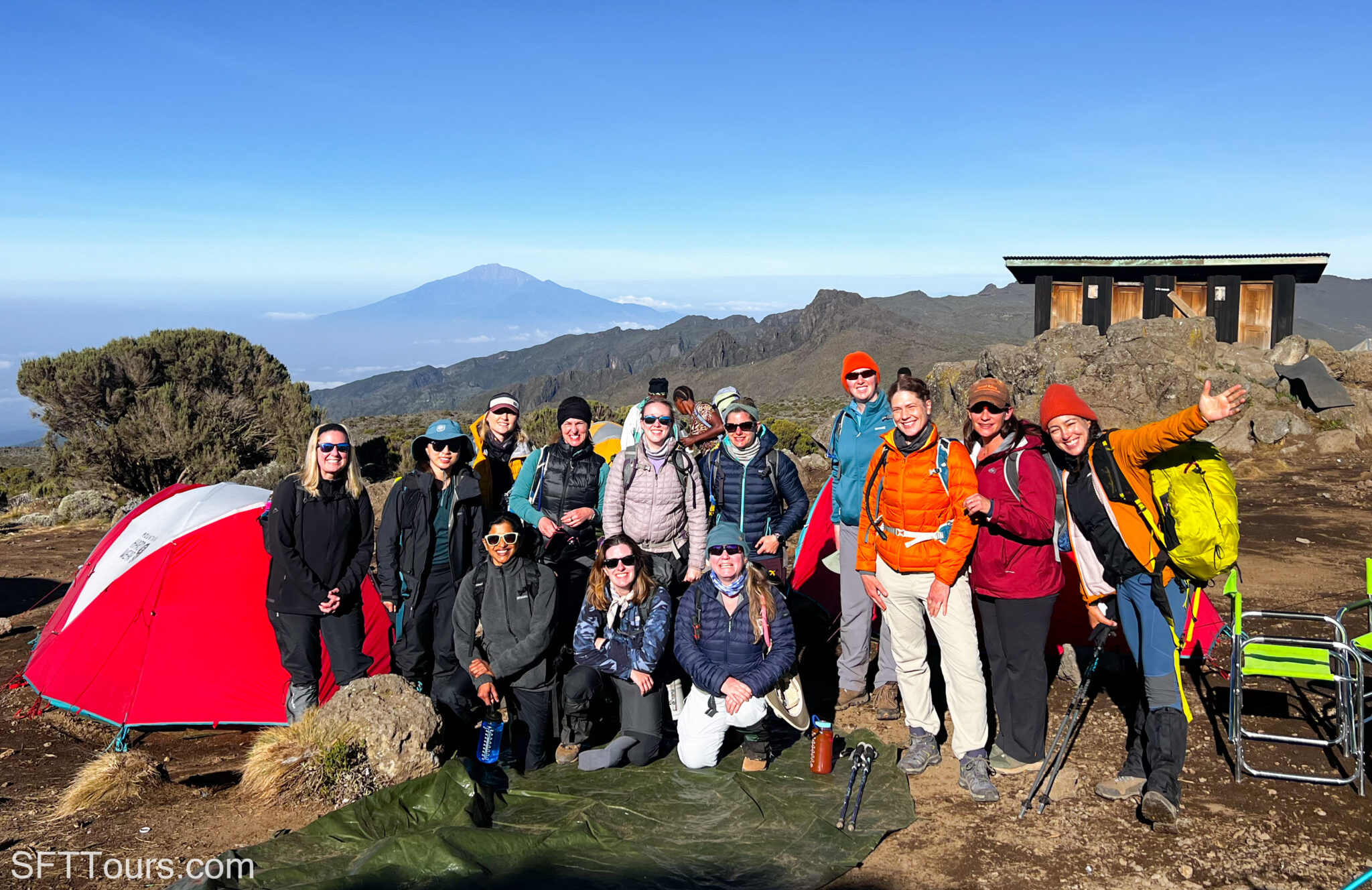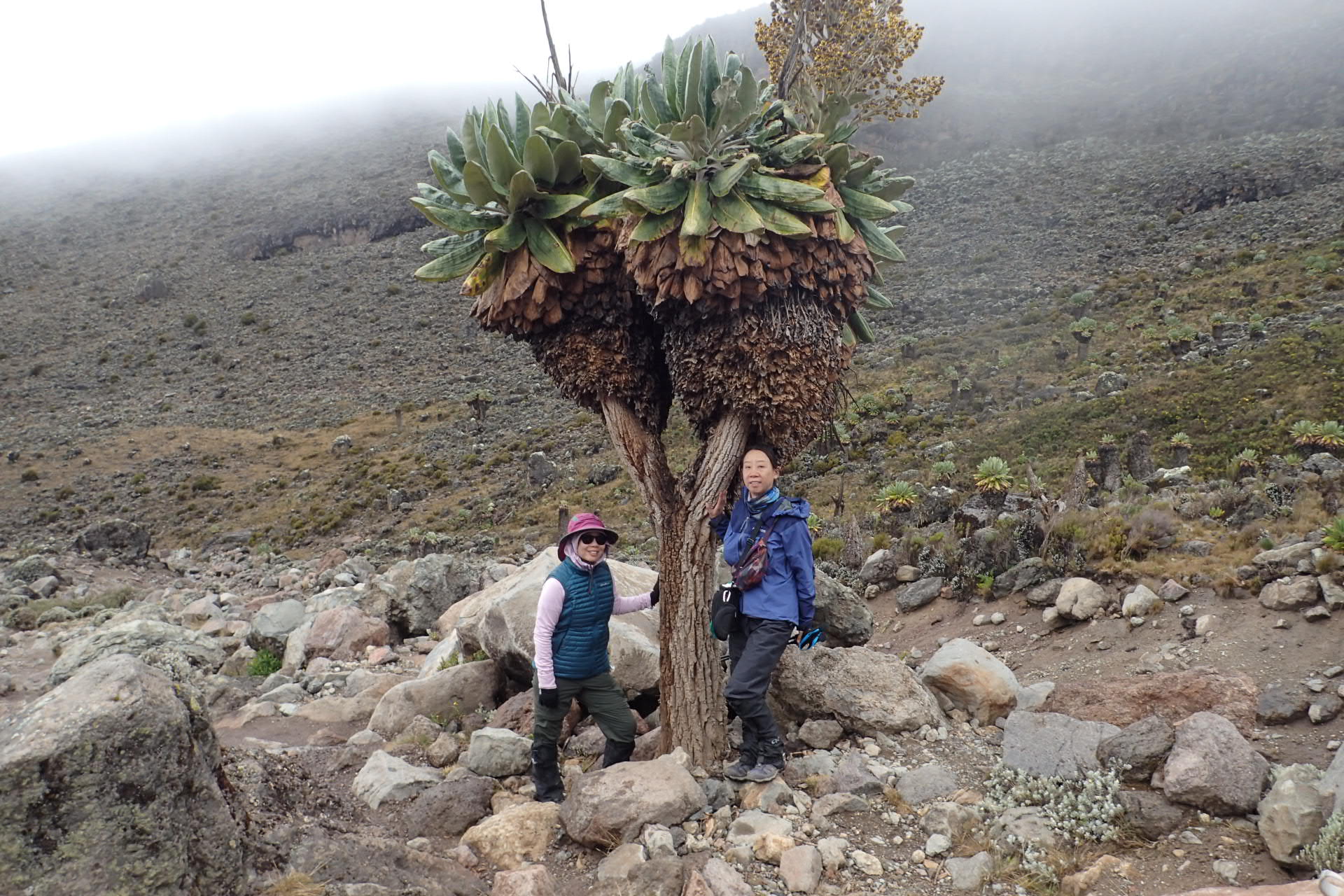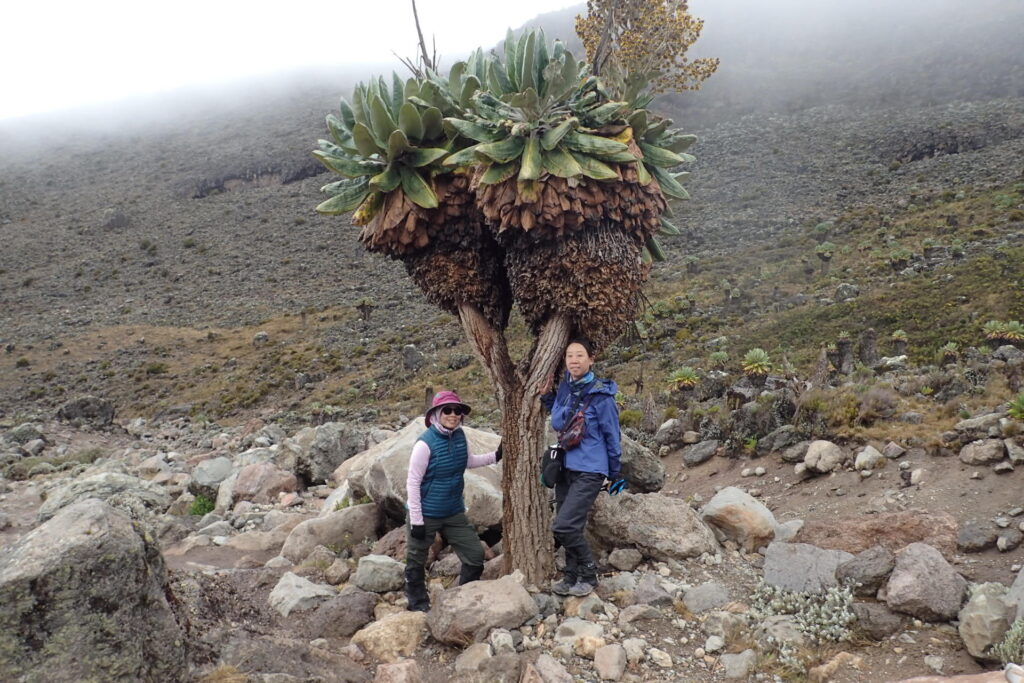 Day 4 : Shira Camp 1 to Shira Camp 2
Trekking Time: 5-6 hours | Distance: 5.4 km | Zone: Heather and Moorland to semi Alpine Desert | Altitude Change: From 3,610 m to 3,895 m
After having a delicious breakfast, we will leave Shira Camp 1 for Lava Tower.
Today is a short distance but we will take this option because we start our hike at a higher elevation point compared to other trekkers so our bodies will typically start to respond to the change of altitude, as a result, it will help us acclimatise well.
Beginning our hike in the early morning is the best way to keep us energized and ready to conquer this remarkable mountain.
As you hike in this zone, you will start noticing a blooming of beautiful everlasting flowers that run across the rocky areas with Stoebe Kilimanjari, Giant Senecio and Lobelia dominating this zone to offer food and shelter to biotic life that survives well in these harsh environments.
As we reach an elevation of 3,718m, we will come across the rescue road that provides a junction to the camp through Cathedral Tower.
For those who wish to take a direct route to the camp, they will have lunch and relaxation. The rest can continue to hike through Cathedral Tower and enjoy their lunch at the end of the rescue road before ascending to the camp for relaxation and an overnight stay.
Overnight at Shira Camp 2
Your camp for the night is located just above the clouds so remember to take time to enjoy some of the best views of Mount Meru and a series of stunning rock patterns that form Shira ridge.
Because this area is characterized by semi Alpine Desert, there are rocks everywhere, but we will find a cosy spot to pitch our tents for the night. In this camp, you will have a reliable mobile reception and access to the rescue road where emergency vehicles can easily get to and from the mountain.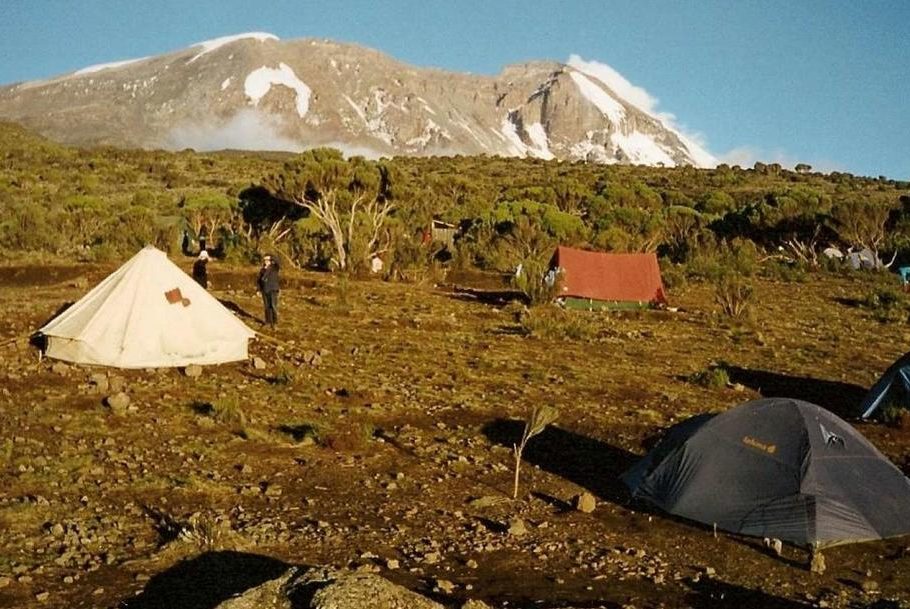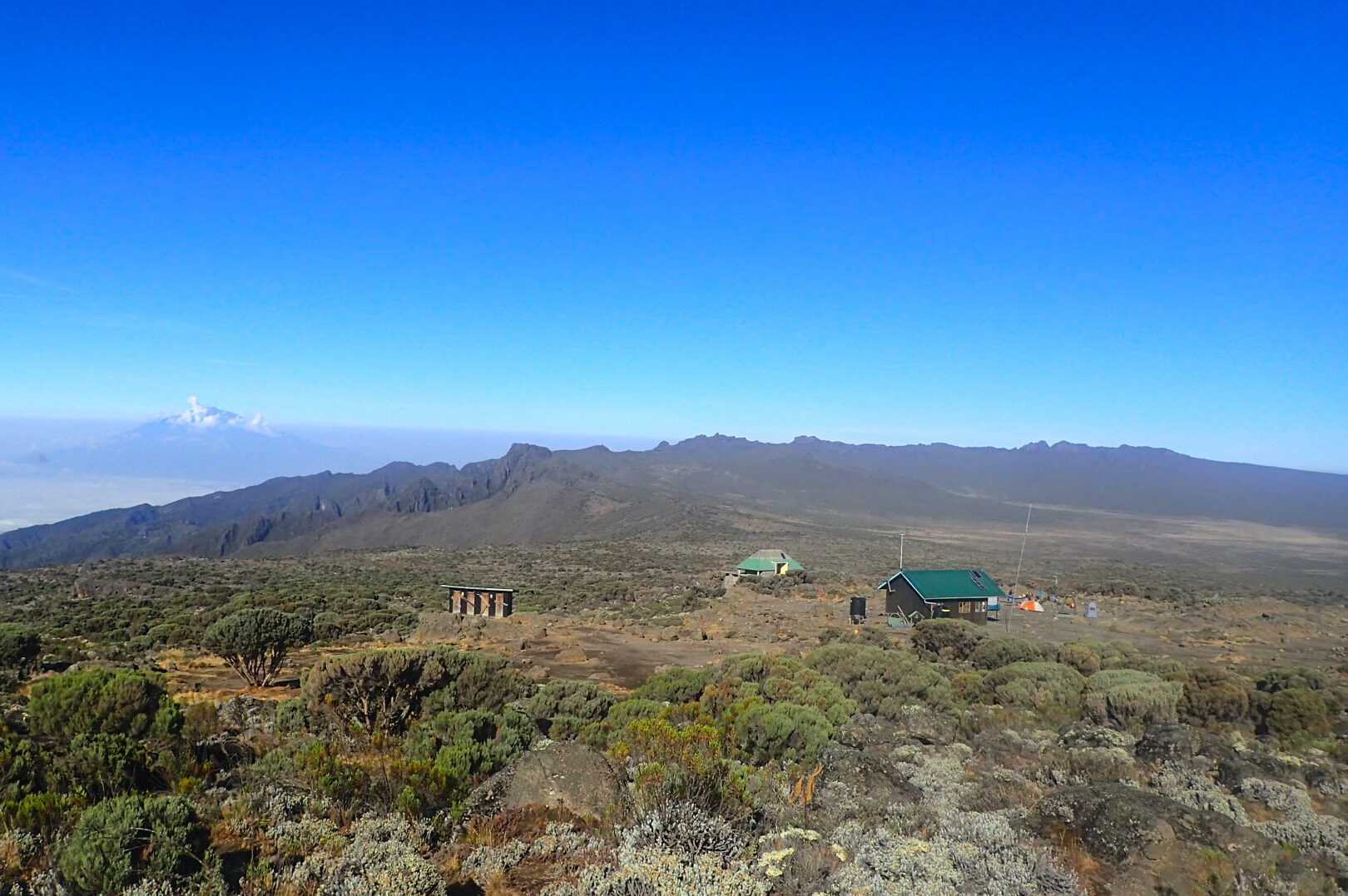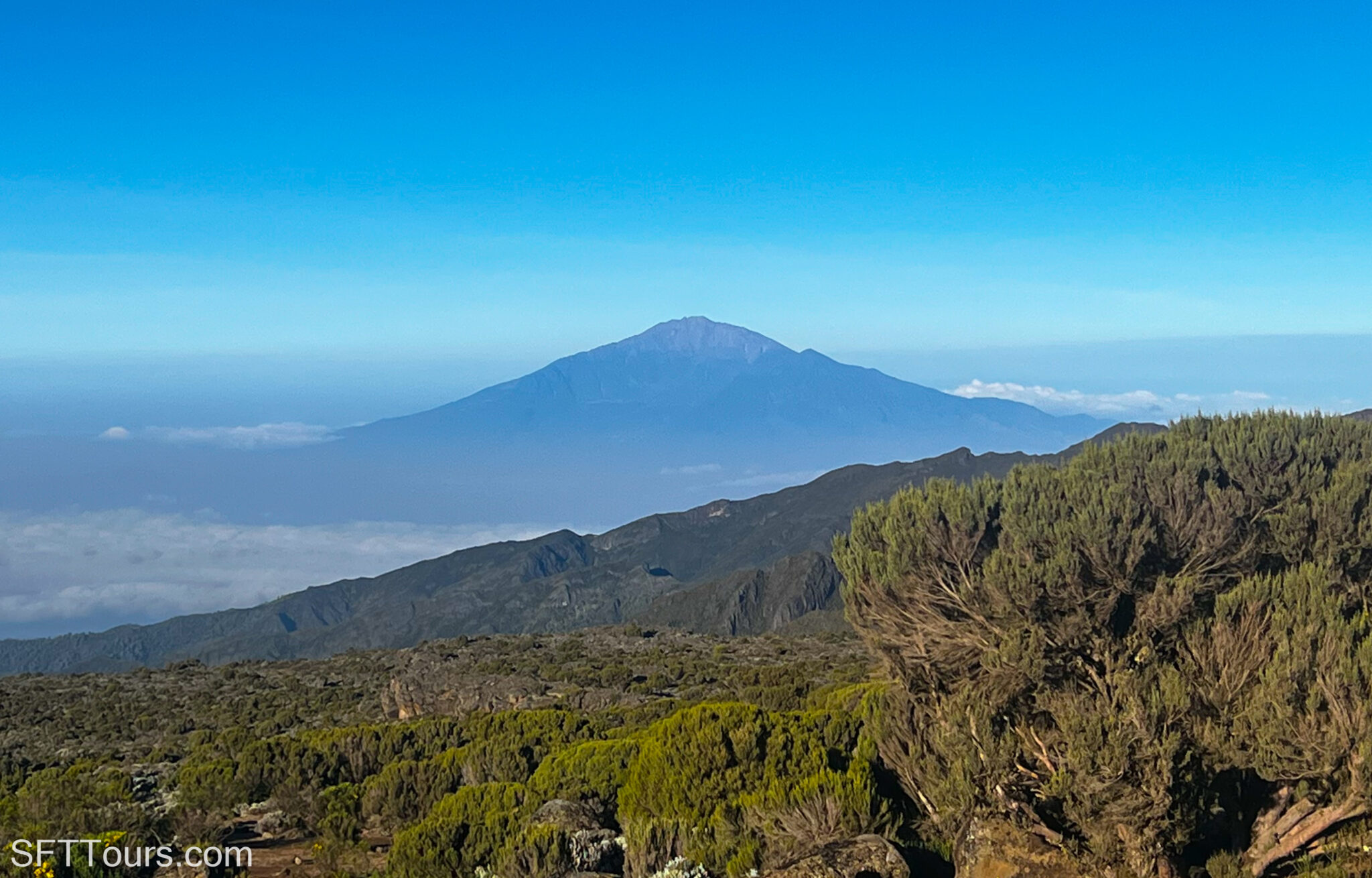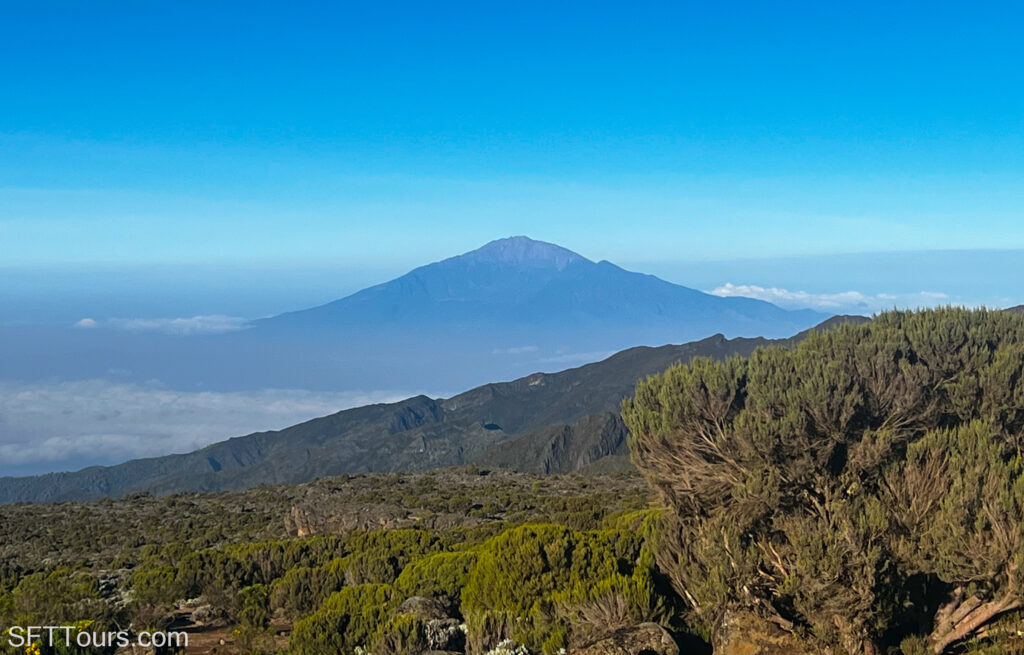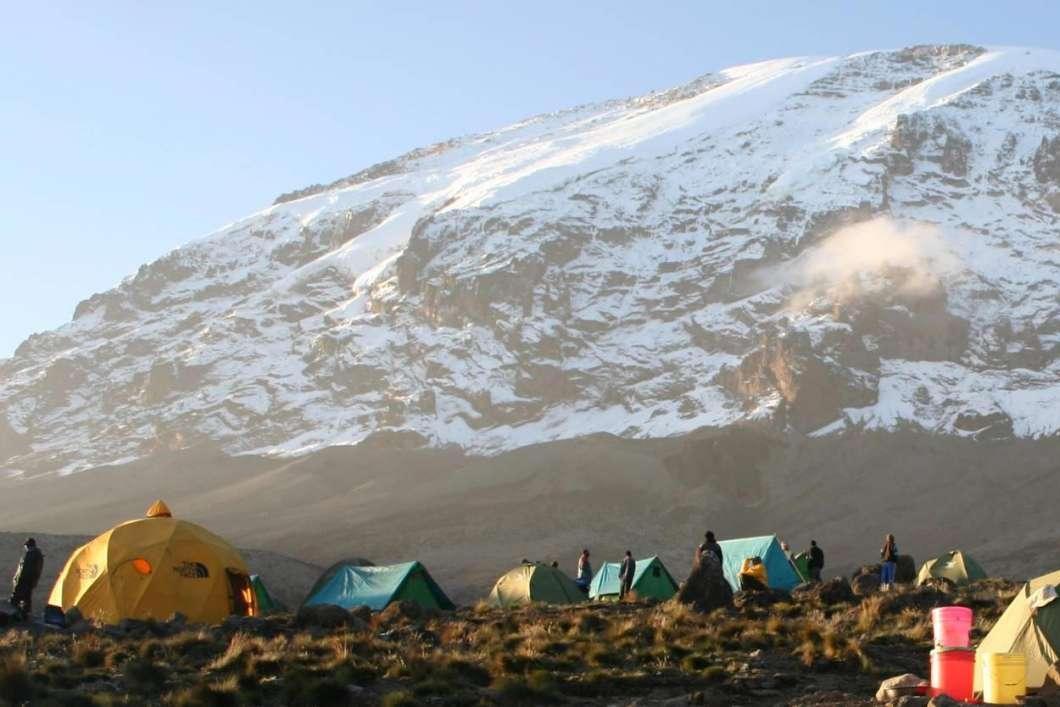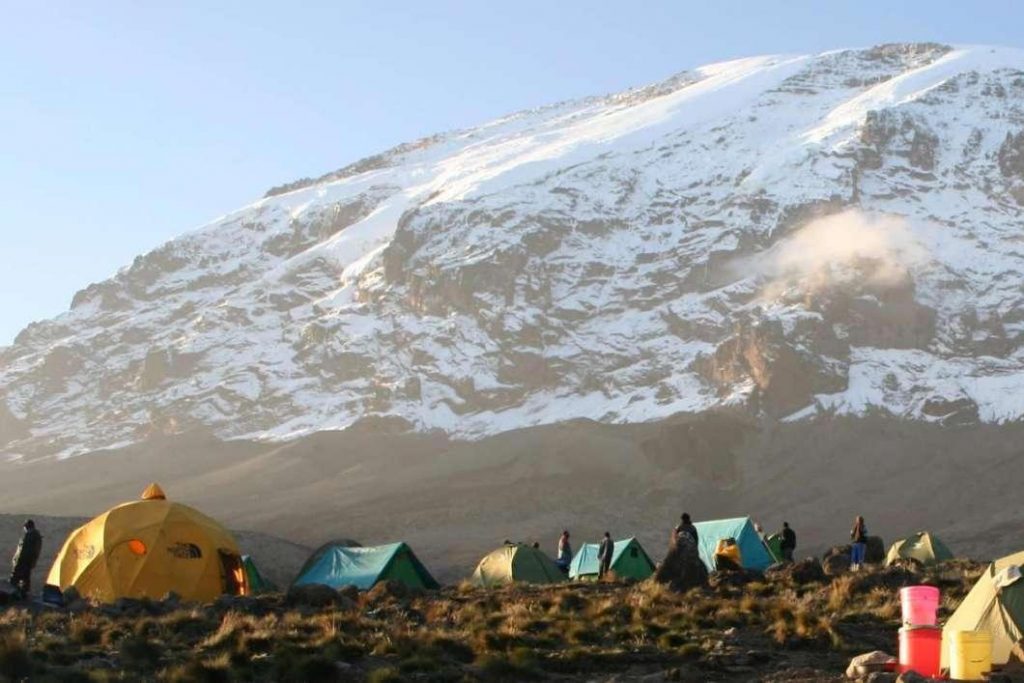 ---
Day 5 : Shira Camp 2 to Lava Tower Camp
Trekking Time: 4-5 hours | Zone: Heather and moorland | Distance: 5.4 km | Altitude Change: From 3,895 m to 4,600 m
Walking now on the high moorland, the landscape changes the entire character of the trek. You will traverse to the East up a ridge and then head southeast towards the Lava Tower, a 300 ft tall volcanic rock formation.
By hiking at a higher altitude of 4,600m to Lava Tower Camp, you will enjoy an extra time to acclimatise whilst avoiding the crowd that typically go through Barranco Camp for an overnight stay.
Lunch will be served at the camp followed by a much needed rest. You will then wake up to hike to the high elevation of 4,695m for acclimatization and then come back to the camp for dinner and an overnight stay. Doing so, you will have followed the mountaineering code of 'walk high, sleep low' to avoid altitude sickness by aiding your bodies in acclimatization.
The climb of the tower needs max 1 hour and the view down on the Tower Camp is amazing. The volcanic rock of the Lava Tower is easy to climb and no rope is necessary.
Overnight at Lava Tower Camp
The Lava Tower Camp is the start point just beneath the Tower. The camp is used by the trekkers who want to climb on Kilimanjaro over the Arrow Camp and the Western Breach.
We like camping at the Lava Tower because the camp typically has fewer campers than Barranco, therefore you will enjoy a peaceful and cosy night. When you wake up, you just might be able to see some snow.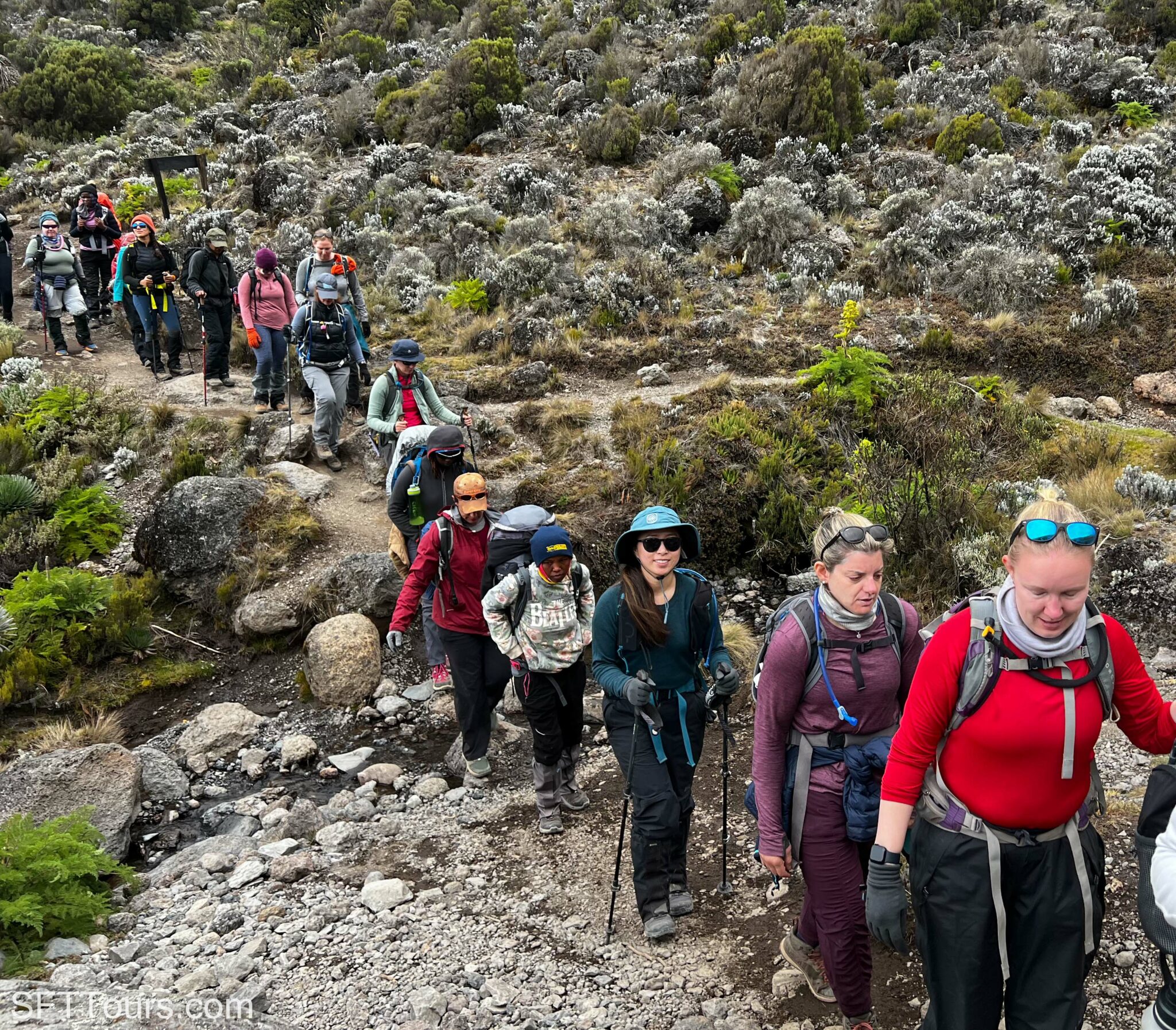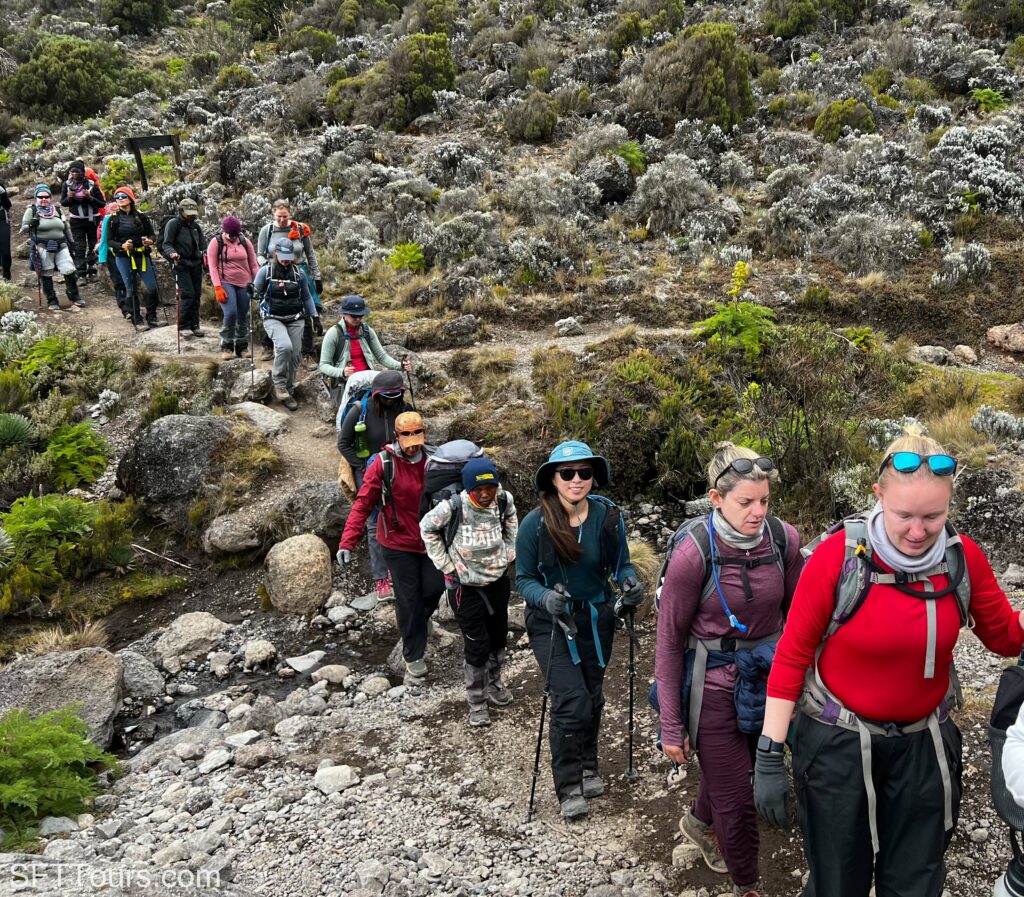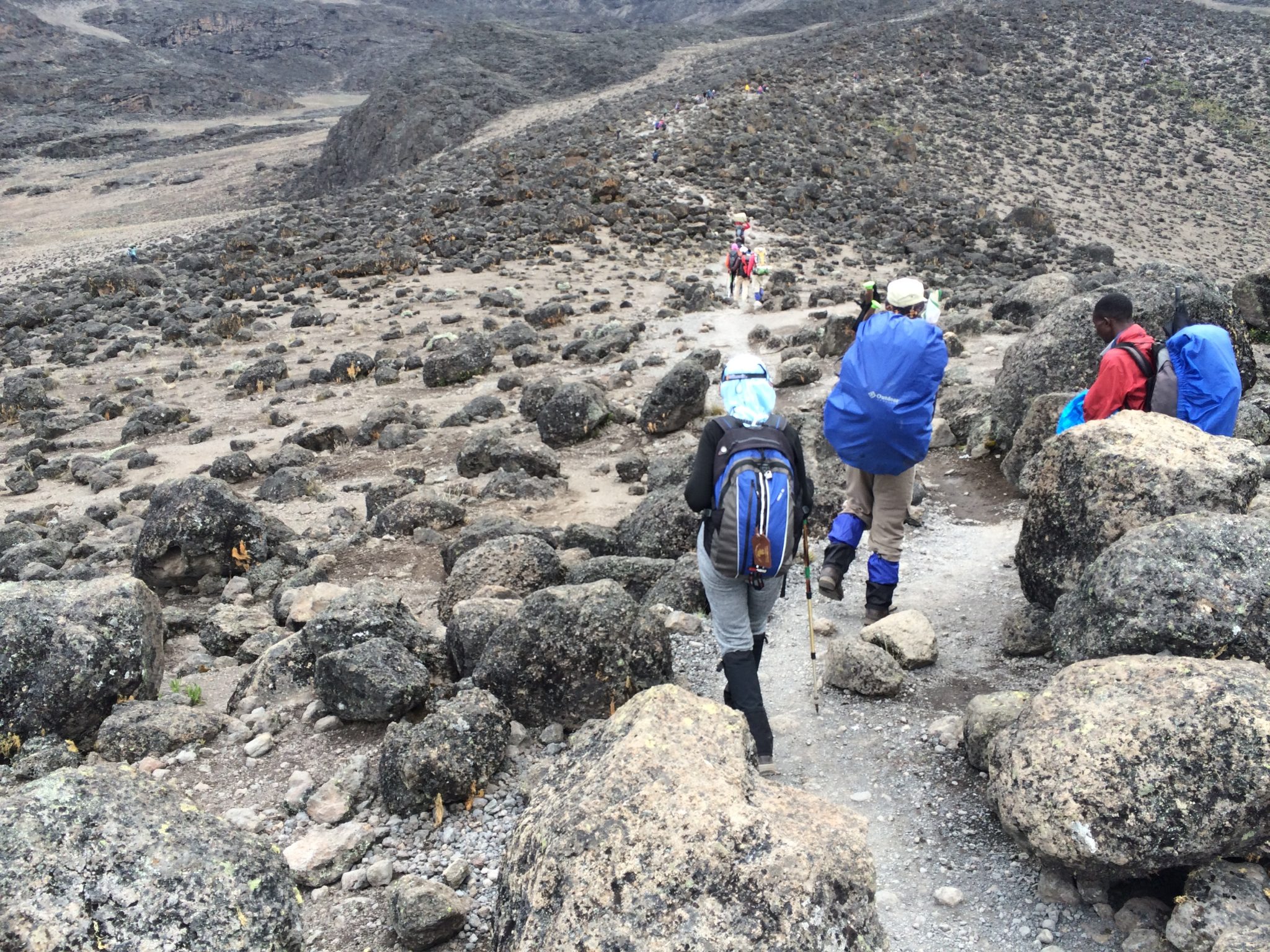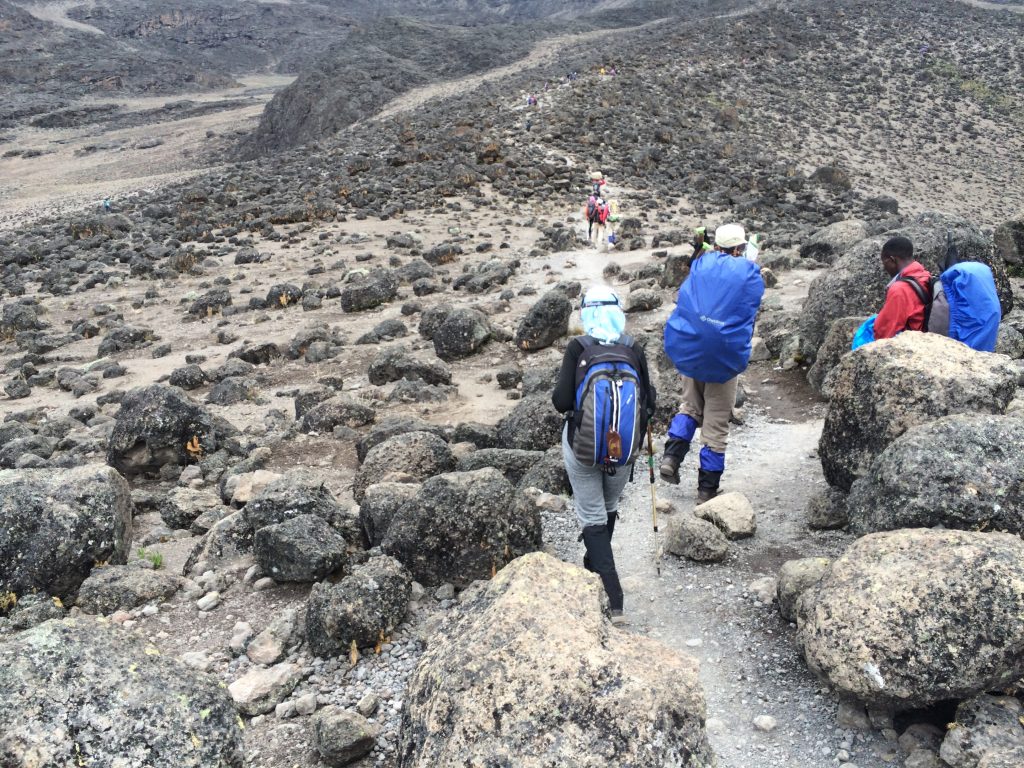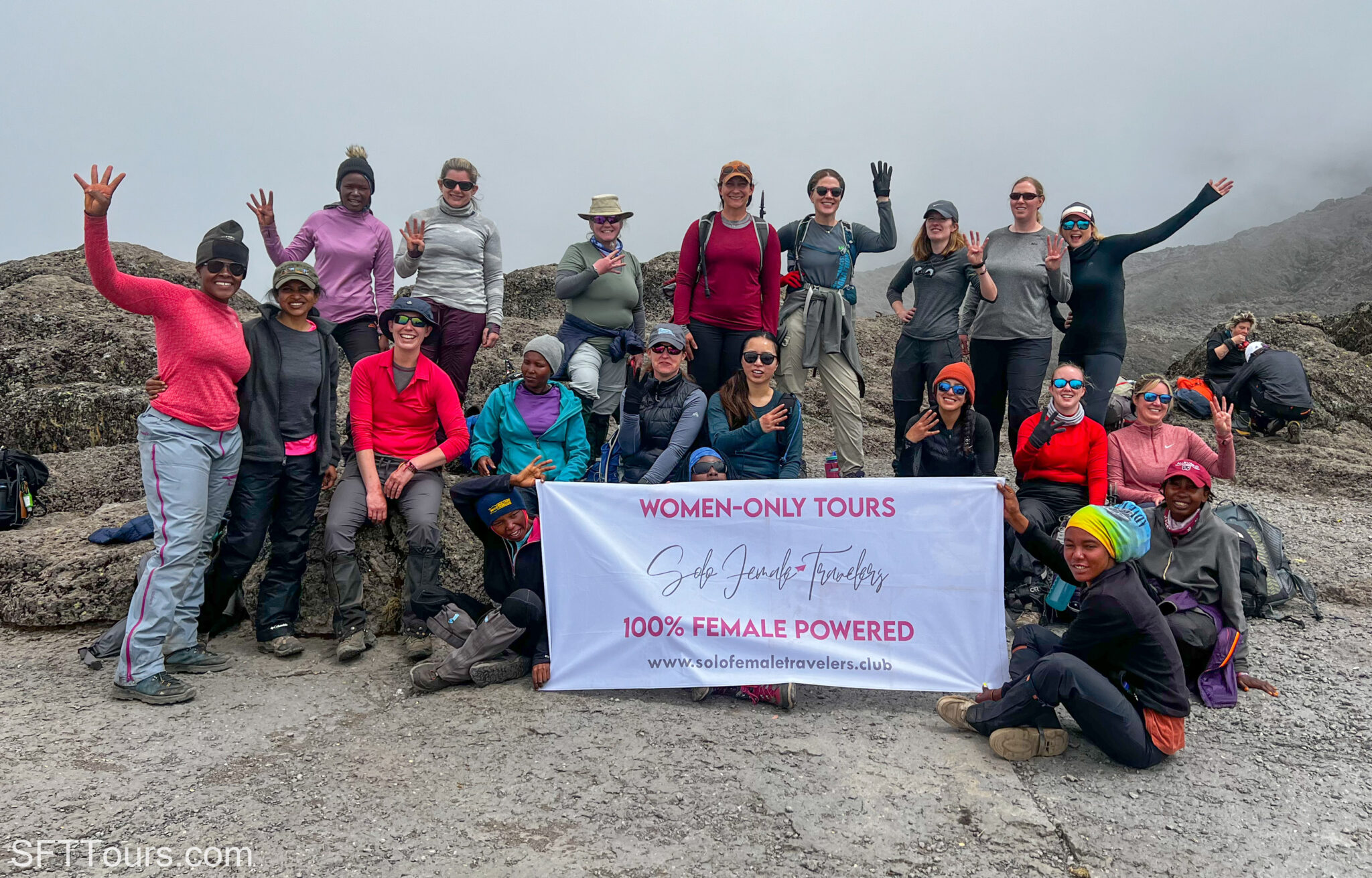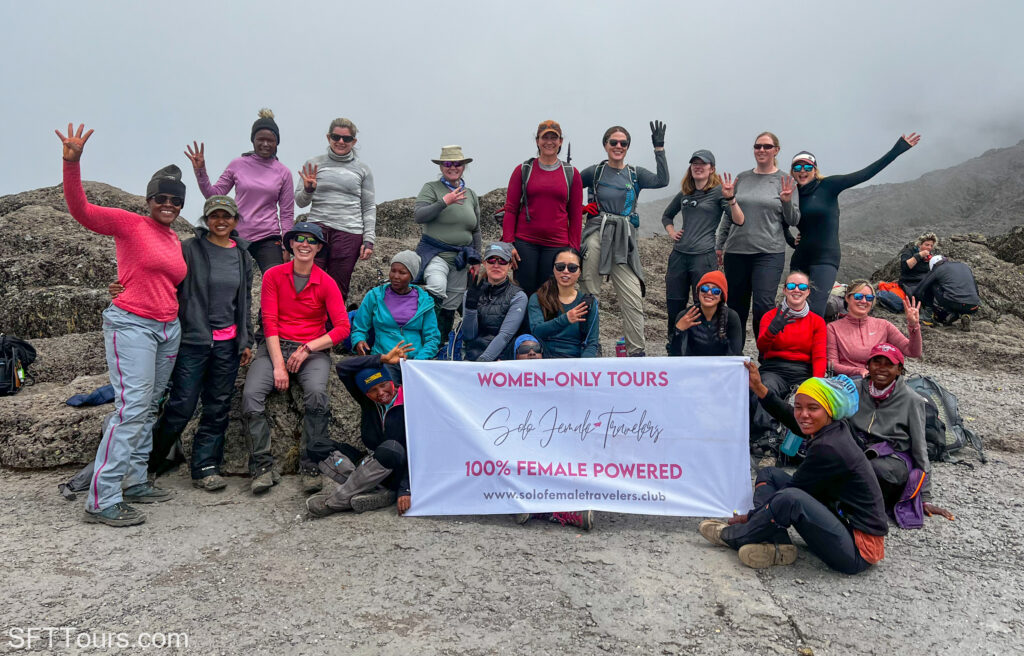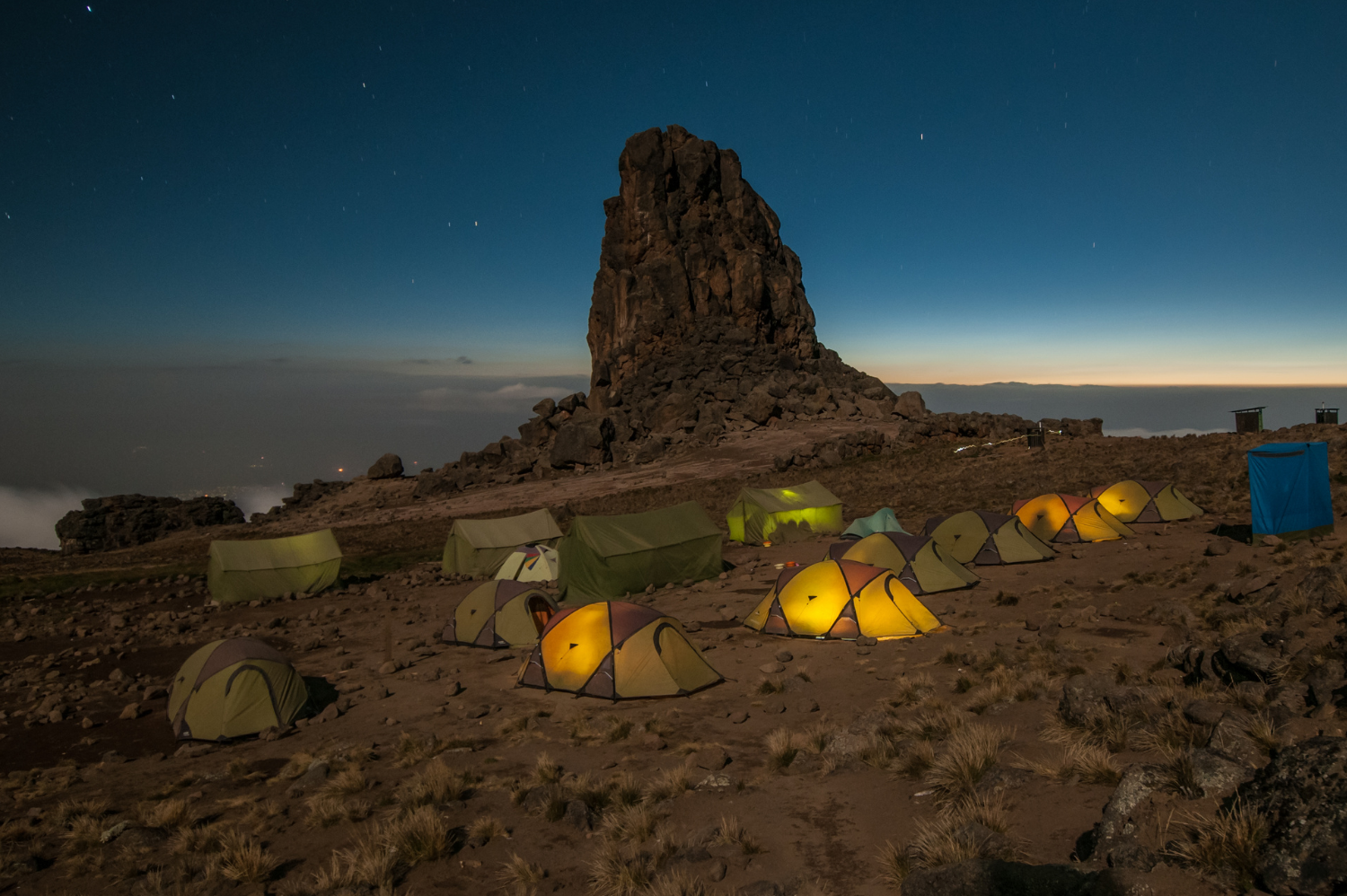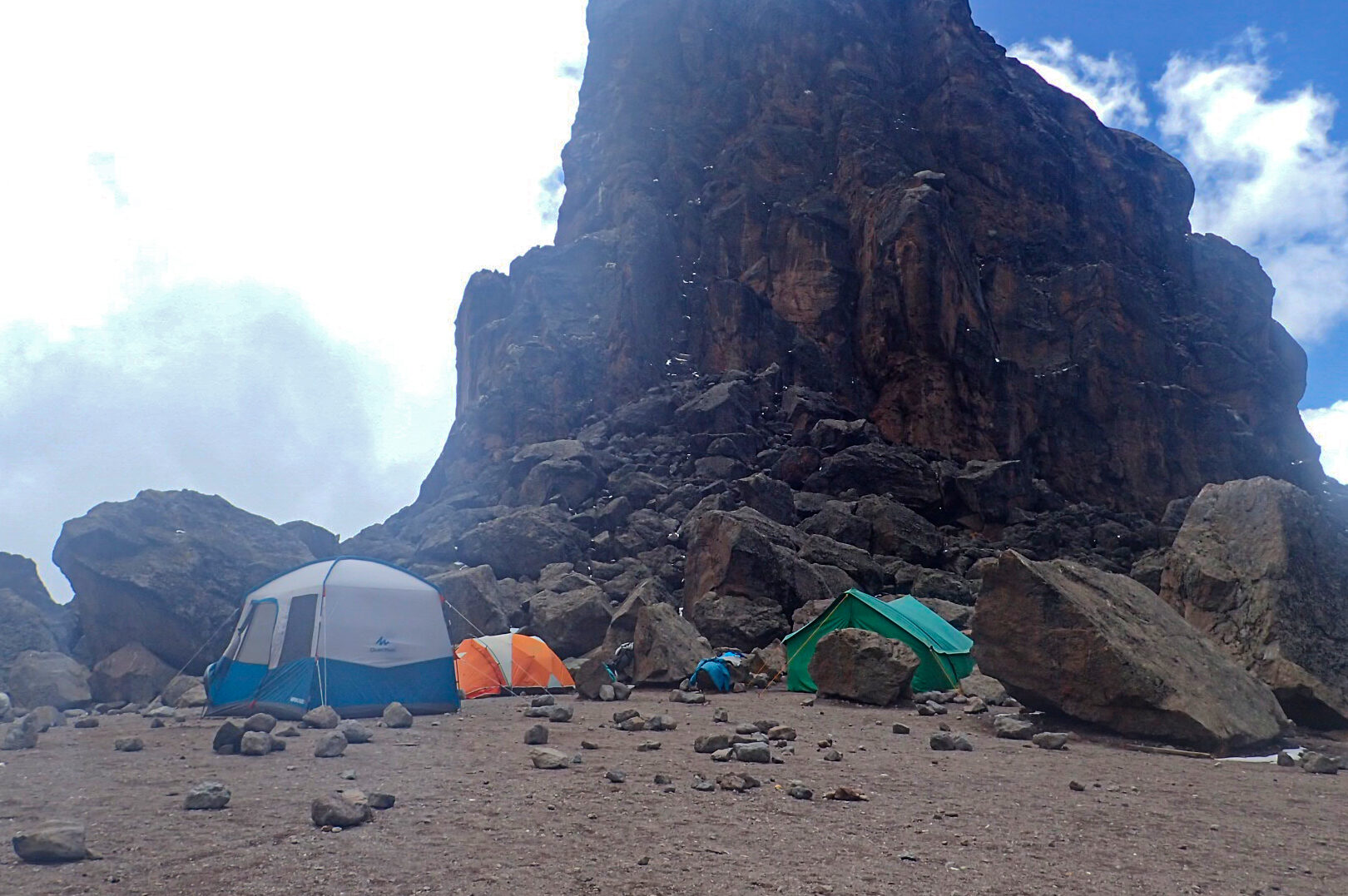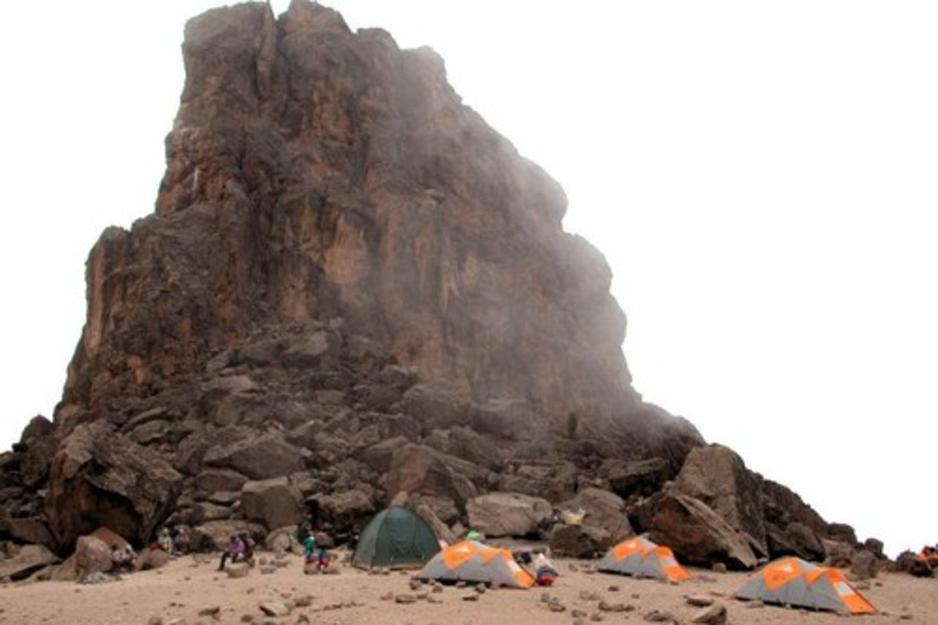 ---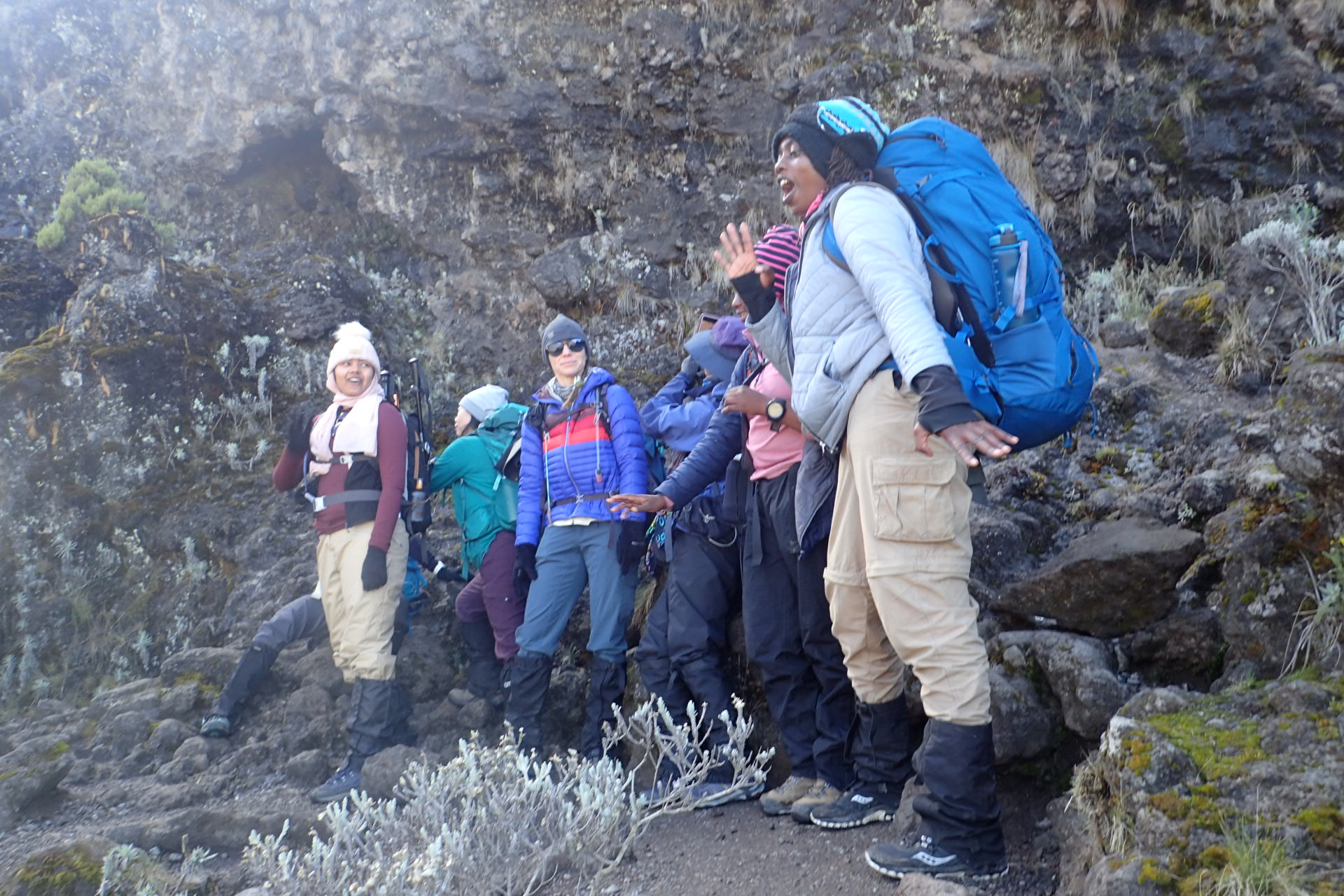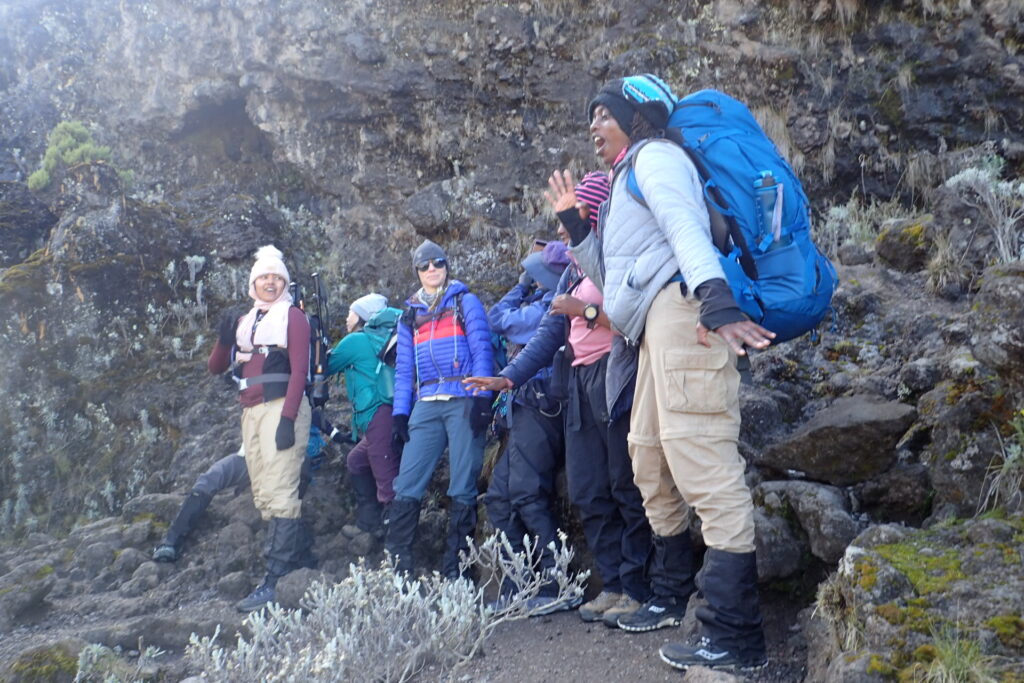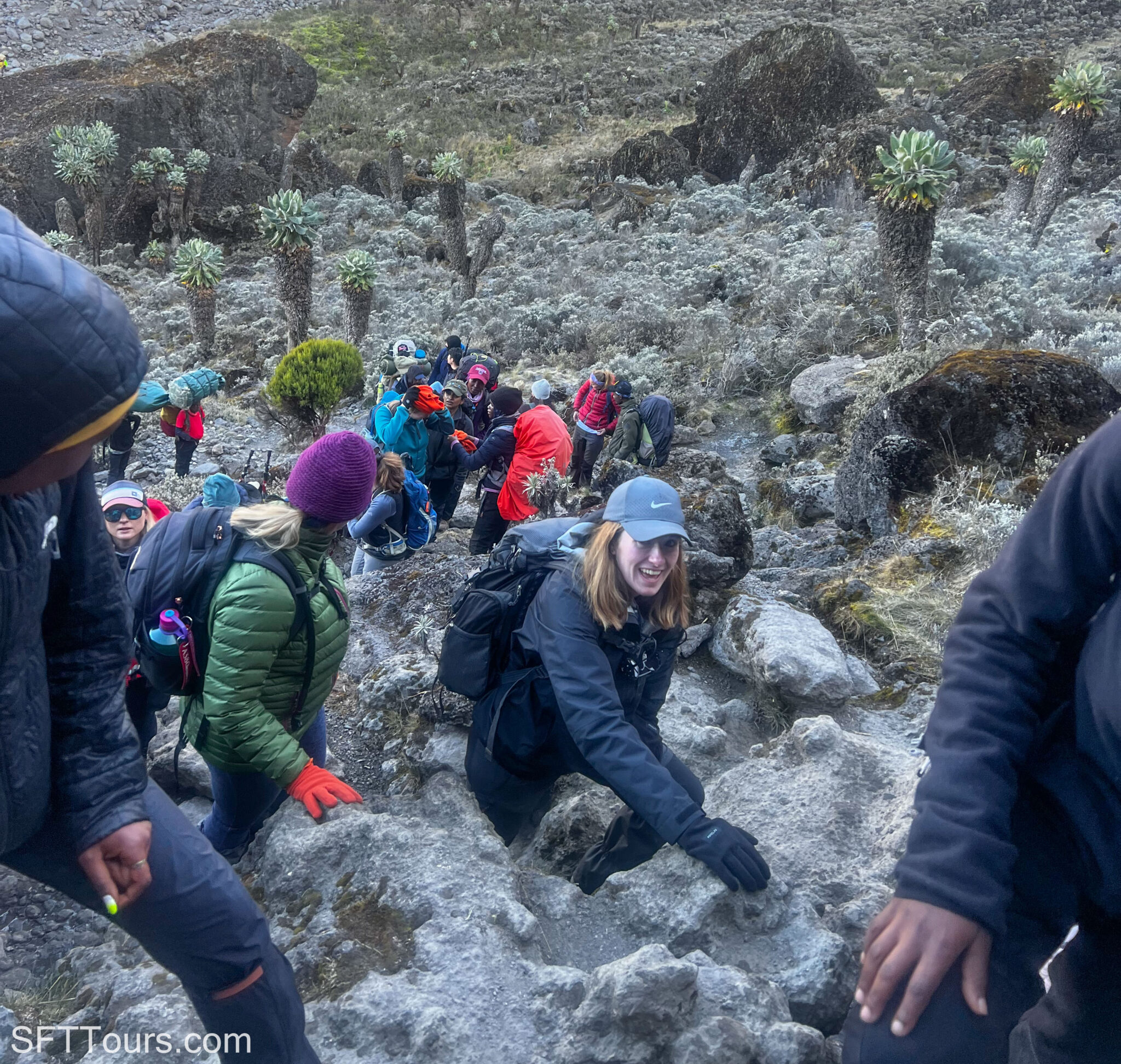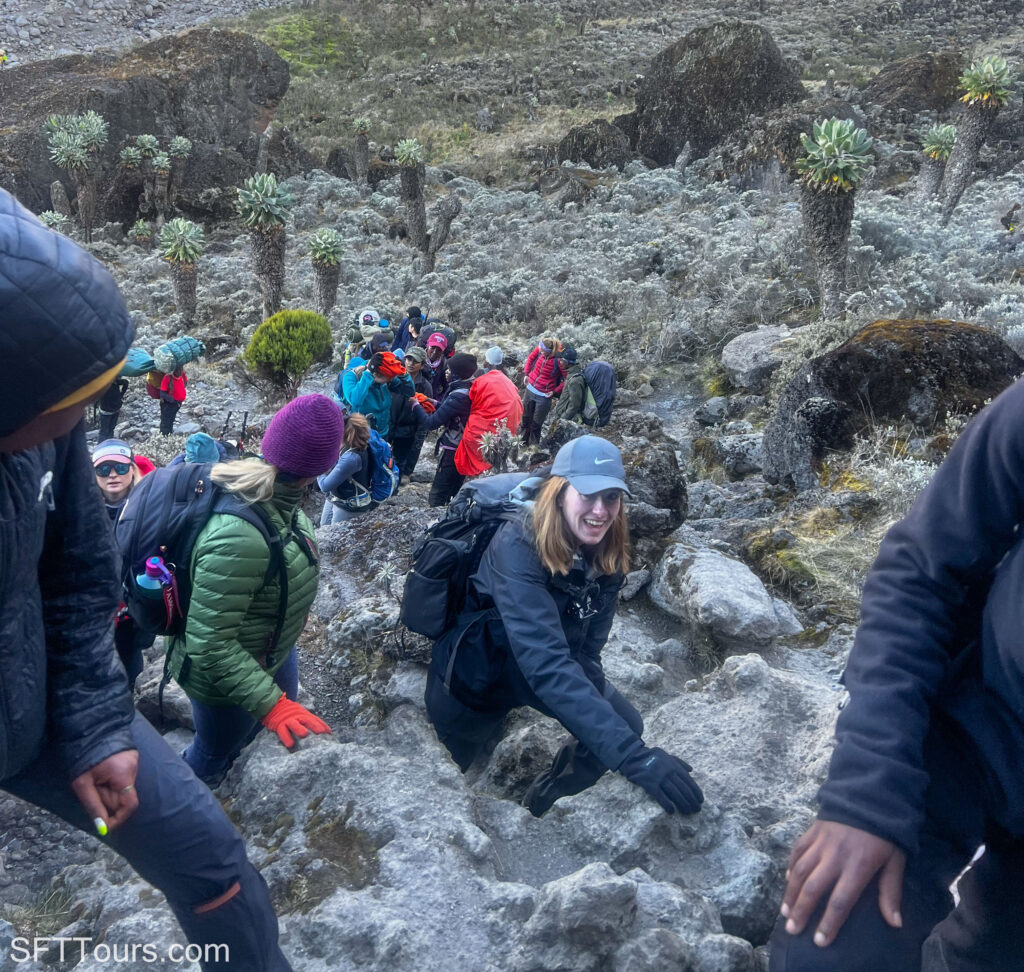 Day 6 : Lava Tower Camp to Karanga Camp
Trekking Time: 6 hours | Distance: 8 km | Zone: Alpine Desert | Altitude Change: From 4,600 m to 4,645 m
After breakfast, we will leave our camp and head towards the northern side of the mountain.
Start the day by descending into the start of the Great Barranco, a huge ravine. Then exit steeply, up what has been termed the kissing rock or Breakfast Wall, which divides you from the south-eastern slopes of Kibo.
Although not technical, this is the only section of the climb where you will use your hands to pass through beautiful rocks. Beyond the wall, you will begin to see the sparkling mountain glacier indicating that the roof of Africa is now within reach.
From here, we will pass through some Alpine Desert and cross some ridges to find the best spot to enjoy a breathtaking view of the Eastern side of Mt. Kilimanjaro.
Lunch will be served at the camp followed by relaxation and an overnight stay. With warm weather and clear skies, you will see the summit route from the camp.
Yes, you start getting excited but importantly you will need to also start preparing your mind and align all your mental strength for the following day, the summit day. Take time to rest and enjoy some warm temperatures with a blanket of stars above you. With a clear sky, you will be able to see an aerial view of the Moshi town at night.
Overnight at Karanga Camp
Karanga Camp has access to cell phone reception so you will be able to find just enough mobile connection to communicate with your family and friends.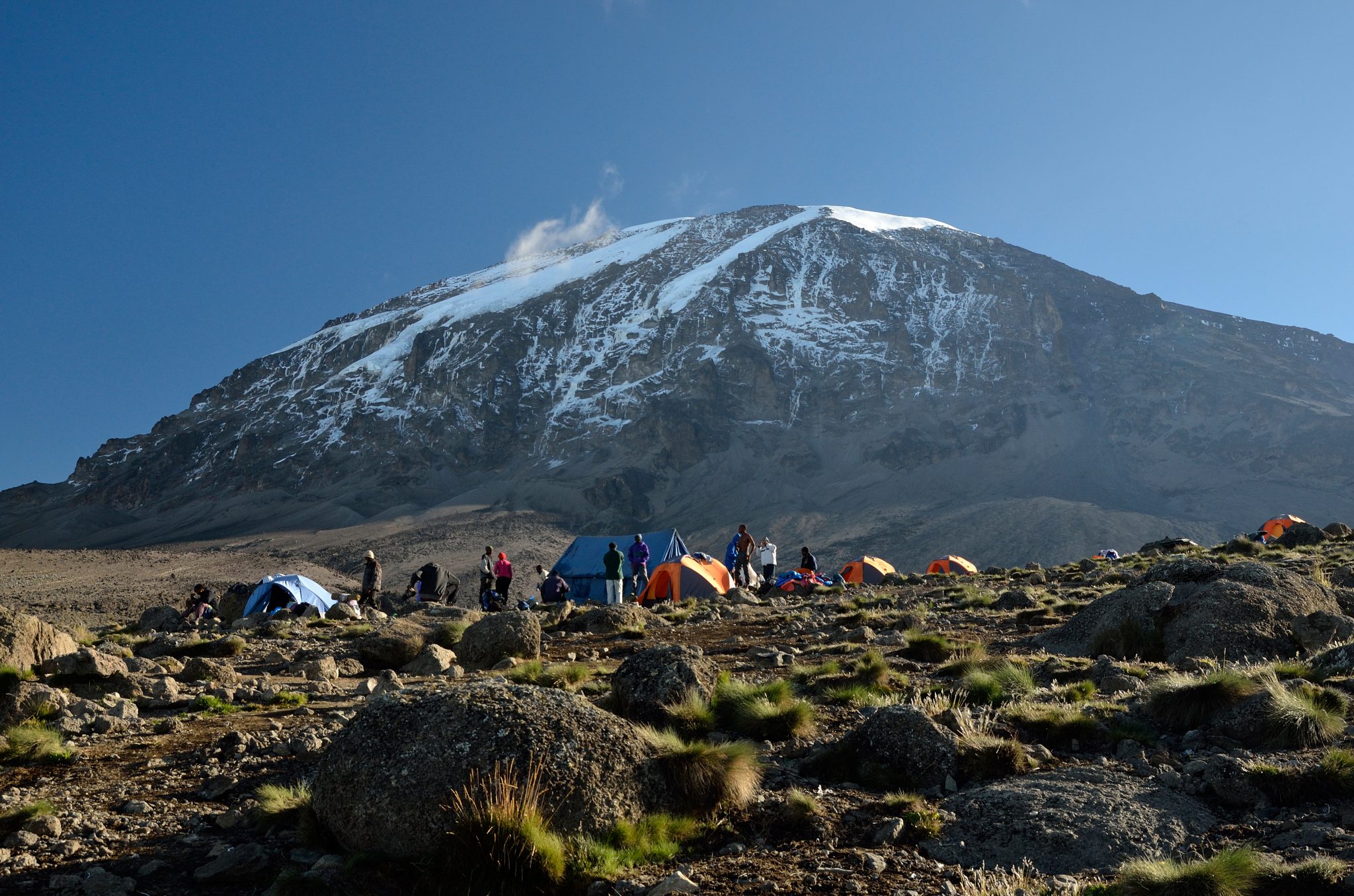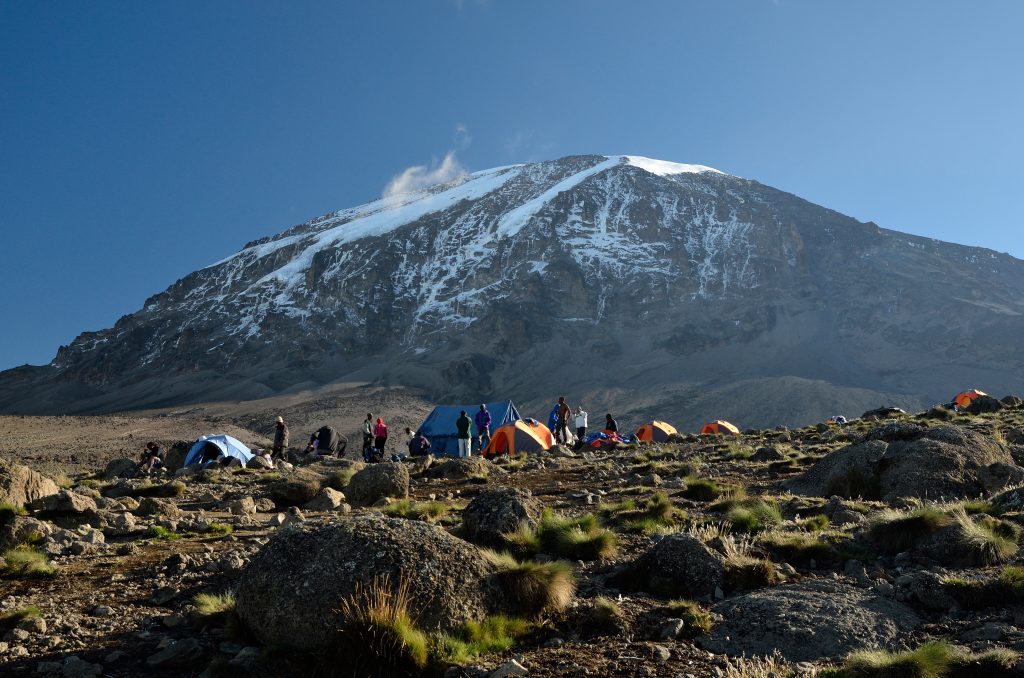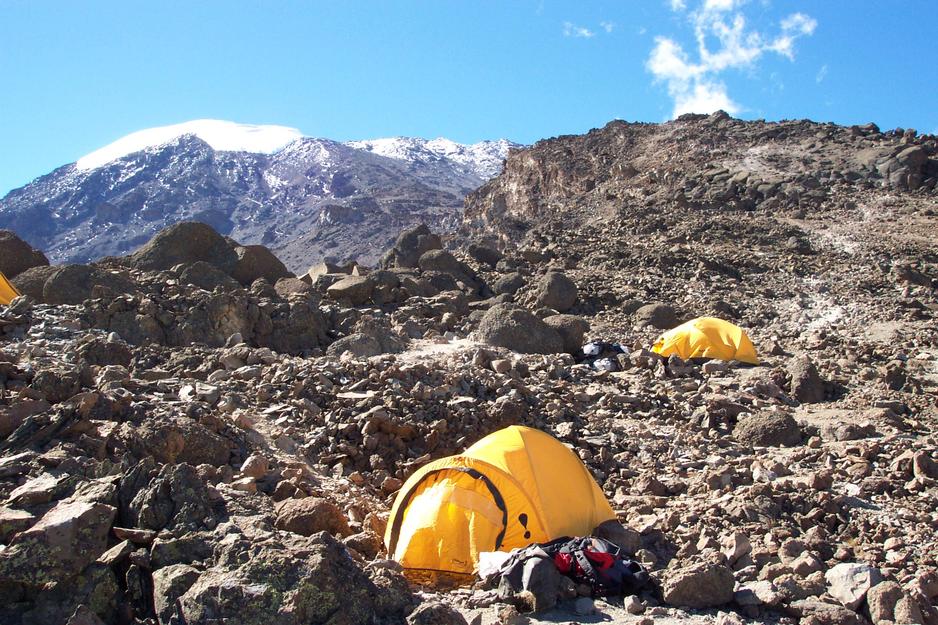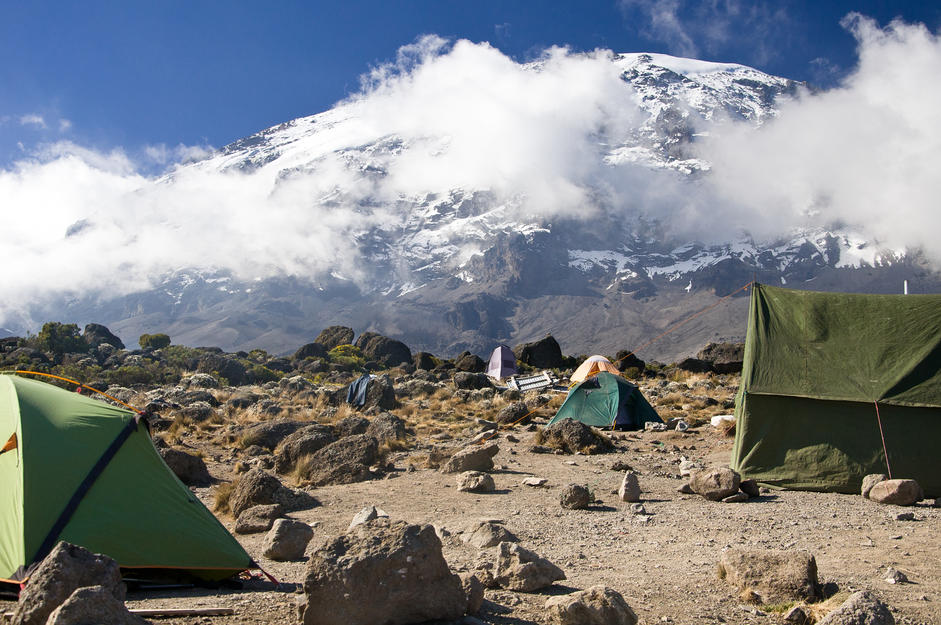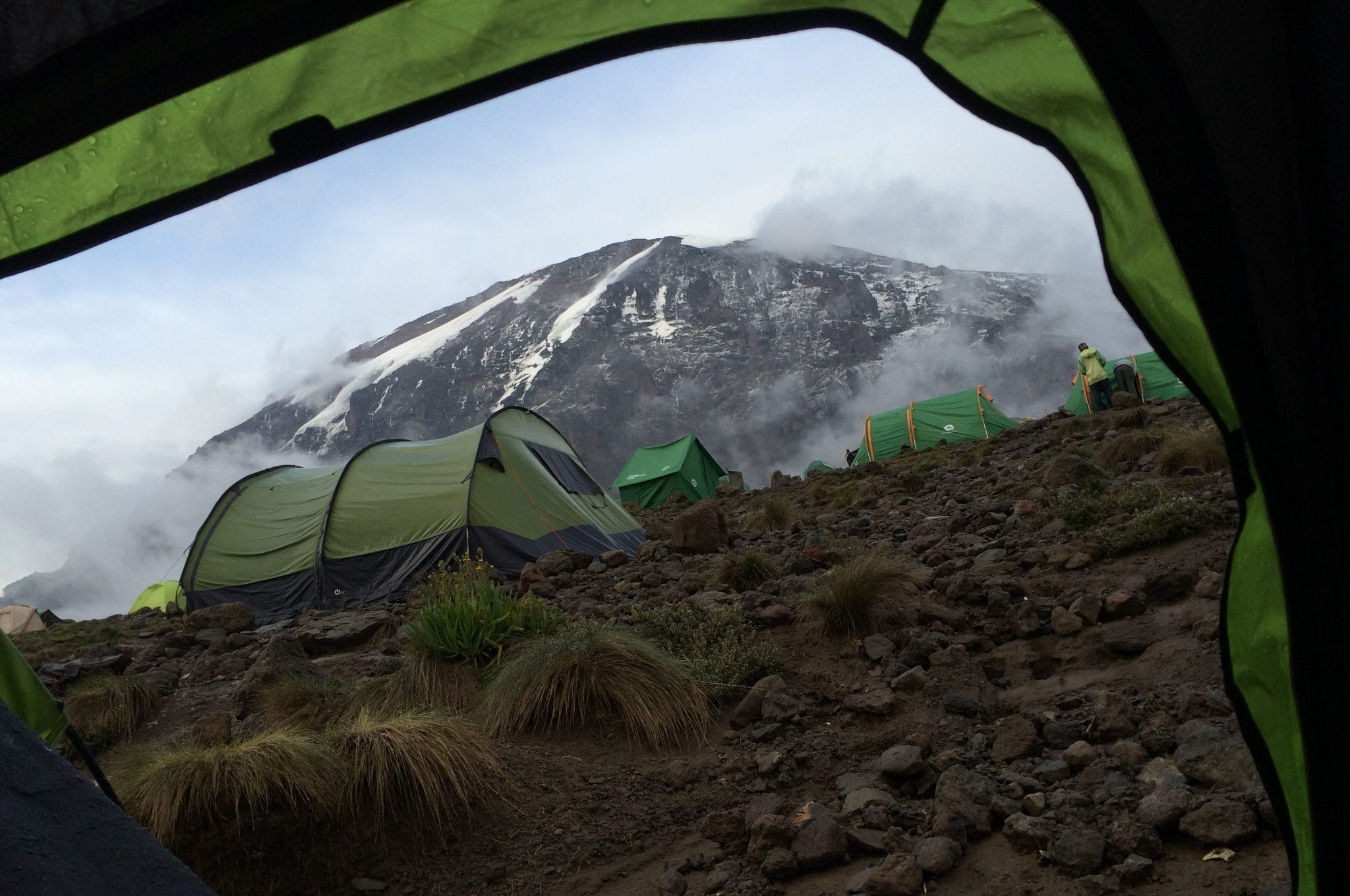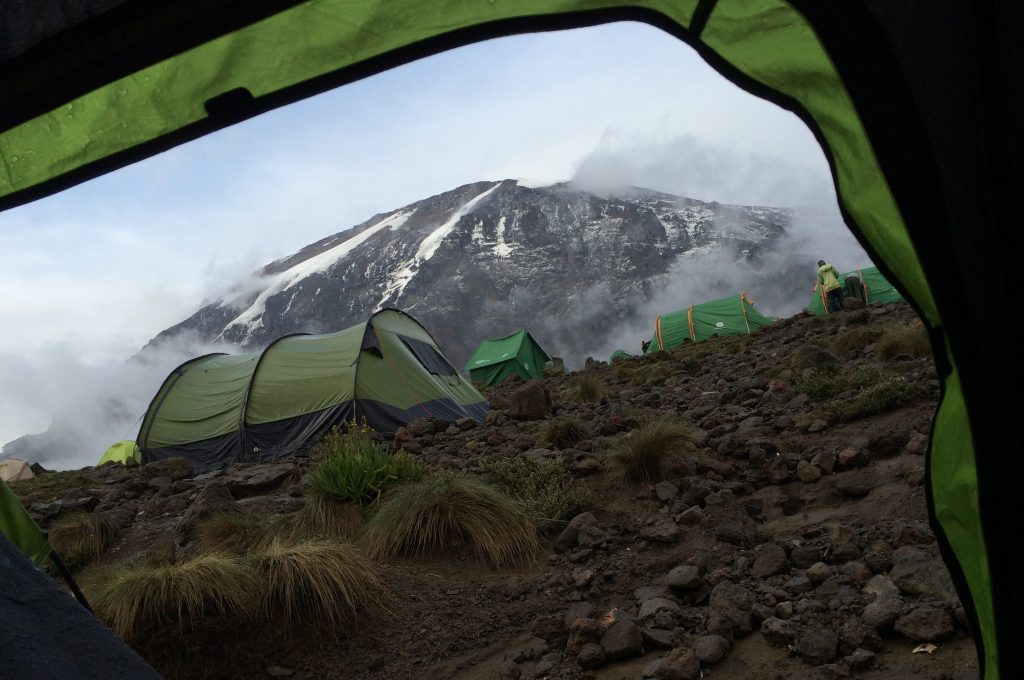 ---
Day 7 : Karanga Camp to Barafu Camp
Trekking Time: 2-3 hours | Distance: 4.86 km | Zone: Alpine Desert – Summit Zone | Altitude Change: From 4,640 m to 4,675 m
The day is characterized by a short hike on terrain formed by scree. Walk through arid, lunar land towards Barafu Camp and then ascend slowly.
As you walk through rock terrains, you will be rewarded with a stunning view of the southern glacier and Kibo peak, in which the highest point in Africa lies.
After seeing a promising summit, you will strategically start to prepare for the summit by resting well. You will have the entire afternoon to rest and prepare for the early morning summit.
Overnight at Barafu Camp
Barafu Camp is located in the desert zone therefore no vegetation is found on this higher elevation. The word 'barafu' is the Swahili word for 'ice,' which refers to the cold climate at this altitude. This region occasionally receives some snow and it might get windy too.
Barafu Camp is the base for four routes so it might be noisy as many trekkers from different routes meet here.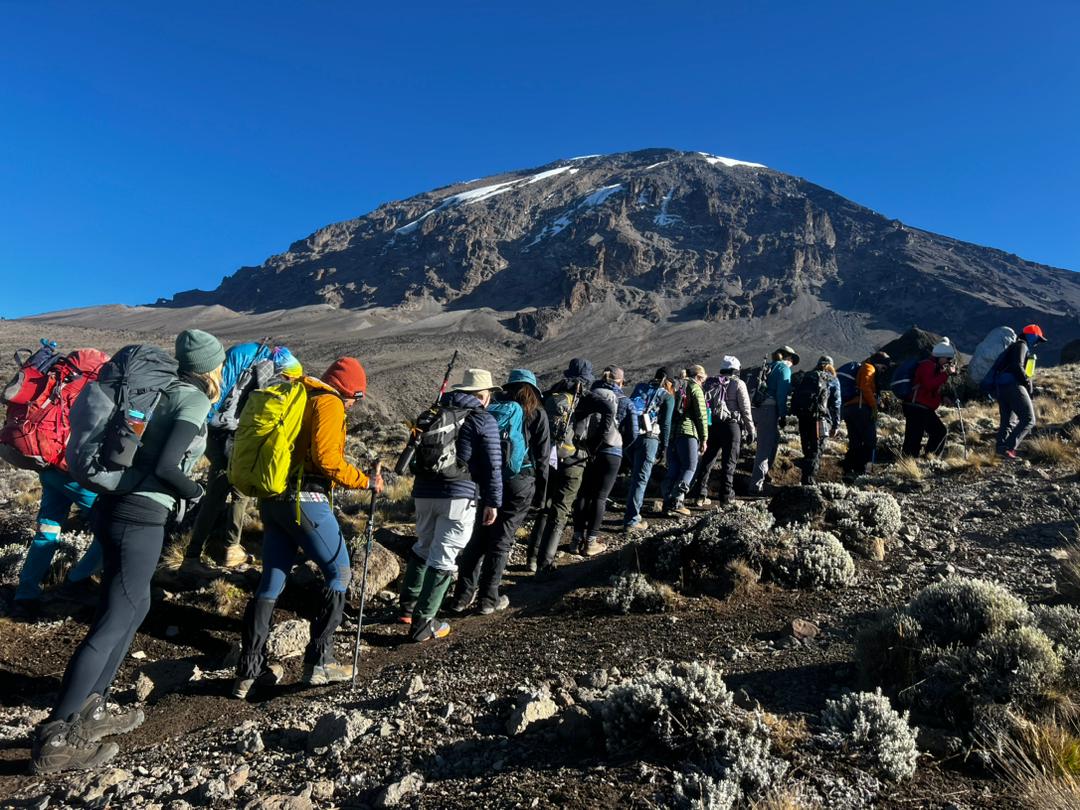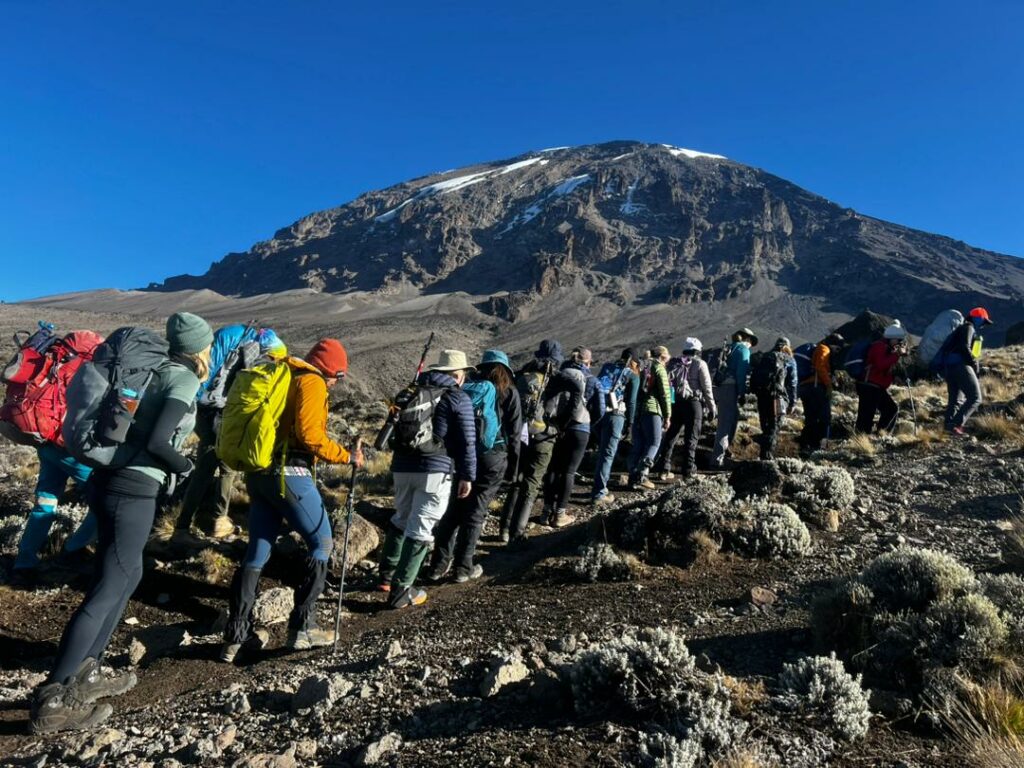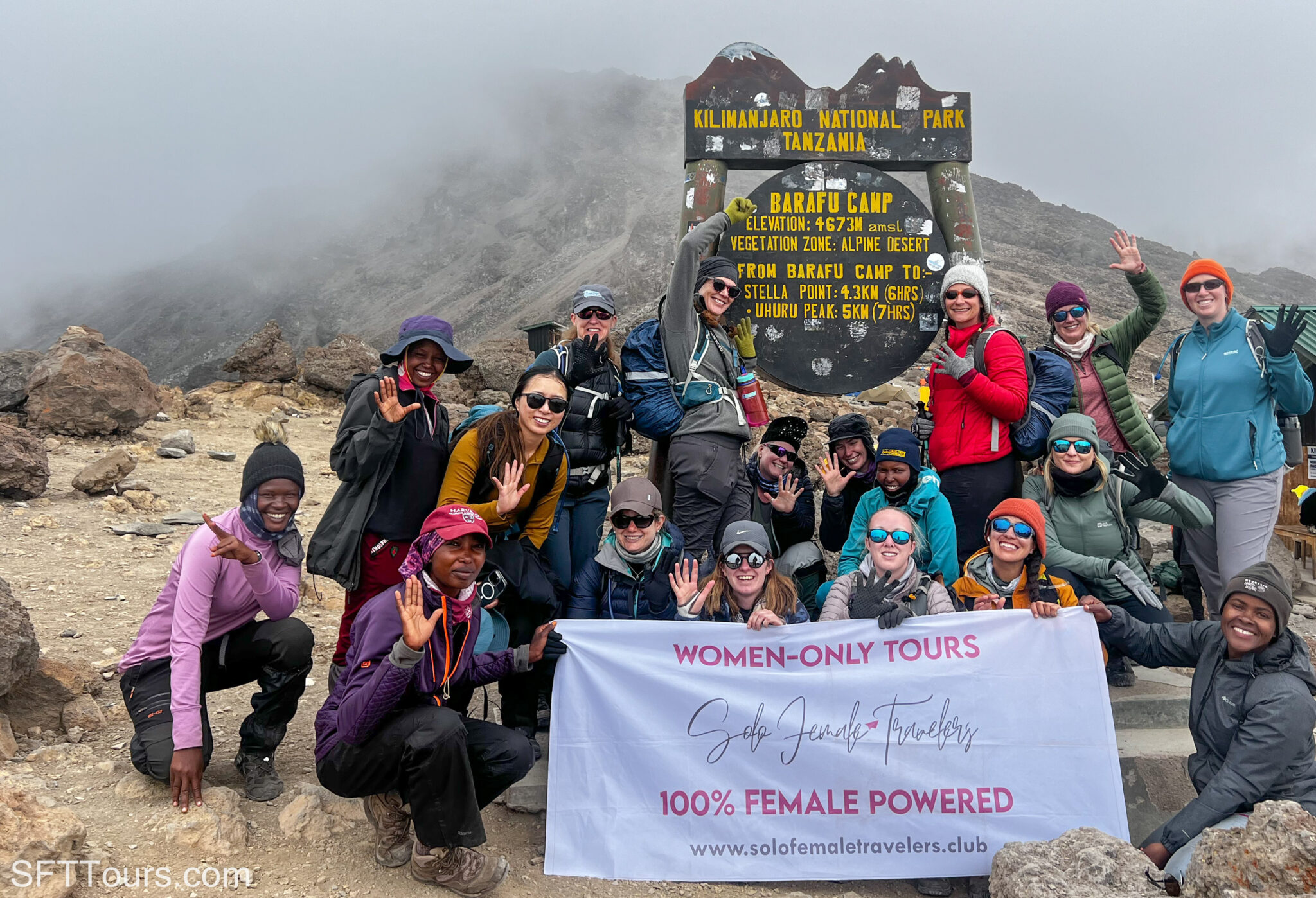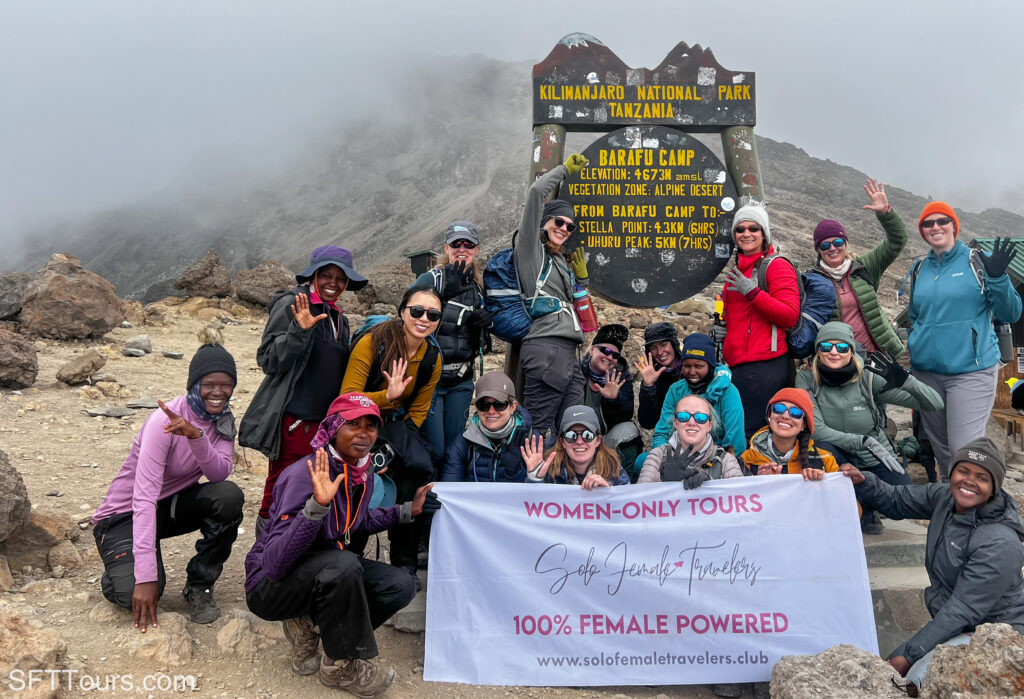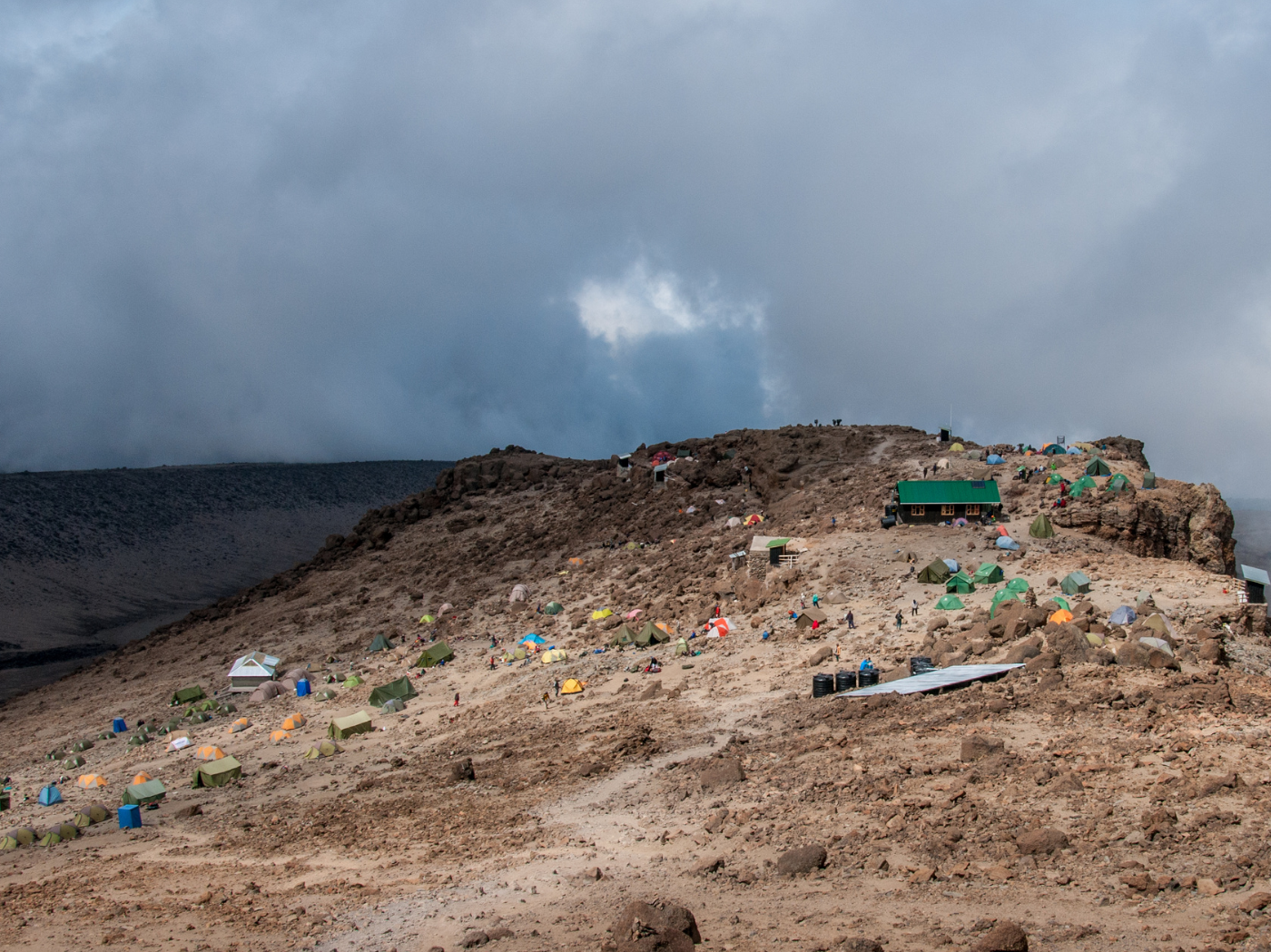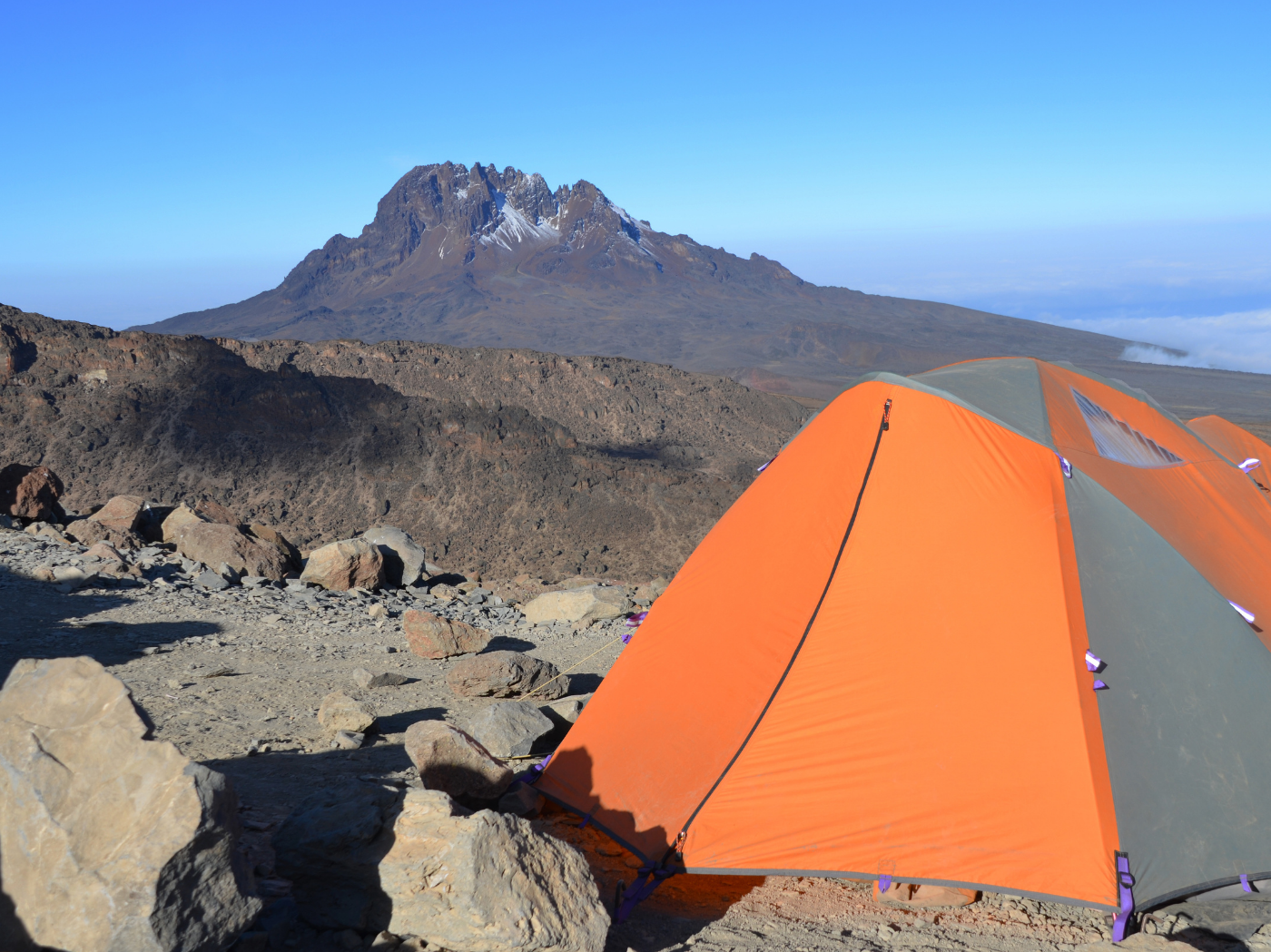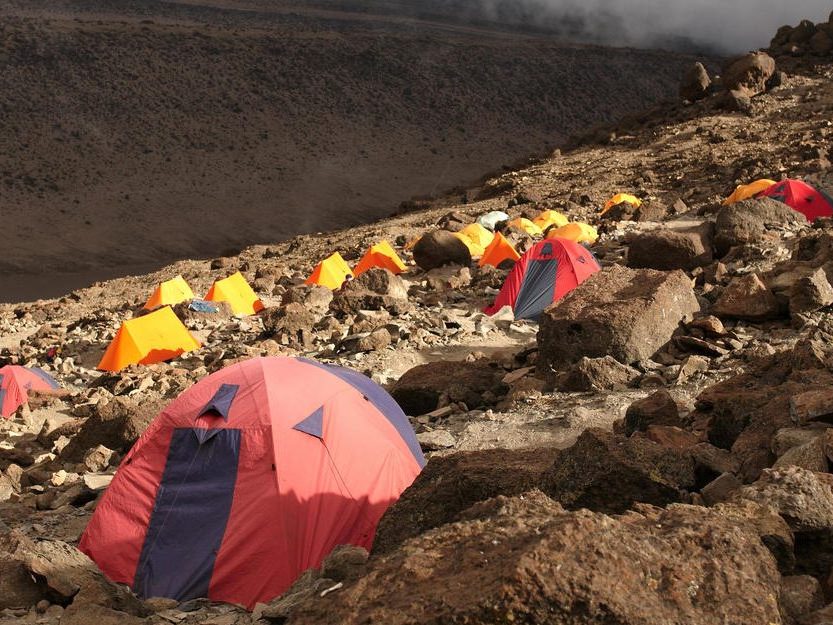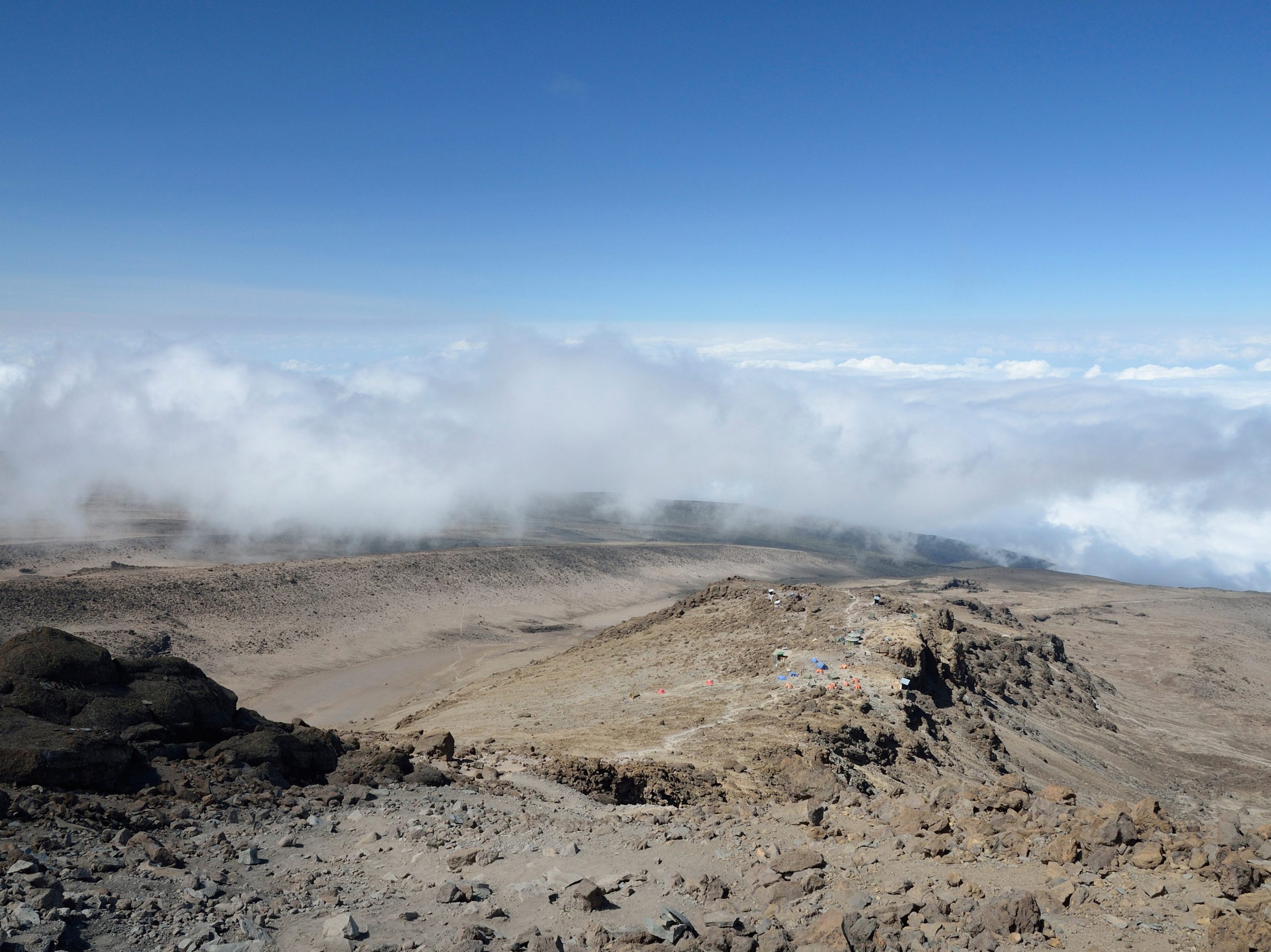 ---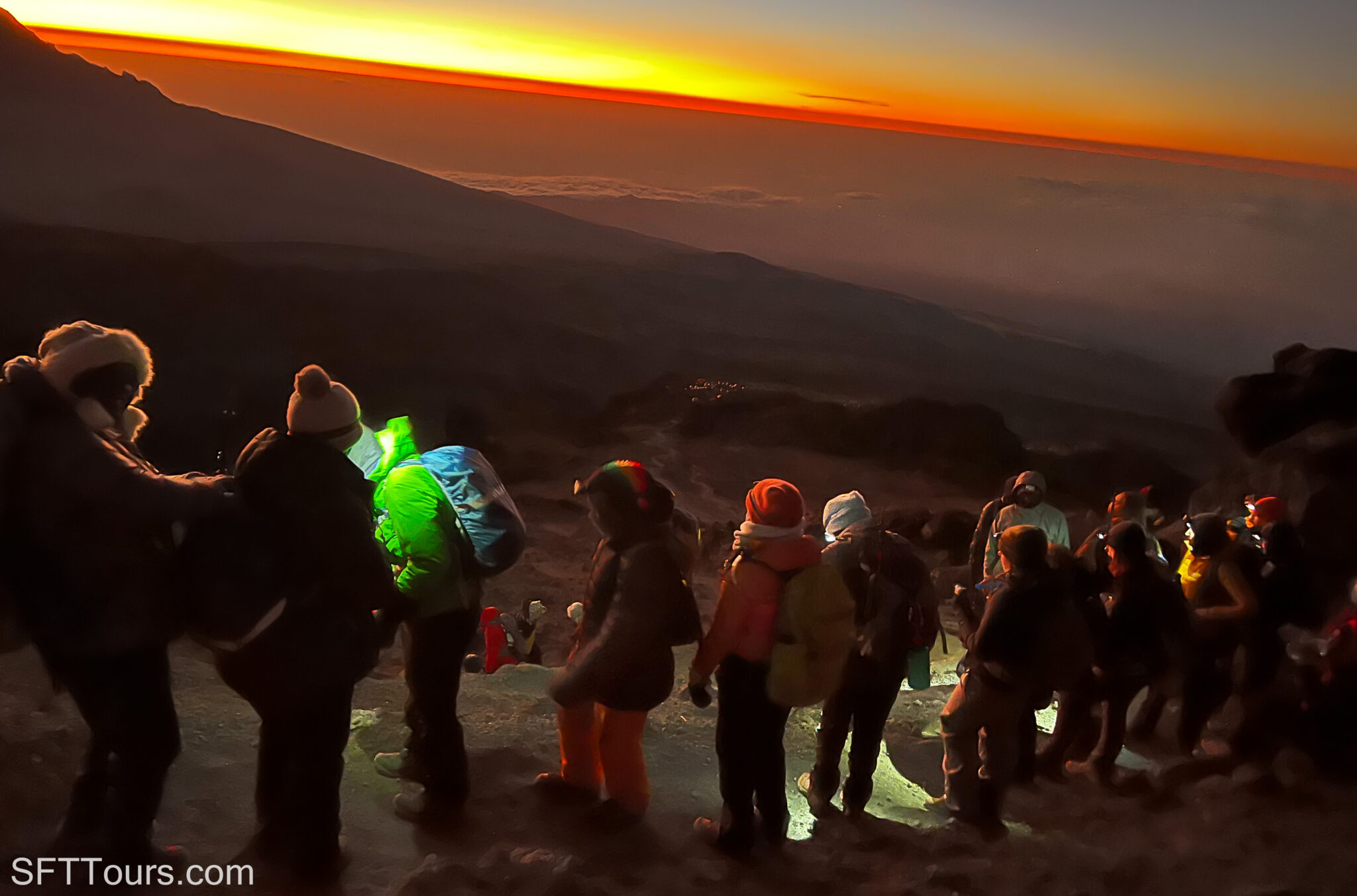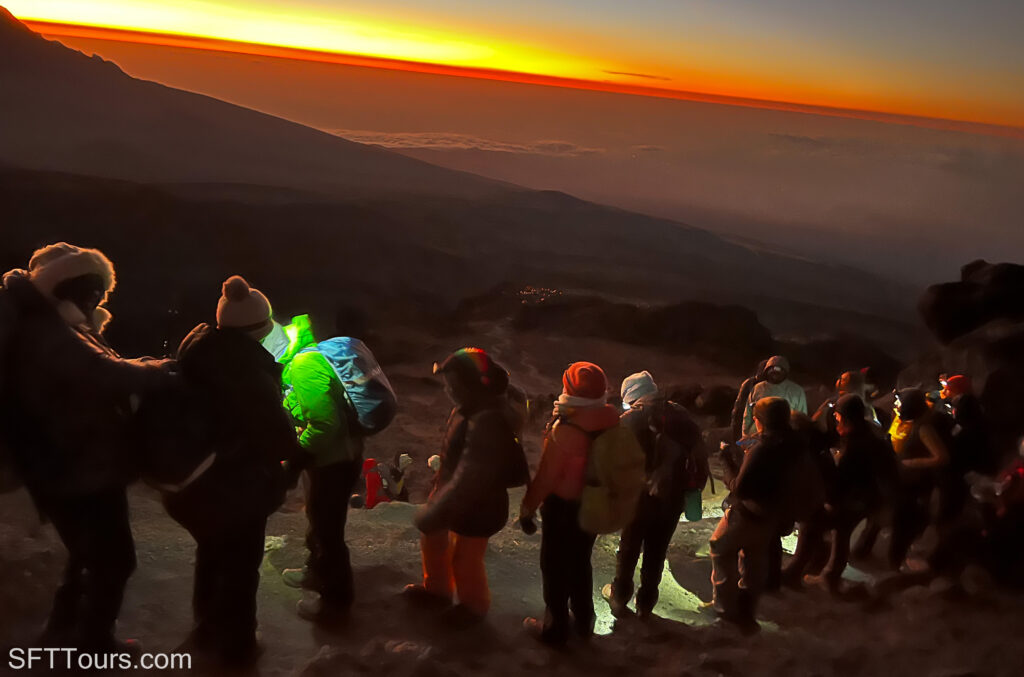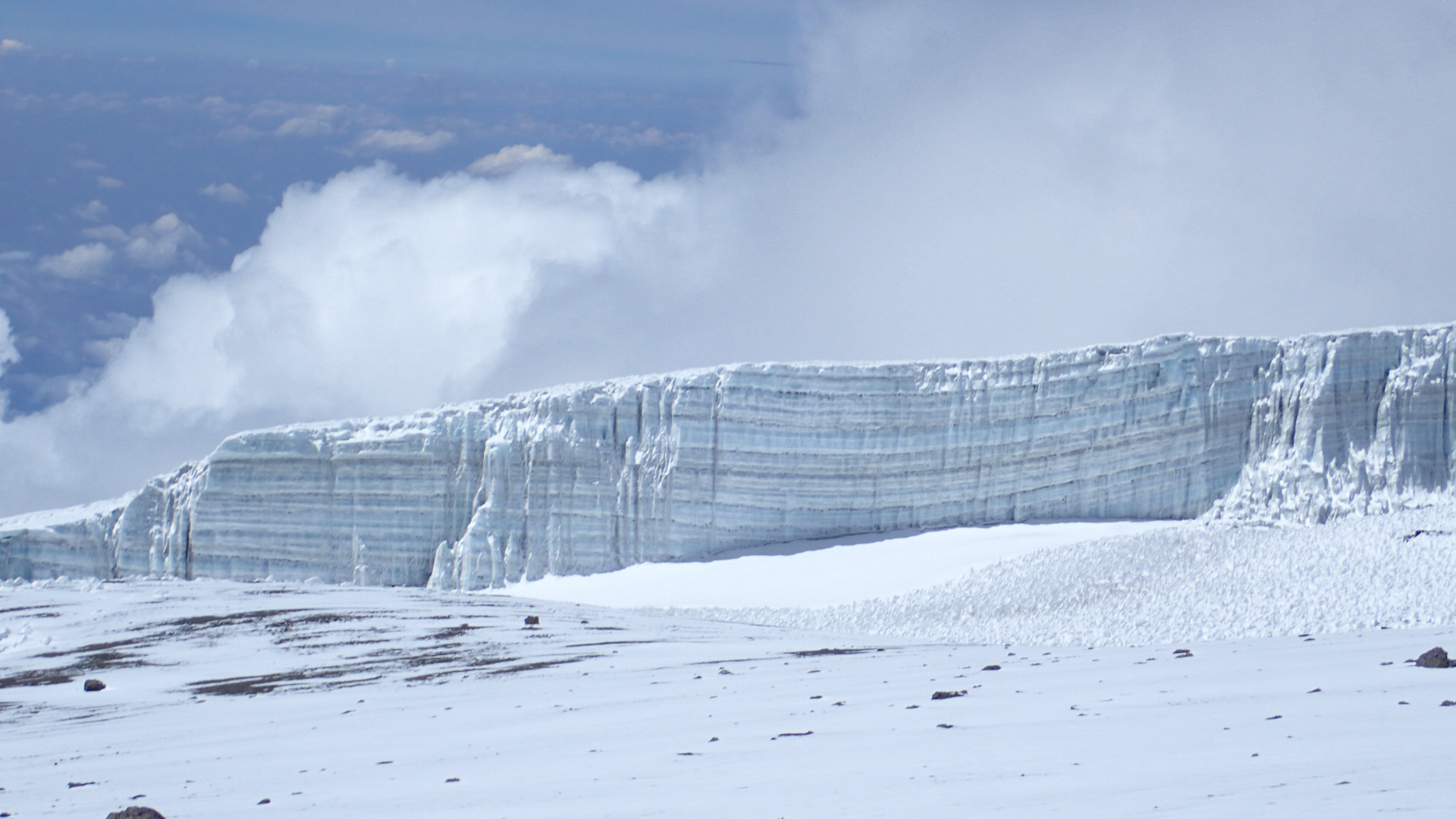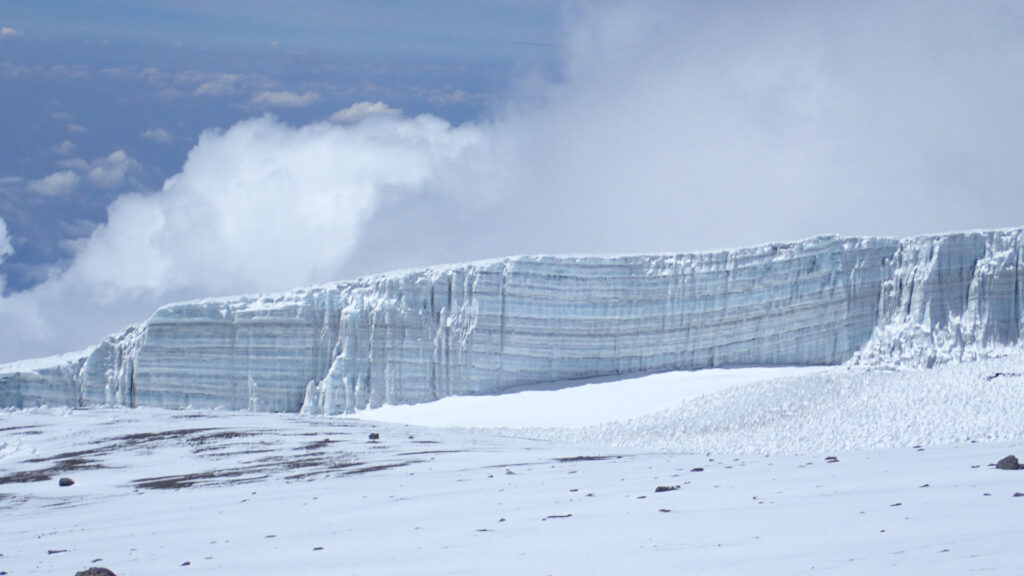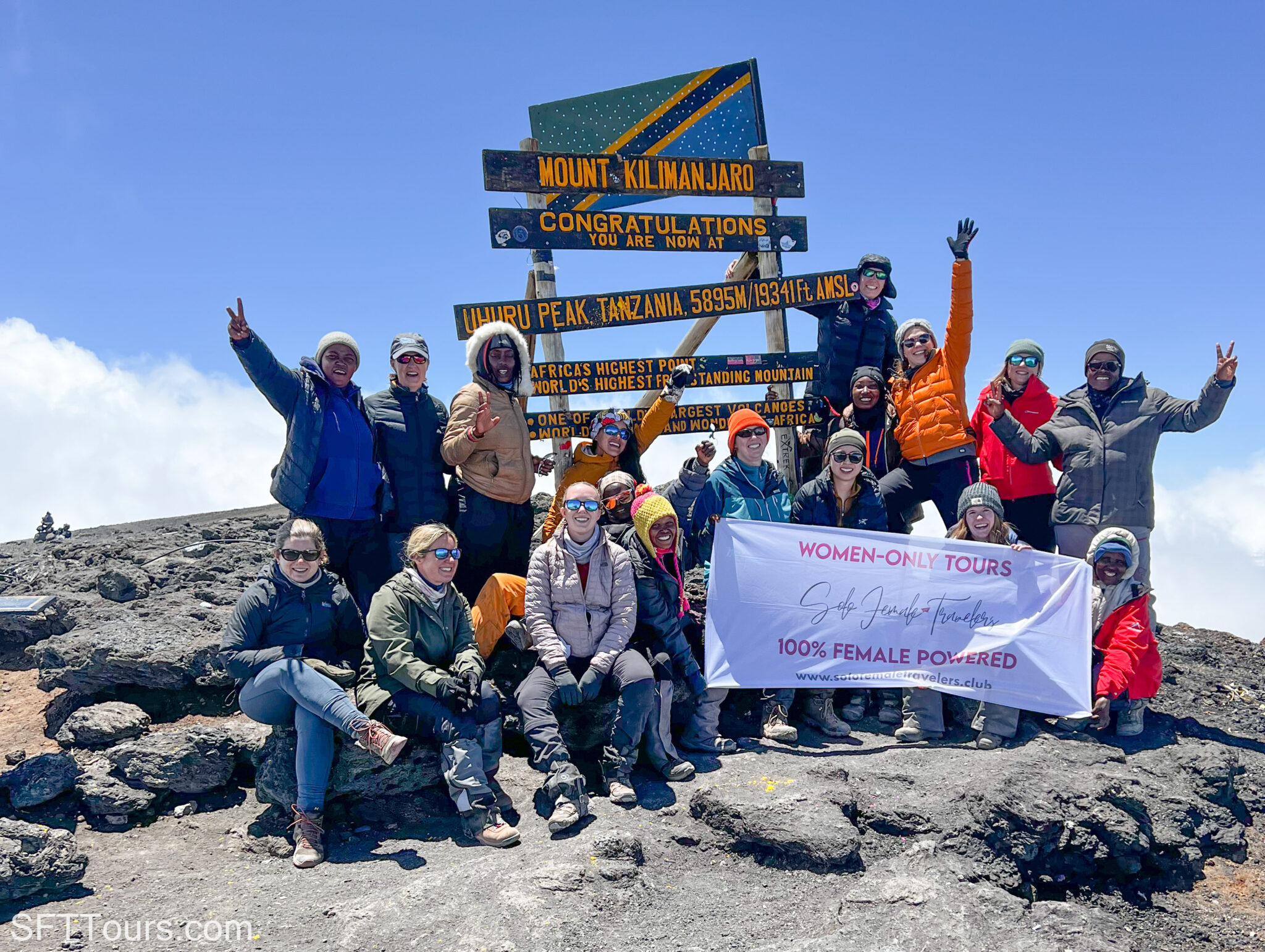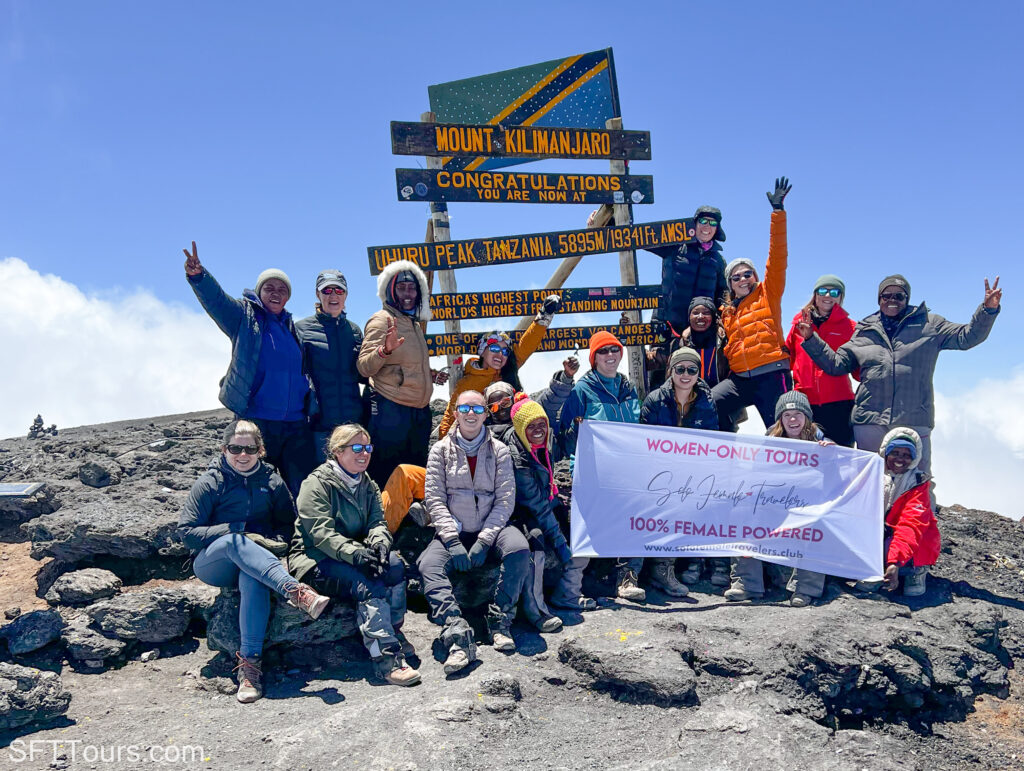 Day 8 : Summit
Trekking Time: 5-6 hours to the top 4-6 h down | Distance: 4.8 km up and 7 km down | Zone: Summit | Altitude Change: From 4,675 m to the summit at 5,895 m and from the summit to 3,820 m
Since our summit is done during the day, we will start the preparation at 4 am where we will have a quick breakfast and start our hike just before the sunrise.
We will leave the rest of the crew at the camp and only go with your special summit team of guides to the summit.
Being the only attempt at the summit, this is the most mentally and physically challenging portion of the trek.
The wind and cold at this elevation and time of day can be extreme so insulate yourself and make sure you have enough water to drink on the way.
Continue to walk steeply upwards to the summit glaciers for several hours while taking frequent, but short breaks. Although you will be climbing scree for 5 to 6 hours, you will gain incredible height over a short distance.
After a long hike, you will come across a sign that congratulates you for reaching Stela Point (5,756 m). Reaching this point deserves a certificate!
Take a minute to look around you, the views are spectacular – especially with a backdrop of the Mawenzi Peak (5,149 m)!
Another 45 minutes walk takes you to your goal, the summit of Uhuru (Uhuru means freedom in Swahili), the highest point in Africa (5,895 m). Congrats, you made it!
After a quick celebration and photos at the top, you will begin the descent by returning to Stella Point and then descending on scree slope.
The trail here is very rocky and can be quite hard on the knees so trekking poles are helpful but after a couple of hours we will be back to Barafu Camp for breakfast.
Enjoy a short rest before finally heading down to Millennium Camp for a well-earned rest and lunch. On the descent, you will have fabulous views of the plains and Mawenzi Peak.
Overnight at Millennium Camp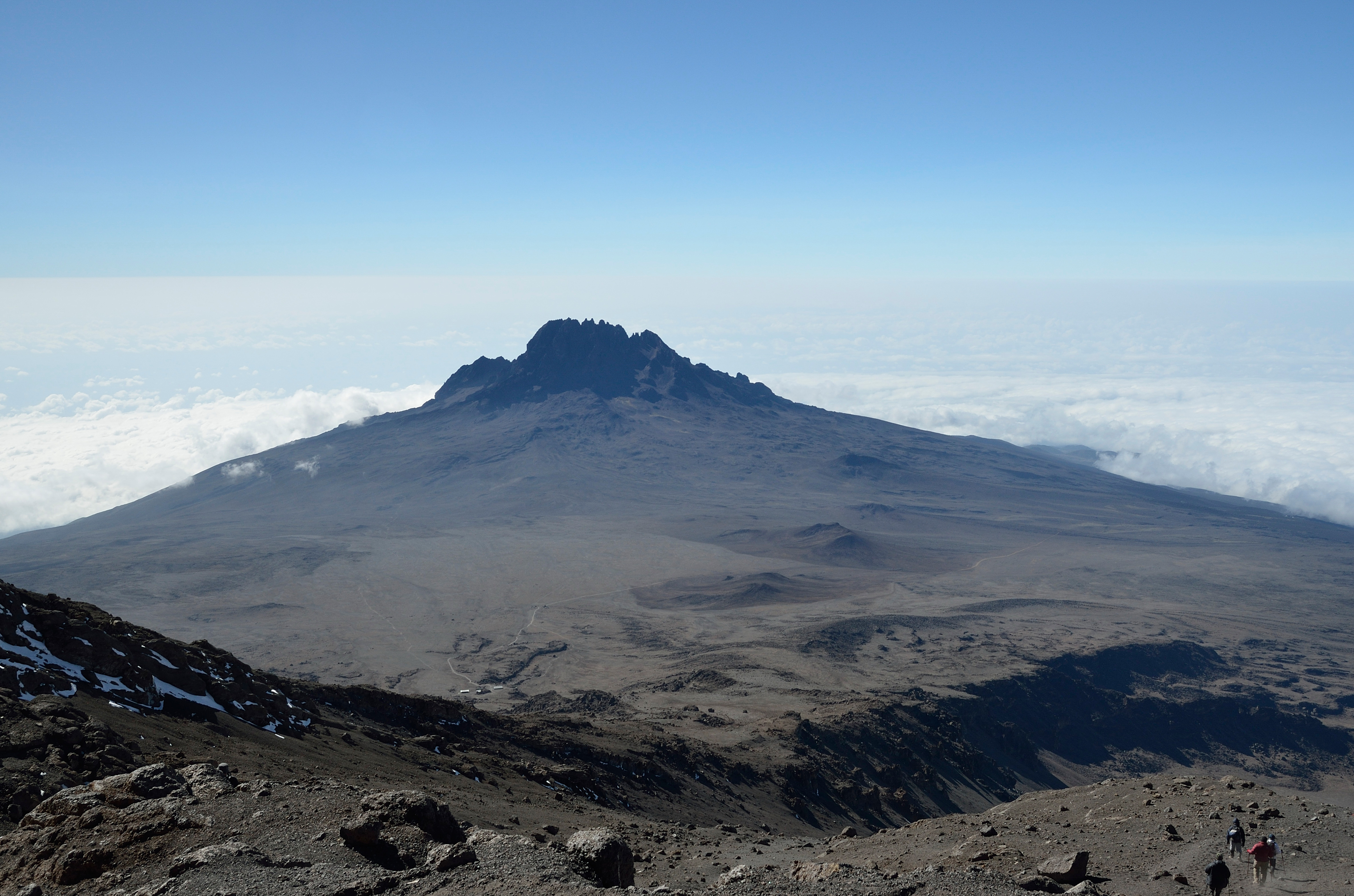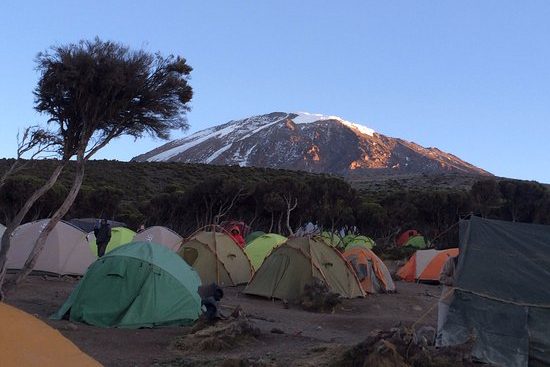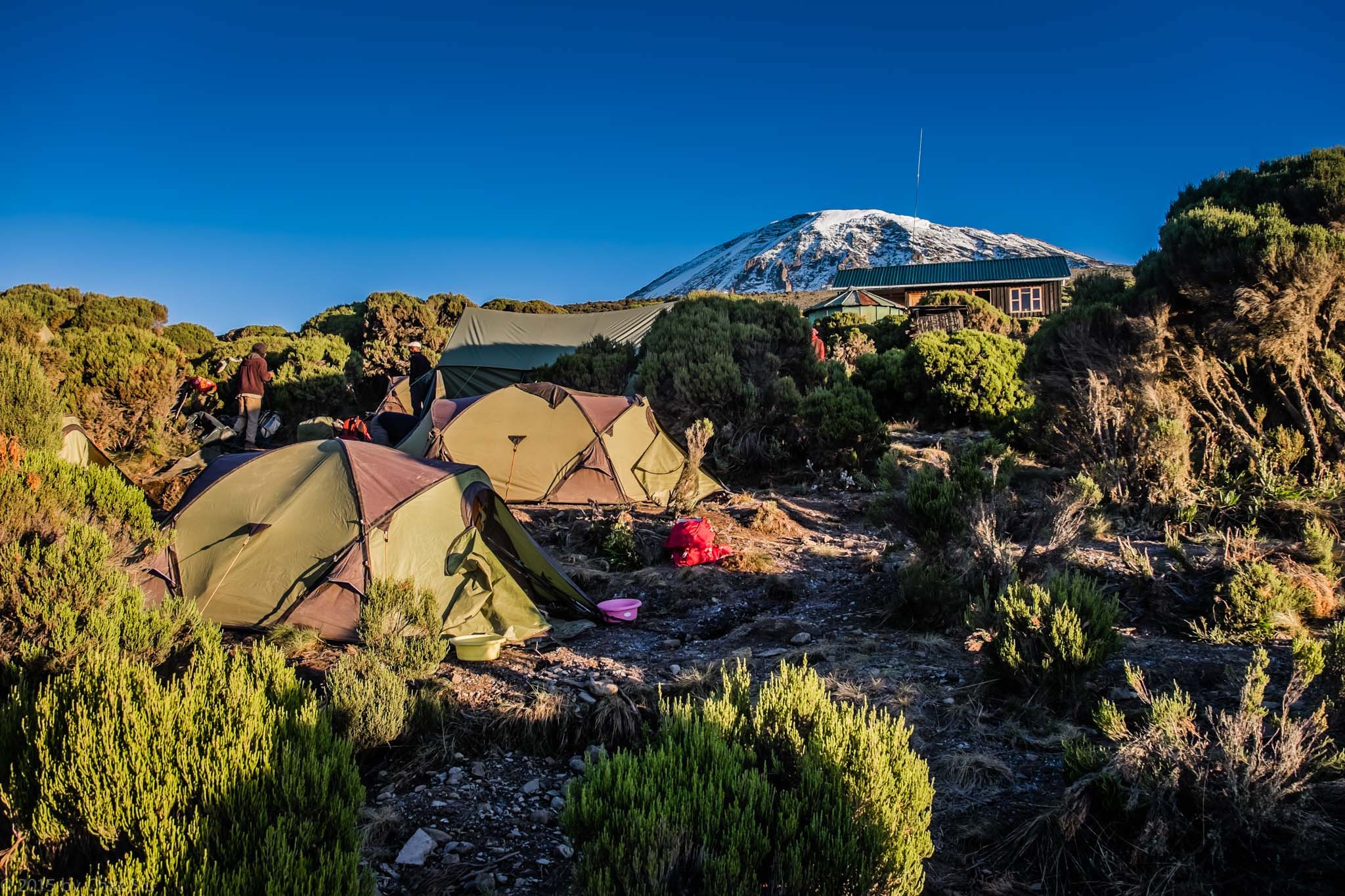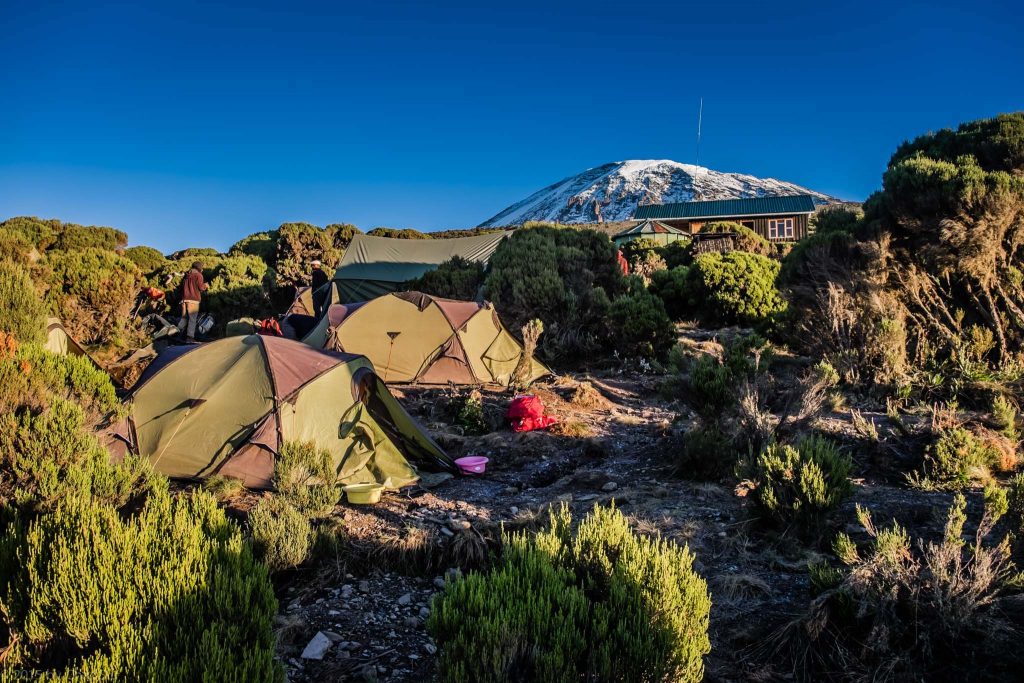 ---
Day 9 : Final descent
Trekking Time: 4-6 hours | Distance: 13.5 km | Zone: Rainforest | Altitude Change: 3,950 m to 1,640 m
A gentle trek takes you down through the rainforest to the Mweka Gate, where park formalities will be completed and you will be met by our vehicles to return to Arusha Planet Lodge.
Here you will receive your certificate of ascent courtesy of the Kilimanjaro National Park Authority, have the tipping ceremony for your mountain crew and collect any luggage you stored.
Have a well deserved shower and rest up a the lodge, by the pool or in your cottage. You will enjoy a farewell dinner at the lodge and celebrate your incredible achievement.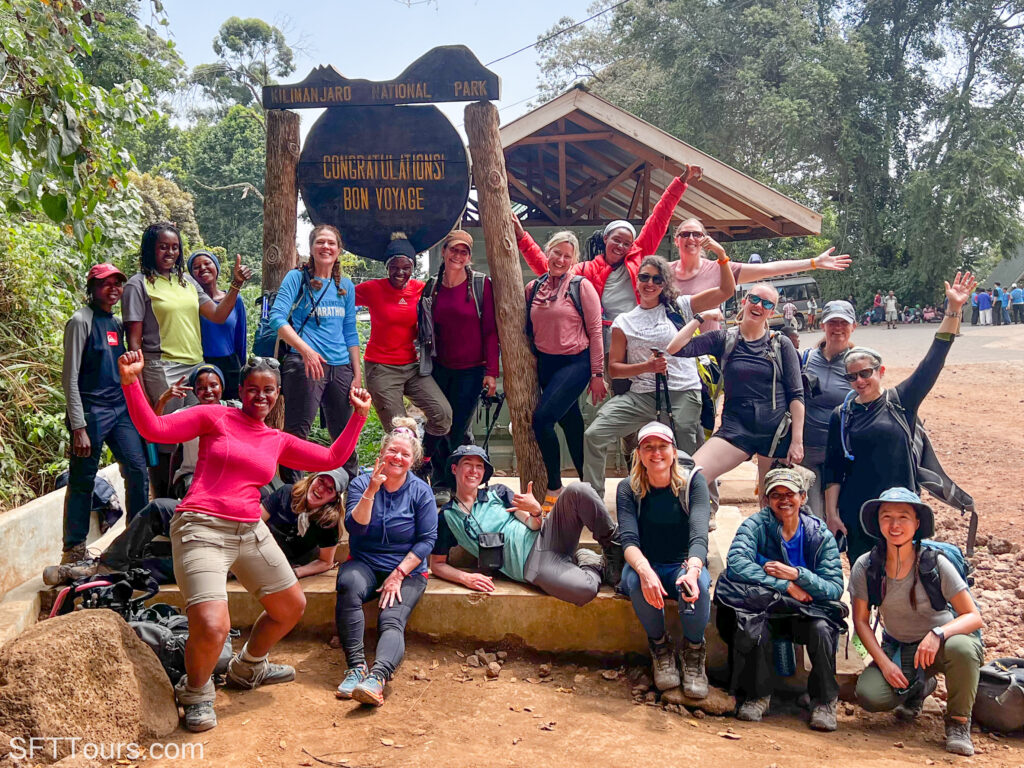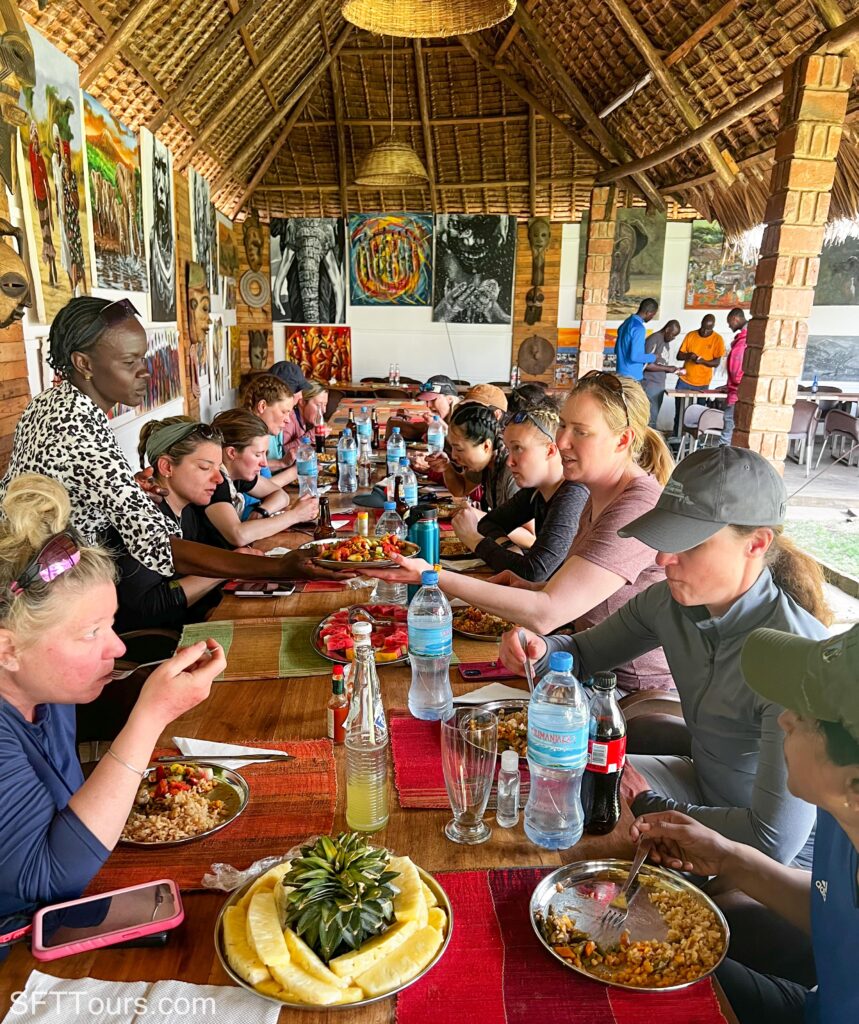 ---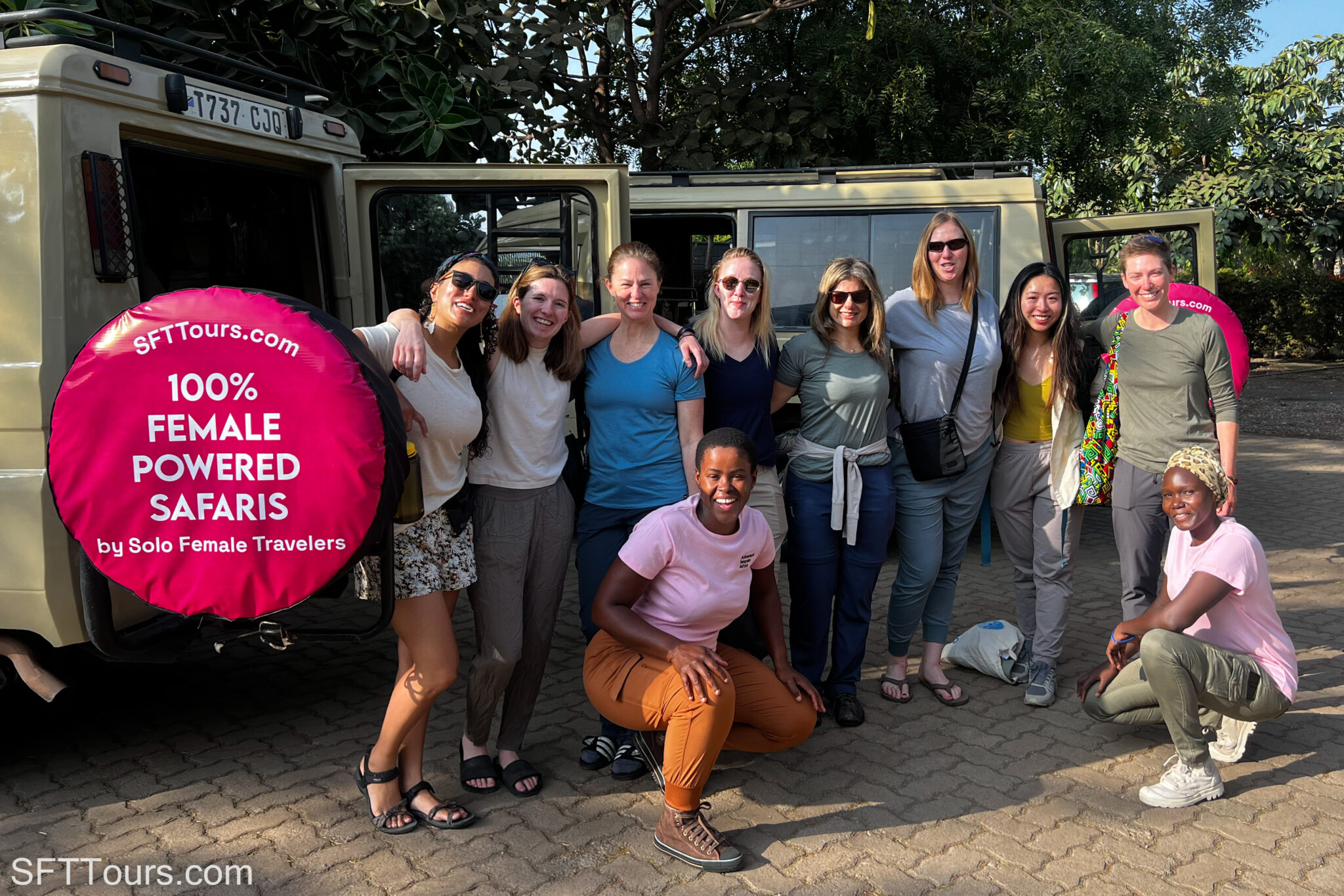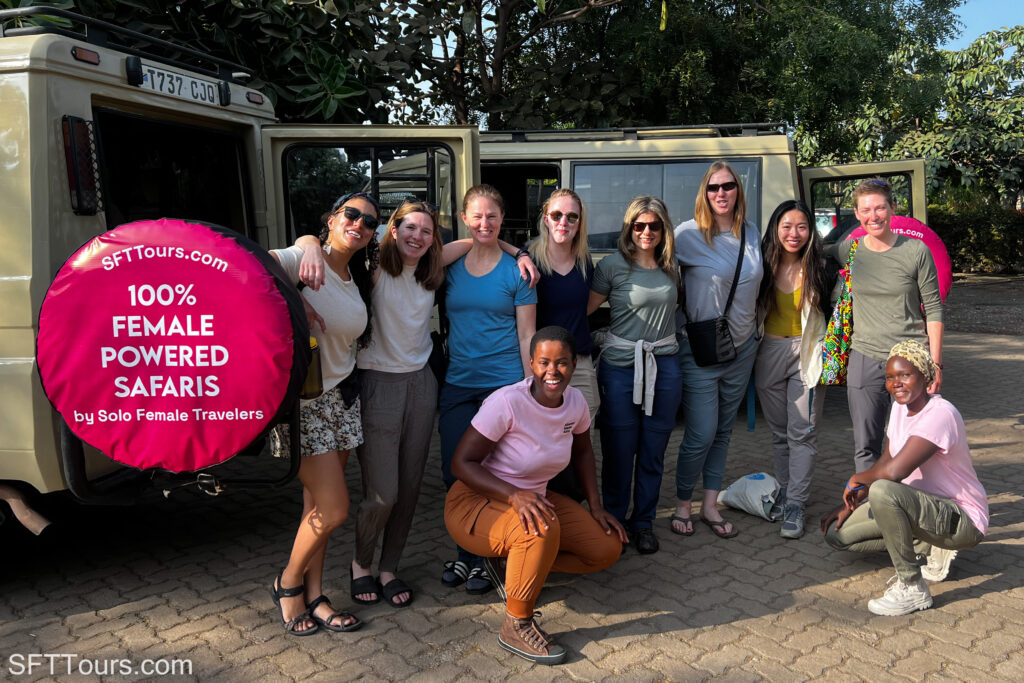 Day 10 : Departure
Wake up for a last breakfast in Tanzania and get transferred to your flight.
Note: Airport transfers only included in the price for KLM and Qatar Airways flights on departure day.
If you are adding a safari extension, today you will meet Glory for your departure towards Lake Manyara.
---
Optional Safari Extension
Complete the trip with a fantastic 6 day / 5 night safari at UNESCO-listed Ngorongoro Crater and Serengeti National Parks for a safari trip of a lifetime.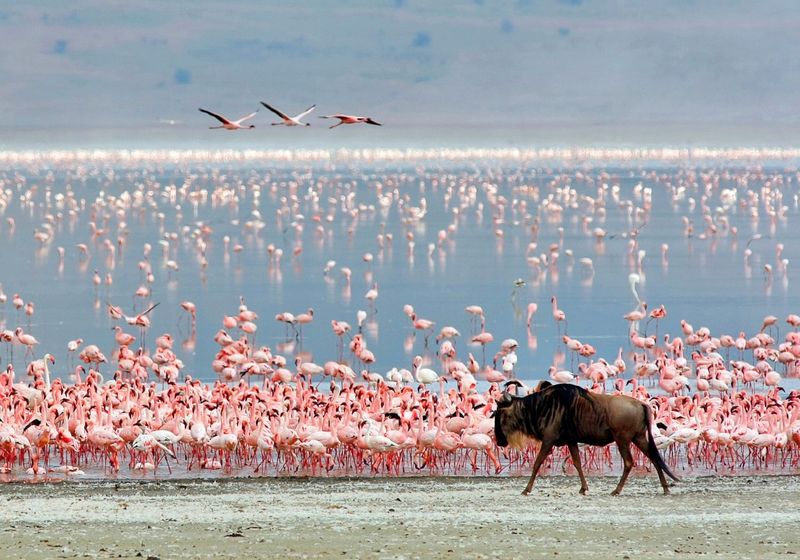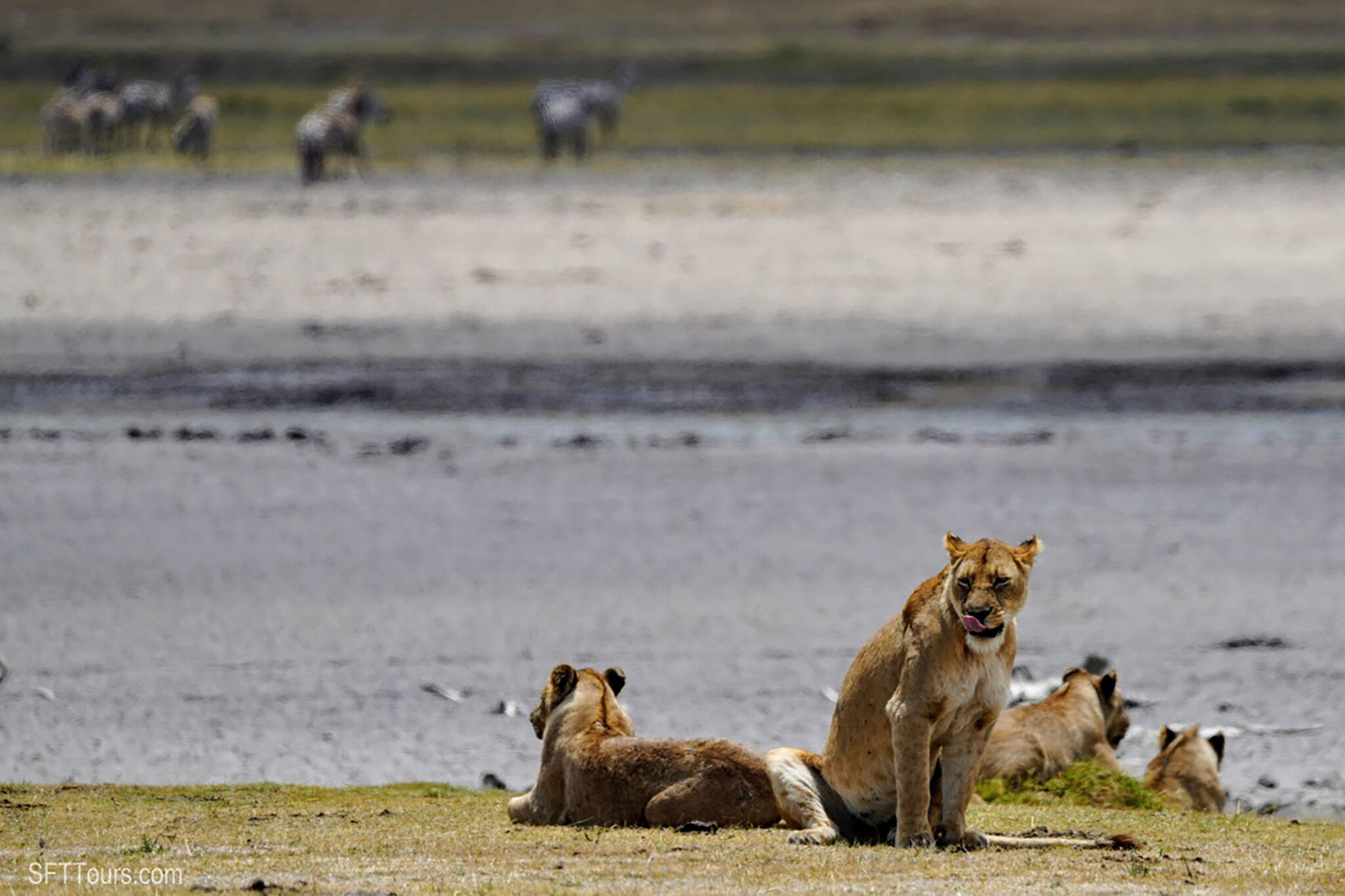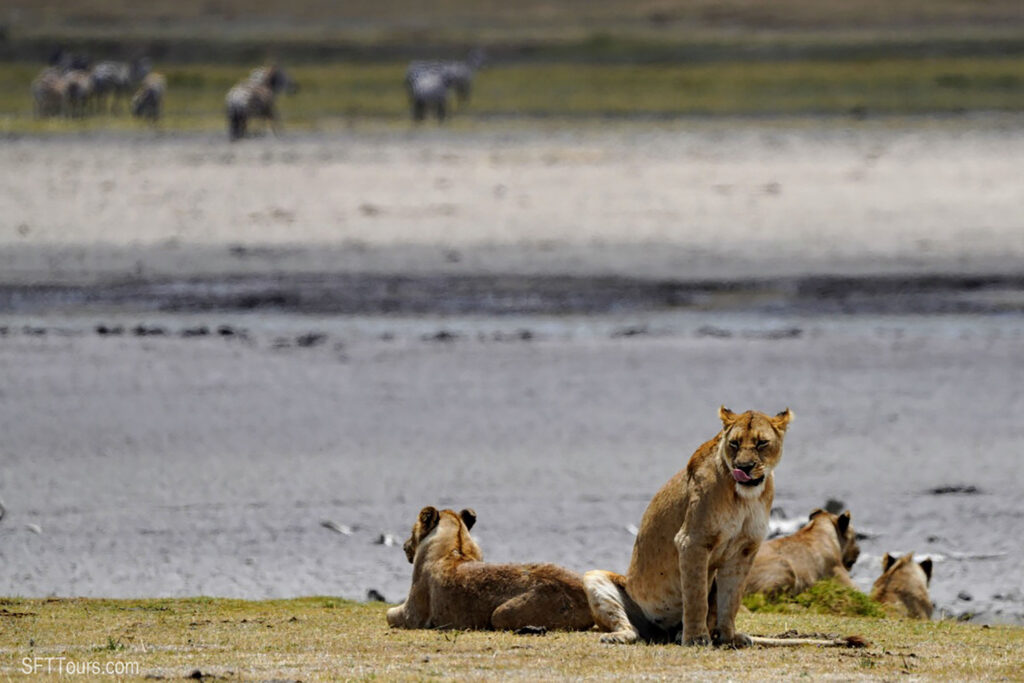 Day 10 – 11 : Ngorongoro Crater
On Day 10, After a delicious breakfast, Glory will meet you at the lodge and transfer you in the direction of the Great Rift Valley to Lake Manyara National Park for a morning game drive and exploration.
Lake Manyara is famous for its tree-climbing lions, flamingos, breathtaking scenery and the soda-ash lake in the center.
Lunch will be a classic safari picnic within the park, while enjoying a glimpse of the great wild of Northern Tanzania.
In the afternoon, transfer to your beautiful lodge near the lake for relaxation and an overnight stay.
The next day, you will had over to UNESCO-listed Ngorongoro Crater for incredible wildlife viewing and game drives.
Enjoy a picnic lunch by the hippo pool and then continue with your game drives before returning to the lodge for maybe an evening coffee farm tour or sunset drinks.
Overnight at Ngorongoro Farm House
Colonial style Ngorongoro Farm House is a working coffee plantation with thatched roof tops, ample verandas and colonial interiors.
Rooms come with their own fireplaces and the lodge has views over Oldeani volcano. The beautiful gardens and coffee bushes surrounding the property will make you feel right among nature.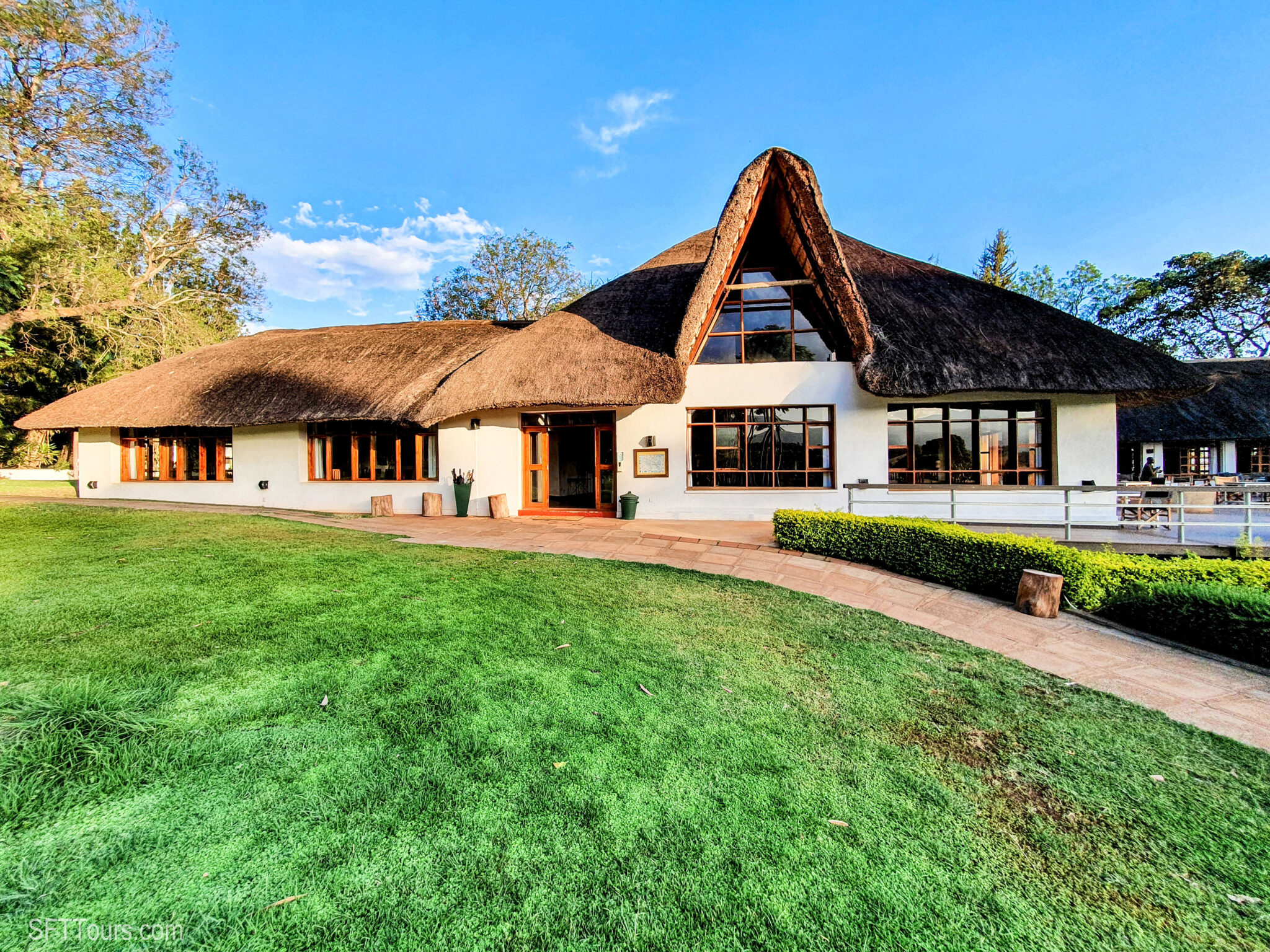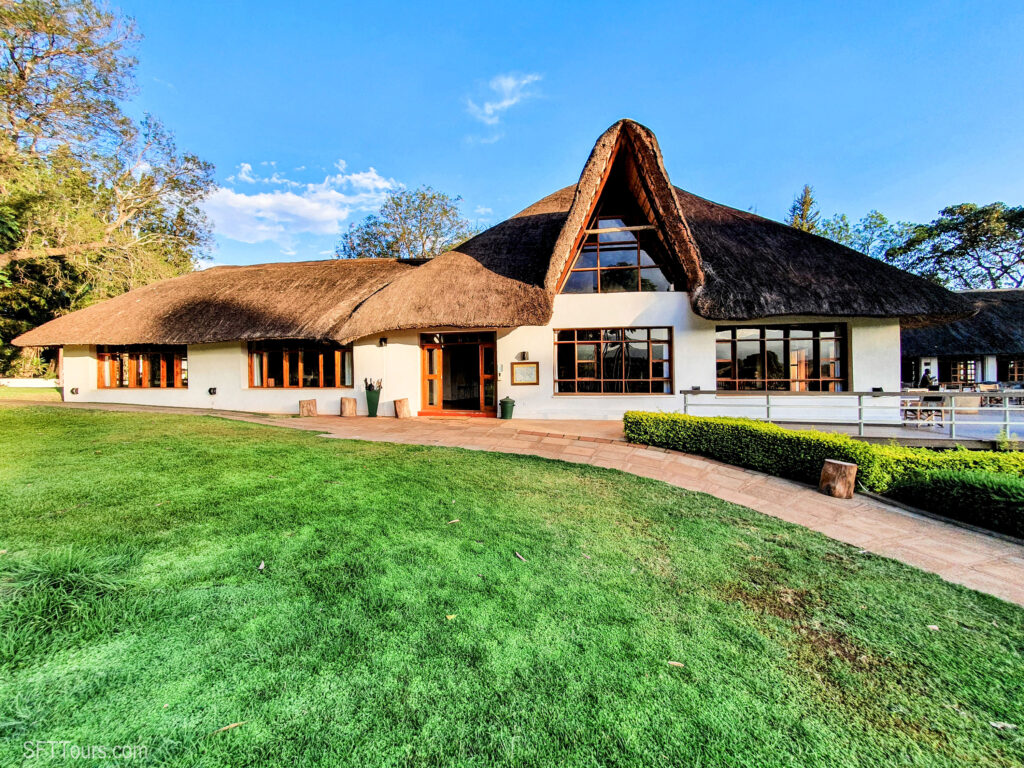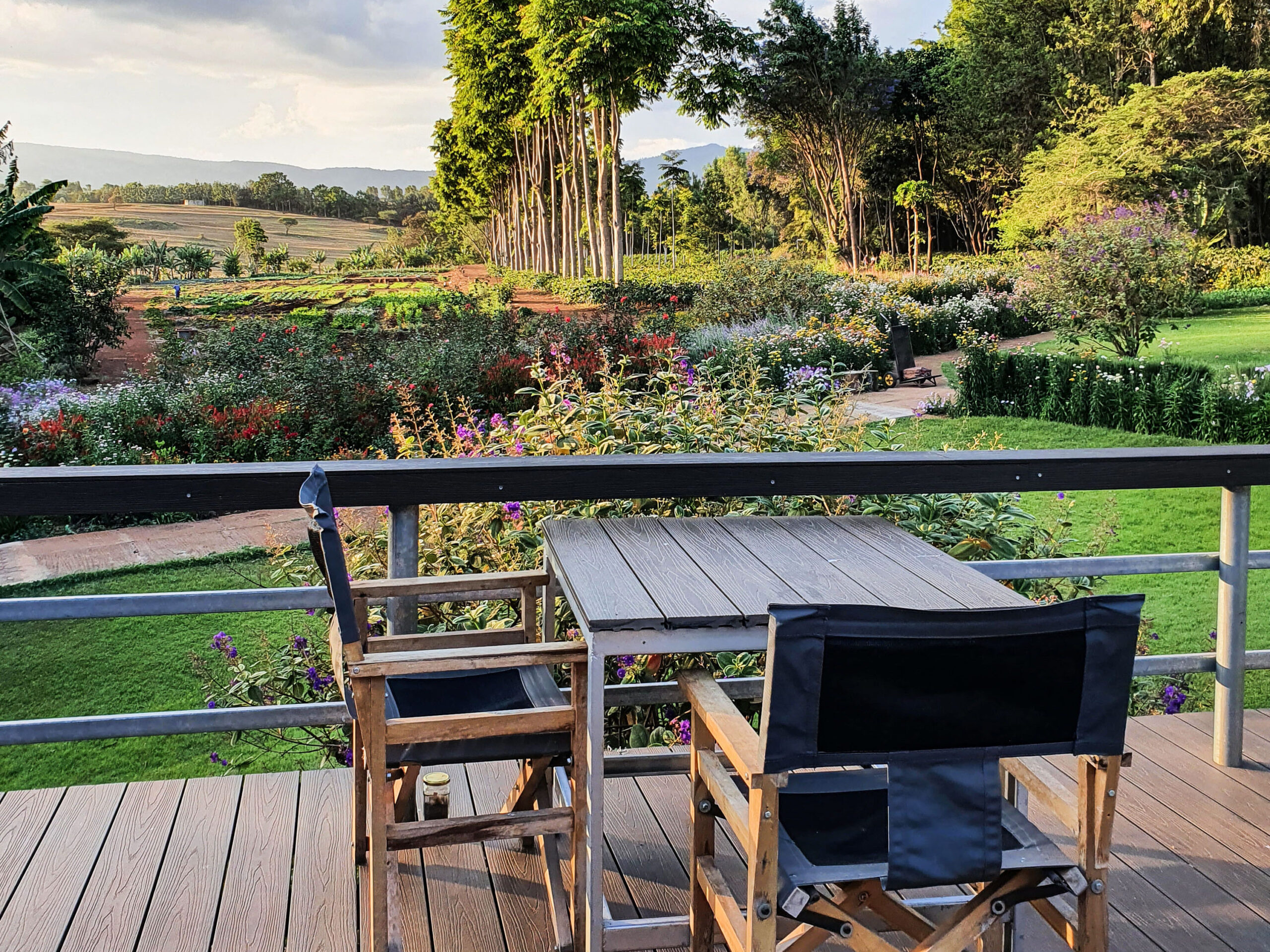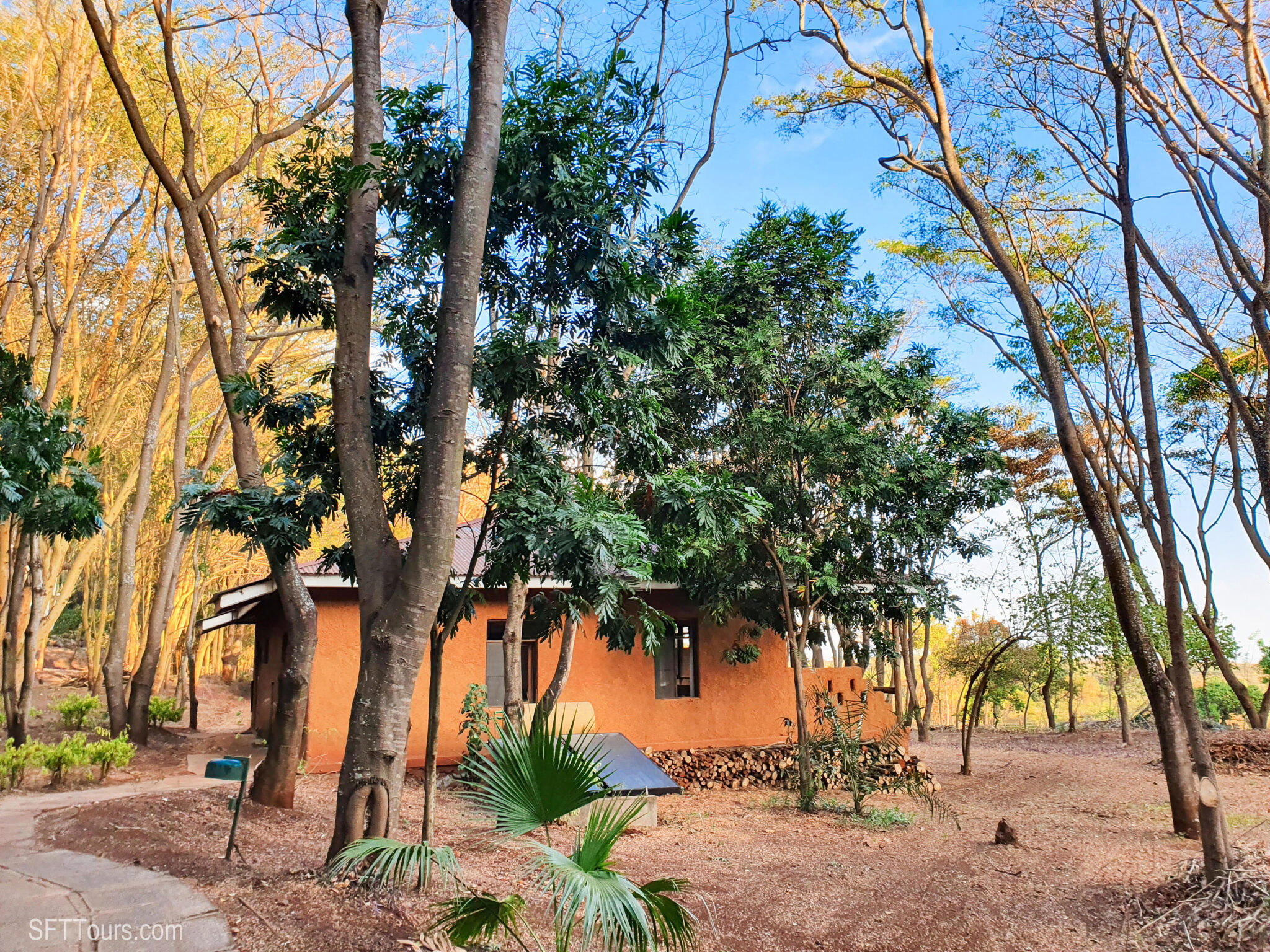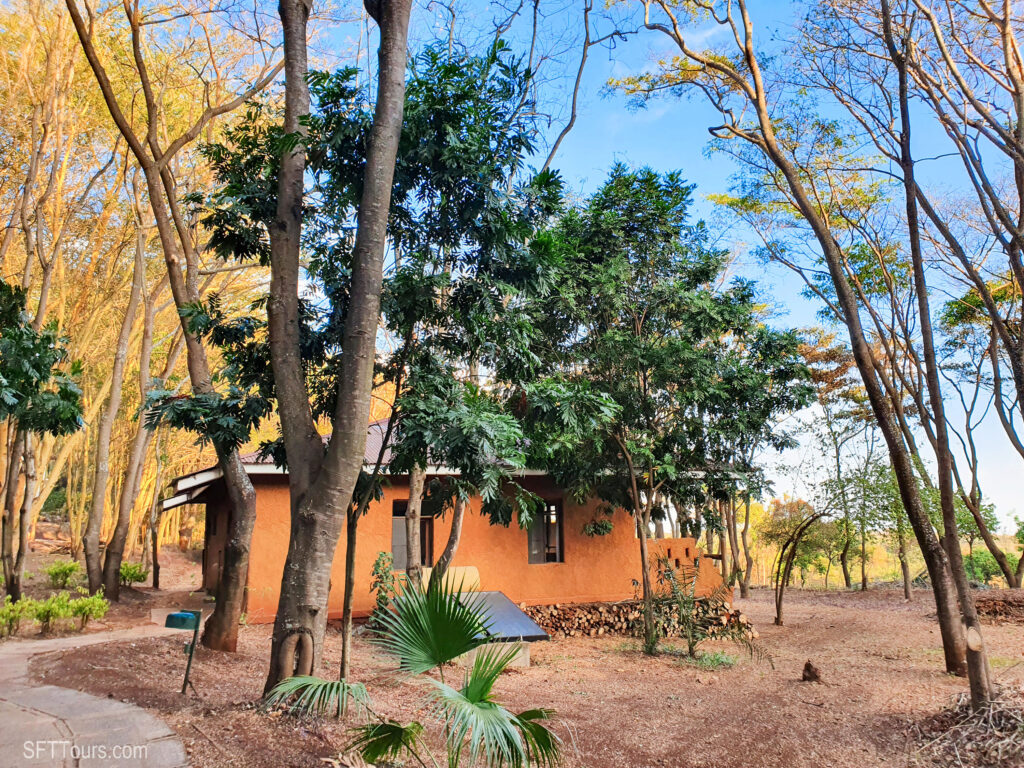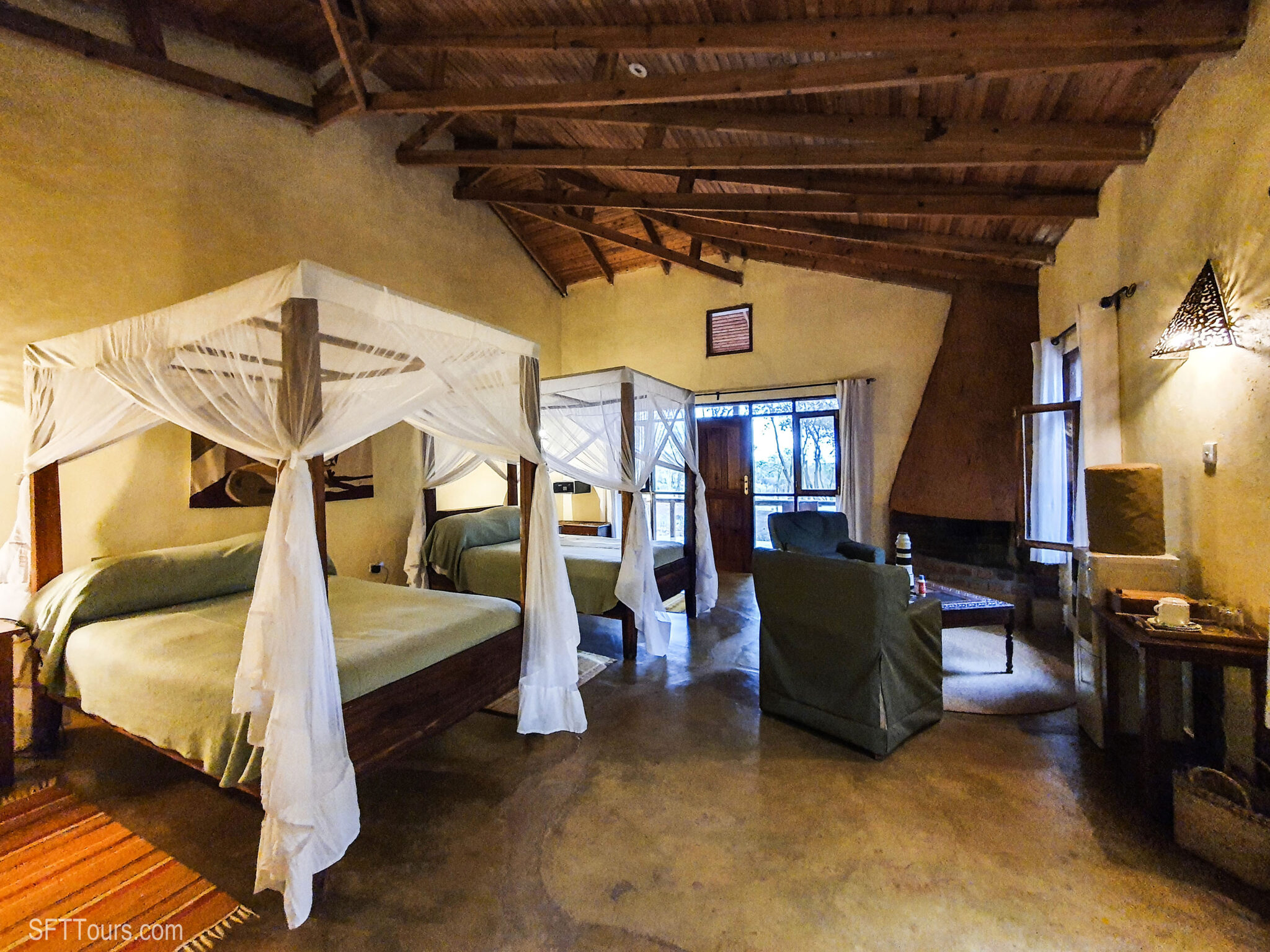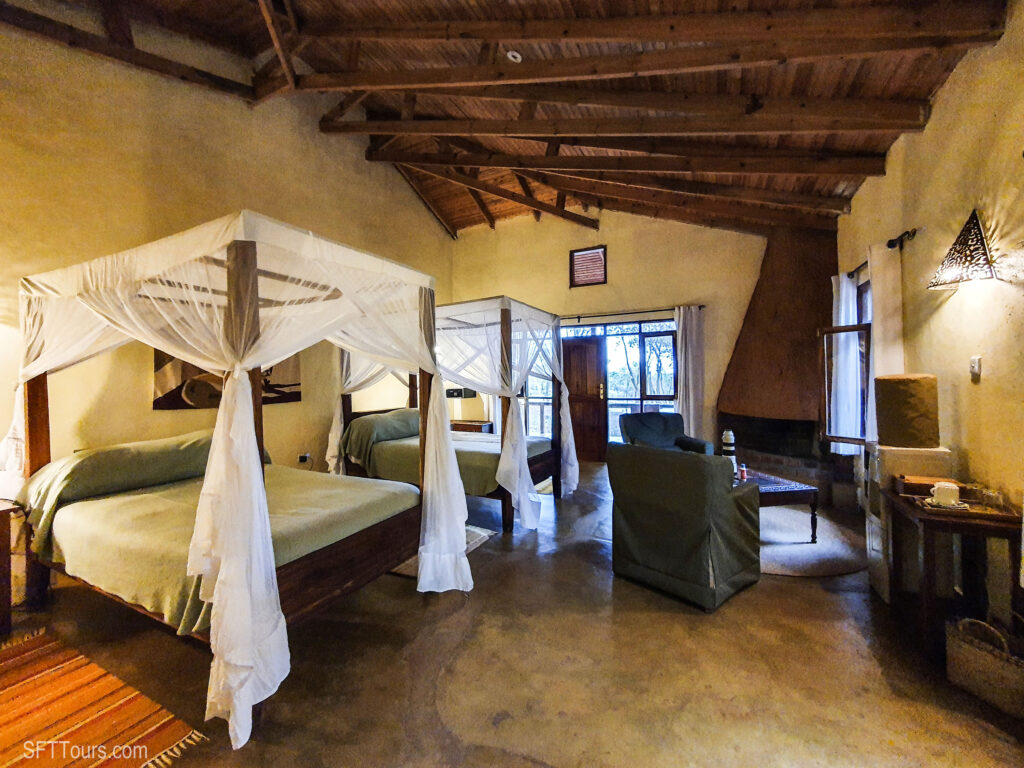 ---
Day 12 – 13 : Serengeti National Park
After breakfast we will start our exciting road transfer to the Serengeti National Park via the beautiful high lying farmland of Karatu and through the walls of the Ngorongoro Conservation Area via Olduvai Gorge.
Leaving the highlands behind, you will enter the heart of wild Africa and Maasai land!
Known for its endless rolling plains, the Serengeti National Park is a haven filled with wildlife diversity and expansive landscape stretched into the distance as far as the eye can see.
Appreciate the vastness of this true wilderness with a gentle game drive as you make your way to your intimate safari camp for an overnight stay. Immerse yourself in your unique surroundings followed by a story telling by the campfire under the starry African skies and all capped off by a delicious dinner.
You will enjoy two days and nights of unlimited game drives in this amazing secluded area of the park, viewing African wildlife by day and enjoying the calls of the animals from the comfort of your beautiful camp at night.
The endless plains of the Serengeti play home to millions of Africa's large mammals, making this one of the world's most famous wildlife destinations.
Overnight at Nyikani Camp Central
Nyikani Camp Central is located in Central Serengeti, taking advantage of the year-round wildlife.
Designed to be a haven of luxury amidst nature, the camp offers 12 double en-suite guest tents and one family tent with two en-suite bathrooms.
All tents are cosy in design and feature a power extension with a universal adapter, writing desk, digital safe and a private shaded veranda overlooking breath-taking views. When it comes to dining, guests can savor delicious meals prepared by the on-site chef in the dining room or lounge area.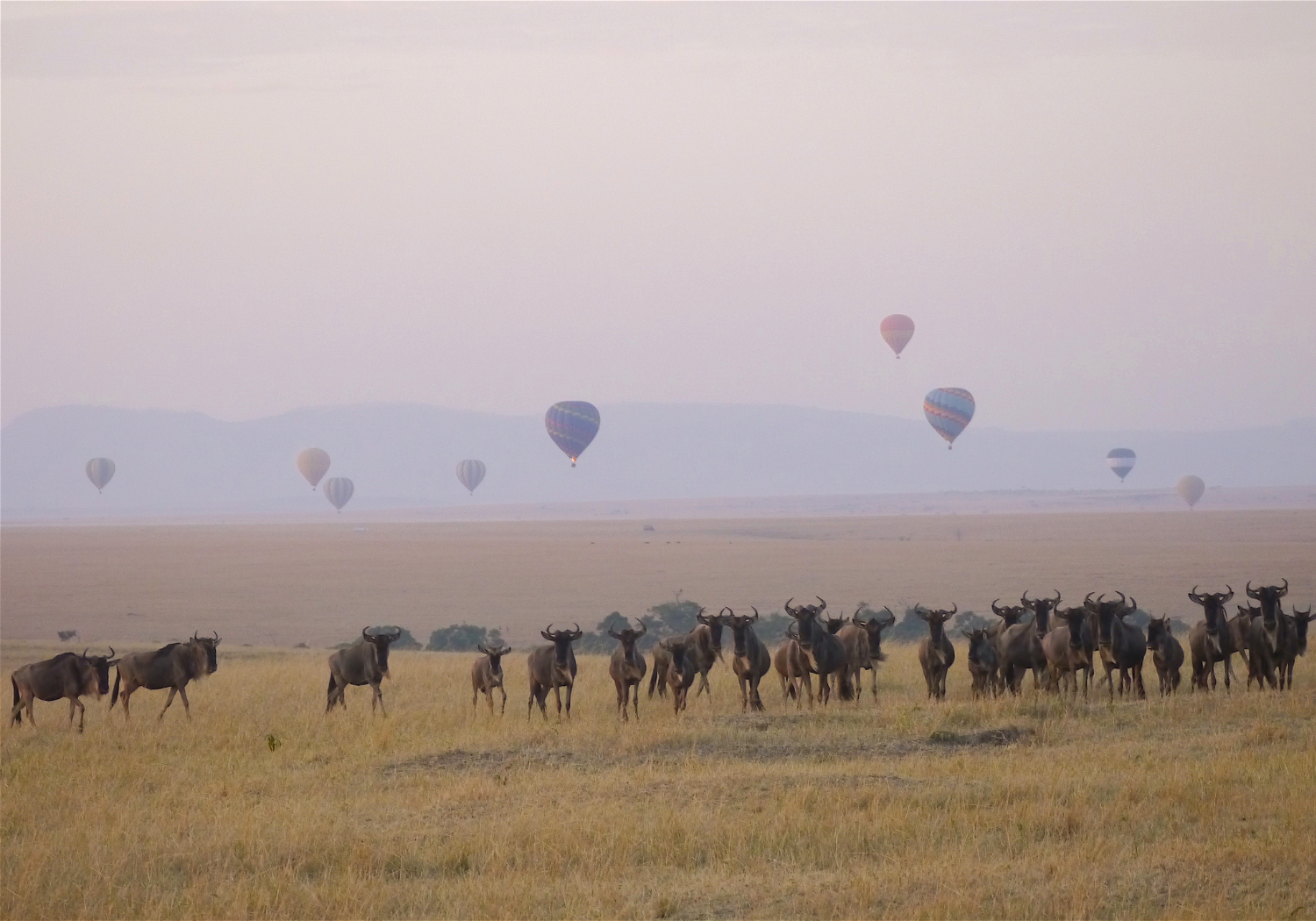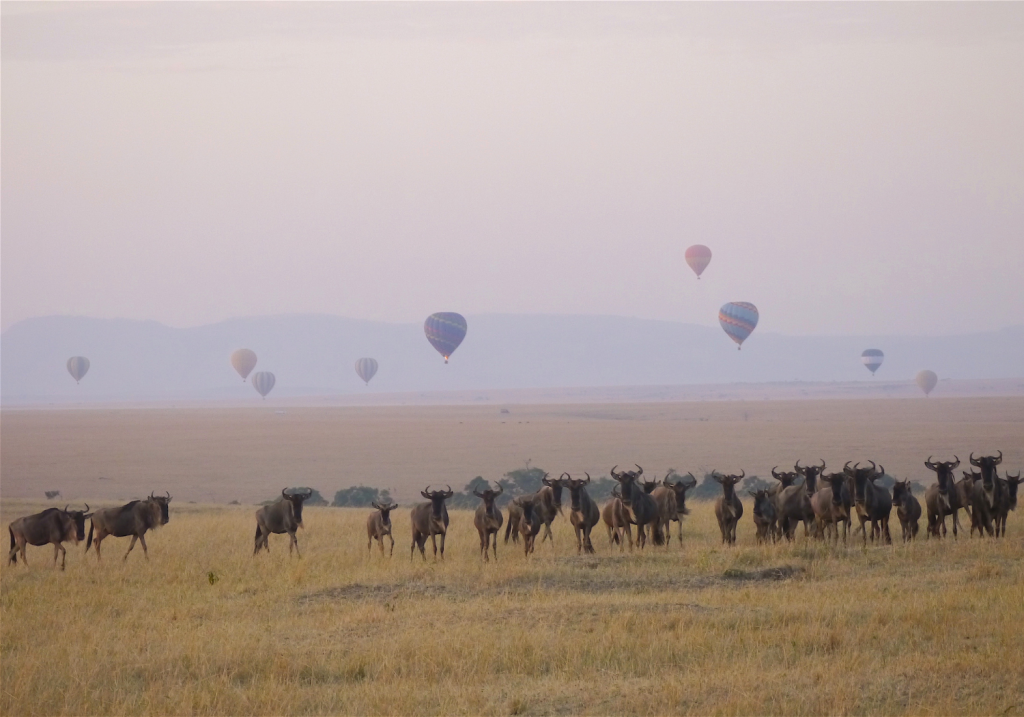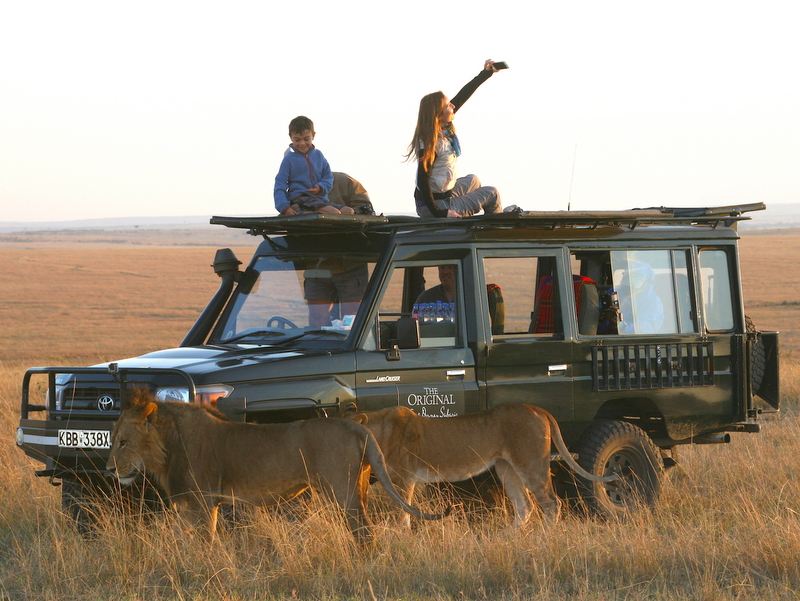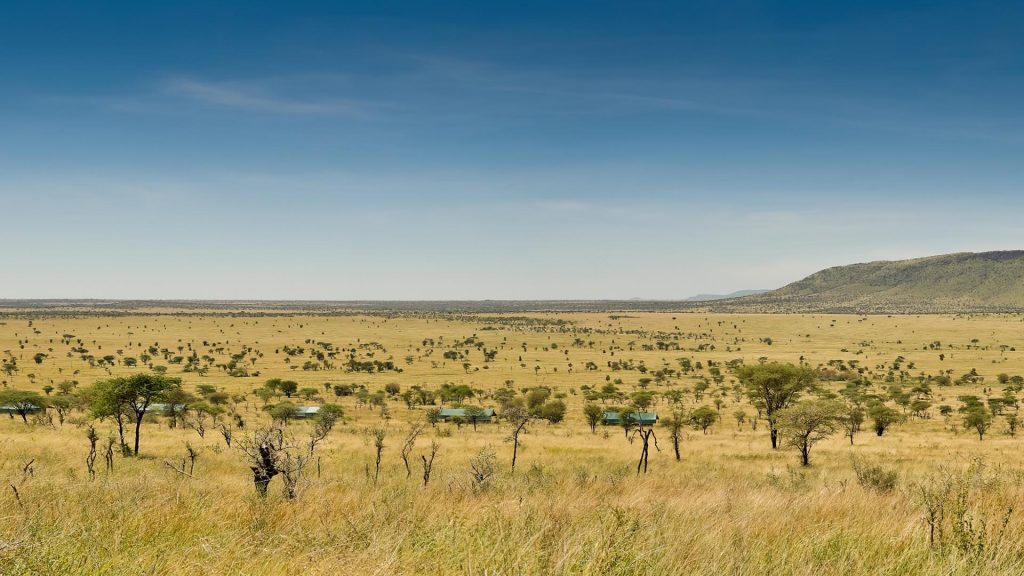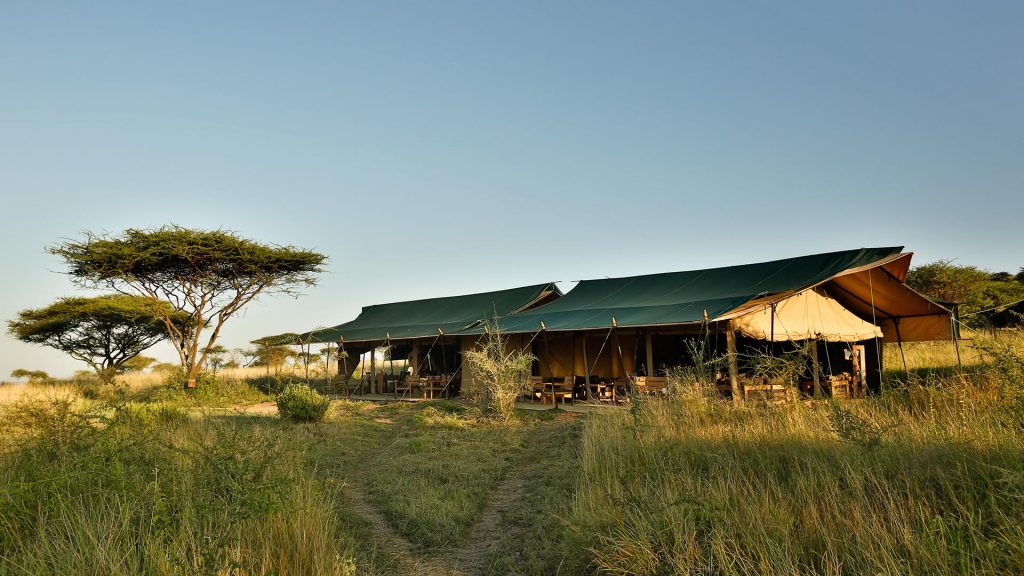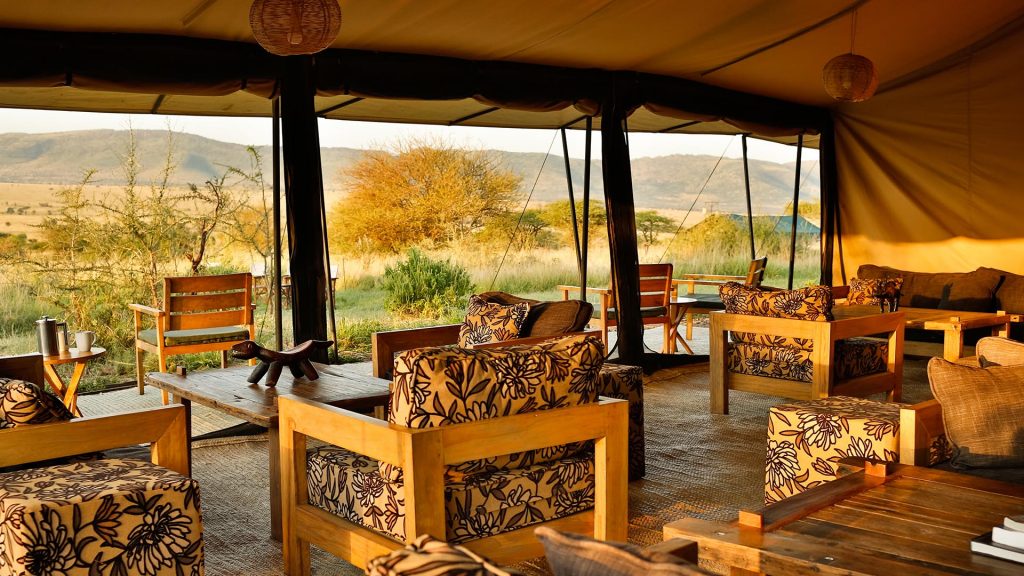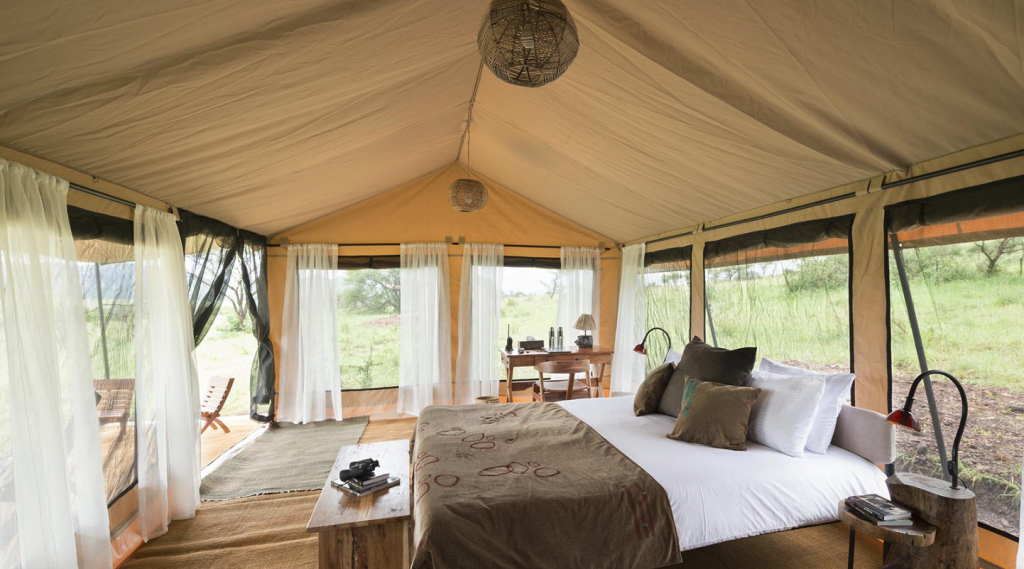 ---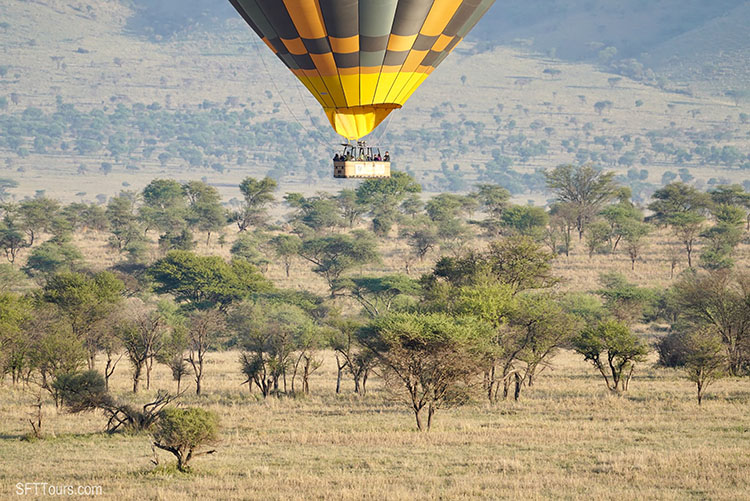 Day 14 – 15 : Return to Arusha
Enjoy your final morning in the heart of the Serengeti by following up on a certain lion pride that you may have discovered, or simply exploring a new area to game drive.
You will then retrace your steps back to Arusha for one last night in the country.
On day 15, you will enjoy one last breakfast at the hotel and be transferred to the airport.
Note: Airport transfers only included in the price for KLM and Qatar Airways flights on departure day.
Overnight at Arusha Planet Lodge
---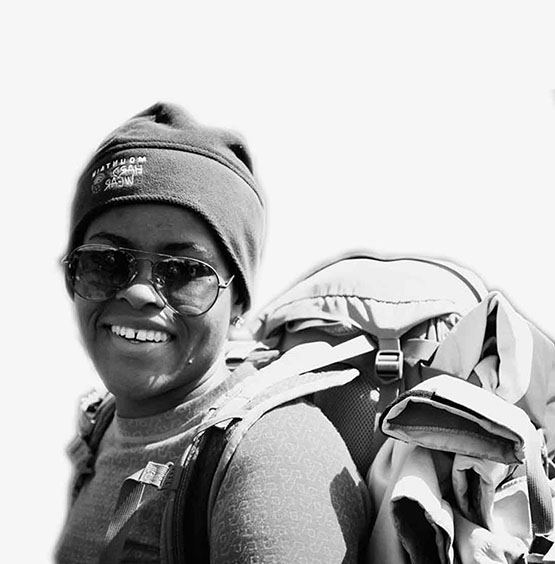 About Your Host, Glory
Glory Thobias Salema is one of the very few female guides / drivers in Tanzania and was recognised as the Best Female Guide by Tanzania National Park Authority (TANAPA) in 2017, 2018 and 2019 and received awards from Mr. Kigwangala, Tanzania's Minister of Tourism and Natural Resources.
Beyond taking you on safari, Glory can also guide you to the top of Mt. Kilimanjaro being one of only 6 female guides (out of over 2,500).
She is passionate about empowering women and girls in tourism and founded the Tanzania Women Guides Foundation, an NGO focused on connecting women to opportunities in tourism so the future generations are more gender balanced.
Glory is thrilled to share with you the beauty of Tanzania's wilderness.
---
Guest feedback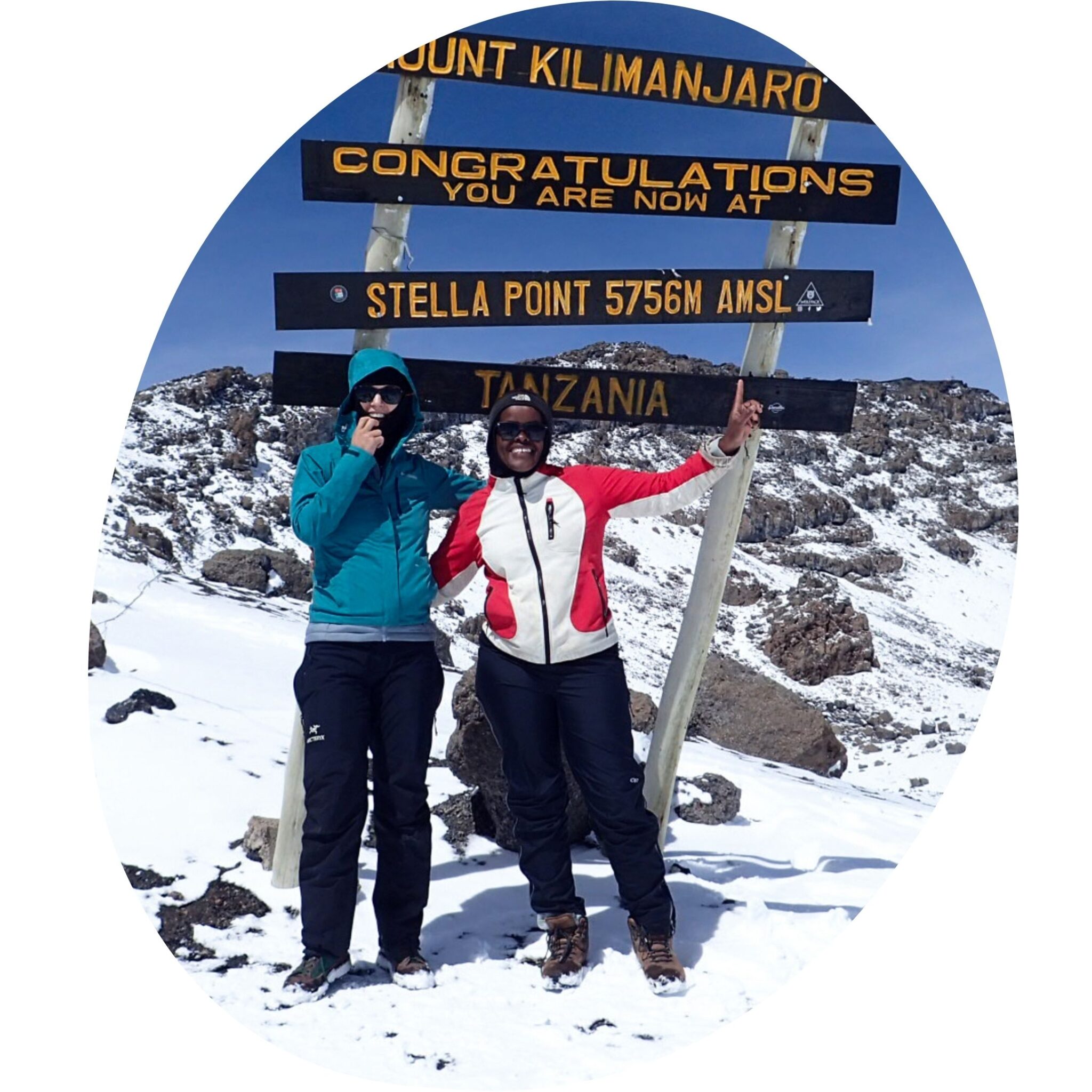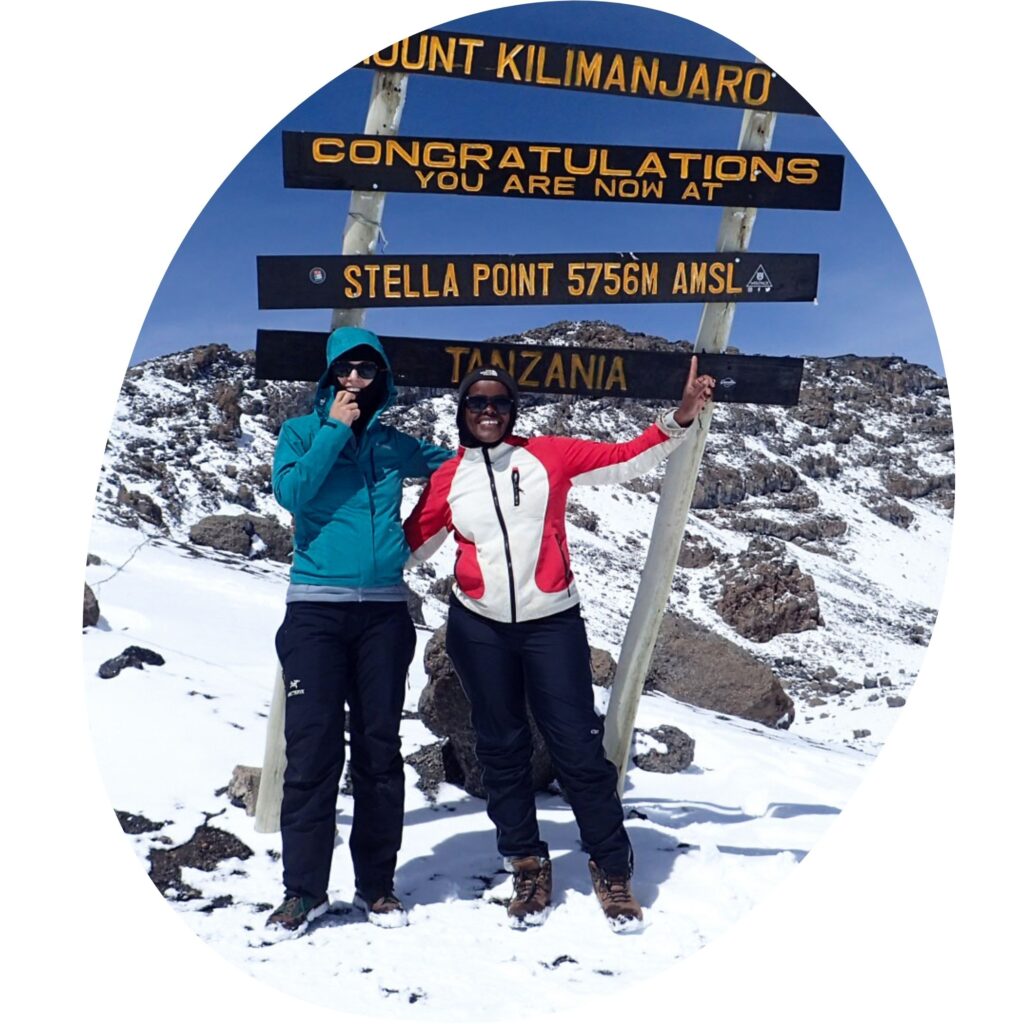 Shelly – "It's the best thing I've done in my life. You feel like such a sense of accomplishment. I highly recommend it, you'll feel so proud of yourself at the end. Glory is amazing and she does a great job at guiding the pace."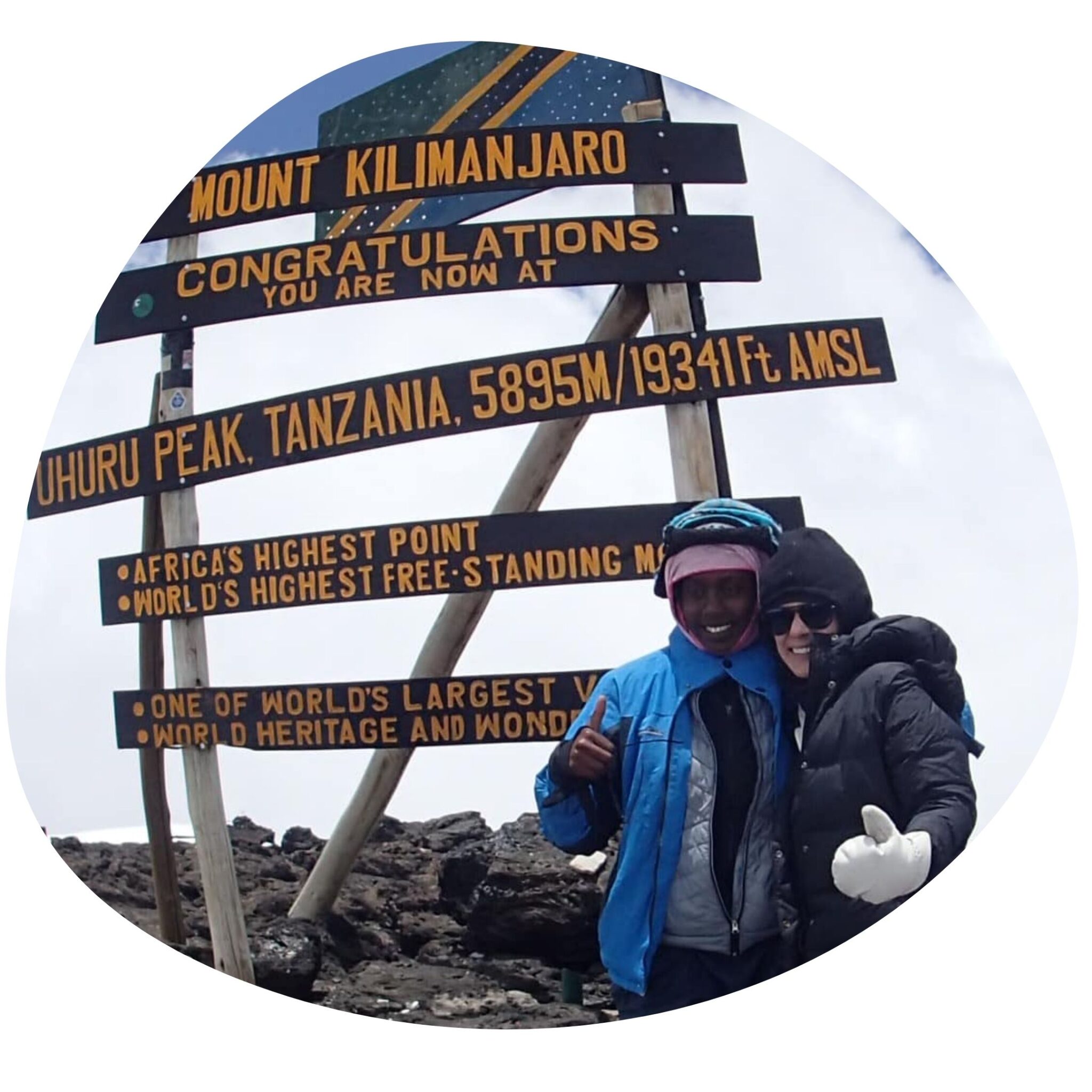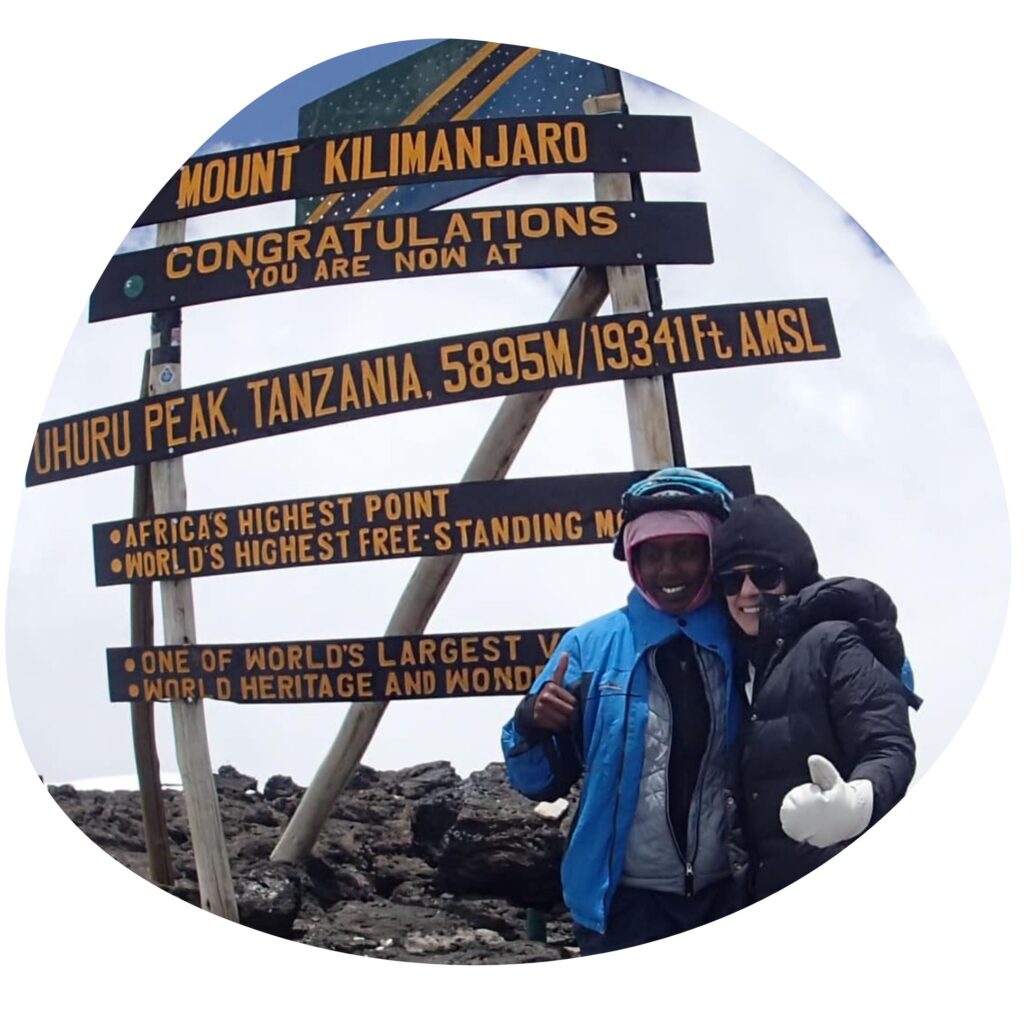 Michelle – "SFTC was super easy to work with and easily accessible in times of need!
I climbed KILIMANJARO with the most amazing group of women, supported by an equally amazing group of women (and some men) on National Woman's Day!!
The hike was led by Glory Thobias, accompanied by Makeri and Rehema. Glory is a true leader! She was always in control, always smiling, and so connected to everyone everywhere! Makeri and Rehema were so fun and motivated us all the way to the top! It was the trip of a lifetime! Sign up for the next trip and post your picture at the top when you get there!!"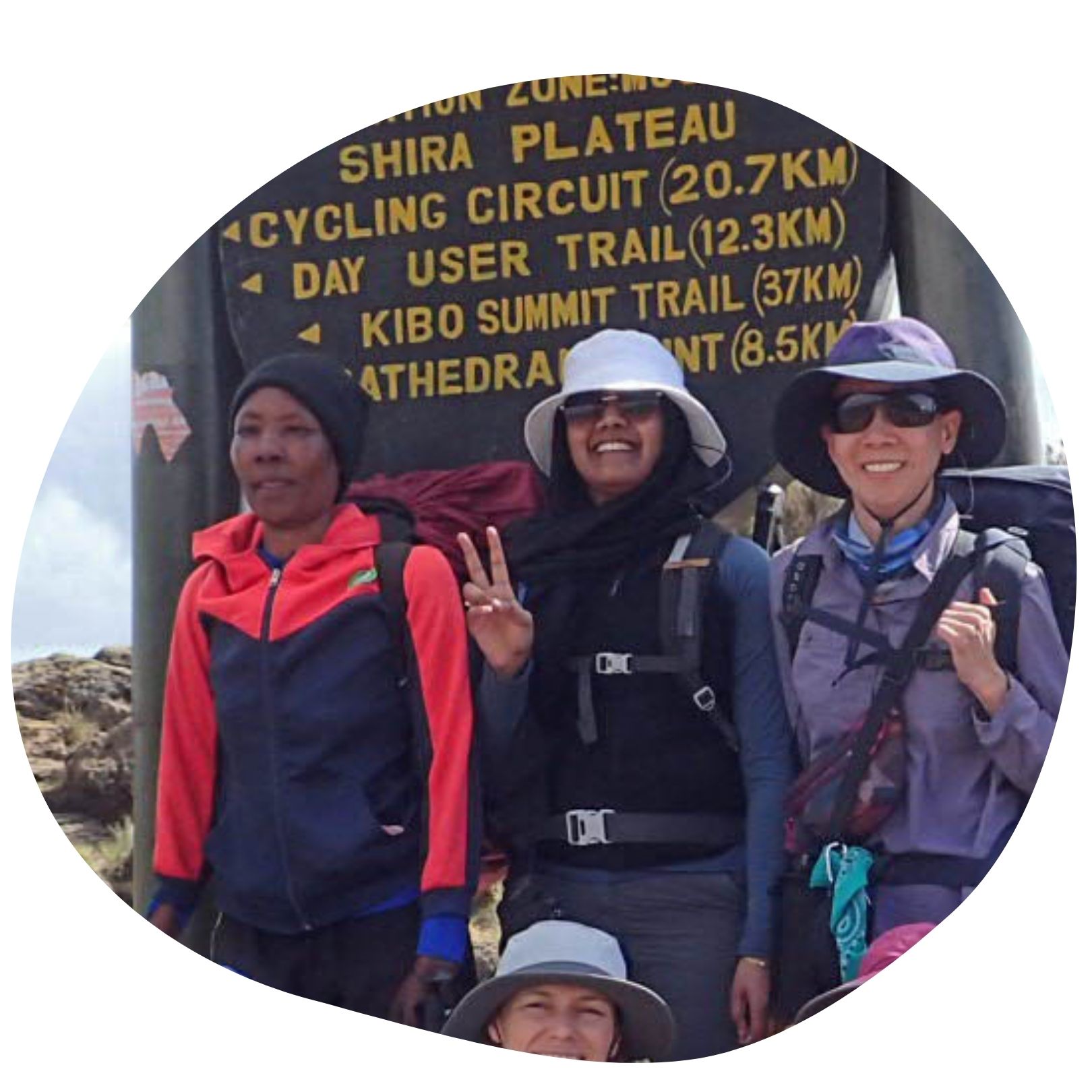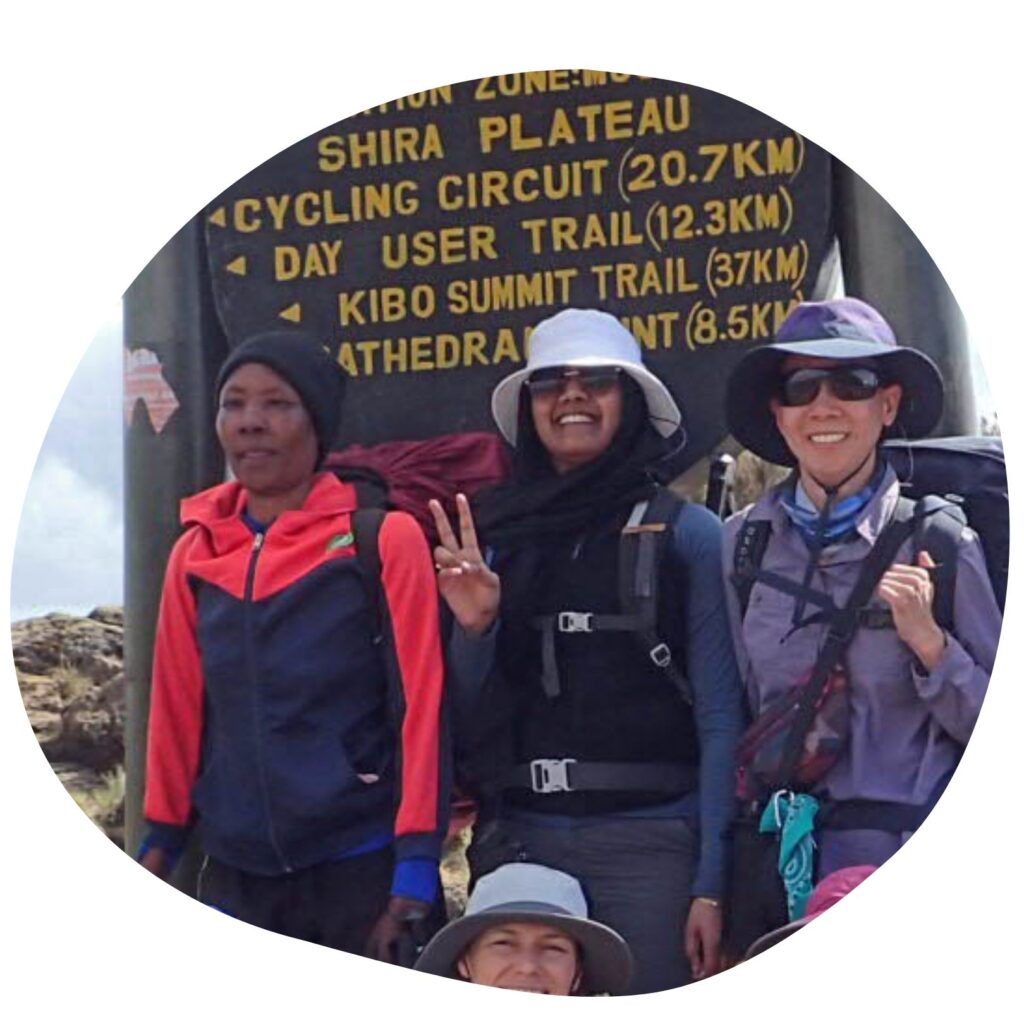 Zarina – "One of my favourite trips, as a Muslim women I was respected and treated like royalty. I was recommended and taken to places to pray, ensured that I was given halal food even though I am not a huge meat eater.
My guide Glory was friendly and funny and as a person who is scared of spiders and insects my guide took care of that 🙂
She also made my dream come true with not only climbing Kili but also getting to see hyenas during the safari extension."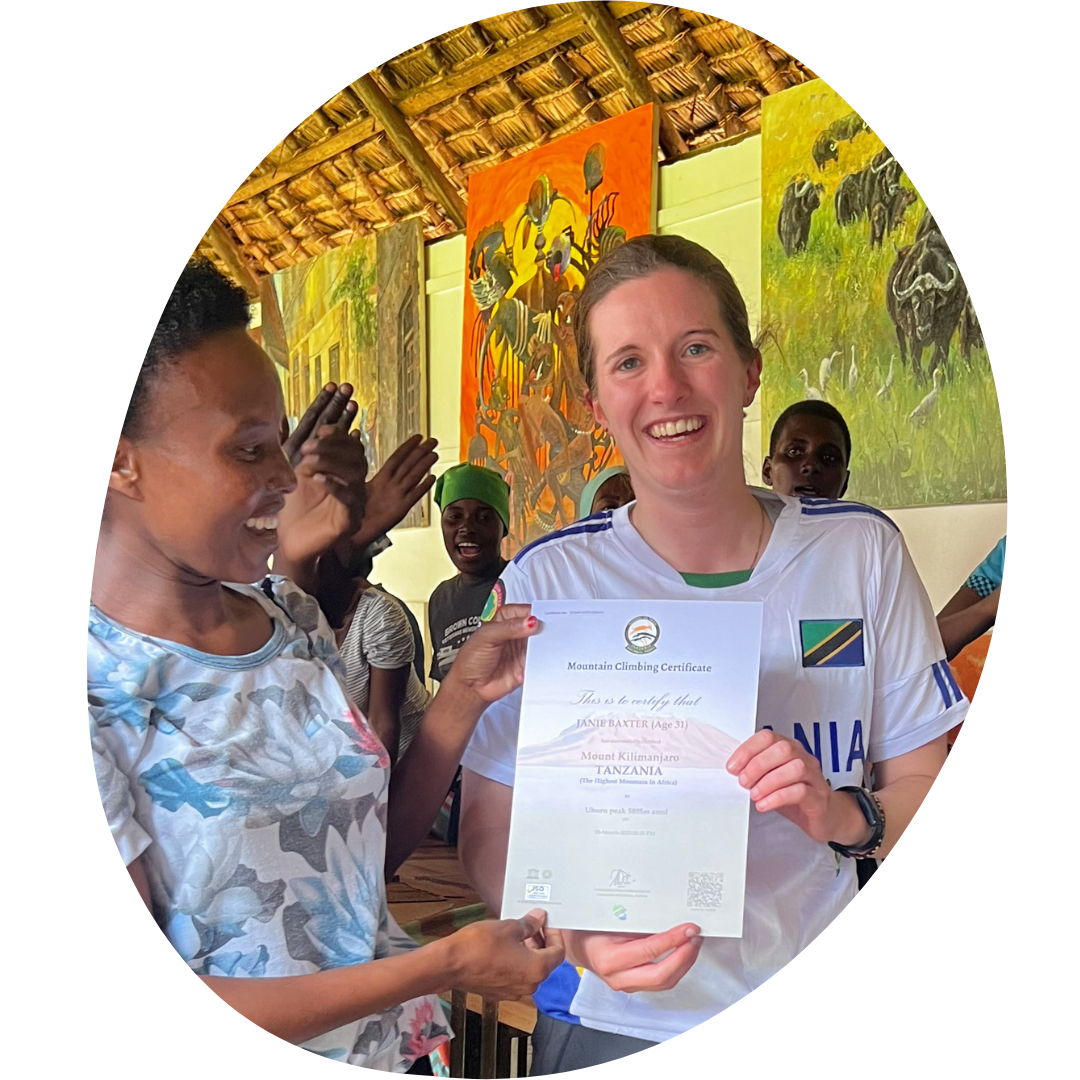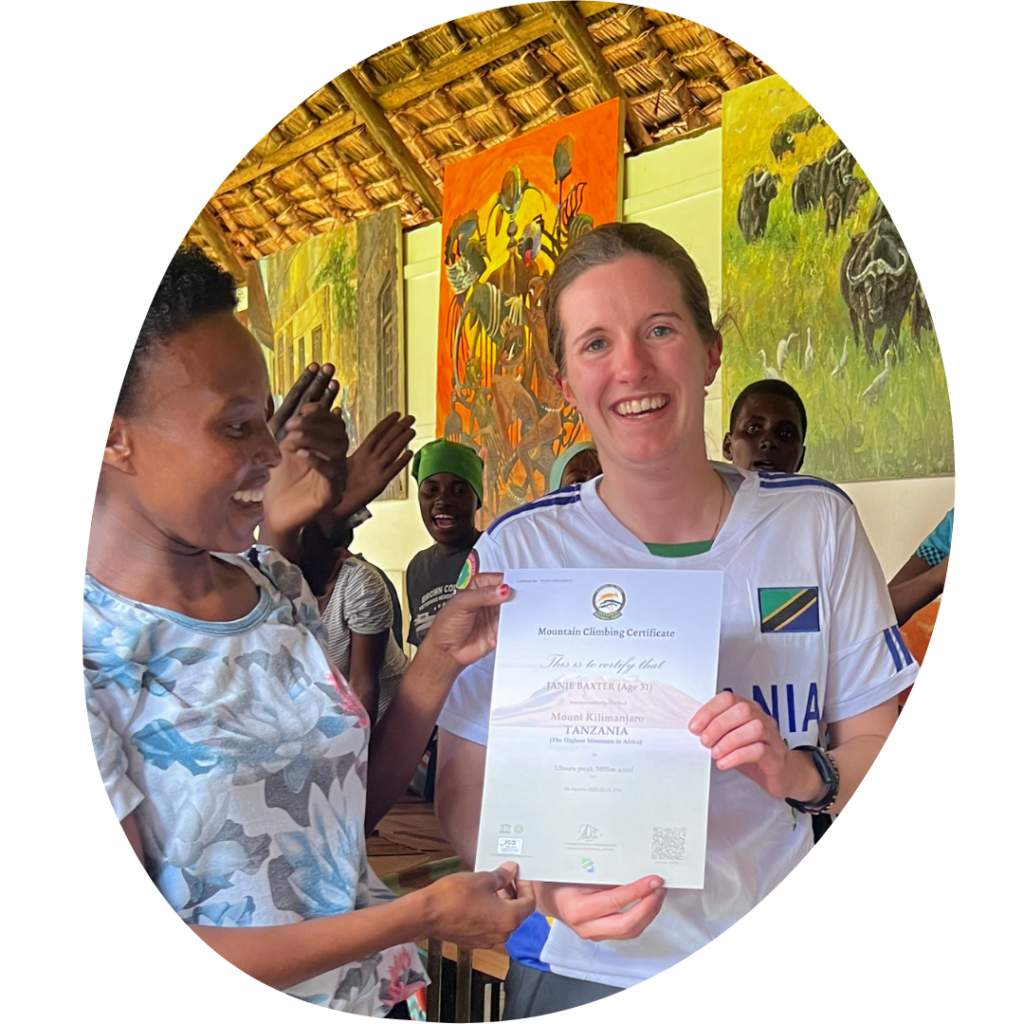 Janie – "This is the only company you should be going to Tanzania with! Glory is one of the most incredible women I have ever met and I have great stories to tell from this trip for the rest of my life.
The level of care and professionalism of the whole guide group who helped us ALL summit Kilimanjaro was incomparable. We were certainly the most fun, energetic, and close group heading up and down the mountain. We were definitely the most bad ass group on safari.
Don't make the mistake of being one of the jealous onlookers by booking with anyone else. Through the whole trip the food, transport and accommodation were fantastic. I have made friends and memories for life from this incredible, life changing trip."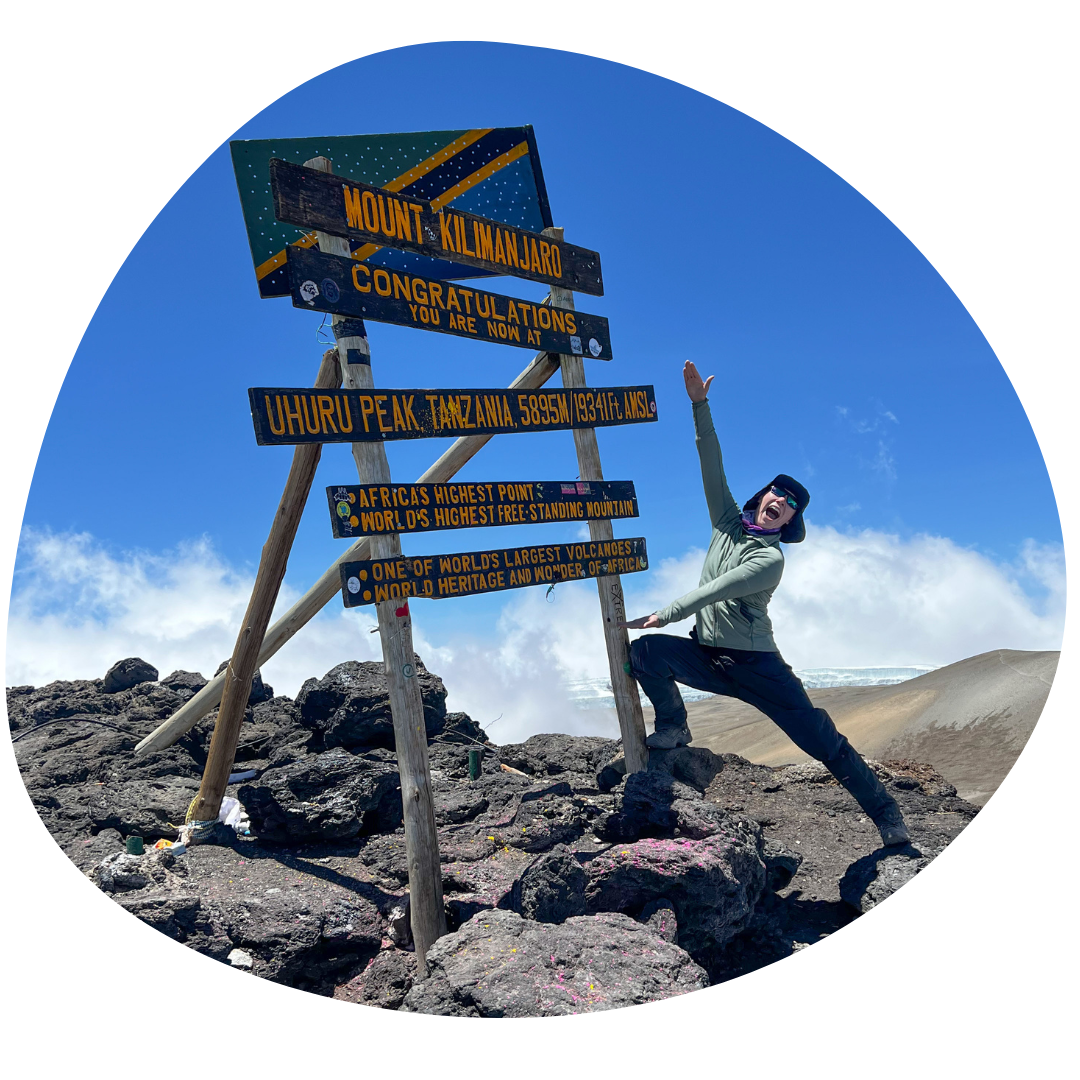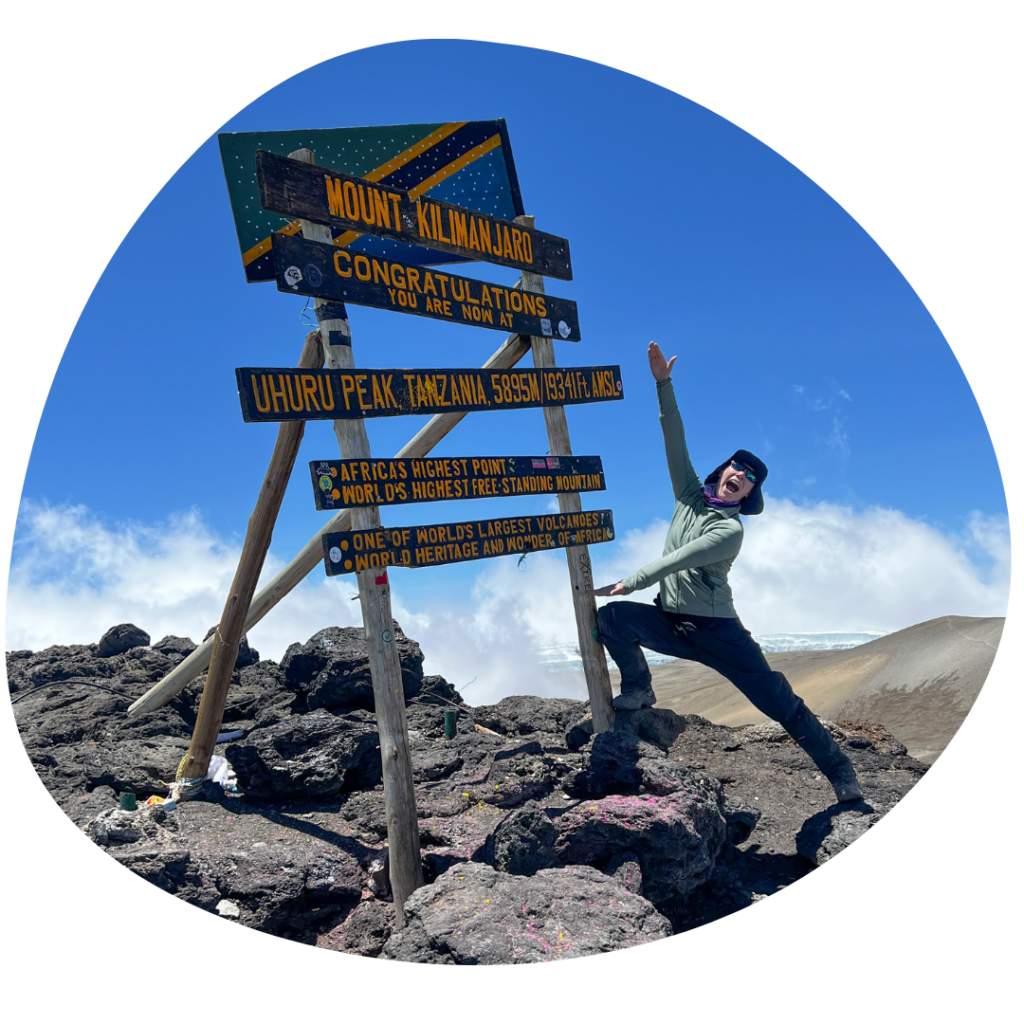 Ruth – "This was not only my first solo adventure but also my first overseas adventure! I had a fair bit of anxiety leading up to it, so having the hard work of planning accomodation, activities, guides etc done for me was such a relief. There was plenty of communication and updates leading up to it, so that was also really helpful and meant I felt prepared and organised before leaving.

Our head guide Glory, was beyond amazing! On the days with nothing particular in the itinerary, she came up with some awesome activities. On the mountain, I felt safe under her guidance and she was great with checking in how we were doing and providing plenty of encouragement when needed!
The whole crew of guides were fantastic-it's difficult to put into words how much I appreciated their kindness and expertise. The wider crew of porters and cooks were also fantastic. I especially appreciated the chefs great job of accommodating my dietary requirements, and the porters impromptu morning dance parties to get us up and going for the day! The entire climb was just an indescribably fantastic experience! The safari was also spectacular! The drivers had an amazing eye for spotting wildlife from miles away, and so got us up close with so many animals. Seeing all of the big five was such a privilege. The guides were knowledgeable and gave plenty of information about what we seeing. The vehicles themselves were super comfortable to travel in. The accomodation was gorgeous! Super comfortable with great food. All in all, a spectacular experience that I would recommend to any one!."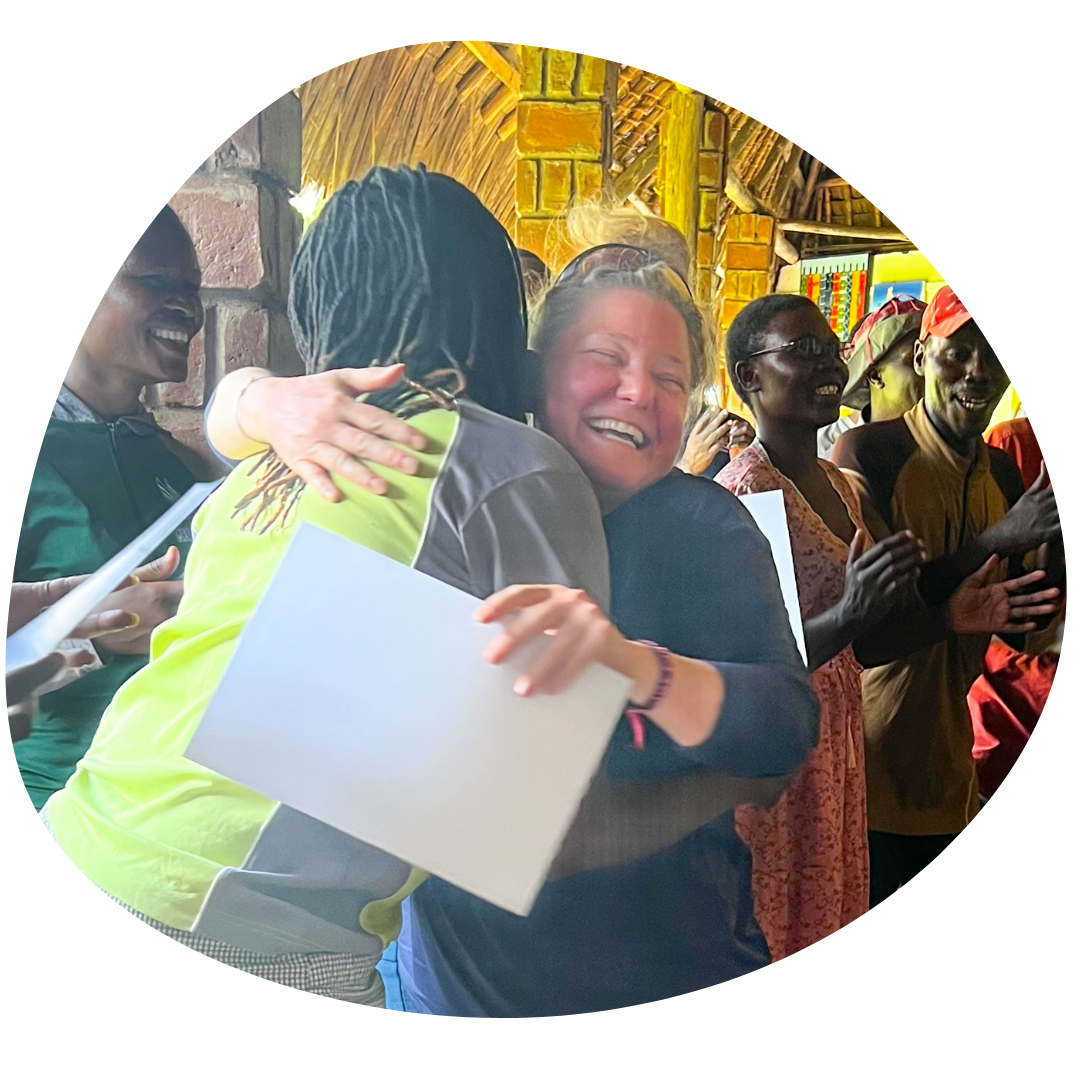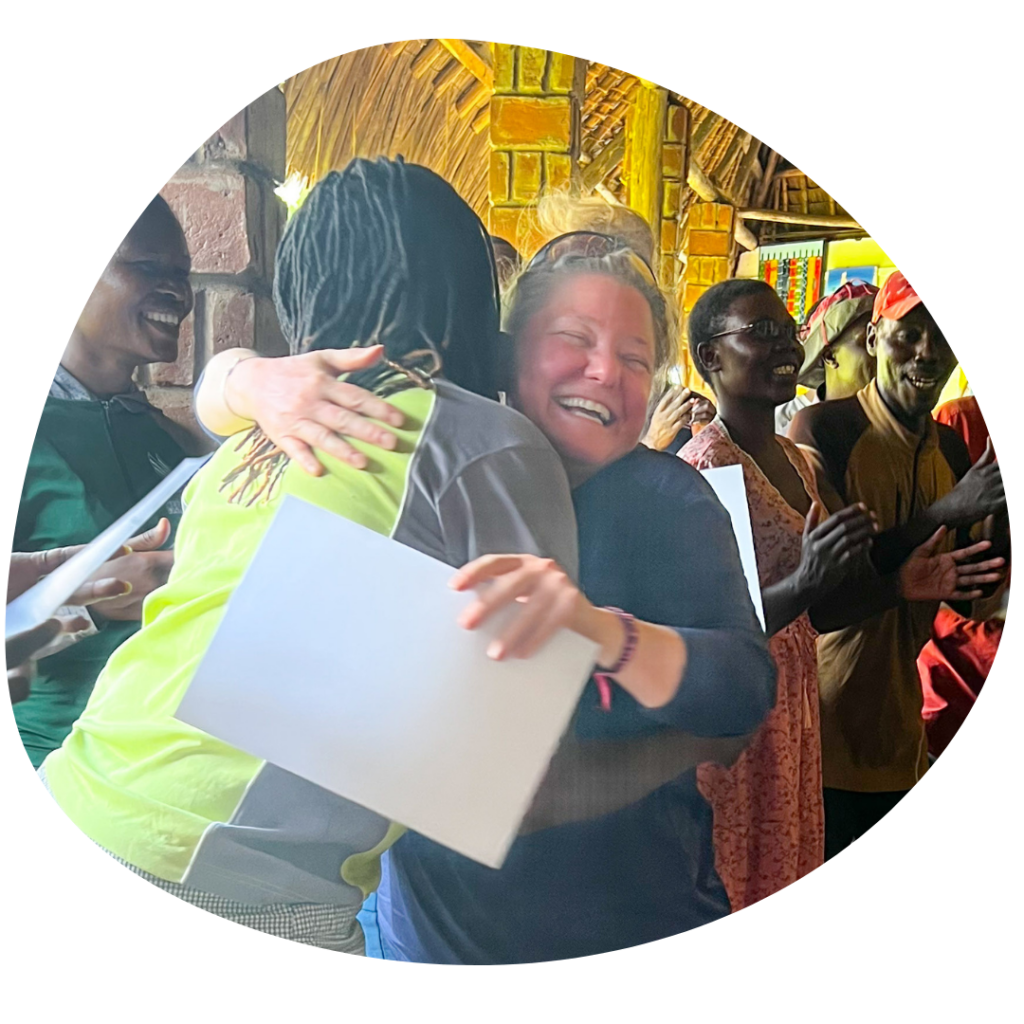 Robin – "Traveling to Tanzania and climbing Mount Kilimanjaro, Alone, was very intimidating to me. Of course I had a ton of support from family and friends but it is scary to travel to a place you have never been to before and not know one single person. Mar and Meg made it a whole lot less scary. They set up a FB group that was just for the woman who were signed up for the trip and also coordinated a Face Time chat for all of us to meet "in person". It was so nice to be able to connect with everyone prior to traveling across the world. Mar and Meg were in contact with us at least once a week prior to the trip and were always available through emails.
Once I arrived in Tanzania, I was greeted at the airport by Glory. She was our guide for the entire time we were in Tanzania. Glory and her team of all female guides are truly the best you can find and they treated us like family from the moment we stepped off of the plane. Glory was born on Kilimanjoro and knows everything there is to know about climbing it and how to help you get to the top. Her knowledge of the wildlife and the plants are endless. There wasn't a question I asked that she couldn't answer. She truly cared for each one of us as an individual and not just a group of women to take up a mountain.
Not once did I feel unsafe or alone while on this trip. If you are looking for a life altering experience, check out the Tanzania Kilimanjaro Climb, and book it through Solo Female Travelers Club. I know my life and how I live it from now on will never be the same."
"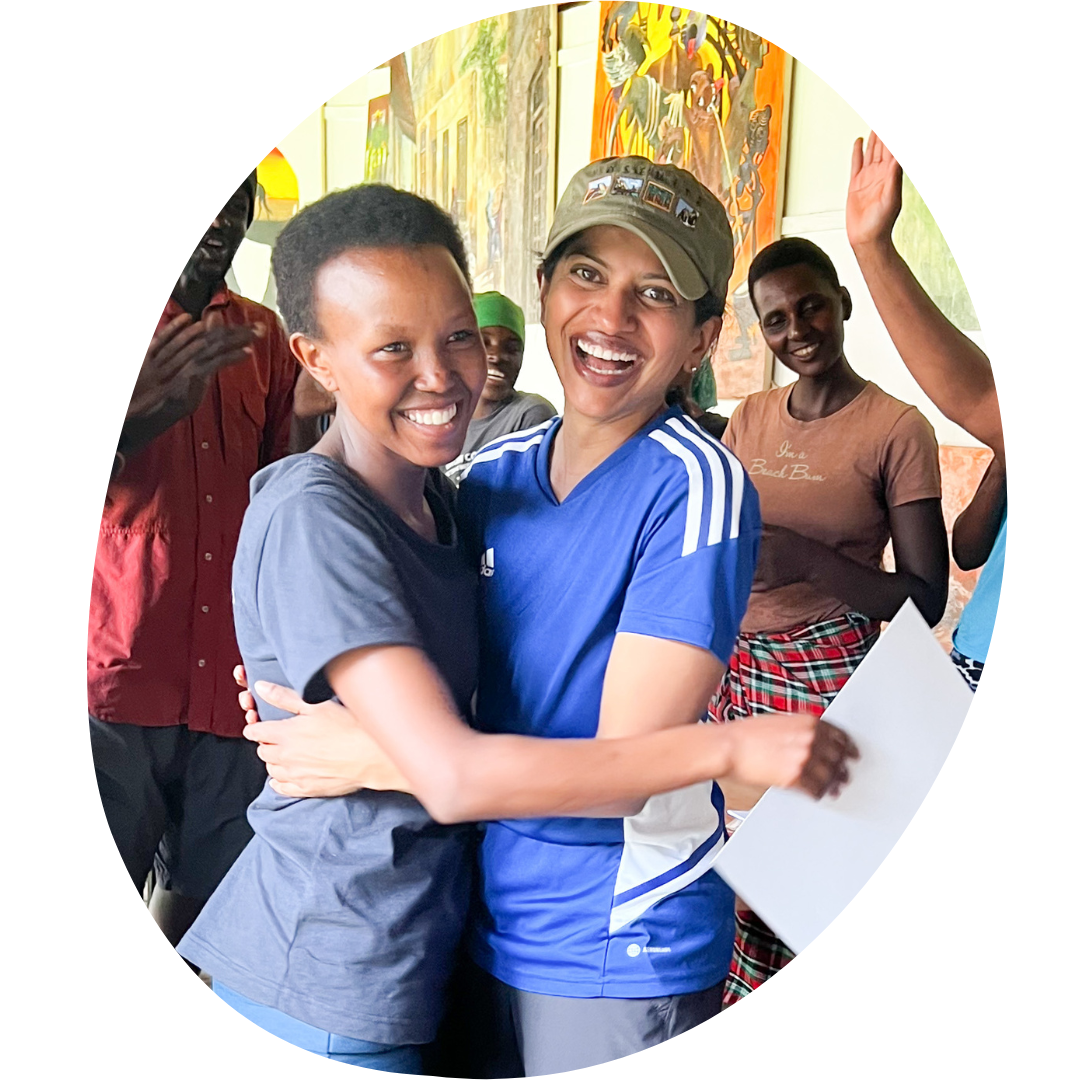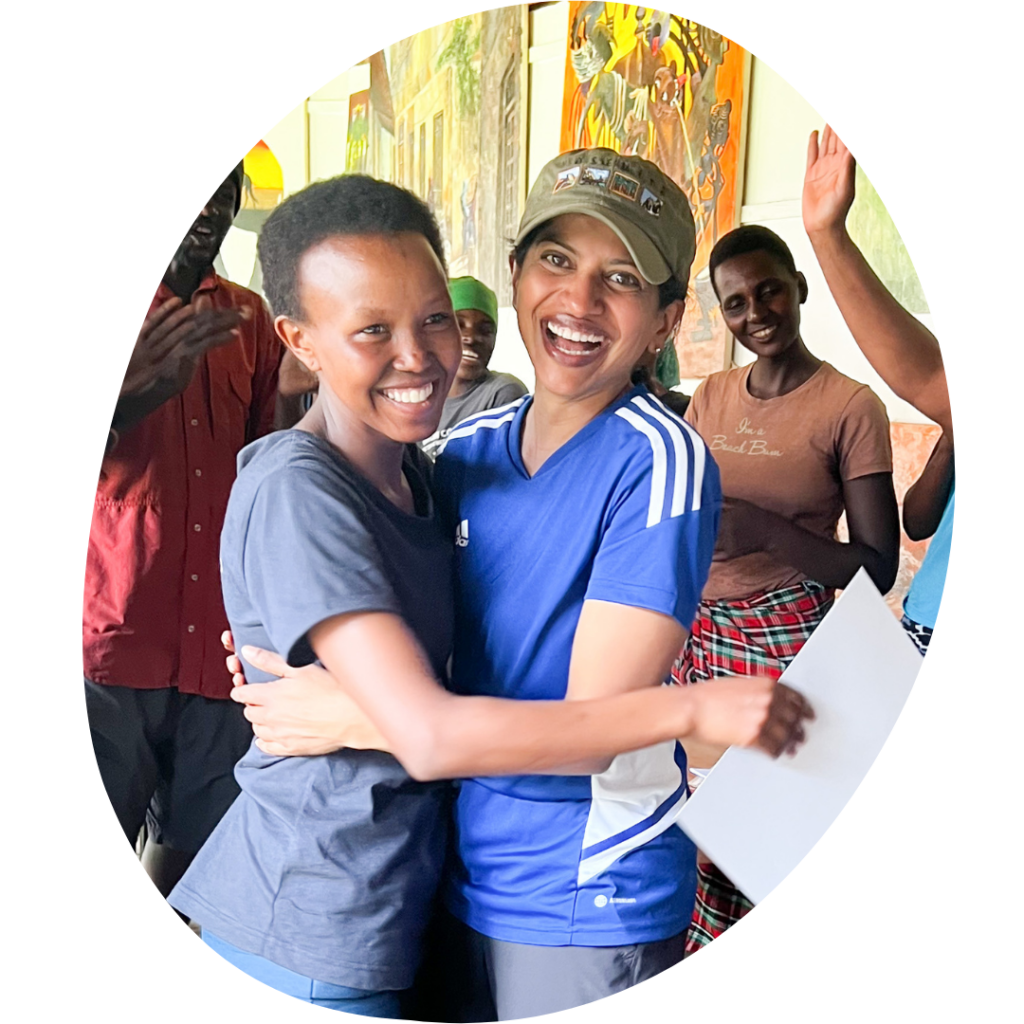 Maddy – "I am not an experienced hiker and climbing Kilimanjaro was truly a daunting task for me. Planning a solo trip to Africa was equally stressful – I was over thinking about safety, mosquitos, and everything in between.
Thanks to Solo Female Travelers, I was able to put my fears aside, step outside of my comfort zone and turn a lifelong dream into reality. I can't thank Mar and Meg enough for running such a fantastic organization and making adventure travel possible for solo travelers like me. Their trips are so well organized and accommodated pretty much all my needs. Glory Thobias was the lead guide for our trip along with a group of female guides. Their expertise and experience helped me out in the most difficult moment of the climb. During the entire trip we felt well taken care of in all aspects, both in terms of safety, our physical as well as mental health. They frequently checked in with us on how everyone was doing, which made us feel safe and at ease. They also contributed to the group by being such wonderful, diverse, and fun people. I highly recommend Solo Female Travelers Club !! "
---
Inclusions
✔️ For each booking, we make a contribution of $200 to the Tanzania Women Guides Foundation. For every two guests, we are able to cover the tuition for ONE Tanzania woman to attend Guiding School and become a certified Mountain Guide.
✔️ All ground Transportation
✔️ 2 Airport group pick ups and 2 drop offs to meet Qatar Airways on day 1 and 10/15 and KLM / Delta flight on the day before the trip starts and on day 10/15. Additional pick ups offered at $90 each way.
✔️ Free Wi-Fi wherever available, charging stations and a stocked fridge in your Land cruiser
For the Kilimanjaro trek
✔️ A full female team of Guides – English speaking & Wilderness First Responder trained, Assistant Guide(s) and Cooks, at least 50% female Porters (as many as we can employ and are available on the dates)
✔️ 9 nights accommodation: 3 Nights Accommodation (double occupancy) in Arusha, 6 nights camping on Kilimanjaro
✔️ Full Board throughout the trip: Breakfasts, Lunches, Dinners, daily snacks while climbing.
✔️ Minimum 3l of water daily while trekking plus more at camp, tea, coffee
✔️ Premium camping equipment: Spacious Sleeping tents for two persons, Sleeping mat (2-inch foam), Pillow, Walk-in dining tent and table, Backed chairs, Wash basins with hot water each morning and evening, Private portable toilet with toilet paper
✔️ Kilimanjaro Park Fees (camping/hut, rescue, conservation and taxes) – $1,034 per person
✔️ Health and safety equipment: Pulse oximeter, Altitude sickness checklists, First aid kit, Emergency oxygen
✔️ Temporary local Emergency Evacuation Insurance Cover (covers rescue on the mountain or on safari – $100 per guest)
For the extension
✔️ 5 nights on shared twin accommodation: 1 night in Arusha (2 nights for IWD 2023), 2 nights at Serengeti National Park and 2 nights at Ngorongoro Crater
✔️ Full board, including 5 dinners, 5 breakfasts and 5 lunches. Water.
✔️ Safari Fees (national park entrance and conservation fees) – $1,136 per person
Exclusions
✘ International return flights to Kilimanjaro International Airport
✘ Visa
✘ Travel & Medical Insurance (Required)
✘ COVID Vaccinations Pre Arrival (Required)
✘ Alcoholic and soft drinks other than water.
✘ Souvenirs
✘ Tips for Drivers, Guides, Porters, Cooks (At your discretion)
✘ COVID Testing if required before your departure
Payment plan
Prices are per person sharing a room, though we do have single rooms / tents available if you don't wish to share. Payment plan details are outlined below, please keep scrolling to the next section called 'Book One of 15 Spots' to book your spot.
2024 Intl. Women's Day
Kili trek: $4,495 USD*
+ Safari extension: $3,195
Payment Plan
30% non-refundable deposit to reserve your spot
70% final balance due 90 days before the trip (full payment now due for our March 2023 departure).
By joining our trips you agree to our T&C.
Please note that the safari extension cannot be booked separately as a stand alone trip.
*Includes a $200 donation to the Tanzania Women Guides Foundation
The Solo Female Travelers difference – What makes us unique
All our tours follow the same values and philosophy that makes us who we are which you can find here. For Kilimanjaro, something very special sets us apart from others: Our female porters and guides.
No other hiking company in Tanzania hires only female guides and more than 50% female porters for their climb, that means we employ more than 50 women for our tours. Some companies employ 1 female guide, which is often not local, and rarely female porters.
We are committed to making a difference and helping shape the travel industry in the country, and we are doing just that with our lead guide Glory, and her Tanzania Women Guides Foundation. Since 2021, we have been slowly training and hiring women for our Kilimanjaro climbs and are close to reaching our goal of employing only women for our Kili climb. We expect to be able to 100% female porters and guides in 2025.
Our climb also offers the highest level of comfort, with matresses, portable flush toilets, well kept gear and more.
---
Book NOW
Interested in Joining us to climb Kilimanjaro? We are keeping our trips to a maximum of 15 guests, do don't wait up! Note: Please do not book any flights until the trip is confirmed.
Credit card payments carry a 3% surcharge. Wire transfer details are available via email: community@solofemaletravelers.club.
Book Intl Women's Day 2024
Kilimanjaro only: 1st to 10th March
Kilimanjaro + Safari: 1st to 15th March,
Select package from the below drop down, and click the Book button
Got questions? Let's chat
Pick a convenient time to speak live below.
---
Tours gallery
---
Frequently Asked Questions
This is a trip of a lifetime and we know there are many things you'd like to know more about.
What level of experience is required to climb Kilimanjaro?

No specialist equipment or climbing experience is required to reach the top of Mount Kilimanjaro. The routes taken to reach the summit do not require technical climbing skills, only some scrambling at times and the use of hands and feet.

The most important preparation is that which involves getting used to carrying your own day pack (3-4kg of weight) and using your trekking boots so they do not cause pain or blisters. Other than that, mental preparation is key. The final 600 vertical meters to reach the summit are very challenging and require enormous resolve, however strong or experienced you may be. 

While we cannot guarantee that you will summit, we can assure you that the team know how best to exploit your strengths and fortify them at times of weakness, and will offer the greatest summit opportunity possible. Being among likeminded female climbers and team, you will be among supportive friends.

To physically prepare for the climb, an above average level of fitness is strongly advised. Begin training at least 3 months before the climb, unless you have a particularly active lifestyle. Jogging two or three times a week for 40 minutes is recommended as is a long hilly walk (5-8 hours) with a 10 kg rucksack every two to three weeks. 
How can I prevent altitude sickness

Altitude sickness will be your biggest enemy on the mountain. While we have chosen a route that allows for a few days of acclimatisation, you won't how your body reacts to it until you are there, because every person is different. Your level of fitness will not predict how well you will perform.

You can make an appointment with your doctor to get altitude sickness medication which can be taken as a preventative measure and the team will carry emergency oxygen should you need to be evacuated. The trip price includes helicopter evacuation coverage in case you need to descend urgently to safety.
What if I cannot travel because of COVID restrictions?

Payments are not refundable if the trip goes ahead. This is why we require all guests to purchase travel insurance that covers unforeseen circumstances that would prevent them from traveling.

In the event that the trip needs to be postponed for reasons beyond our control such as a global pandemic or COVID after the the 30% deposit is due, any payments made will be put towards a similar trip in the future.

We recommend checking with an aggregator such as Travel Insurance Master to compare quotes and coverage.
What are the COVID measures in Tanzania and how will you ensure everyone is safe?

We care deeply about the wellbeing of our guests and our trip follows all local regulations.

A Kilimanjaro climb is uniquely designed for social distancing and isolation as it guarantee that you will only be interacting with the other guests in your group and with the guides and porters always in an open space.

We require guests who develop a cough or cold-like symptoms to use a mask and separate themselves from the rest of the guests. COVID testing is not mandatory though it will be encouraged. Being vaccinated will not be a requirement to join our tours from 1st of January 2024.
What is included in the trip?

This trip is full board, that means all meals (breakfast, lunch, dinner and snacks) are part of the itinerary cost. The trip cost also includes a porter per climber to carry your equipment, porters to carry tents and other equipment, cooks and guides.

All park and conservation fees are included as are the permits to climb Kilimanjaro. We have also included helicopter rescue insurance coverage for 2 weeks starting on arrival in the country. Sleeping arrangements with tents and foam mattresses and portable toilets are also part of the equipment.

We pay all porters and guides fair daily rates as established by the Kilimanjaro Porter Association and provide 3 nutritious meals per day to the entire crew and separate male and female facilities for the team.
Can I have a room to myself?

All costs above are considered on a sharing basis with two guests per room in twin bedding in Arusha and a tent per every 2 guests; we will pair you with another solo female traveler on the trip. If you wish to have your own room, a single supplement of $600 applies to the Kili trek and $500 to the safari portion.
I want to bring my partner to the trip

This is a female-only small group trip specifically designed for women traveling on their own. If you wish to travel with a female friend, they are most welcome, however we are not able to book male travelers on this trip.
I want to bring my daughter

How wonderful! If your daughter is above the age of 16, we will be glad to have her with us.
Will the guides be female?

Yes, this trip will be be an all-female guide team and a majority female porters team and is specifically designed to bring together likeminded women to summit on this special day.

Note that there will be between 50 and 100 support staff between guides, porters, cooks, etc. depending on the number of guests and given the limited number of female porters in Tanzania, we cannot guarantee that all the porters will be female. We will however hire all the available female porters on the mountain. We are the ONLY company doing this on Kilimanjaro despite many making claims.
How does this trip help local communities in Tanzania?

We believe that travel can be a force for good and believe that we can make a difference by providing employment opportunities to women in tourism in the communities we visit.

For this trip, we have partnered with the Tanzania Women Guides Foundation. Founded and managed by our lead guide, Glory, the foundation and herself are committed to the development of women in tourism in Tanzania and focuses on supporting more women become certified adventure tourism guides.

Glory can be credited with supporting, financially, emotionally and with training, 29 out of the 40 female guides that currently work on Kilimanjaro and about half of the female porters. Since 2015, she spends time every year helping more women become certified guides by preparing them for the course and helping them get the financial support they need to pay for the tuition, books and accommodation, which comes to about $600 per guide.

But her work does not end there. Once certified, she helps them find jobs, offers them to train under her and practice their skills and then supports them professionally. On our trek, we will also engage the services of trainee guides so hey can get real life experience.

Glory is an inspiration to all our guests and sharing this moment with her is a true honor, not to mention that she has summited Kili more than 200 times!
What medication do I need to take for a trip to Tanzania

You should make an appointment with your doctor to confirm any travel inoculations and other medications that you may need to take before and during the trip, including those to prevent malaria or yellow fever or those for altitude sickness. If your onward travel includes other African nations, you may also require a Yellow Fever certificate, you can check the CDC website for more details.
What luggage should I take?

When climbing the mountain, climbers will need two luggage bags, preferably a large duffel/cargo bag and a smaller, lighter day sack, between 25 – 35 liters size. The porters will carry the larger duffel/cargo bag, while climbers carry their day sack themselves.

The day sack needs to be comfortable, durable and big enough to hold everything a climber may need with them when walking, as it is unlikely that they will see their main bag from the moment they break camp in the morning to the time they arrive at camp in the evening.

Day sacks and larger bags are available for hire if you do not have access to such, or would prefer not to take your own bags to the mountain. In an attempt to reduce the waste and rubbish on the mountain, the Kilimanjaro National Park Authority have now decreed that climbers must have their own trekking water bottles / containers for their trek and are required to decant any bottled water into them prior to progressing through the entry gate. 
What should I pack in my day bag?

Items a you would potentially carry in you day sack: Sweets, Water (3 liters water carrying capacity — bladder system, with insulated hose, recommended, or water bottles), Camera, Sun hat/sun glasses and sun cream, Travel Pack Toilet Tissues and Wet Wipes, Waterproof jacket and trousers, Thin warm layer for any prolonged stops, Walking poles — if preferring to use them, Small personal Medical kit, including chapstick, for ready access and non-altitude specific medicines (guides will be carrying a much more comprehensive medical kit.) 
What should I pack in my large bag?

The porters will carry the larger duffel/cargo bag, which will contain a climber's other personal equipment and clothing for their time on the mountain. This large duffel/cargo bag does not need to have shoulder straps (in the form of a rucksack) as the porters will either carry this large bag on their shoulders or head. The porters will have their own rucksack for their personal and company gear.

Whatever 'luggage container' you bring to the mountain needs to be adequately waterproofed, or have a waterproof cover. As well as providing waterproofing for the 'containers' themselves, it is advisable to further waterproof the items inside them by means of using a liner inside the container. 

Given the terrain that climbers will be walking in, the 'luggage containers' can suffer wear and tear. You can expect that at the end of a trekking day a porter will lower the luggage she has been carrying on her head to the floor. Sometimes, even with care applied, this luggage will end up being dropped and possibly torn against the volcanic rocks, with possible damage also being caused to possessions inside the bag that are not adequately protected.

The Kilimanjaro National Park has a maximum carrying weight per porter of 25 kg /50 lbs, which includes the porter's company and personal gear, which is approximately 5 kg /11 lbs, plus 5 kg / 11 lbs of company gear. Thus, the load they carry for the climber should not exceed 15 kg / 33 lbs. 
What happens if I get sick?

The prospect of getting sick while alone in a foreign country is daunting, and this is why we require all our guests have comprehensive travel and medical insurance that includes international evacuation. Should you fall sick, our local partner's team will escort you to the nearest medical facility so you can get the help you need, and will stay with you if needed.

Your trip cost includes helicopter mountain rescue insurance valid for 14 days from arrival in Tanzania and would cover you in case you needed to be rescued from the mountain and taken down to safety because of accident or altitude sickness
What travel insurance should I get?

We recommend you get the most comprehensive travel and medical insurance that would cover you in the event that you need to be evacuated to Kampala, Entebbe, Nairobi or back home. We recommend checking with an aggregator such as Travel Insurance Master to compare quotes and coverages.
Do I need a visa for Tanzania?

All travelers to Tanzania need a visa which can now be obtained online on this link. We strongly recommend that you apply at least 3 weeks in advance of your trip. If you do not manage to obtain a visa online before your trip, you may also get one on arrival, but expect to queue for up to 2h to get it sorted.
Can I make various instalments for this trip?

Our payment plan includes 2 instalments: a 30% deposit and the balance payment 120 days before departure. You may make additional payments between the 2 instalments.
Can I pay by credit card?

Yes.
Will the lodges and camps have WiFi?

All the accommodation we will be staying at during your extension has WiFi but in most cases this is only available at the main common area or may be limited in speed and bandwidth. This is because camps try to keep impact to a minimum and because connection in the bush is challenging.

There is barely any signal in Kilimanjaro except for the times when it is mentioned in the itinerary. We invite you to take this opportunity to be in the moment and disconnect from your always-on life.