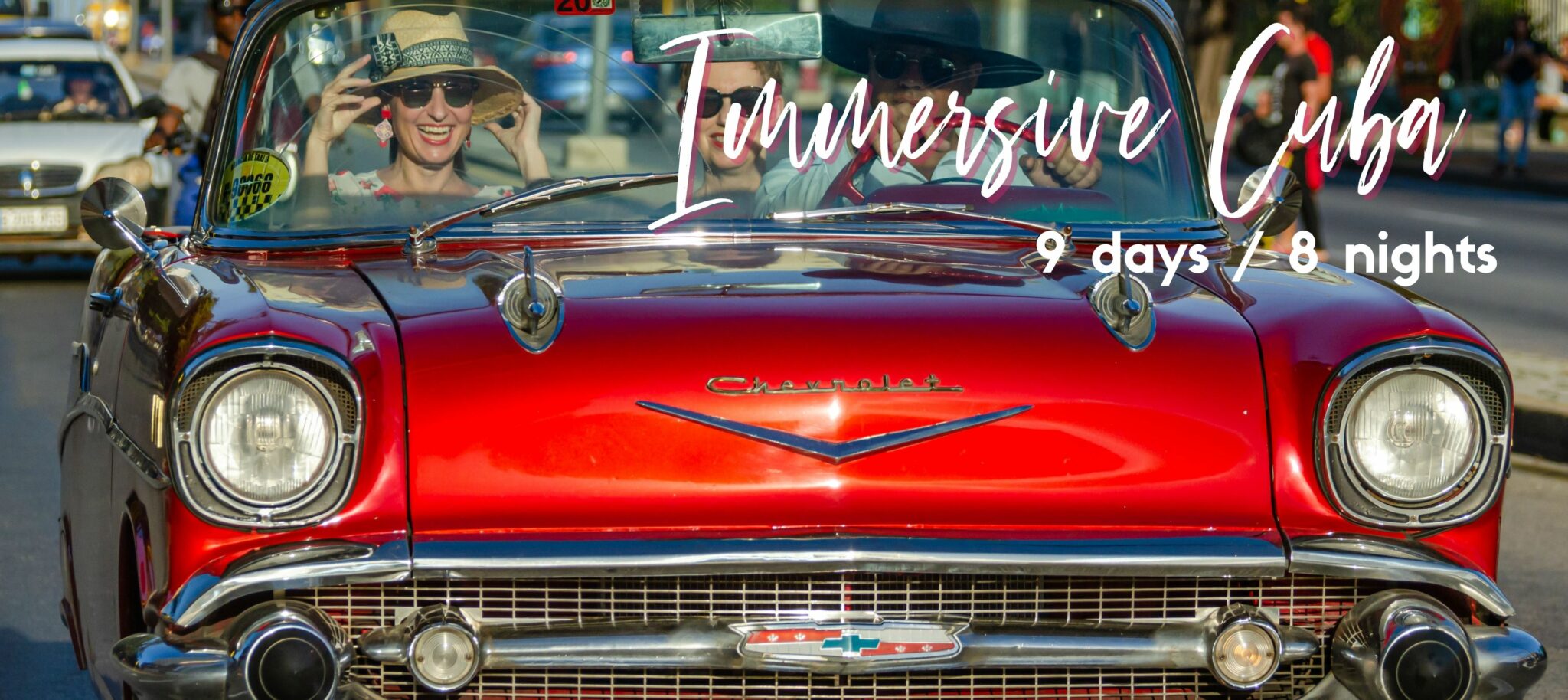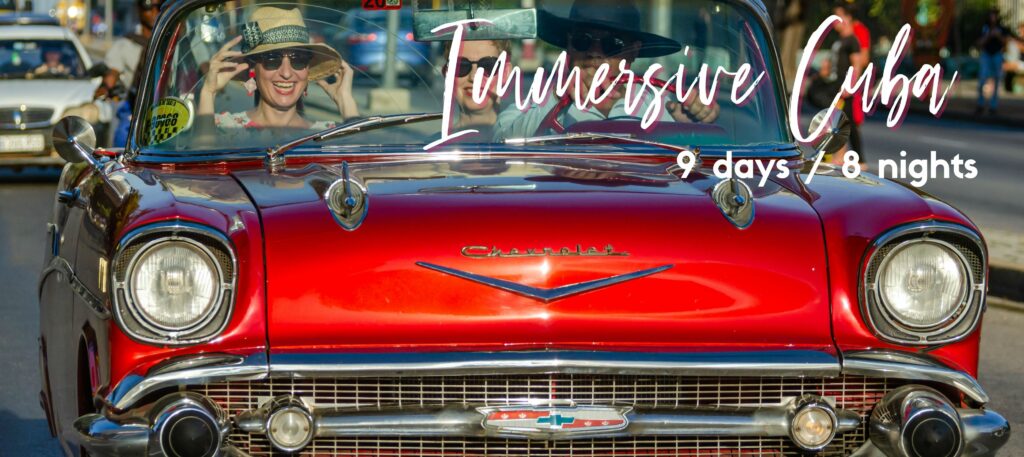 Immersive Cuba Through the Female Eye
Havana – Trinidad – Viñales – Salsa – Rum – Cigars – Culture
Get under the skin of this fascinating country on our immersive women-powered trip. This itinerary is full of fun, with the best Cuba has to offer through the eyes of local women.
Highlights: Habana Vieja walking tour | Classic Car photography tour | Trinidad | Pastel-colored Cienfuegos | Lush Viñales | Cooking class | Female entrepreneurs & Artisans | Salsa class | Art Shows & Exhibitions | Rum tasting and cocktail making | Cigar-Coffee-Rum pairing workshop | Mafia tour | Tobacco plantation visit and cigar making class | Beach time | Rooftop dinners | Best Homestays available in Cuba.
Activity level: Moderate to high level of fitness is required for this trip. Expect to walk 10,000 steps a day on uneven and slippery surfaces and cobblestoned streets, climb many flights of stairs as there are no lifts anywhere in the country, dance at salsa classes and go on hikes in the countryside.
No single supplements* | 14 spots | 100% Female Powered | Photographer onboard**
*Prices per person, we pair you with another traveler, or you can upgrade to have your own room
** For Feb 2024 departure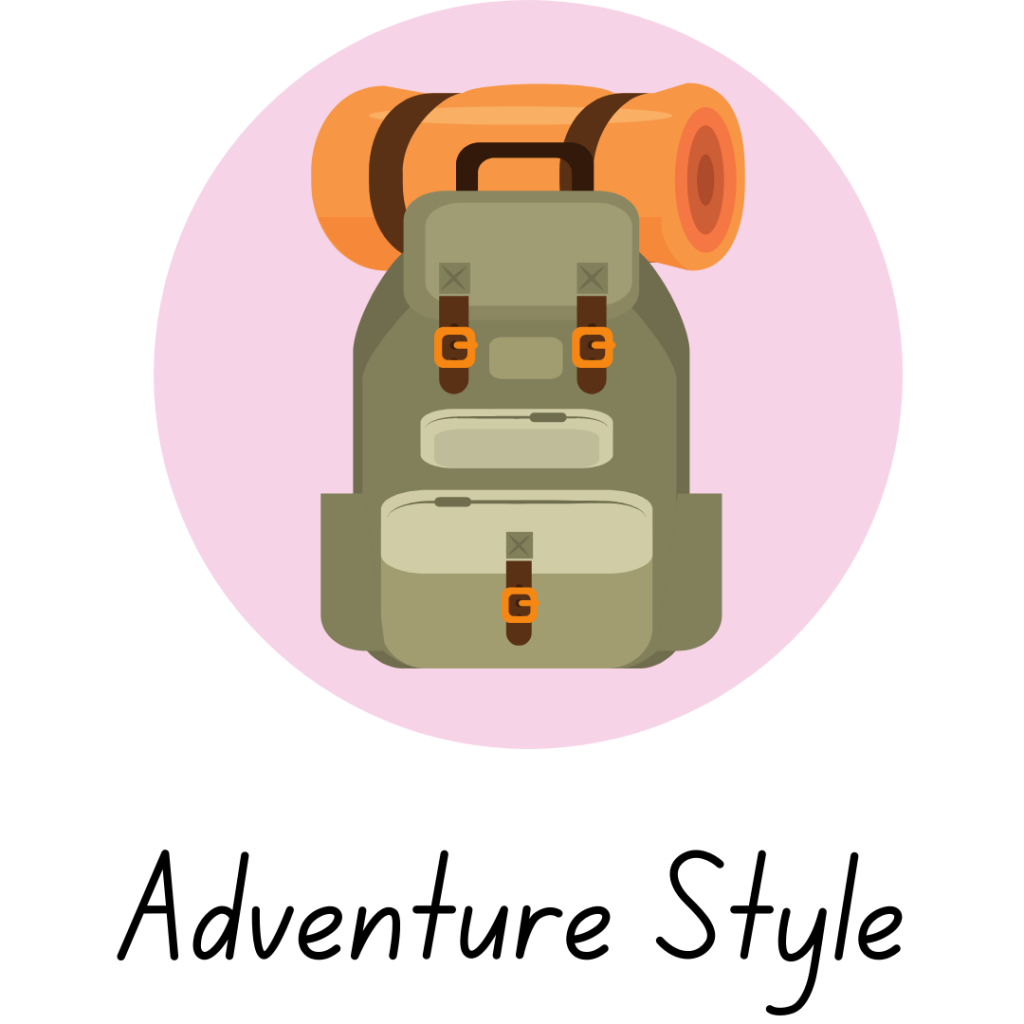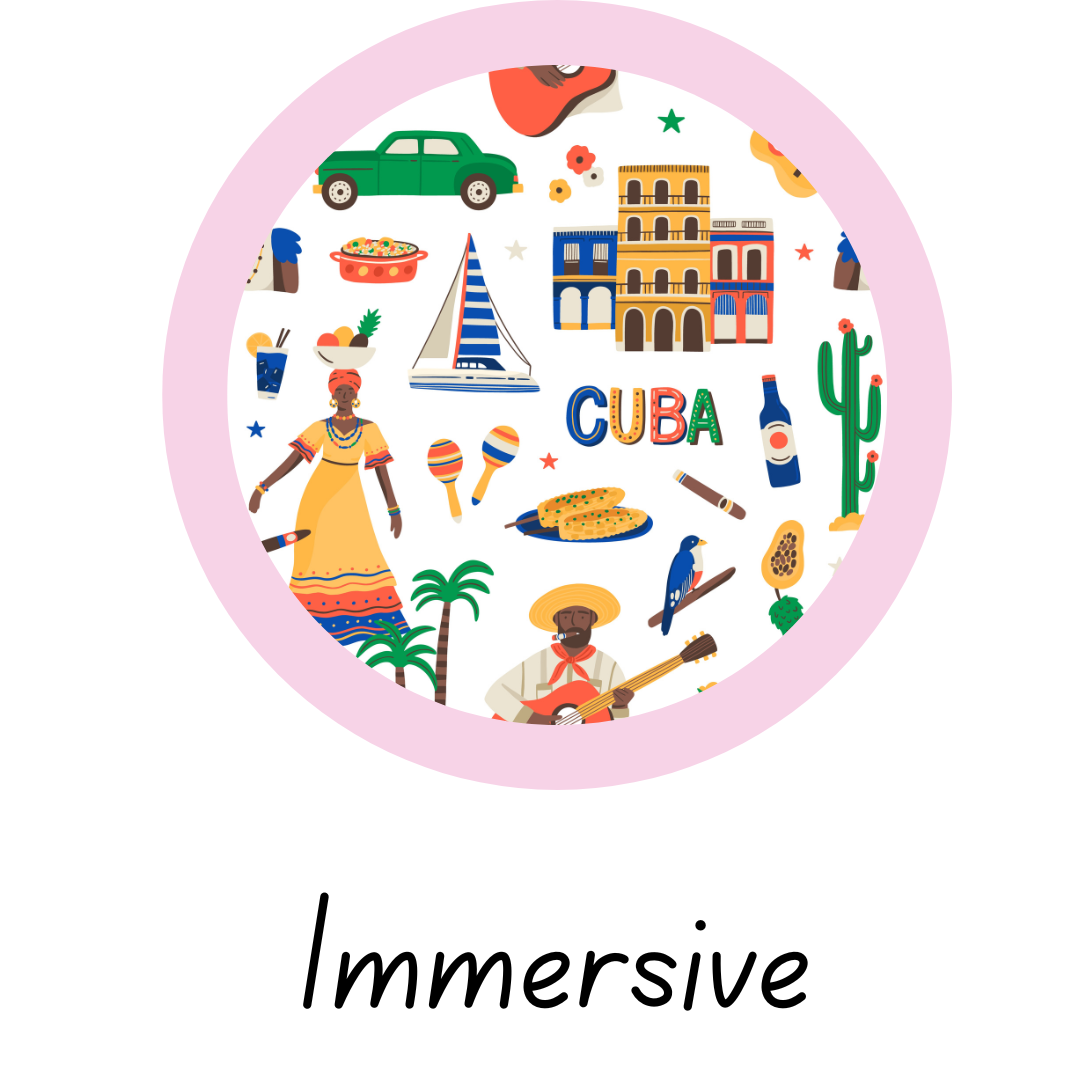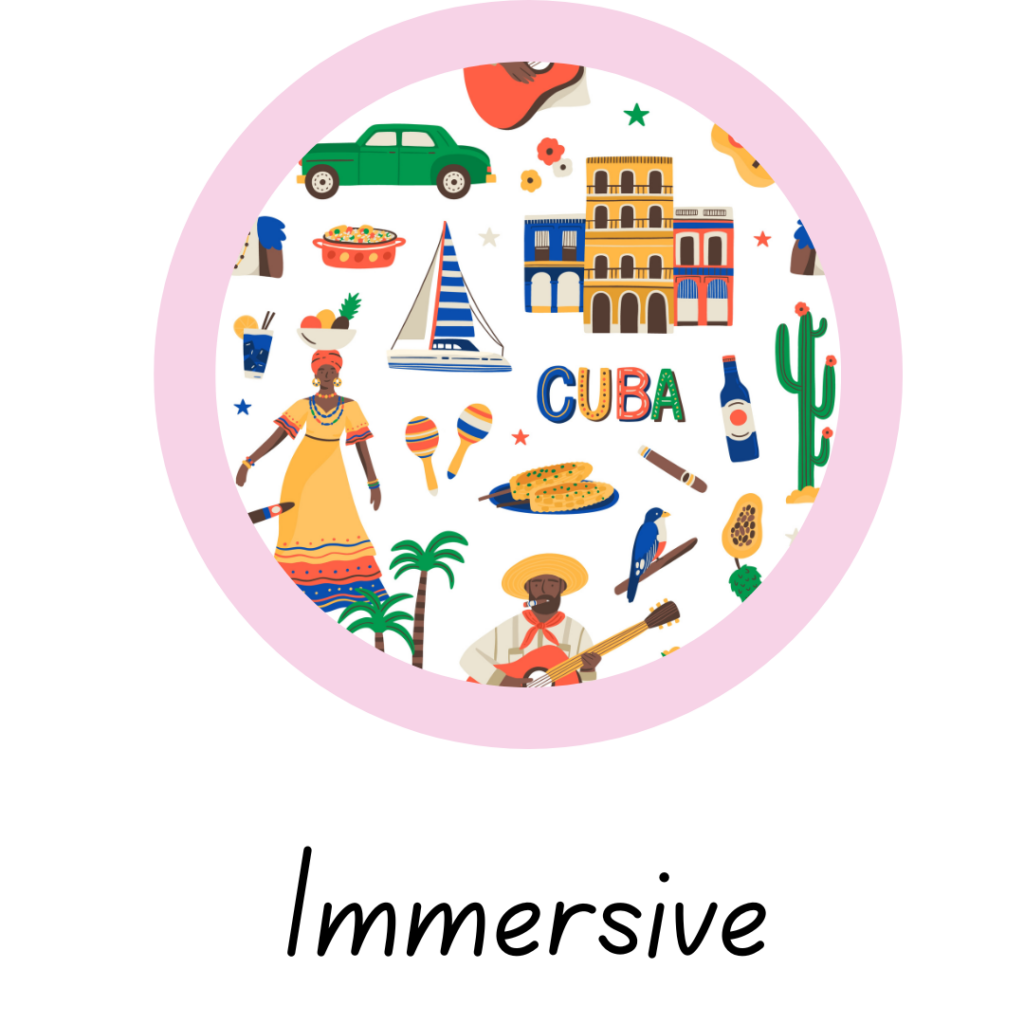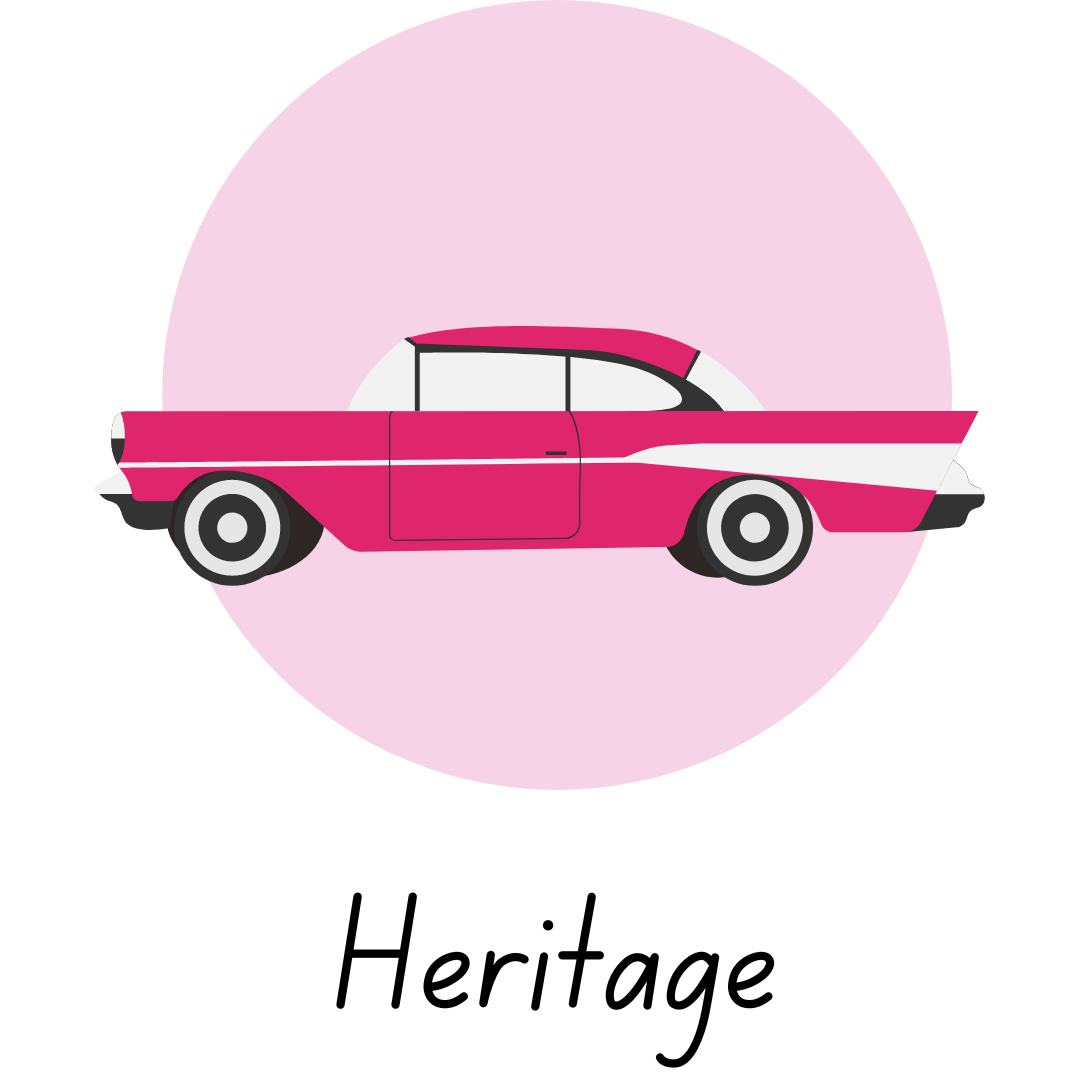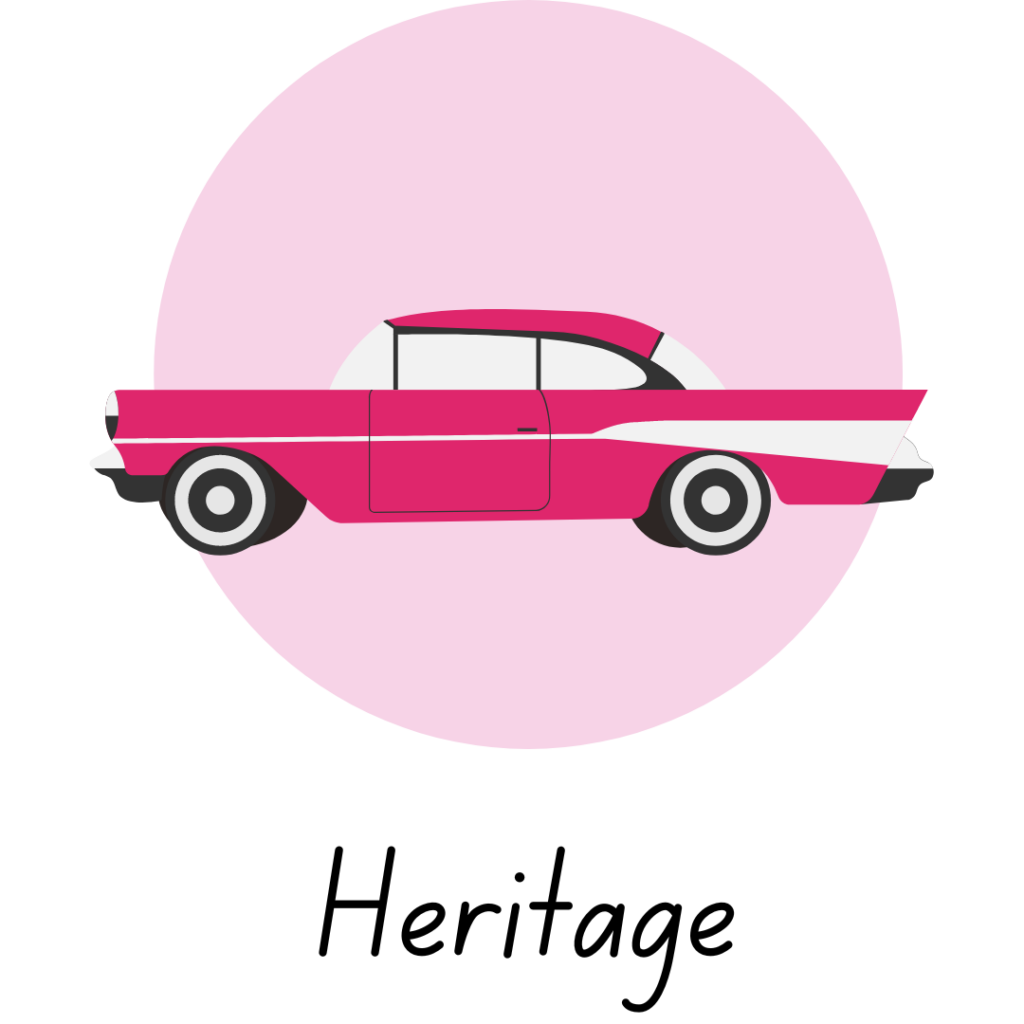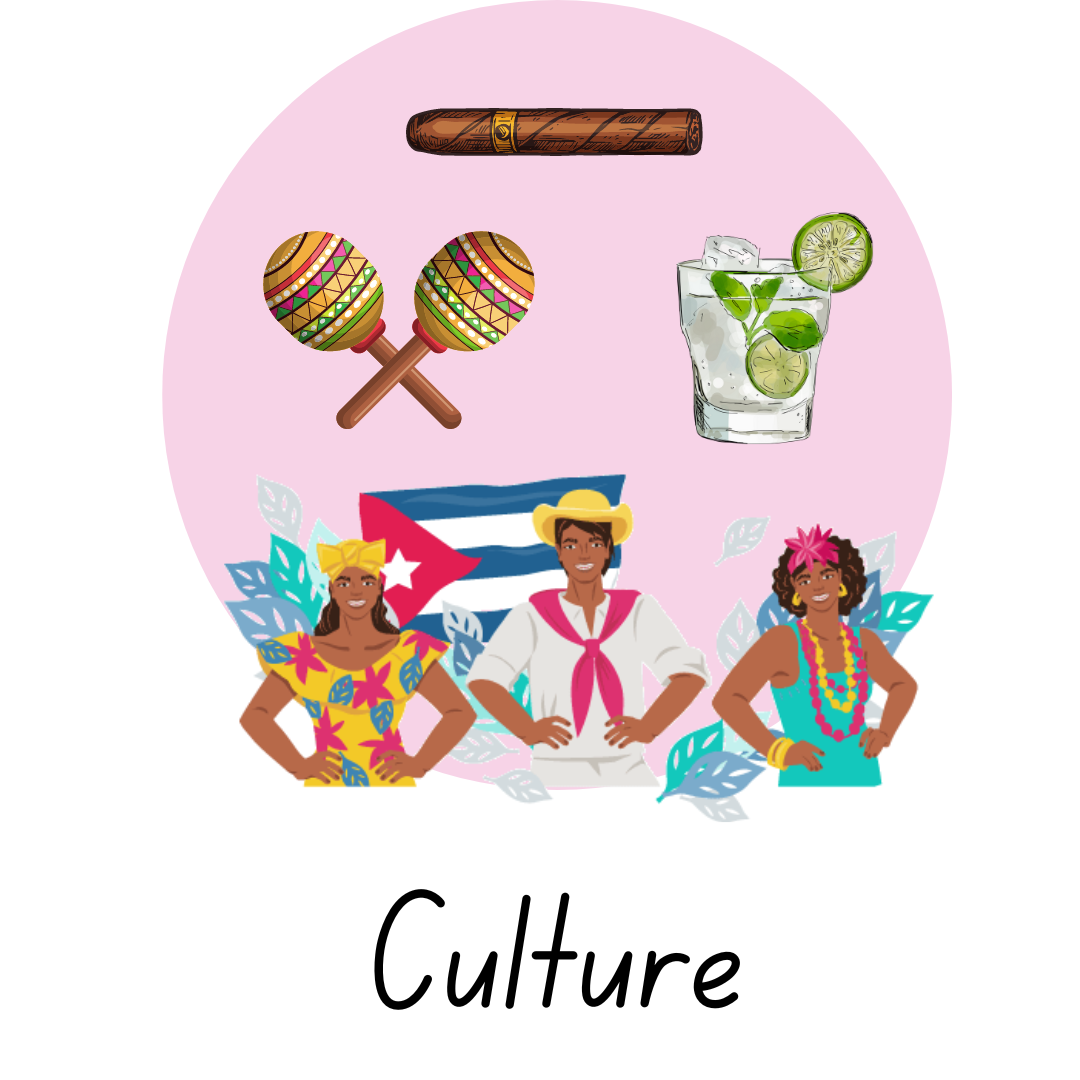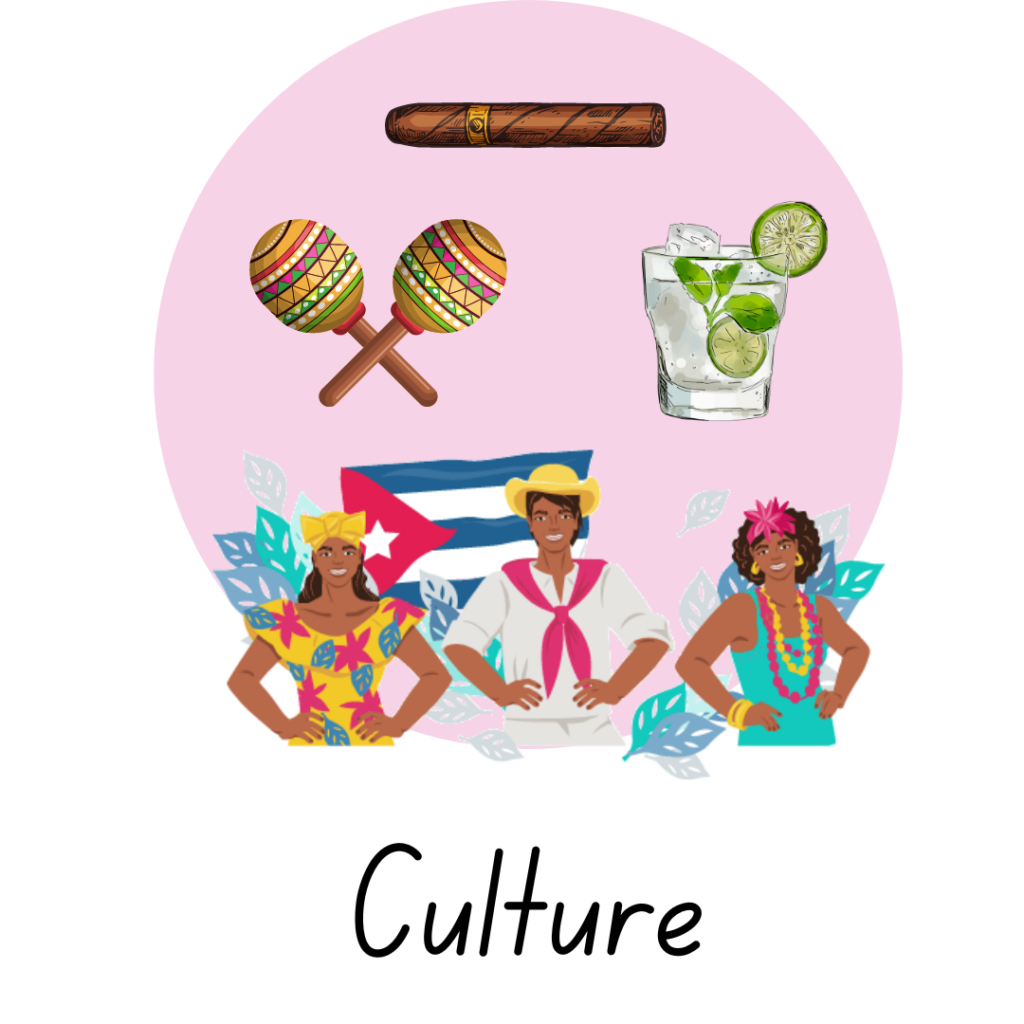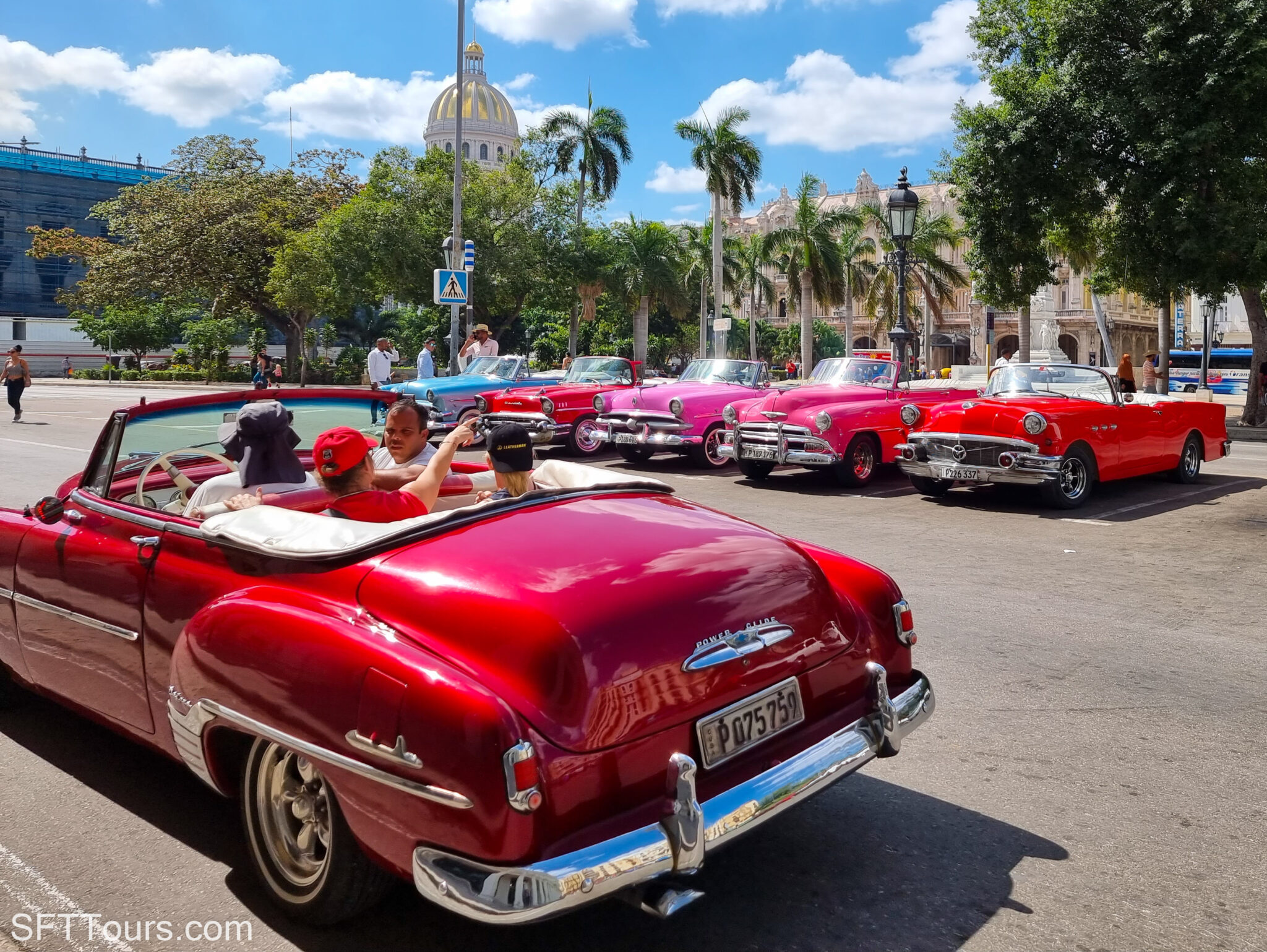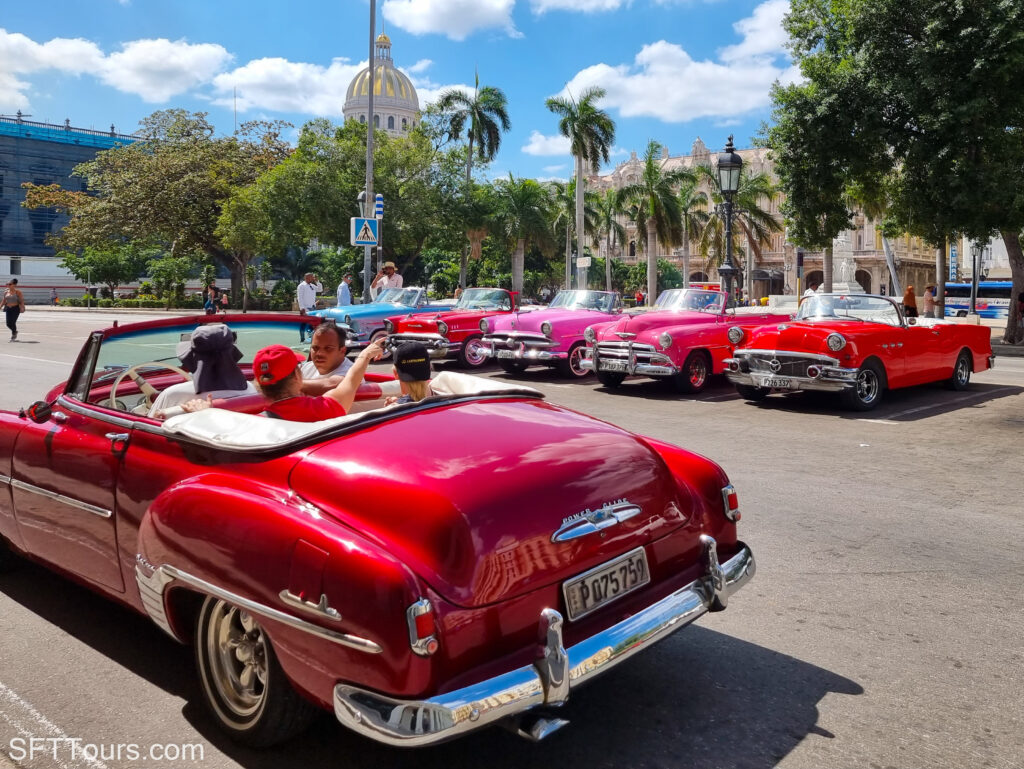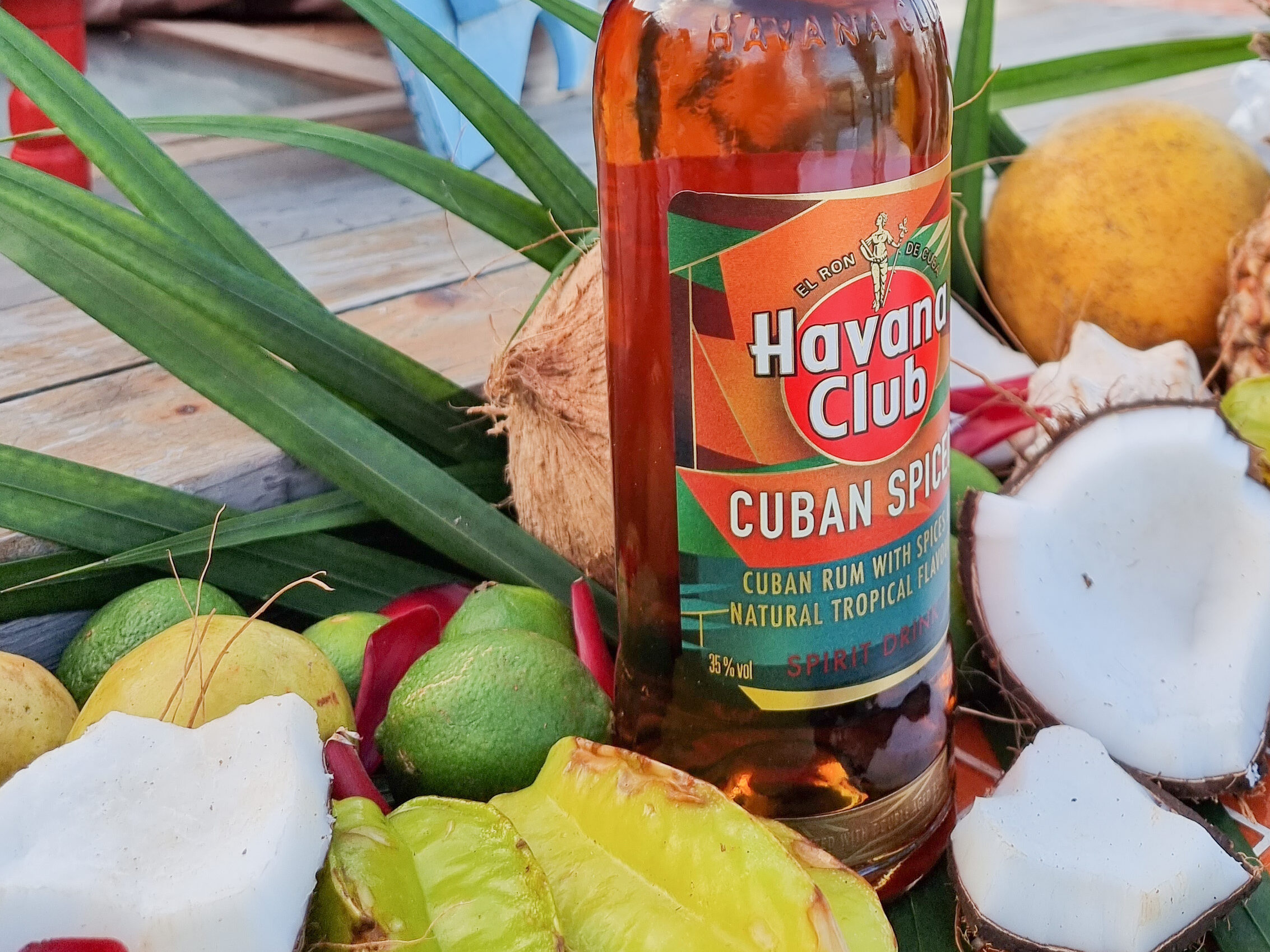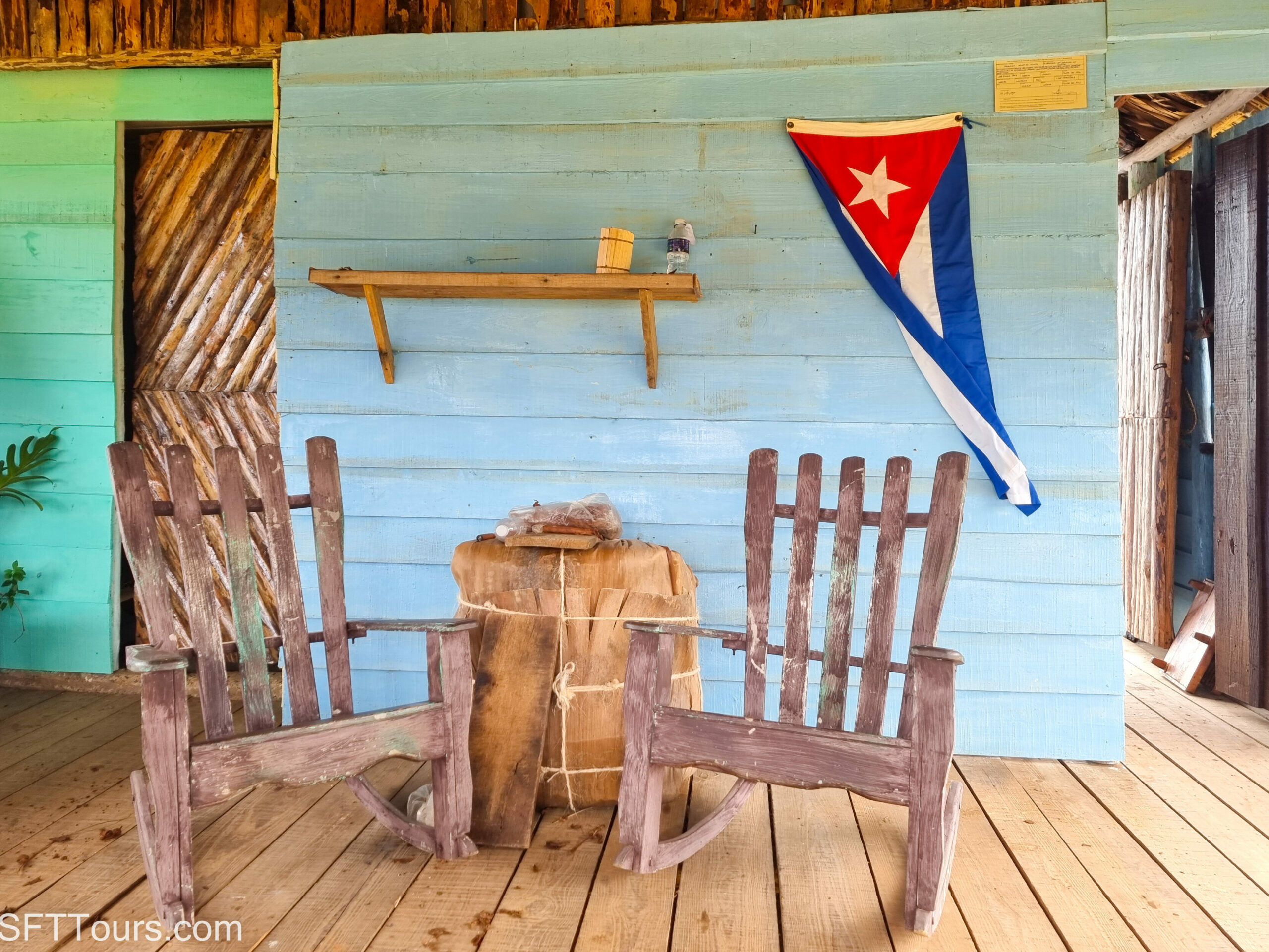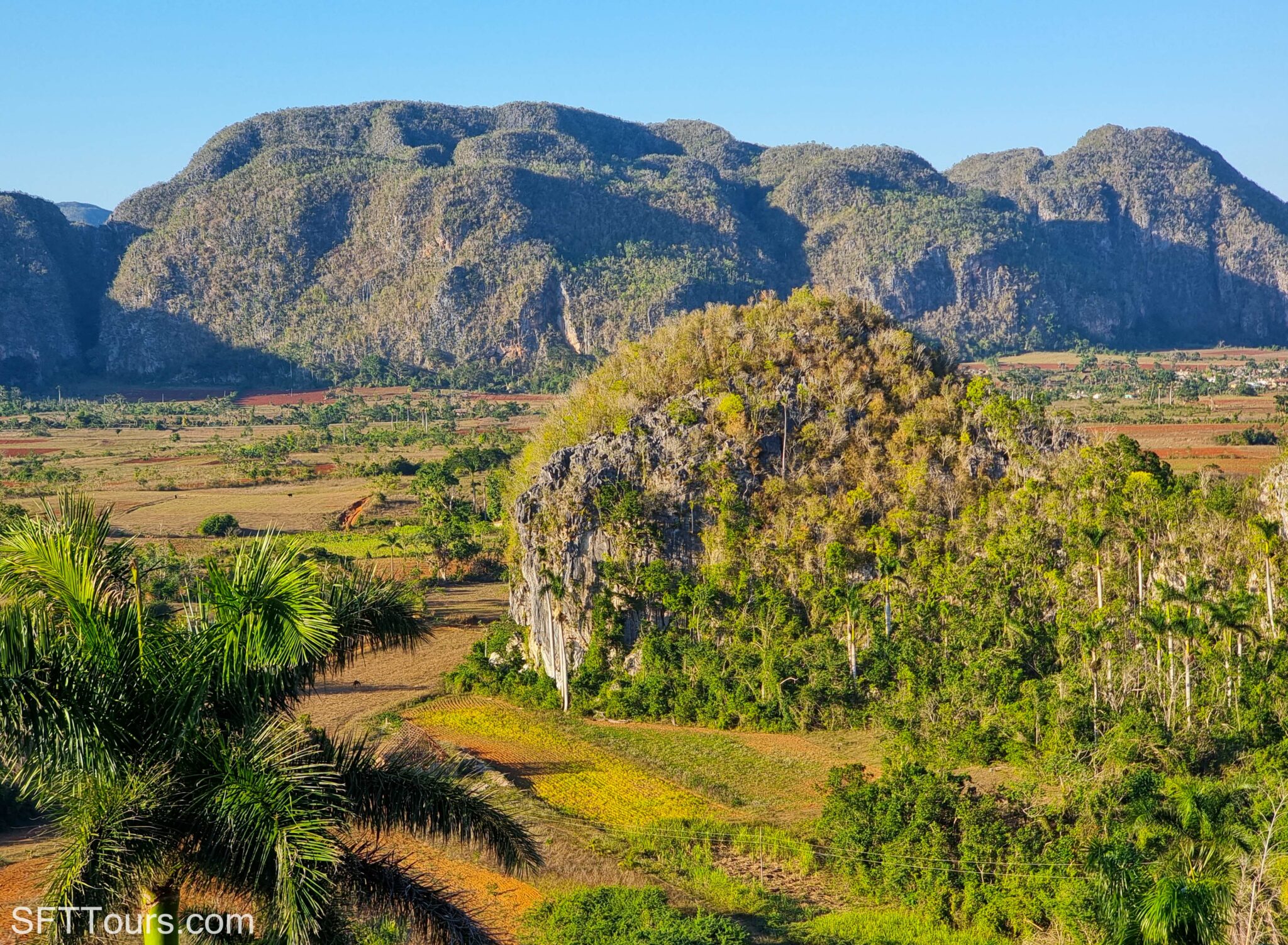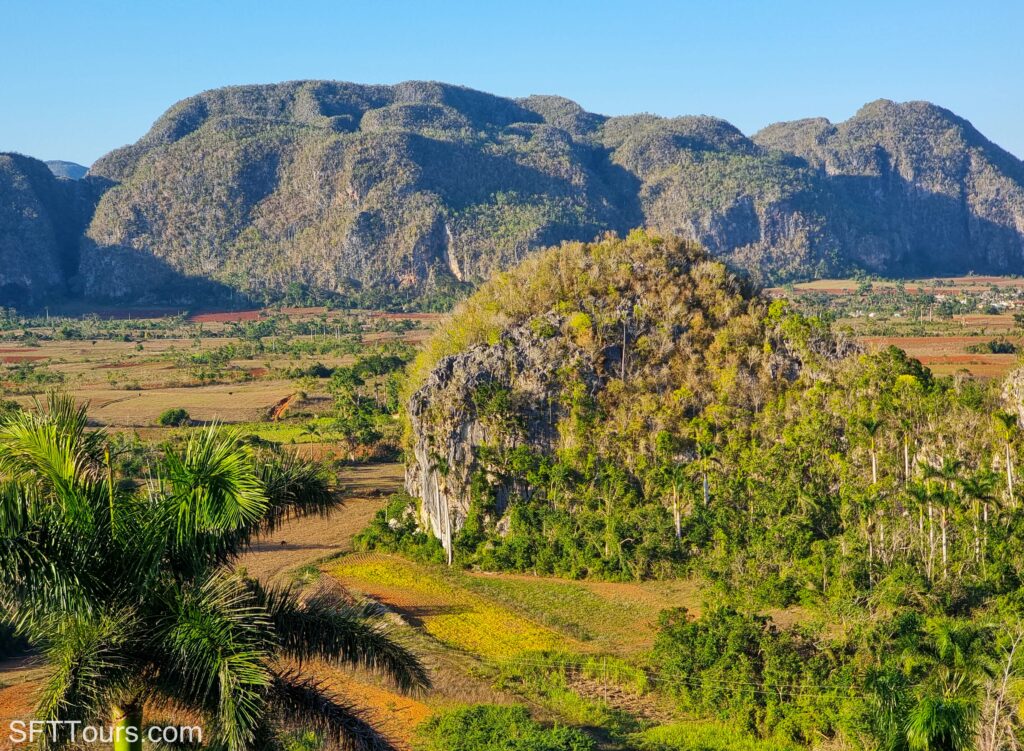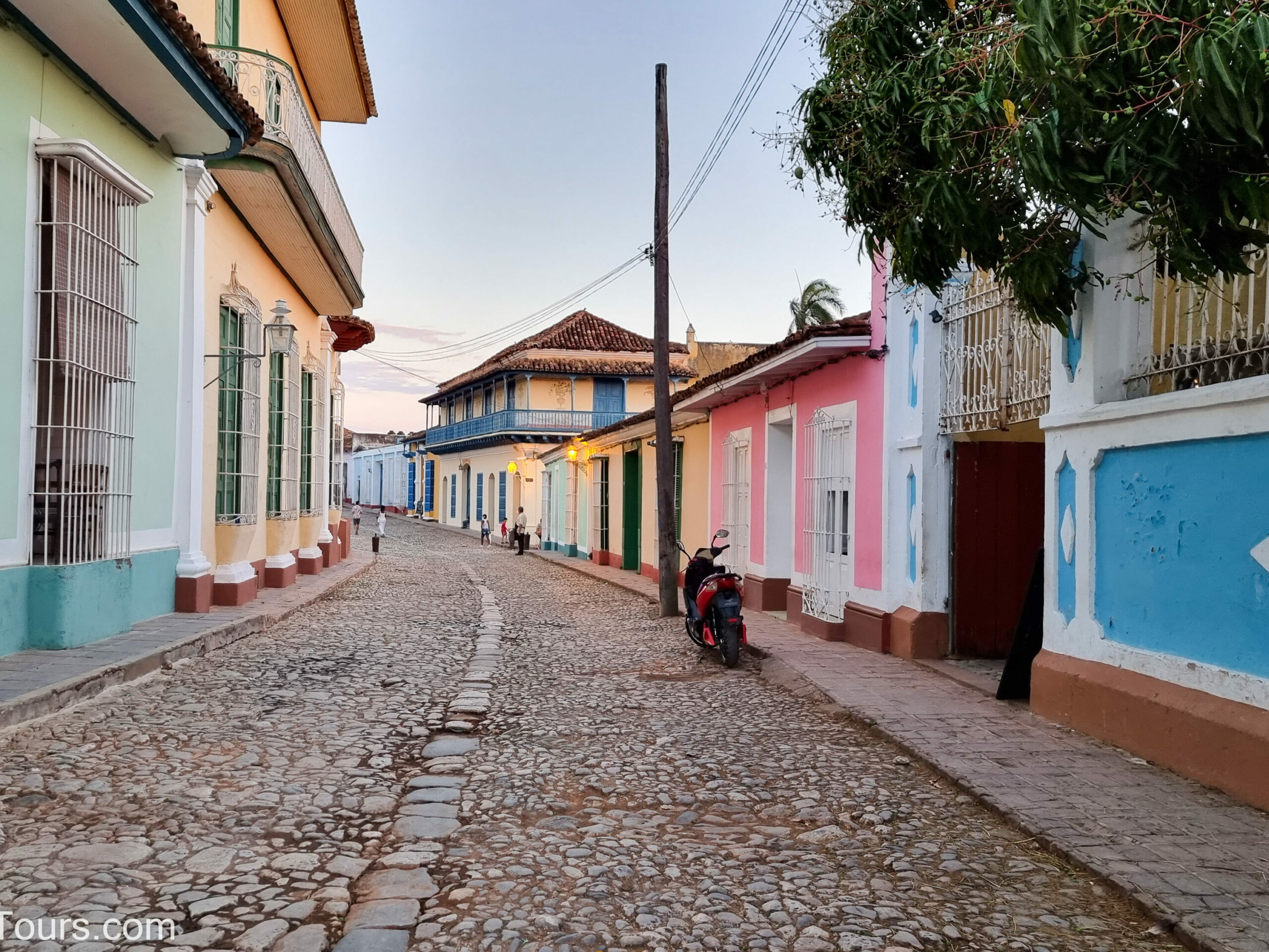 Trip Overview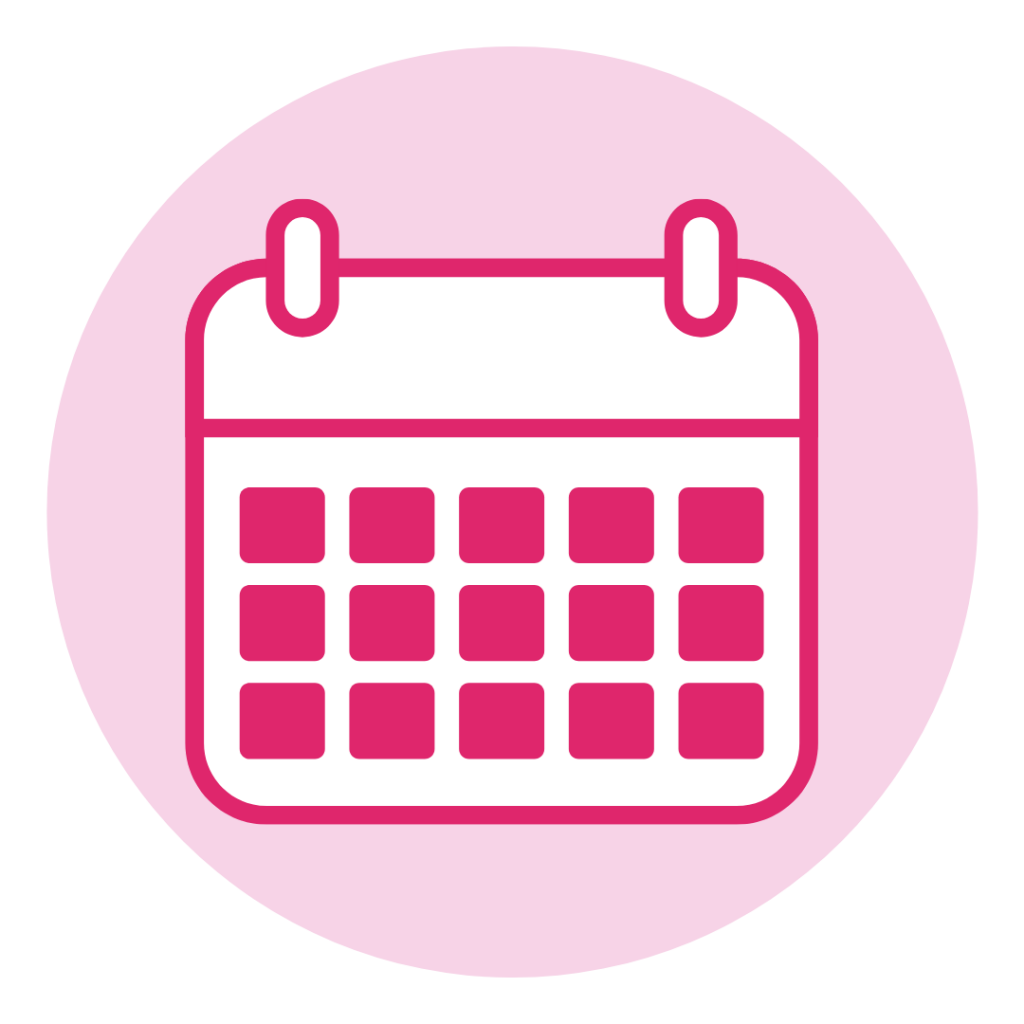 17 to 25 February, 2024 Photographer onboard – SOLD OUT
9 to 17 March, 2024
9 to 17 November, 2024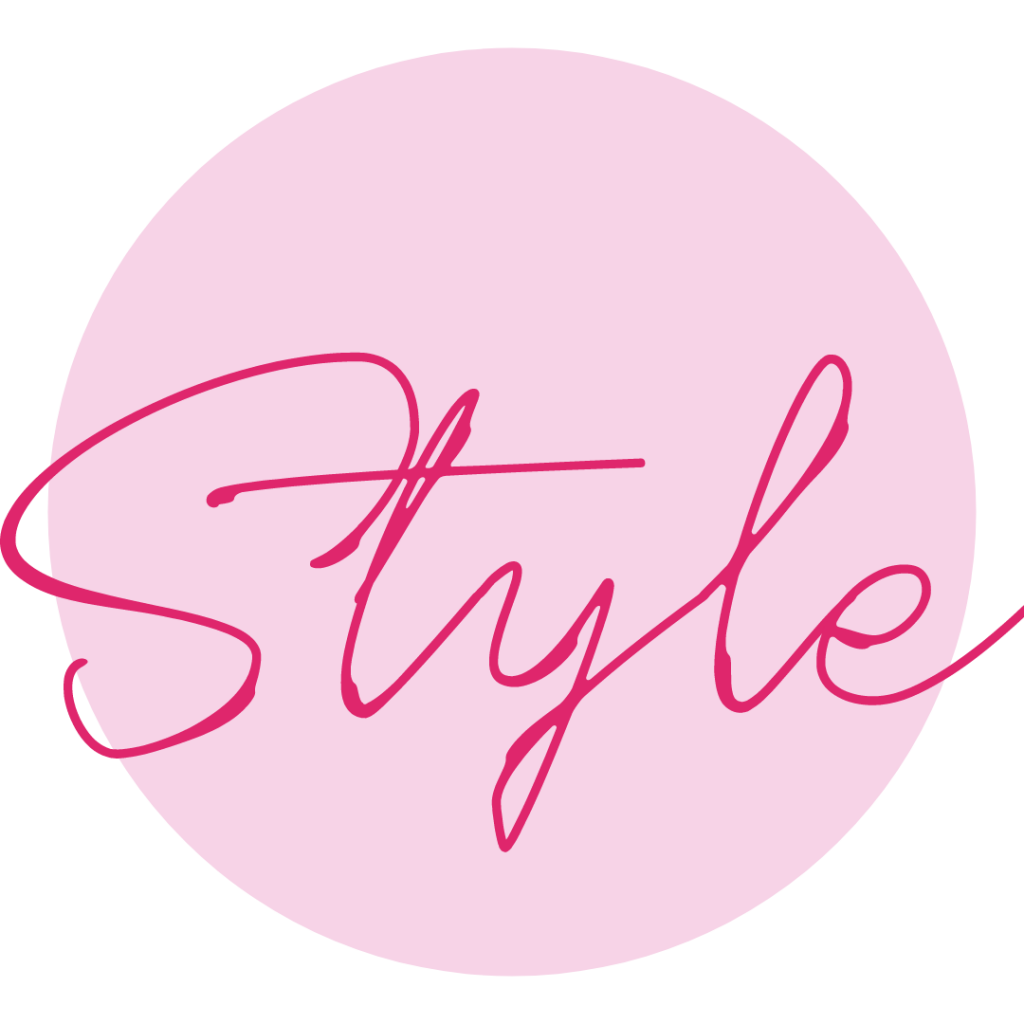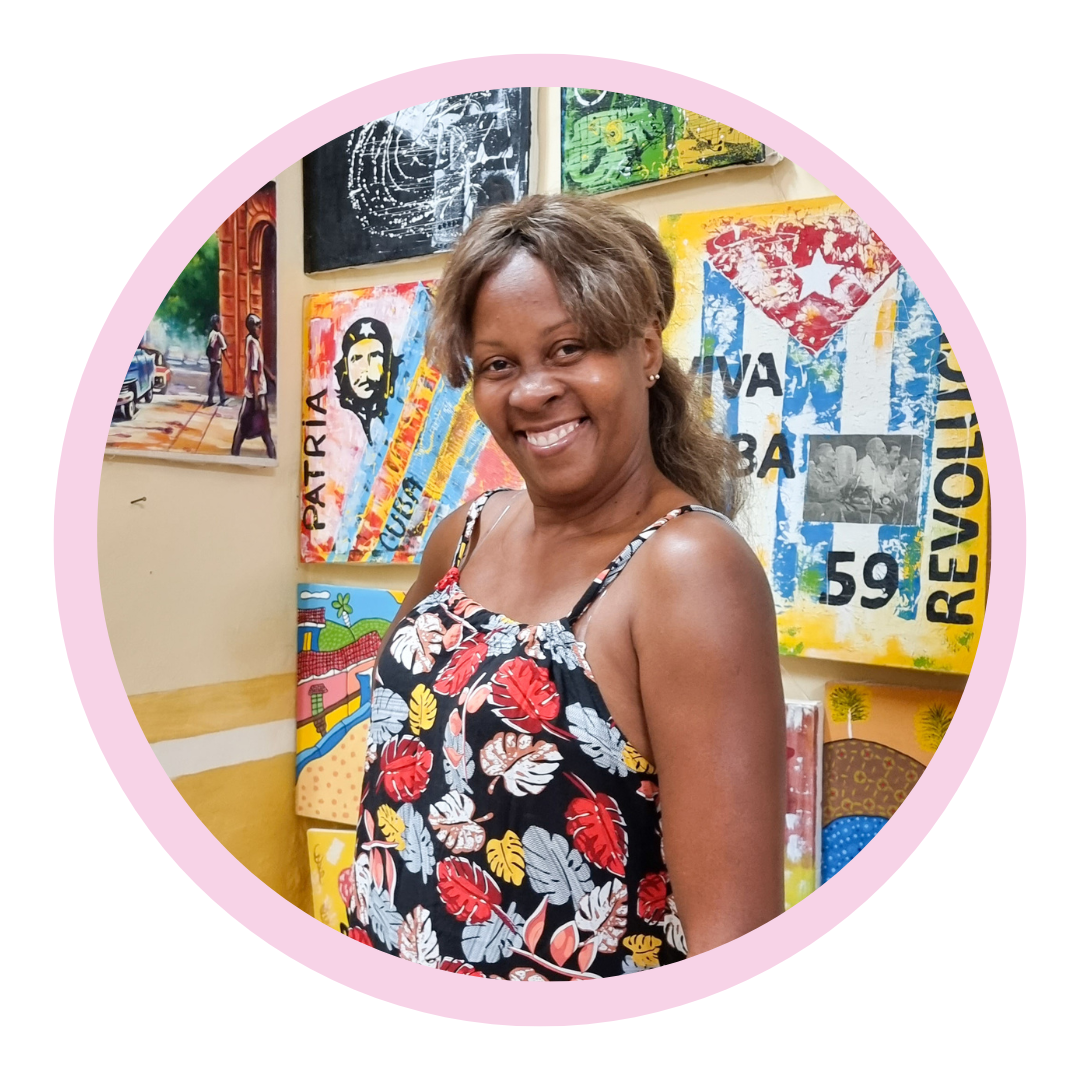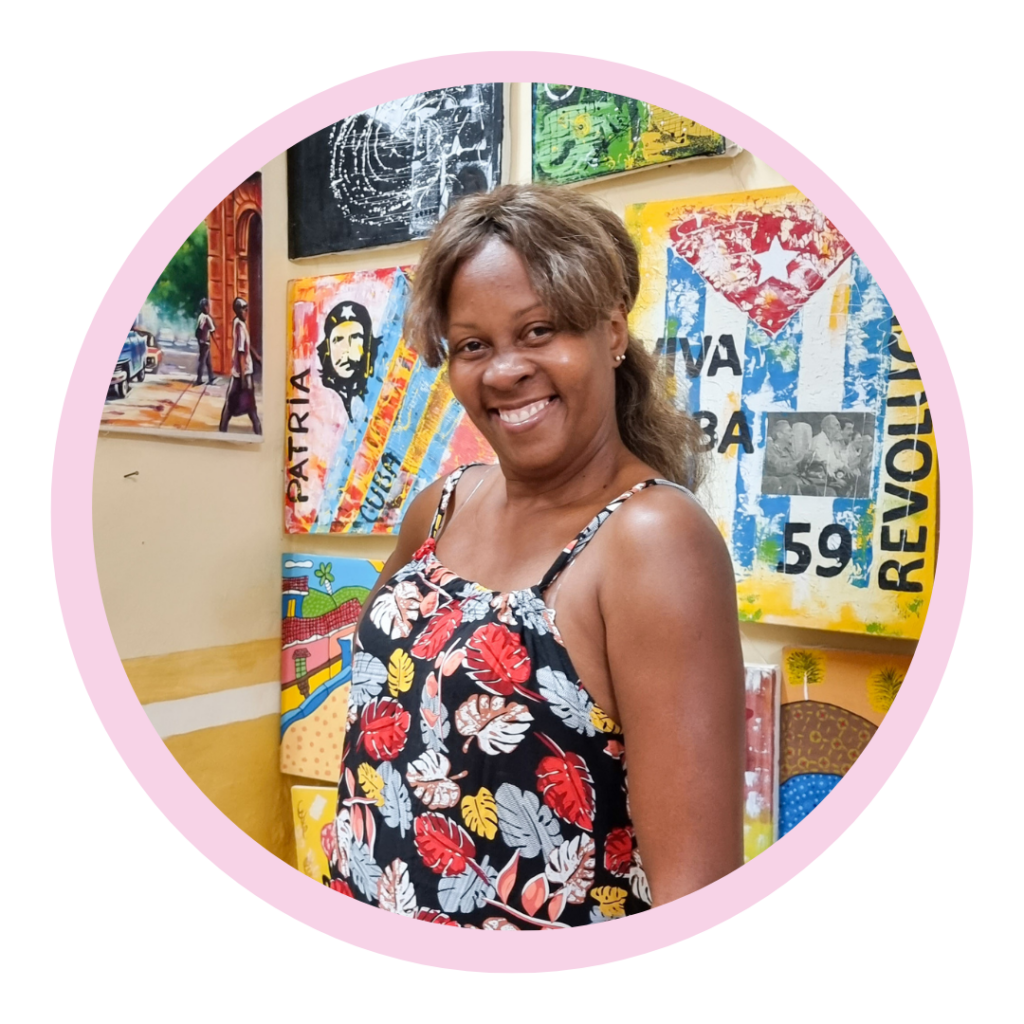 Yummet, our local host
Payment Plan
$3,195 USD pp sharing
Max. 14 guests
---
Where we will go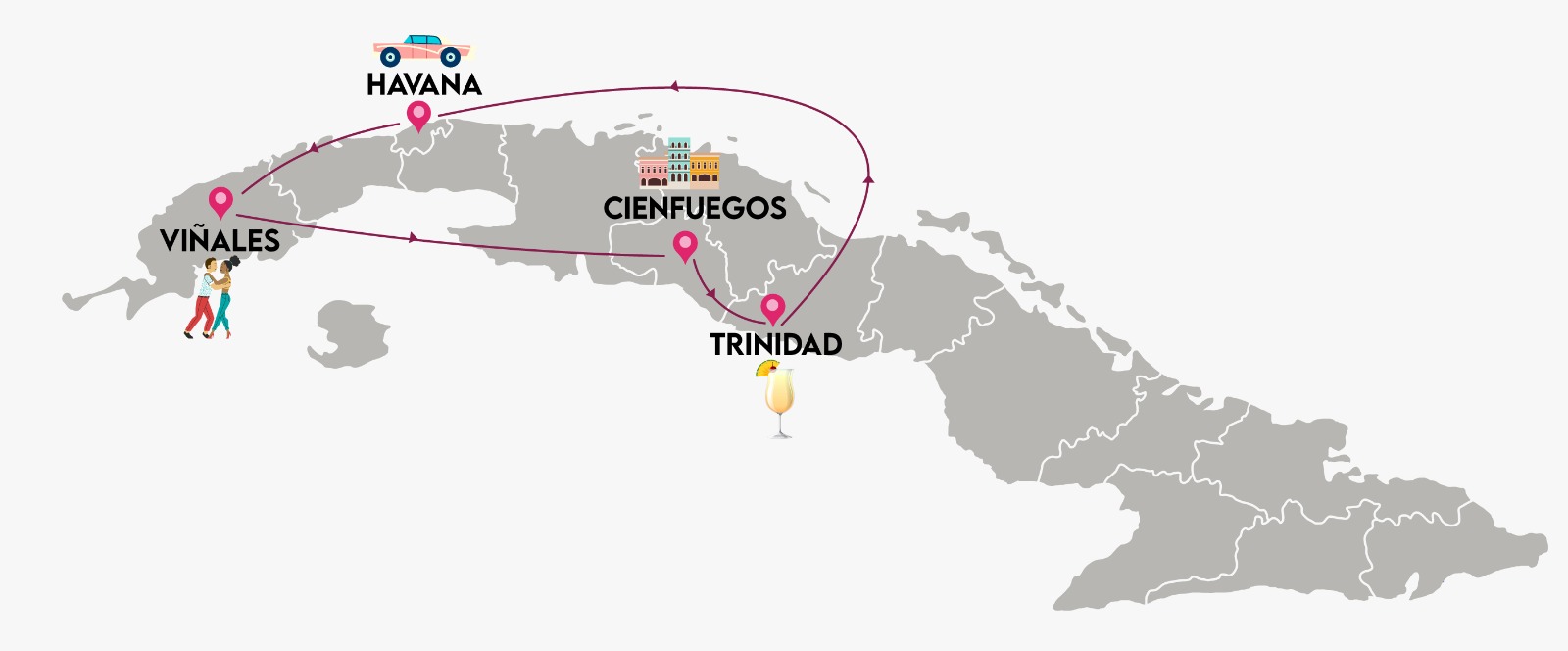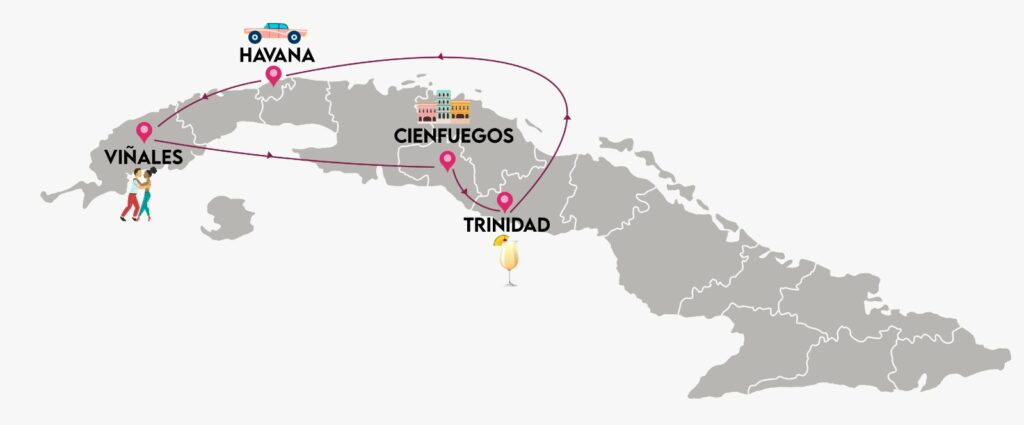 Day 1: Arrival in Havana and welcome dinner
Day 2: Habana Vieja and Classic car tour
Day 3: Cigars, Afro-Cuban religion and women entrepreneurs
Day 4: Viñales, salsa and farm visit
Day 5: Tobacco farm visit
Day 6: Cienfuegos, Trinidad artists and cocktails
Day 7: Cooking class, Trinidad and beach time
Day 8: Mafia tour and farewell dinner
Day 9: Departure
Please note: This trip requires a good level of fitness and mobility due to the many cobblestone streets, stairs and walking involved, and the lack of lifts in Cuba. Walking up 3-5 flights of stairs is common, as is walking on uneven surfaces and hiking.
All nationalities, including US citizens, can join our tour. US passport holders are able to join under the premise of Helping the Cuban people and we can provide necessary documentation. For this reason, we will not be staying at hotels but in a mix of hand-picked bed & breakfasts in Havana and Trinidad, and private homes in Viñales, Cienfuegos, where we will be split across several nearby Casa particulares and stay with local families.
---
Detailed Itinerary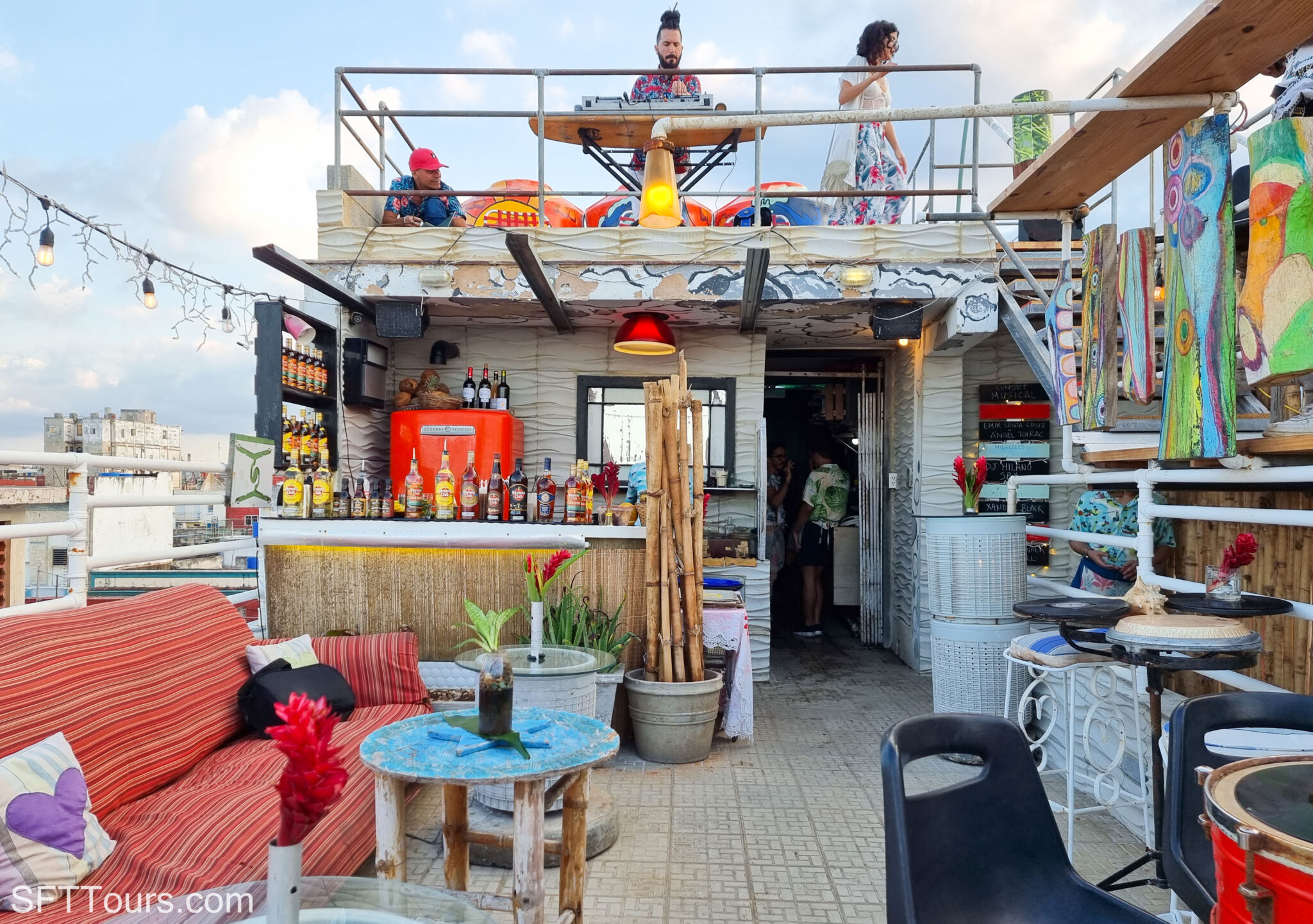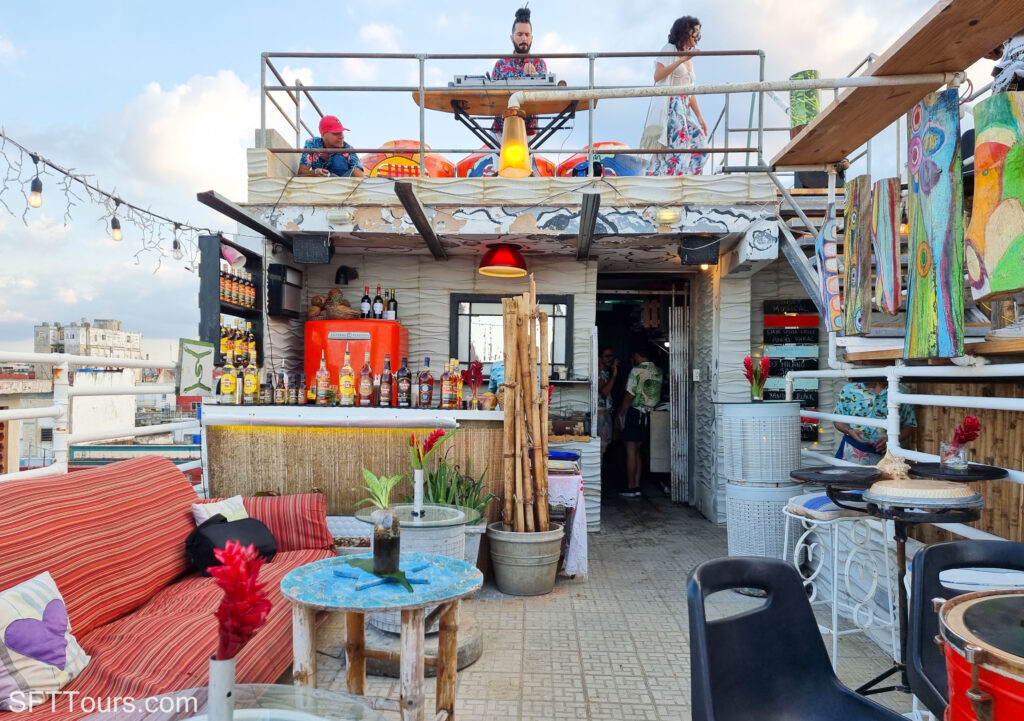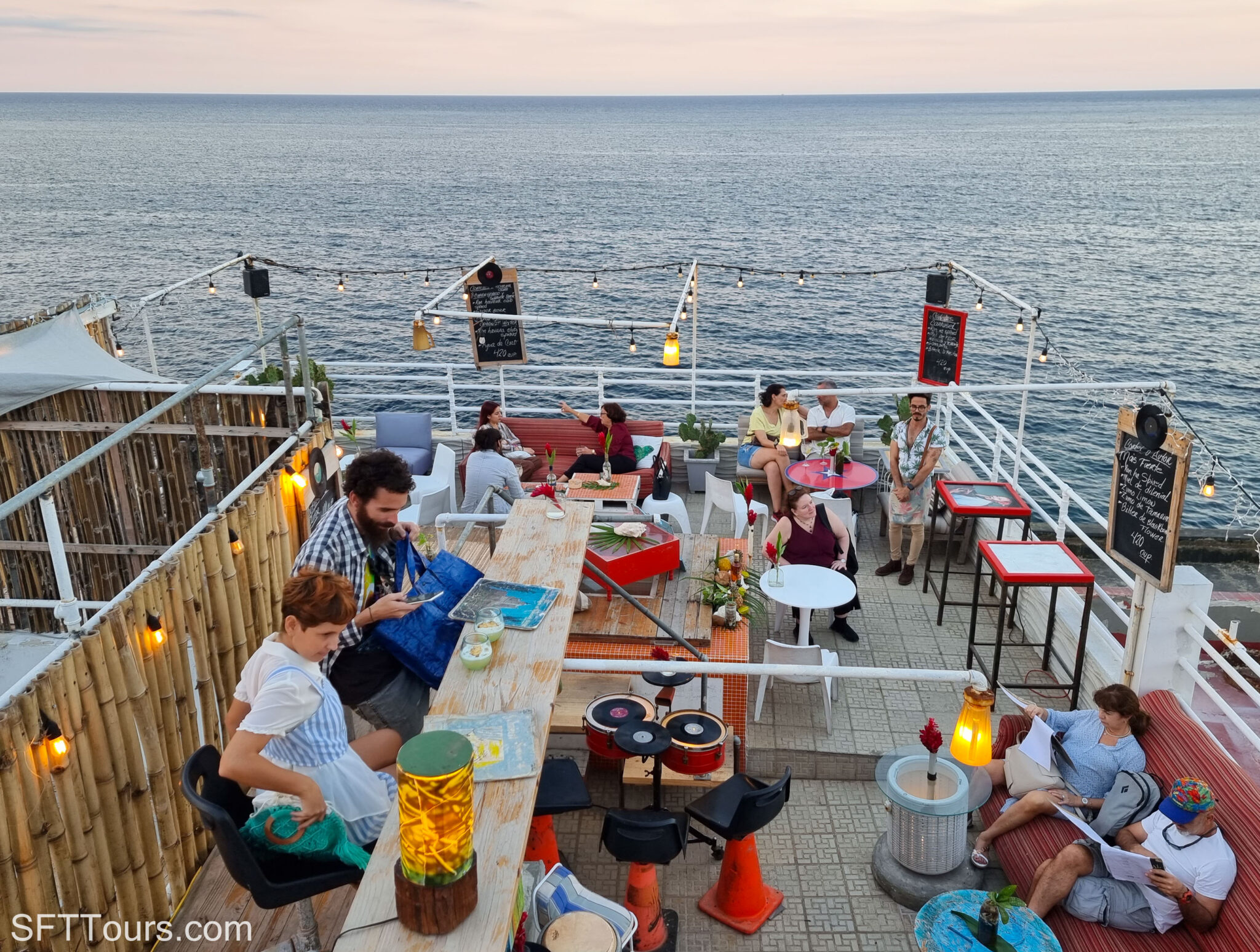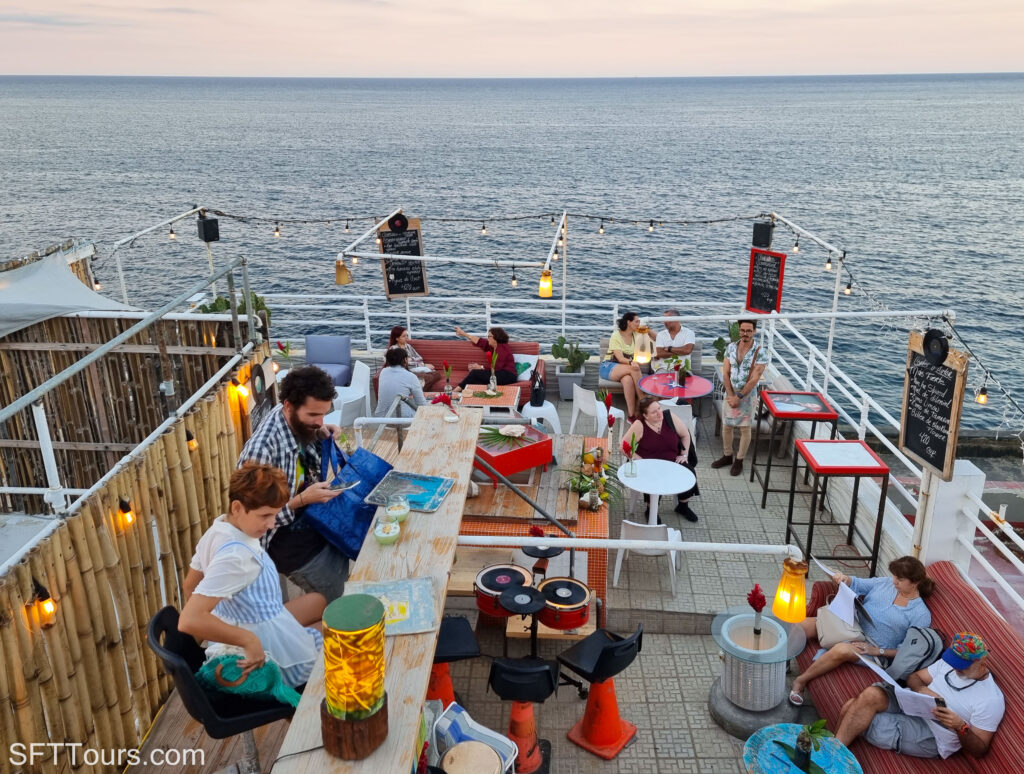 Day 1 : Arrive in Havana
On arrival, you'll be picked up by our private driver and taken to the hotel in Habana Vieja where you will be greeted with a welcome drink, a good opportunity to familiarise yourself with Cuba's many famous drinks or a fab fresh juice.
Note: The pick up could be jointly with other guests arriving at a similar time.
We will meet around 5pm with the rest of the guests for a briefing and introduction and get to know each other.
Our transport will be ready to head to our evening rooftop dinner on the Malecon; think sea views and the best tunes as the sun sets over Havana. This is a great way to get into the right mood for the fantastic week ahead.
Inclusions: Welcome drink and dinner. Transports to and from dinner.
Overnight at La Posada de Chacon or Vieja Habana 3.5*
We have hand-picked these two upscale B&B's in Habana Vieja after visiting dozens of properties, for their location, service, and amenities.
La Posada de Chacon is female owned, decorated with traditional colonial furniture and located in an old building in Havana very near the Capitol building. Rooms are spread on two floors and the concierge staff is extremely friendly and helpful, ready to change money, offer a drink or give recommendations.
Vieja Habana is a newly opened B&B with one of the loveliest terraces in Havana and modern looks. Rooms have sleek furniture and face a bright patio flooded with light.
Both accommodations offer ensuite bathrooms, AC, hair driers, high pressure showers, in-room safe, free WiFi for guests and continental breakfast with eggs made to order.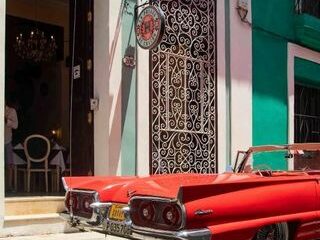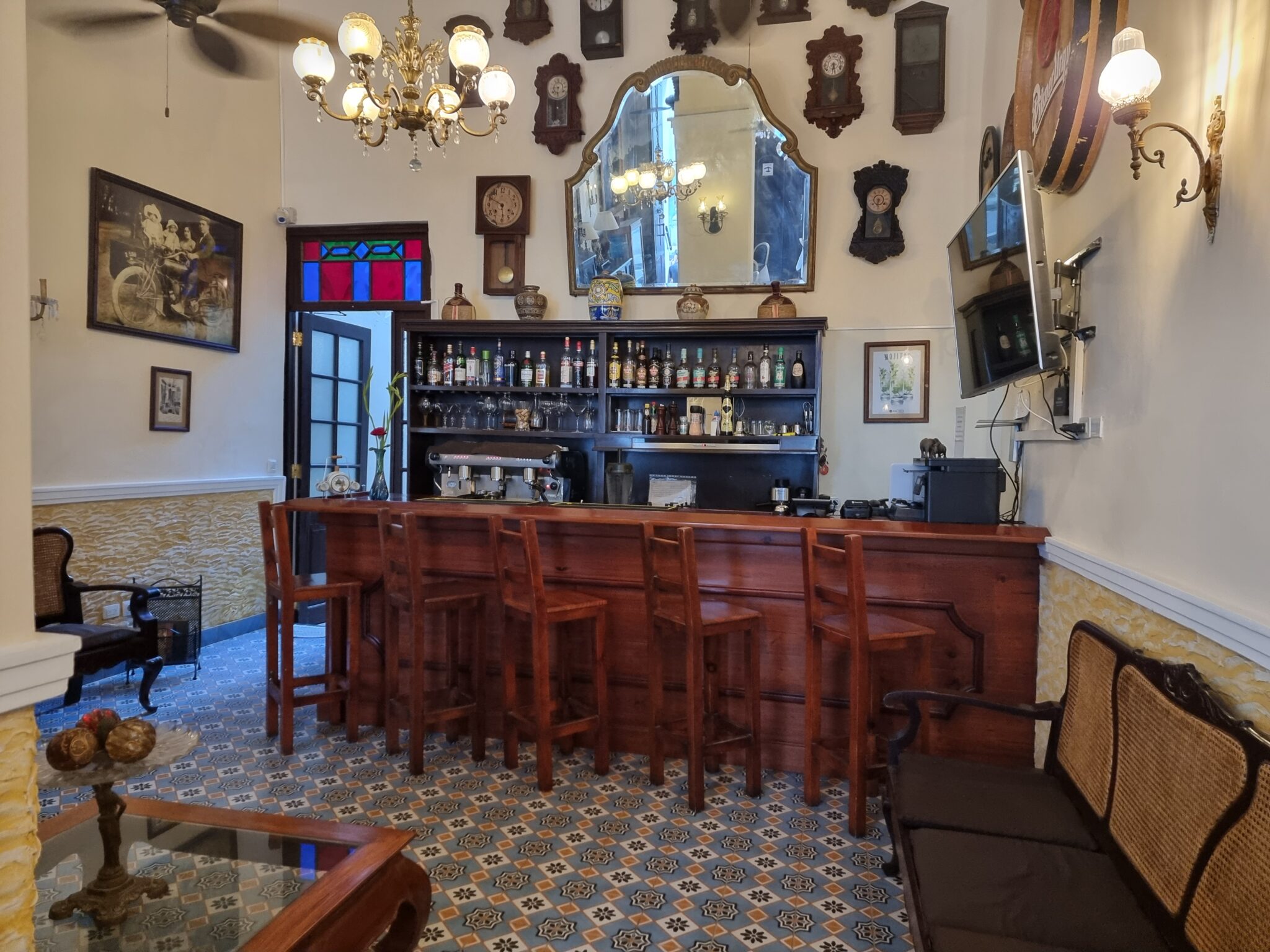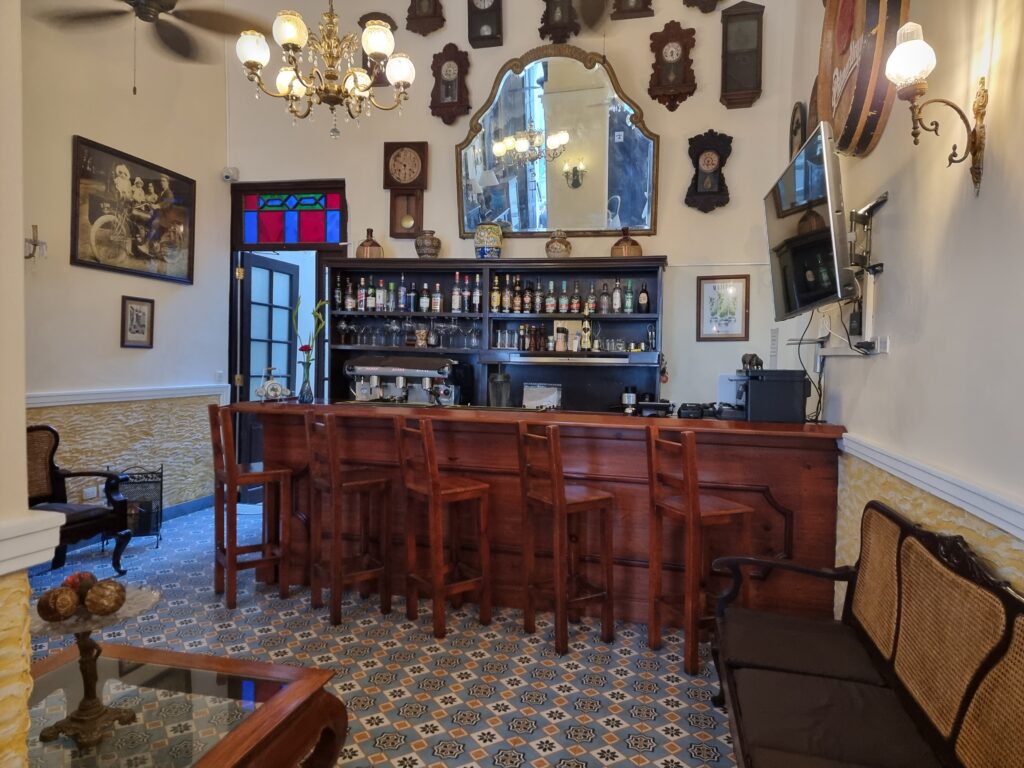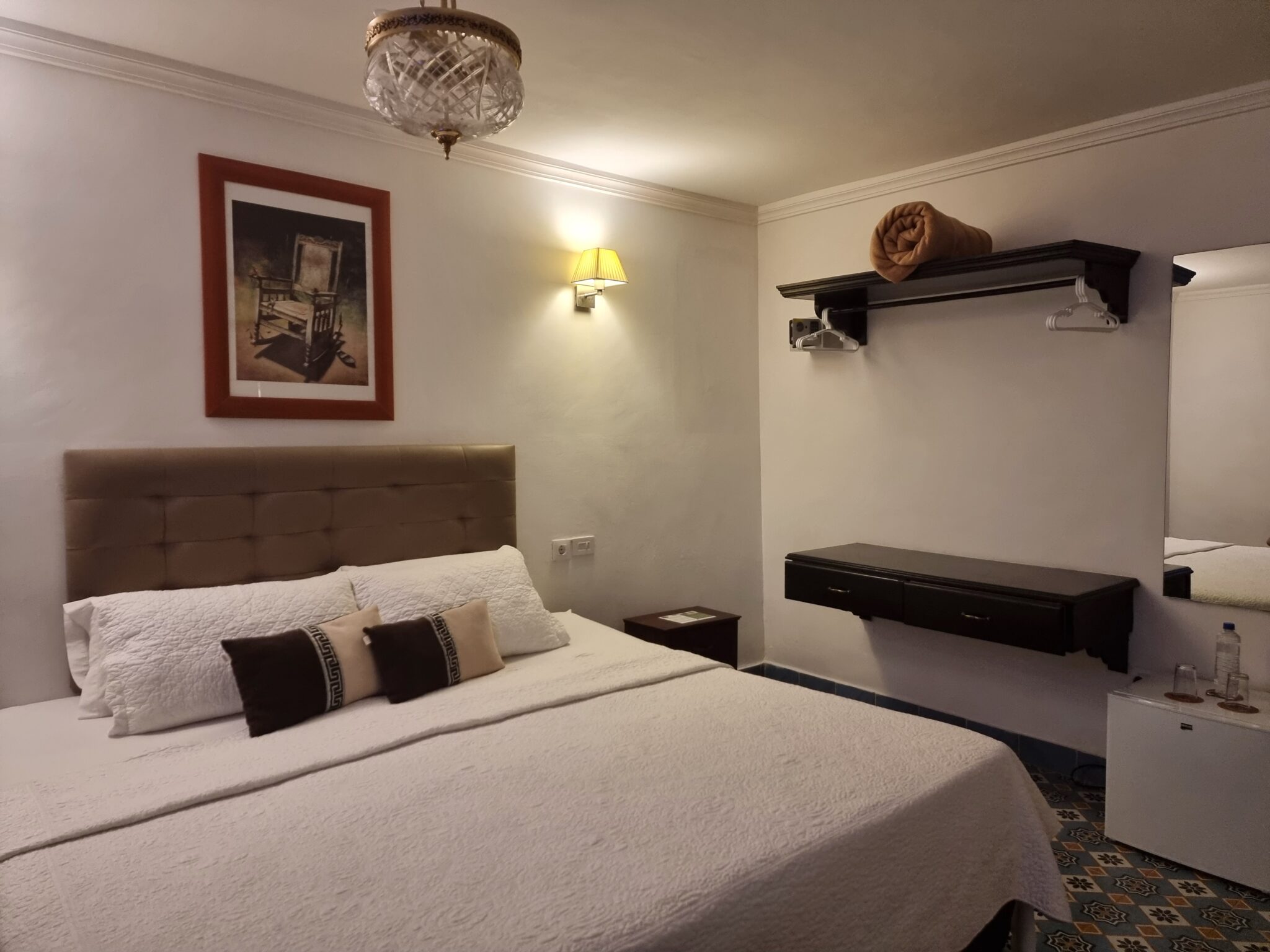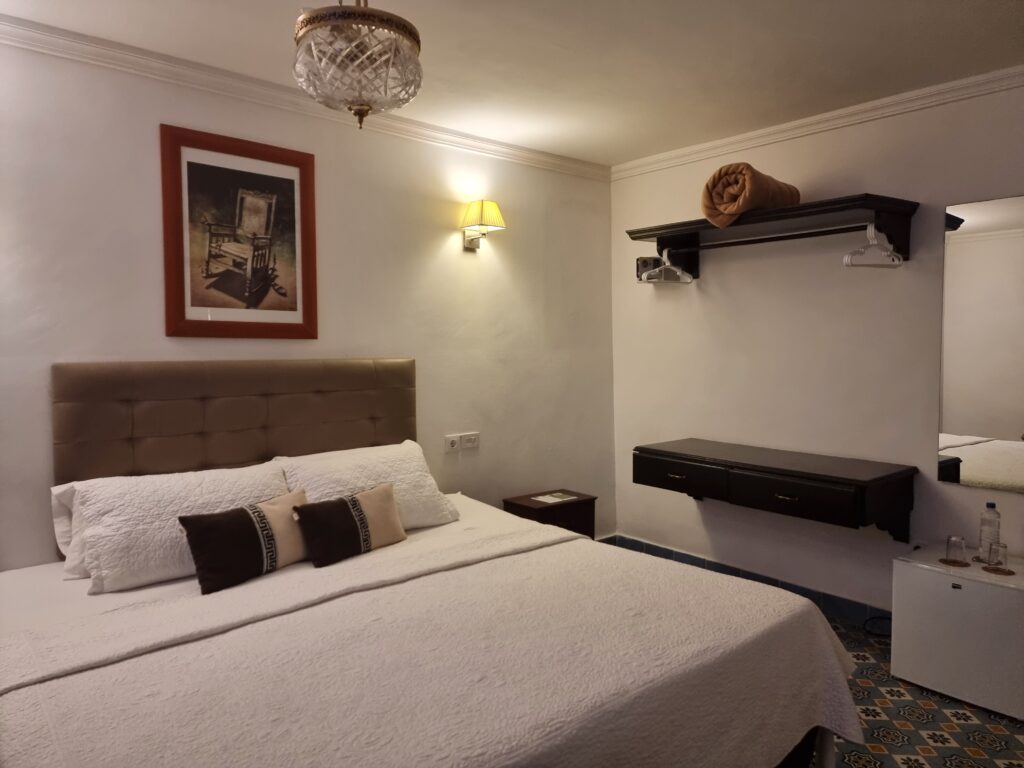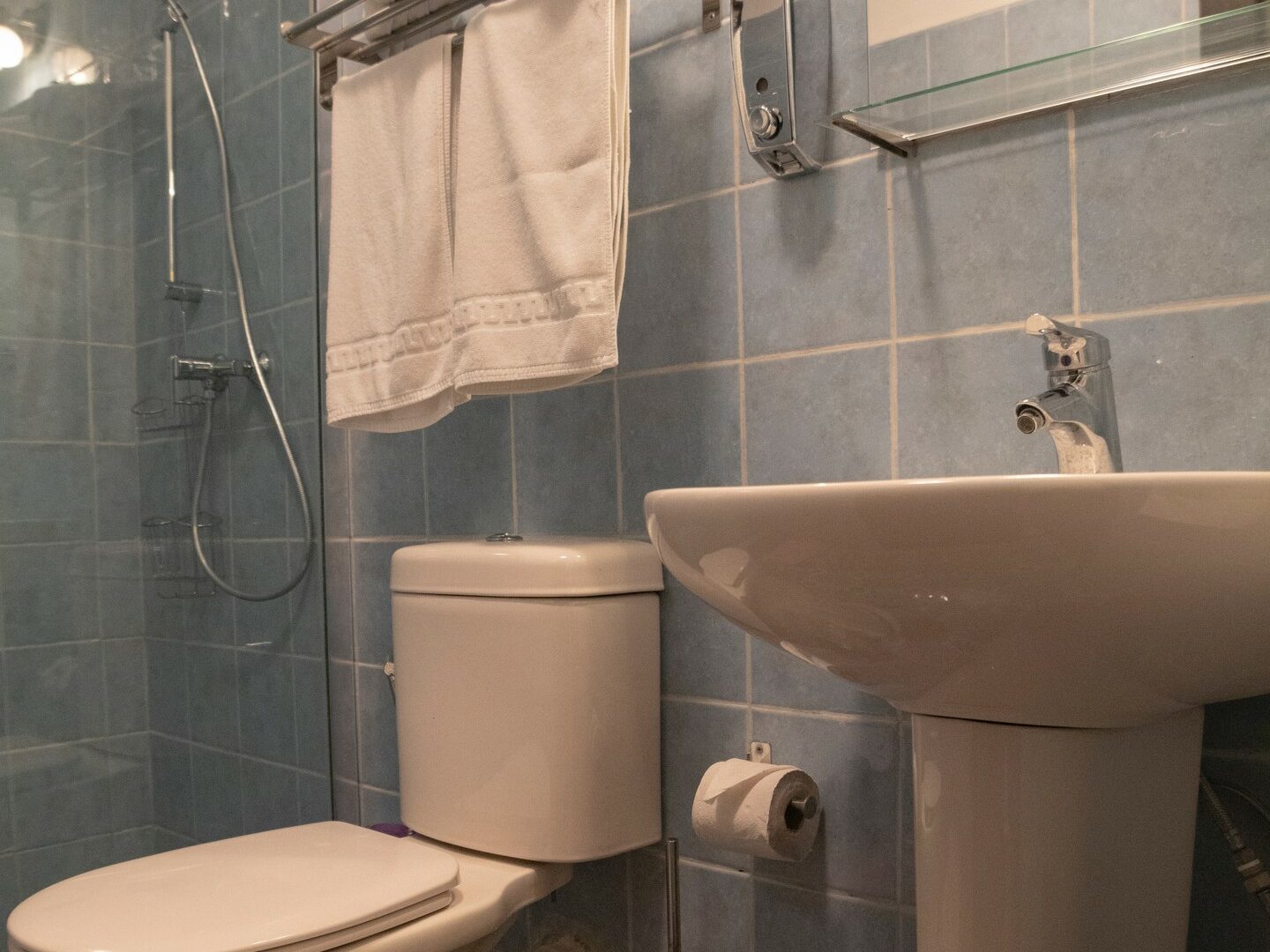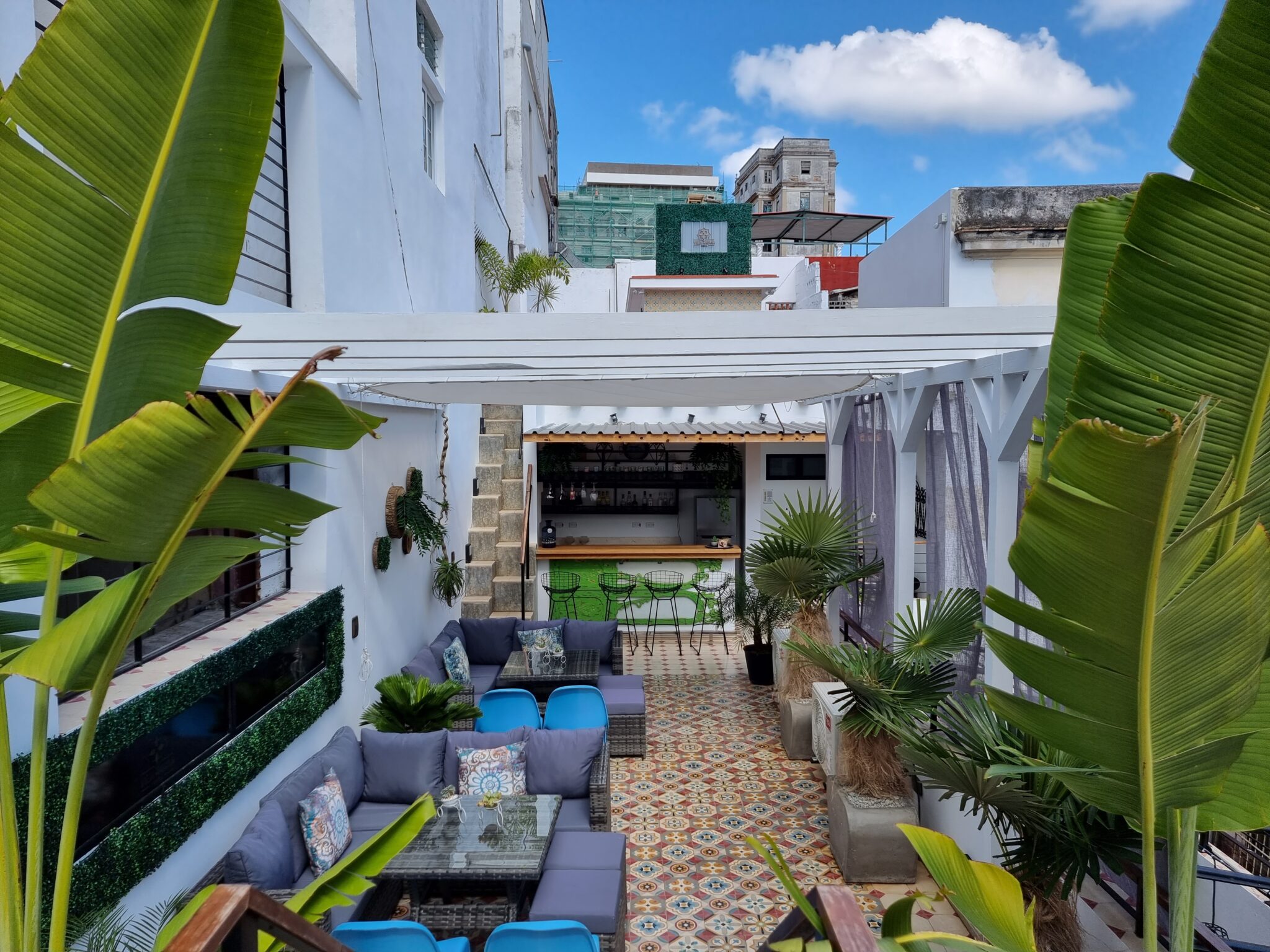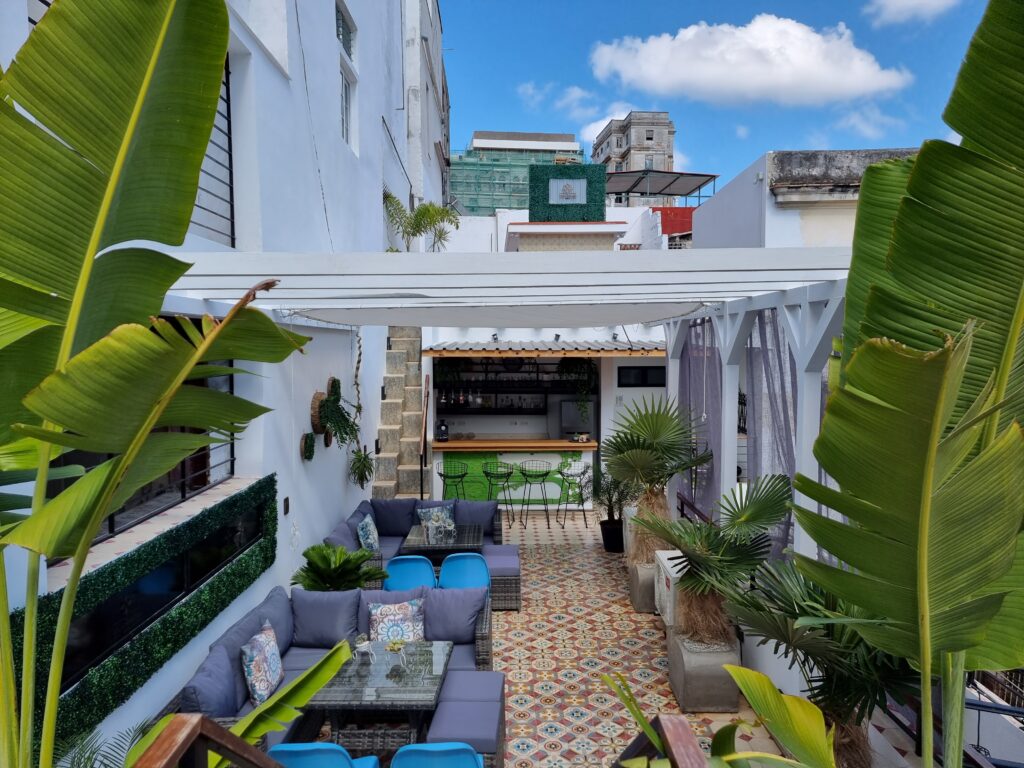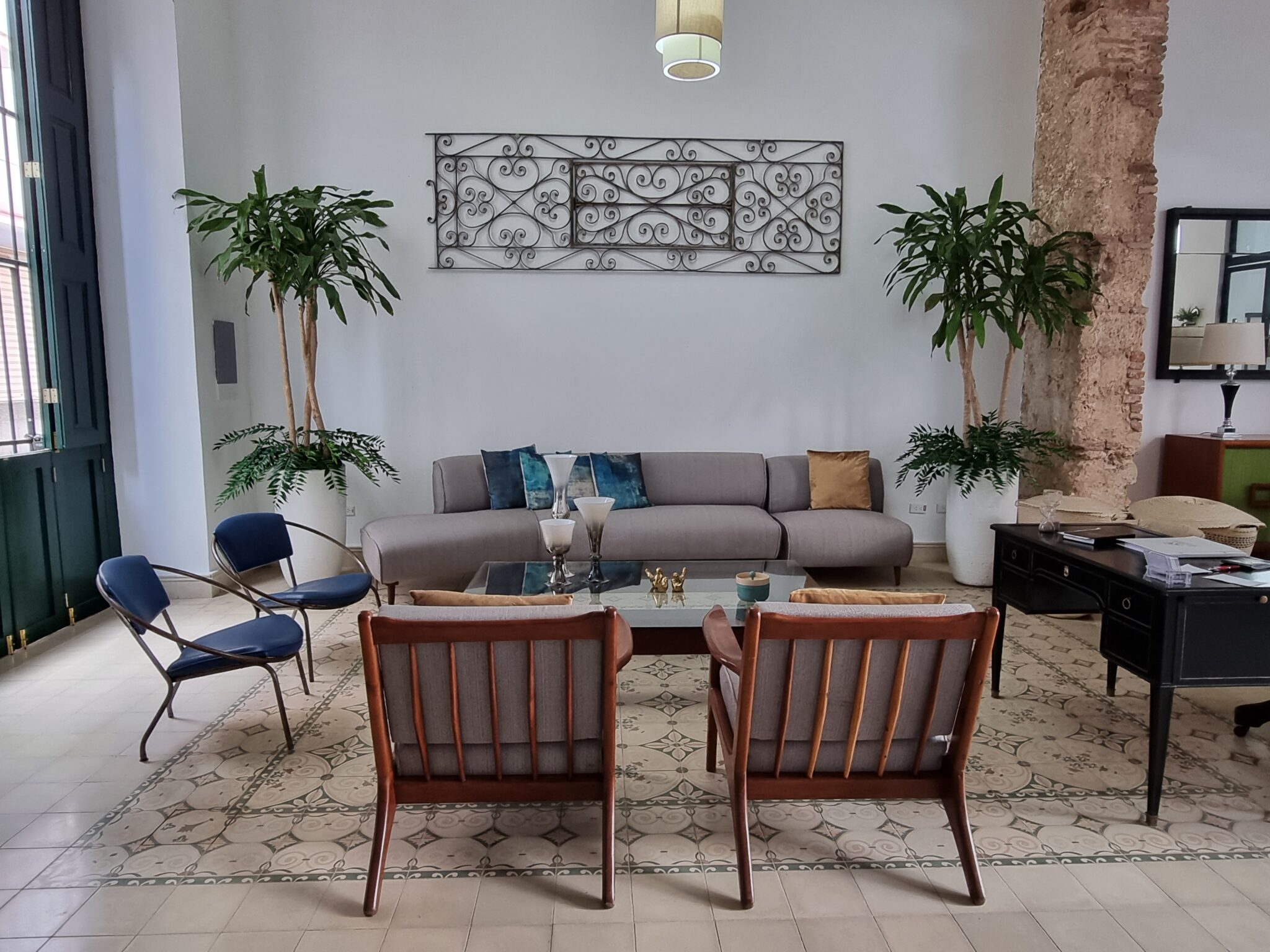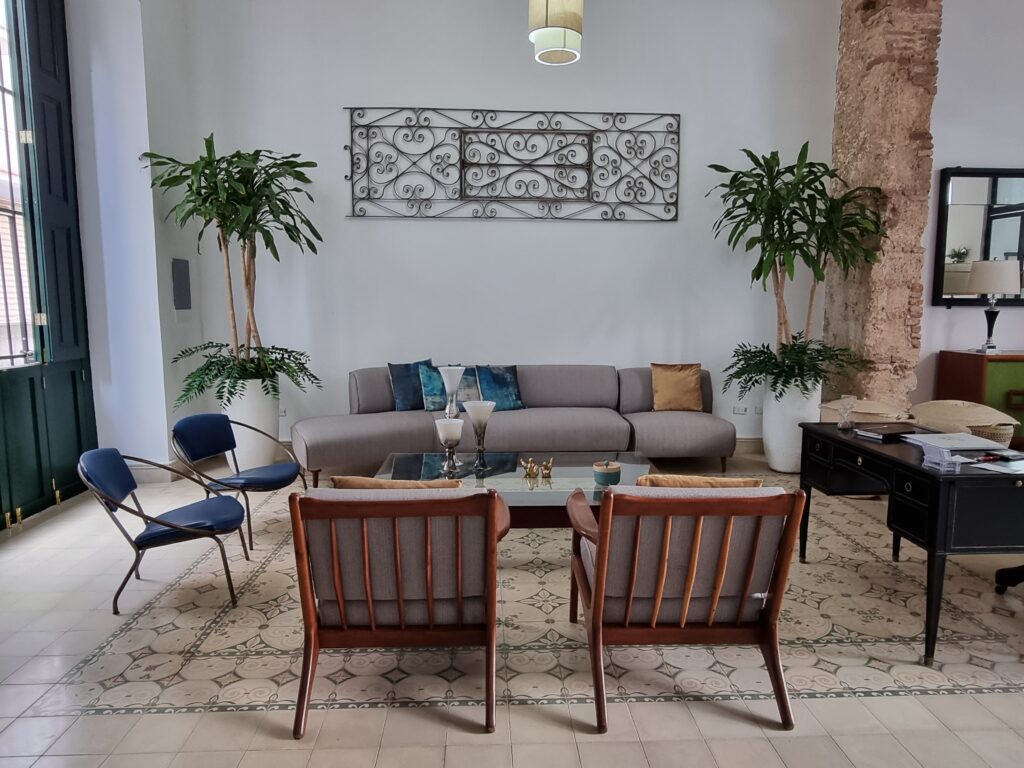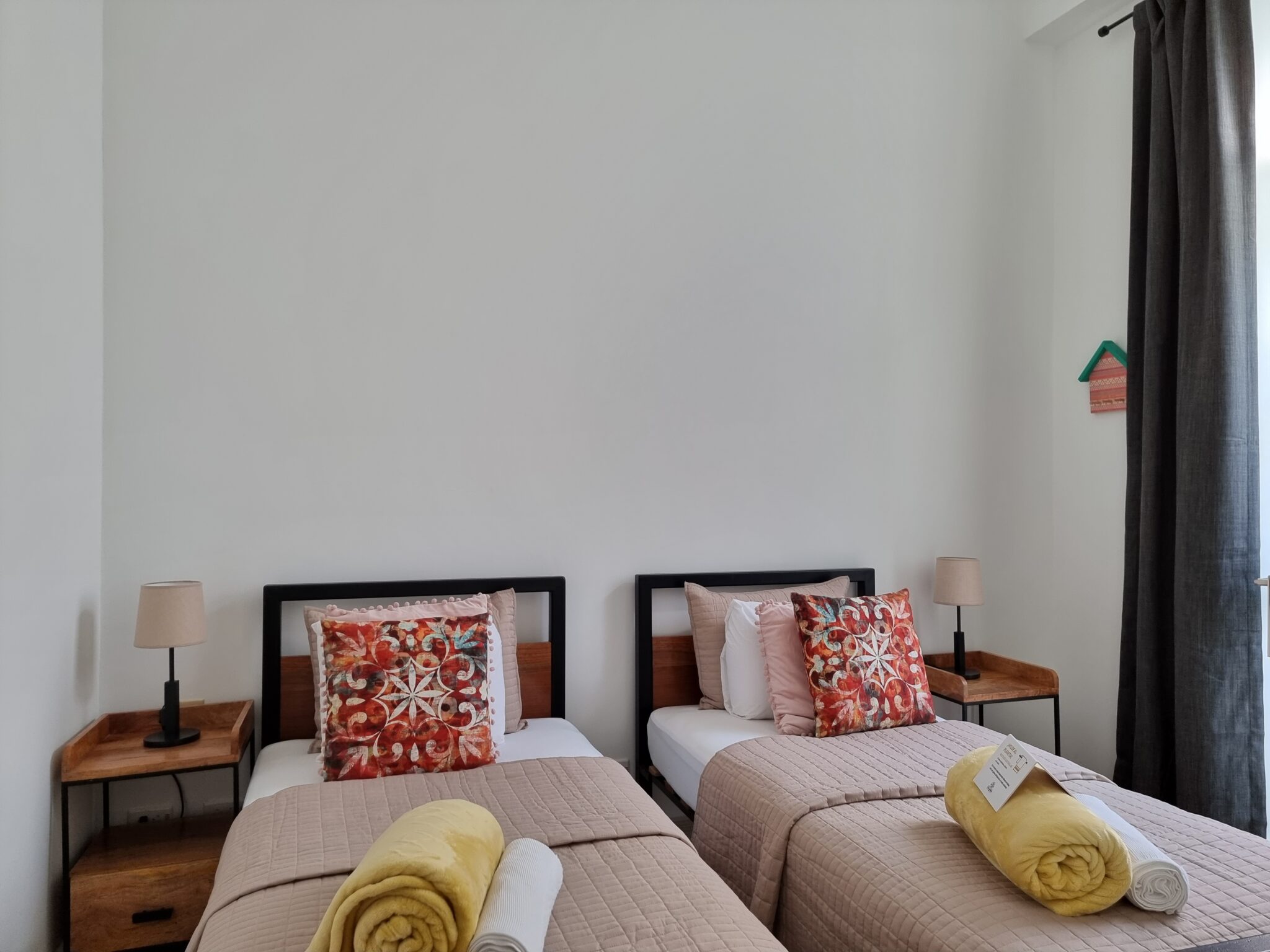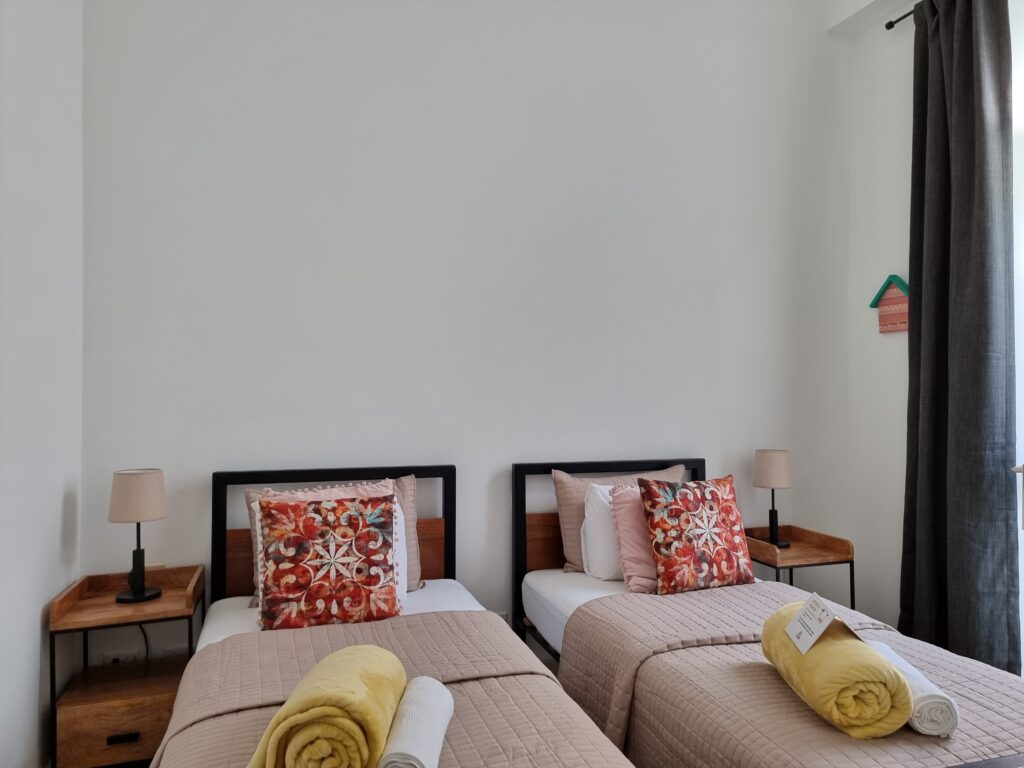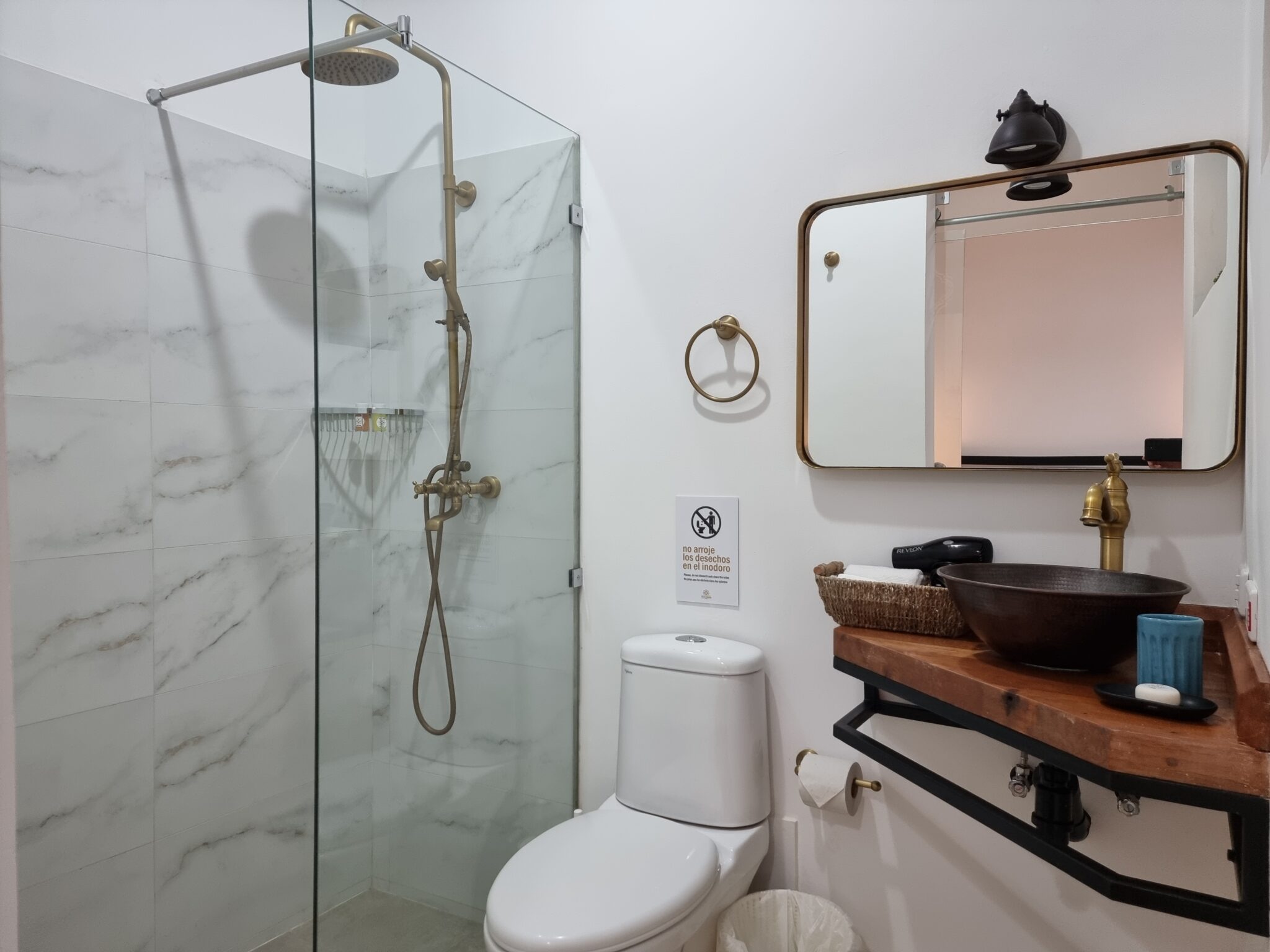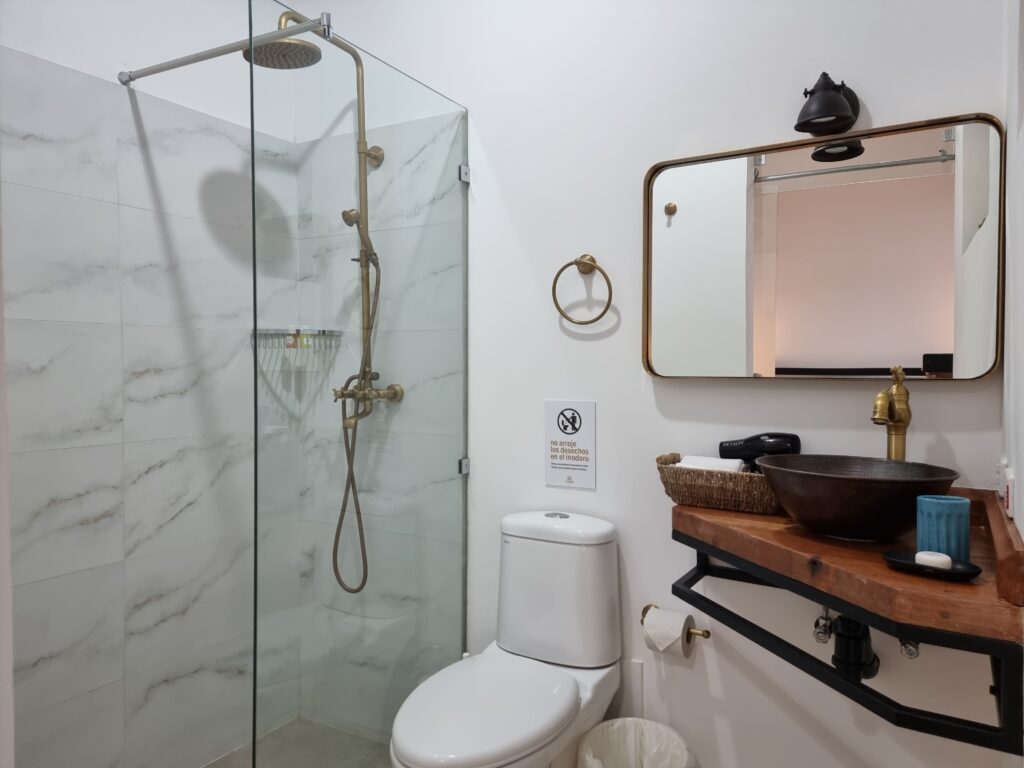 ---
Day 2 : Habana Vieja
Today is all about exploring Habana Vieja on foot, learning more about Cuba's history and colonial heritage, and sampling street food, as we meet several female owned businesses and learn about their journey in Cuba's incipient private entrepreneurship laws.
We will start our tour at our accommodation and venture into Havana's four main squares with stops through the country's history in a chronological manner.
Admire the incredible architecture of Old Havana and its pastel colored buildings that blend Art Deco, Art Nouveau and Neo-classical styles effortlessly and beautifully.
On the way, we will stop to sample various kinds of street food sold by street vendors, on carts in plazas and corners, or at hole-in-the-wall paladares and other casual eateries.
We will also stop at two main female owned businesses to learn more about their projects and journeys.
The first one brings together a variety of female artists and artisans selling their goods under one roof (get ready to find the cutest and most fabulous souvenirs!). You'll find children's books, jewelry, accessories, bags and more.
The second one is a fashion designer boutique started by three friends that sells beautiful tropical, Cuban-inspired clothing that would feel right at home in the pages of Elle magazine. We guarantee you'll want to buy something to show off back home.
We will finish our food tour with dessert and drinks at the fashion store as we meet the founders, the sewing team, and maybe try on their beautiful clothes (Japanese inspired cape anyone?!).
If time permits, we will go back to the B&B to freshen up and get changed into fabulous clothes for the classic car tour which will continue through to sunset, for those golden hour hues.
Our photographer will capture every moment of the ride.
Note: On departures where there is no photographer onboard, we will hire one for the classic car tour.
We'll cruise through Vedado, Centro Habana and beyond and see it all from the back of beautiful classic American cars that were brought into Cuba in the 1950s and 1960s.
These cars are considered national heritage and cannot be taken out of the country. Their owners painstakingly care for them and have found a way to keep them up and running in top condition despite the lack of spare parts.
After the ride, we will return to the hotel and freshen up for dinner nearby at a cool and glam local restaurant.
The night is young and you can venture off on your own to La Bodeguita del Medio, birth of the Cuban mojito, or to La Floridita, birthplace of the Cuban Daiquiri.
Inclusions: Breakfast at the hotel, lunch en route through several street food stops with dessert and drinks, classic car tour with photographer, meet and greet with two female owned business owners, dinner in Old Havana.
Overnight at Posada Chacon or Vieja Habana.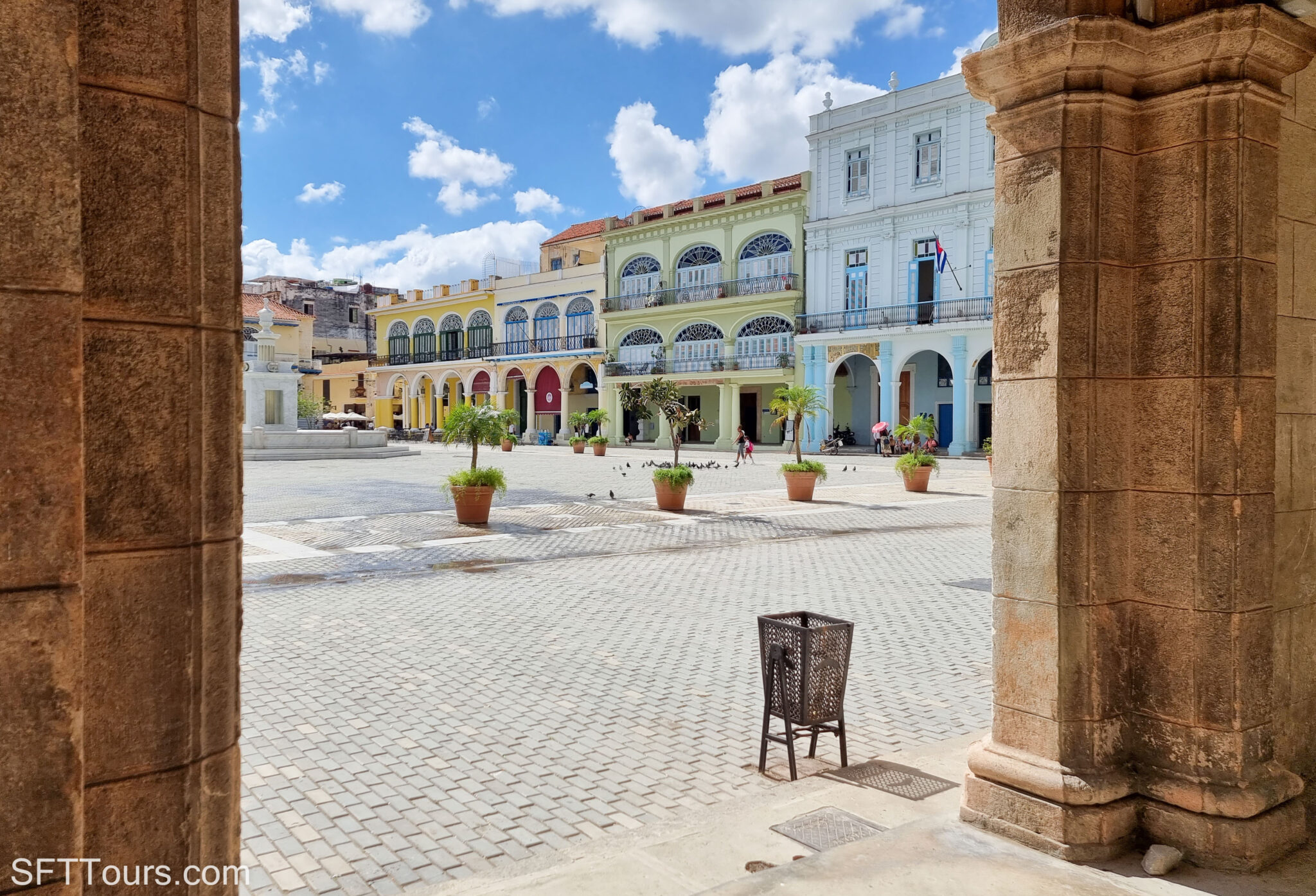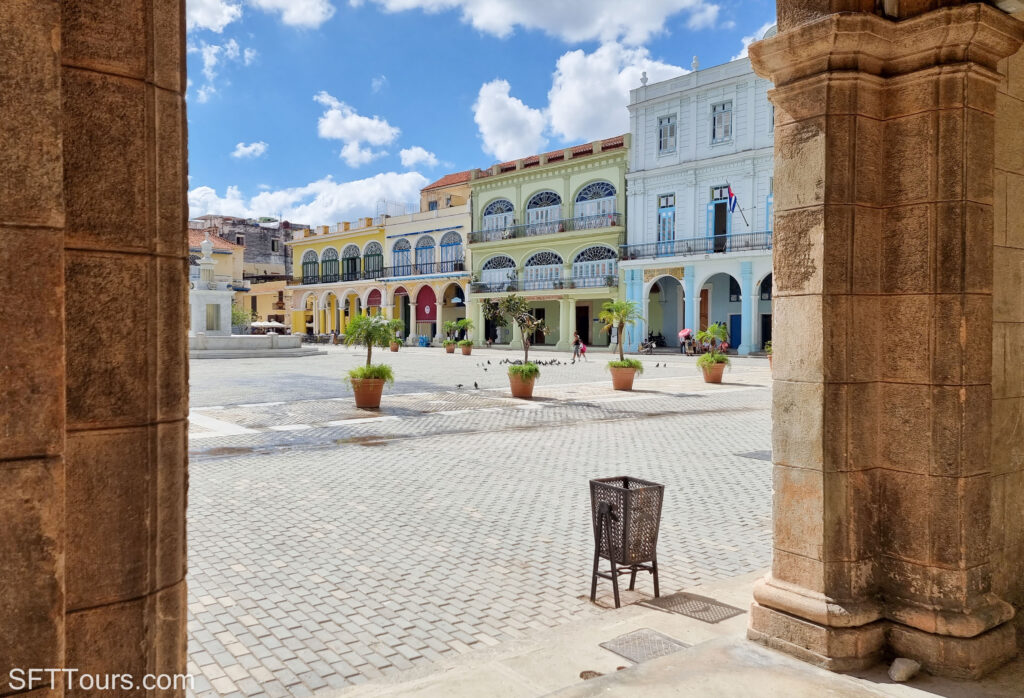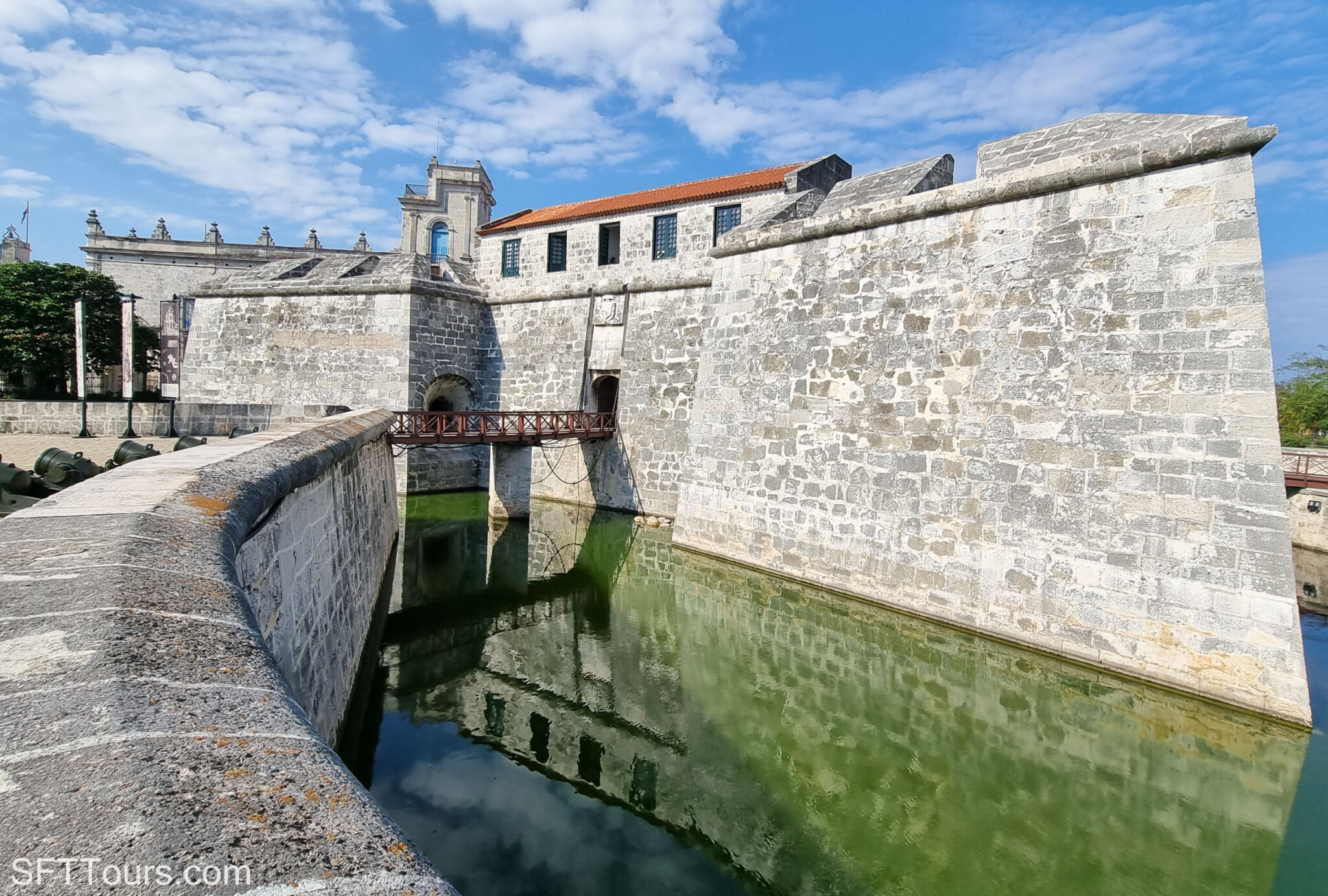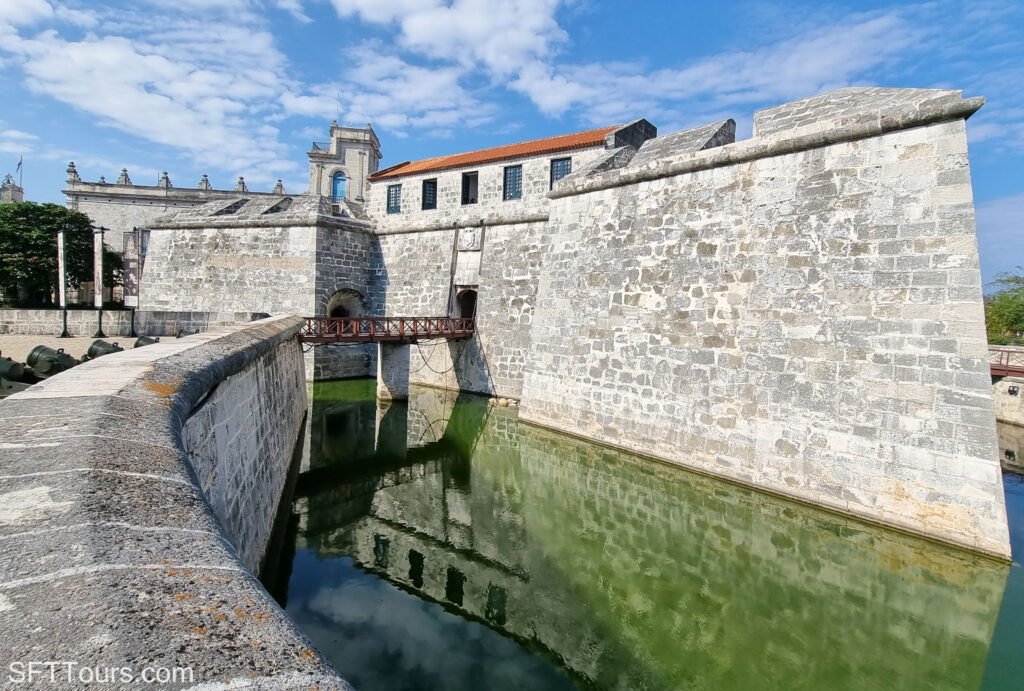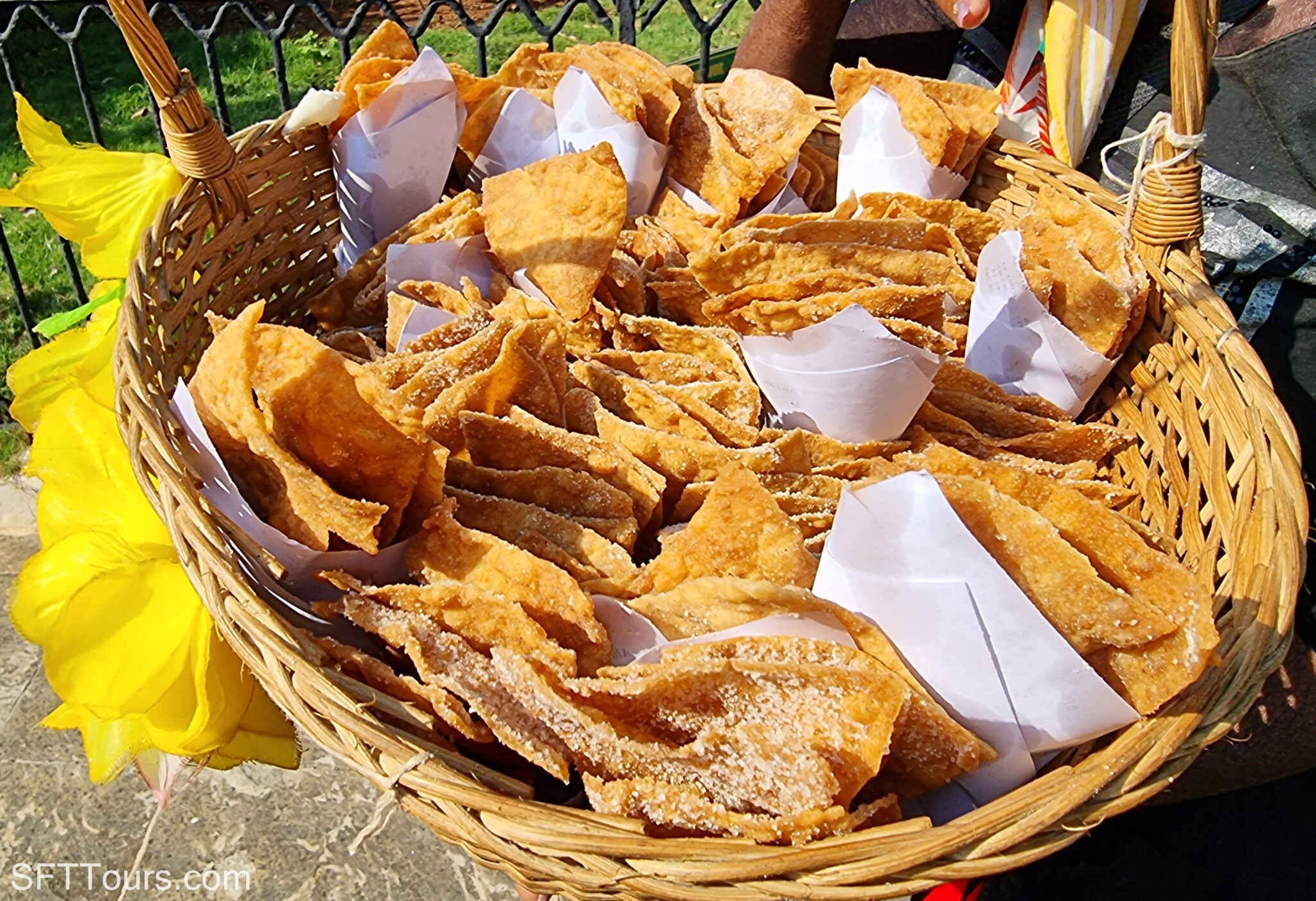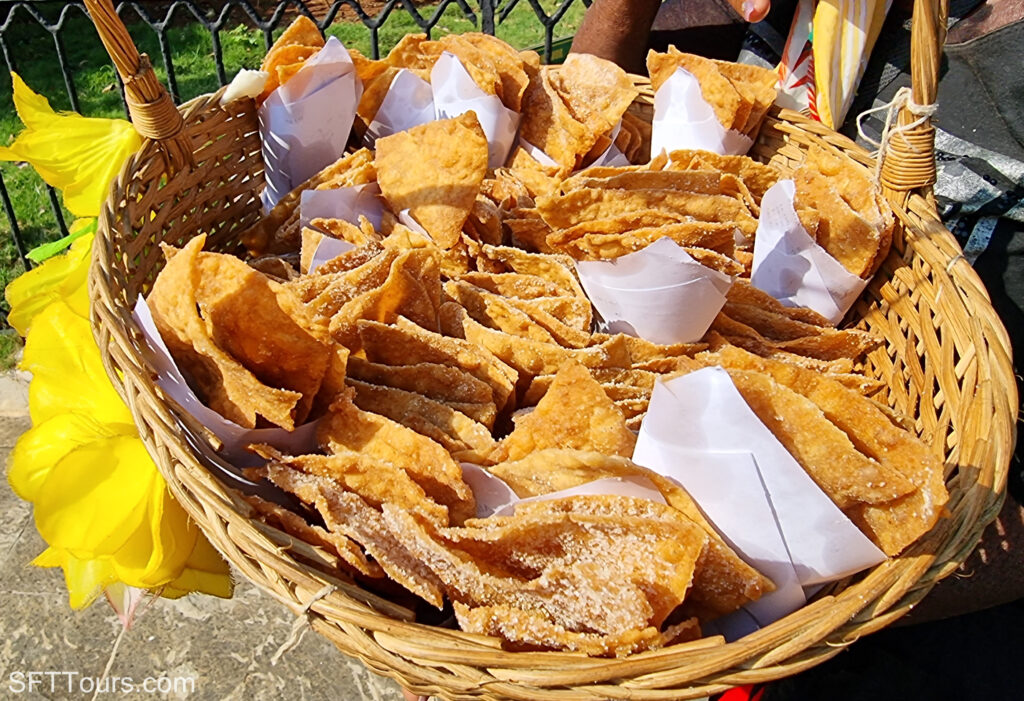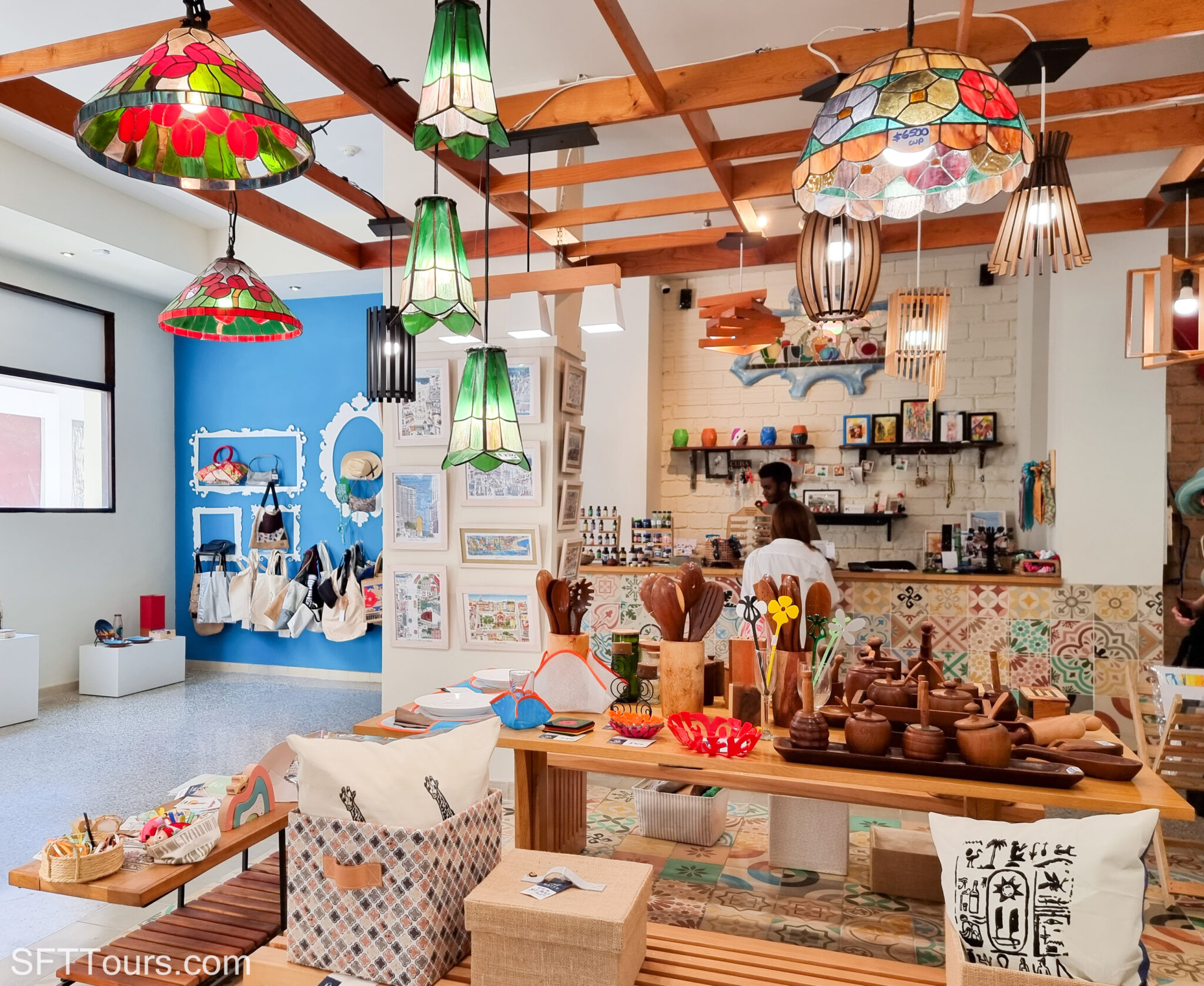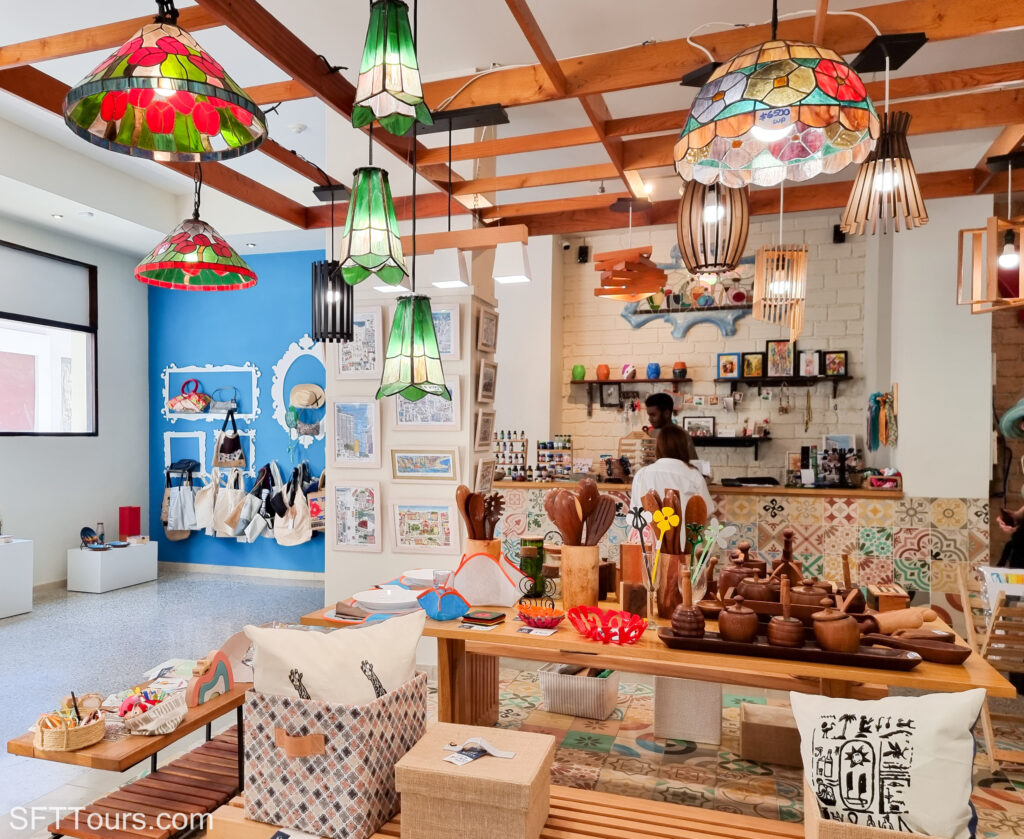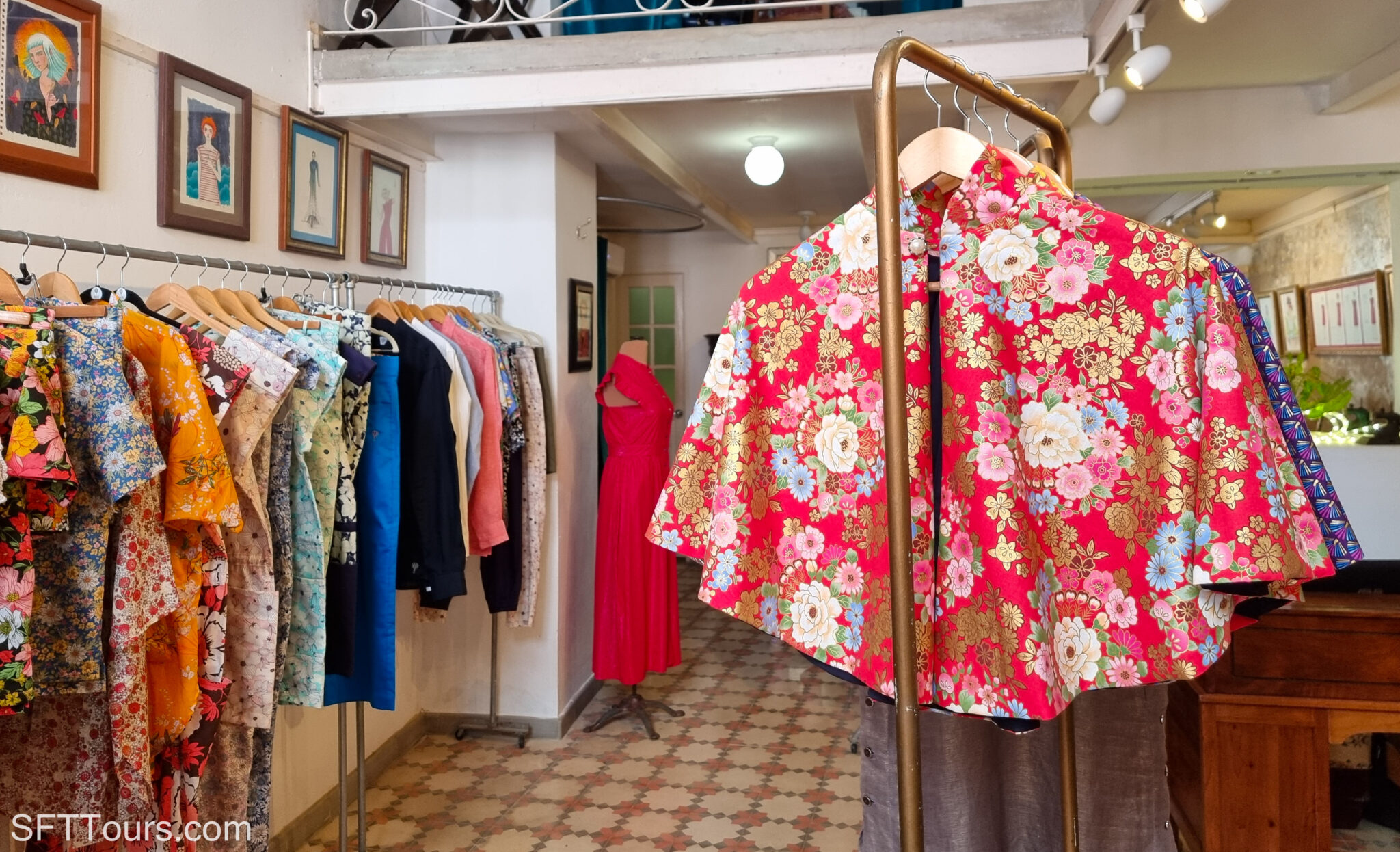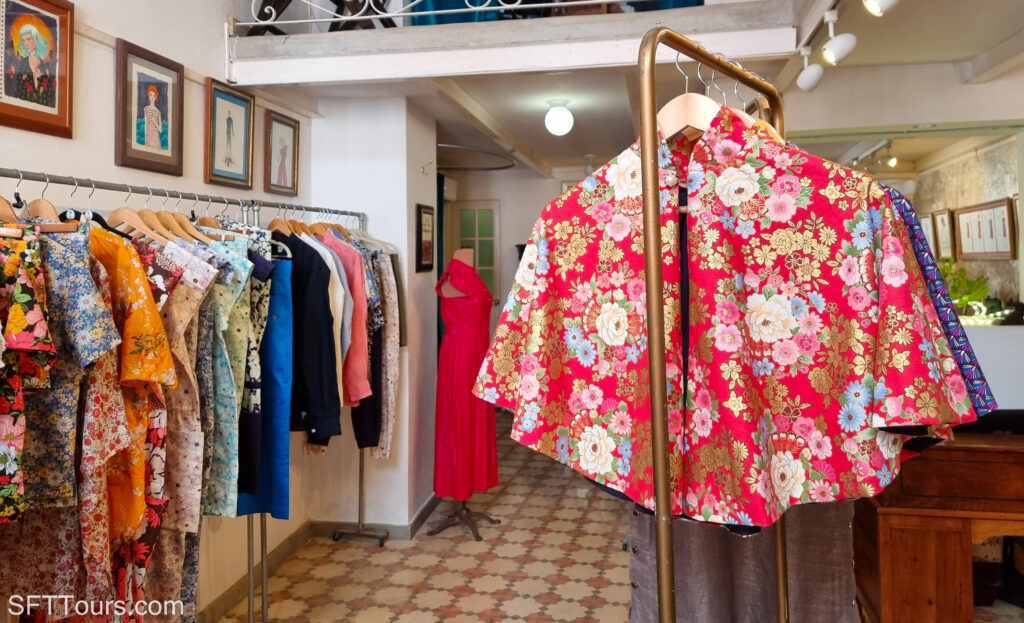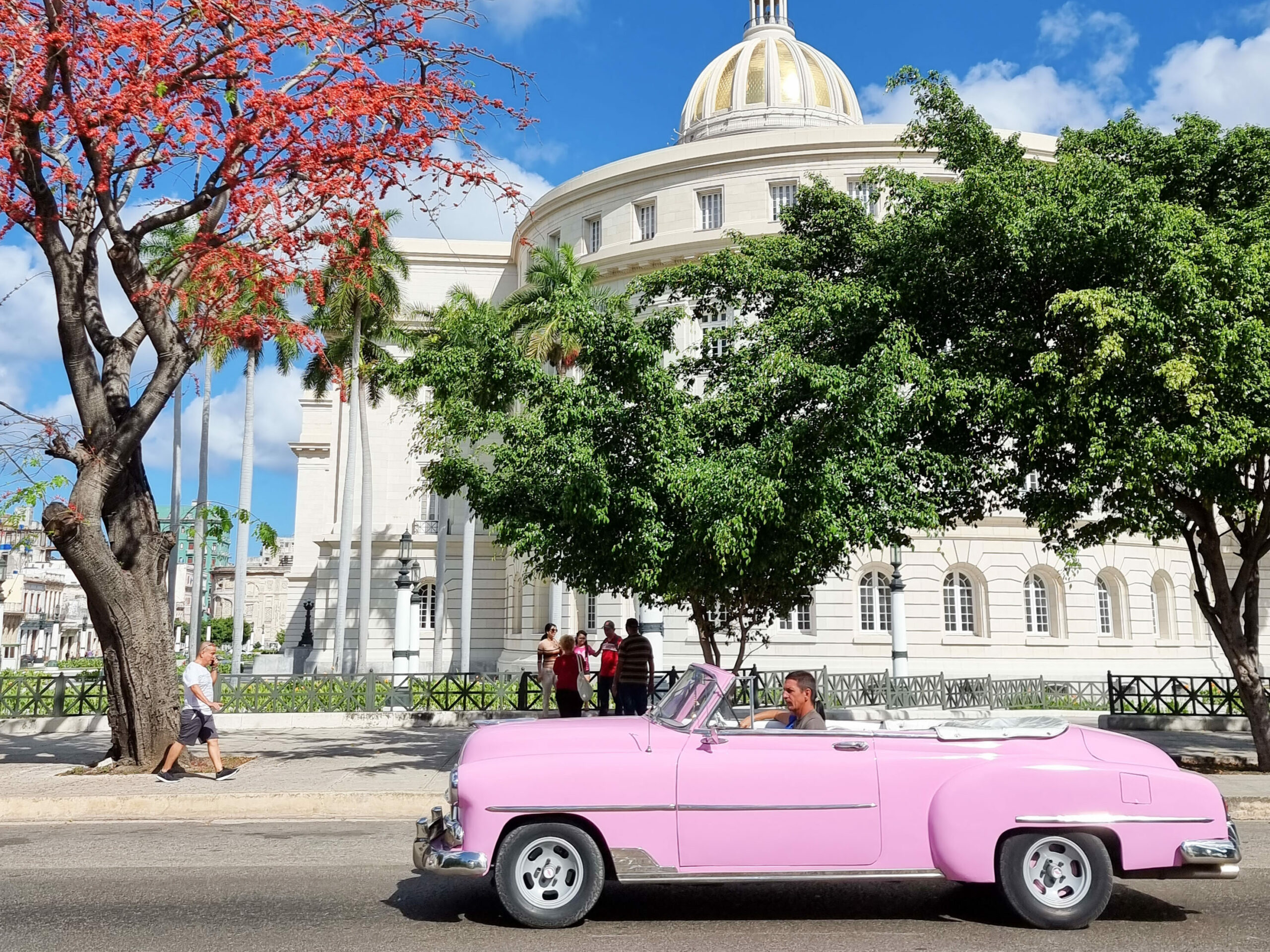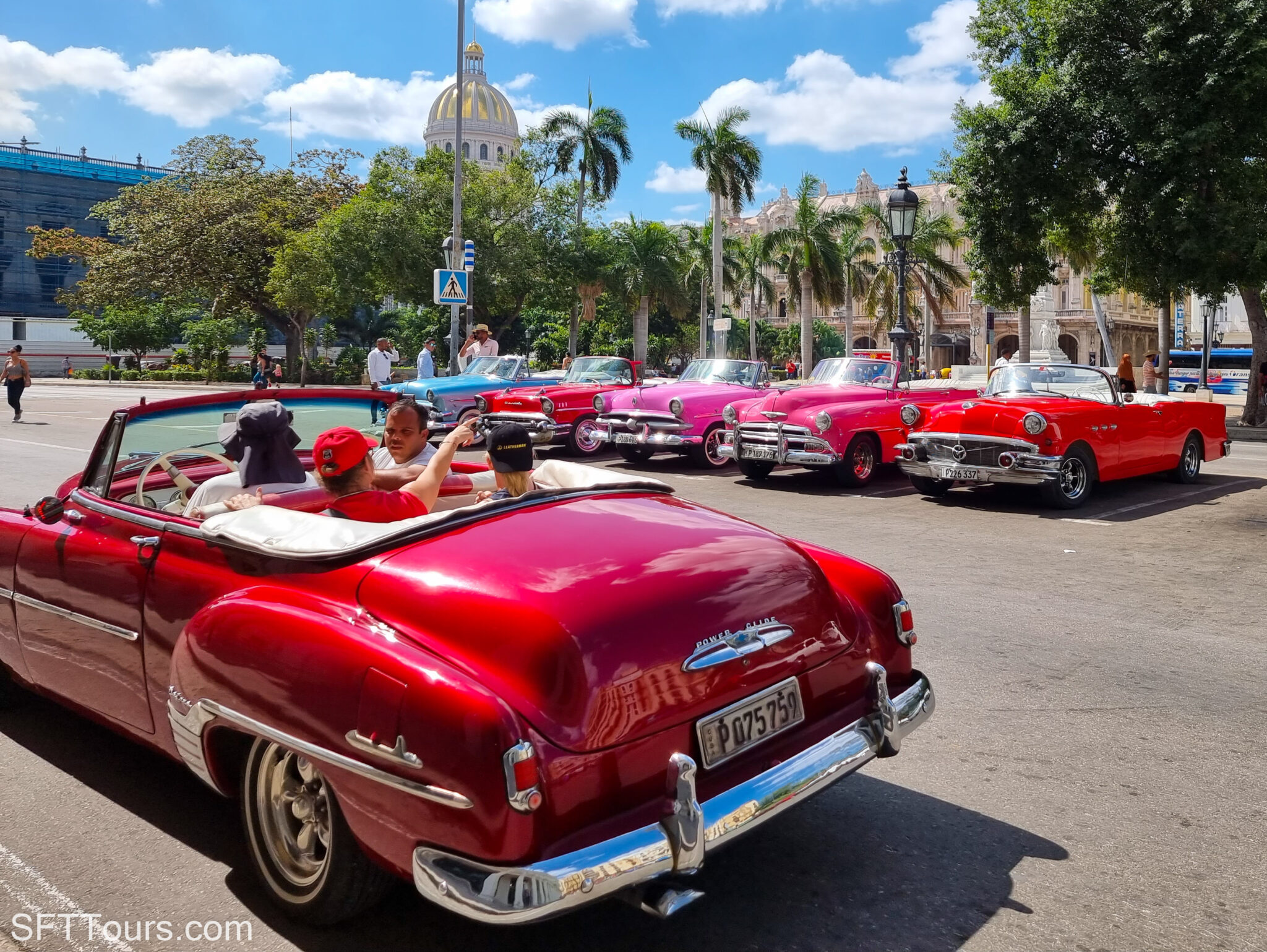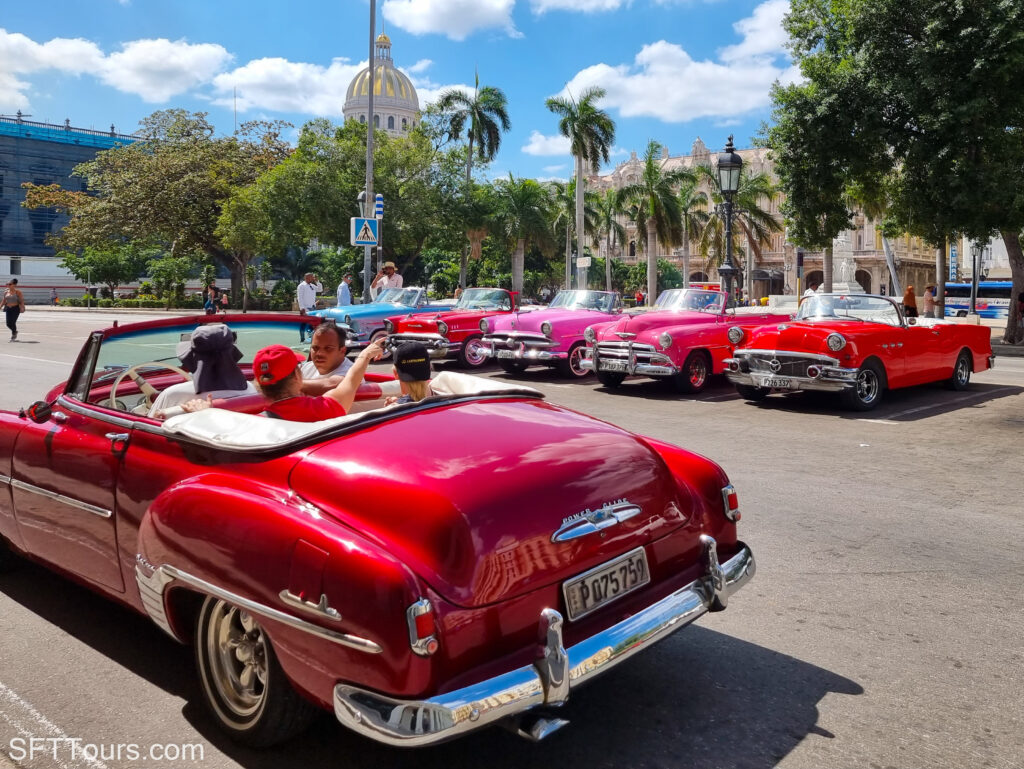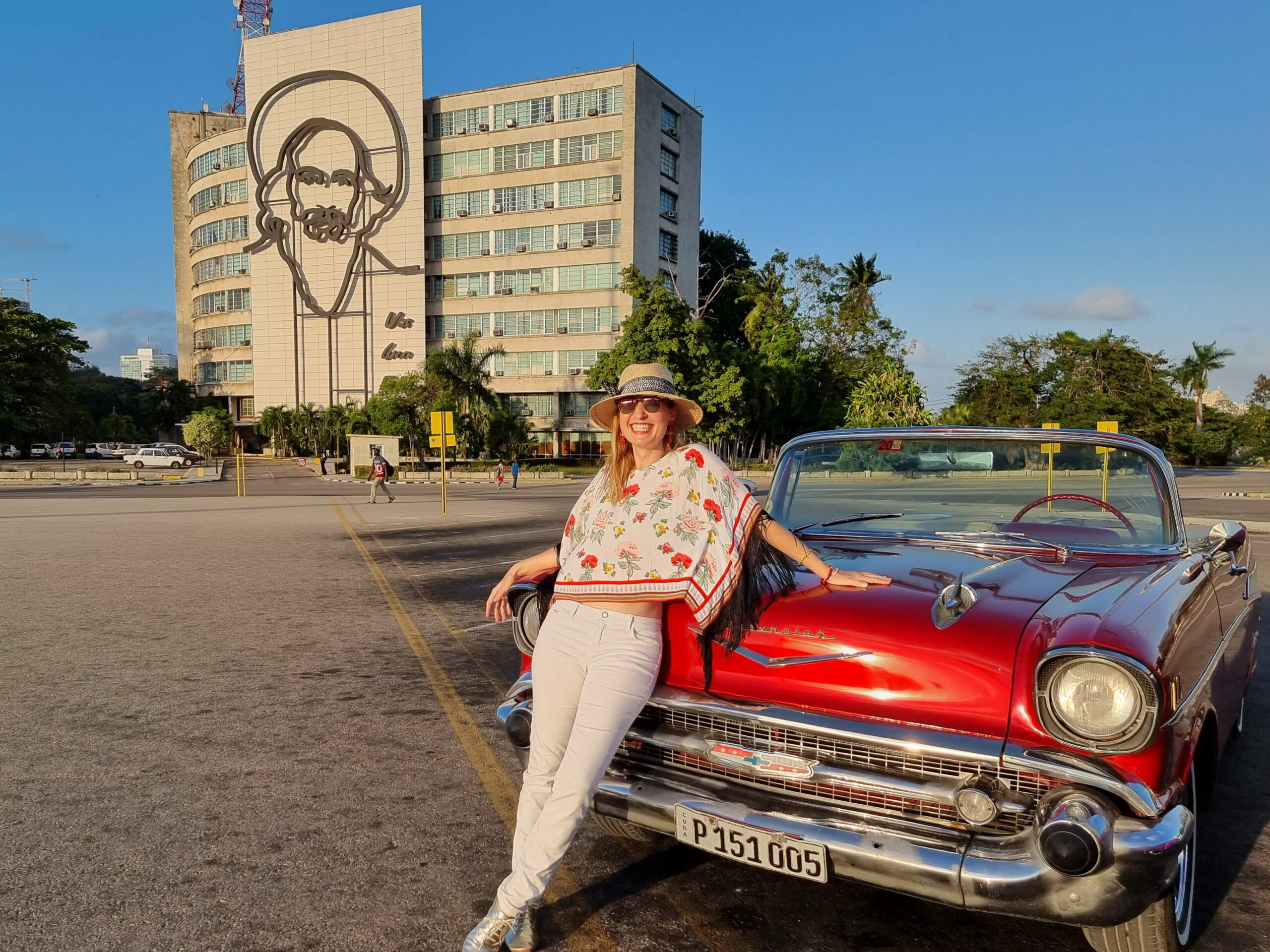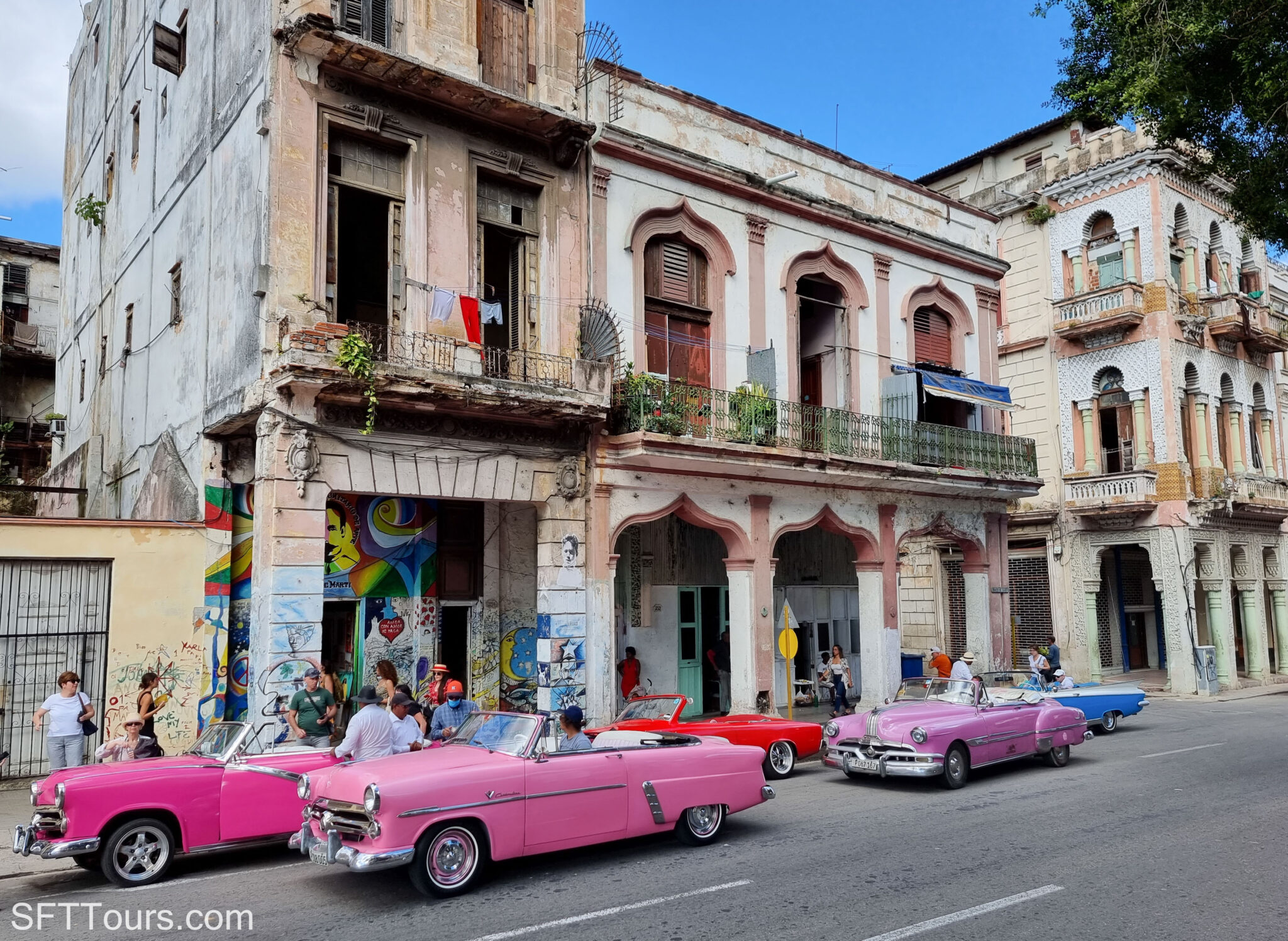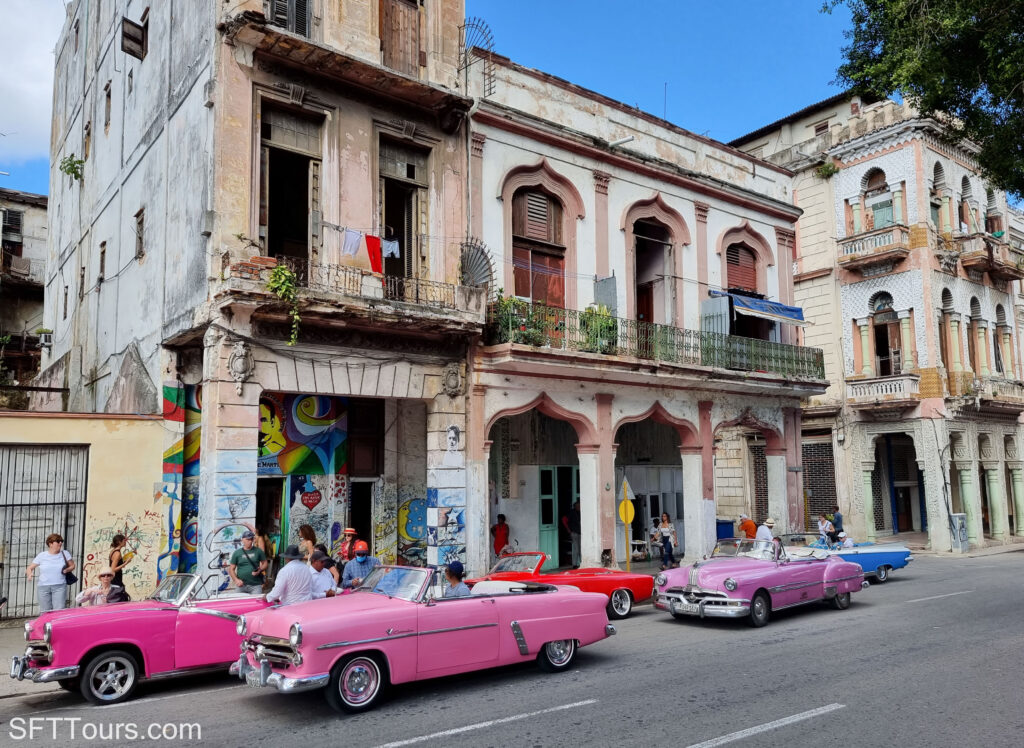 ---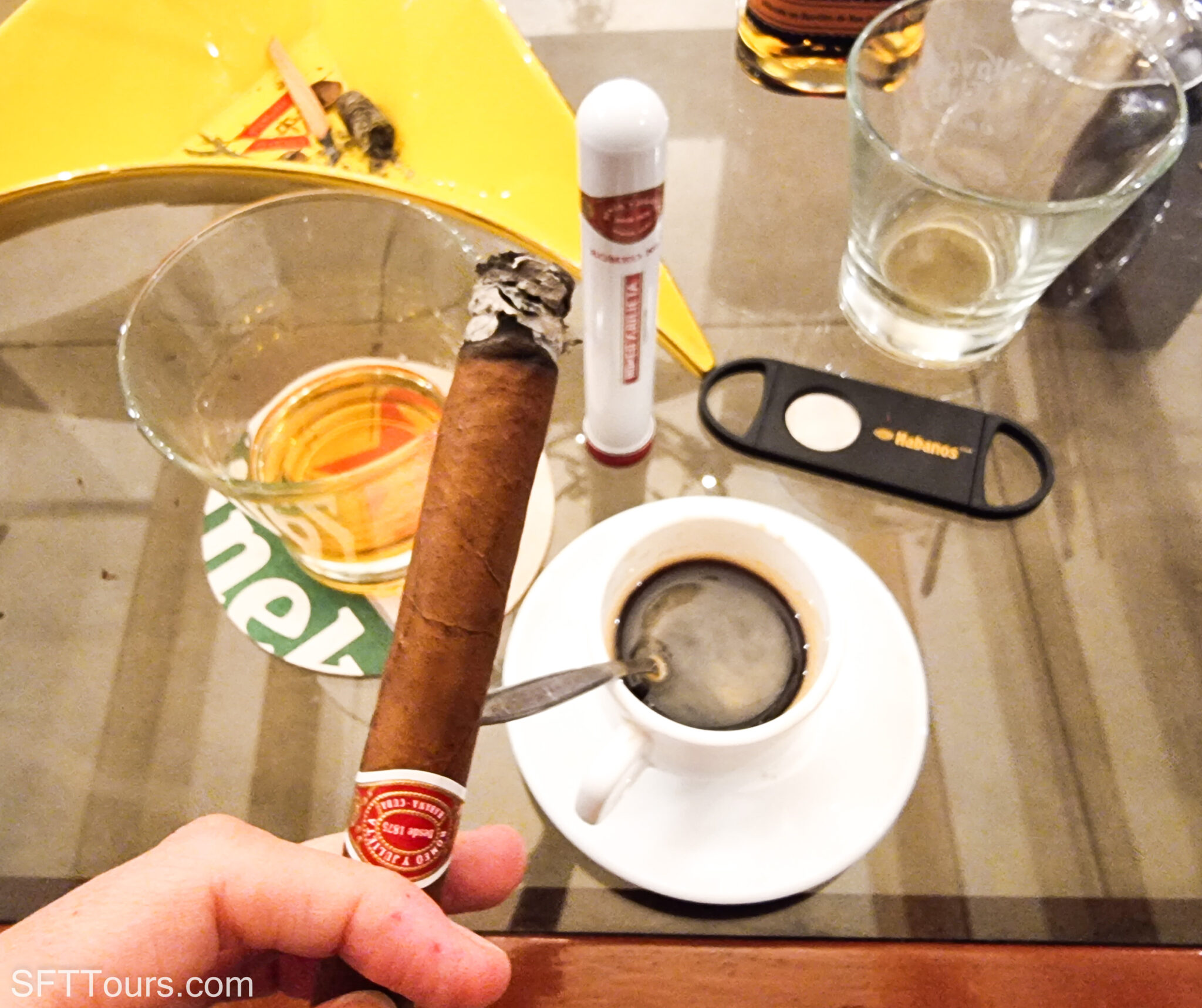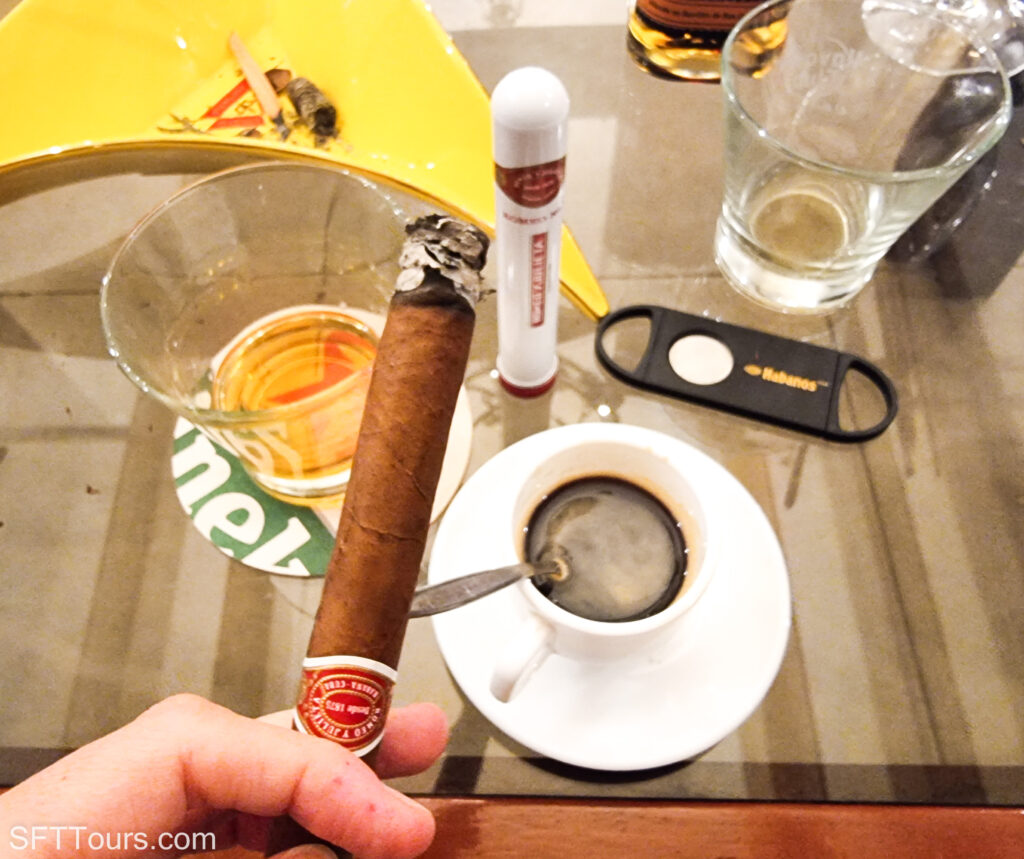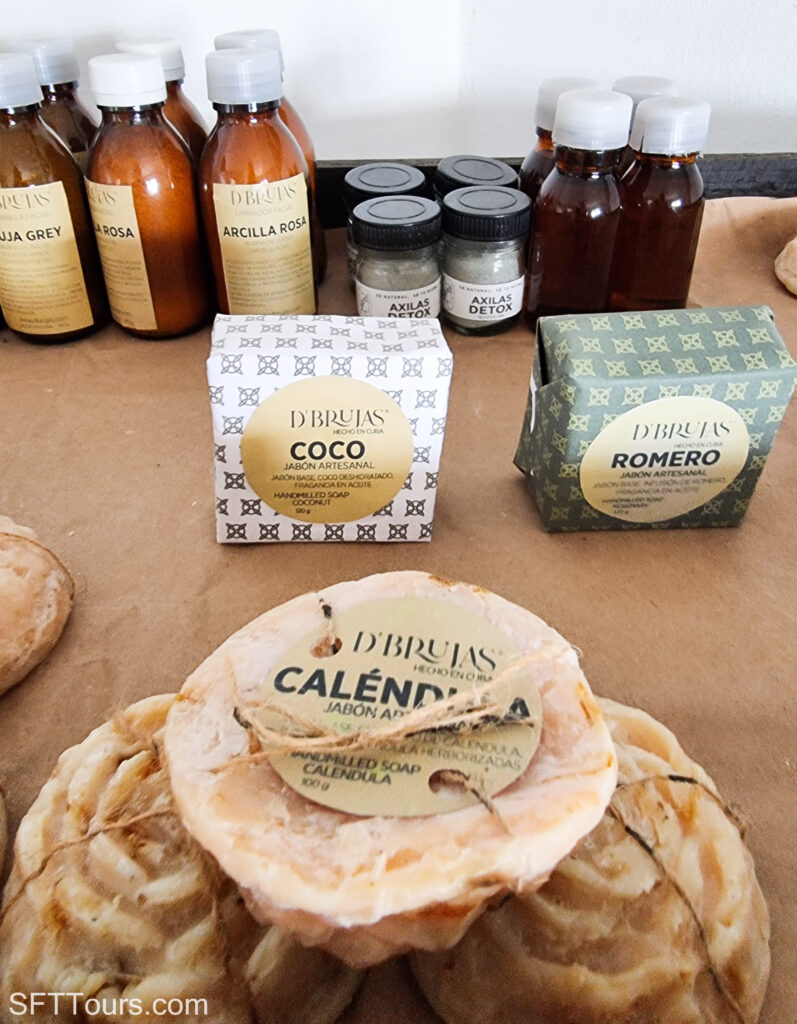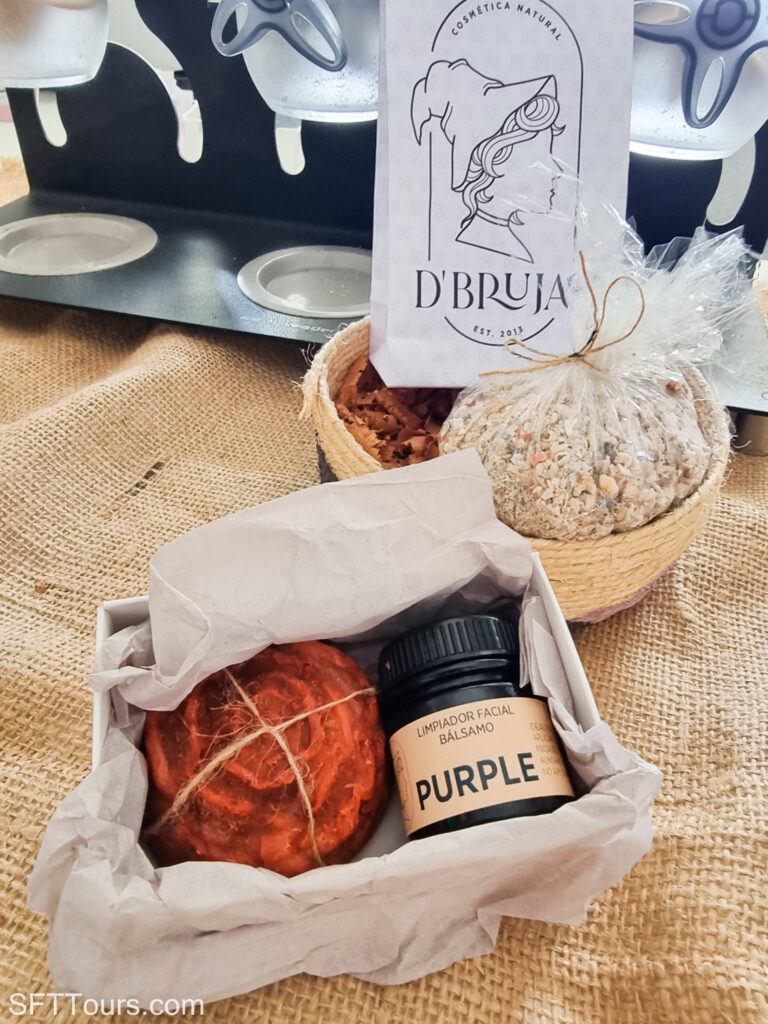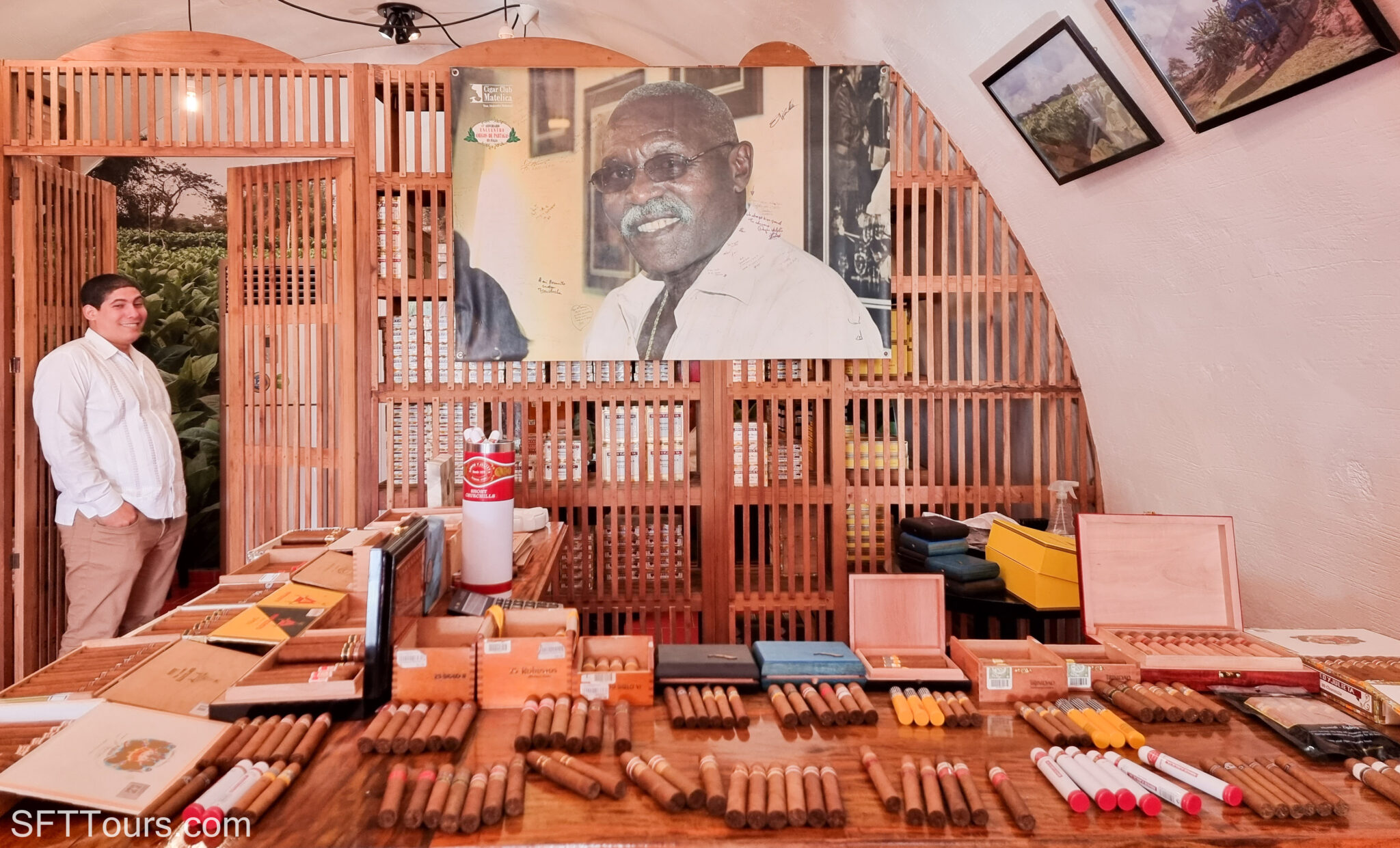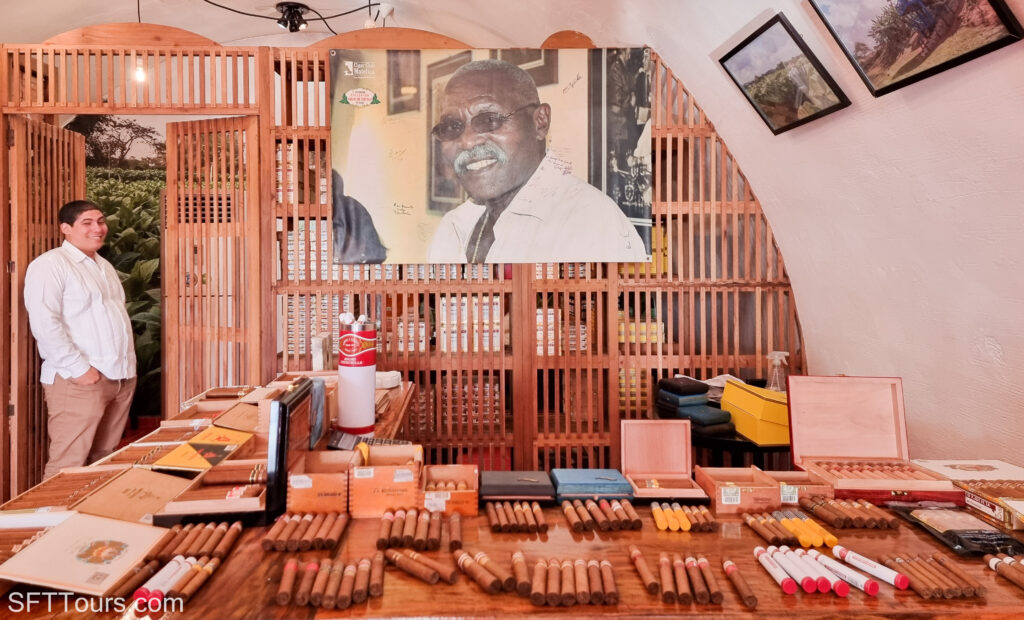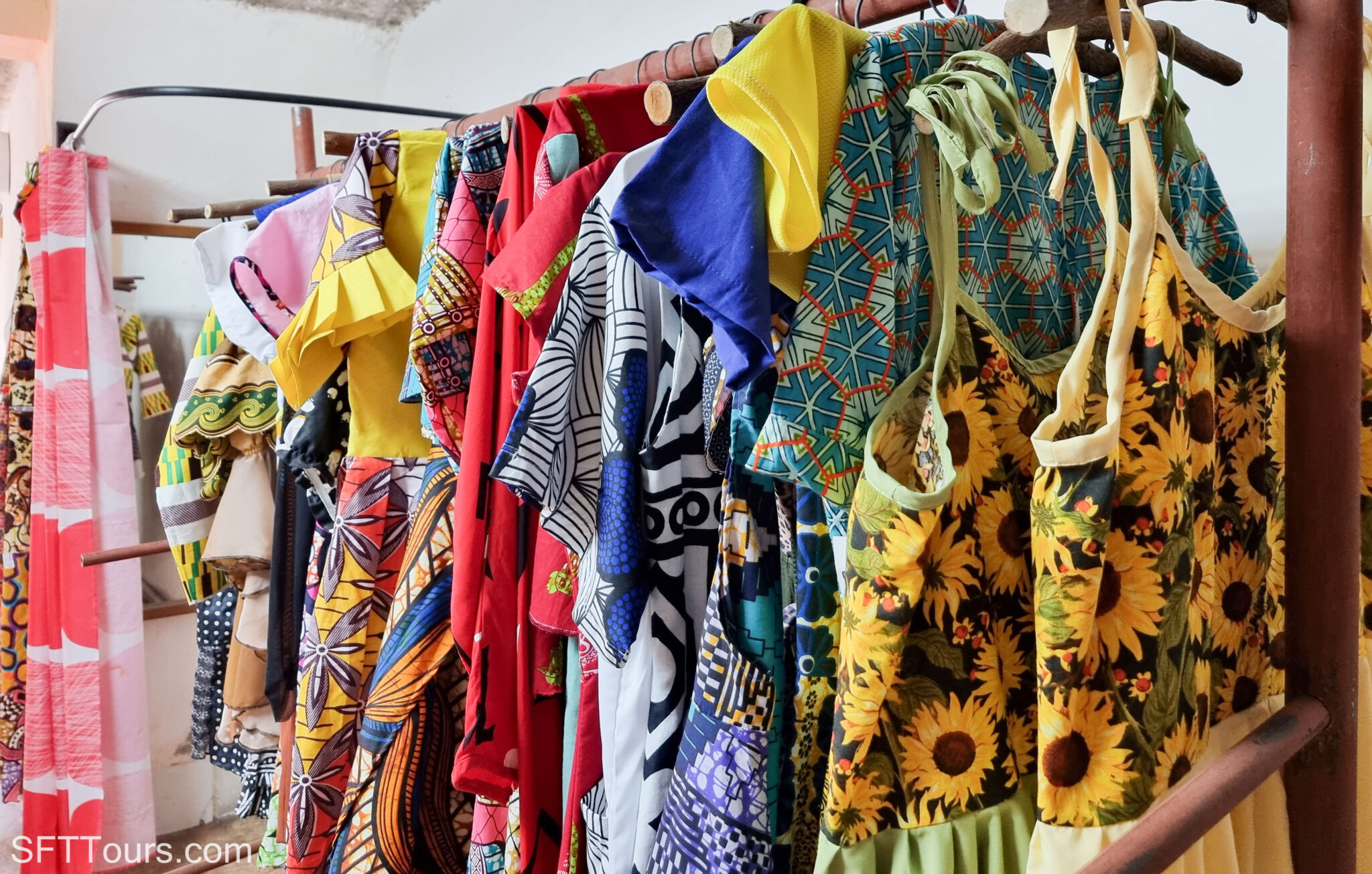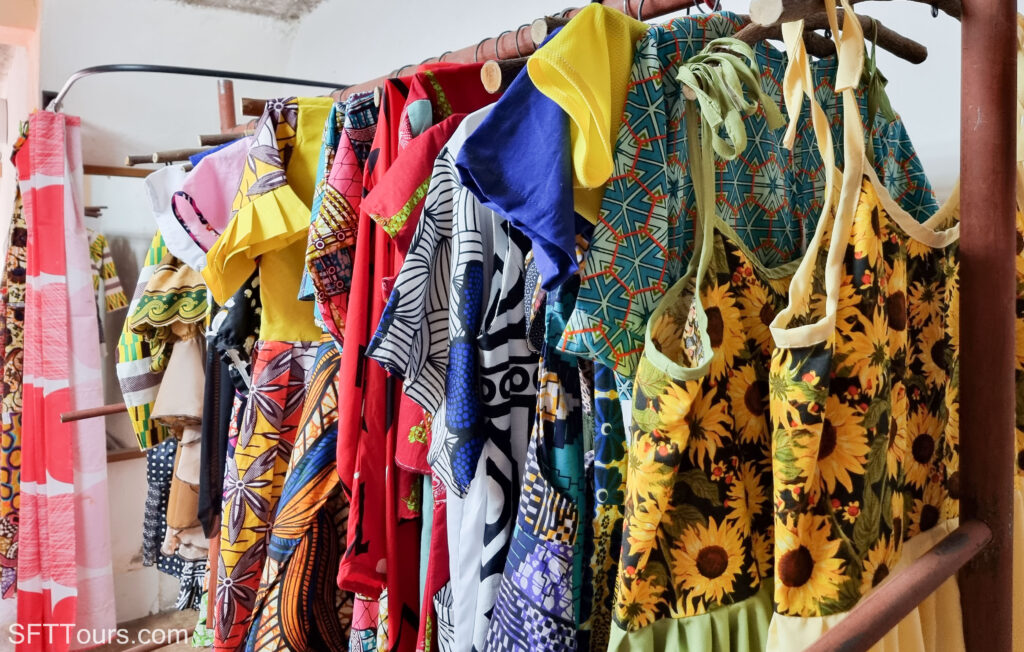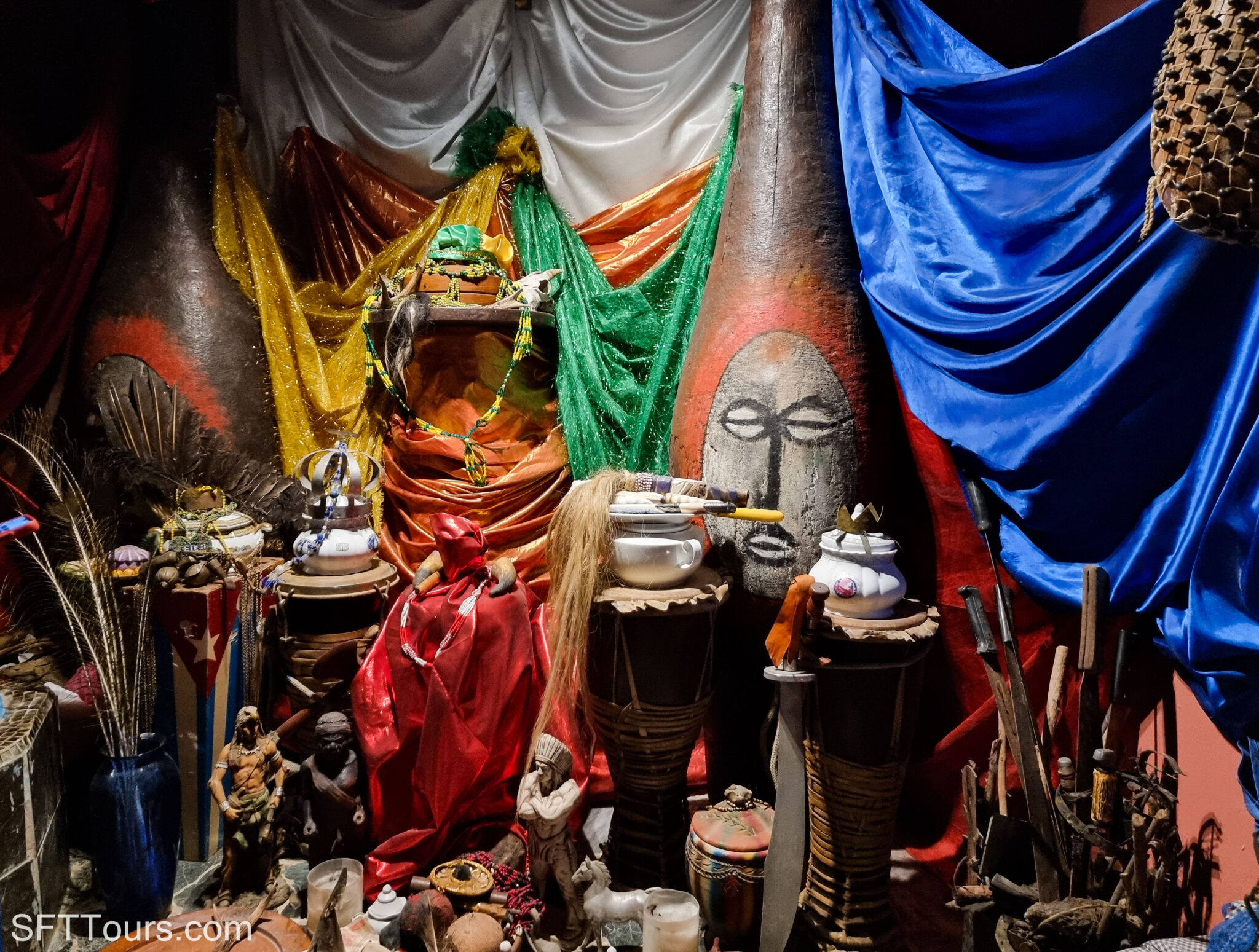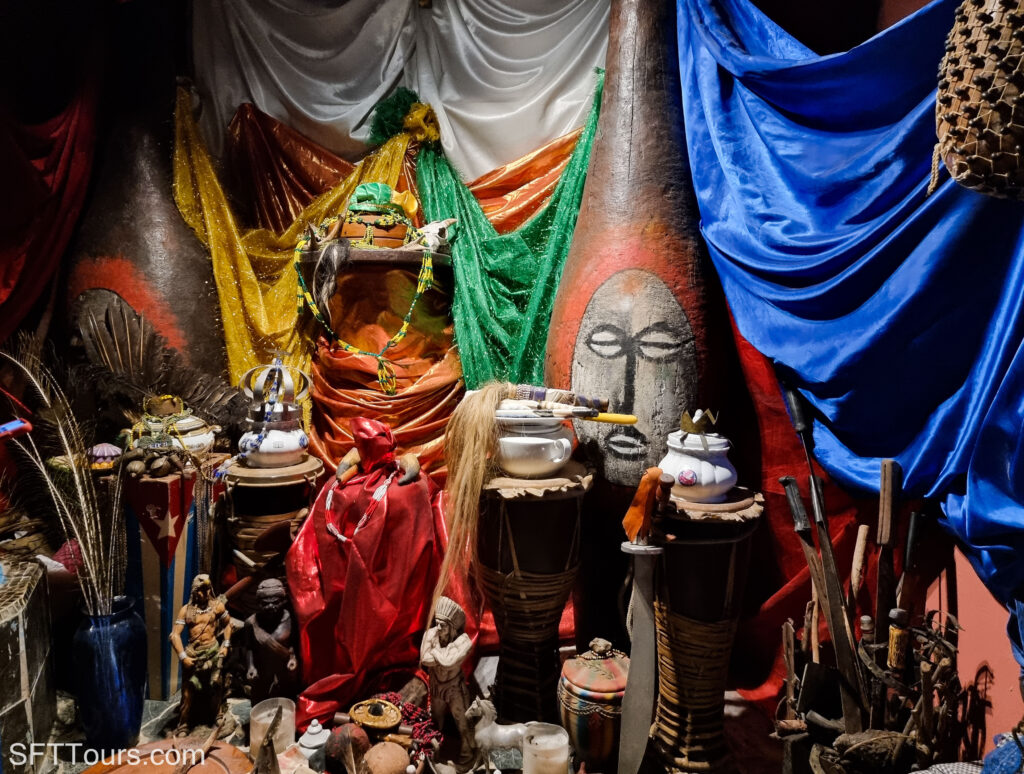 Day 3 : Cuban cigars, Afro-Cuban religion and meeting local women
Today we have an exciting day filled with many uniquely Cuban cultural traditions.
We will start the day with a visit to a female owned handmade soap business that opened in 2013 just after private enterprise was made legal in Cuba. The project employs only women, most of whom are mothers, with the intention of providing them with opportunities and financial means.
The soaps and cosmetics are sold online and in some of Havana's stores and entirely formulated by the founder and team. We will learn how soap is made and about the challenges of running a business within the limitations of the US blockade and Cuba's private enterprise regulations.
After the visit, we will head to Havana's fortress area for a Maridaje, a cigar pairing workshop with Cuban rum and coffee.
The workshops will start with an introduction to the various kinds of cigars and how they are made and we will then learn to light a cigar and enjoy it, on its own and paired with coffee and Cuban rum.
Note: Smoking a cigar is an optional part of the experience.
After the maridaje, you will be able to buy local rum and all kinds of Cuban cigars on sale at the store, from famous Cohiba to thinner Romeo & Julieta.
We will return to out transportation and head to an pedestrian street in Havana that has been converted into a social project that honors Afro-Cuban religions.
We will be welcomed to the street by the local team and given a tour and introduction into Afro-Cuban religion, syncretism, and its origins in Cuba's slave past.
The tour will visit the home of a famous local artist who started the project and will end with Afro-Cuban music and lunch in a colorful display of this Cuban cultural and religious expression.
We will then have a bit of free time before we meet again for dinner and a visit to a female owned Afro-Cuban fashion brand with a social impact mission that is bringing back Cuba's African heritage into the world of clothing and accessories.
We will meet with the founder and her team and learn more about her passion as well as the many social projects she started and supports. We will have dinner at the house of one of the women who are part of her projects who will welcome us into her home.
Inclusions: Breakfast at the hotel, visit to two female owned projects, Maridaje (cigar workshop and pairing with rum and coffee), Afro-Cuban tour and lunch with a welcome drink, dinner at a local house.
Overnight at Posada Chacon or Vieja Habana.
---
Day 4 : Viñales, salsa and farm visit
Driving time: 3.5 hours.
Today, we will leave Havana behind and move to the countryside town of Viñales with its idyllic landscapes and karst-like hills that have become such an image of this agricultural part of the country.
Viñales national park is a protected area that is also UNESCO listed and the bread basket of Cuba. Here, you can find all sorts of vegetables and fruits being grown as well as tobacco plantations and mysterious caves.
We leave Havana in the morning and drive towards Viñales with a stop for lunch at a female owned paladar with the best views where we will sample the local delicacies and, hopefully, her amazing ropa vieja.
We will then continue towards Vinales and arrive in time for check in to our casas particulares and then head out into town for a walking orientation tour.
Viñales is a favorite among visitors and locals for its laid back atmosphere, many salsa bars and lush surroundings. You will immediately feel at ease and relaxed.
After the tour, we will head to our salsa lesson, it is time to get your moves on and become a pro of this Cuban rhythm. We will follow a local female salsa dancing teacher and practice what we learn later on tonight at a local bar with live salsa music.
After the class, we will visit a local female owned organic farm led by the charismatic and extremely bubbly Rachel.
Still in her early 30s, Rachel has been recognised by several awards and nominations as a pioneer farmer and female entrepreneur and was even invited to the White House by president Obama as part of a delegation of Caribbean female entrepreneurs.
Without any farming or business experience, Rachel opened her organic farm with the help of her father and sells her vegetables / fruits in the local markets.
We will help out in the farm, as little or as much as you like, side by side with the local team, pulling weeds, ploughing or helping with the animals, whatever is needed on the day, as we learn more about organic farming and life in rural Cuba.
Her and her team will share a delicious home cooked meal with us, and a glass of their famous herbal drink with rum which we will enjoy as the sun goes down over Viñales in what is probably the best view in town.
For 2024 NYE departure only: We will enjoy a NYE dinner celebration at Rachel's and then head into town to dance the night away.
Inclusions: Breakfast at the hotel, transportation, lunch at a female owned restaurant, guided tour of Viñales, salsa class, farm visit and dinner.
Overnight at Casas particulares
There are no privately owned B&Bs in Viñales of the standard and size needed to accommodate all guests so the group will be split into 3-4 nearby local family homes in the comfort category.
All the rooms will be spacious, have twin bedding (or double in cases of single bookings), AC, hair driers, towels, and offer cooked breakfast.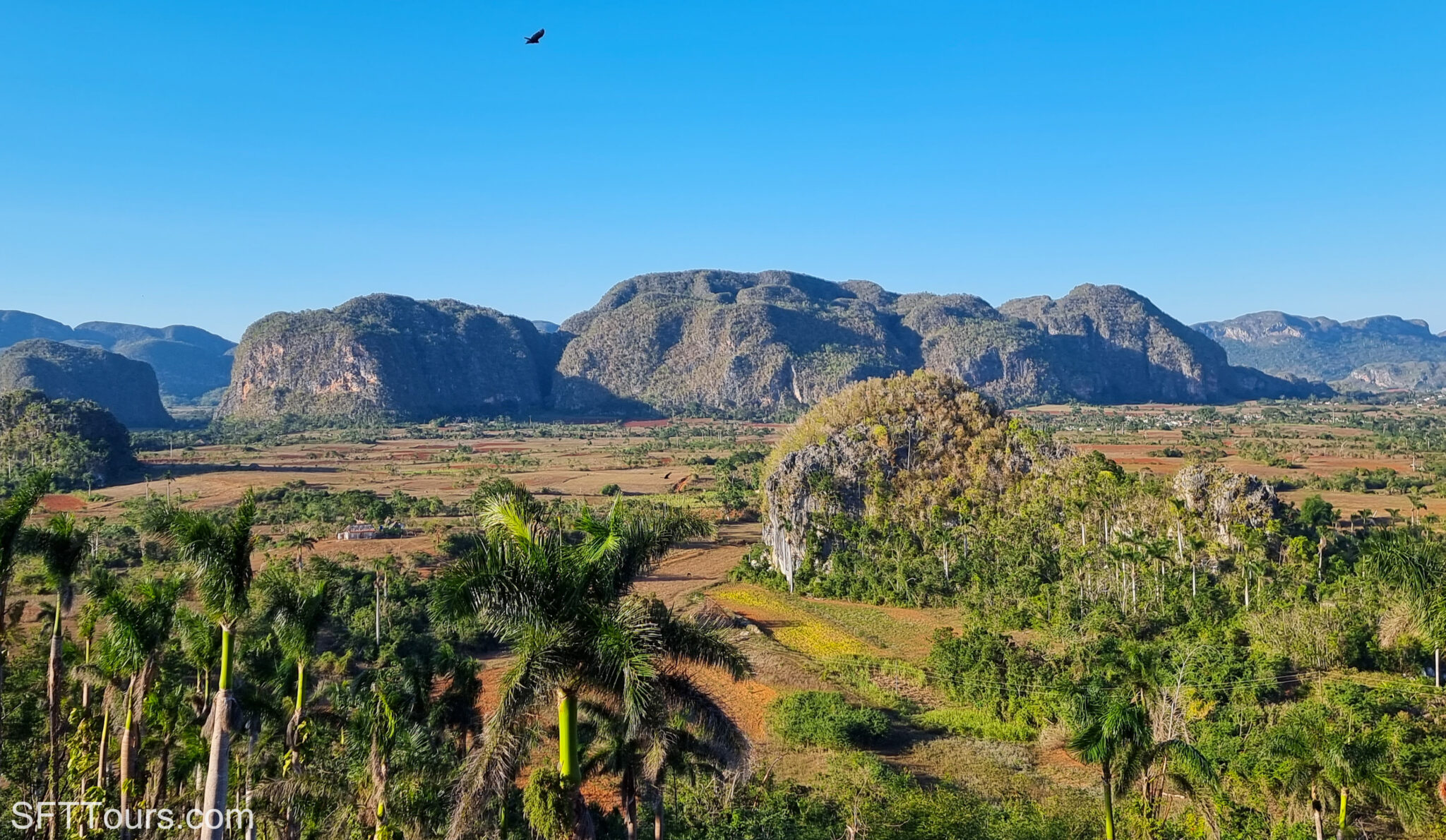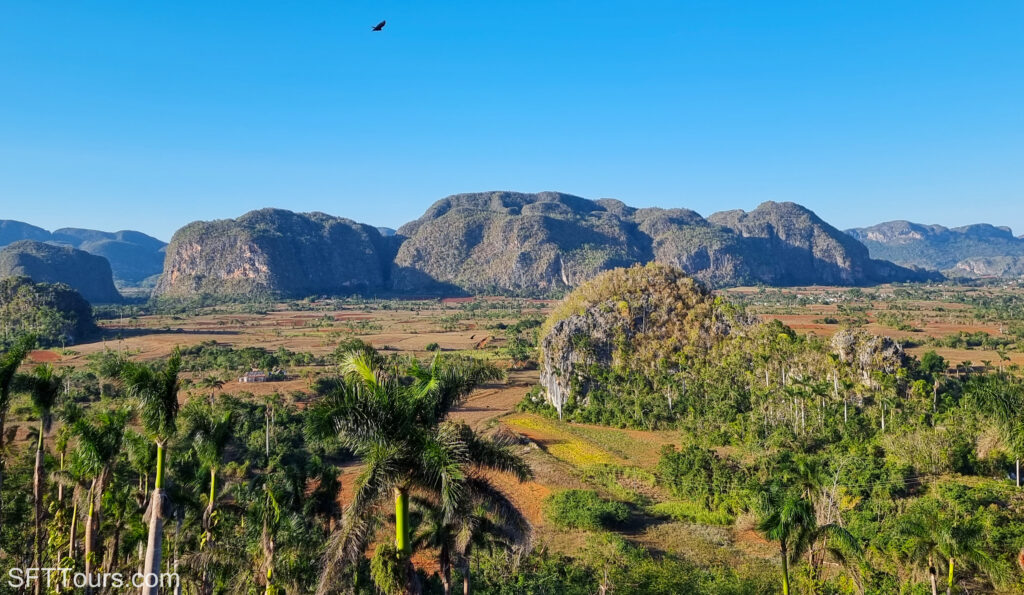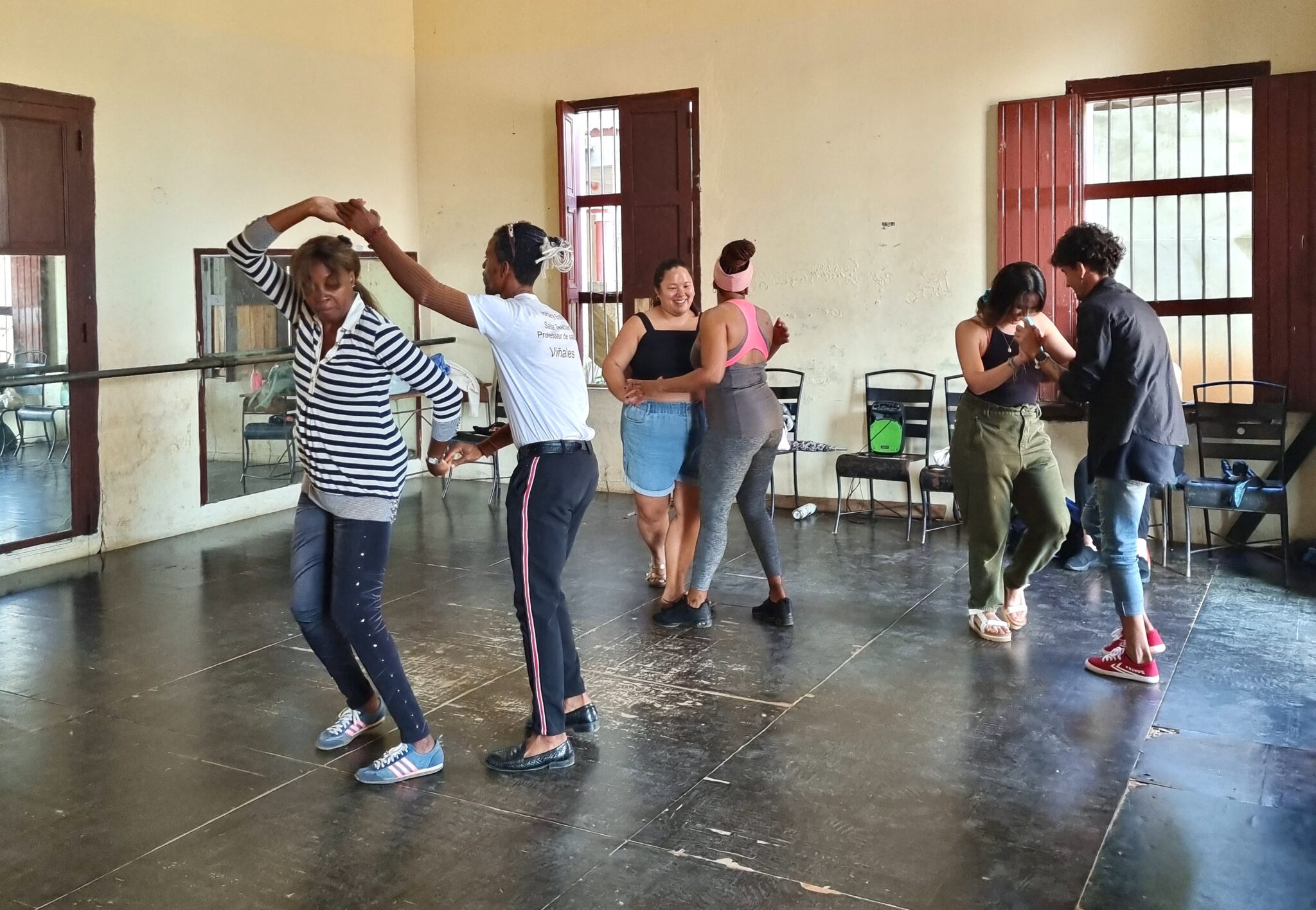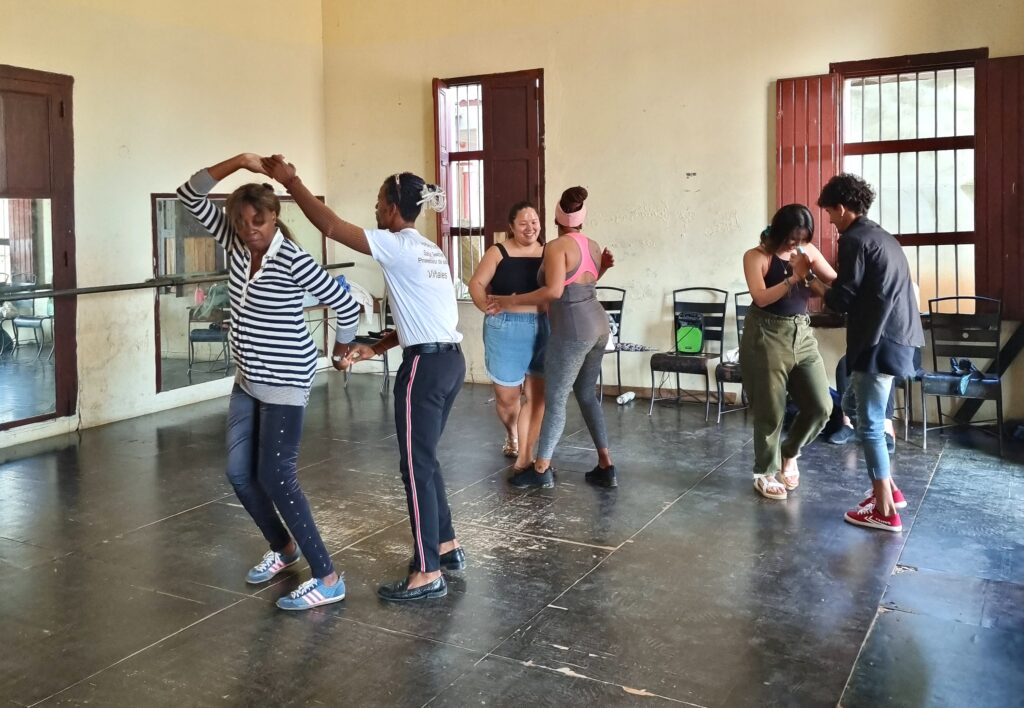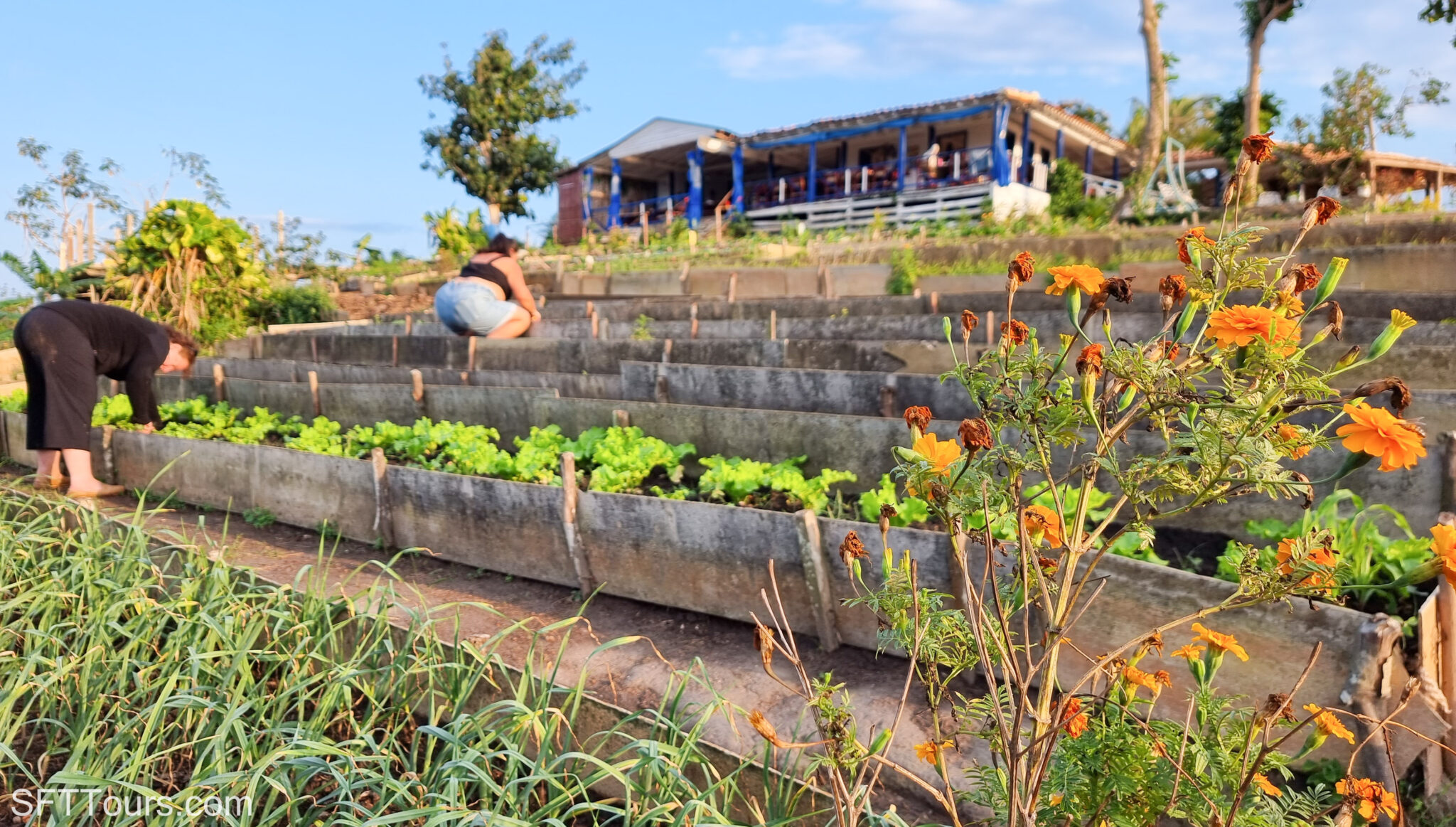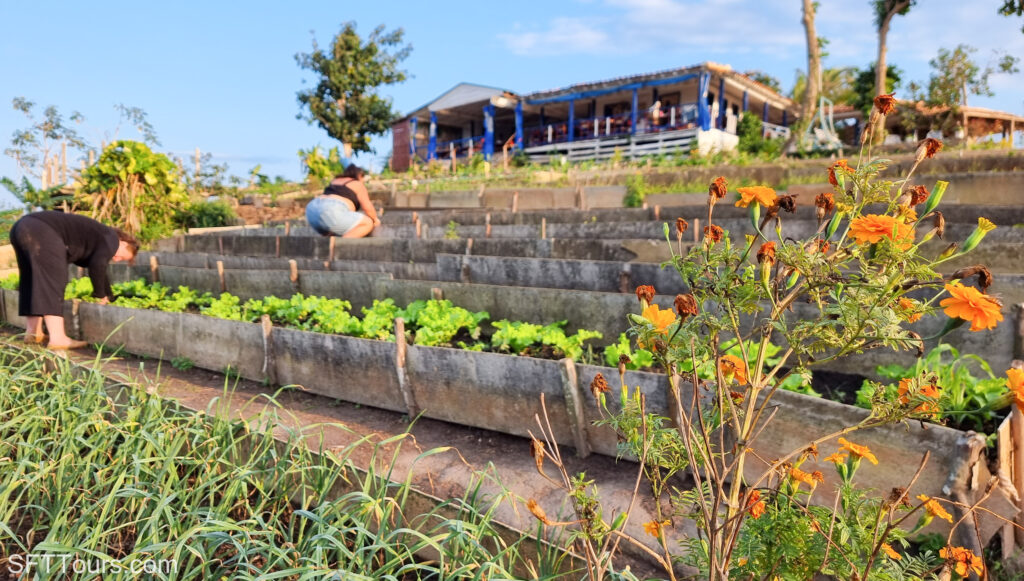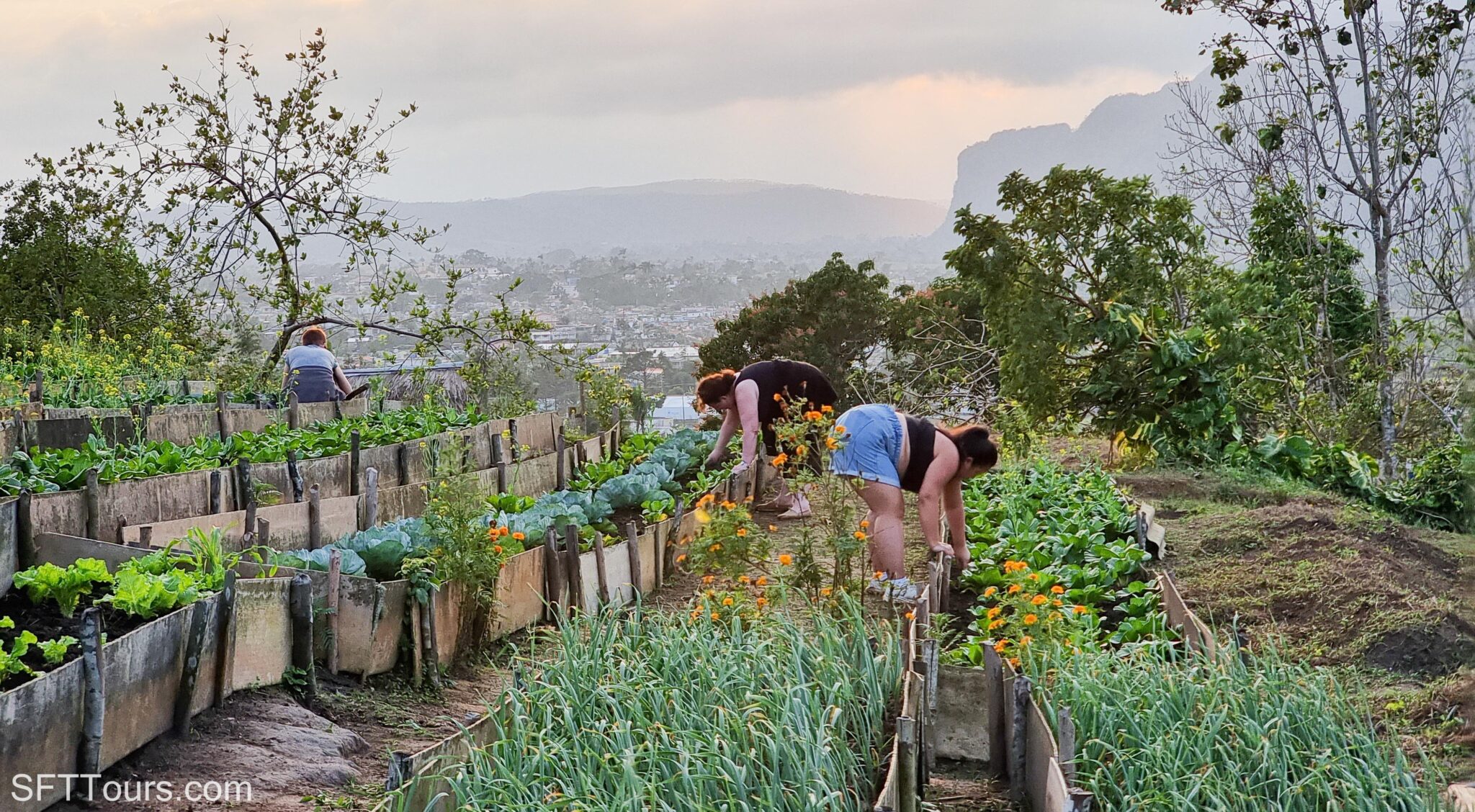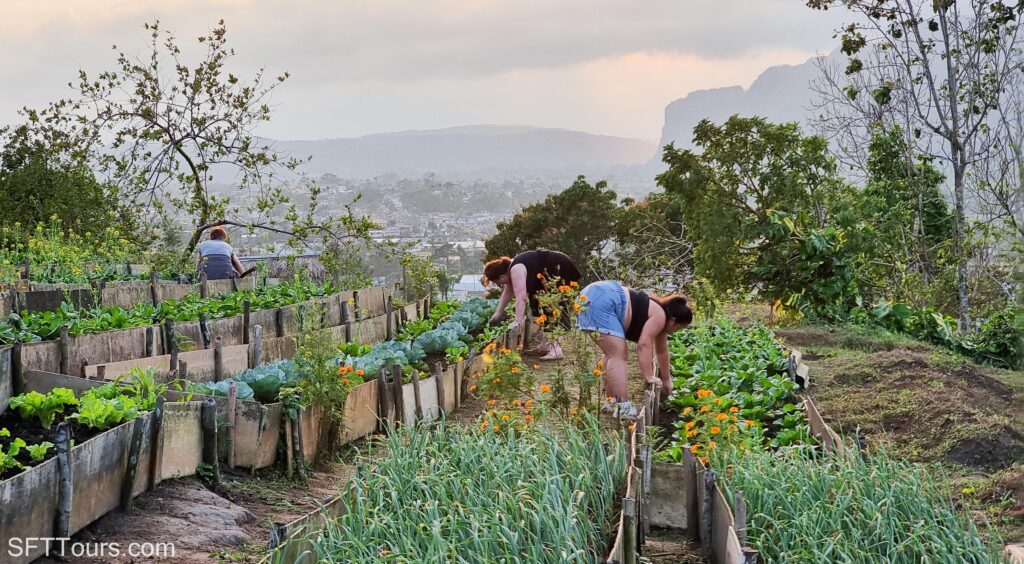 ---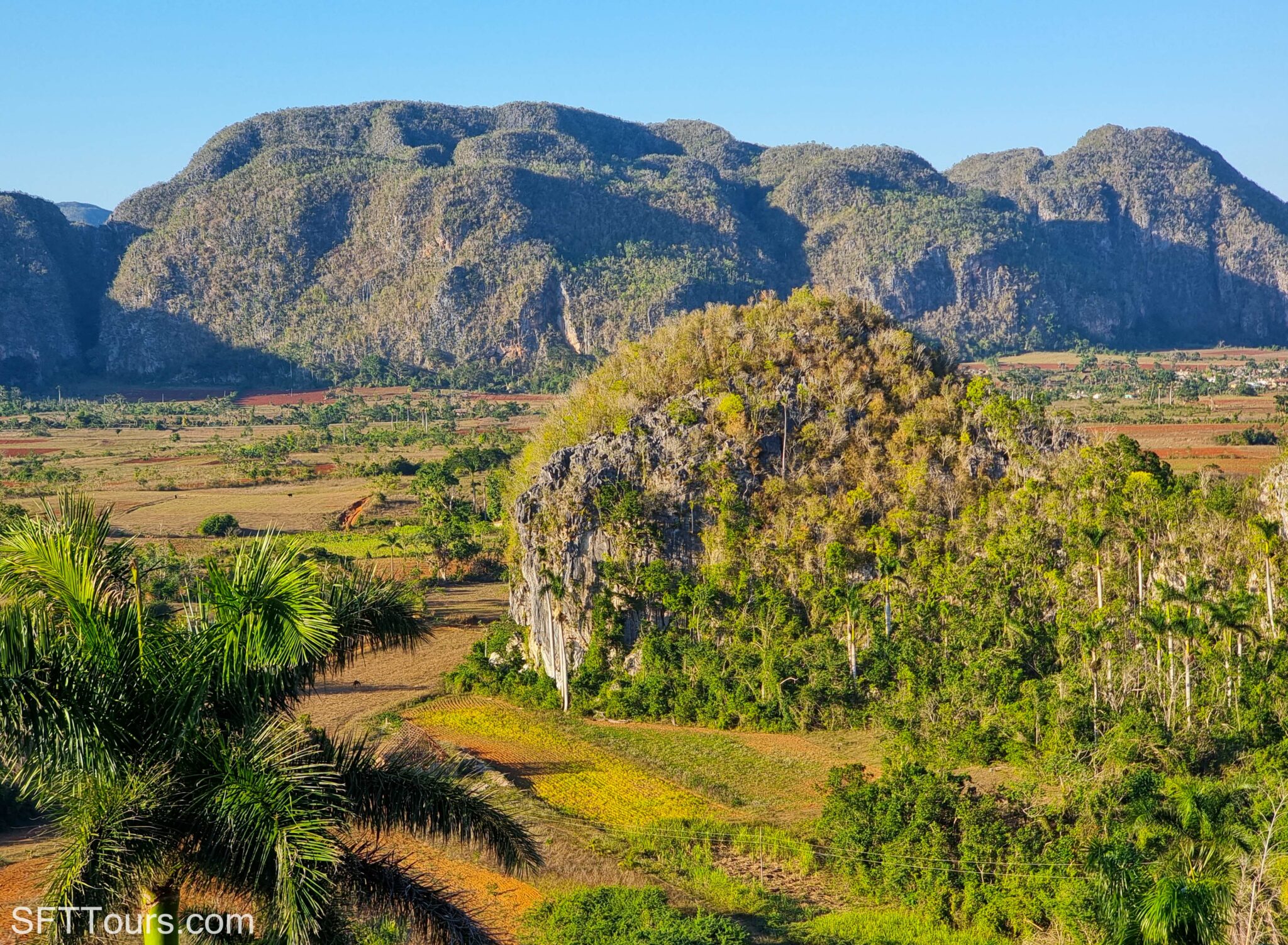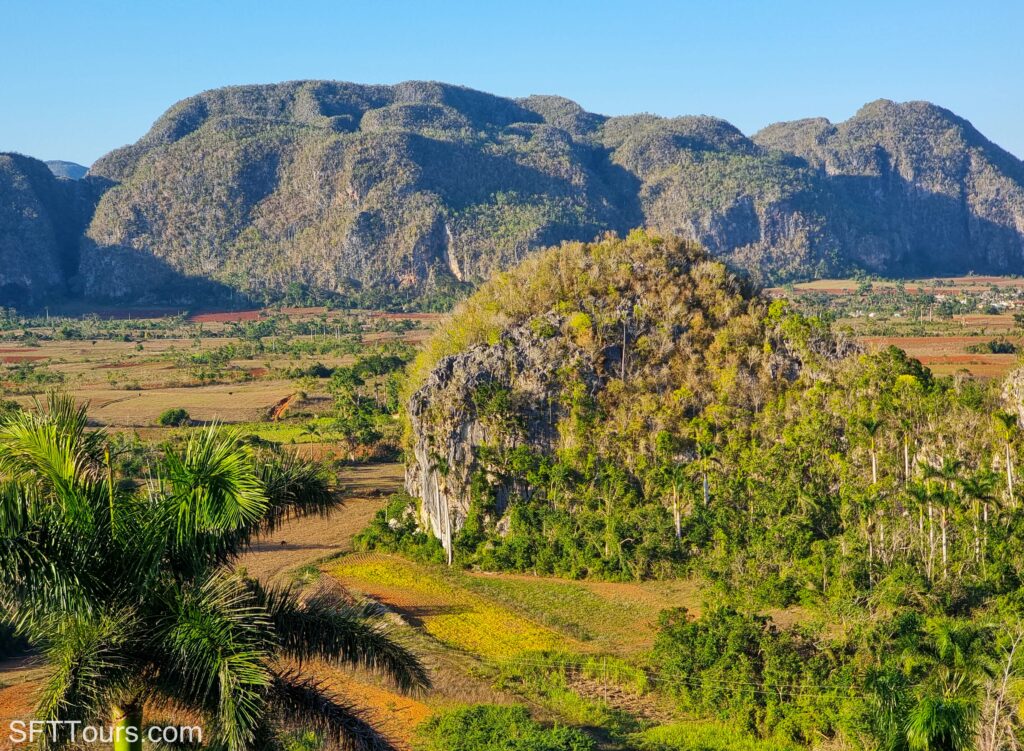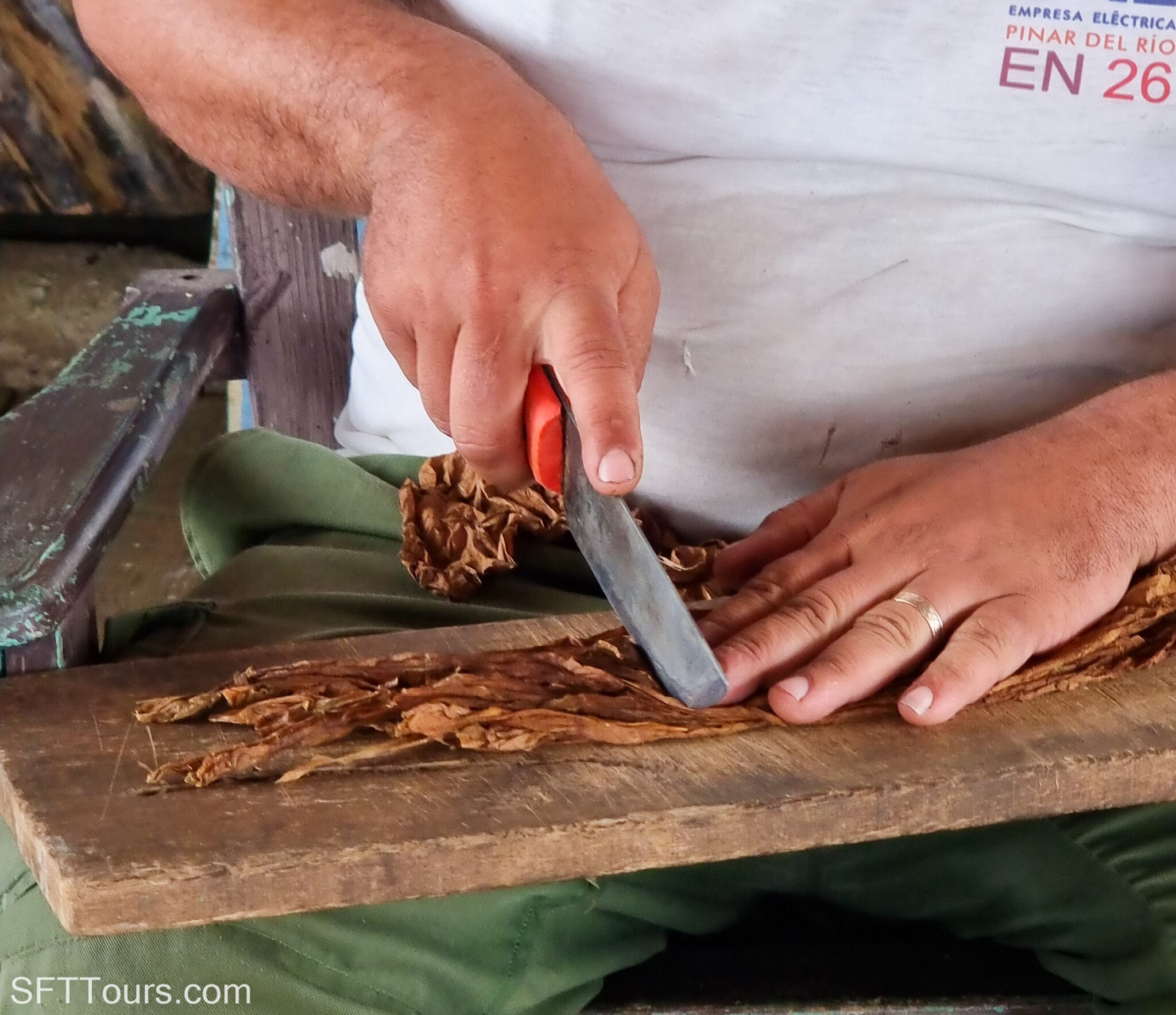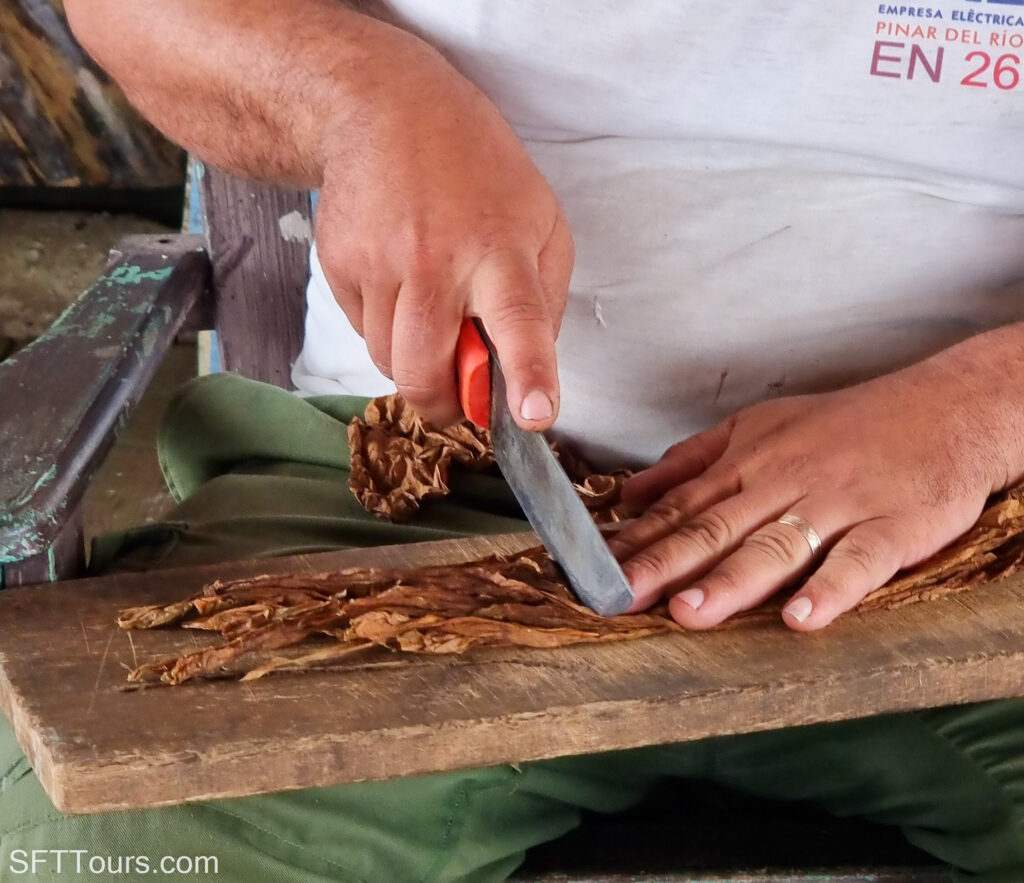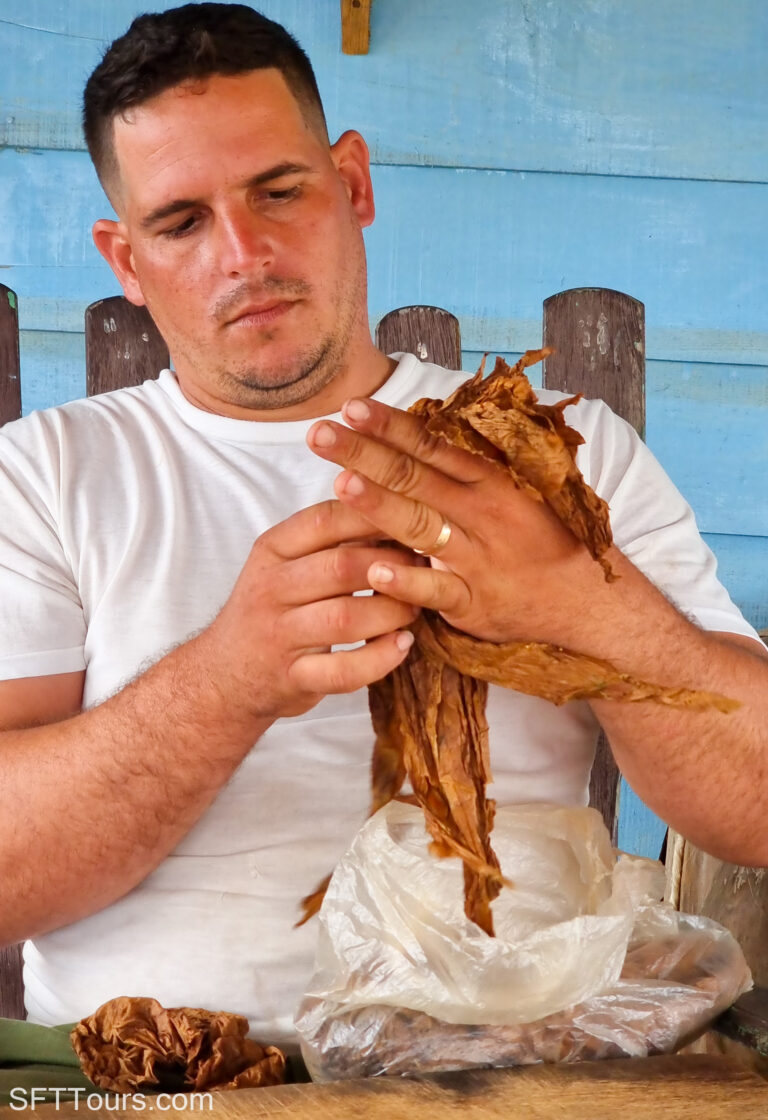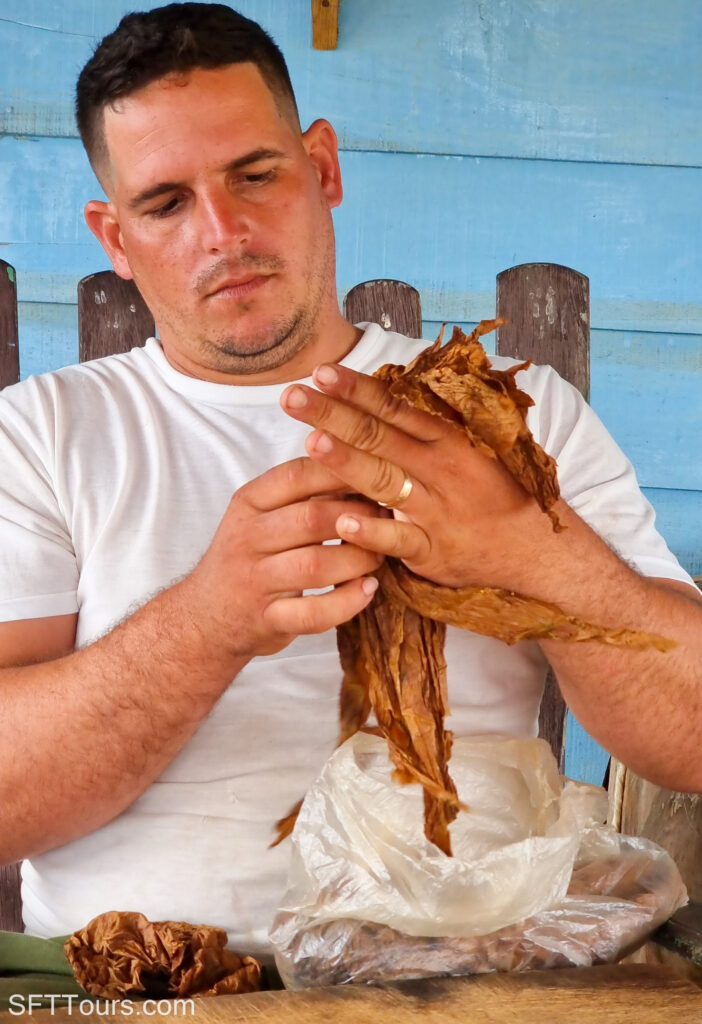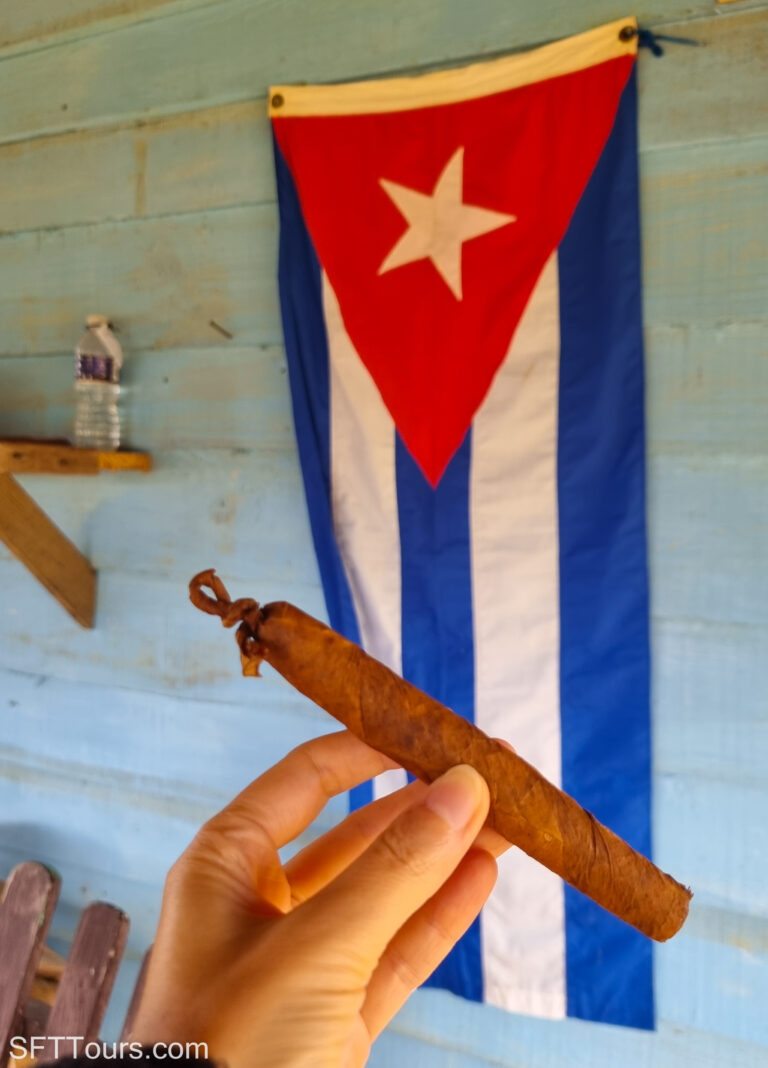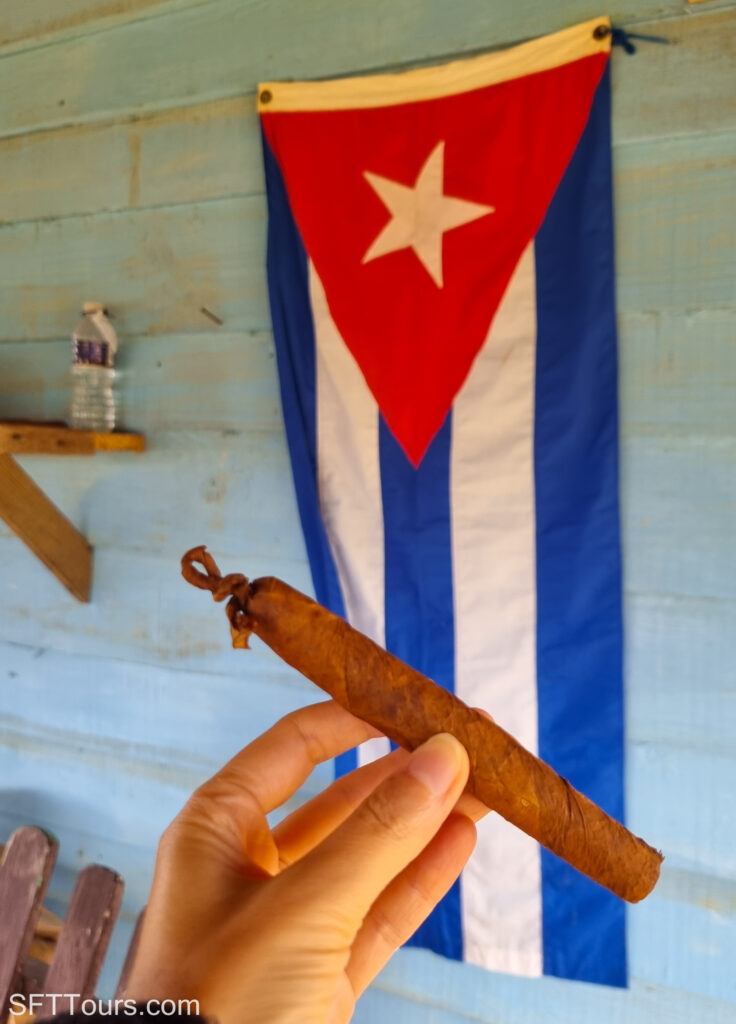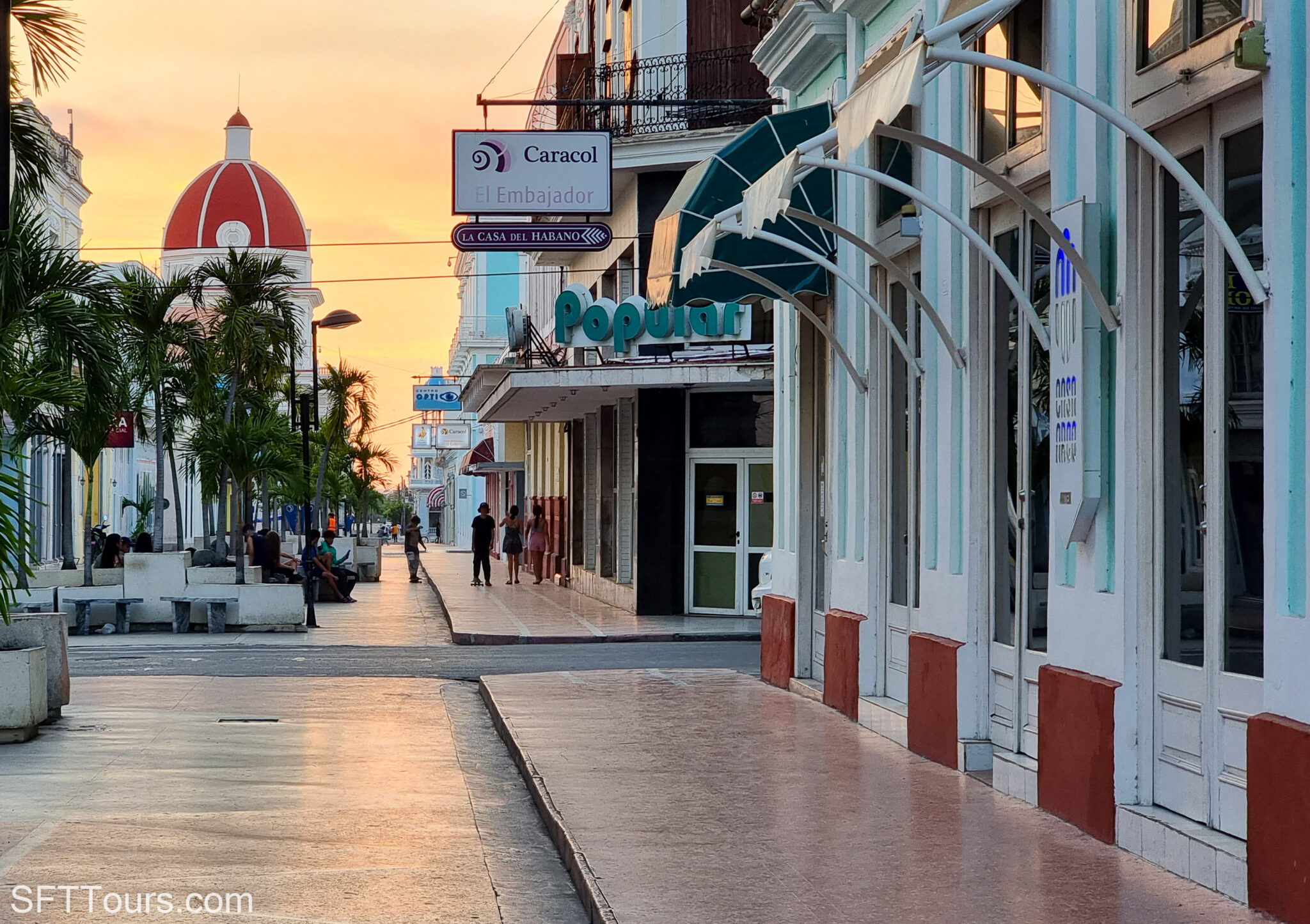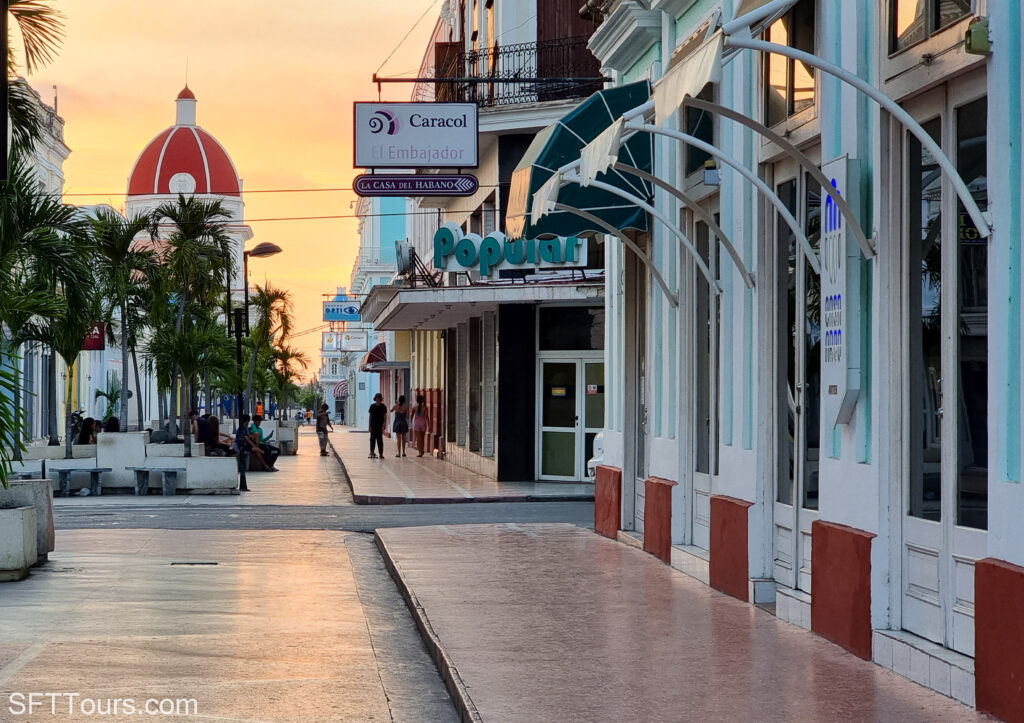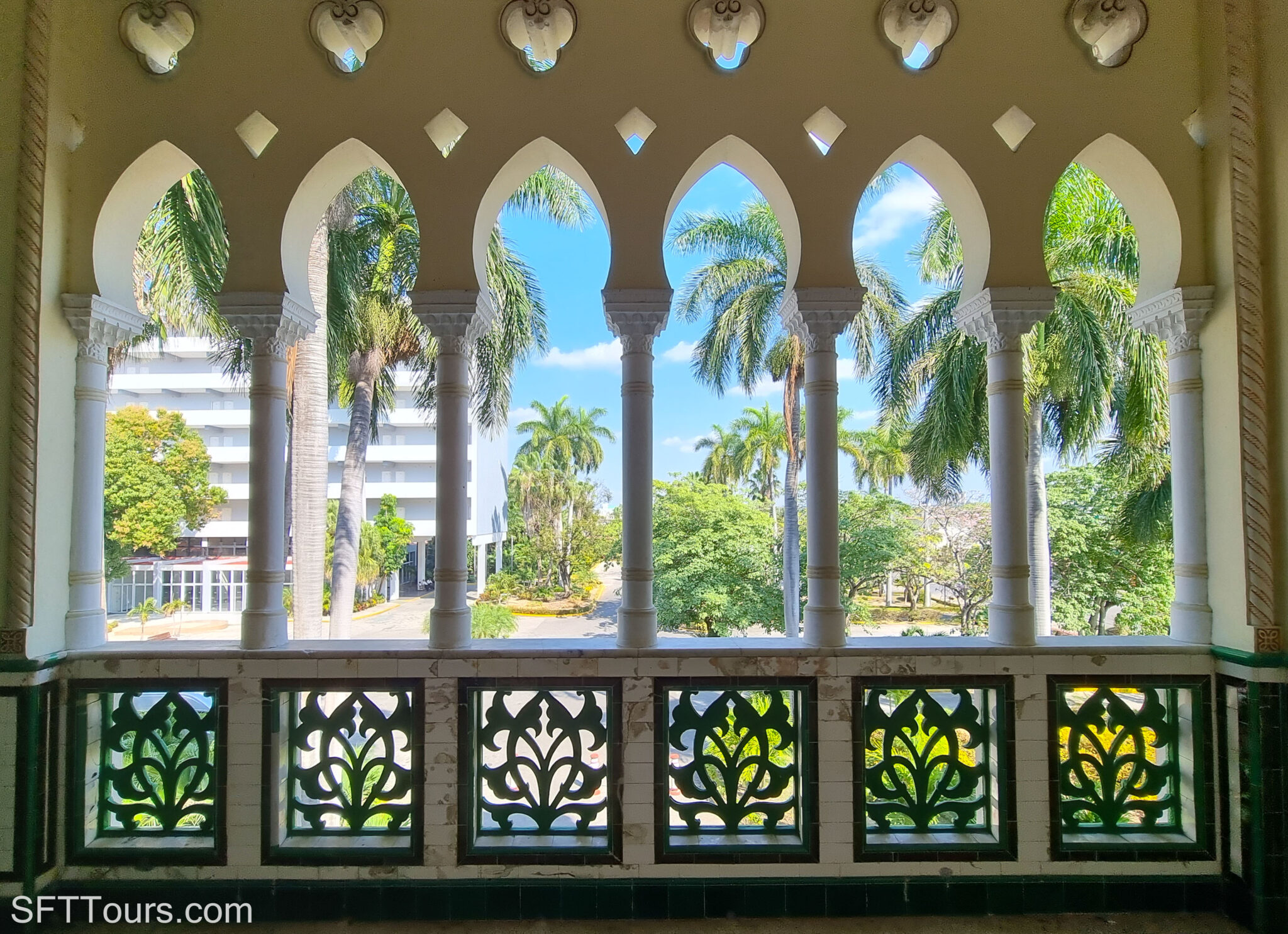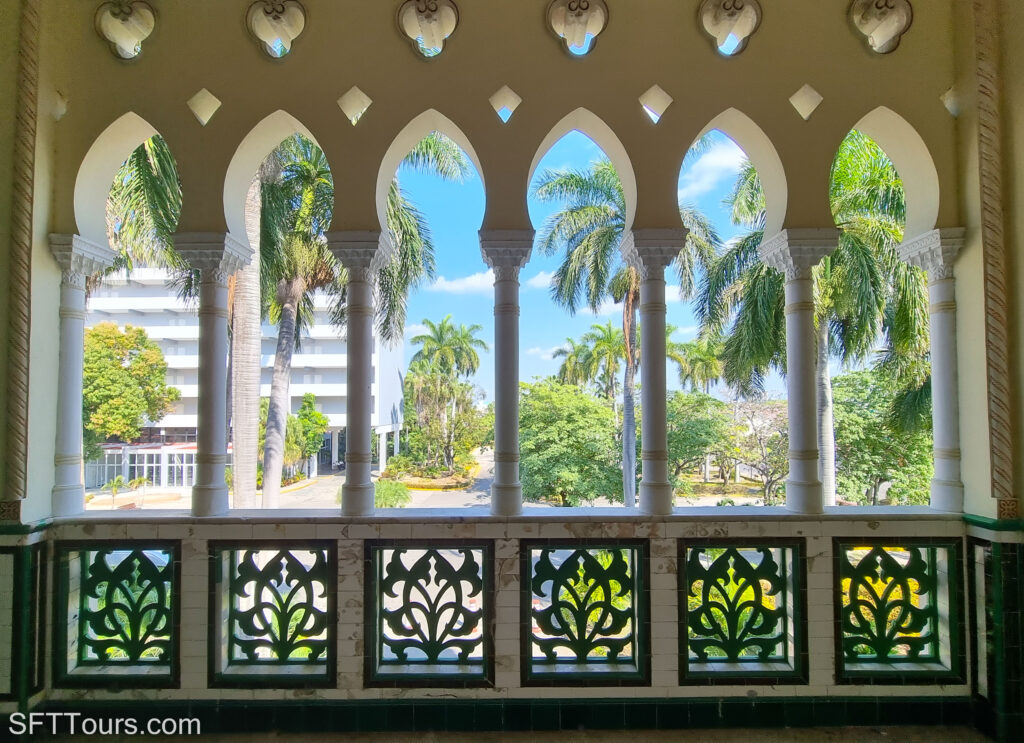 Day 5 : Tobacco farm and Cienfuegos
Driving time: 4-5 hours.
We will start the day early and head out for a hike around the UNESCO listed natural park of Viñales, a protected area that can only be cultivated following organic practices and without any machinery.
The area around Viñales is known for its karst-like landscapes that give way to many hidden caves, its tobacco plantations and many other agricultural activities.
After our maridaje in Havana, today is the time to learn more about how this plant is grown and how cigars are rolled by the hand of a local farming family.
They will roll a cigar in front of our eyes and we will be able to take a puff. We will also learn about coffee plantations, also typical of Viñales, and other locally grown crops.
Our hike will be led by a local female guide, one of only two in the park, who will guide us through nature and point at the various plants, fruits and landscapes. Look out for pineapples!
After our hike and visit, there will be time to purchase cigars to take home. Local farmers have to hand over 90% of their production to the state but can keep 10% for themselves, as own consumption or to sell.
We will then return to the casas to collect our luggage and head out for the day.
We have a long day of driving ahead which will be split by a stop for lunch at a female owned paladar where we will sample local delicacies.
We will continue the journey on the largely empty roads of Cuba towards the south and arrive at the town of Cienfuegos before sunset for a visit and sunset drink at a renowned and beautiful palace.
We will visit the stunning property and go up to the rooftop terrace for views over the peninsula it sits on and the coast on Cienfuegos, and enjoy the sunset with a drink in hand.
Our accommodation for the night is similar to that in Viñales.
We will check in before sharing a dinner feast in the patio of the house of a local woman who will cook another unforgettable meal for us.
Cienfuegos is a rather small village. If you are up for it, there are plenty of bars with live music to enjoy.
Inclusions: Breakfast at the casa, guided hike and farm visit in Viñales, lunch at a female owned paladar, transportation from Viñales to Cienfuegos, dinner in a local house.
Overnight at Casas particulares
There are no privately owned B&Bs in Cienfuegos of the standard and size needed to accommodate all guests so the group will be split into 3-4 nearby local family homes in the comfort category.
All the rooms will be spacious, have twin bedding (or double in cases of single bookings), AC, hair driers, towels, and offer cooked breakfast.
---
Day 6 : Cienfuegos and Trinidad
Driving time: 1 hour.
Since we did not have much time to visit Cienfuegos the night before, we will have some free time this morning to wander the pastel colores streets after an orientation walk with our host.
Cienfuegos is a paired down, smaller but much better preserved (and newer) version of Habana Vieja.
Its facades are often in pristine condition, the paint is largely freshly painted and the streets have been choreographed to look like they came out of a fairytale.
After some free time to take those Instagrammable pictures, we will continue to Trinidad, one of Cuba's most famous cities, in the south of the country.
We will have lunch in the town and check into our female owned B&B which is located right in the middle of the town.
Our time in Trinidad will start with an orientation walk and we will then continue to the house of a local artist who will tell us all about her project and style.
Her paintings are inspired by colonial times and she likes to combine painting with crochet, a Trinidad favorite souvenir and art form. Her paintings are colorful and her technique is uniquely hers.
We will then have a bit of free time to wander the cobblestone streets of Trinidad and maybe buy some souvenirs.
The town is known for the many art galleries, stores and artisanal work, from crochet to clothing, jewelry to fashion, and art of all kinds.
In the evening, we will meet again for a rum tasting and cocktail making class where we will learn how to make all of Cuba's famous rum-based cocktails: Mojito, Cuba Libre, Piña Colada, Daiquiri and Canchanchara (typical of Trinidad).
Dinner will follow and this time, we will share it at a bit more upscale restaurants rather than a local home.
The night is always young in Trinidad and live salsa music and dancing is available at every corner. As our B&B is centrally located, you can stay up till late and dance the night away to the sound of local rhythms, you now know how!
Inclusions: Breakfast at the casa, orientation walk in Cienfuegos, transportation to Trinidad, lunch and walking tour of Trinidad, visit to a local female artist, rum tasting and cocktail making class, dinner at an upscale local restaurant.
Overnight at Hostal Lola
Hostal Lola is a female owned B&B located in the center of Trinidad, within walking distance to all of the town's attractions.
Rooms are spacious and split over two floors of this grand house that is decorated with traditional furniture from the town's colonial past.
Breakfast is served in a breezy patio flanked by bright bougainvillea flowers and the owner's art pieces dot the property, adding color and personality to Trinidad's preserved historical center.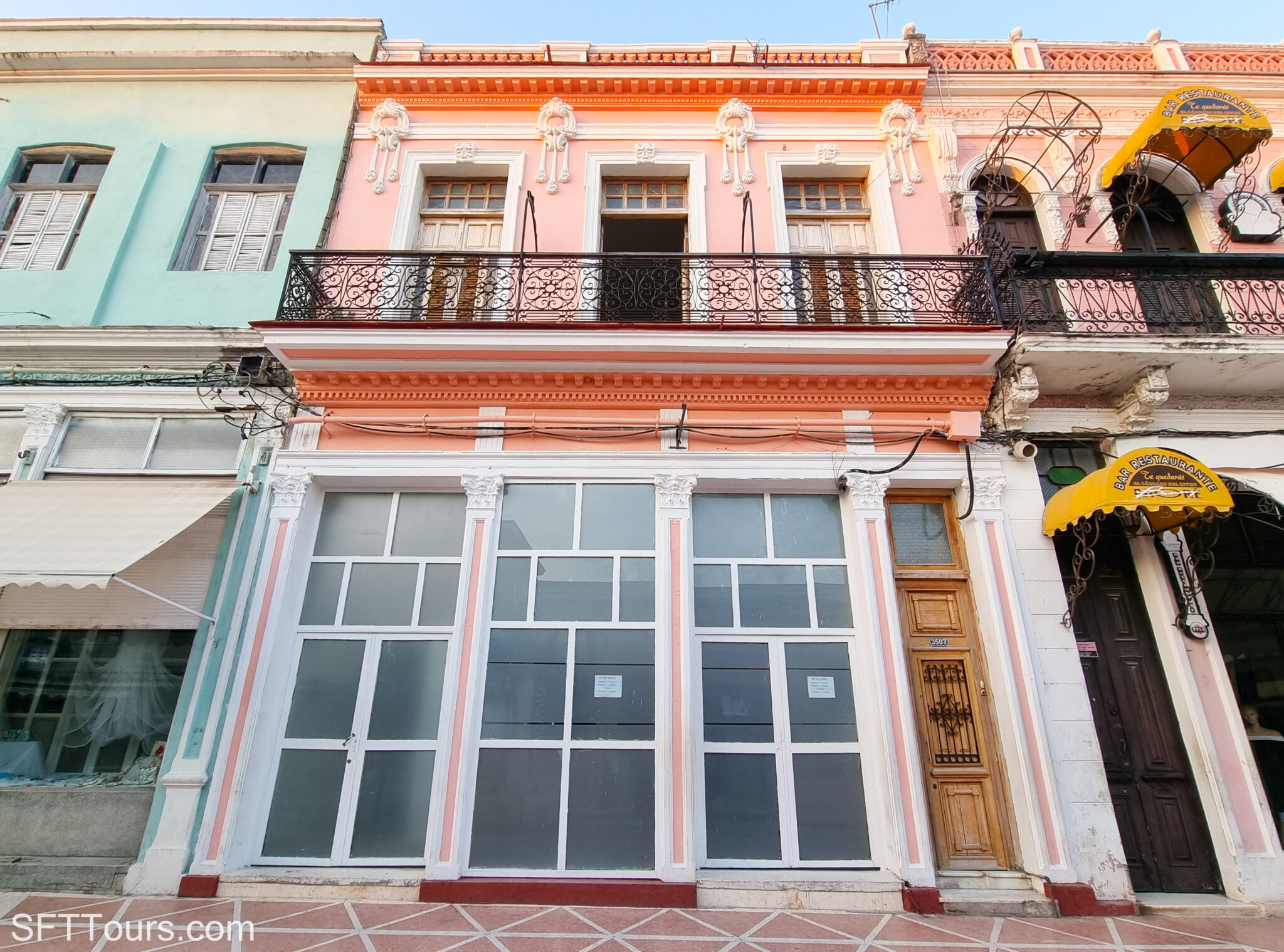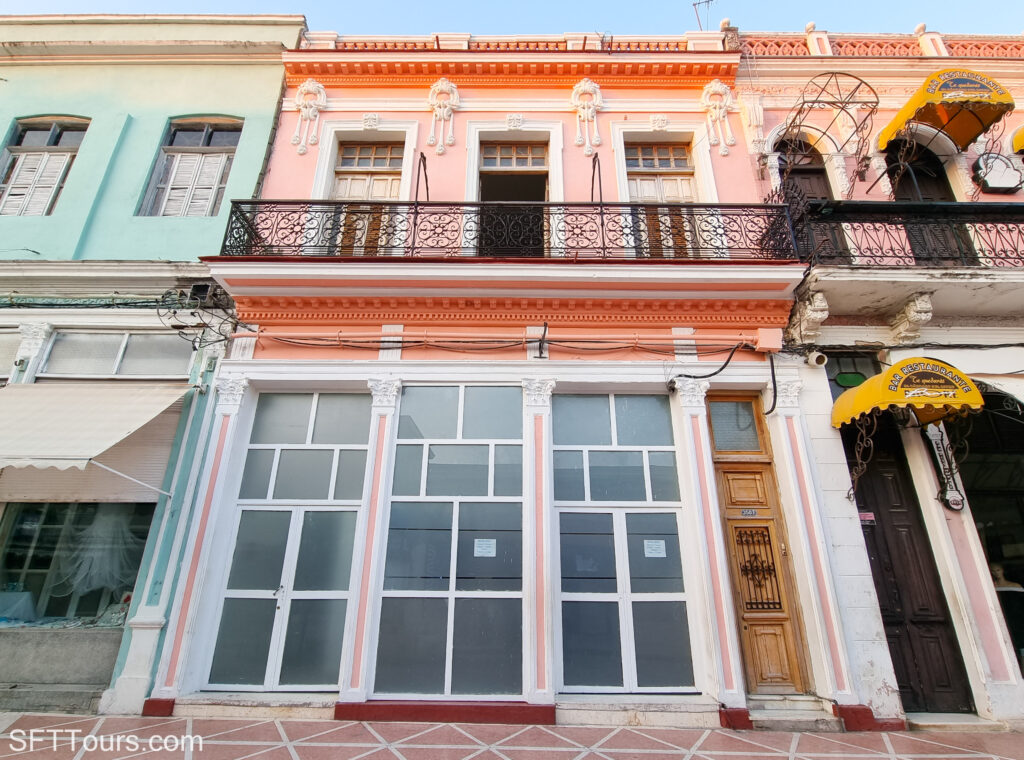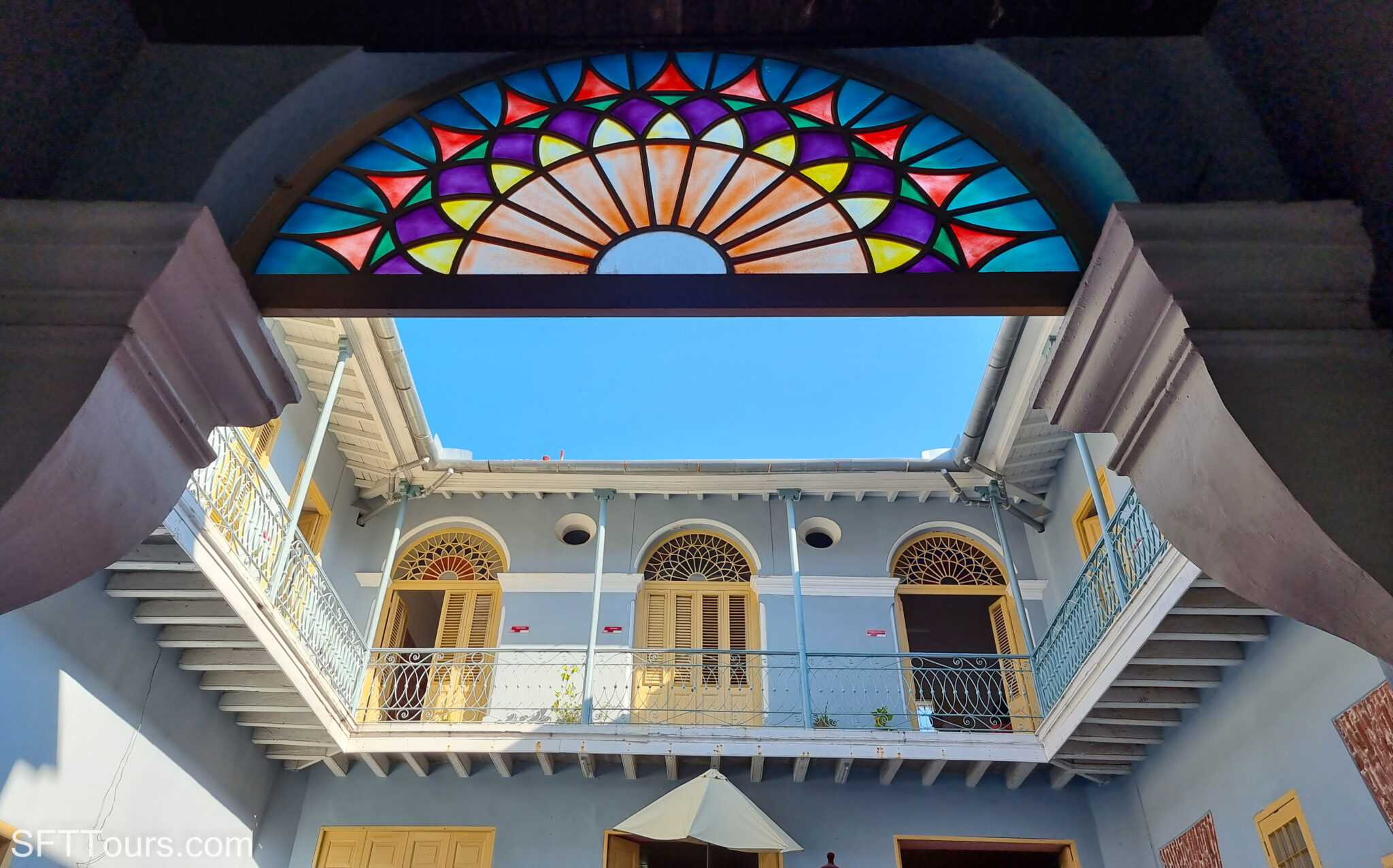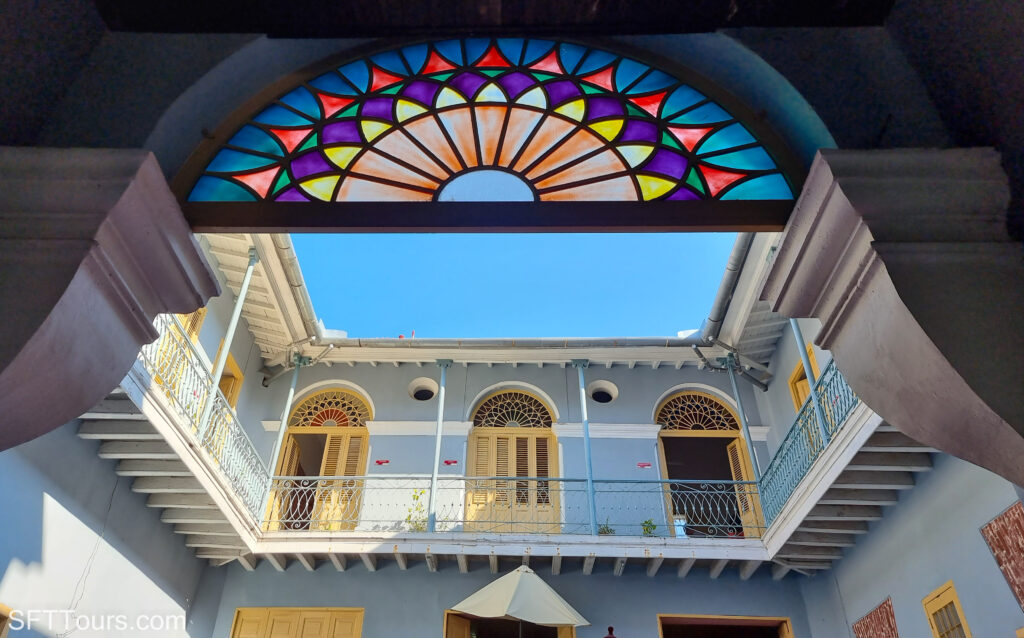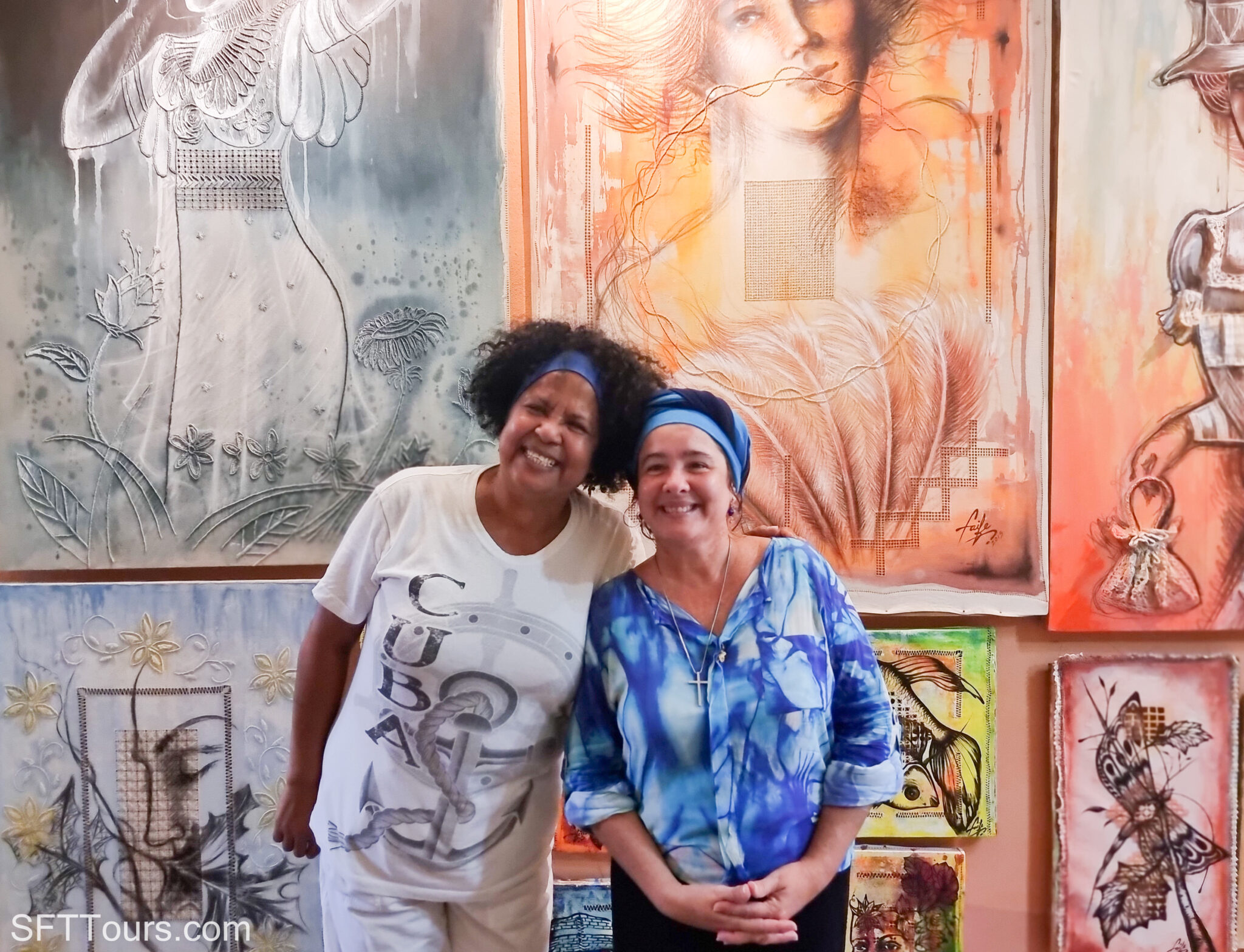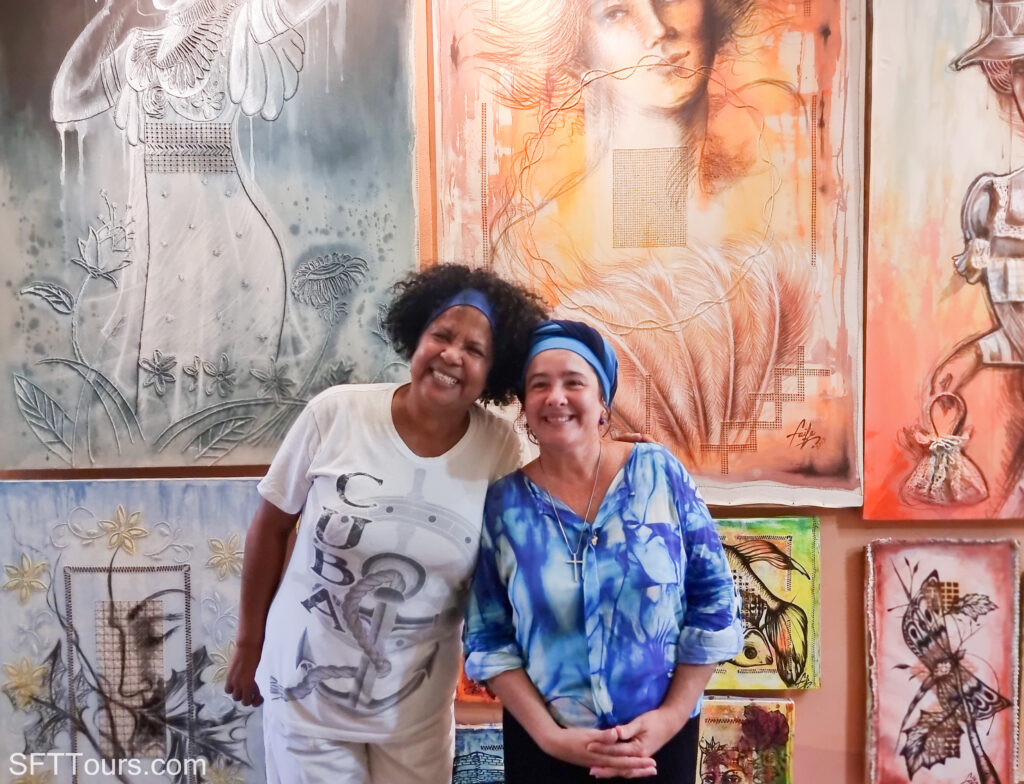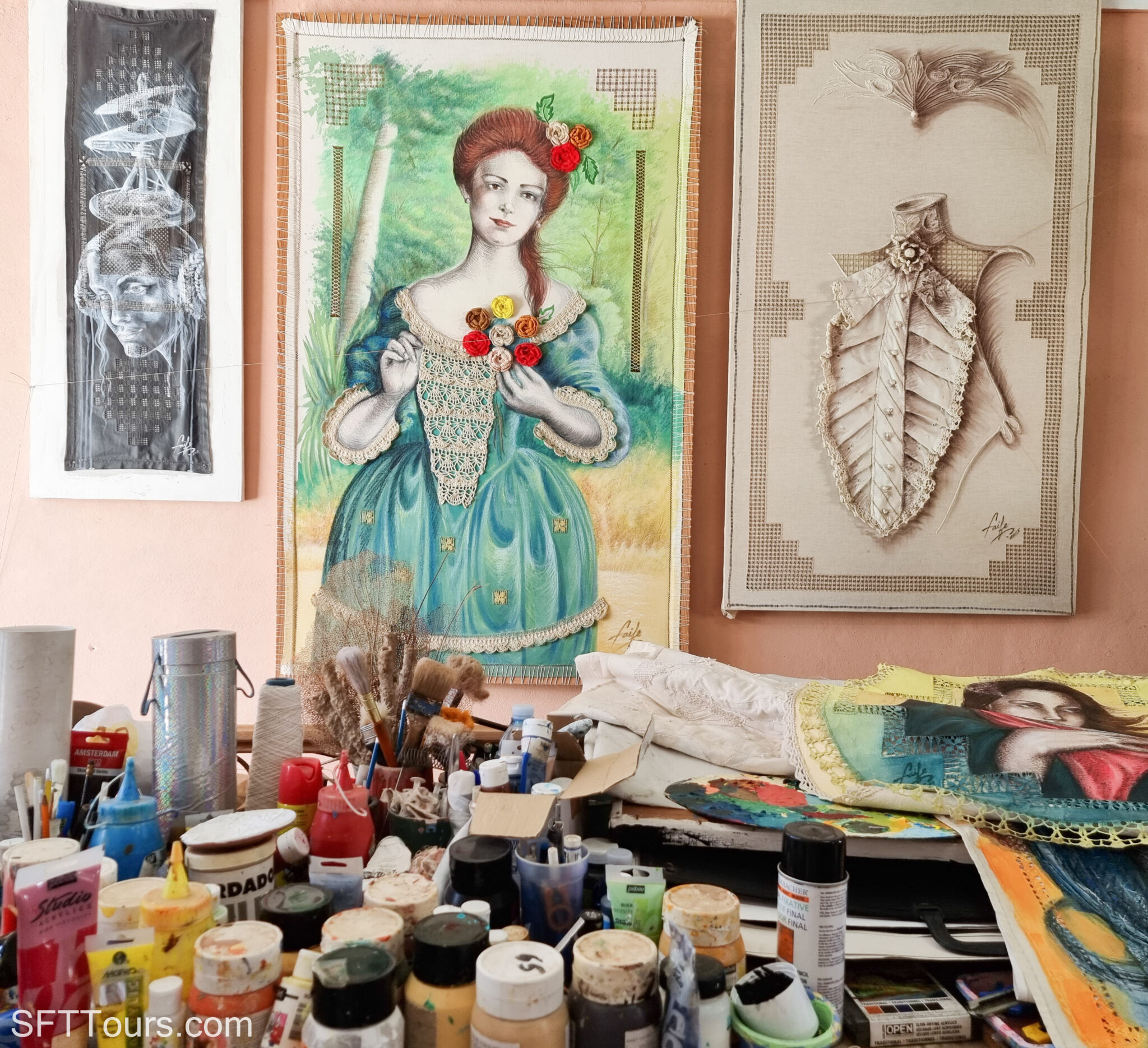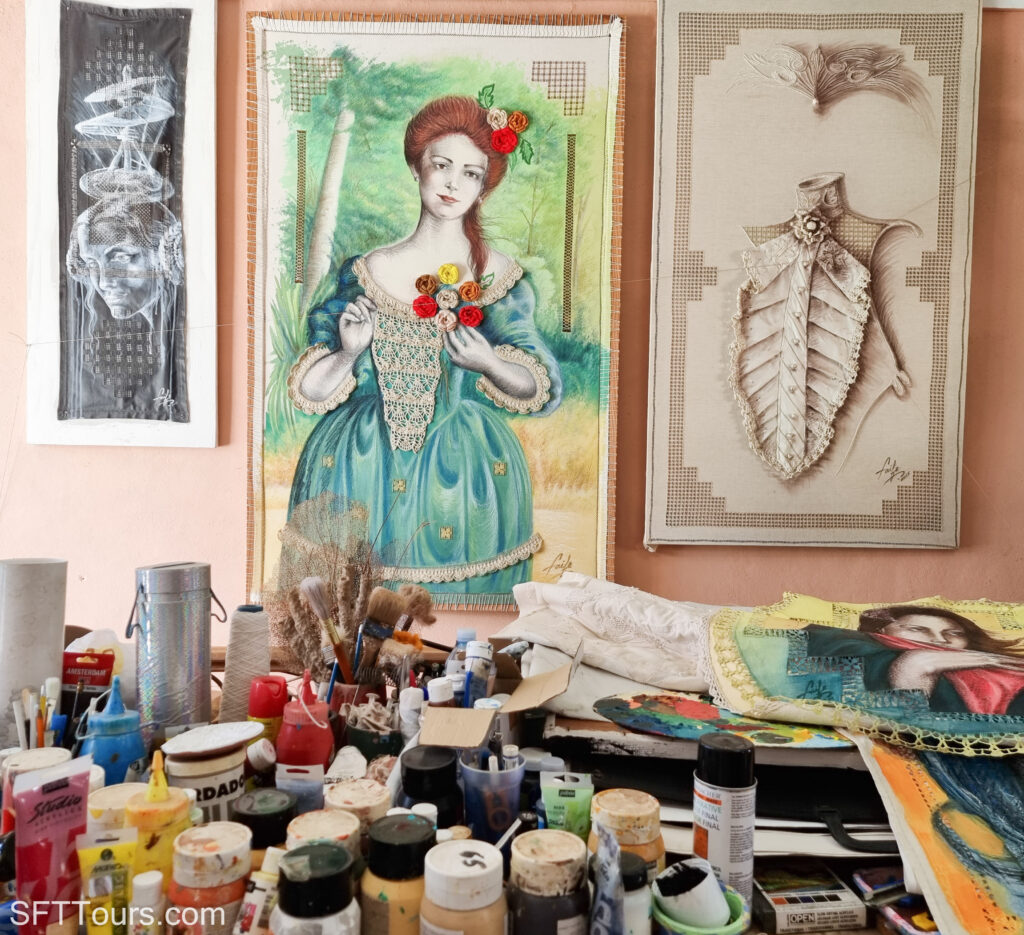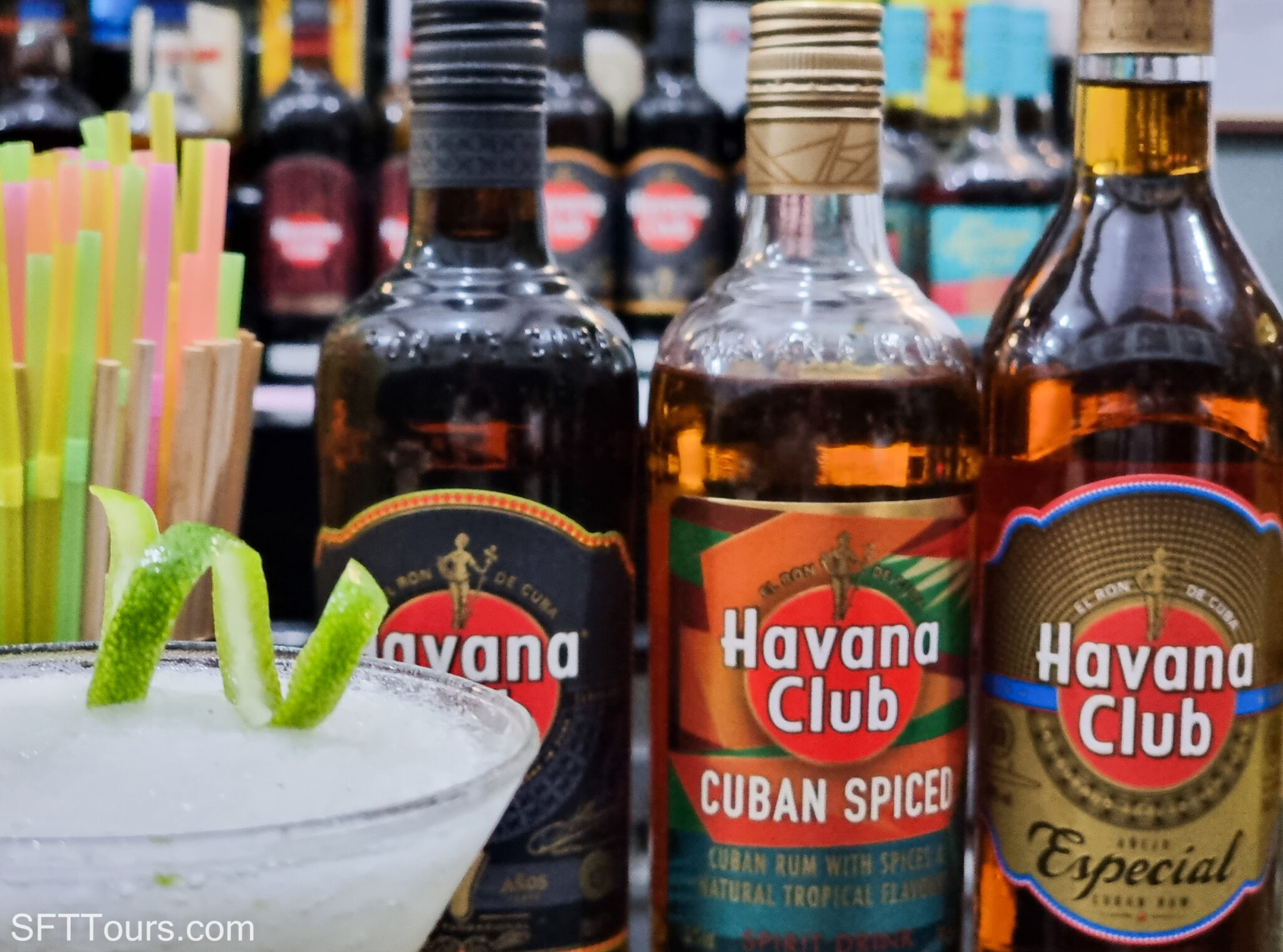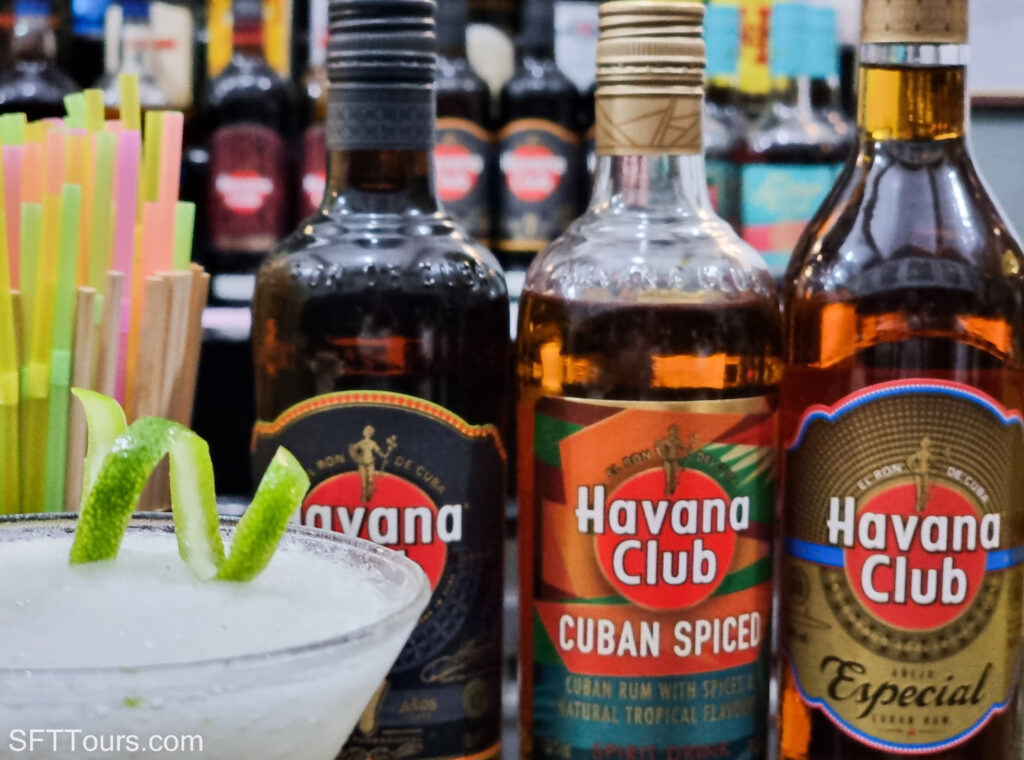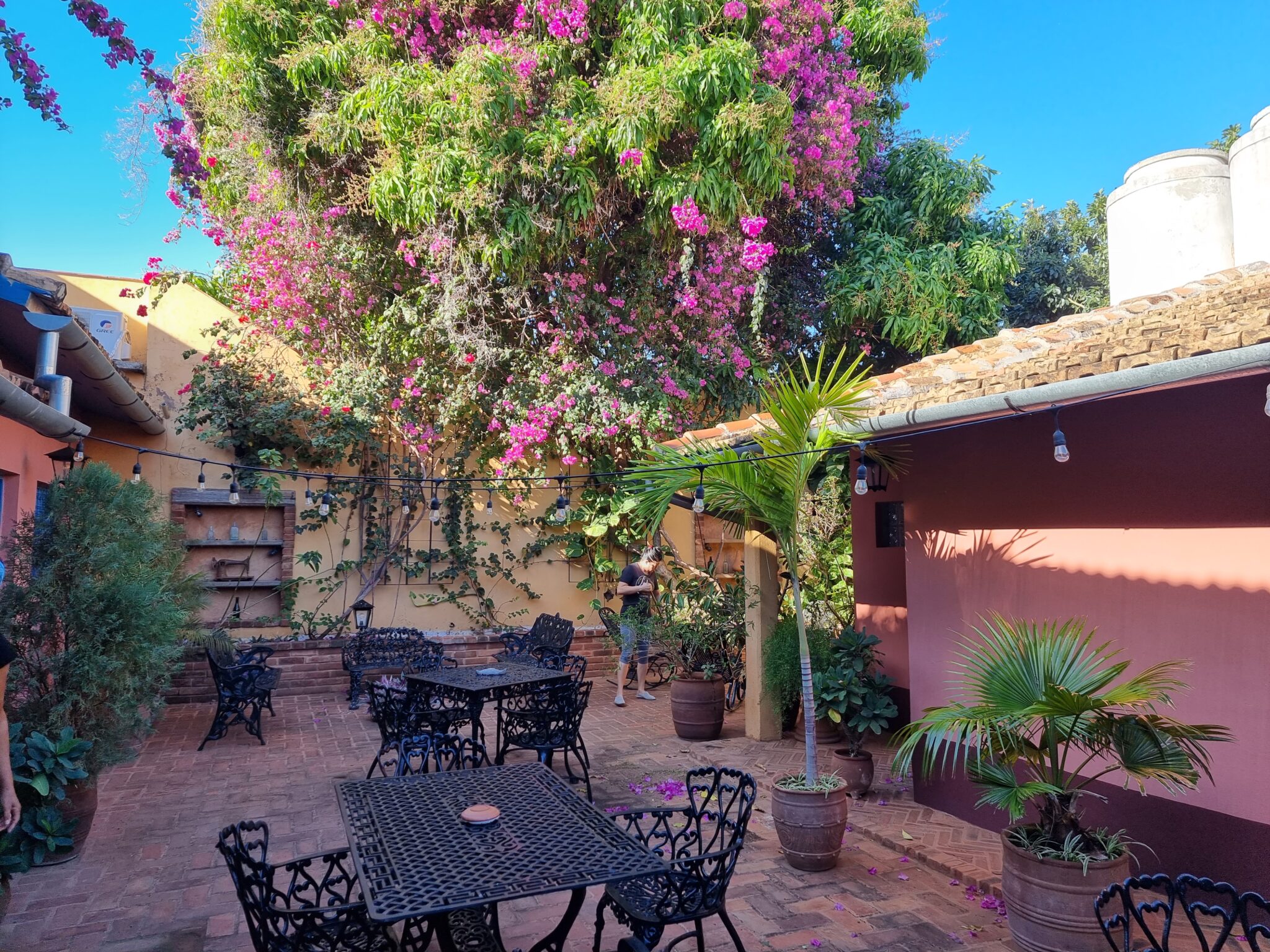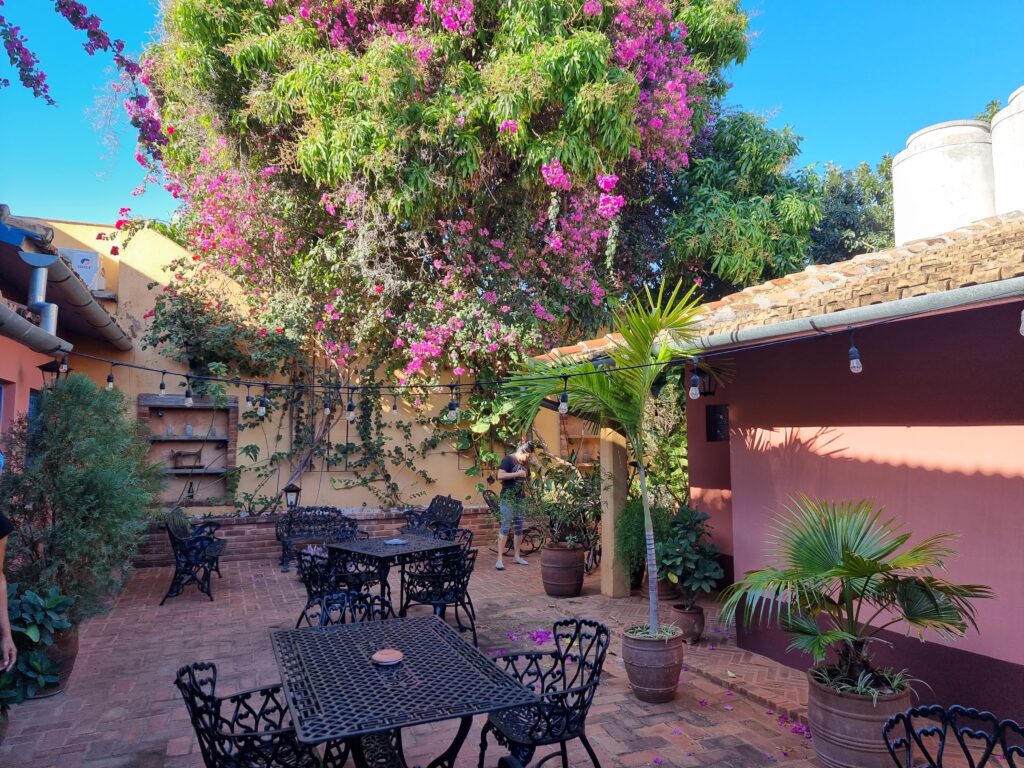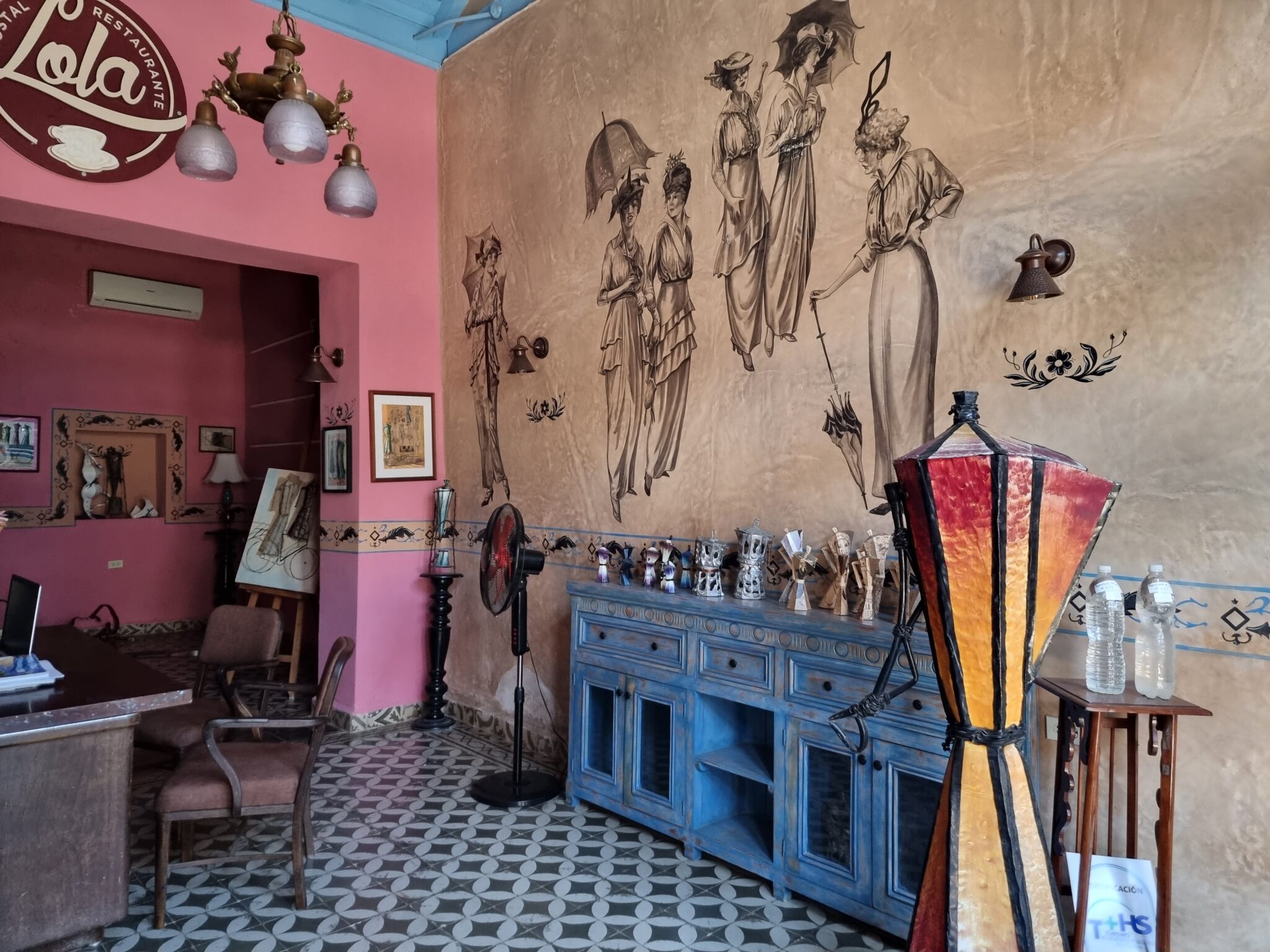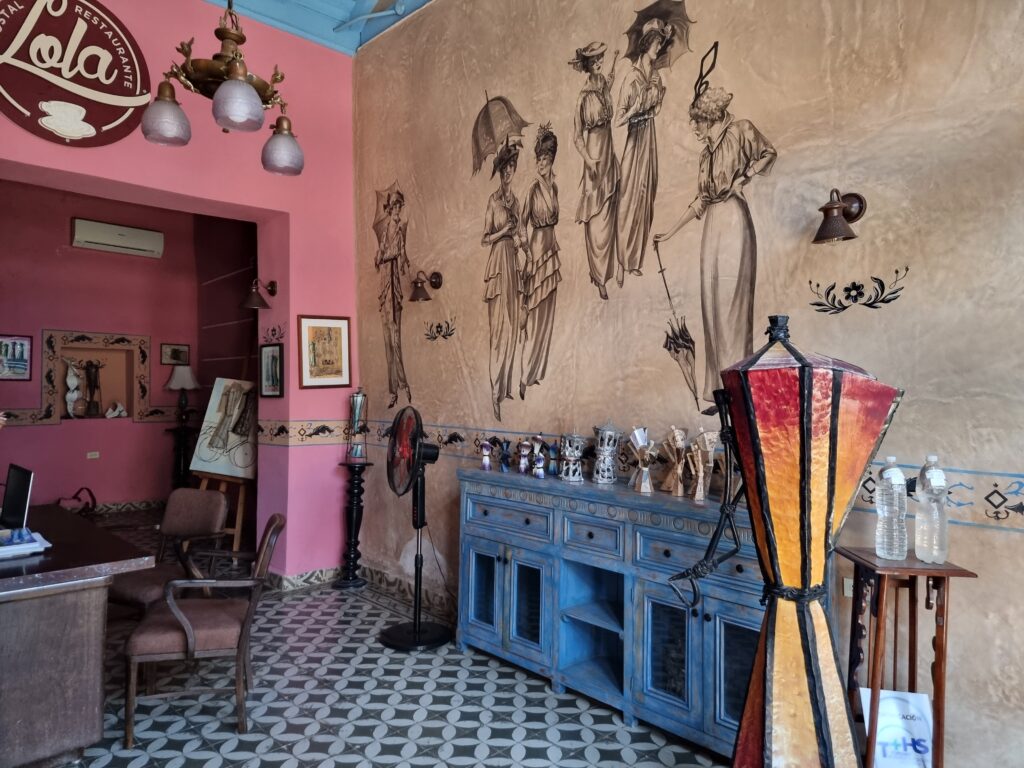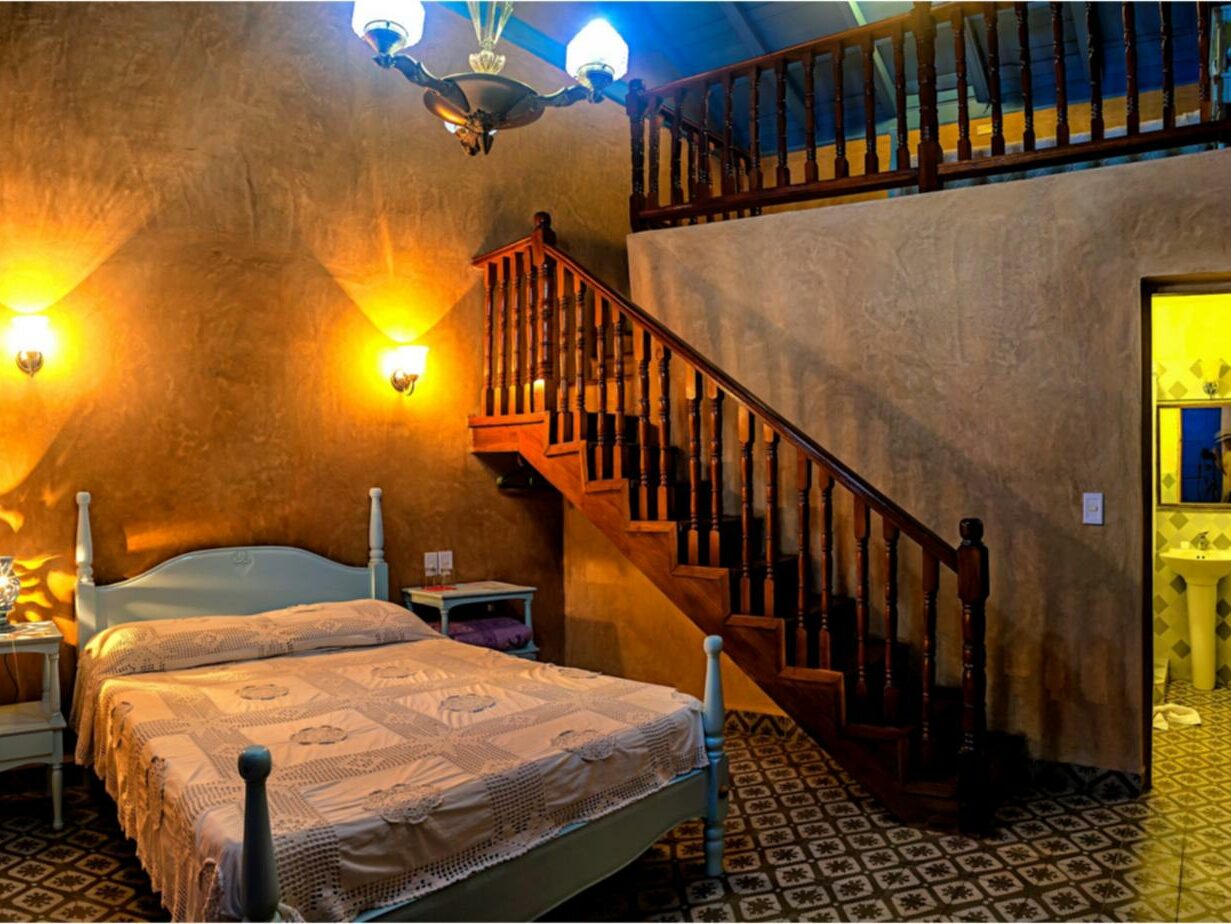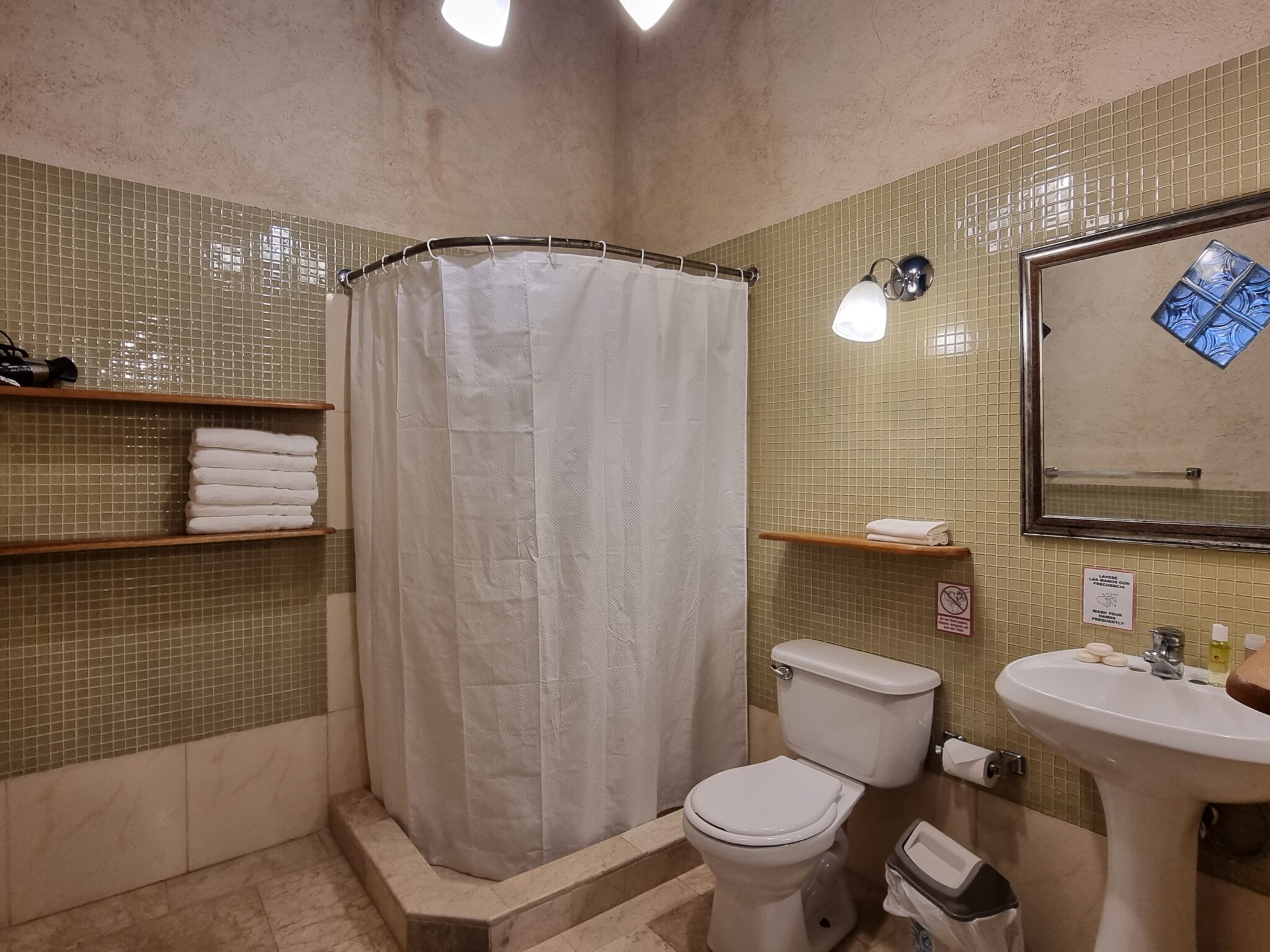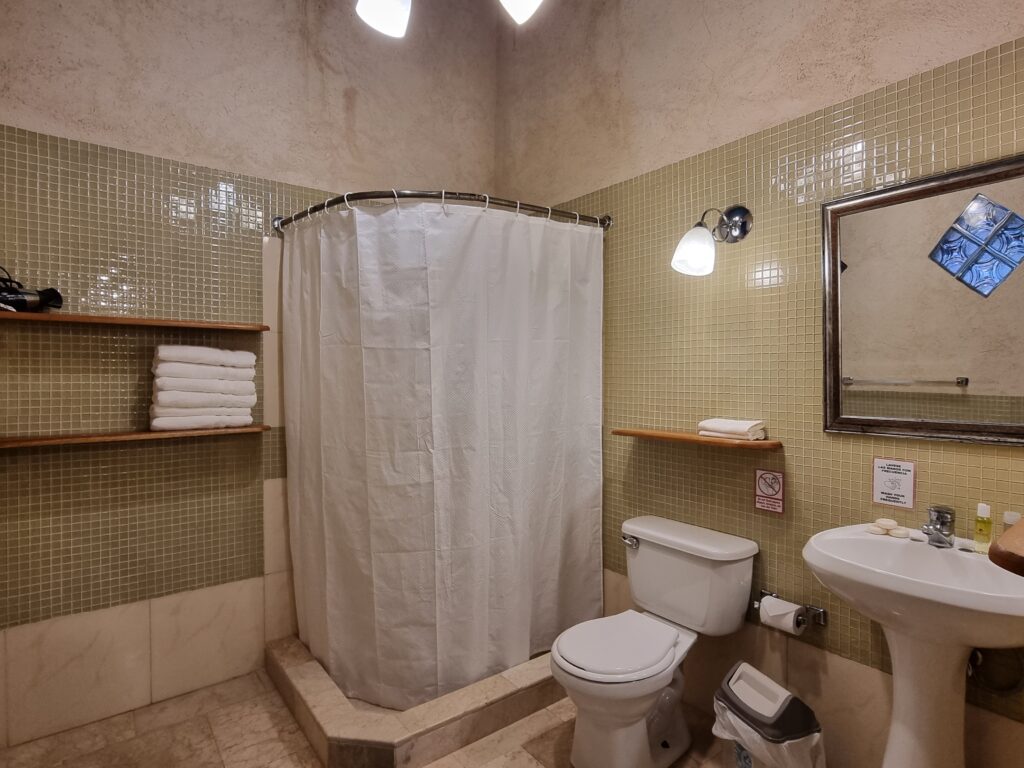 ---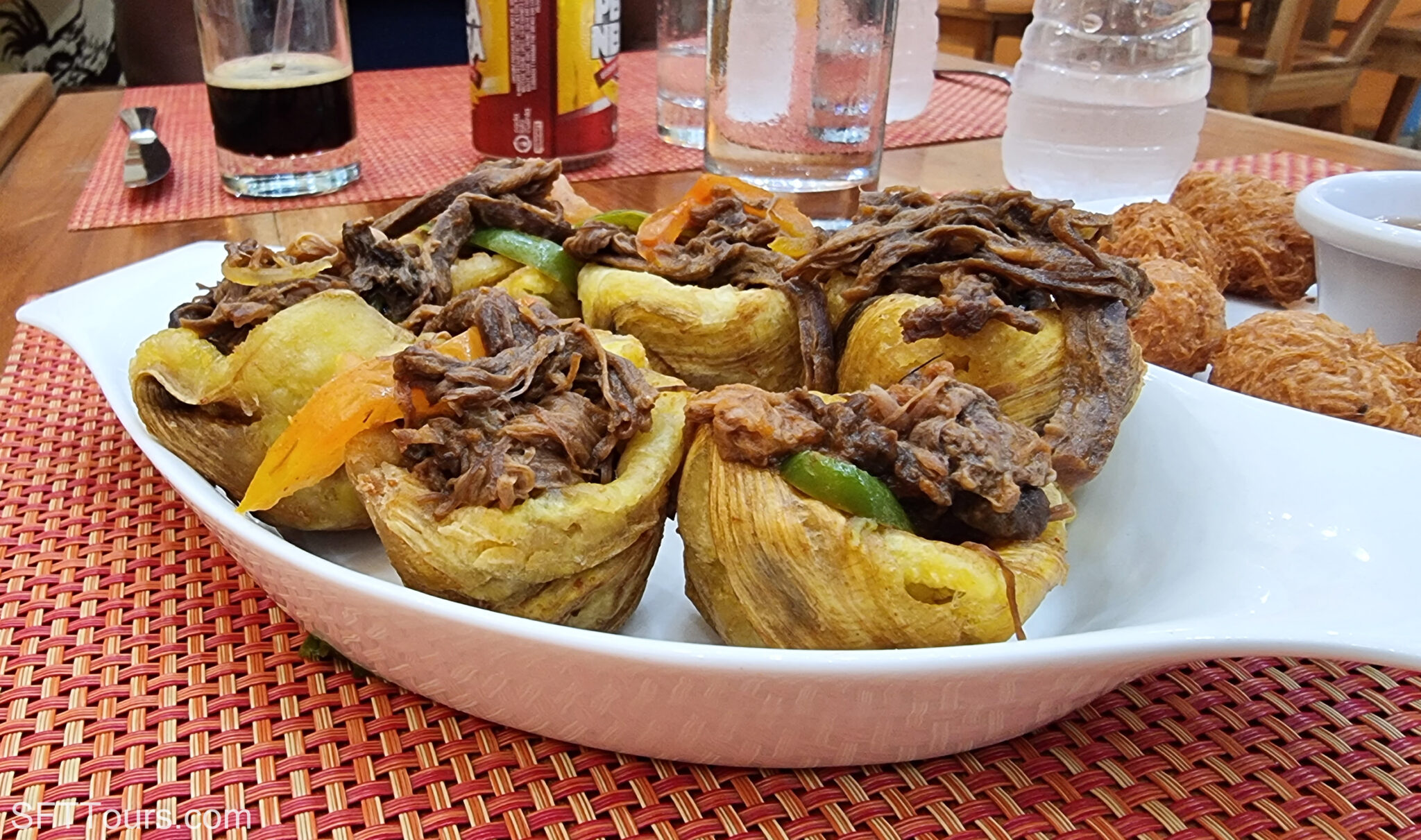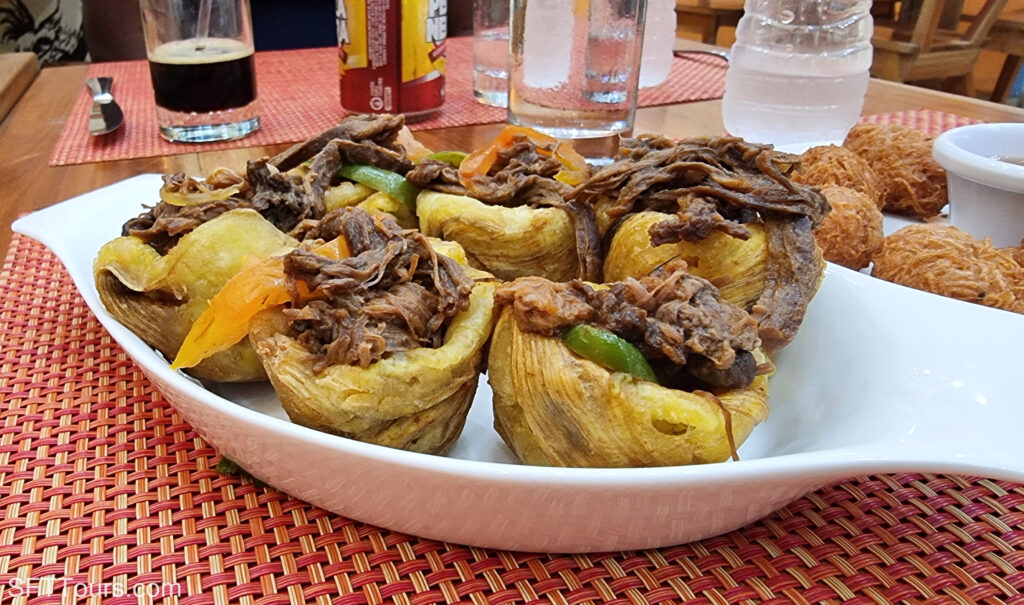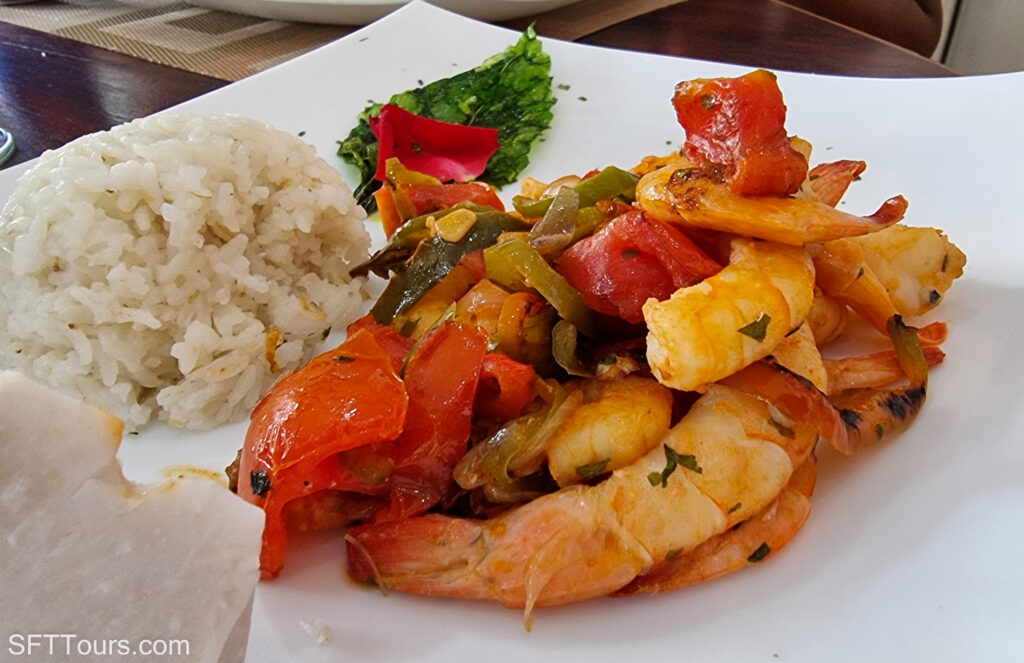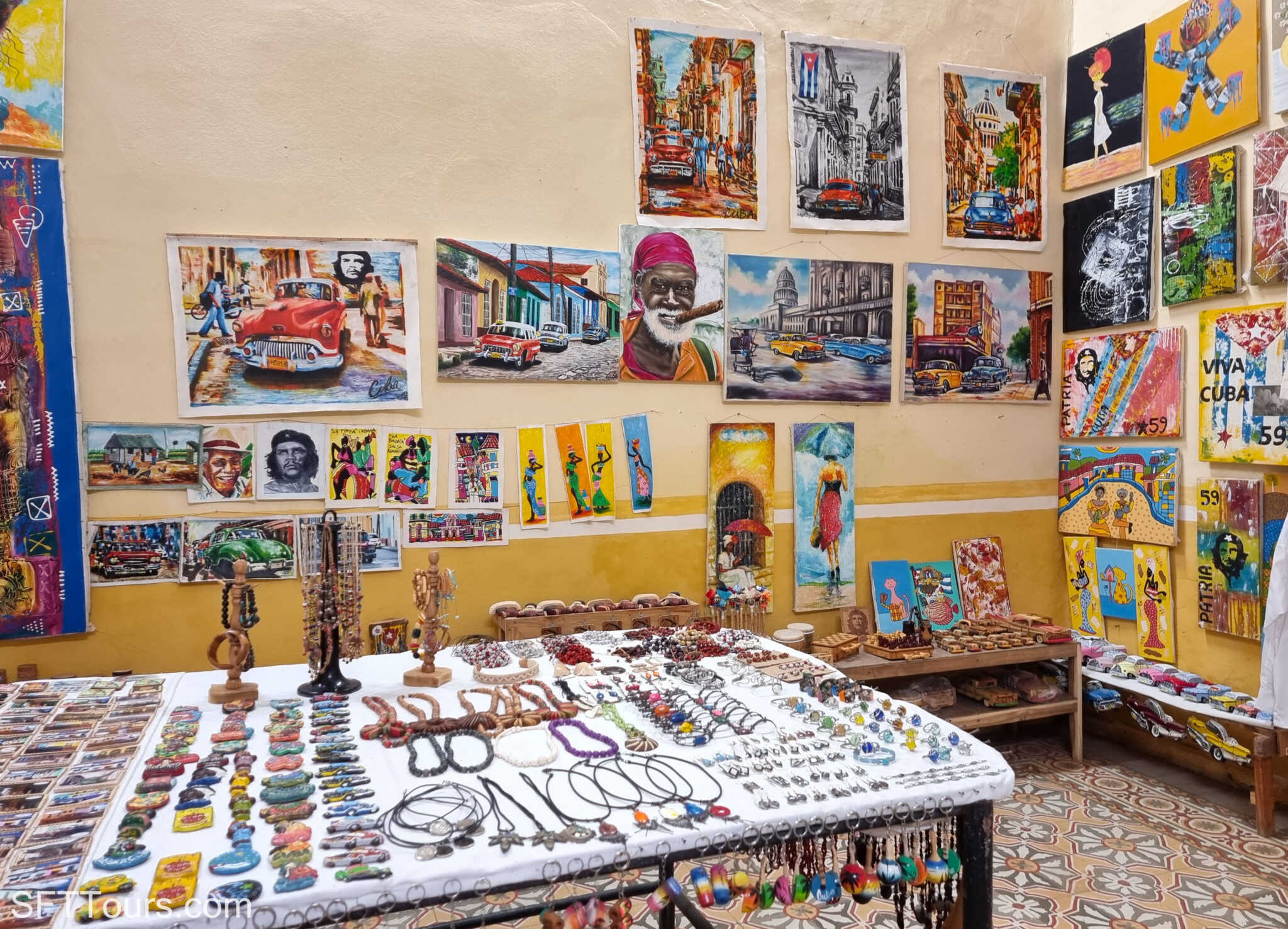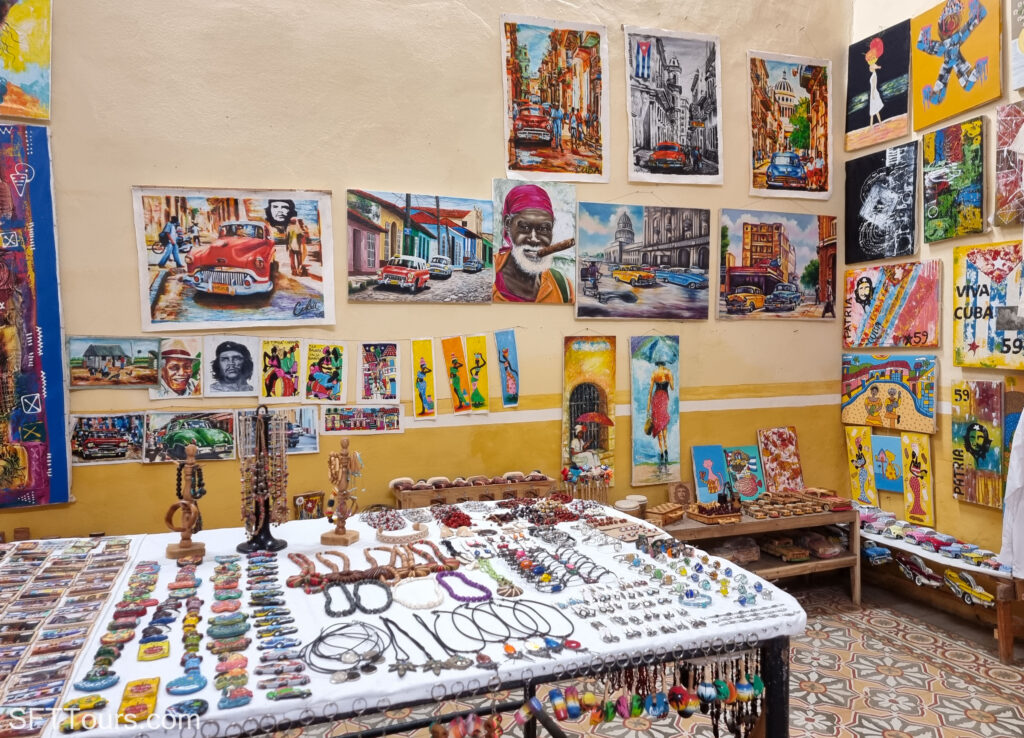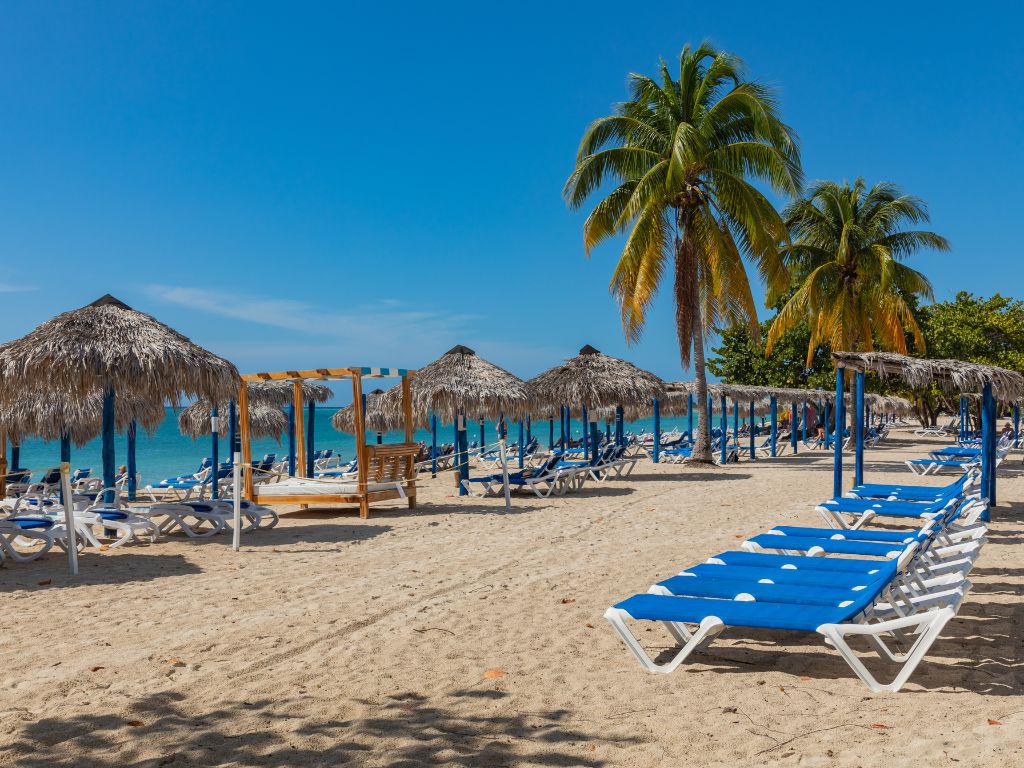 Day 7 : Trinidad
Today is a day to relax and enjoy Trinidad at your own pace.
We will have a late start (so you can enjoy the salsa dancing the night before!) and then visit a local home for a cooking class of popular Cuban dishes you can recreate at home.
This is your chance to learn how to cook those delicious lobster dishes, the famous Cuban ropa vieja dish, the malanga fritters or any other dish, at the home of a Trinidadian woman.
We will enjoy our creations for lunch and the afternoon will be free for you to enjoy, with an optional drop off at the nearby Ancon Beach, one of the nicest beaches in this part of Cuba.
Ancon Beach has sun loungers, coconut sellers, people selling drinks and thatched umbrellas to laze around and read a book. We've had a few packed days so this is your chance to relax.
In town, go shopping for beautiful souveniurs, crochet clothing pieces of table cloths, art, paintings and handicrafts, all of which are locally produced.
Trinidad is known for its artisans and this is your chance to find what you are looking for at better prices than in Havana.
We will meet back again at dinner for a treat at a romantic pastel yellow restaurant with an outdoor terrace. Live salsa is always playing!
Our last night in Trinidad is your chance for one more salsa evening.
Inclusions: Breakfast at the hotel, cooking class and lunch, dinner at a restaurant in town, optional drop off at Ancon Beach.
Overnight at Hostal Lola.
---
Day 8 & 9 : Mafia tour and farewell dinner
Driving time: 4-5 hours.
We will depart Trinidad early and drive back to Havana with packed lunch en route.
When we arrive in Havana, we will check into our lovely and fabulous B&Bs in the upscale area of Vedado and head out for our fascinating Mafia tour.
Cuba became a popular destination for Americans during the ruling of Bautista, who welcomed casinos and mobsters to the island at the time when the Prohibition turned the US into a dry territory.
The Mafia accumulated obscene wealth and used Cuba to launder all their profits, as illustrated in movies such as The Godfather, while tourists basked in the country's sunshine and free flowing rum.
In 1946, one of the most important gatherings of mobsters congregated all the heads at the Hotel Nacional where they split regions and profits and agreed on who would do what.
Out tour will follow the events that led to Cuba being at the center of the mob and its demise and will end at El Nacional for a drink at the bar, surrounded by pictures of all the famous celebrities, politicians and mafia leaders who passed by its doors.
Our farewell dinner will be at one of the coolest and most hip rooftop restaurants in Havana.
Under the twinkling lights and above a sprawling art and music warehouse that hosts changing and evolving exhibitions by all sorts of local designers, artists, musicians and more, we will share one last meal.
After dinner, we will head downstairs to La Fabrica de Arte Cubano where you can enjoy several unique spaces showcasing art and music of all genres accompanied by drinks.
Inclusions: Breakfast at the hotel, packed lunch en route, mafia tour with a drink at El Nacional, farewell dinner with drinks, entry to Fabrica de Arte.
On day 9, you will depart after breakfast (included). Your airport transfer is not included, but our host, or the hotel, can help you organize it.
Overnight at ArteHotel and similar
Our last night in Havana will be spent at the beautiful ArteHotel, owned by a Cuban female actress and her Spanish husband, who live onsite.
The hotel is split into several levels with a beautiful rooftop terrace and themed rooms that follow the various arts genres, from poetry to film or music.
Each room is individually decorated with bright colorful pieces that contrast agains the muted background, and have quotes from the artist that inspired them.
Depending on the number of guests, we will all be staying at ArteHotel or be split between the hotel and nearby upscale B&B of the same quality standards. Breakfast will be held together.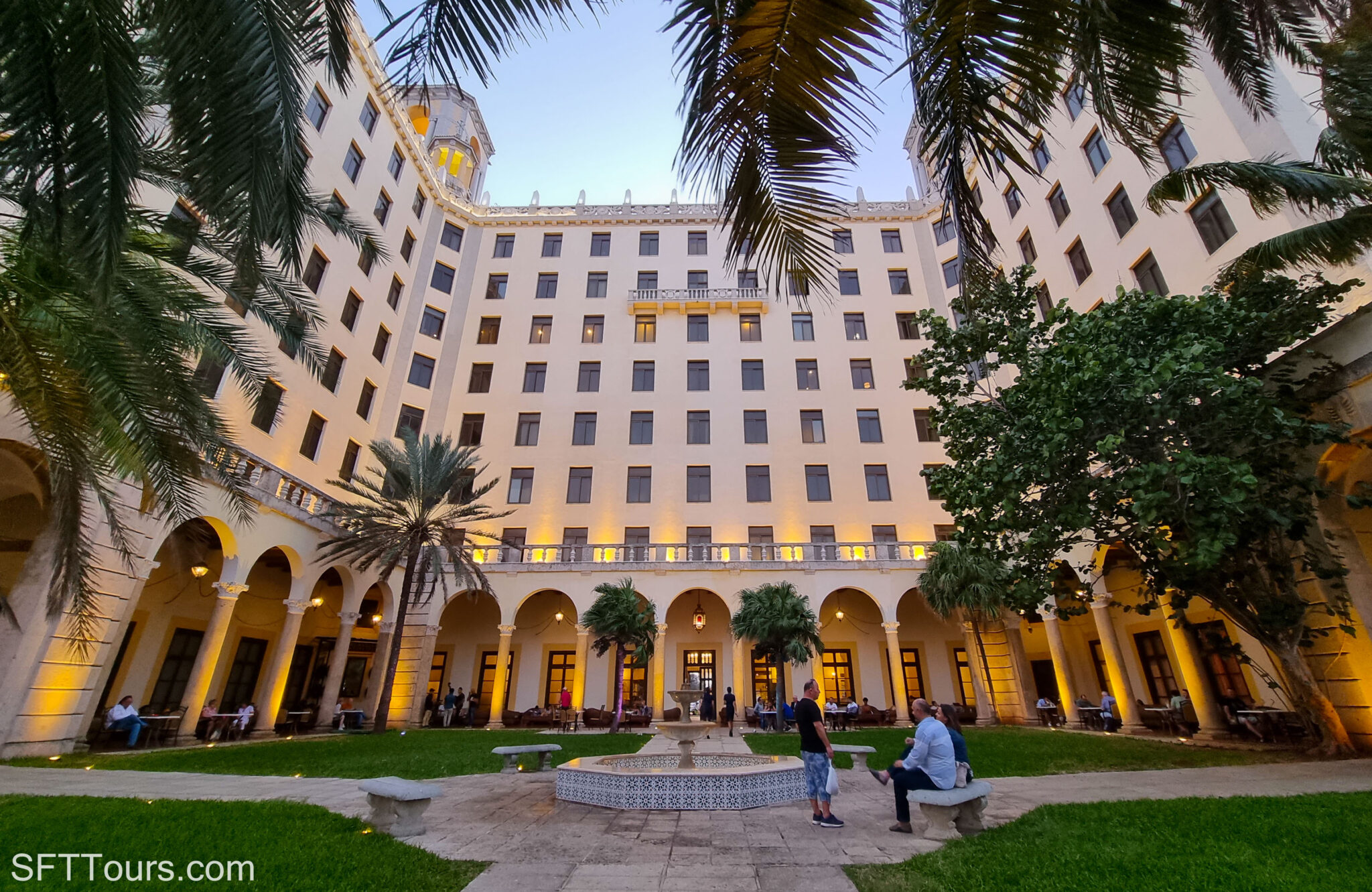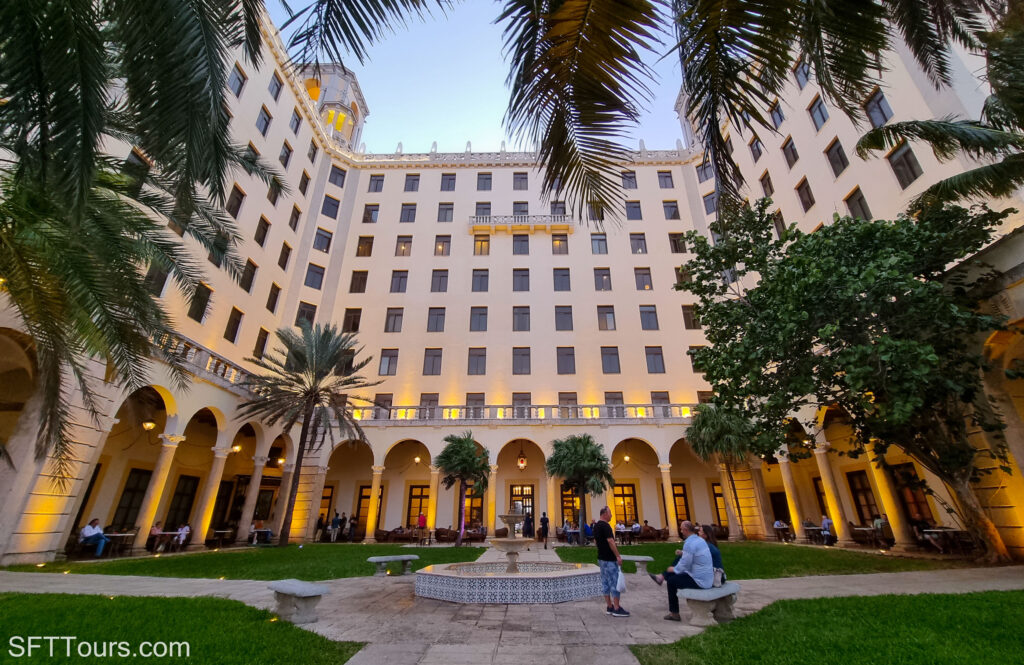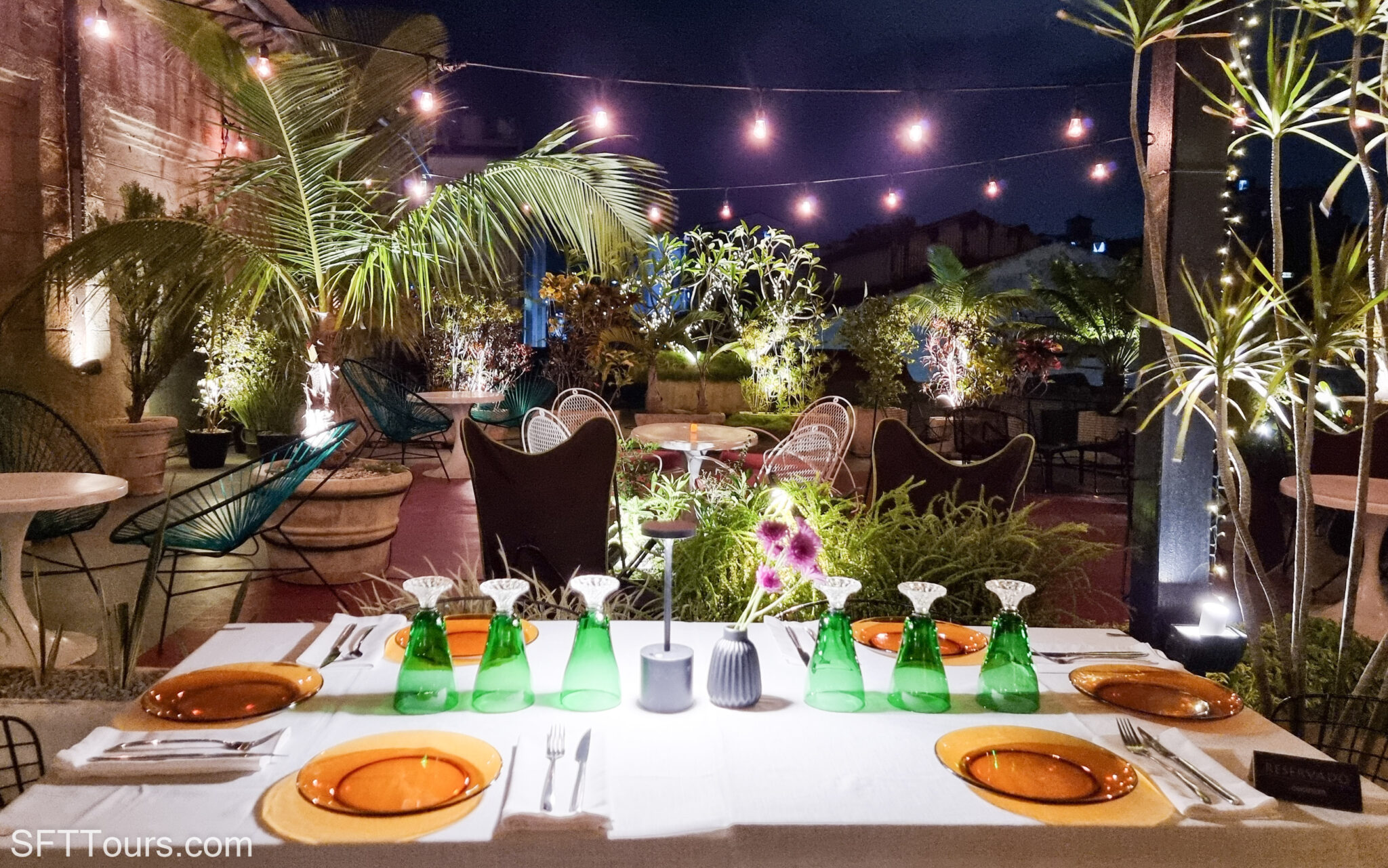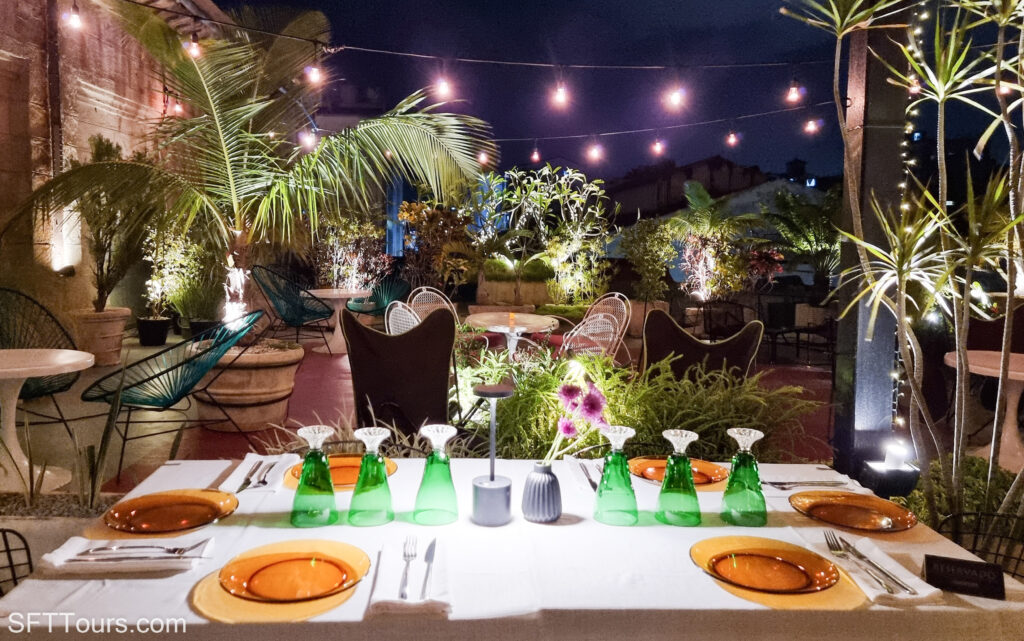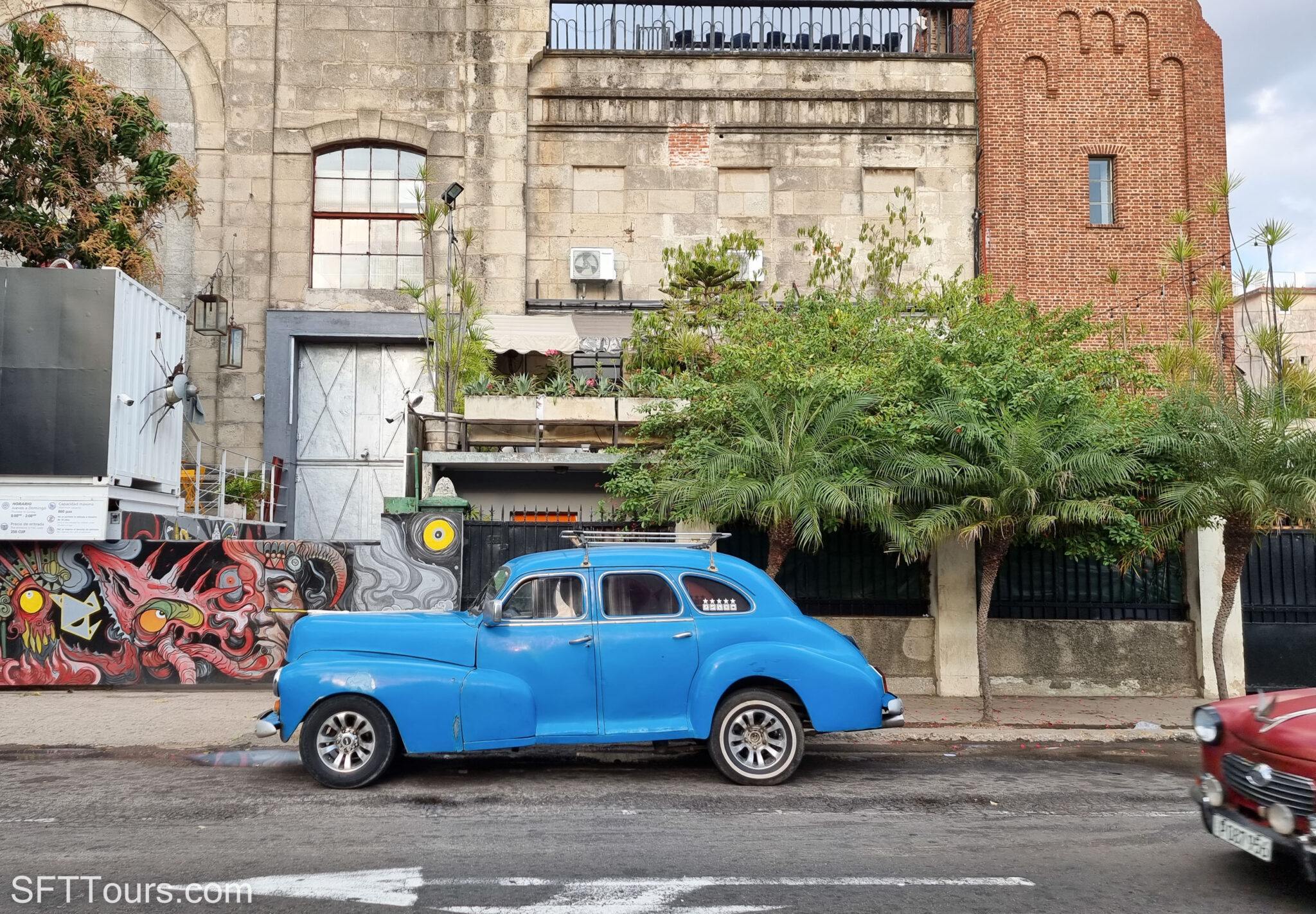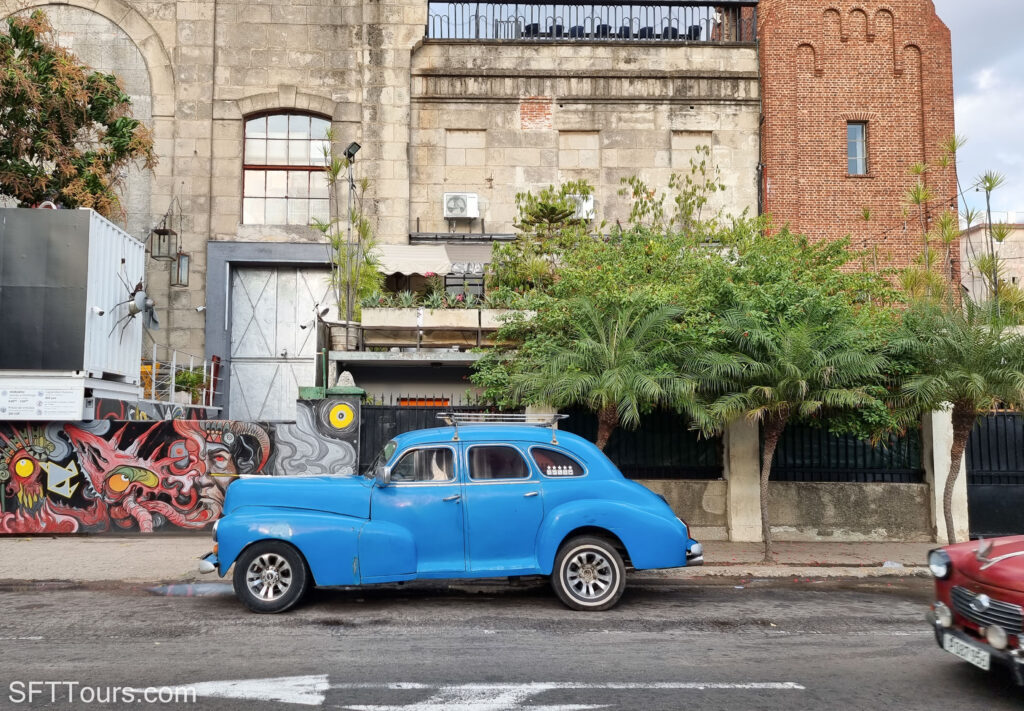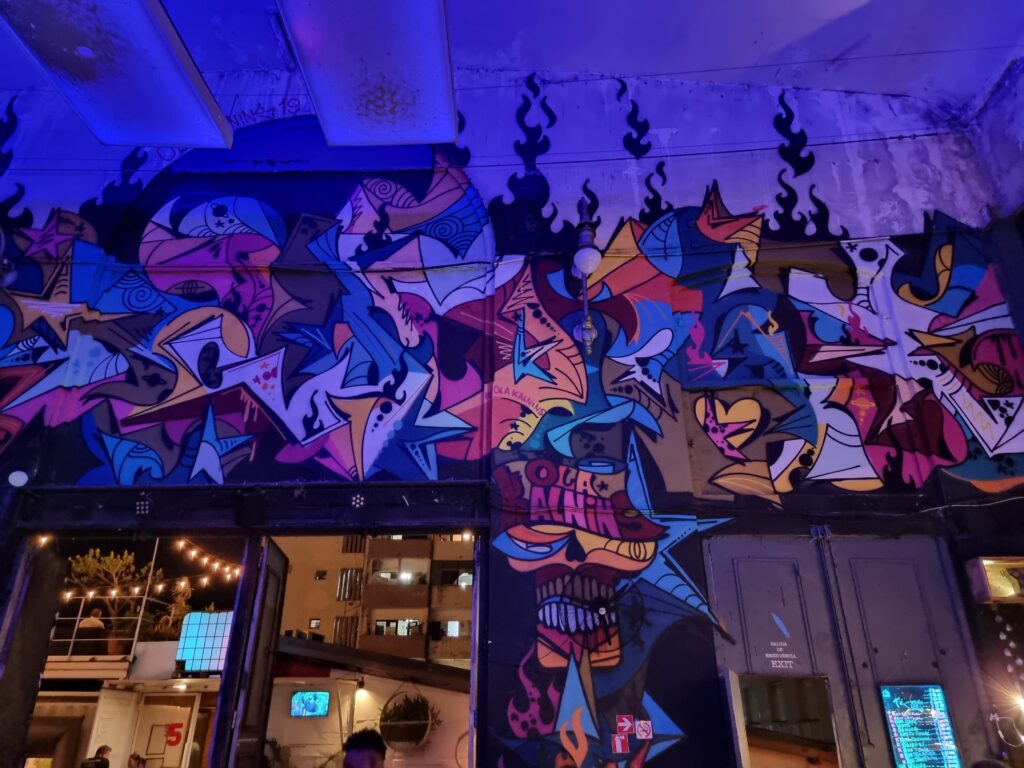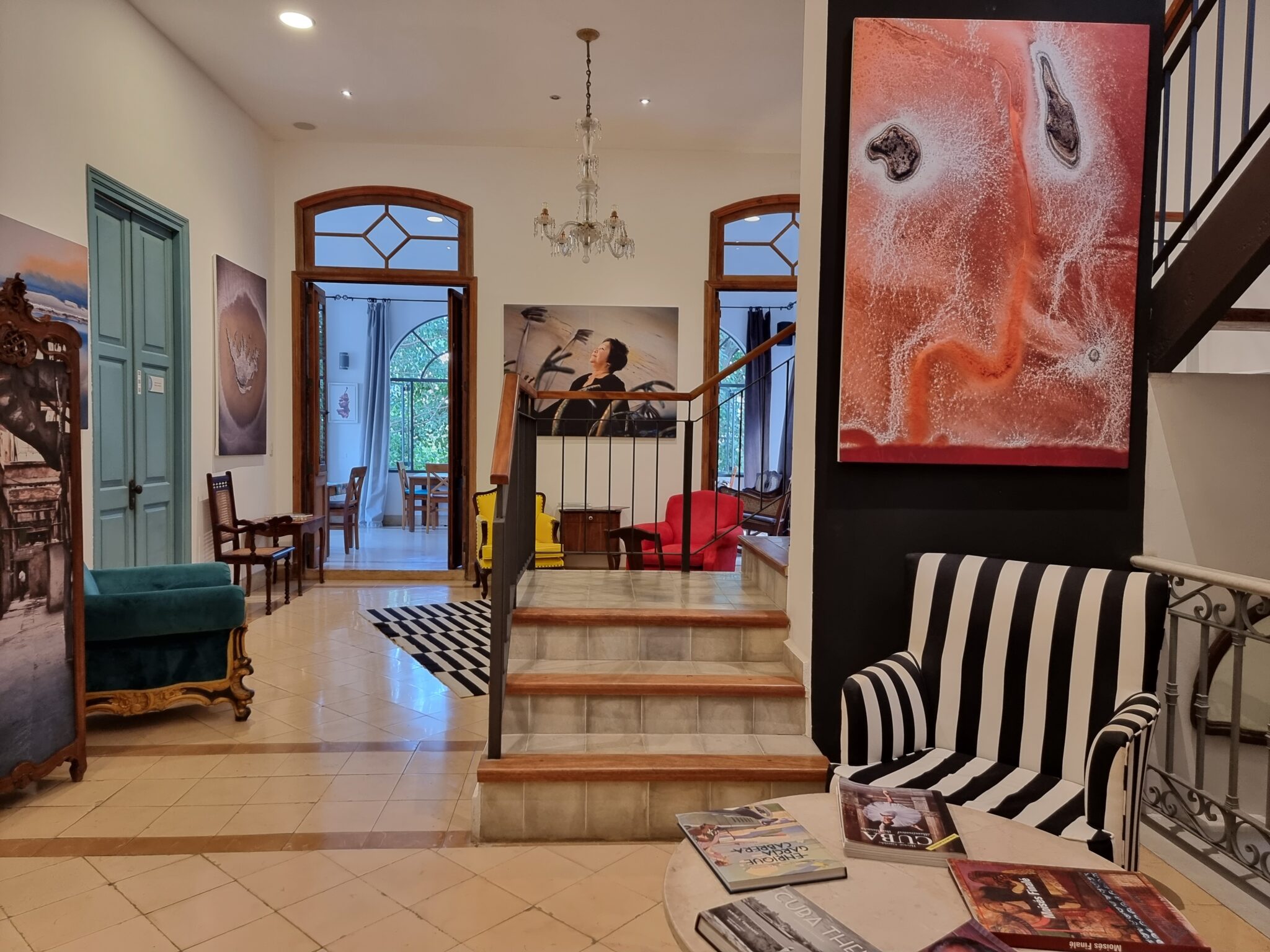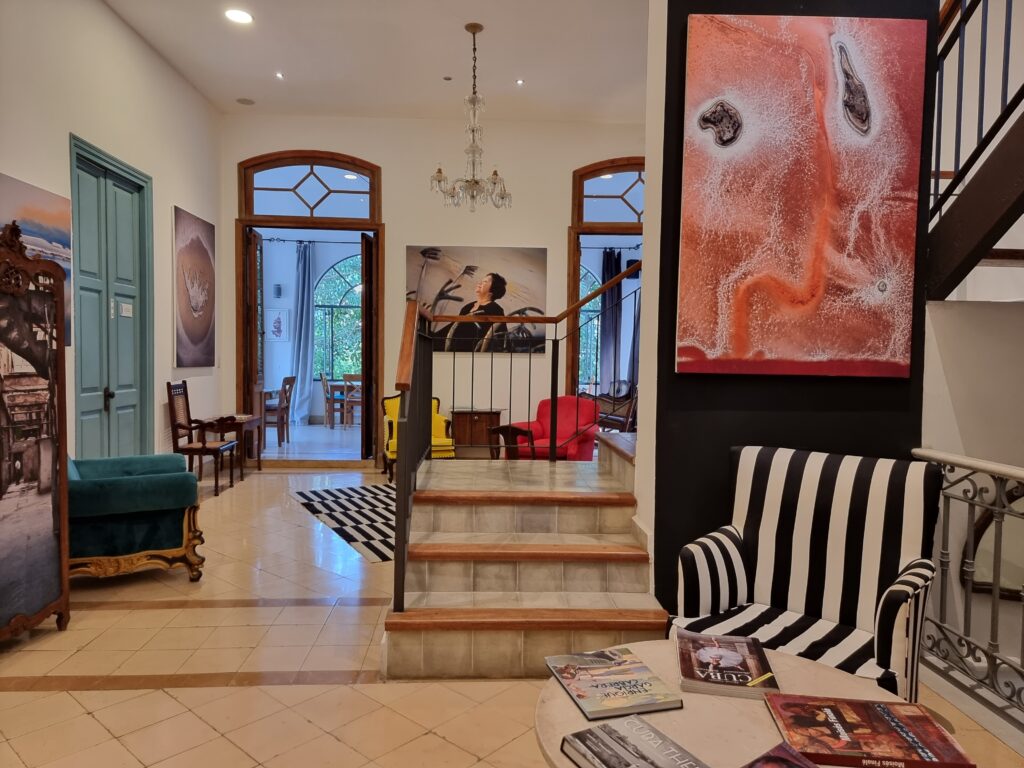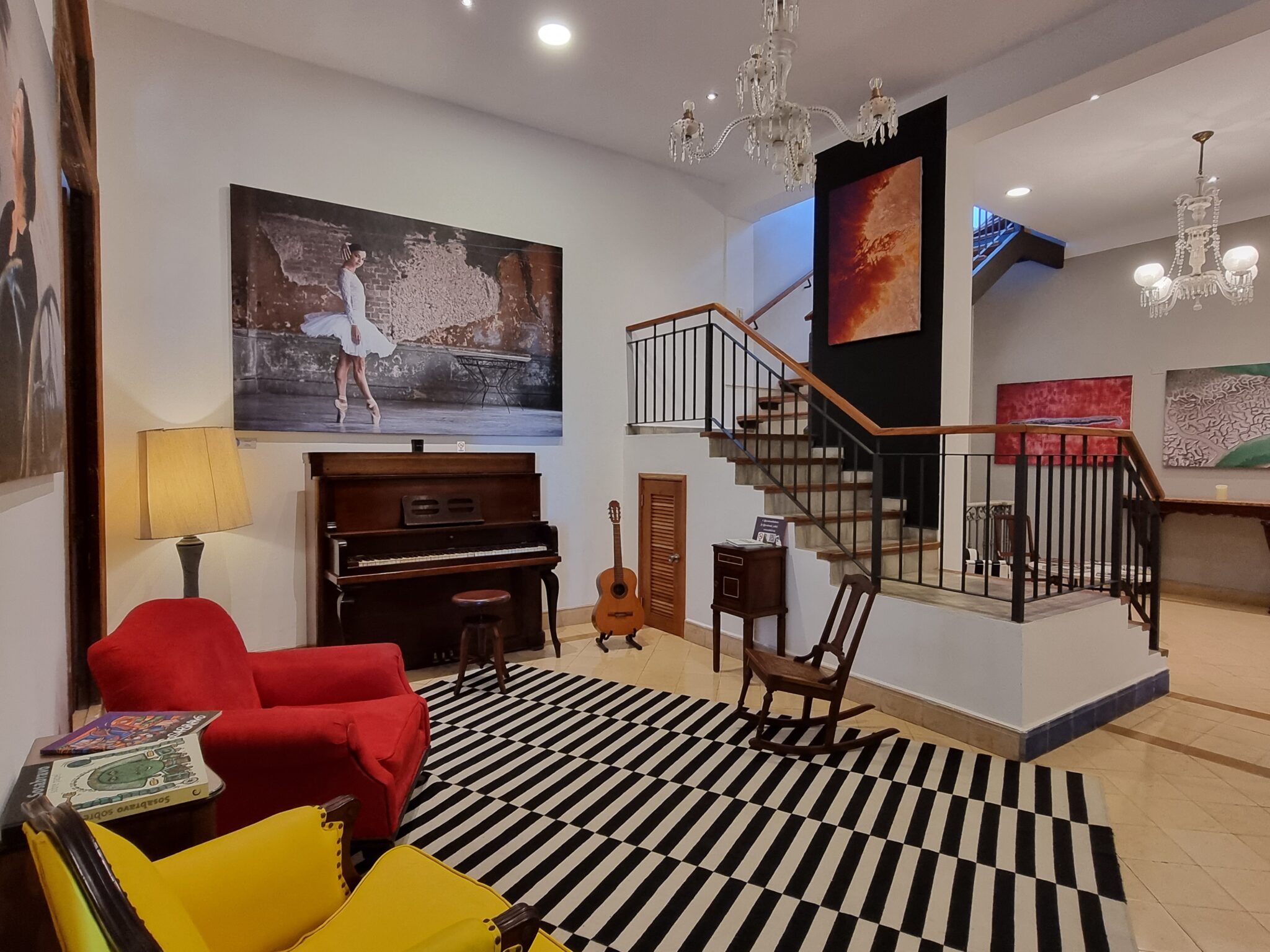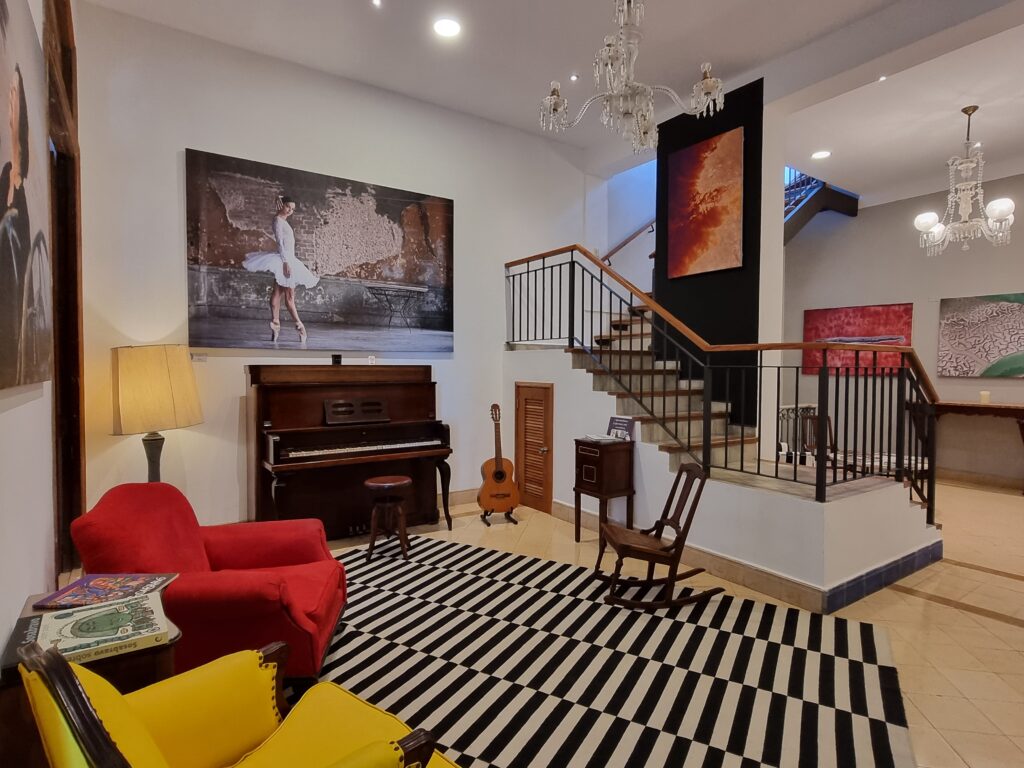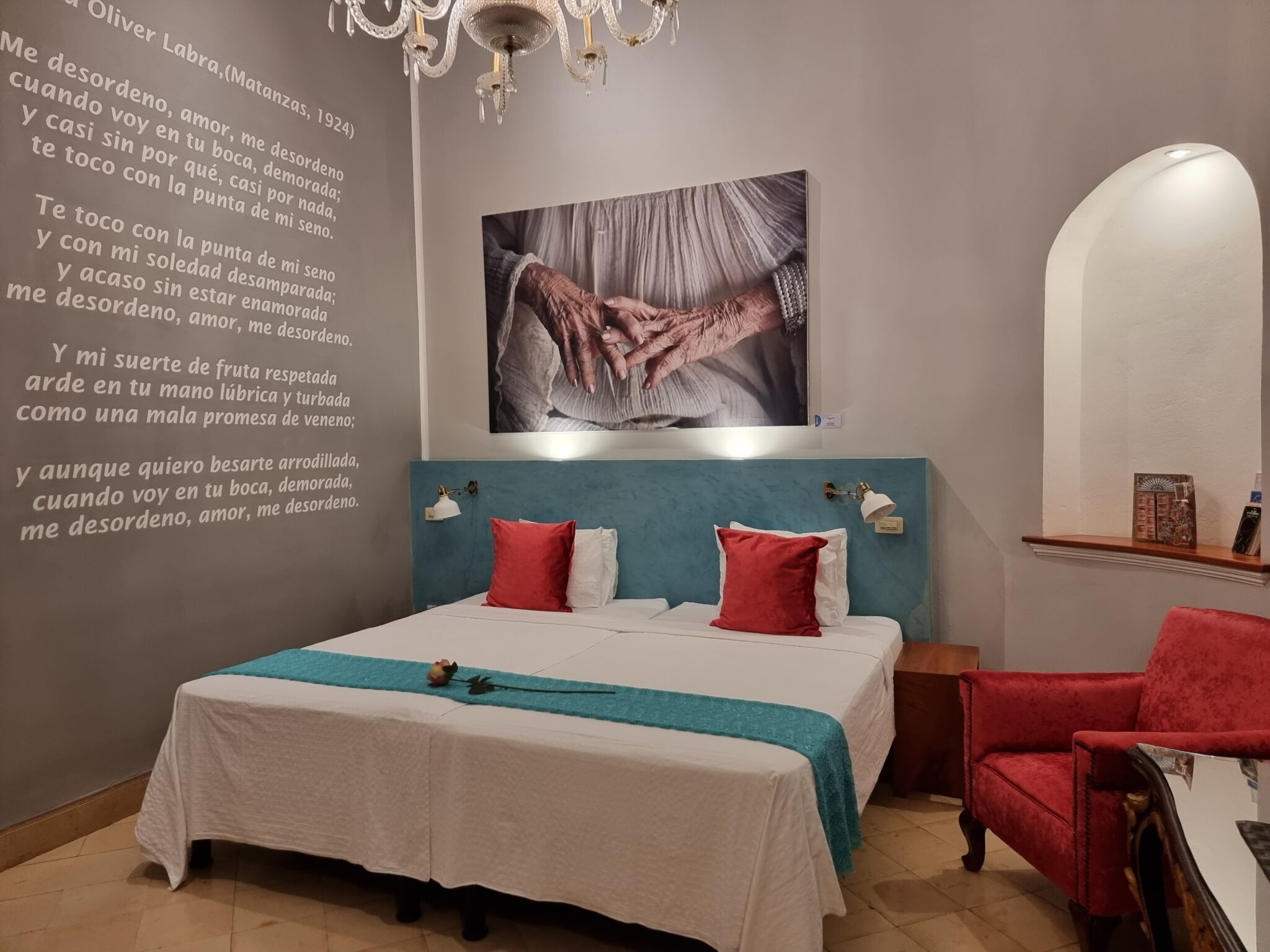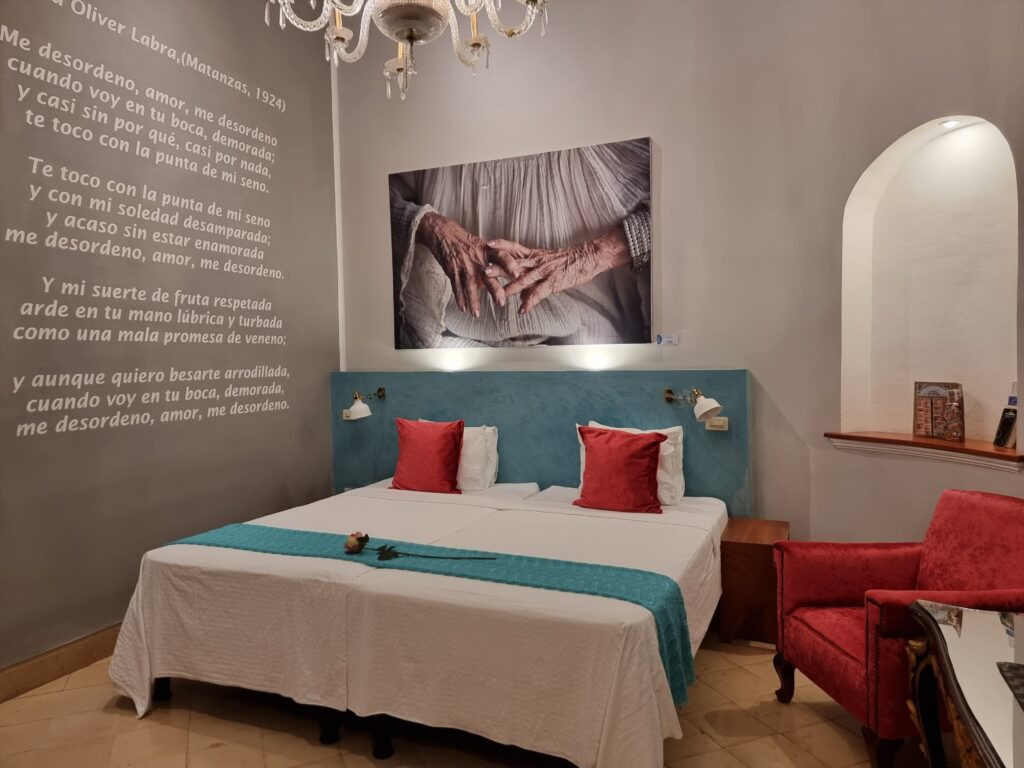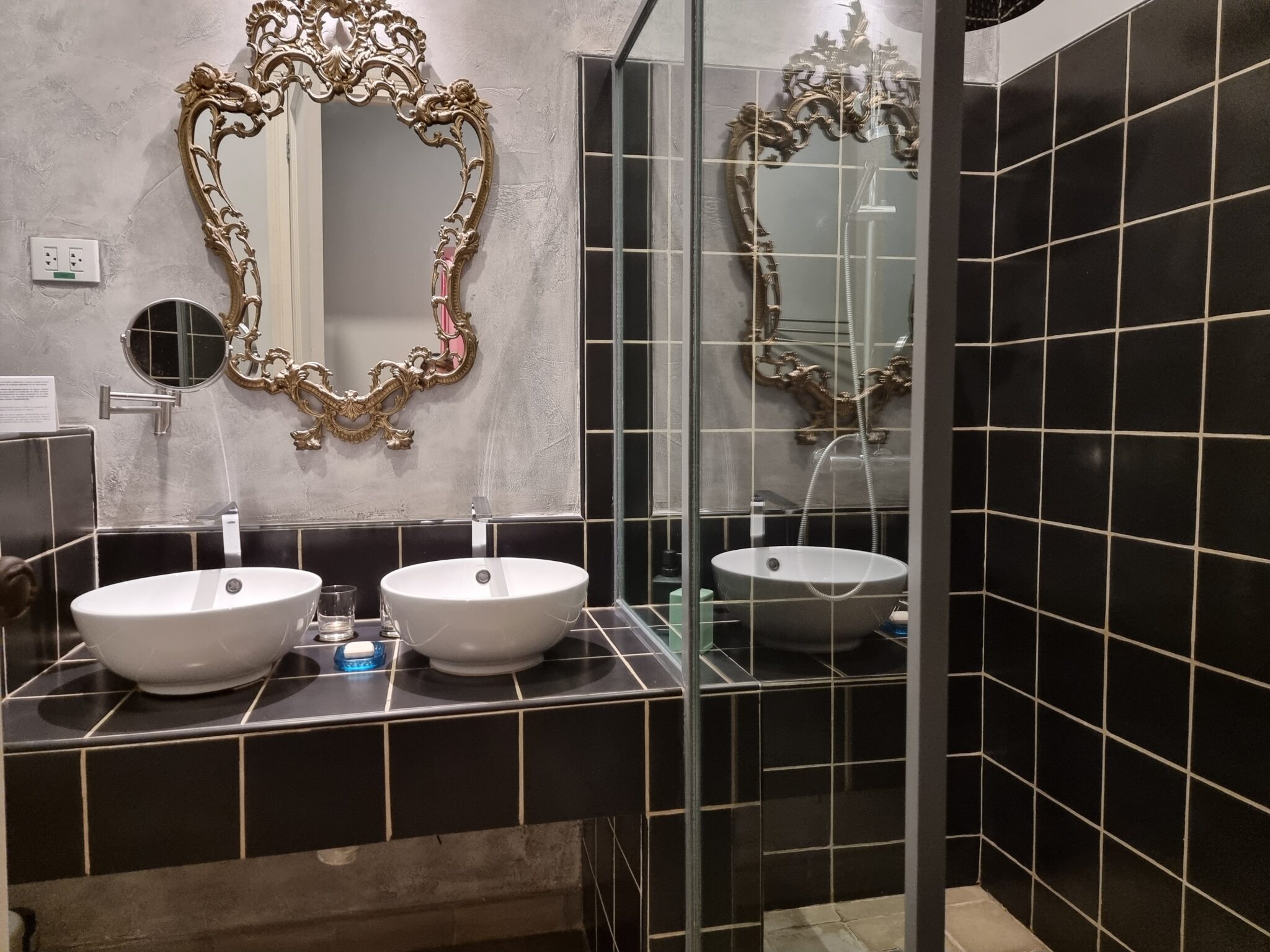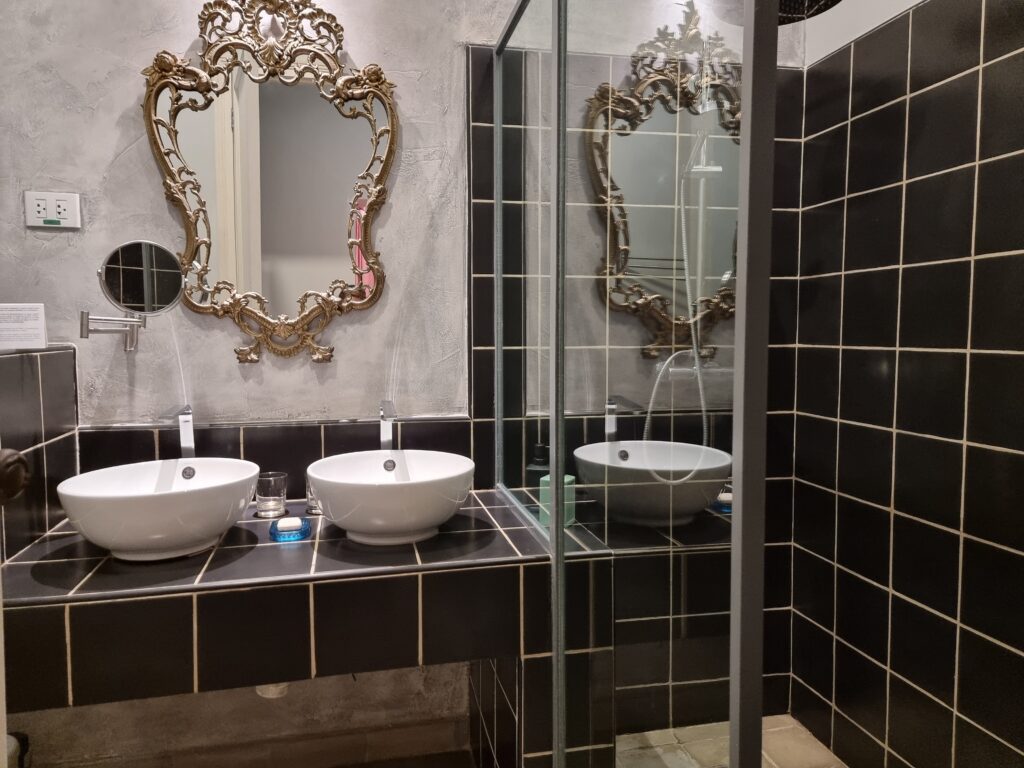 ---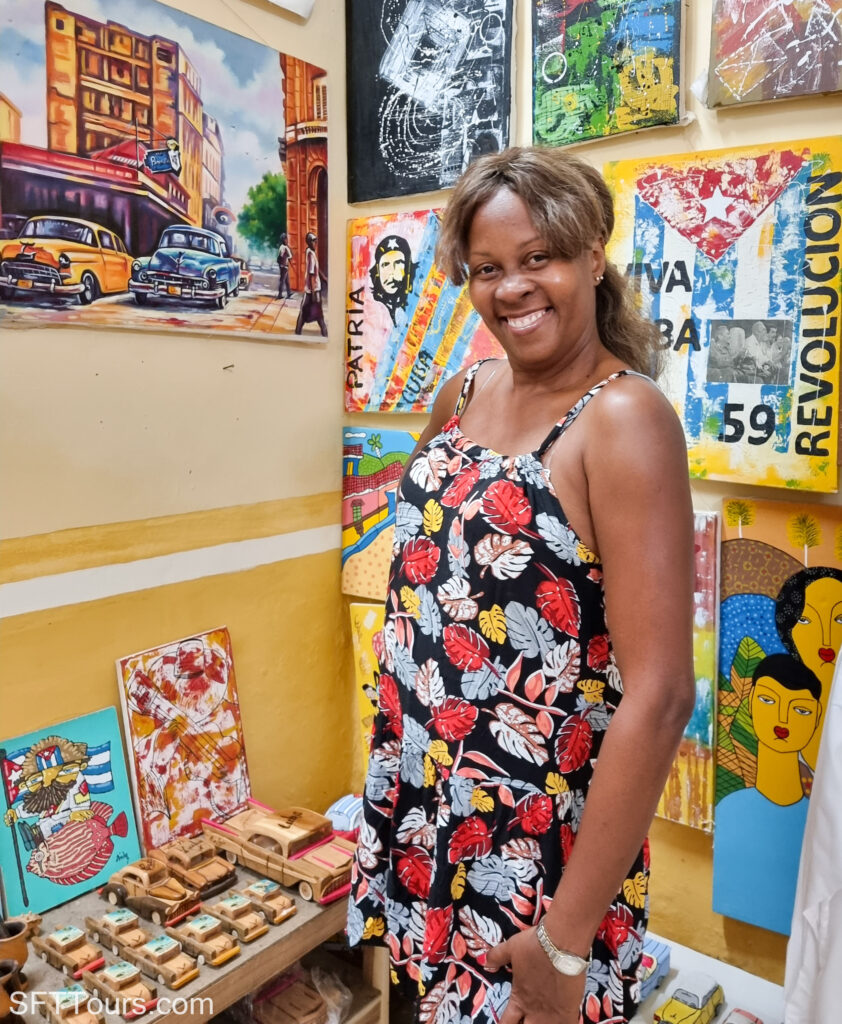 About Your Host, Yummet
Yummet is a former English teacher turned guide who is passionate about her country and about female empowerment.
She got her English teacher degree in 2011 and her master's degree in Educational Leadership given by the Loyola University of Chicago in 2011. After 15 years teaching, attracted by the aviation world, she took a job at the international airport Jose Marti. There, she trained pilots and air traffic controllers in the ATC communications. In the cockpit of Cuba's planes she traveled to England and Canada. It was a wonderful experience!
In 2009, she was invited to participate in a workshop on English for Specific purposes in Bayonne by Cubana Airlines but she needed to study French first, so in the 3 years before that, she got her advanced French degree.
Yummet became a guide in 2014 attracted by the financial prospects and the opportunities to meet new cultures. She confesses to being more curious about the world out of Cuba after travelling to other countries.
Her first experience as a guide was working for a government travel agency which specialized in People to People programs for Americans. She became an experienced leader in Western culture and the relations between Cuba and the USA until one day she realized there was a whole world of new things to learn from other cultures and contexts and she decided to join a privately owned travel company.
This is the new Yummet now: a successful woman, wife, and mother of an 11-year-old boy. A female trying to stand up in a very competitive profession that turns twice as difficult in a context where men are more benefitted. A female leader with the intention of making female clients feel comfortable in Cuba, learn a bit about the Cuban culture, and see what the books can't show. She can't wait to meet you!
Our trip in February 2024 will be co-hosted by our Co-Founder Mar Pages.
---
Inclusions
✔️ 8 Nights in shared twin or single accommodation in a mix of casas particulares and premium bed & breakfasts
✔️ 8 breakfasts, 7 lunches and 8 dinners. Water in the van
✔️ Airport pick up
✔️ Female Cuban host for the duration of the trip
✔️ Local female guide in Viñales
✔️ Connection, chat and exchange with 6 female business owners
✔️ Entry tickets to all activities listed when required
✔️ Private activities: Salsa class, rum tasting and cocktail making workshop, organic farm visit, tobacco farm visit, Afro-Cuban tour, Maridaje (cigar tasting and pairing), mafia tour, classic car tour
✔️ Transportation for the duration of the trip in private minivan
✔️ Tips for drivers, restaurant staff, female business owners, etc. Tip for guide + driver not included
✔️ For US passport holders, documentation required to comply with travel requirements
Exclusions
✘ Transportation from hotel to airport on departure day
✘ Visa, required for everyone. US passport holders may have it included in the air ticket, please check directly with the airline
✘ Travel & Medical Insurance (Required)
✘ Drinks at meals (including water) except for the Welcome and Farewell dinners
✘ Souvenirs
✘ Tips for the Guide and driver, at your discretion. Guideline: 50-100 EUR / USD for the guide and 25-50 for the driver.
✘ Optional activities not included in the program that you may book yourself
Payment Info
From
$3,395 USD
Payment Plan:
Deposit: 30% non refundable deposit to reserve your spot
Balance payment due 90 days before departure
*The initial deposit is refundable if the minimum number of guests is not reached. By joining our trips you agree to our T&C.
The Solo Female Travelers difference – What makes us unique
All our tours follow the same values and philosophy that makes us who we are which you can find here. In Cuba, two aspects set us apart from others: Our accommodation and the genuine support for and time spent with Cuban women.
Most tours to Cuba that cater to all passports (including the US), stay at private homes throughout the tour, we will stay at a mix of private homes in Viñales and Cienfuegos, and premium B&B in Havana and Trinidad, where we will enjoy a higher level of comfort, a great location in Old Havana, the help of a 24h concierge (foreign currency exchange, help with recommendations, etc.), WiFi and minimal stairs!
Our tour will spend time supporting and amplifying women led projects. We will meet with 6 different entrepreneurs, artists, and business owners and several other women who will show us their Cuba and share their struggles and achievements with us. Forge new connections and understand the very unique Cuban reality through their eyes.
---
Book NOW
This trip will only host 14 guests so don't wait. Choose your dates and package and click the Book button to reserve your spot. Note: Please do not book flights until the trip is confirmed. Credit card payments carry a 3% surcharge. Wire transfer details are available via email: community@solofemaletravelers.club.
IMPORTANT: The nature of food alternatives and the many experiences we have in people's homes make vegan and vegetarian diets repetitive and severe food allergies impossible to accommodate. Please reach out to us to discuss your dietary needs before booking.
17 to 25 February 2024 – Photographer onboard
Select package from the below drop down, and click the Book button
---
9 to 17 March 2024
Select the package below and click on the button to book.
---
9 to 17 November 2024
Select the package below and click on the button to book.
Got questions? Let's chat!
Pick a convenient time and date below to talk to us, we'd love to meet you!
---
Tour gallery
---
Frequently Asked Questions
This is a trip of a lifetime and we know there are many things you'd like to know more about.
What are the COVID measures in Cuba and how will you ensure everyone is safe?

We care deeply about the wellbeing of our guests and our trip follows all local regulations.

We require guests who develop a cough or cold-like symptoms to use a mask and separate themselves from the rest of the guests. COVID testing is not mandatory though it will be encouraged. Being vaccinated will not be a requirement to join our tours from 1st of January 2024.
What if I cannot travel because of COVID restrictions?

Payments are not refundable if the trip goes ahead. This is why we require all guests to purchase travel insurance that covers unforeseen circumstances that would prevent them from traveling.

In the event that the trip needs to be postponed for reasons beyond our control such as a global pandemic or COVID after the the 30% deposit is due, any payments made will be put towards a similar trip in the future.

We recommend checking with an aggregator such as Travel Insurance Master to compare quotes and coverage.
Do I need a visa for Cuba?

Most travelers need a Tourist card for Cuba. This can be obtained online and may be included in your flight ticket if coming from the US, you should check directly with the airline. For European passports, visas can be ordered online at www.cubavisas.com at least 3 weeks in advance.
What is included in the trip?

All inclusions and exclusions are detailed in the section above.

Obtaining cash in Cuba is practically impossible which is why our trip is almost all inclusive. All activities, meals from welcome dinner till the departure day breakfast and entry tickets are included. Drinks are generally not included in the meals but are affordable, and your return airport transfer can be added as an optional.

Tips have also been accounted for in the price except for those for the guide and driver. We recommend $50-100 per person for the guide and $25-50 for the driver.
Can vegetarians or vegans be catered for?

We believe in making our trips accessible to all women, and vegan or vegetarian diets can be accommodated. However, the limitations in food options in Cuba as a result of the blockade make it hard to offer a lot of variation beyond carbs and vegetables so your diet may become repetitive.
How fit do I need to be for this trip?

A medium level of fitness and full mobility is required for this trip, not so much because we will be doing lots of active exercise but because there are no lifts in Cuba and the streets are uneven, especially in Trinidad where the cobblestones are very hard to walk on. The hike in the natural park in Vinales also requires full mobility.

You should be fit enough to walk leisurely for 3-4 hours on most days and spend a few hours in the bus on the driving days as stipulated in the itinerary.
Can I have a room to myself?

All costs above are considered on a sharing basis with two guests per room in twin bedding; we will pair you with another solo female traveler on the trip. If you wish to have your own room, a single supplement of 600 applies.
I want to bring my partner to the trip

This is a female-only small group trip specifically designed for women traveling on their own. If you wish to travel with a female friend, partner, family member, etc. they are absolutely welcome, however we are not able to book male travelers on this trip.
I want to bring my daughter

How wonderful! If your daughter is above the age of 16, we will be glad to have her with us.
How do you empower women in Cuba?

Empowering our guests, and local women at the destinations we visit is our mission and we love facilitating connections and having conversations with a wide range of local women.

On this trip, you will be hosted by Yummet and spend time with 6 Cuban female entrepreneurs to get to know them, learn more about their businesses and the challenges of starting a private business in Cuba.
How does this trip help local communities in Cuba?

We believe that travel can be a force for good and wherever possible, we work with local travel companies in the country who can help us make a difference and ensure that the tourism dollars benefit local communities.

For this trip, we will stay at locally owned female B&B and private homes everywhere. We will also eat at local restaurants, paladares and private homes and with local families so we can spread the positive impact of tourism. Our local partner is a company that has been operating tours in Cuba for almost two decades and has deep roots in the country and a long term commitment to seeing it thrive.
What medication do I need to take for a trip to Cuba?

Due to the embargo, Cuba suffers from a lack of various basic items such as toiletries, personal hygiene products and in particular, medication, even over the counter cold or headache drugs. Please bring everything you may need and consider donating it upon your departure.
What should I pack for this adventure?

Cuba is an eminently tropical destination and the weather is always hot. We will be visiting during the best time of the year when rain is less common and humidity is lower. Pack mosquito repellent, sunscreen, a hat and a swimming suit to enjoy the beach as well as a light jacket for the evenings outdoor, temperatures can drop quite a bit at night. A packing list will be emailed to you in advance of the trip.
What happens if I get sick?

The prospect of getting sick while alone in a foreign country is daunting, and this is why we require all our guests have comprehensive travel and medical insurance that includes international evacuation. In addition, the Government of Cuba requires all travelers to have medical insurance with a coverage of up to $100,000 in order to travel to Cuba and your insurance policy may be checked upon arrival.

Should you fall sick, we will escort you to the nearest medical facility so you can get the help you need. We strongly recommend you bring extra cash for any eventuality as your travel insurance company may not be able to cover your expenses directly but will instead reimburse you when you return home.
What travel and medical insurance should I get?

While the cost of medical healthcare in Cuba may be more affordable than in other countries such as the US, travel and medical insurance is mandatory to come on our trips and to enter Cuba, and we recommend you get the most comprehensive coverage that includes international evacuation. You will need a minimum of 100,000USD coverage to enter Cuba.

If you are flying from the US on a direct flight, your flight will include the cost of insurance and your boarding pass seres as proof. If you don't have the necessary documentation to show on arrival, you'll be asked to purchase it on the spot from Asistur, the Cuban insurance company. Please find more details here.

We recommend checking with an aggregator such as Travel Insurance Master to compare quotes and coverages and make sure the policy covers you in Cuba.
Can I make various instalments for this trip?

Payment for our trip to Cuba will consist of two instalments, 30% to reserve your spot and the balance payment 3 months before the trip.
Can I pay by credit card?

Yes, payments can be made via credit card with an additional 3% surcharge. Alternatively, you can pay via wire transfer at no additional cost from our side (your bank will likely charge a one time transaction fee).