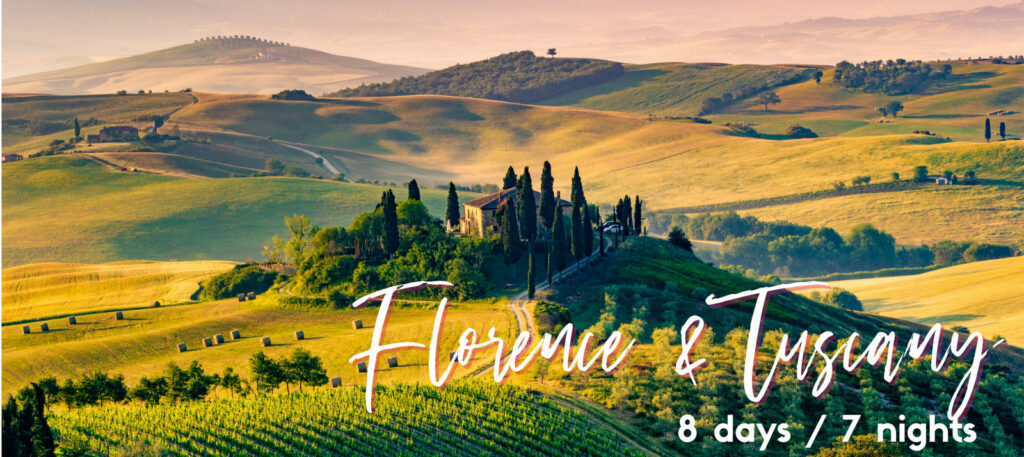 Florence & Tuscany immersive culinary and cultural journey
Florence – Siena – San Gimignano – Pienza – Food tour – Pizza making – Cooking class – Olive oil farm – Wineries – Cheese farm – Truffle hunting
An immersive trip starting in stunning Florence and continuing to Tuscany's quaint villages including 5 UNESCO-listed sites, with visits to exclusive Chianti and Brunello di Montalcino wineries, workshops with local artisans and gastronomic experiences including olive oil tasting, truffle hunting, and pizza, pasta and cheese making.
Highlights: Rooftop dinner over Florence | Truffle hunting | Pizza making | Walking tours of 5 Medieval villages | Premium winery visits | Exclusive experiences not open to tourists | Farewell dinner with opera singer | Thermal spa and massage | Private Tuscan villa
No single supplements* | 12 spots | Slow immersive travel | Farmhouse life
*Prices per person, we pair you with another solo traveler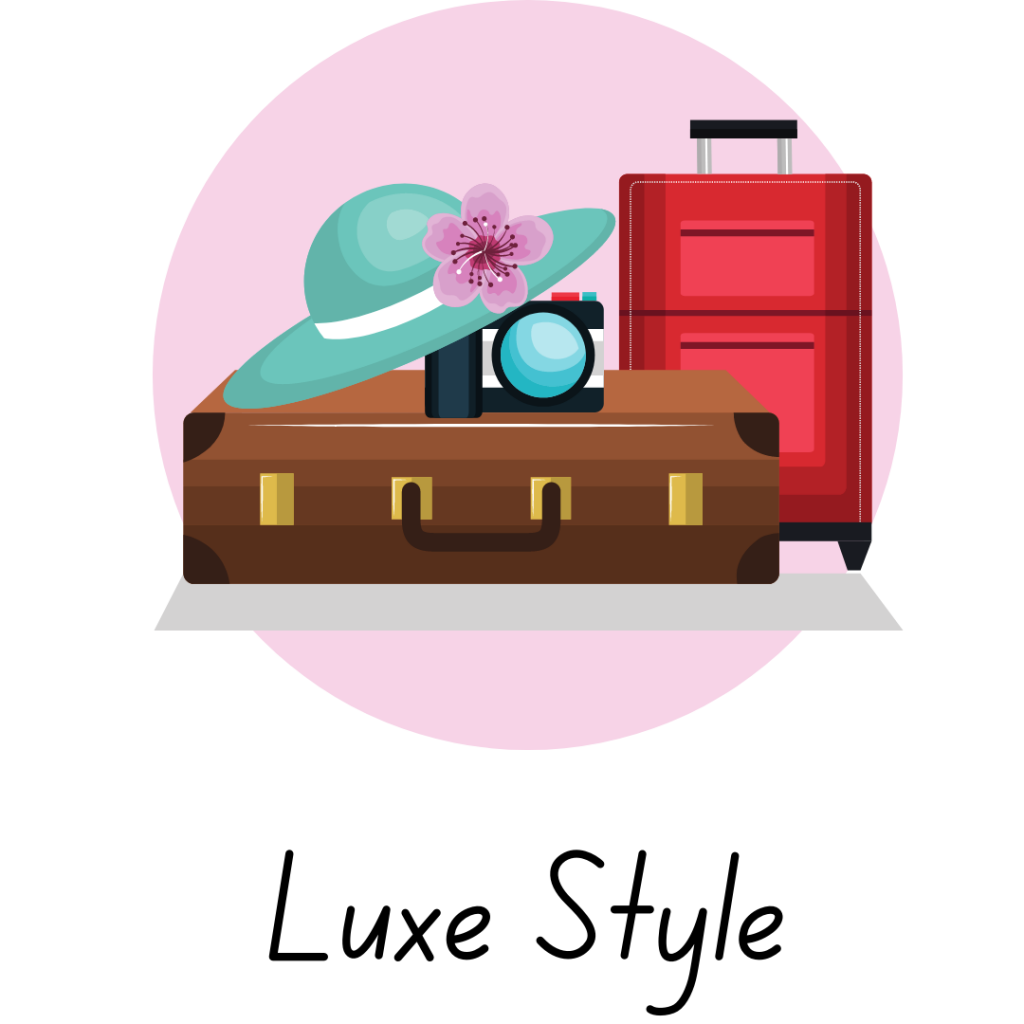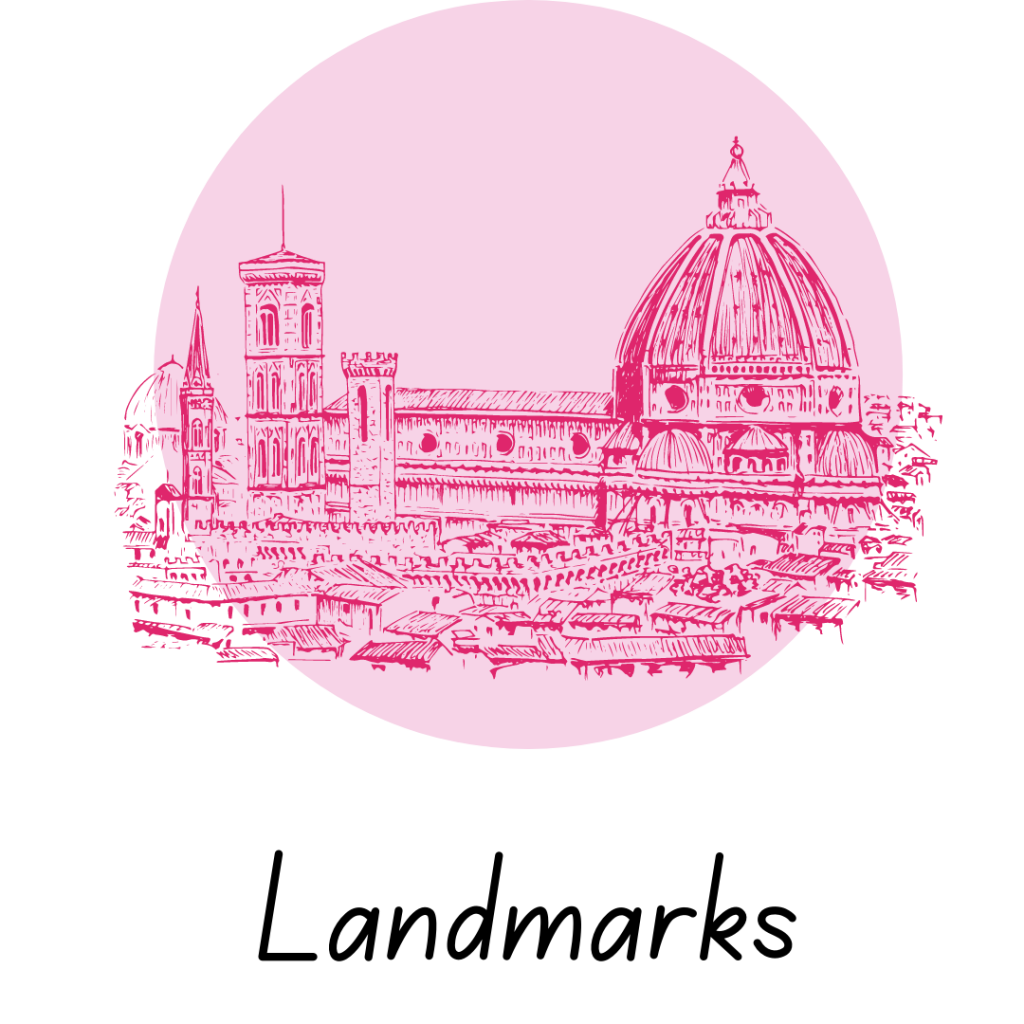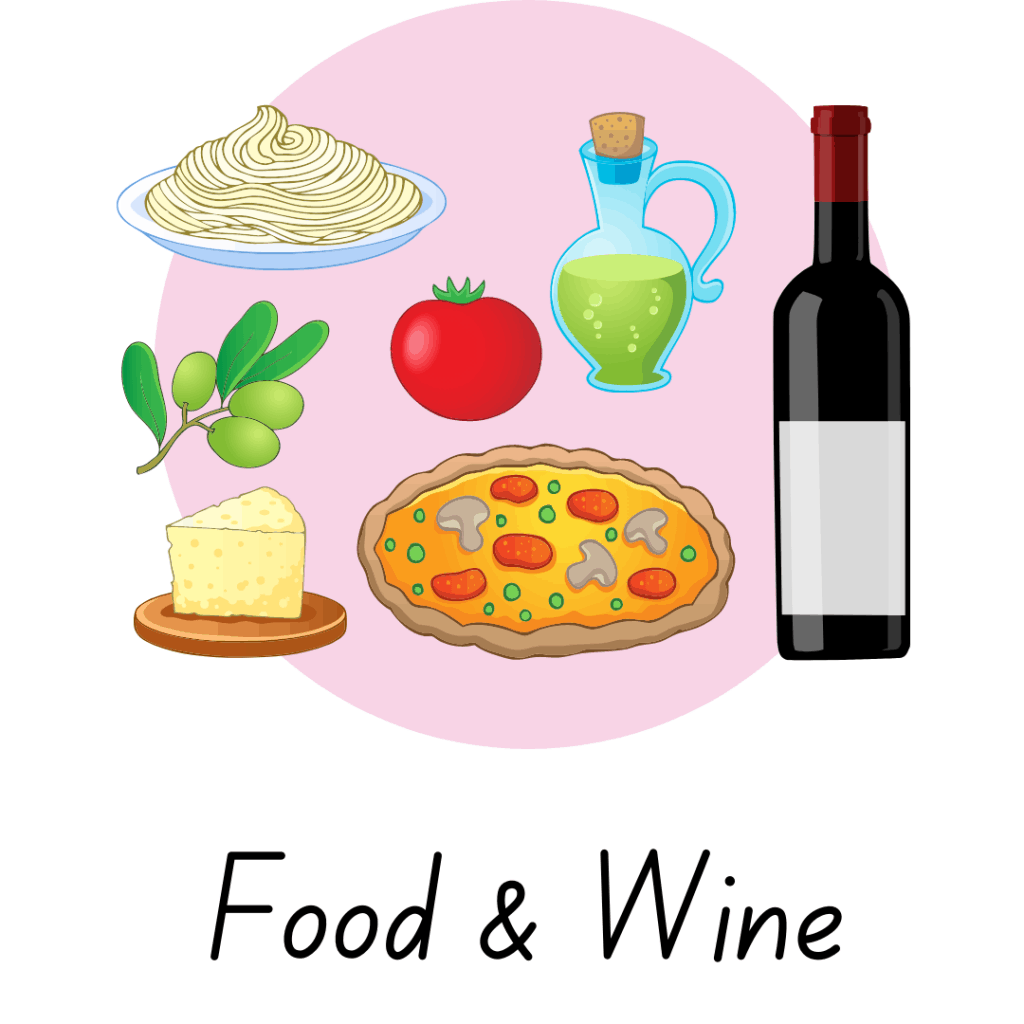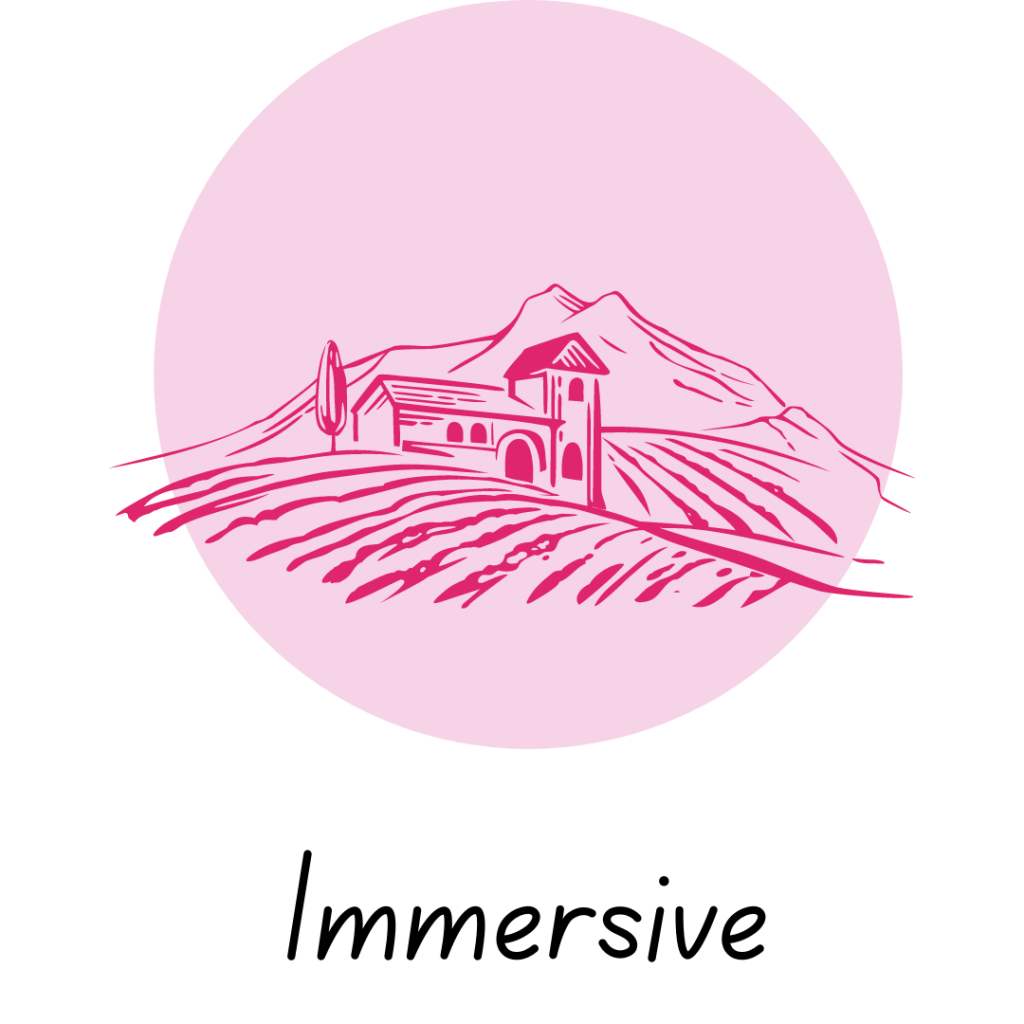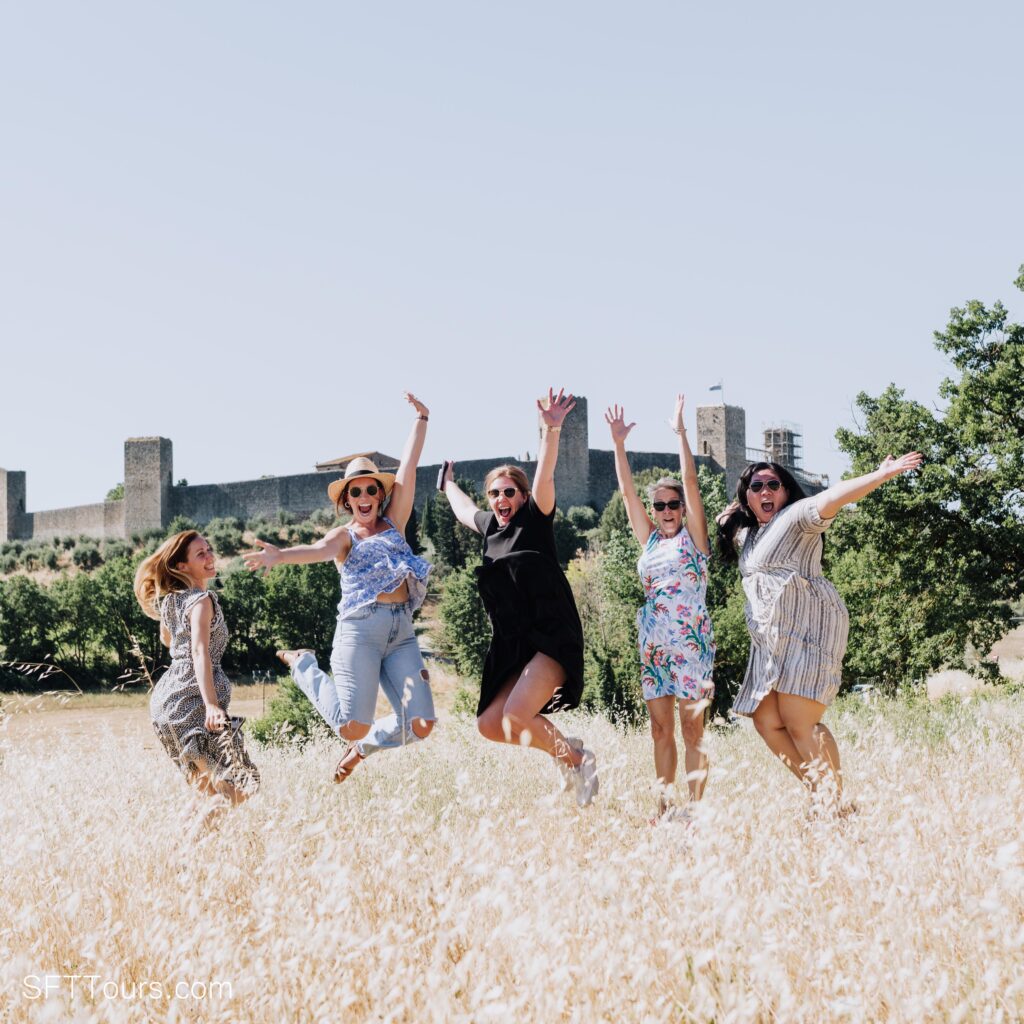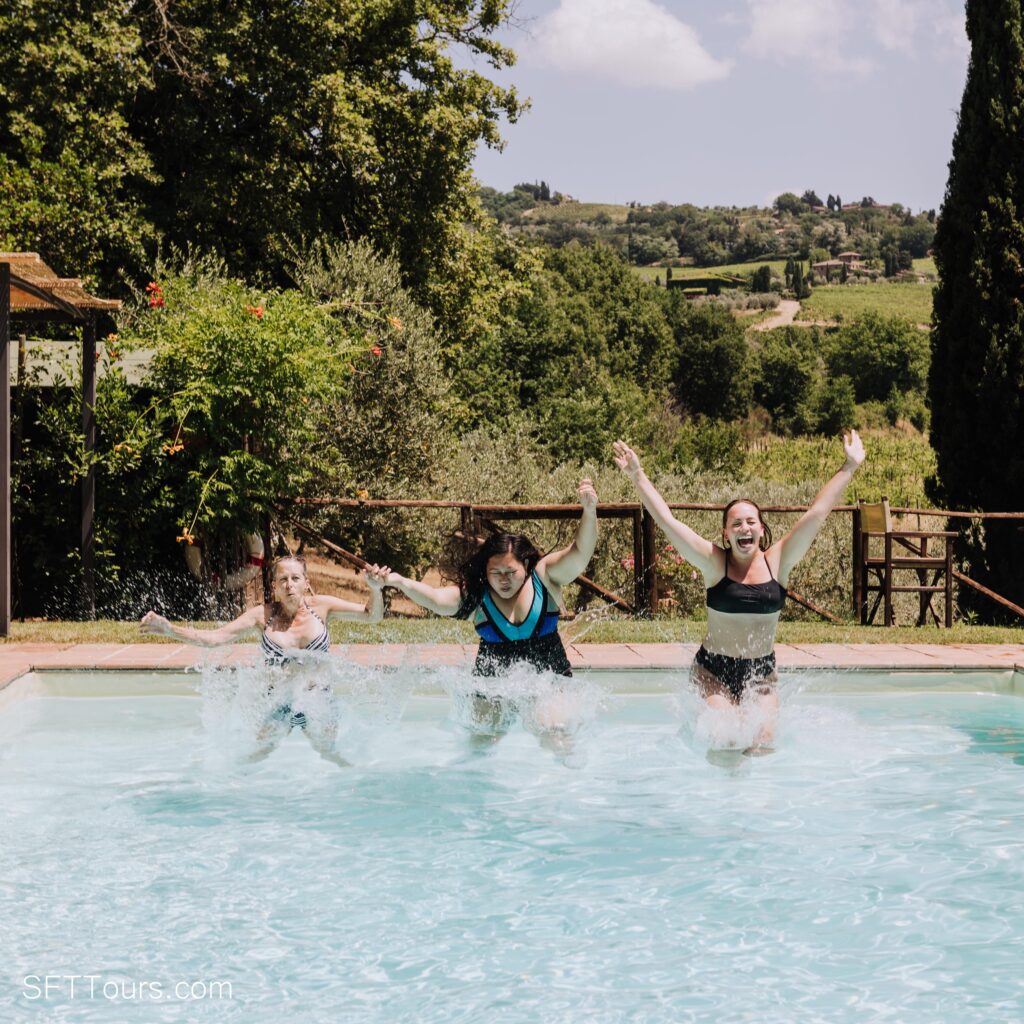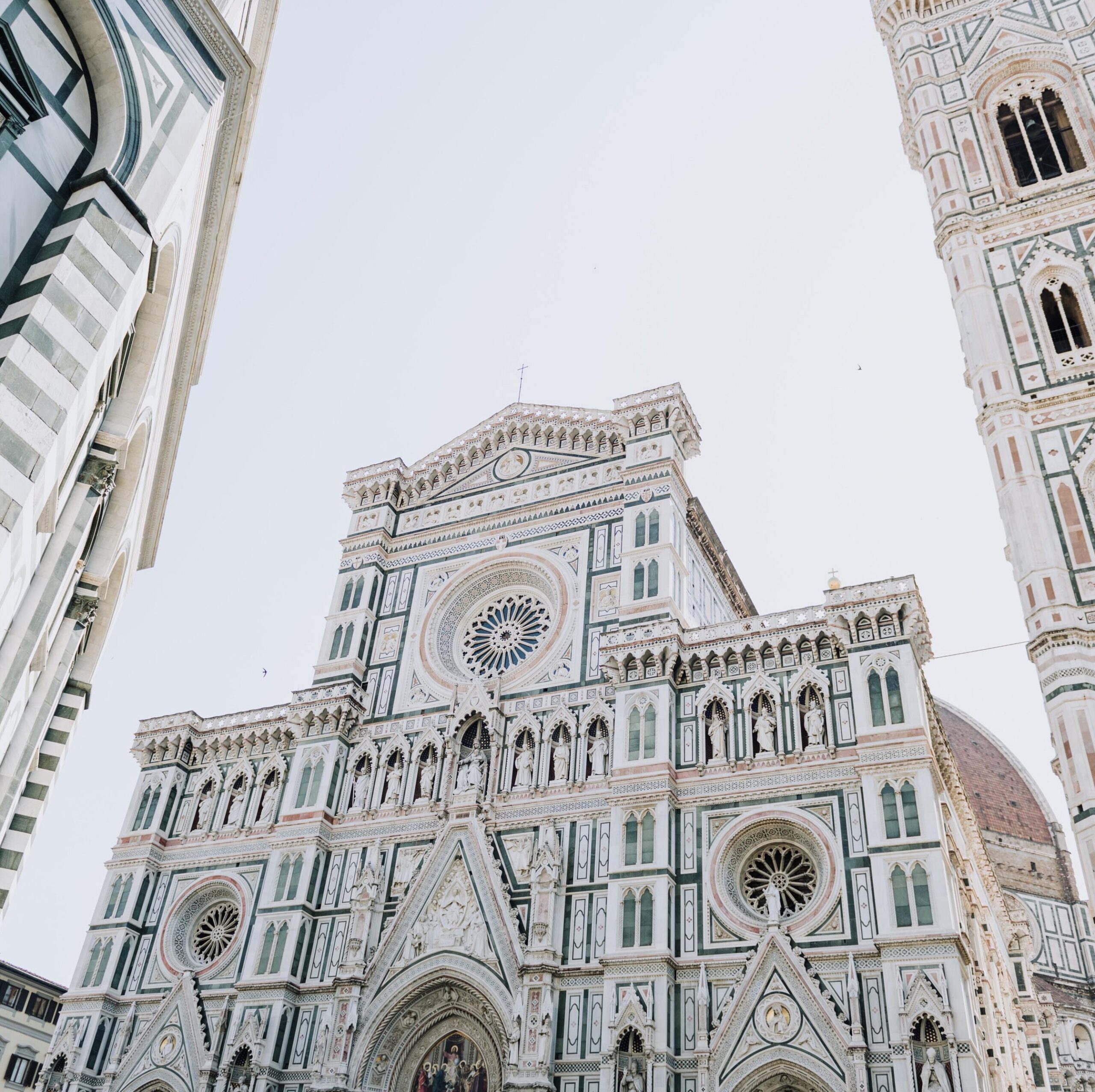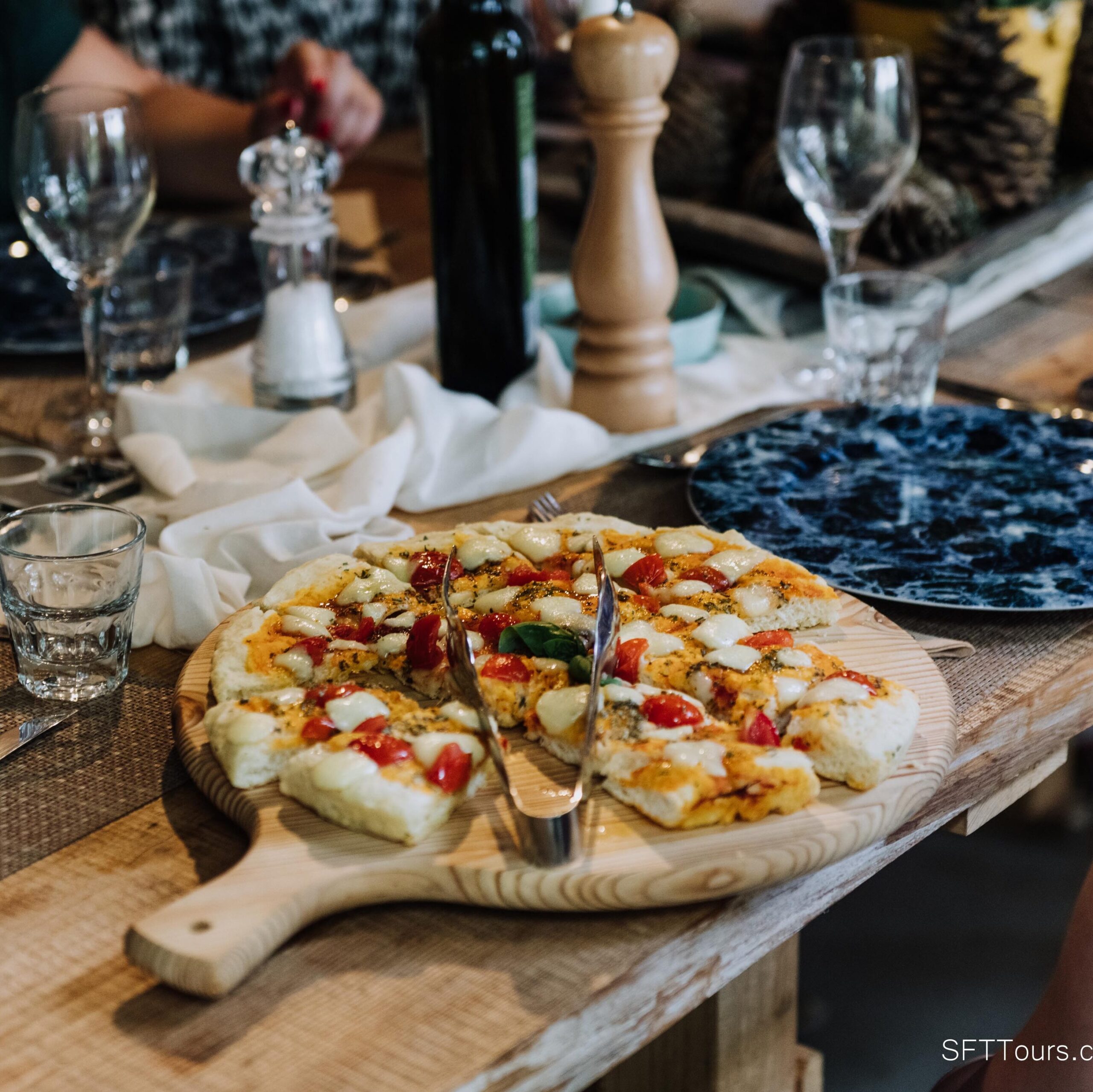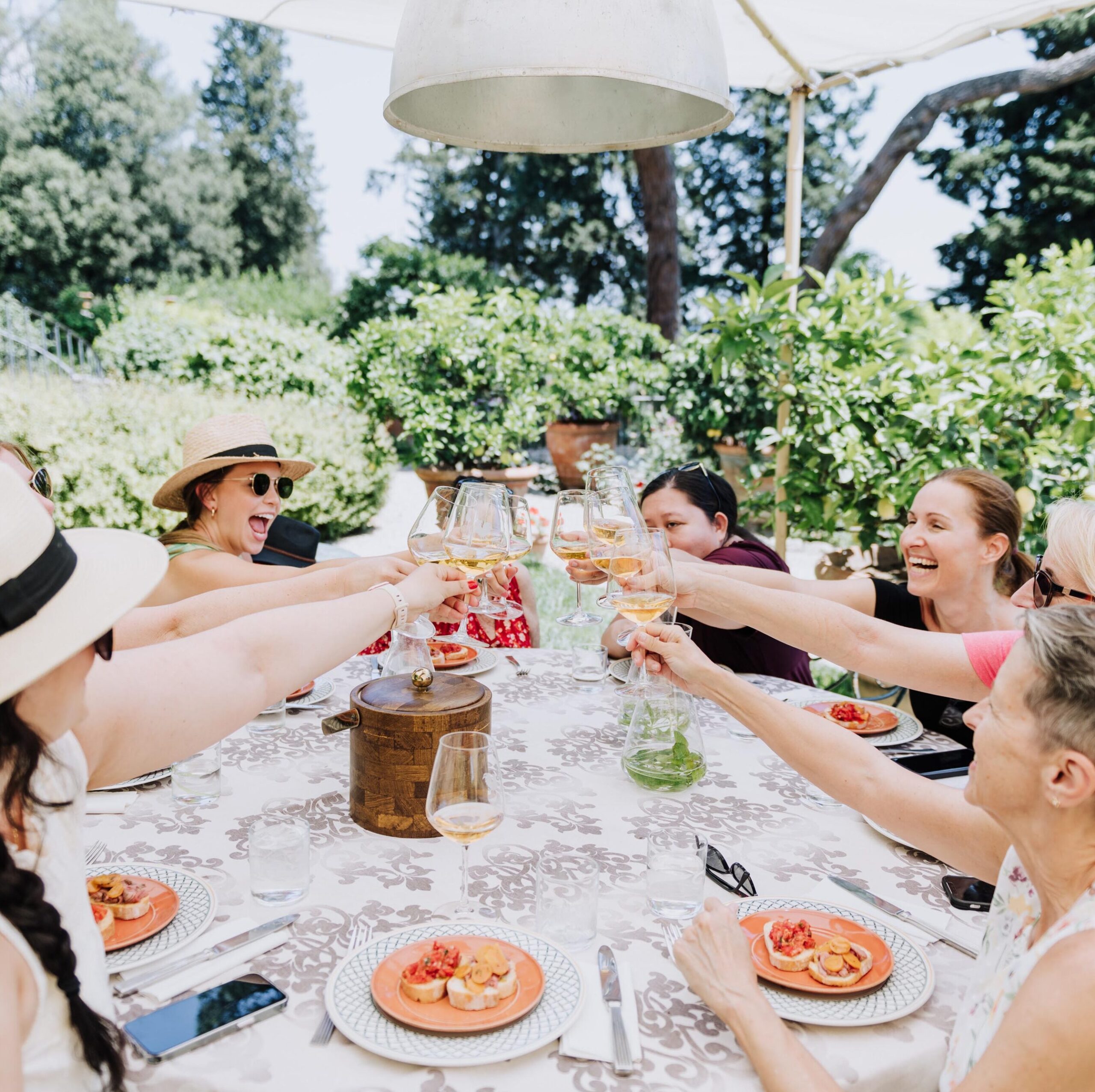 Trip Overview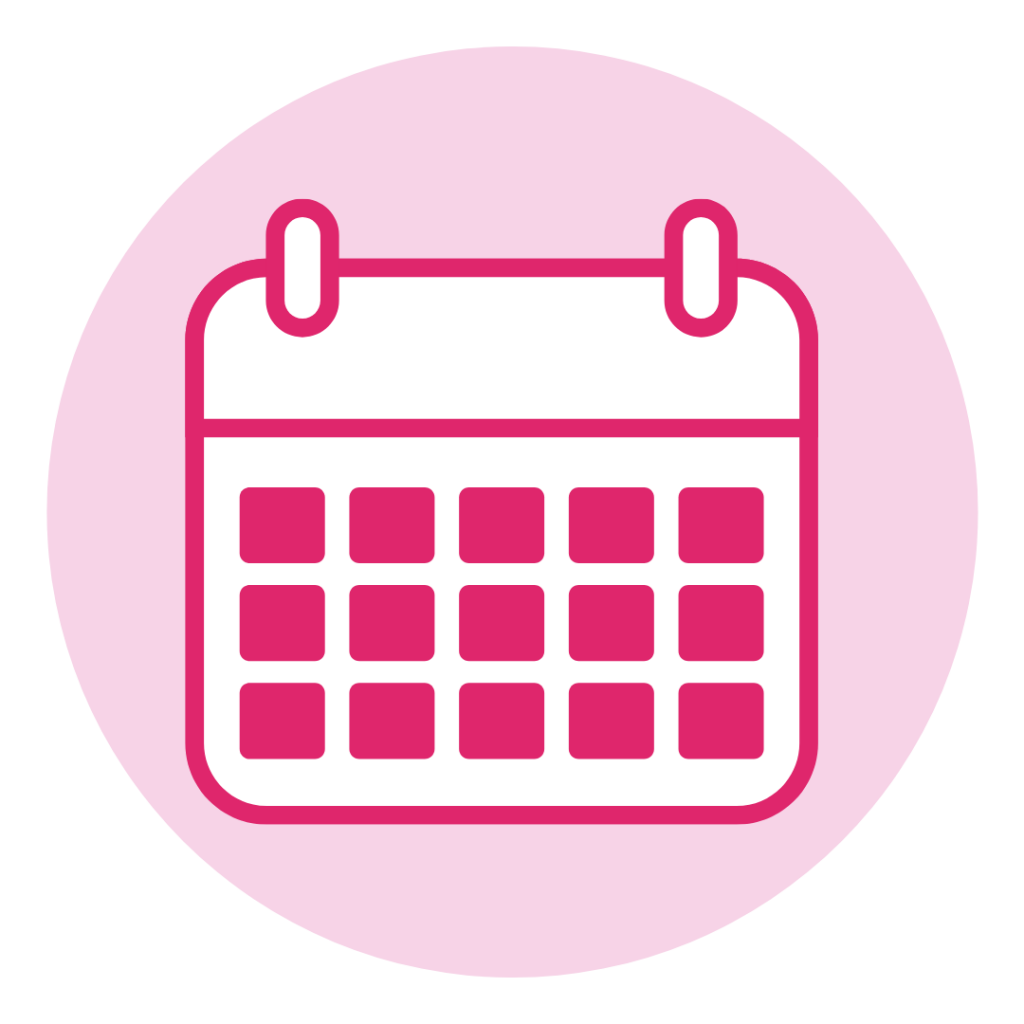 Dates:
2 – 9 July, 2023 (Photographer onboard) SOLD OUT
27 Aug – 3 Sep, 2023 – 1 SPOTS LEFT!
17 – 24 Sep, 2023 – SOLD OUT
9 – 16 Jun, 2024, Coming soon!
1 – 7 Sep, 2024 – Coming soon!
7 – 14 Sep, 2024 – Coming soon!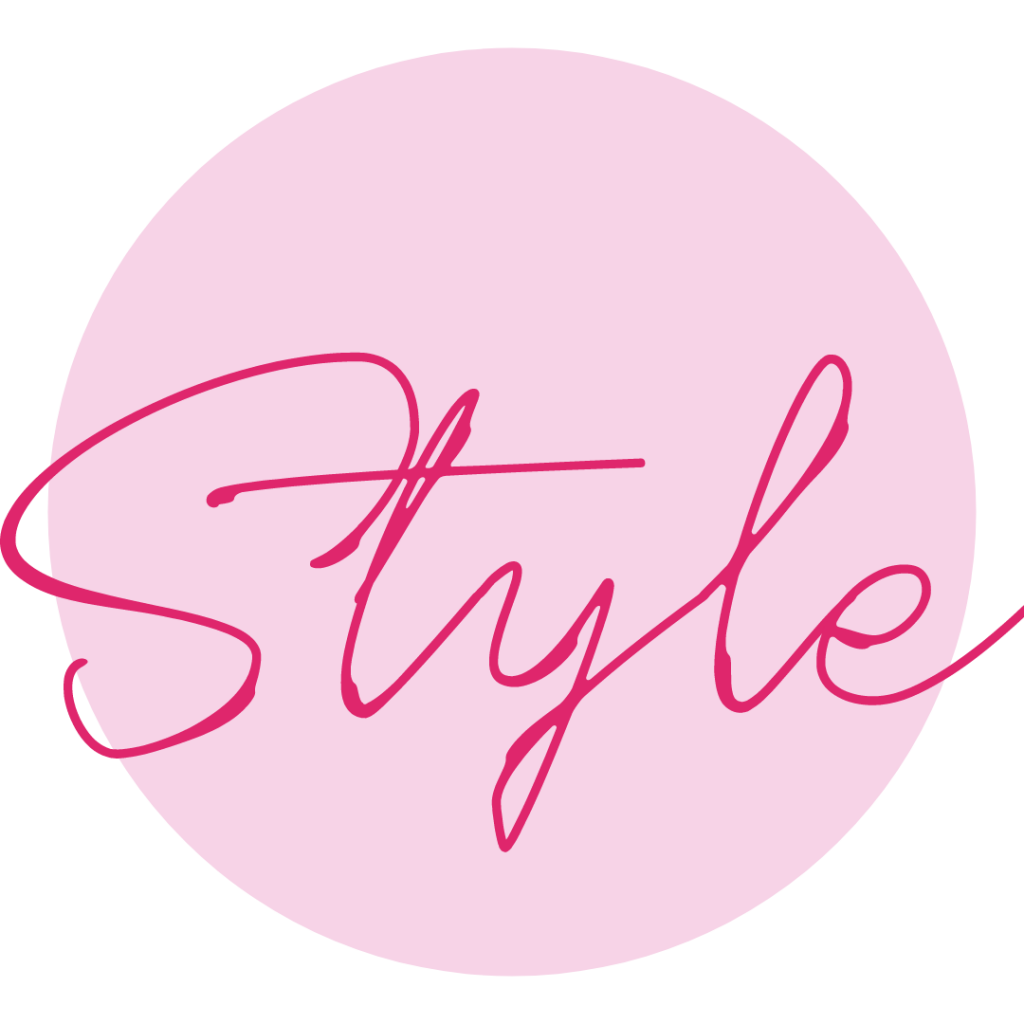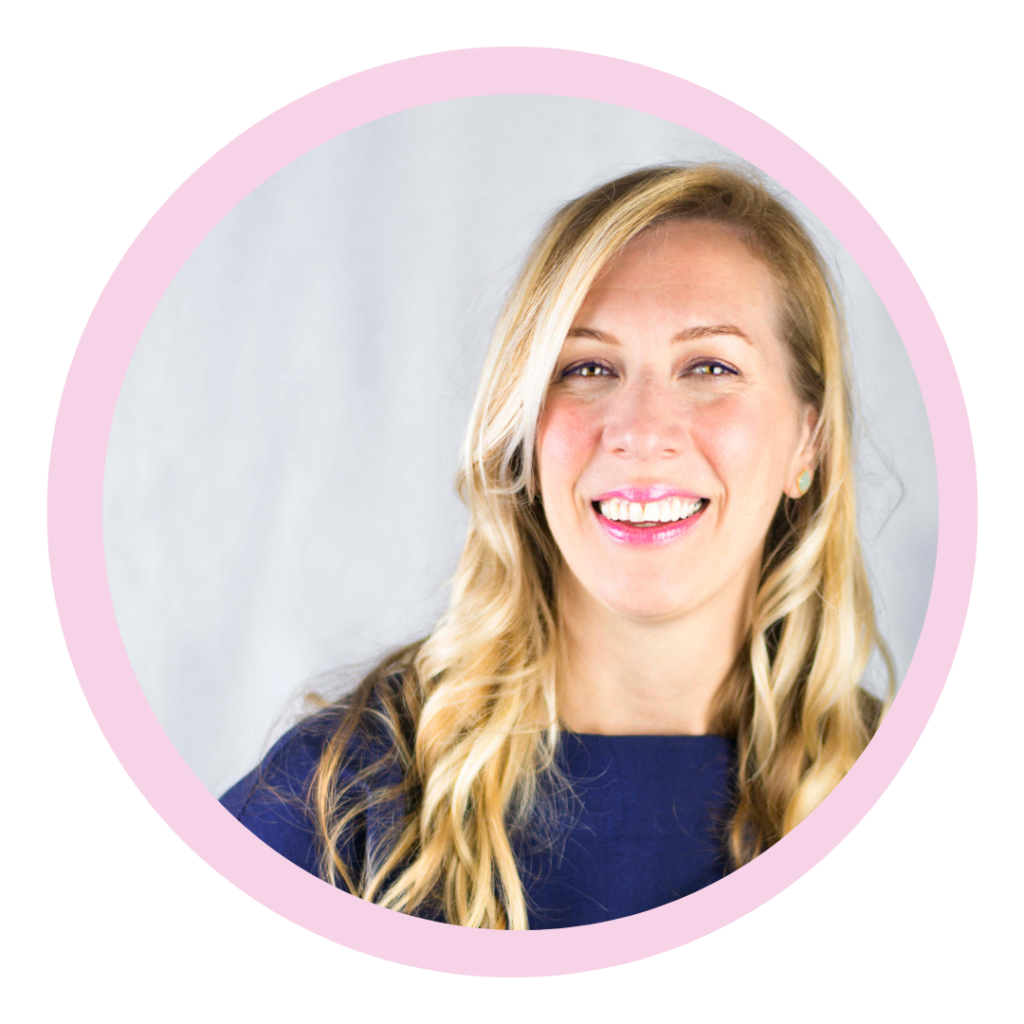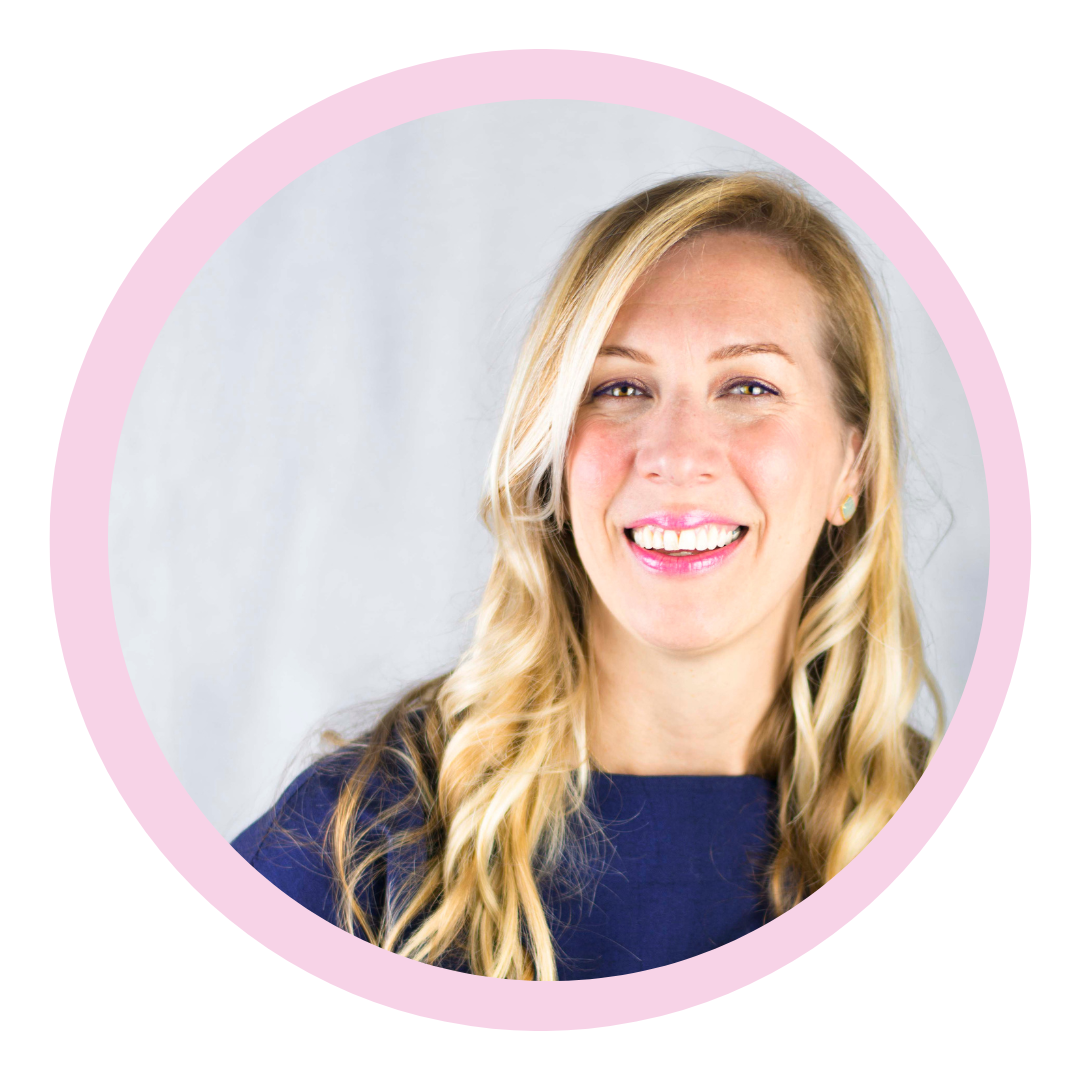 Allison S.
Payment plan
$3,995 EUR pp sharing
Max. 12 guests
Europe's best culture, food and wine: The dates for our Tuscany, Barcelona & Costa Brava, Venice and Amalfi Coast trips all align with each, so why not combine more than one itinerary with the best Europe has to offer?
---
Take a peek inside our last trips to Tuscany!
*Turn the sound ON to hear what our guests had to say!
Where we will go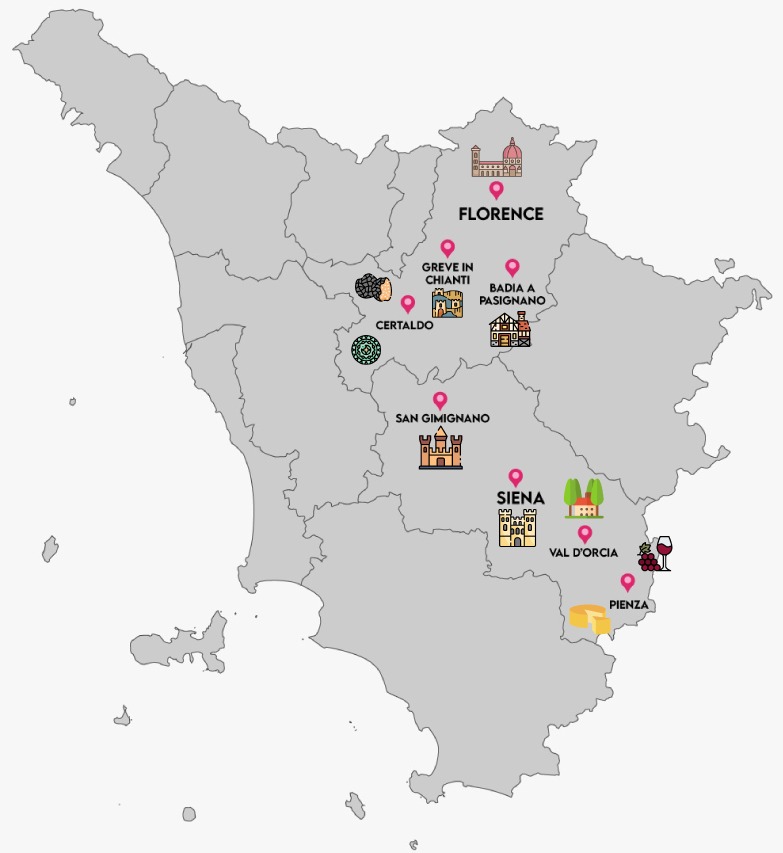 Our trip will visit several UNESCO-listed small cities and towns in Tuscany starting in Florence. All food and wine experiences are located between Florence and Pienza.
Day 1 – Arrival and welcome dinner
Day 2 – Florence culture and food tour + Bread & pizza making workshop & dinner
Day 3 – San Gimignano + Female owned winery visit & lunch + Siena + Dinner at the farm house
Day 4 – Truffle hunting & truffle themed lunch + Certaldo + Greve in Chianti + Dinner in Badia a Pasignano
Day 5 – Relaxation day at the farm house + Olive farm visit
Day 6 – Val D'Orcia + Pecorino cheese farm + Female-owned Brunello di Montalcino winery visit
Day 7 – Thermal spa day + Cooking class + Farewell dinner
Day 8 – Departure
---
Detailed Itinerary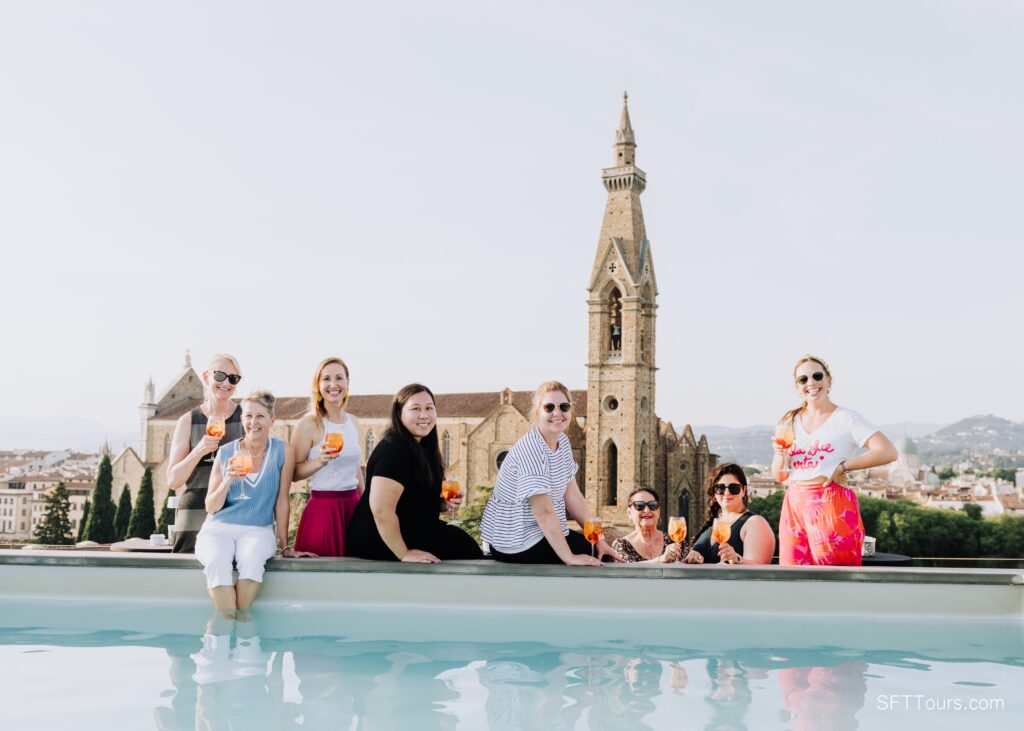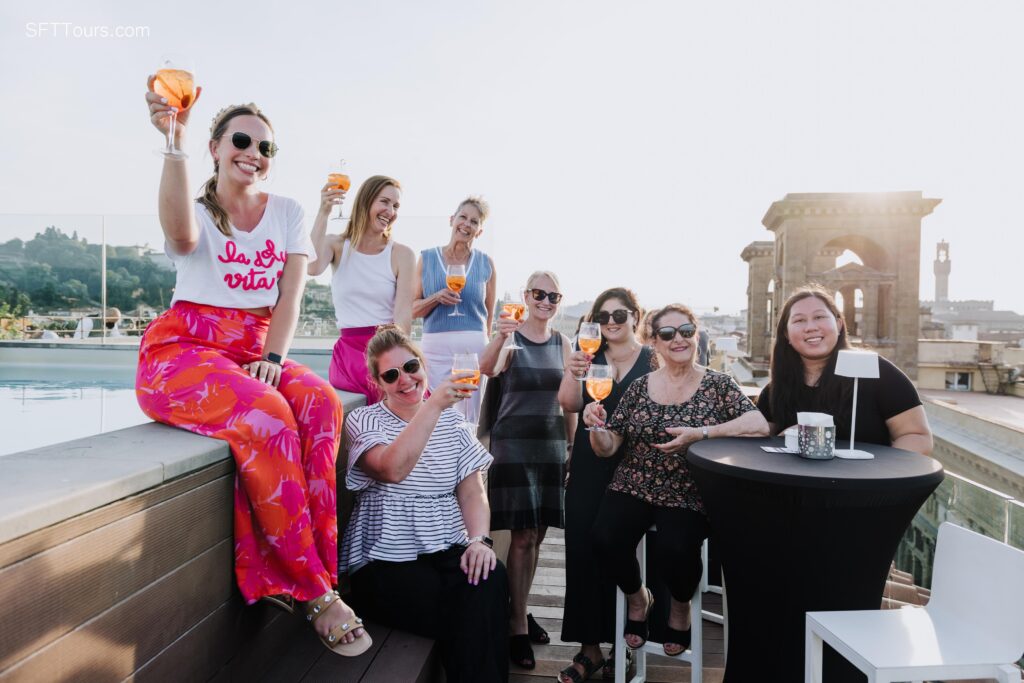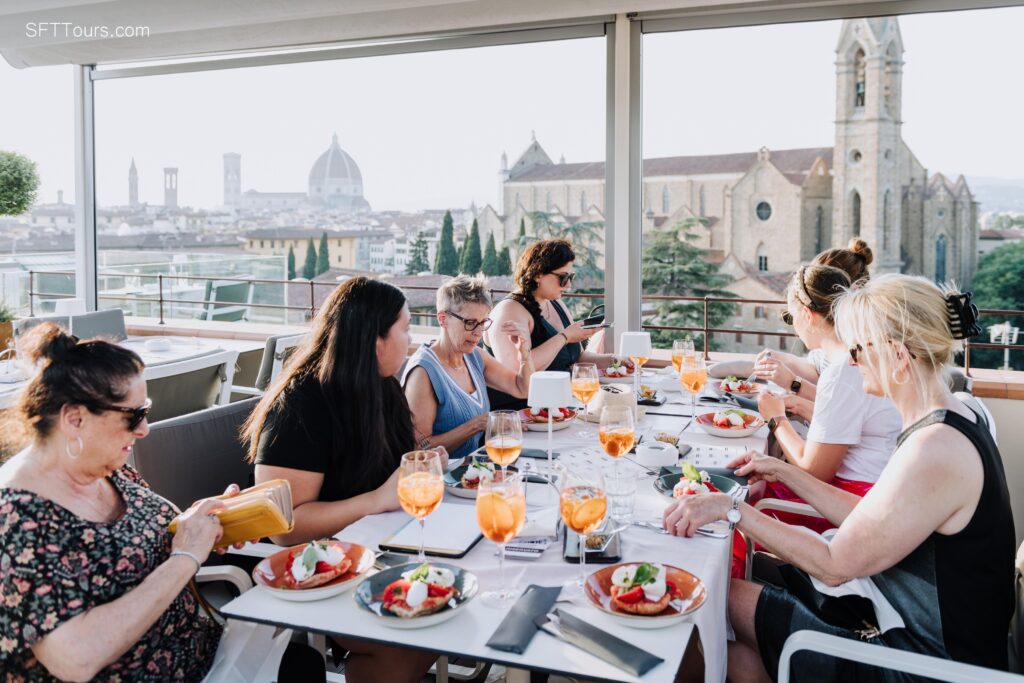 Day 1 : Arrive in Florence
Benvenuti in Chianti!
Make your way from Florence airport to your hotel upon arrival and acclimate to Italian time until the evening.
If you arrive earlier, relax by the pool, visit the Uffizi Gallery or go out in search of the best gelato.
In the evening you will meet the rest of the group and your host and enjoy a stunning Welcome drink and sunset dinner on the rooftop of the Plaza Lucchesi hotel with views over the Florence Duomo, a limoncello spritz and delicious canapes.
What a fantastic way to start the trip!
Overnight at Plaza Hotel Lucchesi
Plaza Hotel Lucchesi is both historical and modern. Not only is it perfectly located for your solo explorations pre-trip but also has a regal past. Built in 1890 as a pension, it hosted the King of Italy Umberto I, and for that reason it was upgraded to have all the latest modernities.
Following the end of WWII the hotel was refurbished and expanded again and in the 60s and 70s it hosted many famous personalities. Today's version is modern and upgraded with the rooftop pool that has magnificent views over Florence. Your biggest concern will be finding the willpower to leave!
Inclusions: Welcome dinner and drinks.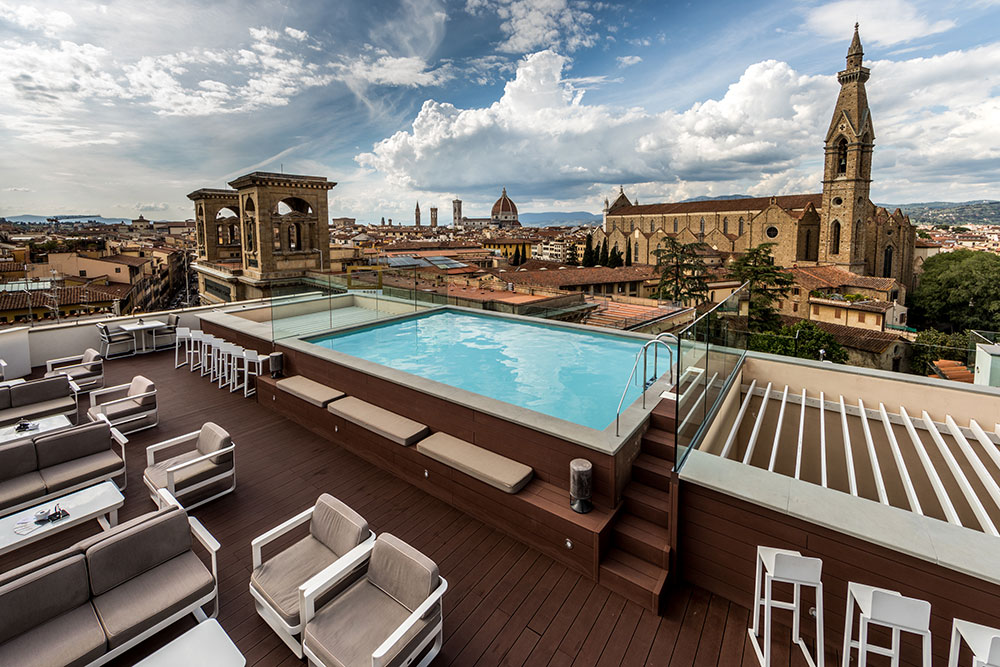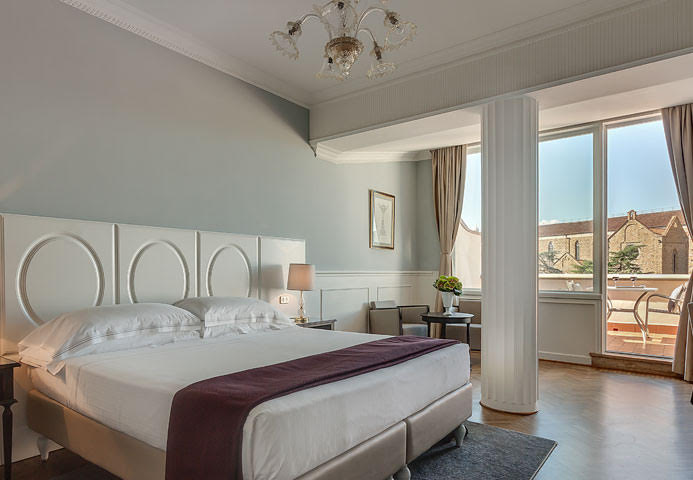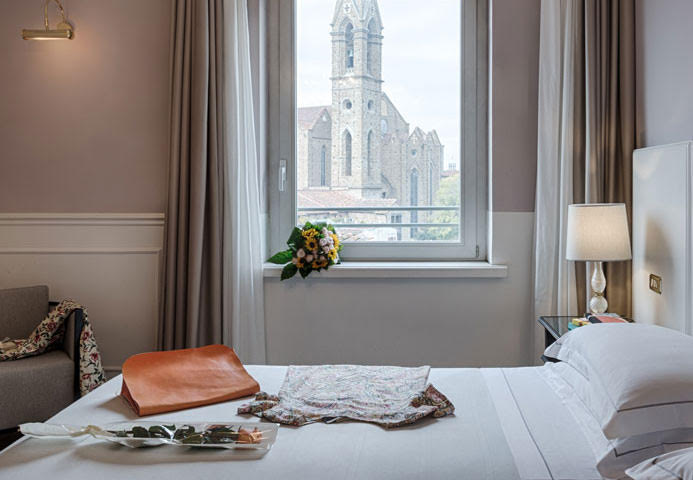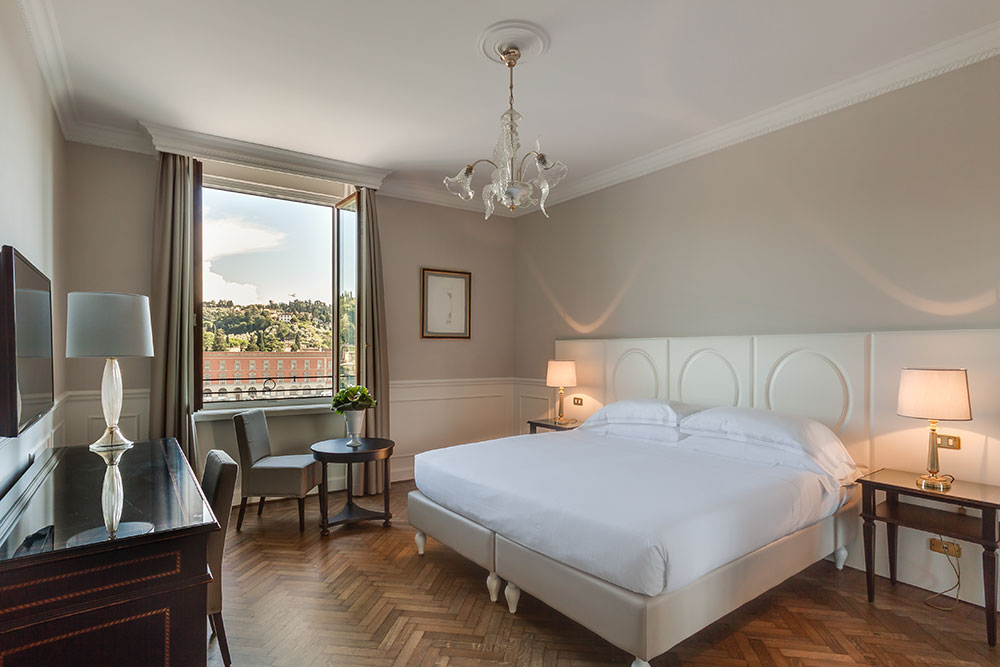 ---
Day 2 : Florence culture & food tour + Bread & pizza making workshop and party
After a delicious breakfast, we will embark on a gastronomic and cultural exploration of Florence through its incredible buildings and its food.
We will meet our local female guide, food expert and sommelier and go on a walking tour and lunch of the UNESCO-listed historic center of Florence, discovering more of this fascinating and gorgeous city through its food.
We will walk the city center, the Duomo and stop at various places for snacks, food and desert as you hear the stories, the legends and the history of this magnificent city.
In the early afternoon, we will return to the hotel to pick up our luggage and will drive for just under an hour to the picture perfect Chianti region and our home for the week.
At our Tuscan villa-farmhouse, you will meet Anna, owner and host, and make yourself comfortable, with time for relaxation and to enjoy the magic beauty of the land.
In the evening, we will participate in a delicious and fun bread and pizza making workshop session before indulging in our creations.
Inclusions: Breakfast at the hotel and walking food tour / lunch of Florence. Bread and pizza making workshop and pizza party dinner with wine.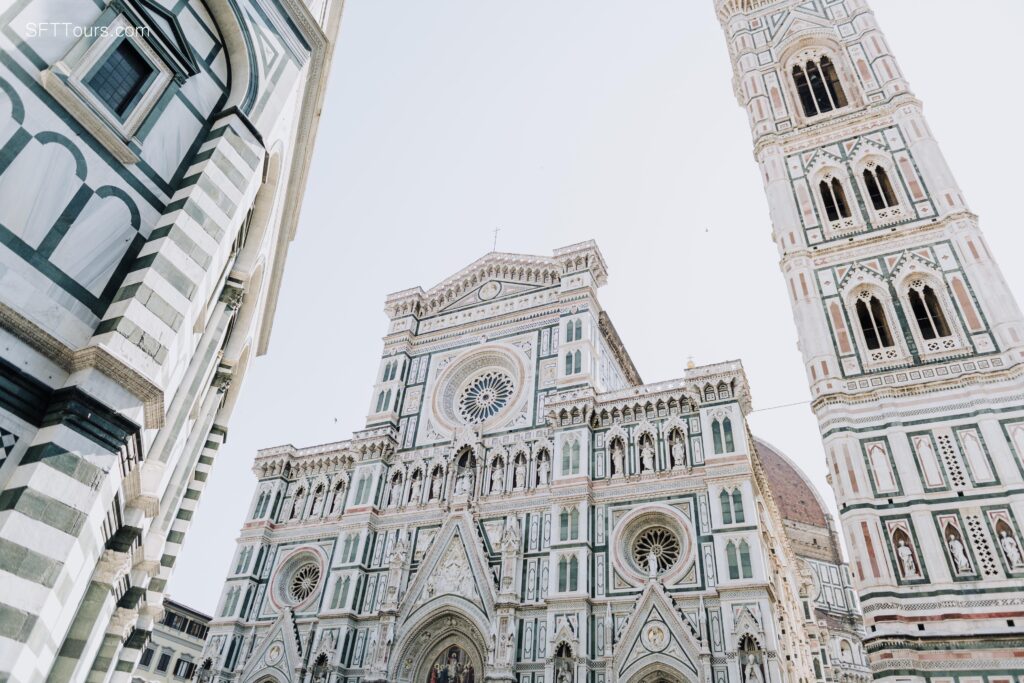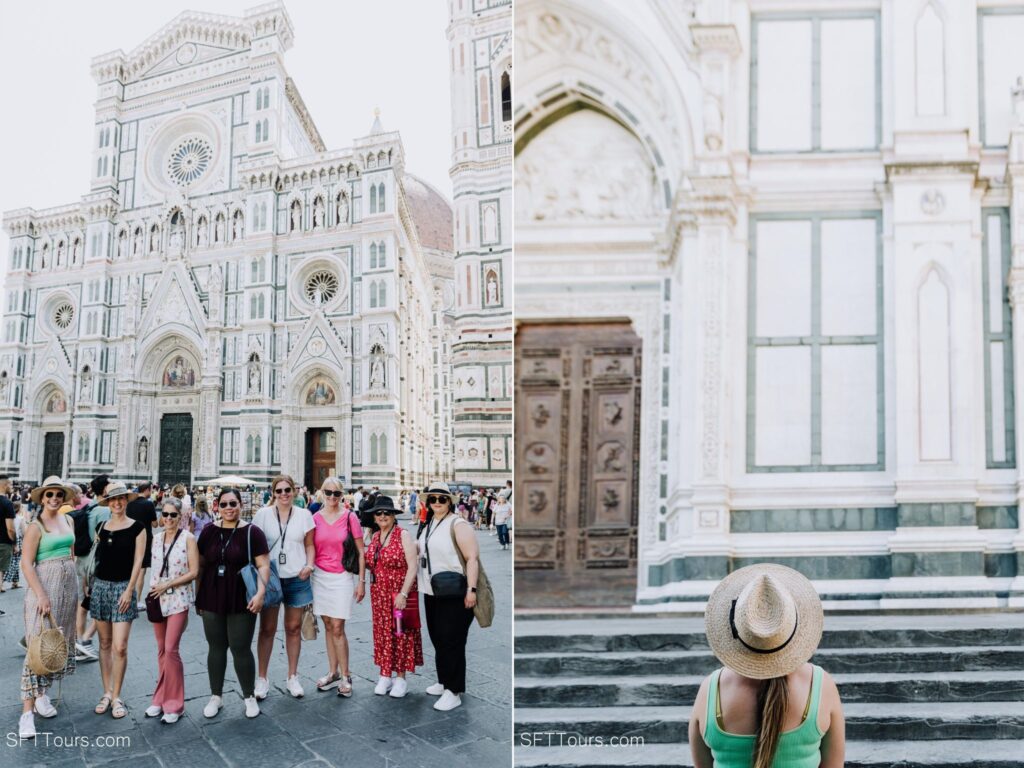 Our traditional Tuscan farmhouse
Our fully immersive Tuscan experience will be enjoyed from the comfort and authenticity of our very own private Tuscan farmhouse that dates back to the 11th century, that is, almost 1,000 years ago.
Located in an idyllic part of Tuscany and with the picture perfect views that have made the region famous our stone farmhouses have twin rooms for everyone, each with its own unique touches, and are traditionally decorated with genuine handmade furniture, it almost feels as if you are visiting family in the Italian countryside.
The charming common spaces will invite you to relax or enjoy a drink with views over the rolling hills. But the show stopper is its wonderful outdoor pool and garden from where you will fully understand Tuscan life.
Meals will be shared in the garden and there are many places in the house you can retire to for your own private space. With no other house nearby, we will truly enjoy the peace and quiet of Tuscany!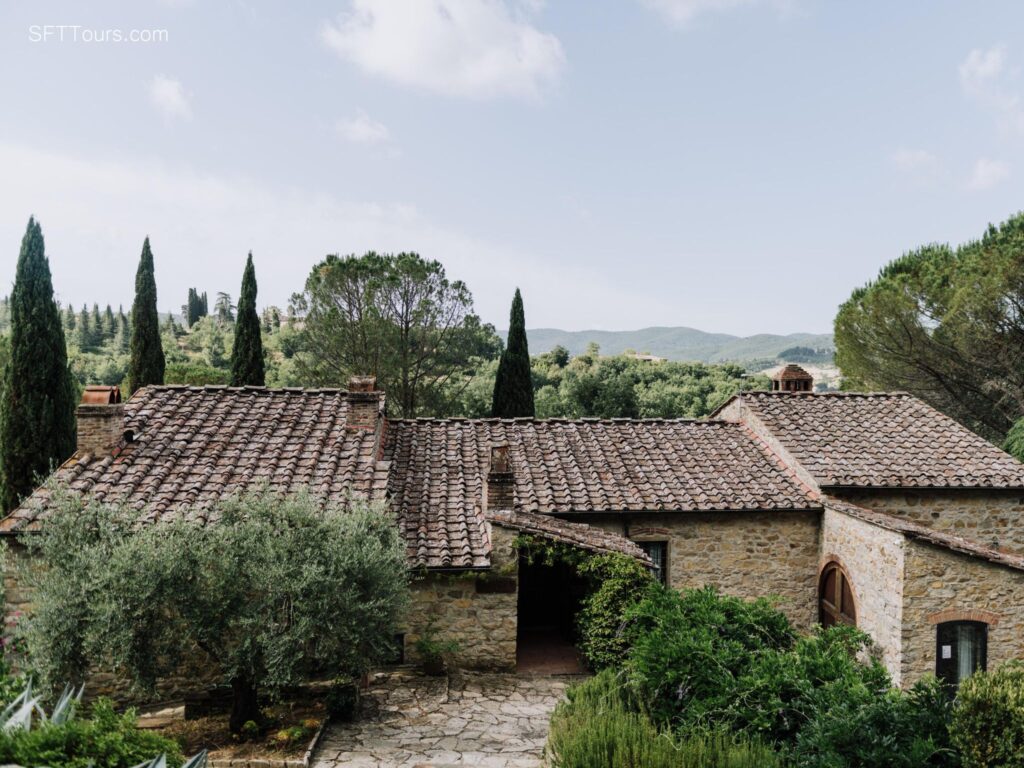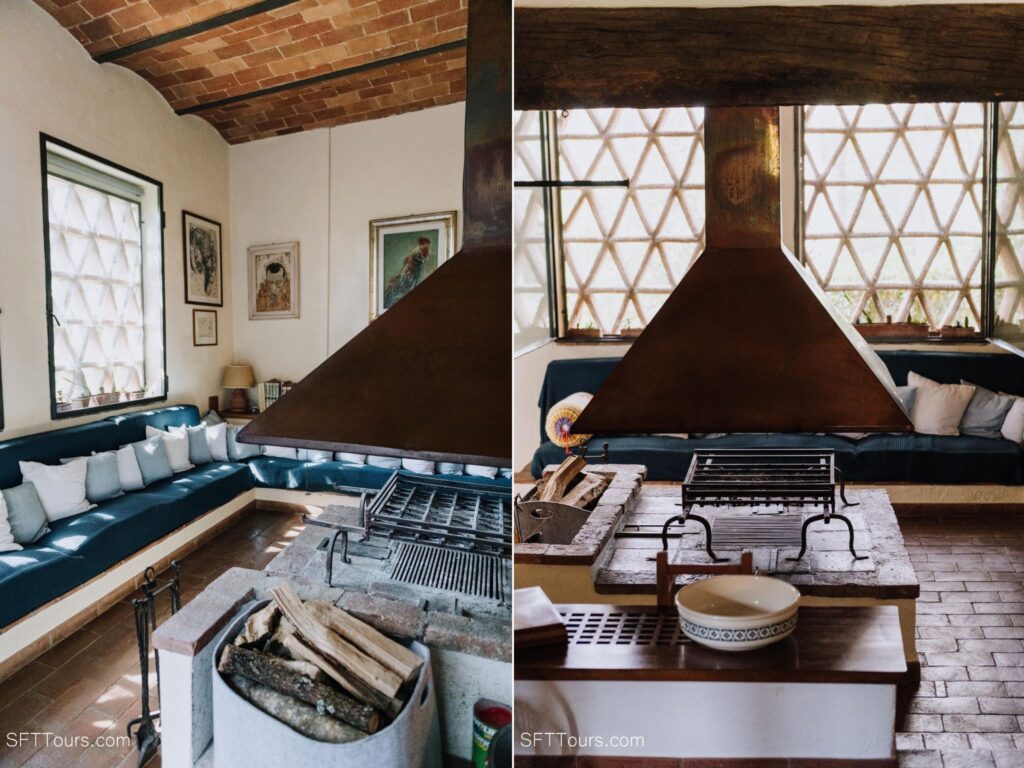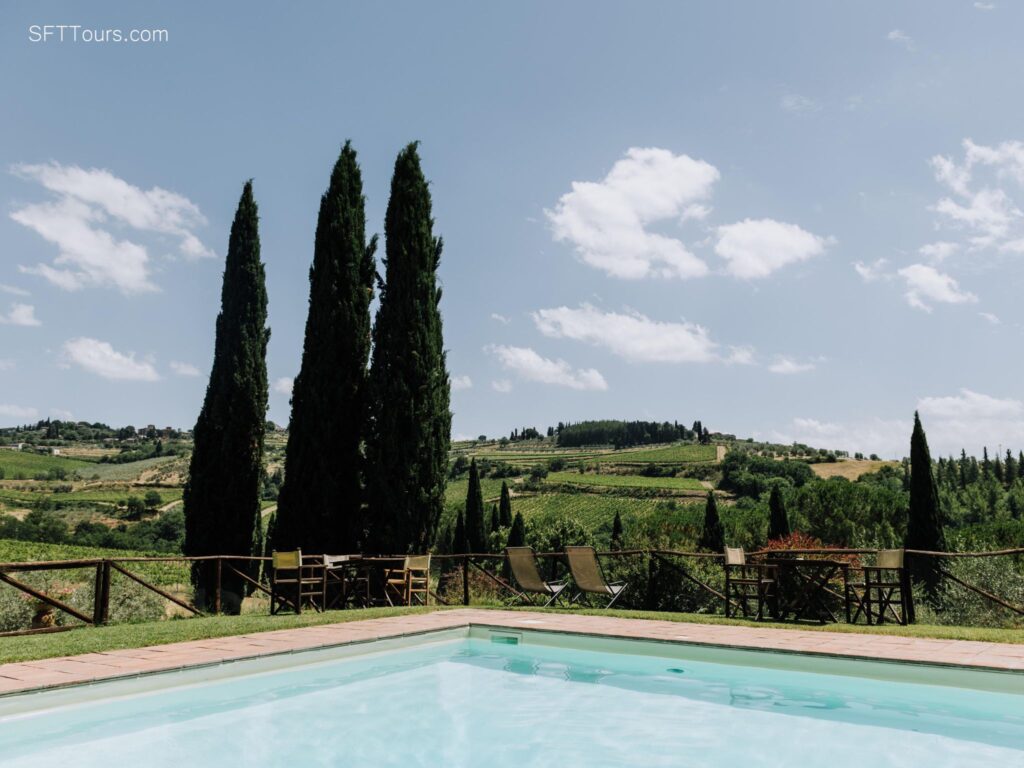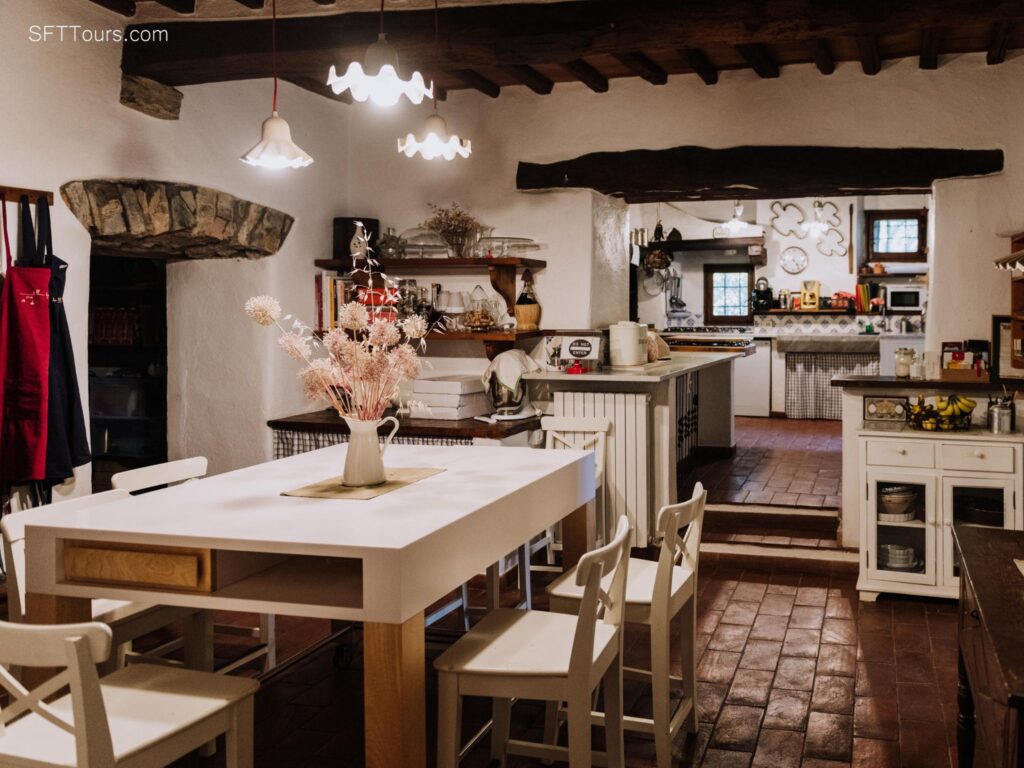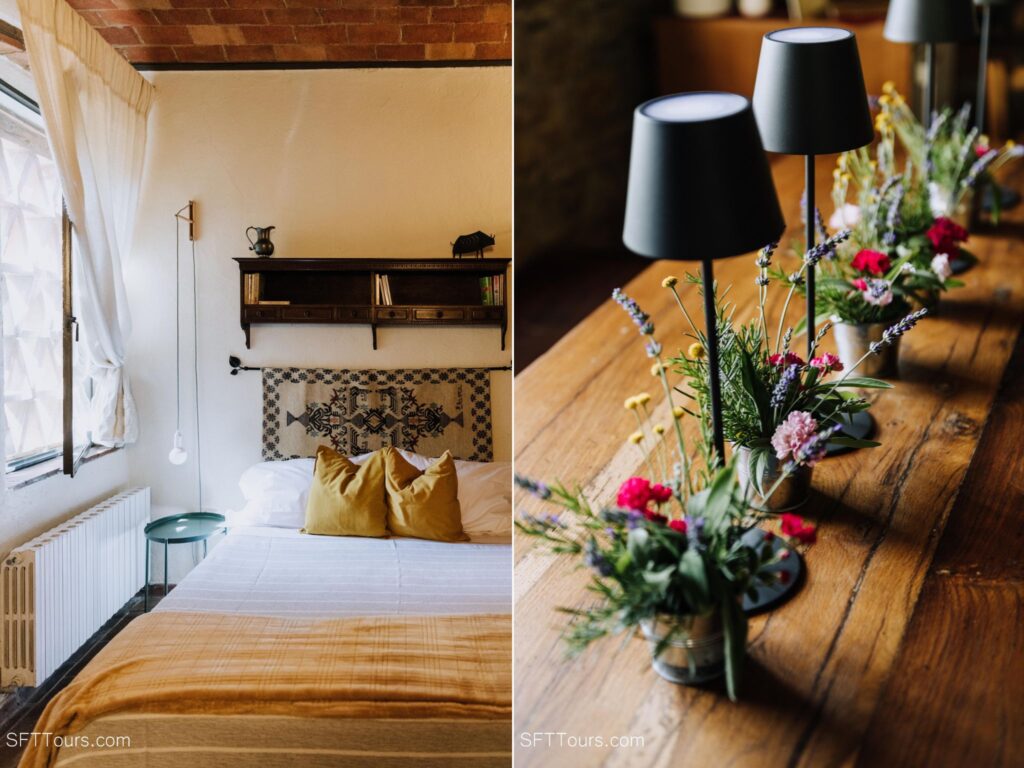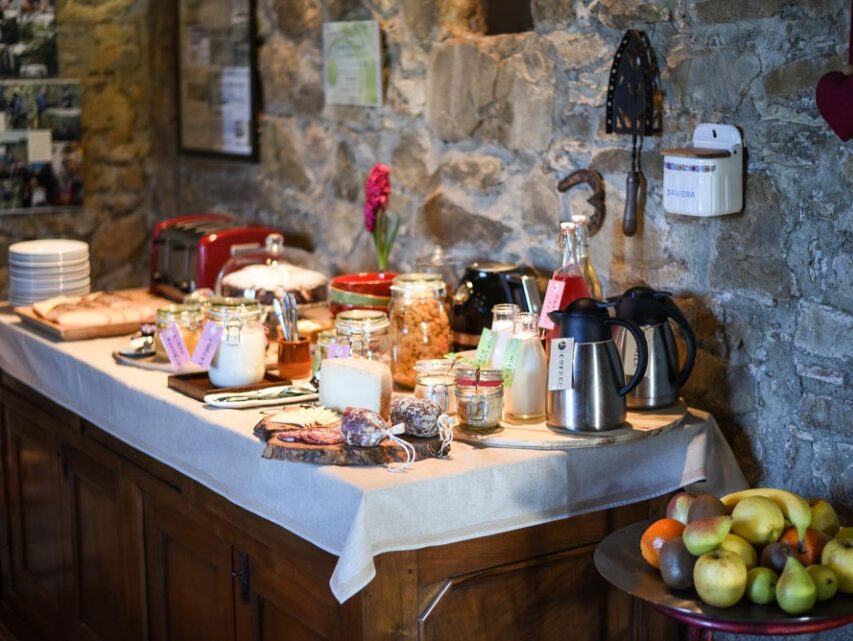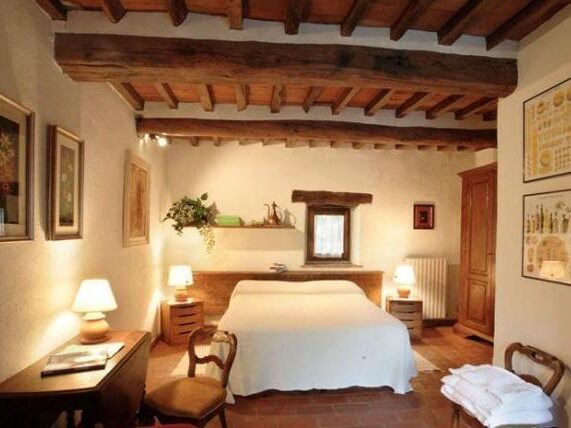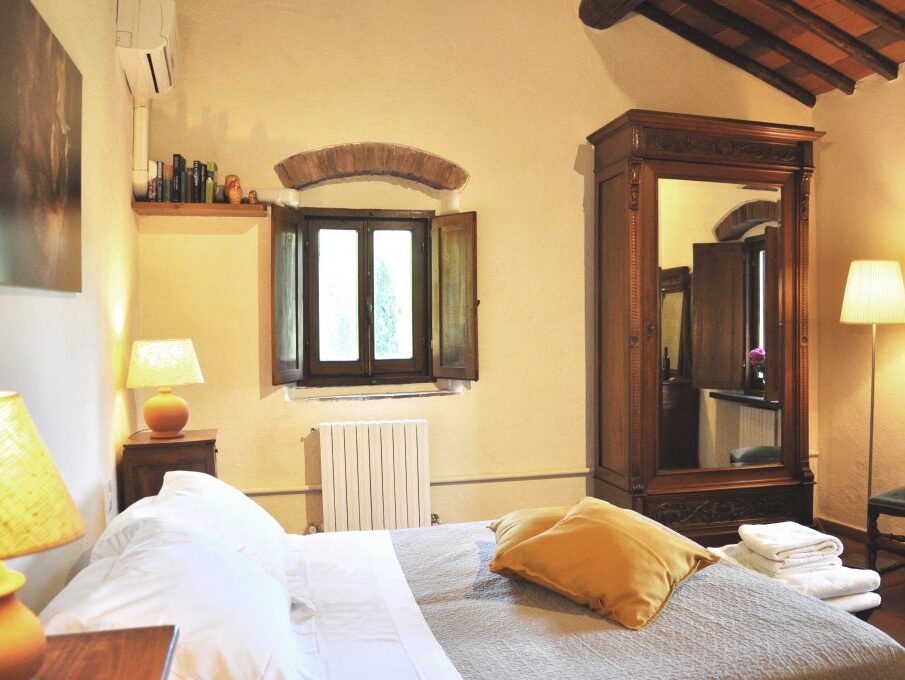 ---
Day 3 : San Gimignano + Female Winery lunch + Siena
We will begin our day with a relaxing walk in the medieval village of San Gimignano whose historic center is UNESCO-listed.
This magical location is famously known for its array of medieval towers that can be seen from miles away and is often referred to as the Manhattan of Italy.
We will enjoy a relaxing walk through the traditional shops and streets, learning stories and legends about this town and maybe doing some shopping.
San Gimignano is known for being the location of the "Best gelato in the world" so this is the place to try it.
After the time in Gimignano, we will head to a female owned winery in the Chianti Classico region, just outside of Siena.
Enjoy a guided tour of the beautiful property and learn about Chianti wines. A beautiful lunch with tasting of the prestigious wines will follow.
After lunch we will head to the stunning town of Siena whose historic center is also UNESCO listed.
Here, you can enjoy an espresso in the stunning Piazza del Campo and taste the delicious "Senesi" traditional sweets that are famous of the town.
In Siena, we can admire the majestic beauty of the Duomo and learn interesting stories about the famous Palio, a charming tradition from Siena that goes back to the Middle Ages.
The Palio takes place at the beginning of July so we may even catch a glimpse of it!
You will then have free time to explore the town on your own. Don't miss a visit to the incredible Duomo whose interior is entirely painted with frescoes.
After Siena, we will then return back to the villa for a home cooked dinner prepared by our host and cookbook writer.
Inclusions: Breakfast and dinner at the farmhouse, lunch at the winery. Walking tour of Siena and San Gimignano with free time.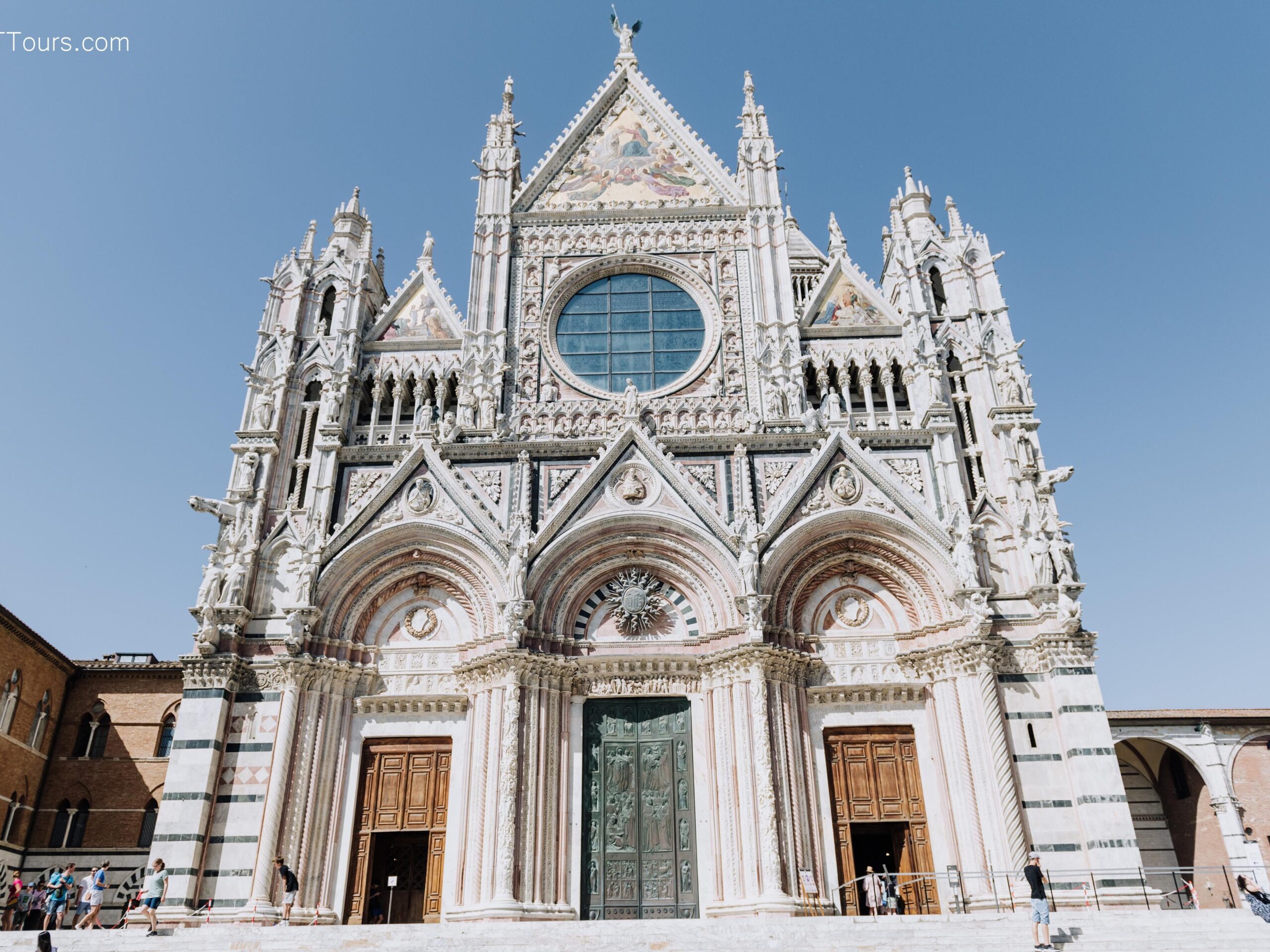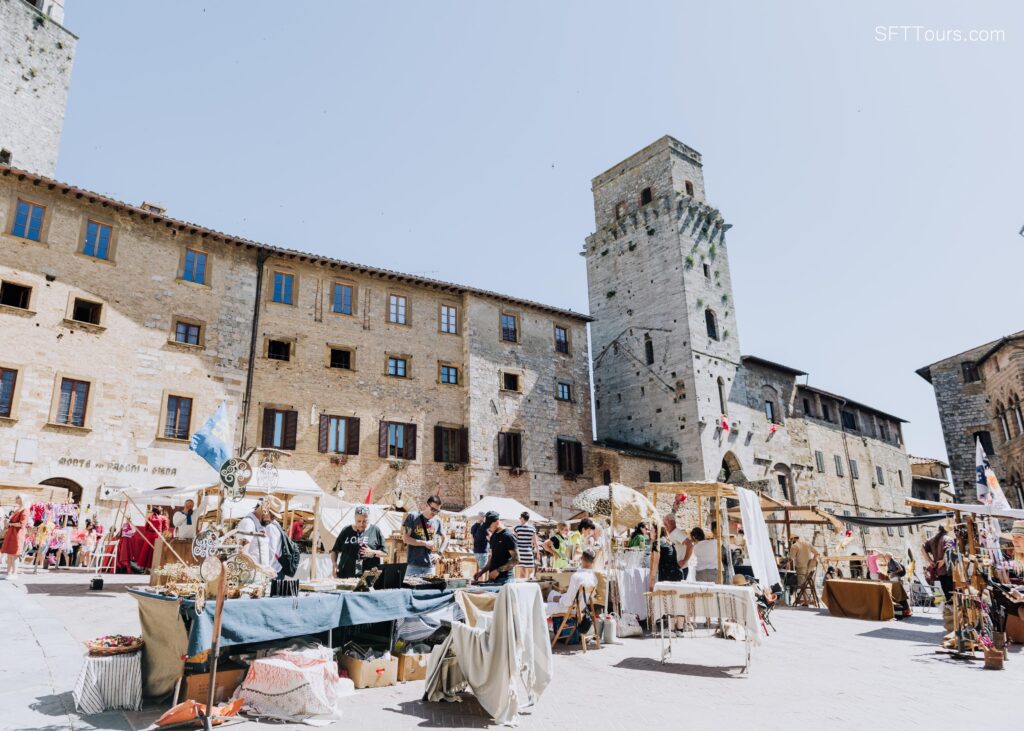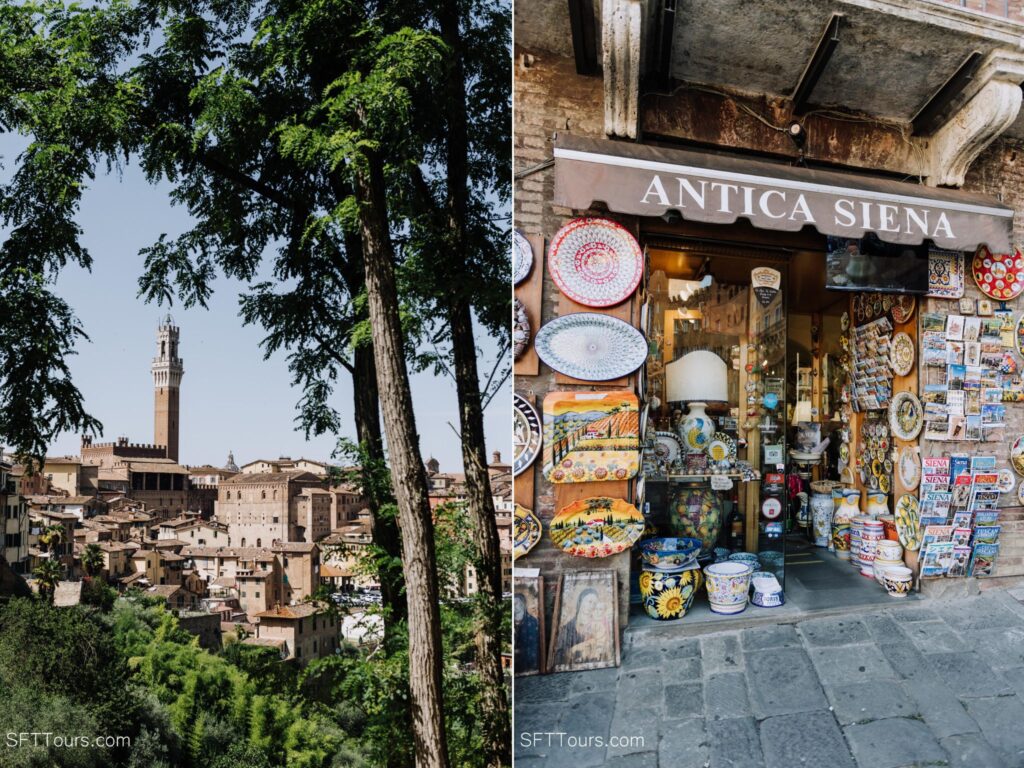 ---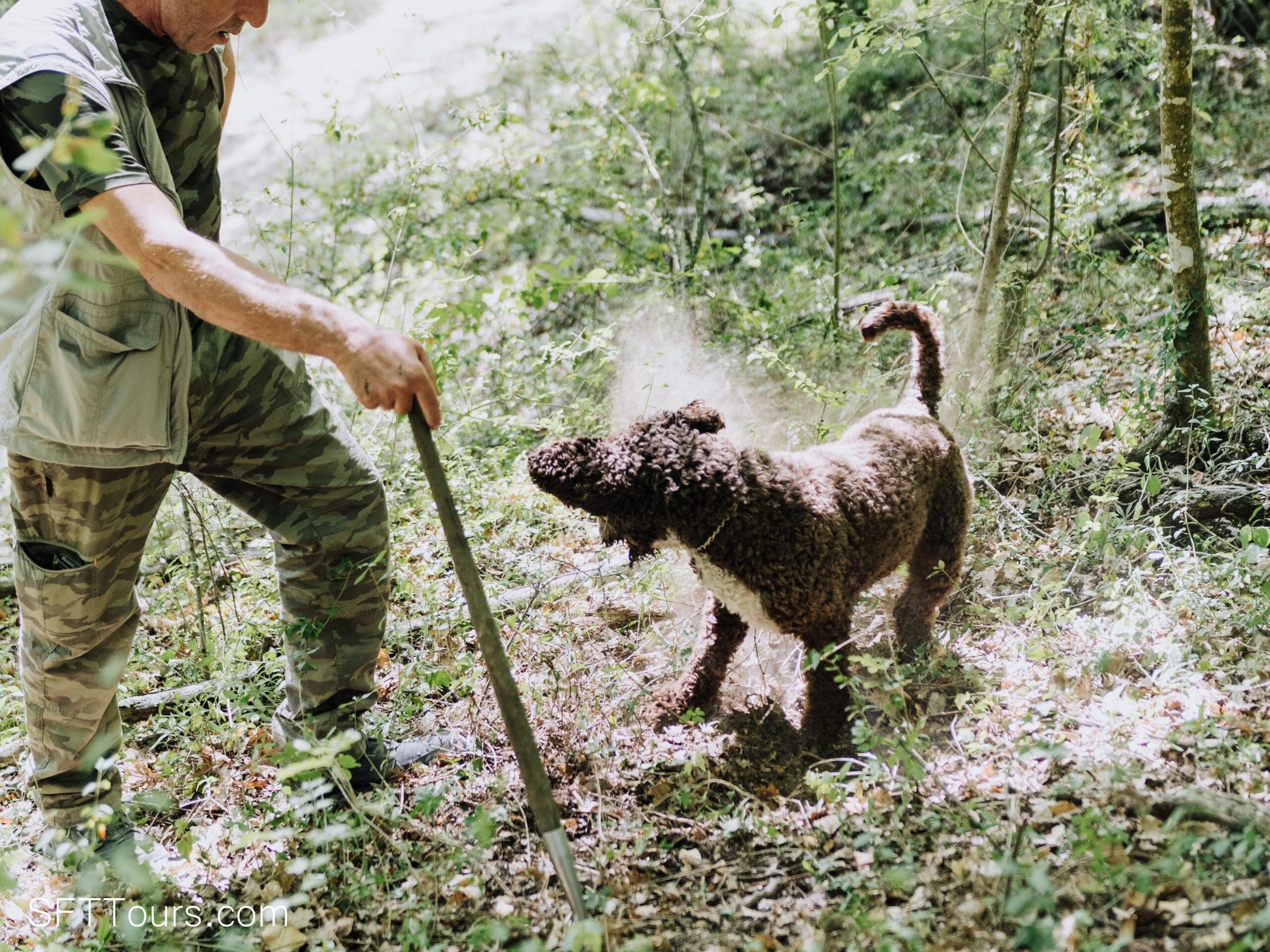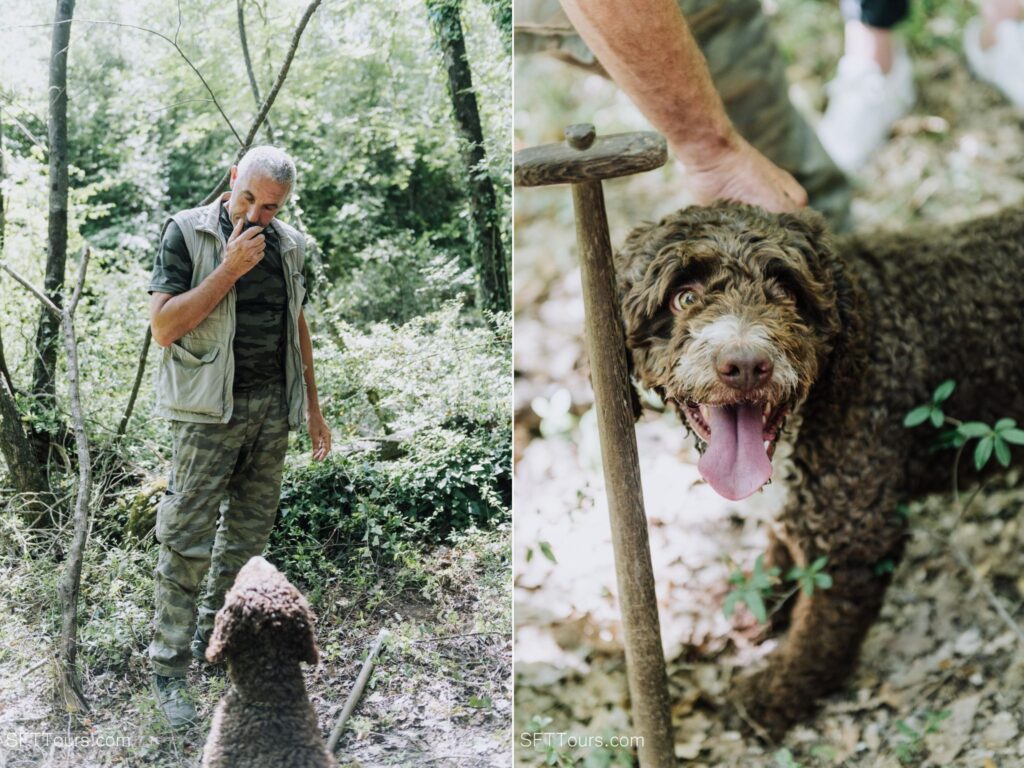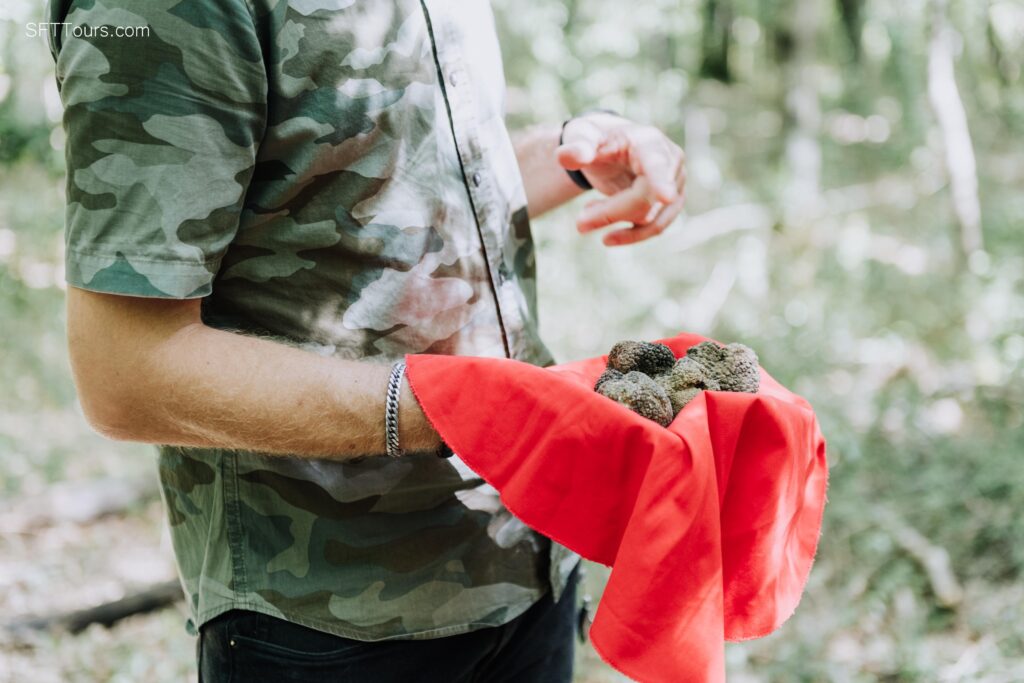 Day 4 : Truffle hunting + Certaldo + Greve in Chianti + Badia a Pasignano
Our journey will begin with a unique truffle hunting experience in the forest with a trained dog and the expert local truffle hunter, who will tell you interesting curiosities about truffles, how they grow and when and what types there are.
You will also learn what makes this fungus so expensive and what it takes to harvest it.
We will meet the truffle hunting family at the entrance to the forest and follow the dog as he searches for truffles.
This is one of our favorite experiences in Tuscany and a highlight of the trip.
After about an hour of truffle hunting, we will continue to the family's kitchen where we will enjoy a truffle themed seasonal lunch that changes with what's best at the time of year.
There will be lots of truffle slices sprinkled over everything and you can learn a few secrets of Tuscan cuisine, and of cooking with truffles, from the chef.
After lunch we will head over to nearby medieval castle of Certaldo, where we will have a bit of free time for a quick walk or for shopping at a locally owned female pottery workshop.
Here is where you can find that beautiful piece of pottery that you have been seeing on every shop, directly from the artisan who makes them. She can often be seen painting or finishing off pieces in the shop.
Afterwards, we will continue to Greve in Chianti, the main trading center of Chianti and a small quaint medieval town.
Greve's portico main square is not only picturesque but also a great place to locate any souvenirs, from liquors to wine, pottery or cured meats. The butcher shop is worth a visit and is where you can find all sorts of locally made cured meats and cheeses to take home.
We will finish the day at a female owned cozy restaurant in town.
Overnight at the farmhouse
Inclusions: Breakfast at the farmhouse, truffle hunting experience and lunch, visit to Certaldo and Greve in Chianti, dinner at Greve in Chianti.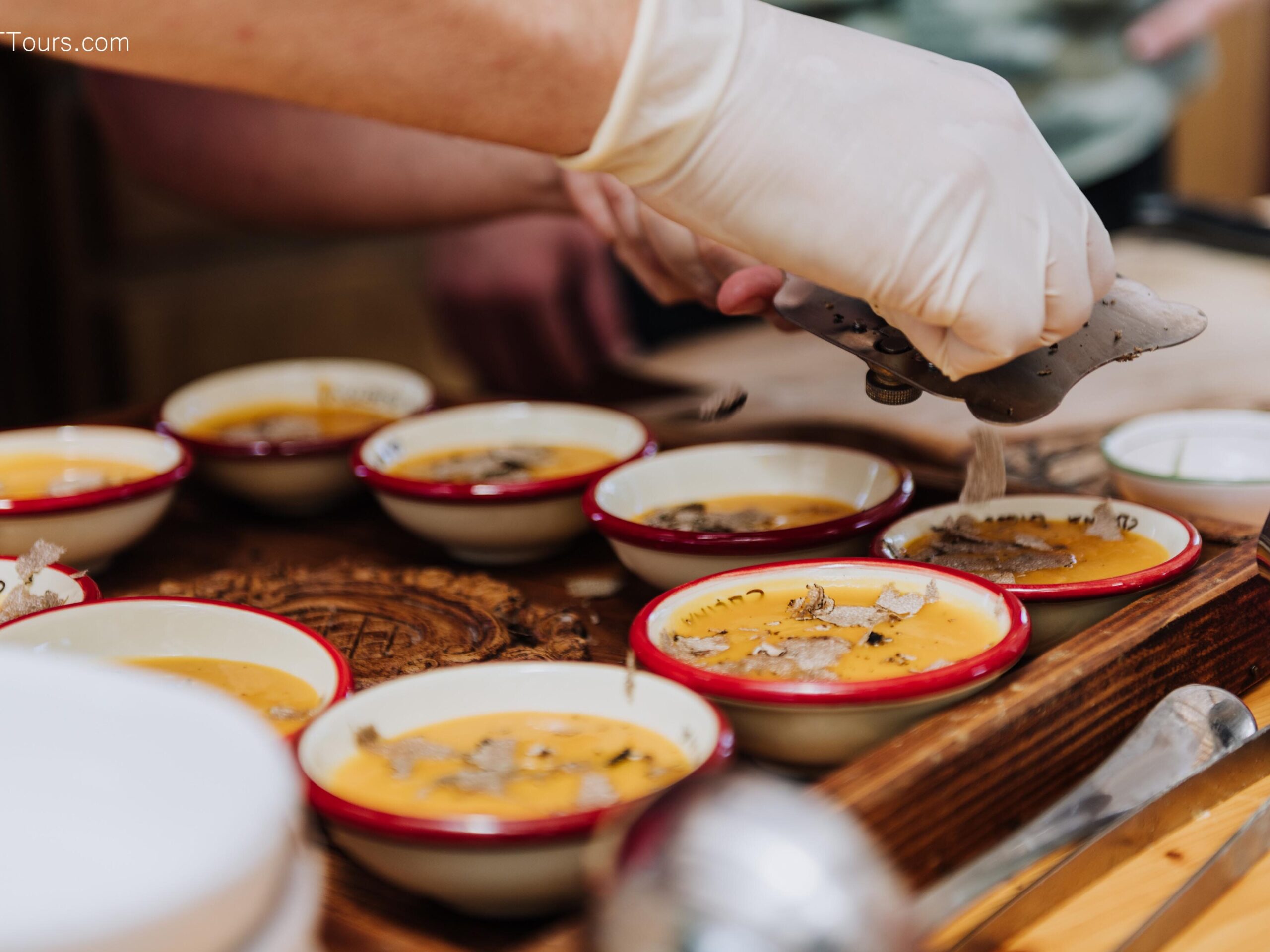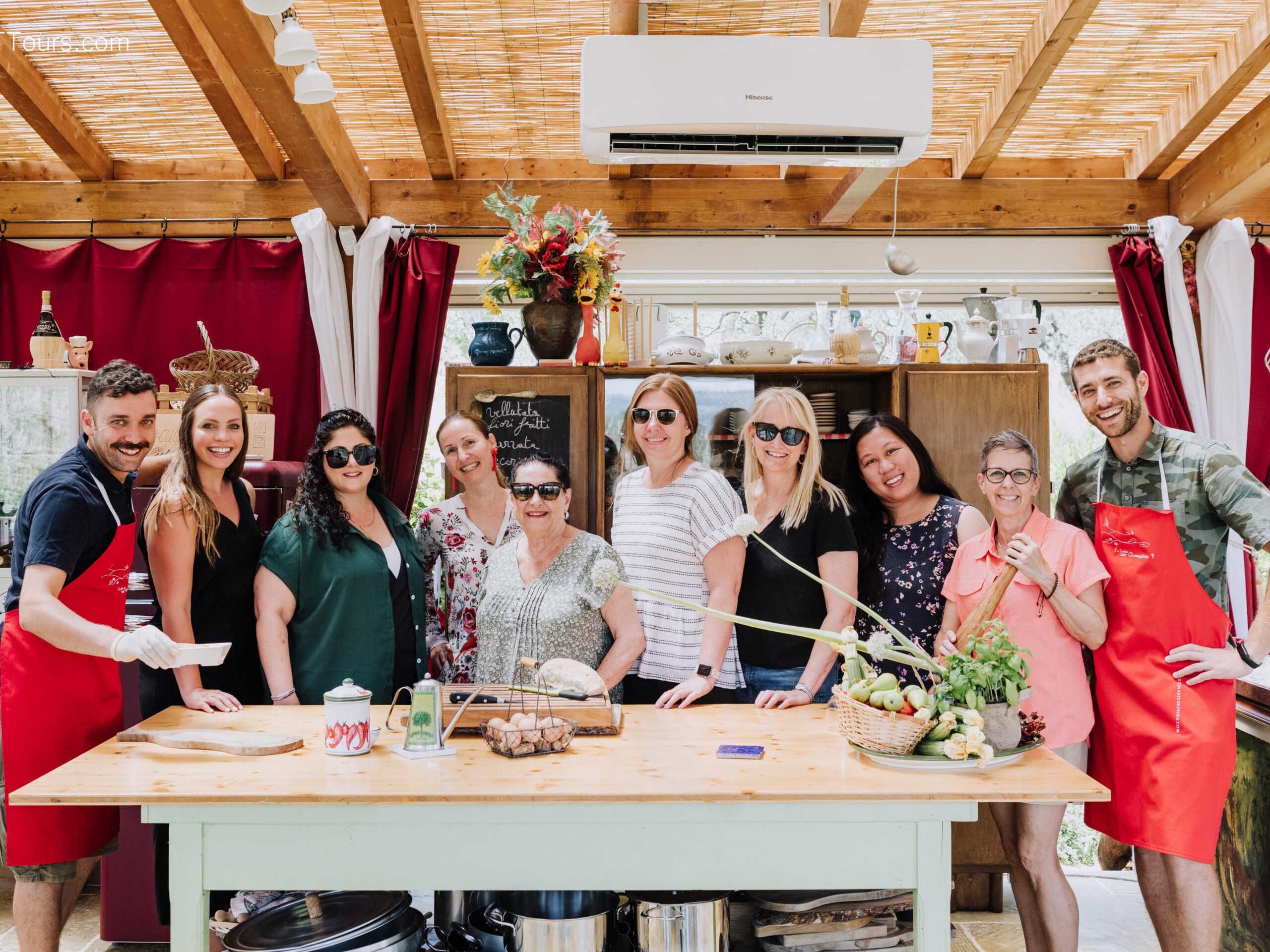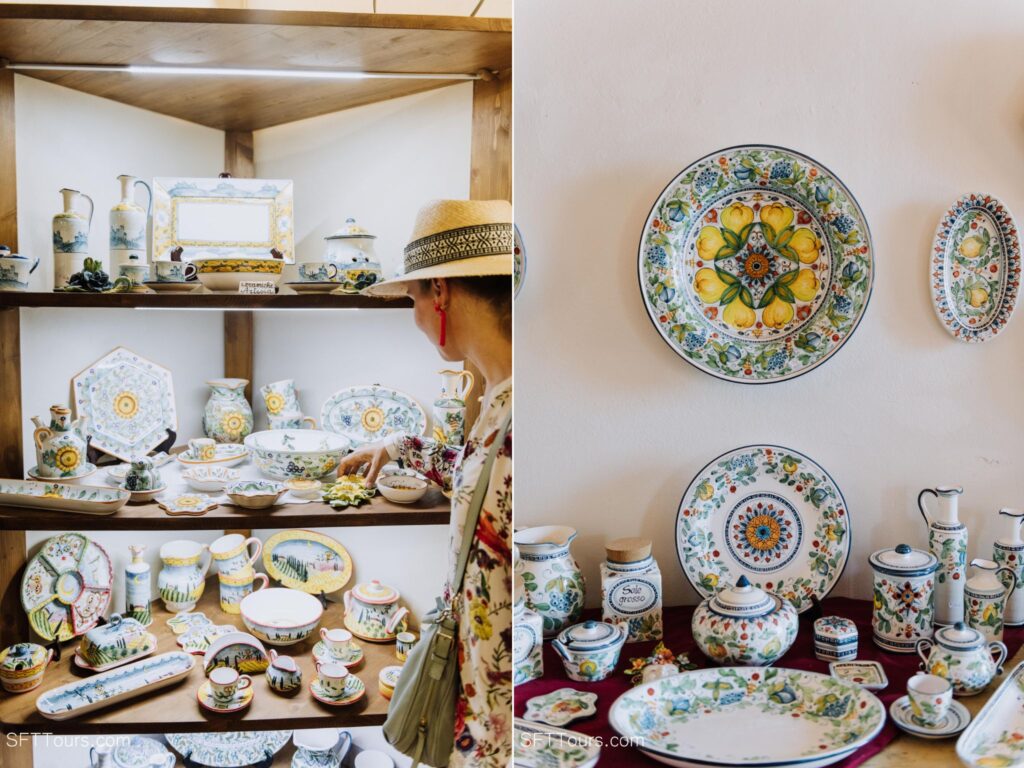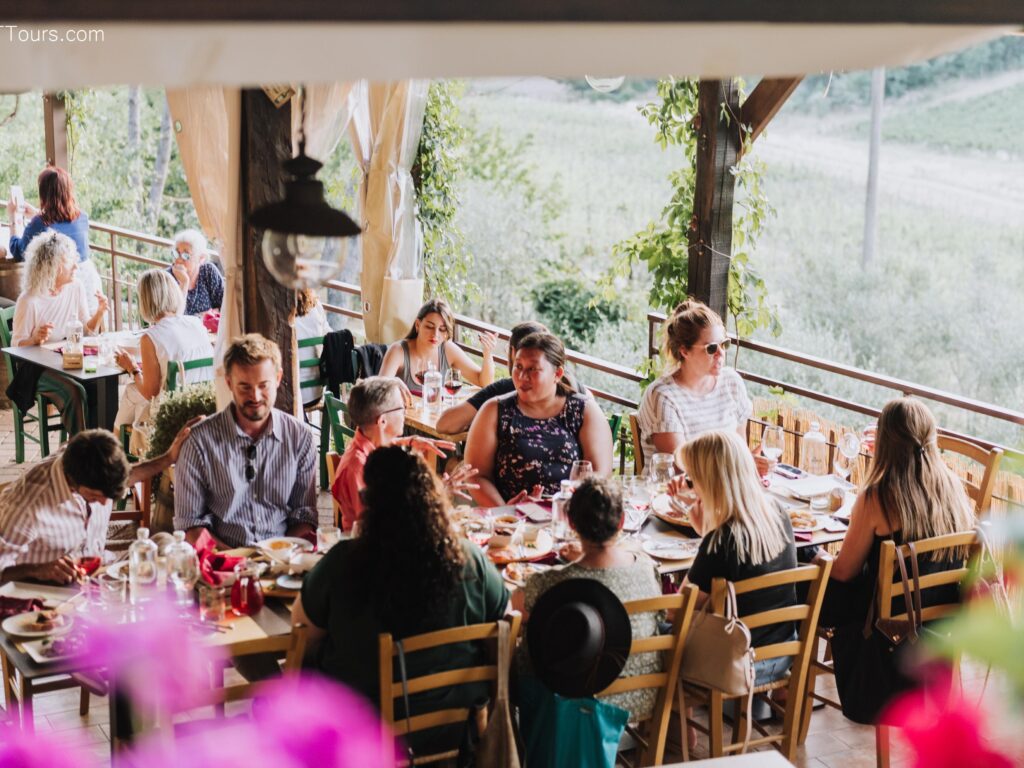 ---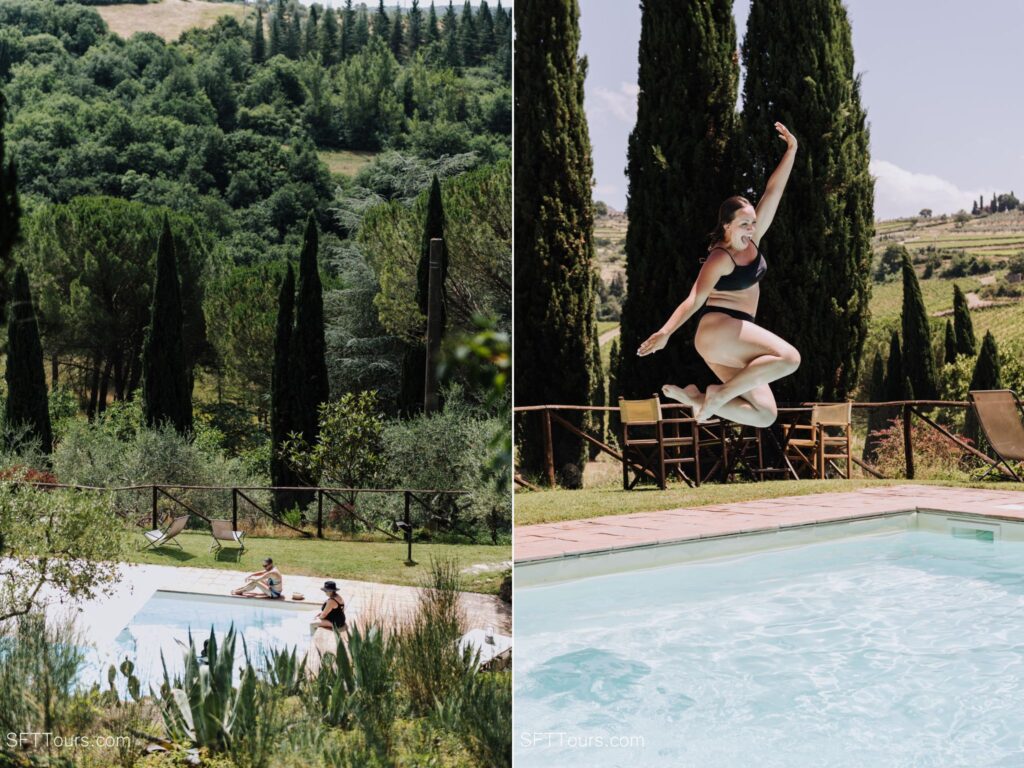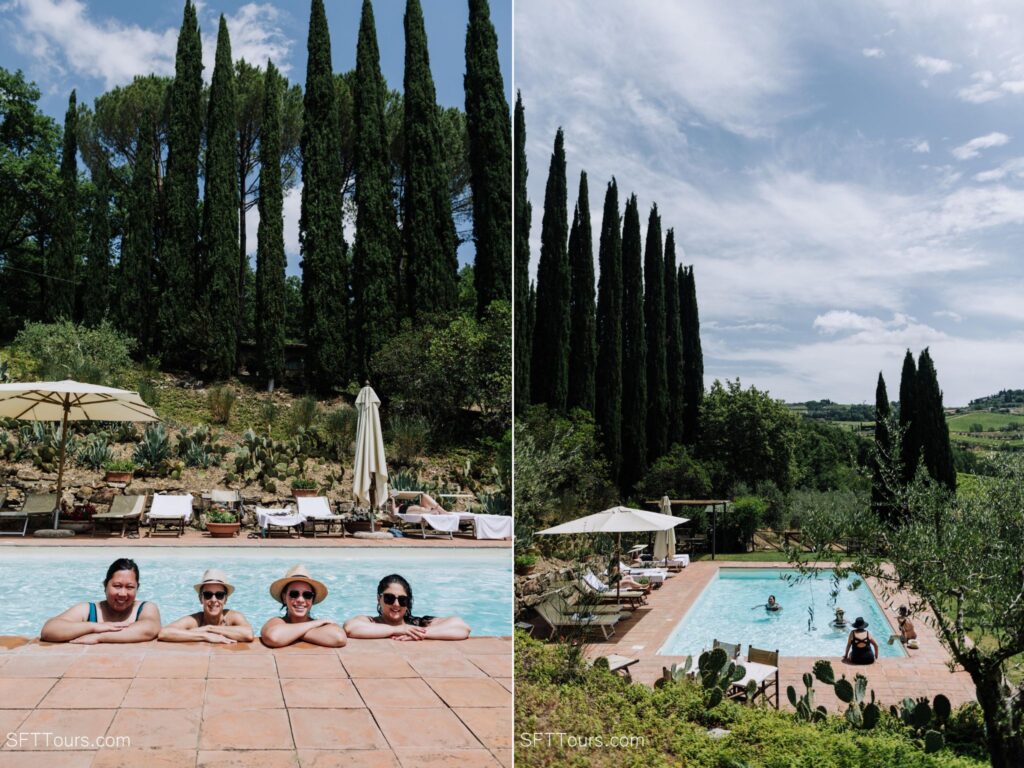 Day 5 : Enjoying the "Dolce far Niente" + Olive mill
We couldn't call this an immersive cultural and foodie experience without giving you the chance of spending a full day doing nothing, Italian-style, at the farmhouse.
Read a book by the pool or by one of the windows, take a walk around the wild garden, stroll along the hills, etc. this is a day for yourself to do whatever you want.
In the evening, we will meet again and head out to a family-owned olive oil mill.
The experience will start with a visit of the mill to learn everything about high quality extra virgin olive oil, how it is made, when the olives are harvested, how to taste it, how to cook with it, etc. It doesn't get its nickname of liquid gold for nothing!
The guided tour will be followed with a workshop where we will learn how to taste and identify the various types of olive oil produced by the company followed by an interesting olive oil cocktail making class.
Learn how to incorporate this treasure of nature into fun and different cocktails then taste your creations.
We will return back to the farm house for dinner.
Inclusions: Breakfast and lunch at the farmhouse. Olive oil mill visit with tasting and cocktail class, dinner at the farm house.
---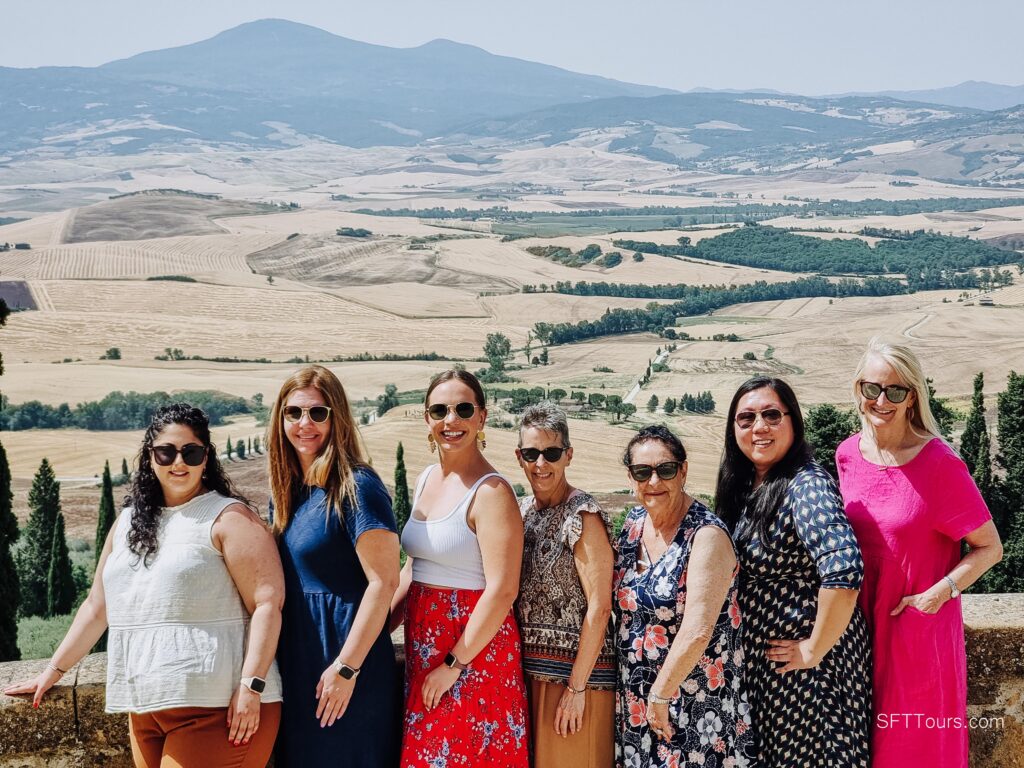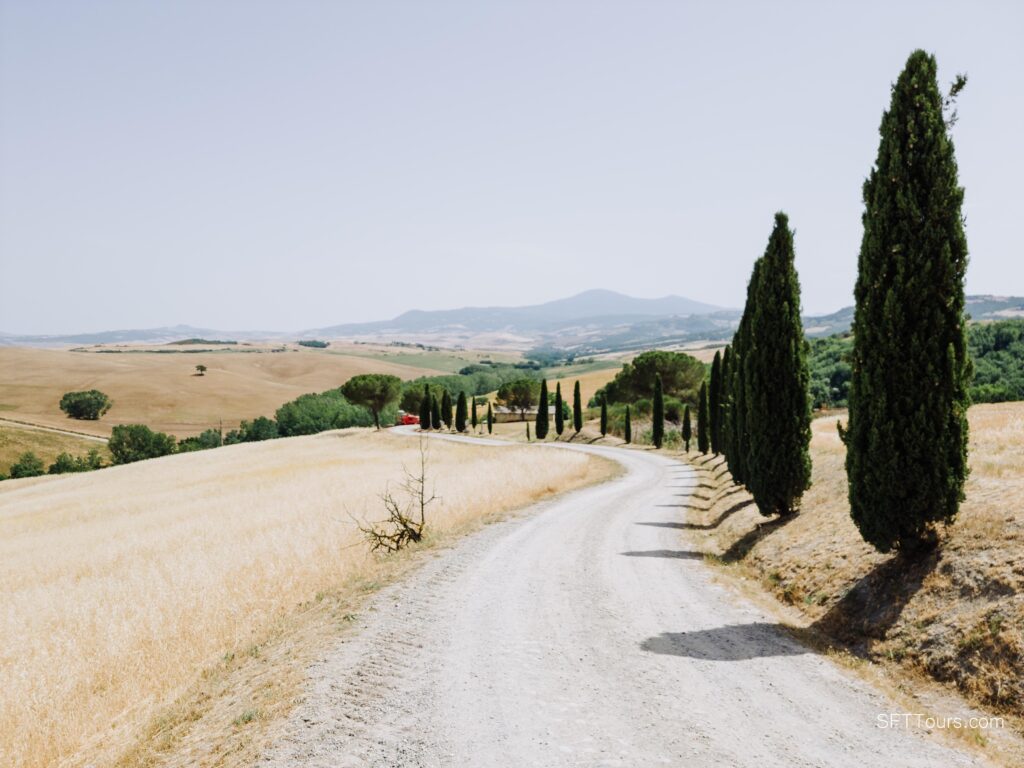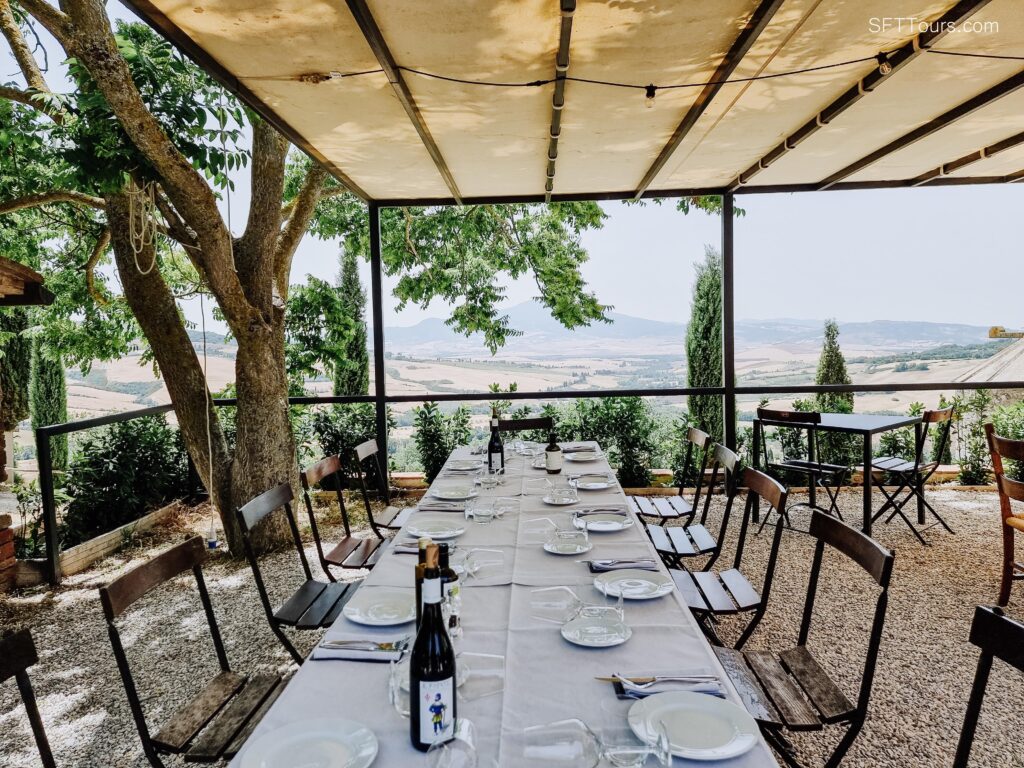 Day 6 : Val D'Orcia + Pecorino cheese farm + Female-owned Brunello di Montalcino winery visit
We will start the day early to make our day to the farthest point in our itinerary, the beautiful village of Pienza, which is UNESCO-listed.
We will have free time to walk the narrow lanes and pedestrian streets of this small town and take postcard perfect pictures of the Val d'Orcia and the picturesque jasmine-crowned door frames and brick buildings.
After our morning walk, we will visit an organic pecorino cheese maker near Pienza.
The farm is practically self-sufficient and produces everything it needs to feed the animals, grow the vegetables and fruits used at the restaurant and take care of the many visitors that come every day.
We will enjoy a guided tour of this fascinating farm and learn everything you ever wanted to know about the 100% Tuscan and famous Pecorino cheese. You may even pick up a tip or two about how to grow your own vegetables and herbs.
The experience will be completed with a cheese-themed lunch with stunning panoramic views over the UNESCO-listed Val D'Orcia Valley.
Val D'Orcia Valley was included in the list of UNESCO World Heritage Sites in 2004 for its rolling undulating hills and its cultivated land.
The area is known for the picturesque villages of Siena and Pienza and for the premium wines of Montepulciano and Brunello di Montalcino.
No matter how many pictures you see of these landscapes, nothing can replace seeing them with your own eyes.
In the summertime, we will observe a range of colors, from the pale yellow of the cereal fields to the light green of the vineyards and the dark green of the cypress trees and forests.
After lunch, we will enjoy a visit to a female-owned Brunello di Montalcino winery, the most prestigious and well known wine of Tuscany.
We will first enjoy a guided tour of the cellar, getting first person insights into this precious wine, and tasting the beautiful wines. The story of the winery will also fascinate you as the owner started to produce them well before women we present in the wine industry.
Our tour will be accompanied by music that you can almost smell and taste and which has been designed to pair with the wines, a truly one of a kind experience.
Beside the great visit, what makes this winery special is not only that it is female owned but it is also fully female-staffed since its opening decades ago, the first and perhaps only one, in Italy.
In the afternoon, we will return to the farmhouse and enjoy dinner prepared by our host and enjoyed in the garden, under the cypress and olive tree.
Inclusions: Breakfast and dinner at the farmhouse, lunch at the cheese farm. Guided tour of Pienza, the cheese farm and Brunello di Montalcino winery.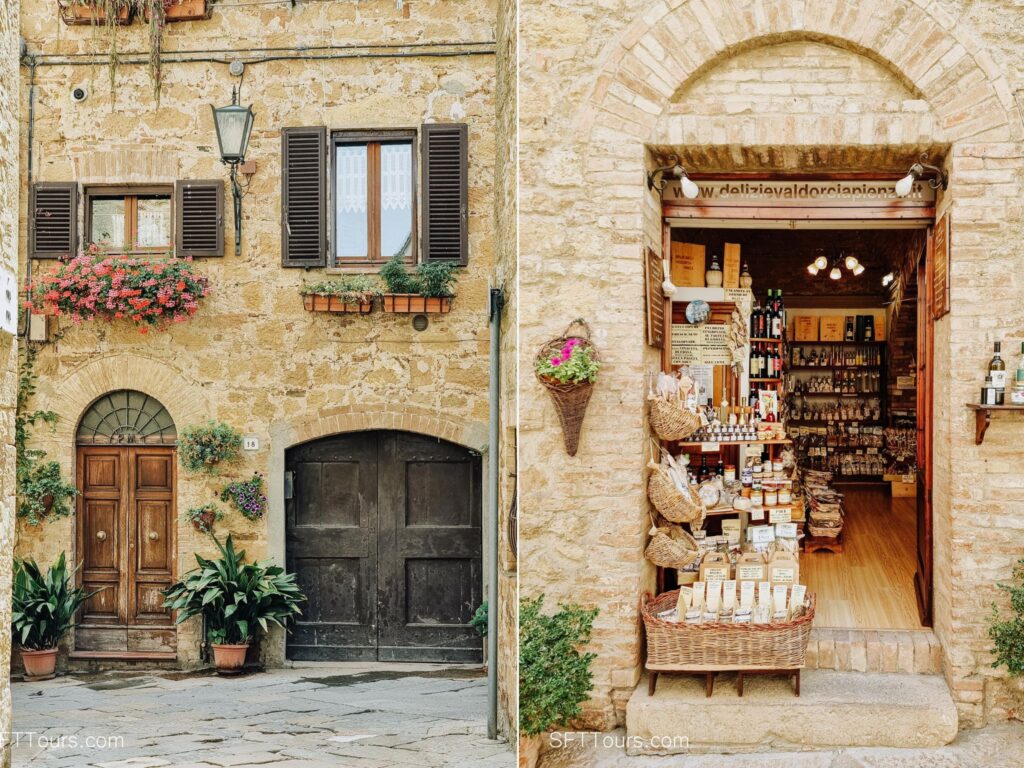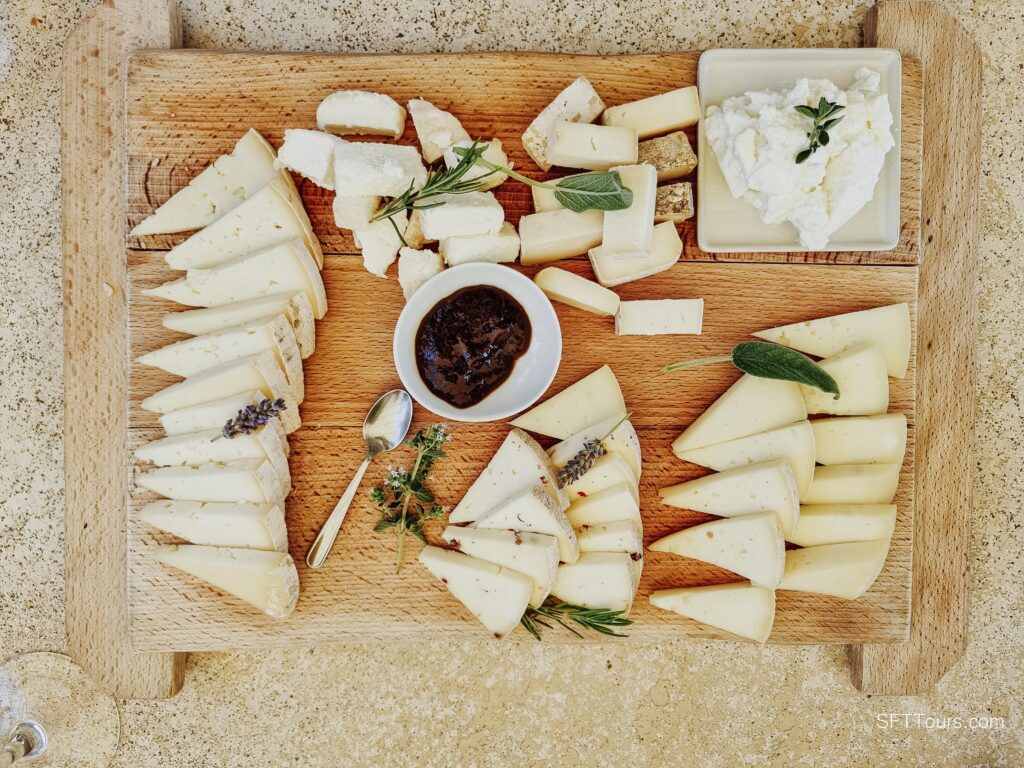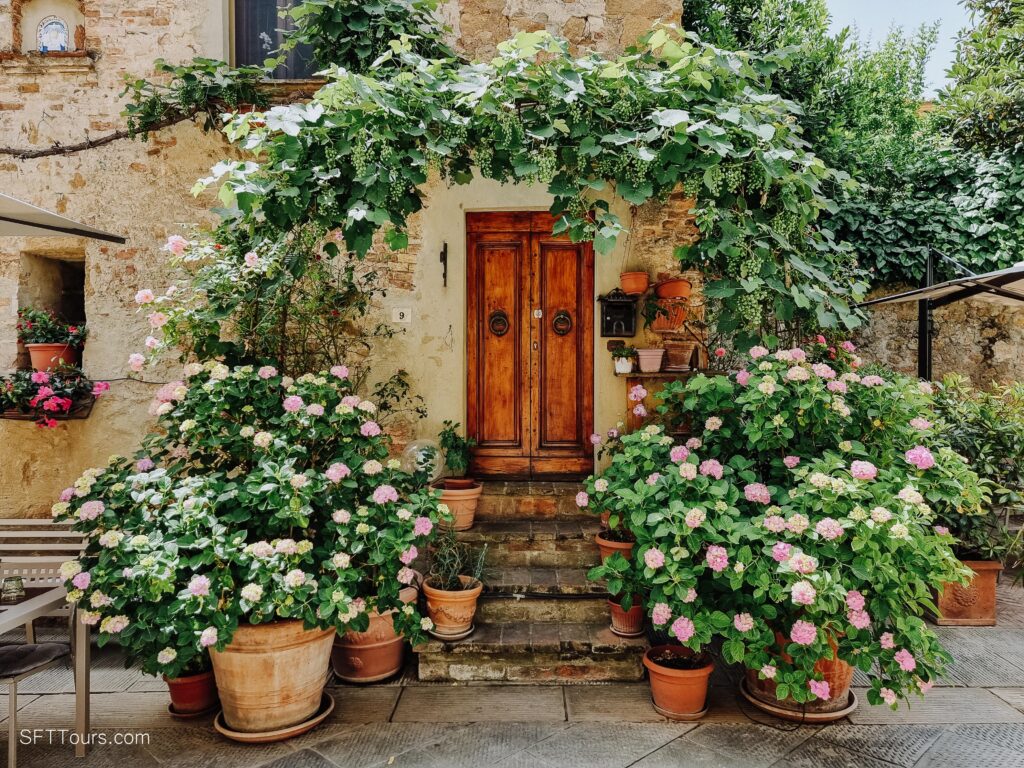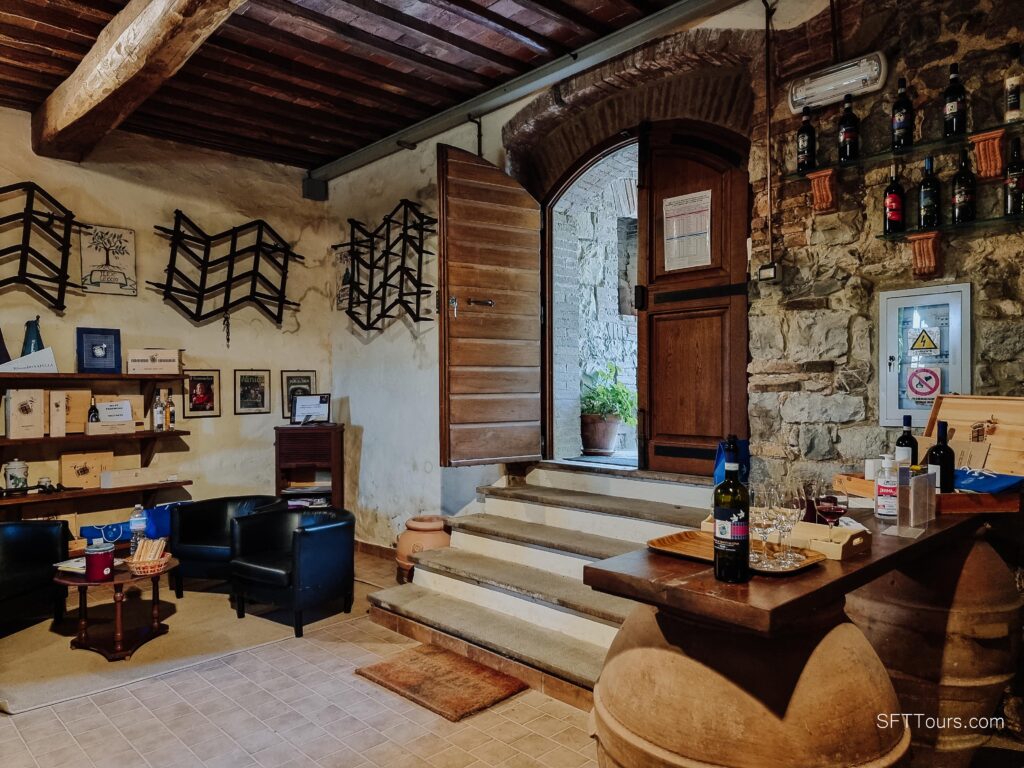 ---
Day 7 & 8 : Thermal spa day + Cooking Class + Farewell Dinner
Today is all about pampering and taking care of ourselves.
We have had a long week of sightseeing, walking along the narrow cobblestone streets of the beautiful towns in Tuscany and it is time to be well taken care off so you can return feeling like you had an actual holiday.
Tuscany is renowned for thermal waters and a few spas and luxury hotels have sprung around these natural spring water to allow guests to enjoy their properties in the comfort and luxury of high end facilities, thermal pool circuits and full fledged spas.
And that is today's program.
We will enjoy breakfast at our private villa and have a bit of morning free time to read or wander around the area first.
We will leave the farm house in the late morning and head towards one of the most upscale thermal spa and wellness complexes in Tuscany for a well deserved treat.
We will have access to the thermal area and facilities and enjoy a 30min massage booked along with a light lunch which you can enjoy by the outdoor pool.
The complex has several pool areas with various benefits and sun loungers to relax. Our package will include slippers and bath robes so we feel fully cocooned.
We will have a light lunch at the bistrot of the spa, with quiet and beautiful views to continue with the relaxation.
In the afternoon, a unique and unforgettable experience will await: a cooking class with our cookbook writer and host Anna.
All week you will have been amazed by Anna's incredible cooking and tonight, she will reveal all her secrets in a wonderful and homey cooking class in the kitchen.
We will get down and dirty and participate in a cooking class to learn some of Tuscany's most famous dishes. For once, you'll be at the other end of the dining room.
We will enjoy our last meal together and say cheers to an incredibly immersive week in the Tuscan countryside.
Overnight at the farmhouse. On day 8, we will have breakfast and you will be dropped back at Florence's train station.
Inclusions: Breakfast at the farmhouse, lunch at the thermal spa, access to the thermal spa with a 30min massage, and cooking class and surprise farewell dinner. On day 8, breakfast at the farmhouse and drop off in Florence with departure at 10am to the train station.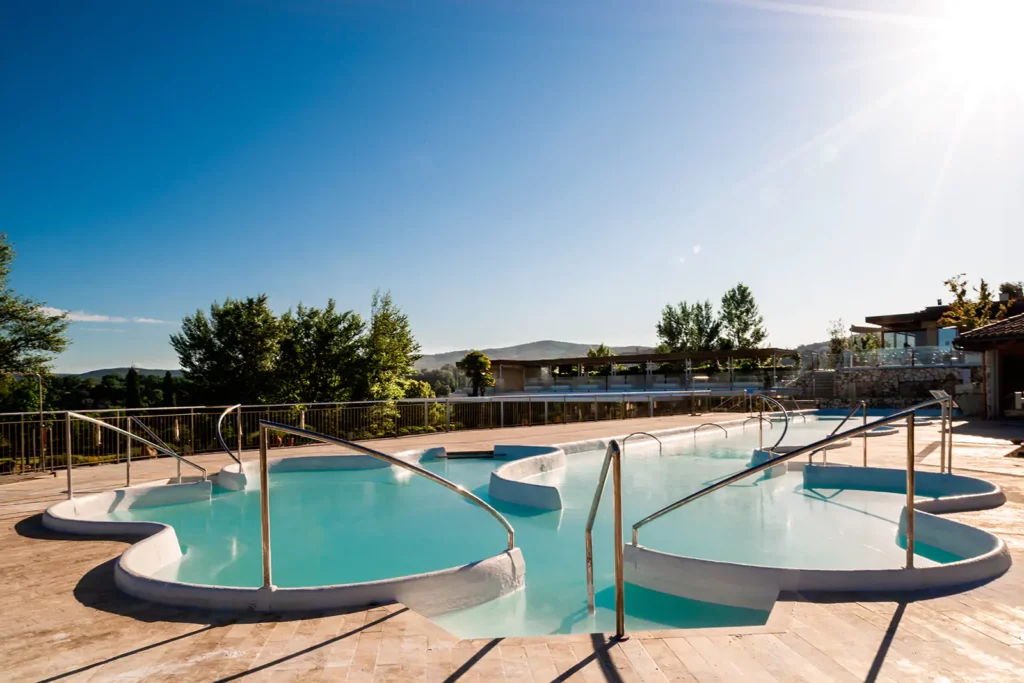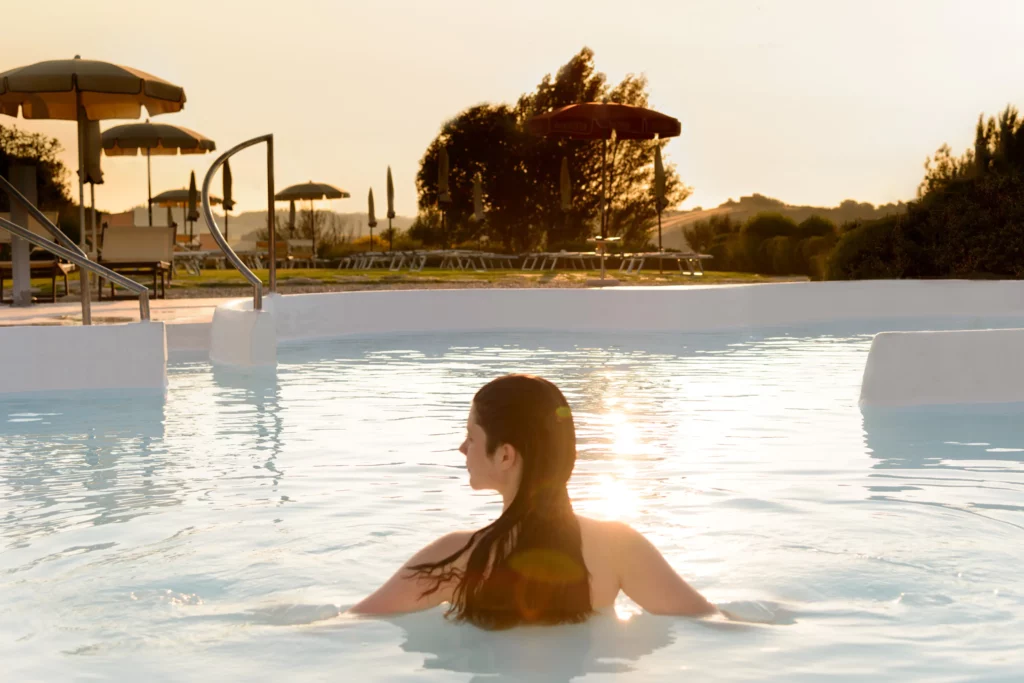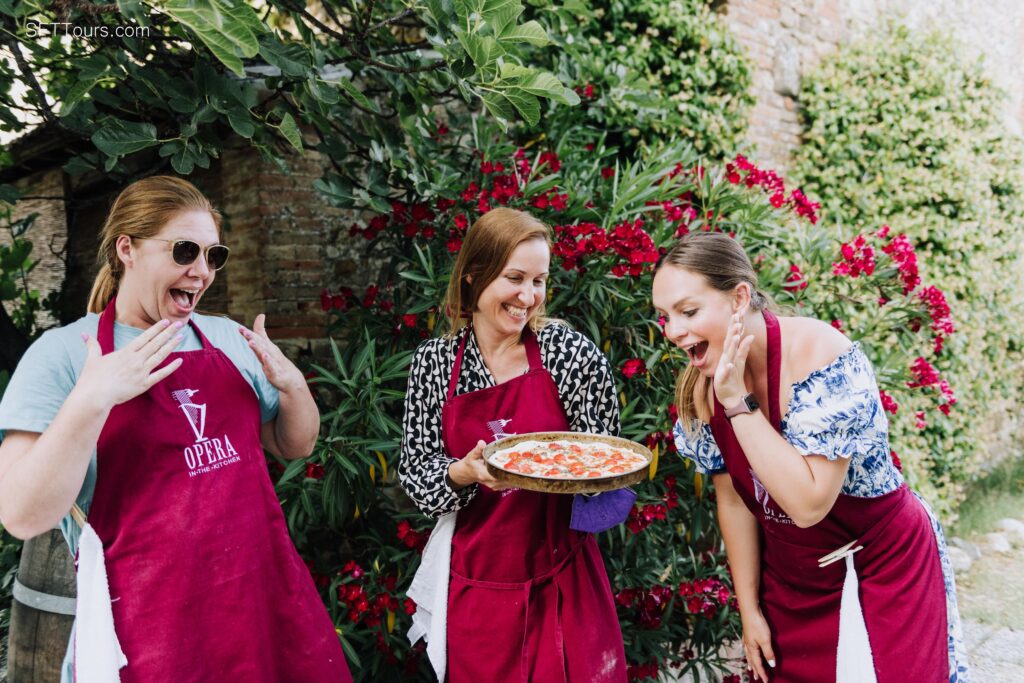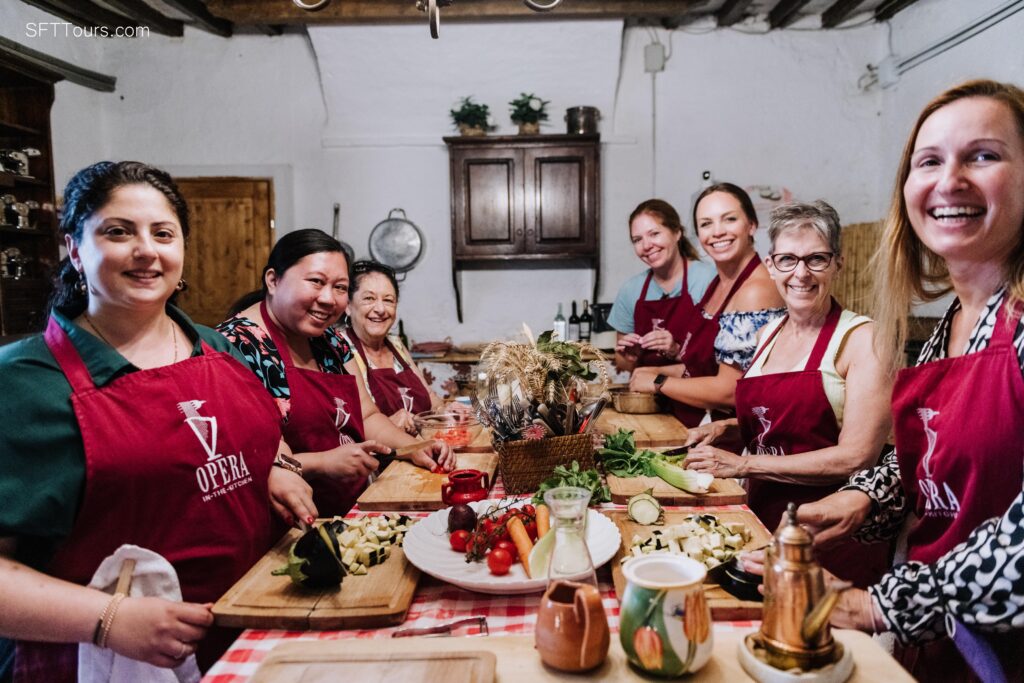 ---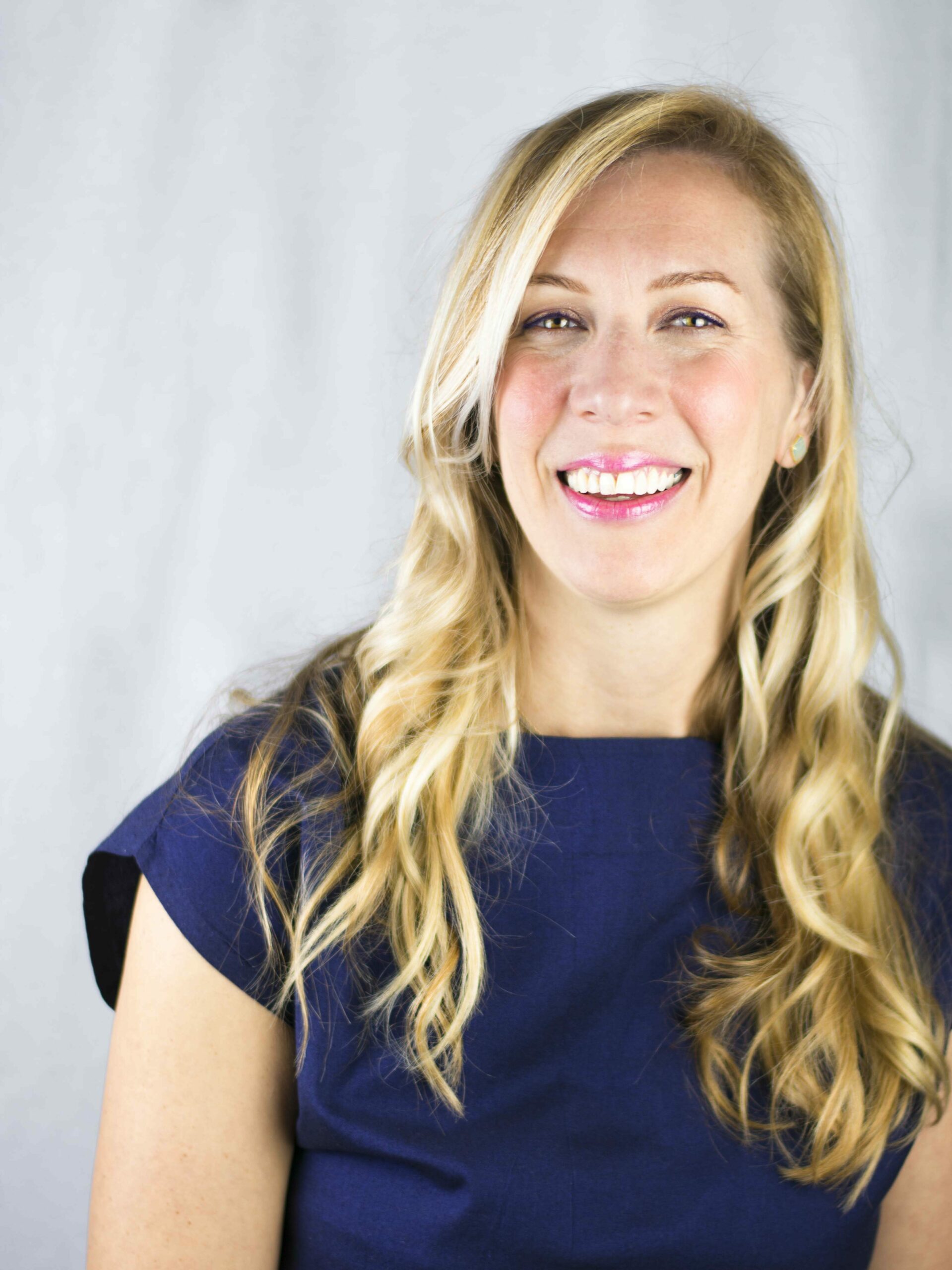 About Your Host
Alison brings 18+ years of experience to the travel industry, and 25 years living in Italy where she first moved to as a student.
She began her career in-house at Massimo Ferragamo's Castiglion del Bosco private estate and Brunello di Montalcino vineyard in Tuscany and has since collaborated with luxury brands across the world including Four Seasons Hotels & Resorts and Taj Hotels Palaces Resorts Safaris.
She is also a yoga teacher and has completed advanced studies in the intersection of Yoga, Mindfulness, Neuroscience, Psychology, Movement Studies, and Contemplative Practice.
Our July 2023 departure will also be accompanied by our Co-founder Mar Pages and our photographer. More about the Solo Female Travelers team here.
---
Guest feedback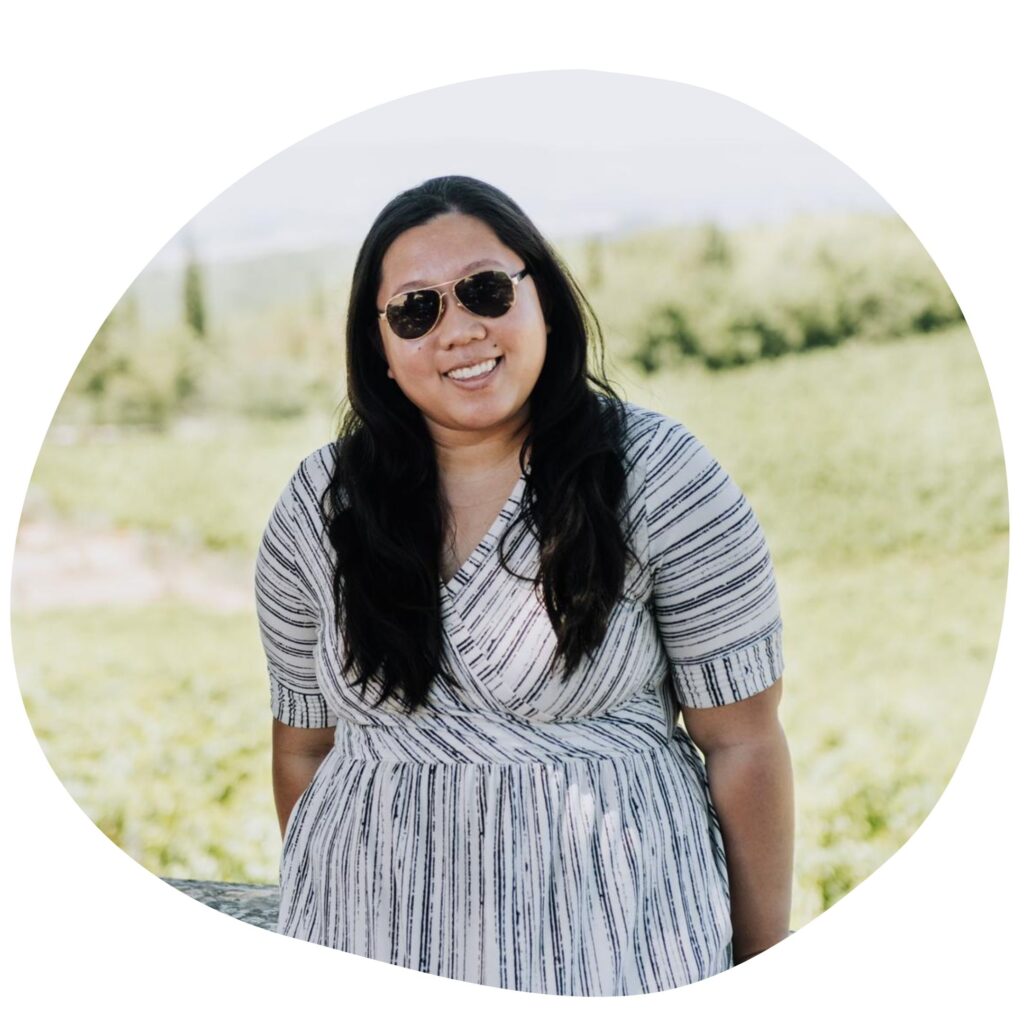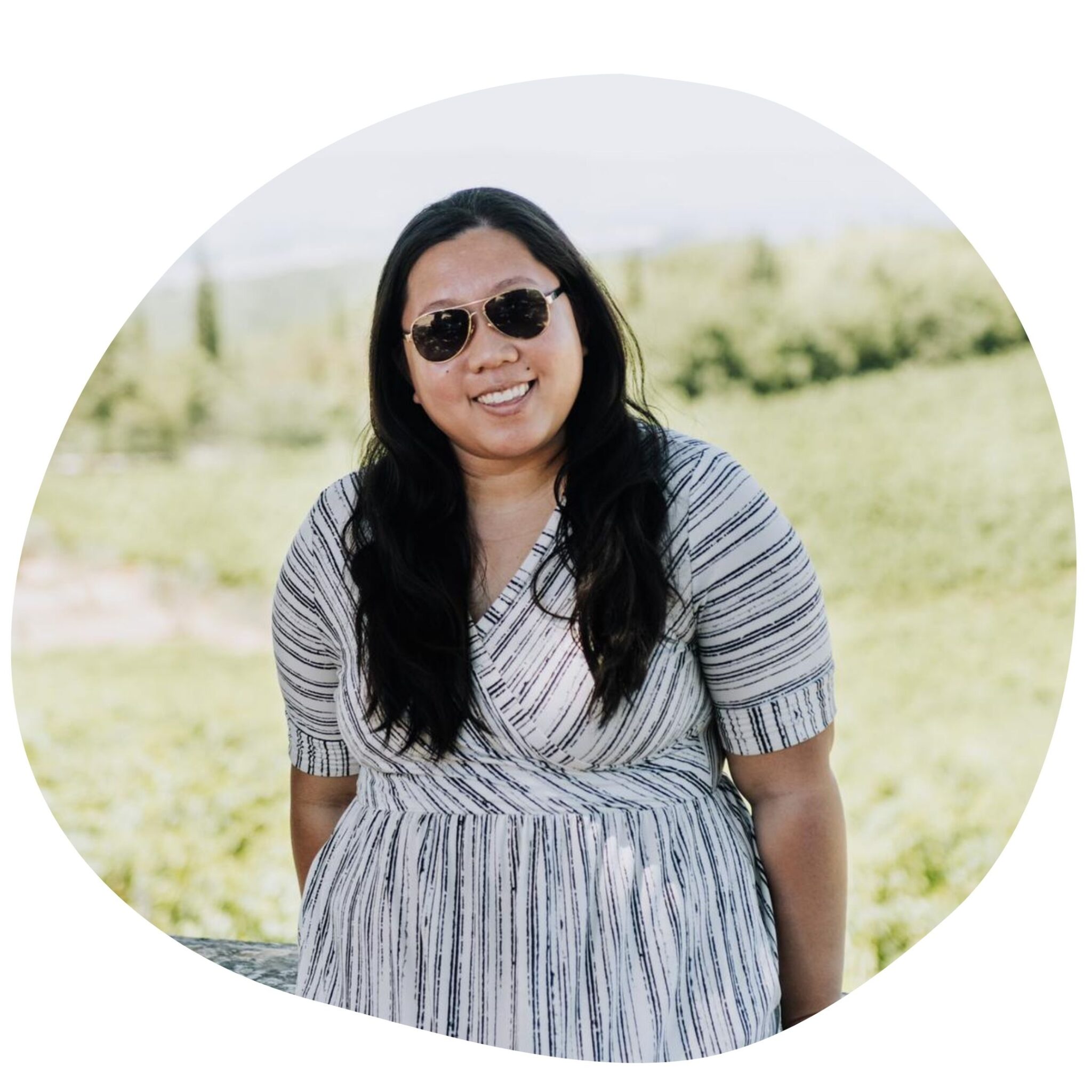 Noëlle – "Went to their inaugural Tuscany tour this June and it was a lovely experience! Apart from seeing some highlights of the region, we had several experiences prepared for us that would have been almost impossible to achieve as an actual solo traveler with no personal connections in the region. I truly felt immersed in the beauty of Tuscany. The food was also amazing and almost too much (but we never turn down dessert!). I am so happy to have gone with women looking for a similar immersive experience and now have several wonderful new friends. I highly recommend joining this Tuscany tour with SFT and would love to join another one of their tours in the future."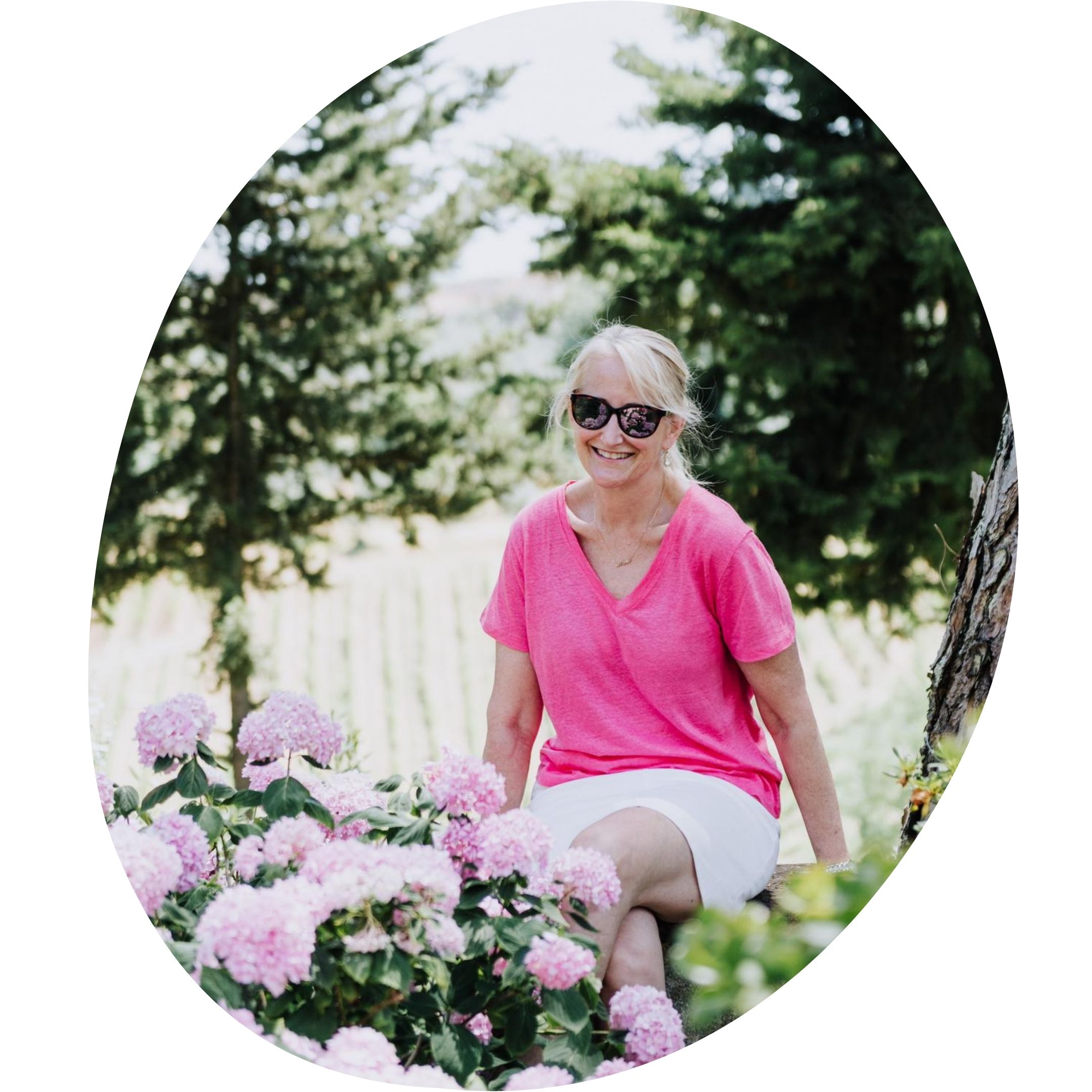 Andrea – I just returned from the Tuscany trip and what an adventure it was! I highly recommend. We packed a lot into the week, and I chose to spend a few days in Florence before meeting up with the group. I suggest arriving in advance so that you can to adjust to the time and explore this vibrant and beautiful city.
For me, the best part of the Tuscany trip was meeting and sharing meals at the homes, farms and vineyards of local residents throughout the Chianti region. Such kind and gracious people who love to share their family histories. Such warmth and love, pride and respect for the land. And, long leisurely meals with wine and laughter outdoors overlooking the gorgeous scenery.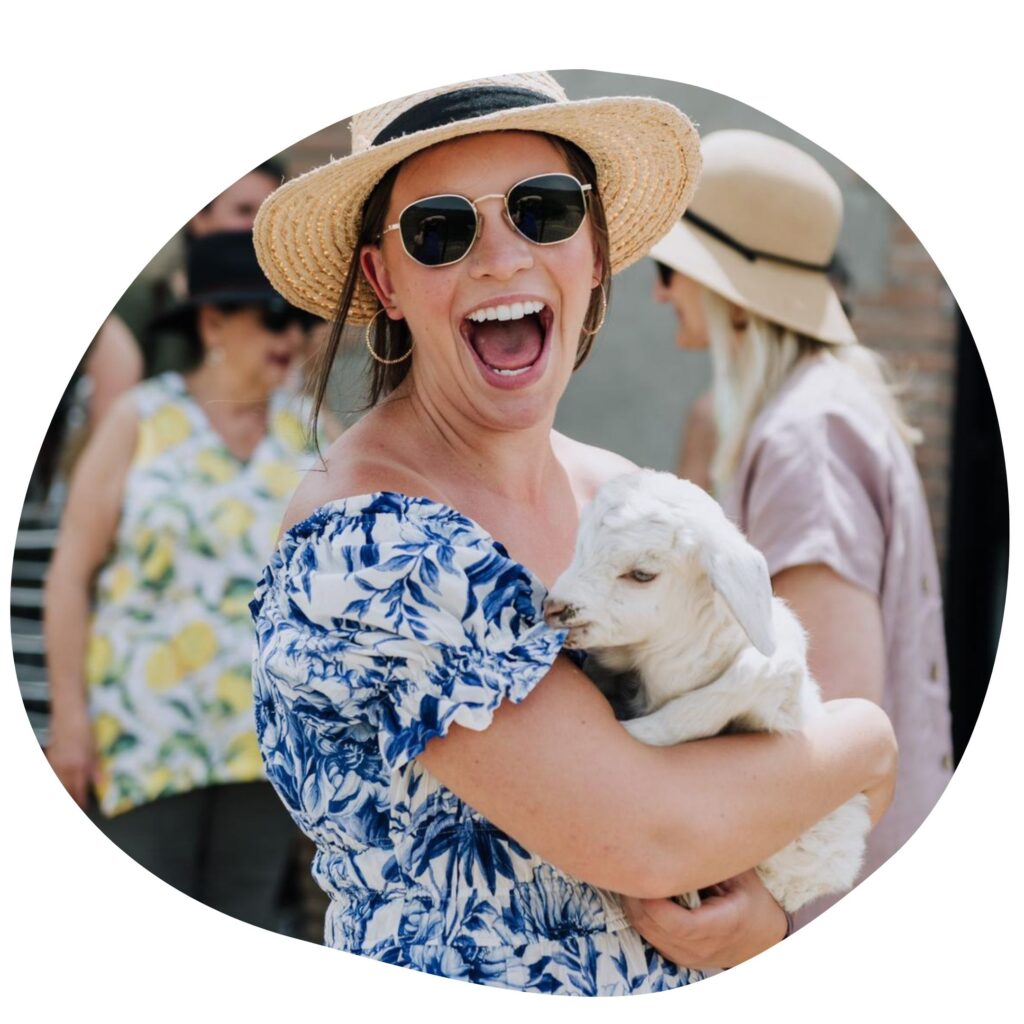 Vicki – "Just wrapped up my first trip with the SFTC and had the best time in Tuscany. I met some beautifully inspiring women both on my trip and throughout our excursions. From the stunning Villa to the perfectly curated events, I couldn't imagine a better way to experience Tuscany. Within a week we tasted wine from 3 different vineyards (specializing in Chianti Classico and Brunello), hunted for truffles, pet the sweetest cashmere goats, learned the art of basket weaving, and ate our weight the best food! Between eating and drinking the best of Tuscany, we visited several of the small towns within Chianti region. I left Tuscany with a full stomach and even more full heart for Tuscany and the friends I made on this trip! Already planning another adventure with friends from the trip. Hands down would recommend Tuscany and traveling with SFTC!"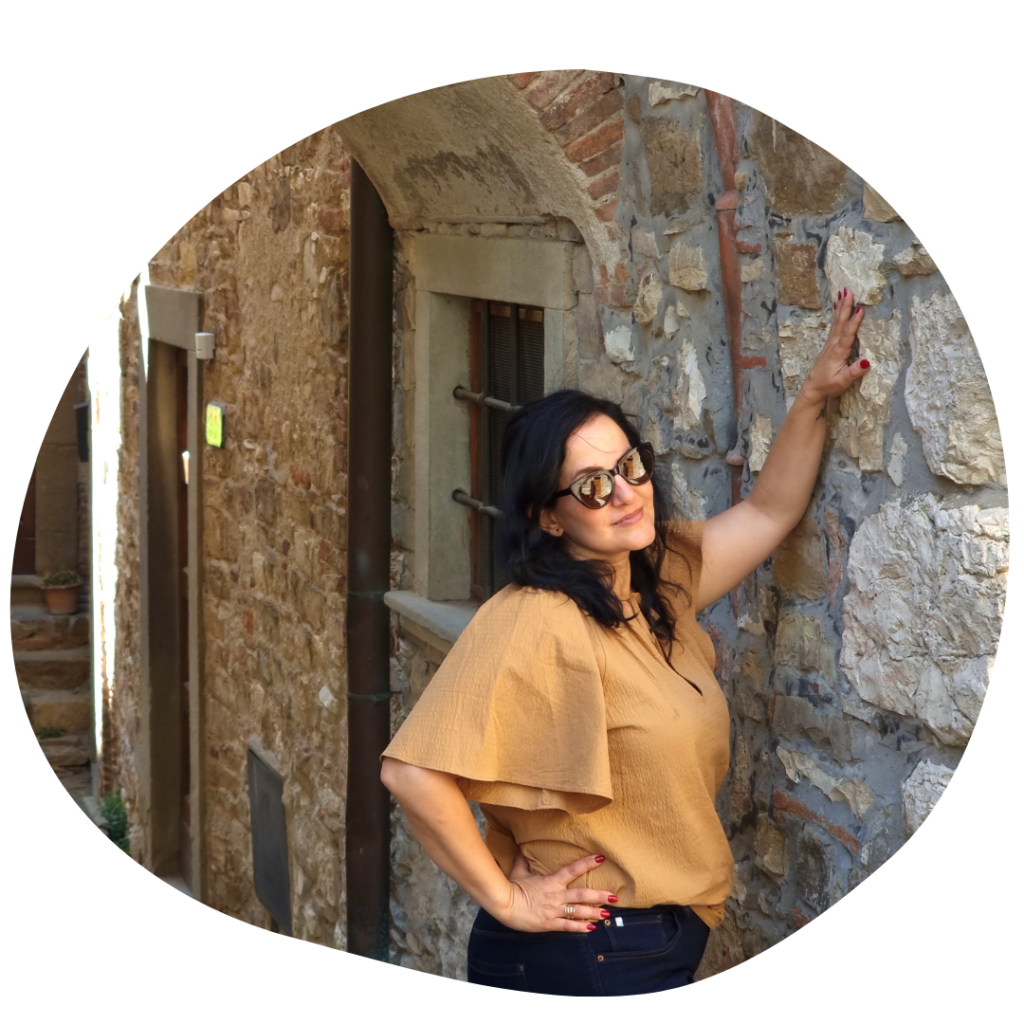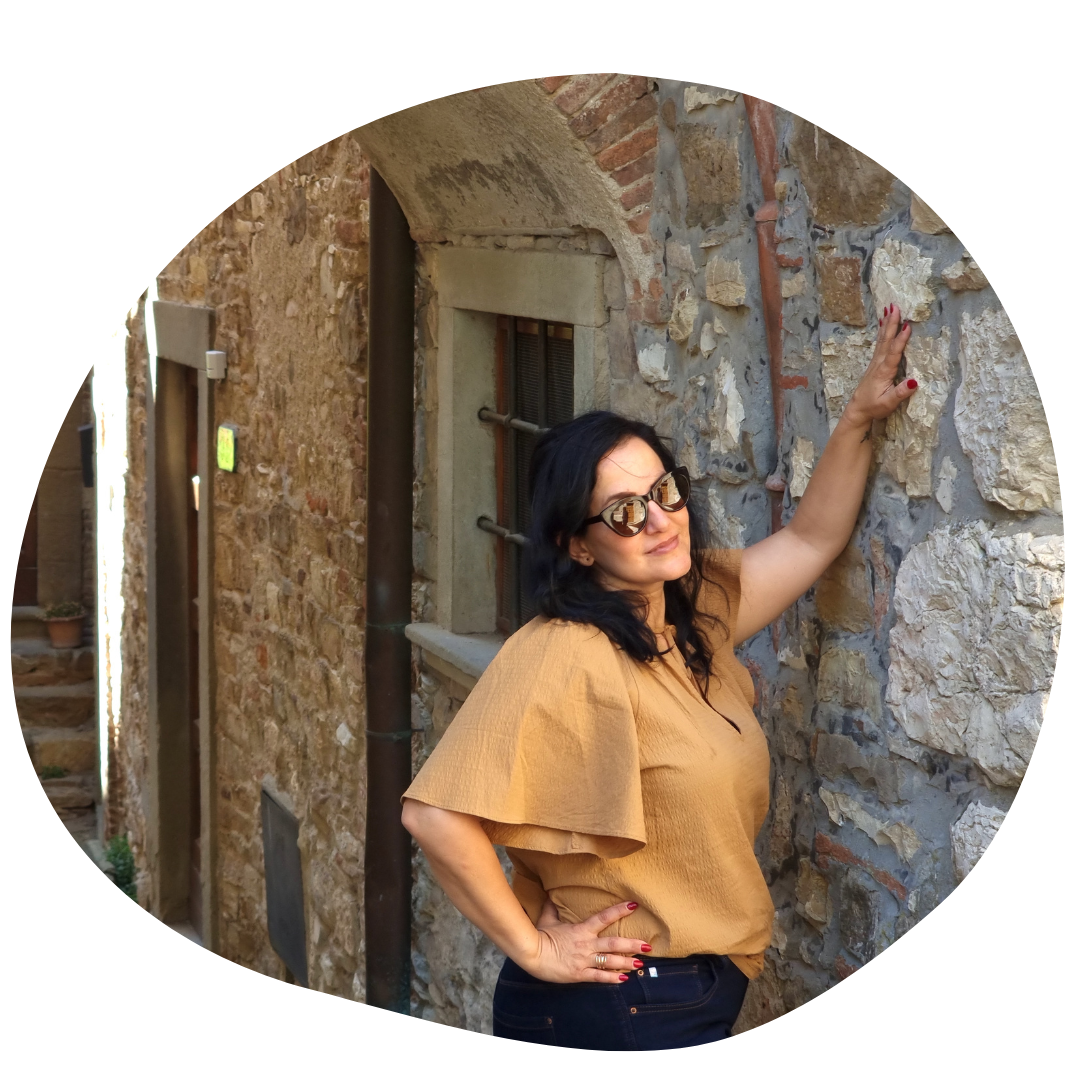 Rita – "I just finished the Tuscany tour and I have to say it was one of the best times of my life! We got to experience so many unique experiences and see so much on this trip! Don't get me started on all the amazing food this trip provides. I can't recommend this travel group enough!"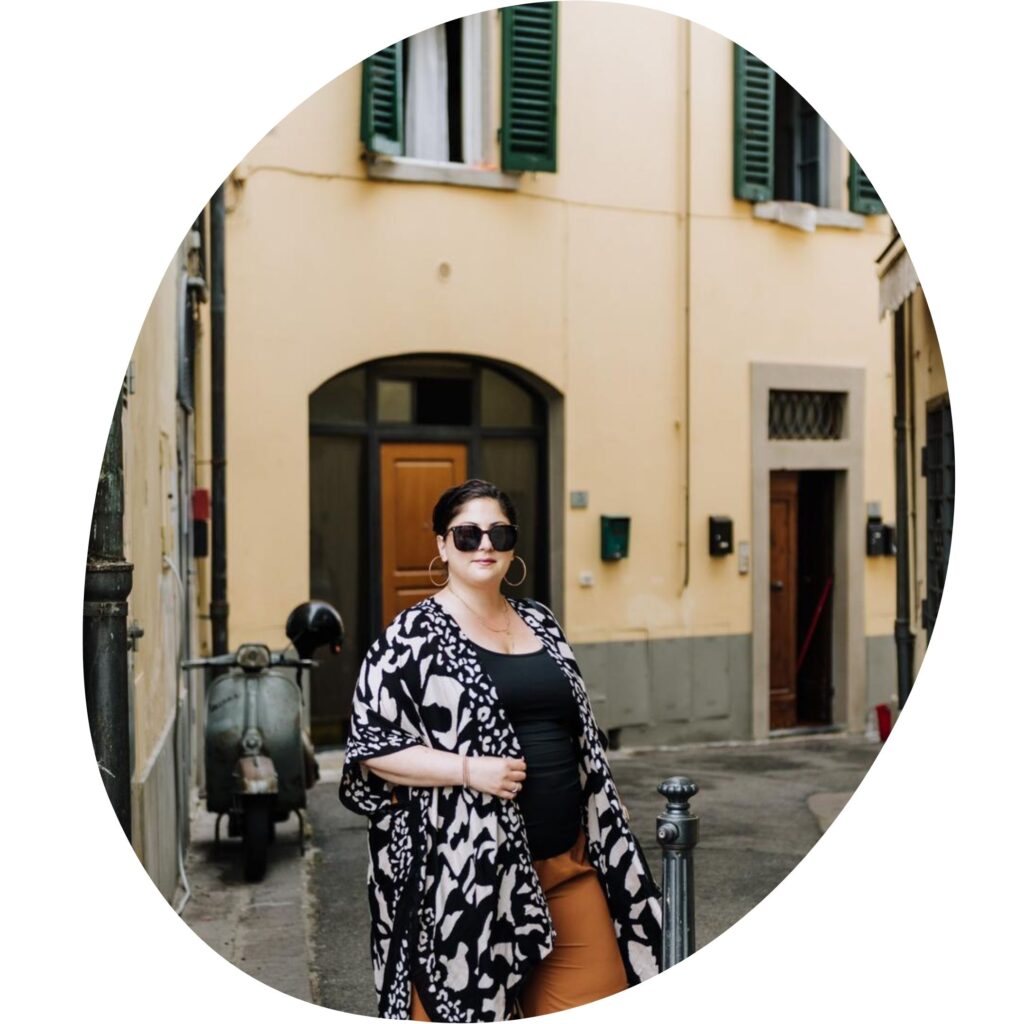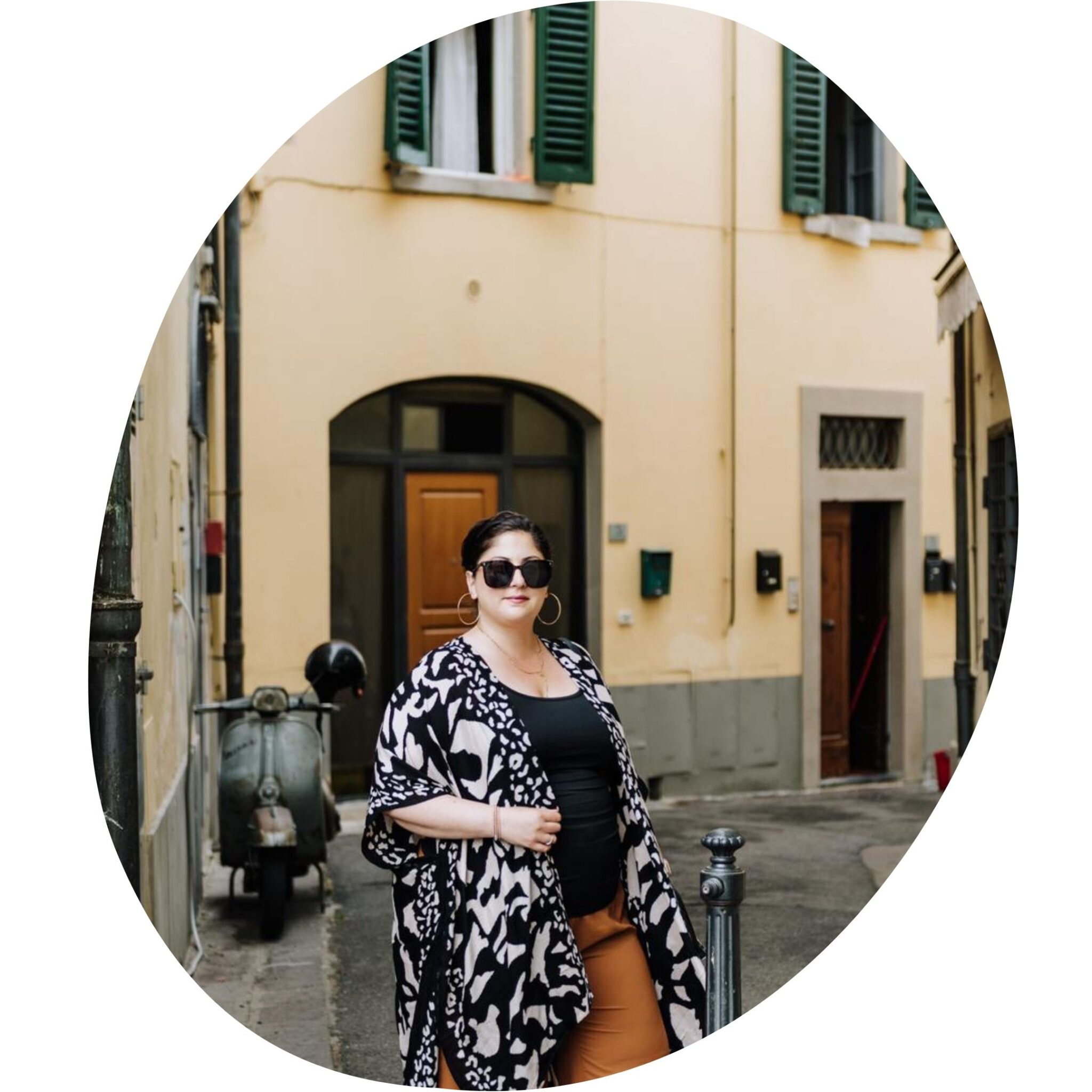 Rossanna – "Words cannot describe what this trip to Florence and Tuscany meant to me with Solo Female Travellers Group. It was a wonderful experience with a beautiful group of women from various countries.
Our tour organizer Mar, was a pleasure to be with during the trip and helped us with all of our questions and anything that needed accommodation. Anyone we met for that matter was very generous, kind and helpful.
The itinerary was superb and curated ever so nicely for a cultured experience of the region; from driving through it's landscape, visiting medieval villages and hearing about their history, learning about wine, olive oil, cheese (and eating it!), going truffle hunting and cooking in a local kitchen to make a meal from scratch to enjoy. The list is endless but has filled me with precious memories for years to come. Just book it!"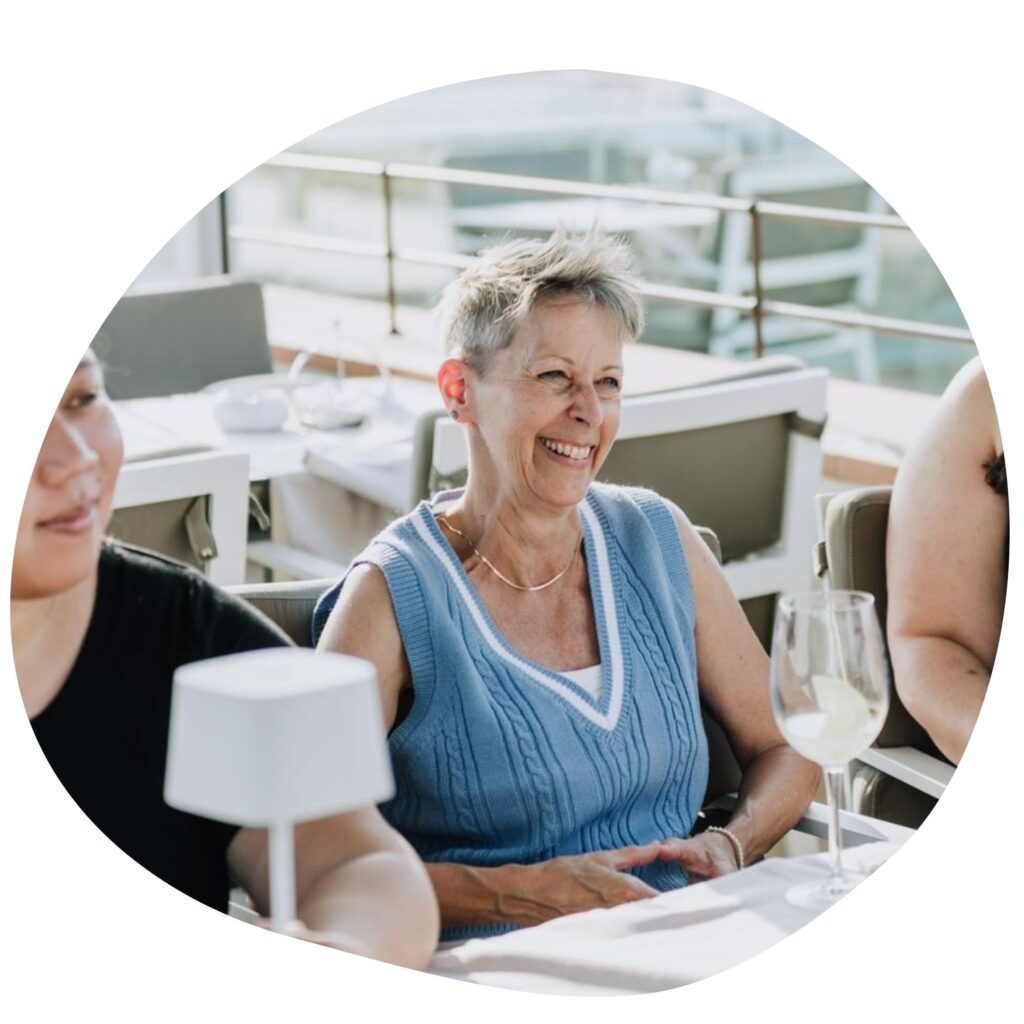 Manon – "Just came back from Tuscany with SFT and I highly recommend this tour or any tour with them. For me it was the dream of a life time, I've waited 25 year to go to Tuscany and I'm so happy I chose them.
The total experience, from the food, the places we visited, the people we met, everything was perfect. Above all, the friends I made on this trip, solo female travelers of all ages, from everywhere in the world. We bounded, we sometimes had meaningful conversations, other times we laugh 'til we cried ! Memories that I will cherish for a lifetime. Thank you Mar for organizing this trip and making it runs so smoothly. Already looking forward to my next trip with SFT, in 2023. Will it be France or Scotland… we'll see, my name is on the waiting list. In the meantime, I'll be going to London with one of the lady friend I met on the Tuscany tour. We'll be reminiscing the great memories for sure!"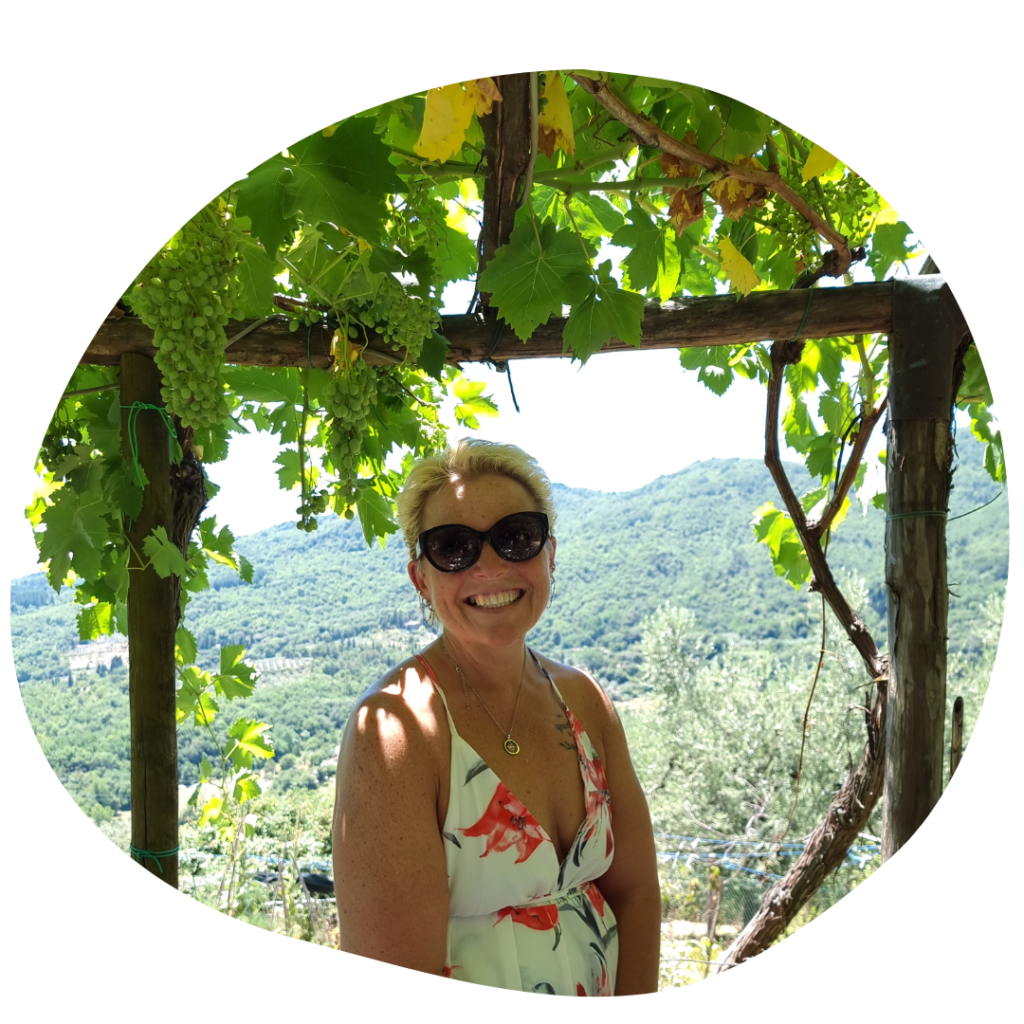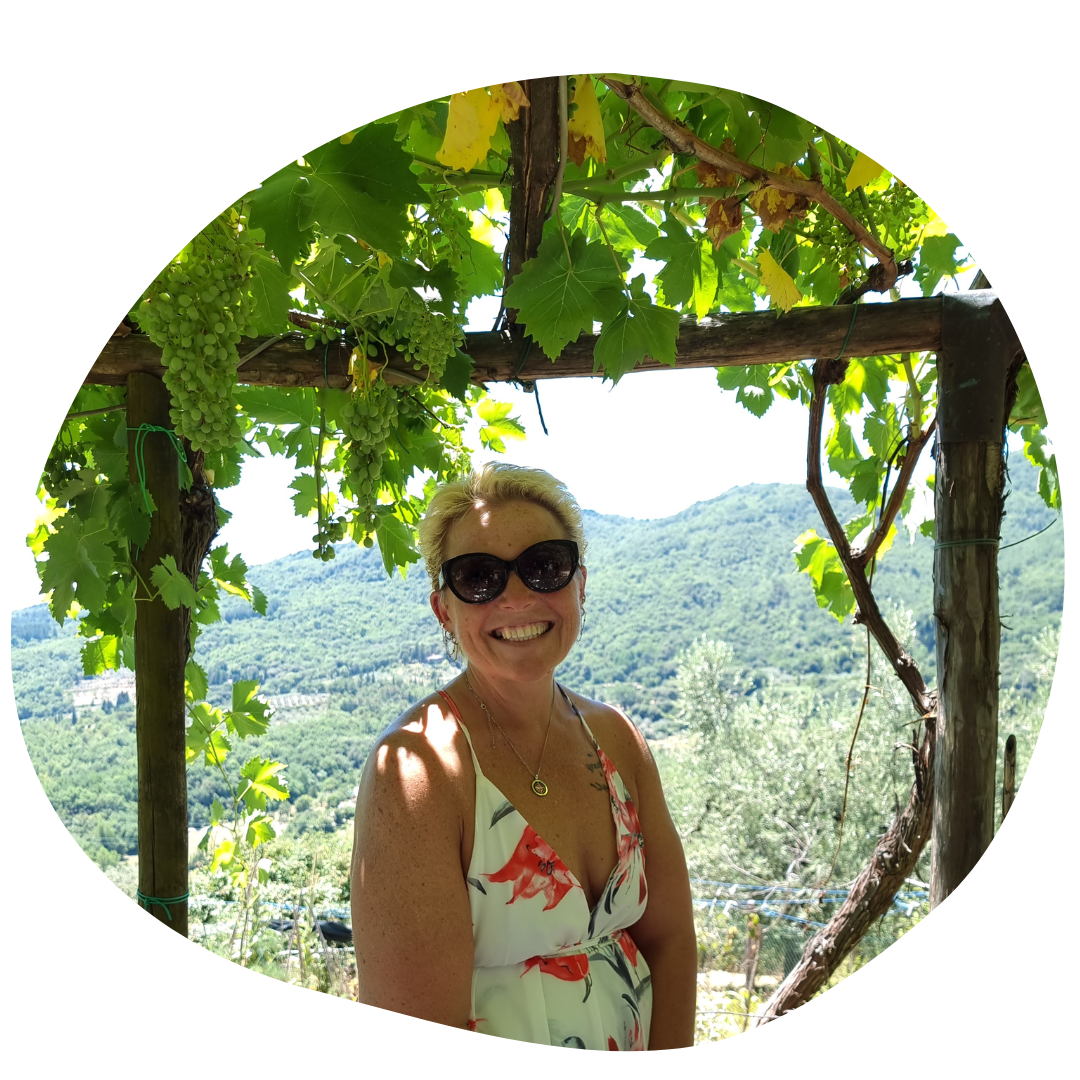 Angie – "I attended the Solo Female Travelers Tuscany tour from June 25 – July 3, 2022. What an amazing adventure that was filled with intimate experiences that were arranged specifically for the tour group. It was so well organized and I appreciated having a vacation where every detail was planned that accentuated so much of the culture. Having never visited Italy before, I know I could never have experienced the depth of culture and the knowledge of the region that was shared by all of the local guides and places the tour took us. I will most certainly book another trip with SFT!"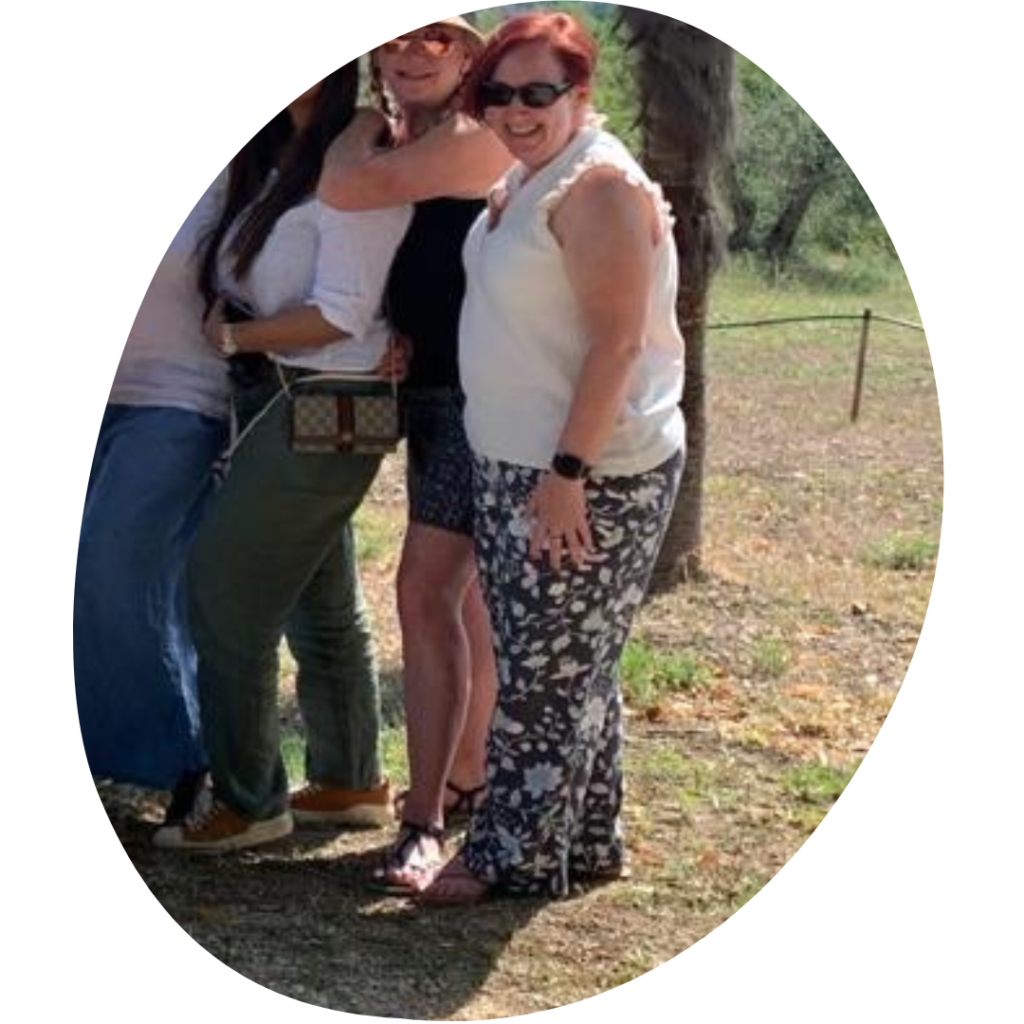 Rebecca – "I recently took the Tuscany tour and was absolutely blown away! I had such an amazing time!! You know you've had a great vacation when someone asks you what was your favorite thing and you can't pick just one thing!! All the guides, tours, and hosts were just amazing! I met so many lovely ladies on this tour that I know will be lifelong friends and travel buddies. If you are considering taking one of these tours, just do it! You won't be disappointed!! Mar and Meg put together fantastic itineraries that fully immerse you in the culture and make it so hard for you to leave. I'm already looking to book my next adventure with them! Thank you ladies for doing what you do!! You're amazing!!"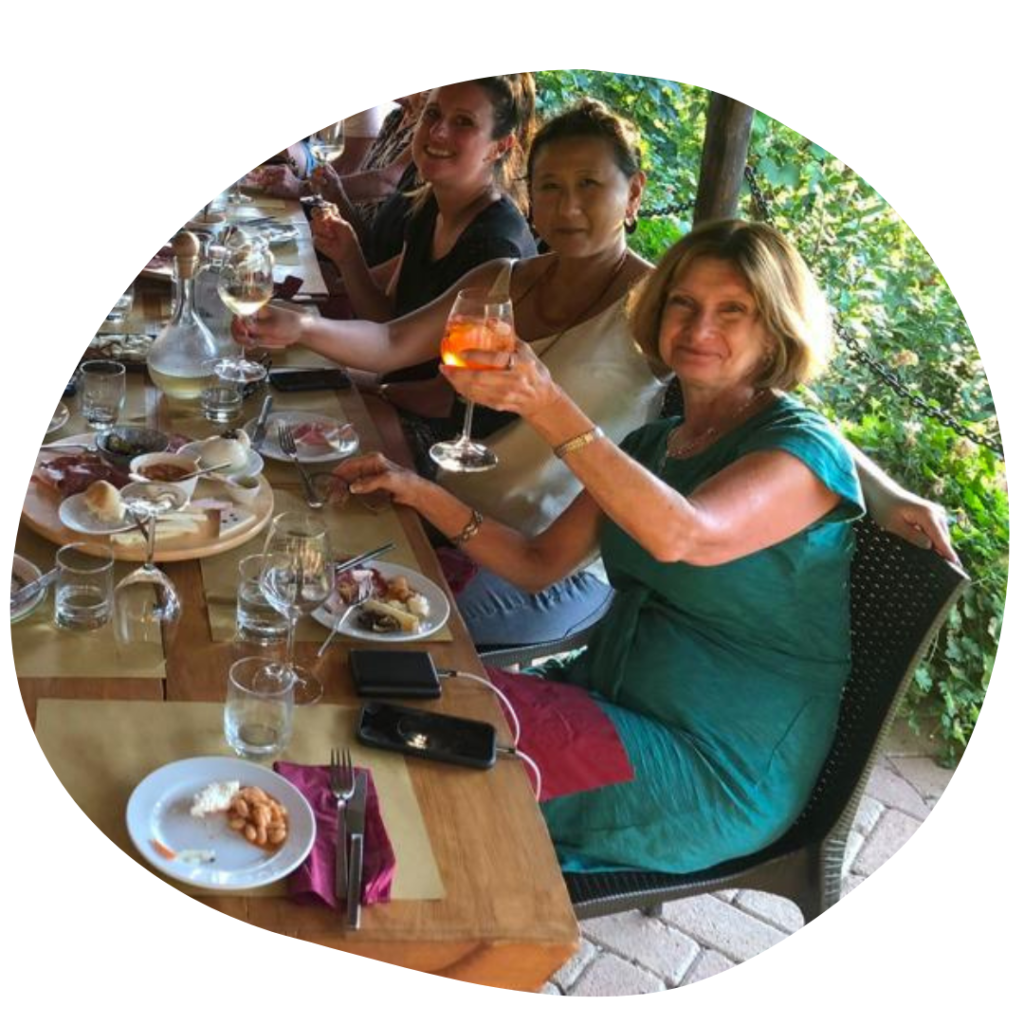 Kim – "I have to say a huge thank you to all the members of this group, and a special double tank-you to Meg Jerrard and Mar Pages! I just returned from two of Solo Female Travelers Club's tours, and they were absolutely wonderful! I went on the Tuscany tour, and I followed it with the Amalfi Coast tour. Each one was remarkable, and the itineraries for each of them were unique and reflect the attention to detail that goes into planning the tours. If not for this group, I'd never have realized my dream of going to Italy!
First, nine days in Tuscany felt like a dream! Our tour leader, Ariadna, was delightful! She is warm, friendly, and full of enthusiasm and energy! She kept us well informed about each day's events, and handled everything with ease and expertise! I treasure the conversations we had in the back seat of the van as our drivers wound us through the hills of Tuscany. Our local guides, and all the others were so knowledgeable about Tuscany and Florence, and they made every day even more fun!
In addition, our group of women was such fun, and the diversity and interests of the entire group made for wonderful conversations and friendships! Our itinerary included not only beautiful wineries as one would expect, but a visit to an olive oil farm, pecorino cheese farm, a cashmere goat farm, and a visit to a farm where the owner makes beautiful baskets from irises. These visits not only showcased the diversity and beauty of Tuscany, they were truly educational as we learned about all the processes involved in the operations.
We weren't overly scheduled; however, as there were wonderful visits to many medieval villages with time for exploring and shopping, as well as one day all to ourselves at the beautiful farmhouse that was our home for nine days! I left Tuscany with a greater understanding and even more affection for this region. I also left with friendships and memories to last a lifetime!"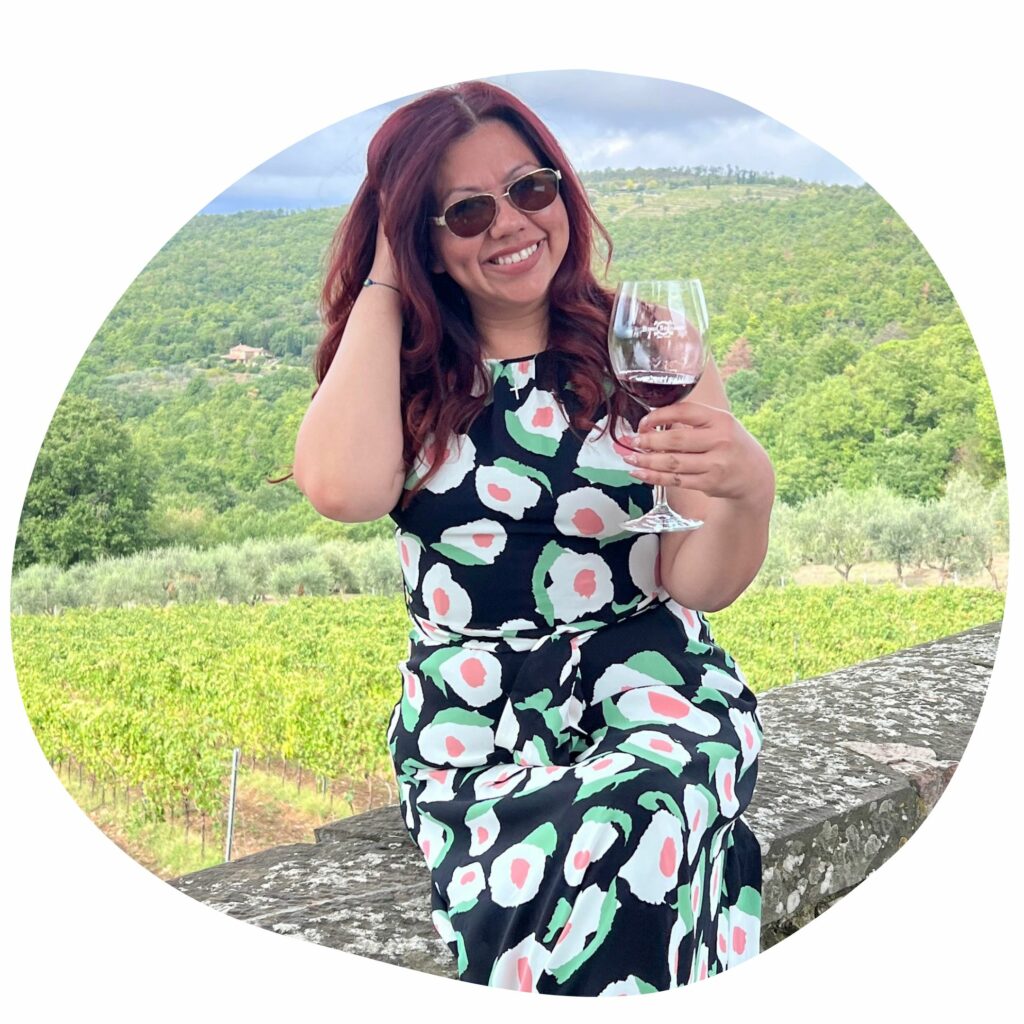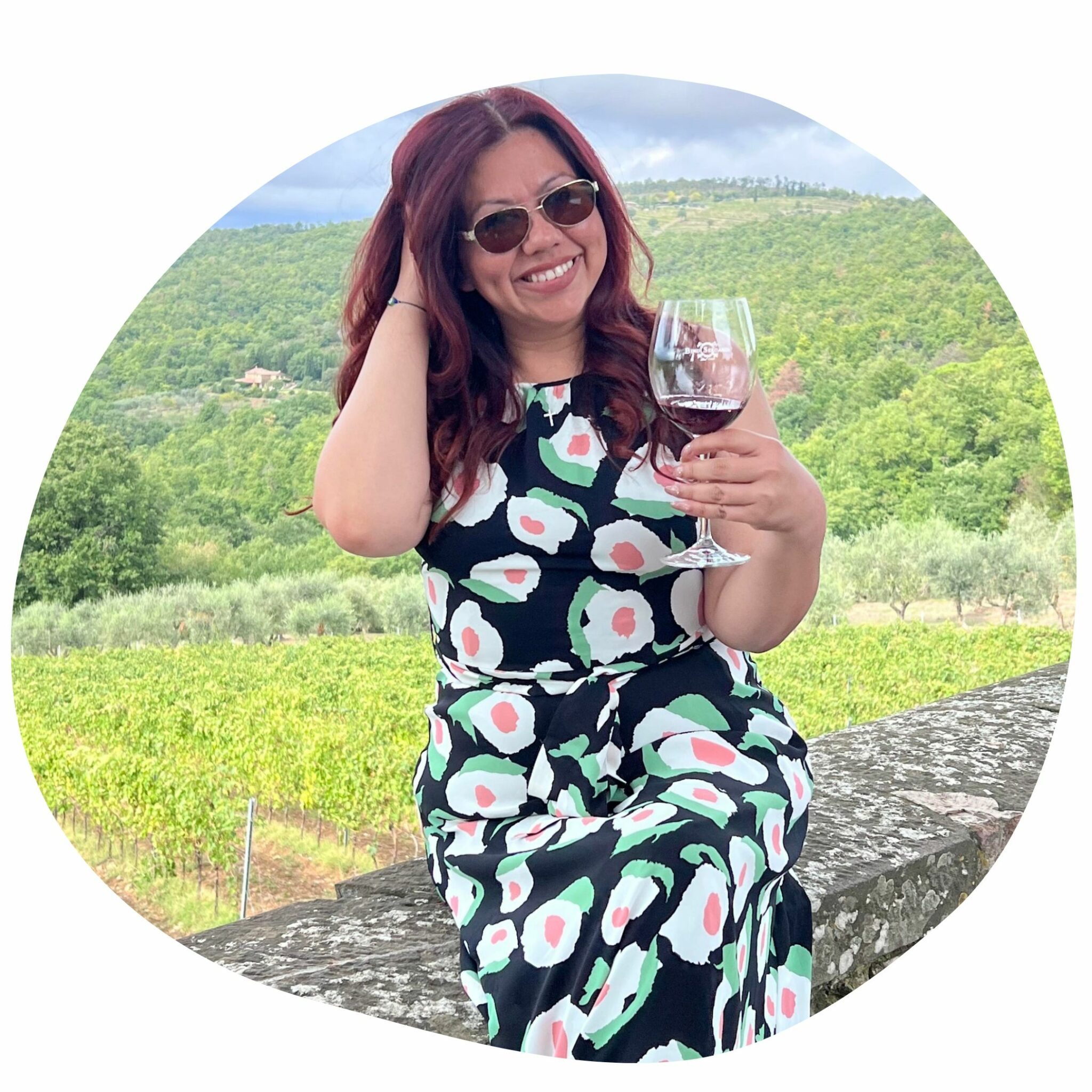 Sylvia – "I booked this trip on a whim; as a birthday gift to myself. I am not a drinker and I don't eat a lot of pasta and I second guessed myself and consider NOT going. I'm so glad I did!!
The scenes are gorgeous. The places we visited are so enriched with beauty and the hosts are so gracious! The company I got to experience Tuscany with just made this trip so much better!
I personally don't have the time nor patience to book a whole trip for myself, much less excursions. I admire all of you who do these trips solo! But if you're like me, then I highly recommend ANY experience with Mar and her handy traveling experts. You just get on your flight and arrive! It's so easy and convenient
Thank you for the experience and memories!!"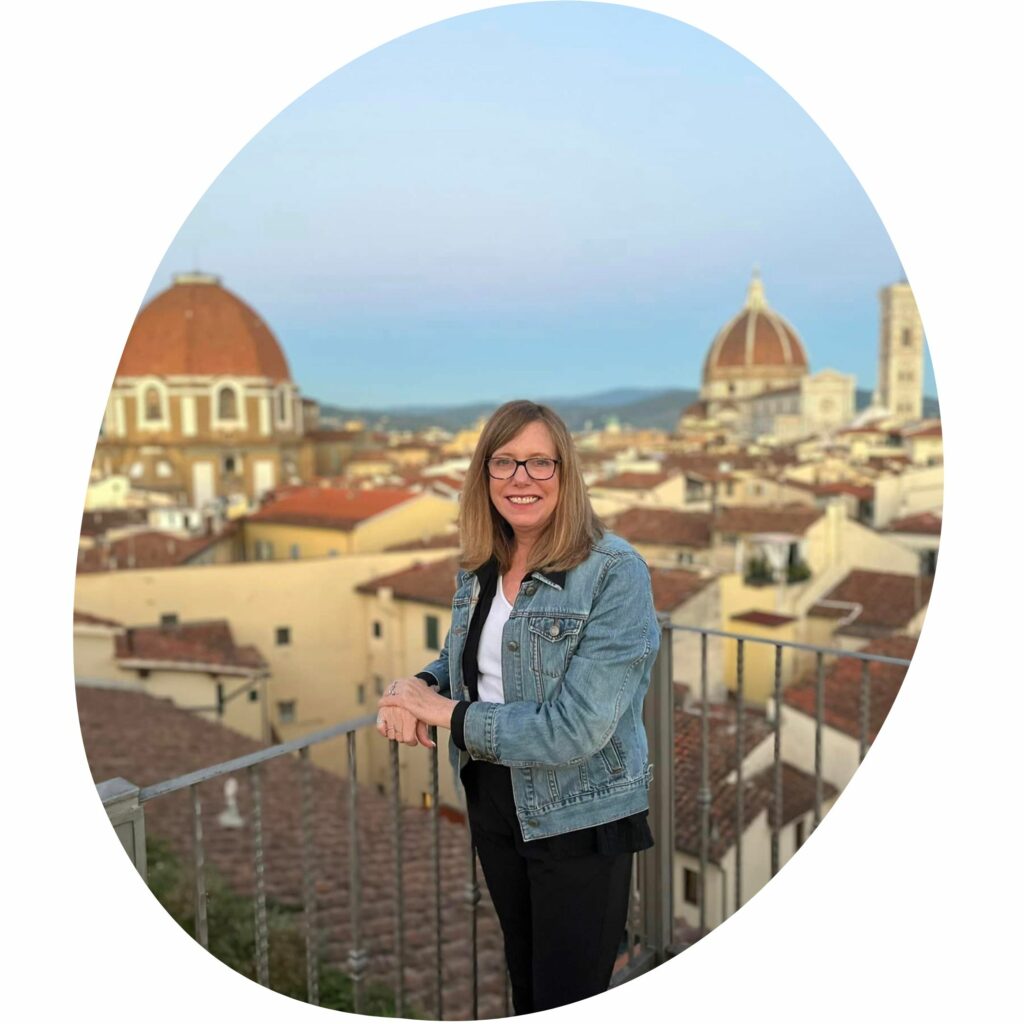 Jan – "Just returned from the Florence/Tuscany group trip with Solo Female…Fantastic trip!!
A lot of Italian food, laughter, shopping, and wine. We met incredible female business owners-strong, independent woman that welcomed us into their homes. Trip of a lifetime
"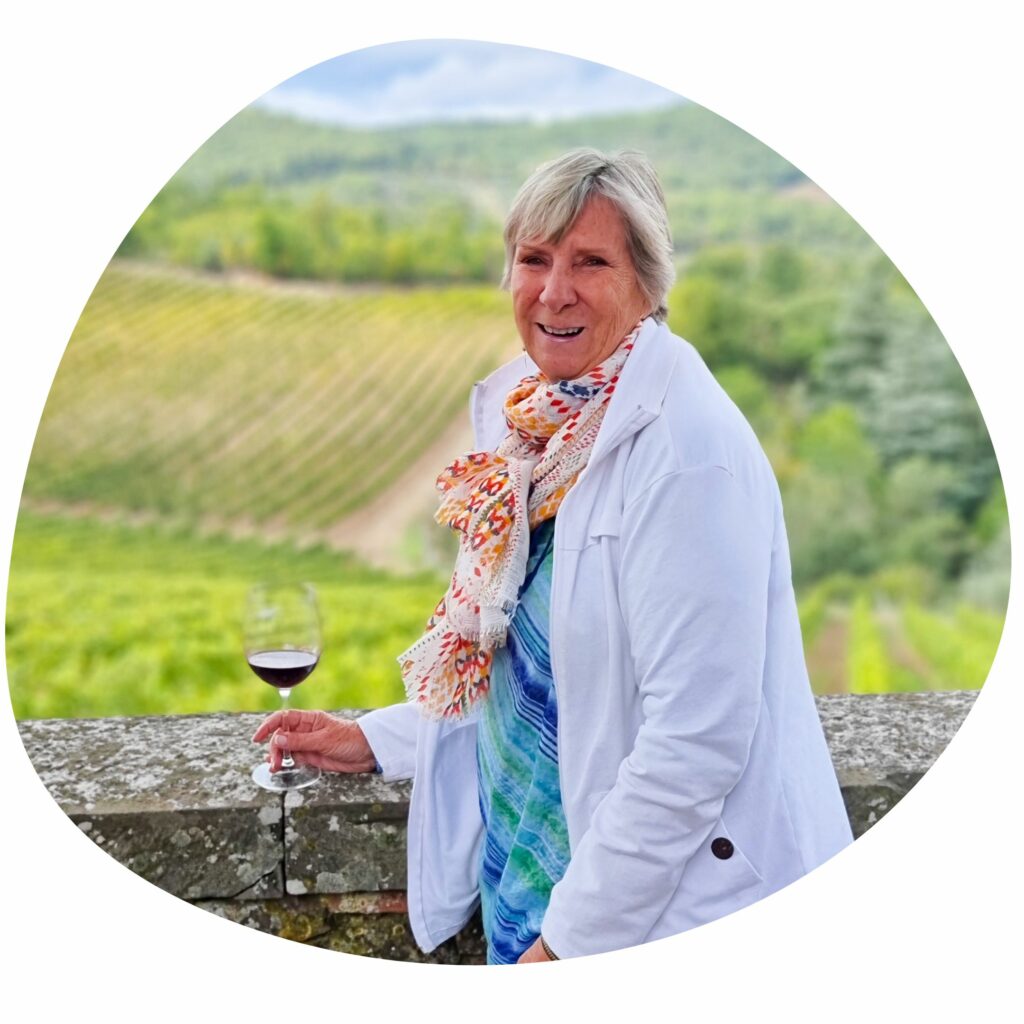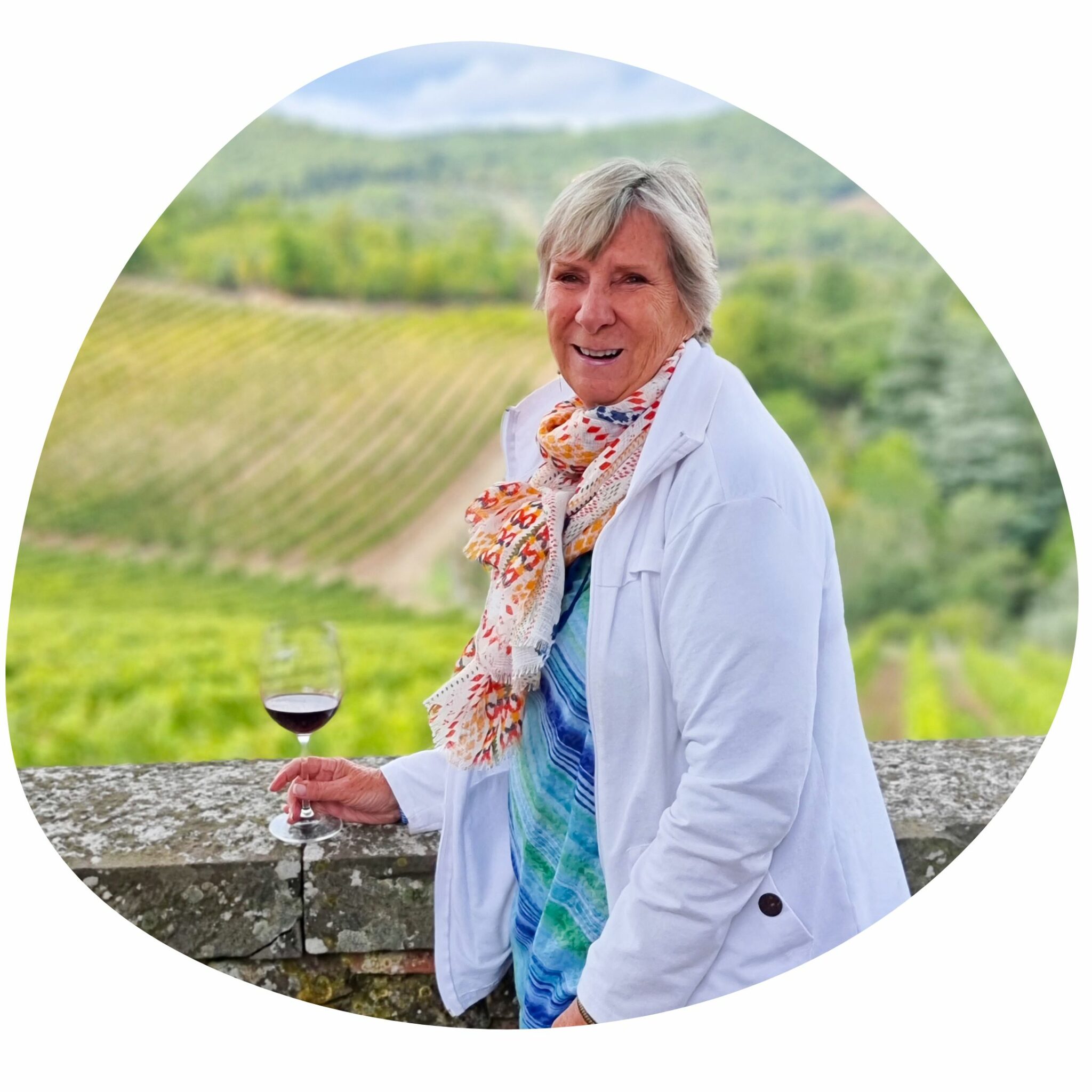 Becky – "I've been on a few small group tours and this is by far the best. Attention to detail, accommodations and side trips I doubt could be duplicated if you arranged a tour yourself."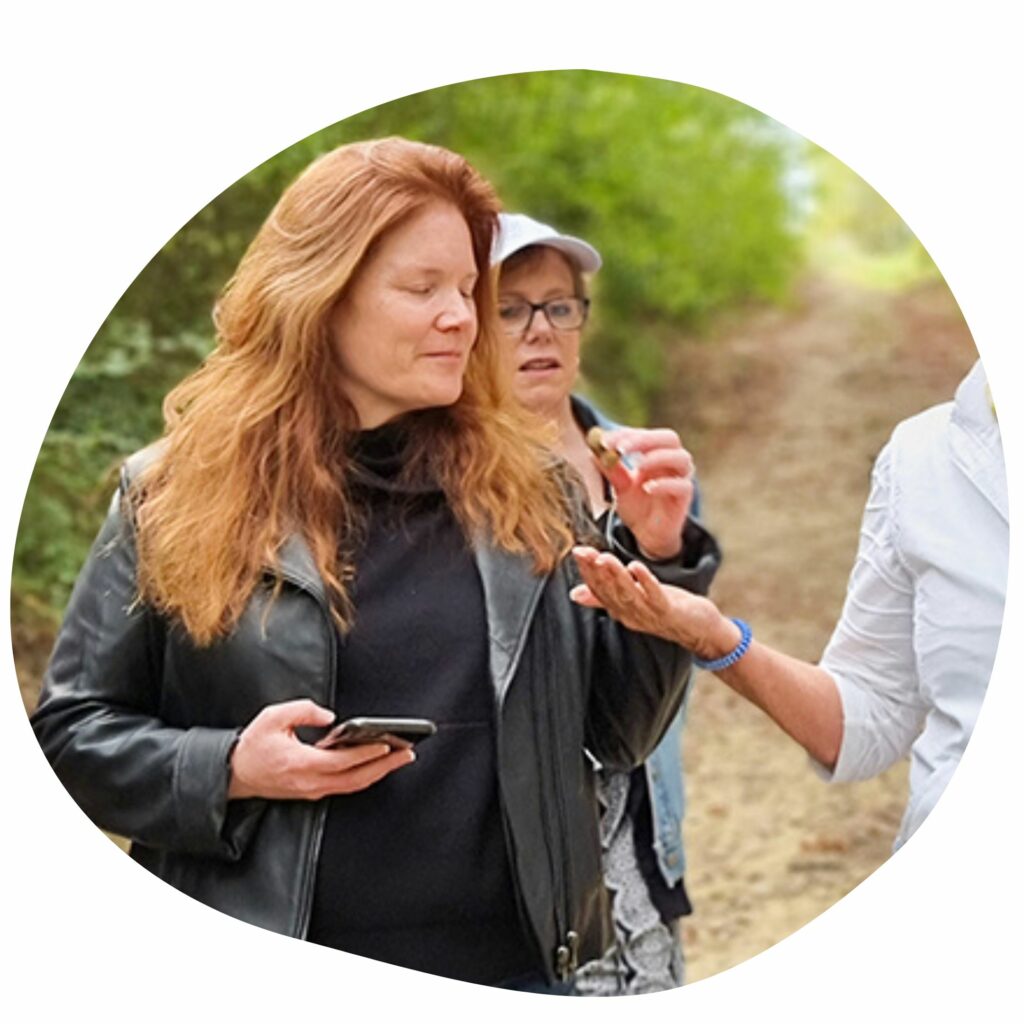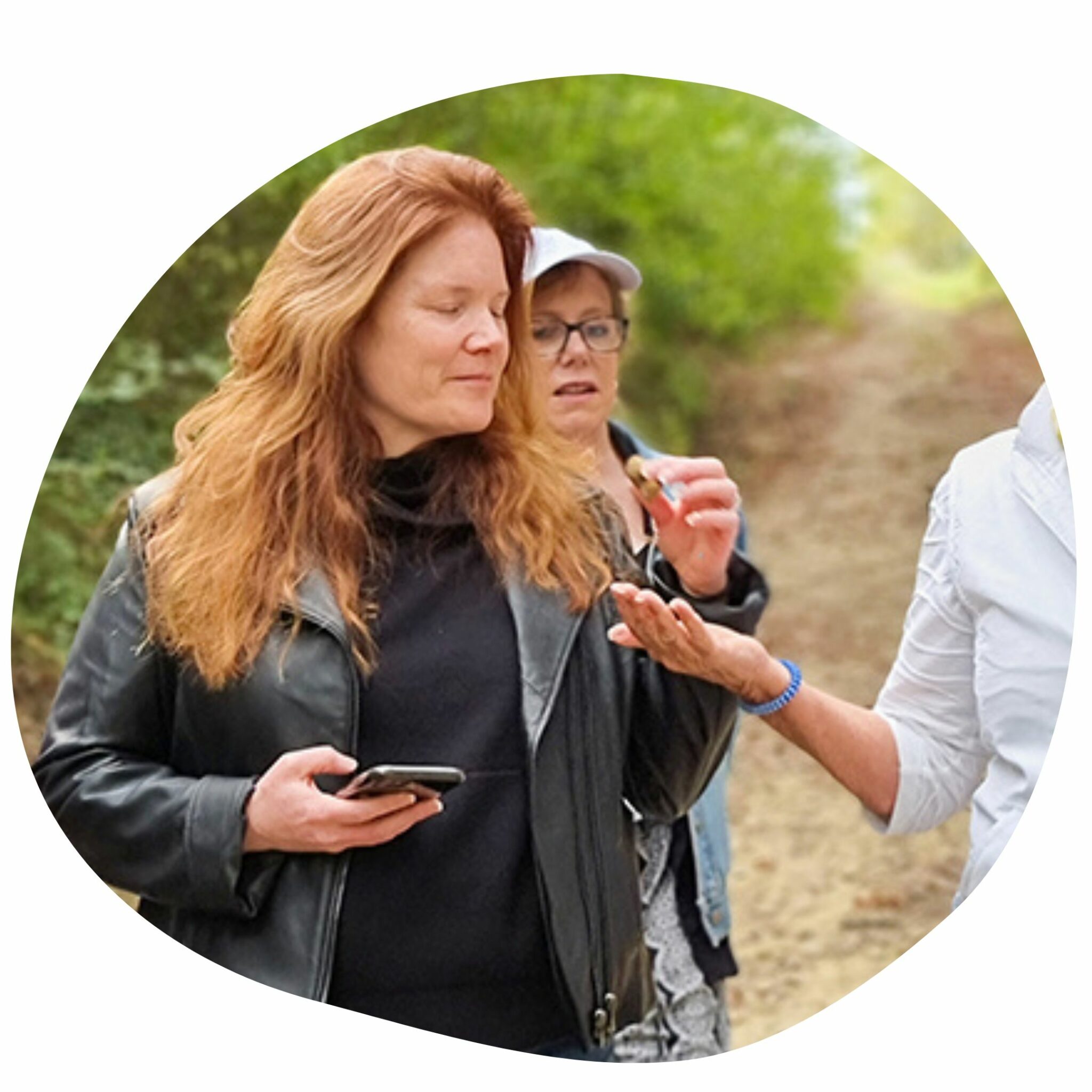 Delia – "I got home from the Tuscany trip about 2 weeks ago and am still marveling about what an incredible travel experience it was. I had never gone on a group tour before, and I'm so glad I signed up. The itinerary was full of amazing and unique experiences I wouldn't have had if I'd planned my own trip — truffle hunting, visiting a cashmere goat farm, staying at a rustic B&B tucked away in central Tuscany. Incredible wine and food, lovely accommodations. The tour guides were fabulous–charming, knowledgeable and fun. The group of women was super to travel with. I appreciated that the itinerary allowed for time to relax. I would do it all over again and am definitely planning to do another trip with Solo Female Travelers in the future."
---
Inclusions
✔️ 2 Drop off at Florence train station (depart 10am from the villa on day 8)
✔️ 6 Nights in shared twin accommodation at the farm house. 1 night in Florence at 4* hotel.
✔️ All activities, walking tours and experiences as mentioned. Walking tours: Siena, Pienza, San Gimignano, Greve in Chianti, Certaldo. Workshops / tours: Bread making, cooking class, thermal spa access and massage, pecorino cheese farm, 2 female owned winery visits
✔️ 7 breakfast, 7 lunches and 7 dinners as specified in the itinerary, wine with meals
✔️ Special meals: Welcome dinner at the rooftop over Florence, Pizza party at the farmhouse, Farewell dinner
✔️ Photography pack with candid individual and group shots (only for July 2023 departure)
✔️ Transportation in 2 small minivans
Exclusions
✘ Optional activities not included in the program
✘ Meals if arriving earlier or staying later
✘ Visa, if required
✘ Travel & Medical Insurance (Required)
✘ COVID Vaccinations Pre Arrival (Required)
✘ Souvenirs
✘ Tips for Drivers and Guides (at your discretion)
Payment Info
Prices starting at:
3,995 EUR
July 2 – 9, 2023 departure (photographer inboard):
4,395 EUR
Payment Plan:
30% non-refundable deposit to reserve your spot
Balance payment due 90 days before the trip
*The initial 30% is refundable if the minimum number of guests is not reached. By joining our trips you agree to our T&C.
The Solo Female Travelers difference – What makes us unique
All our tours follow the same values and philosophy that makes us who we are which you can find here. In Tuscany, two things set us apart from others: The immersive experiences and our beautiful Tuscan villa.
Most of the activities that we will share during the trip are unique designed by us and private. They will show you real life in Tuscany and take you behind the scenes of life in this idyllic countryside spot.
We will sleep in a 1,000 year old Tuscan farmhouse that will be booked all to ourselves and enjoy its postcard perfect pool and the host's incredible cooking.
---
Book Your Spot
Each trip will only host 12 guests so don't wait. Book your spot below, reach out to us with any questions by email community@solofemaletravelers.club or book a time to speak to us live in the calendar below.
IMPORTANT: Due to the nature of the trip and the many traditional gastronomic experiences at people's homes, we are unable to accommodate a vegan diet or severe food allergies. If you are unsure, please reach out before booking.
Credit card payments carry a 3% surcharge. Wire transfer details are available via email: community@solofemaletravelers.club.
Talk to us live
Book a convenient time below, we'd love to meet you!
---
Photo gallery
Frequently Asked Questions
This is a trip of a lifetime and we know there are many things you'd like to know more about.
What are the COVID measures in Italy and how will you ensure everyone is safe?

We care deeply about the wellbeing of our guests and our trip follows all local regulations. We require our guests to be fully vaccinated to join the tour so that we ensure the safety of everyone on the trip.

There are currently no COVID requirements to enter Italy. The official Government website for COVID restrictions is here.
What if I cannot travel because of COVID restrictions?

Once the 30% down payment is made, the trip is non refundable unless there are travel restrictions imposed by the Government of Italy that force the cancellation of the trip. In that case, the trip will be moved to a later date.

We require all guests to purchase comprehensive travel insurance that covers unforeseen circumstances which would prevent them from traveling, and this is how you would recover your costs from needing to cancel. Please read our Terms and conditions here.
Do I need a visa for Italy?

Most travelers do not need a visa for Italy. In cases where a Schengen visa is required it will be issued by the Italian embassy in your country of origin.
What is included in the trip?

All inclusions and exclusions are detailed in the section above, but this trip is all inclusive and that means all meals, drinks, including wine, and activities (walking tours, workshops, cooking lessons, etc.) are included in the price and there are no optional activities that carry an extra cost. If during the free day you wish to venture into town, we can help arrange transportation at an extra cost.

We also recommend you stay longer to explore Florence at your own pace. The city is walkable and has a wealth of culture and heritage to discover which is easily done independently.
Can I have a room to myself?

All costs above are considered on a sharing basis with two guests per room in twin bedding; we will pair you with another solo female traveler on the trip. Due to the nature of the trip (private farmhouse) we have a very limited number of rooms, though can offer a single supplement at an additional 1,750 EUR should you wish to have your own room. This is dependent upon availability. Please reach out to discuss via email; community@solofemaletravelers.club.
I want to bring my partner to the trip

This is a female-only small group trip specifically designed for women traveling on their own. If you wish to travel with a female friend, partner, family member, etc. they are absolutely welcome, however we are not able to book male travelers on this trip.
I want to bring my daughter

How wonderful! If your daughter is above the age of 16, we will be glad to have her with us.
Will the guides be female?

Yes, this trip will be hosted by Allison, who has been living in Italy for 25 years since moving there to study as a teenager, several of which in Tuscany.

All the local producers we will support are also female except for the truffle hunting experience which is hosted by a family as there is no female truffle hunter in Tuscany.
How does this trip help local communities in Tuscany?

We believe that travel can be a force for good and wherever possible, we work with local travel companies in the country who can help us make a difference and ensure that the tourism dollars benefit local communities.

The producers we will be visiting are not large tourism businesses but small one-person entrepreneurs or family-run experiences. Many don't offer tours and you can't just make an appointment to visit independently. For this reason, the entire cost of the trip will go directly to the local producers.
What medication do I need to take for a trip to Italy?

Italy has a great healthcare system and there aren't any specific diseases you need to get a vaccine for (barring COVID). However, it is a good idea to visit your doctor and get refreshers for vaccines such as tetanus.
What should I pack for this adventure?

You can see our packing list here. Since this is a trip that has a lot of inbuilt walking tours, comfortable walking shoes are a must.

Summertime in Tuscany can be really hot so light linen clothes, comfortable dresses and a hat are a must, as is sunscreen and sunglasses. We recommend bringing a light cardigan for the evenings and a swimming suit for the pool. Summer is generally a dry time in Tuscany but an umbrella is always a good idea.

Because we will be sampling a lot of delicious meals, we also recommend packing clothes that are loose, we can't guarantee you'll be fitting in them at the end of the trip!
What happens if I get sick?

The prospect of getting sick while alone in a foreign country is daunting, and this is why we require all our guests have comprehensive travel and medical insurance that includes international evacuation. Should you fall sick, we will escort you to the nearest medical facility so you can get the help you need.
What travel and medical insurance should I get?

While the cost of medical healthcare in Italy is really affordable, travel and medical insurance is mandatory to come on our trips and we recommend you get the most comprehensive coverage that includes international evacuation. We recommend checking with an aggregator such as Travel Insurance Master to compare quotes and coverage.
Can I make various installments for this trip?

Our payment plan includes 2 instalments: a 30% deposit to book a spot, and the remaining 70% payment 90 days before the trip. If you wish to make more payments that is also possible.
Can I pay by credit card?

Yes, payments can be made by credit card for an extra 3% fee. Wire payment carry no extra cost.
Can special dietary requirements be accommodated?

Because of the nature of the trip and the many foodie experiences that are shared and involve dairy, eggs or meat (cheese, paellas, tapas, etc.) it is not possible for us to adapt the tour to suit veganism.

Vegetarians can be catered for in this trip as long as they eat dairy. Fresh vegetables and fruits are excellent and in season in the summer months so you will have the opportunity to enjoy them.

All our producers in Chianti are happy to provide delicious gluten free recipes. However, please note that due to the nature of visiting farms and cooking classes in people's homes, we cannot guarantee there won't be any cross contamination as your meals will be cooked in the same kitchen as the 'gluten' recipes.

If you suffer from a severe allergy to gluten or any other item, please reach out to us to discuss before booking. We are unable to accommodate life threatening allergies to some food items that are common to the Mediterranean diet and present in the kitchens of the small businesses we will visit.