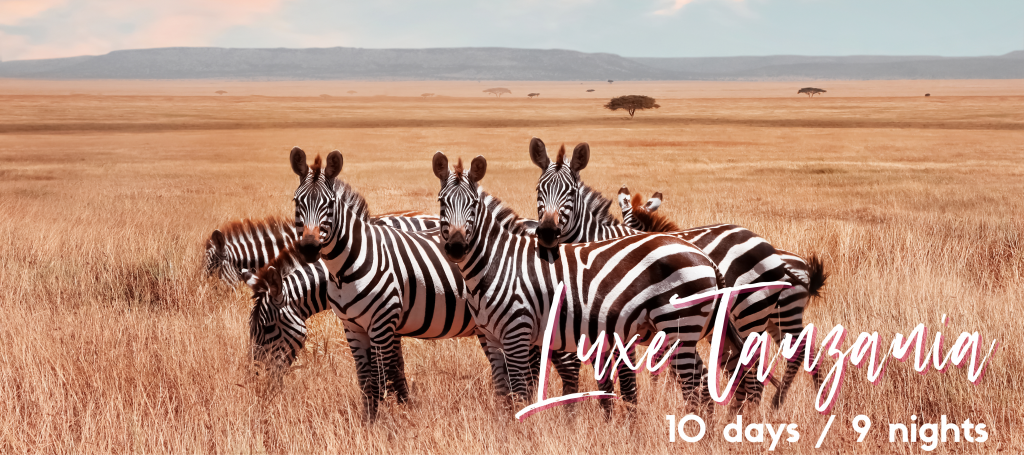 Luxe Tanzania: Safari + Zanzibar Beaches
Arusha – Ngorongoro Crater – Serengeti – Zanzibar
Join other Solo Female Travelers to track wildlife through the Ngorongoro Region and Central Serengeti, before relaxing on the beach in Zanzibar.
Highlights: The Big 5 | Tree-climbing lions | Flamingos | Picnic lunches | Sundowners in the bush | Famous Ngorongoro Crater – a collapsed volcano home to more than 30,000 animals | White sand beaches | Architectural tour of Stone Town | Welcome and Farewell dinners.
Luxury accommodation* | All inclusive | No single supplements | 14 spots | The Great Migration | Photography pack
*Prices per person, we pair you with another solo traveler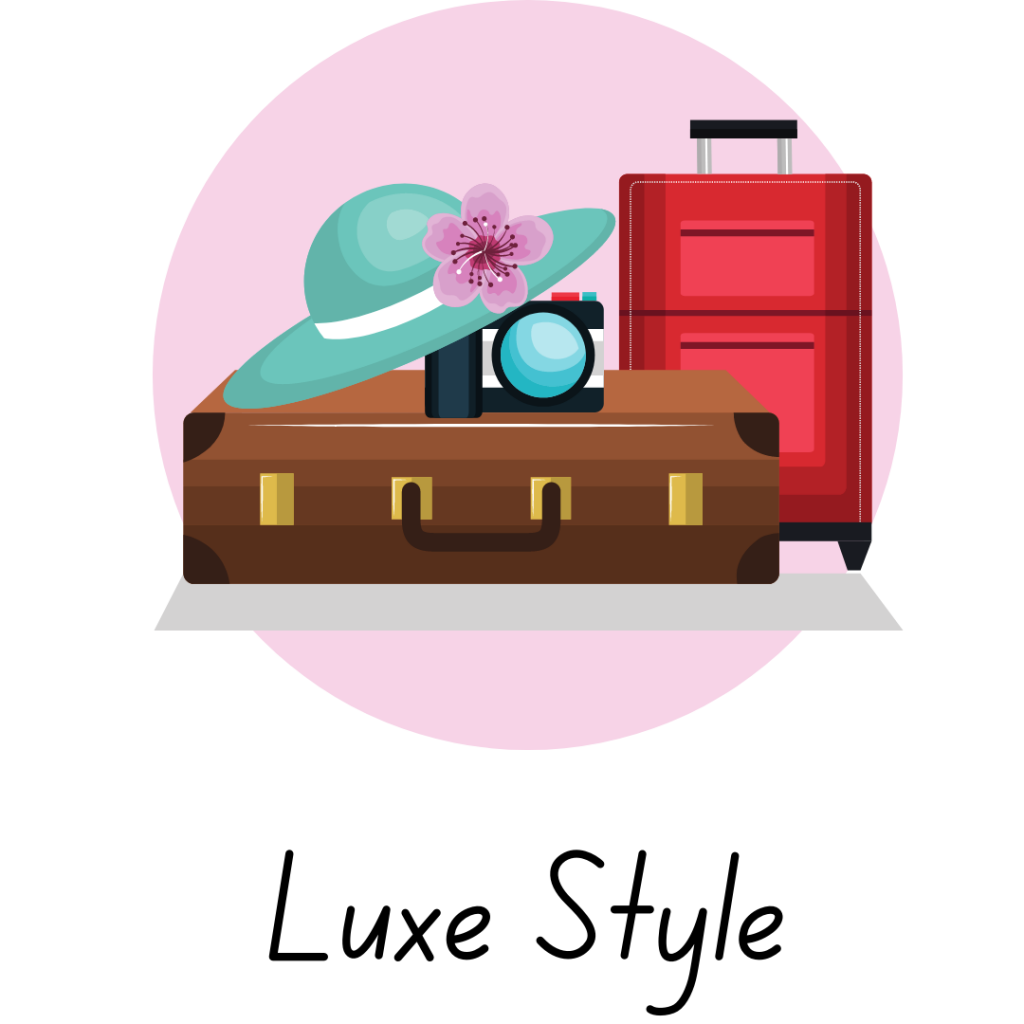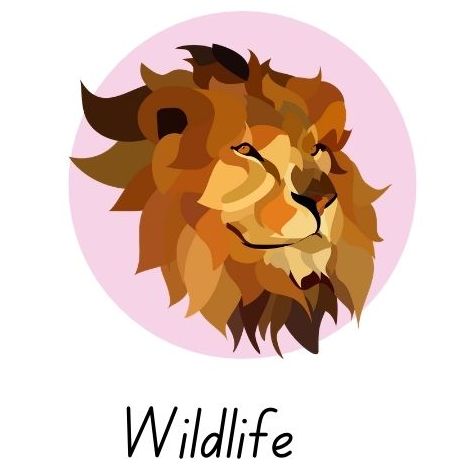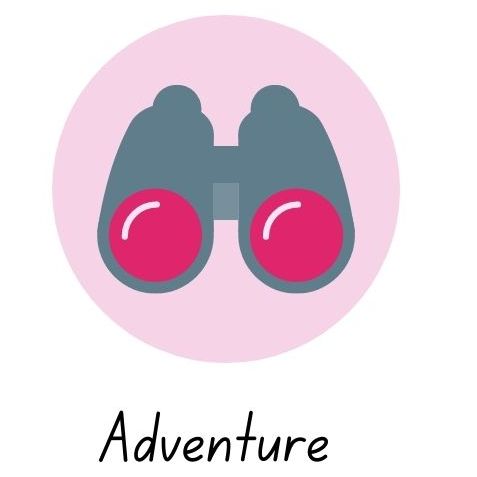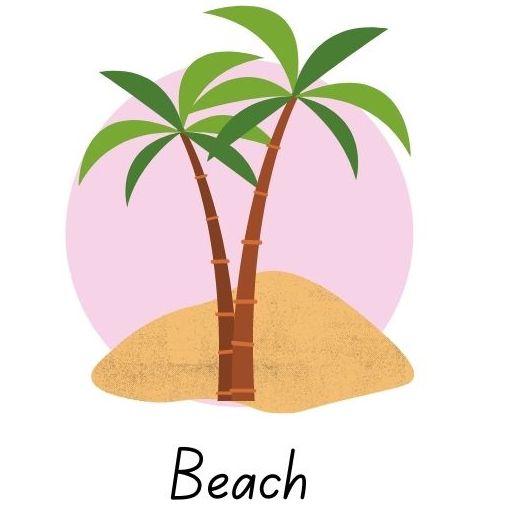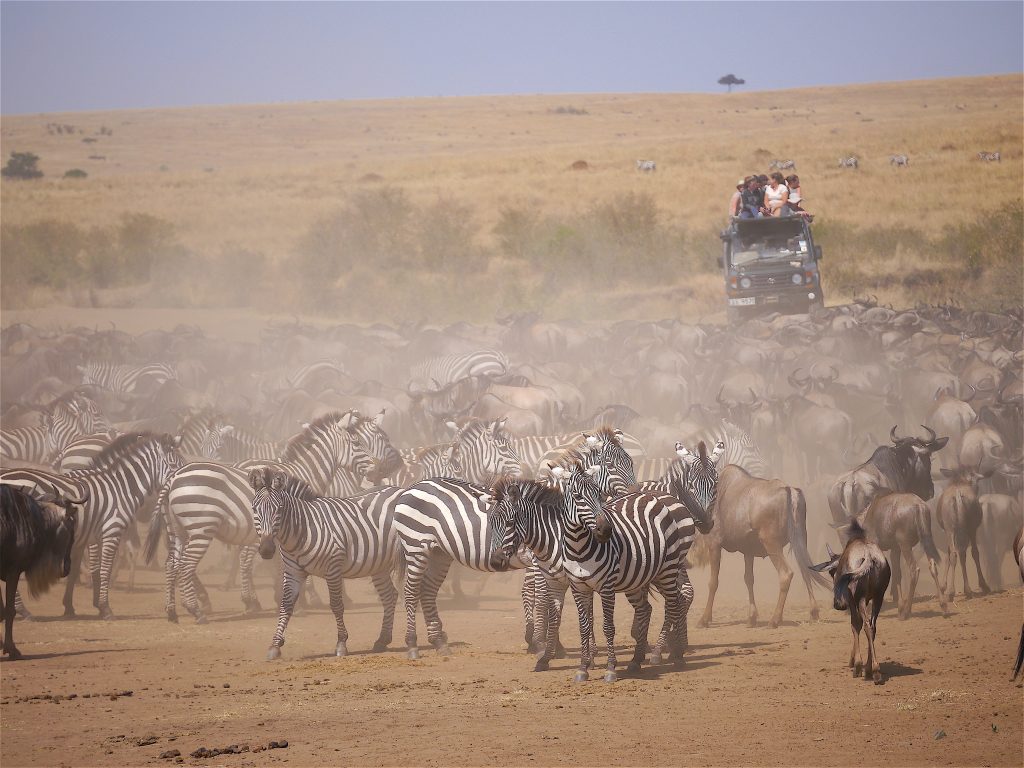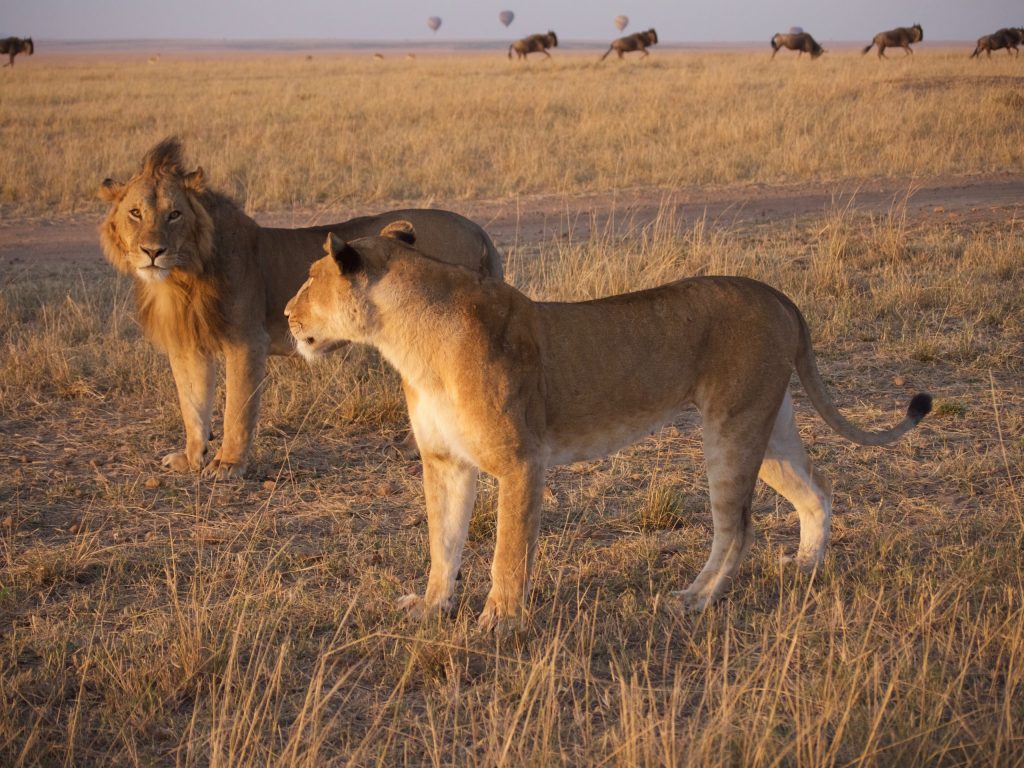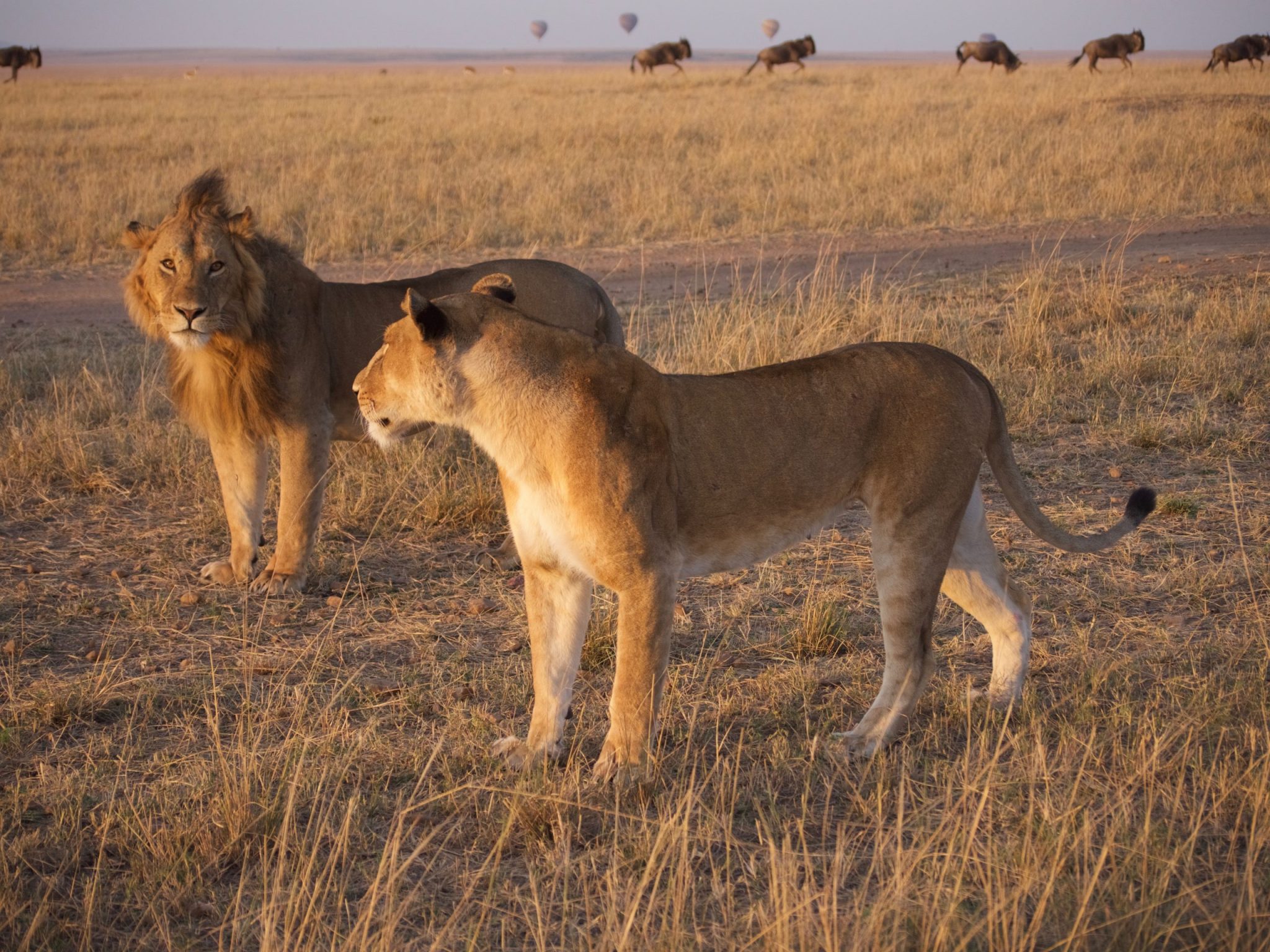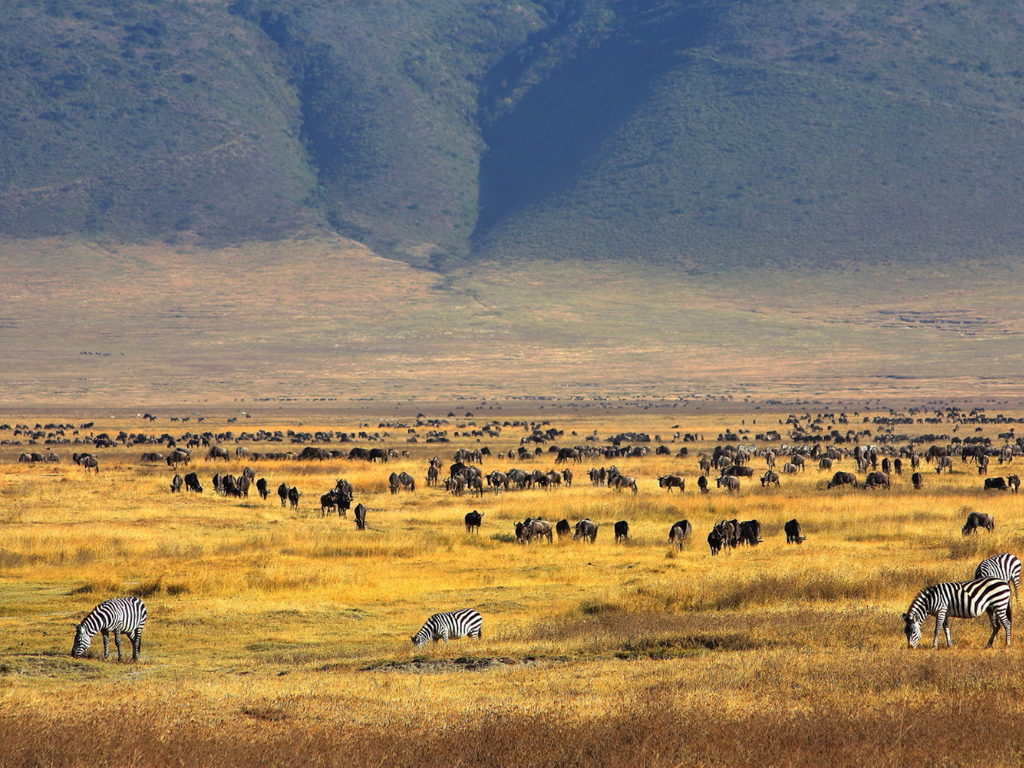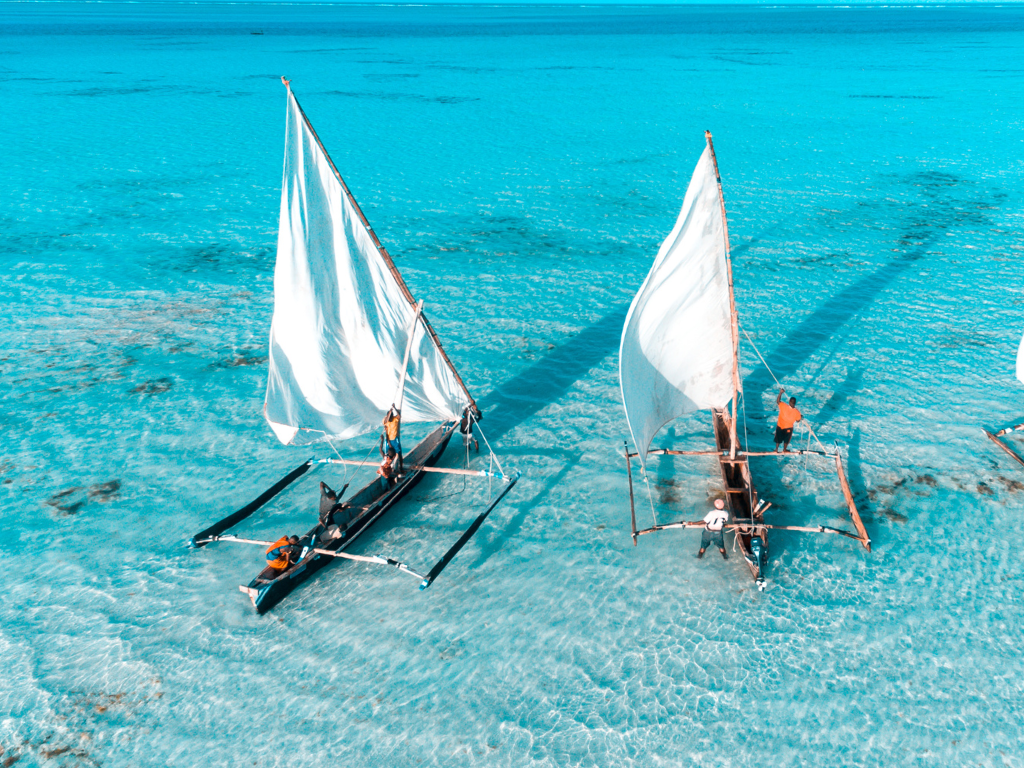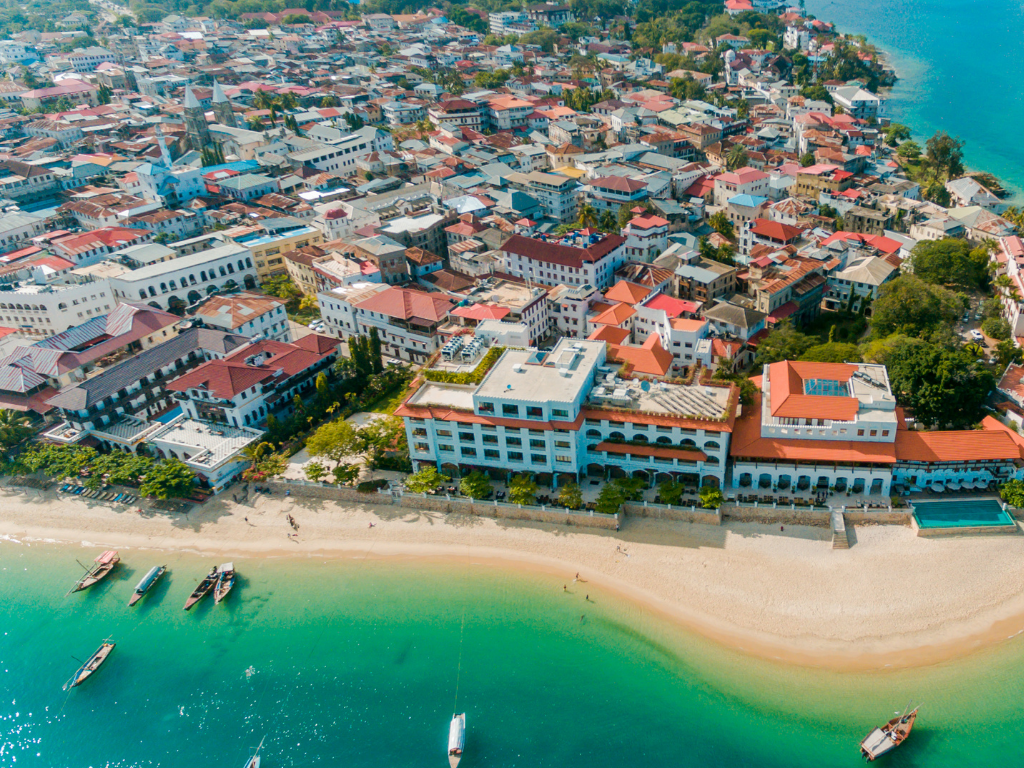 Trip Overview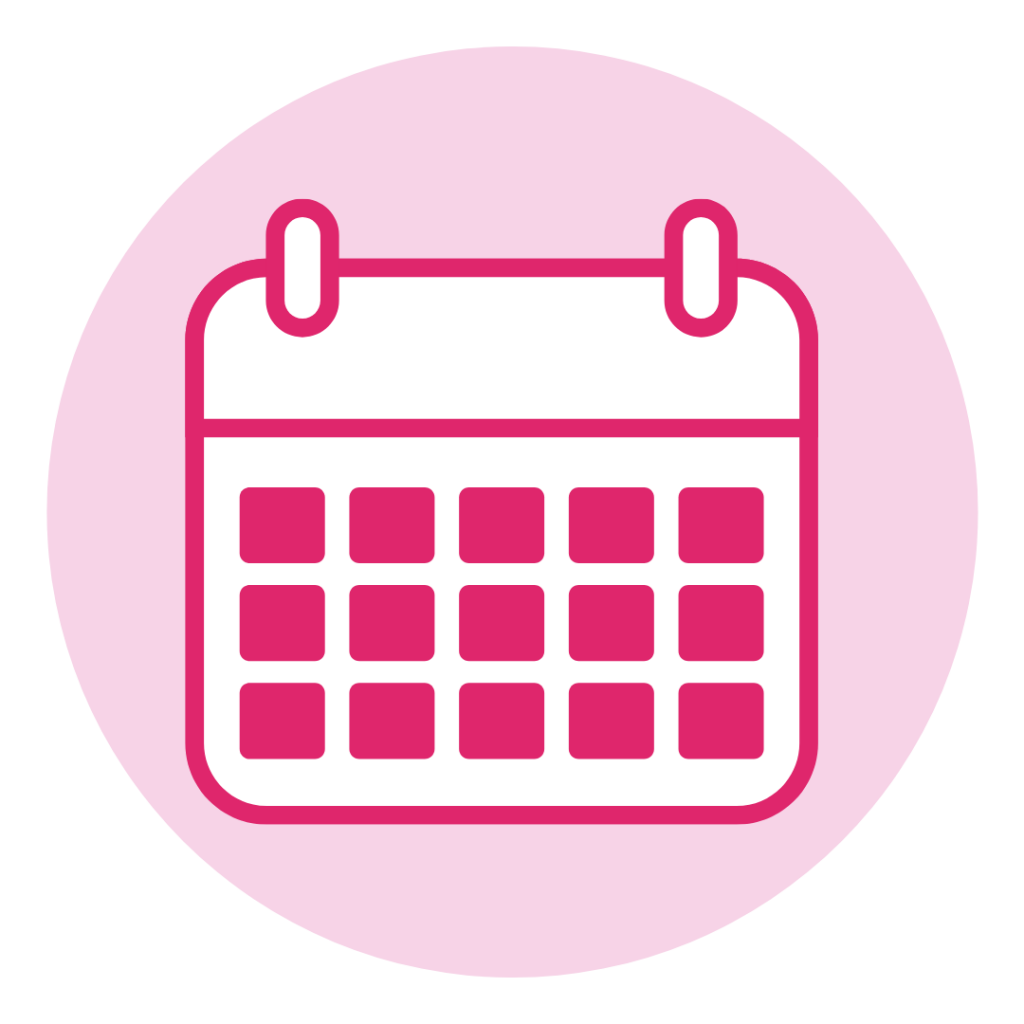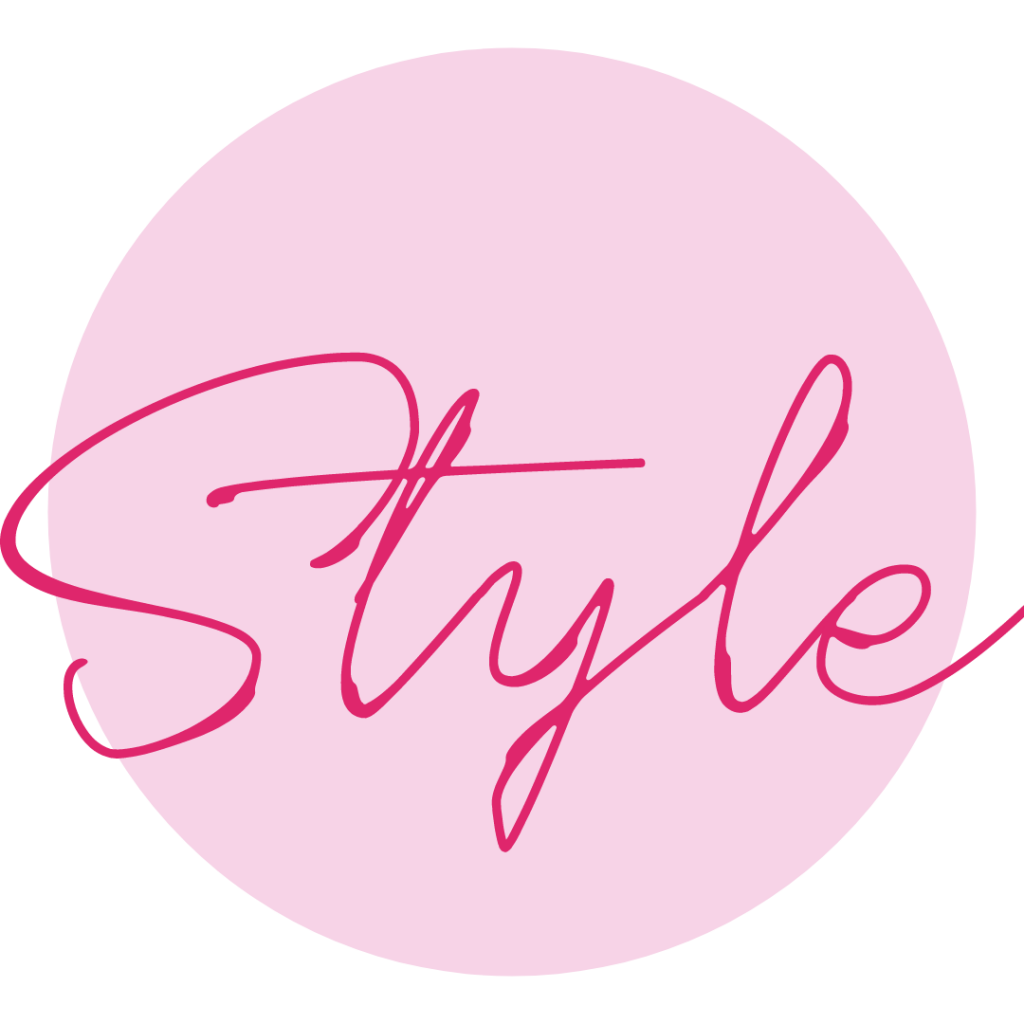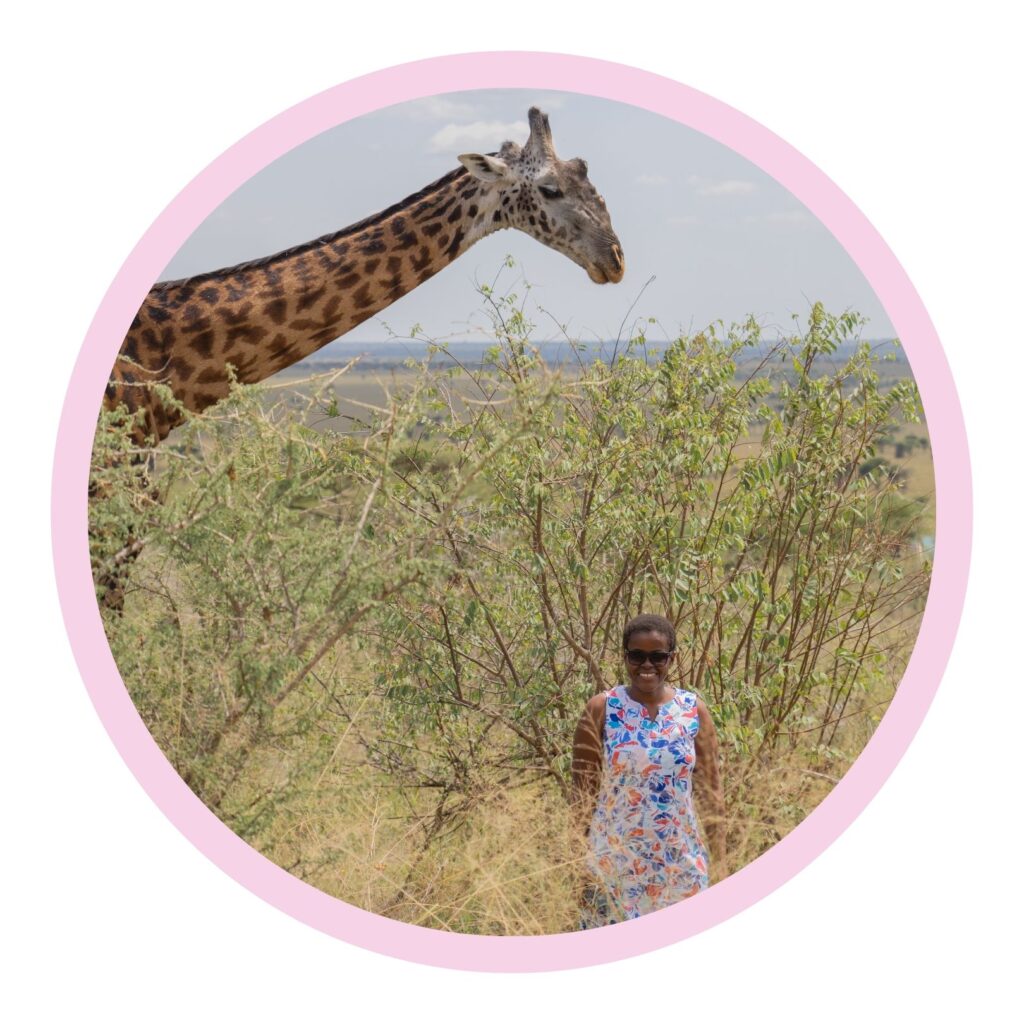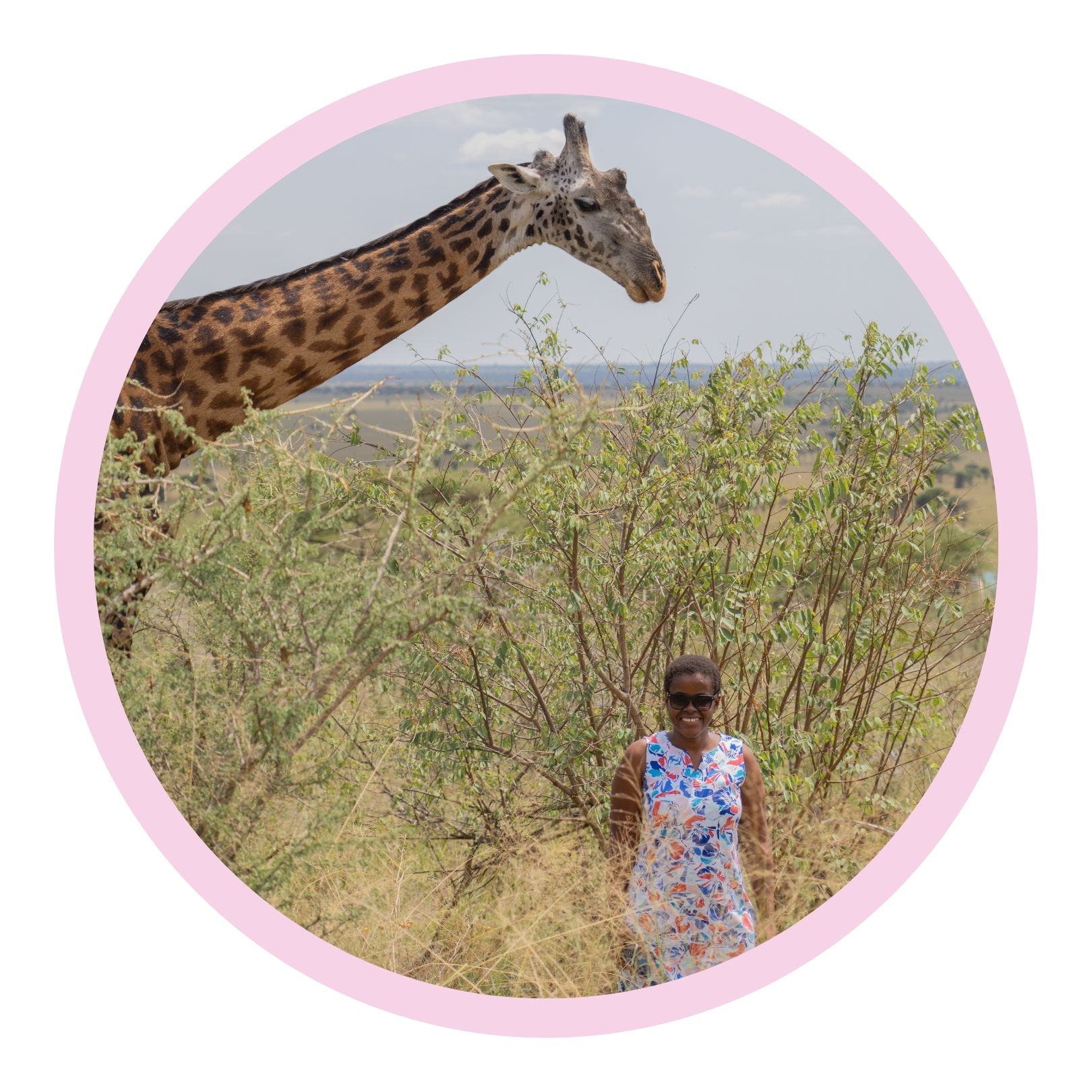 Glory Salema, our local guide
Payment plan
$6,694 pp sharing
Max. 14 guests
Our Luxe Safari will be running at the same time as our Value Safari, with the opportunity to mingle and meet women on our Value Safari at welcome and farewell dinners, as well as during free time in Zanzibar. Click here to view our Value Safari.
Detailed Itinerary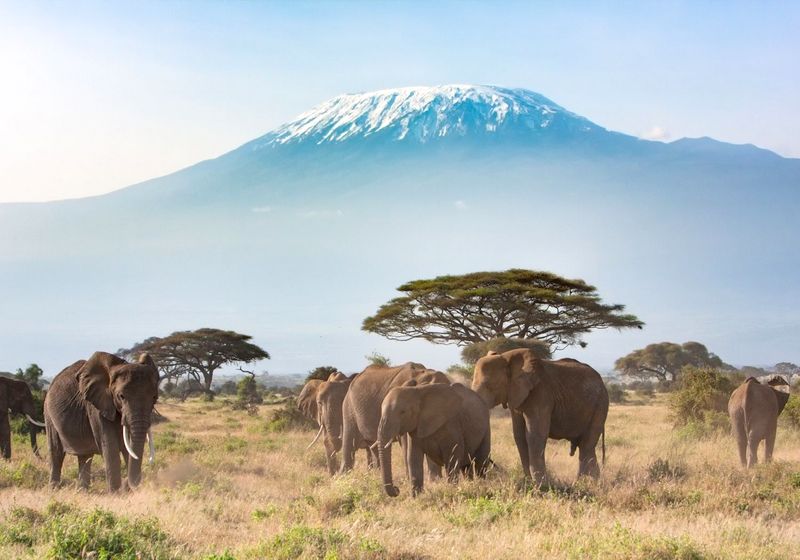 Day 1: Arrive Arusha
Welcome to Tanzania! Upon arrival at Kilimanjaro International Airport (JRO), you will be welcomed by a private driver who will transfer you to your Elewana Arusha Coffee Lodge for a pre-safari briefing and overnight stay.
Get to know everyone at a delicious welcome dinner, and make new friends as you enjoy your first night in Tanzania!
Overnight at Elewana Arusha Coffee Lodge
The Plantation Rooms are cosy, nestled among the aromatic coffee trees. You'll be greeted by an inviting in-room log fire, en-suite bathroom with shower and bath, and a verandah overlooking the surrounding green coffee garden.
OPTIONAL EXTRA: If you arrive early, book a tour of the coffee plantation with the hotel.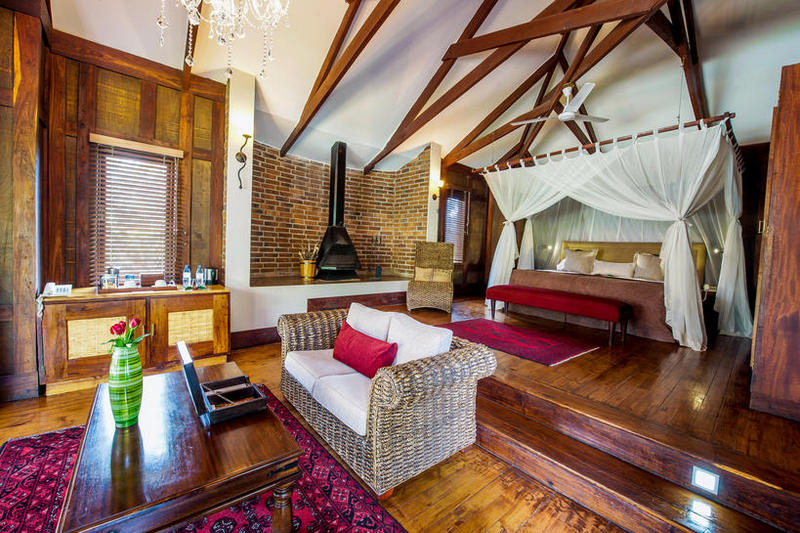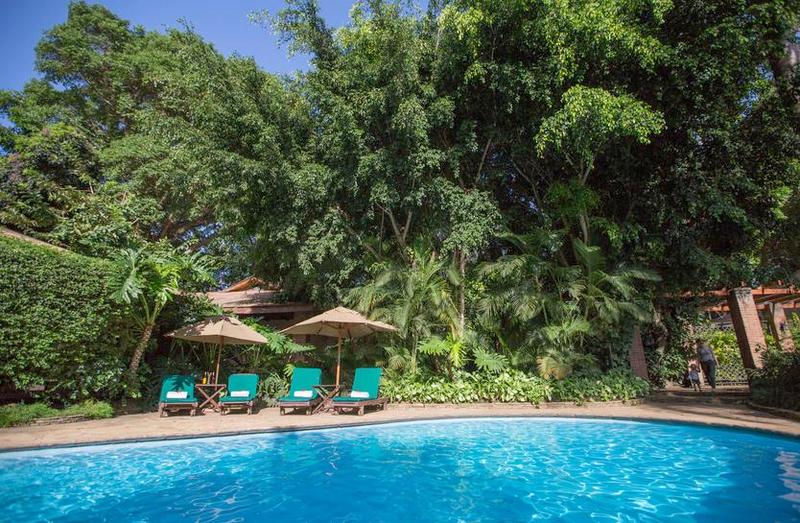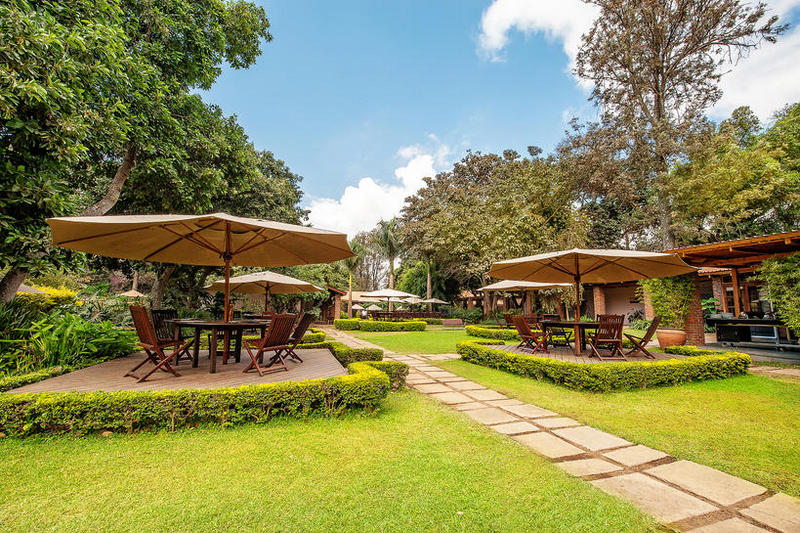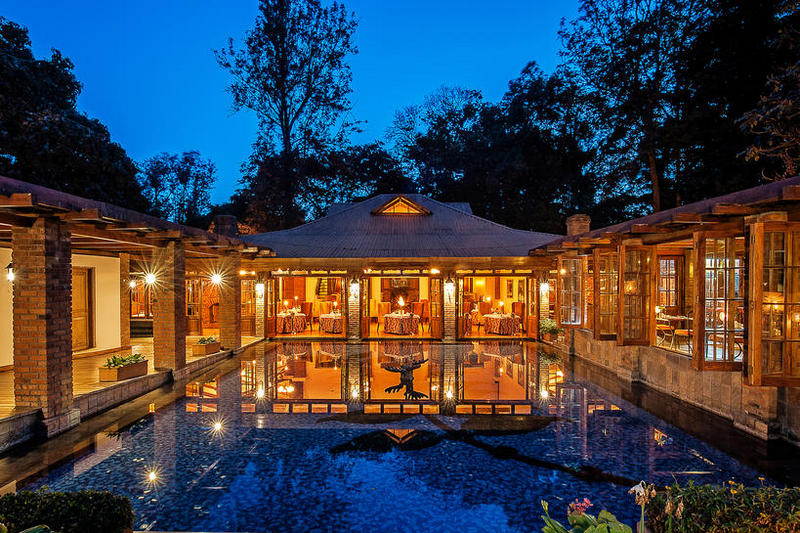 ---
Days 2 – 3: Ngorongoro Region
On Day 2 we move towards the Great Rift Valley to Lake Manyara National Park for a morning game drive and exploration. Lake Manyara is famous for its tree-climbing lions, flamingos, breathtaking scenery and the soda-ash lake in the center.
Lunch will be a classic safari picnic within the park, while enjoying a glimpse of the great wild of Northern Tanzania. In the late afternoon, transfer to the lodge on the edge of Ngorongoro Crater for two nights.
On Day 3 we will take private safari guides to the floor of the Ngorongoro Crater, arriving nice and early for the best chance of witnessing predators returning from their overnight hunts. Game viewing here has been described by UNESCO as the eighth wonder of the world.
Ngorongoro is a collapsed volcano – an incredible natural amphitheater, 25 km across, and teeming with more than 30,000 protected animals, including all The Big 5. We depart from the lodge with a picnic so we can maximize your time in the Crater.
Two Nights at Neptune Ngorongoro Lodge
We'll be staying in luxurious cottage-style suites featuring en-suite facilities with solar heated water and large walk-in showers. Enjoy the views from the rim of the volcano or take a dip in the pool.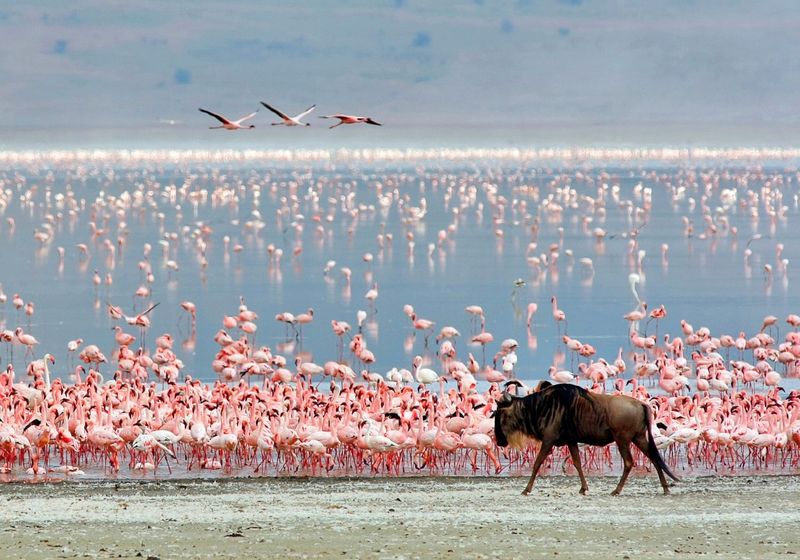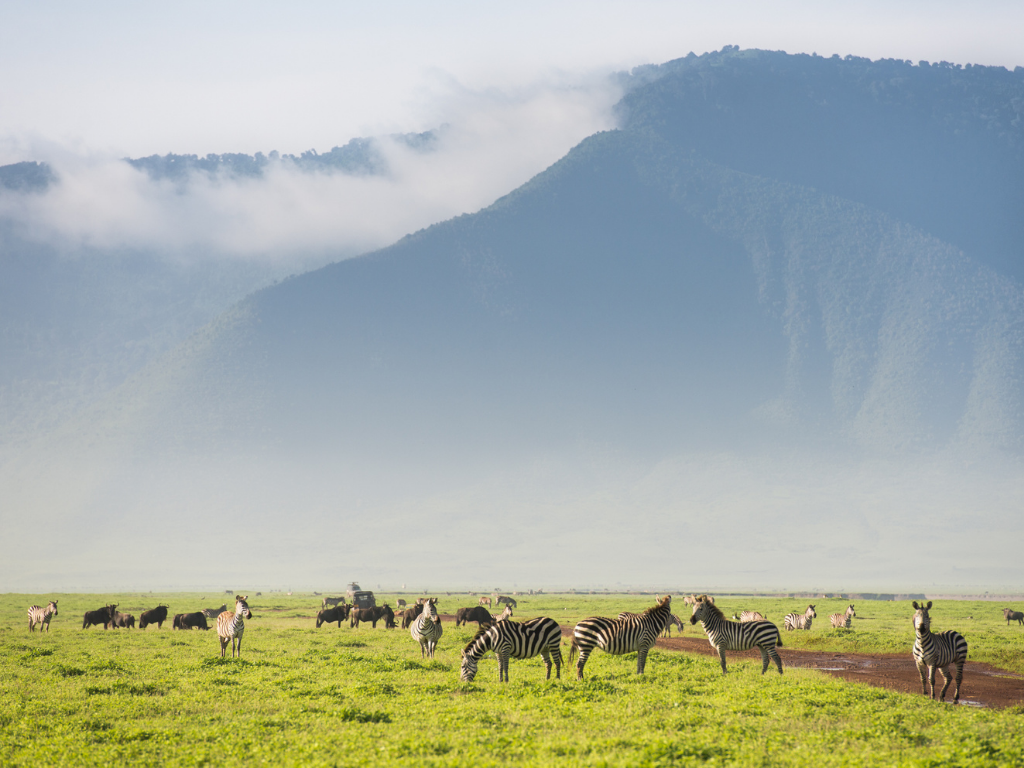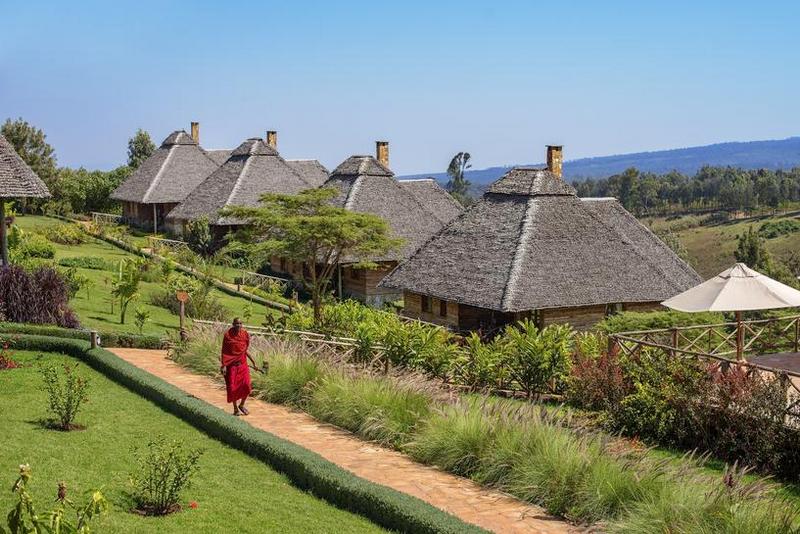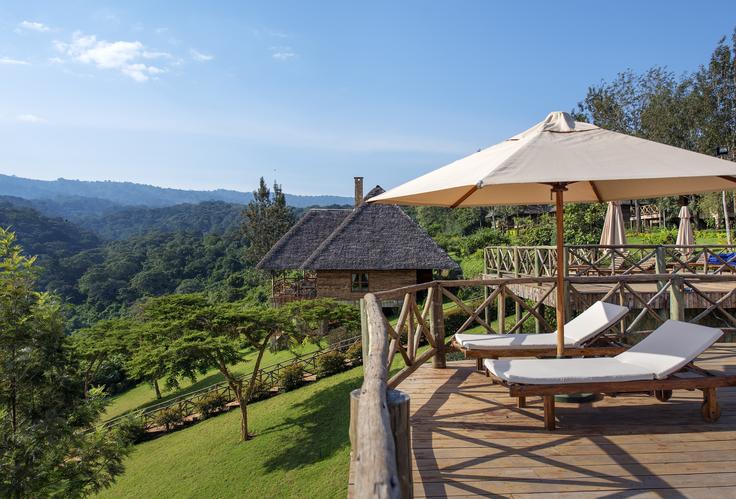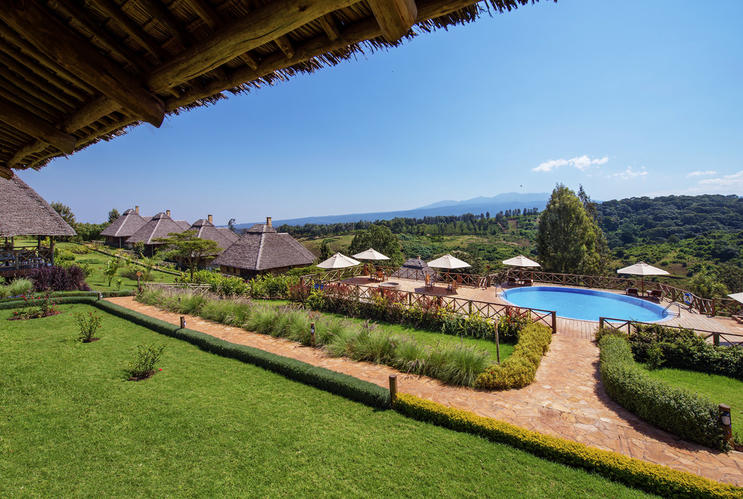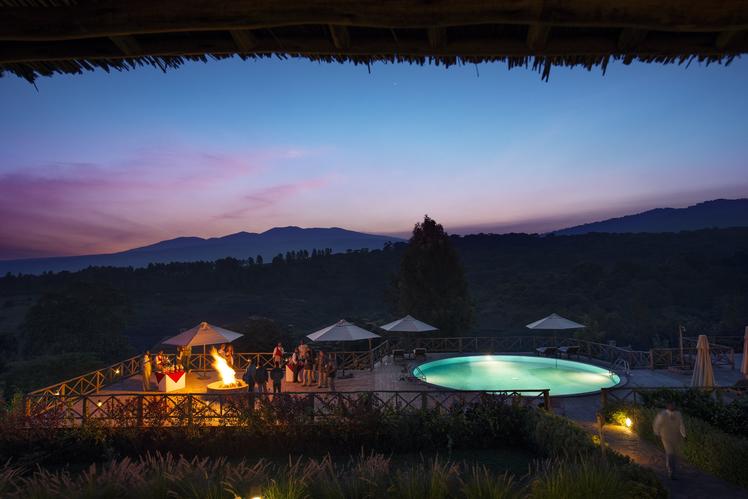 ---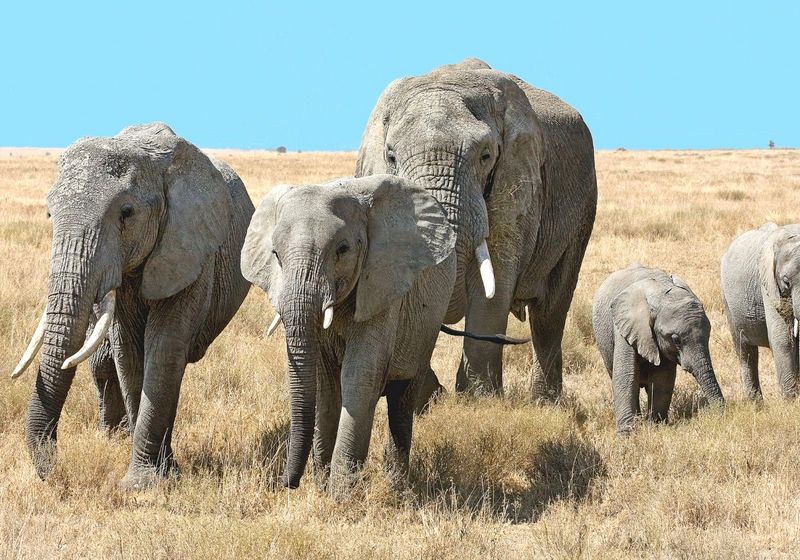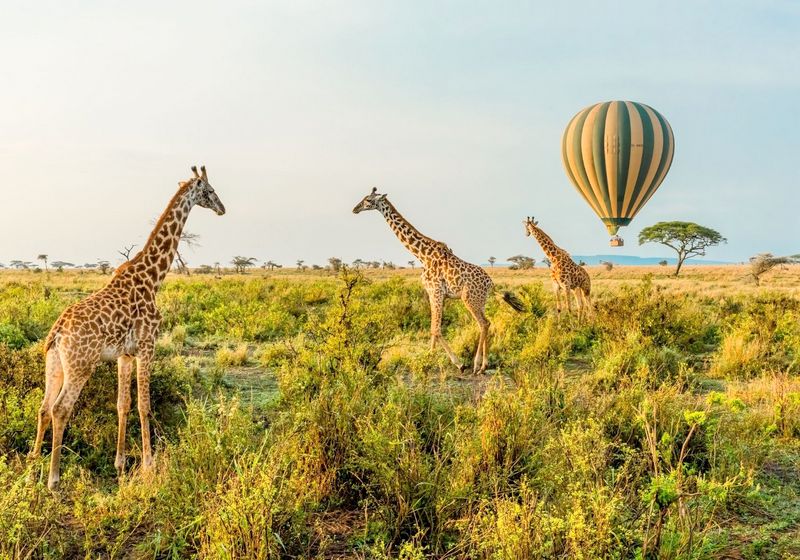 Days 4 – 6 : Central Serengeti
Today we move into the heart of Tanzania, the Central Serengeti, known for its prime wildlife-viewing. This picture-perfect landscape is characterised by endless stretches of savanna-covered open plains, interspersed by rocky outcrops of granite, scattered with acacia woodlands and covered in a network of rivers and streams.
The Central Serengeti forms part of the great wildebeest and zebra migration (which we may catch the end of) and provides an ideal habitat for a variety of wildlife such as giraffe, impala, hippo, elephant, buffalo, lion, leopard, cheetah, hyena, jackal, serval and much more.
We will enjoy the next three nights in this amazing, secluded area of the park, viewing African wildlife by day and enjoying the calls of the animals from our intimate lodge at night.
OPTIONAL EXTRA – Why not take an unforgettable sunrise flight over the Serengeti in a hot air balloon!
Three Nights at Kubu Kubu Tented Lodge
Kubu Kubu Tented Camp is part of Tanganyika Wilderness Camps' collection of luxury safari accommodation. Expect spacious en-suite tents which offer absolute comfort, for a genuine African bush experience. In the central restaurant we will enjoy exceptional food and wines and sunset drinks, and there is a swimming pool to relax after long game drives.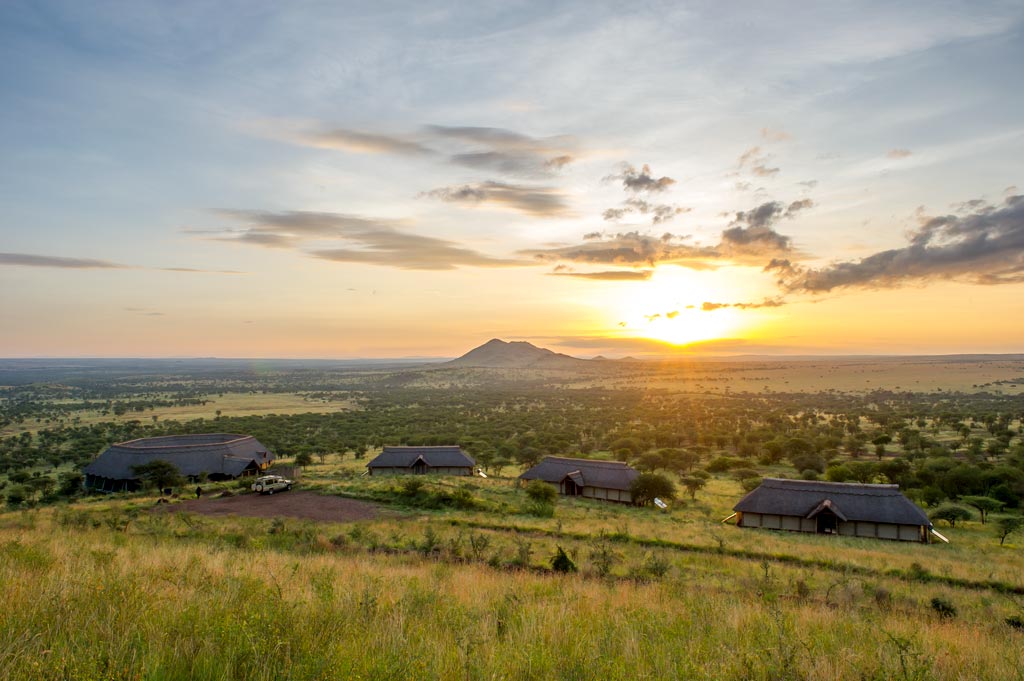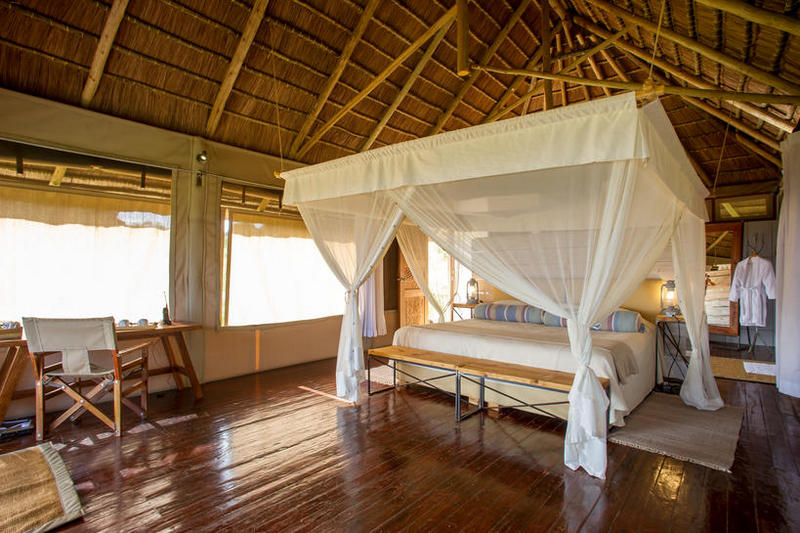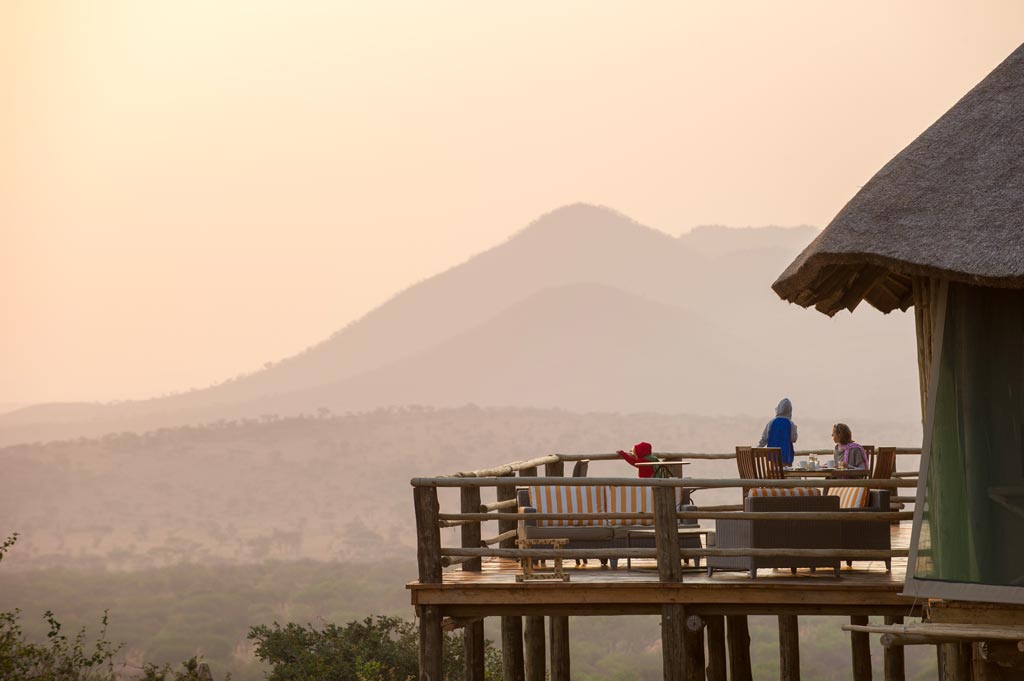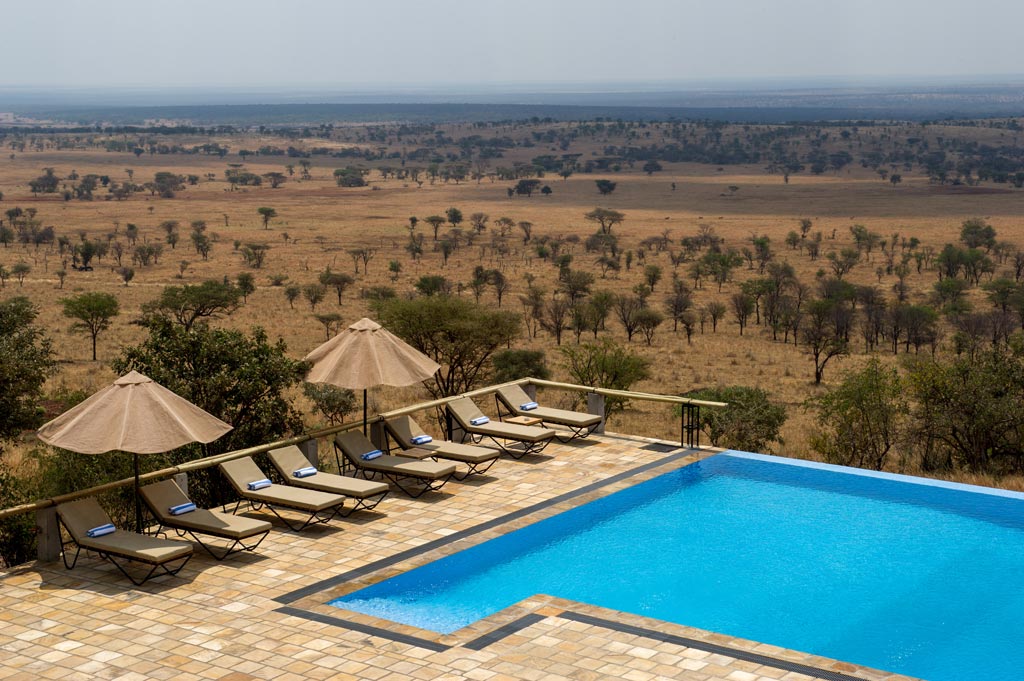 ---
Days 7-10 : Zanzibar Beach Relaxation
We'll do a final game drive in the Serengeti National Park in the morning before boarding a flight to Zanzibar Island. The island is characterised by exquisite white sand beaches fringed by palm trees and lapped by turquoise waters lined with coral reefs brimming with an abundance of exotic marine life.
After landing, we'll enjoy a private guided architectural tour of Stone Town; the capital of Zanzibar is both fascinating and disorientating with its labyrinth of alleys amid whitewashed houses. Take your time to get lost among the alleyways, admire the intricately carved doors or drop into some of the town's quaint shops, before indulging in a rooftop pre-sunset drink above Stone Town at the tea house of historical 236 Hurumzi.
From Stone Town, we'll drive to our beach resort where we will relax for three nights. Days 8 & 9 include free time to enjoy the coast, and there are a number of optional activities, including reef-walking, kayaking, kite-surfing, wellness spa, snorkelling, and scuba diving. Take your time in selecting the best perch to enjoy the most magical sunset on the East African coast.
On our last night we have arranged a special farewell dinner where all group members will come together to say goodbye.
On Day 10, we will drop you off at the airport after breakfast depending on the time of your flight.
Three Nights at Baraza Resort & Spa
Baraza Resort and Spa is Zanzibar's most exclusive boutique resort. With just 30 villas, this stunning fully inclusive boutique resort evokes the heritage of Zanzibar dating back to the era of the Sultans.
All your meals and all local drinks including all house wine, beer & spirits, soft drinks, bottled drinking water, tea & coffee, juices are included with your stay.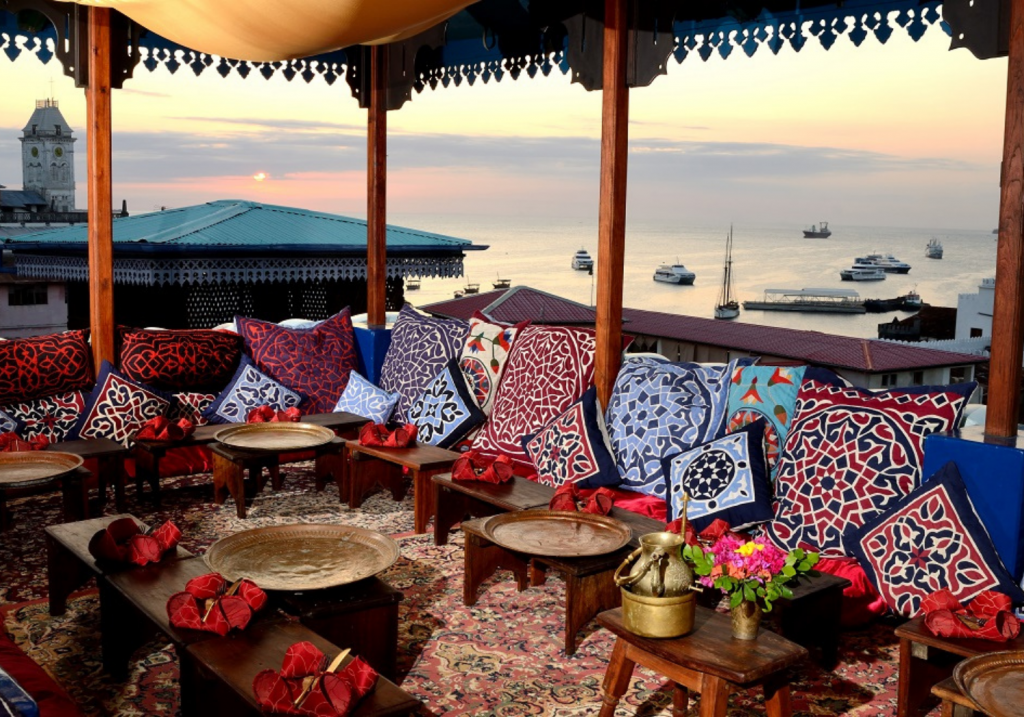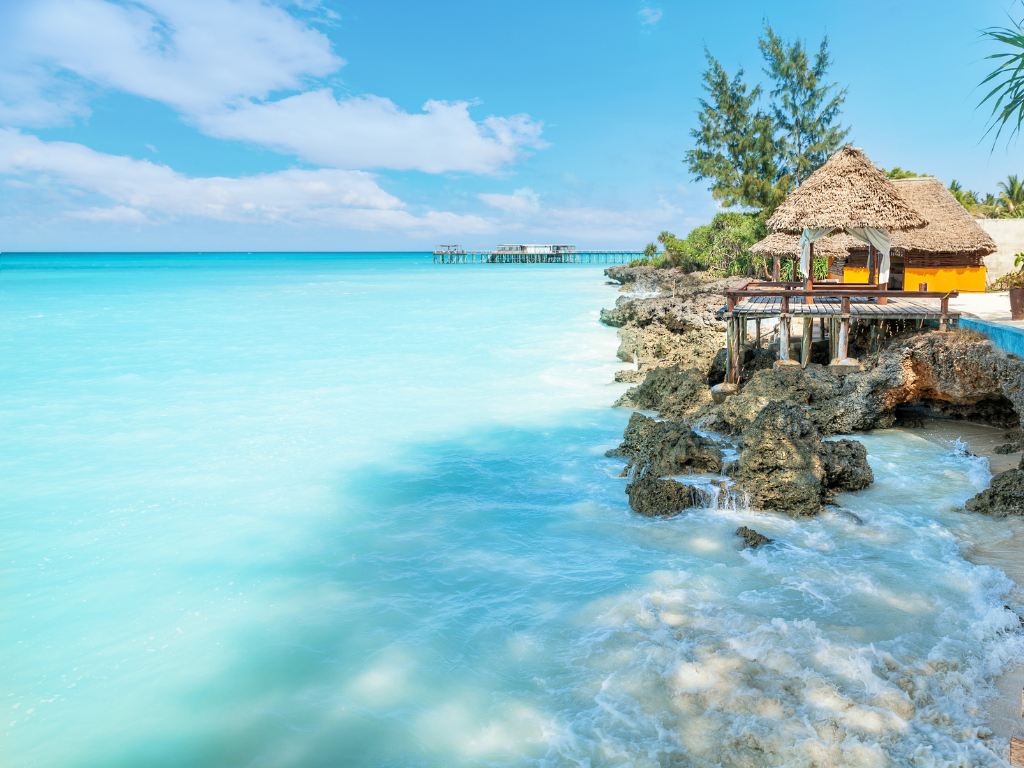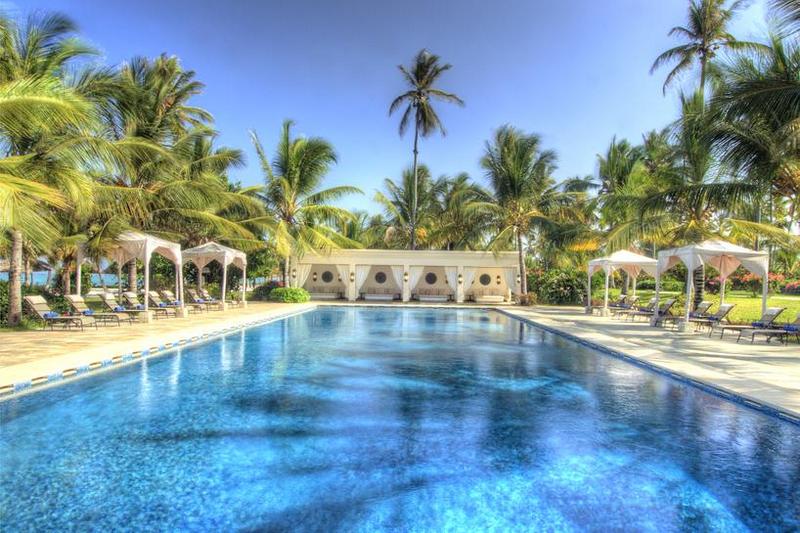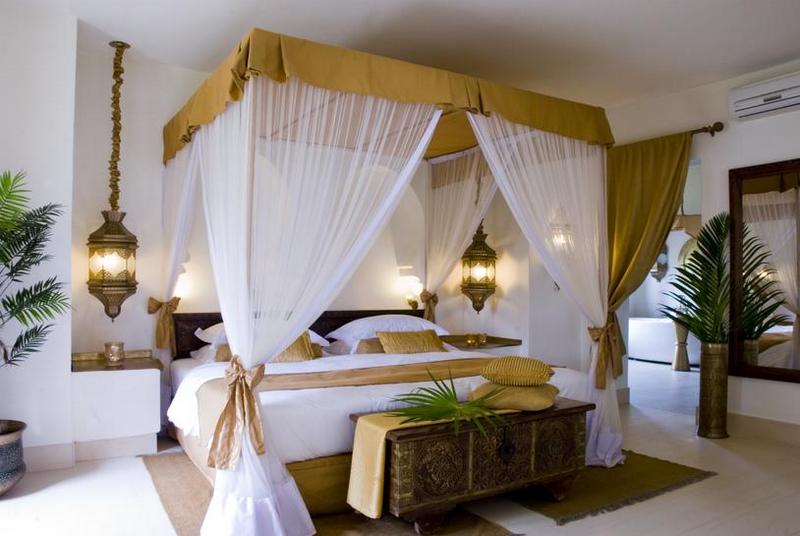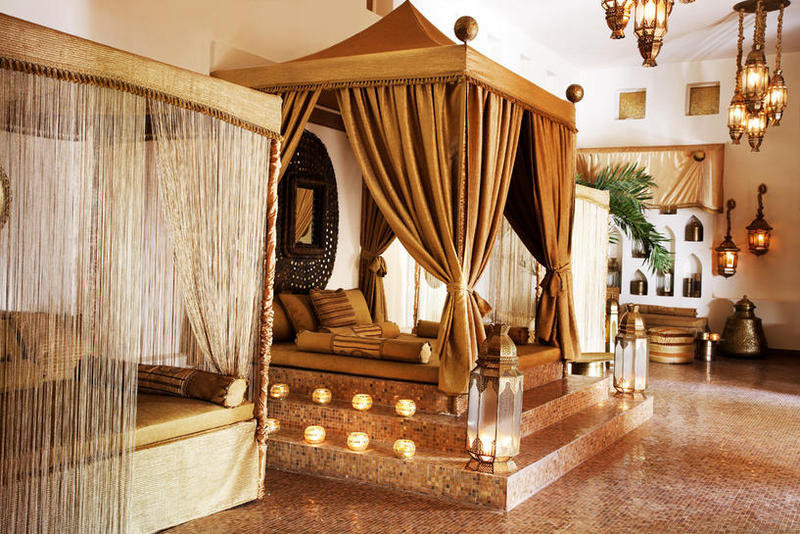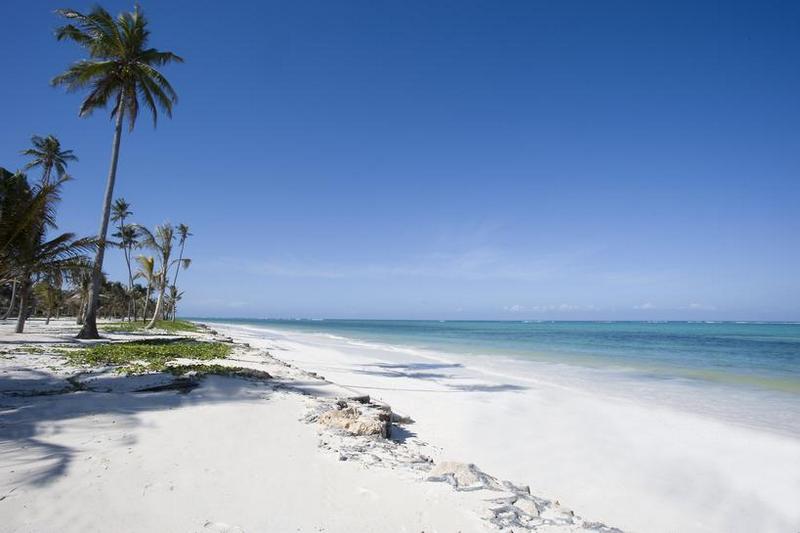 ---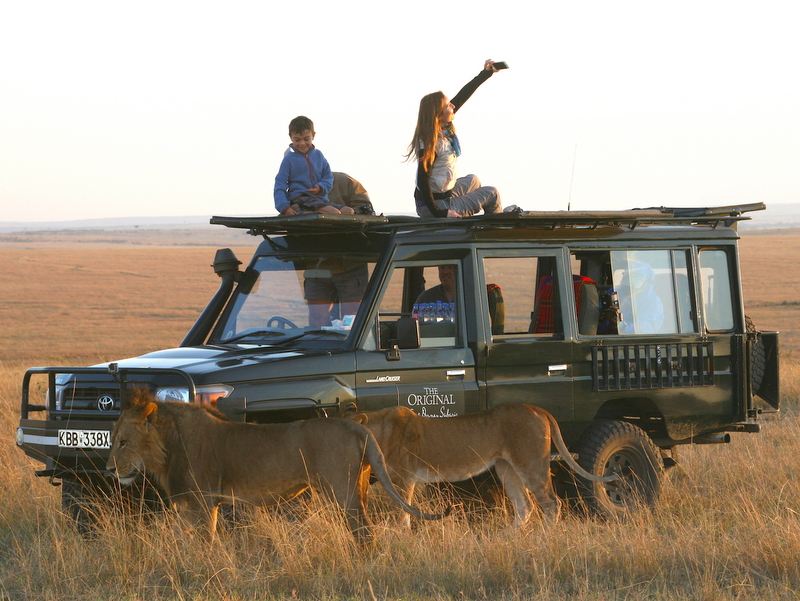 About Your Host
Our May departure will be accompanied by our Co-Founder Mar Pages who spent 5 years working across Eastern and Southern Africa starting in Tanzania, where she went on many safaris and fell in love with wildlife and nature. You can read more about her here.
Exclusive: Mar will take photos of the group and guests as a memento of this once in a lifetime trip.
Our November departure will be hosted by guide extraordinaire Glory Salema, founder of the Tanzania Women Guides Foundation and one of the first and few women to guide guests up Kilimanjaro.
Glory is an inspiration for guests and for local women who want to work in tourism and take positions of leadership. Through her foundation, she has trained 50+ women to become qualified guides and continues to be a role model for many.
Glory will drive one of our safari 4WD and always turns heads for being one of the only female safari guide-drivers in the country.
---
Inclusions
✔️ Arrival & Departure Transfers
✔️ 9 Nights Luxury Accommodation (twin occupancy)
✔️ Full Board: Breakfast, Lunch & Dinner
✔️ Alcoholic Drinks during meals and all inclusive in Zanzibar
✔️ Ground Transportation
✔️ Internal Flight to Zanzibar ($590)
✔️ Local Female Drivers & Guides
✔️ Photography to take home (only in May 2022)
✔️ National Park Fees ($1,132)
✔️ Architectural tour of Stone Town Zanzibar
Exclusions
✘ International flights to Arusha and from Zanzibar
✘ Travel & Medical Insurance (Required)
✘ COVID Vaccinations Pre Arrival (Required)
✘ Hot Air Ballooning in Serengeti (Optional Extra)
✘ Additional Snacks & Meals
✘ Souvenirs
✘ Tips for Drivers and Guides (At your discretion)
✘ COVID Testing which we can help organize (available in Zanzibar before your departure)
Payment Info
Only 14 Spots Available
Price per person sharing May 2022
$6,494 USD
Price Nov – 2023
$6,995 USD
*Nov 2023 trip will be 1 day longer
Payment Plan:
$200 USD per person, fully refundable deposit to reserve your seat
30% due 150 days before departure
70% due 120 days before departure
*If the trip is cancelled by us before the 30% is due, a full refund of $200 will be issued minus any bank charges. By joining our trips you agree to our T&C.
---
Reach Out to Join the Wait List
Interested in joining us in Tanzania?
To reserve your spot, book a time to talk to us live on the right or send us an email: community@solofemaletravelers.club.
Interested in November 2023? Join the waitlist to be notified when the trip goes on sale.
IMPORTANT: The nature of this trip makes vegan diets difficult to accommodate, please reach out to us to discuss your dietary needs before booking.
Note: Please do not book any flights until the trip is confirmed.
---
Frequently Asked Questions
This is a trip of a lifetime and we know there are many things you'd like to know more about.
What's the difference between the Value & the Luxury Trip?

Our Value trip features 3-4 star accommodation, and is full board on safari, but half board in Zanzibar (breakfast + dinner only, lunches are your own). It doesn't include alcoholic drinks, or photos to take home. The Luxury trip is 4-5 star accommodation, all inclusive for the whole trip (all meals and drinks including alcohol), and has a photographer onboard giving you a photo package to take home.

The itinerary itself is the same and both trips will have the opportunity to mingle at the welcome and farewell dinners. The price difference comes down to travel style, namely accommodation and inclusions.
What are the COVID measures in Tanzania and how will you ensure everyone is safe?

We care deeply about the wellbeing of our guests and our trip follows all local regulations. We require our guests to be fully vaccinated to join the tour so that we ensure the safety of everyone on the trip. Safaris are uniquely designed for social distancing and isolation as they guarantee that you will only be interacting with the other guests in your group and with the guides. In Zanzibar, you can also limit your interactions to the group.

Tanzania has implemented COVID regulations and these are the requirements:

– All travelers to Tanzania must be vaccinated or present a negative test
– An online traveller's health surveillance form must be completed in the 24h prior to arriving in Tanzania. Upon submission of the form, travellers will receive a confirmation notification containing a Unique Health Code (UHC), which is to be presented on arrival in Tanzania. If you can print the response form great, but showing the number should suffice
– Travellers are not expected to wear masks anywhere else after they have departed the airport 
What if I cannot travel because of COVID restrictions?

The initial $200 deposit is not refundable if the trip goes ahead, this is why we require all guests to purchase travel insurance that covers unforeseen circumstances that would prevent them from traveling. The deposit will be refunded if we decide to cancel or postpone the trip before the 30% payment is due. In the event that the trip needs to be postponed for reasons beyond our control after that, any payments made will be put towards a similar trip in the future.
What is included in the trip?

This luxury safari and beach trip is all inclusive except for alcoholic drinks on the first evening. Optional activities not included in the trip are the sunrise hot air balloon trip in the Serengeti and any additional paid activities in Zanzibar (the hotel offers a range of free water sports such as kayaking).
Can I have a room to myself?

All costs above are considered on a sharing basis with two guests per room in twin bedding, if you wish to have your own room, that is absolutely possible, but supplements will apply. Reach out to us to find out more.
I want to bring my partner to the trip

We are afraid that this is a female-only small group trip specifically designed for women traveling on their own. If you wish to travel with a female friend that is welcome, but we regret that male travelers are not allowed.
I want to bring my daughter

How wonderful! If your daughter is above the age of 16, we will be glad to have her with us.
What kind of photography will I be getting in May 2022?

Mar is an experienced content creator and photographer, editor of Once in a Lifetime Journey, and she will be taking photos of the group and of each individual guest on this trip for you to take hope, keep and share. The photography pack you will get will contain a mix of images of Tanzania, of the group and of yourself in candid settings. The best photos are those you didn't know were being taken and this is why we wanted to bring the added benefit of a photography pack. Note: We may also have an additional photographer join us to supplement Mar's work.
Will the guides be female?

We strongly support women in the tourism industry and do our best to meet them and celebrate them. We searched for female owned or focused businesses in Tanzania for this trip and realised the options were limited. There is only one female-owned tented camp in the Serengeti but it is out of the budget for this trip and we could not find any female safari drivers in the country or a female-owned lodge in the Ngorongoro Crater area. However, the hotel General Manager at Elewana is a woman and our Tanzania Value Safari + Zanzibar trip is exclusively hosted Glory, acclaimed Tanzania female travel guide.
How does this trip help local communities in Tanzania?

We believe that travel can be a force for good and wherever possible, we work with local travel companies in the country who can help us make a difference and ensure that the tourism dollars benefit the local communities. For this trip, we have partnered with Wito Safaris, a Tanzanian-owned business, and we will be employing an all female guide team led by Glory in November and Mar in May. Glory's work focuses on training more women to become qualified guides through her foundation.
What medication do I need to take for a trip to Tanzania?

You should make an appointment with your doctor to confirm any travel inoculations and other medications that you may need to take before and during the trip, including those to prevent malaria or yellow fever. If your onward travel includes other African nations, you may also require a Yellow Fever certificate, you can check the CDC website for more details.
What should I pack for an African safari?

Once your trip is confirmed, we will send you a detailed packing list with everything you need to take. In general, the number one rule on safari is to blend in, that is, avoid colors that do not naturally occur in the bush (eg. red, blue, white) and go for earthy tones like brown, green, etc. Black is also a color to be avoided because it attracts mosquitoes. You can find more details here.
What happens if I get sick?

The prospect of getting sick while alone in a foreign country is daunting, this is why we require all our guests have comprehensive travel and medical insurance that includes international evacuation. Additionally, we partnered with an experienced local company in Tanzania to organize this trip. Should you fall sick, we will ensure you are escorted to the nearest medical facility so you can get the help you need.
What travel insurance should I get?

We recommend you get the most comprehensive travel and medical insurance that would cover you in the event that you need to be evacuated to Dar es Salaam, Nairobi or back home. We recommend checking with an aggregator such as Travel Insurance Master to compare quotes and coverages.
Do I need a visa for Tanzania?

All travelers to Tanzania need a visa which can now be obtained online on this link. We strongly recommend that you apply at least 3 weeks in advance of your trip. If you do not manage to obtain a visa online before your trip, you may also get one on arrival, but expect to queue for up to 2h to get it sorted.
Can I make various instalments for this trip?

Our payment plan includes 3 instalments: a $200 deposit to book a spot, a 30% deposit 150 days before the trip and the remaining balance due 120 days before the trip. You may make additional payments between the 30% deposit and the balance payment.
Can I pay by credit card?

We offer the option to pay via bank transfers as these are the most cost effective bank charges. However, if you wish to use a credit card, we use Paypal and will need to add around 4% for bank fees.
Will the lodges and camps have WiFi?

All the accommodation we will be staying at has WiFi but in most cases this is only available at the main common area. This is because camps try to keep impact to a minimum and because connection in the bush is challenging. We invite you to take this opportunity to be in the moment and disconnect from your always-on life.