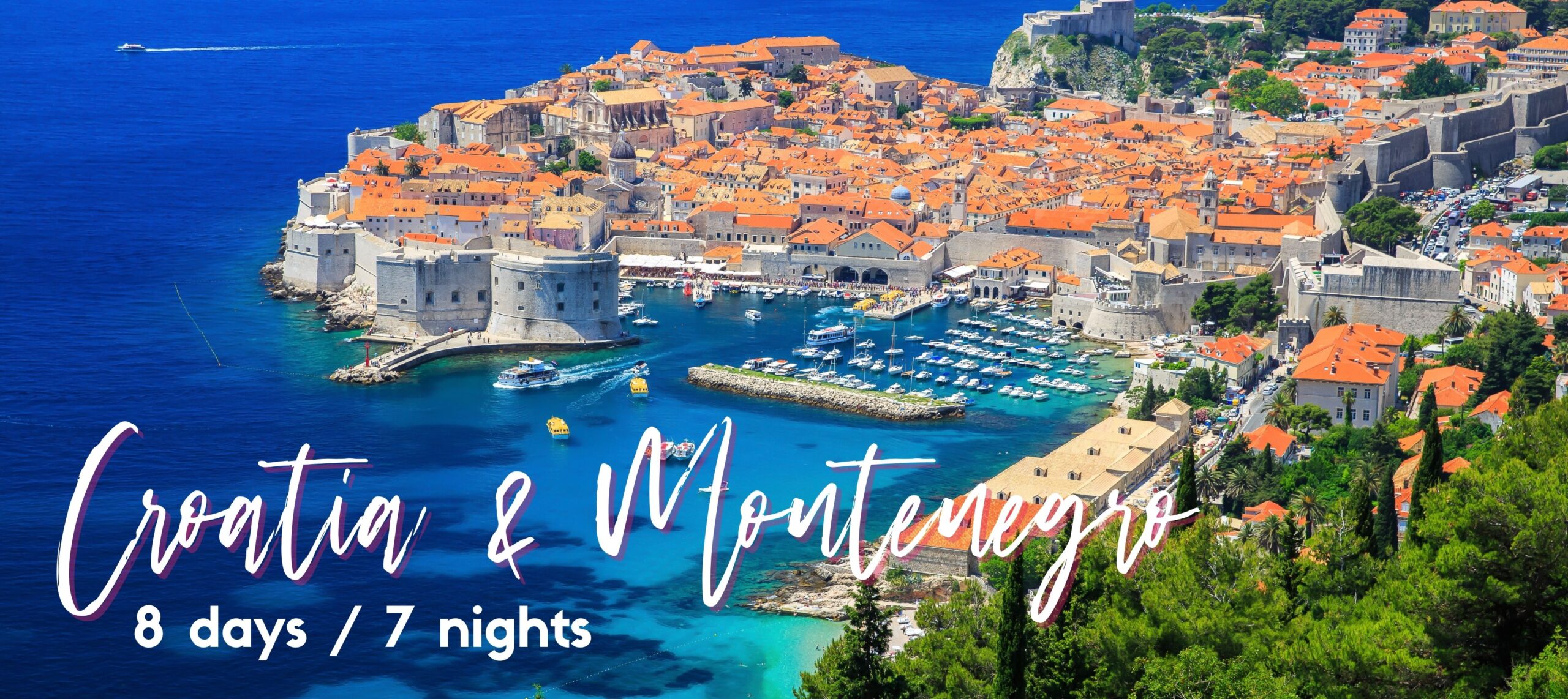 Croatia & Montenegro Summer Road Trip
Dubrovnik – Peljesak Peninsula – Kotor – Perast – Sveti Stefan – Przno – Budva – Beach Club – Winery Visits – Mussel and Oyster Farm
Enjoy the summer life along the Adriatic coast of Croatia and Montenegro in style. Visit coves, exclusive beaches and clubs, islands, national parks, bays and walled towns as we indulge in the perfect seaside holiday with a dash of luxury.
Highlights: Walking tours of Dubrovnik, Kotor, Budva and Ston | Winery visit in Peljesac Peninsula | Oyster demonstration and tasting at farm | Boat tours and transfers in Dubrovnik and Boka Bay | Fashionable beach club | Stunning landscapes | Sea-facing luxury hotels | Fabulous vistas at welcome and farewell dinners
Activity level: Medium level of fitness is required for this trip. Expect to walk 10,000 steps a day on uneven surfaces and cobblestoned streets and spend time on boat rides.
No single supplements* | 14 spots | Luxury 5 Star hotels
*Prices per person, we pair you with another traveler, or you can upgrade to have your own room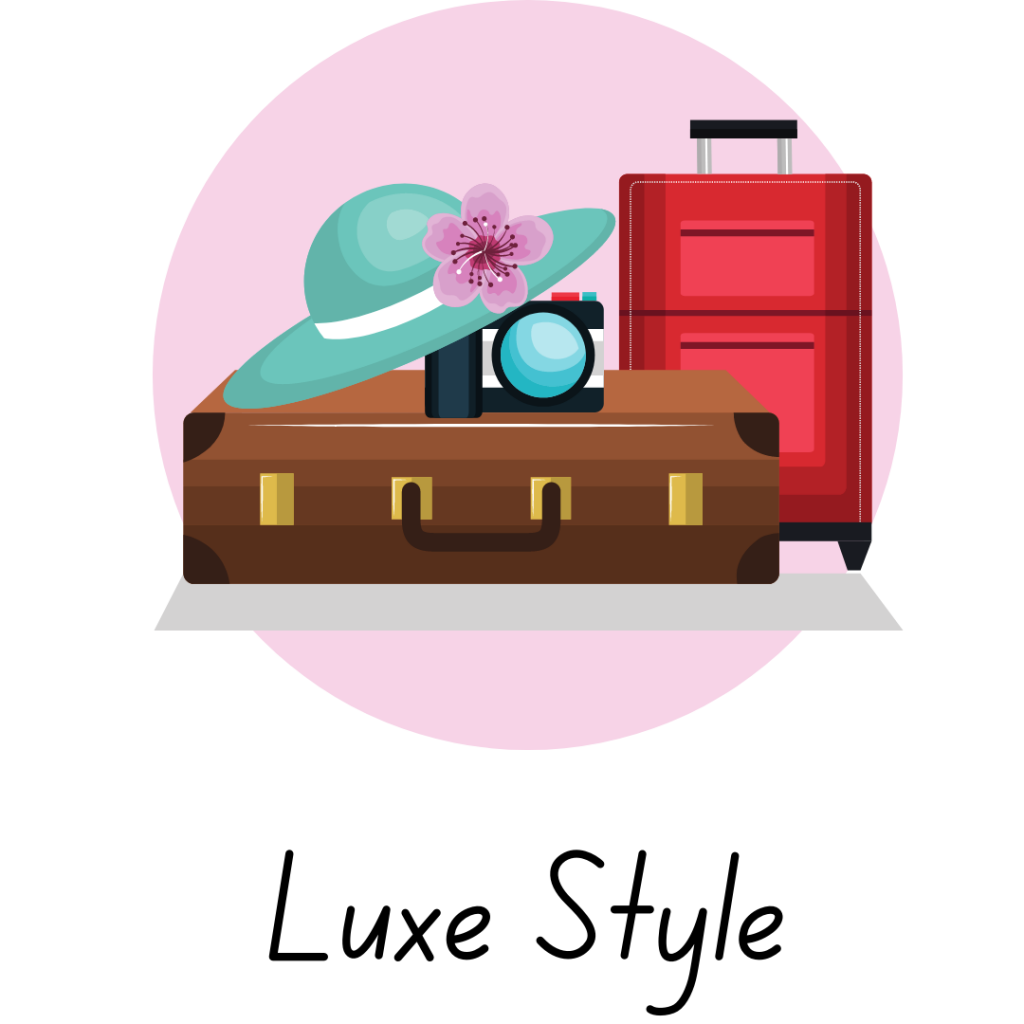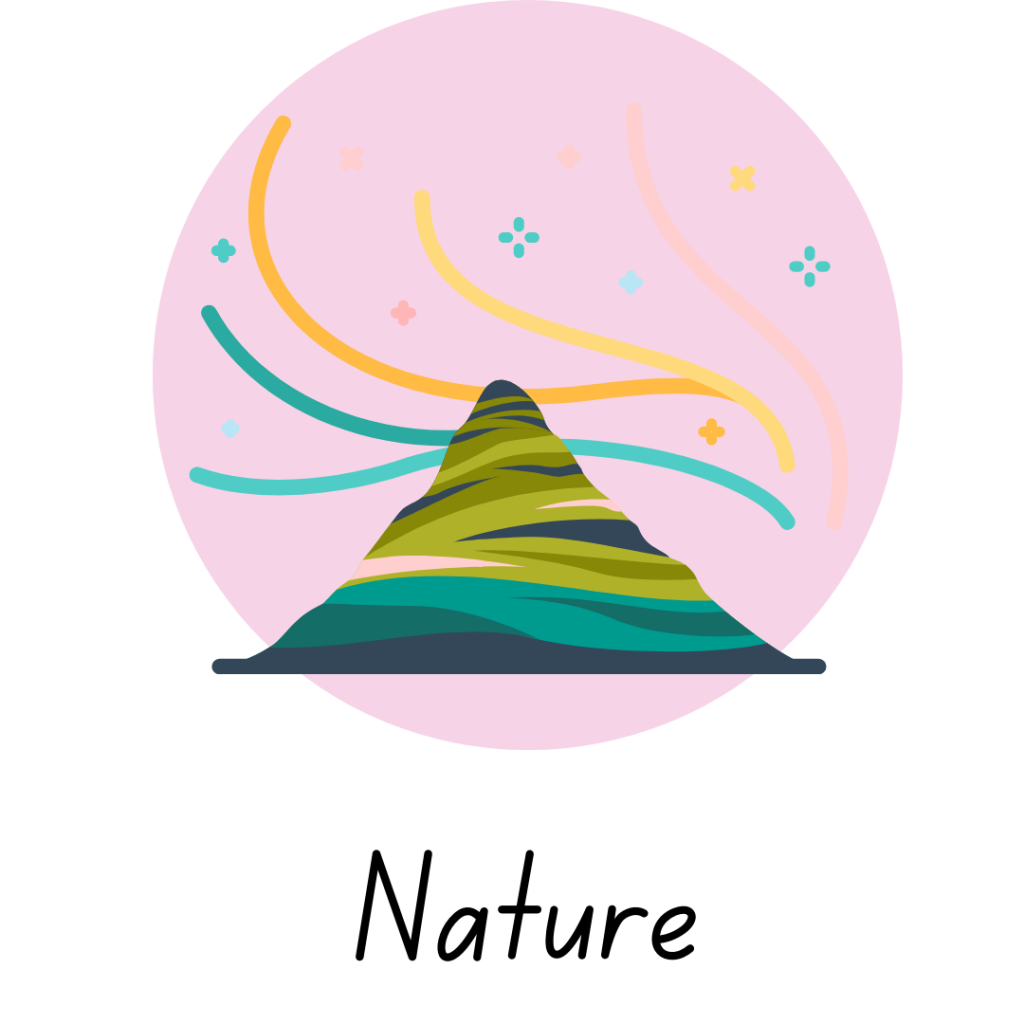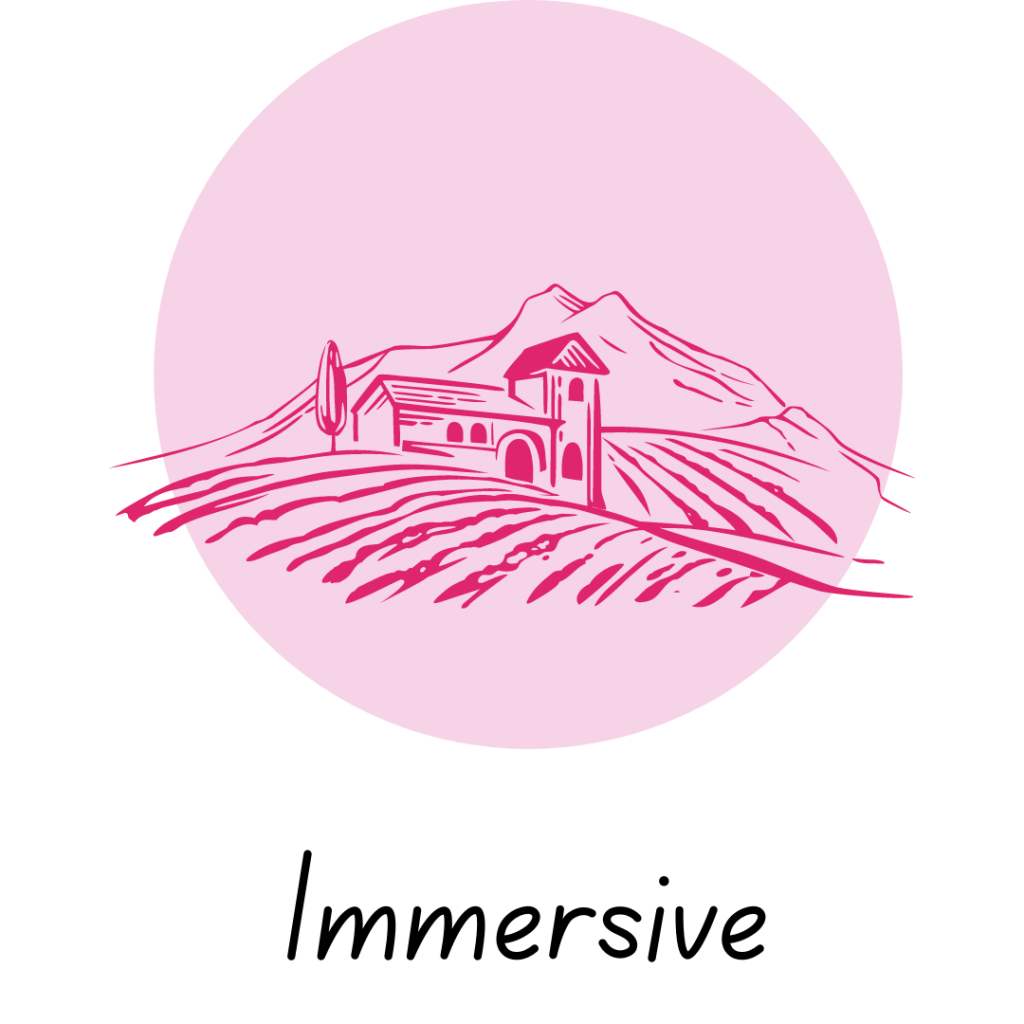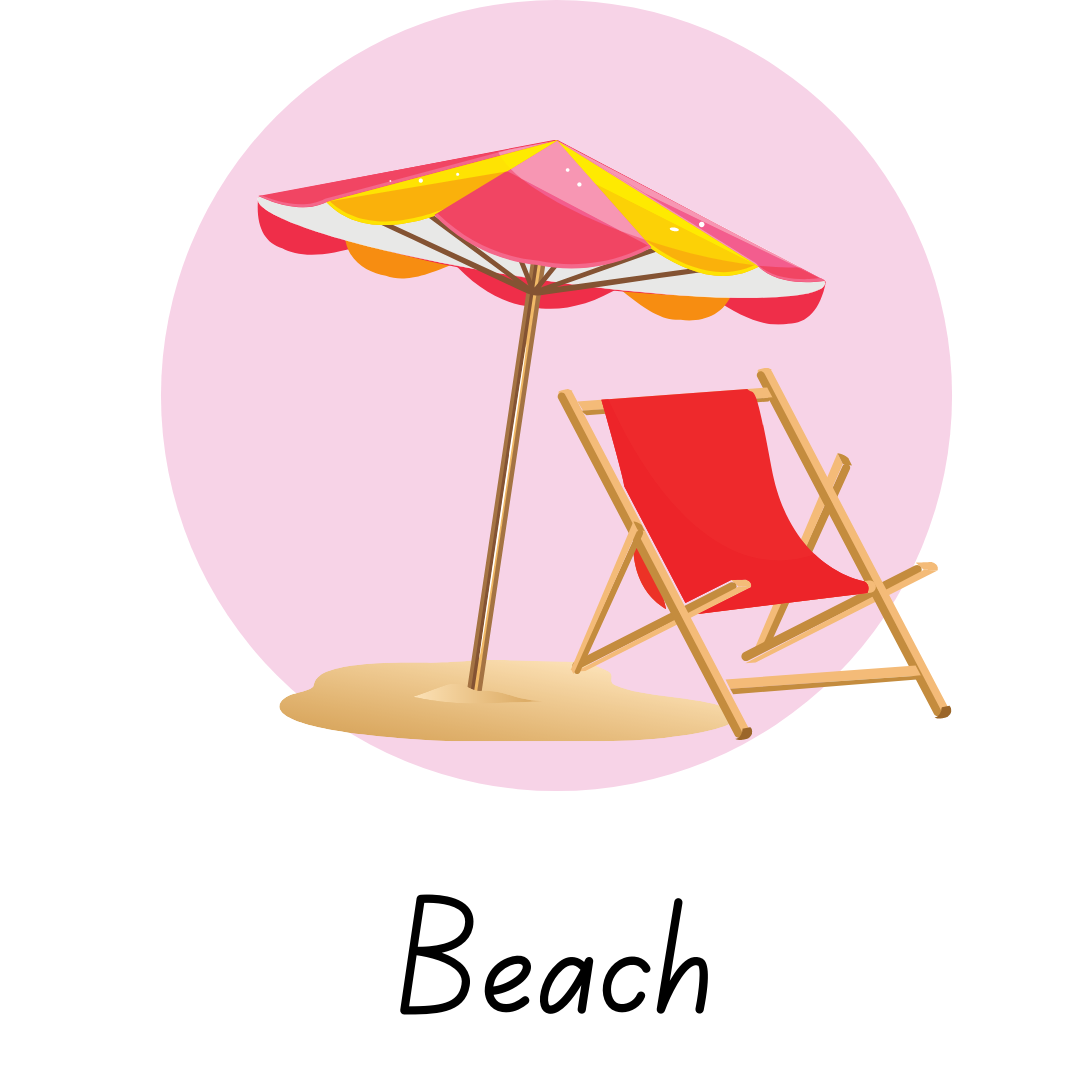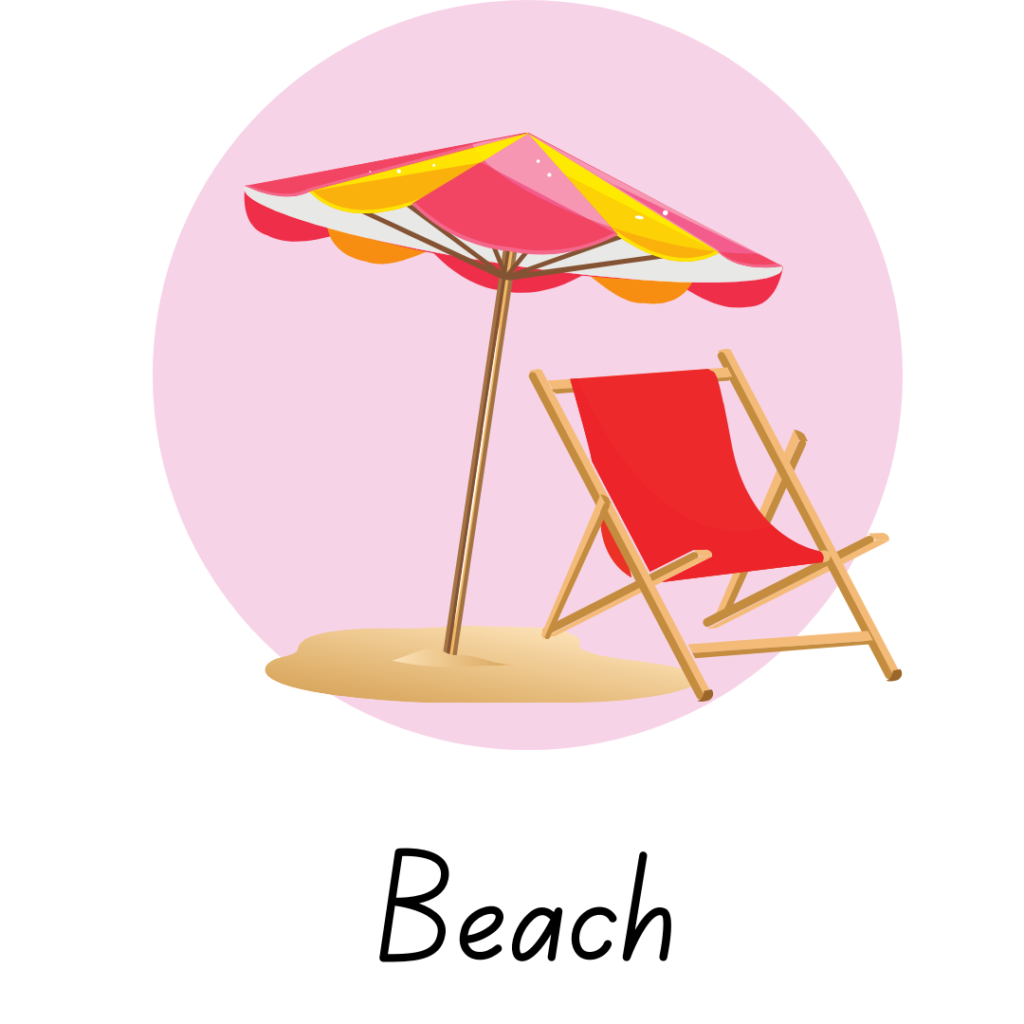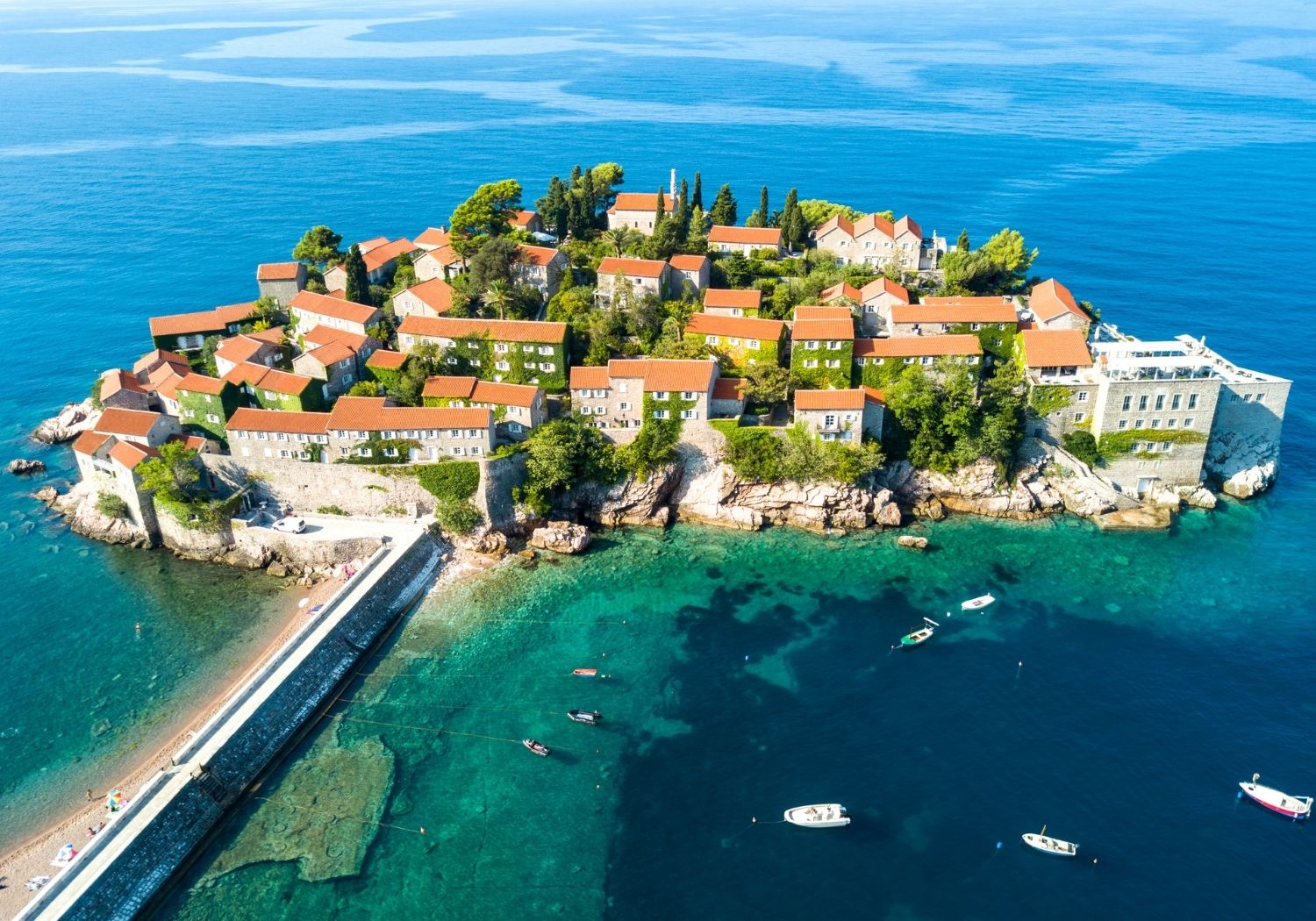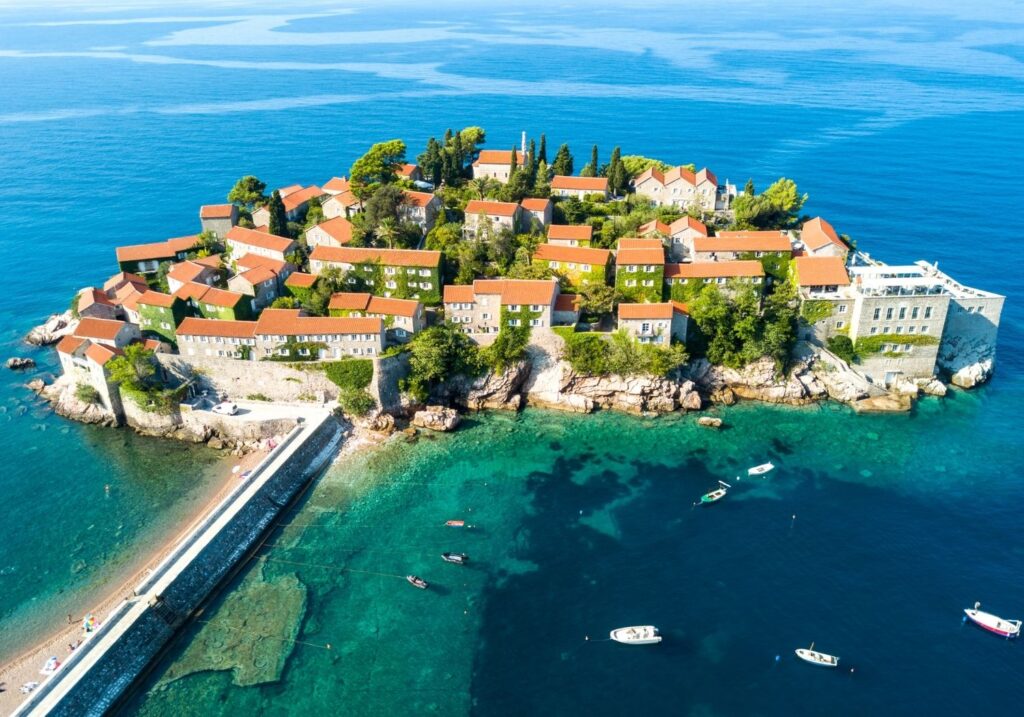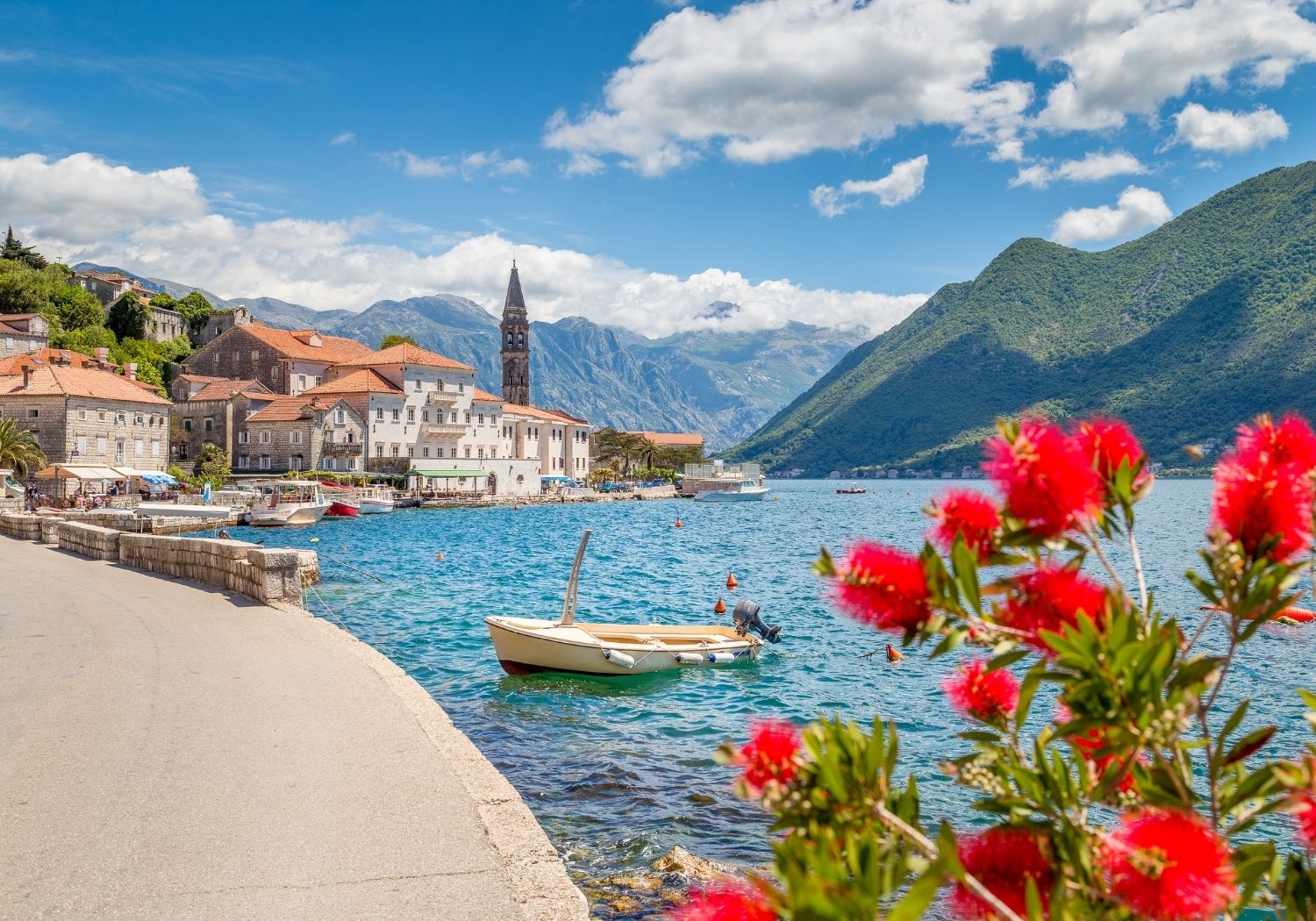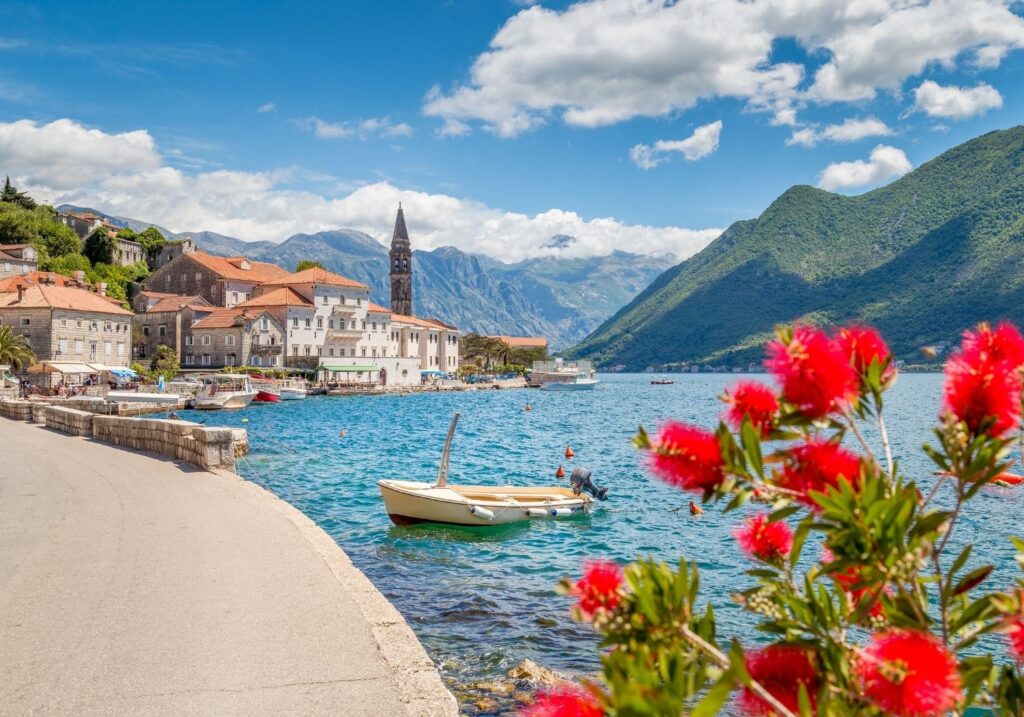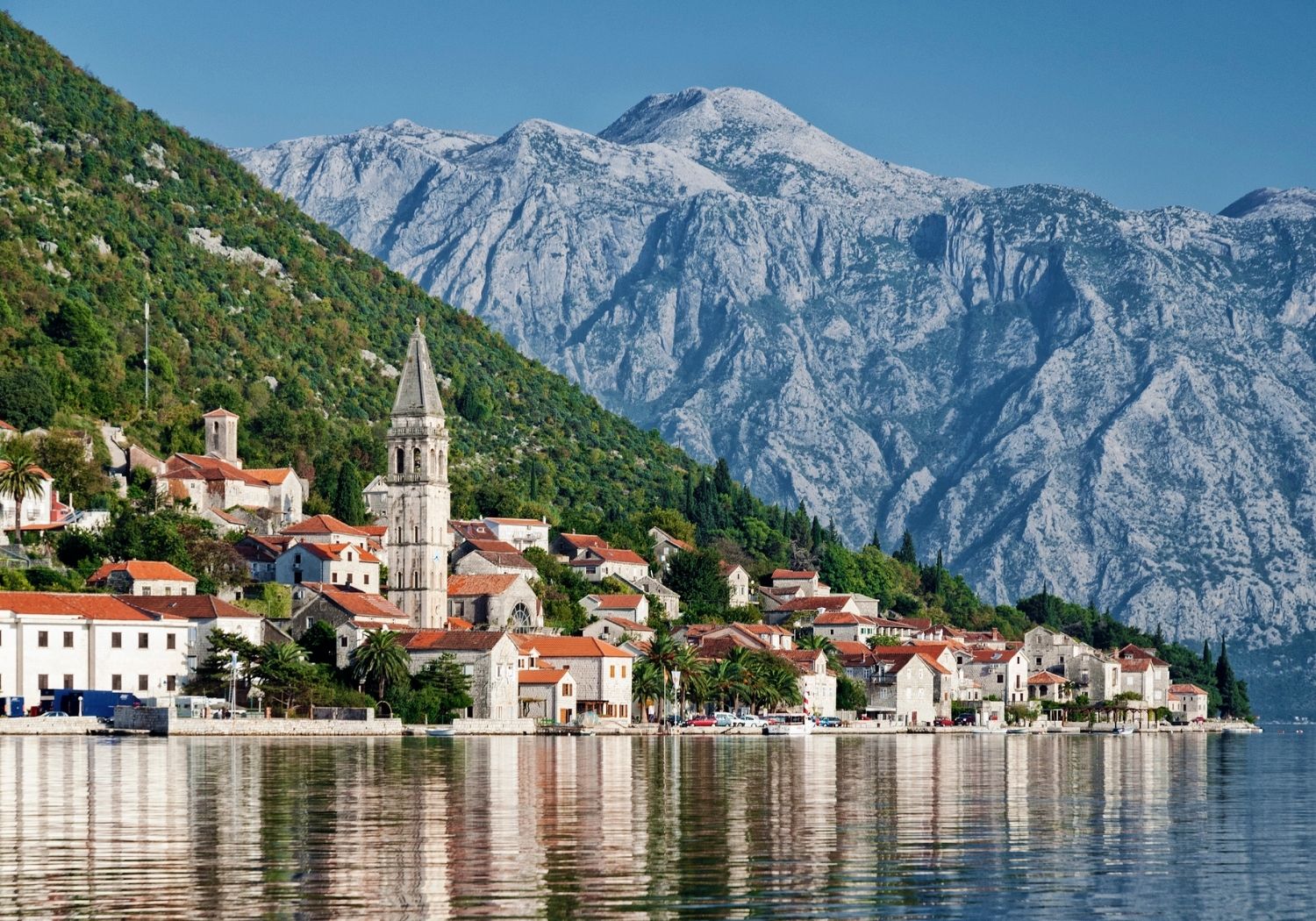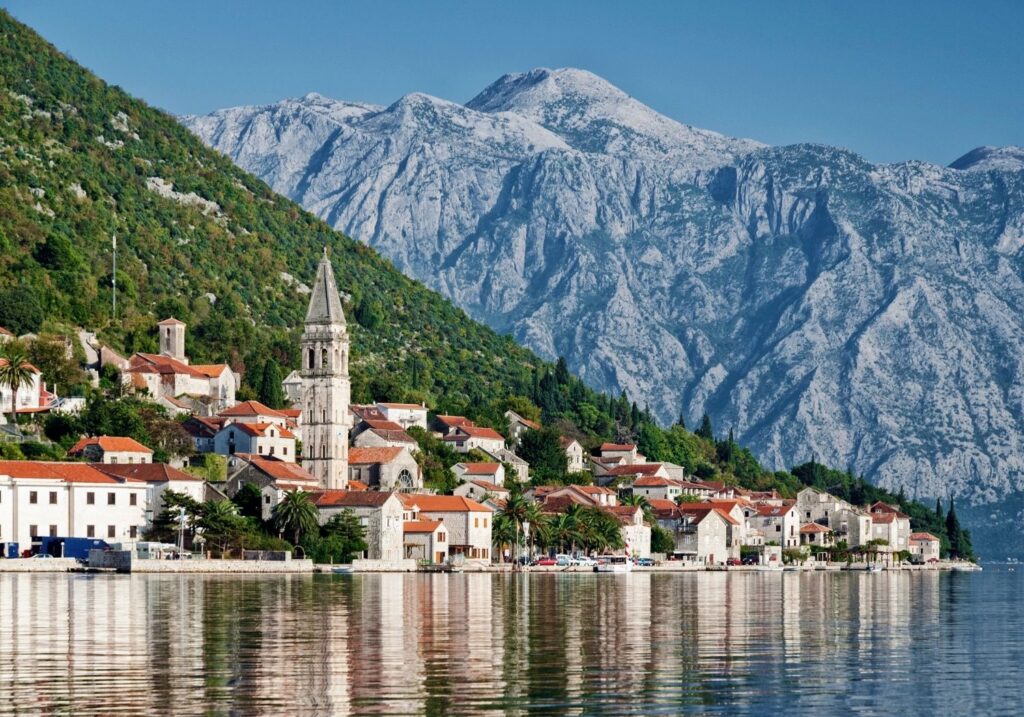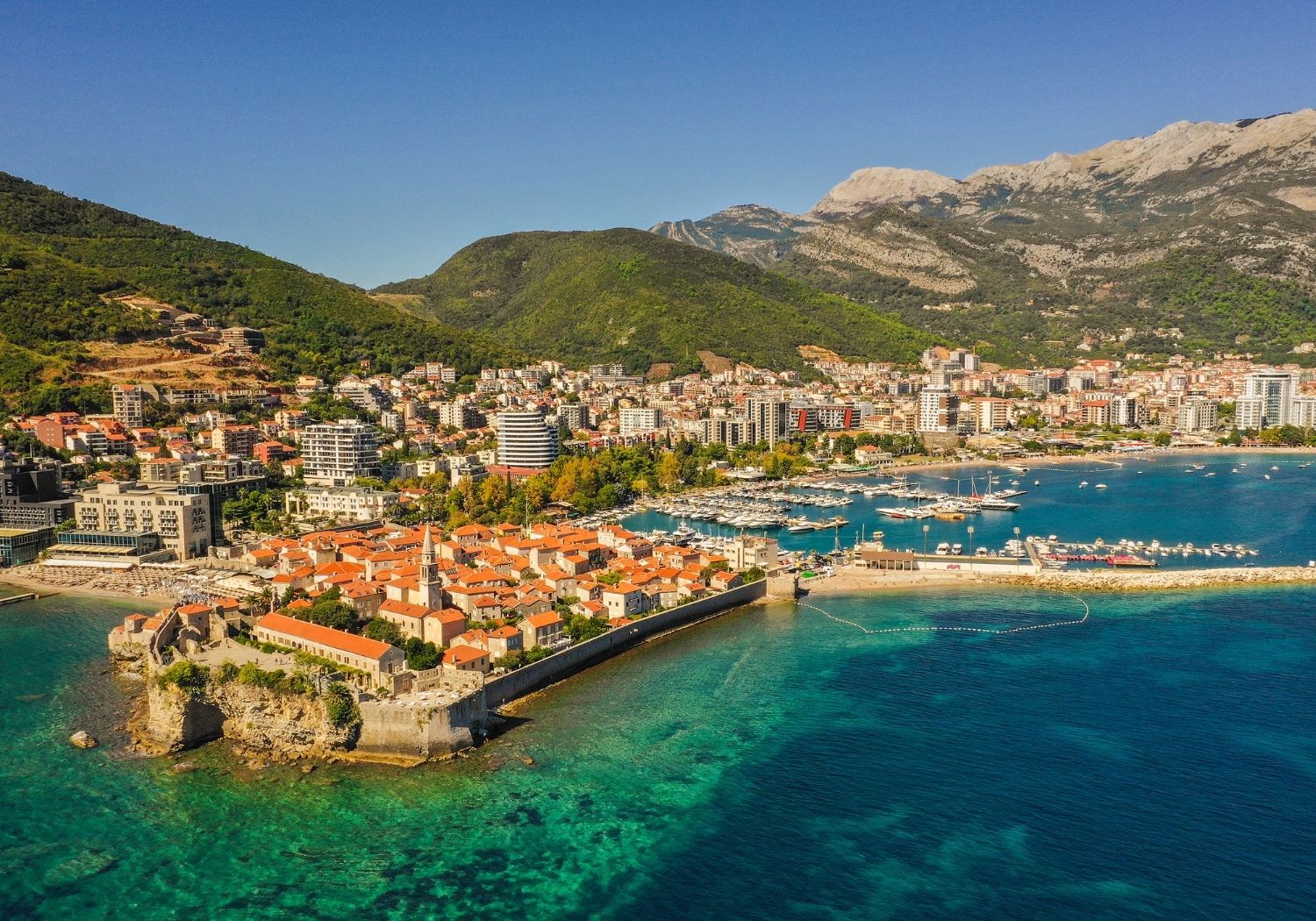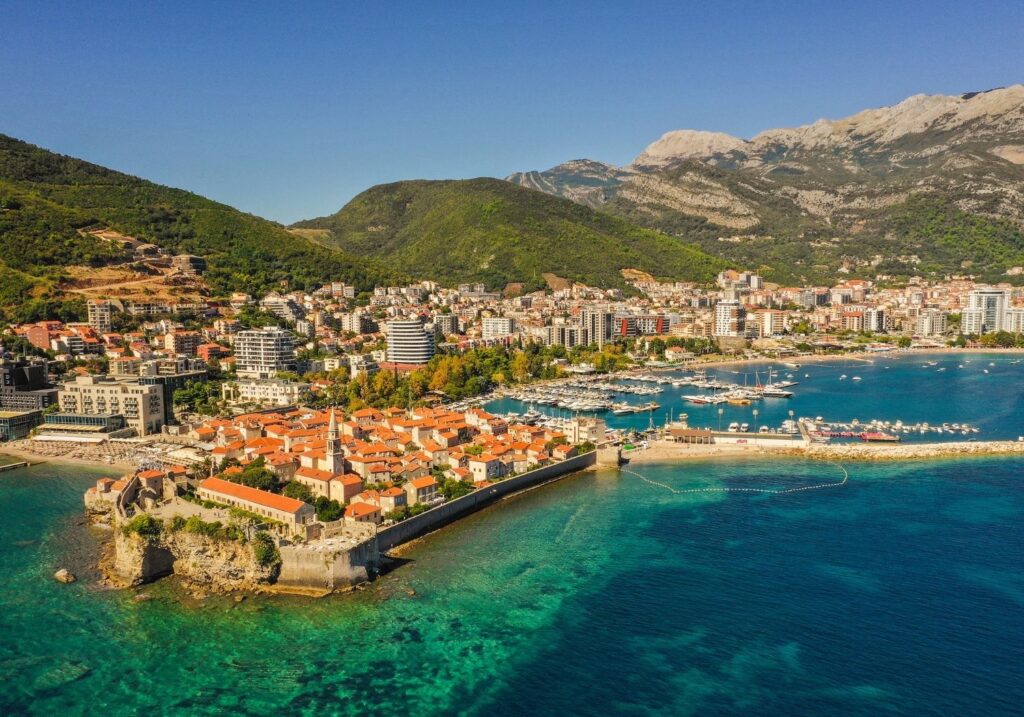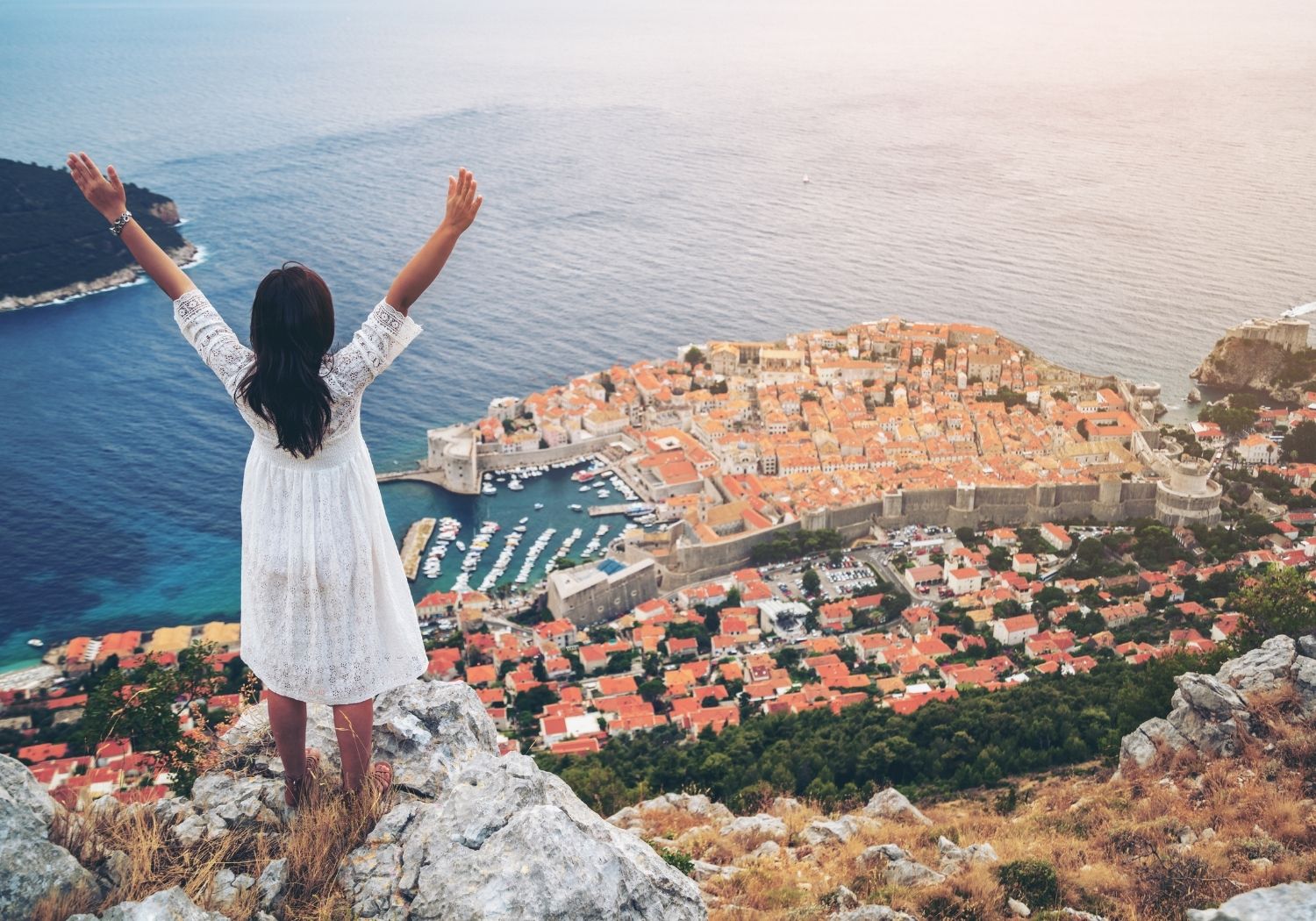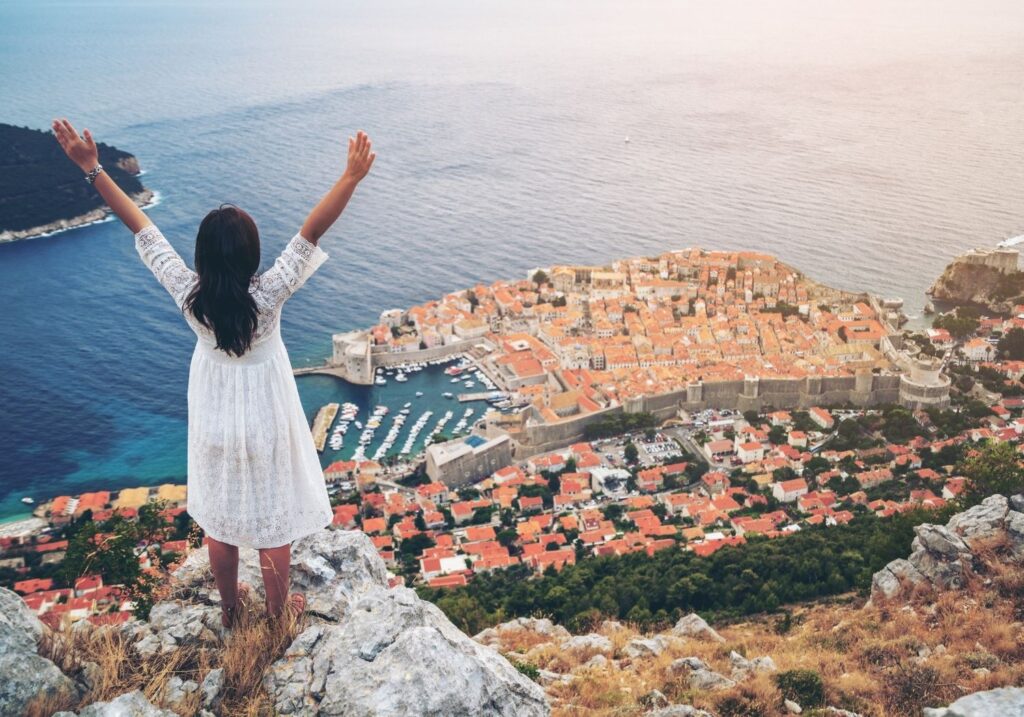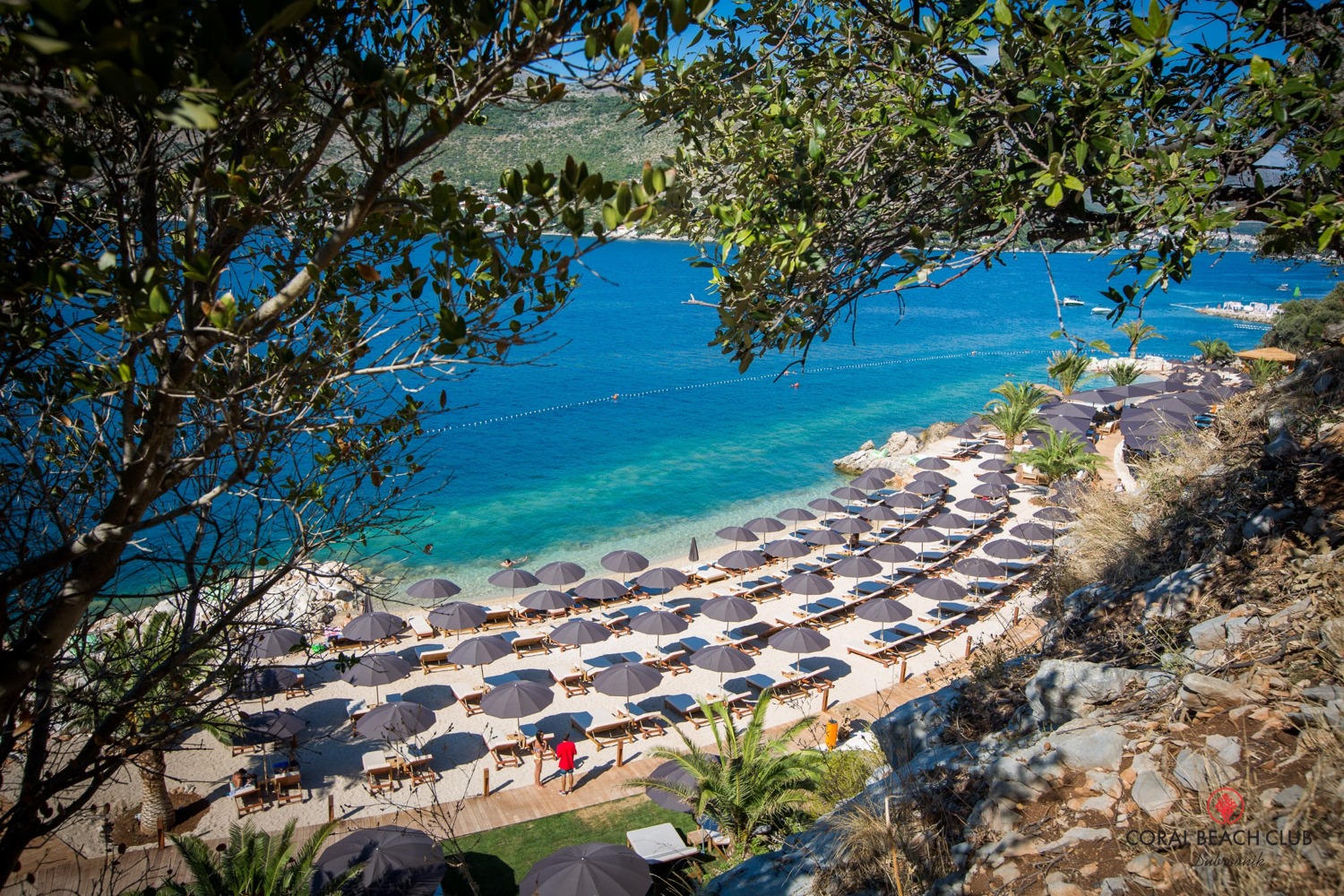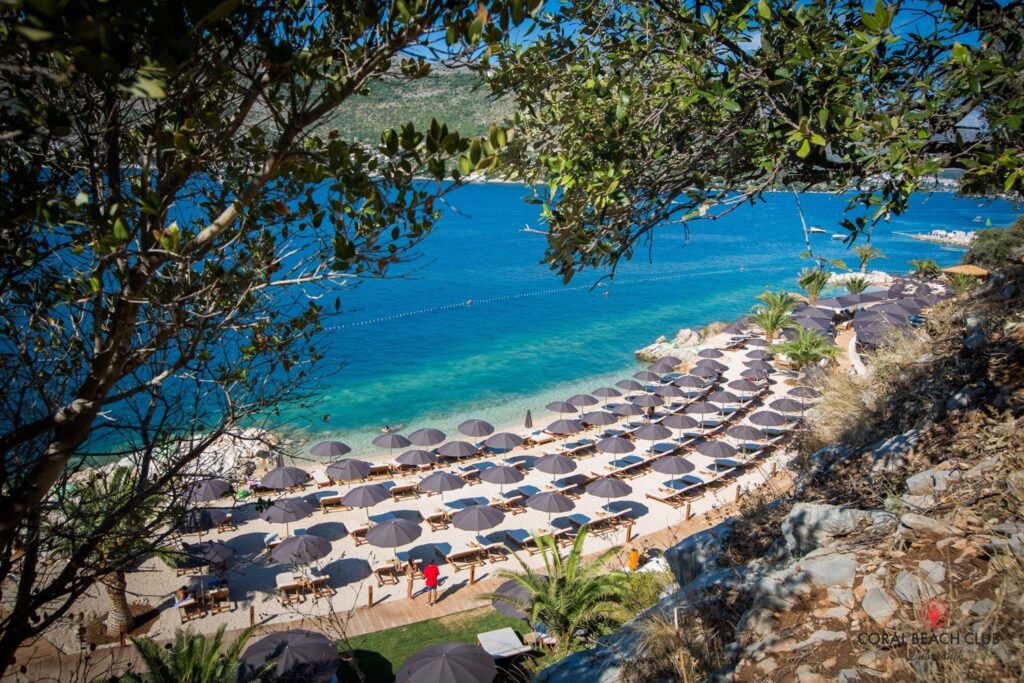 Trip Overview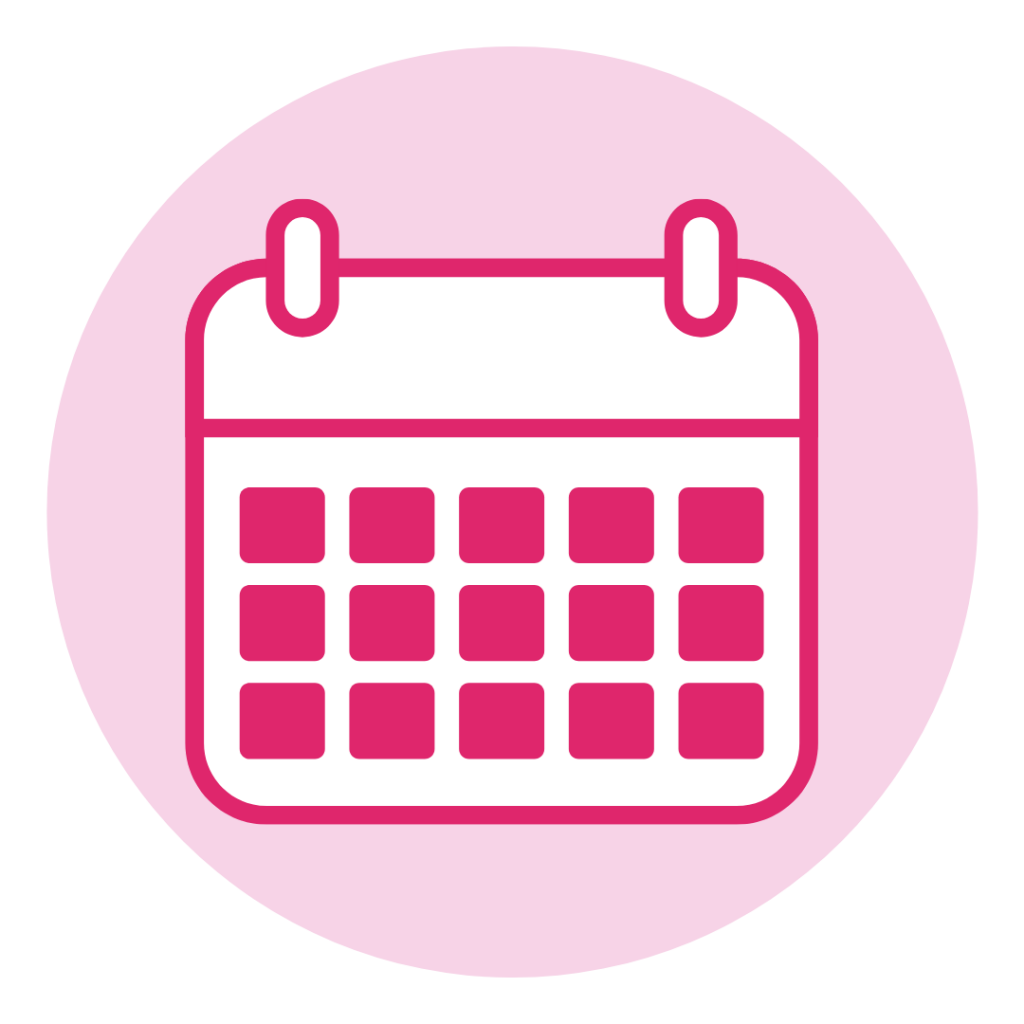 16 – 23 Jun, 2024 – CONFIRMED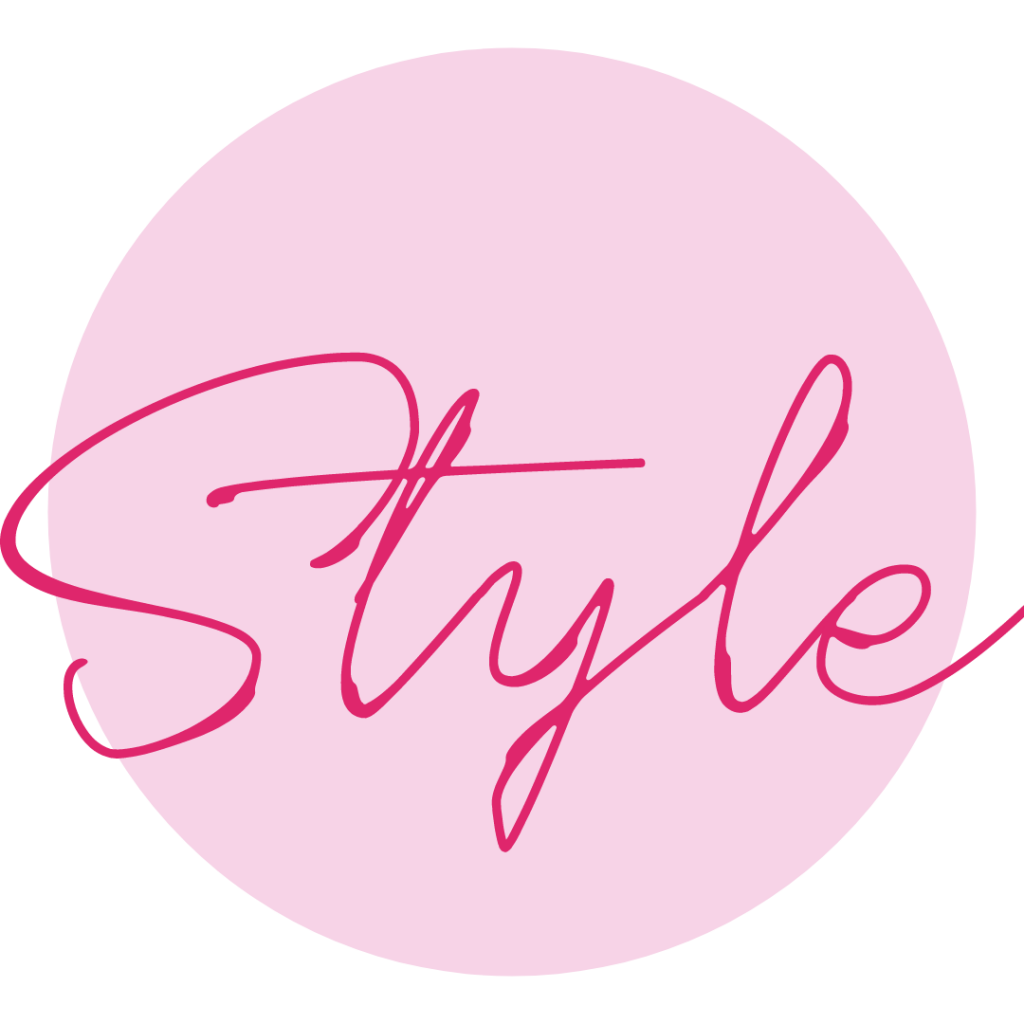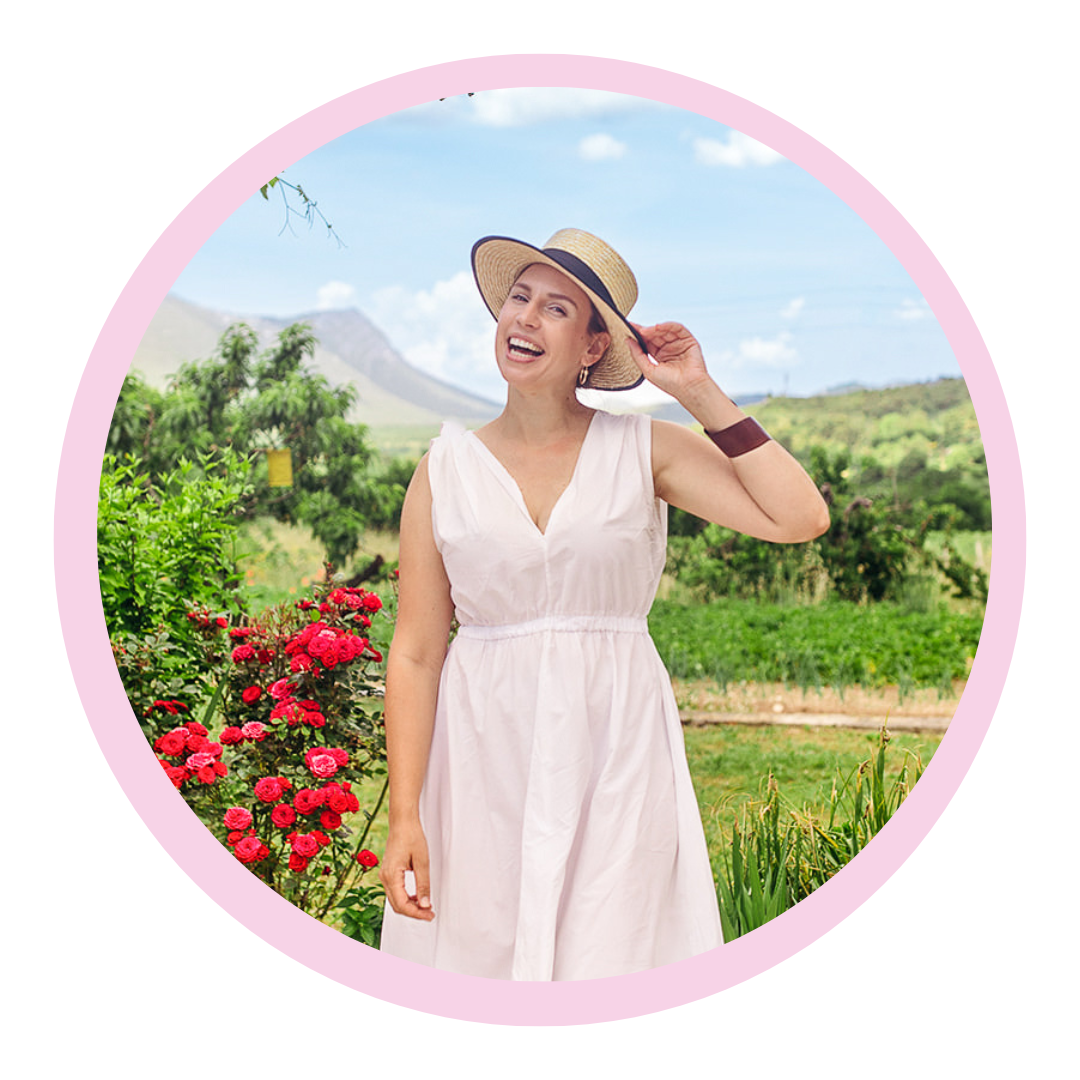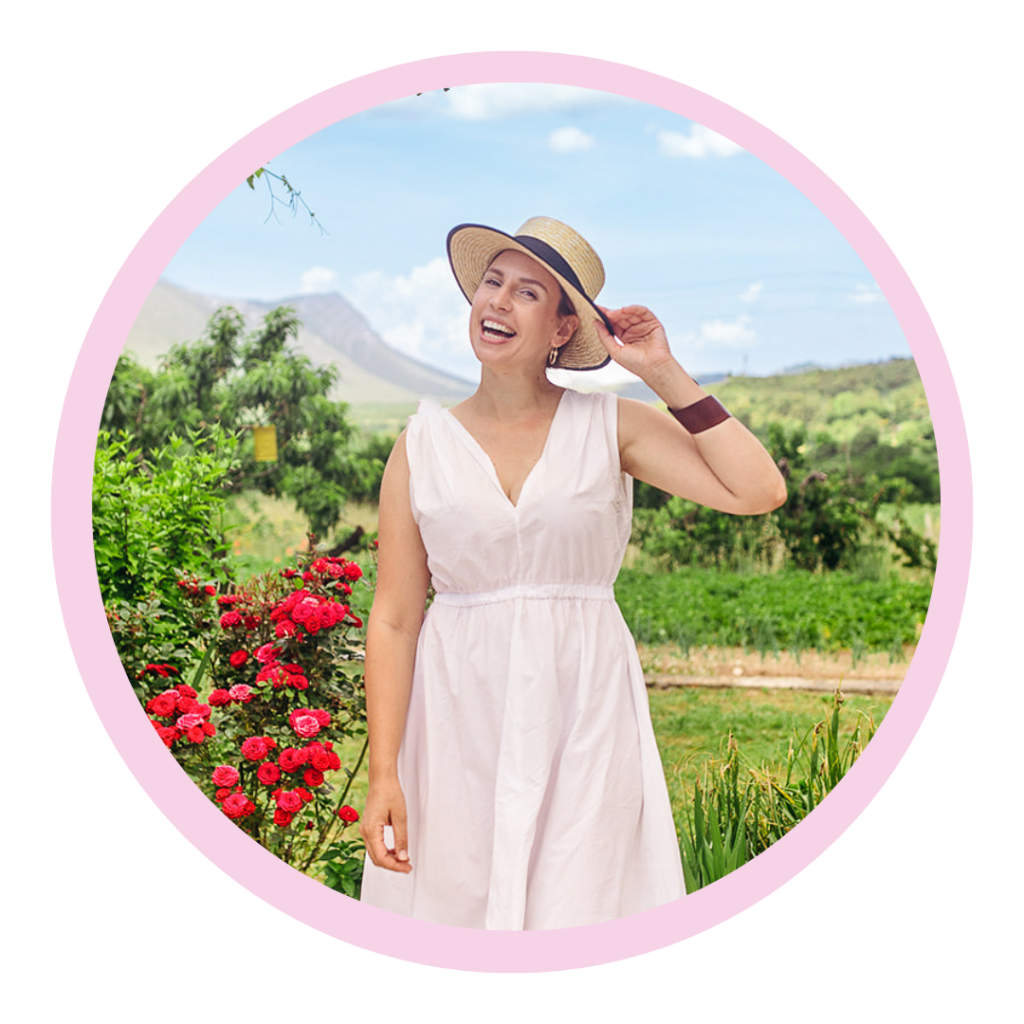 Nika, our local Host
Payment plan
From 4,595 EUR pp sharing
Max. 14 guests
---
Where we will go
Day 1 – Arrival and welcome dinner
Day 2 – Dubrovnik
Day 3 – Peljesak Peninsula wineries
Day 4 – Beach club and boat tour
Day 5 – Ston, salt pans and oysters
Day 6 – Perast & Kotor
Day 7 – Budva & Sveti Stefan
Day 8 – Departure
---
Detailed itinerary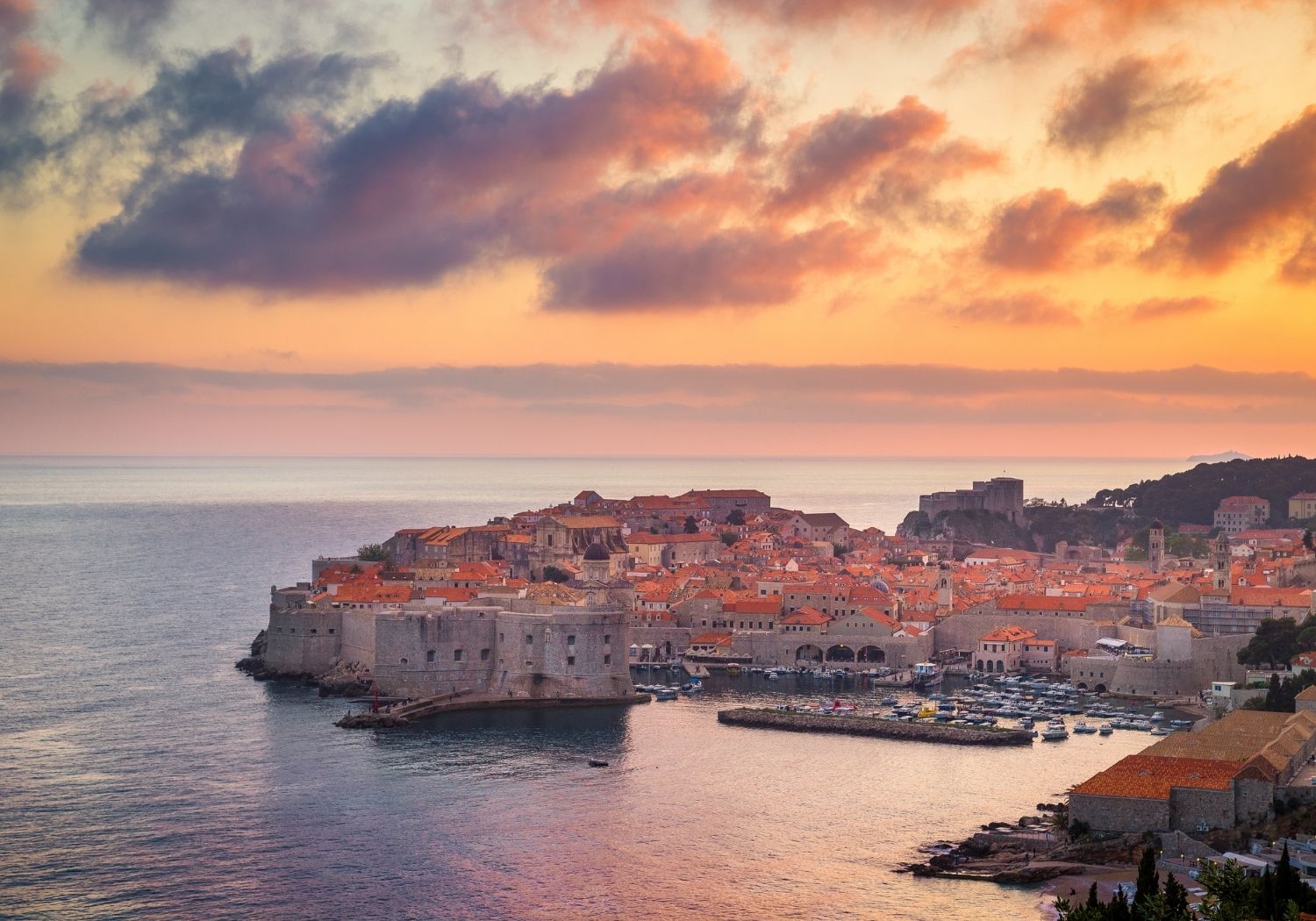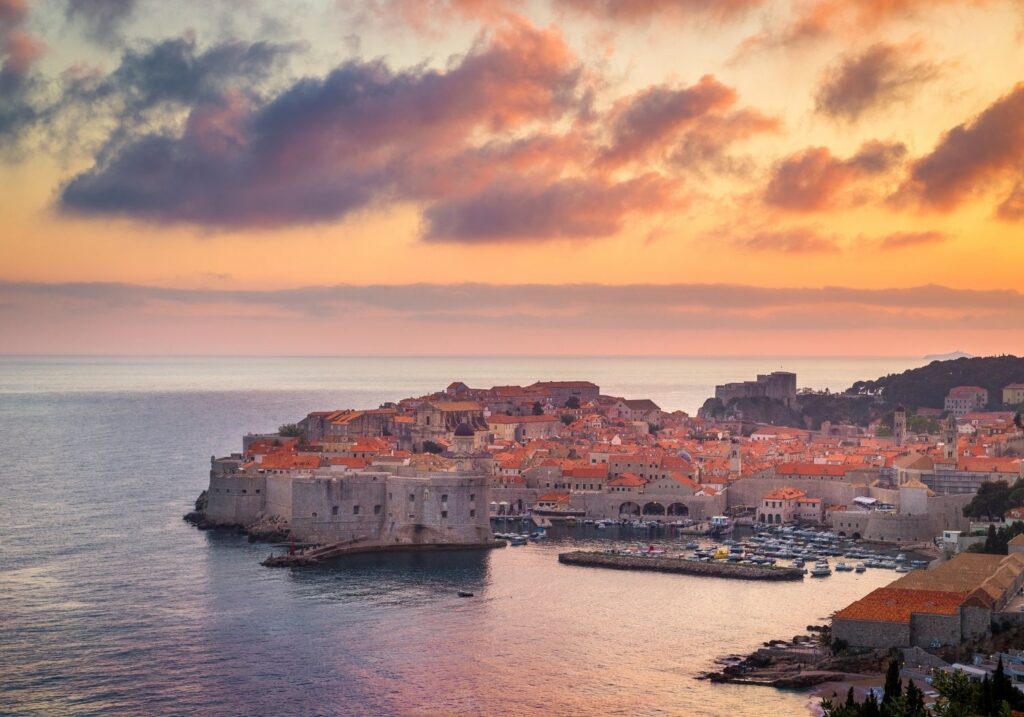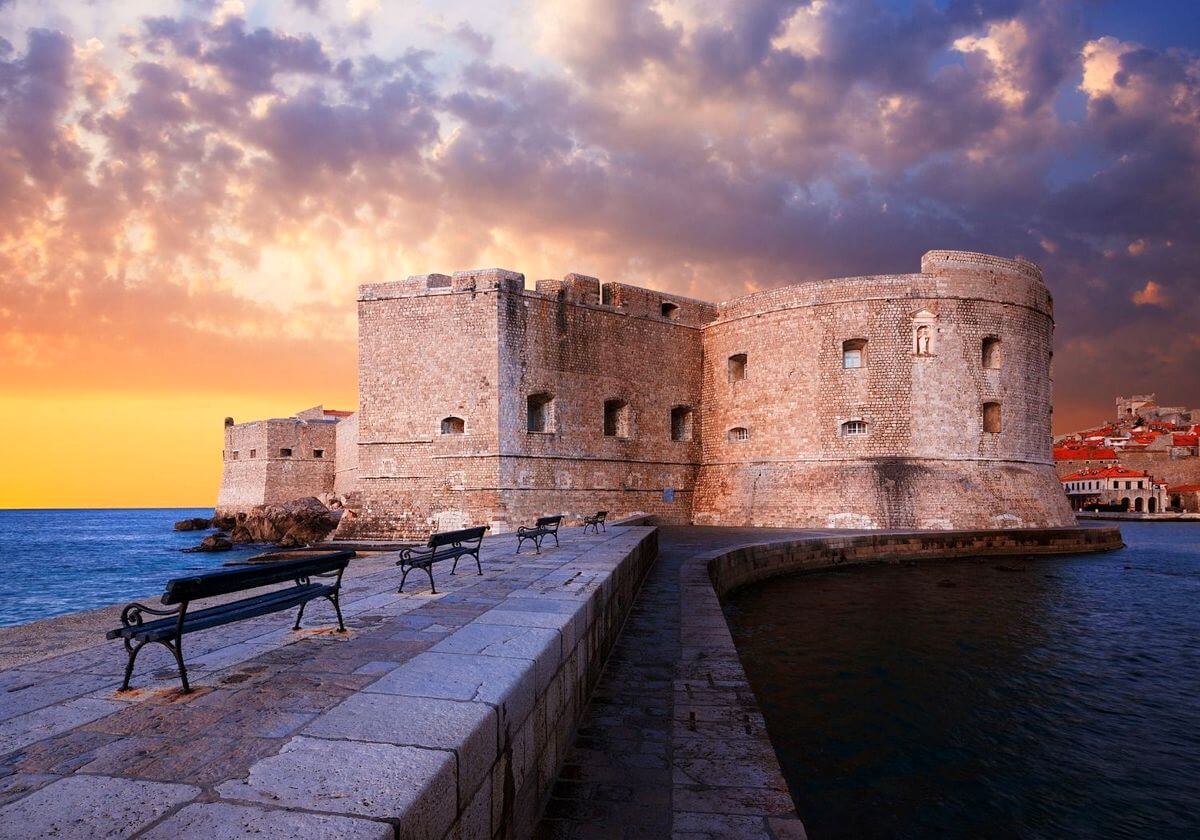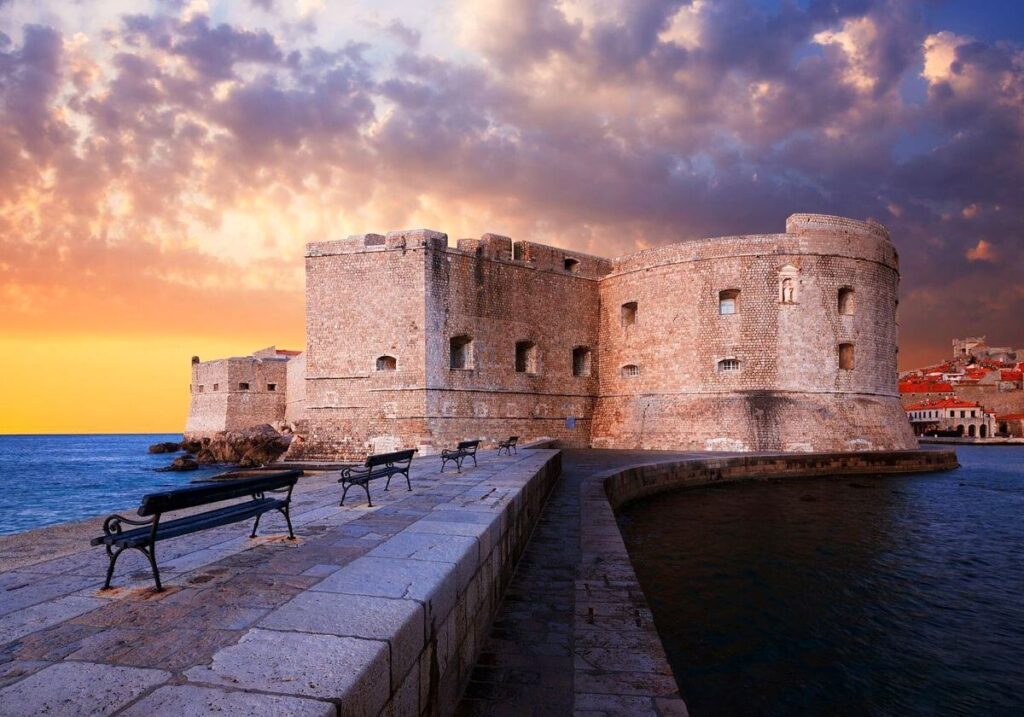 Day 1 : Arrive in Dubrovnik
Make your way from the airport to the hotel for check in.
We will meet before sunset for a welcome drink at the hotel where you can get to know the rest of the guests.
We will then drive to the bottom of the cable car and ride it to the top, high above Dubrovnik, for a stunning sunset dinner with city views.
Inclusions: Welcome drinks, dinner with wine and overnight at More Hotel.
Overnight at More Hotel 5*
We like More Hotel because it is a very convenient 5 star hotel located on the shore with fabulous sea views and within walking distance to the city.
Its private pier means we can jump directly onto our private boat for our excursions, and its pools are a fabulous way to welcome you to Croatia.
Did we mention we have booked sea-facing balcony rooms for our stay? So you can take all the sea breeze in and start the days in style.
Tip: If you land early in the morning, laze by the pool or lounge and get into the holiday mood.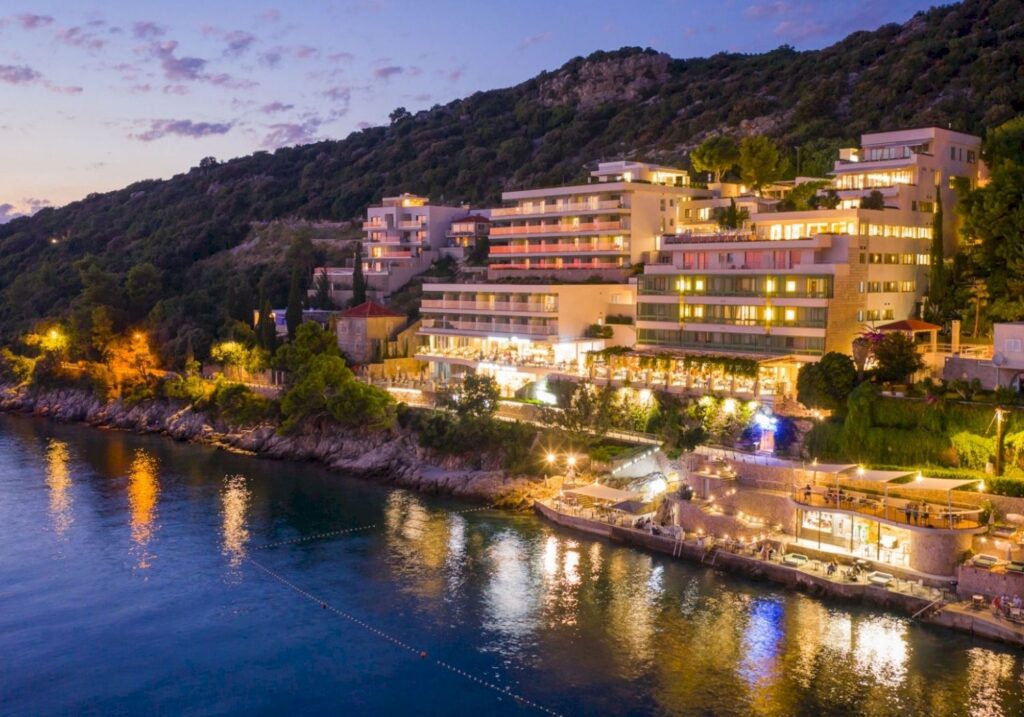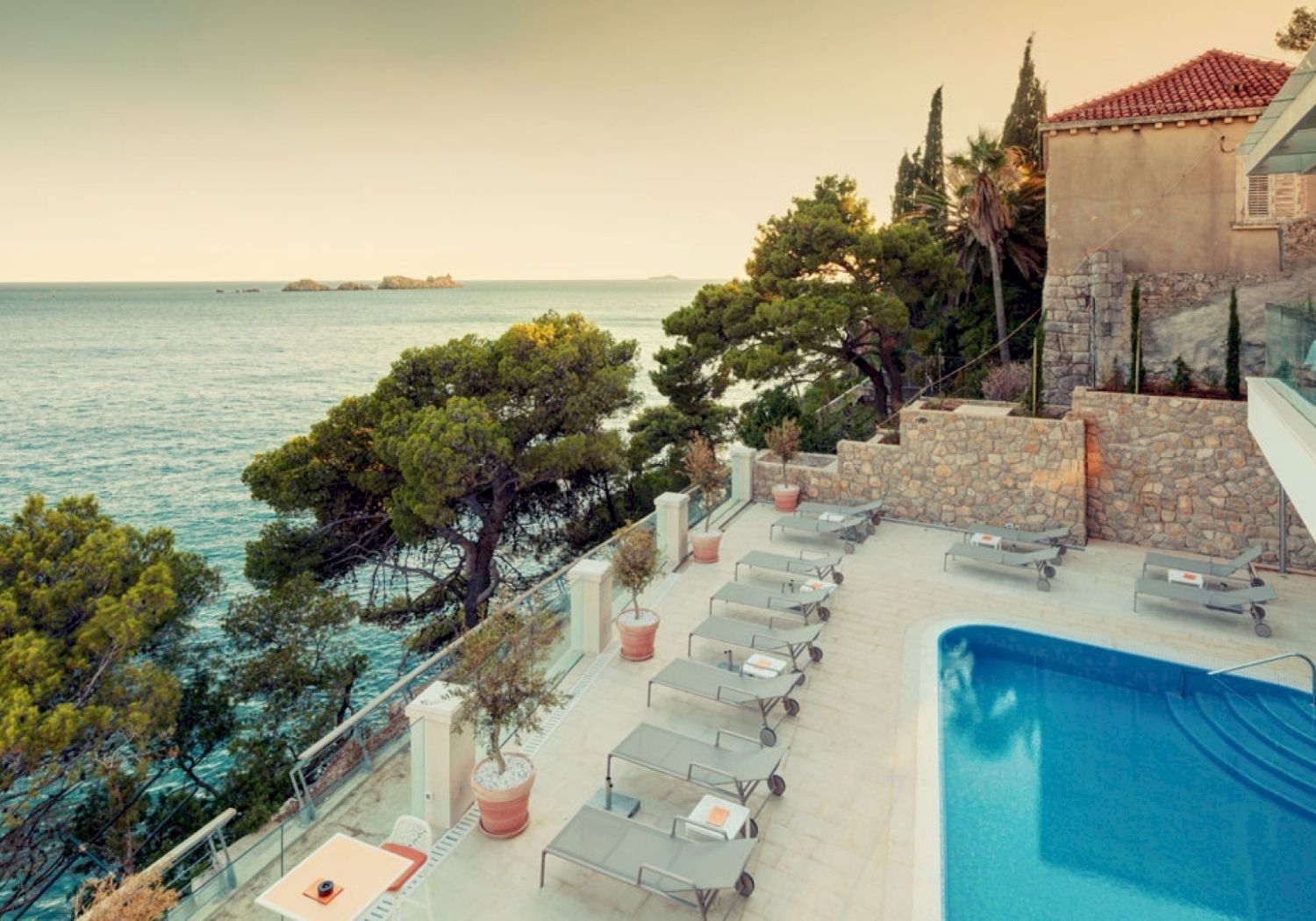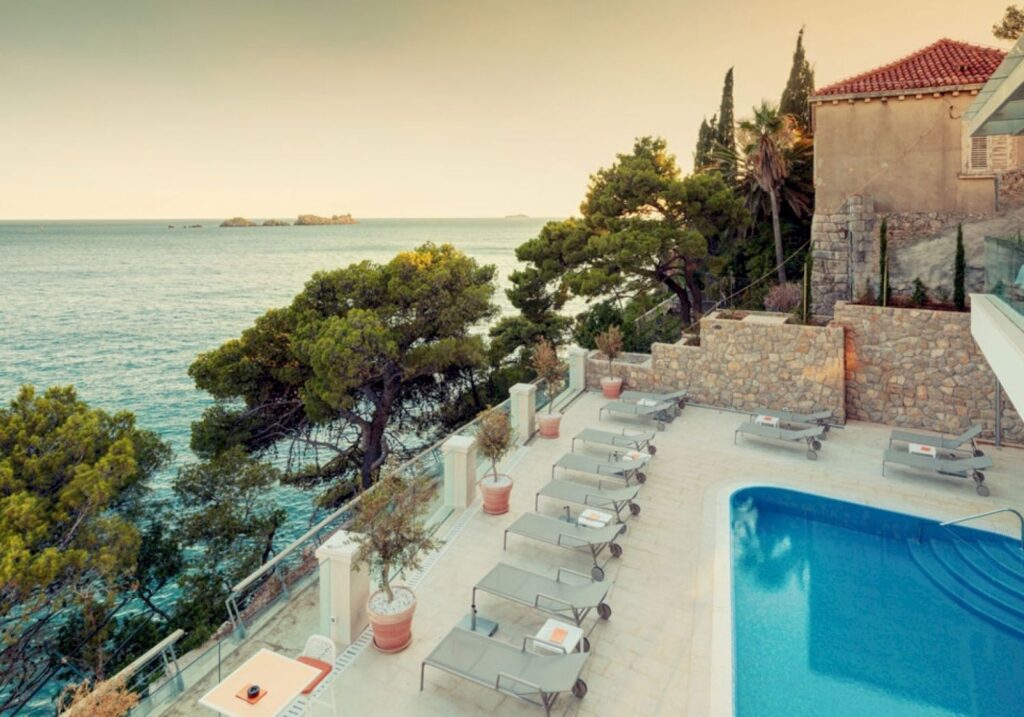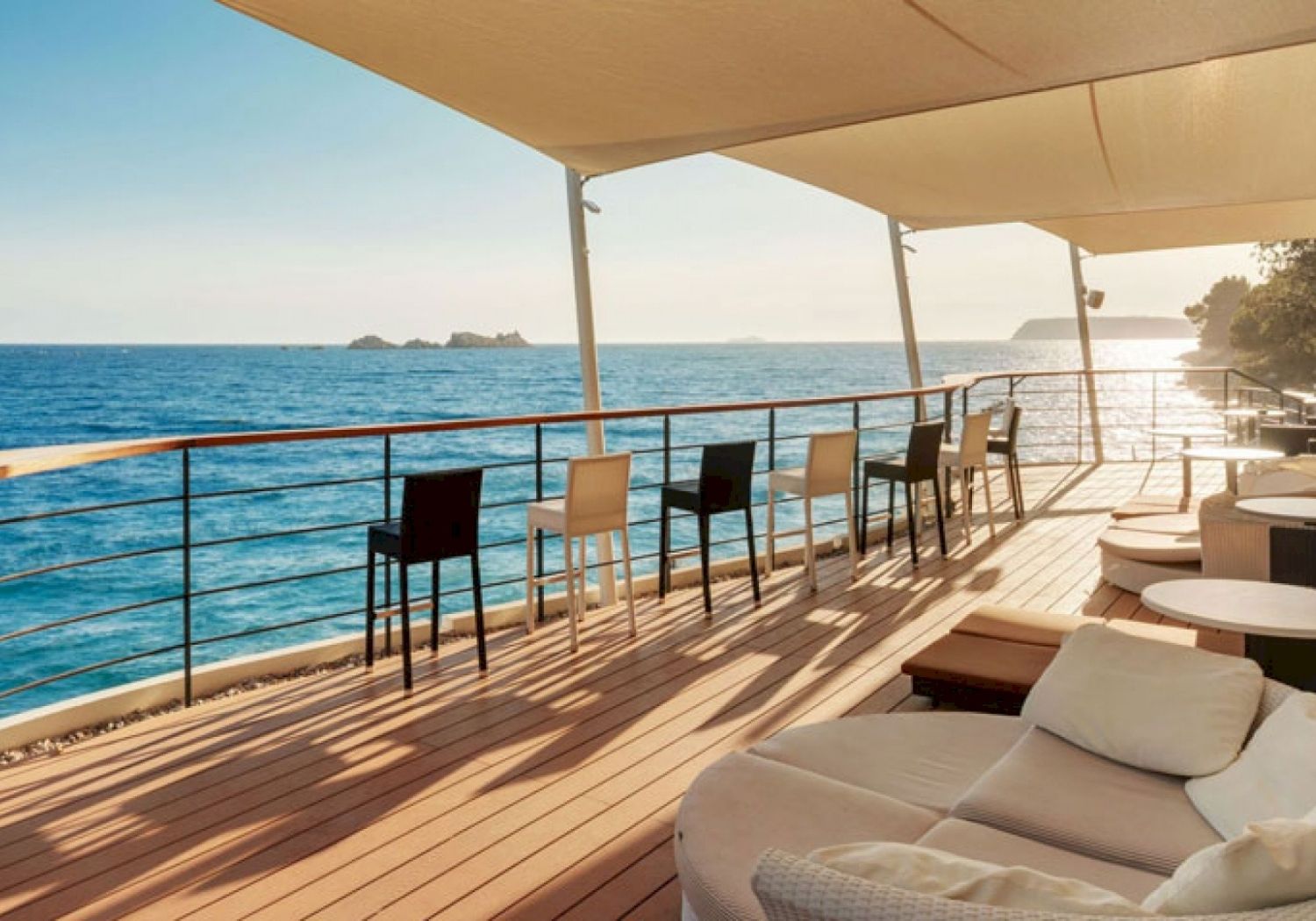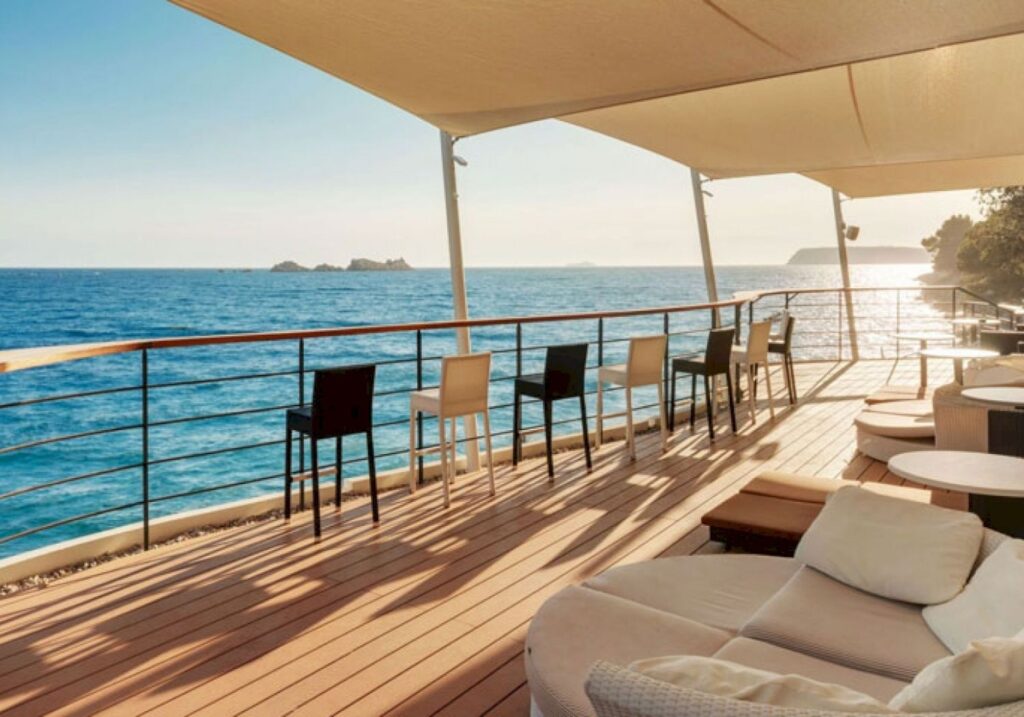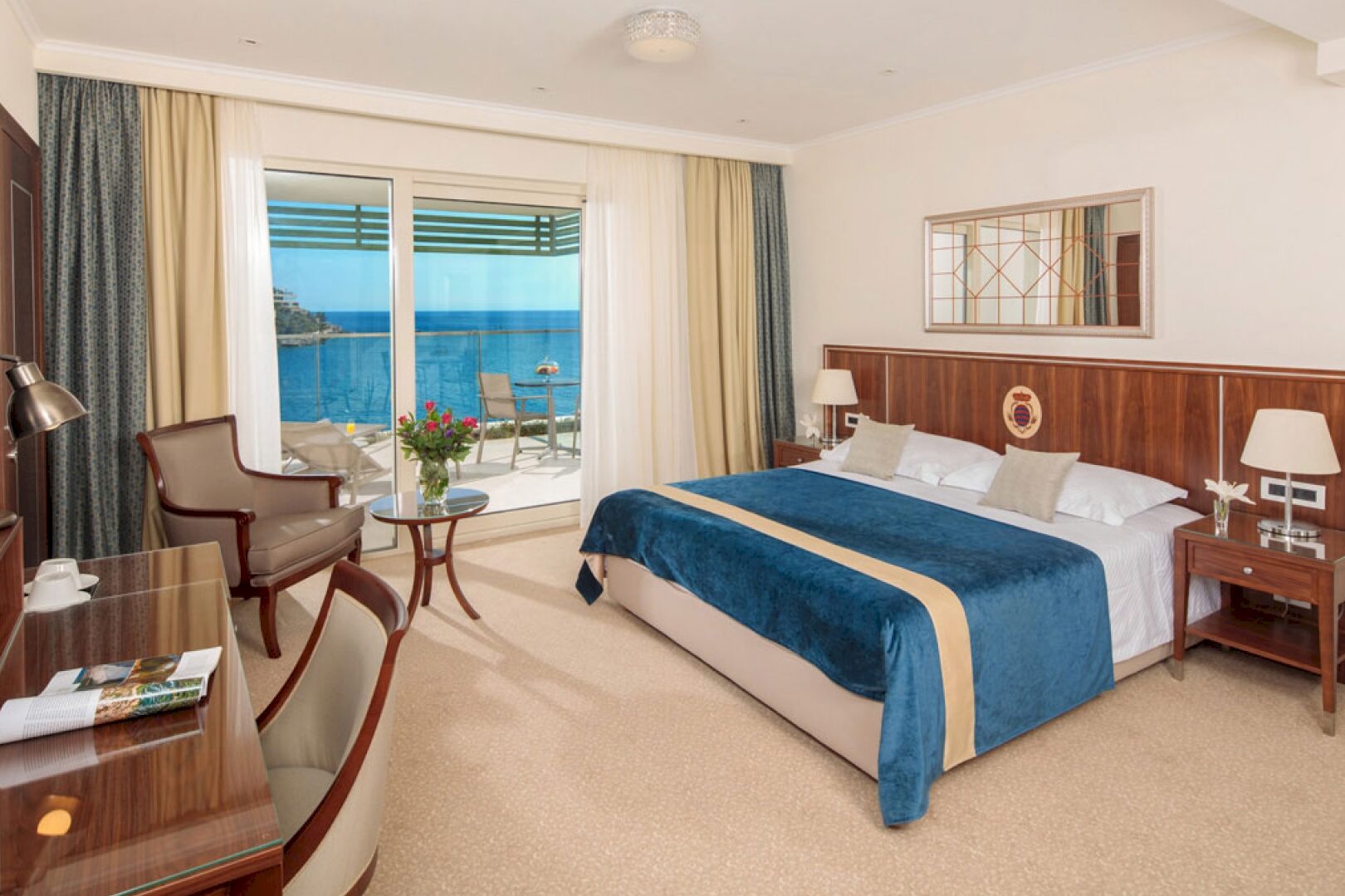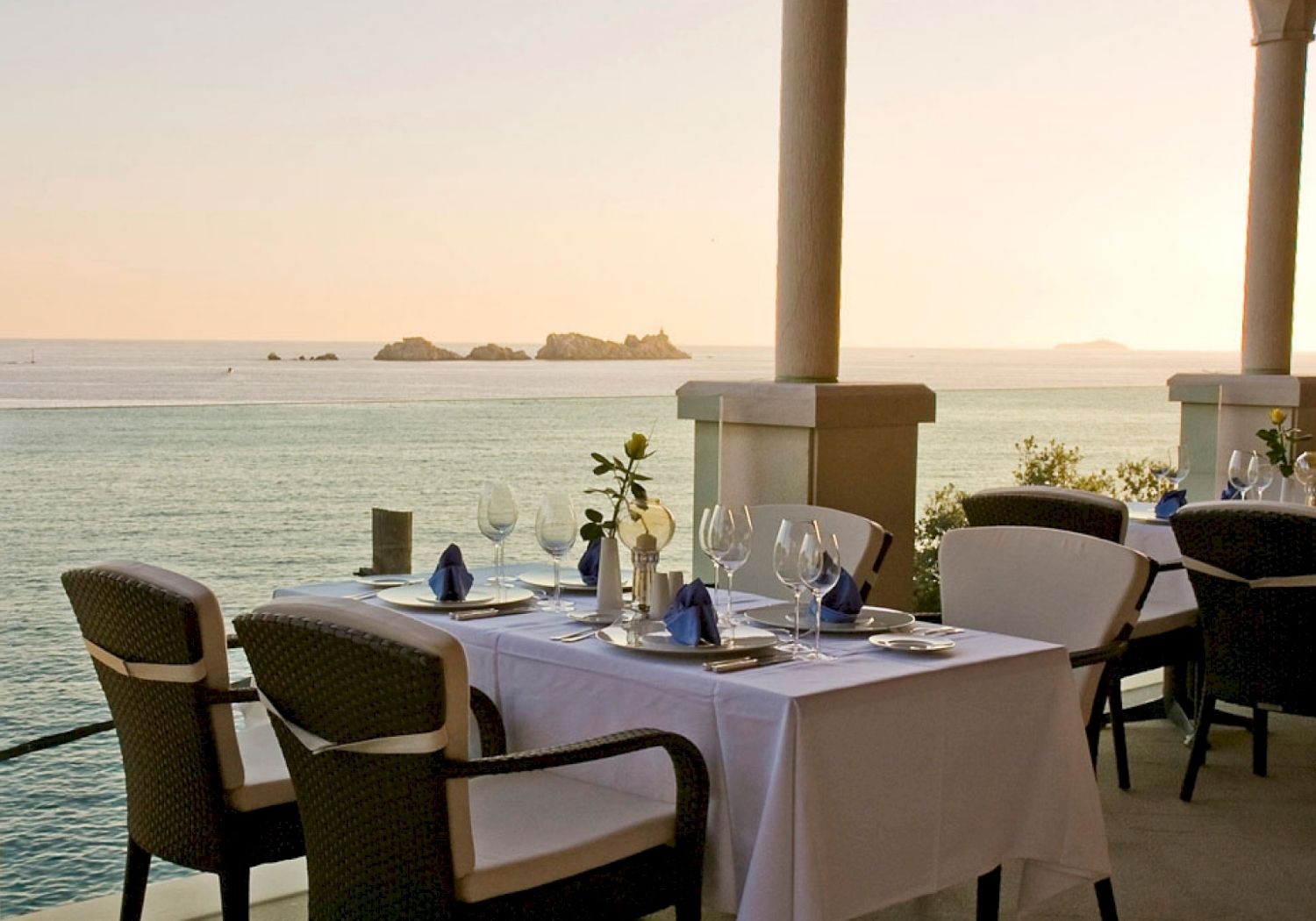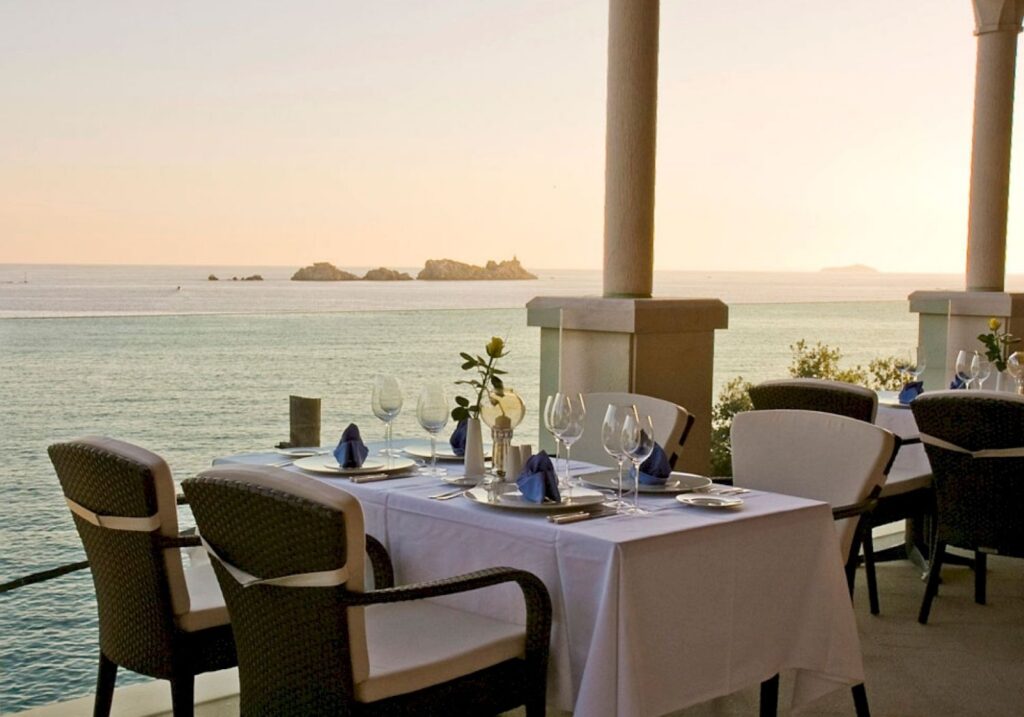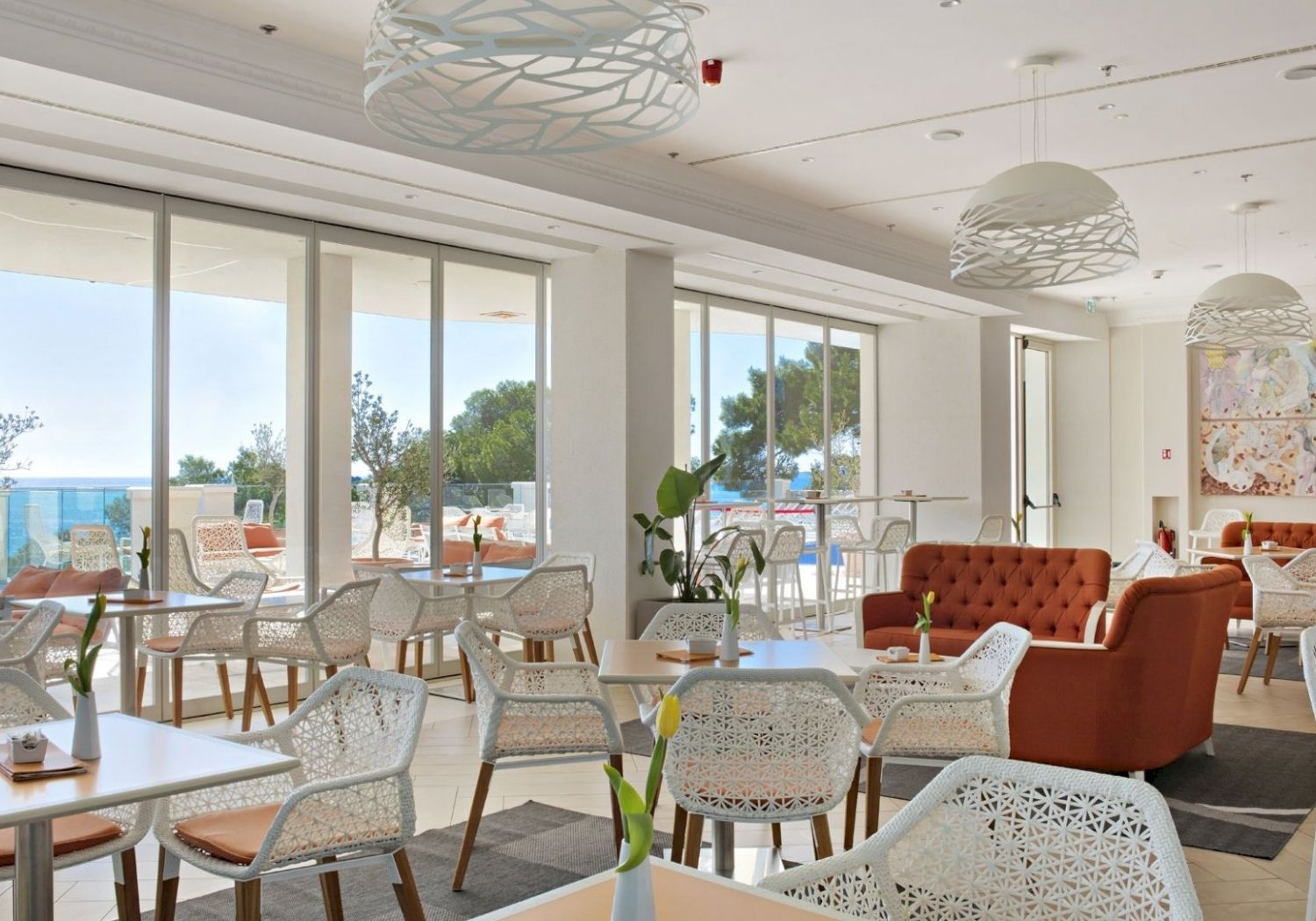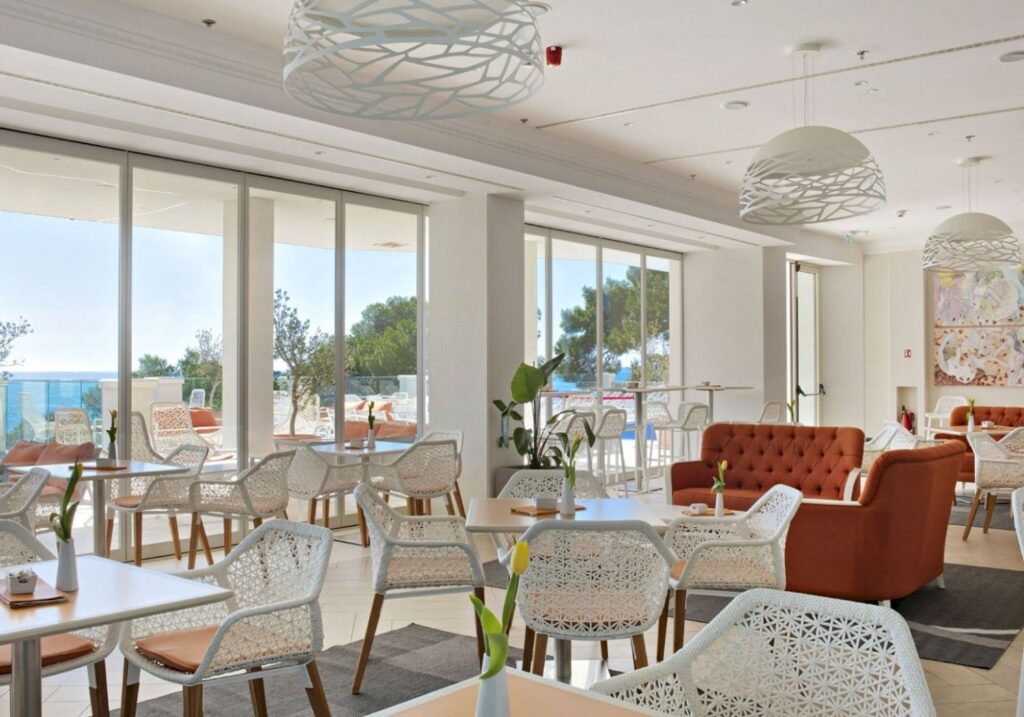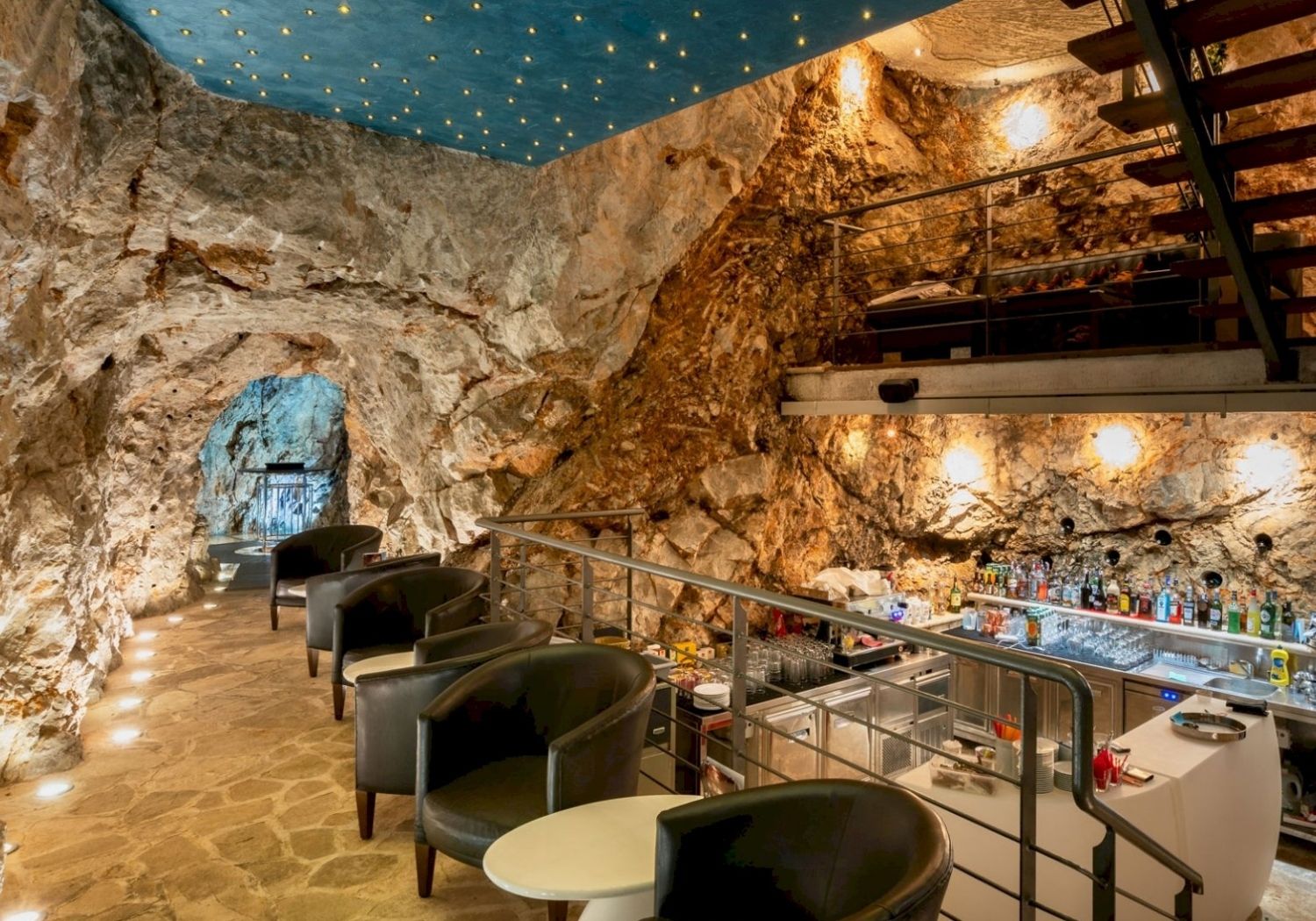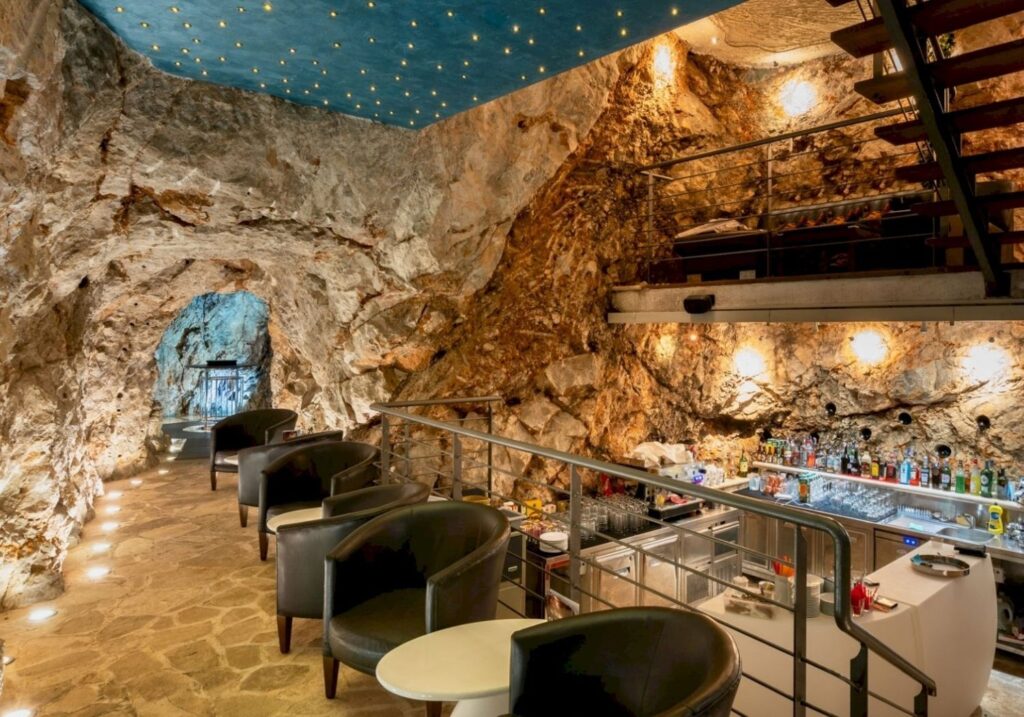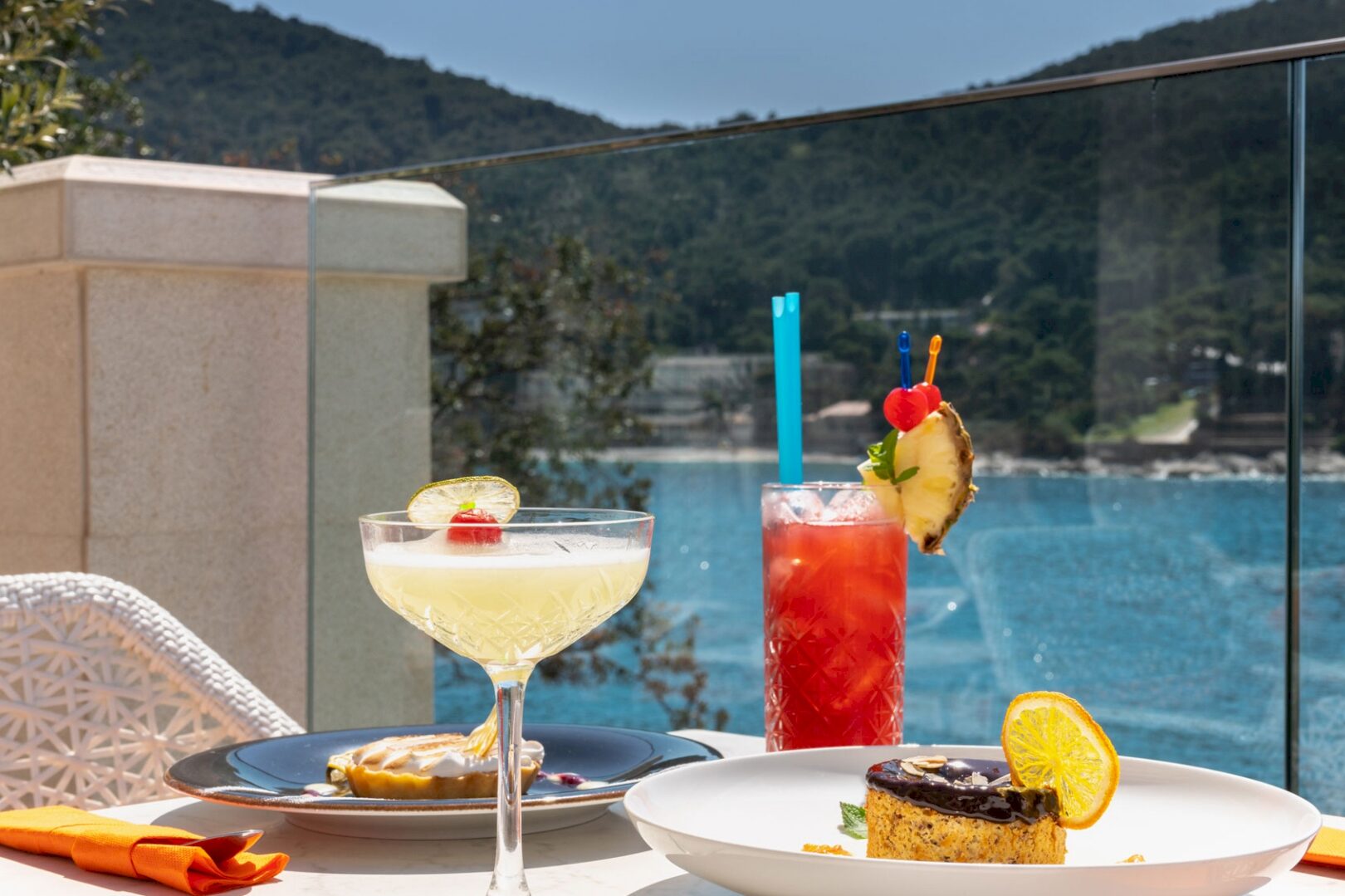 ---
Day 2: Dubrovnik
We will start the day with breakfast by the sea from the hotel's restaurant before heading off to explore Croatia's most famous city, Dubrovnik.
Our morning will be spent on a guided walking tour of the UNESCO-listed walled city, a gem on the Adriatic Sea.
We will wander the narrow pedestrian streets of the 9th century fortified old city led by our local host, Nika.
She will tell us of its thriving past and its history, first as part of the Venetian Republic, later on as a free-trade enclave, as part of Napoleonic Italy and eventually, as the Yugoslavian Federation until the Croatia War of Independence in 1991.
Dubrovnik's interest lies in its rich heritage, its picturesque walls, stone houses, cobblestone streets and the many view points from which to enjoy the red roofs against the deep blue sea.
Reconstructed several times because of war damage and earthquakes, today's Dubrovnik is a combination of old preserved structures and renovated buildings.
With less than 50,000 inhabitants and countless Hollywood productions, the walled town can be really packed with visitors especially in the peak summer months.
During our walking tour, we will also visit a few workshops and studios of female artists and business owners to learn more about Croatian traditions and support local female entrepreneurs.
After a walking tour, we will enjoy a local lunch in the Old Town with wonderful sea views. You will then have the afternoon free to explore on your own or join Nika on a walk of the city walls.
This is a great opportunity for shopping if that's on your wish list, or to scout some of the famous Game of Thrones locations.
Pro tip: If you prefer to watch the world go by and sit by the shore, try one of the cliff bars such as famous and casual Buza II which has great views, or next door Azur for a fusion Mediterranean-Asian lunch.
Inclusions: Breakfast at the hotel, walking tour of Dubrovnik, lunch.
Overnight at More Hotel.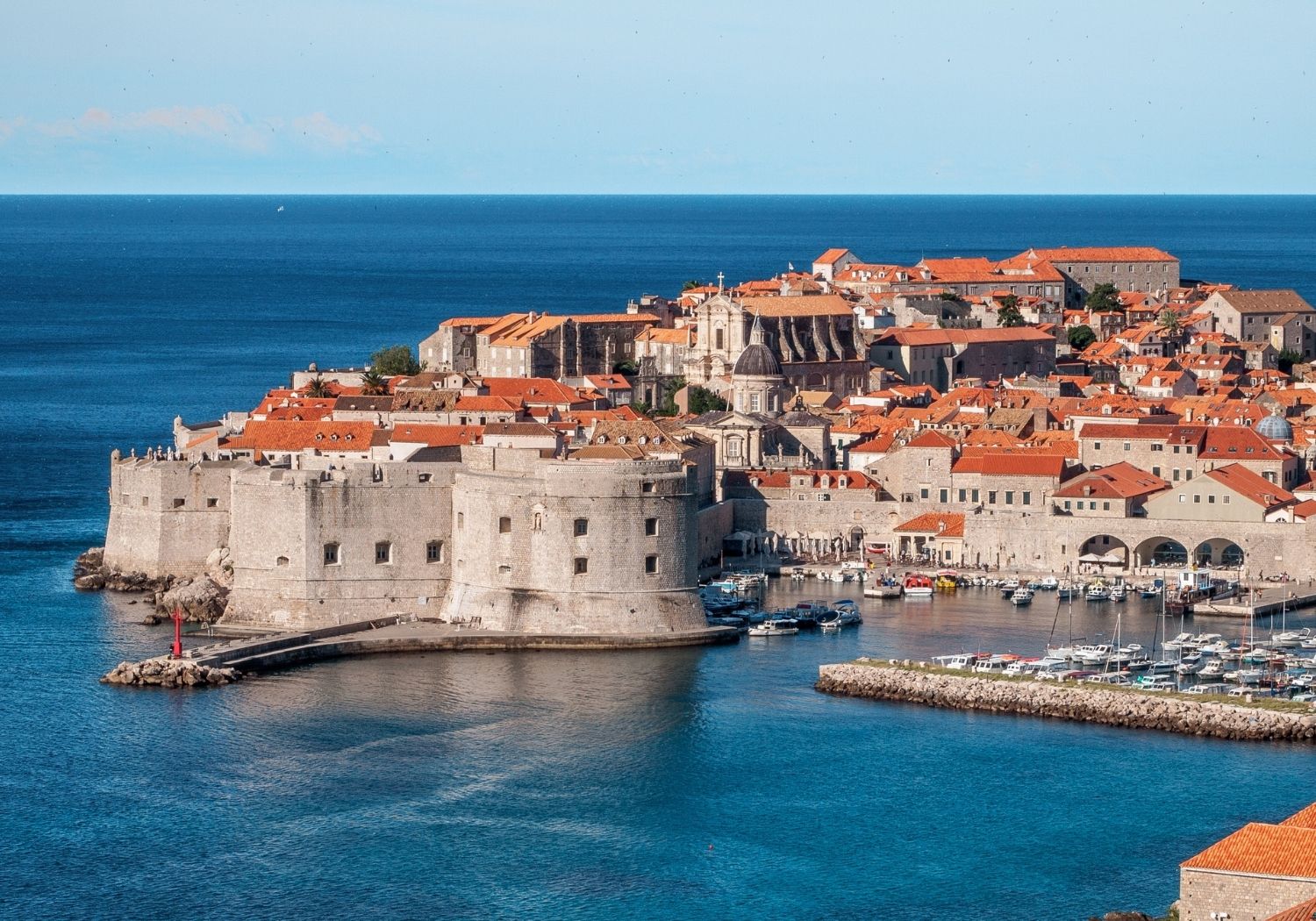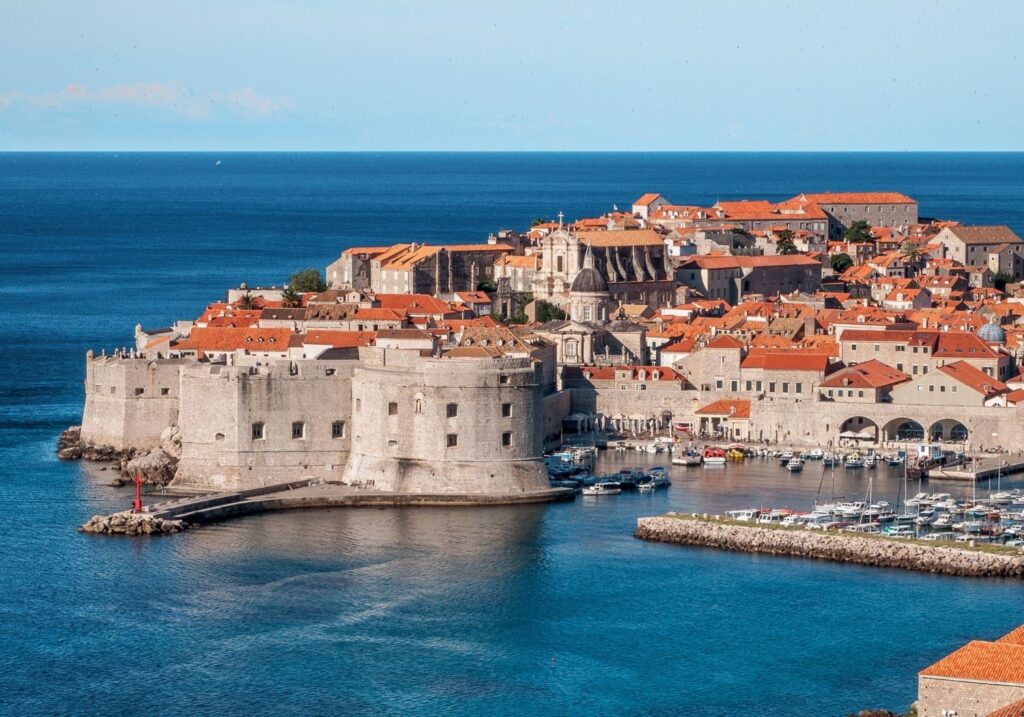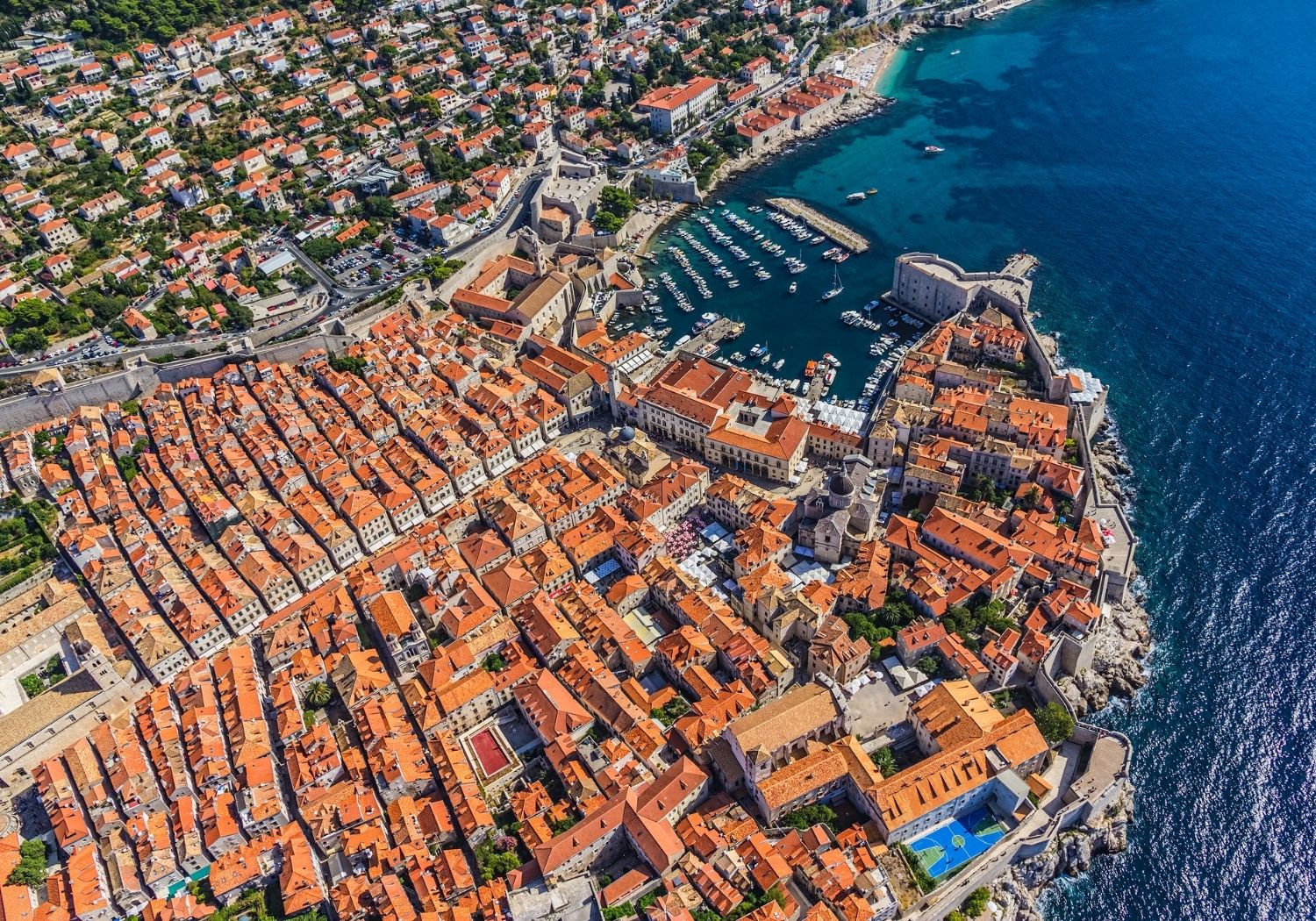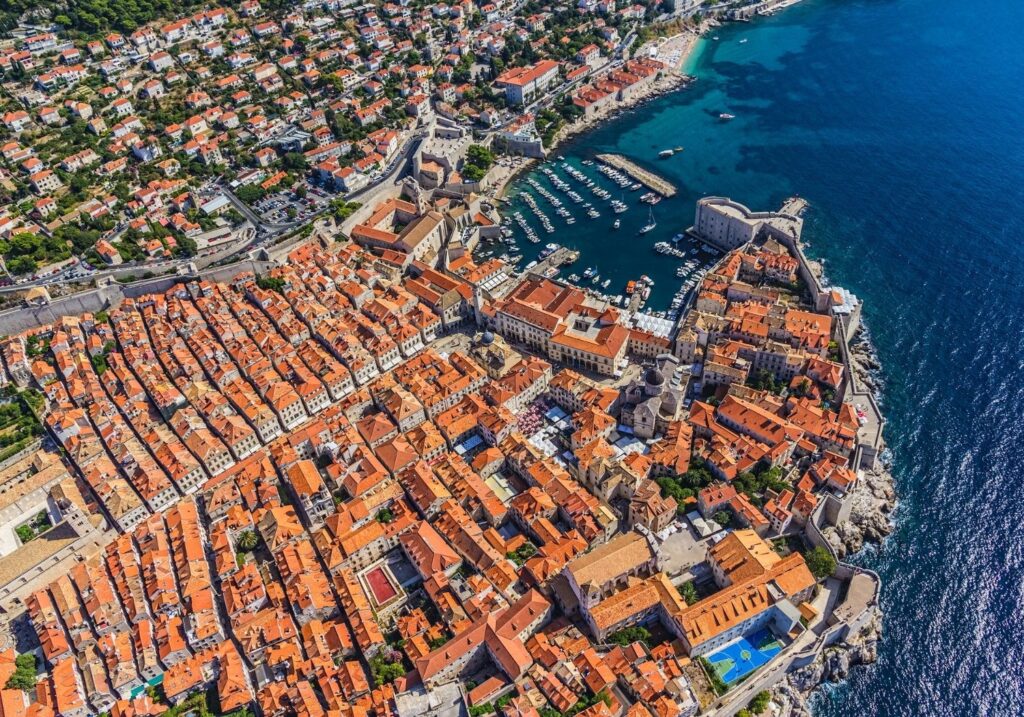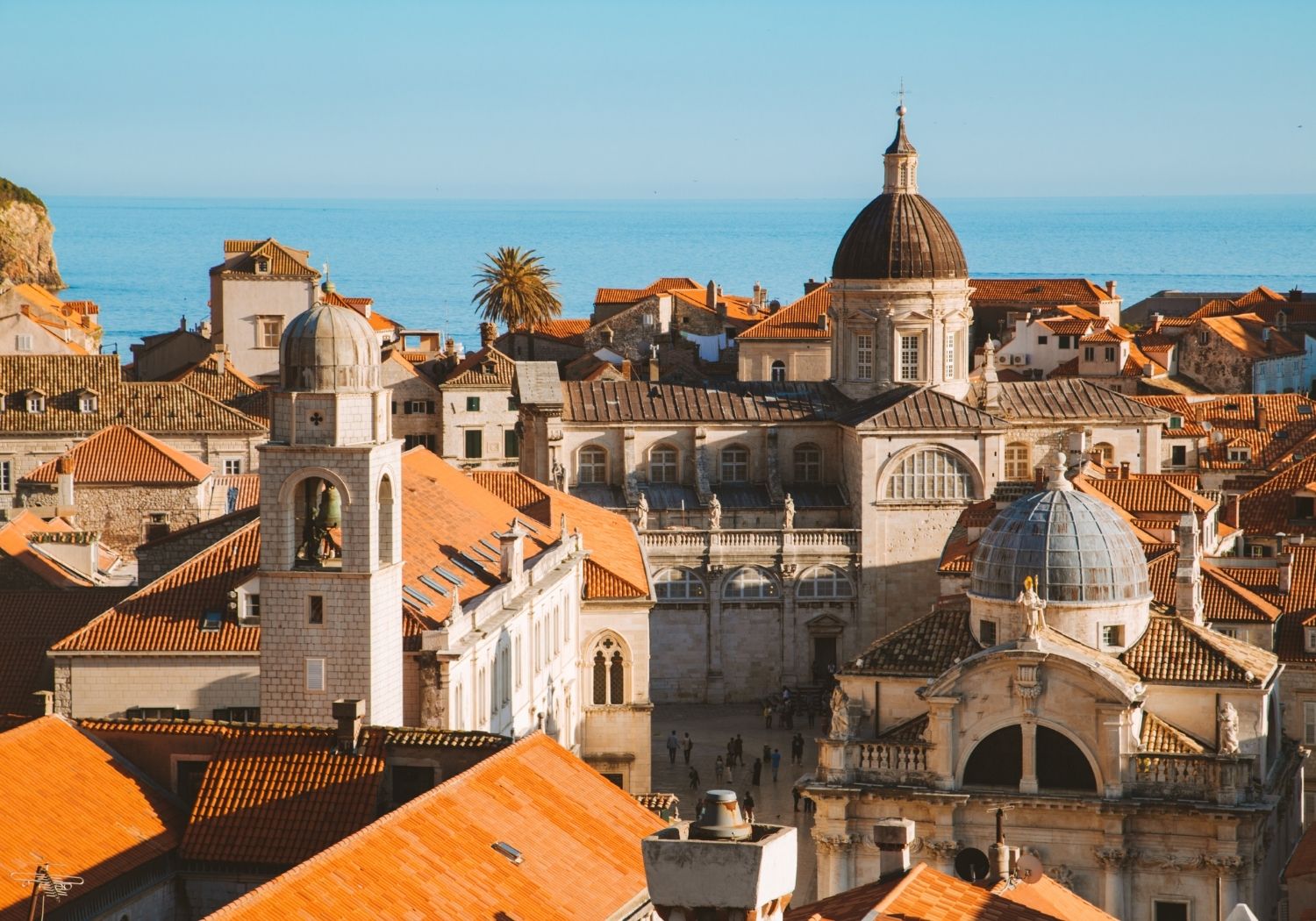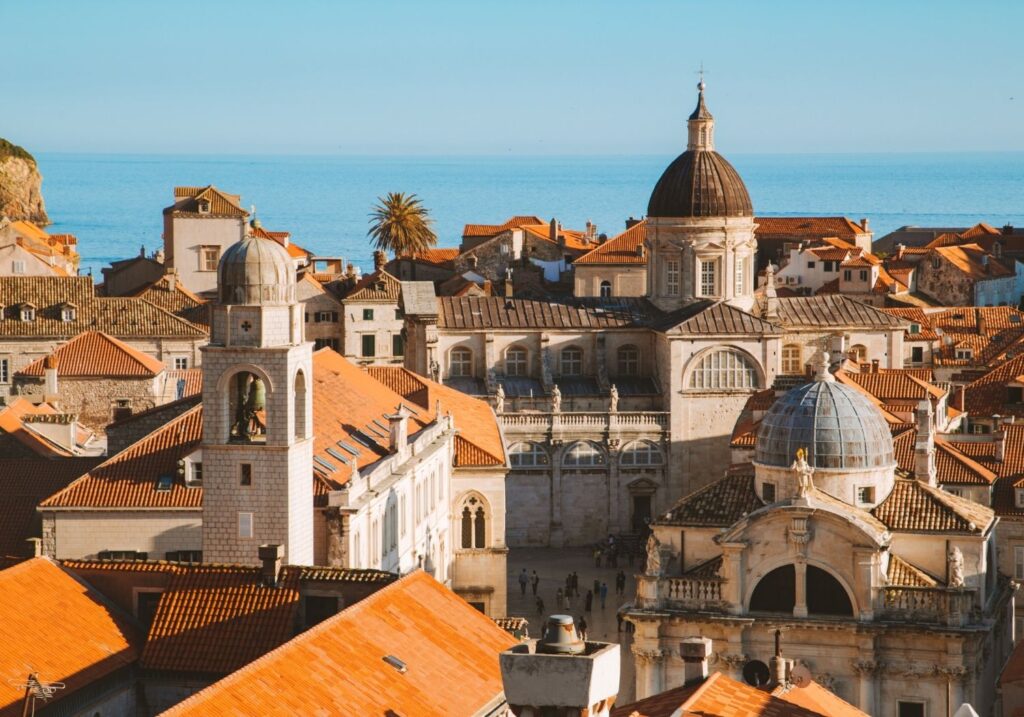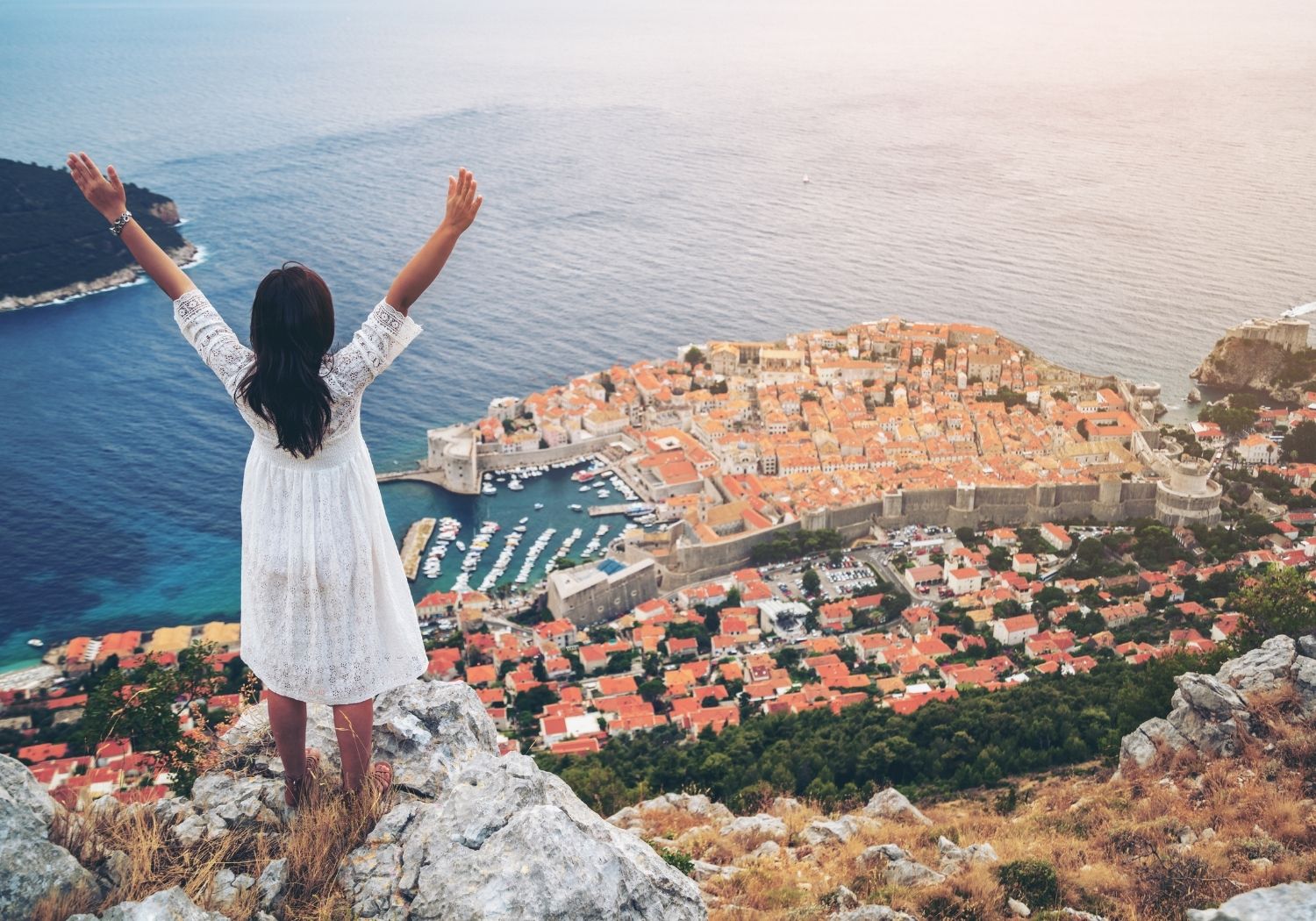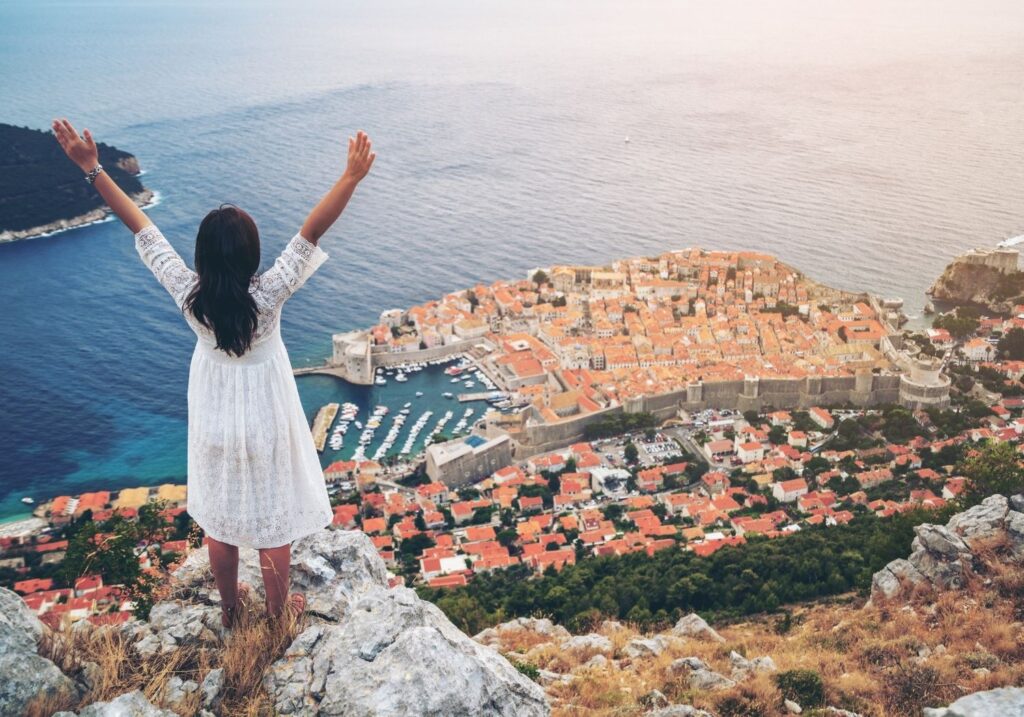 ---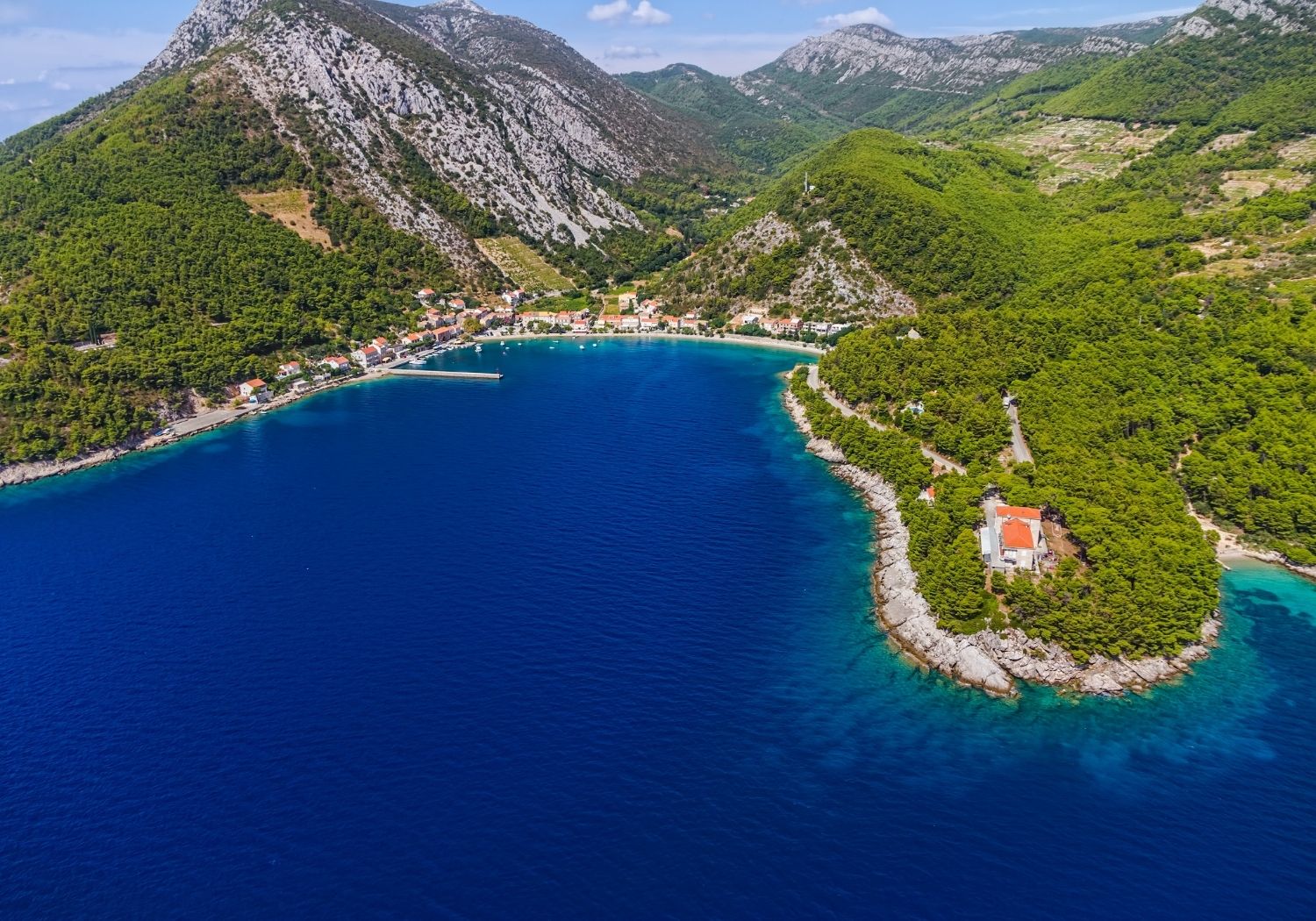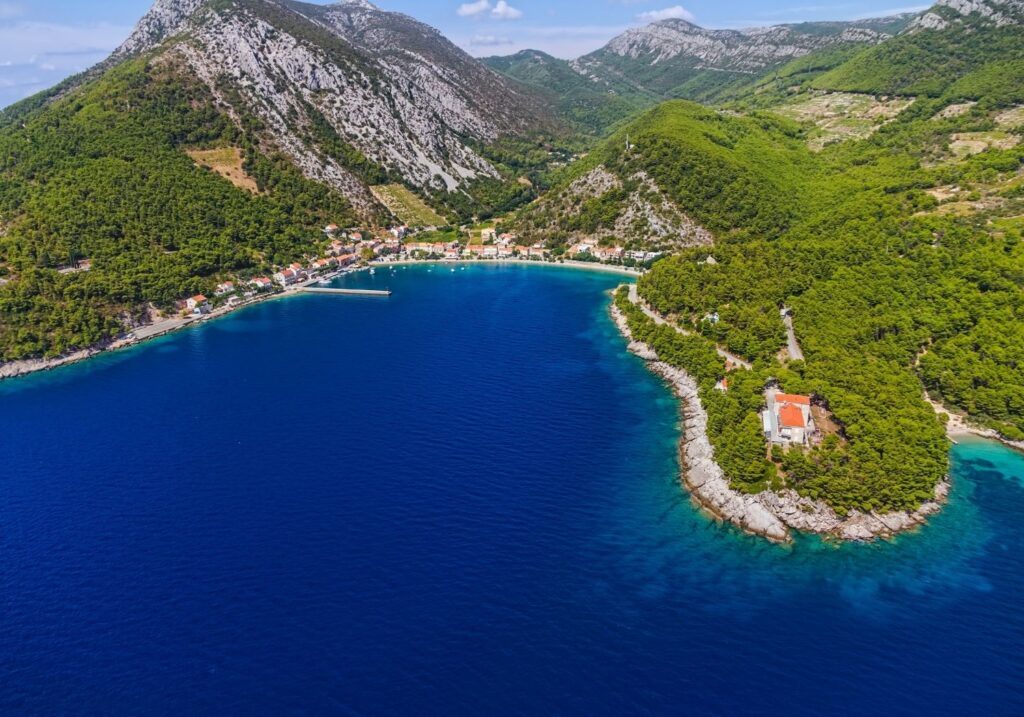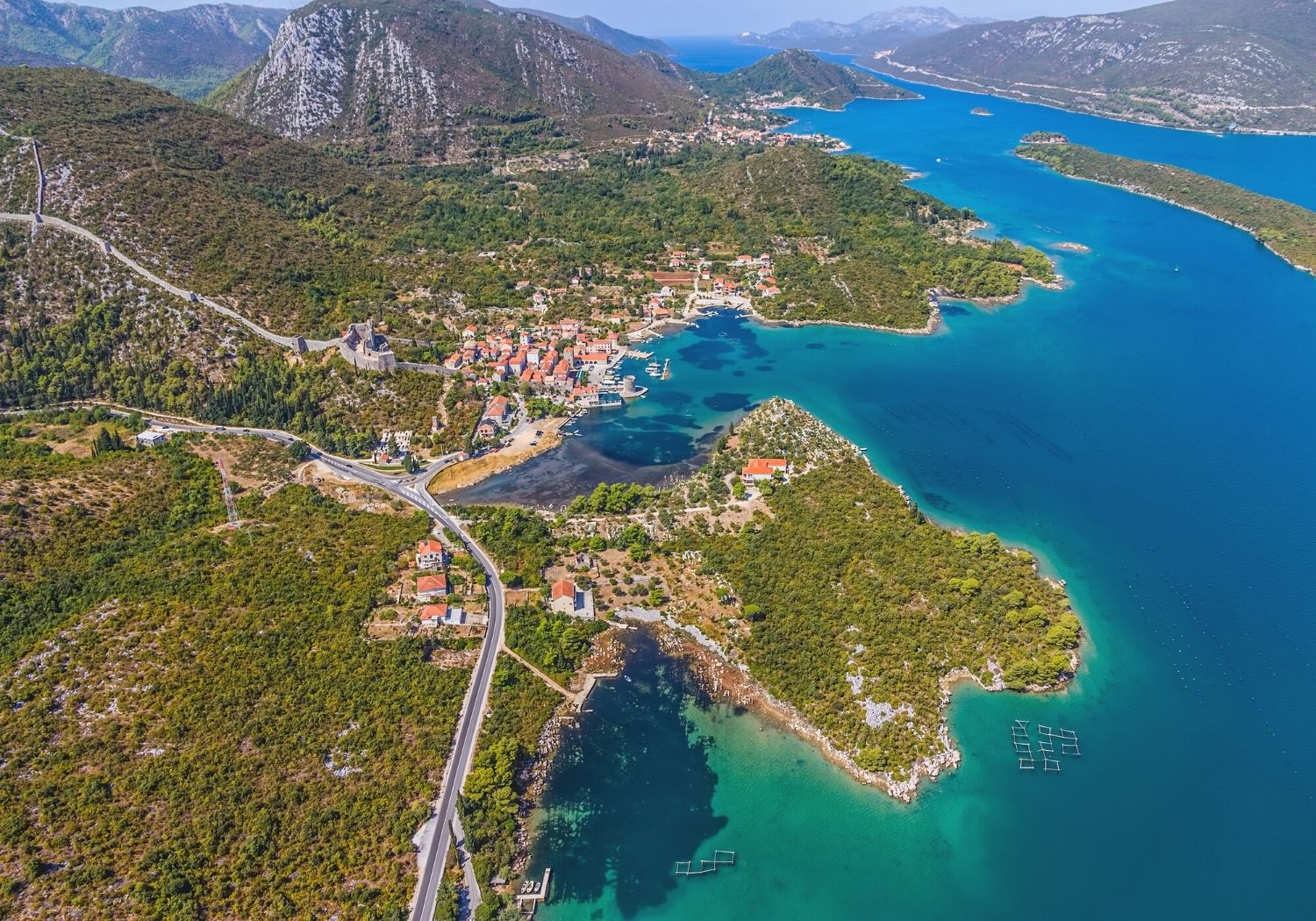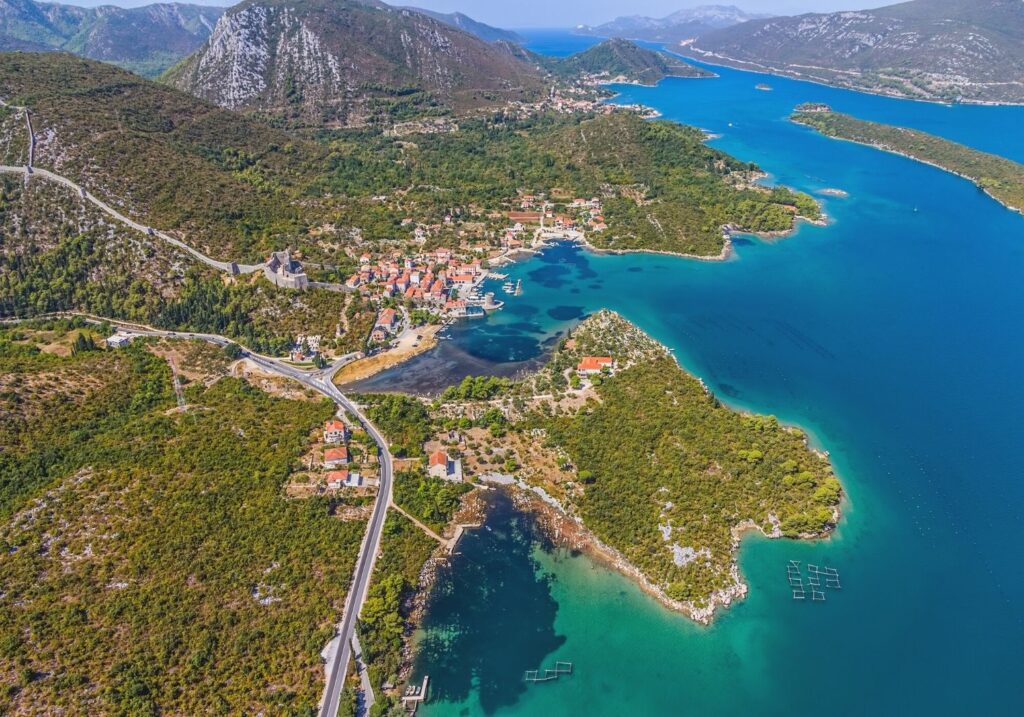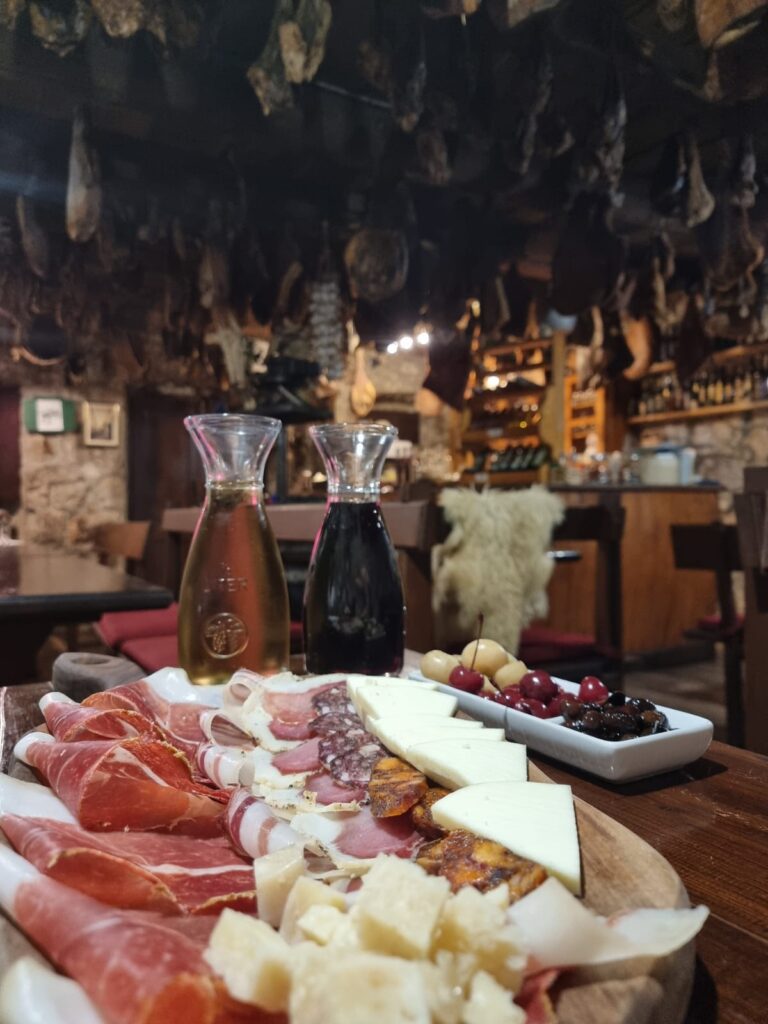 Day 3 : Peljesak Peninsula Wineries
The day will start early with a wonderful breakfast by the sea to get into the right mood for a day in the countryside exploring an area of Croatia that is not as well known and touristed.
After breakfast, we will set off to Peljesak Peninsula, a strategic area in the Dalmatian coast with a fascinating past in wine trade, salt production, and shellfish farming, all of which we will learn more about today.
In contrast with the well trodded streets of Dubrovnik, Peljesak Peninsula will feel bucolic and almost forgotten, were it not for the abundant vineyards that bear fruit to the age old tradition of making wines, including a local sparkling wine inherited from Napoleonic times.
On our way, we will stop at various scenic spot to admire the view and the rustic coast in this part of the country and go on to visit 2 wineries for wine tasting and traditional lunch.
NOTE: Lunch will be at a traditional farm to table family run restaurant which cures meats. This means that ham legs and sausages hang from the ceiling.
Croatian wines are rarely found outside the country (though this is changing) but the soil and climate coupled with the long tradition in wine product (albeit interrupted during Yugoslavian times), means you are bound to be positively surprised with the native grape varieties.
Our winery visits will take us to two locations: the only female owned winery in the area and a modern winery in a privileged location and owned by an American couple who decided to settle in the area after the war.
In between the two wineries, we will head inland for lunch at a mother-daughter run rustic restaurant for a traditional lunch of cured meats and cheeses followed by Croatia peka, meats slow cooked under the bell.
We will also make a few stops along the way at a seaside town for gelato and a walk.
We will drive back to Dubrovnik and arrive before dinner which will be enjoyed on your own.
Inclusions: Breakfast at the hotel, transportation to and from Peljesac Peninsula, 2 winery visits with tasting and lunch.
Overnight at More Hotel.
---
Day 4 : Beach Club & Boat Tour
Wake up to wonderful views over the Adriatic Sea once again and pinch yourself, you're in Croatia and it's not a dream!
After a "late-ish" breakfast, we will make full use of the summer temperatures and holiday life to enjoy a full day of sea, sun and sand.
We jump on our transfer and arrive at one of the fashionable beach clubs that dot the coast and islands of the south Dalmatian coast.
Nothing says summertime like music and a cocktail, preferably with an umbrella, surrounded by beautiful people and summer vibes, and we couldn't show you the best of Croatia without at least day spent by the beach.
We have reserved sun loungers for you to chill, suntan, read a book or have a swim in the turquoise sea, listen to music or anything else that your heart desires.
You will have free time this morning and until after lunch time to enjoy the club's facilities and have lunch if you get peckish.
In the afternoon, we will walk along the coast to the nearest marina to get on our private boat for a tour of Dubrovnik's Old Town from the water, a different perspective to what you are used to.
The boat tour will follow the city walls and fortress and go all the way to Lokrum Island to complete a day we have enjoyed at sea.
We will walk the paths of this beautiful and lush island and discover its many legends, then have some free time to explore on our own before taking the ferry back to the city.
Dinner will be at leisure either in Dubrovnik or back at the hotel or nearby area.
Inclusions: Breakfast at the hotel, sun loungers on the first beach row, boat tour of Old Town, all transfers, ferry back to the city.
Overnight at More Hotel.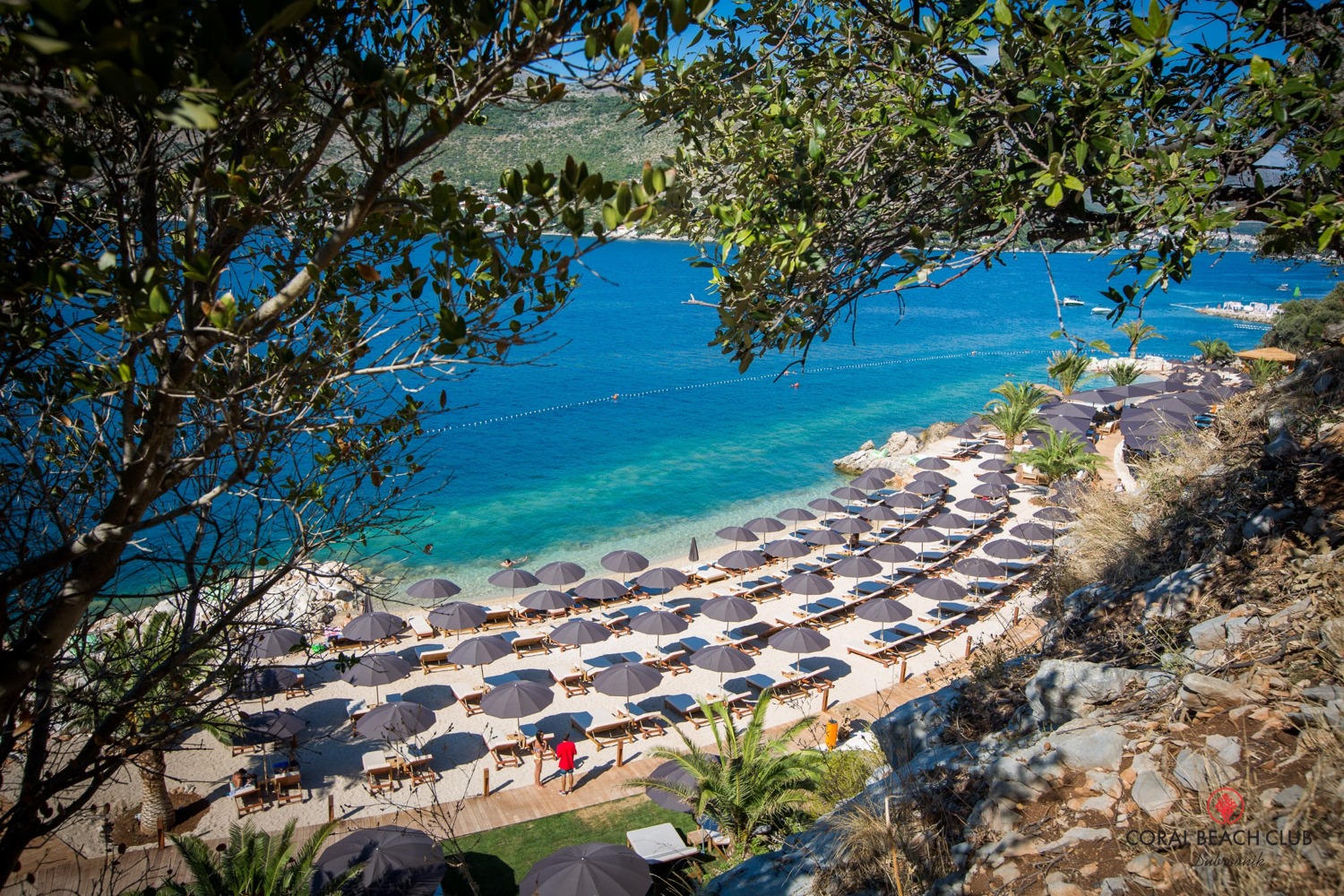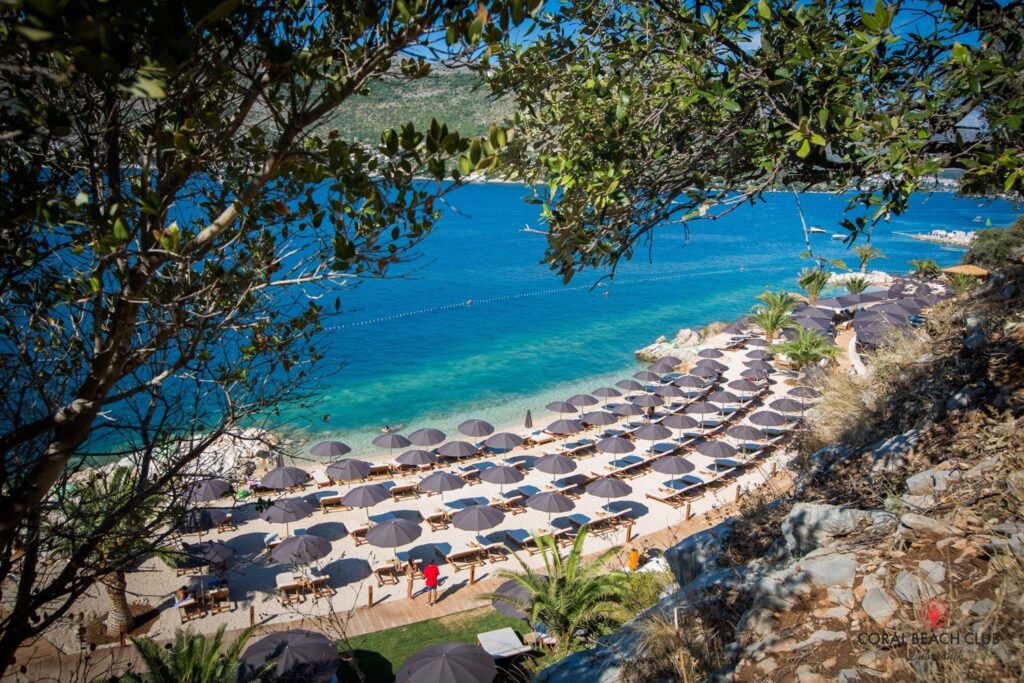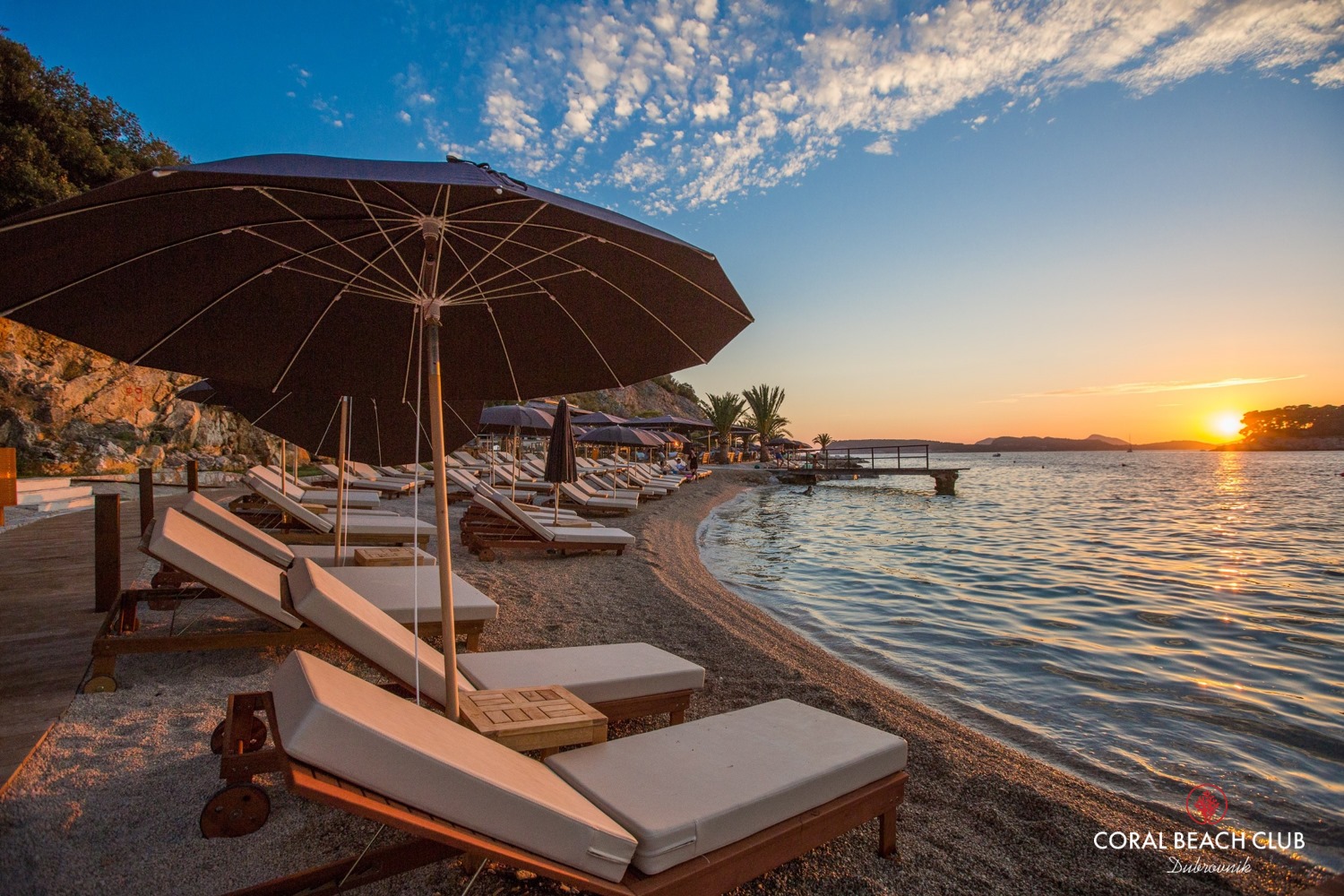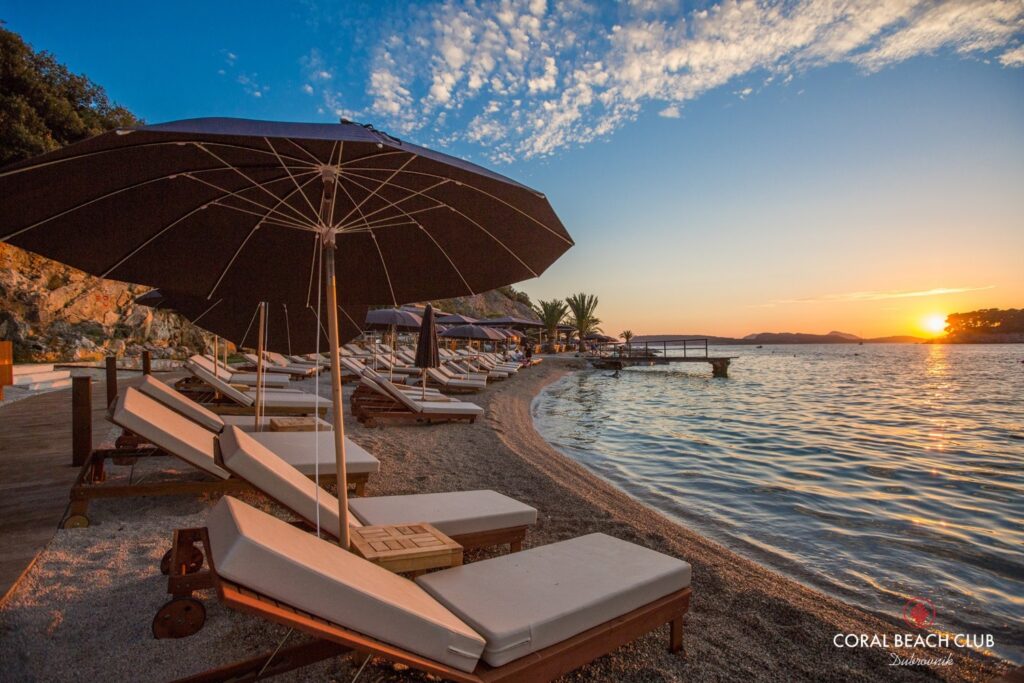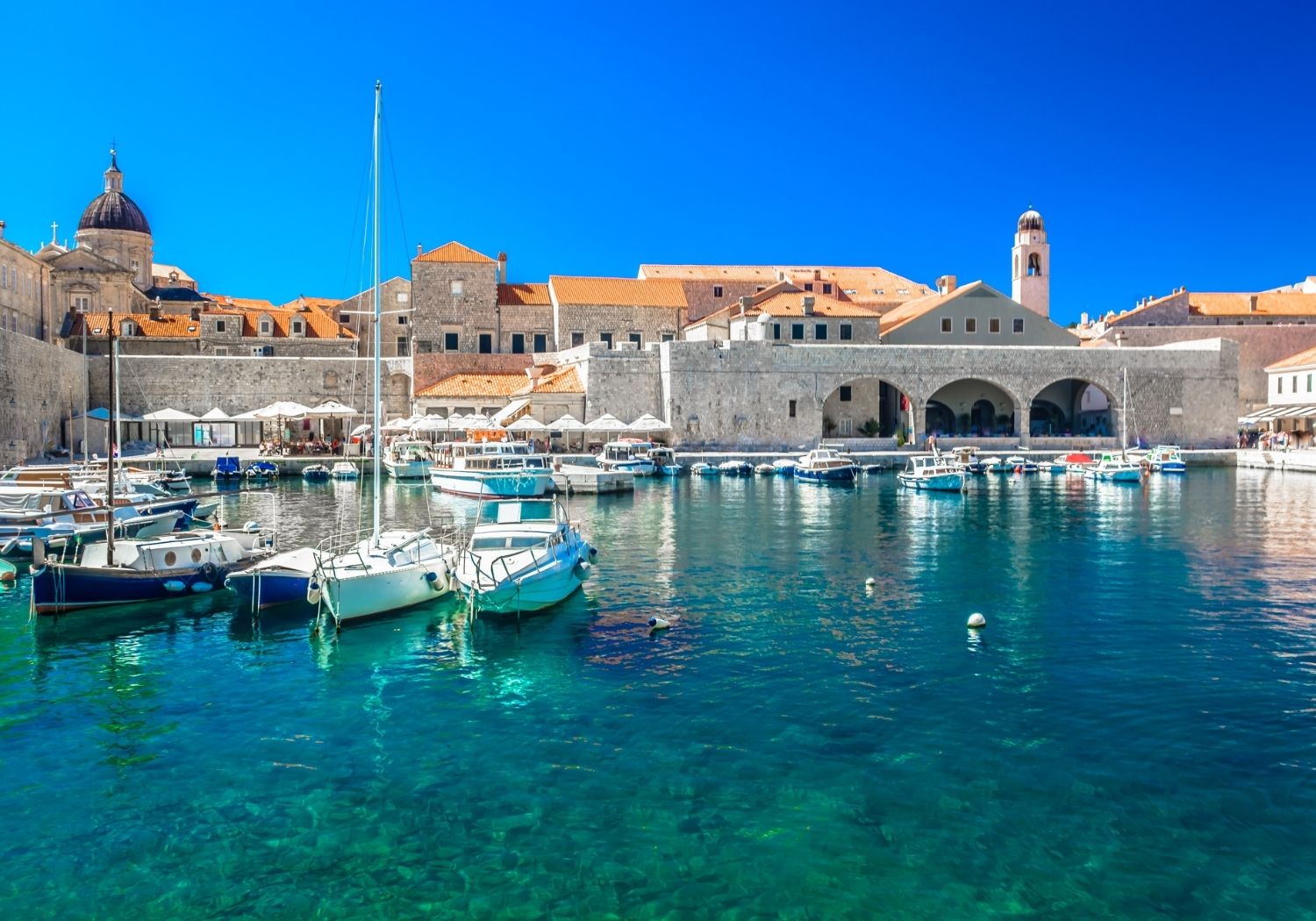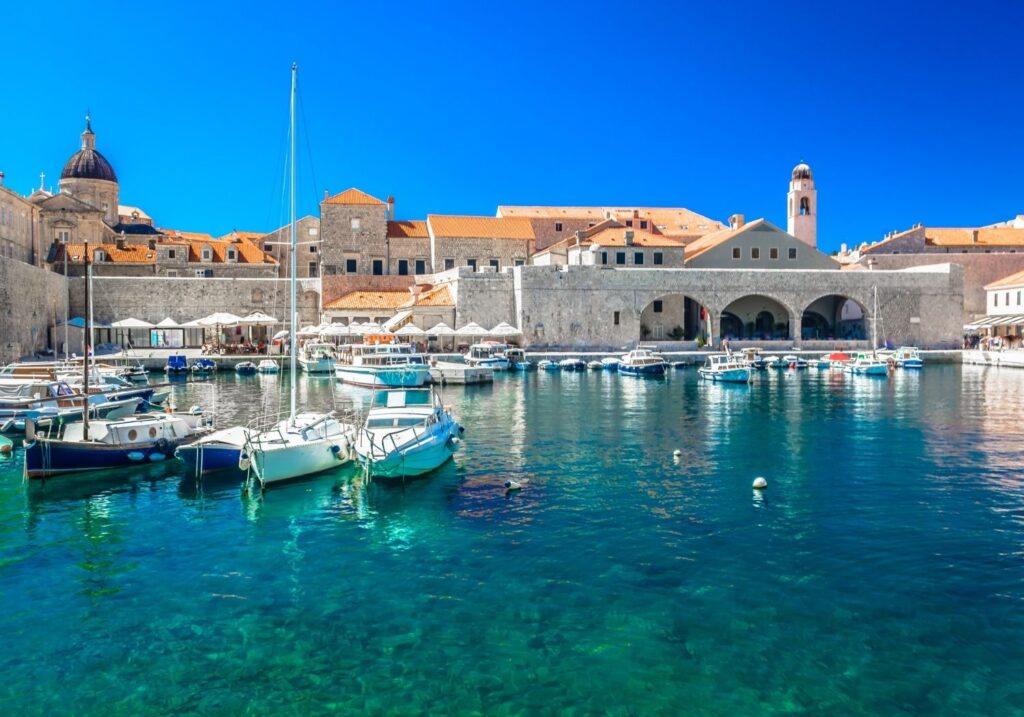 ---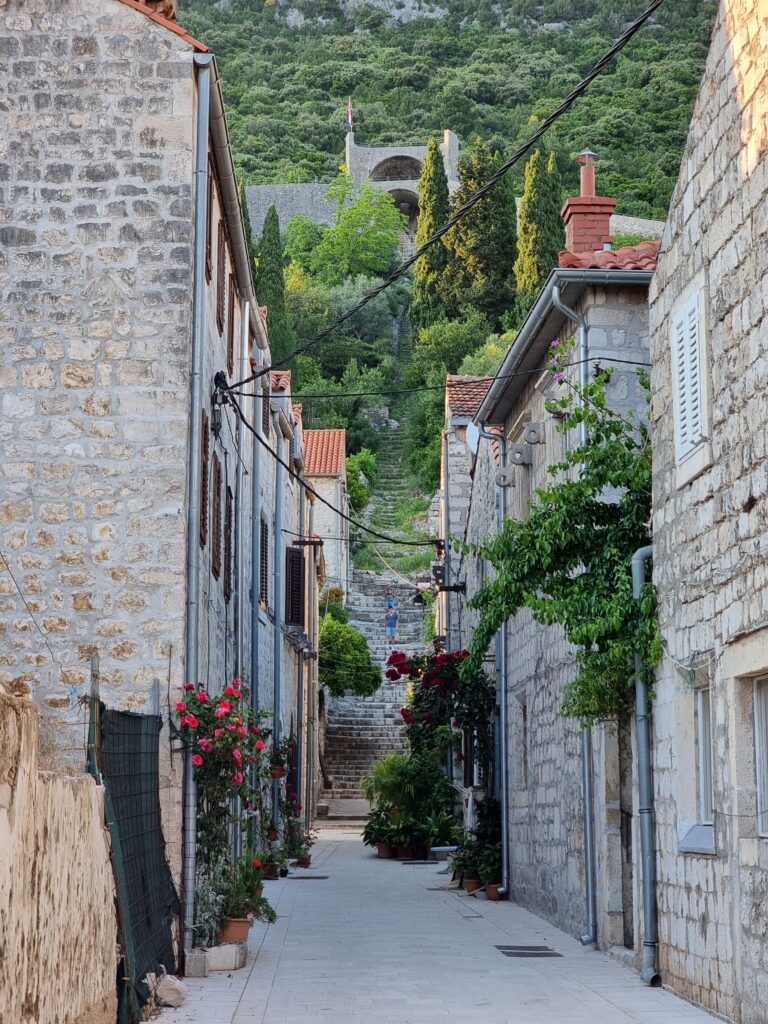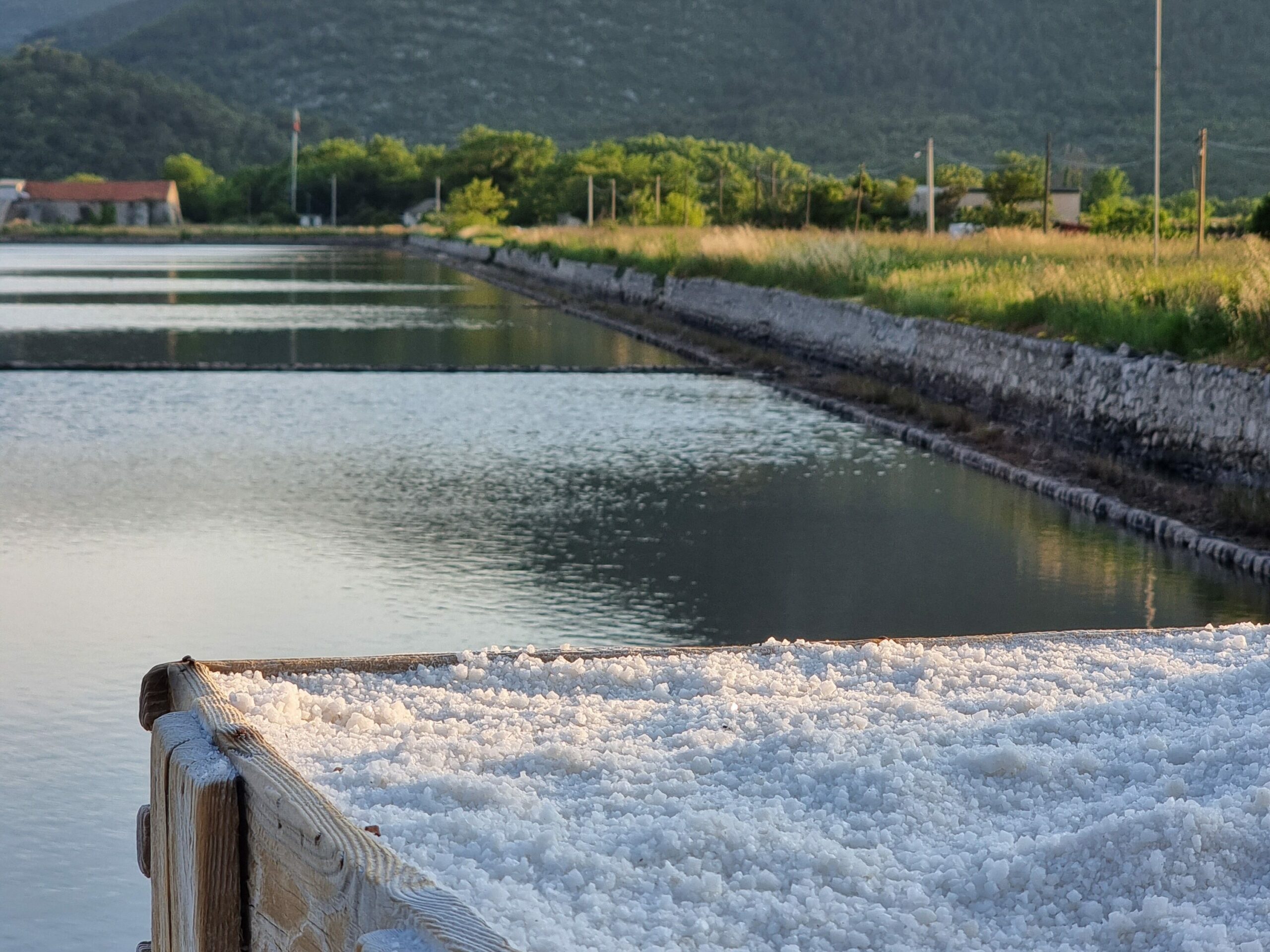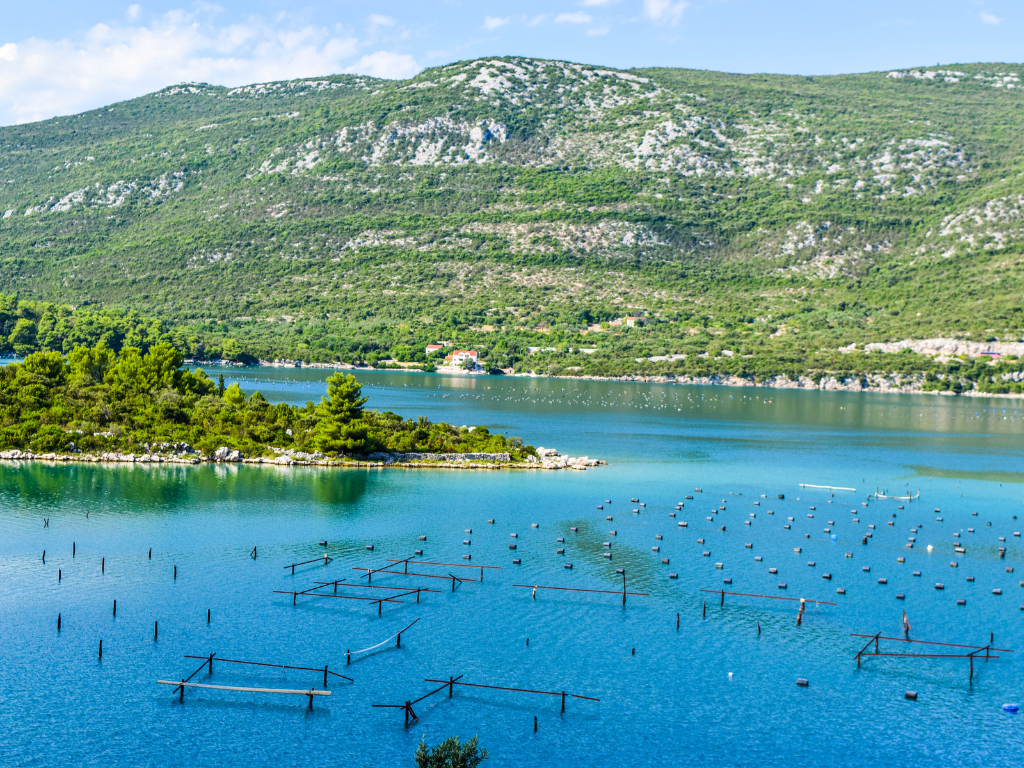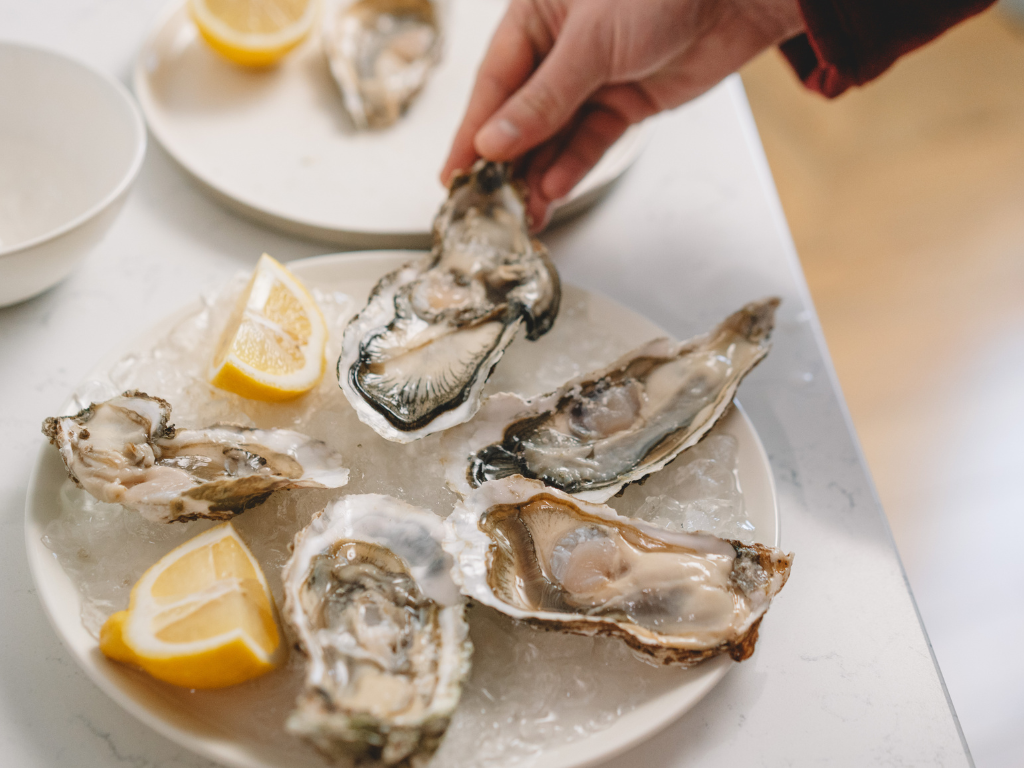 Day 5 : Ston, salt pans and oysters
We will enjoy a beautiful breakfast by the sea and then jump on our minibus for a transfer back to Peljesak Peninsula for a completely different experience to the previous day: Oysters, mussel, salt pans and fortified villages.
We will spend most of our time in Ston. This tiny walled village at the entrance of the Peljesak Peninsula has been spared by the many earthquakes that have hit this part of the coast and which almost destroyed Dubrovnik. This luck will be obvious as you walk the small streets.
Unlikely in Dubrovnik, life here goes by at a more gentle and slow pace, a laid back atmosphere we will fully enjoy.
A unique feature of the village is its long defensive walls that are some of the longest structures of its kind in Europe and were built to protect the salt pans. We will have some time to climb them for fantastic views over the salt pans, oyster farms and the area around.
In the morning, we will take a guided tour of Ston's salt pans. These are the oldest salt pans in Europe and were first exploited by the Romans in the 2nd century BC.
It is the wealth that came from salt trade harvested from Ston that propelled the Dubrovnik Republic in the 14th century and allowed to build such beautiful houses.
The pans are still in use today and produce salt in the traditional way, through the natural process of crystallization that happens across 9 pools that have been named after saints, during the summer months.
We will go on a walking visit of the salt pans and learn how salt is produced in the traditional way.
We will then get on a boat nearby and ride to the middle of the lake that is next to Ston for an oyster and mussel demonstration and tasting in the most incredible surroundings.
Lunch will be enjoyed in a very special location, right on the water, surrounded by the oyster and mussel farm.
There will be free time in the afternoon to explore Ston on your own after a short walking tour by your guide Nika.
Take time to climb the fortified walls and enjoy incredible views and the beautiful landscapes of Peljesak Peninsula and wander the tiny alleys of this quaint town.
In the late afternoon, we will return back to our hotel in Dubrovnik where you will have free time to enjoy dinner at leisure.
Inclusions: Breakfast at the hotel, transportation to and from Ston, guided tour of the salt pans, oyster and mussel demonstration and tasting with lunch, walking tour of Ston.
Overnight at More Hotel.
---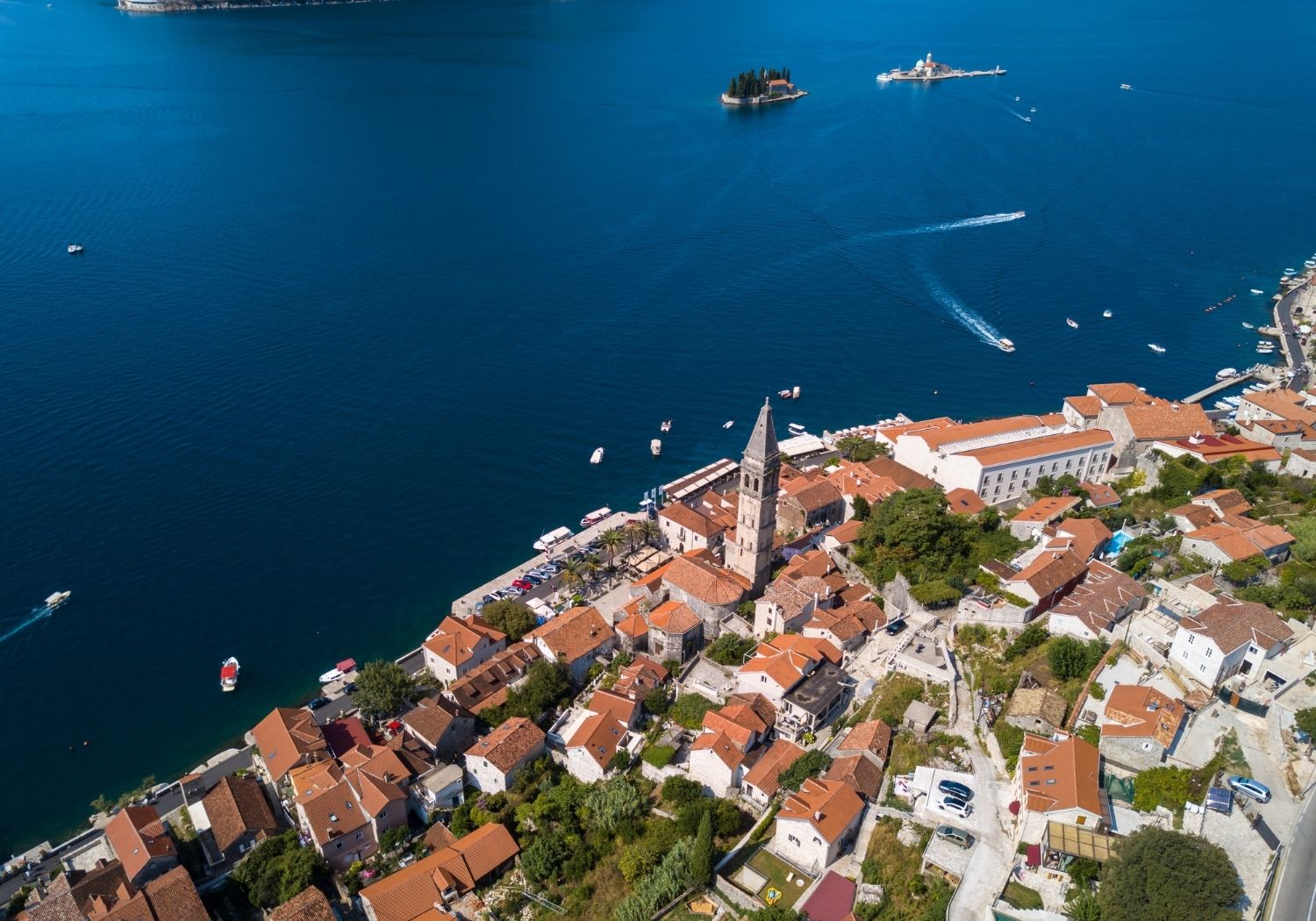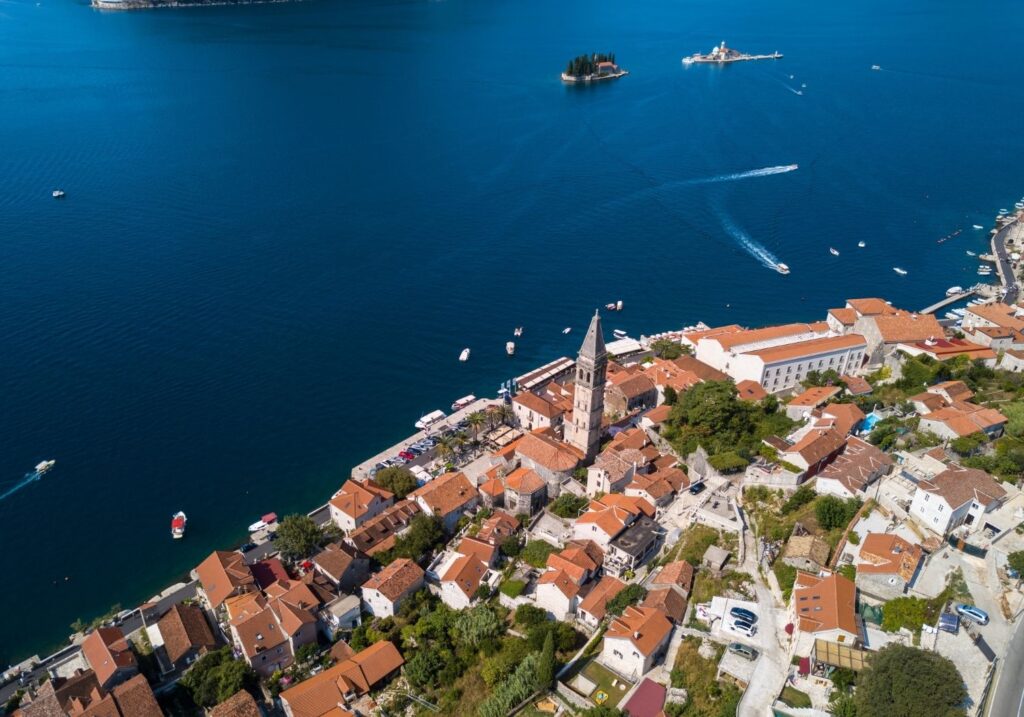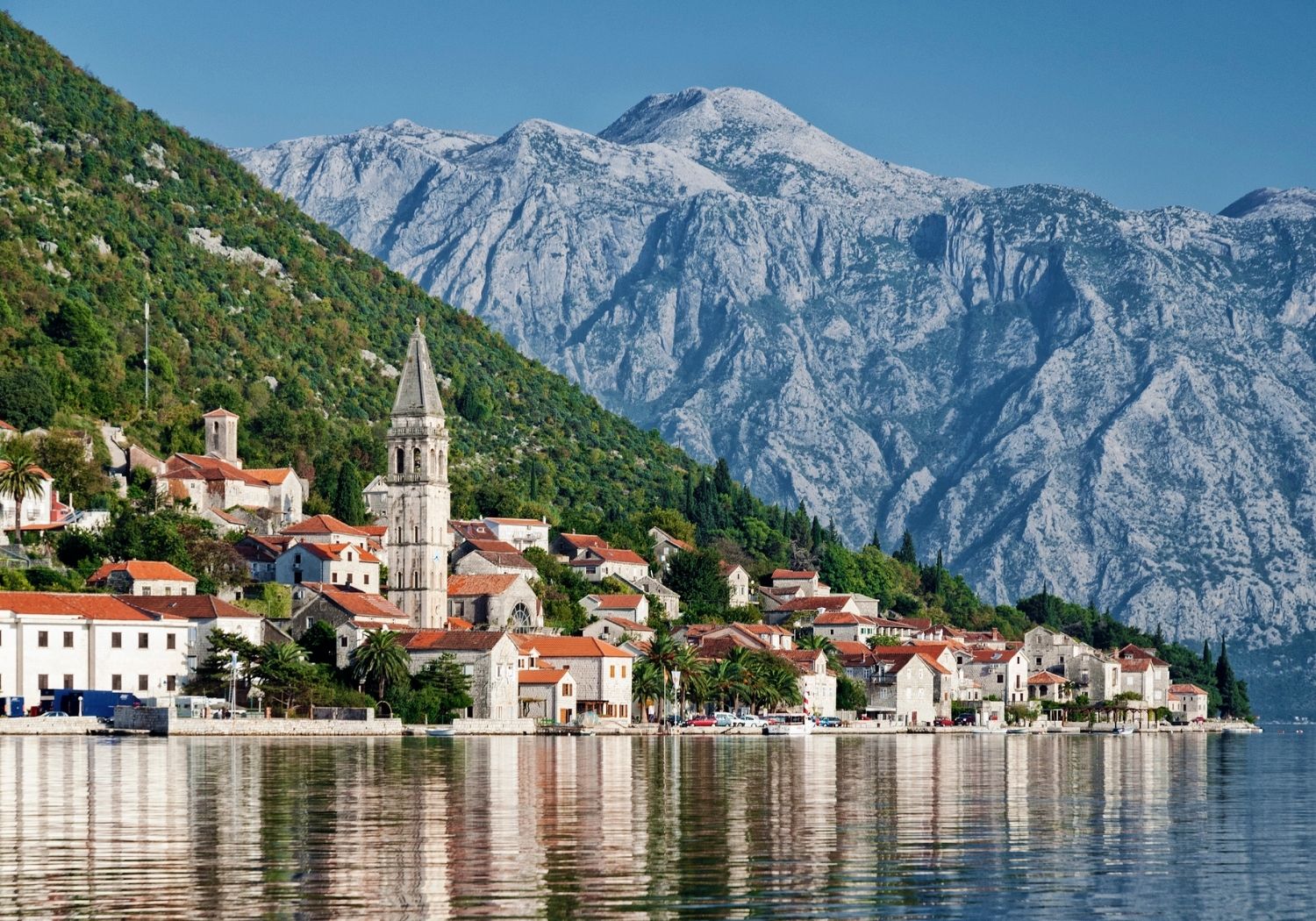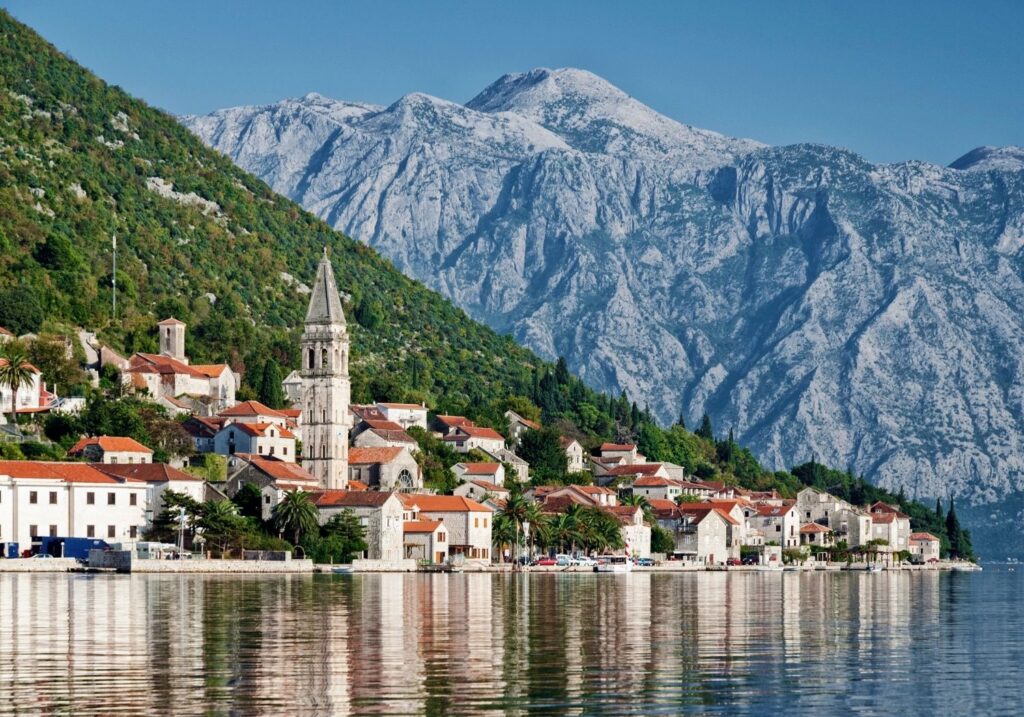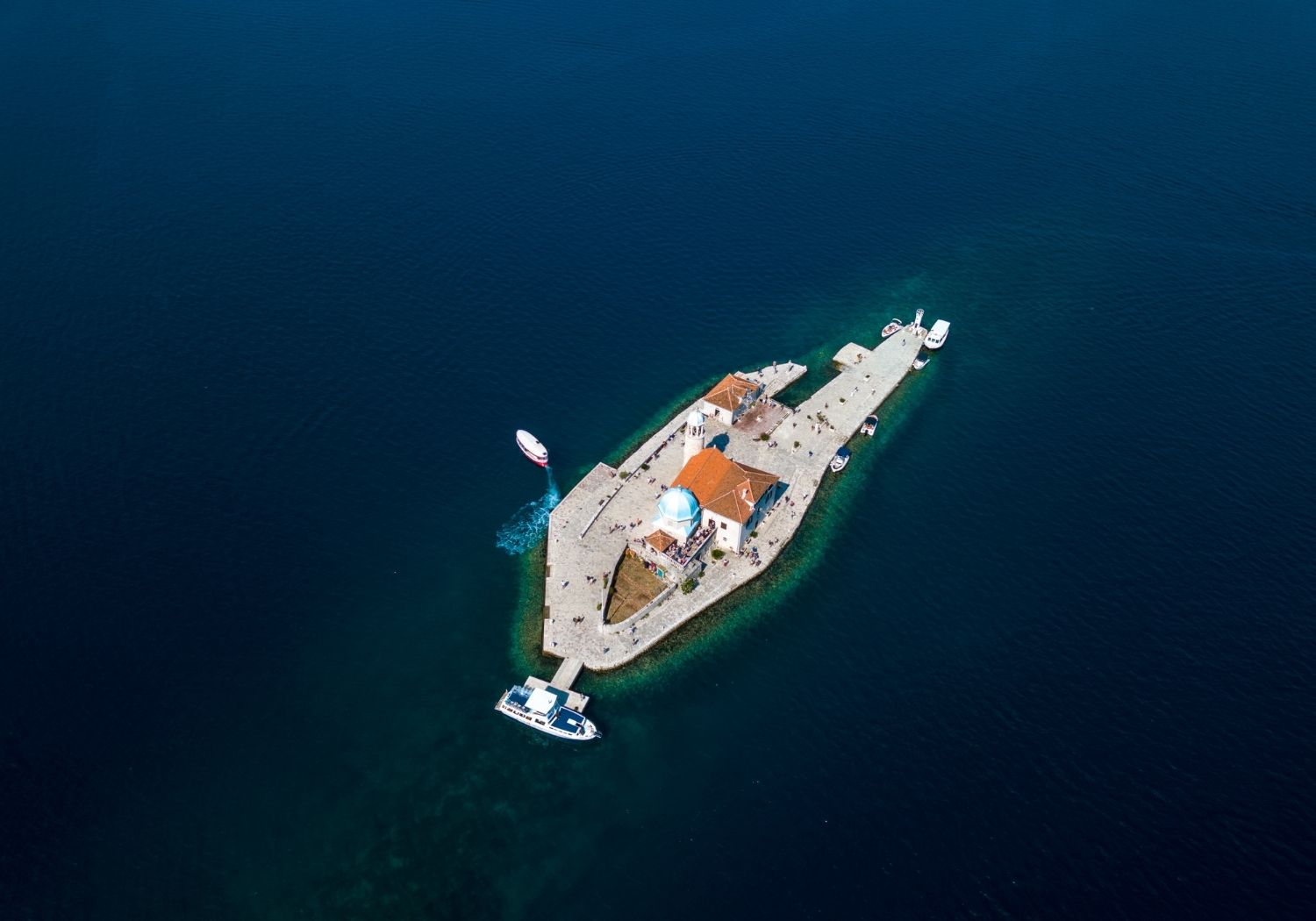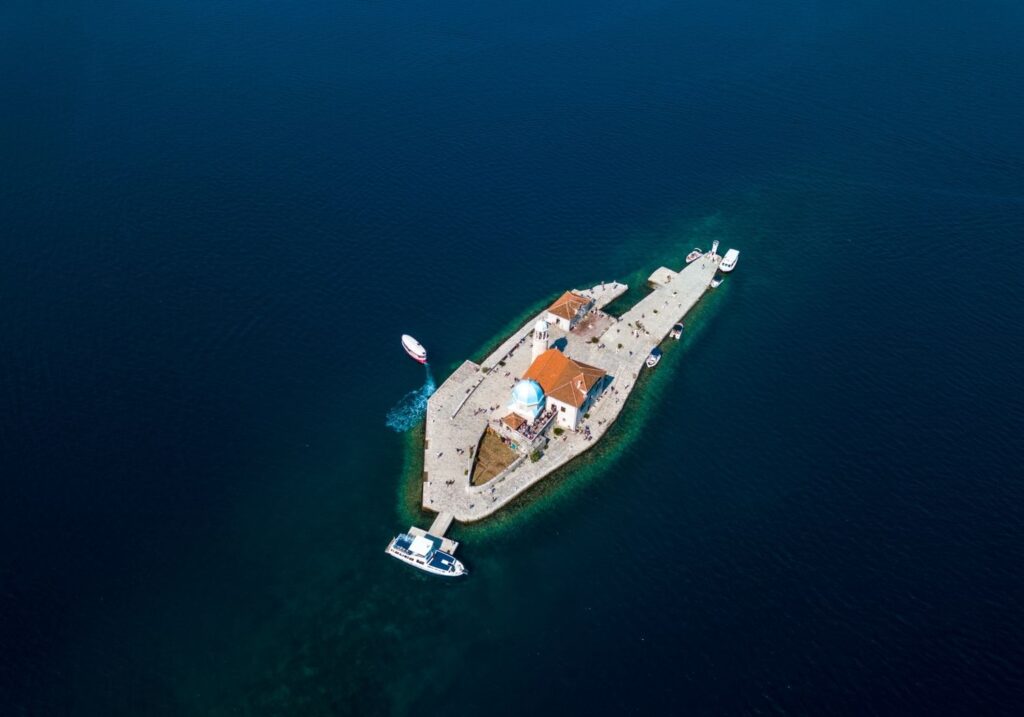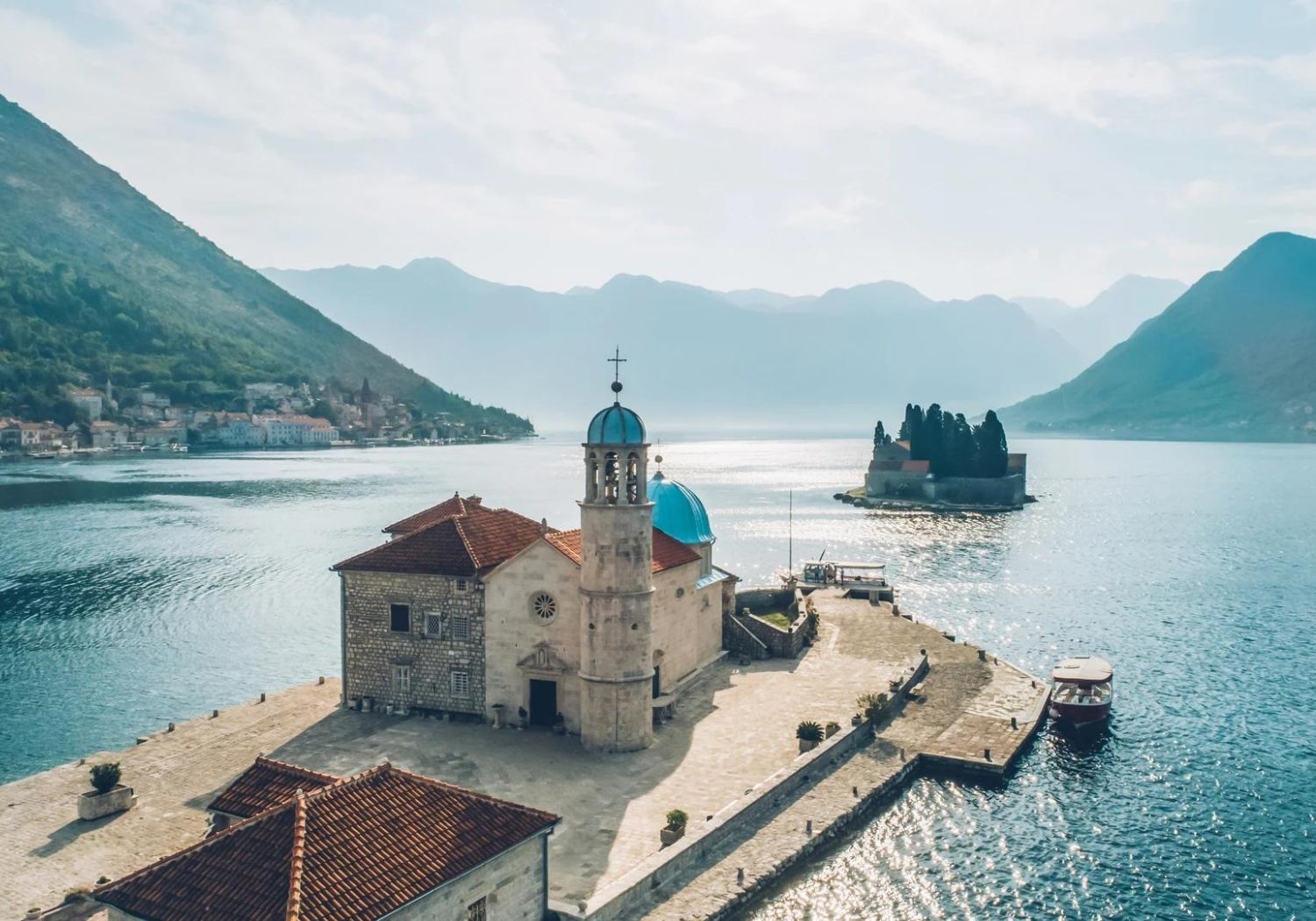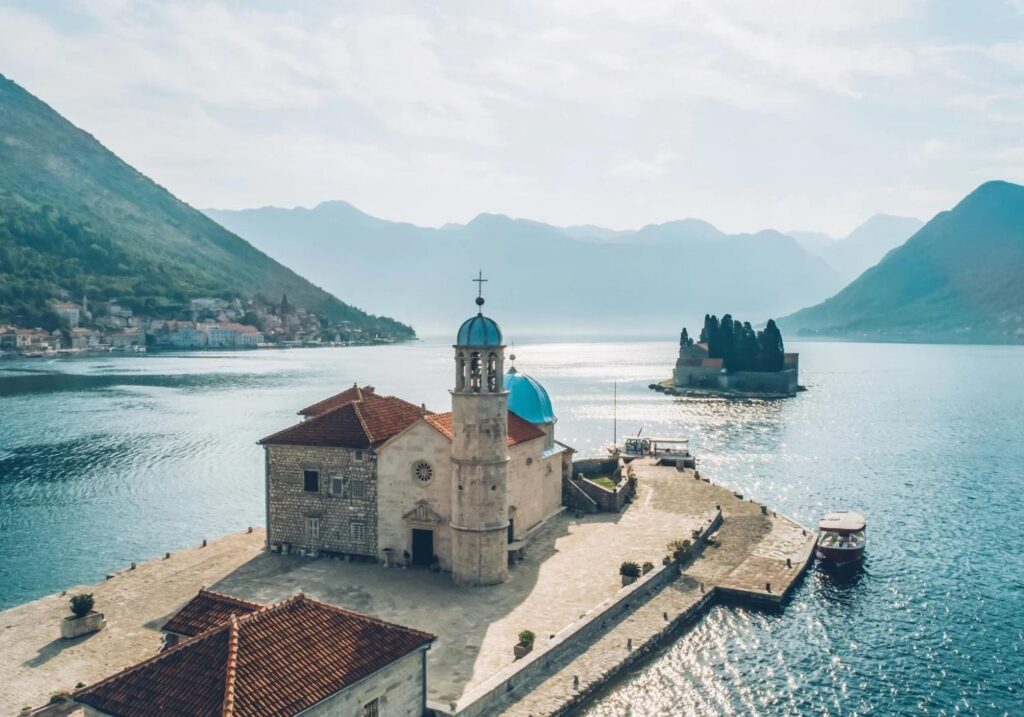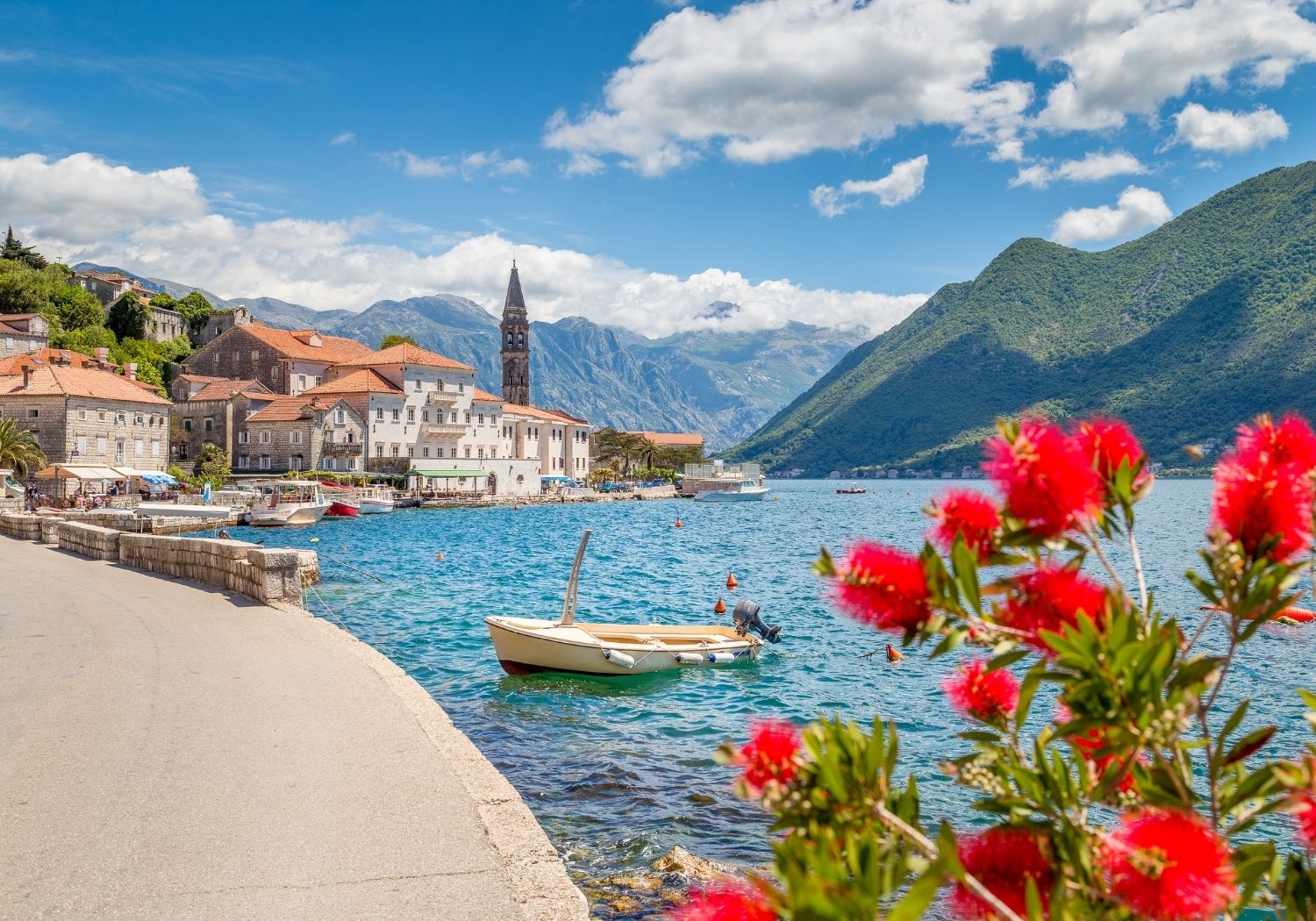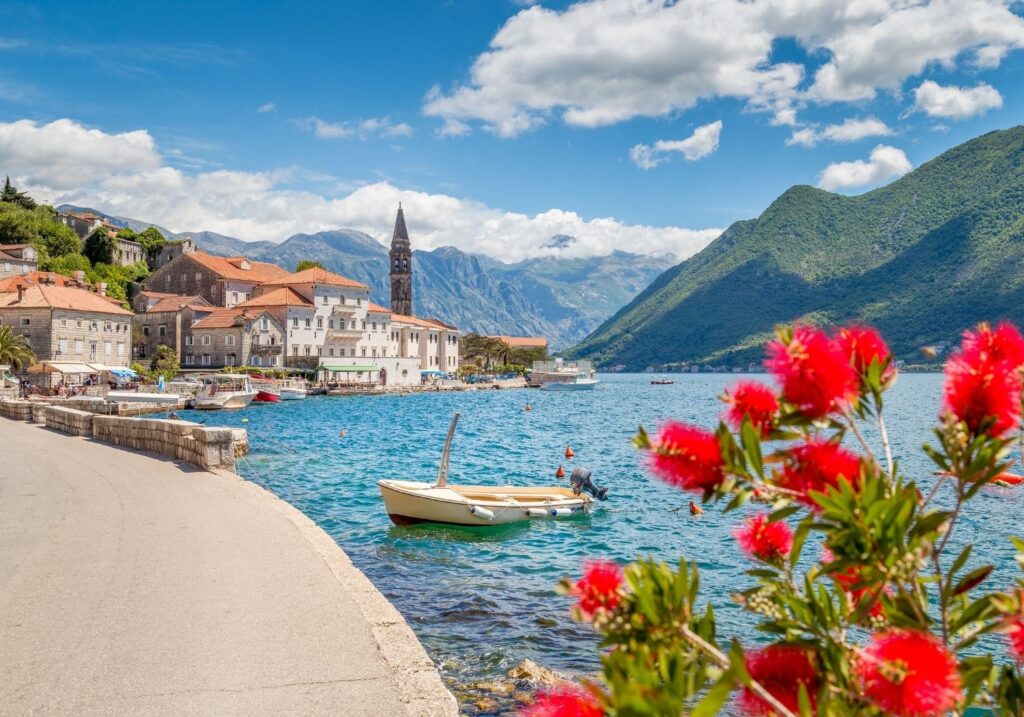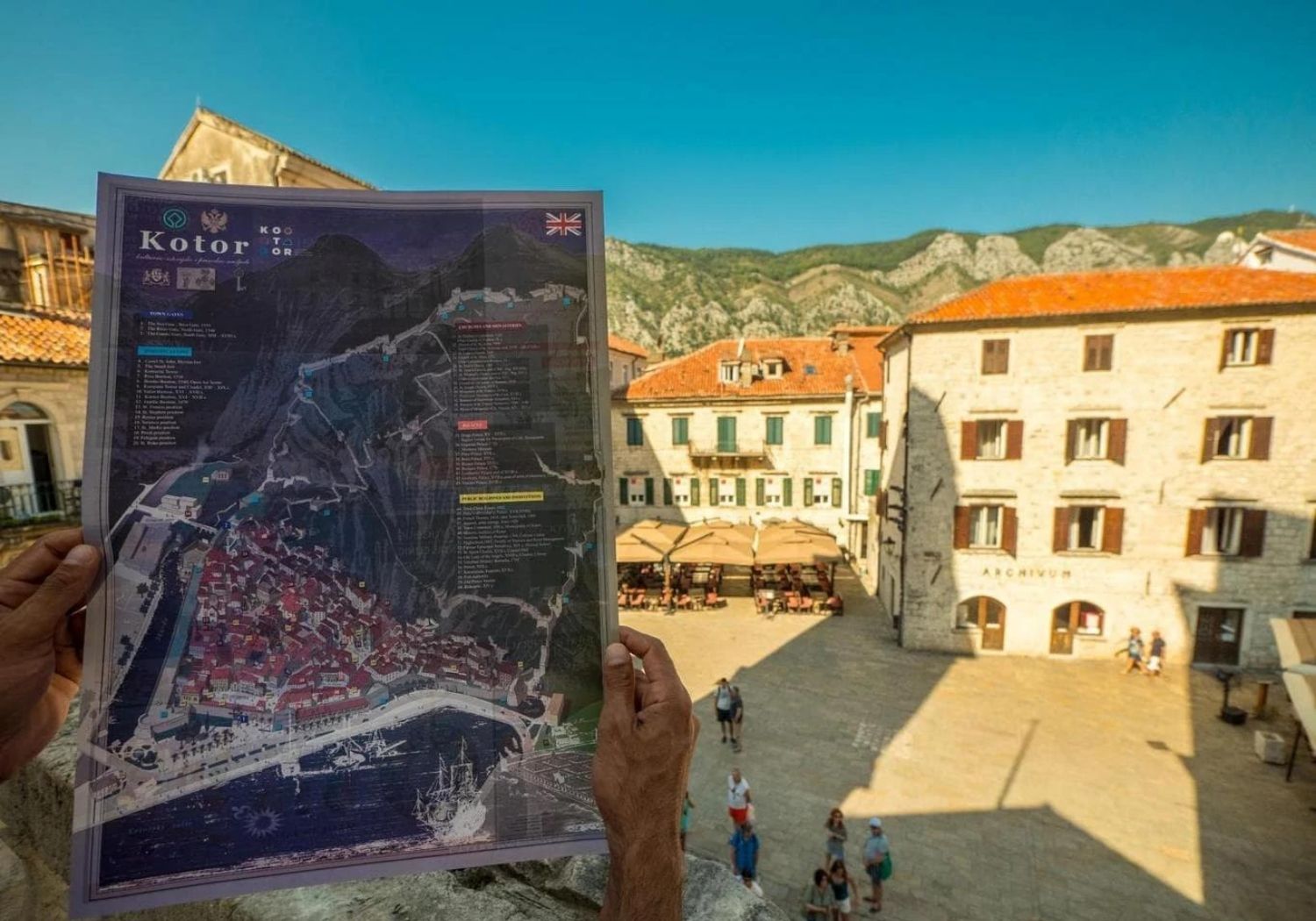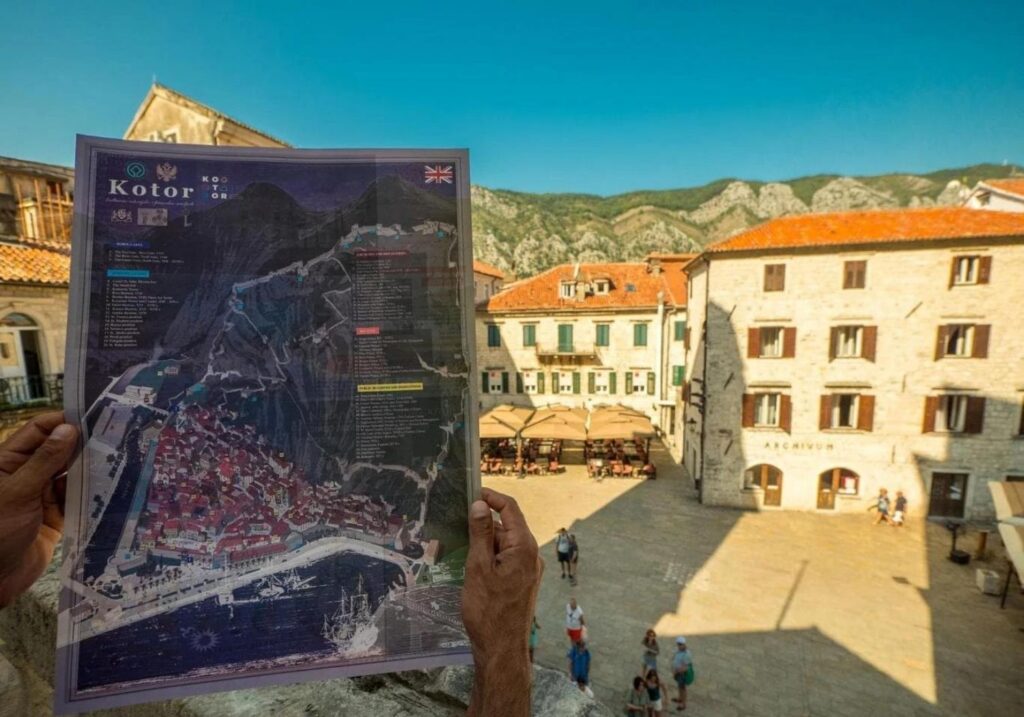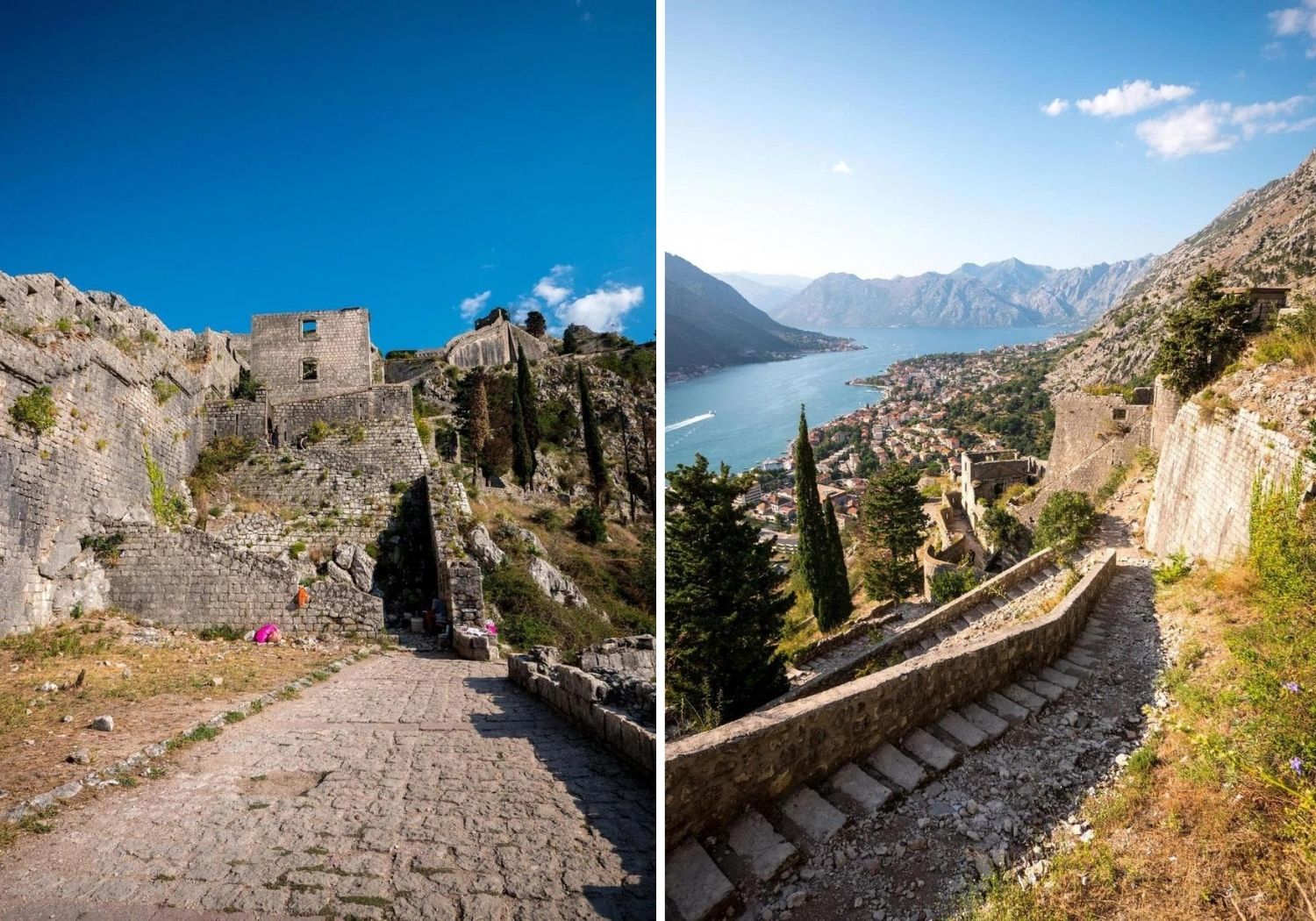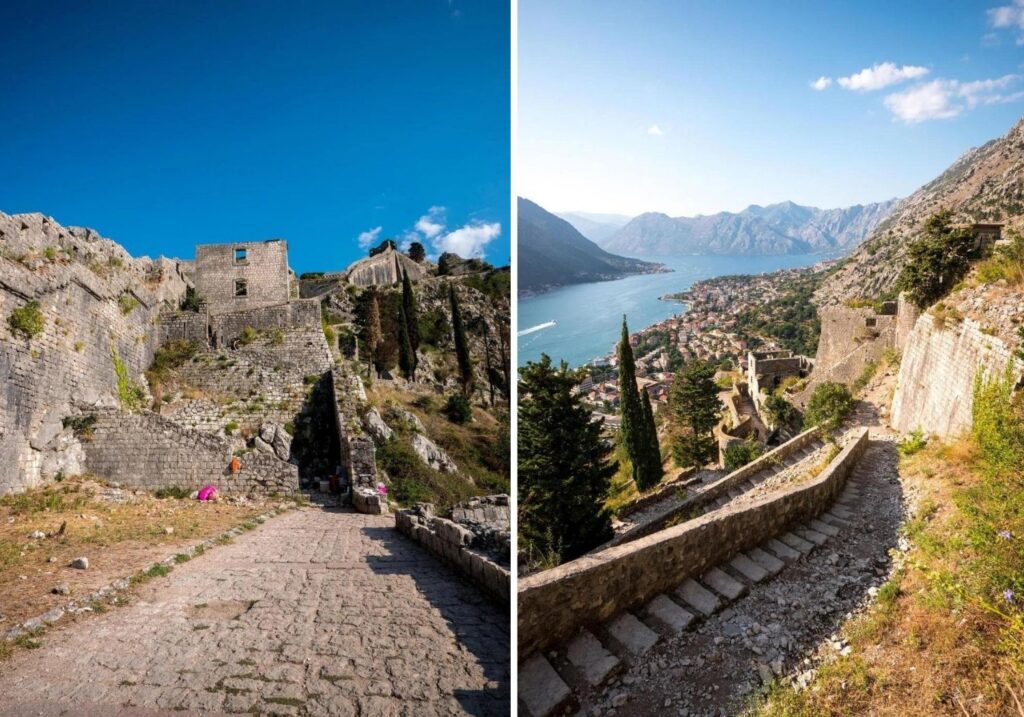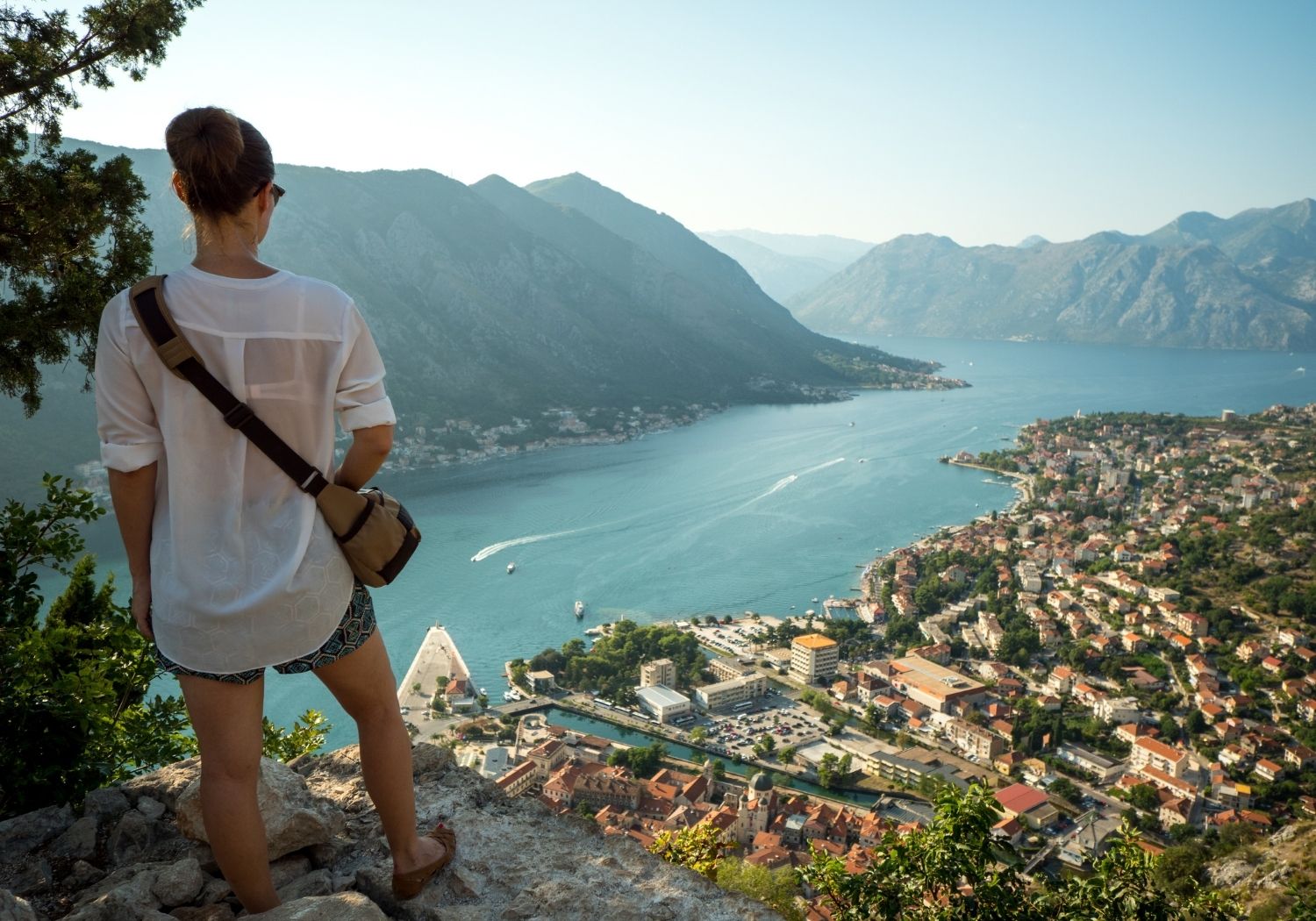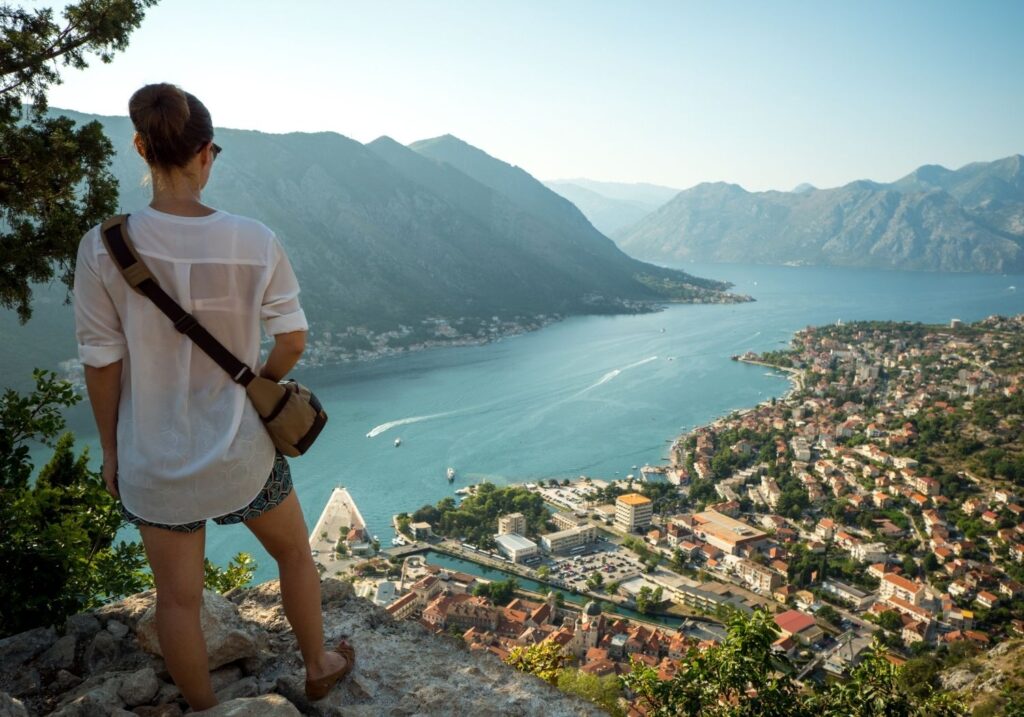 Day 6 : Perast and Kotor
Today we will cross the border into Montenegro for the second part of this trip.
After breakfast, we will jump in our minibus and drive towards the border to clear immigration procedures.
Already on Montenegrin soil, we will make our way to the pretty village of Perast, right on the Bay of Kotor, where our stunning hotel is.
Our drive will take two to three hours depending on border procedures, and will snake along the coast, right by the water's edge, showing us how stunning Montenegro's landscapes of mountains meeting the sea are.
We will check into our wonderful hotel and enjoy lunch at their beautiful seaside restaurant with a bit of free time to explore quaint Perast.
Perast is a lovely pedestrian-only fishing village turned tourist hotspot and one of the most picturesque spots on the Adriatic coast.
Filled with palaces, churches and old mansions, the village has an air of nobility and class hard to match anywhere else. And because of its sandwiched location below the main road, it has not fallen prey to unruly development and has kept its medieval feel.
The village was part of the Byzantine Empire, the Venetian Republic, the Austro-Hungarian Empire and finally part of Yugoslavia from the end of WWI with a brief period during WWII under Italian rule.
We will base ourselves here during our time in Montenegro and soak it all in. When day tourists leave, Perast becomes a relaxed village that is the perfect holiday spot.
After lunch we will meet again for a boat ride to the small island where Our Lady of the Rocks church stands.
This picturesque and beautiful baby blue roofed church was built on an artificial island created by the local fishermen who used to drop rocks on the specific spot every time they passed by.
Legend has it that this spot is where an image of the Virgin was found and where two brothers promised they would build a church.
The practice of dropping stones has not yet been abandoned and every year, on the 22nd July in an event called fašinada, local fishermen commemorate the occasion by contributing to the island's foundations.
Our Lady of the Rocks was originally an Orthodox church converted into Catholicism when the area fell under Venetian control.
We will go on a guided tour of the church by the hand of a local female guide and see a tapestry that is made with gold thread and the artist's hair.
After the church visit, we will jump back on the boat and continue on a scenic boat tour of Boca Bay, one of the most incredible places in Europe, you'll be left speechless by how incredible the area is.
Once in Kotor, we will meet our local female guide for a walking tour of Montenegro's most famous city.
Kotor is another fortified village surrounded by defensive walls and strategically located at the mouth of the Bay of Kotor in truly picture-perfect surroundings.
After Dubrovnik, Kotor will feel like the quieter little brother that escaped Game of Thrones fame but not the cruise ship notoriety. When a cruise docks, you will feel it in the street crowds but as soon as they depart, the city becomes remarkably peaceful.
Kotor is small and maze-like; the entirely pedestrian old town is made of a collection of narrow alleys that snake through churches, old mansions and tourist shops.
After the tour, you will have some free time to explore on your own, head over to one of the rooftops for a drink, do some shopping, walk the walls or wander around this fairytale old town.
For the most active, you can also walk up to St. John's Fortress. Originally called the Fortress of San Giovanni, this is the most well known of all the things to do in Kotor and a must see attraction for any visitor.
You can't visit Kotor and not get up to the fortress for a panoramic view of the bay and fjords below.
The path uphill is steep and about 1.2km long, snaking up 1,350 steps (yes, we counted them!) for a total elevation of 260m above sea level, and this is the best way to work up an appetite for lunch and burn off all the yum cheese and cold cuts that Croatia and Montenegro are known for.
While the ascent is relatively easy and semi paved with large cobblestones, you do need to be relatively fit, or take lots of breaks, which is easy since there are plenty of places for a stop to admire Kotor's pretty streets below.
At the top, we'll find the castle point dedicated to St. Ivan and built in the 14th to the 15th century.
Not much of the castle and the various parts of the fortification remains and only the ruins can be visited but the views.
Inclusions: Breakfast at the hotel, transportation, lunch, scenic boat ride to Our Lady of the Rocks and Kotor, walking tour of Kotor.
Overnight at Heritage Grand Perast 5*
We completely fell in love with this 5* hotel from the moment it embarked on its full renovation of the 18th century palace it is housed in, the largest in Perast.
The Heritage Grand Perast is a stunning hotel and has everything for a stylish luxury vacation.
It is sea facing, it has a small but exclusive private pool, fabulous sun loungers, and a full spa. It also occupies a privileged location right in the middle of the village and mere meters from the water.
The main problem will be convincing you to leave!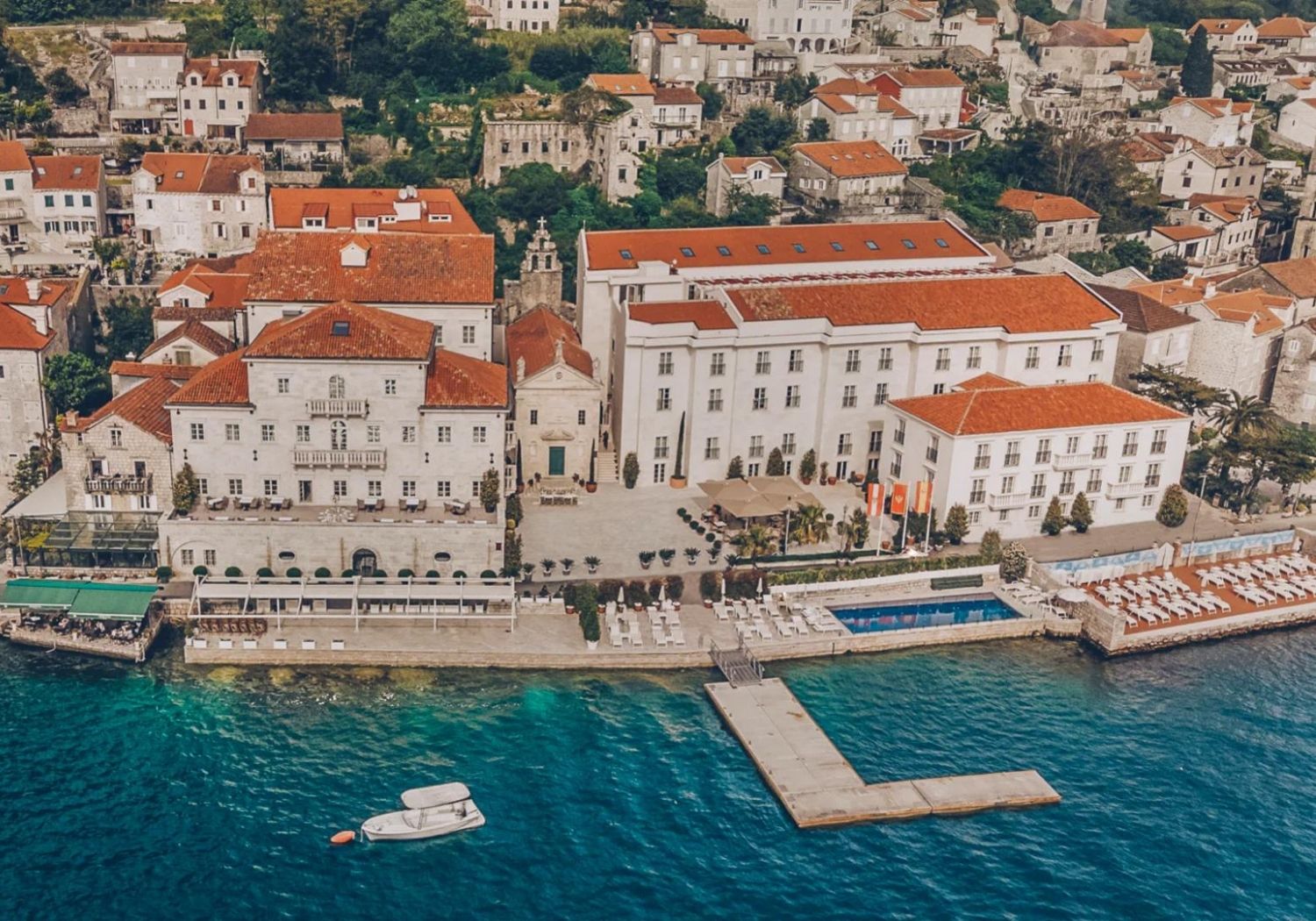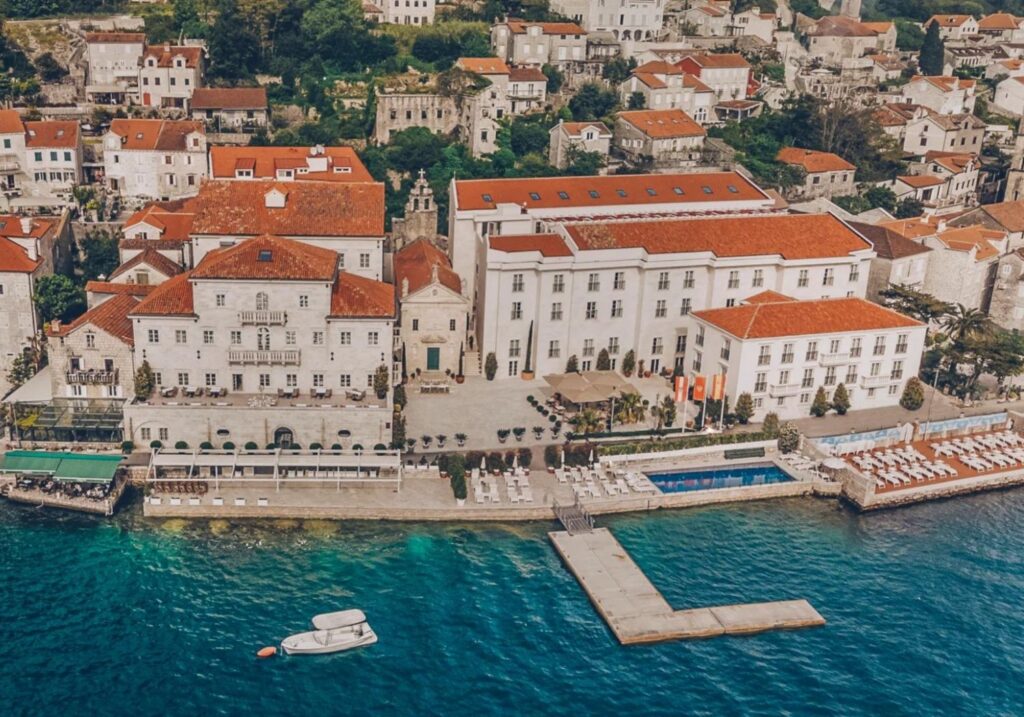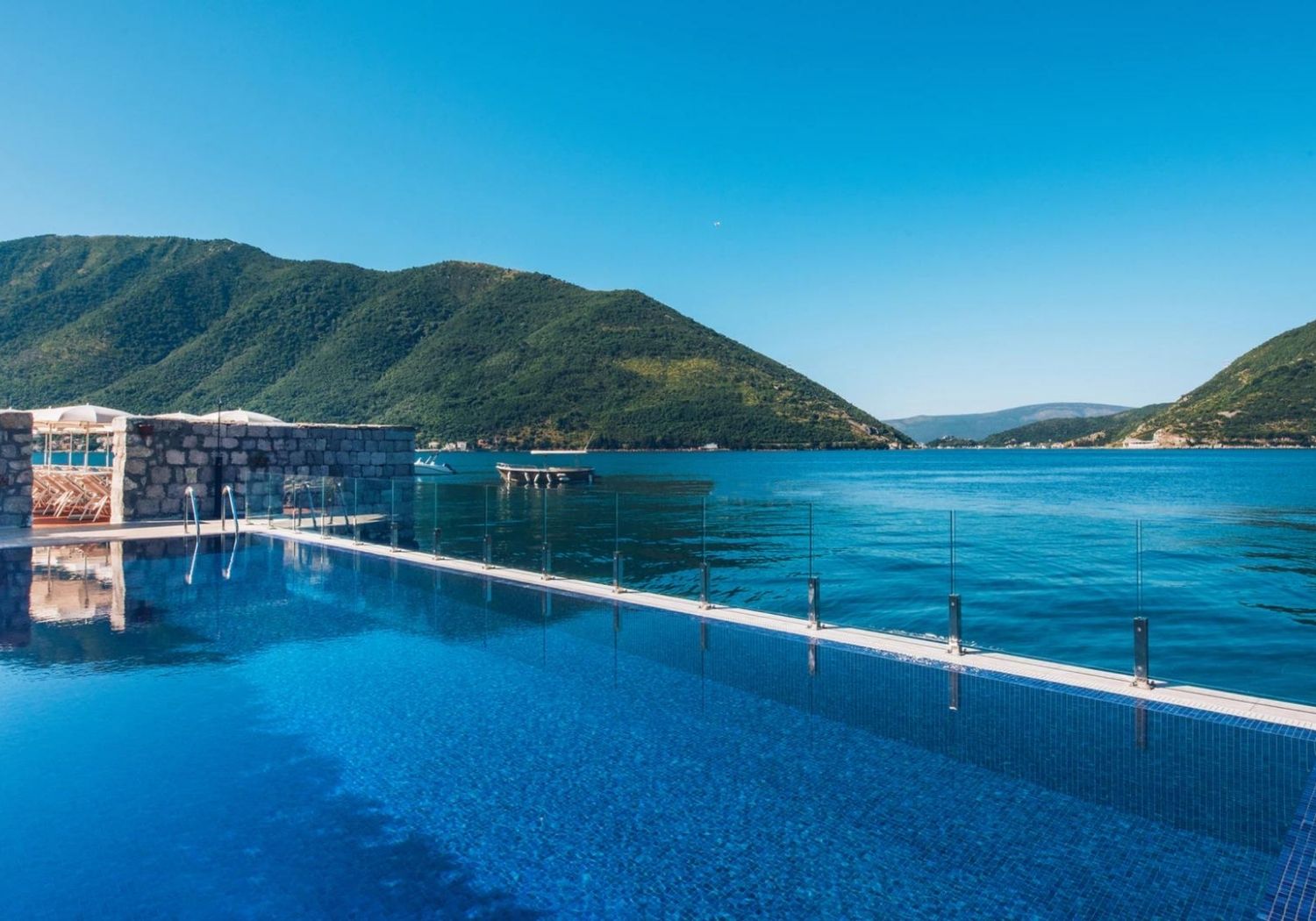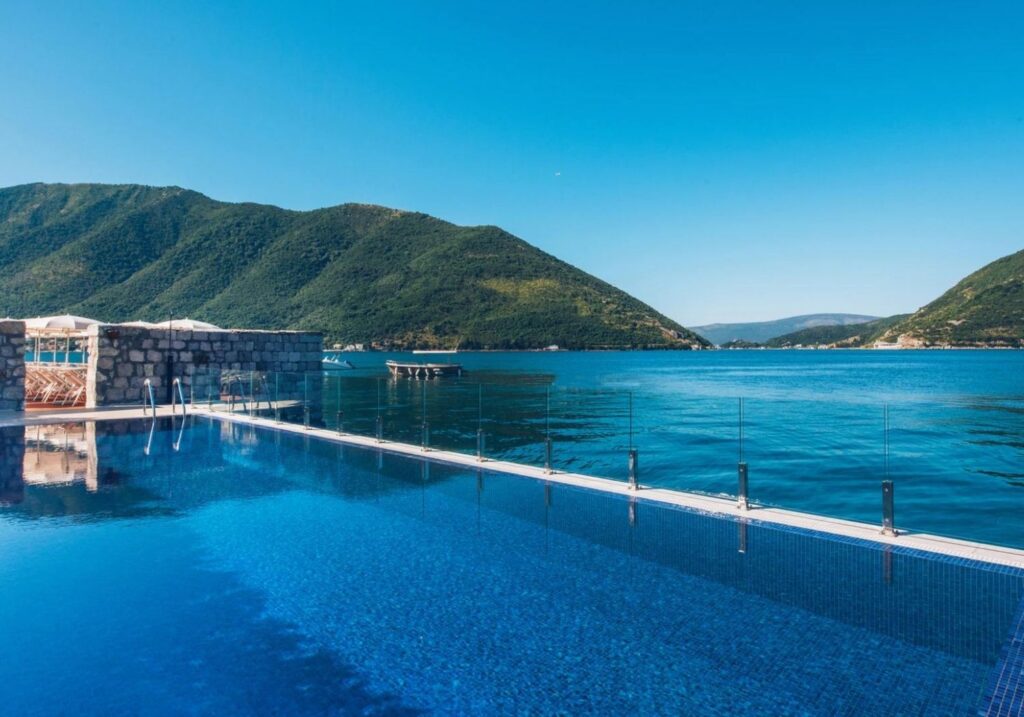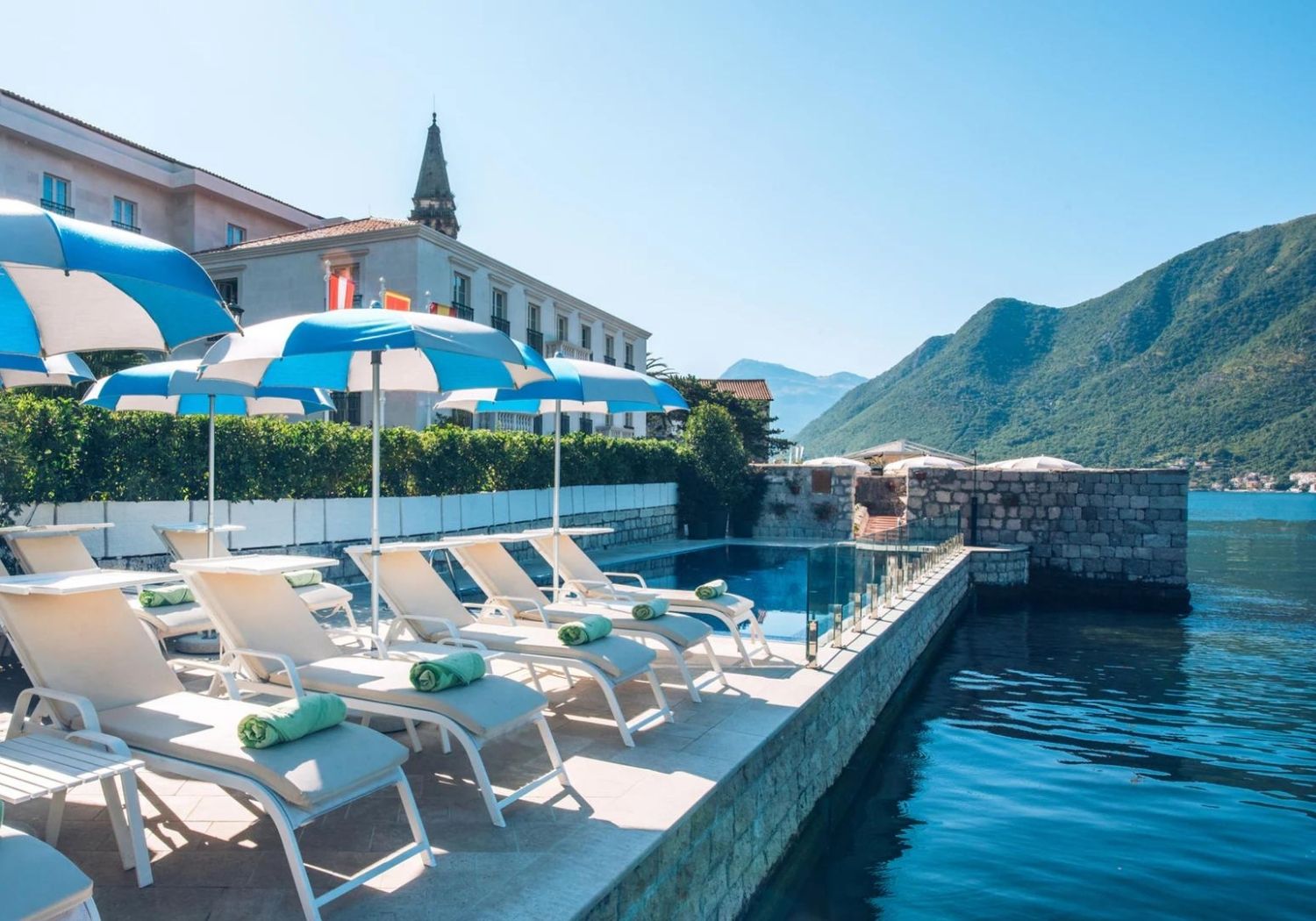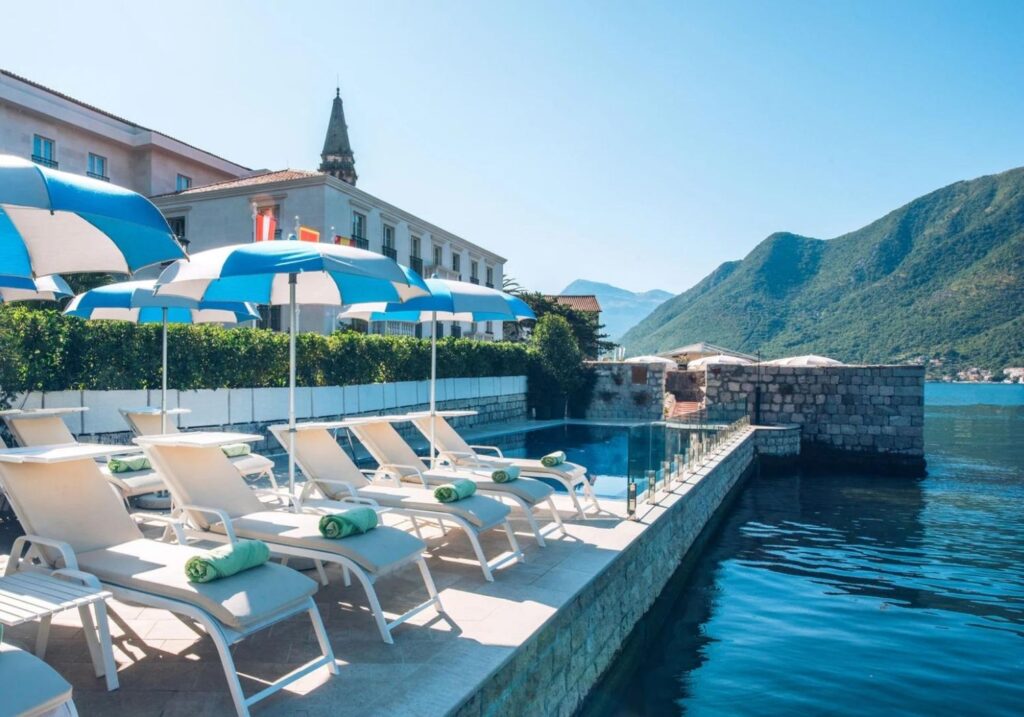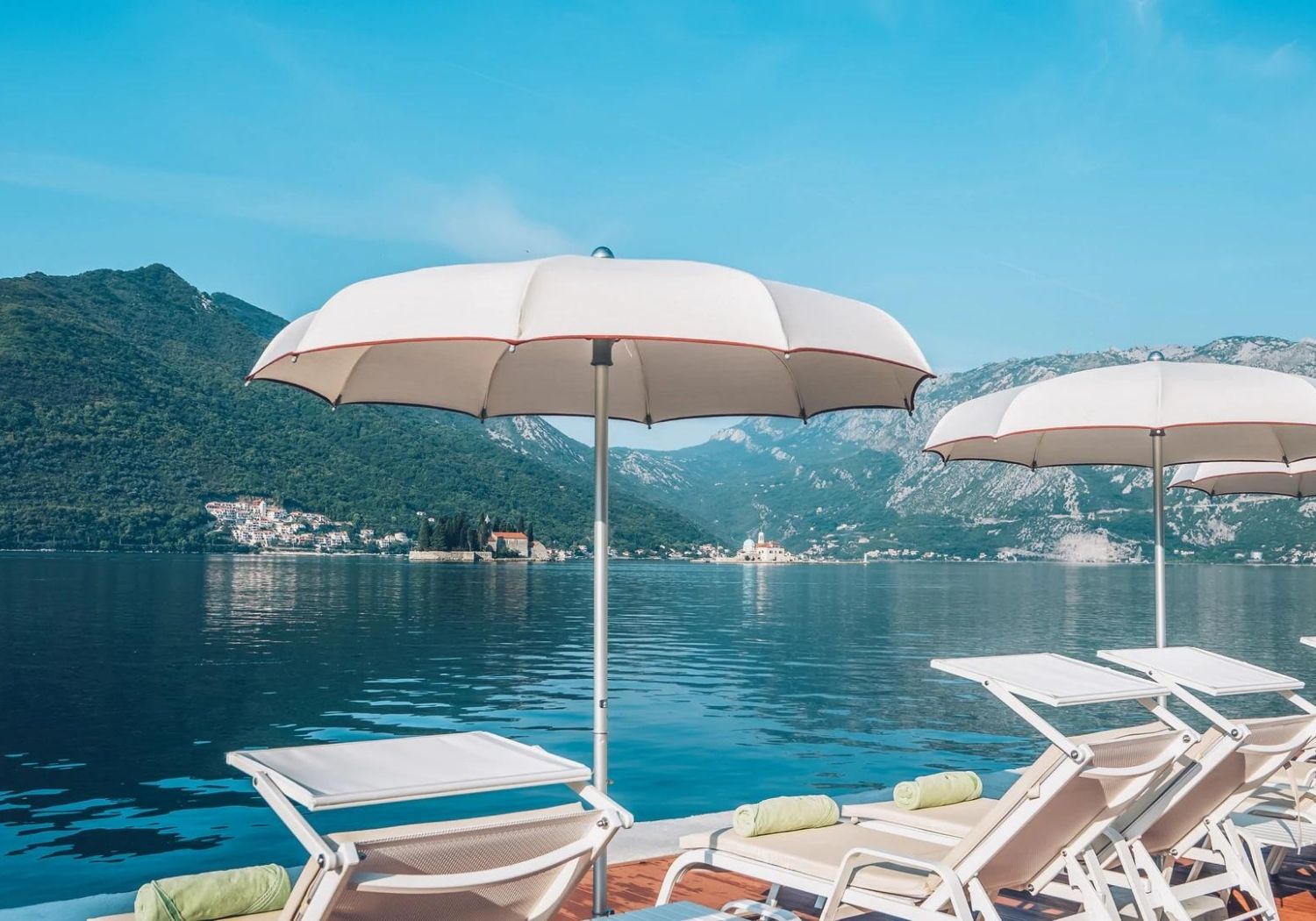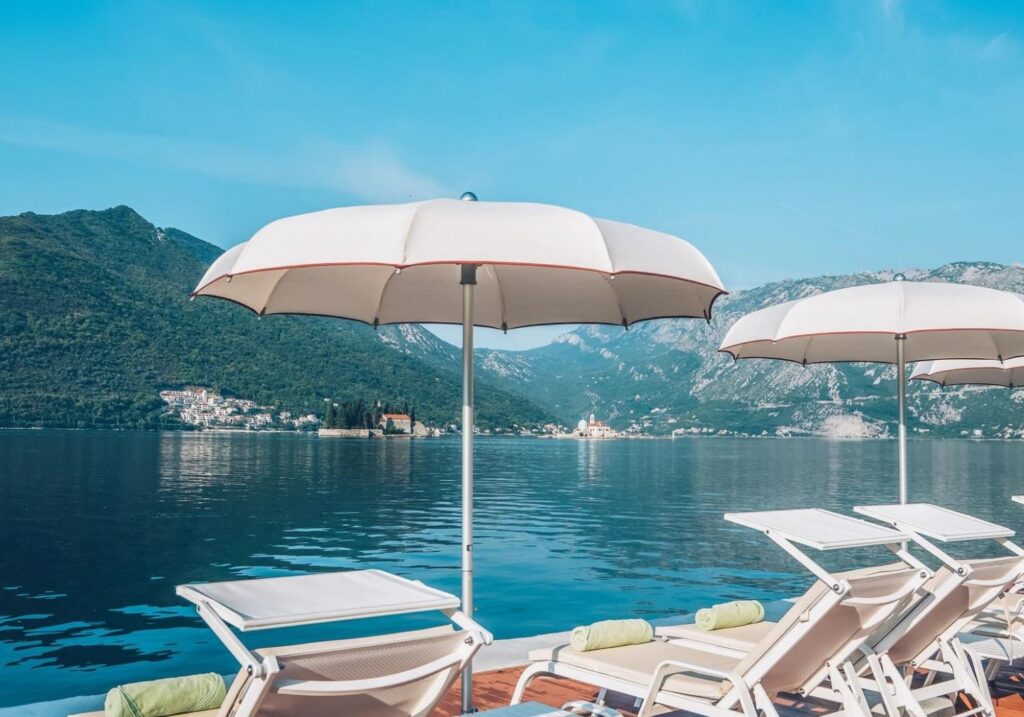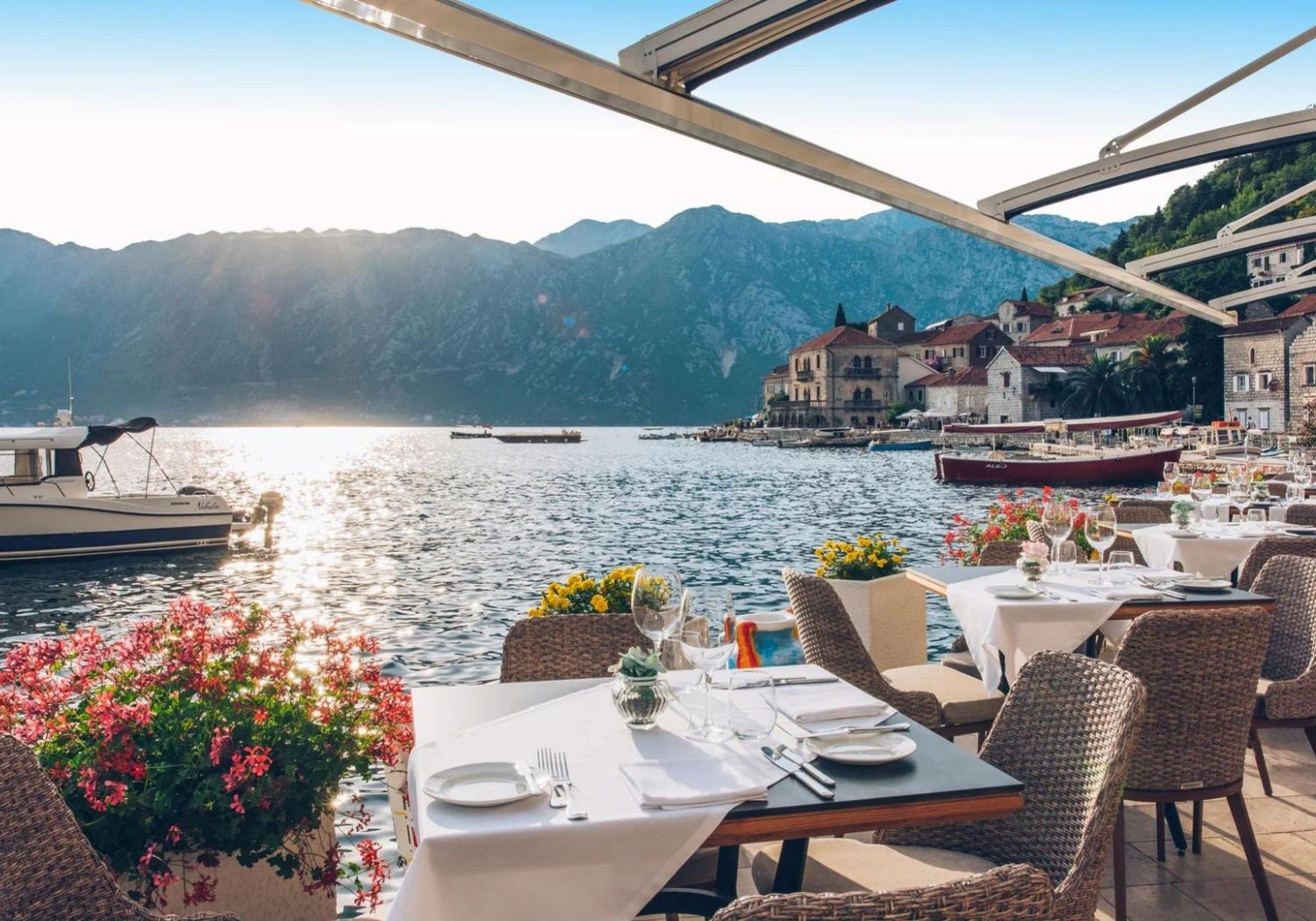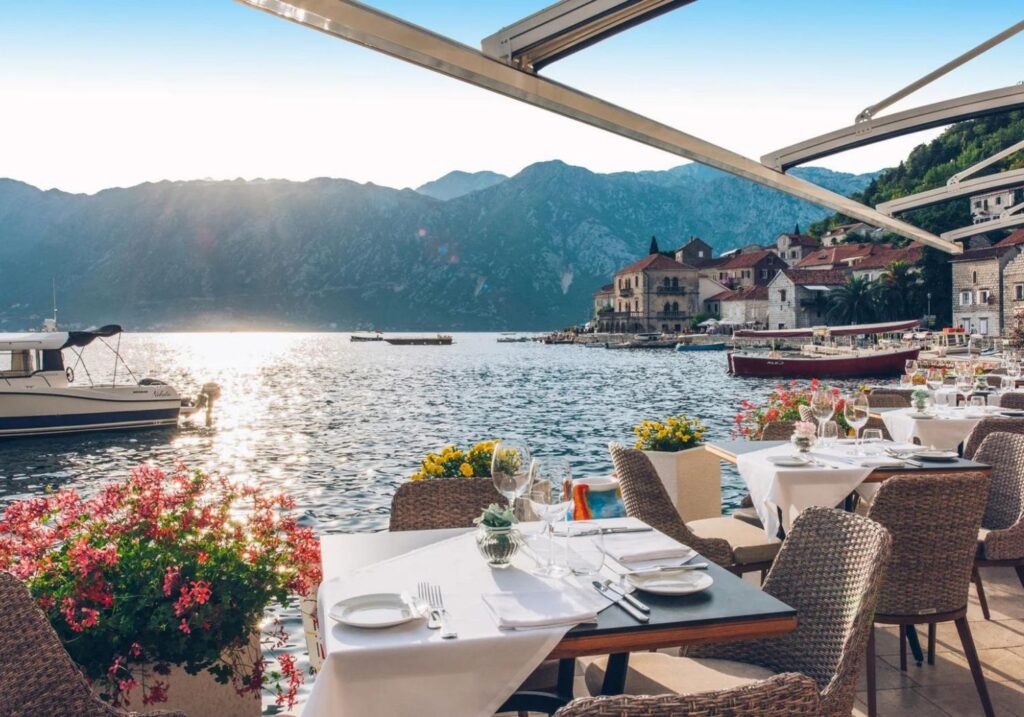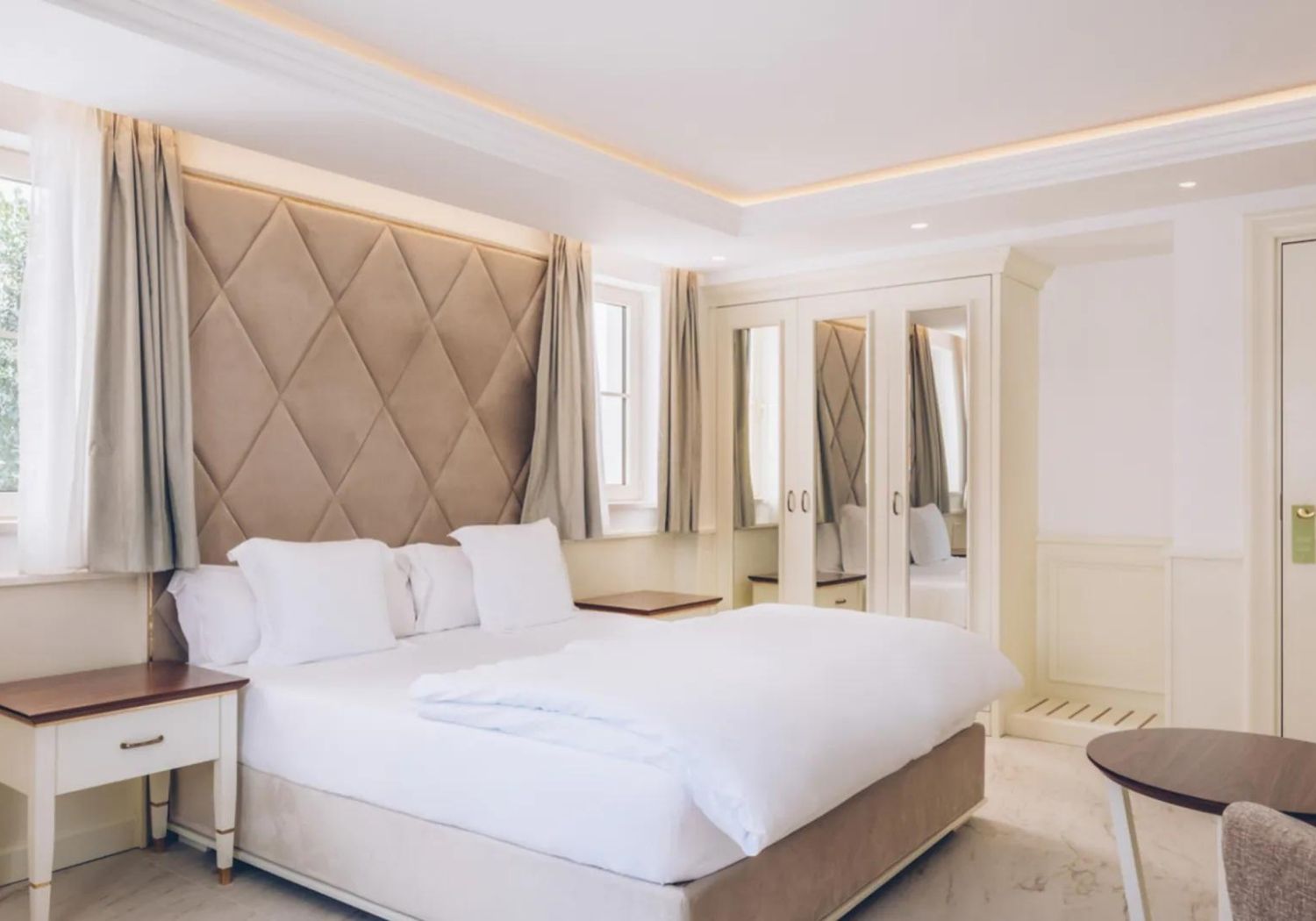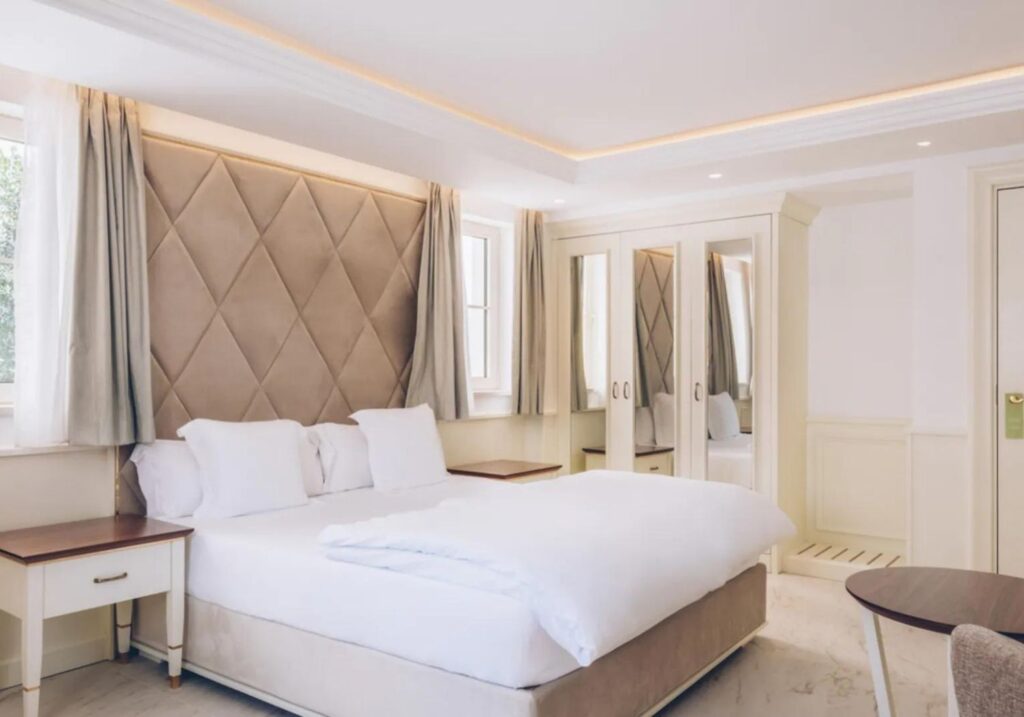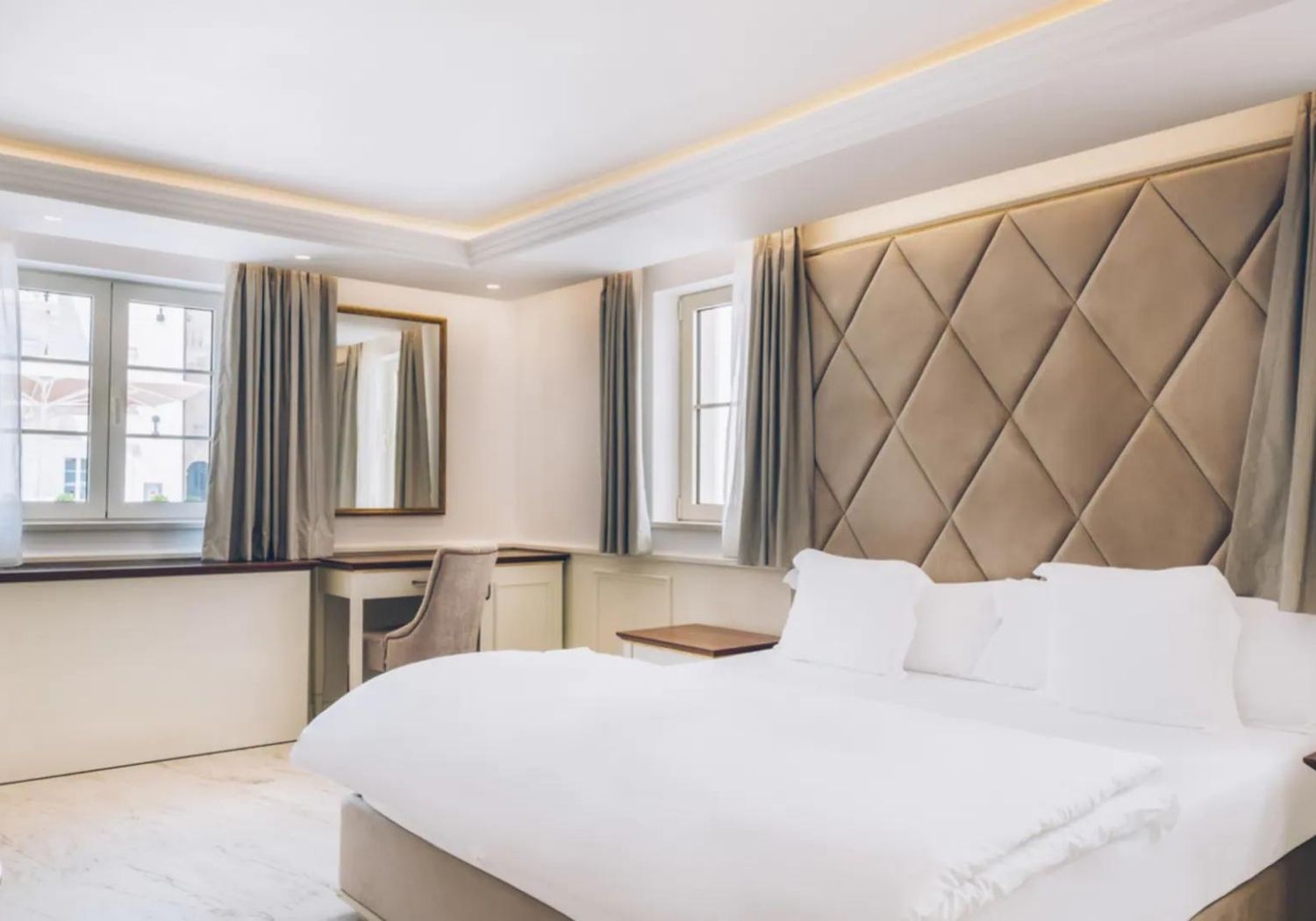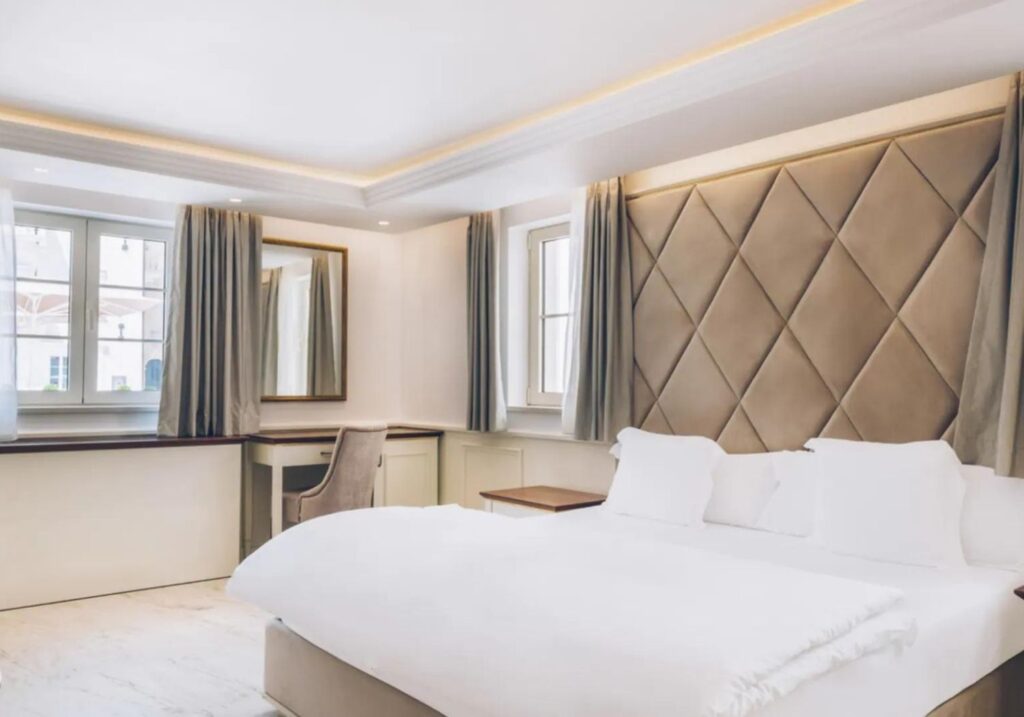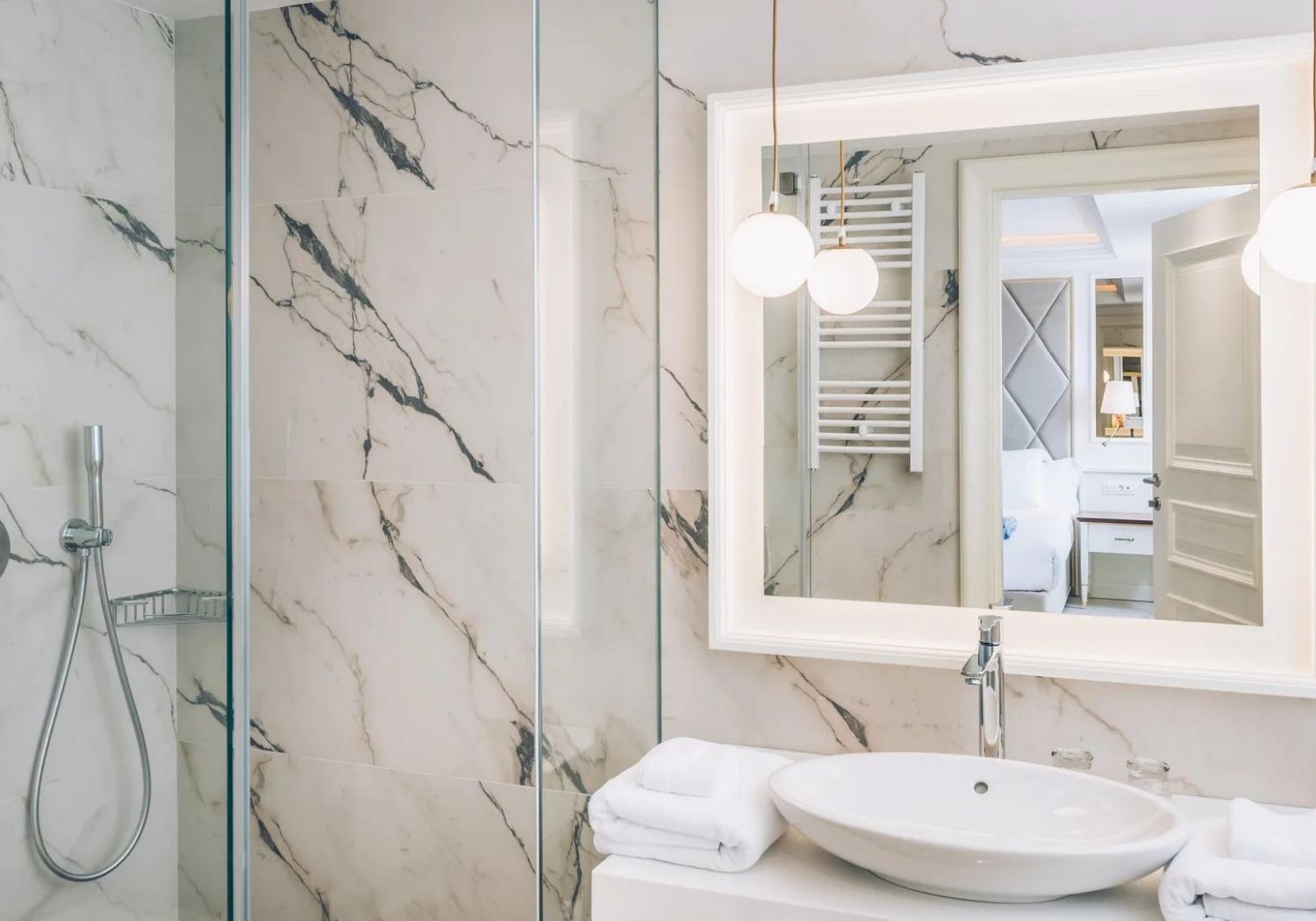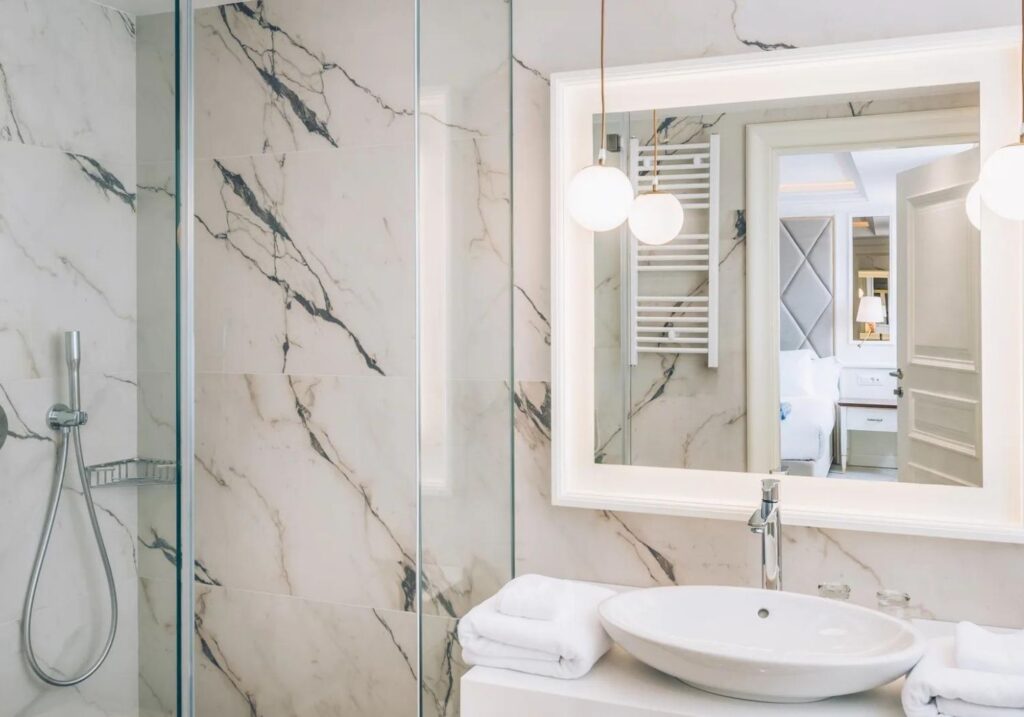 ---
Day 7 : Budva & Sveti Stefan
We will enjoy an early breakfast at our fabulous hotel before setting off for our active morning walking the coastal path from Sveti Stefan to Przno and exploring Budva.
We will get on our minibus and drive wouth away from Boca Bay and towards a more developed part of Montenegro.
On the way, we will be fascinated by the stunning coastal views and the zigzagging coast as we understand the level of tourism infrastructure that is being built in the country.
We will drive all the way to Sveti Stefan and stop for photos from a viewpoint above the island.
Sveti Stefan was a medieval fishing village turned celebrity hot-spot during Yugoslavian times and finally under management of luxury hotel brand Aman Resorts.
After remaining closed during COVID and beyond because of disagreements with the Government, the island is due to reopen at the end of 2023.
If possible, we will go on a walking tour of the island, one of the country's best kept secrets, then continue on the beautiful coastal path that follows from Sveti Stefan to the quaint fishing village of Przno.
The walk will pass by the summer residence of the Yugoslavian royal family, now part of Aman Sveti Stefan, and snake through shaded pine tree forests and hidden coves.
From Przno we will be picked up and drive to Budva just up the coast.
The red roof fortified old town of Budva is practically taken off a fairytale with its cobblestone streets and thick stone walls protecting it against the lapping waves and invading armies.
Unlike Kotor, Budva is fully embracing the beach life and the old town walls are surrounded by a thriving marina and a sun lounger-filled beach that is packed in the summer months.
Budva was a Greek settlement in the 4th century BC, became part of the Roman Empire two centuries later and of the Byzantine Empire in the 6th century. It was subsequently occupied, sacked and attacked in the centuries that followed by Avars, Saracens and Slavs.
Finally, in the 13th century, stability arrived when Budva became the seat of the Roman Catholic Diocese of Budva and remained as such until the 19th century.
During that period, the city was under the rule of the Republic of Venice which erected the city's fortified walls to protect it from the constant Ottoman attacks, like in the rest of Montenegro.
With the fall of the Venetian empire, Budva was briefly under Napoleon's rule until it was ceded to the Austrian Empire in 1813 who controlled it until WWI. After the war, the country became part of Yugoslavia.
When you visit Budva what you can see is the renovated old Medieval Venetian city which was restored to its former glory after the 1979 earthquake.
Entering through the main gate, Porta di Terra Ferma, which has the shield of the Venetian Republic on the top, you are immediately taken into a mesh of streets.
We will go on a walking tour of the old town with our local female guide Eva and then enjoy free time to do some shopping, take photos or simply wander the streets.
Pro Tip: Don't miss out on the ballerina statue that is located by the sea on the path that leads from Ricardova Glava beach towards hidden Mogren Beach.
The city is roughly orthogonal (shaped in right angles) and you can use the sea as the reference point.
Lunch will be on your own in the city and after that, we will return to Perast for a free afternoon to enjoy the beautiful beach and pool of the hotel.
We will meet again for our last farewell dinner in the area with wonderful sunset views.
Inclusions: Breakfast at the hotel, transportation to Sveti Stefan, Budva and back, walking tour of Budva and Sveti Stefan (TBD), farewell dinner with wine.
Overnight at Heritage Grand Perast.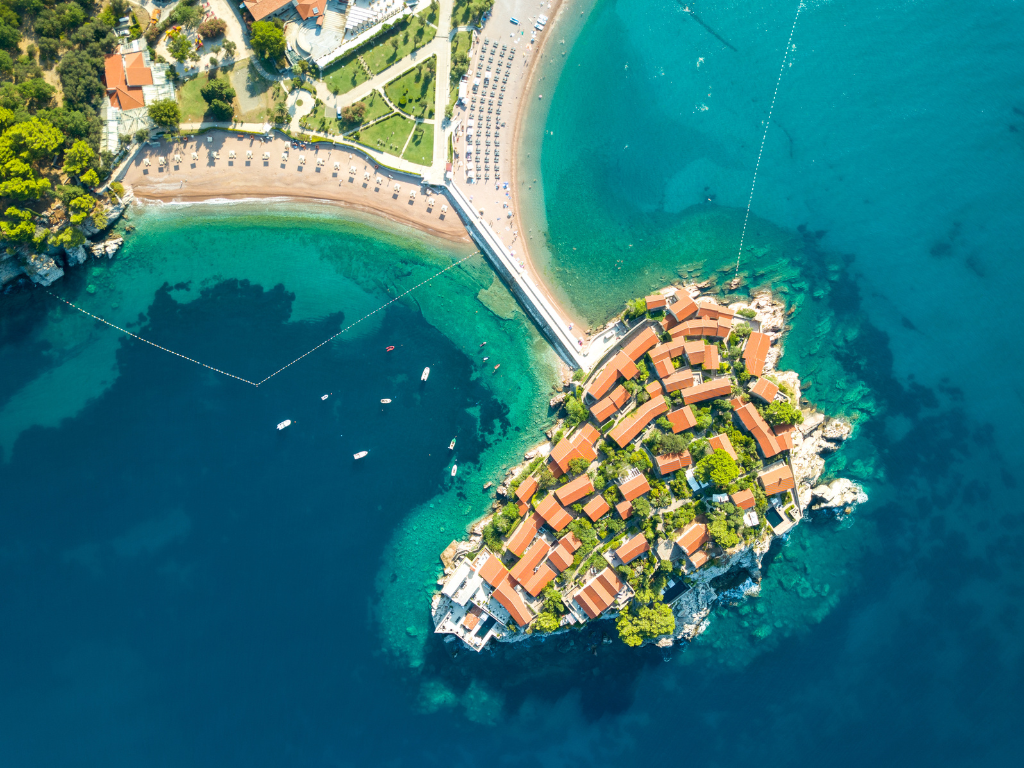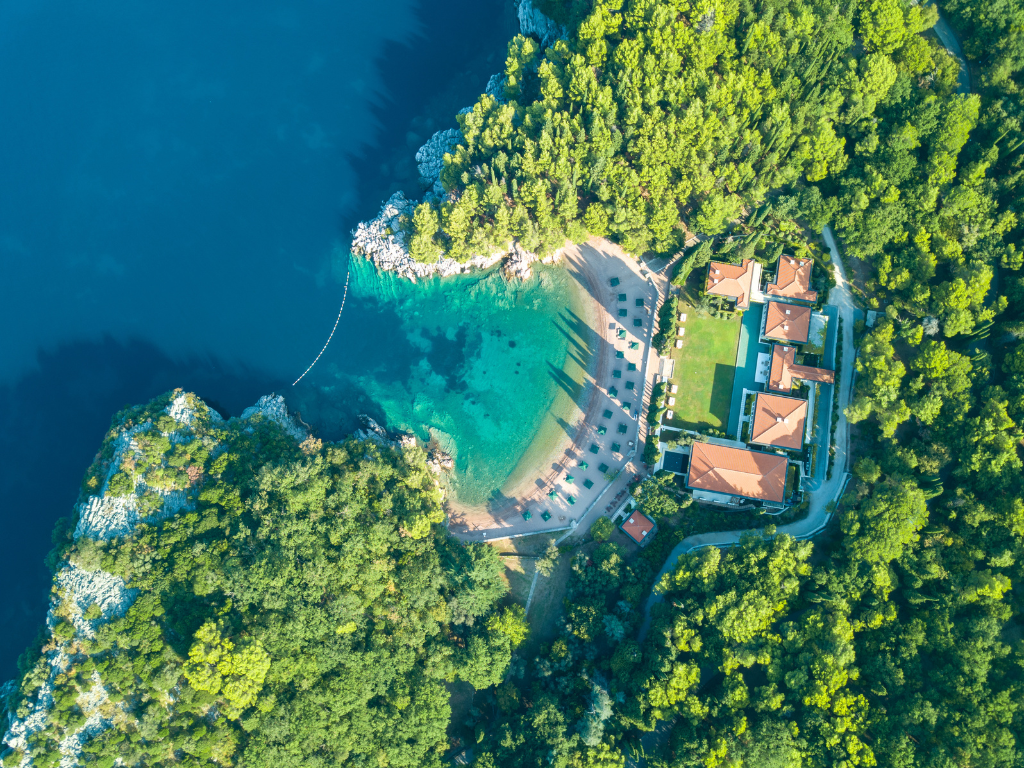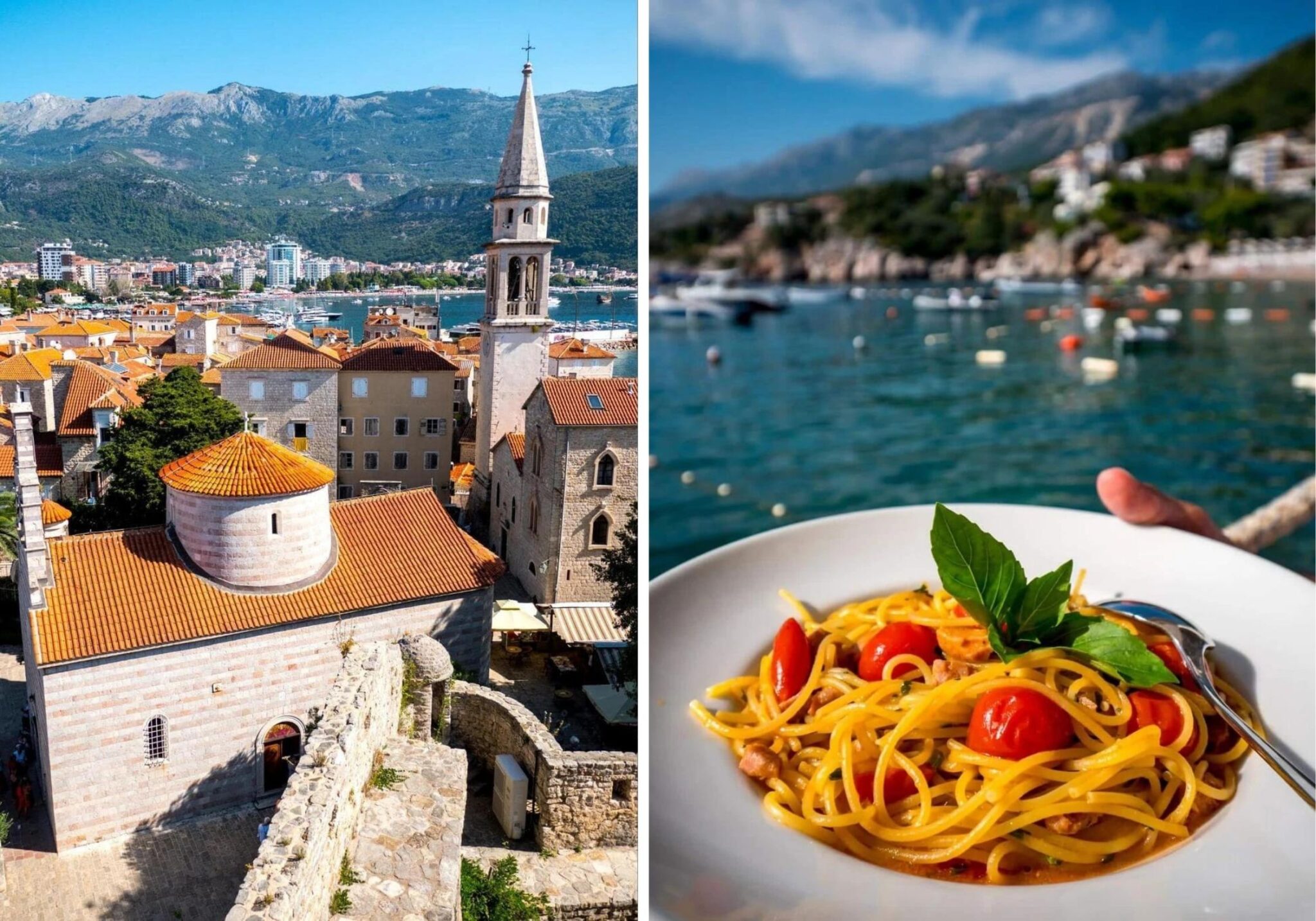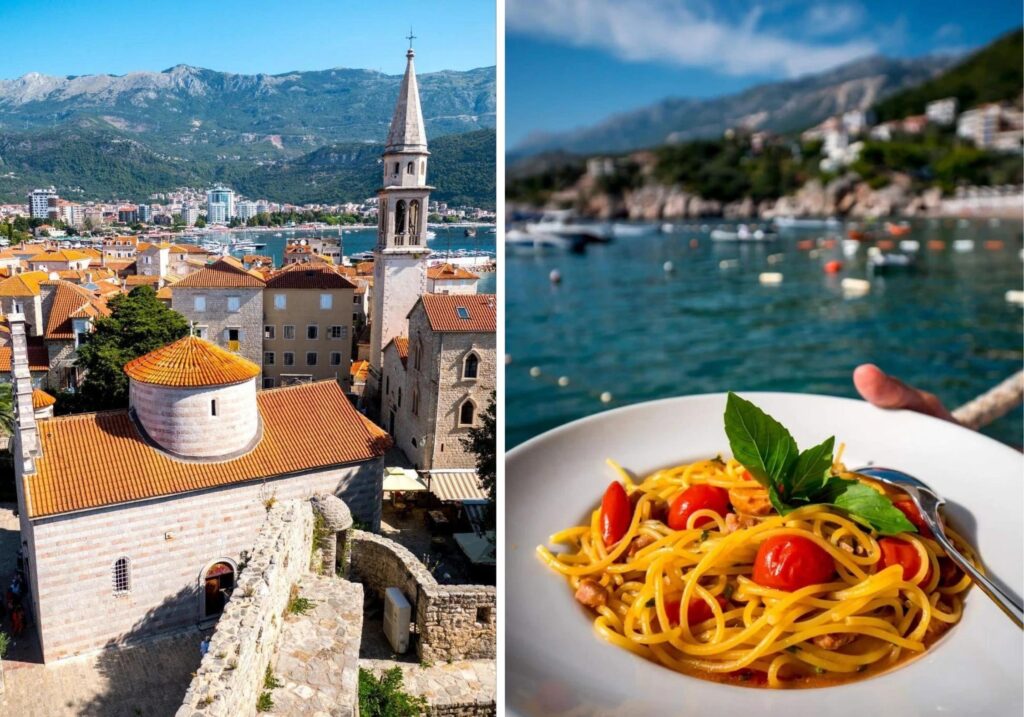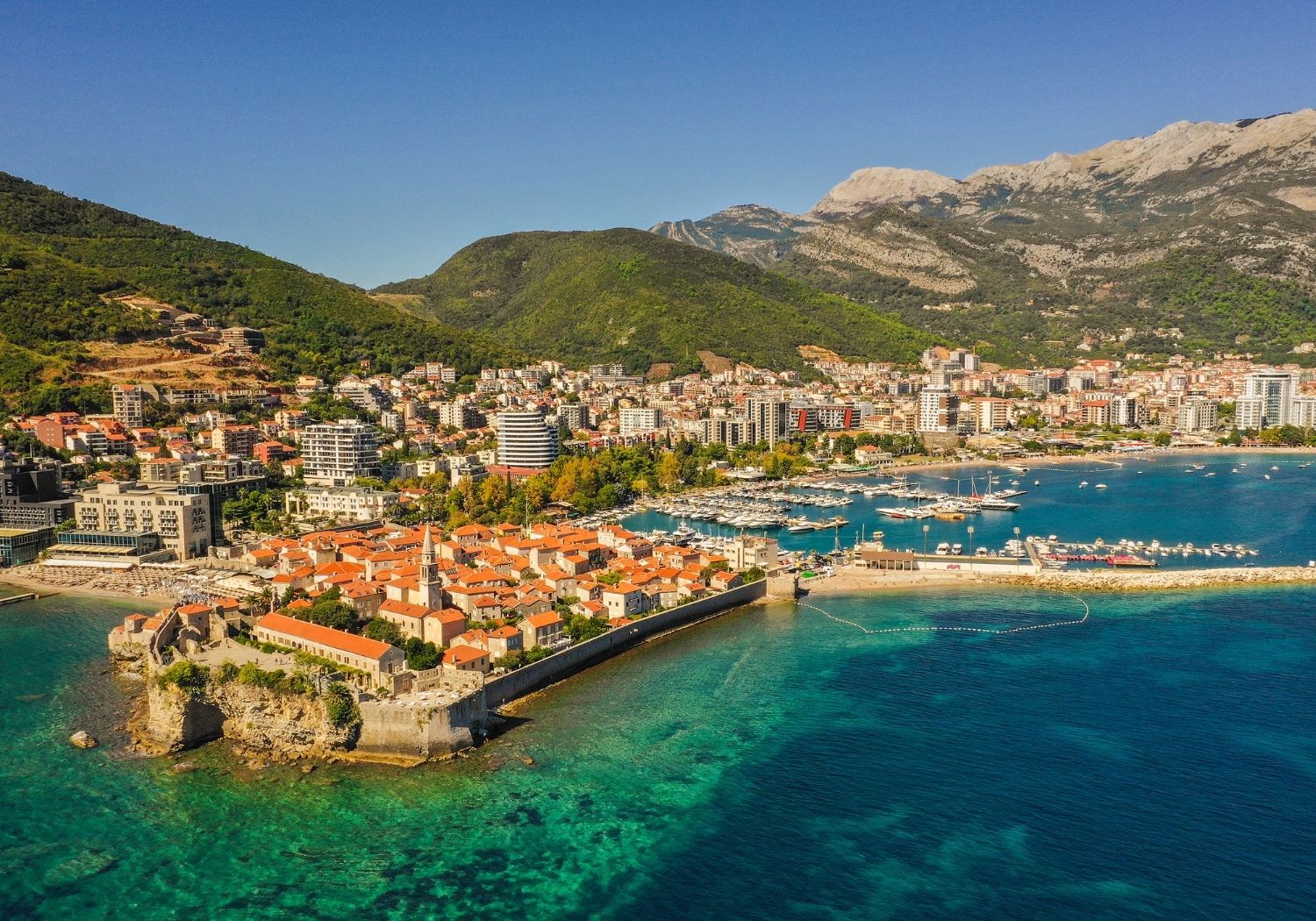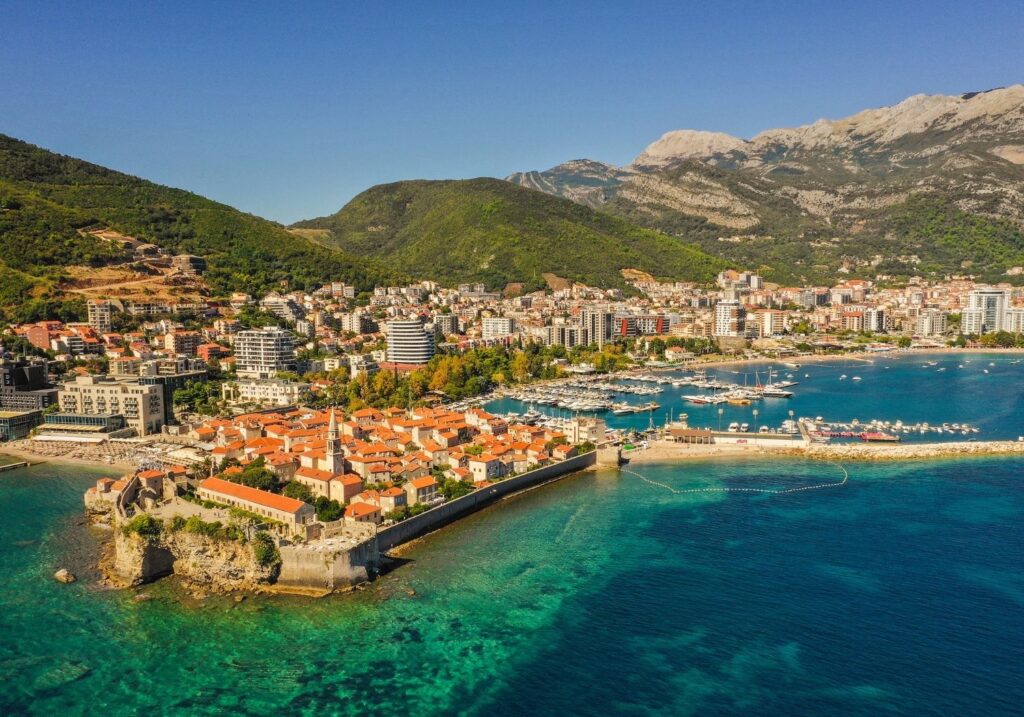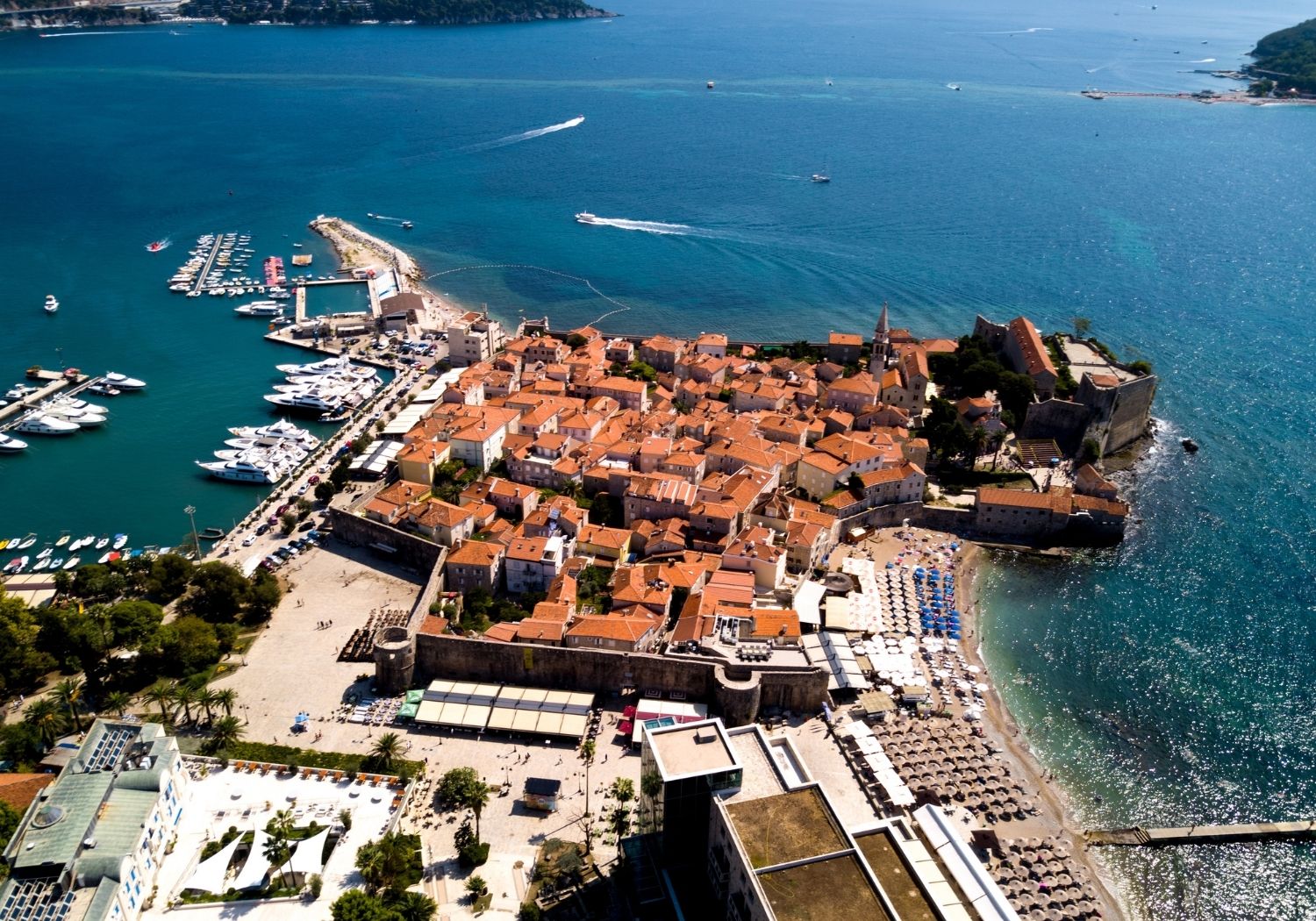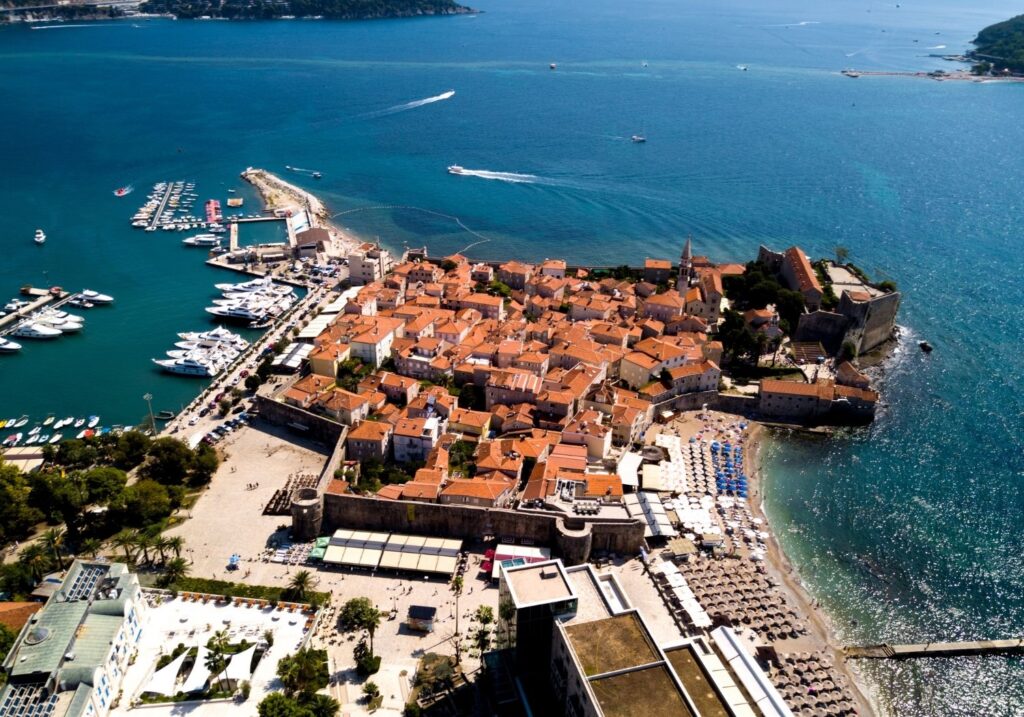 ---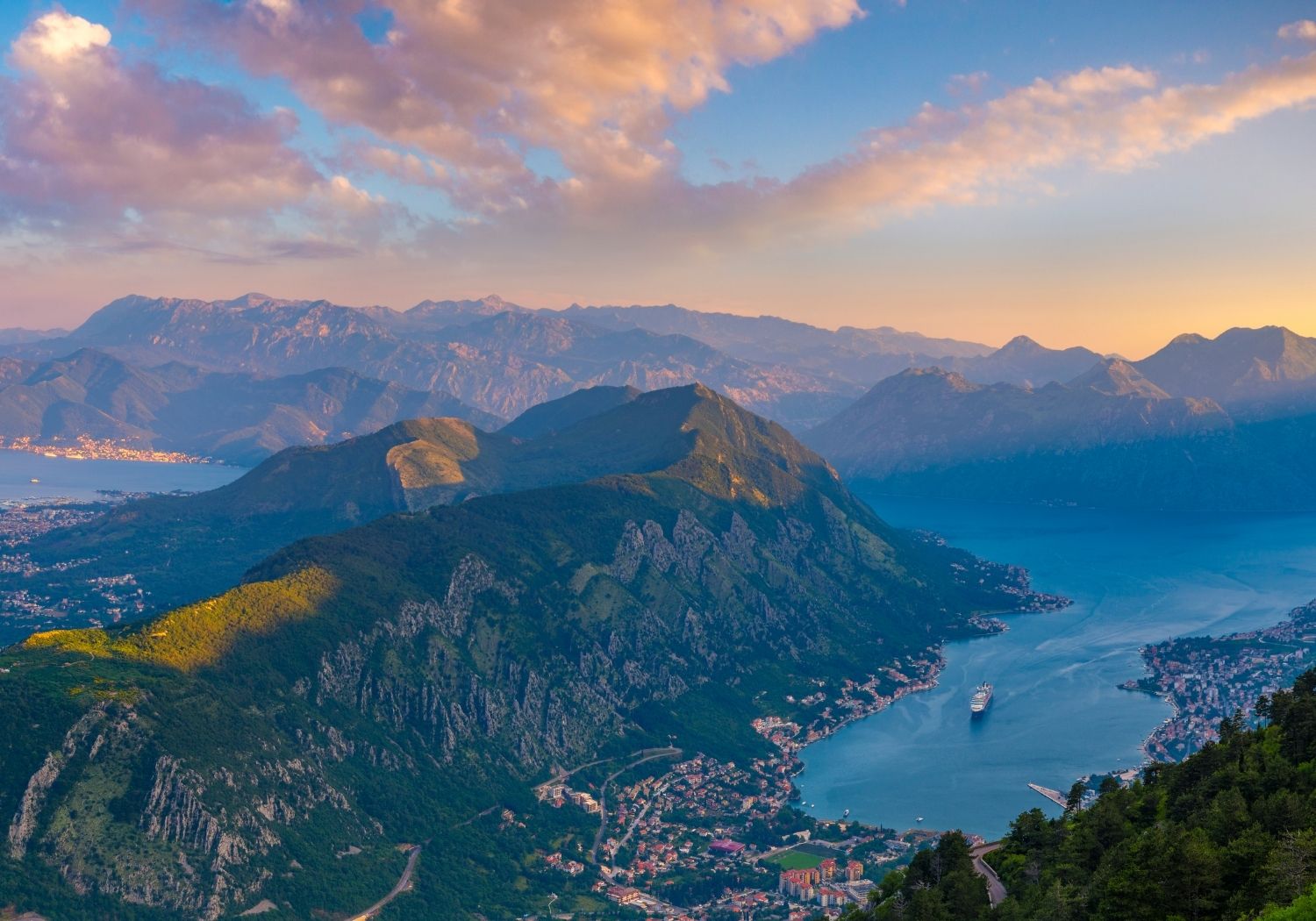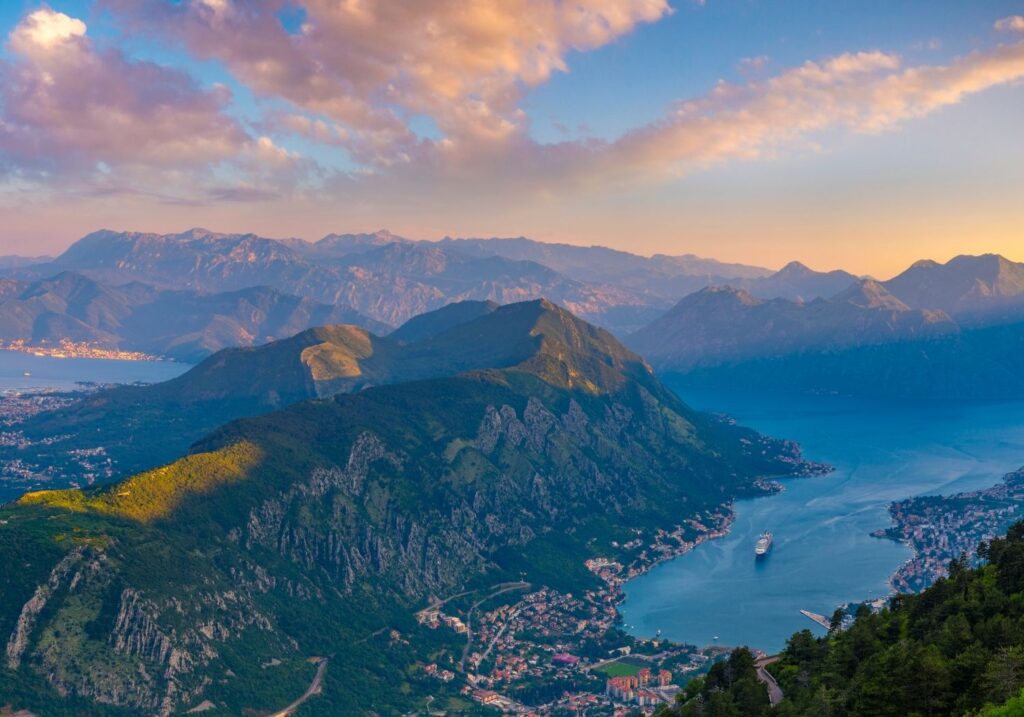 Day 8 : Departure
We will wake up for one last breakfast at our fabulous hotel before being dropped off either at Dubrovnik's airport.
Inclusions: Breakfast at the hotel, transfer back to Dubrovnik Airport
---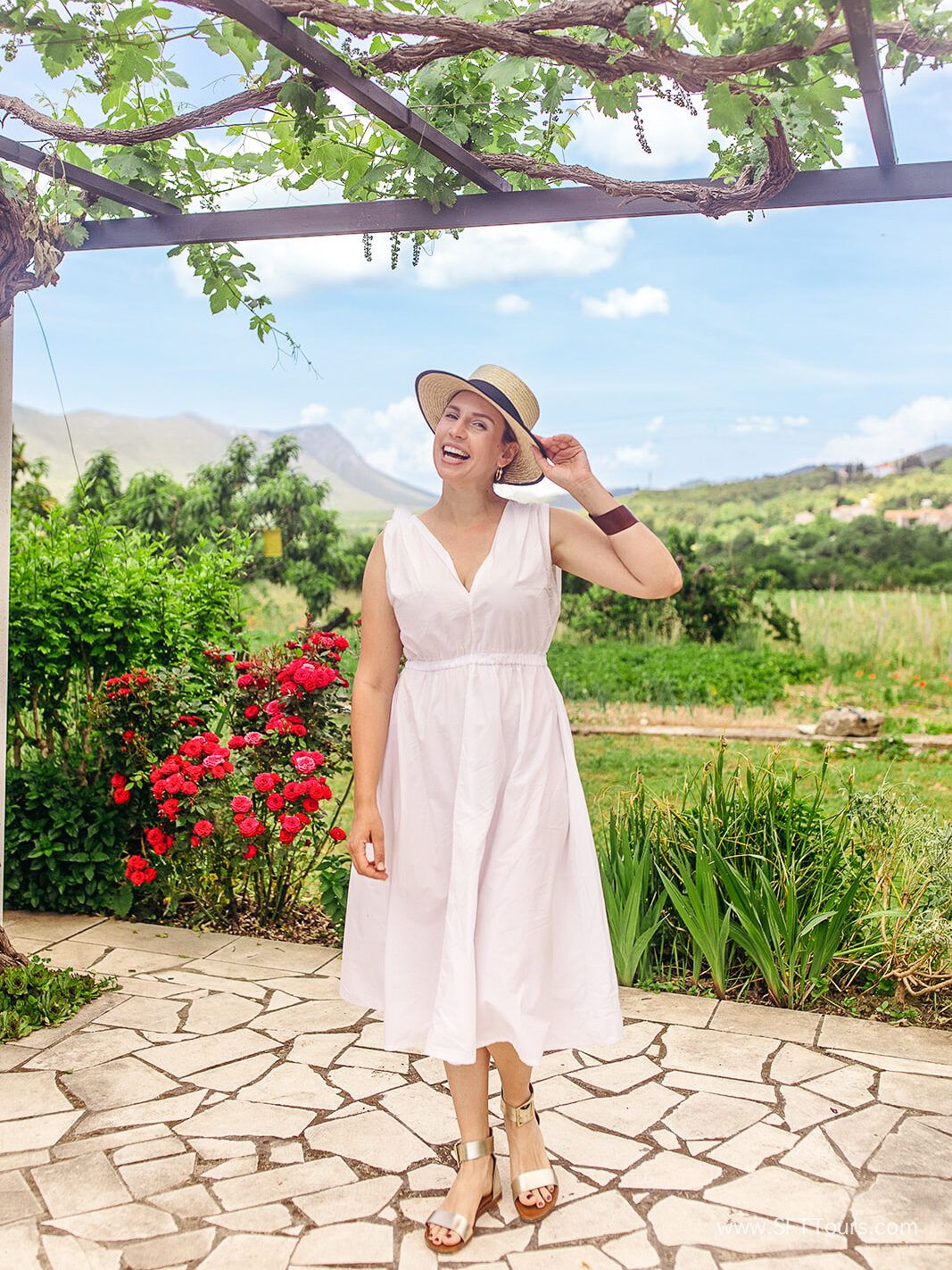 About Your Host, Nika
Nika was bitten by a travel bug from a young age when her mother, who worked in the travel industry, took her on "girls only" trips. She continued exploring on her own in her late teens and has so far been to around 50 countries on 5 continents.
She has lived and worked in the USA and Italy and has always had jobs which involved traveling or working from different locations including film location scouting and production for famous series like Game of Thrones.
Six years ago Nika decided to become her own boss and focus primarily on the travel industry.
Since then, she's worked as a freelance guide for a couple of international companies and created many custom made tours and retreats.
There is nothing more powerful than travel – the knowledge and the skills you get after each trip become part of you so you continually upgrade and discover new layers of yourself.
---
Guest feedback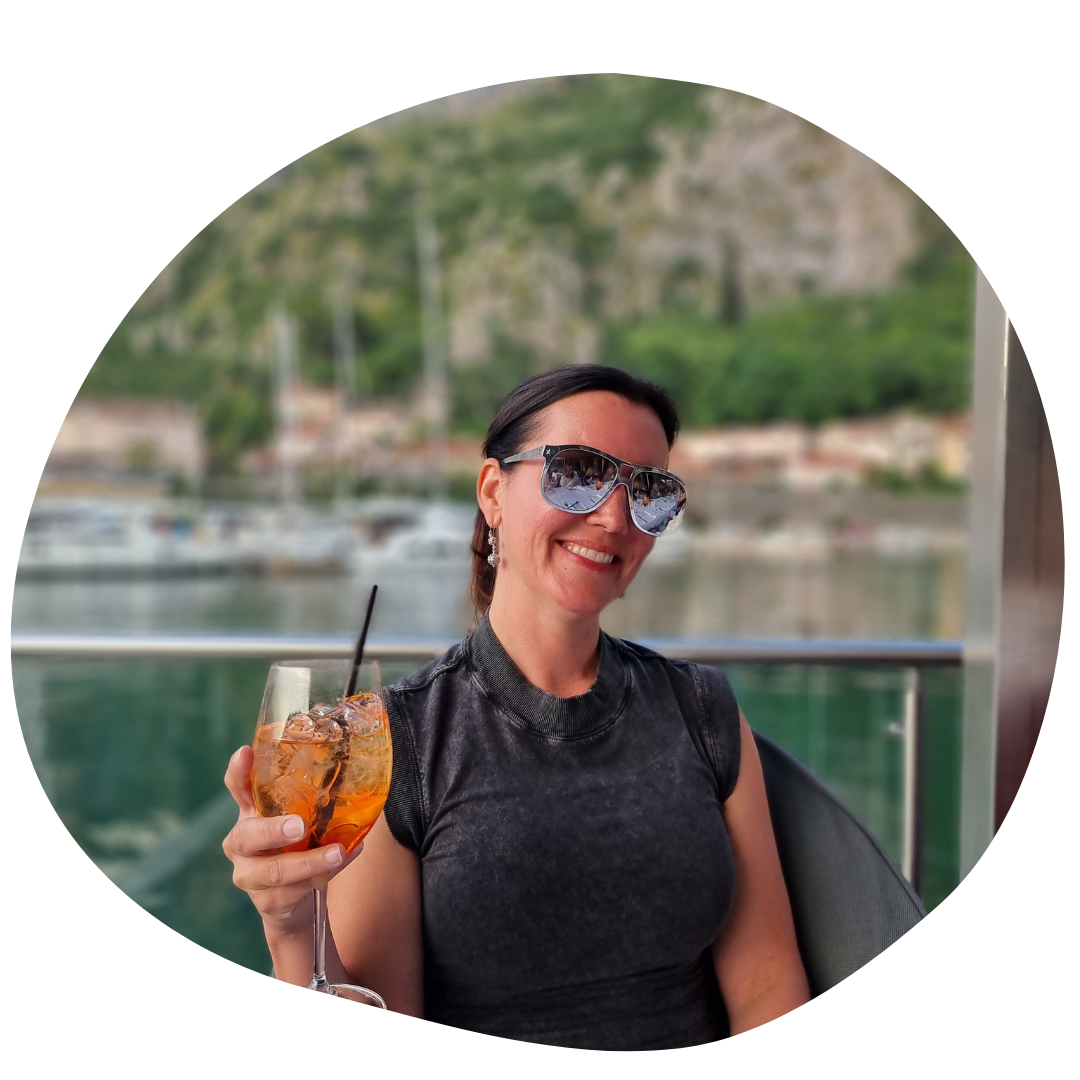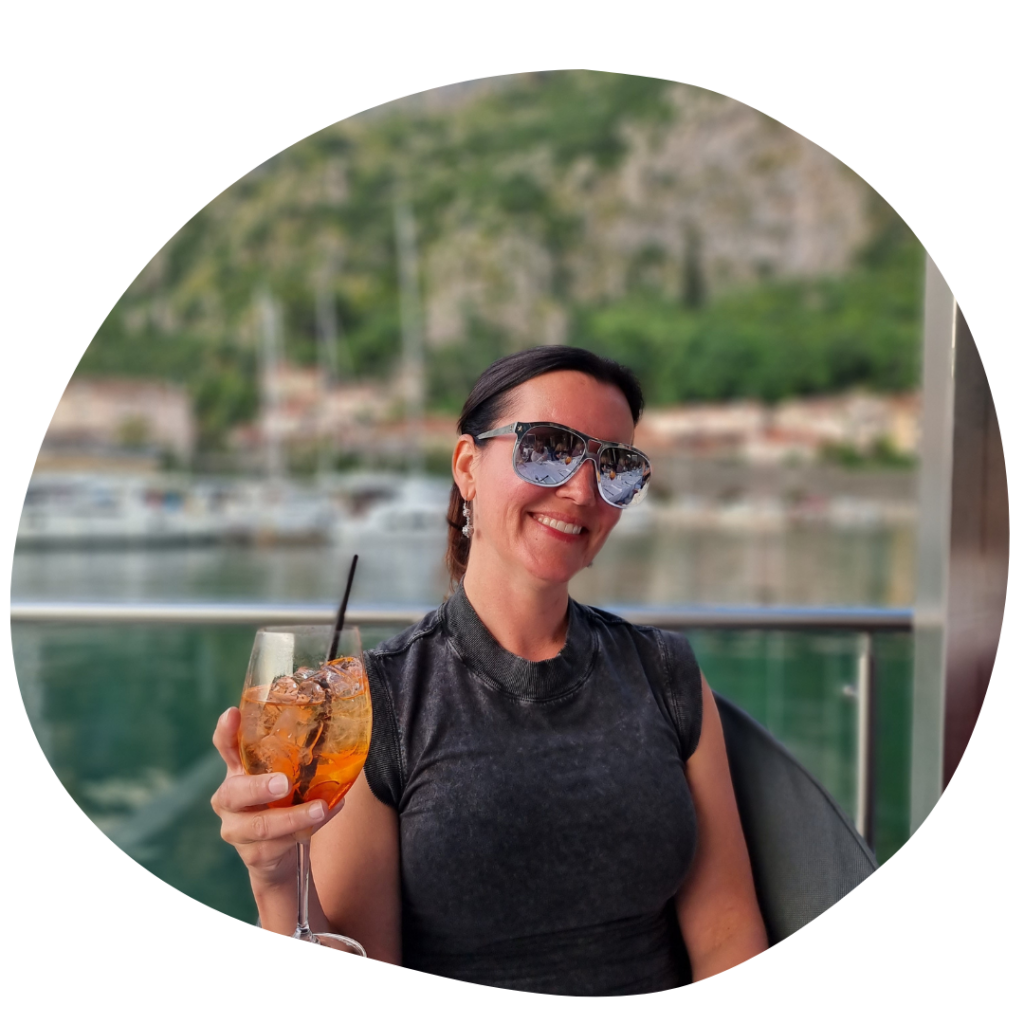 Sarah – "The Croatia and Montenegro trip was amazing! I can't recommend Solo Female Travelers enough. The local guide, Nika was very knowledgeable and helpful. I'm planning on traveling with them again in 2024. 10 gold stars and two thumbs up!"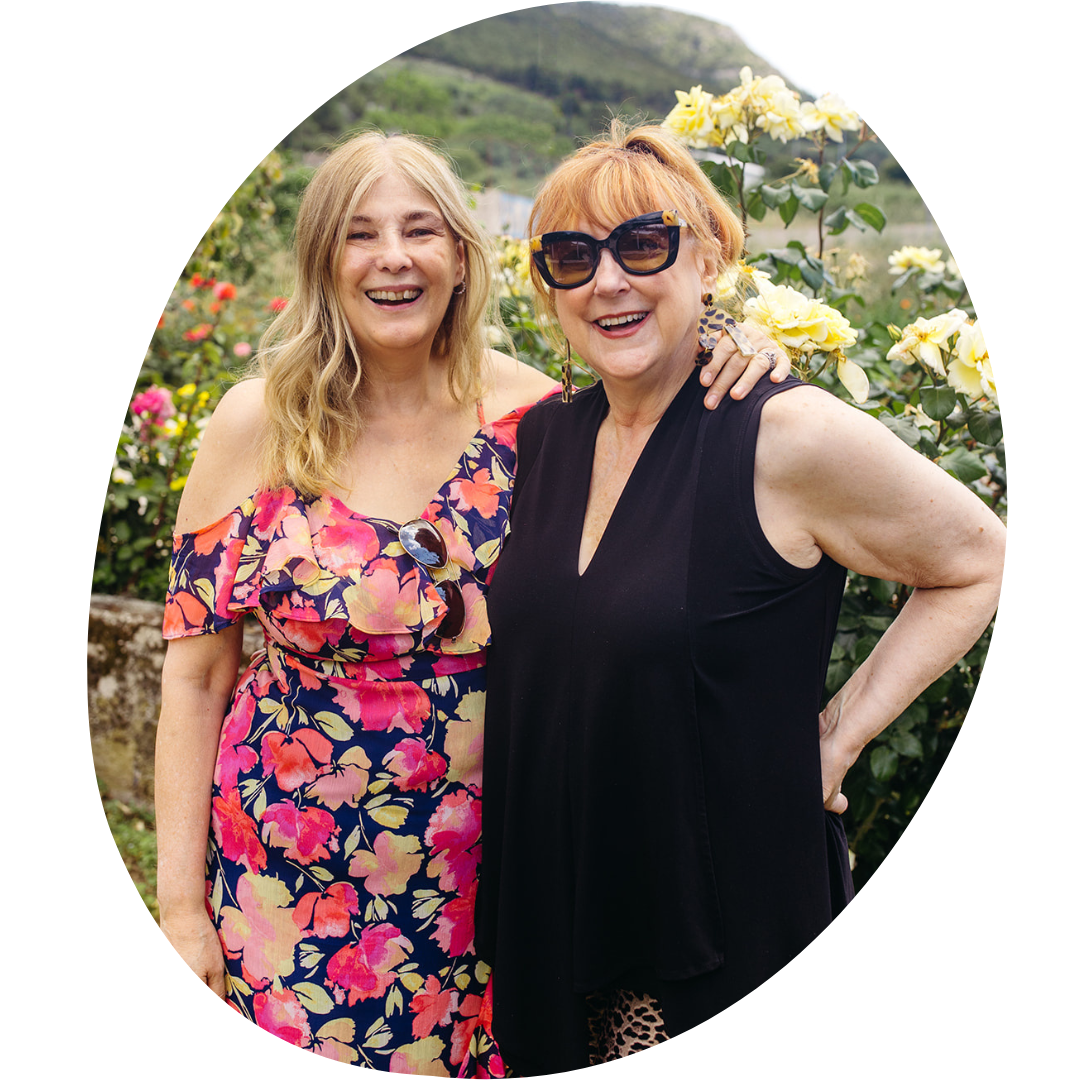 Robin – "I had a fantastic time on the Croatia and Montenegro trip! I've never done a group tour before and I have to say that Meg and Mar did an incredible job of putting together a wonderful experience. It was a great group of warm, independent women, and our guide, Nika, was terrific in every way.
I definitely recommend Solo Female Travelers Club to any woman looking to have a truly great, enriching, travel experience."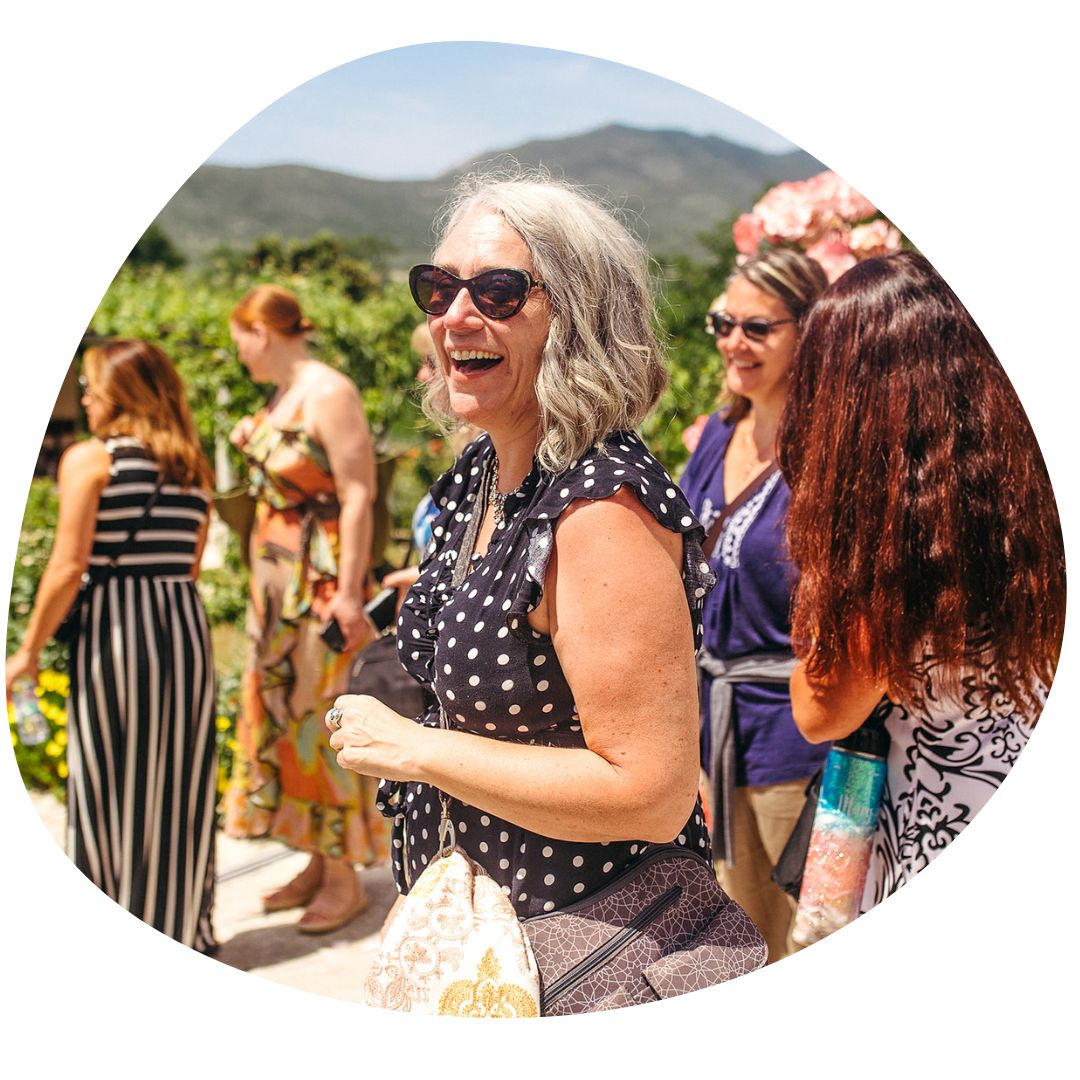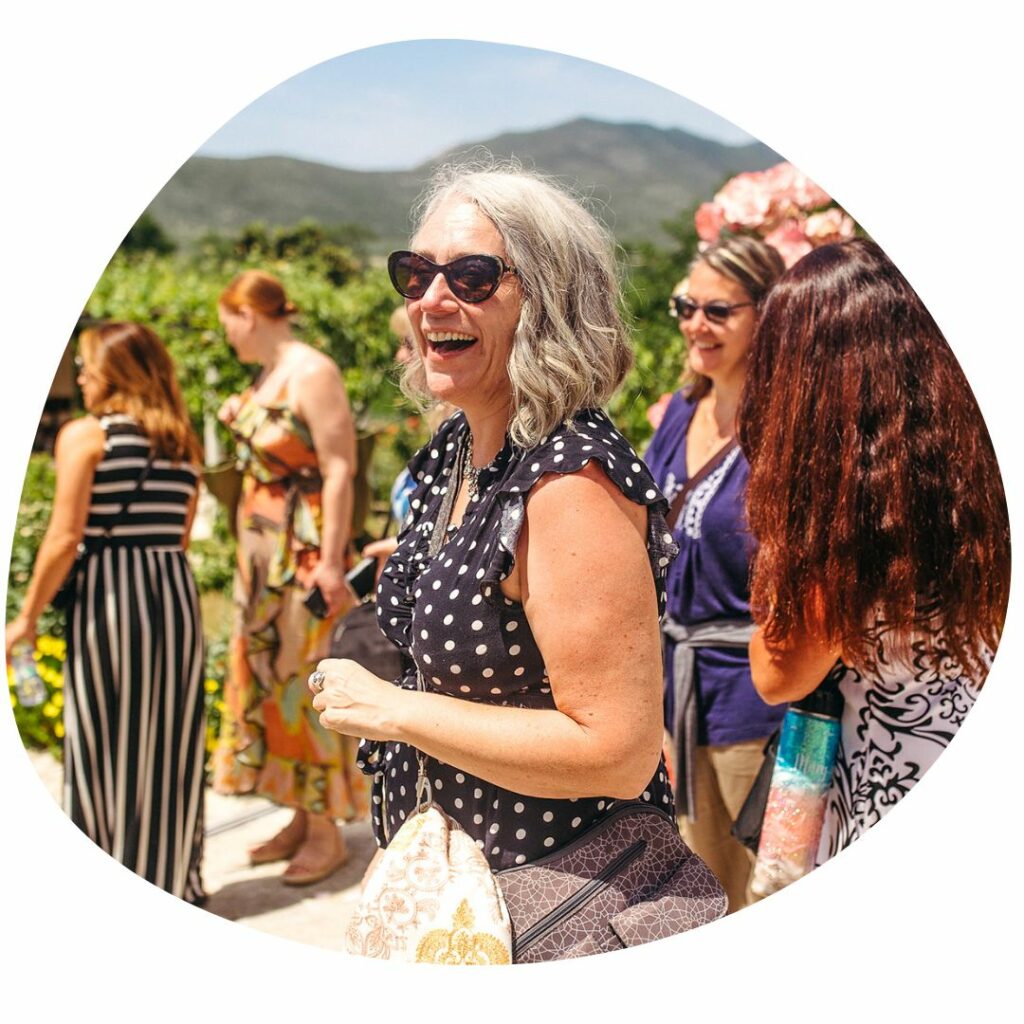 Denise – "WOW! What an amazing trip that Solo Female Travelers put together in Croatia & Montenegro. This was my first group tour and I chose them because they were small and because their philosophy and dedication towards empowering women impressed me, and I was not disappointed.
Croatia was great and our tour guide, Nika, had rich stories of her childhood in Old Town Dubrovnik as well as extensive knowledge about the history of the area. Montenegro was just as beautiful (if not more?) and Perast was a great small village to stay.
Mar & meg crafted an itinerary that included lots of sightseeing, balanced with some down time, and lots of great food & wine. I can't wait to do another with this amazing company! #SFTCroatia"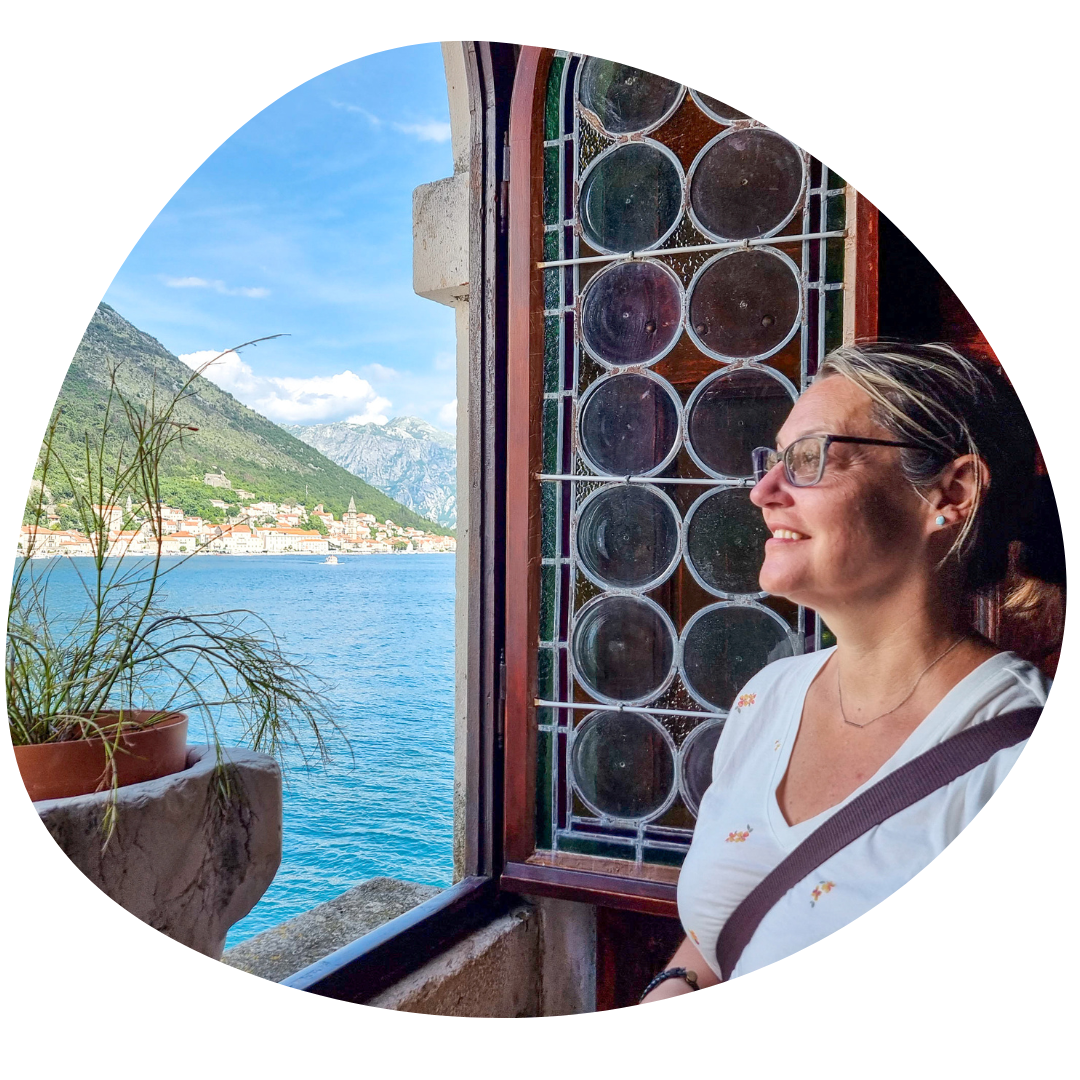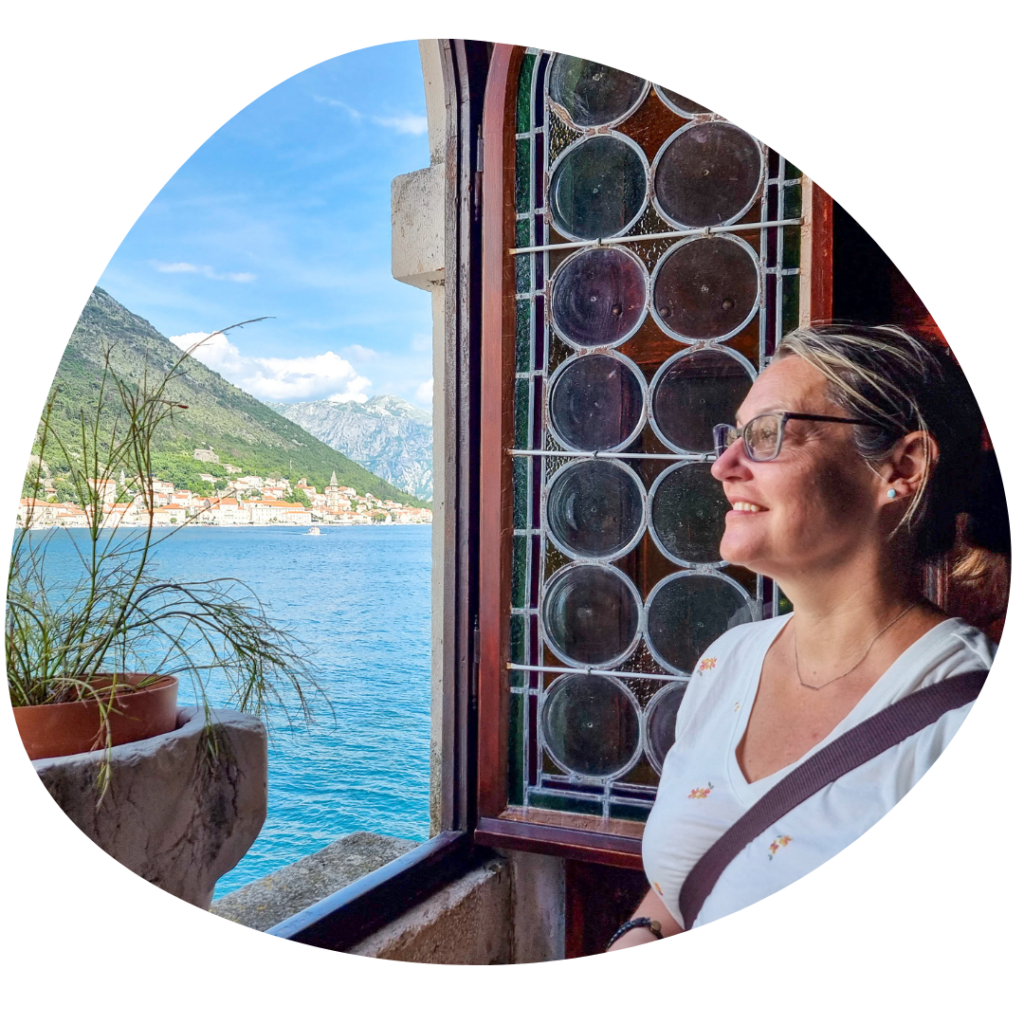 Daryl – "I want to share how fabulous an experience it was to have been on the first trip to Croatia and Montenegro with this amazing organization! The group of women was fantastic and all the aeaa we visited were incredible! Our tour guide Nika, was such a rich source of information and history about her home country. She has every right to be as proud as she is about where she comes from. I learned a whole new appreciation for this beautiful region and what they have endured. Amazing people, places, food and of course, wine! I would go back to this area in a heartbeat. If you're entertaining the thought of going to this region of the world, don't hesitate! You won't regret it one bit!"
---
Inclusions
✔️ 7 Nights in shared twin accommodation in luxury 5* hotels, we pair you with another traveler so you don't have to pay a single supplement
✔️ All stops as mentioned on the itinerary including entry tickets where required
✔️ Sun loungers at beach club in Croatia
✔️ Walking tours of Dubrovnik, Ston, Kotor and Budva. Private tour of Sveti Stefan (TBC)
✔️ 7 Breakfasts, 4 lunches, 2 dinners. Water during included meals
✔️ Welcome and farewell dinners with wine
✔️ Transportation to and between all activities in a minibus or boat
✔️ Drop off at the airport in Dubrovnik (allow 3h drive)
✔️ Local female certified guide / host and local drivers
Exclusions
✘ Meals not mentioned
✘ Drinks at meals beyond water unless specified in the inclusions (eg. Welcome and Farewell dinners, winery visit)
✘ Transportation from airport to hotel in Dubrovnik on arrival day
✘ Visa, if required
✘ Travel & Medical Insurance (Required)
✘ COVID Vaccinations Pre Arrival (Required)
✘ Optional activities not included in the program
✘ Souvenirs
✘ Tips for the Host (at your discretion, suggested 10-20 EUR per day)
Payment Info
$4,595 EUR
Credit card payments carry a 3% surcharge. Wire transfer details are available via email: community@solofemaletravelers.club.
Payment Plan:
Deposit: 30% to reserve your spot
Balance payment due 90 days before departure
*Payments are non refundable, including the initial deposit to reserve your spot. Should the the trip not reach the minumum number of travelers required, you can choose to have your deposit refunded or put towards another departure.
By joining our trips you agree to our T&C. As trips are non refundable we recommend taking out travel insurance as soon as you reserve your spot.
The Solo Female Travelers difference – What makes us unique
All our tours follow the same values and philosophy that makes us who we are which you can find here. In Croatia and Montenegro, two things set us apart from others: Our stunning luxury accommodation, the unique combination of sightseeing and exclusive experiences at / by the sea, the focus on female empowerment.
We will be staying right by the sea in both countries in handpicked fabulous 5-star hotels that will take your breath away. In Dubrovnik, we will all have balcony sea-facing rooms.
The itinerary includes a mix of time outdoors in nature and by / at sea as well as taking in all the history and beautiful villages that make this part of Europe so unique, all in personally curated and elevated experiences.
We will visit and support several female entrepreneurs and business owners in Dubrovnik, Kotor and Budva.
---
Book NOW
This trip will only host 14 guests so don't wait; Book now by selecting the date and the package then clicking on the Book button, or reach out to us with any questions by booking a time to chat live via video call. Note: Please do not book any flights until the trip is confirmed.
Important: The nature of this trip requires a medium level of fitness and the many gastronomic experiences included make vegan and gluten-free diets and severe food allergies not possible to accommodate. Please reach out to us via email (community@solofemaletravelers.club) to discuss your dietary needs before booking.
Have some questions? Let's chat!
Pick a convenient time and date below to talk to us, we'd love to meet you!
---
Tour gallery
---
Frequently Asked Questions
This is a trip of a lifetime and we know there are many things you'd like to know more about. If you have any questions not answered on this page, please email us at community@solofemaletravelers.club. We reply within 48 hours, 7 days a week.
What are the COVID measures in Croatia and in Montenegro and how will you ensure everyone is safe?

We care deeply about the wellbeing of our guests and our trip follows all local regulations. We require guests who develop a cough or cold-like symptoms to use a mask and separate themselves from the rest of the guests. COVID testing is not mandatory though it will be encouraged. Being vaccinated will not be a requirement to join our tours from 1st of January 2024.
What if I cannot travel because of COVID restrictions?

Balances are not refundable if you change your mind. In case travel restrictions imposed by the local Governments force the cancellation of the trip we will move it to a later date. We require all guests to purchase travel insurance that covers unforeseen circumstances which would prevent them from traveling, and this is how you would recover your costs from needing to cancel.  Travel Insurance Masters is a great comparison tool you can use to compare policies and coverages. Please read our Terms and conditions here.
Do I need a visa for Croatia or Montenegro?

Most travelers do not need a visa for either of the two countries. Note that Croatia is part of the Schengen zone and is an EU member while Montenegro is neither. Check your visa requirements on iVisa.
What is included in the trip?

All inclusions and exclusions are detailed in the section above. All activities are included unless you book them yourself during the free time. The trip includes 4 lunches and 2 dinners. Alcoholic beverages are not included except for wine during our wine tasting, and during the Welcome and Farewell meals.
How fit do I need to be for this trip?

There will be a lot of walking on uneven surfaces and cobblestone streets during this trip. You should expect to walk 10,000 to 15,000 steps a day. Thus, an average level of fitness is required to partake in all the activities listed.
Can I have a room to myself?

All costs above are considered on a sharing basis with two guests per room in twin bedding; we will pair you with another solo female traveler on the trip. If you wish to have your own room, a single supplement of 1,000 EUR applies.
I want to bring my partner to the trip

This is a female-only small group trip specifically designed for women traveling on their own. If you wish to travel with a female friend, partner, family member, etc. they are absolutely welcome, however we are not able to book male travelers on this trip.
I want to bring my daughter

How wonderful! If your daughter is above the age of 16, we will be glad to have her with us.
Will the guides be female?

Yes, this trip will be hosted by Nika Drobnič. Our driver may be male.
How does this trip help local communities in Croatia and Montenegro?

We believe that travel can be a force for good and wherever possible, we work with local, female or family owned travel companies in the country who can help us make a difference and ensure that the tourism dollars benefit local communities.
What medication do I need to take for this trip?

Croatia and Montenegro have good healthcare systems and you do not need to get any special vaccines or medication to visit. However, it is a good idea to visit your doctor and get refreshers for vaccines such as tetanus and to make sure that you carry all your medicines and prescribed drugs as well as the official prescriptions from your doctor which you may be asked to show at the border.
What should I pack for this adventure?

You can see our suggested packing list here. As this is a trip that takes place at the beginning of the summer season, you should expect lot of sun, sea breeze and heat, thus packing for flowy and cool clothings is advisable. Don't forget your swimming suit!
What happens if I get sick?

The prospect of getting sick while alone in a foreign country is daunting, and this is why we require all our guests have comprehensive travel and medical insurance that includes international evacuation. Should you fall sick, we will escort you to the nearest medical facility so you can get the help you need.
What travel and medical insurance should I get?

While the cost of medical healthcare in Croatia and Montenegro may be more affordable than in countries such as the US, travel and medical insurance is mandatory to come on our trips and we recommend you get the most comprehensive coverage that includes international evacuation. We recommend checking with an aggregator such as Travel Insurance Master to compare quotes and coverages.
Can I make various instalments for this trip?

Please reach out to us to us to discuss payment in instalments.
Can I pay by credit card?

Yes, payments will be made via credit card when you book a spot.