Wondering what to pack for our trips to Iceland in early October and May?
In this article you'll find an intro to the weather in Iceland and a handy list of suggestions for things to bring. Some of them, like a yoga mat, are required (if you wish to join us for daily practice), while others are optional and you can decide if they would be useful for you.
Generally speaking, both October and May are transition and low-season months. That means there are fewer tourists at the major attractions (and this is why we picked these months) and the weather can change within minutes, from sunshine to rain to sunshine again, and then end up in snow.
This makes for dramatic photographs (imagine the black sand beach covered in snow or the falling snowflakes with the volcano's lava flowing in the background), incredible experiences but also frustration and discomfort if you are not adequately prepared.
The weather in Iceland in October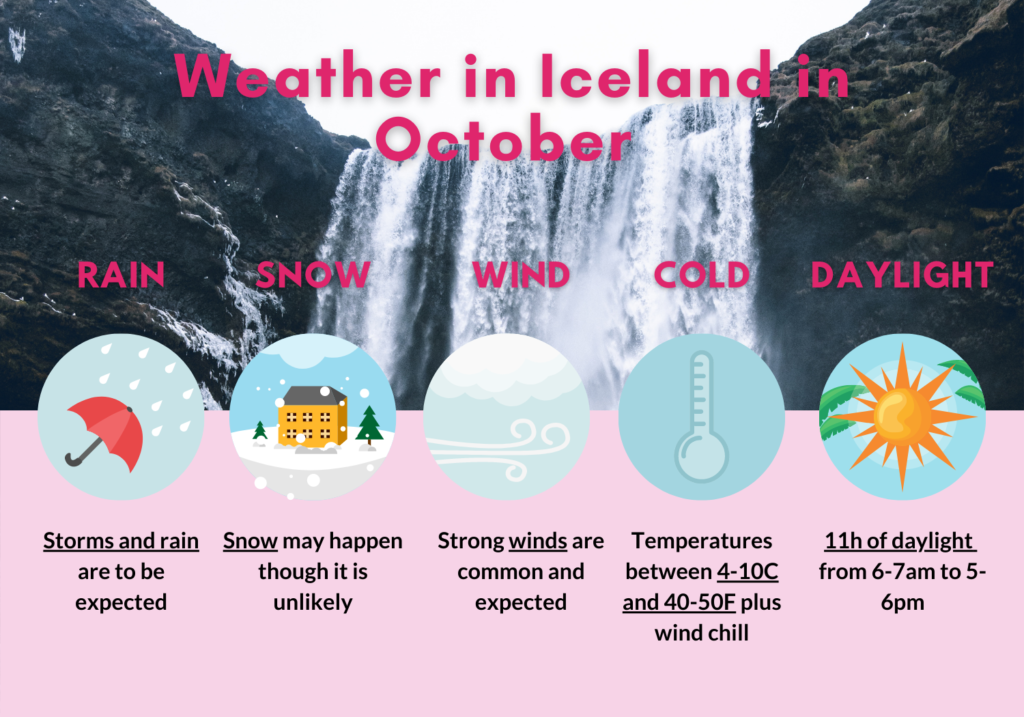 October is a great month to visit Iceland if you are keen to see the Northern Lights since the chance of seeing them is greatest between September and March. The days get shorter and the nights darker and this is what creates the perfect conditions for the Auroras to shine.
Iceland sees about 11h of daylight in October with the sun rising at around 7:30am and setting at around 6:30pm. Our trips happen earlier in the month so we should expect the days to be a bit longer than this.
This means there are enough hours of daylight for us to go explore while enjoying dark evenings and nights that, should the weather and cloud coverage cooperate, would allow us to see the lights.
October is a transition month, the same way Fall months are everywhere around the world. That means that the weather is unpredictable. You can enjoy 4 seasons in a day and snow is not unheard of, although rain is far more common, strong winds are a regular appearance, as they commonly are at any time in Iceland.
Temperatures in October will hover between 4 and 11 degrees Celsius, or 40 to 50 degrees Fahrenheit, so warm clothes are necessary, especially because the cold wind makes it feel much colder than it actually is.
All of the above means that you need to pack for all weather, all terrain and all temperatures. Water-proof jackets, shoes and layers are a must. If, like me, you are prone to getting cold, you should pack extra warm clothes and body warmers (more on that later).
The weather in Iceland in May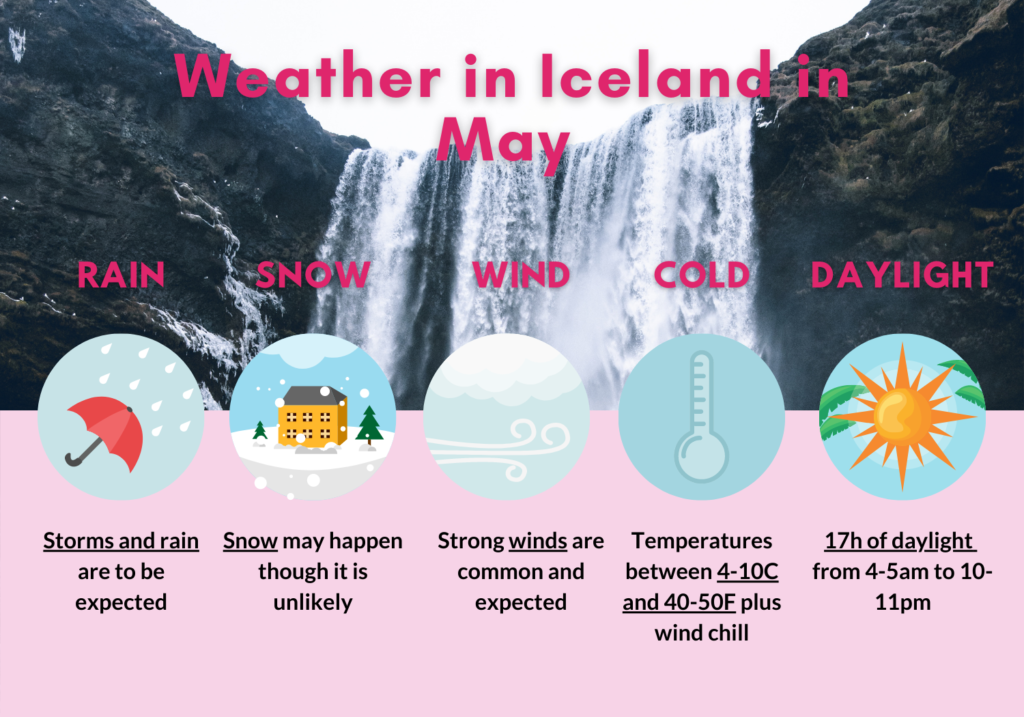 The weather in May is similar to that of October in unpredictability, wind and rain. Instead of going into the winter, the country heads into the summer.
That is, instead of seeing the Northern Lights, which are not in season in May, you have a chance to see wildlife such as whales and puffins, as they migrate to warmer waters in the winter. You can also see blooming flowers and grass coming back from the long, dark and cold winter.
The mountains around Reykjavik are still snow covered and some of the sights will still show signs of the long winter, but flowers and vegetation are decidedly ready for the summer. They will be blooming fast, bringing colors back to a rather grey and white winter.
Temperatures in May are the same as in October, hovering between 4 and 10 degrees Celsius or 40 to 50 degrees Fahrenheit. But remember the wind can make temperatures feel much colder.
Days in May are really long with the sunrise coming up between 4am and 5am and the sun setting between 10pm and 11pm. That is a whopping 17-19 hours of daylight and thus the chance of seeing the Norther Lights diminishes.
However, because we are staying at ION Adventure Hotel, if the staff spot the Northern Lights while we are asleep, during the short hours of darkness, they will wake us up to observe them from the comfort of the glass observatory.
Like in October, and in any other month in Iceland really, the weather can go from sunny to rainy, snowy, cold, warm, windy and everything in between. So layering up is a must and a waterproof outer shell essential.
Check out our Iceland trip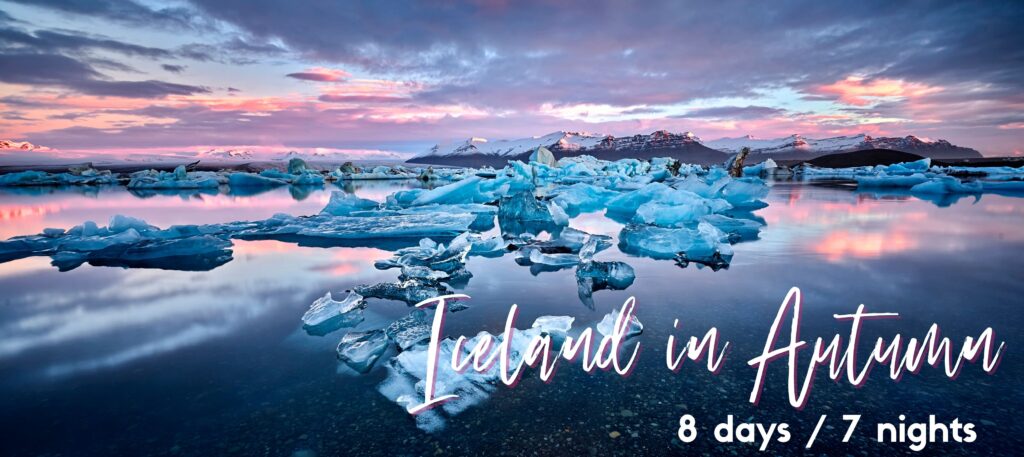 What to wear in Iceland in May and October
Below is a list with suggestions for what to wear in Iceland. Further down, you will also find a list of other things to bring specifically on our tour.
The most important factor when deciding what to wear in Iceland is the concept of layering. This applies to traveling to any cold-weather country, but is particularly important in Iceland in Fall and Spring when the weather is extra unpredictable.
At the minimum, you need a base thermal layer, a woolen sweater and an outer layer top or waterproof jacket. More layers, for example a vest or a short sleeved t-shirt, are not a bad idea either and can be useful if you usually get cold.
Even in posh restaurants (like during our welcome dinner), casual is king in Iceland and everyone dresses for the weather. A nicer outfit may be good for welcome and farewell dinners but otherwise, athleisure and sportswear work best.
The other critical consideration after layering is that your outer layers should be waterproof, and, ideally, wind proof. The wind can make temperatures feel like they are 10 degrees lower than what's shown on the mercury and wind-proof clothing will keep you extra warm.
Thermal base layer
You want to wear a light base thermal layer that is closest to your skin. For this, we highly recommend considering merino wool clothes that repel odors, keep you warm and avoid you getting sweaty from the constant change in temperatures (cold outside, warm inside the van).
Merino wool clothing is expensive, but it will last you a lifetime. It requires less washing (good for you and for the environment), it is very light (less packing), regulates heat so you sweat less, is natural (rather than made with chemicals) and if it keeps sheep warm in the coldest of weathers, it can also keep you warm!
Clothing made from merino wool is usually sold based on the thickness, we find that 175gr is good for the type of weather we will encounter in October and May, but you can decide what's best for you depending on how many layers you plan to wear and how prone you are to feeling cold. Some of my merino wool layers are 400gr.
We particularly like the Kiwi brand Icebreaker, which is made of sustainable merino wool. We have worn their products in Iceland and other cold / all-weather / windy destinations like the Faroe Islands. Luckily, they are widely available on Amazon so you should have no issues finding them. They are also often available at outdoor stores.
Whether you decide to pick a thermal top only or a thermal top and bottom layer depends on how cold you normally get. I like to wear merino leggings under my pants, unless they are fleece-lined ski pants. There, I said it!
This may be an overkill to many of you who are used to 4 seasons and winter weather, but after living in tropical weather for 16 years, I don't tolerate the cold very well and merino wool's ability to regulate means that I am never too hot even wearing leggings.
Below are some of the products we have worn in Iceland in winter:
Top layer
After the base thermal layer, you need a proper sweater or fleece jacket (or both). Icelandic people wear thick knitted wool sweaters called lopapeysa that you can purchase as a souvenir anywhere in Iceland (or on Amazon). They are the typical Nordic-looking sweaters that we often see in Christmas movies, only with nicer patterns.
We recommend this layer be high up on the neck to keep it warm, even if you will still wear a scarf on top, nobody likes to get a sore throat. Icebreaker also has great options here, but any warm wool sweater will do.
If you are not a fan of wool, fleece jackets are also a great alternative, soft and thinner while still quite warm.
We particularly like the fact that they have pockets so we can keep small items like lip balm or tissues. Here are some of our favorites.
Outer layer
The most important consideration when choosing an outer layer for Iceland is for it to be waterproof and windproof.
Rain will occur, that is almost a certainty, and umbrellas don't work when the wind is blowing in the epic ways it does in Iceland, so a waterproof jacket is a must. Water resistant clothing is not enough if you are walking in the rain for an hour or longer, so make sure your jacket is waterproof.
Everyone has their favorite jackets, but we find that the proper adventure and outdoor brands with Gore-Tex do this best because they are conceived with the needs of a trip to Iceland in mind, even if you don't plan to go on an active trip.
We also recommend for the jacket to be rather long, ideally reaching just above your knees, so that your legs don't get wet, and for it to have a hoodie so your head stays warm. If you plan to wear waterproof trousers, then the length of the jacket is irrelevant.
Alternatively, if you don't want to buy a new full waterproof warm jacket, you can also get a poncho and throw it over your regular jacket to make it wind and waterproof or get a lighter waterproof rain jacket that you put over an extra top layer. Not ideal but it will also work.
Additional layers
If you want to pack even fewer and warmer clothes, you can add some tank tops and t-shirts to your suitcase which would sit under the base layer and then you can pack only one base layer for the 6 days we will be there.
We also like to pack a vest, especially those made of fleece, down or wool. These add a layer between the sweater and the jacket while not restricting movement of the arms.
Trousers
Besides the top layers and jackets, you should also consider bringing waterproof, or at least water resistant or water repellent, hiking trousers to Iceland. Though these may not be necessary if your jacket is long and your boots tall, there is no harm in wearing them.
I like to pack my waterproof fleece lined pants for extra warmth, especially if I don't bring my merino wool base layer. These not only keep me warm but also dry.
If you ski, ski pants will work here. If you already have a base thermal layer, you can wear any waterproof trousers.
Besides the waterproof pants, we also recommend packing a lighter pair of trousers or jeans that you can wear to dinner at the hotel and which are less bulky or warm. Inside buildings, it is pretty warm in Iceland. This may also be the trousers you wear on the plane on your way to Iceland if you want to pack light.
If you are exploring in Reykjavik after or before the trip, you may find regular pants enough as you will be in and out of museums, restaurants, etc. and thus not outside for long periods of time.
Clothing accessories
The clothing accessories you wear are arguably as important as the layers. We recommend you pack a few additional items to stay warm:
Gloves: These are very important to make sure you can take photos! They make gloves which allow you to use your phone in case you don't want to take them off or you could pack two sets, a warmer, waterproof outer layer and a mitten layer that you can use with your phone.
Scarf: Not a bad idea to keep warm, especially since it is easy to take it off if you don't need it. Even if you are wearing high neck layers, a scarf can add that extra warmth and protect your face from the wind and chill. We like to pack an extra light and soft scarf instead of a wool one which may sometimes feel itchy.
Hat: Very important to keep your head warm, especially if it starts snowing. If your jacket already has a hoodie, a hat may not be necessary but we find that it provides extra warmth if the hoodie is loose. We of course like Icebreakers' merino wool beanie hats, but are also partial to the nice knit beanies, especially the fleece or fur-lined ones.
Wool / thermal socks: They will make sure your feet stay warm all the time. We like to pack thick and tall ones that also keep our feet from blistering, and particularly like the fur-lined ones that keep our socks extra soft and warm.
Underwear and sports bras: Since we will be enjoying a relatively active trip and keeping warm is a must, you may want to consider packing sports bras instead of regular wired bras.
Below are some recommendations.
Footwear
Keeping your feet warm and dry is essential so we recommend you think well about your footwear. In particular, we recommend wearing a waterproof pair of boots, they make some really cute ones!
On most of the stops and sightseeing opportunities, you will be walking on paved and well maintained paths, this means you need only worry about keeping dry and warm, with the exception of the hike to the volcano, where you also need to consider the need for walking shoes.
As the volcanic eruption is only new, and the lava flow keeps on changing, there isn't a paved path but rather a rocky version that is well kept by the local teams and that is easy to walk on but where you could twist an ankle.
Below are some suggestions for footwear, pick the one you'll feel most comfortable in depending on your budget and likelihood of getting cold feet.
If you are buying a new pair of boots, we recommend you break them in and wear them out before the trip so they don't cause blisters. Better yet, consider borrowing a pair from a friend if you don't think you'll be using them again.
Besides hardcore all weather boots, we also recommend you pack a lighter pair of shoes for dinner and to wear at the hotel. You don't want to bring your muddy boots to dinner and you will probably feel more comfortable wearing something lighter and with more mobility.
As mentioned before, Icelanders are very casual so even a pair of sneakers will do, you don't have to wear heels or fancy shoes.
Bathing suit
We will be going to the Blue Lagoon and ION Adventure Hotel also has an outdoor heated pool that is simply divine, so don't forget your bathing suit. The rest will be taken care of since we have included an upgraded package, so no need for towels.
Other items you should pack for Iceland
A yoga mat: If you plan to participate in our group yoga sessions, you should bring your mat. We recommend Manduka's travel mats because they can easily fold and weigh about a kilo but any mat will do. There are many travel mats available on Amazon. Some are thicker (and thus provide more cushioning but are heavier) others fold in squares (rather than rolling up as most yoga mats do). Pick the one you feel most comfortable in. If you have any yoga props, feel free to bring them too (i.e. straps or blocks).
European / universal plug adaptor: Iceland uses standard two round prong European plugs. We like the ones which come with USB ports so that we can charge phones, cameras and everything else with just one adaptor. We use the one in the image below from Samsonite.
Power bank: Because the days will be long and we will spend many hours in the car, making several stops along the way, a power bank will ensure you can continue taking photos. We use the incredible Anker 30,000 AMP which is the real deal and can even charge your laptop, but you don't need something this big, a power bank that can recharge your phone twice is enough.
Body lotion: A must since it gets really cold and windy and the heating can make your skin really dry. The hotels we will stay at provide their own but it might be best to bring your favorite brand.
Moisturiser: Like with your body, your face will need to stay hydrated in the crazy weather. Extreme changes in temperatures, wind, sun, cold, rain and even snow can make your skin really sensitive and in need of proper moisturising, we recommend you pack the heavy duty stuff.
Hiking poles: Not mandatory or essential, but for the volcano hike, they can come in handy. If you have them at home and have space for them in your suitcase, feel free to bring them with you. If you want to get a pair, we like the really lightweight Trekology ones which are collapsible and weigh less than 500gr.
Sunglasses: While the sun does not shine a lot, the cloudy weather and the snow, if it has already arrived, may make the reflection tough on some eyes. We like Oakley sunglasses as they are polarised and protect your eyes from any damaging sun rays.
Hand and feet warmers: I swear this is what got me through the real freezing winter trip to Iceland. They work much like the heat pads used in case of an injury only they are much more powerful. You break the liquid inside and stick them to your shoes insoles, put on really thick socks and keep your feet warm for hours. You can also keep one inside your jacket pockets, but make sure not to touch them with bare hands but always with your gloves on.
Waterproof bag: If like us, you also prefer to put all your key belongings in your pockets when we stop at each of the road trip stops, you may not need a waterproof bag. But if you have expensive camera equipment or want to bring more things with you, we recommend packing a waterproof bag, a waterproof bag cover to put over yours or a waterproof bag pouch that you can wear around your waist or even inside your jacket.
Waterproof mobile phone case: This may come in handy to take photographs while we are sightseeing if it starts to rain but also to bring your phone into the Blue Lagoon and make sure it does not get wet
Water bottle: Single use plastic bottles are terrible for the environment so we recommend you bring your own reusable bottle as part of our efforts towards zero-waste and responsible travel. Tap water in Iceland is safe to drink, it is free and it is amazingly pure and clean. You don't need to bring a water filter, just your regular bottle.
Sunscreen: Even in cloudy days, you can still get sunburned and the sun is very strong in Iceland. We like using Japanese Biore SPF 50++++ because you can wear it under makeup and it is non sticky and silky smooth.
Lip balm: The wind makes it particularly tough for the skin and lips so you should bring a lip balm to stay moisturised. We find these are essential to not end up with completely ruined lips or even blisters. We like Neutrogena for their Nordic formula that tends to heal battered lips overnight and comes with SPF.
Sleeping mask: If you are joining us in May, you may want to consider bringing a sleeping mask. Although hotels typically have proper blinds, Iceland is one of the best places to see the midnight sun and you may struggle to sleep if sunlight bothers you.
Pyjamas: As mentioned, it will be cold but also, we will be sharing rooms so don't forget to pack your pyjamas!
Ear plugs: It is never a bad idea to have a pair of earplugs handy, for the flight, a noisy neighbour or an antsy roommate.
First aid kit and medication: If you need to take any prescription medication or vitamins, bring those with you as we will spend most days outside of the city. We also recommend packing a basic first aid kit with items such as plasters, an anti septic ointment, eye drops, hydration powder, etc. Have a look at our suggested first aid kit here.
More Reading Before Your Iceland Trip: