Going to in Iceland? Joining one of our Iceland tours? You're in the right place.
In this article you will find Iceland travel tips, suggestions for things to do in Reykjavik in case you are extending your trip, movies and shows about Iceland you can watch to get to know the country better, books about Iceland that take you deeper into the culture and Icelandic music to get into the mood.
Be prepared for your trip with our Iceland travel tips and get ready for a fabulous trip!
Brief history of Iceland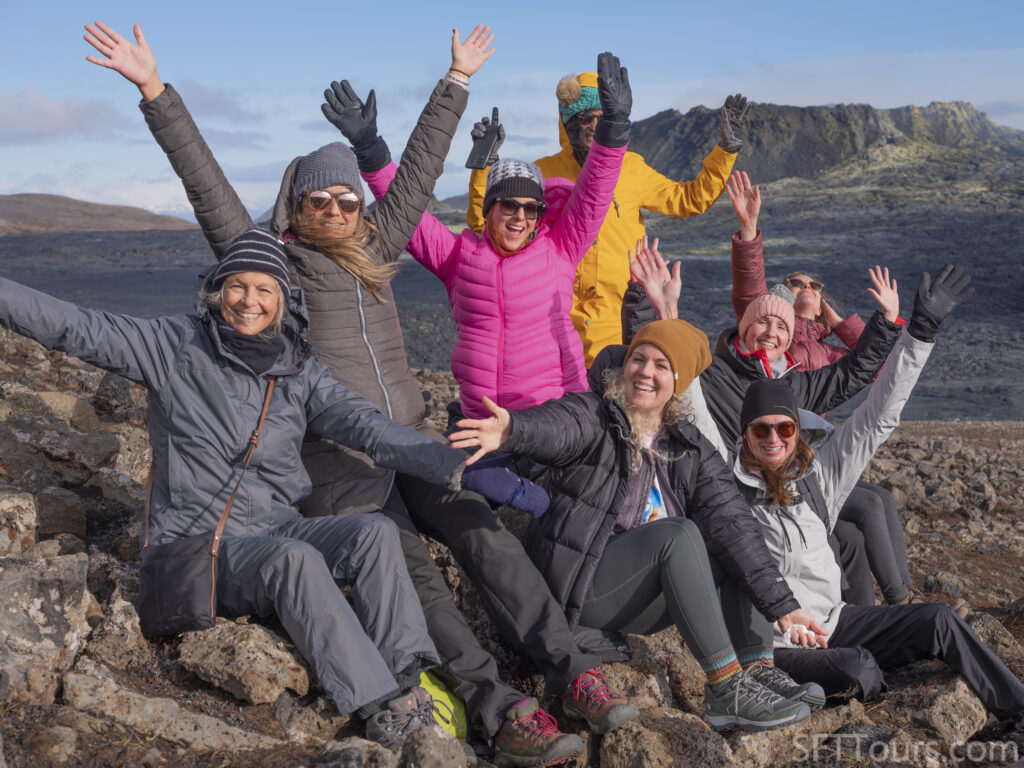 I believe that learning a bit about the history of a destination can tell you a lot about it. Sadly, most visitors come to Iceland for its natural beauty and learn little about its culture, heritage or past. The history of Iceland is a fascinating story that dates back more than a thousand years and here is a brief summary.
Iceland was first settled by Viking explorers in the 9th century. These settlers came primarily from Norway and other Nordic countries, seeking new lands to farm and opportunities to trade.
The first known settler was Ingólfur Arnarson, who established a permanent settlement in Reykjavík around 870 CE. Over the next few centuries, more settlers arrived, and the population grew.
The country became a republic in 930 CE when the Althing, an assembly of chieftains, was established. The Althing was the first parliament in Europe and was responsible for making laws, resolving disputes, and overseeing the affairs of the country.
This parliament met every summer in Thingvellir, a site that has become a national symbol of Iceland, the country's only UNESCO listed site and one of the most popular stops along the Golden Circle.
In the centuries that followed, Iceland became an important center for trade and commerce. Its strategic location in the North Atlantic made it a hub for the exchange of goods and ideas between Europe and North America.
Icelanders traded fish, wool, and other products for goods from other countries, and they also developed their own unique culture and literature.
In the late 13th century, Iceland fell under the control of Norway and later Denmark. This period of foreign rule lasted for more than six centuries and had a profound impact on Icelandic society.
The country's language and culture were suppressed, and its people were forced to adapt to the customs and laws of their rulers.
In the early 20th century, Iceland began to agitate for greater independence from Denmark and in 1918, at the end of the WWII, the country was granted limited autonomy as a self-governing territory within the Danish kingdom.
This first step was followed by a series of reforms that strengthened Iceland's democratic institutions and paved the way for full independence.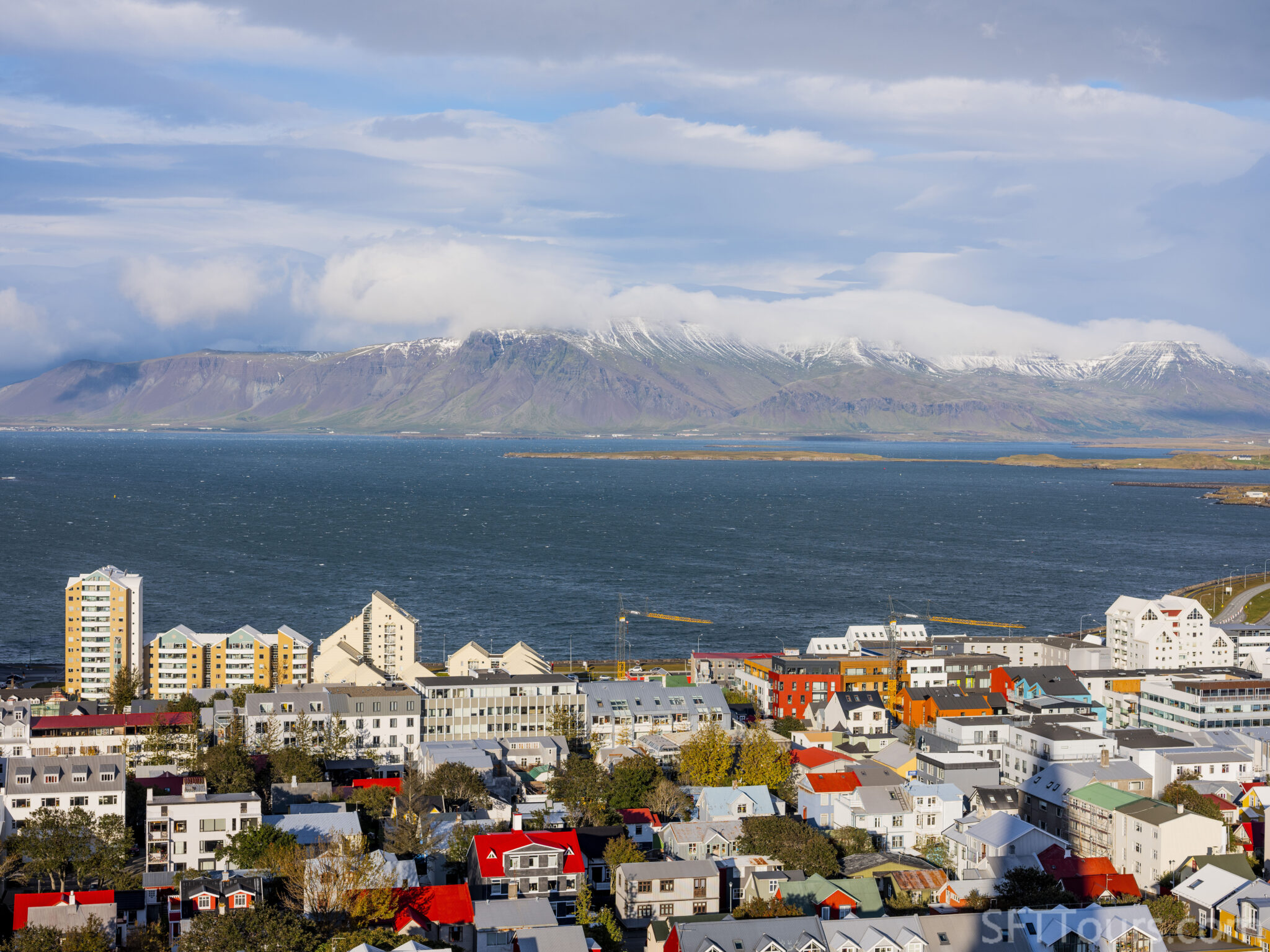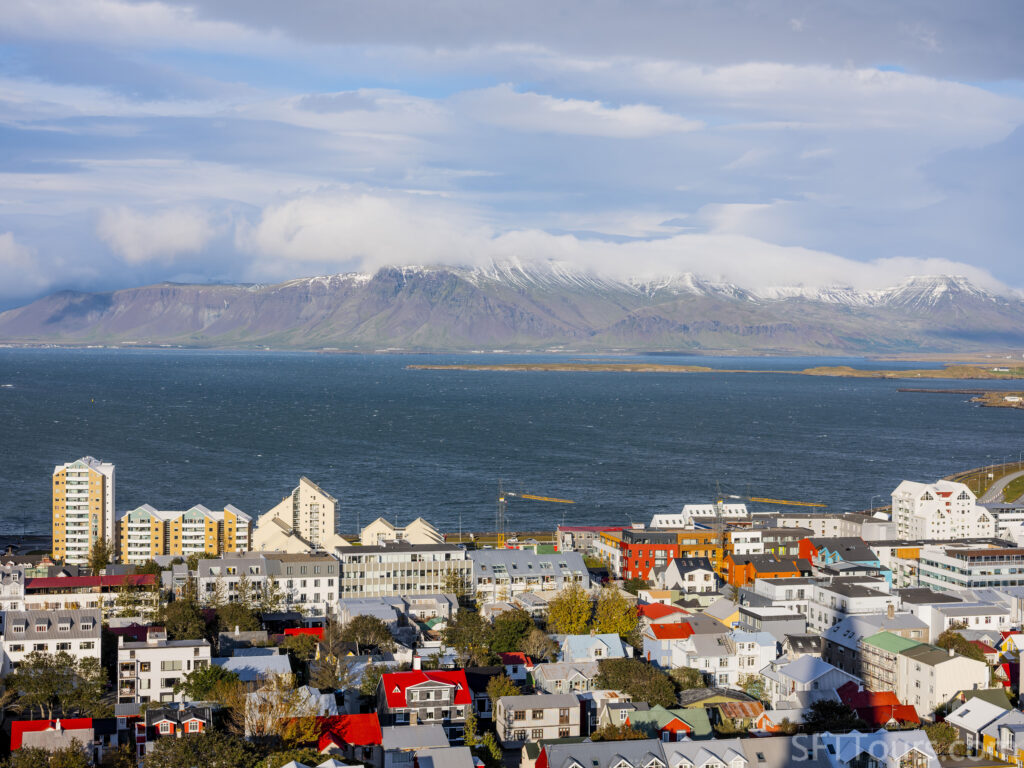 In 1944, Iceland declared itself an independent republic, breaking its ties with Denmark. This was a significant moment in Iceland's history, marking the country's emergence as a modern, democratic state.
Since then, Iceland has become known for its progressive politics, environmentalism, and commitment to human rights. Today, it is a thriving country with a vibrant culture and economy.
The country's population has grown to over 360,000 people, and it has become a popular destination for tourists from around the world.
Iceland is known for its geothermal energy, which provides heat and electricity to much of the country, as well as its beautiful landscapes, including glaciers, waterfalls, and hot springs.
The history of Iceland is a rich and complex story that spans more than a thousand years. From its Viking roots to its modern status as an independent republic, Iceland has undergone many changes and challenges.
Throughout its history, however, Iceland has remained a unique and resilient country, with a strong sense of identity and culture.
Fun and interesting facts about Iceland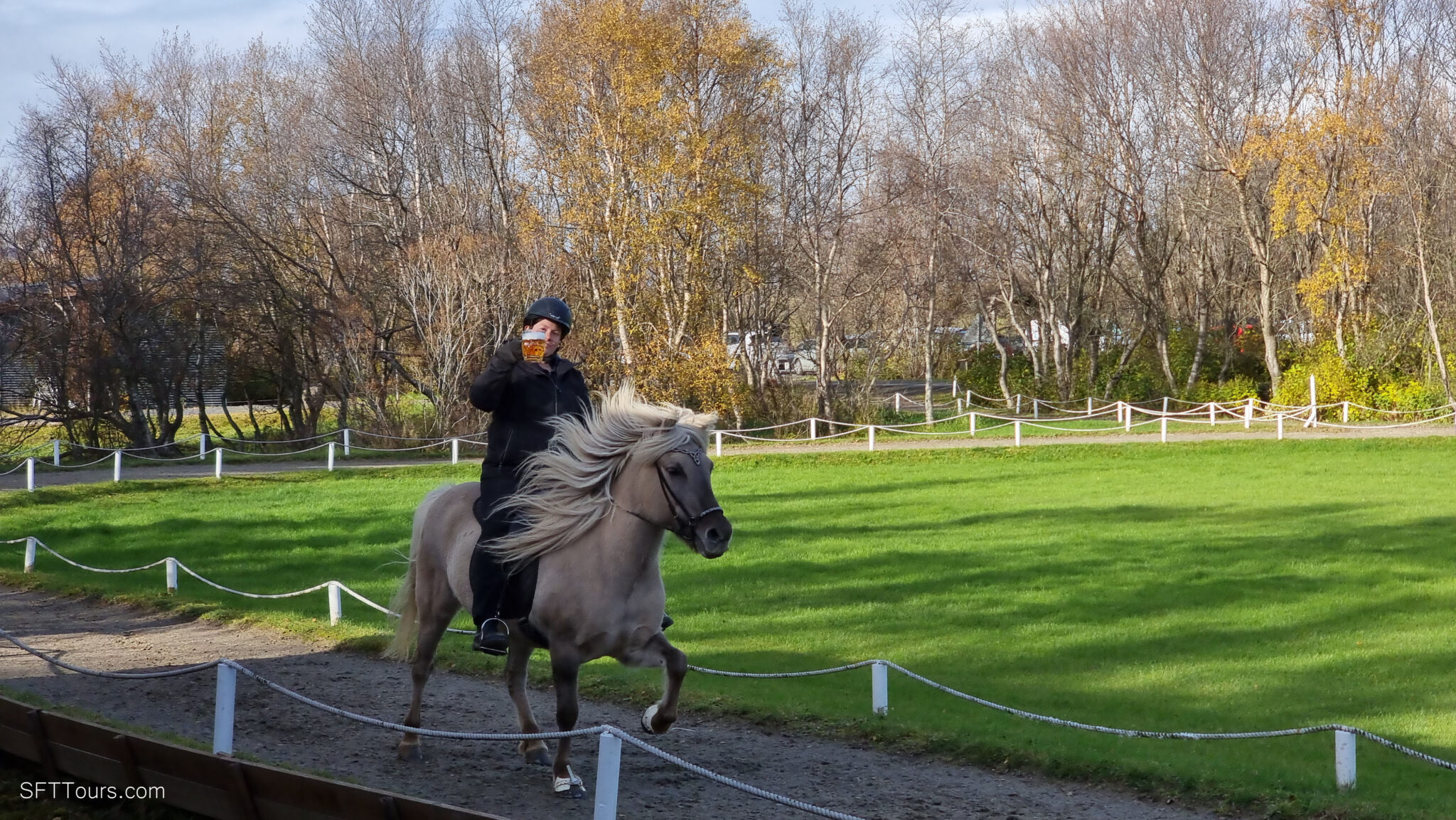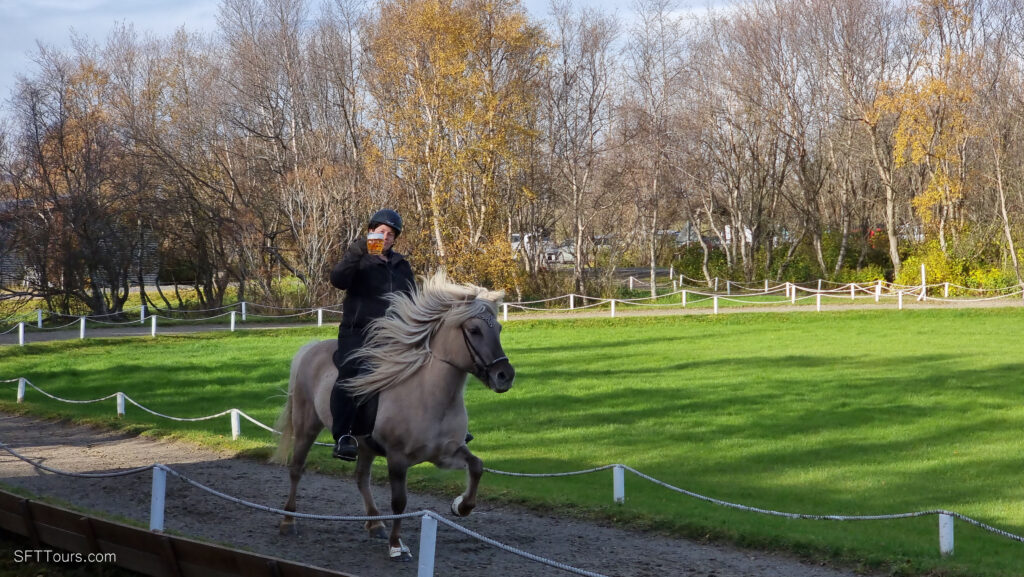 Iceland is a very unique place which is why there are so many fun and unique facts about Iceland I wanted to share in this section.
Iceland has some of the freshest, cleanest and best water in the world, don't buy overpriced bottled water and contribute to the plastic issue, instead, bring your own water bottle and replenish it directly from the tap. Restaurants will also serve tap water free of charge.

Tip: When filling your bottle from the tap, turn the faucet to the cold and let the water run for a minute first so that the sulphur in the thermals water comes out first.
Iceland is home to the world's northernmost capital city, Reykjavik, which is known for its colorful houses, quirky architecture, and vibrant nightlife.
Iceland is located on the Mid-Atlantic Ridge, a tectonic boundary where the North American and Eurasian plates meet. This makes Iceland a geologically active country with frequent volcanic eruptions, earthquakes, and geothermal activity. You can step on the edge between the two tectonic plates at Thingvellir National Park.
There are several unique breeds of animals in Iceland, including Icelandic horses, which are known for their small size, shaggy coats, and gentle disposition.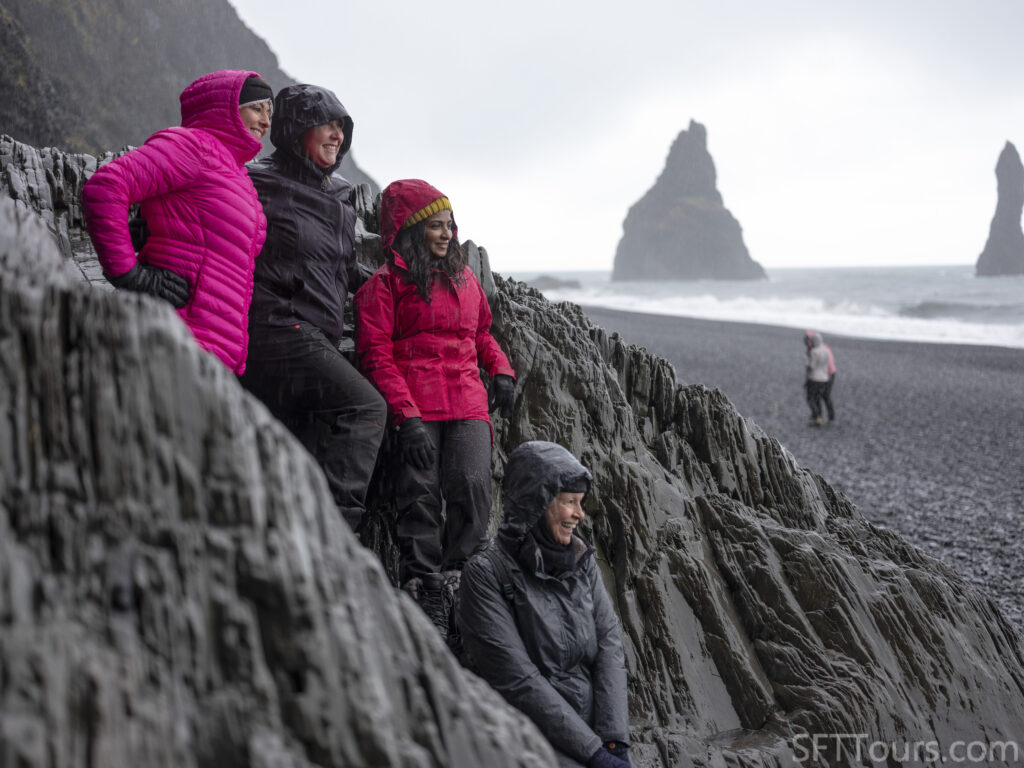 Icelanders have a unique tradition called "Jolabokaflod," which means "Christmas book flood." This tradition involves giving and receiving books as gifts on Christmas Eve, and then spending the evening reading by the fire.
Iceland is one of the most gender-equal countries in the world, with a female president and a parliament that is almost 50% female.
Iceland has a rich folklore tradition, including stories of elves, trolls, and hidden people. Many Icelanders believe in the existence of these mythical creatures and take great care to avoid disturbing their habitats.
Icelanders have a unique naming tradition, with surnames that are based on their parents' first names. For example, a man named Jón whose father is named Pétur would have the last name Jónsson, meaning "son of Jón."
Iceland is one of the happiest countries in the world, according to the World Happiness Report. This is due in part to the country's strong social welfare system, high standard of living, and emphasis on work-life balance.
Iceland travel tips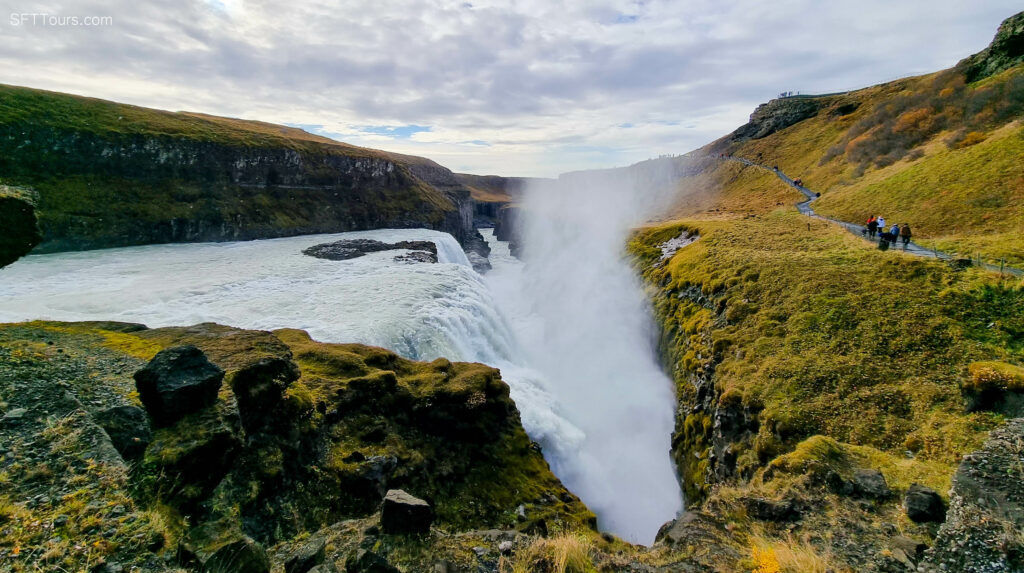 Iceland is a unique and very special place with its own set of rules and quirks that are best explained in a post shared by a fellow group member – don't miss reading it because it gives exclusive insight into Icelandic culture.
Below are some additional tips that we are sure you'll find useful.
When to visit
The weather is always unpredictable in Iceland, in the summer, in the winter, in the spring and in autumn.
No matter when you visit Iceland it is likely you'll experience more than one season in a day, you need to be prepared for the worst; that is wind gusts and snow at any time. Layer up and always bring warmer clothes than you think you need, you won't regret it.
We have picked October and August for our group tours so we enjoy the Northern Lights at a time when the weather is still reasonable and the days are light and the summer landscapes.

It is worth remembering that Iceland is very far north and as a result the hours of daylight vary significantly even on a daily basis.
In winter, you may enjoy as little as 3h of daylight and I wouldn't call it sunlight because the sun stays on the horizon in a permanent state of sunset so it's never bright. In the summertime, the sun never sets and so it may be hard to deal with jetlag.

Additionally, in the winter many roads will be closed (that is, from November onwards) and so your options are restricted (staying in Reykjavik and taking day tours makes more sense in the winter) but you have the option of seeing the Northern Lights, while in summer you can be out exploring well into the morning but there is no chance of seeing the auroras.
Getting to and around Iceland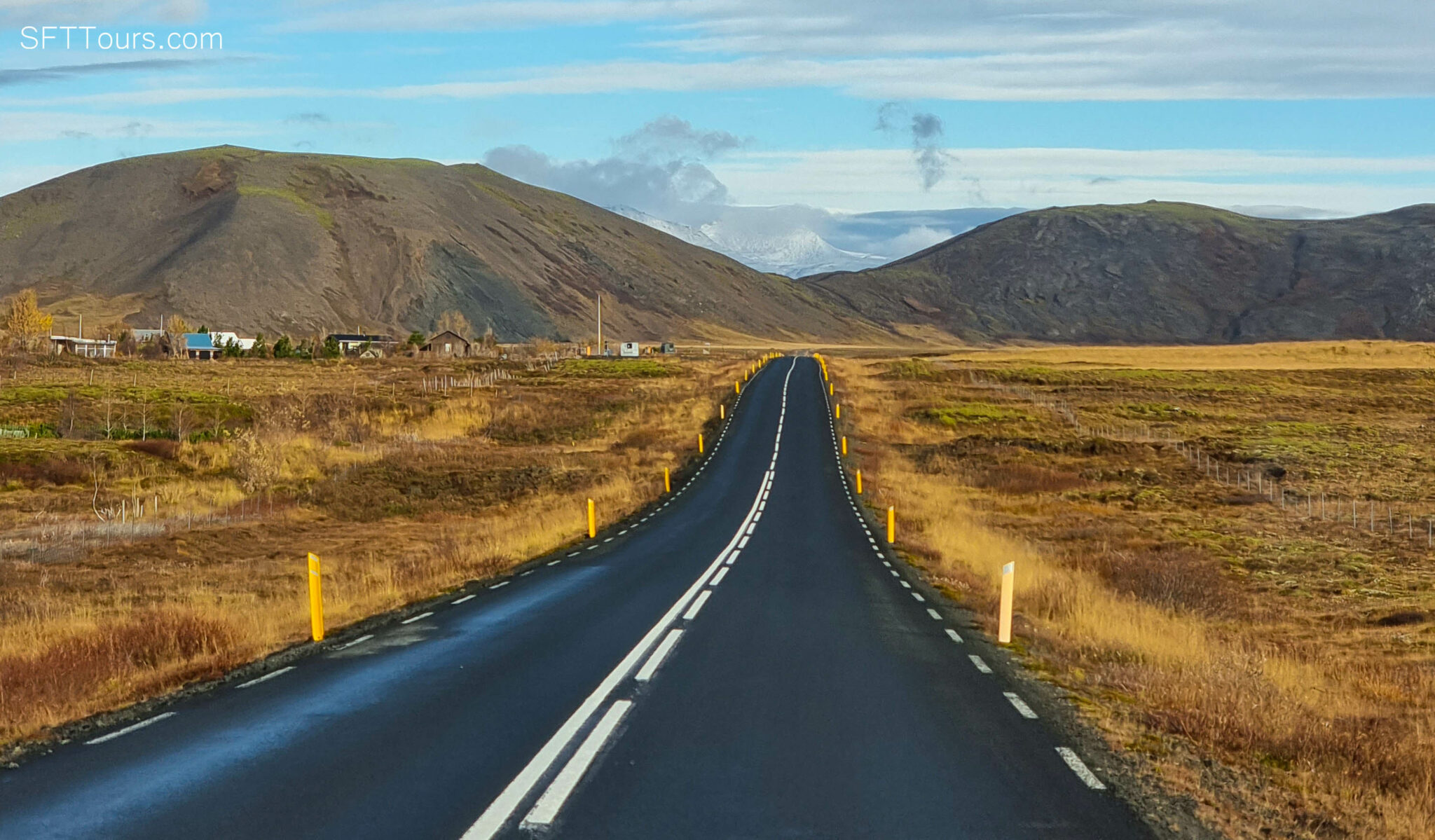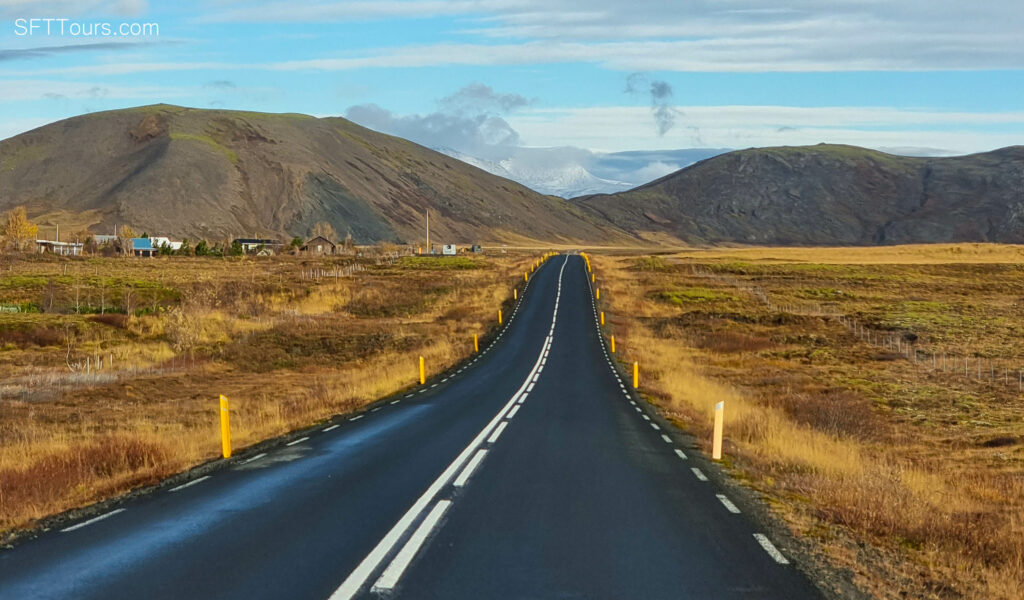 Most people will visit Iceland and go on a road trip but if you are only visiting for a few days, you could just stay in Reykjavik and take day tours.
Take the flybus. Airport taxis are expensive (in excess of 150 Euro) but buses are affordable. There is a bus service that connects Reykjavik with every flight arrival and departure. That is, the bus schedule is timed with arriving flights so you don't have to wait much to adhere to timetables. Buy your ticket and save considerably, then sit back and relax in the bus with your fellow flyers. Buy your FlyBus ticket here.
Should you rent a car? The answer to this question is one of budget and time. You can easily base yourself in Reykjavik and book day tours which will take you to pretty much all the main sites in the west, north and southern parts of the country where most of the key sites are.

Renting a car is usually cheaper (and we say usually because it may not be depending on the tour you book) but requires the ability to drive which may be complicated when the roads are icy so you may be better off simply booking day trips.

If you have your own car you will also likely drive less, as you won't have to return to Reykjavik every day but I don't mind this too much as I like watching the country go by from my window, something that is harder to do from behind the wheel, especially in Iceland's one-lane roads and with the unpredictability of stubborn sheep!

If you do plan to rent a car, make sure it is automatic if you are not used to manual cars which are the default in Iceland. Check out this page with the best tours of Iceland and make your itinerary accordingly.
Passport and visa for Iceland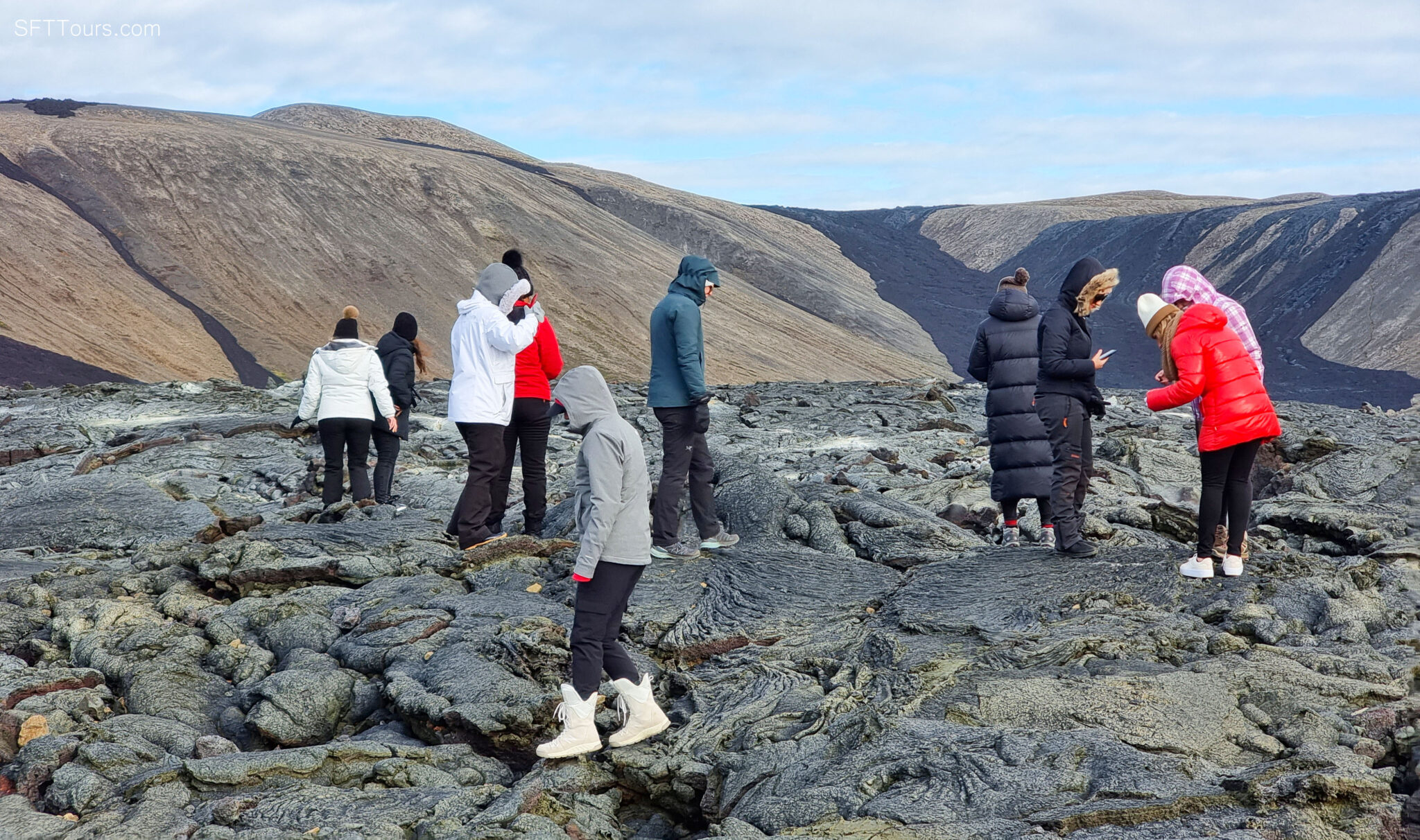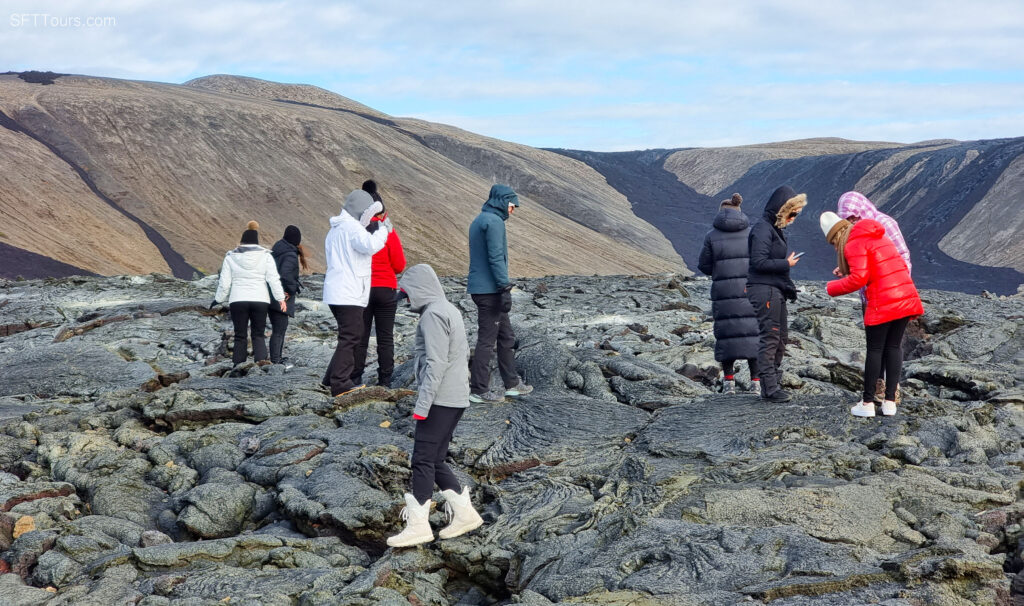 Get your passport and travel documents in check before your trip to avoid any delays at the border.
Visa. Iceland has been a Member State of the Schengen Area since 2001. Citizens from more than 100 countries, that have not been exempted from obtaining a Schengen visa, wishing to visit Iceland or any other Schengen Member State, must apply for a Schengen visa before entering the external borders of the Schengen Area.

Iceland has made representation agreements with 9 other Schengen Member States on processing applications for a Schengen visa to Iceland and issuing visas in more than 100 places where Iceland does not have a Diplomatic Mission.

The Nordic countries have a close cooperation in Schengen visa matters and Embassies and Consulates General of Denmark, Sweden, Norway and Finland represent Iceland in many locations. Furthermore, Iceland is represented by Germany, France, the Netherlands, Portugal and Lithuania. More details here.

While the general process is similar for all countries within the zone, the requirements do change and can take weeks to process so allow enough time for this. If you are unsure about the visa application process you can use a service such as iVisa to do it for you.

Validity. Your passport must be valid for at least 3 months beyond your intended stay in Iceland to enter.
Health and safety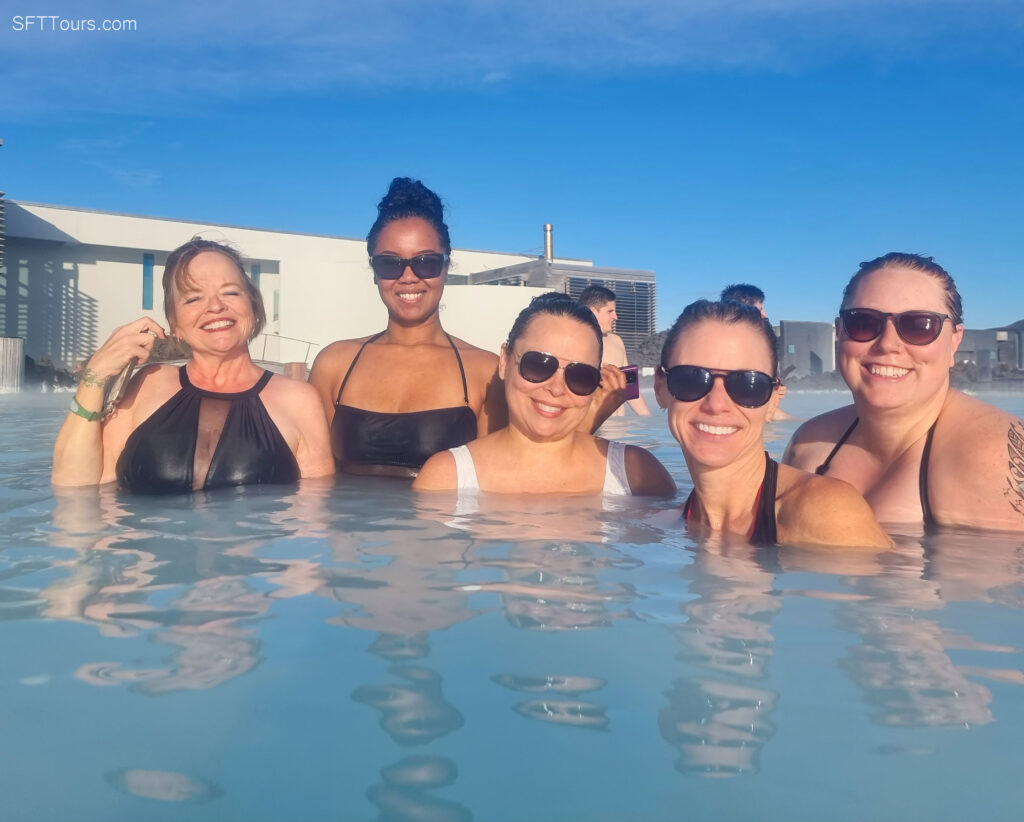 Health and safety are some of the most important considerations when traveling and Iceland is no exception.
Safety. Iceland is the world's safest country, by far without a doubt, and it ranks at the top of our safety ranking. You can see other solo female travelers experiences with safety in Iceland here.

Crime is practically non-existent, theft is almost unheard of, and Iceland is the world's most gender equal country with more women in Government positions than men, and with practically no discrimination.

Perhaps the only risky activity in Iceland is crossing the road. Even at a pedestrian crossing and with a green light, cars may also have green light to turn into the same junction and you don't want to fight that one out.
Bring all the medication you'll need. During your trip to Iceland you will never be too far from an urban center, a doctor, a hospital and a pharmacy, plus Iceland has free helicopter evacuation services in case of any emergency.

However, it is strongly recommended to bring any prescription medication you may need and enough of it to last you the entire trip. Your specific medication may not exist in Iceland, or it may require a prescription you need to see a doctor for, so save yourself the time and hassle by bringing everything you may need with you.

IMPORTANT: It is your responsibility to check that whatever medication you bring can indeed be taken into Iceland. According to Iceland's Medicines Agency, "An individual may bring medicinal products for his/her personal use in a quantity equivalent to no more than 100 days 'use when entering Iceland", but you may ahve to prove that you need the medication and "Restrictions on import of narcotic, psychotropic, anabolic steroids and growth hormones also apply". More details here.
Get that coverage. We never leave the house without purchasing extensive medical and travel insurance coverage and this is why we make it mandatory to join our tours. If you are found in a medical emergency, the ambulance will pick you up and the hospital will attend to you first, no questions asked. However, you should make sure that you have adequate medical insurance to cover the expenses.

Unexpected accidents do happen, and if you needed to be evacuated back home with an injury, the medical bill could bankrupt you. The best travel insurance will differ for each traveler, depending on the nature, style, and length of your trip, so we recommend using an aggregator and comparison tool such as Travel Insurance Masters to find the right one for you depending on what coverage you want, age, location, trip, etc.
Other essential travel tips to Iceland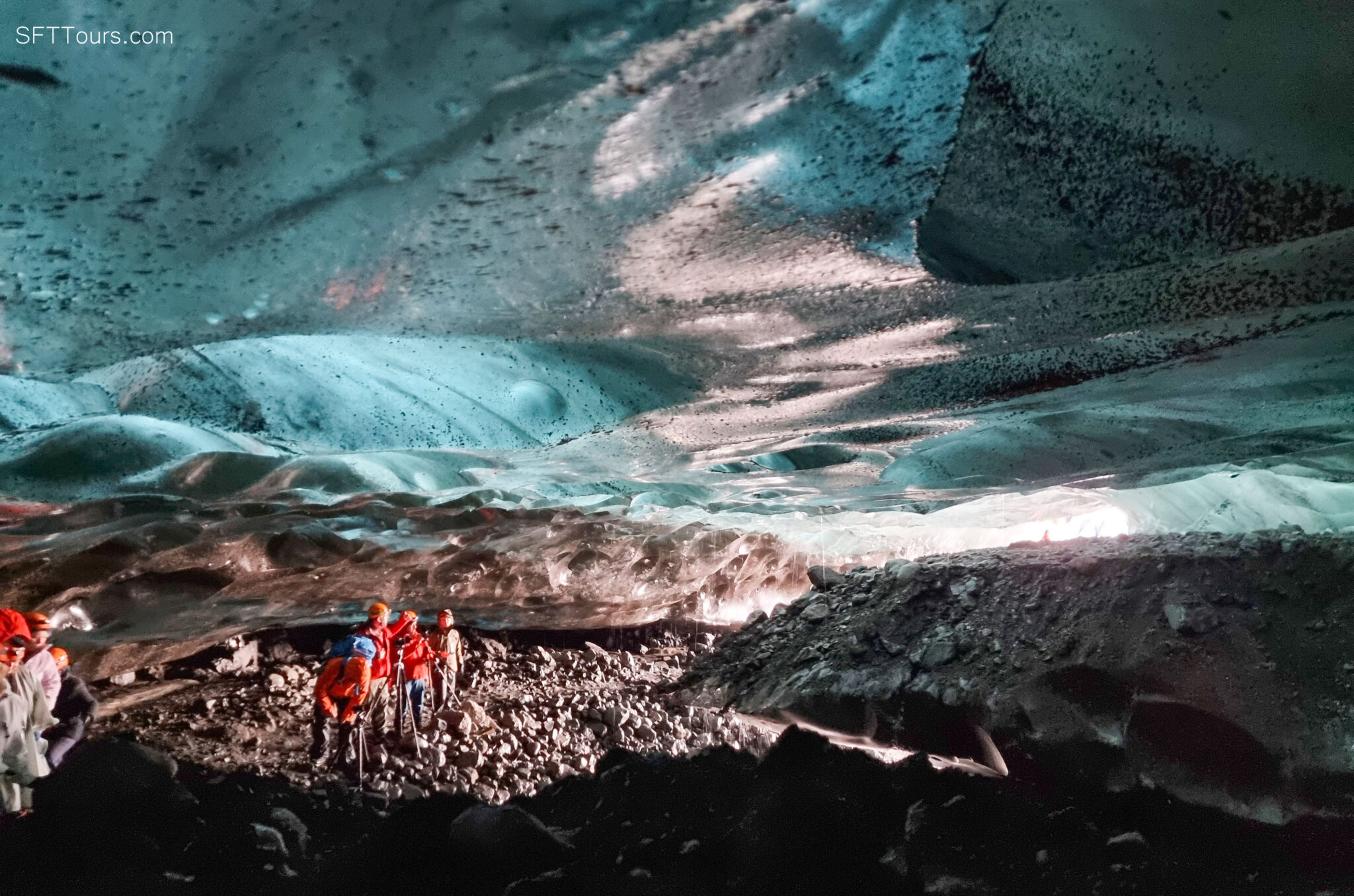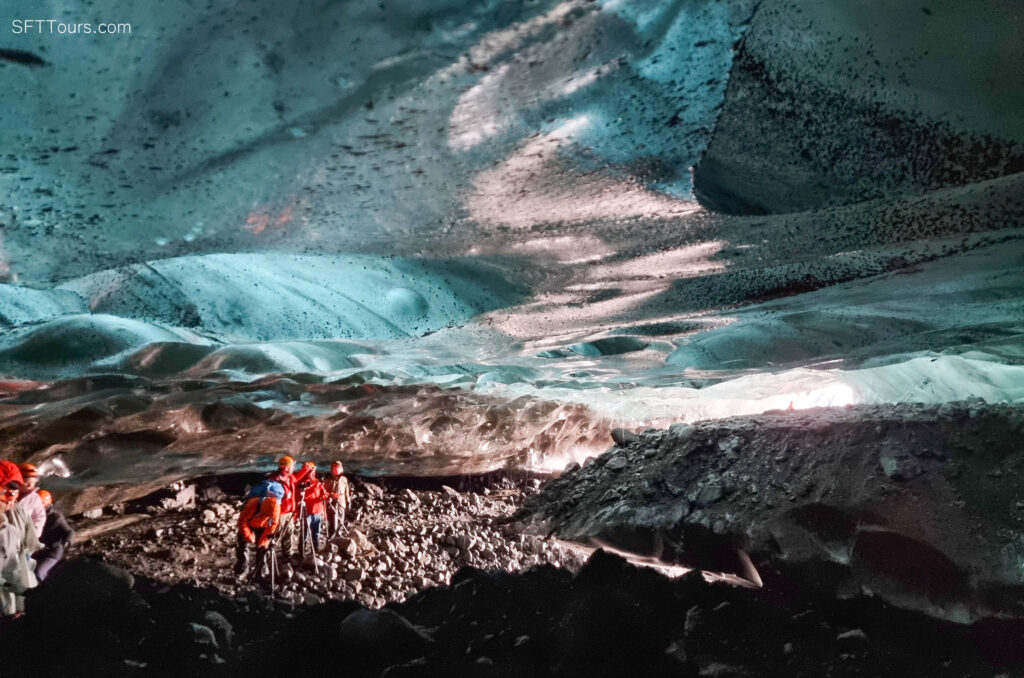 Here are some additional essential travel tips to Iceland for women.
Get a local SIM card so that you have internet throughout your stay. This is not only so that you can post to Instagram and Facebook but so you can follow Google maps, stay alerted to road closures, or call for help if you need to and share your location with loved ones.

You can buy a SIM card at the airport and if you come from the EU, you will be able to roam without extra charges. WiFi is often available at restaurants and cafes and even at major sights.
Public holidays: Plan around the most important ones such as Christmas Eve (24th December), Christmas Day (25th December), Boxing Day (26th December), New Year's Day (1st January), Maundy Thursday, Easter Friday and Easter Monday (changing every year), First day of summer (20th April), Labour Day (1st May), Ascension Day (18th May), Whitsun (28th May), Whit Monday (29th May), National Day (17th June), Commerce Day (7th August), St. Mary (15th August) and All Saints Day (1st November).
Bedding: Most hotel in Iceland will provide double bedding for double beds. That means that instead of a large duvet you are likely going to get two single duvets, one for each person sleeping.

This is the traditional bedding arrangement in other Nordic countries. While it may seem a bit strange at first, it makes sleeping with someone else convenient because they can never steal your duvet!
Money and currency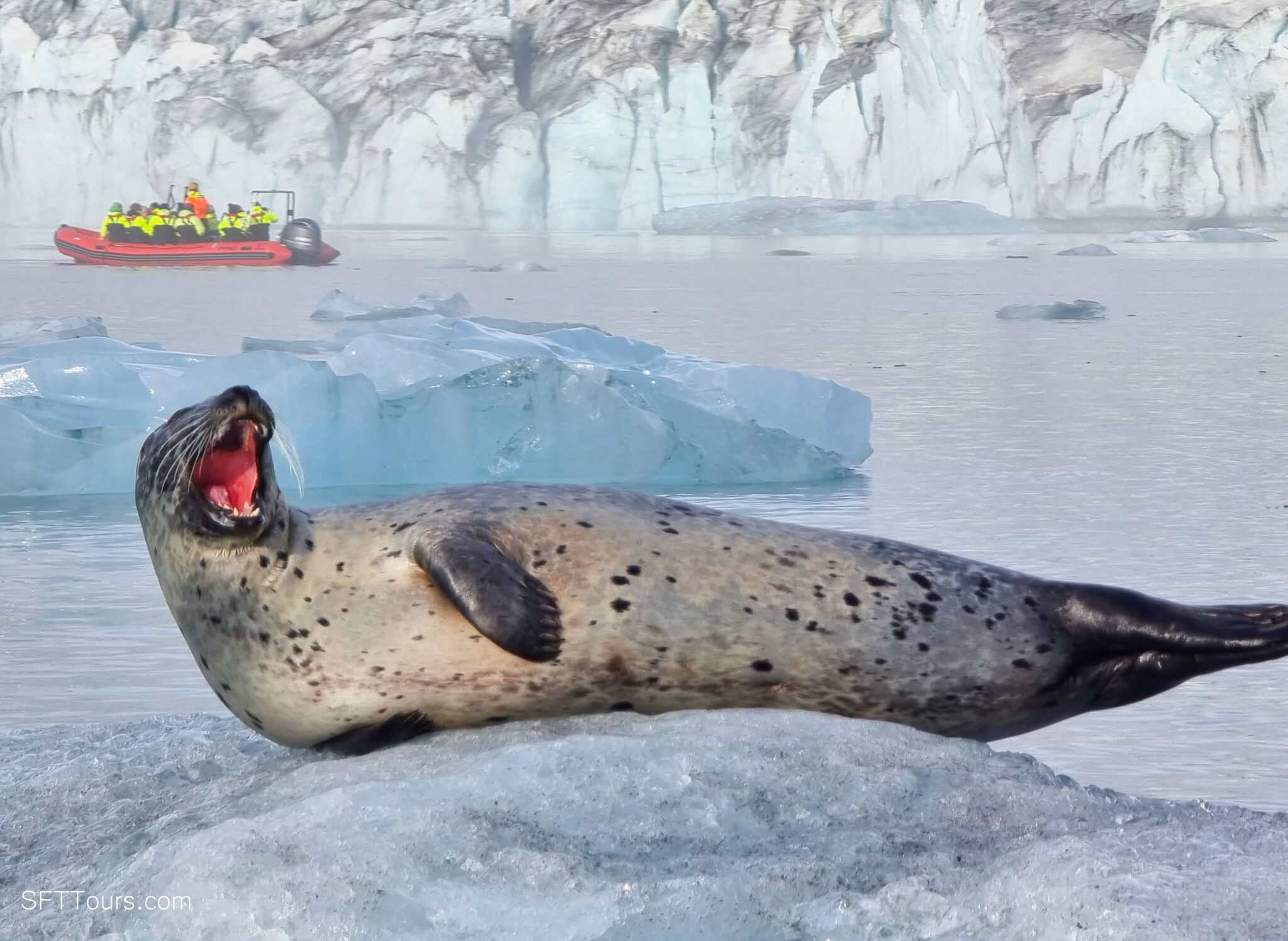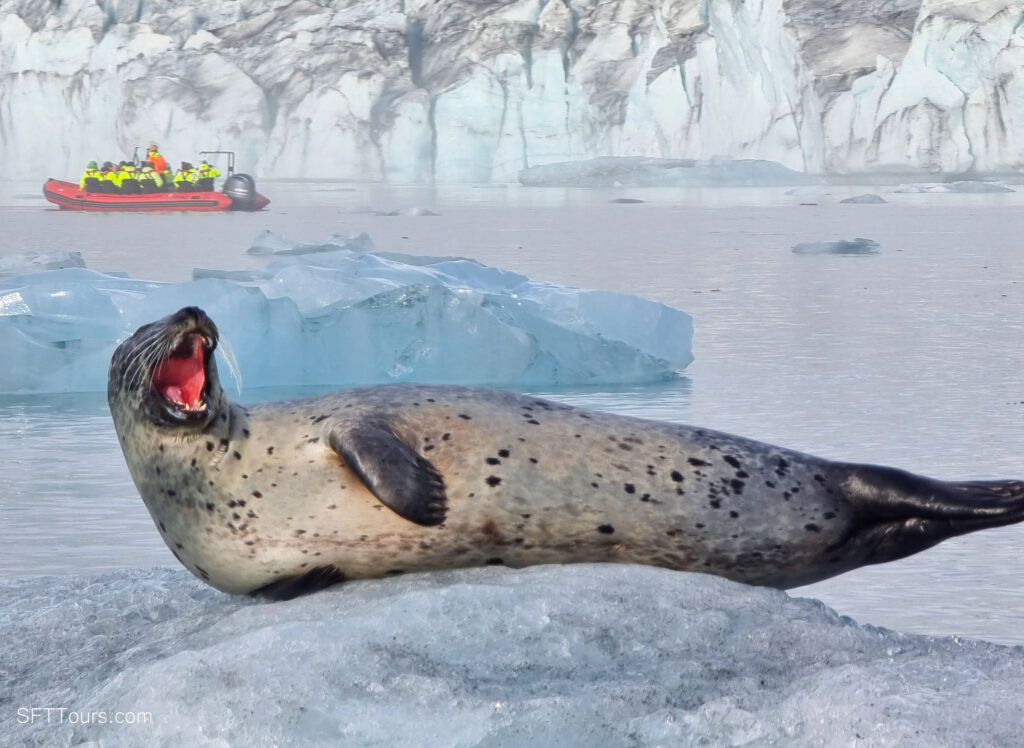 Iceland is expensive. Everything is imported, few things are grown or made in the country so prices are always higher than wherever you live (even for me living in one of the top-5 most expensive cities in the world and also an island).
Self cater to stay on budget. If you are looking to do Iceland on a budget, consider bringing your food from home or getting meals from bakeries and supermarkets, they sell hot dogs and paninis that are not bad!

When it comes to supermarkets, avoid the 10-11 chain which is known, for a fact, to be more expensive than any other grocery store, especially the ones in Reykjavik. If you are out on the Ring Road, stop by a farm and buy local food for a more decent price. Check this app that has the locations.
Cash. You won't need cash anywhere. I have been to Iceland 4 times and never exchanged any cash. I have always paid everything by card, even public toilets. if you do get local currency, make sure to exchange it before leaving the country as it may be hard to do so outside.

The exchange rate at the airport is very unfavorable so do so in town instead, or pay your hotel bill with whatever cash you've got left and the rest with your credit card.

Better yet, don't exchange any cash into the local currency, almost everything in Iceland can be paid by credit card.
Chip and pin cards. Some petrol stations are unmanned outside of 9 to 5 hours though you can use self-service by using the automated machines. You will however need a chip and PIN credit card as signatures are not possible when there isn't anyone around. This may be an issue if, like me, your bank does not offer them, so bear in mind when calculating your petrol needs and fill the tank during the day and in a manner station.
Local culture and customs
Icelanders are friendly and always willing to help but don't expect British politeness, the language and the customs are direct, so take no offence, they aren't being rude, they are just being themselves.
Tipping
Tipping is not common in Iceland, instead, it will be added to the bill (eg. at restaurants) so don't worry about carrying cash or tipping people. If you really want to tip a guide, then you will need cash or can simply tip in USD or EUR which will also be accepted.
Things to do in Reykjavik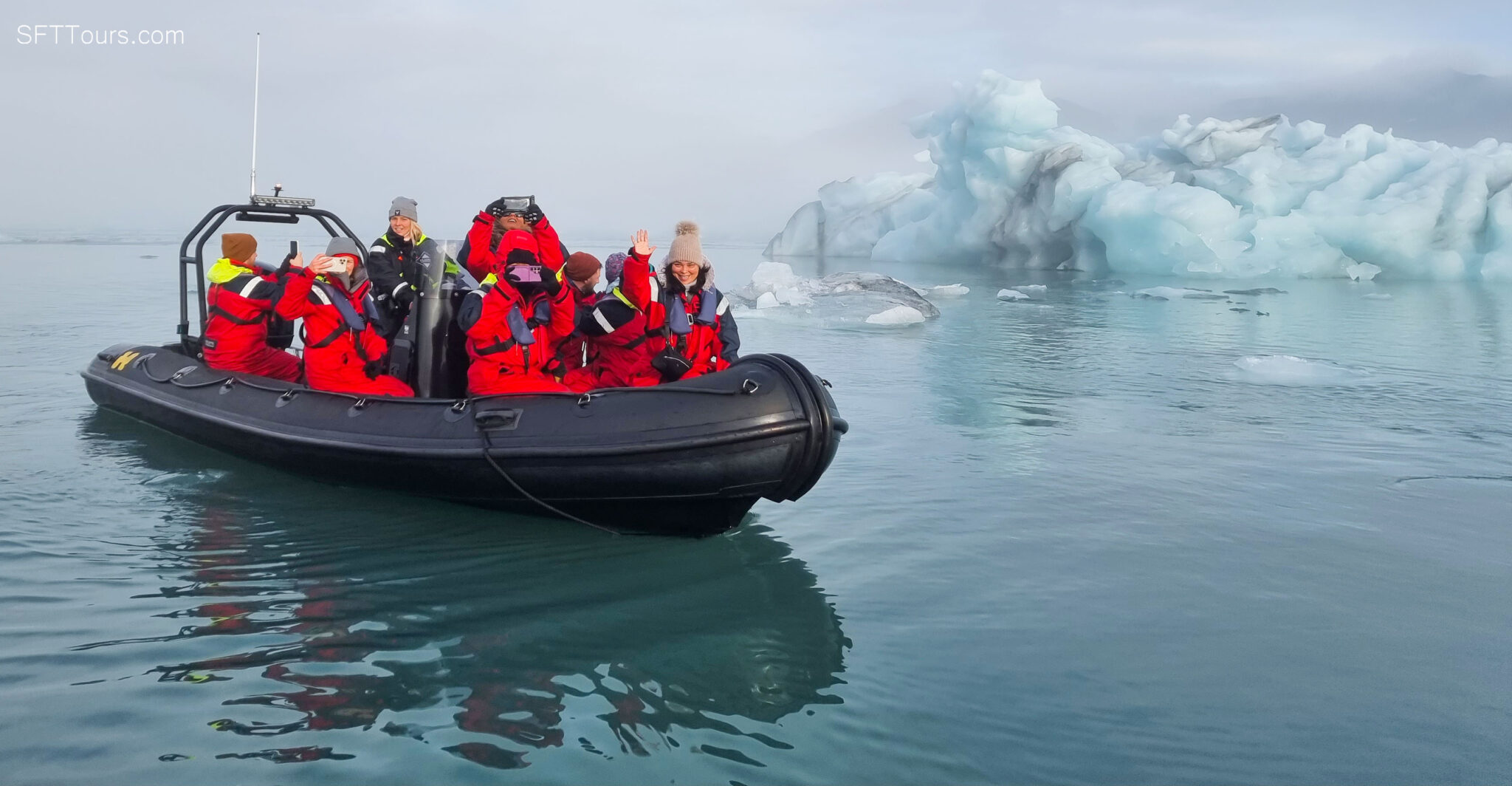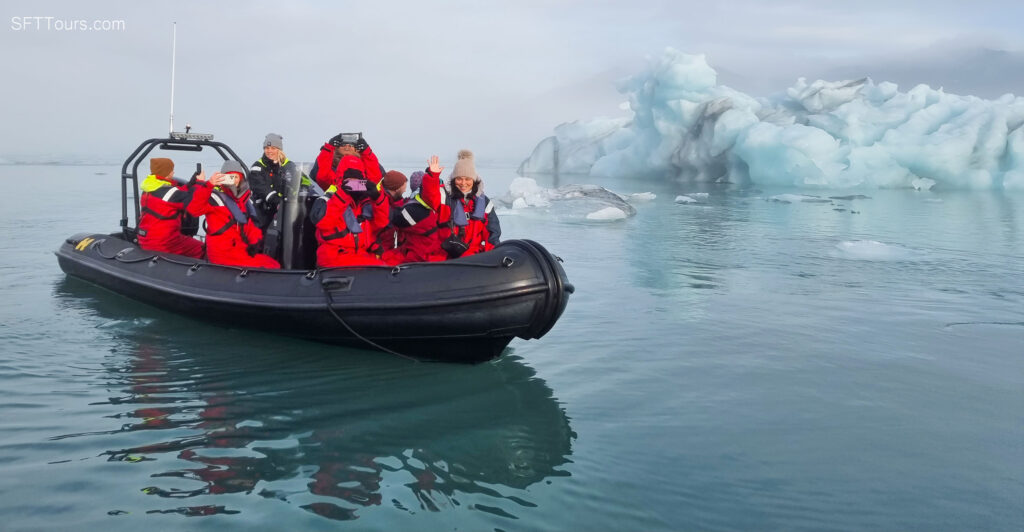 Reykjavik is a cozy, walkable and very manageable city on foot. Most of the main tourist attractions are either in the city center or by the seaport. The city is also perfectly positioned to join day tours to some of the sights in the eastern part of the island.
During our tour, we will be visiting most of the sights in the southern part of Iceland, but there is plenty more to see which you can easily explore on your own or by joining a day tour.
Below is a list of some of the best things to see and do in Reykjavik and nearby.
Tip: please check opening times of all the museums and places of interest before going as these change often through the year.
Go whale watching
Several species of whales inhabit the waters around Iceland. Some live there year-round but most spend time there as part of their migratory routes. A whale-watching tour is one of the most popular activities to do in Reykjavik and finding the right tour is easy because there are many options. Here are some we recommend:
See Iceland from a helicopter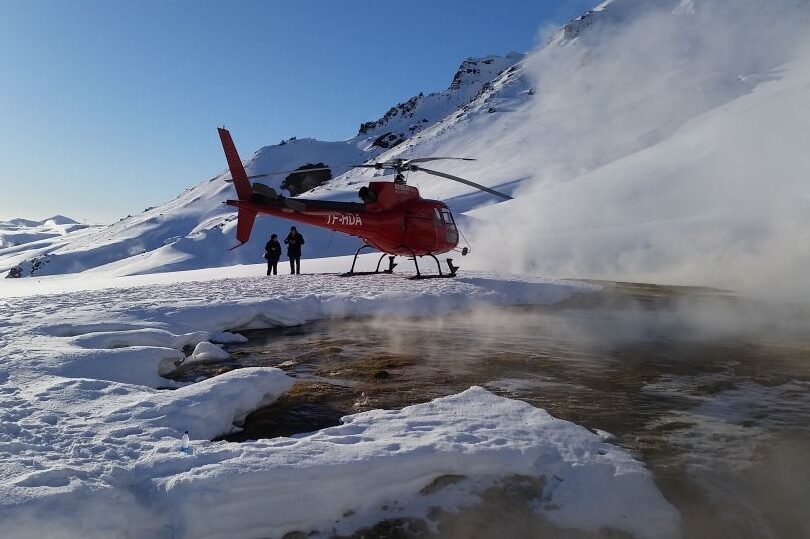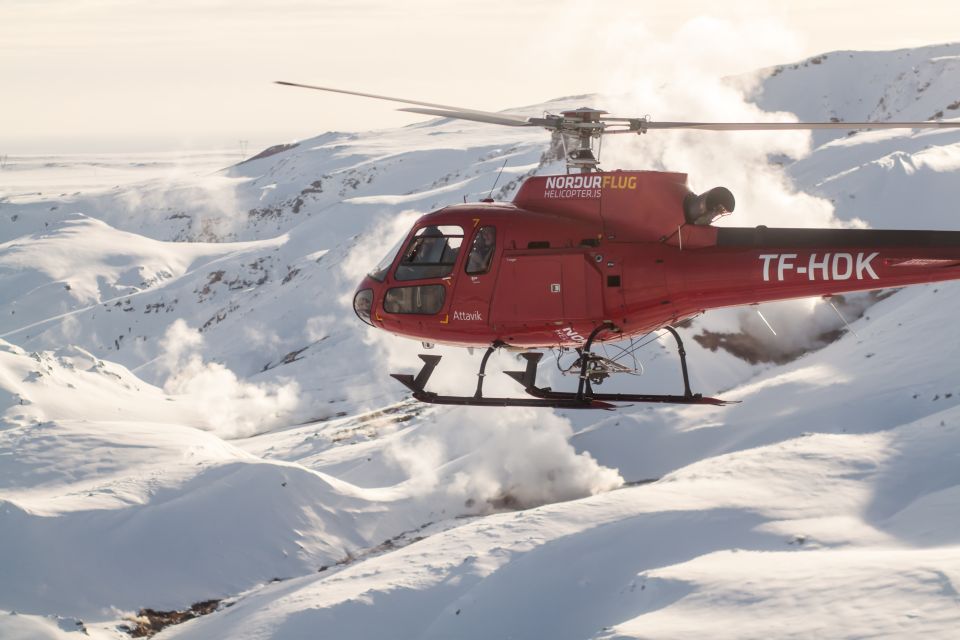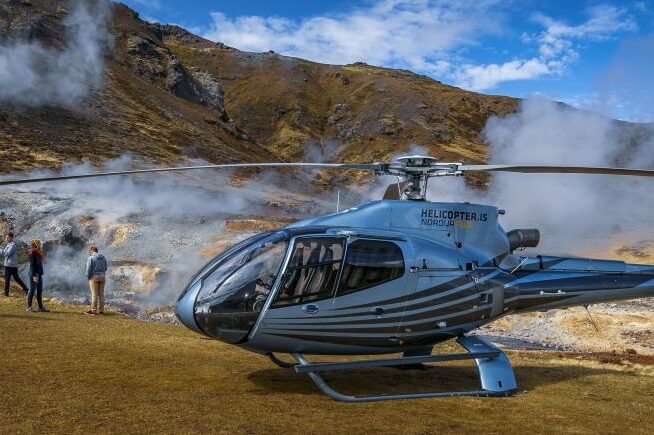 Treat yourself to a 1 hour helicopter ride over Reykjavik and Iceland's volcanoes, colorful mountains and hot springs for this once in a lifetime experience.
How to: Book your helicopter ride here.
Sample Icelandic food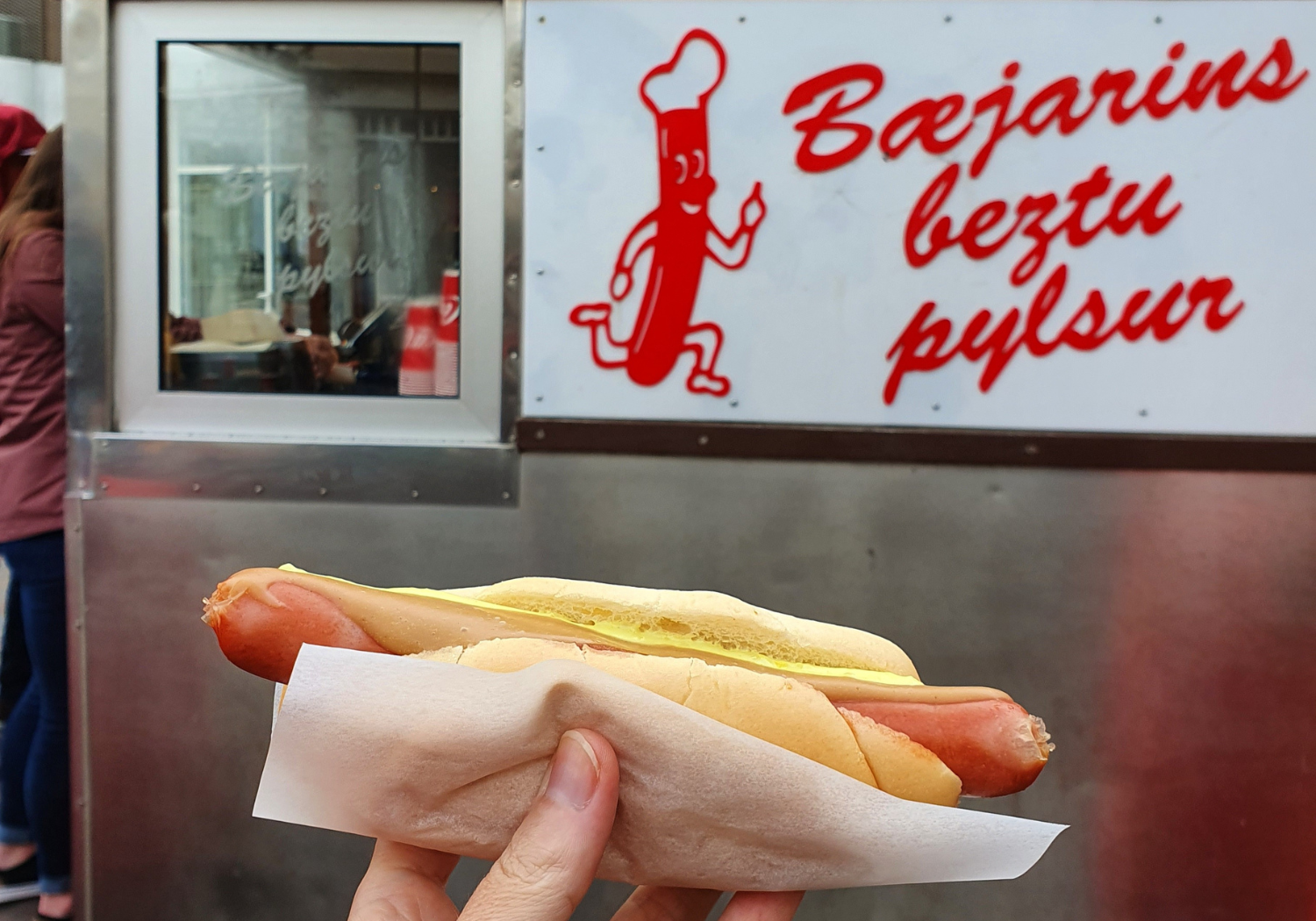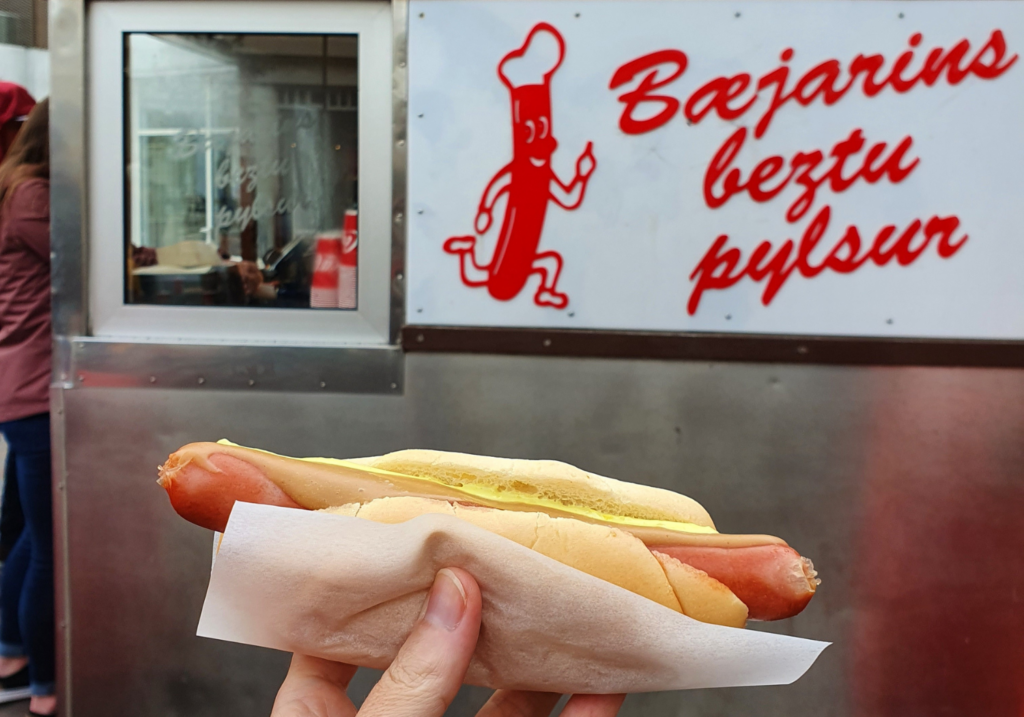 Icelandic food is a unique cuisine rarely found outside the country. With Nordic food experiencing a revival one of the most interesting tours you can take in Reykjavik is a food tour.
Restaurant hop as you sample the most famous dishes that combine what the country is famous for: seafood and lamb. The tour runs in the morning for lunch and in the evening for dinner and it makes for a great way to enjoy an evening out with a fun, friendly atmosphere.
How to: Book a 3 hour food tour and taste 8 dishes from 8 restaurants including lobster and lamb soups, a hot dog from a street stand, ice cream and so much more.
Tip: Turn up hungry for this, there is a lot of food to sample.
Go chasing Northern Lights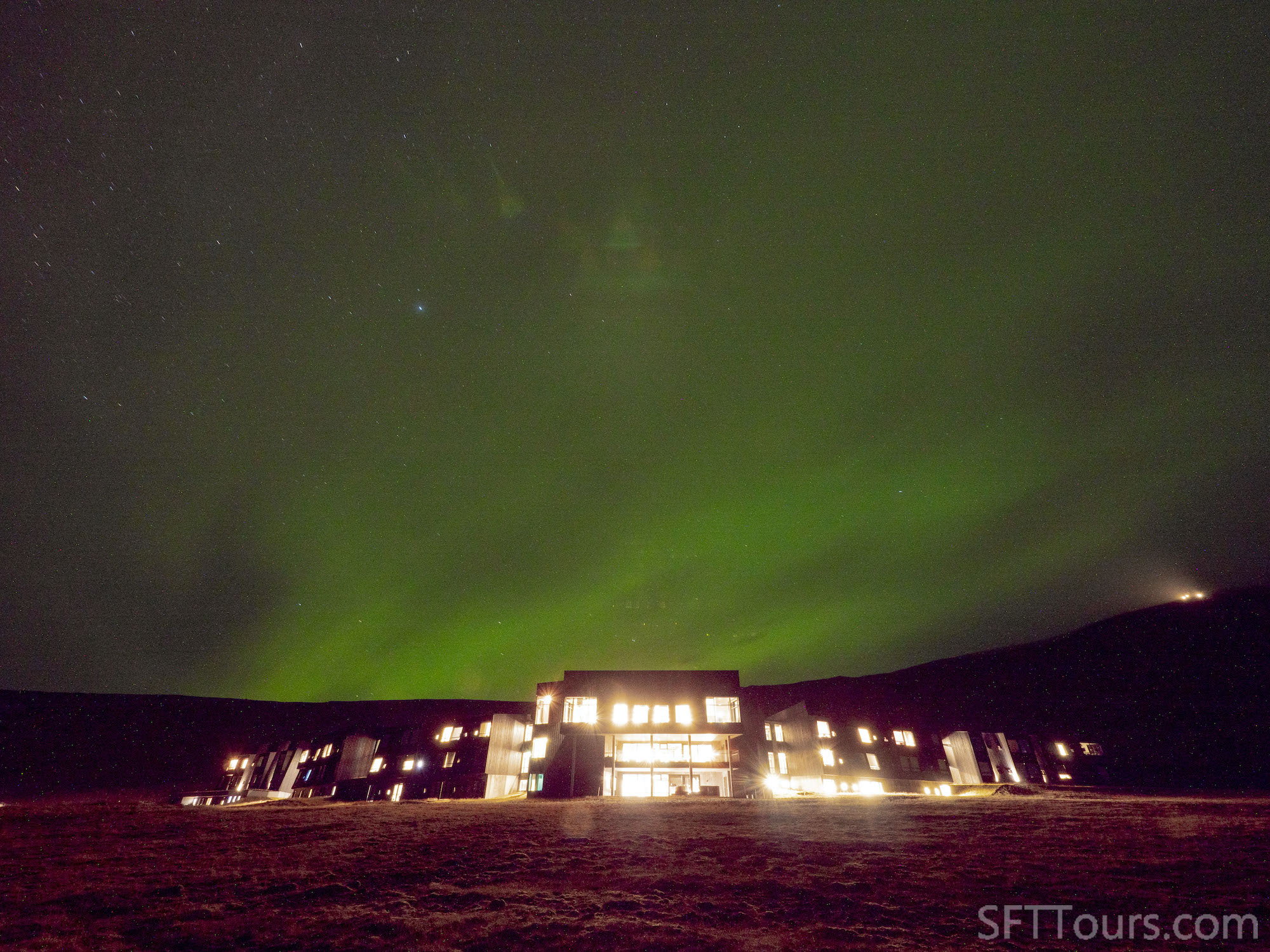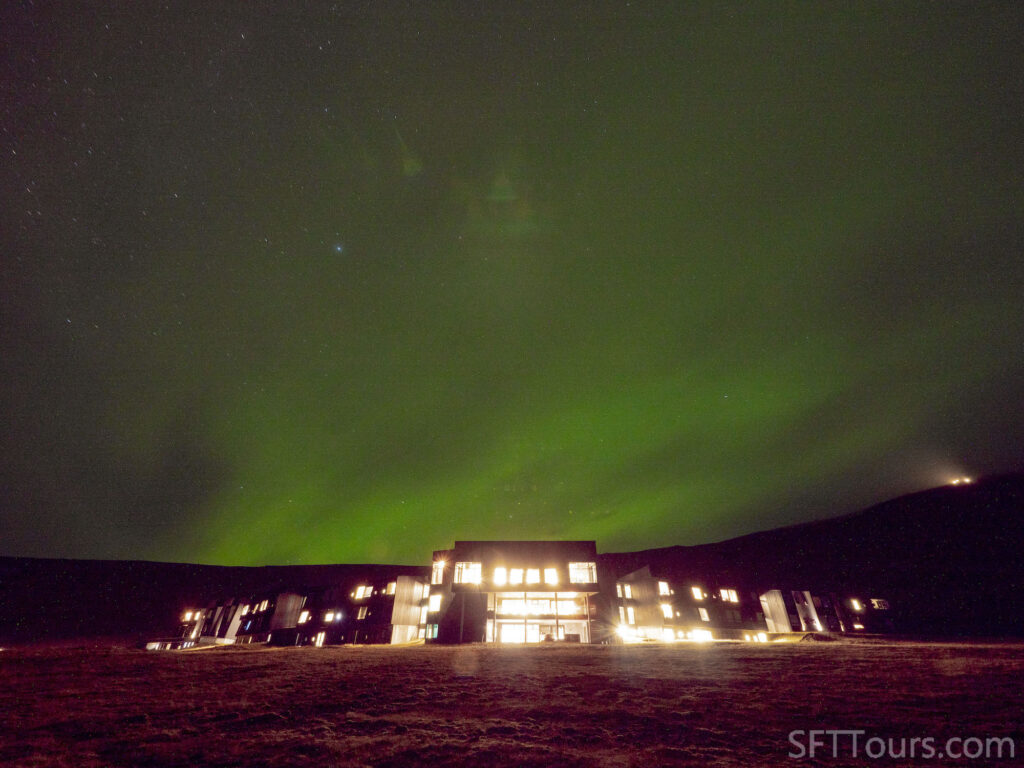 During our October trip, we will have a chance of seeing the Northern Lights while staying at ION Adventure hotel, but one can never have too much of the beautiful Aurora so one of the best ways to make the most of the dark winter Icelandic nights is by going on a Northern Lights tour.
How to: To go chase Northern Lights you will have to book a tour. Here are a few options, all happening at night from September to March:
3 hour tour hunting Northern Lights. If you don't see them, you can join the next day free of charge.
2 hour Northern Lights boat tour departing from the harbour, if you are lucky you can see them against the backdrop of the city lights. This tour is perfect because you can stay inside the boat warmly, and still get out when they are spotted. You also get photos of the tour and, if you don't spot the lights, you can return the next day free of charge.
Game of Thrones tour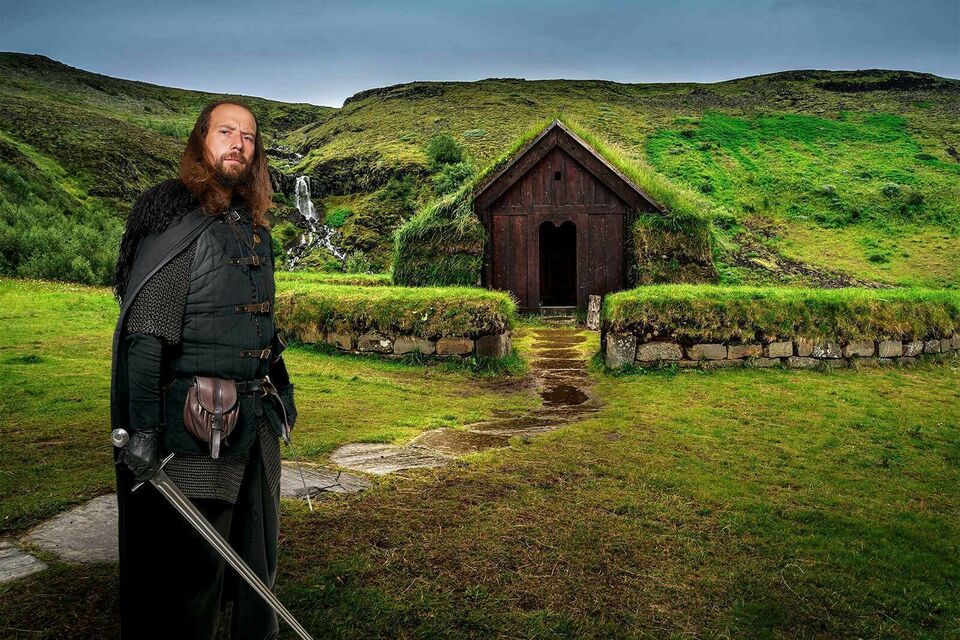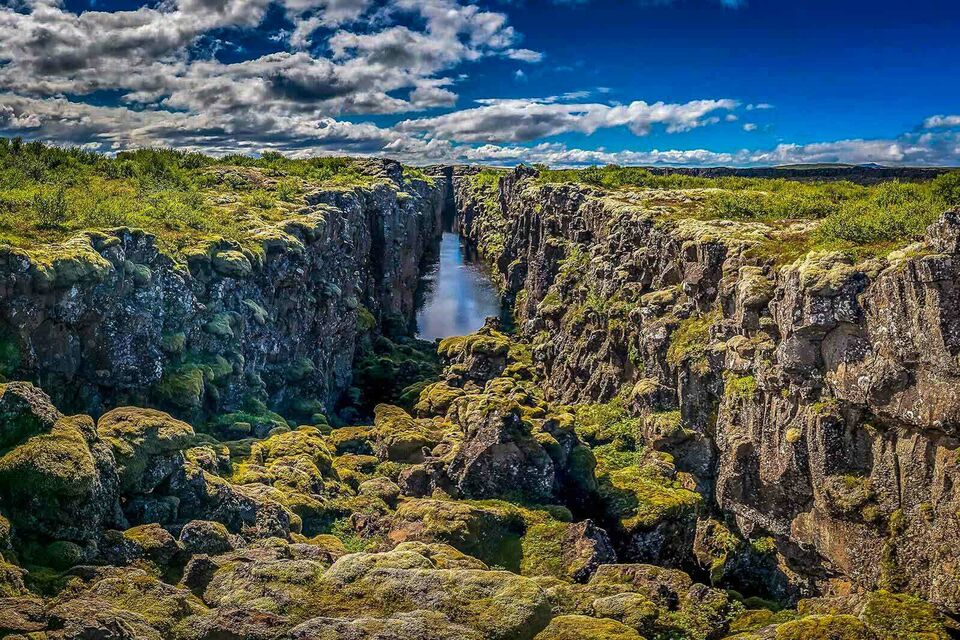 Are you a fan of Game of Thrones? The show arguably made Iceland more famous than ever and with reason.
There are tours that will take you to the most popular and famous spots near Reykjavik so you can feel like one of the characters. Local "actors" will recreate some scenes and show you images from the show against the real background.
How to: Book a day tour here.
Go inside a volcano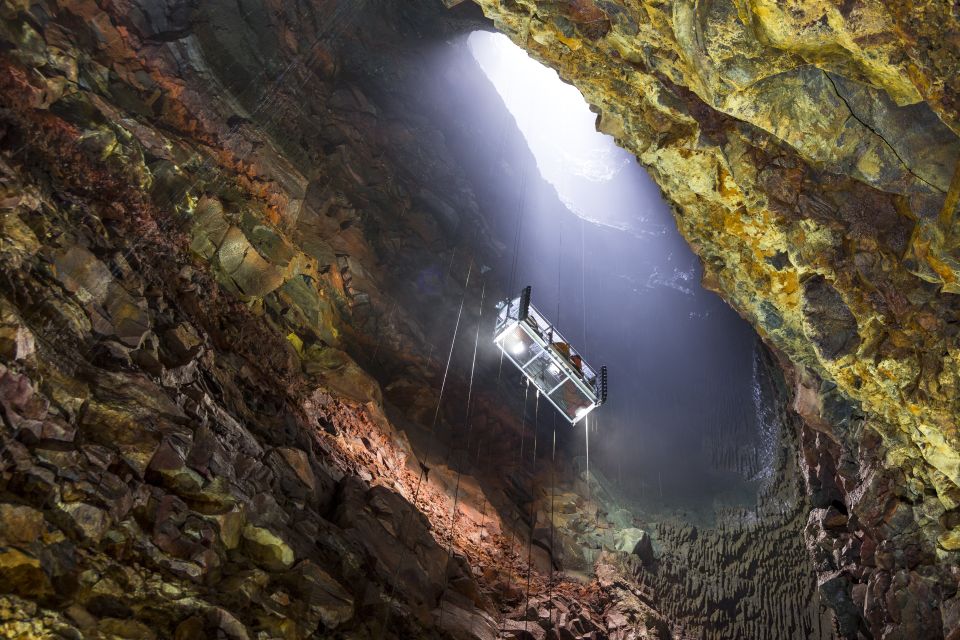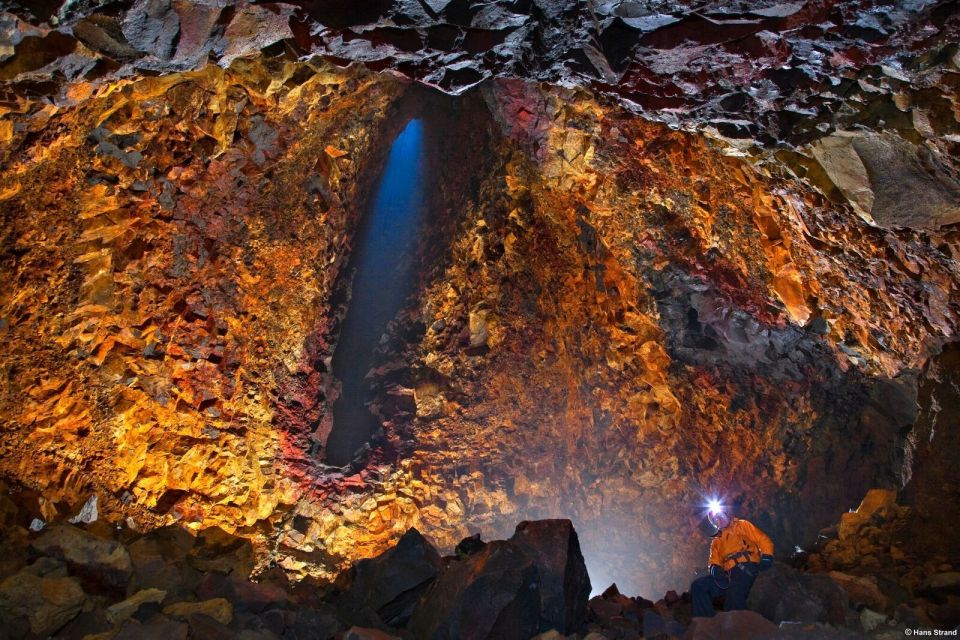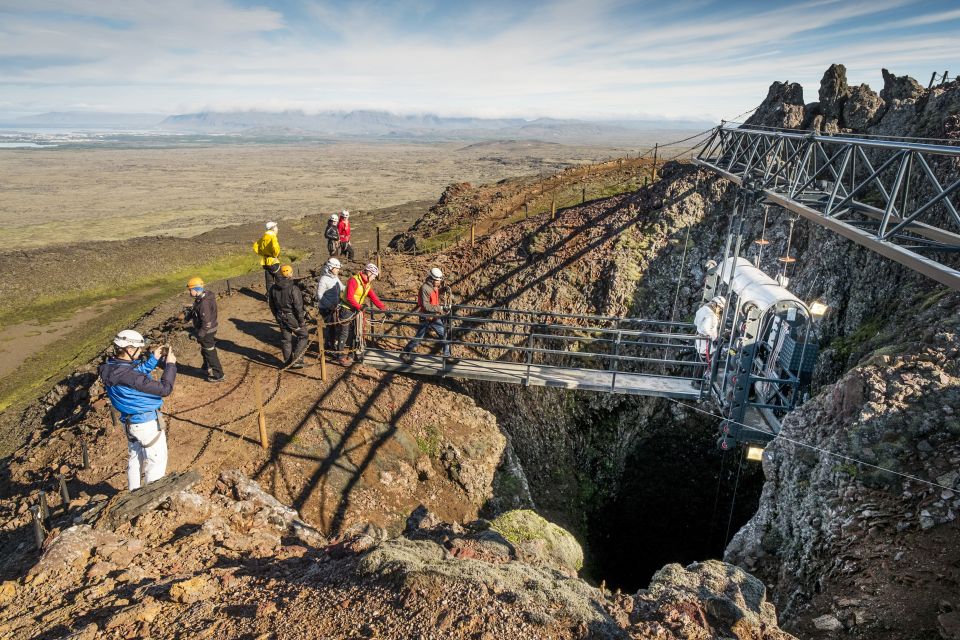 Iceland is the land of fire and ice and there are so many volcanoes that it's hard to keep track. One of the most interesting experiences is that of descending 120 meters inside the volcano and you can do just that at Thrihnukagigur Volcano.
The tour starts from Reykjavik and involves a 45min hike to get to the entrance of the volcano where you will step on a platform and descend into the crater for about 10min before you get to enjoy the incredible volcano cave.
How to: Book a half day tour to the volcano here. This includes the transfers and a meat or vegetable soup. The tour lasts 6h including about 2h hiking to and from the volcano's entrance.
Snorkel between two tectonic plates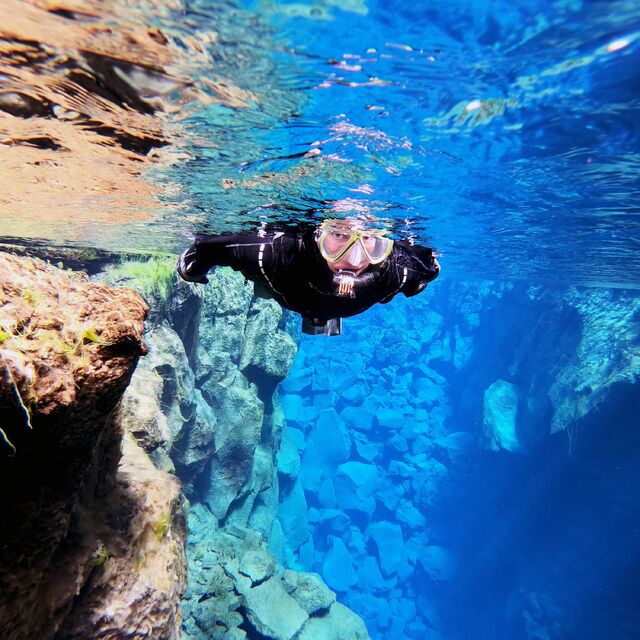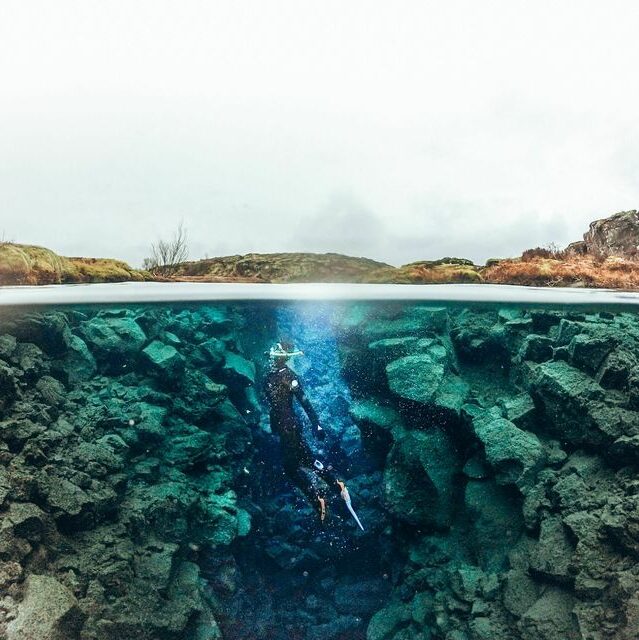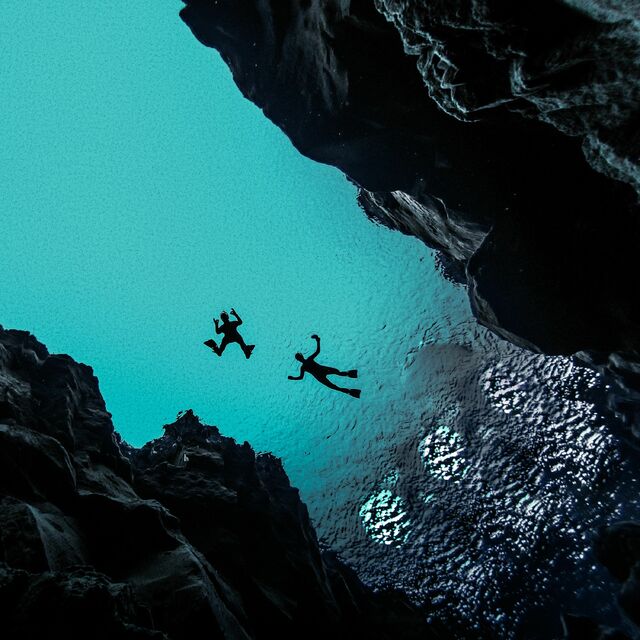 One of the most incredible experiences one can have in Iceland is snorkelling between the American and European tectonic plates, something you can do at the Silfra fissure. Don a wet suit and enjoy visibility of up to 100 meters while the staff takes photos of you in this very unique environment.
How to: Book a half day tour here. The tour includes all snorkeling equipment, transfers from Reykjavik and photos of the experience.
Snowmobile, ice cave and hot spring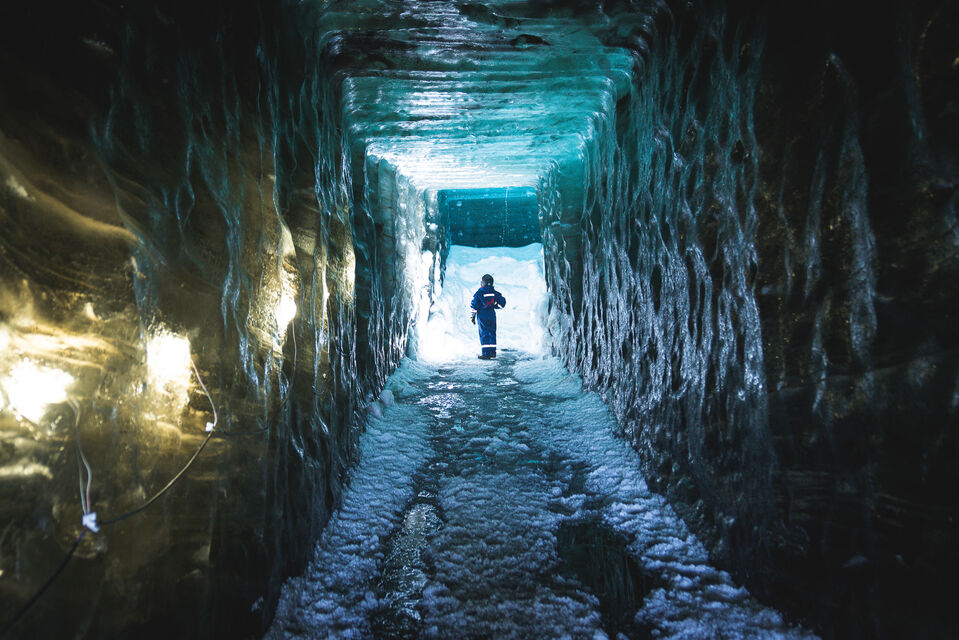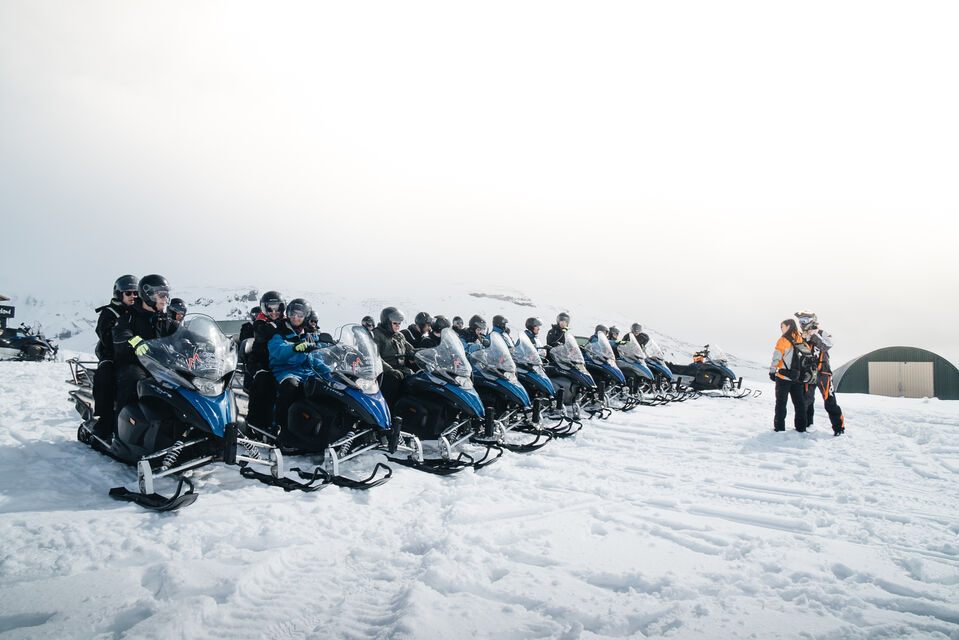 This full day tour from Reykjavik starts with a snowmobile experience then follows with a hike around the glacier and ice caves and ends with a hot spring thermal bath in a natural environment.
How to: Book this tour here. This is not including meals and drinks which you can purchase there. The tour requires two people booking so you might want to find a buddy among the rest of the guests, who is interested in joining you!
Take a day trip to Snæfellsjökull Peninsula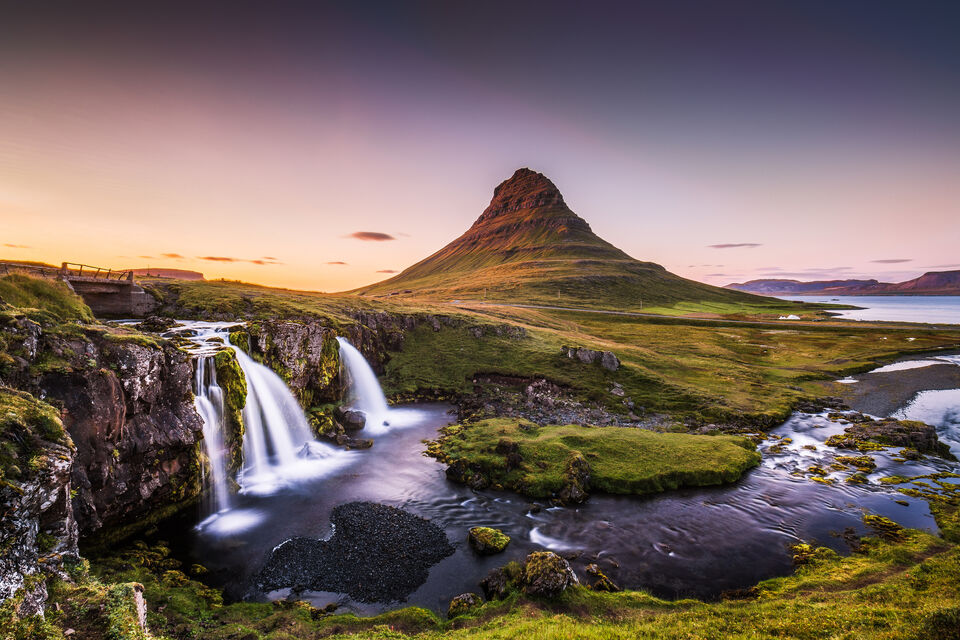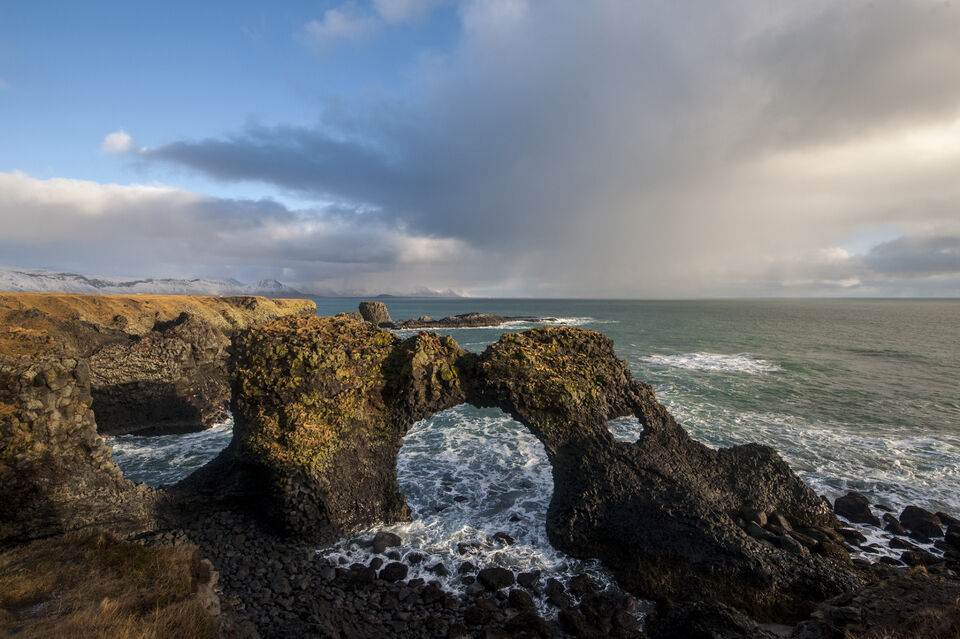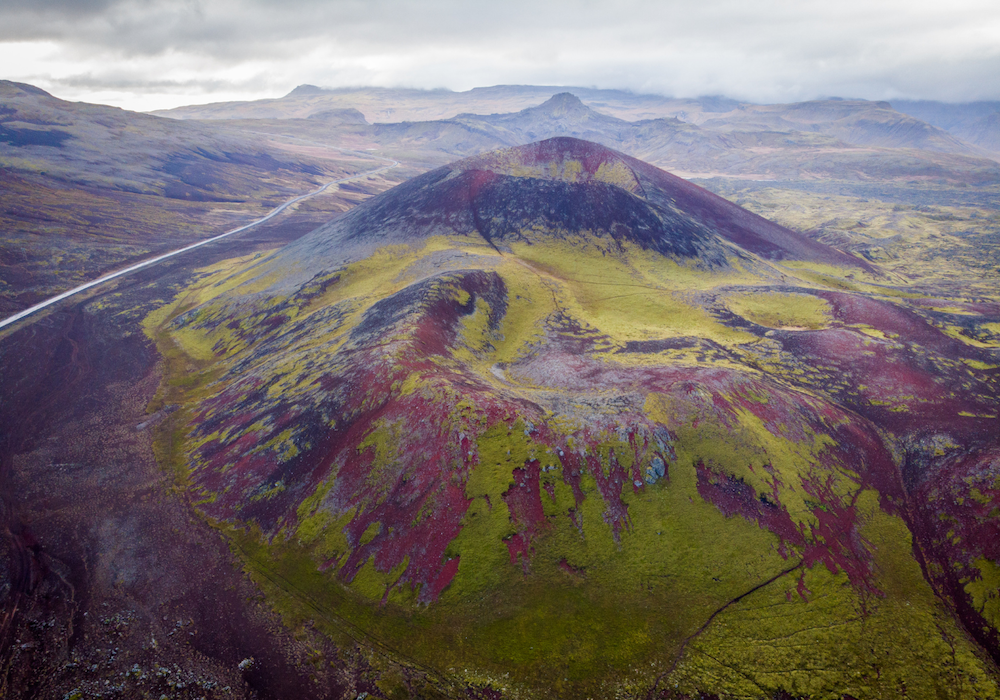 The Snæfellsjökull Peninsula is like a mini Iceland in that it has hot springs, mountains, waterfalls, a dramatic coastline and volcanoes.
You can go on a tour to see the black sand beach at Djúpalónssandur, the famous Game of Thrones conical Kirkjufell Mountain, seals basking in the sun on the beach (in season), Snæfellsjökull glacier and more.
How to: Book the tour here. Hotel pick up is available, lunch is not included.
See various types of whales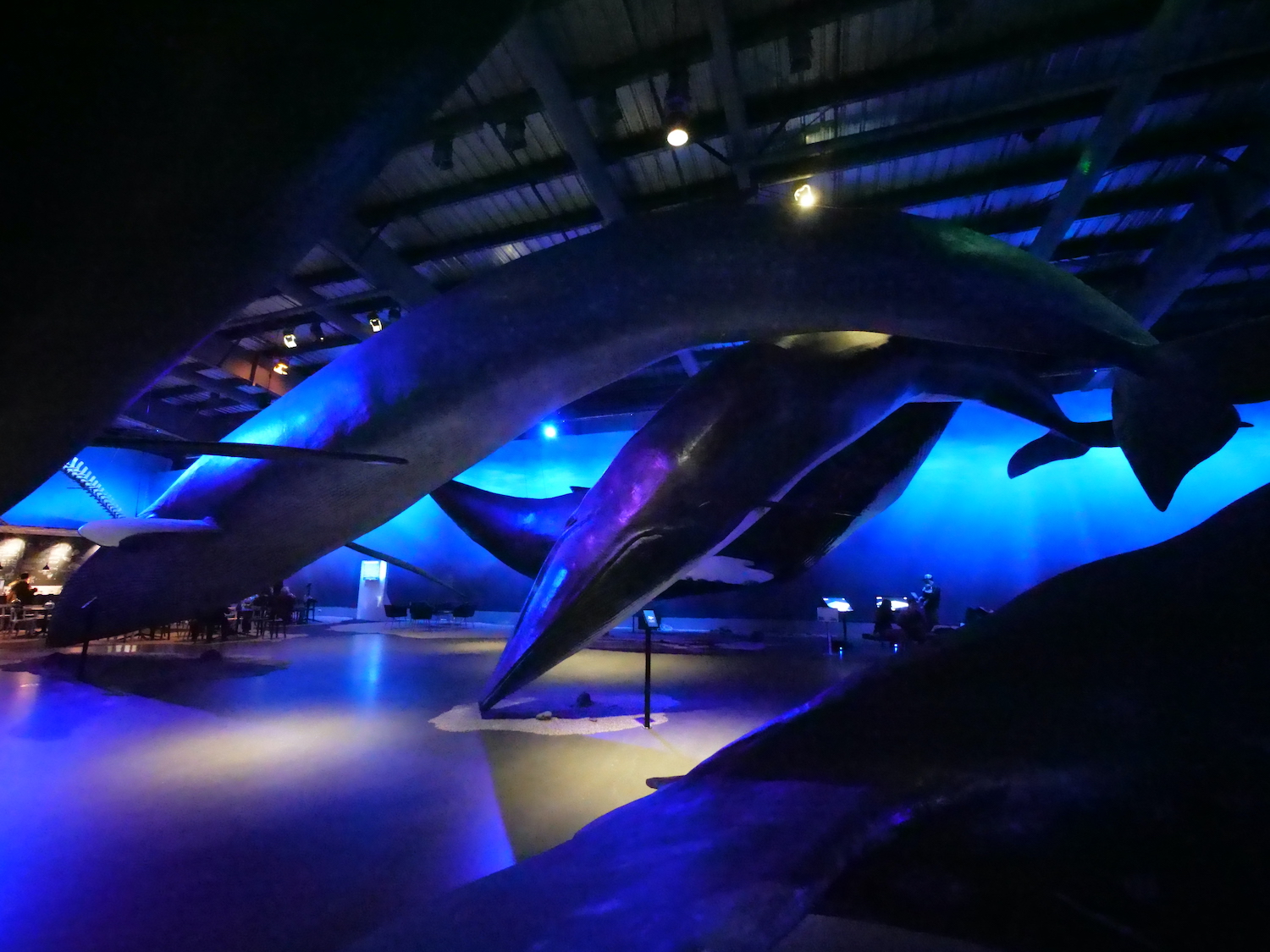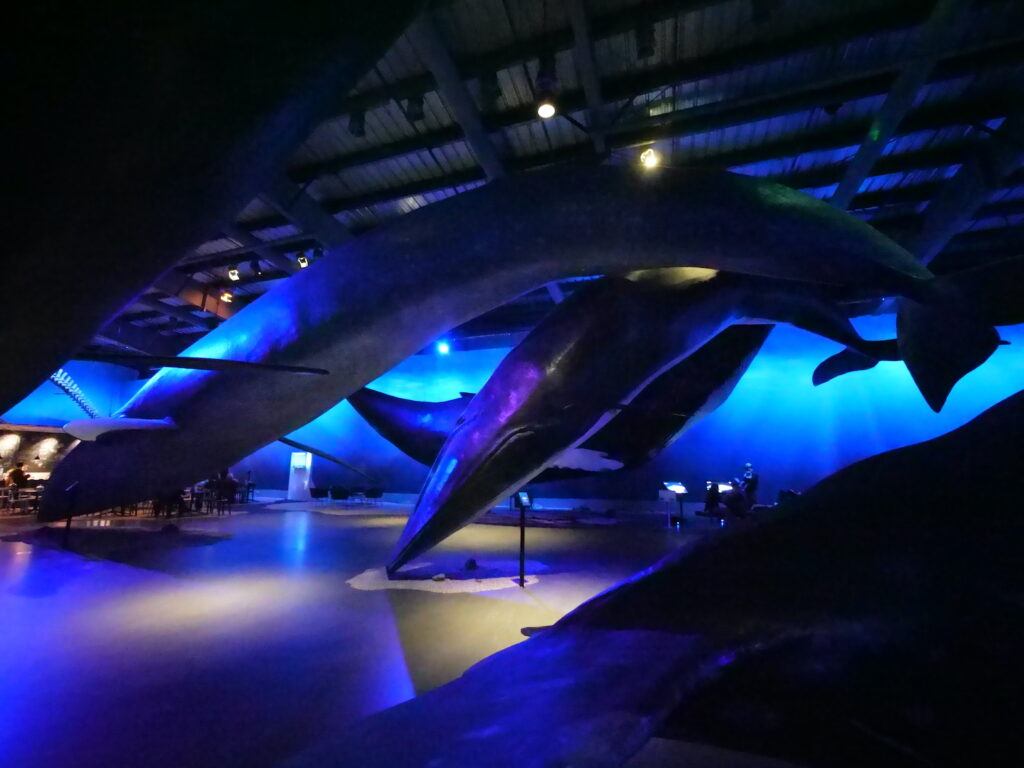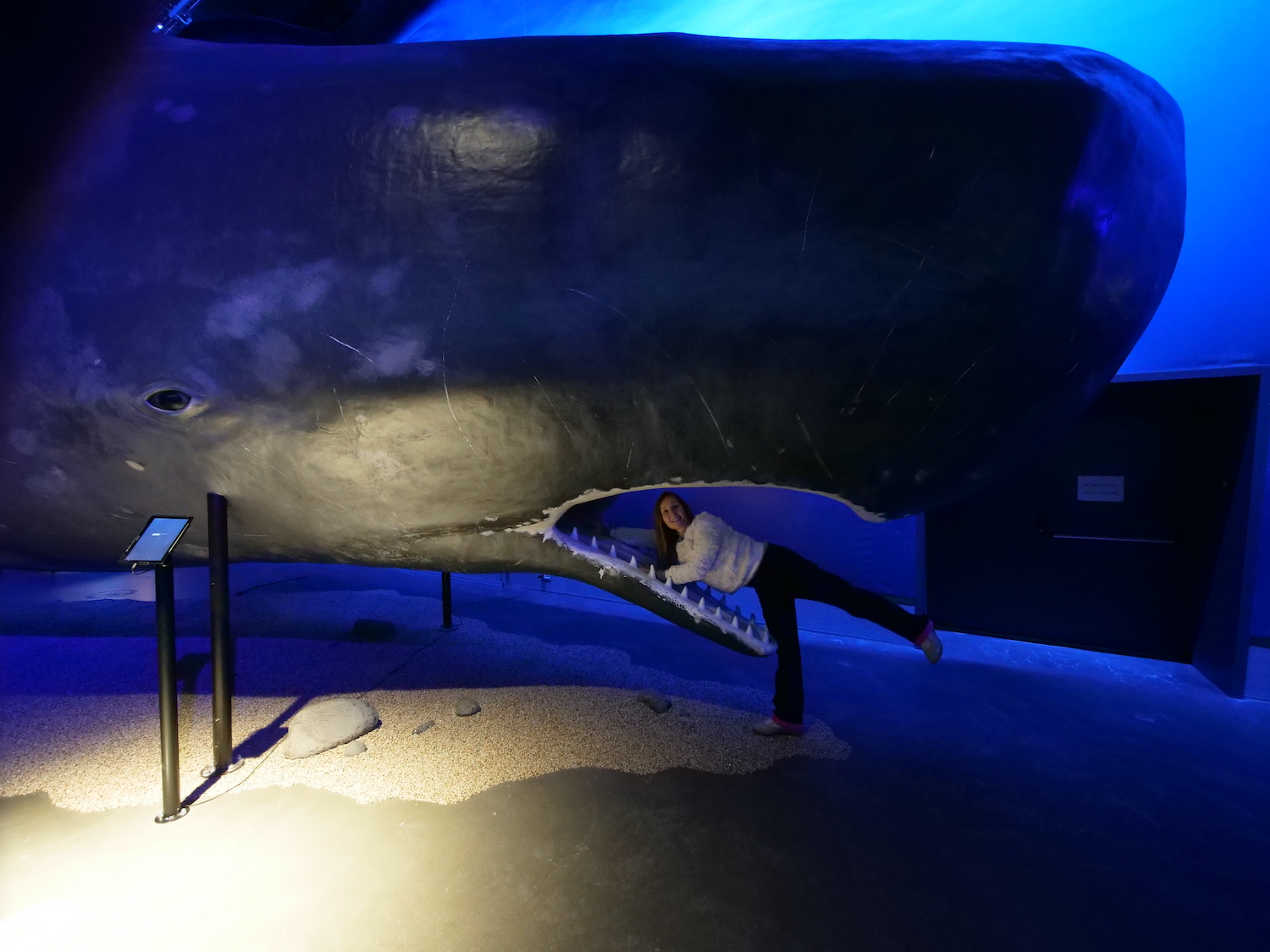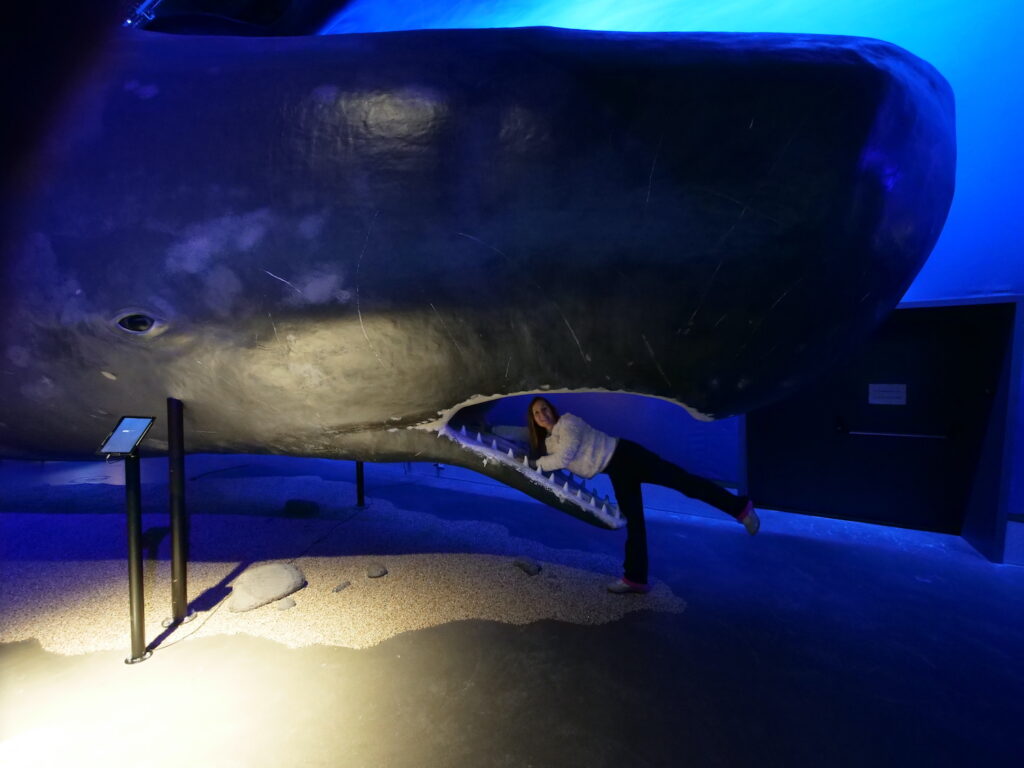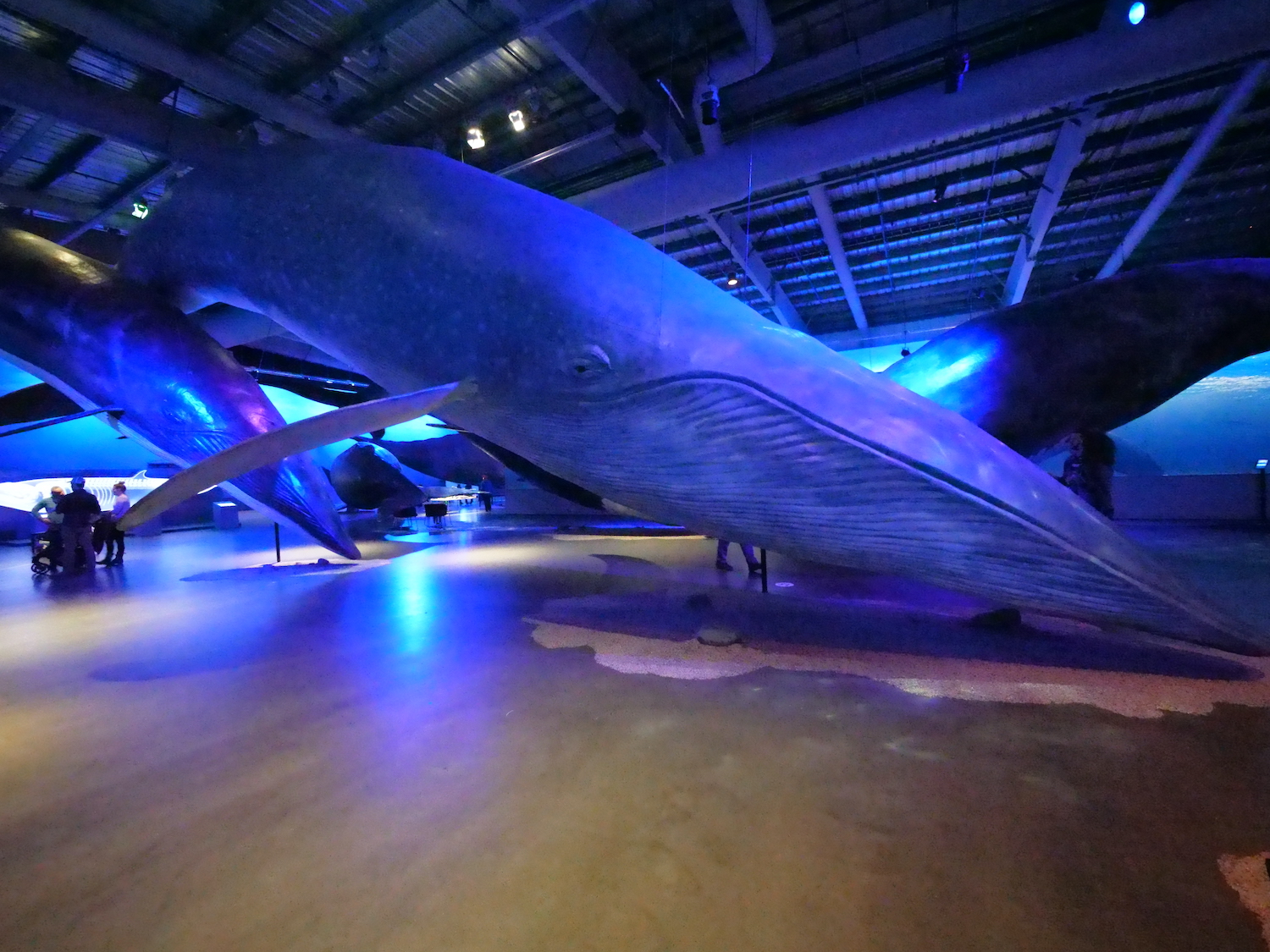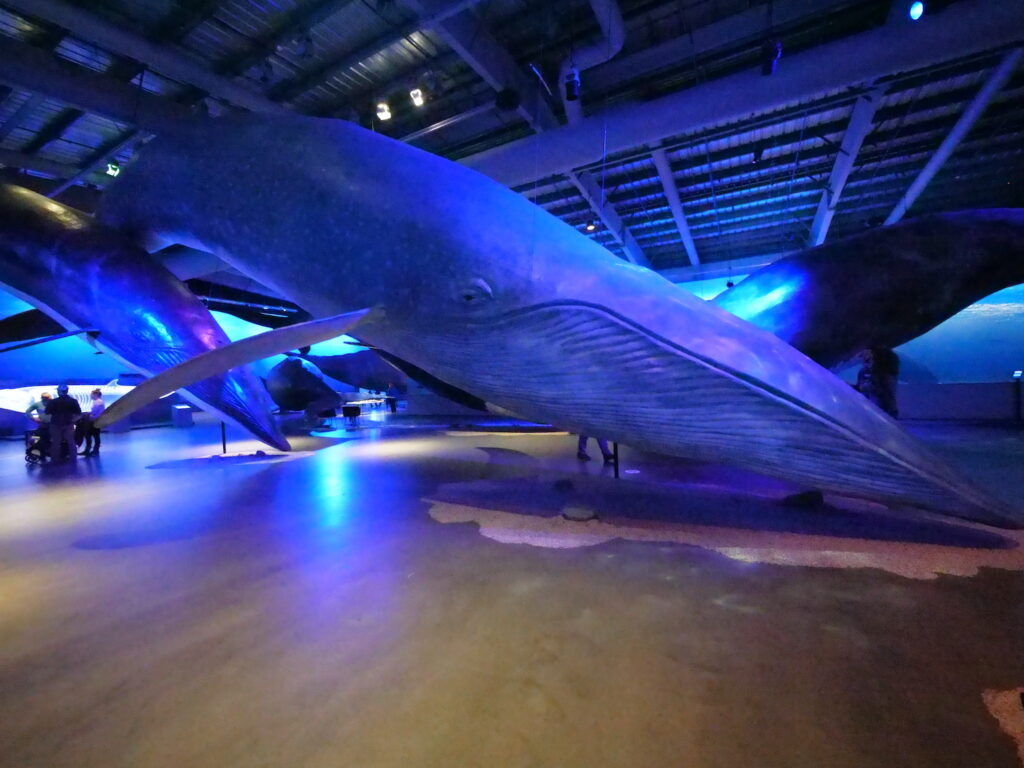 Iceland is undoubtedly linked to whales and nowhere can you learn as much about these majestic and enormous creatures than at the Whales of Iceland Museum where you can see models of 23 different kinds of whales including a massive sperm whale.
How to: Entry tickets cost $23 and you can get them at the entrance or in advance here.
Pro tip: Check the timings of the Sonic Sea screening happening at 11am and 3pm daily and the timings of the complimentary daily guided tours in English.
Learn more about the Northern Lights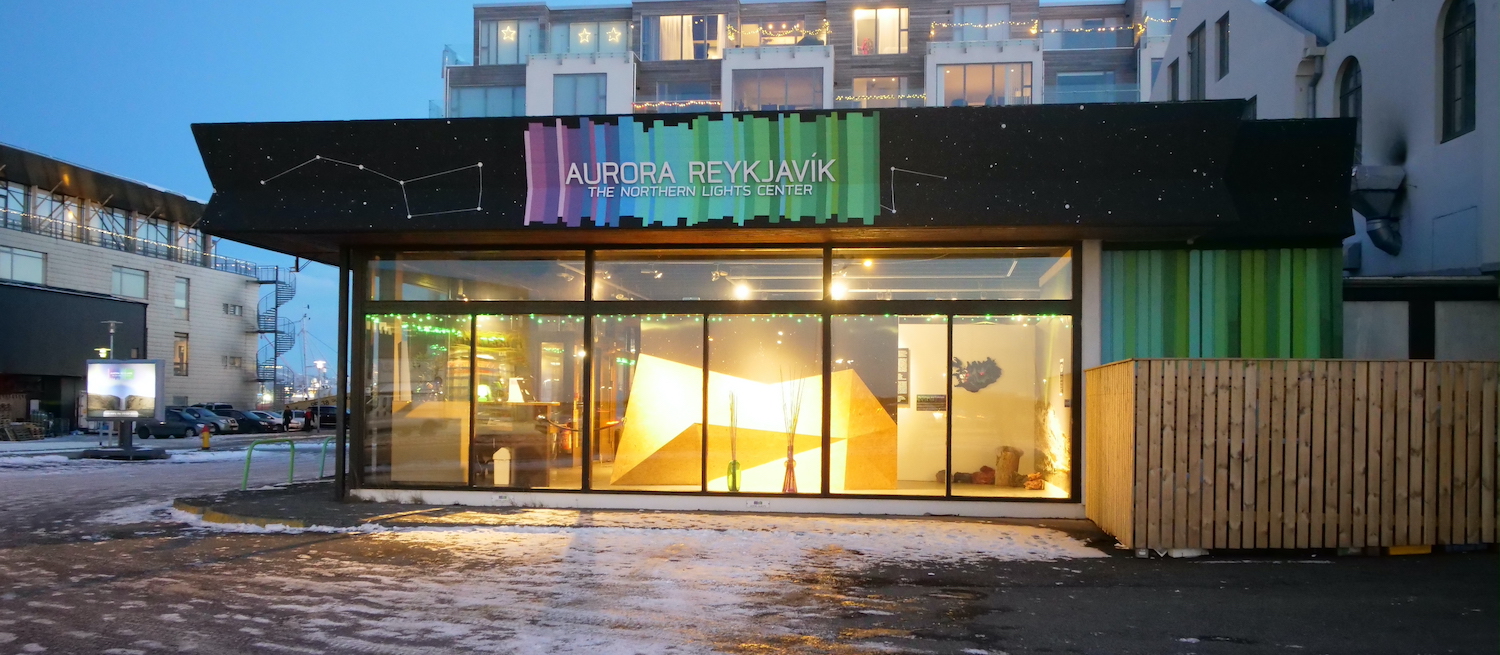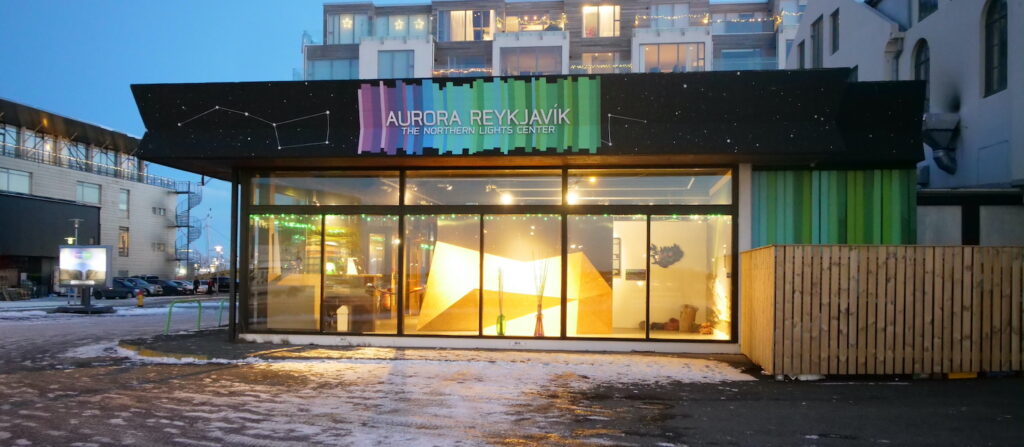 Visit the Aurora Reykjavík – The Northern Lights Center, and learn everything you need to know about this incredible natural phenomenon. There are exhibits and panels explaining the science behind the beautiful lights and a room where you can sit on the floor and be mesmerised by the dancing lights.
Then complement the experience with Áróra – The Northern Lights Planetarium Show at one of the water tanks inside Perlan, the stunning glass-domed building on top of the hill that can be seen from anywhere in Reykjavik and .
How to: Tickets for the Aurora Center cost about $16 and you can buy them at the museum or in advance here. Tickets to the Planetarium Show can be bought in advance here. We recommend you make sure to buy them before going all the way.
Visit the Icelandic Phallological Museum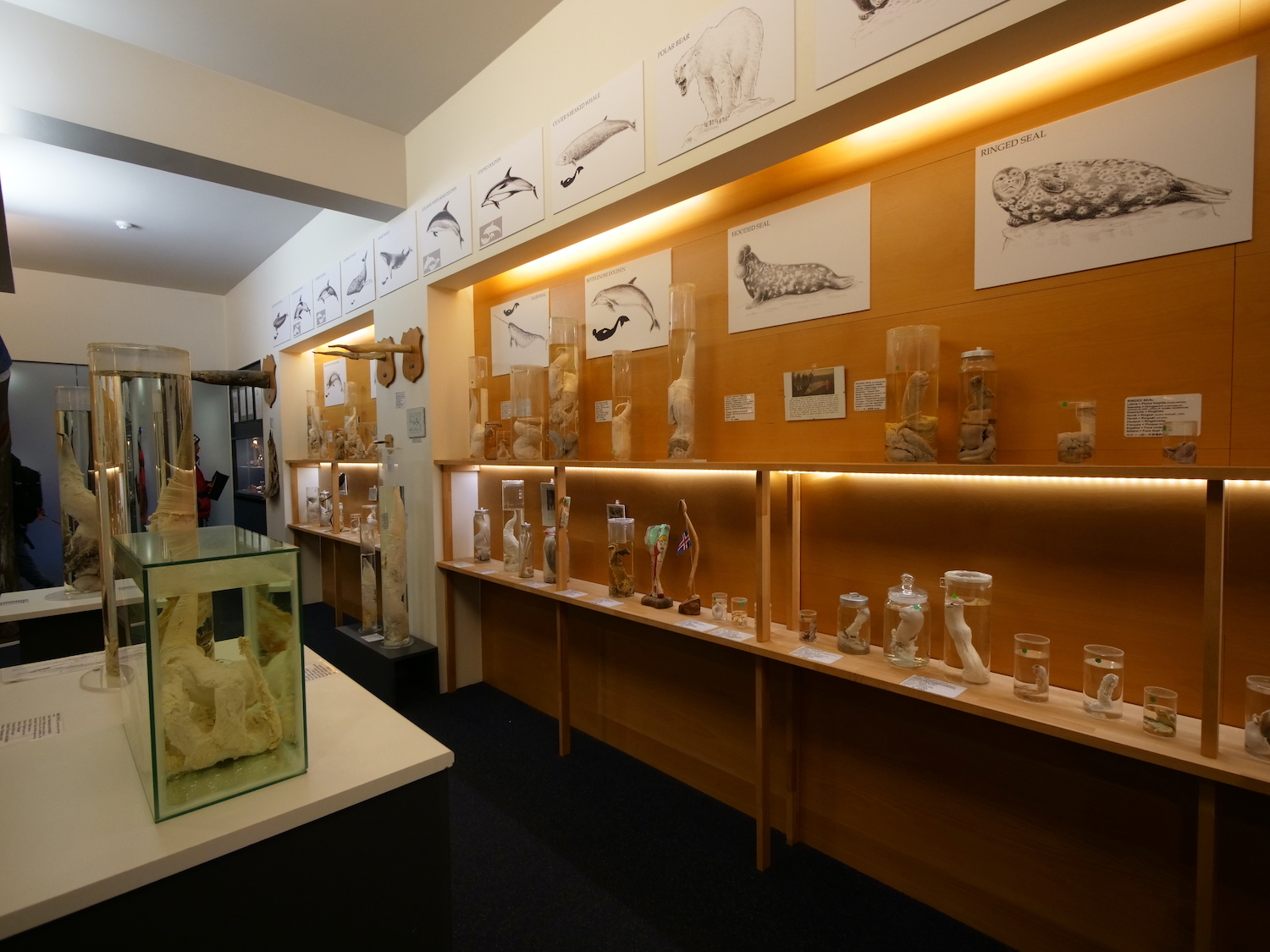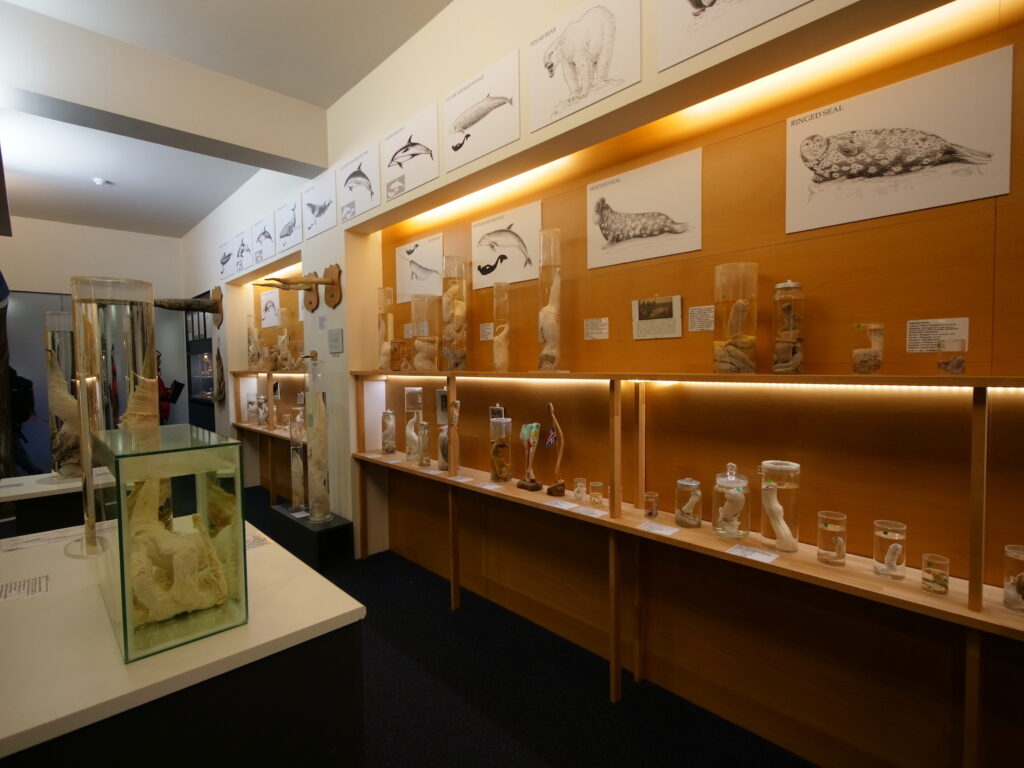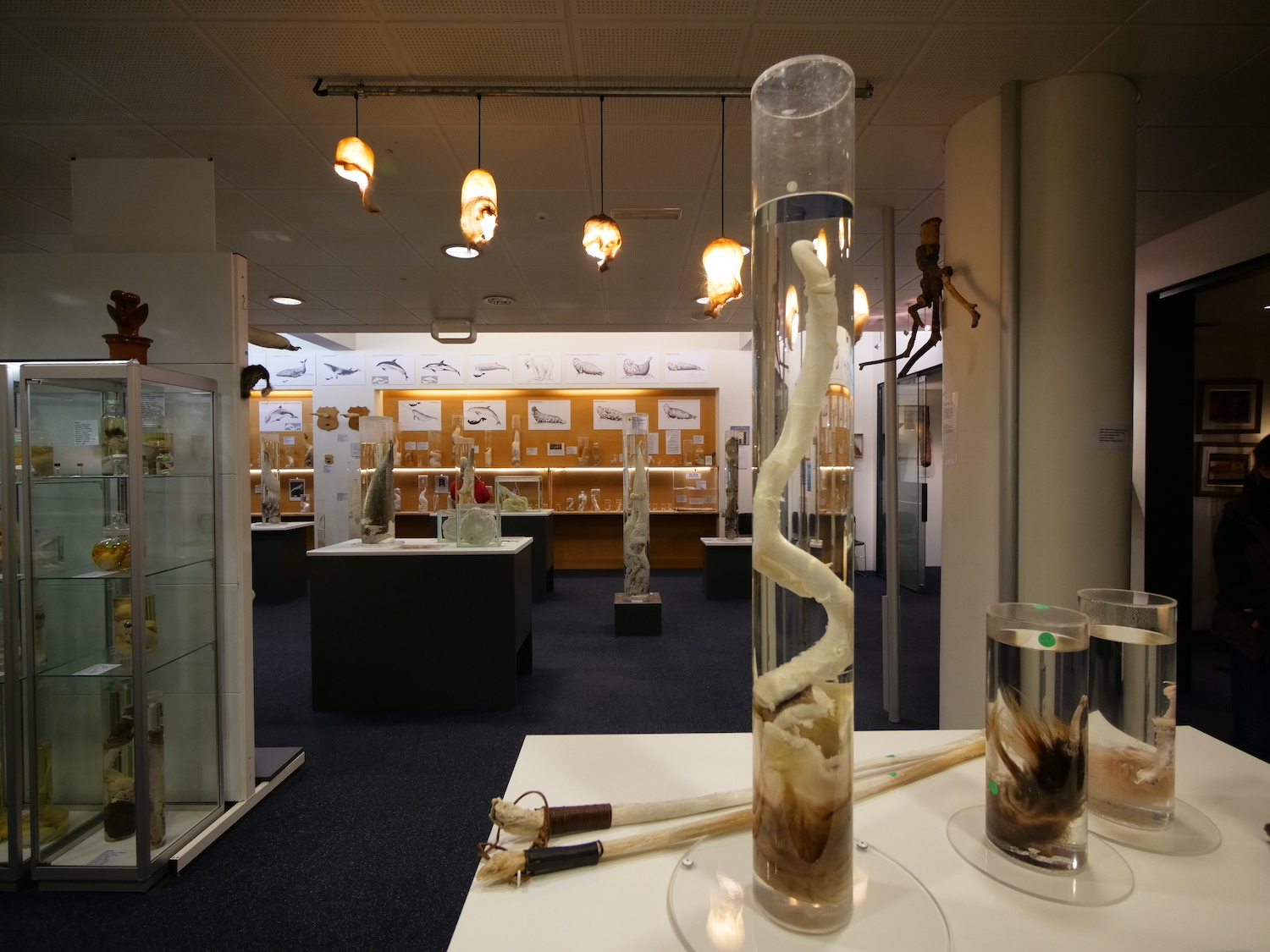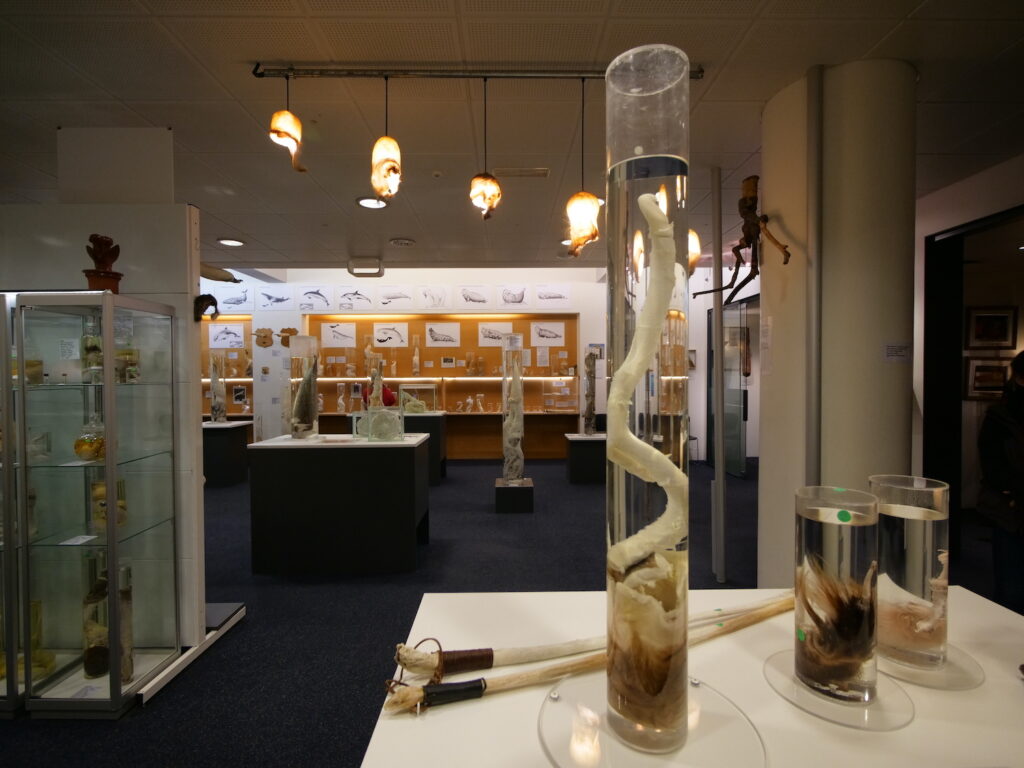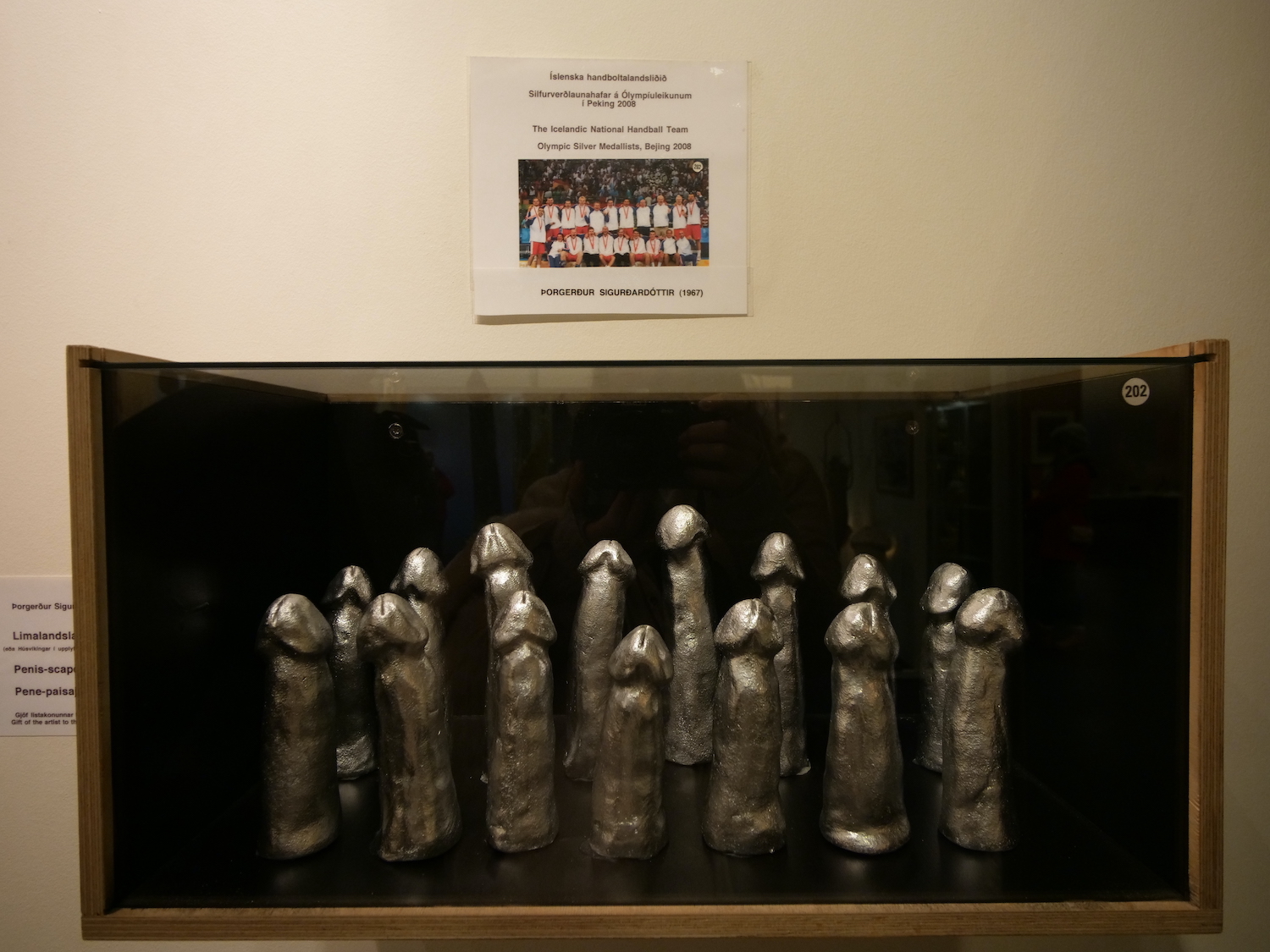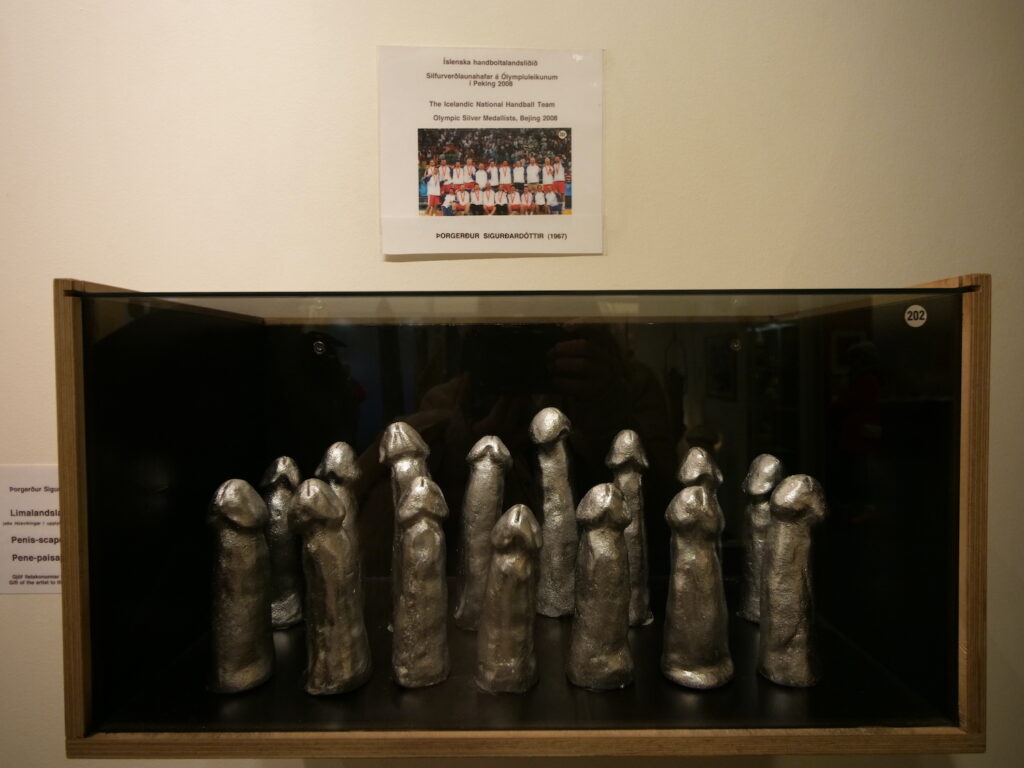 The Icelandic Phallological Museum, aka Penis Museum, is a fascinating place to explore. You won't find the equivalent for our species but will instead learn more about the reproductive organ of many other animals. This makes for a fun short visit, especially after the sun sets, since it is open till quite late.
How to: Tickets cost $20 and can be bought directly at the museum which is located within walking distance of our hotel.
Climb to the top of expressionist Hallgrímskirkja Church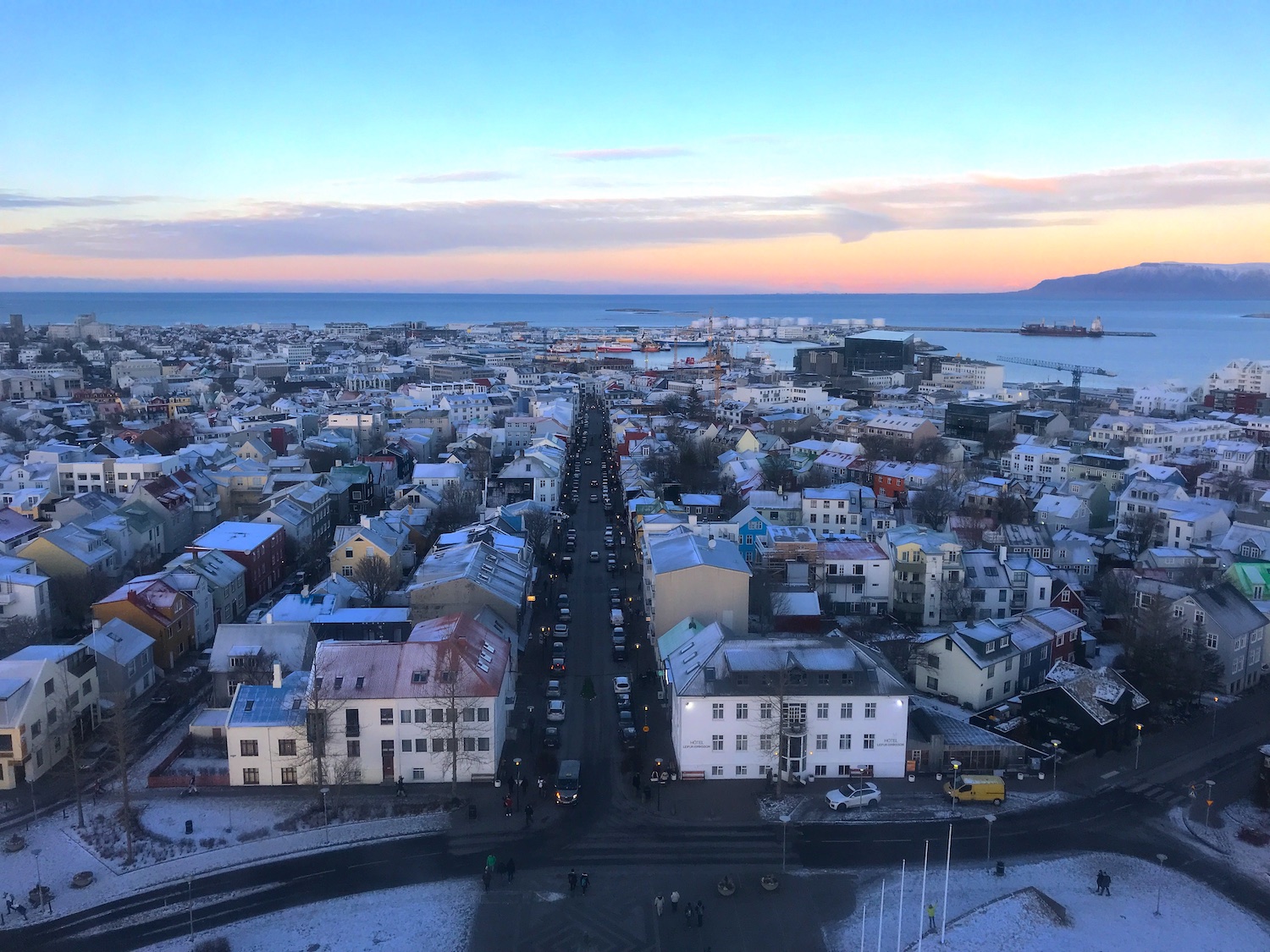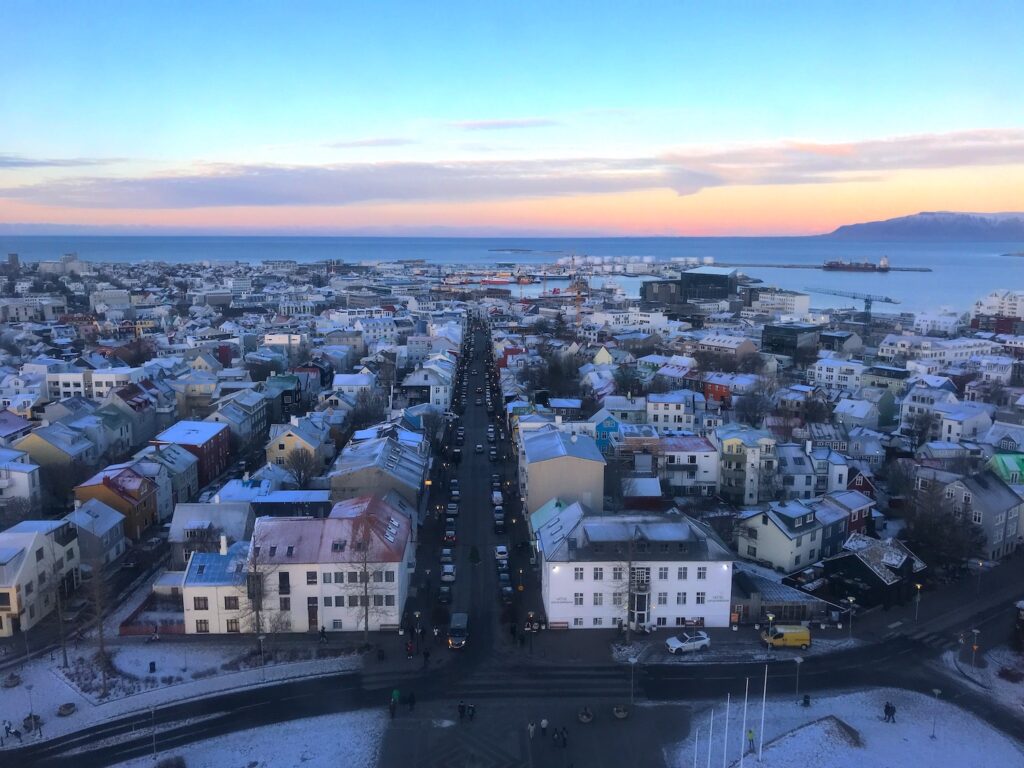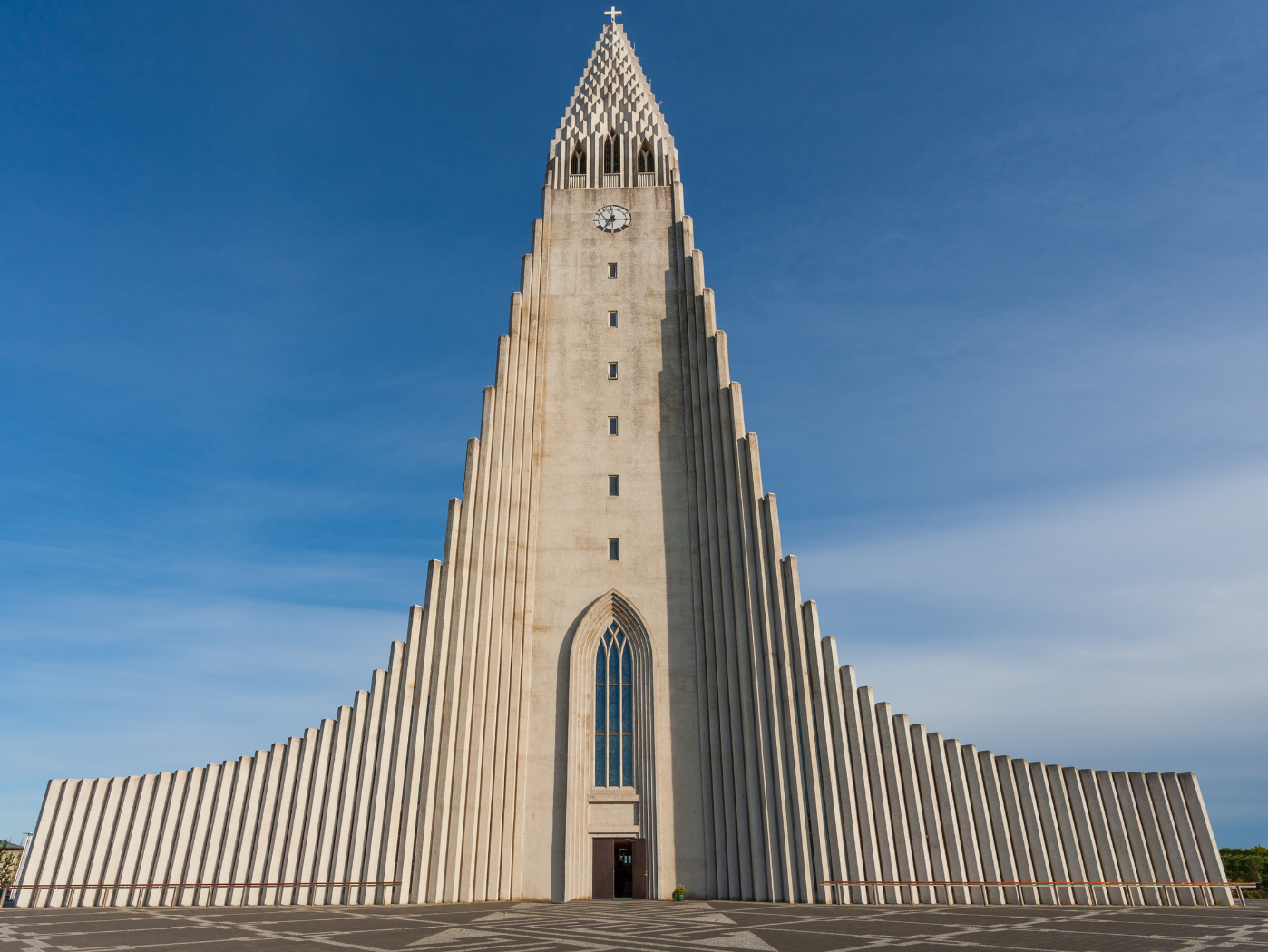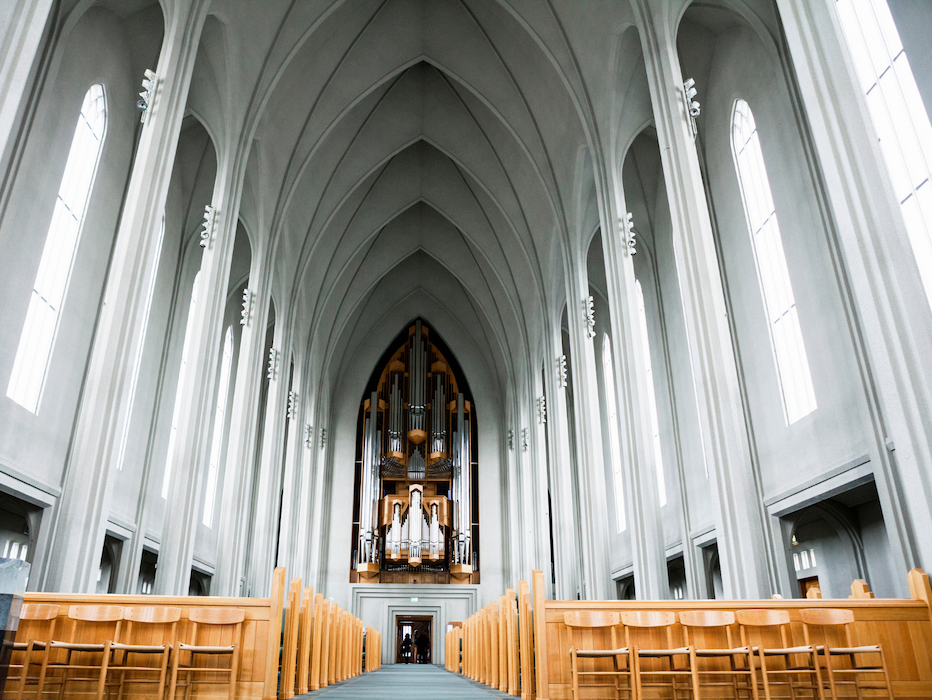 Hallgrímskirkja Church is an emblem for the city and offers great views from above.
How to: Just head to the church and queue to get up to the bell tower. Admission to the church is free but you need to pay $8 to go the top.
Go on a walking tour of Reykjavik
The best way to get your bearings in the city is to join a morning walking tour that ends with lunch. Hear the local stories, get to know more about Icelandic culture and enjoy a traditional lunch.
How to: This small private tour includes lunch.
This lively market, which happens only in the weekends, is a good place to do some shopping for souvenirs and enjoy the Icelandic spirit. The products sold here are actually locally made, as opposed to mass-production from China. Visit the market located by the Reykjavik harbour on Saturdays and Sundays from 11 am to 5 pm.
Foods to try in Iceland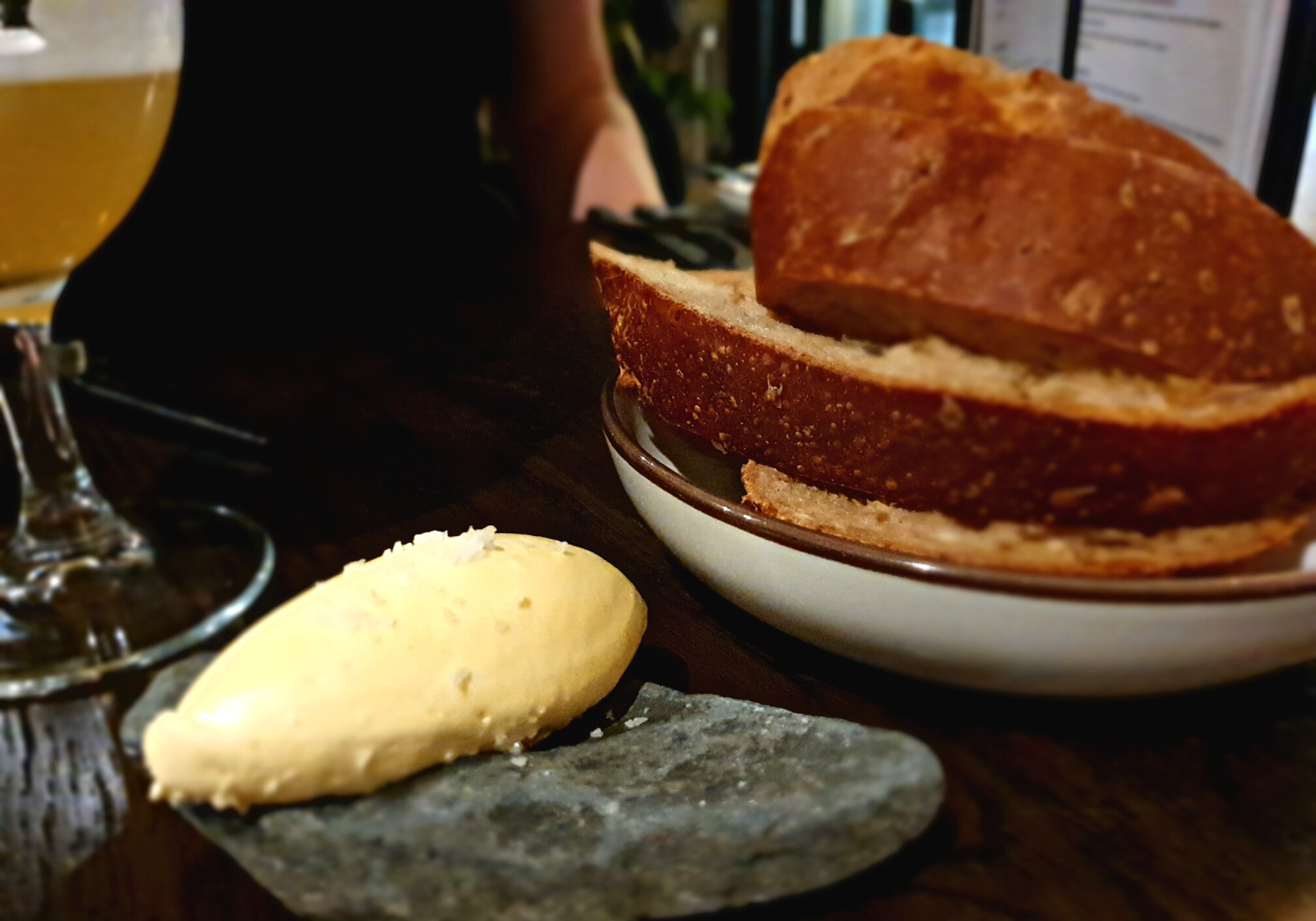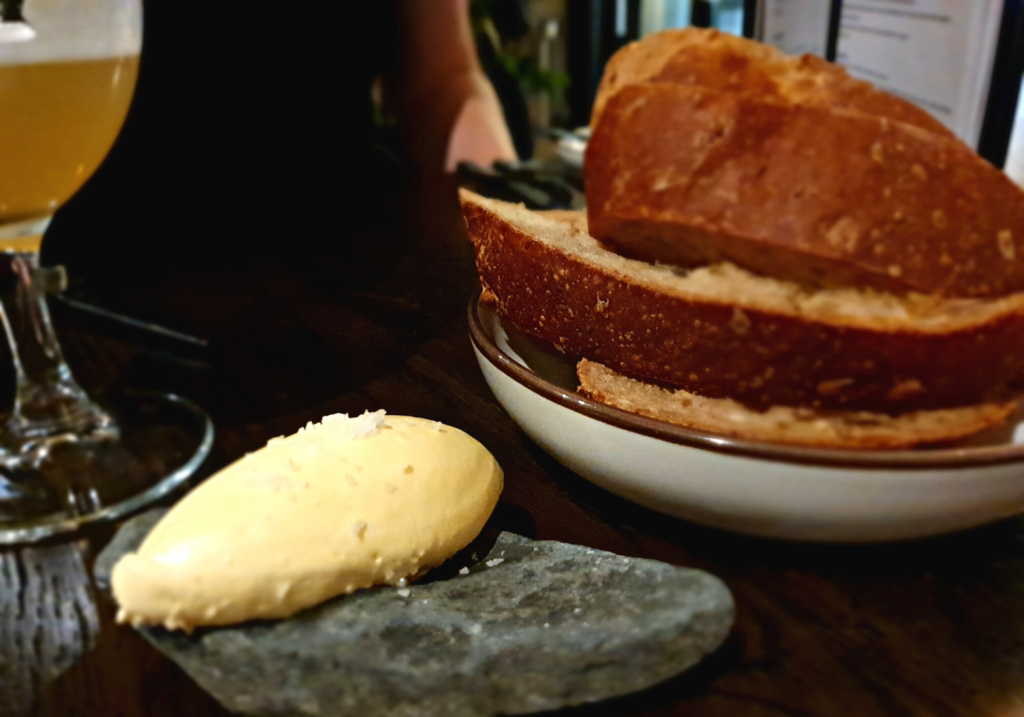 Iceland has a unique cuisine that includes traditional dishes like fermented shark, smoked lamb, and skyr, a type of yogurt that is high in protein and low in fat. However, the majority of food eaten is relatively "normal" and made with the seasonal ingredients.
I've had guests leave Iceland thinking they didn't try any traditional cuisine because they did not eat fermented shark or other unusual dishes when in reality they had typical Icelandic food every day: lobster/fish soup, lamb, salmon, cod, dairy, seasonal vegetables, root vegetables and wild berries.
What I enjoy the most about visiting Iceland is the freshly baked thick bread and the amazing fluffy butter that is served at every meal drizzled with wonderful sea salt. It may sound strange but bread and butter (which I never eat otherwise) is what I look forward to the most when visiting Iceland, delicious!
Below are a few traditional Icelandic dishes to try.
Plokkfiskur: This is a traditional Icelandic fish stew made with boiled fish, mashed potatoes, onions, and milk or cream. It is typically served with rye bread and butter and commonly found in roadside cafes.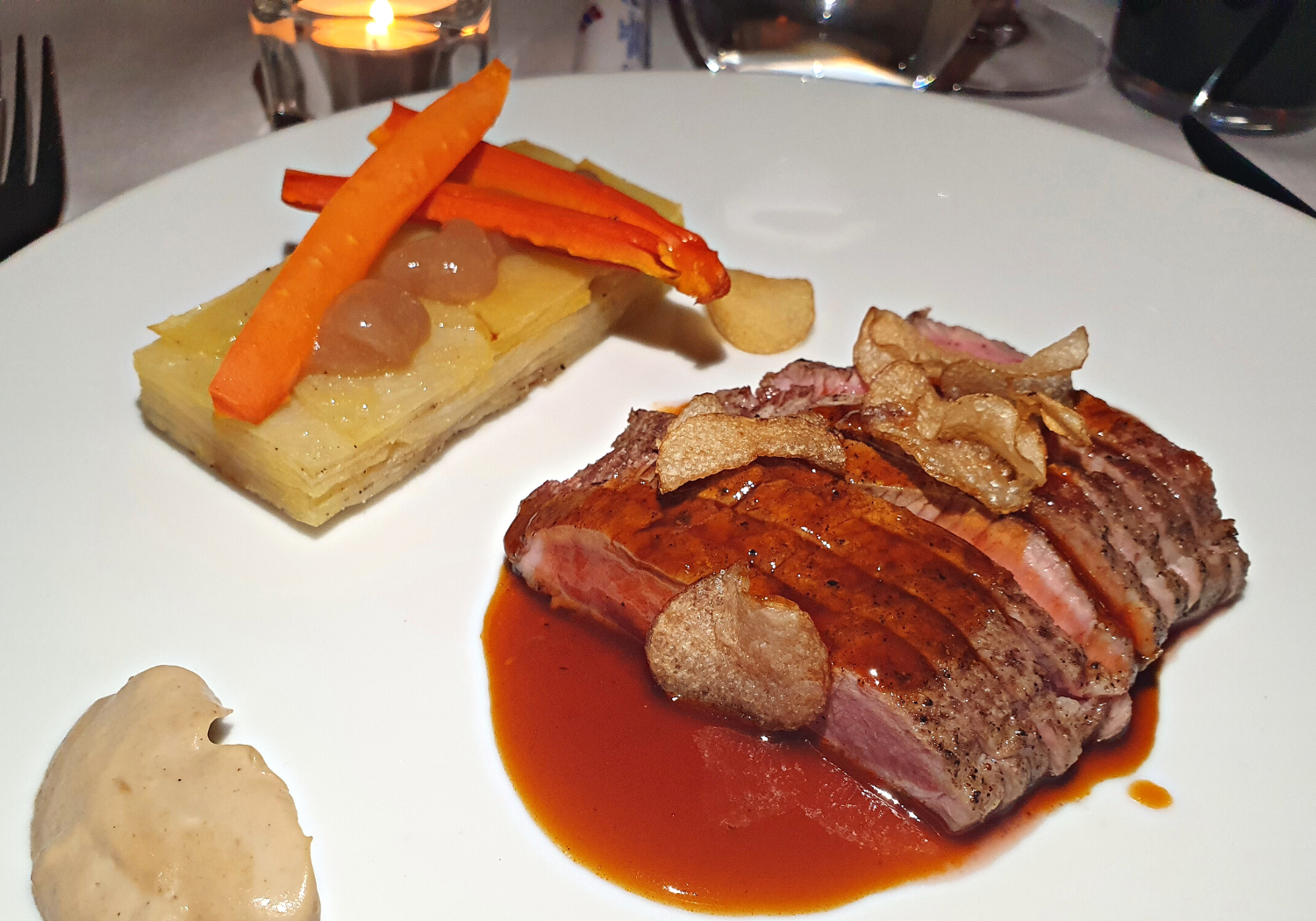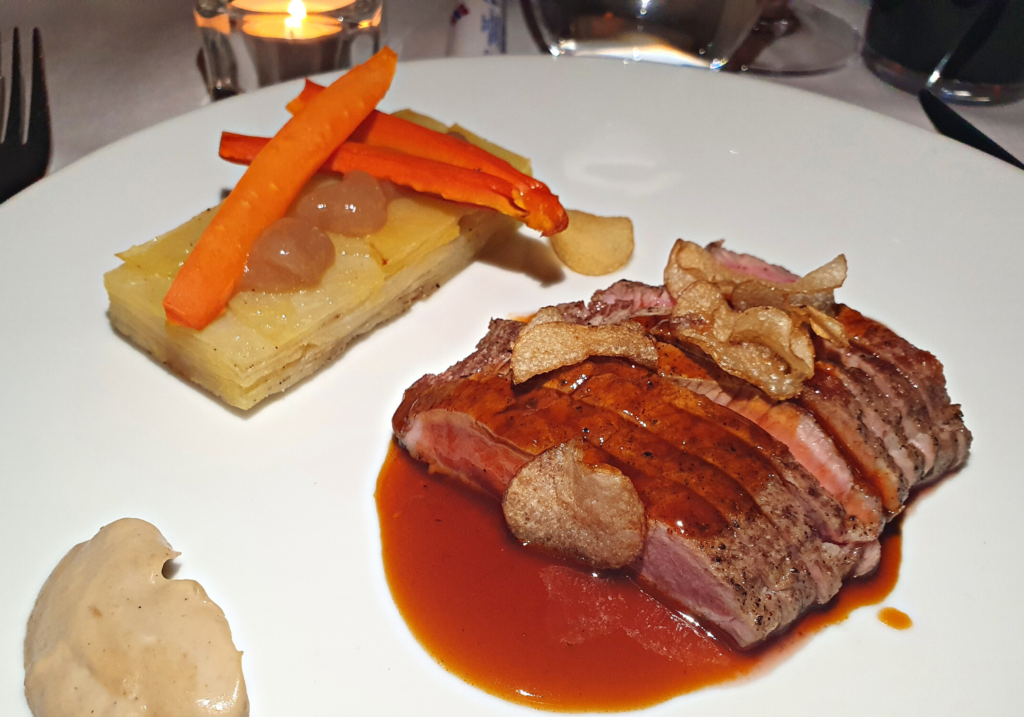 Icelandic lamb: Iceland is known for its high-quality, grass-fed lamb, which is raised in the country's rugged and remote landscapes. Lamb dishes in Iceland can range from roasted leg of lamb to slow-cooked lamb shank and they are some of the most typical dishes found on all menus.
Kleinur: Traditional Icelandic pastries that are similar to doughnuts. They are made with flour, sugar, eggs, and milk, and are often flavored with cardamom. You may find them in bakeries or breakfast buffets.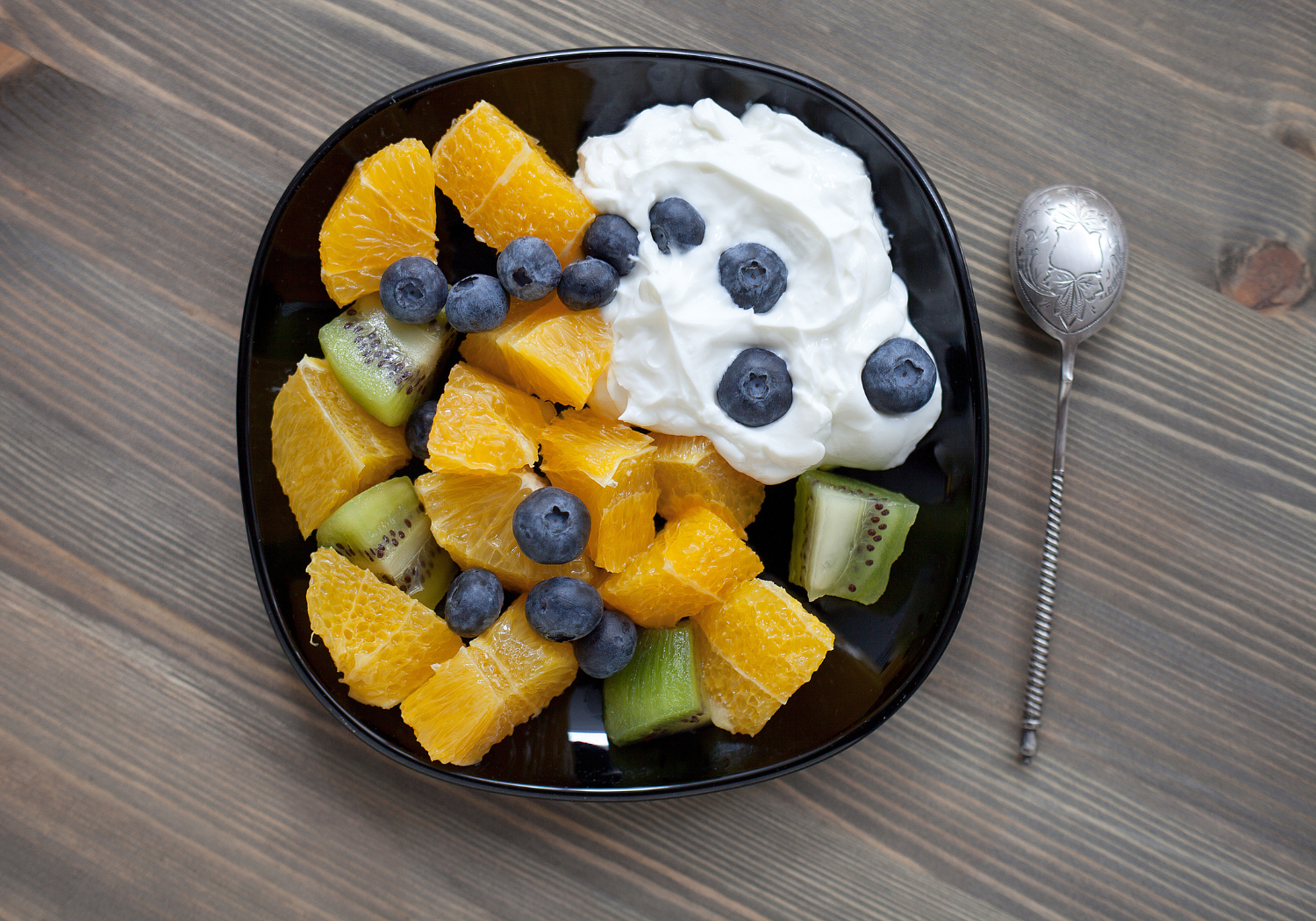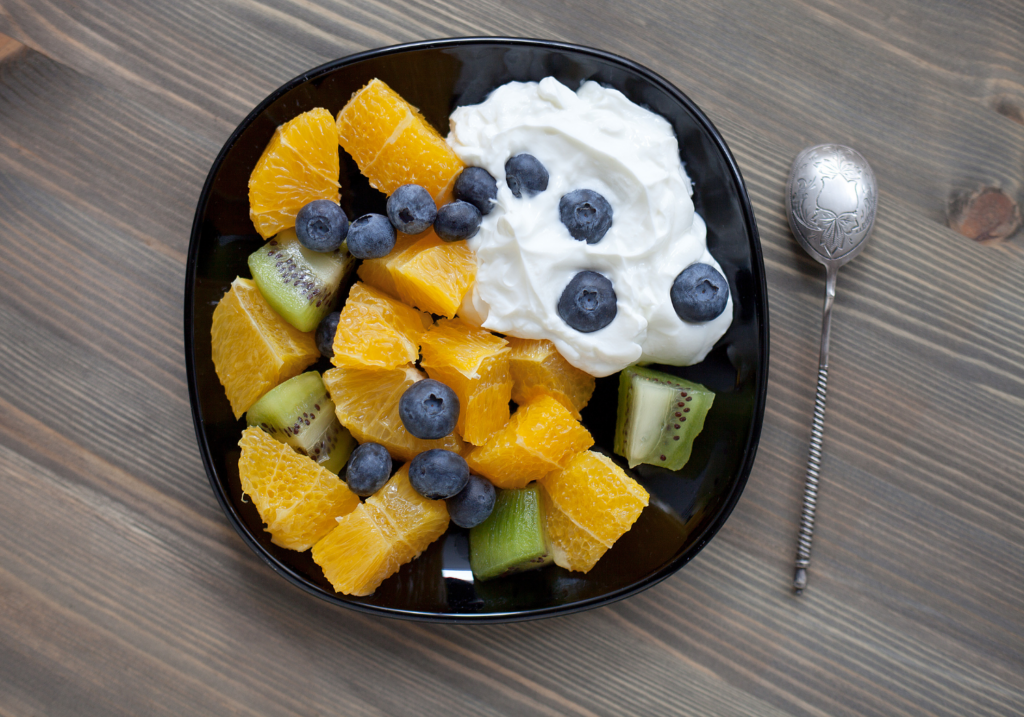 Skyr: A type of Icelandic yogurt that is high in protein and low in fat. It has a thick, creamy texture and is often served with fresh berries or honey. It is an extremely healthy breakfast item.
Hot dogs: Icelandic hot dogs are a popular fast food item that is often served with ketchup, mustard, fried onions, and a special sauce made with mayonnaise and sweet relish. They are sold across the country from food trucks and you'll unavoidably eat them. by the Glacier Lagoon, or in Reykjavik.
Hangikjöt: Smoked lamb dish that is traditionally served around the holidays. The lamb is typically boiled and then smoked over birch wood, giving it a unique flavor.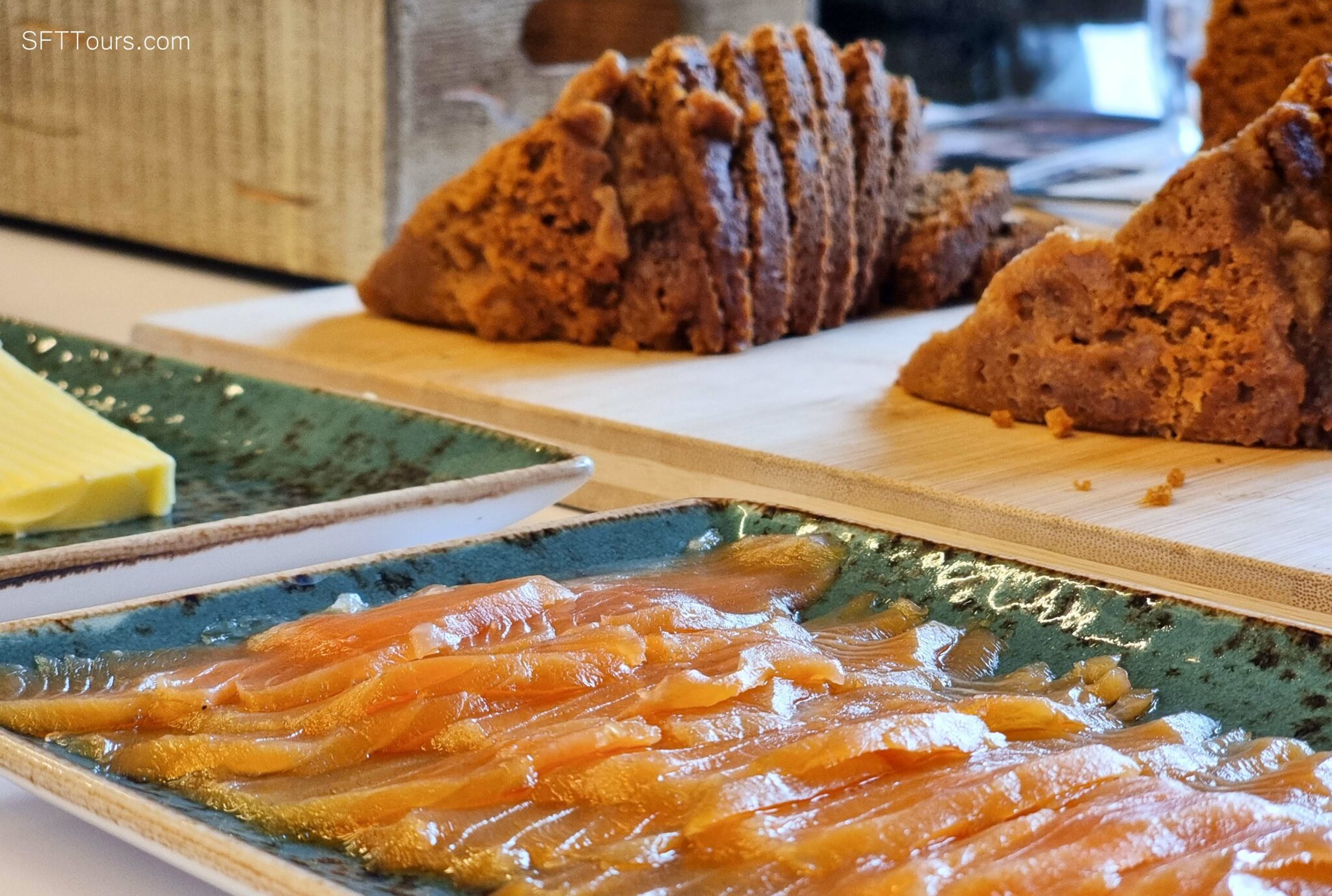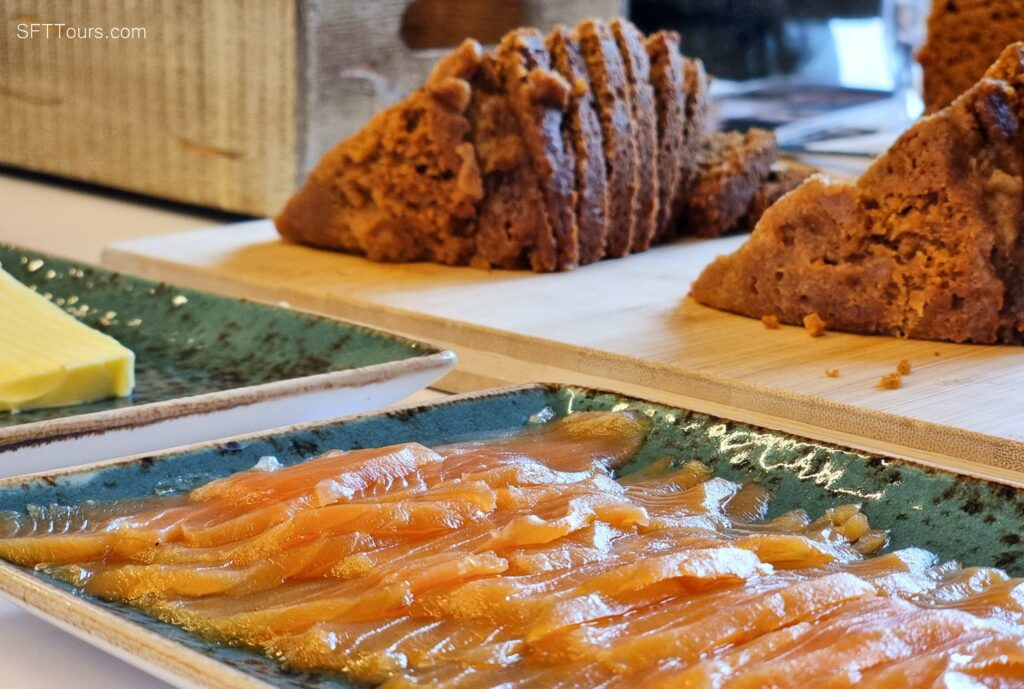 Rúgbrauð: Traditional Icelandic rye bread that is baked in the ground using geothermal heat. It has a dense, chewy texture and is often served with butter and smoked fish. During our tour, we will have a private demonstration and tasting of this awesome "lava bread" with handmade butter and homemade smoked salmon.
Brennivín: A type of Icelandic schnapps that is made from fermented potato mash and flavored with caraway seeds. It is often served as an after-dinner drink or as part of a traditional Icelandic feast. If you don't get to try it before leaving you can buy some at the airport Duty Free.
Svið: A dish made from boiled sheep's head. The head is split in half, and the brain and eyes are removed before it is boiled. It is often served with mashed potatoes, turnips, and a white sauce.
Hákarl: Dish made from fermented shark meat. It has a very strong and pungent smell, and is often served with Brennivín.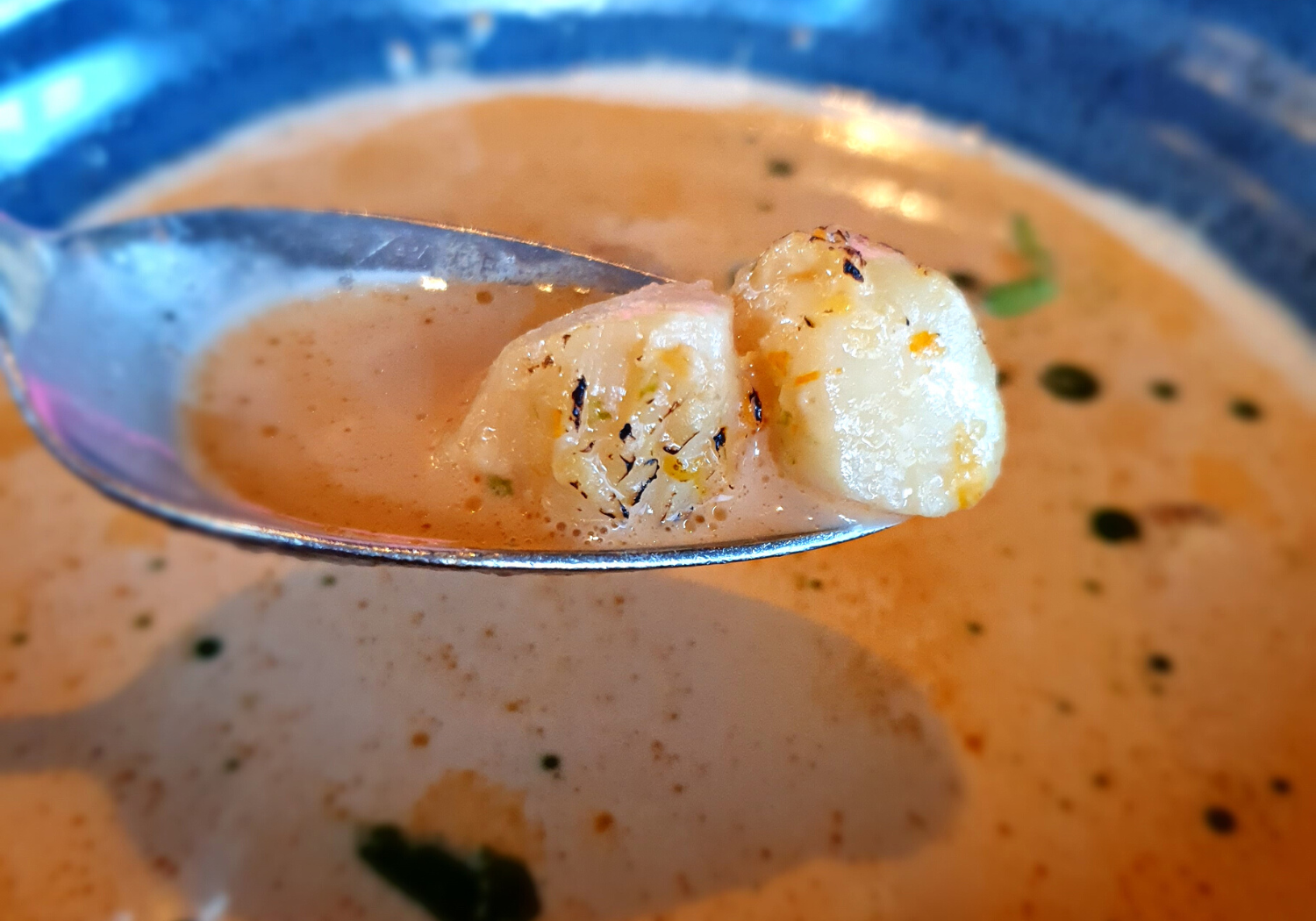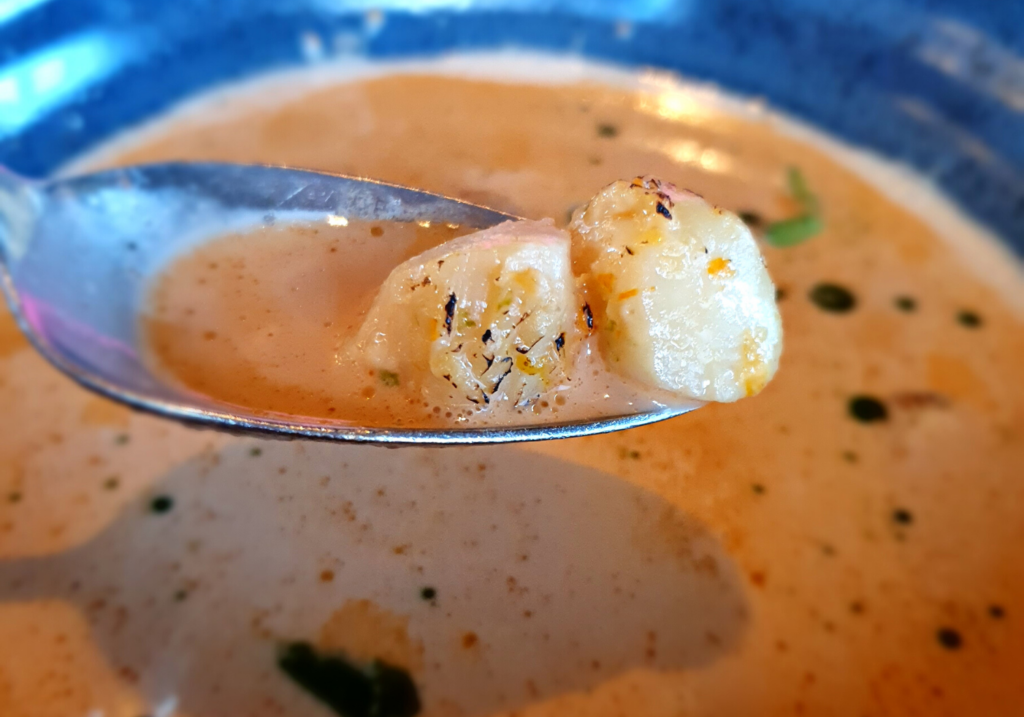 Lobster soup: Iceland is home to some of the world's best lobster, and lobster soup is a popular dish that can be found in many restaurants throughout the country. The soup is typically made with cream, vegetables, and chunks of fresh lobster and it is delicious when enjoyed with freshly baked bread.
Harðfiskur: A type of dried fish that is a popular snack in Iceland. It is typically made from cod, haddock, or wolf fish, and is often served with butter or skyr.
Kjötsúpa: Lamb soup that is made with root vegetables, barley, and lamb meat. It is typically served with rye bread and butter.
Souvenirs and shopping in Iceland
Be careful when buying souvenirs as a lot of what is on sale isn't locally or hand made, but mass produced in China. Check the label and buy from known local shops such as Farmers market or outdoor brand 66 North. You can also check out local Icelandic designer shops here.
Music and bands about Iceland
Iceland has its own range of singers and bands that have become famous and well known in the international stage, one of them I even saw perform live in Singapore.
If you want to get acquainted with the local music scene, below are a few bands and musicians you can check out to immerse yourself in the culture.
Bjork is Iceland's most famous singer, song writer and even DJ. Her range of music is absolutely as unique as Iceland and combines so many influences it is hard to place her, but she is indeed a great ambassador for the country projecting so much of what makes Iceland incomparable to anything else. She has been included in several rankings of the most influential singers and received several coveted awards. You can listen to her songs here.
Sigur Ros is perhaps the most well known contemporary Icelandic band today and has its very own music genre, making them a truly unique band. When I visited Iceland our driver knew the lead singer, I guess this isn't as rare as in other counties with millions of people since Iceland only has 300, 000 inhabitants, but he told us how he let the band play in his garage when they were starting out. Their music is melodic, and very beautiful, combining the singer's personal and singular voice with a large chorus that will make you feel something very special. It is hard to describe them with words. While the band's name may seem unique, it is actually a very common Icelandic name, Victory Rose, and is the name of the singer's sister. You can listen to Sigur Ros on Spotify here. Our favorite song, and arguably their most famous, is Hoppipola but all of their albums go so well with an Iceland road trip.
Of monsters and men are a younger Icelandic indie band that is less eclectic and unique than the previous ones and also far more well known, in fact, you may not have even realised that they are Icelandic since they sing in English.
We have also put together a playlist for the trip which you can listen to on Spotify.
Books about Iceland
Because Iceland is such a unique place, there is a lot to learn through the eyes of locals and through reading stories, especially the many books about Icelandic sagas that gave the English language the word.
Below are some recommendations for fun, riveting and interesting reads.
The little book of the Icelanders is a compilation of stories that look more into the funky habits and quirks of Icelanders through the eyes of a local who's lived abroad.
The little book of tourists in Iceland: Tips, tricks and what the Icelanders really think of you is by the same author as the previous book, Alda Sigmundsdottir. It is a very insightful and useful book for visitors, a must read before a trip.
How Iceland changed the world is a fun way to learn more about the history of the country and how it have influenced other events and nations.
Independent people is a classic old book that helps explain much of why Icelanders have become so self reliant and sufficient.
Names for the sea: Strangers in Iceland is the memoir of author Sara Moss who had always dreamed of moving to Iceland and finally does so by taking up a teaching position and moving in 2008 at the height of the financial crisis. Seen through the eyes of a foreigner the reader can learn more about what makes Iceland so special.
Njal's Saga is a 13th century book about the beginning of Iceland. No matter where you go in the country you will read and learn more about the vikings and the medieval practises and wars between families and feuds. If you visit the Saga Museum in Reykjavik, you'll also be able to learn all about the sagas.
The Darkness is a mystery series with protagonist Detective Inspector Hulda Hermannsdottir. Not written by a local Icelander but by an American author, it is an easy, intriguing and completely addictive way to learn more about everyday life of Icelanders and pick up on many cultural elements without reading about them directly.
101 Reykjavik, unlike 101 Iceland, is not a book with tips on what to see or do in Iceland's capital but rather a raw novel that tells the tale of Hlynur, a young man who lives with his mother, relies on social welfare and hits the bars at night. He is lazy and uninspired, until his girlfriend gets pregnant. The book was also been made into a movie which you can get the DVD for.
Movies about or shot in Iceland
Although you may have never watched a movie about Iceland, you've surely seen several epic movies or shows shot in Iceland, like Game of Thrones, Oblivion, Interstellar, Tomb Raider, James Bond, Star Wars, Fast & Furious, Thor or Captain America.
Below is a list of documentaries, movies and shows you can watch to learn more about Iceland or simply marvel at its beautiful landscapes.
101 Reykjavik as mentioned above was also made into a movie featuring Spanish actress Victoria Abril as the lesbian girlfriend of the main character.
Jar City by Icelandic director Indridason's Erlendur is the third movie in a murder series and one of the first Nordic Noir genre movies.
Trapped is a Netflix show that tells the story of a murderer on the loose in a small Icelandic village cut out from the rest of the country because of bad weather, all happening in the middle of winter. The show is a thrilling story that will have you hooked.
Under the Arctic sky is a Redbull documentary available on Netflix that follows a group of crazy surfers with a death wish who take on the waves of Northern Iceland curing the country's worst storm in 25 years.
Out of thin air is a documentary available on Netflix that follows the story of the country's most mysterious murder.
Into the inferno is one of the most riveting and fascinating documentaries on Iceland's volcano and a great way to learn more about this incredible phenomenon that has so markedly made Iceland what it is today.
Norsemen is the 9th century Icelandic viking version of Friends, or any other sitcom. A lighter although exaggerated version of a comedy series available on Netflix.
More Reading Before Your Iceland Trip