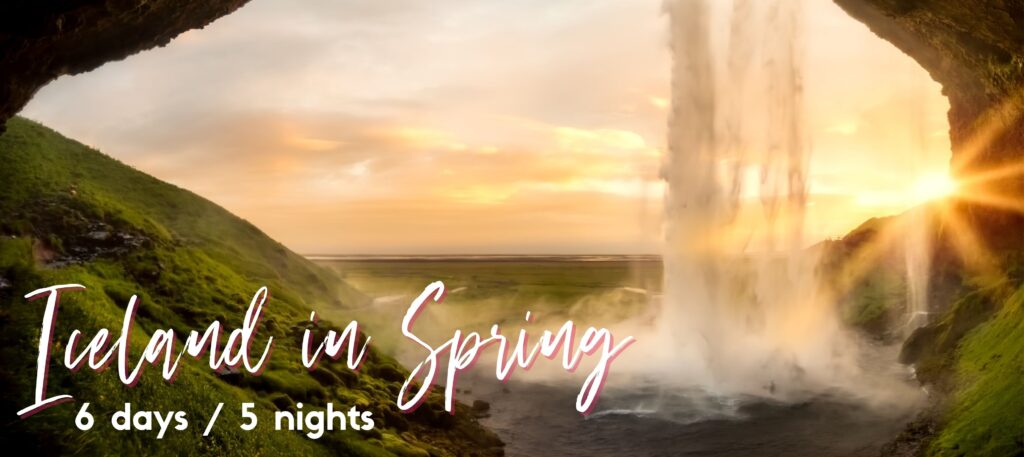 Iceland Luxe Wellness & Wilderness in the Spring
Volcanoes – Blue Lagoon – Waterfalls – Black Beach – National Parks – Golden Circle – Blooming Flowers – Puffins
Explore the land of fire and ice with other Solo Female Travelers on this exclusive luxury wellness and wilderness tour that will take you to the country's most stunning sites
Highlights: See lava flowing at Fagradalsfjall, Premium pass at Blue Lagoon, Seljalandsfoss waterfall, Reynisfjara black sand beach and Reynisdrangar basalt stacks, Golden Circle (Thingvellir National Park, Skógafoss and Gullfoss waterfalls, geysers), Icelandic horses, daily yoga / meditation sessions, blooming flower fields, puffins and birds
No single supplements* | 14 spots | Wellness | Luxury accommodation
*Prices per person, we pair you with another solo traveler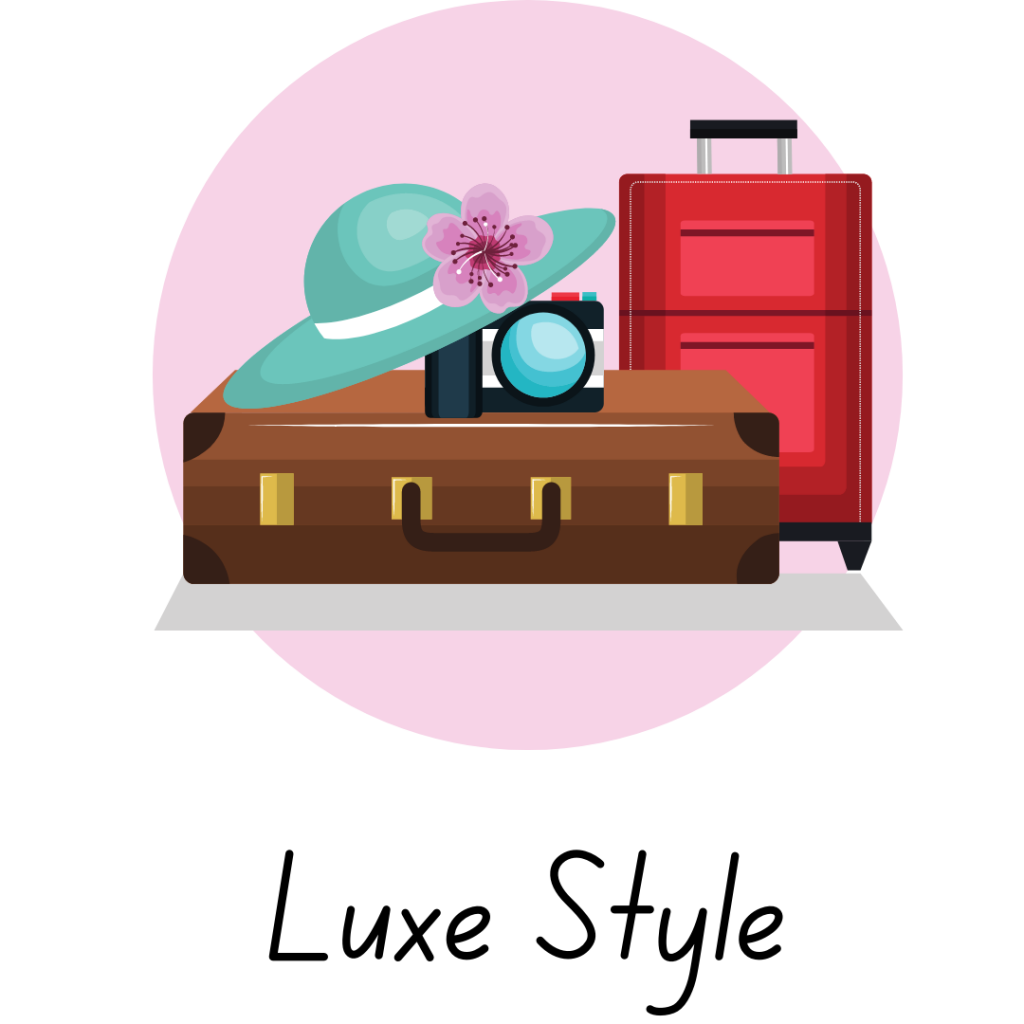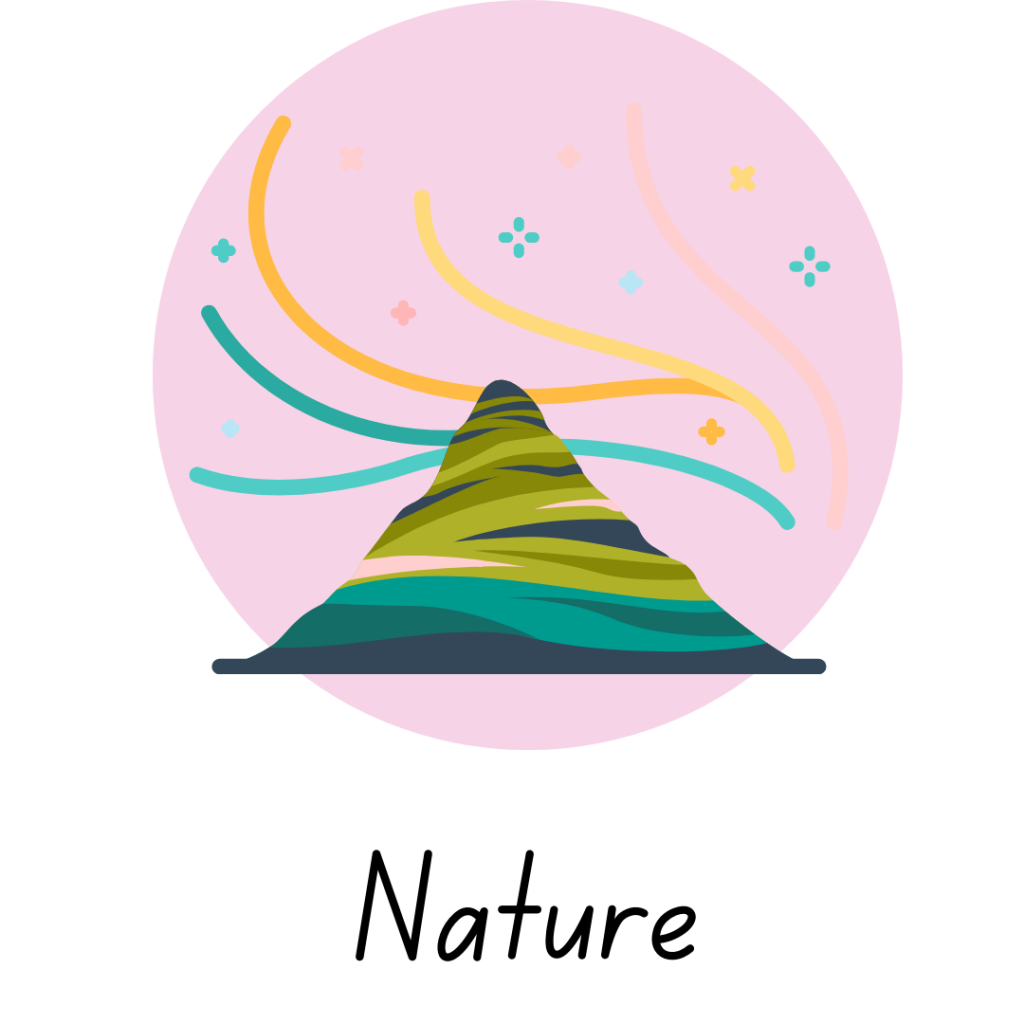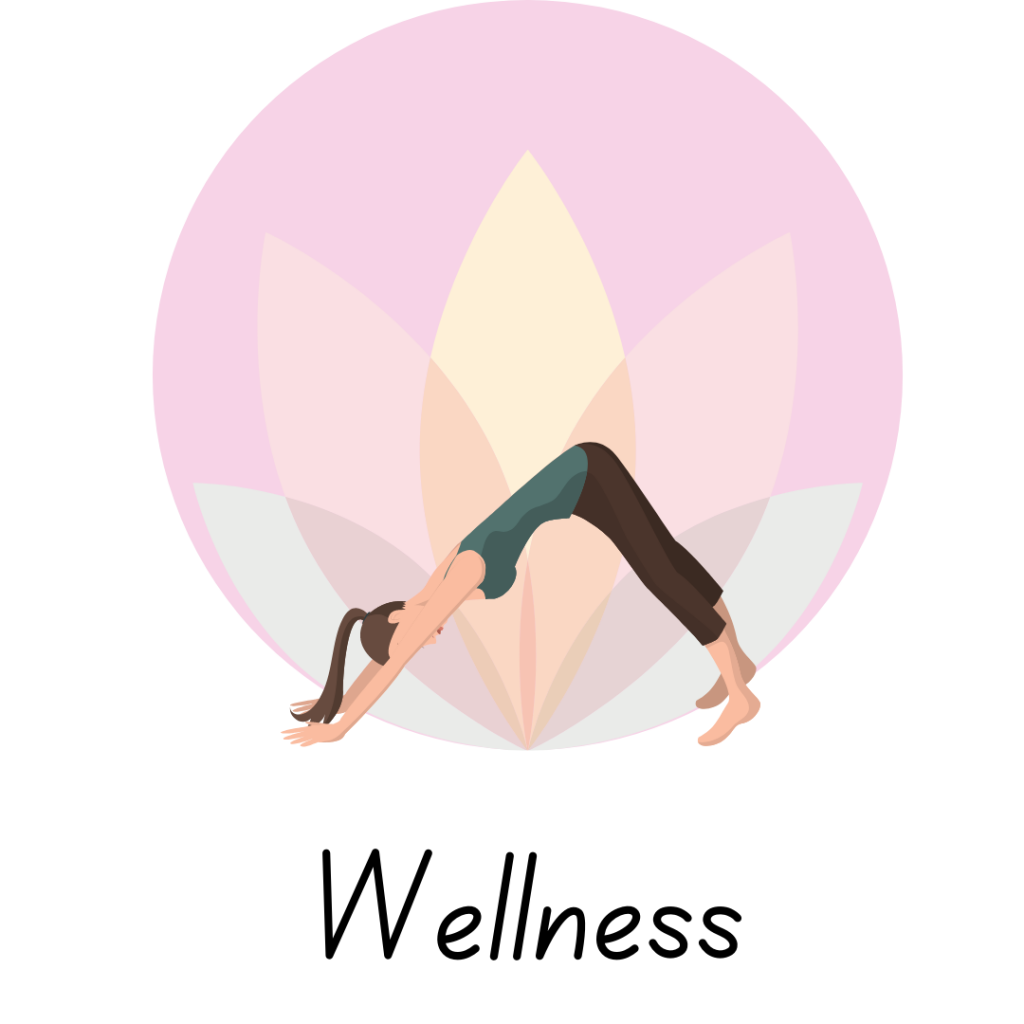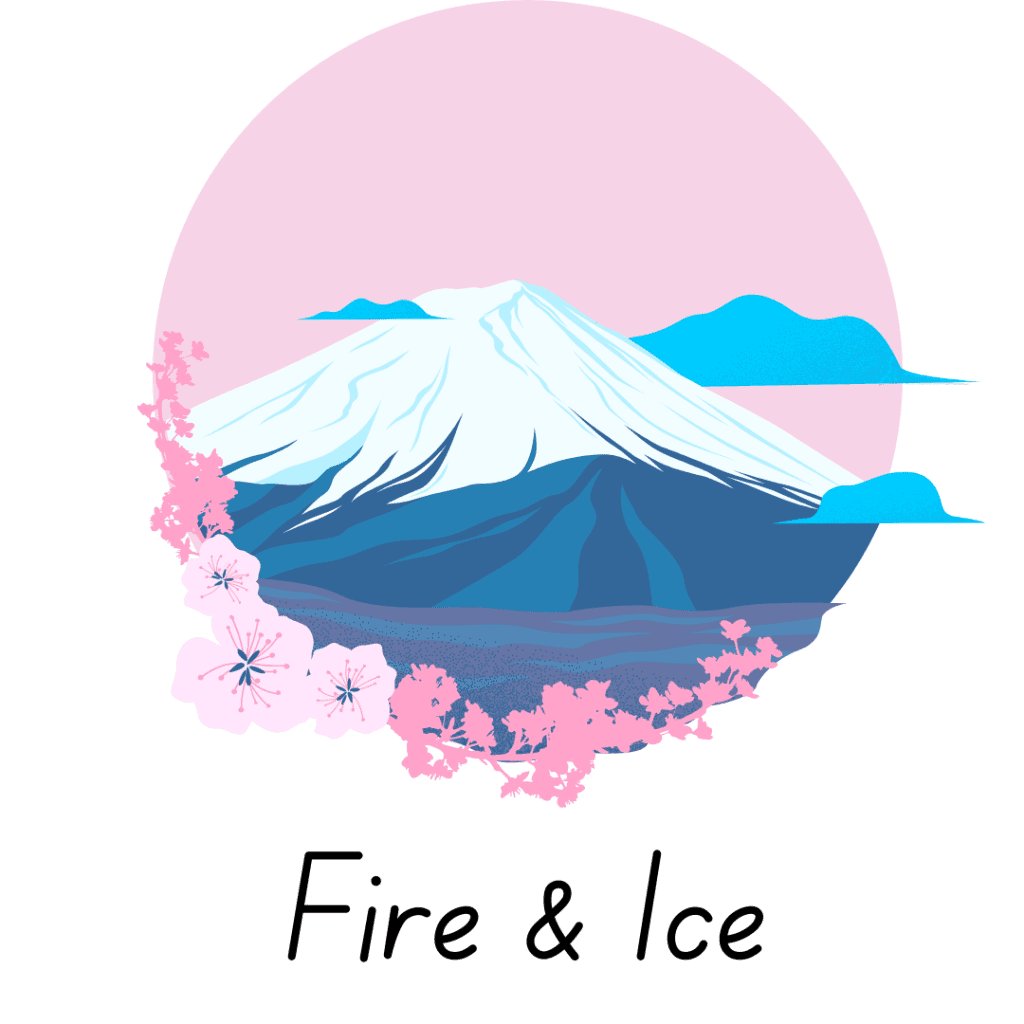 Iceland in Autumn: Keen to see the Northern Lights, glaciers and icebergs? Check out our Iceland in Autumn itinerary which heads to the southeastern part of the country and sets off in October.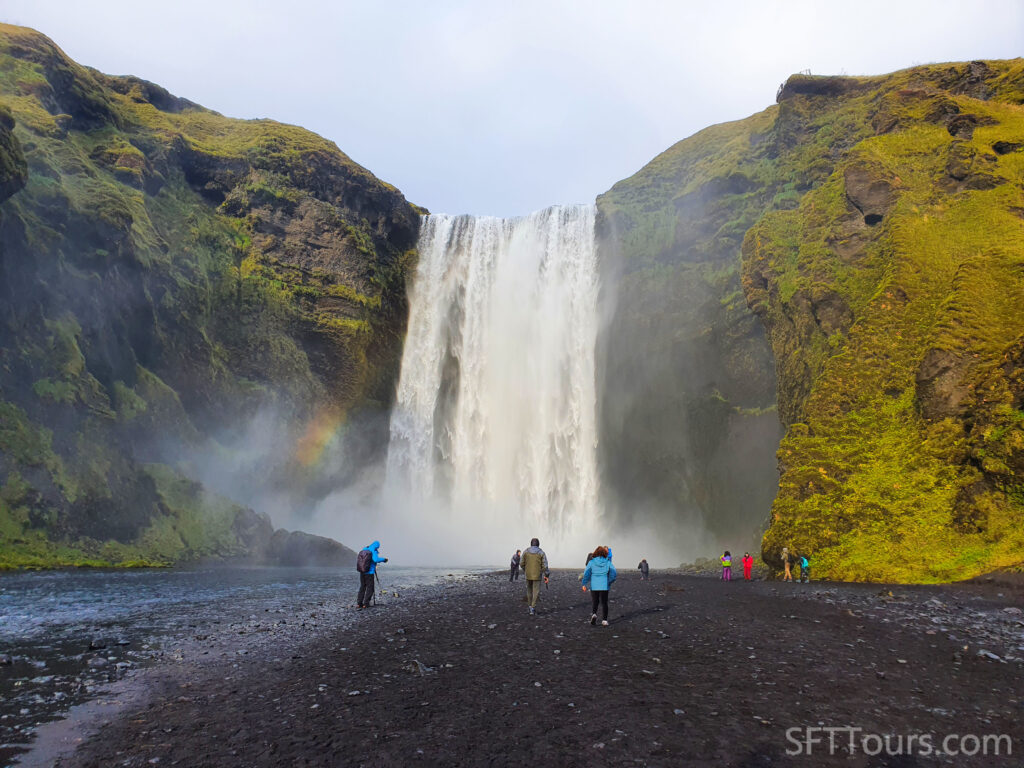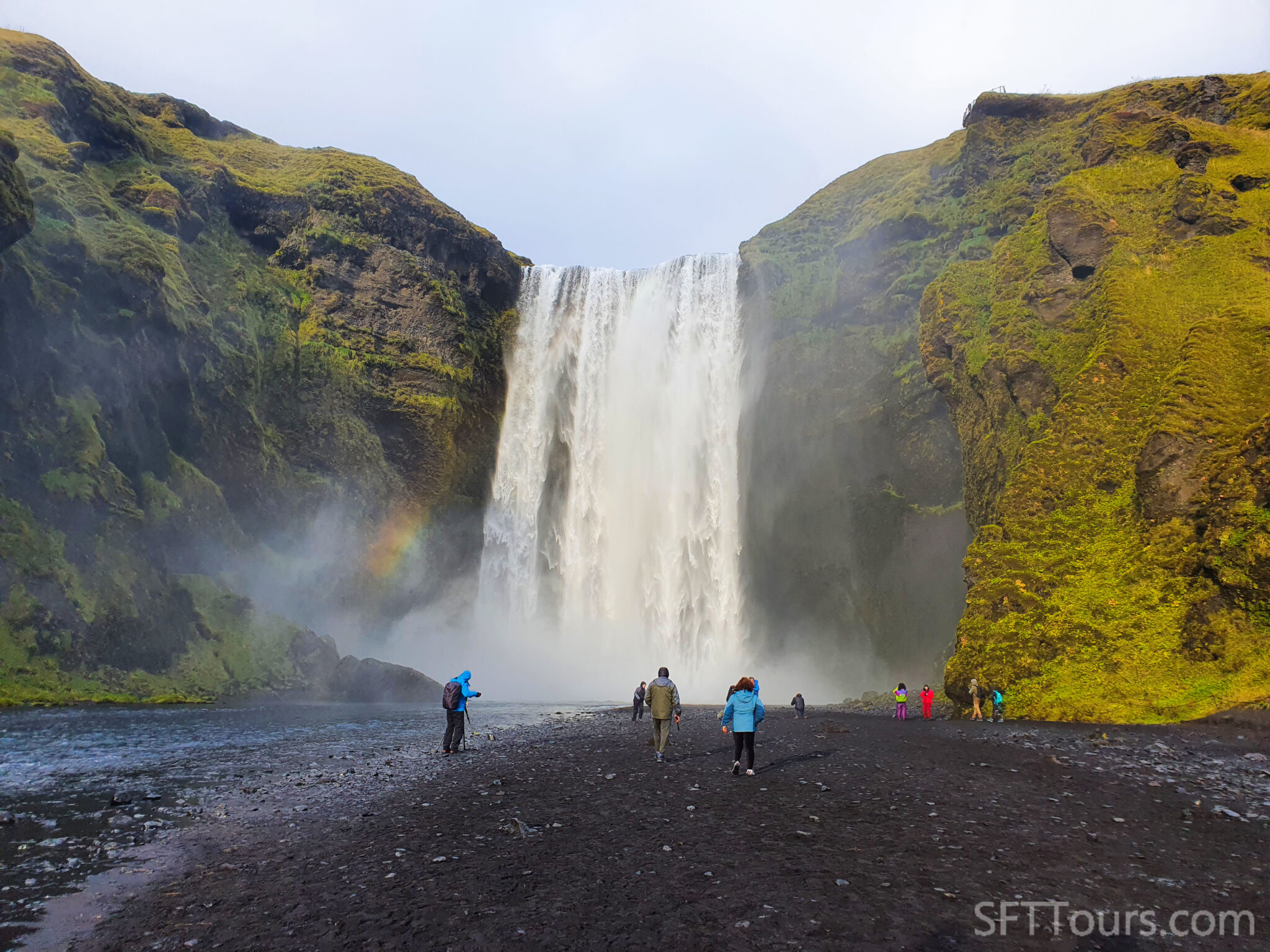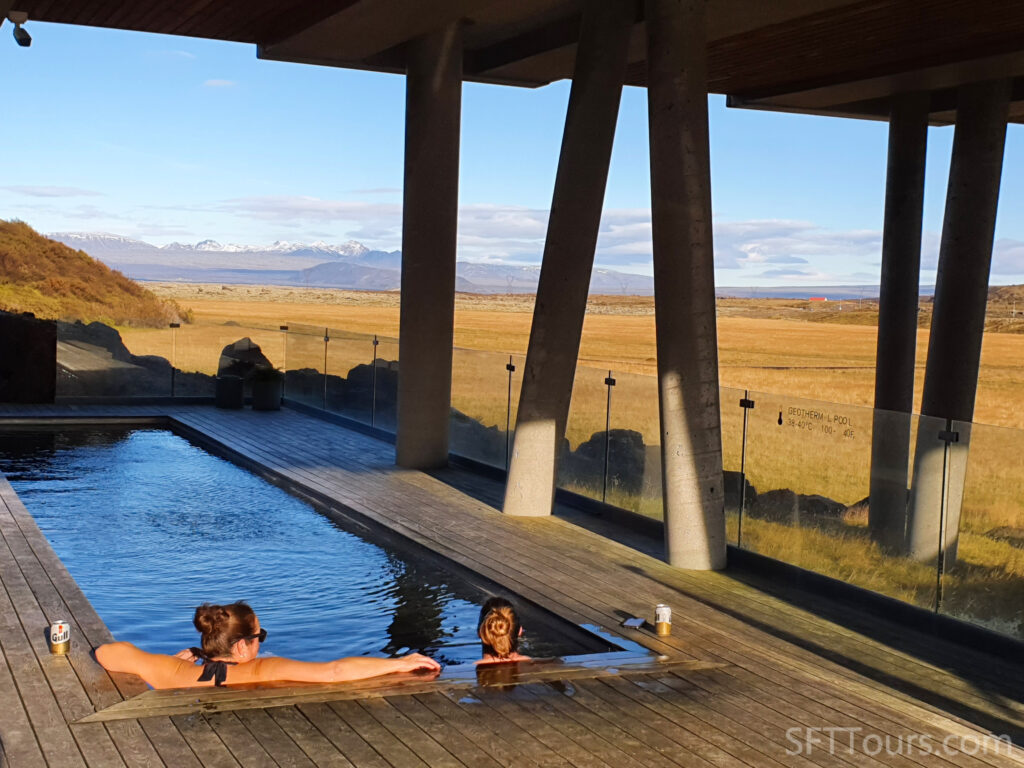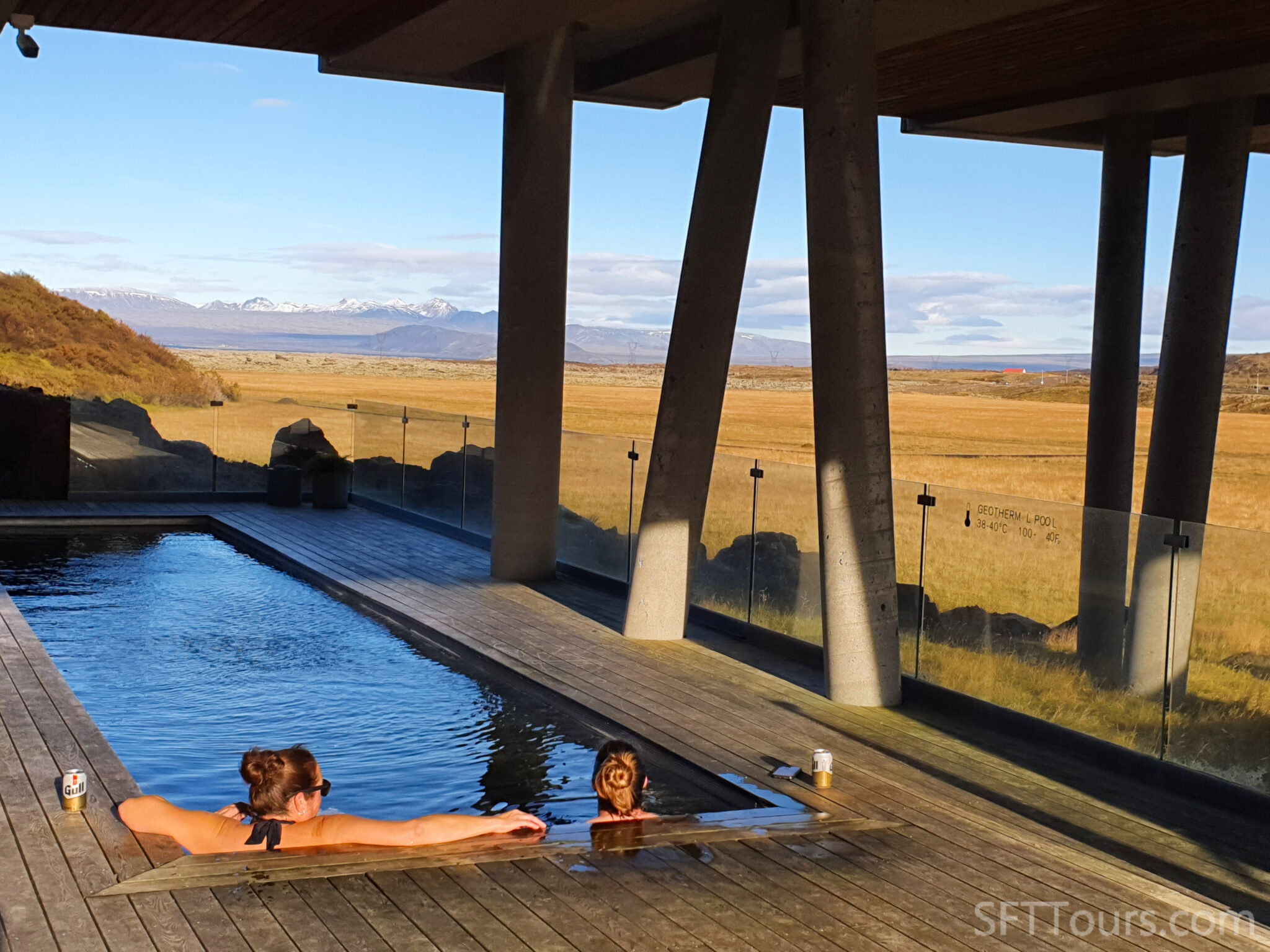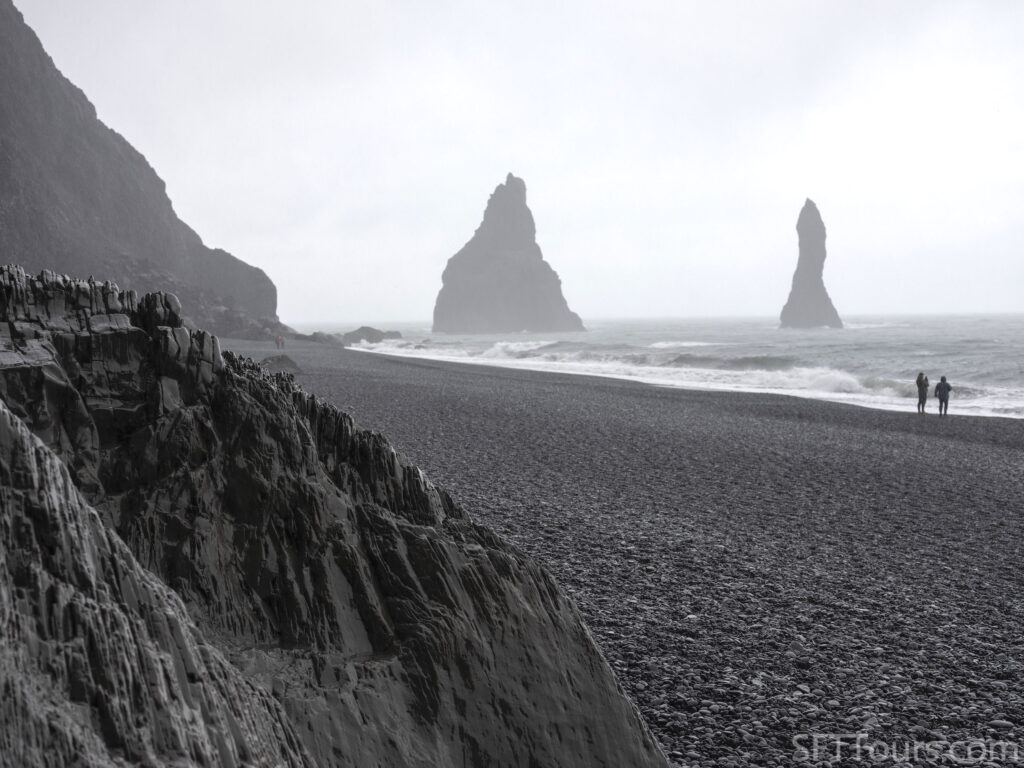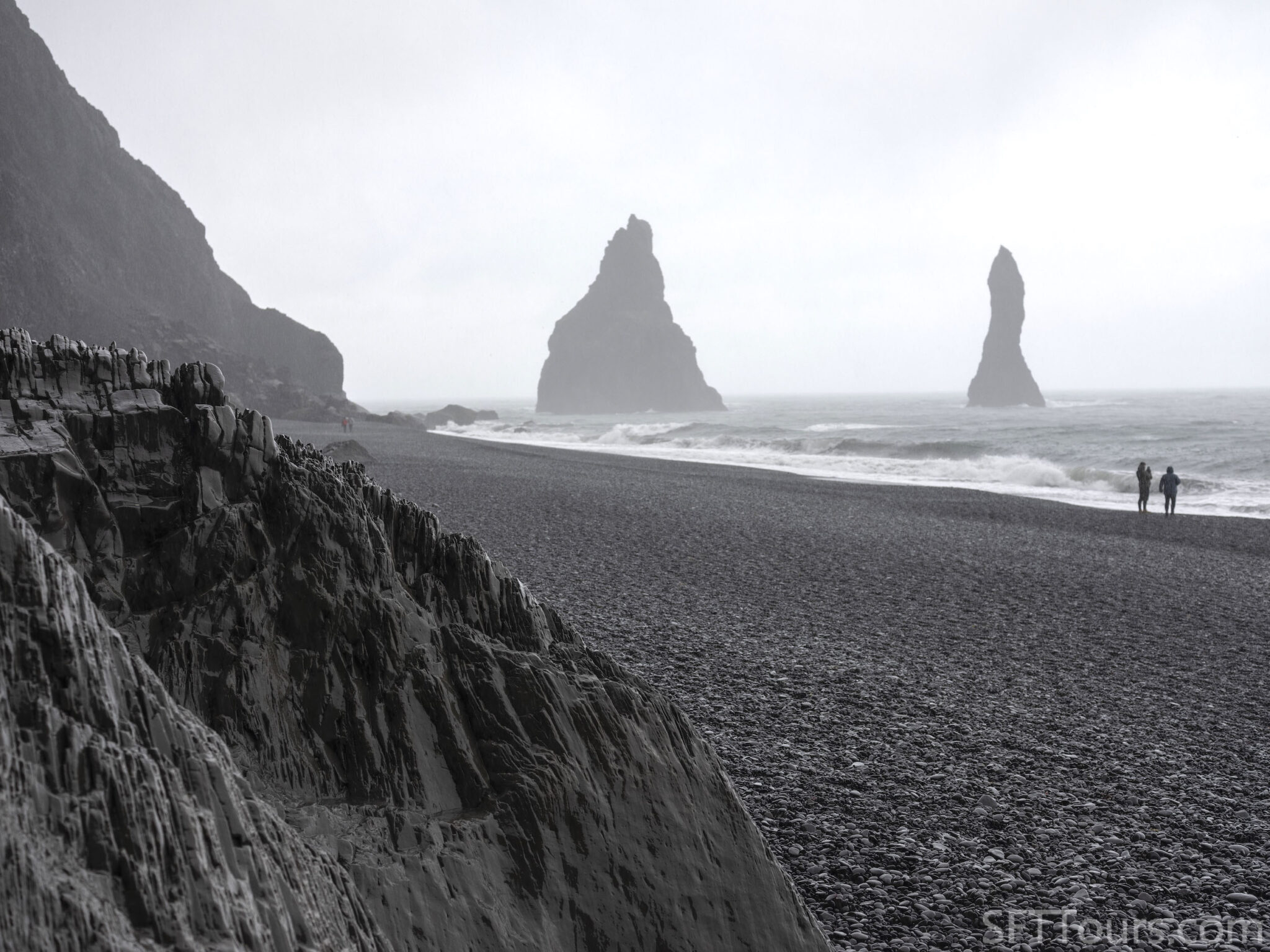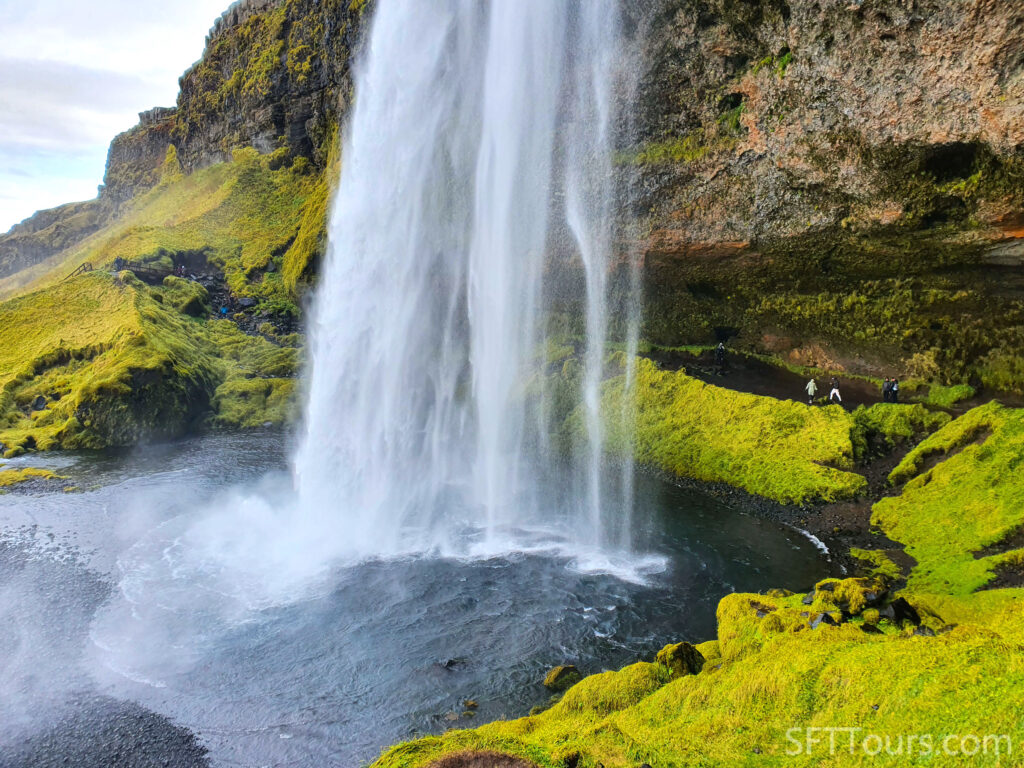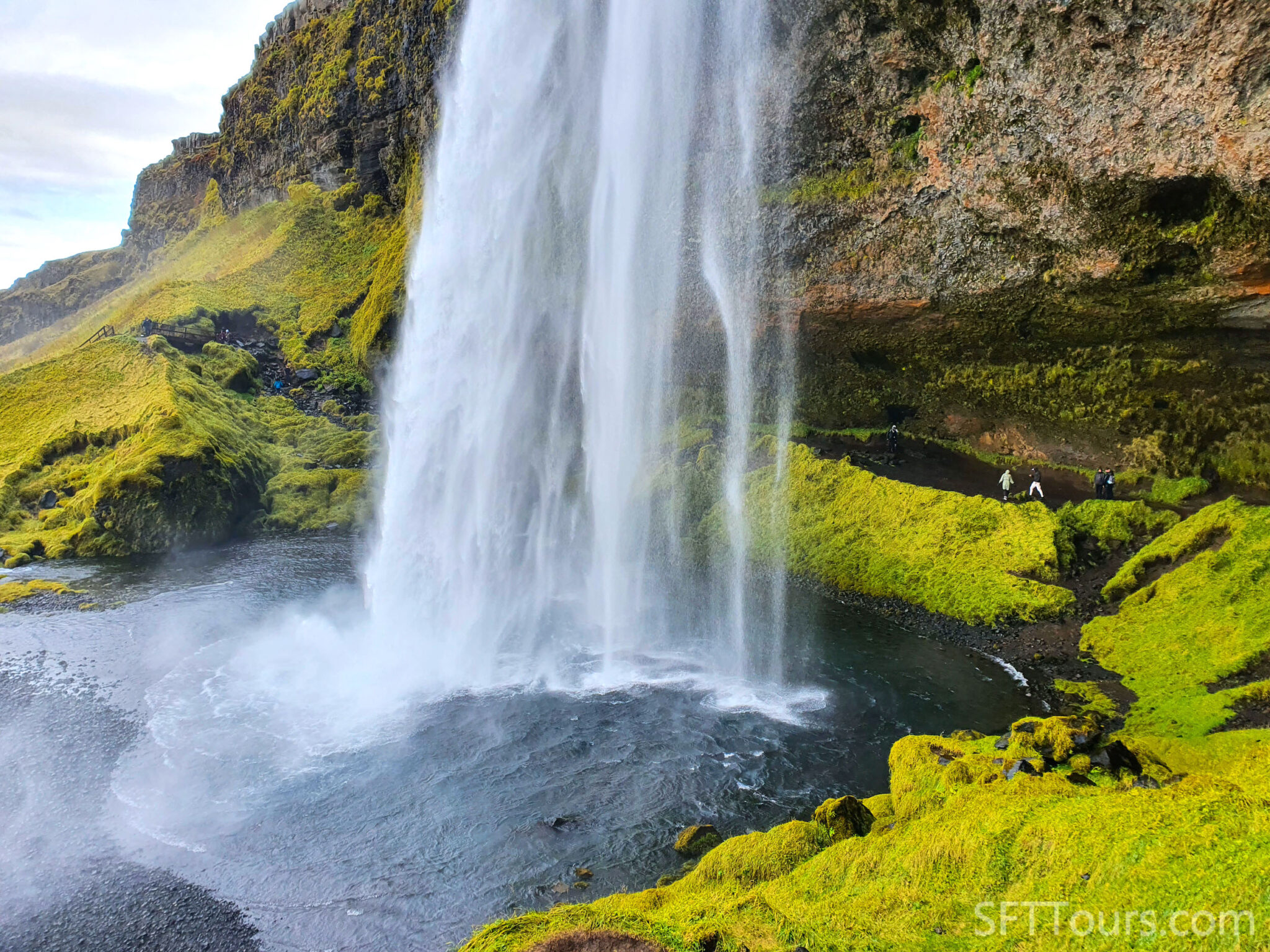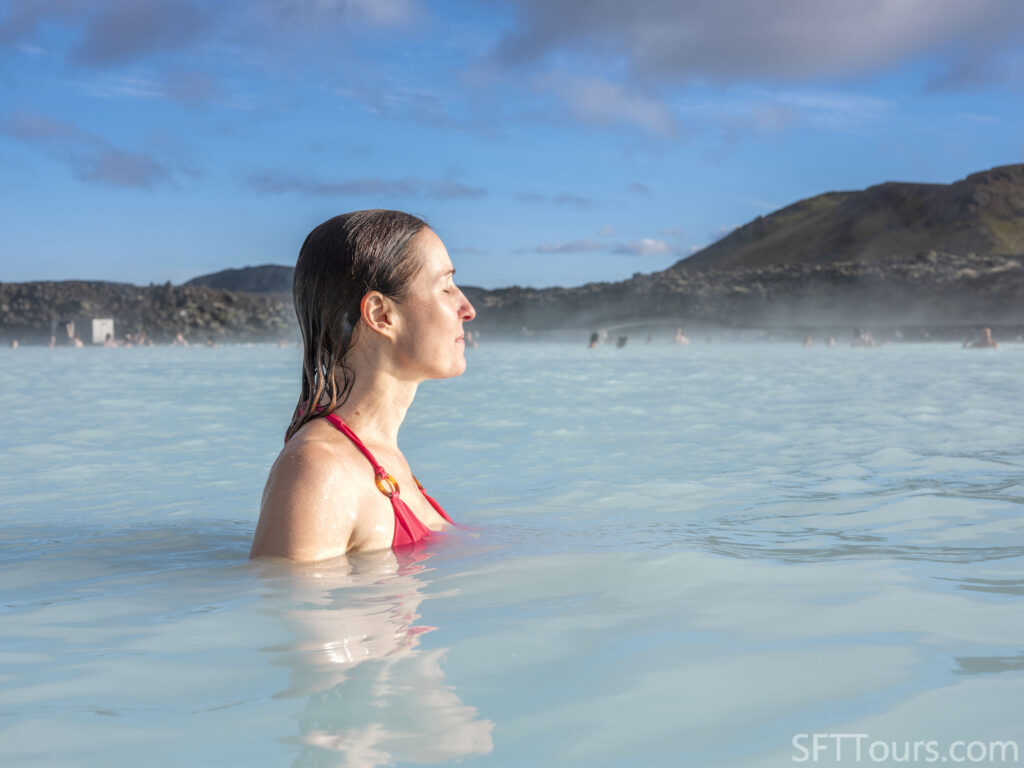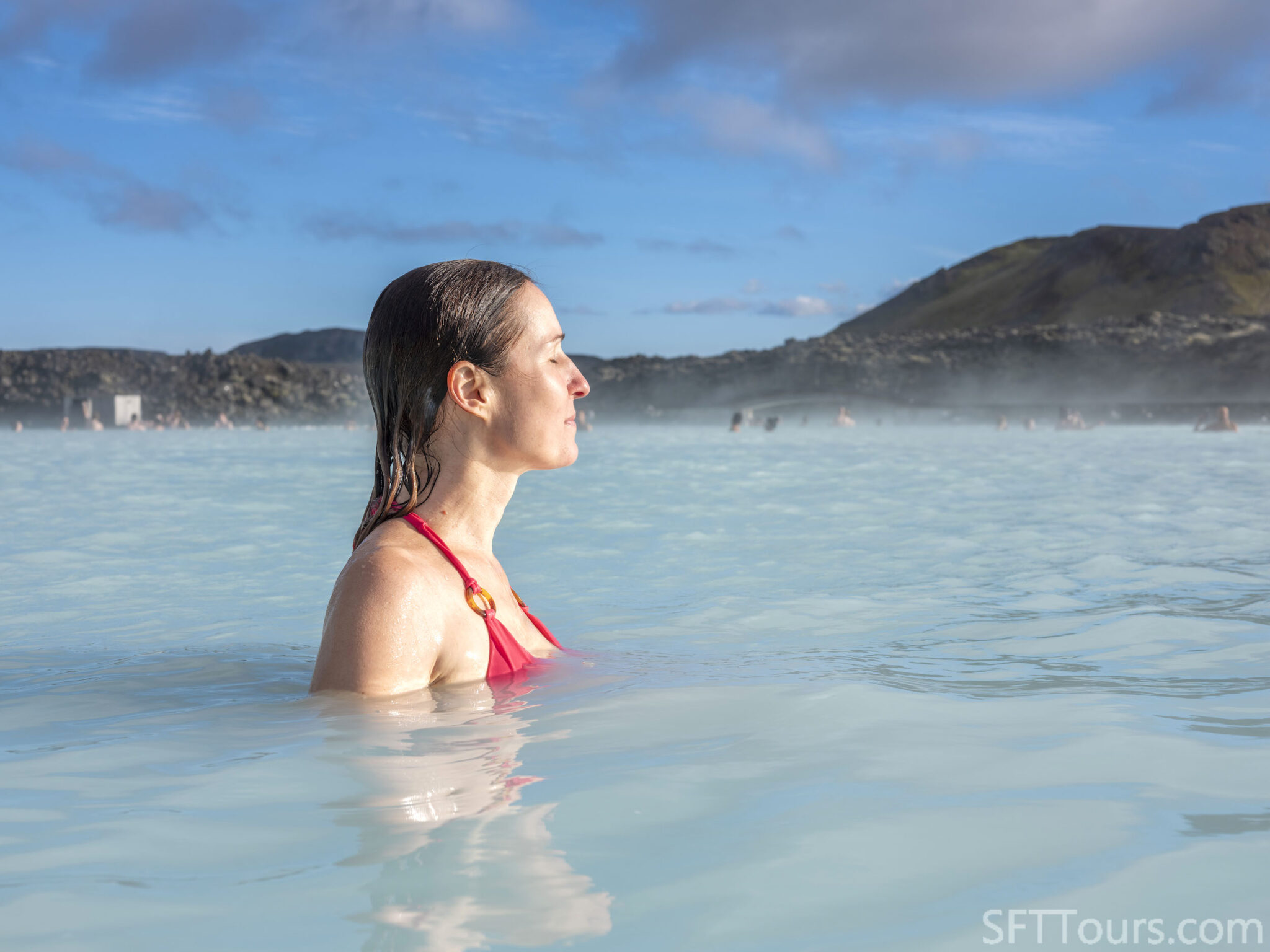 Trip Overview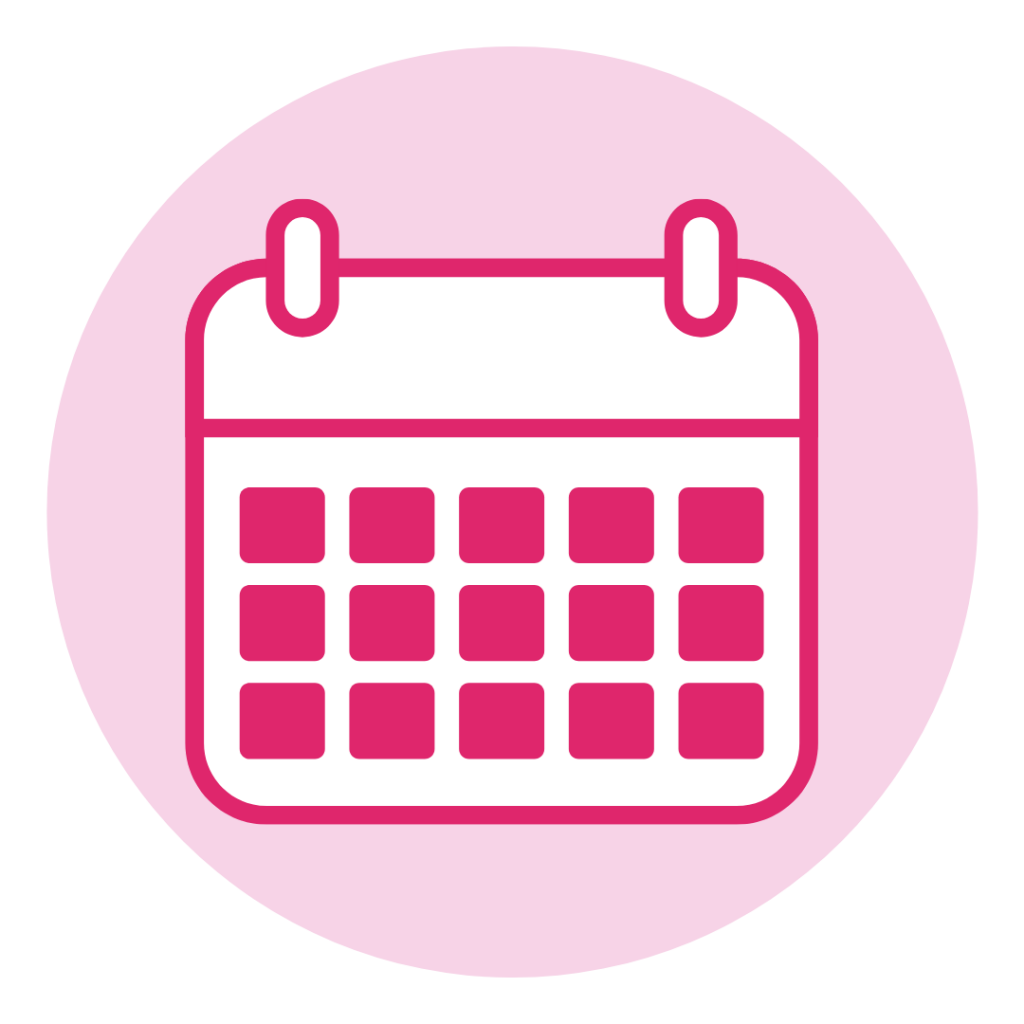 1 – 6 May, 2022: 1 spot left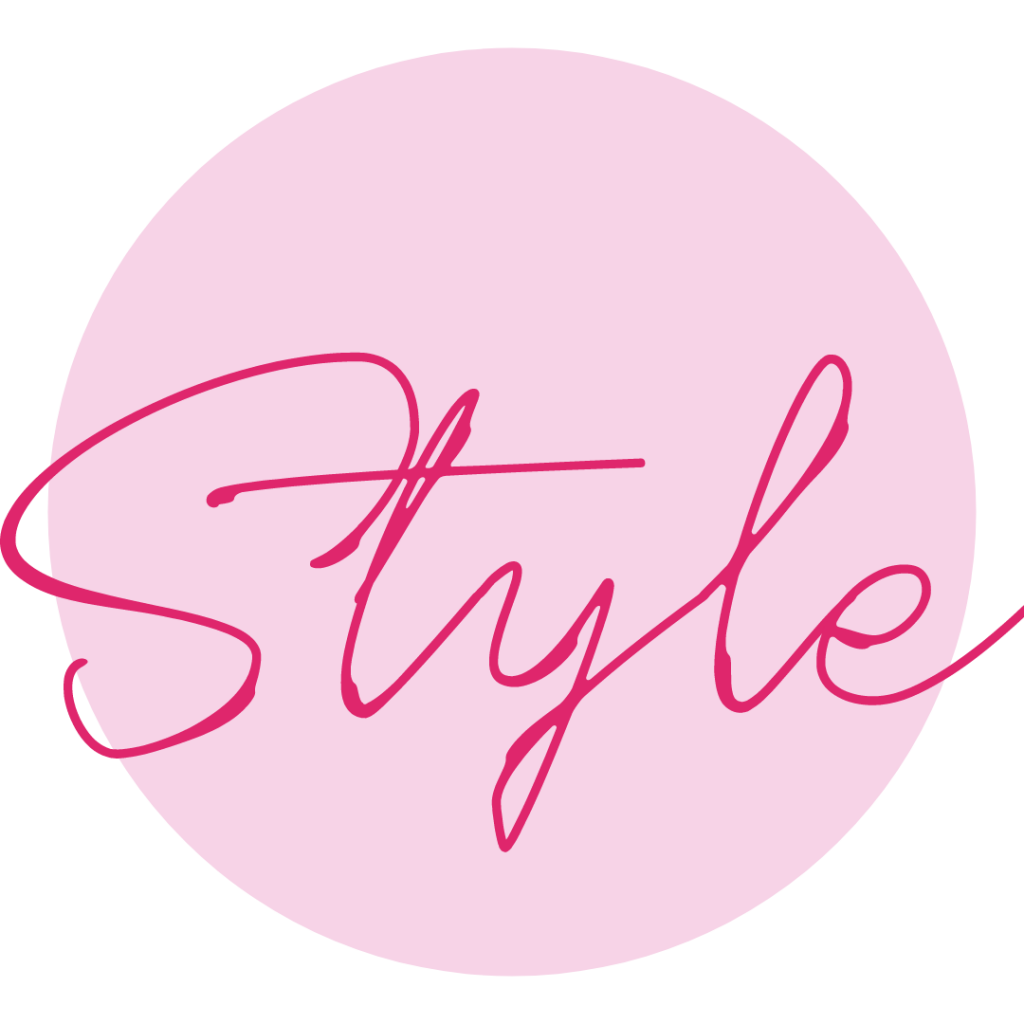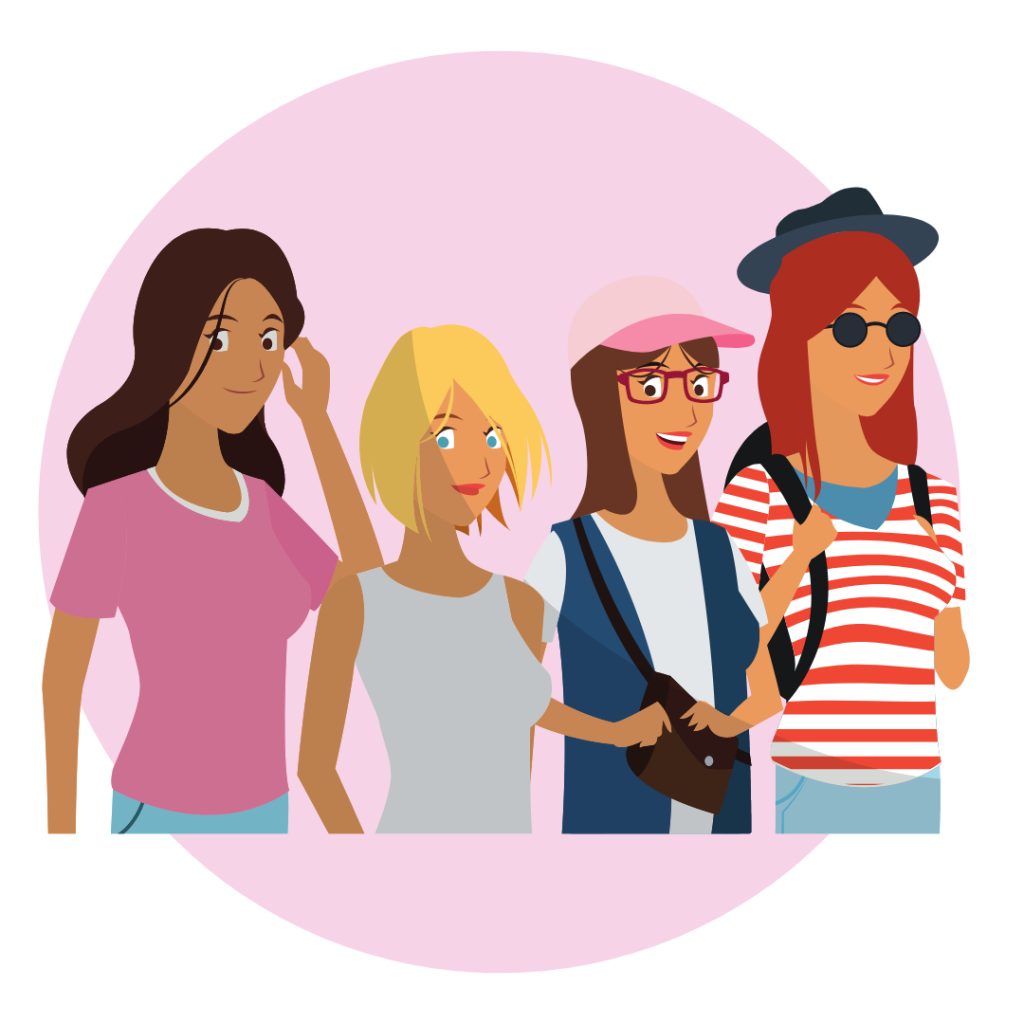 Max. 14 guests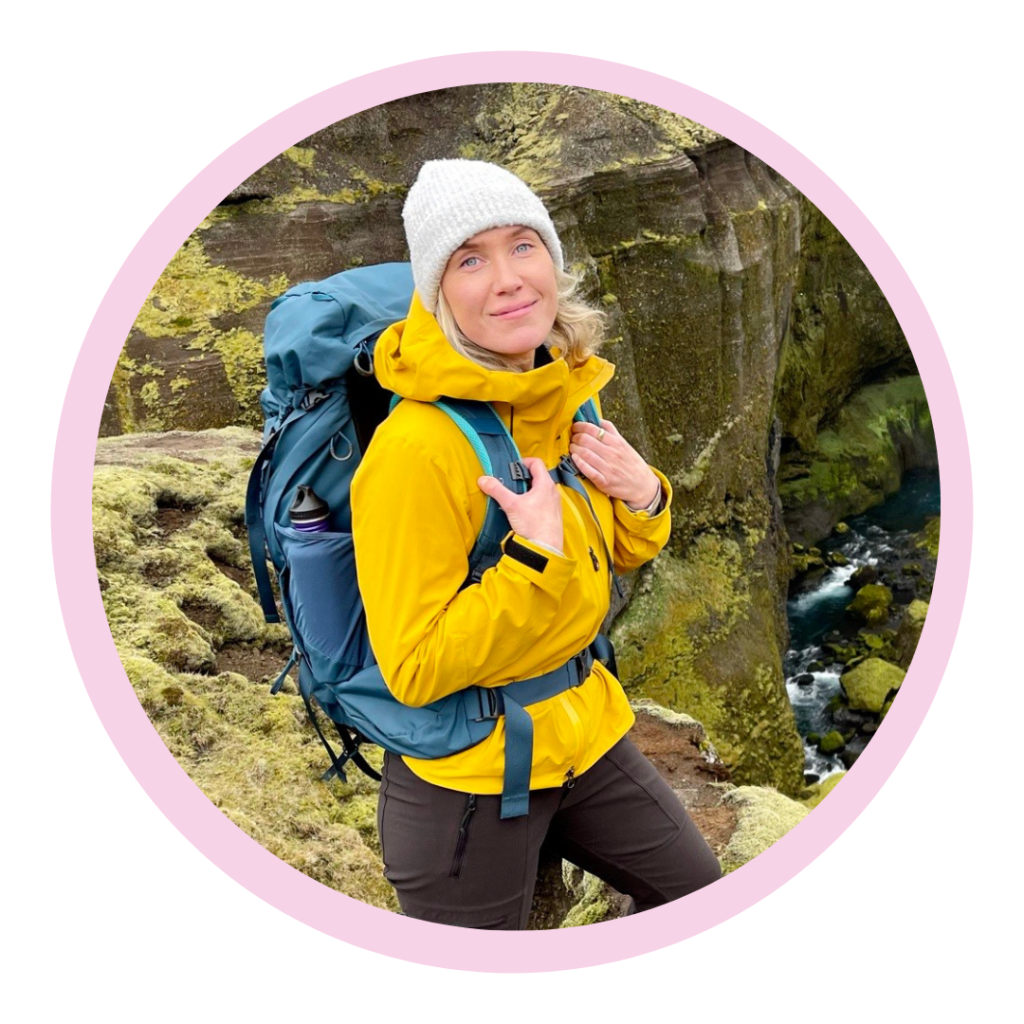 Saga Líf
A note on the weather: All of the activities on this itinerary are weather dependent and if there is something that is guaranteed in Iceland is that the weather is unpredictable. As a result, we may have to replace visits or change the order of some stops.
---
Trip map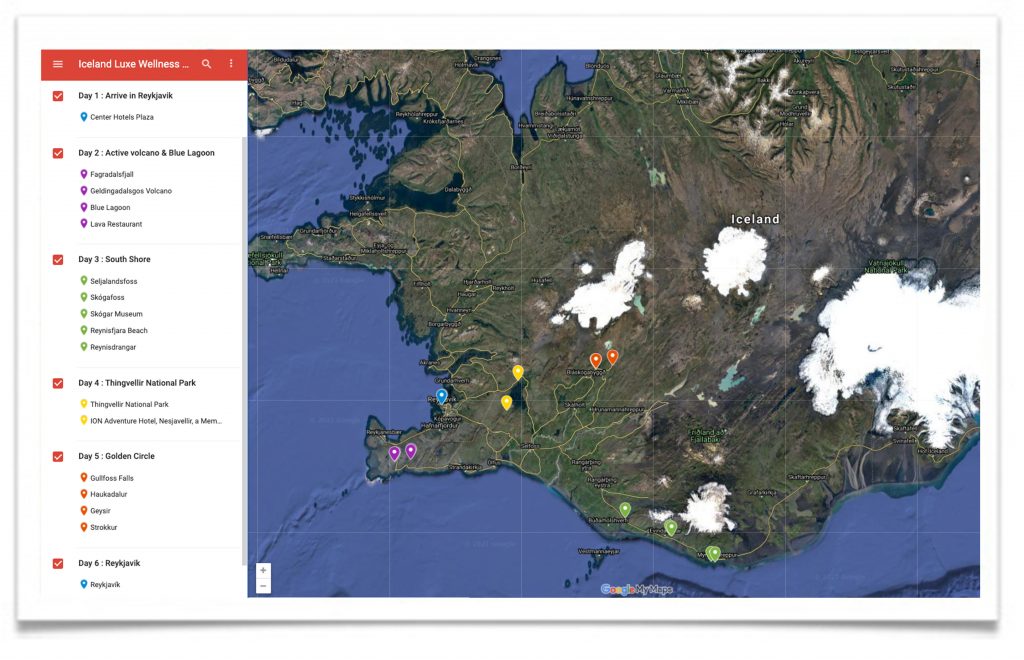 ---
Detailed Itinerary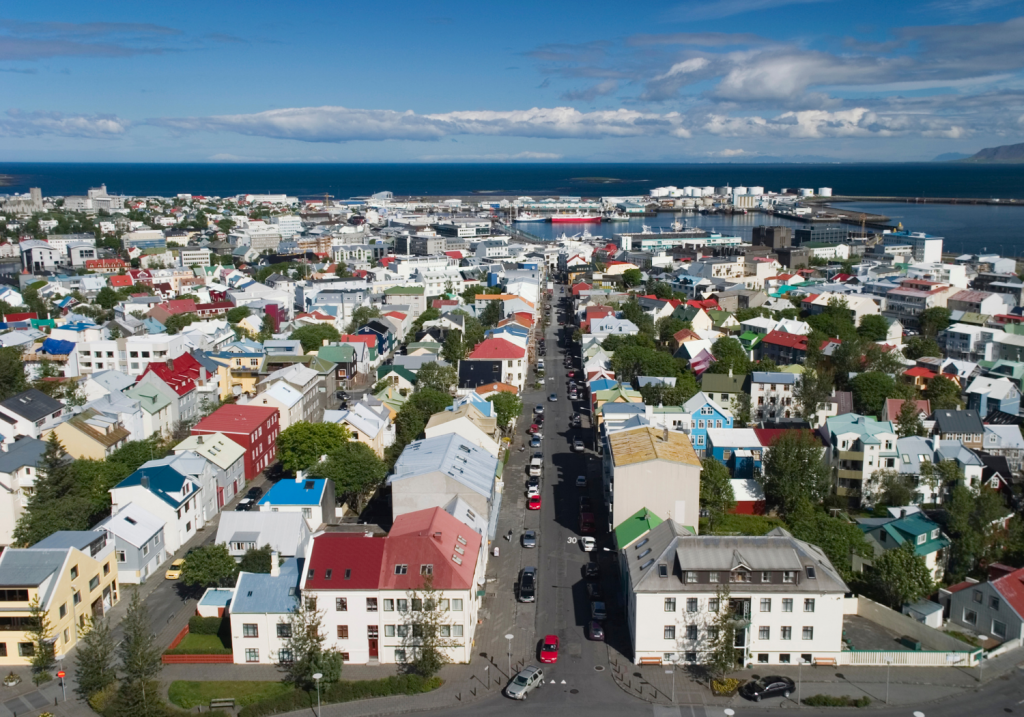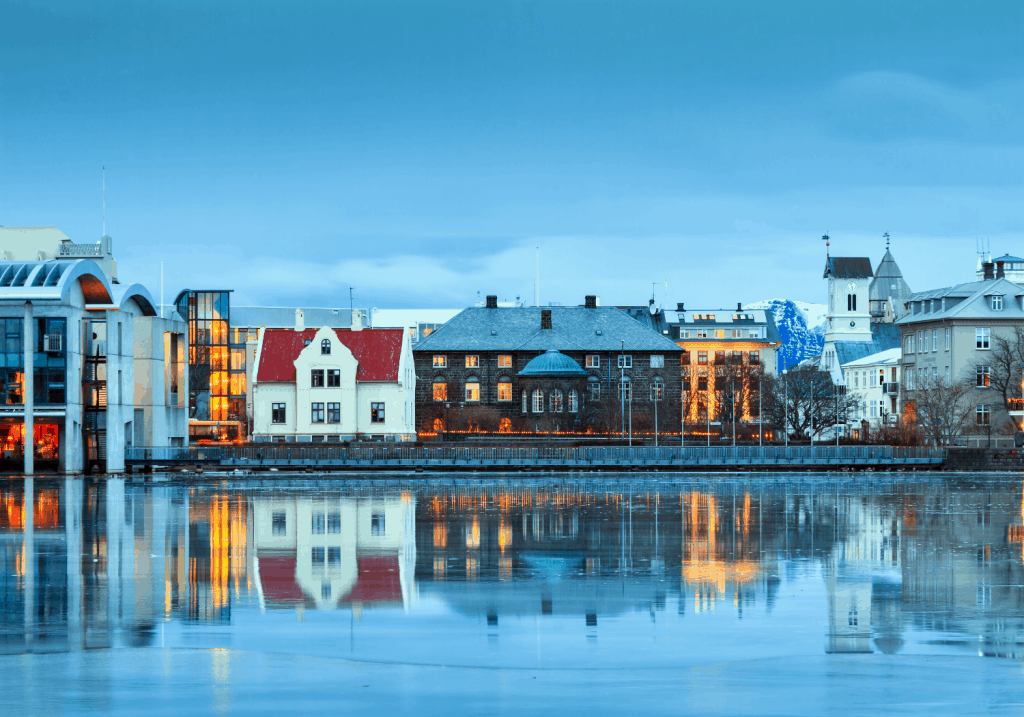 Day 1 : Arrive in Reykjavik
Arrive on your own time and make your way from the airport to the hotel which is located right in the middle of the city within walking distance of all main sights.
If you arrive early in the day and your hotel room is not yet ready, you will be able to store your baggage at the hotel and go explore.
We will start the trip with a short orientation walking tour of Reykjavik with our guide Saga before our signature welcome yoga session followed by dinner and wine pairing at a special location in the city.
Inclusions: Access to the hotel's wellness area, welcome yoga session, walking tour of Reykjavik, welcome dinner with wine pairing. Guests need to make their own way to the hotel from the airport. Pick up can be organized upon request.
Overnight at Midgadur by Center Hotels
We like the Midgardur because it is a well-appointed modern hotel in the city center, at the end of the main shopping and sightseeing so you can literally open the lobby door and be where you need to be.
The hotel has a spa and outdoor hot tub, upscale restaurant Jörgensen Kitchen & Bar and a very nice bar area where you can enjoy a drink. If the weather is not too cold, the outdoor terrace garden is a pleasant place to soak in the sun.
The modern yet simple Icelandic guest rooms feature twin or double beds, a minibar and satellite TV.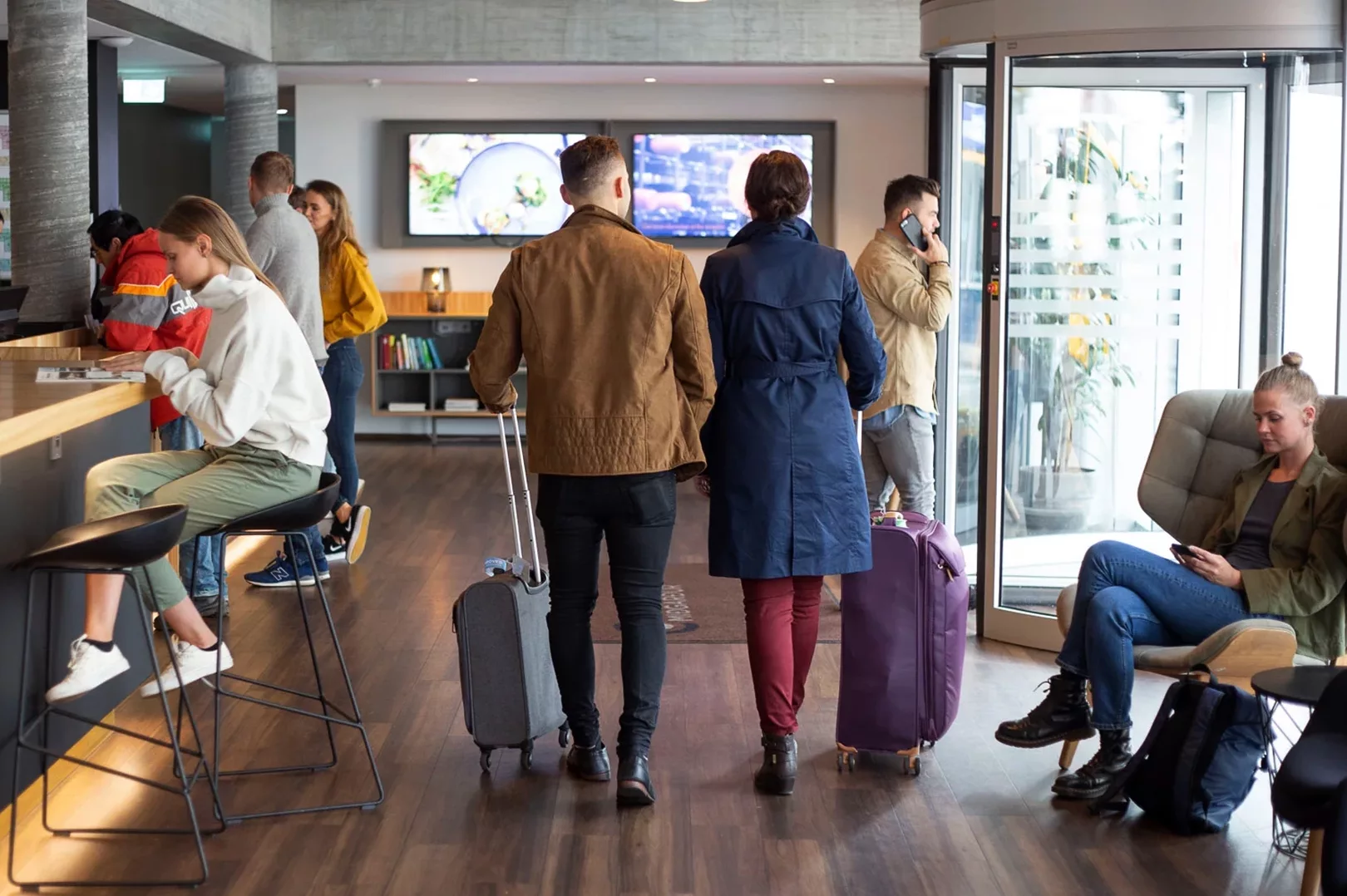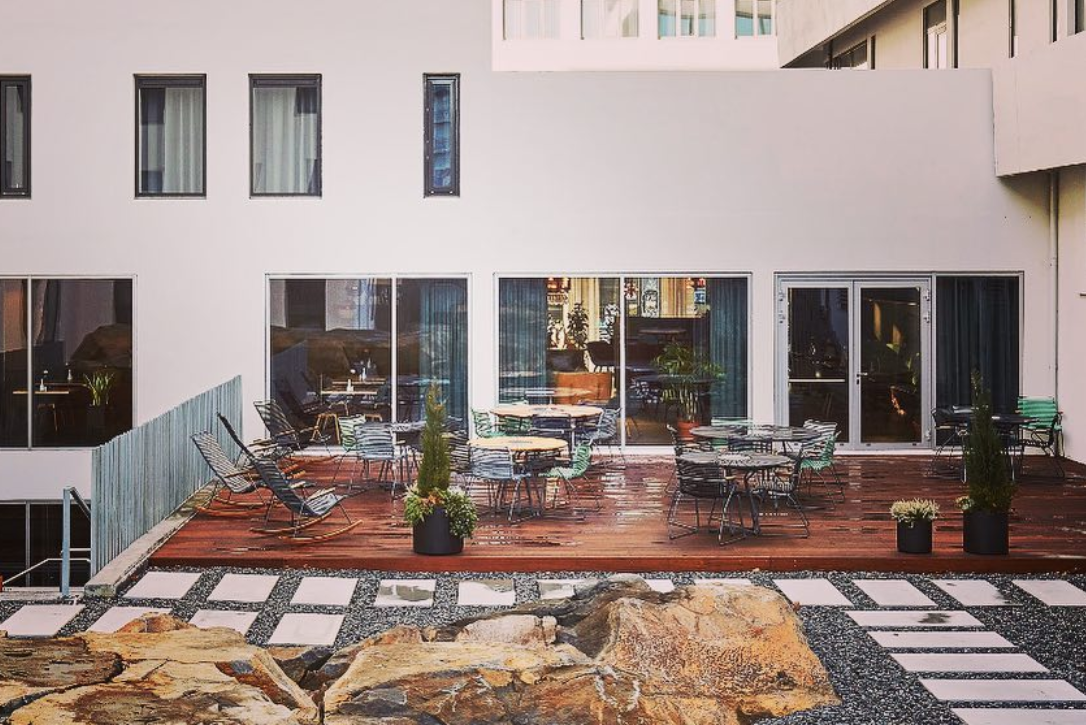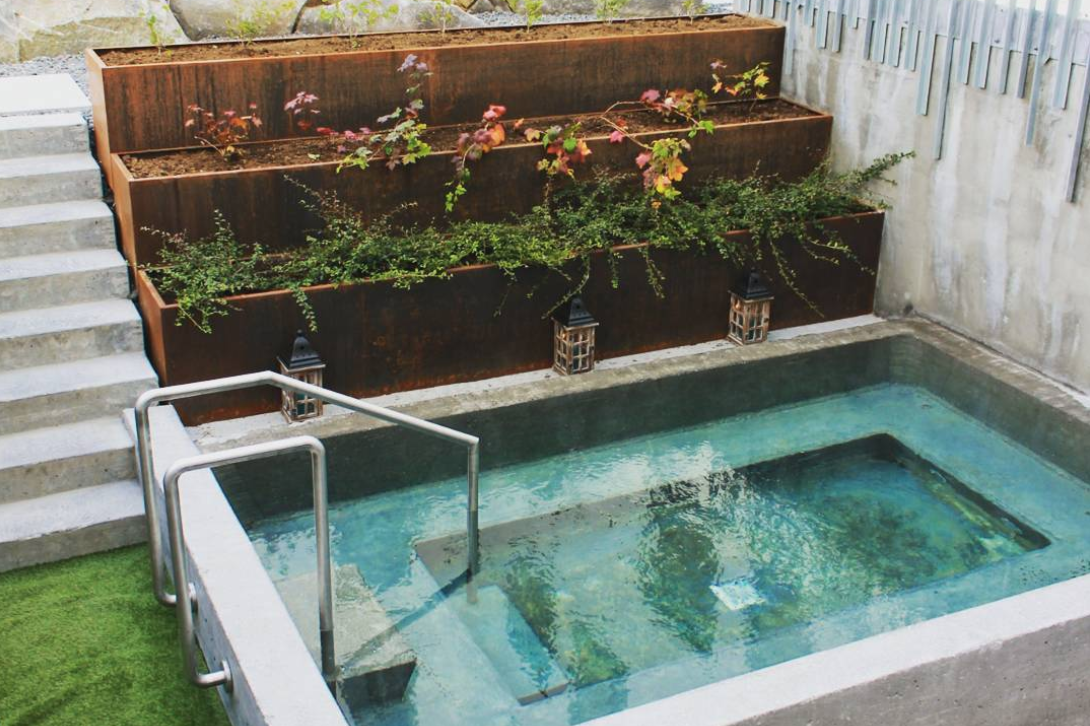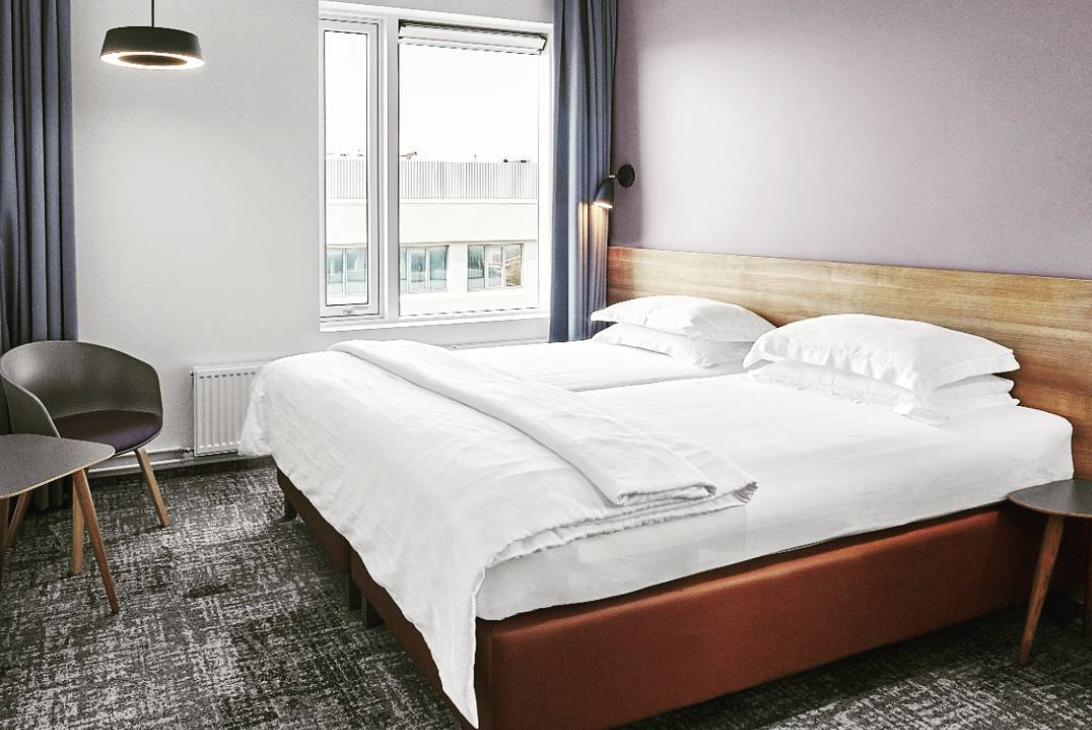 ---
Day 2 : Active volcano & Blue Lagoon
Start the day off at the wellness spa of the hotel maybe soaking in at the outdoor pool and then join our morning yoga session to start off the day with the right intention.
Breakfast will be enjoyed at the hotel before departing for Fagradalsfjall, Iceland's latest volcanic eruption and possibly one of the smallest in decades.
The eruption has been called Geldingadalsgos and started on March 19th, 2021 with follow up eruptions in the weeks after.
Fagradalsfjall is on a fissure of about 500-700 metres long (1,640-2,300ft) and is located on the Reykjanes peninsula, not too far from Reykjavik.
The last eruption there was some 800 years ago and experts believe that this is a shield eruption that may continue for years to come. On this trip, you will be one of the first to see it!
Luckily for us, this is a volcano which did not spew ash (like the 2021 eruption that brought Europe's air space to a halt) and that is easily accessible and just under 400m high and about 3.5km from the parking.
This means we can get up close, take a seat on the rugged floor and marvel at the flowing lava and this incredible feat of nature.
Note: If the volcano is not active, we will stop to walk on and around the impressive lava fields. If the area is inaccessible because of toxic fumes, we will visit other sites in the Reykjanes Peninsula.
After the volcano, we will enjoy lunch nearby or at a fishing village and head to iconic Blue Lagoon, your chance to ease into this wellness escape and relax after your travels.
The Blue Lagoon is a geothermal pool of seawater born in volcanic aquifers 2,000 meters underground where freshwater and ocean water converge in a tectonic realm of searing heat and immense pressure.
Endowed with silica, algae, and minerals, the water cleanses, heals, rejuvenates, and undoes the effects of time, bringing radiance, in all its forms, to the mind and body.
The water temperature is generally between 37°C and 40°C even as the snow falls down, creating the enchanting and incredible views that have made it famous.
The lagoon's seawater is naturally renewed every 40 hours and because of its composition, chlorine is not needed. In essence, the lagoon is a self-cleaning ecosystem.
Our Premium Blue Lagoon package comes with a few added goodies:
Entrance to the Blue Lagoon
Silica mud mask
Use of towel
1st drink of your choice from the In-water Bar
Second mask of choice from the In-water Mask Bar
Slippers
Use of bathrobe
Spend the afternoon exploring the lagoon, relaxing and trying out the two masks that come with the Premium package as you take it all in.
After a shower and change of clothes, we will head to the Blue Lagoon's Lava Restaurant, built into a magnificent lava cliff on the western shore of the Blue Lagoon, where we will end the day.
The restaurant combines stunning views through the double-height, floor-to-ceiling windows, organic architecture, and Icelandic cuisine made from fresh, local, seasonal ingredients.
After an incredible day, we will return to Reykjavik and overnight at Midgardur Hotel.
Inclusions: Breakfast at the hotel, morning yoga class, access to the hotel's wellness area, all the stops in the itinerary, entry ticket to Blue Lagoon with Premium Package, gourmet coursed dinner at Lava Restaurant in the Blue Lagoon including welcome sparkling wine.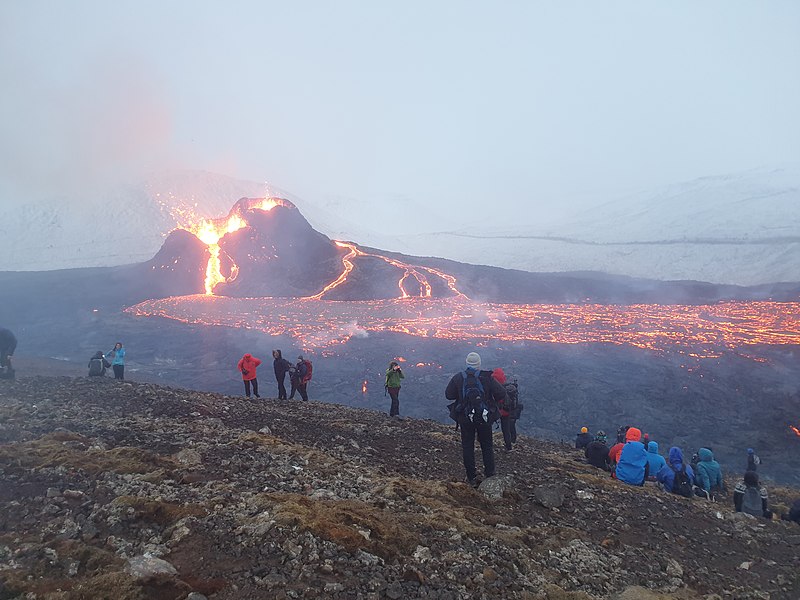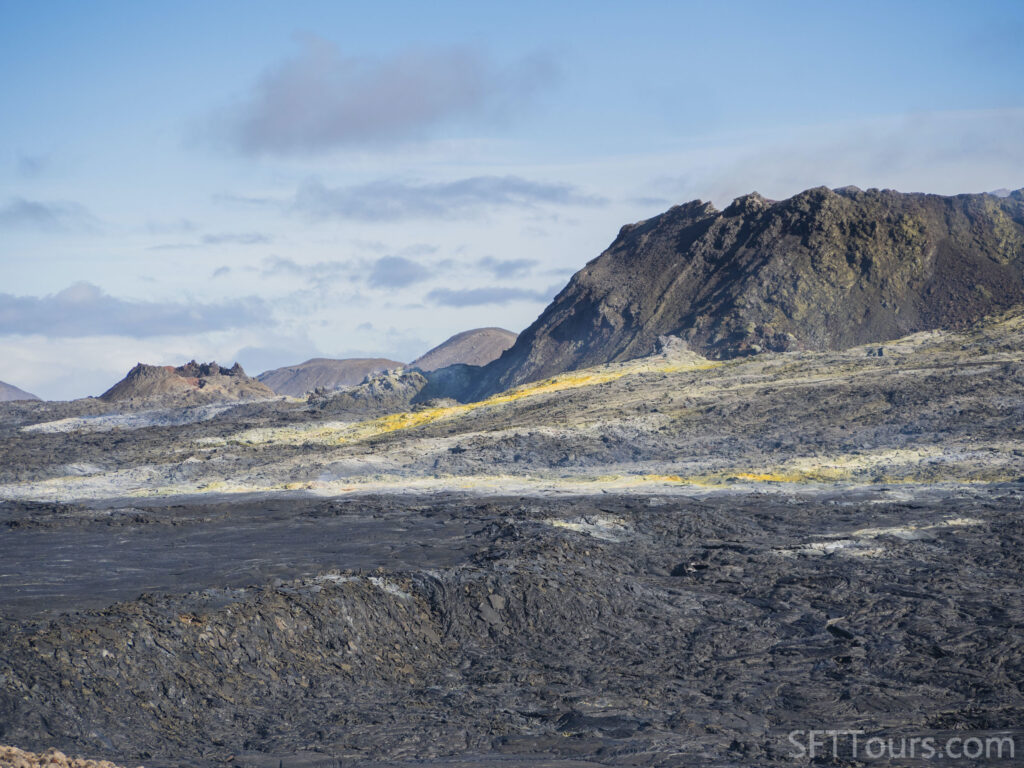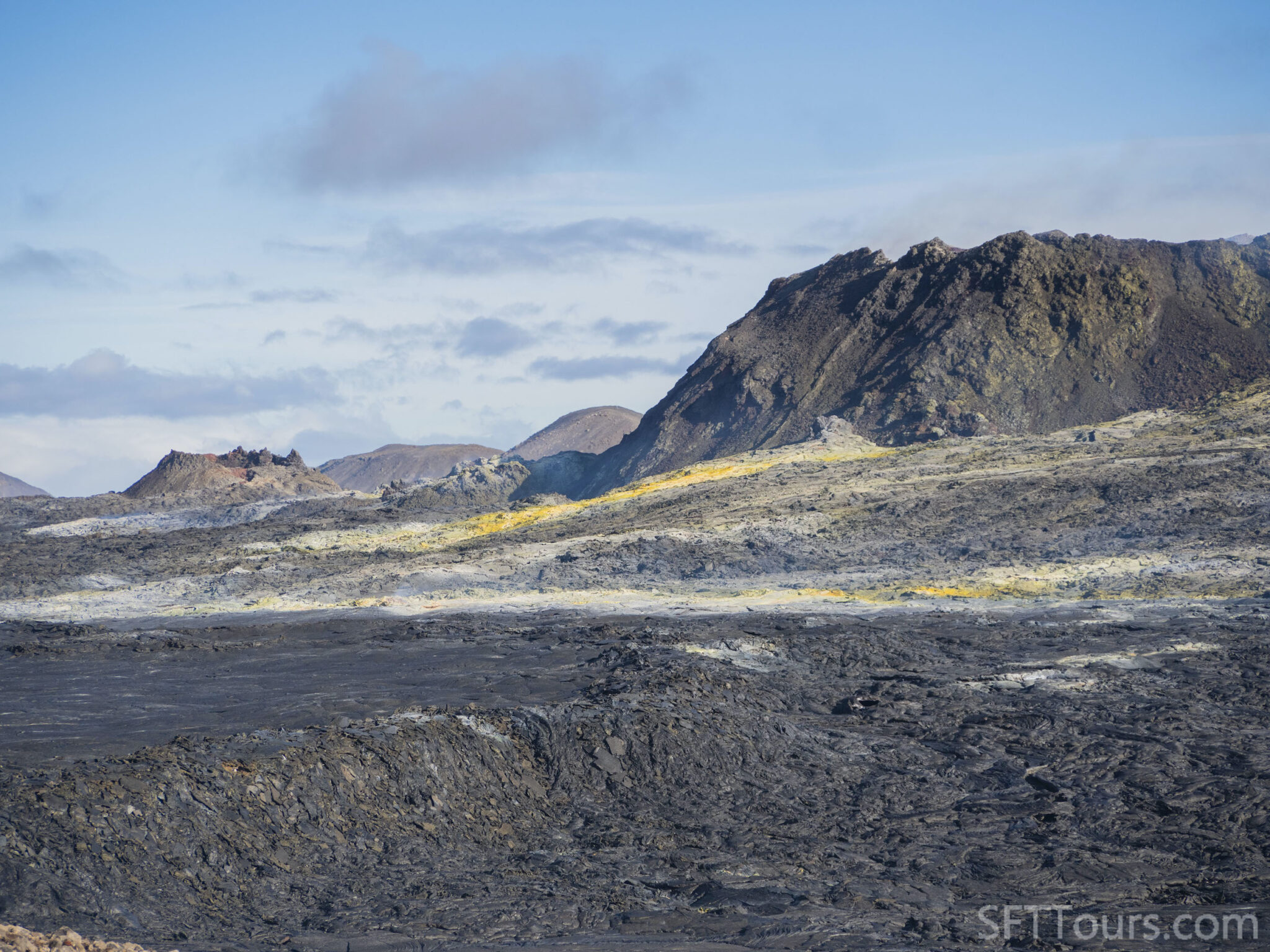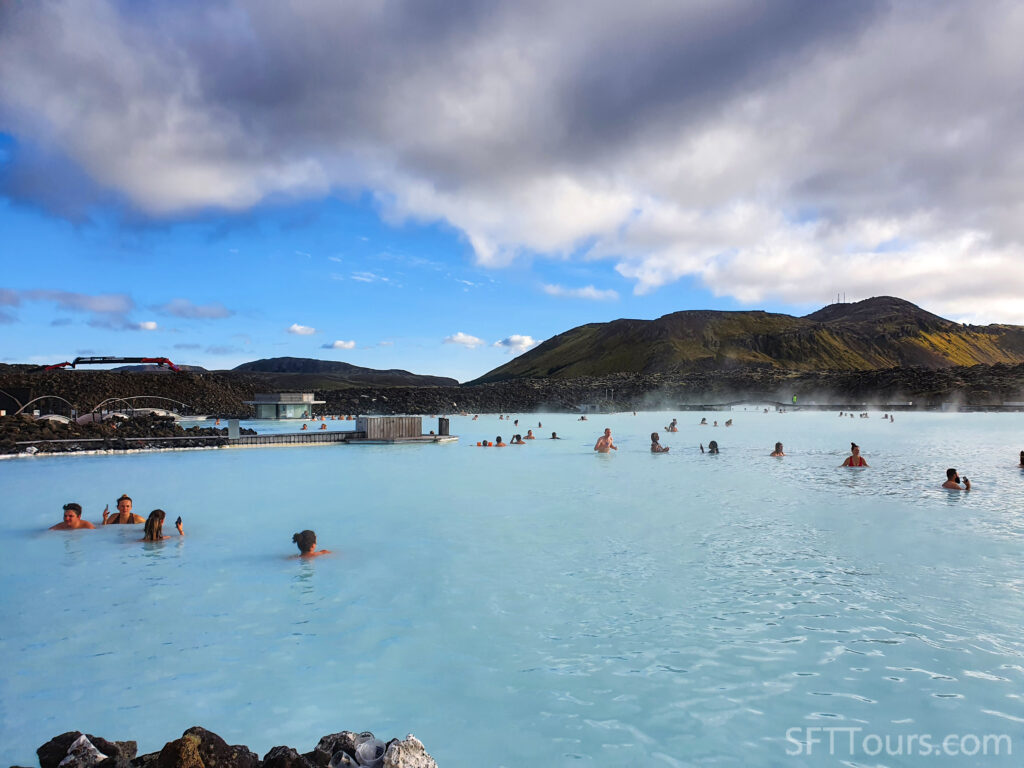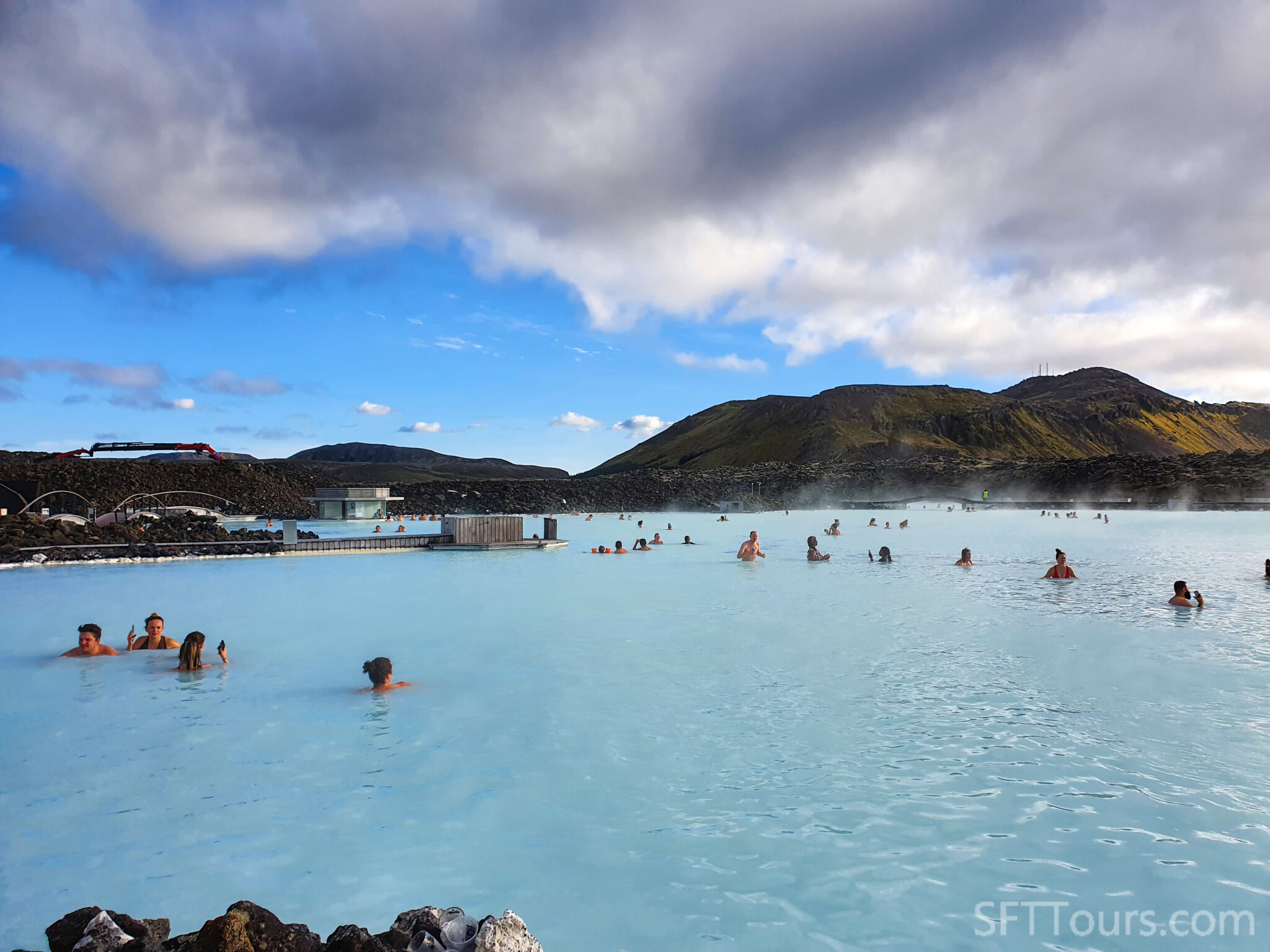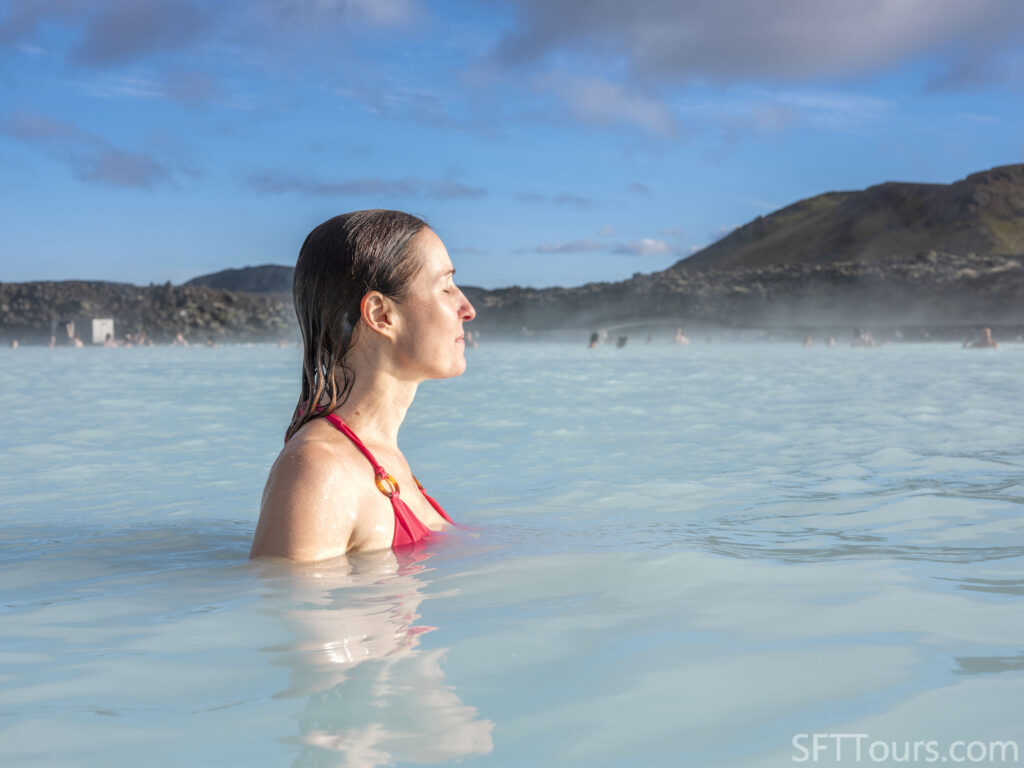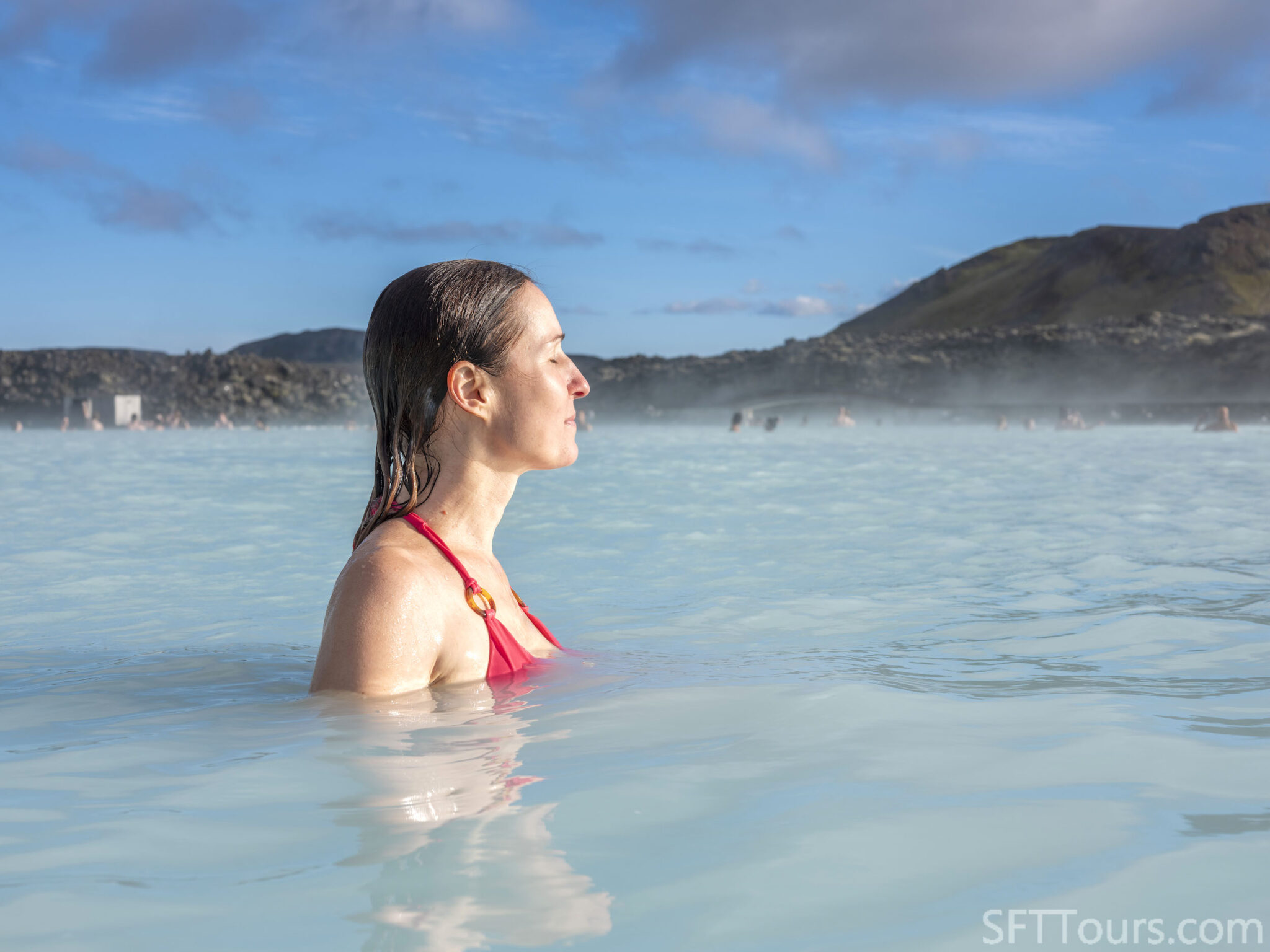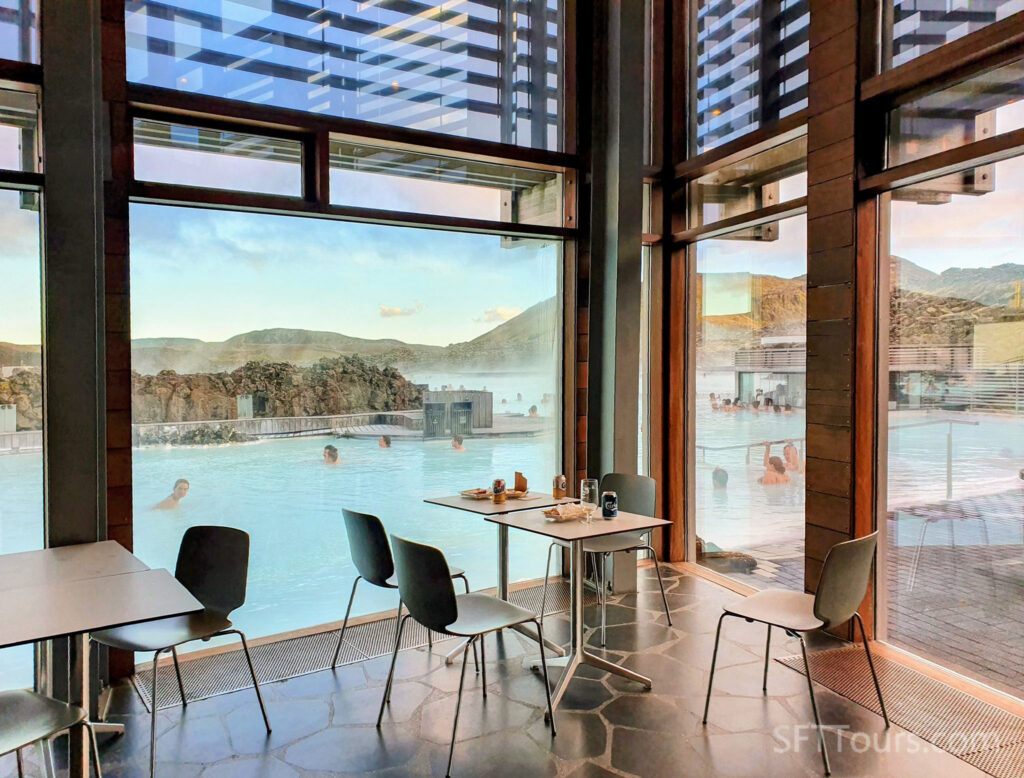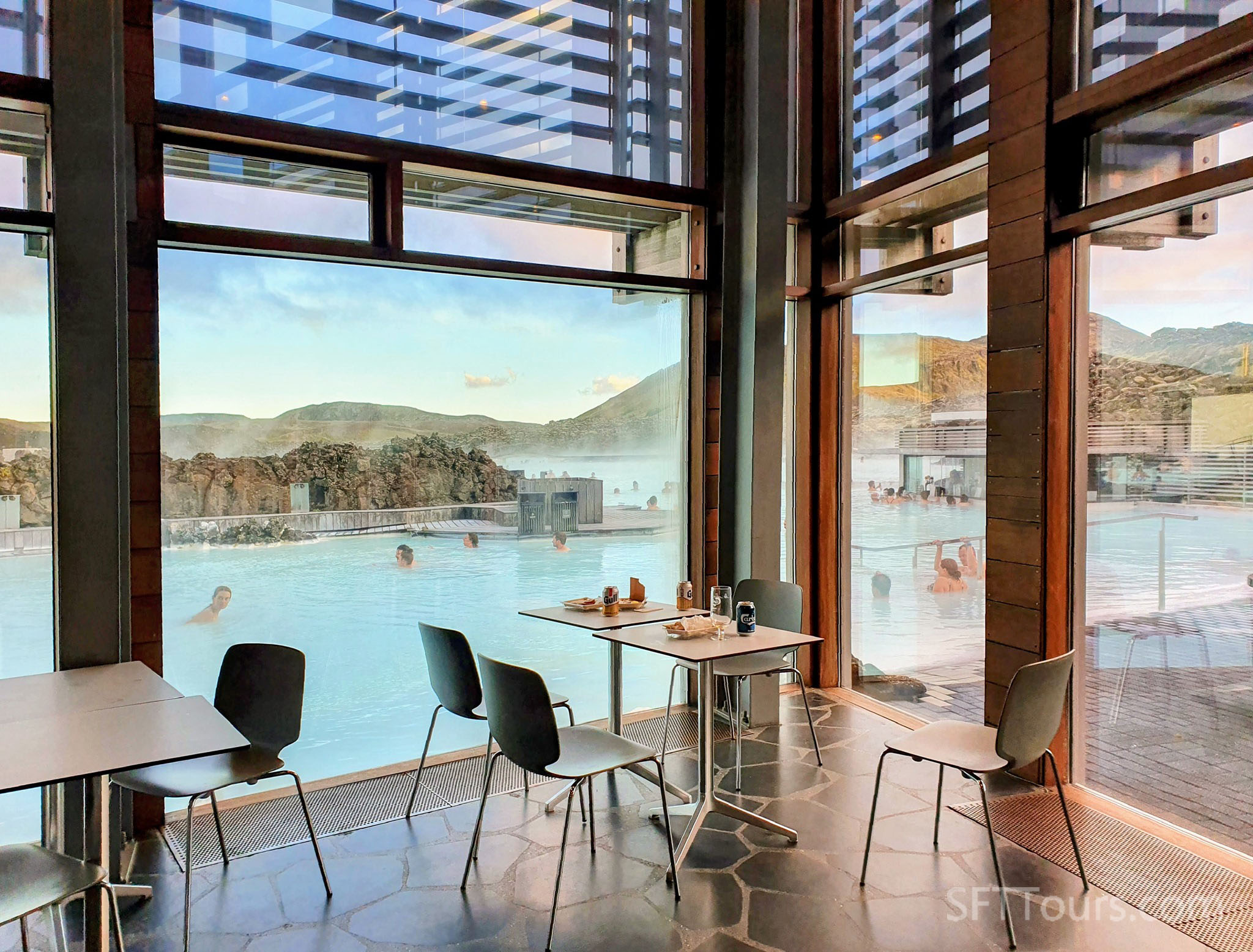 ---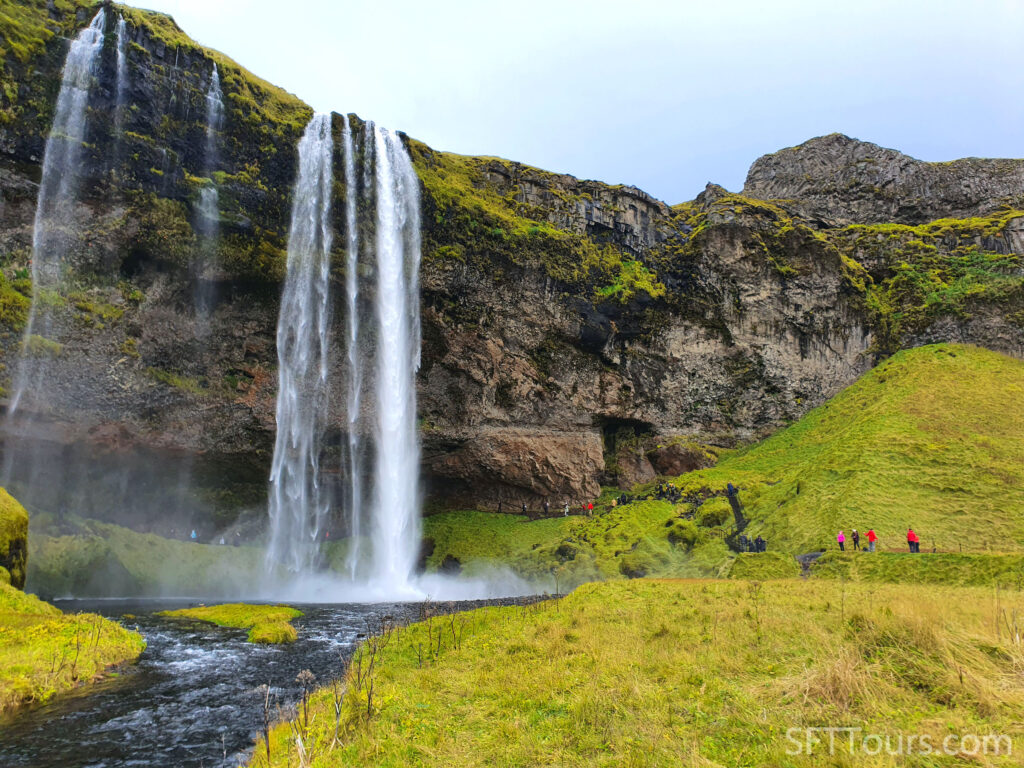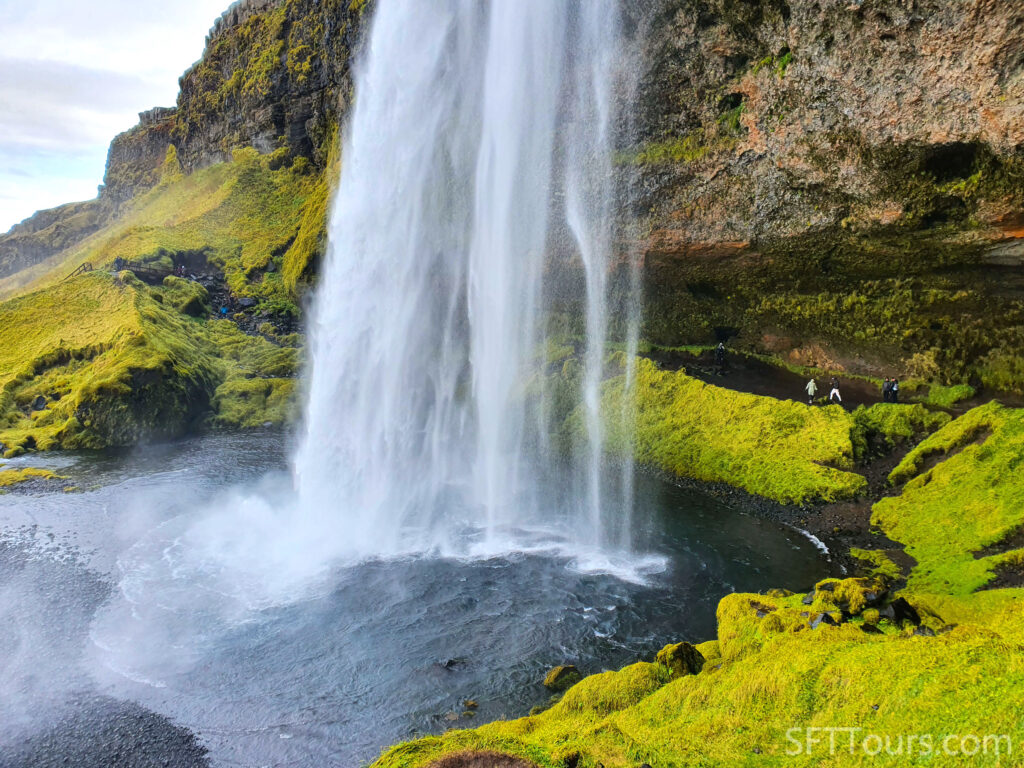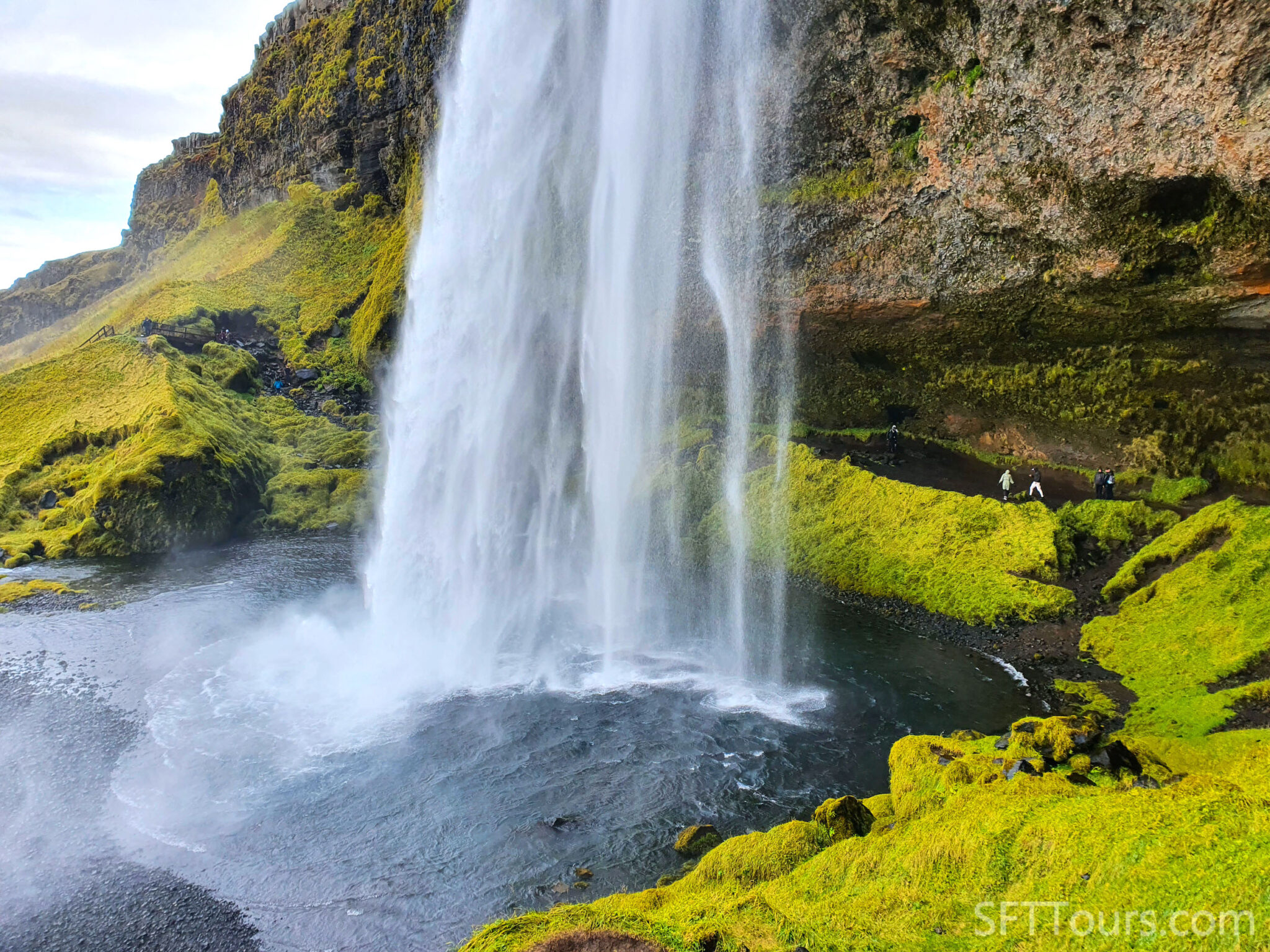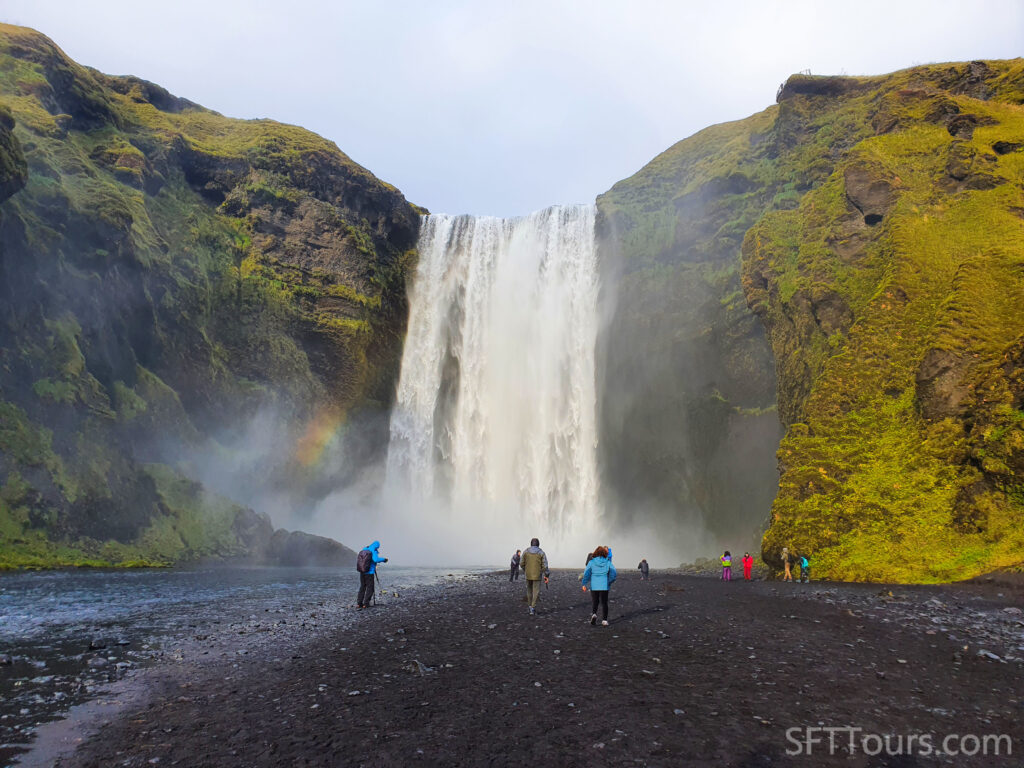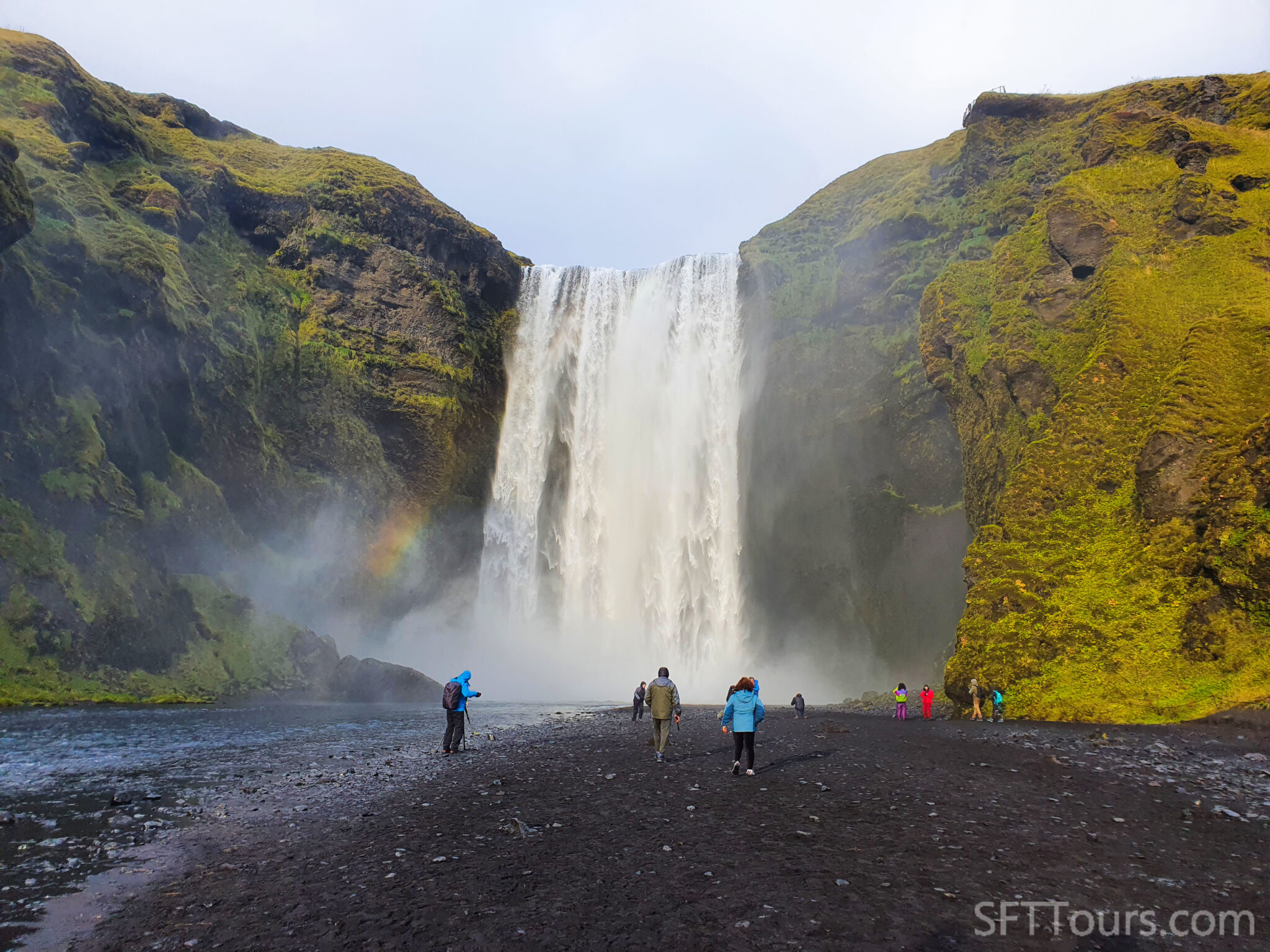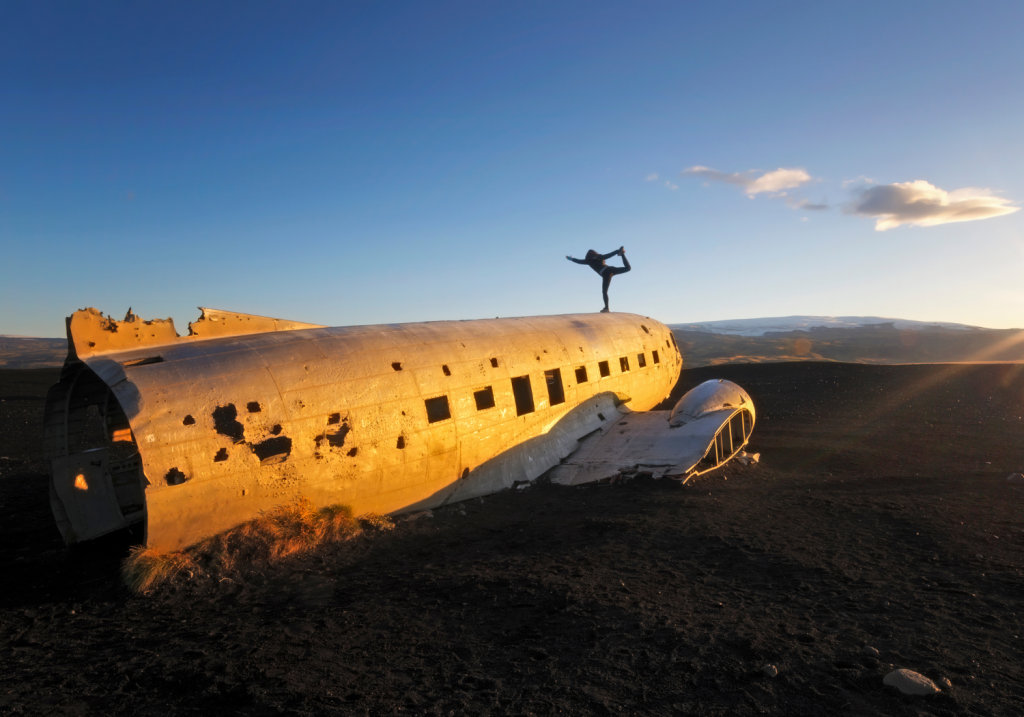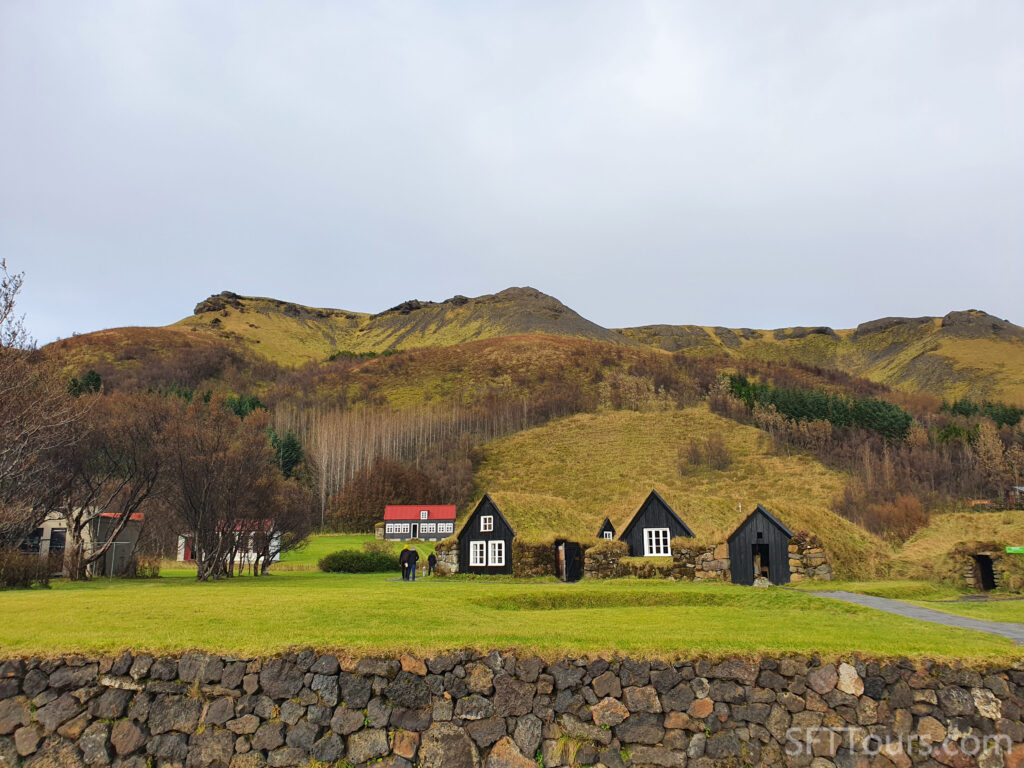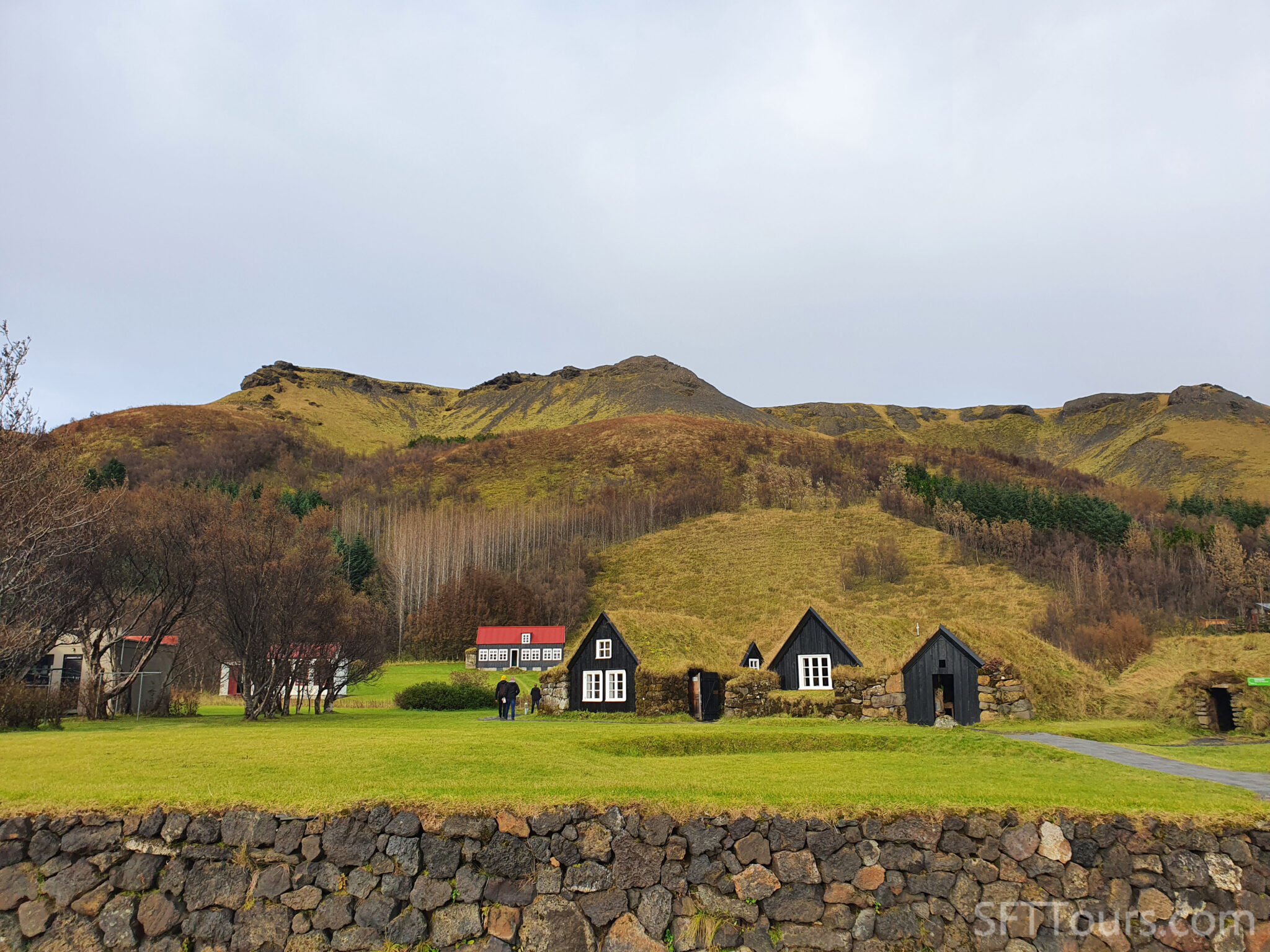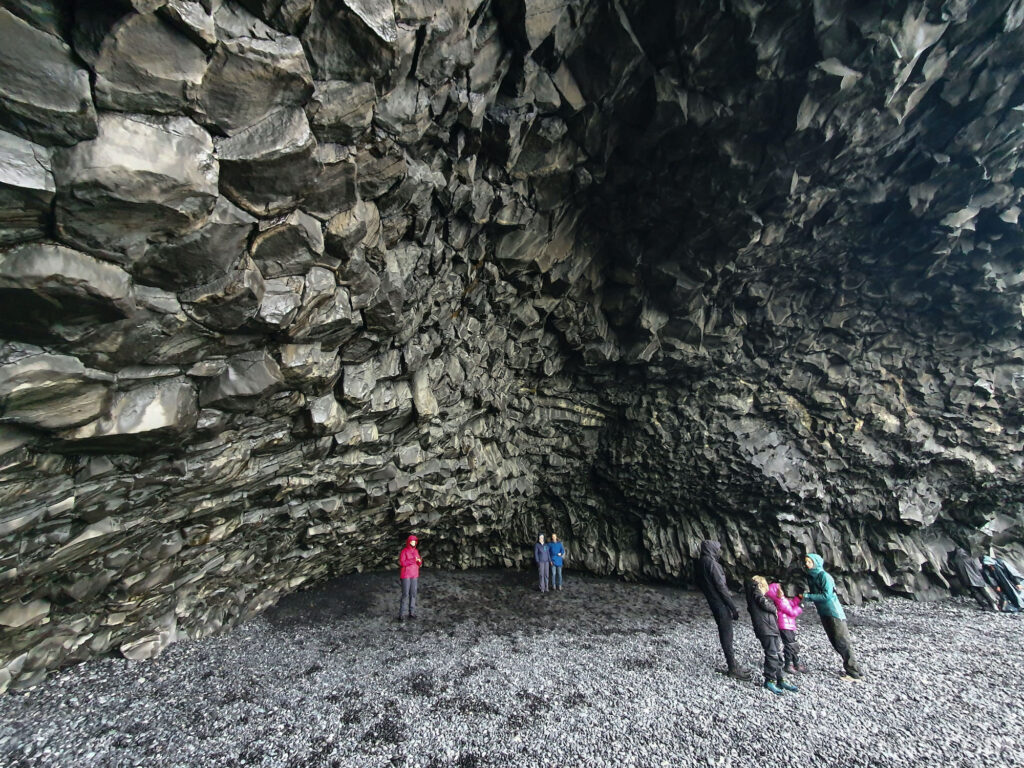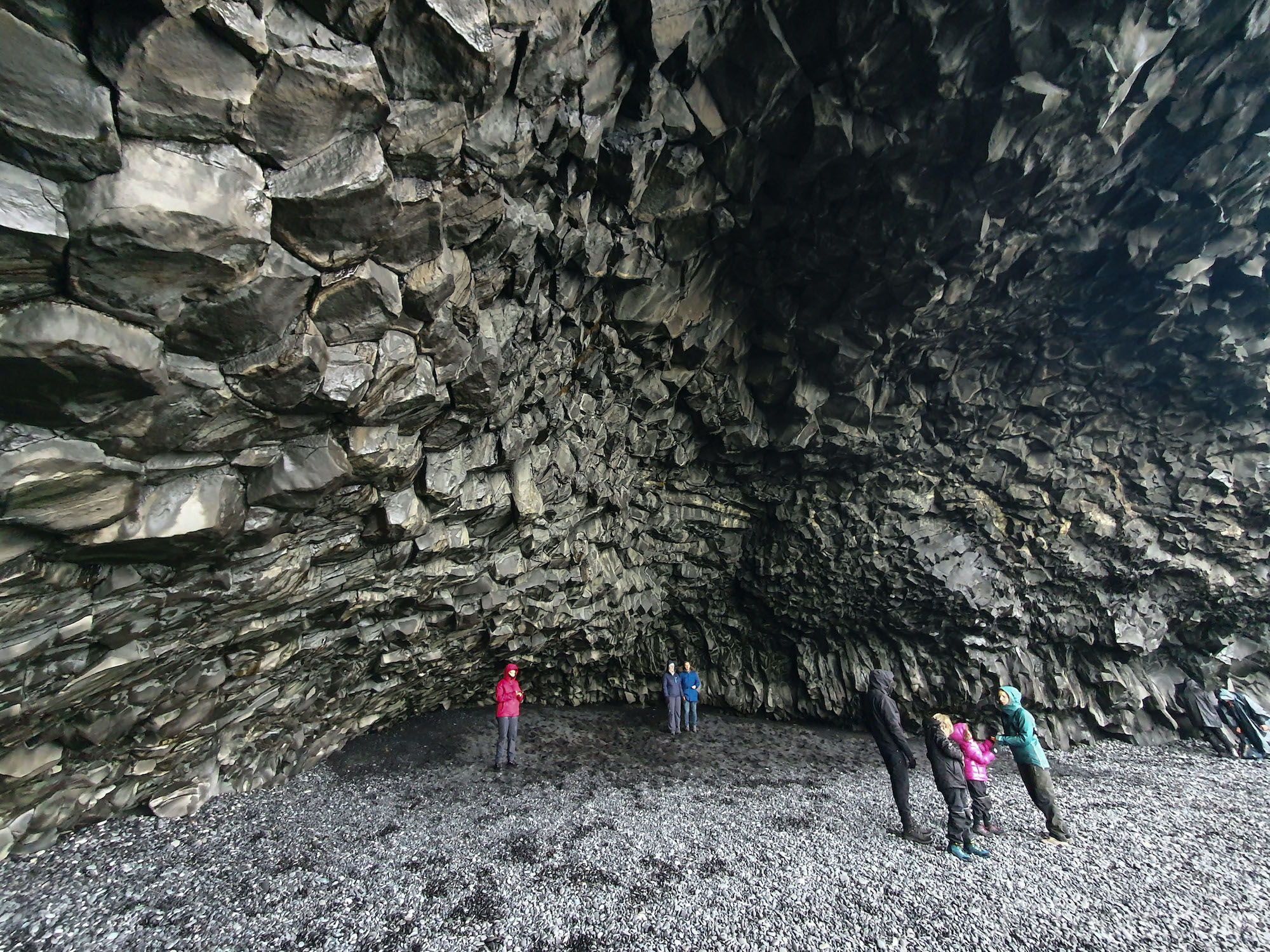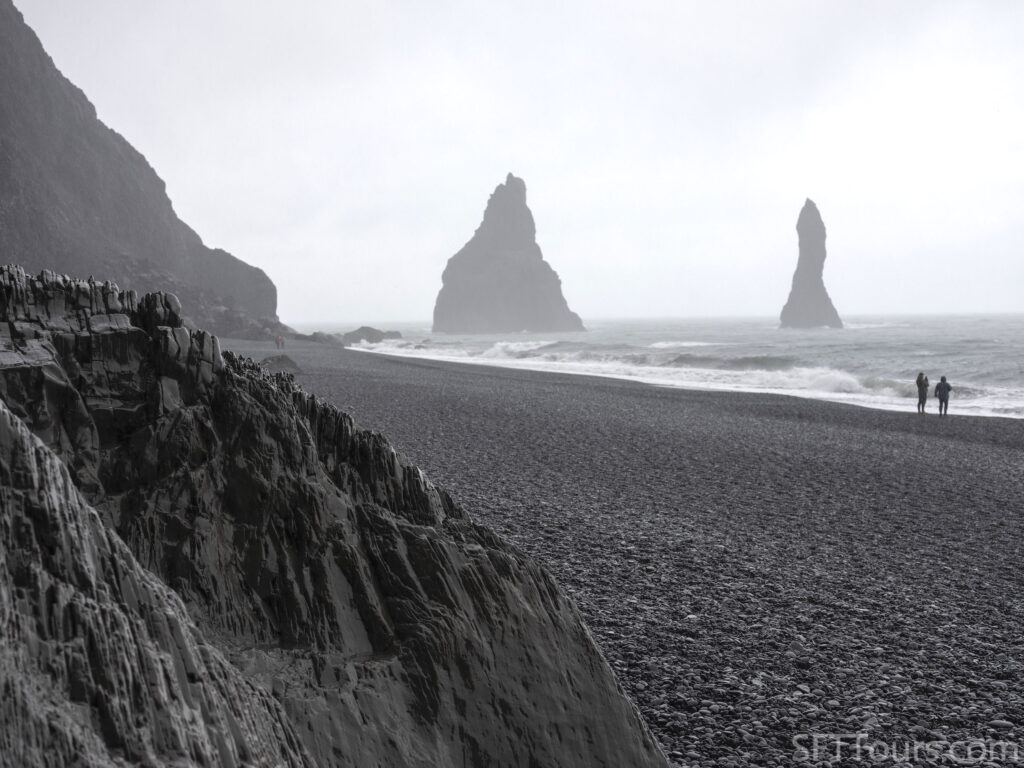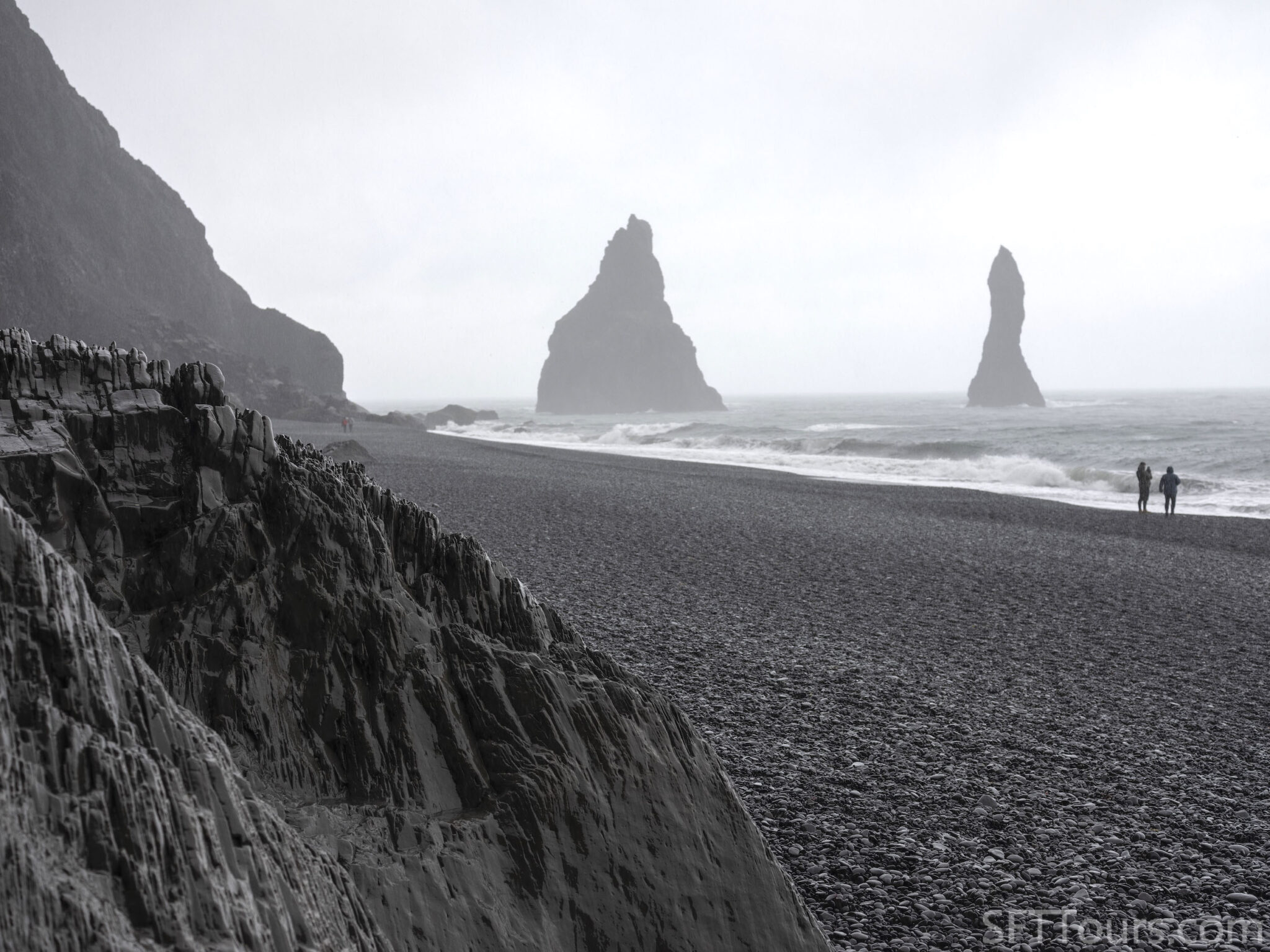 Day 3 : South Shore
We will again start the day off at the hotel's outdoor hot tub or sauna before having a yoga session and a great breakfast and getting ready for the day.
Today we will road trip to explore Iceland's South Shore and some of its most famous waterfalls and landscapes. Don't miss the chance to enjoy the view through your window, as traveling across Iceland is as much about the journey as it is about the destination!
We will stop at Seljalandsfoss, the famous waterfall that often appears on brochures about Iceland because it is one of the few which can be encircled thanks to its narrow and tall fall and the caverns located behind it.
This waterfall is part of the river Seljalandsá and originates in the Eyjafjallajökull glacier volcano, that's right, the volcano that erupted in 2010 and caused havoc across Europe.
When you admire the waterfall, know that this is where the sea was in Iceland before.
Fun fact: This waterfall was featured in Justin Bieber's "I'll show you" music video.
After Seljalandsfoss we will continue to another famous waterfall in Iceland, Skógafoss.
This massive 60m waterfall will make you feel tiny in comparison and will show you the true power of nature. If we are lucky and the sun takes a peek, we will no doubt see a rainbow thanks to the water spray that is permanently there (pack a rain-jacket for the spray).
Nearby, we will find the open-air Skógafoss Folk Museum where we can observe the picturesque turf houses (torfbaeir in Icelandic) that are so typical of this part of the world.
The turf houses here have been moved from other parts of Iceland for preservation and admiration, so they are original.
Turf houses were built for maximum isolation from the cold by the Vikings who knew a thing or two about surviving in extreme climates and had ran out of trees to use as wood to build their houses.
On our way to our lunch, we will make a pit stop at an eerie location: the site of abandoned DC plane on the black beach at Sólheimasandur.
This Instagram-famous plane wreck is the remains of a 1973 US Navy DC that crashed when it ran out of fuel and since there is nothing else around, it makes for surreal pictures against a desolate and very Star Wars landscape.
Note: The visit to the plane crash is dependent on the transfer bus running form the parking lot to the site. If buses are not running, we will not be able to stop.
We will continue our road trip to Reynisfjara, a stunning black beach that is located in front of Reynisdrangar, three famous basalt cliffs.
Popular legends tell the story of two trolls who dragged a ship to the beach and were petrified when the morning sun came. The rock formations were featured in Season 7 of Game of Thrones.
Fun fact: From May to August, the mountain above the black beach, Mt. Reynisfjall, sees a large amount of puffin birds which are not afraid of humans and will let those fit enough to walk up the mountain photograph them from nearby.
Puffins are very funny and cute and migrate during the summer months to Iceland only to leave again when the weather starts to cool off.
Reynisdrangar basalt cliffs and beach are located near the village of Vík where we will make a stop for lunch at one of the small restaurants and enjoy some free time.
We will then drive back to Reykjavik and enjoy dinner en route at a beautiful river-side luxury hotel restaurant and overnight at Midgardur Hotel.
Note: The order of the stops during the day may vary.
Inclusions: Breakfast at the hotel, morning yoga class, all the stops in the itinerary, access to the hotel's wellness area, dinner.
---
Day 4 : Thingvellir National Park
We will again start the day off with an optional hot tub soak and / or yoga session before having breakfast and readying ourselves for the day which includes one of the most famous spots in Iceland.
We will start the day off at Thingvellir National Park. This stunning UNESCO listed Heritage Site in Iceland was the location of the annual Parliament from the 10th century until the end of the 18th century and is a fantastic place for a leisurely and pleasant stroll along the well marked and maintained paths.
From a geological perspective, the park is located on a rift valley at the meeting of the North American and Eurasian tectonic plates and is relatively green and flat.
The park has a visitor center where you can get more information about the historical importance of the area and several hiking trails to explore.
After exploring the park, we will drive to the hotel which is nearby and enjoy free time to explore the area, go hiking around, enjoy the outdoor thermal pool, book a massage or any other optional activity.
Trust us, once you check into ION Adventure Hotel, you won't want to leave!
We will enjoy a group dinner at the hotel's Silfra Restaurant and during our October trip, will then be invited to watch the sky from the Northern Lights Observatory (chance of the Northern Lights is only possible on our October departures).
Inclusions: Breakfast at the hotel, morning yoga class, access to the hotel's wellness area, transportation, all the stops in the itinerary, dinner at Adventure Ion Hotel.
Overnight at ION Adventure Hotel
For the next two nights we will be staying at one of Iceland's most prized and talked-about design hotels: the female-owned ION Adventure Hotel.
"Nestled in the magical lava landscapes of the UNESCO-listed Thingvellir National Park, this unique design hotel is constructed very much with nature in mind. It features a slick restaurant and bar, an outdoor hot tub and spa, and comfortable, high-end rooms." – The Telegraph.
Fire and ice. Hot and cold. This abandoned inn turned luxury boutique hotel is where modern design meets Iceland's incomparable natural landscape.
From the volcanic marvels of Mount Hengill to the urban sophistication of Reykjavik nearby, the unique landscape plays a pivotal role in the rich design of the hotel, which leans heavily on sustainable practices and the natural features of the island.
The outdoor heated pool has some of the most incredible views over Thingvellir National Park and is a real treat and highlight of this trip.
In the guest rooms, one can expect a mellow mix of concrete chic and earthy ambiance, combined with the warm accents of locally salvaged driftwood and lava, all deftly handled by design studio Minarc.
Beyond this, the farm-fresh cuisine at Silfra Restaurant & Bar, view-heavy Northern Lights Bar, and partially exposed Lava Spa all ensure that visitors have the ultimate Icelandic experience before even stepping foot outside.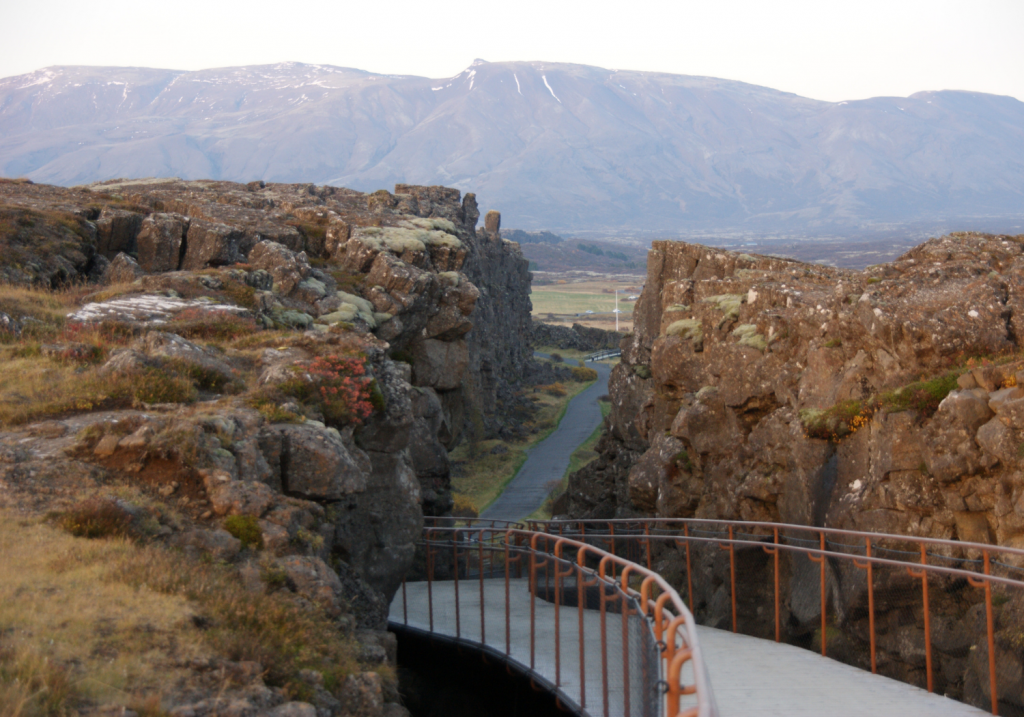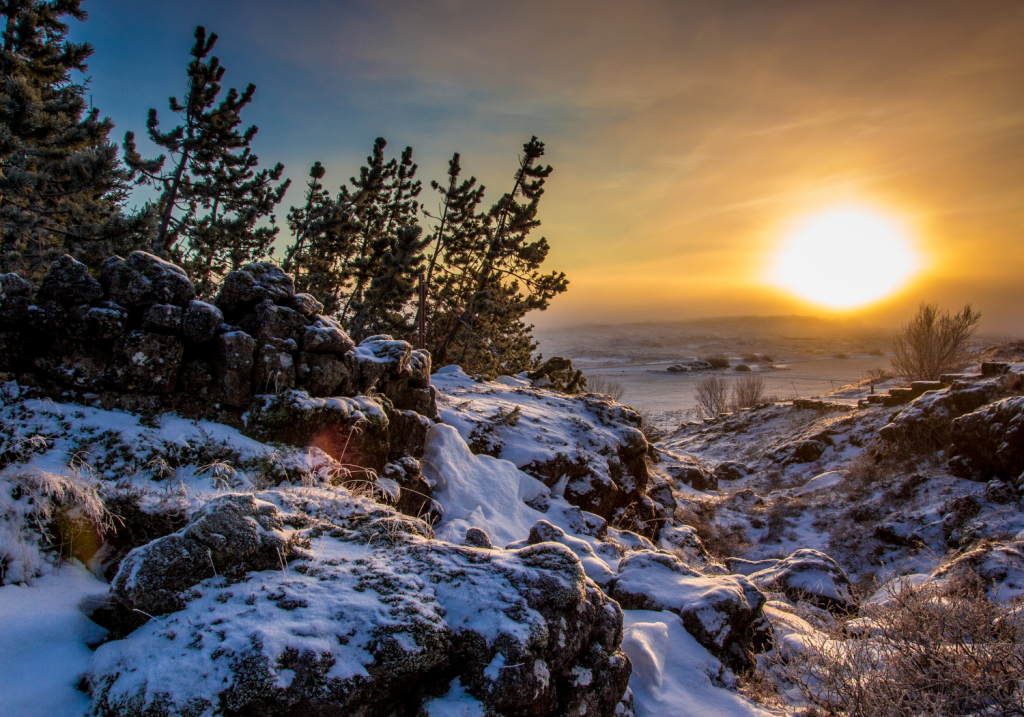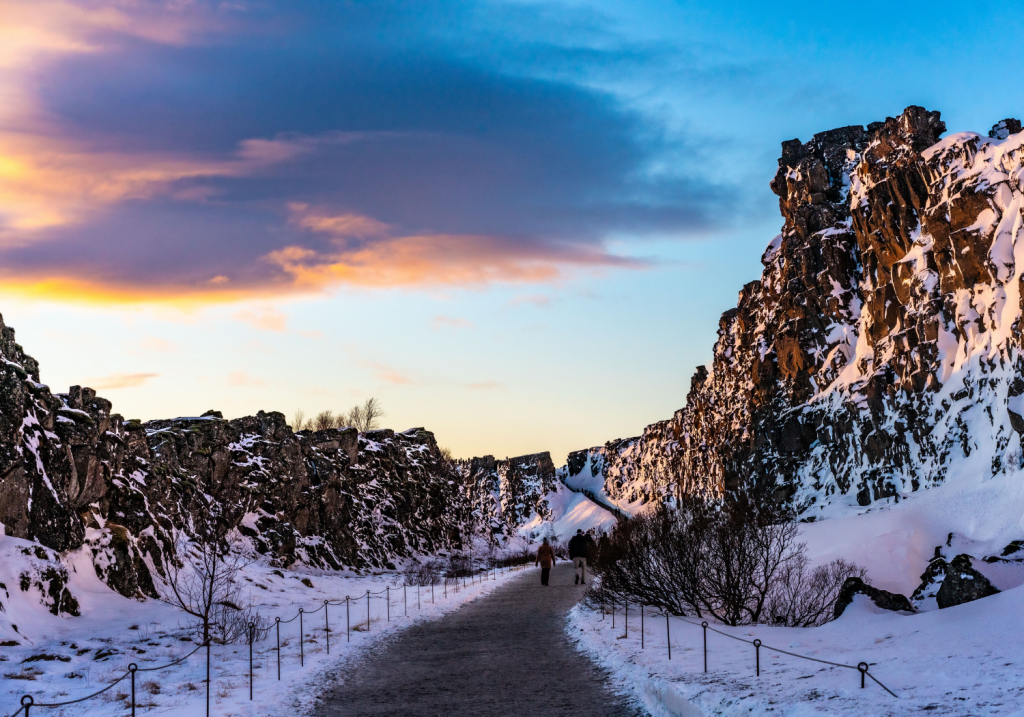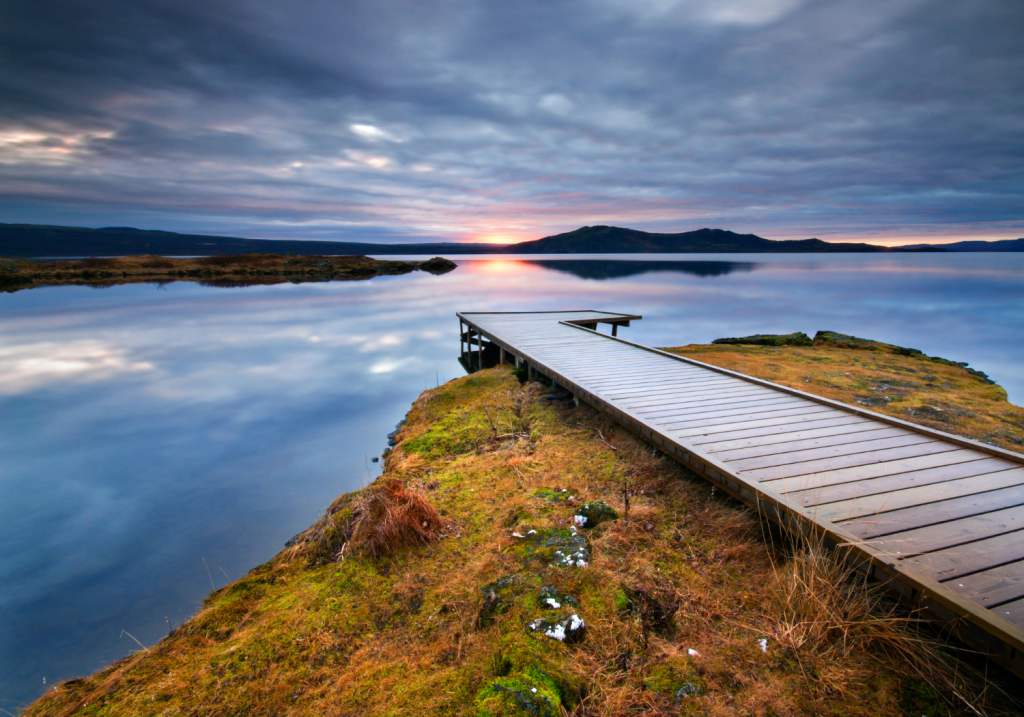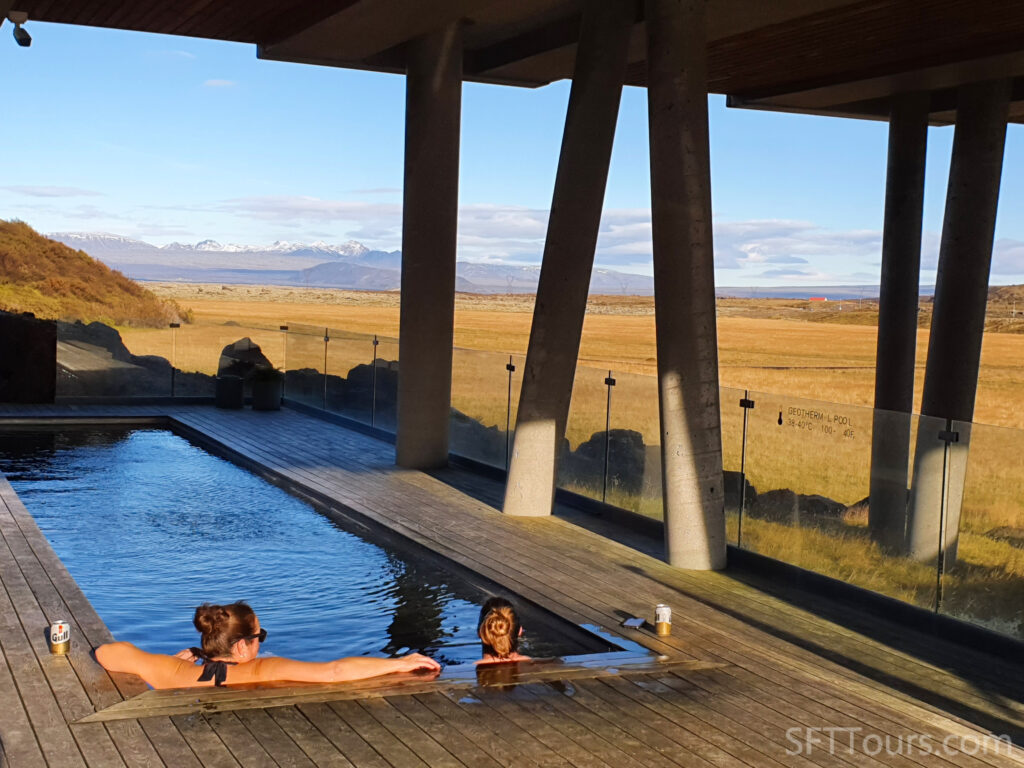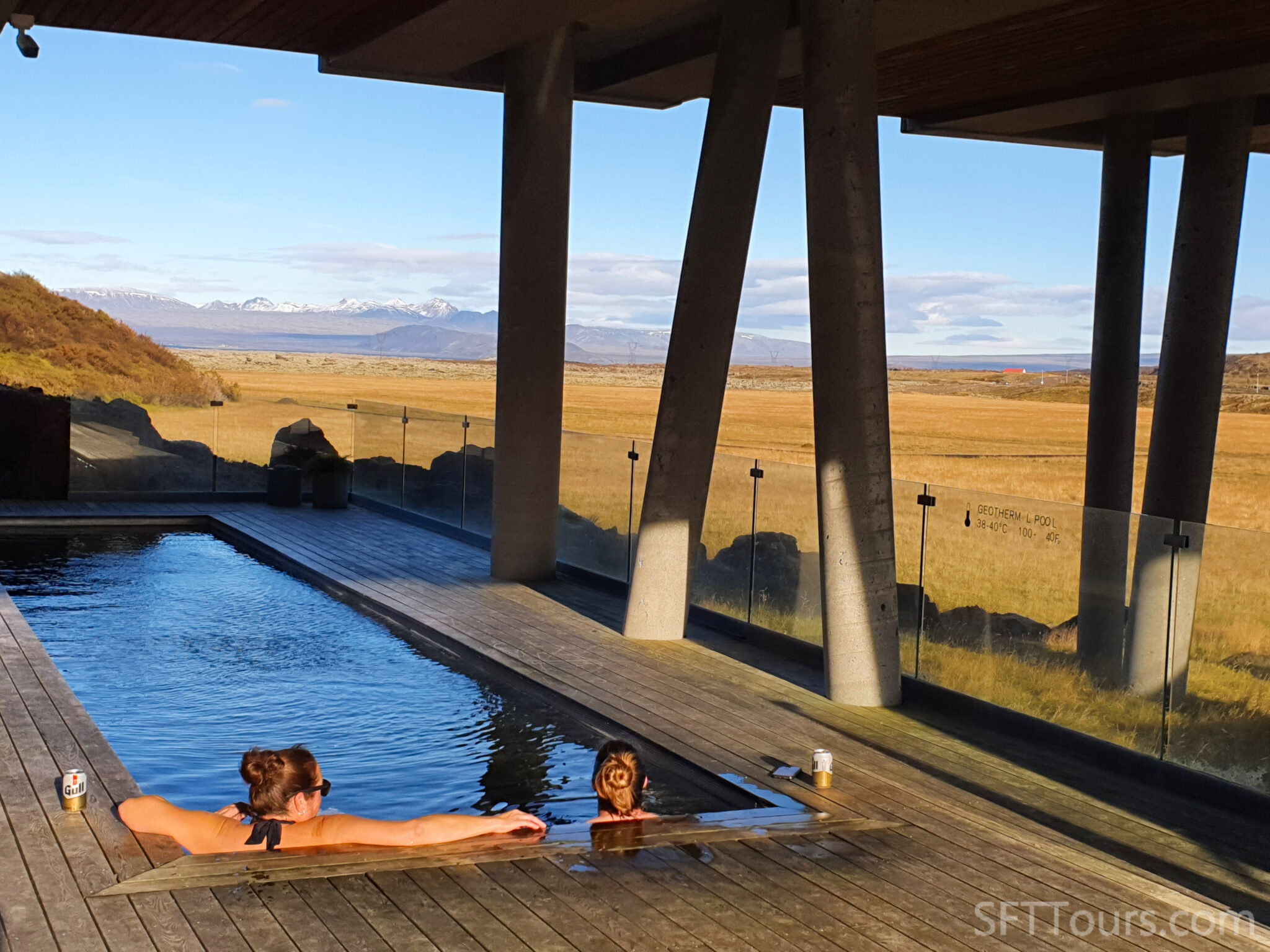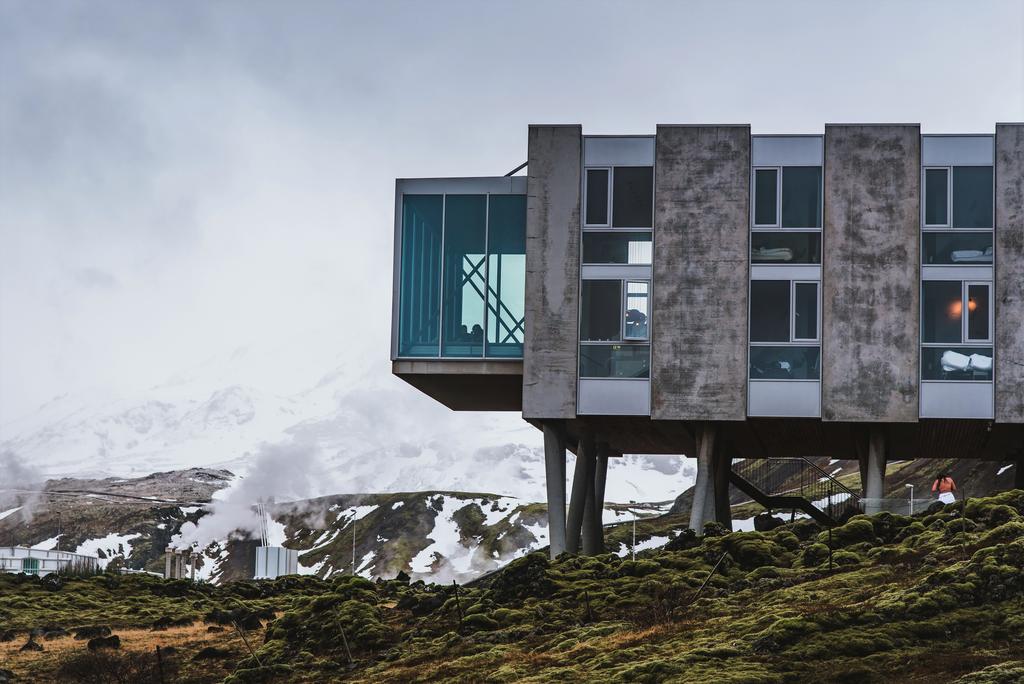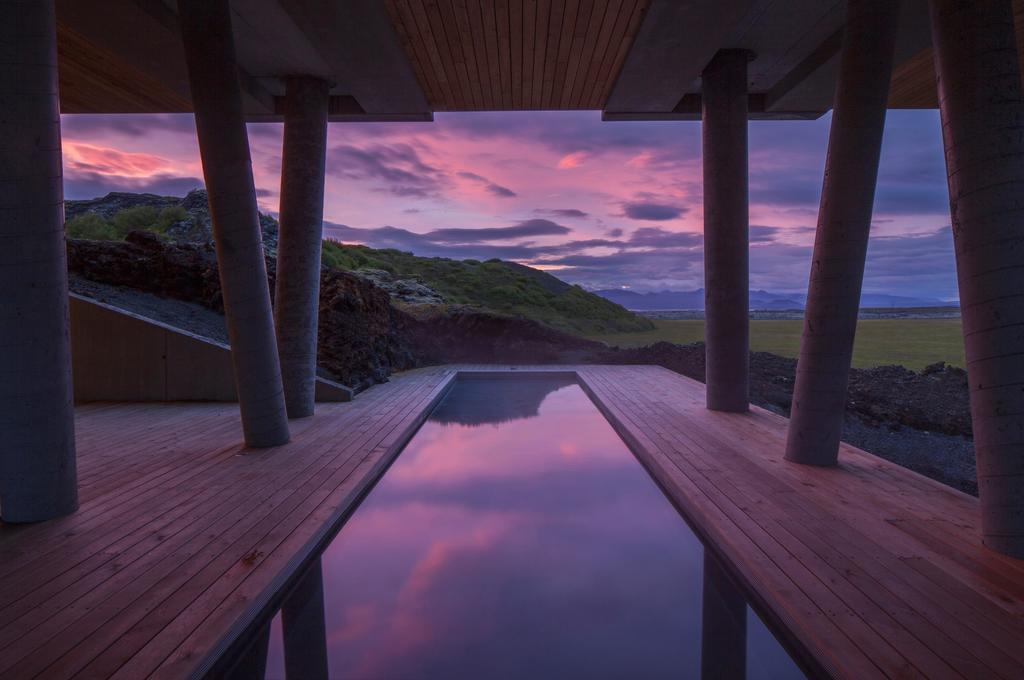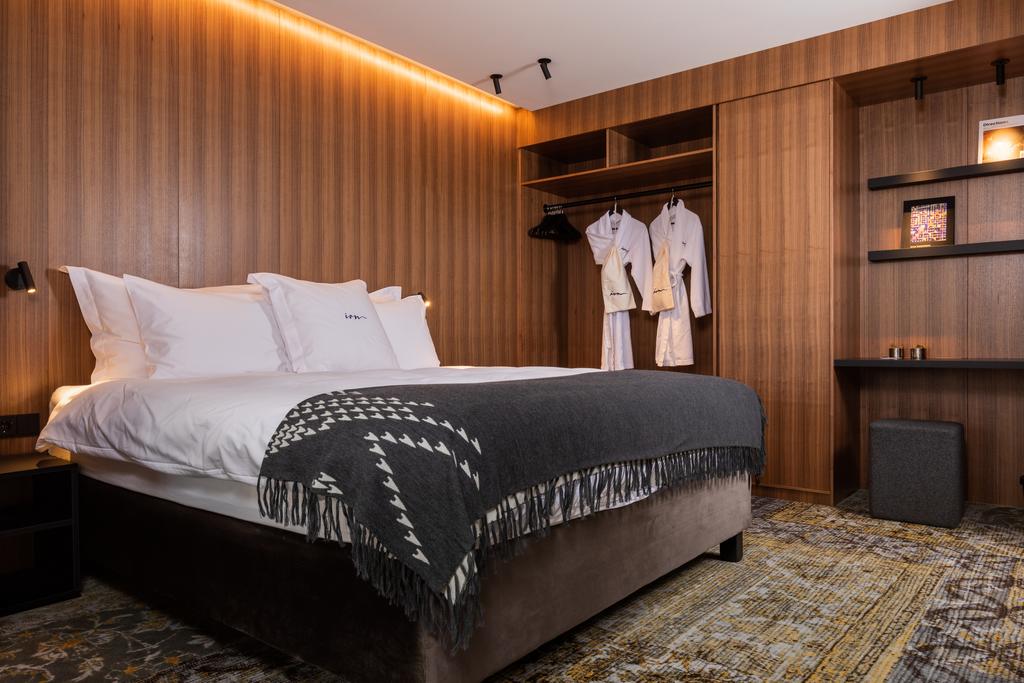 ---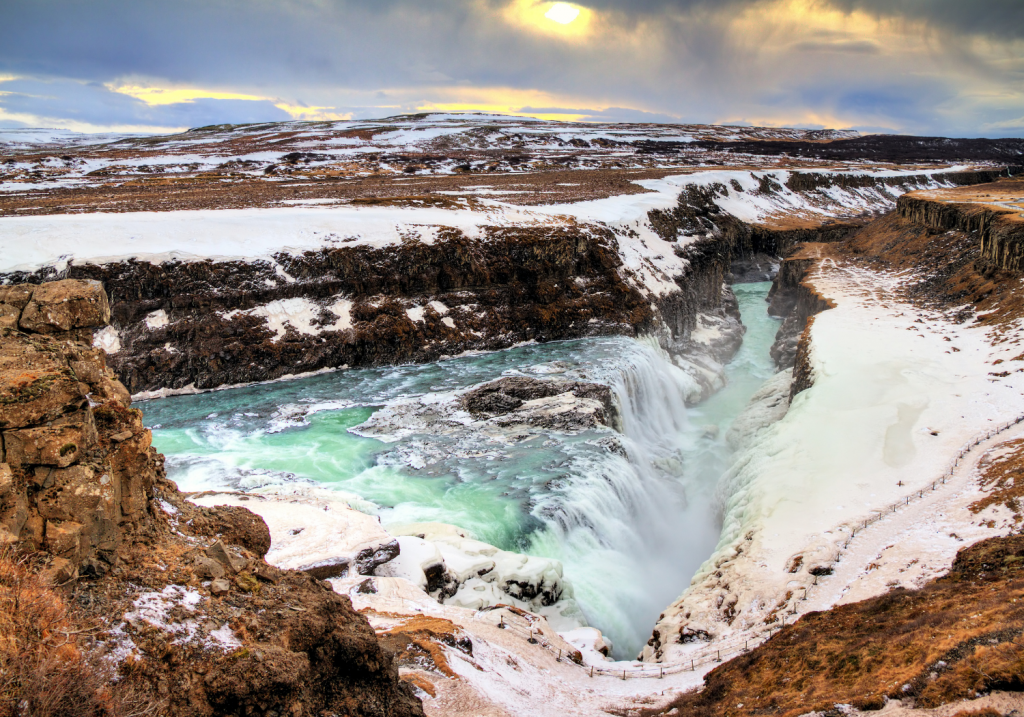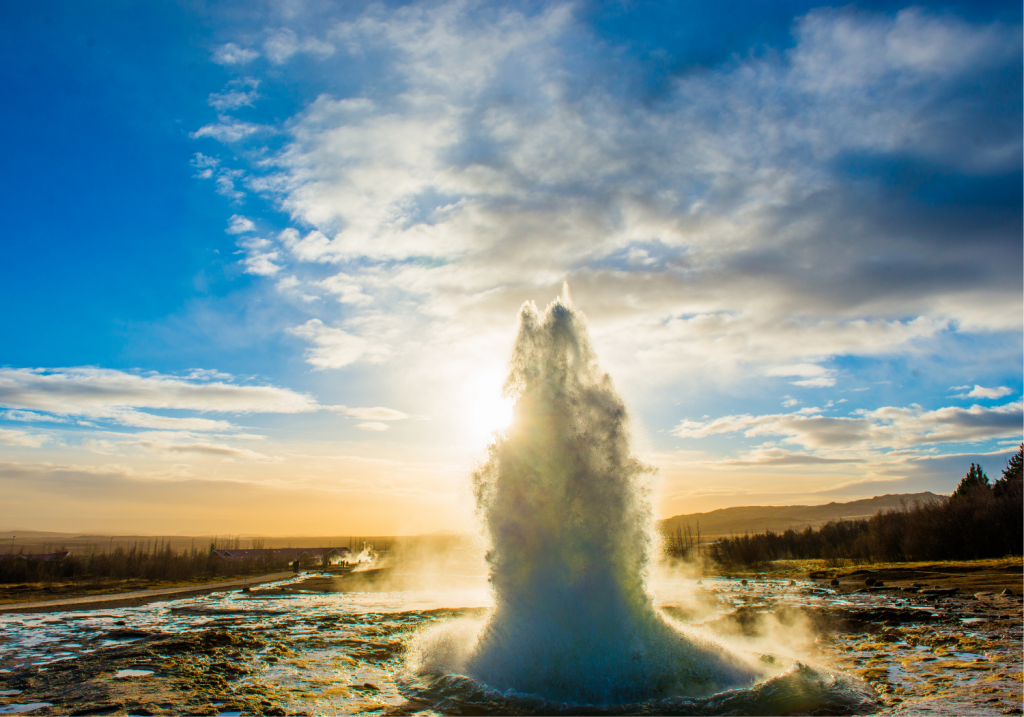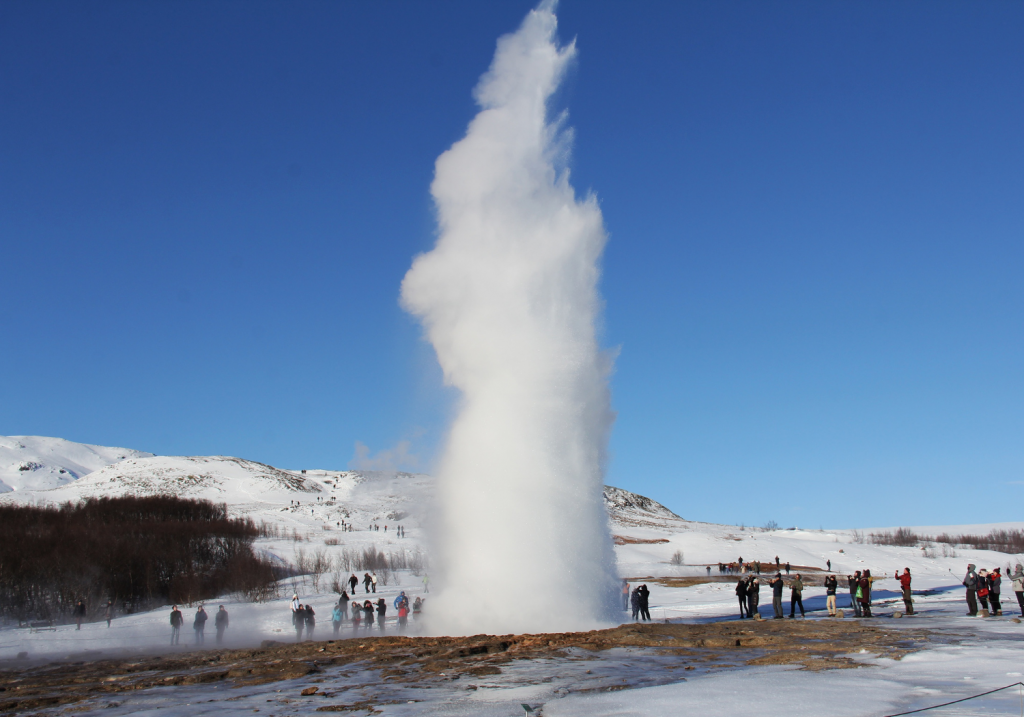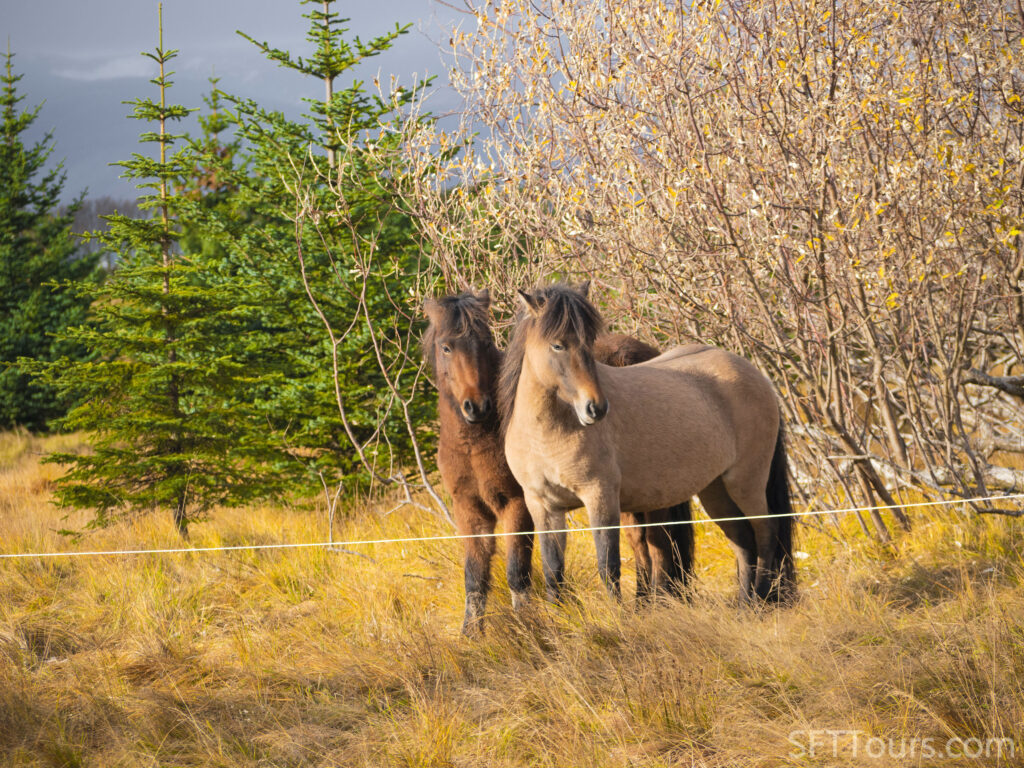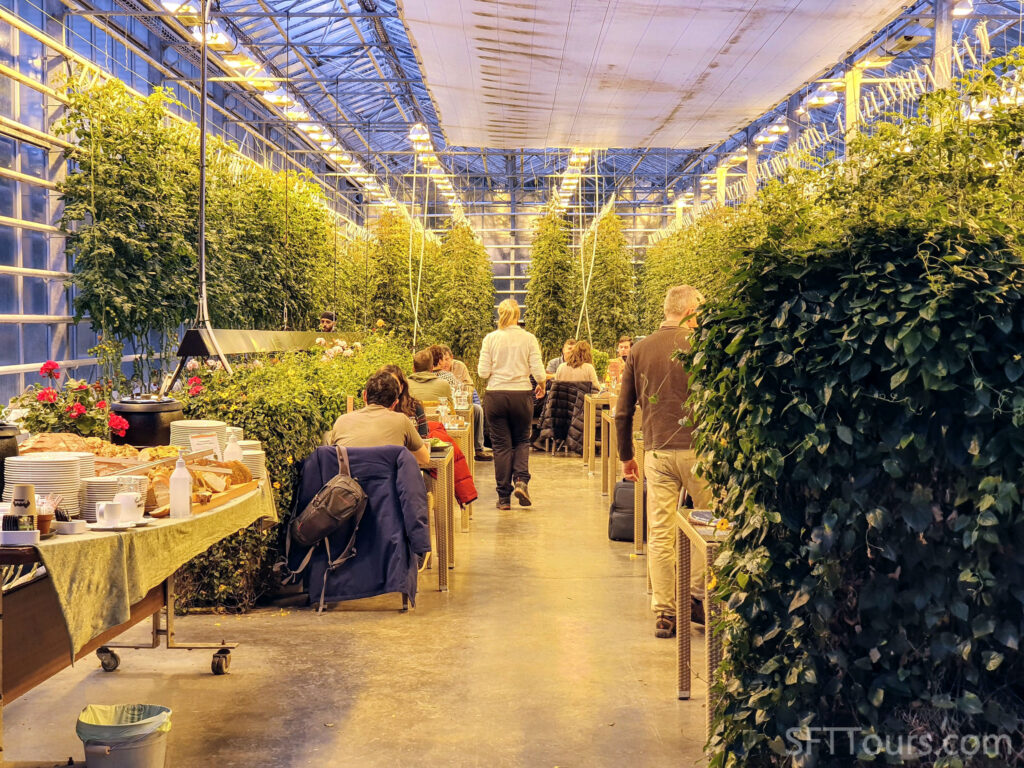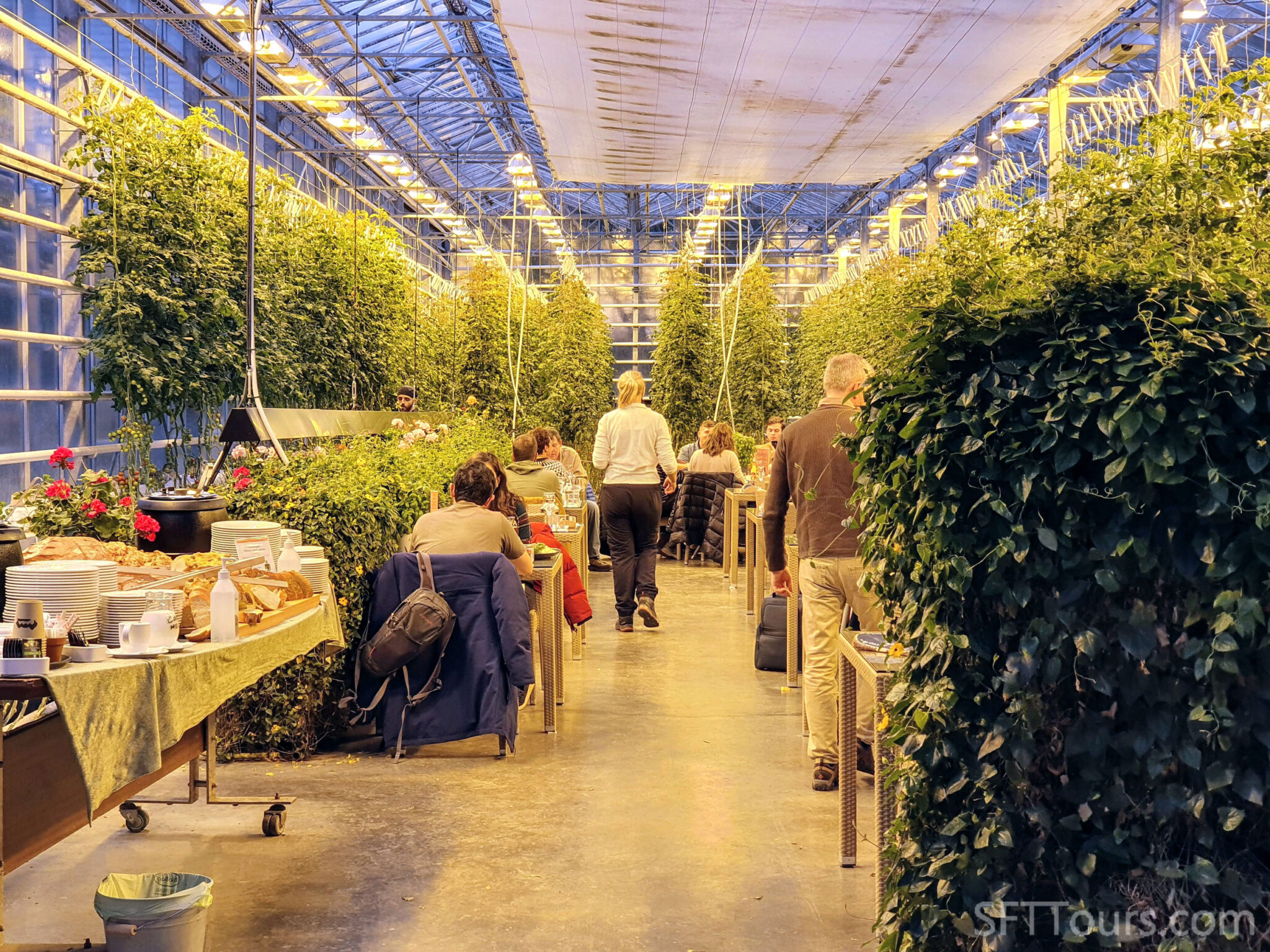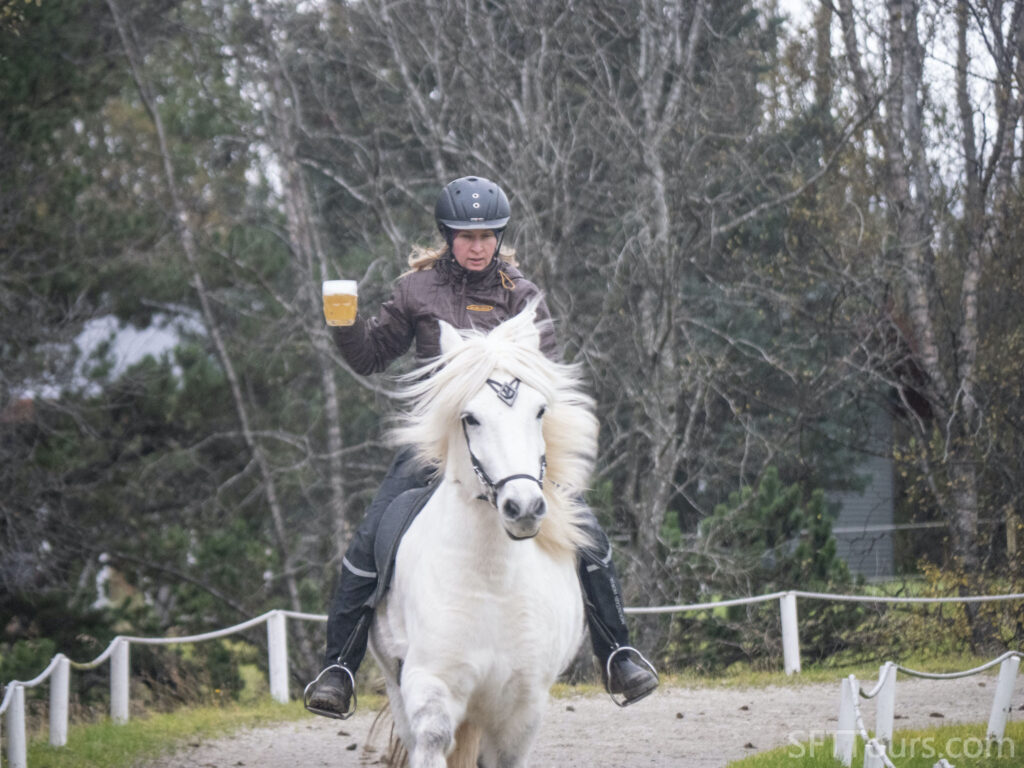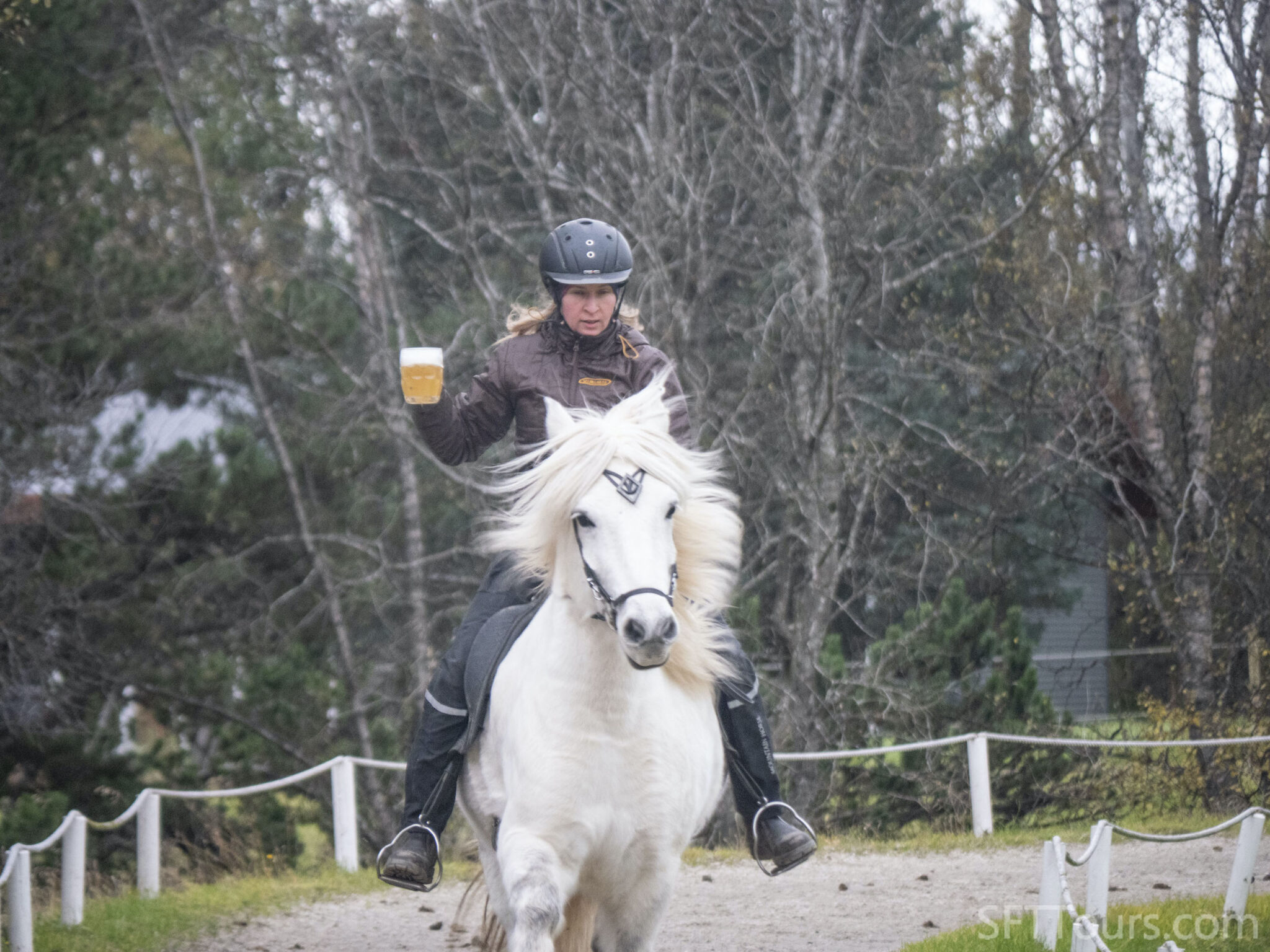 Day 5 : Golden Circle
After waking up in the most bewildering of landscapes at ION Adventure Hotel and enjoying an amazing yoga / meditation class, we will indulge with the hotel's incredible breakfast and get ready for some of Iceland's most famous sites along the Golden Circle.
We will stop at Gullfoss (meaning "golden falls") Waterfall, perhaps the most photographed site in Iceland.
This stunning waterfall travels from the Langjökull glacier and then drops through rapids and a narrow canyon, down 11m first and then another 21m further down.
Unlike other waterfalls in Iceland which can be seen from the bottom, Gullfoss has several suspended paths at the top of the waterfall so you see it from around and above because at the bottom is the canyon and the continuation of the river.
Besides being a popular stop on the Golden Circle tour, Gullfoss is a historical place in Iceland for being the site of the first environmentalist fight in the country, between the daughter of a farmer who owned the land and a British businessman who wanted to profit from its might and power.
The legal battle to nullify a contract signed by her father made Sigríður a famous Icelandic and her lawyer, the first President of independent Iceland in 1944.
After Gullfoss, we will continue to the geothermally-active valley of Haukadalur, which contains the well-known Great Geysir and Strokkur geysers.
Though Great Geysir has been inactive for a long time, if it went active, it would shoot up water up to 70m in the air!
Strokkur, on the other hand, continues to erupt at every 5-10 minutes intervals so you are sure to catch it when visiting.
The area is dotted with several other geysers, yellow sulphuric stains surrounding fumaroles, bubbling mud pools, hot springs and other signs of thermal activity.
We will spend some time in the area waiting for the geyser's to explode and taking photographs before we head for lunch, which today, will be a very special affair in a typical Icelandic greenhouse.
Did you ever wonder how the country manages to grow fresh vegetables and fruits in such inhospitable climate and harsh terrain?
Your questions will be answered during our visit to an organic greenhouse where we will enjoy a unique fresh farm to table lunch at its cozy cafe, you can even pick your own salad!
This visit will be an eye opening and fascinating stop that remains a hidden gem in Iceland very few know about (Shhh!).
In the same farm, we will also learn more about the beautiful (and famous!) native Icelandic horses who live on site.
These smaller, almost pony-sized, and sturdy horses are native to Iceland and can survive the coldest of weathers but are pretty friendly. We will get up and close with this gentle horse breed and their fluffy manes.
After lunch and a visit to the stables, we will drive back to our luxury cocoon at ION Adventure Hotel where we will have plenty of time for some moss-covered walks around the hotel, to relax in their thermal pool as we see the sun set or to book a massage at their fabulous spa.
We will meet again for a final evening cocktail in their Northern Lights observatory bar where we hope to catch some dancing colors across the sky.
After a drink, we will continue with our signature Farewell dinner which will be complete with ION's fantastic fine-dining farm to table cuisine, a real culinary treat and the best way to end our luxury Iceland escape.
Note: The order of the stops during the day may vary.
Inclusions: Breakfast at the hotel, morning yoga class, lunch and tour at the greenhouse restaurant-farm, visit to Icelandic horse stable, Farewell dinner with cocktail in the Northern Lights Observatory Bar at Adventure Ion Hotel.
---
Day 6 : Reykjavik
We will wake up in the most magical of settings and savor one last breakfast among the wilderness before we drive back to Reykjavik.
We will be dropped off at Midgardur Hotel where we will leave our luggage and have free time until our flight, to explore the city or participate in any last excursions.
Some of our suggestions for the last day in Reykjavik include:
Inclusions: Breakfast at the hotel, morning yoga class, transportation back to Reykjavik and day use of a room at the Midgardur Hotel to store your luggage until departure.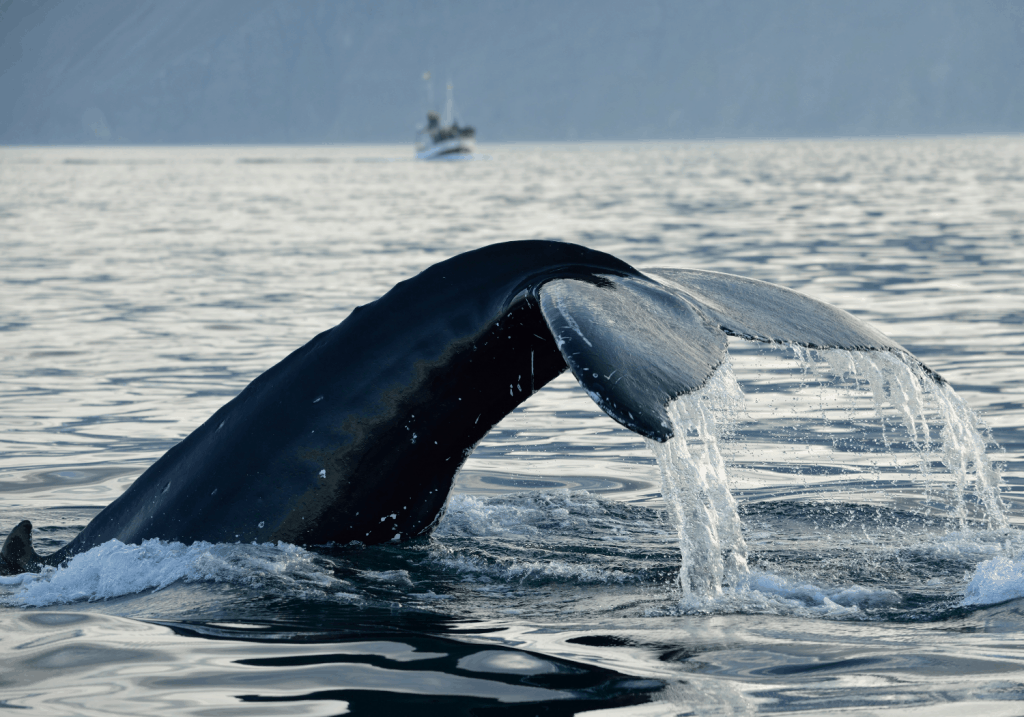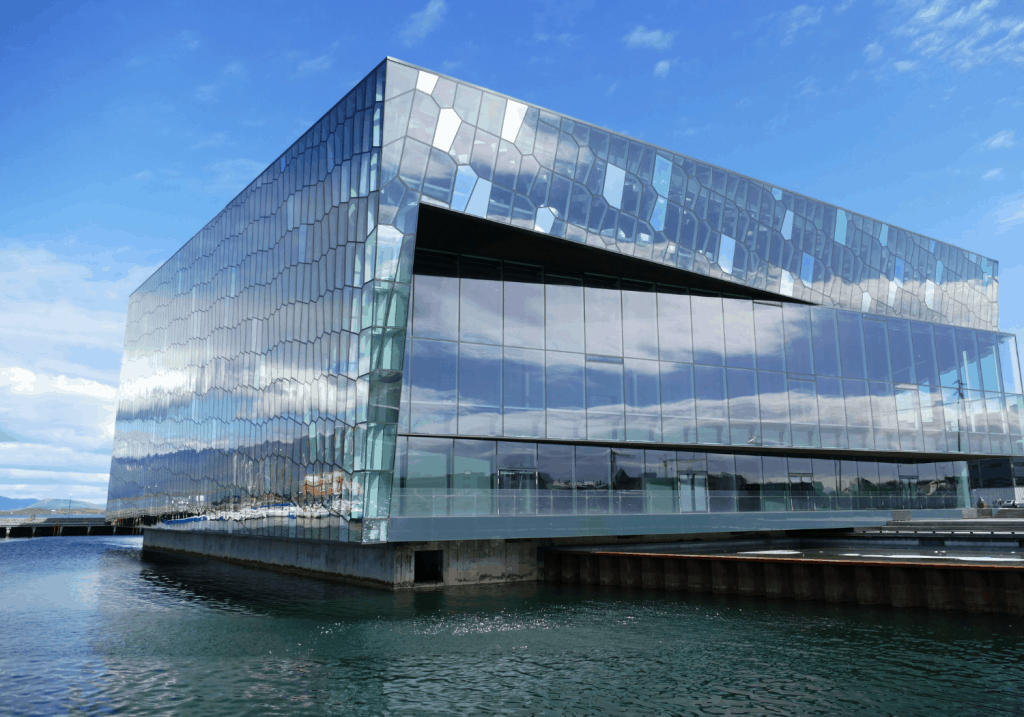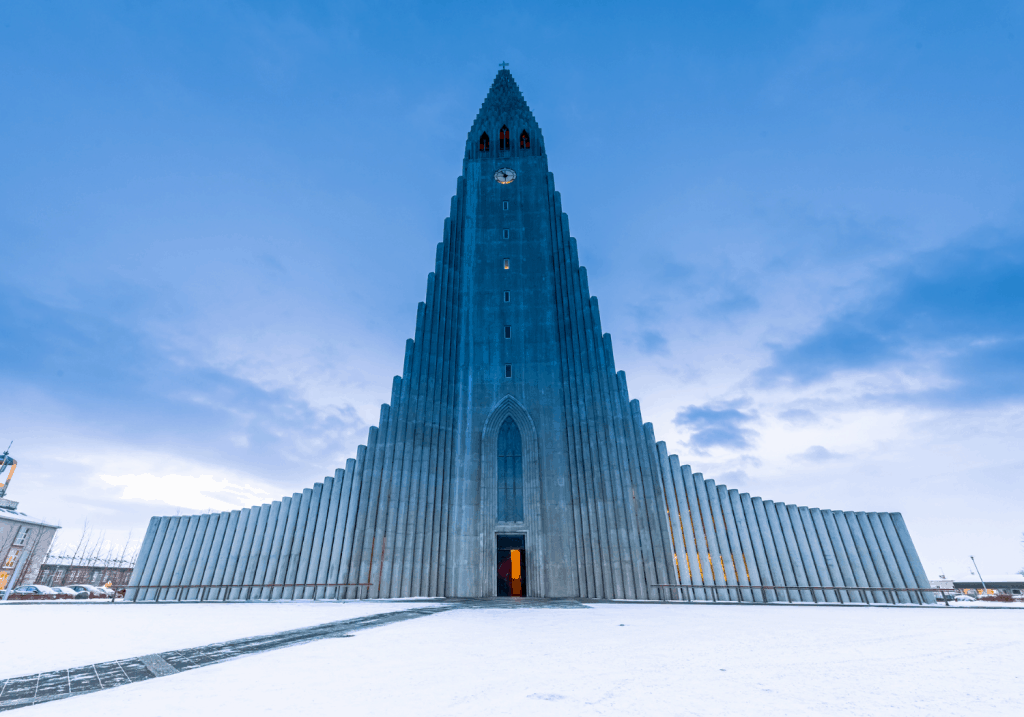 ---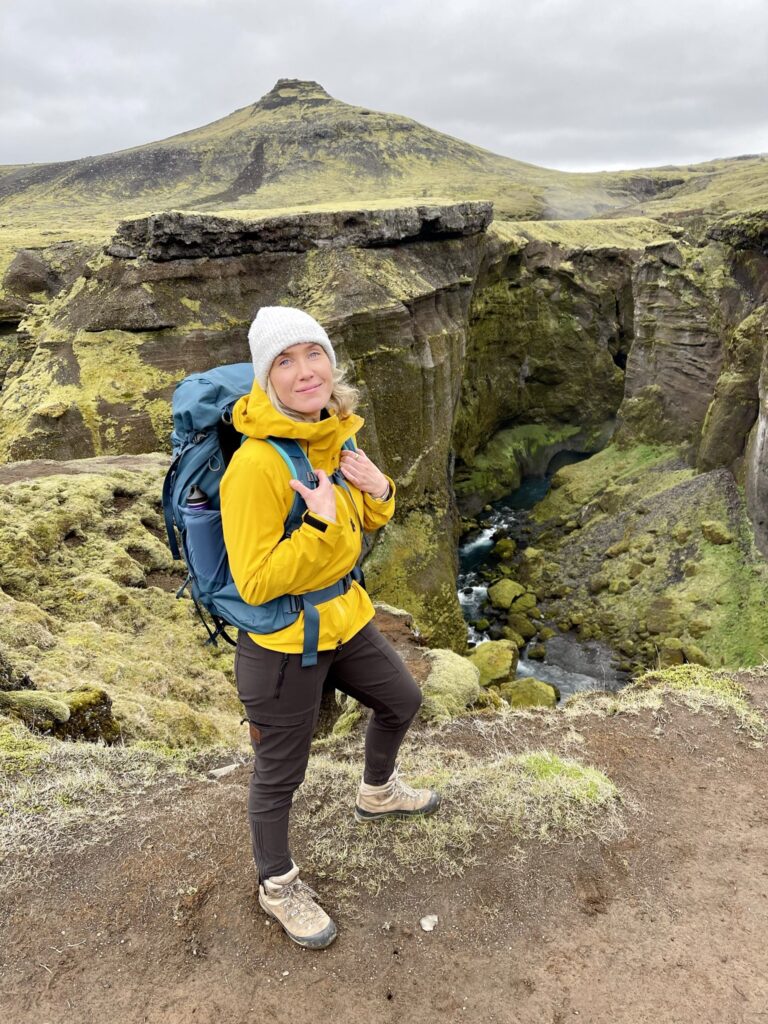 About Your Host
Saga Líf was born and raised in Iceland and has been working as a guide for the last 6 years, most recently focusing on women only trips via her Viking Women adventure company.
She loves to connect travel with wellness, adventures, empowerment, music, team building and of course the breathtaking nature that Iceland has to offer.
Saga is passionate about the outdoors and has explored her country extensively. Introducing Iceland to solo female travelers gives her great joy and she is ready to show you its best parts through our fabulous itinerary.
​Besides being a very knowledgeable guide, Saga is also an experienced driver (very important in Iceland!), a trekking and glacier guide and a wilderness First Responder so you are not only going to be inspired but also in very good hands.
---
Inclusions
✔️ 5 Nights in shared twin accommodation in luxury hotels, we pair you with another traveler so you don't have to pay a single supplement
✔️ All activities, entry tickets as mentioned in the itinerary
✔️ Premium package at the Blue Lagoon
✔️ Daily Breakfast. Lunch on Day 5. Dinner every night
✔️ Transportation to and between all activities in a small minibus or van
✔️ English speaking local Drivers
✔️ Daily Yoga / Meditation sessions OR for Oct 8th 2021 departure, yoga / meditation at ION Adventure Hotel. and daily access to the wellness space in Reykjavik.
✔️ Credit card payment fees
Exclusions
✘ Optional activities not included in the program
✘ Lunch with the exception of Day 5
✘ Transportation from and to the airport in Reykjavik
✘ Visa, if required
✘ Travel & Medical Insurance (Required)
✘ COVID Vaccinations Pre Arrival (Required)
✘ Alcoholic drinks at meals unless specified (eg. Welcome and Farewell dinners, Lava Restaurant)
✘ Souvenirs
✘ Yoga mat, please bring your own
✘ Tips for Drivers and Guides (At your discretion)
✘ Departure COVID Testing if required which we can help organize
Payment Info
Only 14 Spots Available
$3,945 USD
Payment Plan:
Deposit: $200 to reserve your spot
1st payment: 30% payment is due upon trip confirmation, this can be as early as 180 days before departure
2nd payment: Balance due 60 days before departure
*The initial $200 USD is refundable if the minimum number of guests is not reached. By joining our trips you agree to our T&C.
---
Book your spot
This trip will only host 14 guests so don't wait; book now or reach out to us with any questions.
Ready to book your spot on this incredible Luxury Wellness & Wilderness trip in the Spring?
Click on the button below and you will be taken to a booking page to make payment.
Note: If you want a single room and they appear sold out, please email us and we will be able to accommodate.
Note: Please do not book any flights until the trip is confirmed.
Interested in joining us in Iceland but have some questions? Let's chat!
Contact us at community@solofemaletravelers.club or Pick a convenient time and date below to talk to us, we'd love to meet you!
---
Frequently Asked Questions
This is a trip of a lifetime and we know there are many things you'd like to know more about.
What are the COVID measures in Iceland and how will you ensure everyone is safe?

We care deeply about the wellbeing of our guests and our trip follows all local regulations. We require our guests to be fully vaccinated to join the tour so that we ensure the safety of everyone on the trip.

All COVID-19 measures at the Icelandic border have now ended. Therefore, there is no need to show a negative test at the border, however please be sure to keep up to date with the official Iceland Covid website HERE should anything change.

In case a departure negative Covid is required to return to your country, we can help you organize it but you should allow for enough time between your return to Reykjavik and your departure flight to receive the results.
What if I cannot travel because of COVID restrictions?

Once the 30% down payment is made, the trip is non refundable unless there are travel restrictions imposed by the Government of Iceland that force the cancellation of the trip. In that case, the trip will be moved to a later date. We require all guests to purchase travel insurance that covers unforeseen circumstances which would prevent them from traveling, and this is how you would recover your costs from needing to cancel. Please read our Terms and conditions here.
Do I need a visa for Iceland?

Most travelers do not need a visa for Iceland. In cases where a Schengen visa is required it will be issued by the Icelandic embassy in your country of origin.
What is included in the trip?

All inclusions and exclusions are detailed in the section above. This trip includes 6 breakfasts, all dinners and 1 lunch and it does not include 4 lunches. Depending on your arrival and departure times, there may be other meals that you should consider (eg. if you arrive in the morning of Day 1 or depart in the evening of Day 6). Alcoholic beverages are not included except for the drinks during the Welcome and Farewell meals.

The only optional activities are those in Reykjavik that you may decide to participate on, or if you decide to book any spa services or excursion at ION Adventure Hotel.
Are the Northern Lights guaranteed?

The Northern Lights are best seen during the months of September to March and sightings are never guaranteed. A this trip happens in the spring, the Northern Lights are unlikely to be spotted.
How fit do I need to be for this trip?

Most of the itinerary requires minimal physical exercise as the sights tend to be close to the parking spaces and walking is less than 30min away on well marked and habilitate paths. The exception to this is the volcano hike which is weather dependent and longer.

To get to the volcano, the path is 3.5km long and at times can be a bit steep. it takes around 1-1.5h to get there and most of the path is well marked and constantly being maintained. You may find some rocky bits but the path id generally sandy. Check this article with images and details about the path.
Can I have a room to myself?

All costs above are considered on a sharing basis with two guests per room in twin bedding; we will pair you with another solo female traveler on the trip. If you wish to have your own room, a single supplement of $550 applies.
I want to bring my partner to the trip

This is a female-only small group trip specifically designed for women traveling on their own. If you wish to travel with a female friend, partner, family member, etc. they are absolutely welcome, however we are not able to book male travelers on this trip.
I want to bring my daughter

How wonderful! If your daughter is above the age of 16, we will be glad to have her with us.
Will the guides be female?

Yes, this trip will be co-hosted by Safa Lif.
How does this trip help local communities in Iceland?

We believe that travel can be a force for good and wherever possible, we work with local travel companies in the country who can help us make a difference and ensure that the tourism dollars benefit local communities.

For this trip, we have partnered with Saga and work with a local hotel in Reykjavik part of the family-owned CenterPlaza Group. ION Adventure Hotel is female owned.
What medication do I need to take for a trip to Iceland?

Iceland has an excellent healthcare system and you do not need to get any special vaccines to visit. However, it is a good idea to visit your doctor and get refreshers for vaccines such as tetanus and to make sure that you carry all your medicines and prescribed drugs as well as the official prescriptions from your doctor which you may be asked to show at the border.
What should I pack for this adventure?

Once your trip is confirmed, we will send you a detailed packing list with everything you need to take.

The most important concept when packing for Iceland is to bring layers and to dress for a weather that can change in minutes from sunny to extremely windy, to freezing cold. October and May are months of change when the country goes from summer to winter and from winter to summer and that means you can experience 4 seasons in a day, though if we are honest, it's never warm in Iceland!

Bringing appropriate clothes is essential on this trip, as is having the adequate footwear which usually consists of proper trekking boots that can keep your feet warm even when walking on snow and ice. A warm jacket is key and you should consider a waterproof one in case of rain or spray from the powerful waterfalls. Because this is a wellness-focused trip, please also bring your yoga mat.
What happens if I get sick?

The prospect of getting sick while alone in a foreign country is daunting, and this is why we require all our guests have comprehensive travel and medical insurance that includes international evacuation. Should you fall sick, we will escort you to the nearest medical facility so you can get the help you need.
What travel and medical insurance should I get?

While the cost of medical healthcare in Iceland may be more affordable than in other countries such as the US, travel and medical insurance is mandatory to come on our trips and we recommend you get the most comprehensive coverage that includes international evacuation. We recommend checking with an aggregator such as Travel Insurance Master to compare quotes and coverages.
Can I make various instalments for this trip?

Our payment plan includes 3 instalments: a $200 USD deposit to book a spot, a 30% payment when the trip is confirmed (this can be as early as 180 days before departure) and the remaining balance 60 days before the trip. If you wish to make more payments that is also possible.
Can I pay by credit card?

Yes, payments will be made via credit card when you book a spot.