The answer to the question of what to wear in Barcelona in Autumn could be summarized with the same sentence as we summarised our Barcelona summer packing list: whatever you want!
There aren't any restrictions on dress code in Barcelona and locals and visitors dress however they feel like.
You will find tourists who missed the memo and came prepared for a safari wearing kaki trousers and ankle high hiking boots, while others look like they are on the Paris Fashion Week cat walk, looking sleek from head to toe in the most fashion forward outfits.
The Catalan capital is a very diverse and cosmopolitan city and nowhere else is this more obvious than on the city's inhabitants fashion style. Dressing to blend in is quite hard to do.
While summer are hot and humid, with long days and plenty of sunshine, Autumn time is mild and sprinkled with occasional rain showers. Light jackets, long sleeves and close toe shoes replace shorts, tank tops and sandals.
As a native Catalan, I have included tips on how to dress in Barcelona in Autumn based on what the locals like to wear, and also included a packing list that I hope will be useful.
This isn't meant to be a recommendation, rather an insight into the local culture that may be helpful if you are looking to blend in.
Pst! If you have not seen it yet, check out our women-only tour to Barcelona and beyond and our Sensual Barcelona tour.
What to expect in Autumn in Barcelona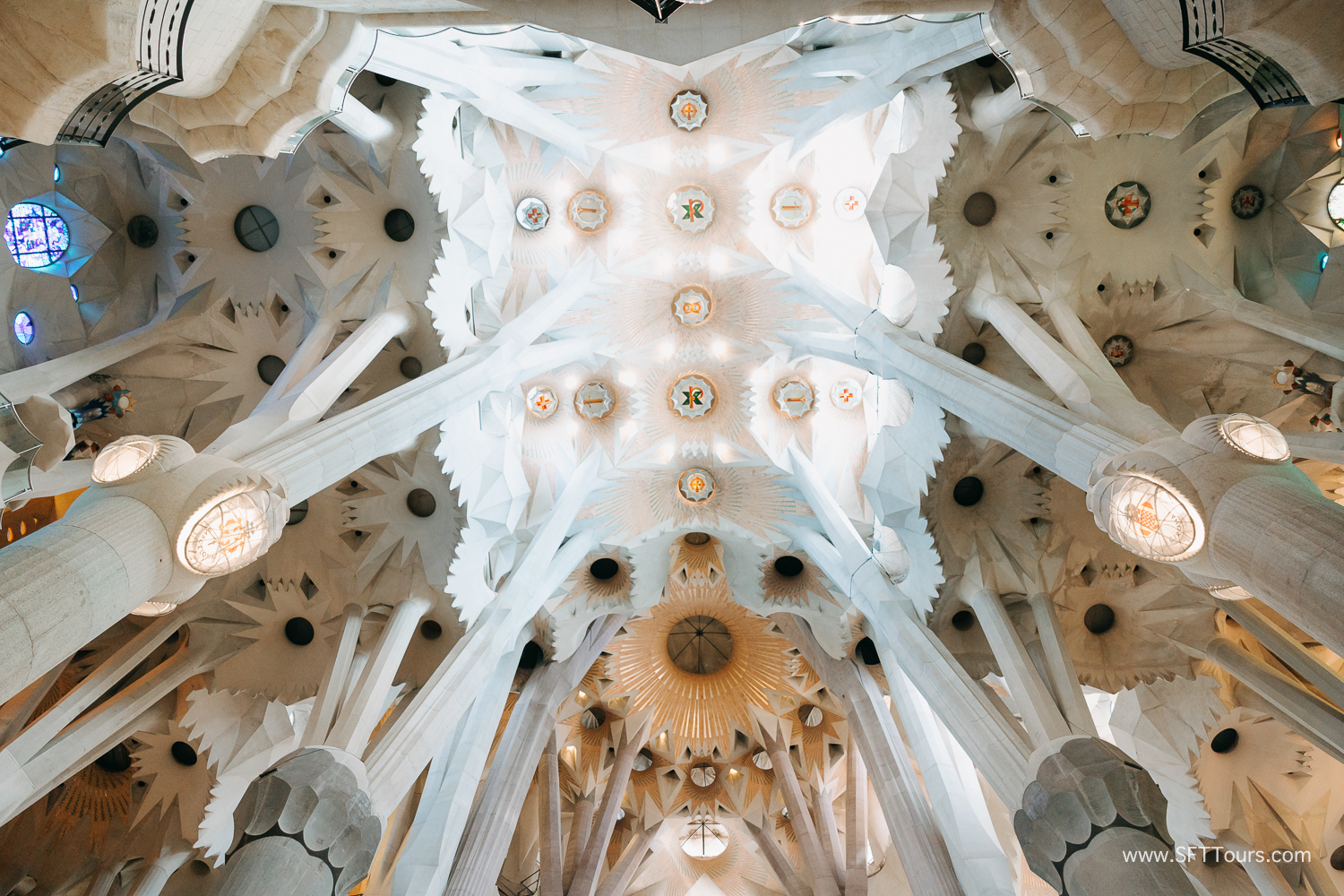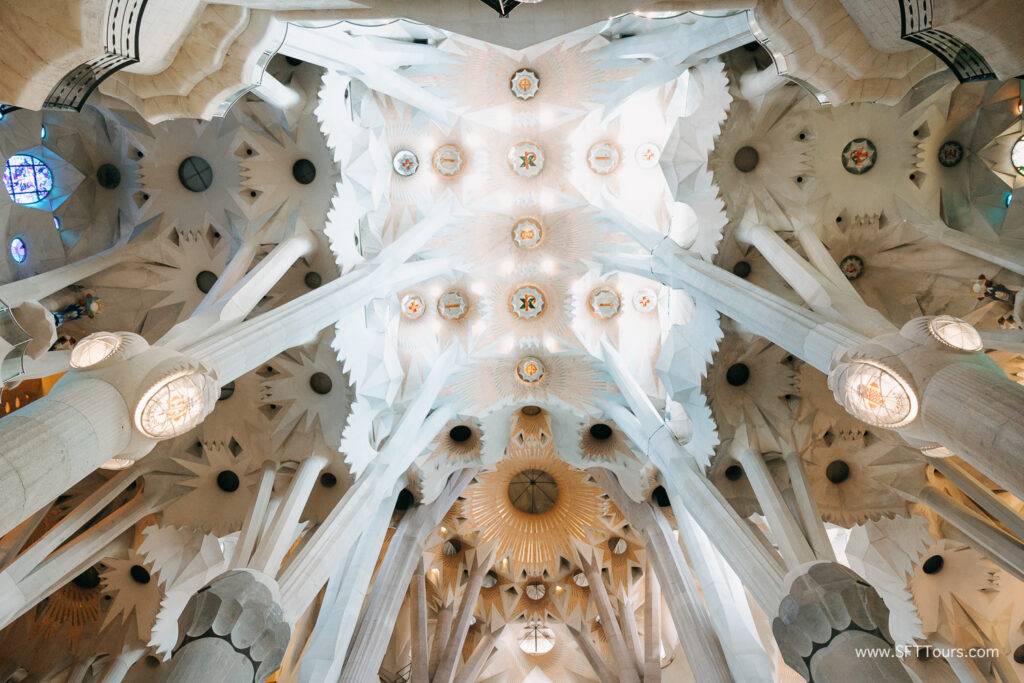 Autumn in Barcelona runs from the 21st of September to the 21st of December and is a temperate season which runs from September's beach weather to December's Christmas.
This is the time of the year when the city comes alive as it celebrates its patron saint, La Merce on the 24th of September, and when other Catalan traditions such as La Castanyada (which happens during Halloween) take place.
As the season progresses, the leaves on the trees in the main avenues will start to turn and fall and the terraces may start to bring out their heaters towards the end of the season.
From late October, the smell of roasting chestnuts and sweet potatoes will start to fill the air and mushrooms, pumpkins and heartier dishes replace the salads and cold soups.
Late September and October, especially in recent years, resemble summer more than winter and have become favorite months for visitors looking to avoid the summer heat.
November is a quiet month with few tourists and popular for conventions and corporate offsites while December brings in the Christmas spirit, the markets, street lights and celebratory mood all around.
In the three months of Autumn, the hours of daylight and temperatures will decrease significantly as the crowds dissipate.
Weather in Barcelona in autumn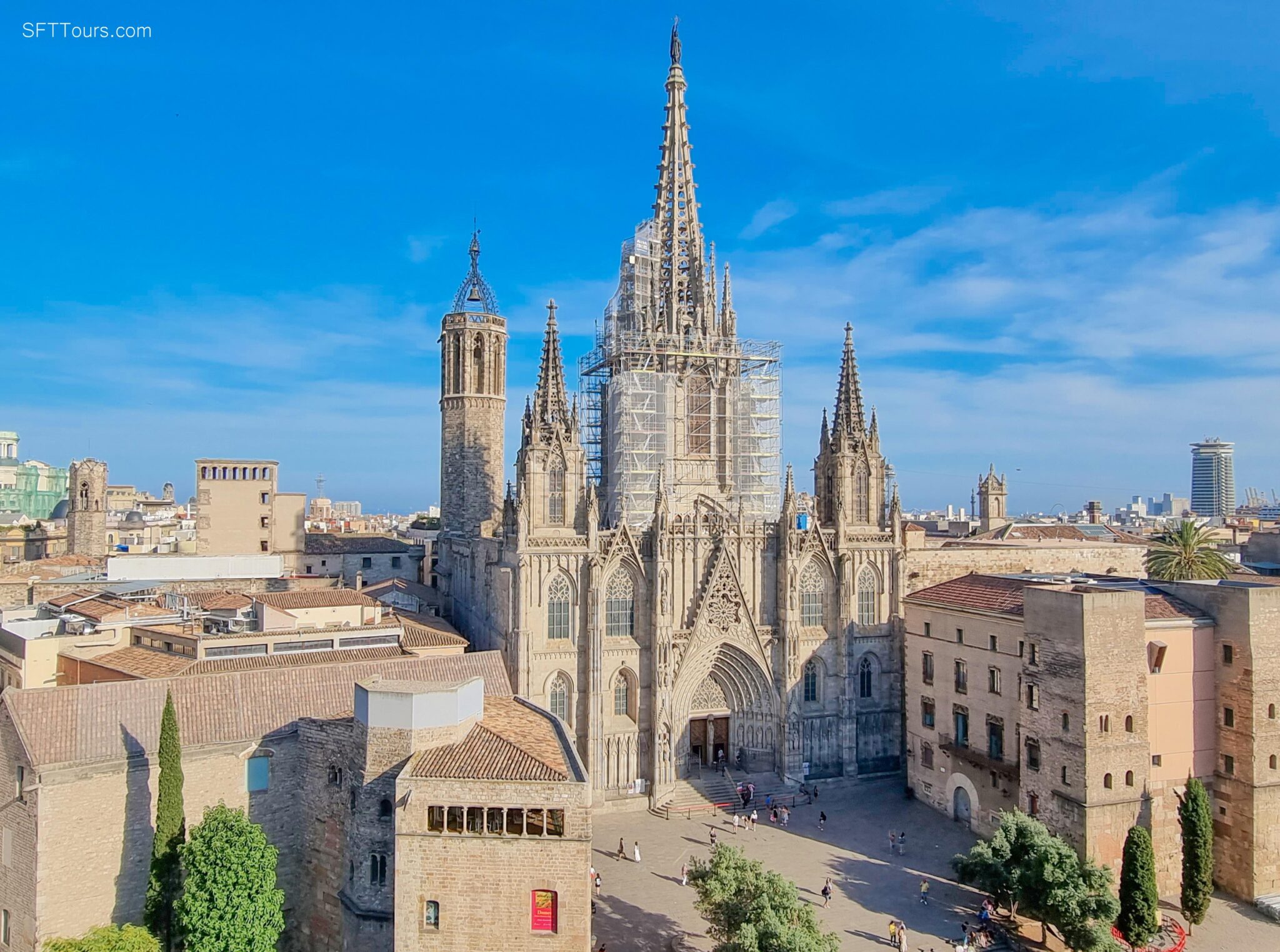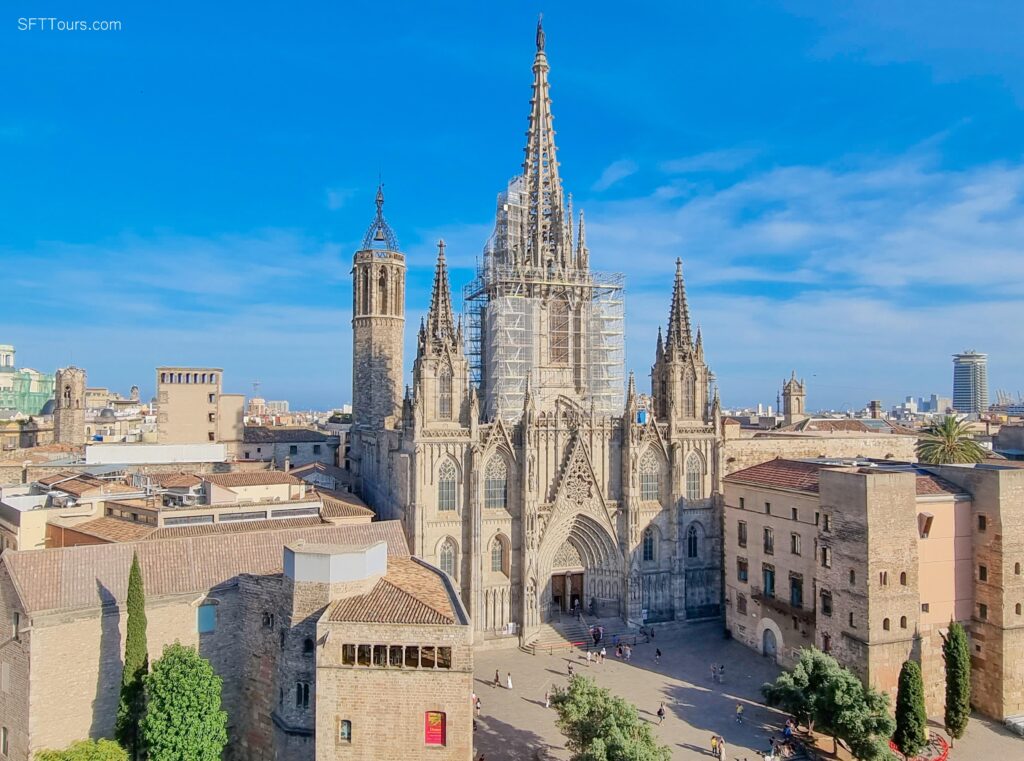 The weather in each month changes dramatically in Autumn with minimum temperatures ranging from 18 Celsius in September to 5 Celsius in December and maximum temperatures dropping from 26 C to 18 C.
The weather in October in Barcelona
October weather in Barcelona is very mild and still pretty warm without the humidity of summer months. For many, this is the perfect month to visit Barcelona thanks to the relatively low chance of rain, the mild temperatures and the lower crowds.
Historically, October would see temperatures between 14 and 23 Celsius or 58 to 73 Farenheit, 6 hours of sunshine a day and 6 days with some rain. During the first half of the month, the sun rises at 8am and sets at 7pm. As Spain moves back its clocks as a result of daylight savings, the sunrise and sunset hours will move an hour earlier.
As a result of the draught that the city has been experiencing in recent years, rain remains a rare occurrence in October though clouds are more common than in the summer.
The weather in November in Barcelona
November is a typical Autumn month with practically bare trees in the streets, jackets and sweaters and fewer hours of sunshine for a city that thrives in long days.
Historically, November would see temperatures between 9 and 18 Celsius or 48 to 64 Farenheit, 5 hours of sunshine a day and 4 days with some rain making it a very appealing month for those looking to stay away from the summer heat.
During this month, the sun will rise at around 7.30am and set at 5.30pm making days rather short, especially towards the end of the month as it approaches the shortest day of the year in December.
In recent years, November temperatures have remained slightly higher making eating or having a drink at a terrace a pretty common way to meet friends and family.
The weather in December in Barcelona
While most of the northern hemisphere will consider December a winter month, Barcelona still enjoys rather mild weather with plenty of sunshine, minimal rain and an air of happiness and celebration in the air.
December sees, on average, temperatures between 5 and 14 Celsius or 41 to 57 Farenheit, 4 hours of sunshine a day and 5 days with some rain, though when it does it is a short shower.
During this month, the sun will rise at around 8.15am and set at 5.30pm making for the shortest days of the year until the season officially ends with the winter solstice on the 21st of December.
The city really comes alive during this month and the Christmas street decorations, songs and general festive spirit makes up for the darker days.
How to dress in Barcelona in autumn
With the above changing weather conditions in mind, it is important to pack accordingly for a trip to Barcelona in autumn that takes into account what month you are visiting and the range of weather conditions.
Below I am throwing in some considerations for how to dress in Barcelona in autumn that will also help you blend in and pay tribute to Catalan fashion and style in general. They are meant to be cultural insights into Catalonia rather than a dress code.
Footwear for cobblestone streets
No matter what season you visit Barcelona in, you always need to wear appropriate footwear for the Gothic Quarter's old and uneven cobblestone streets.
Comfortable footwear with grip and support is the best.
Uber-flat shoes or stilettos are not ideal, and you won't find any locals wearing them unless they are not walking very far.
You could slip and twist an ankle or just get very tired feet after walking on a flat surface without any cushion for a few hours.
This is the time to wear those nice sports shoes, that pair you always feel comfortable in, your trusty pair of sturdy shoes and those cute boots.
Since rain is more likely in autumn than in the summer, a pair of waterproof or water resistant shoes is also a good idea. Leather is more convenient than fabric, darker colors better than lighter.
Beware of pickpockets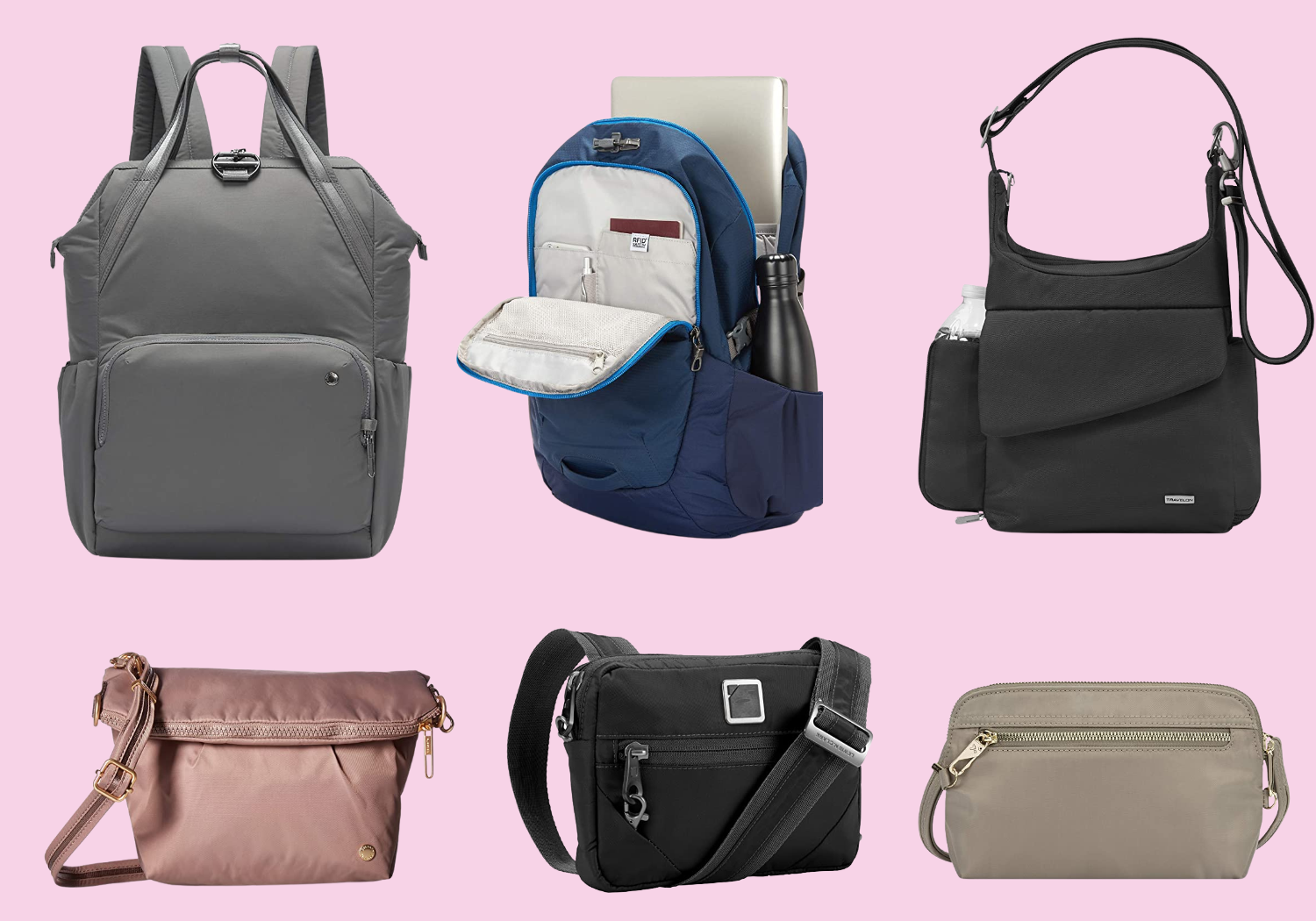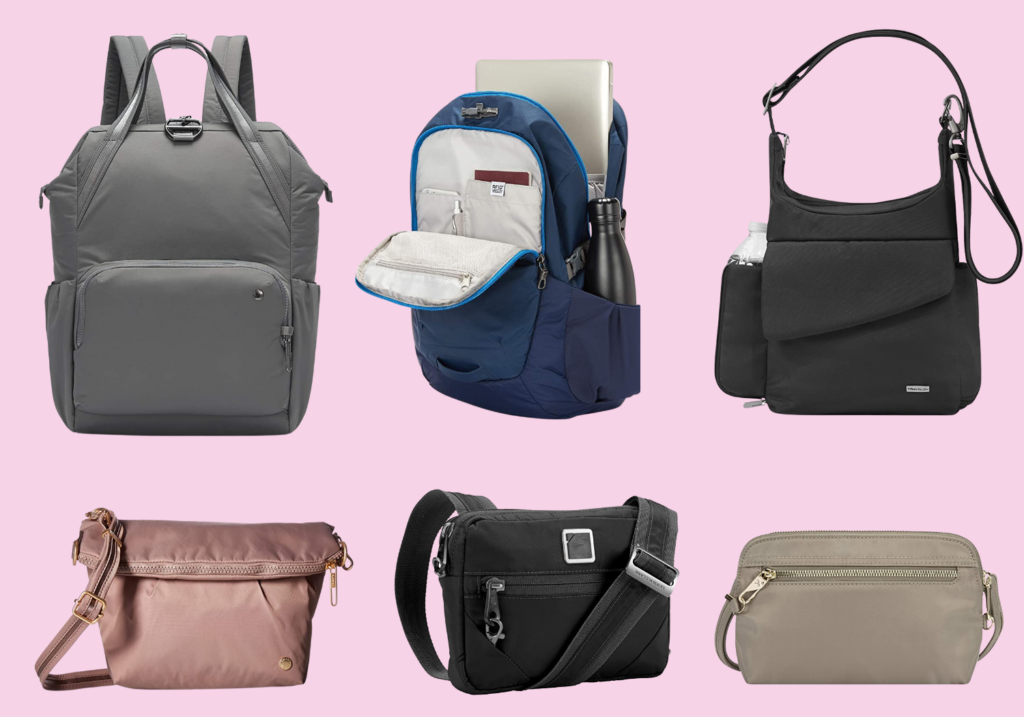 Europe is generally a very safe continent for solo female travelers but the popular tourist destinations such as London, Paris, Florence or Barcelona are magnets for pickpockets who, believe me, are absolute pros.
There is usually no violence involved in the crime and you won't even know your wallet or phone are gone, but the speed at which they can disappear is astounding and dealing with the aftermath is a mess I don't wish on anyone.
Slash-proof bags designed for extra safety are highly recommended in Barcelona and here is our list of recommended anti-theft bags.
Alternatively, a cross-body bag that is always zipped and in front of you should work. 
There are so many easy targets available in crowded places that, as soon as you make yourself a more difficult one, you raise the barrier for the average thief.
Of course, never leave your valuables on the table when you sit down or hang the bag at the back of your chair or put it on the floor. Always on your lap and zipped.
Everything goes
In Spain you can dress however you like.
There are no restrictions, cultural or otherwise, on what clothes you should or should not wear.
Modesty is only required in religious buildings where you should cover knees and shoulders. High-end fine dining restaurants may require long trousers, closed toe shoes and a jacket for men but otherwise, freedom reigns supreme.
Walking in Barcelona you will quickly notice how diverse and cosmopolitan the city is. Hippies mix with drag queens and goths, brightly dyed hair contrasts with bald heads and men and women express themselves through their appearance in a multitude of ways.
Everything goes and you should bring whatever clothes make you happy and you enjoy wearing. In the next points I am adding some details related to the fashion sense and style of locals in case you prefer to blend in.
Cosmopolitan comfortable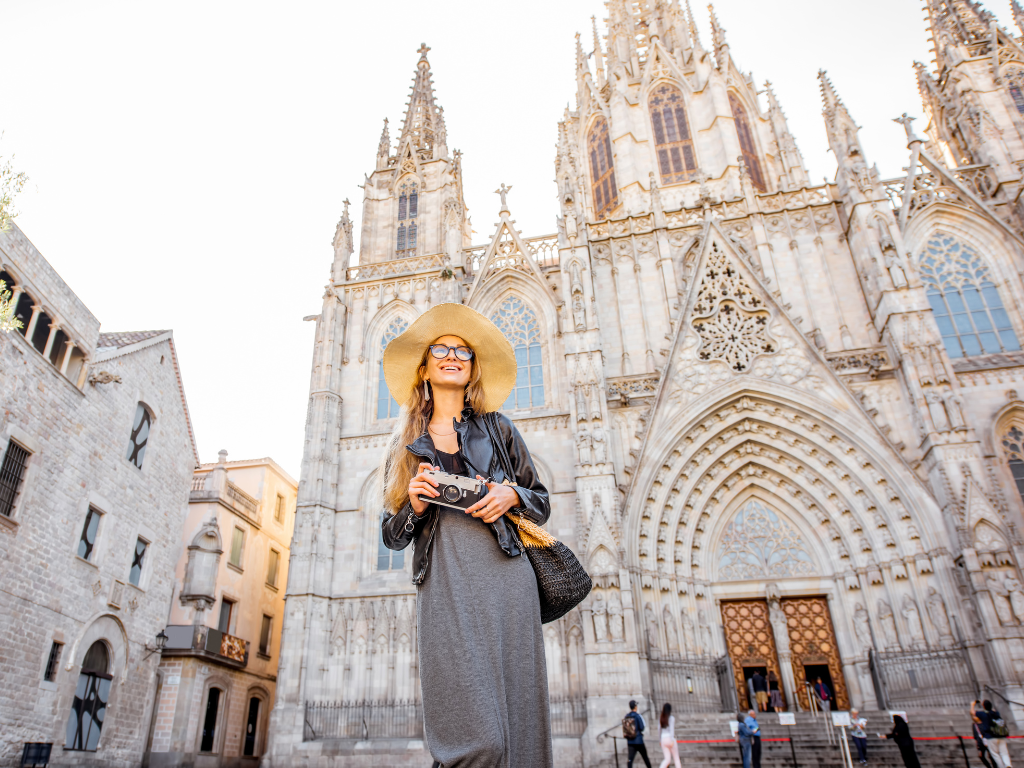 I would describe the local style as cosmopolitan, stylish but casual and with a dash of bohemian chic most prominent in the accessories.
Stilettos and very high heels are uncommon in Barcelona (we like to walk a lot and the signature pavement tiles of the city are uneven) and locals dress from the high-street fashion brands that are famous of Spain: Mango, Zara, Massimo Dutti for women in their 30s-50s, Bershka and Pull & Bear for the younger crowd.
Comfortable, casual and smart are the keywords, but as I mentioned above, you'll find plenty of youngsters in track suits, older women looking more like the Queen of England, teenagers in skimpy clothes, and plenty of sleek fashionistas and edgy trend-setters of all ages and genders.
We, Catalans, like to dress well, with well thought out outfits that match, color-coordination, fitted clothes and nice materials. Simple accessories add a touch of sophistication and character.
High fashion or luxury brands are out of reach for the average Spaniard and frankly, not desired.
If you pay attention you'll notice that inside high end stores like Louis Vuitton or Channel on Passeig de Gracia there are only tourists. With so many fakes around, if I wore an LV handbag, most of my friends would assume it was fake and nobody cares about carrying branded goods.
For a visitor, it may be hard to tell who is a tourist, who is an expat and who is a local, for a local, this is very evident in the way the person dresses and behaves as well as from the clothes they wear.
It's hard to explain but there is a specific style that is native to Catalonia and the city that is easily recognizable by the locals. For example, oversized clothes and white sneakers are certainly not a Catalan outfit.
That said, you don't have to blend in; the city is a melting pot of cultures and styles and nobody will care where you come from. Diversity is the key.
Blending in or looking like a local, can be helpful to make you less of a target, though pickpockets do not discriminate between foreigners and locals and will steal from anyone.
Regardless of how much you may blend in, your best protection is to be alert and never leave your belongings unattended, especially in popular tourist destinations and crowds where expert thieves do their best to distract you.
Try the local designers
Local fashion designers from Barcelona are very cosmopolitan, almost Nordic in their designs, with clean lines, base colors and modern cuts and they are at the forefront of fashion.
Have a look at Eikō Ai, young Júlia G Escriba who designs season-less clothing that is NASA certified, ethical fashion brand Rebel Root, old-timer Miro (like the painter) and Ailanto.
Then there is Desigual which is also from Barcelona, and omnipresent local-based retail brand Mango. For stylish and brightly colored designs, similar to Desigual but more exclusive, check out Custo Barcelona.
Architecture is the art form that makes Barcelona most famous so check out the store BD Barcelona founded by a group of local architects for items inspired by famous Gaudi designs and others.
Autumn is for layering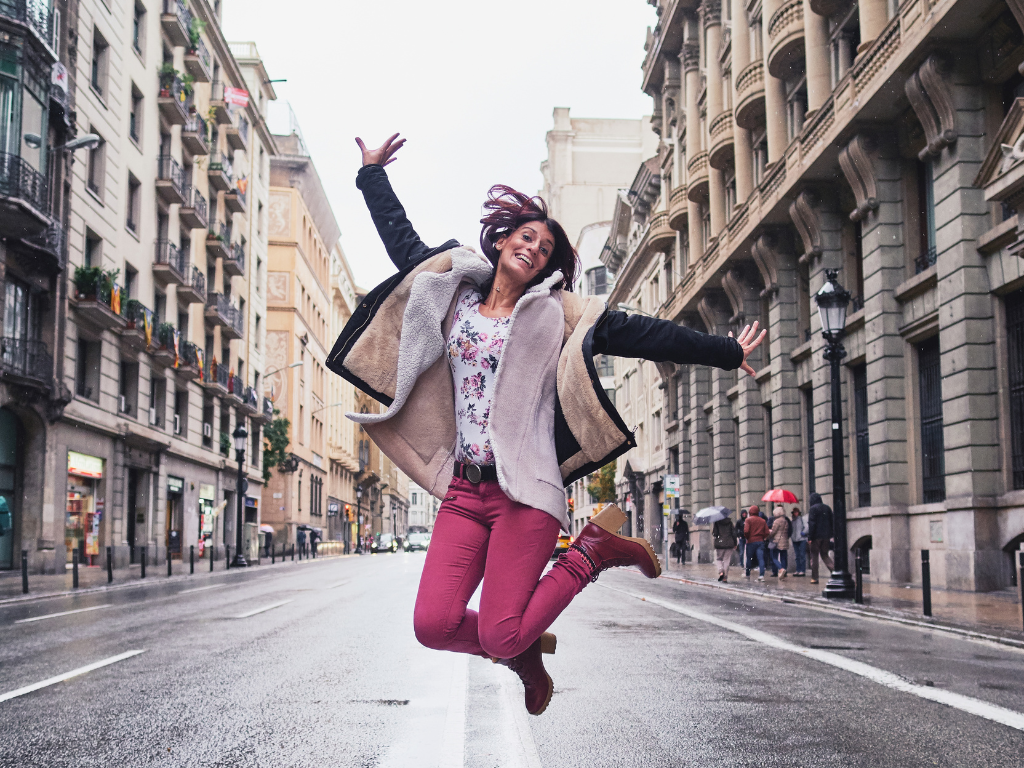 The range of temperatures in autumn which can go from summertime to winter in a day calls for layers, especially if you plan to stay out all day exploring.
The morning and evening temperatures can be quite cold while the peak hours of the day, if the sun is shinning, can call for short sleeves.
Make-up is not really a thing
I only noticed this after living abroad for so many years but none of my friends or family members wear makeup in their day to day, it's just not a thing in Barcelona.
Concealer yes, a bit of blush, maybe, and perhaps a dash of lipgloss, but Spanish women are not big makeup consumers or users in their daily routine. We keep things natural even when going out, and prefer to let natural, healthy, sun-kissed skin do the talking.
On the other hand, Spain is the second largest exporter of perfume after France so cologne and perfume are more common than makeup.
What to pack for Barcelona in autumn
Now that you understand the weather and the fashion sense in Catalonia, it's time to have a look at what to wear in Barcelona in autumn.
Stylish sneakers
Plenty of people wear sneakers in Barcelona. All those packing lists online written by foreigners will tell you otherwise but it's like a bad piece of advice everyone copies from each other with no actual substance or local knowledge.
Trust a local here, Catalans wear LOTS of sneakers, and I regularly meet friends in them, but we do prefer the fashionable kind sold in a fashion store not a sports shop.
We do indeed not wear white Nike trainers outside other than when actually practicing sports or going to the gym. However, the recent tracksuit trends seems to be bringing them out into the streets.
For a pair of local sports shoes that are not mean for playing a sport, have a look at the brand Munich, alternative brands such as Tiger or Gola, or the global Converse, Superga or Lacoste are also good options.
For the Spanish white comfy trainer that we all wore as kids and which have been manufactured since 1915, check out Victoria which are made in La Rioja and are the perfect comfy shoes with an edge. Spanish people wear those.
Bear in mind that none of the above options are great when it rains as they all get wet and then take forever to dry so bring a back up pair if you plan to wear them and a back up pair of waterproof shoes.
Leather boots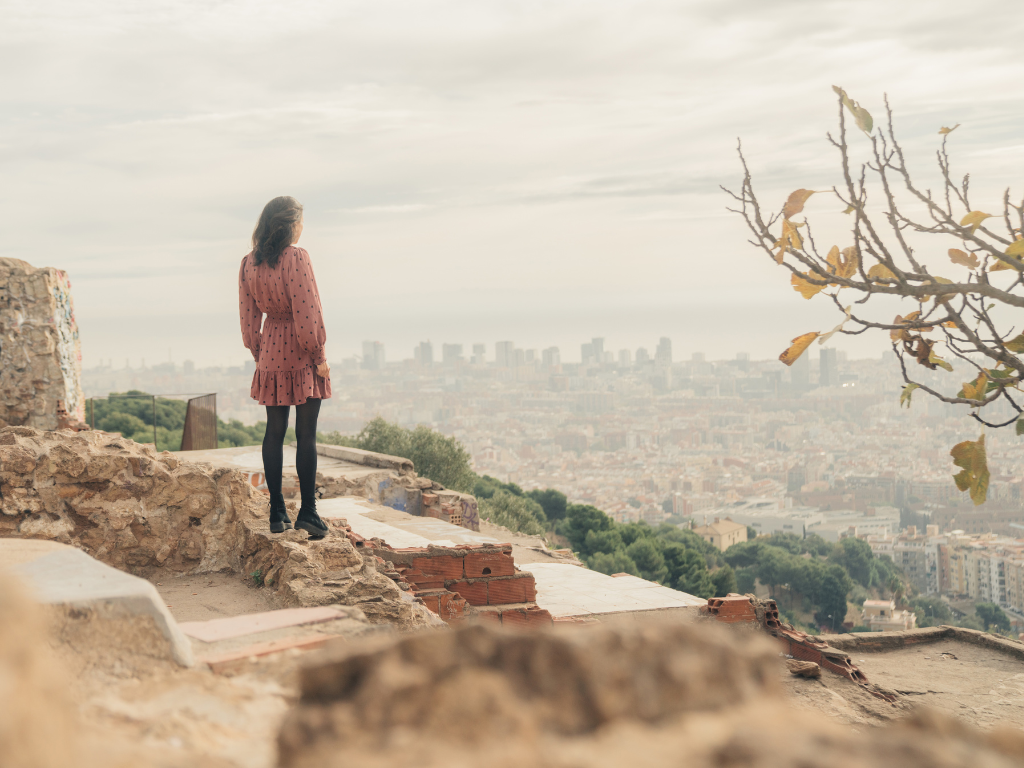 Autumn is the time for boots of all lengths. If the weather isn't cold enough, a cute skirt can pair well, and when it get colder, a pair of boots will make a classic pair of trousers look more stylish.
I am a fan of high boots that go as high as just below the knee but many people love ankle boots which may be more suitable if you are visiting in October when it isn't that cold yet.
Long dresses
I find that long dresses with a pair of boots or flats are a great outfit base for autumn because they look cute while also being super comfortable.
I like to wear some of the longer summer dresses I have with a sweater or long sleeve top and bring out a body fitting wool dresses that are not warm enough for winter.
Skirts
We wear lots of skirts in Catalonia, of all lengths. Long ones with a sweater or top, or short ones with leggings or stocking and a pair of boots or flats. When the weather gets colder, brands like Calzedonia sell cute stockings in all colors and patterns and I have a couple of pairs with a gold and silver thread or other pattern to bring a bit of color to a season that can otherwise be dull.
Leggings
Leggings are another great comfortable outfit to pack because they are light and comfy and take little space. Pair them with an oversized sweater and a pair of boots.
Long sleeve blouses and tshirts
When it is still warmer, a long sleeve shirt, blouse or tshirt can be all you need layered with a jacket to be warm day and night. As the season progresses and gets to winter, you can wear a sweater on top.
Long sleeve tops paired with a statement piece accessory can liven an outfit and bring some color to an otherwise greyer season.
Light jackets and sweaters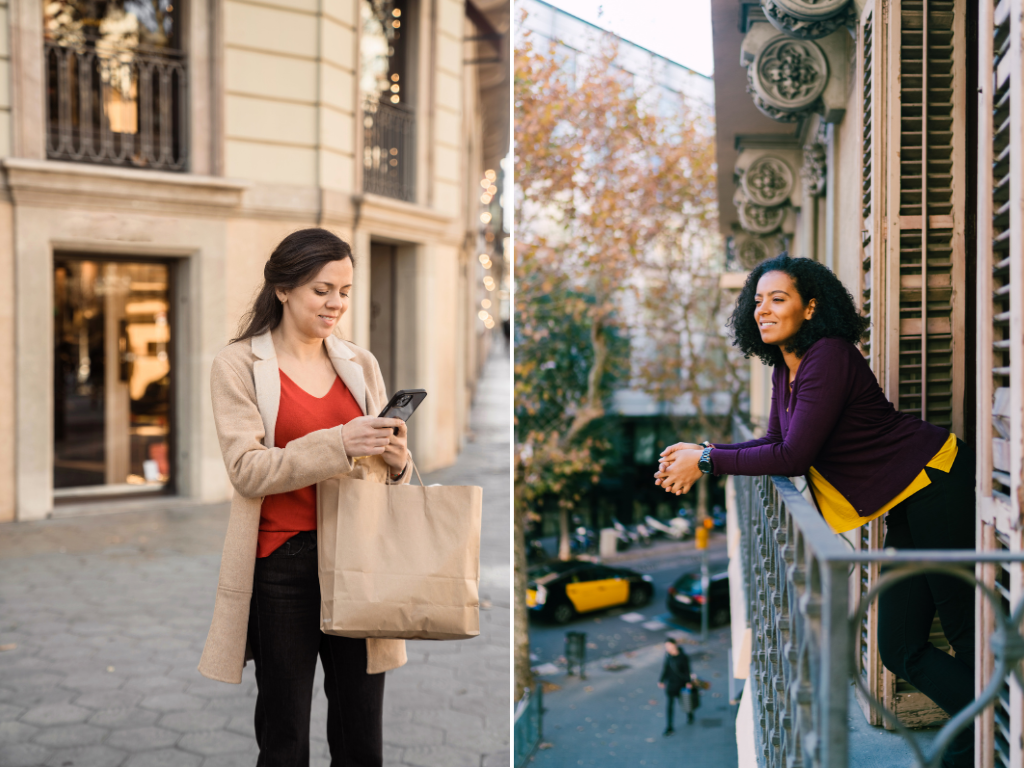 Because this is the season for layers, sweaters, cardigans and light jackets are a must, especially if you plan to be out in the early morning or in the evenings when the temperatures drop.
I like to wear my stylish leather jacket, my denim jacket and a couple of thick wool buttoned sweaters that are easy to stuff inside my bag when I'm not wearing them.
These are items that have a short season because they aren't warm enough for winter and can only be worn in autumn and spring, seasons that are becoming shorter every year, squeezed in between longer summers and winters.
Jeans and other long trousers
Autumn is the perfect season in Barcelona to wear jeans. They are too thick for summer but they are just the right amount of coverage for the coolers autumn months.
The only downside to wearing jeans is that they take long to dry in case they get wet. On the plus side, they don't need ironing.
I also like to wear other structured trousers like the ones they sell at Zara which are a bit dressier. A pair of black trousers, be it jeans or otherwise, are a must both for the day and to go out to a fancier restaurant for dinner.
Scarves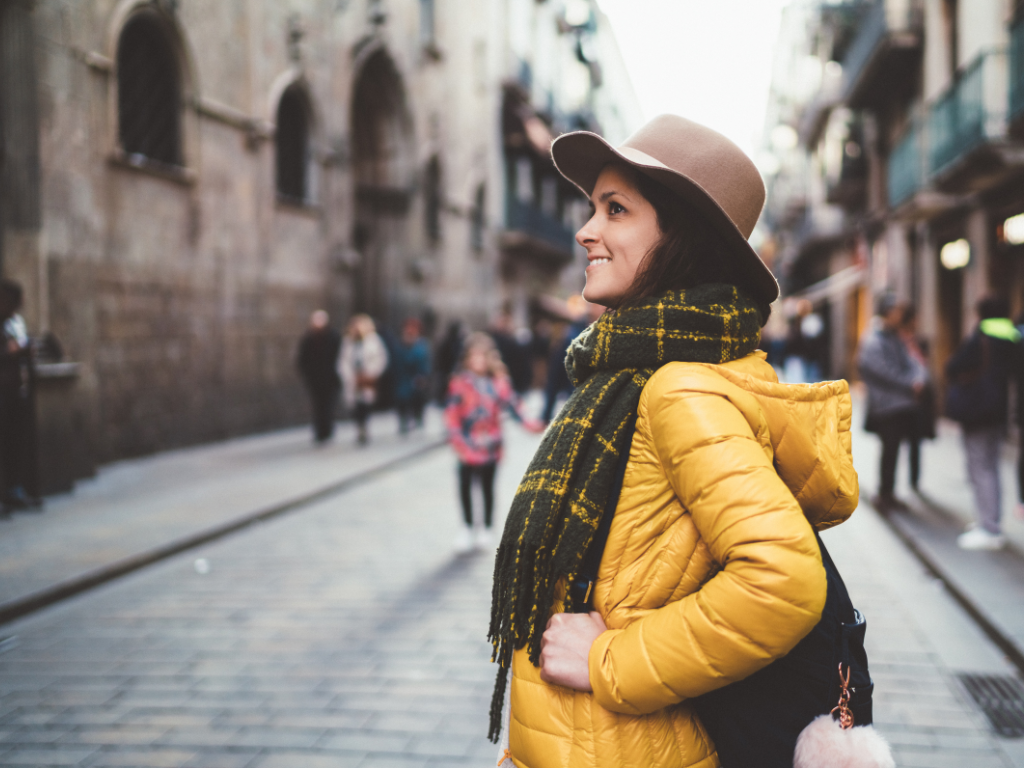 I love scarves are accessories and have many in different colors and fabrics. When the weather starts to resemble winter more than summer but I am still refusing to accept it, a scarf paired with my leather jacket helps maintain the illusion that winter has not yet arrived.
On a more serious note, scarves are great splashes of color for the grey autumn season and keep my neck warm and safe from pesky colds that make their way around cities in the season.
Accessories
I find that autumn can be a gloomier season and it seems that all fashion brands decide to bring out all the grey, brown and navy colors so I like to pair my darker outfits with statement accessory pieces.
For example, a colorful scarf, a big necklace or a pair of big earrings that add a splash of color to my day. Instead of pink or red which I reserve for the summer months, I prefer lilac, purple, yellow and orange.
Other things to pack for Barcelona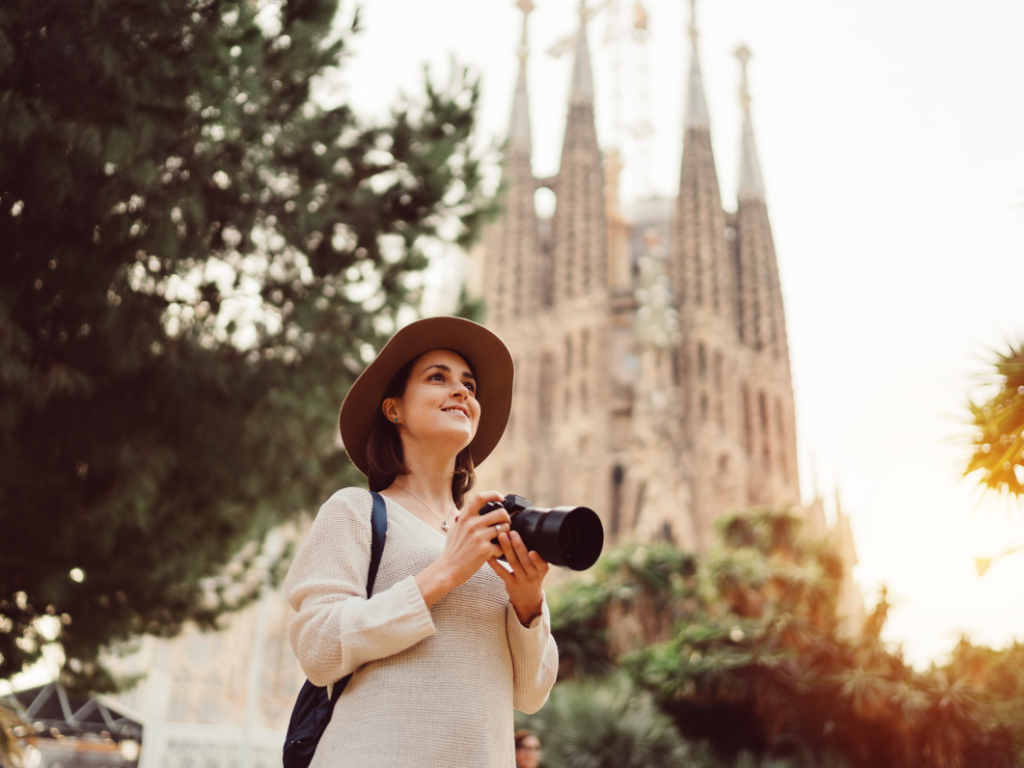 Besides clothing, there are a few other things worth packing for your trip to Barcelona and Costa Brava.
| | |
| --- | --- |
| | Gloves: If you are prone to getting cold and are coming in the later part of autumn, you may want to pack a pair of light gloves. |
| | A travel umbrella: I discussed the weather in autumn earlier and you know that quick showers are common at this time of year, a travel umbrella will come in handy. This one weighs less than 500 grams and is wind-resistant. |
| | European / universal plug adaptor: Spain uses standard two round prong European plugs. I like the ones which come with USB ports so that we can charge phones, cameras and everything else with just one adaptor. I love this one because it has USB ports for all the electronics we now carry. |
| | Power bank: Because you'll be out exploring and making the mot of your days, a power bank will ensure you can continue taking photos. I use the incredible Anker 30,000 AMP which is the real deal and can even charge your laptop, but you don't need something this big, a power bank that can recharge your phone twice is enough. |
| | Sunglasses: Autumn sees a few hours of sunshine, so don't forget your sunglasses. I like Oakley sunglasses as they are polarized and protect your eyes from any damaging sun rays. I alway wear them. Yes, they are not fashionable, but I have sensitive eyes that don't like bright days, so they are a lifesaver for me. Lately, they have been launching more modern and stylish models. Check out their store on Amazon. |
| | Water bottle: Single use plastic bottles are terrible for the environment so we recommend you bring your own reusable bottle as part of our efforts towards zero-waste and responsible travel. Tap water in Spain is safe to drink and you don't need to bring a water filter, just your regular bottle will do. Replenish it in your room or at breakfast, or use any of the public fountains. |
| | Sunscreen: Even in the winter, sunscreen is an important part of my routine. I like using Japanese Biore SPF 50++++ because you can wear it under makeup and it is non-sticky and silky smooth. Living in the tropics, this is an everyday item for me I never leave the house without. |
| | Lip balm: I never leave the house without it. I find this is an essential item to not end up with completely ruined lips or even blisters at all seasons. I like Neutrogena for their Nordic formula that tends to heal battered lips overnight and comes with SPF. |
| | Sleep mask: Although hotels have proper blinds, sleep masks are handy if your room mate is a night owl. Bring a sleep mask like this one to block the light. |
| | Pajamas: On all our tours, we offer the option of sharing a room to save onthe single supplement so don't forget to pack your pajamas! Here's a comfy choice from Amazon. |
| | Ear plugs: It is never a bad idea to have a pair of earplugs handy, for the flight, a noisy neighbor or an antsy room mate. Check out these from Amazon. |
| | First aid kit and medication: Available medications, brands and products in Spain may not be the same back home so it's always best to bring everything you are used to and of course, all prescription medication or vitamins you take. We also recommend packing a basic first aid kit with items such as plasters, an antiseptic ointment, eye drops, hydration powder, etc. Have a look at our suggested first aid kit here. |
What not to pack for Barcelona in atumn
There are also a few things we do not recommend you bring to Barcelona and Costa Brava if you are coming in the summer, mainly, because you won't need them.
Fuzzy Ugg-style boots: Autumn isn't cold enough for the proper winter boots that you may want to wear if you are visiting Nordic countries.
Hair dryer: Most hotels have them and if yours is old, you'll also need to carry a converter or make sure it works with double voltage so that it does not get fried by the Spanish 220V.
Hand bags that don't close: You know the ones, the basket-style ones that don't have a zipper to close them are a big no-no in Barcelona, unless you want to make pickpockets happy.
Dress like you are going on safari: I find it hilarious when I see tourists dressed in Barcelona like they are in the Serengeti, with khaki clothes, trousers that unzip to shorts and trekking boots, in the middle of the city.
Heavy coats: They will keep you sweating during the day and will be heavy to carry around.
Shorts: Even if you are someone who wears shorts 24/7 you will stick out like a sore thumb and everybody will know you aren't a local.