Going to Morocco? Joining our trip to Morocco? You're in the right place.
In this article you will find travel tips for Morocco, fun facts, movies and shows about the country, books you can read to go deeper into the culture, and so much more.
Be prepared for your trip with our Morocco travel tips and get ready for a fabulous trip!
A brief history of Morocco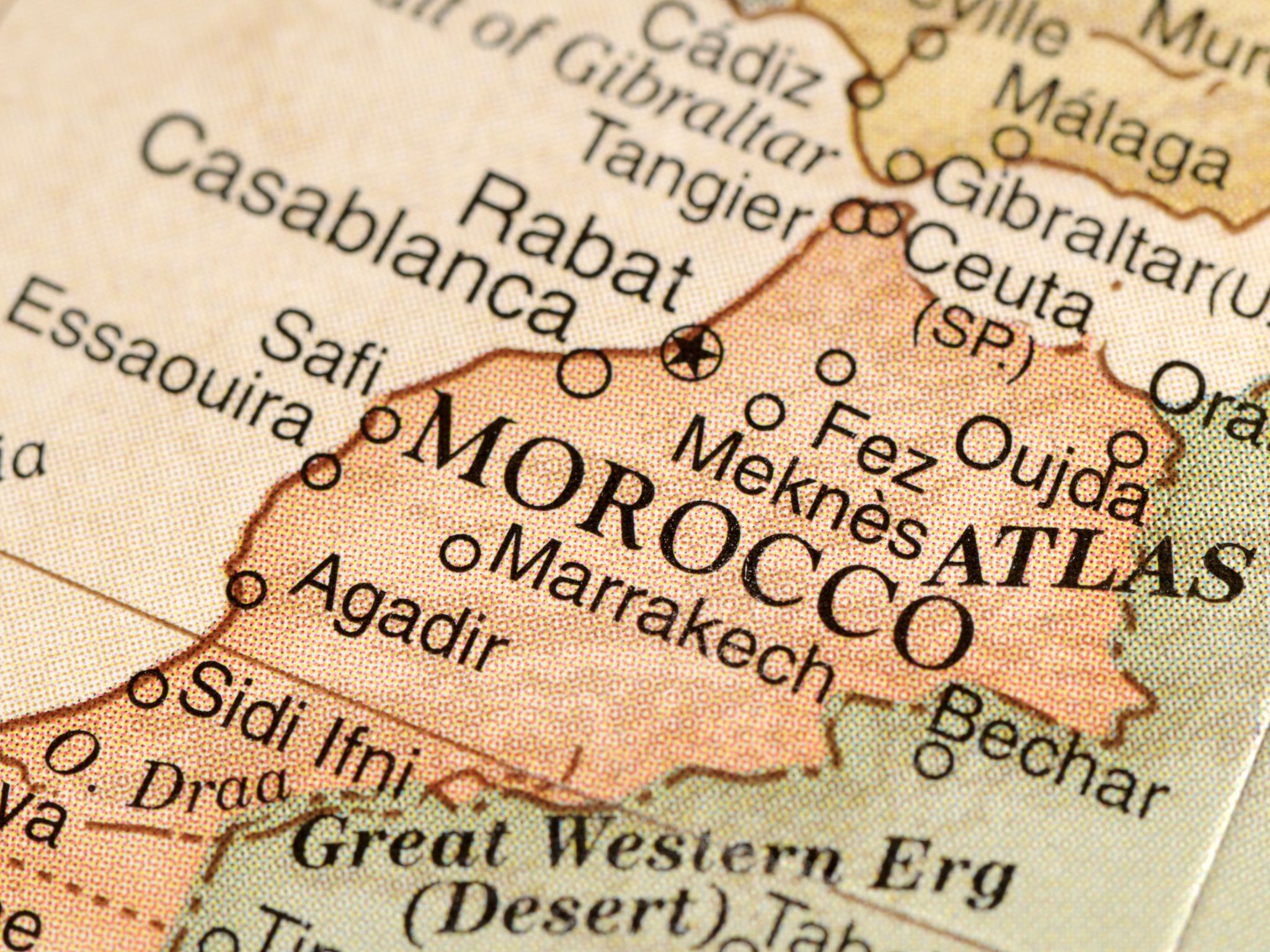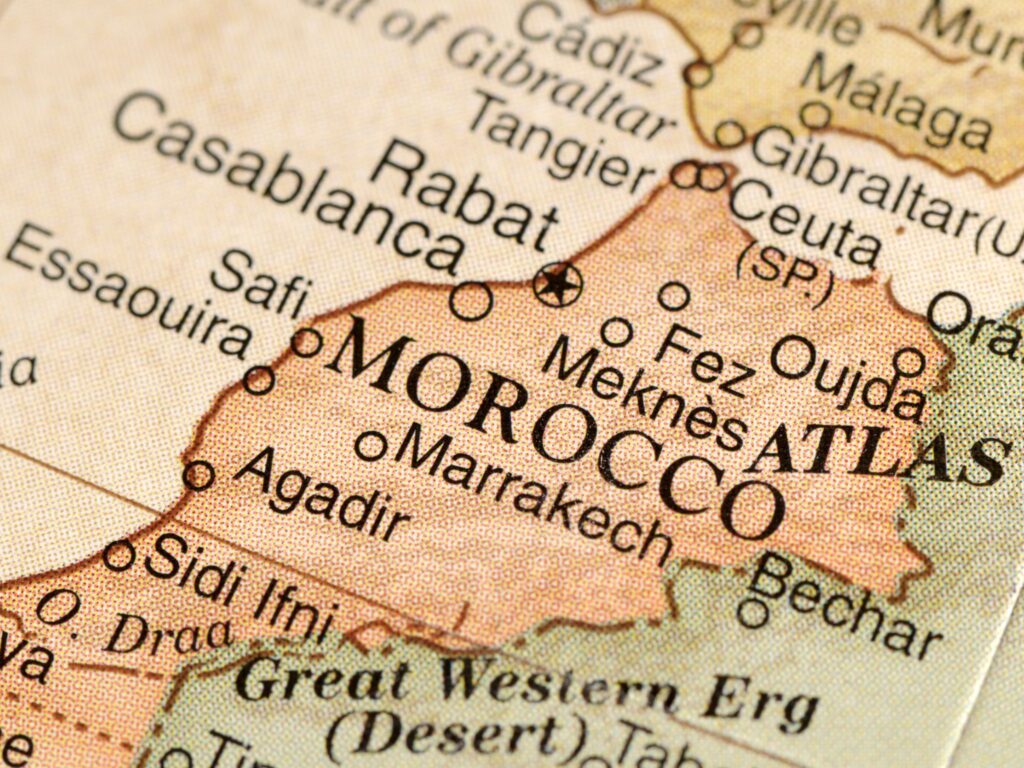 Our Morocco travel tips start with a bit of background to get you situated.
Morocco has one of the richest heritage of all African countries thanks to the many civilisations that established presence.
Annexed to the Roman Empire in the 1st century AD, Morocco remained part of it until the advent of Islam with the Arabs who conquered it in the 7th century AD on their way to Spain.
The Alawite Dynasty which is descendants from Prophet Mohammed and remains in power until today, came to dominate Morocco in the 17th century. In the decades that followed, Morocco was the home of pirates that pillaged trading vessels in the Mediterranean.
France and Spain's interest in colonising Morocco started in the mid 19th century and culminated in 1905 with an secret agreement that divided the country between the two, with France dominating most of the country and Spain taking control of the Western Sahara in the south.
But this agreement was short-lived and in 1906 the Conference of Algeciras returned control to the Sultan of Morocco and France's powers were reduced. This only lasted until 1912 when the Sultan agreed to becoming a French protectorate.
With nationalism growing following WWII, Morocco achieved independence both from Spain and France in 1956 but the Western Sahara continue to be under Spanish control.
The country's openness and civil rights have expanded since independence but a large percentage of the population continues to live from subsistence agriculture and below the poverty line.
The Western Sahara remains a disputed territory that Morocco and Mauritania have tried to conquer and annex since Spain withdrew in 1976, after Franco's death.
The local rebel group Polisario Front (Frente Polisario), has fought for independent of Western Sahara since then and a cease fire was mediated by the UN in 1991 with the promise of a referendum that the Moroccan King has since opposed.
Quick Morocco facts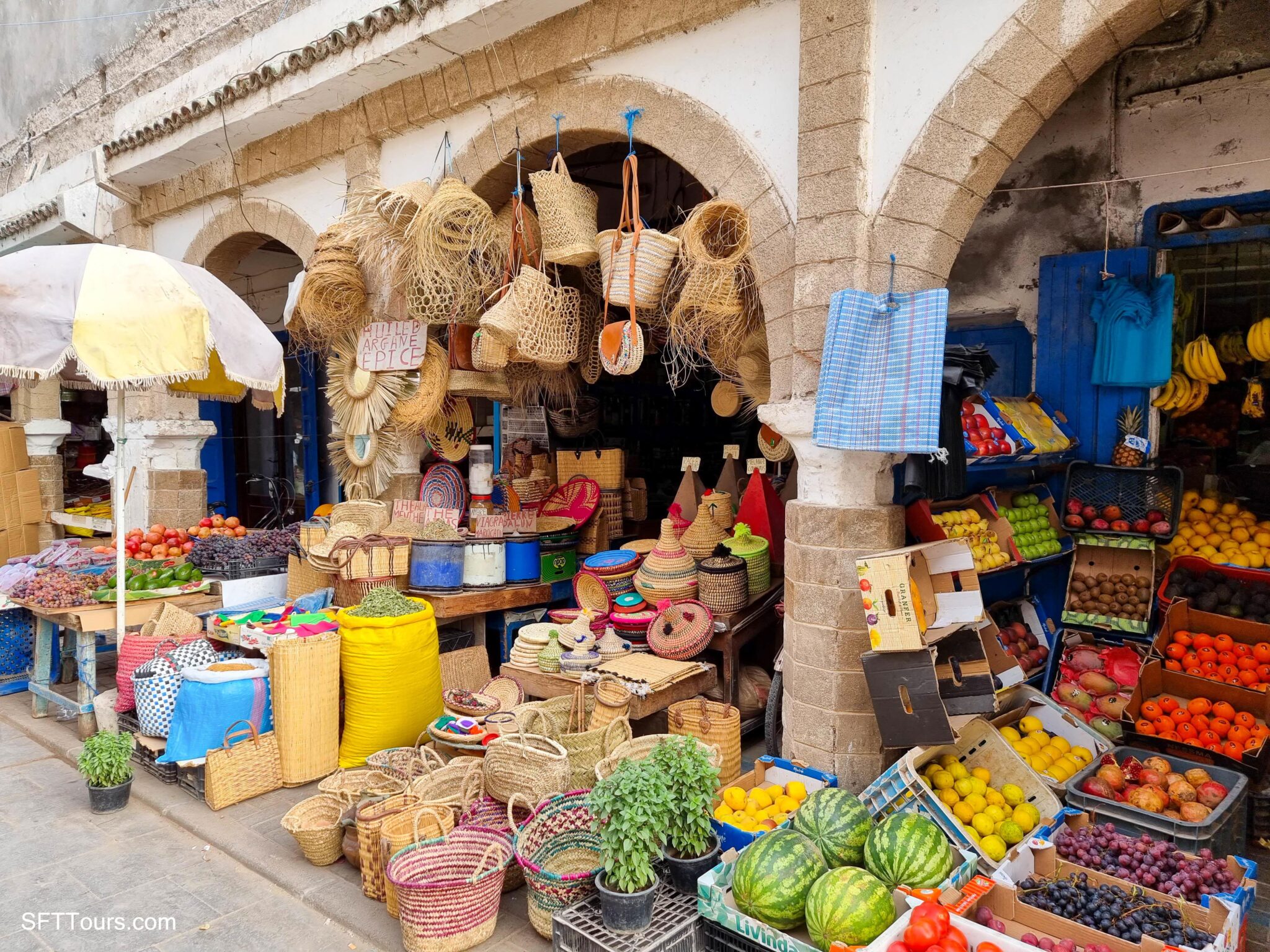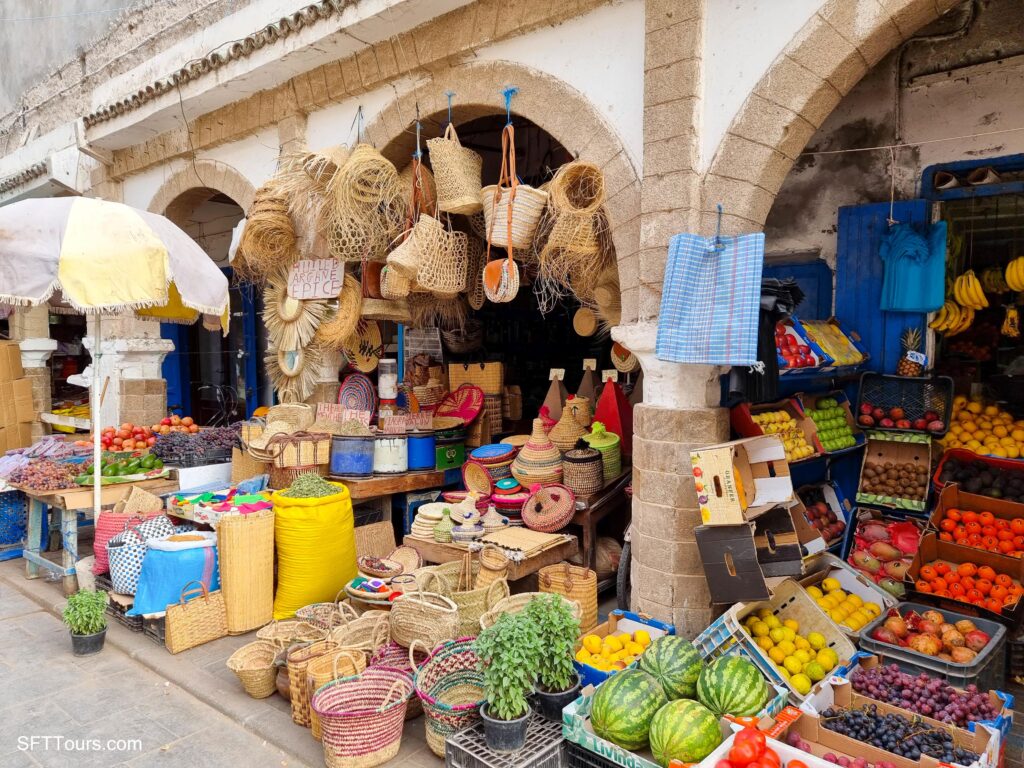 Below you'll find some quick fire facts to get you started on our Morocco travel tips.
Rabat is the official capital of Morocco and its political center, however, Casablanca is the financial and business capital and Marrakech its cultural capital.
Morocco is a Parliamentary Constitutional Monarchy with the King as the head of state and the country's religious leader, and the Prime Minister as the head of government.
University of Al-Karaouine is the oldest educational institution in the world and was founded in 859 AC by a woman, Fatima Al-Fihri.
There are two Spanish cities with the Moroccan territory, Ceuta and Melilla. They are encircled by Morocco but belong to Spain for historical reasons.
There are 8 UNESCO World Heritage sites in Morocco: Archaeological site of Volubilis, Historic City of Meknes, Ksar of Ait-Ben-Haddou, Medina of Essaouira, Medina of Fez, Medina of Marrakech, Medina of Tetouan, Portuguese City of Mazagan and Rabat. We will visit six during our trip!
The main cities in Morocco all have color nicknames. Chefchaouen is the blue city, Marrakech the pink city, Casablanca the white city.
The official outfit of Morocco is the unisex djellaba, a sort of long overall kaftan or tunic with a hoodie that has openings for the arms and goes down to the ankle. They are worn both by women and men and can be simple and in one color of sophisticated and embroidered. It is common for djellaba to be worn over regular clothes in the winter, as a replacement for a coat.
It snows in some parts of Morocco, a lot, so much so that there are even ski resorts. During our trip, we will be driving through Ifrane that looks more like a Swiss village than a town in Morocco.
Morocco travel tips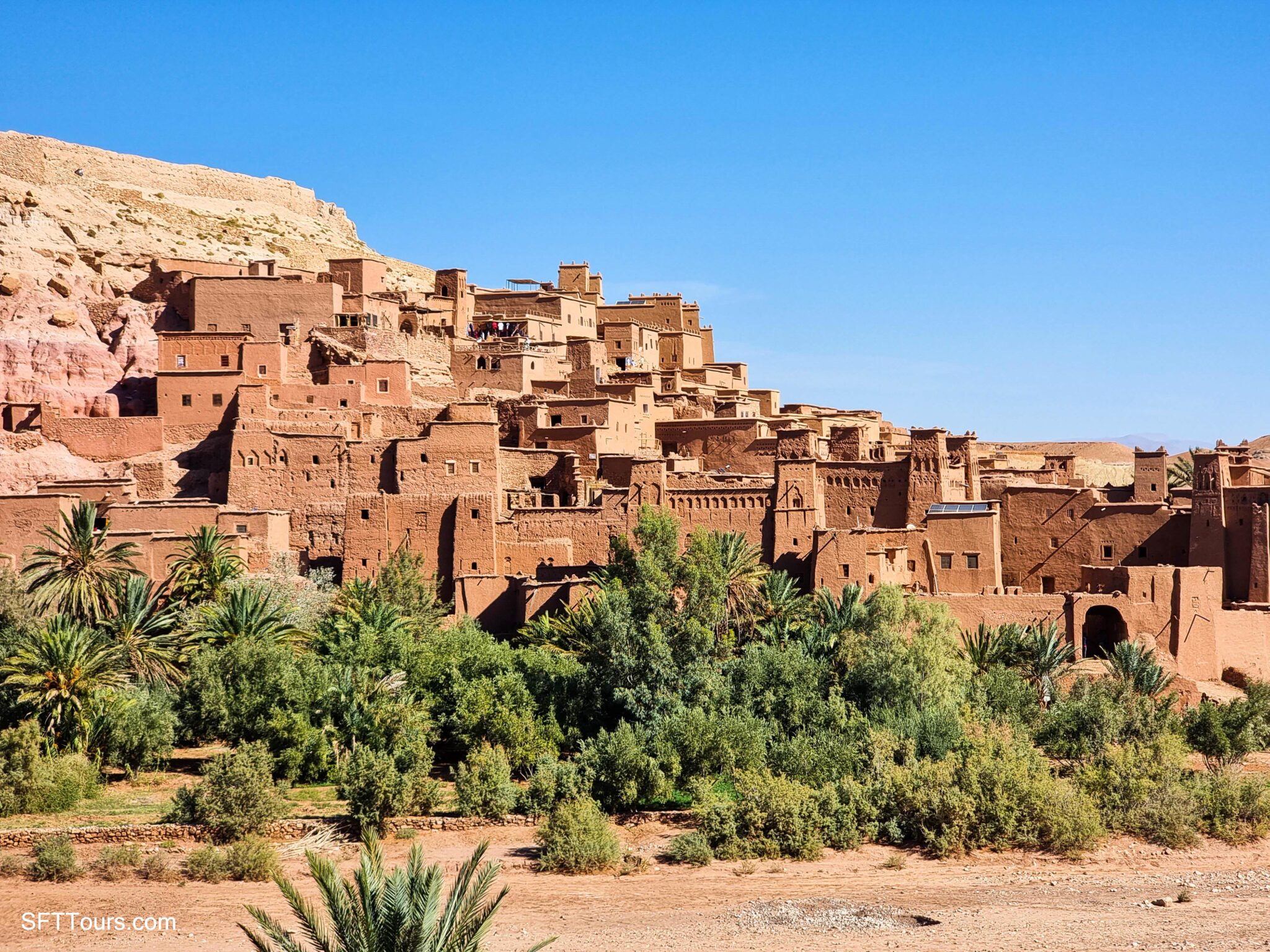 This is an amazing country but there are some things you need to know before visiting Morocco in order to make the most of your trip. In this section, I aim to tell you some Morocco travel tips and advice so you can be fully prepared. I hope you'll find them useful!
Passports and Visa
Process your visa in advance. Most Europeans and US passport holders do not need a visa to visit Morocco for up to 90 days. If you do need one, it is important that you start the process in advance to make sure you get it on time.
Passport validity. Besides the visa fees, travelers to Morocco need to ensure they have a passport that is valid for 6 months after their departure and that has at least 2 empty pages. You may also be asked for your onward flight to return home.
Health and safety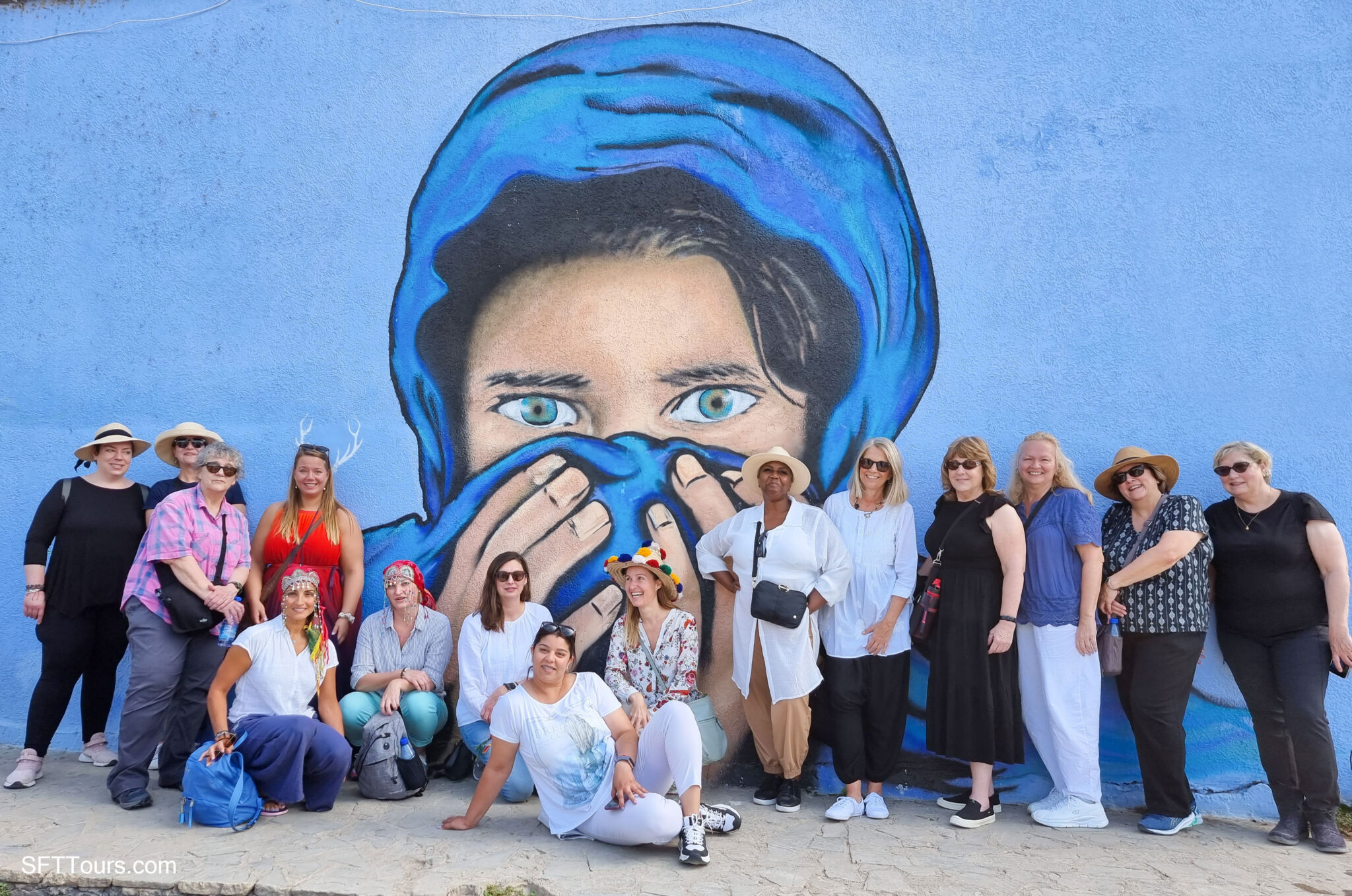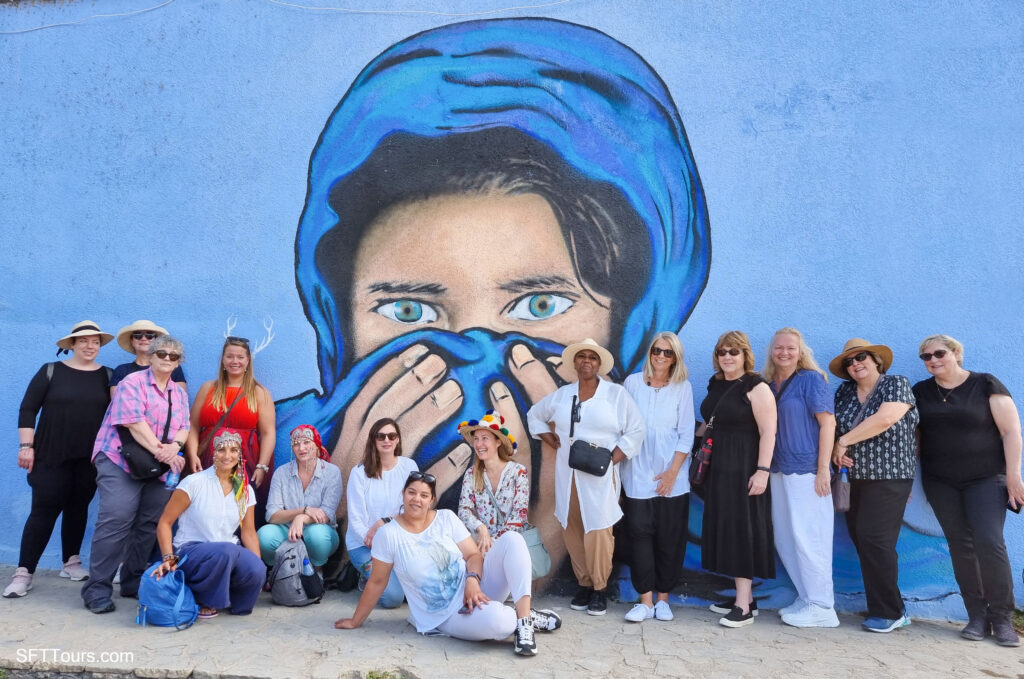 Heath and safety is important when traveling. Nobody wants to be sick when overseas and when traveling long distances, eating foods you are not used to and sleeping in a different environment, it is much more likely to be a bit under the weather. Here are a few health tips to consider.
Get vaccinated in advance. Traveling to Morocco may also require you to take the necessary precautions to keep yourself safe from potentially deadly diseases. Beyond the COVID vaccine, there are other recommended inoculations.

Consult with your doctor ahead of the trip, at least 6 weeks before departure, so you leave enough time for the vaccines to take effect. Depending on where you live, some vaccines may not be immediately available from your GP and may have to be ordered.

The CDC recommends vaccination against hepatitis A and B as well Typhoid fever.
Bring all the medication you'll need. Most visitors to Morocco will visit the more remote parts of the Sahara Desert or the mountainous area of Ifren or the Atlas Mountains. These are remote and that means you can't easily replenish your medication or even buy paracetamol.

Additionally, your specific medication may not exist in Morocco, or it may require a prescription you need to see a doctor for, save time and hassle by bringing everything you may need with you. Review what you should bring in your first aid kit here.

IMPORTANT: What may be legal in your country, or even sold over the counter, could be a controlled substance elsewhere. The UK Foreign office advises that Moroccan Customs don't have a list of prohibited products, but they do advise anyone travelling with prescription medication to make sure they have a copy of the doctor's prescription which covers the medication and quantity carried. For further information on the legal status of a specific medicine, you should contact the Moroccan Embassy. More details here.
Windy roads. Many roads in Morocco are great highways but some of our trip will also include windy and scenic roads that offer the most incredible views but are a a person who is prone to carsick worse friend.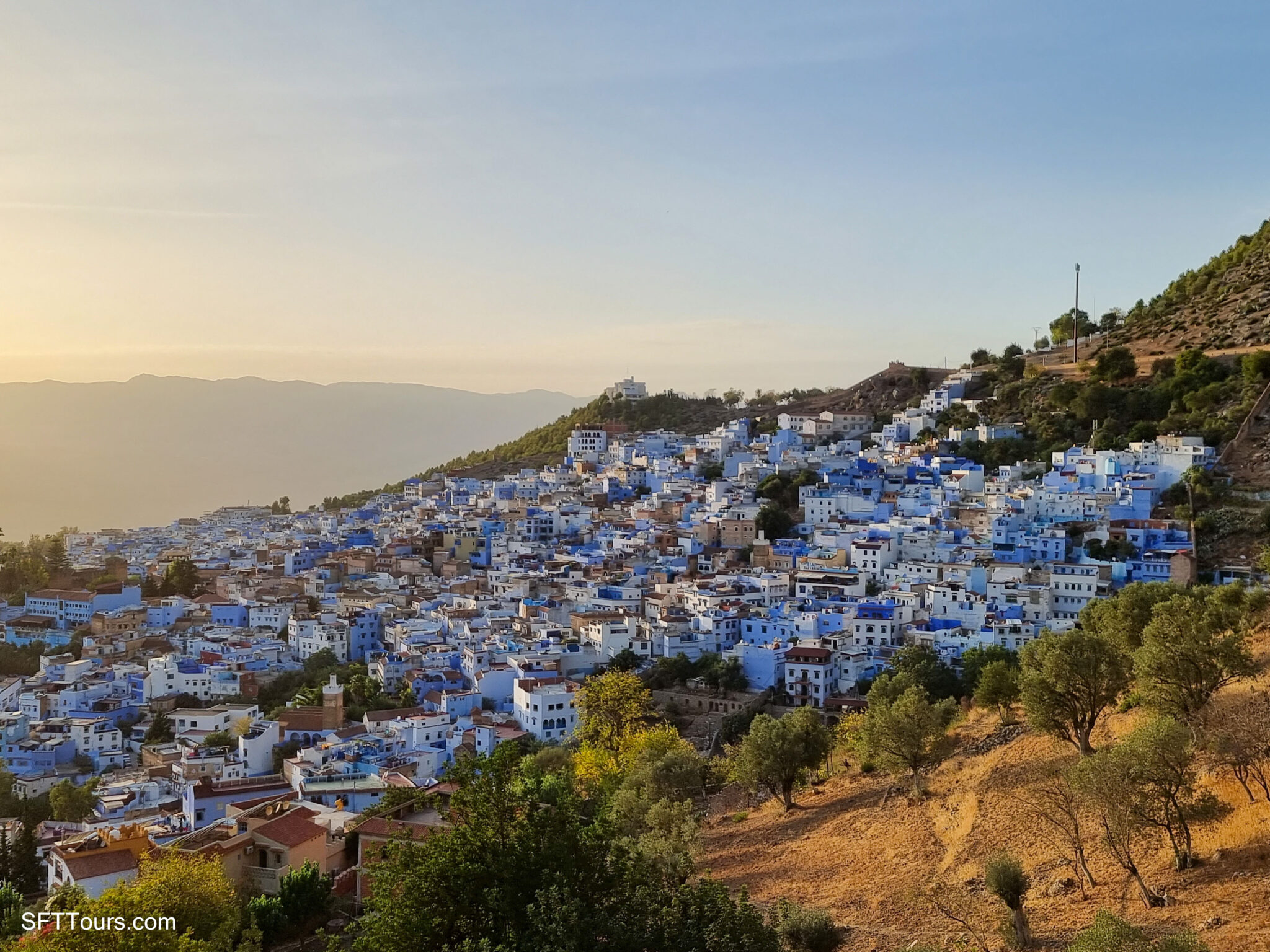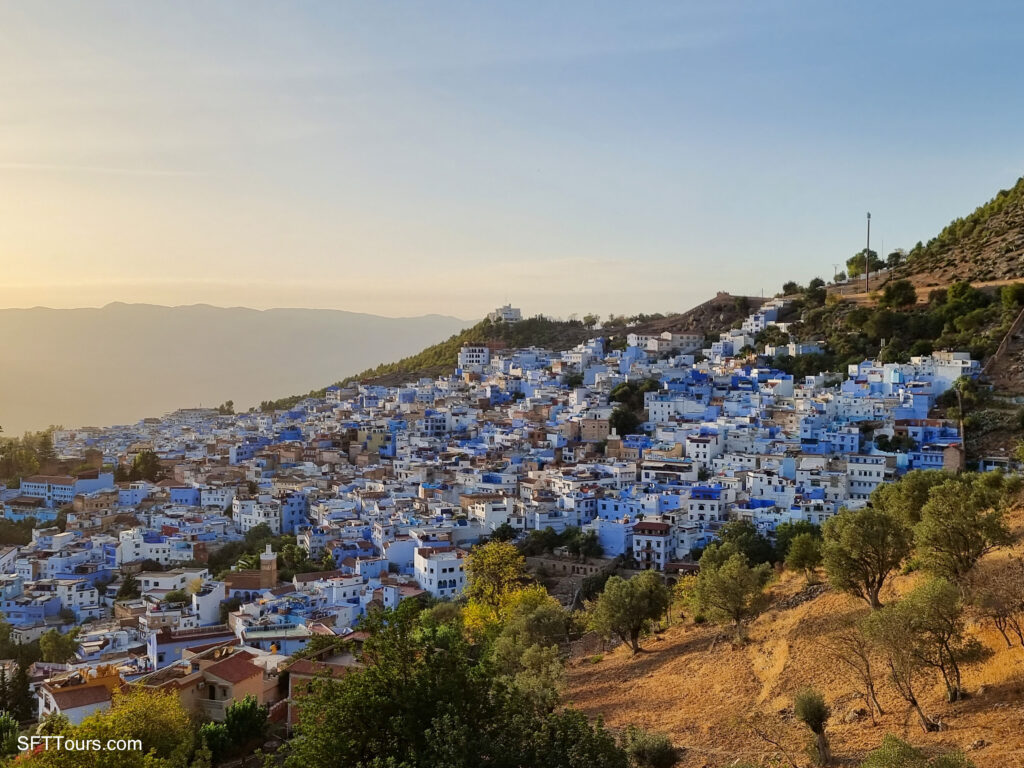 Get that coverage. I never leave the house without purchasing extensive medical and travel insurance coverage and this is why we make it mandatory to join our tours, but in the case of Morocco this is extra important.

Most visitors to Morocco go on relatively relaxing trips that require a lot of walking but don't typically involve adventure activities.

However, unexpected accidents do happen, and given the remote nature of some parts of Morocco, even the smallest of incidents may require medical evacuation, sometimes even on a medically-escorted flight. The cost of that could run in the hundreds of thousands.

I broke an arm falling from a horse in South Africa and my medical bill was $20,000 and a colleague of mine was stung by a stingray while going for an evening walk on the beach in Zanzibar and needed to be airlifted back to Dubai the cost of which ran into the 6 figures.

It's worth noting that the best travel insurance will differ for each traveler, depending on the nature, style, and length of their trip, so I recommend using an aggregator and comparison tool such as Travel Insurance Masters to find the right one for you depending on what coverage you want, age, location, trip, etc.
Don't drink the water. Diarreah affects as many as 40% of travelers. It is not only the fact that water may not be potable or drinkable in some places but also that you may not be used to the same kind of water.

In Morocco, it is best not to drink the tap water and opt for bottled water. To avoid single-use plastic, I recommend bringing purifying tablets, a purifying water bottle or to refill your bottle at the hotel breakfast.
Toilets: If you are on a road trip across Morocco, you will unavoidably need to use a variety of public toilets, some of which may not have high standard of hygiene and cleanliness. water and soap or even toilet paper may be lacking. Bring hand sanitizer, tissue, liquid soap and wet towels to wash your hands.
Travel essentials for Morocco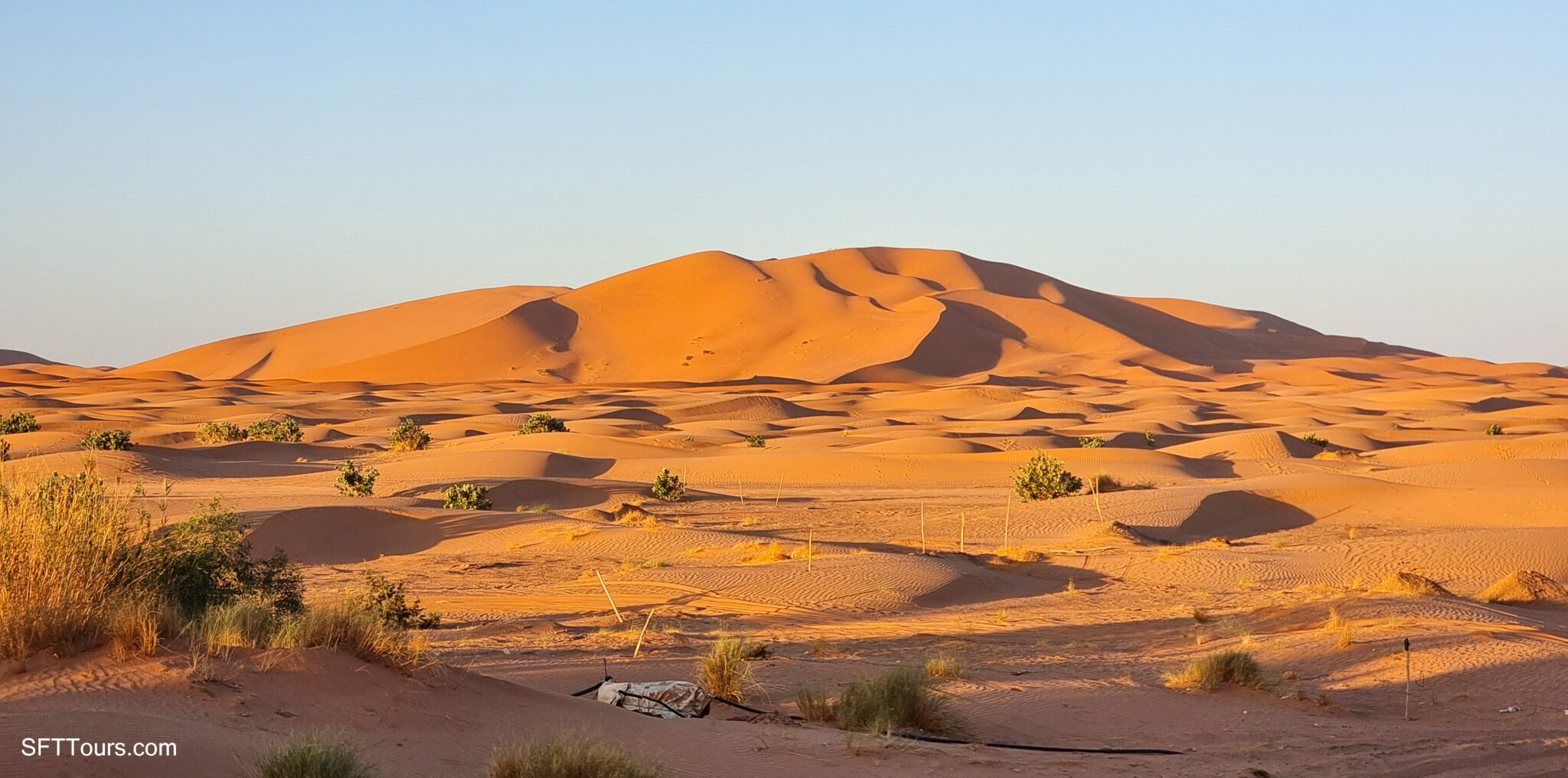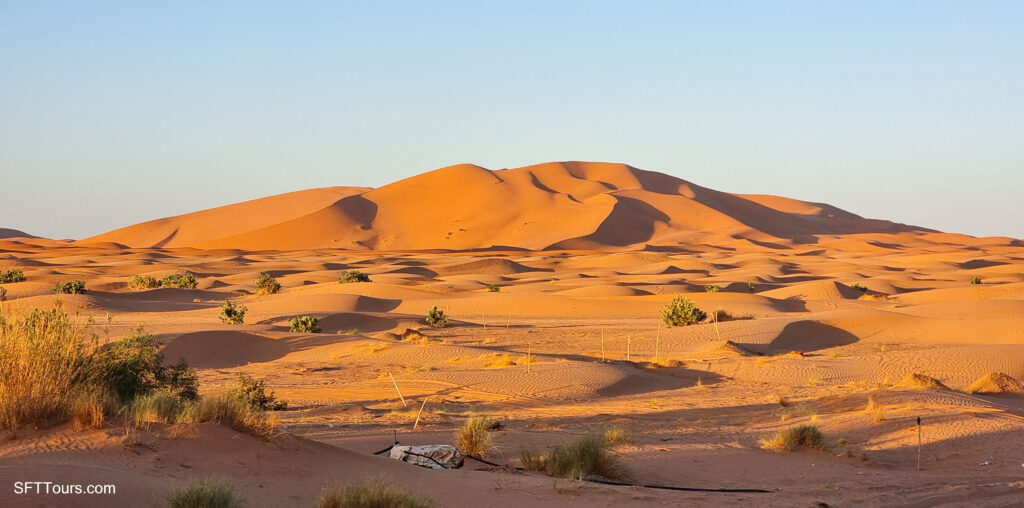 We've talked about health and safety but there are a few more Morocco travel tips to get through.
Morocco uses the Dirham as currency. US Dollars and Euro can be easily exchanged and ATMs are available across the country. Credit cards will be accepted in many restaurants and hotels but will not be useful in smaller shops or street vendors. EUR may be accepted in stores to buy larger items or souvenirs, though change will be provided back in Dirhams.
Stay connected if you must. While I advocate for a digital detox when on holidays, and a trip to Morocco is the perfect occasion to do so, if you wish to stay connected, you can buy a SIM card at the airport.

Make sure your phone is unlocked by your telecom provider back home and for just a few dollars you'll be able to share your experience on social media.

Tip: Let the store staff set up your SIM card for you after purchase so they can enter any necessary settings.
Don't be fooled by the weather. As explained in our Morocco packing guide, the weather can change a lot from day to night with variations of 10-15 degrees Celsius, and from the coast to the desert or mountain regions. As soon as the sun sets, temperatures drop and sometimes, they catch travelers unprepared. Don't forget to bring a jacket and scarf!
Pack light and soft. During our women-only tour to Morocco we will be moving about in a minibus, will be changing accommodation 6 times, and will be staying inside the medina and other hilly and inaccessible accommodation the minibus cannot pull right up to the door of. While there will usually be staff ready to lend a hand, there is nothing more mindful than packing light.
Local culture and customs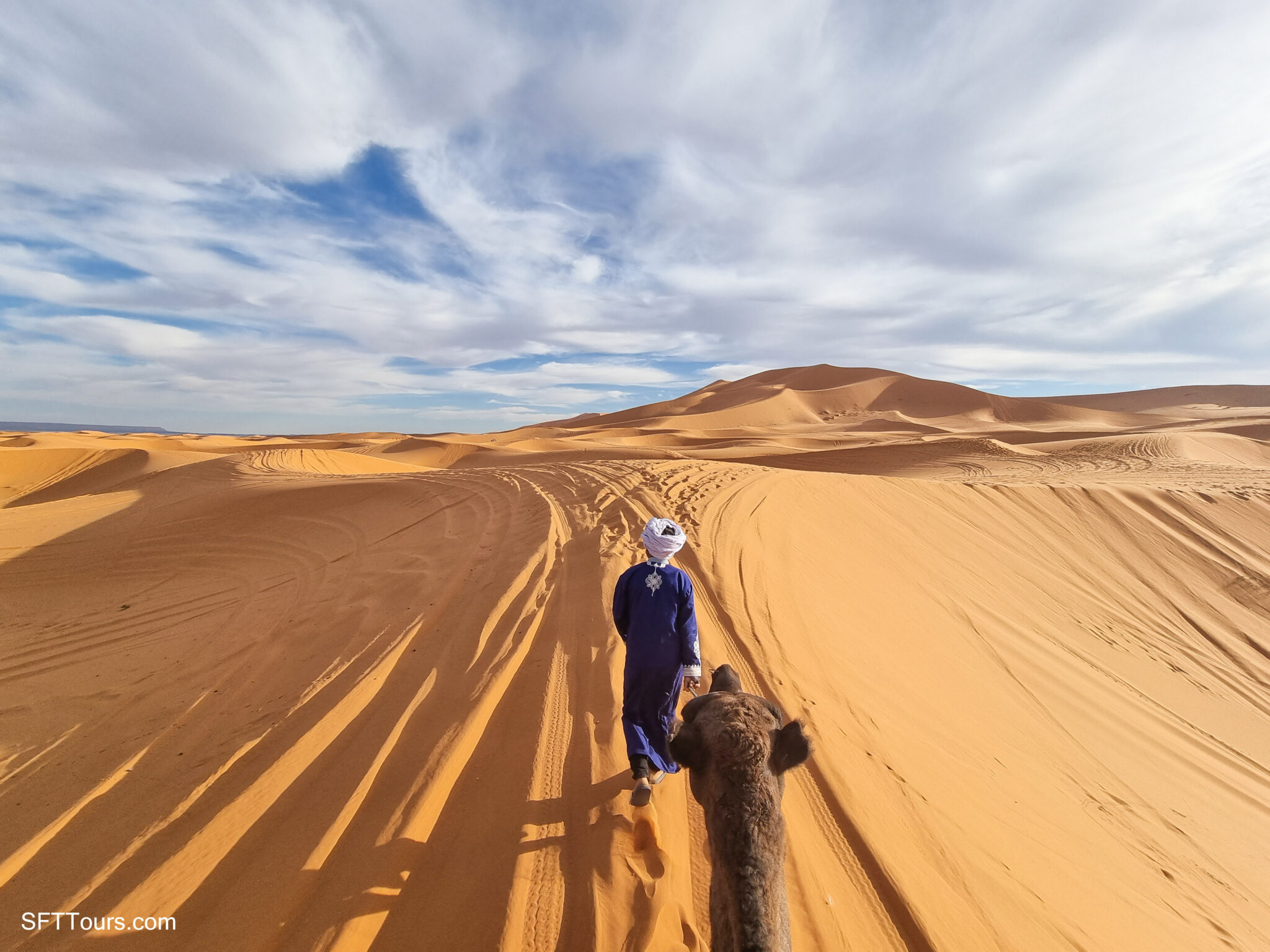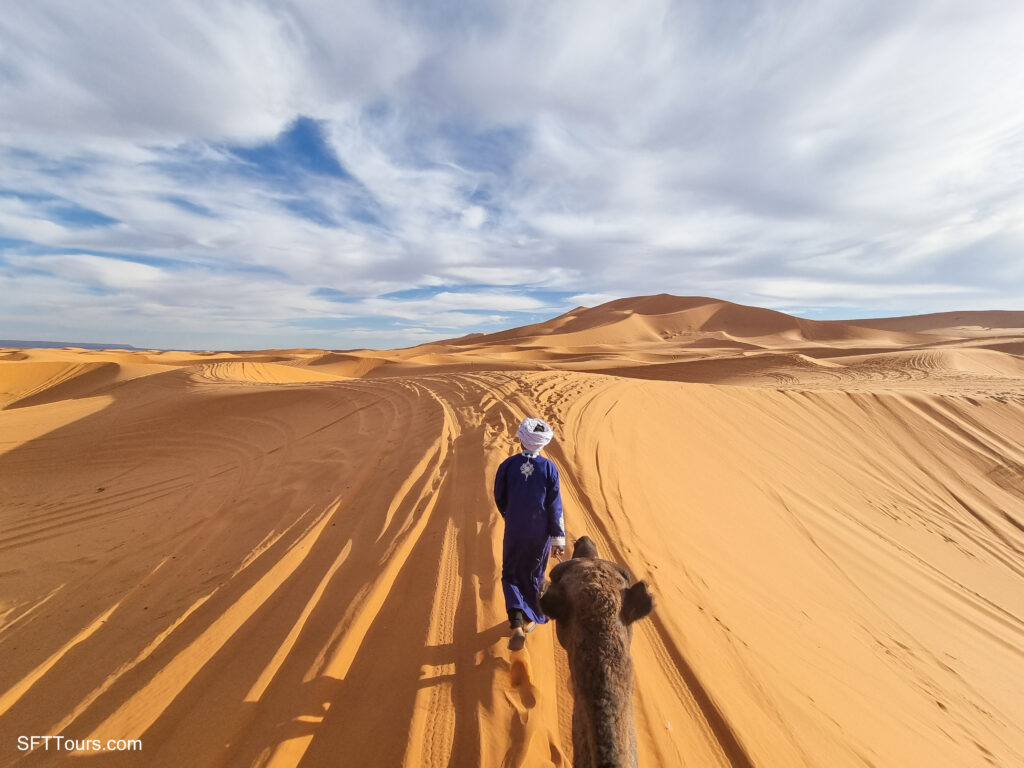 Our travel tips for Morocco would not be complete without talking about the local customs and culture in Morocco.
Cultural diversity. Morocco is very culturally diverse. Because of colonial presence from both French and Spanish as well as the indigenous Berber people and the historical trade through the Sahara routes, the country is a melting pot of traditions. In the northern part of the country, Spanish is still spoken while the south is more predominantly French speaking.

There are also notable differences between the urban and cosmopolitan cities of Rabat and Casablanca which resemble many European cities, the medieval cities of Marrakech, Fez or Chefchaouen that have been preserved till today, and rural parts of the country where life has remaining traditional.
Dress appropriately. Morocco is a generally conservative country where dressing conservatively will help you blend in and protect from the strong sun, sand and harsh weather of the desert.

Local women dress fashionably in the cities of Casablanca and Rabat, and more traditionally elsewhere. In the rural parts of the country it is more likely to see women wearing coveralls and headscarfs. You do not have to cover your head in public, only when entering mosques.
Ask for permission not forgiveness. During your trip in Morocco, you will undoubtedly meet colorful locals, beautiful women, fascinating artisans and will find yourself in many situations where the scene is just stunning and worthy of capturing on a photograph.

While locals are always friendly and ready to chat, you should be mindful and ask before taking photographs. Avoid taking photos of minors without the parents consent.
Learn some basic Moroccan Arabic. Knowing some basic words can be useful to communicate with the locals, show politeness and respect and even negotiate at the souks of the medina! I have included some basic words below.
Useful Moroccan Arabic words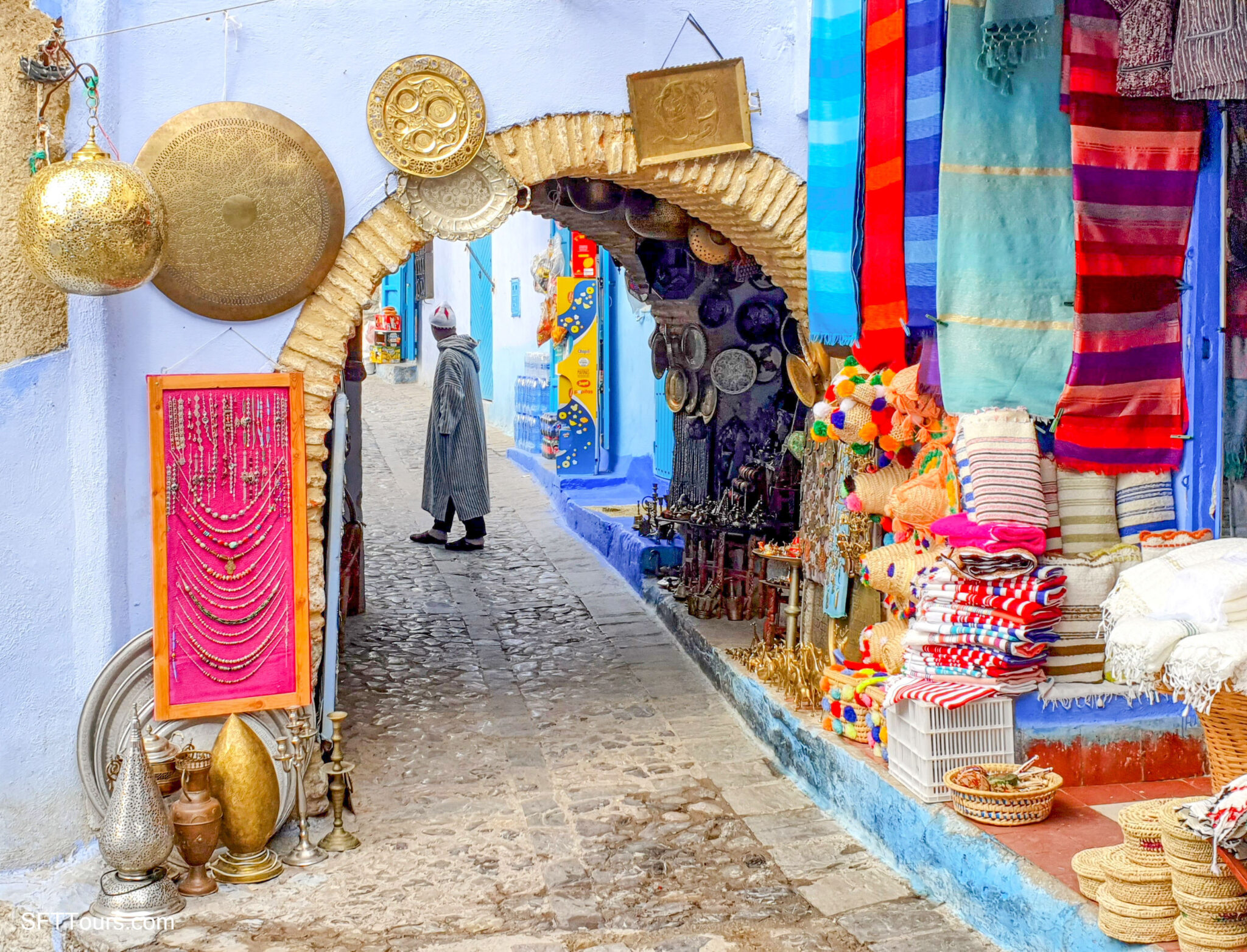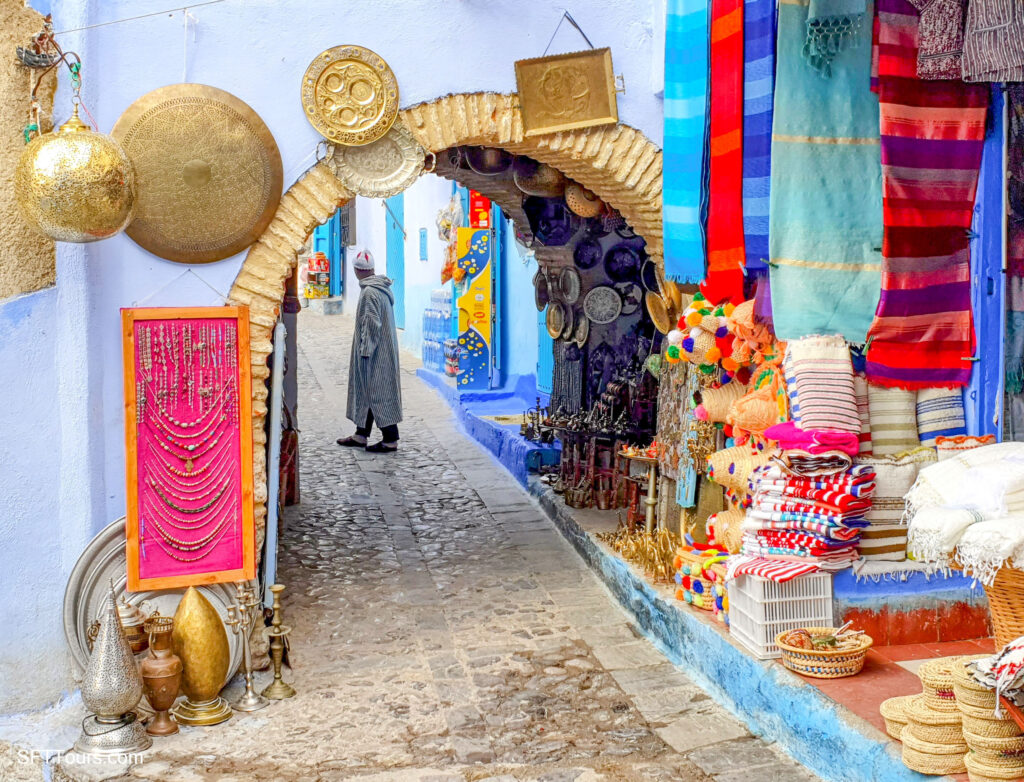 Most the Moroccan population speaks Moroccan Arabic and those of Berber descend also speak Modern Berber language. About a third of the Moroccan population also speaks French.
While Arabic is spoken in many countries in the world, every country has a different accent and dialect and Moroccan Arabic is quite different from the rest because of the influence of Spanish and French, and it hard to understand by other Arabic speakers.
As Salaam Alaykum: Peace be upon you, used as a greeting or to say hello. The response should be Walaykum As Salaam, which translates as "and upon you too" but is a response greeting.
Marhaba: Welcome.
Iyah: Yes.
La: No.
Afak: Please.
Shukran: Thank you. La, shukran for No, thanks.
Labas?: How are you?
Alhamdullilah: Thank God, but used as a response to how are you to say that you are good, thank God.
Smahli: Sorry.
Local cuisine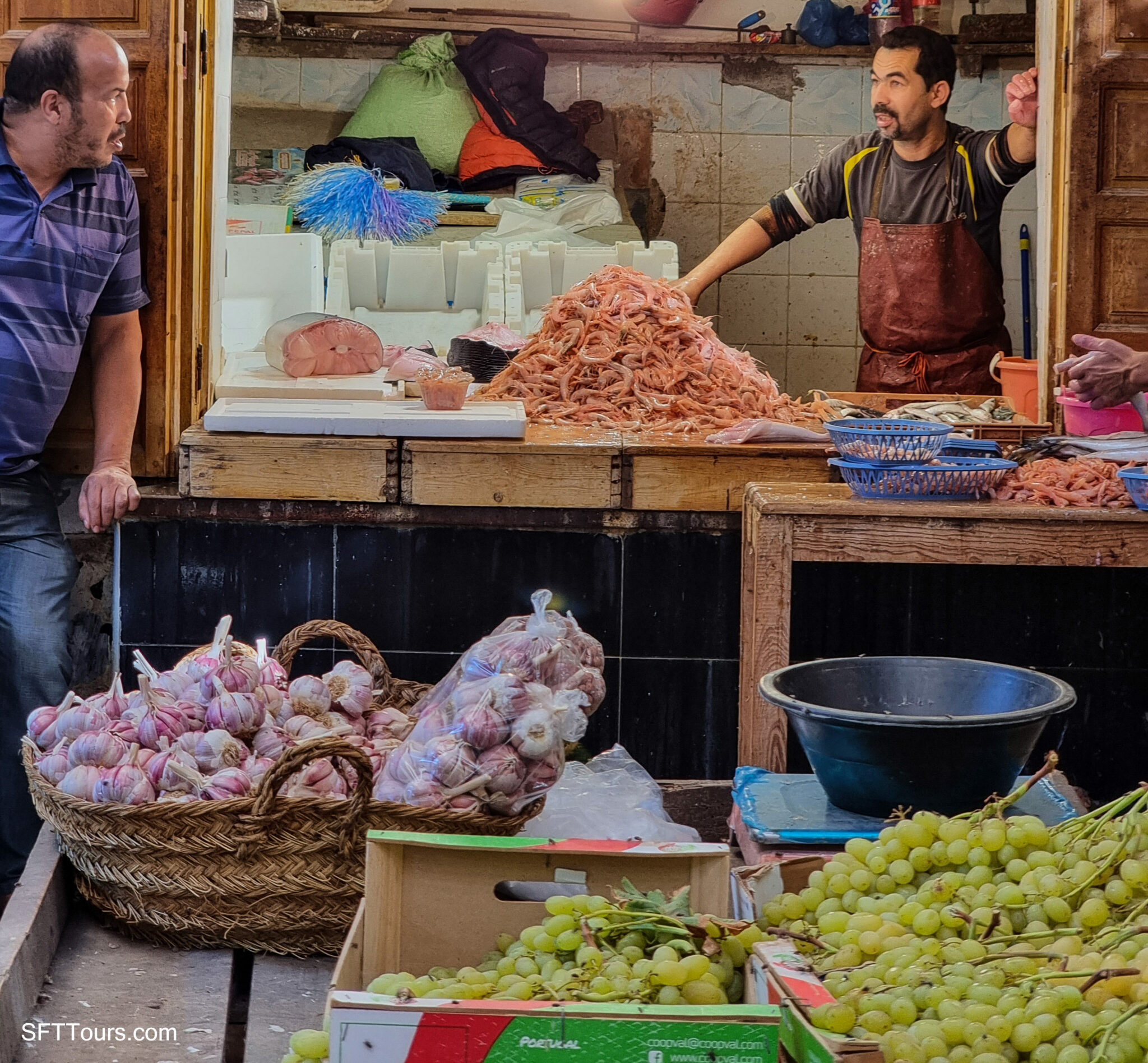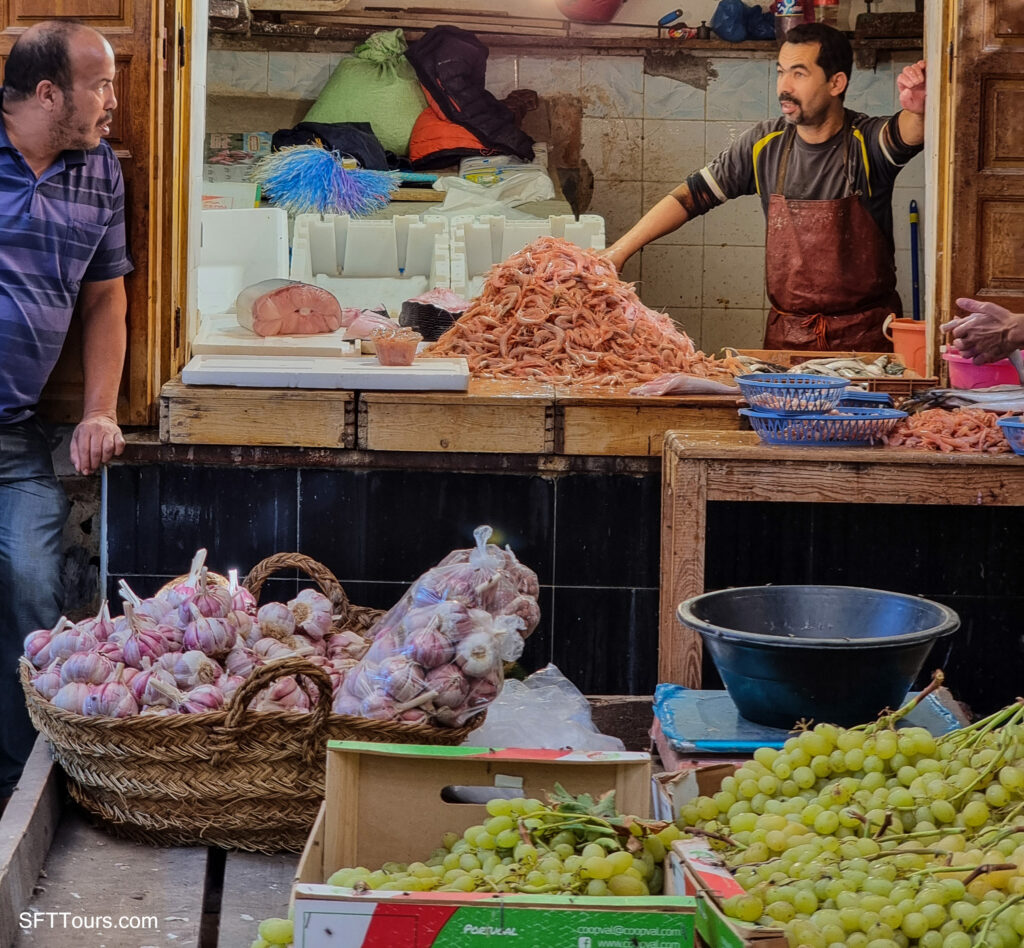 Traditional Moroccan food has Arabian, Spanish and French influences and shares a lot of dishes with other North African and Mediterranean countries but is also unique in its own way with many dishes not found anywhere else.
Besides the great food, there are also a few other rules surrounding eating in Morocco.
Moroccans tend to eat with their hands though forks and spoons are always offered and used. The traditional couscous dish is eaten with three fingers and pressed into small balls before being scooped out.
Bread serves to accompany food and scoop it out. The right hand is the only hand used to eat, as the left is dirty in Islam.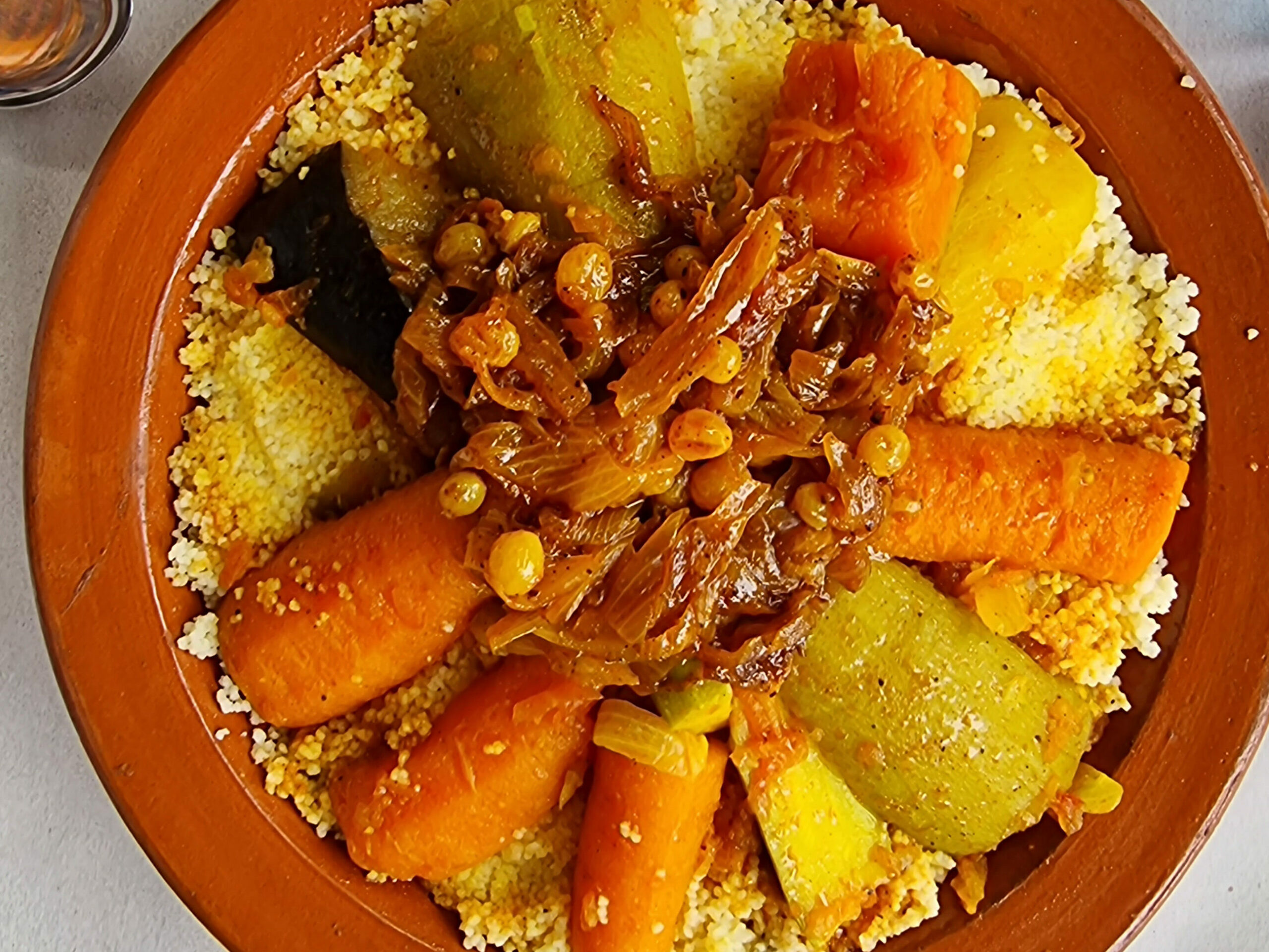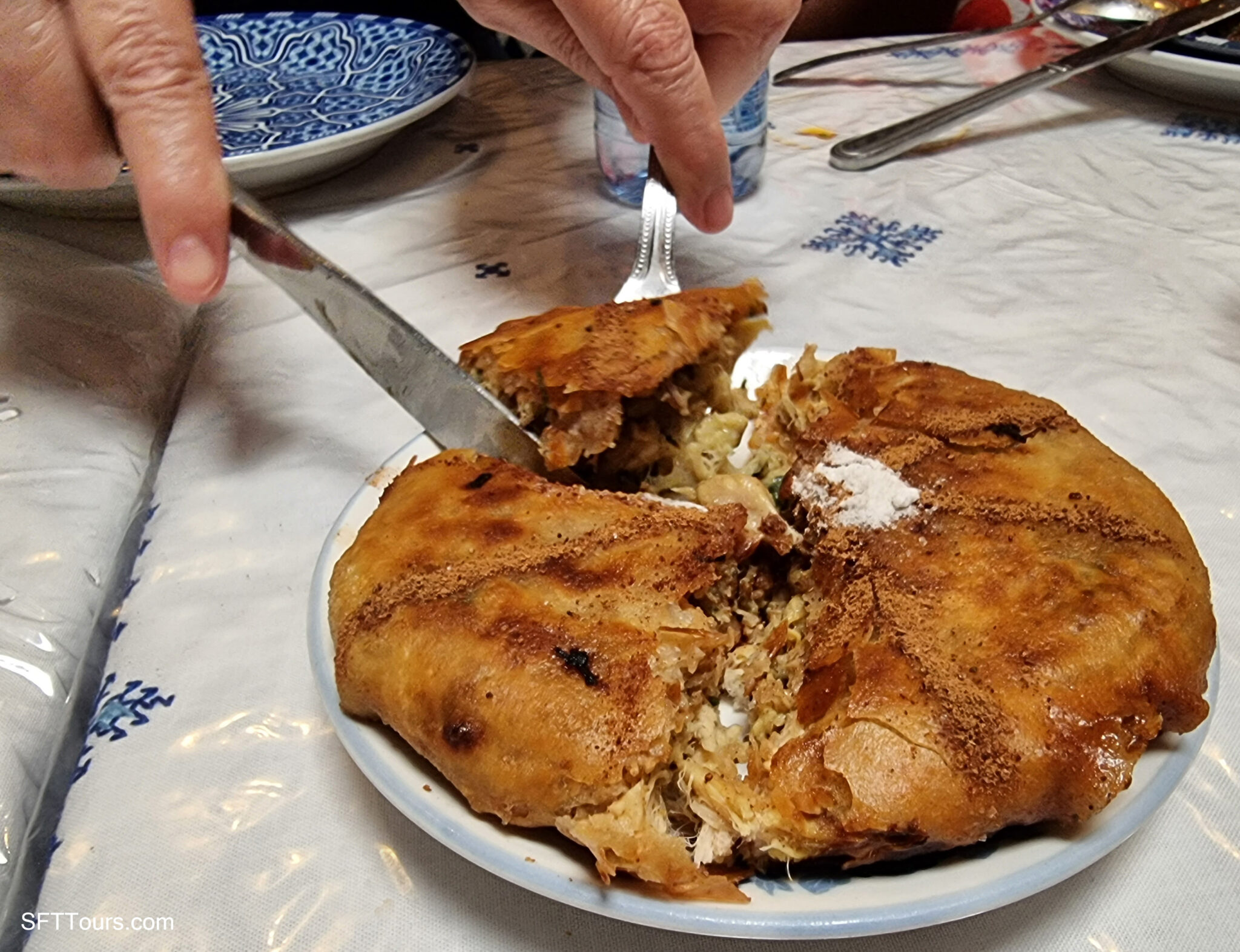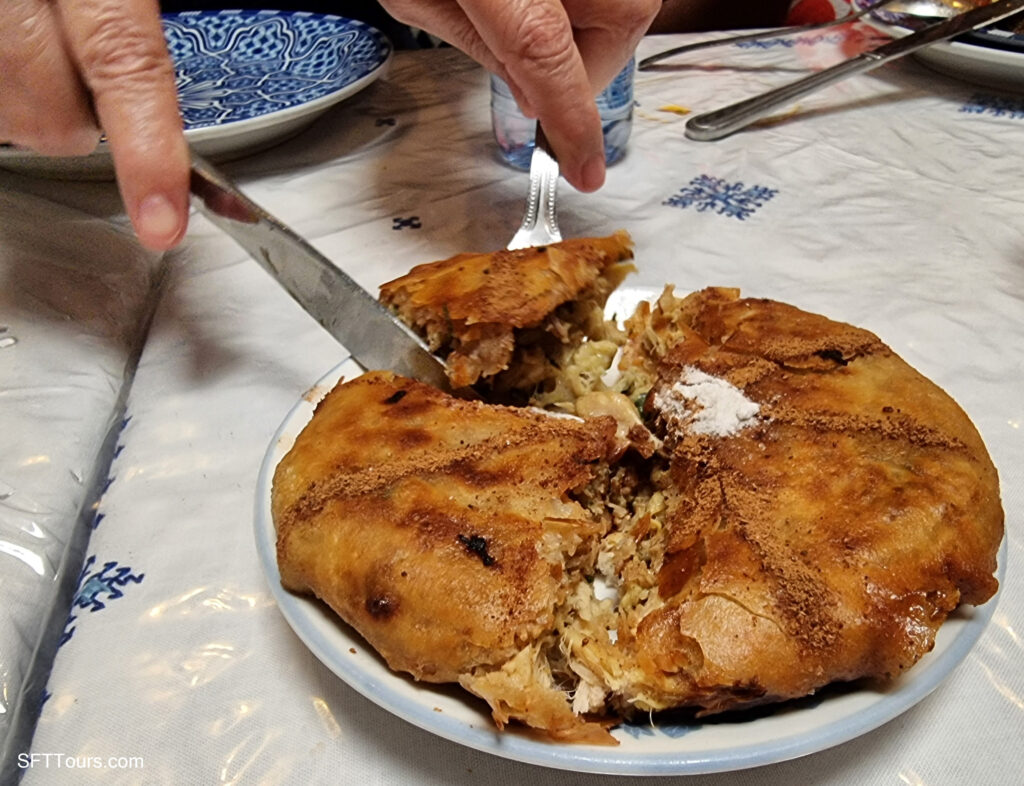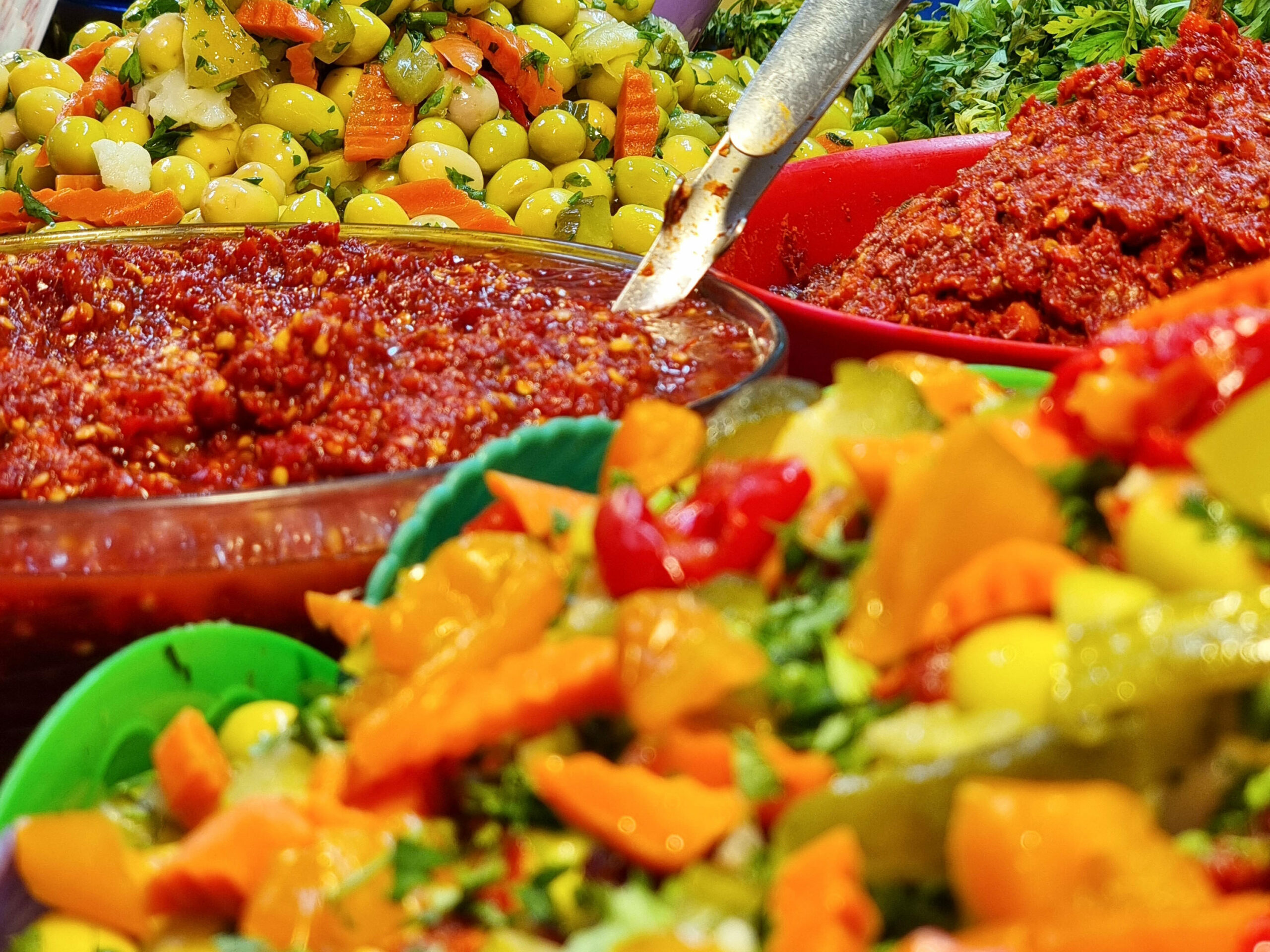 Couscous. Moroccans eat couscous every Friday as this is the national dish and one eaten on the Muslim holy day. The meal is often served with vegetables and can also contain meat, and on Friday, every restaurant will offer it.

If all the couscous you have ever eaten is the instantly prepared version that you pour hot water into, you are in for a treat. Real, home cooked couscous is deliciously fluffy and nothing like what you find overseas.
Tagine. Morocco's most famous dish is named after the ceramic pot it is cooked in, a flat plate covered with a pointy conical top and cooked slowly on a fire. A good tagine takes around 30-40min to be cooked so it is common to wait a while since they are almost always prepared fresh and to order.

Tagine can be made with anything since the dish is defined by the vessel not the ingredients; vegetables, meat or fish tend to be the basis that is usually topped with lots of spices (zafron, cinnamon, nutmeg), and a couple of key ingredients that tend to work in tandem.

Common ingredients include raising, grapes, olives or nuts such as almonds, potatoes, carrots, zucchini, onions and dried fruits such as prunes, or preserved ones like oranges or lemons.

My favorite combination is chicken with preserved lemon and olives or with prunes and pine nuts, meat (lamb, beef, chicken) with vegetables, light vegetarian versions with just vegetables and a clear broth.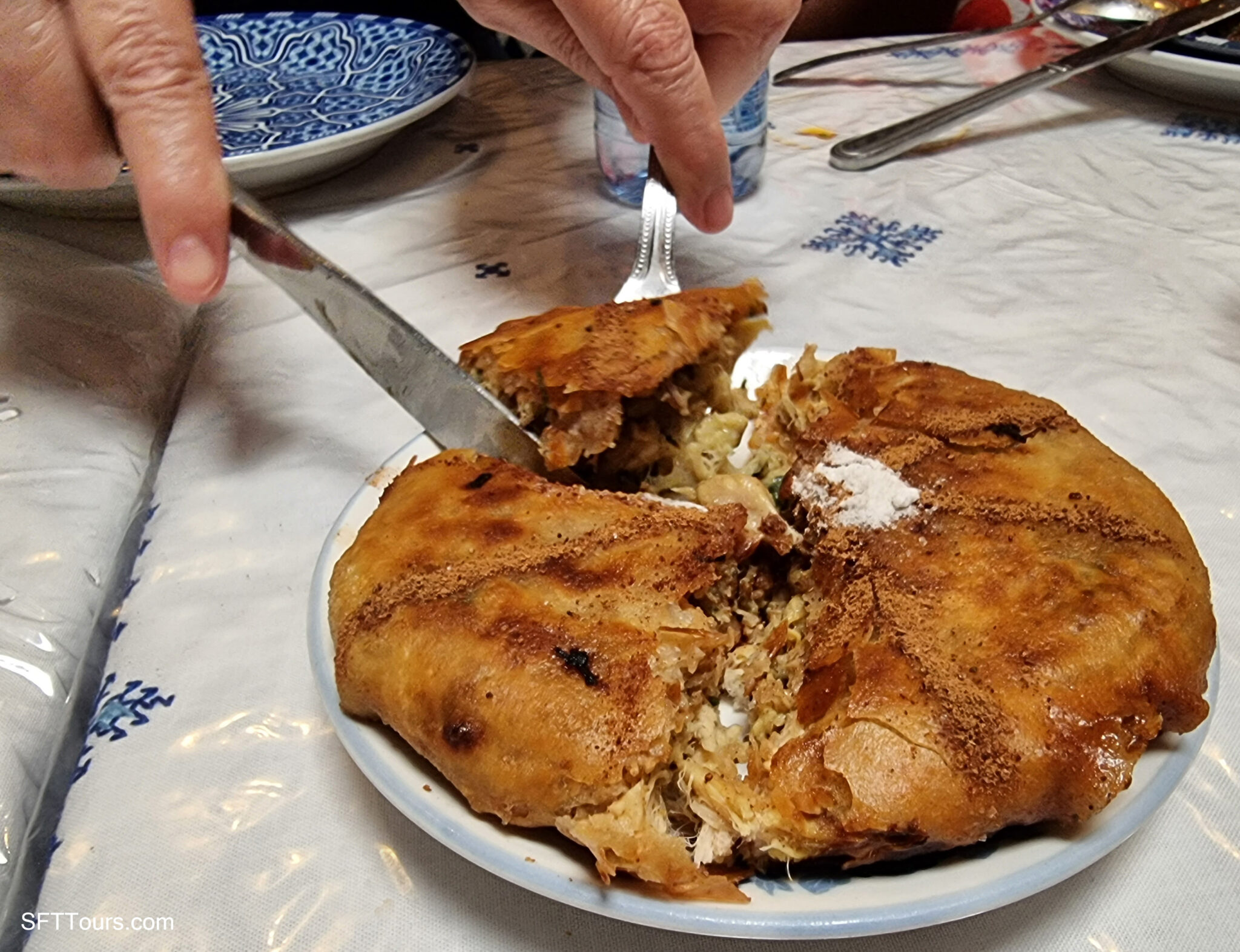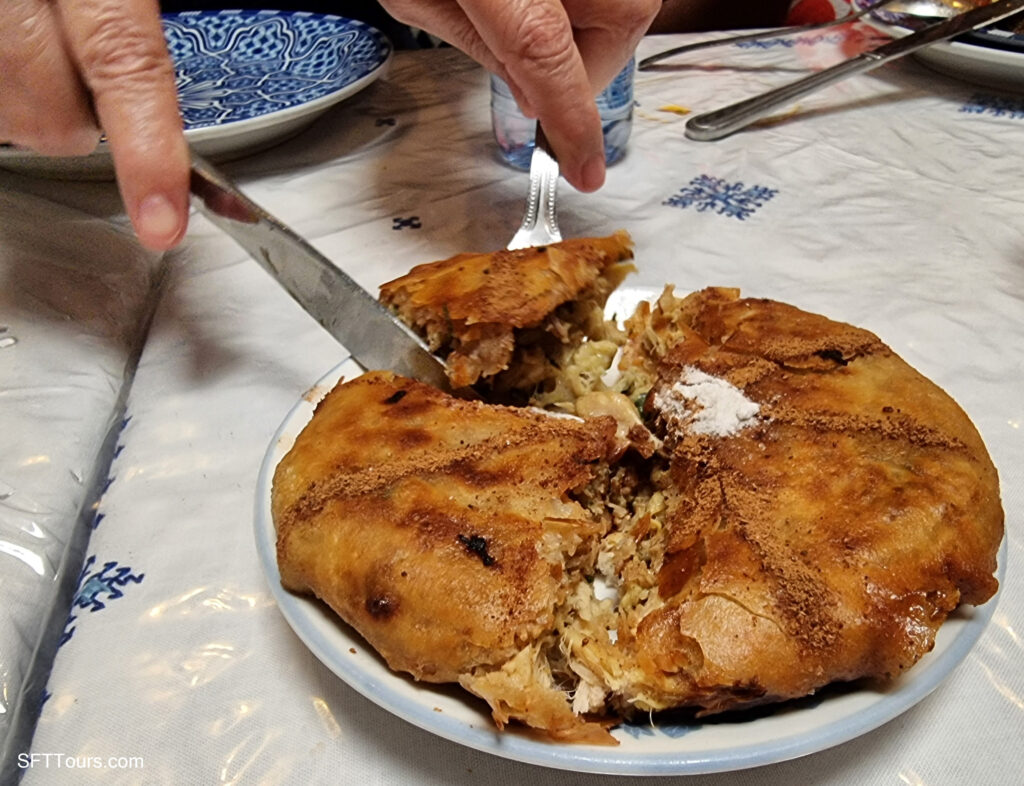 Pastilla. Traditionally a flaky mille feuille pie stuffed with pigeon meat but more commonly cooked with chicken these days, pastilla is a very traditional Moroccan dish that is typical of Fez and is a mix of sweet and savory flavors.
Taktouka. Usually served as a side salad, roasted tomatoes and bell peppers are seasoned and served in small dishes with bread.
Zaalouk. Similar to Taktouka, but cooked with aubergine / eggplant, this side dish / salad is also eaten with bread.
Harira. A tasty and hearty lentil and chickpea soup often cooked with short noodles and vegetables that is very welcome in winter months.
Moroccan breads. Khboz is a communally cooked bread that is often served with a meal. This disk-shaped, pizza-sized, hollow flat bread is omnipresent in the Fez medina where you can see the communal ovens surrounded by piles of stacked up breads.
Street food and food markets. Morocco is known for the medinas, street food and food markets, especially the famous Jemaa El-Fnaa square. One of the most commonly sold food in the markets are kebabs, or meat skewers.
Briouats. Another sweet pastry filled with many thing, though almonds are the most common, and deep fried that is commonly sold at markets and in the medinas. The dough used is similar to filo but is a typical Moroccan dough that can still be found in the medinas where local women prepare and cook the paper-thin dough by hand.
Msemen. This common breakfast bread staple is very similar to an Indian paratha and is made of many layers of thin dough that is fried and paired with cheese, honey or jam.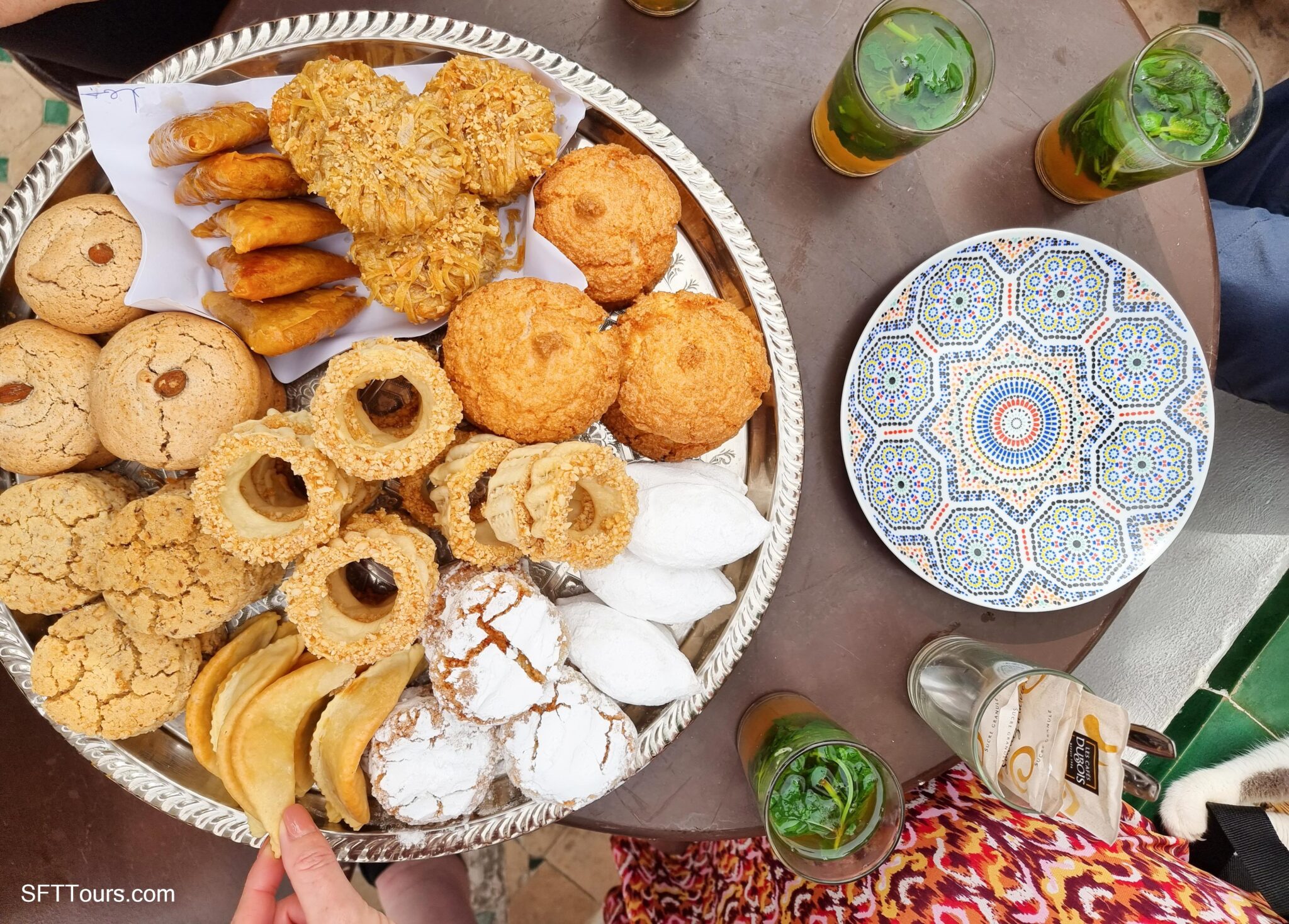 Kaab el Ghazal. Almond biscuits flavored with orange blossom and eaten with tea. You will have the chance of trying them during out tour of Rabat.
Moroccan tea. Moroccans love to drink tea. This is usually green tea steeped in a shinny silver pot, and often stuffed with mint leaves. It is served steaming hot, poured from a distance from pretty silver pots, sweetened with a lot of sugar and drunk from tiny glasses.
Alcohol. Beer and wine are available throughout Morocco as are liquors and spirits except for Chefchaouen which is a dry city. You can bring it from elsewhere but it is not sold locally. Additionally, Morocco is also a wine-producing country and has the largest winery in North Africa which you visit during our tour of Morocco.
Tipping in Morocco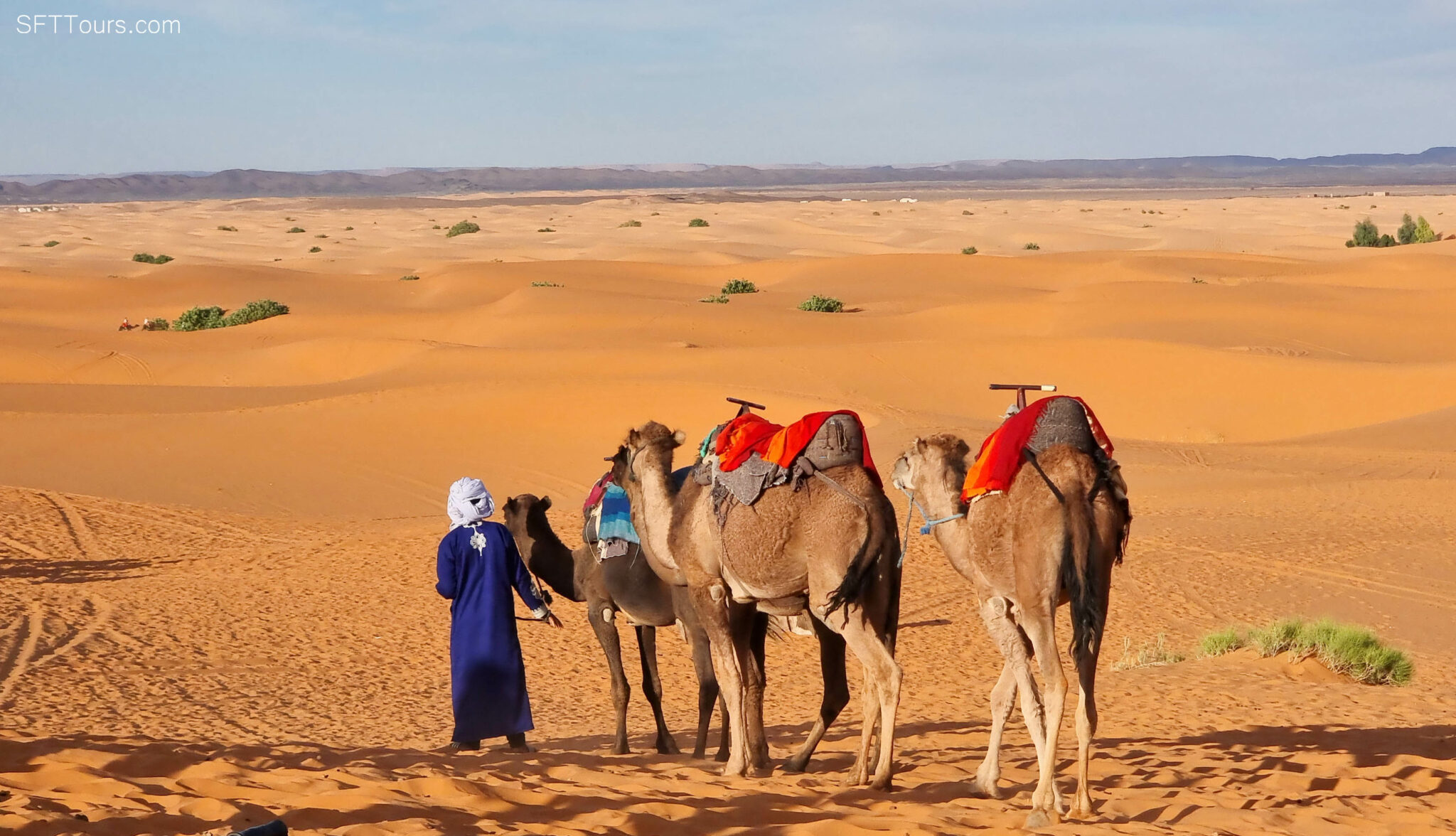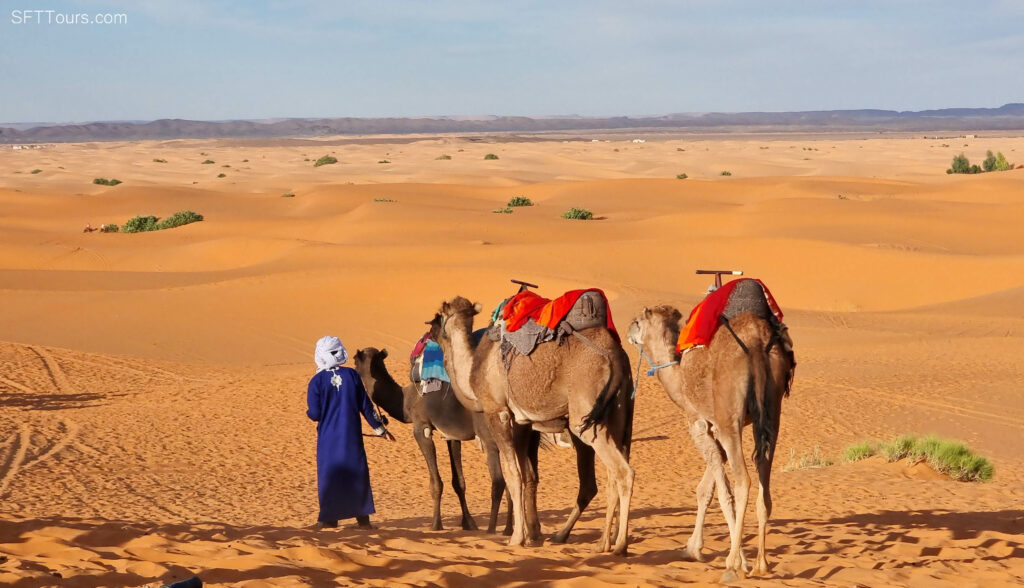 Tipping is always a personal decision based on the service you have received. However, tipping in Morocco is customary and expected in most interactions, including unwanted help offered in the medina, at the airport, etc. If someone offers to help you out, they will expect a tip.
Because constantly tipping can be quite overwhelming, we have included tips in our trip price. That means that a portion of the trip goes towards the many staff at hotels, restaurants, artisan workshops, stores, etc. who you will be visiting throughout the trip.
The only tip not included in the price is the tip for your local host and guide who you can tip entirely at your discretion.
In group trips like ours or if you hire a guide for the day, we recommend 15-20 EUR per day as a good tip for a guide, and about 5 EUR per day for the driver. If the service has been exceptional, as is normally is in Morocco where hospitality is taken seriously, you could consider tipping more.
If the service has been subpar or if you have been taken to shops you didn't want to go to for "shopping opportunities" you could leave a lower tip.
If you have booked a driver and guide for yourself, I would also suggest a more generous tip.
Selling, haggling and "just having a look"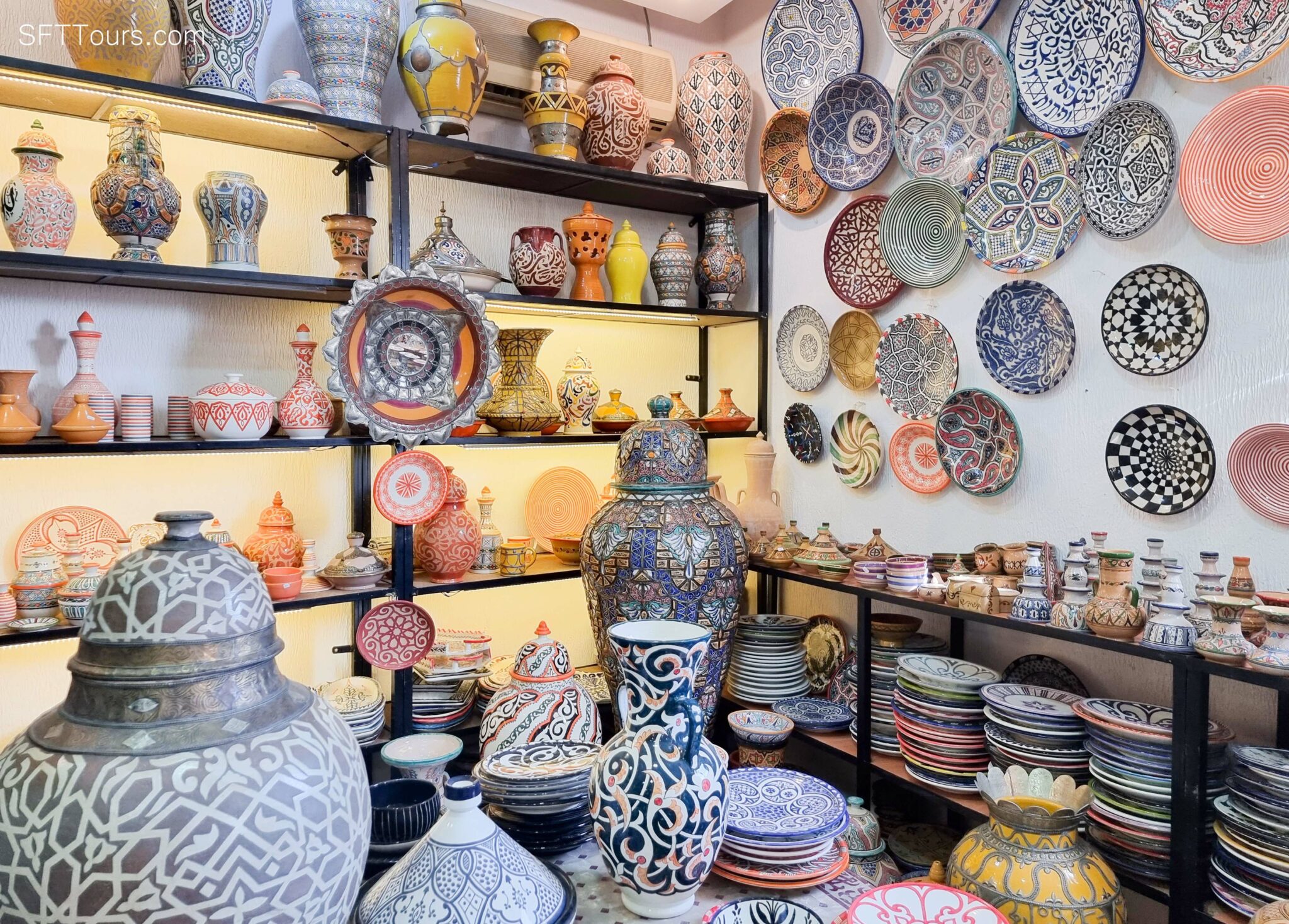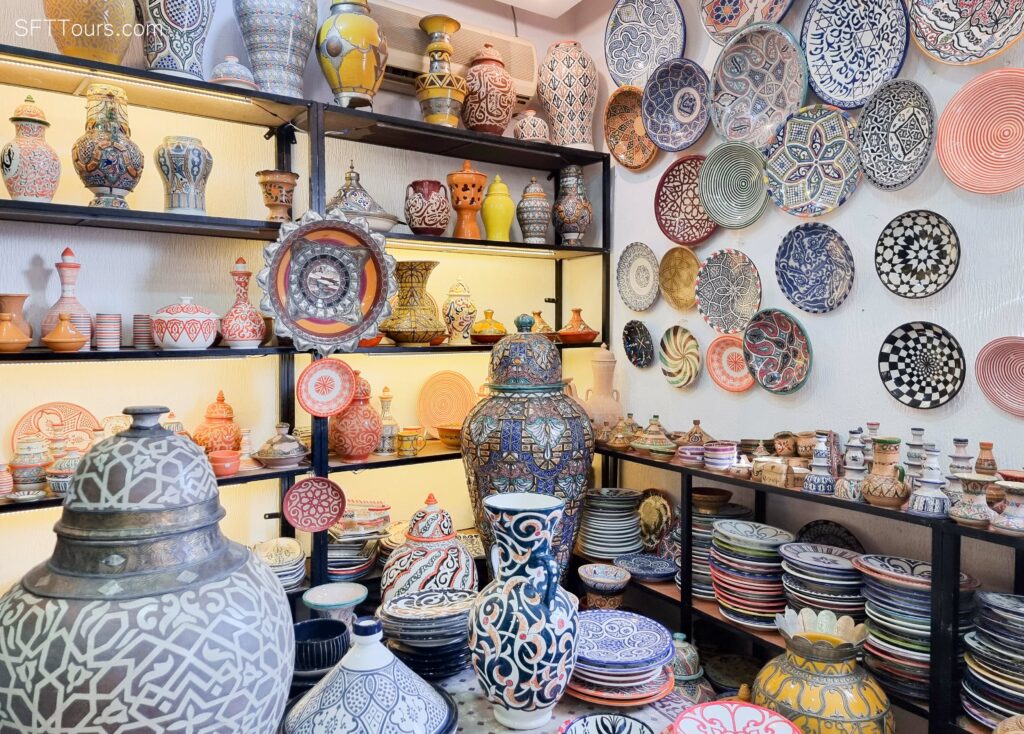 Sellers and artisans in the medinas will try to get your attention at every turn with an invitation to come into a store to "just have a look". Along will follow a well rehearsed performance that is designed to show you their best wares and entice you to purchase.
Unavoidably, visitors feel guilty for the time spent by the artisans unfolding many carpets, picking dozens of kaftans or explaining elaborate artisanal work and compelled to purchase something.
We believe that all the artisans and sellers who take the time to show us their work should be compensated for their time and for sharing their expertise. At the same time, we also believe tourists should not be guilt-tripped into purchasing something they do not want.
For this reason, we have also devoted a part of the trip price to compensating all the artisans and experts who will show our guests their craft so that you only buy a souvenir or beautiful gift if you want to.
Souvenirs from Morocco to buy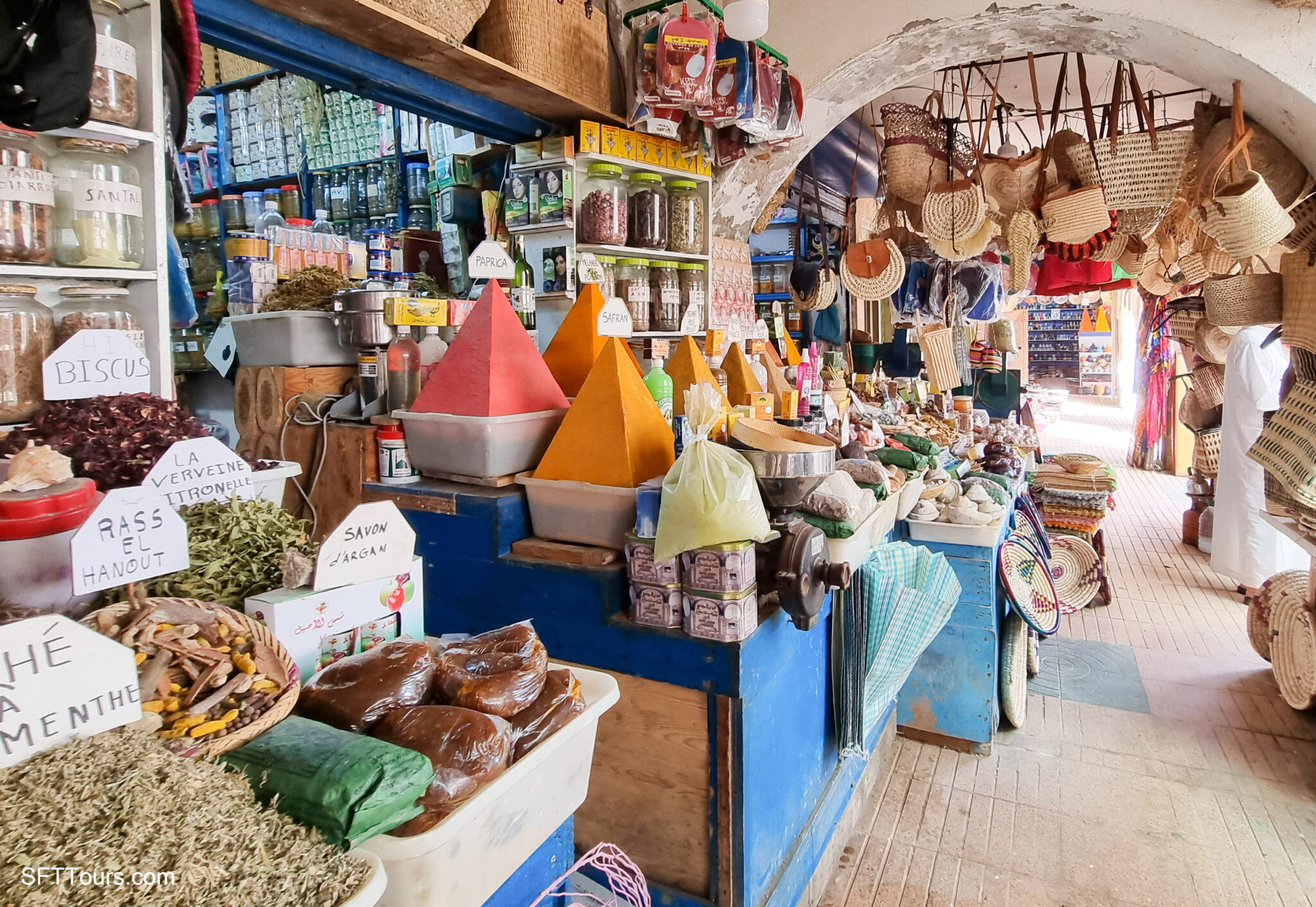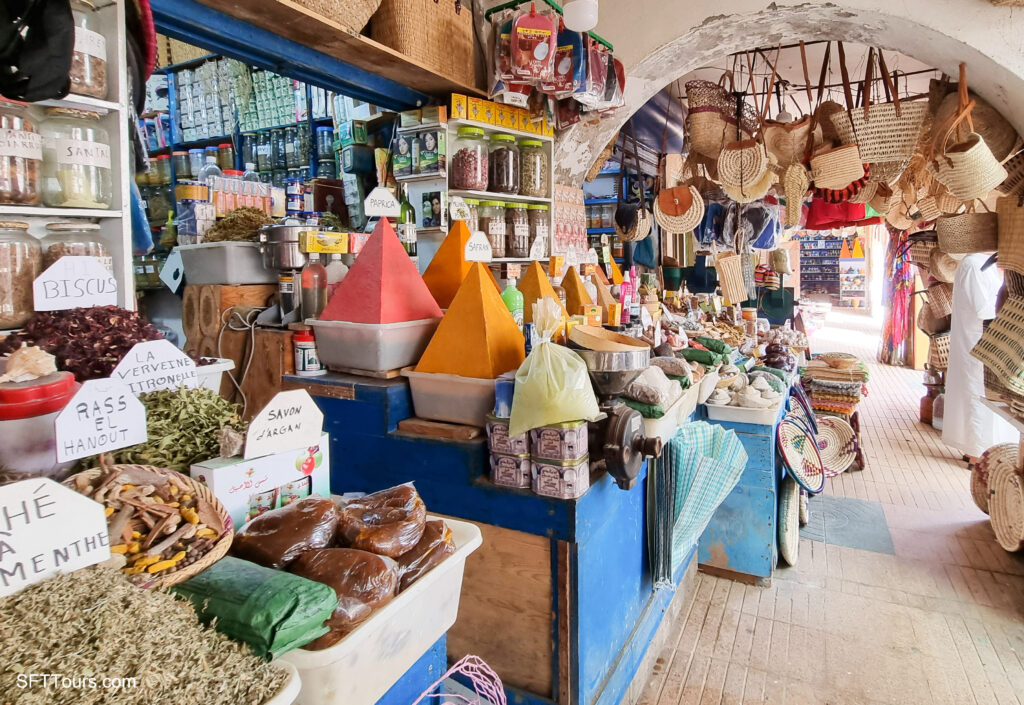 Morocco is a shoppers paradise. There are so many souvenirs to buy that you may want to bring an extra shopping handbag to put them all in or, better yet, a very light suitcase with lots of free space.
Artisanal products, carpets or even furniture are available for sale in Fez, Marrakech and the larger cities of Casablanca and Rabat. Most stores offer shipping to the US and Europe at an extra cost and can organize this for you.
Items that appear bulkier, such as carpets, can be flat packed into small parcels that can easily be fit into your suitcase.
While the below products are found for sale anywhere across the country, Fez is the major production center of the country and the city where the original artisans and workshops are. The range of items and the quality / price equation is better here than in Casablanca or Marrakech which receives them from Fez.
Below is a list of the best souvenirs to buy in Morocco.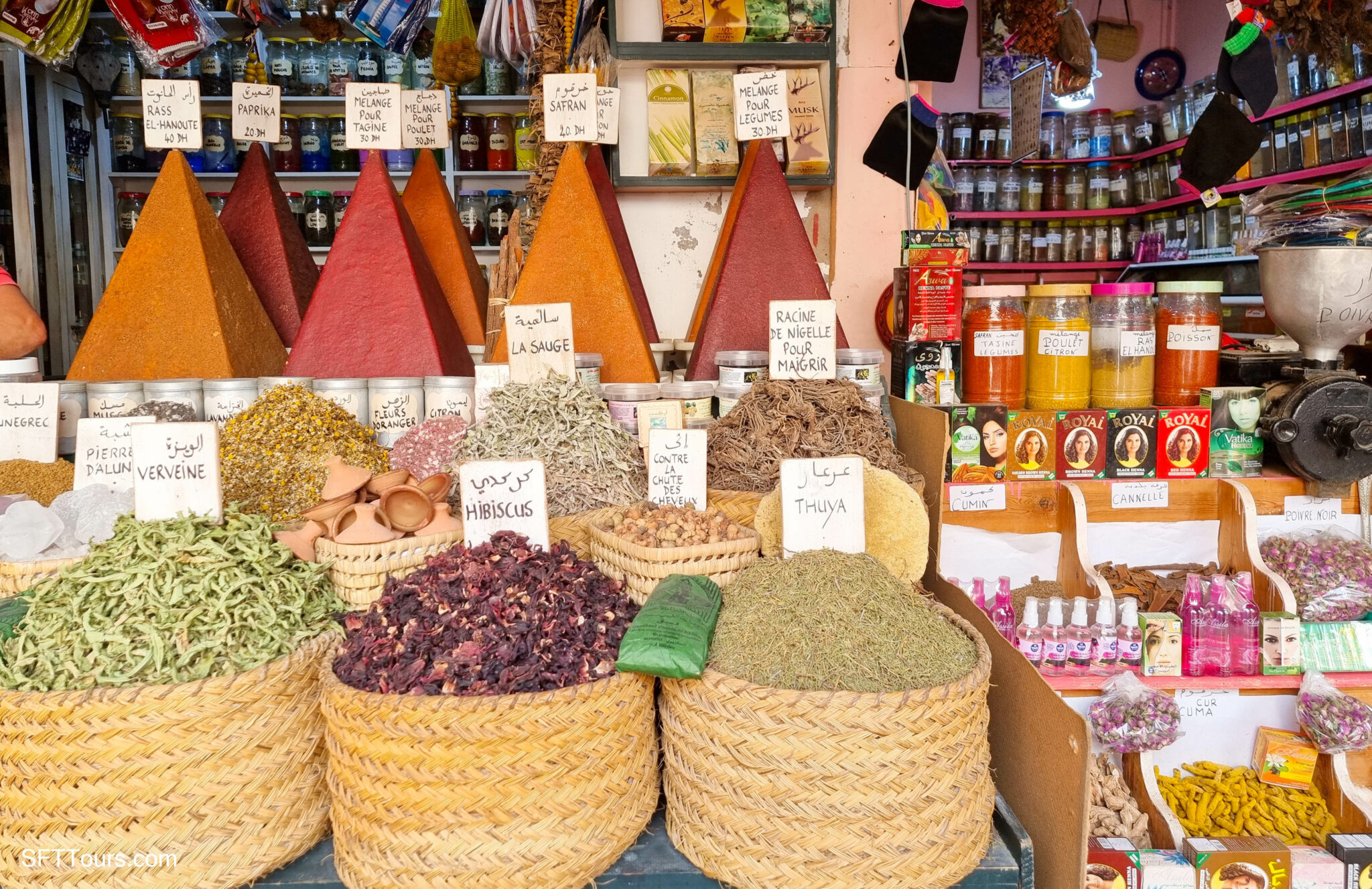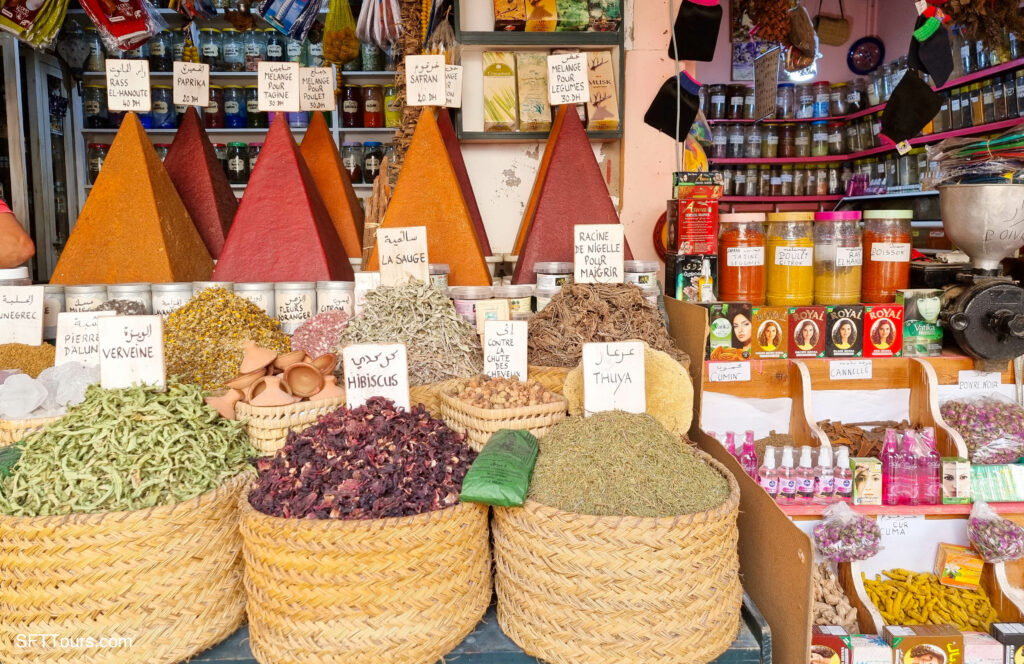 Spices: Spices are an essential part of Moroccan cooking and are widely available for sell at the medinas where they are displayed in sacks or presented in conical shapes.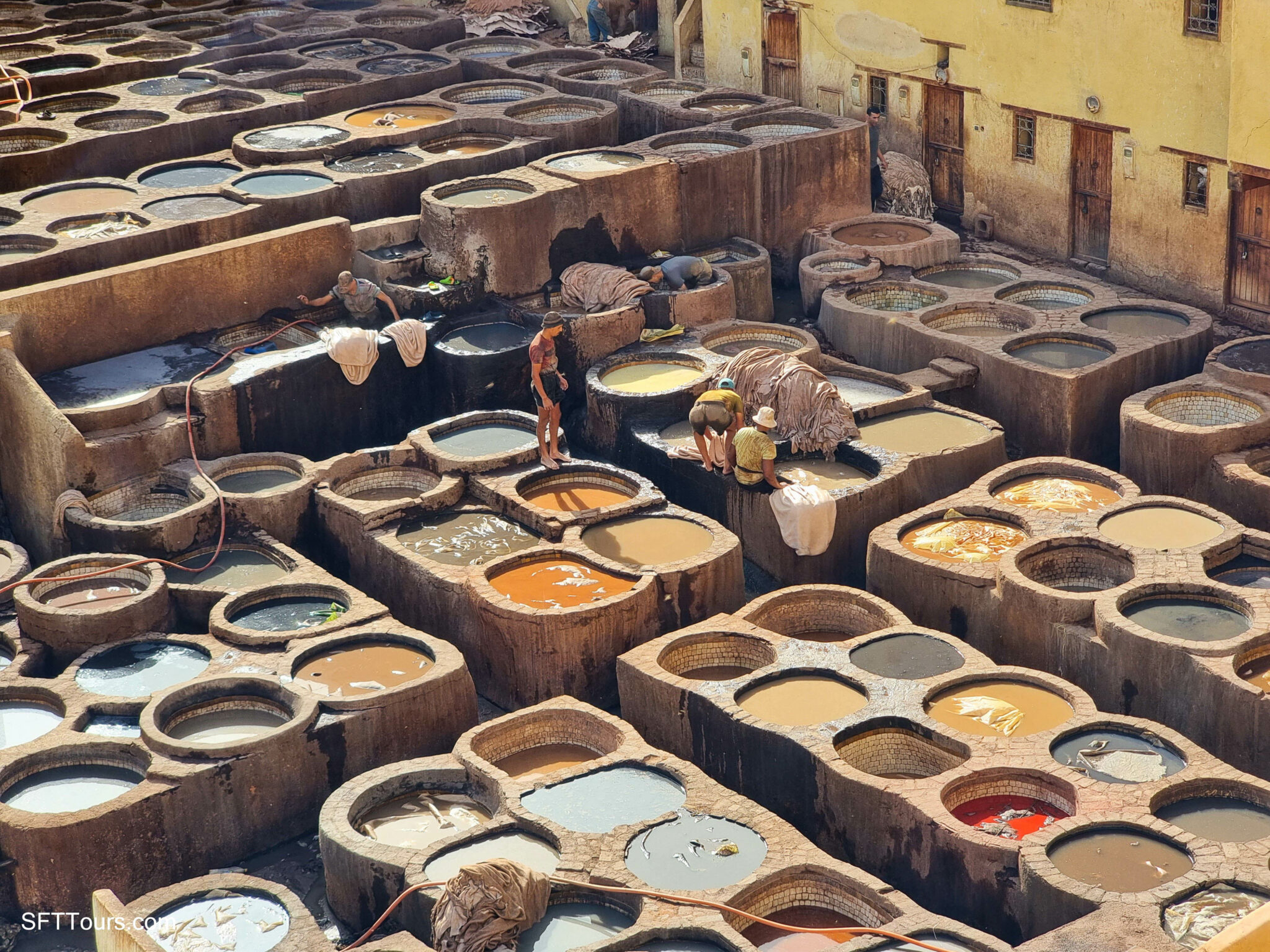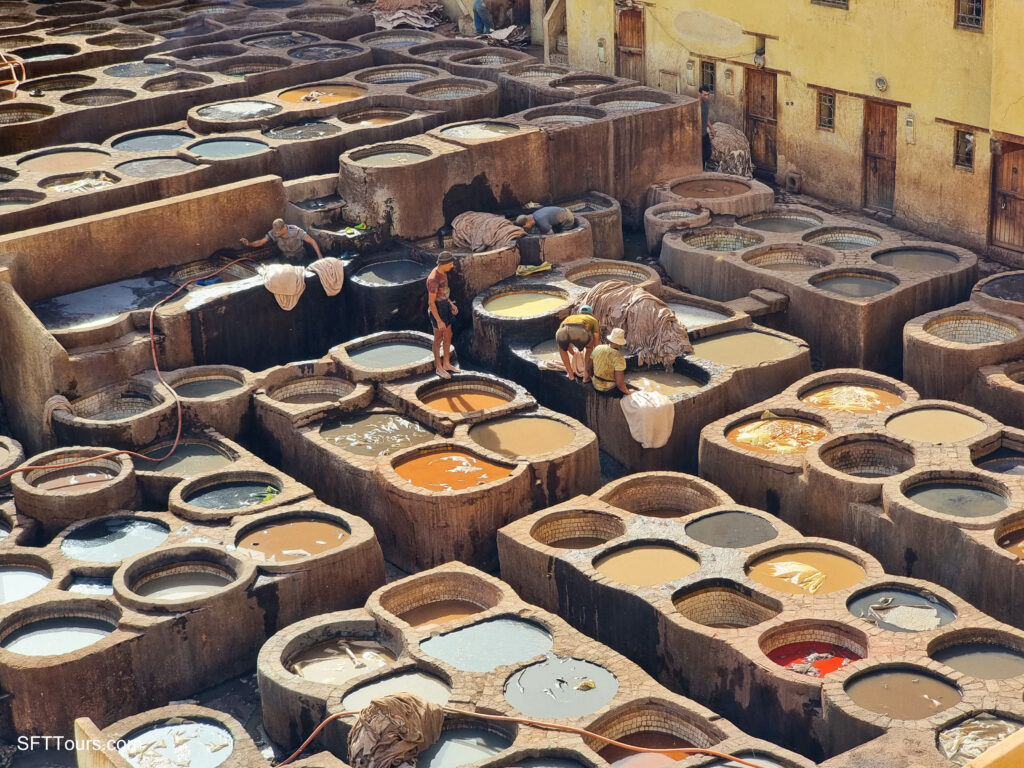 Leather products: Fez is the leather center of Morocco and the place where the oldest tanneries are. Here, you can find all kinds of leather products but handbags, slippers and jackets are the most commonly found.
Copper items: As you walk through the medinas, you will be mesmerised at the shinny copper lamps and pots hanging from ceilings and walls. I loved them so much I have one hanging from above my bed.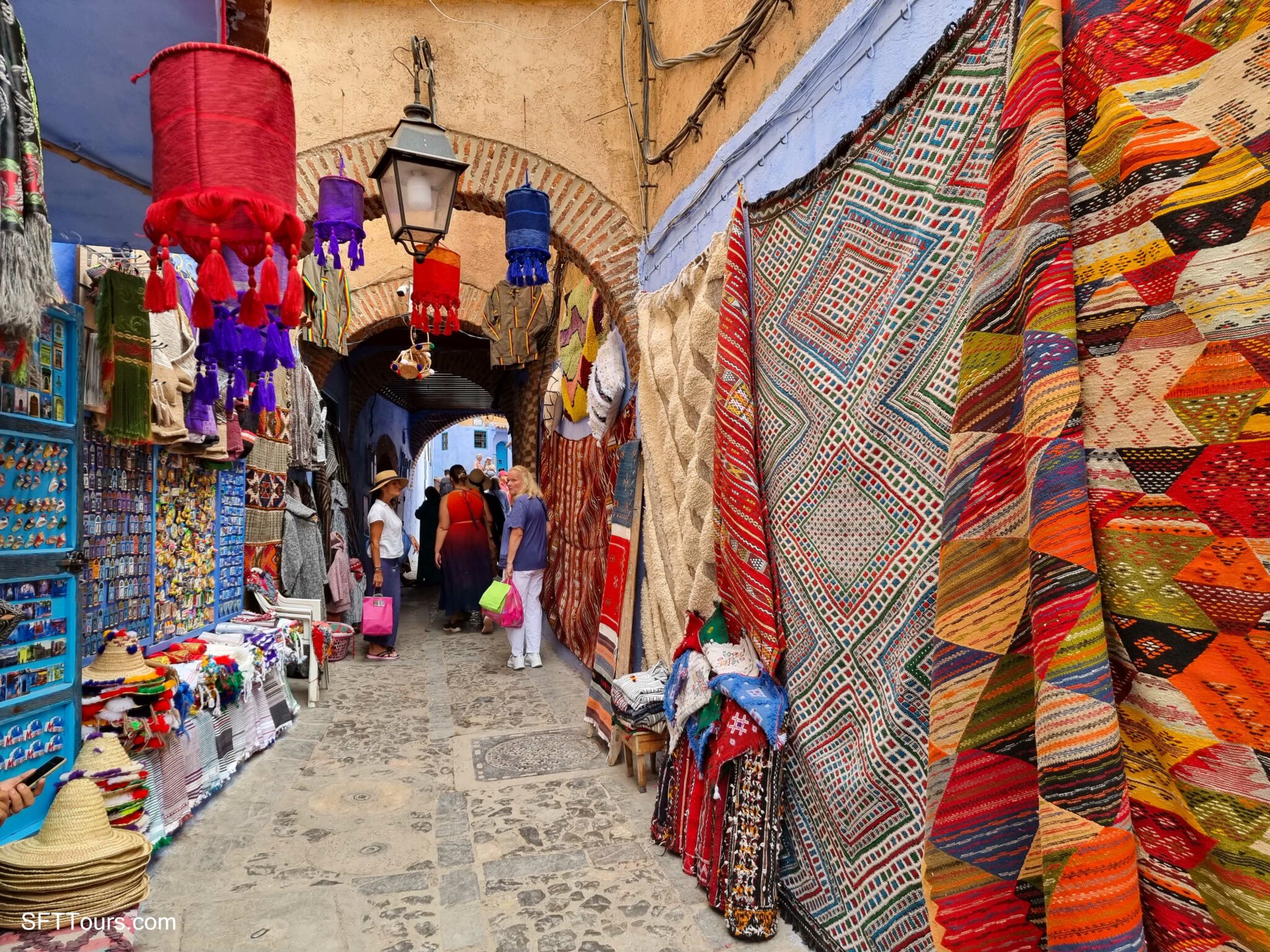 Rugs: Moroccan rugs are rougher and more colorful than the carpets you can find in the Middle East or Asia. They are usually decorated with geometric shapes and tend to feature red and blue as the dominant colors.
Berber slippers: Traditional djellaba cover alls are often paired with the typical Berber leather slippers that so colorfully hang from walls and doors.
Kaftans: Especially in Marrakech, the comfy kaftan has been taken to the next level with fashionable designs and sleek accessories.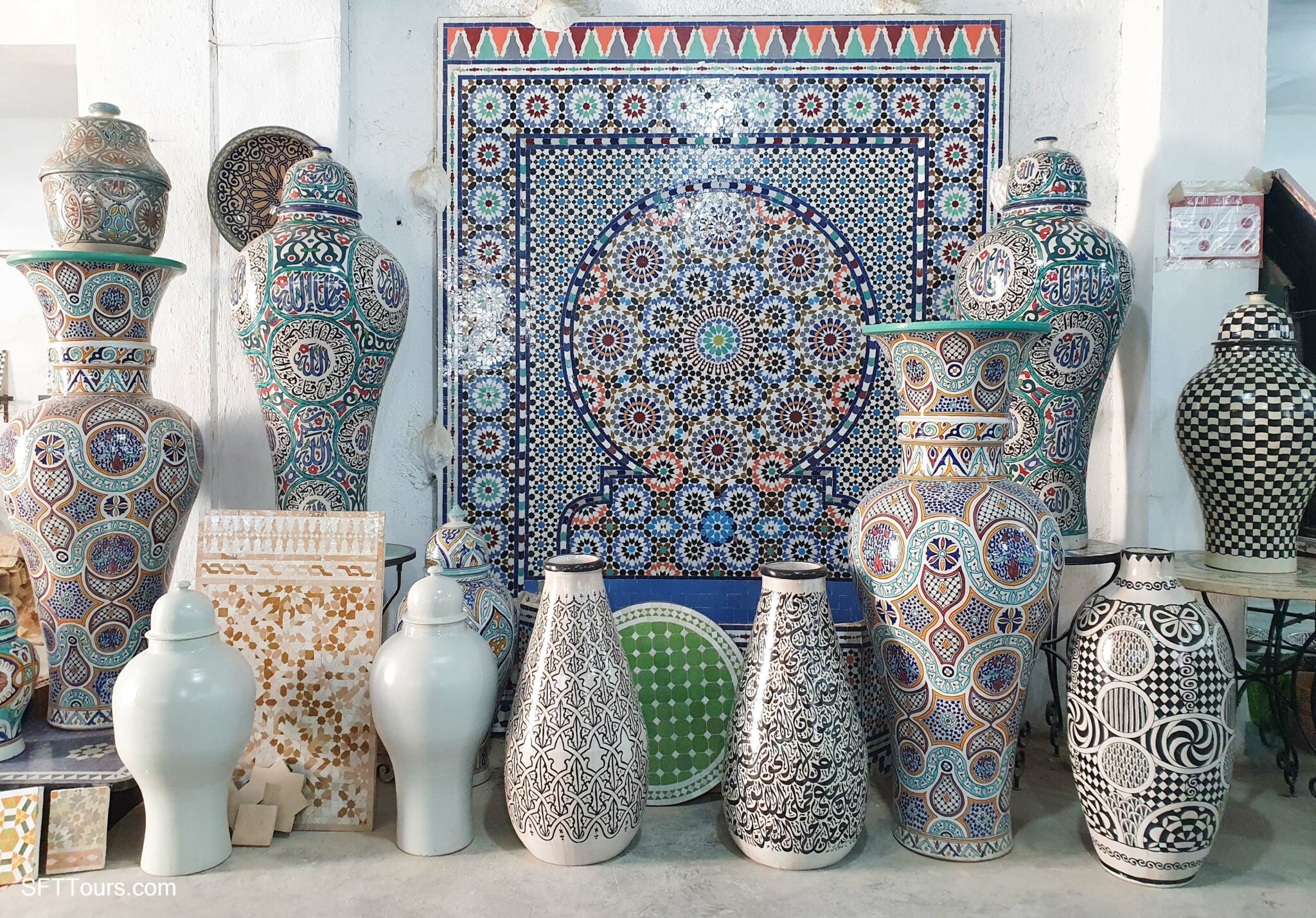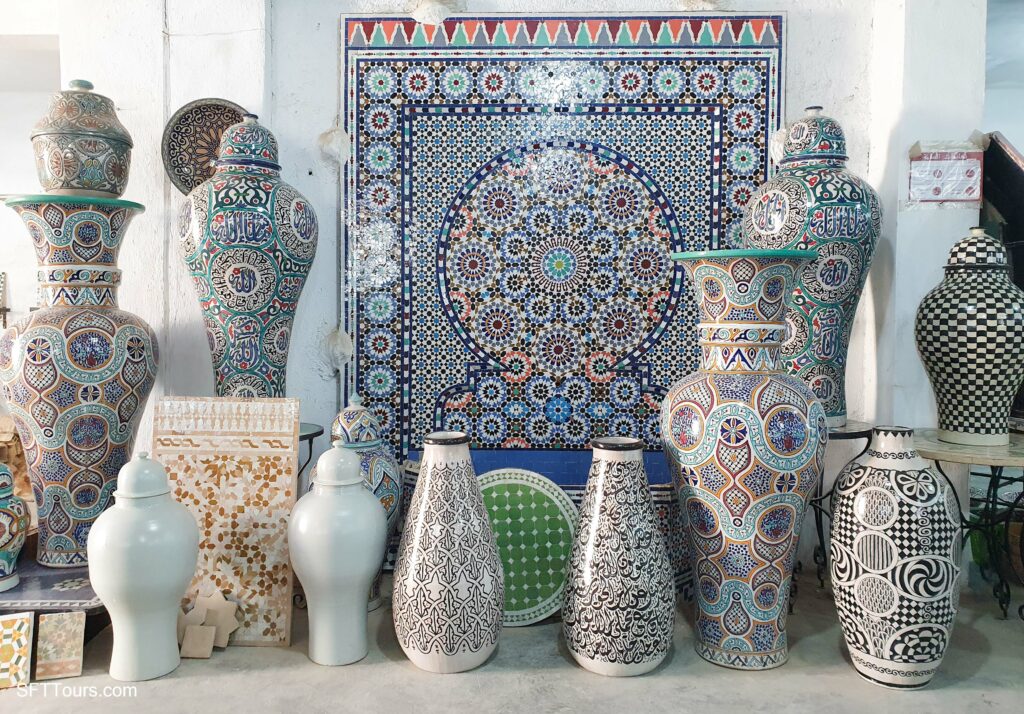 Pottery: The beautiful pottery made in Fez is some of the most colorful you'll ever found. You can buy crockery, bowls, mugs or even larger pieces like fountains or mosaic tables.
Argan oil: Argan oil is made from the kernels of the tree of the same name that are endemic to the south of Morocco. The laborious process for extracting this oil makes it a very pricey item that is both used in food and by the cosmetic industry for its anti-oxidant properties.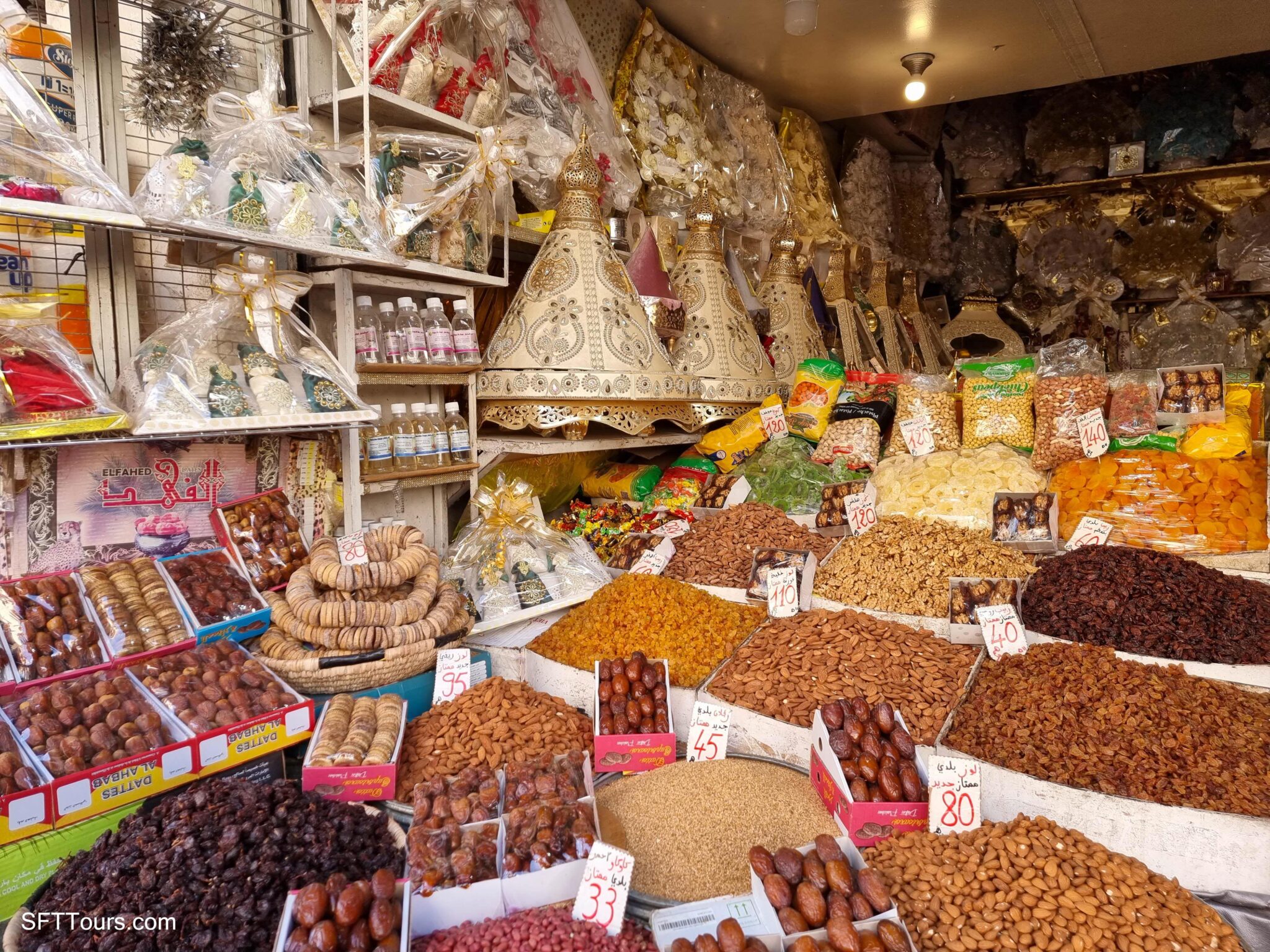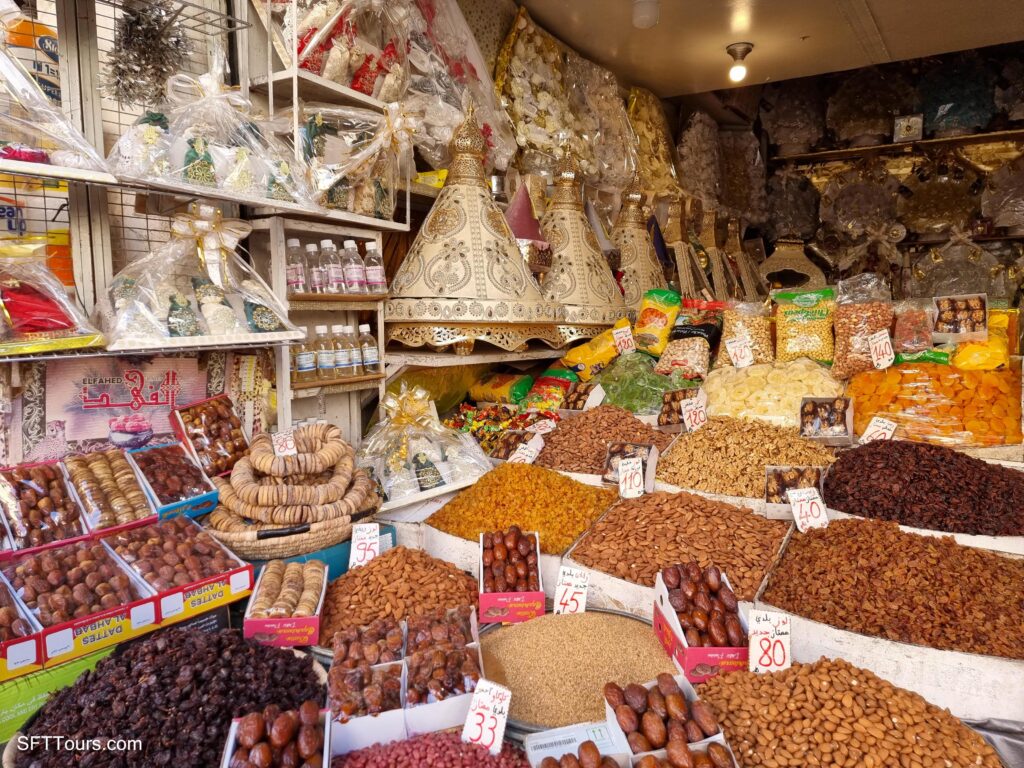 Dates: Morocco is one of the largest exporters of dates and you will be able to taste and enjoy many different varieties during the trip. You will also be visiting a date farm in the southern part of the country where there are large palm plantations.
Rose oil: The mountainous region of Morocco is home to the Rose Valley where, in May every year, the smell of roses permeates and these beautiful flowers are picked and their petals transformed into a very precious oil. The essential oil can sell for up to $10 for 10ml or $1,000 per liter.
Books about or set in Morocco
Morocco has inspired many movies, epic adventures and books, some of which have become classics. Below are some recommendations for inspiring, historic and interesting reads.
Hope and other dangerous pursuits – L. Lalami: As someone from Spain, seeing the human tragedy of the many immigrants trying to cross the Strait of Gibraltar on a live boat on TV was a common occurrence during my childhood. In this book, the author tells the journey of a group of migrants across the strait.
The voices of Marrakech – E. Canetti: A novel about life in Marrakech written by a Nobel Prize winner.
The spider's house – P. Bowles: A historically relevant novel set in Fez a couple of year's before Morocco's independence.
The Caliph's house – T. Shah: The author decides to move back to Morocco with his wife and children and renovate a large mansion in the outskirts of Casablanca. A reverse culture shock, and a look at the many superstitions surrounding the mansion.
Stolen Lives: Twenty Years in a Desert Jail – M. Oufkir: The biography of Malika Oufkir, daughter of the King of Morocco's aid who was adopted by the king and lived a life of luxury until he was killed and his family imprisoned in a desert jail.
The Sand Child – T. Ben Jelloun: The story of a girl who was brought up as a boy to bypass Morocco's inheritance laws as told by the village's storyteller in the main market.
In Morocco – E. Wharton: The famous author traveled to Morocco in 1917 when WWI was wrecking across Europe, and tells of her trip in this fascinating book.
Garment of shadows – L. R. King: the 12th episode in the Mary Russell and Sherlock Holmes series takes place between Spain and Morocco.
Movies about or shot in Morocco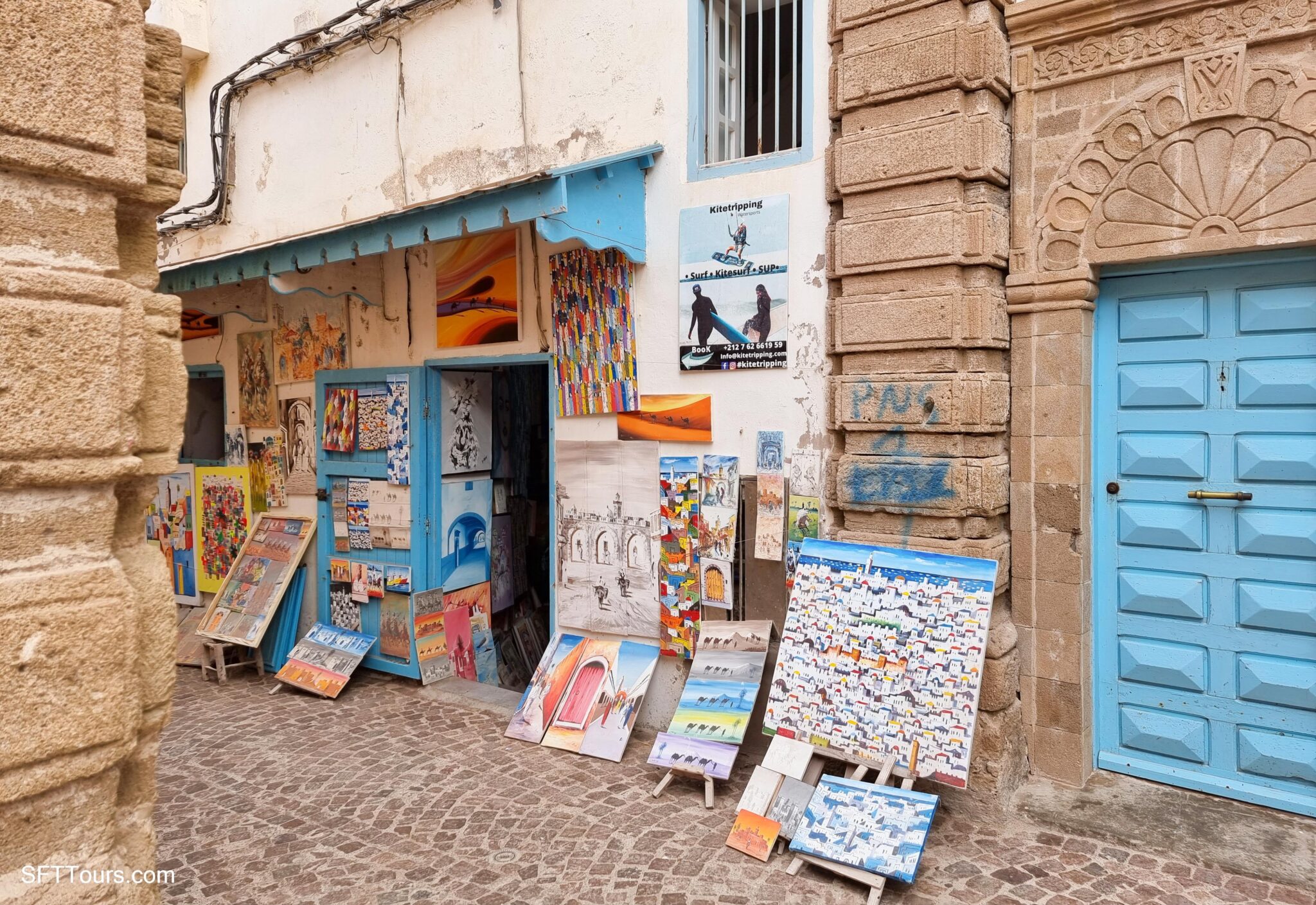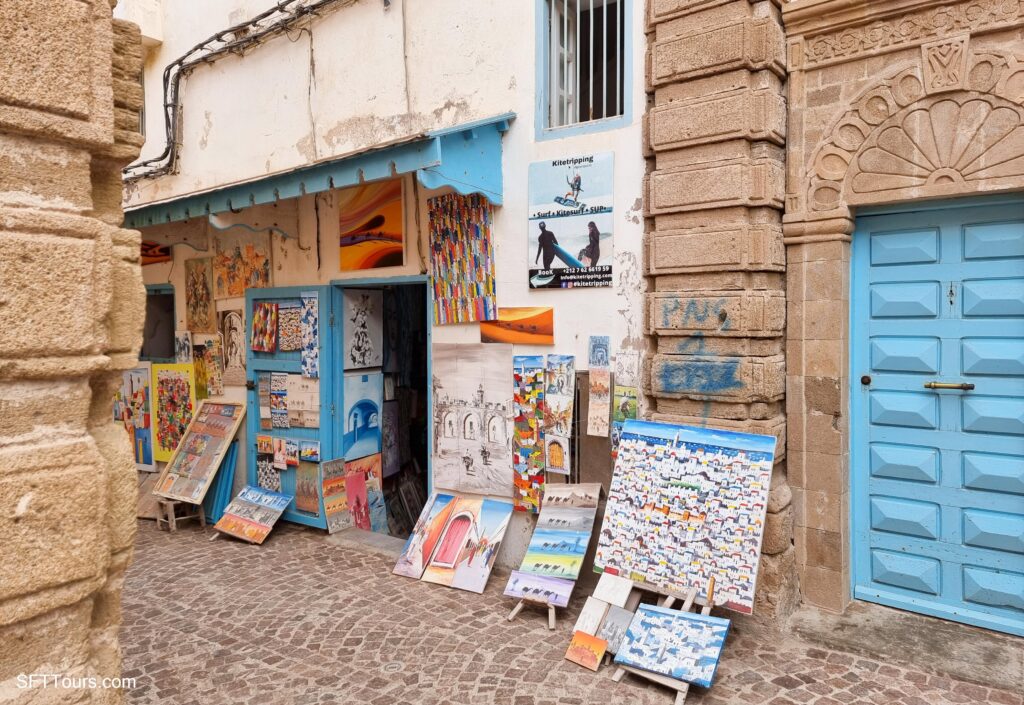 Morocco is a very popular movie production destination and has the second largest movie set in the world. The first movies filmed there were the result of producers and film makers looking for new backdrops to film movies against and Morocco, being so close to Europe, was a great option.
The first movie filmed there was The Moroccan Goatherd which was released in 1897 and since then, many classic movies have been set in the deserts and medinas of Morocco..
Below is a list of documentaries, movies and shows you can watch to learn more about Morocco or simply marvel at its beautiful landscapes.
Lawrence of Arabia – Although most of the scenes of this spic movie were shot in the south of Spain, Ait Ben Haddou was also featured.
The Man Who Would Be King – The movie adaptation of Kipling's novel featuring Sean Connery was shot at the studios in the US and on location in France and Morocco.
The Mummy – The movie is set to take place in Egypt but it was in fact filmed in Marrakech and at a movie set in Erfoud which was also used by James Bond's Spectre.
Babel – A movie by Alejandro González Iñárritu with Brad Pitt, Cate Blanchett and Gael García Bernal that was much awarded and filmed across 4 countries, including Morocco, with scenes in Casablanca and Ait Ben Haddou.
Gladiator – Epic movie by Ridley Scott that needed an epic location and chose Ait Ben Haddou for it.
A door to the sky – The first ever Moroccan movie directed by a woman and one every female traveler to Morocco should watch.
Kingdom of Heaven – Another favorite movie also shot at Ait Ben Haddou by Ridley Scott.
Sex and the City 2 – Although the story is set to take place in Abu Dhabi, it was in fact filmed in Morocco as the series is banned in the Emirate.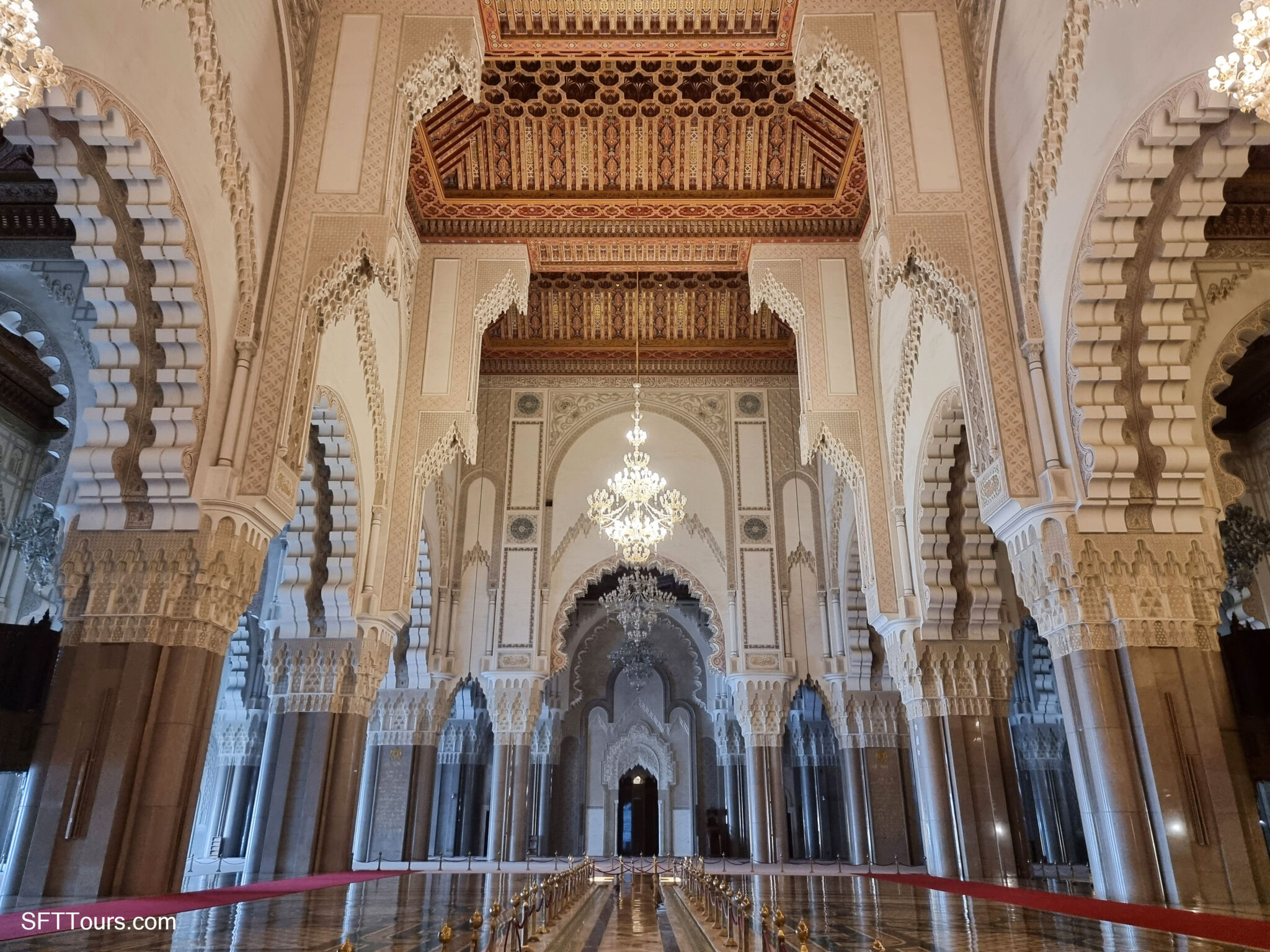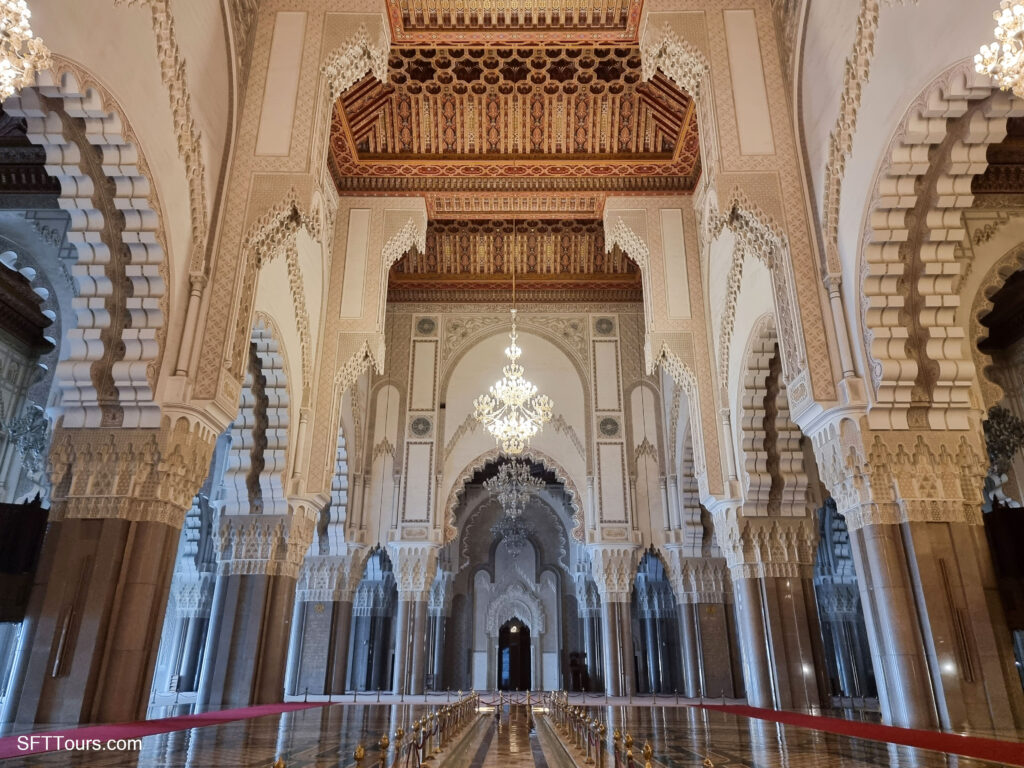 Prison Break – The 5th season of Prison Break shot on location in Morocco in the cities of Casablanca, Rabat and Ouarzazate.
The Spy – Netflix show featuring Sacha Baron Cohen that recounts the story of Mossad spy Eli Cohen. Addictive, with many scenes shot in Morocco instead of the real-life Syria.
Somebody feed Phil – Marrakech episode of this charming food show features the guide who will take us on a food tour of the medina.
Cooked – Michael Pollan's food show focuses on Marrakech for its Air episode with lots of bread and delicious food.
4L – Spanish adventure comedy that happens on Morocco for the most part and features old friends trying to recreate their journey to Timbuktu in search for their long lost friend with a very old (4L) Peugeot car.
Dope stories – Docu series that follows the drug flow from Morocco to Europe.
Adu – Award-winning Spanish movie that takes place in deep Africa and in the Spanish enclave of Melilla, in Morocco. The stories of a coast guard, a father and child fighting for freedom and a father and daughter reconnecting tell the tragic and life or death journeys many migrants take to reach the shores of Europe.
Jack Ryan – Amazon Original based on Tom Clancy's books follows a CIA agent through a world wide terrorist chase.
Before I close the list of best movies shot in Morocco, I wanted to share a fun fact. The famous movie Casablanca was not filmed in Morocco but in los Angeles.
More Reading Before Your Morocco Trip