Wondering what to pack for our Kilimanjaro trek? In this article you will find a handy gear packing list for hiking Kilimanjaro.
Generally speaking, packing for Kilimanjaro requires versatile clothing that is comfortable and accounts for the dramatic change in temperatures during the ascent. While you will start at around 2,000m above sea level at a comfortable altitude and temperature, at the peak, the temperatures will drop below freezing so it's important to be prepared.
Note: This is only a list of recommendations to use as a guideline and we have added rationale for why some items are useful so you can decide if you should bring them or not. If you can, we highly recommend training in similar conditions to that of Kili (high altitude and cold) so you know what gear you use and which you won't. And remember that you can hire any gear in Tanzania to cut down on the costs of extra luggage.
Tanzania banned plastic bags in 2019. That means that it is forbidden to bring any plastic bags in, including those you may use to go through airports and put your toiletries in, so leave them at home and don't pack any for Kilimanjaro.
The weather on your Kilimanjaro trek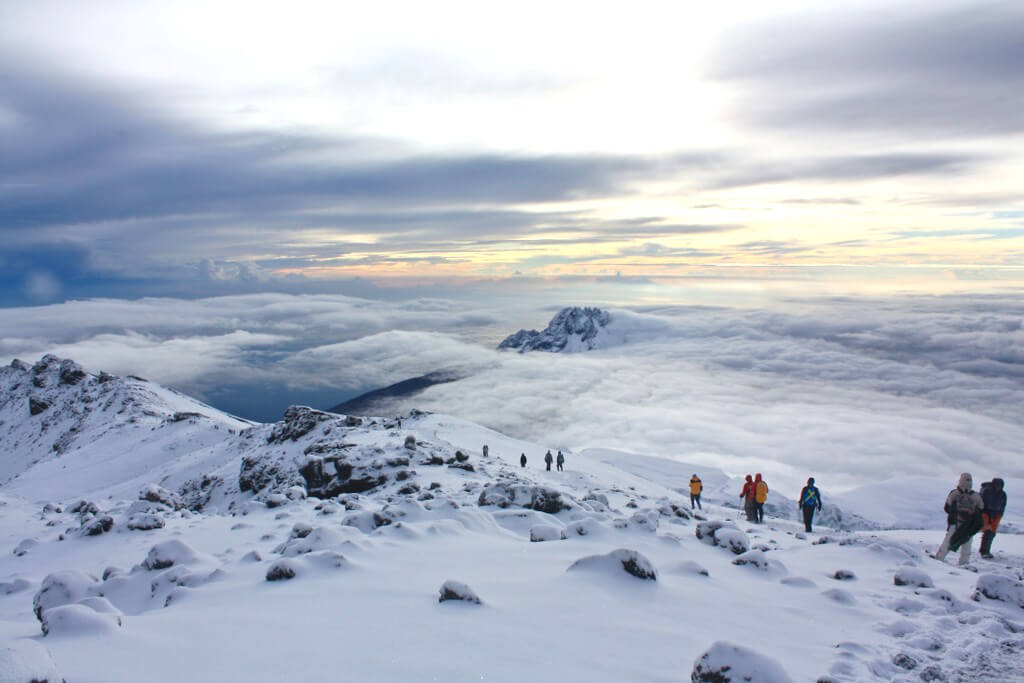 A Kilimanjaro trek will take you from about 1,600m to 2,000m above sea level in Arusha, to the top of Africa which towers close to 6,000m above sea level. During the journey you will hike through grasslands, rocky areas, dry alpine deserts and glaciers.
These changes in landscape and eco-system make the trek beautiful, but also require you to consider the impact they may have on your body. The weather can go from sunny to snow or rain, sometimes all in a day's trek.
Besides the weather, you should also consider the conditions. You will start hiking through rainforest and will spend most of the trek among alpine desert conditions where the weather is very dry. This could cause cold sores, skin dryness and nose bleeds, so we recommend being prepared with a first-aid kit for weather related conditions.
Temperatures will also vary a lot. For most of the trek (above 3,000m), they will range between 15 Celsius during the day to -10 Celsius at night and can drop to -20 Celsius on summit day, made worse by the wind.
This is why it's important to pack in layers with all-weather clothing that can take you from day to night and from sun to rain to wind to freezing. Versatile and multi-use pieces are best.
A typical day on Kilimanjaro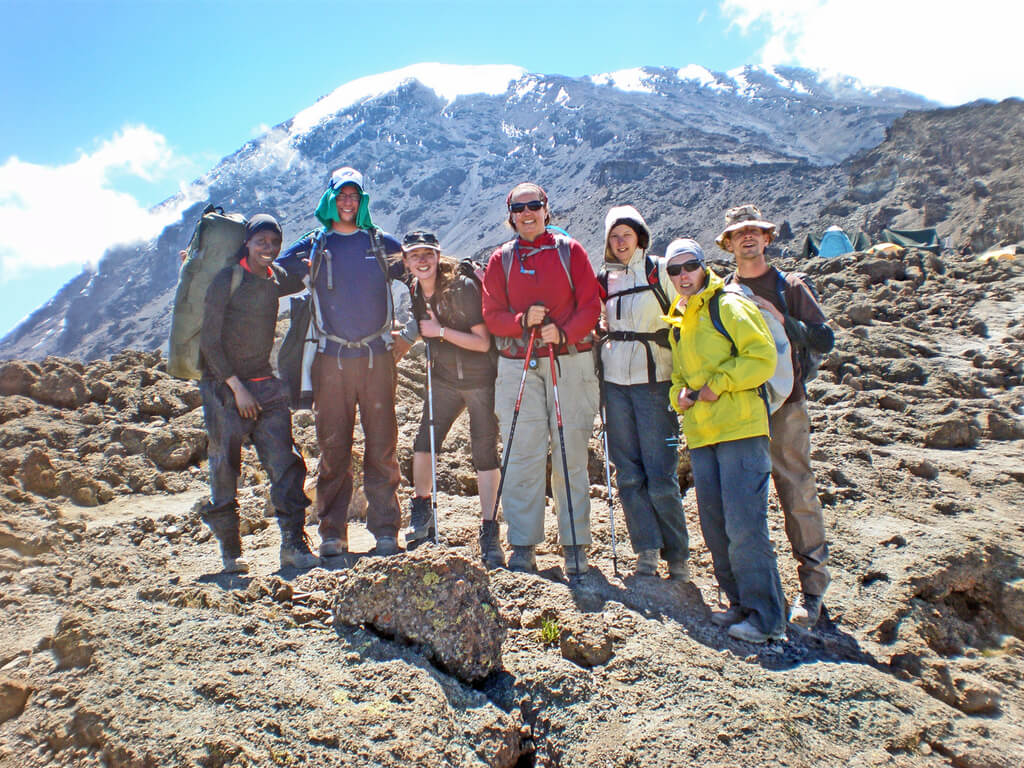 Most days on Kilimanjaro will start and finish early as we will follow the hours of sunlight. The itinerary indicates how many hours we will trek every day and the rest of the time will be spent at camp, resting, eating, talking to other guests and admiring the views.
While hiking requires sturdy clothing and footwear, we recommend wearing comfortable clothes at camp, especially loose footwear that will let your feet relax. You may use the same clothing you'll wear at camp to sleep in and change from the hiking clothes as soon as you arrive.
Packing tips for your Kilimanjaro trek
Before we dive into our Kilimanjaro packing list in detail and look at everything we recommend bringing, we want to provide some general packing tips to bear in mind.
Pack in soft luggage. We can't stress this enough. Porters will carry your bags so it is important that they can easily grab them and place them over their heads or carry them on their backs as backpacks. Hard shell cases and wheeled bags add extra weight and make the porter's work really hard, so please leave them at home.
Pack light: The baggage allowance on the mountain is no more than 15kg, this is strictly regulated to ensure the proper care and welfare of the porters and includes all of your gear. All bags will be officially weighed at the park's entry gate so the weight limitation is recorded per guest entering the mountain. If you have extra gear that you will not need for the climb (eg. safari or beach clothing), you will be able to store it in Arusha. Bring locks for both the bag you may leave behind and the duffel bag you'll take with you.

Layer up. The best way to pack for the climb is by wearing a few layers of comfortable clothing that can take you from warm temperatures to freezing weather with strong winds (which you will no doubt encounter towards the top and at night). If the temperatures drop, you can put layers on, and if they increase you can peel them off.
There is no *real* dress code on Kilimanjaro. Worry less about looking good on Kilimanjaro than about being comfortable, protected and warm. Remember that showers are not really available on the mountain and that everyone will look scruffy, tired and in need of a wash, so looking good should be the least of your worries. Instead of packing new boots, bring your most worn out ones so you make sure they are broken in and will not give you blisters.
Cover up. We recommend wearing long sleeves and long trousers to protect from the sun which is very strong at higher altitudes. And don't forget your sunscreen and lip balm. Just because it's cold it doesn't mean you won't get sunburnt (remember that ski trip where you got the worst nose sunburnt ever?).
Water and wind proof. Windproof, quick dry and waterproof gear is recommended from head to toe including your backpack; rain or snow can happen anytime.
Be sustainable and environmentally conscious. We will be camping in wild camps with limited to no facilities. There is no waste management or sewage, take all your rubbish with you and leave nothing behind. If you carry any single use plastic item, make sure to take the packaging back with you and if you bring snacks, pack away the wrappers. Kilimanjaro National Park is a fragile eco-system that needs our protection.
Close up. Dust can get everywhere, so make sure your camera gear is in a sealed bag. The same goes for waterproofing all your bags by bringing a rain cover.
Release pressure: Any containers sealed at low levels (sun cream, contact lens solution, toothpaste , etc.) will tend to expand as you climb higher and external air pressure decreases. Carefully release the buildup of pressure each night as you go higher so that they do not burst in your pack and leave sprays at home as they are pressurised containers and they could explode.
No showers and limited toilets: Remember that there will be no showers during the trek. You will be given water to wash and at camp, we will have portable flush toilets, but during the day you will have to relieve yourself behind a bush or rock.
Luggage on Kilimanjaro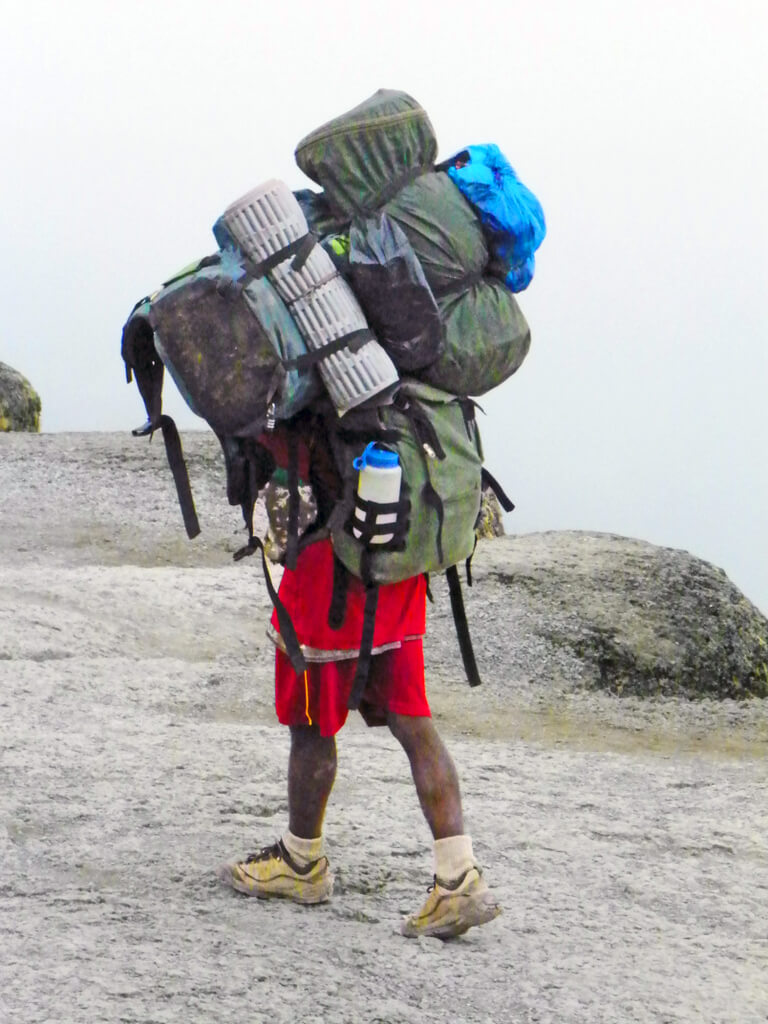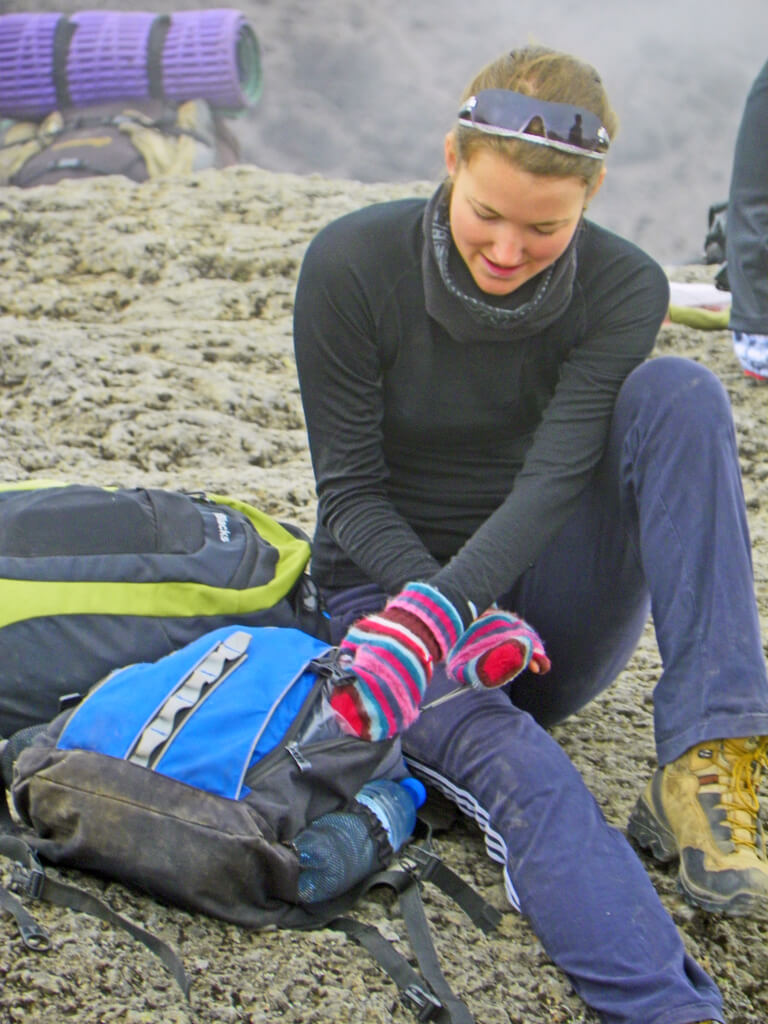 One of the most important considerations when packing for Kilimanjaro is the type of bag you'll take. You will need two bags: a larger duffel or rucksack bag to keep all your gear, and a smaller daypack you'll carry with you.
Gear bag
Your porters will trek at faster pace and set up camp before you arrive so you won't see your gear from morning until you arrive at the next camp each night. This is why you need to have all important items for the day with you in your daypack.
Because your bag will be carried by porters, it should be easy and comfortable to carry, and this is why we recommend duffel bags or ruckpacks they can carry on their backs. This bag should be 70-90 liters and waterproof; alternatively, get a rain cover for it.
If you don't have a duffel bag, you can rent one in Tanzania at a fraction of the cost of a new one and bring your luggage in a regular wheeled duffel bag or suitcase which you can leave in storage during the climb. Though we strongly recommend you pack using a soft bag if you are continuing on safari.
On day 2 of our trip, we will focus on the gear you may need and this is when you can repack what you'll need for Kilimanjaro trek and leave the rest behind or rent anything that you missed.
Note: Porters will take extra care when lifting and bringing down your bag but normal wear and tear is to be expected as the ground is uneven and rocky at several of the camps.
We like The North Face waterproof duffels bags and have one in bright aqua and neon yellow that is easy to spot and can be carried as a backpack to make yours and the porters life easier.
Thule is also a great option of similar quality and specifications and for other more affordable options you can check Elements and The friendly Swede both of which are below the $100 price point. You can see them all below.
Your daypack
Your daypack should be big enough to carry everything you need each day; usually that means a 30 liter bag. This should be waterproof or come with a waterproof cover. It should include:
Your 3l water bottle
Your packed lunch
Toilet paper
Camera / phone + Chargers if necessary
Hat
Lip balm
Sunscreen
Poncho / rainjacket
Walking poles if you decide to bring them
First aid kit
Snacks
Tissues and / or wet wipes
The same brands as mentioned for the duffel bag also make daypack sizes. We recommend making sure your day pack is light when empty so it doesn't add to the weight you'll be carrying, and that it is bright so you can easily recognise it.
What to wear on Kilimanjaro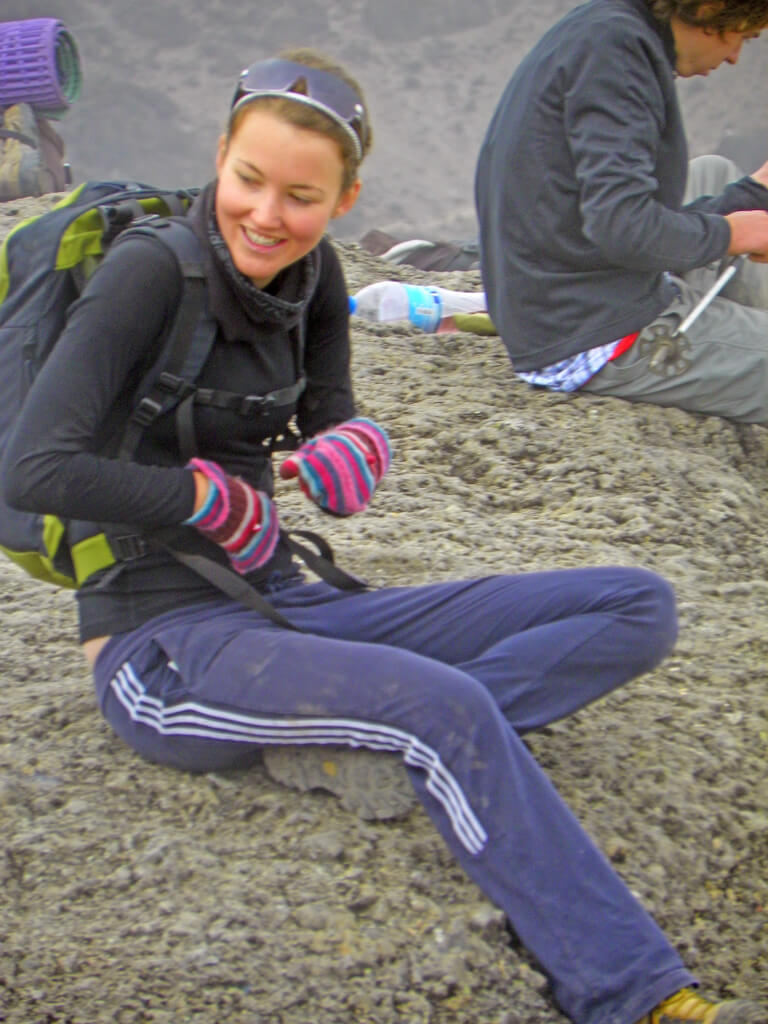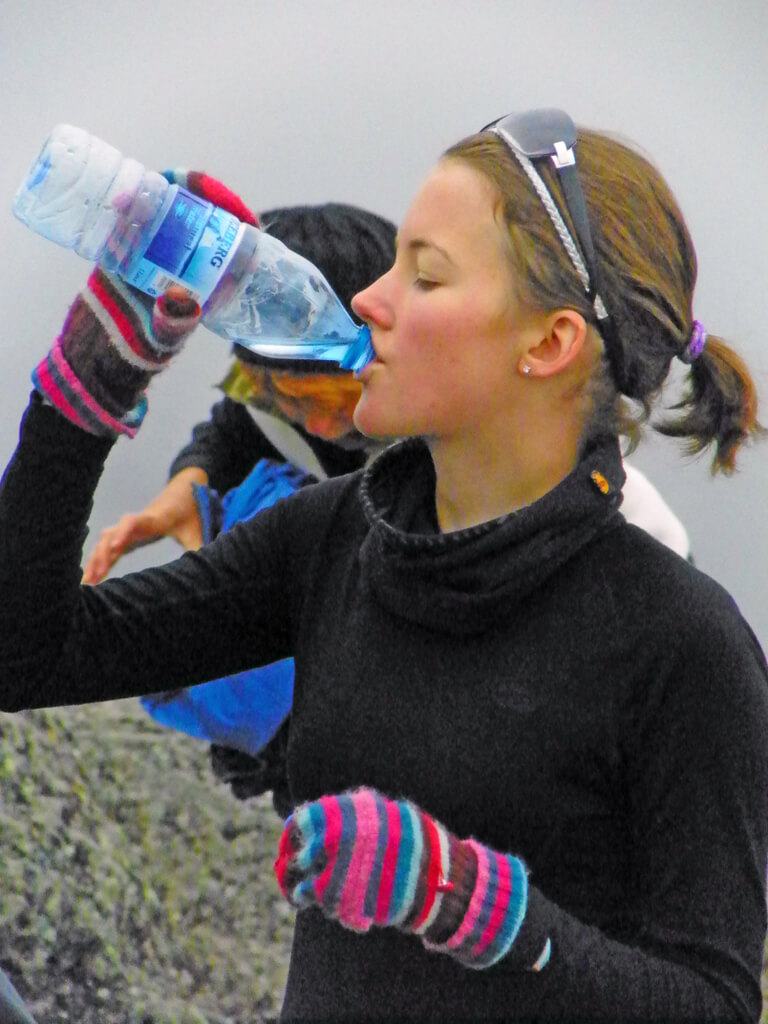 We have divided the clothing section of your Kilimanjaro packing list into your tops, bottoms, footwear and accessories. While we give recommendations on items we have used and wear, there are some high quality brands that are worth checking out.
Arcteryx is a very high quality, durable and premium brand specialising in active outdoor and cold weather which sells truly technical and well thought out gear.
Icebreaker is our go-to merino wool provider and we buy all our base and thermal layers from them. They are more expensive than others but will outlast anyone else by far and look as good as new for months. Pick weights above 200gr for colder temperatures and below that for the lower altitude days.
Tops and jackets
We recommend layering up with 4 pieces of clothing (or even more on summit day): a thermal base layer, a long sleeve shirt or tshirt, an outer layer fleece jumper or sweater and a waterproof / windproof jacket.
You should bring more base layers and fewer outer layers so you can change the base layer in the evenings and wear the same tops layers throughout the trek to minimize gear and weight. You should pack a base layer for every 2 days and 2-3 top layers maximum, to replace in case one gets dirty or wet.
3-4 x thermal base layer tops
Your thermal base layer is the one closest to your skin and should be comfortable and soft. Bring more of these and fewer of the top layers so you always have fresh base layers even if your top layers get dirty.
We recommend merino wool thermal underwear which keeps dry, regulates body temperature and keeps odor away even if not washed for several days (yes, that's right!). They are expensive but they work a treat. You'll be surprised to see how well they keep even after having sweated in them for a couple of days.
2-3 x top layer shirts or long sleeve tshirts
This is a layer you can easily buy from outdoor specialised stores and it should be comfortable and warm. At lower altitude (days 1-2), you will be trekking in this layer, but it will quickly become a base layer as you ascend and temperature drops. We also love merino wool for this layer.
2 x outer layer fleece or jumper
This is the layer that should keep you warm and it pays to get a properly warm fleece jacket that is designed for cold temperatures. Again, we like merino wool gear because of their temperature regulation capabilities. At lower temperatures, the fleece jacket may be enough. Pockets are useful to put items you may need regularly like wet wipes, lip balm or even snacks.
Pro tip: Pick a jacket that has a collar so that your neck is protected form the sun, wild and cold.
Wind and waterproof jacket
As mentioned, it will get really cold towards the top and on summit day, and you will face strong winds and below freezing temperatures, so packing the right jacket is key. Your jacket should be wind and waterproof (not just water resistant) and keep you warm at -10 Celsius.
It pays to check with a specialised outdoor store and look at the temperatures the jacket can withstand to ensure it will be warm enough for your trek. Ski gear comes in handy in this case. If you don't already have a proper freezing weather jacket, it can be best to rent it in Tanzania to avoid carrying it around in your luggage or spending a large sum of money on something you'll only wear once.
Trousers
Besides your top layers and jackets, we recommend packing long windproof and waterproof hiking trousers as well as a couple of pairs of lighter and more comfortable bottoms such as tracksuit bottoms or yoga pants for the lower altitudes, the evenings in camp and to sleep in. And don't forget your thermal merino wool layer that will keep you warm regardless.
Zip up trousers that can be converted from full length to shorts for the lower altitudes are useful but not necessary. Fleece-lined trousers or ski pants will come in handy for the last days and summit day, or you can layer your thermal underwear and leggings below your hiking trousers.
If you don't want to buy new wind and waterproof trousers and already have several regular hiking trousers, you can also bring one water / windproof shell layer to carry in your daypack and put on top in case of rain. Below are a few recommendations for Kilimanjaro hiking trousers.
Footwear
Waterproof hiking boots are critical to the success of your climb and we strongly recommend you break yours in by training in them for long periods of time before the trek so you can be sure that they won't cause you blisters. If you are buying new boots, make sure you can wear them with thick hiking socks.
We favor Gore-tex boots because they are high quality and ensure your feet will stay dry even in the rain and snow. Having wet feet can significantly impact your ability to stay warm so your boots are arguably the most important item. They are also a piece of gear you can't easily borrow from others on the mountain should the need arise.
Your boots should also offer ankle protection so you don't twist it while hiking on rocks and stones.
In addition, you should also pack a pair of light closed-toe shoes to wear at the camp. These should be easy to put on, in case you need a middle of the night bathroom break. Crocs are pretty popular on Kili because they are easy to slip into and wide enough to let your feet expand, but any comfy pair will do.
Accessories
Besides clothing, there are a few handy accessories that we recommend bringing.
Scarf: A warm scarf and / or a balaclava will work to keep all your face including nose and cheeks, warm when needed.
Hats: You will need two, one to keep your neck and face off the sunlight and one to keep it warm. A cap may be enough but a wide brim hat like the ones you wear on safari might be better as it provides more coverage. Keep your head warm with a proper wool or fleece beanie hat that will not only trap warmth but also keep your ears warm, and your messy hair tucked away from photos!
Gloves: Extra warm waterproof gloves or those which come in layers so you can use the thinner ones on warmer days and add more layers towards the top. Ski gloves work.
High hiking socks: Socks are important to keep warm and make sure your feet don't get blisters. You may want to pack a pair for every day. On lower altitude days you are fine with thinner socks but bring thicker for the colder days.
Sports bras: Many women find that sports bras are better than wired bras for hiking. You'll need something that is comfortable and provides support.
Hair ties and / or bandana and / or hair band: I have very thin long hair so a wide hair band helps me keep my hair in check in the wind and dust of an open top vehicle and it can even be an alternative to a hat if you are ok with wearing sunscreen.
A poncho or rain jacket: A poncho or waterproof rain jacket will be useful in the lower altitudes where rain is more common than snow and it's too hot to wear your waterproof jacket. Make sure it packs light and please do not bring single use plastic ponchos, those are not allowed on the mountain and are terrible for the environment.
Sunglasses: It is imperative to bring sunglasses as the sun is really strong at higher altitudes and the sun rays will reflect on the snow. We like the wrap-around sports Oakley sunglasses as they are polarised and protect your eyes from any damaging sun rays and from the dust. Make sure to pack a cloth to wipe and clean your glasses from dust.
Hiking gear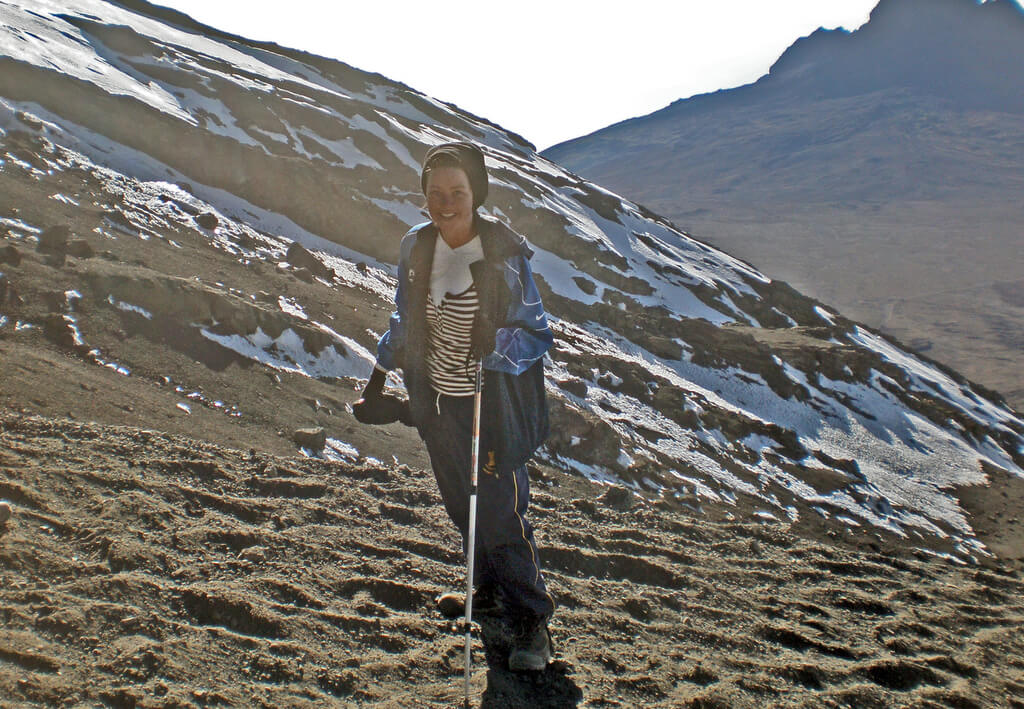 Because we will be camping every evening, there is hiking gear you'll have to bring with you. On our trips we provide the main equipment, but there are a few items you'll have to bring or rent locally.
Sleeping bag and liner: Because of the change in temperatures between bottom and top, we recommend packing a 4 season sleeping bag. A fleece liner is also useful and will keep you extra warm as you ascend.
Torch: A head torch is useful around camp but any small torch will do. Make sure it has enough batteries.
Walking poles: Some people swear by them, especially for coming down, others find them annoying. You should test them out on hikes around where you live before packing them.
3 liter water bottle: You will need to drink a lot water on the mountain, more so if you take altitude sickness medication (eg. Diamox). Bring your own to be replenished daily at camp.
Hand warmers: If you are prone to feeling cold, we recommend packing hand and feet warmers. They are easy to pack, light and will give you a burst of heat, which you will find particularly useful on summit day. Check these out.
Gaiters: These handy little pieces of gear will go over your ankles and keep pebbles and mud or water from entering your boots.
Other items you should pack for Kilimanjaro
Besides packing the right clothes, there are a few others items you should include in your Kilimanjaro packing list, below we list a few handy ones:
Power bank: Because there is no electricity on the mountain, a heavy duty power bank will help you recharge your batteries for cameras, phones, etc. We recommend you look into those which can be charged by solar energy so you can recharge them at camp. We use the incredible Anker 20,000 AMP which is the real deal and can even charge your laptop. For a solar-powered one, look at this one.

Tip: sleep with your power bank inside your sleeping bag to make sure it doesn't freeze or stops working when it gets cold outside.
First aid kit: You should bring your own medication on the climb and pack first aid items that you may need. Include painkillers, plasters and antiseptic ointment, motion sickness tablets for the car ride to the park entrance if you usually get sick, antihistamines, electrolyte powder and rehydration powder in case of diarreah plus any other tummy ache related tablets or medicines your doctor may suggest (antacid, Diamox, etc.). If you are prone to cold sores, you are very likely to have a flare up due to the extreme weather and conditions, so bring medicine. See our First Aid Kit list here.
Tissue and biodegradable wet wipes: You won't be able to shower for a few days so wet wipes will be your new best friend but make sure they are biodegradable. Bring universal face wipes, and you may want to consider packing intimate wipes as well. Pack at least 2 of each per day. Meg was quite disappointed to find out that the tan she thought she had picked up was actually dirt when using a wet wipe!
Repellent: On the lower altitude days in the rainforest we may encounter mosquitoes, so bring a small bottle of repellent as you will not need it at the higher altitudes (mosquitoes don't inhabit higher levels).
Environmentally friendly toiletries: While there are no showers on Kilimanjaro, you will get the chance to wash your hands and face with water at camp and brush your teeth. Bring environmentally friendly, chemically-free products such as soap bars and help us preserve the beautiful park.

Bonus: Environmentally friendly products are also lighter and pack better (lower chance of spills). Add toothbrush, hair brush, stick or dry deodorant (liquid may freeze and sprays will explode), moisuriser, tampons / sanitary pad / menstrual cups and a sanitary bag to take the used ones away from the mountain.
Sunscreen: You should bring at least SPF50, the sun is very strong at higher altitudes and the cold may mask the risk.
Lip balm: The wind, the dust and the sun, make it particularly tough for the skin and lips so you should bring a lip balm to stay moisturised. We like Neutrogena for their Nordic formula that tends to heal battered lips overnight and comes with SPF.
Hand cream: The very extreme and dry weather will not be kind on your hands. This can also be useful for your nose if you get extra dry because of the weather. Trust us, nearer the top, the Arctic desert weather is rough!
Camera and extra batteries. While you may be tempted to pack your heavy duty DSLR, this is a time when this may not be the best idea. Not only will it be heavy to carry, but it is unlikely that you'll find the energy to set up to take photos that your phone or point and shoot camera won't be able to take. We recommend bringing your phone camera and a point and shoot if you have it, and leaving the more professional cameras in Arusha for the safari portion of your trip. If you bring a camera, pack extra batteries and memory cards.
Your favorite snack and electrolyte powder: All food will be provided, including snacks, but if there are specific comfort foods, energy bars or sweets that you like, feel free to bring them, just consider the weight limitations and pack away your wrappers.
A towel: A small quick dry towel is useful to wash your face at camp. You don't need a large one for this as you will only use it for face and hands.
A pillow case or blow up pillow: This is useful if you are used to sleeping with a pillow. If you bring just the case you can fill it up with your own clothes.
Packing cubes: Not essential but very useful to keep everything organized and within easy access inside your duffel bag, especially if you plan to hire one, so you can easily repack from your main bag into your daypack each morning.
Passport and vaccination certificates: If you are coming from an endemic Yellow Fever area or transition through one for more than 12h, you should make sure you have taken your Yellow Fever shot. This includes coming in from Ethiopia or Kenya or transiting through either for more than 12h. Keep your vaccination cards and passports in a dry bag along with your wallet and other valuables.
Ear plugs: Nights at camp can be loud, so bring a pair to help you sleep.
Large ziplock bags: These can be useful to put dirty shoes or clothes in. Remember plastic bags are not allowed into Tanzania and only reusable ziplock bags are.
Toilet paper roll: You'll have to make use of wild loos during the climb (camps will have flush toilets) so bring your own 2 or 3-ply – trust us, it will be very welcome. You may wish to bring spare in case other climbers catch on and ask to use some from you!
Things you should NOT bring on your Kilimanjaro trek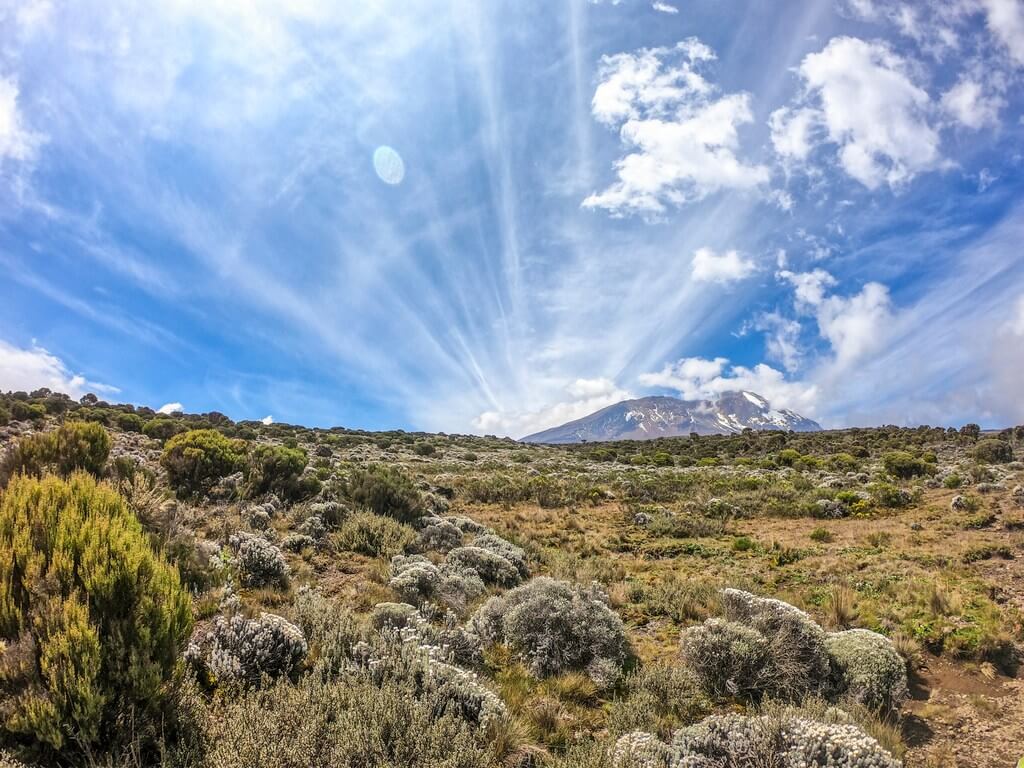 There are several items that may occupy a lot of space in your luggage and which you will find no use for on Kilimanjaro, so we recommend leaving them behind in Arusha.
Hair dryer: Needless to say, you won't be showering for a few days and there is no electricity to use a hair dryer.
Speakers to play music: Loud music will not be welcome on the mountain. Instead, bring headsets if music helps you get energized and in the mood. We prefer to listen to the mountain sounds but this is a matter of choice. Music and motivational lyrics may help you stay distracted and focused on reaching the top on the final summit day, but don't force your style of music on others.
Laptops: You will not find an opportunity to charge or use a laptop so it is best to leave it behind in Arusha.
Tripods: If you are an avid photographer and plan to photograph the starry night or the Milky Way (which by the way can be incredible) you may think to pack a tripod but the reality is that you'll be exhausted and the last thing you'll think about is taking "that" shot. If you insist, bring a really light one.
Make up: You will not find use for it on the mountain, and trust us, no-one will be wearing it. You'll likely be judged more for wearing make-up, than for not.
Universal plug adaptor: As mentioned, there are no sockets to plug anything in.
Spray bottles that are pressurised and will explode at high altitudes.
More Reading Before Your Tanzania Trip