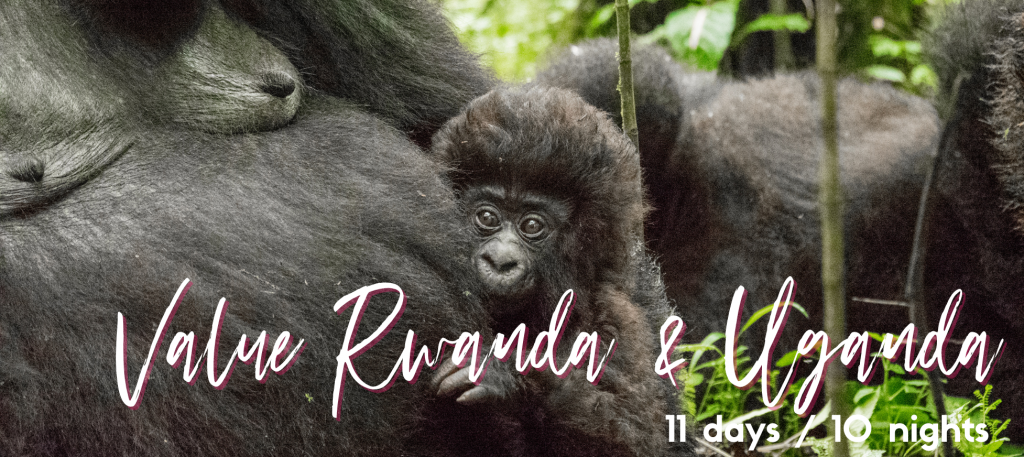 Value Uganda & Rwanda: Primates, Big Cats and Lakes
Kigali – Gorillas – Chimpanzees – Tree-Climbing Lions – Safari – Waterfalls – Lakes
Join other Solo Female Travelers on an incredible journey of a lifetime in search of gorillas, chimpanzees and wildlife in the dry landscapes and the lakes and waterfalls of Uganda.
Highlights: Gorillas, chimpanzees and monkeys | Tree-climbing lions | Crater Lakes | Game drives | Boat cruises | Waterfalls | Batwa pigmies cultural experience | Origin of the Nile | Genocide Memorial
Value for money | No single supplements* | 14 spots | Gorilla & Chimp tracking | Local female guide
*Prices per person, we pair you with another solo traveler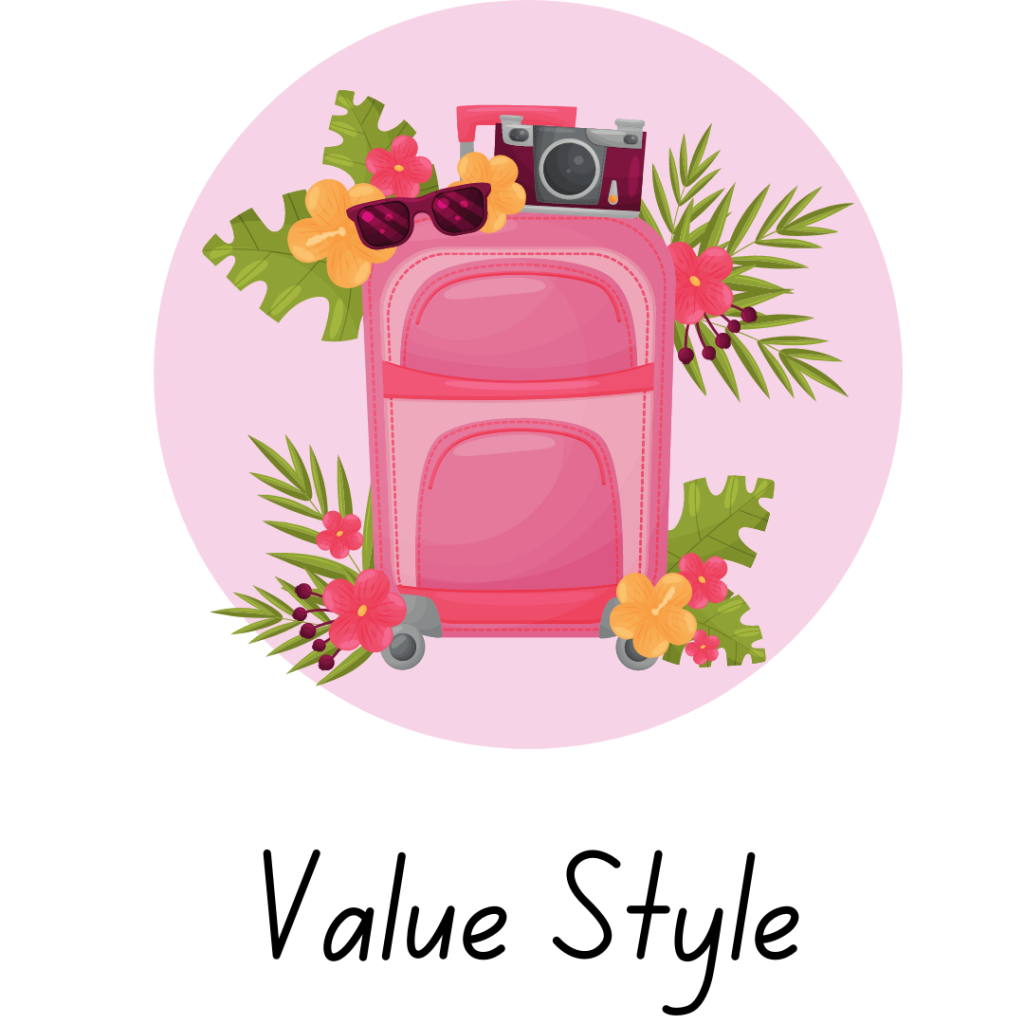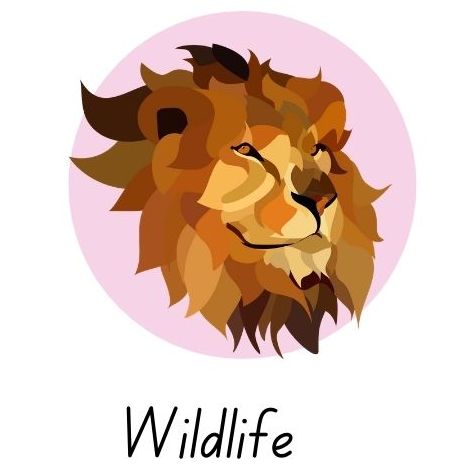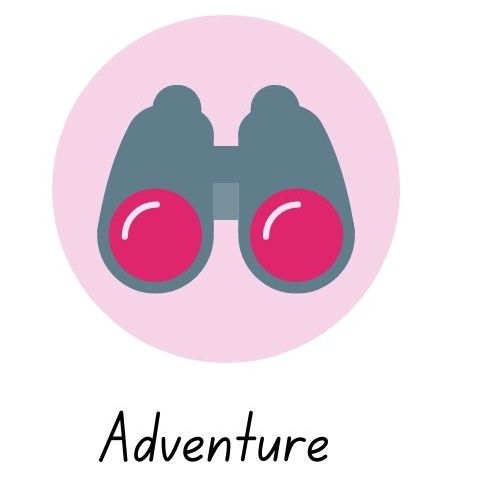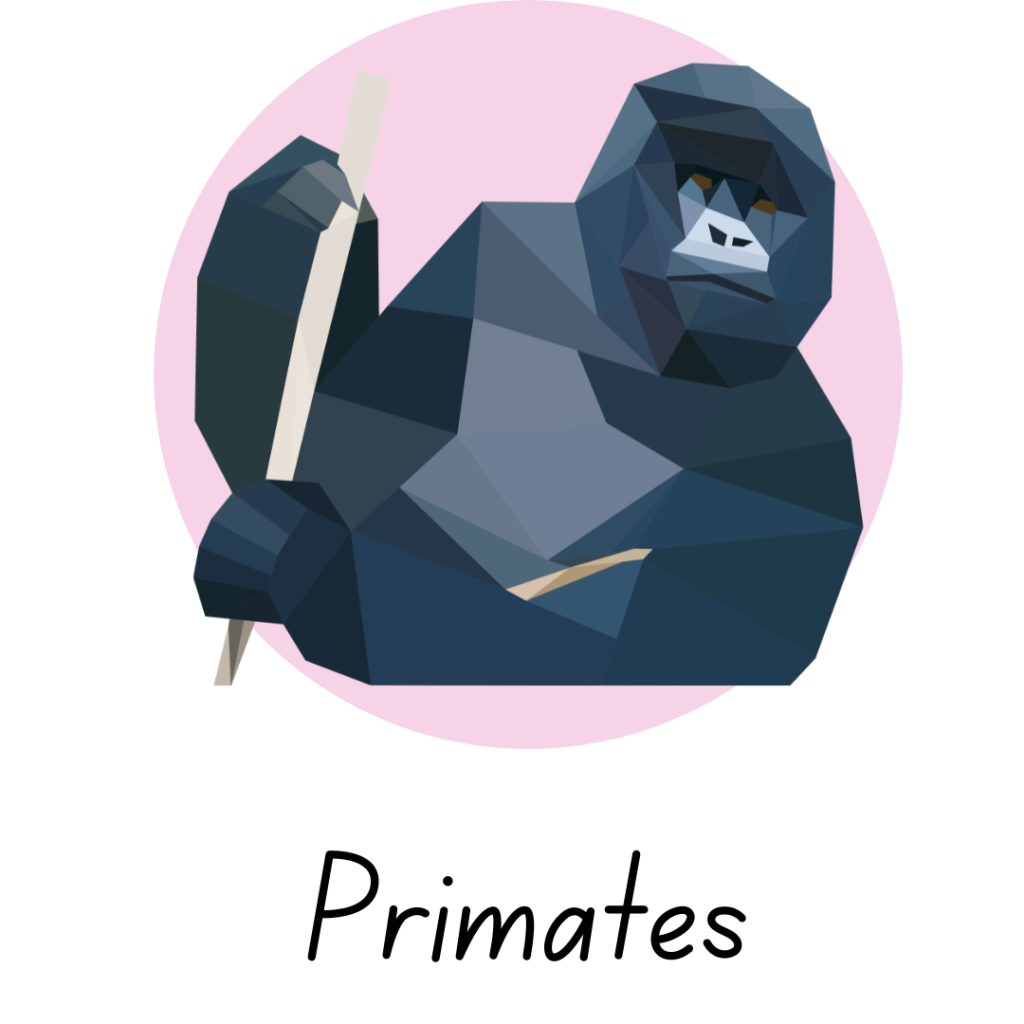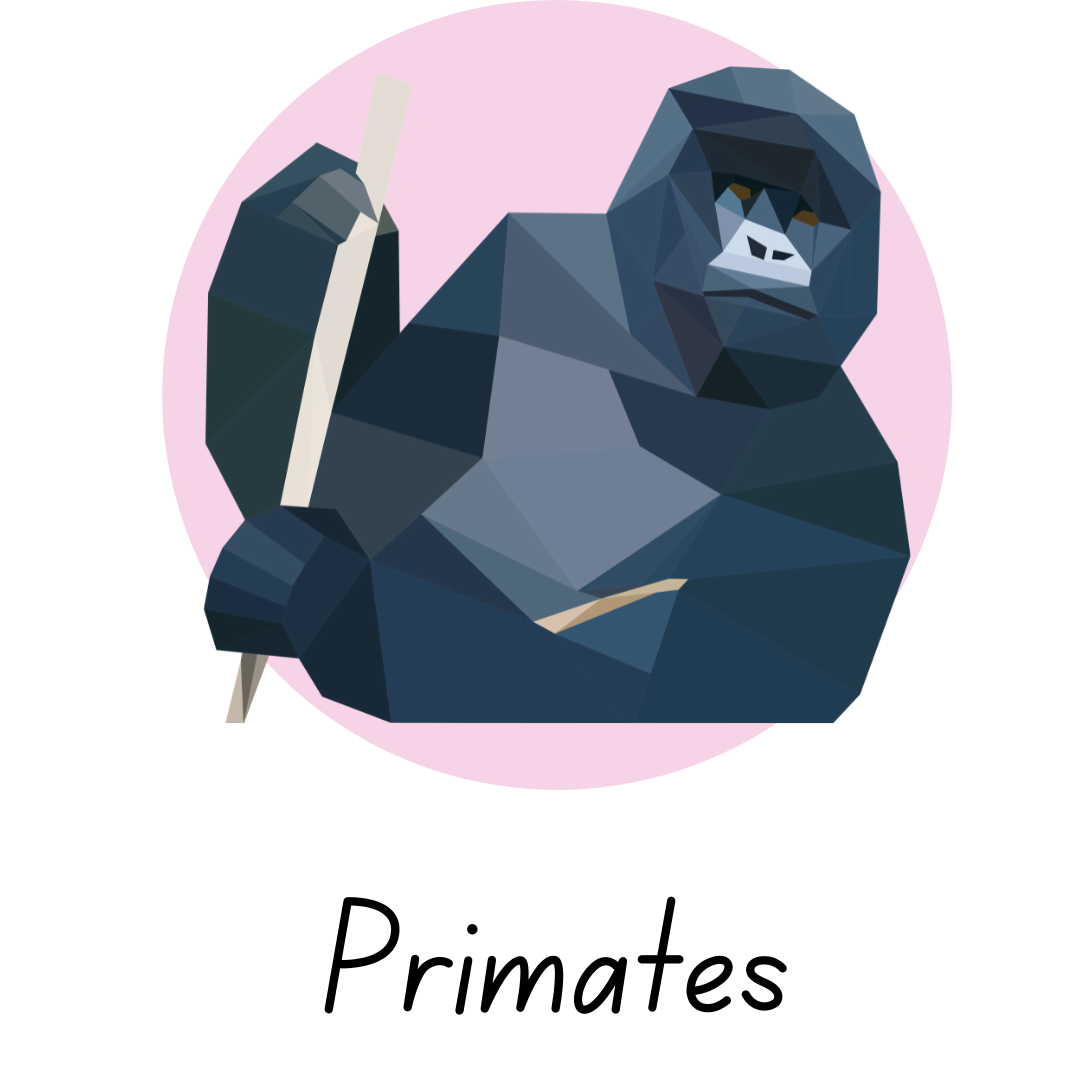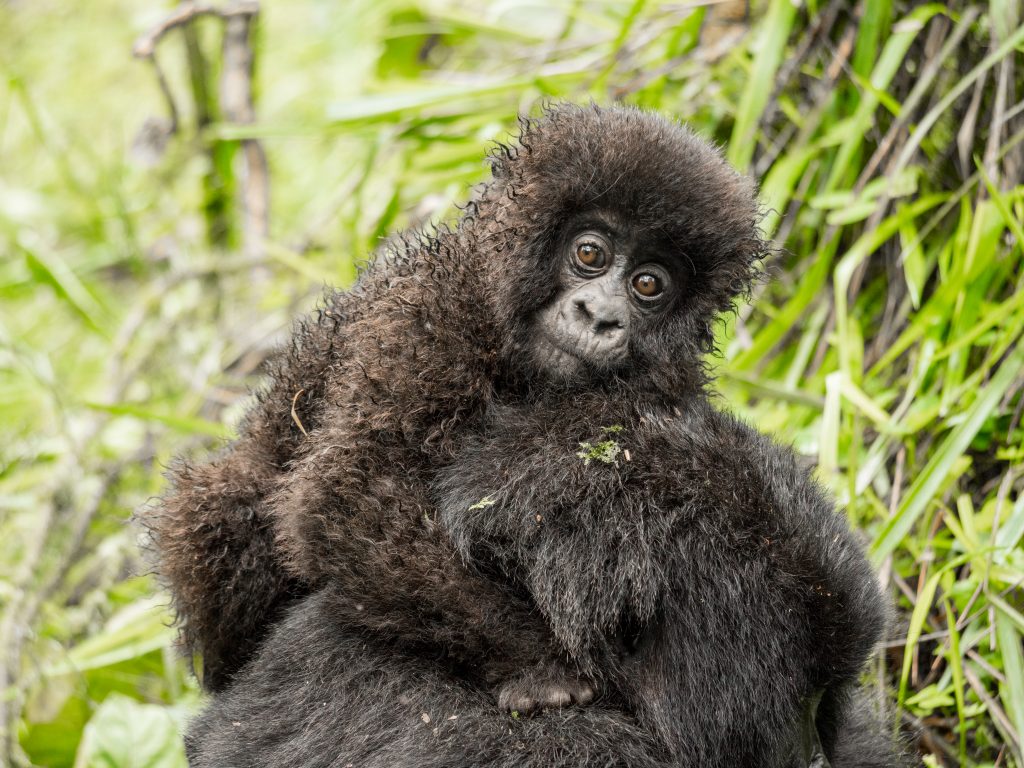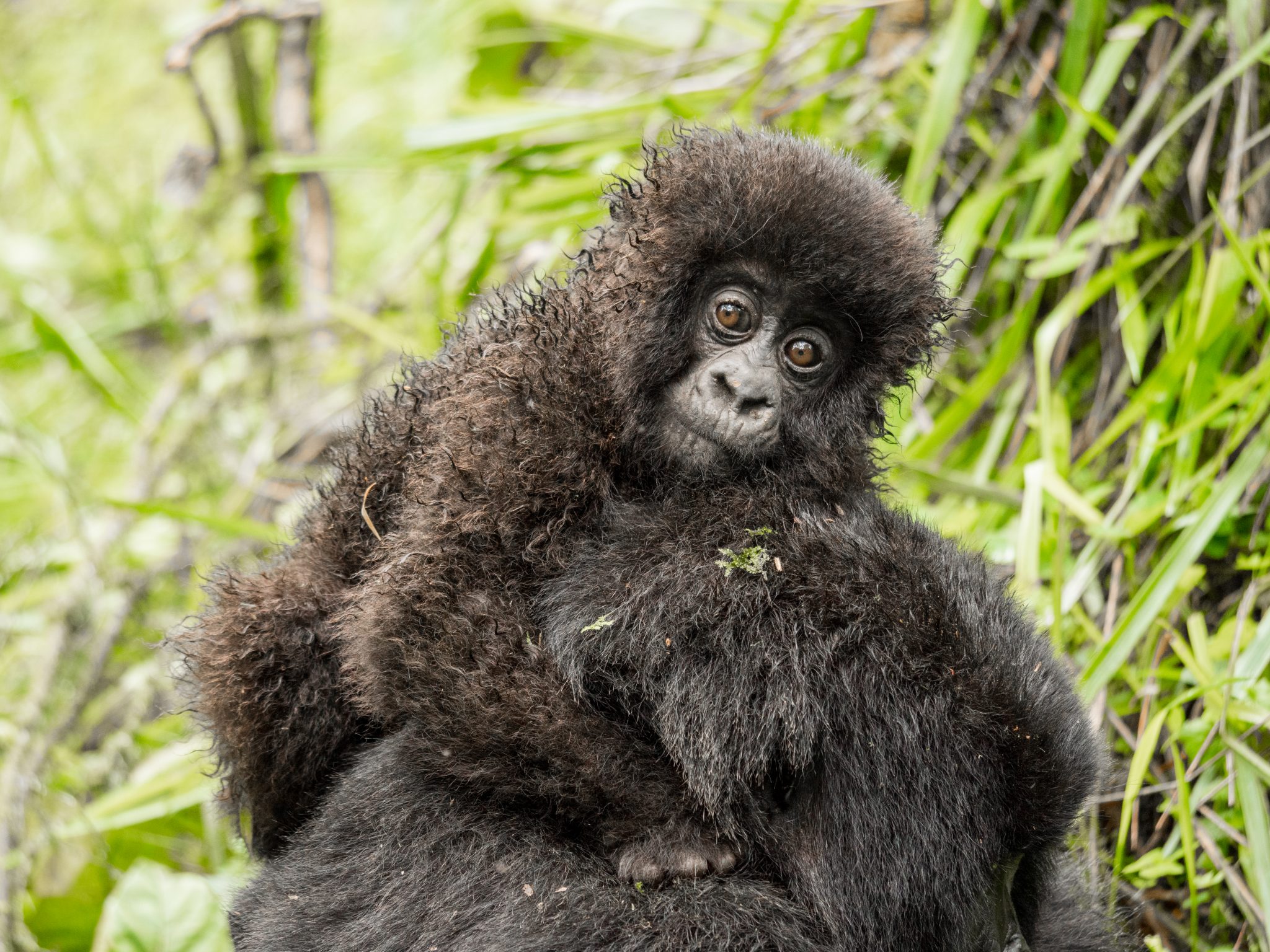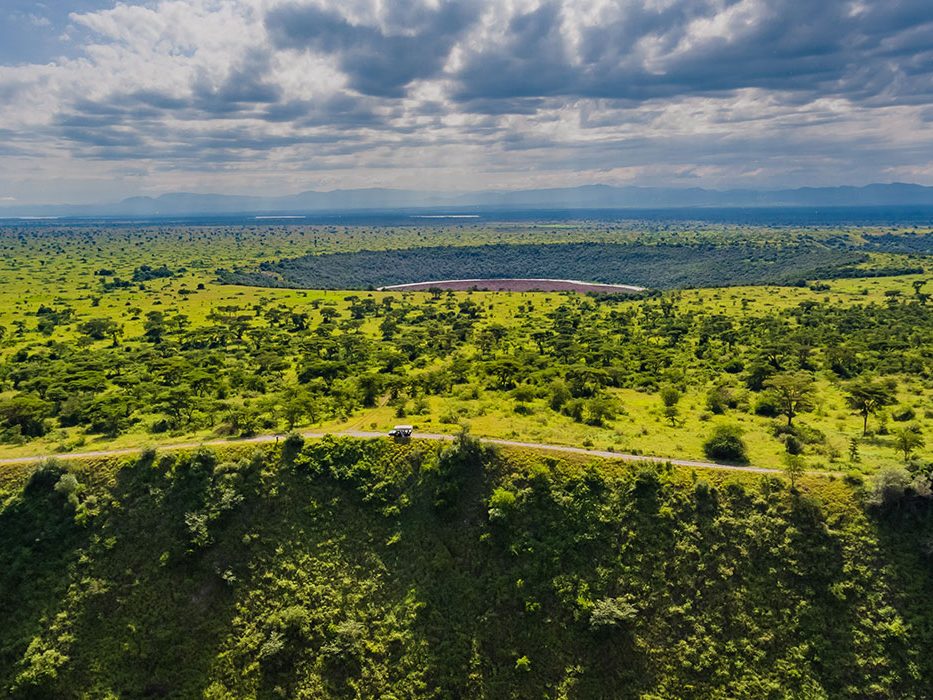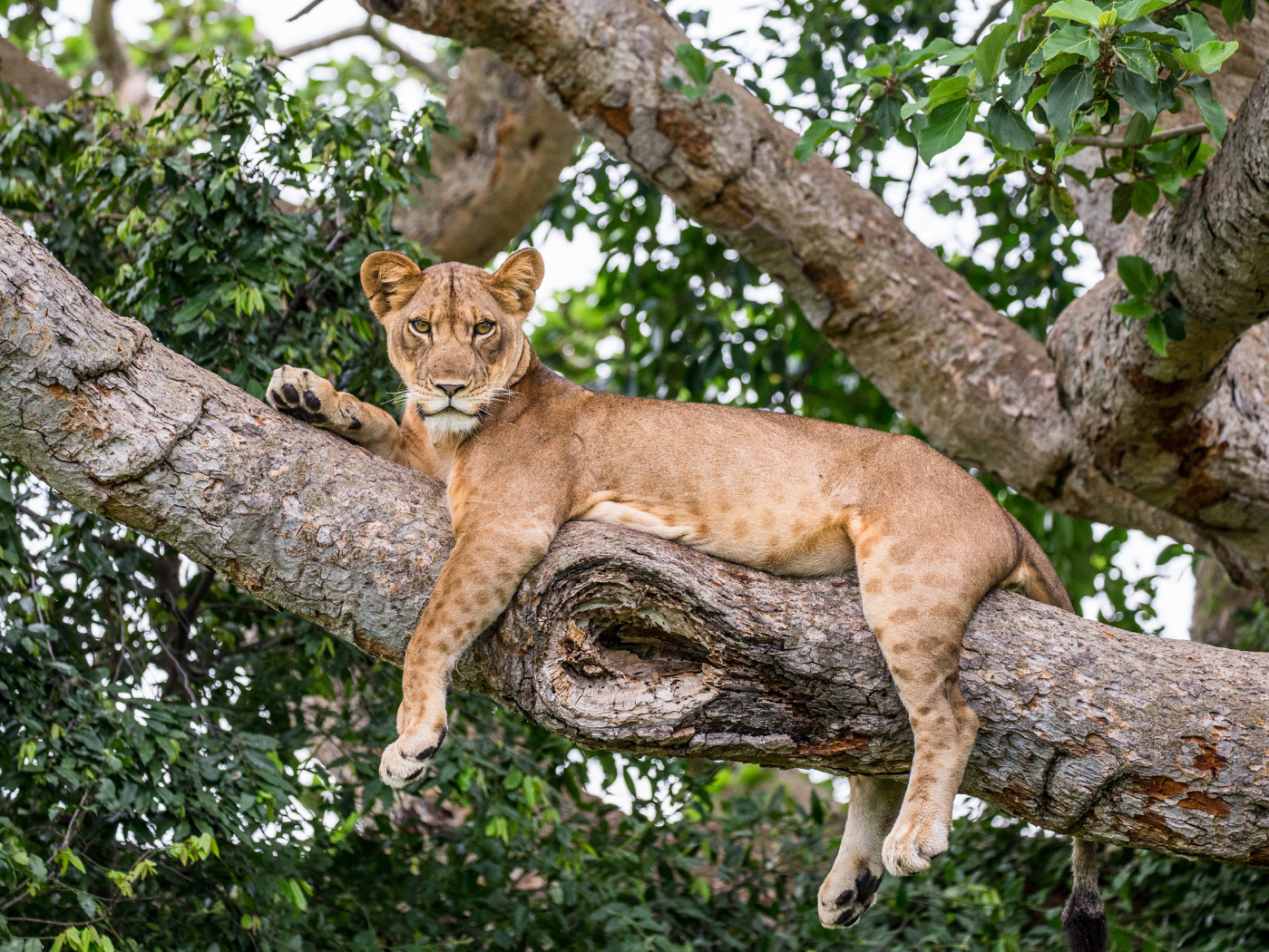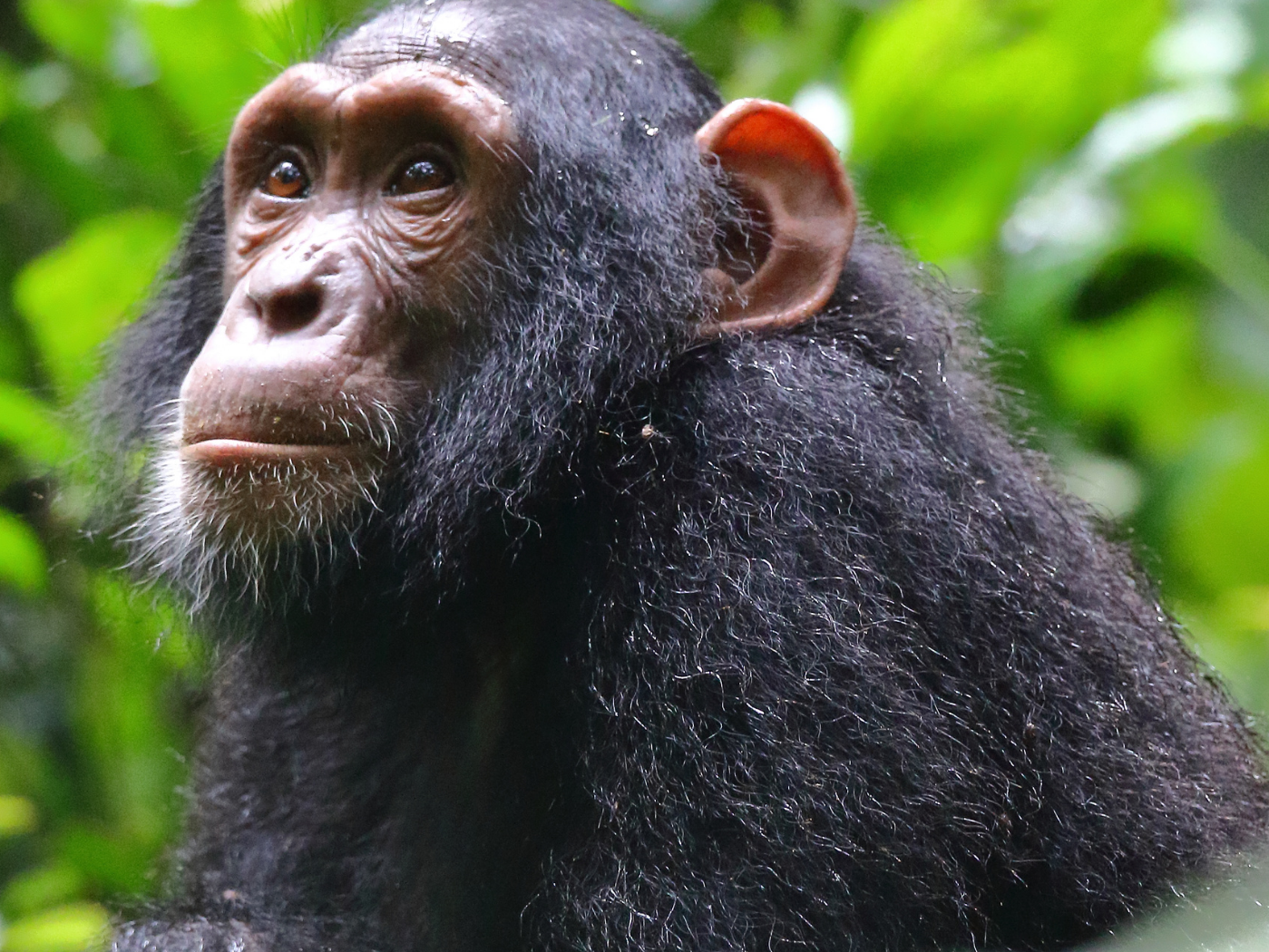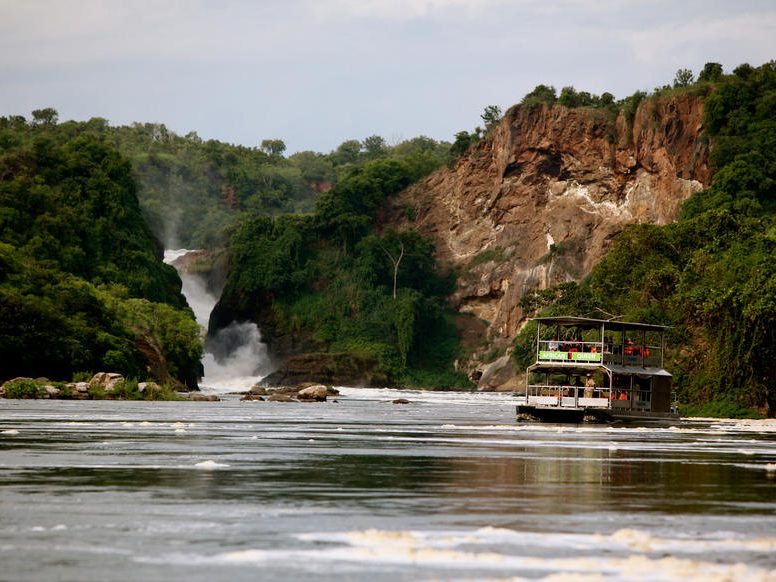 Trip Overview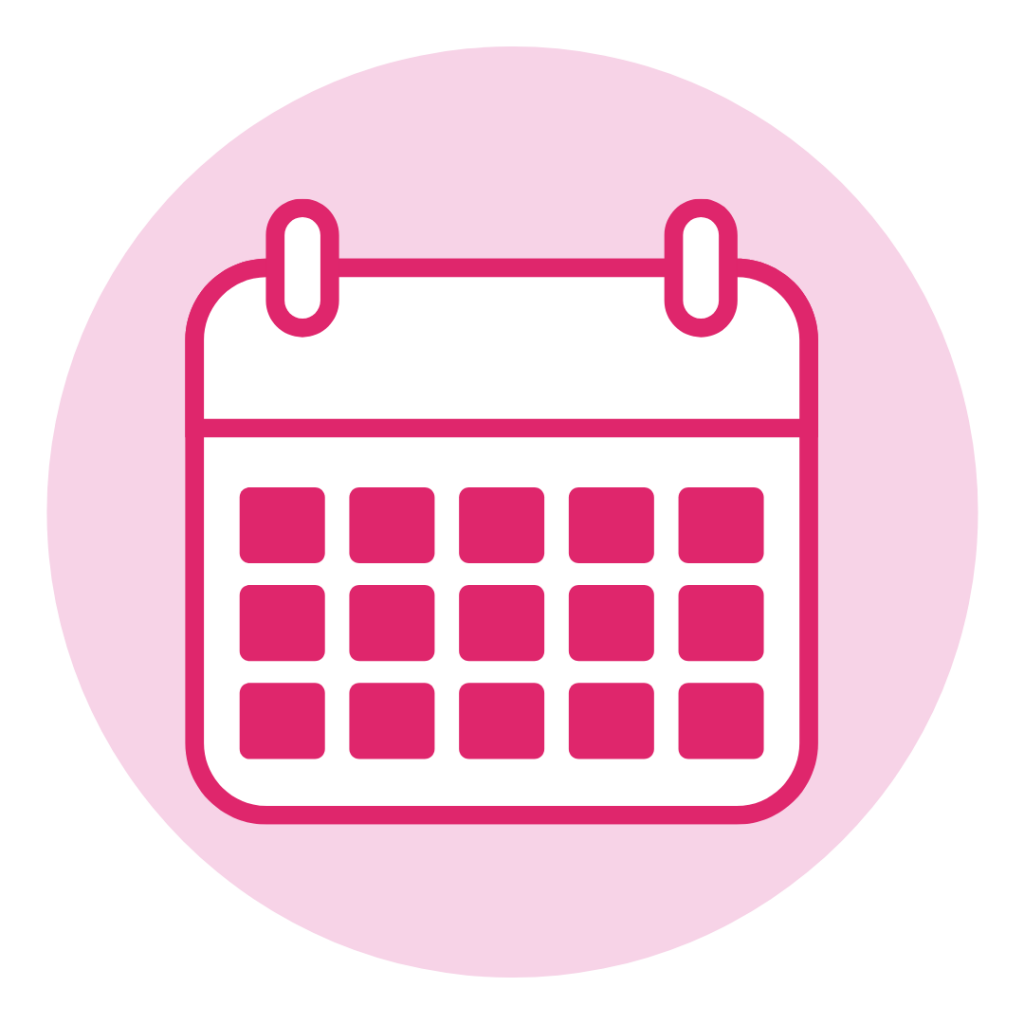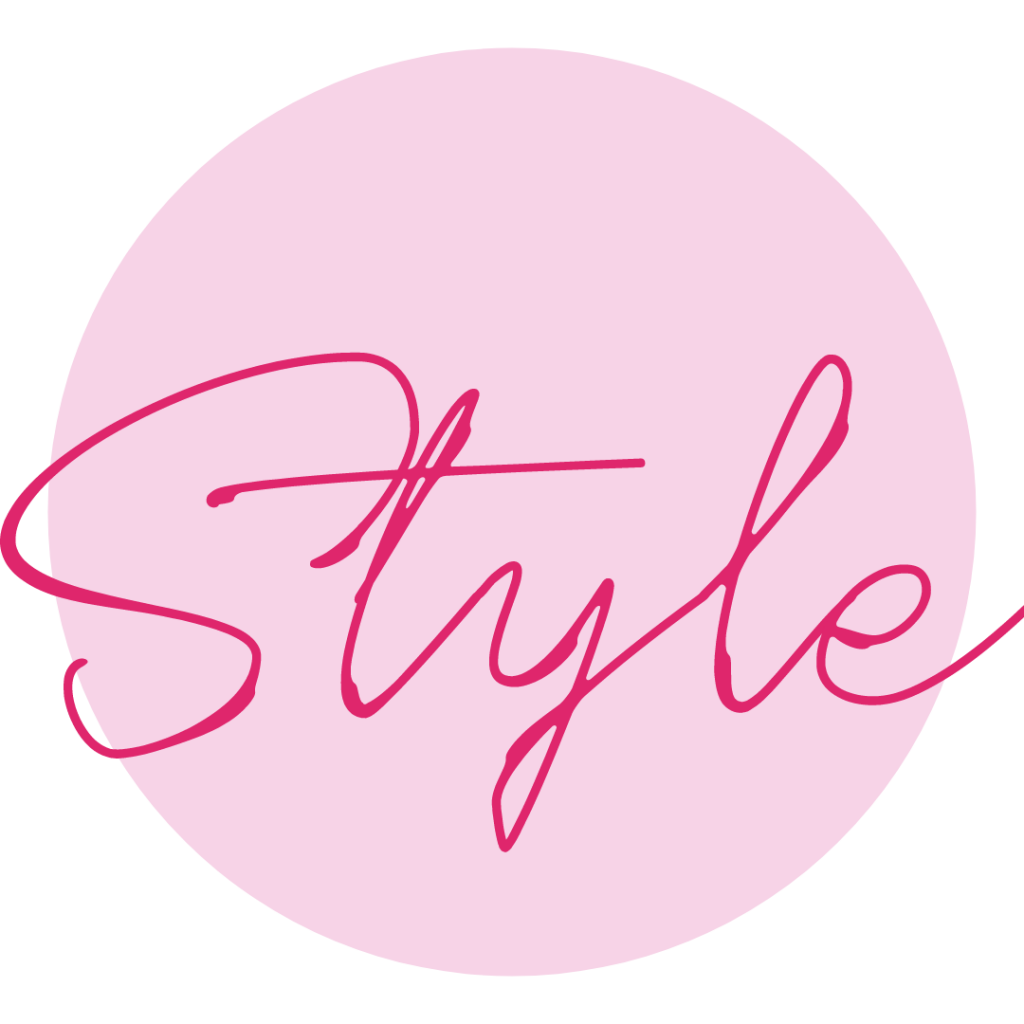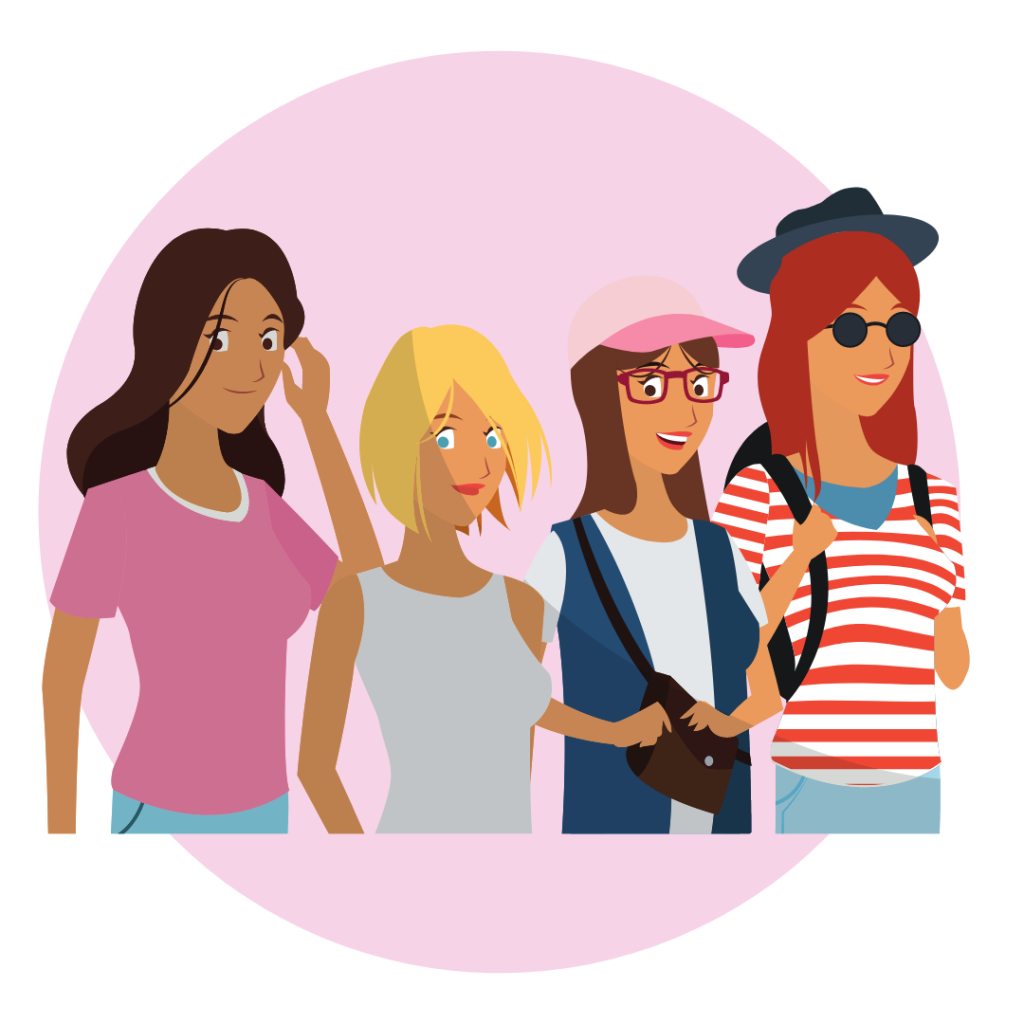 Max. 14 guests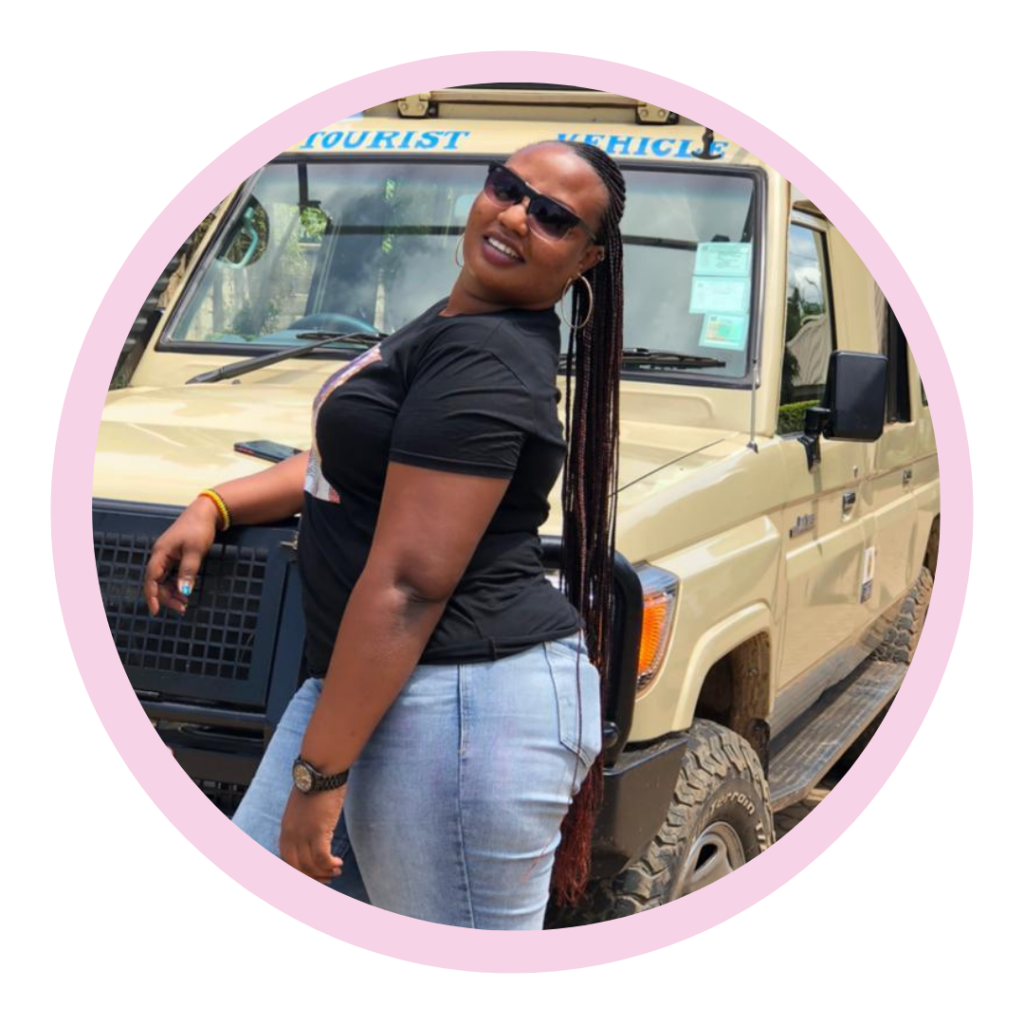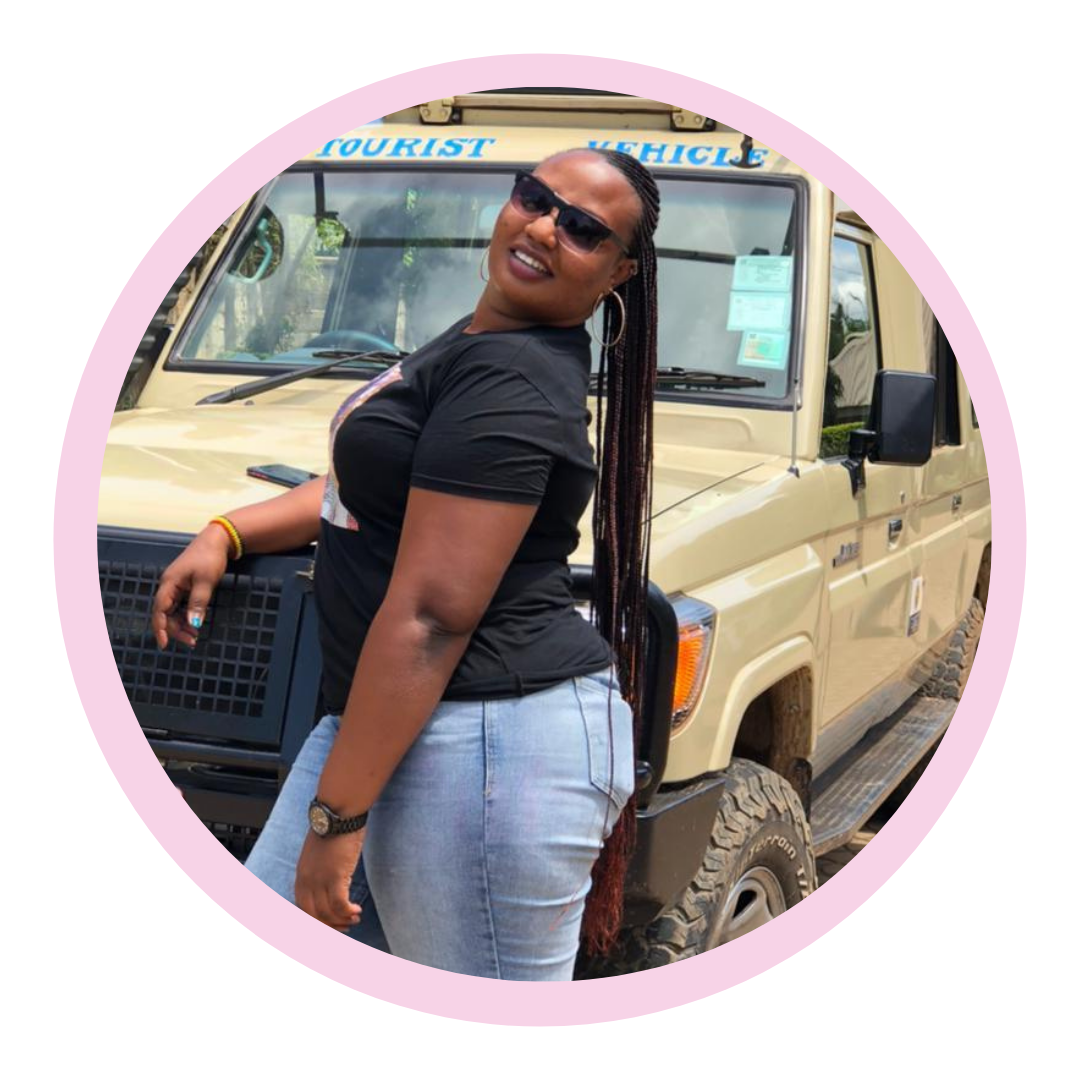 Kitesi Donah
This trip of a lifetime will run during the high season to ensure the best weather and most optimal wildlife viewing opportunities. Our Value Rwanda & Uganda will be running at the same time as our Luxe Rwanda & Uganda, with the opportunity to mingle and meet the rest of the guests at welcome and farewell dinners. Click here to view our Luxe Rwanda & Uganda trip.
---
Trip map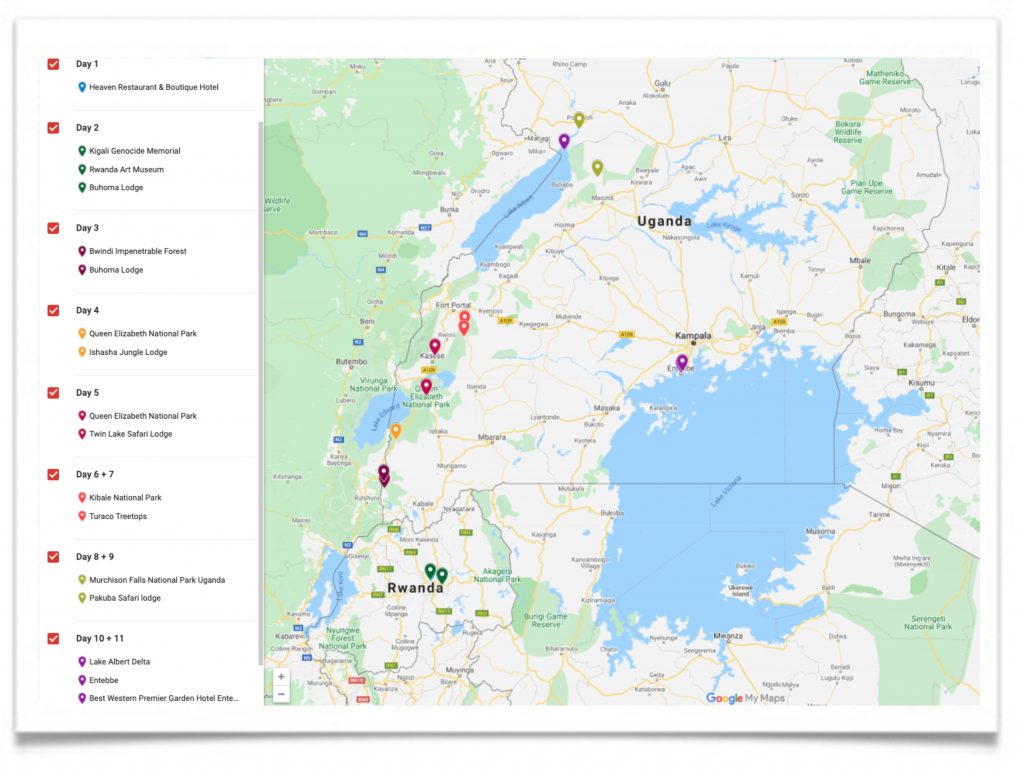 ---
Detailed Itinerary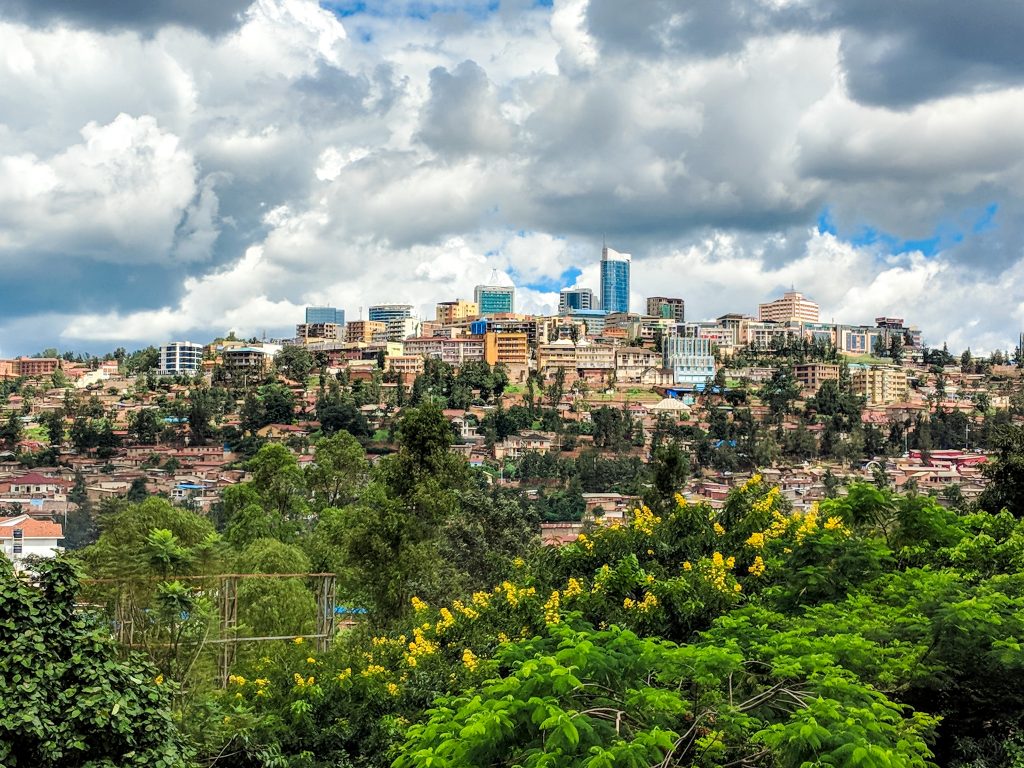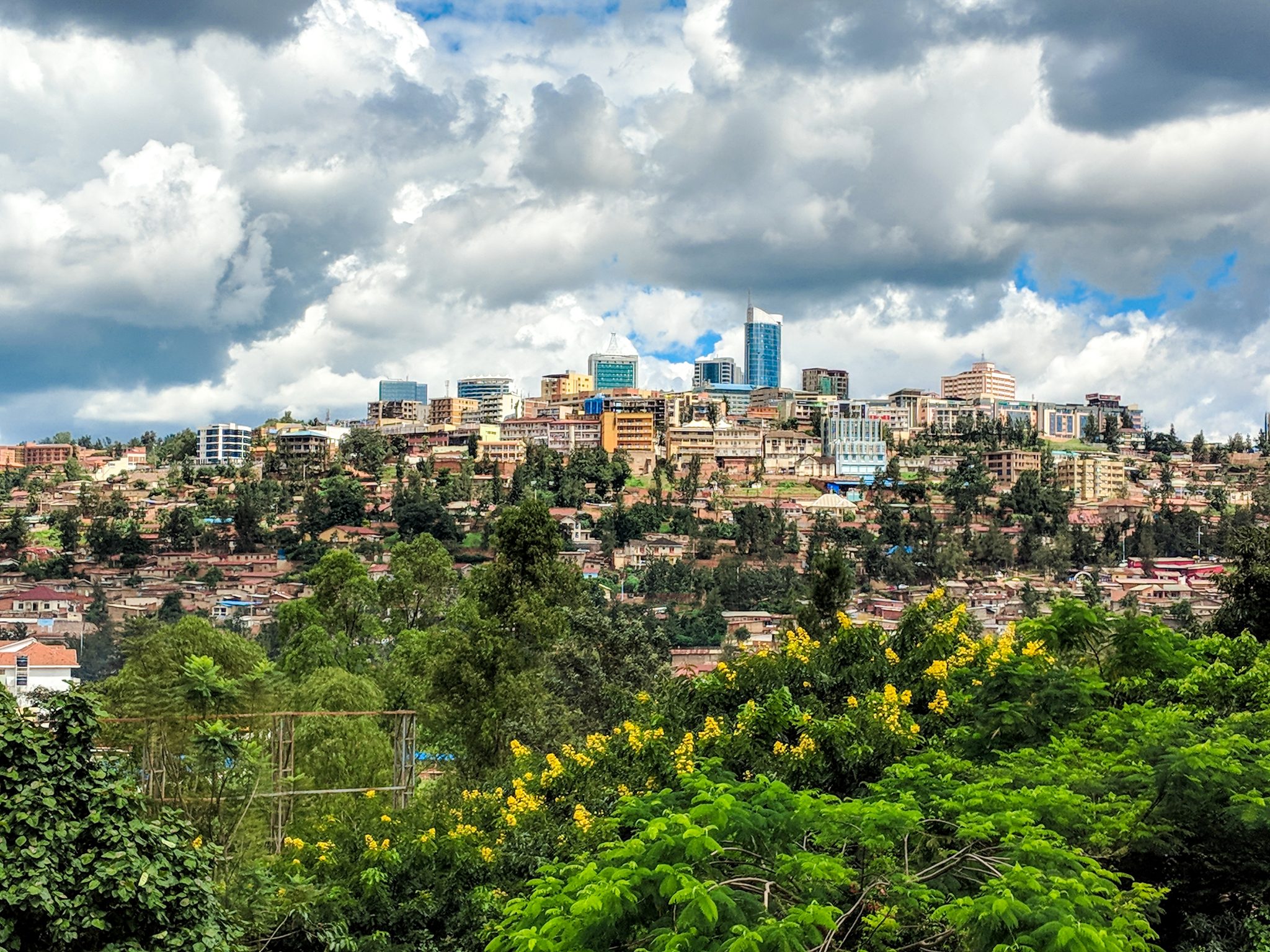 Day 1: Arrive Kigali
You will arrive in Kigali and be picked up from the airport to drop you off at the hotel.
You will have the day free to relax by the pool and acclimatise until the evening when you will meet the guide and the rest of the group for a welcome dinner at Republica Lounge. The welcome dinner will be joint with the guests who are part of the Luxe trip.
Overnight at Heaven Hotel
Heaven Restaurant & Boutique Hotel is a 30-room American-owned, private, serene property, located in Kigali's most beautiful neighborhood, Kiyovu, and a great way to start the trip and acclimatise to the weather.
The hotel is a short walk to the City Center, shopping, banks and entertainment. In addition to Kigali's top-rated restaurant, Heaven hosts the onsite INEMA Arts' Gallery and AZIZI Life fair-trade crafts boutique.
Relax under the shade of their grand umuvumu trees, by the pool or enjoy expansive views of Kigali from the Adirondack chairs on their terrace.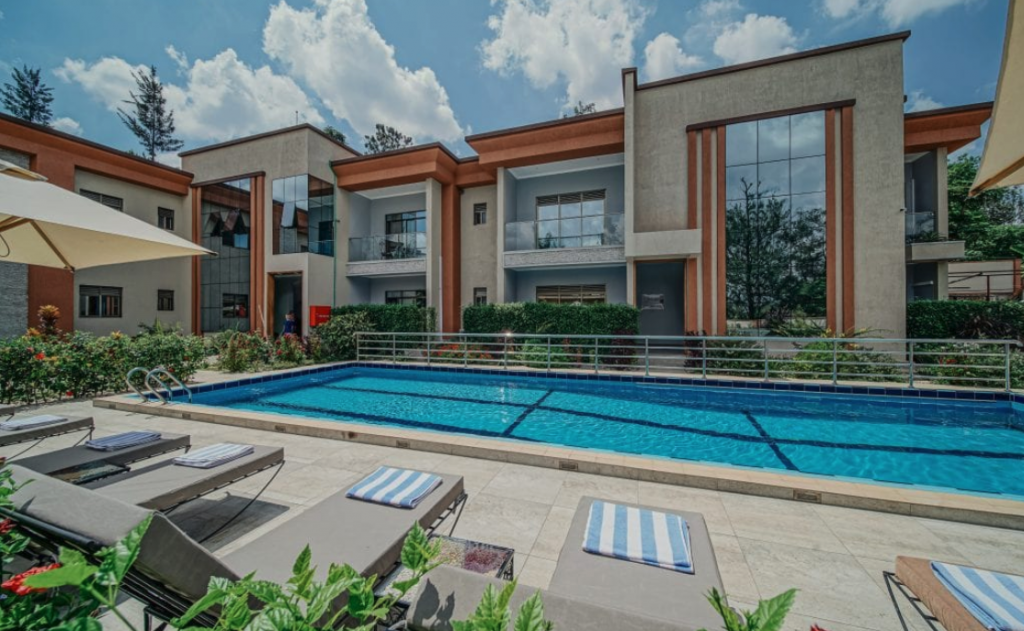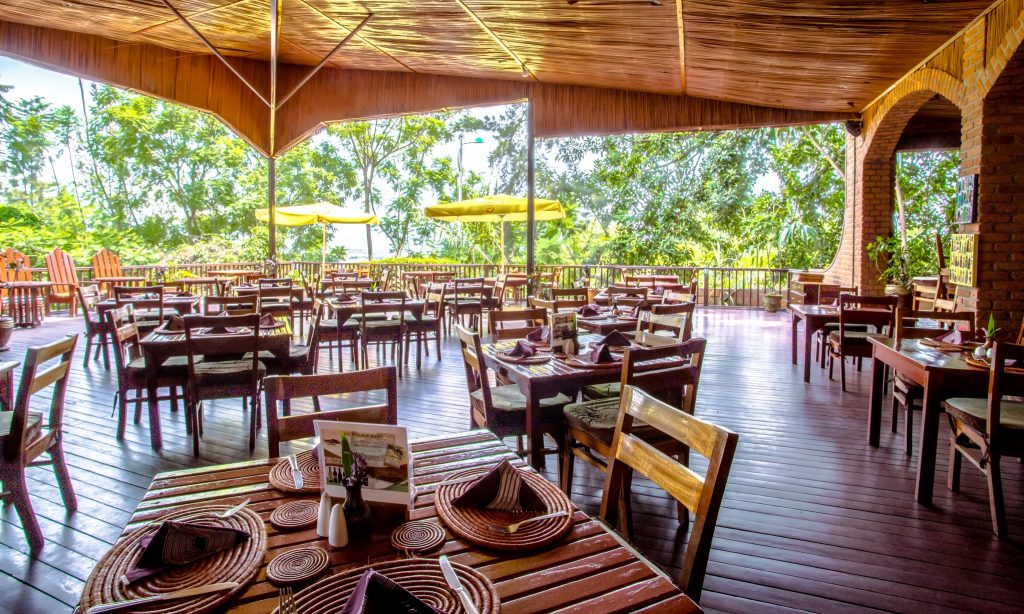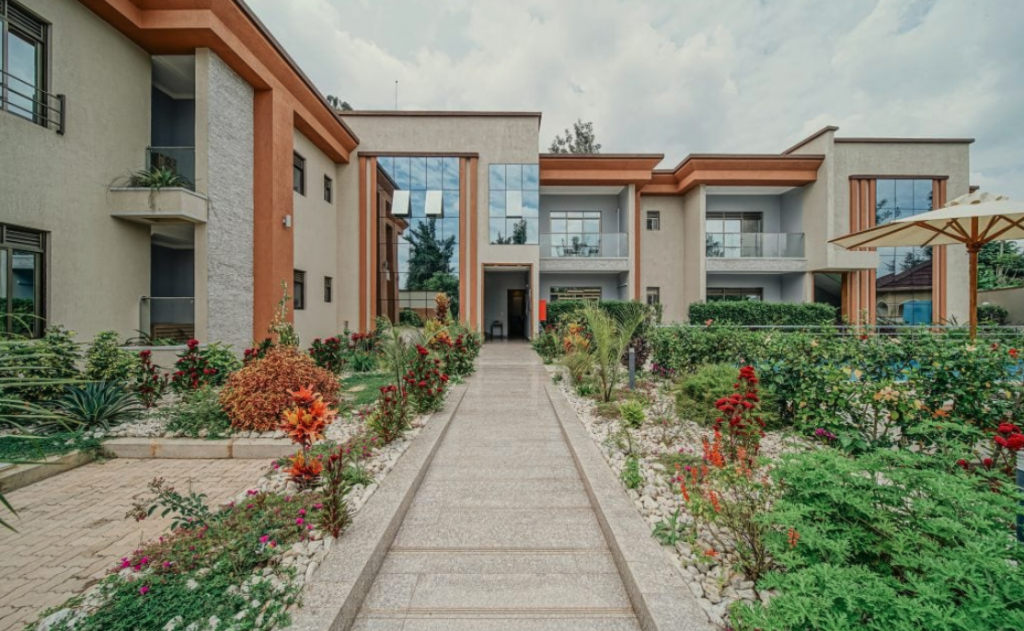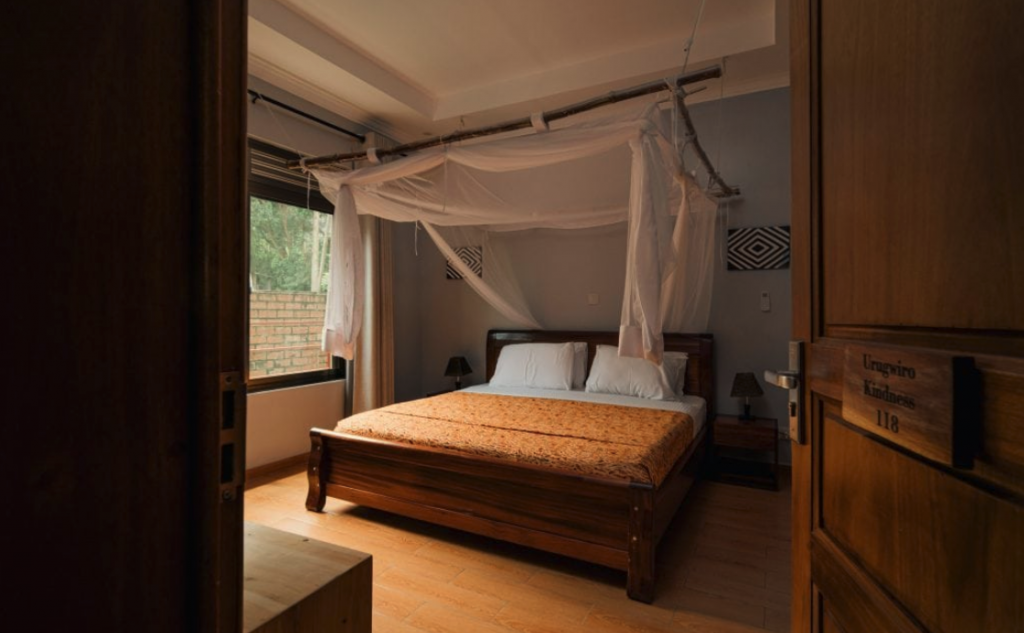 ---
Day 2 : Kigali
Rwanda's capital and biggest city stretches across undulating lush hills surrounded by towering mountains, the largest of which is Mount Kigali, rising 1,850m above sea level. With its interesting architecture and leafy streets, Kigali is said to be one of the most attractive cities in Africa and is definitely worth a visit.
As the country's financial, commercial and cultural hub, nowhere else can you understand the country's nickname better than here "The country of a thousand hills".
Kigali is a clean, safe and green space with a number of points of interest.
After breakfast, you get to visit the Kigali Genocide Memorial which is the final resting place for more than 250,000 victims of the 1994 Genocide against the Tutsi.
Learn about Rwanda's history from pre-colonial times to the 1994 genocide as well as other genocides in the world. A visit to the Rwanda Art Museum, also known as the former presidential palace, gives you an insight of the life of the then president of Rwanda, whose plane when shot down in 1994, sparked off the Rwanda Genocide.
After lunch, we will depart Rwanda on a scenic drive through thousands of hills, coffee, tea and banana plantations to the border post foothills of the mountains and volcanoes and into the beautiful Pearl of Africa – Uganda. You will see a great countryside of bamboo forest and have amazing views of the landscape.
In the late afternoon, check into your lodge for relaxation and prepare for your big day the next day.
Overnight at Buhoma Haven Lodge
Buhoma Haven Lodge is a community project located above Buhoma village, a 5-minute drive from the main road, and this elevated location guarantees excellent views across Bwindi Impenetrable National Park.
The lodge has beautifully designed twin/double ensuite merging simple elegance with local materials. Guests are served 5-course meals blending Western and African cuisine, prepared by Ugandan chefs using locally grown products. For gorilla tracking a packed lunch is also provided.
The property was constructed with support from people of America (USADF) and is managed by the Buhoma Mukono Community Development Association (BMCDA) that has brought together over 7,000 community members for the benefit of development, improved livelihoods, and conservation of natural resources.
BMCDA is assisting local people to obtain reputable employment and empowering them with the necessary skills to not only guide tourists but to further their career goals.
Revenue earned from guests transfers to BMCDA and is then dispersed to local community projects. The following are some of those projects: Buhoma Community Primary School, Buhoma Community High School, Buhoma Gravity Water Flow Scheme, Rainwater Harvesting, Pineapple and Vegetable Growing Project, Buhoma Cooperative Savings and Credit Society.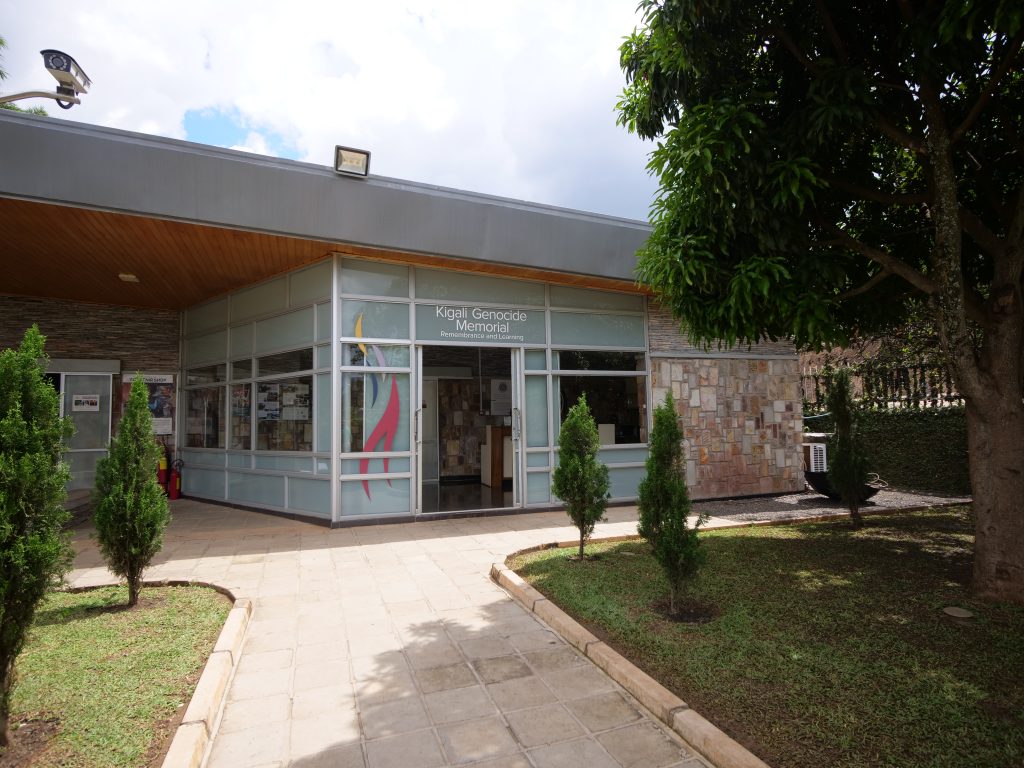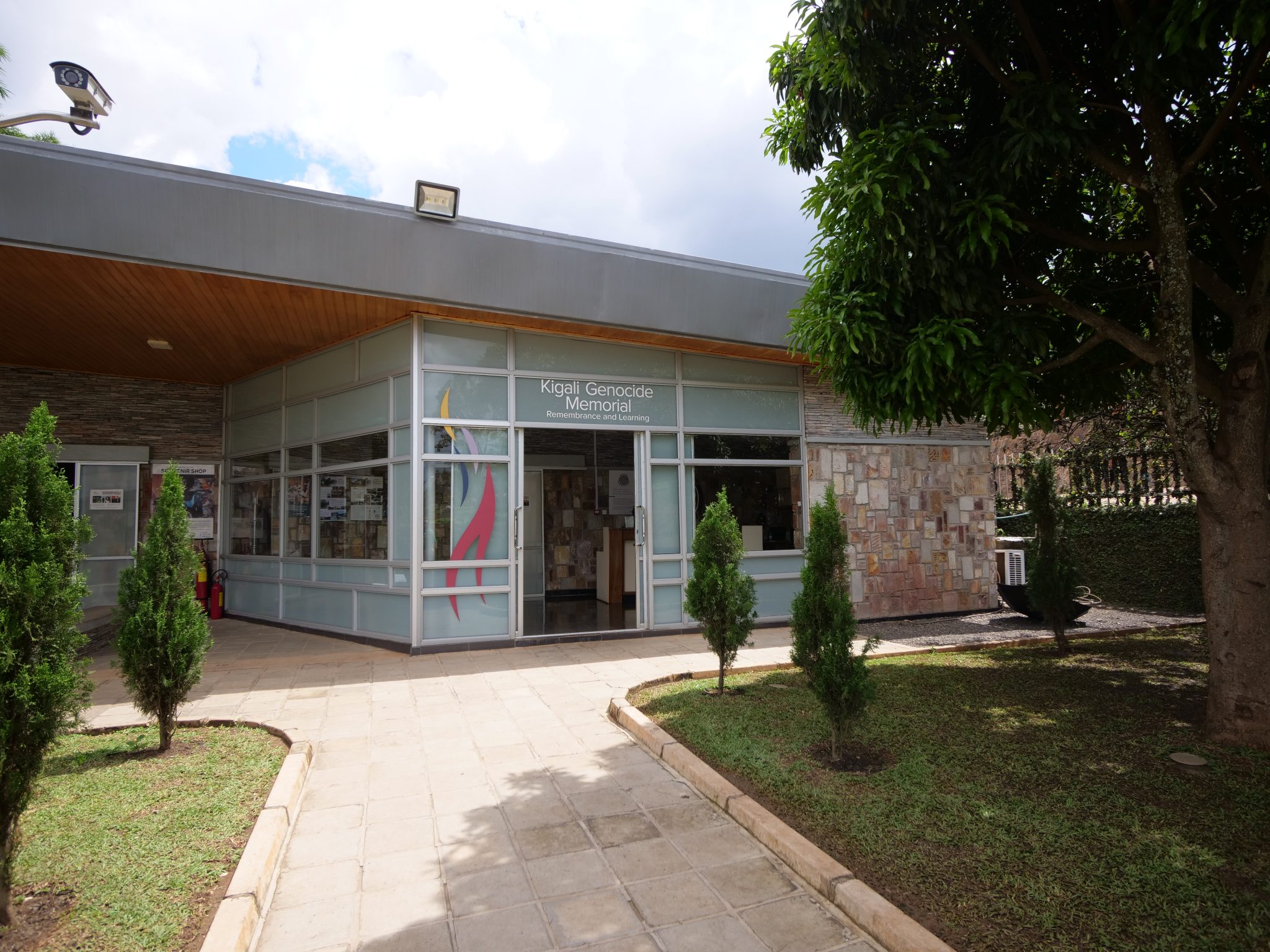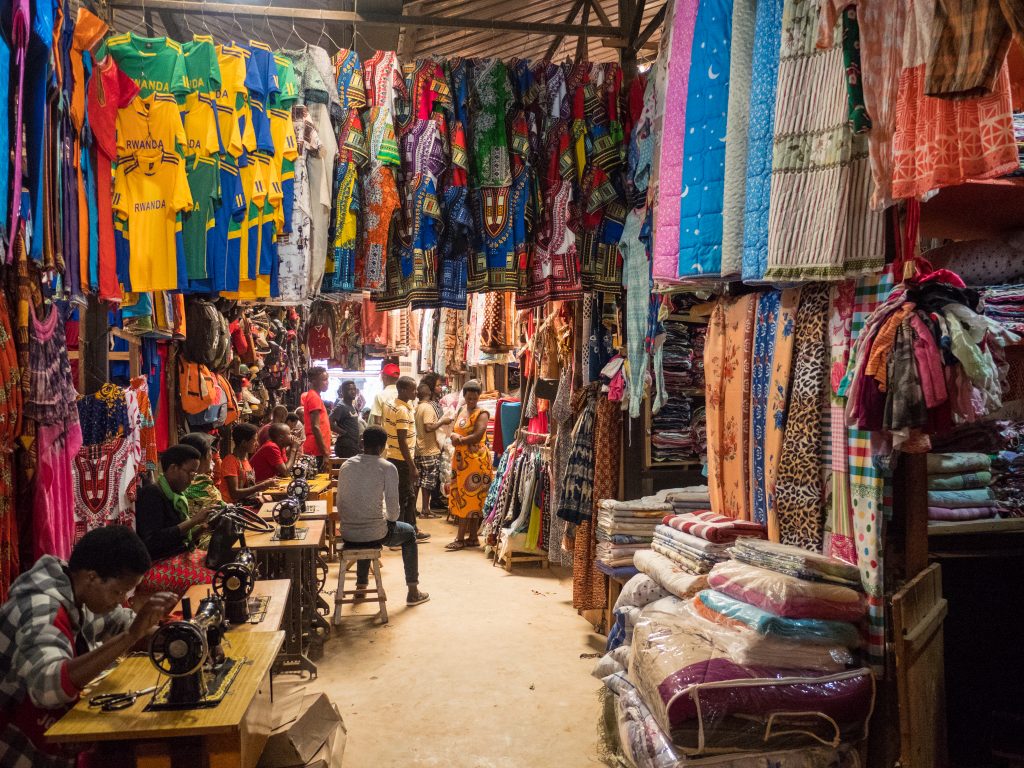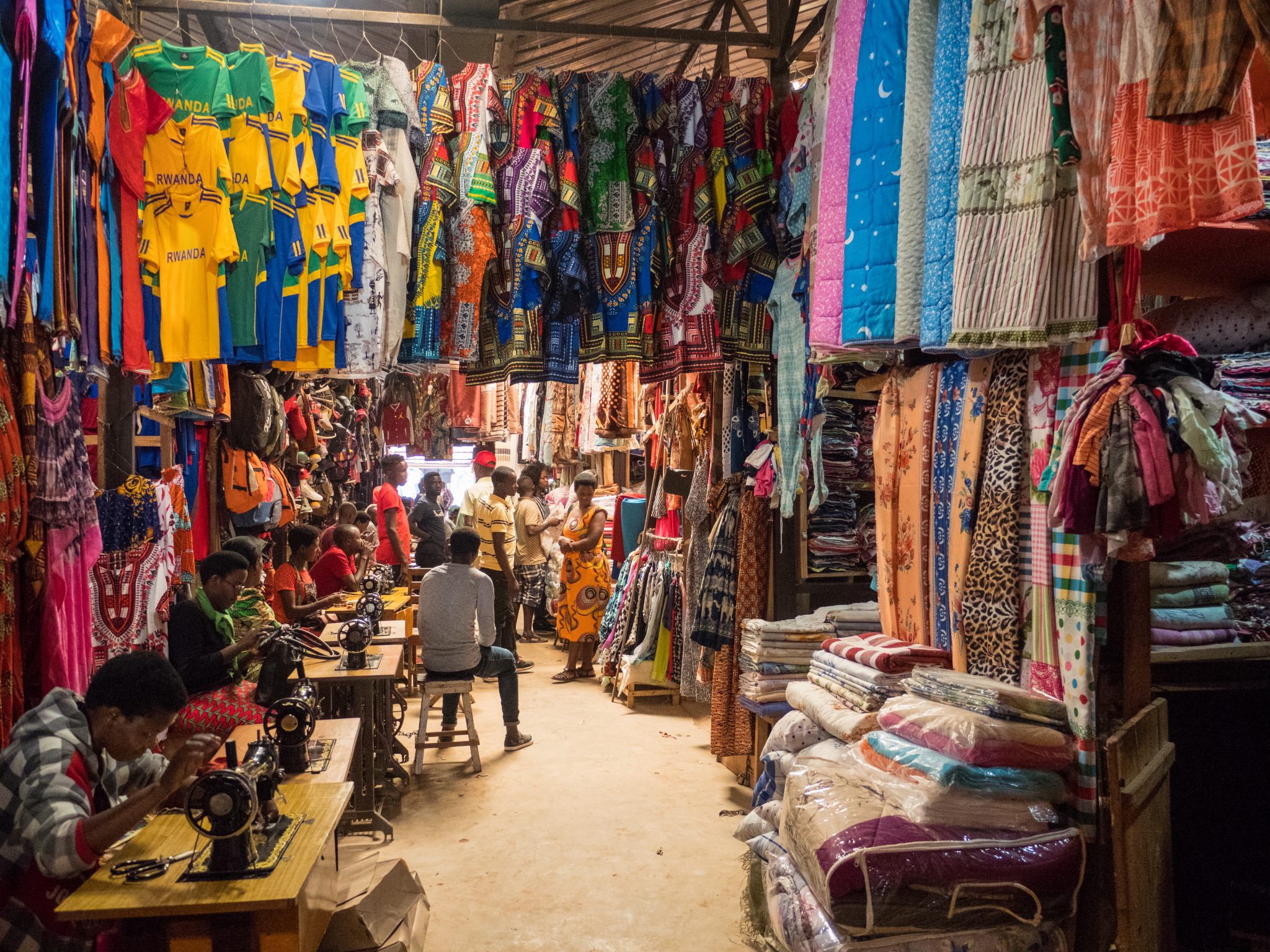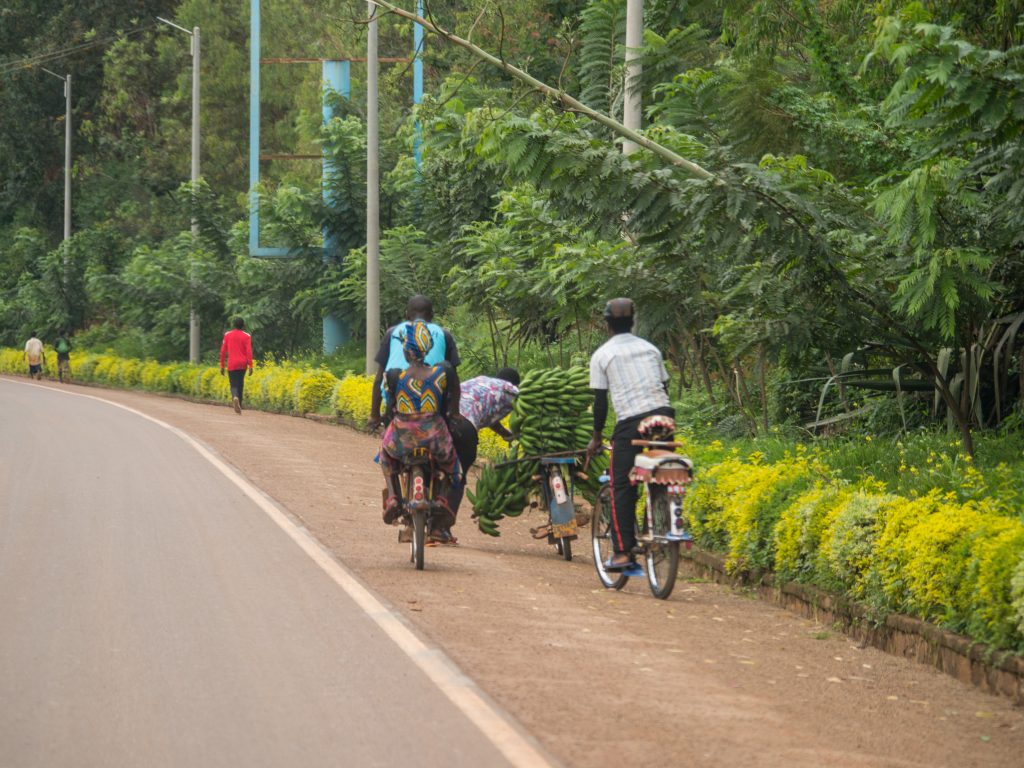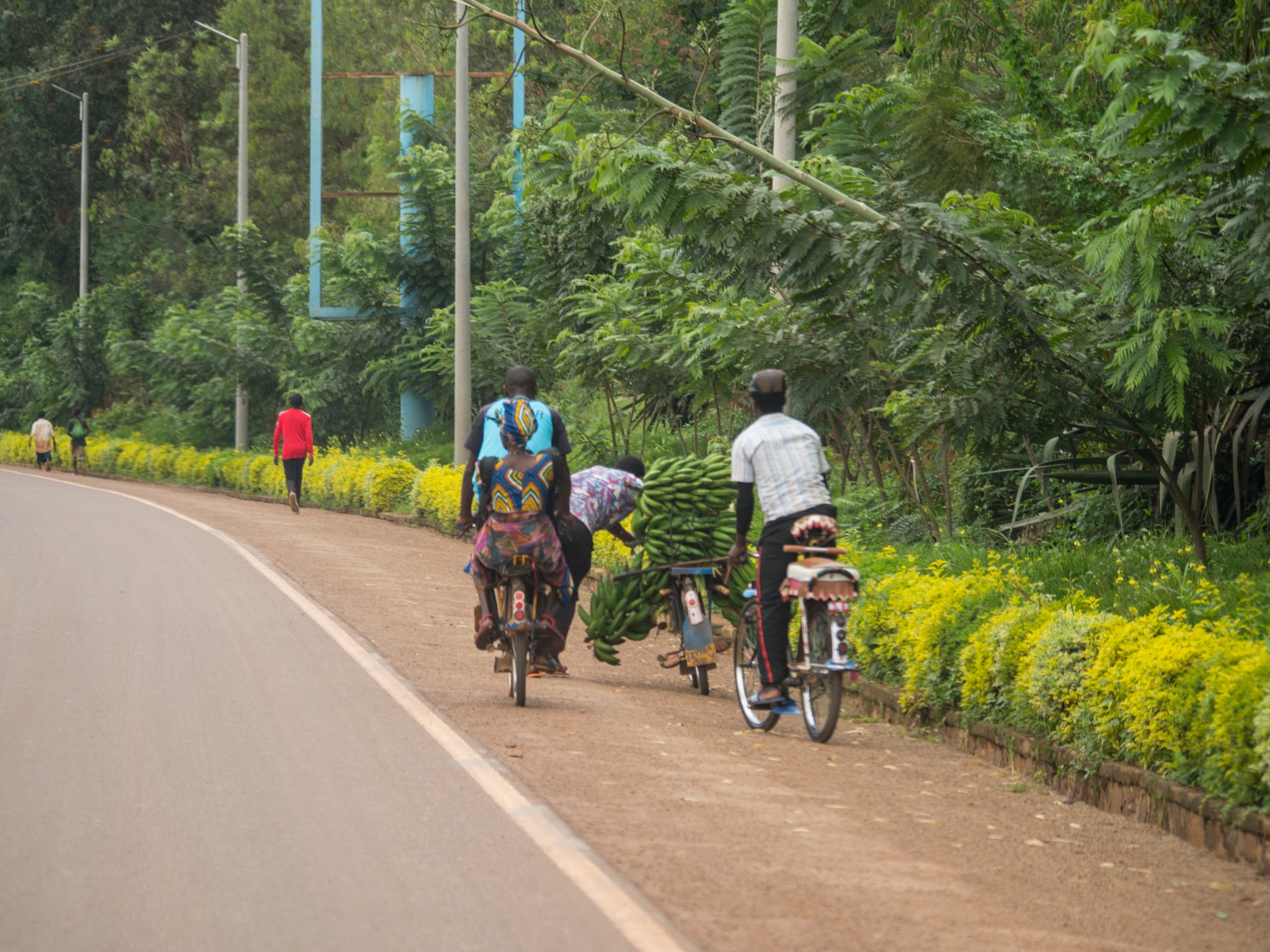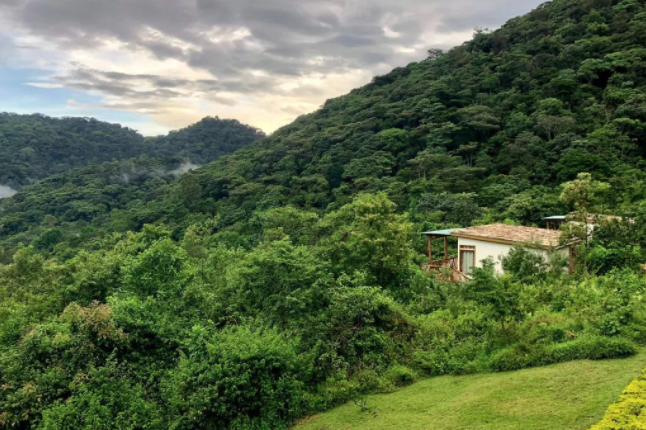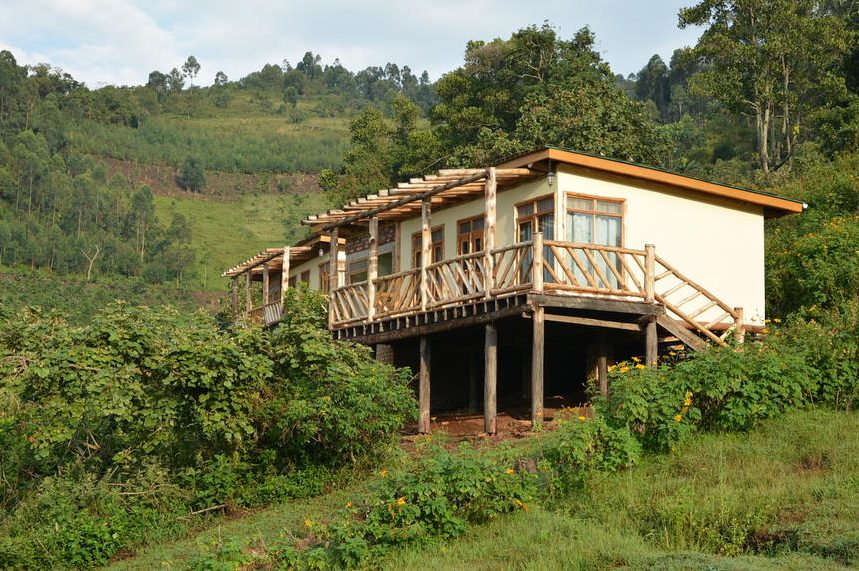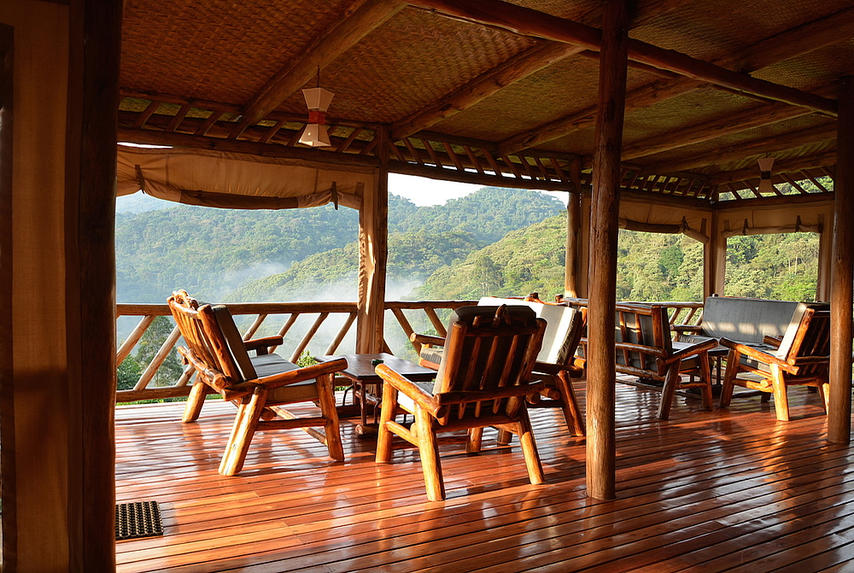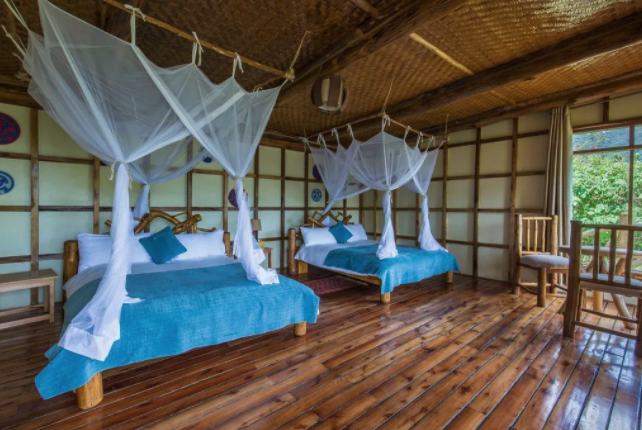 ---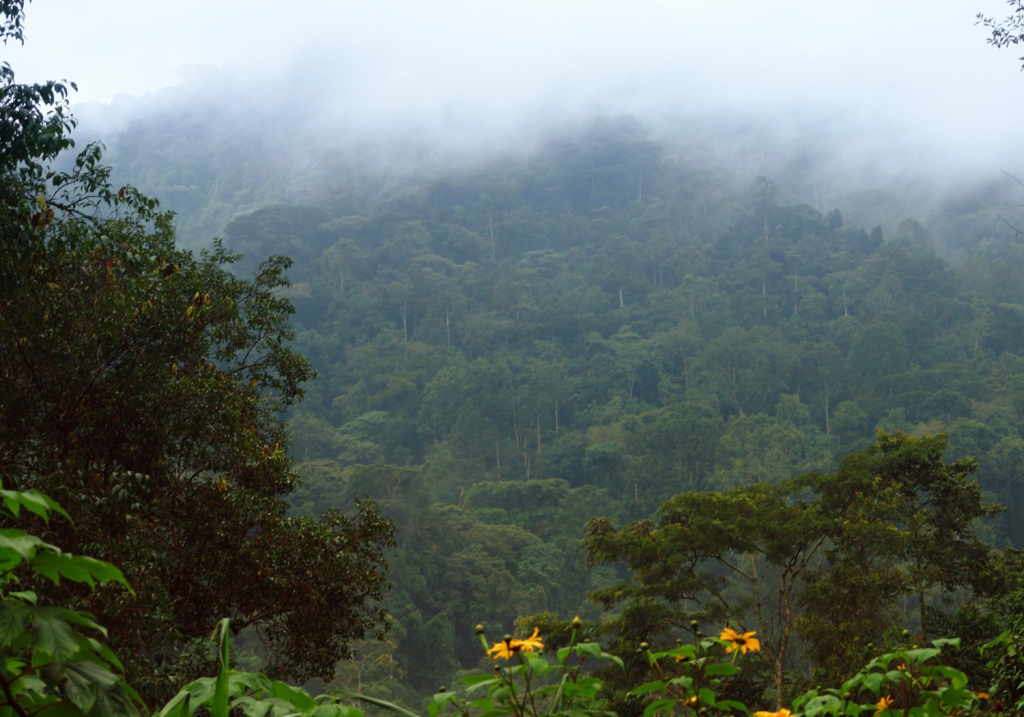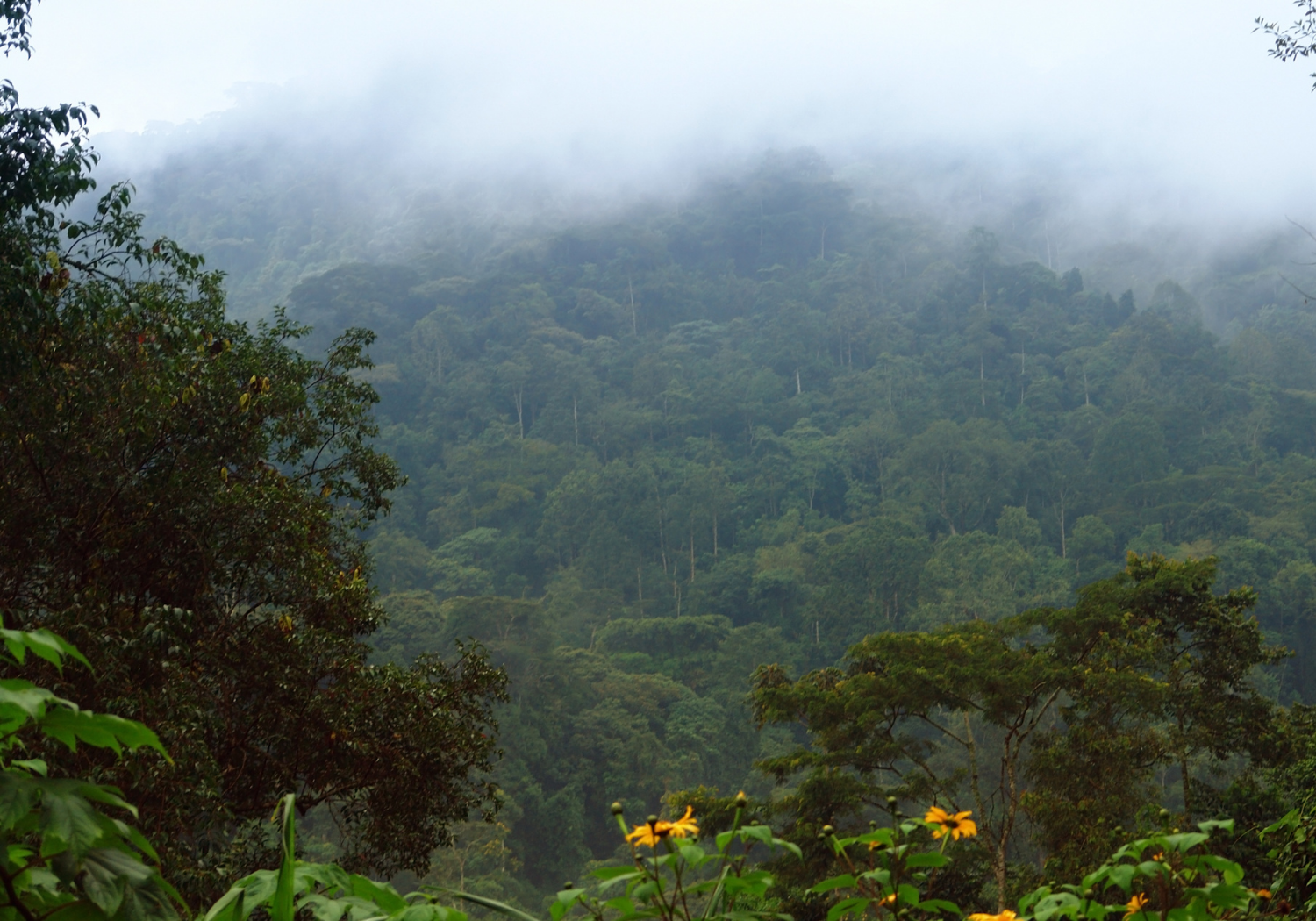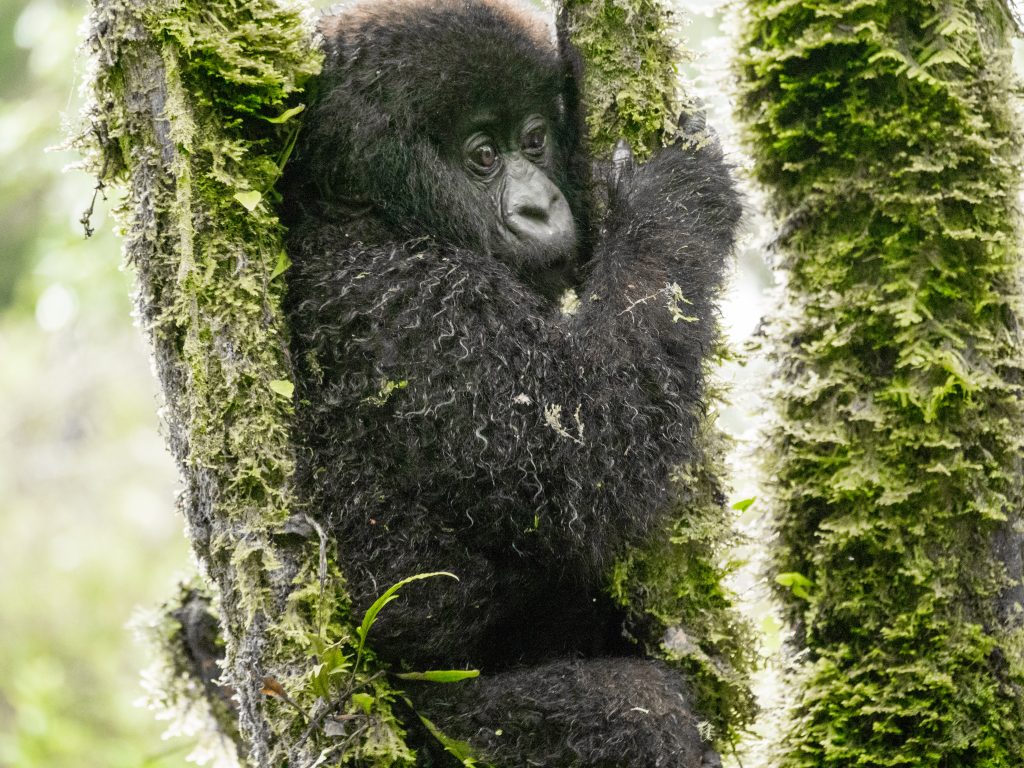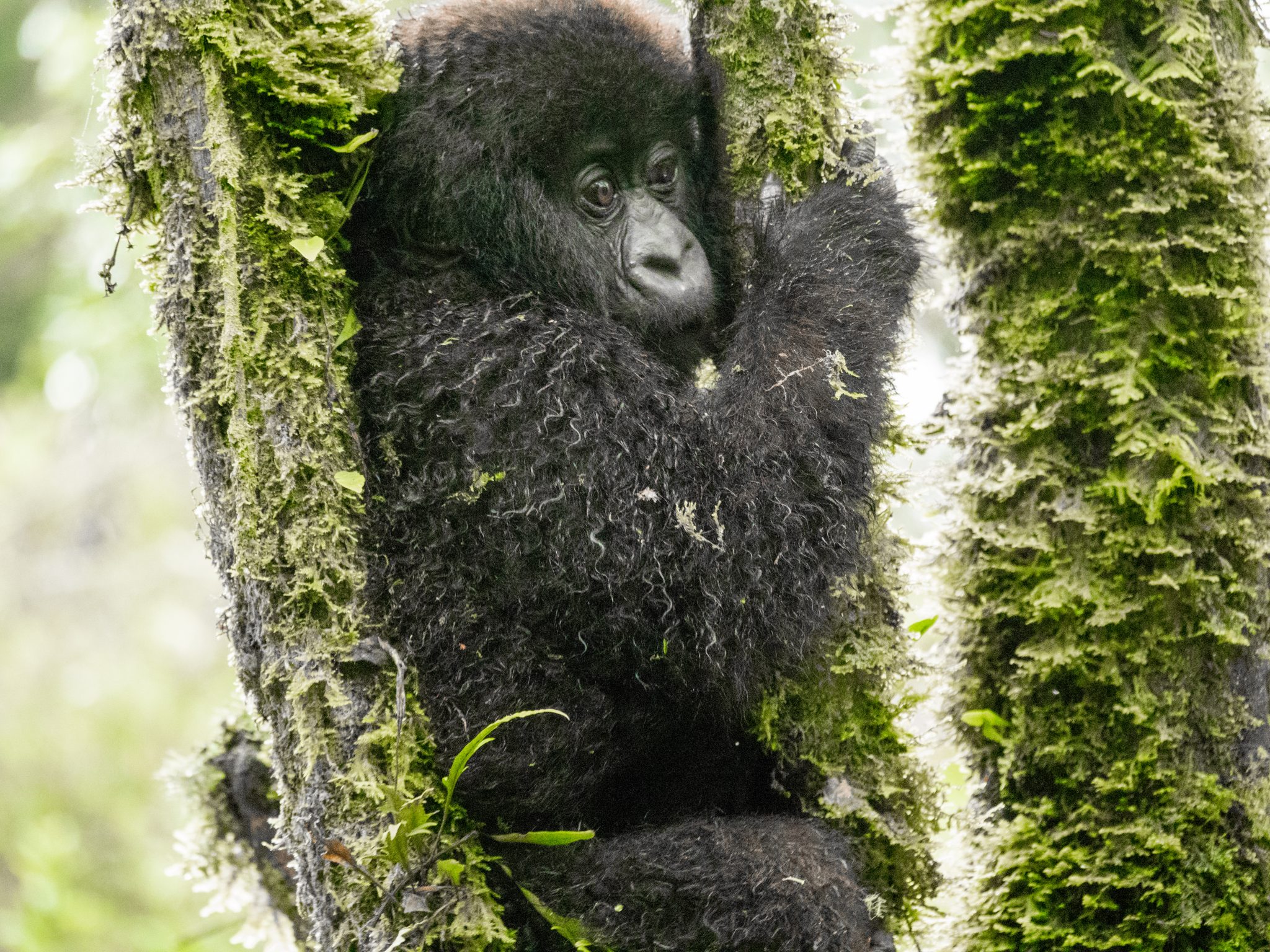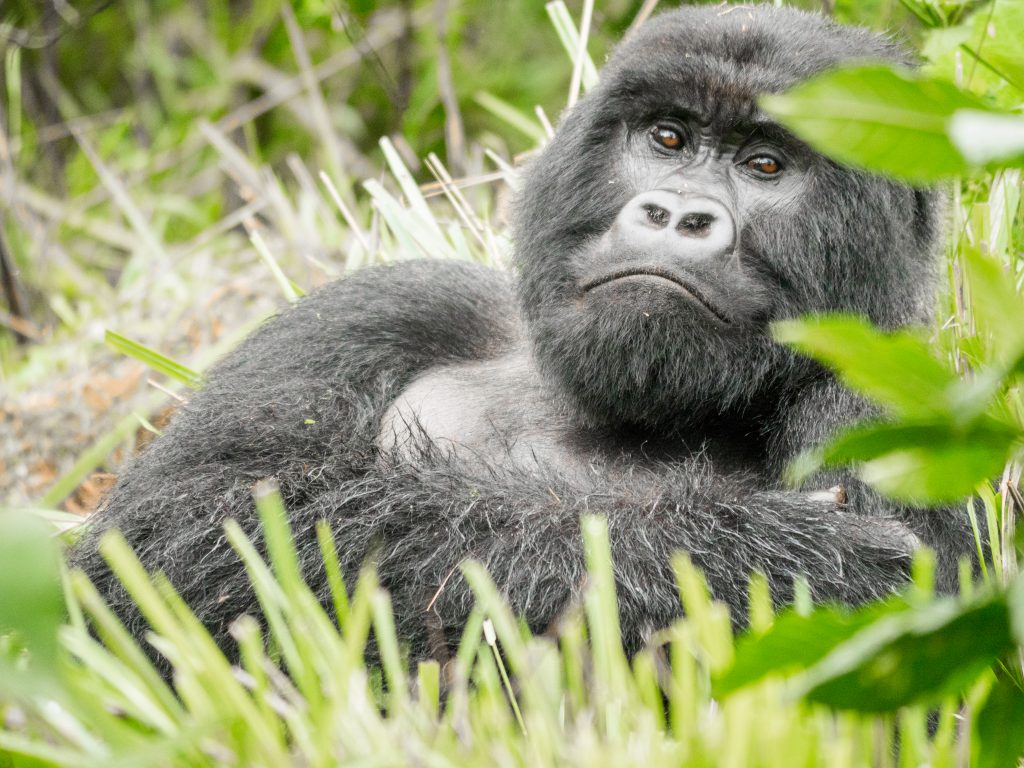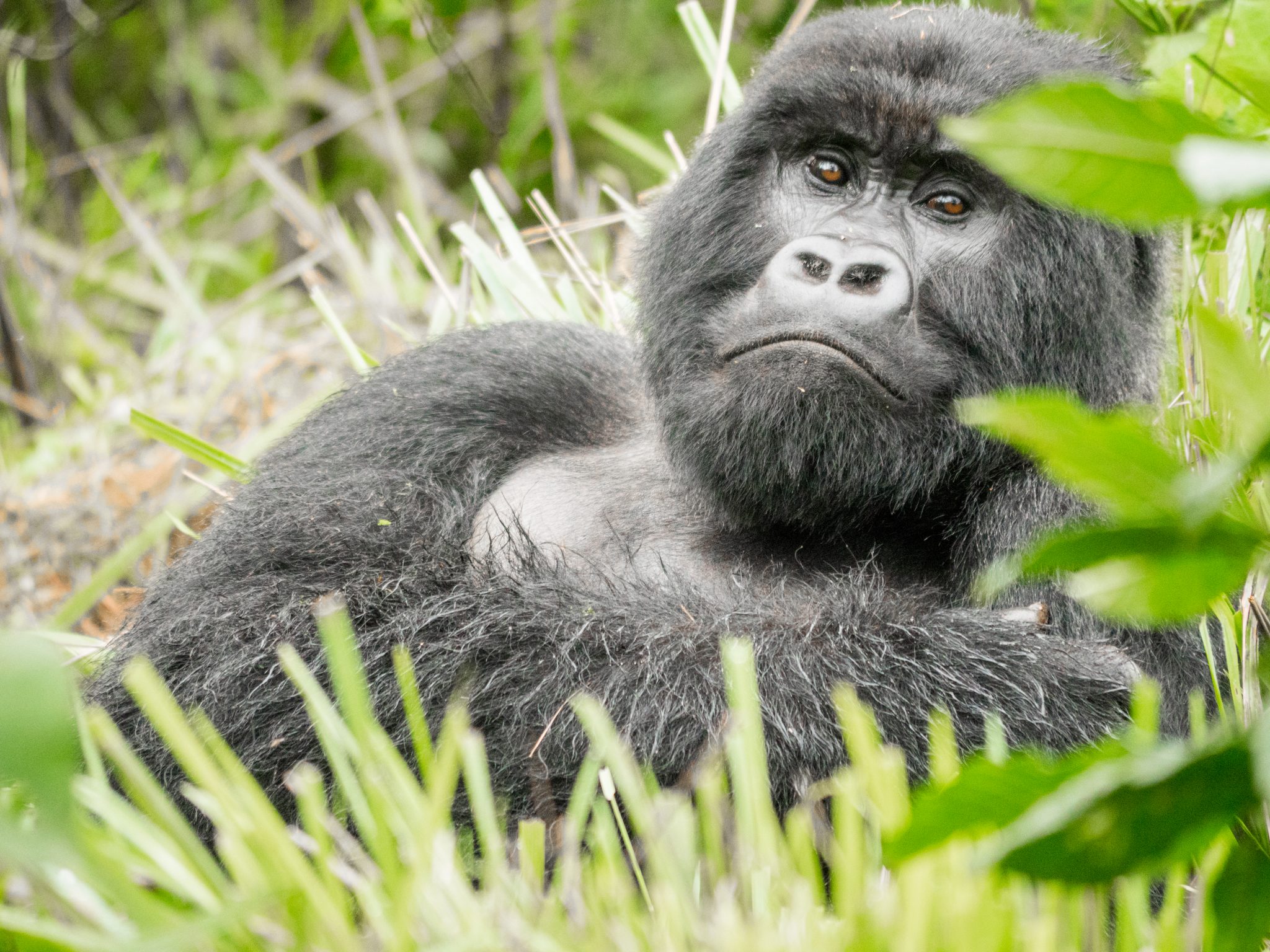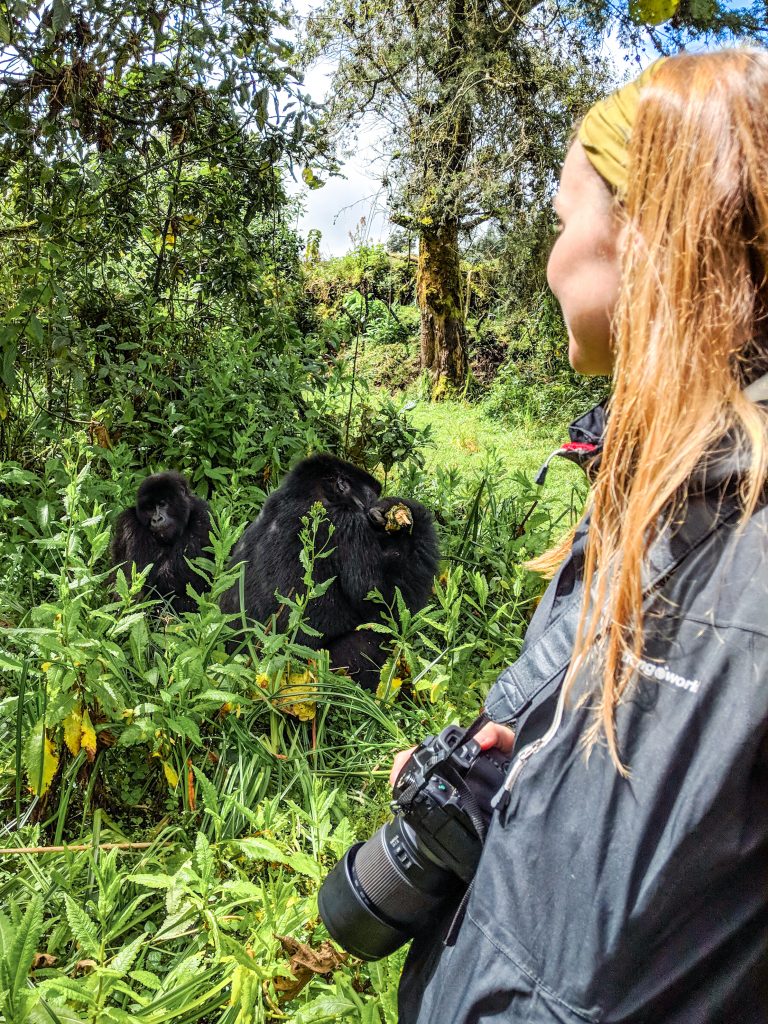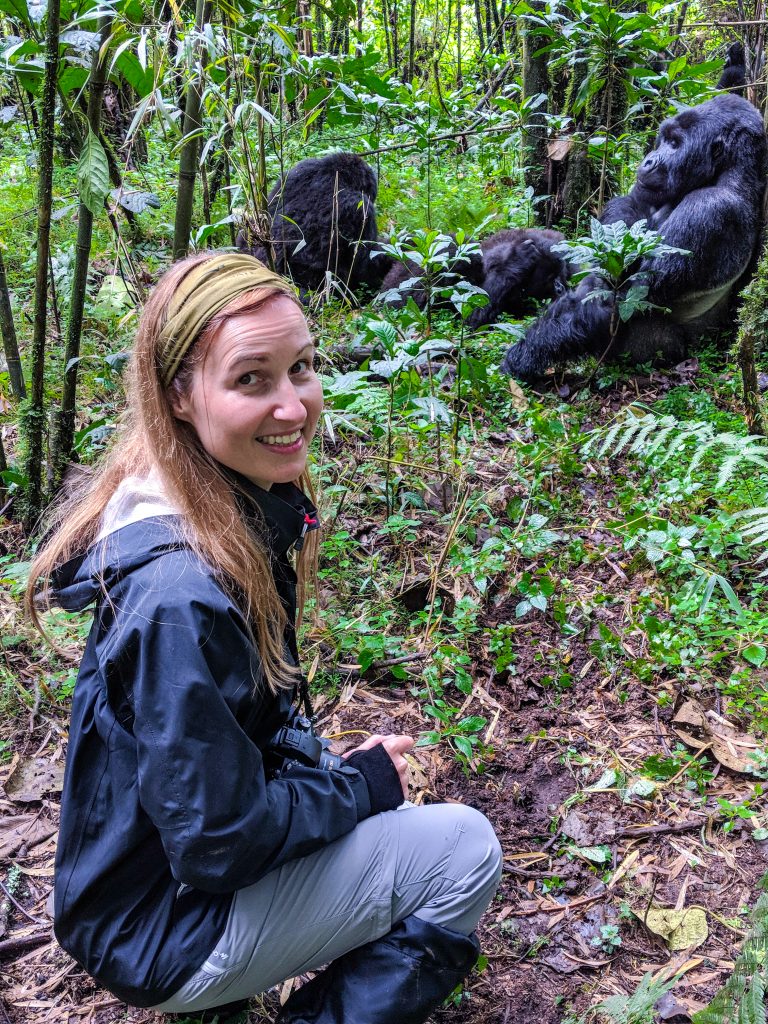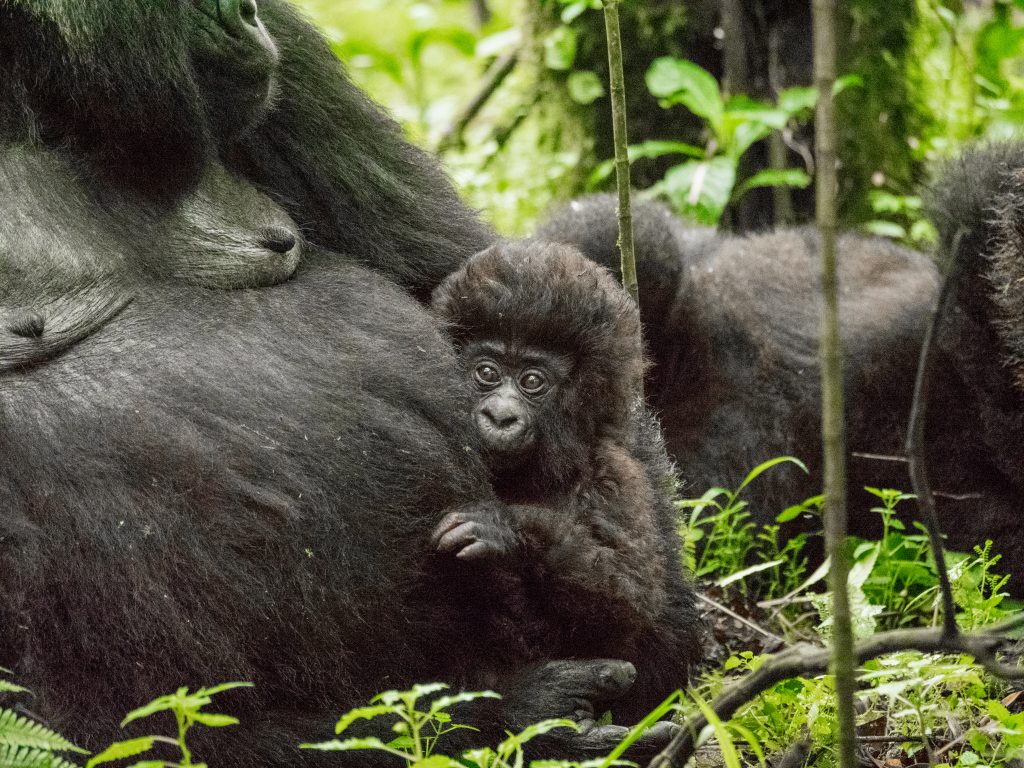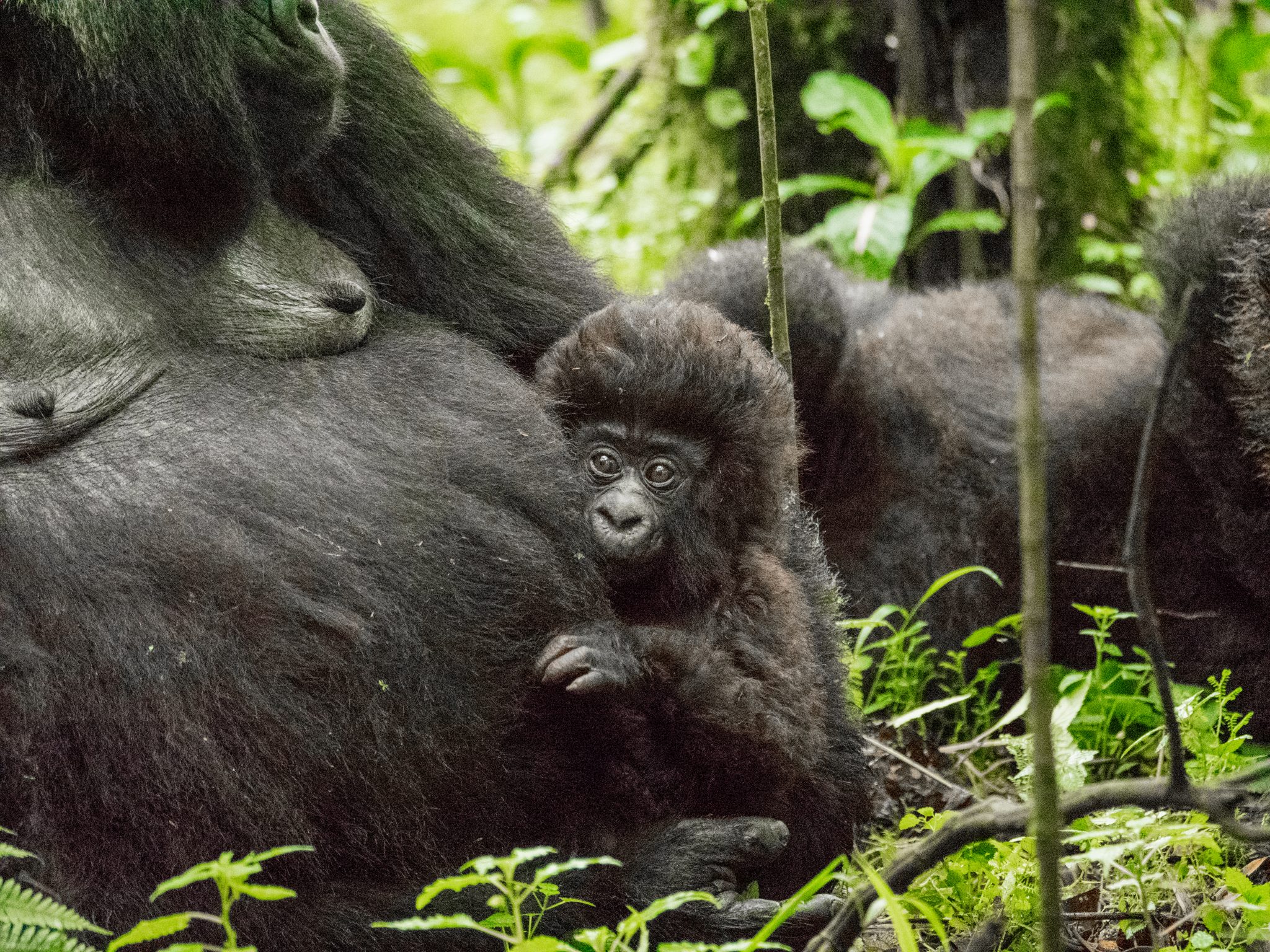 Day 3 : Bwindi Impentrable forest
Located in southwestern Uganda, the Bwindi Impenetrable Forest is said to be Africa's oldest rainforest.
It is world-renowned for its excellent gorilla-sighting opportunities and its thick vegetation that give it its name.
The rugged landscape features dense jungle, cascading waterfalls, sparkling mountain streams, deep valleys and steep ridges.
This untouched forest has been declared a UNESCO World Heritage Site because of its breathtaking natural beauty and unique ecological significance.
Aside from the amazing gorilla interactions, there are other drawcards such as a network of forest walks, over 340 species of birds to spot and a variety of butterflies.
Day 3 is the big day.
Prepare yourself for an encounter with one of Bwindi's gentle giants: the rare Mountain Gorilla. For most people, this is the absolute highlight of their tour in Uganda.
You will be required to wake up early in the morning then be led to the visitor's reception centre for a briefing about the park. You are allocated guides before heading into the forest in search of Mountain Gorillas.
Bwindi Impenetrable Forest boasts both Mountain Gorillas and Chimpanzees – the only forest in Africa which can make this claim. It also hosts five other species of primate, 113 species of mammals, over 200 butterflies and 360 birds.
The Gorillas you will track belong to one of nine habituated family groups that can tolerate the presence of humans for a brief period every day.
Your trek will be an exciting journey along forested slopes, entwined vines, bushes and bamboo before you eventually reach the Gorillas' habitat. En-route, your guide will point out signs of previous Gorilla activity, including dung, nests and chewed bamboo shoots. The time taken to track the Gorillas can take as little as 2 hours or more.
Once the Gorillas have been located, your group will be allowed a maximum of one hour with them. Coming face-to-face with a Mountain Gorilla is a truly humbling and emotional experience. This is a fantastic and privileged opportunity to get up close and personal with Uganda's very own 'Gorillas in the Mist'.
Each gorilla trek is different and we cannot predict how long the walk may take. If the family is far away, we may enjoy a snack and packed lunch in the forest, otherwise, we will have lunch back at the lodge. The afternoon is free to enjoy the stunning views of the lodge or relax by the pool.
Overnight at Buhoma Haven Lodge.
---
Day 4 : Batwa experience
After breakfast, you will go on the Batwa Pygmies Cultural Trail where you will interact and learn about the interesting lifestyle of this community.
The Batwa pygmies are the traditional inhabitants of the Bwindi forest that's currently occupied by the National Park. The trail exposes you to their in-depth hidden history before the year 1990 when they evacuated the forest area that had become protected as a National Park and gives you an insight into their traditions, and their ways of live which rely on the natural habitat of the forest.
The experience comes along with different unique demonstrations on how the pygmies used to extract local herbs that were used for healing different diseases, traditional ways of fetching water using locally made bamboo mugs and construction of grass huts.
You will then transfer to the beautiful Ishasha plains which are part of Queen Elizabeth National Park – the oldest & second largest National Park in Uganda, located at the base of the massive Rwenzori Mountains, adjacent to lakes Edward & George.
The park is covered by Savannah plains that provide an abundance of game viewing like elephants that trumpet when you get too close, lazy leopards laying in the sun, abundant gazelle and buck, tree-climbing lions, buffaloes, hippos and more.
On our way to the lodge, you will enjoy game drives in the park and arrive at dinner for sunset and an overnight stay.
Overnight at Ishasha Jungle Lodge
Ishasha Jungle Lodge is surrounded by riparian forest vegetation and acacias Savannah. This is a small eco-friendly lodge, entirely made with local materials and African art with its raised en-suite wooden deck cottages (now they are 4), spacious rooms and bathroom, all finished with canvas.
The lodge uses clean energy with a solar system giving 24hr power and hot water to all cottages. All bulbs are of low energy consumption and the solar fridge provides safe storage and cold drinks. Cooking is provided with clean sources like gas and alternative charcoal. Attention is given to waste management disposal and recycling of any materials. Water is safe as it comes from a borehole.
The restaurant serves international food following the principles of the Slow Food movement.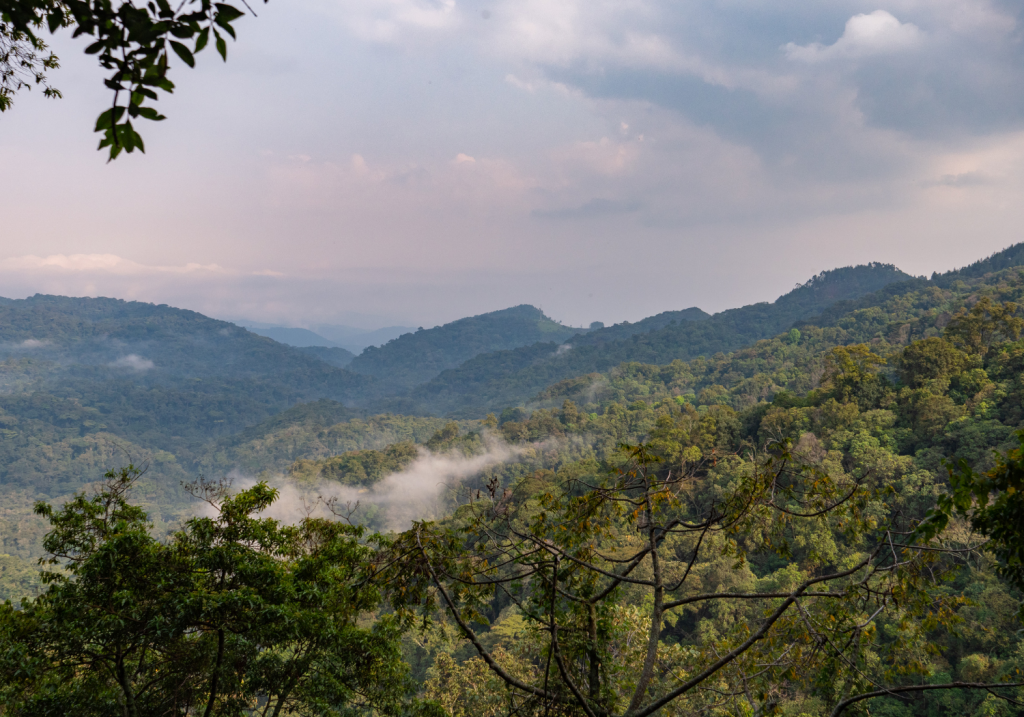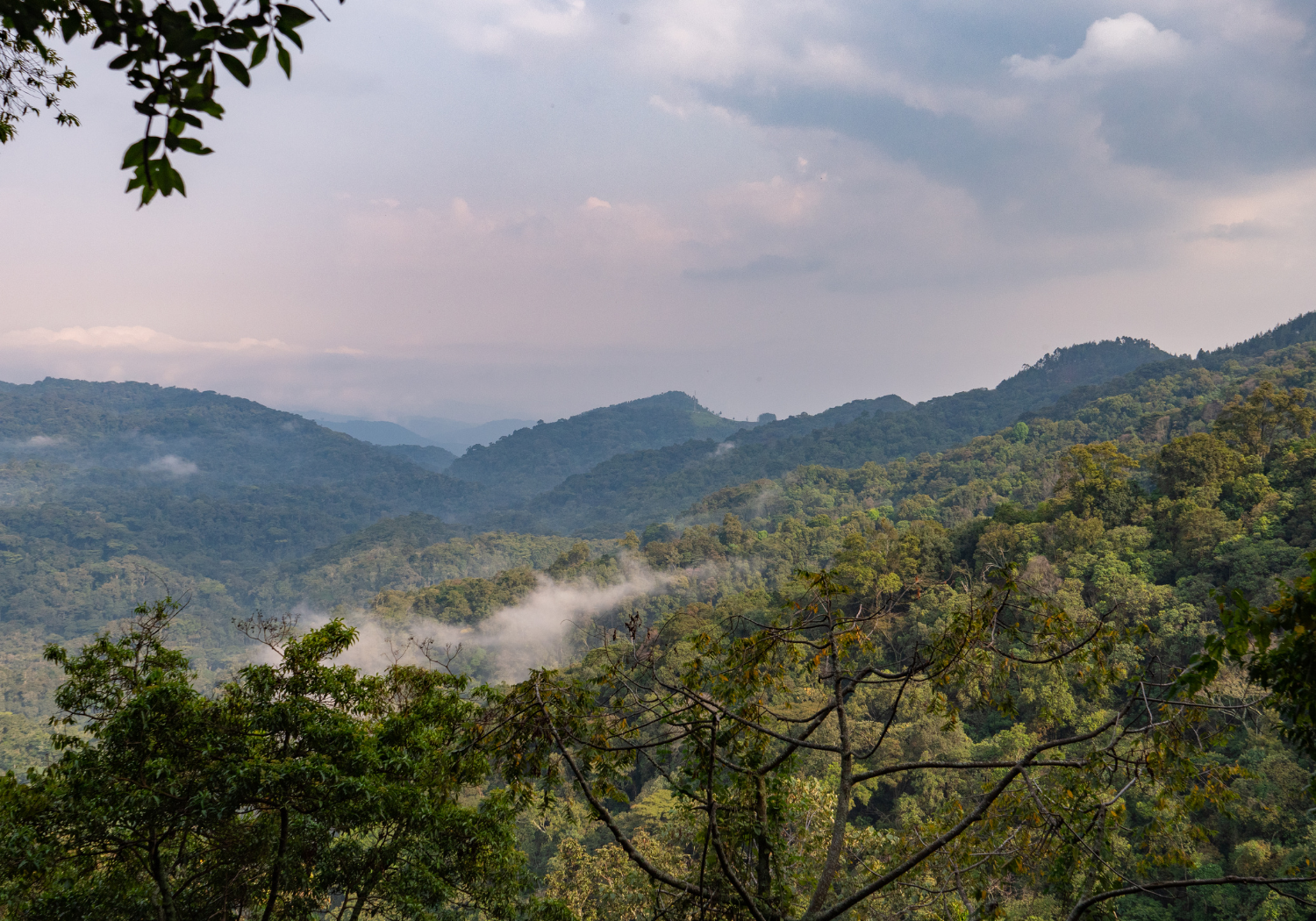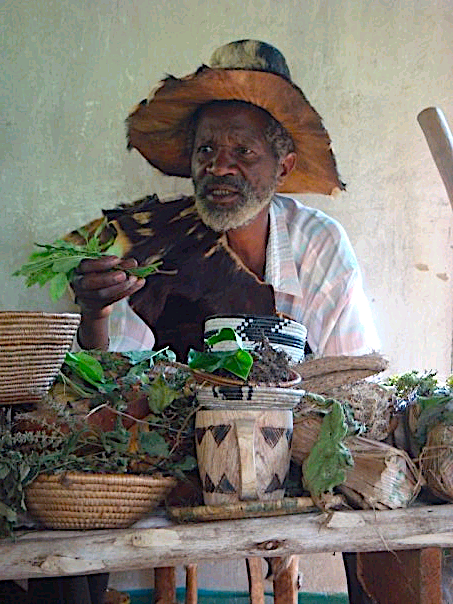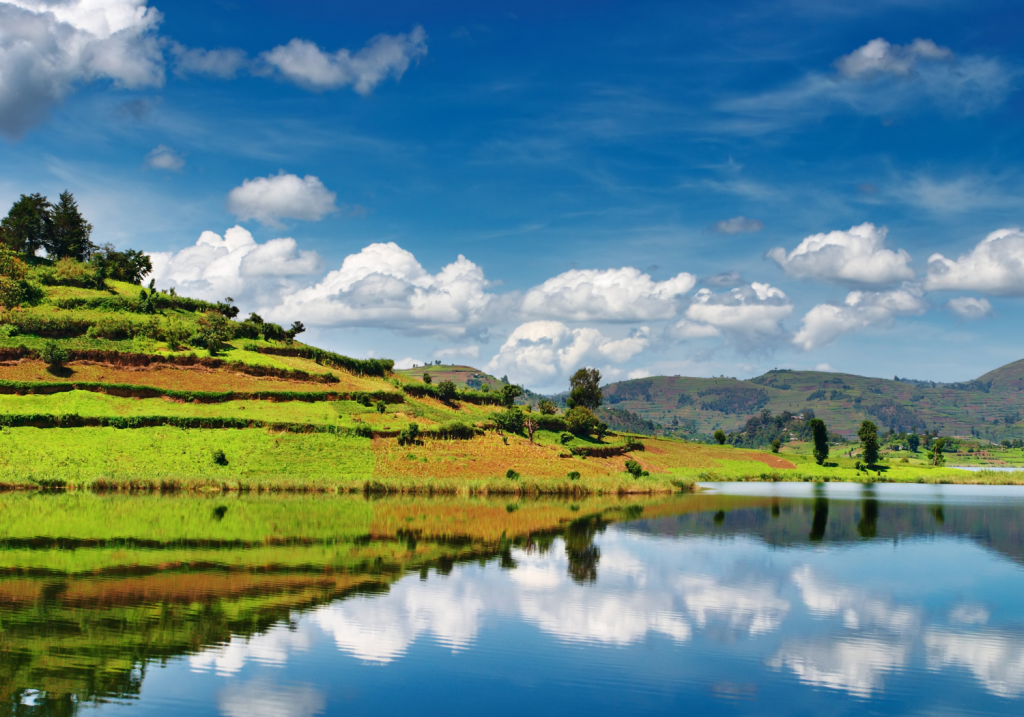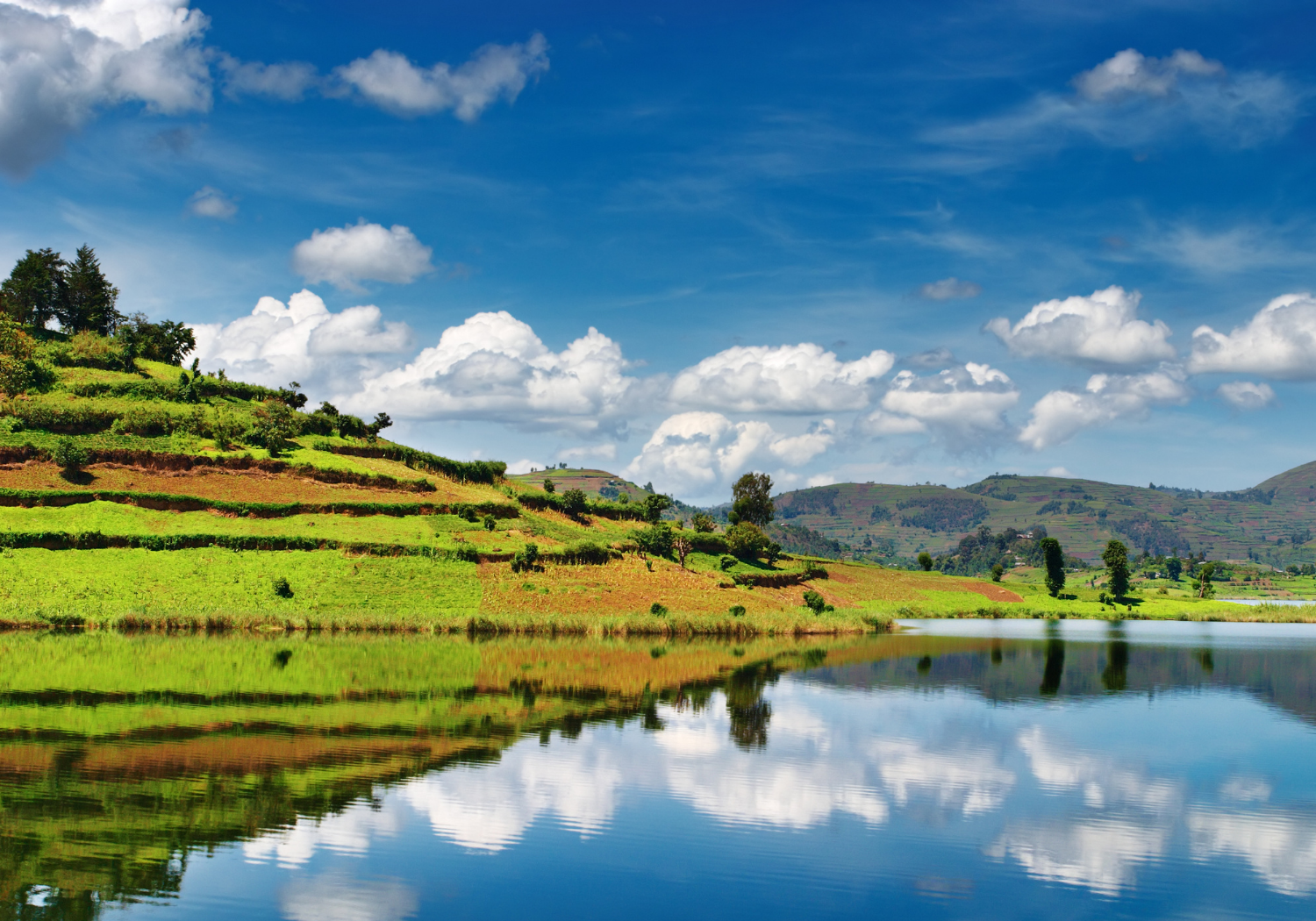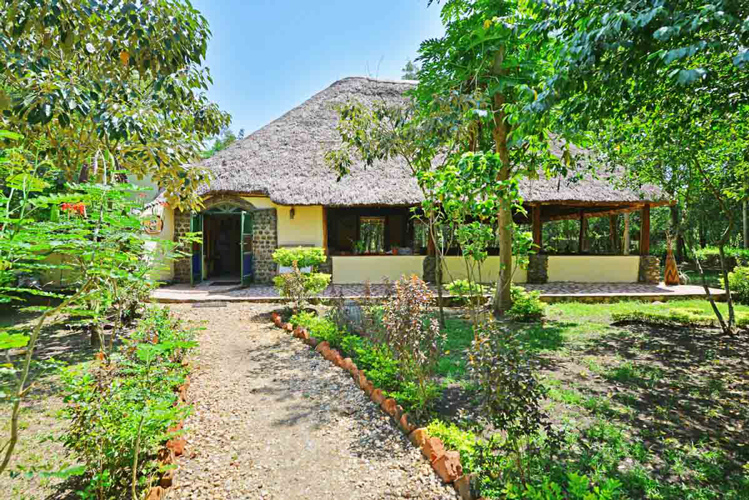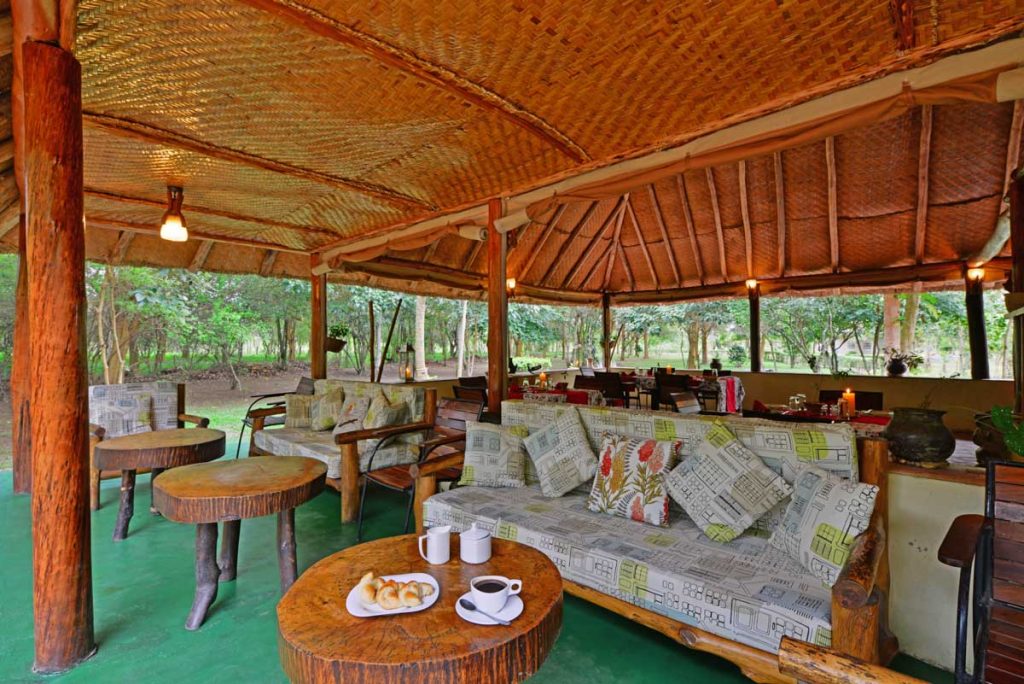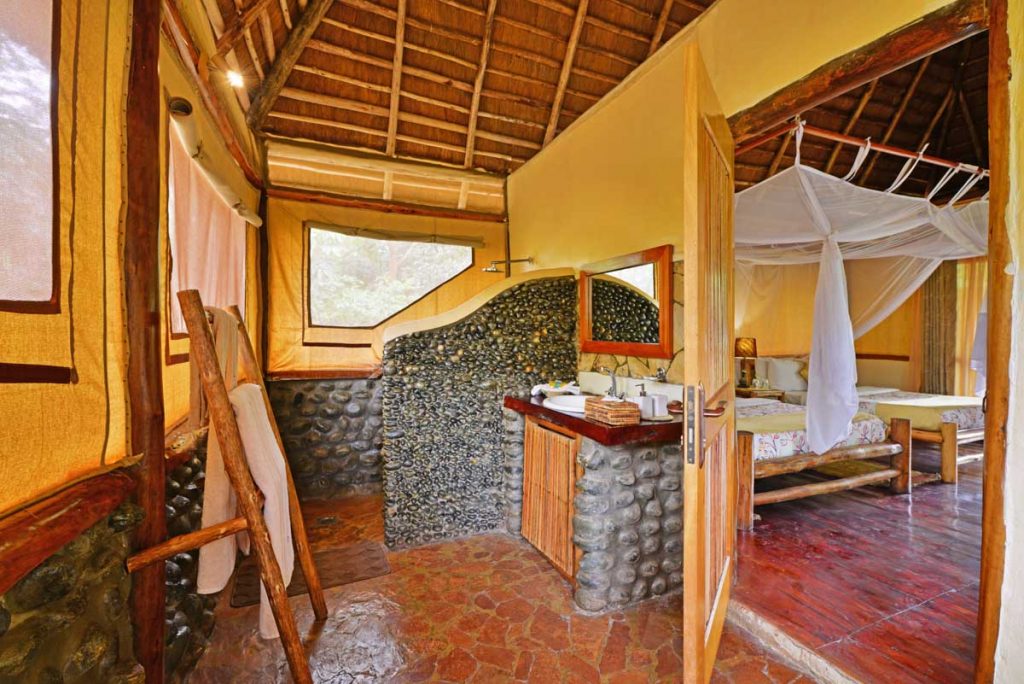 ---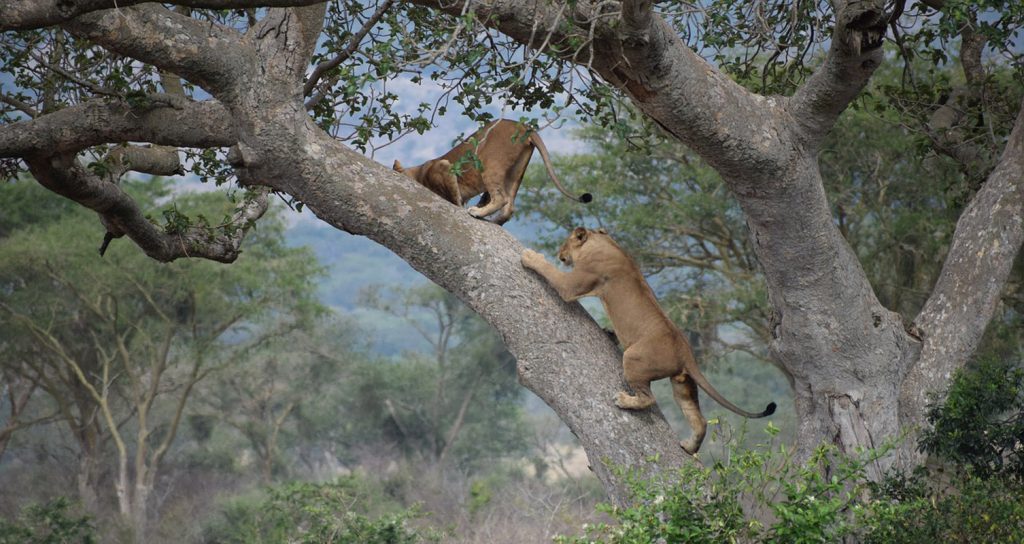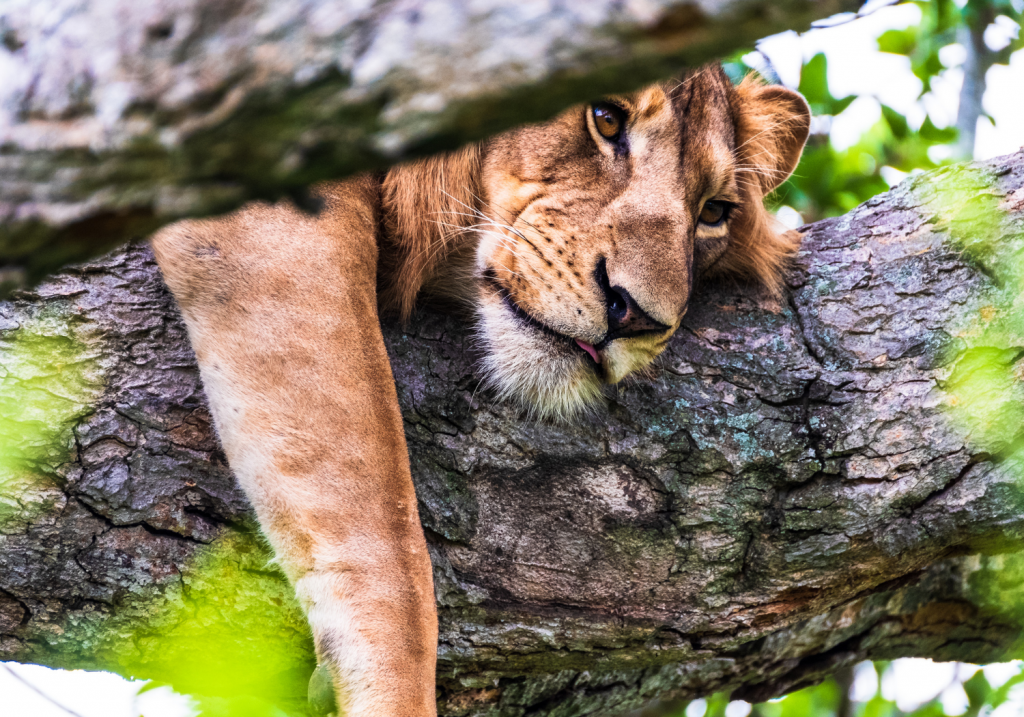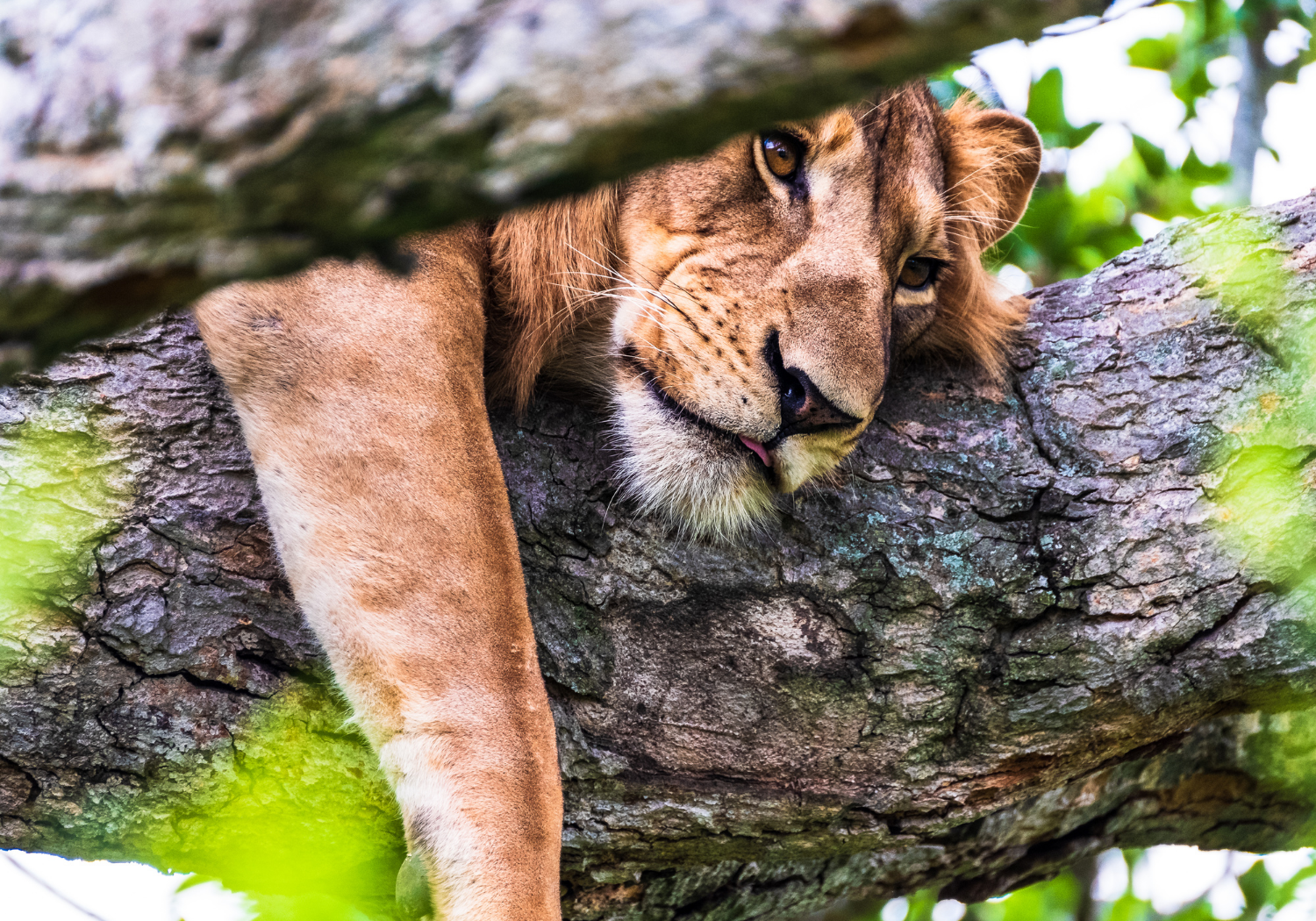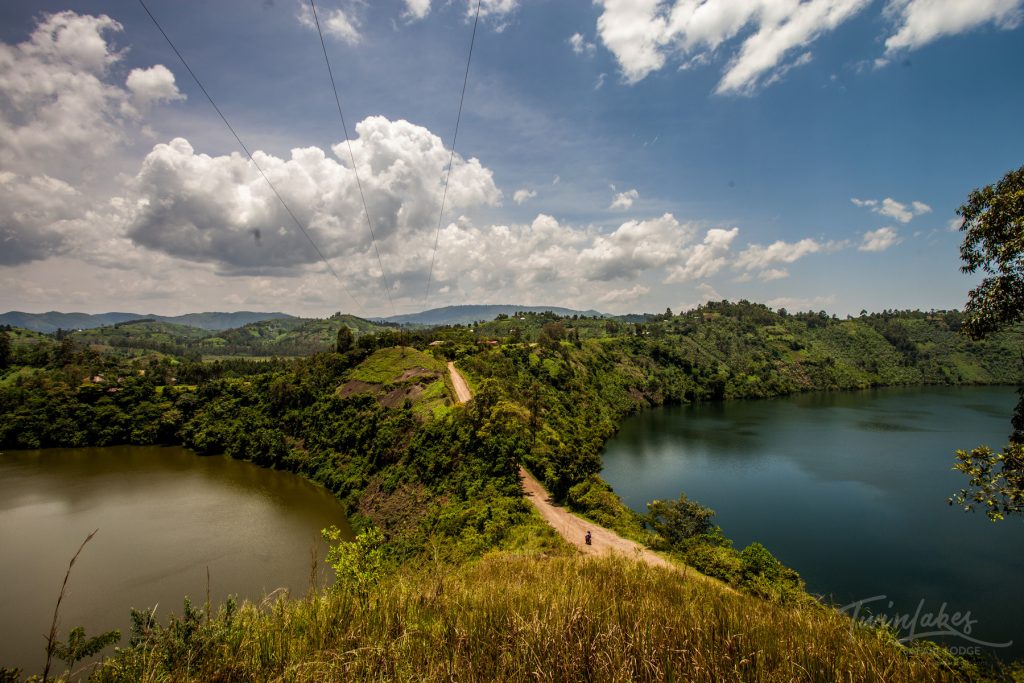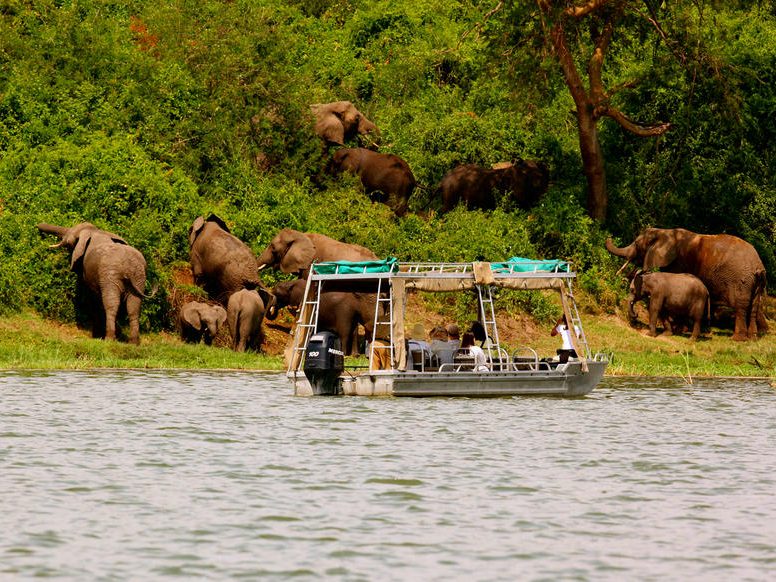 Day 5 : Queen Elizabeth National Park
Located in southwestern Uganda, the Queen Elizabeth National Park is one of the county's most popular parks.
Volcanic craters, grassy plains, tropical forest and giant lakes connected by a channel inhabited by abundant hippos, are what you will see at the Queen Elizabeth National Park.
The park has almost 100 types of mammal and 606 different bird species, including the peculiar shoebill. The 40-kilometre-long Kasinga Channel alone is said to contain the world's largest concentration of hippos.
Other species to spot include buffalo, the rare aquatic sitatunga antelope, giant forest hog, Uganda kob, Defassa waterbuck and elephants.
On day 5, we will indulge in a morning and evening game drive in time to see the sunrise and watch the sunset over the horizon respectively.
On your game drives through the open savannah of Acacia, on the edge of the Albertine Rift valley, we will go in search of tree-climbing lions and other wild animals.
In the afternoon, we will head for a boat cruise on the Kazinga Channel to view the water-dwelling birds and animals such as the pied kingfisher, African fish eagle, herons, darters to mention but a few and see animals such as buffalos, crocodiles, monitor lizards, elephants wallowing at the mud and much more. After the boat cruise, you will proceed for a short game drive as you find your way back to the lodge for dinner and overnight at the lodge.
Overnight at Twin Lake Safari Lodge
Twin Lake Safari Lodge is perched on the edge of the escarpment with spectacular views over the Queen Elizabeth National Park. Eight spacious canvas tents with en suite bathroom under the cover of thatched roofs. From your private, shaded veranda, you look down onto the Kazinga Channel, flat-topped acacia trees and the occasional elephant wandering by.
The surrounding area also boasts plenty of rare wildlife species, birds, rich culture and various crater lakes. Community walks, forest reserves, fishing village, cotton and coffee plantations amongst much more. The Restaurant serves a choice of international and local cuisine with a bar offering various kinds of drinks.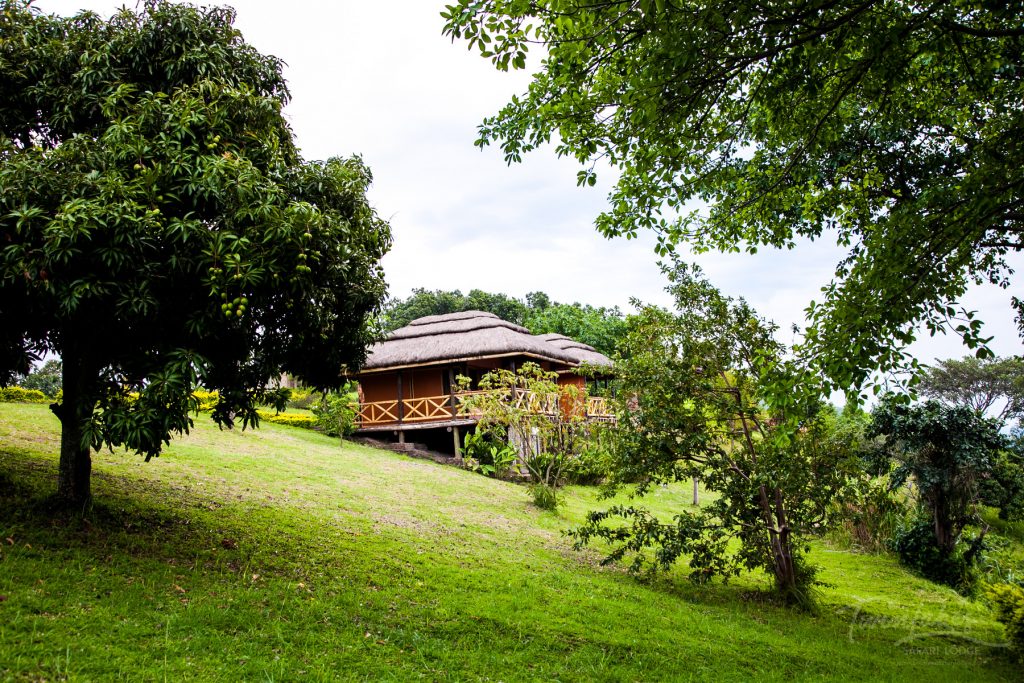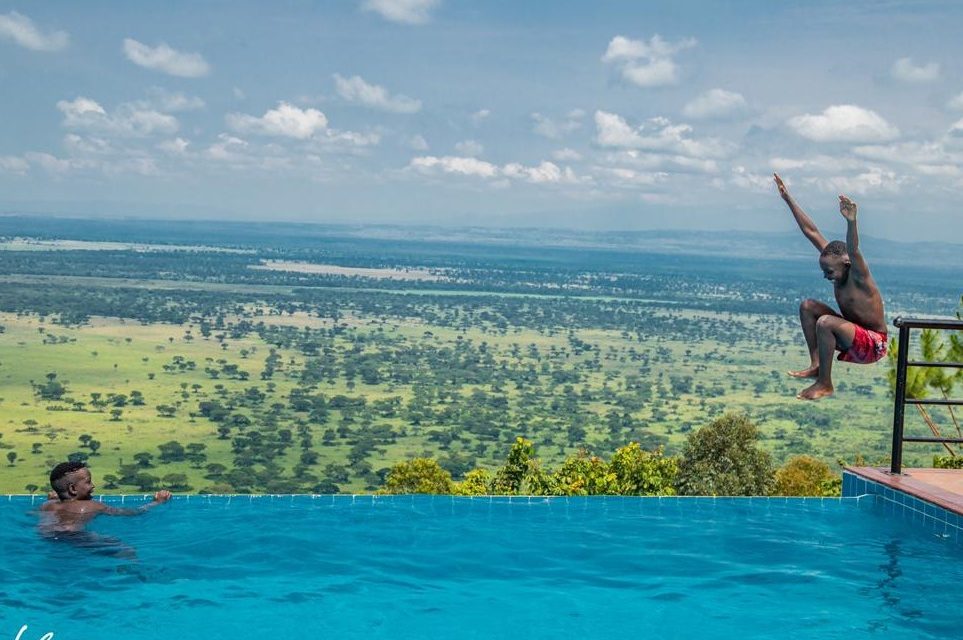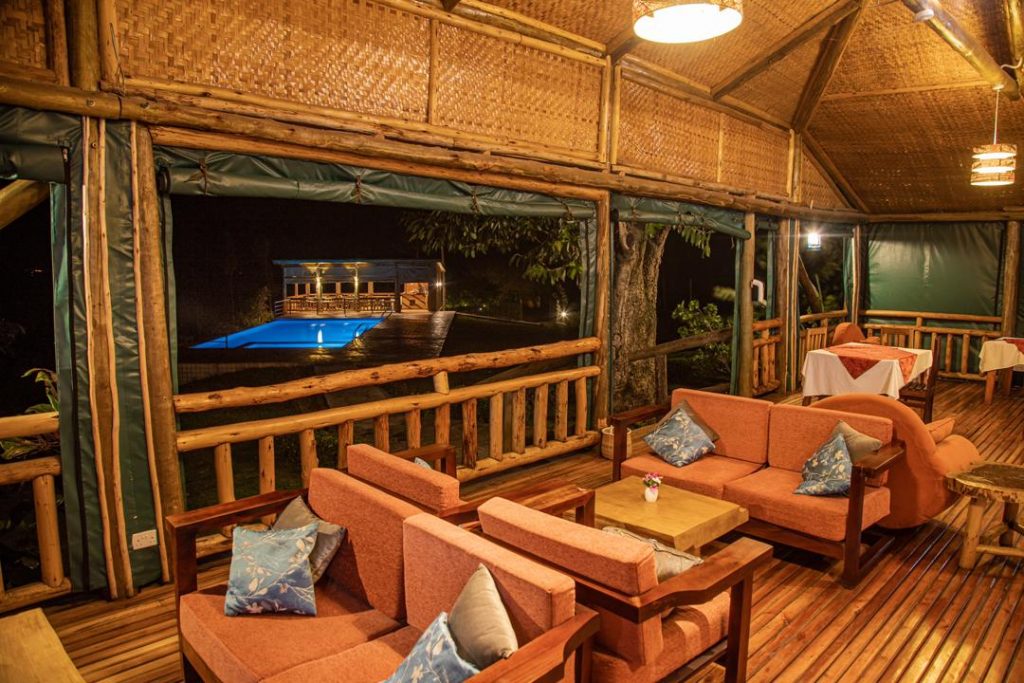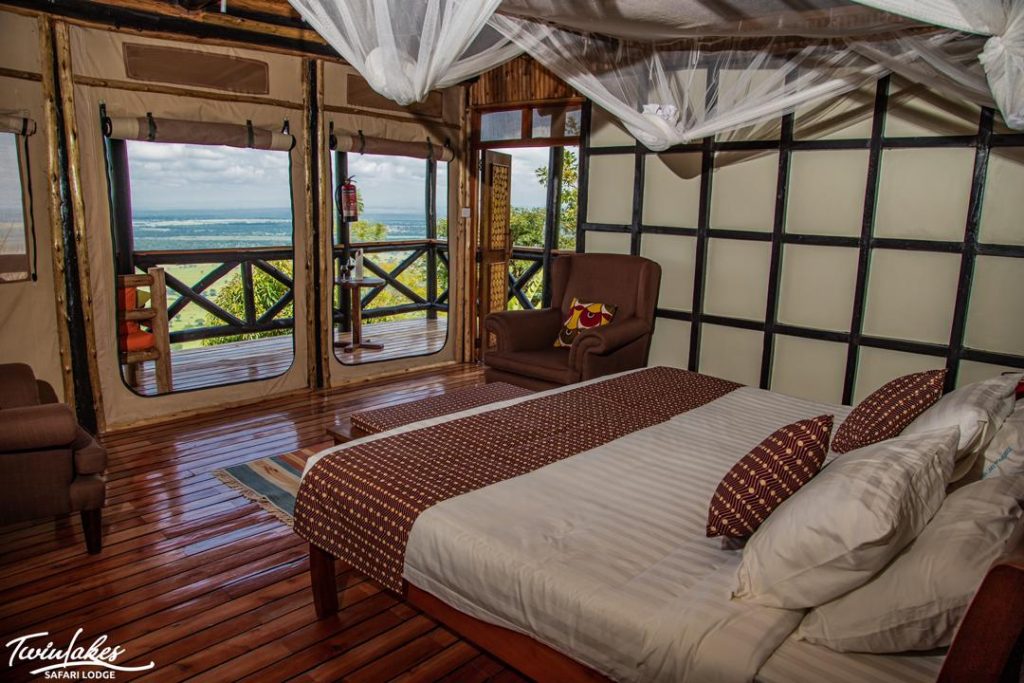 ---
Day 6 : Kibale National Park
Located in southern Uganda, Kibale Forest National Park is said to be home to the highest density of primates in Africa.
Although the highlight of the park is the habituated chimpanzees, the treetops are alive with all manner of monkey including: red-tailed monkey, L'Hoest's monkey, grey-cheeked mangabey, red colobus and black and white colobus monkeys are all spotted here. When you're not searching for monkeys there are over 300 bird species and an incredible 250 species of butterfly to keep you busy.
After early morning breakfast, you will head off for a game drive in search of the early raisers where you have a great chance to spot more wildlife before you depart Queen Elizabeth National Park heading to Kibale Forest National Park driving through a scenic lush green countryside.
On arrival at Kibale Forest, you will enter a completely different world… some serious monkey business!
The forest is home to at least 12 Primate Species including The Red-tailed Monkey, Olive Baboon, Black and White Colobus plus Blue Monkeys. The birdlife in the forest is also prolific and includes the beautiful Great Blue Turaco. If you are very lucky, you may even catch a glimpse of the meandering herd of Forest Elephant.
In the late afternoon, transfer to your accommodation for relaxation, dinner and overnight.
Overnight at Turaco Treetop Lodge
Turaco Treetops is Kibale Forest's newest semi-luxe lodge and offers an uncomplicated, and warm-hearted atmosphere and a unique experience in the forest with stunning views over the snowcapped Rwenzori Mountains.
The lodge has 8 luxury cottages situated at secluded locations in the jungle. The cottages are spacious, with large windows and outside wooden decks, providing splendid views over Kibale Forest and are designed to 'bring the outdoors inside' with a mix modernity and an 'African feel' by using clean lines in combination with wood and other natural materials.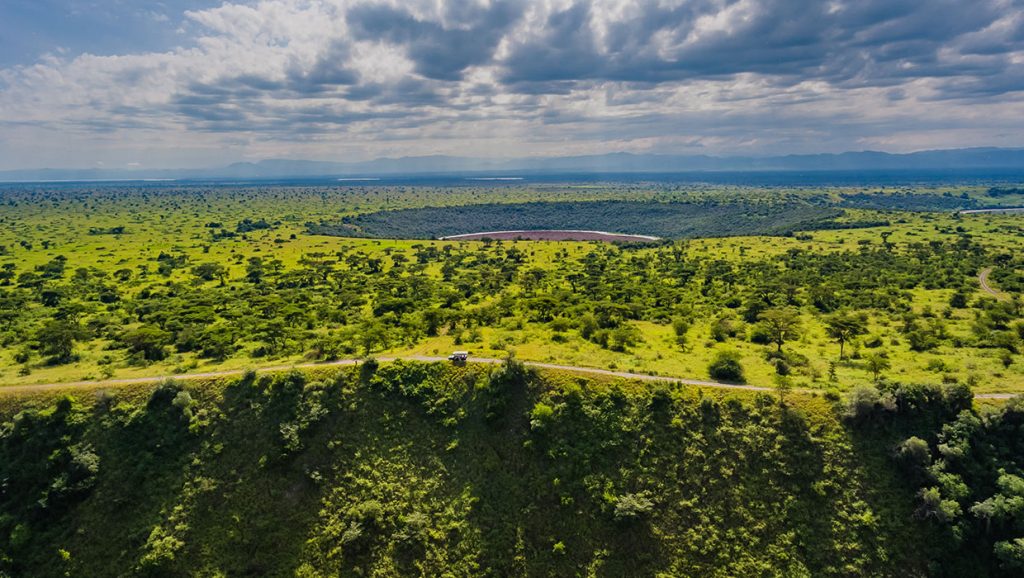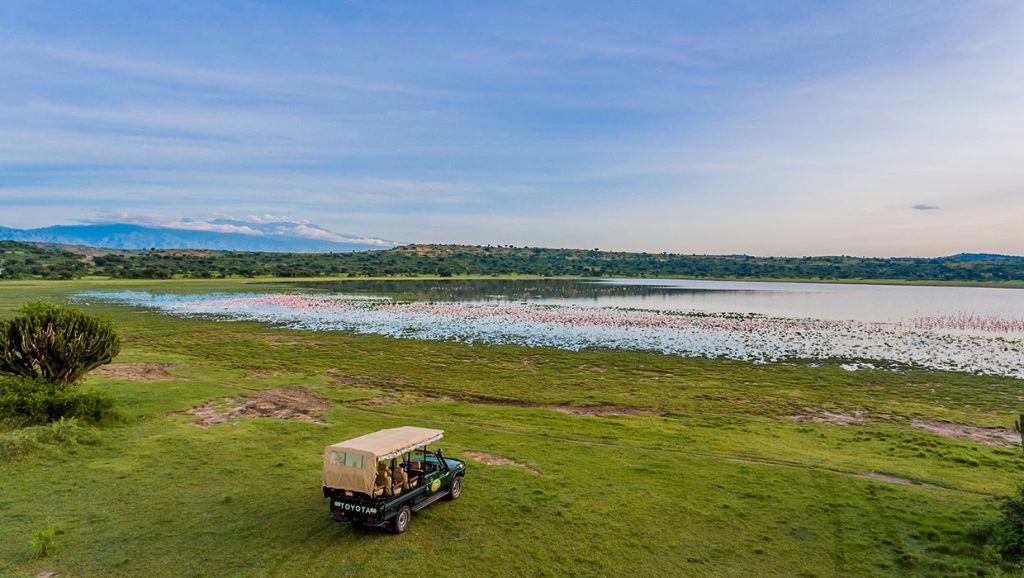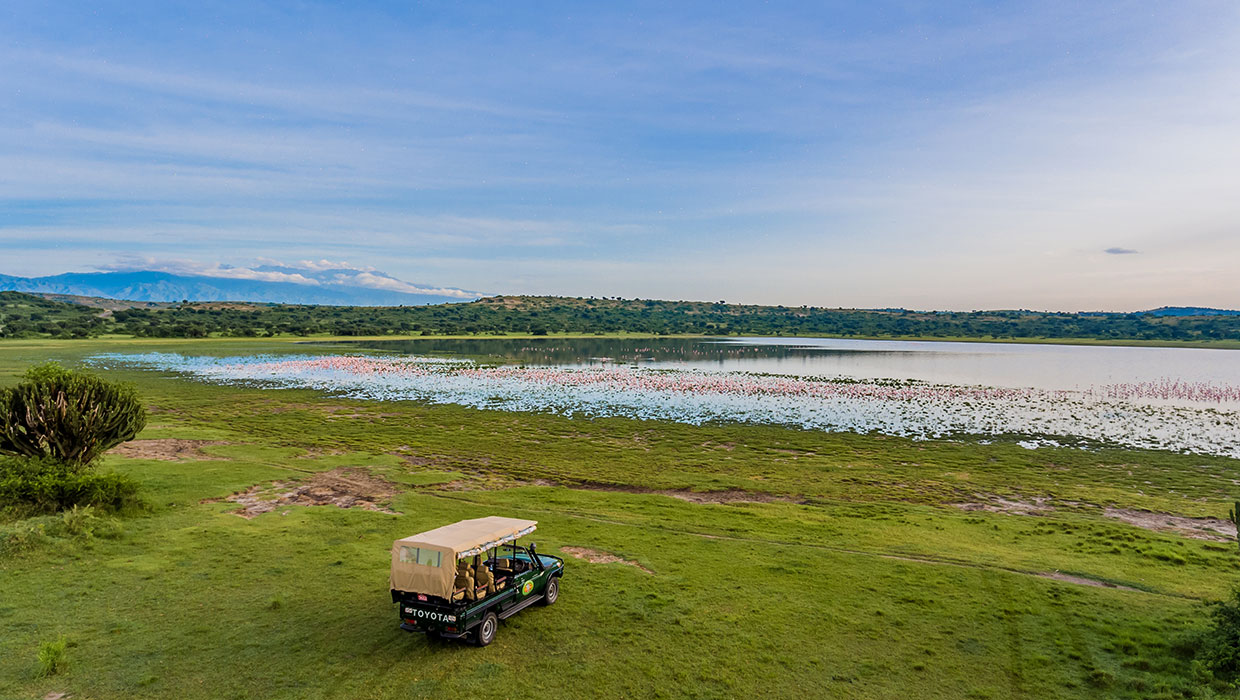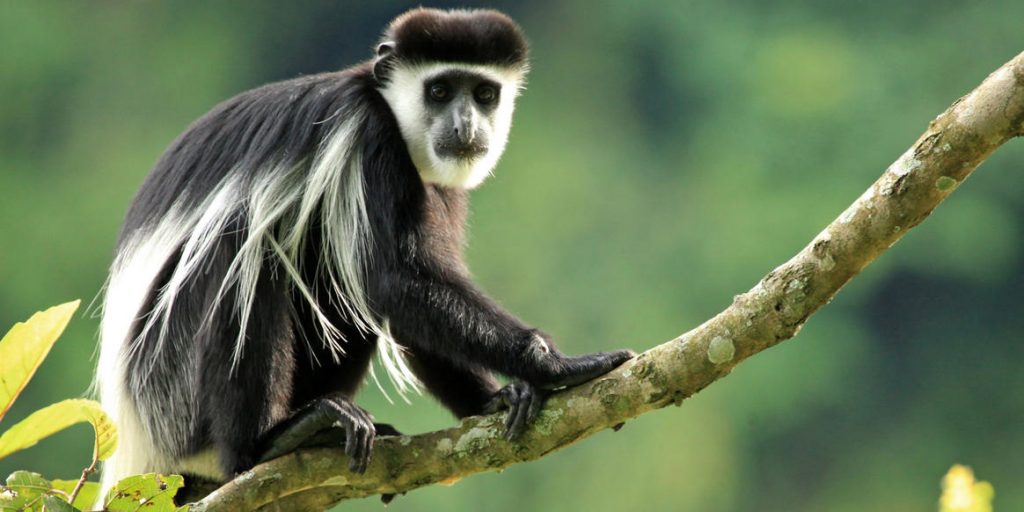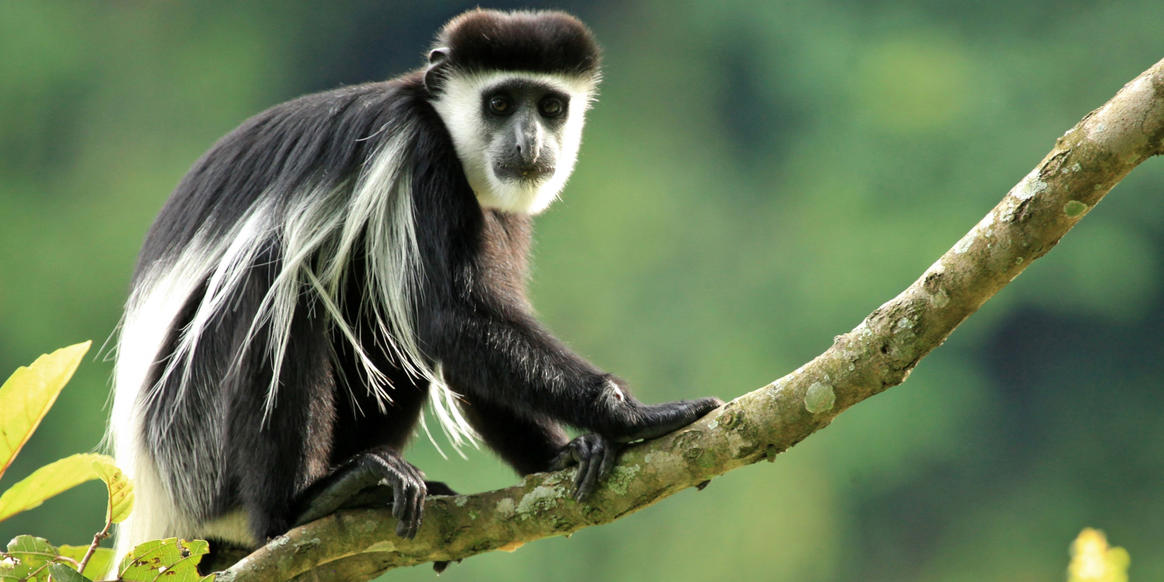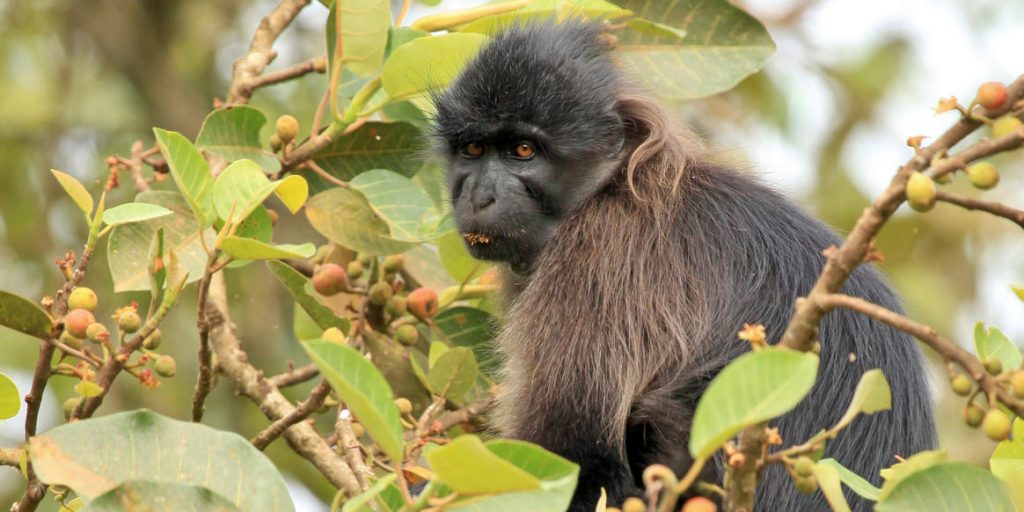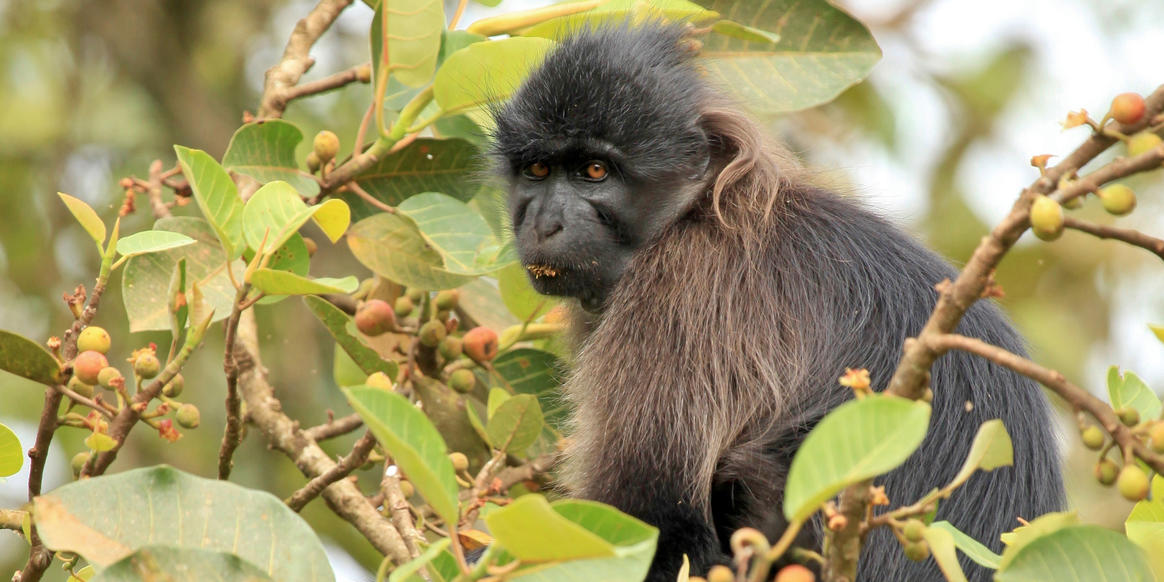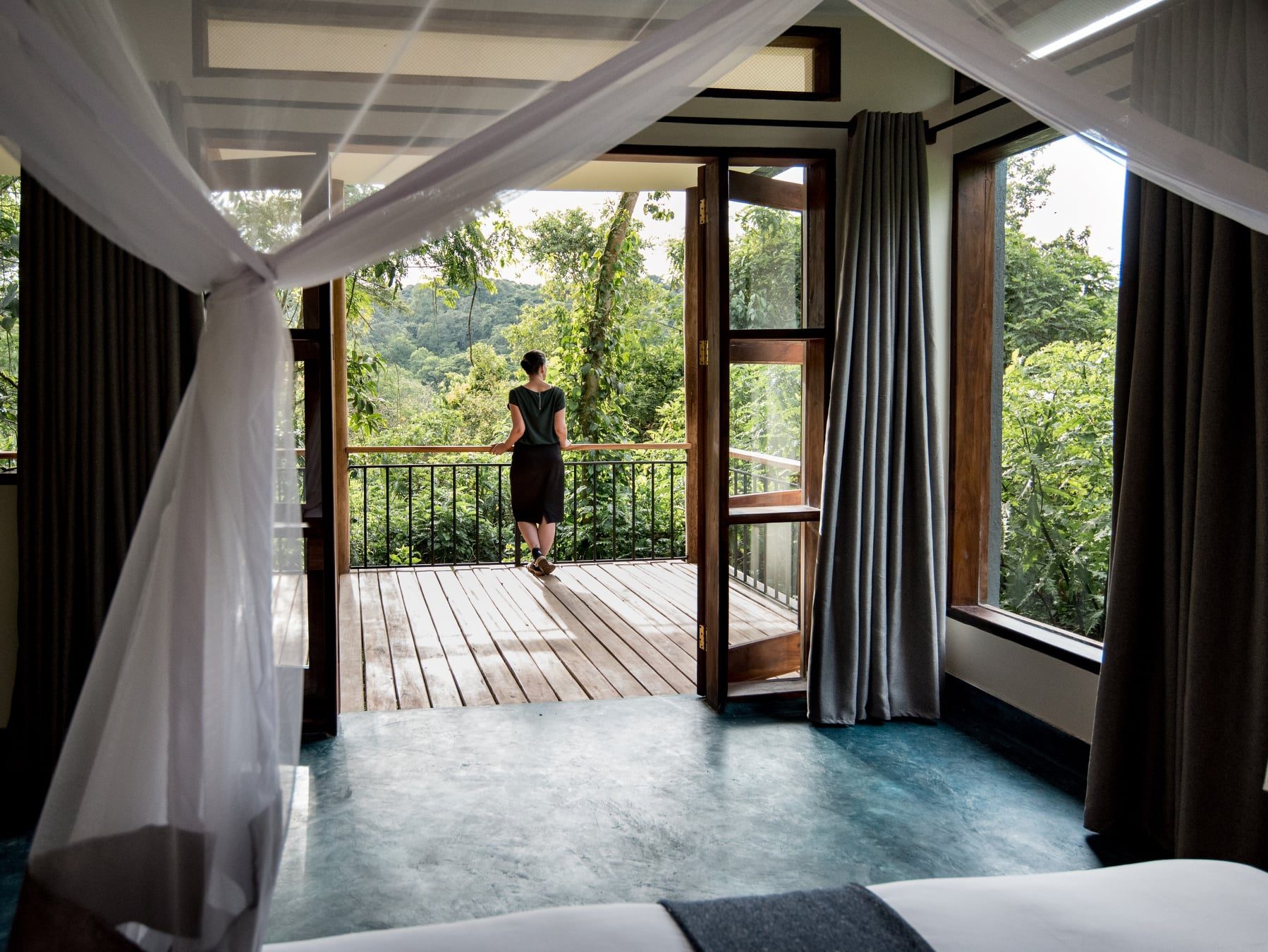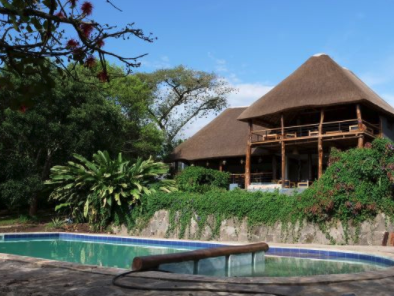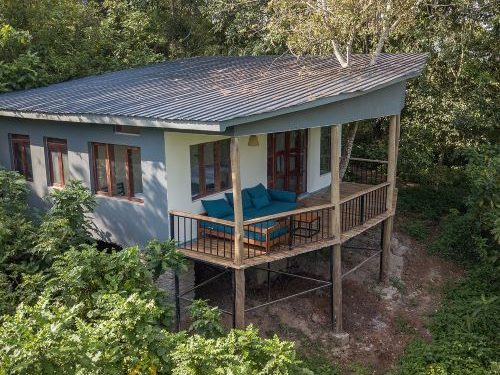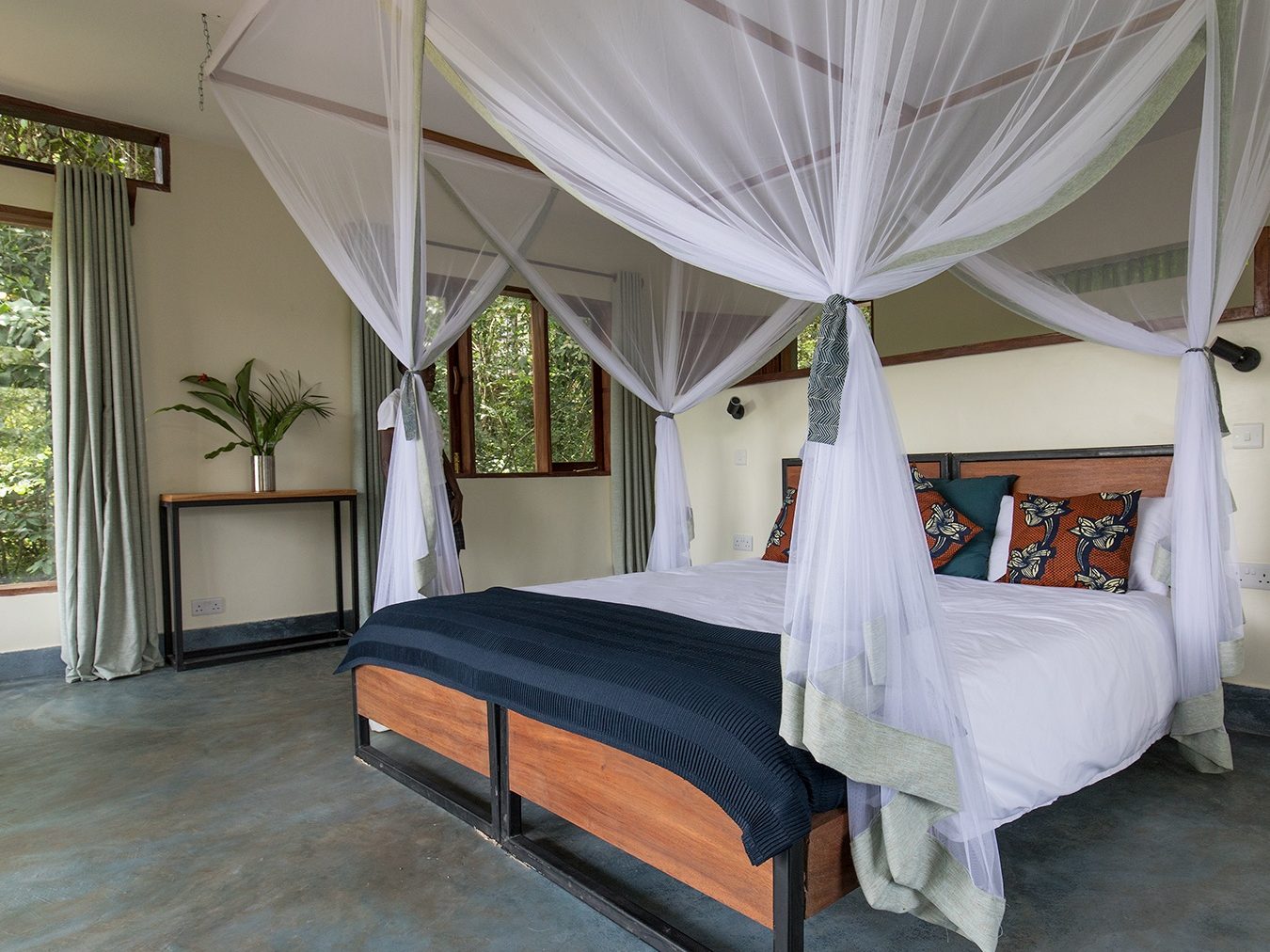 ---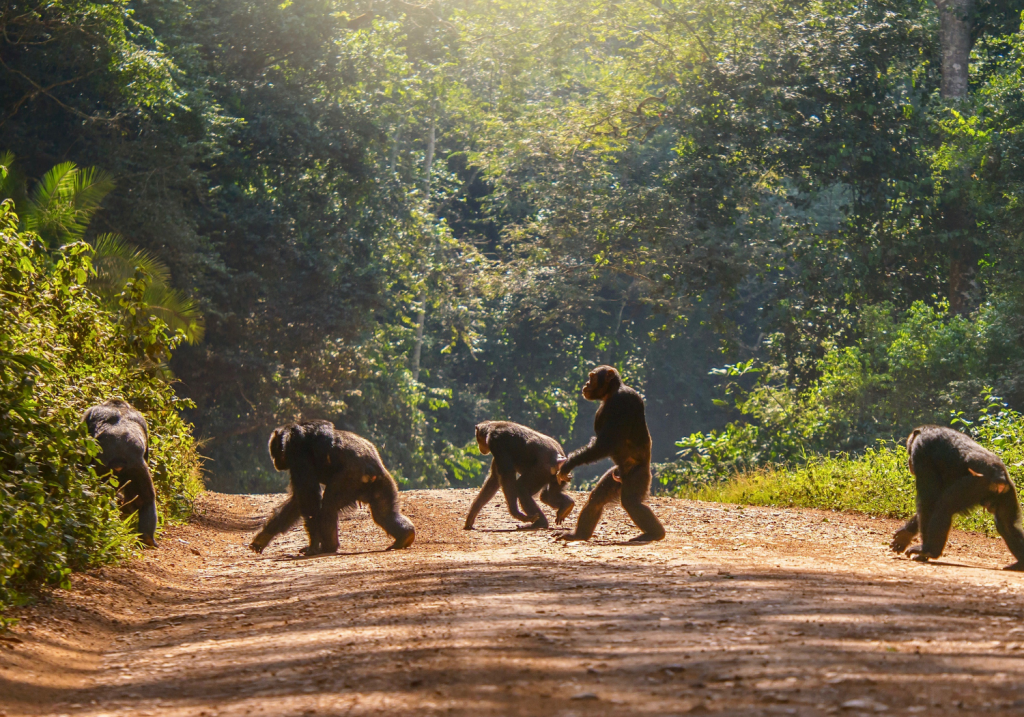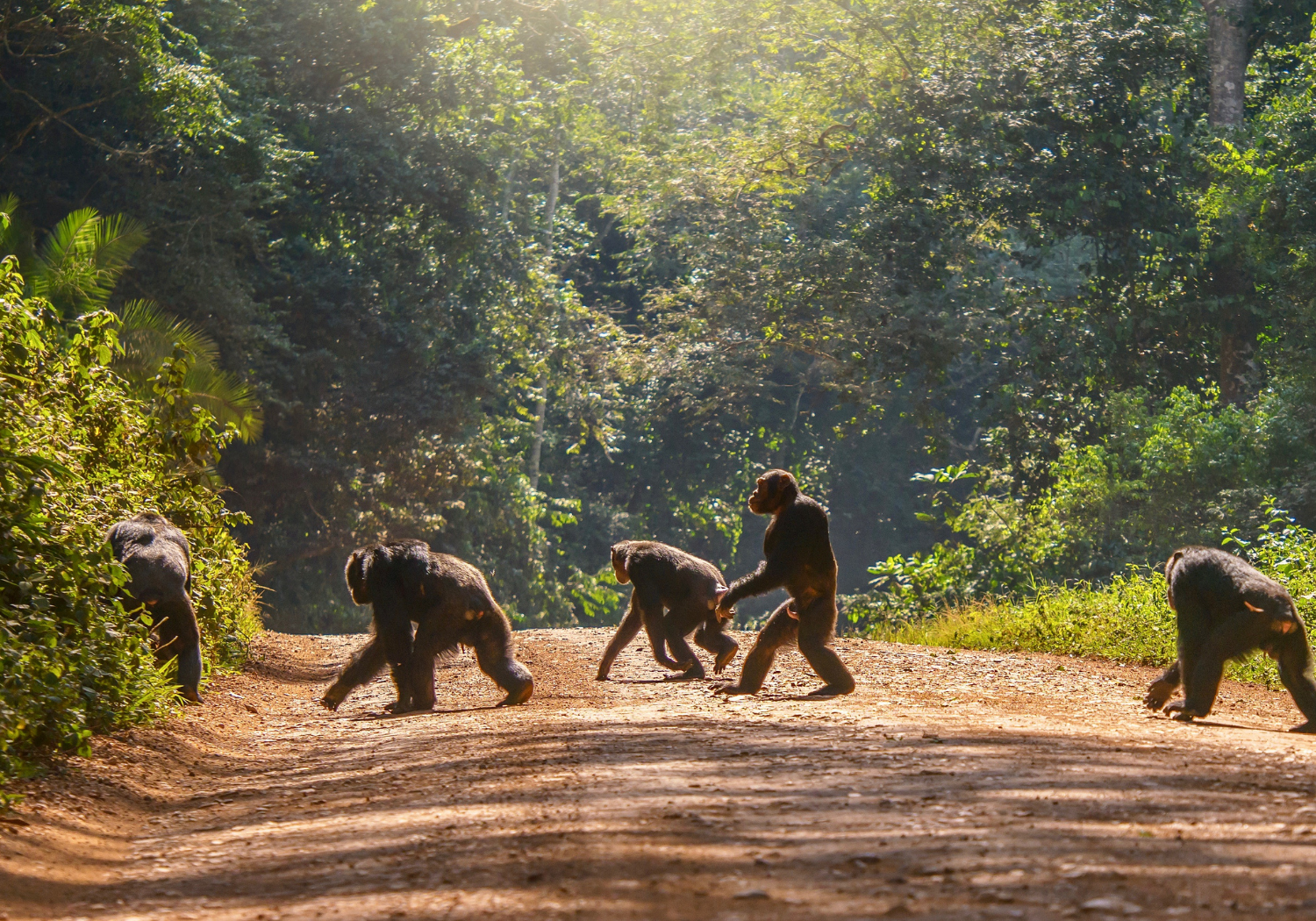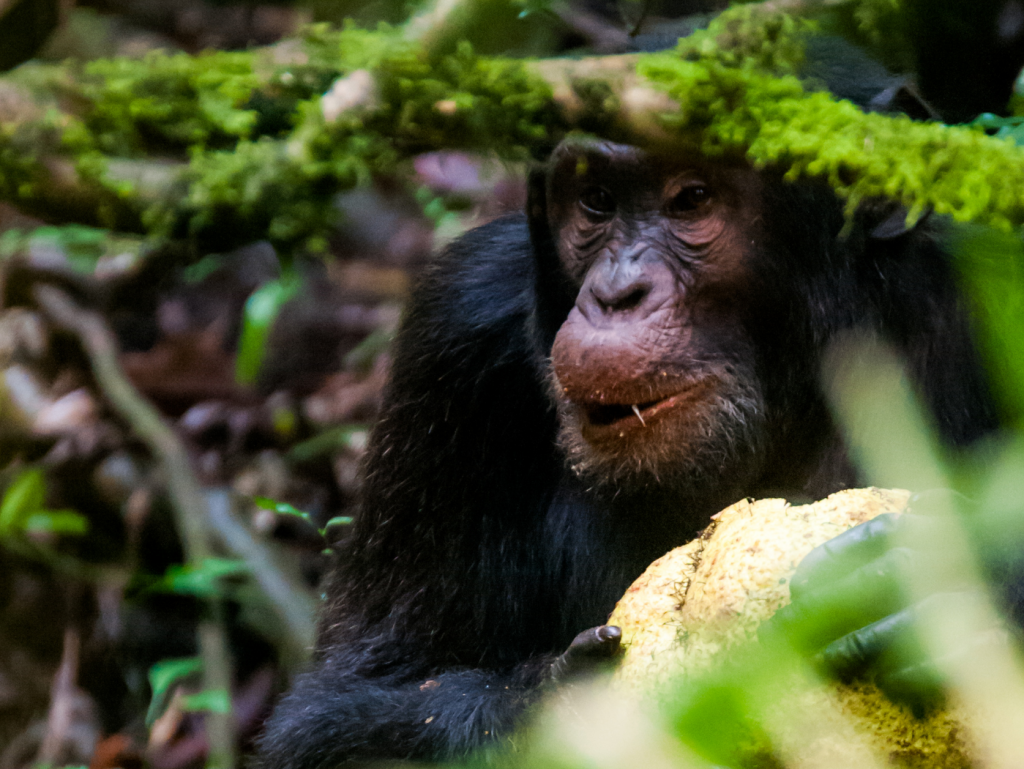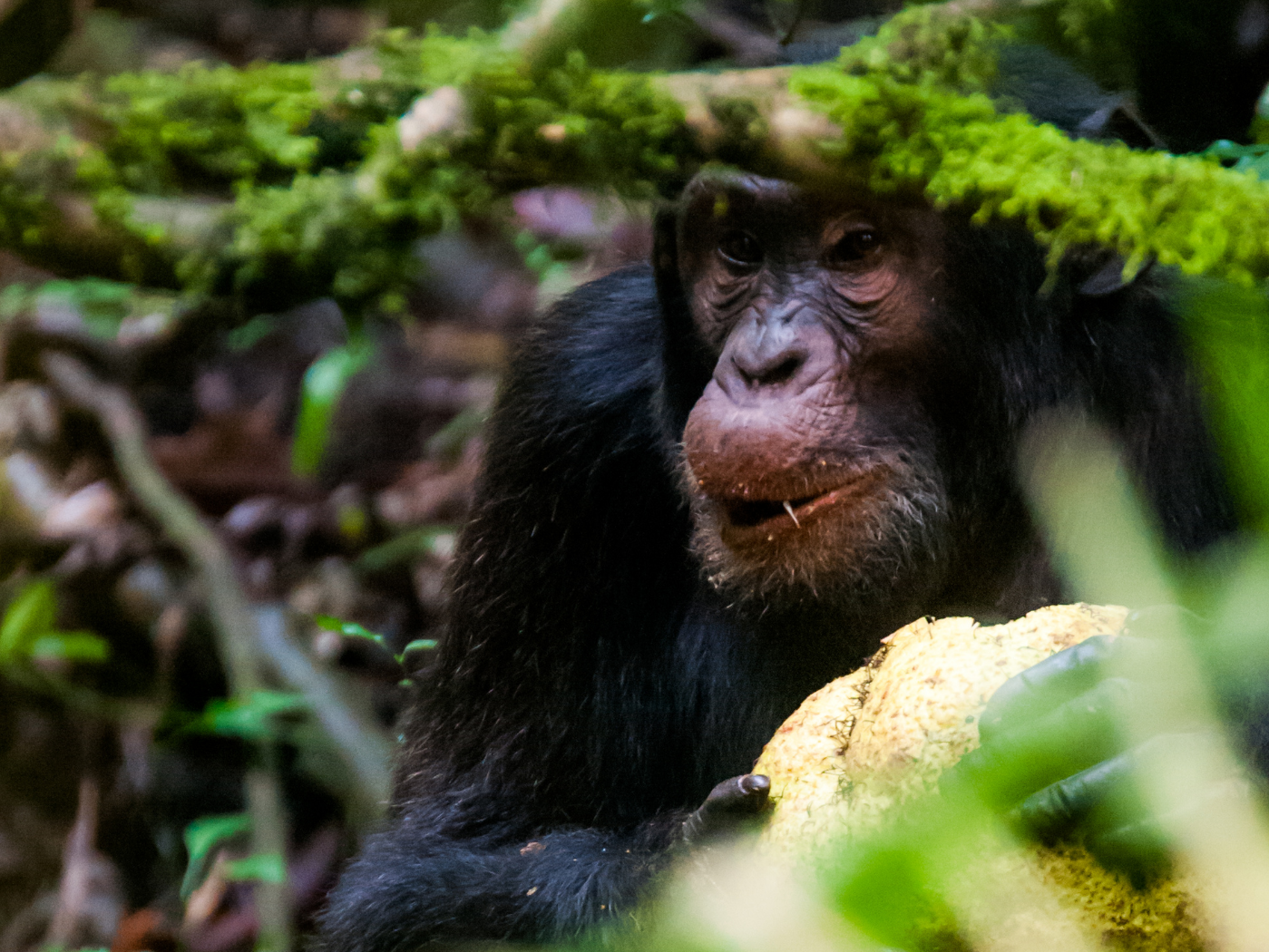 Day 7 : Chimpanzee tracking
This morning at 08:00 am, your Chimpanzee tracking excursion will commence.
Kibale Forest boasts the highest number of primate species in the world, including our delightful cousins, the Chimpanzees. At this moment, in Uganda, there are approximately 4,950 Chimps left in the wild, which makes this forest a perfect place to spot chimpanzees in Africa!
During the excursion, your ranger will point out the other species living in the forest, including birds, flora and fauna.
In the afternoon you embark on a nature excursion. Your swamp walk (1- 2 hours) will take you through grassland and some beautiful scenery.
It is usual to spot 3 or 4 different primate species during this walk though the highlight is catching a glimpse of the Great Blue Turaco bird.
In the late afternoon, return to your accommodation for relaxation, dinner and overnight stay.
Overnight at Turaco treetop Lodge.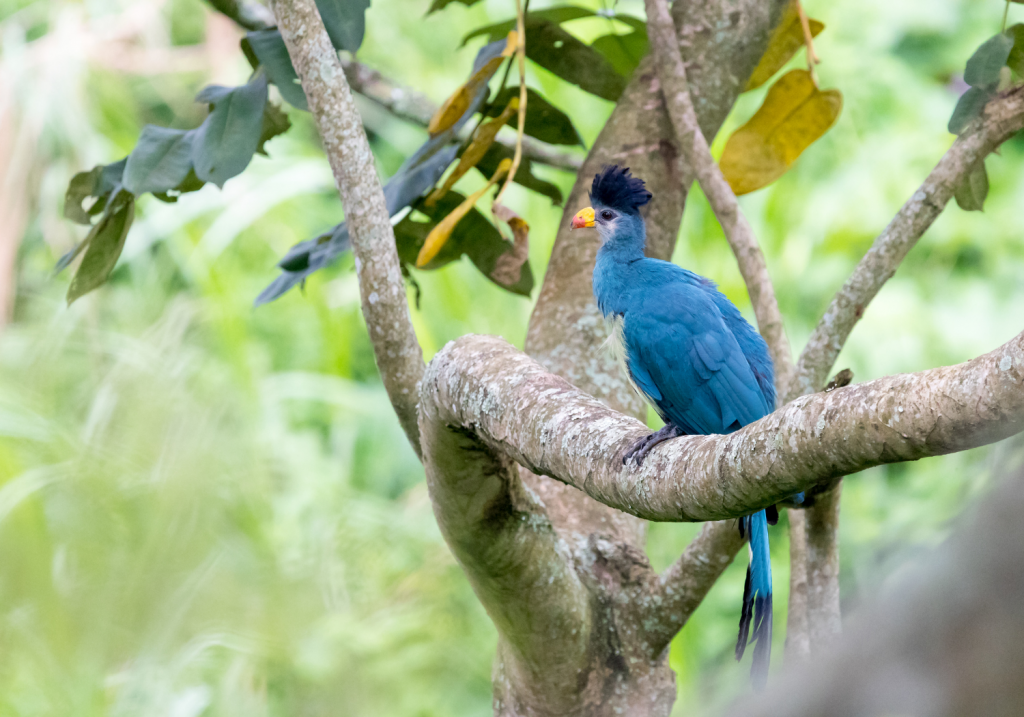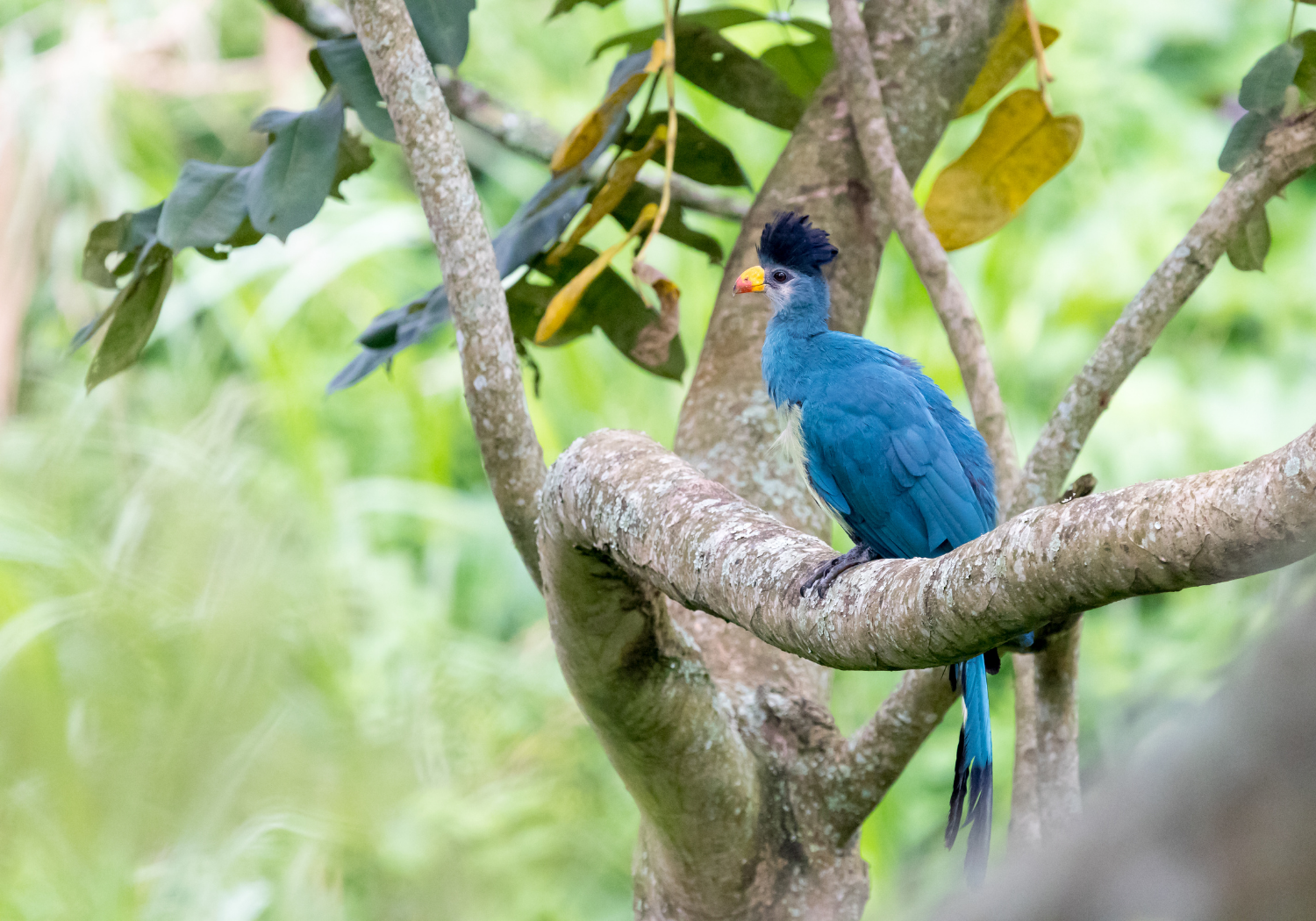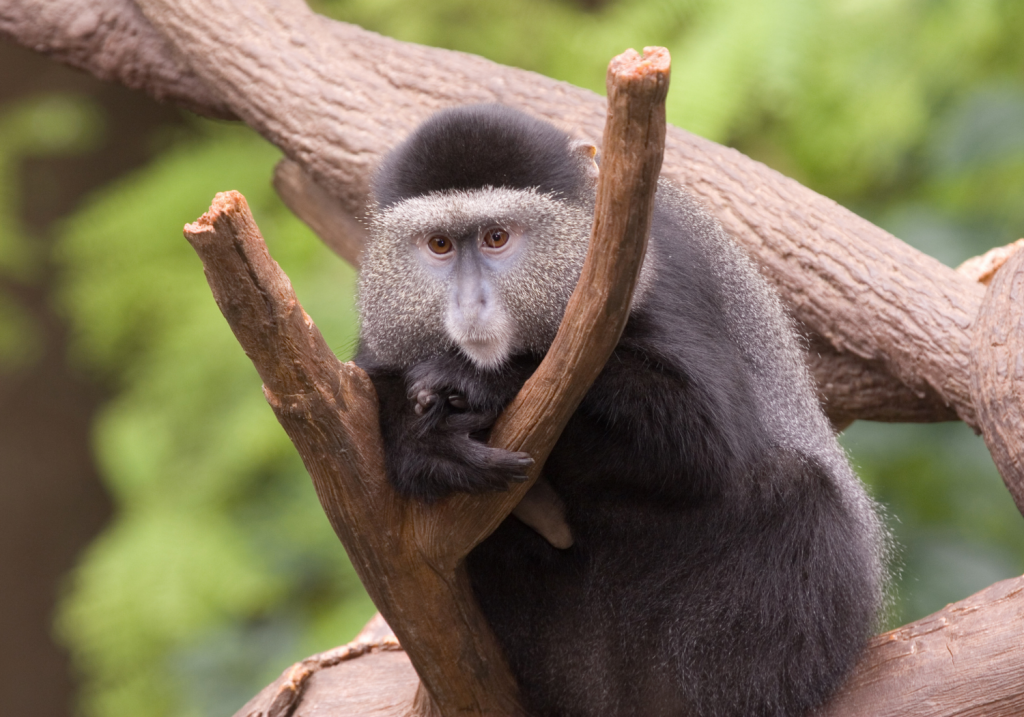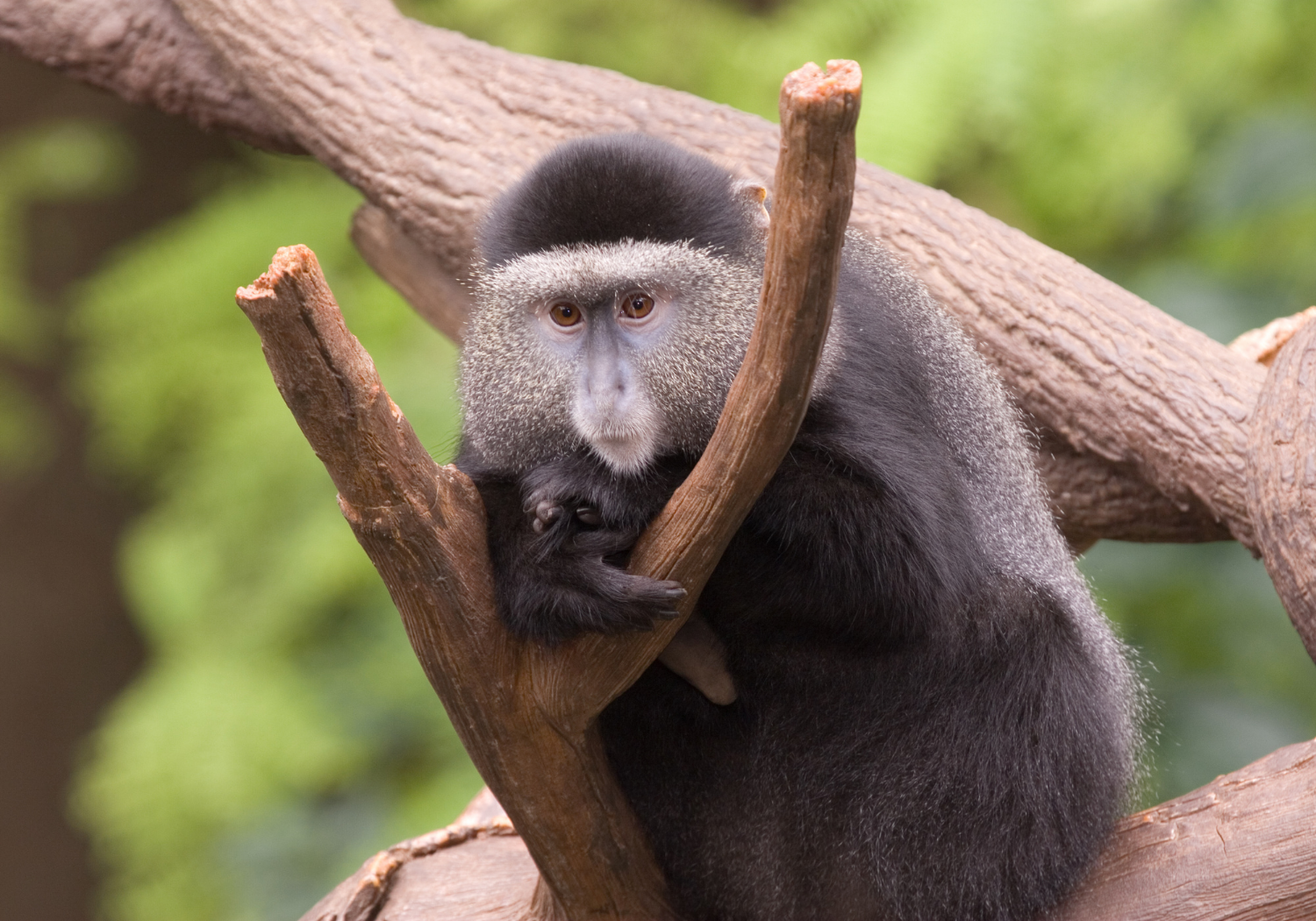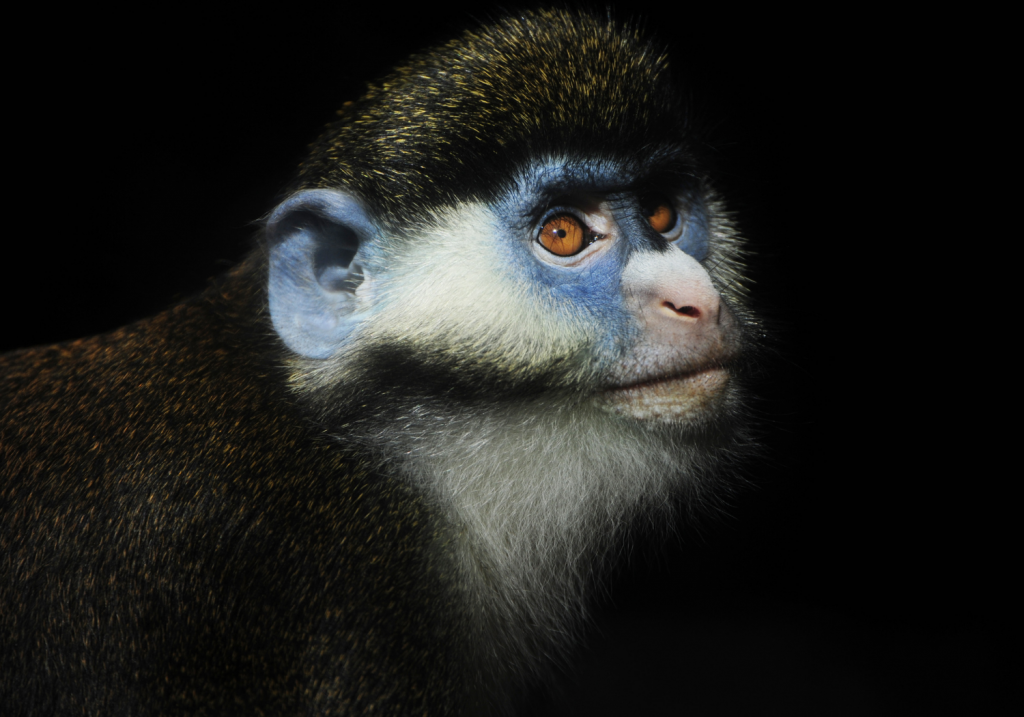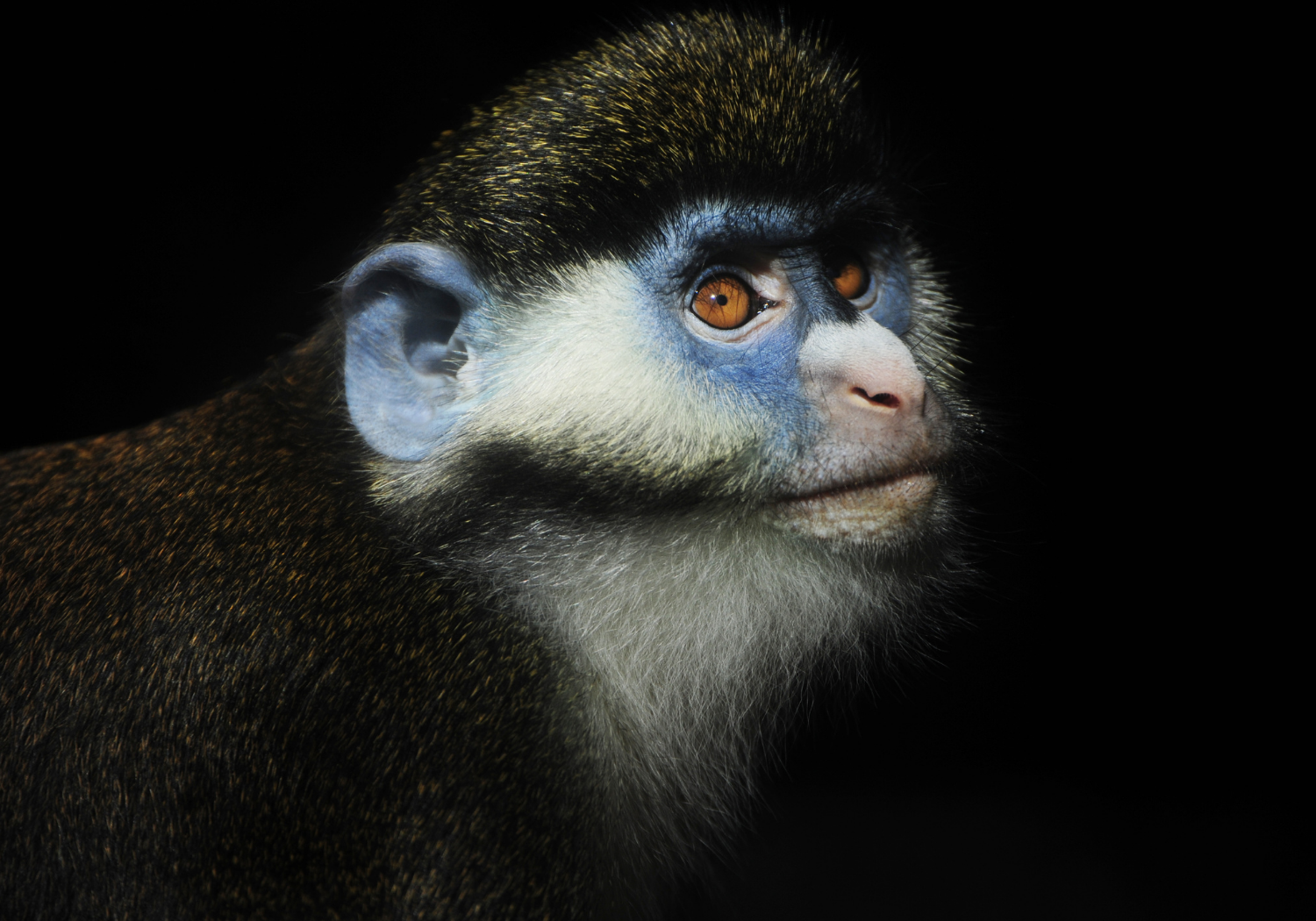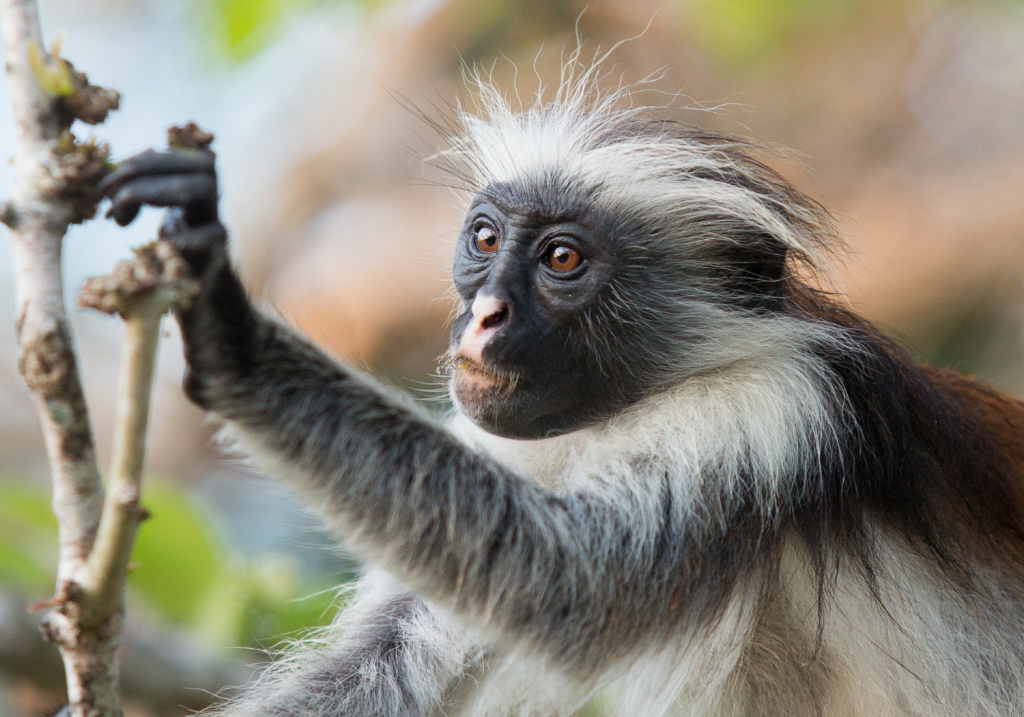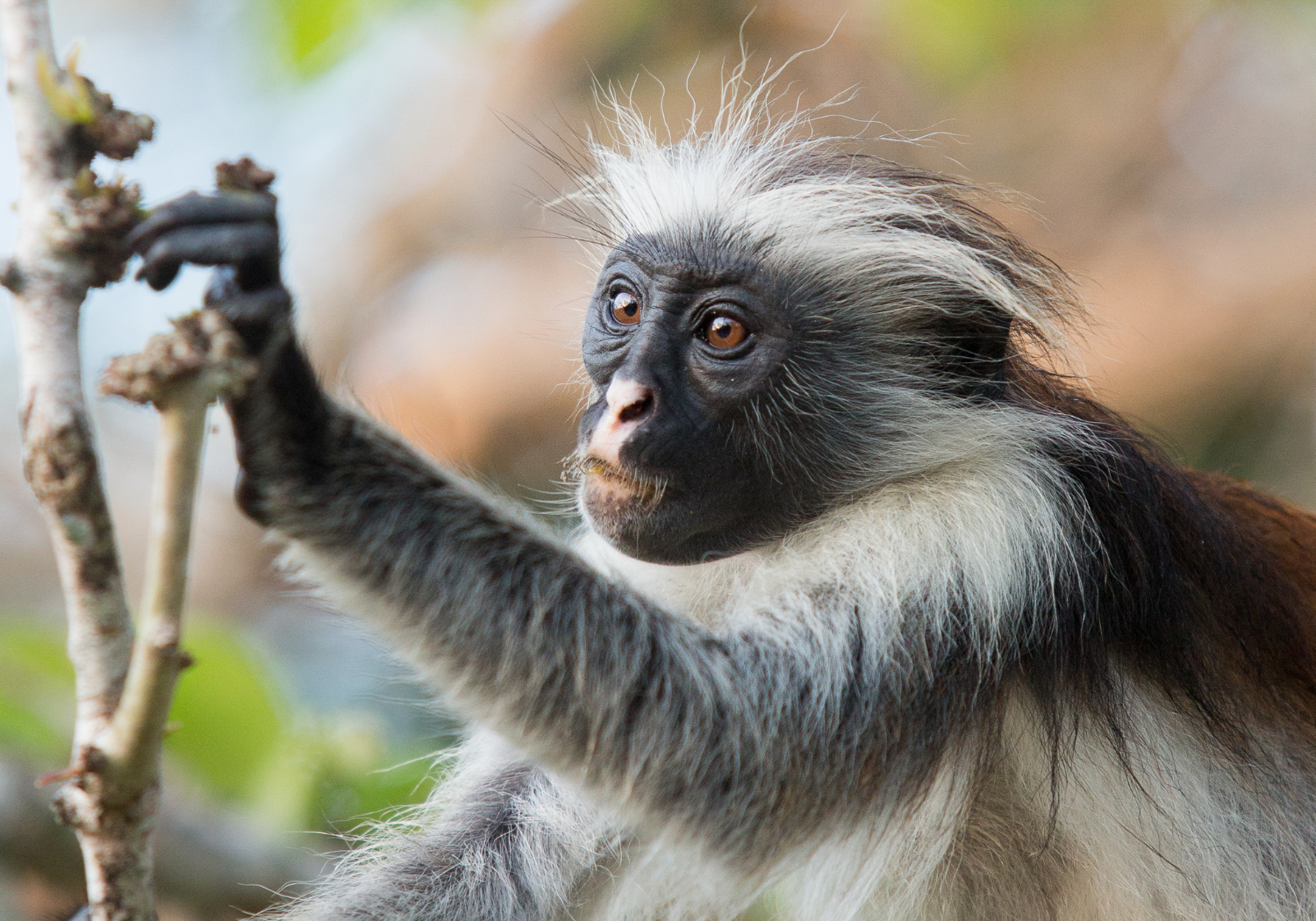 ---
Day 8 : Murchison Falls
Bid farewell to Kibale National Park after breakfast and head out for the mighty Murchison Falls National Park, the largest national park and Uganda's flagship with exceptional wildlife.
The meandering Victoria Nile and the dramatic Murchison Falls neatly bisecting Uganda's largest park, where you'd expect a wide range of animals and you'd be right. It's a stunning habitat for wildlife and it's where to go in Uganda for classic big game species.
We will go on game drives and wildlife sightseeing as we make our way to the lodge for the evening.
Optional – Sunset or Sunrise hot air balloon
Experience the wildlife of Murchison Falls NP in a, unique way. Wake up early to catch the sunrise, as you silently fly over the plains of the Park, or join a sunset ride. Admire the herds of buffaloes, elephants and enjoy the serene tranquillity of the African bush… After a smooth landing, you can celebrate this amazing adventure with a bush breakfast.
Hot Air Balloon Flights schedule: Sunrise: 5:00am — 9:30am (includes bush breakfast) Sunset: 4:00pm — 6:30pm. Price: $494 (subject to change).
Overnight at Pakuba Lodge
Pakuba Safari Lodge is located in North West of Uganda on the Eastern Bank of the Albert Nile.
The tastefully furnished rooms offer comfort, style and serenity and twin rooms are a lot of space for two guests to comfortably relax. Enjoy evening outdoor dinners with the sound of the river and nature.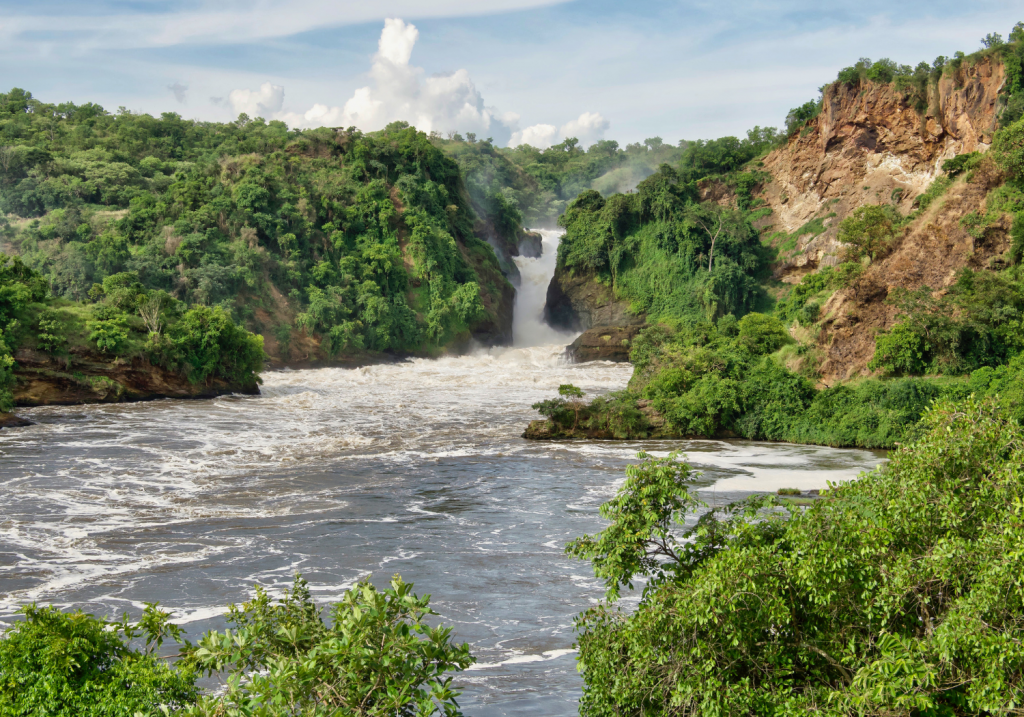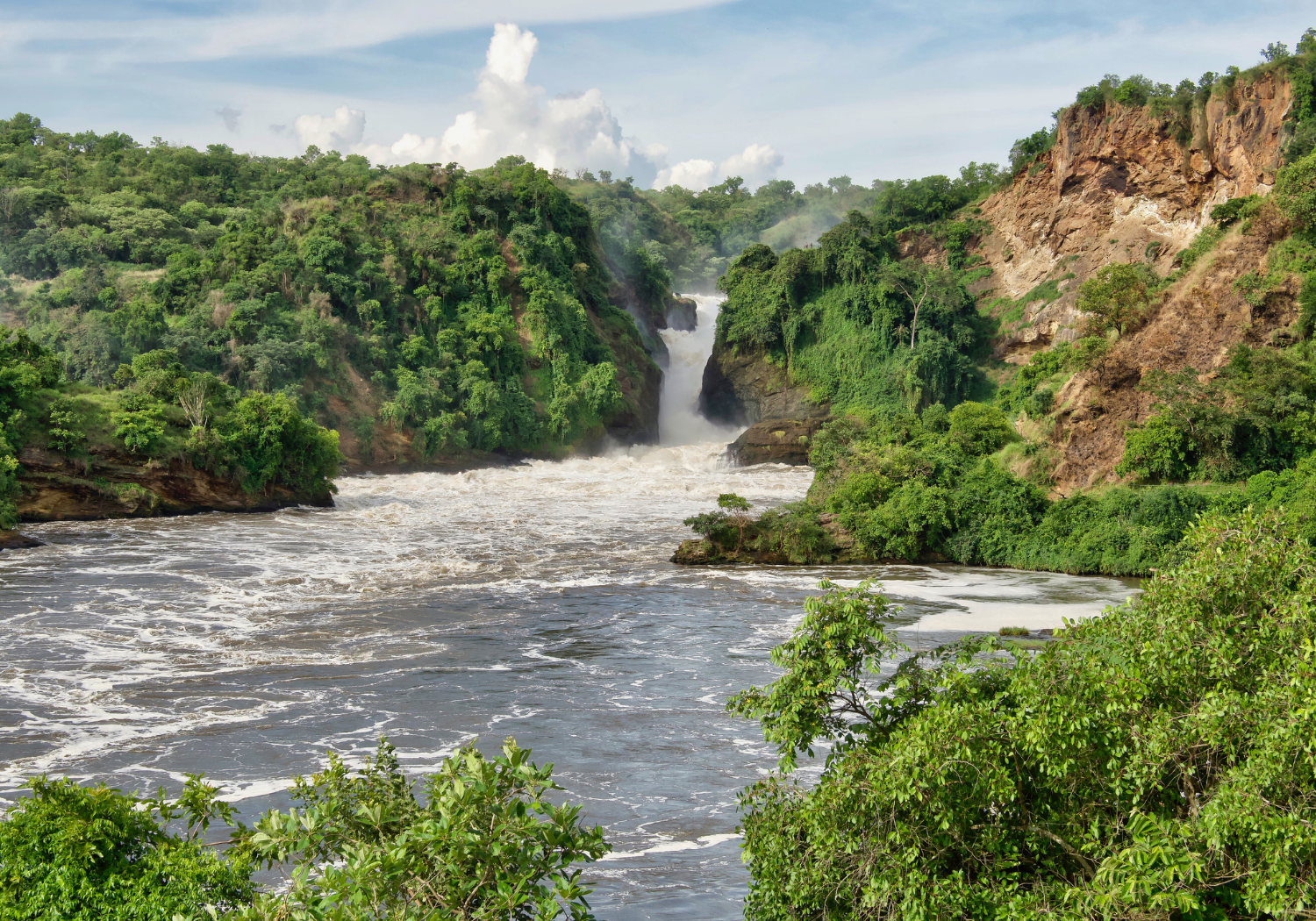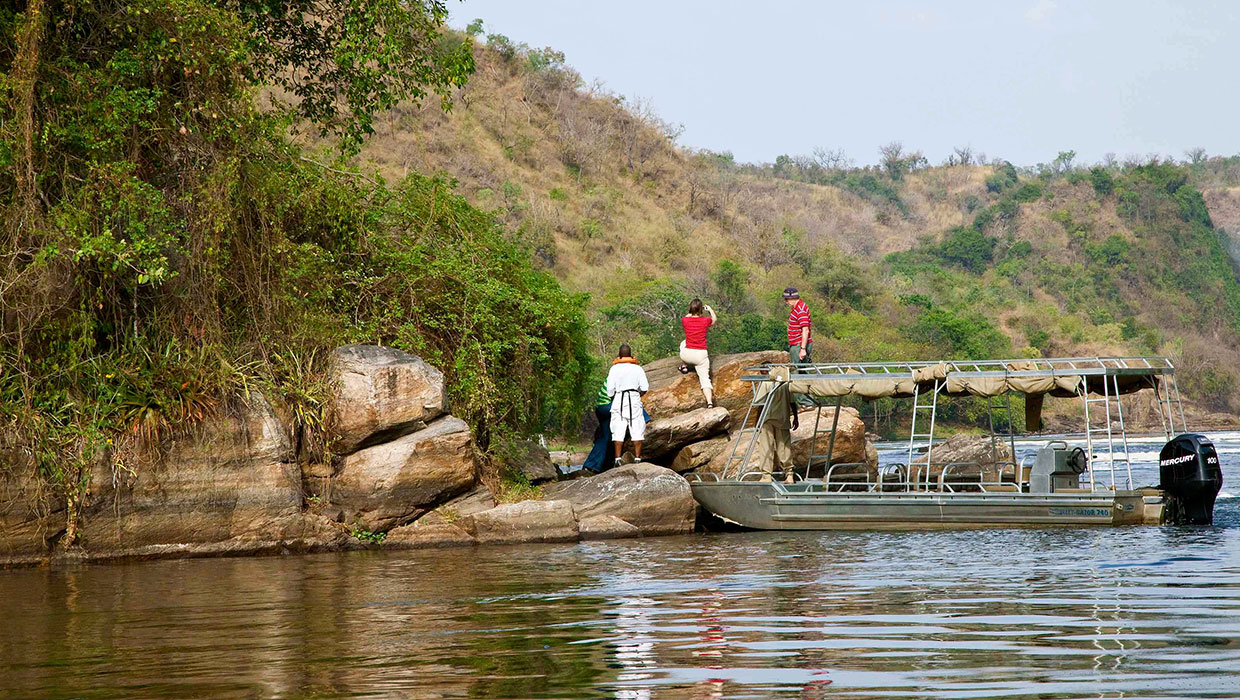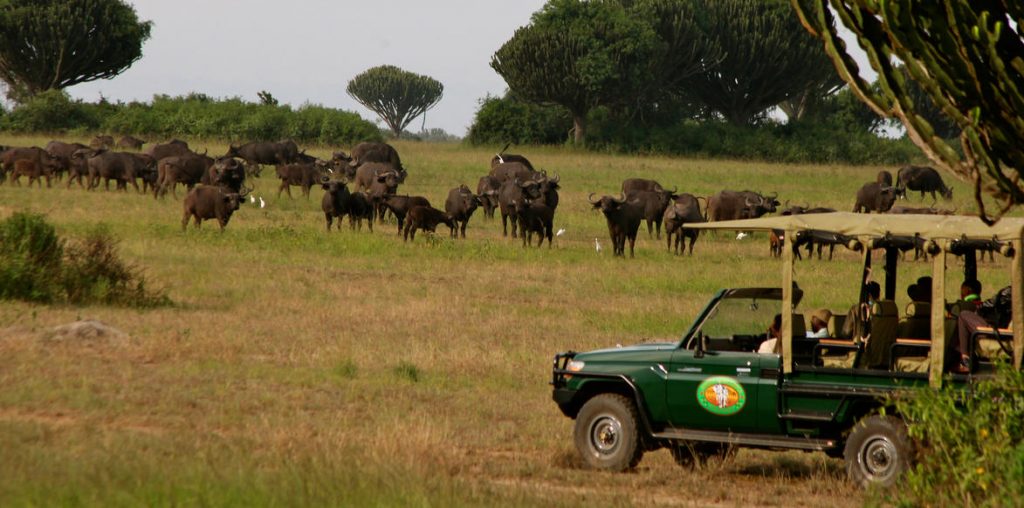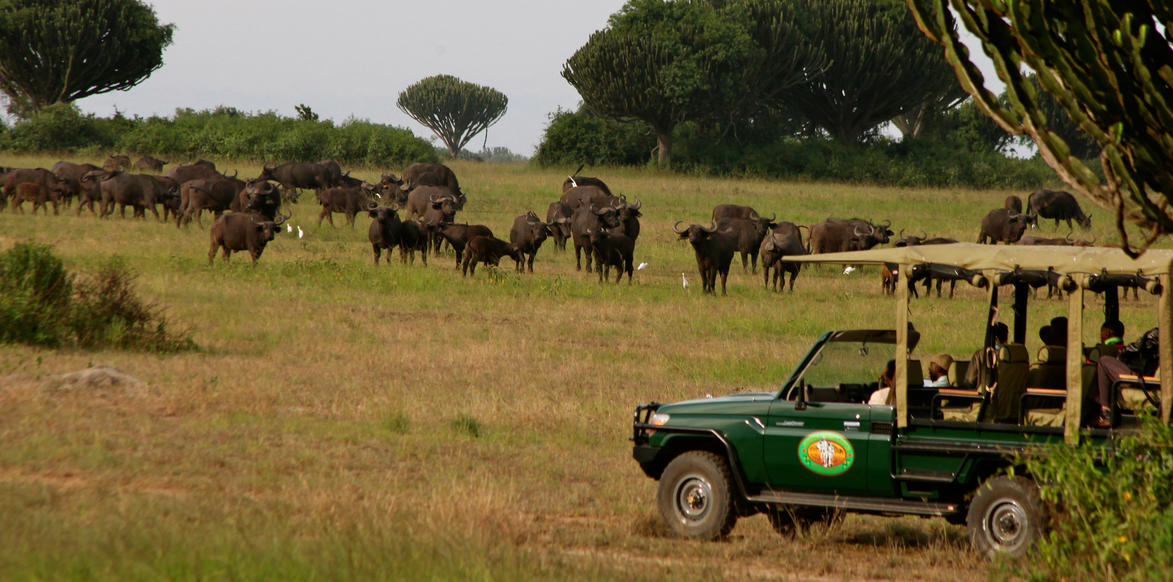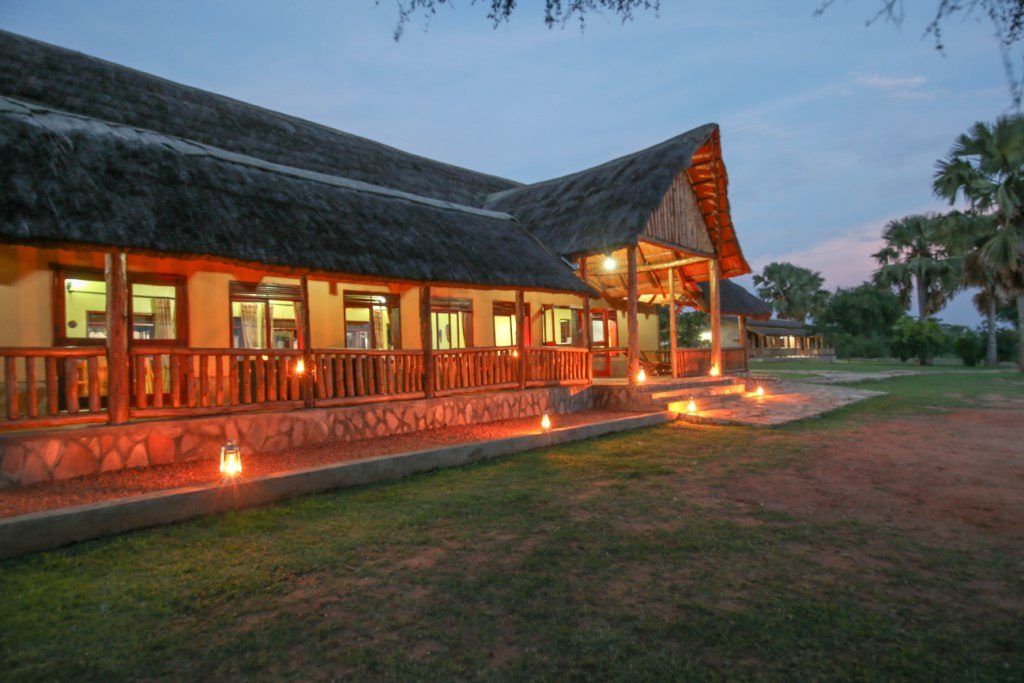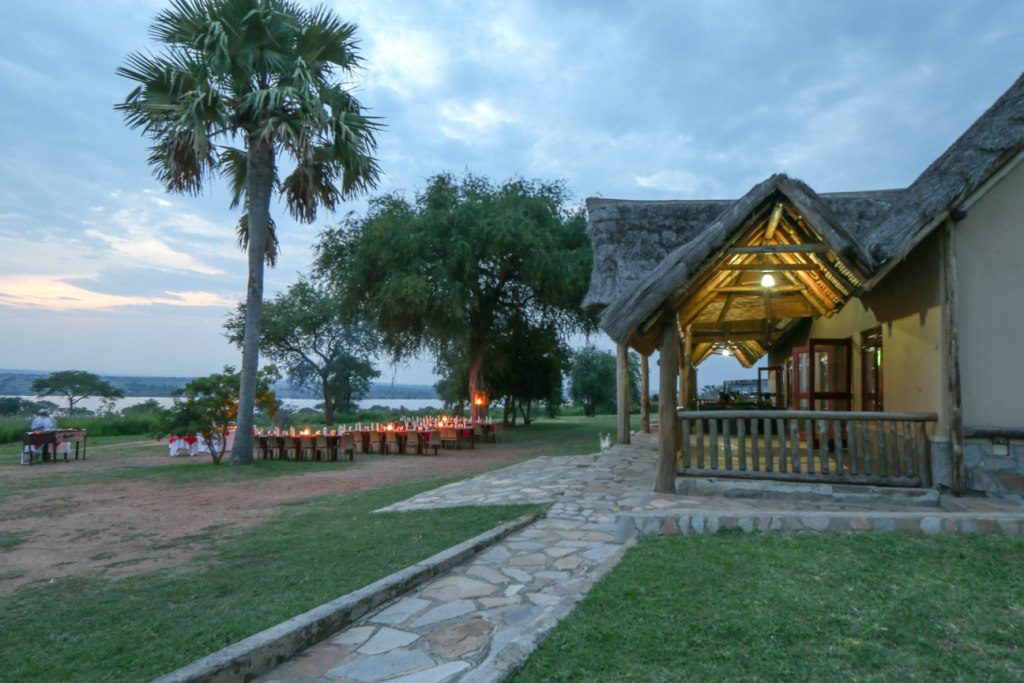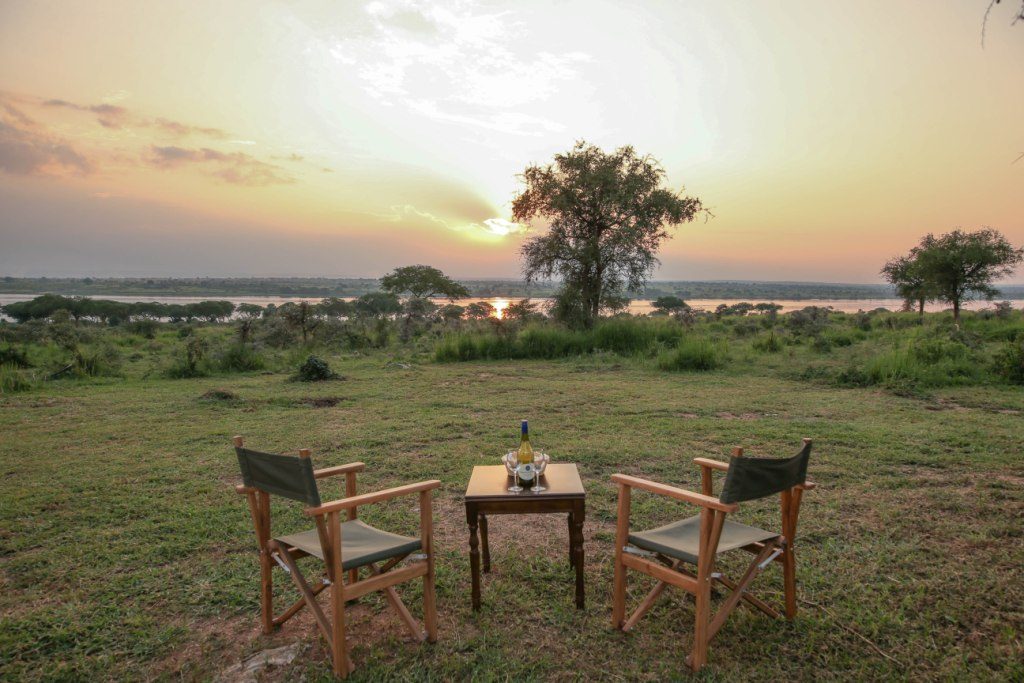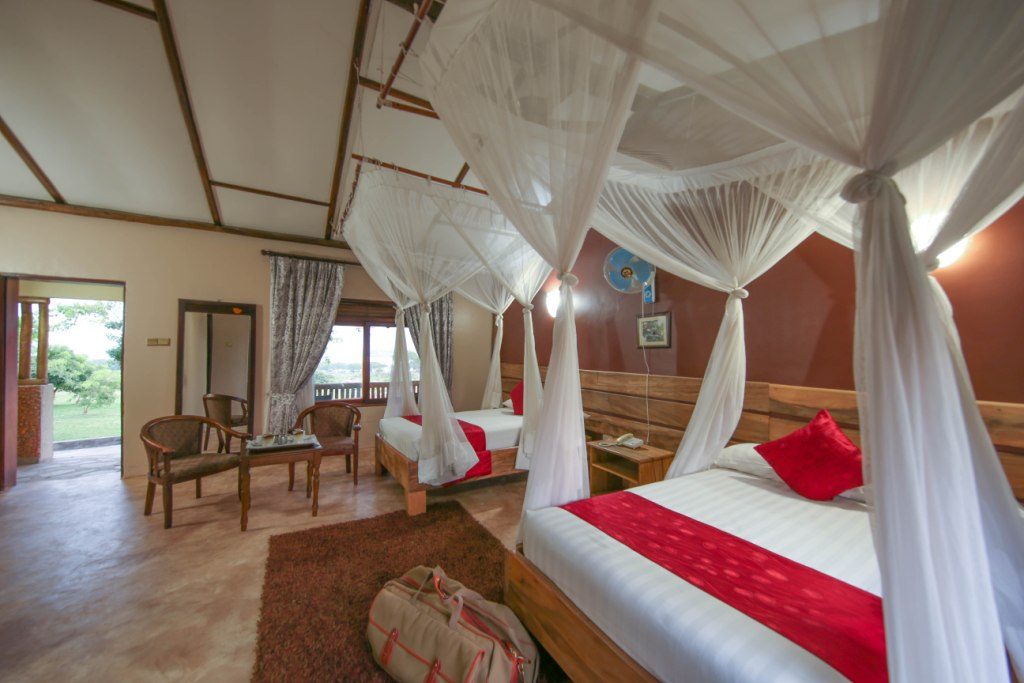 ---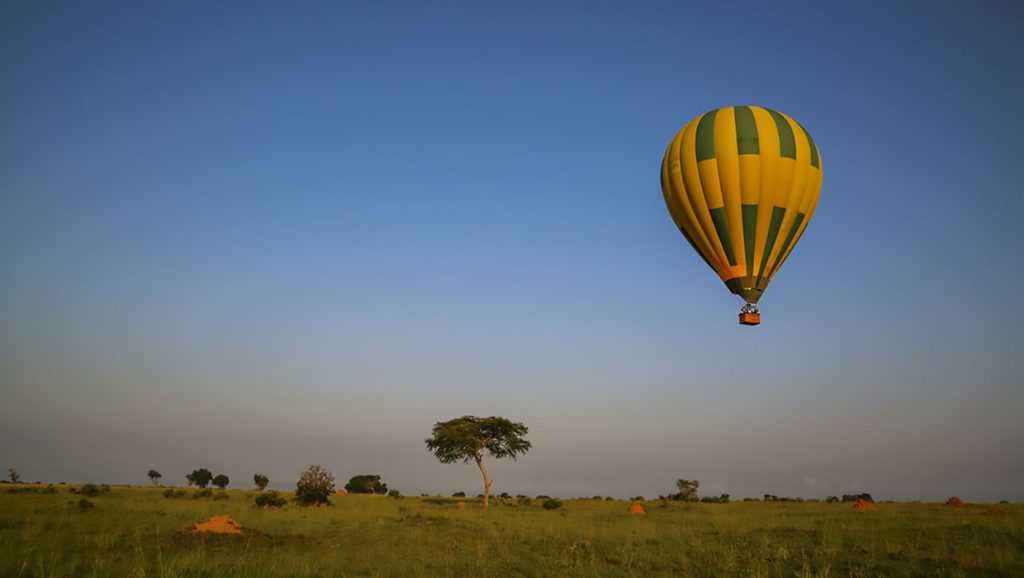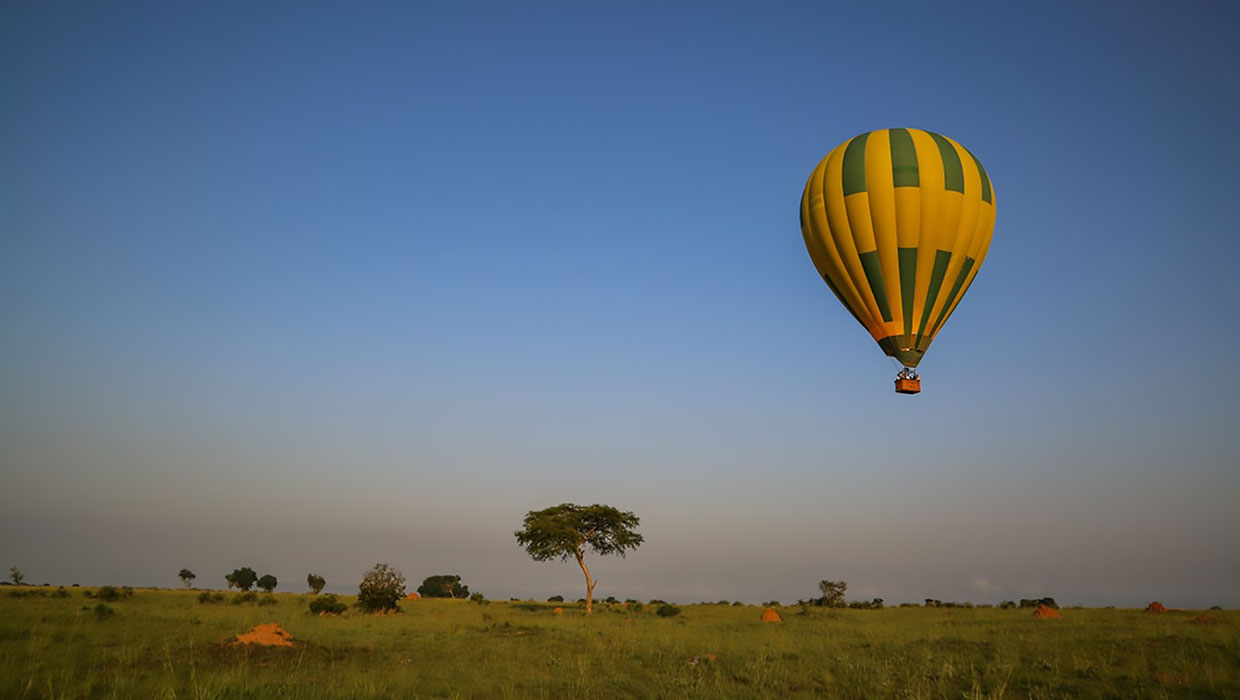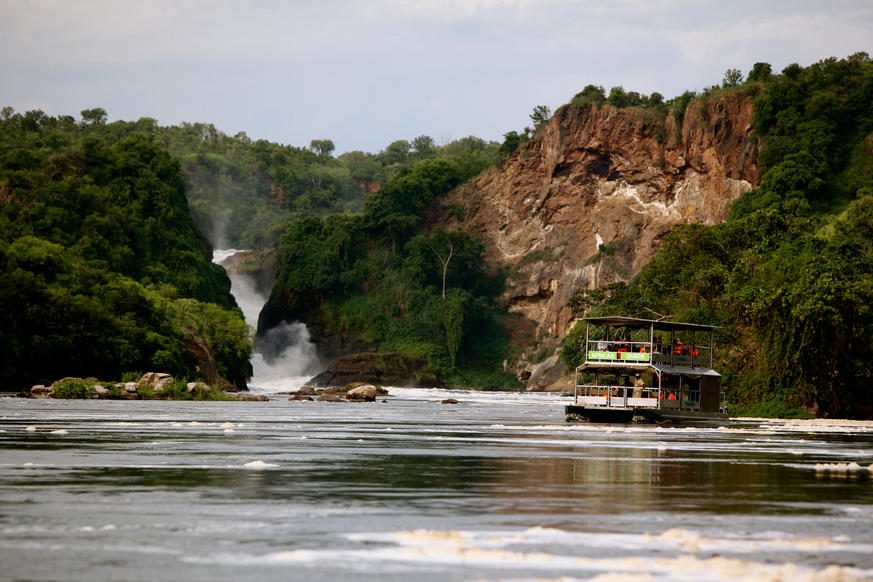 Day 9 : Murchison Falls
After an early breakfast, you will head out on an early game drive while the animals are the most active since it's not yet so bright and temperatures are cooler. This is the best time to spot wild animals.
A drive through the park brings you eye-to-eye with the African animal kingdom: elephants, giraffes, buffaloes, lions, leopards, different species of antelope and many tropical birds. They are all there in Murchison Falls National Park!
In the afternoon, a 3-hour Boat Cruise along the Victoria Nile will lead you to the base of the Murchison Falls. Along the way, you will be able to view a wide variety of birds and wildlife; numerous hippos, elephants and crocodiles, as well as breathtaking scenery.
Overnight at Pakuba Lodge.
---
Days 10 & 11 : Murchison Falls & Entebbe
At 7:00 am, a morning trip to the Lake Albert Delta is a must for any bird and wildlife enthusiast.
The Victoria Nile delta, a 20 km voyage downstream from Paraa, is home to rare wetland birds including shoebill and papyrus endemic species.
You will depart Murchison Falls National Park and head to Entebbe for refreshments and overnight stay as you relive your safari highlights.
Tonight, there is a special Farewell dinner at Faze 3 where all group members will be invited to a unique dining setting. We will toast to a great experience with a glass of wine or your favorite drink. This dinner will be joint with the Luxe trip guests.
On Day 11, you will wake up and check out. At the time of your departure, you will be taken to the airport.
Overnight at Best Western Premier Entebbe
Conveniently located just a few minutes away from the Entebbe Airport on the Kampala-Entebbe Highway, the hotel is adjacent to the Victoria Shopping Mall, giving guests direct access to the mall and all its facilities.
The UN Base, Entebbe Golf Club, the Botanical Gardens and the lake are right next to the hotel. The hotel offers 51 full-service rooms, equipped with all amenities for the demanding business traveler.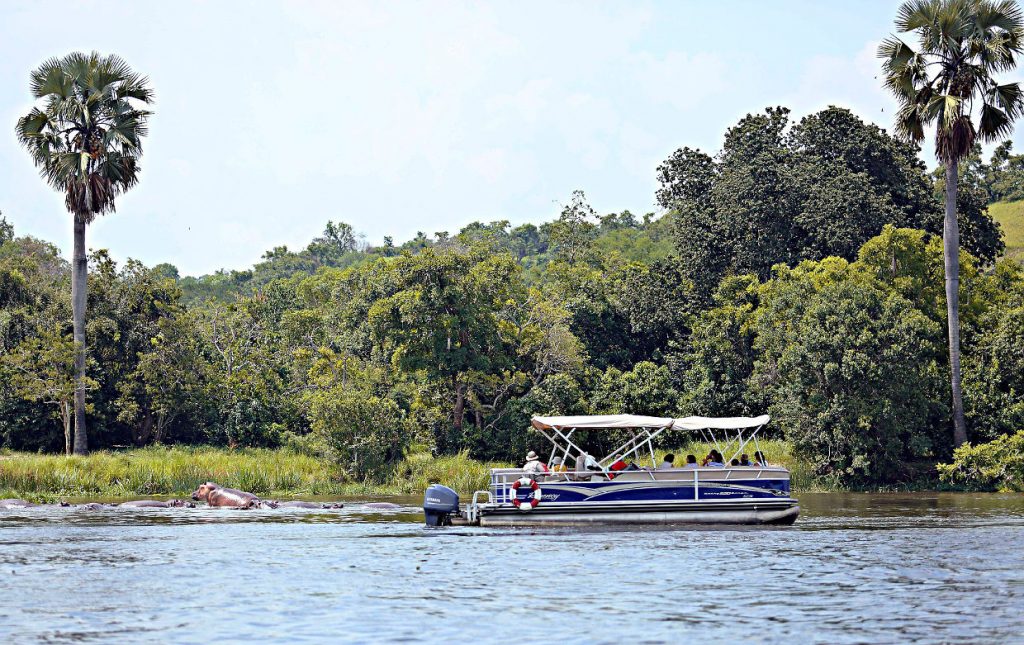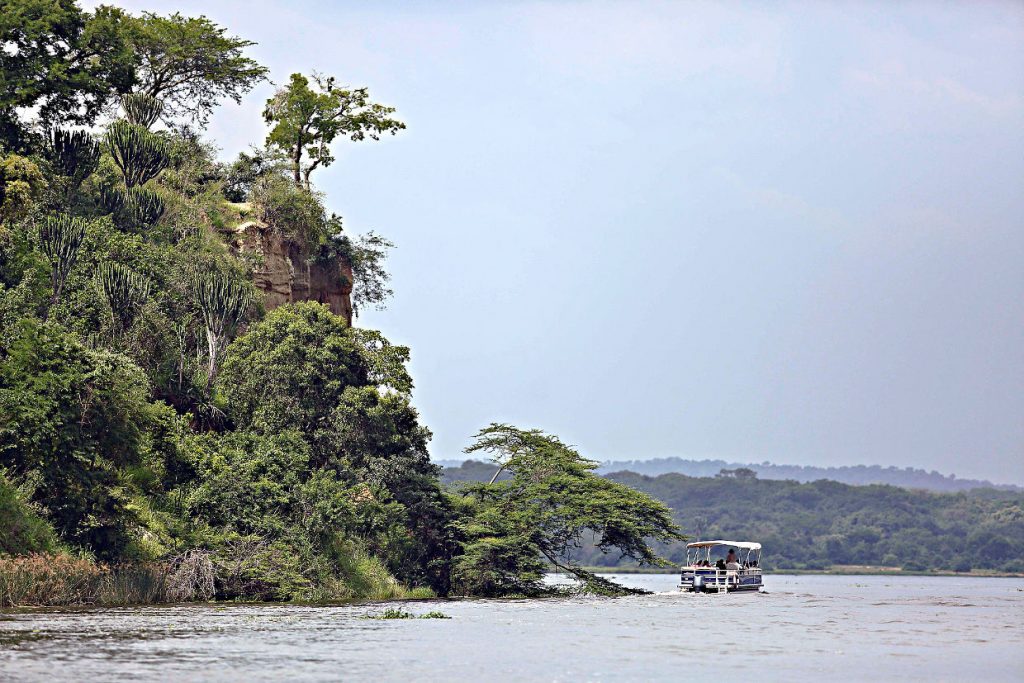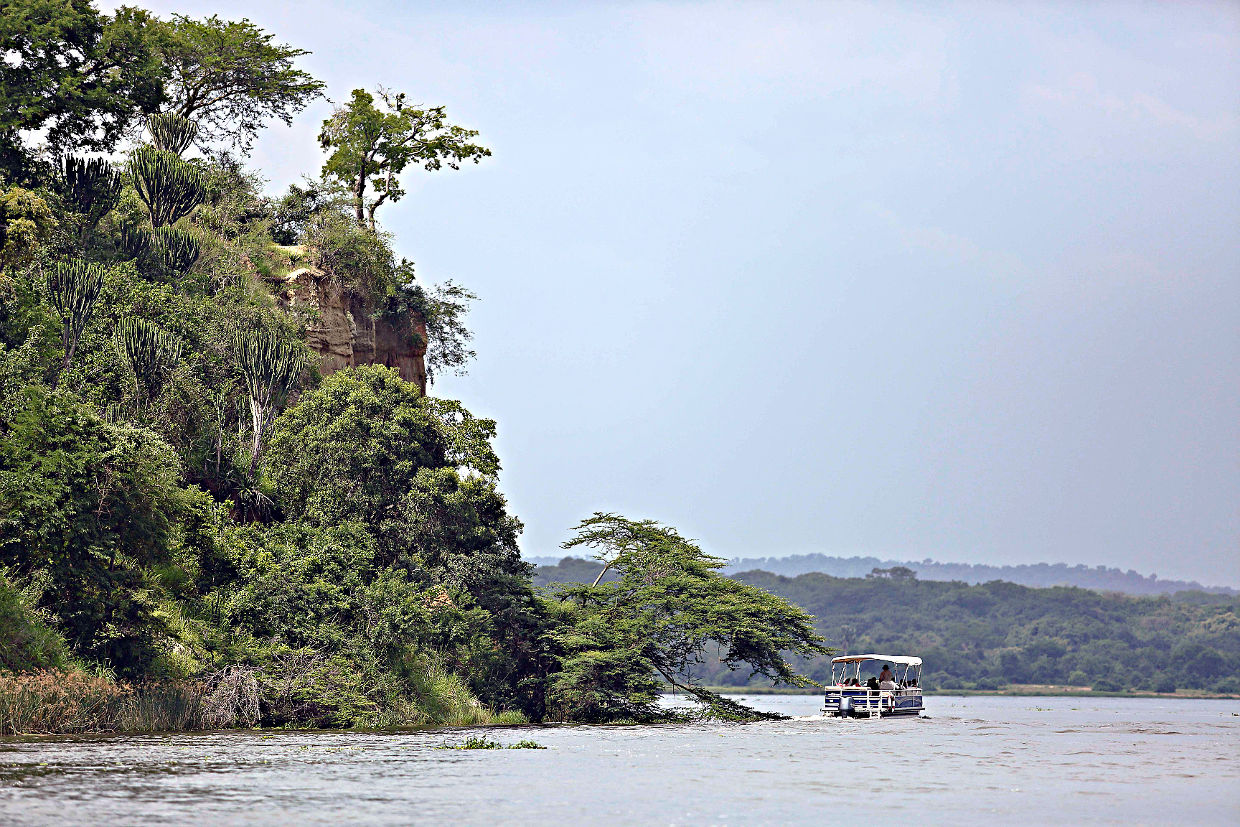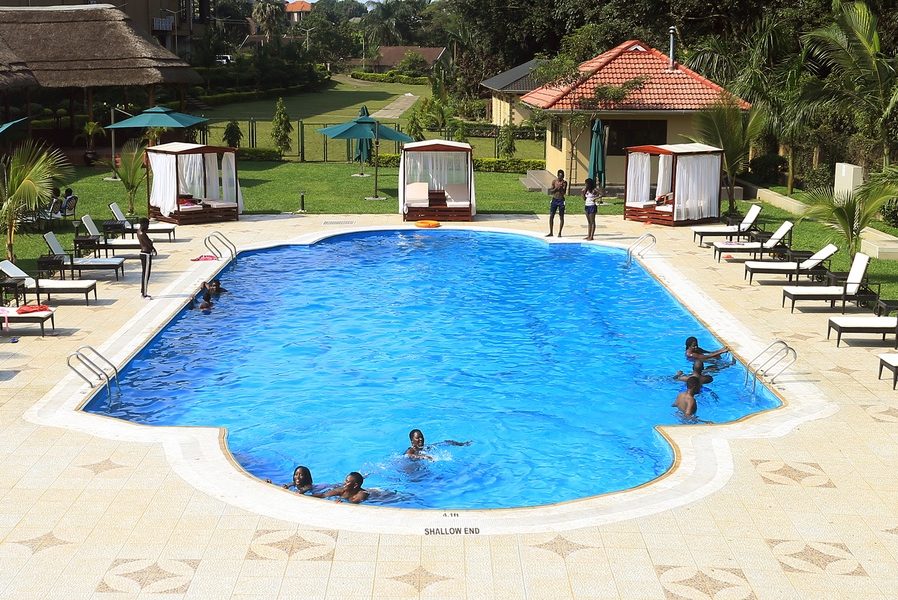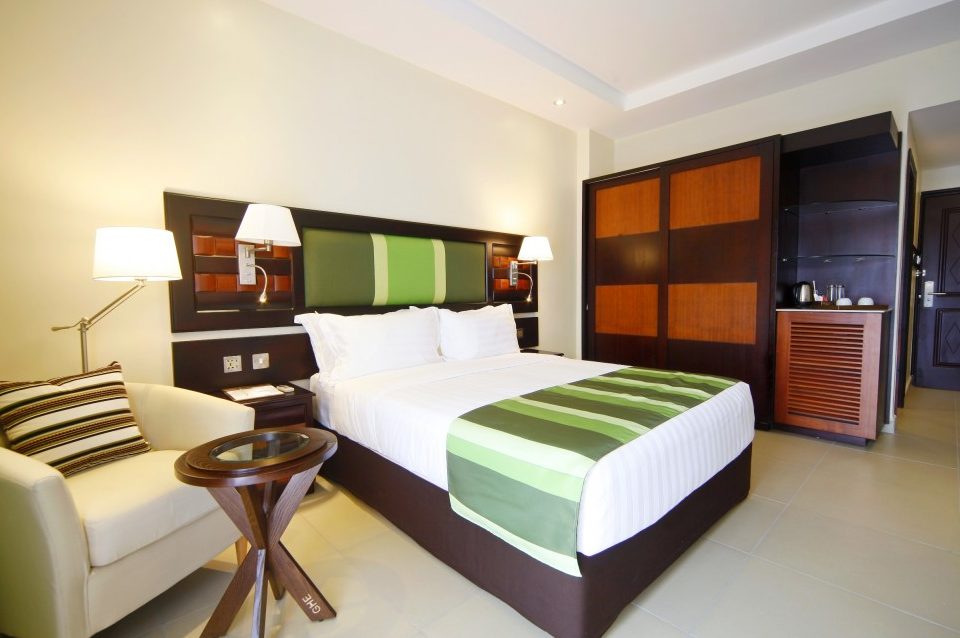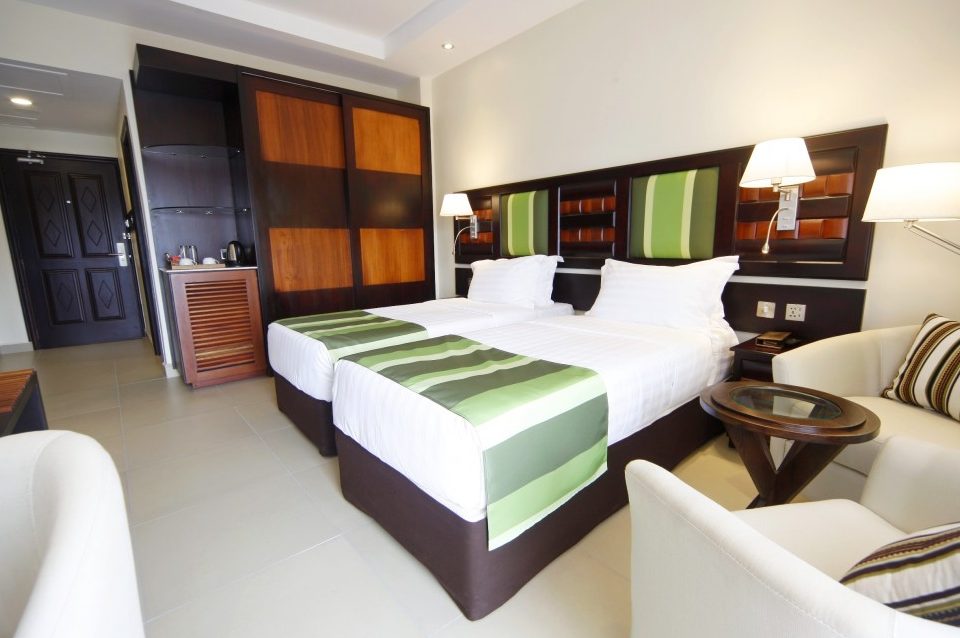 ---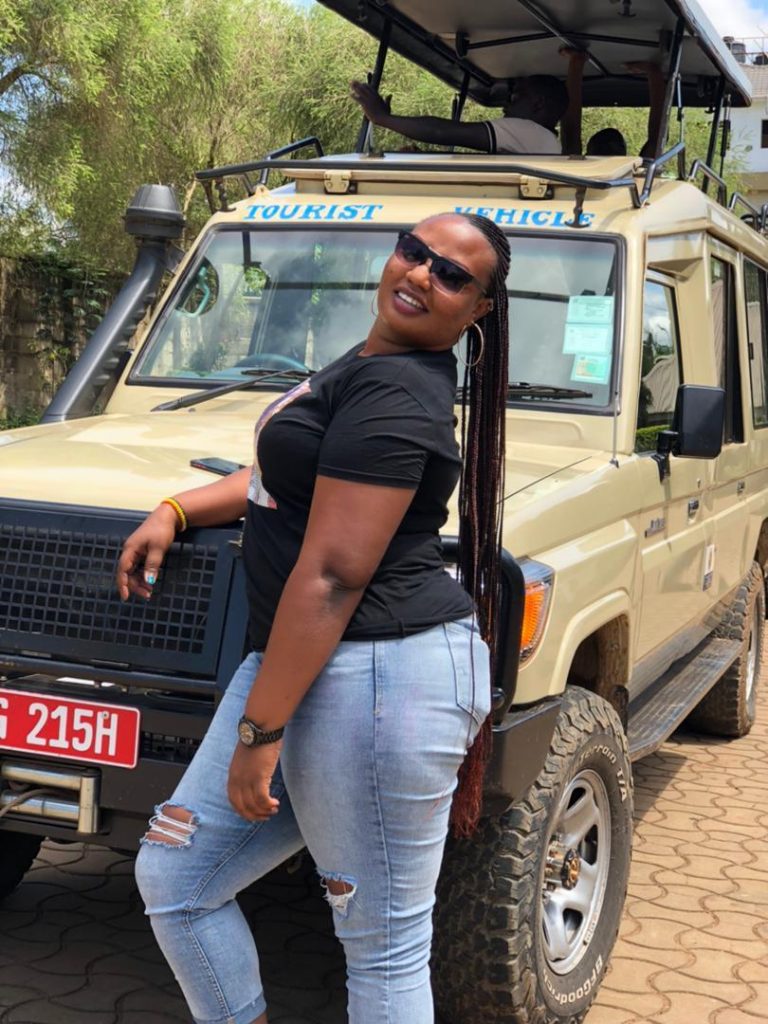 About Your Host
Katesi holds a bachelor's degree in science and accounting and graduated from Ndejje University. Prior to starting her job in the tourism industry she spent 4 years working in accounting.
Determined to contribute to her local community, Katesi took several tourism courses and got her driving licence.
Her confidence in driving both manual and automatic vehicles around some of the roughest African roads and muddy Ugandan national parks has given her the strength to tackle many challenges in life. It is through this resilience that she found the passion and courage to become one of only a few Ugandan female safari guides. As a single mother, her tourism job is helping Katesi raise her two children and take care of her siblings and parents.
Katesi was born and bred in Uganda and she belongs to the Munyankole tribe which she will be happy to tell you more about. She is fluent in English, Luganda and Runyankole and is excited to show you the beauty of "the pearl of Africa" and take you on an African wildlife journey that you will never forget
---
Inclusions
✔️ Arrival & Departure airport transfers
✔️ 10 Nights mid-range Accommodation (double occupancy)
✔️ Full Board throughout: 10 Breakfasts, Lunches, Dinners
✔️ Non alcoholic drinks
✔️ Ground Transportation in 4WD open-top cars
✔️ Local Drivers & Guides
✔️ National Park Fees ($65)
✔️ 1 Gorilla trekking permit and 1 Chimpanzee tracking permit ($900)
✔️ 2 Boat Cruises – Delta & Kazinga
✔️ Batwa trail experience
✔️ Kigali city tour
✔️ Visit to the genocide memorial
✔️ Free Wi-Fi wherever available, charging stations and a stocked fridge in your Land Cruiser
Exclusions
✘ International flights to Kigali and departure from Entebbe
✘ Travel & Medical Insurance (Required)
✘ COVID Vaccinations Pre Arrival (Required)
✘ Hot Air Ballooning in Murchison Falls (Optional Extra)
✘ Additional Snacks & Meals on Day 1 before dinner and Day 11 after breakfast
✘ Alcoholic drinks unless otherwise mentioned
✘ Souvenirs
✘ Tips for Drivers and Guides (At your discretion)
✘ COVID Testing which we can help organize (available in Entebbe before your departure)
Payment Info
$4,877 USD
Only 14 Spots Available
Payment Plan:
$300 USD per person to reserve your spot*
30% non-refundable deposit due 210 days before departure
Final balance due 120 days before departure
*If the trip does not reach the minimum number of guests, it will be moved to a date in the future and all payments will be carried forward. By joining our trips you agree to our T&C.
---
Reach Out to Book One of 14 Spots
Interested in Joining us in Rwanda and Uganda?
We are keeping the group to 14 guests maximum so don't wait and reach out to us today.
Contact us at community@solofemaletravelers.club or Pick a convenient time and date on the right to talk to us, we'd love to meet you!
Note: Please do not book any flights until the trip is confirmed.
---
Frequently Asked Questions
This is a trip of a lifetime and we know there are many things you'd like to know more about.
What's the difference between the Value & the Luxury Trip?

The itinerary itself is the same and guests on both trips will have the opportunity to mingle at the welcome and farewell dinners. The price difference comes down to travel style and inclusions.

Our Value trip features 3.5 star accommodation, and is full board excluding alcoholic drinks, while the Luxe trip features 4 to 4.5 star accommodation and includes house pours at meal times. Additionally, the Luxe trip will be accompanied by a photographer who will take candid pictures of the group and has an extra boat excursion a part of the program.
What if I cannot travel because of COVID restrictions?

Once the trip is confirmed, all payments become non-refundable. This is why we require all guests to purchase travel insurance that covers unforeseen circumstances which would prevent them from traveling.

The $200 deposit will be refunded if we decide to cancel or postpone the trip because it does not reach the minimum number of guests. In the event that the trip needs to be postponed for reasons beyond our control after the 30% deposit has been made, any payments made will be put towards a similar itinerary in the future.
What are the COVID measures in Rwanda and Uganda and how will you ensure everyone is safe?

We care deeply about the wellbeing of our guests and our trip follows all local regulations. We require our guests to be fully vaccinated to join the tour so that we ensure the safety of everyone on the trip. Safaris are uniquely designed for social distancing and isolation as they guarantee that you will only be interacting with the other guests in your group and with the guides.

As of June 2021, the entry requirements for Rwanda state that any tourist/traveller coming into the country has been tested within 72 hours of arrival at Kigali International airport. The clients are required to fill in the passenger locator form with all the requested details and submit before travel to Rwanda. Here is the corresponding link. The guests will then get tested a 2nd time upon arrival in Kigali and results will be shared within 24 hours. Of late the results have been arriving in 3 – 4 hours.
 
On arrival at Entebbe International Airport and at land border crossings, travellers will need to provide a negative COVID-19 test certificate issued no more than 120 hours before departure to/from Uganda. Airlines have been directed not to allow passengers without a negative test certificate to travel. Foreign national passengers who arrive without a valid negative test certificate will be denied entry. No other test is required upon entry, so guests are free to visit any park.
 
Please note that a curfew remains in place in both Rwanda and Uganda from 10pm to 5:30am. We will update guests on changes in these requirements as the travel date approaches.
What is included in the trip?

This Value trip is full board, that means all meals, excursions as noted in the program, entry tickets, park and conservation fees and gorilla + chimpanzee tracking permits are included. A sunrise or sunset hot air balloon in Murchison Falls is the only optional activity on the program. Non-alcoholic drinks are also included and al cholic drinks will be available for purchase.
Can I have a room to myself?

All costs above are considered on a sharing basis with two guests per room in twin bedding; we will pair you with another solo female traveler on the trip. If you wish to have your own room, that is absolutely possible, and $884 supplement will apply.
I want to bring my partner to the trip

This is a female-only small group trip specifically designed for women traveling on their own. If you wish to travel with a female friend, they are most welcome, however we are not able to book male travelers on this trip.
I want to bring my daughter

How wonderful! If your daughter is above the age of 16, we will be glad to have her with us. Note that the minimum age for gorilla trekking is 15 years old.
Will the guides be female?

Yes, this trip will be escorted by Kitesi Donah, our local Uganda guide who is passionate about tourism as a force for good and who will take you across the country on this adventure.
How does this trip help local communities in Rwanda and Uganda?

We believe that travel can be a force for good and wherever possible, we work with local travel companies in the country who can help us make a difference and ensure that the tourism dollars benefit local communities. For this trip, we have partnered with Wito Safaris, a Tanzanian-owned business founded by Abdullie who has personally put together this trip with us.

While the company is Tanzanian headquartered, the entire guide, driver and team will be local from Uganda or Rwanda, this is not only a legal requirement to obtain permits but also a decision that aligns with our values. Additionally, all the businesses that we will be visiting (restaurants, lodges, etc.) are locally owned and the trip cost will directly contribute to the local communities.

Furthermore, this trip will be led by Kitesi and will help inspire more women to lead tours in Uganda while giving you an opportunity to learn more about the culture from a female guide.
What medication do I need to take for a trip to Uganda or Rwanda?

You should make an appointment with your doctor to confirm any travel inoculations and other medications that you may need to take before and during the trip, including those to prevent malaria or yellow fever. If your onward travel includes other African nations, you may also require a Yellow Fever certificate, you can check the CDC website for more details.
Are gorilla and chimpanzee sightings guaranteed?

Gorilla and chimpanzees are wild animals and while they have been habituated to seeing humans, sightings can never be guaranteed. However, almost all visitors who purchase a permit will get to see them, the question is how long they may have to trek to find the assigned family.

Every day, visitors are assigned a gorilla family to spend time with. The gorilla trackers will go earlier in the morning to find the family, based on the sightings from previous days and the knowledge of the animals, and when they find them, they will communicate with your ranger to facilitate the trek.
How long will I spend with the gorillas?

For your own and the animal's safety, there are strict regulations around how close and how long you may spend with the animals. Your ranger will provide details during the morning briefing. Visitors spend a maximum of one hour with the gorillas.
Do I need to be fit to participate in the gorilla and chimpanzee trekking?

A minimal level of mobility and fitness is required to participate in the gorilla and chimpanzee trekking activities. However, every morning, the rangers will assign gorilla families to guests based on their interests and level of fitness. If possible, those with physical limitations may be offered a gorilla family that is closer to the ranger station, however, this cannot be guaranteed because it will depend on where the gorillas are on that day and they have free range to move about inside the entire perimeter of Bwindi Forest.

Gorilla trekking may include crossing streams, walking up the steep side of Bwindi Forest, ducking down under tree branches, walking on mud, etc. You can hire porters on the day to help carry your backpack.
What should I pack for an African safari?

Once your trip is confirmed, we will send you a detailed packing list with everything you need to take. In general, the number one rule on safari is to blend in, that is, avoid colors that do not naturally occur in the bush (eg. red, blue, white) and go for earthy tones like brown, green, etc. Black is also a color to be avoided because it attracts mosquitoes.

Gorilla and chimpanzee trekking have a separate set of regulations for you to stay safe and for the animals to be protected from human diseases. You can read more about packing here.
What happens if I get sick?

The prospect of getting sick while alone in a foreign country is daunting, and this is why we require all our guests have comprehensive travel and medical insurance that includes international evacuation. Should you fall sick, our local partner's team will escort you to the nearest medical facility so you can get the help you need, and will stay with you if needed.
What travel insurance should I get?

We recommend you get the most comprehensive travel and medical insurance that would cover you in the event that you need to be evacuated to Kampala, Entebbe, Nairobi or back home. We recommend checking with an aggregator such as Travel Insurance Master to compare quotes and coverages.
Do I need a visa for Rwanda or Uganda?

You do need a visa to enter both Uganda and Rwanda. To avoid paying twice for a single visa for each destination, an East African Tourist Visa is the way to go.

The East African Tourist Visa is valid for travel within Kenya, Uganda and Rwanda. You can submit your visa application online or obtain one upon arrival. For both Uganda and Rwanda, we recommend getting your visa upon arrival, it is the easiest and the process is straightforward.
Can I make various instalments for this trip?

Our payment plan includes 3 instalments: a $300 non-refundable deposit to reserve your spot, a 30% payment 210 days before departure and the balance 120 days before departure. Should the trip not reach the minimum number of guests, all balances will be carried forward to a date in the future. It the trip needs to be cancelled for reasons beyond our control after the 30% payment has been made, there may be additional fees required to change the date of the gorilla and chimpanzee permits as imposed by the Ugandan authorities. These fees currently stand at 30% of the cost of the permit.
Can I pay by credit card?

We offer the option to pay via bank transfers as these are the most cost effective bank charges. However, if you wish to use a credit card, we use Paypal and will need to add around 4% for bank fees.
Will the lodges and camps have WiFi?

All the accommodation we will be staying at has WiFi but in most cases this is only available at the main common area or may be limited in speed and bandwidth. This is because camps try to keep impact to a minimum and because connection in the bush is challenging. We invite you to take this opportunity to be in the moment and disconnect from your always-on life.