In the summer months in the Amalfi Coast you should wear comfortable clothing and shoes that can take you from lunch to aperitivo, from walking in steep cobblestone streets to visiting a winery or going to the beach.
The Amalfi coast is filled with steep, cliff-side towns whose streets are made of cobblestones and which can only be navigated via many many stairs. That means wearing the the right footwear is essential.
On our trip to the Amalfi Coast, we will spend time walking these villages, jumping on boats and the beautiful Mediterranean Sea, going on hikes with incredible views and foraging forests, lemon farms and wineries.
So when thinking about what to pack for the Amalfi Coast, you should bear in mind that high heels and cosmopolitan urban outfits are most suitable for Milan than the Amalfi Coast and that casual beach chic is the name of the game here.
Summers in the Amalfi Coast can be hot and humid, with long days and plenty of sunshine. So loose-fitting, flowing and natural fibers will get you far. Italians are known to dress well, so appearing put together is always a good idea.
What to expect in the summer months in the Amalfi Coast
Summers in Amalfi are warm and the sun stays up until late. However, not all summer months are made equal.
June sees long days where the sun is up until past 9pm and summer solstice celebrations abound. It is a wonderful month with warm temperatures, beautiful evenings, extra long days and plenty of celebrations. It is a month we love because it is the beginning of summer and spirits are high with anticipation.
July and August are hot and sticky and temperatures can make sightseeing unpleasant in the heat of the day. To add to that, August is the month when Italians take holidays so the throngs of tourists are only made worse by the many locals who like to spend their summers here.
September is the similar to June in temperatures and the days are still long, rains are low and it is the wine harvest season. The sea remains warm from the summer and the crowds start to dwindle.
Weather in the Amalfi Coast in the summer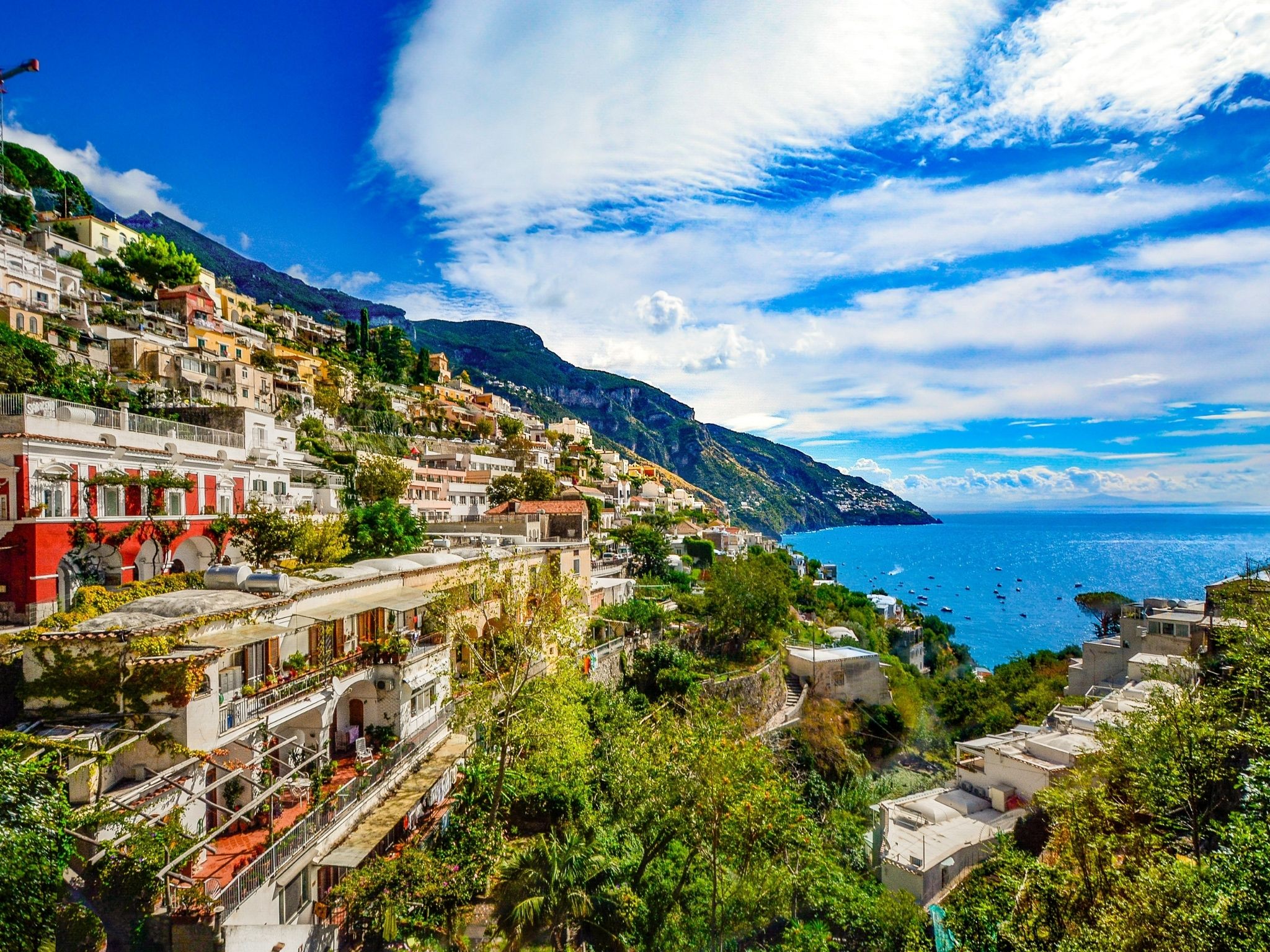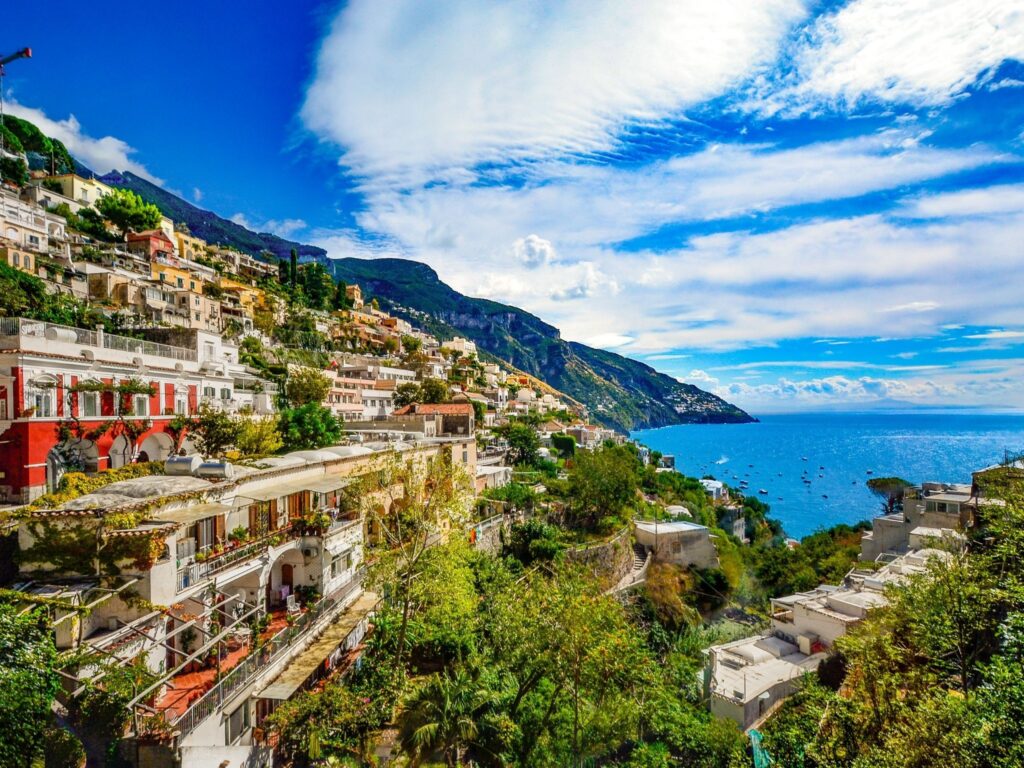 Summertime in Amalfi runs from June to September, officially, from the 23rd of June until the 23rd of September but each month is slightly different.
The weather in July and August is hot, with temperatures well above the 30 degrees Celsius and humidity levels approaching 100%. In the peak hours of the day, you can't do much, which is why everyone heads to the beach or takes a break. Siestas are also an Italian tradition.
Although both June and September share a similar weather outlook, there are also some differences; one is at the beginning of the summer while the other is the end of it, so the atmosphere varies and the climate is slightly different.
The weather in June in the Amalfi Coast
June is a beautiful month to visit the Amalfi Coast, perhaps our favorite. Summer solstice festivals abound, and everyone is happy to head back to the beach.
Temperatures in June are mild and range from 22 to 27 degrees Celsius or 67 to 80 Fahrenheit. Rainfall is low in June and when it happens, it is short, and the sun is up an average of 15h a day making it a great sightseeing month.
Evenings can get a bit chilly so a light jacket is welcome if you plan to eat at the many terraces or enjoy a stroll back to your accommodation. The sea temperature is lower than in September.
The weather in September in the Amalfi Coast
In September, locals are more laid back and relaxed after the summer holidays and they anticipate fall with a clearer mind and a rested body.
Days continue to be long, though sunshine drops from 15 to 12.5 hours since the days are shorter than in June (though still very long) but the temperatures are the same. You should still expect temperatures between 20 to 26 degrees Celsius or 65 to 78 Fahrenheit for the month.
The probability of rain remains low and showers are quick and short and the sea temperature is higher than in June.
Tips when packing for the Amalfi Coast in summer
With the above weather conditions in mind, it is important to pack accordingly for a trip to Amalfi Coast in the summer, not so much for cultural reasons but to make sure you are comfortable.
Footwear for steep, cobblestone streets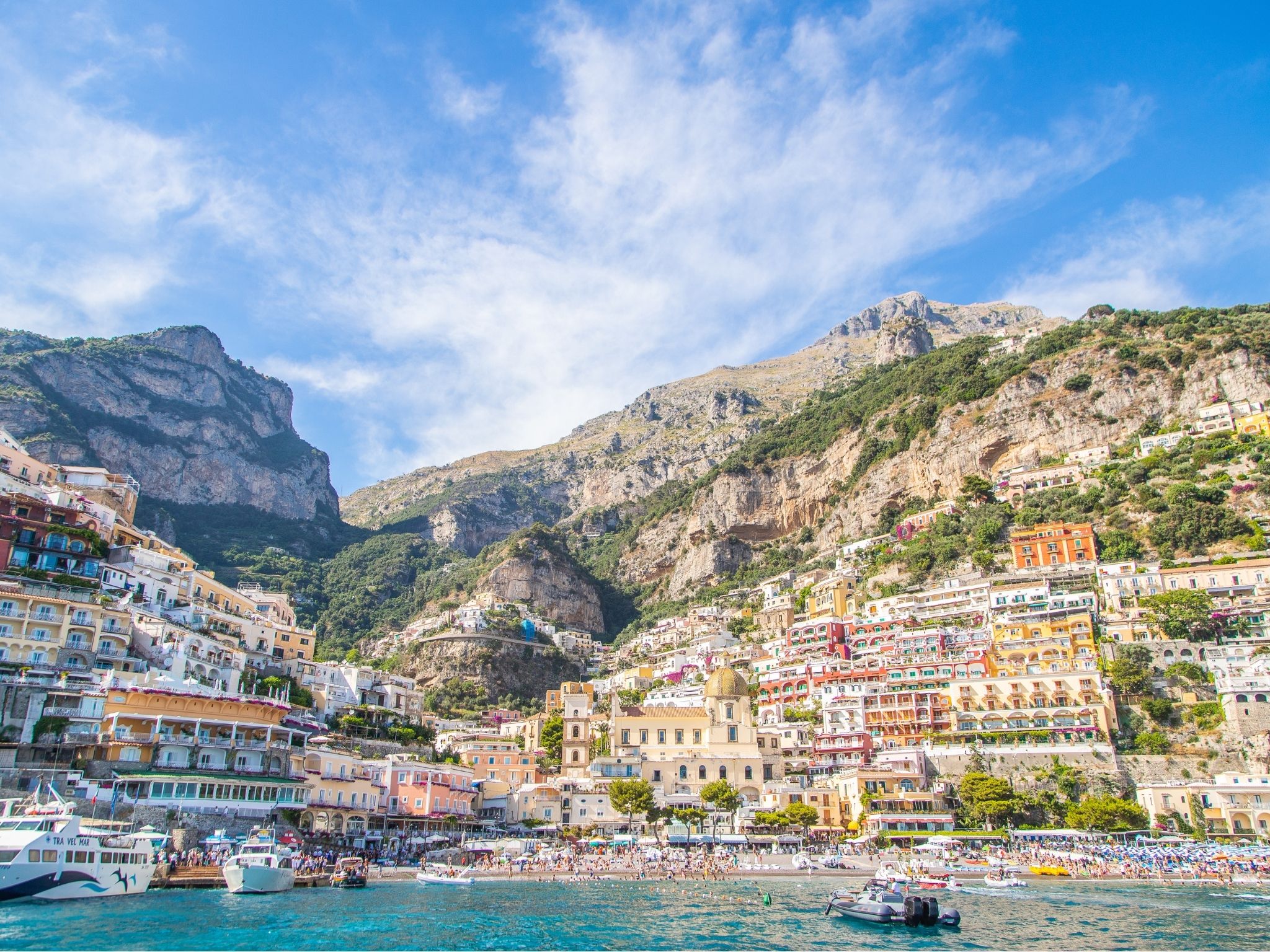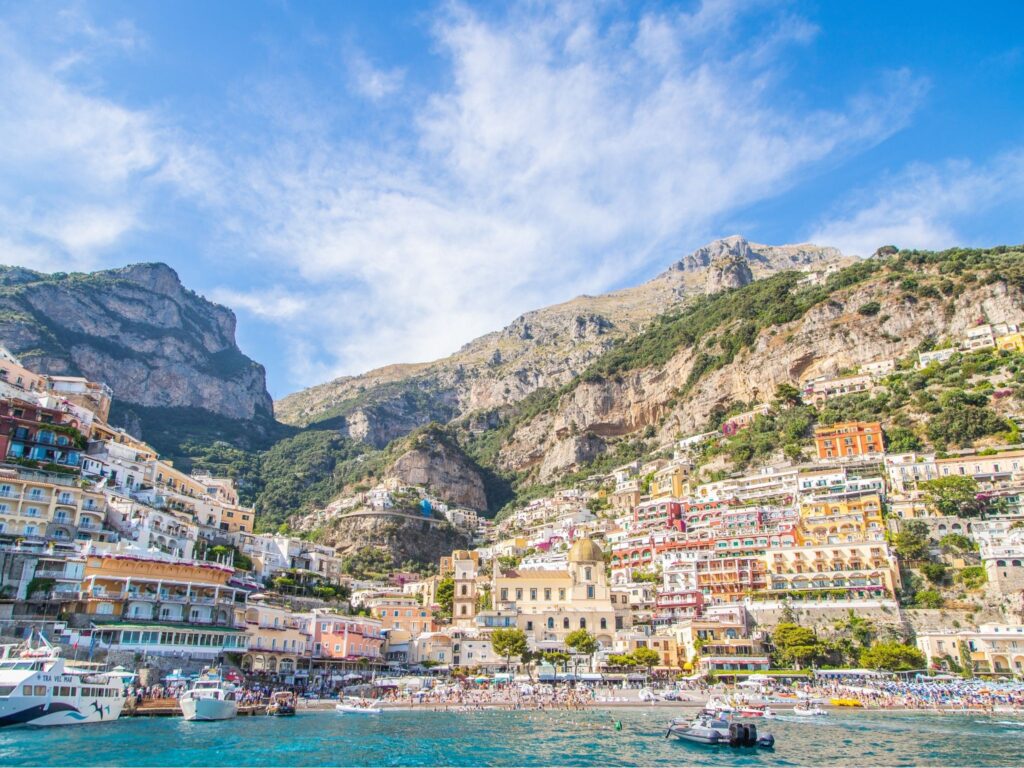 The Amalfi Coast is perched on the side of a cliffs with villages carved from the rock and perilously hanging over the abyss. It is also an old part of Italy, developed centuries ago and preserved until today.
These two unique aspects of the coast mean a few things:
Lots of stairs, steep ramps and streets that may be hard to climb but even harder on your knees to descend.
Cobblestone streets with uneven surfaces and rocky, sometimes slippery, surfaces.
Hiking gravel paths with lots of stairs connecting villages that can otherwise only be accessed on the very windy coastal road.
Rocky coast and pebble beaches.
High-heels or very flat shoes without grip or support will make your feet tired and walking the wonderful villages more challenging.
A pair of cute sneakers like the ever present Italian brand Superga or any other sturdy pair of shoes that provides support (aka holds your foot in place) and cushion (for the long days of walking) are a great idea.
For the beach, the coast and the boat trips, reef shoes or closed waterproof sandals are useful. A proper pair of sneakers will come in handy for hiking, more technical hiking shoes are probably not required unless you plan on a hiking trip.
Italians are not big fans of AC
While the weather will be hot outside, many restaurants and bars are open air and rely on the sea breeze.
Public indoor spaces such as hotel receptions, restaurants and museums, will have AC, though it is not something readily available and when it is, it will not be as strong as in the US or parts of Asia.
Beware of pickpockets
Europe is generally a very safe continent for solo female travelers but popular tourist destinations such as London, Paris, Milan or Florence are magnets for pickpockets who, believe me, are absolute pros.
When walking the many touristy villages or wandering the streets of Naples, you should be extra alert to anyone trying to distract you, asking something from you, etc. who may have hidden intentions. Never leave belongings unattended or in plain sight and keep everything inside a zipped handbag.
Slash-proof bags designed for extra safety are highly recommended in Italy. Alternatively, a cross-body bag that is always zipped and in front of you should work.
There are so many easy targets available in crowded places that, as soon as you make yourself a more difficult one, you raise the barrier for the average thief.
Everything goes, but locals like it stylish
In Amalfi Coast you can dress however you like with the weather and geography in mind. There are no restrictions, cultural or otherwise, on what clothes you should or should not wear.
Modesty is only required in religious buildings where you should cover knees and shoulders and a shawl is usually enough.
High-end fine dining restaurants may be more traditional and old school and will most likely require long trousers, closed toe shoes and a jacket for men, but women have more freedom although sports clothes will not be welcome for either gender.
However, if you want to blend in and dress like the locals, old-world elegant chic is the way to go in Amalfi with outfits that are stylish and romantic but appear to be effortless and charming.
Large brim hats, flowing dresses, oversized earrings and checkered or stripped patterns all dominate the most fashionable evening spots. Style is timeless here.
How to dress at the beach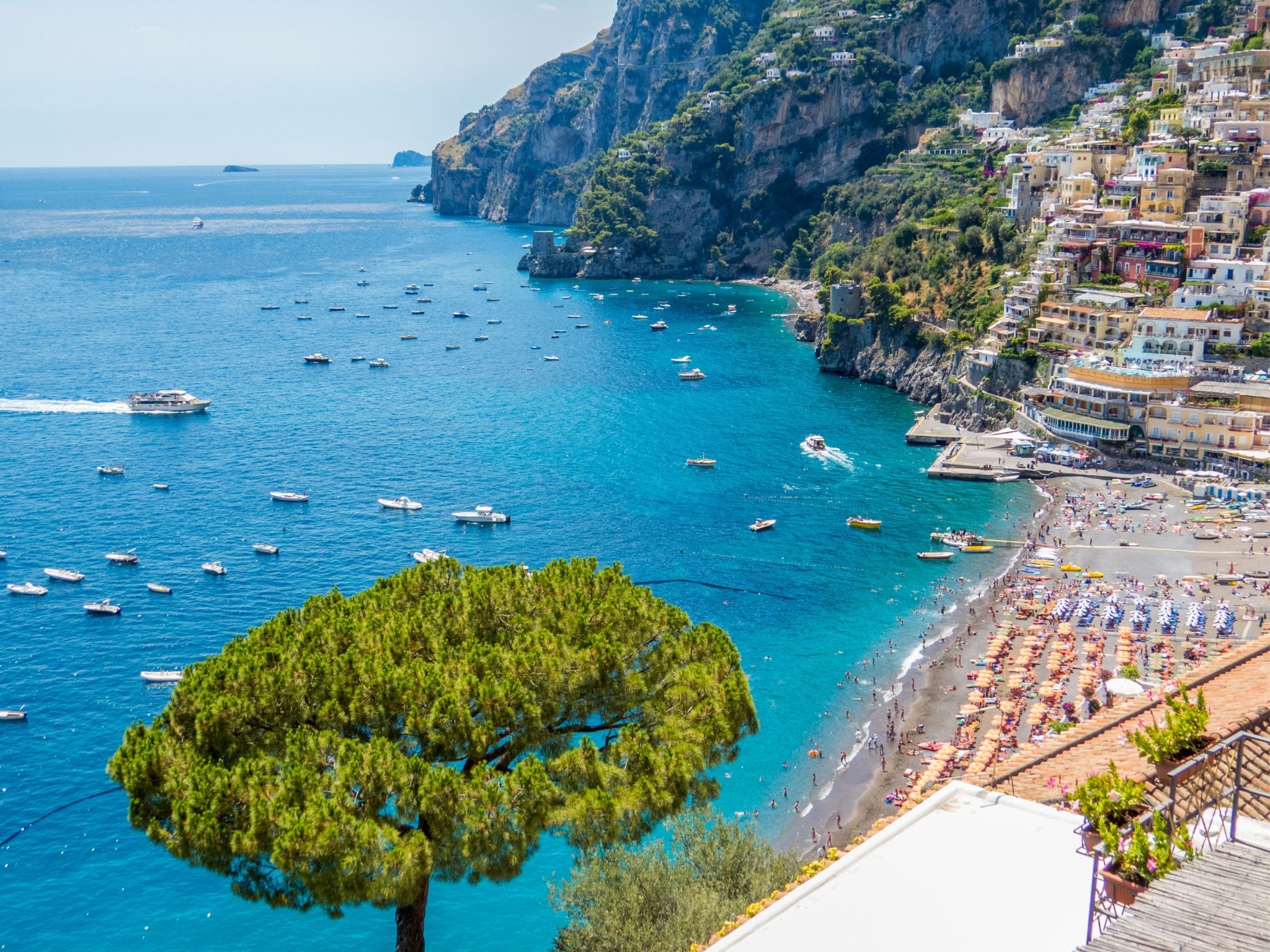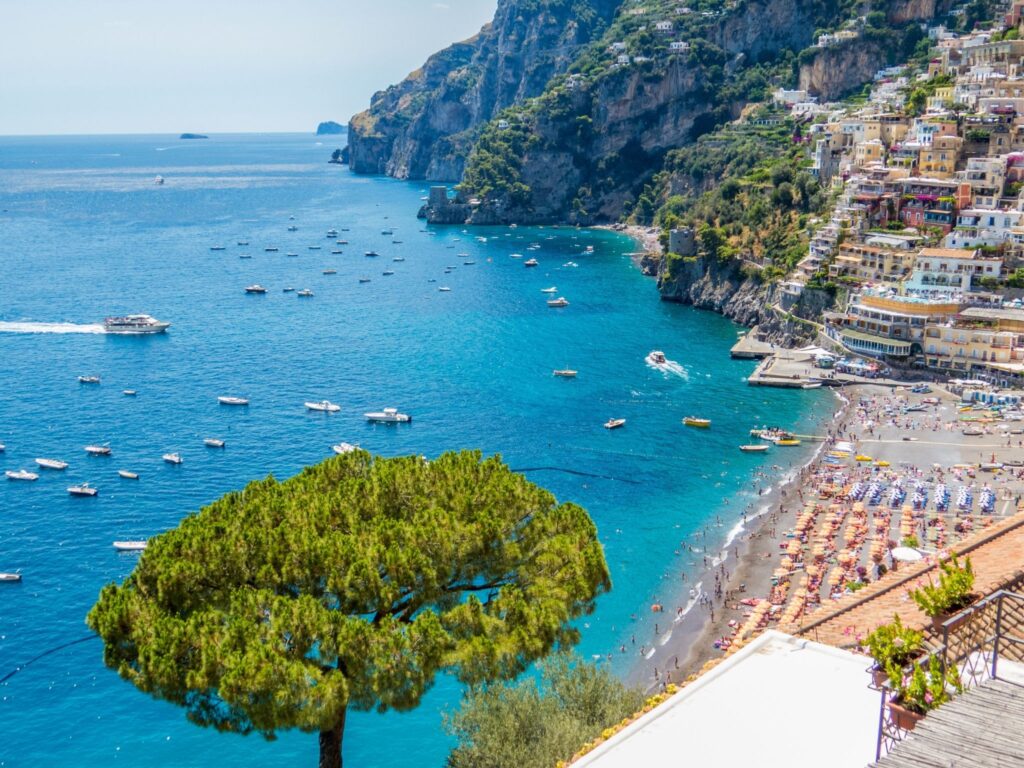 While comfort trumps style at the beach, people still dress nicely, and good appearance will get you far.
Cut denims, flip flops and oversized clothing that doesn't fit your shape easily distinguishes tourists from locals. However, your definition os classy may not be the same one as Italian's.
Italian men are known to favor Speedos and you will see many older men wearing them. Women prefer bikini although fashionable one-piece swim suits are more common these days. Going topless is not frowned upon and you'll see plenty of bare chested women. Nudism is not usually allowed but on the nudist beaches.
While you can pretty much put on whatever on the beach and adjacent areas, do not take the beach attired to a restaurant unless it is one on the beach. Covering up, even if just throwing on a dress, is expected.
Try the local designers
The Amalfi Coast has inspired many designers, film makers, celebrities and artists through the centuries and it should come as no surprise that you can buy not only fashion items manufactured in the region but also many inspired by it.
Dolce & Gabbana, while not local, are heavily inspired by the Amalfi Coast and have several prints, collections and even perfumes with the signature lemons.
Salvatore Ferragamo, my mum's most favorite shoe brand, is from Florence, although the designer was originally from the south of Italy. Did you know that he found his calling at age 9 when he made a pair of shoes for his sister's communion? He also has the highest number of patents for shoe designs.
When in Positano, check out Emporio Sirenuse at Le Sirenuse Positano, the fashion store adjacent to the hotel. This luxury outpost in the coast has its own label and represents everything that is glamorously chic of the Amalfi Coast.
And last but not least, check out Temptation Positano, a brand made locally that stocks outfits which are perfectly suited for the location and the summer vibes.
What to pack for summer in the Amalfi Coast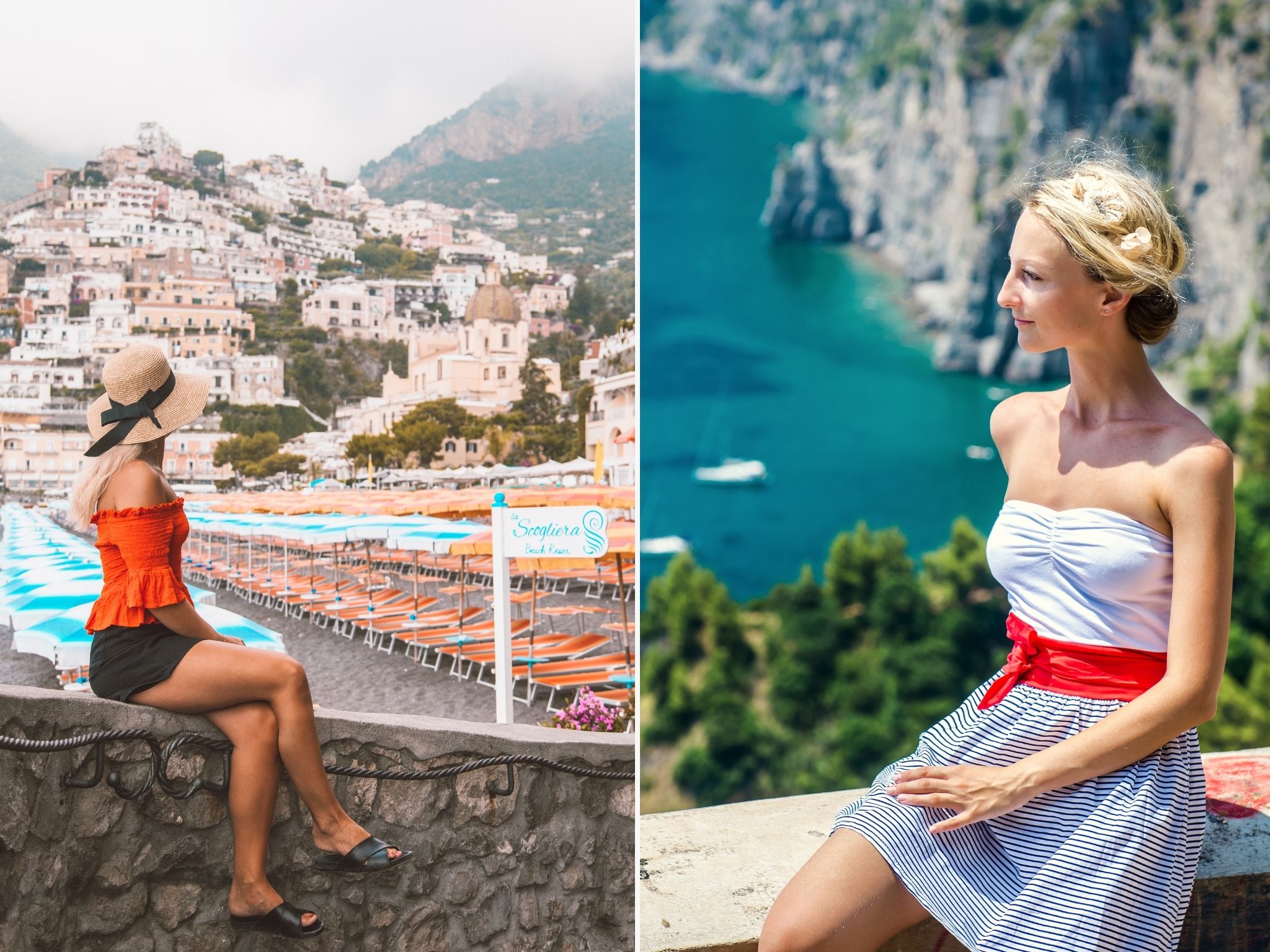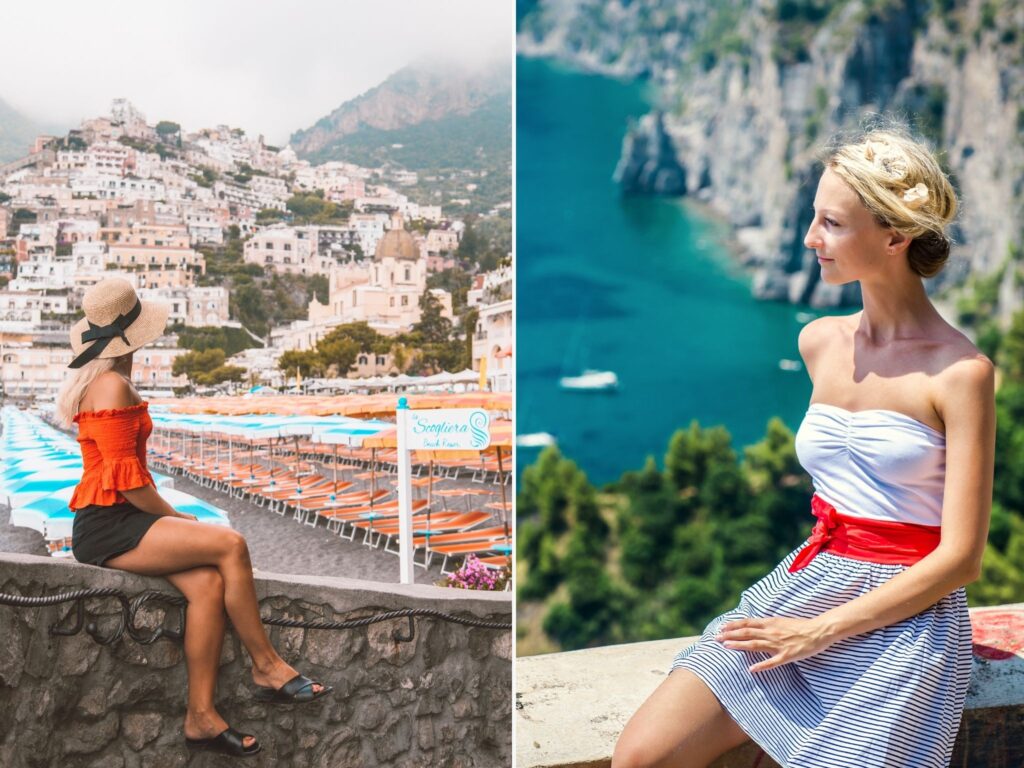 Now that you understand the weather and the fashion sense of the Amalfi Coast, it's time to have a look at what to wear in the summer.
Dresses
The best thing to wear during an Italian summer is a light, comfortable, flowy dress. It can be long or short, mini or maxi, in a solid color or patterned, but generally, it is loose and not tight.
Think wrap-around dresses, spaghetti strap dresses, florals, etc. if they are below the knee you'll be sure to be allowed into churches so bear that in mind.
For the night, a cute short or long dress in a solid color paired with a nice accessory will help you blend in. I love this V-neck one and this statement tunic dress or this great summery option.
Skirts
Skirts, of all lengths. Long skirts with a cute top, three quarter length with a blouse, tule ones, lace skirts, plated, etc. Skirts are a girl's best friend in and all the skirts from ChicWish are the PERFECT chic style.
Crop pants
I am a big fan of crop pants because they can be really cute, come in a variety of materials and are fun yet conservative and cover me from the sun, plus they fit my silhouette. They are particularly suitable in Amafli because they are also referred to as Capri pants.
A pair of light crop denims like these ones in aqua or linen pants will come in handy. You could also opt for jumpsuits or rompers. This cute romper would fit right in.
Linen shirts and slacks
Linen is a great material for the hot summer weather and I love to wear it, especially in loose fitting shirts over leggings or as a pair of long trousers.
The main issue with linen clothing is that it requires ironing and I don't like to iron when I am on holidays. To minimize creasing, check out our packing hacks and roll the clothes.
Swimwear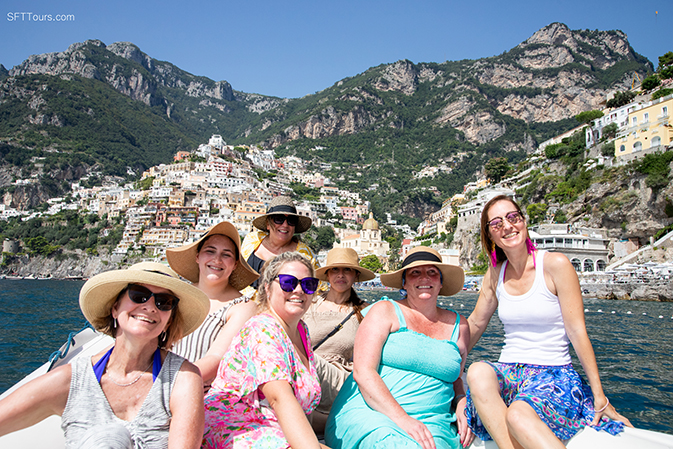 Whether you prefer a bikini or a swimming suit, you can't visit the Amalfi Coast in the summer without bringing appropriate swimwear with you, not just for the beach but for the hotel's pool.
To complement that, bring a pair of water / reef shoes that will make it easier for you to walk on the pebble beaches and the rocky bays.
A kaftan
Did we mention our Tuscan villa has a wonderful pool with the typical postcard perfect views of the rolling hills around?
That's right, channel your inner goddess and Italian chic style with a flowy kaftan for poolside chilling, we will have an entire day dedicated to just that.
Cute t-shirts and tops
Italian women like to wear comfy but cute tshirts, sleeveless tops and blouses that may be floral, with a design or have details that make them a bit more than just a white tshirt. Materials such as cotton and silk can dress you up and are light and fresh, linen works great in the summer.
Crop tops, spaghetti strap tops and other clothes that show a lot of skin are certainly worn by teenagers (like everywhere else) but you will not generally find a local woman dressed like that.
Pretty and comfortable sandals
As we said, the shoes will be your most important item in your packing list. During the day, when wandering the colorful villages, a cute pair of casual sneakers such as the omnipresent and Italian-made Superga, are a good idea.
You can also wear espadrilles, like these flat ones, these flowery summery ones or these ankle wrap strap ones that can go from day to night.
Flip flips or other open sandals that do not keep your foot in place will not protect your feet from twisting you ankle and are a bad idea.
In the evening, a pair of pretty wedge espadrilles like these pretty ankle strap ones or these ivory flatter ones will take you to the beach.
Or go for the true Amalfi Glam style and opt for a pair of flat embellished sandals, block heel sandals, or platform sandals, ideally with a rubber sole that offers grip, will glam you up while still keeping to the Amalfi Coast style.
A pair of sneakers
A pair of sneakers are a must for hiking the Path of Gods. You do not need to bring hiking shoes but a good pair of sports / tennis shoes that have grip and are comfortable are strongly recommended.
A cute evening outfit
Italians like to dress up, we've mentioned that, and for dinner, they dress up extra nicely with pretty accessories, nice flowy dresses and perfect hair and makeup. You don't have to follow local attire but if you like to, this is when you should bring out your most elegant and fashionable outfits.
Amalfi certainly dresses up at night!
Statement accessories
Italians like to dress up relatively neutral outfits with statement accessories for maximum impact. Pack a couple of pieces of jewellery, a cute clutches and tote bags, earrings, a scarf or even just an oversized pair of sunglasses or hat to show off your style.
Other things to pack for the Amalfi Coast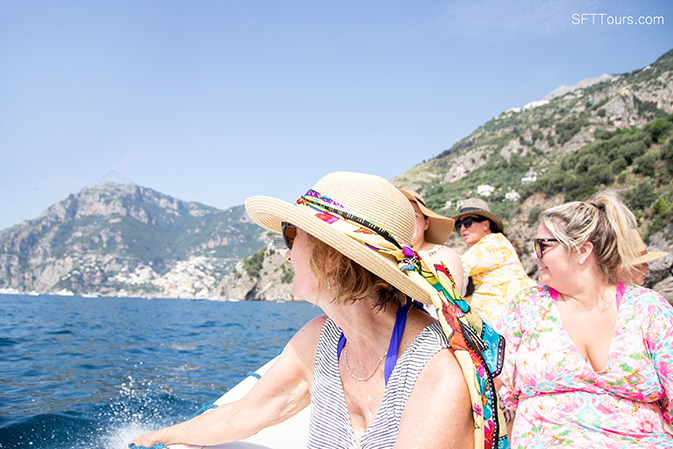 Besides clothing, there are a few other things worth packing for your trip to the Amalfi Coast in the summer.
| | |
| --- | --- |
| | A sun hat: As mentioned, the sun will be shining all day long so a hat is a great way to protect eyes and face from the sun exposure. Locals like straw hats. Check out this wide brim one. |
| | A strapless bra: For all those tops and dresses, or if your outfit demands it, a stick-on one so you look perfect. Find a comfy wire free strapless bra here. |
| | European / universal plug adaptor: Italy uses standard two round prong European plugs. We like the ones which come with USB ports so that we can charge phones, cameras and everything else with just one adaptor. I love this one because it has USB ports for all the electronics i carry. |
| | Power bank: Because the days will be long and we will spend most days out, a power bank will ensure you can continue taking photos. We use the incredible Anker 30,000 AMP which is the real deal and can even charge your laptop, but you don't need something this big, a power bank that can recharge your phone twice is enough. |
| | Sunglasses: We expect sunshine, so a pair of sunglasses is an essential travel item in the Amalfi Coast. I like Oakley sunglasses as they are polarized and protect my eyes from any damaging sun rays. I alway wear them. Yes, they are not fashionable, but I have sensitive eyes that don't like bright days, so they are a lifesaver for me. Lately, they have been launching more modern and stylish models. Check out their store on Amazon. |
| | Waterproof mobile phone case: This comes in handy to take with you in the water in case you go to the beach alone as you can stash other belongings like credit cards or money in it and make sure they are safely with you even if you go for a dip. This one is a commonly purchased one by our guests to Iceland who take it to the Blue Lagoon for pictures. |
| | Water bottle: Single use plastic bottles are terrible for the environment so we recommend you bring your own reusable bottle as part of our efforts towards zero-waste and responsible travel. Tap water in Italy is safe to drink and you don't need to bring a water filter, just your regular bottle will do. Replenish it in your room or at breakfast, or use any of the public fountains. |
| | Sunscreen: Perhaps the most important item in this packing list for Croatia is sunscreen. The sun is very strong in the summer and you will be under its powerful rays for many hours, protecting your skin is key. We like using Japanese Biore SPF 50++++ because you can wear it under makeup and it is non-sticky and silky smooth. Living in the tropics, this is an everyday item for me I never leave the house without. |
| | Mosquito repellent: Yes, mosquitoes are brutal in the summer, especially in the evening, so bring repellent and dose yourself at night. I have been using the Repel brand for decades. |
| | A travel umbrella: We discussed the weather in the summer months earlier and you know that there is alow chance of showers at this time of year. We will be spending a lot of time outdoors and if showers appear, a travel umbrella will come in handy. This one weighs less than 500 gr. And is wind-resistant. Ponchos scream tourist and are not very stylish, if practical. |
| | Lip balm: The sun makes it particularly tough for the skin and lips so you should bring a lip balm to stay moisturized. We find these are essential to not end up with completely ruined lips or even blisters. We like Neutrogena for their Nordic formula that tends to heal battered lips overnight and comes with SPF. |
| | Sleep mask: Although hotels have proper blinds, you will be sharing the room with another traveler who may be a late owl. Bring a sleep mask like this one to block the light. Or upgrade to Manta Sleep, I have been using the sound mask for months now and it is INCREDIBLE both for the flight as well as to sleep at night and get over the jetlag. It is magic when paired with my Calm app. |
| | Pajamas: As mentioned, you will most likely be sharing a room so don't forget to pack your pajamas! Here's a comfy choice from Amazon. |
| | Ear plugs: It is never a bad idea to have a pair of earplugs handy, for the flight, a noisy neighbor or an antsy roommate. Check out these from Amazon. |
| | First aid kit and medication: Available medications, brands and products in Italy may not be the same back home so it's always best to bring everything you are used to and of course, all prescription medication or vitamins you take. We also recommend packing a basic first aid kit with items such as plasters, an antiseptic ointment, eye drops, hydration powder, etc. Have a look at our suggested first aid kit here. Make sure that you read the tips for traveling with medication to Italy in our travel tips to Amalfi Coast. |
| | A shawl: Some religious buildings such as churches will require that you cover your shoulders and knees so a shawl or sarong comes in pretty handy in those situations. This beautiful one is very similar to the "manton de Manila" shawls worn by flamenco dancers. |
What
not

to pack for summer in the Amalfi Coast

There are also a few things we do not recommend you bring to the Amalfi Coast if you are coming in the summer, mainly, because you won't need them.
Hair dryer: Most hotels have them and if yours is old, you'll also need to carry a converter or make sure it works with double voltage so that it does not get fried by the Italian 220V.
Hand bags that don't close: You know the ones, the basket-style ones that don't have a zipper to close them are a big no-no in Italy's most popular tourist sights, unless you want to make pickpockets happy.
Dress like you are going on safari: I find it hilarious when I see tourists dressed like they are in the Serengeti, with khaki clothes, trousers that unzip to shorts and trekking boots, everyone will know you are a tourist and didn't get the memo on dressing up.