Traveling to Montenegro and looking for travel tips? Looking for things you need to know about Montenegro before your trip? Are you a solo female traveler going to Montenegro?
You've come to the right place!
This article covers all the essential information you need to know before visiting Montenegro, especially if you are traveling with us.
Brief history of Montenegro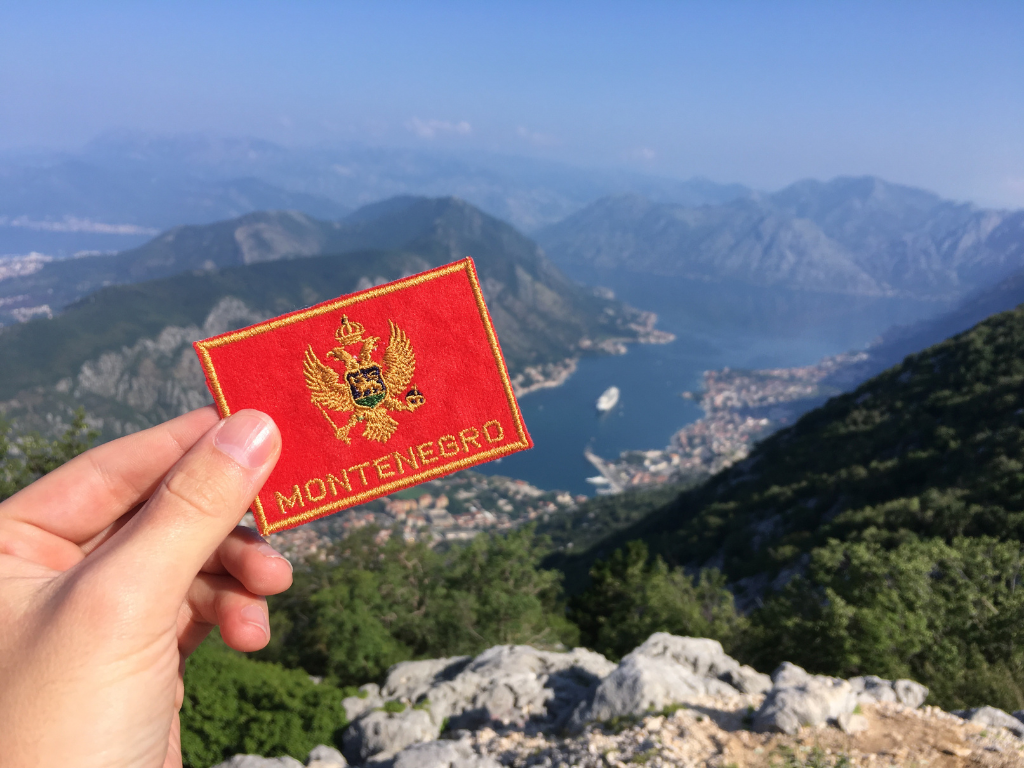 Montenegro is a small Balkan country located in Southeastern Europe, bordered by Croatia, Bosnia and Herzegovina, Serbia, Kosovo, and Albania. Its history dates back to the 9th century when the Slavic tribes of the region converted to Christianity under the influence of the Byzantine Empire.
The medieval state of Duklja, which emerged in the 11th century, is considered the precursor to modern Montenegro. Under the rule of the Vojislavljevic dynasty, Duklja became a prominent regional power, controlling large parts of what is now Montenegro, Serbia, and Albania.
During the 14th and 15th centuries, Montenegro came under the influence of the powerful Serbian medieval state of Serbia, which was later conquered by the Ottoman Empire. In 1496, Montenegro became a theocratic state under the rule of the Bishopric of Cetinje, which was recognized as an independent state by the Ottoman Empire in 1516.
Montenegro played an important role in the Balkan Wars of the late 19th and early 20th centuries, which resulted in the dissolution of the Ottoman Empire and the formation of modern nation-states in the region. In 1910, Montenegro declared its independence from the Ottoman Empire, and in 1918, it joined the newly formed Kingdom of Yugoslavia.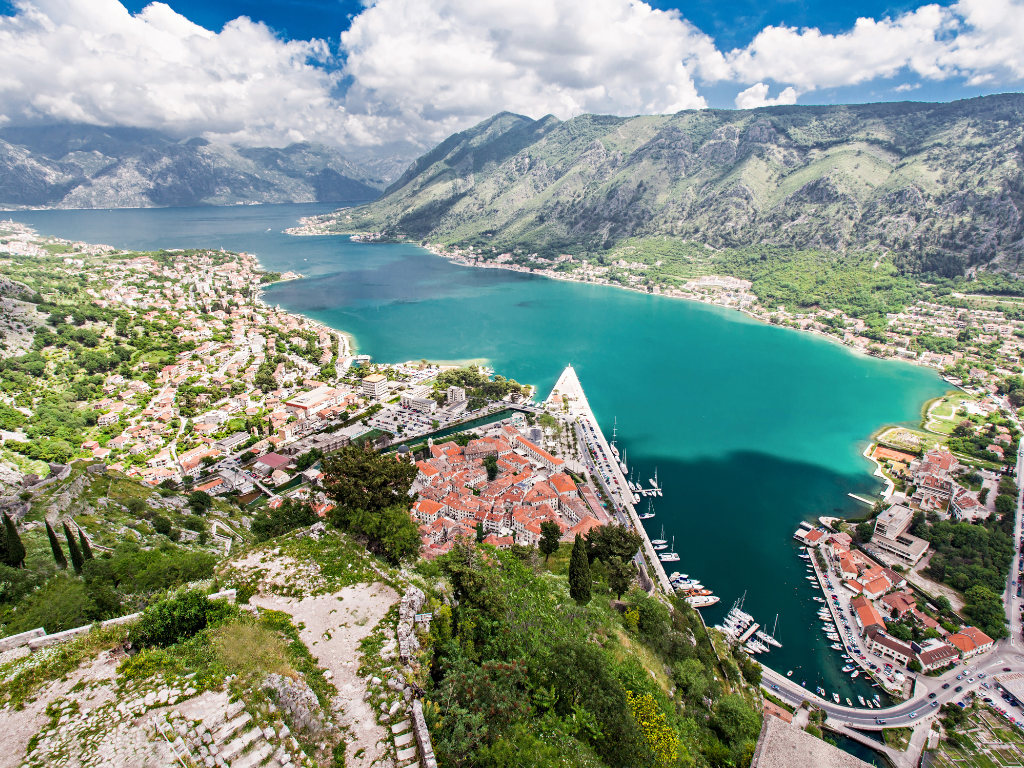 During World War II, Montenegro was occupied by Italian and German forces and became a part of the Independent State of Croatia. After the war, Montenegro became one of the six constituent republics of the Socialist Federal Republic of Yugoslavia, which lasted until the early 1990s.
In 2006, Montenegro declared independence from Serbia and became a sovereign state recognized by the international community. Today, Montenegro is a parliamentary democracy with a mixed economy that relies heavily on tourism and foreign investment.
As you can see, Montenegro has a rich and complex history that reflects its strategic location at the crossroads of different empires and cultures. Despite its small size, Montenegro has played an important role in the region's history and continues to do so as a modern independent state.
Quick facts about Montenegro and Kotor
Montenegro is one of the youngest countries in the world and a quirky one at that, so in this section we will be discussing a few interesting facts about this small country in Europe.
As I was saying, created after independence from Serbia in 2006 , Montenegro is the youngest country in Europe. It was also defined as a "civil, democratic and ecological state" in it constitution making it the most environmentally conscious country in Europe.
The country's name is Crna Gora in the local Montenegrin language, you will see these words across the country, and it means black mountain.
The Bay of Kotor is often considered the southernmost fjord in the world although technically, it is a ria, like the ones we have in the north of Spain, in Galicia, in a bay that looks like a fjord.
The southern coastal town of Bar has probably the oldest tree in the world, an olive tree measuring 10m in diameter called Stara Maslina. There are many other very old trees in the same town.
Petar II Petrovic Njegos mausoleum is at the top of a mountain with incredible views and it the highest mausoleum in the world.
Most people know Montenegro for its beaches but did you know that it is also home to the deepest canyon in Europe and second deepest in the world? Tara Canyon's deepest point is at 1,300m. 60% of the country is covered is 1,000m above sea level.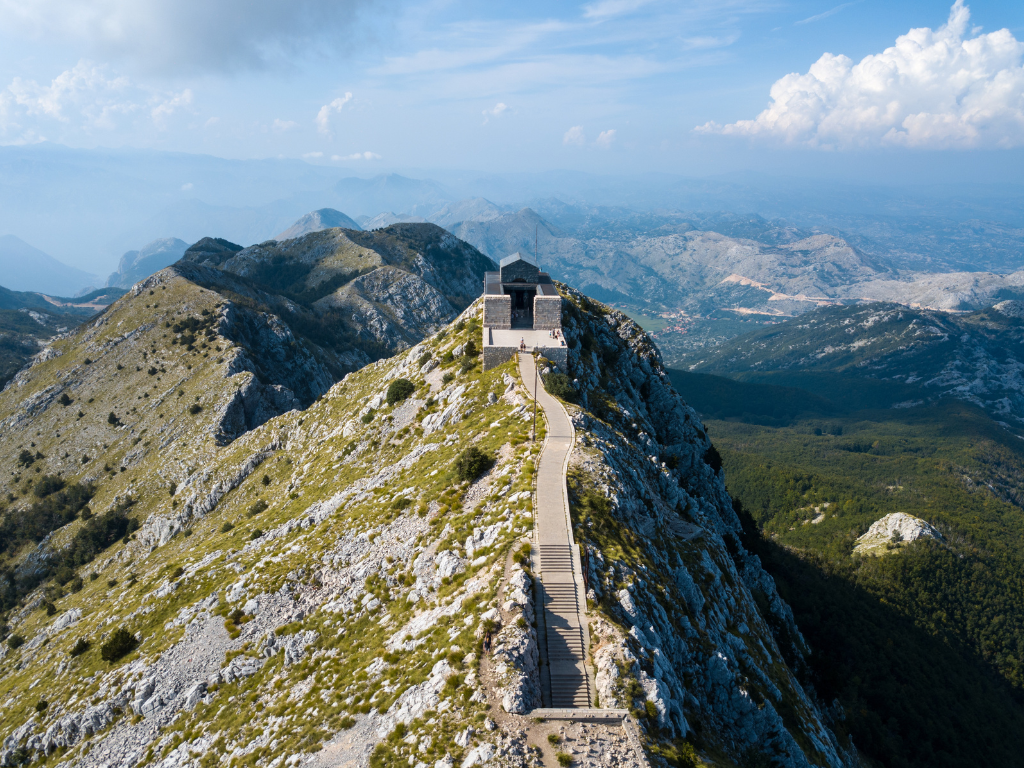 We will talk about this fun fact a bit further down in more detail but Montenegro uses the EURO despite not being a part of the European Union or the EURO zone. Like Andorra, Monaco or San Marino, it uses the EURO as a de facto currency but it does not mint it.
Most Montenegrin are Christian Orthodox, though Islam is the second most important religion.
Fortified Venetian-inspired Kotor is listed as a UNESCO world heritage site, it is one of the country's four.
The Bizantine walls of Kotor extend over 4.5km above the town and around it. You could trace them ion foot if you wanted, though it is pretty steep.
Cats are popular in many tourist destinations around the world and Kotor is one of them. You will see many everywhere, and there are also several cat stores and even a cat museum. They are quite well taken care of by the locals who feed and nurture them, and they tend to be quite tame and friendly, as well as pretty photogenic.
Smoking is really popular across the Balkans and in Montenegro. Indoors smoking was only banned in 2019 so you can see why this is a recent trend.
Montenegro travel tips
In this section we want to share general Montenegro travel tips to help you plan your trip.
When to visit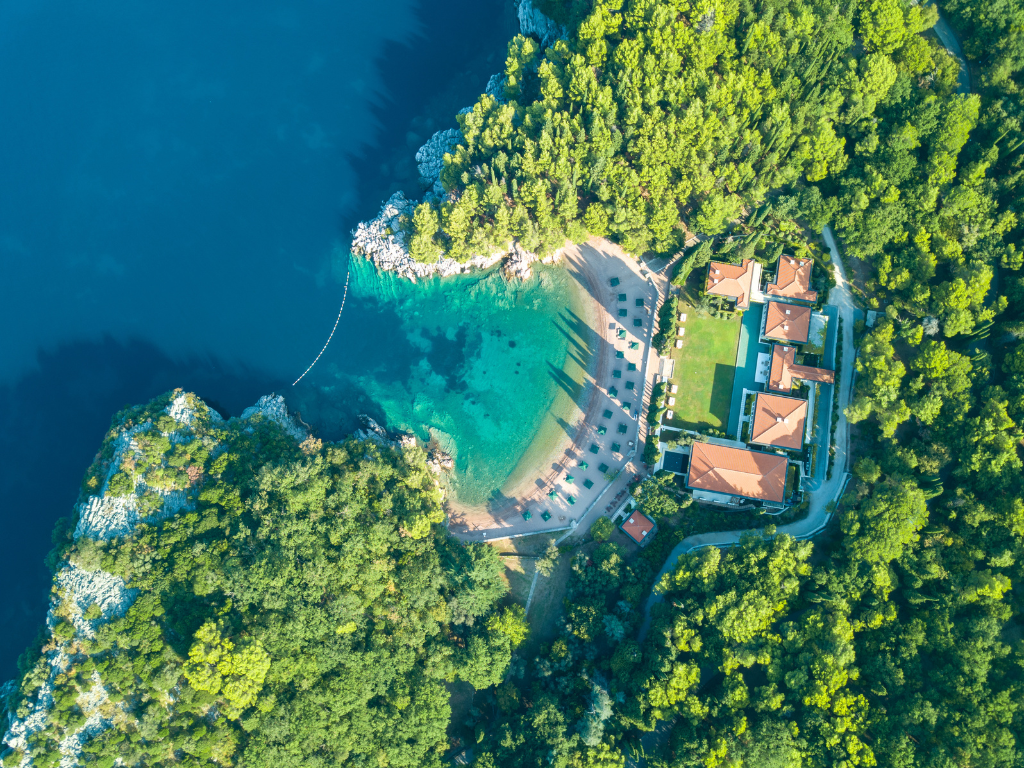 Montenegro is a very popular summer destination with Balkan locals and, more recently, with other tourists who add it as a day trip from Dubrovnik or come as part on a cruise ship itinerary that stops in the bay.
While the summer months can be popular, and Kotor in particular gets really crowded with cruise goers, the country as a whole is nowhere near as crowded as Croatia, so it feels like a lesser known little gem.
However, the one lane roads that crisscross the country can be slow in the summer when you feel like you are on a permanent traffic snake.
I first visited at the very beginning of September and it was just the right time, as is June. These months are less crowded than July and August, and also less hot, so they are perfect.
As soon as mid to end of September arrives, several smaller towns start to become quieter and quieter and restaurants and bars will slowly close for the season. You may eat at a restaurant and they may have already ran out of certain types of wines, or have no more sparkling water.
This wave of closures start in the south, in Ulcinj, and slowly progresses north towards Kotor, which becomes very quiet from October till April except for the days when cruise ships dock.
In the winter, Montenegro is a winter sports destination thanks to its many mountain ranges and cold weather and the coast becomes devoid of visitors.
Kotor, like other small quaint villages in the Mediterranean Sea, suffers from cruise ship popularity. The dock is literally right across the road from the entrance to Kotor, about a couple of minutes walk away, making it an incredibly accessible town that is a favorite among cruise goers.
Because it is a very small town, this causes jams in the small streets, and makes impossible to get around the often shoulder-width alleyways.
It is highly recommended to stay in Kotor or nearby overnight and visit in the afternoon when cruises leave. From 4pm onwards, the town returns to its locals and the visitors who stay overnight and becomes very pleasant.
Best months to visit Montenegro to enjoy the coast: June and September.
Best months to visit Montenegro to enjoy the mountains: June to September
Best months to visit Montenegro to enjoy the snow: December to March.
Where to go in Montenegro
With so many centuries of incursions, attacks and land-grabbing empires claiming their stake on the beautiful coastal regions of Montenegro the country has become a melting pot of cultures, religions and heritage that makes it one of the most interesting places in Europe.
Below are some of the best places to visit.
Cetinje: The former Montenegrin capital is home to an important Monastery and the National Museum of Montenegro. It flourished in the 19th century with Petar II when he constructed his royal residence and consulates of other countries were added. When the capital was moved to Podgorica, Cetinje's development ceased, but the city is still a far more interesting place to see than Podgorica.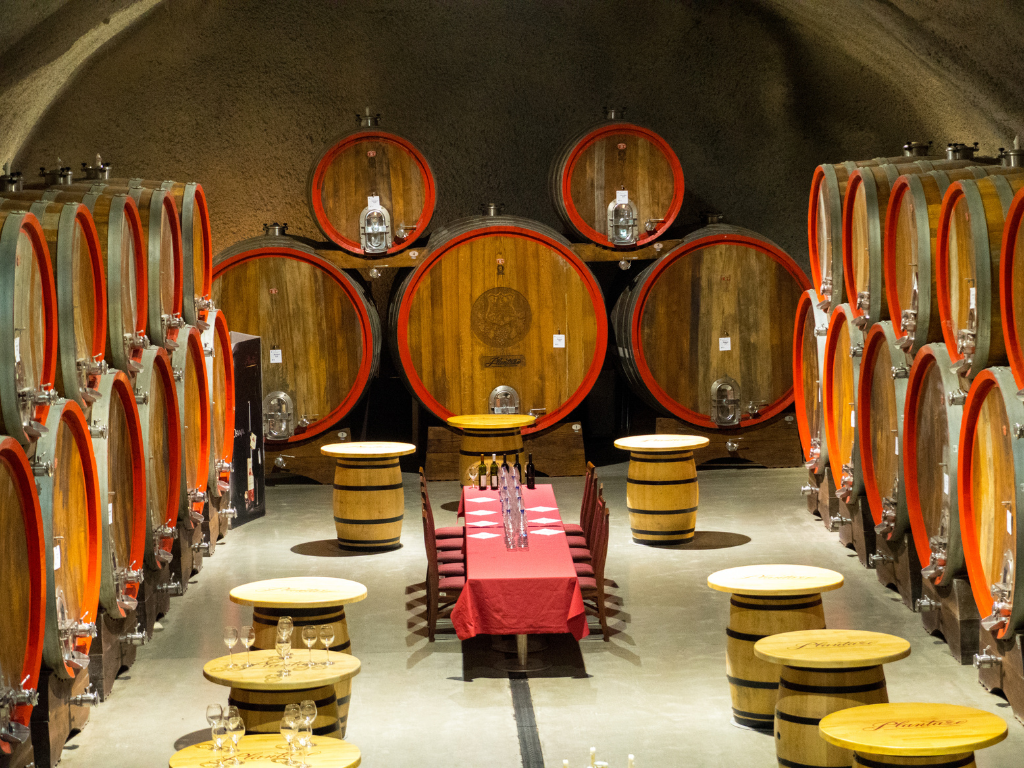 Plantaze Winery: This Montenegrin winery has the largest vineyard in Europe spanning 2,300 hectares. Totally mind-blowing. Sipcanik is one of Plantaze's three cellars and is interestingly housed inside what used to be a military aircraft hangar cum bunker before it was destroyed in a fire with all the planes burnt down. The cellar is 300m long and spirals inside the mountain with barrels and bottles in cellars at either side. The offer tours here.
Stari Bar: Old Town of Bar, is one of the most impressive of the heritage spots in the country and far less visited than the most popular tourist attractions in Montenegro despite being over 1,000 years old.

The town, like most of the settlements in this part of the Adriatic coast, changed hands several time through the centuries, and was under the control of all the major powers of the time from the Republic of Venice, to the Hungarian or the Ottoman Empires. This means that you can spot several architectural styles in the constructions.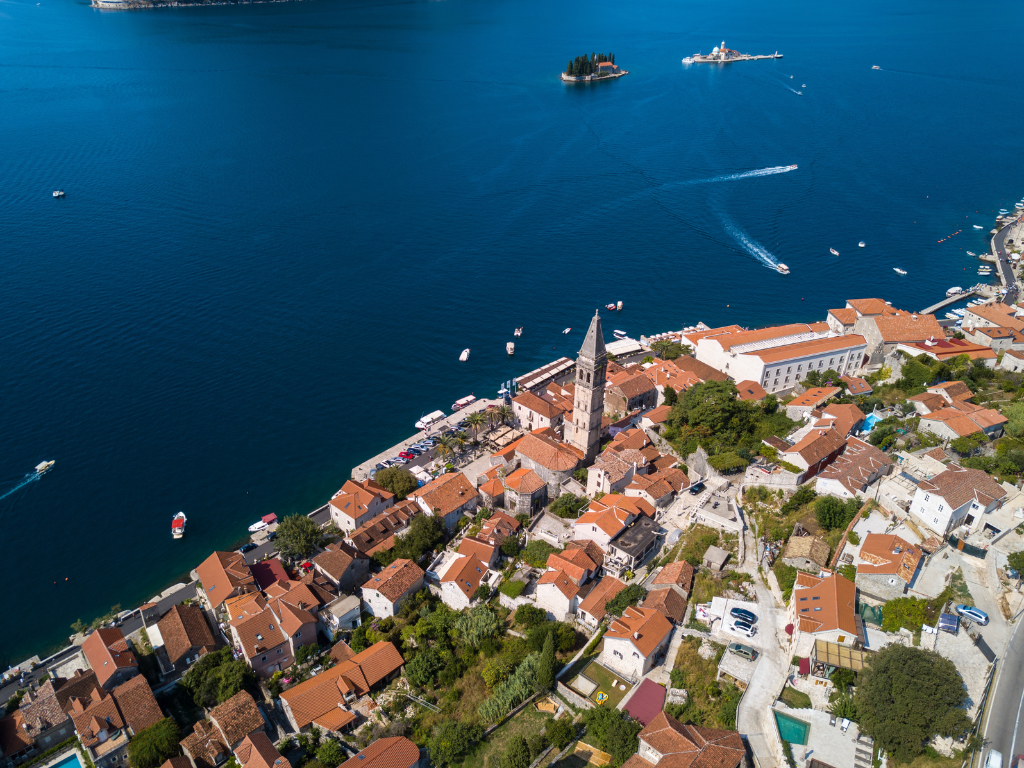 Sveti Dorde and Our Lady of the Rocks: Sveti Dorde is a natural island with a monastery and Our Lady of the Rock is an artificially created island built from fishermen throwing rocks into the water. On it, you can find a small church and museum which can be visited for a small fee. You get there by boat but can only stay for 30min.
Ulcinj: Known specifically for its fine sand beaches, unusual in Montenegro's pebbly and gravel coast, and for its stronger Ottoman and Islamic imprint more typical of Albania, Ulcinj is the last city in Montenegro before the border.

Ulcinj is composed of an old fortified city built by the Illyrians on top of a hill and by the cliff's edge and a new city at its footsteps. The old part is steep and made of narrow cobblestone paths that are impossible to navigate without proper footwear.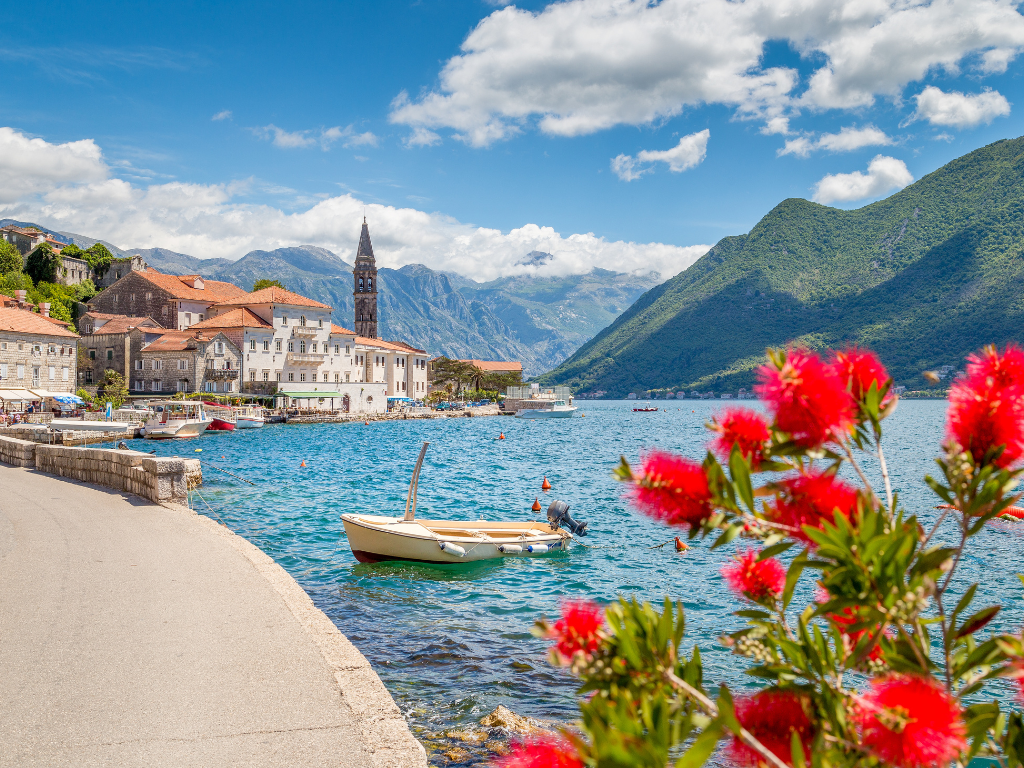 Perast: This quaint pedestrian village has been under the control of several empires through the centuries thanks to its strategic position in the mouth of the Bay of Kotor.

It was part of the Byzantine Empire, the Venetian Republic, the Austro-Hungarian Empire and finally part of Yugoslavia from the end of WWI with a brief period during WWII.

Because of this wealthy and notable past, Perast has 19 beautiful stone palaces, 14 churches and several well-preserved houses that seem taken out of Venice. During our tour of Croatia & Montenegro, we will stay in Perast because it is a super beautiful yet peaceful town.
Ostrog Monastery: The monastery was founded by Vasilije, the Metropolitan Bishop of Herzegovinare, who became St. Basil of Ostrog. When he died, he was enshrined here. It was partially destroyed by fire but the beautiful cave frescoes were spared.

The structure is made of an upper and lower monastery 3km apart and houses three separate churches. This is a famous pilgrimage center in the Balkans popular with day trippers.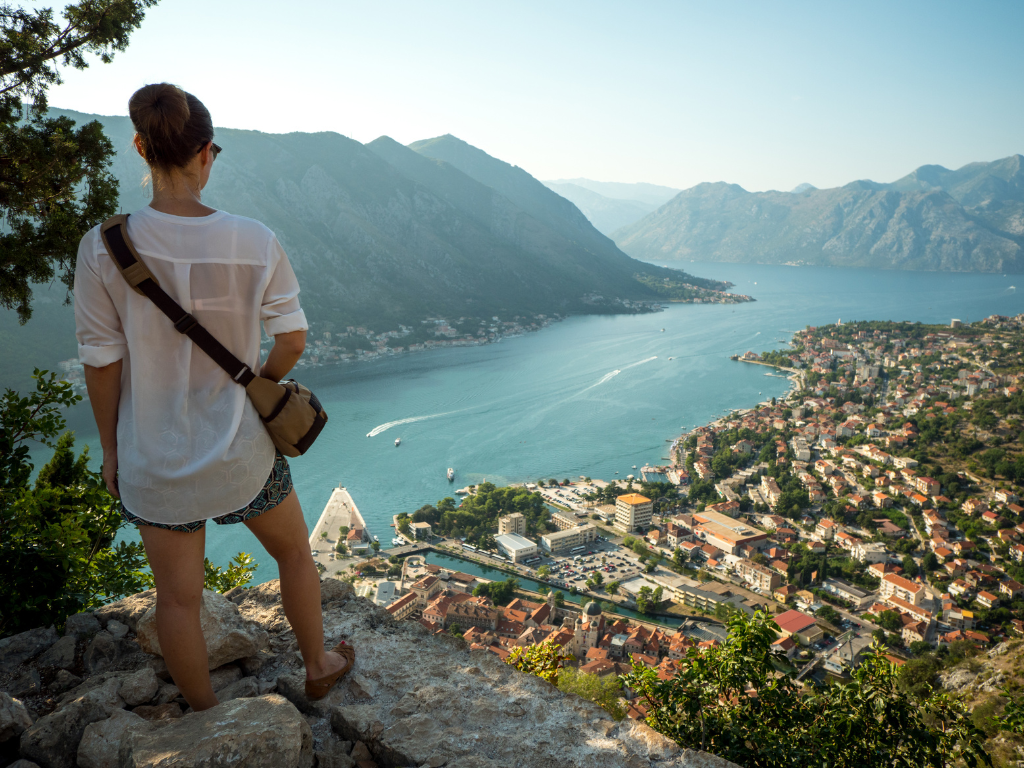 Kotor: Listed as a UNESCO heritage in 2017 and named by the Lonely Planet as the best place to visit in 2016, Kotor is a recently discovered gem.

Kotor's past dates back to the Roman Empire but the city's fortifications were only built during the 6th century and later expanded and strengthened during the Venetian Republic in the 15th century, when its strategic position in the Bay of Kotor became ever more popular with invading armies.

If you visit Kotor don't miss the chance to walk up to St. John's Fortress that runs along the mountain and the sea and towers above in a fort. The walk up takes about one to two hours depending on how fast you can walk up the 1,300 plus steps and 260m elevation.
Porto Montenegro: This residential and investment development, marina, dining destination and lifestyle village is a place to see and be seen. Come and look out for famous super yachts from the world's wealthiest people. This is the marina with the world's largest berth measuring 250m long so it attracts some of the most impressive floating mansions.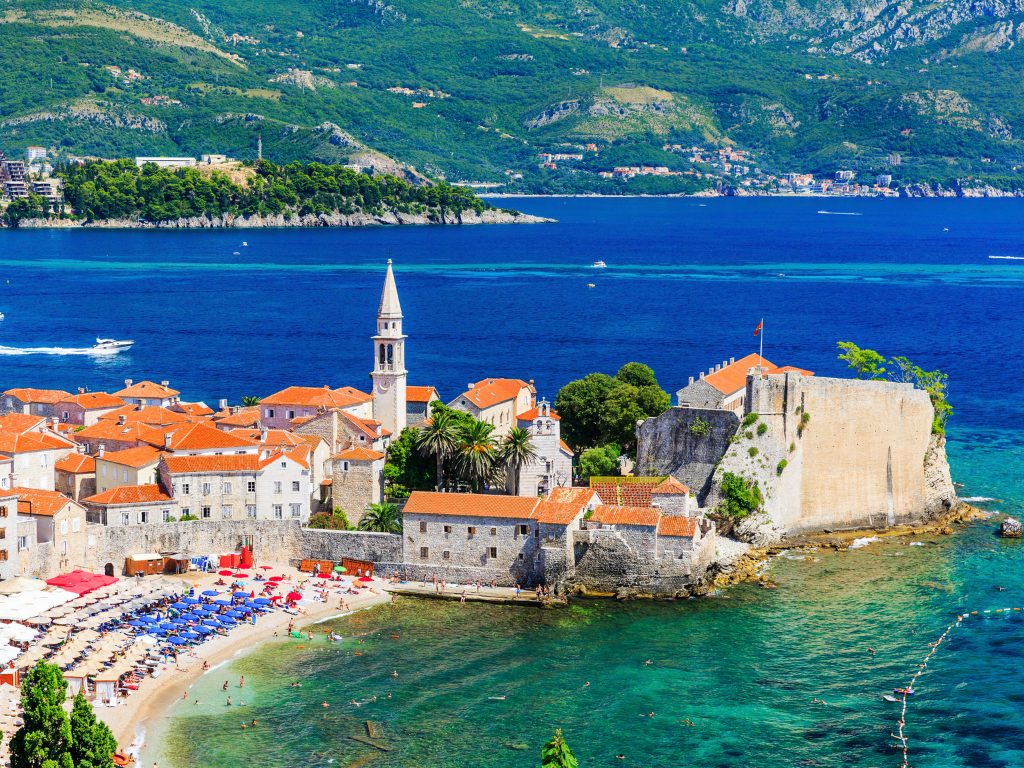 Budva: The old part of Budva is contained inside the old city walls and is one of the nicest places to visit in Montenegro, while the new part spreads to all sides of the old part, including up the mountain.

Created as a Greek settlement in the 4th century BC it then became part of the Roman Empire two centuries later and of the Byzantine in the 6th century. Budva was occupied, sacked and attacked in the centuries that followed by Avars, Saracens and Slavs.

Finally, in the 13th century, stability arrived when Budva became the seat of the Roman Catholic Diocese of Budva and remained as such until the 19th century.

During that period, the city was under the rule of the Republic of Venice which erected the city's fortified walls to protect it from the constant Ottoman attacks.

When you visit Budva what you can see is the renovated old Medieval Venetian city which was restored to its former glory after the 1979 earthquake. Enter through the main gate, Porta di Terra Ferma, which has the shield of the Venetian Republic on the top, and enter into the mesh of streets. The city is roughly orthogonal (shaped in right angles) and you can use the sea as the reference point.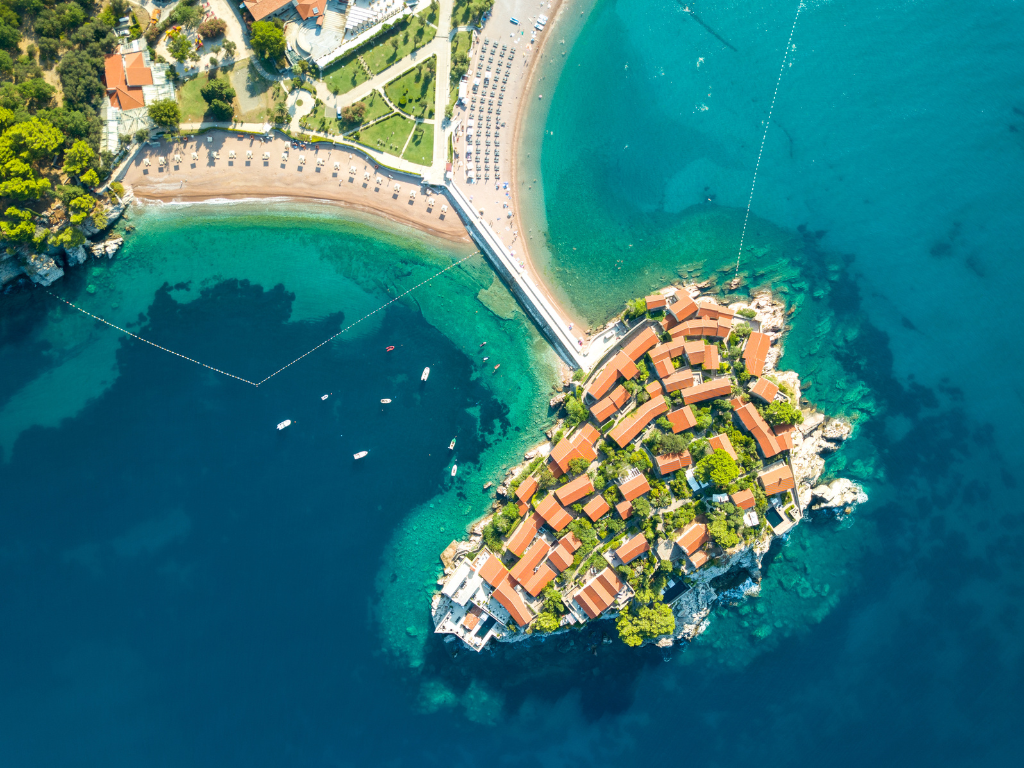 Sveti Stefan: The country's most photogaphed and recognised landmark is today connected to the mainland but was once a village on a standalone island and belonging to the Paštrovići tribe.

In the 14th century they became part of the Venice Republic which was a better option to become part of the Turkish Empire which was making incursions in the area.

During Yugoslavia times, the island was converted into a luxury hotel and its residents moved. It was common to find the world's most famous celebrities and the wealthiest playing at the casino (housed inside one of the churches that is now a swimming pool).

With the end of Yugoslavia, the island and its resort fell into oblivion until Aman Resorts made an offer to refurbish it and turn it into arguably the chain's most impressive luxury hotel. During COVID, the hotel closed its doors never to reopen due to a dispute with the Government, so Sveti Stefan is currently off limits to visitors.

I stayed there when it was part of Aman Resorts and it was FABULOUS. This is the place where the Beckhams holiday (the month before I did) or where famous tennis players (Novak Djokovic) get married.
Passport and visa requirements for Montenegro
Montenegro is not part of the Schengen Area or the European Union even though it uses the EURO. That means it has its own entry and visa requirements.
Entry: Most passport holders, including European Union nationals and nationals of several other European countries, can enter Montenegro for short-term stays of up to 90 days without a visa. The Montenegrin law considers "stays of 90 days" as 90 days in total in a 180-day period, counted from the first entry date.

The same nationals can enter for up to 30 days with their national identity card, even if they do not possess a passport.
Visa. Requirements by country can be found on the official website of the Government of Montenegro here.
Validity. Your passport should be issued in the last 10 years and valid for at least 3 months after your planned date of departure from Montenegro.
Registration: By law you must register with the local police or tourism organisation in the town/city where you are staying within 24 hours of your arrival in Montenegro, unless you are staying in a hotel or other commercial accommodation where you'll be registered automatically on checking in. If you do not register you may be fined, detained or face a court appearance.
Health and safety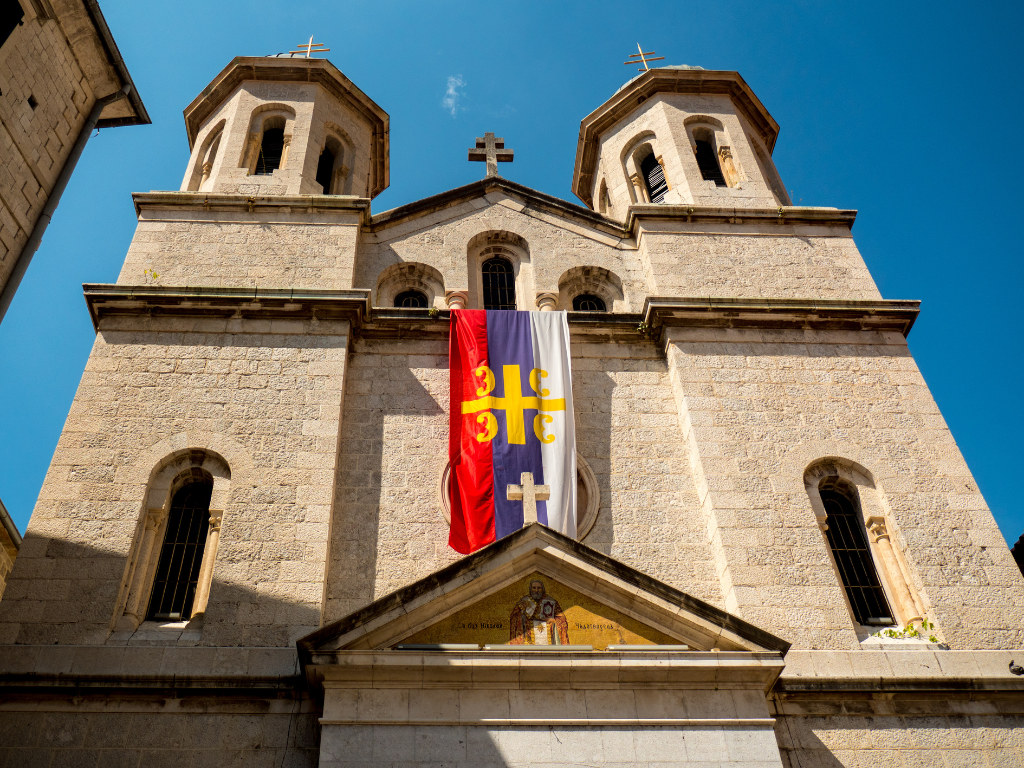 Nobody wants to get sick when on vacation but, if the worst is to happen, it pays to be prepared.
Bring all the medication you'll need. While during your trip to Montenegro you will never be too far from an urban center, a doctor, a hospital and a pharmacy, it is strongly recommended to bring any prescription medication you may need and enough of it to last you the entire trip.

Your specific medication may not exist in Montenegro, or it may require a prescription you need to see a doctor for, save time and hassle by bringing everything you may need with you. Review what you should bring in your first aid kit here.

IMPORTANT: Make sure any prescription medication comes in its original pharmacy packaging, and with the corresponding doctor note and prescription to avoid issues at the border. It is your responsibility to check that whatever medication you bring can indeed be taken into Montenegro. What may be legal in your country, or even sold over the counter, could be a controlled substance elsewhere.
Get that coverage. We never leave the house without purchasing extensive medical and travel insurance coverage and this is why we make it mandatory to join our tours. You should make sure that you have adequate medical insurance to cover any unforeseen medical expenses.

Unexpected accidents do happen, and if you needed to be evacuated back home with an injury, the medical bill could bankrupt you.

The best travel insurance will differ for each traveler, depending on the nature, style, and length of your trip, so we recommend using an aggregator and comparison tool such as Travel Insurance Masters to find the right one for you depending on what coverage you want, age, location, trip, etc.
In case of emergency. 122 is the emergency services number for medical help.
Tap water. Generally, tap water should be safe for drinking but you should always double check, especially if you are staying in the countryside.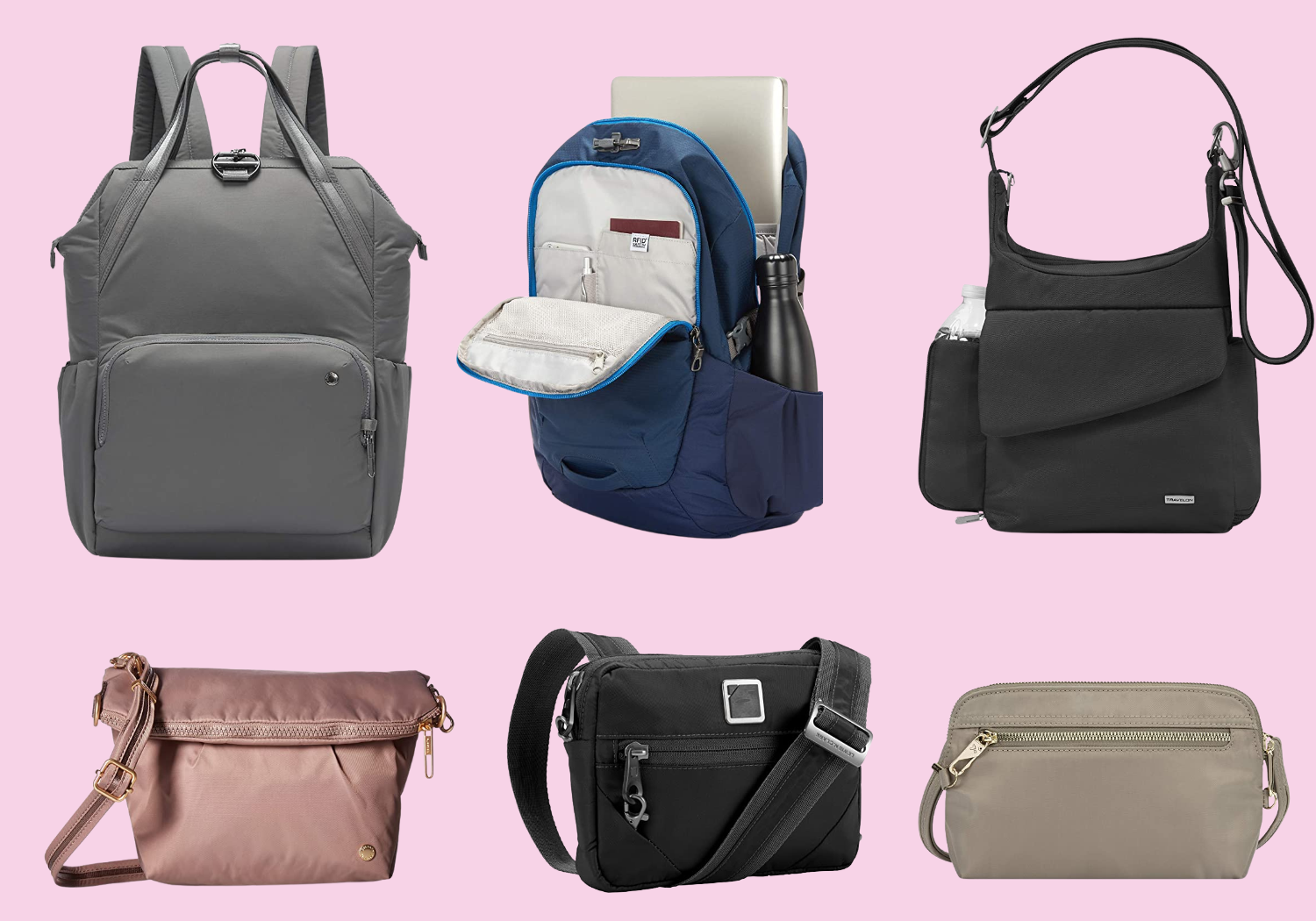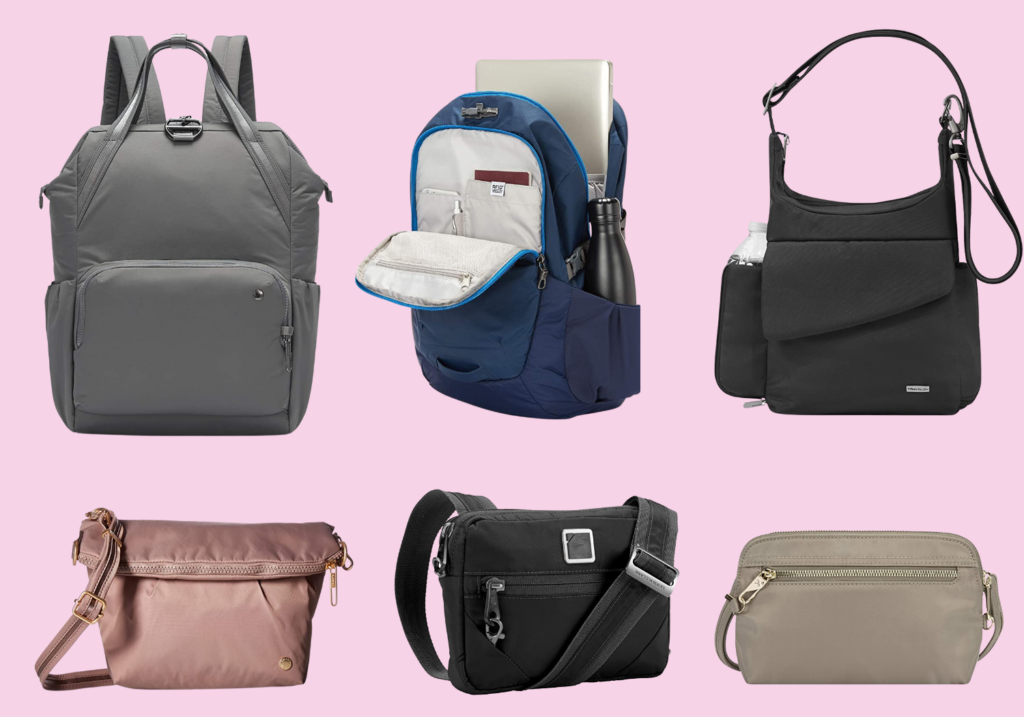 Staying safe. Montenegro is a generally very safe country to travel to. However, in popular tourist areas or attractions, pickpockets operate and have become quite smart and elaborate in their scams and theft operations.

Always keep your valuables safe and your bag in the front and zipped. Slash and theft proof cross-body bags like the ones we listed on this article are a great idea, and in crowded areas, keep your arm on your bag's zipper for extra protection.

If something is to happen to you, you will most likely not even notice, but look out for situations in which anyone is trying to distract you by trying to sell you something, talking to you or drawing your attention to anything while a partner steals your wallet or phone. Read our full article on safety tips here.
Passport copies. All hotels and accommodation providers are required by law to register you with the local authorities and for that, they need to take a picture of your passport so don't be alarmed if they do.
Basic Montenegrin words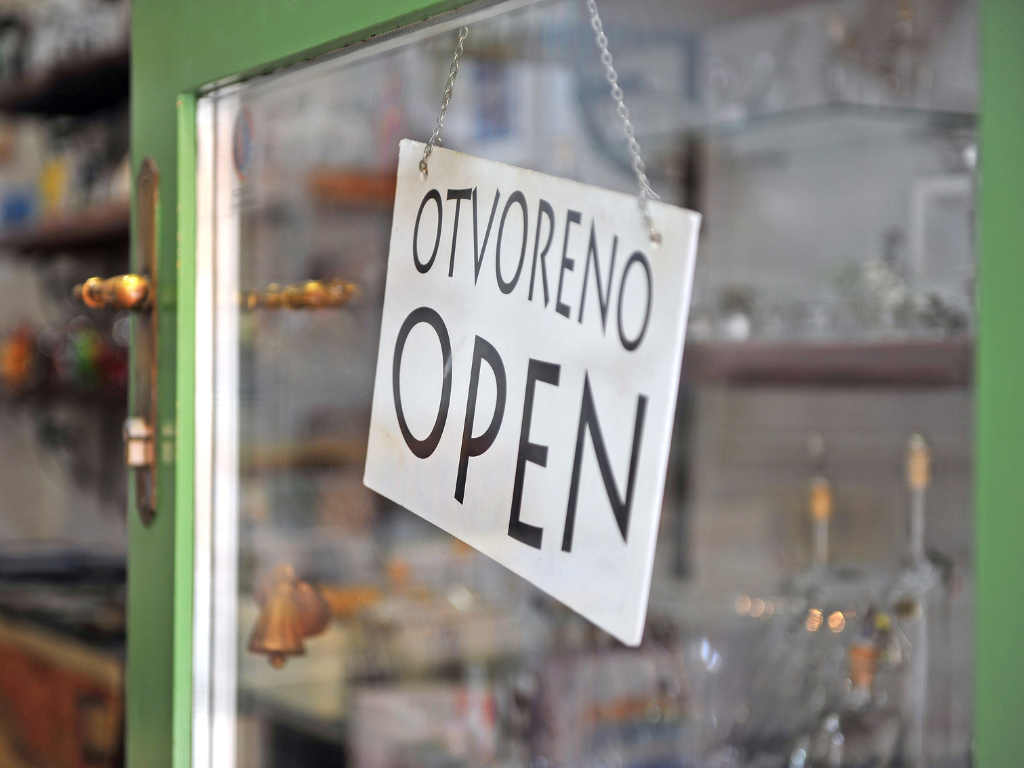 Although Montenegrins speak Montenegrin, the language is often referred to as Bosnian-Croatian-Montenegrin-Serbian (BCMS) in English because it is a pluricentric language with four mutually intelligible standard varieties. Essentially, it's the same language with small variations in spelling.
When we will travel from Croatia to Montenegro, or if you visit Sebia or Bosnia, you will notice the same words are used across with minor variations.
While most people in tourist areas speak english and you won't need to know Montenegrin to travel in the country, it's nice to know a few words.
Good morning: Zdravo.
Goodbye: Doviđenja should be pronounced like 'doh-vee-jen-yah'.
See you: Vidimo se.
Thank you: Hvala.
Please: Molim. If you want to be really polite, people often say "molim lijepo" (thank you very much).
I don't understand: Ne razumijem.
Sorry: Izvini (informal) and izvinite (formal).
How much is it: Koliko kosta (pronounced as ko-shta).
Still / sparkling water: Obicna voda (pronounced obi-chna voda) is still water. Sparkling water is mineralna voda.
How are you: Kako si (informal), kako ste (formal).
Cheers (when clinking glasses): Uzravlje.
The bill: Racun.
Tip: When using Google translate to convert to English, search for Croatian for the Latin alphabet and Serbian in the Cyrillic as Google translate does not have Montenegrin.
Essentials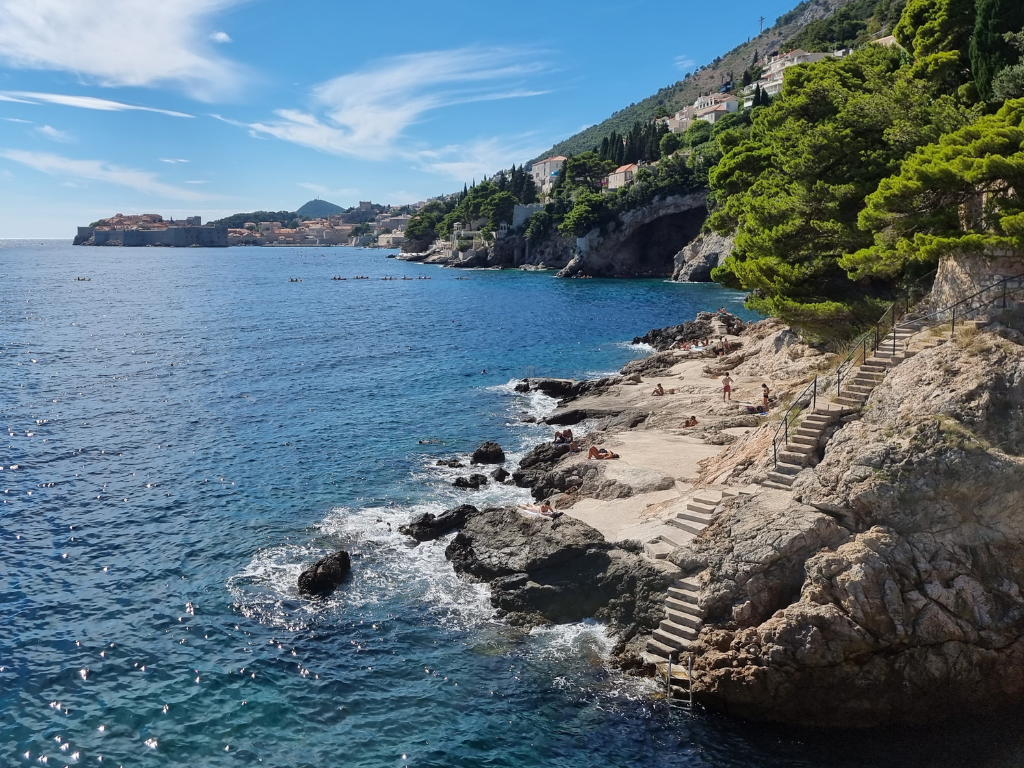 Let's take a look at the basics of traveling around Montenegro in this section.
Getting to Montenegro. As a coastal country, you can also arrive by sea. There are ferry ports in Bar, Zelenika, Kotor, Tivat – Porto Montenegro, Kumbor Portonovi, Budva (seasonal 1.05.-30.10.)
Getting around Montenegro. The best way to see the country is by car. There is just so much to see in such a tiny country that if you don't have your own transportation you'll be limited and spend a lot of time getting around. Montenegrins drive on the right.

Tip: If you drive, make sure your hotel or accommodation has a parking spot or you can all ahead to ask where you can park, most towns are fortified and parking is really scarce. You will most likely have to park further away and walk with your luggage, so pack light!

Buses are the other way to get around. They are affordable and frequent. There is also a train line that connect Bar to Belgrade in Serbia, inherited from Yugoslavian times.

Alternatively, book a group tour like ours so that you hit the main tourist spots and then some more and have an authentic time.
Public holidays. Montenegro has several public holidays and during these days, and on Sundays, most businesses will be closed, this means attractions such as museums may not be open. Plan around the most important ones such as New Year's Day (1st January), Orthodox Christmas Eve (6th January), Orthodox Christmas (7th January), Second day of Christmas (9th January), and Good Friday and Easter Monday (changing every year), Labour Day (1st May), Independence Day (21st May) and Statehood Day (13th july).
Air conditioning. It can be really hot in the summer months in Montenegro yet many places don't have AC. All the hotels and villas we stay at have air conditioning units but it is always worth checking in advance, especially in private homes.
Staying connected. Public free WiFi hotspots are easy to find but if you want to be connected all the time, explore roaming options with your home mobile provider or get a local SIM card at the airport or in town.

Make sure your phone is unlocked so that a foreign SIM card will work, and get the store staff to help you set up the new SIM card before leaving the shop so they can help you with any settings that need changing.
Dual voltage. Many small and older appliances that you may use back home may not work in Montenegro (or other European countries). This is because the voltage is not the same. If you have an old appliance, consider leaving it home, most hotels have hair dryers.
Plugs. Montenegro uses the standard mainland European plug with two round pins.
For more travel tips, check out these useful travel apps.
Money and currency
Montenegro uses the EURO despite not being part of the European Union or the EURO zone. This is because they used to use the German Mark and when that was replaced by the EURO, they moved over to the new currency.
Because they are not part of the EURO zone, they do not mint EURO nor do they have their own themed EURO coins.
ATMs are available in major cities and at airports and I recommend you bring cash as well as credit cards because, while they are widely available, smaller purchases won't accept them (ie. your burek lunch on the go will require cash).
Local culture and customs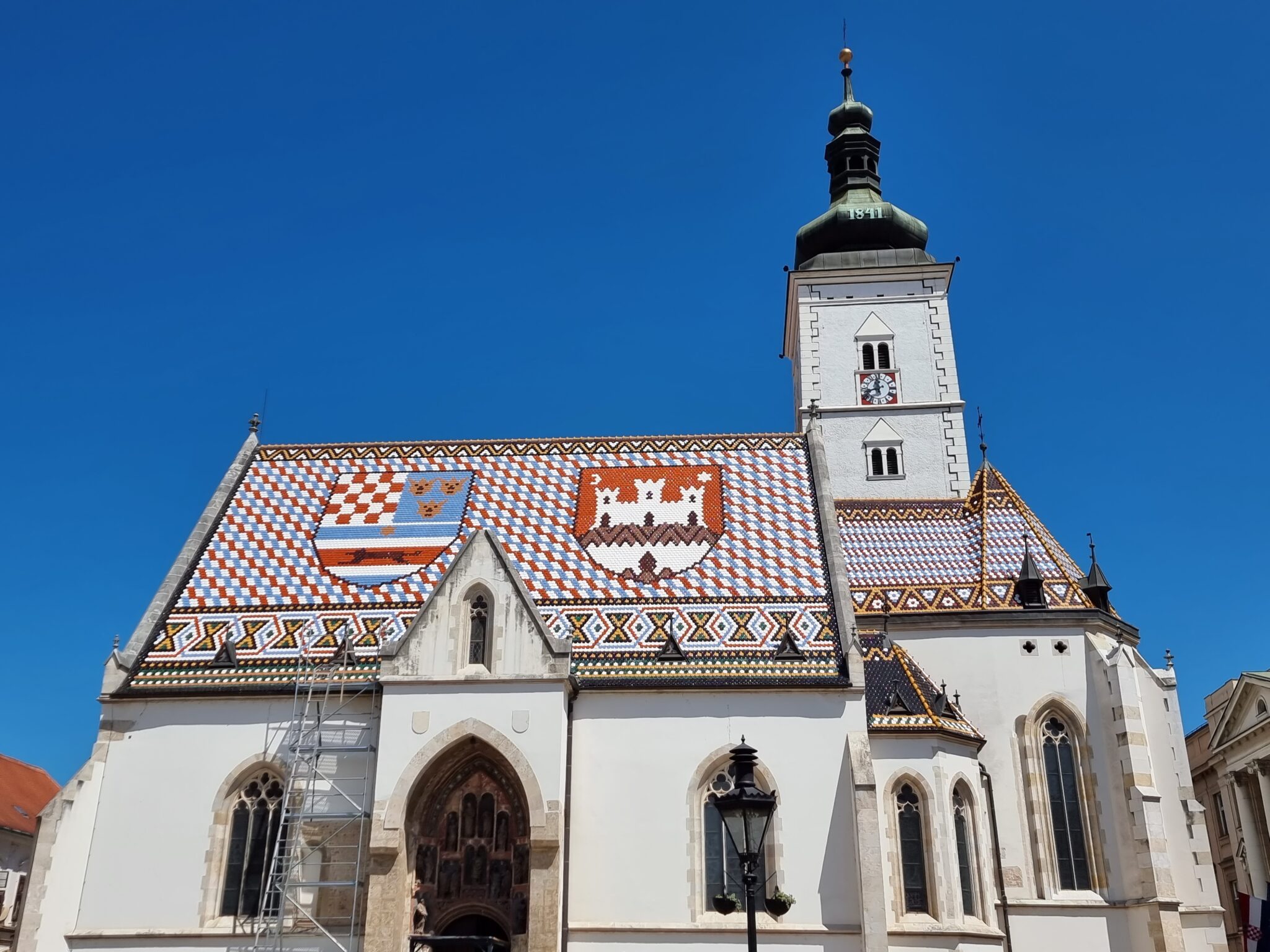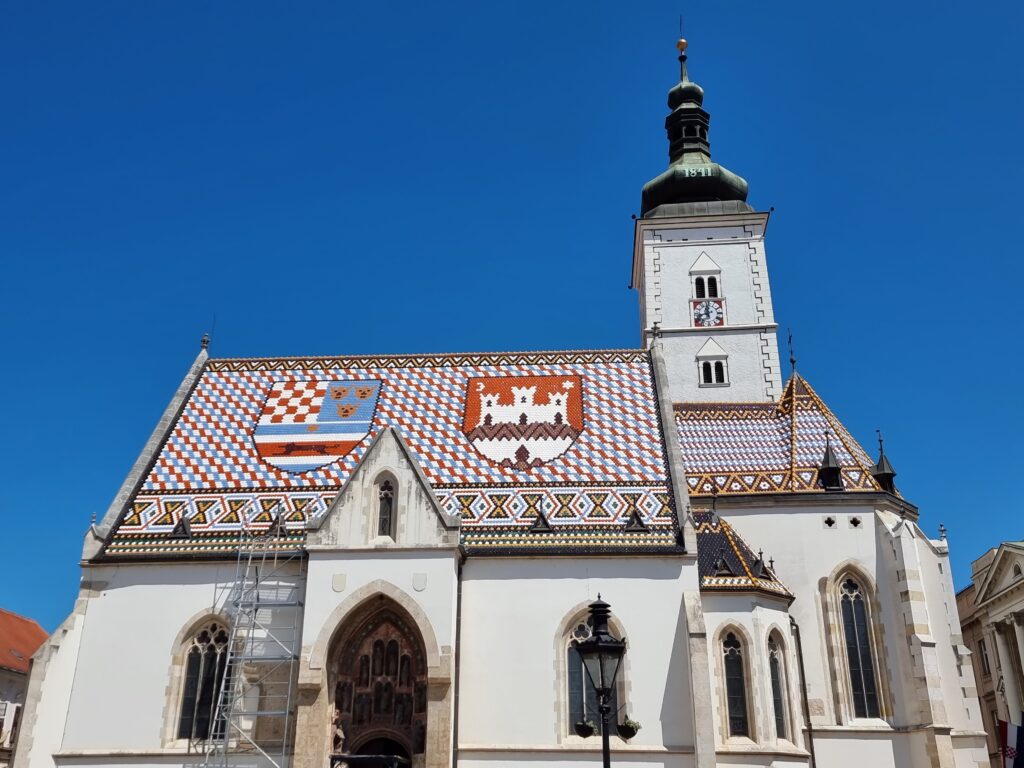 Below are some useful cultural norms and expectations to consider.
Dress appropriately. Even when the weather is hot, shoulders and knees should be covered inside churches and religious buildings so a shawl or scarf can come in handy.
Wear the right shoes: You will be walking on lots of cobblestone streets so good walking shoes are a must. Really flat sandals with no support may become quite uncomfortable after a while and slippery on the shinny stones. If you plan to walk Kotor's city walk and go up to the fortress, you need proper shoes too. Wear closed shoes that are non-slip, sneakers are preferred, or walking sandals. The steep stairs are uneven.
Naturist beaches. There are a quite a few naturist and nudist beaches in Montenegro, especially towards the south, on the border with Albania, where you have an entire naturist island called Ada Boyana.
Tipping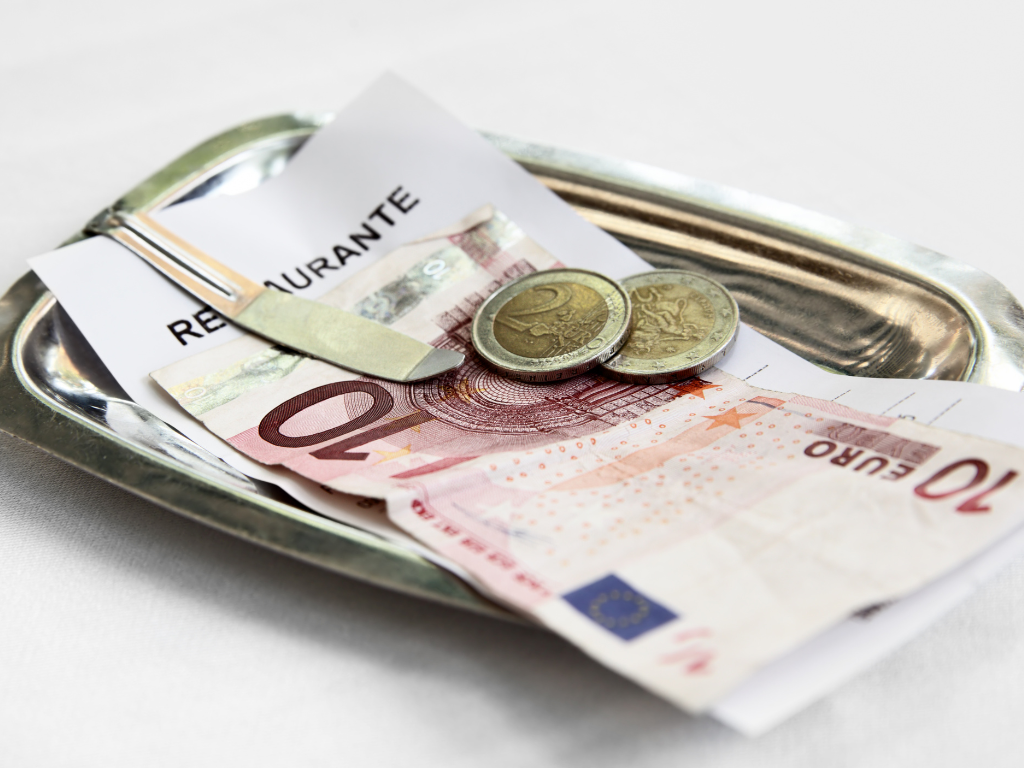 Tipping in Montenegro isn't customary but it will be welcome at bars, cafes and probably expected at restaurants.
You can round up at most places and leave 10% in restaurants, especially the higher end ones, if the service was good. Some may have already included a 10% service charge. A tour guide who does a good job could be tipped 5-10% of the tour cost.
As tipping is generally done in cash, mostly in coins since the lowest Euro bill is 5 EUR, it's important to carry enough 1 and 2 EUR coins with you.
You should leave the tip with the bill or tell the staff to keep the change (e.g. if you give a 50 EUR note for a 47 EUR bill). Credit card machines don't have a way to add a tip and you won't be able to add it to the bill when paying by card so cash is necessary.
Local cuisine
Food and gastronomy are essential to any trip to Montenegro, so let us tell you more about eating habits and customs, as well as the best dishes to try.
Eating in Montenegro – What to expect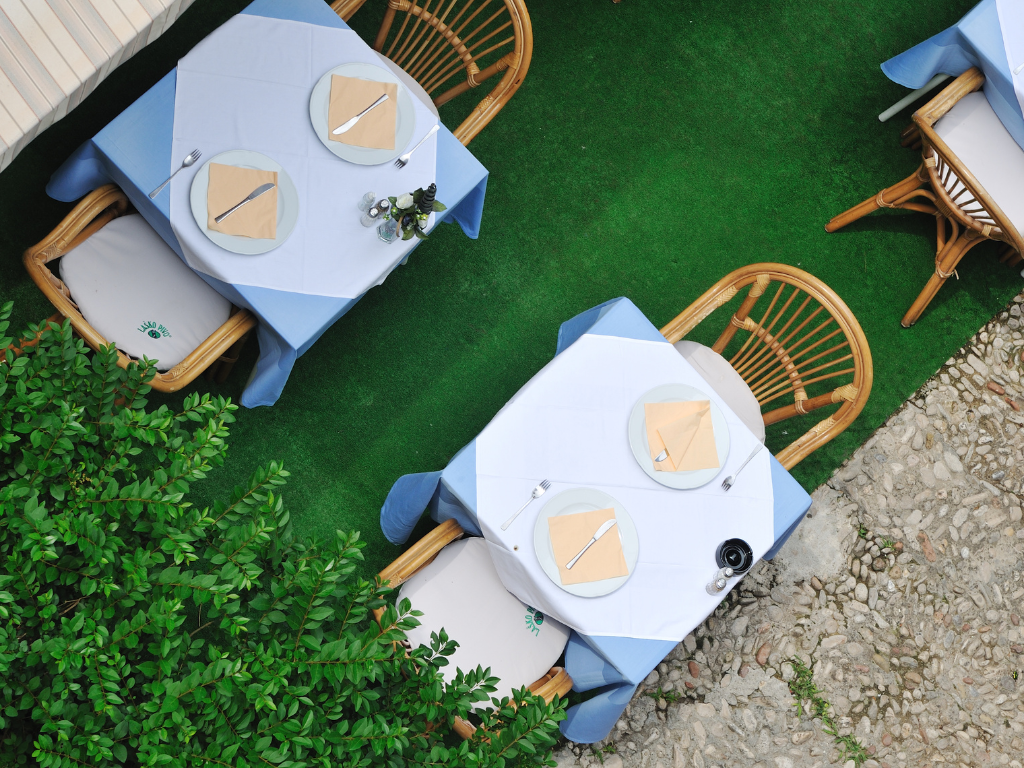 Montenegro is not a very large country but you can still find differences between the cuisine of the coastal area, on the Adriatic coast, versus what will fill your plate in the mountains which cover 70% of the country.
Fish and seafood is abundant by the coast where you can find the freshest fish caught daily by the many fishermen. Sit at one of the restaurants right by the Montenegro beaches and enjoy simply cooked, grilled seafood with generous amounts of olive oil, parsley and garlic, just like we eat it in Spain.
In the mountains, meat is the name of the game in Montenegro food and, despite the coast never being too far, you will most likely be served pork, lamb or beef.
The animals roam freely in the mountains and the dishes are often cooked for several hours under a metal round cover that is topped with hot coals. The resulting meat is tender, fall-off-the-bone and absolutely delicious.
Meat dishes are typically served with boiled collard, which is a type of chard, and potatoes. You will see them next to any meat dish you order and, contrary to what you may think, they are pretty delicious, so give them a try.
Both by the sea and in the mountains, Montenegrin meals always include smoked prosciutto ham, from Njeguski, and lots of cheese in several forms. I had both at every single meal and they were good every single time.
It is also highly recommended to avoid sitting at the main square if you are on a budget. Pick a nice terrace in the warmer months, and watch the world go by as you enjoy an authentic meal by yourself.
Best Montenegrin foods to try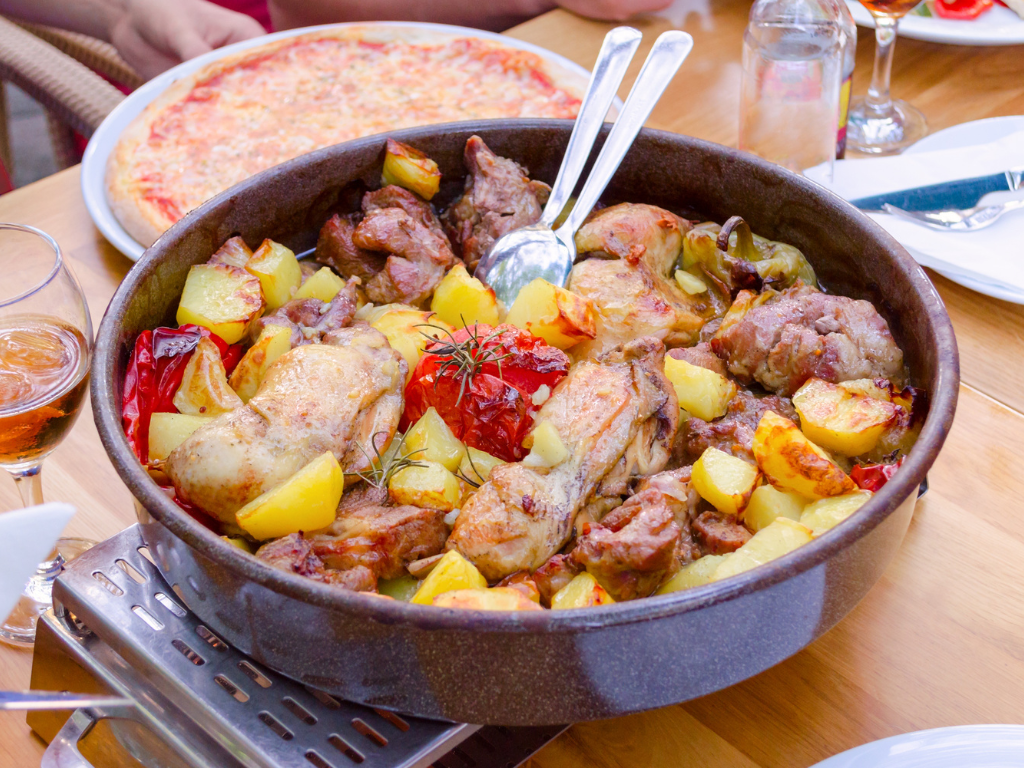 Here are some of the best dishes, though beware that many may not be in season when you visit:
Shopska / Bulgarian salad: This is a version of the Greek salad with much of the same ingredients but instead of feta cheese most commonly eaten in Albania and Greece, the cheese is grated and of the white brine type. You will find tomatoes, cucumbers, peppers (sometimes roasted), onions and topped with the grated cheese. A shot of rakia may also be enjoyed by the locals along with the salad, or you can order your own too for a more authentic experience.
Smoked ham: The star of Montenegrin food is always smoked prosciutto ham from Njeguski, a mountain village about half an hour from Kotor via a snaking road. The Montenegrin version of prosciutto ham is smoked in the mountains of Njeguski because it is said that the air and the location of the village and the places where ham is aired and smoked produce a special flavor that is uniquely delicious.

Njeguski ham is eaten sliced, usually served with some herbs and best accompanied with a selection of cheeses and some olives. Because bread is always served on the table of every Montenegrin restaurant, you can pair the ham with bread, fantastic olive oil and the slices of ham.
Grilled fish. Fish is pervasive along the coast and with good reason as it is usually freshly caught and delicious. You will find all kinds of white fish typically sold by the weight, sometimes baked whole but usually grilled. Fish dishes tend to be accompanied with swisschard and potatoes. Most common fish is sea bass, sea bream, sole or John dory.
Cheese: Did anybody say cheese? Montenegrins love theirs and it comes in many different shapes and forms. More cured or younger, sheep or cow, dry or aged in olive oil Cheese in Montenegro is mostly eaten as a starter rather than as a dessert and served with bread, olives, dried fruits, nuts and grapes or figs. It can also be ordered with smoked ham.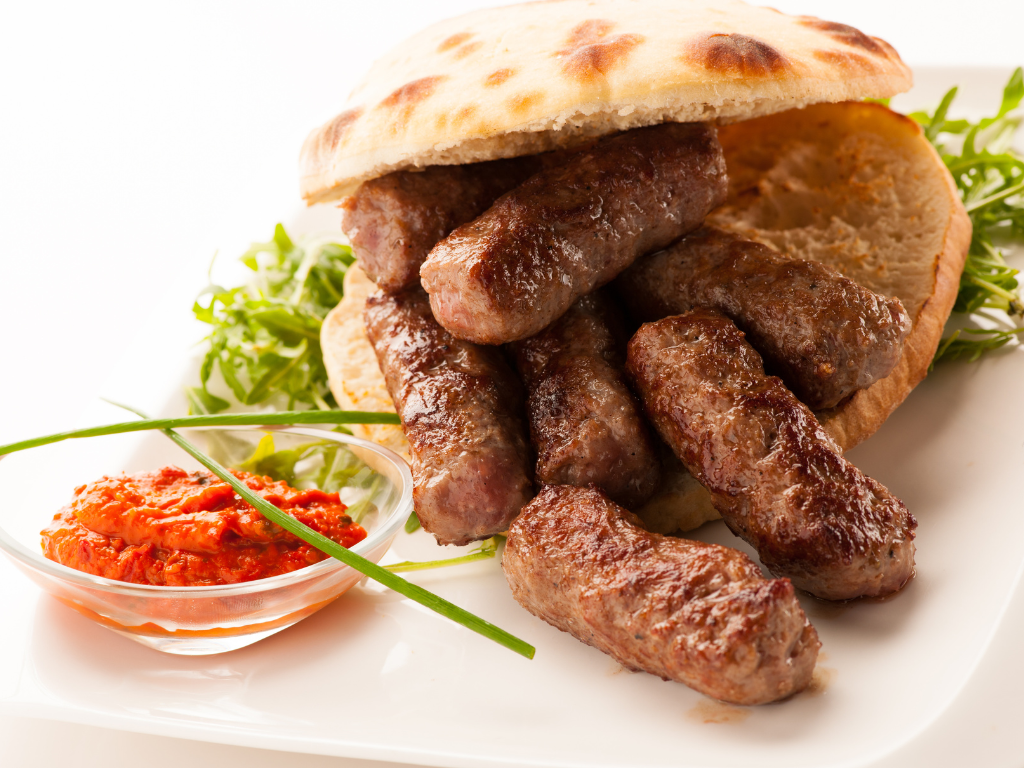 Cevapi. One of the most commonly eaten dish in Croatia, especially as a street food, is cevapi, a sausage that is usually spiced and sweetish and served inside pita bread and with a side of red bell pepper relish called ajvar.
Ajvar. Ajvar was one of my most favorite foods in Montenegro. It is a red pepper and tomato paste that is made into a spreadable form and served as an appetiser or snack, often together with some olives, slices of toast, bread sticks or bread of any other kind. It's easy to make and you can make your own following this ajvar recipe from Aida, a local photographer and recipe developer.
Scampi buzara. Prawns are usually served with a white wine sauce and may be cooked whole. This can also be a ed buzara which has tomatoes, and other seafood can be served instead of scampi, like lobster or octopus.
Njeguski Steak. This is a dish that reminded me of the French cordon bleu. It is a pork steak that is filled with kaymak cheese and smoked ham and often breaded and fried. So just imagine how indulgent and filling this dish is. The dish was invented in 1956 by the famous Yugoslavian former president's private chef Milovan Mića Stojanović and named Karađorđeva steak. Today is is one of Serbia's most popular dishes and also Montenegro's. The steak is usually served with fries, vegetables or potatoes.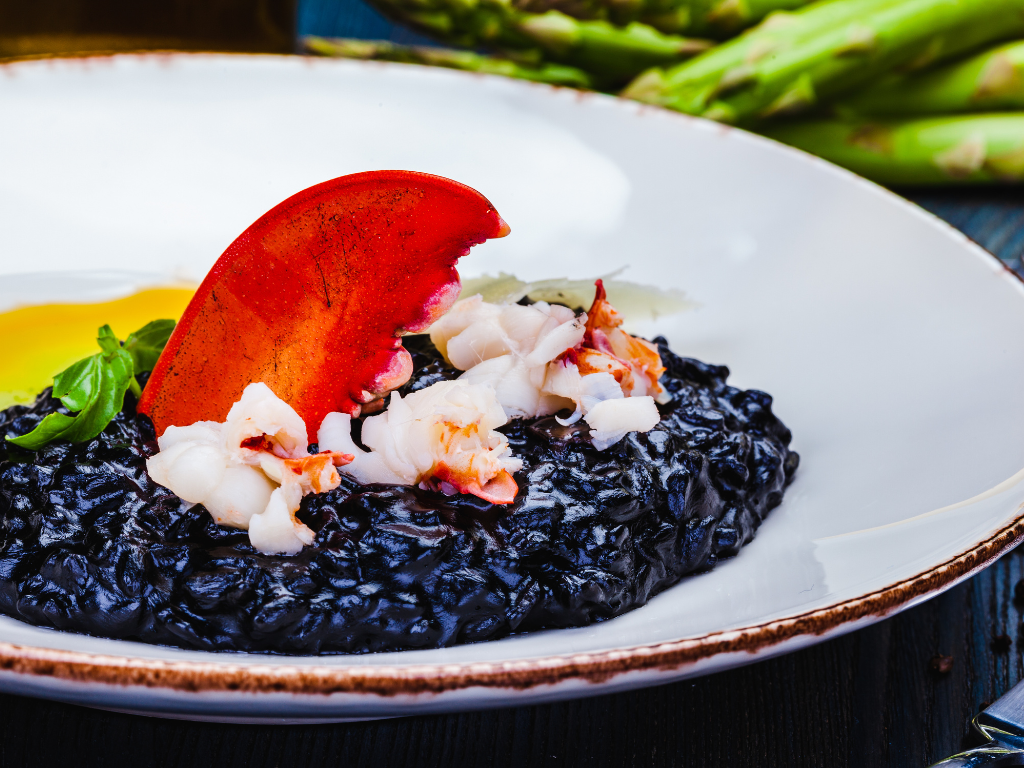 Crni rižot. Squid ink risotto is a specialty of Croatia and other Balkan countries, this is seafood based dish is black and will turn your teeth and tongue black too. Not the most romantic dish to try on a date. Tip: the ink gives it its color but is largely flavorless.
Burek. Burek is a layered phyllo pastry usually filled with cheese but also with spinach and minced meat. It is typically eaten for breakfast, though it makes for a fabulous anytime snack too, especially late at night, like in the image above where we stopped by a street stall to buy a long piece before heading back to the hotel to guzzle down this Montenegro food. You can find burek in restaurant menus but you will most likely buy this Montenegrin food at a bakery where several other pastries can also be found.
Calamari. Calamari is one of the most common foods in Montenegro and you will find it on every menu in several forms, especially by the coast. They are most commonly grilled or fried, but can be both a starter or a main, served hot or cold in a salad. No matter how they are, they are always delicious, tender and flavorful.
Kaćamak: A type of porridge that is eaten across the Balkans and even in Turkey, not just in Montenegro. It is usually made with with potatoes and other flour, like marize, and is eaten topped with cheese or lard.

It is the Montenegrin version of French mashed potatoes and requires quite a lot of strength to beat all the ingredients together to form a smooth mix. It is believed that this was a dish eaten by the farmers because it provided them with enough energy to go about their day out working in the fields. You may usually get Kaćamak with a side of yogurt.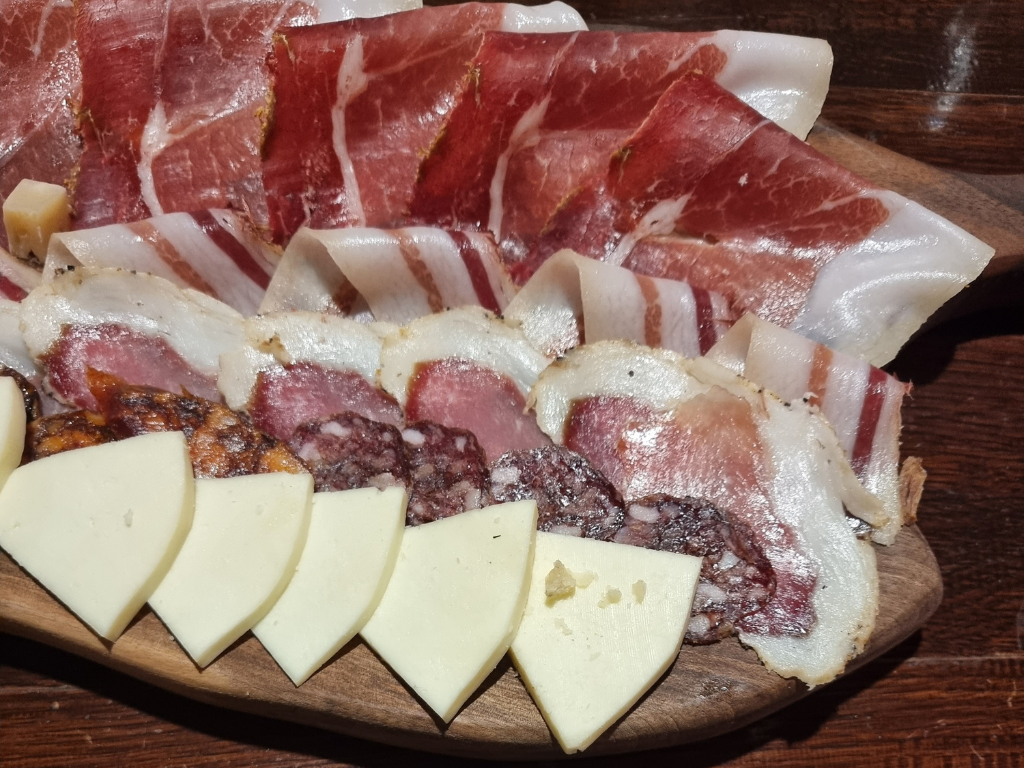 Calamari salad. Like with calamari and squid, octopus is a very popular seafood in Montenegrin cuisine. You will also find it varying forms, sometimes grilled (even whole like in my picture below!), other times fried with copious amounts of olive oil, parsley and garlic, even in ceviche, thinly sliced and on its own.
Black risotto: Like in Croatia, black risotto is a common dish in Montenegro too and owes it color to the black squid ink.
Ispod Saca: This is a heavy meat-based dish cooked in an iron pan topped with a hollowed out cover called sac and hot coals. The meat is cooked slowly until it is so tender it falls off the bone, literally. It is so delicious I salivate just thinking of it now.

You definitely cannot miss this Montenegrin dish. Ispod saca can be made with several types of meat but is most commonly made with lamb, the most deliciously baked potatoes that glisten in the fat of the meat, onions and maybe some tomatoes.
Baklava: This phyllo pastry soaked in syrup and can be found across the Balkans and Middle East and makes an appearance in Croatia too.
Pljeskavica: Grilled meats are a Montenegrin specialty you are likely to find across the country. While this may come in the shape of a kebab (like above) or in sausage or chop form, one of the most common ways to eat grilled meat in Montenegro is minced and in burger shape. This can sometimes be served on its own or with half a pita, and not very commonly in a bun like we are used to seeing in the West.
Lamb in milk: As the name indicates this is literally lamb cooked in milk for a long time until tender. The milk makes the lamb meat come off the bone and the root vegetables that usually accompany give some more earthy flavors.
Kolači: This is a wide encompassing range of Montenegrin desserts which have a cake-like shape. Every house and chef has their own cake which can be made with any type of ingredient and they will always be called Kolači.
Palačinke: Humble pancakes elevated with wonderful fillings like chocolate, or simply some sugar or jam. They are very much like the french crepes but instead of serving them in folded triangles, they are rolled like cigars.
Best Montenegrin drinks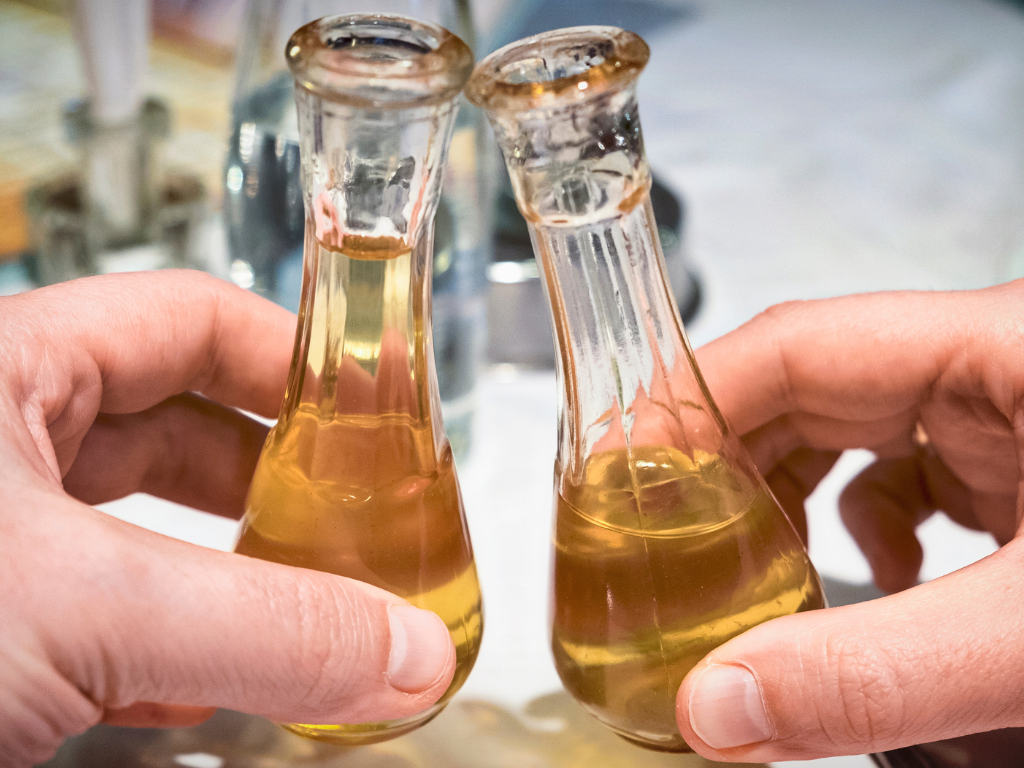 Rakija. This local brandy can be made from any fruit or herb but the traditional version is made with grapes. It is a a powerful and very strong drink that is sipped slowly at the end of a meal or sometimes at the beginning. You can find it everywhere in the Balkans and also in Croatia.
Beer. While wine and rakia are the most common drinks in Montenegro, at least with food, beer is also pretty common and the local Niksicko is a good option for those who like European pale ales. It is usually served in half a liter glass bottles.
Montenegrin wines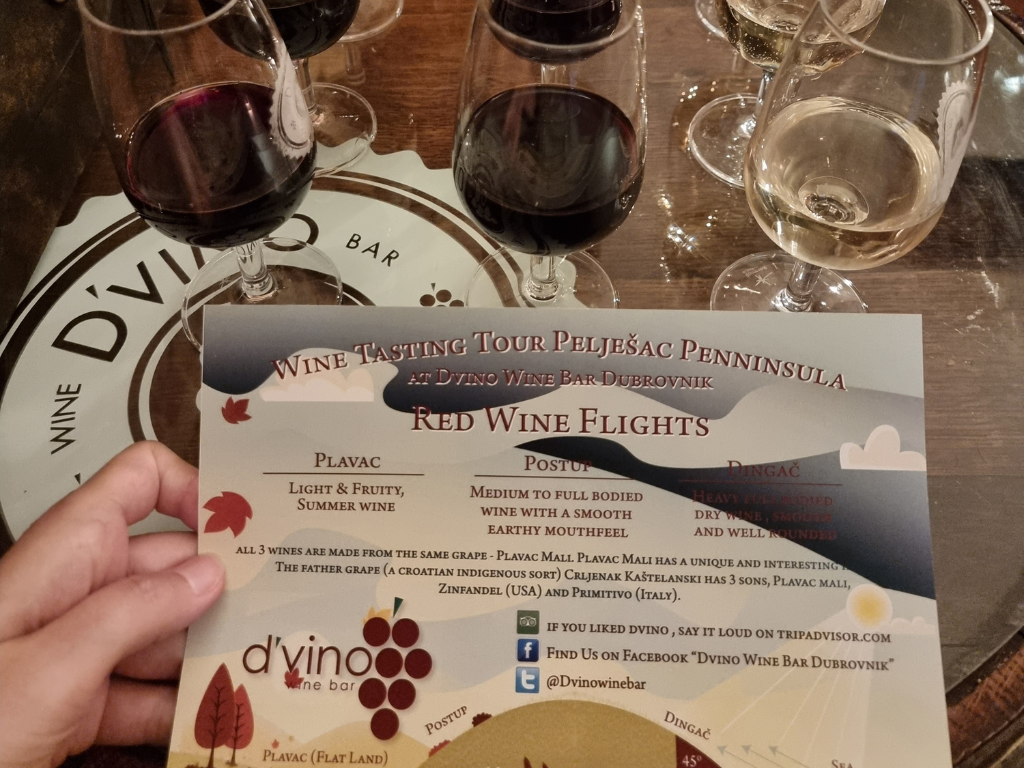 You may have never heard of Montenegrin wines before but they are quite unique and definitely worth trying if you are visiting the country. And this should be easy because they are widely available in local menus.
Montenegro has the largest vineyard in Europe belonging to Plantaze and measuring 2,000 hectares. This was the only winery during Yugoslavia times and it is still owned by the government of Montenegro and one of their cellars is located in a former military airport carved into the mountain which used to hide 21 aircrafts before a fire destroyed them all.
Aside from Plantaze, there are several other wineries in Montenegro with wonderful wines but in all cases, the most important autochthonous grape variety is Vranac which is a local Montenegrin word for black horse and refers to the feisty and strong red grape.
Books about or set in Montenegro
Montenegro does not have the pop culture status of Croatia but there are a couple of famous movies that were shot in the country and helped it become famous. There are also a couple of movies that everyone thinks were shot here, but which were not.
The mountain wreath by Petar II Petrović-Njegoš: This unique poem and play was written by Prince-Bishop and poet Petar II Petrović-Njegoš who is buried in his own extravagant mausoleum at the top of a mountain with incredible 360 degree views over Montenegro.
Montenegro: A novel by Starling Lawrence: Novel about the love story between an English spy and a local woman just before WWI.
Movies and shows about or set in Montenegro
Montenegro does not have the pop culture status of Croatia but there are a couple of famous movies that were shot in the country and helped it become famous. There are also a couple of movies that everyone thinks were shot here, but which were not.
The dark side of the sun: This 1988 movie was released almost 10 years later as a result of the fall of Yugoslavia and the ensuing wars. It not only showed Montenegro's most beautiful side, but it also featured Brad Pitt, who was an unknown actor a the time, in the leading role.
Casino Royale: This James Bond movie was fictionally set in Montenegro but it wasn't in fact shot there, so it is more of an inspiration kind of movie.
Brothers Bloom: This American comedy was filmed in Ulcinj and Perast, you can see the scenes here.
Papillon: The 2017 remake of this classic was filmed in Montenegro, even the parts that were meant to be French Guyana.