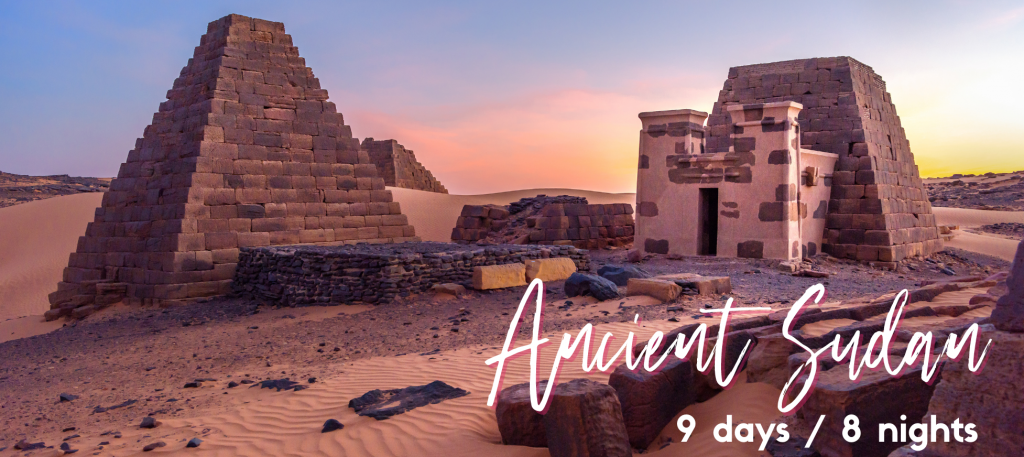 Ancient Sudan
Khartoum – Meroe – Karima – Jebel Barkal – Third cataract (Optional)
Join us on an adventure to the ancient Nubian civilization of the Black Pharaohs, a magical place very few tourists visit. This is the group trip for those who do not do tours.
Highlights: Feel like a real explorer | Admire the UNESCO listed pyramids of Meroe | Camp under the stars in the desert | Visit holy Jebel Barkal, the ancient Egyptian capital of the black Pharaohs | Sail on the Nile | Participate in a henna and coffee ceremony with Sudanese women | Learn how the desert nomads live | Be enthralled by the dervishes ceremony | Attend a traditional Nubian wrestling match | Visit archeological sites fewer than 5,000 people see every year
Optional: Add 3 days to visit Soleb and the 3rd cataract from Meroe
No single supplement* | 13 spots | Sudanese female guide | Optional extension to Soleb | Archeology
*Prices per person, we pair you with another solo traveler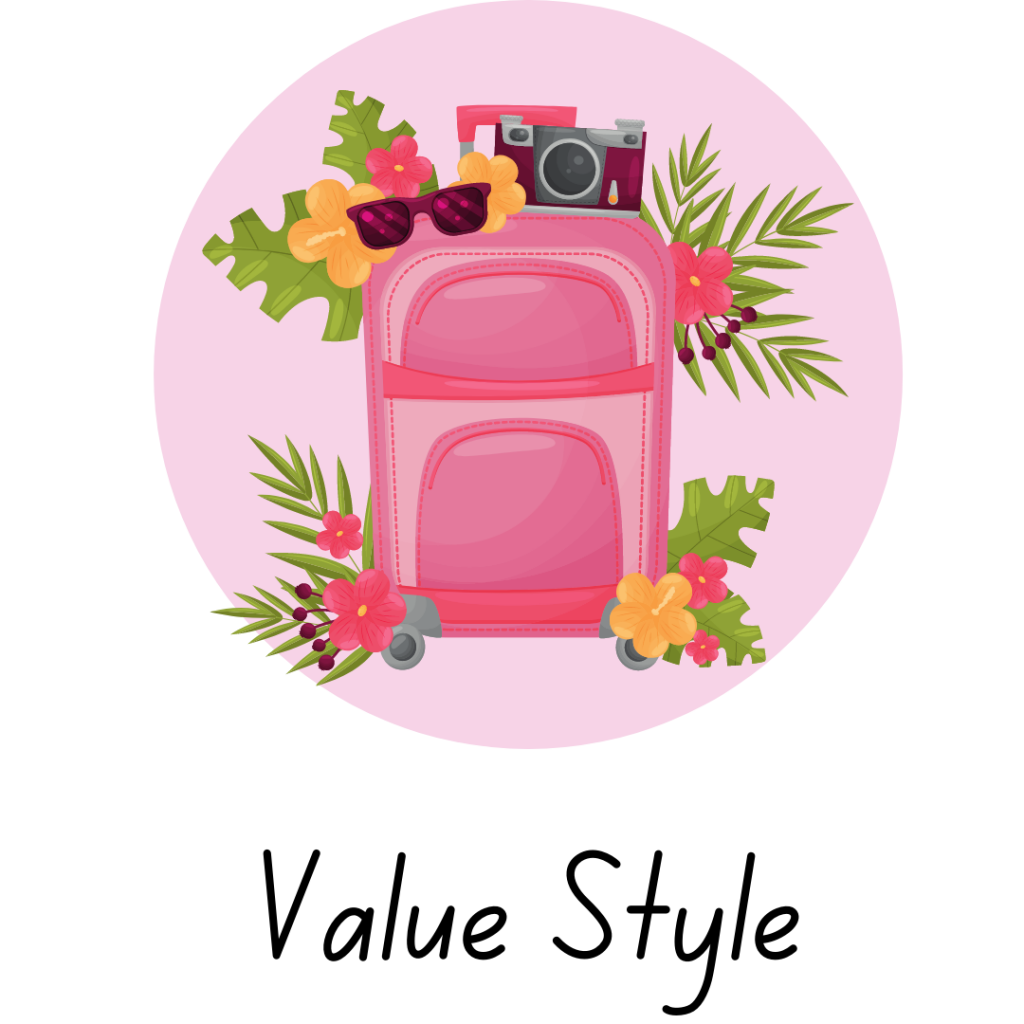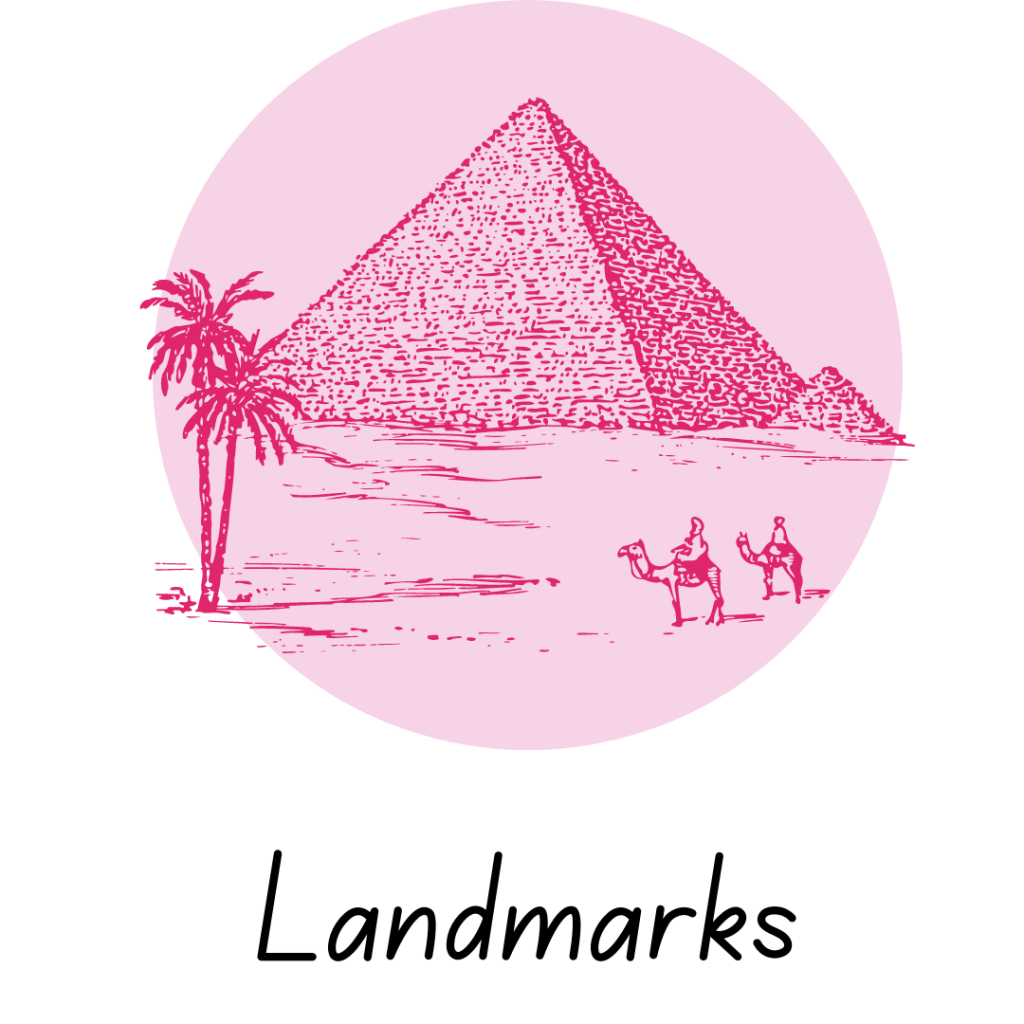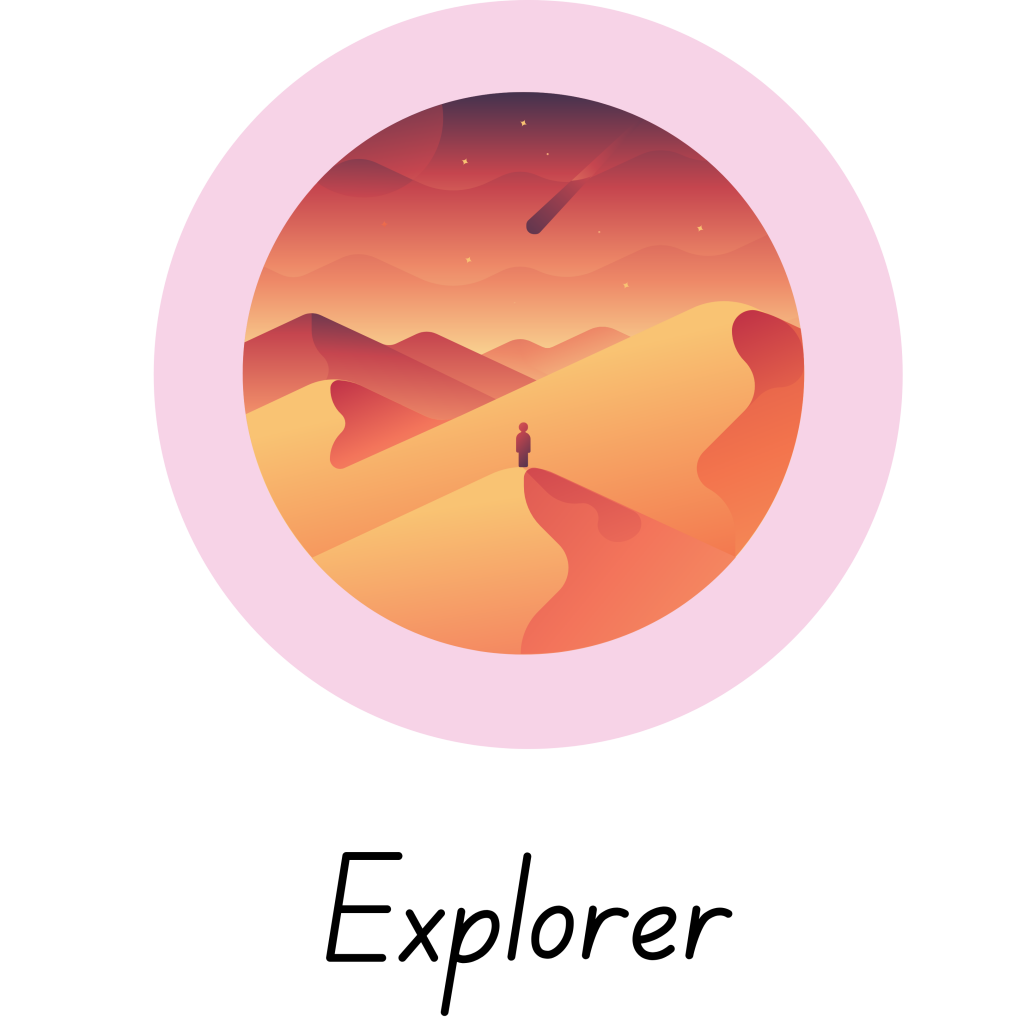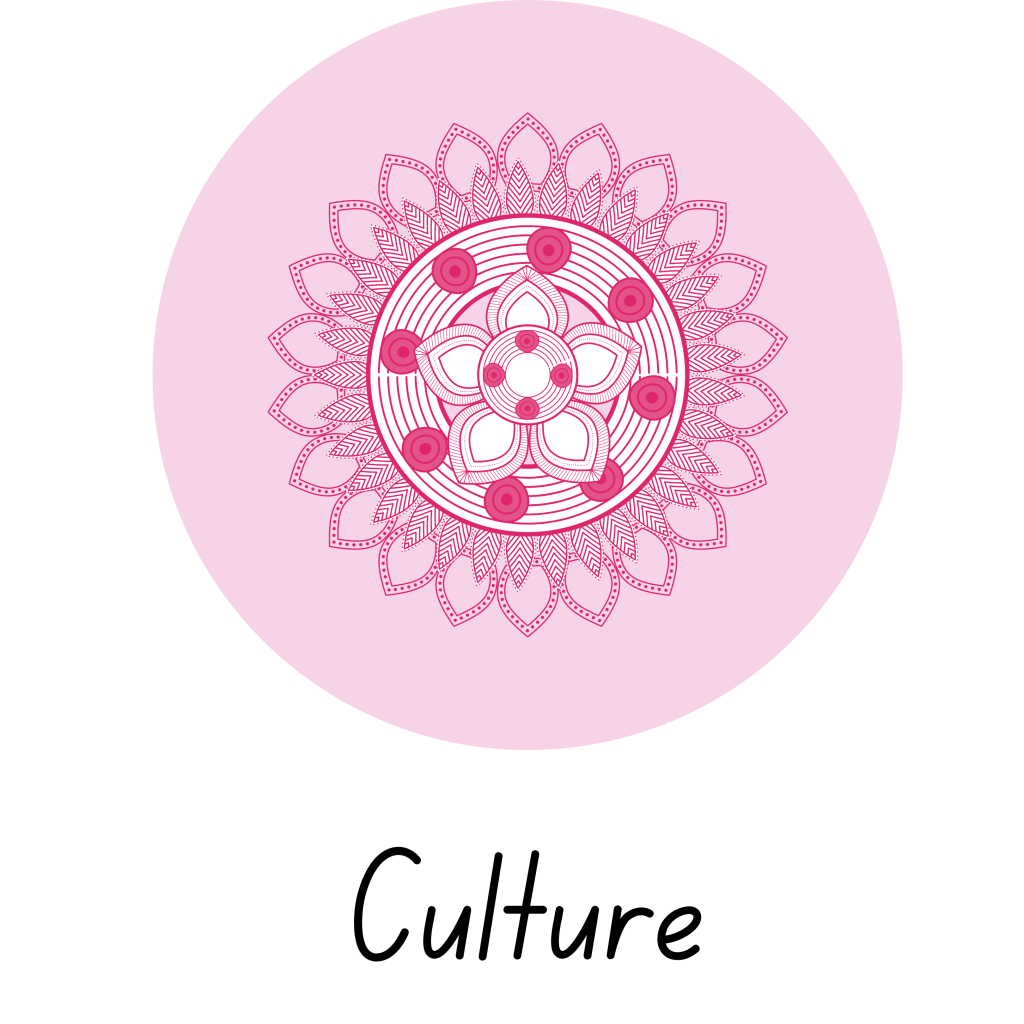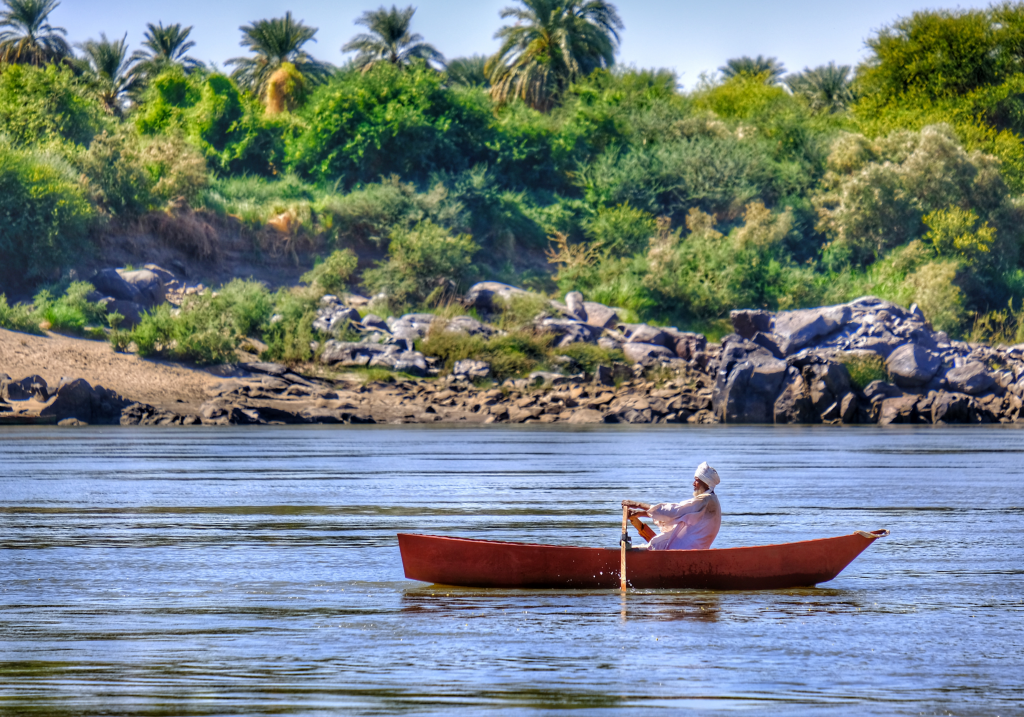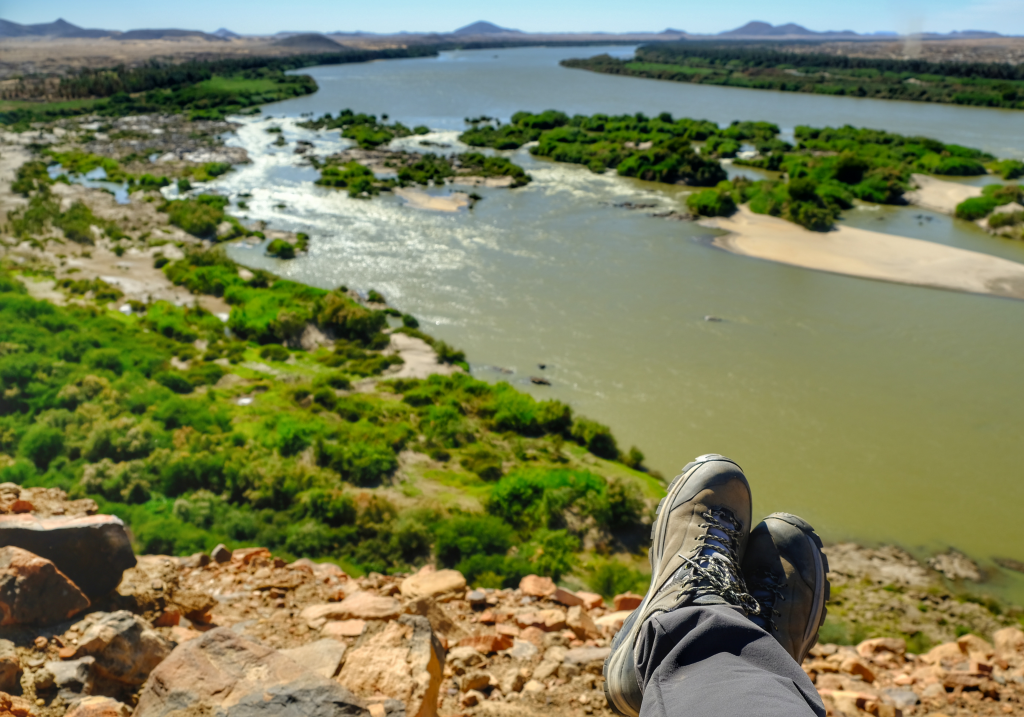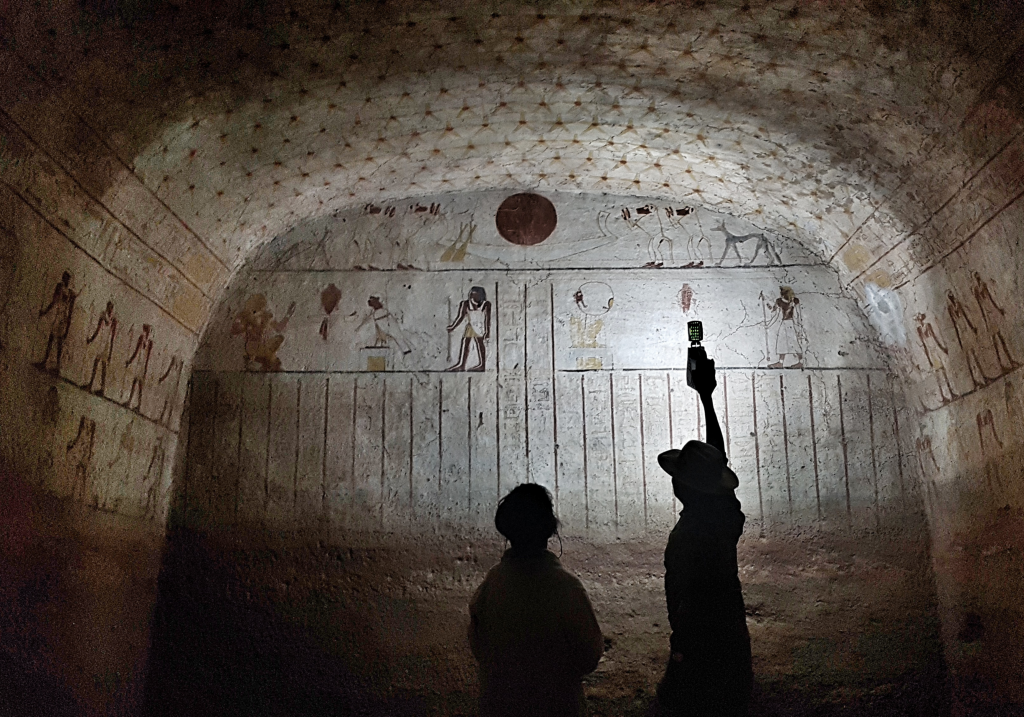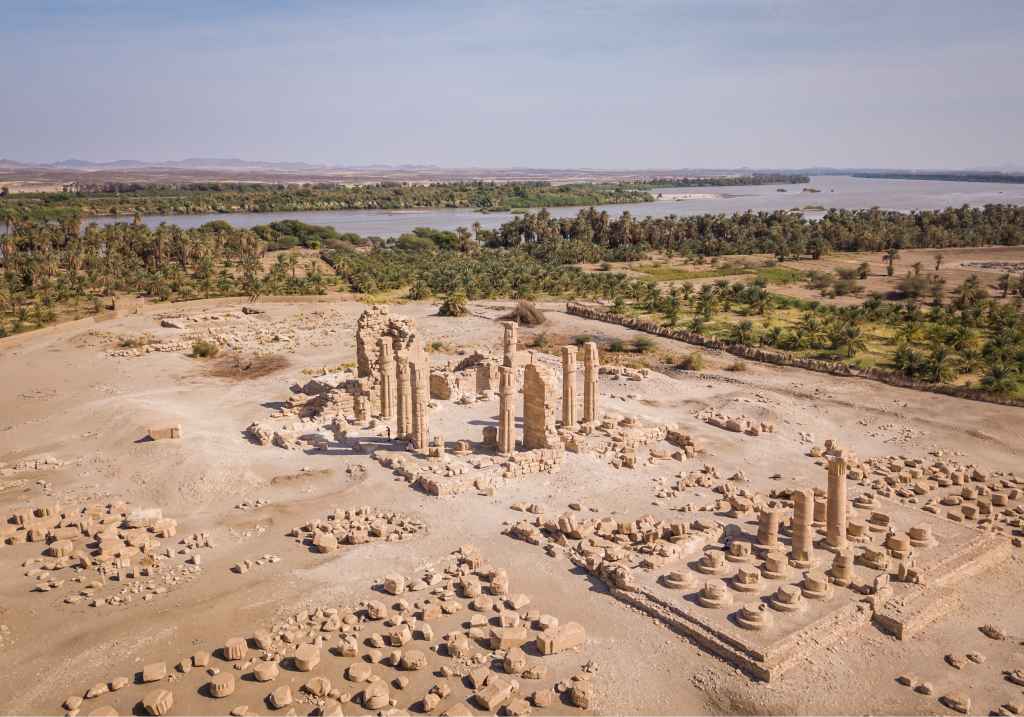 Trip Overview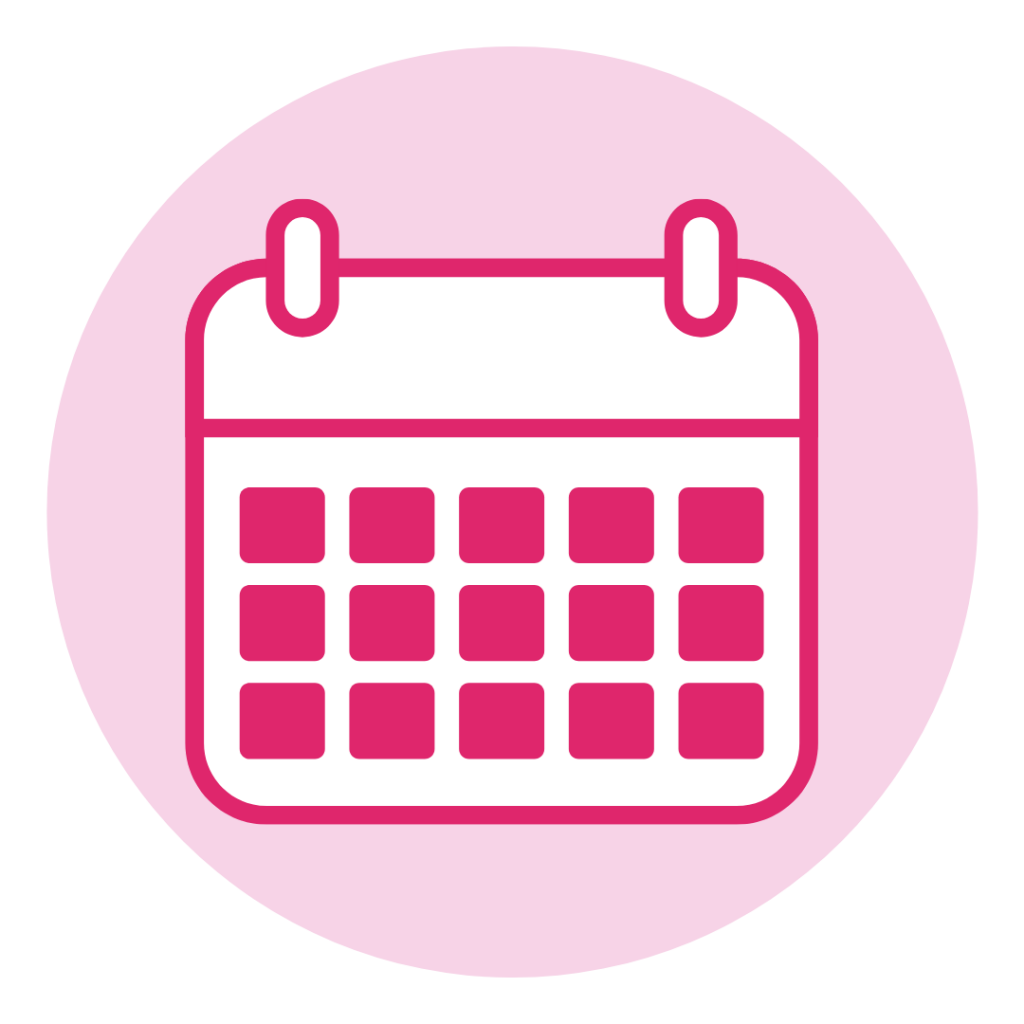 2022 dates:
3rd – 10th No 2022
3rd to 13th Nov 2022 (Soleb extension)
2023 dates:
2nd to 9th Nov 2023
2nd to 12th Nov 2023 (Soleb extension)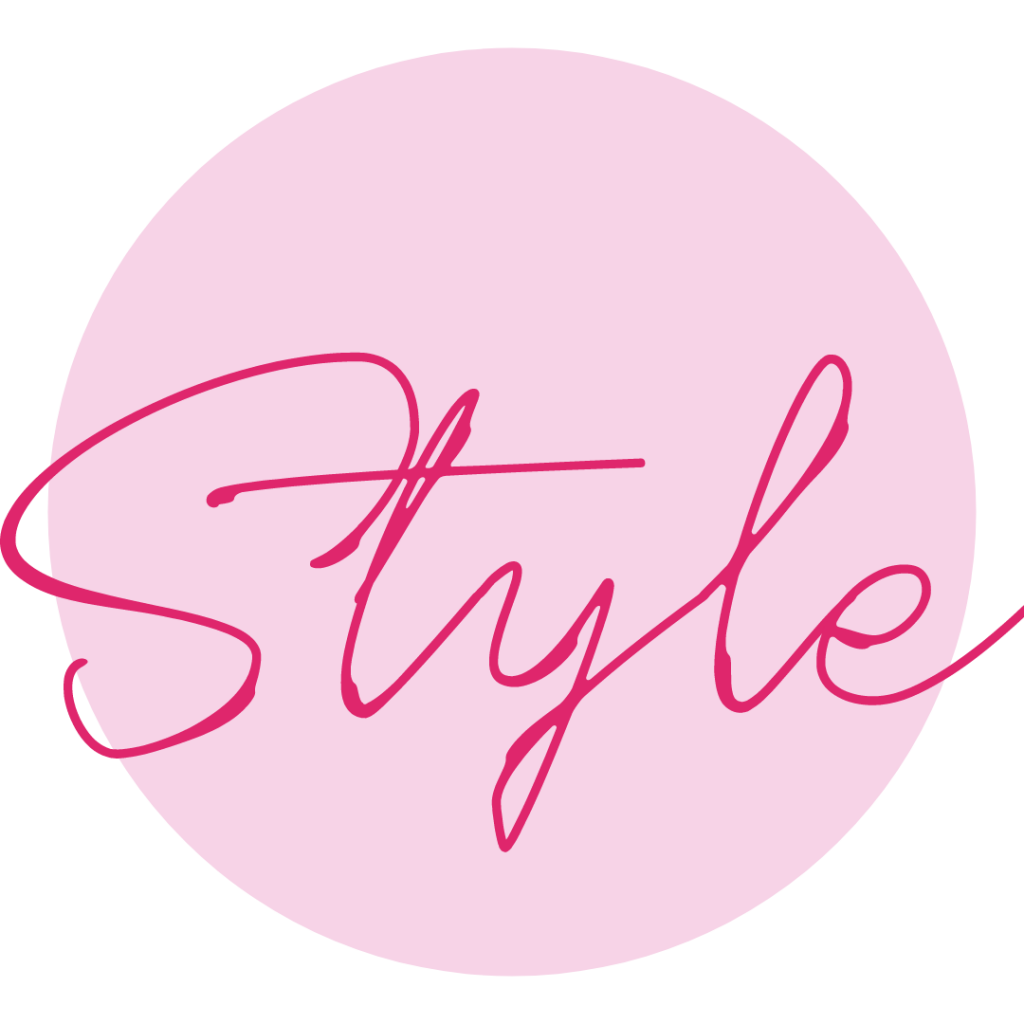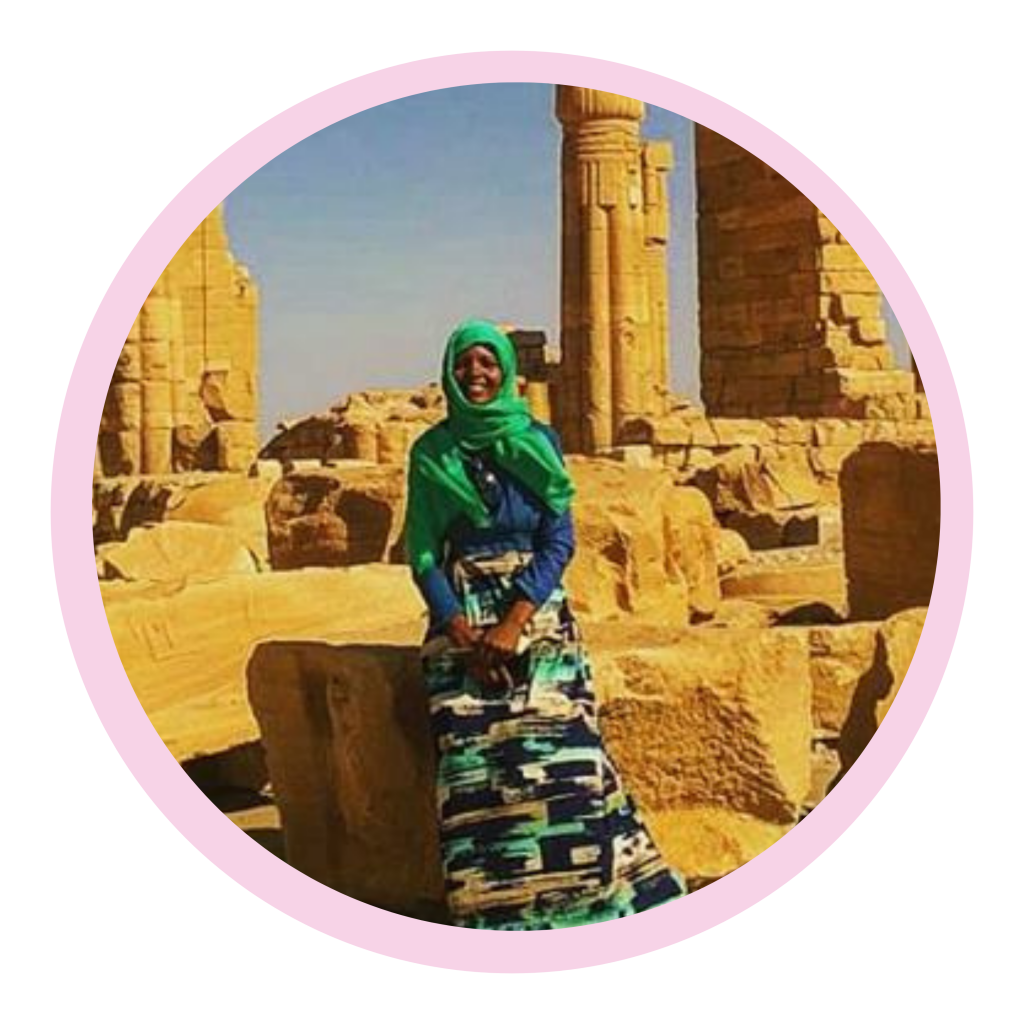 Diba Abdelmounim
Payment plan
Starting 2,579 EUR pp sharing
Max. 13 guests
Detailed Itinerary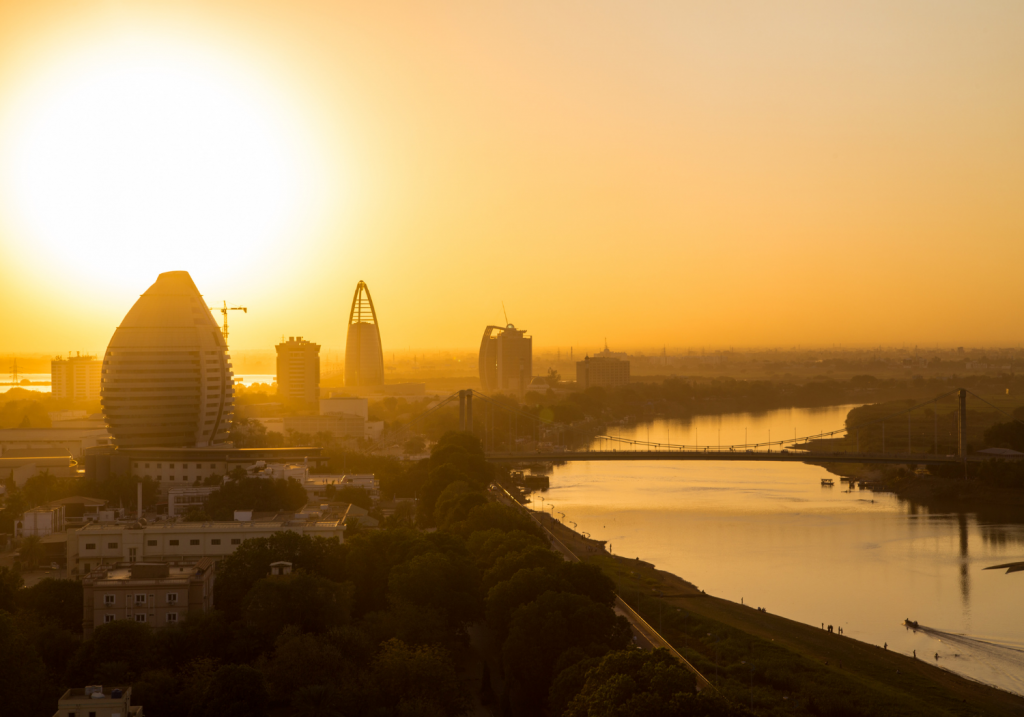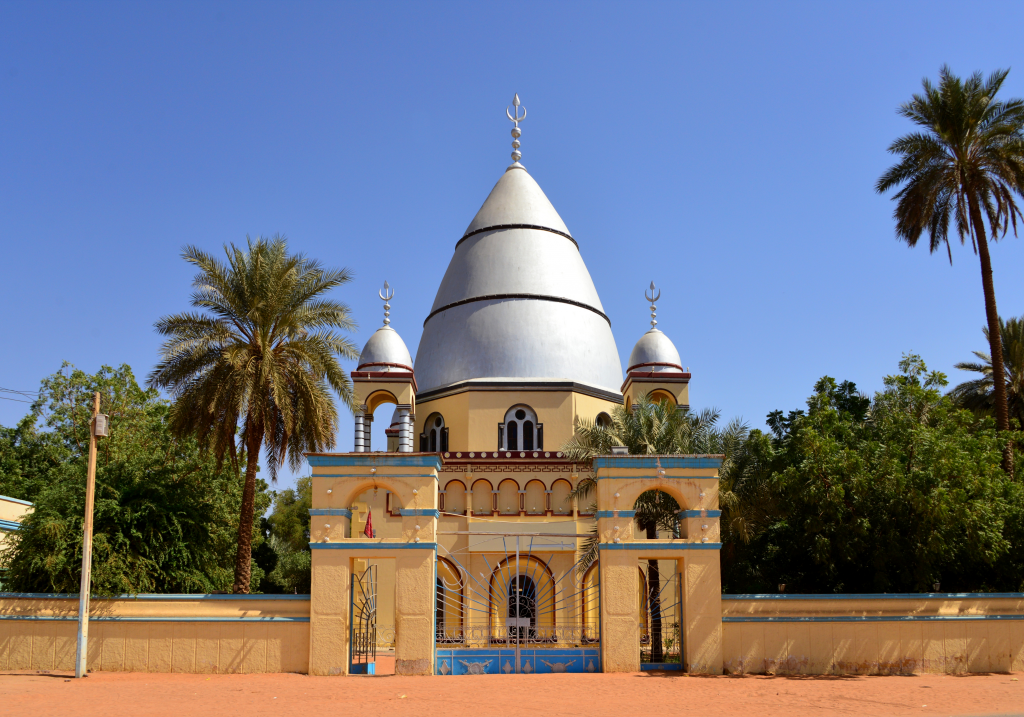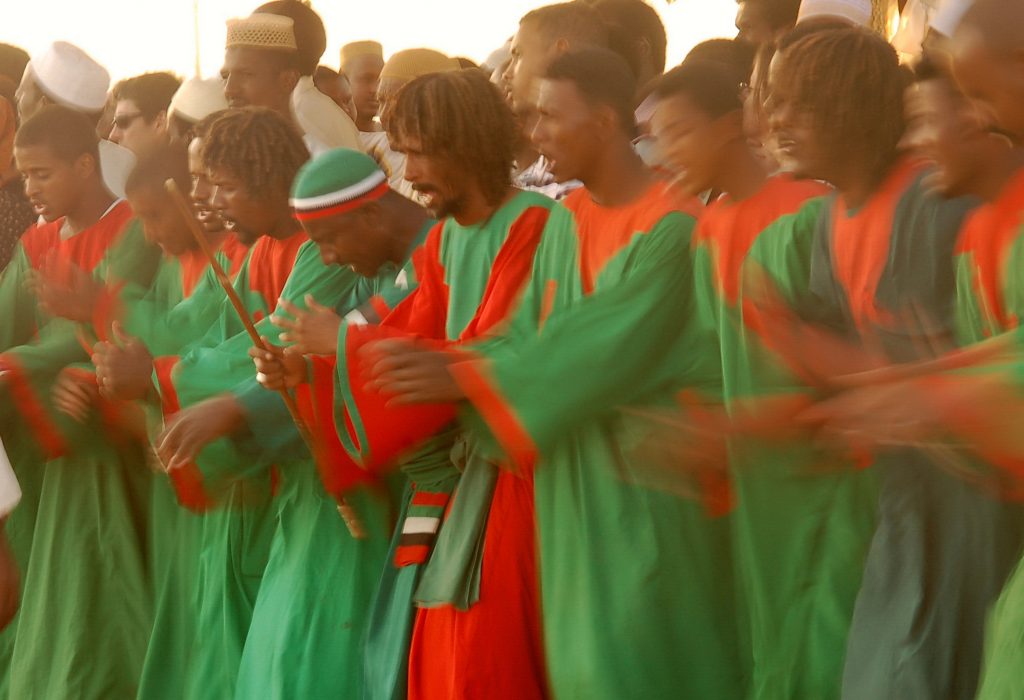 Days 1 – 2: Arrive Khartoum
All flights from North America and Europe arrive around midnight hence Day 1 is spent in transit to Khartoum. Regardless of the time of your arrival, you will be picked up from the airport and be escorted to the hotel.
If you arrive earlier in the day, we can provide suggestions for ways to enjoy your day or organize a half day tour or you can relax by the hotel pool.
Our exploration starts on Day 2 in the late morning so you can rest for a bit with a visit to Sudan's largest market in Omdurman. We will have lunch in the city.
In the afternoon, we will move near the tomb of the Sufi leader Ahmed al Nil to see the enthralling twirling Dervishes Ceremony which only happens on Friday. Be mesmerised by their spiritual dancing among the crowds of followers, this is a truly magical experience.
We will indulge in a welcome dinner at Al Assaha, a Lebanese restaurant set in a sprawling villa with garden tables among plants and trees.
Overnight at Grand Holiday Villa Hotel
Formerly known as the Grand Hotel, Grand Holiday Villa was constructed in the late 1800s and housed the office of the famous British Explorer, Thomas Cook.
The colonial hotel overlooks the famous Blue Nile River and has also hosted royal visitors and famous dignitaries including Queen Elizabeth and Sir Winston Churchill and it still keeps some of that old world charm.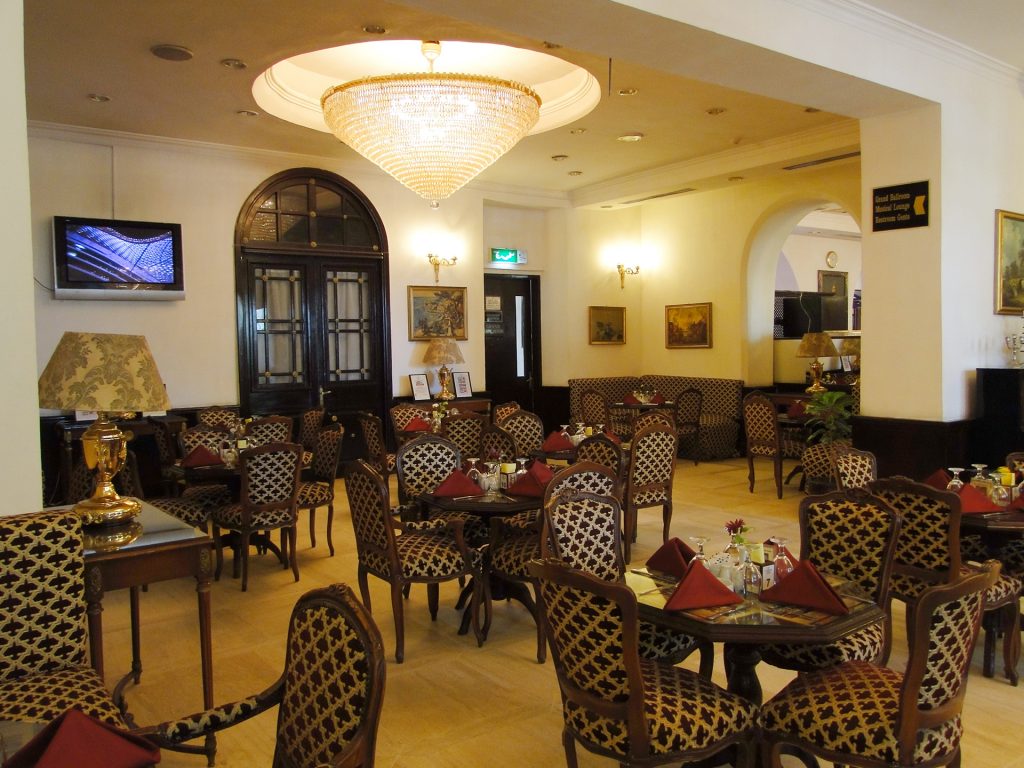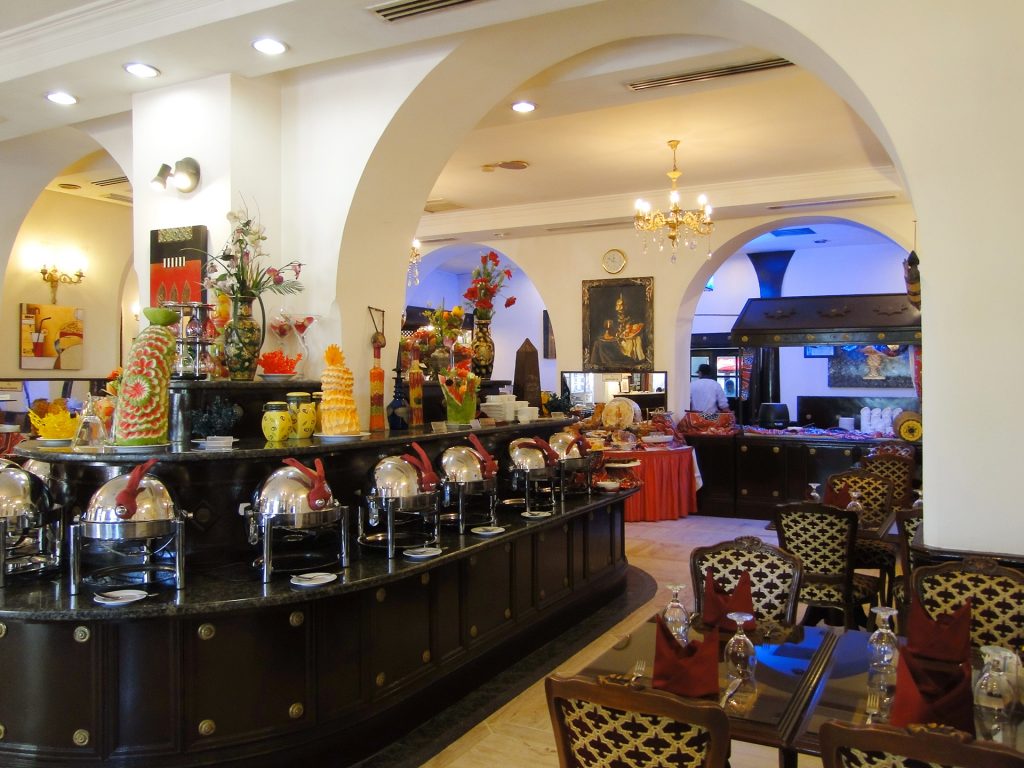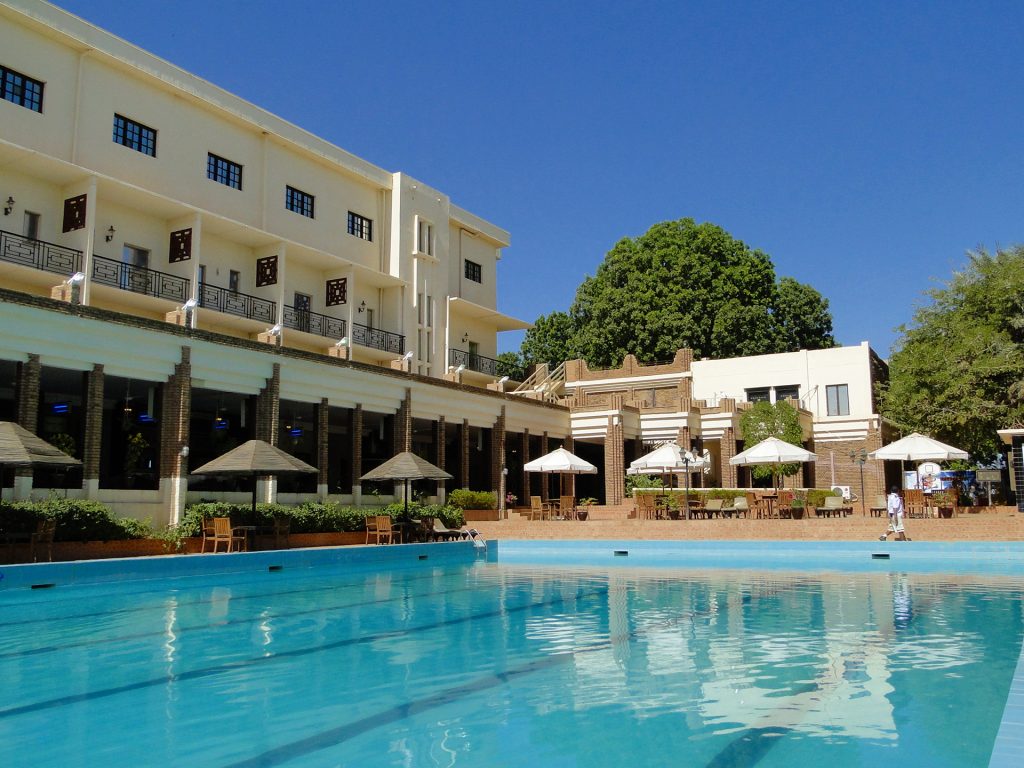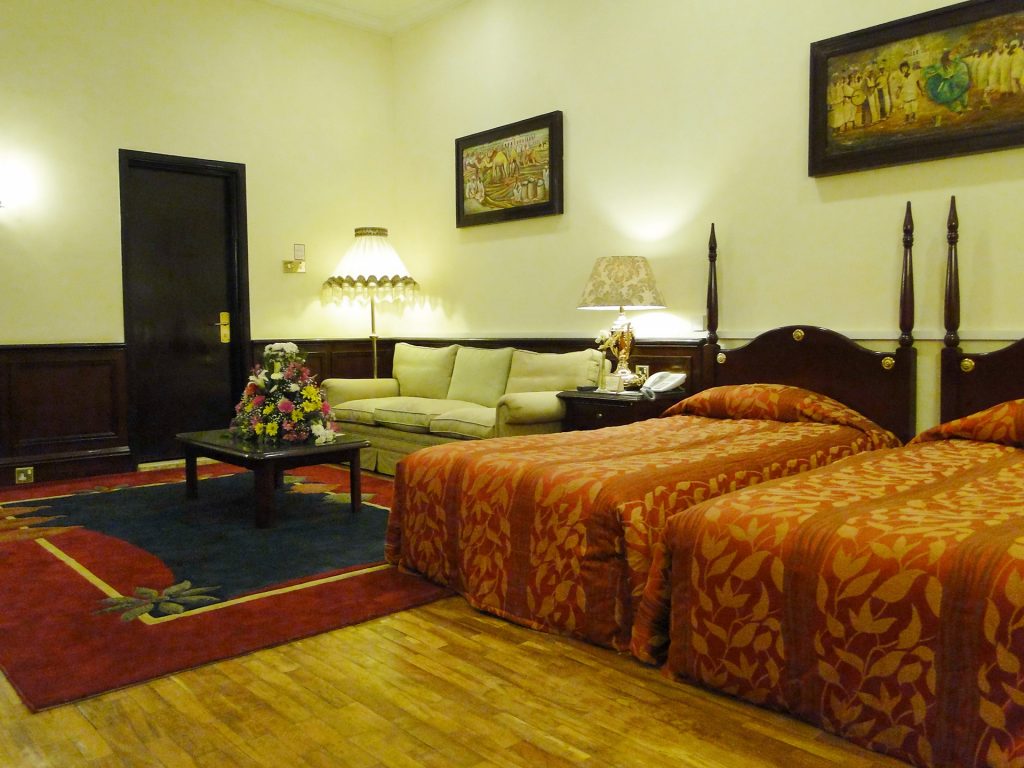 ---
Days 3 – 4: Naga, Mussawarat & Meroe
On Day 3, we begin our journey northward to visit two wonderful archaeological sites: Naga and Mussawarat.
Naga is one of the two centres that developed during the Meroitic period. In Naga, in a typical Saharan environment with rocks and sand, we find a temple dedicated to Apedemak (1st century AD), a wonderful building with bas-relief decorations depicting the god with a lion's head, the Pharaoh, noblemen and several ritual images. A few metres away there is a small and odd construction with arches and columns, named "kiosk", in which we can notice Egyptian, Roman and Greek styles, all at the same time. Not far away we reach another temple dedicated to Amon with many statues of rams and beautiful gates decorated with bas-reliefs.
We then go to Mussawarat, a settlement located in a beautiful valley crowned by hills where we can see the remains of a very big temple which once played an exceptionalyl important role. Its main characteristic, the "Great Enclosure", is made by many constructions and boundary walls which surround a temple built in the 1st century AD. The large number of elephants represented on these walls makes you think they used to have an important role in this area. Beyond the big wadi there is another temple – restored by a German archaeological mission – dedicated to the god Apedemak.
Lunch will be a picnic under shaded trees. Late in the afternoon we arrive in Meroe.
On Day 4, we visit the UNESCO-listed Royal Necropolis of Meroe, about 3 km from the Nile on hills covered by yellow sand dunes. Several pyramids stand out with their sharp shapes against the clear sky. Each one has its own funerary chapel with the walls fully decorated with bas-reliefs that show the King's life and offers to the gods.
We will visit the Tarabil school if open and explore the building, but access to the school cannot be guaranteed, not to interfere with the lessons. This is the school ITC Sudan support as part of their responsible tourism policy.
Coffee break at the local village of Kabushia and lunch at Meroe Camp.
In the afternoon we move along the Nile to visit the ruins of the Royal city. Note that the building of the Royal Baths is currently undergoing restoration and it will be probably closed until spring 2021. Sunset at the Pyramids.
Meroe Camp
The unique and permanent Meroe Camp, overlooking the renown pyramids of Meroe, features 22 twin bedded tents.

Rooms are 16sqm and each one of them feature a shady veranda with 2 chairs for reading or simply relaxing overlooking the pyramids. Every tent has its own private restroom and shower which is located in a separate hut at the back of the tent.
The restaurant has a rooftop terrace where we will enjoy sunset over the pyramids. The camp has a power generator that works everyday from sunset until 10.30 – 11 pm, though after that we experience total peace and quietness. We recommend you bring along a torch or headlamps for this night.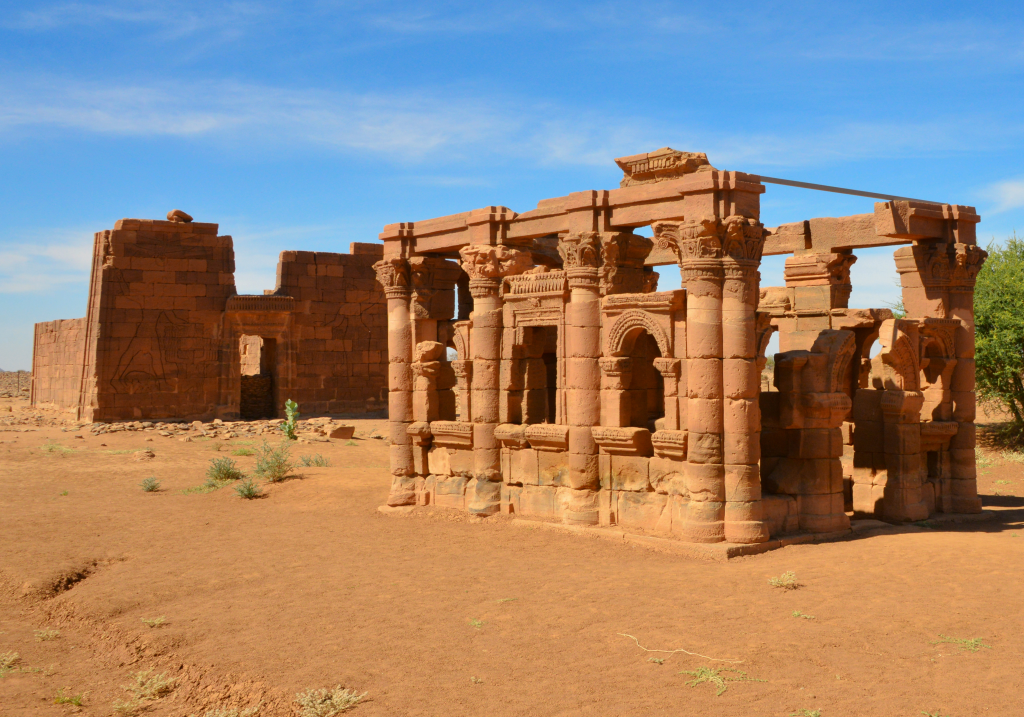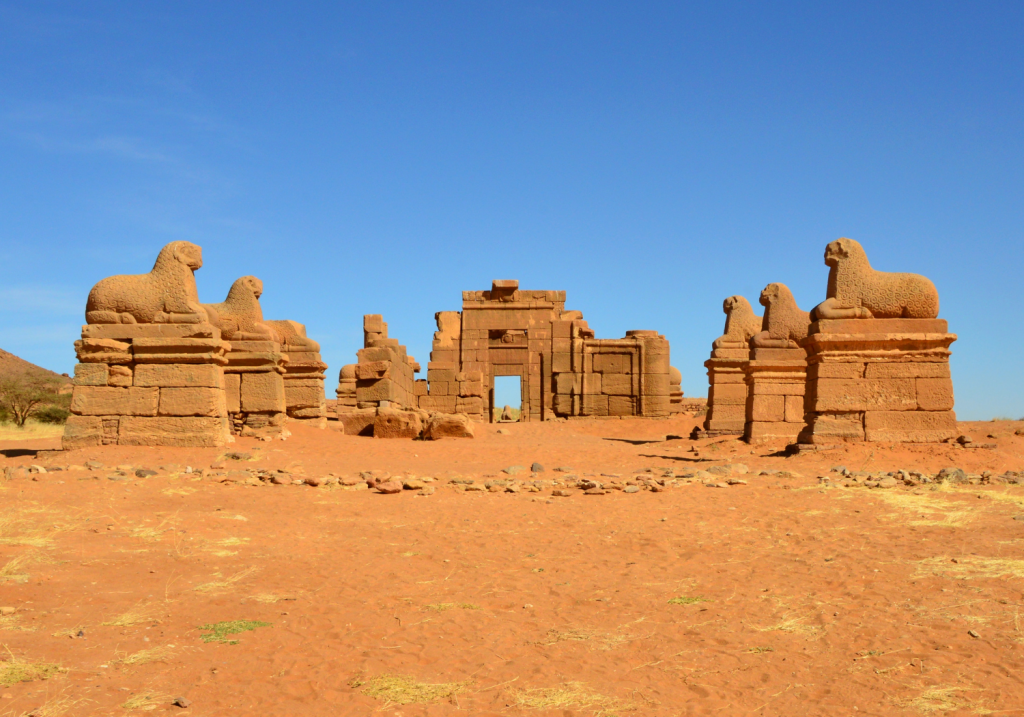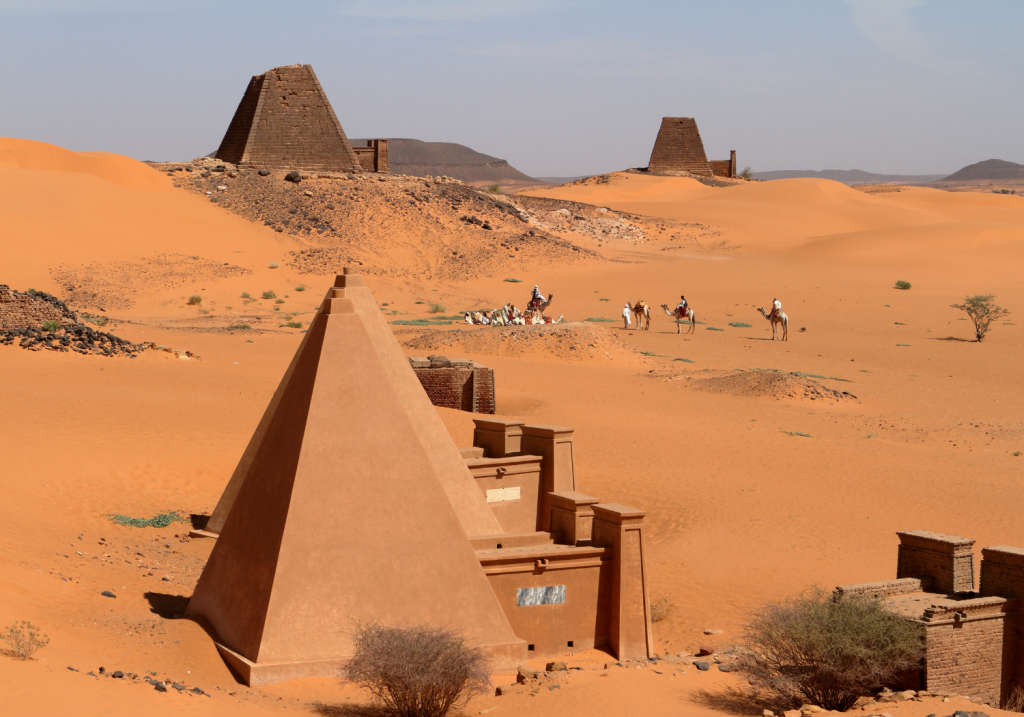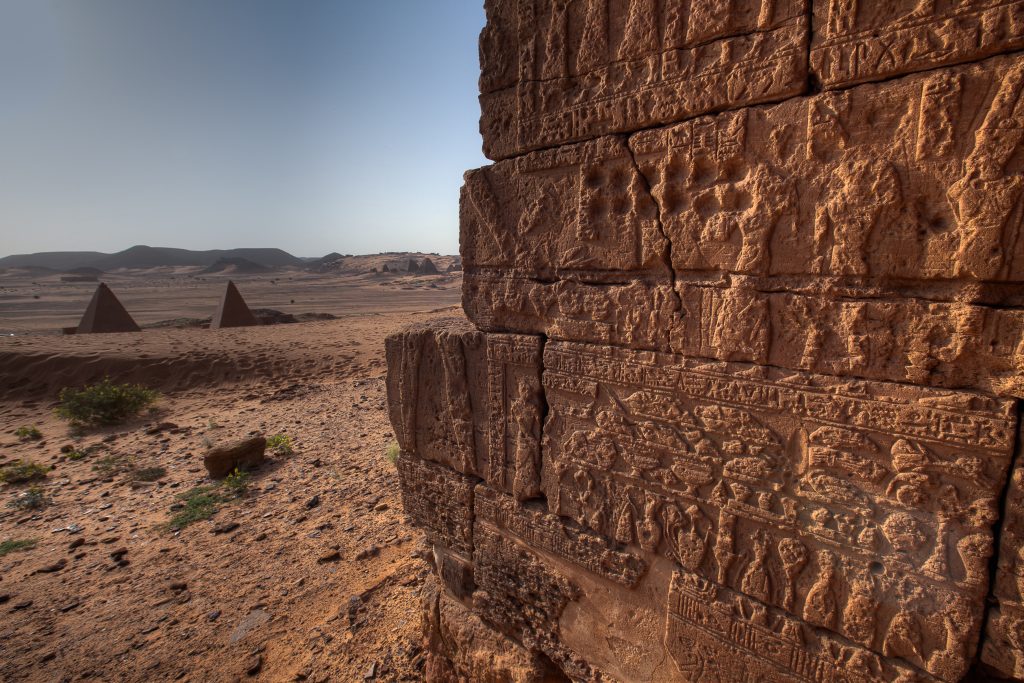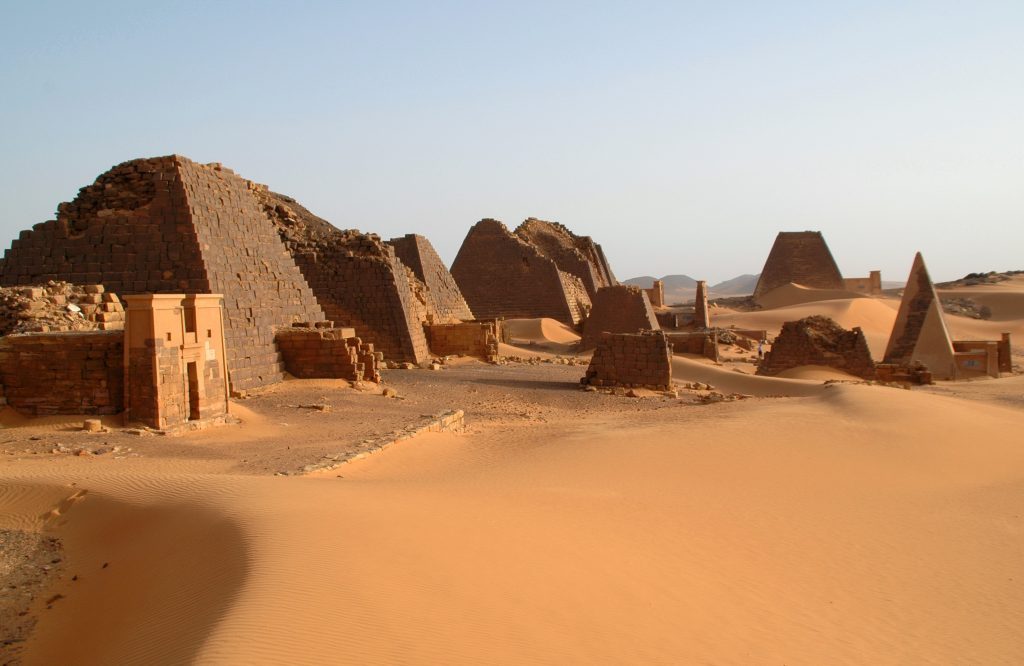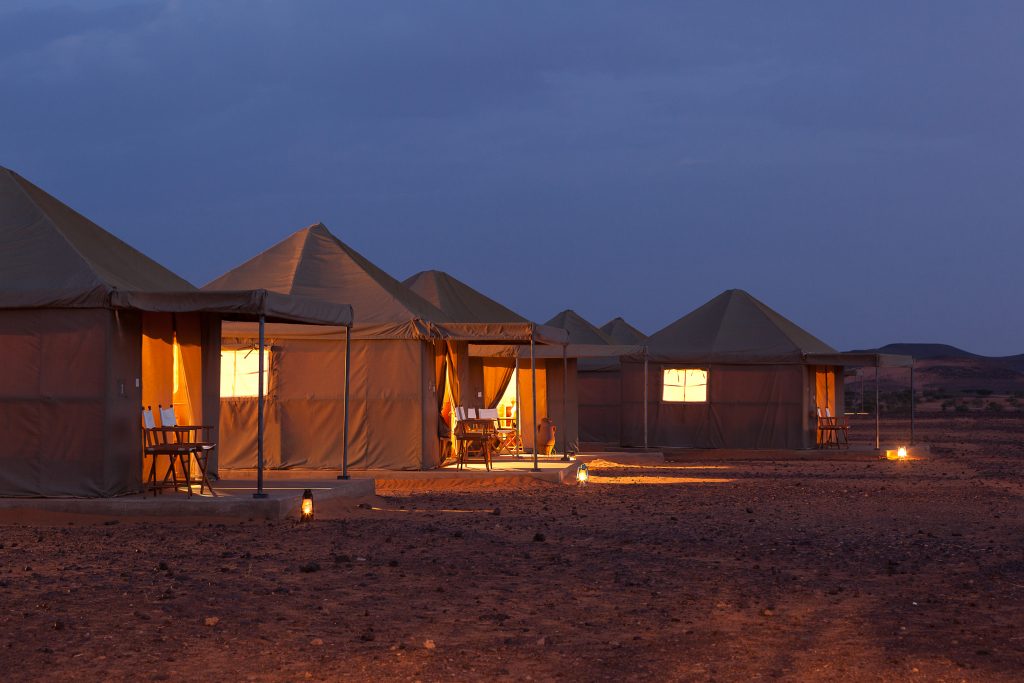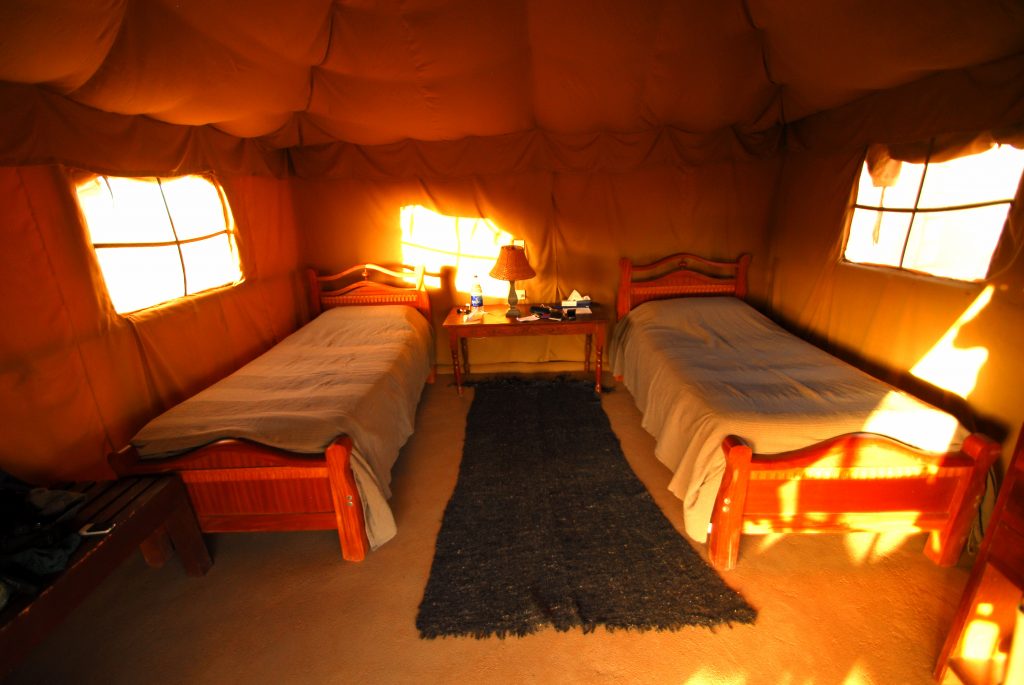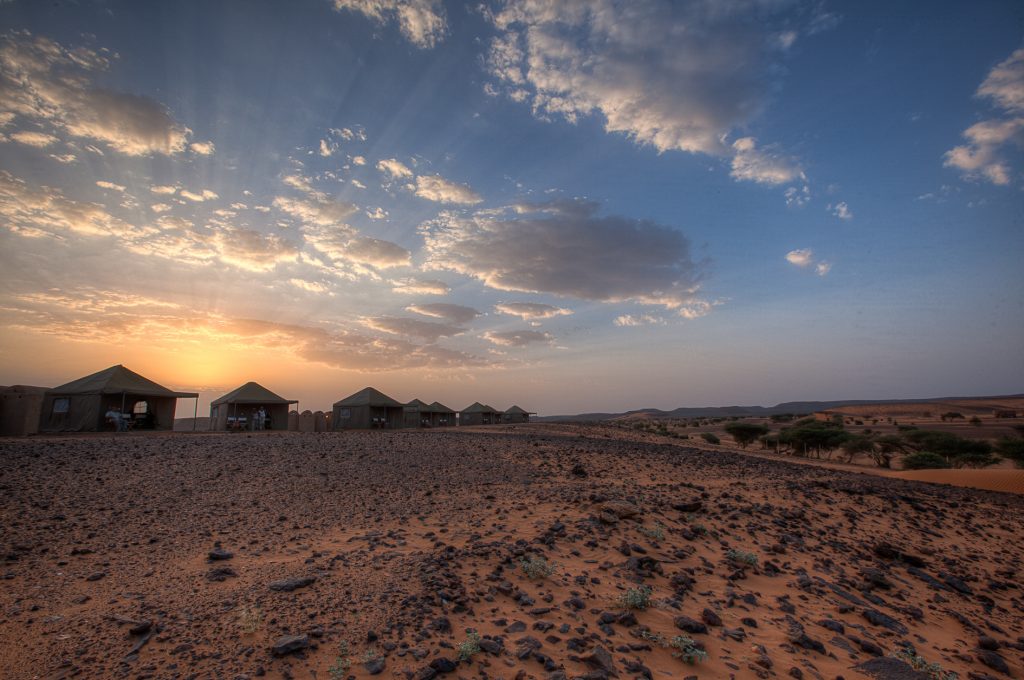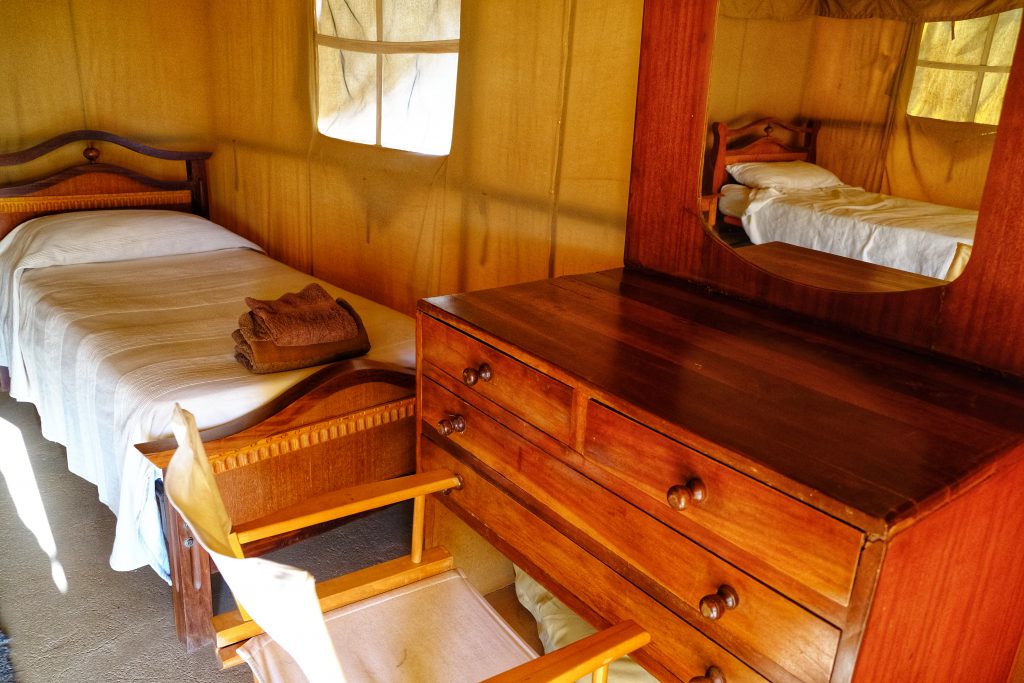 ---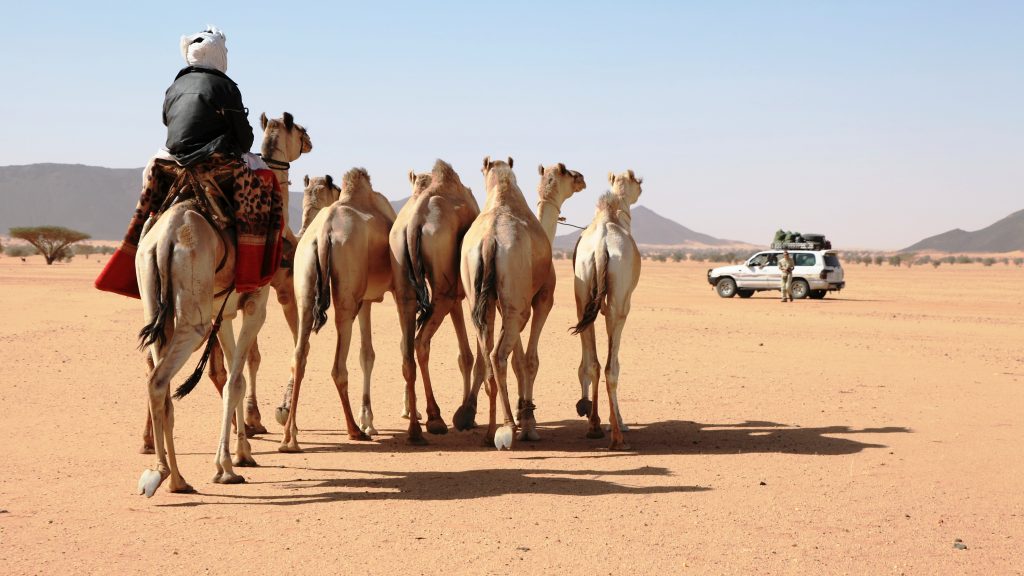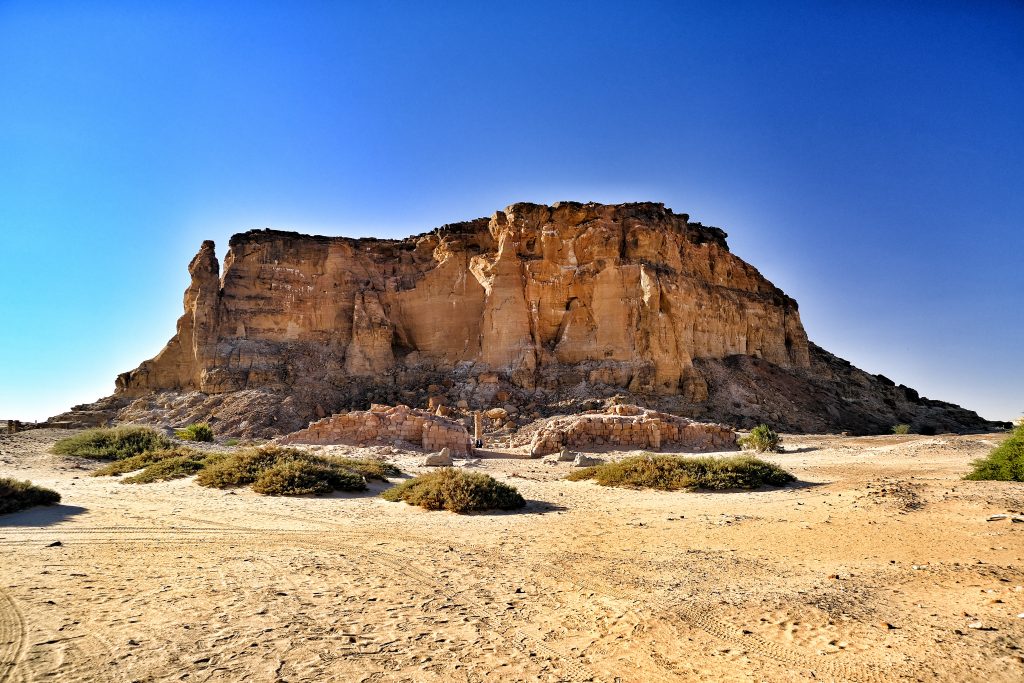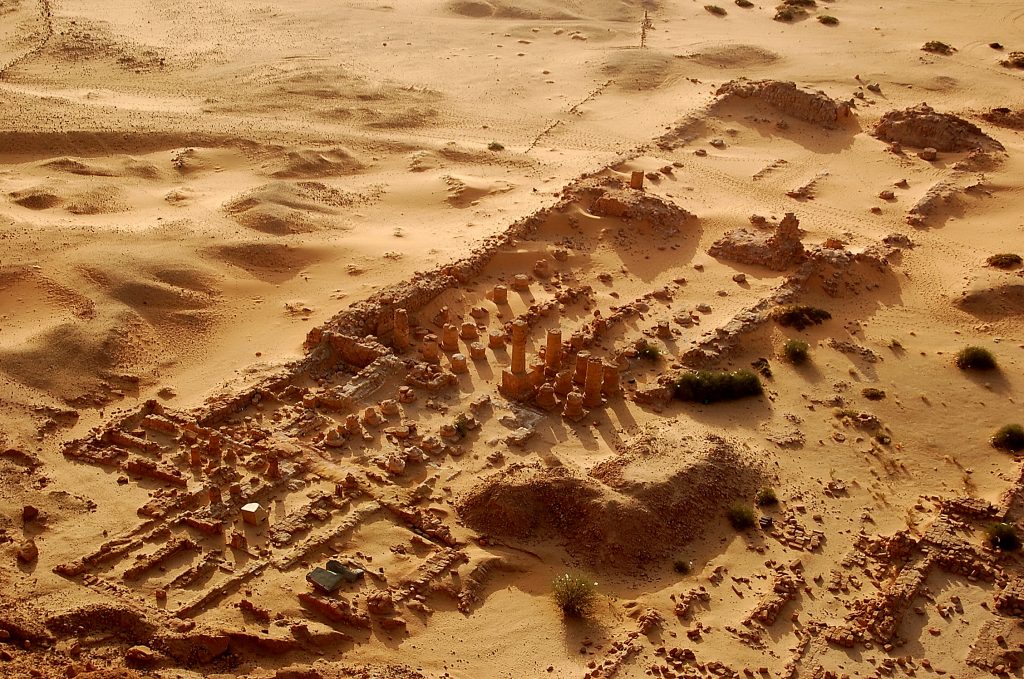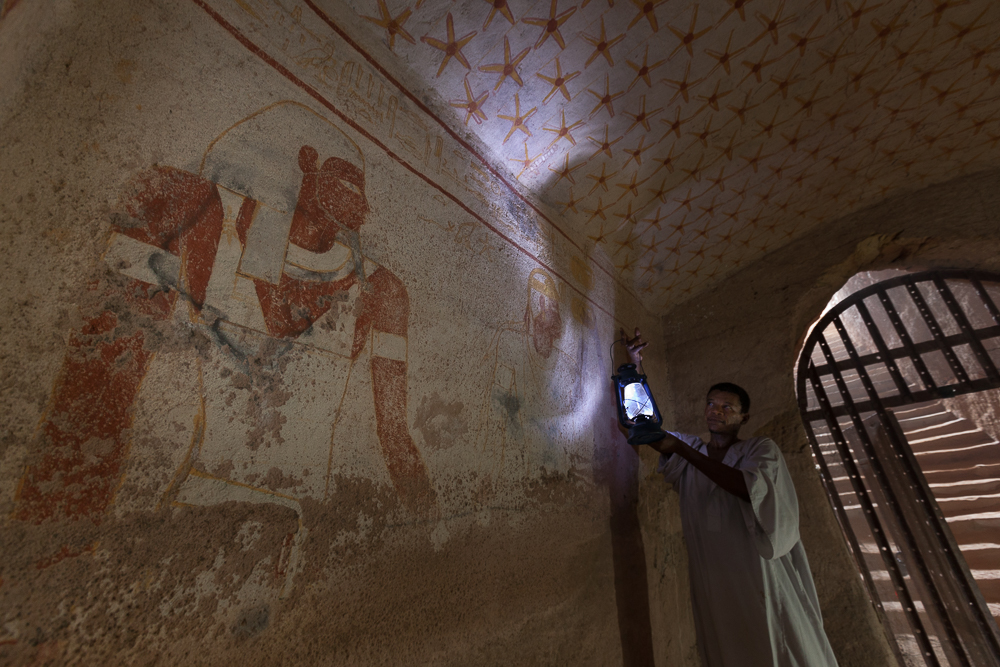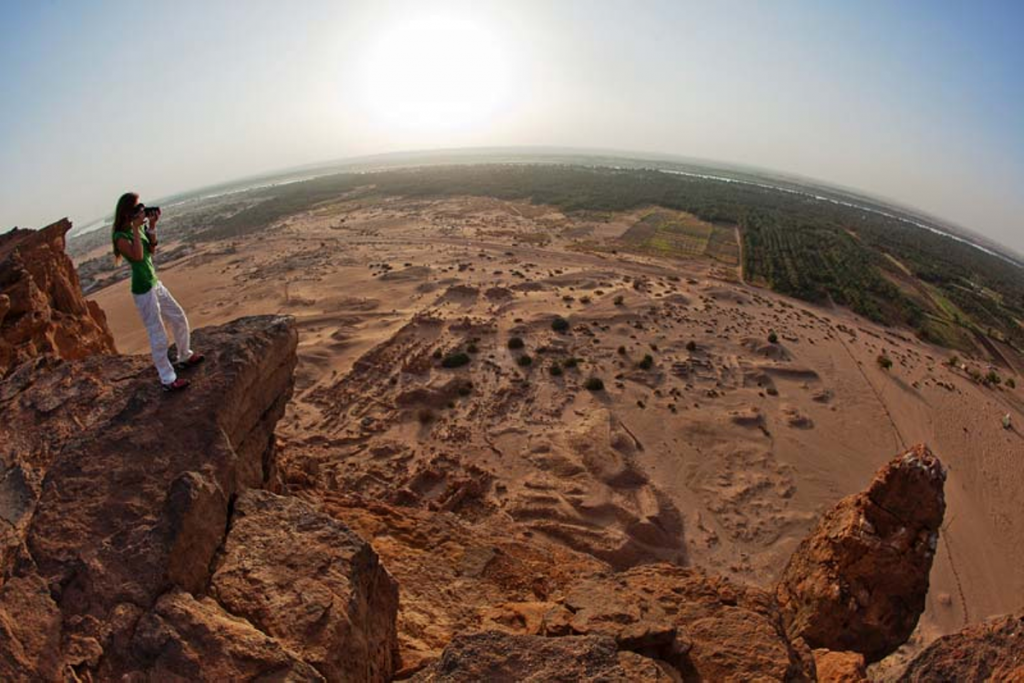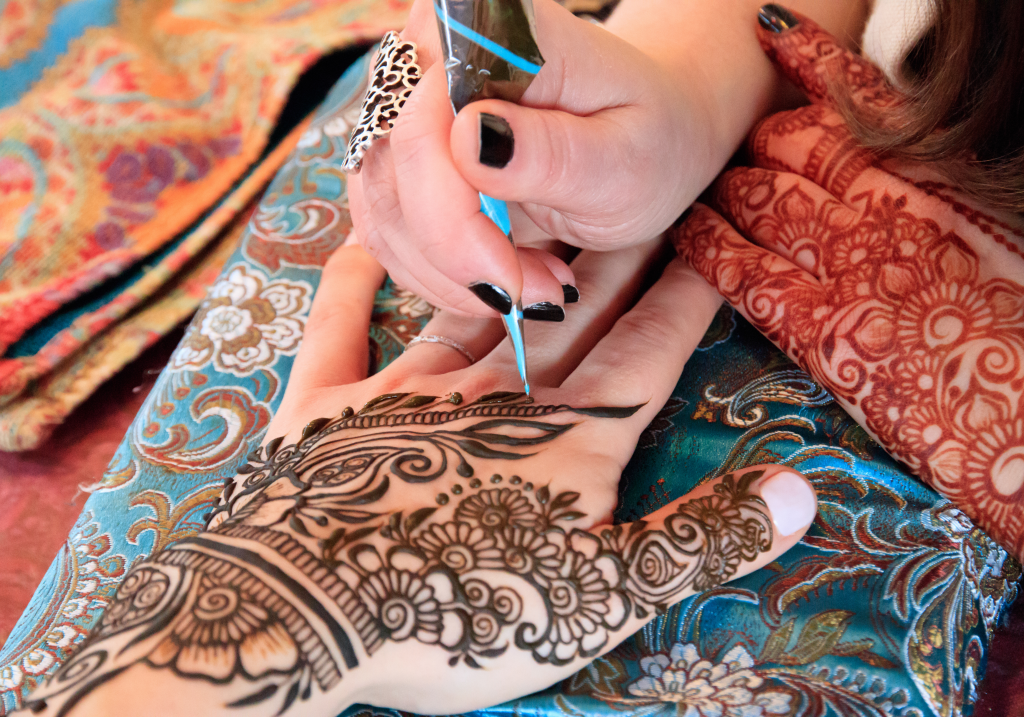 Days 5 – 6 : Karima, Jebel Barkal, Necropolis of El Kurru and Nuri
After an early breakfast on Day 5, we leave from Meroe and cross the Nile by ponton, the local ferry boat.
These ferries are a hive of colourful activities. We find ourselves sharing space with people, donkeys, camels and goats.
We then enter the Bayuda Desert, the area bounded by the loop formed by the Nile between the 4th and the 6th Cataract and characterized by sharp black basalt mountains, most of them volcanic and typically cone-shaped. They alternate with level pebble stretches and large valleys with dry wadis going through where there is little vegetation.
It is very likely to meet isolated groups of Bisharin nomads, who live in familiar groups in small huts made of intertwined branches close to the rare water wells in areas where surviving seems almost impossible.
A picnic will be enjoyed at lunch time. We will arrive in Karima for the night at Nubian Rest House.
On Day 6, after breakfast, we will visit the landmark of the Nubian Desert: Jebel Barkal ("Jebel" means mountain in Arabic).
At the foot of this wonderful and isolated red sandstone mountain, considered holy since the ancient times, there is a big temple, dedicated to the Pharaohs of the New Reign and to their patron, Amon. Amon's ancient "Pure Mountain", the Olympus of the Nubians, was the religious Nubian heart for more than 1,000 years.
Besides the ruins of the big temple there are still several sculptured granite rams that were supposed to border a long avenue that probably led to the pier on the Nile. In the mountain wall there is a big room decorated with bas-relief. Jebel Barkal archaeological site is on the World Heritage list.
We then reach the site of El Kurru where there is one of the necropolises of the ancient capital Napata. Here we can see one tomb excavated in the rock under the pyramid, partially collapsed. It is totally decorated with amazing images of the Pharaoh, of the gods and multicolor hieroglyphic inscriptions. Not far from here there is an interesting site of petrified wood, an ancient forest with hundreds of huge trunks.
Lunch will be enjoyed at the Nubian Rest House.
In the late afternoon we will visit the Nuri Necropolis before returning to a henna and coffee ceremony especially brought to you at the Nubian Rest House and enjoyed with traditional Sudanese Music and dance.
Henna is typical beauty element used by women in Sudan. It is naturally extracted from a local plant that grows wild along the Nile River shore.
Coffee in Sudan is strong and normally auromatized with Ginger or cinnamon. Tea is also a very common drink in Sudan, normally taken with fresh mint.
Karima Rest House
The Nubian Rest House, located at the foot of Jebel Barkal, is a charming boutique hotel with 22 A/C twin rooms, all with private facilities and a pleasant veranda to sit and enjoy the cool starry nights.
The rest house is tastefully decorated, starting from the original Nubian door where we enter the property, to the open air lobby, to the living room where you can rest or read a book. Attention to detail is the hotel's passion, and it is easy to understand this when you see the Rest House.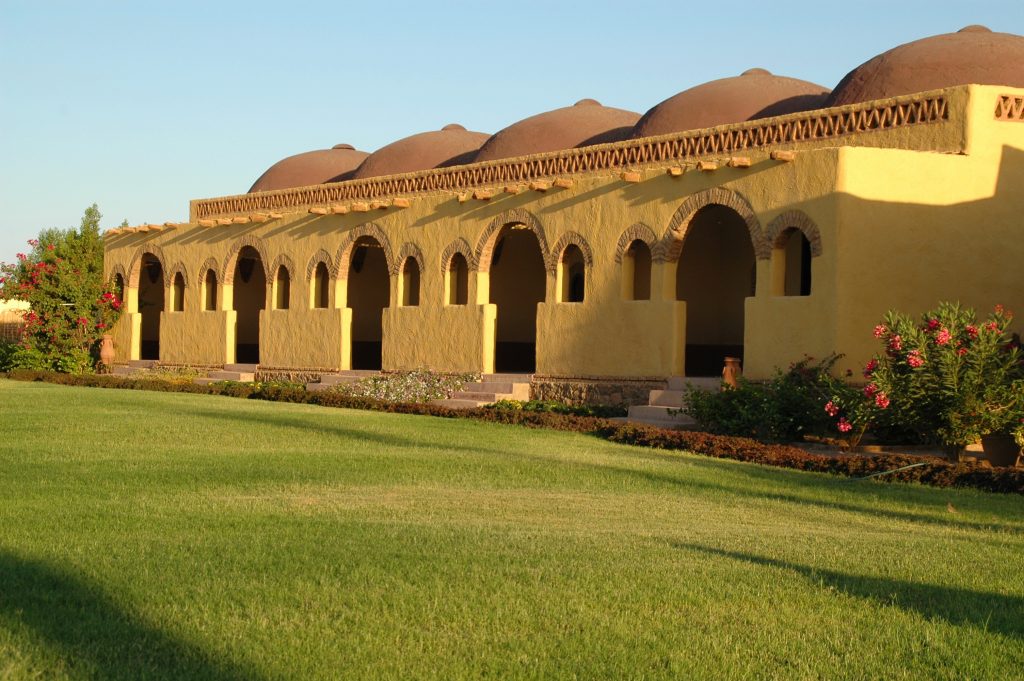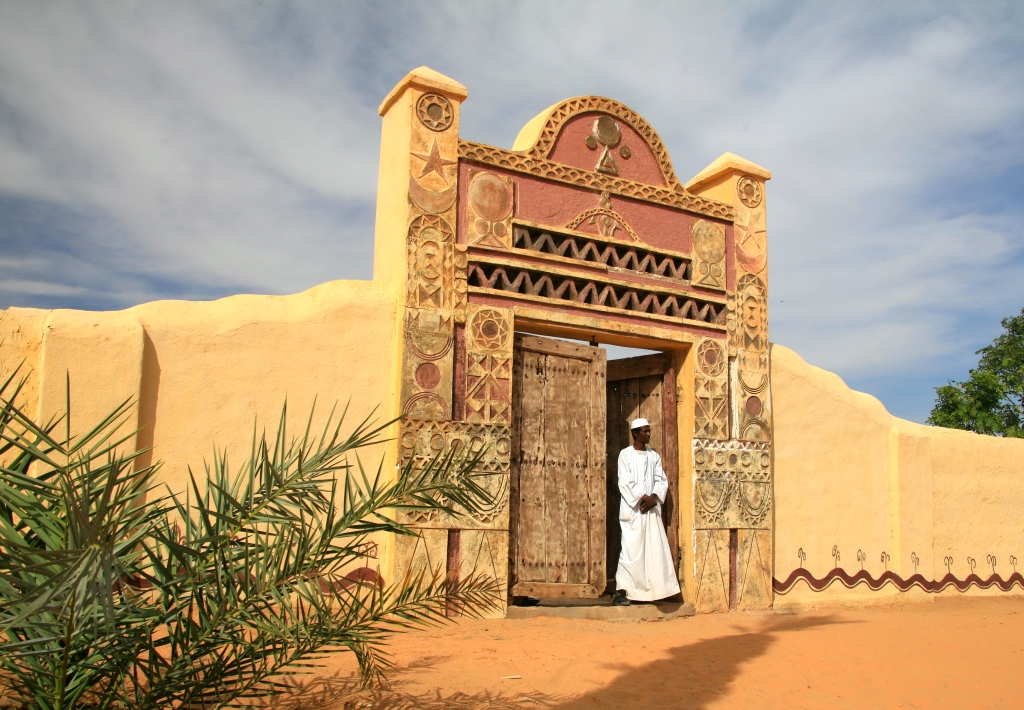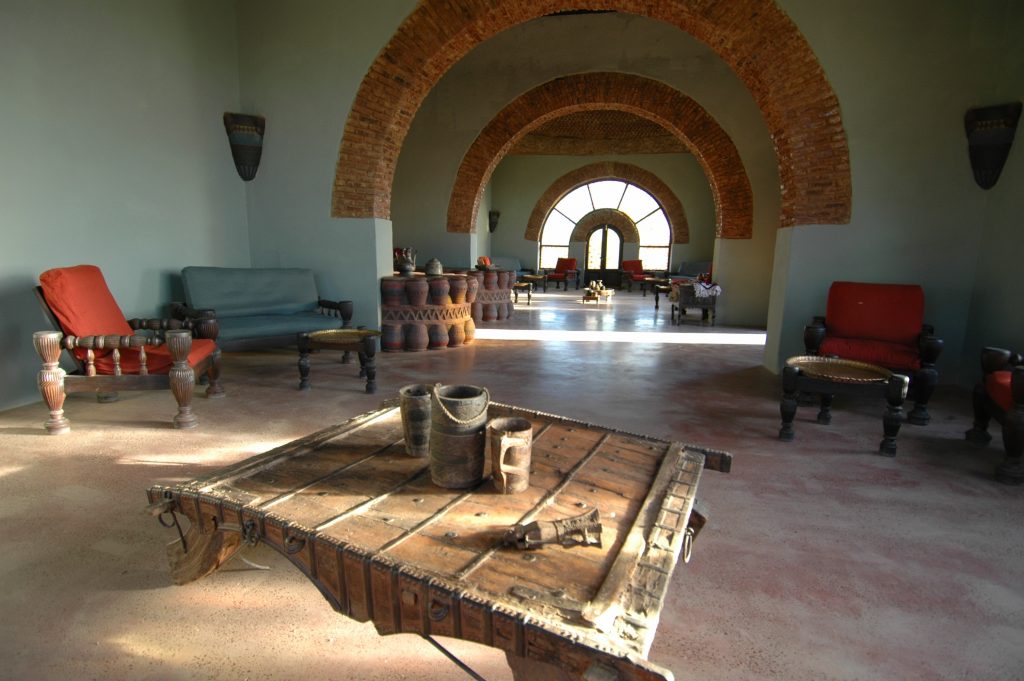 ---
Days 7, 8 & 9 : Old Dongola, Nubian Wrestling, Khartoum
Day 7 it is a long day on the road but full of interesting encounters and visits as we return to Khartoum.
Early in the morning we will follow the Nile until we reach the archaeological site of Old Dongola. Here we can visit the remains of a Christian Coptic temple with marble columns as well as several suggestive ruins of churches situated on the banks of the Nile.
This part of Sudan is at the center of the Nubian region and the population lives in small villages amongst yellow sand dunes and palm trees, they speak a different language from the Arabs and the Islamic religion is not as "strict" as in other parts of Sudan; women don't cover their faces and readily speak to foreigners. Some houses in the Nubian Villages are painted and decorated with colourful patterns and flowers.
We continue driving south along the tarmac road across the Western Desert. We will stop for lunch in a simple "chai house" (a road house where the local truck drivers stop for food and to rest) and we will reach Khartoum late in the afternoon and return to the Grand Holiday Villa Hotel.
At sunset time, we will attend a traditional Nuba Wrestling match.
On Day 8, after breakfast, we will go on a city tour crossing the confluence between the Blue and the White Nile near the Presidential Palace where in 1885 General Gordon was beheaded by the Mahdi's troops.
We will then reach Omdurman, the old capital of Sudan, where we visit the Mahdi's Tomb from outside and the interesting Khalifa's House which holds a small museum about the Mahdyia.
We will then visit National Museum which contains many beautiful objects and two beautiful temples rescued by UNESCO and moved from the Lake Nasser area, when it was flooded by the water.
Note: At present the inner part is closed for refurbishment but we can visit the temples in the garden.
We will enjoy lunch at a local restaurant in Khartoum and will continue with a boat trip in the Nile to see the confluence between the Blue and the White Nile.
We will enjoy one final Farewell dinner at the flash Al Mugran Restaurant located on top floor of the iconic Corinthia Hotel with a beautiful view over Khartoum and the Nile.
On Day 9 (10th November) at night you will be taken to the airport. You will have hotel room day use until the evening and be taken to the airport directly from dinner.
Grand Holiday Villa Hotel
We will return to the Grand Holiday Villa Hotel for the last 2 nights in Khartoum.
Note: Hotel use has been included even if your flight is at midnight between day 8 and day 9. If your flight is on Day 9 at midnight (night to the 10th) you will have to check out at 10am as established by the hotel. Reach out to us if you wish to book an additional room for day use on Day 9.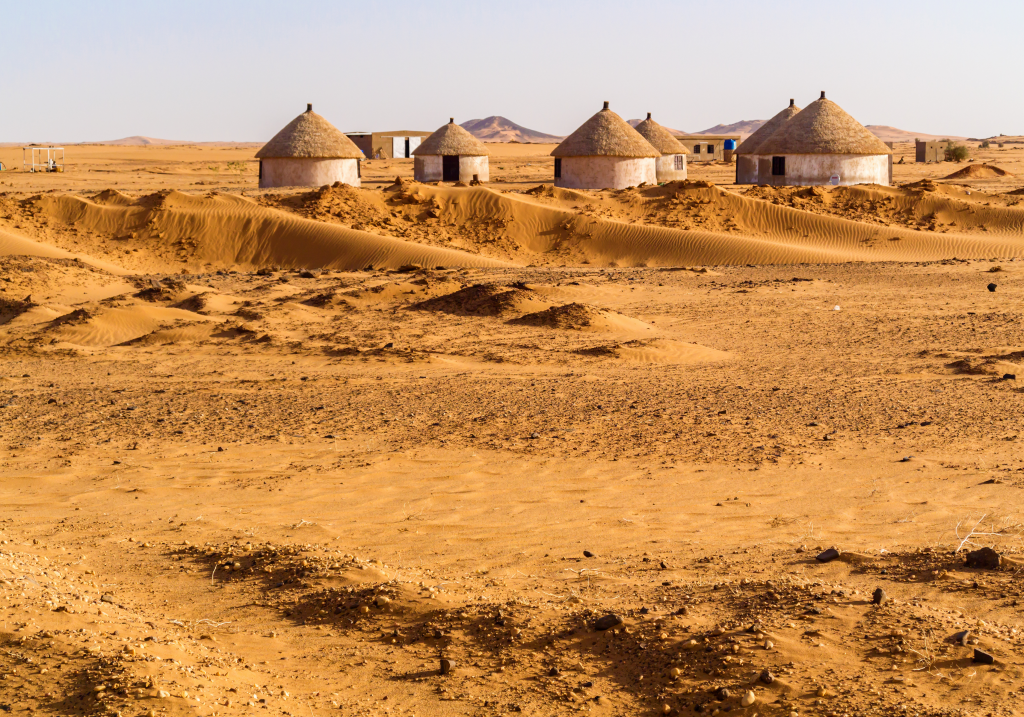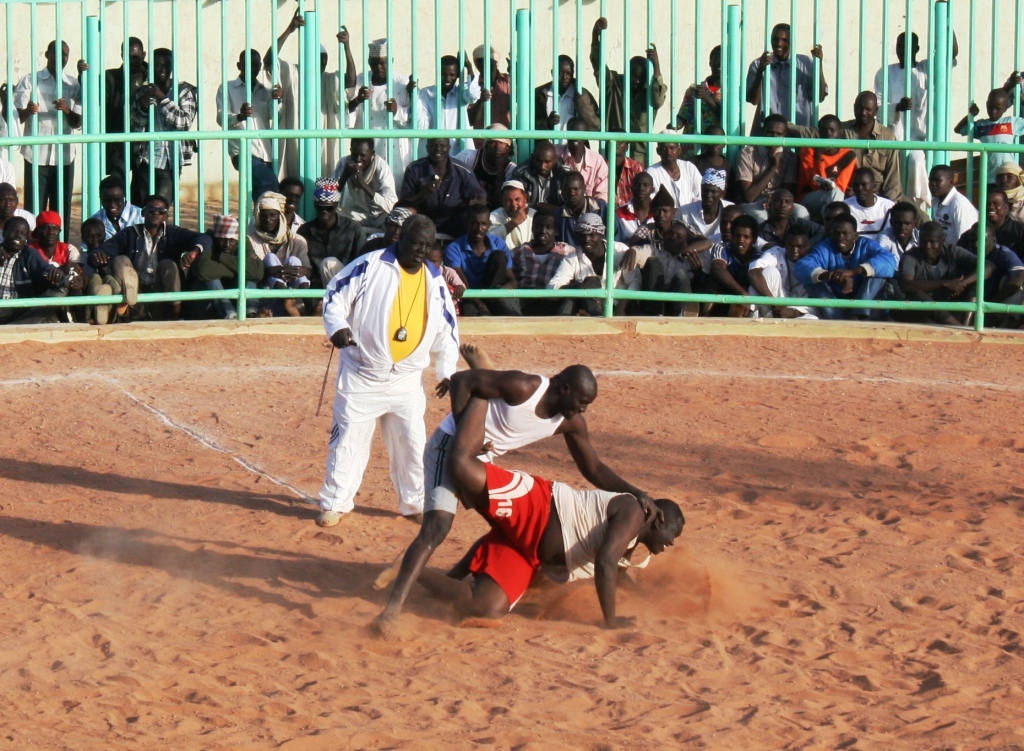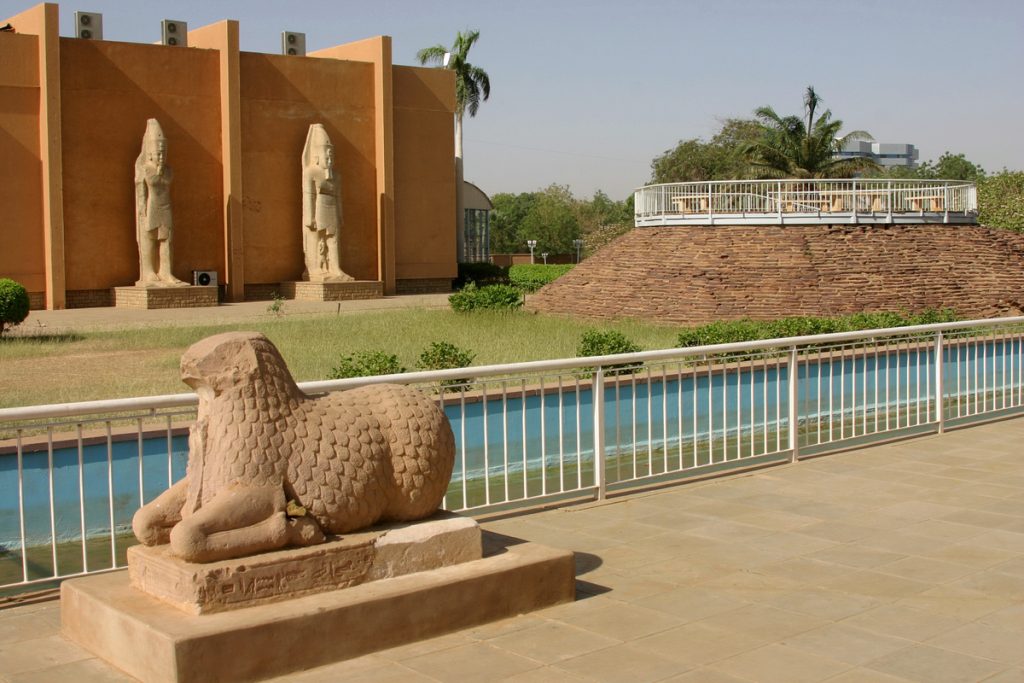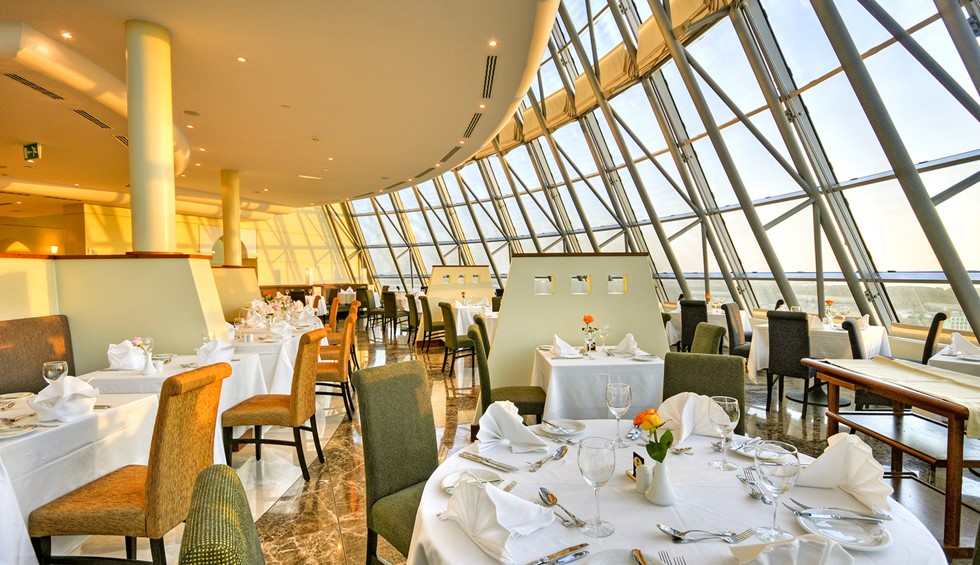 ---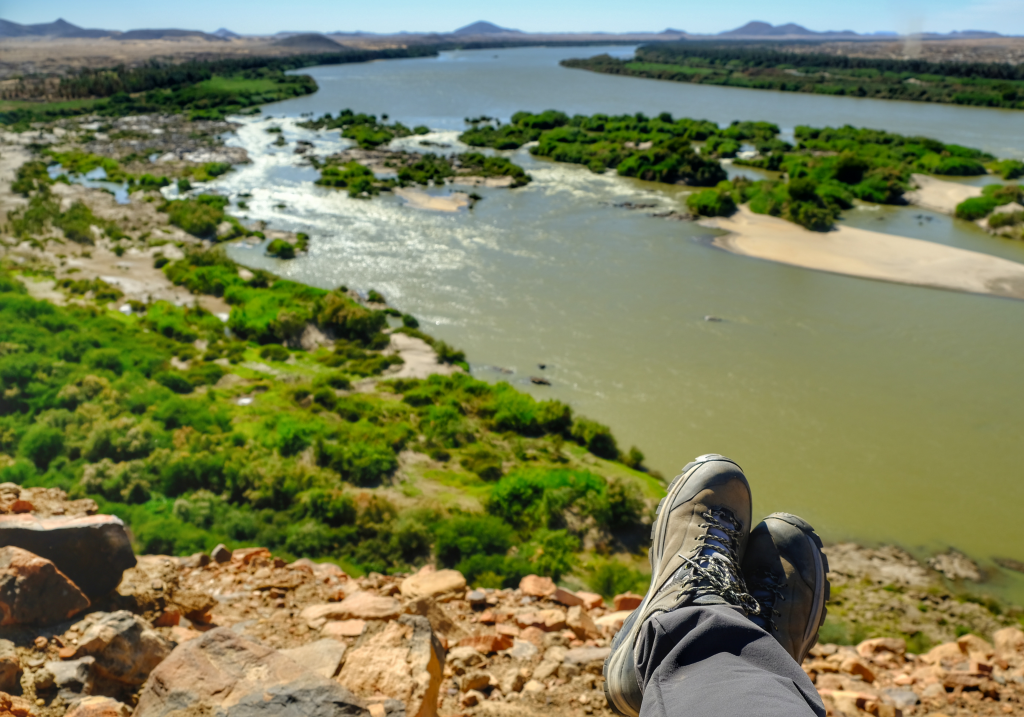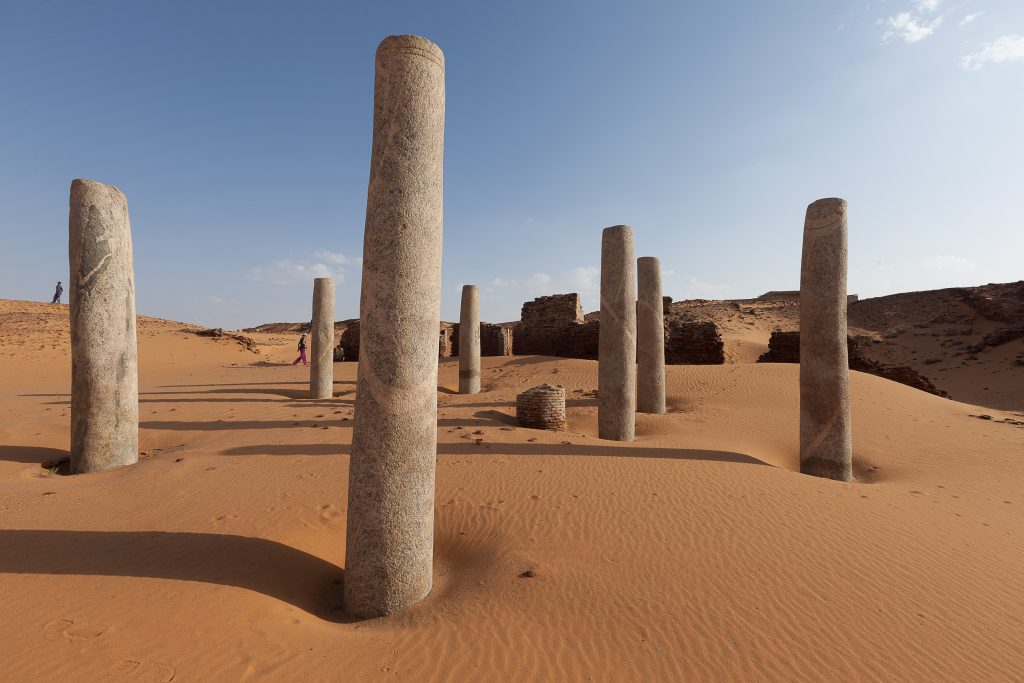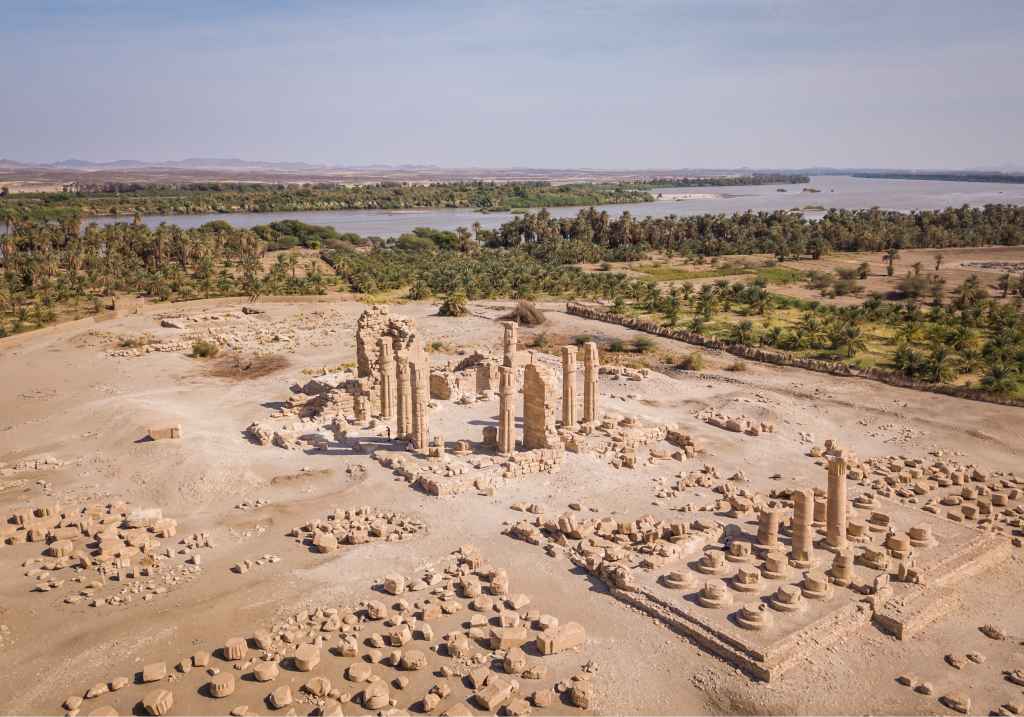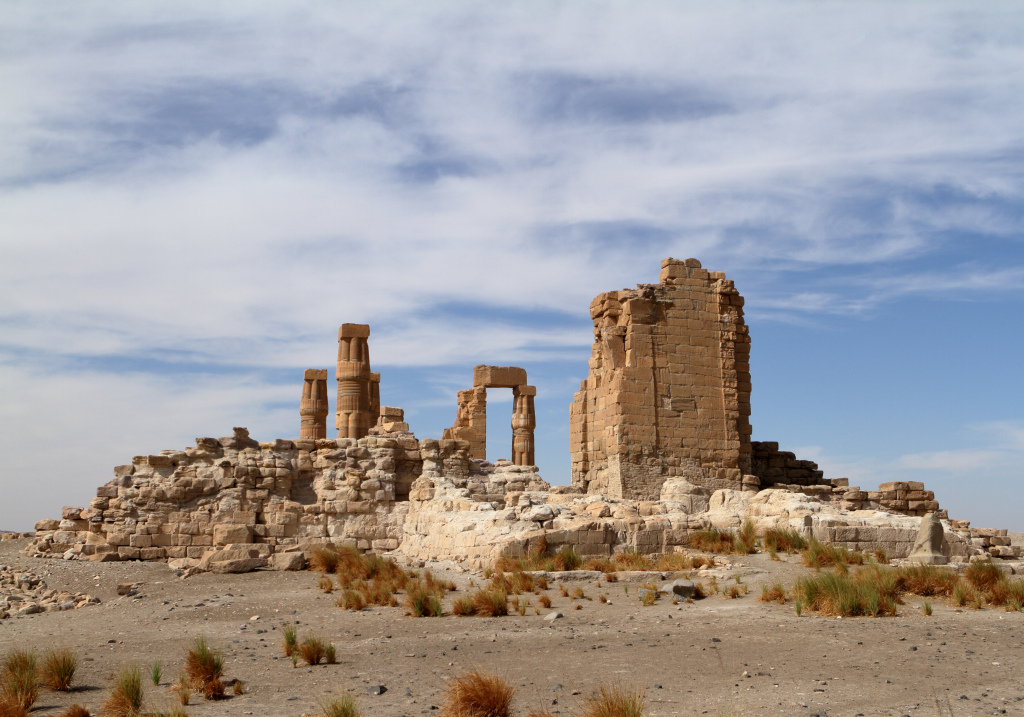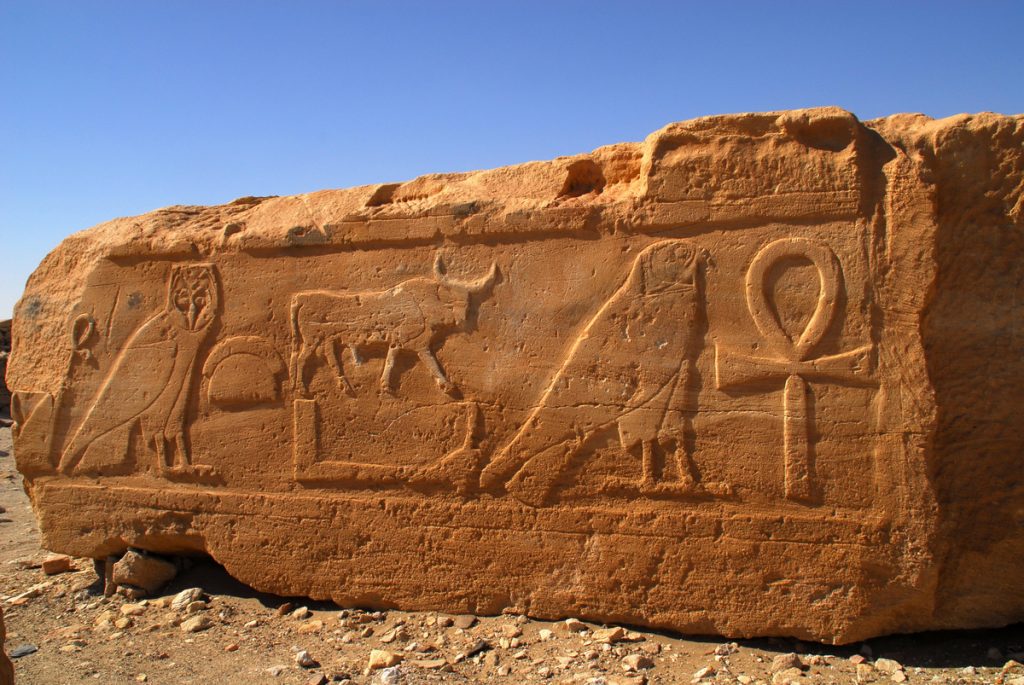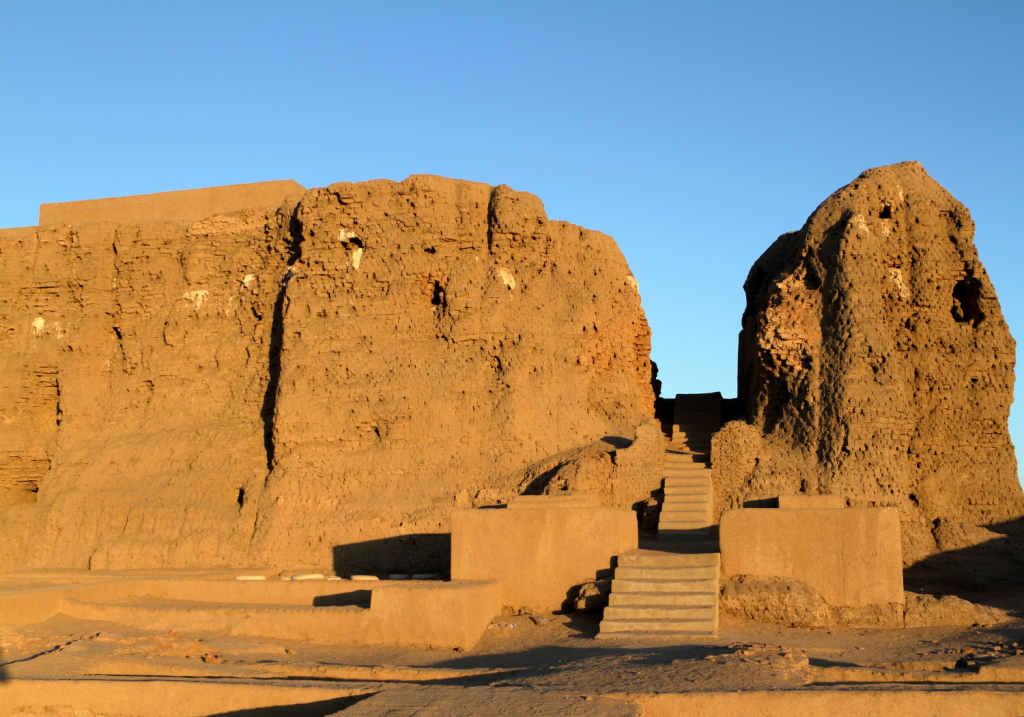 Optional Extension: 3 days to Soleb & 3rd Cataract
We wanted to offer the flexibility of a shorter trip and the option to complete the visit to Sudan with the important Soleb and 3rd cataract for those who are interested.
Note: This extension continues from Meroe on Day 7 instead of going back to Khartoum.
On Day 7, we will drive west through the Nubian Desert. We will reach and cross the Nile on the Dongola Bridge and continue north to the amazing Temple of Soleb, the most beautiful Egyptian temple of all Sudan, testimony of the New Kingdom in Nubia, with many walls rich in hieroglyphic inscriptions, bas-relief figures and many columns.
We will enjoy a lunch in a local Nubian house nearby.
After the visit we will drive off road to reach the Nile and cross it to the East coast. A short drive south will take us to Tombos, where we will find the ancient granite quarries with the remains of a statue of the King Taharqa simply left there in the desert about 2800 years ago, and some interesting Egyptian stele engraved on the rocks.
We will spend the night at the rustic Pre-set camp under the stars, in Tombos.
On Day 8, we will visite the site of Tombos and drive north on the eastern side and to visit the Third Cataract which used to be the third huge obstacle that the ancients Egyptians had to face when trying to sail on the Nile River. We will walk up the hill to the ancient Ottoman Fort where we can have beautiful views of the cataract.
In Sebu, right on the river bank of the Nile it is possible to visit one of the richest sites of rock engraving of all Sudan with hundreds of images from prehistoric to Egyptian times.
We will drive further north to reach the Island of Sai that we reach by a ferry boat. This is an important archaeological area where we can find ancient remains from Kerma civilization, Egyptian and Christian culture.
We will return to the Eastern bank of the Nile on a fisherman boat, from where we may see Nile crocodiles, and then return to the camp in Tombos.
After breakfast on Day 9, we will visit the ancient querries of Tombos, and then head to Kerma where we will visit the majestic "Defuffa" the monument that characterises Kerma civilisation.
Very interesting is the museum created by the Swiss archaeological mission after the recovery of seven statues of the Black Pharaohs in 2003.
In the afternoon we will drive back to Karima for the night at Karima Guest House.
Note: Day 10 and Day 11 will be the same days 8 and 9 of the standard itinerary, returning to Khartoum, enjoying Nubian wrestling, a half day tour of the city and a farewell dinner on the last night.
Pre-set Camp in Tombos
The pre-set camp will be prepared specifically for our group. The accommodation consists of big canvas dome South African tents (3m x 3m x 2m) with 1 or 2 camp beds, proper mattresses with bed linen, a small bedside table and a nice mat on the floor.
Outside there are camping chairs where to sit and enjoy sunsets, starry nights or simply relax and read a book. Toilet paper, towels, soap, torch for the nights and clean water to freshen up are also provided. Not far from the tents, on a sharing basis, there are sitting desert toilets and pump showers. Meals are generally buffet style and are provided in a large restaurant tent where all guests have the opportunity to share the meals while chatting about the adventures of the day.
The camp is totally eco-friendly. Light is generated by the solar panels and all the fresh ingredients used to prepare delicious meals come from the local nearby village market.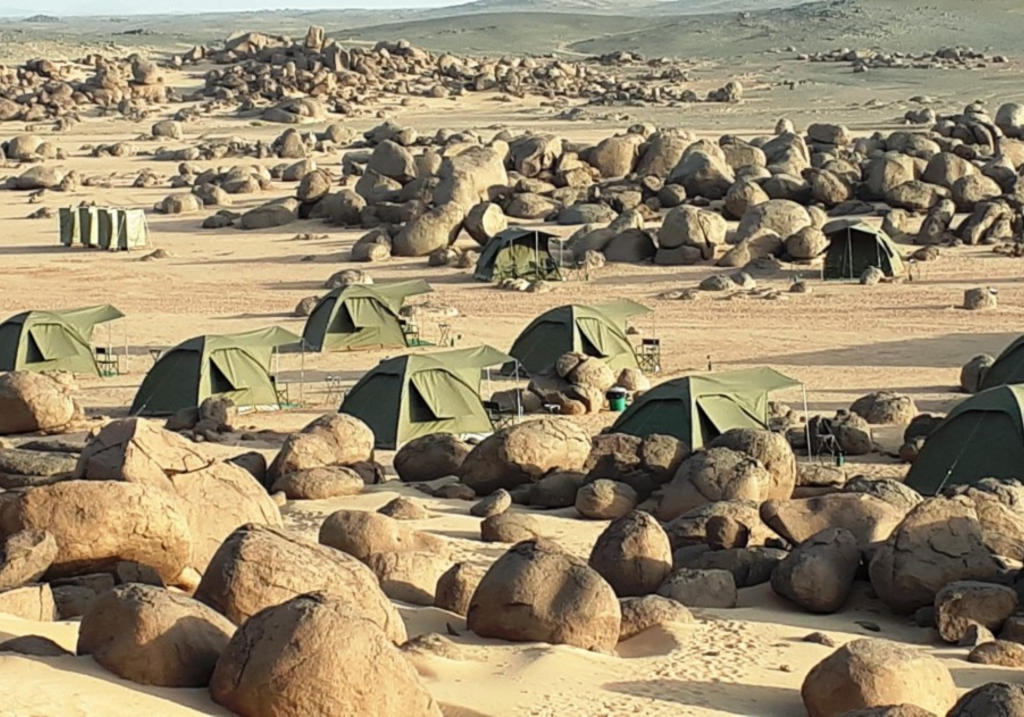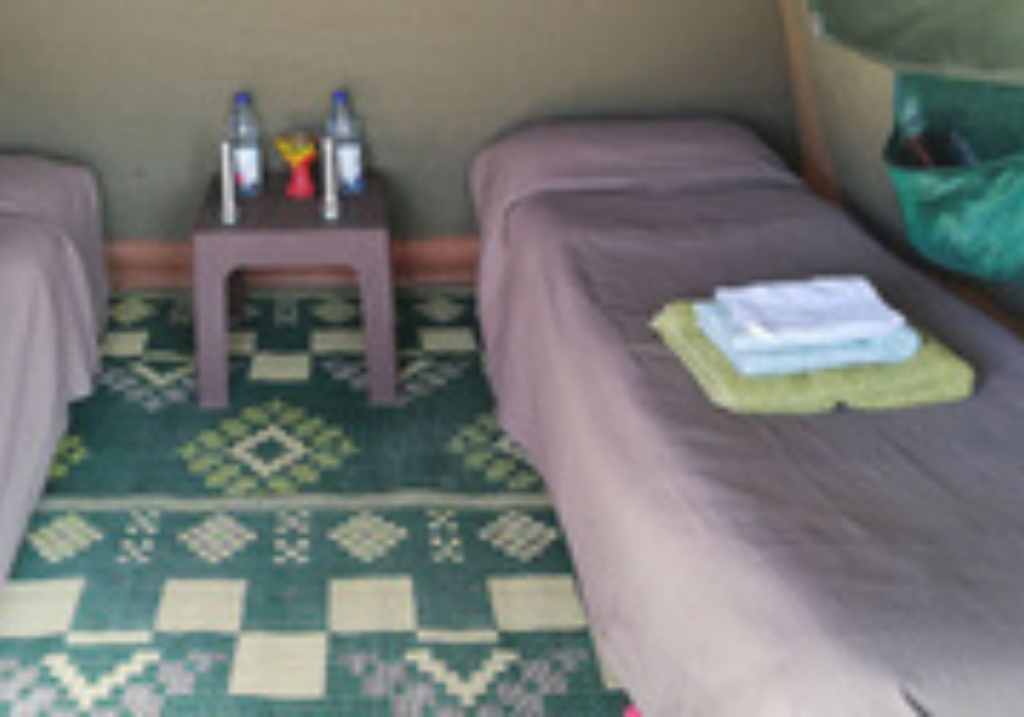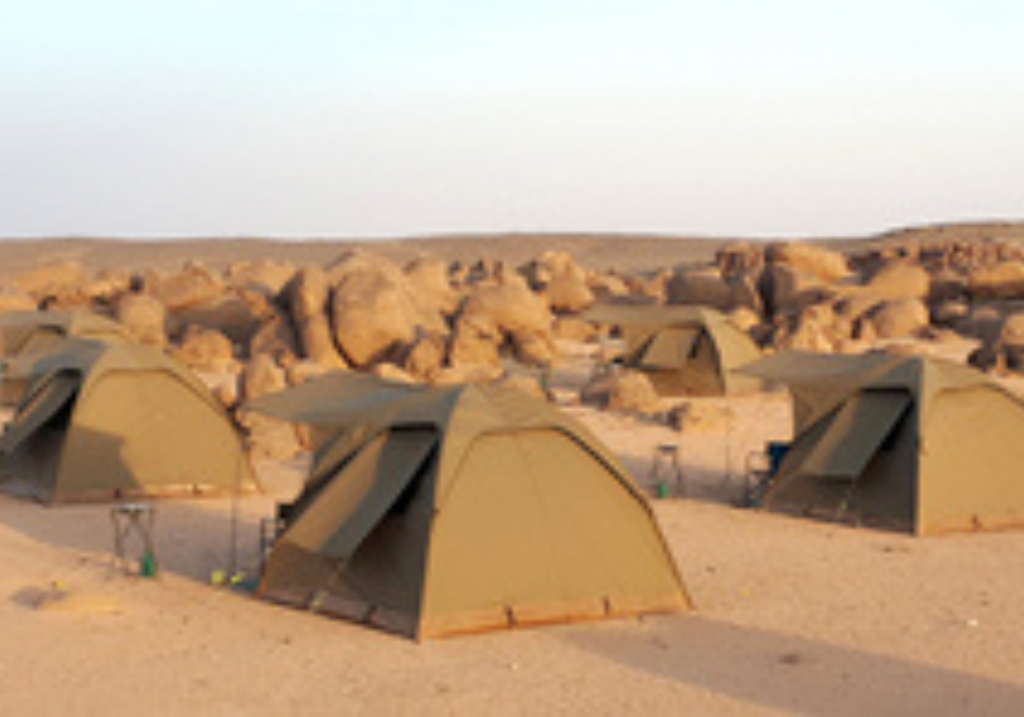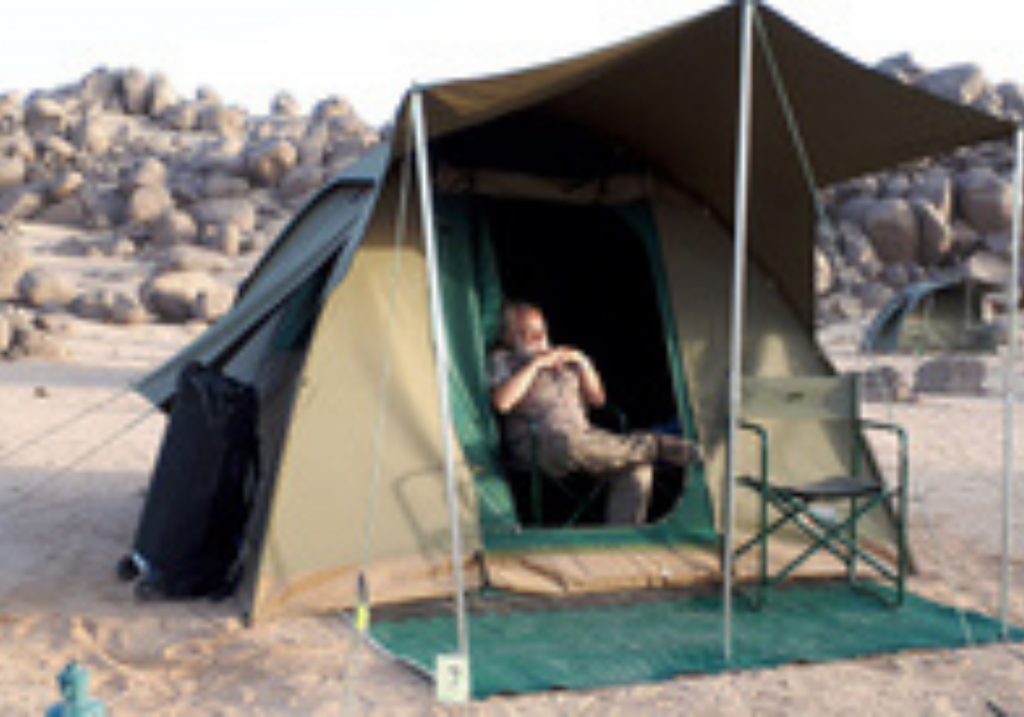 ---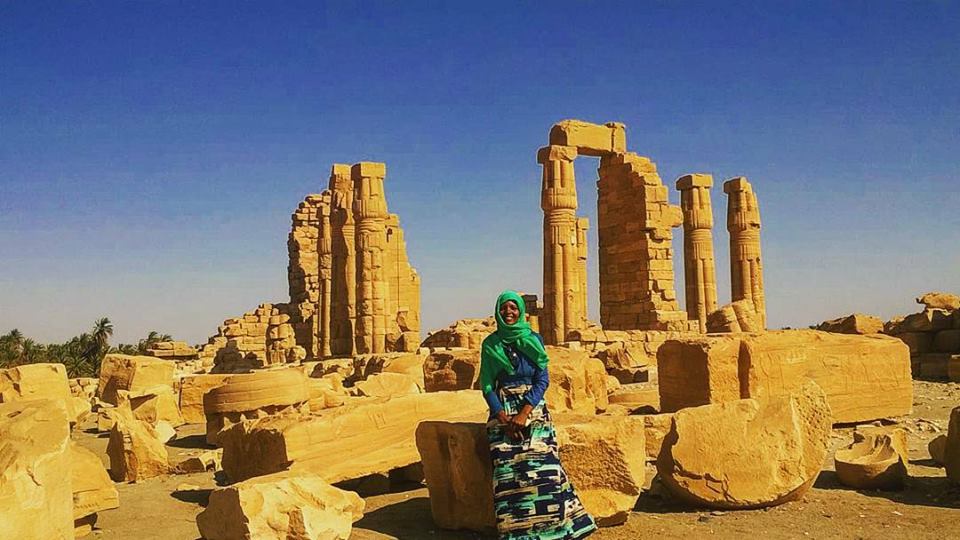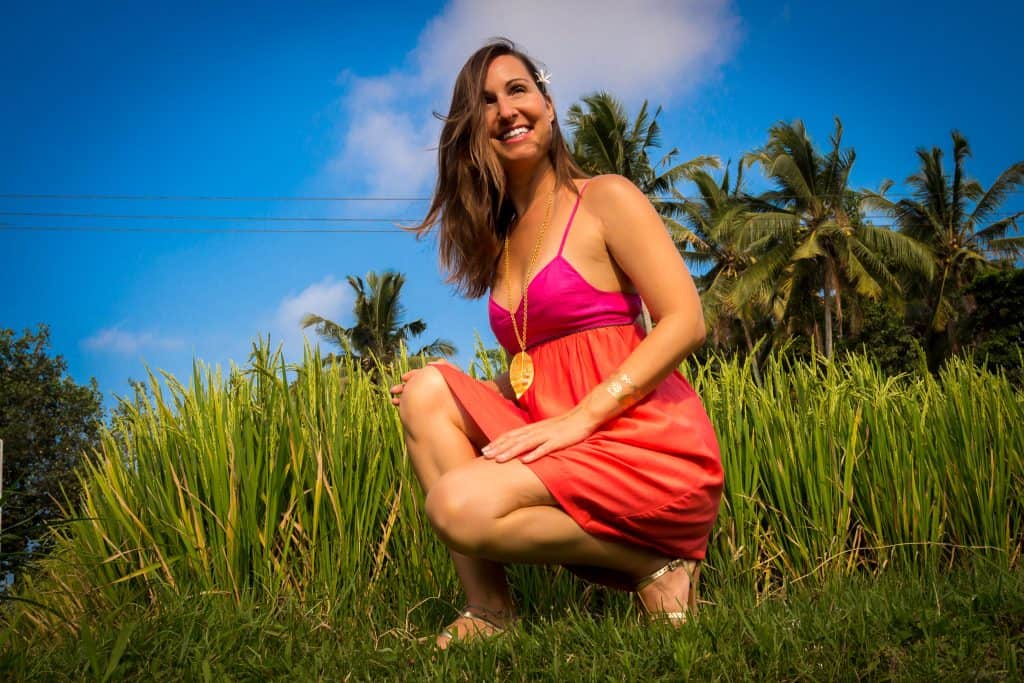 About Your Hosts
This trip will be escorted by Diba, the only Sudanese female guide in the country.
Diba joined ITC Sudan in 2014 managing the boutique shop at the Nubian Rest house of Karima and quickly moved on to become the assistant manager of the Rest House.
With the increasing demand of English Speaking Diba took on the challenge to become a Cultural English speaking guide, a special step as a Sudanese woman to be leading foreign travellers and dealing with Sudanese male staff (the drivers, cooks etc). She passed the tests with flying colors and has since developed a special curiosity towards her country history, ancient culture and traditions, the same curiosity that still now pushes Diba to never stop reading: history, archaeology, mythology, ancient and modern Sudanese traditions.
On our 2022 trip, Diba will be accompanied by our Co-Founder Mar Pages. Mar has lived in 8 countries, visited 120, 40 of those on her own, and spent 5 years working across Eastern and Southern Africa and 10 across Asia.
She also spent a long time working in Sudan and can't wait to tell you all about it and share her passion for the country with you.
Exclusive: Mar will take photos of the group and guests as a memento of this once in a lifetime trip.
---
Inclusions
✔️ Arrival & Departure Transfers
✔️ 8 or 10 Nights in shared twin accommodation
✔️ Full Board Breakfast, Lunch & Dinner
✔️ Mineral water throughout the trip
✔️ 4×4 Cruisers especially equipped for desert driving, max. 3 guests to a car
✔️ English speaking local Female Guide and Drivers (non English speaking)
✔️ All tours and attractions mentioned in the itinerary
✔️ Invitation letter to apply for your visa.
✔️ All the travel permits for travel within Sudan
Exclusions
✘ Archeological entrance fees + Mandatory passport registration which need to be paid in cash in Sudan (300 EUR including Soleb)
✘ Visa, which can be obtained ahead of time or on arrival. Price varies by nationality and embassy, see FAQs
✘ Travel & Medical Insurance (Required)
✘ COVID Vaccinations Pre Arrival (Required)
✘ Additional drinks beyond water (eg. fresh juices)
✘ Souvenirs
✘ Tips for Drivers and Guides (at your discretion)
Payment Info
2022 prices
Base trip: 2,579 EUR
Soleb extension: 1,200 EUR
2023 prices
Base trip: 2,995 EUR
Soleb extension: 1,495 EUR
Payment Plan:
30% non-refundable deposit to book your spot
Final balance due 120 days before departure
*The initial 30% deposit is refundable if the minimum number of guests is not reached. The rest of the payments are non refundable unless the trip is canceled because of travel restrictions in Sudan. By joining our trips you agree to our T&C.
Important note on travel to Sudan
Due to the long term embargo affecting Sudan, credit or ATM cards do not work in the country. As a result, there will be no means for you to obtain cash, the cash you bring is the cash you will be able to spend.
While the trip is all inclusive, you need to bring 300 EUR to pay for archeological fees, road permits and the mandatory passport registration required of all visitors to Sudan. If you will be obtaining a visa on arrival, bring an additional $250 to $300 (depending on nationality) for the visa.
You may bring additional cash for souvenirs, tips and fruit juices / soda but note that once you exchange foreign currency into New Sudanese Pounds, you won't be able to exchange your money back. Sudan is a dry country and the sale of alcohol is prohibited.
Important: USD bank notes older than 2009 are NOT accepted in Sudan, you should aim to bring new notes without any wear and tear.
Reach Out to Book One of 13 Spots
Interested in joining us in Sudan?
We are keeping the group to 13 guests maximum so don't wait and reach out to us today.
Contact us at community@solofemaletravelers.club or Pick a convenient time and date on the right to talk to us, we'd love to meet you!
IMPORTANT: The nature of this trip makes vegan diets difficult to accommodate, please reach out to us to discuss your dietary needs before booking.
Note: Please do not book any flights until the trip is confirmed.
---
Frequently Asked Questions
This is a trip of a lifetime and we know there are many things you'd like to know more about.
What are the COVID measures in Sudan and how will you ensure everyone is safe?

We care deeply about the wellbeing of our guests and our trip follows all local regulations. We require our guests to be fully vaccinated to join the tour so that we ensure the safety of everyone on the trip.

Sudan has lifted all COVID rules and there is no need to show negative tests or vaccination cards to enter.
What if I cannot travel because of COVID restrictions?

Once the 30% deposit payment is made, the trip is non refundable unless there are travel restrictions imposed by the Government of Sudan that force the cancellation of the trip or we do not meet the minimum number of guests. We require all guests to purchase travel insurance that covers unforeseen circumstances which would prevent them from traveling, and this is how you would recover your costs from needing to cancel.
Do I need a visa for Sudan?

All travelers to Sudan except for Egyptians who are older than 49 years old or Egyptian ladies and children need a visa to enter Sudan. This visa can be obtained in advance at the Sudanese embassy in your country, or on arrival in Sudan. Where possible, we recommended getting a visa from a Sudanese embassy because it is cheaper, but if you do not have access to an embassy OR the embassy nearest to you does not issue visas (eg. Embassy in Spain or France) you can obtain a visa on arrival in Khartoum.

To obtain a visa on arrival, it is essential to apply for an Entry permit in advance. For this, ITC Sudan will need to receive a scan copy of the passport (which has to have minimum 6 months validity, 2 free consecutive pages and NO Israel visa or stamp) 2 months before travelling. ITC Sudan will apply on your behalf in Sudan and send a scanned copy of the LANDING/ENTRY PERMITS that you must print out and show when checking in for the Khartoum flight in your country of origin. The airline will deny boarding if you are not able to produce the printed permit from the Government of Sudan.

On arrival at Khartoum airport the officers will have the visa sticker placed on your passport. You will need to bring a passport photo for this. The cost for the procedure to get the invitation letter is $170 per person paid in cash to the guide in Khartoum. Additionally, the visa stamp costs $100 for non-US citizens or $150 for US passport holders to be paid in cash locally at the customs officer. In both cases, make sure that any US Bank notes are newly issued and have no tear or damage. Notes printed before 2009 are not accepted across Sudan.
What is included in the trip?

This is an all inclusive trip without any optional activities except for the extension to Soleb. All activities and visits quoted in the itinerary are included as well as all meals and water. Sudan is a dry country and the sale of alcohol is prohibited. However, fresh fruit juices are delicious and the country has the best watermelon juice you will ever taste.

Not included in the trip are the visa, passport registration (which will be taken care of by ITC Sudan and is mandatory), travel permits within the country, and entry tickets to archeological sites which need to paid in cash. Please bring 280-300 EUR to cover all these fees and $270-300 for the visa on arrival. Other than that, tips are at your own discretion and a guideline would be $5 per day for the drivers and $6 per day for the guides. You will have limited opportunities to buy souvenirs to take home.
Can I pay the archeological fees in advance?

We quote the archeological fees as a separate item to be paid in cash and brought by the guests because they cannot be paid in local New Sudanese Pound as per Government requirements. Obtaining hard currency in Sudan is extremely difficult due to the ongoing embargo hence guests are requested they bring this with them.
Can I have a room to myself?

All costs above are considered on a sharing basis with two guests per room in twin bedding; we will pair you with another solo female traveler on the trip. If you wish to have your own room, the standard trip single supplement is 600 EUR and the Soleb extension single supplement is 250 EUR.
I want to bring my partner to the trip

This is a female-only small group trip specifically designed for women traveling on their own. If you wish to travel with a female friend, family member, etc. they are absolutely welcome, however we are not able to book male travelers on this trip.
I want to bring my daughter

How wonderful! If your daughter is above the age of 16, we will be glad to have her with us.
Will the guides be female?

Yes, this trip will be hosted by Diba, our local Sudanese guide, giving guests a glimpse into the life of local women and a unique opportunity to learn more about the country. She is the only female guide in the country and has only started to guide in 2019. She is excited to share this trip with an all female group.
How does this trip help local communities in Sudan?

We believe that travel can be a force for good and wherever possible, we work with local travel companies in the country who can help us make a difference and ensure that the tourism dollars benefit local communities. For this trip, we have partnered with ITC Sudan who have been in the country managing tours, camps and lodges in Meroe, Karima and Soleb for the last 30 years. The owners are an Italian couple who are committed to Sudan and employ an almost-all Sudanese team including the only female guides in the country. ITC Sudan is the preferred operator of all reputable travel companies organising trips to the country such as National Geographic and has unmatched experience.

Besides their long-term commitment to Sudan, ITC Sudan supports the organization Amici del Sudan which focuses on providing education to the least privileged and on building wells; in the dessert, water is a gift for people and cattle.

The company is also focused on minimizing impact on the environment and reducing waste and plastic, in remote environments where nature is practically untouched and locals continue with age-old traditions living a nomadic lifestyle, preserving what is there for generations to come is crucial.

You can read more about all of ITC Sudan environmentally friendly initiatives here. While Karima Rest House is a permanent boutique hotel, the Meroe Camp is solar powered and charging stations will only be available in the evenings. The Pre-set camp has no electricity but guests can use the car's charging point to recharge their phones.
What medication do I need to take for a trip to Sudan?

You should make an appointment with your doctor to confirm any travel inoculations and other medications that you may need to take before and during the trip, including those to prevent malaria which are generally recommended, although the risk of mosquitoes in the dry season, when we will be traveling, is low. You can check the CDC website for more details.
What should I pack for this adventure?

Once your trip is confirmed, we will send you a detailed packing list with everything you need to take. In the meantime, you can check this list we put together. In general, the number one rule of the dessert is to cover from the sun and the dust; long sleeves and long trousers or skirts are preferred. Sudan is a conservative society and out of respect for the local culture we ask that you cover shoulders and knees.

Covering your head is not necessary, although a scarf can be useful in the case of dessert sand blown by the wind and a hat is essential. Because we will be walking across sand dunes and ruins, we recommend closed shoes with ankle support.

Help us minimize waste by bringing your own water bottle which can be replenished for free daily, instead of using single use plastic bottles. We recommend not bringing large equipment such as laptop computers which can also be easily damaged by the dessert sand and you will get few opportunities to use it. WiFi internet is available in the common areas of the Meroe Camp and Karima Rest House, but it can be temperamental, and at the hotel in Khartoum, the Pre-set Camp has no WiFi.
What happens if I get sick?

The prospect of getting sick while alone in a foreign country is daunting, and this is why we require all our guests have comprehensive travel and medical insurance that includes international evacuation. Should you fall sick, ITC Sudan's local team will escort you to the nearest medical facility so you can get the help you need.
What travel insurance should I get?

We recommend you get the most comprehensive travel and medical insurance that would cover you in the event that you need to be evacuated. We recommend checking with an aggregator such as Travel Insurance Master to compare quotes and coverages. Note: because of the embargo, several insurance companies do not cover Sudan, if you have an annual plan please check that you are covered for Sudan.
Can I make various instalments for this trip?

Our payment plan includes 2 instalments: a 30% deposit to book a spot and the remaining balance due 120 days before the trip. The Soleb extension is due along with the final payment.
Can I pay by credit card?

We offer the option to pay via bank transfers as these are the most cost effective bank charges. Payment by credit card carries an additional 4%.
Will the lodges and camps have WiFi?

All the accommodation we will be staying at has WiFi but in most cases this is only available at the main common area and may be limited and slow. The Preset camp in Soleb does not have electricity or internet. We invite you to take this opportunity to be in the moment and disconnect from your always-on life. If you need internet connection throughout your trip, please let us know and we can help arrange for a local SIM card at extra cost (mobile connectivity in Soleb is limited).
What kind of food will we eat?

Hotels in Khartoum offer a mix of international and local dishes. Al Assaha where we will enjoy our welcome dinners, is a Lebanese restaurant serving traditional mezze starters to share and grilled meats and our farewell dinner at Al Mugran will be buffet style with a mix of international and local dishes.

Most days will be spent exploring hence picnic lunches under shaded trees are the norm. Expect dishes with tomato, rice or pasta salads, cheese, ham, tuna fish, and fresh fruit. The most common local dishes are broad beans soup and lamb. Chai tea with spices or mint is commonly drank by Sudanese and very good and rich in flavour. Dinners at the lodges and camps include hot dishes such as meat or fish, vegetables; pasta, rice or soup, fruit and dessert. Tea and coffee is always available.