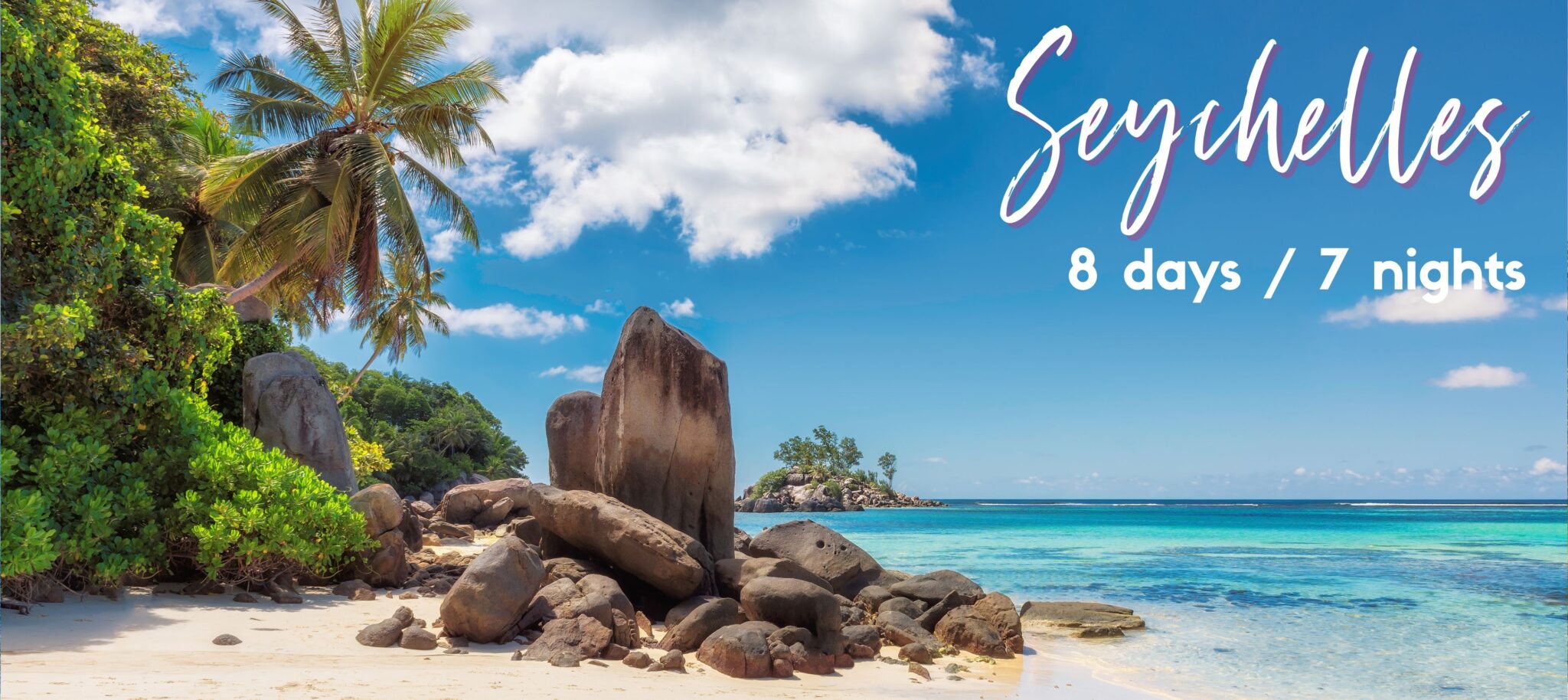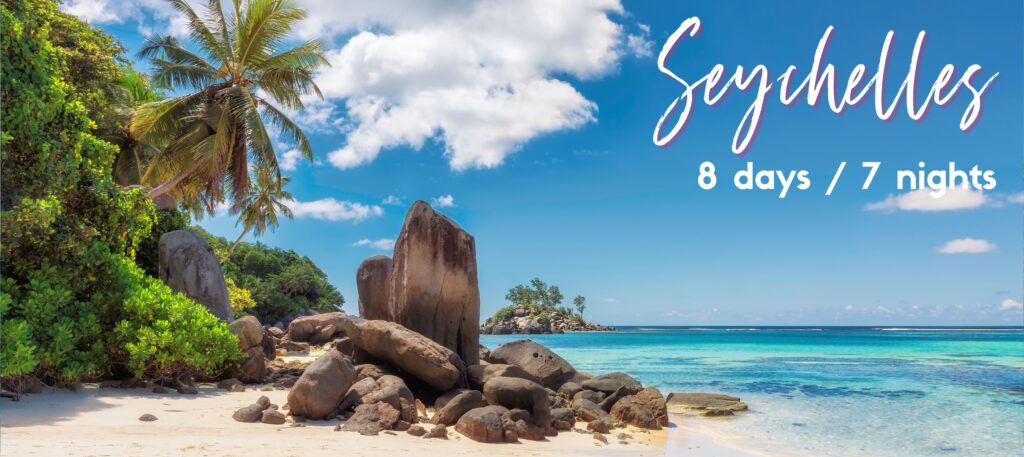 No current dates scheduled
Sail the Seychelles
Mahe – Curieuse – Aride – Anse Lazio – Praslin – La Digue – Moyenne
Exclusive women-only island hopping sailing trip through the stunning and remote South Indian Ocean islands of the Seychelles. A laid-back trip filled with swimming, beach time, sailing and sand between the toes.
Highlights: Your own private sailing yacht | Uninhabited islands | Honeymoon favorite La Digue | Beach time at postcard-perfect Anse Source d'Argent and Anse Lazio beaches | BBQs on deck | Incredible sunsets and star-gazing | Dinners by the beach | Guided tour of Coco de mer park | Visit to the Bird Citadel of Aride | Snorkelling stops in beautiful places | Large sundeck | All inclusive (with wine / beer) | Photographer onboard
No single supplements** | Classic ship & cabins
No current dates scheduled

Activity level: Moderate, expect to walk 5,000-15,000 steps a day, swim and snorkel in the sea, get on / off tender boats and climb stairs inside the ship.
**Prices per person, we pair you with another solo traveler, or book a single cabin and upgrade.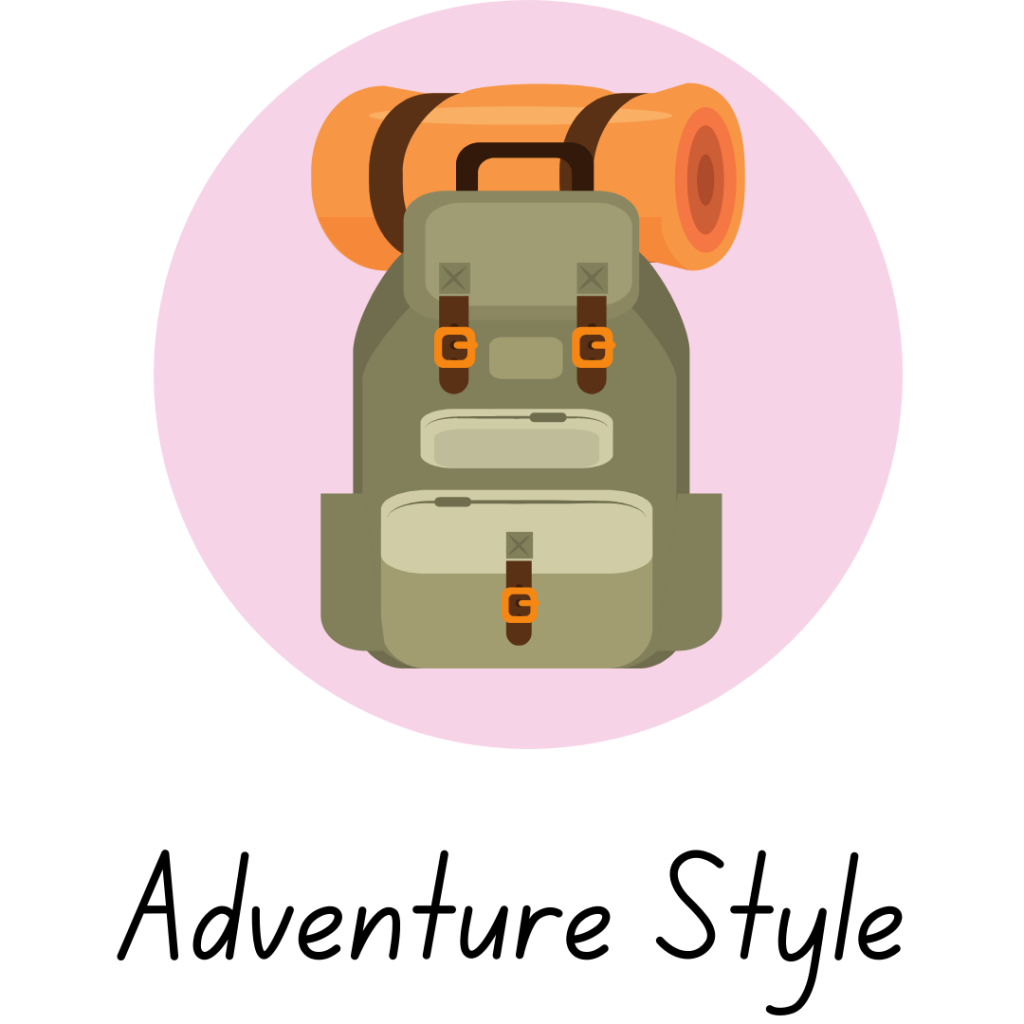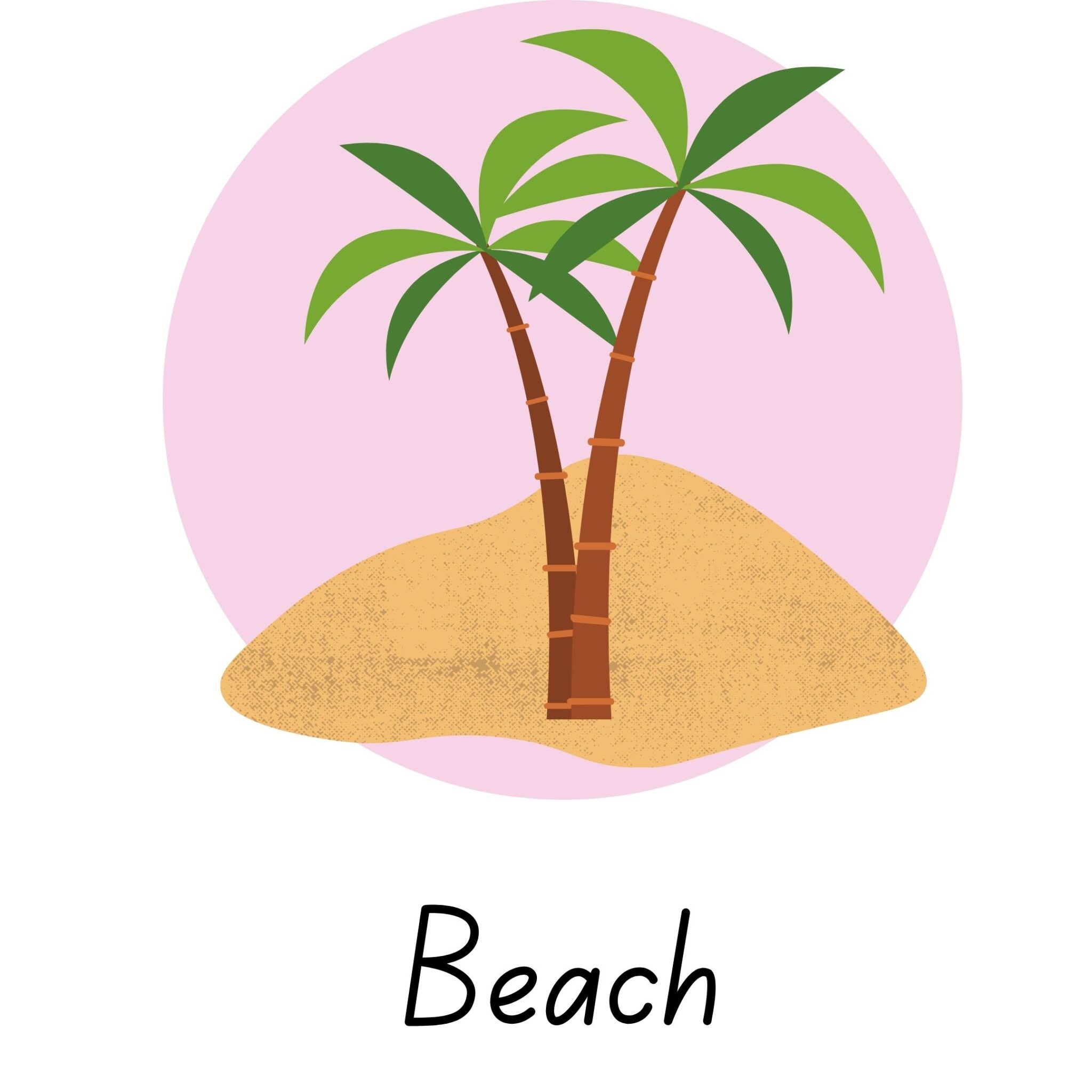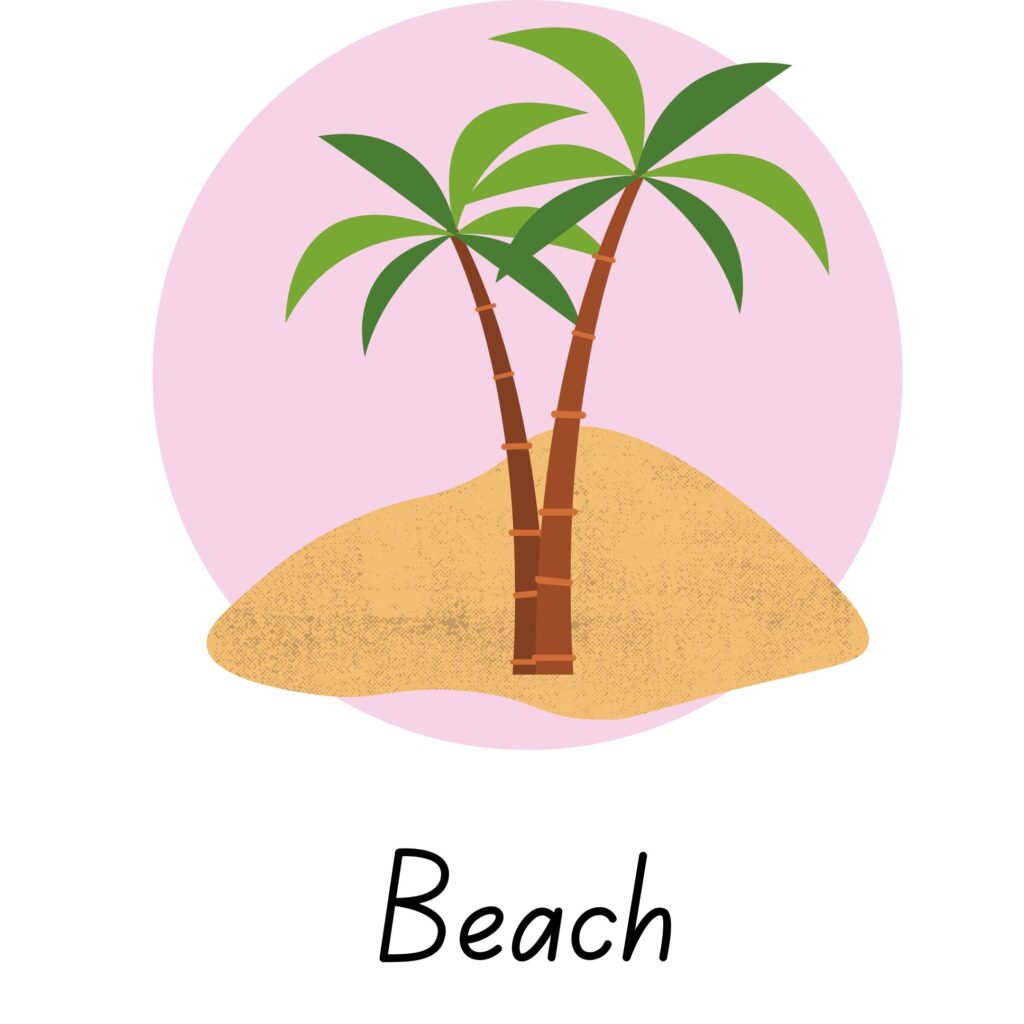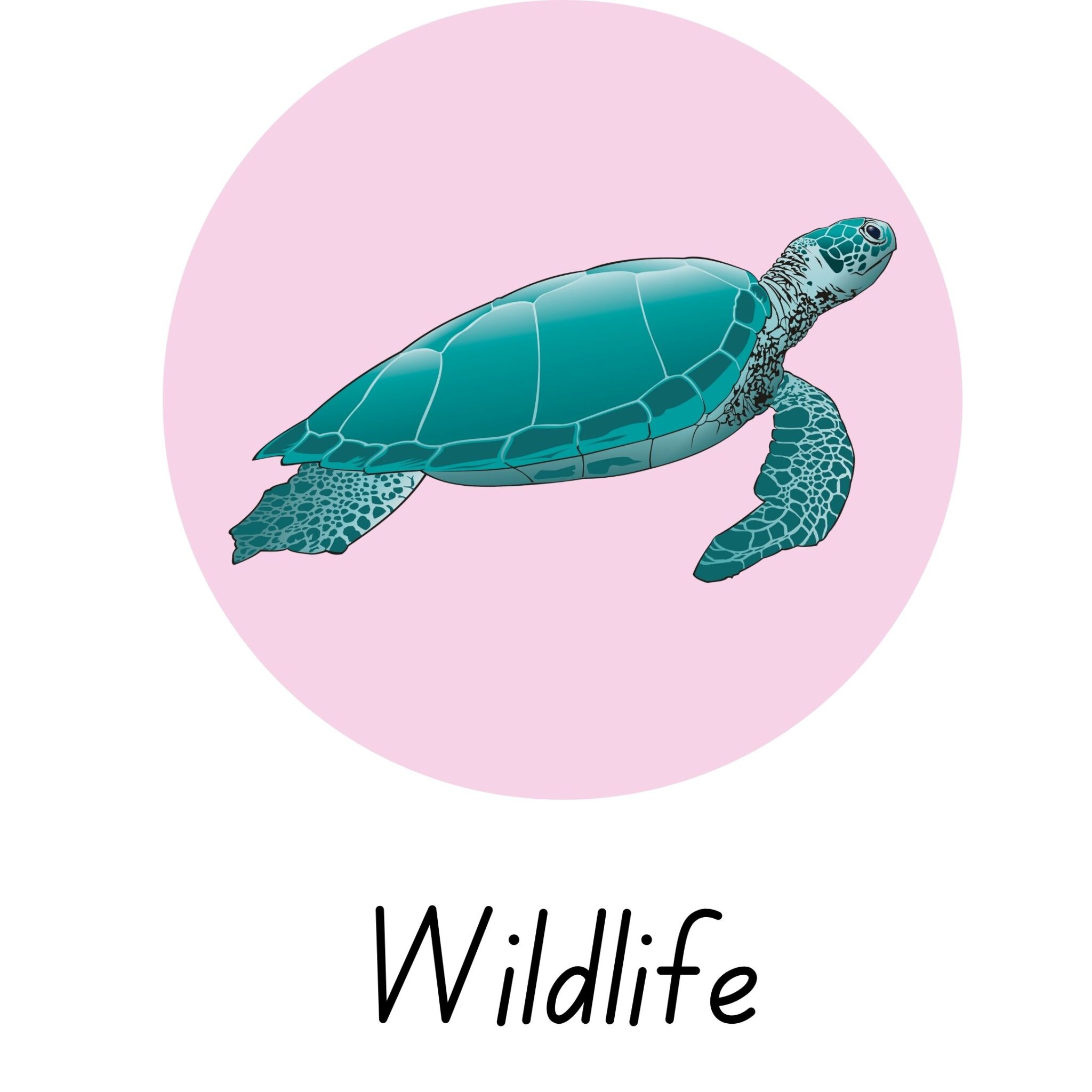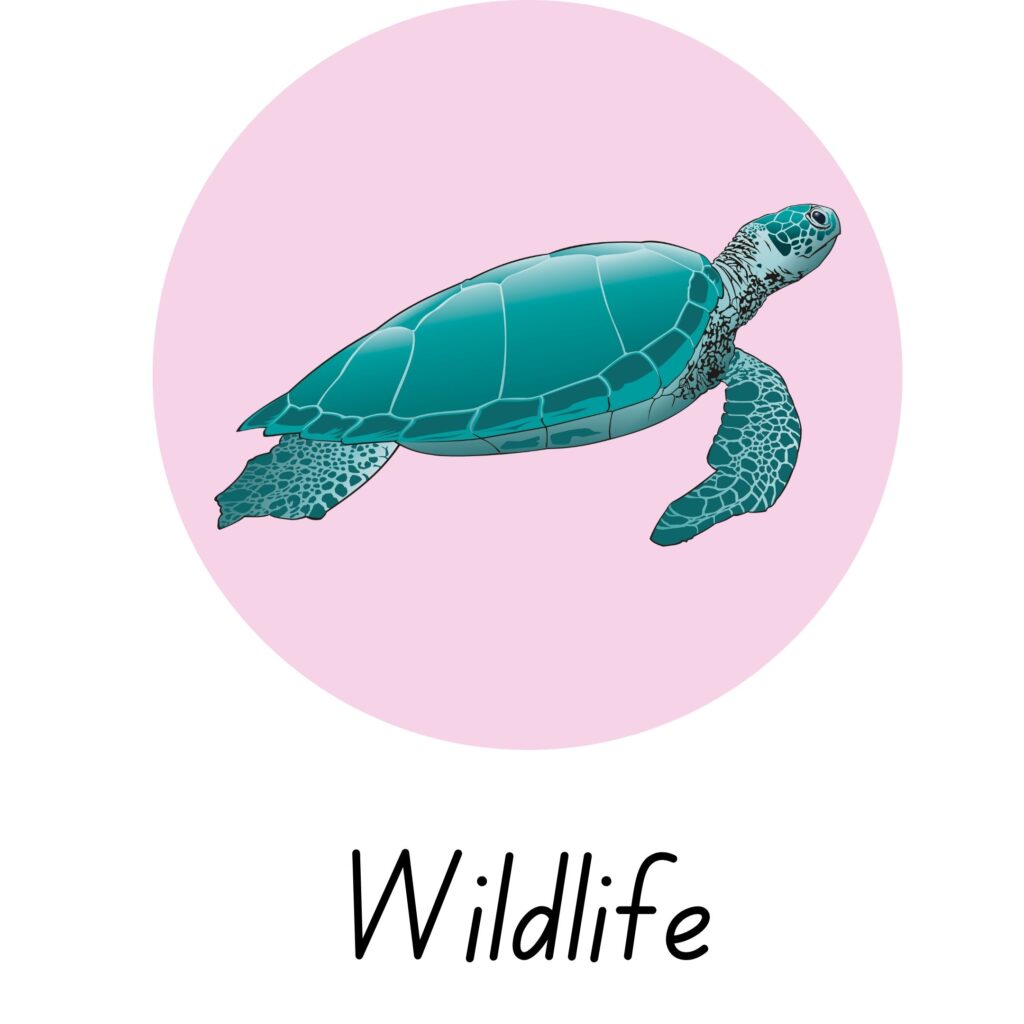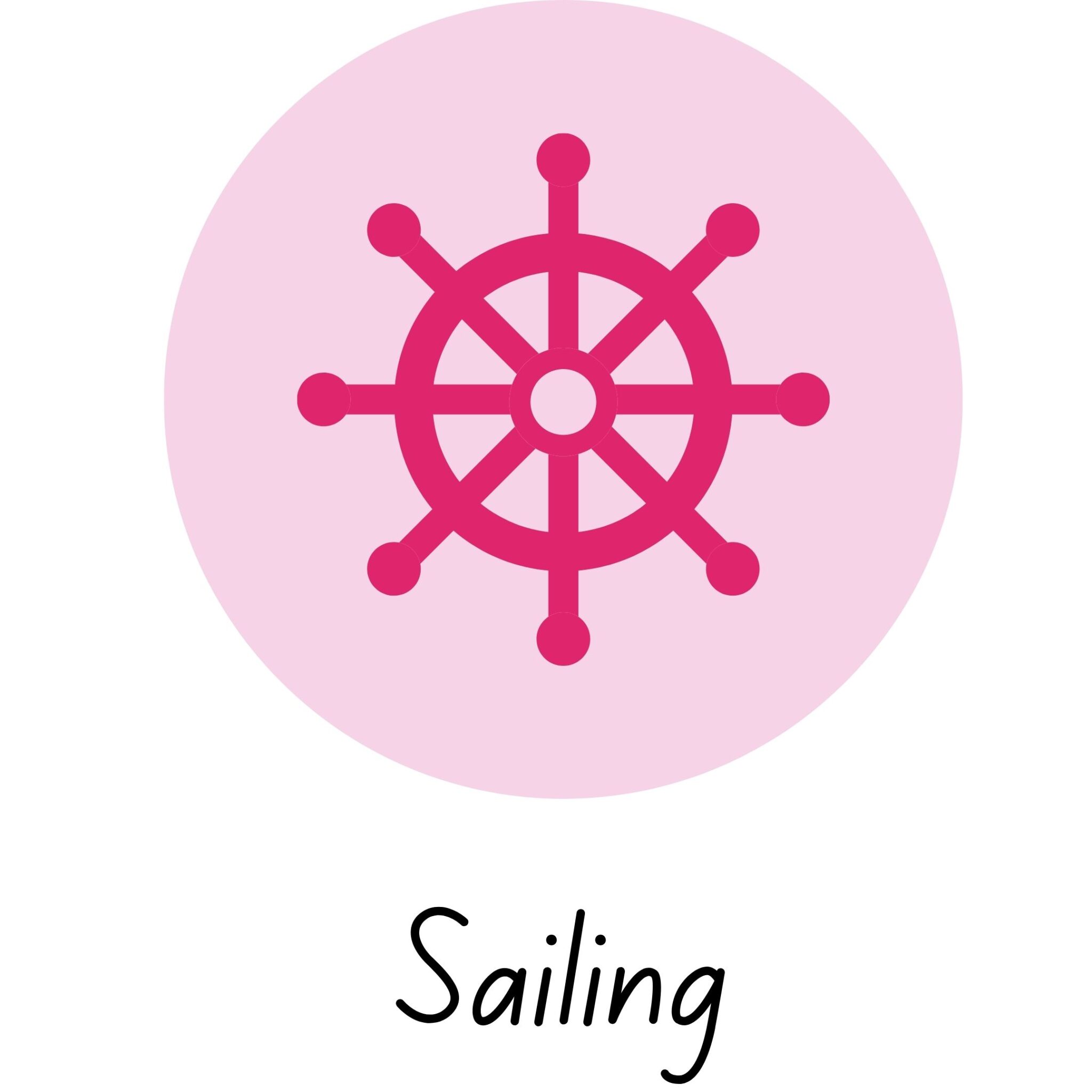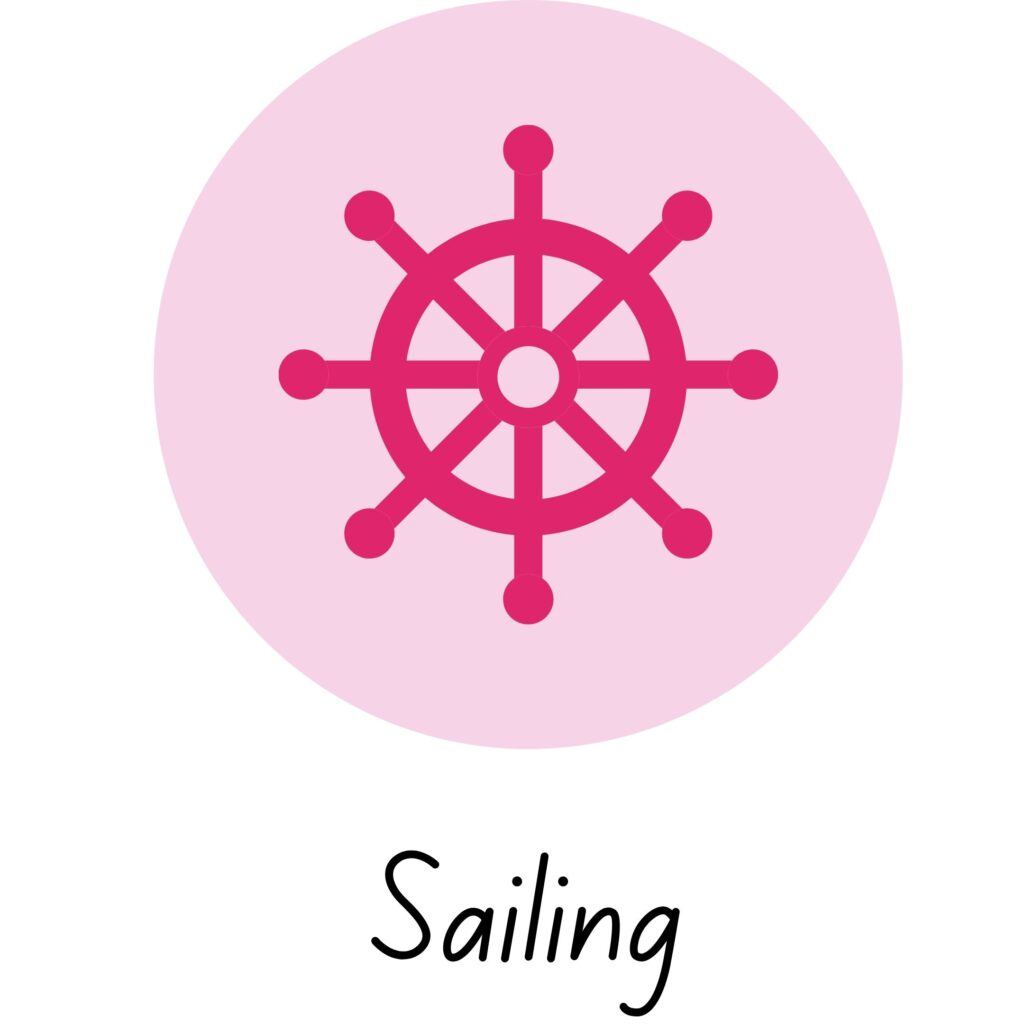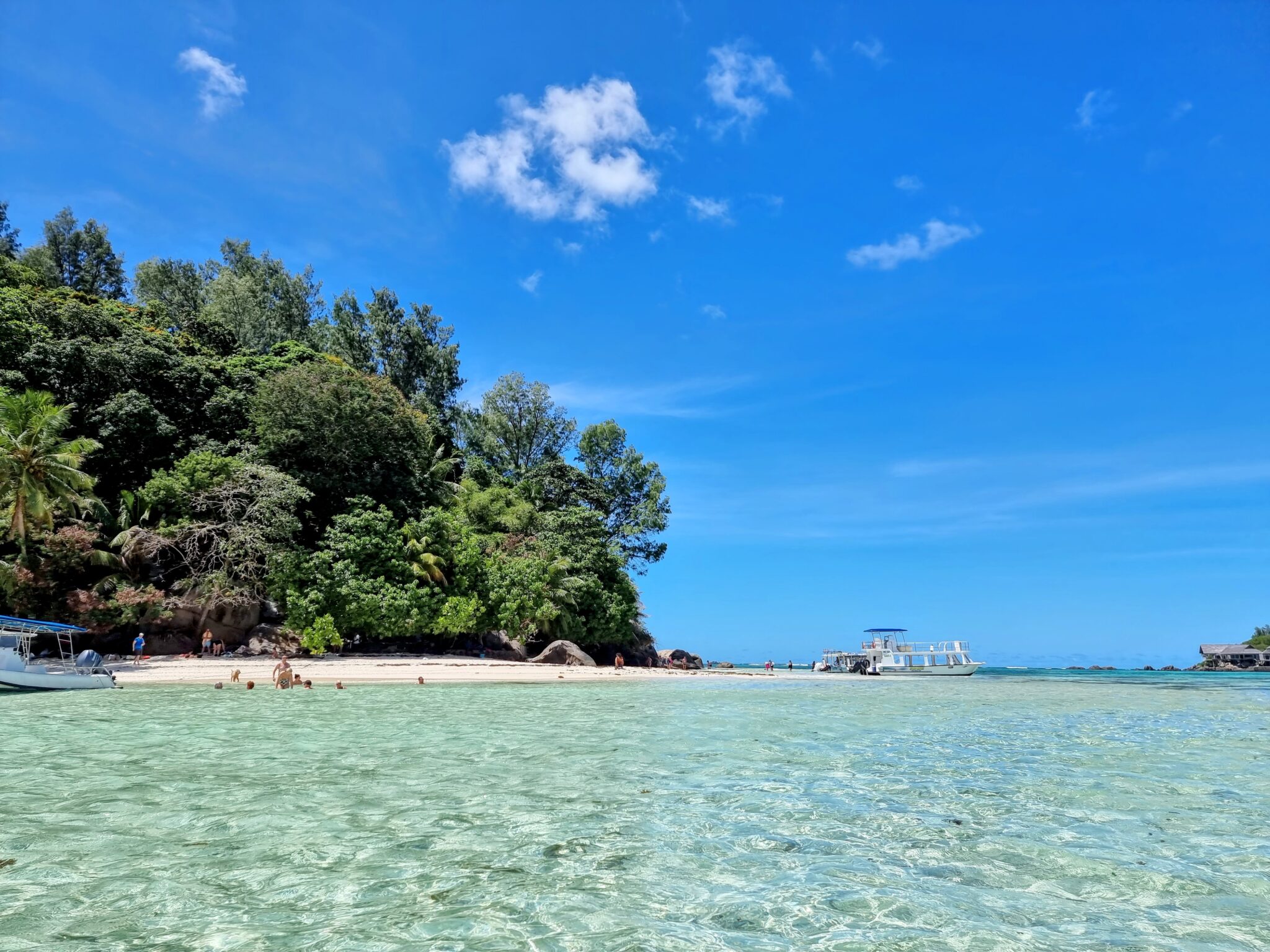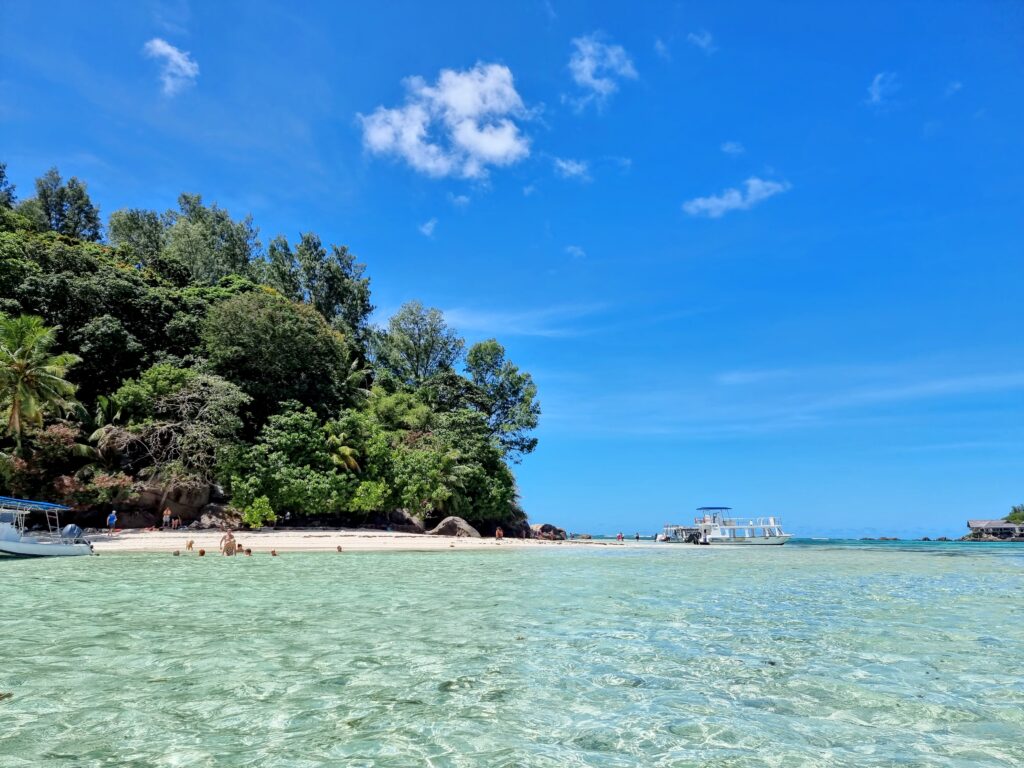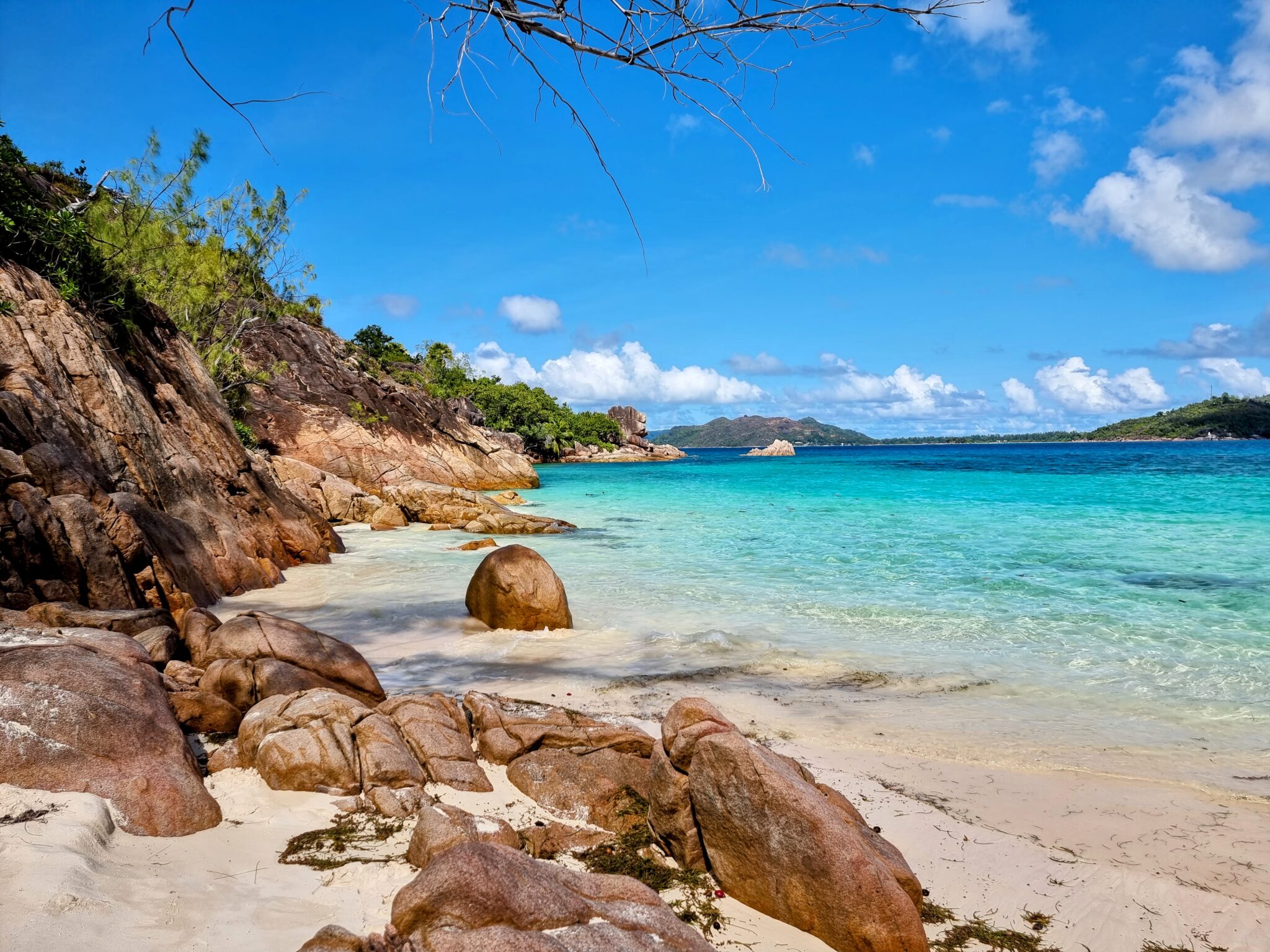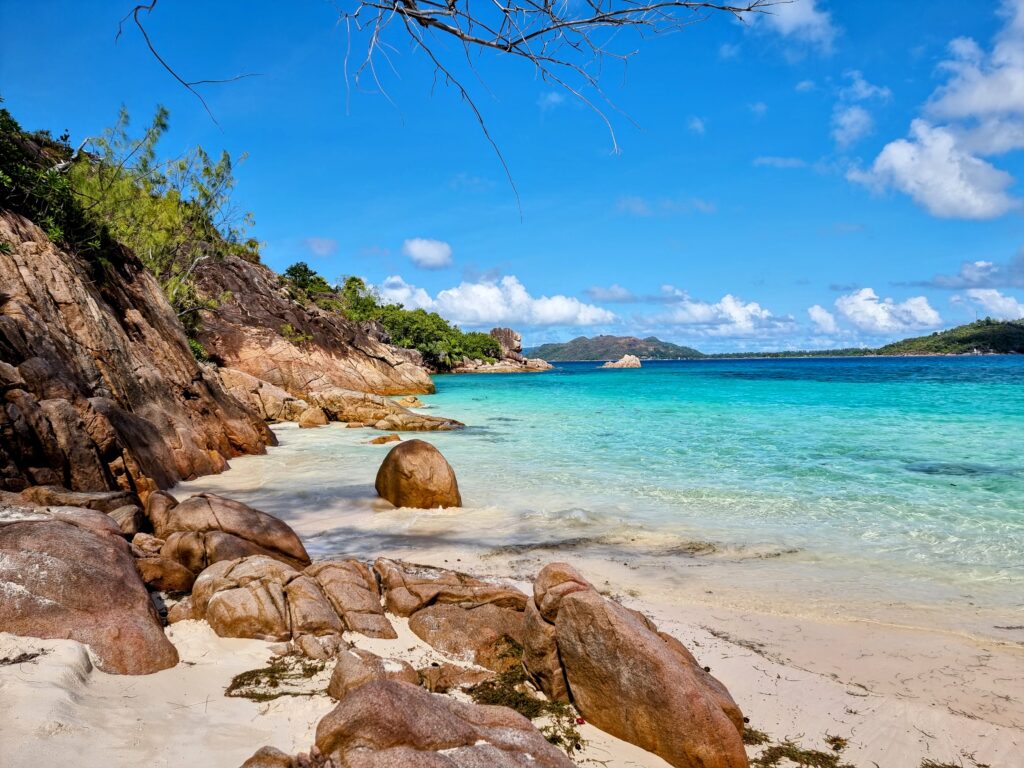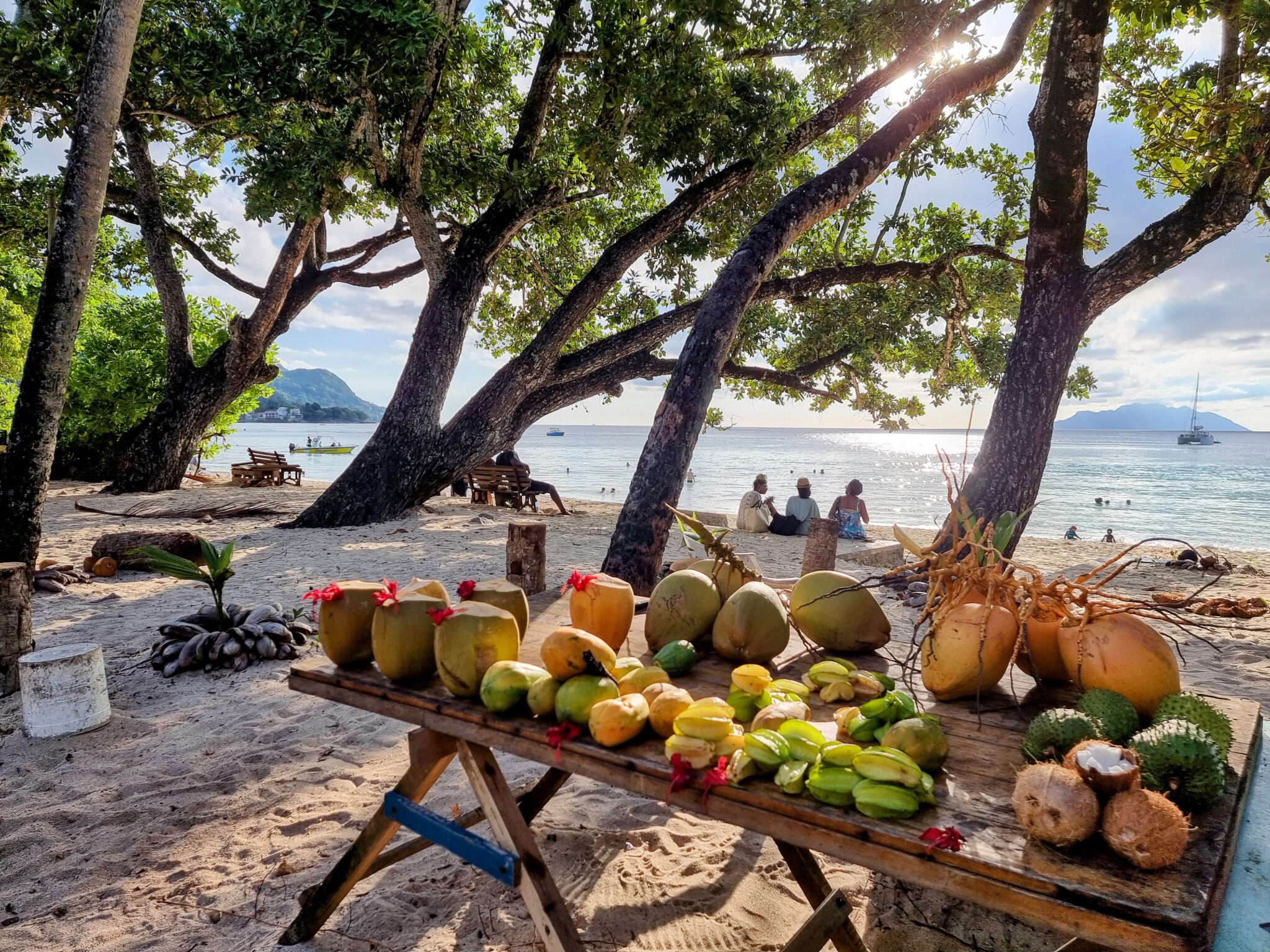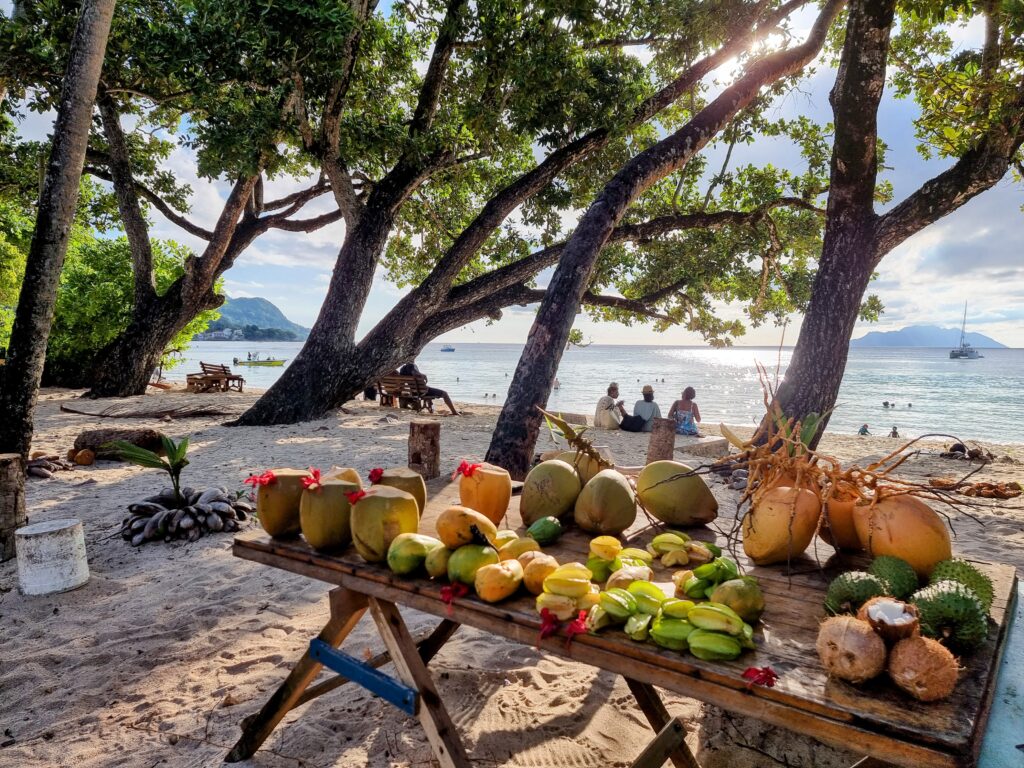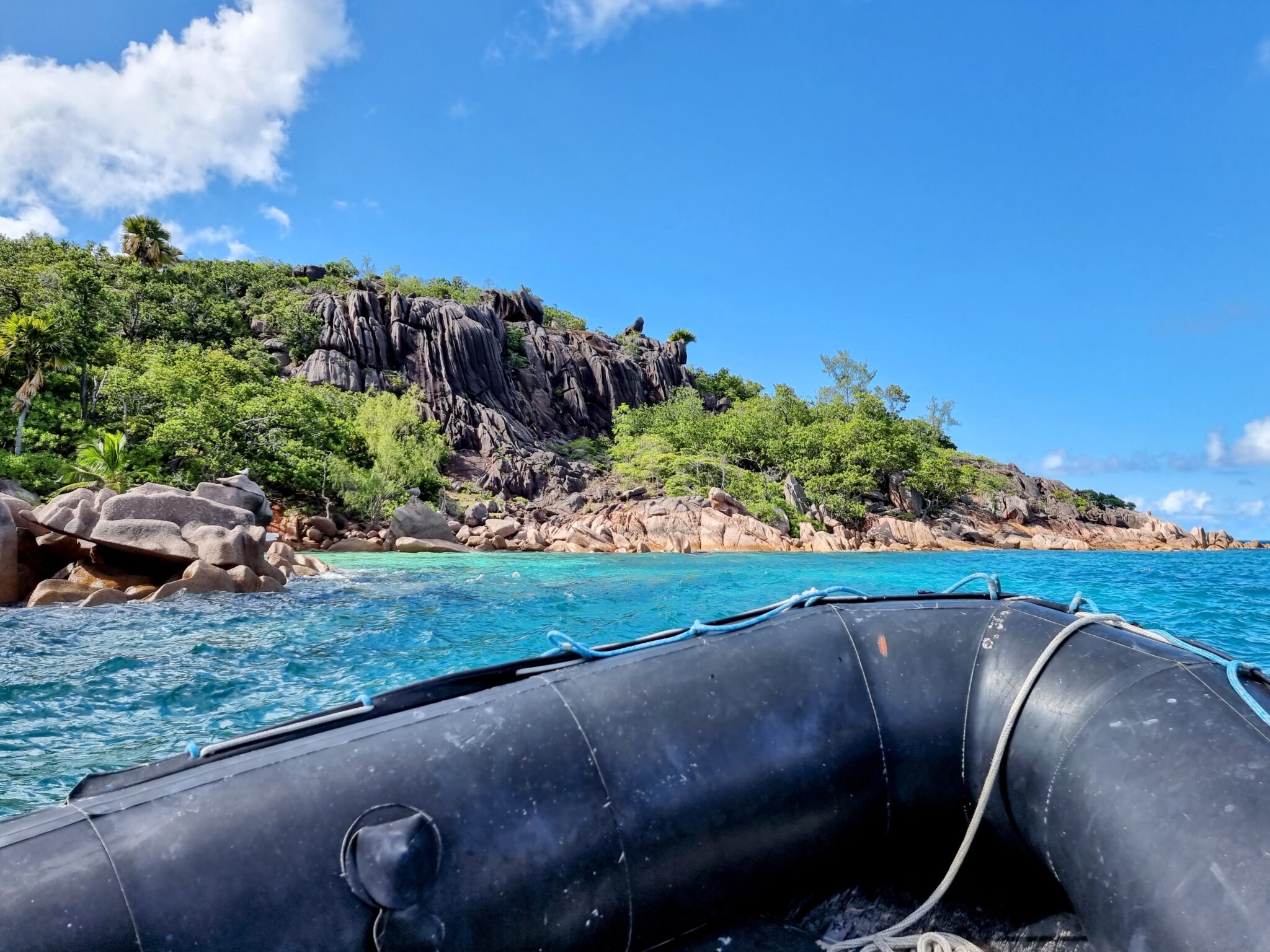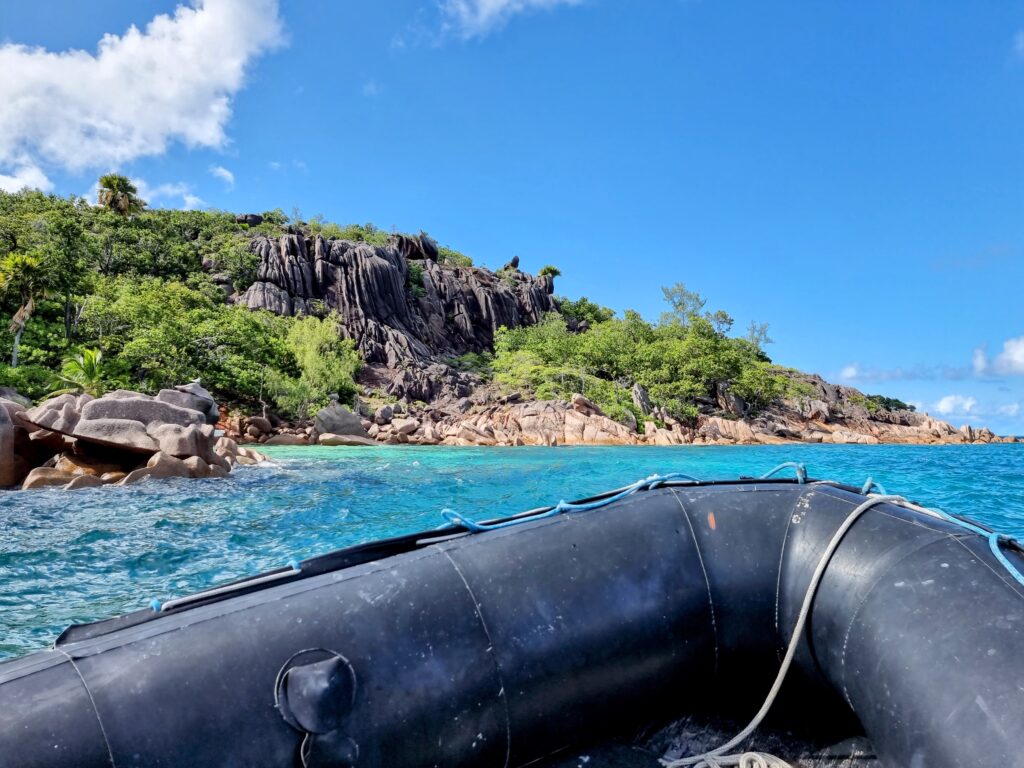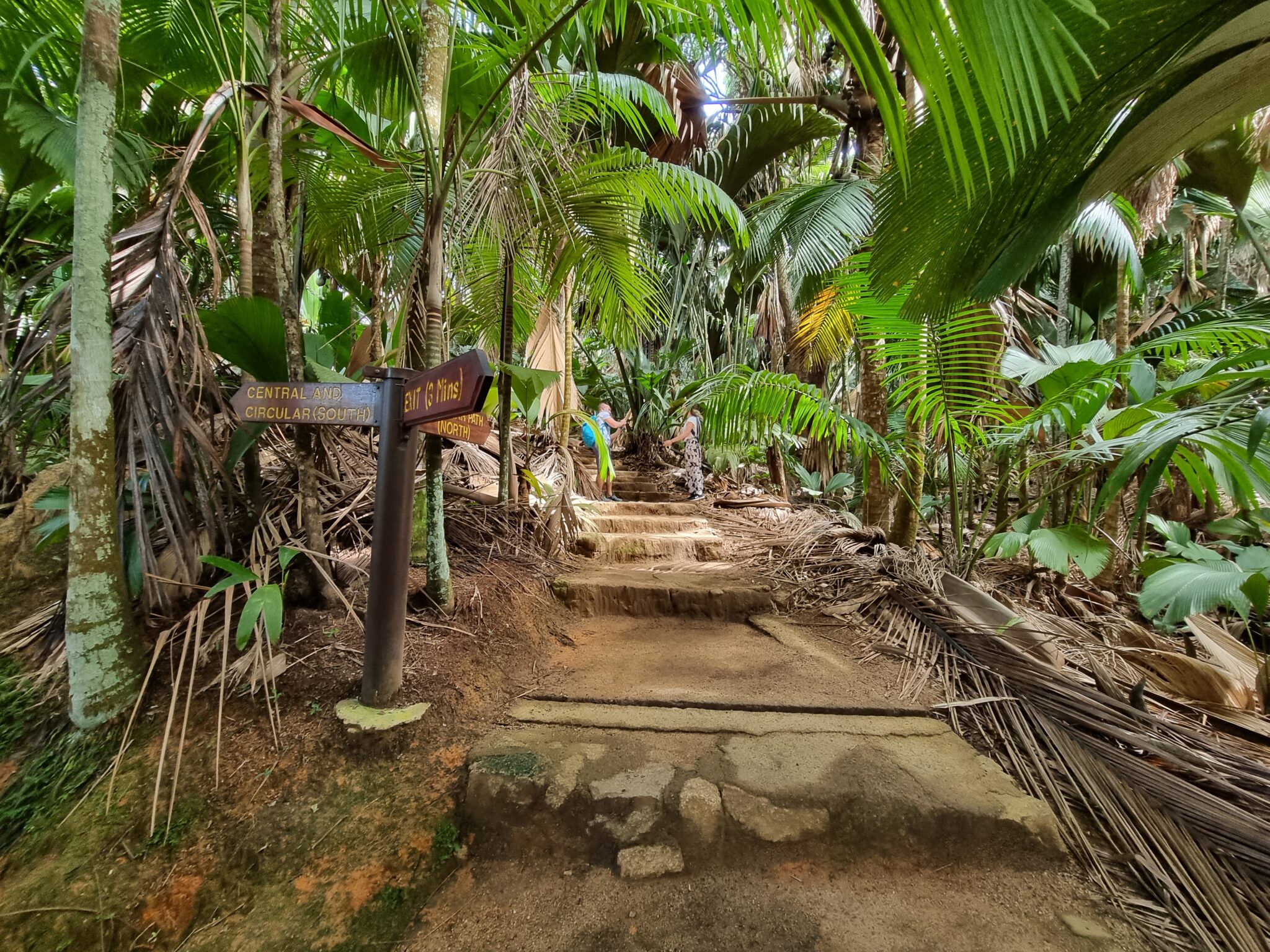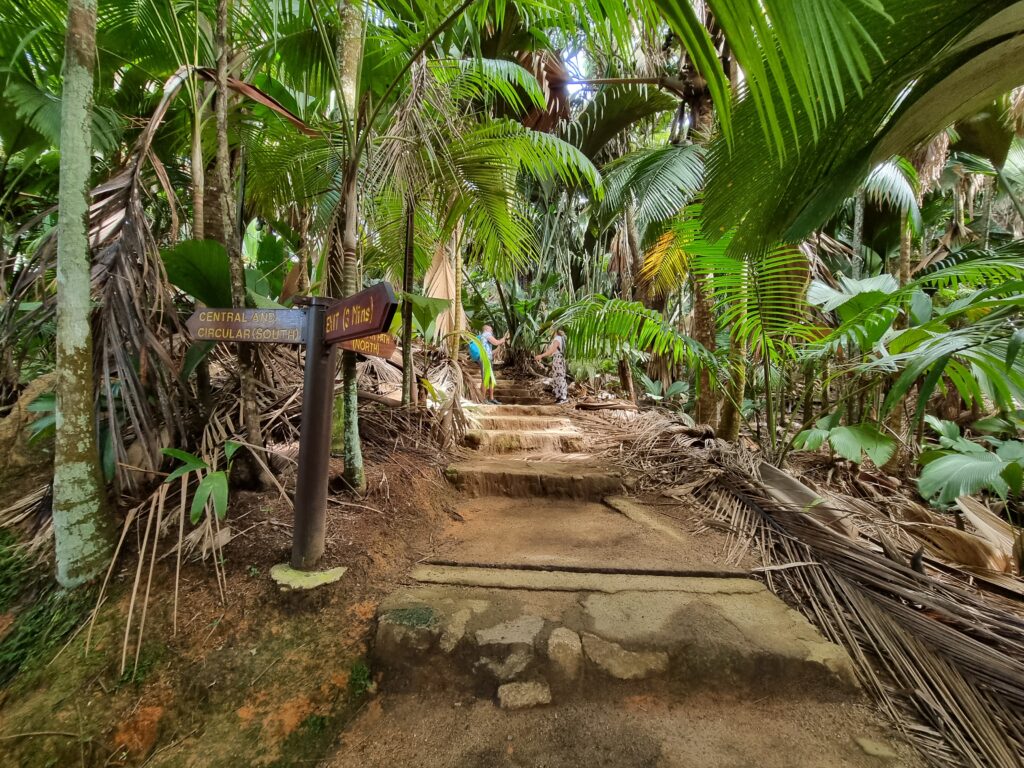 Jump straight to: The ship | The itinerary | Cabins & prices | Host | How to book | FAQs
Trip Overview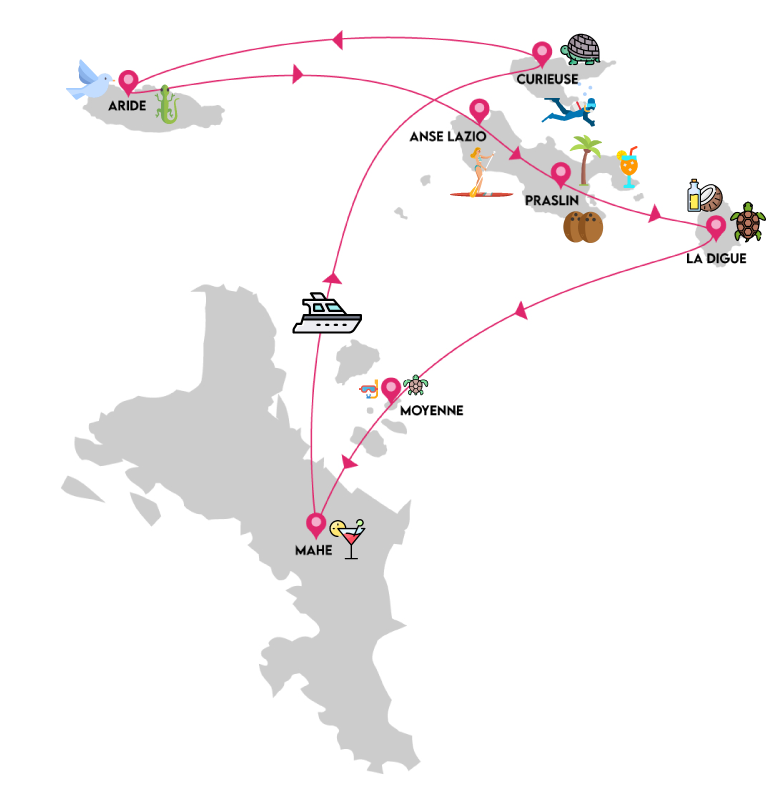 Day 1 – Embarkation in Mahe
Day 2 – Curieuse
Day 3 – Aride + Anse Lazio
Day 4 – Praslin
Day 5 – La Digue
Day 6 – Moyenne
Day 7 – Mahe
Day 8 – Disembarkation
Our private sailing yacht – Pegasos
Pegasos has been sailing the Seychelles waters for 15 years and is fully adapted to have everything we need for a trip filled with sun, sea and sand. The interiors have been refurbished completely in 2022 and all common areas, cabins and bathrooms redone.
Our floating home is a double hulled mega yacht that has everything we need to explore the area in comfort and style and a full sun deck on the upper level that will be the best place to enjoy summer vibes. Did we mention there is also a spa and masseuse onboard? Water sports equipment including snorkelling masks and fins are available for guest use at all the stops.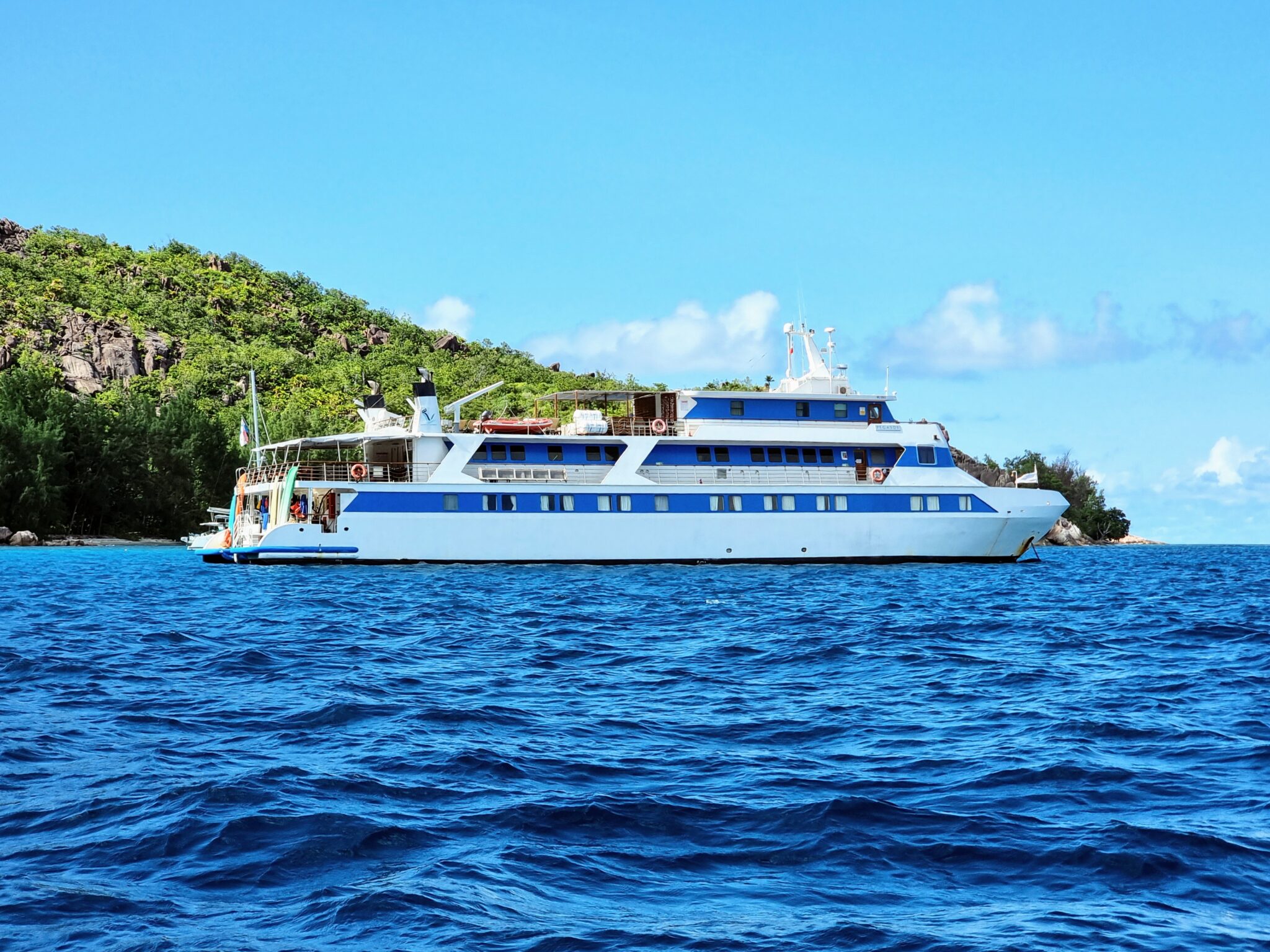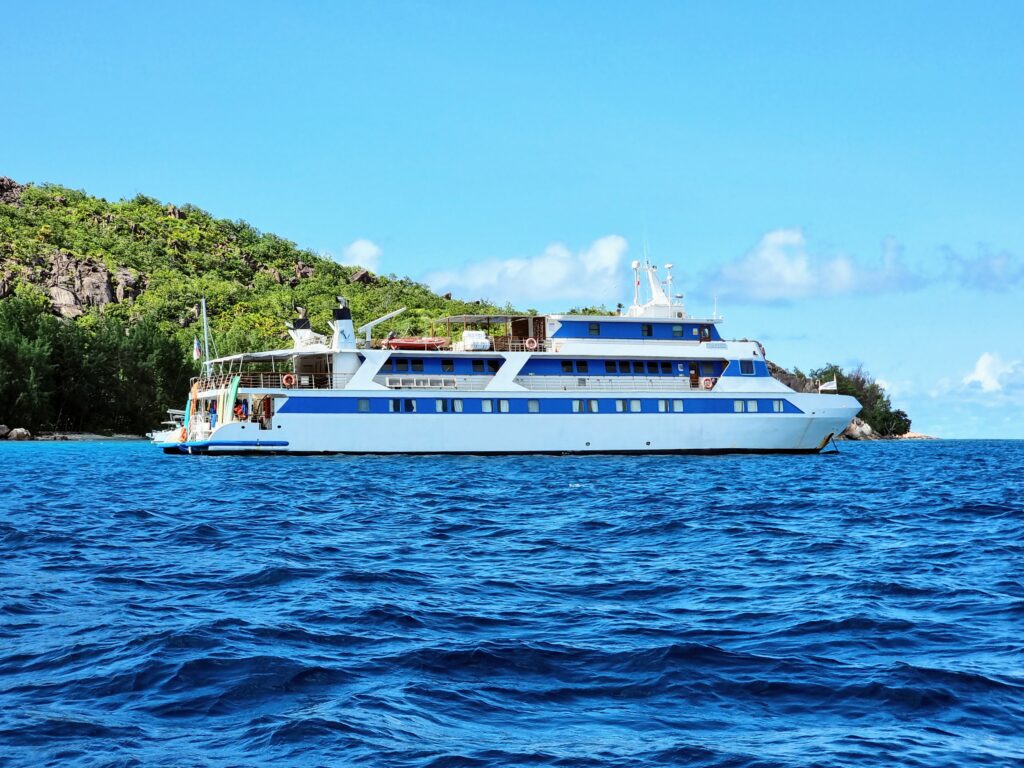 Specs
Number of passengers: 35
Cabins: 20
Crew: 19
Length: 147 feet
Refurbished in 2022.
Feature highlights
Sunset bar and lounge
Sun deck with sun loungers and sofas
All-day cafe and bar
Spa
Pegasos has a fabulous sun deck to sunbathe, relax, have a drink, read a book and more and plenty of common areas to catch up with like minded solo female travelers or watch the world go by.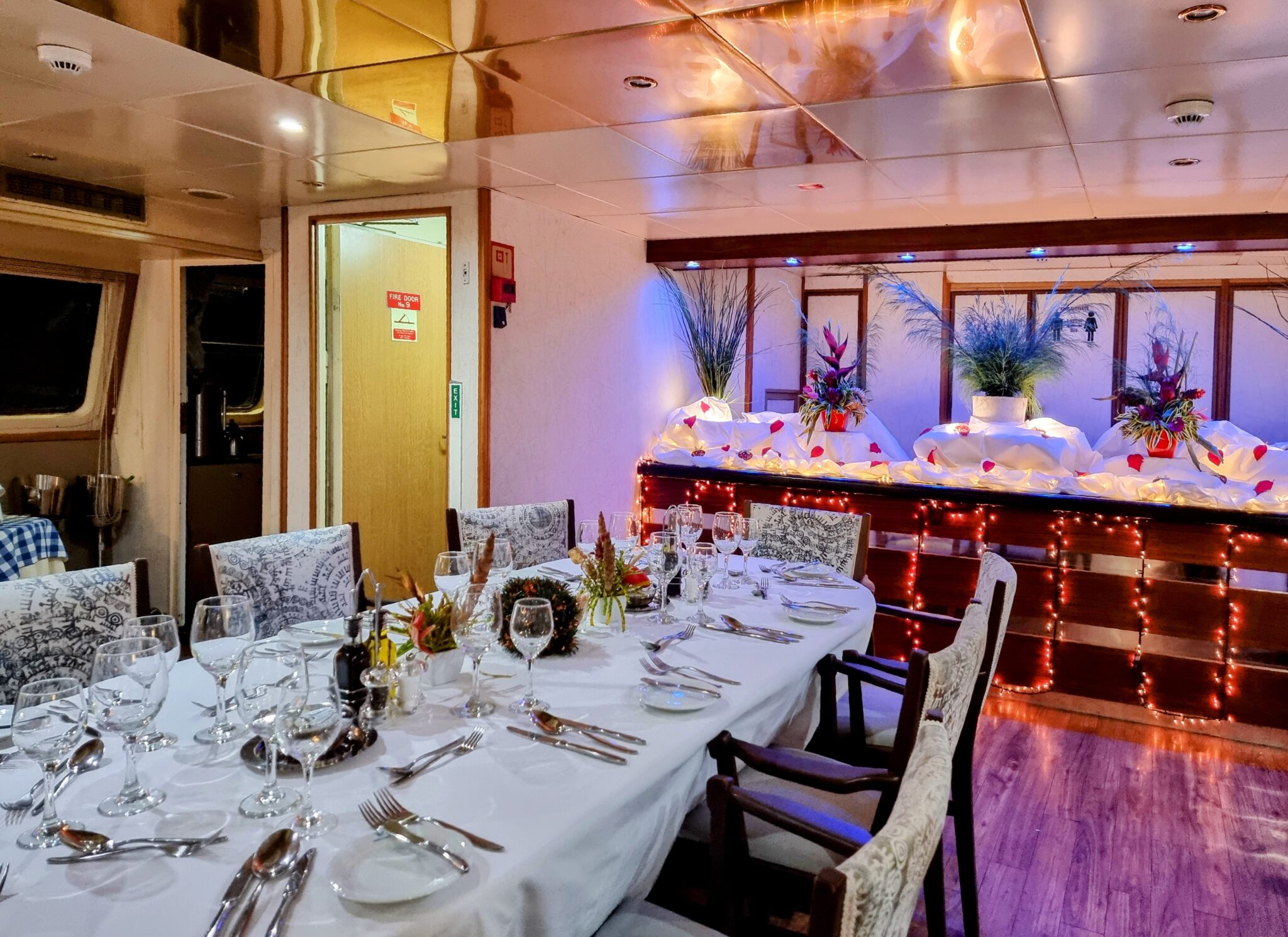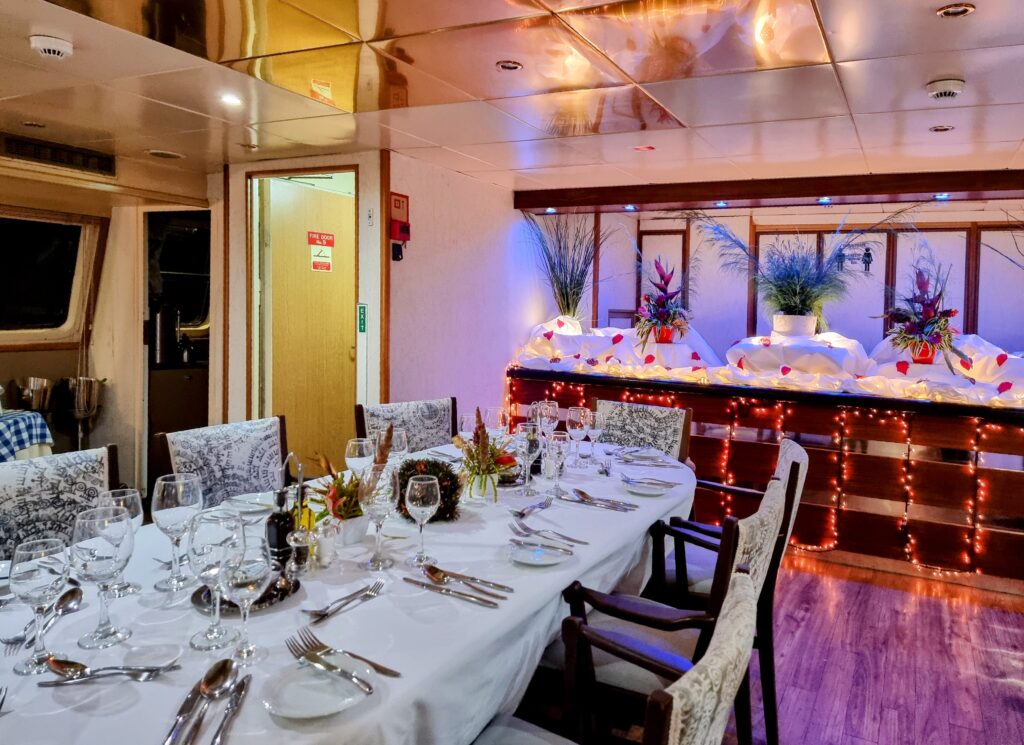 Dining room
The restaurant where all meals are taken can accommodate all passengers at once in shared tables.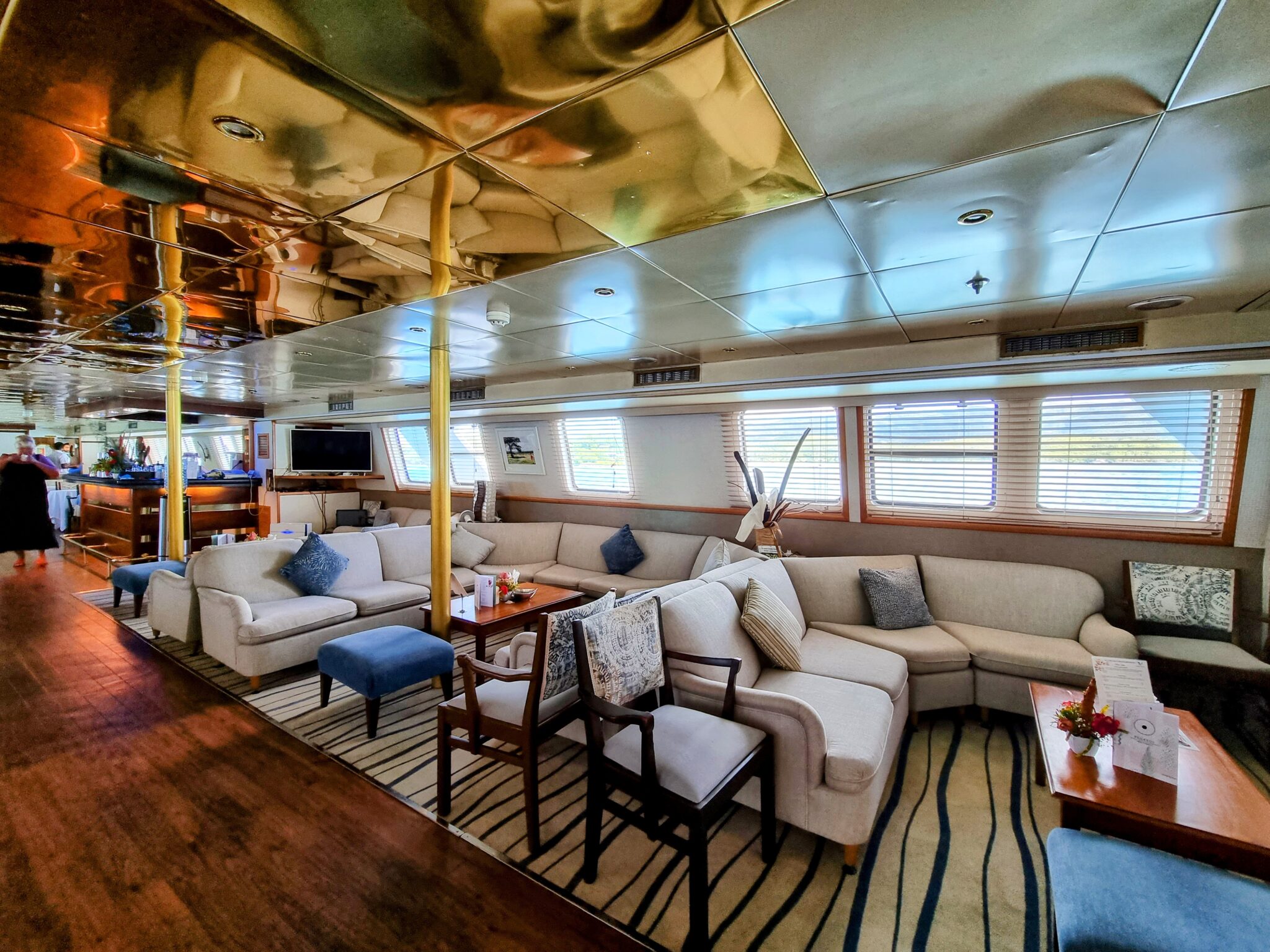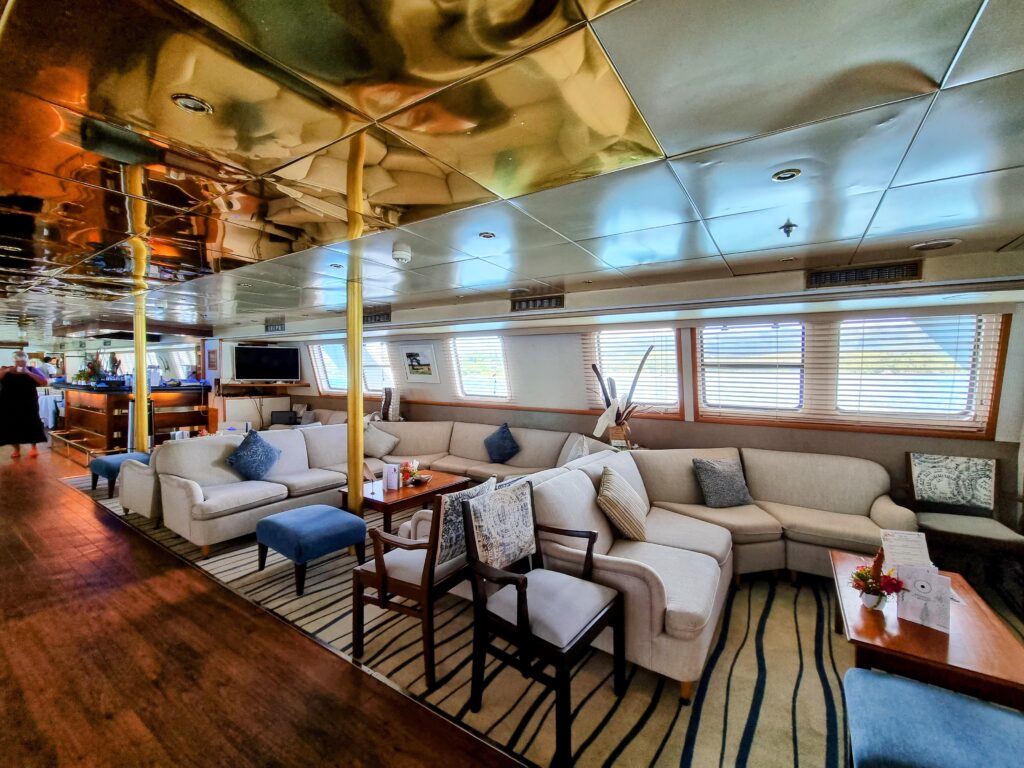 Lounge
We will enjoy sunset drinks and snacks as the sun goes down at the outdoor lounge where we will mingle and laugh.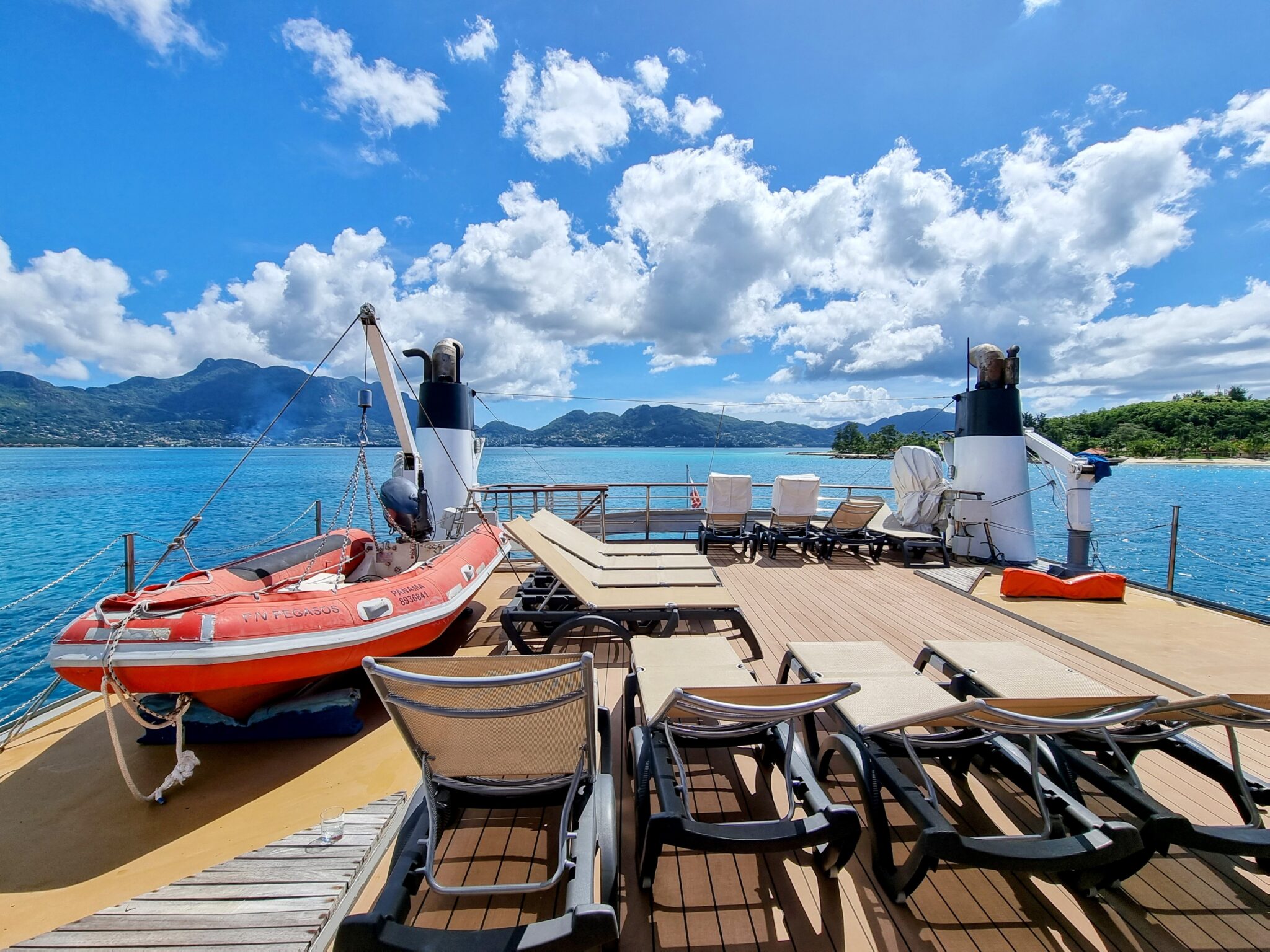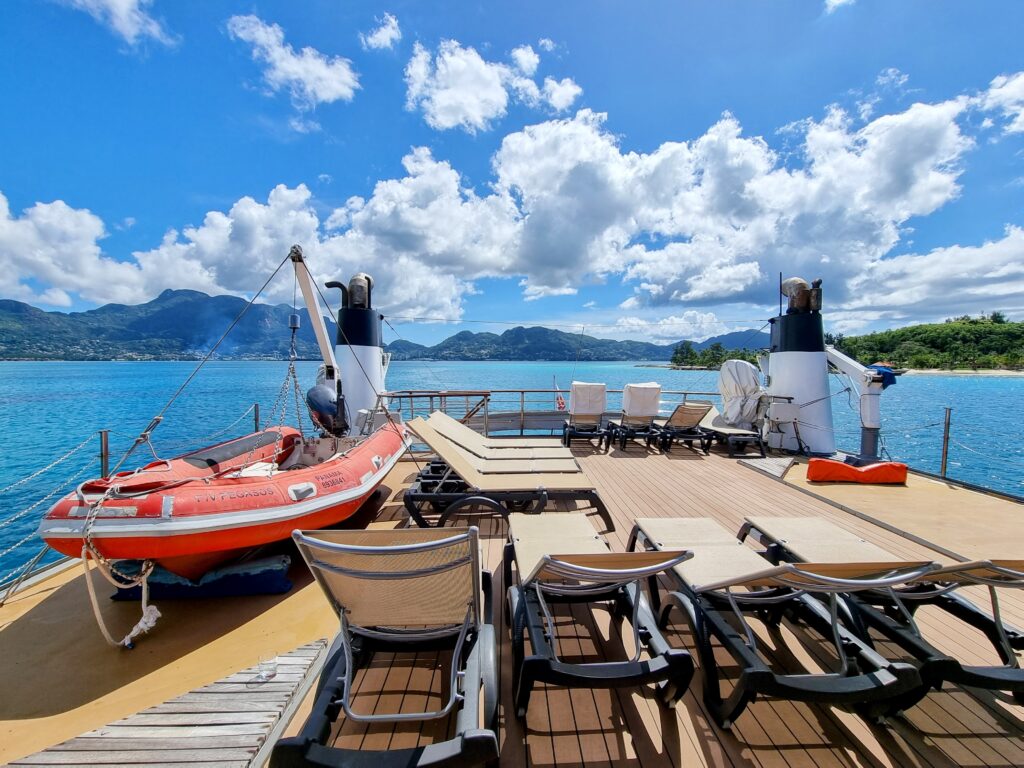 Sun deck
Galileo's highlight is this infinity sun deck that occupies the entire upper level and is the perfect place to enjoy our exclusive vacation.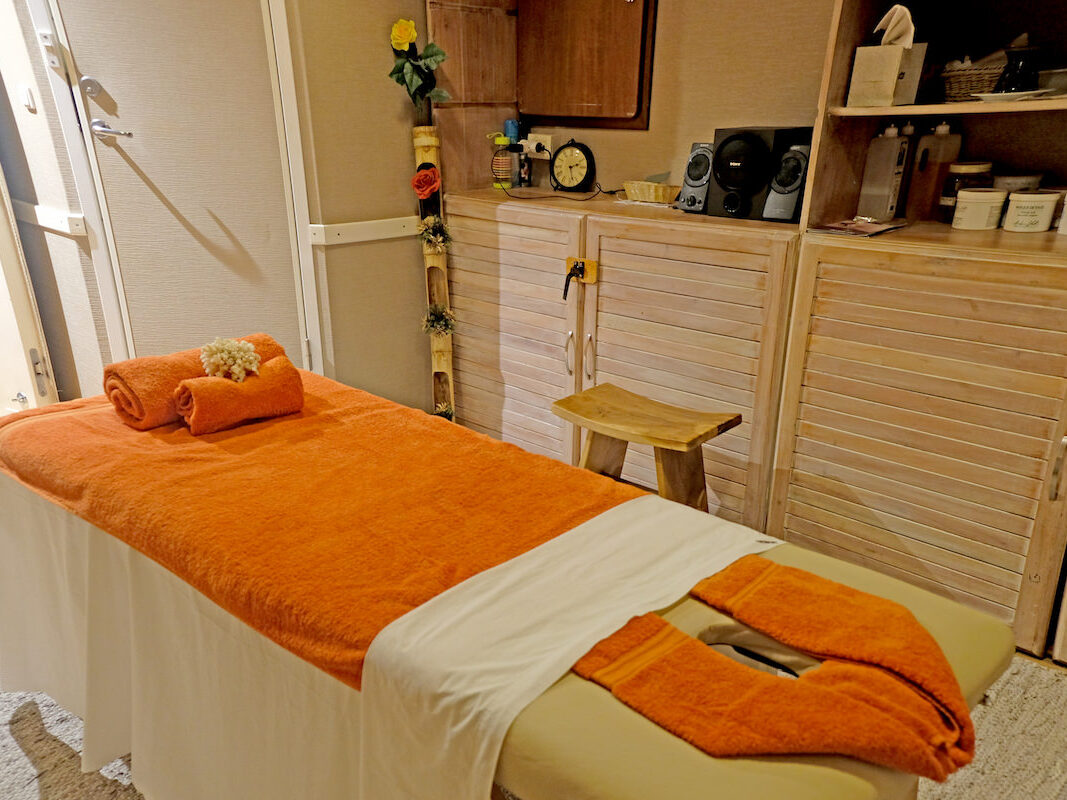 Spa
An onboard fully qualified masseuse and beautician is ready to get rid of any tension or provide facials and other treatments.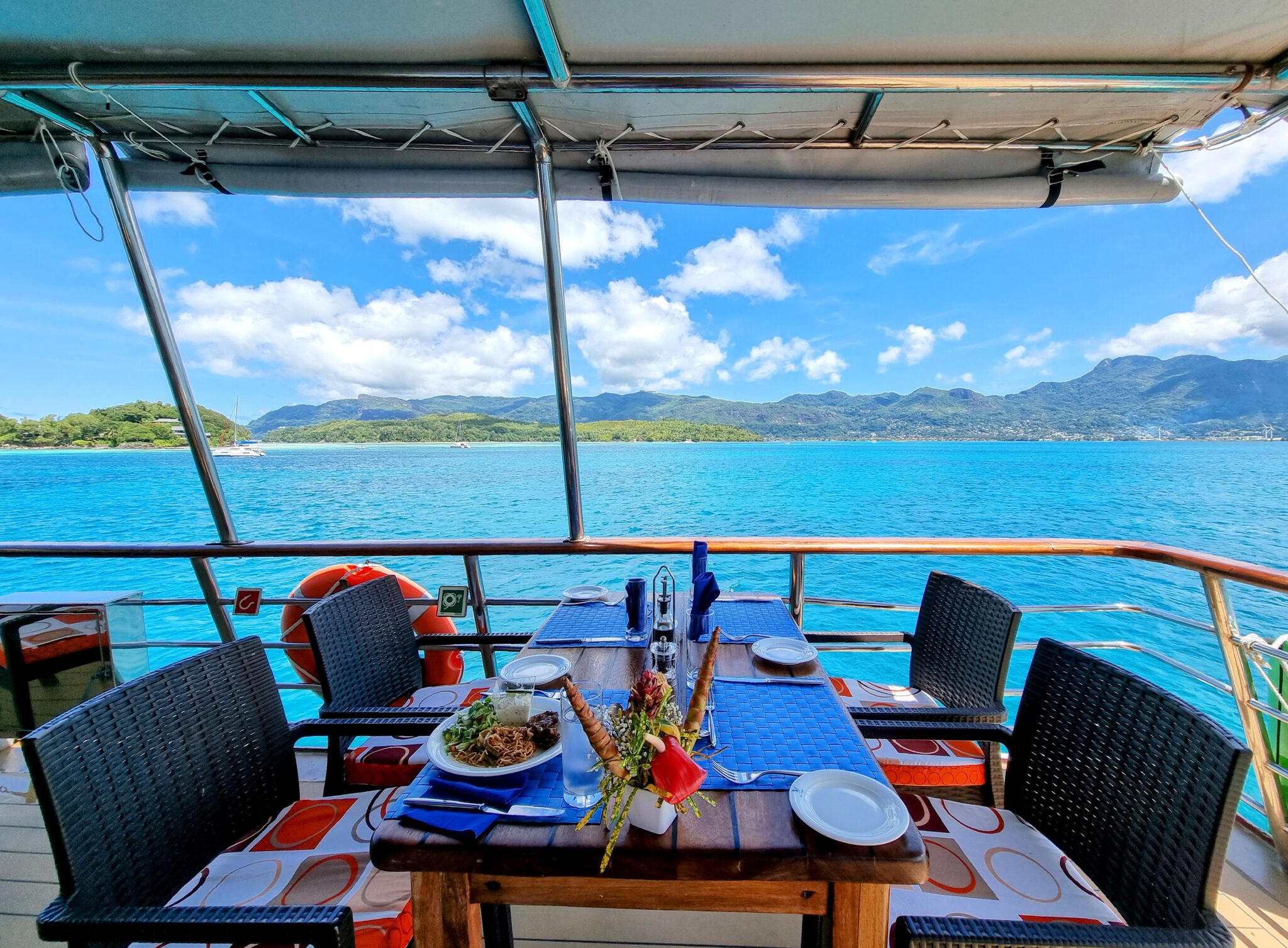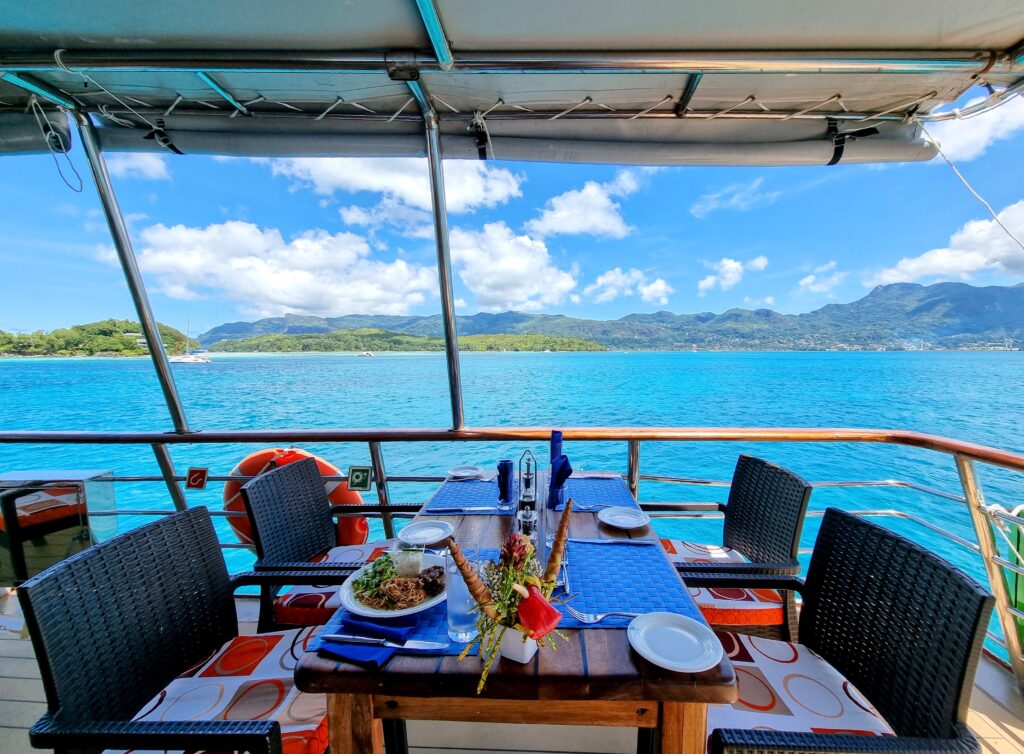 Outdoor restaurant
On most days, we will enjoy meals outside, hearing he sound of the waves, with the friendly fish swimming by.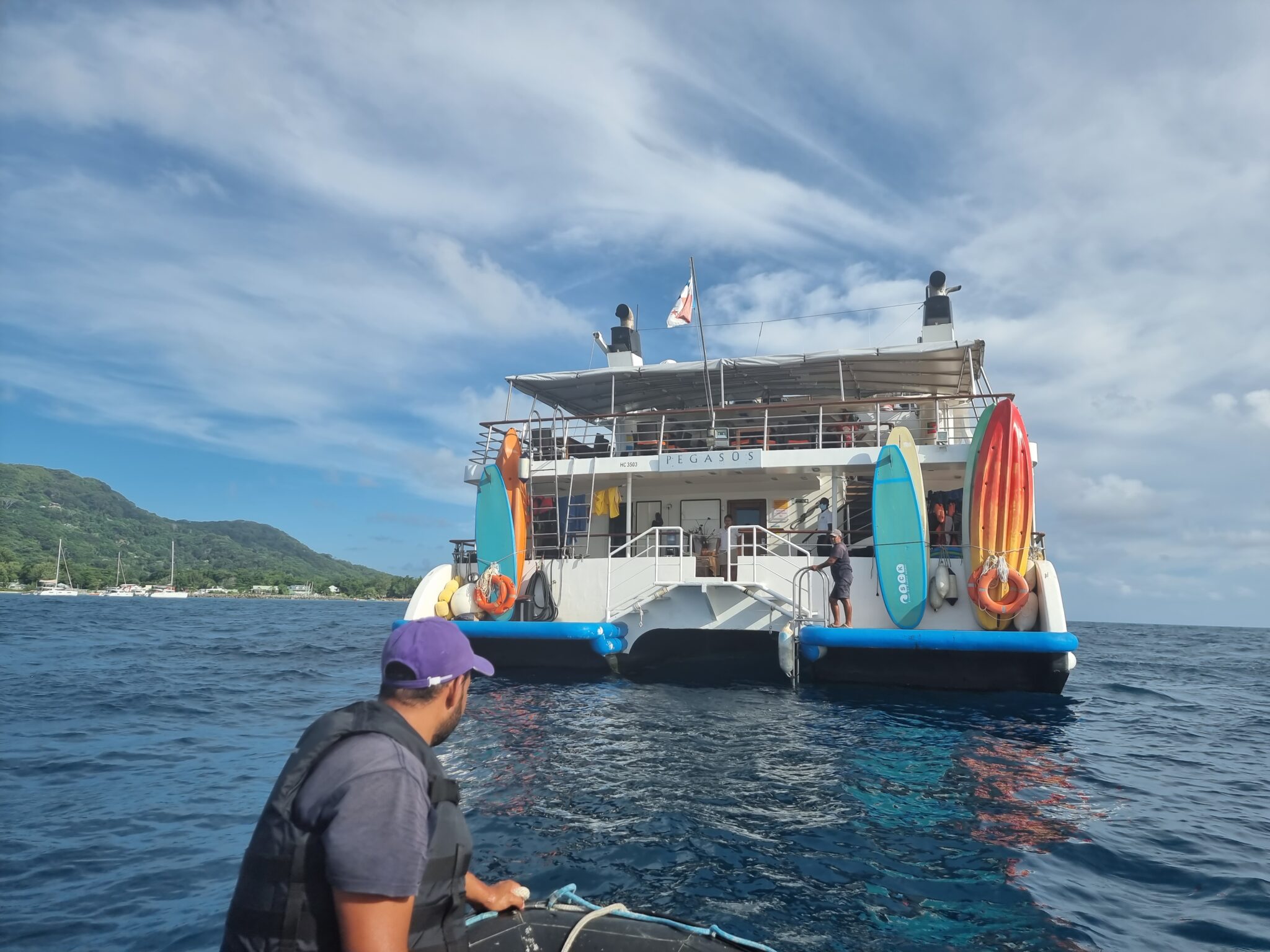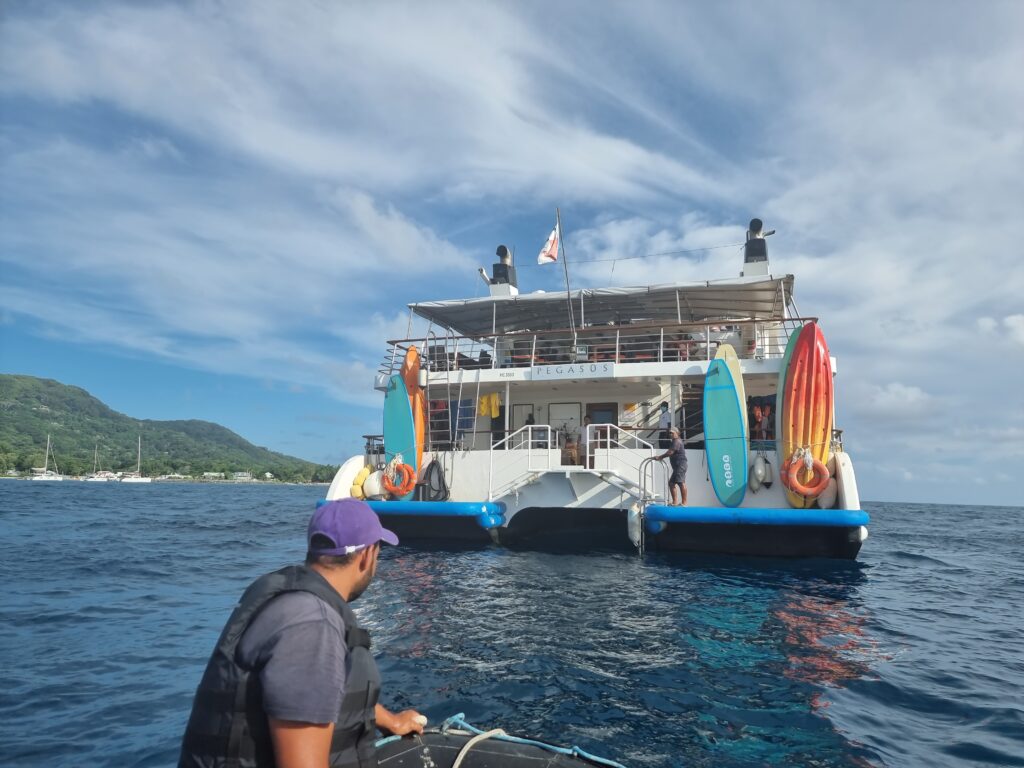 Watersports
Pegasos is fully equipped with stand up paddle boards, kayaks and snorkelling equipment.
Jump straight to: The ship | The itinerary | Cabins & prices | Host | How to book | FAQs
---
Detailed Itinerary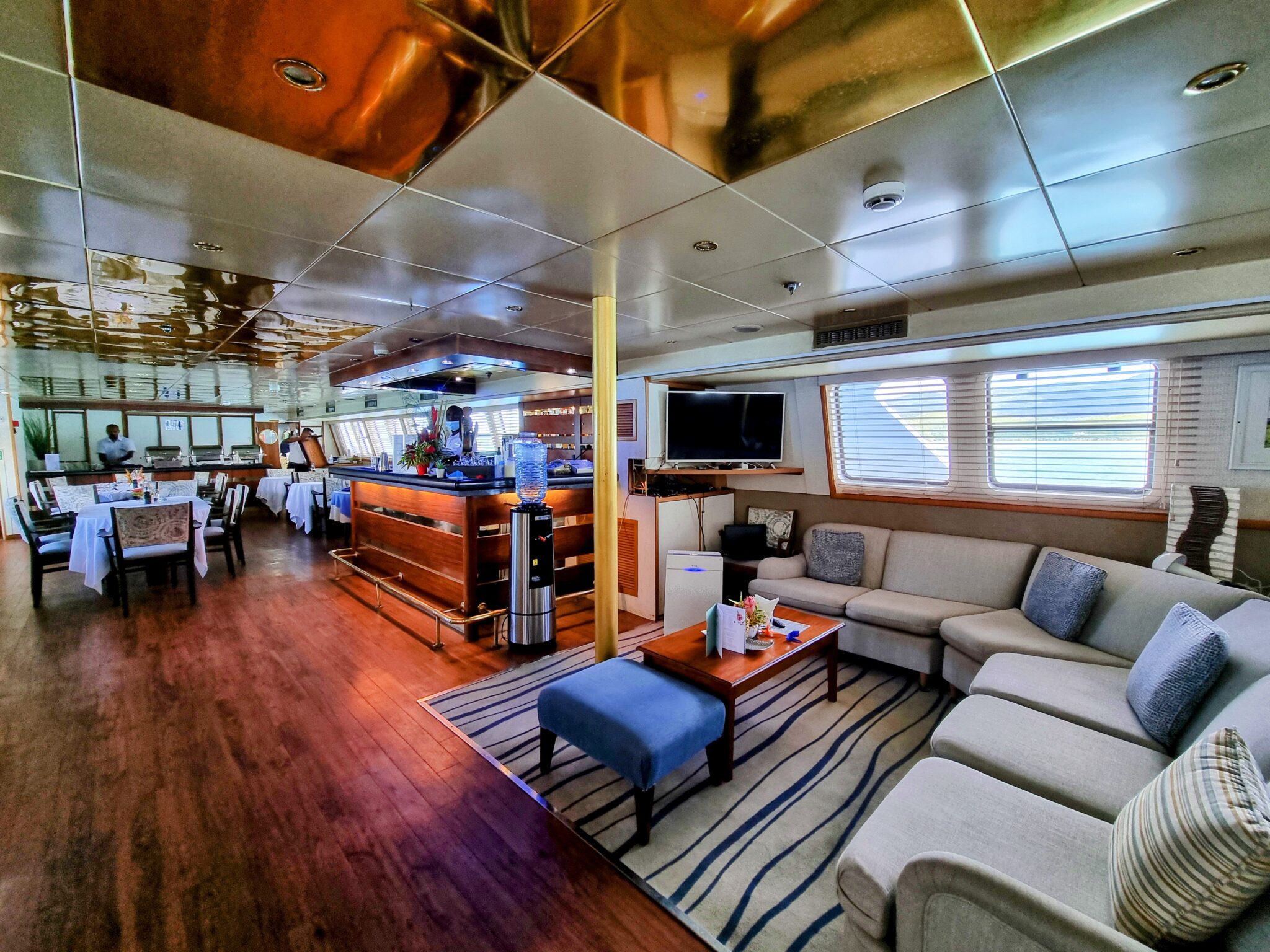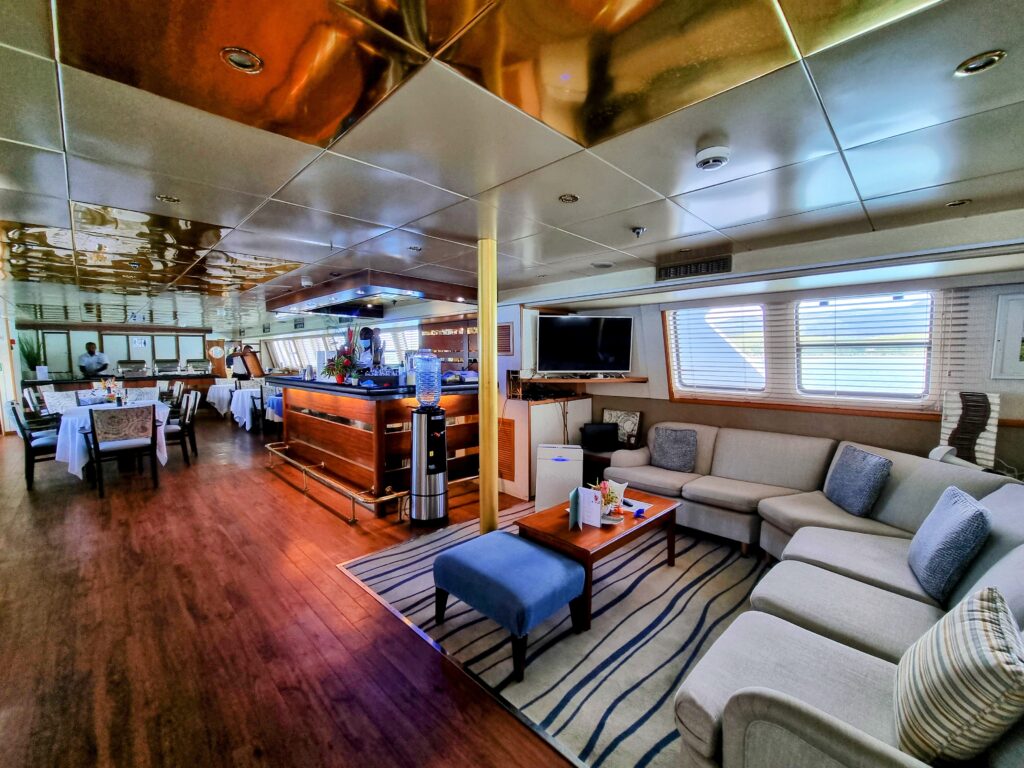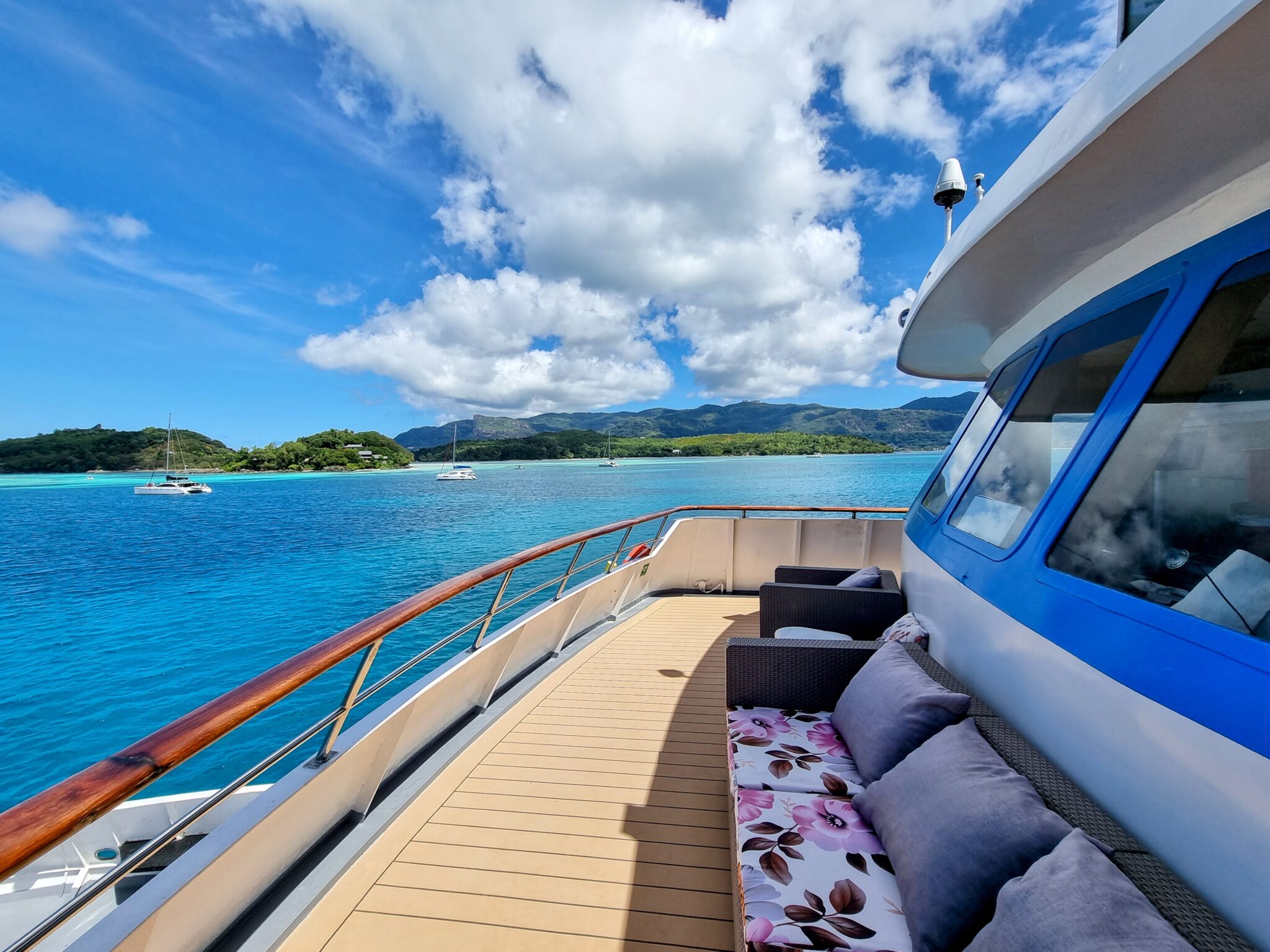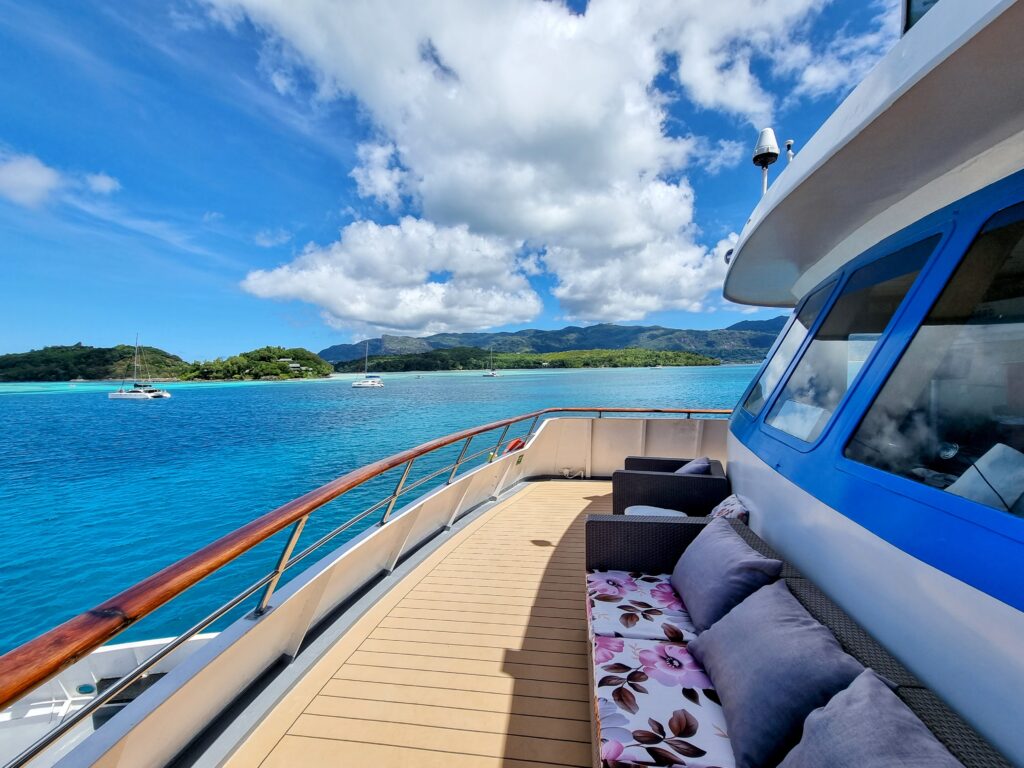 Day 1 : Embarkation
Our trip will start onboard Pegasos with check in between 2pm and 3pm and at 3pm sharp, the boat will depart from the Inter-island Port in Victoria, Mahe.
If you plan to land earlier in the day, we can provide ideas for things to do.
After our departure, we will set sail towards Curieuse and enjoy the sunset onboard with canapes and Happy Hour drink before our first dinner onboard.
Captain's Welcome dinner will be a first insight into Seychelles cuisine. We will anchor next to Curieuse for the night.
Inclusions: Welcome canapes and drinks Happy Hour, Captain's dinner with wine or beer, overnight onboard.
---
Day 2 : Curieuse
Our adventure starts on Curieuse Marine National Park, a very unique uninhabited red granite island that is instead filled with 300 Aldabra giant tortoises that are endemic of the Seychelles and many other birds.
Curieuse was a leper colony until 1965 and remnants of the constructions can still be seen. The doctor's home is now the museum and ranger station.
As soon as we get off the tender boats, we will be welcomed by the tortoises who like to stay near the ranger station. There is also a tortoise nursery where we can see some of the newborns.
Our tour of Curieuse will take us through the mangroves on walk boards that are elevated over the delicate ecosystem.
We will observe crabs and small animals as well as some of the coco de mer trees that dot the hills of Curieuse.
This rare tree and its fruits is mostly grown on Praslin but there have been efforts to grow it on Curieuse too.
Aldabra tortoises are only found in the Seychelles and are large animals that weigh on average 250 kg. and can live over 100 years, some have even lived more than 200 years.
At the end of our walk we will be rewarded by a cold shower and a beach BBQ prepared by the crew.
Giant tortoises usually roam around the beach area too and some boats come for the day to enjoy the powdery white sand beach and great snorkelling spot.
We will have free time to enjoy the beach, take a swim, snorkel or just take it all in.
In the afternoon, we will return to Pegasos and enjoy time onboard as the boat sails to St. Pierre, a rock island known for its great snorkelling.
We will don fins and mask and launch the tenders to get closer to a drop-off point from where we will explore the marine wildlife of the Seychelles for the first time as we follow the sea current.
We will return to the boat and have some free time before dinner. Read a book, have a drink, chat with new friends and enjoy the sunset views of the Seychelles.
We will spend the night at anchor, look out for the Milky Way!
Inclusions: Breakfast onboard, tender transfers from the boat to the beach, guided tour of Curieuse, beach BBQ lunch, dinner onboard. All meals will include refreshments, wine or beer.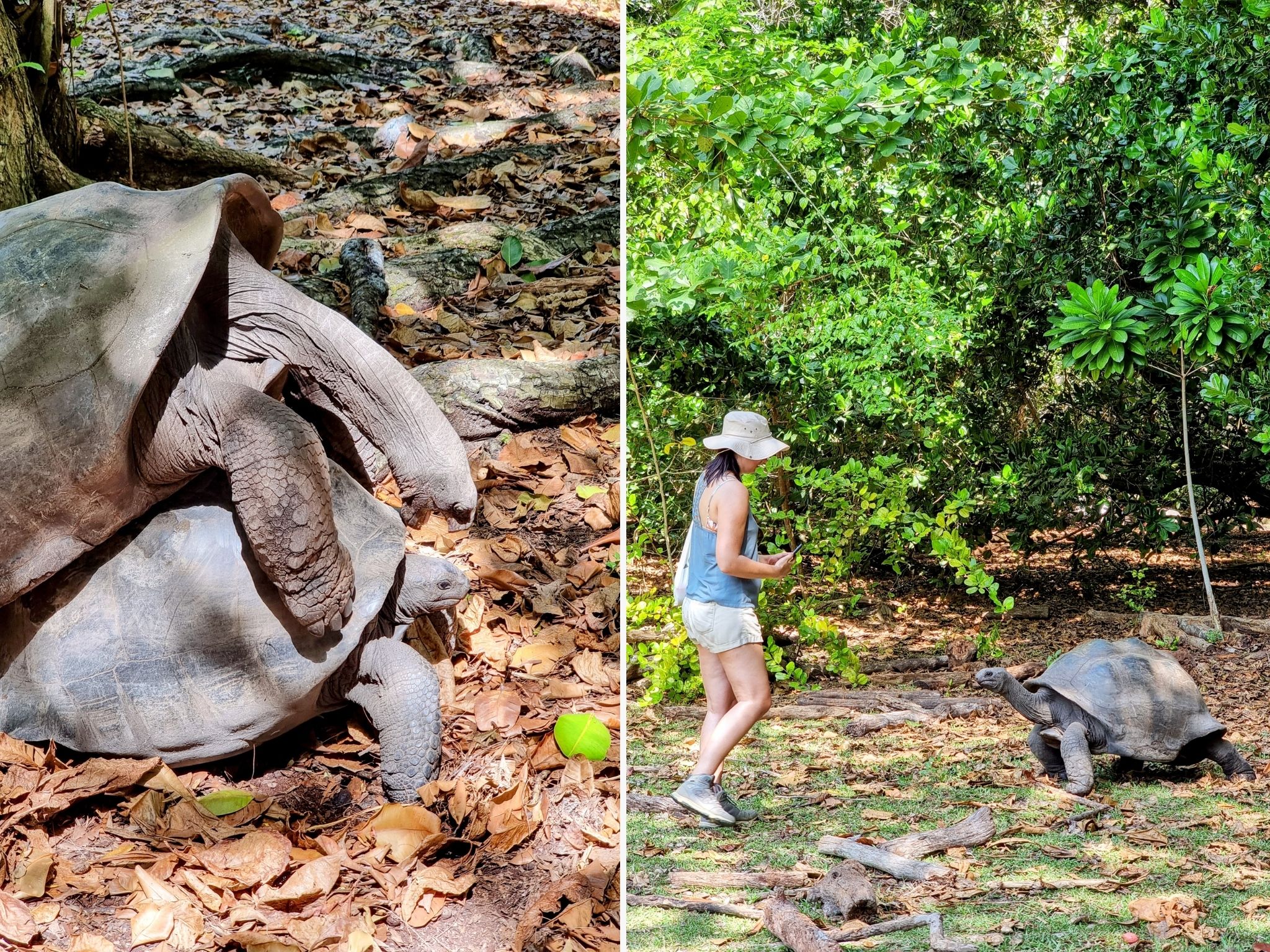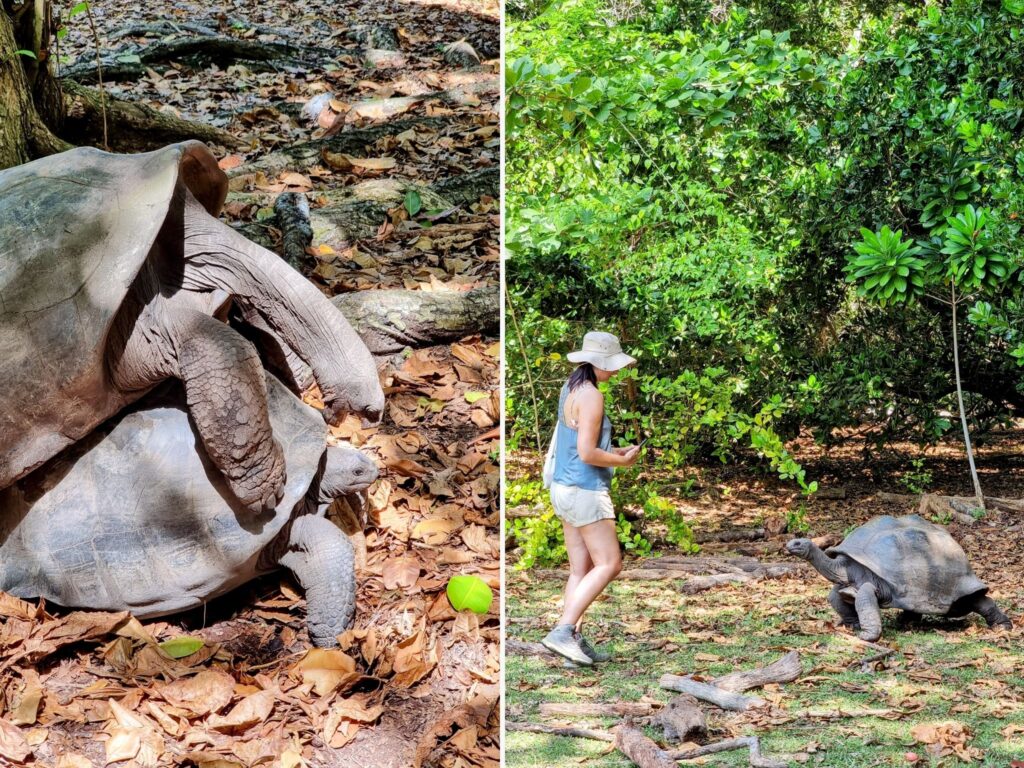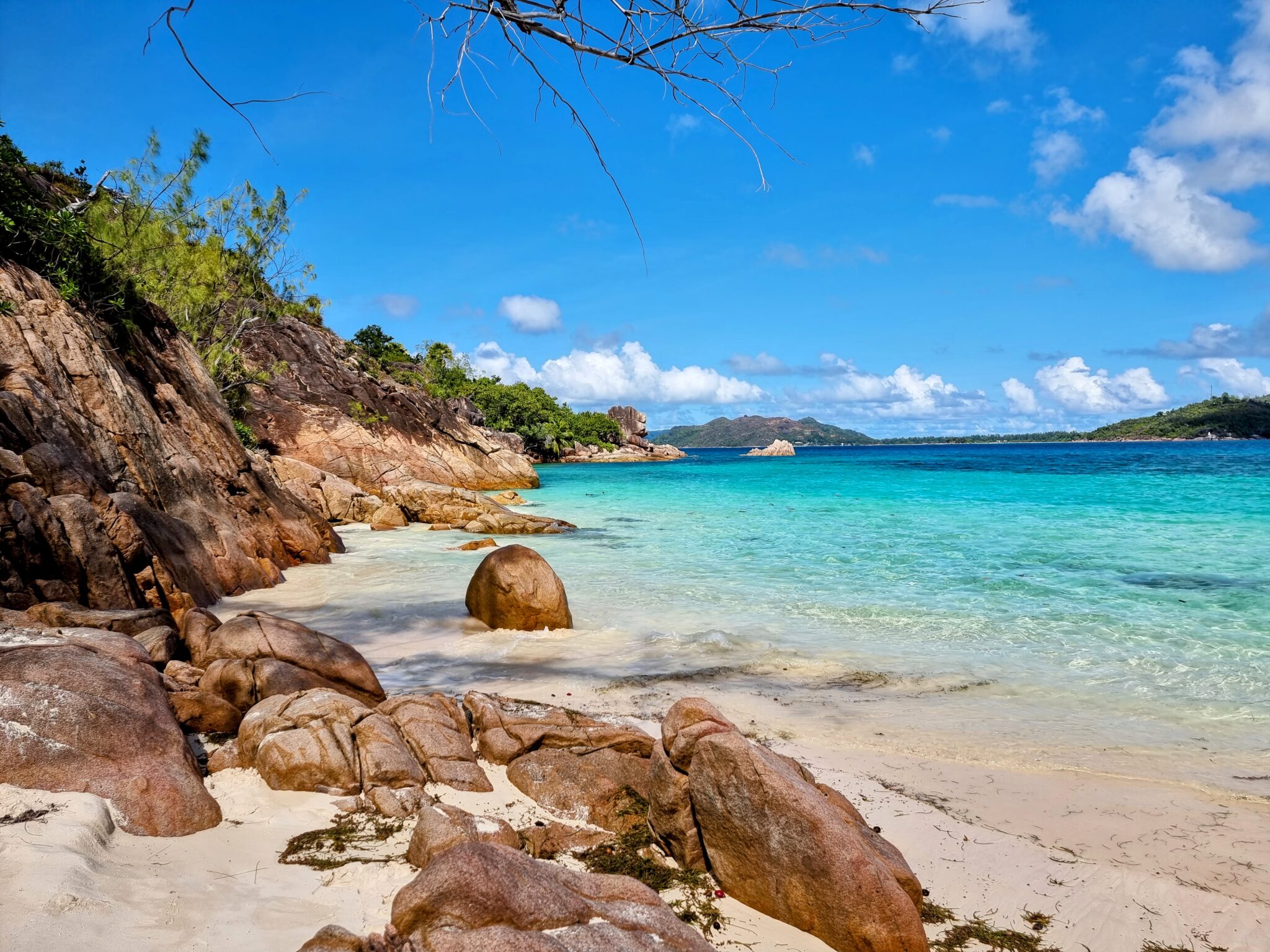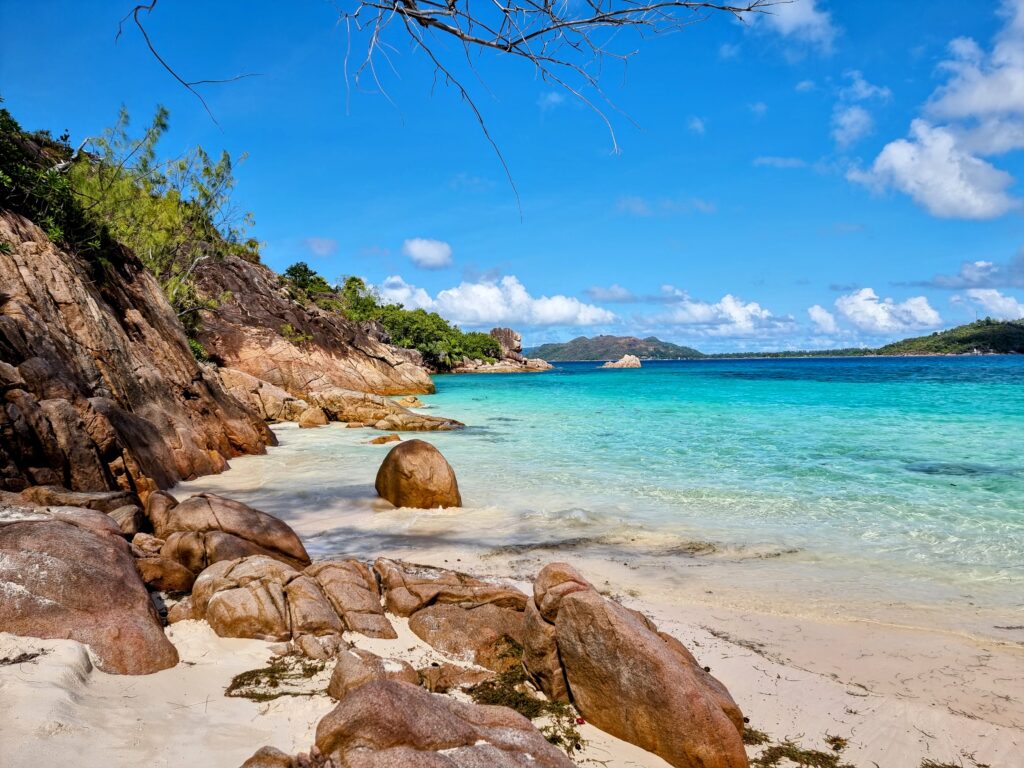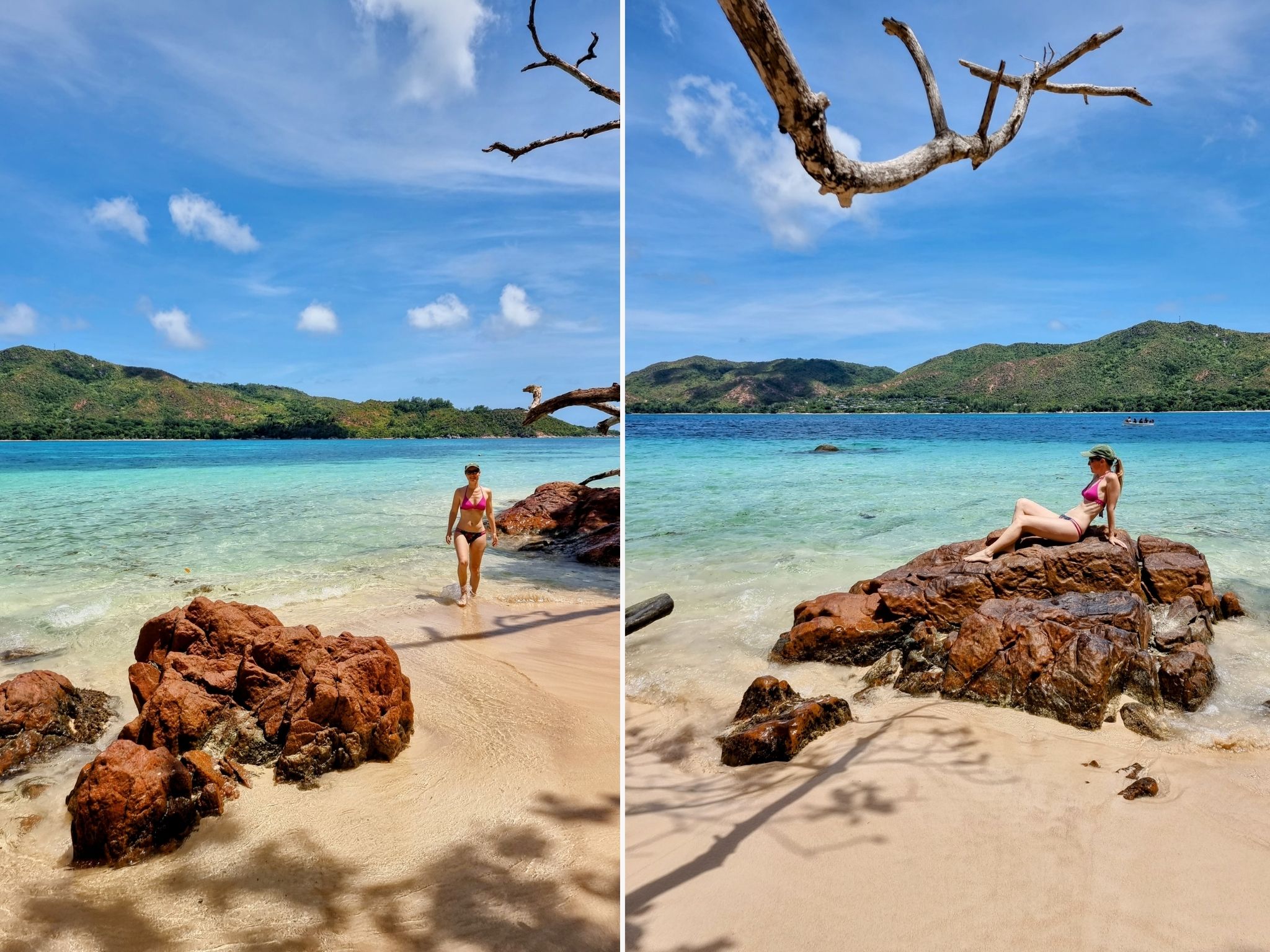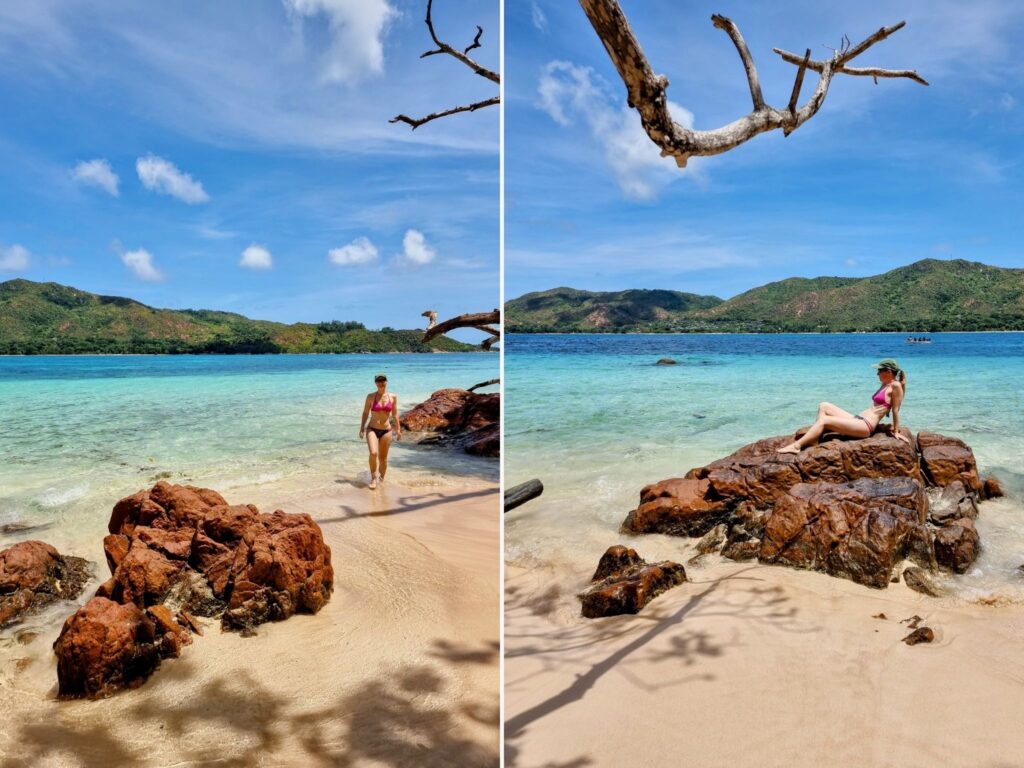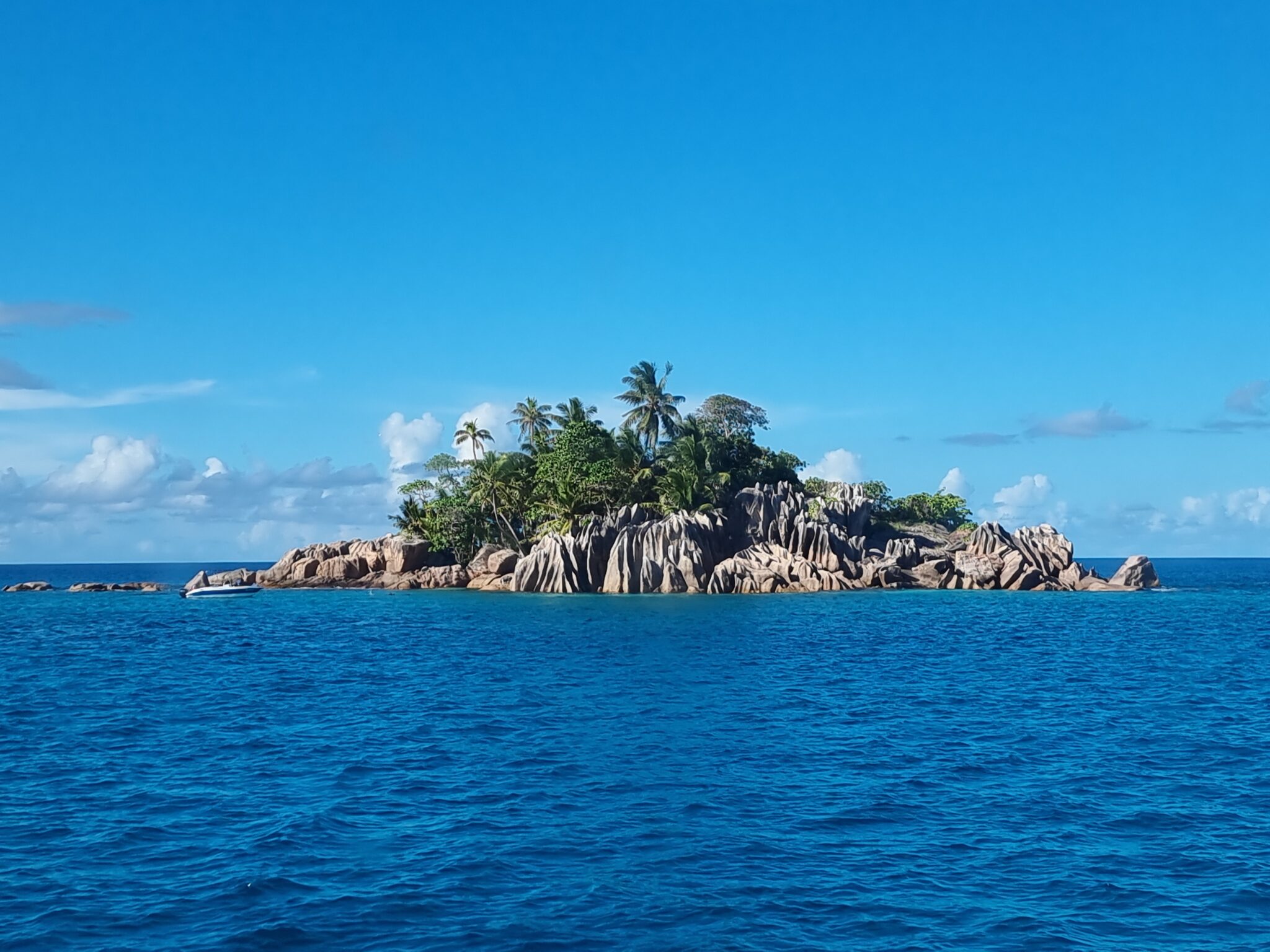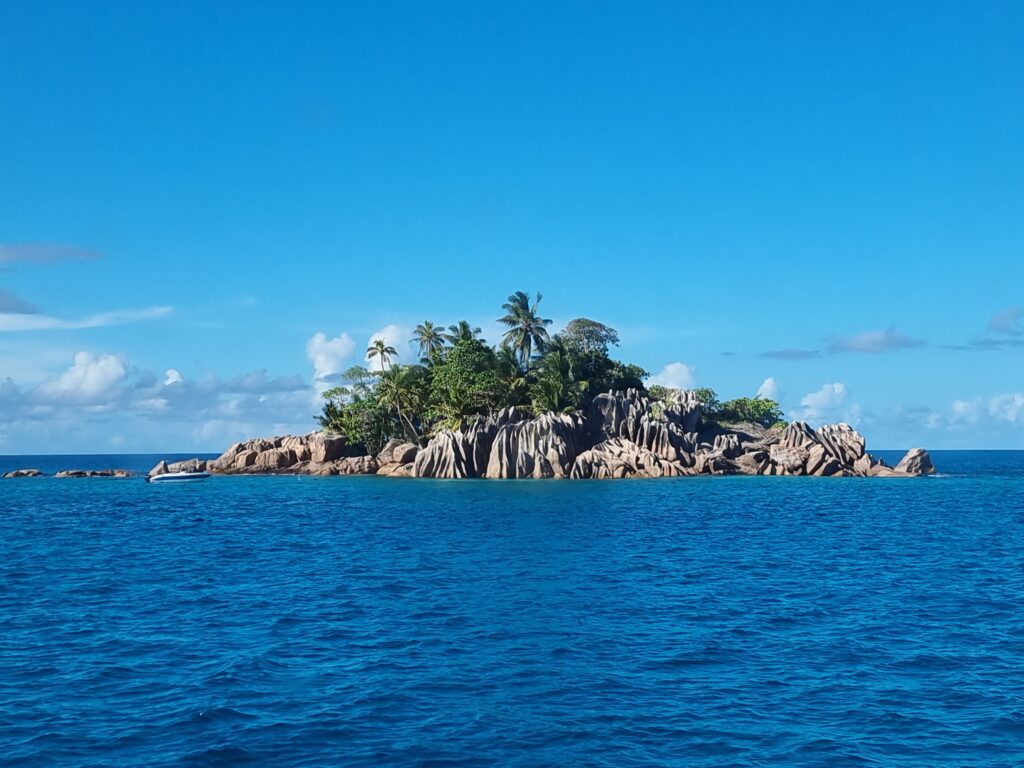 ---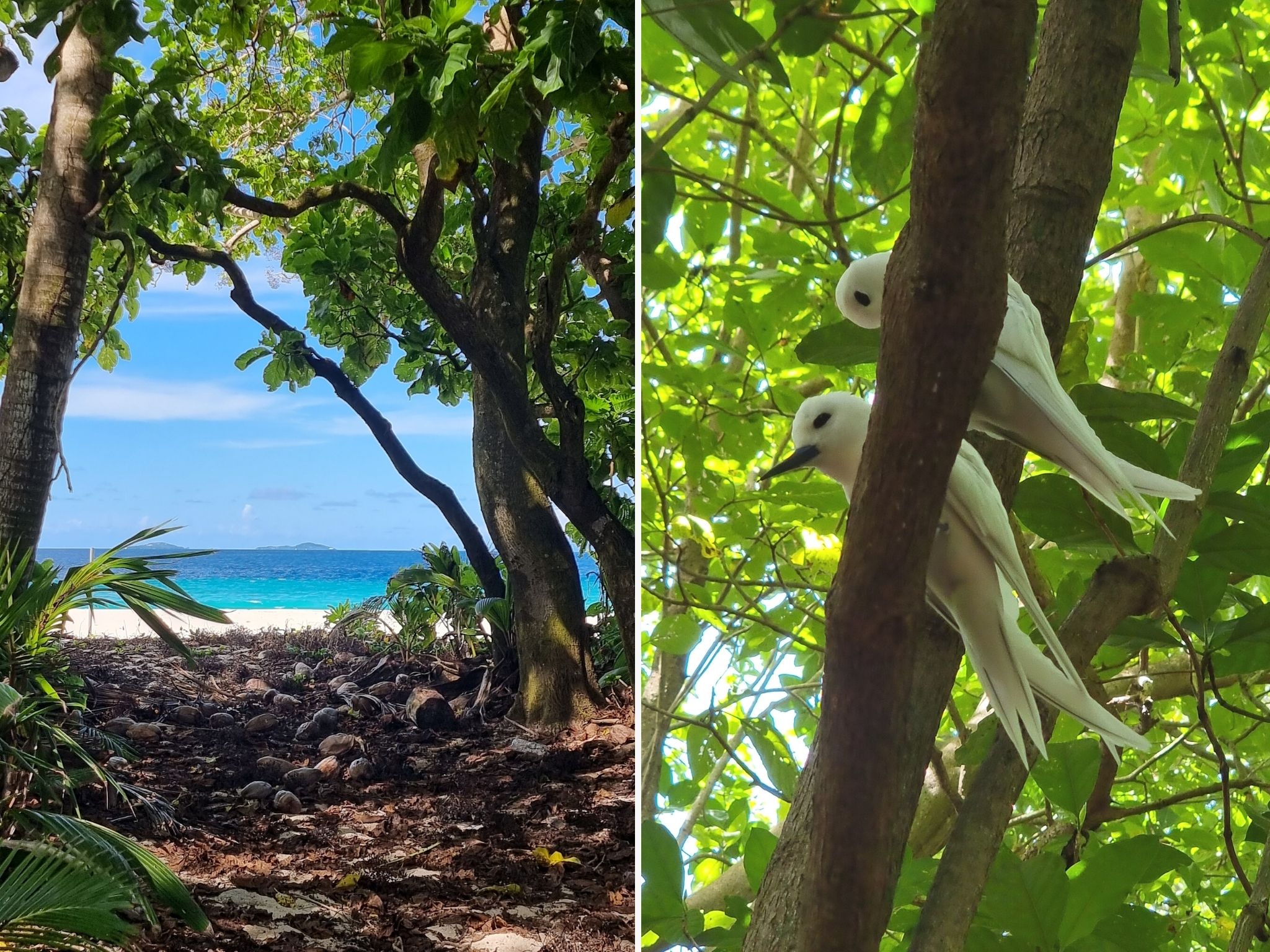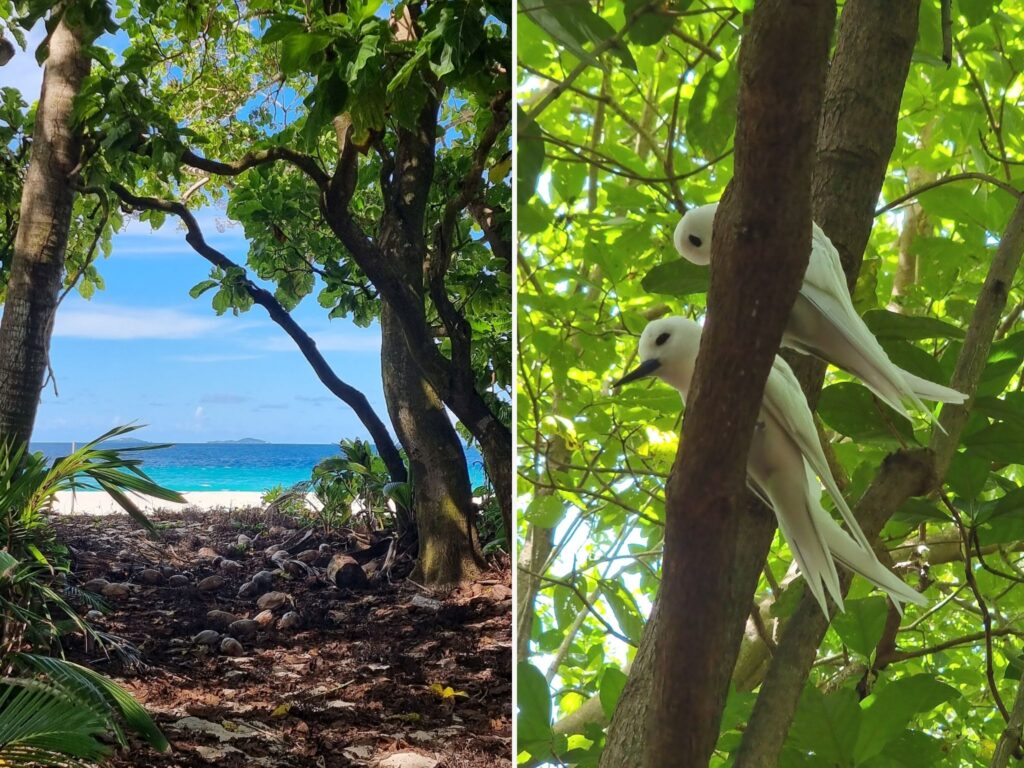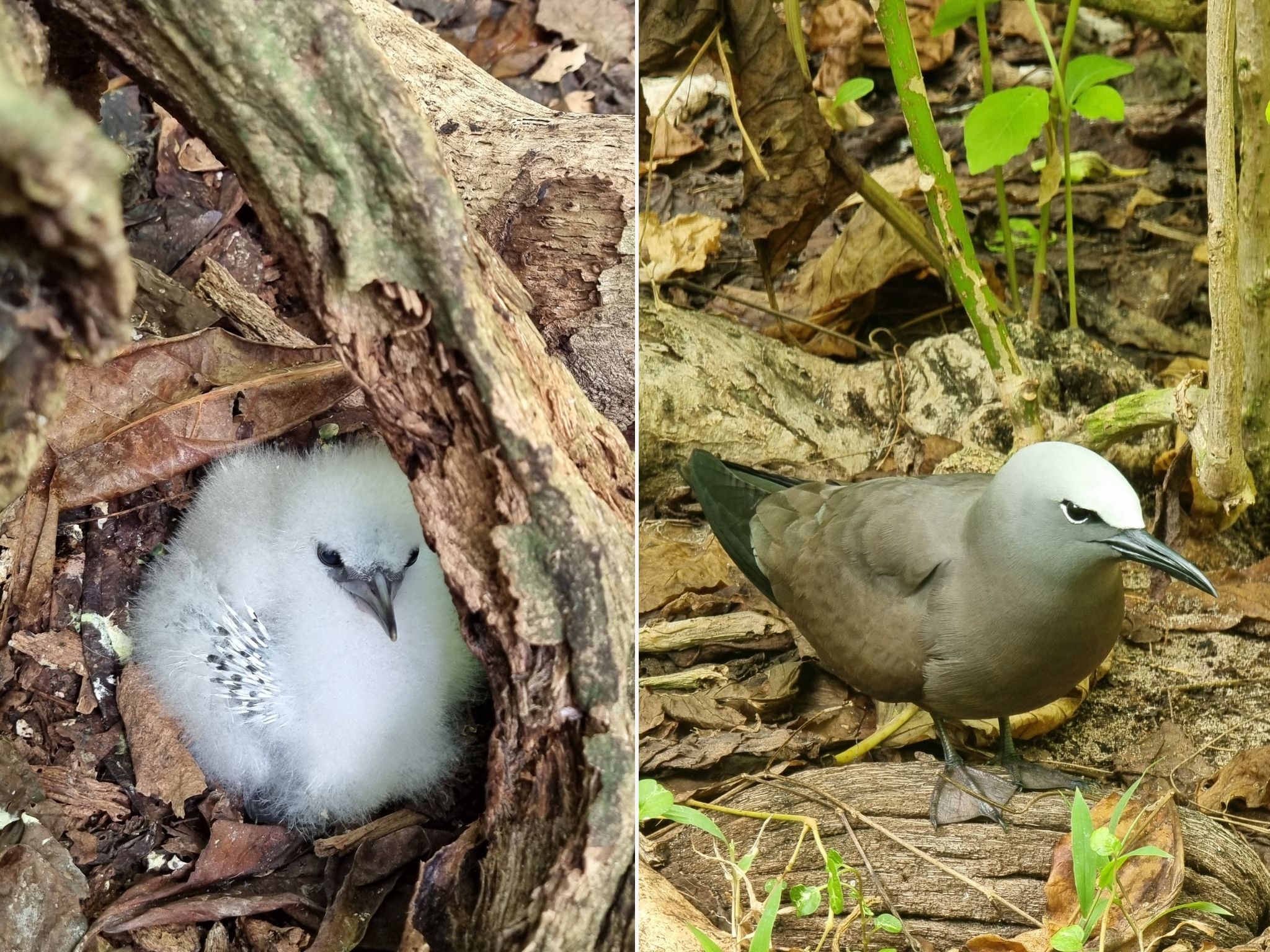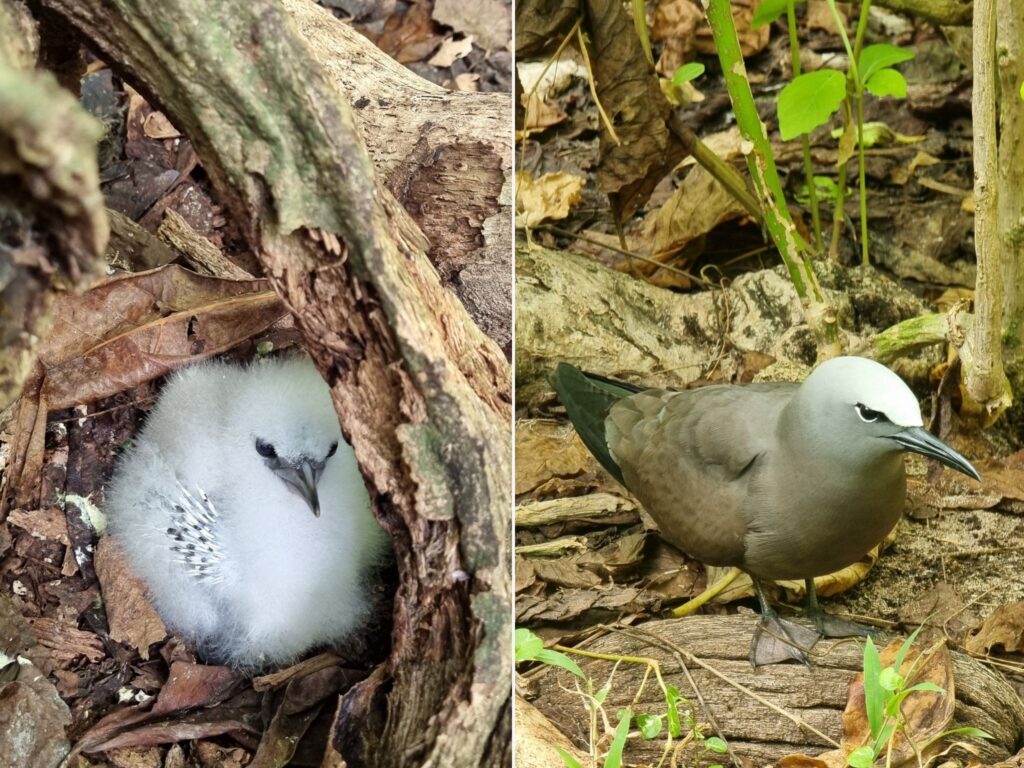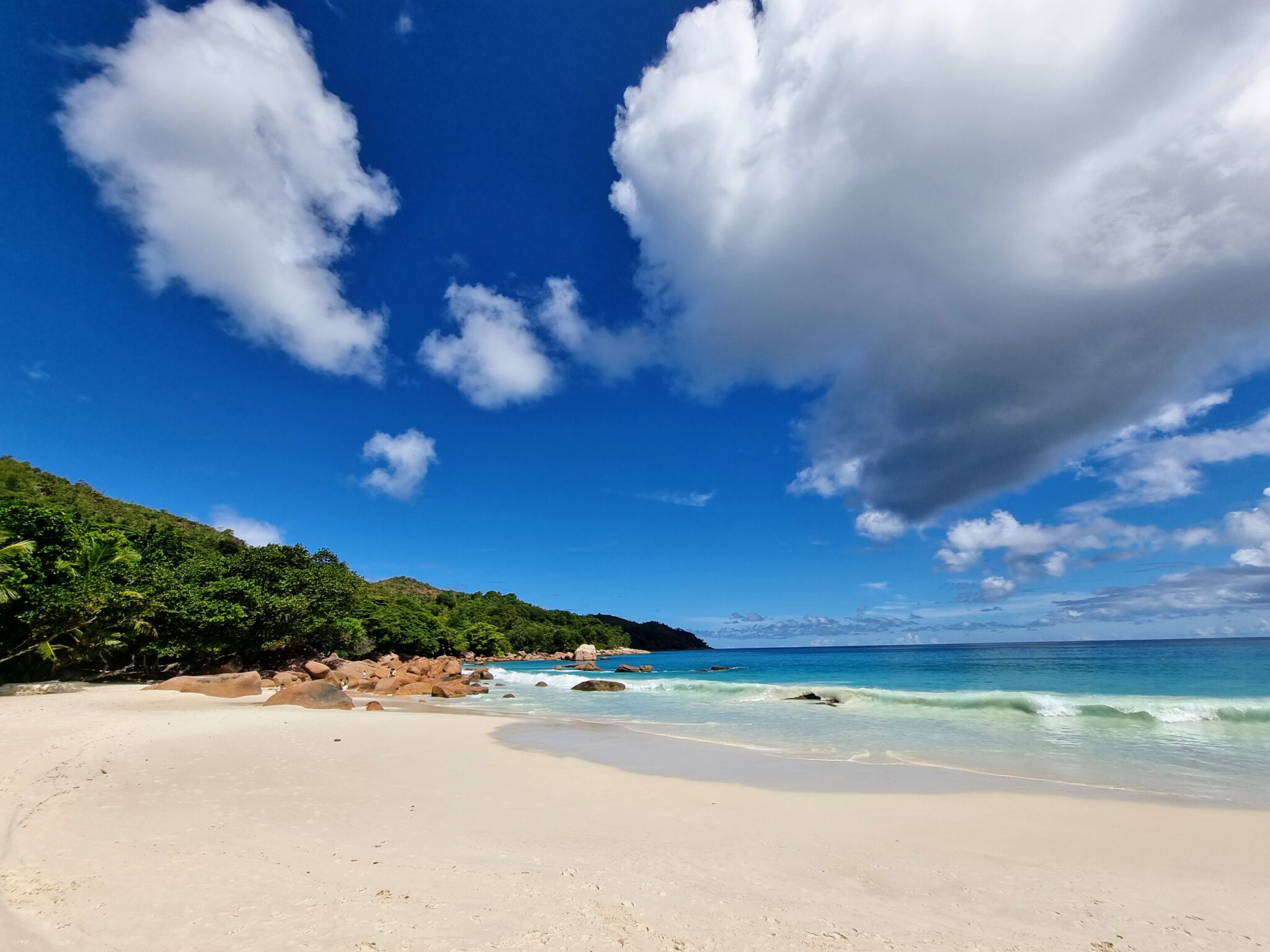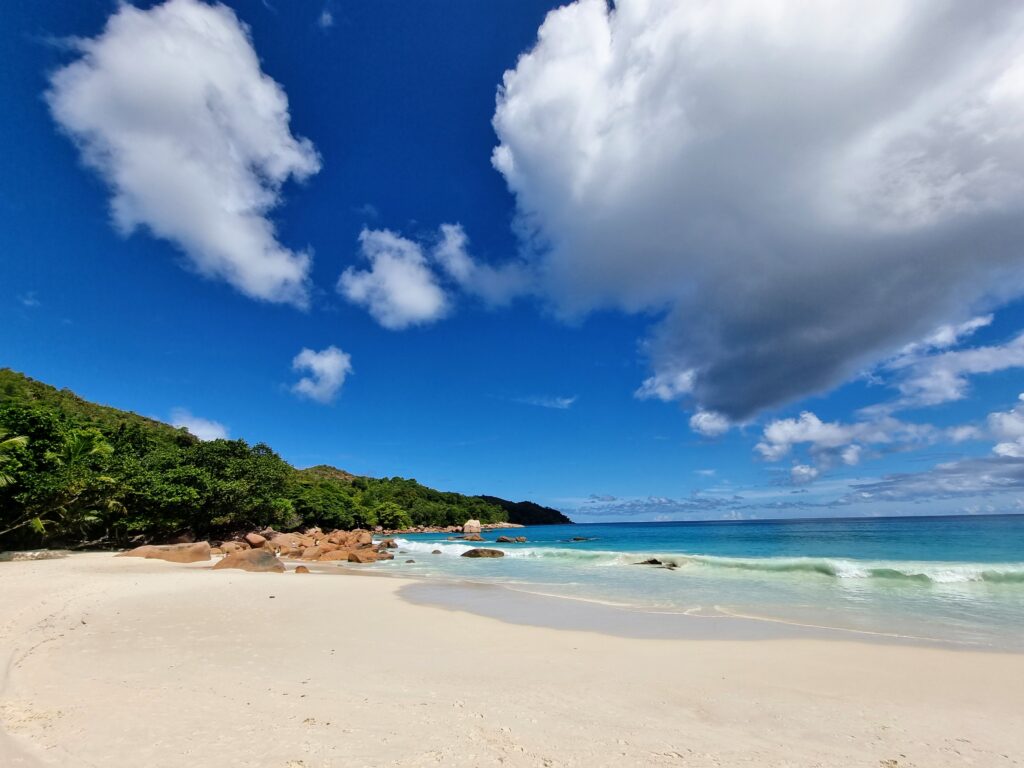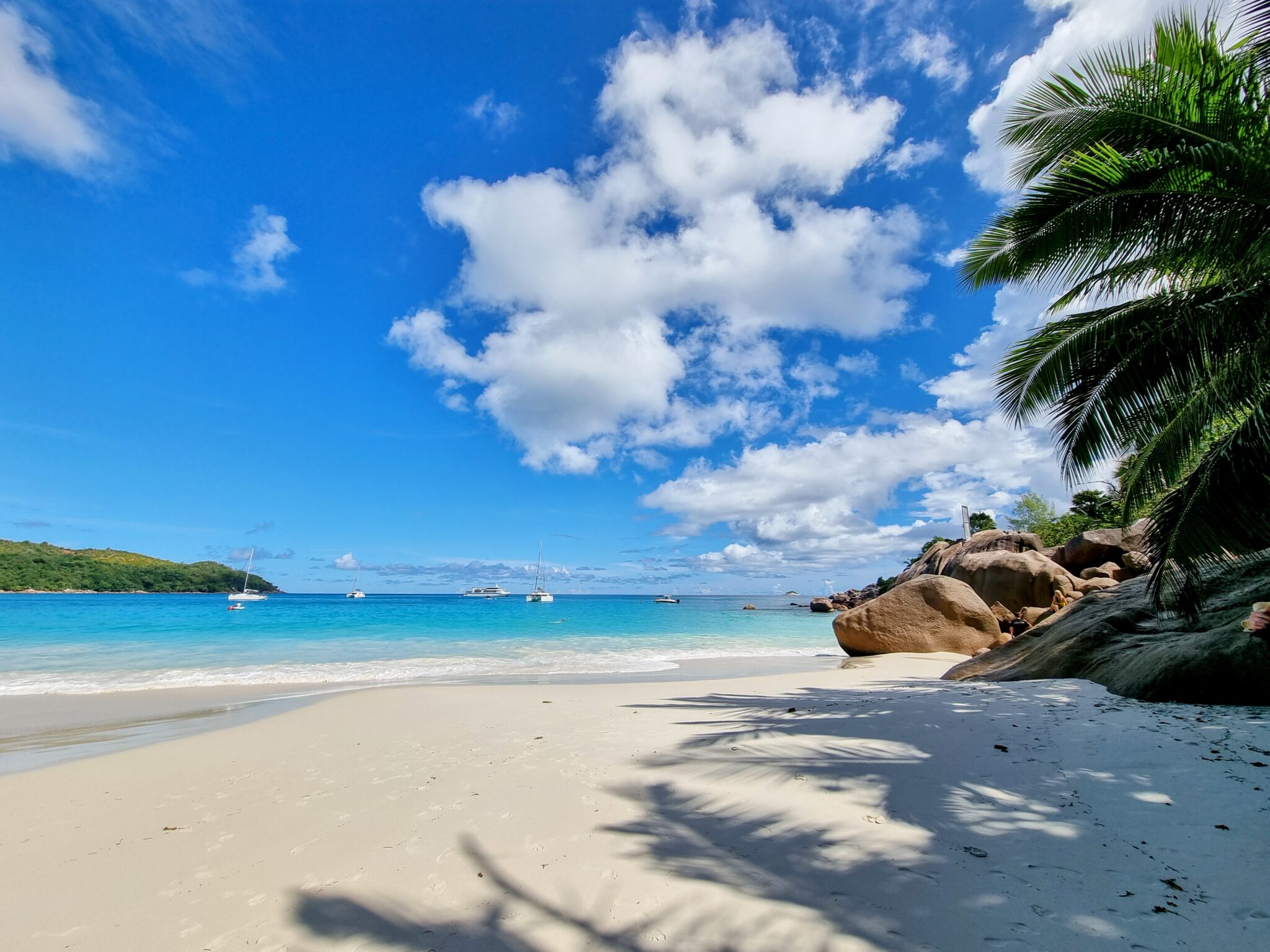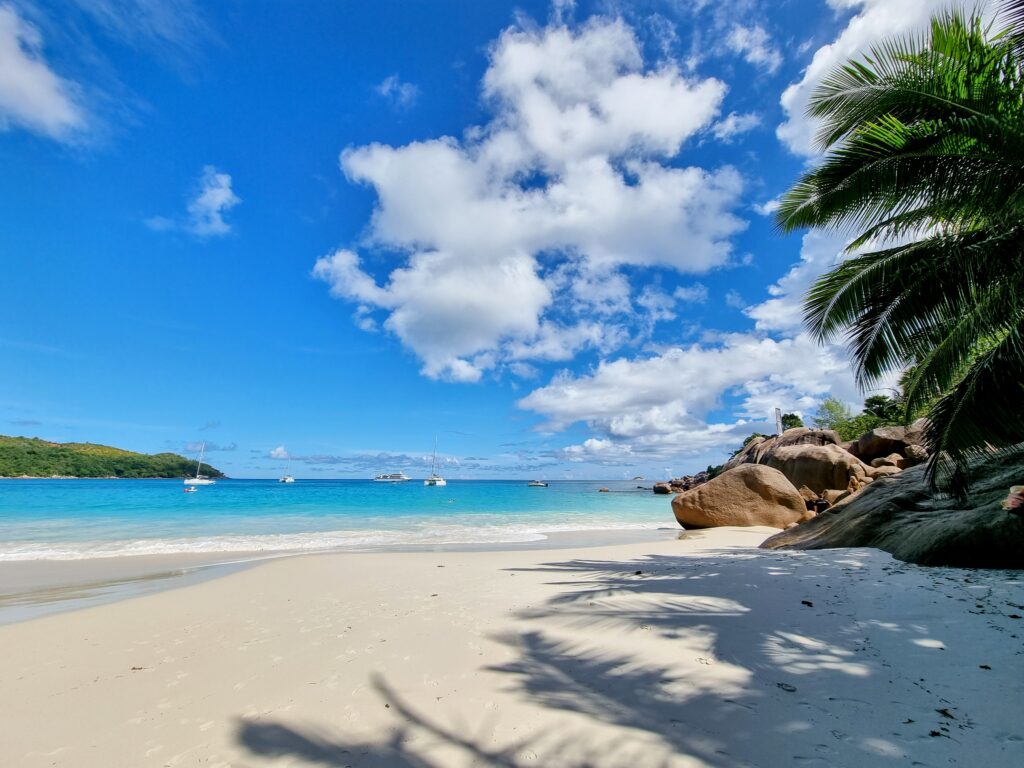 Day 3 : Aride & Anse Lazio
In the early morning, Pegasos will leave anchor and head to the nearby island of Aride, also known as the Bird Citadel.
Aride is uninhabited but for the very few rangers who take care of the wildlife that lives on it.
Landing on Aride is only allowed through the park's own tender boats, to minimise impact on the fragile ecosystem and avoid cross-contamination. And what an adventure this is!
That waves are always high and the currents strong so getting wet upon landing is almost always guaranteed.
We will jump off the tenders and on the soft sand to join one of the rangers on a walking tour of the island where we will wander in the tropical unspoiled nature surrounded by thousands of inquisitive lizards.
Our walk will focus on the amazing bids nesting on the floor, on tree gaps and on tree tops. Because they have no natural predators, birds on Aride are not scared by humans and we will be able to get very up and close to them.
We will spot frigate birds, velvety noddies and majestic white tern fairies who always pair for life.
We will also be on the lookout for tropicbirds with their beautiful long white tail.
Aride is unspoiled and peaceful, so after our walking tour there will be a bit of free time to swim on the beach before we jump on the tenders again and return to the boat.
Lunch will be onboard as the boat heads over to the back side of Praslin island, to the famous and paradisiac beach of Anse Lazio.
We will jump on the tender boats and land on the beach for snorkelling and free time.
This crescent shaped strip of paradise is dotted with granite boulders and is a popular place for weddings.
A small lagoon near the beach can also be a good spot for a short ride on the stand paddle boards, or simply laze by the beach, take photos on the characteristic boulders that have made Seychelles famous and take it all in.
We will return to the boat in time for a shower and then get back out to Praslin for dinner on land consisting of a BBQ spread of Creole favorites.
After dinner, we will get back to the boat and overnight at port.
Inclusions: Breakfast, lunch and dinner. Guided walking tour of Aride, transfers from the boat to Aride and Anse Lazio. Snorkelling equipment. All meals will include refreshments, wine or beer.
---
Day 4 : Praslin
Today is a very special day because we will get acquainted with the Coco de mer, the symbol of Seychelles and perhaps the most expensive fruit in the world.
This massive, long maturing fruit fruit grows only in the Seychelles and takes almost 30 years to ripen.
The largest concentration of coco de mer trees can be found in the Vallee de Mai, the UNESCO-listed national park that we will be visiting in the morning by the hand of our certified local guide.
Vallee de Mai is a very small park that we will explore on foot as we learn more about this mysterious and magical fruit as well as the many other species that are endemic of the Seychelles islands.
Each coco de mer has to ripen on its own and is only produced over the course of three decades from the moment the tree was planted. Fruits must fall on the ground on their own and cannot be picked, before they can be collected by the experts.
Individual fruits are then processed and given a sticker that certifies their origin and legality and ensures they come from the specific legal parks where they grow.
Coco de mer can be bought although they are scarce and can weigh up to 20 kg and cost upwards of 500 EUR.
Easier to buy and carry are the shells which are sold as decoration and the fruit quickly hardens to the consistency of ivory and is often used in Traditional Chinese Medicine.
Besides their unique shape and lifespan, coco de mer are also shrouded in mystery and there are many legends and stories around it. We will learn all about it during the tour.
After the visit, we will drive to Cote d'Or where we will be welcomed with a cold drink and have free time to enjoy the long beach and find a spot for lunch.
Cote d'Or is a wide, long and shallow beach with warm waters and swaying palm trees that makes for the perfect beach spot.
Unlike other parts of the Seychelles where the current and the waves are strong, Cote d'Or is protected and calm.
In the afternoon, we will return to Pegasos to freshen up and rest before returning to Cote d'or for a Creole dinner by the beach filled with surprises.
After dinner, we will jump back on the bus to return to the boat.
Inclusions: Breakfast onboard, guided visit and entry ticket to Vallee de Mai, transfers to the park and to dinner, dinner at a restaurant on Praslin with surprise perfomance and wine / beer.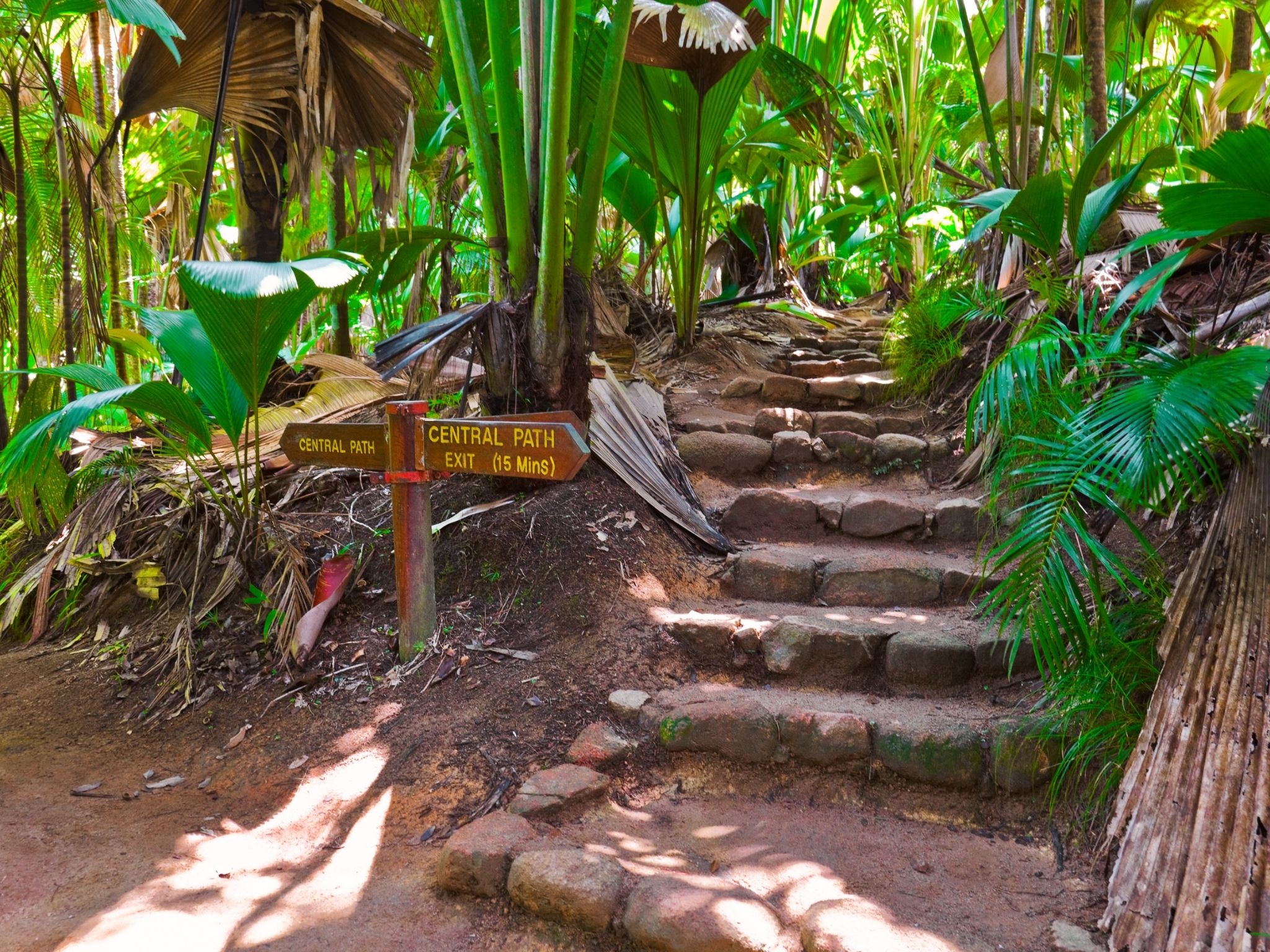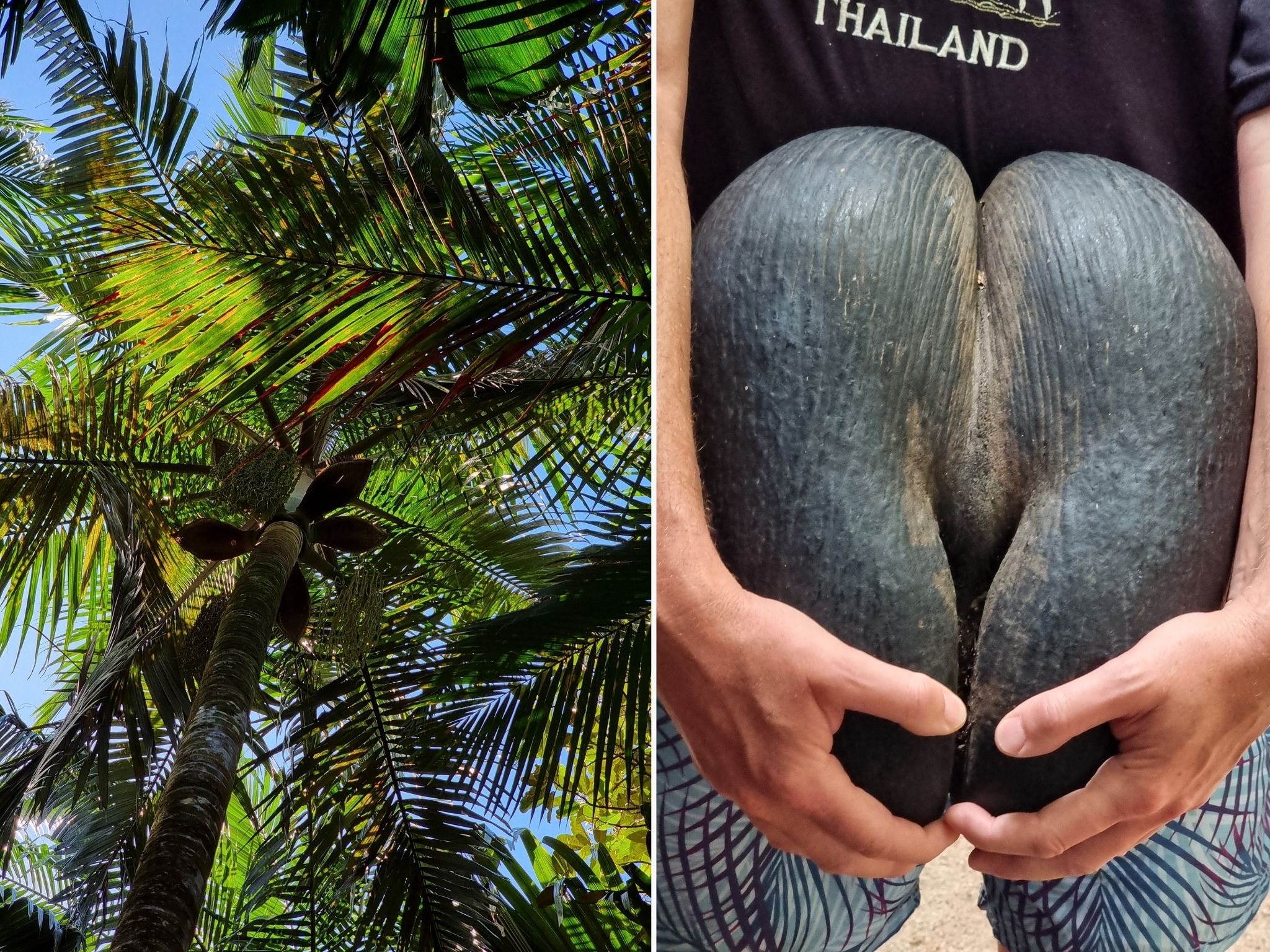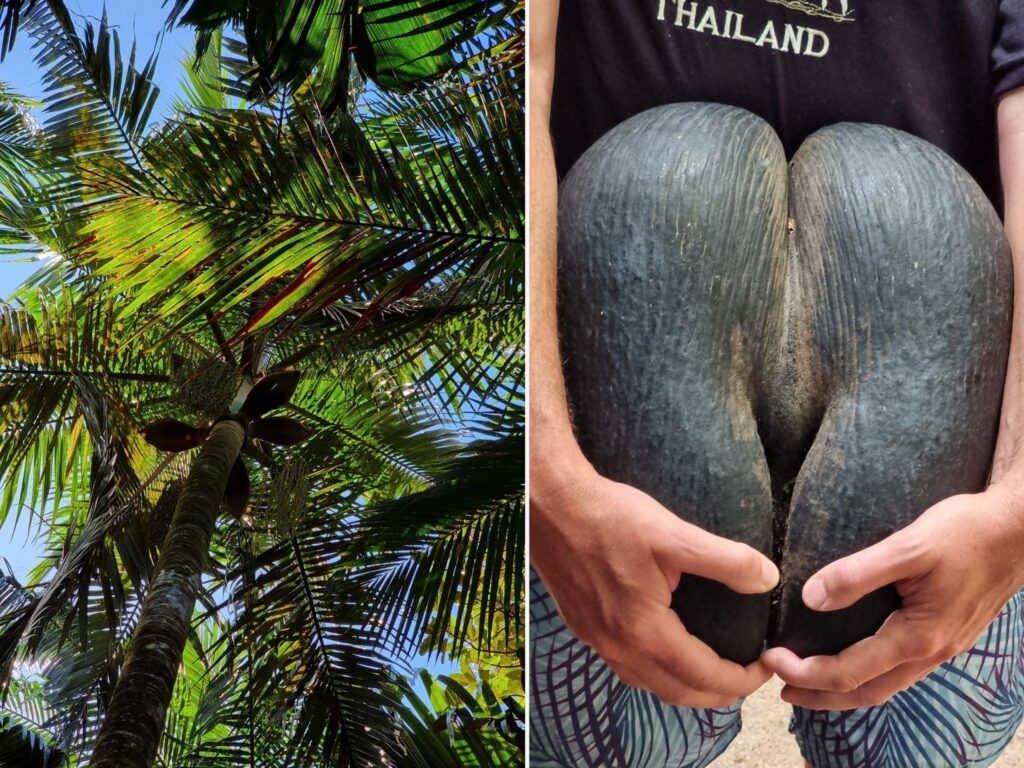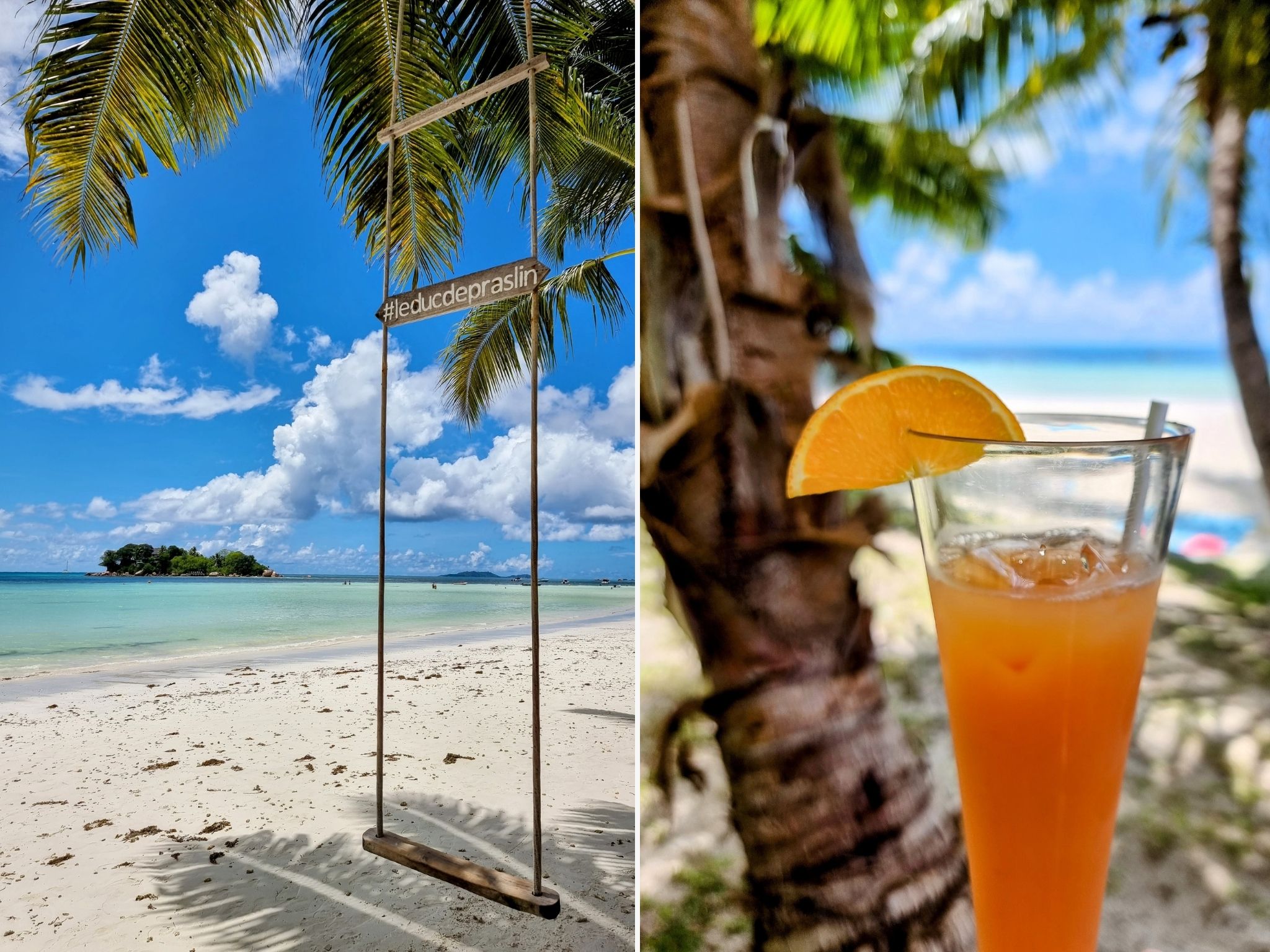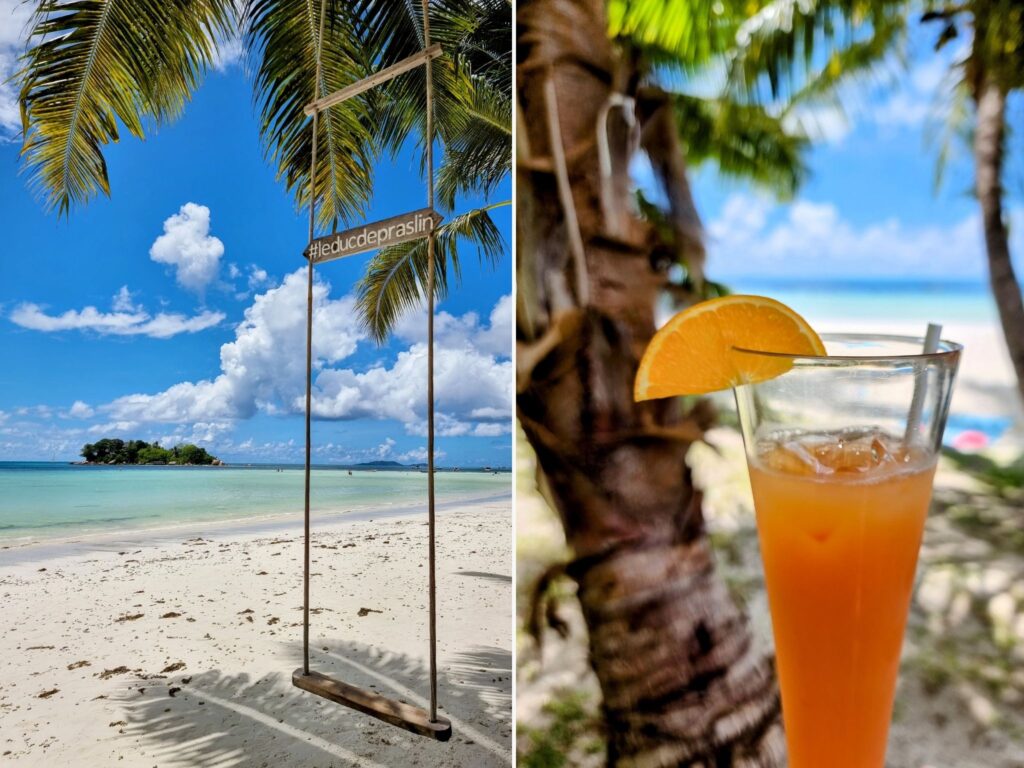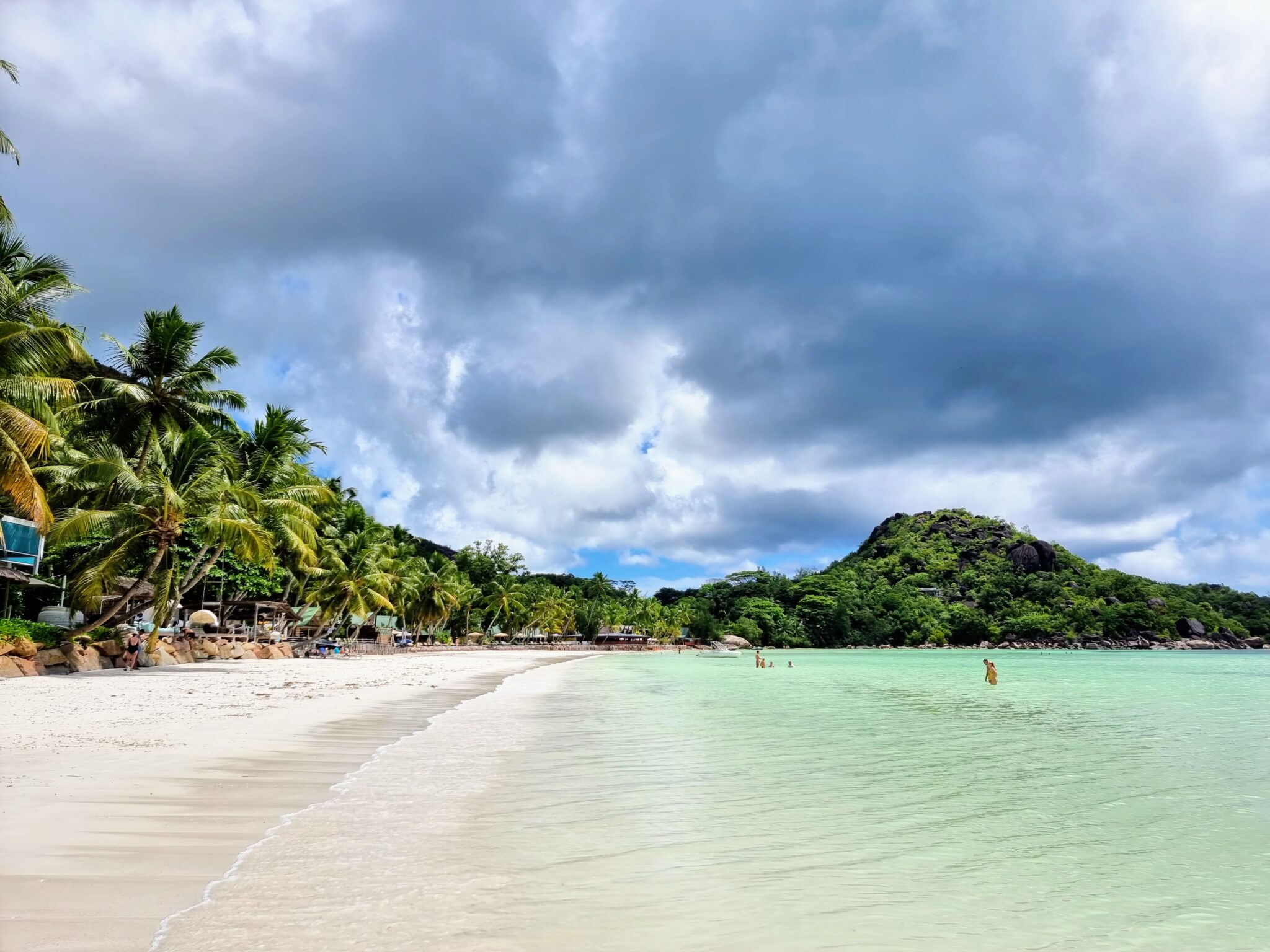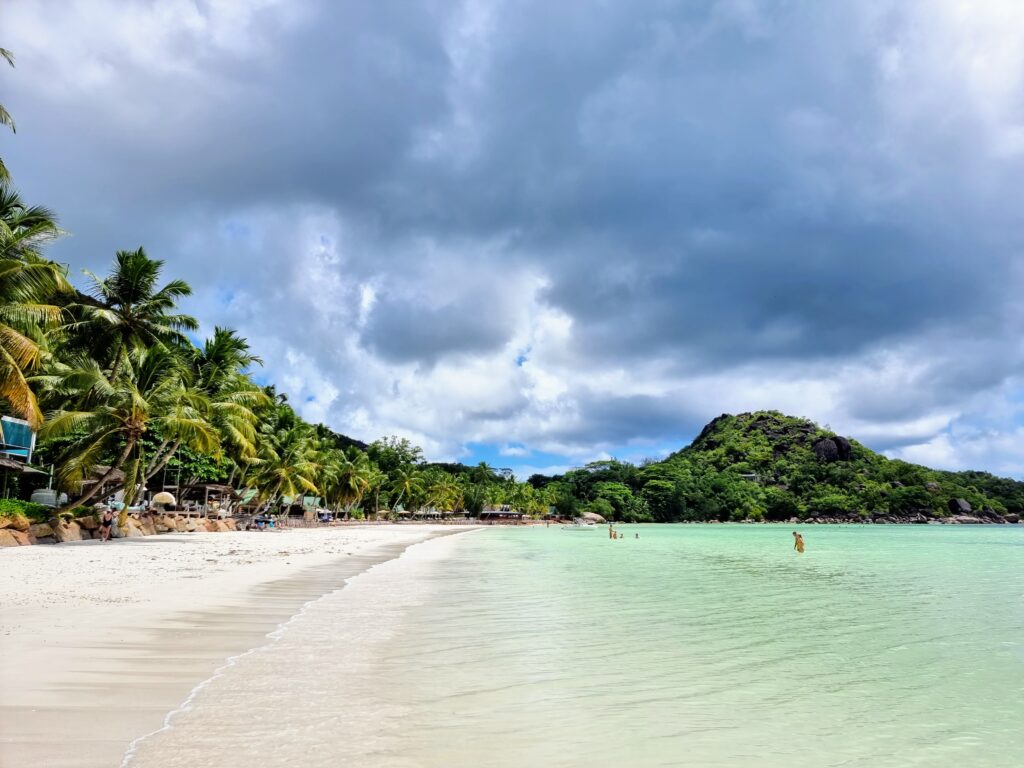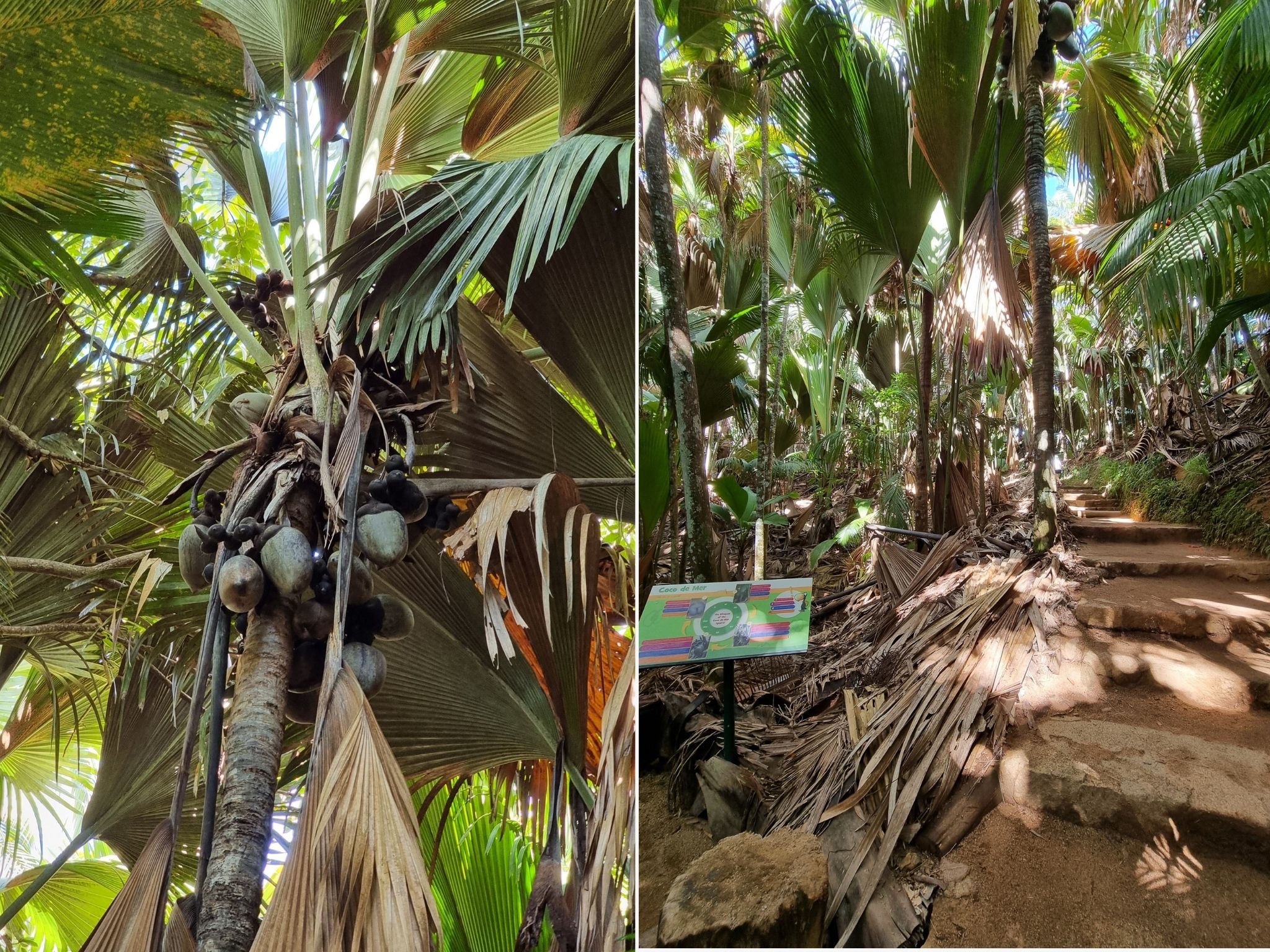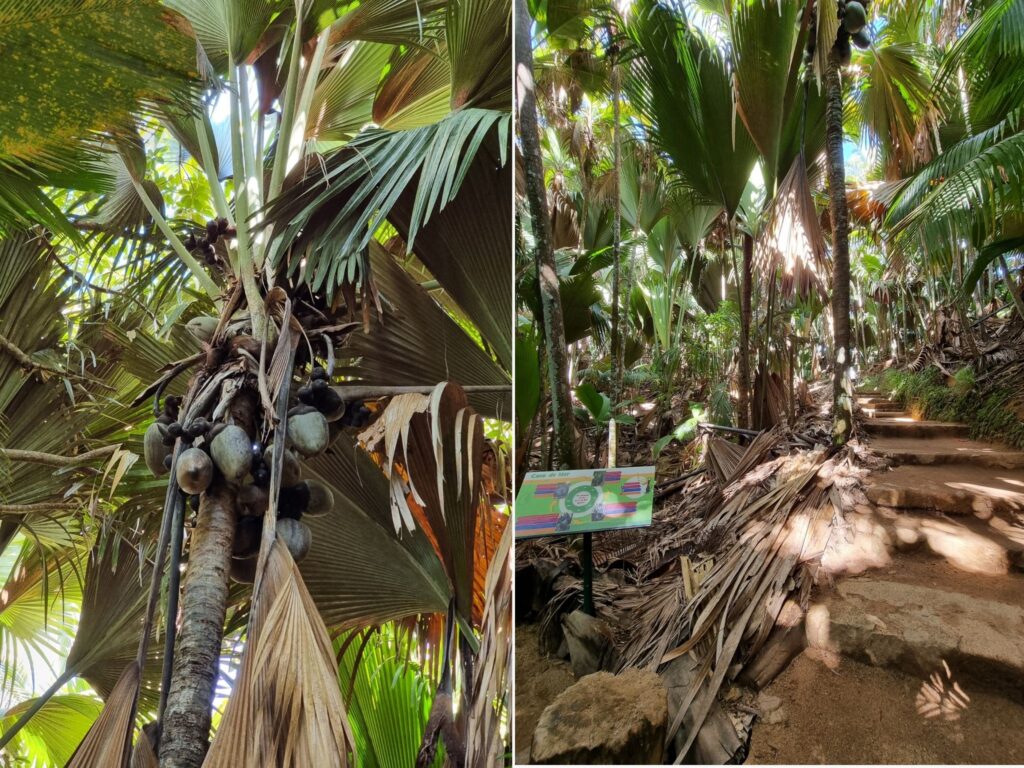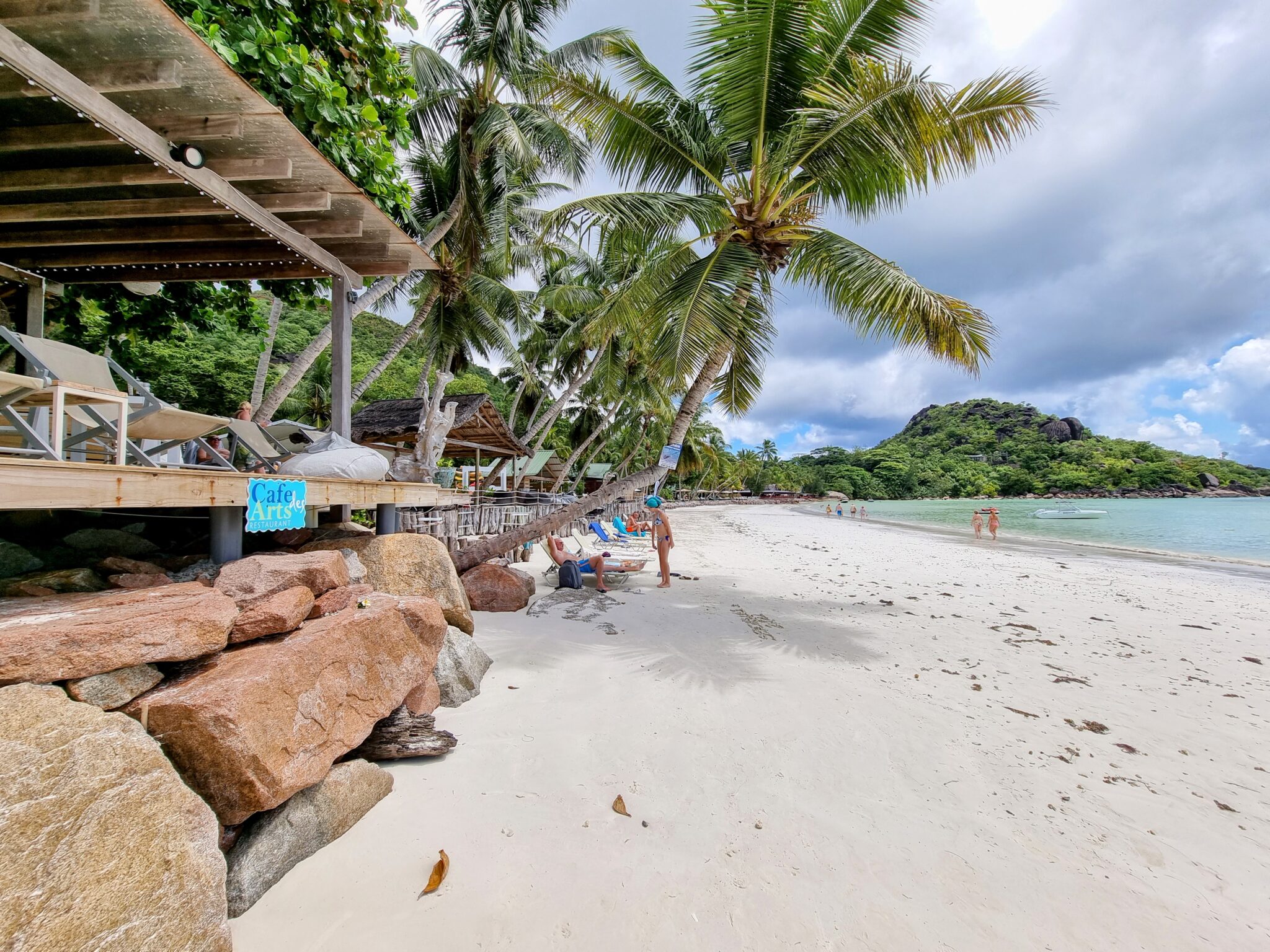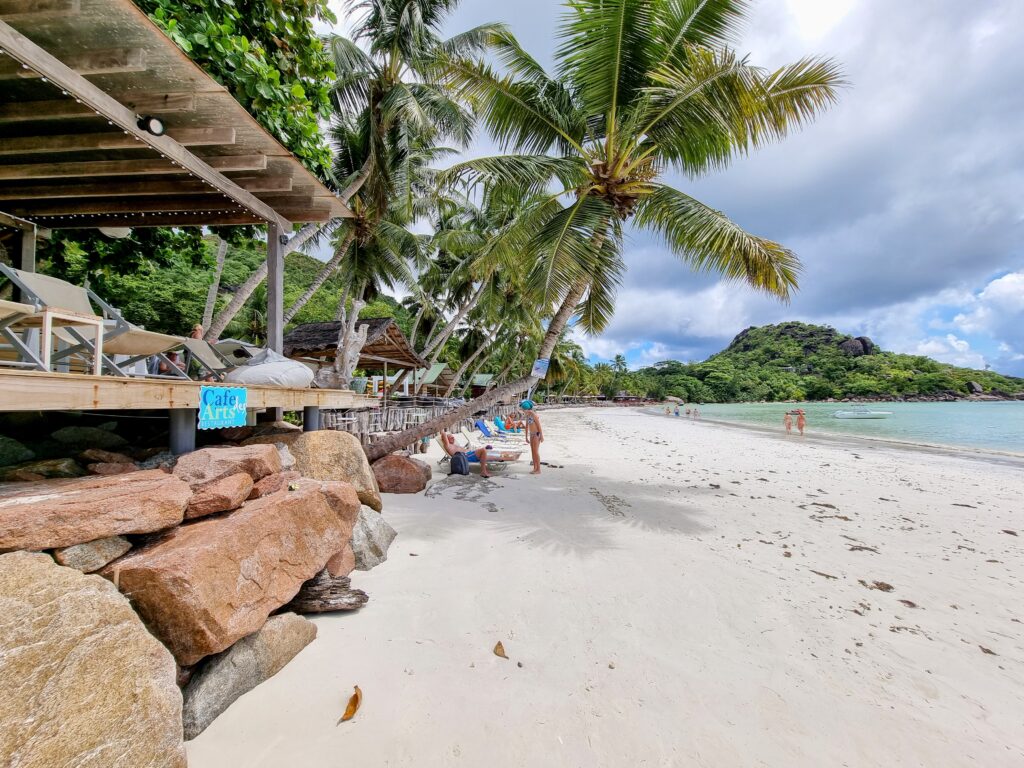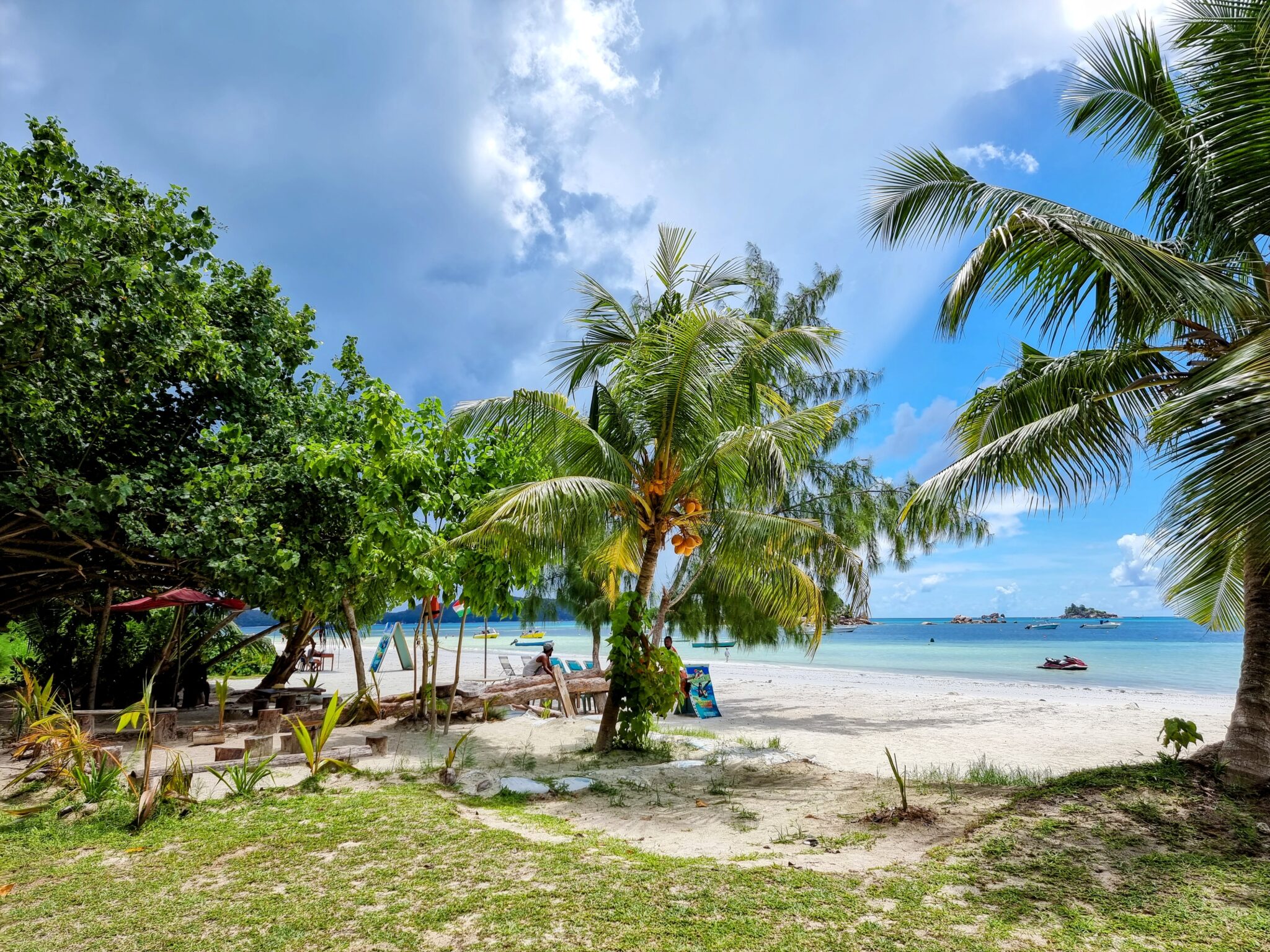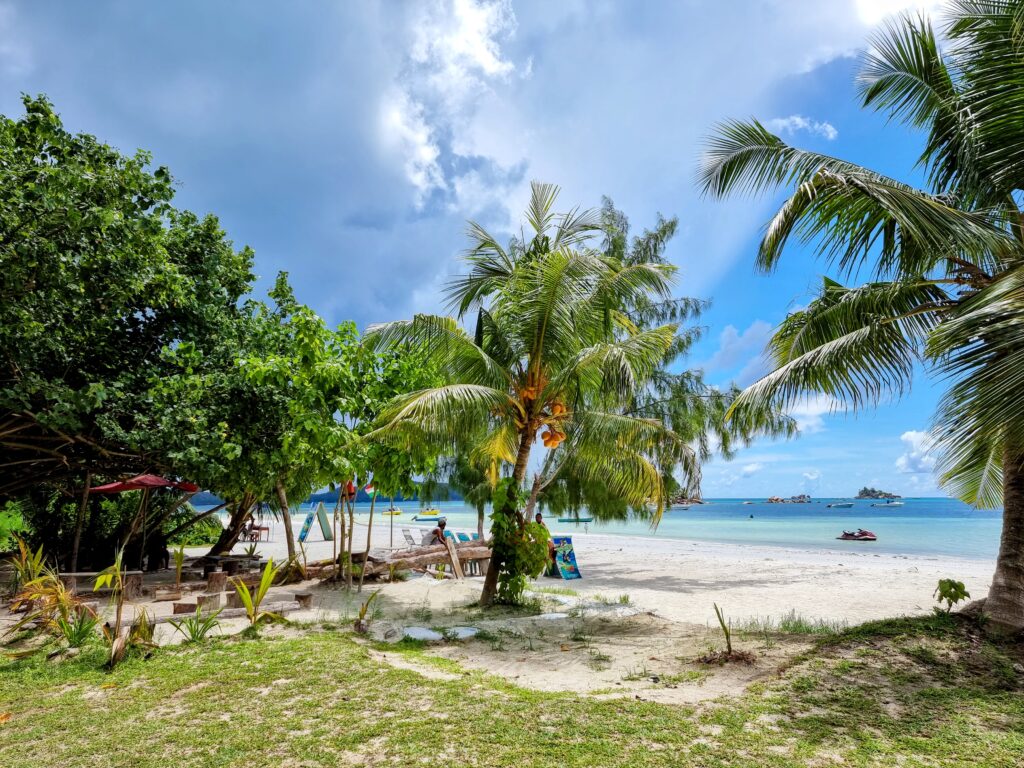 ---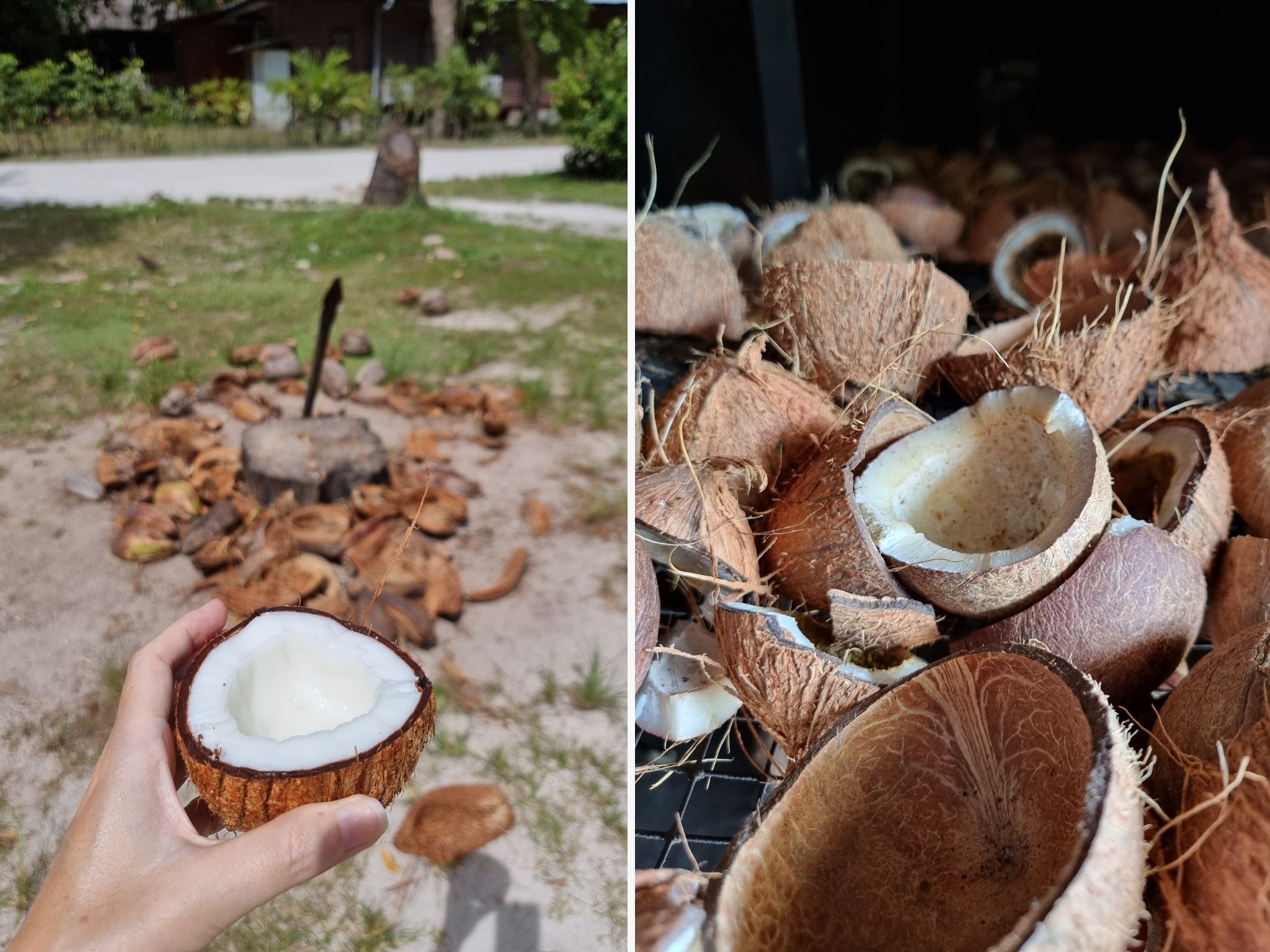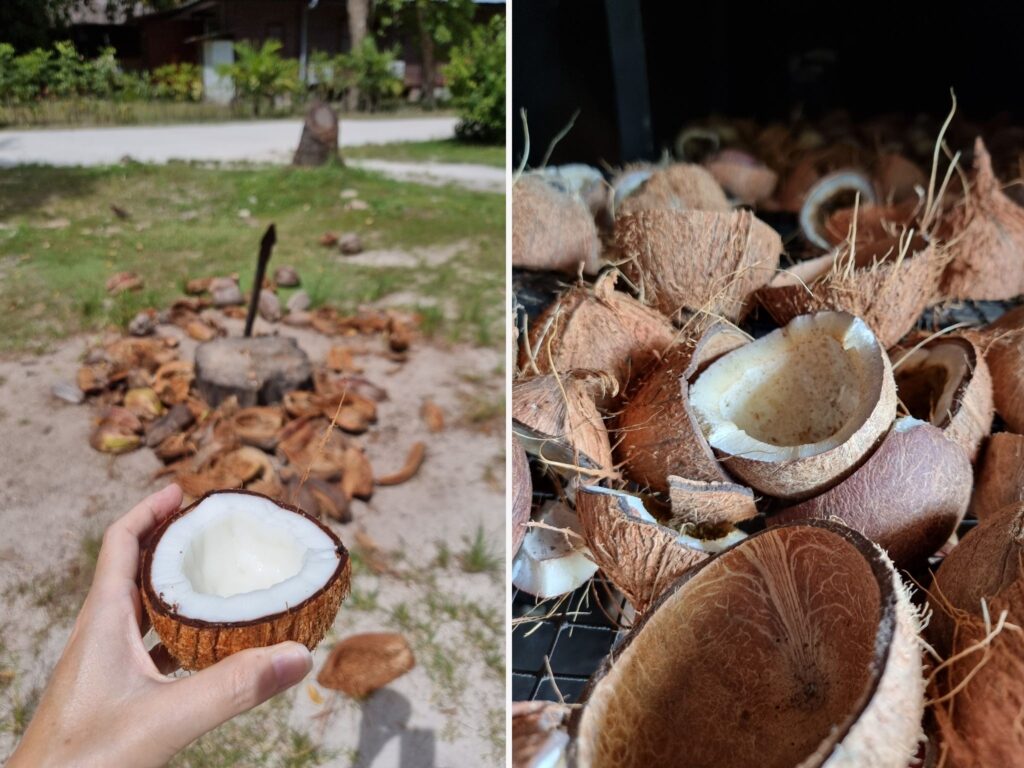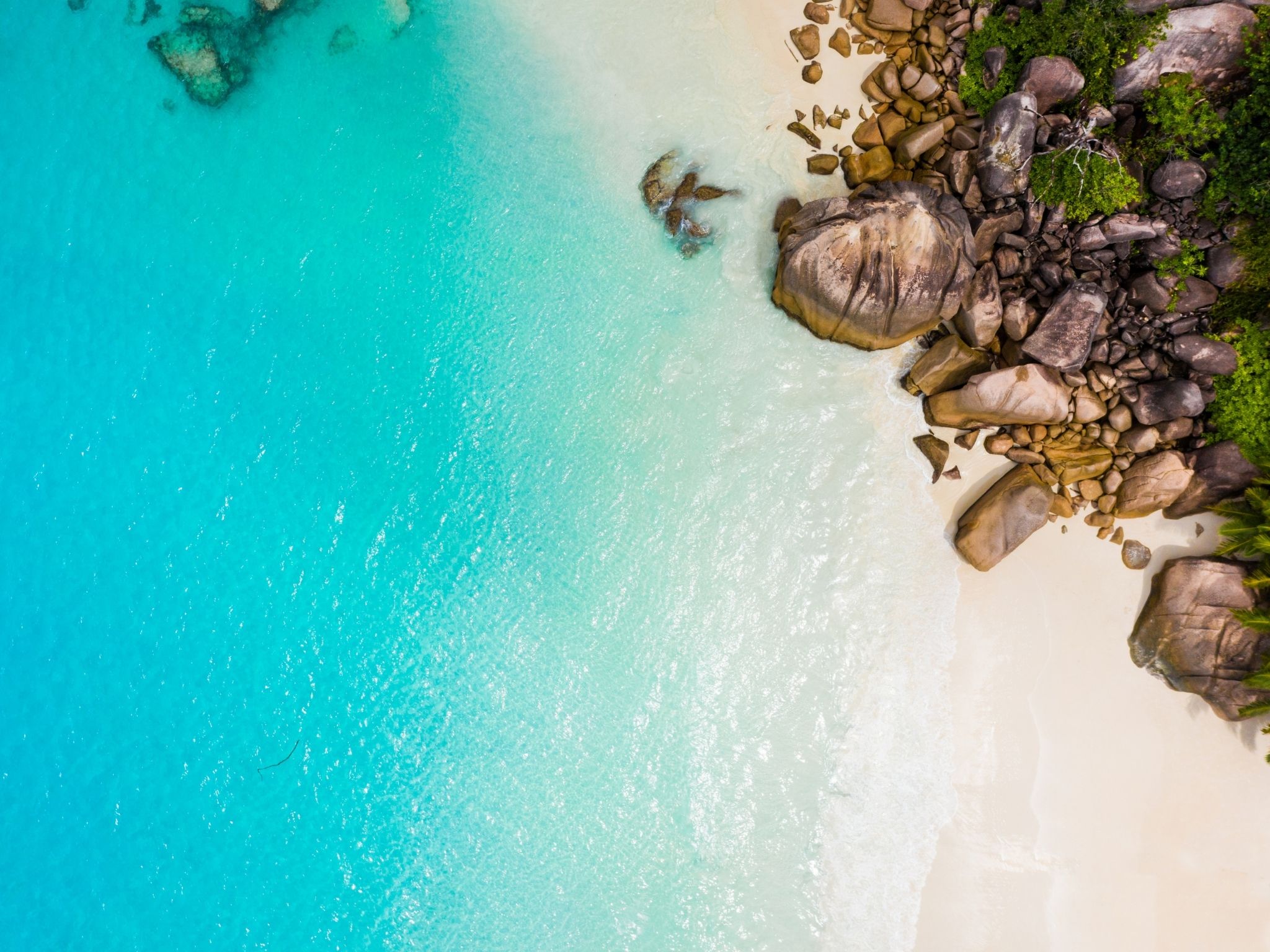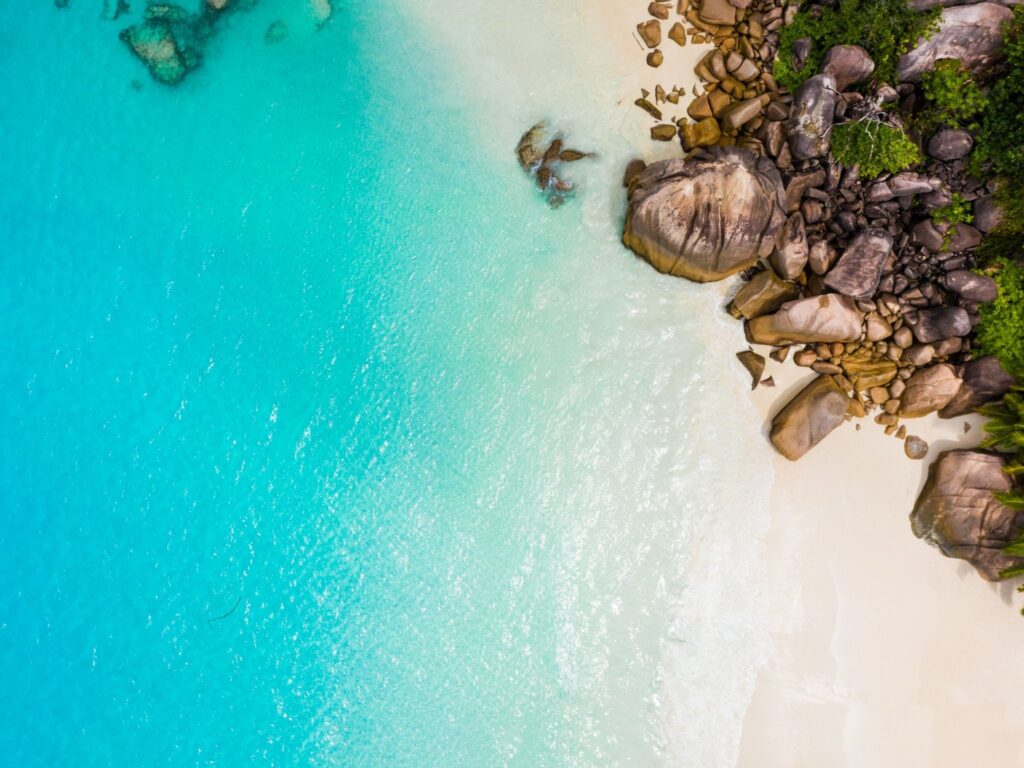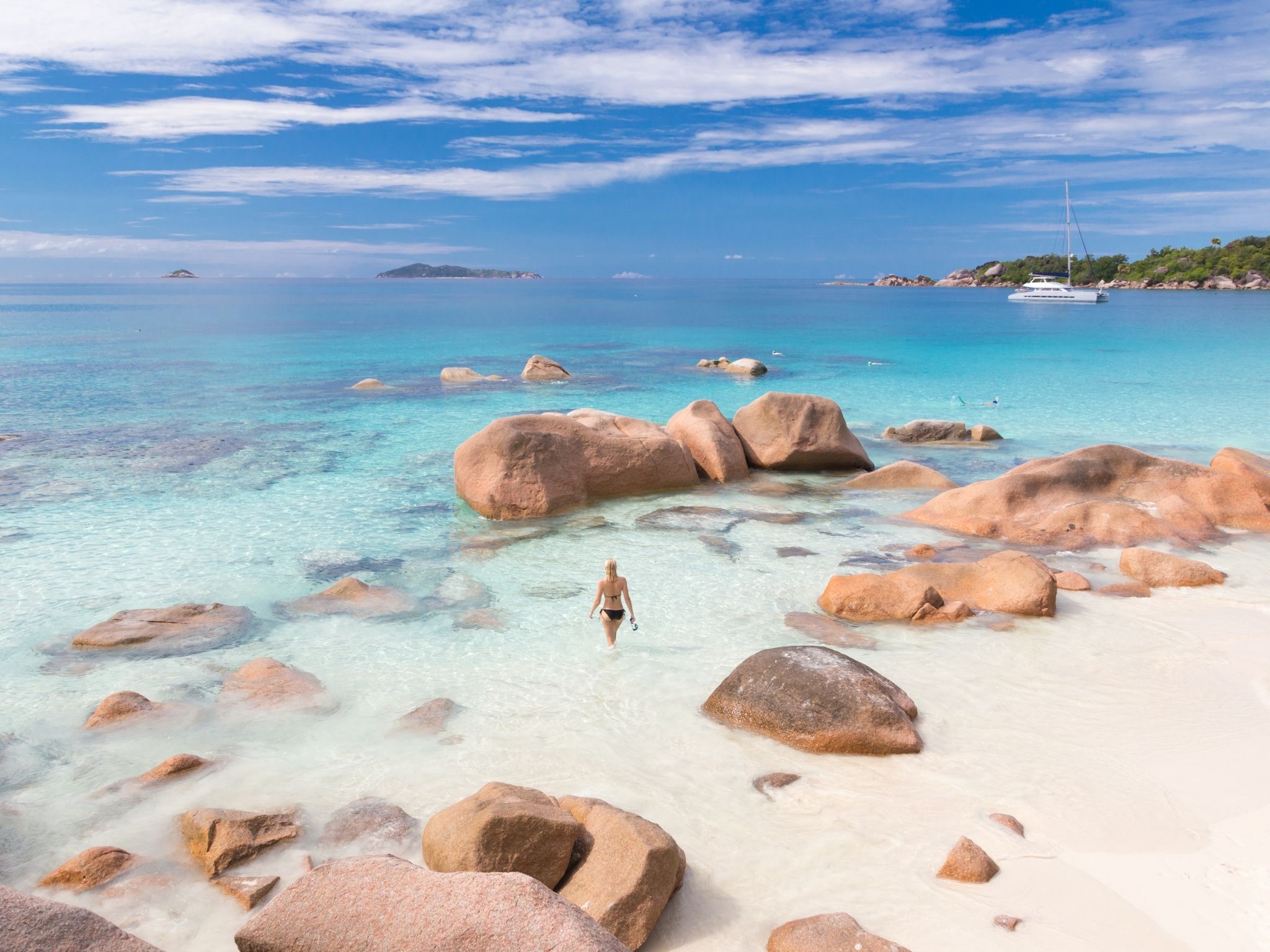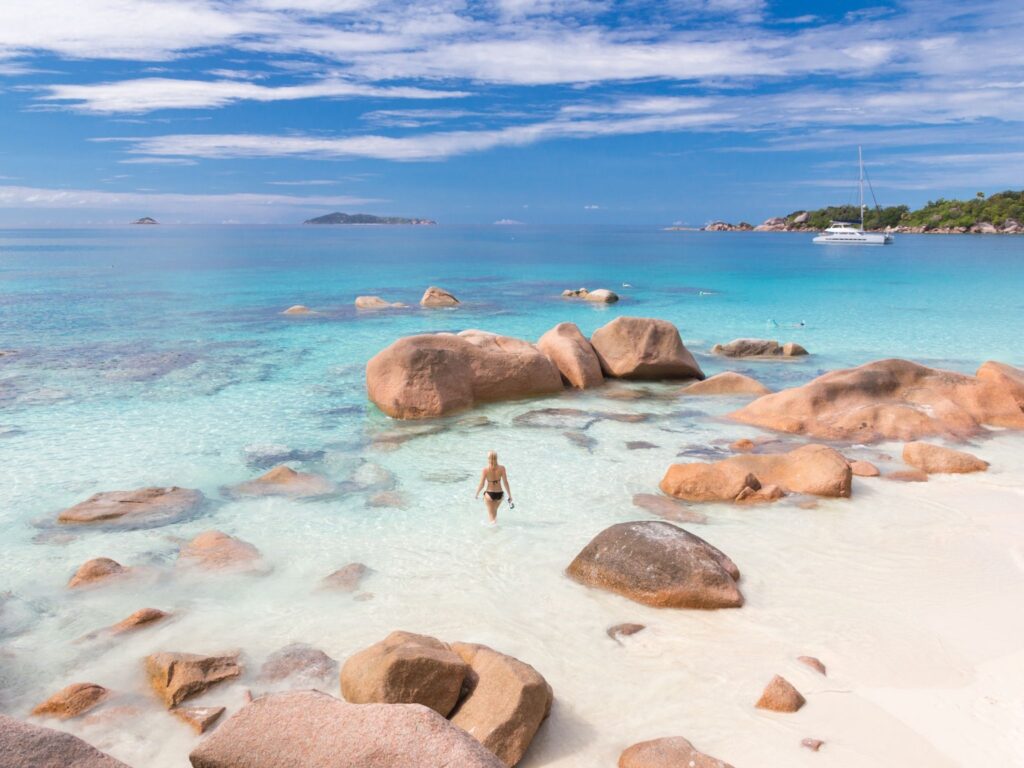 Day 5 : La Digue
After Praslin, La Digue will feel like a sleepy island without any cars and where peace and quiet prevail.
Favored by honeymooners and those seeking true disconnection from urban life, La Digue is a bicycle only small island with 3,00 inhabitants that has perhaps the most famous of all the beaches in the Seychelles, Anse Source d'Argent.
We will take the tenders and disembark on the island to jump on open trucks and kick off our guided tour.
We will start with a quick drive around to get our bearings and then head over to a small museum and then to learn more about how coconut oil is made.
The tour continues with a visit to the Aldabra giant tortoises and a short ride to the entry spot to Anse Source d'Argent where we will be welcomed with a cold juice and a briefing before enjoying free time for lunch and to explore the beach.
Anse Source d'Argent is Seychelles and possibly the world's most photographed beach and also one of the most beautiful.
Made of several consecutive small beaches and bays split by granite boulders of all sizes and shapes, this is as picturesque as it gets and it will be hard not to spend all your time snatching photos.
We will have our packed lunch from the boat with us, water and beach towels at the ready, and enough free time to sample the great mango cocktails from the few reggae bars, explore the whole beach and chill in the shade or sun.
At the agreed upon time, we will jump back on the trucks and return to the port to tender back to Pegasos.
Tonight we will have dinner onboard and start our return sailing back to Mahe.
Inclusions: Breakfast onboard, packed picnic lunch on Anse Source d'Argent, dinner onboard. All meals will include refreshments, wine or beer.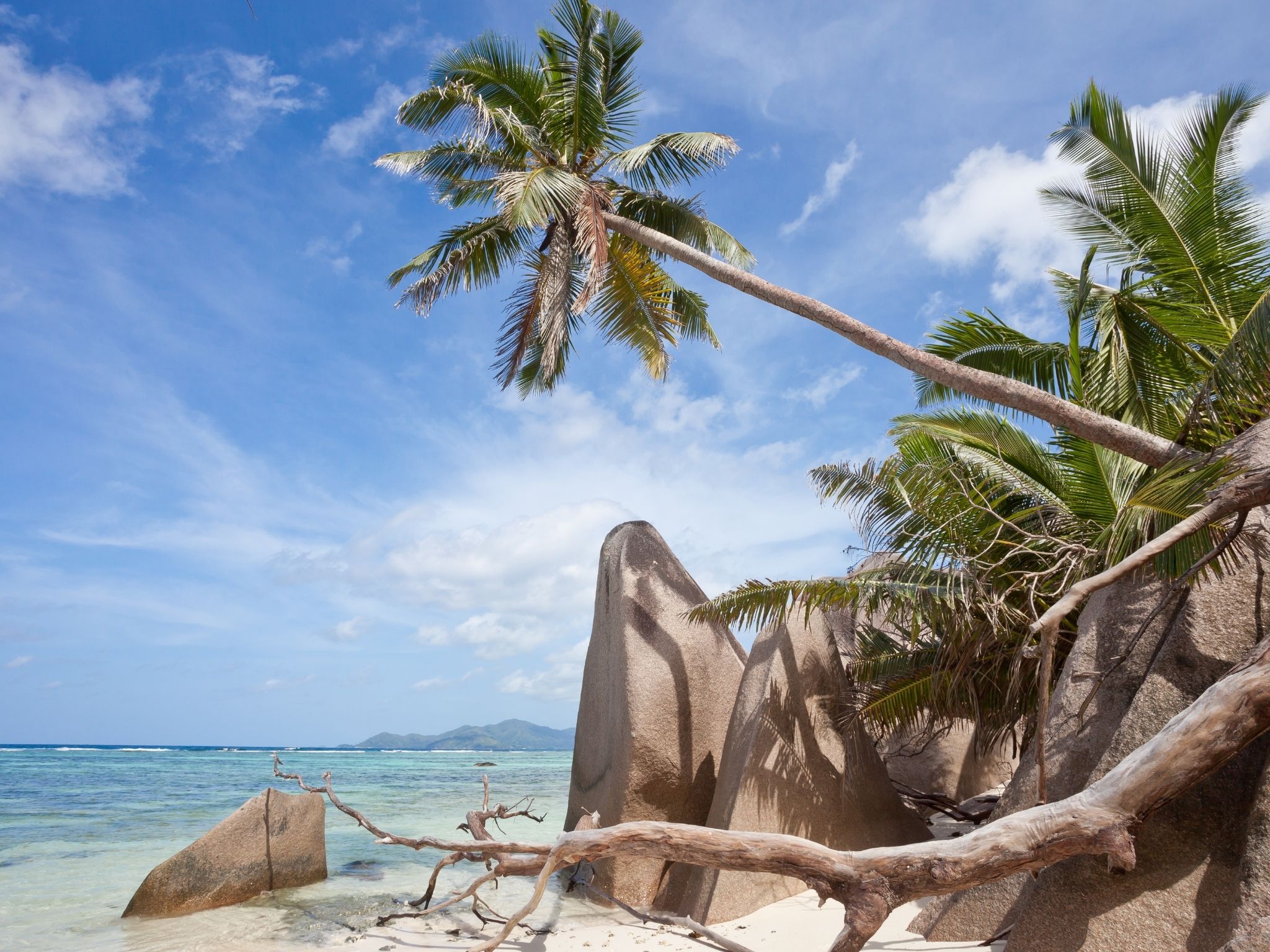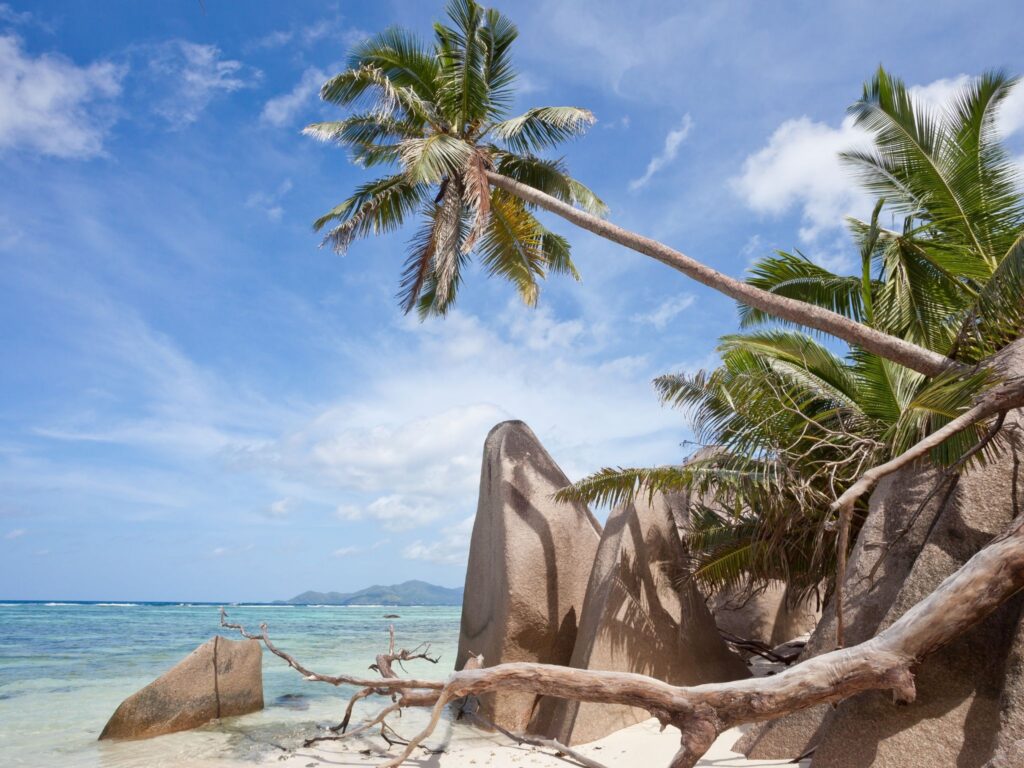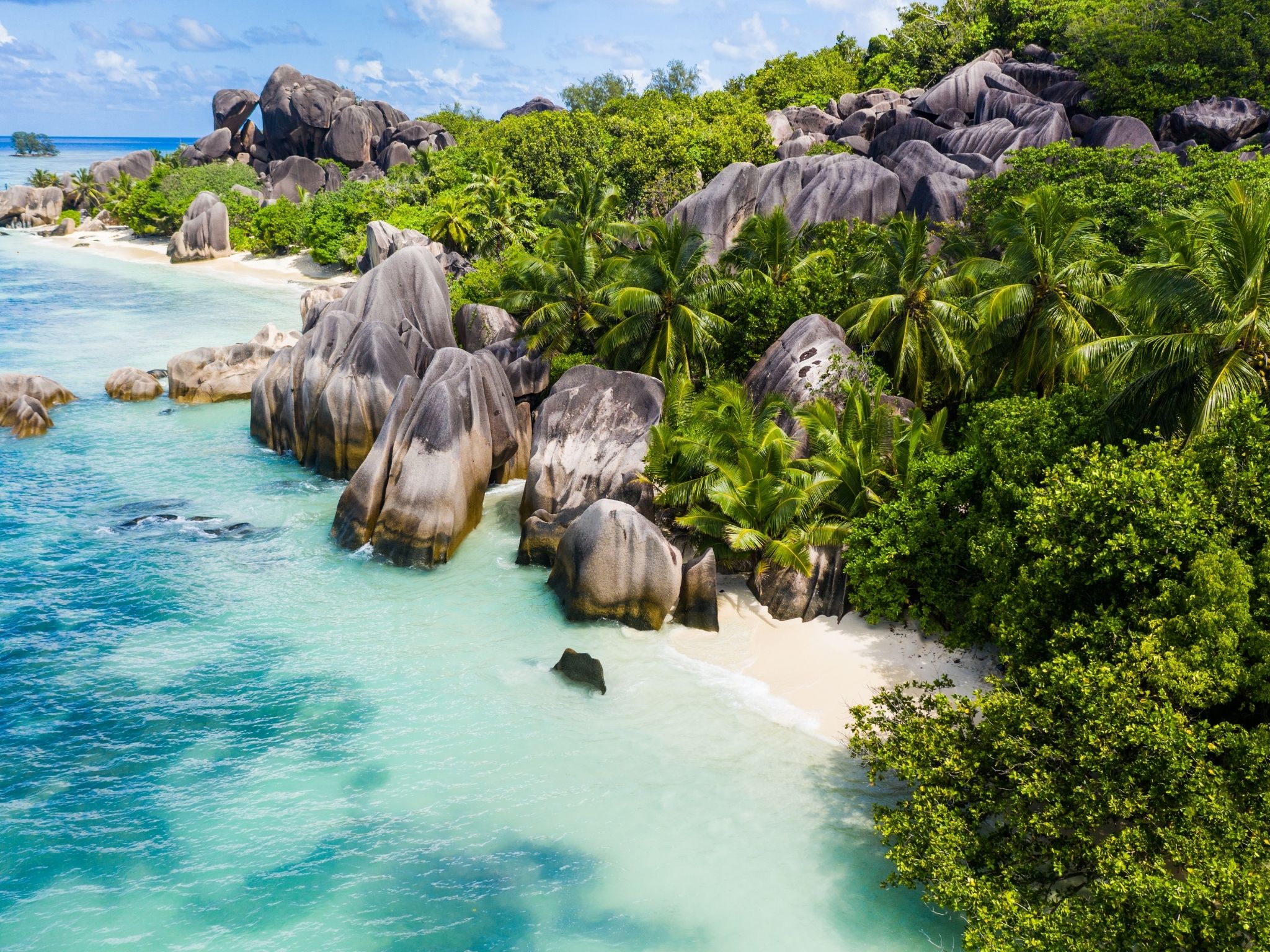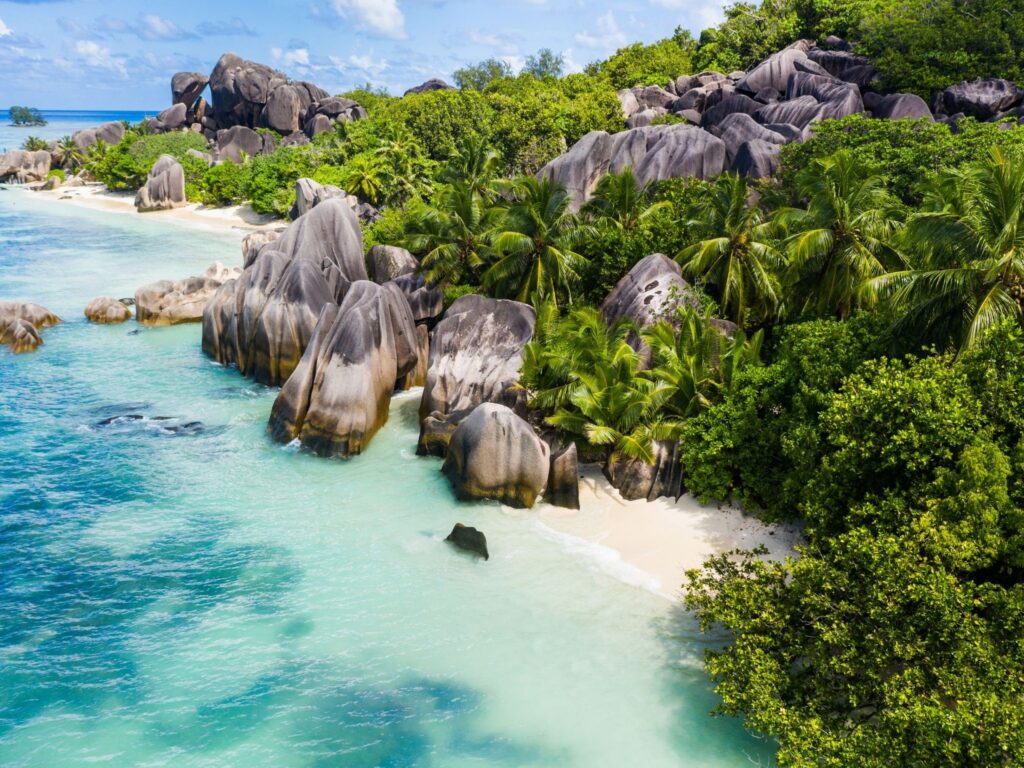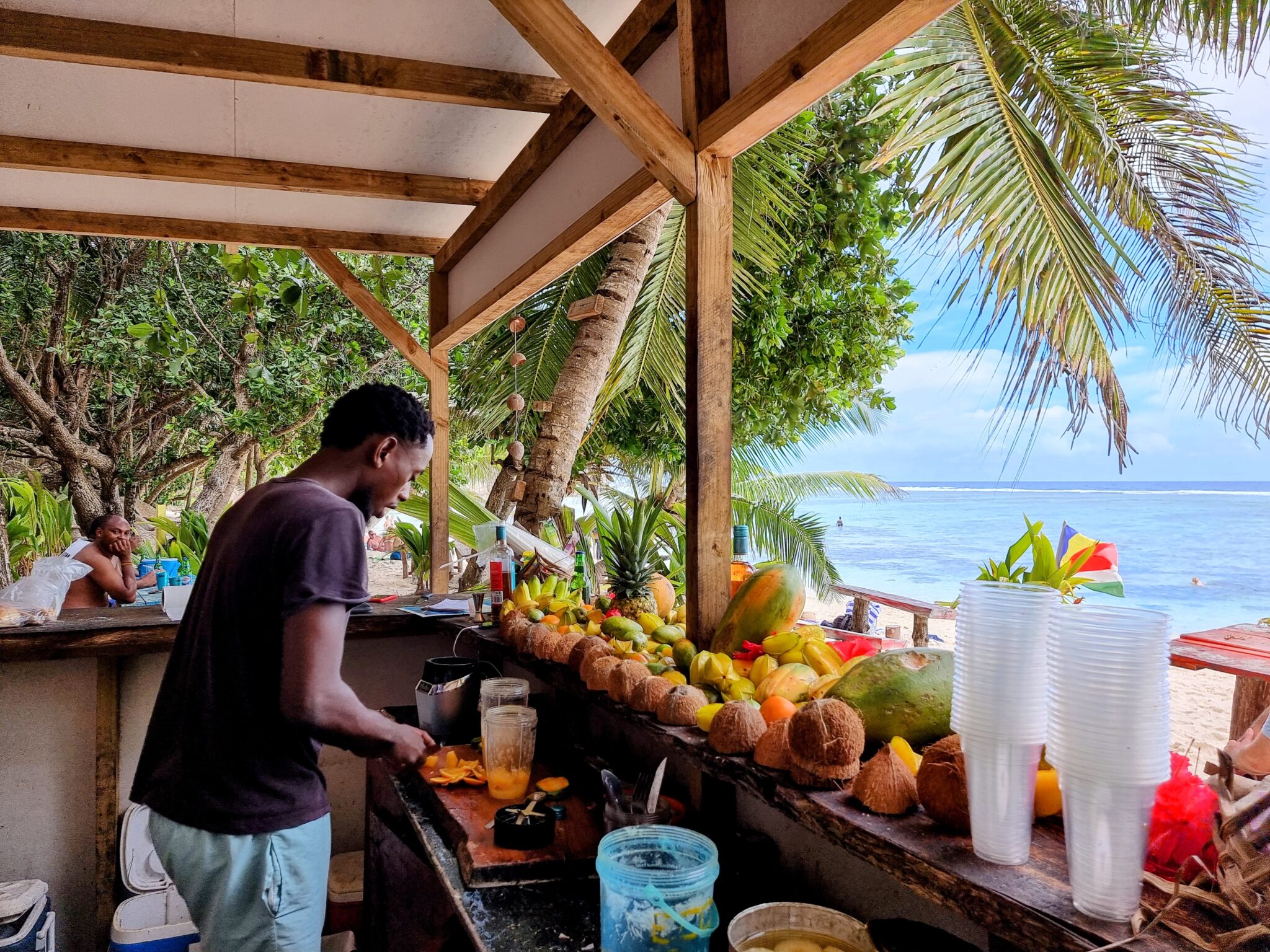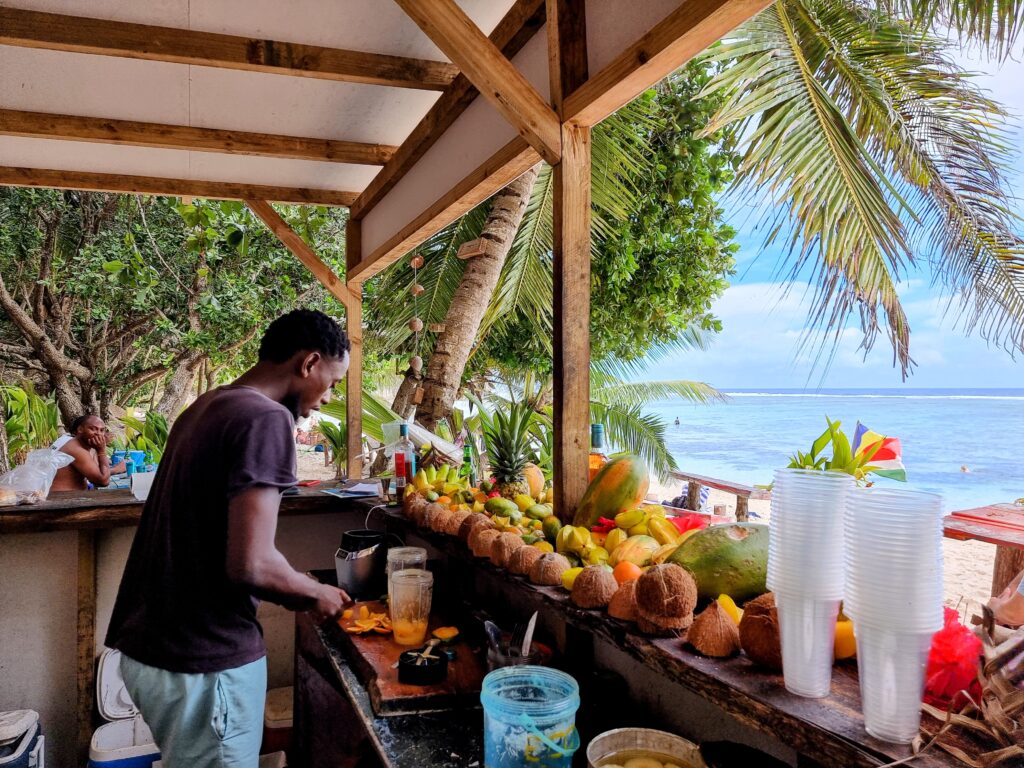 ---
Day 6 : Moyenne
We will wake up closer to Mahe by the fascinating island of Moyenne which is now owned by a foundation but once belonged to a single British man who bought it in the 1960s.
This slice of paradise that is part of the St. Anne Marine National Park now hosts an Aldabra tortoise nursery and the staff that care for the island but is otherwise uninhabited.
We will tender to the island and go on a walking tour of this thick tropical haven which used to be a refuge for pirates in the 18th and 19th century and still hosts two of their graves.
But first, in order to learn more about its past and history, we will watch a short video narrated by the former owner of the island Brendon Grimshaw.
After the video, we will check out the nursery and have the chance to carefully hold baby tortoises in our hands.
The walking tour will take us to wonderful view points, stunning rock formations and the prettiest of beaches.
At the end, we will have some free time to enjoy the powdery beach, connected to the nearby island by a sandbank that is walksable at low tide.
Although Moyenne is much closer to Mahe than the rest of the islands we have visited, it still feels miles away from civilization.
We will enjoy a BBQ lunch onboard and then head over to a snorkelling spot inside the St. Anne National Park.
There will be time before dinner to freshen up and get dressed up for our Captain's dinner onboard which will start with our signature Happy Hour and canapes.
Inclusions: Breakfast onboard, BBQ lunch and dinner. All meals will include refreshments, wine or beer. Walking tour of Moyenne. All transfers to / from the island. Snorkelling equipment.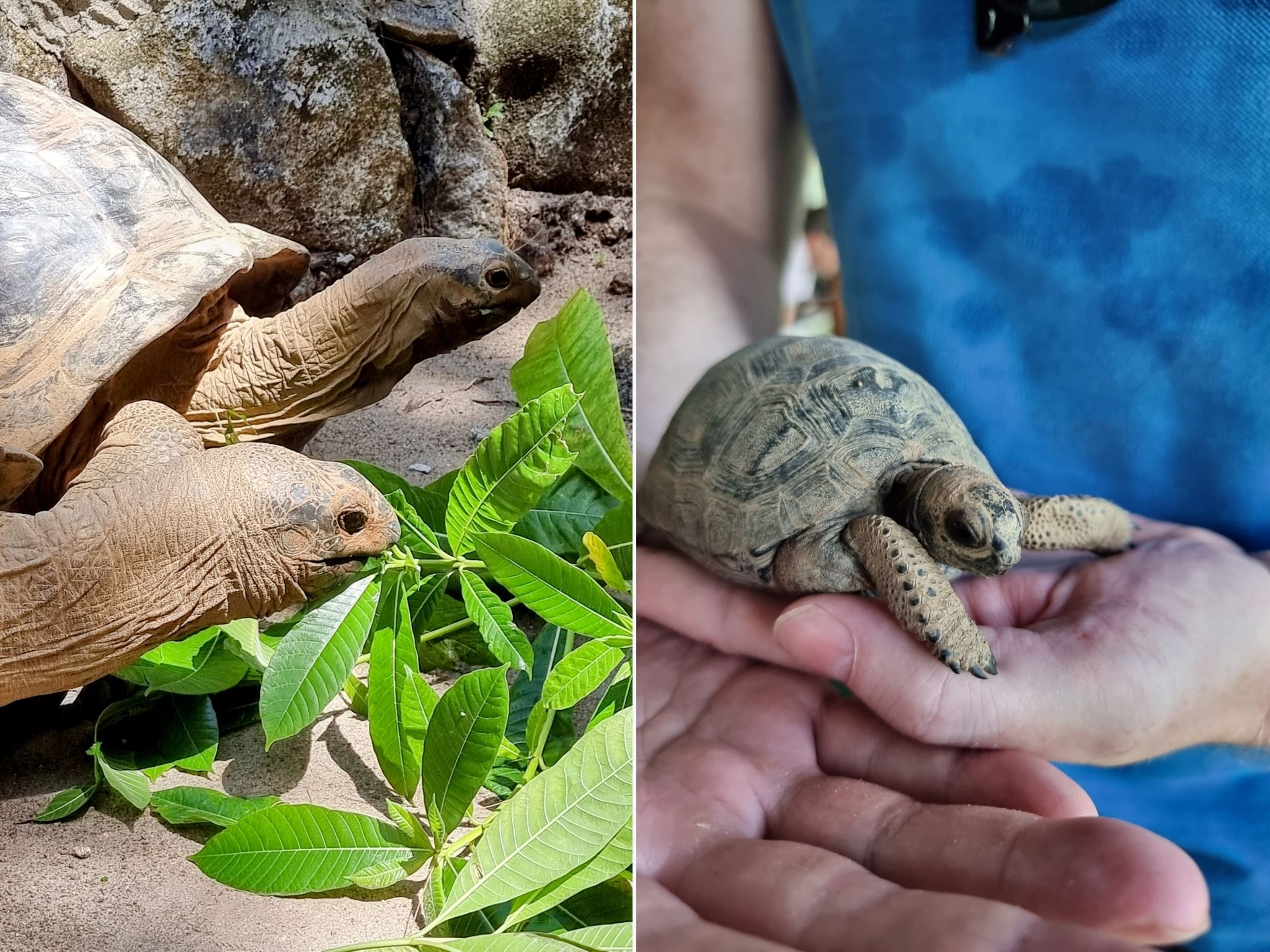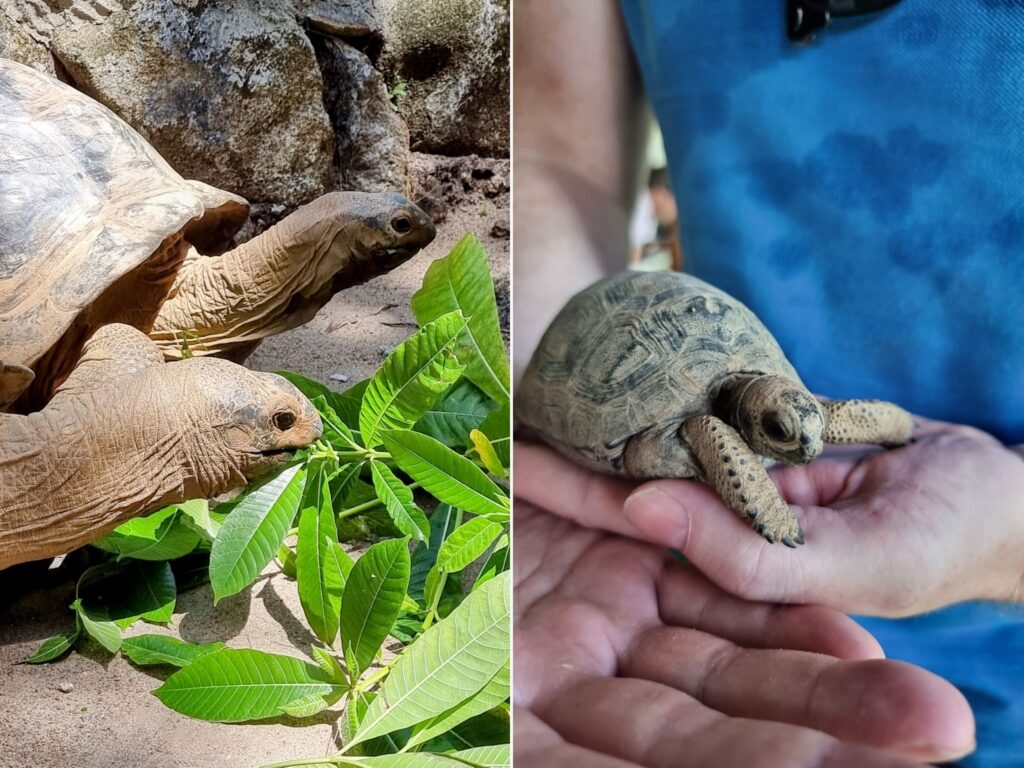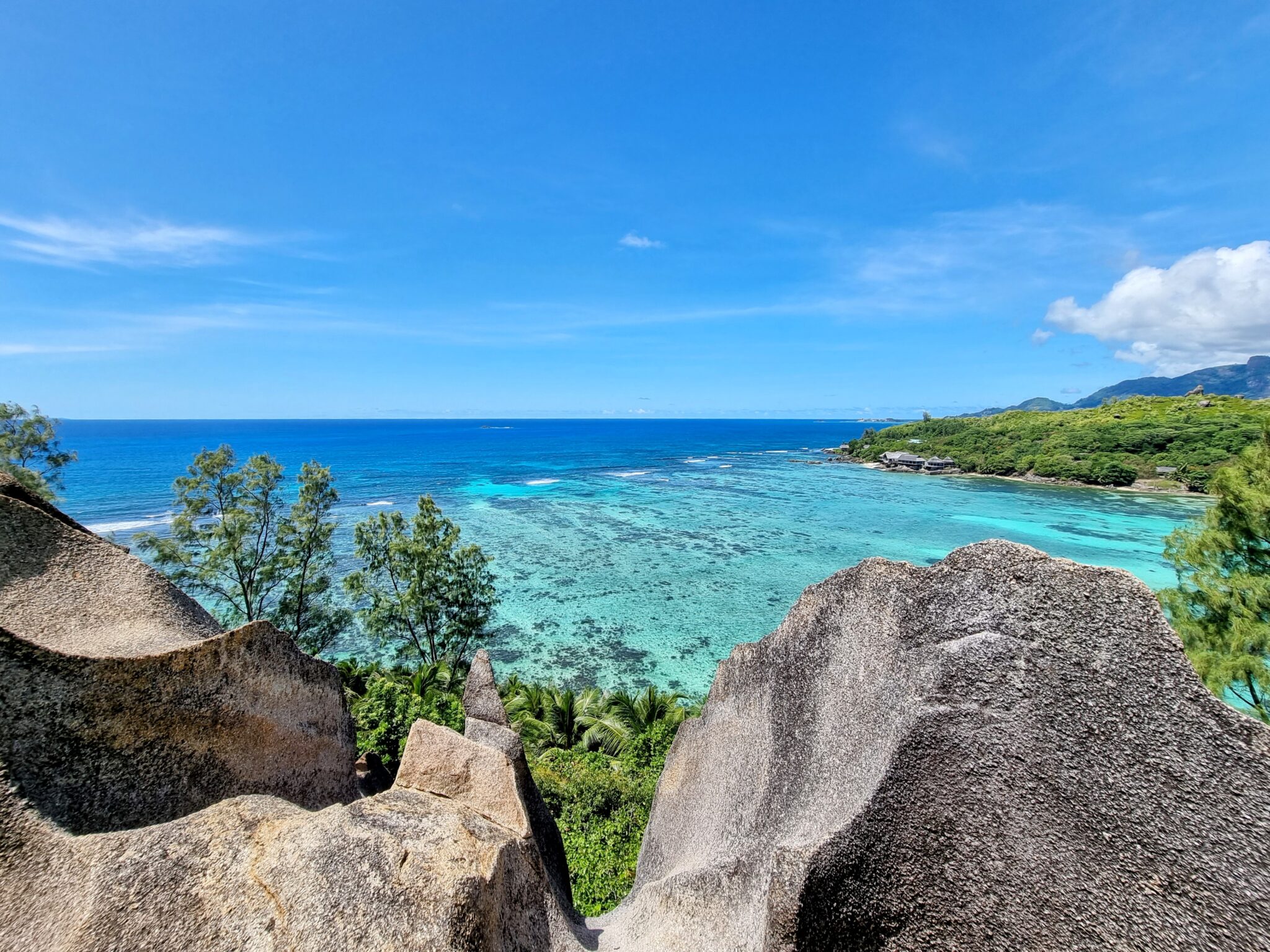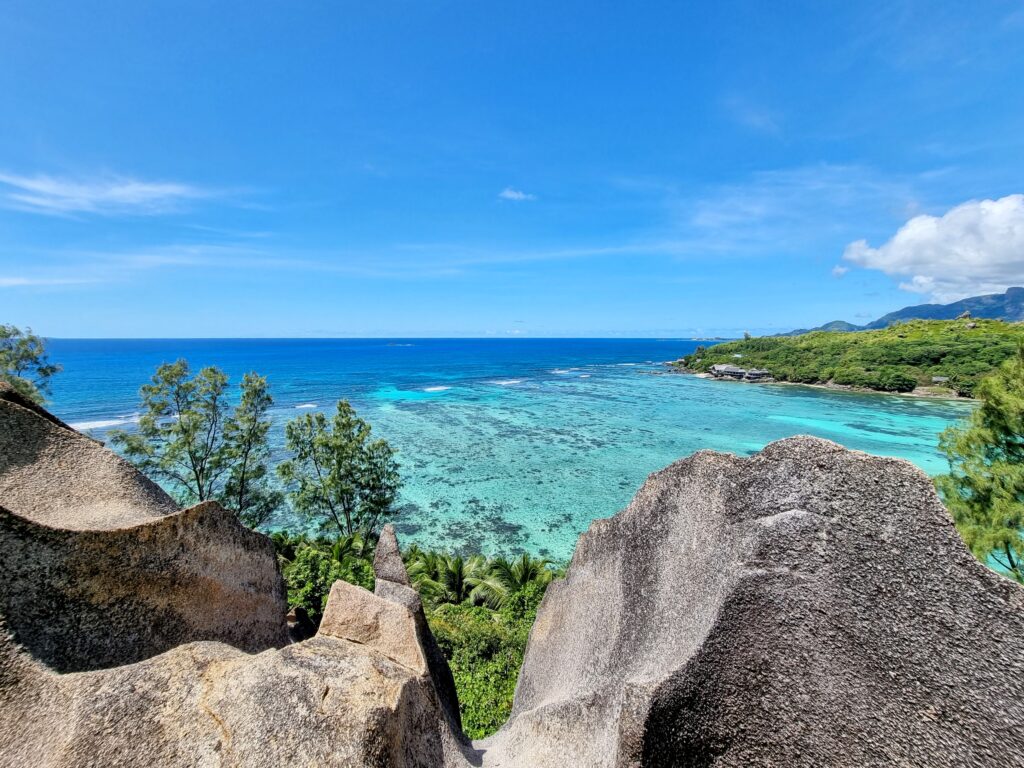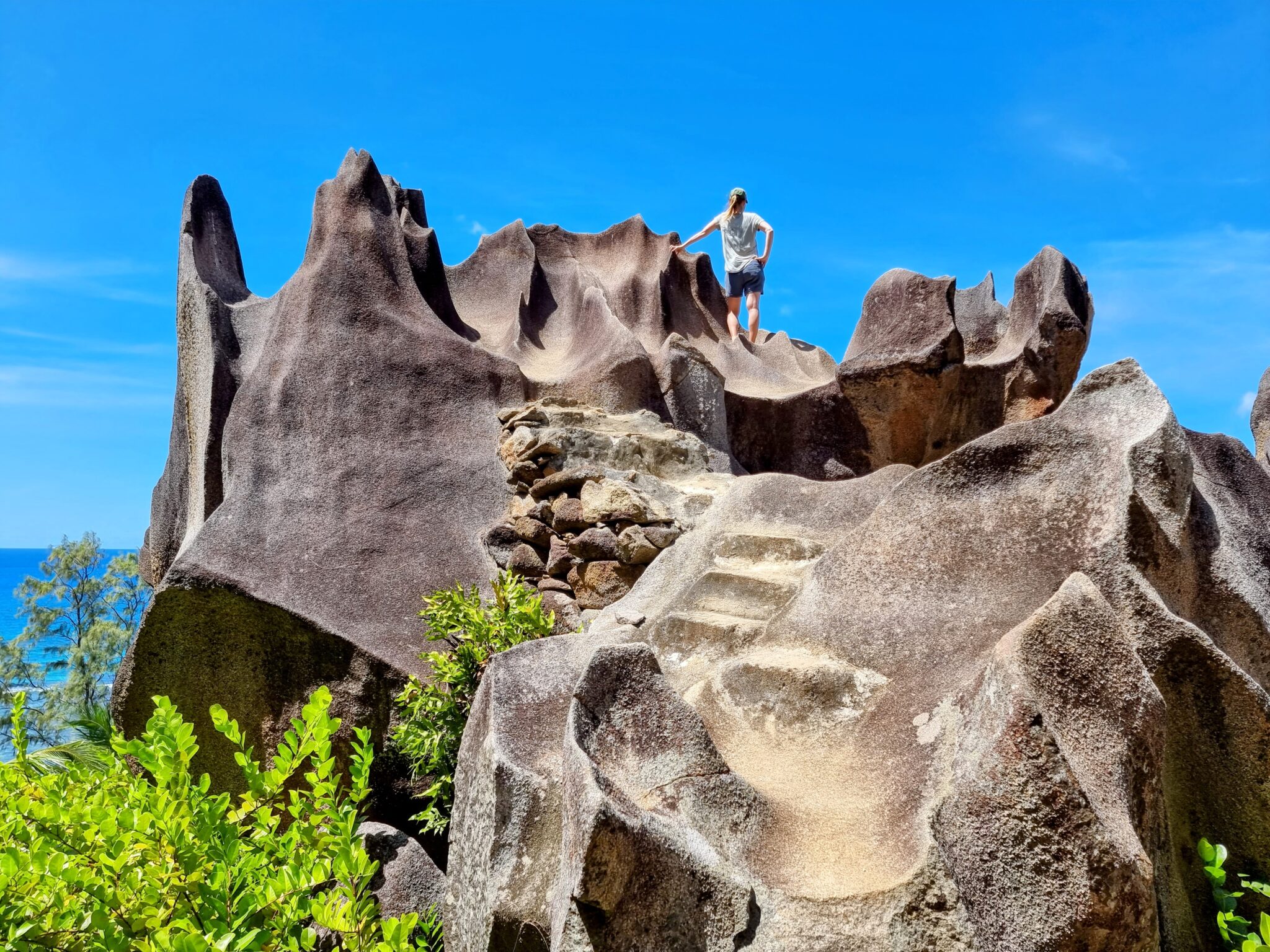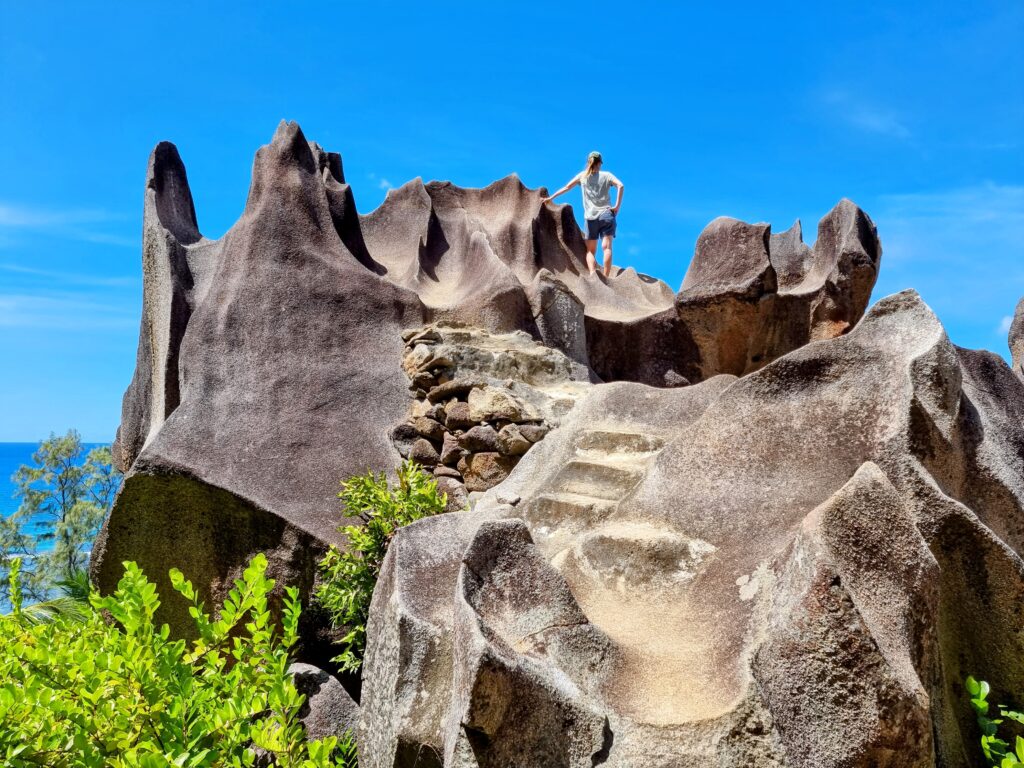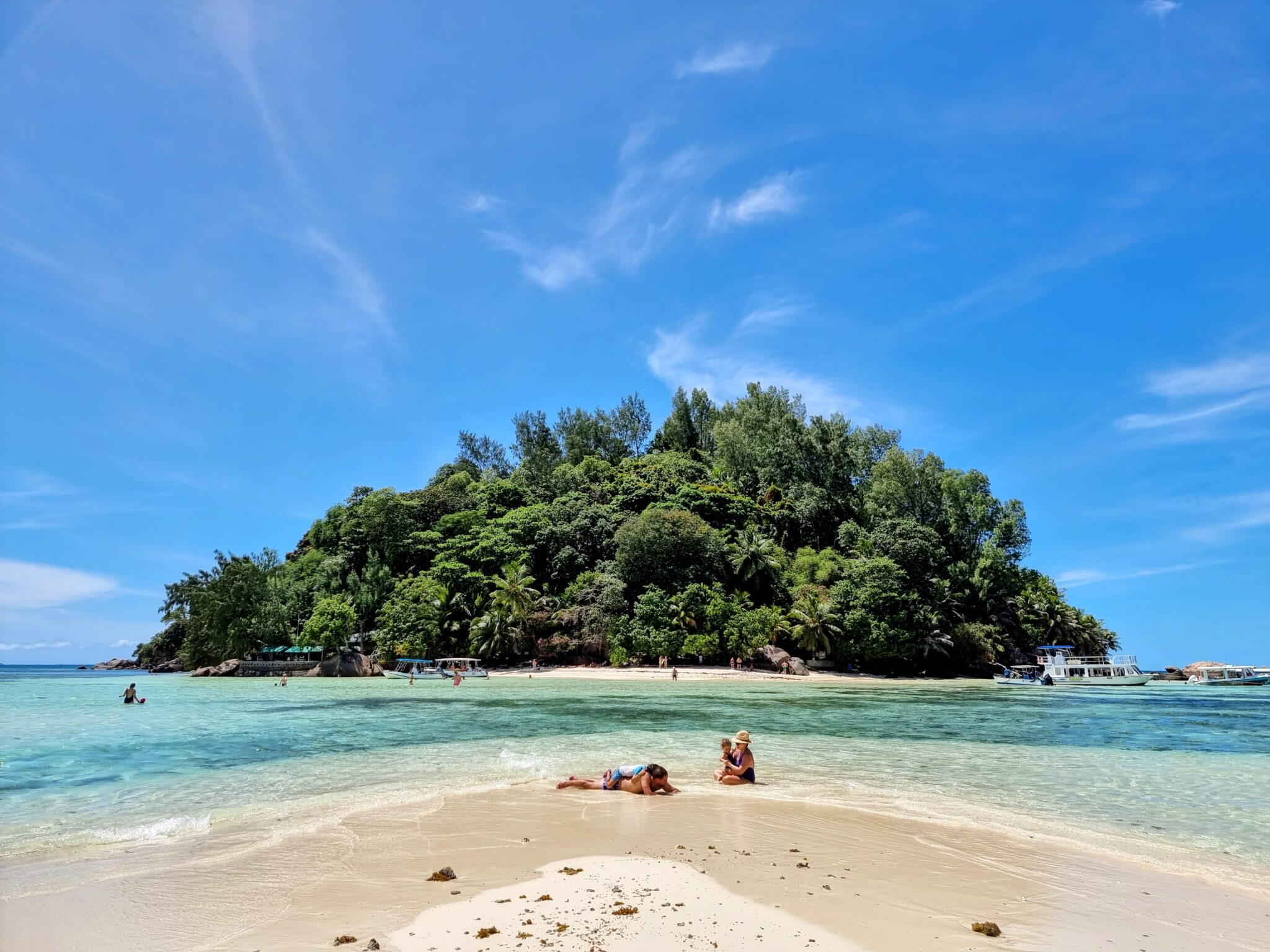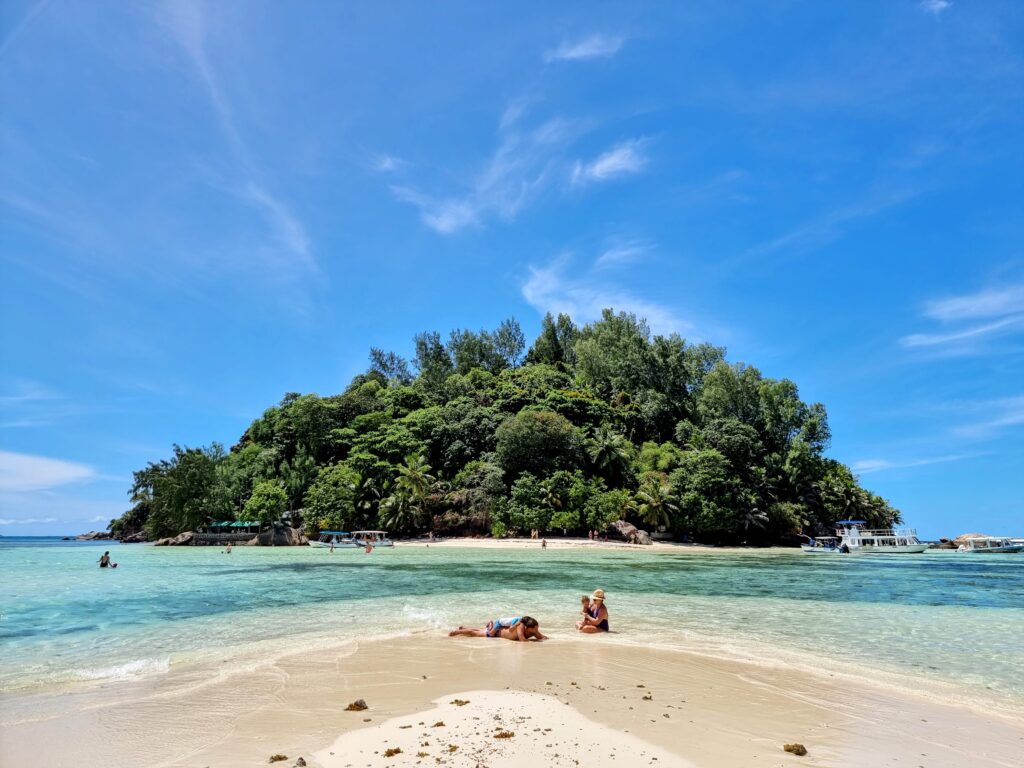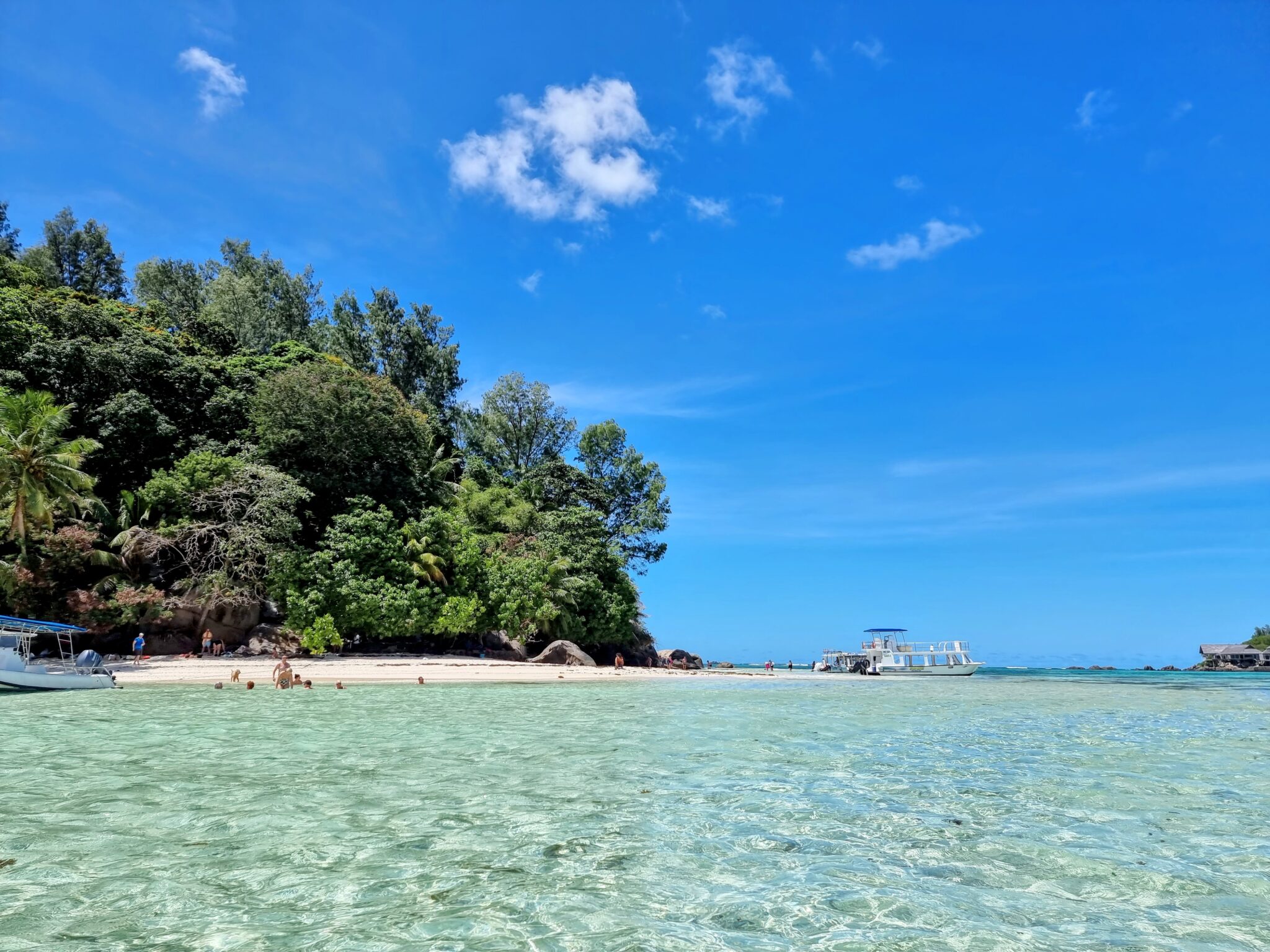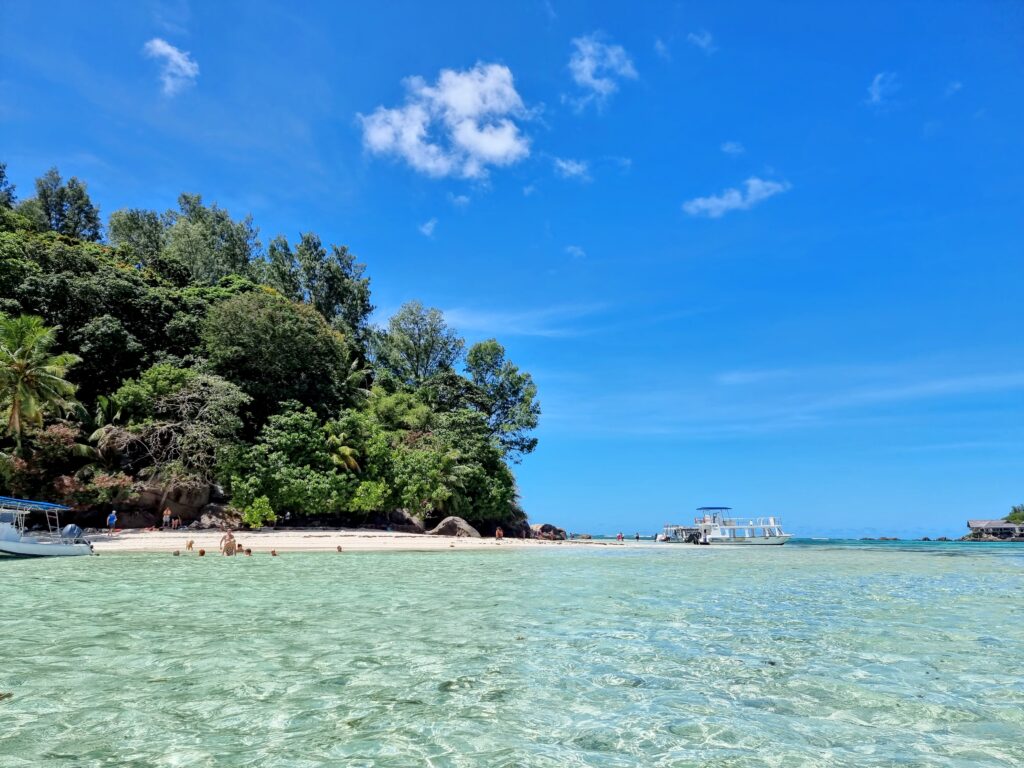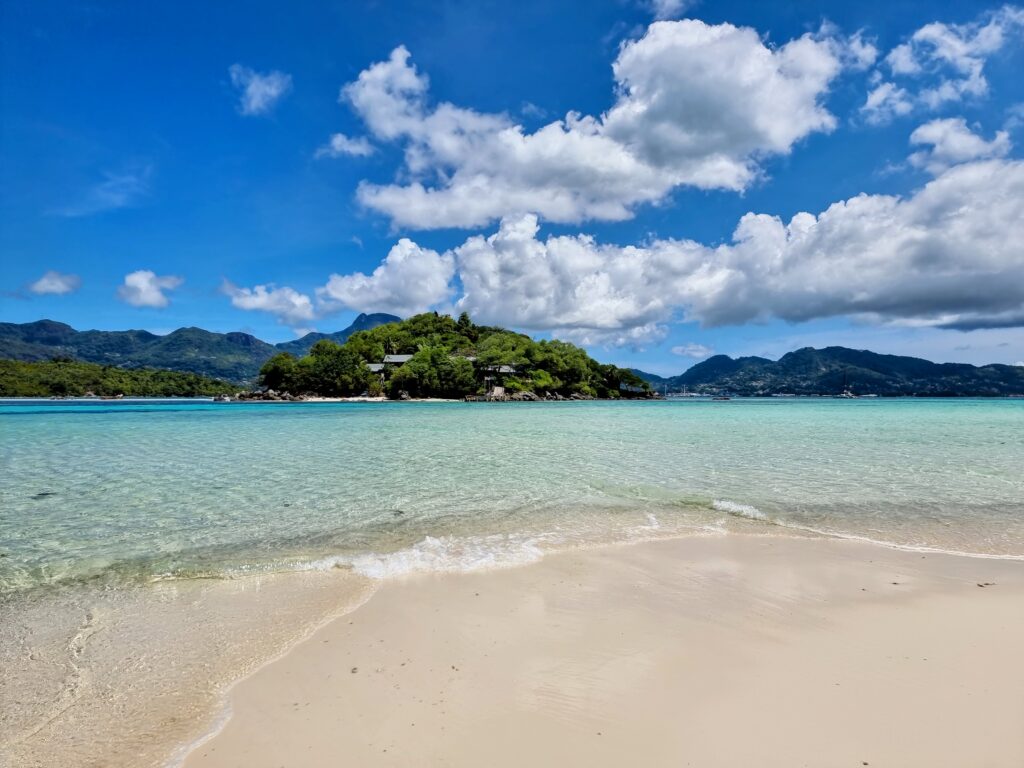 ---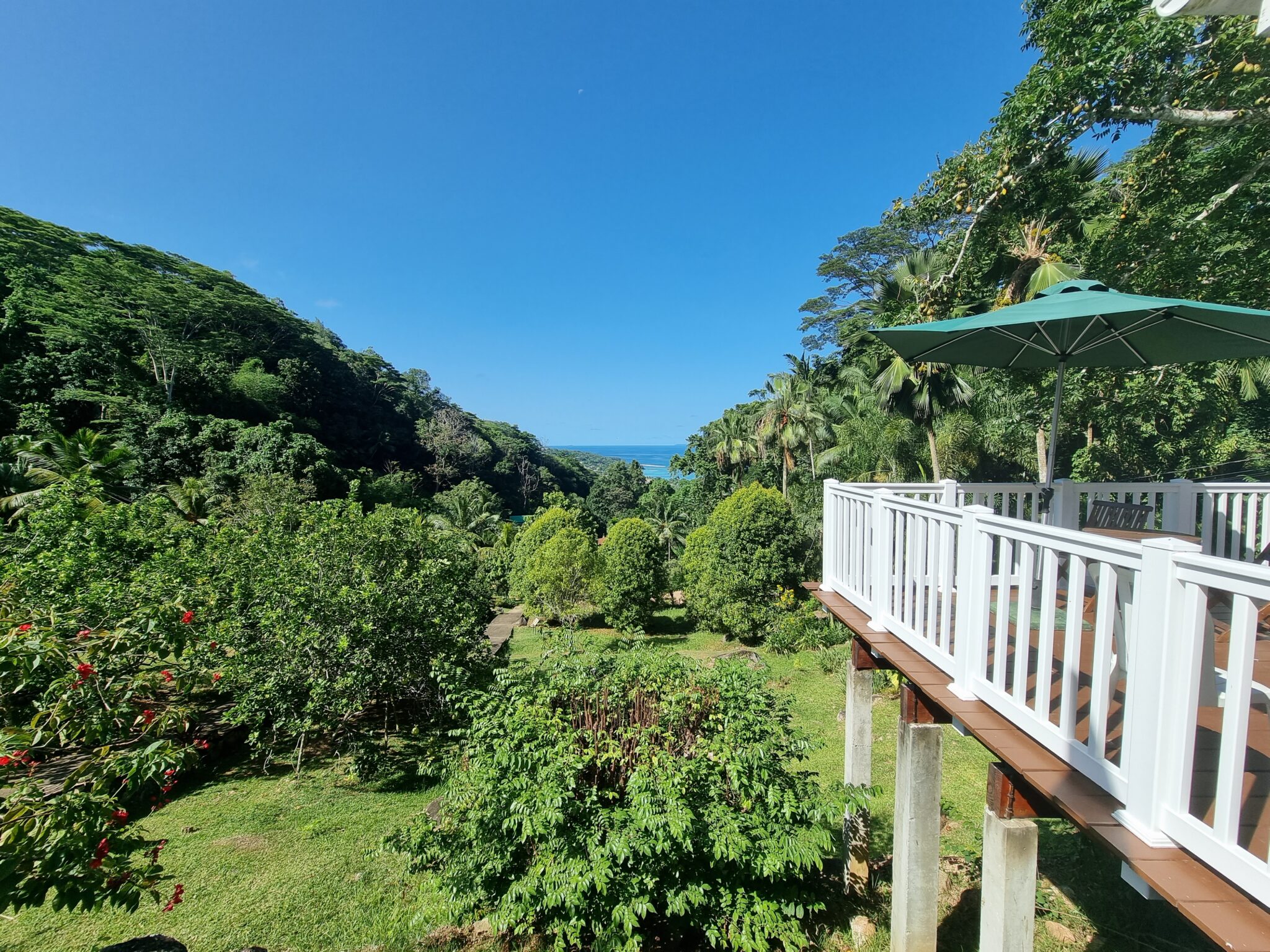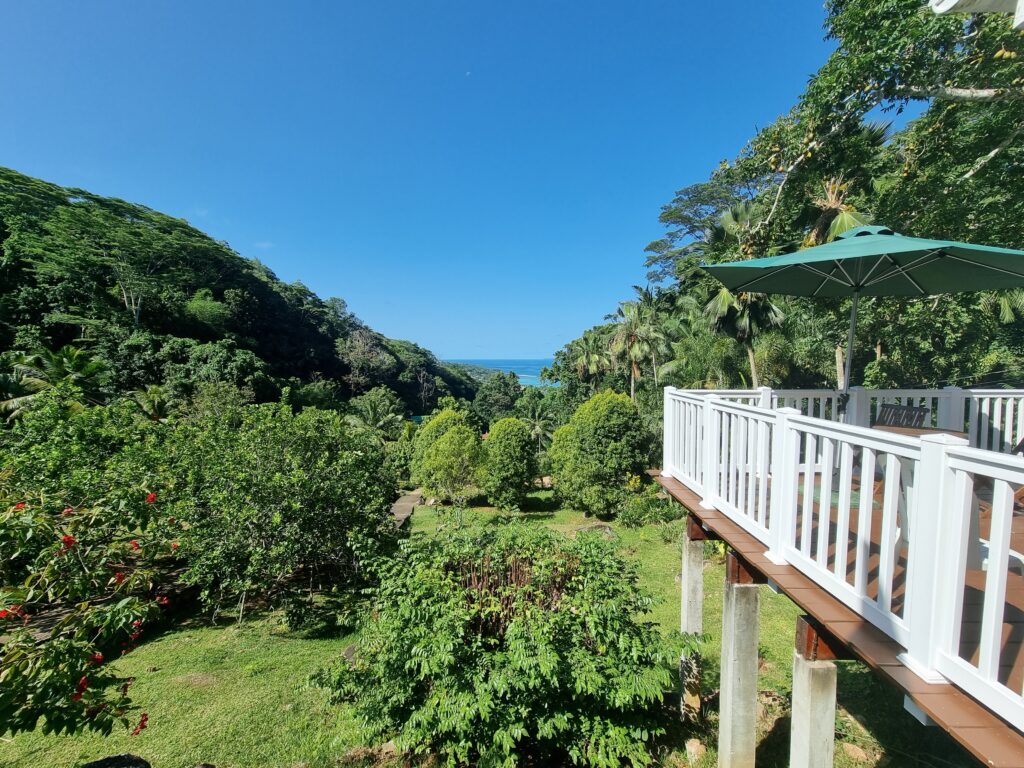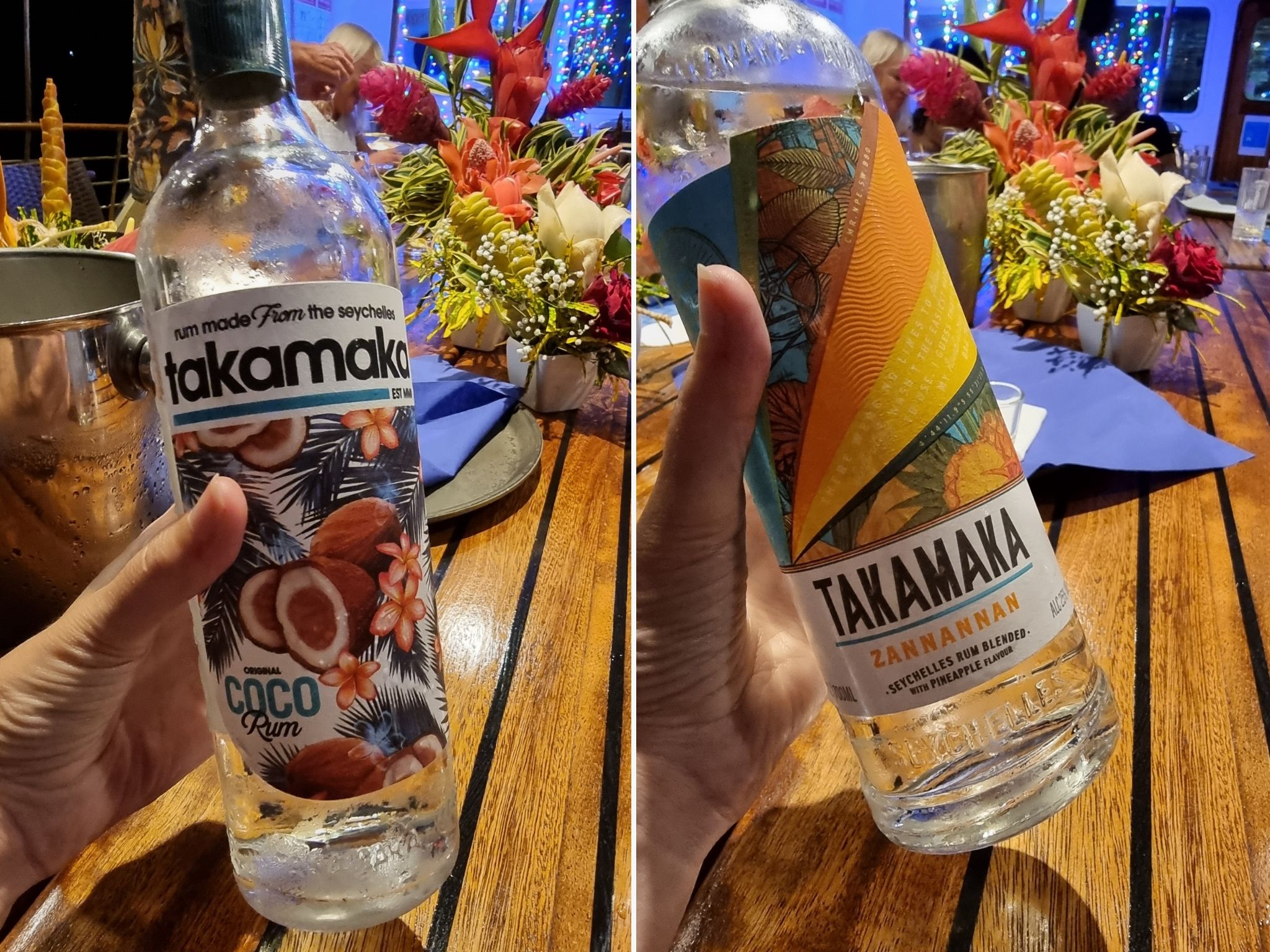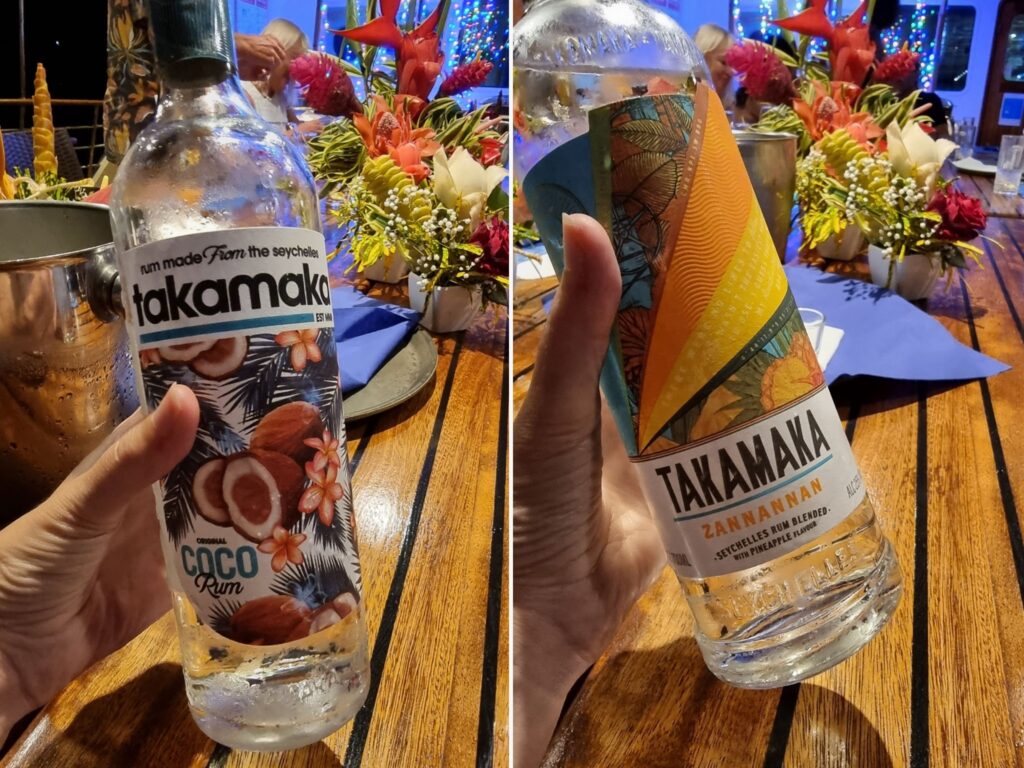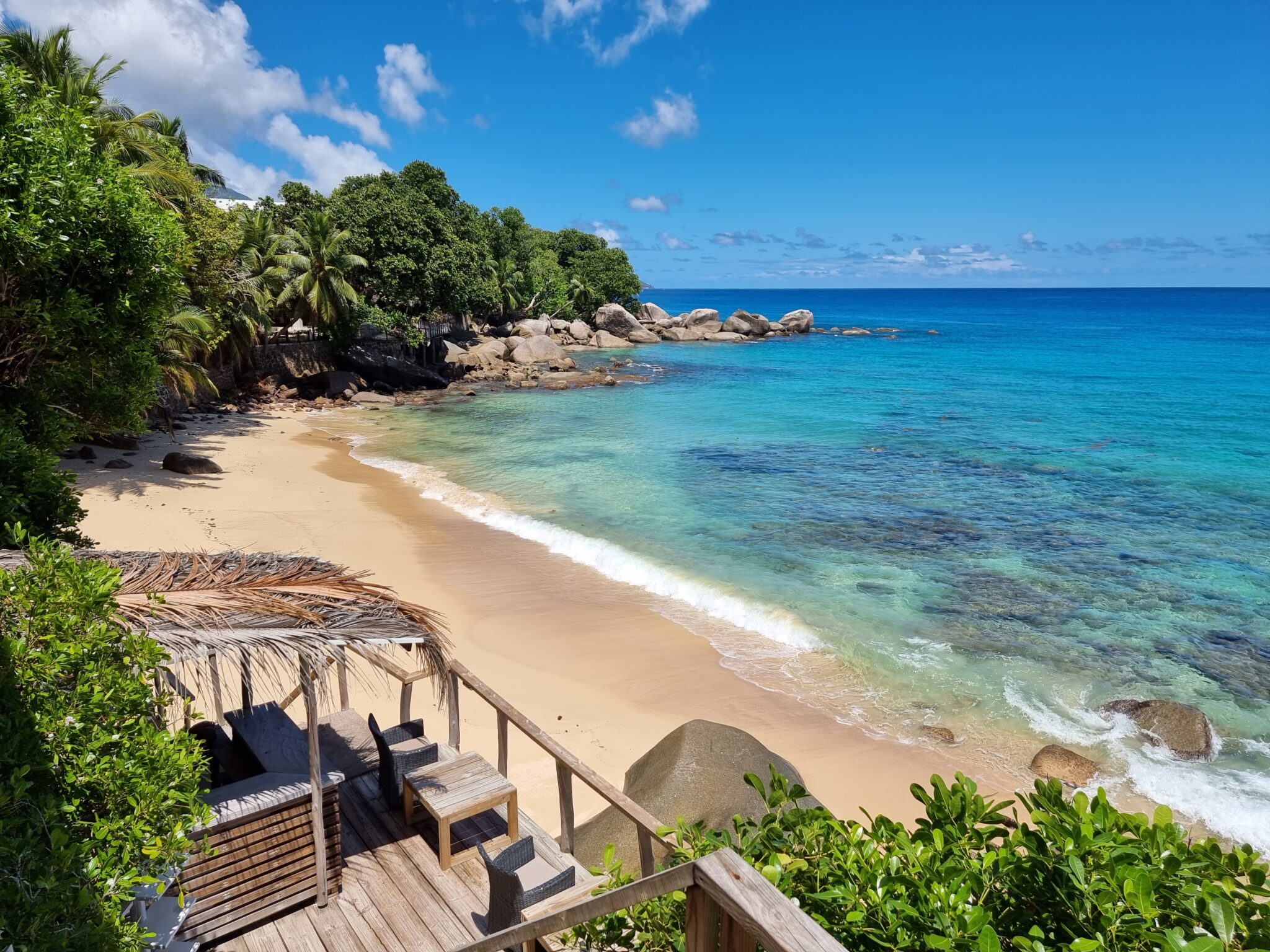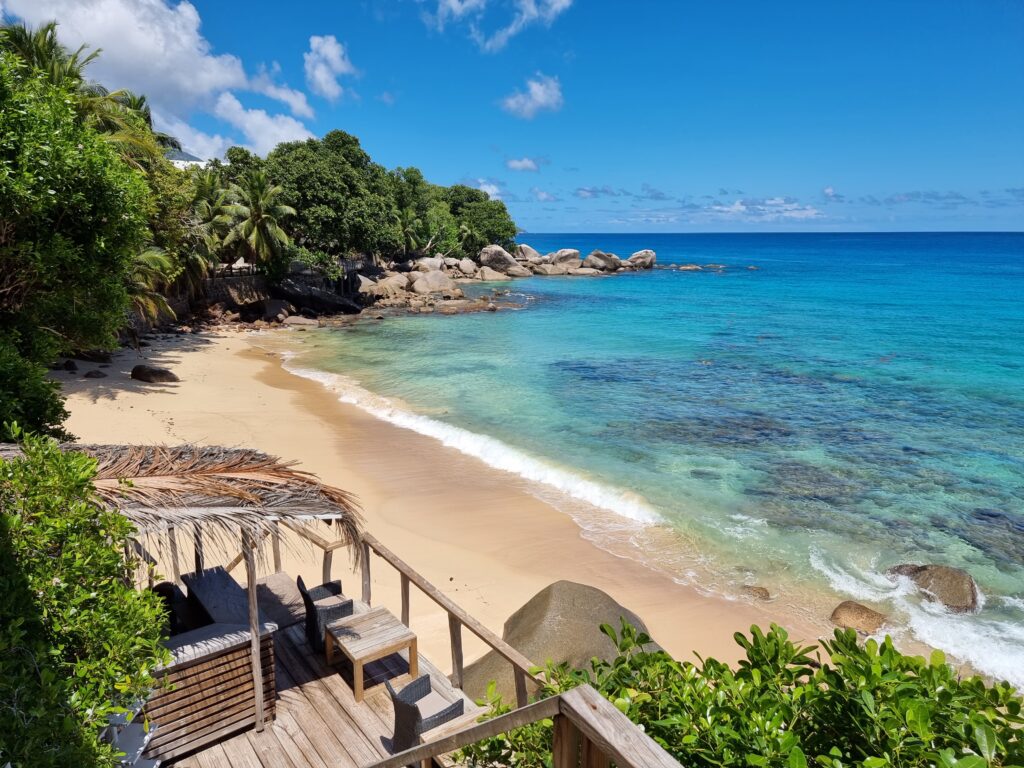 Day 7 : Mahe
On our last full day of the trip, we will explore the island of Mahe, the entry point to the Seychelles and the most developed of them all.
After a week of wonderful Takamaka rum, we will finally get to know its story and how it came about. Plus much more.
Fresh from breakfast onboard, we will jump on the bus and drive to the Coco de mer perfume factory.
If you were wondering what coco de mer souvenir you could take home that does not cost 500 EUR or weigh more than your luggage, this is the answer.
An Italian-Seychelloise couple recently discovered the formula to make coco de mer perfume and we will get the inside scoop of how that came about.
After the visit, we will continue to Le Jardin du Roi, a stunning spice garden space high on the hills above Mahe where we can learn more about all the spices that are used in Creole cuisine.
The garden has a self guided walk you can go on to discover all spices and this may be a great chance to snatch some last minute souvenirs.
We will enjoy a buffet lunch at the gardens with the best views of the sea and then descend to the Takamaka distillery for a guided tour and tasting.
Takamaka rum is entirely made in the Seychelles and is a fun tropical brand that you will have enjoyed throughout the trip. This is the time to learn about its origins and maybe get one of their beautifully colorful bottles to take home.
After the tour, it is time to return to the boat to freshen up and get ready for our official farewell dinner at a special beachside restaurant.
Dressed up for the occasion, we will drive towards our beautiful dinner setting and enjoy one last meal together with an open bar and the sound of the waves.
Inclusions: Visit to the coco de mer perfume factory, guided tour of Le Jardin du Roi with lunch and tour of Takamaka distillery with tasting. Dinner onshore with open bar. Transfers to and from all activities.
---
Day 8 : Departure
Today we say goodbye to the crew and the many friends we have made and disembark at port between 9 and 9.30am.
Inclusions: Breakfast onboard.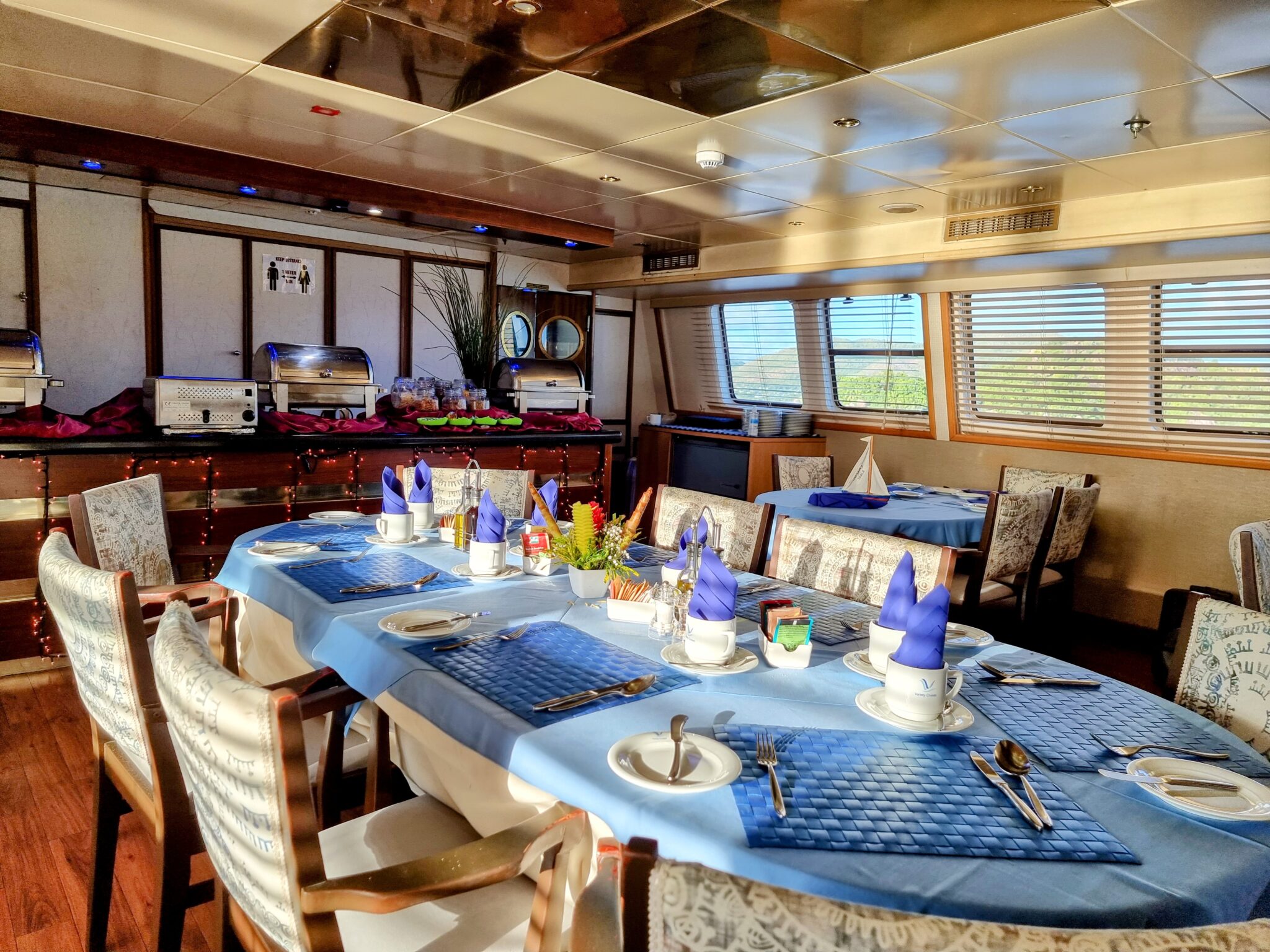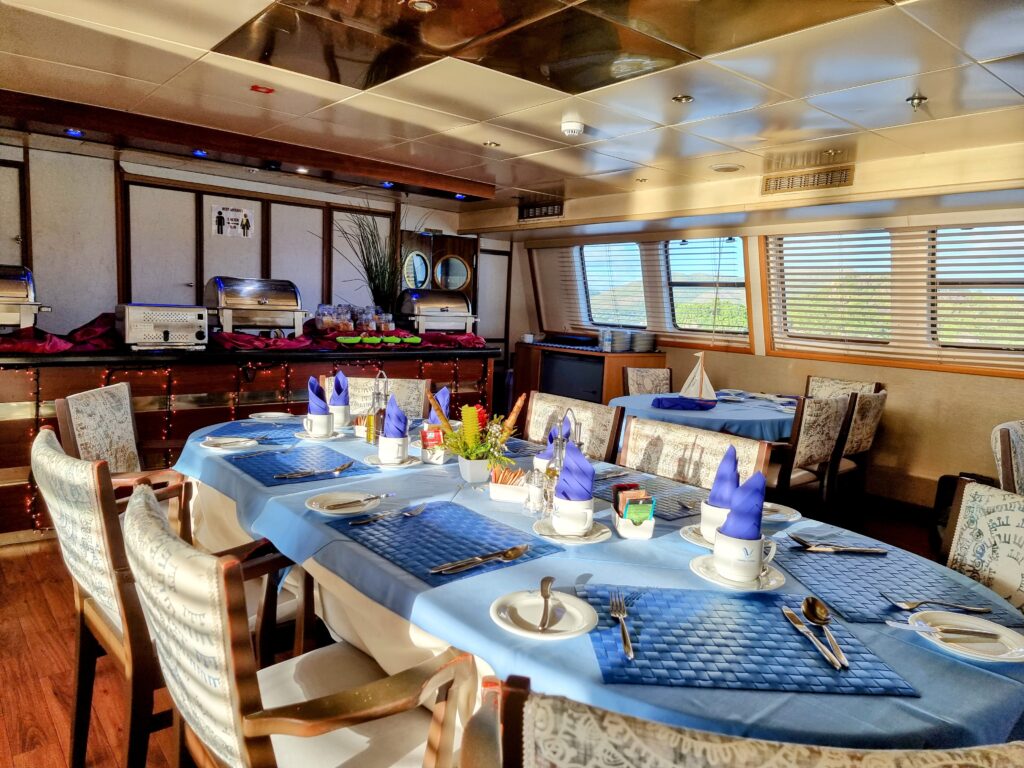 Optional half day tour
Because many flights land in Mahe early in the morning and check-in on Pegasos is only available at 2pm, we have organized a half day tour that will include airport pick up to meet flights landing before 9am on Arrival day.
This half day tour will include airport meet & greet, a relaxed activity and a laid back lunch to get you into the Seychellois mood. Please inquire with us once the trip is confirmed and flights need to be purchased.
---
Jump straight to: The ship | The itinerary | Cabins & prices | Host | How to book | FAQs
---
Cabins, prices, bookings and payment plan
Cabins are located in the lower, middle and top decks and are all unique sizes and layout because of their location and setup however, they can be classified into 3 categories.
All cabins have external windows, hair driers, flat screen TVs, mini fridges, bedside tables, desks, closets and ensuite bathrooms with a separate shower.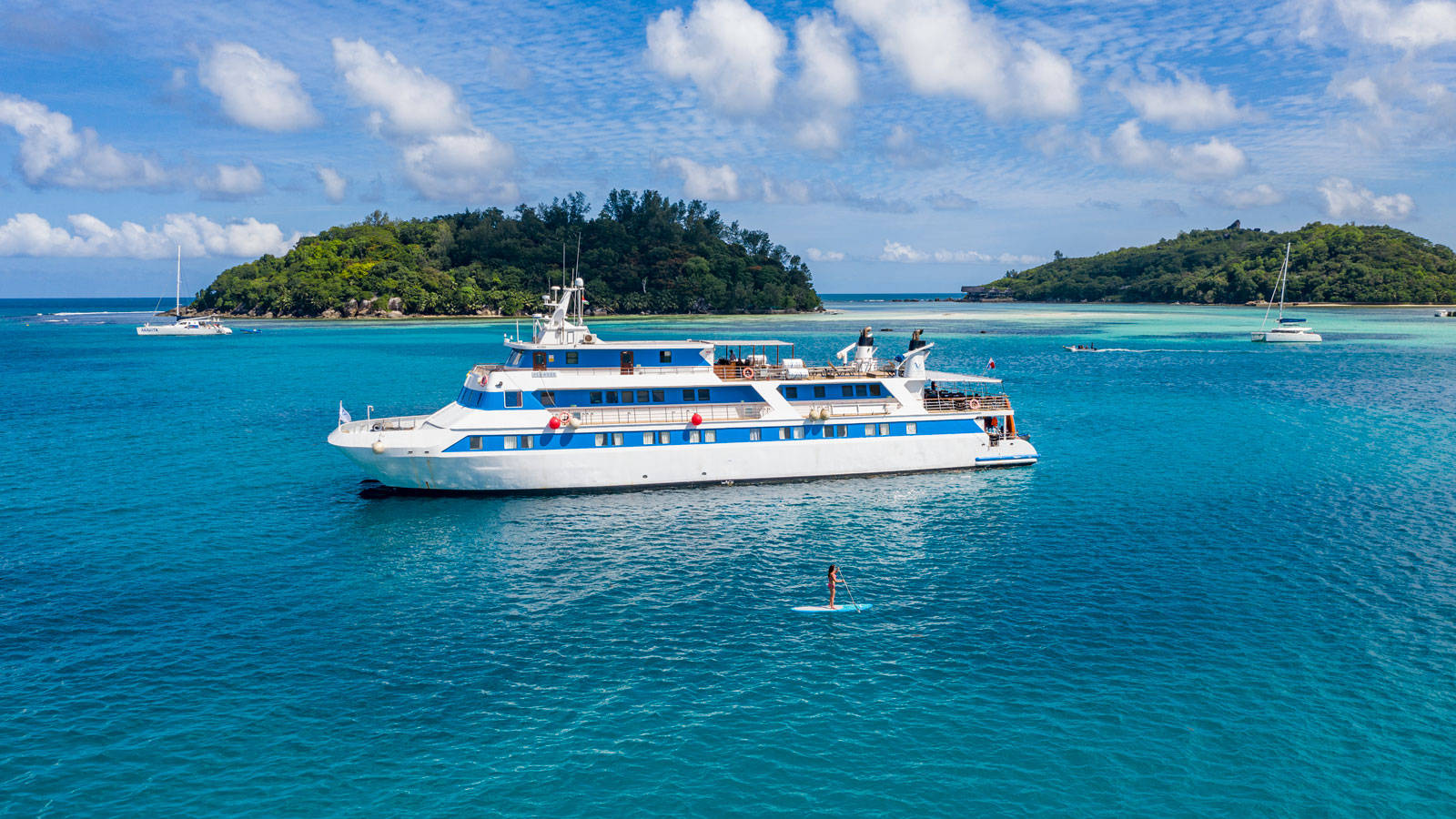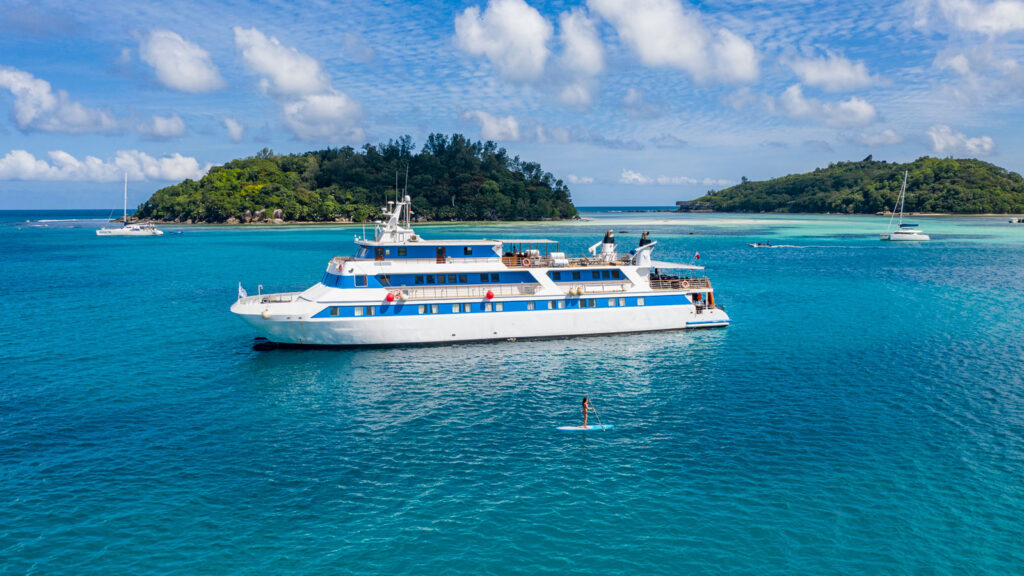 Category P – Single use
1 passenger | 175-205 sqf. – 1 LEFT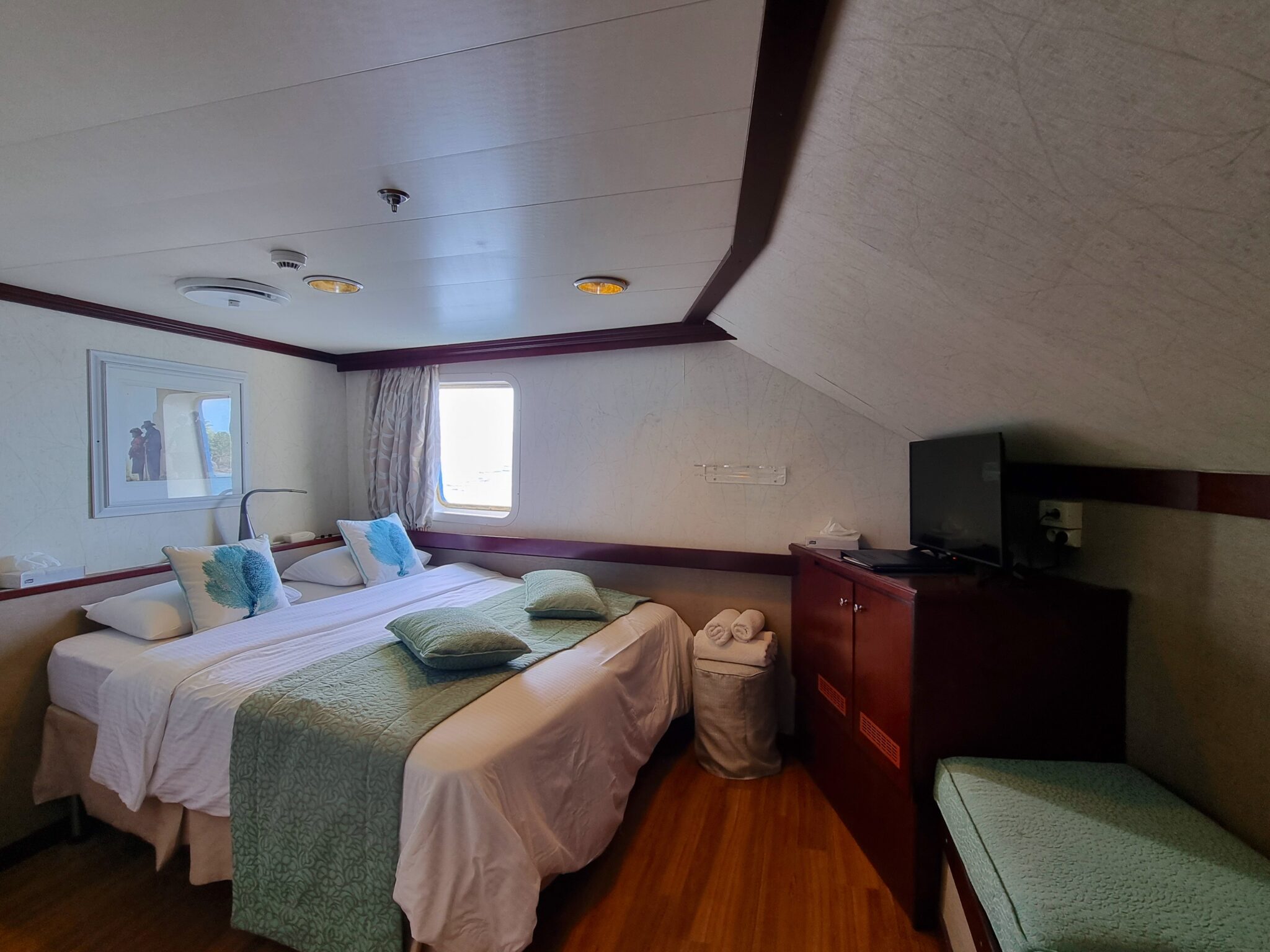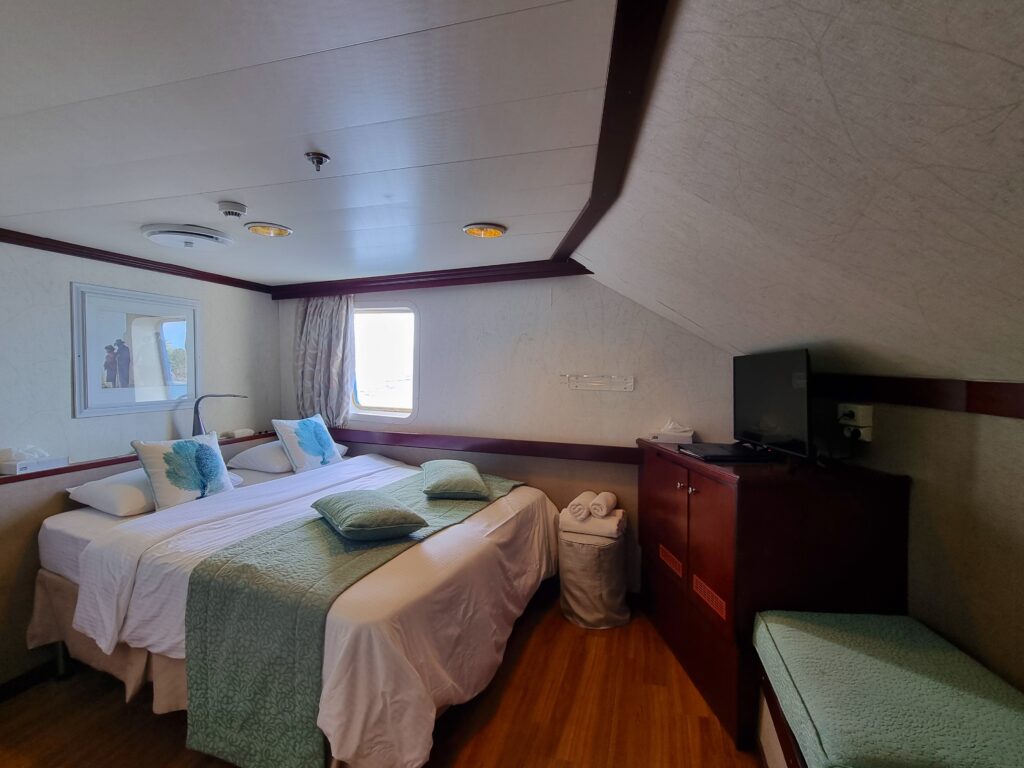 Category P cabins are the most spacious. Located at the front of the ship, they are wider and have extra sofa / lounge space to relax plus windows out. Both cabins are on the main deck.
6,295 EUR per person
Category P – Shared
2 passengers | 175-205 sqf. – 3 Cabins / Available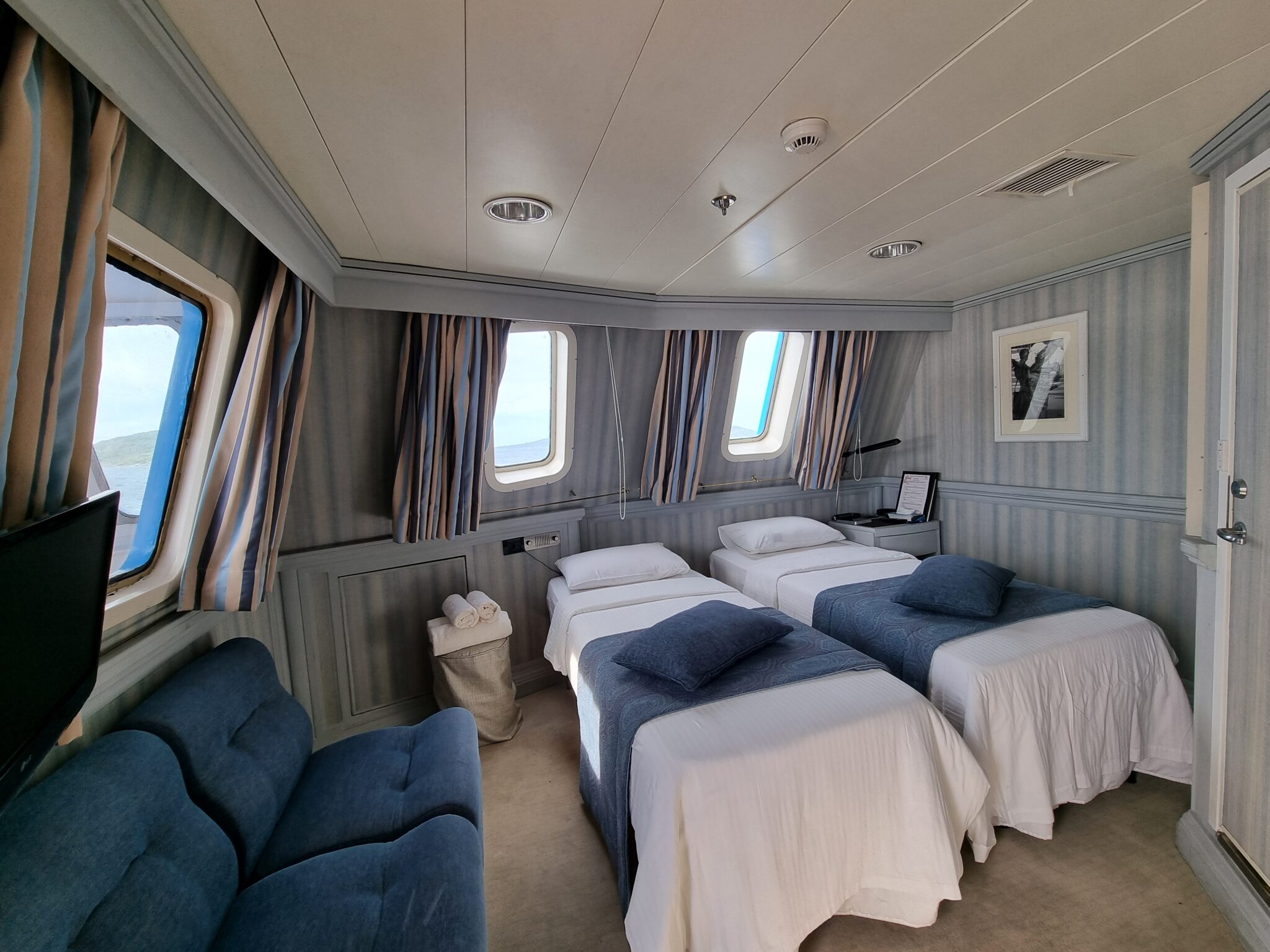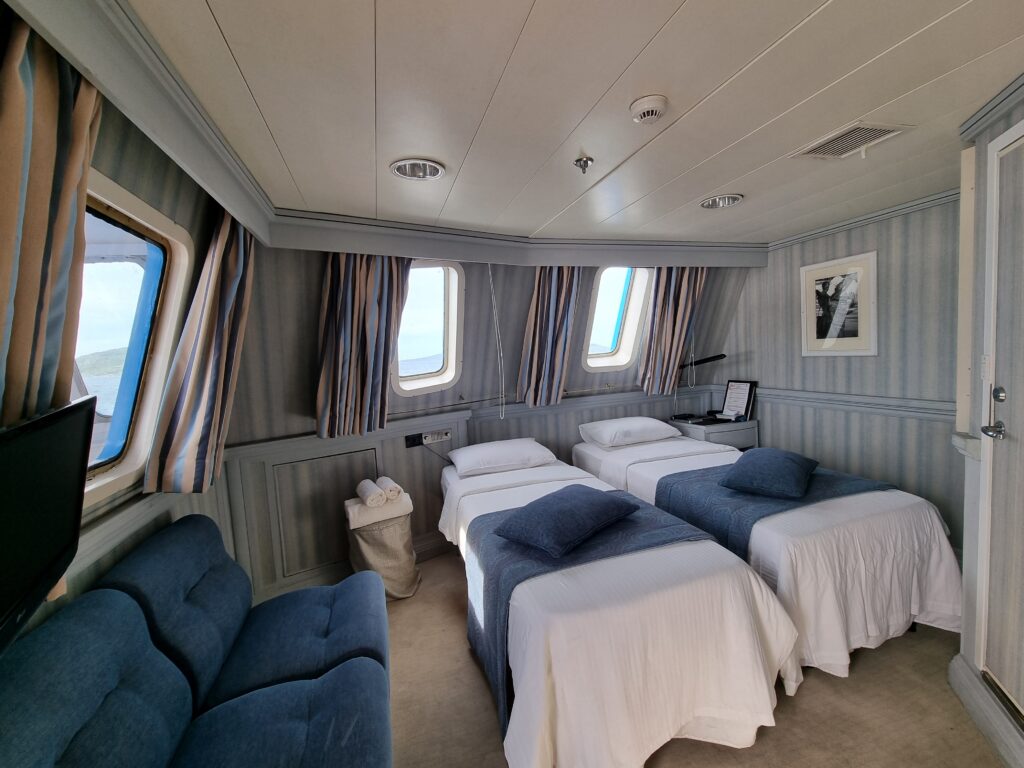 Category P cabins are the most spacious. Located at the front of the ship, they are wider and have extra sofa / lounge space to relax and windows. Shared cabins are set as two separate single beds. Two cabins are on the main deck and two on the upper deck.
4,995 EUR per person sharing
---
Category A – Single use
1 Passenger | 173-190 sqf. – 2 LEFT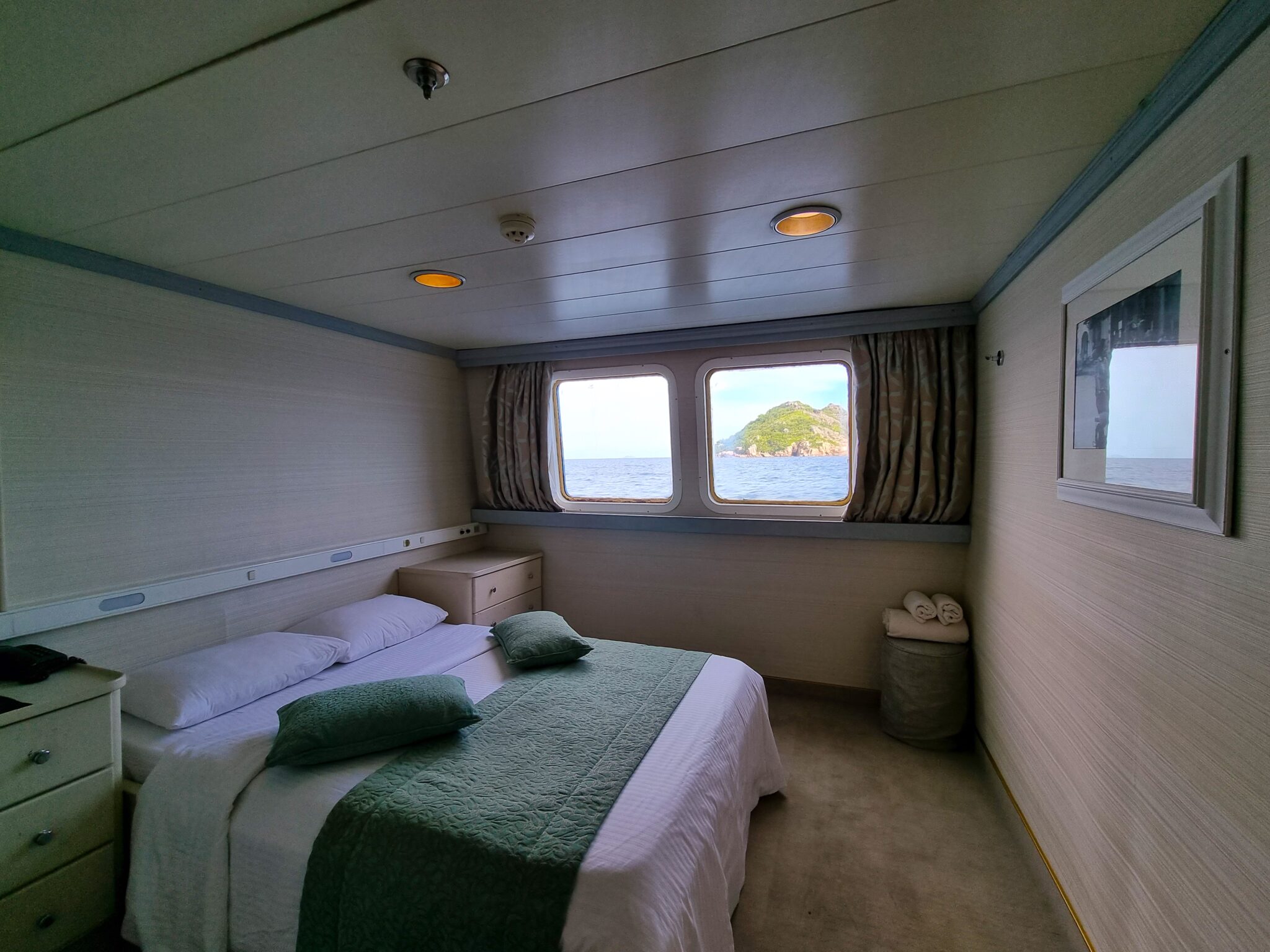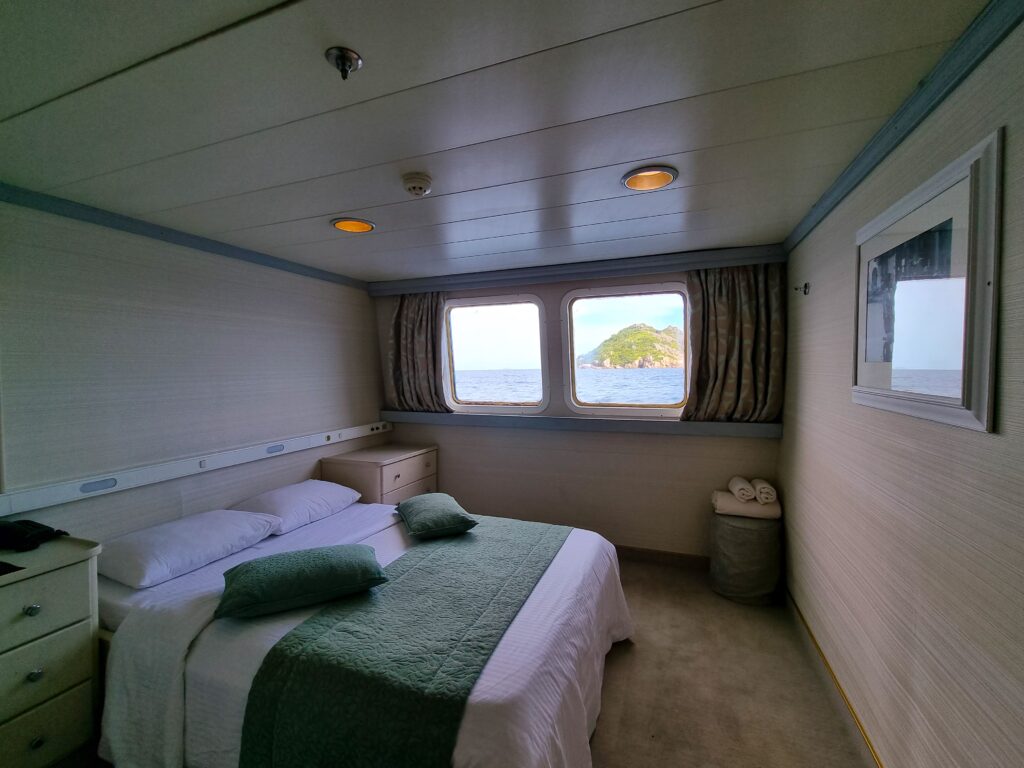 Single use double cabins with one double bed and one or two windows out. All these cabins are located on the main deck.
5,995 EUR per person
Category A – Shared
2 Passengers | 173-190 sqf. – 8 Cabins / Available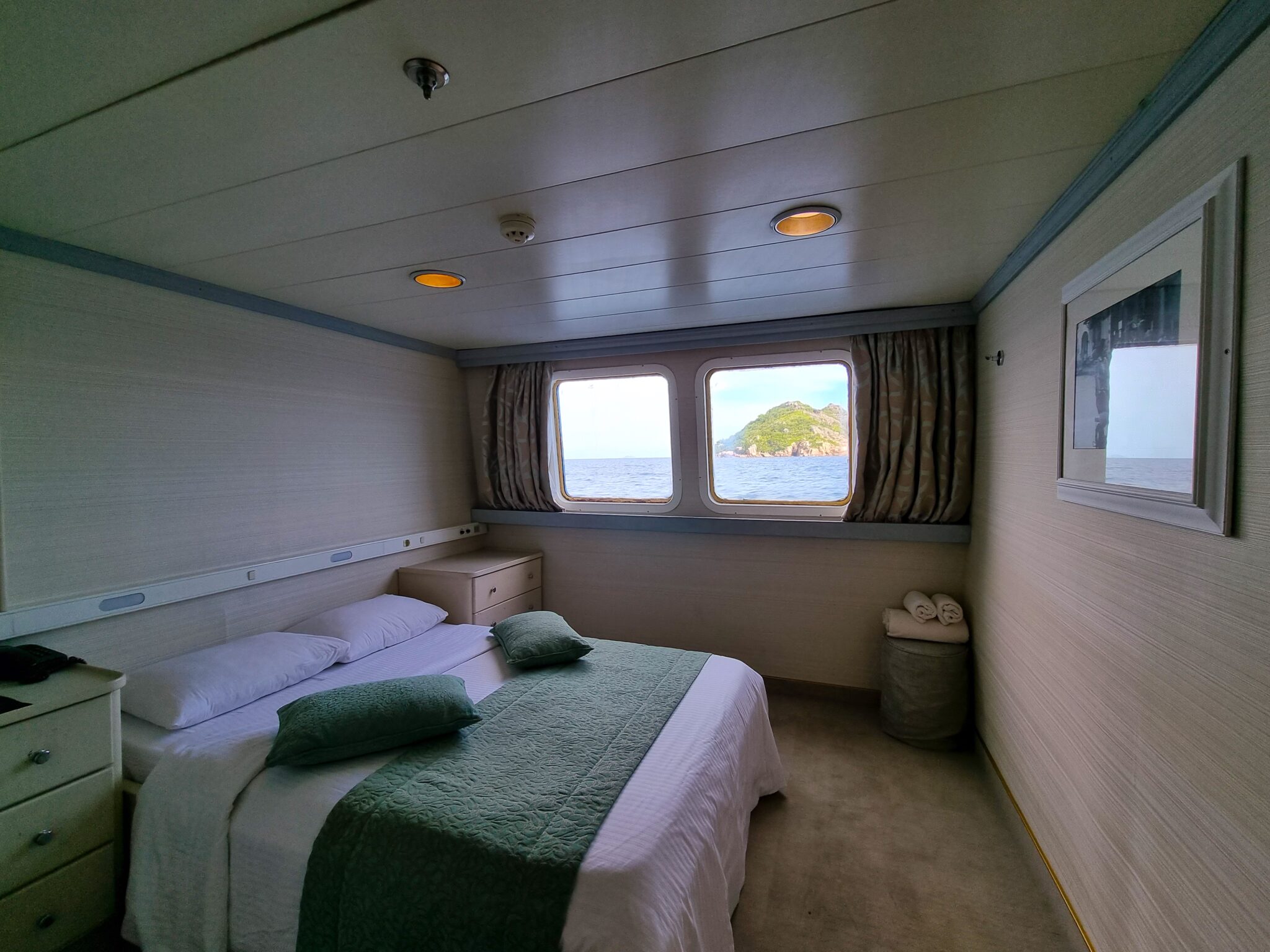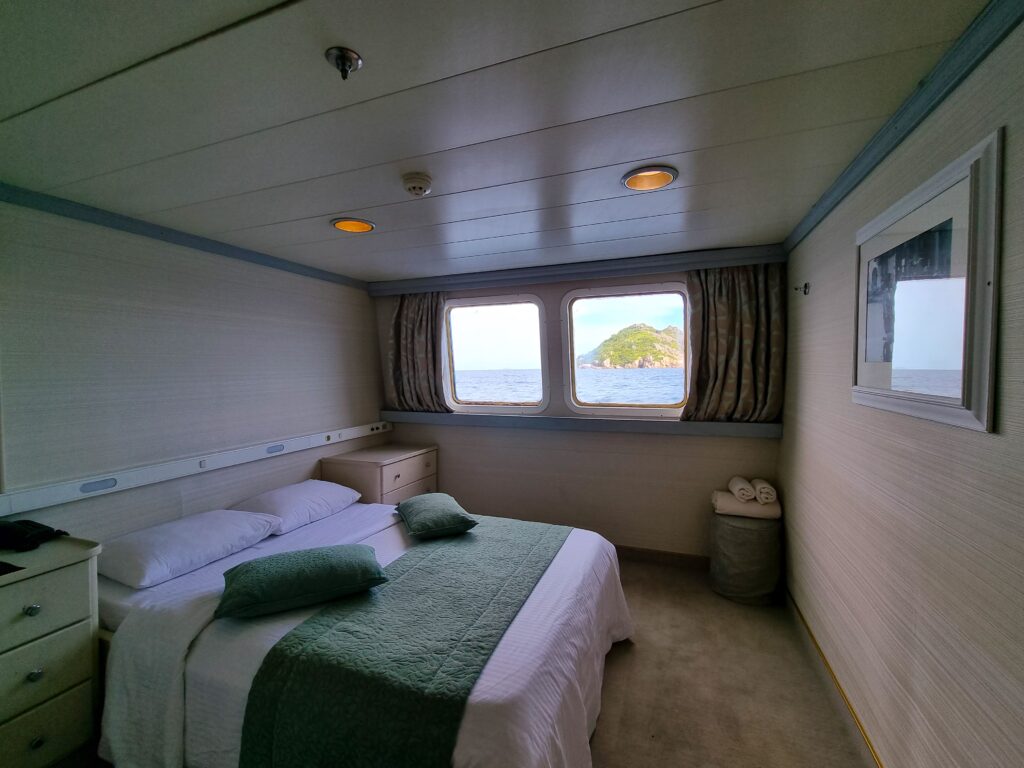 Double use cabin with two single beds and two windows out. All these cabins are located on the main deck.
Note: The double bed in the picture will be split into two single beds.
4,695 EUR per person
---
Category C – Single use
1 Passenger | 124 sqf. – SOLD OUT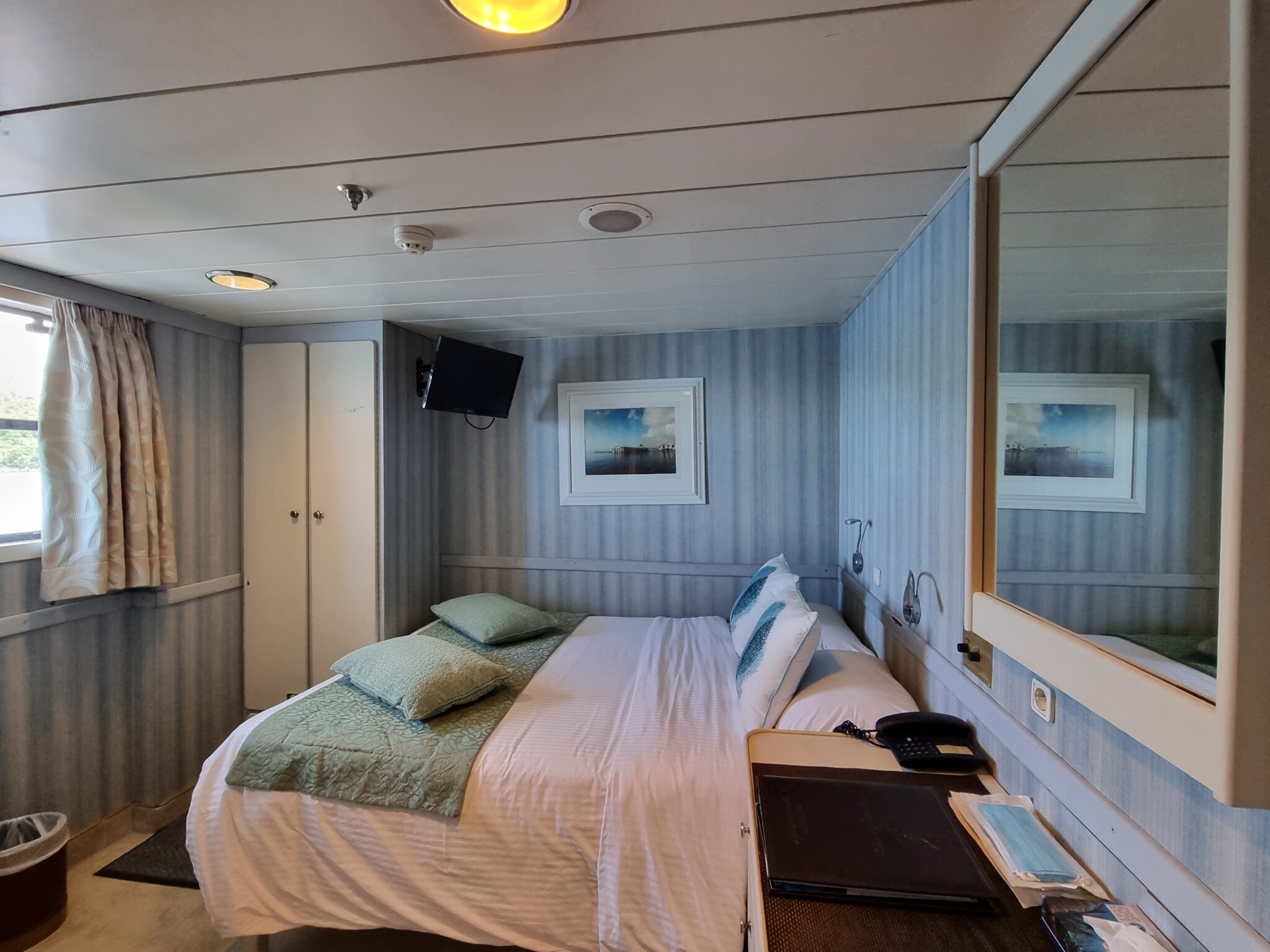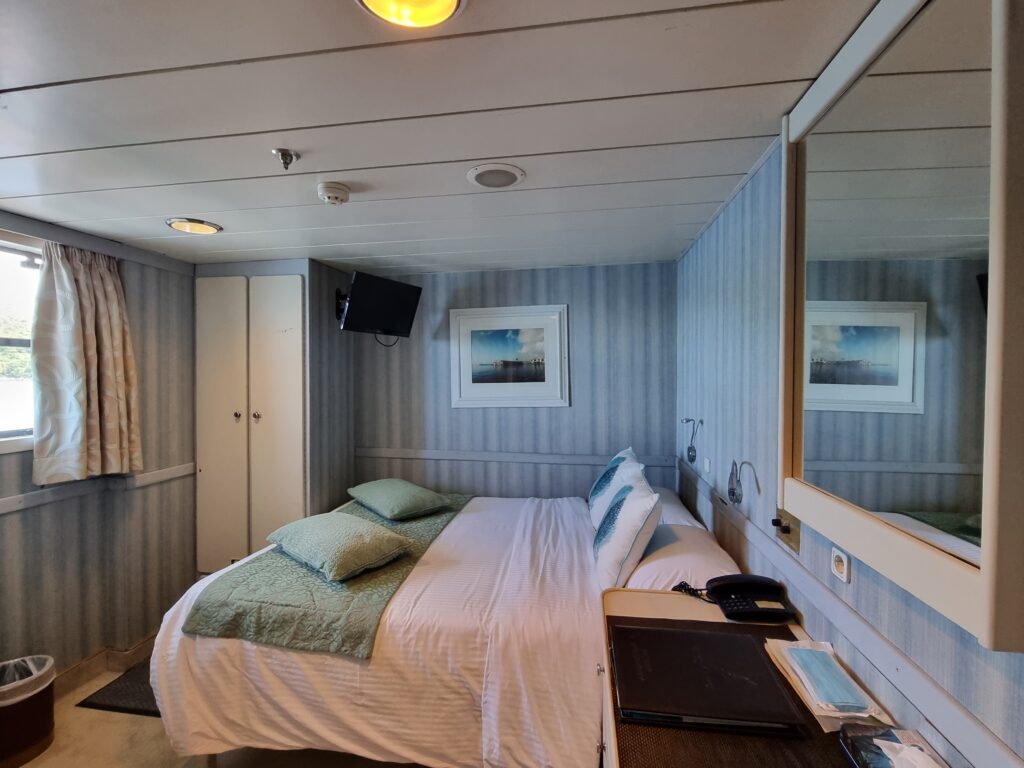 This cabin is the smallest on the ship and is located on the sun deck level at the front of the ship. It has one double bed and one window out.
5,495 EUR per person
Email us to join the waitlist for this cabin.
Category C – Shared
2 Passengers | 140 sqf. – 2 Cabins / 1 Available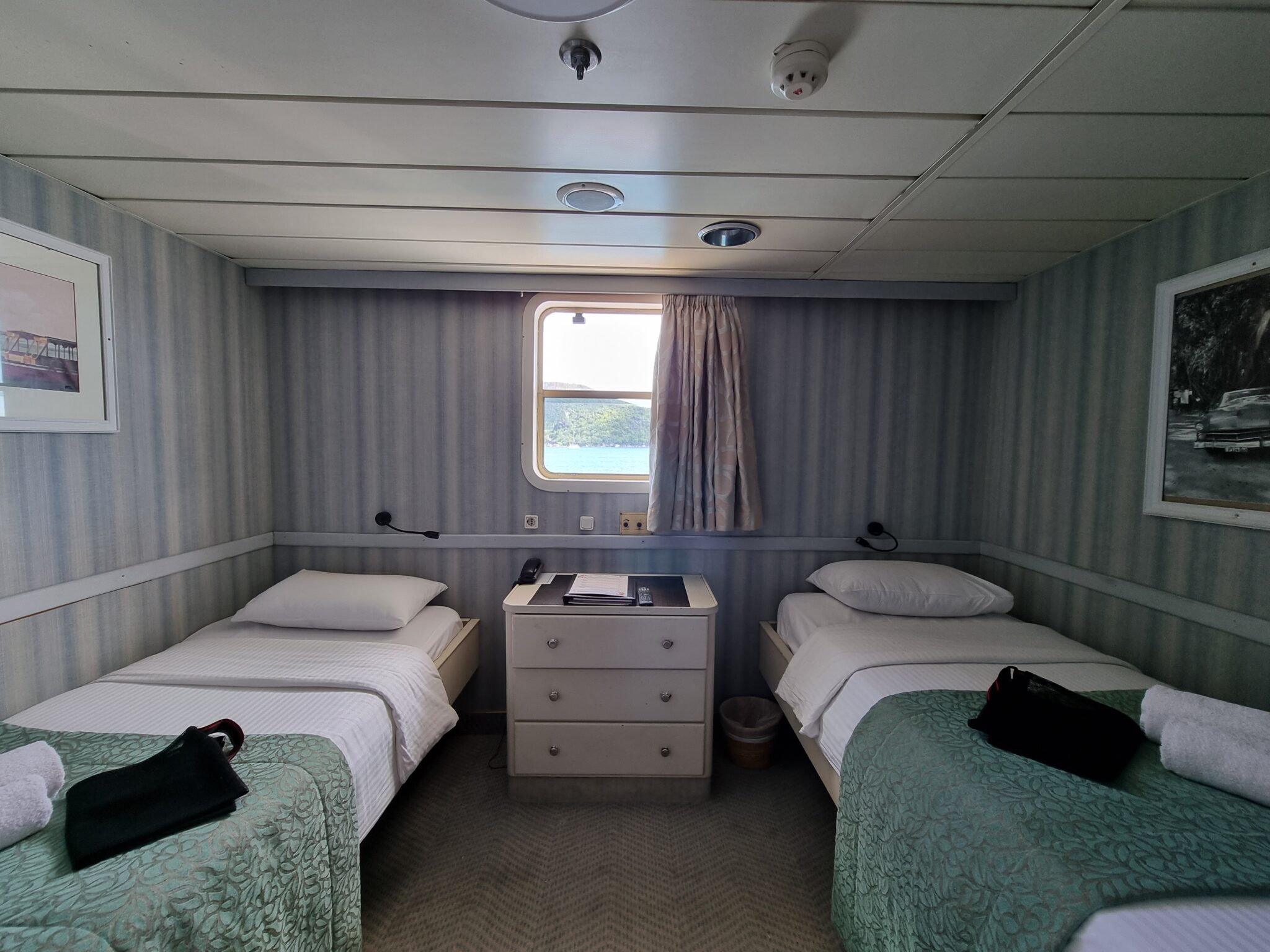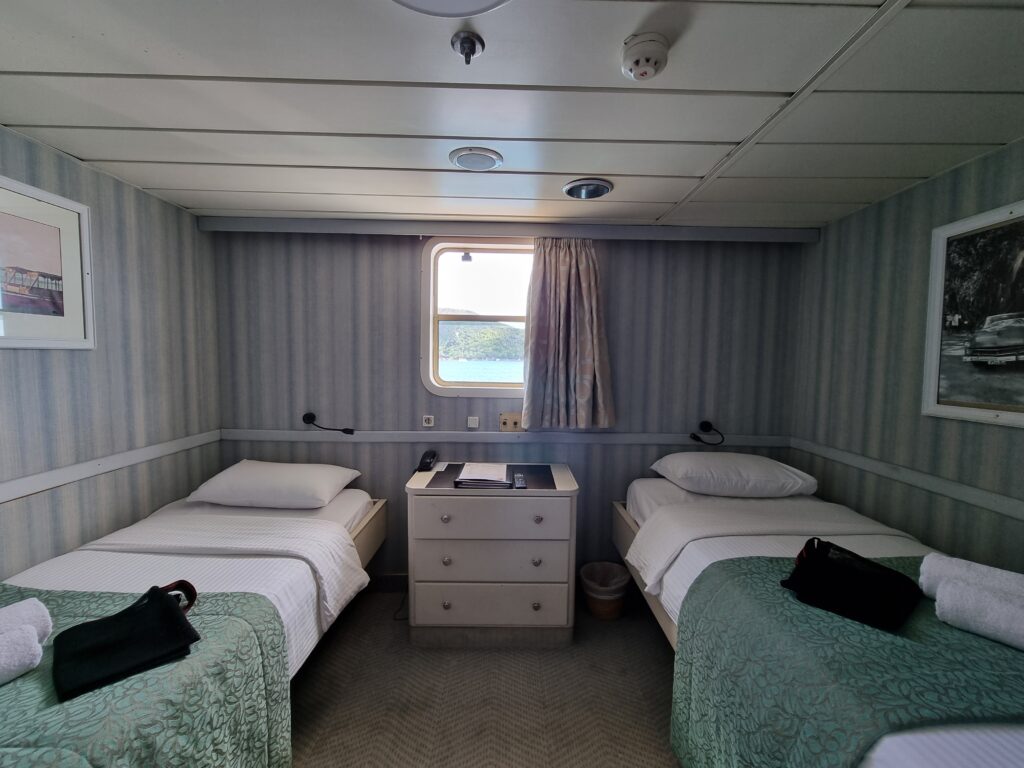 This cabin is the smallest shared cabin on the ship and is located on the sun deck level at the front of the ship. It has two single beds and one window out.
4,295 EUR per person
Payment plan
The payment plan for this trip is as follows:
30% non-refundable deposit per person to reserve your spot.
The Final balance is due January 2024.
Please note credit card payments carry a 3% fee, wire transfer details are available. IMPORTANT: All bookings are non refundable unless we cancel the trip because of lack of interest in which case a full refund will be issued minus any bank charges. By joining our trips you agree to our T&C
---
Our host and team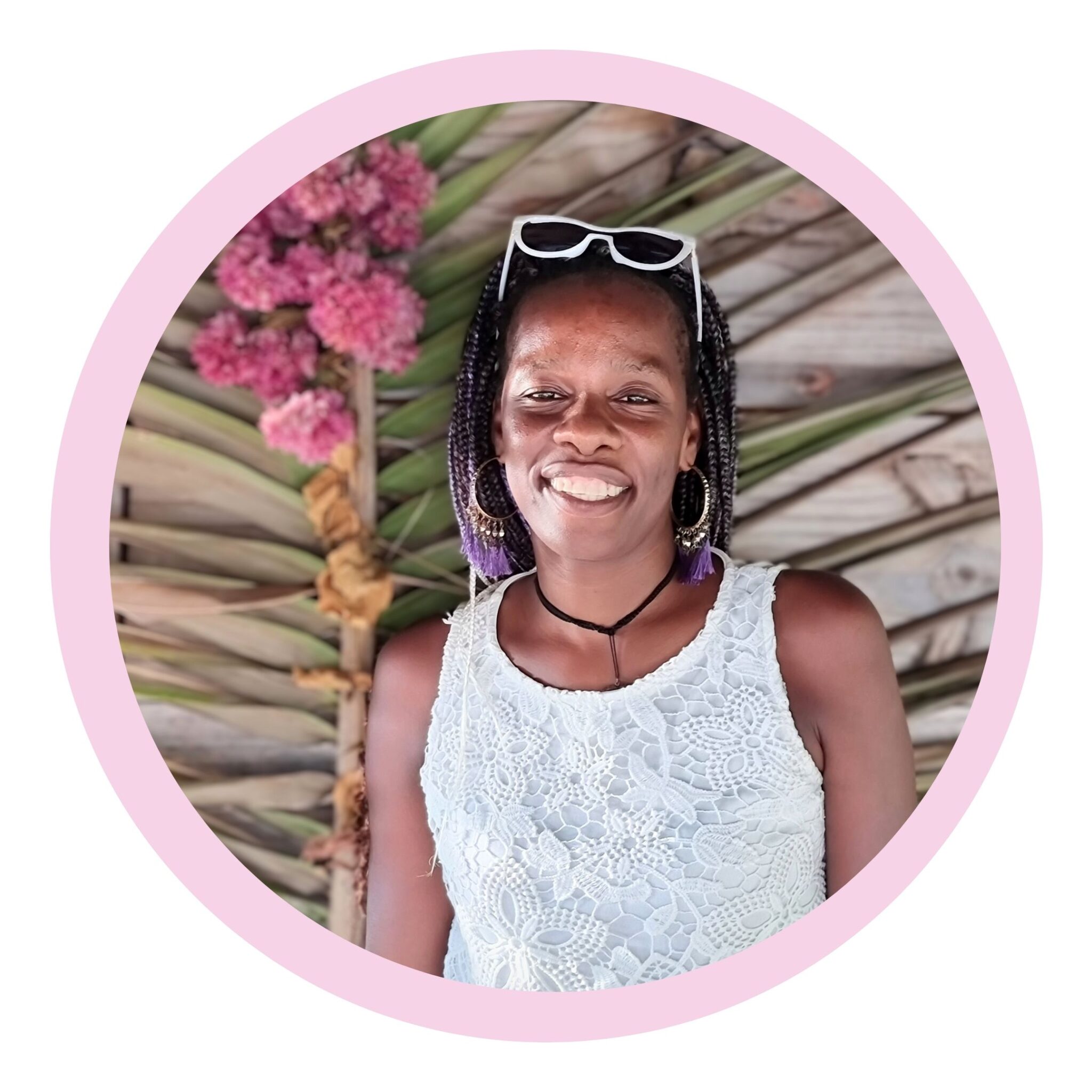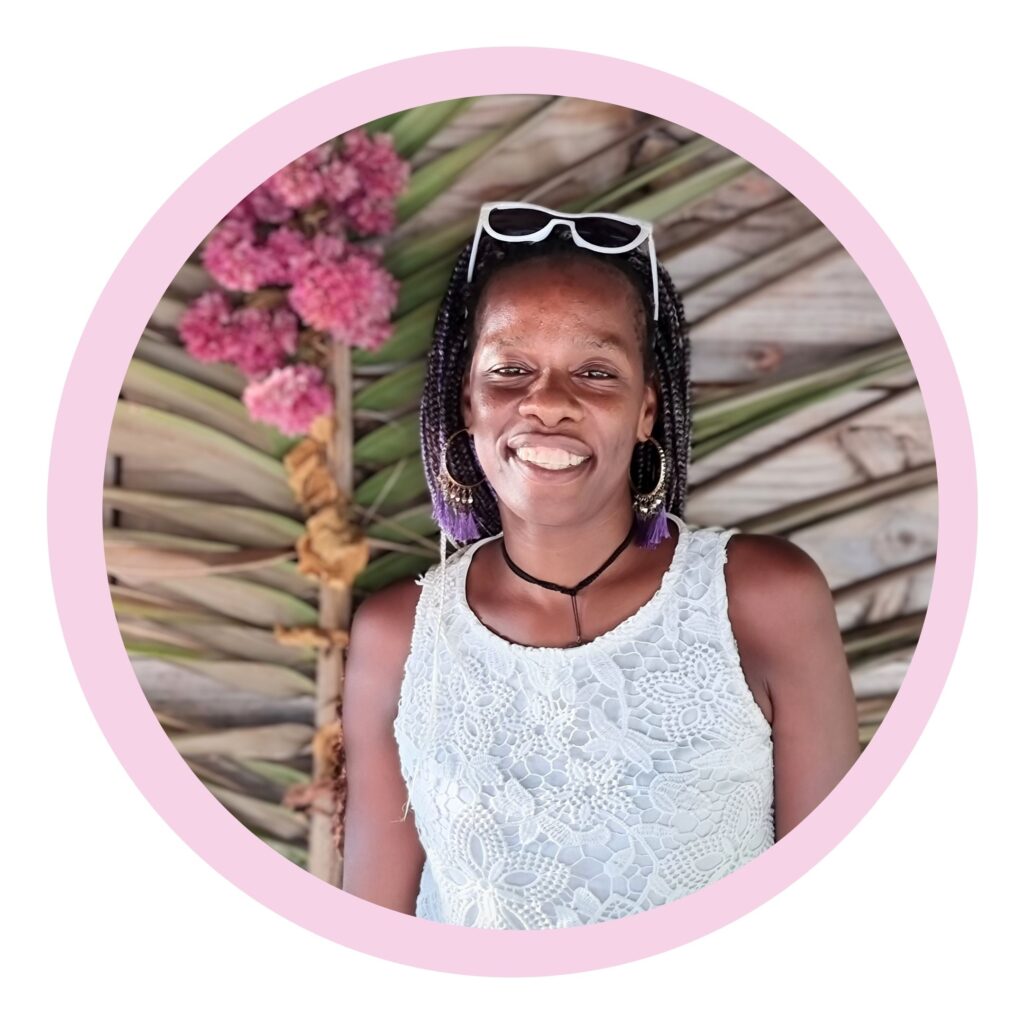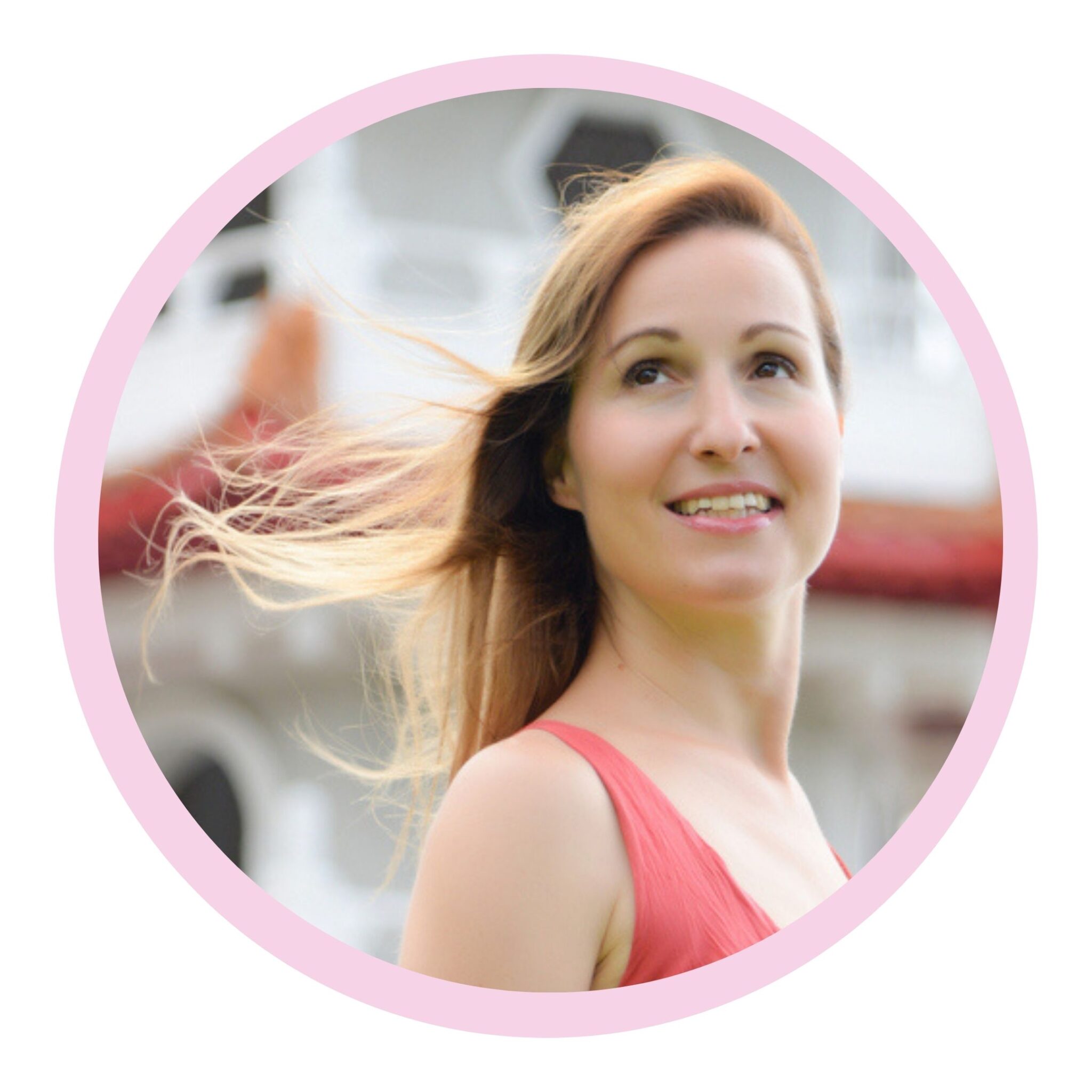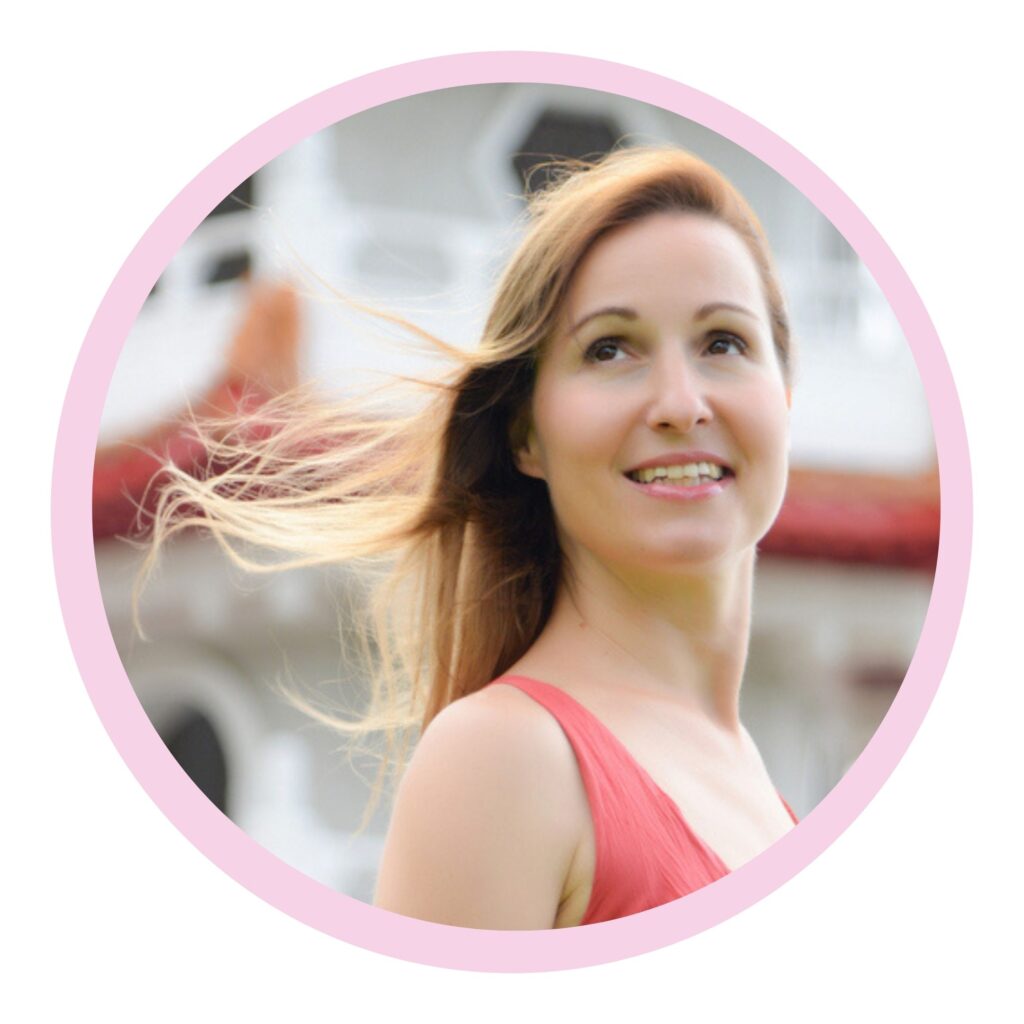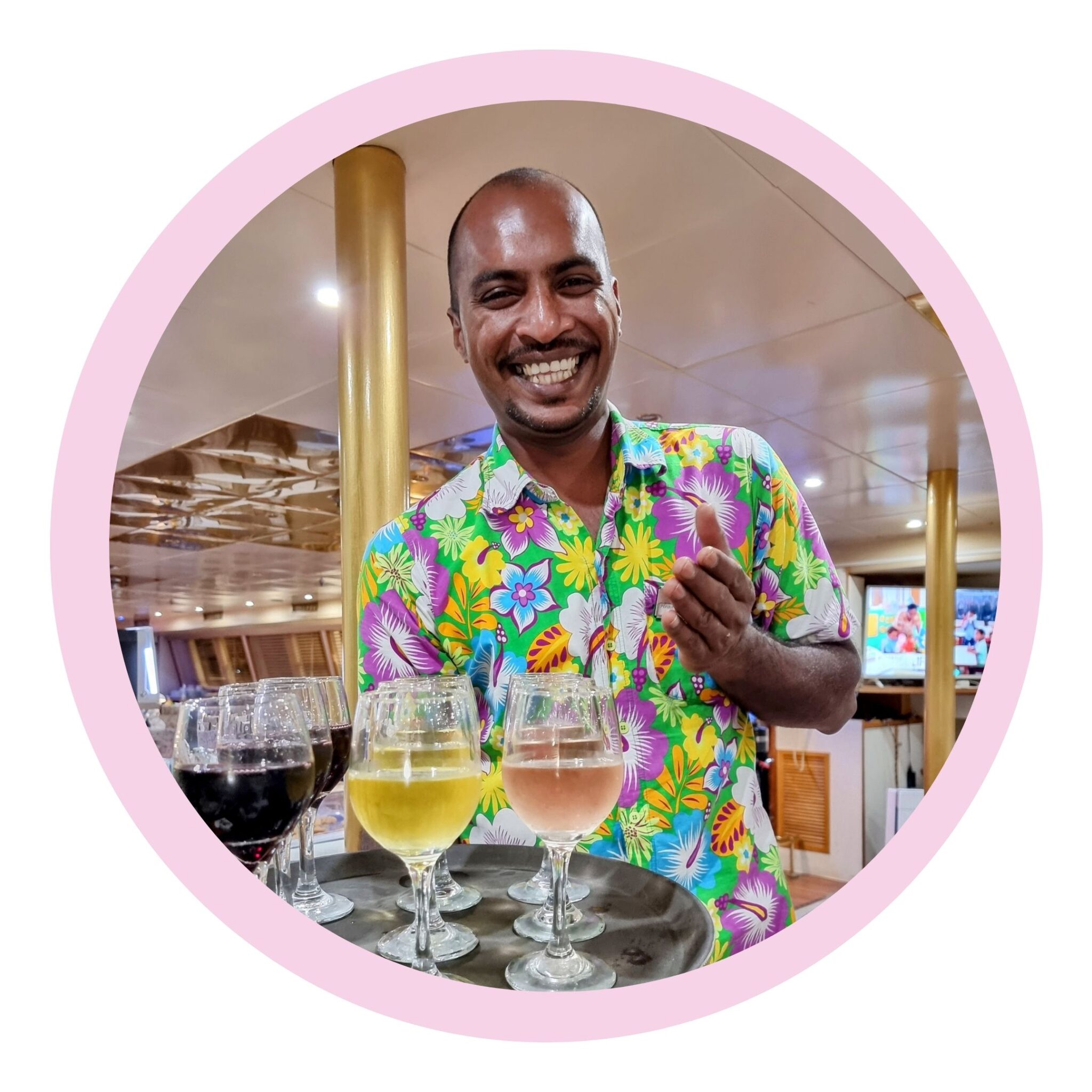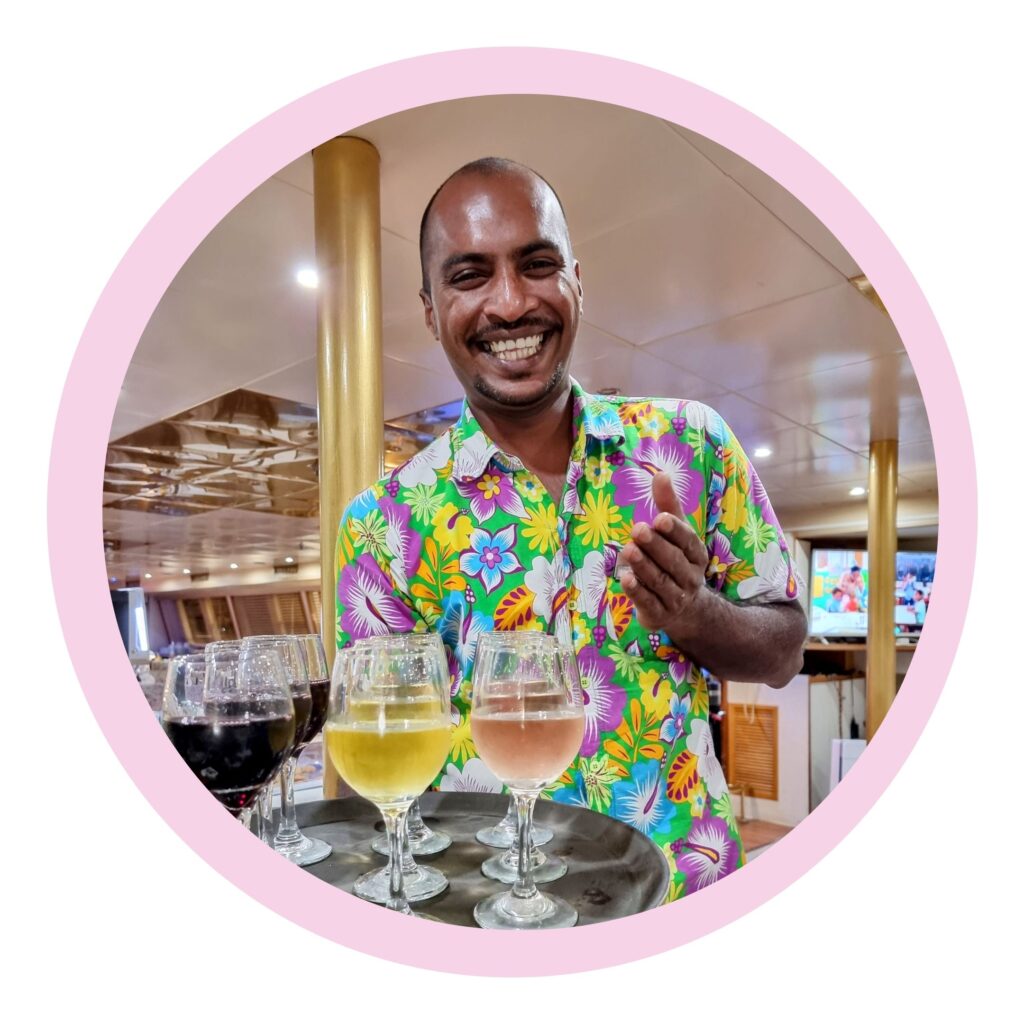 Our trip in the Seychelles will be Co-hosted by our Co-Founder Mar, Seychellois guide Sheena and the rest of the very diverse Pegasos crew who hail from Egypt, Mauritius, Indonesia, Ukraine, Greece and beyond.
Sheena started her tourism company in the Seychelles in 2018 with a passion to show guests around the islands and share her culture and traditions. She is currently the only independent female tour guide in the country and we will be very lucky to have her with us to bring the local female touch and show us the best parts the country has to offer.
---
Jump straight to: The ship | The itinerary | Cabins & prices | Host | How to book | FAQs
What's included
There are no hidden charges on our trips and this is why everything is clearly detailed. Our Seychelles island-hopping trip is all inclusive with wine or beer during most meals.
Inclusions
✔️ Group transportation to all activities from the time of embarkation until disembarkation.
✔️ 7 nights onboard Pegasos on bed and breakfast.
✔️ Daily lunch and dinner with especially curated gastronomic experiences daily
✔️ Water, local beer and wine on meals onboard and onshore, bottled water in your cabin
✔️ All activities as listed in the itinerary: guided tour of Aride, Moyenne, Praslin, la Digue, Curieuse as well as entry and docking fee at all islands
✔️ Local experienced team who have sailed the islands hundreds of times and a female local host
✔️ Welcome Captain's dinner on first night and special Farewell dinner on last day
✔️ Photographs to take home with you taken by our onboard professional photographer
✔️ Port fees (375 EUR per person)
✔️ All luggage handling aboard the ship
Exclusions
✘ Airport transfers
✘ Airfare
✘ Visa, if required
✘ Travel & Medical Insurance (Required)
✘ COVID Testing pre-embarkation (Required by Pegasos)
✘ Tips for the crew (13-15 EUR a day suggested) and for the host, at your discretion
✘ Laundry, additional bar charges, WiFi, spa treatments and items of personal nature
✘ Souvenirs
Jump straight to: The ship | The itinerary | Cabins & prices | Host | How to book | FAQs
The Solo Female Travelers difference – What makes us unique
All our tours follow the same values and philosophy that makes us who we are which you can find here. In the Seychelles, two things set us apart from others: Our own private yacht and a female guide.
Having our own yacht means we get access to the most beautiful parts of this absolutely stunning paradise and trust us, this is a very privileged experience, only topped by the fact that our tour will be hosted by the country's only female guide.
Float the night away under the Milky Way on our top deck loungers and watch dolphins come right up to the boat. Magic!
---
Booking
There are a limited number of cabins per category on this trip and they will be guaranteed on a first first serve basis, so don't wait to book to avoid disappointment. IMPORTANT: Due to the nature of the trip we may be unable to accommodate a vegan diet or severe food allergies. Please reach out to us to discuss before booking.
Credit card payments carry a 3% surcharge. Wire transfer details are available via email: community@solofemaletravelers.club.
No current dates scheduled
Got questions? Let's chat!
Contact us at community@solofemaletravelers.club or Pick a convenient time and date to talk to us, we'd love to meet you!
Photo Gallery
---
Frequently Asked Questions
This is a trip of a lifetime and we know there are many things you'd like to know more about.
What are the COVID measures onboard and how will you ensure everyone is safe?

This trip will follow Variety Cruises COVID Policy.  All guests will be required to show a negative PCR test taken no later than 72h before boarding the ship and be vaccinated. Surfaces are frequently cleaned and disinfected and hand sanitiser is available in all common areas for guests to use. Guests will be encouraged to use it before every onboard meal.
Will I get sea sick?

If you are prone to sea sickness, we recommend booking one of the cabins on the lower level and towards the back of the ship and talking to your doctor before the trip to take the necessary precautions and seasickness medication. While the boat is quite stable on most days, the sailing time from Mahe to Curieuse and from La Digue to Mahe can be choppy and sea sickness could occur.
What if I cannot travel because of COVID restrictions?

The 30% deposit is not refundable if the trip goes ahead, this is why we require all guests to purchase travel insurance that covers unforeseen circumstances that would prevent them from traveling.

However, the deposit will be refunded if we decide to cancel or postpone the trip before the final payment is due. In the event that the trip needs to be postponed for reasons beyond our control after that, for example border closures in Seychelles, any payments made will be put towards a similar trip in the future.

What is included in the trip?

All inclusions and exclusions are detailed in the section above but this trip is practically all inclusive and that means almost all meals, drinks, including wine or beer, and scheduled activities are included in the price.
Can I have a cabin to myself?

If you wish to have a cabin to yourself you can book one of the single cabins above which will have a double bed and will only be occupied by one guest.
I want to bring my family, partner or child to the trip

We are afraid that this is a female-only small group trip specifically designed for women traveling on their own. If you wish to travel with a female friend that is welcome, but we regret that male travelers are not allowed. Children are allowed as long as they are above the age of 16.
Will the onboard team be female?

Variety Cruises is an equal opportunity employer and a family-run business with several women in positions of power. Our cruise host, Sheena and several of the crew onboard are female.
How does this trip impact the fragile environment of the Seychelles?

We believe in the power of sustainable and responsible tourism as a means to bring prosperity and bridge gaps between cultures and travelers.

We have chosen a yacht instead of the large cruise companies because of the negative impact they have on the fragile environment and on the islands we will visit. Additionally, a small ship can reach areas that are inaccessible to large cruise companies and can minimise damage to the environment while providing a more exclusive experience. We will use tenders to approach all islands and anchor at a safe distance except for in case of Praslin, where we will dock at port, and in Mahe.
What should I pack for this adventure?

We have strategically picked the month of April because it is a month of change between the two monsoons that grace the waters of the Seychelles. The weather is expected to be less windy and with a low chance of rain, although rain does occur at this time of year.

The weather is hot all year in the Seychelles and given the nature of the trip (all outdoors and by the sea / sand / beach) and the relaxed and laid back nature of the Seycheloise culture, we recommend casual beach clothing and attire. A packing list will be provided to all confirmed bookings close to departure date.
What travel and medical insurance should I get?

Travel and medical insurance is mandatory to come on the trip and we recommend you get comprehensive coverage. Check Travel Insurance Masters to compare policies and coverages and pick the right one for you.
What happens if I get sick?

The prospect of getting sick in a foreign country is daunting, more so if that happens on a ship or on a small island. If you need medical treatment, we will escort you to the nearest medical facility so you can get adequate treatment.
Can I make various installments for this trip?

Please reach out to us for instalment plans.
Can I pay by credit card?

Yes, all payments can be paid by credit card with a 3% additional transaction fee, or via bank wire at no extra cost.
Is there WiFi onboard?

To access email or internet on your personal computer, tablet or smart phone, you can purchase a WiFi router which you can take with you anywhere. The router works with the mobile network that means that coverage and speed are spotty while at sea. We cannot guarantee that you will have reliable and consistent signal throughout. While on land, coverage is excellent. Regardless of signal and speed, internet access in the Seychelles is very expensive so we recommend leaving your laptop at home.
What is the food like onboard the ship?

Our private chefs will cook delicious, seasonal and fresh local dishes onboard the ship. Some meals will be had buffet style while the welcome and farewell captain's dinners will be sit down, served, 4-course meals. We will also enjoy freshly prepared BBQs on deck. Meals will be accompanied by wine or beer. Meals on shore will be casual and often serves family style or as a buffet.
Are vegans and vegetarians catered for in this trip?

Vegetarian options are available at every meal, though we regret that it is not possible for us to adapt the tour to suit veganism. Please provide details of your dietary requirements at the time of booking. We regret that serious allergies cannot be accommodated.
Do I need a visa for this trip?

This trip departs from Mahe, Seychelles. You should check if you need a visa before booking. If required, we can provide documentation to apply for a visa.
What is the fitness level for this trip?

This is an active trip that requires a moderate level of fitness, the ability to snorkel for 45min to 1 hour at a time, get on and off tender boats, walk on the beach and through hilly paths and climb the many stairs there are onboard the ship.