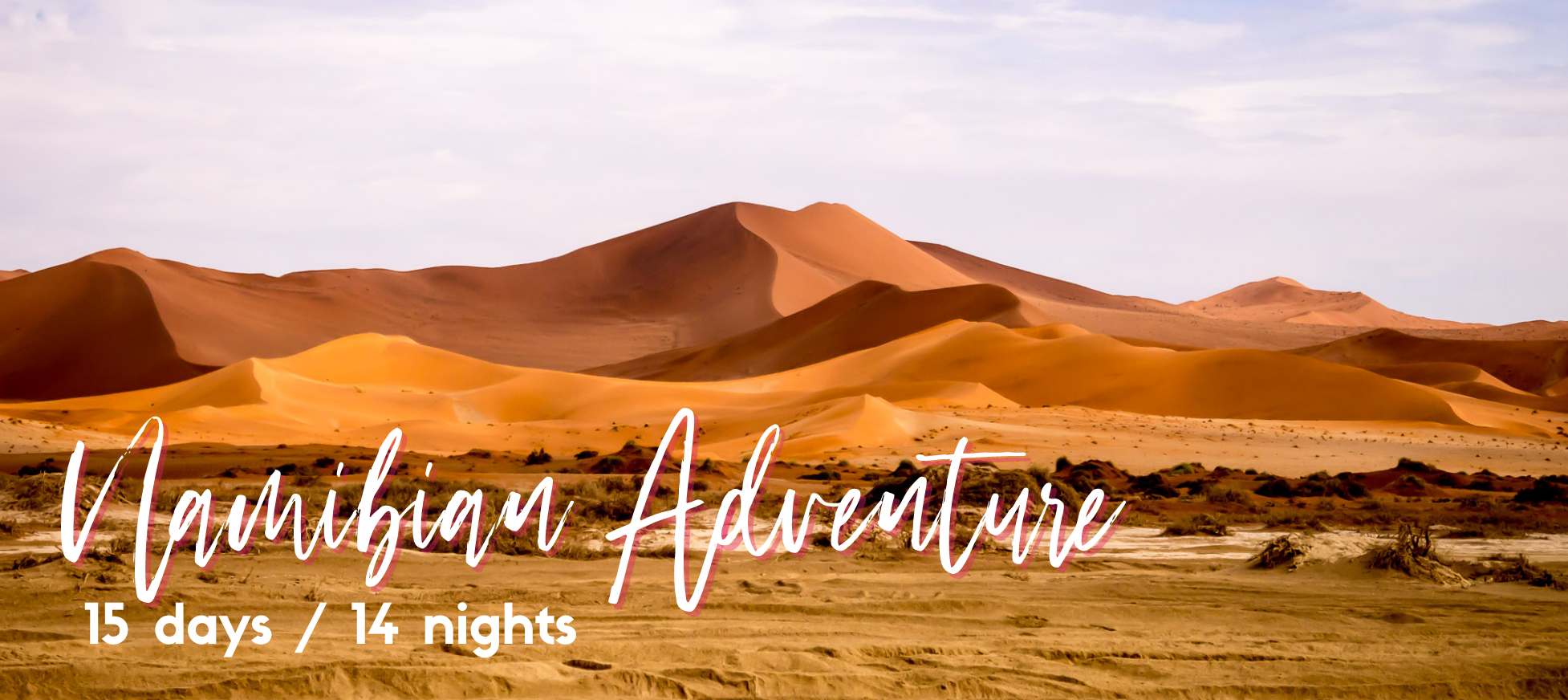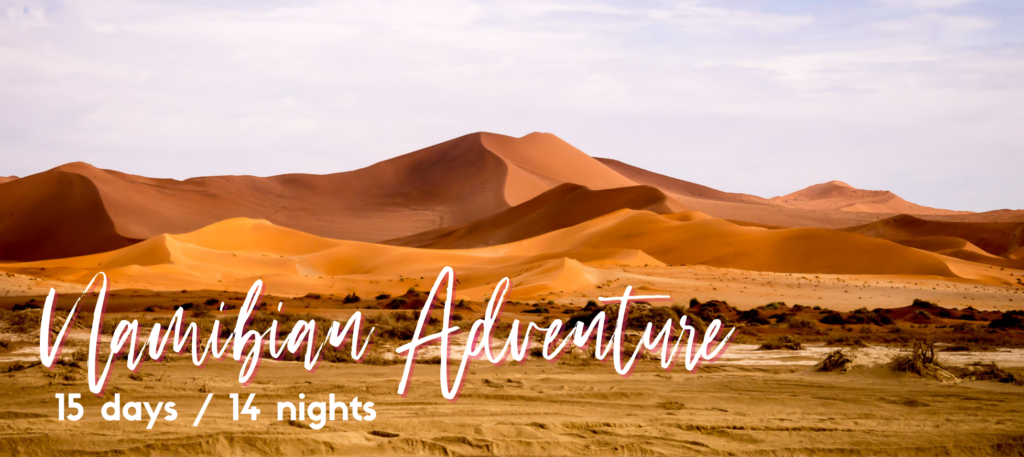 Namibian Wildlife, Desert and People
Kalahari Desert – Sossusvlei – Deadvlei – Swakopmund – Skeleton Coast – Rock Paintings – San & Himba Peoples – Safari Game Drives
Join us for an epic and in-depth African camping adventure taking in the main highlights of Namibia, including stunning landscapes & deserts, shipwrecks, desert-adapted wildlife, exchanges with local tribes, and wildlife safaris.
Highlights: The endless Namib Desert | Climbing the massive sand dunes of Sossusvlei | Surreal Deadvlei, a dried-out forest | Massive seal colonies | Shipwrecks off the Skeleton Coast | The boulders and peaks of Spitzkoppe | Desert-adapted elephants in Damaraland | Meet the Himba tribes | Safari in Etosha National Park | Get your adrenaline pumping at Swakopmund
No single supplement* | 14 spots | Experienced African expedition leader | Budget adventure travel
*Prices per person, we pair you with another solo traveler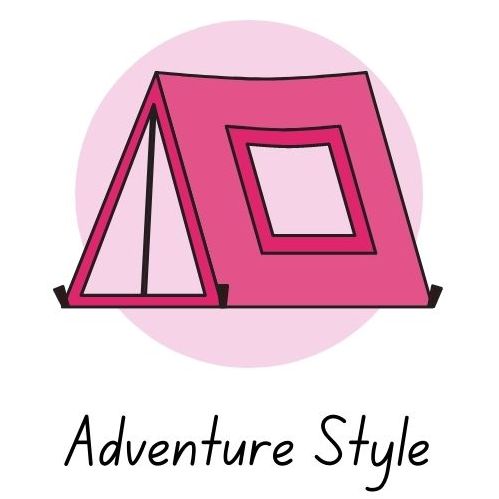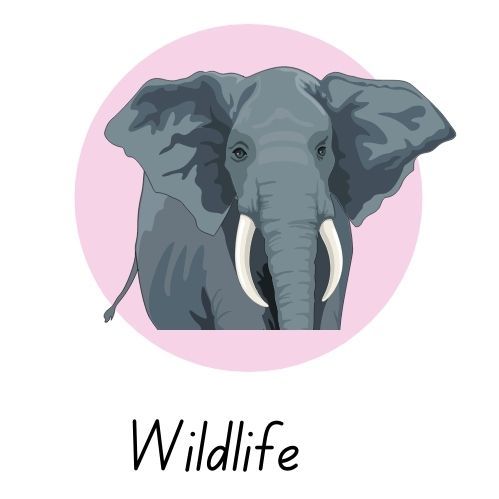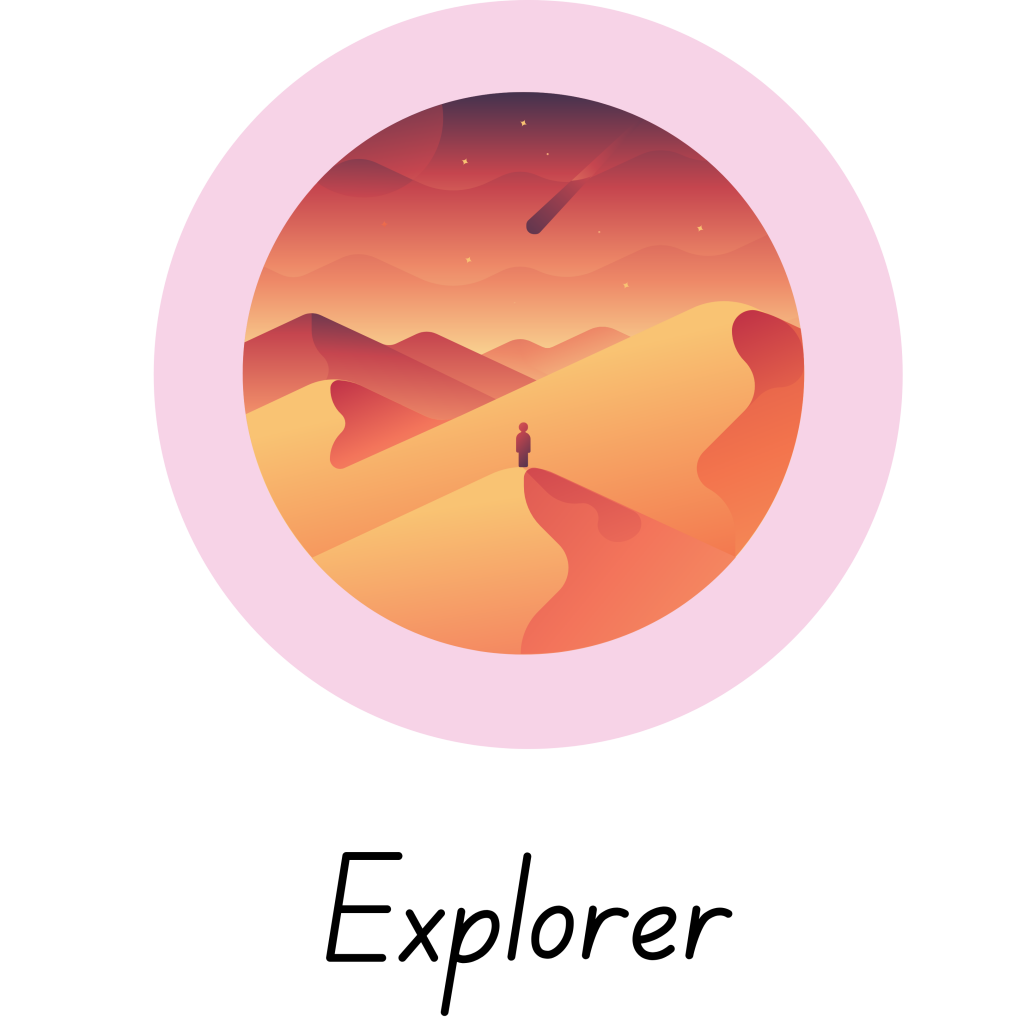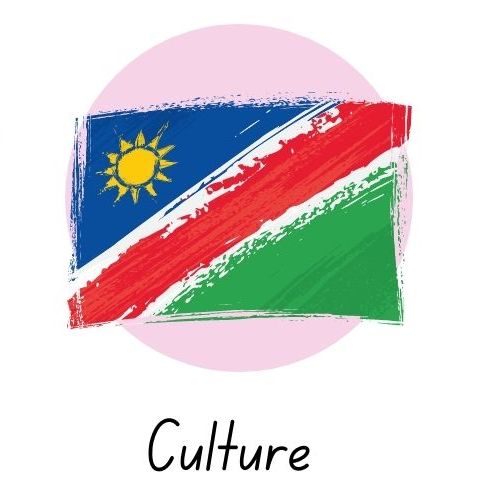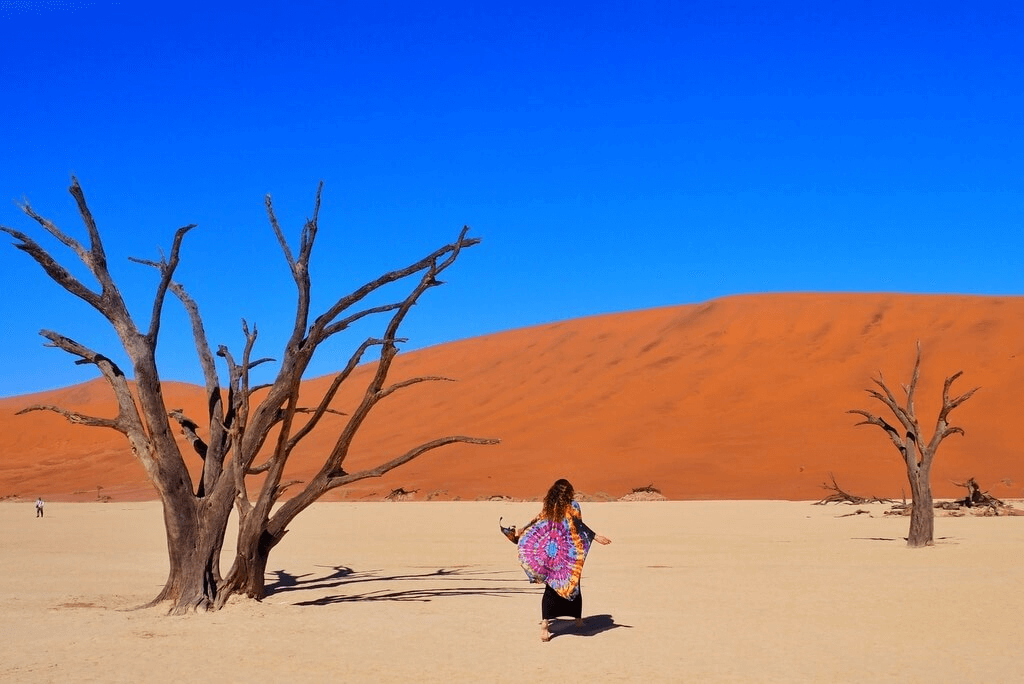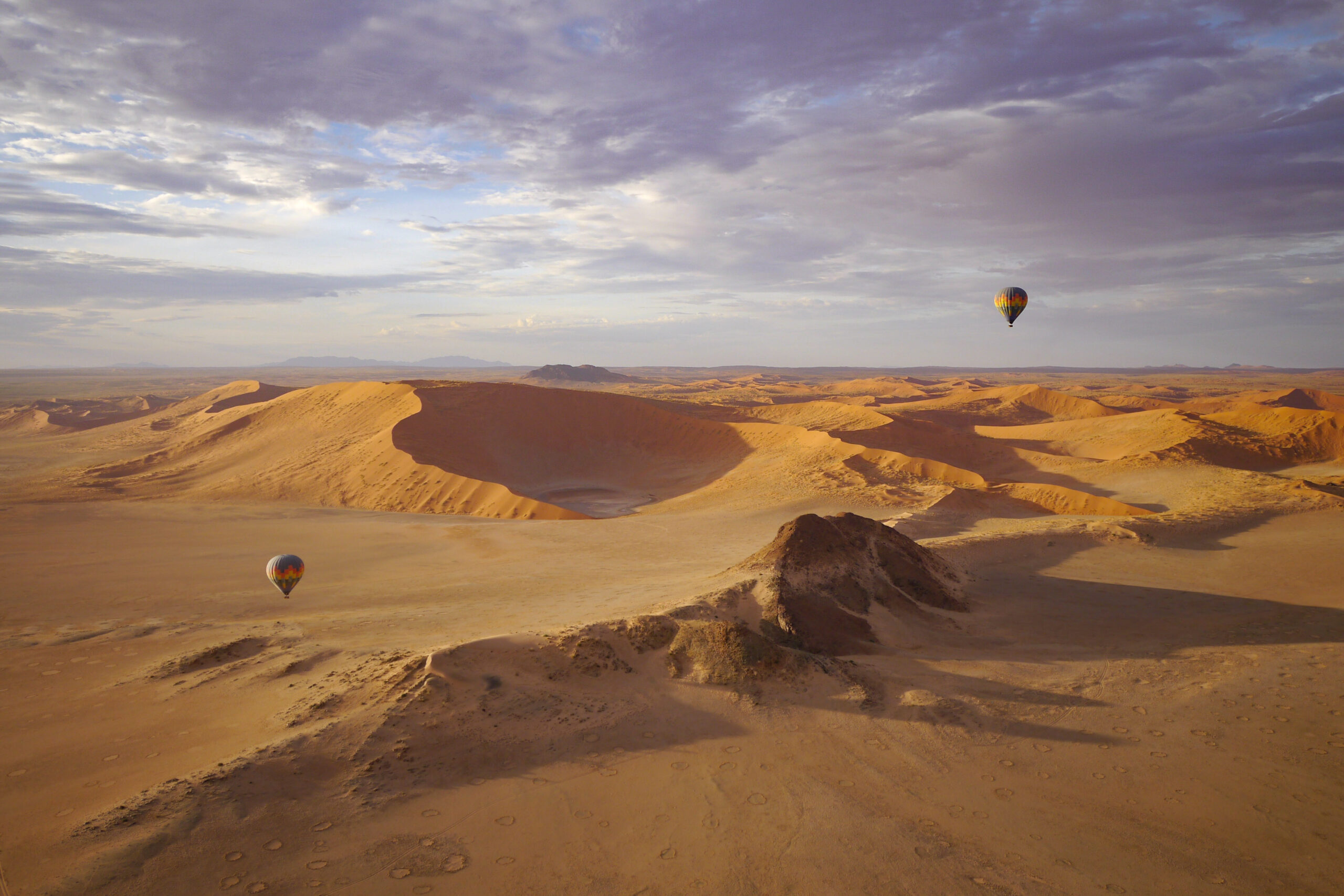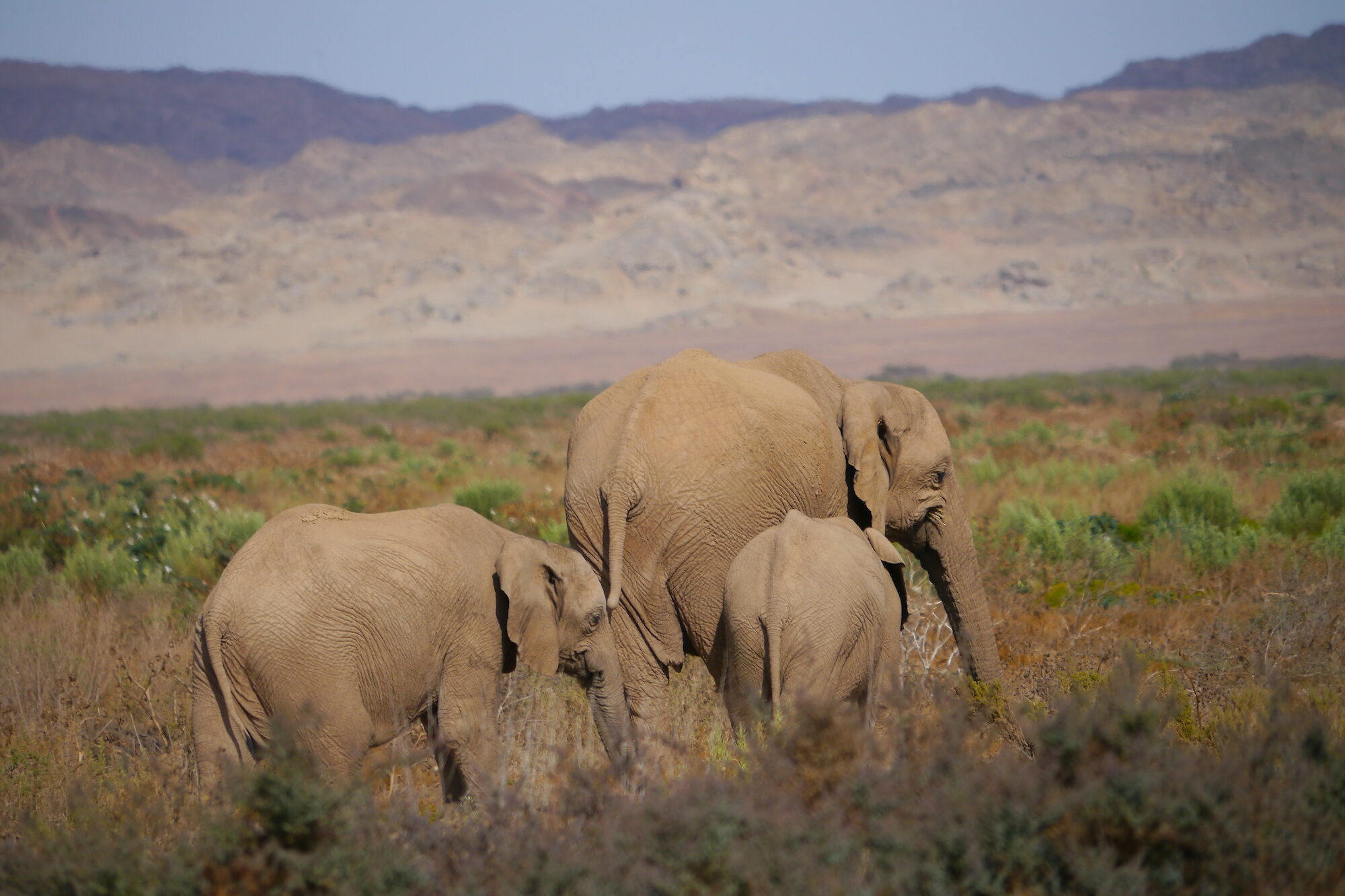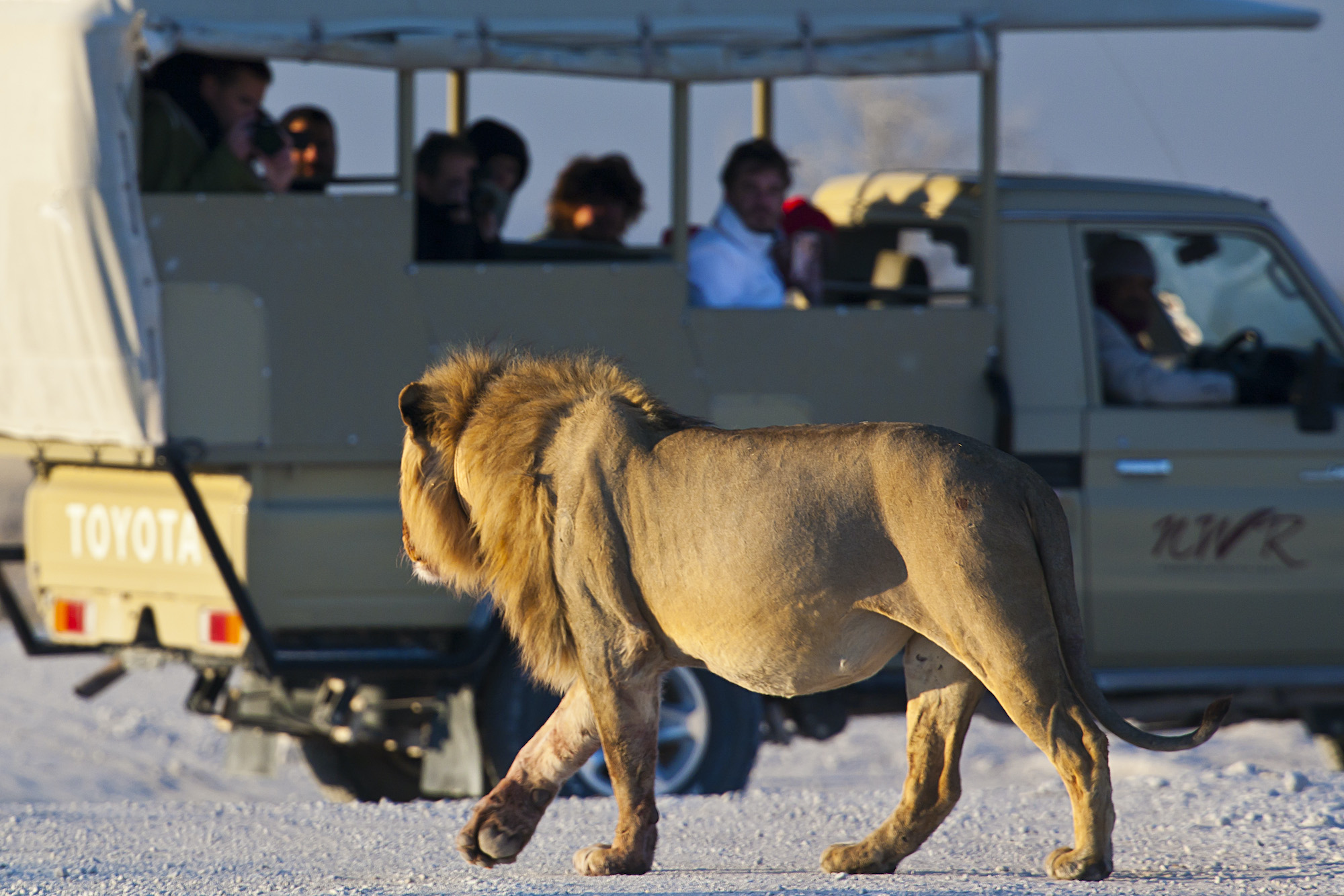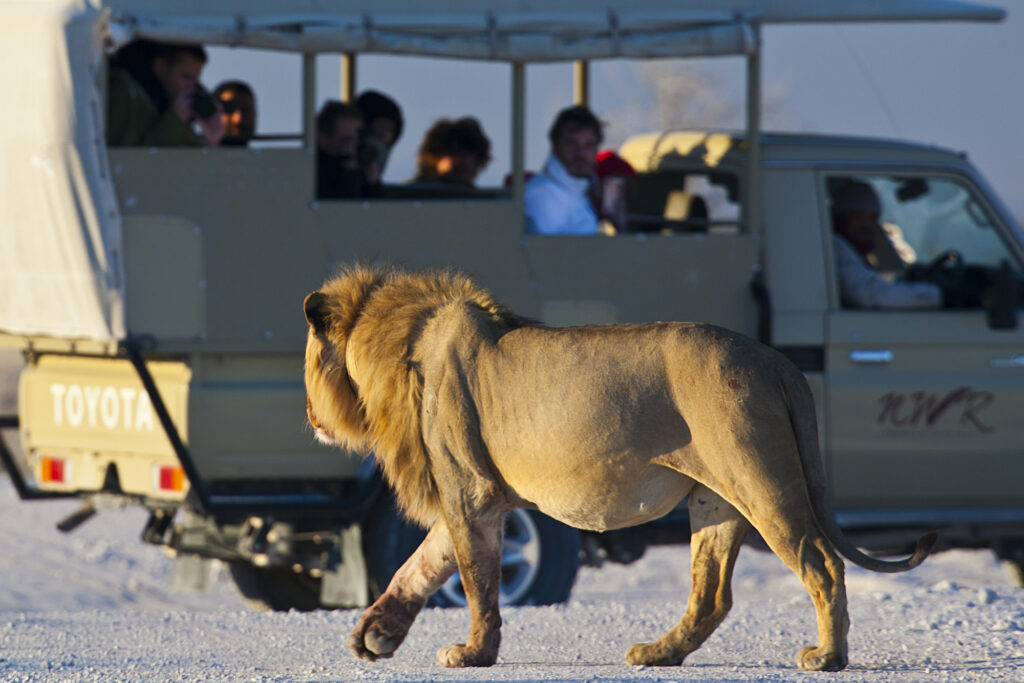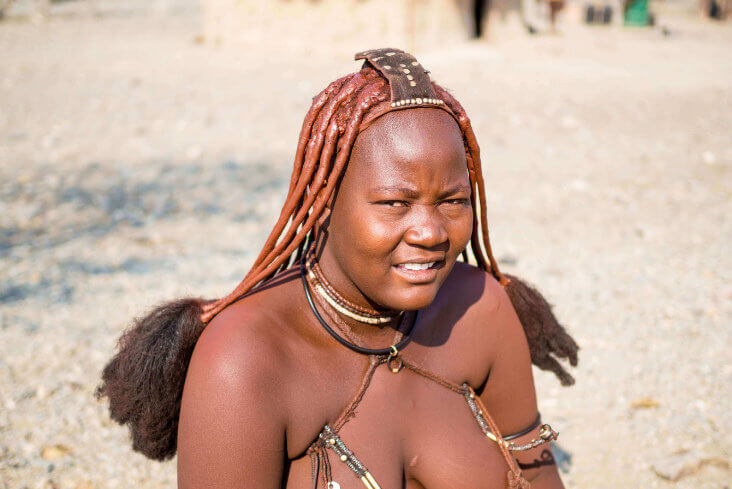 Trip Overview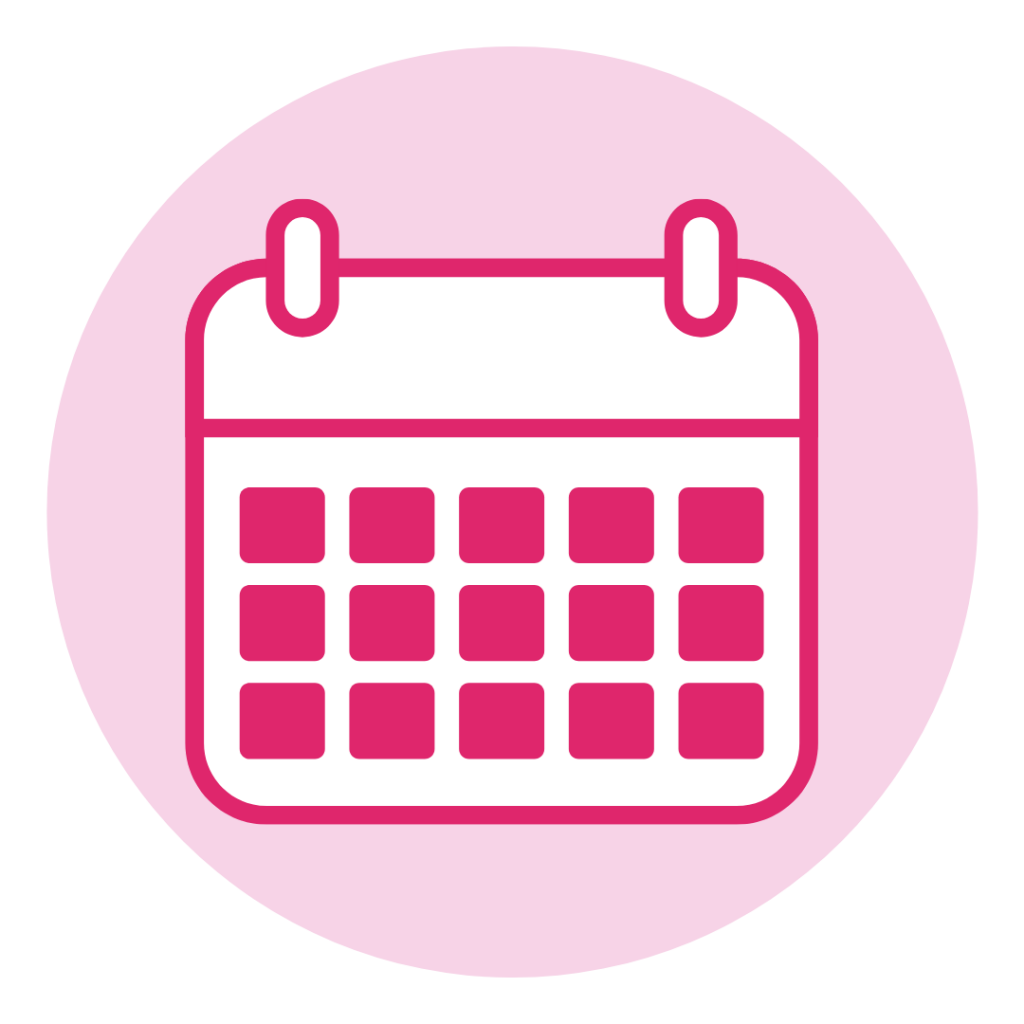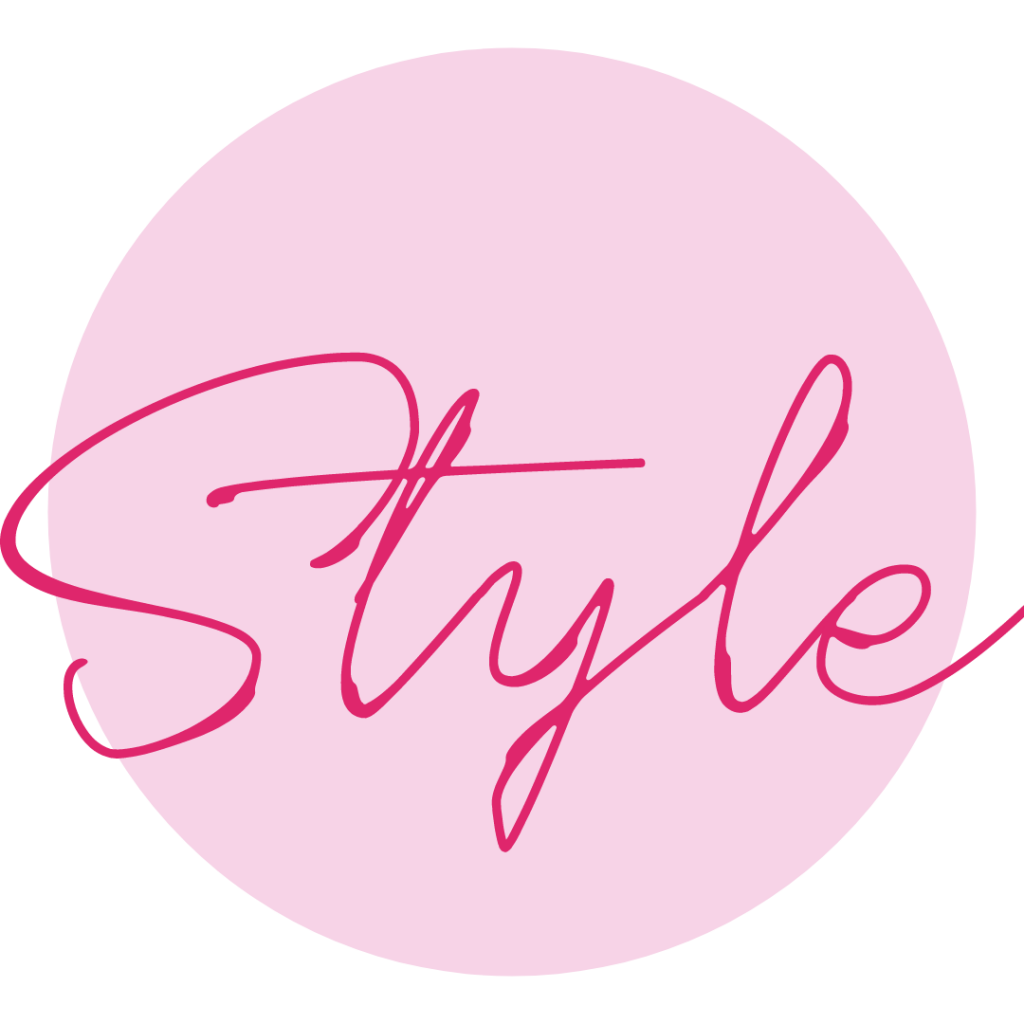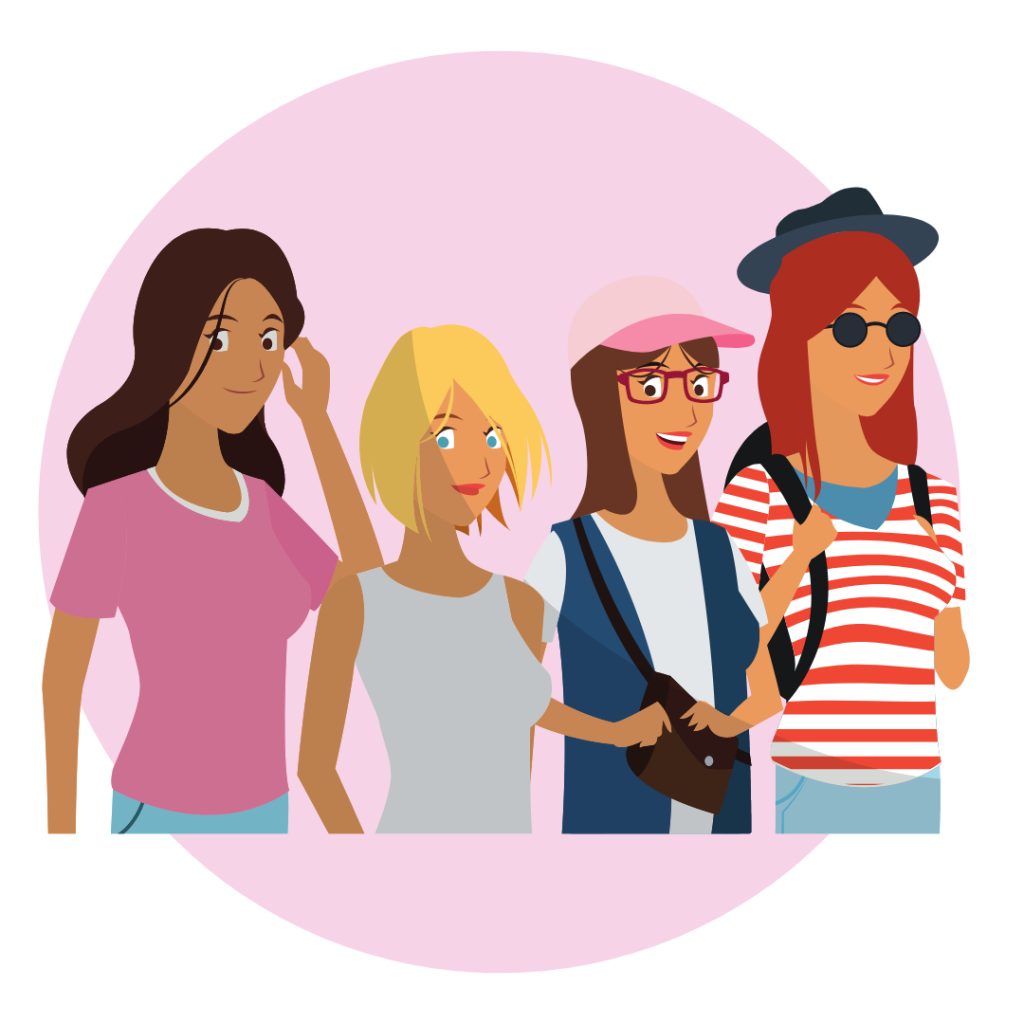 Max. 14 guests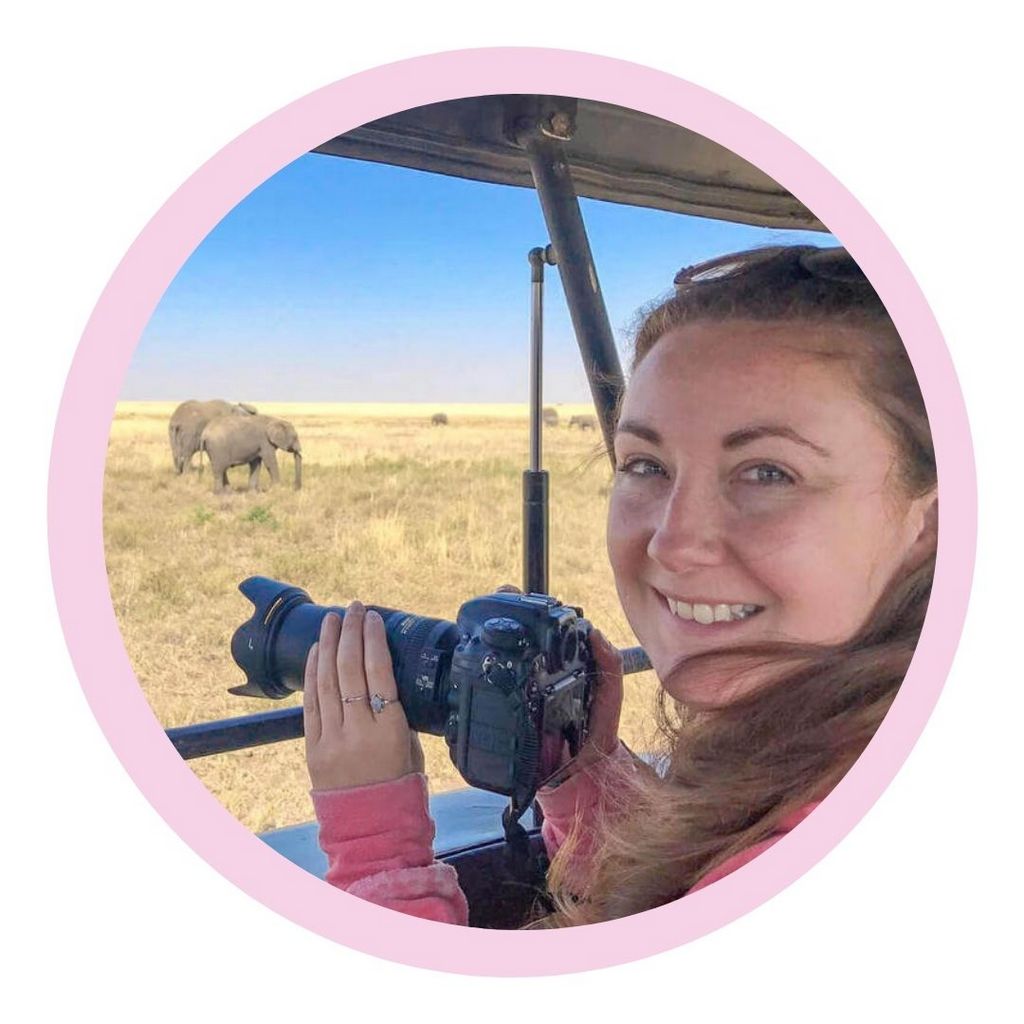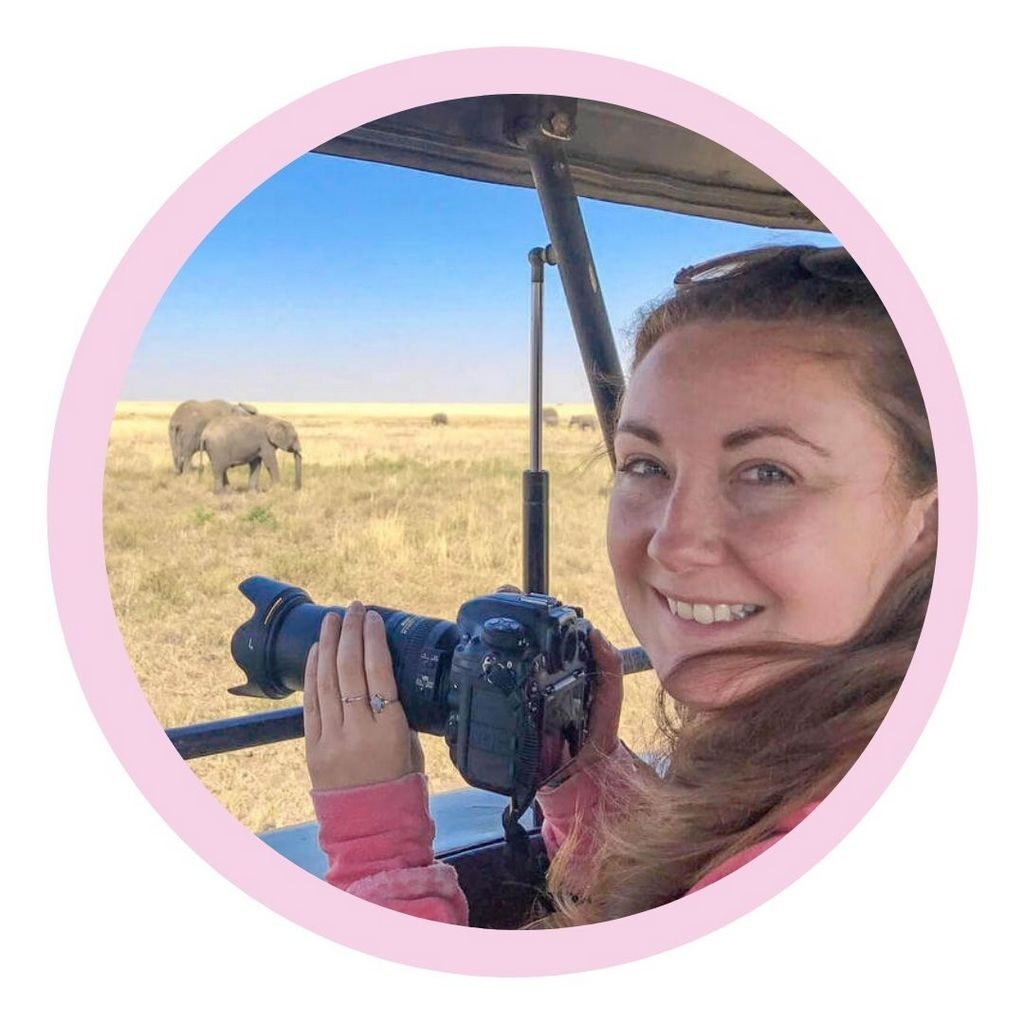 Helen Davies
Detailed Itinerary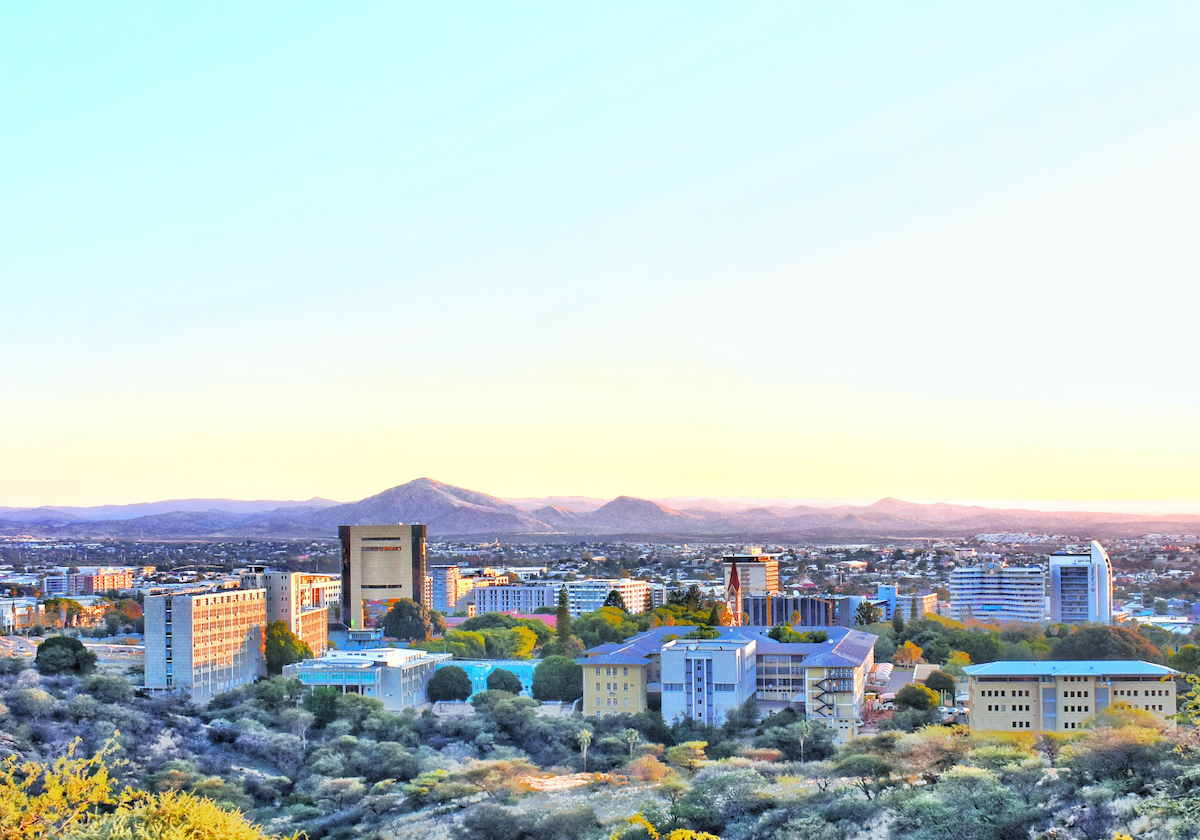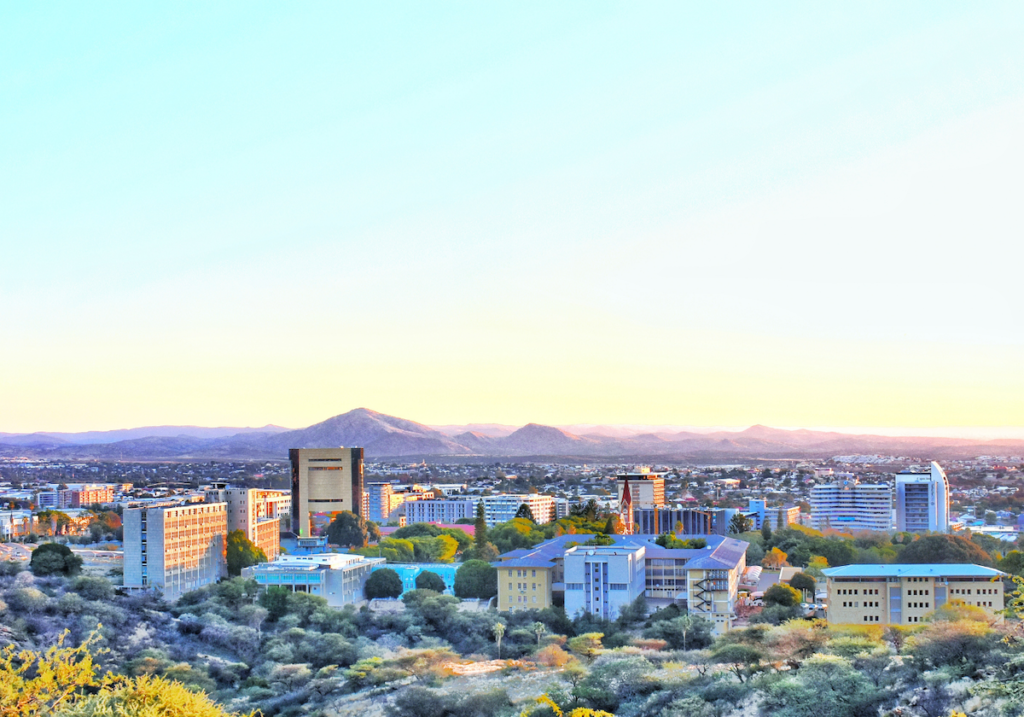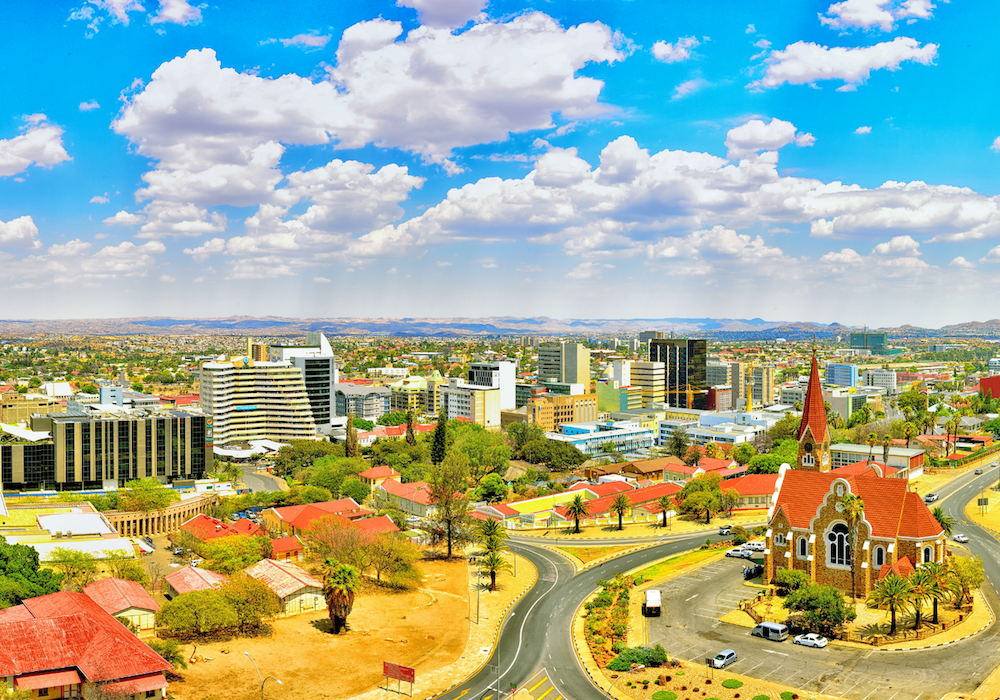 Day 1: Arrive in Windhoek
On your first day, you will arrive in Windhoek and settle in. If you land earlier in the day (as many flights do), you can enjoy the hotel pool and recover from jetlag or go out and explore the capital.
Windhoek is a sprawling and low rise city with a few historical sites from the time when Namibia was a German colony. Book a tour or go out on your own to learn more about the country's past.
One of the most popular tours includes a visit to the residential area of Katutura where you can learn more about the local culture and history. You can also visit independently.
After a bit of sightseeing, the Penduka Development Project is a great place to get some souvenirs. This NGO works exclusively with women from disadvantaged backgrounds who are the primary breadwinners for their families.
In the evening, we will meet with our tour guide Helen for a Welcome Dinner so you can get to know the other guests.
Overnight at Urban Camp
Urban Camp is right in the middle of Windhoek and provides static tents with private bathrooms. The common pool makes for a great spot to chill.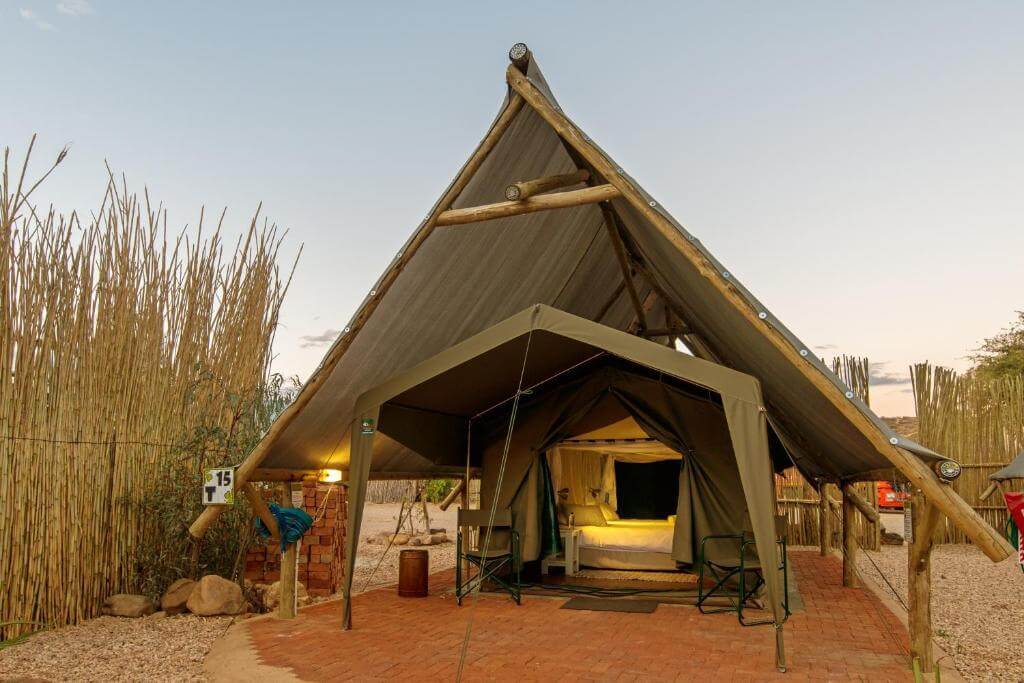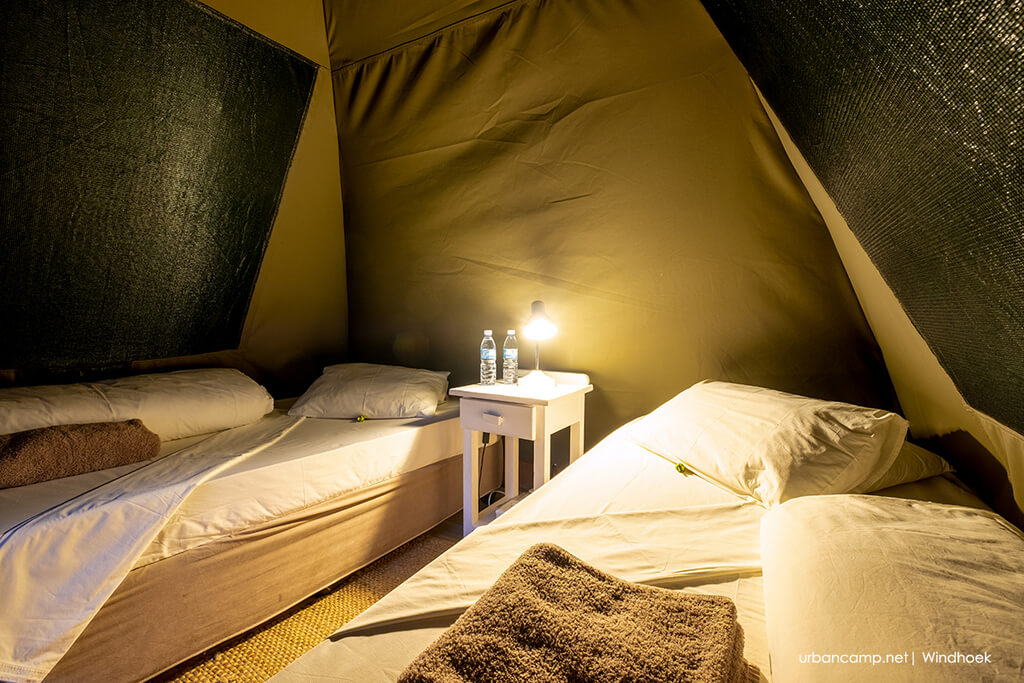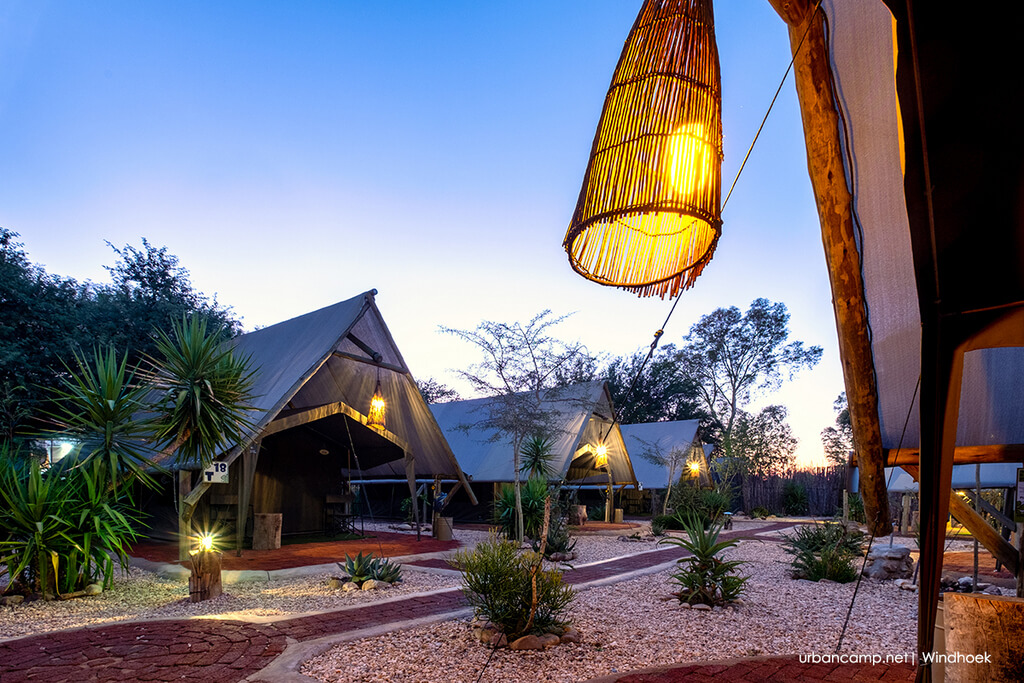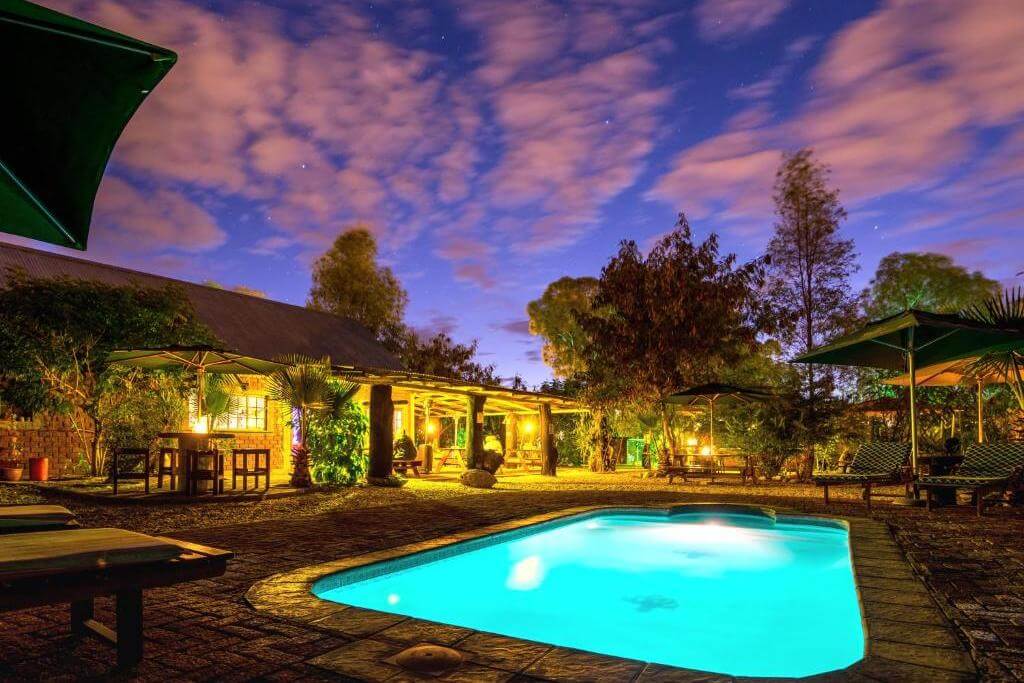 ---
Day 2: Mariental, Kalahari Desert
Driving time: 3 hours
Today we will travel to Mariental, in the Kalahari Desert and spend the afternoon with the San people. On our way, we may spot desert adapted wildlife such as cheetah, oryx or zebra.
Also referred to as Bushmen, the San people come from various different tribes. They are widely understood to be the first inhabitants of Southern Africa and continue to live traditionally in the difficult landscapes of the Kalahari Desert across Namibia, Botswana and South Africa.
Namibia has a large population of Bushmen and we will be very fortunate to learn more about their traditional ways of life during our visit.
As hunter-gatherers, the San people have learned to live off the very arid and unforgiving landscapes of the Kalahari and you'll be amazed at how they have adapted to it and continue to maintain their customs, harvesting water where there seems to be none, collecting greens and fruits and continuing with their traditional hunting.
We will go on bushwalks with our San hosts then head to the lodge where we can relax around the pool and enjoy a meal prepared by our cook.
Overnight camping at Bagatelle Lodge
Bagatelle Lodge is located at the edge of the Kalahari Desert and is a working ranch with horses located in stunning red sand surroundings.
The lodge has a pool where you can cool off after a day in the desert, and our camping spot will allow us to see the starry sky like you've never seen it before.
We will be camping for the night at the lodge's campsite. Situated 1 km from the lodge in a nearby street between the dunes, the site has a fully tiled ablution block with toilets, showers, washbasin and mirror, gas-fired hot water, solar lighting and romantic paraffin lamp lighting.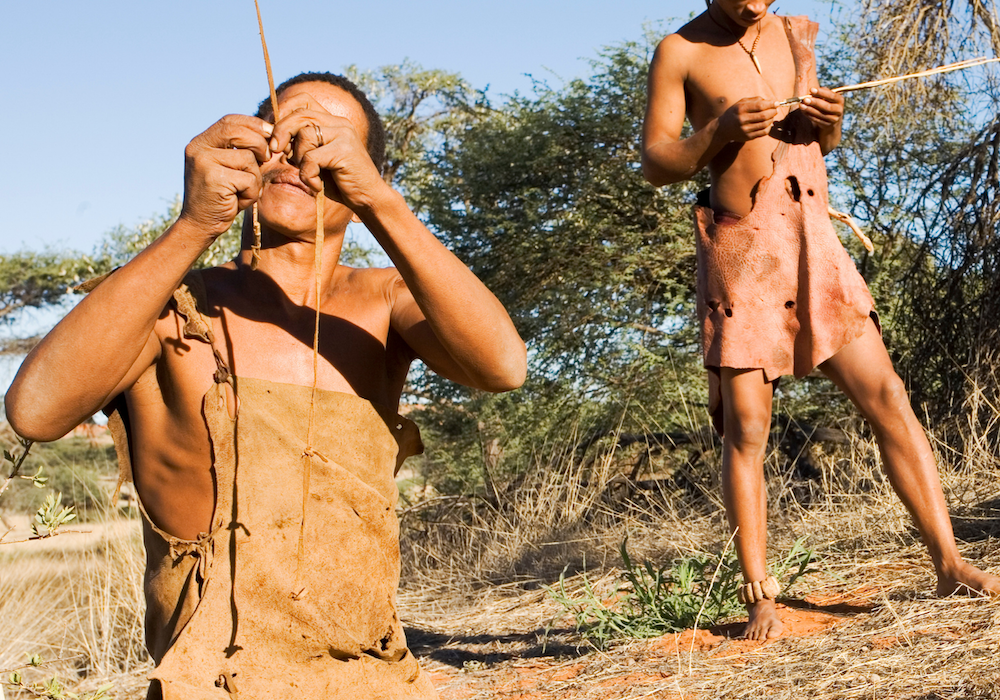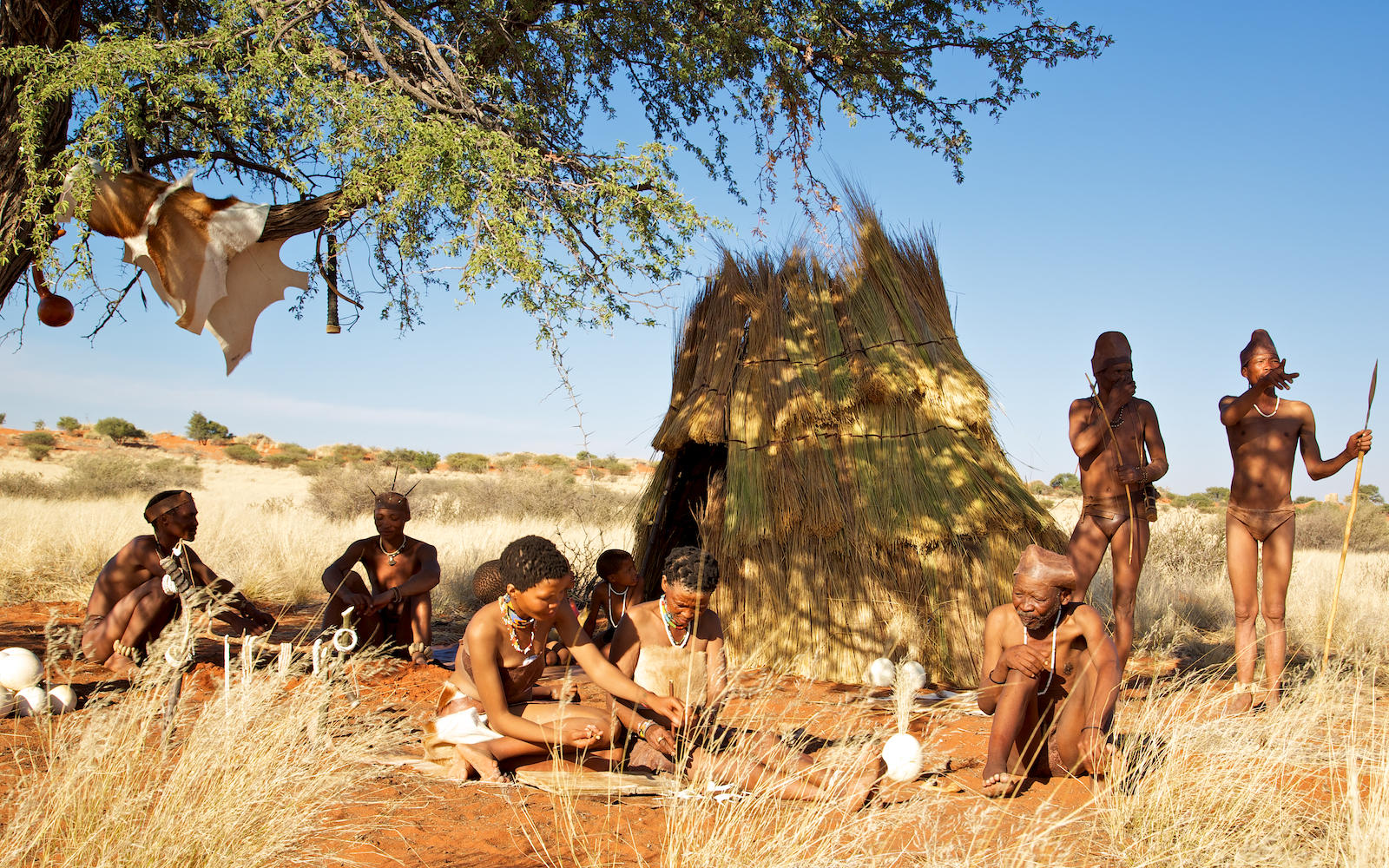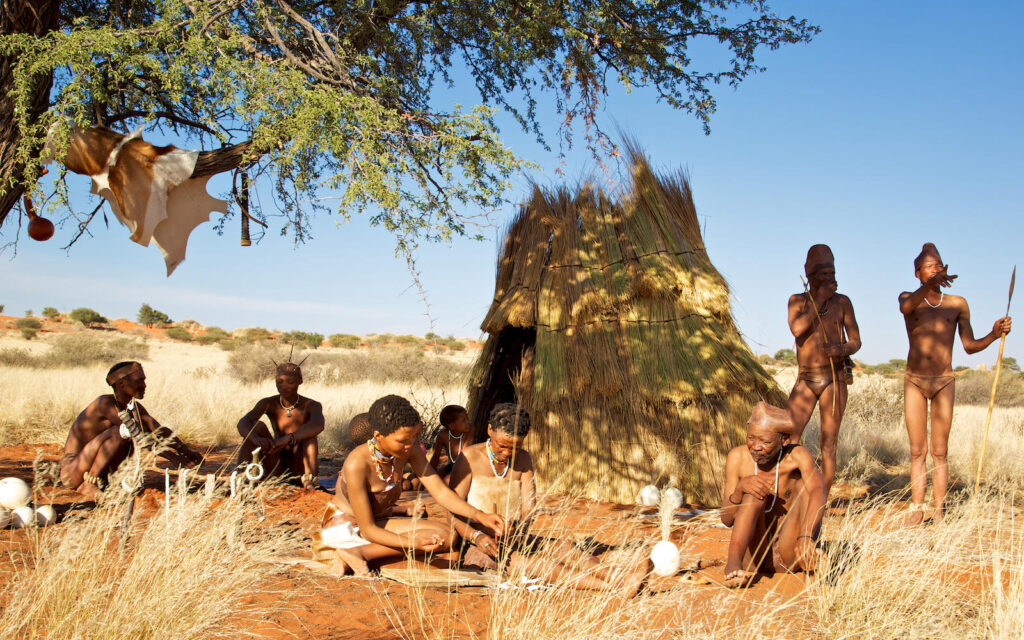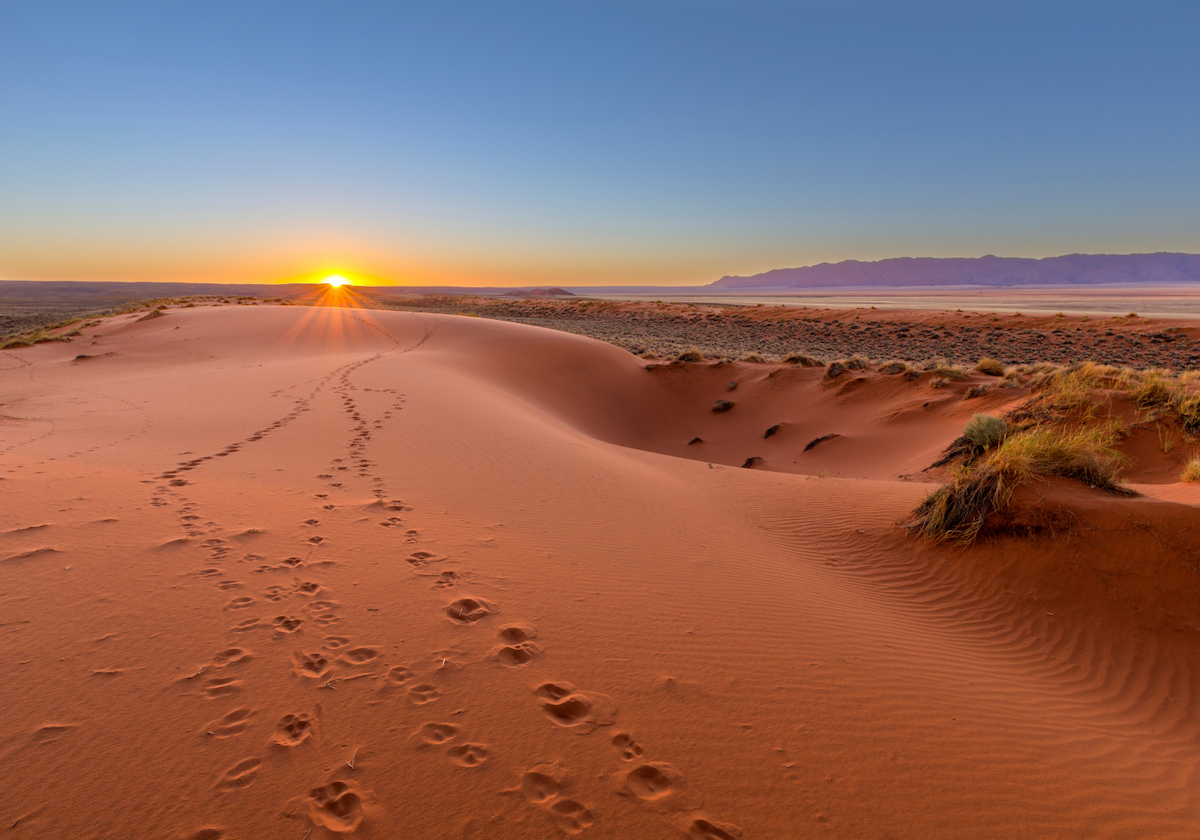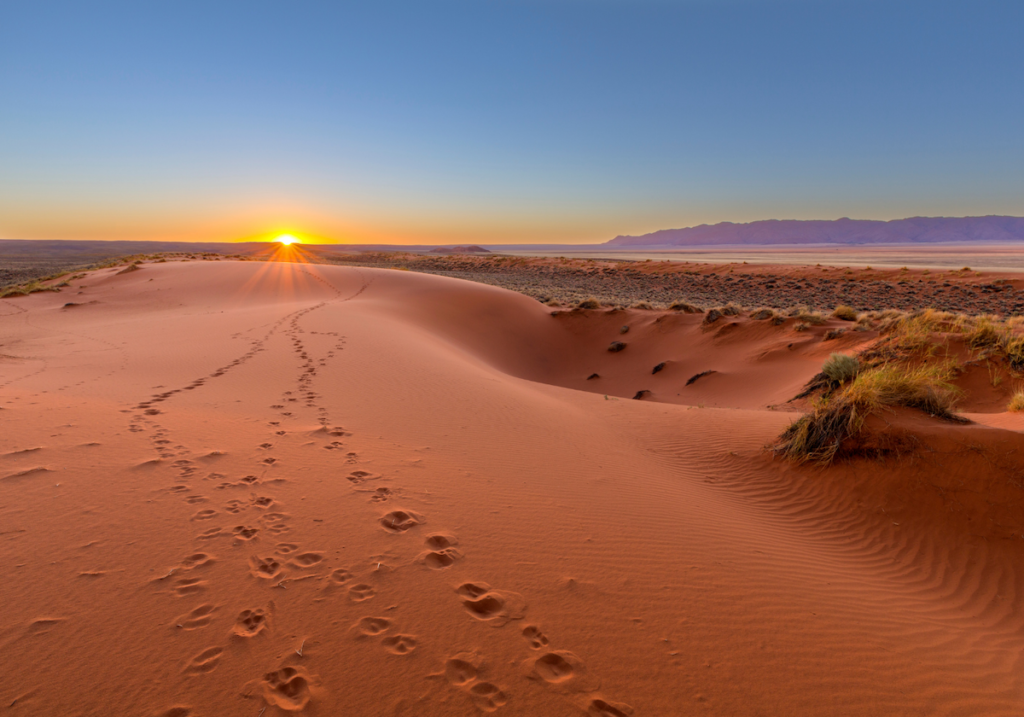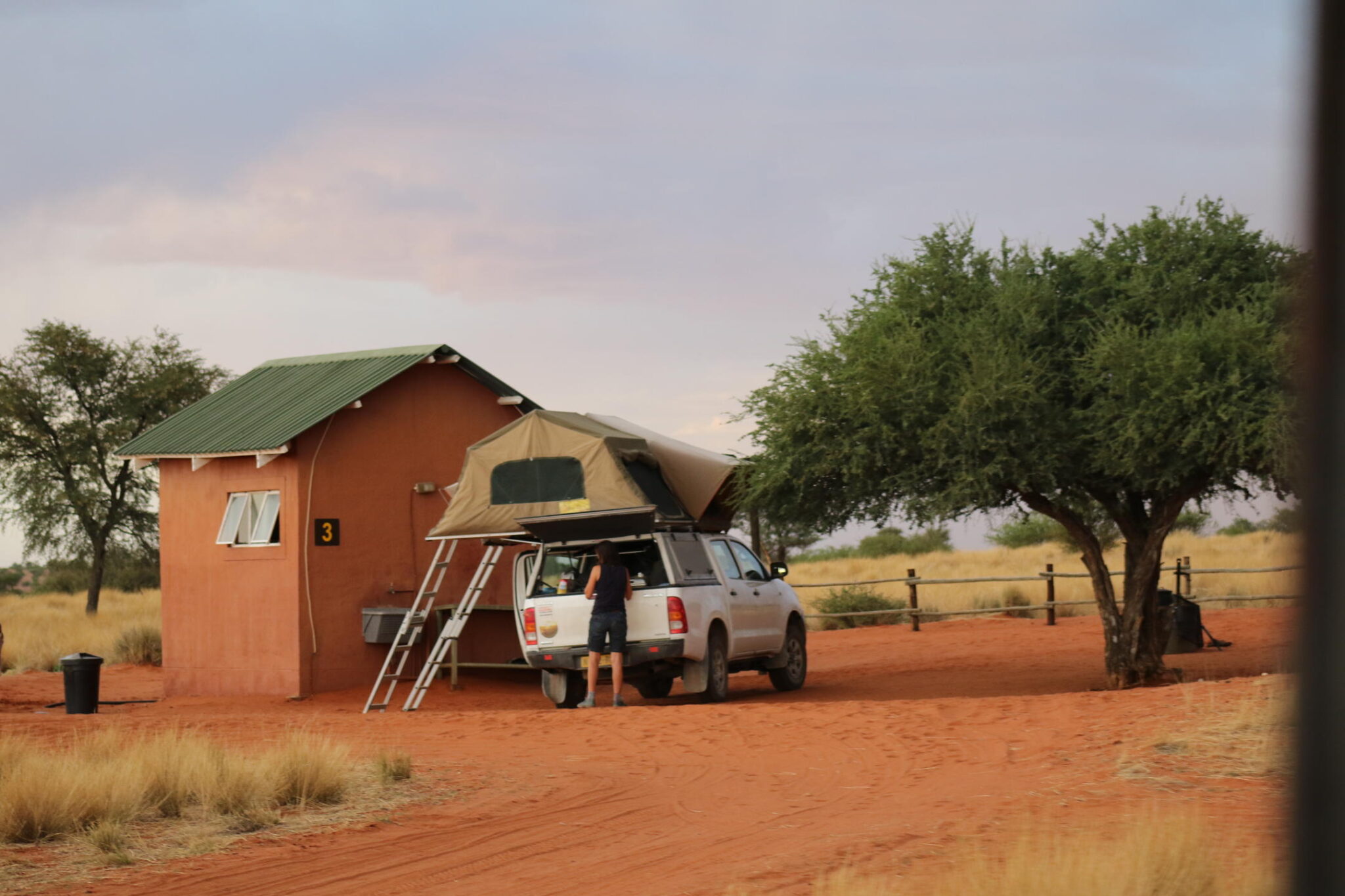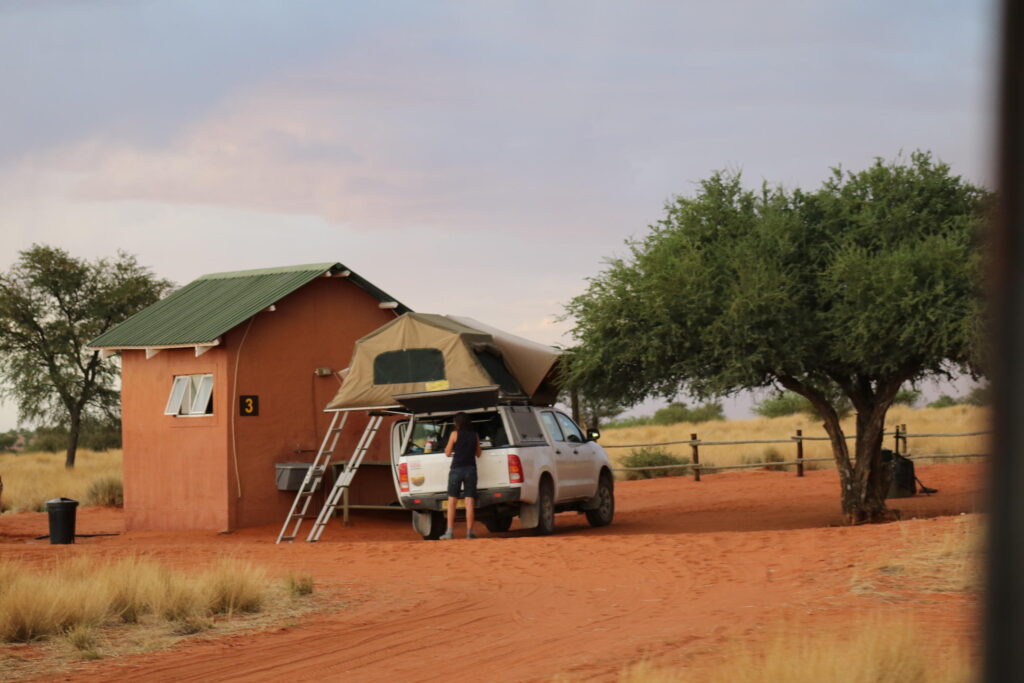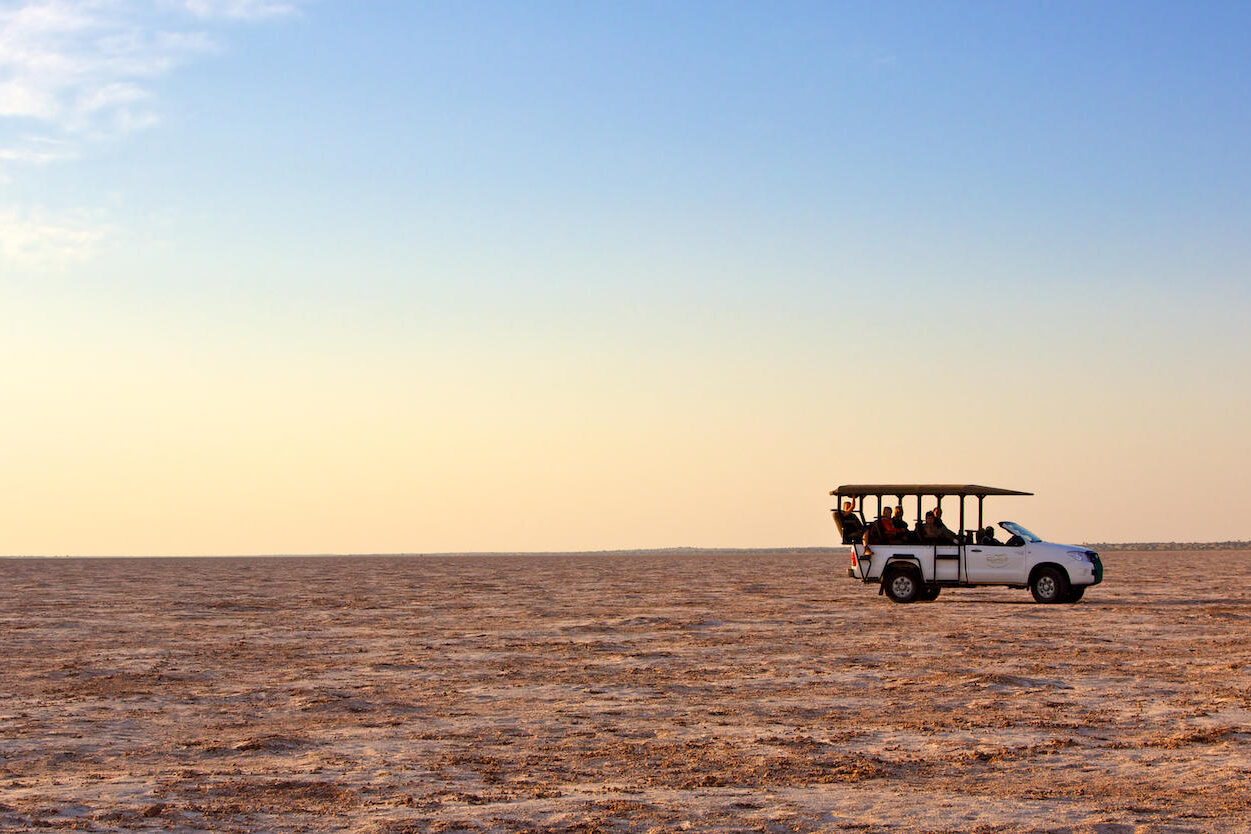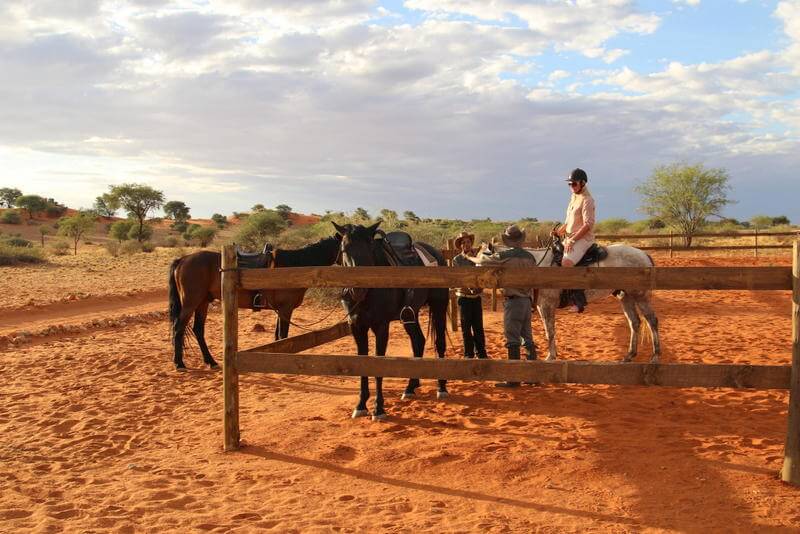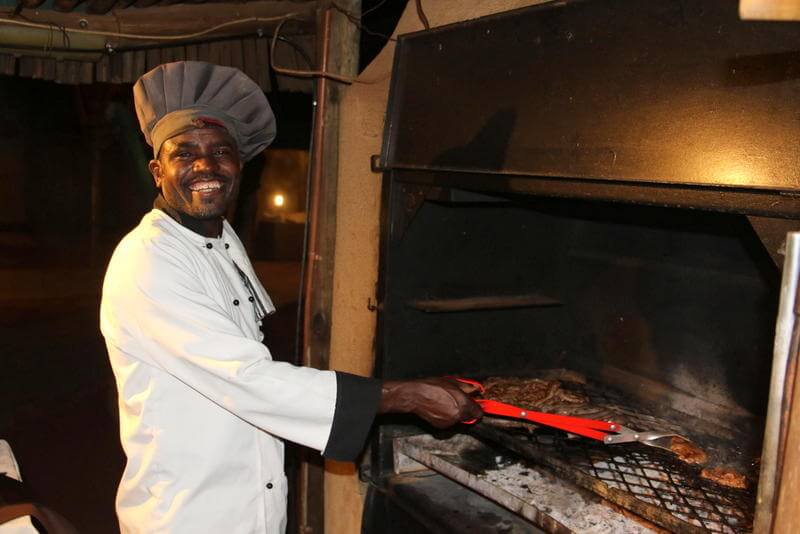 ---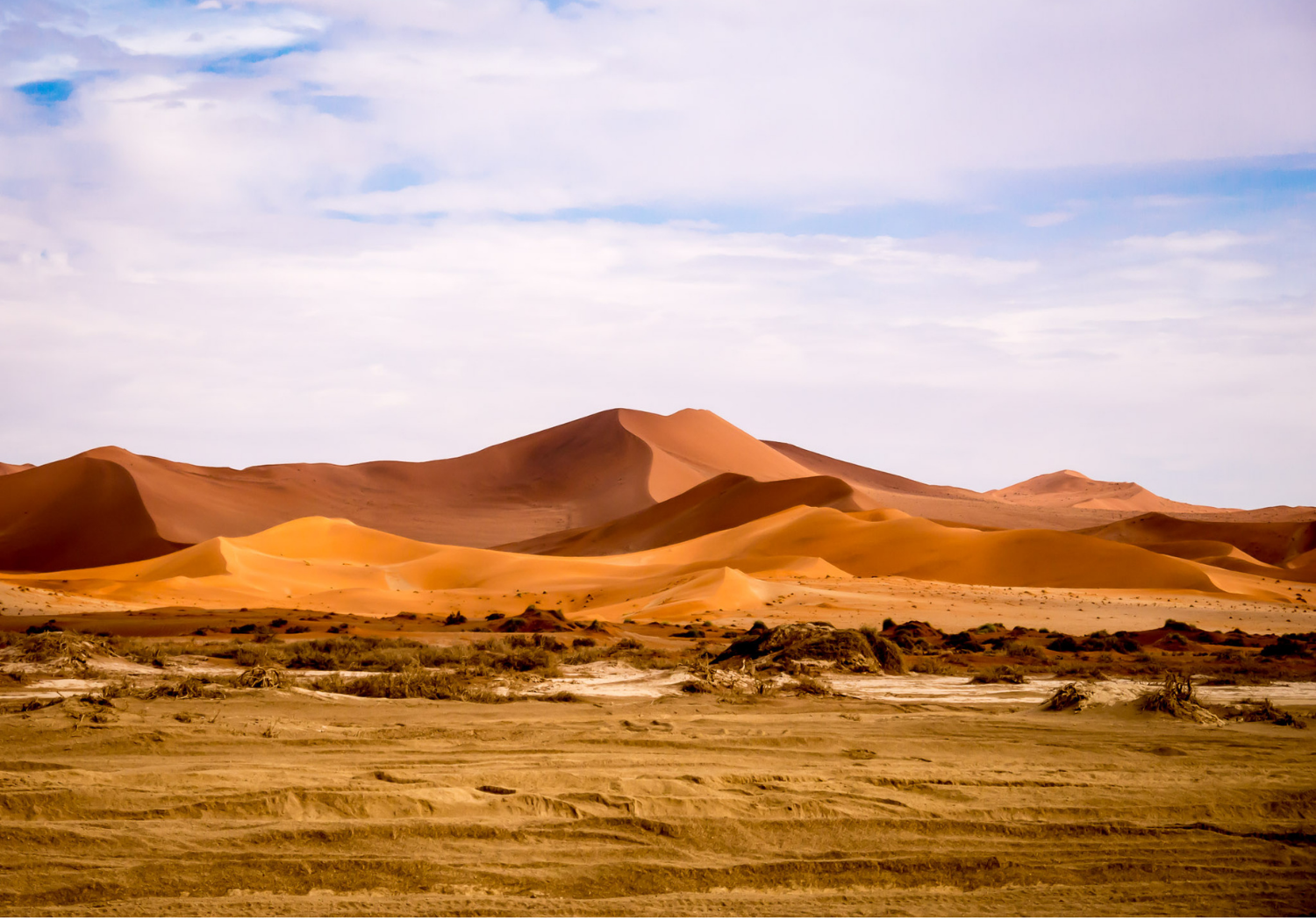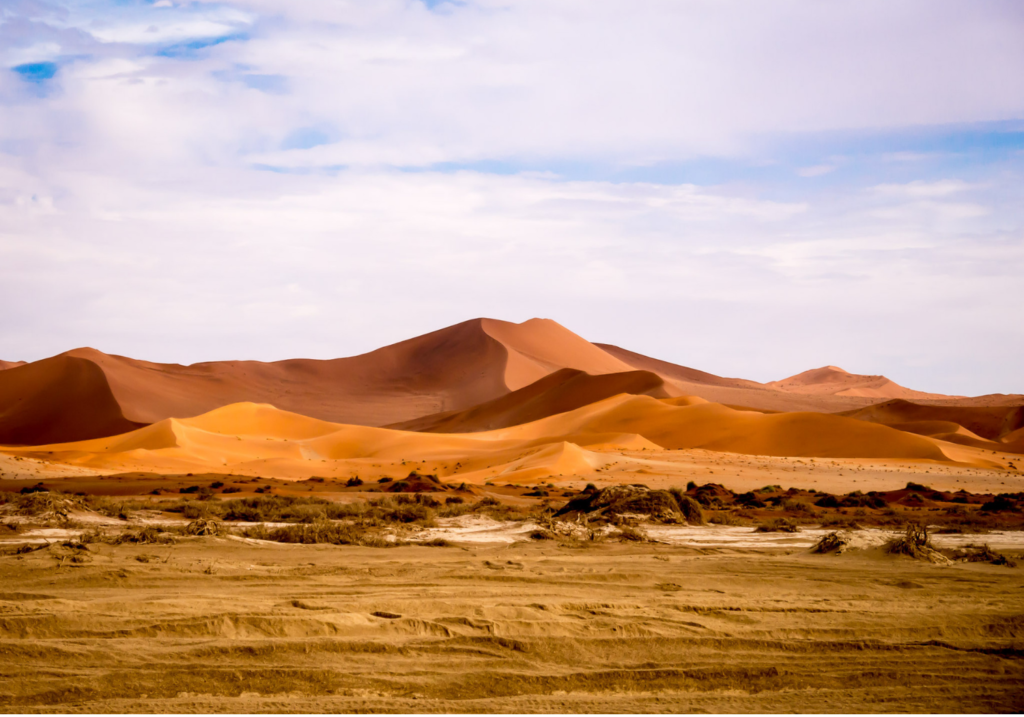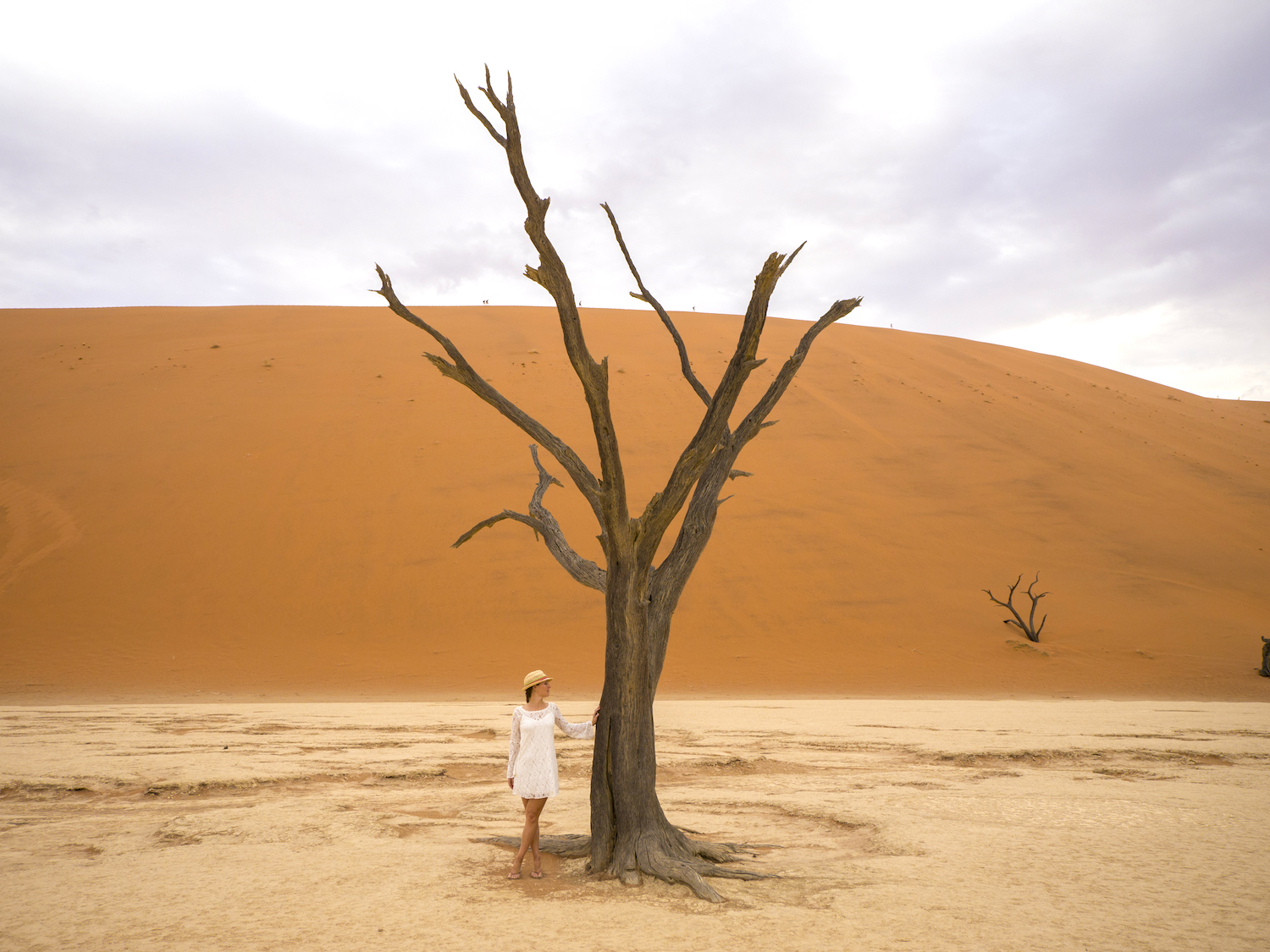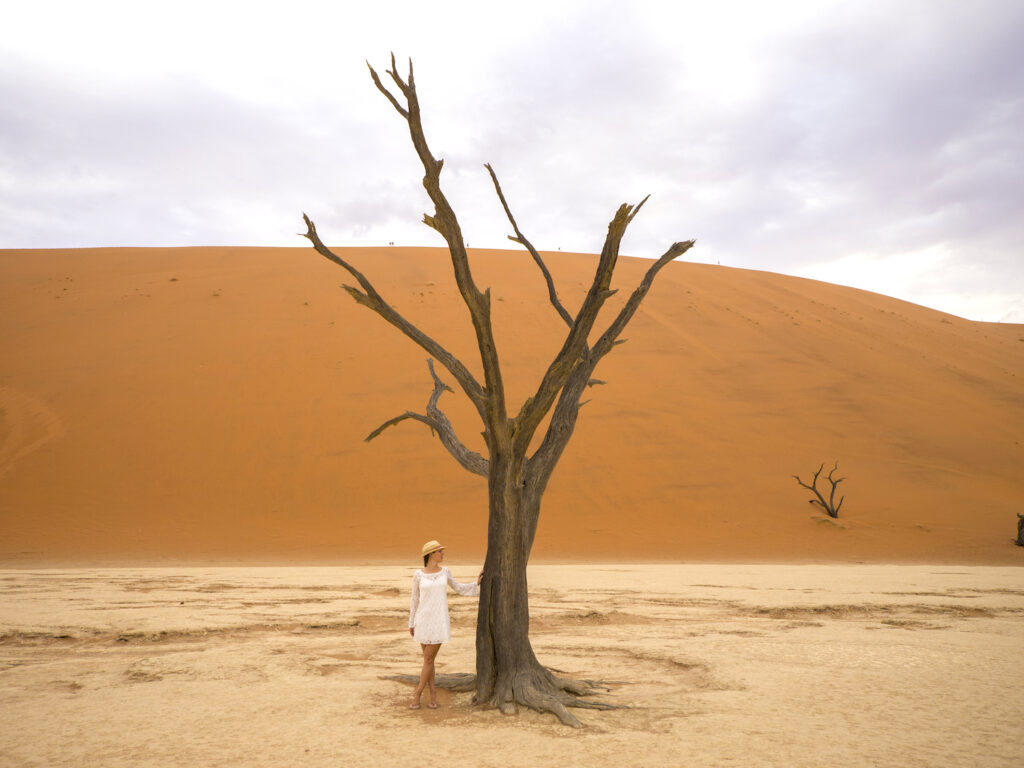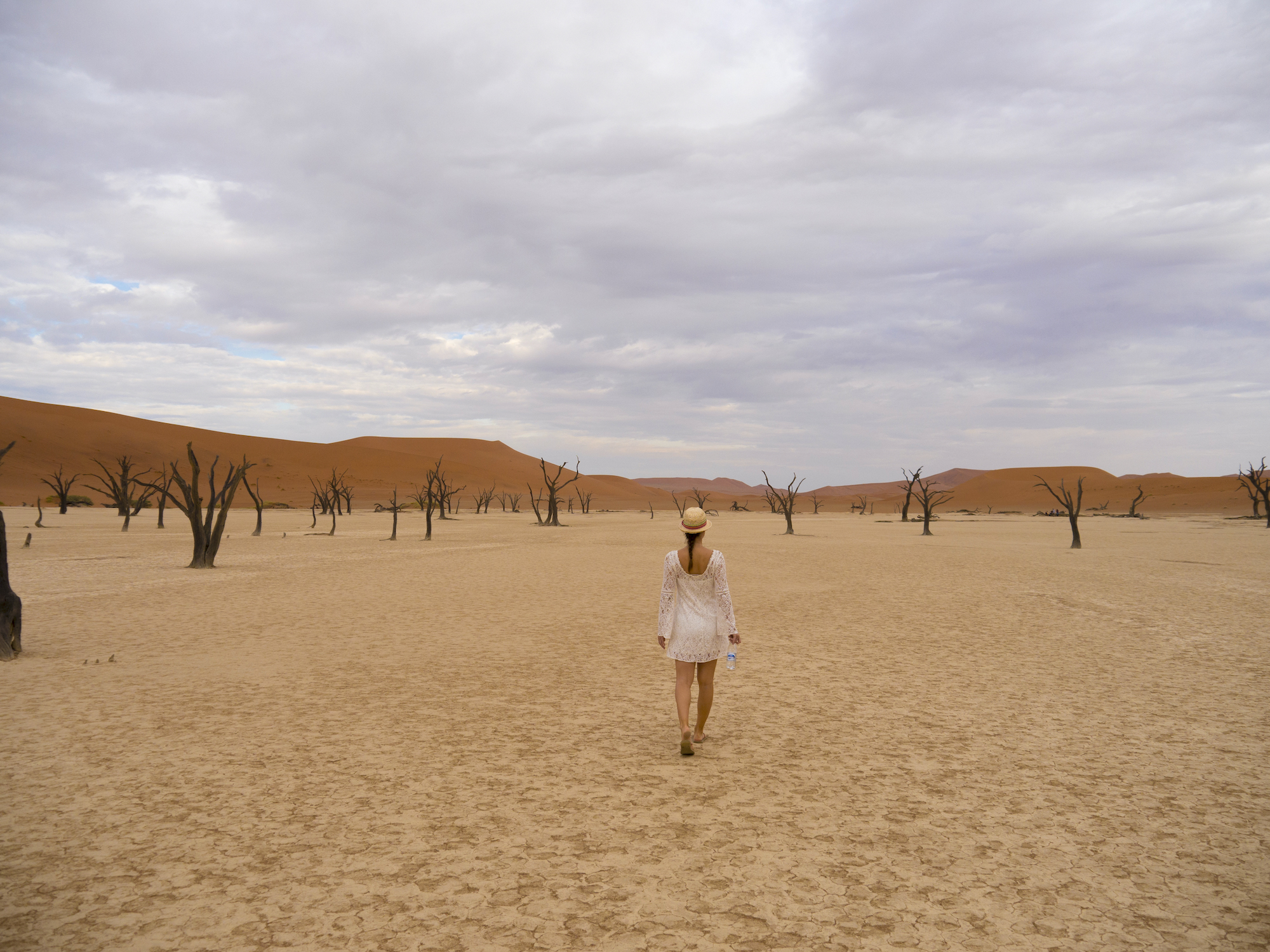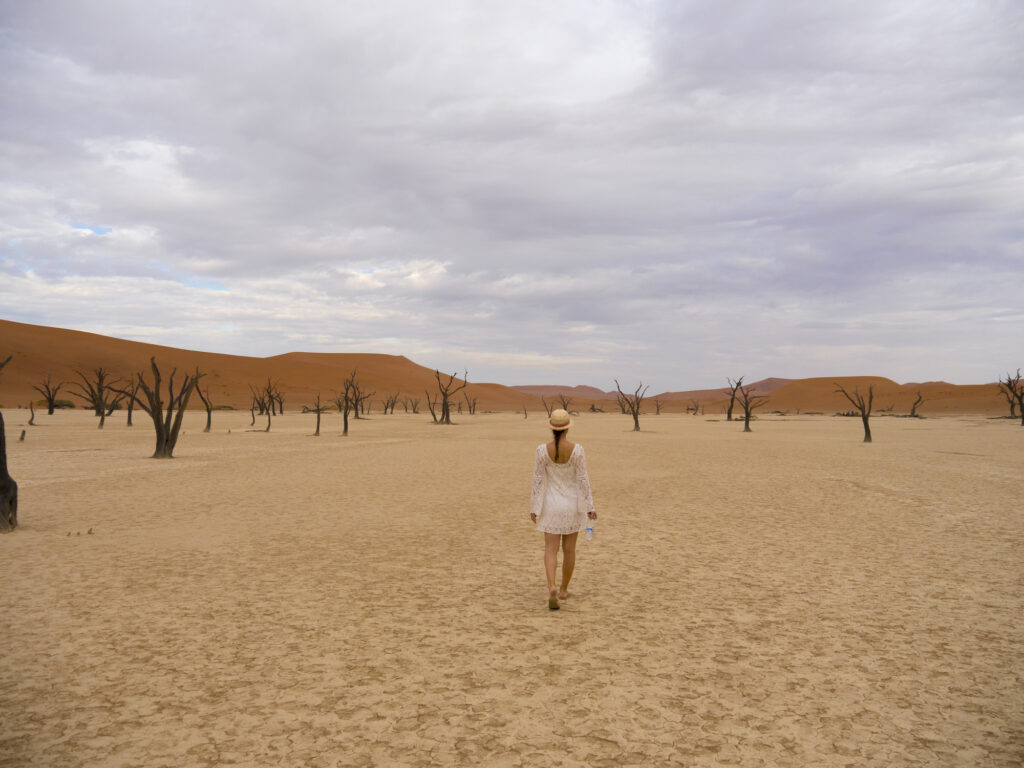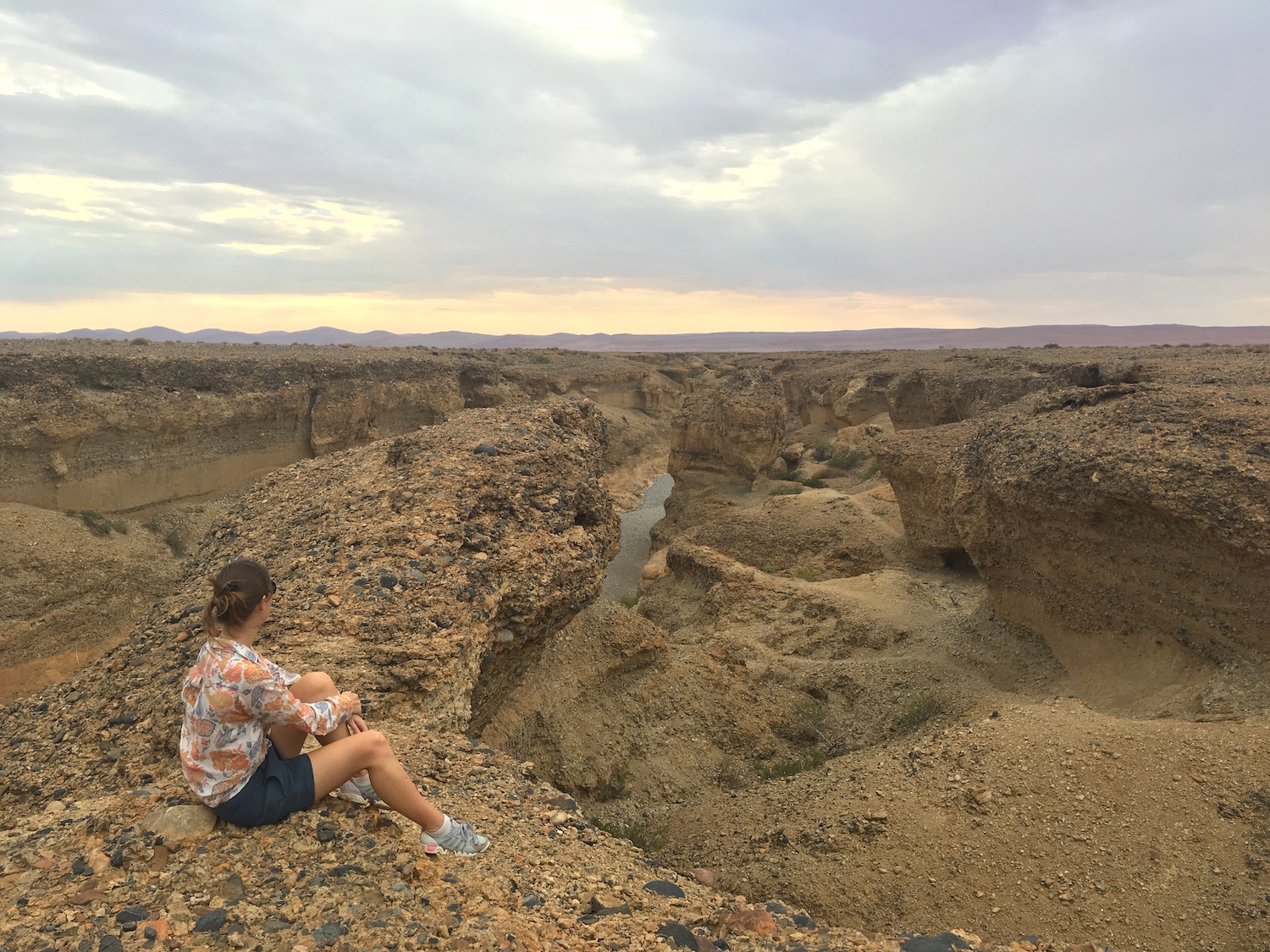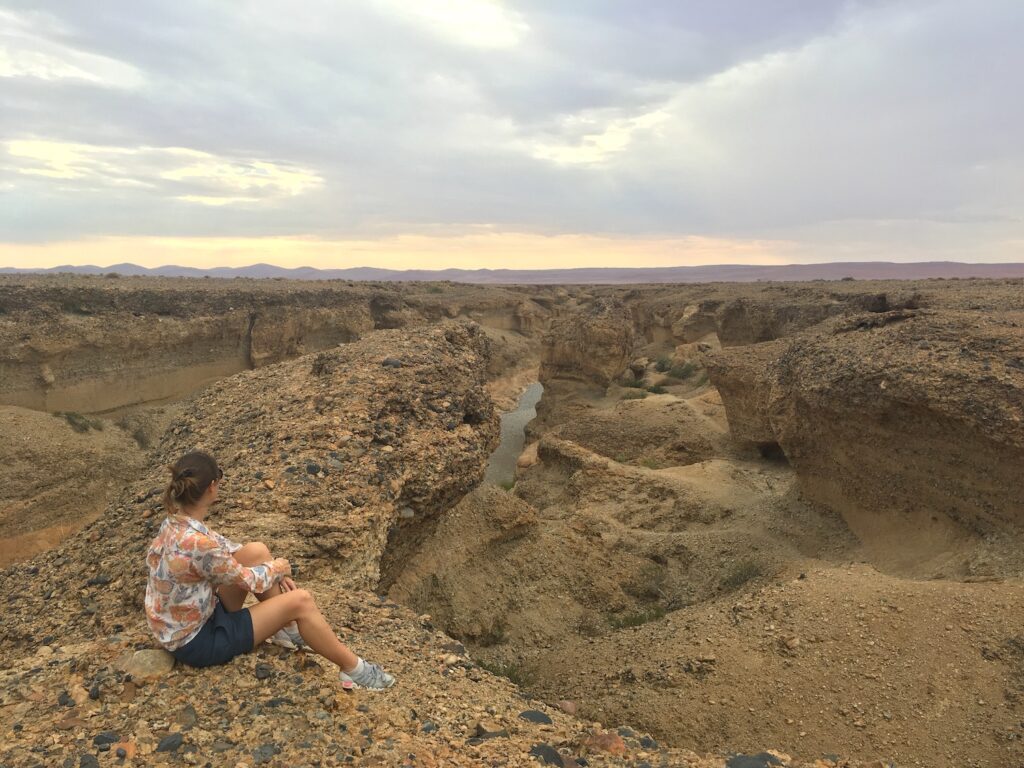 Days 3 – 4: Sossusvlei
Driving time: 3.5 hours
On Day 3 we will drive to Sossusvlei in the Namib Desert, which is part of the Namib-Naukluft National Park, the largest conservation area in Africa.
Our camp is in the park but before we settle for the night, we will enjoy an evening walk on Elim Dune and hopefully see the sunset. The excitement will start to build as you get ready for the next morning; the sand dunes at Sossusvlei will leave you speechless.
On Day 4, we will wake up very early to drive all the way to Dune 45, the most famous at Sossusvlei, and see the sunrise from the top of the sand dune.
Leave your footsteps on the sand as you make your way up this incredibly high dune only for them to be erased by the wind of the desert overnight. The landscapes here change daily.
Sossusvlei is one of the most breathtaking landscapes you will see in your life. The rising sand dunes, the tallest of which tower at over 400m, surround a clay and salt pan that has little to offer to the vegetation that fights to survive.
The red sand dunes are perhaps the most famous landmark in Namibia and will intrigue and mesmerise you at the same time. The desert expands all the way to the Atlantic Ocean, some 60km away, in a sea of red sand dunes that can only be seen from the sky. The area rarely sees any rain and can go without any water for years.
After climbing up to the top and enjoying the first rays of sun, we will descend and explore Deadvlei (dead marsh) from up close.
The once green marsh dried out 600-700 years ago and the trees died with it. The skeleton of trees that are left have been scorched by the sun but can't decompose because it is too dry. The area makes for amazing photography.
In the afternoon, we will walk through Sesriem Canyon. The yellow canyon was formed by the river which used to flow in the area and measures about 4km long with walls as high as 10m.
Camping at Sesriem Camp
We will spend 2 nights at Sesriem Camp located near the entrance to the park. The camp has sandy grounds and shady acacia trees.
We will enjoy dinners prepared by the cook and socialise by the pool. There is also a bar and restaurant on site.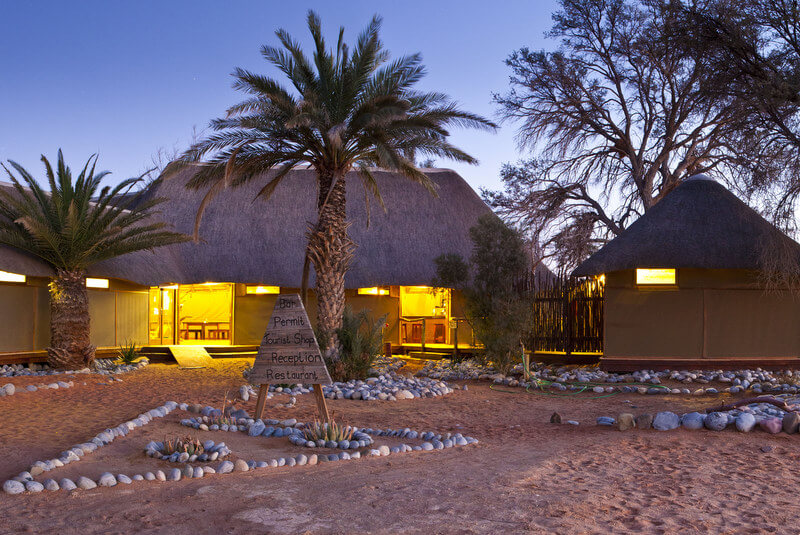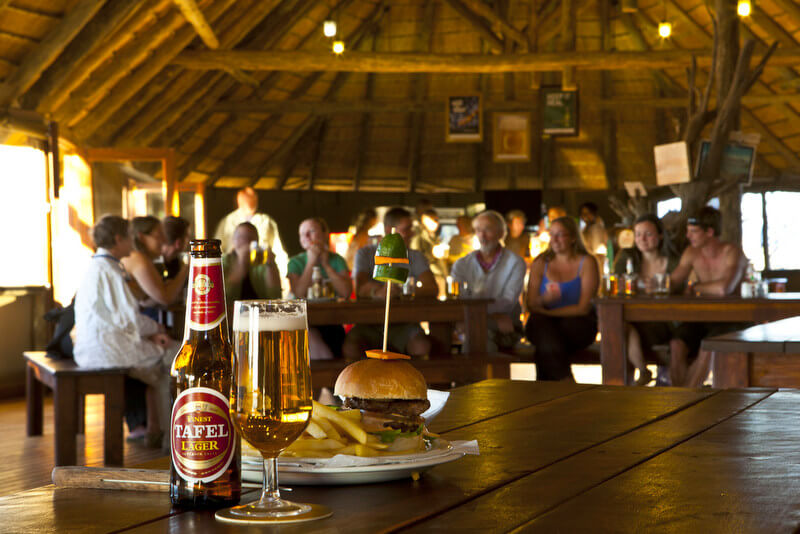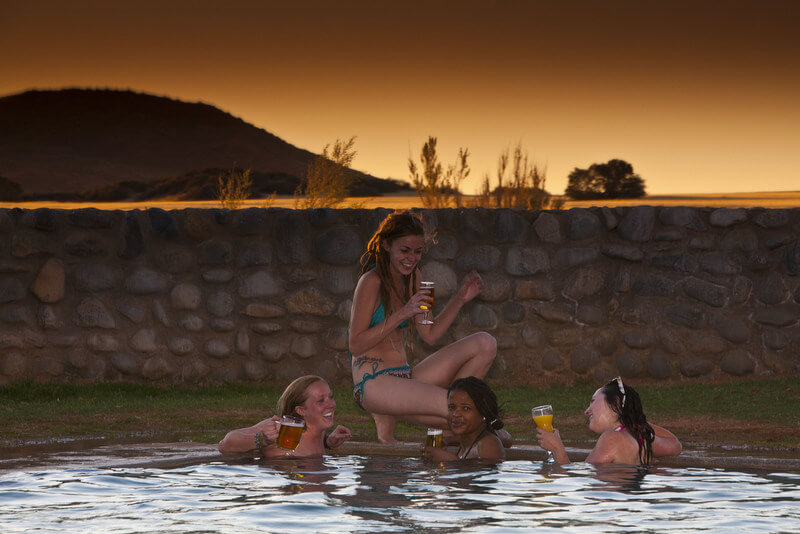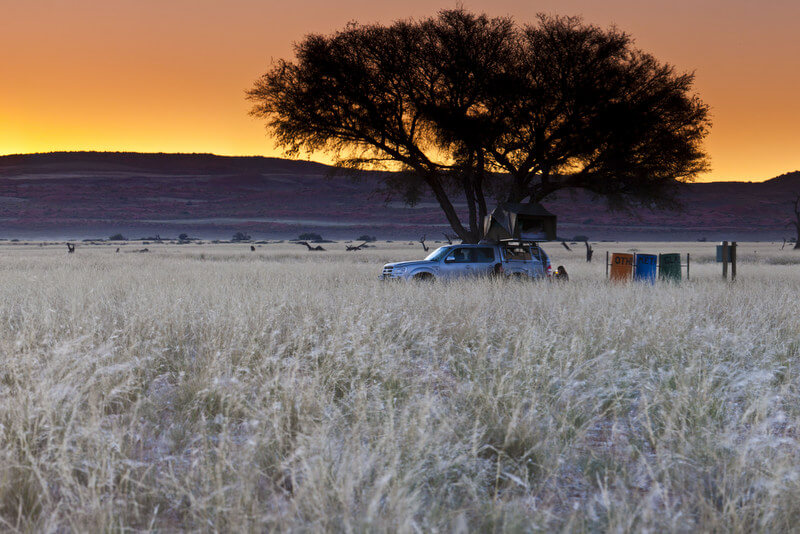 ---
Days 5 – 6: Swakopmund
Driving time: 5 hours.
On Day 5 we will travel to Swakopmund, the adventure capital of Namibia.
OPTIONAL: Before departing from Sossusvlei, you may book a hot air balloon ride over the Namib-Naukluft National Park which is a bucket list experience. End the flight with a champagne breakfast.
When we arrive in Swakopmund, you will have free time to signup for afternoon activities such as sand boarding, quad biking, or township tours.
As a proper town, Swakopmund has nice restaurants, so we will have the evening free to enjoy a meal in town at your own leisure. You can also join Helen.
Day 6 is a free day for activities. You will be able to tailor your trip to your level of adventure and go sky diving, on a sandwich harbour tour, on a living desert tour, etc. Anything is possible in Swakopmund but we have left the day free so you choose your own adventure.
The evening will again be free but there is always the option to join Helen in a restaurant in town (at your own expense).
The Delight Hotel
This swanky, modern and colorful hotel will be our base. After a few days of camping, you will appreciate 2 nights at The Delight Hotel in Swakopmund where we will sleep in ensuite and sand-free rooms.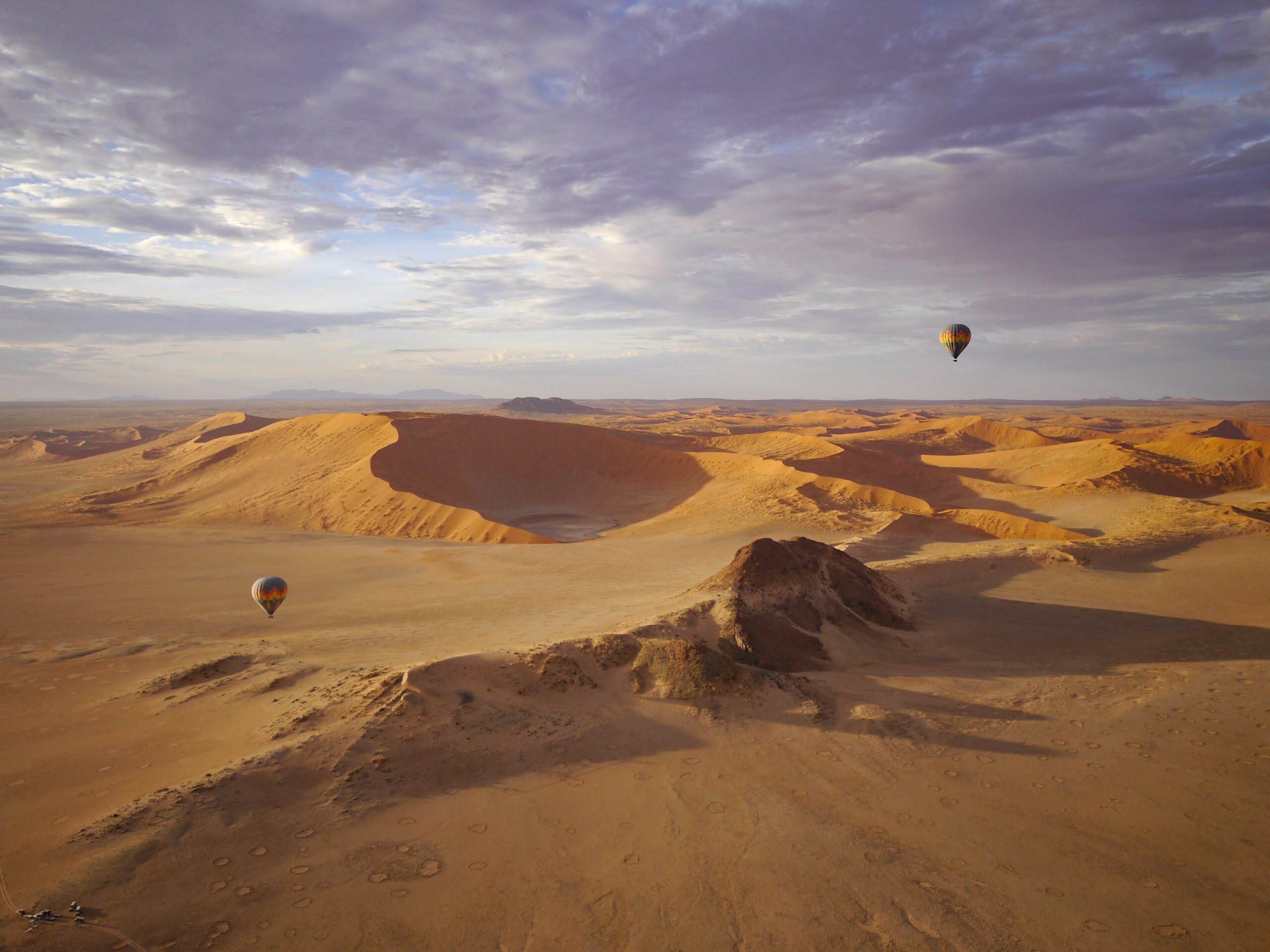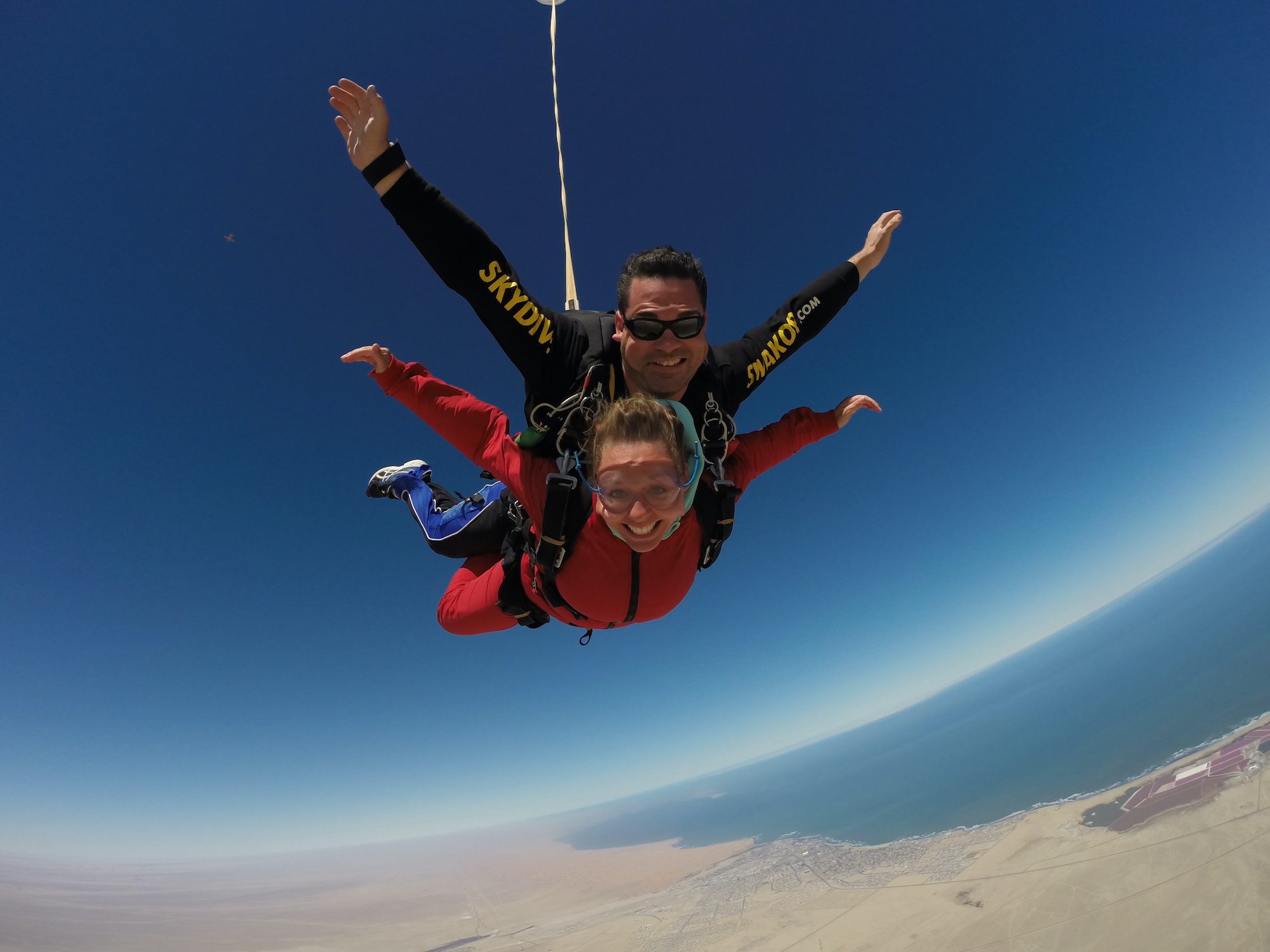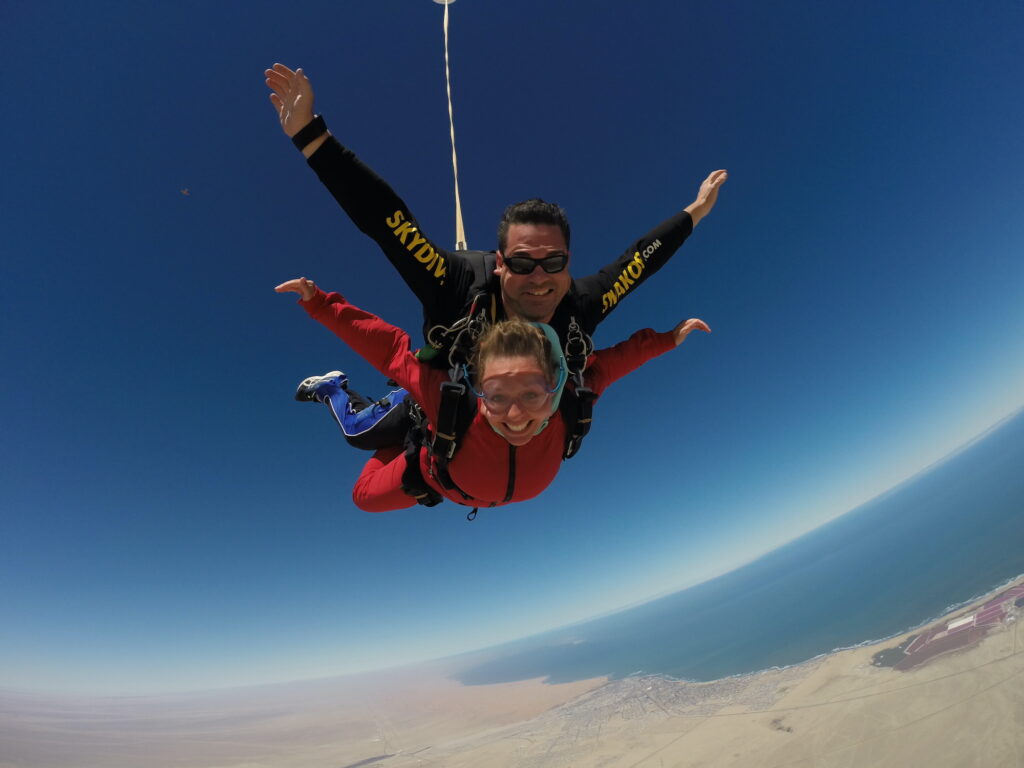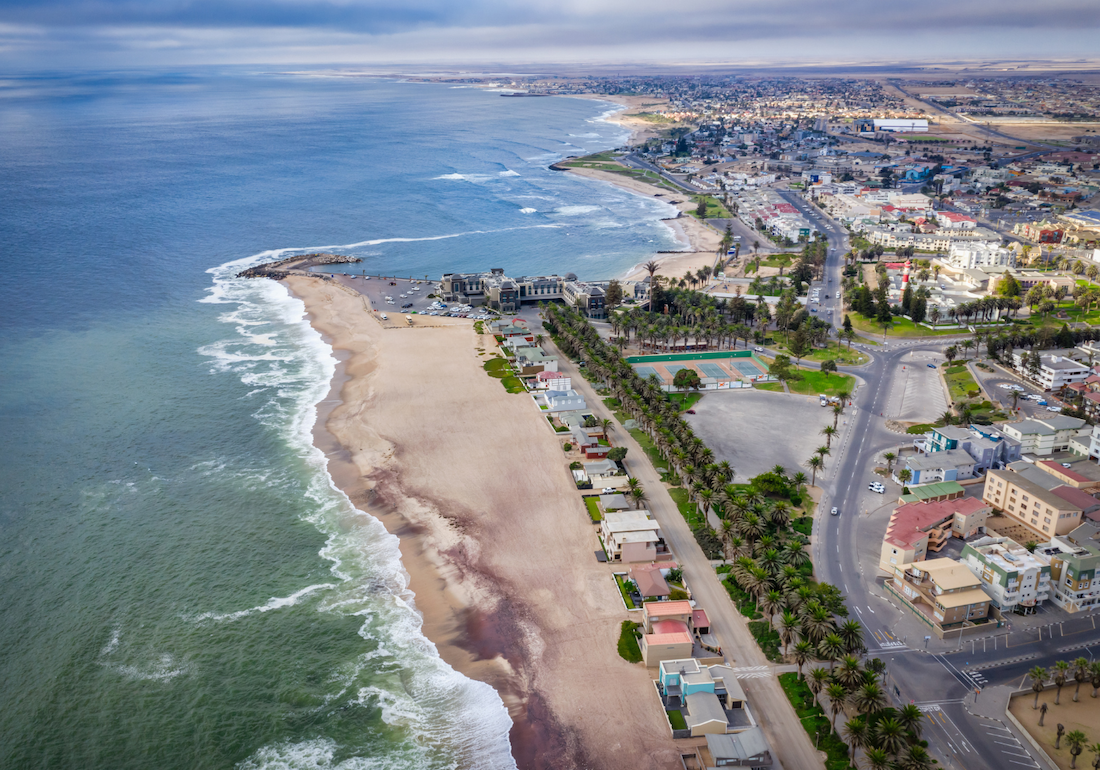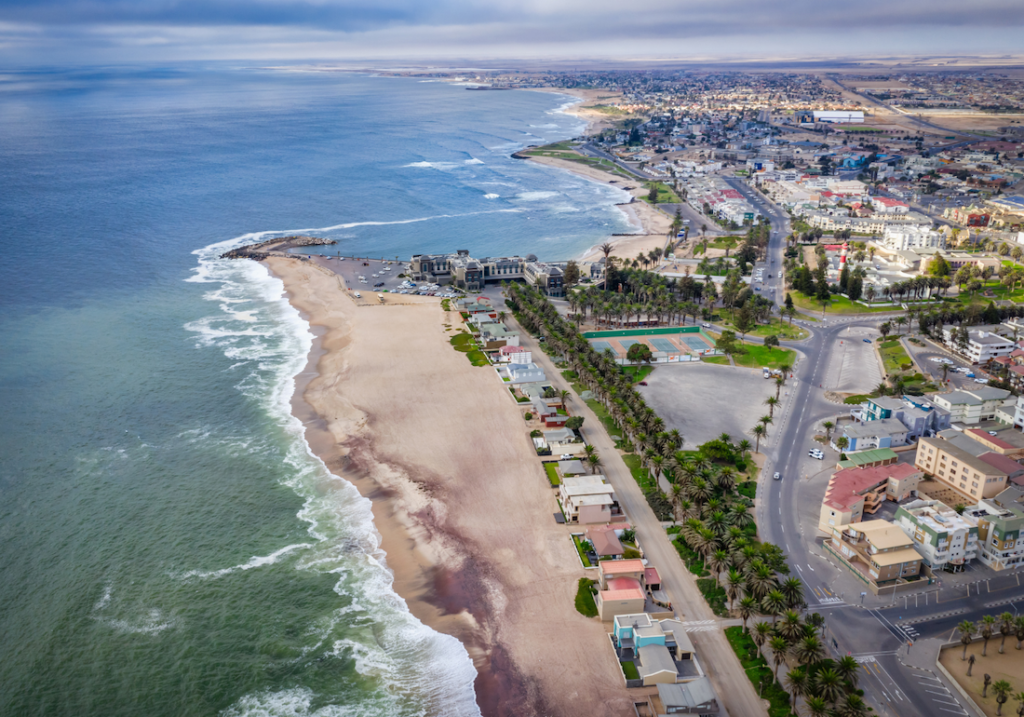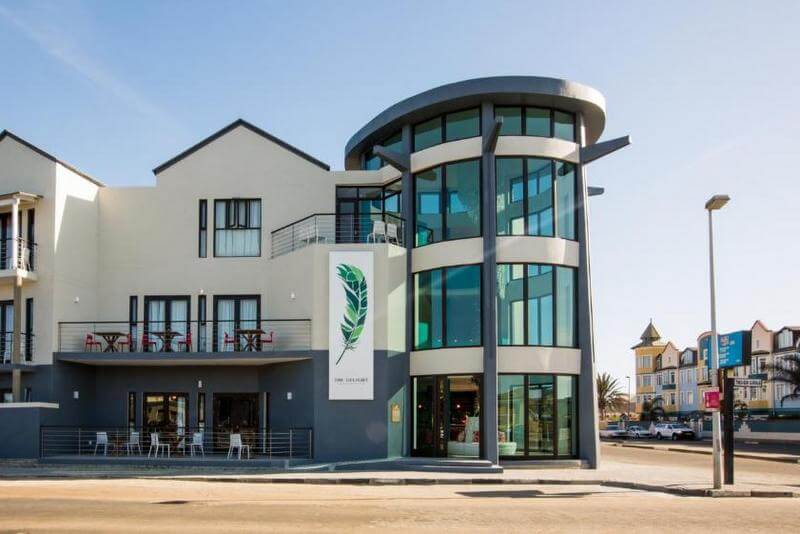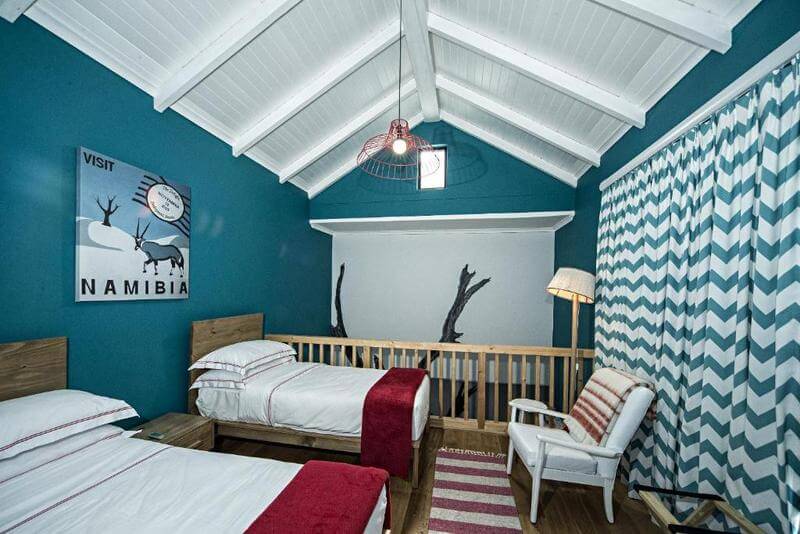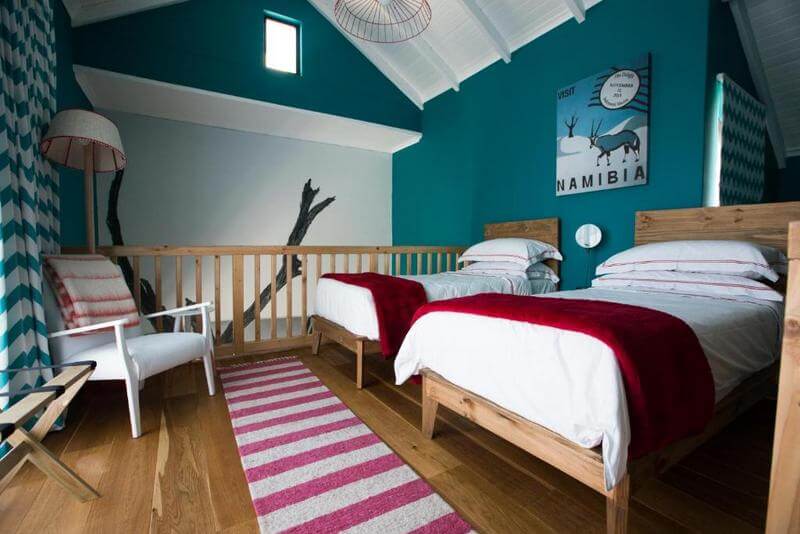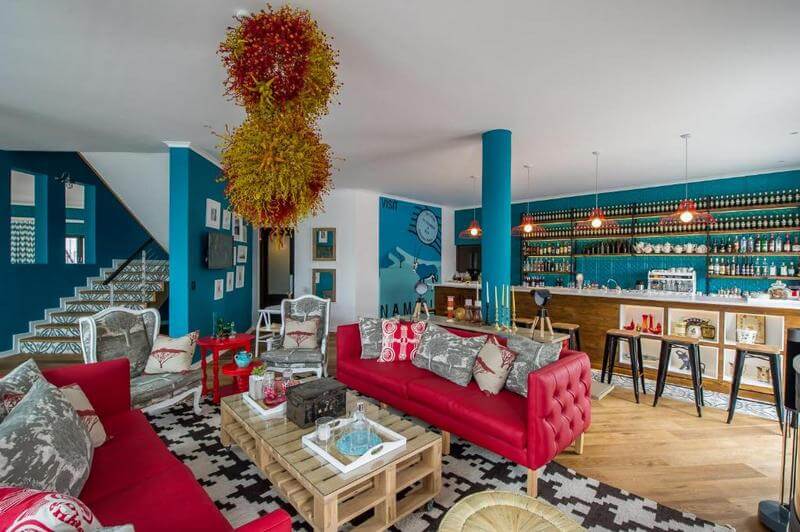 ---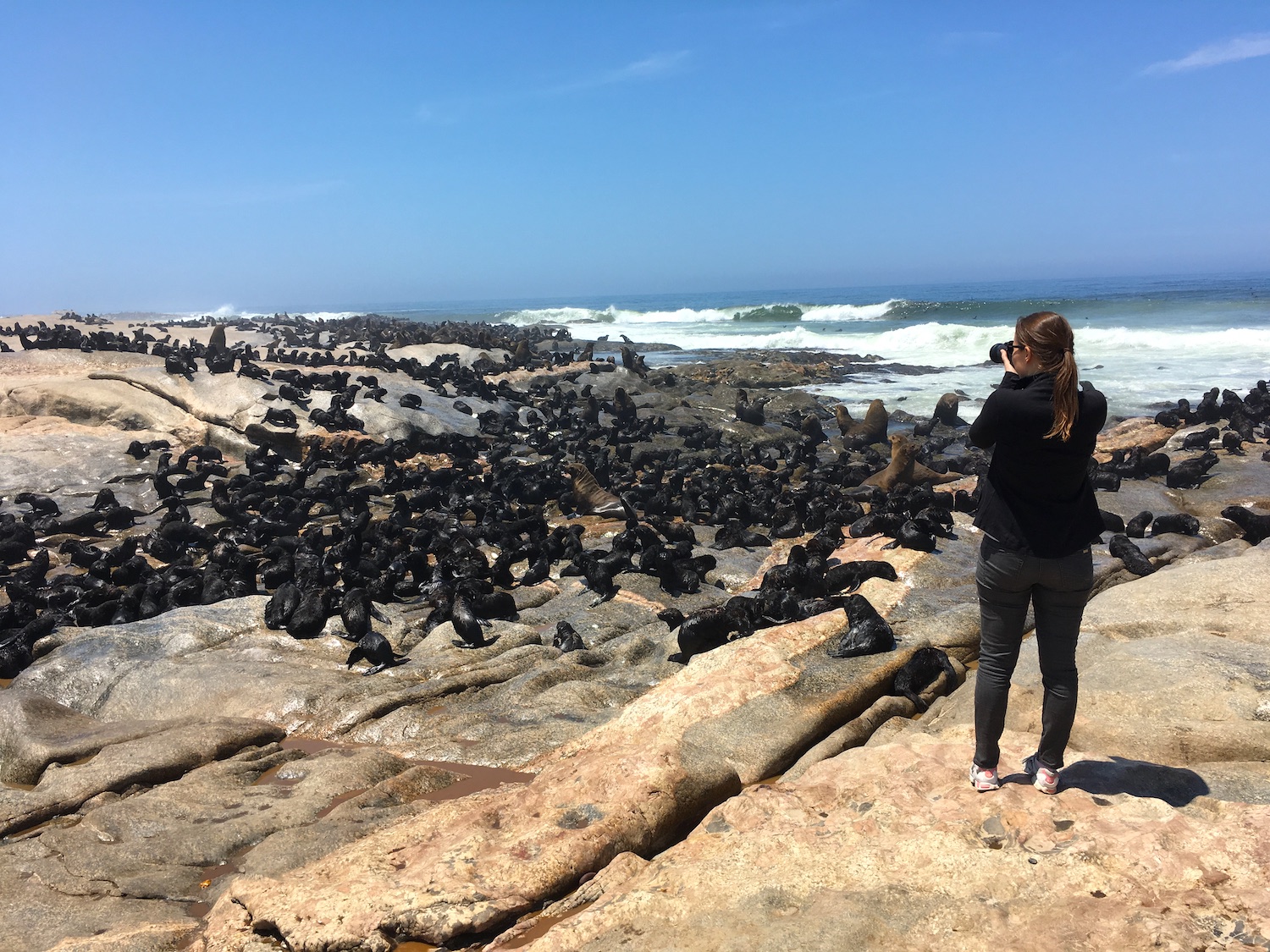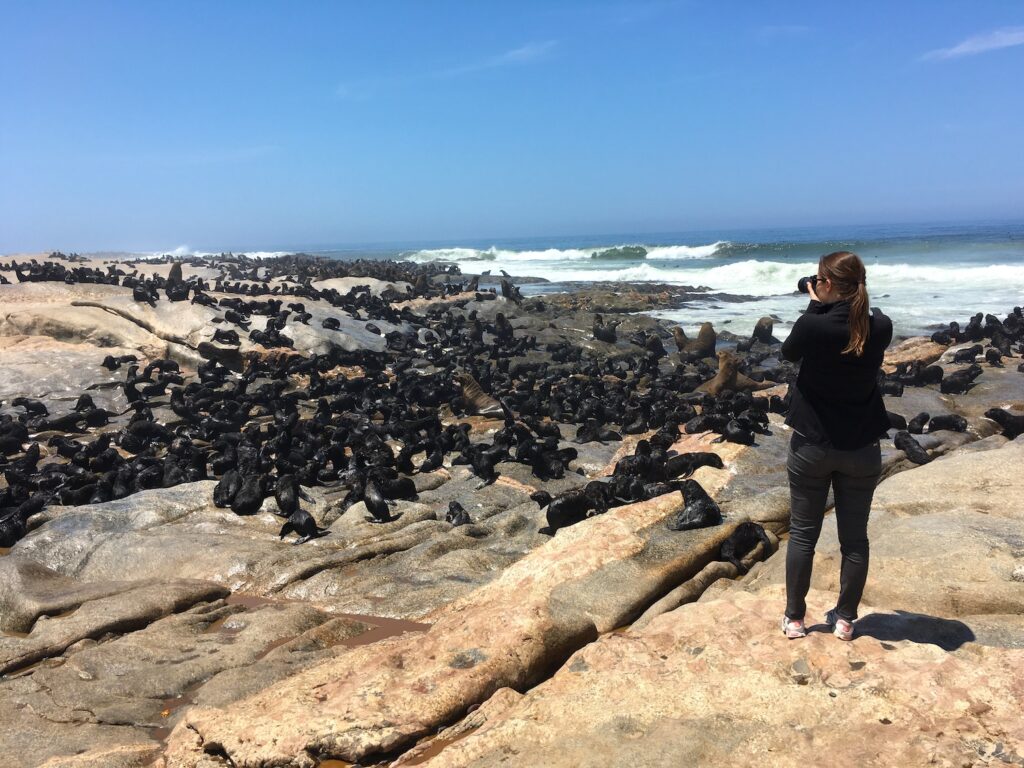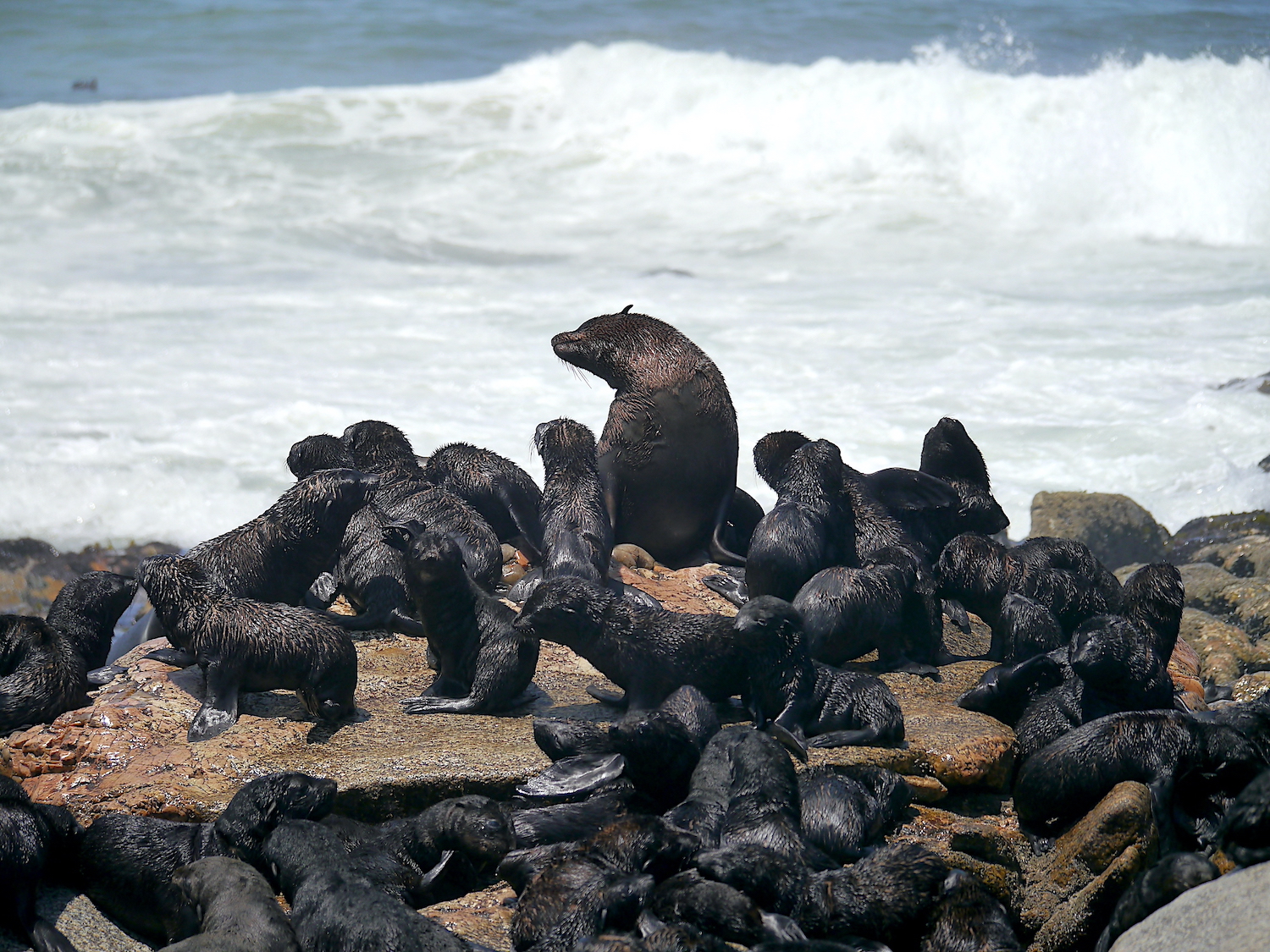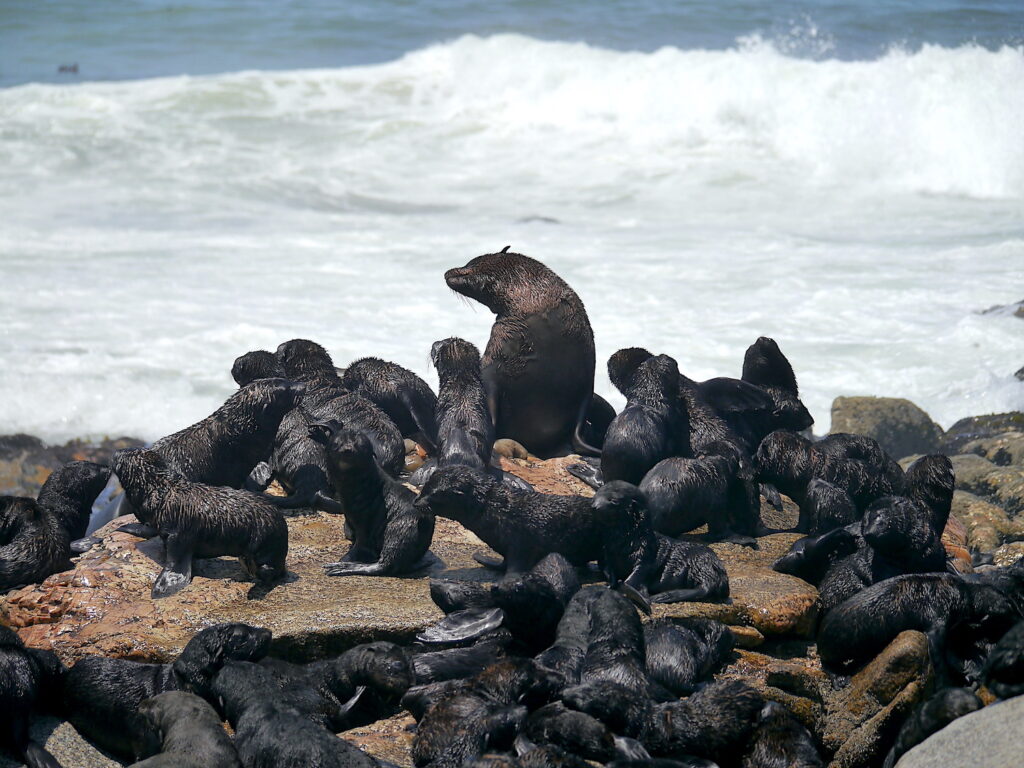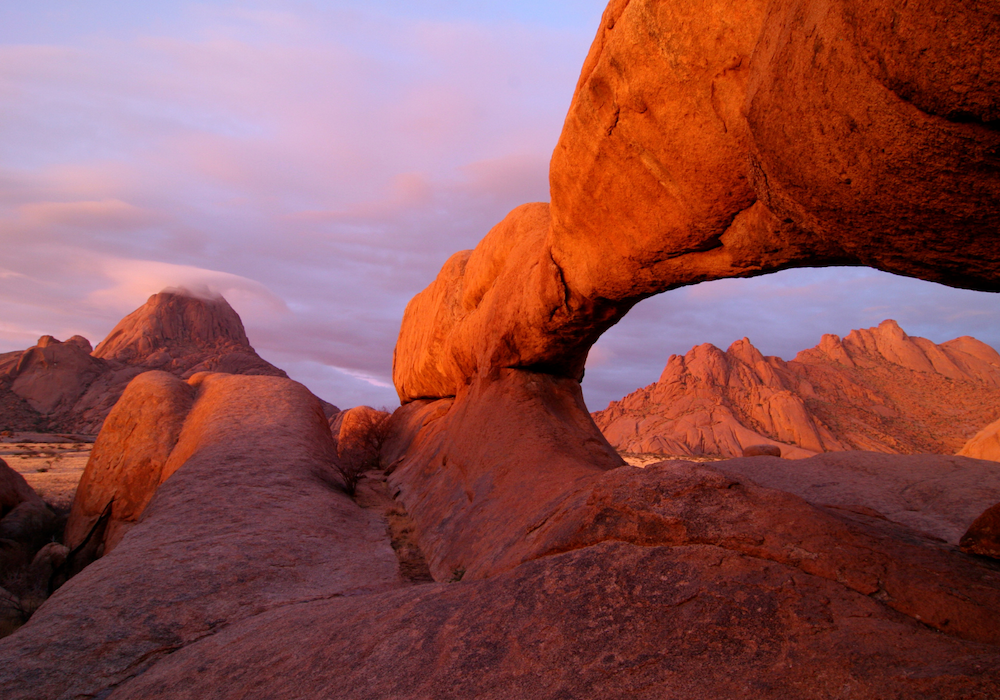 Day 7: Spitzkoppe via Cape Cross Seal Colony & Shipwreck
Driving time: 1.5 hours
Today we will travel to Spitzkoppe via the famous Skeleton Coast, visiting the Cape Cross Seal Colony & the many shipwrecks stranded on the beach.
The Cape Cross seal colonies are large concentrations (up to 30,000) of seals who live in the area permanently, and seeing so many of them together and from so close is incredible. You will see seals of all ages from tiny pups to adults.
While the small ones are cute, adult seals are skillful. They go out to sea to fish and find food for the pups, swimming and jumping over the crashing waves, then bringing it back, quite a sight to behold. But brace yourself for the smell, so many seals packed together under the sun makes for an interesting aroma!
The Skeleton Coast gets its name from the many sunken and stranded shipwrecks and whale carcasses who found their end as a result of the Benguela current and the massive waves.
The force of the sea is like nothing you've seen and will make it clear how as many as 500 ships ended up on the shore.
In the afternoon, we will continue to Spitzkoppe, a unique area filled with bald granite stones the highest of which is over 1,700m above sea level.
Spitzkoppe rock formations and peaks make for amazing photographs and we will have some free time in the area to explore and pose for fun shots.
Camping at Spitzkoppe Camp
After taking as many photos as you can pose for, we will be heading to the overnight camp to enjoy a dinner prepared by our cook. We will stay in static tents with proper beds for the night (no camping).
The camp has electricity, flush toilets and hot water showers. Like with all other remote camps we will be staying at, the nights will be starry and will make it hard to go to sleep.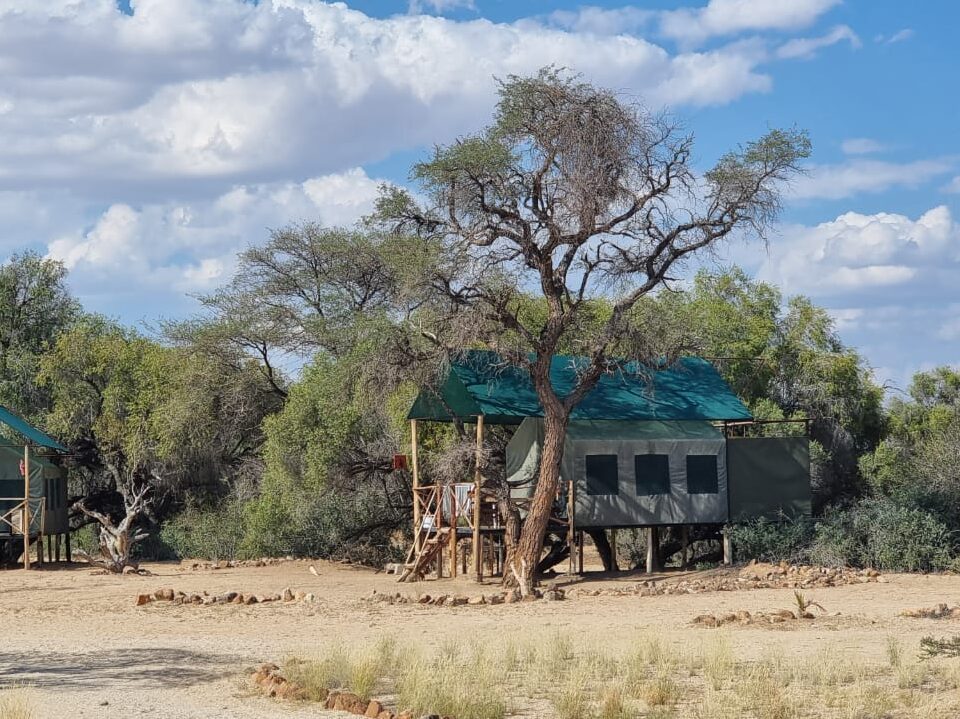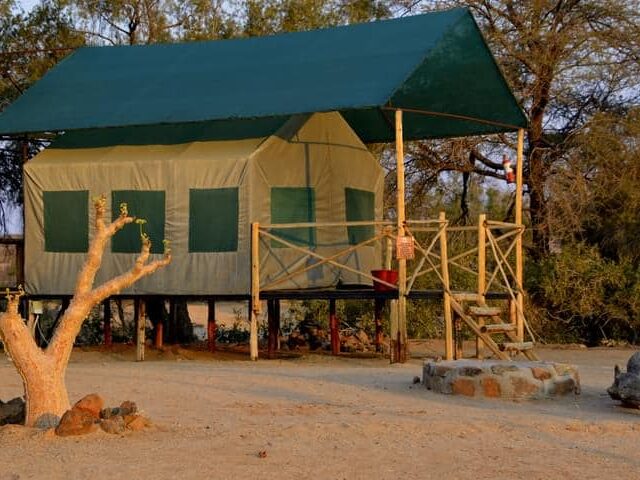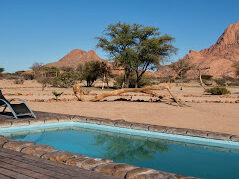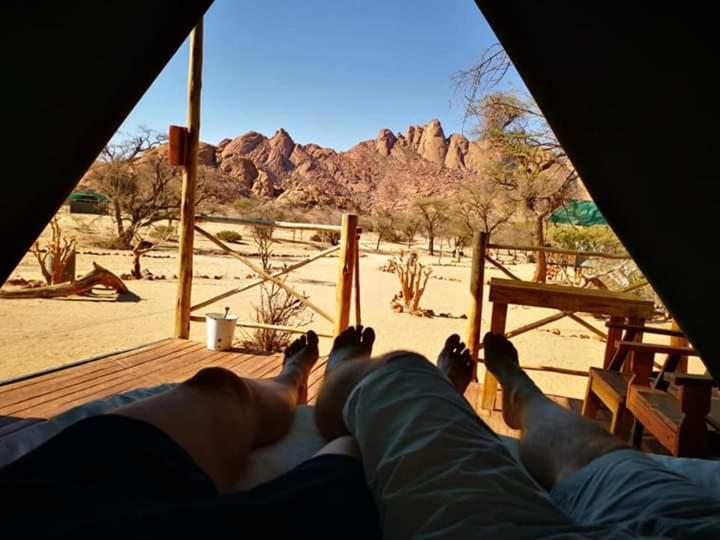 ---
Days 8 – 9: Damaraland & Desert elephant tracking
Driving time: 2.5 hours
After breakfast, we will be driving to Damaraland, and, on our way, visit the Twyfelfontein Rock Paintings, and the Damara Living Museum.
The Twyfelfontein Rock Paintings are one of the largest concentrations of rock petroglyphs in Africa. As a spiritual site where local tribes conducted Shamanistic rituals, the area is dotted with rock engravings depicting animals and hunting scenes that were declared the country's first UNESCO site.
After the rock paintings we will head to the Damara Living Museum, a cultural experience where you can learn more about the Damara bushmen and their traditions through live demonstrations.
On Day 9 we will spend the day on safari tracking desert-adapted elephants. These incredible creatures have perfectly evolved to the dry and arid terrain and even changed their appearance, most incredibly, they can survive without water for several days.
Camping at Madisa Camp
We will spend 2 nights at the cool Madisa Camp, located in the Damaraland area among boulders and rock paintings. Wildlife occasionally wanders into the camp so keep your eyes peeled!
Our accommodation will be in static tents with proper beds and ensuite bathrooms. The camp has a pool that is welcome at the end of a desert day and is located against a rock wall for protection. Sunsets are amazing.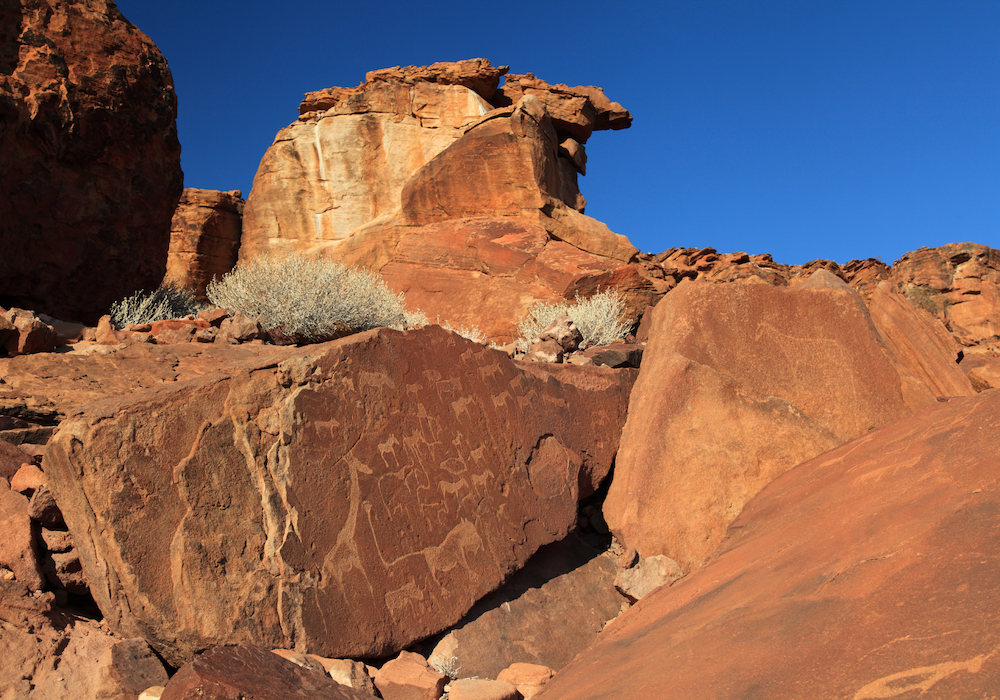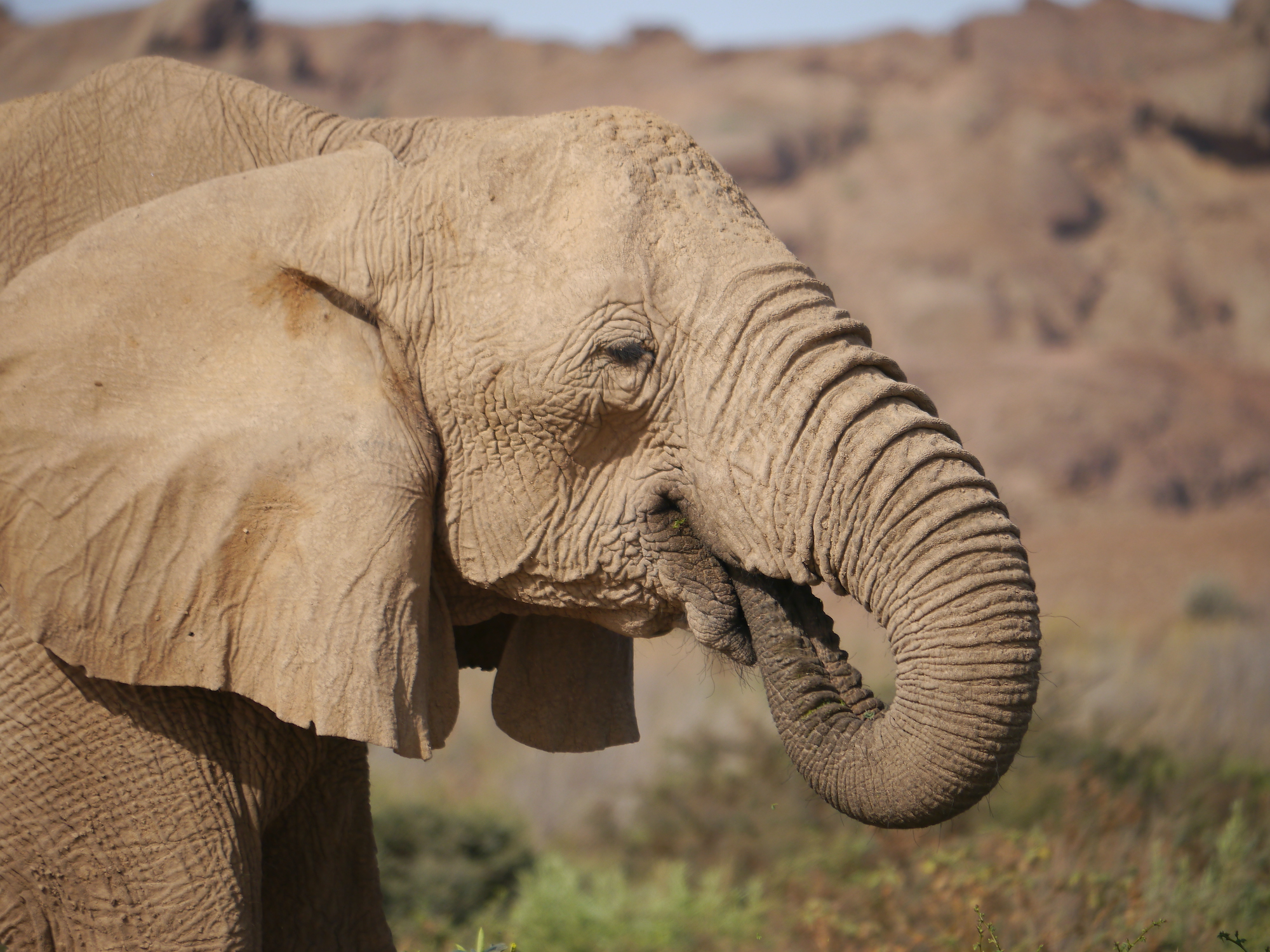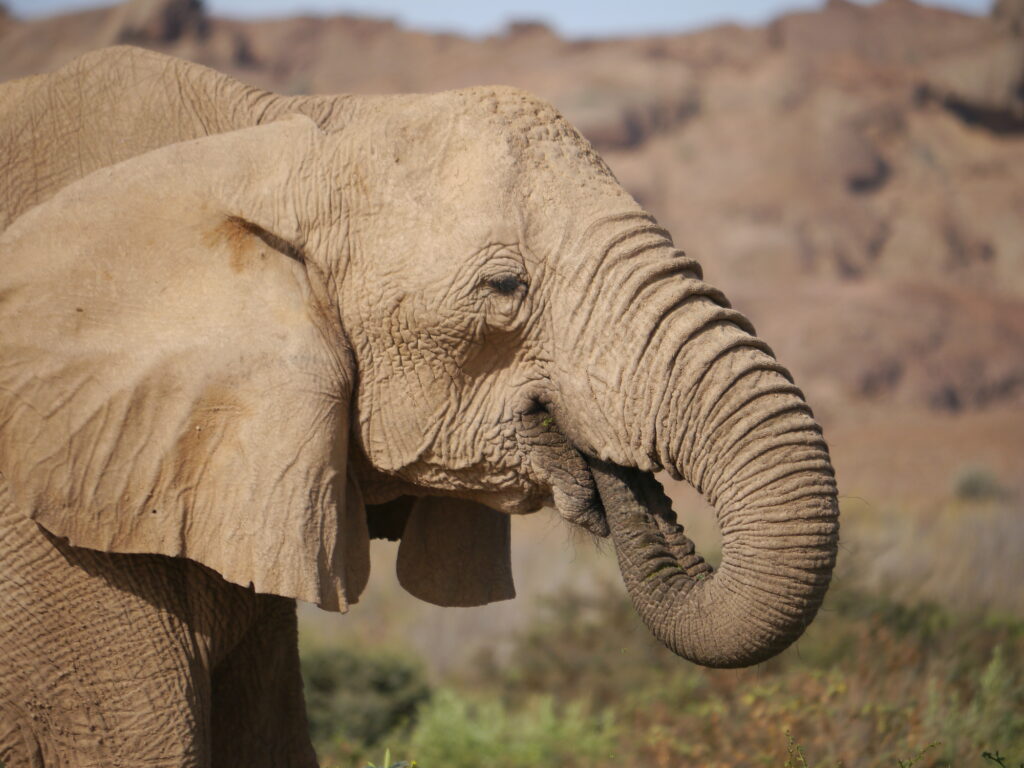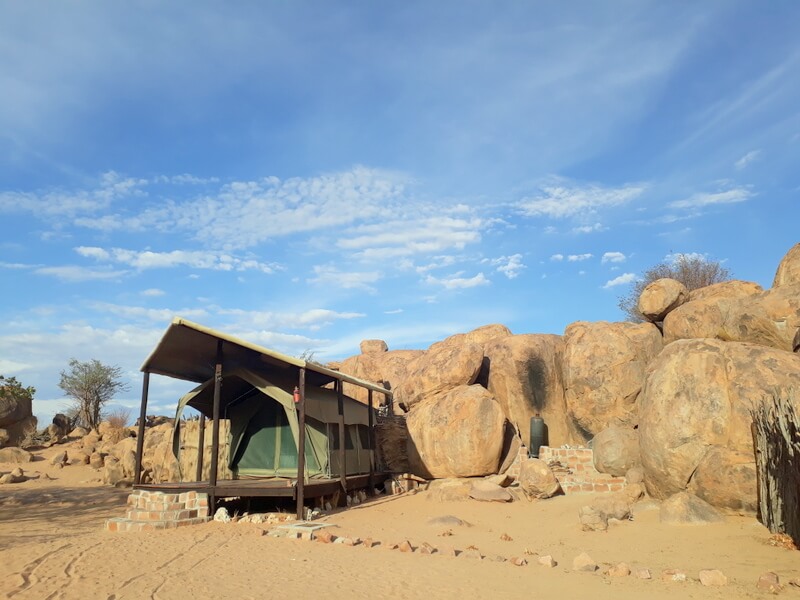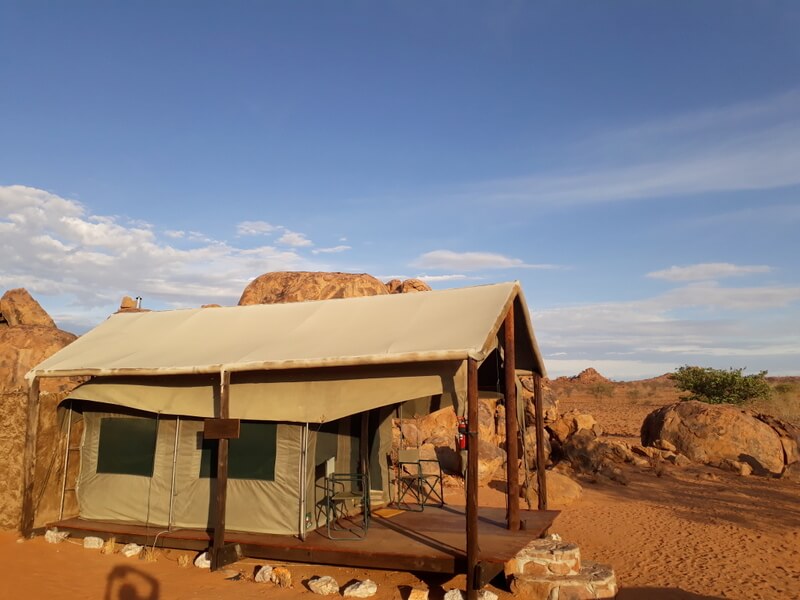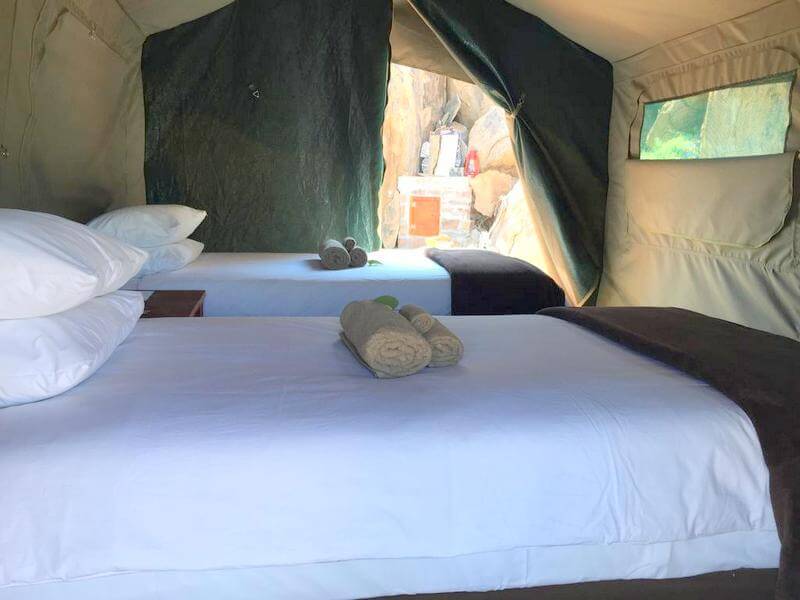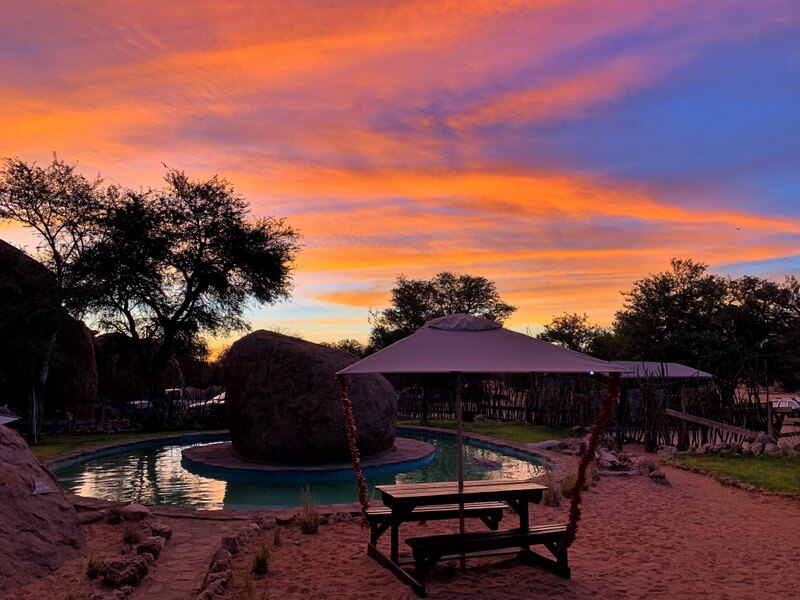 ---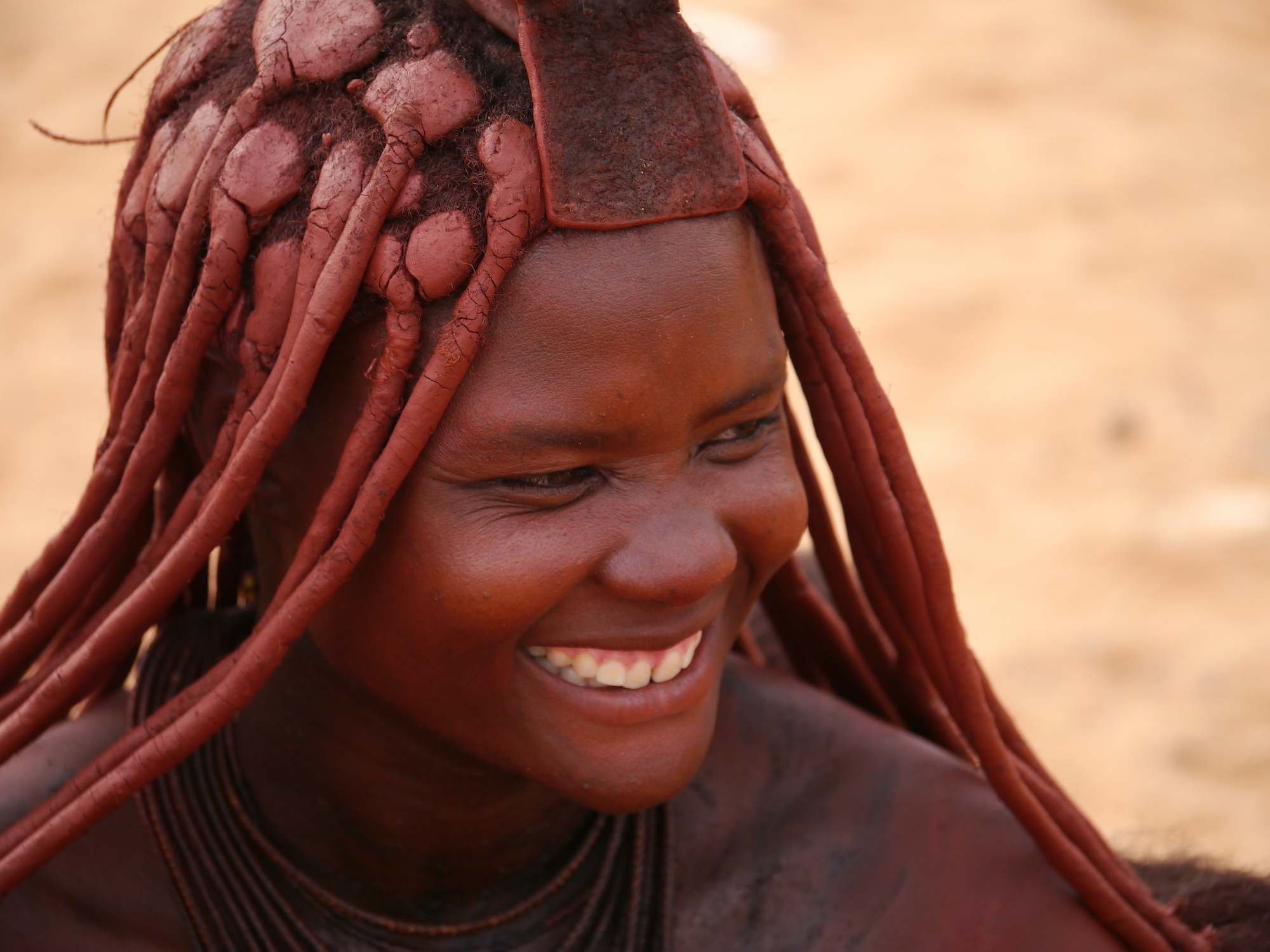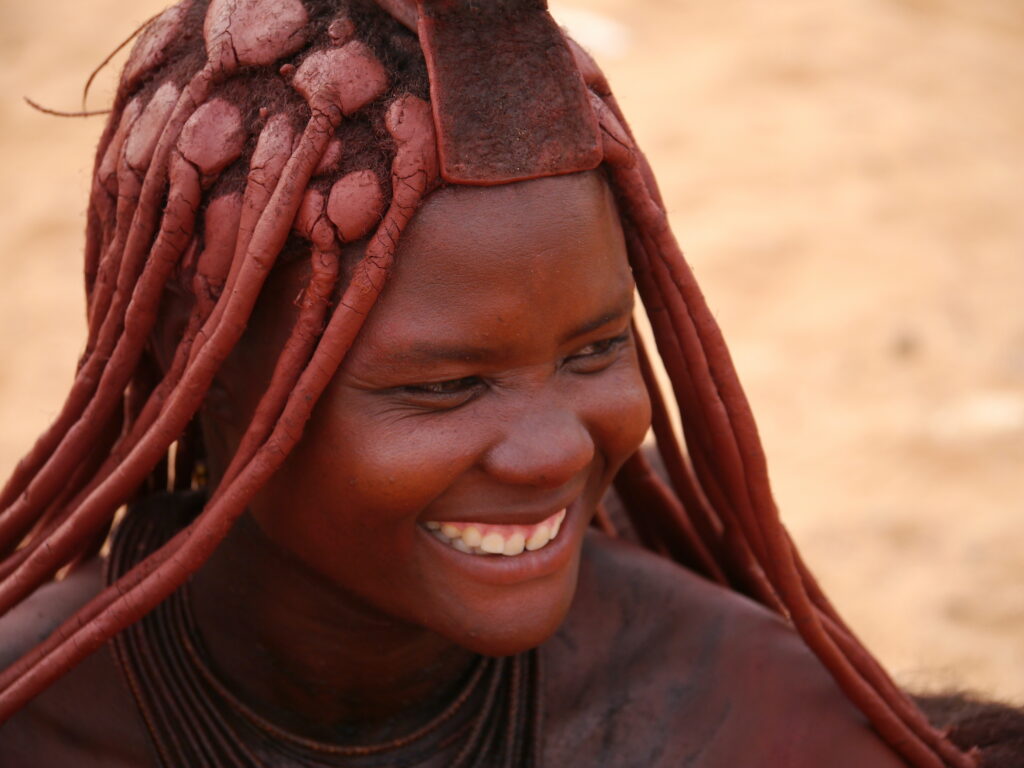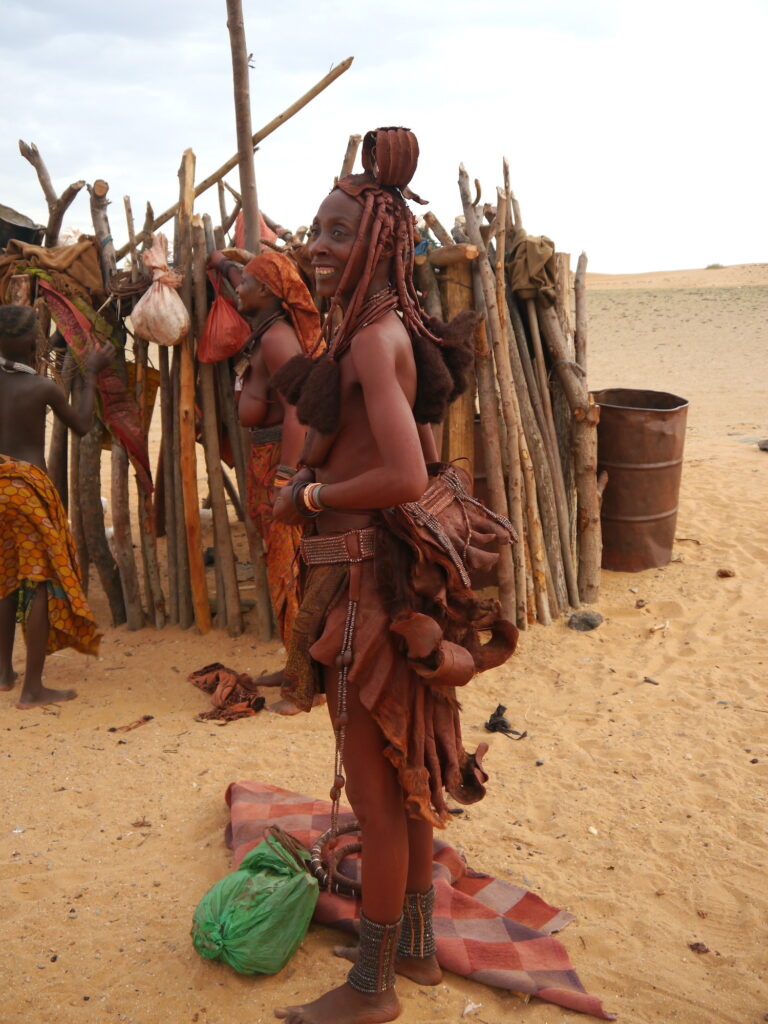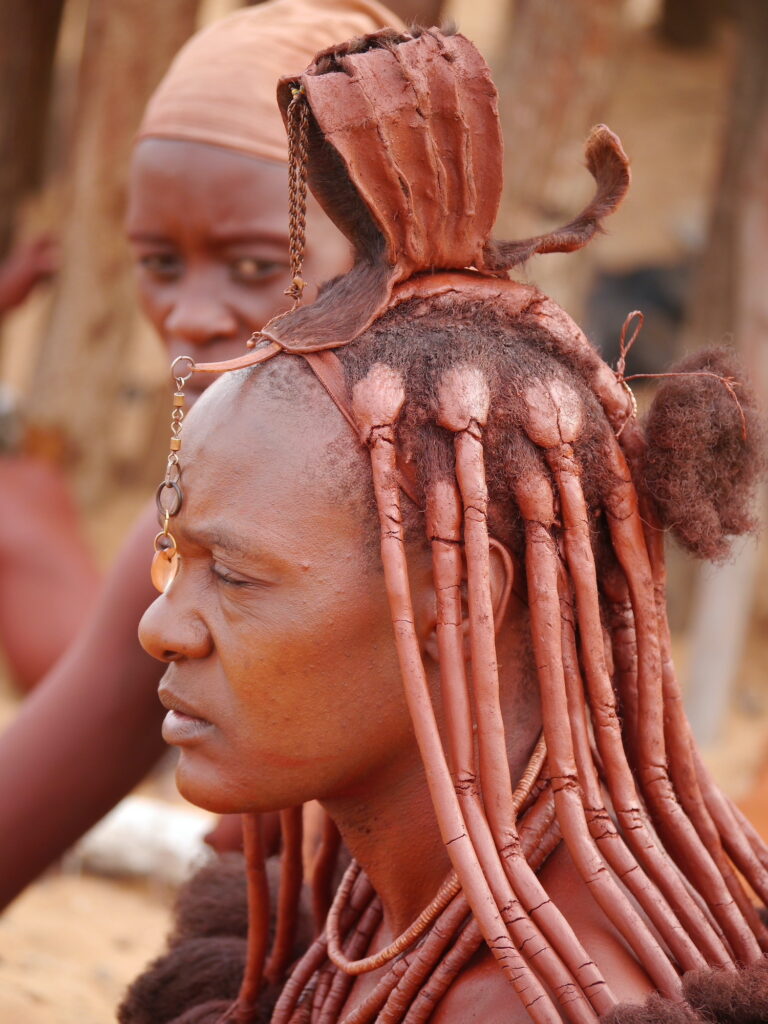 Days 10 – 11: Kaokoland & The Himba Tribe
Driving time: 5 to 6 hours.
On Day 10 we will drive to Opuwo in Kaokoland, in the farthest northern part of Namibia. We will be driving most of the morning with several rest stops and a lunch stop.
In the afternoon, you will have free time to relax by the pool or hit the spa (additional cost). We will end the day with a nice dinner at the lodge for a change from our great cook-prepared meals.
On Day 11 we will visit one of the Himba tribes and learn everything about their traditional ways of life and the red clay they cover their bodies in to protect themselves from the elements, the insects and the sun.
The Himba are semi-nomadic and pastoralists. The men go out of the village to take care of the herd while the women stay in the village with the children.
Our time with the Himba people will be inquisitive, on both ends, and enriching. Be ready for questions that may have never entered your mind before. Our guide will translate for us.
Camping at Opuwo Lodge
We will spend 2 nights at the camp site in Opuwo Lodge, a green and lush lodge with a great pool and fab spa. The lodge also has a bar and restaurant and is elevated with nice views over the surrounding area.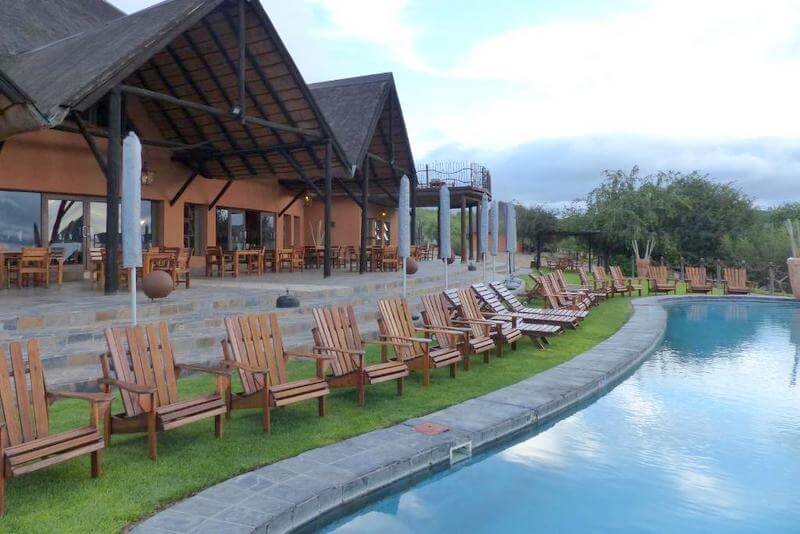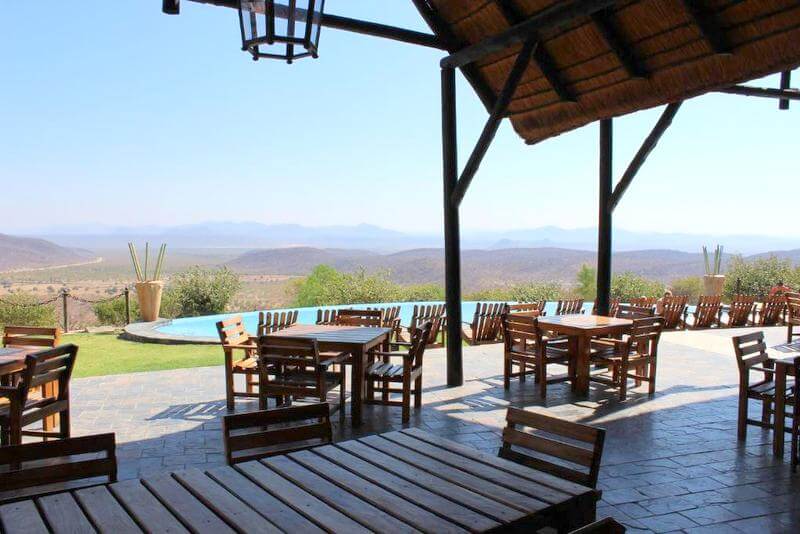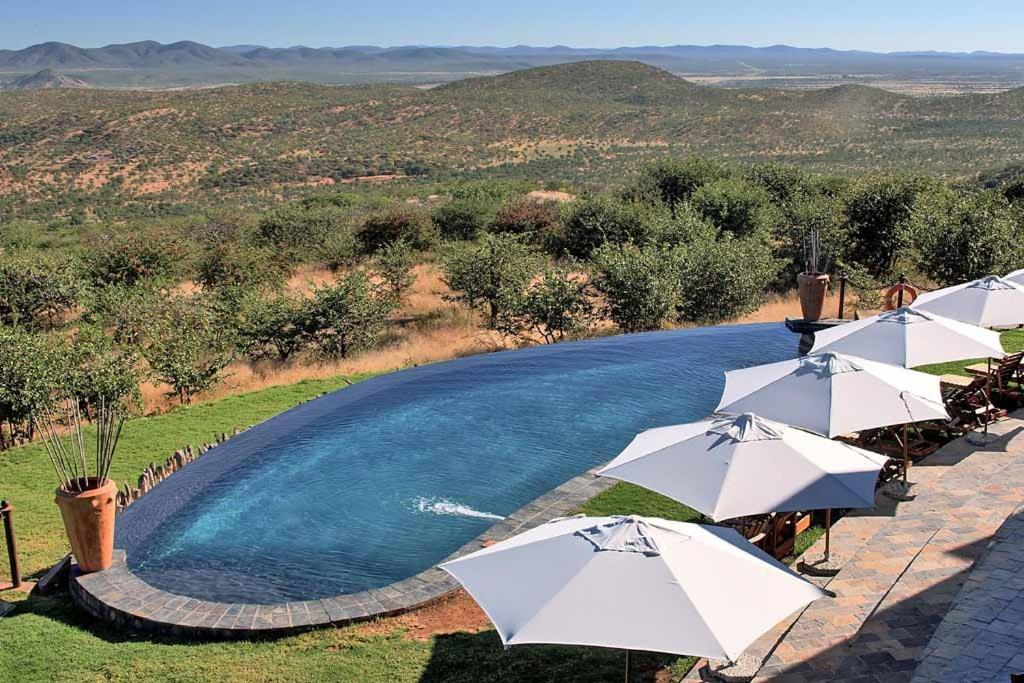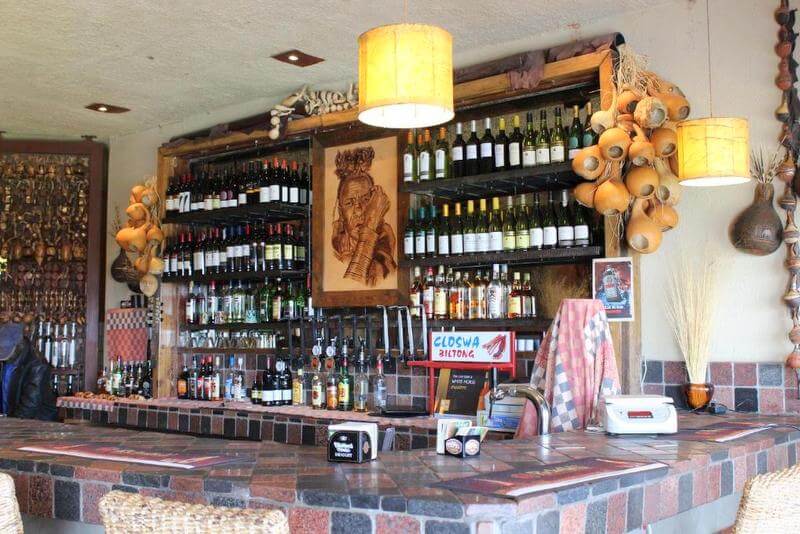 ---
Days 12 – 13: Etosha National Park
Driving time: 4.5 hours
On Day 12 we will travel to Etosha National Park and make our way to our camp for the night. On the way, we will go on game drives and look for wildlife.
Note: Our safari game drive today will be on our trusty minivan and not on safari specific 4WD cars thus the experience is limited.
Overnight camping at Namutoni Camp
Namutoni Camp is located in a 100 year old white fort inside Etosha National Park. Its elevated viewing points and floodlit waterhole are the highlight of this accommodation. At night, wildlife often comes to drink for a true spectacle.
On Day 13, we will transfer into an open top 4WD car for a full day of game drives in Etosha tracking all sorts of wildlife.
Etosha National Park is an incredible park most recognisable for its unique pan that is so large it can be seen from space. This unique eco-system brings out special wildlife and vegetation for incredible viewing opportunities.
The park is properly paved and malaria-free, making game drives comfortable. Despite its arid terrain, Etosha is teeming with animals, from the rare white and black rhinos to lions, antelope, zebra, giraffe and more. Prepare to be mesmerised with the beautiful African wildlife who call this park home.
Overnight Camping at Okaukuejo Rest Camp
We will spend the last night in Etosha at the camp that also acts as the administrative center of the park. There is a shop, a restaurant, bar and a pool to freshen up after a dusty day.
Like Namutoni Camp, the waterhole at Okaukuejo Rest Camp is lit at night for incredible wildlife viewing, especially endangered black rhino.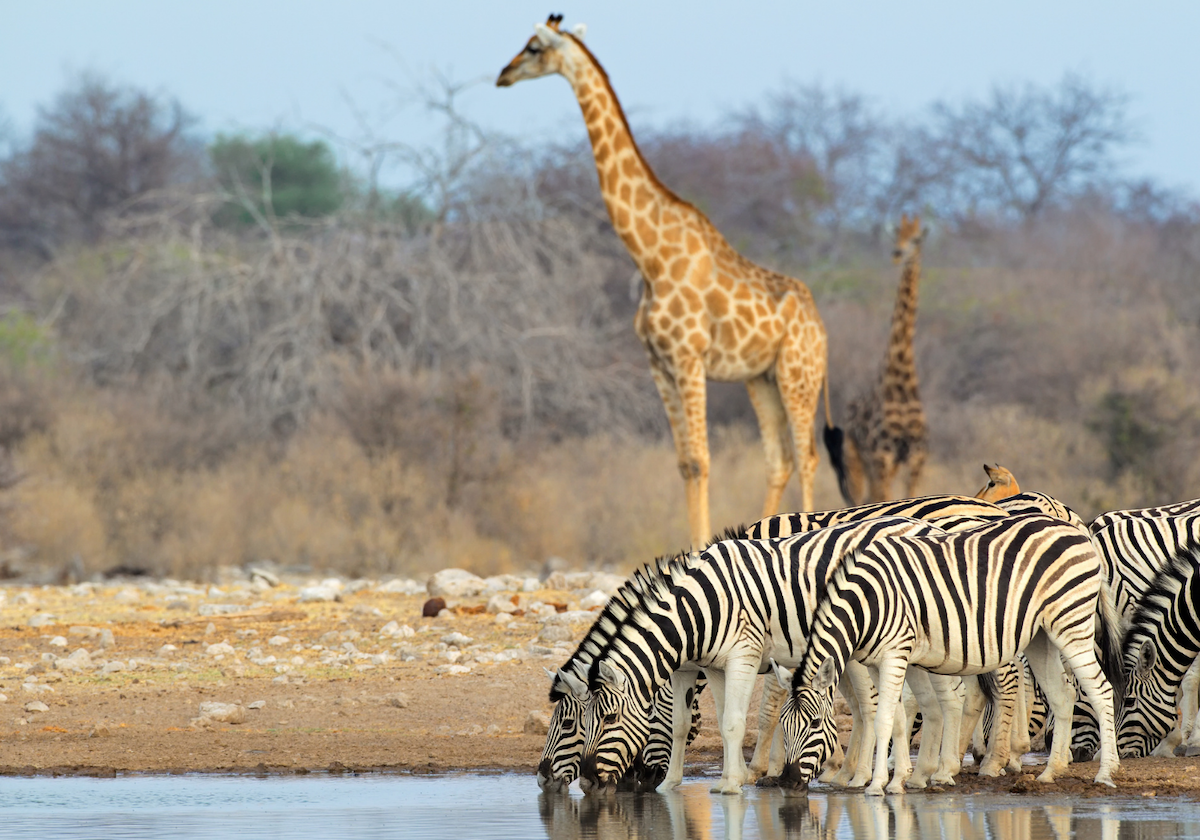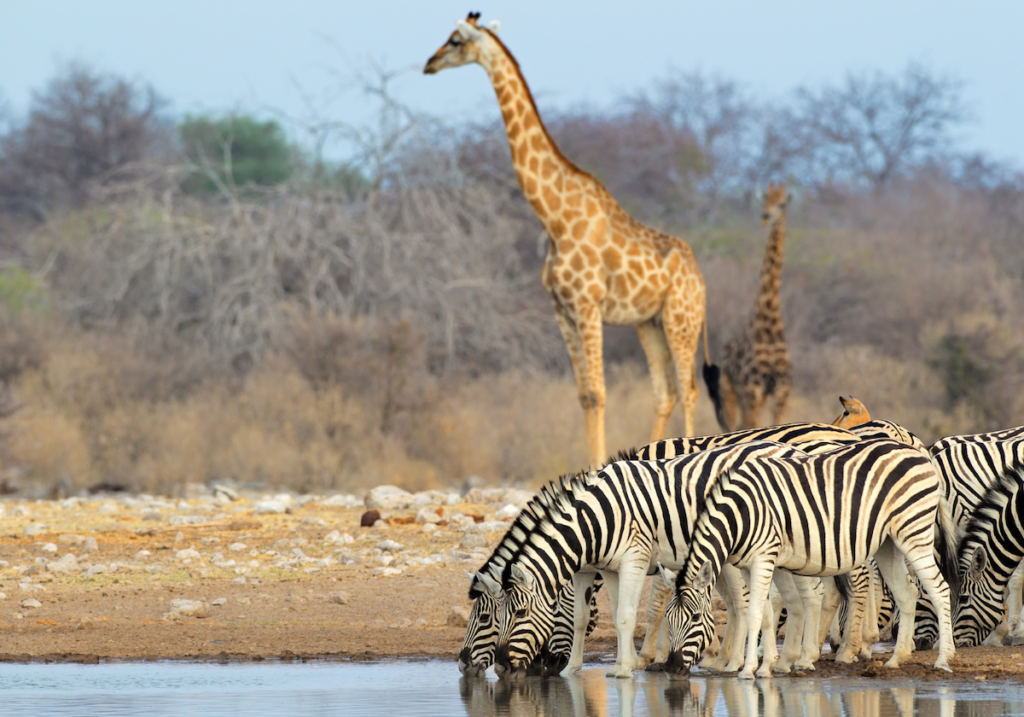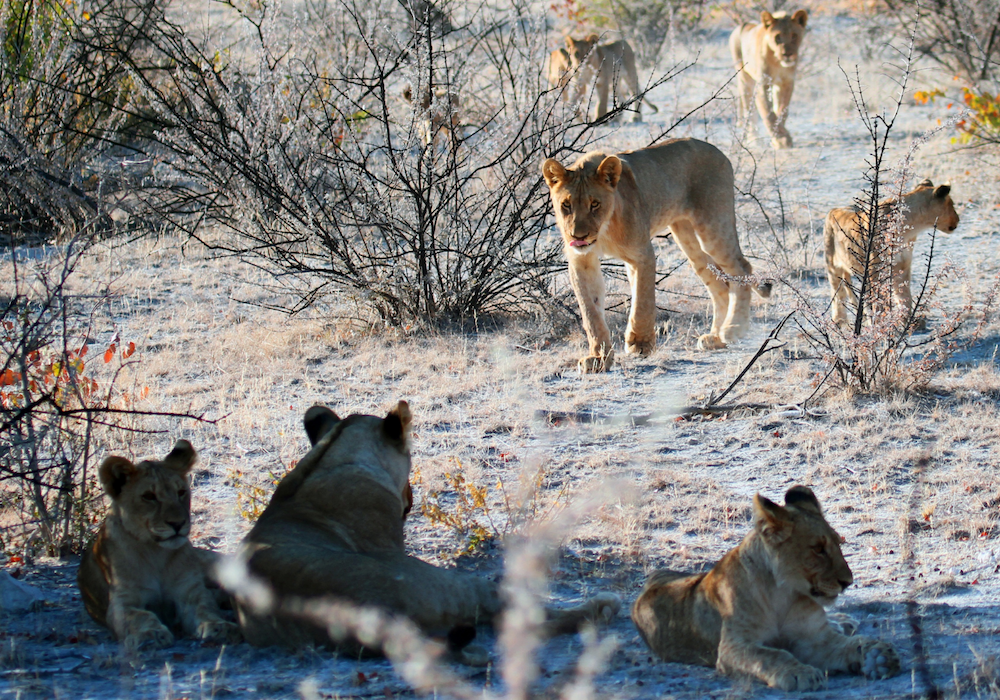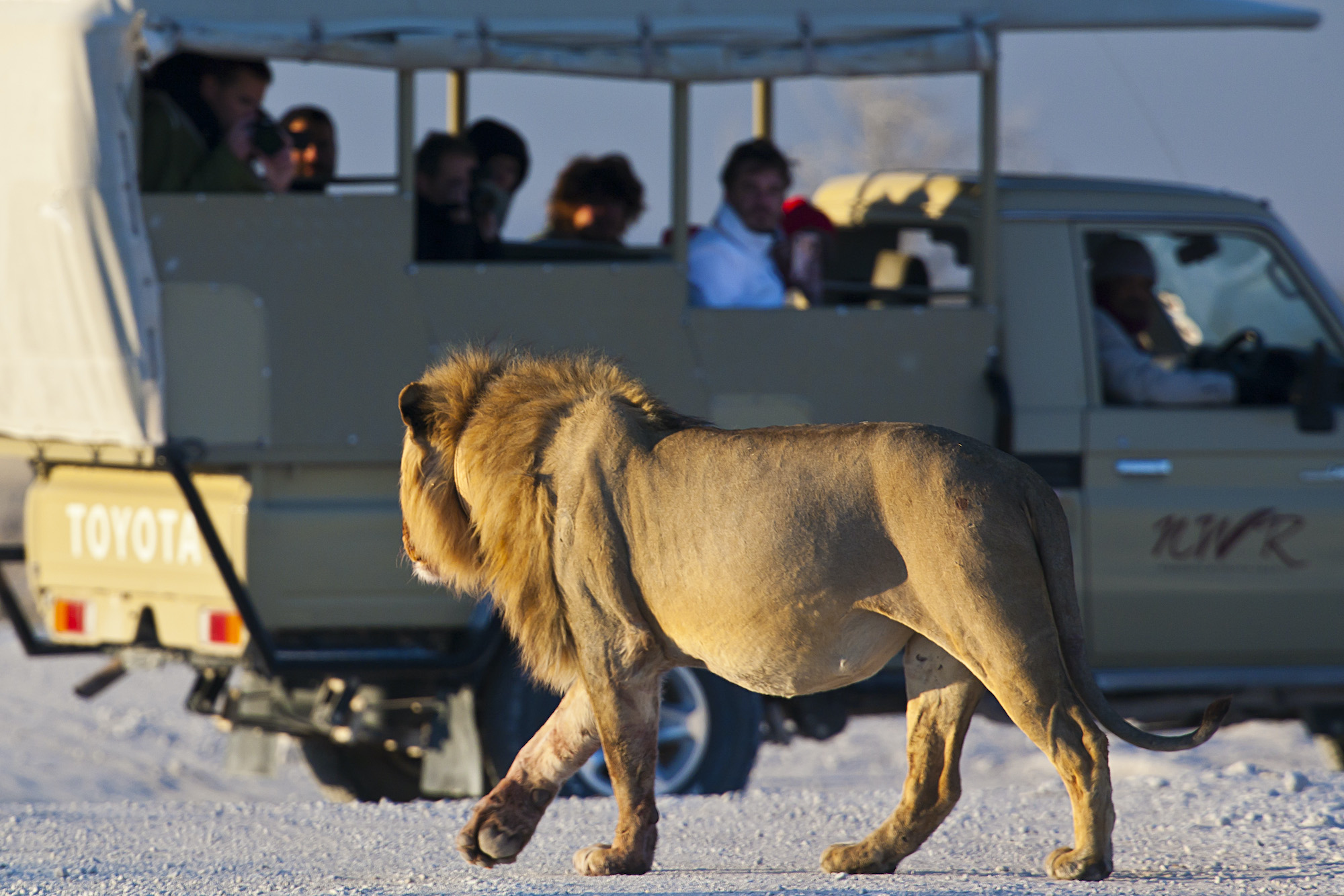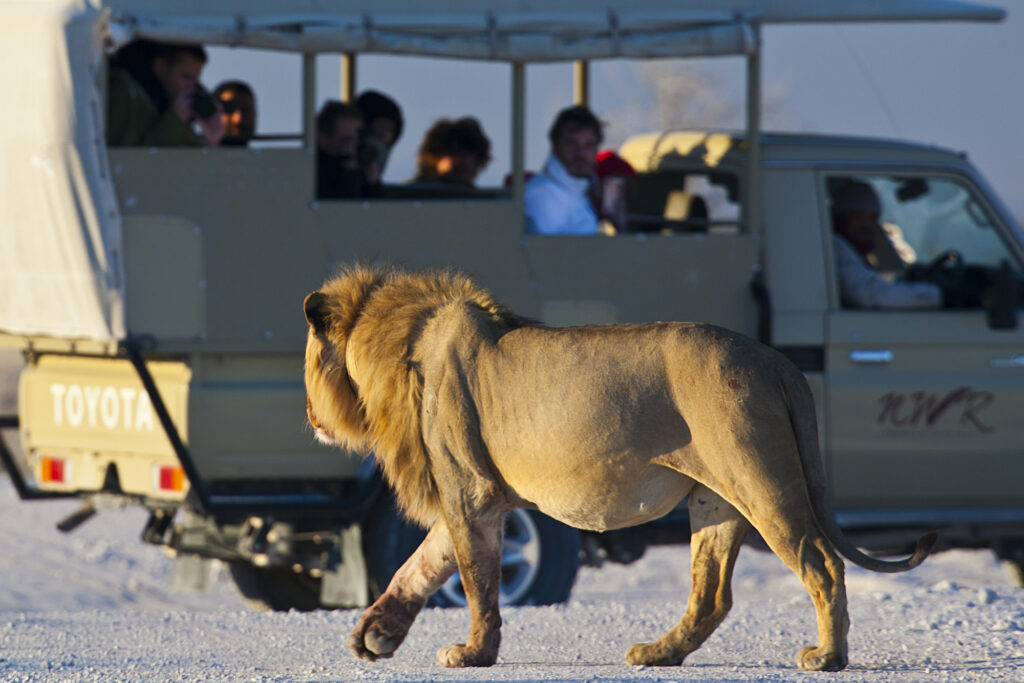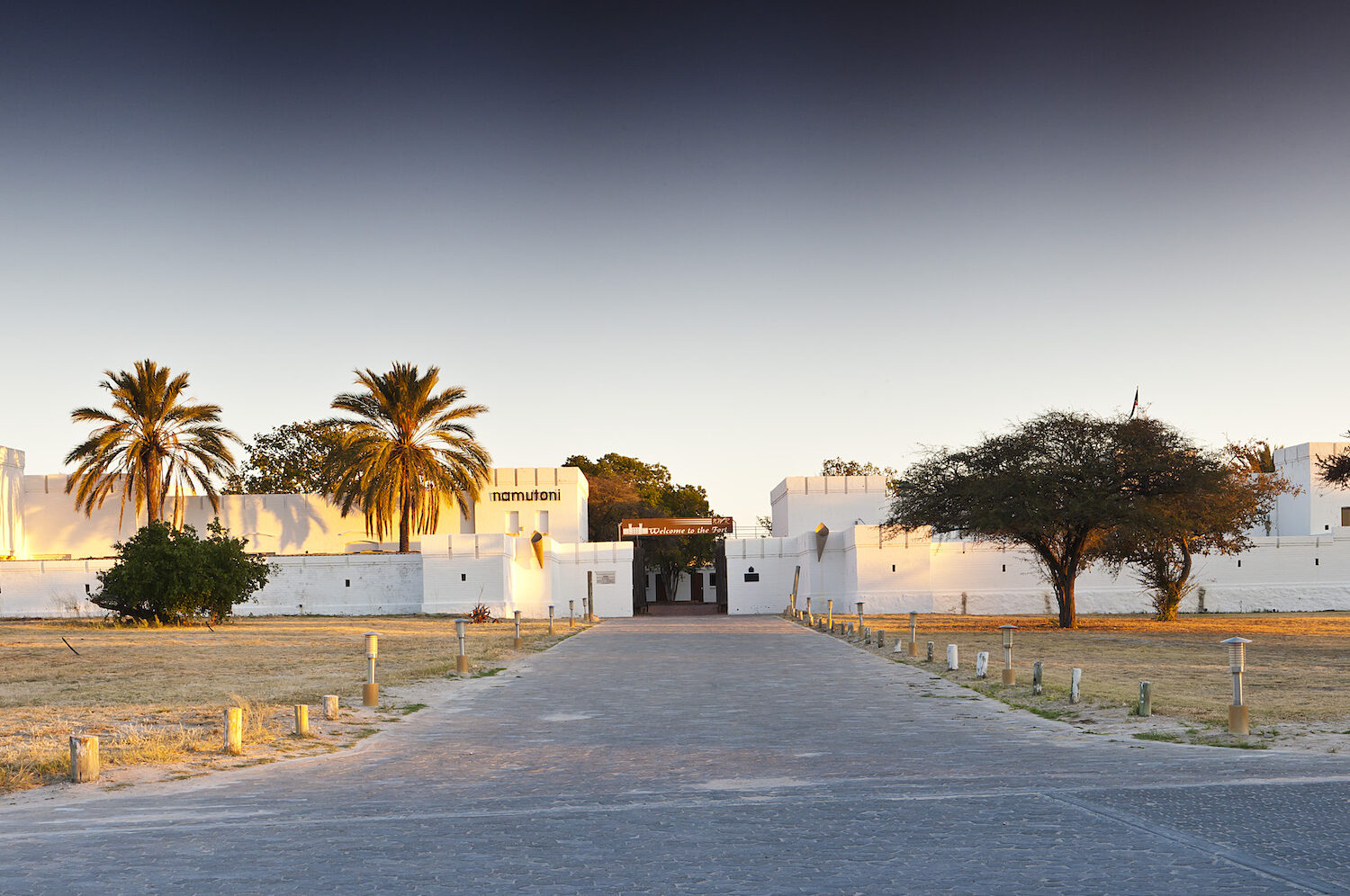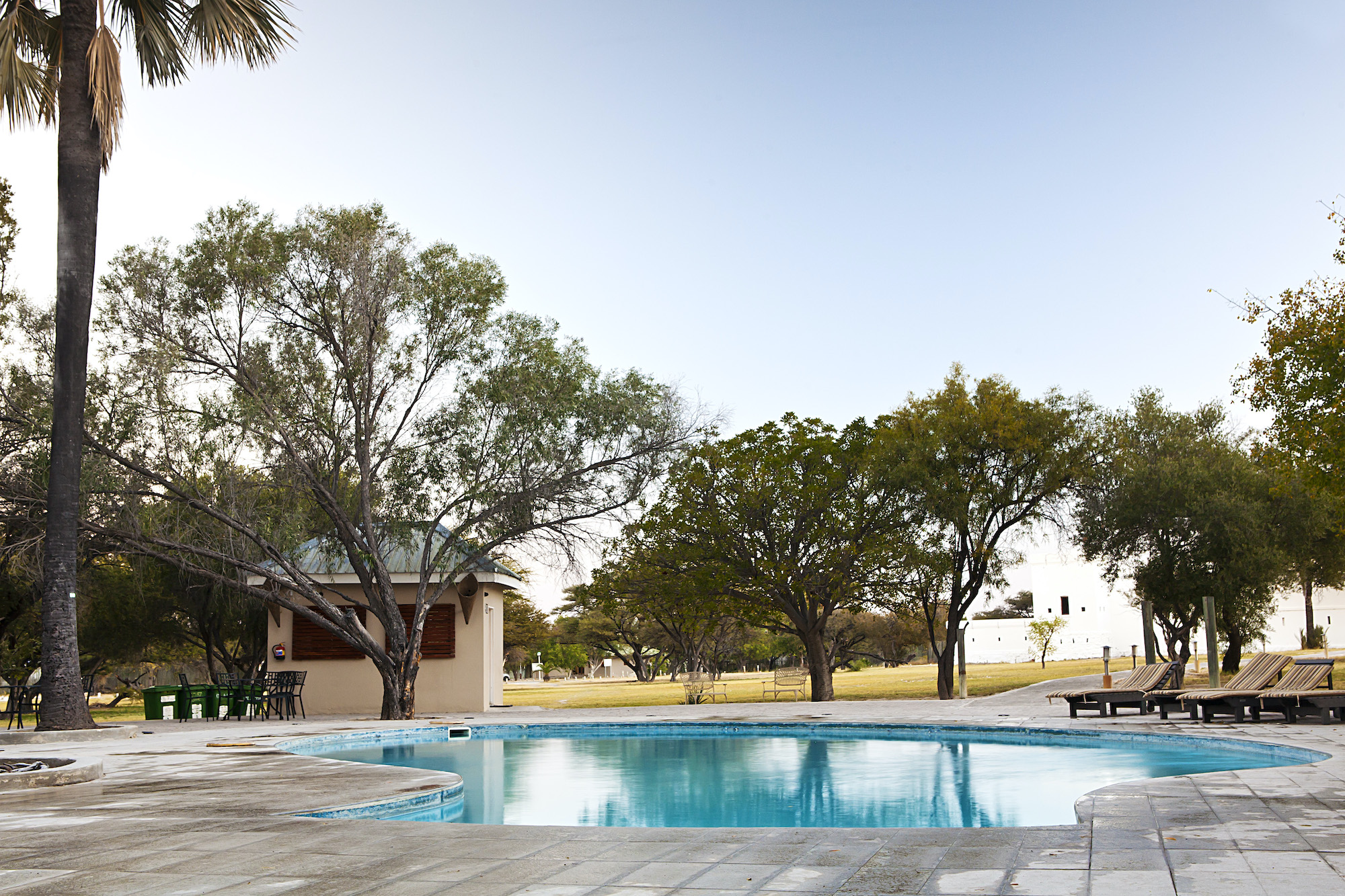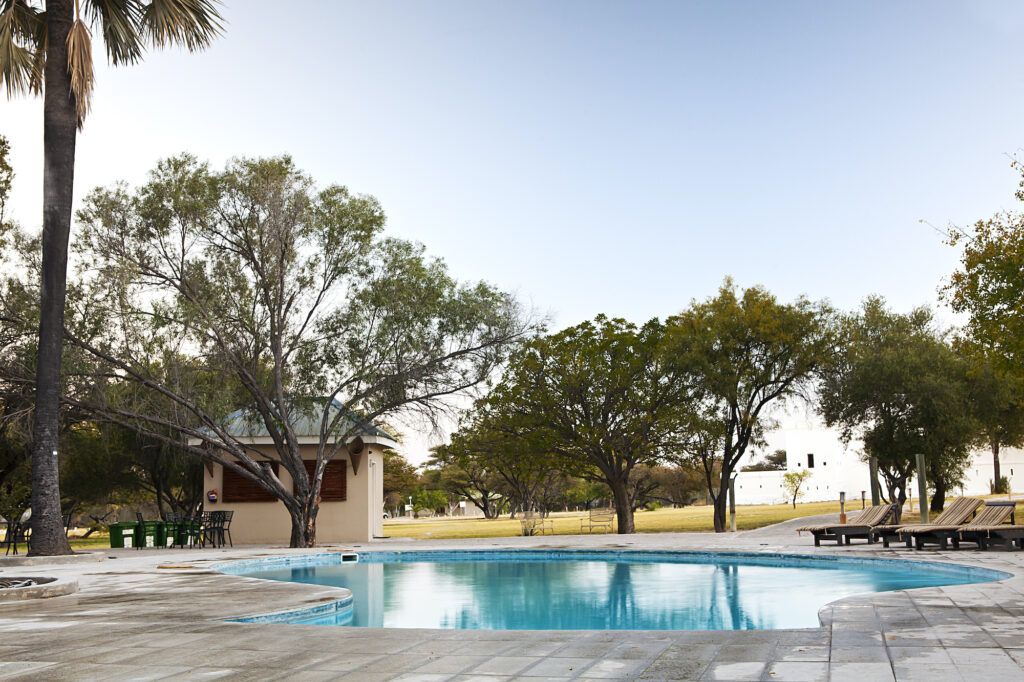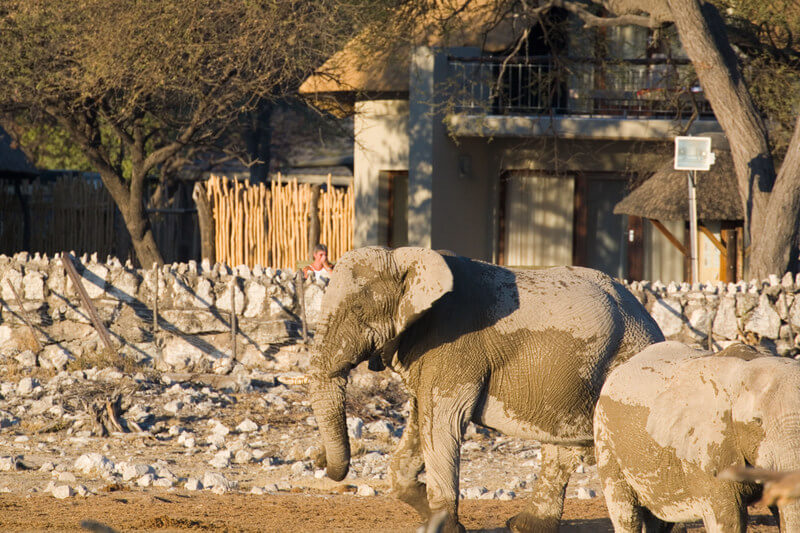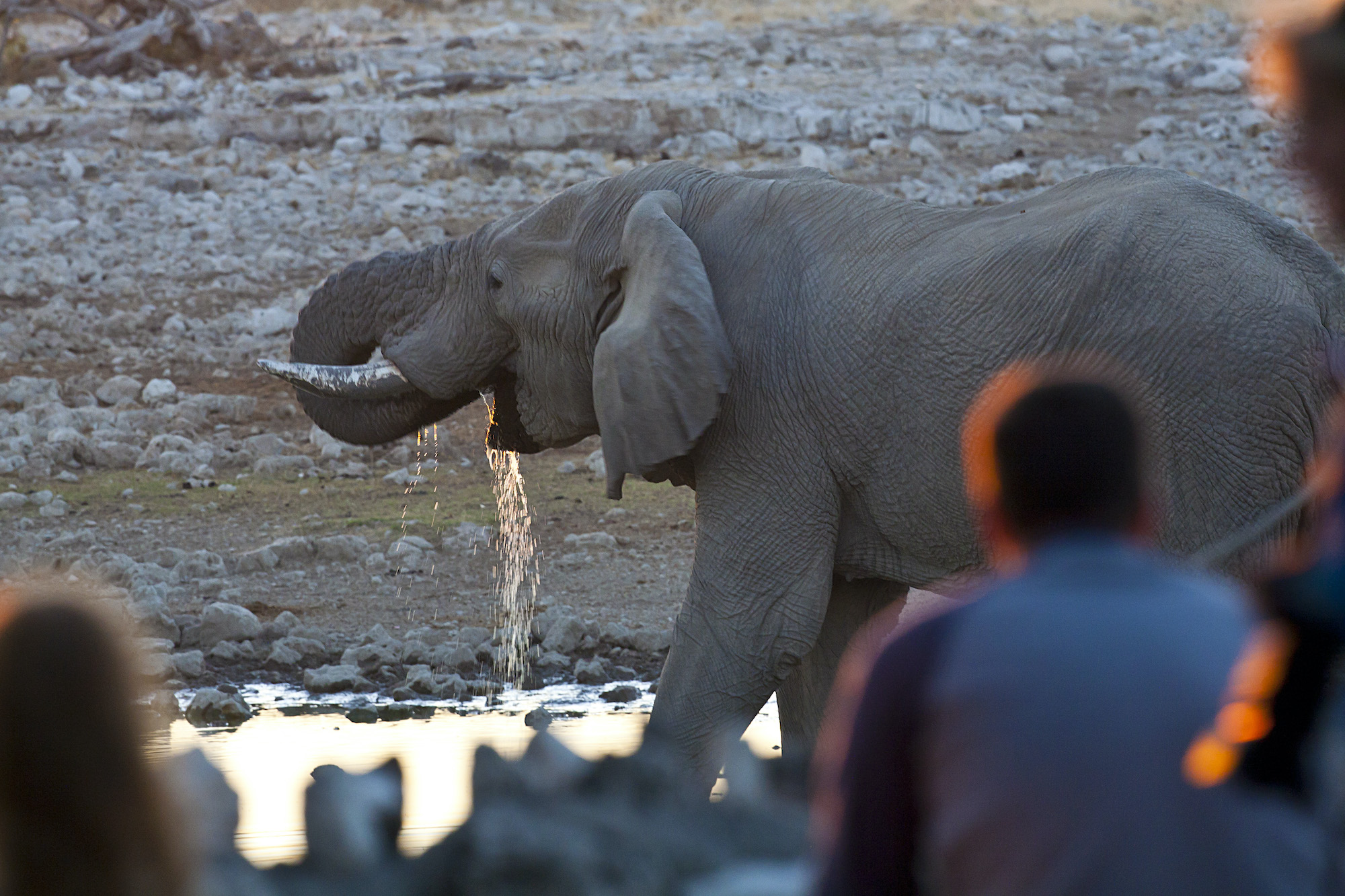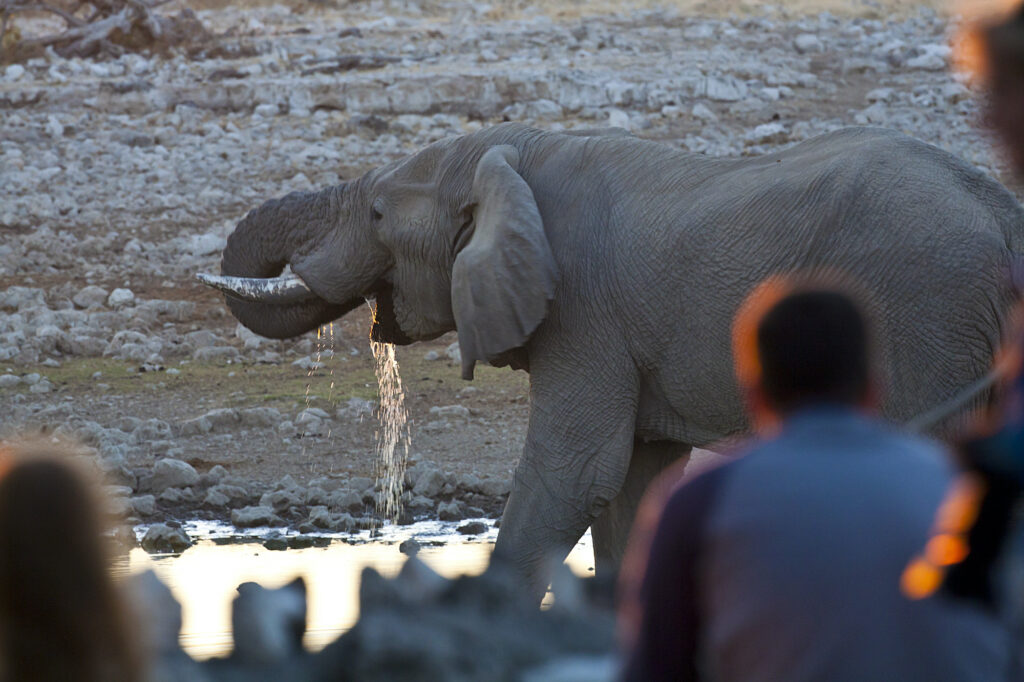 ---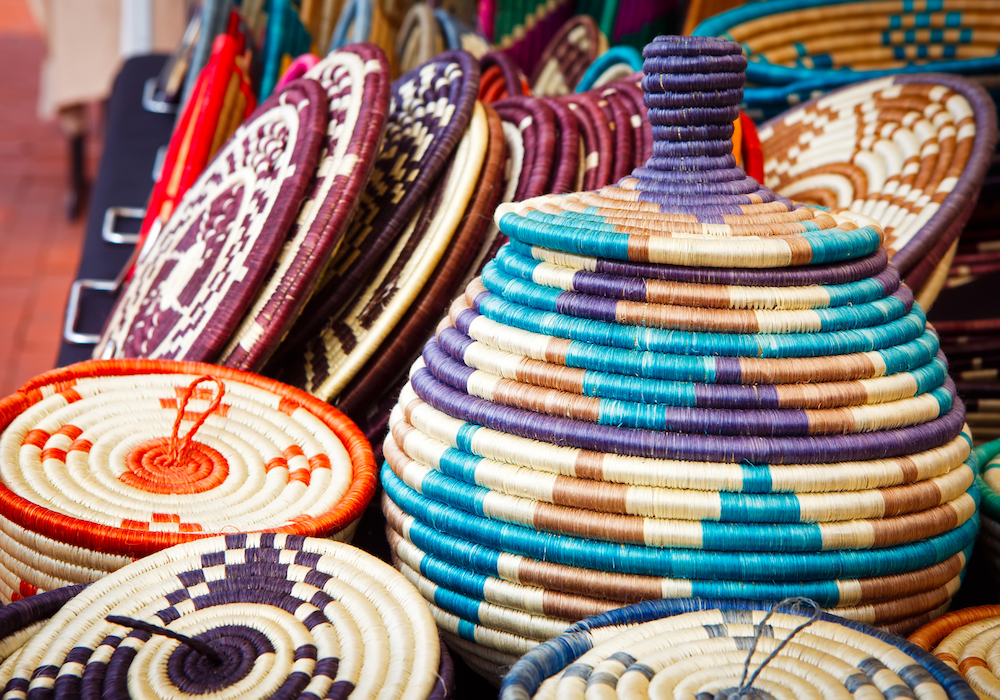 Days 14 – 15: Windhoek & Departure
Driving time: 4.5 hours
On Day 14 we will travel back to Windhoek and on the way, visit the Okahandja Craft Market where we will have lunch and where you can buy any last minute souvenirs.
Although the drive is long, there will be plenty of sightseeing and who knows, we may spot some wildlife.
We will finish the day and the trip with our Farewell Dinner. Say goodbye to your new friends and maybe plan your next adventure!
Overnight at Windhoek Gardens
Our last night will be spent at the colorful Windhoek Gardens, where each ensuite room is uniquely designed. Note: If Windhoek Gardens is closed, we will stay at Urban Camp.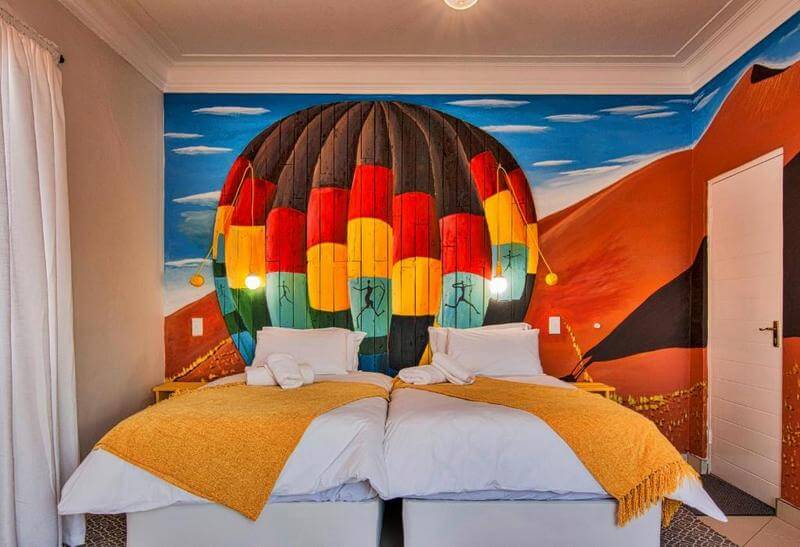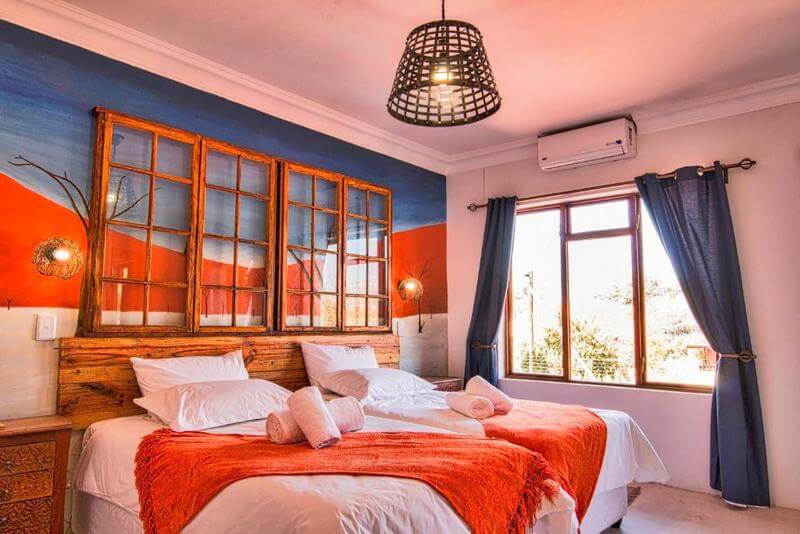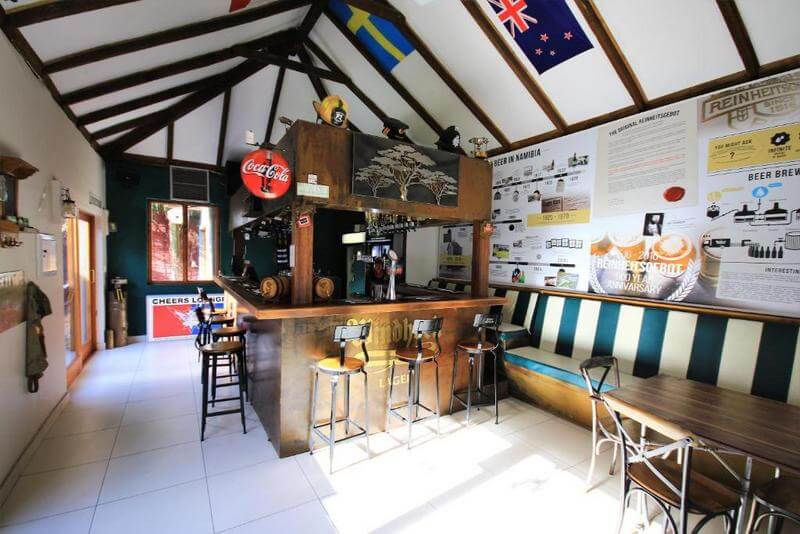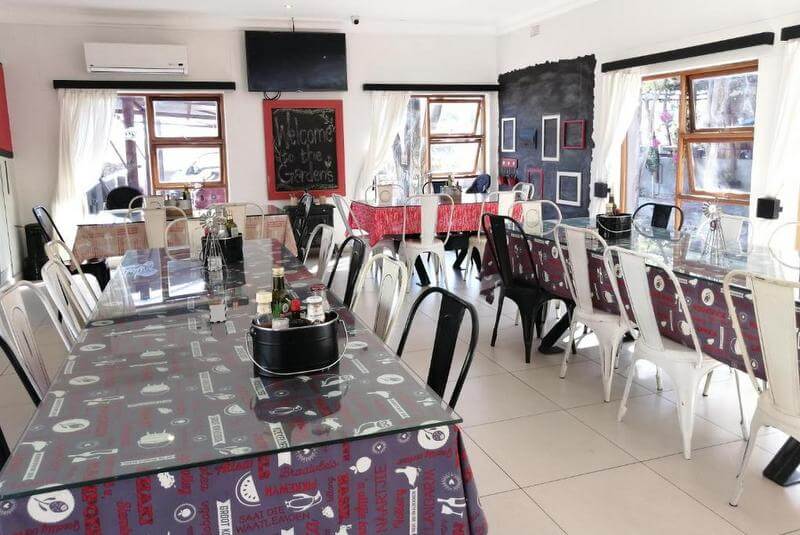 ---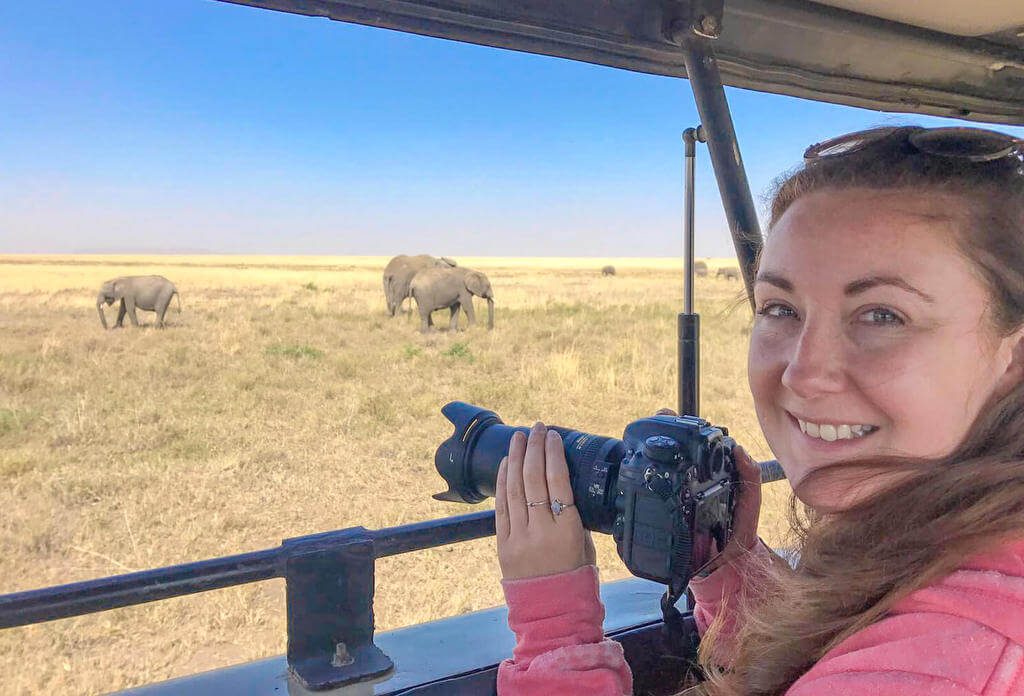 About Your Host
Helen is an experienced Africa Tour Leader having led multiple expeditions to over 15 African countries over the last 9 years.
She is passionate about showing you the authentic, real Africa whilst interacting with and giving back to the local communities we visit.
Helen is a qualified yoga teacher and author of The Independent Traveller's Guide to Backpacking Africa.
The tour will be accompanied by a local driver and a cook who will prepare all meals for us.
---
Inclusions
✔️ Airport Pickups / Drop-offs
✔️ Accommodation in twin bedding and tents
✔️ All Camping fees
✔️ Breakfast, Lunch & Dinner, with the exception of Dinner on Day 5, and Lunch and Dinner on Day 6
✔️ 2 -3 litres of water, per person/ day
✔️ All camping equipment (sleeping bags / roll mats / tents / blankets / cooking equipment). You are expected to put up and take down your own tent
✔️ Professional English-speaking driver & guide
✔️ Our very own private chef (all diets catered for)
✔️ Transport in a 21-seater safari bus, including a trailer for luggage, all fuel
✔️ Tips for local guides are included in the trip cost
✔️ All activities as outlined in the itinerary above & all park entry fees
Exclusions
✘ International flights to and from Namibia
✘ Visa if required
✘ Travel & Medical Insurance (Required)
✘ COVID Vaccinations Pre Arrival (Required)
✘ Antimalarial tablets, vaccinations, Covid testing if required in Namibia or to return home
✘ Additional drinks beyond the provided 2-3 litres of water per day (eg. soft drinks / water / alcohol)
✘ Optional activities (hot air balloon in Namib Desert, adventure activities in Swakopmund)
✘ Stretcher beds (can be hired if you do not want to sleep on camping mats)
Payment Info
£3,595 GBP
Only 14 Spots Available
Payment Plan:
200 GBP to reserve your spot
30% non-refundable deposit due 150 day before the trip
70% final balance due 90 days before the trip
*The initial 200 GBP is refundable if the minimum number of guests is not reached. The rest of the payments are non refundable unless the trip is canceled because of travel restrictions in Namibia in which case the trip (and any amounts paid) will be moved to new dates. By joining this Namibia trip you agree these T&C.
---
Reach Out to Book One of 14 Spots
Interested in joining us in Namibia?
We are keeping the group to 14 guests maximum so don't wait and book today.
Note: Please do not book any flights until the trip is confirmed.
Got questions?
Contact us at community@solofemaletravelers.club or pick a convenient time and date to talk to Helen and answer your questions live, we'd love to meet you!
---
Frequently Asked Questions
This is a trip of a lifetime and we know there are many things you'd like to know more about.
What are the COVID measures in Namibia and how will you ensure everyone is safe?

We care deeply about the wellbeing of our guests and our trip follows all local regulations. We require our guests to be fully vaccinated to join the tour so that we ensure the safety of everyone on the trip. Namibia currently requires a PCR test no older than 7 days (subject to change) to enter the country. Travellers may also be required to repeat the PCR test 7 days after arrival in Namibia. More information and COVID updates can be found on this page or by contacting the Namibia High Commission in your country.
Do I need a visa for Namibia?

Most visitors to Namibia do not need a visa. You can check the requirements of your passport here. However, if your nationality requires you to get a visa, you may be able to get one on arrival at a cost of 1,000 NAD (approx. $70 USD).

Your passport should have a minimum of 2 pages available and should be valid for at least 6 months after you plan to leave Namibia. You will usually need proof of exit (airline ticket) to show when you check in for your flight or when you arrive in Namibia.
What is the cancellation policy?

The detailed cancellation policy can be found here. Cancellation costs will be incurred based on how close to the departure date you need to cancel.
What is included in the trip?

Please see the above section for a full break down of inclusions and exclusions, however this is a mostly all inclusive trip, with optional activities you can additionally purchase in Sossusvlei (hot air balloon), and Swakopmund. Approximate prices of additional activities in Swakopmund are as follows for reference purposes only (prices subject to change and in USD):

– Historical Tour: $30
– Living Desert Tour: $60 – $110
– Scenic Flights: $240 – $820 (depending on number of people and length of flight)
– Skydiving: $306 – $375
– Bike Tours: $30
– Township Tour: $40
– Quad Biking: $25 +
– Sandboarding: $35 – $60
– Surf Lesson: $40+
– Kayaking: $50
– Catamaran Cruise: $45
– Sandwich Harbour ½ Day Tour: $120

All meals are included (breakfast, lunch, and dinner), with the exception of dinner on day 5, and lunch and dinner on day 6. Tips for local guides are included in the cost of this trip.
How much do you expect I will spend on drinks?  

2 – 3 litres of water is included in the trip, per person, per day. Additional drinks, like soft drinks, additional water, and alcohol, are not included. We will provide water on the bus to save on the small plastic bottles, so that you can fill up from there (bring your own water bottles). Additional water is around $1 – $1.50 per litre. Sodas are around $1.50 – $2. We also suggest you bring filter water bottles so you can fill up as you go from taps. 
Can I have a room to myself?

All costs above are considered on a sharing basis with two guests per room / tent in twin bedding; we will pair you with another solo female traveler on the trip. If you wish to have your own room, please contact us for information via email at community@solofemaletravelers.club – a single supplement will apply.
I want to bring my partner to the trip

This is a female-only small group trip specifically designed for women traveling on their own. If you wish to travel with a female friend, family member, etc. they are absolutely welcome, however we are not able to book male travelers on this trip.
I want to bring my daughter

How wonderful! If your daughter is above the age of 16, we will be glad to have her with us.
Will the guides be female?

Yes, this trip will be hosted by Helen Davies, our experienced African Expedition Leader, giving guests a glimpse into the life of local women and a unique opportunity to learn more about the country. Please note that drivers and tour guides at certain activities / day locations may be male.
How does this trip help local communities in Namibia?

We believe that travel can be a force for good and wherever possible, we work with travel companies who can help us make a difference and ensure that the tourism dollars benefit local communities. For this trip, we have partnered with Rock My Adventure, who specialize in small group African tours, and are committed to responsible and eco-friendly tourism. We work with the best local guides, social enterprises and grassroots organisations to ensure that we are travelling responsibly, leaving only footprints and giving back to the communities we visit.
What happens if I get sick halfway through the trip?

If you fall sick during the trip, we will get you to the nearest hospital/medical facility as quickly as possible. We require that all travelers have comprehensive travel insurance to cover medical bills, air evacuation (in case you need to be flown to Johannesburg / Cape Town for emergency treatment) or expatriation in the event of serious illness or injury. There are good, private hospitals in Windhoek.
What travel insurance should I get?

We recommend you get the most comprehensive travel and medical insurance that would cover you in the event that you need to be evacuated. We recommend checking with an aggregator such as Travel Insurance Master to compare quotes and coverages.
What should I pack for this adventure?

Once your trip is confirmed, we will send you a detailed packing list with everything you need to take. In general, the number one rule of the desert is to cover from the sun and the dust; long sleeves and long trousers or skirts are preferred.

Covering your head is not necessary, although a scarf can be useful in the case of desert sand blown by the wind and a hat is essential. Because we will be walking across sand dunes and rocks, we recommend closed hiking boots.

Help us minimize waste by bringing your own water bottle which can be replenished for free daily, instead of using single use plastic bottles. We recommend not bringing large equipment such as laptop computers which can also be easily damaged by the dessert sand and which you will get few opportunities to use.
Is there WiFi in the camps?

Most of the camps have WiFi in the main bar area only, however we cannot guarantee that it will always be available / working. The easiest way to stay connected is to buy a local SIM card on arrival at the airport or in Windhoek but note that Namibia is a sparsely populated country and outside of the main roads and towns signal may not be available.

– Urban Camp – Free WiFi.
– Bagatelle – Free WiFi at the main lodge only (short walk away), none at campsite.
– Etosha Camps & Sesriem – You can buy vouchers for use in bar area.
– Swakopmund – Free WiFi in the rooms.
– Spitzkoppe – No WiFi.
– Madisa Camp – No WiFi.
– Opuwo Lodge – Free WiFi at main lodge only (short walk away), none at campsite.
– Windhoek Gardens – Free WiFi. 
How are the shared shower facilities in the campsites?

Some campsites have private facilities and some have shared shower and toilet facilities. In Namibia, these are generally of a very high standard with hot water and flushing toilets. We have specified the ablution facilities in each of the accommodations we will be staying at above. Some of the camp sites offer static tents with ensuite bathrooms and all the hotels we will be staying at have ensuite rooms.
What will the food be like during the trip?

We will be traveling with our own cook who will prepare breakfast and dinner on most days. Lunch is usually something we pick on the way at local restaurants and cafes and dinners are delicious and varied, with different dishes every day. On some occasions, we will be enjoying a meal at the lodge or hotel and in Swakopmund you will be free to eat in town. Because of this, we are able to cater to all dietary restrictions.